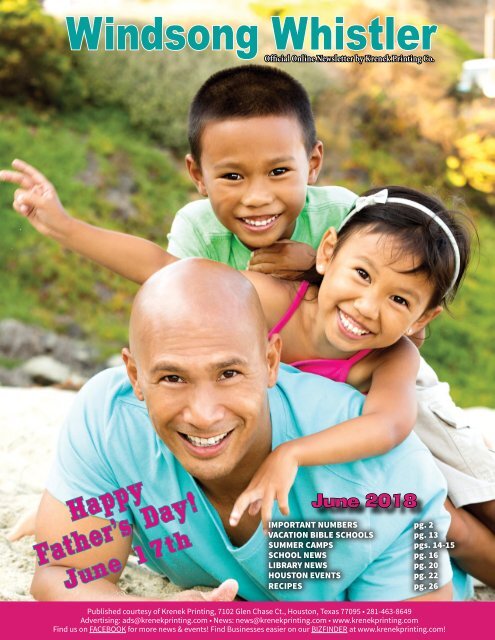 Create successful ePaper yourself
Turn your PDF publications into a flip-book with our unique Google optimized e-Paper software.
Windsong Whistler

Official Online Newsletter by Krenek Printing Co.

Happy

Father's Day!

June 17th

June 2018

IMPORTANT NUMBERS pg. 2

VACATION BIBLE SCHOOLS pg. 13

SUMMER CAMPS pgs. 14-15

SCHOOL NEWS pg. 16

LIBRARY NEWS pg. 20

HOUSTON EVENTS pg. 22

RECIPES pg. 26

Published courtesy of Krenek Printing, 7102 Glen Chase Ct., Houston, Texas 77095 • 281-463-8649

Advertising: ads@krenekprinting.com • News: news@krenekprinting.com • www.krenekprinting.com

Find us on FACEBOOK for more news & events! Find Businesses easier on our BIZFINDER at www.krenekprinting.com!
---
www.WindsongInsider.com

WINDSONG

HELPFUL NUMBERS

SPECTRUM MANAGEMENT

16690 Park Row, Houston, TX 77084 281-343-9178

Michelle Villegas Community Manager

Mvillegas2spectrumam.com

OFFICERS

Chad Vowell – President

OPEN – Vice President

Kevork Yakobian - Secretary

Kelli Mosby– Treasurer

Paul Stephen - Director

CLUBHOUSE RENTAL: 281-550-7996

and your message will be returned within 3 days

CONTRACT DEPUTY PATROLS

Harris County MUD #183 provides additional patrols for one

Sheriff's Deputy through a contract with Harris County. Please

call 713-221-6000 to report any suspicious person, activity or for

vacation watch.

TRASH COLLECTION WCA 281-368-8397

Trash pick-up days are Tuesdays and Fridays

between 7:00 AM and 6:00 PM.

. Heavy trash pick-up is scheduled for 1st & 3rd Fridays.

CHECK OUT OUR WEBSITE!

If you haven't had the chance yet, please check out the NEW

Windsong website at www.WindsongInsider.com. Here you can

find out the latest news of what is going on in the community, see

upcoming events and find contact numbers for who to call and

when! We also have a great safety section where we will post news

about safety and you can register your pet with the HOA so we can

easily contact you if your pet is found out wondering. Please take

the time to check us out!!

EXTERIOR MODIFICATIONS

Are you planning to make repairs and upgrades to the exterior

of your home including the landscaping? Please don't forget to

submit your ACC application before making any changes to the

exterior of your home or property. The ACC Committee processes

the applications as quickly as possible. Supplying the specifications

of your improvement, a lot survey indicating the location of

the modification, and a sample or detailed list of materials to be

used will also help speed up this process. If you need an application,

please contact Michelle Villegas at mvillegas@spectruman.

com or 281-343-9178.

PROTECT ONE OF YOUR MOST VALUABLE

INVESTMENTS BY DEVELOPING A CONSISTENT

MAINTENANCE SCHEDULE

By doing some simple preventative maintenance, you can extend

the life of your home and minimize costly repairs.

Painting: It is important to put a good coat of paint on your

home which may mean painting every three to five years on an

average, depending on the quality of the paint. Painting obviously

improves the appearance of your home and protects your wood

or hardiplank from the elements reducing rot. Don't forget your

ACC application along with paint color samples, which must be

processed and approved first!

WATER DISTRICT

Windsong CIA is serviced by Harris County MUD No. 183. Si Environmental

(Si Enviro) was hired by the Water Board to manage the utility district

and they can assist you if you have any problems or questions. Contact

information is as follows:

Si Environmental, LLC ("Si Enviro")

www.sienv.com

Customer Service: 832-490-1600 or customercare@sienv.com

Emergency Repairs: 832-490-1601

SCHOOLS

Cy-Fair School District Admin. 281 897-4000

Peggy Wilson Elementary (K-5) 281 463-5941

Watkins Jr. High (6-8) 281 463-5850

Cypress Lakes High 281-856-3800

DISCLAIMER

THE WINDSONG "WHISTLER" IS NOT PAID FOR, EDITED OR PUBLISHED

BY THE WINDSONG COMMUNITY IMPROVEMENT ASSOCIATION (WCIA)

AND AS SUCH THE OPINIONS EXPRESSED HEREIN MAY NOT NECES-

SARILY BE THE OPINIONS OF WCIA, RATHER THE OPINION OF THE

AUTHOR OF THE ARTICLE IN QUESTION.

Power washing: Take a walk around your property. If you see

green or black mildew on your home and driveway, you can power

wash the mildew off your gutters, home exterior, driveway and

sidewalk. This small step of maintenance can keep your property

looking well maintained.

Gutters: Gutters need to be cleaned out on a regular basis. This

time of year they fill up with pine needles and leaves. If the gutters

are full of leaves and pine needles, they will not drain properly and

will need to be cleaned. The extra weight will cause the gutter nails

to become loose and the gutter will sag or fall from your home.

Gutters are important as they protect the fascia boards.

Landscaping: Trees, shrubs and seasonal flowers add a great deal

to the value of your home and the community. Remember that

over time trees and shrubs can become overgrown and unsightly.

Please keep your landscaping well trimmed and yard edged so

that it enhances your home and does not interfere with the street.

DEED YOU KNOW…

All trash containers are to be kept out of public view on non-trash

days. This means they cannot be kept on the sides on your homes,

behind a bush, on the front porch or in front of the garage. If the

trash containers are viewed, you will begin receiving violation

letters in the very near future.

2 June 2018 | Community Newsletter
---
DEED RESTRICTION VIOLATIONS

The purpose of the inspections is to bring about an improvement in

the appearance of our community. Let's all make an effort to reduce

the number of violations each month. We want our community to

look good and to maintain our property values. It is up to each of

us individually to accomplish this.

HARRIS COUNTY ALARM DETAIL

Please be aware that it is a requirement for you to obtain a permit

for operating an alarm system within unincorporated Harris County.

Obtaining the required permit will avoid the issuance of a citation

and excessive false alarm fees. Should you require a copy of the

permit application form or would like to review the regulations

regarding permit requirements, you may do so by visiting the

Harris County Sheriff's Office website at www.hcso.hctx.net. The

application can be printed from the website, then completed and

mailed to our office with the applicable fee. Should you have any

questions, please contact the Alarm detail office at 713-755-4600

during normal business hours.

INTERESTED IN RENTING THE COMMUNITY CLUBHOUSE?

All the details about the clubhouse along with the calendar of

availability for the rental can be found on the website under the

Clubhouse tab. Go to www.WindsongInsider.com/Clubhouse.html

to find the info. We even have pictures of the clubhouse so you know

what you are getting!! Rentals are for the full day and you MUST

be a Windsong resident to rent it. If the website doesn't answer all

your questions, please feel free to contact the clubhouse manager,

Amber at 281-550-7996, she will be more than happy to help you

with your questions!

WINDSONG COMMUNITY CENTER RENTAL

Are you having a celebration or a special event?

The Windsong Community Center located at 18150 Holly Forest

Drive is available for rental to residents of Windsong with the

following criteria:

1. The annual assessment must be paid in full.

2. Residents must reserve the clubhouse with 15 business

days ADVANCE notice of the event.

3. Reservations will be made on a first come first served basis.

Call the Windsong Resident Line at 281-550-7996 for availability,

reservation fees and other requirements. Leave a message for the

Clubhouse Manager. Messages are returned in 2-3 days.

CONTRACT DEPUTY PATROL

The Harris County Municipal Utility District #183 has a contract

through Harris County for one Deputy from the Sheriff's Department

to patrol the District. The MUD has also hired five part-time off duty

police officers to patrol the District as needed. Their jobs are to

watch out for suspicious persons and/or activities and report any

incidents to the Sheriff's Department for further action. The Deputy

Sheriff and the part-time off duty police officers patrol the Windsong

and Windsong Place communities as well as any commercial

properties within the District.

FLAGS AND FLAPOLES ARCHITECTURAL GUIDELINES

FLAGS: This policy is only for the display of the flag of the United

States of America; the flag of the State of Texas; and an official or

replica flag of any branch of the United States Armed Forces on any

property. No disrespect should be shown to the flag of the United

States of America. Flags shall be no larger than 3 feet by 5 feet.

FLAGPOLES: No more than one building or pole-mounted flagpole

not to exceed 20 feet in height will be permitted on any property.

Any flagpole attached to a dwelling or a freestanding flagpole must

Community Newsletter | June 2018

be constructed of permanent, long-lasting materials, with a finish appropriate

to the materials used in the construction of the flagpole and

harmonious with the dwelling. The display of a flag or the location and

construction of the supporting flagpole, shall comply with applicable

zoning ordinances, easements and setbacks of record. Flagpoles should

be located so as to minimize their impact on neighboring properties.

When locating freestanding flagpoles, the size of the property, relationship

to adjacent residences, the size of the flag, the height, color and

material of the pole shall be considered.

CONDITION: A displayed flag and the flagpole on which it is flown shall

be maintained in good condition. Any deteriorated flag or deteriorated

or structurally unsafe flagpole shall be repaired, replaced or removed.

NOISE: Flags shall be displayed in such a manner so as to abate noise

caused by an external halyard of a flagpole so as to not be a nuisance,

irritant or adversely impact other neighboring property owners.

LIGHTS: Any lighting used to illuminate a displayed flag must not be

a nuisance or impact neighboring properties with regard to glare or

intensity. Lighting which is part of the original structure may not be

altered without prior approval. Proposed replacement or additional

fixtures must be compatible in style and scale with the existing property.

Exterior lighting shall not be directed outside the owner's property

and should not have an adverse visual impact upon adjoining neighbors.

ASSOCIATION PROPERTY: Property Owners may not locate a displayed flag

or flagpole on property that is owned or maintained by the Association.

BASKETBALL GOALS ARCHITECTURAL GUIDELINES

Please be aware that if you have a basketball goal in street view

it must be maintained at all times. Basketball goals are permitted

subject to the prior approval of the ACC and the following:

* A net shall be maintained on the rim at all times. The net shall be

replaced in the event that it becomes frayed or torn.

* A rim shall be affixed to the backboard at all times. The rim shall

be repaired or, if necessary, replaced in the event that it becomes

broken or bent.

* The backboard shall be repainted, repaired or replaced in the

event that the surface of the backboard becomes chipped or

cracked or the backboard becomes warped or unaligned. The

backboard shall also be kept clean of mildew or mold.

* Basketball goals that are visible from the street shall be attached

to the front of the garage or freestanding.

* In no event shall a basketball goal be placed at any curb either

temporarily or permanently.

* The pole and all mounting supports must be maintained in an

attractive condition. The pole shall be removed if the basketball

goal is no longer functional.

**ADDRESSES**

Residents: Please be sure your home is properly identifiable with

house number either on the house, curb or mailbox. In the event of an

emergency (ambulance, fire or police), this will make it easily located.

STREET LIGHTS

Street lights are an essential part of safety. If you notice a street light

out within the Windsong community, please report it to the following

number immediately.

713-207-2222, opt 1, opt 4 or

www.centerpointenergy.com/outage

Please make sure that you obtain the 6-digit light pole number and

nearest address to the pole when reporting a light out.

It is also important that you turn on your garage/driveway lights at

night. Encourage your neighbors to do so also. Effective home lighting

can be an effective deterrent to crime.

3
---
BE AWARE OF THEFT POTENTIAL

Many of us have a habit of leaving the

garage door open when we are working

or relaxing in the backyard. Unfortunately,

people in virtually every neighborhood

lose property to opportunistic thieves

this way every year. Bicycles and power

tools are just a few of the commonly stolen

things and keep in mind that it only

takes a matter of seconds for something

of significant value to "walk away." Please

keep those doors down when you are not

in eyesight of the garage.

These are small steps that only take a few

seconds and demonstrate how being mindful

of personal and home security can make

a big difference.

2018 ANNUAL ASSESSMENT COLLECTION POLICY

*The Board of Directors has adopted the following collection policy for 2018:

FIRST NOTICE: November Due by January 1st

DELINQUENT NOTICE: February 10% Late Penalty

CERTIFIED MANAGER DEMAND

& NOTICE OF HEARING: March Charge back cost to property

ATTORNEY DEMAND: May Charge back cost to property

LIEN NOTICE: June Charge back cost to property

ATTORNEY LAWSUIT: As processed Charge back cost to property

FORECLOSURE As processed Charge back cost to property

All late penalties and collection fees are charged to the delinquent property and become

a part of the assessment amount due.

MAILBOX TAMPERING

When a mailbox is put into use for the purposes of sending and receiving

mail, it becomes federal property.

Mailbox tampering is considered any act that interferes with another person's

letter box or other receptacle. This can include:

• destruction of the mailbox itself

• theft of mailbox contents

• the placement of items in a mail receptacle by persons

other than postal employees

• any action intended to obstruct or damage mail or mailbox property

In short, anyone, other than mail recipients and postal employees, should

NOT touch a mailbox or its contents.

SECURITY NOTE

Make it difficult for would-be thieves

We've seen the reports on local news shows: "Brazen thieves make off with

contents of cars parked in residential driveways." And we've heard neighbors

tell of how "somebody broke into my car last night."

When all the facts of these stories are revealed, many times we learn

that the parked cars were not locked. Granted, some unconscionable

person(s) committed an illegal act (trespass, theft), but the simple act

of keeping car doors locked while a vehicle is parked in your driveway

can make your car less attractive to would-be thieves.

In addition, by removing purses, briefcases, cell phones, shopping

bags and other valuables from parked vehicles - whether in your own

driveway or a commercial parking lot - you'll likely remove temptation

for a crime opportunity.

These are small steps that only take a few seconds and demonstrate how

being mindful of personal and home security can make a big difference.

HARRIS COUNTY ALARM DETAIL

In order to increase compliance and spread

awareness, our office is requesting your

assistance in informing residents in your

community through your HOA newsletter or

your scheduled HOA meetings of the need to

obtain a permit for operating an alarm system,

residential or business, within unincorporated

Harris County. Many residents and businesses

are unaware of the requirement to obtain an

alarm permit once an alarm system has been installed and activated by

the alarm company. Alarm systems are established and defined in the

Local Government Code 233 (subchapter D), as well as the authority to

regulate, adopt rules and impose penalties for unpermitted locations.

Obtaining the required permit will avoid the issuance of a citation and

excessive false alarm fees. The fee for current permit issuance is $35 with

a yearly renewal fee of $10. All permit fees are waived for senior citizens

65 years or older. Under current guidelines, a permitted location is allowed

five (5) free false alarms annually. Any subsequent false alarms

during your permitted year are subject to a $75 fine that is billed to the

permit holder's address. If a site has an active alarm system, yet does

not have a permit to operate such alarm, a false alarm may result in a

Class C citation, which could range up to $500.

Should you require a copy of the permit application form or would like

to review the regulations regarding permit requirements, you may do so

by visiting the Harris County Sheriff's Office website at www. hcso.hctx./

net. The application can be printed from the website, then completed

and mailed to our office with the applicable fees. We are currently in

the planning stages of making the application and payment process

available on-line for the convenience to the public. Should you have

any questions, please contact the Harris County Sheriff's Office Alarm

Detail at 713-755-4600 M-F, 8 AM - 5 PM.

4 June 2018 | Community Newsletter
---
SCOOP YOUR PET'S POOP

Please remember to be respectful of your neighbors' yards and the

community grounds. When you take your pet for a walk, come prepared

with a scooper and a recycled grocery bag or anything else. If your pet

poops during your walk, please scoop and trash. It may not be the most

fabulous way to walk your pet, but it does show that you respect your

fellow neighbors' and our beautiful community.

HARRIS COUNTY LEASH LAW

Animals that are not properly restrained pose a threat to all our residents.

While you may know your pet is friendly, an animal running at

someone who is walking by is very scary for that person. Many children

are afraid of animals and become frightened, which could result in the

child getting hurt trying to avoid the animal.

Harris County Animal Control advises, "All dogs and cats must be kept

under restraint while in the unincorporated areas of Harris County, Texas.

The custodian of a dog or cat is not authorized to have, harbor or keep

any unlicensed dog or cat, nor to allow any dog or cat to become a stray."

Restraint is defined as "the control of a dog or cat under the following

circumstances:

1. When it is controlled by a line or leash not more than six (6) feet in

length, if the line or leash is held by a human being, who is capable of

controlling or governing the dog or cat in question

2. When it is within a fully enclosed vehicle

3. When it is on the premise of the custodian and the animal does not

have access to sidewalk or street."

While it may be nice to have your animal out in the yard while you work

or play, it is against the law, unless the animal is properly restrained.

Let's all help keep our community a safe and comfortable place for

all our residents by being responsible pet owners. This will not only

protect anyone who may be walking or bicycling in the area, but also

the pet owner who could be held legally responsible or possibly sued

for failing to properly restrain their pet.

To make a complaint or report an animal that is not properly

restrained please contact:

Harris County Precinct #5, Contract #87: 281-463-6666

Harris County Animal Control: 281-999-3191

Harris County Health Department, Rabies/Animal Control Section

2223 West Loop South, Houston, Texas 77027-3588

www.countypets.com

SUMMER IS A GREAT TIME TO HELP

LOVING ARMS PET PLACEMENT

Summer is here, children are out of school. What better time to get involved

with a rescue group and help a dog or cat in need? That's what fostering

an animal is all about. We have several dogs boarded at the Kennel Klub

on Highway 6 at Huffmeister. It is also kitten season and we have litters

of orphan kittens who need care before they are adopted. We need foster

families for dogs, cats and kittens. Contact us to learn how you can make a

difference in an animal's life.

Save the Date: Saturday August 4th we will have our fantastic fundraiser

"Wine and Dine for Kitties and Doggies, too." This year our event

will be even larger and better at the new location of the Hearthstone

Country Club.

How would you like to help Loving Arms Pet Placement rescue on a

regular basis without spending a cent? To donate painlessly, go to www.

krogercommunityrewards.com, enter 84029, click on Loving

Arms Pet Placement to attach our rescue to your Kroger card. Each

time you use your Kroger card, LAPP gets money donated to our vet

bills from Kroger.

Community Newsletter | June 2018

H H H H

Four Star Pest Control

Quality Service With An Affordable Price

Saturday Appointments for Your Convenience

Joe Alvarez...Owner/Operator

832-654-5339

5
---
Loving Arms Pet Placement is a non-profit foster-based dog and

cat rescue in the Copperfield area. Visit Loving Arms Pet Placement

website at www.lovingarmspetplacement.com or visit us at PetSmart

on Highway 6 and FM 529 each Saturday from 11 AM until 5 PM.

PET ID TAGS

Folks - as soon as the vet gives your young pets their Rabies shot remember

to get their ID tags. The Rabies tag lists the name, phone number and address

of the vet. So! All you need to do is put the Rabies tag onto the pet's

collar and leave it there all the time. That way, if the pet gets loose, anyone

finding him or her can look at the tag to see the vet's phone number and call

to report the lost animal. Better yet, add another tag to your pet's collar that

lists the dog or cat's name and your own phone number or address. You can

get these from any pet store. When a pet has these but goes astray, anyone

finding it can call you and you can go get him or her right away.

Your pet will be very glad to see you! A happy pet is a loving pet.

BE SAFE ON JULY 4 TH

Here are a few tips to ensure safe and happy memories of your

July 4 th holiday:

• Don't shoot off fireworks if you've been consuming alcohol.

• Make sure a responsible, sober adult is always present when you allow

your kids to set off fireworks; kids don't always have the judgement

needed to fire explosives safely.

• Don't hold bottle rockets or roman candles in your hands to shoot them

off (unless you really wouldn't mind missing a few fingers); follow the

fireworks instructions for lighting.

• Since outdoor dining is such a big part of the 4 th , make sure foods

are kept at proper temperatures and avoid cross-contamination.

• Be sure to make sure your pets are secured; many pets go missing

after being scared by fireworks.

If you plan to fly the flag, be sure you do it correctly, in accordance with

the U.S. Flag Code. For a copy of the U.S. Flag Code, go to

www.legion.org/documents/pdf/flagcode.pdf.

TEXAS BACK TO SCHOOL SALES TAX HOLIDAY

Put it on your calendar & plan ahead. This year's Sales Tax Holiday is

August 10-12, 2018. Clothing and footwear with a sales price of less

than $100 per item are not taxable; excludes accessories, rentals and

athletic or protective clothing. School supplies and school backpacks

with a sales price of less than $100 per item are not taxable.

6 June 2018 | Community Newsletter
---
FLAG DAY

People across the United States celebrate Flag Day on June 14 th each year to

honor the United States flag and to commemorate the flag's adoption. On the

same day, the United States Army celebrates its birthday.

What Do People Do?

Flag Day falls within National Flag Week, a time when Americans reflect on the

foundations of the nation's freedom. The flag of the United States represents

freedom and has been an enduring symbol of the country's ideals since its early

days. During both events, Americans also remember their loyalty to the nation,

reaffirm their belief in liberty and justice and observe the nation's unity.

Many people in the United States honor this day by displaying the American flag

at homes and public buildings. Other popular ways of observing this holiday

include: flag-raising ceremonies, Flag Day services, school quizzes and essay

competitions about the American flag, musical salutes, street parades and

awards for special recognition.

Organizations such as The National Flag Day Foundation are actively involved

in coordinating activities centered on the event and keeping the flag's traditions

alive. Following Flag Day is Honor America Days, a 21-day period through to

Independence Day (July 4 th ) to honor America. During this period, people hold

public gatherings and activities to celebrate and honor the nation.

Panel Upgrades & Installs

Home Generators

Home Inspections

TV/Cable/Phone

Landscape Lighting

Recessed Lighting

Troubleshooting

Ceiling Fans

$25 OFF

$25

ANY

SERVICE CALL!

ANY TIME!

Expires 12/31/18

5-Year

Warranty

RESIDENTIAL & COMMERCIAL

24 HRS A DAY / 7 DAYS A WEEK

713-467-1125

www.wiredes.com

100% Customer Satisfaction Guaranteed!

Master #100394-TECL #22809

Public Life

Although Flag Day is a nationwide observance, it is not a public holiday in many

parts of the United States. It is a legal holiday in a few areas in the USA, such as

Montour County in Pennsylvania.

Background

On June 14, 1777, the Continental Congress replaced the British symbols of

the Grand Union flag with a new design featuring 13 white stars in a circle on

a field of blue and 13 red and white stripes - one for each state. Although it is

not certain, this flag may have been made by the Philadelphia seamstress Betsy

Ross, who was an official flag maker for the Pennsylvania Navy. The number of

stars increased as the new states entered the Union, but the number of stripes

stopped at 15 and was later returned to 13.

In June 1886 Bernard Cigrand made his first public proposal for the annual

observance of the birth of the flag when he wrote an article titled "The Fourteenth

of June" in the old Chicago Argus newspaper. Cigrand's effort to ensure national

observance of Flag Day finally came when President Woodrow Wilson issued a

proclamation calling for a nationwide observance of the event on June 14, 1916.

However, Flag Day did not become official until August 1949, when President

Harry Truman signed the legislation and proclaimed June 14 th as Flag Day. In

1966, Congress also requested that the President issue annually a proclamation

designating the week in which June 14 th occurs as National Flag Week.

The President is requested to issue each year a proclamation to: call on

government officials in the USA to display the flag of the United States on all

government buildings on Flag Day and to urge US residents to observe Flag Day

as the anniversary of the adoption on June 14, 1777, by the Continental Congress

of the Stars and Stripes as the official flag of the United States.

Symbols

The American flag, also nicknamed as "Old Glory" or "star-spangled banner", has

changed designs over the centuries. It consists of 13 equal horizontal stripes of

red (top and bottom) alternating with white, with a blue rectangle in the canton

bearing 50 small, white, five-pointed stars. Each of the 50 stars represents one

of the 50 states in the United States and the 13 stripes represent the original 13

colonies that became the first states in the Union.

Community Newsletter | June 2018

7
---
A sons first Hero

DAD

A daughters first Love

FATHER'S DAY...June 17, 2018

Father's Day in the United States is on the

third Sunday of June. It celebrates the contribution

that fathers and father figures make

for their children's lives. Its origins may lie in

a memorial service held for a large group of

men, many of them fathers, who were killed

in a mining accident in Monongah, West Virginia

in 1907.

What Do People Do?

Father's Day is an occasion to mark and celebrate

the contribution that your own father

has made to your life. Many people send or

give cards or gifts to their fathers. Common

Father's Day gifts include sports items or

clothing, electronic gadgets, outdoor cooking

supplies and tools for household maintenance.

Father's Day is a relatively modern holiday so

different families have a range of traditions.

These can range from a simple phone call or

greetings card to large parties honoring all

of the 'father' figures in a particular extended

family. Father figures can include fathers,

step-fathers, fathers-in-law, grandfathers and

great-grandfathers and even other male relatives.

In the days and weeks before Father's

Day, many schools and Sunday schools help

their pupils to prepare a handmade card or

small gift for their fathers.

Public Life

Father's Day is not a federal holiday. Organizations,

businesses and stores are open or

closed, just as they are on any other Sunday

in the year. Public transit systems run to their

normal Sunday schedules. Restaurants may

be busier than usual, as some people take

their fathers out for a treat.

Background and symbols

There are a range of events, which may have

inspired the idea of Father's Day. One of

these was the start of the Mother's Day tradition

in the first decade of the 20th century.

Another was a memorial service held in 1908

for a large group of men, many of them fathers,

who were killed in a mining accident in

Monongah, West Virginia in December 1907.

A woman called Sonora Smart Dodd was an

influential figure in the establishment of Father's

Day. Her father raised six children by

himself after the death of their mother. This

was uncommon at that time, as many widowers

placed their children in the care of

others or quickly married again.

Sonora was inspired by the work of Anna Jarvis,

who had pushed for Mother's Day celebrations.

Sonora felt that her father deserved

recognition for what he had done. The first

time Father's Day was held in June was in

1910. Father's Day was officially recognized as

a holiday in 1972 by President Nixon.

Source: www.timeanddate.com

C. Paul Shubert, P.C.

Certified Public Accountants

Income Tax Preparation

• INDIVIDUALS • CORPORATIONS • PARTNERSHIPS • ESTATES

Weekend and Evening Appointments Available

4654 Hwy. 6 N. Suite 101 281-556-1040

8 June 2018 | Community Newsletter
---
REASONS TO APPRECIATE DAD

Father's Day is Sunday, June 17th. As we embark on the gift

giving journey for Dad, think about the many reasons to appreciate

your father:

1) They helped you learn how to walk

2) They teach you how to do cool things, like skateboarding!

3) They have their own unique humor

4) They give you realistic expectations about life

5) They teach us hard life lessons

6) Dads make sure their little girls turn into BIG superheroes

7) … and their boys help save the world

8) They want you to believe you can be anything

you want to be

9) They wipe your tears...

10) They advise you to never give up, especially when they

felt they did

Courtesy of: www.buzzfeed.com/erinlarosa/reasons-to-appreciate-your-dad-this-fathers-day?utm_term=.ncZzlJeQP#.

df1GQaNkl

THE SUNSHINE VITAMIN

Feeling tired ALL THE TIME? No energy? Here's a simple solution: the sunshine

vitamin. Vitamin D, also known as the sunshine vitamin, is produced

by the body as a response to sun exposure. Having enough vitamin D is

important for a number of reasons, including:

• It brings calcium to your bones and teeth, helping to protect you against

bone diseases such as osteoporosis. Its role in bone health is probably the

best-known vitamin D benefit.

• It regulates how much calcium stays in your blood, contributing to heart

health.

• It helps strengthen your immune system and regulate cell growth.

Natural sources of vitamin D include egg yolks and cold-water fish such

as tuna, mackerel and salmon. Many foods are fortified with vitamin D,

including:

• Milk

• Margarine

• Yogurt

• Bread

• Breakfast cereals

• Orange juice

• Cheese

• Soy drinks

You need vitamin D to keep your bones healthy and protect against osteoporosis.

Most people get adequate amounts of vitamin D from limited

exposure to the sun and through diet, but people who are inside all day

should consider taking dietary supplements. Consult your doctor for an

individualized recommendation for how much is right for you.

Courtesy of: www.everydayhealth.com/diet-nutrition/

vitamin-d-the-sunshine-vitamin.aspx

Community Newsletter | June 2018

9
---
Air Conditioning Contractors of America

Dated Events

FREE SAT MATH ASSESSMENT AND STRATEGY

Khagola Classes is conducting a free SAT Math assessment and strategy

session. The session will go over sections and subsections and how to

overcome the problem areas. Held at CyFair Library on Barker Cypress

Road on Saturday, June 2, 2018, 8-10 AM. For registration email:

Khagolaclasses@gmail.com or call 619-621-1207.

Extend Life Service A/C Save Money

281-394-0340

Free estimate or 2 nd opinion

$25 off

any

repair

License TACLB 24777E and Insured

Expires 6/30/18

FREE

Duct Inspection

with tune-up

• Annual

Maintenance

Programs

• All repairs

guaranteed

• Serving area

since 1994

0% Interest

financing available

Expires 6/30/18 WAC

Expires 6/30/18

IdealAirServices.com

• Fences

• Decks

• Arbors

Specializing in Home

Inspection Repairs

• Painting - Int/Ext

• General Home Repairs - Int/Ext

• Garage Organization/Clean Up

713-416-79 81

www.shaffer.cc

Serving your community for over 20 years!

License# LI0015123

SPR I N K L E R S

Maintain your system to

conserve water and save money

281-450-1277

Greenedgesprinklers.com

THE LAUREL'S ARMY FOUNDATION HOSTS 2ND ANNUAL

WINE AND A BITE TO FURTHER THE FIGHT

Sunday, June 3, 2018, 6-8 PM

Goode Co. Armadillo Palace, 5015 Kirby Drive, Houston 77098

Please join us for an incredible evening of Food, Drinks and FUN as we raise

critical funds to support pediatric cancer research! You will experience 6 unique

stations, each one serving up a delicious bite from the one-of-a-kind Armadillo

Palace menu that will be paired with a wine or craft beer. We will have live

music and a silent auction. You will also hear from one of the oncologists from

the Solid Tumor team at Texas Children's Cancer Center on how our support

has directly made an impact on her research to improve current treatment

protocols for solid tumors and to ultimately find a cure for these cancers.

The Laurel's Army Foundation is a registered 501(c)(3) organization, formed

by a Cypress, Texas family whose daughter bravely fought and won, her battle

with a rare cancerous solid tumor in 2010. Through this battle, we became

aware of the severe lack of funding available for pediatric cancer research

and institutions that care for these young warriors depend greatly on money

raised by nonprofits like The Laurel's Army Foundation. For more information,

please visit us at www.laurelsarmy.com or find us on Facebook and Twitter

@LaurelsArmy. PRICE: $50 per person, tickets must be purchased online in

advance at www.laurelsarmy.com. For more information please email melissa@laurelsarmy.com.

CORNERSTONE UMC BLOOD DRIVE

SUNDAY, July 8th, 8AM-12:30 PM

Please join us on Sunday, July 8th at the Mobile Unit in our parking lot

at 18081 West Rd, 77095 from 8AM to 12:30 PM. PLEASE go online and

sign up at www.giveblood.org for Cornerstone United Methodist Church.

Thank you in advance for your Commitment to Life!! For more information,

please call the church office at 281-859-4141 or email Michele

Moura at mmoura56@gmail.com.

LOW-COST SPORTS PHYSICALS

Saturday, July 18, 2018, 8 AM-Noon

Sports physicals for area student athletes. Houston Methodist Orthopedics &

Sports Medicine will provide low-cost annual sports physicals for Northwest

Houston-area student-athletes at its clinic. Physicals are $20 (cash only) for ages

12 through 18. Additional testing will be available. EKG testing (for athletes 14

years old and up) will cost $10 and ImPACT Baseline Concussion Testing will

cost $5. Located at 13802 Centerfield Dr., Suite 300, Houston, TX 77070.

ST. ELIZABETH ANN SETON CHURCH

HUGE ANNUAL GARAGE SALE

St. Elizabeth Ann Seton Church (6646 Addicks Satsuma Road) will hold their

Annual Garage Sale July 20-21, 2018. Toys, tools, furniture, electronics,

bikes, home and kitchen supplies and decor, sports equipment, clothing,

shoes, art and more!

Collecting Donations: July 1-July 19, 2018.

Sale Days:

Friday, July 20th, 5-8 PM, come for best selection.

$5 per person, entry fee for ages 16+.

Saturday, July 21st, 7 AM-12 Noon. Free Entry.

CLEARANCE, EVERYTHING MUST GO!

Saturday, July 21st, 1-6 PM. Free Entry. Fill a box or a Bag. Small $1, Medium

$5, Large $10. Furniture and Appliances NEGOTIABLE.

10 June 2018 | Community Newsletter
---
HOLIDAY MARKET VENDOR OPPORTUNITY AWAITS

The Ladies Auxiliary from St. Elizabeth Ann Seton is holding their 26th annual

Gingerbread Village Holiday Market on October 27, 2018. We are located at

6646 Addicks Satsuma Road, Houston, 77041. If you are a vendor who would

like to showcase your arts, crafts, seasonal décor, etc. at our event, please

email: gingerbreadvillage@yahoo.com for more information or application.

THEATER/ARTS

CYPRESS SYMPHONIC BAND CONCERT

The Cypress Symphonic Band will hold their summer concert on Saturday,

June 30th at Cornerstone United Methodist Church, 18081-C West Road,

Houston, TX 77095-5585. The concert will begin at 7 PM. The concert will celebrate

Independence Day and commemorate our veterans with traditional

patriotic music and new favorites. There will also be some fun film music

from The Magnificent Seven, the Avengers and The Natural.

THE TEXAS DOOR EXPERT

Repair - Replace

ANY DOOR

48 Years Experience

832-302-0069

www.txdoorexpert.com

This is their most popular concert of the season so arrive early to get the

best seats! Tickets are available online at the presale rate of $6 (https://

cypresssymphonicband.org/tickets/) and $8 at the door (children under

12 free). Current and past residents of Camp Hope: Interim Housing for

Veterans will receive free admission with proof of service (if possible with

VA card). Don't miss this wonderful musical extravaganza!

STAGEWORKS THEATRE

10760 Grant Road, Houston, TX 77070

A Few Good Men: June 8th-July 1st

Fridays and Saturdays at 7:30 PM Sundays at 3 PM

Website: www.stageworkshouston.org.

MILDRED'S UMBRELLA THEATER CO. MAINSTAGE SEASON

Chelsea Market Theater, 4617 Montrose Blvd. #100, Houston, TX 77006

MUSEUM OF DYSFUNCTION X: June 21-23, 2018 and June 28-30, 2018

Cost: All Shows Pay-What-You-Can

MORE INFO/RESERVATIONS: www.mildredsumbrella.com, info@mildredsumbrella.com

or 832-463-0409.

CYPRESS CREEK FACE

Box Office: 281-440-4850 www.CypressCreekFACE.org

HARRIS COUNTY MASTER GARDENER

The Texas A&M AgriLife extension Service and the Harris County Master

Gardeners are pleased to offer the Green Thumb Gardening Series of

Lectures. These presentations are free and there are no reservations.

For questions please call 713-274-0950.

GREEN THUMB GARDENING SERIES OF LECTURES -

PROPAGATION AND SEED SAVING

June 16th, 2018: 10:30 AM-12:30 PM. Maud Smith Marks Library,

1815 Westgreen Blvd. Katy.

June 19th, 2018: 6:30-8:30 PM. Spring Branch Memorial Library,

930 Corbindale.

Due to Harvey damage, there is no access to the Bear Creek Extension.

Open Garden Day has been relocated to the Weekley Community Center

at 8440 Greenhouse Road, Houston. We won't have outdoor gardens, so

the activities will focus on nature crafts, small plants in pots and games.

OPEN GARDEN DAY, CHILDREN'S ACTIVITIES

June 26, 2018: 10-11:15 AM. Weekley Community Center, 8440 Greenhouse

Rd. Free. Registration required, ogd.harrishort@gmail.com.

WORKSHOP

June 8, 2018: 9 AM-3:30 PM. Trini Mendenhall Community Center, 1414

Wirt Rd., Houston. $45 pp (lunch included). Registration required: www.

aquaponicsworkshop.eventbrite.com.

Community Newsletter | June 2018

Become a Dental Assistant

in just 10 weeks!

Training Since 1995

Approved by the TWC Career Schools and Colleges

www.hdas.biz | For info packet call 281-363-0600 or email admin@hdas.biz

Katy • Clear Lake • The Woodlands

10 Week Course - Tuition $3250 • Payment Plans

Summer Session begins June 30, 2018

11
---
DR. LARA-ANN CLINTON

DR. JOE CLINTON

HWY. 6

Mc Donald's

Bear Creek

Professional

Center

CAIRNWAY

CLAY ROAD

4654 Hwy. 6 North,

Suite 305

NORTHWEST HARRIS COUNTY AGGIE MOM'S CLUB

www.nwhcaggiemoms.org

Calling all NEW AGGIE MOMS!!!

And current Aggie moms!!! We

would love to see you at one of

the Aggie Mom mixers this summer,

hosted by the Northwest

Harris County Aggie Mom's club.

This is a great opportunity for

you to meet other Aggie moms

and to meet members of the

NWHC Aggie Mom's Club, in a

fun & casual get-together! The

dates for the mixers are in June

& July. Please check our website

(above) for details on dates & locations. Come alone or bring another

Aggie Mom with you! Dress is casual.

And please mark your calendars for Tuesday, August 14th at 6:30

PM at the Houston Distributing Company, 7100 High Life Drive,

Houston, Texas!! This is our annual Howdy party and a great way

to meet other Aggie Moms, find out about upcoming events and

enter for a chance to win a door prize! We welcome all Aggie Moms,

whether of freshman Aggies, current Aggie students or former

Aggies. We'd love to meet you!

CY-FAIR SPORTS ASSOCIATION

Cy-Fair Sports Association is having registration for baseball,

football, cheerleading and soccer. Please see our website for more

information www.cy-fairsports.org.

"I'm In PAIN"

Can Chiropractic Help ME ?

We are often asked, "What's the best way of finding out whether or not a doctor

of chiropractic can help my problem?"

We believe the answer can be found in a complete chiropractic consultation and examination,

including x-rays. And to help find out for sure, we will do a complete consultation

and examination, including x-rays, if necessary,

(procedures that normally cost $187.00 or more) for $25.00.

We will make this special program available through June.

The only exception to the offer involves personal injury cases (workers' compensation

and auto accidents) in which there is no charge directly to the patient.

THESE CONDITIONS ARE SOME

OF THE DANGER SIGNALS:

281-855-2277 Headache

Arthritic pain by stiff neck

Loss of sleep

Scoliosis (Curvature of the spine)

Leg pain & numbness

Arm pain & numbness

Backache

Fatigue

Tension

Whiplash Injury

Reg. $ 187.00 Program

Must present ad at time of appointment.

Expires 6/30/18

YOUR INITIAL VISIT WILL INCLUDE:

✓ A private consultation with the doctor.

✓ X-rays, if necessary.

✓ A thorough spinal examination including

orthopedic & neurological test.

✓ A confidential report of our findings.

✓An explanation of our treatment procedure

if we determine chiropractic can help you.

✓A REFERRAL TO THE PROPER SPECIALIST IF WE

DETERMINE CHIROPRACTIC CAN'T HELP YOU.

CHIROPRACTIC HEALTH and WELLNESS CENTER

2018 CANES SUMMER SOCCER CAMP SERIES

Online registration is now open for the 2018 Canes Summer Soccer Camps! The

Canes Camp Series is comprised of two camps: Skills & Drills and Fundamental

Skills Camps. These camps are uniquely designed to cater to your athletes level

and provide him/her a challenging experience and advance their knowledge

of the game in the proper environment. Camps are led by some of Texas finest

coaching professionals. Our professional Staff has extensive camp experience,

hold Youth and National Coaching Licenses with many having coached in the

South Texas ODP and possess a Professional playing background.

Please visit albionhurricanes.org to register and for more detailed camp

information.

Questions?

Tony Johnson: tjohnson@albionhurricanes.org, 713-898-1757

Mark Horton: mhorton@albionhurricanes.org, 713-818-0181

Locations: Spring Branch/Memorial, Katy, New Territory,

Cy-Fair, Dynamic Indoor

SPORTS QUEST SUMMER SOCCER CAMPS 2018

Celebrating 22 years! Online registration is now open for summer

soccer camps 2018! Sports Quest is a non-profit soccer training organization,

dedicated to sharing Biblical truth to reach, teach & encourage

next generation leaders through soccer. Sports Quest summer camps

provide a fun, safe and educational soccer environment for boys and

girls aged 5-12 years. Each camper receives a free soccer ball, a free

camp T-shirt and other commemorative gifts and awards.

Along with technical and tactical soccer skills training, daily competitions

and biblically based life lessons, Sports Quest provides a camp

experience to equip each child for success on and off the field. Early

Bird and sibling discounts are available. For more information about

camp dates, times and locations and to register online visit

www.sportsquesttraining.com.

12 June 2018 | Community Newsletter
---
VBS AT CORNERSTONE UMC

Registration is "Happening Now" at Cornerstone

United Methodist Church for VBS this summer! This

year we'll be experiencing the ride of a lifetime with

God on the Rolling River Rampage! Our River Guides

will help your rafters gain a deeper understanding of

God's amazing love while experiencing an outdoor

camping and rafting themed week! We will share in

crafts, snacks, Bible stories, cool science projects,

team-building games and more! So join us June

11th-15th from 9 AM to Noon for a Vacation Bible

School where we are bringing the outdoors inside!

Visit our website at www.cornerstoneumc.org

for registration forms. Questions? Contact Cody

Bauman at Children@cornerstoneumc.org or call

our office at 281-859-4141. Cornerstone United

Methodist Church is conveniently located 18081

West Rd, Houston, TX 77095 (near the corner of

Barker Cypress and West Rd., across from the Berry

Center and next to the CVS).

MESSIAH LUTHERAN CHURCH VBS

June 11-15, 2018, 9 AM-12 PM

11522 Telge Rd., Cypress, TX 77429

Calling all kids! Join us for Messiah Lutheran Church's

Vacation Bible School - Shipwrecked - Rescued by

Jesus, during the week of June 11th-15th! VBS is a

weeklong interactive time for kids to grow in their faith.

Children ages 3 years-old (potty trained) to 5th grade

are invited to join us each day from 9 AM to Noon.

Each day at Shipwrecked VBS, kids travel through

field-tested rotations that reinforce relevant Bible

Points and immerse kids in new adventures. Every

station is designed to reinforce the daily Bible Point

in a hands-on, interactive way that keeps everyone

engaged. Kids will begin their journey at Castaway

Sing & Play with songs and spend each day at Bible

Discovery, KidVid Cinema, Imagination Station, Ship

Rec Games, Tropical Treats and Sail Away Sendoff.

At Shipwrecked Vacation Bible School, kids experience

God's Word in surprising and unforgettable ways! Each

day, leaders reinforce one simple Bible truth - which

makes it easy for kids to remember and apply to real

life! They will finish each day at Sail Away Sendoff. It is

a week of fun and adventure reminding kids that Jesus

carries you through life's storms! All kids are invited to

join us and spark their imagination at Shipwrecked

VBS! Parents are invited to register their children

online at www.messiahlc.org/vacation-bible-school.

For more information, call 281-890-3013.

SHIPWRECKED VBS AT EPIPHANY

LUTHERAN CHURCH & SCHOOL

Come sail away on a castaway adventure as

we learn that we are rescued by Jesus! At Shipwrecked

VBS your child will learn about God's

Mighty Power. This VBS will be a crowd pleaser

Vacation Bible Schools

filled with fun team building games, music, Bible

adventures, delicious tropical treats and our

favorite Imagination Station where kids get to

make and take home a neat Science-gizmo that

reinforces what they have learned. The youth will

also collect offerings to send seeds of change to

Haiti! VBS is open to all youth ages 3years old

(must be potty trained) through entering 5th

grade. Youth entering 6th grade - adult can register

online to volunteer! VBS is June 11th-15th

from 9 AM-12:30 PM. Register online at www.

elcsh.org. Music CD's are available to purchase

for an additional $10. Scholarships are available.

Epiphany Lutheran Church is located at 14423

West Road, Houston, TX 77041. For more information

visit our websites or call us at 713-896-1773.

West Houston Church of Christ VBS

Calling all Superheroes! Join us June 18th-22nd, 9

AM-12 PM, as we go on an adventure to discover superheroes

of faith. Discover your own super power.

Ages entering K-entering 6th

Cost: FREE (T-Shirt: $10)

Westhoustonchurch.org/vbs

17100 West Rd. Houston, TX 77095

GOOD SHEPHERD UMC VBS

Good Shepherd Vacation Bible School, Shipwrecked,

will be June 18th-22nd from 9 AM-Noon

at 20155 Cypresswood Drive in Cypress. Kids who

turn 4 by September 1, 2018 thru incoming 6th

graders are welcome to attend! The cost is $20 per

child with a max of $60 per family. We can't wait

to share how Jesus' love saves us! Register today

at www.gsumcvbs.com.

CYPRESS CREEK BAPTIST CHURCH VBS

Cypress Creek Baptist Church will be hosting a VBS

this summer from June 18th-22nd. Camp Moose

on the Loose is the theme! Located at 21870 Northwest

Freeway, Cypress TX 77429. For information

and to register, call 281-469-6089.

CYPRESS FAMILY FELLOWSHIP VBS

June 25-29, 2018, 9 AM-Noon

17330 West Little York Rd 77084

Children ages Kindergarten thru 6th grade are

invited to attend Shipwrecked, where they will

discover that Jesus rescues them! They will participate

in Bible learning activities, sing catchy

songs, play teamwork building games, make and

devour yummy treats and experience one of a

kind Bible adventures! "God Sightings" each day

will encourage the children to look for evidence

of God all around them! The day will end with Sail

Away Sendoff, which gets all involved in living what

they've learned! Register online at

www.cypressfamily.org.

CALVARY COMMUNITY CHURCH VBS

What: "Rolling River Rampage VBS 2018"

When: June 25th-29th

Time: 9 AM-12:15 PM

Where: Calvary Community Church,

7550 Cherry Park Drive, Houston, TX 77095

Register online at www.calvaryhouston.com.

SAINT AIDAN'S EPISCOPAL CHURCH VBS

July 9-13, 2018

13131 Fry Road, Cypress, TX 77433

Take an adventure with us for an exciting and adventurous

week, July 9th-13th at VBS! Regular registration

is April 23rd-June 16th, costing $30. Registration

can be found at aidanschurch.org! Our theme this

year is Shipwrecked: Rescued by Jesus. Kids will

learn what it means that Jesus carries us and with

us through life's storms. Registration can be found

at aidanschurch.org. For more information, contact

Taylor Durr at taylor@aidanschurch.org.

VBS AT ST. CUTHBERT CHURCH

Pack your suitcase, we're sailing off to the islands! St.

Cuthbert Episcopal Church invites children to an International

Vacation Bible School: Cruisin' the Caribbean.

Join us the week of July 9th-12th from 9 AM-12 Noon

to experience the sights, sounds, smells and tastes

of the unique cultures at Cruisin' the Caribbean VBS,

where kids discover how much God loves the world.

The children will sing catchy songs, play high-energy

games, dig into yummy tropical treats, experience cool

Bible adventures and explore what daily life is like for

people in the Caribbean islands. Each day concludes

with a closing celebration that gets everyone involved

in living what they've learned. We will celebrate our

week on Sunday, July 15th at 10:30 AM

Cruisin' the Caribbean VBS is for children entering kindergarten

through entering fifth grade. Visit stcuthbert.

org to register your child. St. Cuthbert Church is located

at 17020 West Road at the corner of West and Queenston.

Contact us at vbs@stcuthbert.org or 281-463-

7330. Join us for a Vacation Bible School adventure!

COPPERFIELD BIBLE CHURCH VBS

July 23rd-27th, 10 AM-1 PM

Copperfield Bible Church is hosting Vacation Bible School

for children from 5 to 11 years old. The theme of this year's

VBS is Big Heart Farms - Where God's Fruit Grows. Children

will learn more about the fruit of the spirit, memorize

verses, sing songs, play games and make fun crafts.

There is no charge for VBS, but space is limited. Registration

is on a first-come, first-served basis.

For more information or to request a registration

form, please call 281-550-9321 or email valerie.

phillips@copperfieldbiblechurch.org. Copperfield

Bible Church is located ½ mile east of HWY 6, at

15216 FM 529.

Community Newsletter | June 2018

13
---
summer camps...summer camps...summer camps

SUMMER CAMPS AT EPIPHANY LUTHERAN CHURCH & SCHOOL

Epiphany Lutheran Church & School has your summer wrapped up!

Serving our community for over 30 years, we offer affordable summer

camps for children ages 3 years old (must be potty trained) through

entering 8th grade. Visit our website at www.elcsh.org and click on the

summer camp link to find a complete list of camps and register online.

Our 3-day Mini Camps are for Preschool age 3 - entering First grade.

These camps run Tuesday through Thursday from 9 AM-2 PM. Preschool

camps include Art, Spanish, Science and more! We keep these little

ones busy with engaging and fun activities! Specialty camps for youth

entering Kindergarten through 8th grade run Monday-Friday and vary in

time and cost according to the camps. Our specialty camps include Lego

STEM classes, Sports Camps and Robotics! If you have any questions,

please feel free to contact Beth Hixon, Director of Children's Ministries at

bhixon@elcsh.org or call 713-896-1773. Epiphany Lutheran Church and

School is located at 14423 West Road, Houston, TX 77041.

CAMP CORNERSTONE IS THE PLACE TO BE THIS SUMMER

FOR AGES 2 THROUGH COMPLETION OF 4TH GRADE!

Camp Cornerstone is a week-long camp sponsored by Cornerstone United

Methodist Church and is for children ages 2 through the completion of

4th grade. Children must be 2 by June 1, 2018. Camp hours are 9:30 AM-1

PM. There are 3 sessions throughout the summer and you are invited to

participate in any or all!

plan. This week of Camp Hope, we will see how things can change along

the way. Join in and discover the Great Adventure.

Camp Hope is our three-week day camp for children ages 5 years old

through 6th grade. It is an adult mentored student led ministry. Each

day, children will hear a new Bible story; learn what it means to their

life by creating a craft, eating a snack, playing a game and experiencing

the story through expressive arts and worship. Parents are invited to

register their children online at www.messiahlc.org/camp-hope. For

more information, call 281-890-3013. Messiah is located at 11522 Telge

Road, ½ mile north of Highway 290.

"CAMP READ S'MORE" IS AN EXCITING READING

CAMP FOR KINDERGARTEN THROUGH 5TH GRADE!

This is the third summer this educational and fun reading camp is being

offered at Clay Road Baptist School/Church! Camp hours are from 9 AM-3

PM Monday-Friday. The cost each week is $150 per child. Early drop-off

and late pick-up is available for an additional charge.

"CAMP READ S'MORE" will be offered the weeks of June 4th, 11th, 18th,

25th, July 9th, 16th, 23rd, 30th and August 6th. Each week is a new adventure

with activities, games and more! Don't let your child miss out

on the fun and help your child develop a love of reading!

Contact readsmore2018@gmail.com to get your

"CAMP READ S'MORE" flyer and registration form!

Session I: "Totally Texas" is June 18th-22nd, Session II: "Artistic Creations"

is July 16th-20th, Session III: "Fairy Tale Adventures" is August 6th-10th.

The cost per camp per child is $120. You may pay $60 now and the remaining

$60 on the first day of camp. Registration forms are online or in

the preschool office. To download a form from the Cornerstone website,

go to www.cornerstoneumc.org and click on "preschool." You will see a

tab for Camp Cornerstone. You can print the form and have it filled out

before you arrive, saving yourself time!

Before each camp session begins, you will hear from your child's teacher

so you can learn more about the camp and she will answer any questions

you may have about the week-long fun. Each day your child will bring a

backpack and a lunch as they enjoy each other and the special things they

will do during the week. We look forward to having your child at camp this

summer! It's a great time for everyone and you don't want to miss any of

it! Registration will continue through May 3, 2018 or until camp classes

are full. Please call the preschool office at 281-859-1612 if you have any

questions. The preschool office hours are: Monday-Friday, 9 AM-1 PM.

MESSIAH LUTHERAN CHURCH CAMP HOPE

GET READY FOR THE GREAT ADVENTURE

Week 1, July 9-13, 2018, 9:30 AM-3:30 PM: Set Your Compass.

This week at Camp Hope we will follow some individuals and find out how

they stayed on course on this Great Adventure! Want to join our team?

Then get ready for an amazing ride and set YOUR compass.

Week 2, July 16-20, 2018, 9:30 AM-3:30 PM: Pack Your Bags.

Life is filled with choices. This week we will walk with Jesus as he teaches

us that there are important decisions to make about who we should

be as people of God. What things do we need on this Great Adventure?

Week 3, July 23-27, 2018, 9:30 AM-3:30 PM: Start Your Adventure.

An adventure is filled with excitement but it rarely turns out the way we

STAGEWORKS THEATRE ANNOUNCES ITS SUMMER ACTING

ACADEMY CLASSES, A SUMMER OF EPIC ADVENTURE!

Sign up now for the best summer ever! Stageworks Theatre announces

A Summer of Epic Adventure, its 2018 Summer Acting Academy classes.

Performance and skill-based classes are available for all ages and all

levels of experience. Morning and afternoon classes, as well as one, two

and three week options run all summer long and if needed, before and

after care is offered.

Classes run June 4-August 17, 2018 where kids can put on a show, design

props, sets or costumes while having a blast! Registration is open now.

Go to www.stageworkstx.org for more classes and details.

One-Week Camps

Hogwarts Stagecraft & Wizardry: June 4-8, 2018, 8:30-11:30 AM,

(Ages 5-12) and 1-4 PM (Ages 13-18), cost $150

I Like to Move It Dj Jam &Foley: June 11-15, 2018, 8:30-11:30 AM,

(Ages 5-12) and 1-4 PM (Ages 13-18), cost $150

Descendants Dance/Music Core: June 25-29, 2018, 8:30-11:30 AM,

(Ages 5-12), cost $150

Once Upon a Time: June 25-29, 2018, 1-4 PM (Ages 13-18), cost $150

The Greatest Showman: July 9-13, 2018, 8:30-11:30 AM, (Ages 5-12)

and 1-4 PM (Ages 13-18), cost $150

Stunts, Parkour & Ninja Tricks: July 23-27, 2018, 8:30-11:30 AM,

(Ages 5-12), cost $150

Biology of Fight Choreography: June 4-8, 2018, 1-4 PM

(Ages 13-18), cost $150

Fashionista's Project Runway: July 6-10, 2018, 1-4 PM

(Ages 13-18), cost $150

More camps offered on the website.
---
summer camps...summer camps...summer camps

TWO-WEEK CAMPS

Adventures of Little Red Robin Hood: June 4-15, 2018, 9 AM-4 PM,

(Ages 8-14), cost $300

A Wrinkle in Time: June 4-15, 2018, 10 AM-5 PM, (Ages 11-18), cost $300

Law and Order Fairy Tail Unit: June 18-29, 2018, 9 AM-4 PM, (Ages 8-14)

and 10 AM-5 PM, (Ages 13-18), cost $300

Sinbad The Untold Tale: July 23-August 3, 2018, 9 AM-4 PM, (Ages 8-14)

and 10 AM-5 PM, (Ages 13-18), cost $300

More camps offered on the website.

Three-Week Camps (Musicals)

Madagascar Jr.: June 4-22, 2018, 8:30 AM-3:30 PM, (Ages 6-12), cost $450

Musicville: July 9-27, 2018, 8:30 AM-3:30 PM, (Ages 6-12), cost $450

Kamp Kaos-Musical Version: July 9-27, 2018, 9 AM-4 PM, (Ages 8-14),

cost $450

The Pirates of Penzance: July 9-27, 2018, 10 AM-5 PM, (Ages 13-18),

cost $450

Seussical the Musical: July 30-August 17, 2018, 8:30 AM-3:30 PM,

(Ages 6-12), cost $450

Heathers the Musical: July 30-August 17, 2018, 10 AM-5 PM,

(Ages 13-18), cost $450

If you'd like to discuss what classes are best for your performer, contact

at info@stageworkstx.org or 281-587-6100. Classes will take place at

Stageworks Theatre, 10760 Grant Road, Houston, Texas 77070. Payment

plans are available. (*Details subject to change. No class will be offered

during the July 4th week. All students are invited to an end-of-year celebration

August 18th, 2-5 PM!)

TEXAS A&M AGRILIFE EXTENSION AND THE

HARRIS COUNTY 4-H YOUTH DEVELOPMENT CAMPS

Registration open on Eventbrite for any of these events-$20 per youth $10 Per

Adult. Contact Sheryl Nolen, CEA 4-H at snolen@ag.tamu.edu or call 281-620-

1170 for more information. You do not have to be a 4-H member to participate.

Date: July 24, 2018

Time: 9:30 AM-2 PM

Location: Trini Mendenhall Community Center -

1414 Wirt Rd., Houston, TX 77055

4-H Summer Stitches sew FUN Day Camp. Let's get creative learning to

sew a cute denim purse from re-purposed jeans! Come learn sewing

skills at the Texas A&M AgriLife Extension Service 4-H Summer Stitches

Day Camp. The West Houston Quilters Guild will be providing support for

this fun sewing project. Participants should bring an old pair of denim

blue jeans for the project. We will provide the supplies to embellish and

all the sewing equipment needed to complete the project. This summer

camp is open to all youth 9 years of age or older. Adults are encouraged

to attend. Please purchase an adult ticket to participate. No lunch or

refreshments are provided. All participates should pack their lunch and

bring what they want to consume.

Date: July 19, 2018

Time: 9:30 AM-2 PM

Location: Tracy Gee Community Center -

3599 Westcenter Dr, Houston, TX 77042

4-H Kids That Cook Summer Day Camp is a chance for youth to gain

food preparation skills and test their culinary instincts. Participants

will be hands-on working in teams to prepare recipes and learn about

nutrition for healthy growth. Teams will be challenged by the 4-H version

of "Chopped Junior Chef" to create a recipe from a mystery bag of

ingredients and present their dish to judges. Food Challenge is one of

the most popular 4-H contests and this camp will give participants a

taste of all the excitement! This summer camp is open to all youth age

9 years of age and up. Adults can purchase a ticket to attend. No lunch

or refreshments are provided. All participates should pack their lunch

and bring what they want to eat if they have food allergies or are not

likely to eat what we cook. We provide all the resources and equipment

for the program.

Date: July 24, 2018

Time: 9:30 AM-2 PM

Trini Mendenhall Community Center - 1414 Wirt Rd. Houston, TX 77055

4-H Kids That Cook Summer Day Camp is a chance for youth to gain

food preparation skills and test their culinary instincts. Participants

will be hands-on working in teams to prepare recipes and learn about

nutrition for healthy growth. Teams will be challenged by the 4-H version

of "Chopped Junior Chef" to create a recipe from a mystery bag of

ingredients and present their dish to judges. Food Challenge is one of

the most popular 4-H contests and this camp will give participants a

taste of all the excitement! This summer camp is open to all youth age

9 years of age and up. Adults can purchase a ticket to attend. No lunch

or refreshments are provided. All participates should pack their lunch

and bring what they want to eat if they have food allergies or are not

likely to eat what we cook. We provide all the resources and equipment

for the program.

THE ARC OF KATY'S SUMMER DAY PROGRAM!

THE TIME TO ENROLL IS NOW!

The Arc of Katy is currently taking applications for three Summer Program

sessions for teens and adults with intellectual and development

disabilities who are at least 16 years of age and meet the program's

minimum requirements.

The Day Program will be held Monday through Friday, weekly,

from 8 AM until 3 PM at:

The Arc of Katy

5819 Tenth Street, Suite C

Katy, Texas 77493

Three Sessions are being held this Summer:

Session 1: June 4-June 29, 2018

Session 2: July 2-July 27, 2018

Session 3: July 30-August 17, 2018

Each session will include a variety of fun activities including excursions,

crafts, life skills, games and much more. Summer Program cost is $35

per day and participant must be a current member of The Arc of Katy to

participate. Participants will bring a snack and lunch most days and will

receive an Arc of Katy t-shirt. For more information and forms, please

visit www.thearcofkaty.org.

THE A.D. PLAYERS PERFORMING ARTS ACADEMY

SUPER SUMMER '18

SUPER SUMMER '18 provides educational theatre opportunities for young

artists ages 5-18! Combining CREATIVITY and ENSEMBLE, the Academy

offers a variety of Summer Camps including:

Performance - Two-week Camps plus Showcases

Physical Acting - One Week Camps

Acting Techniques - One-Week Camps

Dance & Movement - One-week Camps

Each camp integrates a strong literary approach enabling students to

explore selections ranging from Alice in Wonderland to The Wizard of Oz

and even legendary heroes from Greek mythology!

A.D. Players Performing Arts Academy

adplayers.org

713-439-0181

Saint Street Studio

2613 Saint St., Houston, TX 77027

Community Newsletter | June 2018

15
---
CYPRESS-FAIRBANKS I.S.D.

WWW.CFISD.NET

Cypress Fairbanks' best kept secret!!

Summer tech camp

Location: Woodard Elementary

17501 Cypress North Houston Cypress, TX

Week 1: June 11-14

Week 2: June 18-21

Hours: 8:00-4:00

Grade Levels: Going into 1st-Going into 6th

Cost per week: $180.00 ($160.00 if paid before May 1st)

Sign up before May 1st

and save $20.00!

Registration ends June 4th

To Register: tinyurl.com/techcamp2018

More information:

● You need to know your child's student id number and Google Account

prior to registering

● A lunch break and recess break are scheduled during the day.

● Students are responsible for bringing their own lunch.

● Variety of topics are dependent upon enrollment.

● No Transportation is provided.

● Class Sizes are approximately 15 or less

● Yes you can register for both weeks, because topics/teachers vary

● Possible camp topics: Green Screen Magic, More Stop Motion, Google

Tools, Osmos and Coding, Google Drawings, Storytelling Once Upon a

Time, Augmented Reality,Robotics, more…

16 June 2018 | Community Newsletter
---
The Cypress Springs High School jazz band.

CFISD VOLUNTEERS HONORED,

RECOGNIZED AT VIPS APPRECIATION EVENT

CFISD honored its numerous school and district volunteers and community

and business partners for their service during the 2017-2018 school year at

the annual Volunteers in Public Schools (VIPS) Appreciation Event on May 2 nd

at the Berry Center, with the ceremony and reception underwritten by PBK.

The following individuals and community and business partners

earned awards:

CFISD Board of Trustees members (from left) Dr. John Ogletree, Don Ryan,

Darcy Mingoia, Debbie Blackshear, Bob Covey and Tom Jackson join Ault

Elementary School students for a cheer routine.

Outstanding Volunteer (Elementary): Carla Soriano,

M. Robinson Elementary School

Outstanding Volunteer (Secondary): Sonia Gutierrez,

Cypress Springs High School

Outstanding Global Volunteer: Cindy Angle, Carlton Center

State Volunteer Award: Cyndi Matteson

Outstanding Mentor (Elementary): Jasmine Hurey,

Moore Elementary School

Outstanding Mentor (Secondary): Vernon Sevier, Cy-Fair High School

Bus Buddies Award: Cornerstone United Methodist Church

Business Partner nonprofit: Greater True Faith Missionary Baptist Church

Business Partner for profit: Auto-Lab of Cypress

Community Engagement nonprofit: Super Six from

Lakewood United Methodist Church (Betty Christian, Doug Hissong,

Bill Huggins, Paula McGuffin,Nancy Schulz and Cheryl Strain) and

Community Engagement for profit: Memorial Hermann Cypress Hospital.

Numerous students provided entertainment and performances during the

event. The Cypress Springs High School jazz band performed during the prelude,

the Cy-Fair Air Force JROTC presented the colors and Cypress Creek High

School senior Alexander Bruce sang the National Anthem.

Other performances included the Cypress Falls High School cheerleaders, Anthony

Middle School glee club, Spillane Middle School percussion ensemble,

Emery Elementary School Cinco de Mayo dancers and Francone Elementary

School Hoopers.

Becky Souther (right), CFISD Volunteers in Public Schools

executive board member, presents Cindy Angle with a certificate

after she was named the outstanding global volunteer

at the Volunteers in Public Schools.

Sampson Elementary School first-grade student Coral Khieu

performs Sonatina during the annual Appreciation Event.

Spillane Middle School seventh-grade students Sophia Harrison and Ali Peiffer

and Hamilton Middle School seventh-grader Katelyn Kilgore performed a

dance routine, Sampson Elementary School first-grade student Coral Khieu

performed Sonatina on the piano and Cypress Ranch High School senior Abigail

Ayala sang I Dreamed a Dream.

The Board of Trustees joined Ault Elementary School cheerleaders for a combined

performance to end the ceremony.

"The VIPS Appreciation Event is a wonderful opportunity each year to recognize

our district volunteers and business partners," said Leslie Francis, CFISD director

of marketing and business relations. "We are so fortunate for the incredible

support from our sponsors, which completely underwrite the event, as well as

our extremely talented students and staff which provide the entertainment."

Community Newsletter | June 2018

Becky Souther (left), CFISD Volunteers in Public Schools executive

Board member, presents Heath Rushing, Memorial

Hermann Cypress and Katy senior vice president and CEO, with

a certificate after Memorial Hermann Cypress Hospital earned

the Community Engagement Award (for profit category).

17
---
s

EPIPHANY FALL PRE-REGISTRATION

FOR 2018-19 SCHOOL YEAR

If you are interested in our 18 month through Pre-K 4/5's classes OR our

School (K-8th grade) classes for the Fall of 2018, we would love for you

to join us. For more information visit our website at www.epiphanylutheranschool.org

or call 713-896-1843 for (K-8th grade) OR 713-896-1316

for (18 mo. through Pre-Kindergarten classes). We would love for you to

join our school family. We are located at 14423 West Rd. @ Jackrabbit.

"We work as unto

the Lord"

Geyer roofinG

Specializing in

Re-Roofing

Ron Geyer

713-462-3898

LITTLE RAMS PRESCHOOL

Cost friendly, full day, preschool for 3 & 4 year olds at Cypress Ridge High

School. Requirements: Must be 3 by September 1st, live in/or work for CFISD

and be fully potty trained. Our times are 8:30 AM-2 PM Tuesday-Thursday.

We incorporate circle time, learning centers, core learning and field trips. We

are now registering for the 2018-2019 school year, which begins in October

and ends in May. For more information or to register please contact Rachel

Campise - Director by email at rachel.campise@cfisd.

PRIVATE SCHOOLS

RESIDENTIAL &

COMMERCIAL

REMODELING

• Kitchens • Bathrooms • Windows / Doors • Floors • Hardi Siding

• Rooms Additions • Complete Renovations • Patio Covers

Rob Geyer

MPL#40046

281-477-3456

Any job

over $95

For all of your plumbing needs! ONE CALL DOES IT ALL!

info@petersplumbingtx.com

Sewer Camera Inspection and Drain Cleaning

Garbage Disposal and Faucet • Water Heater • Repipe

Water Leak Detection • Pipe Repair • Toilet Installation

Follow me on

Licensed and Insured

FREE ESTIMATES

Low Price Guarantee

TEXAS CHRISTIAN SCHOOL ACADEMIC

COMPETITION CHAMPIONS

Texas Christian High School sent 15 students to Academic & Fine Arts

Competition in San Antonio this Spring. The students competed in

Ready Writing, Science, Creative Writing, Advanced Math, Current

Events, Number Sense, Sculpture, Oil Painting, General Crafts, Music,

Instrumental Solo, On Sight Drawing and much more. The students

came home with 20 awards ranging from 1st-6th place. Seven of those

places were 1st & four were 2nd. The TCS Tigers could not be more

proud of how well our students performed. Way to go Tigers!!!

COVENANT ACADEMY CLASSICAL CHRISTIAN

SCHOOL NEWS

CovenantAcademyHouston.org, 281-373-2233

11711 Telge Road

LICENSED

HEAT

FREE 1st lb. Freon (R410 only)

1/2 Priced Condenser Coil Cleaning

1 Yr. Warranty On Parts Changed

We Value Your Business

All Brands Serviced

Local Neighborhood Company

Fast Personalized Service

We Will Heat & Cool Your Castle!

TACLB021058E

INSURED

COOL

Congratulations to 5th Grader Caleb

Mathew! Caleb won 1st place at the ACSI

District Spelling Bee in Huntsville, then won

3rd Place at the District Level spell-off for

grades 5th-8th, moving on to compete at

The South Central Regional Spelling Bee in

Plano, TX. He's the first Covenant Academy

Patriot to represent at the Regional level!

18 June 2018 | Community Newsletter
---
9191 Barker Cypress Rd.

REGISTER FOR MINI-MESTER,

SUMMER AND FALL

Registration is now open for Summer

classes starting June 4th. Fall registration

PERSPECTIVE began April 9th. Register at the Barker

Cypress campus located at 9191 Barker Cypress, the LSC-Fairbanks Center

location located at 14955 Northwest Freeway or the new LSC-Cypress Center

located at 19710 Clay Road. Registration is also available online at LoneStar.

edu/registration or call 281-290-3200 or 832-782-5000 or 832-920-5000 for

information. For Weekend College information, call 832-482-1070 or go to

LoneStar.edu/weekend-college.

Truth, goodness and beauty can be experienced in many forms.

This year Covenant Academy students submitted 35 pieces of

art in the ACSI's Art Festival in Bellville, Texas on April 6th. Congratulations

to all our Patriots for their award winning creations!

Our mission is to partner with parents

to help our students become

discerning, articulate followers of

Christ. On May 9th, freshman Joaquin

Rivera was awarded Patriot

Speech Champion for presenting

a selection from Homer's "The

Iliad." Thank you to guest judges

Roosevelt Wilson and Beverly Smith

from Harbor Christian Academy and

our own Jimmie Ryan for helping us

determine our 2018 Champion!

IT'S TIME TO REGISTER FOR DISCOVERY COLLEGE

SUMMER YOUTH PROGRAM

Registration is open for Lone Star College-CyFair's popular Discovery College for

ages 6-14. Morning sessions begin at 8:30 AM and afternoon sessions begin at 1

PM and are held June 11th-28th and July 9th-12th. Discovery College programs

are focused on STEM (Science, Technology, Engineering and Math), performing

arts, physical activity and more, with some sessions designed for teens for

building self-esteem, setting goals and planning for college. Sessions are held

at the Barker Cypress campus. The cost of the week-long sessions is $115 per

class. For registration or information, go to LoneStar.edu/youth-classes-cyfair.

PARKING PERMITS AVAILABLE FOR LSC VISITORS,

GUESTS AND LIBRARY PATRONS

Visitors, guests and library patrons may park without a permit in designated

visitor parking areas. However, a daily or yearly permit is now available allowing

for extended parking privileges at Lone Star College System campuses. Vehicles

must be registered with LSCS to get a valid parking permit, to park in LSCS lots

and to avoid receiving a citation. To register, you will need your vehicle's license

plate number, make, model and color. Go to LoneStar.edu/Parking for complete

information on parking permits, call 281-765-7836 or email parking@lonestar.edu.

Whether you need advertising, printed materials, branded merchandise,

a website or other marketing for your business...

We Have The Solution For Your Business!

Krenek Printing

NEIGHBORHOOD NEWSLETTERS

LLC

SERVICES:

Advertising • Layout Design

Printing Services

Flyers • Brochures • Pamphlets

Newsletters • Postcards • Envelopes

Mailing Services

Direct (EDDM) • Bulk • First Class

Branded Merchandise • Marketing Services

YOUR AD COULD

BE HERE!

281-463-8649 • 7102 Glen Chase Ct, Houston, Texas 77095 • www.KrenekPrinting.com

Community Newsletter | June 2018

19
---
Krenek Printing

NEIGHBORHOOD NEWSLETTERS

www.krenekprinting.com

281-463-8649

LLC

Summer Reading

Library News

KATHERINE TYRA (BEAR CREEK) PUBLIC LIBRARY

16719 Clay Road, Houston, TX 77084, 281-550-0885

Our hours are: Monday - 1 PM - 8 PM, Tuesday/Thursday - 10 AM - 6 PM,

Wednesday -10 AM - 8 PM, Friday - 1 PM - 6 PM, Saturday - 10 AM - 5 PM.

RESIDENTS:

Please support the businesses within

this newsletter. It is because of their support

that you receive this paper at no charge

to you or your HOA.

Share your community news with us.

Non-profit, scouts, school, dated events, etc.

send to news@krenekprinting.com

ADVERTISERS:

Want your ad to be placed in this newsletter

and mailed to the homeowners every month?

For more information, pricing or to view

newsletters online please visit

www.krenekprinting.com or email

ads@krenekprinting.com

BUSINESS FINDER:

Search for businesses in your local area

and find great deals on the goods and

services you are looking for!

NEWSLETTERS:

View your newsletter online! You can

read your community news on our website

or download it to take with you and print.

Archived issues are also available.

MOBILE:

You now have access to our full website optimized for

your mobile device, making it even easier to find the

things you need on the go!

MORE:

Find information about advertising

opportunities, article submissions, our

company, frequently asked questions,

and submit your classified ads online.

NOW OFFERING FULL COLOR

PRINTING SERVICES!

Call today for a quote!

Library Closed Until Further Notice

Due to flood damage, the Katherine Tyra Library at Bear Creek will be closed until further

notice. Please join us for the following events at the locations below:

• Katherine Tyra Bear Creek Popup Library at Clay's Restaurant - Thursdays from

11 AM to 3 PM, located at 17717 Clay Rd., Houston, TX 77084,

• Katherine Tyra Bear Creek Popup Library at Bear Creek United Methodist Church -

Tuesdays from 11 AM to 3 PM, located at 16000 Rippling Water, Houston, TX 77084

(in mobile building rooms Hope 1 & Hope 2).

The Katherine Tyra Bear Creek popup libraries include storytime, crafts for children,

laptops with internet access for public use and several types of books for all ages are

available to checkout. Patrons can also return materials that they've borrowed. There

will be a late afternoon Pokemon Club for teens after 4 PM. For details about the Pokemon

Club, call Shandy at 713-466-4438.

ADULTS

• Conversational ESL - Tuesdays, 12-1 PM at Bear Creek United Methodist Church,

16000 Rippling Water, Houston, TX 77084 (In room Hope 1). Join us at this free class to

practice your English language conversation skills. Learn new words and improve your

English.

• Mystery Book Club - 11 AM, located at Whataburger, 5815 Hwy 6 N., Houston, TX 77084.

All sleuths and amateur Sherlocks heed this call! Join the Mystery Book Club on the third

Thursday of each month to discuss tantalizing mysteries. This month we will discuss

Plum Lovin' by Janet Evonovich.

• Savvy Stitchers - Thursdays, 2-3 PM at Clay's Restaurant, 17717 Clay Rd., Houston, TX

77084. Join us at this informal crafting group. Bring your stitching, crochet, knitting or

other fabric project to work on. Share ideas and learn new techniques from others.

CHILDREN

• Pokemon Club - Thursdays, 4:30-5:30 PM at Clay's Restaurant, located at located at

17717 Clay Rd., Houston, TX 77084. This program is for school-age children and young

adults. Be sure to bring your Pokemon cards or Nintendo DS if you'd like.

• Preschool & Toddler Storytime - 11:15 AM at Clay's Restaurant on Thursdays AND at Bear

Creek United Methodist Church on Tuesdays. Clay's Restaurant is located at

17717 Clay Rd., Houston, TX 77084. Join us for fun, singing, dancing, stories & crafts.

• Infant Time - Tuesdays at 2 PM only at the Bear Creek United Methodist Church, 16000

Rippling Water, Houston, TX 77084. Storytime for children 0-18 months and their caregiver.

Songs, finger plays, rhymes and toys.

All programs are free and open to the public. For more information call 281-550-0885 or

log on to www.hcpl.net.

LONE STAR COLLEGE - CY-FAIR LIBRARY

9191 Barker-Cypress Road, Cypress, TX 77433 281-290-3210

HOURS: Monday through Thursday, 7 am-10 pm, Friday-Saturday, 8 am-6 pm

and Sunday, 1 pm-6 pm.

• FRIENDS OF THE LIBRARY - The LSC-CyFair Friends Bookstore accepts gently used books

year-round, offering them to the public for a set donation amount. The store is open six

days a week and staffed by volunteers. Proceeds support library programs. Help support

our community library.

• CyFair Library Branch Blog page at http://hcpl.net/location/cy-fair-college-library,

for news and events about the library and college and in the community.

20 June 2018 | Community Newsletter
---
• Facebook at LSC-CyFair Branch Library.

• weekly events & programs email reminder, the Library eUpdate: subscribe

at LoneStar.edu/library/16099.

Note: All programs are subject to change. Please contact the library or visit

the website for up-to-date information.

ADULT EVENTS & PROGRAMS

Book Clubs: Back in Time: Historical Fiction Book Club - 1 PM, LRNC 131

Book Clubs: Books without Borders – 1 PM, LRNC 131 or 7 PM, LRNC 215

Book Clubs: I Love a Mystery Book Club - 12 PM, LRNC 131

Joel Muller

281-304-9488

11740 Barker Cypress

www.joelmuller.com

Hablamos Español

Providing Insurance

and Financial Services

Home Office: Bloomington, Illinois 61710

Common Thread: Knitting, Crocheting and Needlework Group

Tuesdays: 9-10:30 am, LRNC 116.

Computer Workshops, LRNC 105

Call for info.

eBook/eReader Workshops

eBooks Appointments now available. Make an appointment

at Lonestar.edu/library/15938.

ESL: Talk Time - LoneStar.edu/library/15209

Mondays, 1-2 PM, LRNC 215

Tuesdays, 2:45-3:45 PM, LRC 215

Spanish Conversation Club

Mondays, 1-3 pm, LRNC 131

Wednesdays, 6:30-7:30 PM, LRNC 118

ADULT LIBRARY PROGRAMS

See the full schedule of Adult Programs and Activities at

LoneStar.edu/library/cyfair-adults-LoneStar.edu/library/cyfair-adultsservices

or call 281-290-3214/3218.

Note: All programs are subject to change. Please contact the library or visit

the website for up-to-date information.

TEEN EVENTS & PROGRAMS

Book Club: (Registration required)

Screen - Play:

Tweens & Teens only (ages 10 - 18) 5-6 PM: Games, 6 PM: Movie - Teen Room.

See the full schedule of Teen's Programs and Activities at

LoneStar.edu/library/cyfair-children-services.

CHILDREN EVENTS & PROGRAMS

• Mondays: Baby Time (6-24 months) - 9:30 AM, 10:30 AM, 11:30 AM.

• Tuesdays: Toddler Time (2-3 1/2 years) - 9:30 AM, 10:30 AM, 11:30 AM.

• Wednesdays: Preschool Time (3-6 years) - 9:30 AM, 10:30 AM, 11:30 AM.

• Thursdays: Spanish Time/Tiempo de cuentos (2-6 years) - 11 am

Baby Pajama Time:

1st Tuesday, 6 PM (up to 24 months)

family Storytime:

2nd Tuesday, 6:30 PM (all ages)

Family Fun Activities, 5 PM:

Thursdays, for children of all ages. Limited to 40 children.

Family Game Night:

Thursdays at 6:30 PM. For children of all ages. Limited to 40 children.

See the full schedule of Children's Programs and Activities at LoneStar.edu/

library/cyfair-children-services. All programs are free and open to the public.

Community Newsletter | June 2018

21
---
JUNE/JULY 2018 HOUSTON AREA EVENTS AND ROAD TRIPS

June 2 nd - Vegandale is proud to take our utopia on the road,

hosting Vegandale Food Drink Festival in four cities for 2018.

At these festivals, veganism is celebrated through food, drinks,

music and art with hundreds of vendors & 75,000+ guests in

attendance. The event is held at Sam Houston Park, 1100 Bagby,

Houston 77002 from 11 AM-7 PM. Eary Bird admission is $10. For

more information, visit www.vegandalefest.com.

June 2 nd -This summer, Galveston will host a free, family friendly

event series to help beachgoers create spectacular sandcastles

with tips from the pros. Visitors to Stewart Beach can participate

in "Sandcastle Days" events to receive free sandcastle building

lessons from a professional sandcastle builder. The events will

take place each Saturday this summer from June 2 nd thru August

18 th . Each event will begin with an instructor building a sandcastle

from 8-11 AM followed by lessons at 11 AM, 1 PM and 3 PM.

Equipment will be provided on a limited basis and participants

are encouraged to bring their own sand buckets and shovels.

Registration is not required. The lessons will take place on the

sand near the Stewart Beach Pavilion. Stewart Beach is located

at 201 Seawall Blvd. It is home to helicopter tours, a pavilion,

volleyball courts, a children's playground, restrooms, showers,

chair and umbrella rentals and concessions. Parking at Stewart

Beach costs $15 per car during Sandcastle Days events. For more

information, visit www.galvestonbeachinfo.com.

June 7 th - H-E-B Wine Walk at Market Street. There is loads of

fun to be had at this year's H-E-B Wine Walk at Market Street,

as live music from Mango Punch will have the crowds swinging

and swaying while sipping on their favorite beverage. Attendees

grab a keepsake glass and enjoy an evening out with friends as

Market Street is transformed into a 34-acre wine walkabout with

wine industry experts sharing their fruit of the vine. Upgraded VIP

tickets offer the finest wines and lounging area on Market Street

and get an early start before the crowds. Participate in the John

Cooper School Signature Series charity wine pull. You can be one

of the lucky ones to take home a premium bottle of wine for a $10

donation. Everyone who participates in the wine pull gets a bottle

of wine. Two live music stages fill the air with lively entertainment.

For more information, visit

www.wineandfoodweek.com.

June 7 th - TECHSPO Houston 2018. Where Business, Tech and

Innovation Collide in Houston! TECHSPO Houston 2018 is a

two-day technology expo that brings together developers,

brands, marketers, technology providers, designers, innovators

and evangelists looking to set the pace in our advanced world

of technology. Exhibitors showcase the next generation of

technology and innovation including Internet, Mobile, Adtech,

Martech and SaaS technologies. Be prepared to be inspired,

amazed and educated on how these evolving technologies will

impact your business for the better. If the conference is where the

learning, theory and inspiration happens, then the TECHSPO floor

is where the testing, networking and product interaction takes

place. The TECHSPO floor is free to attend (for a limited time!) For

more information, visit www.techspohouston.com.

June 15 th -17 th - Galveston Cajun Crawfish Festival. The third

annual Galveston Cajun Festival, which is set for Father's Day

weekend, June 15 th -17 th , will celebrate the best of Texas- and

Louisiana-styled food, family fun and live entertainment - island

style! The grand event will be held on the beautiful grounds of

Beach Central Park at the Hotel Galvez, 2102 Seawall. The festival

will take place rain or shine! Festival hours will be from 5 PM to 11

PM June 15 th , 11 AM to 11 PM June 16 th and 11 AM to 5 PM June

17 th . The festival will feature a wide variety of Cajun food vendors,

kid rides and live music from a wide array of performers across a

variety of genres. Admission is $6 for adults. Kids 10 & under FREE!

A portion of proceeds will go toward local charitable organizations

in the area. For information, visit

www.facebook.com/galvestoncajunfestival or call 409-359-3045.

June 23 rd - Houston LGBT Pride Celebration. Hundreds of

thousands of spectators are expected to attend the 2018 Houston

LGBT Pride Celebration® on June 23 rd ! Last year, one of the oldest

and largest pride events in the South moved to Downtown

Houston with the theme Heroes. This year promises to be another

mega event! The day of festivities kicks off with the Pride Festival

from 12 PM to 7 PM at Hermann Square in front of City Hall. The

parade follows at 8:30 PM along a route through the western edge

of Downtown. For more information, visit www.pridehouston.org.

July 1st - Fulshear's Freedom Festival 2018 - Red, White and

Boogie. In Downtown Fulshear from 6-9:30 PM there will be street

dancing, vendor booths, a children's area, food trucks, fun &

games and a fireworks show. For more information, call 832-600-

3221.

July 4 th - Freedom Over Texas. Celebrating more than 30 years of

July 4 th music, fireworks and fanfare on Buffalo Bayou, Houston's

signature patriotic event - CITGO Freedom Over Texas - will turn

it WAY up with live performances, family activities and stunning

pyrotechnics Wednesday, July 4 th from 4 PM-10 PM. As is tradition,

the evening will conclude with a spectacular blast of fireworks

thanks to CITGO who has provided the finale since 2015. This

year, CITGO signed on as a dual sponsor providing both the

pyrotechnics and titling the event for the next three years. For

more information, visit

www.houstontx.gov/specialevents/.

July 4 th - City of Galveston Independence Day Parade and

Fireworks. Nothing says "summer on Galveston Island" better

than the 4 th of July! Don't miss this wonderful evening with a

glittering parade followed by a dazzling fireworks display over

the Gulf! Coming up the evening of July 4 th , Galveston Island will

celebrate its annual Independence Day with a parade featuring a

procession of floats, decorated military vehicles and performers.

The parade will kick off at 7:30 PM with a procession on Seawall

Boulevard starting at 59 th Street and ending at 22 nd Street. After

the parade, the island will host a 20-minute fireworks show

over the Gulf of Mexico at 9:15 PM near 37 th Street and Seawall

Boulevard. For more information, visit www.cityofgalveston.org.

22 June 2018 | Community Newsletter
---
JUNE IS NATIONAL CAMPING MONTH

The sun is up, the birds are singing and the mosquitoes are finally hatching from their

larval phase. Ok, it isn't all rainbows and fresh fish, but June is Camping Month and it's a

great opportunity to get outside with the family and enjoy the great outdoors. Research

shows that people who spend time camping are happier, more relaxed and tend to buy

more bug repellant. What? We don't like mosquitoes any more than you do, but we do

love camping! Who doesn't love sitting under the stars roasting marshmallows and

making S'mores or waking up to the smell of wood smoke and bacon?

What is likely the first commercial campground opened in Douglas,

Isle of Man in 1894 and was called Cunningham's Camp. From this

point in history all sorts of new types of camping came into existence,

from mere weekend family getaways, to RV camping and everything

in between. Whether rafting down a river in a Canoe and setting up

camp in the evening or hiking into the woods far from civilization with

a backpack full of your gear, Camping Month celebrates them all.

HISTORY OF CAMPING MONTH

While there was a time when 'camping' was just called 'being alive,' that all

changed in the 1800's when a man named Thomas Hiram Holding began to

popularize the idea of recreational camping. Camping was a part of his life

introduced to him by the rigors of the Oregon Trail and once he had settled it

turned into a passion he pursued and introduced to others. Once camping in

general had become popularized, Thomas went on to introduce the idea of Cycle

Camping to the American world. This is, quite simply, where you load up on a bike

and ride until you find a spot to camp, get up the next day and do it all over again.

HOW TO CELEBRATE CAMPING MONTH

Well, this has got to be the easiest answer ever, GO CAMPING. Even if

it's just a pop-up tent and sleeping bag in your backyard under the

stars, get out there and reconnect with the great outdoors. There's a

place to find your soul and set your mind to peace out in the great

distant woods and they're calling all of us to head back out there and

find ourselves. So pile into your car, find yourself some secluded spot

to set up a tent and celebrating Camping Month by going camping!

Source: Days of the Year Website

The charm of the Lone Star State comes from the fact

that it's a special blend of country and cosmopolitan.

You can get a pretty good picture of Texas from the top of

Reunion Tower in Dallas. But most Texans know that to

really take in the Great State in all its rugged glory, all you

need to do is grab a tent and head into the wilderness.

Here are the 10 Best Places to Camp in Texas:

RAY ROBERTS LAKE STATE PARK

Ray Roberts Lake State Park is situated on a 3,000-acre

reservoir just north of the hustle and bustle of Dallas.

Campers here are encouraged to hike miles of trails

and primitive camping is available for the practiced

adventurer. The highlight of the park, though, is the

clean beach and easy lake access. Ray Roberts Lake is

so big it can often feel like a seaside bay. Folks out here

boat, ski, swim and fish away the stress of the city in

style. The park is also home to multiple marathons

throughout the year.

LAKE BOB SANDLIN STATE PARK

Campers of Northeast Texas know that it doesn't get

much more patriotic than spotting the majestic eagles

during winter trips to Lake Bob Sandlin State Park. For

the camper that is also an avid fisherman, Lake Bob

Sandlin is a great spot for largemouth bass, spotted bass

and bluegills.

INKS LAKE STATE PARK

Tucked away in the Texas Hill Country is Inks Lake

State Park. Hill Country topography mixes with the

pristine water of Inks Lake to create a perfect camping

experience. On land, campers can backpack, geocache

and bird-watch. And on water, campers can boat, ski,

fish and even dive from the cliffs at the popular Devil's

Waterhole section of the lake.

10 BEST PLACES TO CAMP IN TEXAS

PALO DURO CANYON STATE PARK

The Texas Panhandle is home to Palo Duro Canyon,

"The Grand Canyon of Texas." Campers here can hike,

bike or horseback through the canyon and view the

multicolored rocks, caves and hoodoos (rock towers).

Palo Duro is also home to the Texas Outdoor Musical,

which runs June through mid-August.

CAPROCK CANYONS STATE PARK

Campers flock to Palo Duro's neighbor, Caprock

Canyons State Park for both its awesome hiking and

its magnificent wildlife–namely, the Official Bison Herd

of the State of Texas. Over 10,000 acres are reserved

for these bison that descended from a herd started by

Charles Goodnight in 1878. The park is also known for its

steep cliffs and drop-offs, which offer experienced hikers

and mountain bikers a challenging adventure.

DAVIS MOUNTAINS STATE PARK

Out in West Texas, Davis Mountains State Park offers

a definitively Texan experience. Here, campers are

encouraged to bring their horses to camp. Horseback

riding trails in the park rise up to 5,700 feet. Don't fret

if you happen to leave your trusted steed at home.

Davis Mountains State Park also offers hiking, mountain

biking, bird watching and stargazing tours.

PADRE ISLAND NATIONAL SEASHORE

Camping along the Gulf Coast on the Padre Island

National Seashore is a completely unique experience.

The sand and the sea provide ample opportunity for

the beach-loving camper. Here, campers can watch

newborn sea turtles take to the ocean for the first time,

sea kayak below a pod of pelicans and fish for their

dinner.

COLORADO BEND STATE PARK

Located an hour-and-half down to the west of Austin,

Colorado Bend State Park is a go-to destination for

adventurous Texas campers. The popular highlight

of the park is Gorman Falls, a 65-foot waterfall that

runs year-round in the park. But stick around a little

longer and you'll find several miles of swimming holes,

hardcore mountain biking and wild cave tours that

include rappelling.

BIG THICKET NATIONAL PRESERVE

Variety is key at Big Thicket National Preserve in

Southeast Texas, where the journey is just as important

as the destination. Very few roads lead into the park.

Visitors at Big Thicket are encouraged to canoe, hike,

bike or horseback into the primitive campsites spread

throughout the 112,500 acres of land and water that

cover seven counties inside the park.

BIG BEND NATIONAL PARK

Over in Far West Texas, running the span of 114 miles

down the Rio Grande, Big Bend National Park offers

the best roadside and primitive camping in Texas.

Experienced backpackers can take to the highest points,

at nearly 8,000 feet, for a totally isolated adventure. Big

Bend is home to 4,000 species of animals and insects,

as well as fossilized dinosaur bones. Campers can

also kayak the Rio Grande along St Elena and Mariscal

Canyons for some of the most beautiful views in all of

Texas.

Friendly Tip: Always research the parks you plan on

visiting for information on the best time to visit and the

best materials to pack for your next adventure.

Source: Wide Open Country Website

Community Newsletter | June 2018

23
---
PREPARE FOR HURRICANE SEASON NOW

Source: http://archive.tcpalm.com/weather/hurricane/News-you-can-use-to-prepare-for-possible-tropical-storm-391033721.html

24 June 2018 | Community Newsletter
---
2018 ATLANTIC HURRICANE SEASON

The 2018 Atlantic hurricane season is an upcoming event in the annual

formation of tropical cyclones in the Northern Hemisphere. The season

will officially begin on June 1, 2018 and end on November 30, 2018.

These dates historically describe the period each year when most tropical

cyclones form in the Atlantic basin and are adopted by convention.

However, the formation of tropical cyclones is possible at any time of

the year.

Ahead of and during the season, several national meteorological

services and scientific agencies forecast how many named storms,

hurricanes and major (Category 3 or higher on the Saffir-Simpson

scale) hurricanes will form during a season and/or how many tropical

cyclones will affect a particular country. These agencies include the

Tropical Storm Risk (TSR) Consortium of the University College London,

the National Oceanic and Atmospheric Administration (NOAA) and

Colorado State University (CSU). The forecasts include weekly and

monthly changes in significant factors that help determine the number

of tropical storms, hurricanes and major hurricanes within a particular

year. Some of these forecasts also take into consideration what

happened in previous seasons and an ongoing La Niña event that had

recently formed in November 2017. On average, an Atlantic hurricane

season between 1981 and 2010 contained twelve tropical storms, six

hurricanes, and three major hurricanes, with an Accumulated Cyclone

Energy (ACE) index of between 66 and 103 units.

Pre-season outlooks

The first forecast for the year was released by TSR on December 7,

2017, predicting a slightly above-average season in 2018, with a total

of 15 named storms, 7 hurricanes and 3 major hurricanes. On April 5,

2018, CSU released their forecast, predicting a slightly above-average

season with 14 named storms, 7 hurricanes and 3 major hurricanes.

On the same day, TSR released their second forecast on the same day

and called for a slightly-below average hurricane season, predicting

12 named storms, 6 hurricanes and 2 major hurricanes, due to recent

anomalous cooling in the far northern and tropical Atlantic. Several

days later on April 16 th , North Carolina State University released their

predictions, calling for a well above-average season, with 14-18 named

storms, 7-11 hurricanes and 3-5 major hurricanes. On April 19 th , The

Weather Company released their first forecasts, calling for 2018 to be

a near-average season, with a total of 13 named storms, 7 hurricanes

and 2 major hurricanes.

Storm names

The following list of names will be used for named storms that form

in the North Atlantic in 2018. Retired names, if any, will be announced

by the World Meteorological Organization in the spring of 2019. The

names not retired from this list will be used again in the 2024 season.

This is the same list used in the 2012 season, with the exception of the

name Sara, which replaced Sandy.

Ugly Algae or Mildew?

Soft or Pressure Wash

• Driveways

• Sidewalks

• Patio/Decks

832-725-4429

• Pool Area

• Siding

• Brick

www.facebook.com/TexasCommercialPressureWashing

Water Heaters • Drain Problems

Faucet Installation & Repair

Gas Test • Water Leaks & Much More

35+ Years Experience • Cypress Resident

832-890-8449

TonysPlumbing57@hotmail.com

Always there for you!

$30 off

any Job

Over $95

Low Price Guarantee

Licensed & Insured

FREE ESTIMATES

MPL#40815

Alberto, Beryl, Chris, Debby, Ernesto, Florence, Gordon, Helene, Isaac,

Joyce, Kirk, Leslie, Michael, Nadine, Oscar, Patty, Rafael, Sara, Tony,

Valerie and William. Source: Wikipedia.org

Community Newsletter | June 2018

25
---
June Recipes & Garden Tips

You could make these on

National Eat Your Vegetables Day June 17 th !

Zucchini Tots

Loaded with zucchini and carrots, these

tots do not even taste healthy! It's the perfect

way to sneak in veggies, and it's just so

good!

INGREDIENTS:

2 zucchini, shredded

1 teaspoon salt

2 carrots, peeled and shredded

1/2 cup Panko*

2 large eggs

1/4 cup shredded cheddar cheese

2 tablespoons freshly grated Parmesan

1/2 teaspoon dried basil

1/2 teaspoon dried oregano

1/4 teaspoon garlic powder

1/4 teaspoon onion powder

Pinch of cajun seasoning

Kosher salt and freshly ground black

pepper, to taste

2 tablespoons chopped fresh parsley

leaves

Directions:

Preheat oven to 400 degrees F. Lightly oil

a baking sheet or coat with nonstick spray.

Place grated zucchini in a colander over

the sink. Add salt and gently toss to combine;

let sit for 10 minutes. Using a clean

dish towel or cheese cloth, drain zucchini

completely, removing as much water as

possible. Transfer zucchini to a large bowl.

Stir in carrots, Panko, eggs, cheeses, basil,

oregano, garlic powder, onion powder

and cajun seasoning; season with salt and

pepper, to taste. Form zucchini into tots

and place onto the prepared baking sheet.

Place into oven and bake until golden

brown and crisp, about 16-18 minutes,

flipping during the last 10 minutes of

cooking time.

Serve immediately, garnished with

parsley, if desired.*

*TO FREEZE: Transfer cooled tater tots

to an airtight container. Freeze up to 1

month. To bake, preheat oven to 400 degrees

F and bake until heated through,

about 15-17 minutes.

This delicious recipe brought to you

https://damndelicious.net/2015/08/08/

zucchini-tots/

Roasted Vegetables

INGREDIENTS:

1 small butternut squash, cubed

2 red bell peppers, seeded and diced

1 sweet potato, peeled and cubed

3 Yukon Gold potatoes, cubed

1 red onion, quartered

1 tablespoon chopped fresh thyme

2 tablespoons chopped fresh rosemary

1/4 cup olive oil

2 tablespoons balsamic vinegar

salt and freshly ground black pepper

DIRECTIONS:

Preheat oven to 475 degrees F (245 degrees C).

In a large bowl, combine the squash, red bell

peppers, sweet potato and Yukon Gold potatoes.

Separate the red onion quarters into

pieces and add them to the mixture.

In a small bowl, stir together thyme, rosemary,

olive oil, vinegar, salt and pepper. Toss

with vegetables until they are coated. Spread

evenly on a large roasting pan.

Roast for 35 to 40 minutes in the preheated

oven, stirring every 10 minutes or until vegetables

are cooked through and browned.

http://allrecipes.com/

Pralines

You could make this on

National Pralines Day June 24 th !

INGREDIENTS:

1 1/2 cups toasted pecans

1 1/2 cups white sugar

3/8 cup butter

3/4 cup brown sugar

1/2 cup milk

1 teaspoon vanilla extract

DIRECTIONS:

Line a baking sheet with aluminum foil. In

large saucepan over medium heat, combine

pecans, sugar, butter, brown sugar, milk and

vanilla. Heat to between 234 and 240 degrees F

(112 to 116 degrees C) or until a small amount

of syrup dropped into cold water forms a soft

ball that flattens when removed from the

water and placed on a flat surface. Drop by

spoonfuls onto prepared baking sheet.

Let cool completely.

http://allrecipes.com/

GARDEN TIPS

Lawns

• Apply iron sulfate or chelete to

St. Augustine grass lawns.

• Mow St. Augustine to a 2-inch height now

to protect roots from the sun. Never cut

off more than a third of the leaf.

• Continue treatment of lawns for chinch

bug. As the temperature hits 80 degrees,

chinch bugs begin to reproduce in the

hottest and driest part of the lawn, usually

next to cement. Use diazinon or dursban

granules.

Flowers

• Overwatered hibiscus, purslane and

bougainvillea won't bloom.

• Keep flowers pinched off of coleus and

caladiums to encourage more of

the beautiful foliage.

• Plants to set: Acalpha, Ageratum, Alter

nathera, Aspidistra, Artemisia, Balsam,

Begonia, Chrysanthemum, Cockscomb,

Coleus, Croton, Dusty Miller, Feverfew,

Gaillardia, Geranium, Marigold, Petunia,

Pinks, Portulaca, Salvia-red, Shrimp Plant,

Torenia, Verbena and Vinca.

Vegetables

• A strong blast of water in the morning rids

plants of most bugs for the rest of the day.

• Vegetables to plant: Cantaloupe, Sweet

Corn, Cucumber, Eggplant sets, Okra,

Black Peas, Pepper Sets, Summer Squash

and Sweet Potato.

Shrubs

• Watch Camellias and Azaleas, they're

setting their blooms now for next season.

So give them a good mulch and plenty of

water. Mulch well with oak leaves and/or

pine needles to keep soil acidic.

Benefits of Mulching: Mulching (organic

or inorganic) is a layer of material on the

surface of the soil around the plant. Mulches

conserve water by reducing evaporation,

insulates the soil and protects it from the

drying wind and hot sun. Mulches break the

force of rain and irrigation water and tend

to prevent erosion, soil compaction, and

crusting. Lastly, a 2-3 inch layer of mulch

will almost eliminate weed problems.

26 June 2018 | Community Newsletter
---
CYPRESS ASSISTANCE MINISTRIES'

OPERATION JOBS SCHOLARSHIP AWARDED

Cypress Assistance Ministries' Operation Jobs

Scholarship has been awarded to Sandra

Patricia Jacome Valencia, a nursing student

at Lone Star College-CyFair. This is the first

awarding of the scholarship, designed to recognize

LSC-CyFair students who have demonstrated

academic success while working on a

part-time basis.

"Sandra is the idea recipient of CAM's Operation Jobs Scholarship," stated

Janet Ryan, CAM's Director of Development. "She's working diligently to

become a successful and valuable member of the community with the

professional goal of becoming an RN. She's taking ESL classes to strengthen

her English skills, attending school, plus working with a phlebotomist

as she garners work experience. This scholarship will be a step toward

helping her to reach her goals."

Originally from Columbia, Sandra is striving to live the American dream.

"We are honored to help Sandra with the cost of school," said Thomas

Greuter, Director of Operation Jobs at CAM. "LSC-CyFair staff selects the

recipient of the scholarship and Sandra is just the type of student we want

to help. Operation Jobs goal is to assist people in the community with

finding permanent and meaningful employment, and one of the keys to

making that happen is getting a good education."

The scholarship is valued at $500 a year and is to be used for tuition,

books and fees. Criteria include:

• Part time student enrolled up to 12 hours

• Demonstrate financial need

• Minimum GPA of 2.5

• Show proof of employment (Part time job)

• Workforce Certification students are eligible along

with degree-plan students

Tom Greuter and Sandra Valencia.

For further information on the scholarship please contact

the LSC-CyFair Financial Aid Office.

Community Newsletter | June 2018

27
---
BEACH SAFETY

Every summer, people pack their bathing suits, sunscreen, flip flops and

a good book for a trip to the beach. Or, perhaps where you live, you are

fortunate to have beach weather for the greater part of the year. Regardless

of how often you get to sink your toes into the sand, the American Red

Cross has some beach safety tips and steps you can take to be make sure

you and your family remain safe.

Ocean Safety

Swimming in the ocean takes different skills, so before you get your feet

wet, it's best to learn how to swim in the surf. You should also swim only

at a lifeguard-protected beach, within the designated swimming area.

Obey all instructions and orders from lifeguards.

While you're enjoying the water, keep alert and check the local weather

conditions. Make sure you swim sober and that you never swim alone.

And even if you're confident in your swimming skills, make sure you

have enough energy to swim back to shore.

Other beach safety tips to keep in mind:

• Have young children or inexperienced swimmers wear U.S. Coast

Guard-approved life jackets in and the around water. No one should

use any other type of floatation device unless they are able to swim.

• Don't dive headfirst - protect your neck. Check for depth and obstructions

before diving and go in feet first the first time.

• Pay especially close attention to children and elderly persons when at

the beach. Even in shallow water, wave action can cause a loss of footing.

• Keep a lookout for aquatic life. Water plants and animals may be dangerous.

Avoid patches of plants. Leave animals alone.

WATER SAFETY TIPS

Swimming is a great recreational sport that can be enjoyed by

people of all ages. But it's important to know how to be safe while

you're in the water. The American Red Cross offers these important

swimming safety tips you should be aware of before you head out

to the pool or beach:

• Swim in designated areas supervised by lifeguards.

• Always swim with a buddy; do not allow anyone to swim alone.

• Never leave a young child unattended near water and do not

trust a child's life to another child; teach children to always ask

permission to go near water.

• Have young children or inexperienced swimmers wear U.S. Coast

Guard-approved life jackets around water, but do not rely on life

jackets alone.

• Maintain constant supervision.

• Make sure everyone in your family learns to swim well. Enroll in

age-appropriate Red Cross water orientation and learn-to-swim

courses.

• If you have a pool, secure it with appropriate barriers. Many

children who drown in home pools were out of sight for less than

five minutes and in the care of one or both parents at the time.

• Avoid distractions when supervising children around water.

• If a child is missing, check the water first. Seconds count in preventing

death or disability.

• Have appropriate equipment, such as reaching or throwing

equipment, a cell phone, life jackets and a first aid kit.

• Know how and when to call 9-1-1 or the local emergency number.

• Enroll in Red Cross home pool safety, water safety, first aid and

CPR/AED courses to learn how to prevent and respond to emergencies.

• Protect your skin. Limit the amount of direct sunlight you receive

between 10 AM and 4 PM and wear sunscreen with a protection

factor of at least 15.

• Drink plenty of water regularly, even if you're not thirsty.

Avoid drinks with alcohol or caffeine in them.

Source: www.redcross.org

Rip Currents

Rip currents are responsible for deaths on our nation's beaches every

year and for most of the rescues performed by lifeguards. Beachgoers

should be aware of how dangerous rip currents are, and swim only at

beaches with lifeguards in the designated swimming area. Rip currents

can form in any large open water area, such as low spots and breaks in

sandbars or near structures such as jetties and piers.

For your safety, be aware of the danger of rip currents and remember

the following:

• If you are caught in a rip current, stay calm and don't fight

the current.

• Swim parallel to the shore until you are out of the current.

Once you are free, turn and swim toward shore.

• If you can't swim to the shore, float or tread water until you

are free of the rip current and then head toward shore.

• If you feel you can't make it to the shore, draw attention

to yourself by waving and calling for help.

• Stay at least 100 feet away from piers and jetties.

Permanent rip currents often exist near these structures.

• If someone is in trouble in the water, get help from a lifeguard. If

a lifeguard is not available, have someone call 9-1-1. Throw the

victim something that floats - a lifejacket, cooler, inflatable

ball and yell instructions on how to escape the current.

• When at the beach, check conditions before entering the water. Check

to see if any warning flags are up or ask a lifeguard about

water conditions, beach conditions or any potential hazards.

28 June 2018 | Community Newsletter
---
BEST SUMMER BIRD FOODS

During early summer, many birds are nesting and may visit feeders only

briefly. Offering a variety of nutritious foods is the best way to attract

feeding birds in any season. During the summer months, many birds also

eat fruits and insects in addition to popular seeds and offering a wider

range of choices at the feeder will attract more species.

The best foods to offer during the summer include…

• Seed: All types of birdseed are suitable for summer fare, but black oil

sunflower seeds, hearts or chips are the most popular option for a wide

range of bird species.

• Fruit: Many songbirds eat fruit. Apple chunks, banana slices and orange

halves will attract orioles, northern cardinals. These foods can be offered

in a platform feeder or used to fill a suet cage for easy hanging.

• Nectar: Hummingbirds are the most popular types of birds that enjoy

nectar, but orioles, woodpeckers and nuthatches have also been known

to sip at sugar water feeders in the summer.

• Mealworms: Insect-eating birds will appreciate mealworms at backyard

feeders, particularly when they need to supply hungry nestlings with

dozens of insects each day.

• Peanuts: Shelled or whole peanuts are popular with jays, chickadees,

titmice and nuthatches and they can be offered in platform feeders,

small dishes or specialized peanut feeders.

• Only put out enough food that can be eaten in 1-2 days.

• Check seed regularly for mildew, clumps or spoilage and keep feeders

clean to prevent spreading diseases or parasites to other birds or

humans.

• Set up feeders in shaded areas to minimize spoiled seed and help birds

keep cool, encouraging them to feed longer and visit more frequently.

• Add a bird bath for a fresh water source that will attract not only feeding

birds, but also species that need water but do not frequently visit feeders.

NATIONAL SMILE POWER DAY

June 15 th is the day we observe National Smile Power Day. This is a day

for everyone to share the power of the smile.

From the good morning greeting and the first "How may I help you?"

present yourself with a smile. No matter where you are employed, job

seeking, retired or looking for new horizons, starting the day with a

smile is certainly more empowering than a pout or grump. Starting with

a smile first is easier than trying to get there later in the day.

When you smile at someone, you are telling them that they are valued

and worth the smile that you just gave them. Smiles are moral boosters

and confidence builders.

Research has proven that smiling really does increase attractiveness and

likability between humans. Smiling creates a greater trust and increased

interpersonal cooperation. Smiling at someone can help them to relax

and relieve their stress while at the same time, it will make you feel right.

Smiling (even if you do not feel like it) will lift your mood and can make

you a happier person.

HOW TO OBSERVE

Challenge yourself to smile more often today. Use a smile to disarm a

tense situation or simply smile during your daily tasks.

Use #SmilePowerDay on social media.

Source: nationaldaycalendar.com

Community Newsletter | June 2018

YDR SERVICES

Owner Operated

LAWN & LANDSCAPE

• LAWN AERATION

• LAWN DETHATCHING

• LAWN MAINTENANCE

• LANDSCAPE DESIGN

• YARD CLEAN-UPS

• BED MULCHING

• SPRINKLERS INSTALLED

LI#8966

• PONDS/PATIOS

Free

Estimates!

Pool Cleaning

Maidservice/House Cleaning

Service

starting at

$

22. 99

"I Will Meet Or

Beat Any Written

Estimate!!!"

GRASS

$179

Per Pallet Installed

281-788-2047

The Memory Tree

Where your memories are preserved for years to come

HANDY MAN

I do all types of home repairs

and maintenance.

Honest and Dependable

Summer Special

up to

3 Hours $ 125

Call George

281-875-5345

281-250-4805

Cypress Area Resident

• Photos

• Slides

• Negatives Digitized

• Old Photos Restored

• Photo Books Created

832-220-8034

Call Dianne dglenn@photomemorytree.com

http://www.photomemorytree.com

DISCLAIMER: Articles and ads in this newsletter express the opinions

of their authors and do not necessarily reflect to opinions of Krenek

Printing Co. or its employees. Krenek Printing is not responsible for

the accuracy of any facts stated in articles submitted by others. The

publisher also assumes no responsibility for the advertising content

with in this publication. All warranties and representations make in the

advertising content are solely that of the advertiser and any such claims

regarding its content should be taken up with the advertiser.

The publisher assumes no liability with regard to its advertisers for

misprints or failure to place advertising in this publication except for the

actual cost of such advertising.

Although every effort is taken to avoid mistakes and/or misprints in this

publication the publisher assumes no responsibility for any errors of information

or typographical mistakes, except as limited to the cost of advertising as stated

above or in the case of misinformation, a printed retraction/correction. Under no

circumstances shall the publisher be held liable for incidental or consequential

damages, inconvenience, loss of business or services, or any other liabilities

from failure to publish, or from failure to publish in a timely manner, except as

limited to liabilities stated above.

Published by: KRENEK PRINTING CO.

www.krenekprinting.com

29
---
2018-2019

SCHOOL DISTRICT CALENDAR

'18

JULY AUGUST SEPTEMBER

OCTOBER

S M T W T F S

S M T W T F S

S M T W T F S

S M T W T F S

1 2 3 4 5 6 7

8 9 10 11 12 13 14

15 16 17 18 19 20 21

22 23 24 25 26 27 28

29 30 31

NOVEMBER

S M T W T F S

1 2 3 4

1

5 6 7 8 9 10 11 2 3 4 5 6 7 8

12 13 14 15 16 17 18 9 10 11 12 13 14 15

19 20 21 22 23 24 25 16 17 18 19 20 21 22

26 27 28 29 30 31 23 24 25 26 27 28 29

30

DECEMBER

'19

JANUARY

S M T W T F S S M T W T F S

1 2 3 4 5 6

7 8 9 10 11 12 13

14 15 16 17 18 19 20

21 22 23 24 25 26 27

28 29 30 31

FEBRUARY

S M T W T F S

1 2 3

4 5 6 7 8 9 10

11 12 13 14 15 16 17

18 19 20 21 22 23 24

25 26 27 28 29 30

1

2 3 4 5 6 7 8

9 10 11 12 13 14 15

16 17 18 19 20 21 22

23 24 25 26 27 28 29

30 31

1 2 3 4 5

6 7 8 9 10 11 12

13 14 15 16 17 18 19

20 21 22 23 24 25 26

27 28 29 30 31

1 2

3 4 5 6 7 8 9

10 11 12 13 14 15 16

17 18 19 20 21 22 23

24 25 26 27 28

MARCH

APRIL

MAY

JUNE

S M T W T F S

S M T W T F S

S M T W T F S

S M T W T F S

1 2

3 4 5 6 7 8 9

10 11 12 13 14 15 16

17 18 19 20 21 22 23

24 25 26 27 28 29 30

31

1 2 3 4 5 6

7 8 9 10 11 12 13

14 15 16 17 18 19 20

21 22 23 24 25 26 27

28 29 30

1 2 3 4

5 6 7 8 9 10 11

12 13 14 15 16 17 18

19 20 21 22 23 24 25

26 27 28 29 30 31

1

2 3 4 5 6 7 8

9 10 11 12 13 14 15

16 17 18 19 20 21 22

23 24 25 26 27 28 29

30

Aug. 13-17

Aug. 20-24

Aug. 27

Sept. 3

Oct. 8

Nov. 19-23

Dec. 24-28, 31

Jan. 1-3

Jan. 4

Jan. 21

Feb. 18

March 11-15

April 19

May 27

May 30

May 31

IMPORTANT DATES

Professional Days

Professional Days

First Day of School

Student/Staff Holiday

Professional Day/ES Parent Conferences

Student/Staff Holiday

Student/Staff Holiday

Student/Staff Holiday

Professional Day

Student/Staff Holiday

Professional Day/Inclement Weather Day

Student/Staff Holiday

Student/Staff Holiday

Student/Staff Holiday

Last Day of School

Professional Day/Inclement Weather Day

Elementary

Aug. 27 – Oct. 26

Oct. 29 – Jan. 18

Jan. 22 – March 29

April 1 – May 30

ACCESS

Scan for

web version

GRADING PERIODS

Secondary

Aug. 27 – Oct. 19

Oct. 22 – Dec. 21

Jan. 7 – March 8

March 18 – May 30

LEGEND

Student/Staff Holiday

Professional Day (Student Holiday)

First and Last Days of School

Parent Conferences

Inclement Weather Day