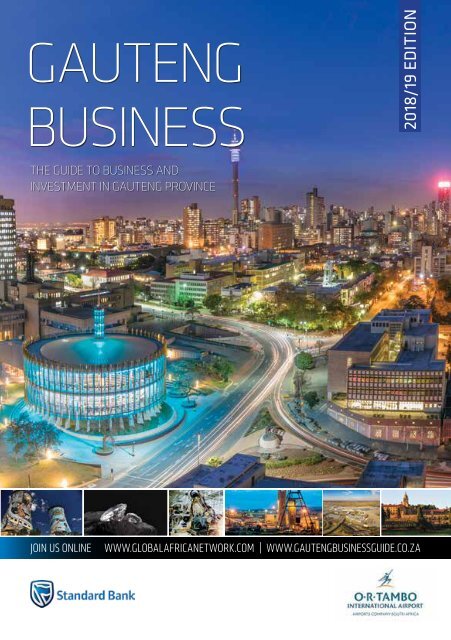 Gauteng Business 2018-19 edition
A unique guide to business and investment in the Gauteng Province of South Africa. The 2018/19 edition of Gauteng Business is the 10th issue of this highly successful publication that has established itself as the premier business and investment guide for the Gauteng Province. In addition to the regular articles providing insight into each of the key economic sectors of the province, there are special features on the concept of the Urban Development Zone which underpins the successful urban growth strategy that is being pursued in the province, and on the importance of airports in regional economic thinking. To complement the extensive local, national and international distribution of the print edition, the full content can also be viewed online at www.globalafricanetwork.com under e-books. Updated information on Gauteng is also available through our monthly e-newsletter, which you can subscribe to online, in addition to our complementary business-to-business titles that cover all nine provinces as well as our flagship South African Business title.
A unique guide to business and investment in the Gauteng Province of South Africa. The 2018/19 edition of Gauteng Business is the 10th issue of this highly successful publication that has established itself as the premier business and investment guide for the Gauteng Province.
In addition to the regular articles providing insight into each of the key economic sectors of the province, there are special features on the concept of the Urban Development Zone which underpins the successful urban growth strategy that is being pursued in the province, and on the importance of airports in regional economic thinking.
To complement the extensive local, national and international distribution of the print edition, the full content can also be viewed online at www.globalafricanetwork.com under e-books. Updated information on Gauteng is also available through our monthly e-newsletter, which you can subscribe to online, in addition to our complementary business-to-business titles that cover all nine provinces as well as our flagship South African Business title.
SHOW MORE
SHOW LESS
Create successful ePaper yourself
Turn your PDF publications into a flip-book with our unique Google optimized e-Paper software.
GAUTENG

BUSINESS

2018/19 EDITION

THE GUIDE TO BUSINESS AND

INVESTMENT IN GAUTENG PROVINCE

JOIN JOIN US ONLINE

US ONLINE

WWW.GLOBALAFRICANETWORK.COM | WWW.GAUTENGBUSINESSGUIDE.CO.ZA

WWW.NORTHWESTBUSINESS.CO.ZA

| WWW.GAUTENGTBUSINESS.CO.ZA
---
CONTENTS

CONTENTS

Gauteng Business 2018/19 Edition

Introduction

Foreword6

A unique guide to business and investment in Gauteng.

Special features

Regional overview 8

Research and planning aim to bolster growth.

Urban Development Zone 14

Property regeneration and growth through tax incentives.

Aerotropolis22

O.R. Tambo International Airport can spark new growth.

Economic sectors

Agriculture36

Urban farming is in the spotlight.

Mining38

Government wants broader participation in the mining sector.

Oil and gas 44

Gauteng leads the nation in manufacturing.

Engineering48

Tens of billions are to be spent on Gauteng infrastructure.

Manufacturing50

New plants are powering Gauteng's manufacturing sector.

Automotive56

Investment in plant and training is on the rise.

GAUTENG BUSINESS 2018/19

2
---
CONTENTS

Food and beverages 57

Joburg Market is Africa's biggest.

Tourism58

Heritage is a growth sector.

Education and training 62

Gauteng is focussing on vocational training.

Information and communications technology 64

Technology companies are training young people in ICT.

Banking and financial services 66

Gauteng is home to new banks and new stock exchanges.

Development finance and SMME support 72

Co-operatives are making school uniforms.

Government

Gauteng Provincial Government 78

An overview of the Gauteng provincial government

departments.

Gauteng Local Government 79

An overview of the Gauteng municipalities.

References

Sector contents 34

Overview of the main economic sectors of Gauteng.

Index80

Map

Regional map. 13

ABOUT THE COVER

The cover photograph shows the new council chamber of the City

of Johannesburg in Braamfontein with the skyscrapers of Hillbrow

in the background. The design by architects studioMAS evokes a

drum or calabash with the round plan encouraging open debate in

the tradition of the Setswana lekgotla and the Roman agora. Photo

credit: THEGIFT777, iStock by Getty Images.

GAUTENG BUSINESS 2018/19

4
---
FOREWORD

Gauteng Business

A unique guide to business and investment in Gauteng.

The 2018/19 edition of Gauteng Business is the 10th issue

of this highly successful publication that has established

itself as the premier business and investment guide for

the Gauteng Province.

In addition to the regular articles providing insight into each

of the key economic sectors of the province, there are special

features on the concept of the Urban Development Zone which

underpins the successful urban growth strategy that is being

pursued in the province, and on the importance of airports in

regional economic thinking.

To complement the extensive local, national and international distribution

of the print edition, the full content can also be viewed online

at www.globalafricanetwork.com under e-books. Updated information

on Gauteng is also available through our monthly e-newsletter,

which you can subscribe to online, in addition to our complementary

business-to-business titles that cover all nine provinces as well as our

flagship South African Business title.

Chris Whales

Publisher, Global Africa Network Media

Email: chris@gan.co.za

CREDITS

Publisher: Chris Whales

Publishing director:

Robert Arendse

Editor: John Young

Online editor: Christoff Scholtz

Art director: Brent Meder

Design: Tyra Martin

Production: Lizel Olivier

Ad sales: Sydwell Adonis, Joseph

Gumbo, Gavin van der Merwe,

Sam Oliver, Gabriel Venter,

Siyawamkela Sthunda, Vanessa

Wallace, Jeremy Petersen and

Reginald Motsoahae

Managing director: Clive During

Administration & accounts:

Charlene Steynberg and

Natalie Koopman

Distribution & circulation

manager: Edward MacDonald

Printing: FA Print

DISTRIBUTION

Gauteng Business is distributed internationally on outgoing and

incoming trade missions; to foreign offices in South Africa's

main trading partners; at top national and international events;

through the offices of foreign representatives in South Africa;

as well as nationally and regionally via chambers of commerce,

tourism offices, trade and investment agencies, provincial government

departments, municipalities, airport lounges and

companies.

Member of the Audit Bureau of Circulations

PUBLISHED BY

Global Africa Network Media (Pty) Ltd

Company Registration No: 2004/004982/07

Directors: Clive During, Chris Whales

Physical address: 28 Main Road, Rondebosch 7700

Postal address: PO Box 292, Newlands 7701

Tel: +27 21 657 6200 | Fax: +27 21 674 6943

Email: info@gan.co.za | Website: www.gan.co.za

ISSN 1990-6021

COPYRIGHT | Gauteng Business is an independent publication published

by Global Africa Network Media (Pty) Ltd. Full copyright to the

publication vests with Global Africa Network Media (Pty) Ltd. No part

of the publication may be reproduced in any form without the written

permission of Global Africa Network Media (Pty) Ltd.

PHOTO CREDITS | Chamber of Mines, BMW, Gibela Rail Transport

Consortium, Indluplace Properties, iStock, studioMAS Architecture,

SA Tourism/Flickr, Seda, Transnet Pipelines, Wits University and

THEGIFT777, iStock by Getty Images.

DISCLAIMER | While the publisher, Global Africa Network Media (Pty)

Ltd, has used all reasonable efforts to ensure that the information contained

in Gauteng Business is accurate and up-to-date, the publishers

make no representations as to the accuracy, quality, timeliness, or

completeness of the information. Global Africa Network will not accept

responsibility for any loss or damage suffered as a result of the use of or

any reliance placed on such information.

GAUTENG BUSINESS 2018/19

6
---
FOCUS

Member-oriented scheme makes

medical aid affordable

Selfmed Medical Scheme is one of the oldest medical schemes

in South Africa, having been established more than 50 years ago.

Christo Becker

Selfmed has six medical aid options:

Affordability is a key

component of the

company's offering.

As Christo Becker,

Principal Officer of

Selfmed, says, "We

pride ourselves in

bringing affordable

options to the

South African market

and making

medical aid more

accessible."

• SelfNET Essential: an entry-level product is the

most affordable as it covers a narrow band of

benefits.

• SelfNET: one level up from the Essential option

with more benefits and medical cover.

• MedXX1: a hospital plan that extends beyond

the prescribed minimum benefits and pays out

at 100% of scheme rates for covered in-hospital

treatment and in-hospital doctor's consultations.

• Selfsure: an option that provides in-hospital and

out-of-hospital benefits and is a great choice for

a family with young children.

• Med Elite: a broader hospital plan that covers

additional conditions including greater coverage

for oncology expenses, hip, knee and

back operations.

• Selfmed 80%: 80% of bills relating to a wide range

of conditions are covered.

Selfmed prides itself on having a very strong member

focus. Becker, who has previously worked as a

paramedic and a hospital manager believes, "All

of us share the passion and we want to ensure our

members receive good healthcare."

Becker believes that the recent White Paper

related to the planned National Health Insurance

(NHI) scheme did not address a number of issues.

He says, "We all support the idea that healthcare

should be accessible to all," but issues not tackled

include what the basket of care will look like

and who will provide the care. He notes that the

parameters of the NHI will likely change during

its implementation.

Becker is upbeat about the state of the South

African healthcare system in the international

context, and supports a collaborative approach to

tackling the future of healthcare. He says: "I believe

that the private healthcare system in South Africa

– private medical care and medical insurance – is

equal to the best in the world. Many of our doctors

and medical professionals go overseas for training

or to attend medical conferences and we have

some of the most advanced medical equipment

in the world in our private hospitals.

"Furthermore, in countries like the USA, medical

care is far more expensive than it generally is in

South Africa. Ideally, representatives of the entire

healthcare industry here should get together to

discuss challenges and collaborate on viable ways

to solve these so that quality healthcare can be

made accessible to more people."

www.selfmed.co.za

7 GAUTENG BUSINESS 2018/19
---
A REGIONAL OVERVIEW OF

GAUTENG

Research and planning aim to bolster growth.

In 2017, the cities of Gauteng Province were elected as co-president of the organisation

representing the world's major cities, Metropolis, World Association of Major Metropolises.

This event, which happened at the organisation's 12th World Congress in Montreal, Canada,

illustrates that the Gauteng City Region is globally recognised.

Gauteng's participation in groupings such as Metropolis also illustrates that the problems of

the world's great cities cannot be solved in isolation. Proper research is needed to find solutions

to the problems faced by large conurbations.
---
SPECIAL FEATURE

Gauteng began laying the groundwork for creating a research

base as far back as 2008 when the Gauteng City-Region Observatory

(GCRO) was established. A partnership between the University of

Johannesburg (UJ), the University of the Witwatersrand (Wits) and the

Gauteng Provincial Government, the GCRO does research on which

planners can base their projections. A case study using the GCRO

model was presented to the Metropolis conference.

Efforts are also being made to improve the regional economy by

identifying blockages and shortcomings. Researchers from the universities

of Johannesburg and Pretoria (through the Gordon Institute

of Business Science) are examining employment rates, empowerment

policies and the export value chain. At the same time, the Gauteng

Innovation Hub is leading a process to bring innovation and research

to the fore in economic policy-making and planning. Partners include

the Council for Scientific and Industrial Research (CSIR), the University

of the Witwatersrand and the Vaal University of Technology.

Other international news for the City of Johannesburg in 2017 came

in the form of an award for the newly constructed council chambers

(shown in the photograph below and on the cover of this publication).

In the public services development category, the Braamfontein building,

built as part of a redevelopment of the Metro Centre Precinct, was the

winner at the International Property Awards. The building is owned by the

Joburg Property Company and was designed by studioMAS Architecture.

Apart from providing a sparkling new council chamber for councillors, the

upgrade aims to connect Hillbrow and Berea with Wits University and

Braamfontein and to provide better connectivity between Constitution

Hill, the Joburg Theatre and the Metro Centre.

In January 2018, the Gauteng Technology and Innovation

Conference was held in Gauteng to discuss the potential impact of

the Fourth Industrial Revolution. The event was jointly hosted by the

Gauteng Departments of Economic Development and eGovernment.

Investment and

infrastructure

In 2016 Gauteng attracted 75

foreign direct investment (FDI)

projects worth R36-billion which

created 9 354 jobs. In the period

2014-16, the province attracted

R66-billion. The Gauteng Growth

and Development Agency has

a specialised subsidiary, the

Gauteng Investment Centre,

which acts as a one-stop shop

for potential investors looking

for advice and support.

A major factor influencing

investors is the quality of infrastructure.

The Gauteng Treasury

reports that in 2018, the following

projects, coordinated by the

Gauteng Infrastructure Financing

Agency and collectively worth

about R4-billion, will have

reached financial close and be in

the implementation phase:

• Jewellery manufacturing

precinct

• West Rand logistics hub

• Lindley waste water treatment

works

• Trigen/co-gen plants at

Chris Hani Baragwanath

Hospital

• Tshwane Innovation Hub;

Enterprise buildings 2 and 3

• Rooftop solar panels project.

Neither the central government

nor provincial and local government

has sufficient resources to

cover what the provincial government

has estimated is needed in

the Gauteng province in the 15

years to 2030 – R1.3-trillion. A 15-

year Gauteng Infrastructure Master

Plan has been adopted but it is

GAUTENG BUSINESS 2018/19

10
---
SPECIAL FEATURE

hoped that multiple sources of funding will see the plan succeed in

areas such as the provision of water, broadband connectivity, public

transport, energy and the reshaping of cities to accommodate citizens

in a better way than was the case under apartheid.

A World Bank report has shown that a 10% increase in infrastructure

spending results in a 1% growth in GDP.

The network fibre of the province has been extended to 1 500

kilometres with the community given access through clinics, schools,

libraries and community centres. The aim is to have 100% broadband

connectivity in Gauteng by 2020.

To support the economy, the Gauteng Department of Economic

Development will, in 2018/19, invest in the following projects:

• Automotive Supplier Park expansion, R11.8-million

• upgrading of township hubs and industrial parks, R56-million

• small business development at the Gauteng Enterprise Propeller,

R67.3-million

• start-up support for township companies from the Tshwane

Innovation Hub, R35.5-million.

Overview

Gauteng province covers 1.4% of South Africa's land mass but it produces

about a third of South Africa's gross domestic product (GDP),

and a remarkable 10% of that of the African continent. The province

is a leader in a wide range of other sectors: finance, manufacturing,

commerce, IT and media among them.

The Bureau of Market Research (BMR) has shown that Gauteng

accounts for 35% of total household consumption in South Africa.

The leading economic sectors are finance, real estate and business

(21% of provincial GDP), manufacturing (16.5%), government services

(16.3%) and wholesale, retail, motor

trade and accommodation

(12.8%). The creative industries

(including advertising and the

film sector) employ upwards of

180 000 people and contribute

more than R3.3-billion to the

provincial economy. This sector

is seen as a driver of future

growth.

In the provincial capital,

Johannesburg, financial services

and commerce predominate.

The JSE, Africa's largest stock exchange,

is situated in the heart of

Johannesburg's business district,

Sandton.

Tshwane (which includes

Pretoria) is home to many government

services and is the base

of the automotive industry and

many research institutions. The

Ekurhuleni metropole has the

largest concentration of manufacturing

concerns, ranging

from heavy to light industry, in

the country. The western part of

the province is concerned mainly

with mining and agriculture,

while the south has a combination

of maize farming, tobacco

production and the heavy industrial

work associated with steel

and iron-ore workings.

Gauteng is not just an important

centre of economic activity,

it is also an important launching

pad for local and international

businesses to enter the African

market. The country's biggest

airport, OR Tambo International

Airport, is at the core of the province's

logistical network. Other

airports include Rand Airport

(Germiston), Wonderboom

(Pretoria) Lanseria and Grand

Central (Midrand).

11 GAUTENG BUSINESS 2018/19
---
SPECIAL FEATURE

The Gauteng Division of the High Court of South Africa (which

has seats in Pretoria and Johannesburg) is a superior court with general

jurisdiction over the province. Johannesburg is also home to the

Constitutional Court, South Africa's highest court, and to a branch of

the Labour Court and the Labour Appeal Court.

The province has several outstanding universities, and the majority

of South Africa's research takes place at well-regarded institutions such

as the Council for Scientific and Industrial Research (CSIR), the South

African Bureau of Standards (SABS), Mintek, the South African Nuclear

Energy Corporation (NECSA), the Human Sciences Research Council

(HSRC) and several sites where the work of the Agricultural Research

Council is done.

City Region

Provincial planning is increasingly being done along "Gauteng City

Region" lines, where the primacy of economies of the cities and towns

of the province is acknowledged.

Individually, the biggest Gauteng cities contribute to the national

GDP as follows: Johannesburg (15%), Tshwane (9%) and Ekurhuleni (7%).

The following development corridors of the City Region have been

identified, each with its own industries and comparative advantages:

• City of Joburg, Central Development Corridor: provincial capital,

finance, services, ICT and pharmaceutical industries, green and

blue economy.

• City of Ekurhuleni, Eastern Development Corridor: manufacturing,

logistics and transport hub.

• City of Tshwane, Northern Development Corridor: national administrative

capital, automotive sector, research, development, innovation

and knowledge-based economy, tourism, agri-processing.

• West Rand District, Western Development Corridor: transitioning

mining economy. A new diverse economy to be created around

tourism (Maropeng World Heritage Site), agriculture and agriprocessing,

Lanseria

Airport City, renewable

energy.

• Sedibeng District, Southern

Development Corridor:

steel industry in decline. A

new economy to be based

on entertainment and

tourism (Vaal River City),

logistics, agri-processing

and urban agriculture.

Ekurhuleni is putting considerable

resources into infrastructure

improvement. With a corridorbased

masterplan, the aim is

to promote industrial activity.

The nine towns of Ekurhuleni

are being connected by the

new Bus Rapid Transit system

(Harambee).

The City of Johannesburg's

good credit record allowed

it to borrow R3.3-billion for

infrastructure expenditure in

2016. In 2014/15 a surplus of

R3.9-billion was achieved and

the city spent 94% of its capital

budget, or R10.8-billion. In 10

years Johannesburg has raised

more than R100-billion for

infrastructure.

Tshwane is planning a series

of transformative infrastructure

and property developments, including

expanding the Bus Rapid

Transport System, Government

Boulevard, Tshwane House,

Times Square, the Nelson

Mandela Development Corridor

and the West Capital project

and the African Gateway.

Together with the three large

metropolitan municipalities,

Gauteng also has two district

municipalities.

GAUTENG BUSINESS 2018/19

12
---
Sedibeng District Municipality

Towns: Sebokeng, Heidelberg,

Sharpeville, Vereeniging,

Vanderbijlpark

Local municipalities are Emfuleni,

Midvaal and Lesedi. The Vaal

University of Technology and the

North-West University's Vaal campus

are located in Sedibeng. The Emfuleni

Local Municipality (including Evaton,

Sharpeville, Vanderbijlpark and

Vlakplaas) is at the core of the Vaal

Triangle, which in turn is at the heart

of South Africa's iron and steel industry.

Metal products, machinery

and equipment are made here.

ArcelorMittal has been a major employer

in Vanderbijlpark since 1947.

Heidelberg produces bacon and

tobacco: Eskort and British American

Tobacco are the two major companies

in the area. The Midvaal area has

agriculture and tourism as its two

main economic activities and the city

of Meyerton is the site of newly built,

multi-million-rand Heineken brewery.

The Klip River at Henley-on-Klip and

the Vaal Dam are major tourist attractions,

while ecotourism opportunities

have the potential to grow.

The Suikerbosrand Nature Reserve is

a prime regional asset.

West Rand District

Municipality

Towns: Randfontein, Roodepoort,

Krugersdorp, Westonaria

Local municipalities are Merafong

City, Mogale City and West Rand City.

Both the N12 and N14 highways pass

through this area which allows for a

great deal of commuter traffic into

the Johannesburg CBD.

SPECIAL FEATURE

The West Rand is the area of Gauteng where mining has

retained its strongest presence. Large-scale commercial

farming also takes place. Randfontein Local Municipality

is where the world's deepest gold mine was dug. To

the south, mining contributes 75% to Westonaria Local

Municipality's economy. An industrial park is planned to

assist in the process of diversifying the economy.

Mogale City Local Municipality is very much the economic

driver of the district, including as it does the town

of Krugersdorp. Krugersdorp has considerable manufacturing

capacity and has a motor-sports racing track that

attracts international drag-racing events. Tourism in the

district is mostly located within the surrounds of Mogale

City. Significant tourist attractions include the Cradle of

Humankind, the Magalies Meander, the Sterkfontein caves

and the Krugersdorp Game Reserve.

GAUTENG PROVINCE

North West

Hammanskraal

Cullinan

PRETORIA Mamelodi

Ekangala

N4

Zithobeni

N4

Centurion

N4

Atteridgeville

Bronkhorstspruit

Irene

N1

N14

R21

Magaliesburg

Midrand

Muldersdrift

Tembisa

Sandton Alexandra

Krugersdorp Randburg Kempton Park

Roodepoort

Isando Benoni

Edenvale

N14 Randfontein

N12

JOHANNESBURG

Kagiso

Boksburg Daveyton

Mohlakeng

Germiston

Wattville Brakpan

Soweto

Alberton

Bekkersdal

Reiger Park KwaThema

Lenasia

Katlehong

N12

Springs

Westonaria

Vosloorus

Devon

N1 Tokoza Tsakane Duduza

Nigel

R59

N3

Heidelberg

Evaton

Ratanda

Meyerton

Sebokeng

Boipatong Vereeneging

Bophelong

Vanderbijlpark Sharpeville

N1

Free State

N1

N1

Limpopo

N

N3

Mpumalanga

Motorway

Main Road

Railway

N12

N17

Mpumalanga

.

13 GAUTENG BUSINESS 2018/19
---
SPECIAL FEATURE

Urban Development Zone

Property regeneration and growth through tax incentives.

Indluplace Properties is investing in providing accommodation in central Johannesburg.

In order to fight urban decay and to encourage investment in inner

cities, a tax incentive was created that applied to major South African

cities. This is called the Urban Development Zone tax incentive. The

UDZs for Johannesburg and Cape Town were first allocated in 2004.

The inner city of Johannesburg, comprising just less than 18km², is the

largest UDZ in South Africa and it is expanding its footprint in response

to significant successes that have been achieved.

The Urban Development Zone tax allowances (Section 13quat)

provide for an accelerated depreciation allowance on the costs of

buildings erected, added to, extended or improved inside a UDZ. The

South African Revenue Service (SARS) has extended the incentive to

31 March 2020. Municipalities can apply for extension to the existing

UDZs via the National Treasury. There are five requirements to qualify

for a UDZ tax deduction. These relate to the building, the nature of the

UDZ, trade considerations, the specifics of ownership and to the dates

of the applications. The fact that the incentive has been extended to

2020 gives investors a good chance to take advantage of favourable

conditions in Johannesburg.

The Johannesburg Social Housing Company (Joshco) has plans to

provide affordable rental accommodation in 12 inner-city buildings

that were recently identified for that purpose. But the main target for

the UDZ is private investors.

The City of Johannesburg wants to leverage the UDZ concept to

create a series of linked zones or precincts, starting in the inner city and

reaching out to other areas and

regions on the city's outskirts. The

city wants to achieve nothing less

than the "structural transformation

of the inner city's economic

and physical landscape".

The City of Johannesburg has

identified the following nodes for

development:

• Carlton Precinct:

Johannesburg's tallest

building attracts tourists;

undergoing revamp; Sky

Rink TV and film studio being

developed; conference

centre planned.

• Park Station: intermodal

node catering for cars, buses,

rail commuters and taxis;

Gautrain link to OR Tambo

International Airport; wide

variety of users.

• Central park: JDA has

worked on greening and

GAUTENG BUSINESS 2018/19

14
---
SPECIAL FEATURE

community engagement and wants the park to be a symbol of

the successful city.

• Doornfontein/Ellis Park railroad corridor: planned retail hub and

student village.

• Fordsburg: interior design focus; more offices and accommodation

can be built.

• Newtown: cultural precinct with the potential to cater to students

and university departments with specialised offices and spaces.

• Hillbrow, Berea, Parktown, Bellvue, Yeoville: creation of new public

open space; opportunities for office and hotel developments.

• Transit precincts are planned for Fordsburg, Newtown, Joubert Park,

Doornfontein and Ellispark. The Gautrain station at Park Station will

become a "Contemporary African Precinct", with the city working

with Prasa and Transnet.

A range of new sites for UDZ investment includes:

• The Zurich Building, Newtown Development

• Maboneng Precinct

• Braamfontein University Residential Precinct

• Main Street Precinct

• ABSA Campus

• Bank City

• Turbine Square

• Ghandi Square.

The City of Johannesburg and the South African Property Owners

Association (SAPOA) have developed a database for properties that fall

within the UDZ. The owner of the plot, valuation and zoning information

is available for every stand. Building information is available for some

parts of the UDZ.

Transforming the CBD

Plans for the regeneration of Johannesburg's inner city have a long history.

Some have been notable successes but progress has been sporadic and

initial efforts were mostly concentrated on quite small parts of the city.

The Newtown urban renewal project included a focus on the arts at

Mary Fitzgerald Square; the building of the Nelson Mandela Bridge in 2003

improved linkages and gave the city a cool symbol; the Johannesburg

Development Agency installed 156 public art works, cleaned up squares

and installed street furniture. More recently, the Maboneng Precinct on

the eastern edge of the CBD has become a busy mixed-use zone with a

focus on the arts, design and entertainment.

Now there is a drive to transform the central business district (CBD)

in a concerted and coordinated way. The city's new mayor, Herman

Mashaba, said of Johannesburg

in his "100 Days" address that, "It

can become a model for a modern,

post-apartheid South African

city. It has the ability to produce

a vibrant socio-economic mix of

high-rise, low-cost and affordable

housing for our people."

Making inner cities more liveable

is a global trend. Flight from

the cities in the second half of

the 20th century saw factories

relocate to industrial parks (or

other countries) and offices and

people move to suburbs. The

move back to cities is spurred

partly by the relative cheapness

of property in CBDs, legislation

encouraging inner-city investment

and even a perception that

suburbs are boring.

Not only does a denser environment

mean that service sector

businesses such as laundries and

restaurants have more passing

trade, but the provision of bulk

services becomes much more cost

effective for utility companies and

municipalities.

A dense urban environment

also has the potential to overturn

one of the worst aspects of apartheid

– the fact that most South

Africans were forced to live a long

way from their place of work, causing

them to spend a lot of money

on transport, a situation that still

exists today.

The Gauteng Growth and

Development Agency is one of

several organisations other than

the City of Johannesburg which

has been encouraging development

in the inner city.

An important nudge for developers

has been the tax incen-

15 GAUTENG BUSINESS 2018/19
---
SPECIAL FEATURE

tives that accompany the Urban Development

Zone (UDZ). Various "improvement districts"

have also contributed, for example the RID

(Retail Improvement District) where businesses

in a designated area pay levies to secure

improved cleaning and security services.

The Johannesburg City Improvement District

Forum shares information among the CIDs.

Expenditure by CIDs collectively on supplementary

public space safety, cleaning and maintenance

is estimated to be about R 61-million annually.

Investment in public space infrastructure

from CIDs was more than R50-million over the

last five years.

The Gauteng Partnership Fund (GPF)

has attracted about R3.5-billion in privatesector

funding for affordable housing in the

province since 2012. The Brickfields housing

and rental development in Newton was

funded by the GPF and implemented by the

Johannesburg Housing Company (JHC) as

one of the first inner-city rejuvenation projects.

JHC is a leader in converting bad buildings

to useable rental space.

The Johannesburg Development Agency

(JDA) projects range from the upgrading of

Constitution Hill, the Faraday Station precinct,

work on the Fashion District and pavements of

the inner city, renovation of the Drill Hall and

the big Newtown make-over.

Private developer Indluplace Properties

has purchased nine large apartment

blocks, taking its total buildings in central

Johannesburg CBD, Berea and Hillbrow to 23:

33% of the units are bachelor pads, 22% are

two-bedroomed flats. The listed company

(its major shareholder is Arrowhead) intends

to "aggressively grow its portfolio" of highyielding

properties as it believes the rental

market has huge potential.

The developers of the Maboneng Precinct

are also very upbeat. The Propertuity website

states, "With Arts on Main as the catalyst,

Maboneng has expanded east along Fox

Street, and beyond Albertina Sisulu Road.

Community projects like Trim Park and

Common Ground offer spaces for the public

to use and enjoy, while buildings have been redeveloped

into multi-purpose spaces."

Public spaces play a critical role in urban regeneration

planning, as do buildings that serve social purposes. When

the Outreach Foundation Community Centre was built in

Hillbrow in 2015, it was the first piece of social infrastructure

to go up in the suburb since the 1970s. The design, a glass

box in a light steel frame which seems to hover over the site,

won architects Local Studio the Saint Goban architectural

award and provides space for dance and computer classes

and offices.

GAUTENG BUSINESS 2018/19

16
---
W W W . S A N D T O N S K Y E . C O . Z A

Perfectly positioned in a quiet street in Johannesburg

yet a stone's throw away from Sandton CBD and The Gautrain Station.

TOWER 2 NOW SELLING

Invest in the

Richest Square

Mile in Africa

SANDTON SKYE TOWER 2 NOW SELLING OFF-PLAN

FEATURES

• Dedicated Front Desk • Concierge • Room Service (Codfather) • Laundry & Housekeeping Services • Fitness

Centre • Luxury Wellness Spa • Signature Restaurant (Codfather) • Indoor Heated Lap Pool • Outdoor Pool

in a Garden Setting • High Speed Fibre Internet Connectivity • 24 Hour High Security and Access Controlled

• Secure Underground Parking • Emergency Back-Up Water • Emergency Back-Up Power to common

property • Kids Zone (Tower 3) • Executive Meeting rooms (Tower 3)

Ken Woollcott +27 (0) 83 410 6053 • ken.woollcott@pamgolding.co.za

James Peel +27 (0) 83 463 2980 • james.peel@pamgolding.co.za

Office: +27 (0) 11 684 2995/6 • www.sandtonskye.co.za
---
INTERVIEW

Huge growth in cargo

volumes at Africa's

biggest cargo hub

Bongiwe Pityi, General Manager, O.R. Tambo International

Airport, explains the processes behind her team's awardwinning

management, and outlines plans for future

expansion.

Bongiwe Pityi

BIOGRAPHY

An admitted attorney of the High

Court of South Africa, Bongiwe

Pityi has an 18-year record in

the aviation industry. Her career

with Airports Company South

Africa began in Johannesburg

as manager of landside and car

park operations. She led the

transition from the Durban Airport

to the King Shaka International

Airport and in 2012 became

Deputy Director Operational

Readiness Planning at Guarulhos

International Airport in São

Paulo, Brazil. In 2014 she was

promoted to General Manager of

O.R. Tambo International Airport.

How did O.R. Tambo International Airport achieve the

distinction of winning the Integrated Risk Management

(Transport and Logistics) South Africa 2017 Industry

Award?

We were delighted to receive this recognition because it was based

on the results produced by my leadership team in embedding a safety

and risk management culture. As people involved in risk management

will know, it is often a combination of risks that are relatively minor on

their own that can create significant challenges. We not only worked

on strengthening risk management but focussed on environmental

compliance, aviation safety and general operational governance. The

notable successes in focus areas which earned us the nomination

included:

• ISO 14001:2015 certification

• Achieving Airport Carbon Accreditation Level 1 through our risk

management approach

• Reduction in Aviation Safety incidents

• Increased Aviation Safety Risk-based programmes

• We have partnered with all stakeholders operating on our

airfield to conduct serviceability checks of ground service

equipment (GSE) and all other motorised and non-motorised

equipment through our Risk Management approach to incident

management

• Joint management inspections of Foreign Object Debris (FOD)

• Extension of our ethics programme, given the airport staff

volumes (38 000) employed by various stakeholders, service

providers and other companies.

How big a component of operations is the transport and

logistics side?

The air cargo volumes at our airports saw a very healthy growth in

2017 of almost 20%, far exceeding forecasts. Johannesburg is still

the largest cargo hub in Africa, handling just short of 415 000 tons

GAUTENG BUSINESS 2018/19

18
---
INTERVIEW

in 2017 alone. The existing 14 cargo international and local carriers

have maintained or increased their frequencies. Strong improvement

has been seen on the belly-cargo which is also important

in supporting the immense interest we've noted in the passenger

market. As the country moves towards a more stable and stronger

economic outlook, we expect the interest in the freighter market

to grow. Over 2017, the top five export markets in terms of value

were to China, USA, Germany, Japan and India, closely followed by

Botswana and Namibia – highlighting the role we play as a major

supplier to the Southern African Development Community (SADC)

and Sub-Saharan Africa countries.

Are you running at full capacity? Does ACSA have plans

to expand?

While there still is some capacity on the passenger handling side,

some Terminal subsystems have reached saturation resulting in long

queues and operational bottlenecks. At our International Terminal,

these include passenger security screening, passport control check

points, boarding gates and arrival baggage carousels. We have accelerated

completion of the least disruptive projects which included

construction of a direct link allowing passengers to proceed straight

from check-in counters to security screening and passport control

check points at the Central Terminal Building (CTB). Refurbishment

and capacity enhancing projects require meticulous planning and

execution in a live environment such as an airport.

At our Transit Terminal we enabled unrestricted access to transit

hotels; this was critical, considering the four-million passengers

connecting to international destinations. Short to medium-term developmental

plans will see us increase the number of International

boarding gates and the processing capacity of baggage carousels.

For our Airfield infrastructure,

we have several efficiency

improvement projects lined up.

We are planning to build a bypass

taxiway at the threshold of our

departure runway (RWY 03L/21R)

and more rapid exit taxiways. This

will improve the current processing

rate of departing aircraft

which is negatively impacted by

the unavoidable daily crossings

of a live runway by well over 300

aircraft. Furthermore, we have an

aircraft parking stand constraint

for wide-bodied types such as the

A380s and B747s. Aircraft parking

stand saturation in peak hours

results in the capping of potential

air traffic movement growth,

which is not good considering

our strategic focus to grow air traffic.

To address this, we are planning

to build an additional nine

x Code F aircraft parking stands

in Multiple Apron Ramp System

(MARS) configuration which can

be converted to accommodate 18

x Code C type aircraft. This configuration

gives us the flexibility and

efficiency to maximise space for

aircraft parking and turnarounds

on the tarmac.

At our Cargo Precinct, we have

short-term refurbishment plans

to upgrade existing Landside

facilities. These mini projects

will include the reconfiguration

of access roads to improve

access, relocation of the main

gate, extended goods receiving

areas, increased on-site security

monitoring stations and vehicle

parking capacity. The Cargo

warehousing capacity will also

be extended to accommodate

growth in specific commodities

such as electronics, perishables

19 GAUTENG BUSINESS 2018/19
---
INTERVIEW

and pharmaceuticals. Long-term, we will ultimately build a new Cargo

Terminal on the northern side of our proposed Midfield Passenger

Terminal. This will be a multibillion-rand investment that will see growth

in cargo volumes of up to one-million tons of cargo annually.

What impact on staff size would such plans have?

It is important to bear in mind that of the 38 000 airport employees,

about 5% are direct employees of Airports Company South Africa.

The majority are in the employ of various stakeholders such as airlines,

government agencies such as South African Police Service, Department

of Home Affairs, State Security Agency, South African Revenue Service

(Customs and Excise), ground handling companies, retail concessionaires,

car rental companies and other service providers. It is not possible

to put a figure to how the long-term development will impact staff at

such an early stage. However, we would anticipate eventually having

some additional employees, with a multiplier effect on the overall

number of jobs available in and around the airport.

To improve the lives and for the benefit of our employees and

their children, we are exploring the opportunity to build a crèche and

staff canteen as we remain invested in having engaged and nurtured

employees. We are also quite advanced in our plans to launch a staff

transport solution which will enhance staff safety and time spent

on the roads. This will improve the wellbeing of employees residing

in faraway areas who wake up at 2h00 to be on duty at 5h00 in the

morning including those that knock off at 23h00 after the last flight has

departed. We are in discussions with the City of Ekurhuleni regarding

its delivery timelines for the construction of a BRT station at the airport,

a development which will no doubt make the airport more accessible

to airport staff, passengers and the general public.

Does O.R. Tambo International Airport coordinate with

regional entities such as Ekurhuleni Municipality and the

province of Gauteng in terms of economic impact and

long-term plans?

As a company we have a strong growth agenda which is driving a

dedicated business development focus to seek, develop and convert

opportunities across the business landscape. The work we do in promoting

traffic development of new routes and increase frequencies

on existing routes for passengers and cargo has necessitated that we

identify key regional role-players whose business agendas are aligned

to this growth agenda. To realise this, we recently formed a Gauteng

Air Access Committee with full-time representation of the Gauteng

Province, Gauteng Growth and Development Agency, Gauteng Tourism

Authority and the City of Ekurhuleni. We also work very closely with

South African Tourism with the intention for inclusion as a full-time

member. We recently recorded a notable success when Alitalia returned

to South Africa after an absence of 17 years.

We are also intimately

involved in the Gauteng

Aerotropolis initiative led by

the Gauteng City Region which

seeks to use the airport as the

nucleus for developments that

will culminate in billions of

rands' worth of investments at

and near the airport, designed

to transform the area into a

larger hub of economic growth

and development. One of the

Aerotropolis' catalytic projects

we are responsible for within

our campus is the commercialisation

of Western Precinct,

which will involve the development

of 180 000m² for a mixeduse

development comprising:

• Offices – 50 000m²

• Retail – 21 000m²

• Transport Station – 5 000m²

• Hotel and Conference –

22 000m².

What trends in terms of

visitor numbers have you

noticed in recent years?

O. R. Tambo International

Airport remains by some distance

the largest and busiest

on the continent in terms of

passengers, flights and cargo.

More than 20-million passengers

travel in and out of the airport

annually. Growth off such a

significant base presents challenges

in the strained economic

environment of the past few

years. We have nevertheless

recorded passenger growth of

around 3% despite these challenges.

We anticipate that the

formation of the Gauteng Air

Access Committee will help

increase airlift and growth in

passenger and cargo volumes.

GAUTENG BUSINESS 2018/19

20
---
INTERVIEW

What structures are in place to facilitate the smooth

running of the O.R. Tambo International Airport

campus?

I am fortunate to have a strong leadership team that not only

performs well individually but also works together. My leadership

team and I meet regularly with various stakeholders and

companies which include the Province of Gauteng, City of

Ekurhuleni, South African Civil Aviation Authority as our Airport

Licensing Regulator, ACSA Economic Regulator, National Key

Point Secretariat, our airline customers, cargo freight operators,

manufacturing and logistics companies, retail concessionaires,

government agencies, ground handling companies and other

service providers to the airport. Our industry is heavily regulated

to guarantee safety of civil aviation. This necessitates that there

be structured platforms to engage in critical matters pertaining

governance, intermodal transportation, airport licensing, regulatory

compliance, marketing, route and traffic development,

master planning and alignment of short to medium-term expansion

plans, provision of bulk services, maintenance of essential

airport infrastructure, equipment and systems, calibration of instrument

landing systems, issuance

of occupational certificates

and emergency management,

in naming but a few.

What steps have been

taken to improve Customs

control procedures and

baggage security?

The work that we are doing

through the multi-disciplinary

and tactical team has yielded

many benefits from the seizure

of drugs with a street value of

millions of rand, the confiscation of

undeclared currency, to the arrest

of individuals for illegal activities.

The collaboration between the

South African Police Services,

the Department of Home Affairs,

State Security Agency, Ekurhuleni

Metropolitan Police and several

other government agencies

has immensely contributed

to many of our successes. The

implementation of a 24-hour

Joint Operations Centre (JOC)

with representation from various

government agencies work in

synergy to keep our airport safe.

Baggage security is a key focus

area for us, our Security Services

have a special deployment

team and together with

our stakeholders primarily

concentrates on baggage

security with the aim to improve

the number of mishandled bags

at our airport. Our mishandled

rate is below the global trends

due to the increased efforts by

all stakeholders. This dedicated

team is entrusted to ensure

that bags that go through our

facility are safe and delivered

on time to our most valuable

passengers.

21 GAUTENG BUSINESS 2018/19
---
SPECIAL FEATURE

Aerotropolis

O.R. Tambo International Airport can spark new growth.

The biggest airport in Africa is O.R. Tambo International Airport.

It is a regional hub that plays a vital role in tourism, logistics

and trade. The economic impact of the airport is clear, but

there are plans to further leverage the advantages that the

facility brings to the region.

Key to this strategy is the development of an aerotropolis, where

the airport becomes a hub of economic activity in the same way that

cities anchor various economic sectors that grow up around the centre.

Shopping, trading and entertainment are now accepted parts of the

airport experience for the traveller,

and these and other sectors

are increasingly being expanded

to the zone around the airport.

As part of its drive to establish

the aerotropolis, the City of

Ekurhuleni hosted Airport Cities:

World Conference and Exhibition

in 2013. This was followed by a

GAUTENG BUSINESS 2018/19

22
---
SPECIAL FEATURE

series of conferences and workshops that culminated in the creation

of an Aerotropolis Master Plan.

In June 2016, the Gauteng City Region Economic Indaba was attended

by all the mayors of the region and the national Minister of

Finance. Gauteng Premier David Makhura gave notice of "how we can

unlock, jump-start and re-ignite a sustainable and inclusive growth

trajectory for key sectors of our provincial economy".

Opportunities for the private sector were mentioned in connection

with several aspects of the City Region Indaba, including the necessity

for infrastructure investment. It is instructive to look at how many

logistics-related developments are mentioned in relation to the various

corridors for development that have been identified.

The corridors and focus areas are:

• Thami Mnyele: transport, BRT, M&T Development and Plumbago

Industrial Park

• OR Tambo Aerotropolis: creative sector, technology, research

and development and logistics

• Thelle Mogoerane: logistics, Carnival Junction, OR Tambo inland

port, Prasa rolling stock manufacturing facility run by Gibela Rail

Consortium which will deliver 600 trains valued at R51-billion.

The Tambo Springs inland port and logistics gateway has been established

near Katlehong as an inter-modal facility which can transfer

containers from rail or road to storage facilities and ultimately to the

customer. Existing freight rail lines run through the site and link it to

the seaports of Durban, Cape Town and Ngqura (Port Elizabeth). The

aim with this new facility is to improve efficiency. It is run by the Tambo

Springs Development Company. The intention is to add to the port:

• a logistics park (transportation, processing, manufacture,

warehousing and distribution)

• a business park with a retail element

• a residential component

• an agri-industrial section.

A June 2017 investment conference put the spotlight on Ekurhuleni's

economy which currently is primarily driven by manufacturing, mining

and agriculture.

With a strategic location and identified aerotropolis corridors, investment

in the following sectors is anticipated: manufacturing, aviation

and aerospace, transportation and logistics.

At a Manufacturing Indaba in June 2017, mayoral committee

member Councillor Nkosindiphile Xhakaza told the delegates that

the Aerotropolis Masterplan "is our development strategy for building

Ekurhuleni as an airport city that is a gateway to Africa and the world".

He said that the aim was to place Ekurhuleni as a strategic logistics

centre for the national economy, "especially in providing beneficiation,

storage and transportation

of industrial products to external

markets".

Ekurhuleni is hoping not only

to be the national centre for logistics

and to boost its already impressive

manufacturing capacity

by building more infrastructure

and freight hubs, but it intends

the aerotropolis to play a role in

helping to consolidate the integration

of the nine town councils

that went into making up the

metropole.

Incentives

Logistics is obviously a major

part of the equation and facilities

such as the Tambo Springs

inland port will add capacity to

the region. However, using closeness

to the airport as a factor in

driving down costs can also be

a way of promoting manufacturing.

When this factor is supported

by national, provincial

and local government incentives,

the business proposition for investors

becomes very attractive.

The OR Tambo Industrial

Development Zone is one of several

sites allocated by the South

African government to stimulate

investment in targeted sectors.

The OR Tambo IDZ supports the

development of businesses that

work in the beneficiation of precious

metals and minerals sector,

with a focus on light, high-margin

manufacturing of South African

precious and semi-precious metals.

Export is encouraged. The site

has specific precincts in which

various sectors are given priority.

23 GAUTENG BUSINESS 2018/19
---
SPECIAL FEATURE

The National Department of Trade and Industry (dti) is the lead

agent in the creation of Special Economic Zones (SEZs), which are

part of the national Industrial Policy Action Plan (IPAP). SEZs are designed

to attract investment, create jobs and boost exports. Industrial

Development Zones are a type of SEZ.

Several incentives are available to investors in SEZs. These include

tax breaks from the South African Revenue Service (SARS), subsidised

interest rates from the Industrial Development Corporation (IDC),

subsidies for employees earning below a certain level and subsidies

for the training of the workforce, incentives and grants from the dti,

and incentives from national electricity utility Eskom. Special rules

apply within an SEZ, including more liberal taxation for companies

that invest in the zone (15% corporate tax applies, as opposed to 28%).

Other benefits might include a building allowance,

employment incentives and the fact that an SEZ is a customscontrolled

area. Skills transfer is

another stated aim behind the

SEZ programme.

Specific incentives relating to

energy savings and reductions

in environmental impact are

available, both from Eskom

and the dti. Within the dti's

Manufacturing Competitiveness

Enhancement Programme, there

is a Green Energy Efficiency

Fund, all of which are designed

to make investment more

attractive.

GAUTENG BUSINESS 2018/19

24
---
ADVERTORIAL

Meet the Nedbank leadership

team in Gauteng

In line with our new brand proposition, our leadership team and staff

are made up of money experts whose goal is to help clients 'see money

differently' and enable them to reach their goals.

Dave Schwegmann

Divisional Executive:

Retail and Business Banking

Gauteng North

Brigitte Ryder Provincial

General Manager

Gauteng East

Nozizwe Tshabuse

Provincial General Manager

Gauteng Central

Linda Mbambo

Provincial General Manager

Tshwane & North West

Mohammed (Salim) Kadoo

Provincial General Manager

At Nedbank we believe that money has the infinite

capacity for good, if you understand the true

nature of it.

We know that money well managed can make a real

difference in people's lives.

And we always take it seriously. For us, being 'good

with money' means looking at it differently.

Finding new and better ways to grow it, invest it,

leverage it and manage it for the greater benefit of

individuals, businesses and communities. We believe

our real reason for being should be using our money

expertise to do good, by inspiring you to make better

choices with your money.

We believe that when we apply our expertise and,

more importantly, use it to help you see the effect your

money can have, you will experience the difference

between money being money and money making

a difference.
---
ADVERTORIAL

Making it easier to do business with

Nedbank Whole-view Business Banking

Brigitte Ryder, Nedbank Provincial General Manager of Retail and

Business Banking, Gauteng North, says her team is ready to assist clients

with a comprehensive range of financial products and services.

Nedbank's goal is to have all service offerings and

departments under one roof, making it easier to

deliver on its new brand proposition to 'see money

differently'. Nedbank recognises that you have a full

range of banking needs that go beyond transacting

and borrowing. That is why its dedicated team of

specialists partner with you to give you a bird's-eye

view of your business and a different perspective on

how your money needs to flow to meet your goals.

Our expertise will help clients navigate

challenges and meet their goals

Brigitte Ryder prides herself on building

relationships and understanding the needs

of clients, saying that partnership- and

relationship-based banking is a key driver

of how Nedbank conducts its business

to ensure clients benefit from its money

expertise.

'We believe you need a financial partner who has a

deeper understanding of your business – someone

who offers innovative, relevant solutions and who

gives you a banking experience that is hassle-free. As

money experts, we are committed to doing good, so

you can concentrate on what's most important to you

– running your business,' says Ryder.

We look forward to continuing our relationships with

our valued existing clients, and to offering our value

proposition to new clients as well. At the core of our

offering in Gauteng North is a relationship-based

model with a business manager dedicated to your

business as your key point of entry to the bank. We

encourage you to see money differently with Wholeview

Business Banking from Nedbank, and to take

advantage of our one-stop banking service.

To take your business to the next level or to obtain more

information about Nedbank's specialised service offering

call Brigitte Ryder on +27 (0)11 294 7520, send an

email to brigitter@nedbank.co.za or visit

www.nedbank.co.za.
---
ADVERTORIAL

Our money experts are available to provide

professional advice

Nozizwe Tshabuse, Nedbank Provincial General Manager, Gauteng

East, explains how Nedbank can help business owners in the region.

Business Banking are ready to assist you with

professional advice, industry-specific solutions and a

comprehensive range of financial products

and services.

At the core of Nedbank's offering in the province is a

relationship-based model with a business manager

dedicated to your business as the key point of entry

into the bank.

There is good news for Gauteng business

owners and entrepreneurs seeking a

unique banking experience: Nedbank

Business Banking has business managers

located across the province specialising

in commercial industries as well as the

agricultural sector. Nedbank also offers

innovative and relevant solutions to

franchisees, incorporating customised

lending solutions, transactional banking

solutions and value-added services.

Our tailored solutions take franchisees' current

and future goals into consideration, and aim to

assist franchises in attaining the competitive edge

needed to succeed. A dedicated business manager

gives franchise owners the opportunity to have

an experienced financial expert as a partner in

your business. Our money experts at Nedbank

'We encourage you to see money differently with

Whole-view Business Banking,' explains Tshabuse.

What does this mean for the client? It is an additional

benefit of banking with Nedbank Business Banking

and means that your business and your personal

financial needs are managed in one place. 'Because

business owners and their businesses are very often

financially dependent on each other, our client

service teams now also offer individual banking

solutions to you and your staff because we already

know and understand your needs,' says Tshabuse.

With this in mind, Nedbank has seamless offerings for

you, your employees and your household. Through

Nedbank's workplace banking offering, communities,

including individual and business clients, are provided

with access to products and services through a

dedicated banker.

Should you be interested in taking your business to the

next level and improving staff engagement, please call

Nozizwe Tshabuse on +27 (0)11 458 4405, send an

email to nozizwet@nedbank.co.za or visit

www.nedbank.co.za.
---
ADVERTORIAL

Expertise in small business aimed at

stimulating growth

Linda Mbambo, Nedbank Provincial General Manager, Gauteng Central,

explains how Nedbank is committed to partnering with businesses

for growth.

which provides key insights and trends on smallbusiness

behaviour and the challenges that small

businesses face; and the new Essential Guide for

Small-business Owners, which helps small businesses

understand and handle the complexities of starting

and running a business. In addition, business

registration services are available in branch through

SwiftReg or by applying online through CIPC.

'Small businesses are the lifeblood of our

economy. Nedbank has, over the years,

instituted various interventions aimed at

giving support to the small-business sector.

Over and above our small-business services

solutions, we provide small-business

owners with support that goes beyond

banking, freeing up their time to focus on

running their businesses,' says Mbambo.

Nedbank has built a solid reputation as a bank for

small businesses through initiatives such as Vote

Small Business, which calls on everyone to make a

conscious decision to support small businesses with

their hearts, feet and wallets; the SimplyBiz.co.za

platform where business owners can network and

engage with other business owners, ask questions

and spark discussions; the Small Business Index

At Nedbank Business Banking we believe that you

need a financial partner who understands your

aspirations, offers relevant solutions and gives you

a banking experience that is hassle-free. We are

committed to doing good, so you can concentrate

on what's most important to you – running

your business.

Nedbank is making it easier to deliver on our new

brand proposition – 'see money differently' – through

our Whole-view Business Banking which provides us

with a bird's-eye view of your business and therefore

enables us to offer solutions and services aimed

at giving your business the edge in challenging

economic times.

Speak to the money experts at Nedbank Business Banking

if you are interested in taking your business to the next

level or want to find out more about our specialised

service offering. Contact Linda Mbambo on

+27 (0)11 671 7149, email the Business Banking team

at business@nedbank.co.za or visit

www.nedbank.co.za.
---
ADVERTORIAL

New brand proposition encourages clients to

'see money differently'

Mohammed (Salim) Kadoo, Nedbank Provincial General Manager,

Tshwane and North West, explains how the new brand values build

on the expertise of the bank to benefit clients.

advertising and communication campaigns, as well

as its products, services and channels. All these

changes are designed to inspire clients and society to

see money differently and partner with the bank to

achieve their goals.

Our new brand proposition is not just a marketing

initiative, but a reflection of the continuing business

evolution at Nedbank. As a bank we want to ensure

that our clients experience our brand in a way that is

aligned with our brand promise.

Nedbank officially launched its new brand

repositioning during the first day of the

world's largest design festival – the 2017

Design Indaba on 1 March. The bank's new

tagline challenges clients and society to

'see money differently'.

The new brand positioning is built on Nedbank's

purpose: to use financial expertise to enable

individuals, families, businesses and society to do

good. Our new brand proposition was born after

almost two years of research and client engagement

which revealed that people want to work with

purpose-driven institutions they can trust. They

want a professional financial partner that balances

expertise with a genuine commitment to do good.

The public will see a number of changes in the next

few months as the bank evolves its corporate identity,

It is common knowledge that we live in a volatile

socioeconomic environment, so it is even more

important for us to intensify our commitment to

improve on our skill in enabling clients to navigate

challenges and meet their goals.

One of the solutions from Nedbank is Whole-view

Business Banking, which provides a bird's-eye view

of clients' businesses, and a different perspective on

how their money needs to flow to meet their needs.

With our expertise and insights we can help our

clients to see money as we do, so that together we

can cocreate unique solutions that can unlock the

possibilities that will take their business to the

next level.

If you would like to explore further how Business Banking

can help take your business to the next level, and for more

information about Nedbank Retail and Business Banking

Services, call Mohammed (Salim) Kadoo on

+27 (0)12 436 7740 or send an email to

mohammedk@nedbank.co.za.
---
ADVERTORIAL

Trust us to protect your business against

everyday risk

Stella Tedeschi, Regional Manager of Broker Channels, Gauteng, explains

why Nedbank Insurance is not a one-size-fits-all business.

informed decisions – making sure that they have

the appropriate cover and that the business or

individual is not under- or over-insured. Advisors are

equipped with a wealth of invaluable sector-specific

experience and knowledge ensuring that cover is

adequate for clients' exposure to risk. Furthermore,

insurance mitigates loss, secures financial stability,

and promotes trade and commerce activities that

play a role in economic growth and development.

Therefore, insurance plays a crucial role in the

sustainable growth of an economy.

Nedbank Insurance has evolved into a

business that provides integrated insurance

to Nedbank's individual and business

clients. Our purpose is to provide certainty

to our clients at a time when it matters most

to them and ensure that we can be relied

on to support them during challenging

times in their business or personal lives. Our

offering comprises comprehensive shortterm

insurance solutions, life insurance

solutions and investments.

In recent times, it has become evident that the

benefits of having a reputable insurance partner

outweighs the disadvantages of not having

appropriate cover. Our team of experts provides

valuable advice that enables clients to make

Nedbank Insurance provides a comprehensive

offering of short-term products with blue-chip

insurers. Our broad offering includes professional

analysis and advice; appropriate product design

and implementation, for example BizzInsure,

our white-label product; ongoing portfolio

management together with claims management

and administration; and specialised cover, including

goods in transit, public liability, personal accident and

various motor insurance options.

Should you be interested in expert advice for the type

of business cover that is exactly right for your business

needs, look no further. Nedbank has a team of specialists

ready to provide you with information necessary to allow

you to make an informed decision. For more information

call Stella Tedeschi on +27 (0)12 436 7659, send an

email to stellat@nedbankinsurance.co.za or visit

www.nedbank.co.za.
---
ADVERTORIAL

Nedbank Business Bundle is a game changer with

savings and personalised services for

small enterprises

The new Business Bundle from Nedbank is a game changer for small

enterprises, offering the best value for money when set against rivals,

with exclusive benefits and personalised services for entrepreneurs.

business Owners, available at www.nedbank.co.za.

Through initiatives such as training and enterprise

development, Nedbank invests heavily in small

business, growing the economy and creating jobs.

With the country's challenging economic

environment, the Business Bundle not only

offers you personalised banking services,

but also critical tools to save – with up to

40% savings on monthly banking fees,

contributing directly to the bottom line at a

time when every cent counts.

In line with Nedbank's new brand proposition to

'see money differently', the Business Bundle resonates

with the bank's commitment to using expertise for

good in promoting small enterprises.

To ensure that business owners are better equipped in

understanding and handling the complexities of starting

and running a business, Nedbank provides practical tips

for entrepreneurs through the Essential Guide for Small-

'Our efforts in the small-business sector are

underpinned by our Banking and Beyond philosophy

that provides non-financial support such as Vote

Small Business, which encourages consumers to keep

small businesses in their communities top of mind

when making their purchases. Banking and Beyond

also includes other flagship initiatives, such as the

small-business-driven SimplyBiz website

(www.simplybiz.co.za), the Essential Guide for Smallbusiness

Owners, CIPC registration and the Money

Manager Accounting Tool,' says Alan Shannon, head

of Relationship Banking Sales.

Shannon advises entrepreneurs to make a concerted

effort to develop their financial acumen by making

use of resources such as Nedbank's Essential Guide

for Small-business Owners and the SimplyBiz

online portal.

The Business Bundle is another way Nedbank ensures

that clients 'see money differently' and use money as

a tool to take their businesses to the next level.

Call 0860 116 400, send an email to

smallbusinessservices@nedbank.co.za or visit

www.nedbank.co.za/business.

Nedbank Ltd Reg No 1951/000009/06. Nedbank Ltd Reg Authorised No 1951/000009/06 financial

Authorised financial services services and registered and registered credit credit provider provider (NCRCP16).
---
INDABA HOTEL, SPA & CONFERENCE CENTRE

YOUR AFRICAN DESTINATION IN JOHANNESBURG

Just north of the fast-paced business world of Sandton in the upmarket residential suburb of Fourways,

lies the 258-bedroom Indaba Hotel, Spa & Conference Centre. It is a compelling blend of

business-like convenience and efficiency, with a relaxed and warm country atmosphere.

Coupled with easy and convenient access to all main highways, OR Tambo International Airport and a

mere 15km from Lanseria International Airport, the hotel features an impressive selection of some 24

multi-purpose conference venues that can accommodate up to 2 000 delegates in total with banqueting

facilities for up to 500 guests.

With two restaurants on property, there is no need to leave the comfort of the hotel to enjoy world-class

cuisine. Our 300-seater Chief's Boma Restaurant caters for all tasted with over 120 African-inspired dished

ranging from North African Moroccan cuisine to Koeksisters and Melktert from the Cape – and with a

"Shisa Nyama" grill boasting a variety of game meats sizzled to your specification, everyone is sure to find

their favourite.

Well known for the lavish full South African Breakfast Buffet, the Epsom Terrace Restaurant also boasts an

evening Bistro Menu which will delight even the most demanding gourmand's exacting standards. A

traditional Carvery Lunch with live music can be enjoyed every Sunday with limited outdoor seating

available for those who prefer dining al fresco – after all, Jo'burg really has the best weather in South Africa.

INDABA HOTEL, SPA & CONFERENCE CENTRE

C/O WILLIAM NICOL DRIVE & PIETER WENNING ROAD, FOURWAYS

Phone: +27 11 840 6600 | Email: indaba@indabahotel.co.za | Website: www.indabahotel.co.za
---
Take a wander through the 17 hectares of lush bushveld gardens and you will find the Mowana Spa - a

wellness sanctuary which will revive your senses, rejuvenate your body and soothe your soul. The Mowana

Spa, which takes its name from the majestic Baobab Tree of African Lore and Legend, offers wellness

journeys based on the recognised healing energy of Tribal Massaging.

Signature Pamper Journeys include the decadent Mowana Full Day African Rejuvenation Spa pamper

which is an indulgent spa experience including breakfast, lunch, complimentary beverages and six

revitalizing treatments; the romantic Mowana African Skies Night Spa pamper with includes dinner,

complimentary beverages and three relaxing treatments; and the indulgent Mowana African Escape

Spa & Stay Pamper Journey for the ultimate decadent relaxation.

Our commitment to service excellence and staff empowerment through training and mentoring will ensure

that your needs are met and your expectations exceeded as you enjoy a day of pampering at Mowana Spa.

The Indaba Hotel and Mowana Spa are also PROUDLY GREEN ensuring responsible tourism and minimising

carbon footprint through extensive recycling of waste products, water-wise gardening, greening

conference initiatives, better material choices, minimising power usage and buying local - after all, a

better place to live is a better place to visit.

The Indaba Hotel is sure to meet all your business and leisure requirements. We look forward to welcoming

you to our oasis in the City.

15 MINUTES FROM SANDTON ... A MILLION MILES AWAY
---
KEY SECTORS

Overviews of the main economic

sectors of Gauteng.

Agriculture 36

Mining 38

Oil and gas 44

Engineering 48

Manufacturing 50

Automotive 56

Food and beverages 57

Tourism 58

Education and training 62

Information and

communications technology 64

Banking and financial services 66

Development finance and

SMME support 72
---
OVERVIEW

Agriculture

Urban farming is in the spotlight.

Gauteng is primarily an urban province, but the agricultural

sector plays a very important role in the economy.

The Provincial Government of Gauteng has set up

Action Labs to focus on agriculture and agri-processing

with a focus on land tenure issues and improving food security. These

initiatives will also play a role in boosting township economies if food

producers can be linked to the value chain.

The Urban Agriculture Initiative of the Chamber of Mines was

launched in 2017. The roofs of buildings are being put to use as agricultural

land, hosting various crops cultivated by aquaponics and

hydroponics. A pilot project on the top of the Chamber's building has

produced about 15kg of basil for Nhlanhla Mpati (above). First National

Bank's canteen is supplied with vegetables by its own rooftop farm. The

Johannesburg Inner City Partnership is driving the initiative.

The Fresh Produce Market in Johannesburg is South Africa's biggest

market. The region's other two metropolitan areas, Tshwane and

Ekurhuleni, also have large markets to cater for the region's large population.

The Springs Fresh Produce Market accounts for 3% of South African

market share which it intends increasing as it expands its facilities.

Gauteng's agricultural sector is largely concentrated on producing

vegetables for the huge cities that dominate the region. There is

commercial farming in the southern sector of the province (part of

South Africa's maize triangle) and the farming of cotton, groundnuts

and sorghum is undertaken in areas near Bronkhorstspruit (east) and

Heidelberg (in the south).

The province is home to some of South Africa's largest agricultural

companies, including AFGRI, a listed agriculture services and foods

SECTOR HIGHLIGHTS

• The provincial government

wants to boost food production

and agri-processing.

• Basil is growing on the top

of the Chamber of Mines

building.

company, which specialises in

animal feed production. Africa's

largest feedlot for cattle is located in

Heidelberg: Karan Beef's facility can

accommodate 120 000 cattle. The

feedmill processes 1 400 tons per day

and the associated abattoir in Balfour

in neighbouring Mpumalanga

sometimes deals with 1 800 head

of cattle per day. The 2 330ha Karan

estate also includes a game farm and

an eco-development.

The Kanhym Agrimill in

Vereeniging is one of three in the

company's portfolio, which collectively

processes 250 000 tons

of animal feed annually. Kanhym

GAUTENG BUSINESS 2018/19

36
---
OVERVIEW

Estates is the largest producer of pigs in the country and the

company's Middelburg farm in Mpumalanga is geared to supply

the Gauteng market.

Fruit, dairy products, eggs, maize and grain are also produced in

large volumes within the province.

As the most populous region of South Africa, Gauteng consumes

large quantities of food. And South Africans eat more chickens than

anything else. Poultry farm and production facilities abound in

Gauteng. Astral Foods, RCL Foods and Daybreak Farms are among

the biggest companies in the province. The poultry industry in South

Africa has been in the spotlight with a change in the arrangements

relating to import duties from the US.

Many agriculture-focused research institutions are based in the

province. The Agricultural Research Council's (ARC) national research

facilities are in Pretoria, and include the Roodeplaat Vegetable and

Ornamental Plant Institute and the Onderstepoort Veterinary Institute.

In addition, the Forestry and Agricultural Biotechnology Institute (FABI)

is located at the University of Pretoria.

Policy support

The provincial government is supporting 178 small-holder farmers

through farmer support and development initiatives. An information

technology programme is to be implemented. This will focus on crop

and livestock monitoring and is intended to increase productivity.

The Gauteng City Region will roll out the deployment of information

technology in the farming community. This will present opportunities

for farmers to monitor their crops/livestock and increase productivity.

The R50-million programme encompasses:

ONLINE RESOURCES

Agricultural Economics Association of South Africa:

www.aeasa.org.za

Agricultural Research Council: www.arc.agric.za

AgriSA: www.agriinfo.co.za

Gauteng Department of Agriculture and Rural Development:

www.gdard.gpg.gov.za

Johannesburg Development Agency: www.jda.org.za

National Department of Agriculture, Forestry and Fisheries:

www.daff.gov.za

South African Crocodile Farming Association:

www.sacfa.co.za

South African Poultry Association: www.sapoultry.co.za

• Gauteng Agriculture

Information System

• Farm Business Analysis

(DNA)

• Gauteng Agriculture

Economy Analysis (including

market monitoring)

• Smart Agriculture

Feasibility.

A province-wide Agro-

Processing Summit was held

to bring together small-holder

and commercial farmers, food

retail companies, finance institutions

and researchers.

The summit was organised

by the Gauteng Department

of Economic Development,

Environment, Agriculture and

Rural Development.

Woolworths' Enterprise and

Supplier Development Programme

gave Sophiatown-born Jimmy

Botha the chance to become a

successful farmer of baby spinach,

rocket and basil. With advice from

a supportive neighbour farmer

(who was already supplying to

Woolworths), Botha grew his farming

business to the point where he

now has 42 full-time employees

and 30 seasonal workers.

Massmart, the retail group

now owned by US giant Walmart,

invested R15-million in the five

years to 2017 to create opportunities

in its food chain for emerging

farmers. Techno-Serve, a

non-governmental organisation,

oversees the programme. The

Massmart Supplier Development

Fund has enabled small farmers

to have the security of a confirmed

buyer for their products

and many of them have grown

their businesses substantially.

37

GAUTENG BUSINESS 2018/19
---
OVERVIEW

Mining

Government wants broader participation in the mining sector.

SECTOR HIGHLIGHTS

Exports to SADC countries

are in the spotlight.

• Petra is expanding

diamond production.

The national government's Phakisa programme is to be applied

to mining. Intended to fast-track solutions to development

problems, an Operation Mining Phakisa Lab has been set up

to create concrete plans. Similarly, the Provincial Government

of Gauteng has initiated Action Labs in the mining sector. These are

meetings where private and public participants in the mining sector

and its value chain discuss possible improvements, partnerships and

innovations.

One of the Action Labs focus areas is to strengthen the export of

mining services and mining equipment to SADC countries, including

the Copperbelt. The creation and support of mining-sector SMMEs is

another important component of the plan to create a broader base

for mining and mineral beneficiation.

AngloGold Ashanti has reduced its South African holdings to a

tailings plant and one mine (Mponeng in Gauteng) but remains a

major gold producer with assets in five other African countries, South

America and Australia. In early 2018, CEO Srinivasan Venkatakrishnan

resigned to join Vedanta Resources, which has recently purchased a

large zinc operation in South Africa.

Gold Fields is engaged in a long-term expansion project at its mechanised

South Deep gold mine, which has a life-of-mine to the year 2094.

Gold Fields in 2013 spun off some of its older mines to a new company

called Sibanye Gold. That company has gone on to become a diversified

miner called Sibanye Stillwater, with a strong focus on platinum.

The gold sector has shed several thousand jobs in the last five years.

Part of the reason for Gold Fields wanting to unbundle was political uncertainty.

A proposed new mining

charter (Mining Charter 3) did not

go down well with mining companies,

and the new President of

South Africa, Cyril Ramaphosa, has

appointed a new mining minister

to come up with a better arrangement.

The level of black ownership

and whether that percentage

must be "topped up" every time

a black shareholder sells, are just

two of the contentious issues. A

court ruling in favour of "onceempowered,

always-empowered"

will probably not be the

end of the debate. The Chamber

of Mines says that the value of

BBBEE deals since the year 2000

is R205-billion.

GAUTENG BUSINESS 2018/19

38
---
OVERVIEW

The mining industry's employer body is the Chamber of Mines.

The Chamber's address in Hollard Street, Marshalltown, Johannesburg,

reflects the fact that the city of Johannesburg was founded on gold.

All of the bodies that oversee the South African mining industry are

located in Gauteng.

The mining industry itself is looking at new ways of doing business.

Guided by the Zambezi Protocol, the Chamber of Mines wants

mining to be more positive and constructive, working better with

the communities in which it operates. New Chamber CEO Mxolisi

Mgojo is simultaneously leading his company, Exxaro Resources,

on a programme to make mining sustainable through measures

such as water sharing with local communities and finding ways to

help communities gain access to energy.

A 400km gold reef stretching across most of Gauteng and some of

the neighbouring provinces was for many years the backbone of South

Africa's mining industry. Gold production has generally been in decline

for some years, with older mines such as AngloGold's TauTau either

closing unprofitable shafts or being put on care and maintenance

(Kopanang). Global demand for gold has see-sawed in recent years.

Cullinan, east of Pretoria, is the site of one of the greatest finds

in diamond-mining history. The eponymous diamond was cut into

several smaller diamonds, including the 530-carat Great Star of Africa.

Today, Petra Diamonds continues to mine Cullinan as one of its four

South African projects.

Petra Diamond's Cullinan mine has an orebody that contains

a diamond resource of 194 Mcts which is why Petra is expanding

with a goal of annual production of 2.2 Mcts by 2019. A R1.6-billion

processing plant is being built at Cullinan, with a throughput capacity

of 6 Mtpa.

ONLINE RESOURCES

Chamber of Mines: www.chamberofmines.org.za

Council for Geoscience: www.geoscience.org.za

Mining Qualifications Authority: www.mqa.org.za

Mintek: www.mintek.co.za

National Department of Mineral Resources: www.dmr.gov.za

Southern African Institute of Mining and Metallurgy:

www.saimm.co.za

South African Minerals Processing Cluster:

www.saceec.com/sampec

Research

Gauteng is home to most of the research and training bodies

associated with mining. AECI, the explosives and chemicals company

which has been involved

in mining in South Africa almost

as long as there has been

a mining industry, supports

the Virtual Reality Mine Design

Centre located at the University

of Pretoria.

Mintek is an autonomous

body based in Randburg which

receives about 30% of its budget

from the Department of Mineral

Resources. The balance comes

from joint ventures with privatesector

partners, or is earned in

research and development income,

the sale of services or

products and from technology

licensing agreements.

An example of collaboration

is Project AuTEK which

has found a way of getting

gold catalysts to play a role in

improving fuel-cell efficiency.

Mintek teamed up with the

Department of Science and

Technology and AngloGold

Ashanti.

The University of

Witwatersrand School of Mining

(shown on the opposite page)

has two houses that are partfunded

by mining houses and

equipment suppliers including

Xstrata, Lonmin, De Beers, Anglo

Platinum and Sandvik.

Pretoria University has

a Department of Mining

Engineering, the University

of South Africa offers three

national diplomas in minerelated

fields, the University

of Johannesburg has minesurveying

courses and the Vaal

and Tshwane universities of

technology have engineering

faculties.

39

GAUTENG BUSINESS 2018/19
---
PROFILE

Modular plants promote

efficiency

Flexibility is a key advantage offered by modular

processing plants, as company founder and Managing

Director Mpho Mothoa explains.

What is the main activity of Ingwenya Mineral Processing?

Our core business is to design, build, operate and maintain mineral processing

plants.

Mpho Mothoa

BIOGRAPHY

Mpho Mothoa has 20 years

of plant experience. He has

a BTech and an MBA from

the Tshwane University of

Technology and diplomas

from Wits and Unisa in mineral

economics and management.

Trained as a metallurgist at

Kumba Resources, Mpho

has also been a plant

superintendent at Xstrata's

(now Glencore) Atcom colliery

and worked in commissioning

and operations at several

processing plants, including

Grootegeluk and Somkhele

coal mines and the Kimberley

mines of the De Beers Group.

Why are modular processing plants popular in the coal

industry today?

Modular plants have become cost effective. They can be built in short lead times

and can be easily relocated to another area once the coal is depleted or for any

other reason. Modular plants are flexible, they can be designed to process small

or large capacity of coal and different types of coal for different markets. Modular

plants are also ideally suited to treat Witbank coal reserves which are generally

widespread and situated in small pockets.

How is Ingwenya Mineral Processing able to create modular

plants in a cost-effective manner?

At IMP we have our own in-house 4 000m2 engineering workshop (BOMAX)

situated in Hendrina, where we fabricate our own steel structures and build

easy-to-operate, tailor-made modular plants with very short lead times and

cost effectively. Our designs have been simplified and made straightforward

which reduces construction costs. Strategic partnership with some of the

original equipment manufacturers (OEMs) also plays a role in terms of acquiring

expertise in leading technology to ensure efficiency from the design phase.

What are your main growth objectives?

IMP's business strategy for expansion is:

• to add at least two new operations annually to our existing operations

• to build two new modular plants annually

• to work towards enlarging our footprint in other African countries like

Botswana, where we have been doing some work.

What consulting services do you offer?

• Design and build of coal processing plants

• Operate mineral processing plants

• Feasibility and due-diligence studies

• Engineering design and fabrication

• Maintenance of processing plants

• Trouble-shooting and general metallurgical consulting

• Engineering consulting.

GAUTENG BUSINESS 2018/19

40
---
A contractor

of choice to the coal

mining industry in the

cost-effective supply of coal

processing plants, operating

and maintaining them to a

standard that meets the client's

throughput, quality and

safety requirements.

Operations and Maintenance

Partner of Choice

Specialising in:

• Operations of Processing facilities

• Design & Build of Coal Processing Plants

• Feasibility & Due Diligence Reports

• Engineering Design and Fabrication

IMP is open to various models for operation of coal processing plants:

IMP is equipped with an in-house 4000m2 workshop facility to build tailormade, easy to operate, modular plants with short lead times.

• Fabrication

• Sandblasting

• Heat Treatment

• Rubberlining

• Drilling

• Boring

• Tiling

• Milling

www.ingwenyamp.co.za

Republic of South Africa, Emalahleni (Witbank), +27 13 656 2440 / 4758, info@ingwenyamp.co.za
---
INTERVIEW

Adding value in property,

construction and mining

Group Chairman Ndavhe Mareda traces the history of the

diversified and 100% black-owned Makole Group and outlines

plans for expansion.

In what regions do you operate?

The Makole Group primarily operates in the Gauteng region. It has property

development projects throughout Gauteng and a coal mine east of Pretoria.

Ndavhe Mareda

How and when did the business start?

The business started in 2004 as a construction company servicing the private

residential home builder market. It grew into a construction company able to

execute projects for thousands of units. The most recent addition is the mining

component which consists of a colliery and a number of prospecting projects.

What is your focus as a business?

The focus of the Makole Group for the construction business is to become an

established property development and infrastructure construction company.

The focus for the mining business is to develop export opportunities for coal

and conclude exploration projects for coal and other commodities and bring

them into operation in the short-to-medium term.

BIOGRAPHY

Ndavhe Mareda is the founding

member and chairman

of Makole Group, the parent

company of Makole Property

Development, MDP

Consulting and Black Royalty

Minerals, owners of the

Chilwavhusiku Colliery based

in Bronkhorstspruit. His role is

to grow the group by identifying

and executing expansion

and diversification strategies

by developing and acquiring

growth targets, managing

investor and stakeholder relations

and providing overall

strategic leadership.

What services do you provide?

Property development, infrastructure construction, construction consulting

and mining.

Please name and describe some of your operations in Gauteng.

The Makole Group is a diversified South African 100% black-owned infrastructure,

property development and mining group. The three operating units are:

• Makole Property Developments: experience in infrastructure planning,

designs, project management and community participation

• MDP Consulting: specialist construction skills available include project

managers, engineering professionals, town and regional planners,

quantity surveyors and environmental specialists

• Black Royalty Minerals: operates the Chilwavhusiku Colliery located at

Bronkhorstspruit, and developing several prospecting rights.

What are the strengths of the Makole Group?

We have more than a decade of experience in the property development

and infrastructure space. We are a 100% black-owned group who creates

value adding products to the South African economy in the construction

and mining industry. We are also the first 100% black-owned mining group

in South Africa.

GAUTENG BUSINESS 2018/19

42
---
Black Royalty Minerals is a 100%

black-owned mining company

that has solidified its position

as a reputable South African

coal mining business. Black

Royalty Minerals operates

the Chilwavhusiku Colliery in

Bronkhorstspruit.

Black Royalty Minerals

continues to cultivate the drive

and vision of contributing

positively to the communities

and local economy where they

operate by facilitating job

creation and sourcing from

local companies, thereby

helping build the economy

of South Africa.

The vision of Black

Royalty Minerals is to not

only establish itself as a

coal mining business, but

to become a diversified

mineral resources company,

to maintain and grow its

local operations as well as

establish itself in export

markets.

+27 11 023 9380 || blackroyalty.co.za || info@blackroyalty.co.za
---
OVERVIEW

Oil and gas

Several kinds of gas are producing power in Gauteng.

SECTOR HIGHLIGHTS

Transnet Pipelines runs a sophisticated

pipeline network.

ONLINE RESOURCES

Independent Power Producers Programme:

www.ipp-projects.co.za

National Energy Regulator of South Africa: www.nersa.org.za

South African National Energy Association: www.sanea.org.za

South African Oil & Gas Alliance: www.saoga.org.za

South African Petroleum Industry Association: www.sapia.co.za

Gauteng is the biggest consumer of energy in South Africa. Its

mass-production factories, large commercial office blocks

and steel fabrication plants consume huge quantities of

electricity, oil and gas.

Transnet Pipelines has completed a sophisticated new multi-product

pipeline (NMPP) between the coast and Gauteng which is bringing a

range of products to the manufacturing heartland of South Africa. The

company operates a 3 800km network of underground, high-pressure

petroleum and gas pipelines throughout the eastern parts of South Africa.

A new addition to South Africa's pipeline network is a pipe to get

natural gas from Mozambique to Gauteng. SacOil's R90-billion project

aims to deliver gas to Johannesburg and the nearby towns in 2020.

Egoli Gas has a pipeline network that extends over 1 200km in and

around Johannesburg and the company has 7 500 domestic, industrial

and commercial customers. Vopak completed a new storage terminal

in Lesedi on the East Rand in 2017 to receive product from the NMPP.

The company that owns Egoli Gas, Reatile, has a 30% stake in Vopak.

The major economic sectors using gas are the metals sector and the

chemical, pulp and paper sector. Brick and glass manufacturers are also big

consumers. The other big factor driving growth in the gas sector is national

policy. A national Gas Utilisation Master Plan (GUMP) is being developed.

The Liquefied Natural Gas Independent Power Producer

Procurement Programme (LNG IPPPP) is part of the broader programme

of the Department of

Energy which encourages private

investment in renewable energy,

namely the Renewable Energy

Independent Power Producer

Procurement Programme

(REIPPPP). The total allocated

to gas-to-power in the national

power plan is 3 726MW, of which

3 000MW is for LNG.

A landfill site at Robinson Deep

in Johannesburg has started generating

3MW of gas. This is the first

of five renewable energy projects

that Energy Systems is going to do

in Johannesburg and is the first

landfill gas generation project to

fall under the REIPPPP.

In 2016 the Department of Trade

and Industry (dti) established a Gas

Industrialisation Unit (GIU) which

will make plans to exploit the huge

fields of natural gas off the coasts of

Mozambique and Angola and boost

industrialisation in South Africa.

The regulator and promoter of

oil and gas exploration in South

Africa, Petroleum Agency South

Africa, has been awarding coalbed-methane-gas

and naturalgas

rights in recent months in the

provinces on Gauteng's border,

Free State and KwaZulu-Natal. The

regulator also controls offshore

exploration rights.

GAUTENG BUSINESS 2018/19

44
---
I

H

T

PL

O

TI

O

R

R

F

A

IC

A

N

AGENCY FOR

P

R

O

M

OU

N

S

N

PETROLEUM AGENCY SA

O

F PE

O

T

AT

O

T

I

O

L

E

U

M

EX

D

N

A

TION

RA

O

L

XP

E

Petroleum Agency SA encourages investment in the oil and gas sector by assessing

South Africa's oil and gas resources, and presenting these opportunities for exploration

to oil and gas exploration and production companies.

Compliance with all applicable legislation in place to protect the environment is very

important, and rights cannot be granted without an approved Environmental

Management Plan.

Explorers must prove financial and technical ability to meet their commitments

in safe-guarding and rehabilitation of the environment.

Preparation of Environmental Management Plans requires public consultation

and a clear demonstration that valid concerns will be addressed.

Petroleum Agency SA,

based in Bellville, Cape Town,

is responsible for the promotion

and regulation of exploration

and exploitation of oil

and gas (petroleum) resources.

Contact us to find out about:

- Onshore or offshore exploration

opportunities

- Permits and rights

- Availability of geotechnical data.

+27 21 938 3500

plu@petroleumagencysa.com

www.petroleumagencysa.com
---
OVERVIEW

Engineering

Tens of billions are to be spent on Gauteng infrastructure.

SECTOR HIGHLIGHTS

Many engineering companies

are changing their

business models.

Spending on infrastructure in Gauteng Province represents a

major opportunity for companies in the engineering sector.

The Provincial Government of Gauteng spent R30-billion

on infrastructure between 2013 and 2016. A further R46-billion

has been pledged for the years to 2019. In addition, Gauteng municipalities

will spend R94-billion over the next five years using their city

budgets. Some 31 major housing developments have been approved

for the various development corridors around Johannesburg. These

projects will attract public and private money.

A study carried out by KMPG for the province found that spending

on infrastructure resulted in additional economic activity worth R26-

billion and created 92 000 direct jobs. A major provincial infrastructure

project was the technically demanding Gauteng Freeway Improvement

Project, which involved many companies and several joint ventures.

GOBA Consulting Engineers and Project Managers supervised the design

and construction of the project, as it did the even bigger Vaal River

Eastern Subsystem Augmentation Project (VRESAP). This water project

entailed redirecting water flows from one system to another to feed

the petrochemical and mining industries of Mpumalanga Province.

Gauteng's history as a mining province ensured that engineering

and mining grew hand in hand over the decades. In its early days, the

University of the Witwatersrand was called the South African School of

Mines and Technology. The Wits Mining Institute, which falls under the

Faculty of Engineering and the Built Environment, has recently introduced

the Sibanye-Stillwater Digital Mining Laboratory (DigiMine) at the

Chamber of Mines building. This enables research and development to

take place in a safe and simulated environment.

The University of Pretoria's Graduate School of Technology Management

(GSTM) offers a range of degrees and short courses in engineering-related

fields, including a Master's in Engineering Management.

Whereas some engineering companies have developed into

conglomerates with several

divisions and international

operations, others have

focussed on niche areas such

as construction, electrical

engineering, or, as in the case of

Fluids Media Engineering, fluid

piping, storage and distribution.

Restructuring

Several engineering groups

have been restructuring in recent

years. Murray & Roberts,

a giant and diverse company,

disposed of Murray & Roberts

Infrastructure and Building

Platform (MRIB) in 2016 to focus

on procuremen.t, project

engineering and construction

in certain resource sectors.

Firefly Investments, the consortium

that bought MRIB, is

led by Southern Palace, which

includes among its shareholders

some MRIB managers and

the Government Employees

Pension Fund (GEPF). The transaction

goes a long way to creating

more diversity in the ownership

in the construction and

engineering sector.

Genrec, a large steel

engineering and fabrication

business company that started

GAUTENG BUSINESS 2018/19

48
---
out on the gold fields of early Johannesburg, was another Murray

& Roberts company to be sold to the Southern Palace Group. It has

a large plant outside Johannesburg at Wadeville and is involved in

South Africa's two biggest power station construction projects at

Medupi and Kusile.

Group Five also sold part of its business (Group Five Pipe) to a blackowned

entity in 2017 but the most significant change came in the

group's structure. A stand-alone construction division for South Africa

(where the company has more than 7 400 employees) is part of a drive by

the company to focus on smaller infrastructure projects and to dispose

of manufacturing assets. Like most large South African firms in the sector,

Group Five has significant investments offshore.

Transnet Engineering (TE) is in the process of changing its focus from

only providing engineering services to other companies in the Transnet

group to becoming a multi-faceted business. The company is exploring

ONLINE RESOURCES

Consulting Engineers South Africa: www.cesa.co.za

Engineering Council of South Africa: www.ecsa.co.za

Gauteng Department of Infrastructure Development:

www.gauteng.gov.za

Graduate School of Technology Management:

www.up.ac.za/gstm

Transnet Engineering: www.transnet.net

OVERVIEW

opportunities in Africa to provide

maintenance, repair and overhaul

services (MRO). As an original equipment

manufacturer (OEM) with the

ability to manufacture locomotives,

rail wagons and coaches, TE is opening

up a wide range of markets not

only in South Africa but in Africa

and the rest of the world. The Trans-

Africa Locomotive is the first locally

designed locomotive produced

by TE in its Koedoespoort factory.

There are seven business units located

at Koedoespoort, including

a foundry.

contact details

Registered Name

Corpclo 2369 cc T/A Fluids Media

Engineering (FM Engineering)

FME, mechanical contractors and

engineers, specialist industrial

piping systems, steelwork and

general mechanical works.

Physical Address

Unit No.3A, No.4 Hennie Steyn Street

(Head office) Rosslyn, Pretoria, 0200

Republic of South Africa

1 Military road (East London office)

Wood brook, East London, 5201

We add value through engineering solutions

Republic of South Africa

Postal Address, Suite 132

Private Bag x 121

Halfway House, 1685

Telephone +27 (0)12 751 7640

CONTACT DETAILS:

Facsimile 086 538 5356

Mobile Tel: +27 +27 11 (0)72 057 5057 701 3932

Email Fax: admin@fluidsmedia.co.za

086 718 2325

Website Mobile: www.fluidsmedia.co.za

+27 72 701 3932

Email: vuyo@fmeng.co.za

Website: www.fluidsmedia.co.za

BBBEE LEVEL 1, CIDB: 6ME PE
---
OVERVIEW

Manufacturing

New plants are powering Gauteng's manufacturing sector.

A

major railway rolling stock programme is boosting manufacturing

in Gauteng. The Trans-Africa locomotive is the

first to be designed and manufactured in Africa. It is being

assembled at Transnet's Koedoespoort plant near Pretoria.

The Gibela Rail Transport Consortium, which has a contract to build

600 new trains for the South African metropolitan rail network, will start

operating its new factory and training centre at Dunnottar in Ekurhuleni

in 2018. Each of the X'Trapolis MEGA trains (as shown above) will be built

from 145 tons of South African steel.

Manufacturing contributes 14% to Gauteng's real economy output

and provides 40% of South Africa's manufacturing overall. More than

600 000 people are employed in the sector, with metal products, food

and beverages and chemicals being the biggest employers.

SECTOR INSIGHTS

Big orders for rail locomotives

and carriages are rolling in.

• Sandvik boosted its capacity

in 2017.

Manufacturing related to the mining

industry, historically the lynchpin

of the Gauteng economy, is still very

important. Sandvik Mining & Rock

Technology opened a new production

facility in Ekurhuleni in 2017.

GAUTENG BUSINESS 2018/19

50
---
OVERVIEW

Ekurhuleni Metropolitan Municipality has the greatest concentration

of manufacturing enterprises, especially between Wadeville

and Alrode, south-west of Alberton. Germiston is the country's biggest

rail junction and Transnet Engineering has invested hundreds

of millions of rands in new equipment at its facility there. Nigel

and Boksburg host Union Carriage and Wagon, which is owned

by Commuter Transport Engineering, DCD Rail and Lennings Rail

Services, a division of Aveng.

New technology has been embraced by some innovative manufacturers.

Desert Wolf's Skunk Riot Control Chopper is an unmanned

light aerial vehicle (UAV) that has proved popular in the world

market. Desert Wolf operates out of Pretoria.

Packaging company Nampak has metals (cans), plastic, paper

and glass operations at various locations including Industria West,

Boksburg and Olifantsfontein. The glass plant in Germiston has

nearly doubled its output (to 40 000 bottles per year) to cater for

increased wine exports. The country's biggest glass producer,

Consol Glass, has facilities in Clayville, Wadeville and Nigel.

Household products manufacturer Unilever represents an

example of the lighter industrial

capacity of the East Rand.

Kellogg's, Kimberly-Clark South

Africa and Procter & Gamble all

have significant manufacturing

capacity in the area. Corrugated

paper manufacturer Corruseal

has purchased the Enstra Mill

in Springs from Sappi, giving it

greater control of production.

The southern portion of

Gauteng around Vanderbijlpark

and Vereeniging is synonymous

with steel production.

Flat iron is made at the large

plants of ArcelorMittal. Scaw

Metals' chain-making factory in

Vereeniging (McKinnon Chain)

has invested R110-million in ex-

LEADING THE WAY IN RESPONSIBLE PRODUCTION

At Marley Pipe Systems, we have always been

ahead of the curve in adopting innovative

manufacturing methods that meet customer

requirements and adhere to strict industry

standards for quality plastic piping systems.

As an industry leader, Marley Pipe Systems

recognises the importance of environmentally

sustainable processes. In line with group policies,

our holding company, Aliaxis, encouraged

Marley Pipe Systems to adapt to a "lead free

environment" as early as 2006, and Marley Pipe

Systems rose to adjust manufacturing systems

to incorporate heavy metal free production during

this time.

In July 2015, SABS regulations dictated that

manufacturers of PVC pipes and fittings are

required to remove heavy metals from their

manufacturing processes if they wished to retain

their SABS approval certification.

As a founding member of the SABS mark

scheme, Marley Pipe Systems have a proud record

of over 40 years of serving the South African

market with quality approved drainage products.

This is a commitment that Marley Pipe Systems

will continue to honour.

We welcomed this new regulation within our

industry and have been trading heavy metal

free for over 10 years, thus guaranteeing that

products manufactured at Marley sites are heavy

metal free.

51 GAUTENG BUSINESS 2018/19
---
OVERVIEW

panding and modernising its operations. Domestically, the main

consumers of steel products are the mining, manufacturing, building

and construction sectors, while a significant share is destined

for the export market.

Steel has been experiencing a volatile few years, with reduced

demand for from China severely reducing production volumes in

South Africa. The Steel and Engineering Industries Federation of

Southern Africa (Seifsa) reported that 19 000 jobs were lost in the

metals and engineering sector in the nine months to September

2016. This sector makes up 28% of manufacturing in the country.

Cheap imports have been at the heart of problems for the steel

sector, as they have for textiles, but other issues include energy

prices and labour costs

There are as 35 aluminium processing firms in Gauteng, involved

in both secondary processing to produce foils, cans, bars, rods and

sheets, with final fabrication in the form of die-casting and sheet

metal work. Within Gauteng, the automotive and packaging industries

are the chief consumers of these products.

AECI is a large manufacturing company with its roots in the

mining industry. It comprises two principal divisions: AEL Mining

Services (with a large factory site at Modderfontein south of

Johannesburg) and Chemical Services, which presides over 20

separate companies (including Senmin, the group's mining chemicals

company).

Incentives

The Manufacturing and

Competitiveness Enhancement

Programme (MCEP) of the

National Department of Trade

and Industry (dti) announced in

2017 that it had disbursed a total

of 1 552 grants to the value of

R5.8-billion which had resulted in

230 000 jobs being "sustained".

Plastics, pharmaceuticals and

chemicals received 31% of the

money; metal fabrication, capital

and real transport equipment

28% and agri-processing 21%.

Italian forged wheel manufacturer

Lucchini received tax

and training allowances from

the dti which helped it decide

to invest R200-million in a new

forged wheel-making facility.

Blank railway wheels imported

from Italy will be completed at

the Germiston plant. Lucchini

previously sold its wheels in

South Africa through DCD

Ringrollers, itself a maker of

forged steel tyre products.

Lucchini has committed to increasing

the local content in the

manufacturing process.

The dti is the state's lead

promoter of the sector, as seen

in the MCEP example. The

main vehicle for the dti is the

Industrial Policy Action Plan

(IPAP), the seventh version of

which was launched in 2016.

The Support Programme for

Industrial Innovation (SPII), run

by the Industrial Development

Corporation (IDC) on behalf of

the dti, promotes technology

development.

GAUTENG BUSINESS 2018/19

52
---
OVERVIEW

USED JUICE AND MILK CARTONS NOW RECYCLABLE IN SA

Juice and milk cartons have long been one of the

contributors to waste in South Africa's landfill

sites. In a major development for the South

African paper and packaging recycling market,

Mpact Recycling recently announced that liquid

cartons are now recyclable.

John Hunt, managing director of Mpact

Recycling, says it was previously not possible

to recycle juice and milk cartons as they are

not made of typical paperboard. It comprises of

other layers made up of polyalu, which means

the paper needed to be separated from the

polyalu to be used.

This announcement follows the investment

of R46-million in a Liquid Packaging recycling

plant at Mpact's Springs Paper Mill facility. "The

recycling plant has the capacity to recycle 25,000

tonnes of used liquid cartons per annum, which

will be fed directly into our paper division for

use in new paper products," says Hunt. Mpact

Recycling's role, through its extensive collection

network of paper, containerboard, PET and

now liquid packaging, is to supply its mills with

sufficient volume to match its capacity.

This is why it has embarked on a campaign to raise

consumer awareness that long-life milk and juice

cartons are now recyclable. Consumers must ensure

the cartons are empty and flattened. Where

there is no kerbside collection, they can deposit

their recyclable items in their nearest Ronnie bank

at schools or community centres or, alternatively,

cartons can be delivered to any of Mpact's buyback

centres countrywide or to one of its sixteen

Mpact Recycling operations for payment.

"Liquid carton packaging provides a category

of waste that can be recycled and will add

considerably to land preservation in South Africa as

consumers can redirect cartons away from limited

landfill space," says Hunt.

"Whether you finish a carton of milk at breakfast

or enjoy a boxed fruit juice for lunch, place your

flattened, used container into your nearest

recycling bin, whether at home, school or work.

This way South Africans will be not only be doing

their bit to keep the environment clean, but will

also be helping to continue creating sustainable

job opportunities throughout the recycling value

chain," concludes Hunt.

53

GAUTENG BUSINESS 2018/19
---
OVERVIEW

Another IDC initiative has allocated R23-billion over three years

to support the Black Industrialist Programme to help existing

entrepreneurs grow their businesses.

The Provincial Government of Gauteng has tabled plans to

bolster manufacturing capacity in the province's western areas.

The priorities are mining and mineral beneficiation, capital equipment

and machinery, agriculture and agri-processing, tourism,

retail and economic development in townships.

Some of the projects include:

• a bicycle manufacturing or assembling factory in

Mohlakeng.

• continuing to buy busses for the province's BRT system

from the Busmark plant in Randfontein which manufactures

and assembles buses. In 2016 a dual fuel bus was

launched, with the bodies of the busses designed and

built in Randfontein.

• establishment of agri-parks: Westonaria hydroponic agri-park;

Merafong Flora agri-park (tomatoes, cucumbers

and green peppers); investment in Isigayo Milling Plant

in Randfontein.

• revitalisation of industrial parks at Khutsong, Mohlakeng

and Chamdor.

in the case of the public sector.

The public sector dispenses

comparatively cheap pharmaceutical

products to its users in

public hospitals and healthcare

centres within South Africa,

whereas pharmaceutical products

produced by the private

sector in South Africa serve a

niche market.

Among the other big international

brands active in Gauteng

are Merck, which has a 55 000m²

plant at Modderfontein, and

Pfizer SA, which runs a laboratory

in Sandton among its facilities

in South Africa.

Pharmaceuticals

South Africa's pharmaceutical sector is worth approximately

R20-billion annually. Although there are more than 200 pharmaceutical

firms in the country, large companies tend to dominate

the field, with Aspen (34%) and Adcock Ingram (25%) the two

key players, followed by Sanofi, Pharmaplan and Cipla Medpro.

The private sector accounts for 80% of pharmaceutical industry

sales by value and 20% by volume, while this ratio is reversed

ONLINE RESOURCES

Aluminium Federation of South Africa: www.afsa.org.za

Centre for Advanced Manufacturing: www.cfam.co.za

Chemical and Allied Industries' Association: www.caia.co.za

Gauteng Department of Economic Development:

www.ecodev.gpg.gov.za

Manufacturing Circle: www.manufacturingcircle.co.za

National Department of Trade and Industry:

www.thedti.gov.za

GAUTENG BUSINESS 2018/19

54
---
OVERVIEW

Automotive and components

Investment in plant and training is on the rise.

SECTOR INSIGHTS

BMW's new training centre will

teach advanced computer skills

and robot programming.

BMW South Africa has spent about three years investing

R6-billion in its Rosslyn plant to prepare for the

manufacture of the new BMW X3 model. This includes a

R73-million training facility which will have the capacity

to train 300 apprentices in the intricacies of robot programming

and other computer skills.

Nissan is another big automotive manufacturer with a plant at

Rosslyn, north-west of Pretoria. The NP200 pick-up (bakkie) and

the NP300 are built at the plant. Ford announced in 2017 that it

would put R3-billion into taking the production of the Ranger

vehicle to 167 000 per year. The plant at Silverton, Pretoria, also

makes the Everest sports utility vehicle. UD Trucks, a part of the

Volvo group, announced in 2017 that they will assemble the Croner

heavy commercial vehicle at Rosslyn.

Gauteng is also home to a strong automotive components industry,

together with several bus and truck assembly plants. These include

Scania, TFM Industries and MAN Truck and Bus South Africa, as well as

the Chinese truck manufacturer FAW, which owns an assembly plant in

Isando. Bejing Automotive Works (BAW) assembles taxis at Springs and

has committed (with its partners) to a new investment of R250-million.

ONLINE RESOURCES

Automotive Industry Development Centre: www.aidc.co.za

Automotive Industry Export Council: www.aiec.co.za

Automotive Supplier Park: www.supplierpark.co.za

National Association of Automobile Manufacturers of South

Africa: www.naamsa.co.za

National Association of Automotive Component and Allied

Manufacturers: www.naacam.co.za

Armoured cars are also produced in

Gauteng. DCD Protected Mobility manufactures

armoured cars in Boksburg,

which are branded as Vehicle Mounted

Mine Detectors. In nearby Benoni, BAE

Systems OMC designs and manufactures

protected vehicles.

The Automotive Industry

Development Centre (AIDC), the

City of Tshwane and the Tshwane

Economic Development Agency

(TEDA) are collaborating on a strategic

project to boost the sector with a

focus on infrastructure.

Incentives are available to firms

and investors within the automotive

industry. The value of incentives

provided through the National

Department of Trade and Industry

amounts to around R5.9-million.

These incentives are a key factor

in encouraging firms within the

automotive industry to upgrade or

expand their facilities.

The Department of Trade and

Industry, working together with the

National Association of Automobile

Manufacturers of South Africa set targets

for 2035 to increase production

to 1% of world volumes (which would

mean 1.4-million more vehicles made

in SA), increasing local content and

doubling employment and blackowned

businesses in the sector.

GAUTENG BUSINESS 2018/19

56
---
Food and beverages

Joburg Market is Africa's biggest.

As a densely populated, urban province, Gauteng is South Africa's

biggest market. By volume and value, the Joburg Market is

the biggest in Africa. There are 55 cold rooms that can accommodate

4 561 pallets of fresh produce at any one time.

An average of 10 000 buyers congregate daily on the market's 65 000m²

of trading space.

Investment opportunities in this lively sector include: production

of ground-nuts, sunflowers, cotton and sorghum; soya beans, rooibos,

beverages, fruit and vegetables; essential oil extraction from herbs and

indigenous plants; expanding the exotic meat market (kudu, ostrich and

springbok) locally and globally; packaging of agri-processed goods; and

small business opportunities within the brewing industry. The Green

Hub in the West Rand District Municipality will promote the growth of

sustainable, green industries, research and development of organic food

production, health foods and natural remedies.

More than half of the companies operating in the food and beverage

sector in South Africa are in Gauteng, including Nestlé, Tiger Brands,

Pioneer Foods, RCL, AVI and Astral. There are approximately 4 000 food

processing companies in the province, employing more than 100 000

people. South African Breweries is spending R2.8-billion on expanding

two of its three Gauteng breweries. Heineken's brewery at Sedibeng has

already been expanded once since it opened in 2010.

Nestlé operates four manufacturing plants in the province and

has invested heavily in increasing production volumes over the last

ONLINE RESOURCES

Food Advisory Consumer Services: www.foodfacts.org.za

National Agricultural Marketing Council: www.namc.co.za

FoodBev SETA: www.foodbev.co.za

South African Association for Food Science and Technology:

www.saafost.org.za

SECTOR INSIGHTS

OVERVIEW

South African Breweries

is spending R2.8-billion on

expansion.

three years. Tiger Brands runs six

plants in Germiston that produce

a range of meat products, and the

establishment of a new tomato

sauce plant and pasta plant rank

among the company's recent

investments in the province.

McCain Foods, located in Springs,

produces frozen vegetables for

the Gauteng market.

Although the South African

poultry business took a knock

because of the relaxation of import

duties, the South African

consumer still eats a lot of chicken.

Earlybird Farm, one of Astral's

operations, processes 800 tons of

chicken per day at its two factories

in Olifantsfontein. RCL operates

18 farms and two feed mills in

Gauteng alone. Daybreak Farms,

an AFGRI operation in Springs,

produces about 650 000 broilers

every week.

Several beverages in AVI's

portfolio (including Ciro) are produced

at the group's Kempton

Park facilities.

United National Breweries

produces Umqomboti in northern

Gauteng. Key players in the

industry in South Africa include

South Africa Breweries (SAB) (malt

beer), United National Breweries

(sorghum beer), Distell (spirits and

flavoured alcoholic beverages, or

FABs) and Brandhouse (malt beer,

spirits and FABs).

57

GAUTENG BUSINESS 2018/19
---
OVERVIEW

Tourism

Heritage is a growth sector.

Heritage tourism is a strong component of the tourism offering

in Gauteng. The Cradle of Humankind is a UNESCO World

Heritage Site and attracts thousands of visitors every year to

the interactive visitor's centre at Maropeng, shown above. The

Sterkfontein Caves have recently revealed astonishing finds, showing the

origins of humanity through artefacts such as the 2.1-million-year-old

skull known as Mrs Ples.

The Origins Centre at the University of Witwatersrand in Johannesburg

is well equipped and provides more fascinating insights into the origins

of mankind through art and science. The Centre hosts superb representations

of Khoi and San rock art.

More recent history relating to the struggle against apartheid centres

on attractions such as the moving exhibitions housed at the Apartheid

Museum and the history of the battle for human rights and democracy

embodied in Constitution Hill. The latter site won National Heritage Site

status in 2017 and application has been made for world heritage status.

Constitution Hill is also a popular site with film crews.

Kliptown in Soweto is the site of the signing of the Freedom Charter.

An urban regeneration project has seen the development of the Walter

Sisulu Square of Dedication. Another site where South Africa's history is

on display is at Freedom Park, a sprawling complex of museums, open

spaces and memorials on a hillside overlooking Pretoria in Tshwane.

SECTOR INSIGHTS

Constitution Hill has been

declared a National Heritage

Site.

• SADC markets are being

targeted.

Cultural and history tourism are

further catered for by more than

60 other museums and art galleries

in the province. These include

the Ditsong National Museum of

Natural History (Transvaal Museum),

Museum Africa in Johannesburg's

cultural Newtown precinct, the

South African Military History

Museum and the National Cultural

History Museum.

Craft markets at Rosebank,

Bruma and many other places

draw large numbers of visitors and

GAUTENG BUSINESS 2018/19

58
---
OVERVIEW

provide economic opportunities for a wide range of entrepreneurs in

textiles, leather, traditional art and beadwork. The broader creative industries

sector contributes more than R3.3-billion to the Gauteng economy

and employs 182 000 people, according to the provincial government.

This includes film and advertising studios.

Tourism is one of the sectors being targeted for a closer working

relationship between the private sector, academia and various government

entities. The Gauteng Business Consultative Forum (GBCF) is an

initiative of the Gauteng Provincial Government that meets four times a

year. The Gordon Institute of Business Science (GIBS) hosts the functions

at its Johannesburg campus.

South Africa's biggest international airport is OR Tambo International

Airport in Johannesburg. Some R200-million was spent on extending

and upgrading the runways and aprons prior to South Africa hosting the

2010 World Cup football tournament. OR Tambo caters about 20-million

passengers every year, receives more than 105 000 arriving air traffic

movements and employs 18 000 people.

The Gauteng Tourism Authority is targeting Southern African

Development Community markets such as Botswana and Mozambique.

The city of Ekurhuleni successfully

hosted Airport Cities: World

Conference and Exhibition in

2013 as part of the city's plan to

establish an aerotropolis around

OR Tambo International Airport.

The Tshwane Events Centre and

the CSIR International Convention

and Exhibition Centre are among

Pretoria's most used venues.

The OR Tambo Building of the

Department of International

Affairs and Cooperation (Dirco)

won architectural awards and

hosts conferences and meetings

of the Pan-African African

Parliament.

Events

A Bidding, Hosting and Events Strategy for the Gauteng City Region

has been developed to encourage investors. The Gauteng Convention

and Events Bureau (GCEB) promotes the province as a conference and

events venue. The Johannesburg Tourism Company has a dedicated

unit, the Johannesburg Convention Bureau, that assists companies in

preparing bid documents and in supplying relevant information on

telecommunications and IT services and the securing of visas for visiting

international delegates.

Big events continue to draw big crowds. These include the Standard

Bank Joy of Jazz, DStv Delicious Food and Music Festival, and the

Gauteng Sansui Summer Cup (horse racing).

With events growing in importance within the tourism offering,

efforts are being made to include townships to a greater extent. The

GTA gives support to two Soweto events, the annual Makhelwane

Festival in Mzimhlophe and the Soweto Wine Festival together with

the Tshwane Township Weekend Experience, covering Garankuwa

and Mamelodi.

Gauteng is a continental leader in conferences and events.

Most large hotels have conference facilities. Large venues in

Johannesburg are:

• Johannesburg Expo Centre, Nasrec. Capacity: 15 000

• Coca-Cola Dome, Randburg. Capacity: 14 000

• Standard Bank Arena, New Doornfontein. Capacity: 6 300

• Sandton Convention Centre, Sandton: Capacity: 4 500

Hotels

Location, it is said, is key in all property

developments. In Gauteng

today, location relative to the

Gautrain has become an additional

component of value. So much

so that the 216-room Radisson

Blu Gautrain Hotel even has the

vital word in its name. The hotel,

which is in Sandton, was a winner

2017 in the World Luxury Hotel

Awards in the categories, Luxury

Business Hotel and Luxury Hotel

and Conference Centre. The nearby

Radisson Blu Hotel, Sandton,

won the Luxury City Hotel Award.

A huge new multi-use development

is taking shape in

59 GAUTENG BUSINESS 2018/19
---
OVERVIEW

Pretoria's eastern suburb of Menlyn. Sun International's Times Square

and Casino is a R4.2-billion project which will be the second biggest in

the country with 60 tables and 2 000 slot machines. The Capital Hotel

has 150 hotel rooms and 50 apartments.

The apartment component points to a trend that is growing in

the South African hospitality industry. The Legacy Group was one

of the first to introduce apartments to the hotel development mix,

when it added the Davinci Hotel on Nelson Mandela Square to its

portfolio just before South Africa hosted the soccer World Cup in

2010. The Legacy collection includes the Michelangelo Hotel and

Michelangelo Towers. The Davinci was designed with 166 hotel

rooms, 54 apartments in the upper reaches, with a further four

luxurious penthouses above that.

The number of hotel rooms in Sandton alone increased by 40% in

response to expected demand from the international tournament.

Reduced occupancies in the period after the World Cup tournament

has led to some consolidation in the sector with large brands buying

up smaller groups but independent hotels such as the Indaba Hotel,

ONLINE RESOURCES

Cradle of Humankind: www.maropeng.co.za

Ekurhuleni Metropolitan Municipality:

www.ekurhuleni.gov.za/tourism

Dinokeng: www.dinokeng.co.za

Gauteng Tourism Authority: www.gauteng.net

Johannesburg Tourism Company: www.joburgtourism.com

Randfontein Local Municipality: www.randfontein.gov.za

Sandton Tourism Association: www.sandtontourism.com

Sedibeng Tourism: www.sedibeng.gov.za

Tshwane Tourism: www.tshwanetourism.com

Spa and Conference Centre continue

to attract guests.

Another significant move in

the hotel sector is the decision

by Marriott International to

develop Marriott-branded

hotels in Johannesburg and

Cape Town. After acquiring the

Protea brand in 2014, Marriott

introduced "Protea Hotel by

Marriott" as the model but

the decision in 2016 to use

the mother brand for new

hotels suggests an increased

commitment to the local

market. In partnership with the

Amdec group, the group will

spend about R1-billion on the

Marriott Hotel Melrose Arch (150

rooms) and Marriott Executive

Apartments Johannesburg

Melrose Arch (200 flats).

Buying into Protea Hotels

has given Marriott access not

only to the South African market,

but to many other African

countries. Between Tshwane

and Johannesburg (and in the

nearby Magaliesberg mountains),

Protea by Marriott has no

fewer than 17 hotels across three

brands: Fire and Ice, Protea;

Protea Hotels and African Pride

Hotels, the premier brand.

Tsogo Sun has 36 hotels and

three casinos in Gauteng. The hotels

range across several brands

covering four market segments,

and they include a handful of

stand-alone hotels such as the

Palazzo (at Montecasino) and

54 on Bath (a boutique hotel

in Rosebank). Sun Square,

Southern Sun Hotels, Southern

Sun Resorts, Garden Court and

Stayeasy are among the group's

brands.

GAUTENG BUSINESS 2018/19

60
---
The Radisson Blu Hotel & Residence,

Cape Town is located in the central

business district of the city, near

local attractions and with easy

access to public transport. It is the

ideal accommodation site for city

dwellers, business travellers and

those who enjoy a short walking

distance to all major sites of interest,

trendy entertainment and nightlife

spots in the city centre. There are

214 rooms with unique views of

either the mountain, harbour, city

or sea. The rooms are equipped

with a telephone, free Wi-Fi, smart

TV, safe, mini bar (business class),

hairdryer and bathroom with rain and

hand showers. Business Class rooms

have exclusive access to the unique

Business Class Lounge.

RADISSON BLU HOTEL & RESIDENCE, CAPE TOWN

22 Riebeek Street, Cape Town, South , Africa

Tel: +27 (0)21 467 4000 info.capetown.residence@radissonblu.com

radissonblu.com/en/hotel-capetown-residence
---
OVERVIEW

Education and training

Gauteng is focussing on vocational training.

The unbundling from the successful Curro group of a

separate tertiary entity which listed on the JSE as Stadio

Holdings is a good indicator of the growth of the private

sector in education. There is a strong trend towards the

opening of private or independent schools across South Africa,

and not necessarily in the very expensive bracket. Some of the

new private schools are small and modest but the sector is also

attracting investors and the larger brands are growing fast through

acquisitions and building new facilities.

Stadio currently has three institutions: Southern Business School,

AFDA (the School for the Creative Economy which has one campus in

Johannesburg) and the Embury Institute for Higher Education which has

recently opened two new campuses, one of which is in Pretoria. The business

school is a distance learning institution with headquarters in Krugersdorp.

Curro Holdings believes it will be running 200 schools in South

Africa by 2020, double its current number. In Gauteng, Curro has

37 schools across its five brands.

A funding agreement with Old Mutual Investment Group SA

(OMIGSA) and the Public Investment Corporation (PIC) will see

Curro roll out 11 low-fee independent schools. These will be called

Meridian Independent Schools.

JSE-listed ADvTECH has many schools across five brands (from

primary to high school) and nine tertiary colleges in the province.

Schools include Trinity House and Crawford College while the tertiary

offering includes an advertising school (Vega), a chef's academy

(Capsicum) and a Varsity College.

SECTOR INSIGHTS

Gauteng won the artisan skills

development award in 2017.

• Stadio Holdings is a new

post-school JSE listing.

Pembury Lifestyle Group (PLG)

has 19 schools on seven campuses

and listed on the Alternative

Exchange of the JSE in 2017.

Gauteng has achieved 95%

access to Grade R. Enrolment

in the province's schools has

grown from 1.3-million in 1994

to 2.3-million in 2018. As a symbol

of the attractiveness of the

province to South Africans from

every region, the province is the

only one to offer all 11 official languages

in its schools, together

with a further seven non-South

African languages.

The provincial government

of Gauteng announced in 2017

that since 2014 it has built 43 new

schools, including classrooms with

ICT facilities in existing schools. To

2019, a further 34 new schools will

be erected, together with 1 200

laboratories and more than 470

school libraries.

Pupil numbers suggest that

even more schools need to be

built: in 2016 Gauteng schools

accepted two-million pupils.

Training

Unisa has more than 200 000 distance learning students.

Vocational training is a strong

focus for Gauteng and the

GAUTENG BUSINESS 2018/19

62
---
OVERVIEW

province won the 2017 gold award for artisan skills development

awarded by the National Skills Authority.

Technical and Vocational Education and Training (TVET) Colleges

are tasked with bridging the skills gap in South Africa. TVET colleges

are concentrating on 13 trade areas, including bricklayers, millwrights,

boilermakers and riggers. R16.5-billion has been allocated

by national government to skills development and infrastructure

over the medium term. Gauteng has the following TVET colleges:

• Central Johannesburg College

• Ekurhuleni West TVET College

• Ekurhuleni East TVET College

• Sedibeng TVET College

• South West Gauteng College

• Tshwane North TVET College

• Tshwane South TVET College

• Westcol TVET College.

The National Skills Authority (NSA) works with SETAs in carrying

out the National Skills Development Strategy (NSDS). The Human

Resource Development Council of South Africa (HRDCSA) is an

over-arching body working on skills development and training.

Tertiary

Well-regarded research units, top-ranked business schools and

many universities, universities of technology and colleges are located

in Gauteng. The mayor of Ekurhuleni has called for his city

to have its own tertiary institution.

Three of South Africa's top five business schools are in Gauteng:

the Wits Business School, the University of South Africa's (Unisa's)

Graduate School of Business Leadership and the Gordon Institute of

Business Science, on the Sandton campus of the University of Pretoria.

Eighty percent of the 1 230 lecturers and researchers at the University

ONLINE RESOURCES

Council of Higher Education: www.che.ac.za

Gauteng Department of Education: www.education.gpg.gov.za

National Department of Basic Education: www.education.gov.za

National Department of Higher Education and Training:

www.dhet.gov.za

National Department of Science and Technology: www.dst.gov.za

National Research Foundation: www.nrf.ac.za

of the Witwatersrand (Wits) have

post-graduate degrees, and 27

A-rated scientists work there. The

university offers studies in more

than 40 schools in five faculties.

Pretoria hosts the head office

of distance university Unisa,

which has almost a quarter of a

million students. The University

of Pretoria (UP) is renowned

for research. One of the most

famous faculties is veterinary

science, which is located at

Onderstepoort. The indoor

compact antenna test range

housed in the Department

of Electrical, Electronic and

Computer Engineering at UP

is the only one in the southern

hemisphere. UP also has a chair

in electronic defence research

(with the CSIR), the Exxaro chair

in Energy Efficiency and the

South African National Energy

Development Institute Hub.

The University of

Johannesburg (UJ) is a comprehensive

institution offering diplomas

and degrees through a

mix of vocational and academic

programmes. The Tshwane

University of Technology (TUT)

and the Vaal University of

Technology (VUT) have several

campuses. TUT's 50 000 students

attend classes on six campuses in

four provinces. The main campus

of VUT is in Vanderbijlpark.

Altogether, there are more

than 3 300 educational institutions

in Gauteng. Since 2013,

more than 20 000 students have

received R1-billion in bursaries

from the Provincial Government

of Gauteng.

63

GAUTENG BUSINESS 2018/19
---
OVERVIEW

Information and communications

technology

Technology companies are training young people in ICT.

Artificial intelligence is the latest buzz phrase, and businesses

are doing their best to stay ahead of the game.

Among the biggest investors in new technology are

banks and other players in the financial sector, where

technology is rapidly lowering the barriers to entry for new

businesses. South Africa's Big Four banks spent R30-billion between

June 2015 and the same month in 2016, with Standard Bank laying

out R14-billion in that period (Tech Central).

Enterprise resource planning (ERP) is an important solution for

many businesses, allowing various parts of a plant or distribution

network to work together. Gauteng is a leader in the ICT sector. With

several global companies choosing to station their South African

headquarters in Gauteng, the province is well connected.

More than 1 500 kilometres of network fibre has been connected

throughout the province, with 1 066 sites such as schools, health facilities,

libraries and community centres giving community members and

entrepreneurs the chance to be connect with the digital world. The aim

is to have 100% broadband connectivity in Gauteng by 2020. A provincial

government initiative known as eKasiLabs Innovation Centres

supports entrepreneurs and young people with good business ideas.

The "Tshepo 1 Million" campaign links the provincial government

with the successful Harambee Youth Employment Accelerator and

more than 40 large companies. The programme creates internships for

unemployed young people, thus giving them some experience of the

world of work and preparing them to solve real problems. There is a

focus on digital skills and technology companies have come on board

to provide training.

Both Johannesburg and Tshwane have free Wifi networks with

Tshwane's covering 780 zones in places such as libraries, educational

institutions and clinics.

ONLINE RESOURCES

Ikamva National eSkills Institute: www.enesi.org.za

Independent Communications Authority: www.icasa.org.za

National Department of Trade and Industry: www.dti.gov.za

State Information Technology Agency: www.sita.co.za

Technology Innovation Agency: www.tia.org.za

SECTOR INSIGHTS

More than 1 500km of network

fibre has been laid in

Gauteng.

The Small Enterprise

Development Agency (Seda)

runs the SoftstartBTI ICT incubator

in Midrand and Tuksnovation,

a high-tech incubator, at Pretoria

University.

Several incentives relevant

to companies and educational

bodies in the ICT sector are

available from the Department

of Trade and Industry (dti). These

include:

• The Technology and

Human Resources for

Industry Programme

(THRIP): companies and educational

institutions working

to improve technology;

50/50 cost sharing grant to

a maximum of R8-million

• Technology Development

Fund: the Technology

Innovation Agency makes

up to R50-million available

for up to 10 years

• Technology Venture

Capital: managed by the

Industrial Development

Corporation; commercialisation

of innovative

products, processes and

technologies.

GAUTENG BUSINESS 2018/19

64
---
Award-winning

software ensures

water delivery

Introducing

SYSPRO ERP

Infinite Possibilities

FOCUS

SYSPRO software ensures high quality and flexibility for

manufacturer.

Audience: Prospective Customers

SYSPRO software is an award-winning, best-of-breed

Enterprise Resource Planning (ERP) software solution

for on-premise and cloud-based utilisation. Scalable

for rapid growth, SYSPRO is acknowledged by industry

analysts to be among the finest enterprise resource planning solutions

in the world. SYSPRO software's powerful features, simplicity

of use, information visibility, analytic and reporting capabilities,

business process and rapid deployment methodology are unmatched

in its sector.

While SYSPRO customers represent all industry segments, rich

extensions for food, medical devices, electronics and machinery

companies, make SYSPRO the first choice for growing companies

looking for a cost-effective ERP solution.

Case Study

When Hall Longmore began manufacturing welded steel pipes in

1924, it paved the way for the development of a major engineering

enterprise, which today is the largest operation of its kind in

Africa south of the Sahara, exporting to more than 30 countries

around the globe.

Today the company owns manufacturing facilities offering

modern, industry-leading equipment and process control for the

production of large-bore welded steel pipes. Applications range

from the transportation of water, gas, petrochemical product,

slurries to piling and structural steel fabrication.

Hall Longmore is involved in the manufacture and processing

of pipe for a number of environmentally significant water projects

throughout Southern Africa. As a relatively dry region, Southern

Africa is extremely reliant on these projects for the transportation

of water.

Rand Water, Amatola Water, Bloem Water and the Medupi

Power Station are just some of the organisations that have

benefited from Hall Longmore products. Its state-of-the-art

manufacturing facility features the most modern pipe-making

equipment and technology to ensure that stringent quality

standards are maintained. This

commitment to excellence has to

be supported by an ERP system

that offers the same level of expertise

and flexibility.

SYSPRO ERP

Enterprise Resource Planning (ERP)

Software automates and integrates

core business processes such as customer

orders, production, inventory

control, and reporting. An ERP system

can drive significant improvements

in manufacturing, distribution

and financial management.

"SYSPRO's ability to integrate

with other systems and the willingness

of SYSPRO developers to

find workable solutions makes this

a possibility," says Systems Project

Engineer, Linda Fischer.

Personalize Your

Workspace

Scalable

Safeguard Your ERP

Investment

Industry

Built

SYSPRO

ERP

Engaging

User Experience

Choice and

Flexibility

Actionable

Insights

Enable Digital

Business

The award refered to in this case study was won in the US.

65

GAUTENG BUSINESS 2018/19
---
OVERVIEW

Banking and financial services

Gauteng is home to new banks and new stock exchanges.

The website of the newest holder of a South African banking

licence, TymeDigital by Commonwealth Bank SA, contains

no physical address. In that Tyme stands for Take Your Money

Everywhere, the name of the company that Commonwealth

Bank bought in 2015, and that the bank will have no physical branches,

the digital focus is logical.

However, it is thought that most of the 230 staff members of the

new bank are based in Gauteng, where the financial-services industry

contributes 21% to the province's gross domestic product. Africa's

largest stock exchange and the head offices of many banks and investment

houses in Gauteng.

So large are the operations of Gauteng's banks that some of them

have campuses in downtown Johannesburg, rather than offices.

Standard Bank recently completed a R2.5-billion office complex in

Sandton and Discovery's international headquarters in the same suburb

is said to be the continent's biggest single-phase office development.

Tyme's Money Transfer product, which it launched in 2016, is available

at Boxer and Pick n Pay. African Rainbow Capital is the venture's

BEE partner. The banking licence is the first to be issued since Capitec

was granted a licence by the South African Reserve Bank in 1999.

Other applicants for new banking licences are Discovery and Post

Bank, a division of the South African Post Office. Discovery is already a

SECTOR INSIGHTS

The Gauteng Provincial

Government is investigating

starting a bank.

• African Rainbow Capital is

an investor in several new

entities.

giant on the JSE (market value of

R83-billion) with a wide range of

products and services that give it

access to millions of customers.

Life insurer MMI Holdings is entering

a partnership with African

Bank to enable it to start taking

deposits and loaning money.

A further two state banks are

planned: Ithala (currently an enterprise

funder in KwaZulu-Natal)

GAUTENG BUSINESS 2018/19

66
---
OVERVIEW

and a Human Settlements Development Bank which will focus on

housing for poorer households and state-funded housing projects.

Gauteng's Treasury has also completed a feasibility study on establishing

a provincial state bank. This would enable funding to be made

available for the many infrastructure projects that are planned in the

medium and long-term for Gauteng, together with making loans

available for the SMME and township enterprise sectors.

For many decades, South Africa had a retail banking Big Four –

Standard Bank, Nedbank, Absa and First National Bank. All of them

have a strong presence in the province, but they have recently been

joined by Capitec Bank as a major player in the retail market.

Banks are working hard to offer products to the previously unbanked.

Nedbank has partnerships with shops such as Boxer Stores

and Pick n Pay where customers can have access to financial services

in previously unserviced areas and also on all days of the week such

as public holidays and Sundays.

Standard Bank's community-banking initiative offers a low-cost

cellphone-banking service. Retailers can act as agents for the bank,

even in very remote rural areas. Shops such as Shoprite, Pep and Spar

are connected, as are certain spazas.

Financial services group Old Mutual (a 54% stakeholder in Nedbank)

is in the process of creating four stand-alone businesses out of the Old

Mutual Group. This will allow the UK-based wealth management business

and the New York-based asset managers to be free of linkages to

the rand, while the South African businesses, Nedbank and Old Mutual

Emerging Markets, can focus on their specialities.

The Chartered Institute of Government Finance, Audit and Risk

Officers (CIGFARO) advises institutions, trains it members in public

finance and promotes the interests of professionals in the public

sector. It also develops and assesses qualifications and advises

tertiary institutions on the requirements for courses.

ONLINE RESOURCES

Auditor-General South Africa: www.agsa.co.za

Banking Association South Africa: www.banking.org.za

Chartered Institute of Government Finance, Audit and Risk

Officers: www.cigfaro.co.za

Financial Services Board: www.fsb.co.za

Insurance Institute of South Africa: www.iisa.co.za

Insurance South Africa: www.insurance.za.org

JSE Limited: www.jse.co.za

GAUTENG BUSINESS 2018

South African Institute for Chartered Accountants:

www.saica.co.za

Stock exchanges

The JSE is the world's 19th biggest

exchange and nearly 400

companies are listed on the

JSE or AltX, the JSE-owned exchange

for smaller companies.

Other investment options that

are available through the JSE are

Yield X (interest rate and currency

instruments), the South

African Futures Exchange

(SAFEX) and the Bond Exchange

of South Africa (BESA).

In 2017 several new exchanges

won regulatory approval, with

ZAR X winning the nod from the

Financial Services Board (FSB)

against objections by the established

JSE and another new

exchange, 4AX. Shortly after

winning its court case, ZAR X

started trading in Senwesbel,

the holding company of one

of South Africa's biggest agricultural

trading companies,

Senwes. There is no trading in

derivatives or high-frequency

trading on this exchange.

A2X will offer secondary listings

platform for JSE-listed companies

and aims to cut costs for

investors. African Rainbow Capital

(started by Patrice Motsepe) is an

investor in A2X.

4 Africa Exchange (4AX)

will focus on companies with

market capitalisation of up to

R8-billion. Agricultural trading

company NWK is a shareholder

in this venture.

The newcomers all promise

to use the latest technology to

make trading simpler, quicker

and cheaper.

GAUTENG BUSINESS 2018/19

68
---
Promoting good

management of public

finances

CIGFARO establishes and maintains high standards.

The Chartered Institute of Government Finance, Auditing and

Risk Officers (CIGFARO) is the recognised professional body

for finance, audit, risk management, performance management

and related professionals in the public sector. The

Institute was founded in 1929 and is dedicated to establishing and

maintaining high standards of professionalism among practitioners

by providing a framework for them to collectively enhance and maintain

sustainable financial management and good governance in the

management of public finances. CIGFARO is recognised by the South

African Qualifications Authority (SAQA) as the professional body for

financial management in the public sector.

Core services and functions

To further the interests of the public sector in the financial and related

professions by:

• advising institutions, commissions and other bodies and persons

• training and advancing of knowledge of members of the Institute

• the promotion of the interests of the profession of public finance

officers and related professions

To protect the interests of the public through strict enforcement of

the Code of Conduct by embracing the following objectives:

• developing and registering appropriate qualifications

• assessing and promoting programmes at institutions of

higher learning

• regulating activities within the public-sector finance profession

• monitoring the continuing professional development of members

To consider, research and comment on existing and proposed pieces

of legislation affecting the public sector.

To cooperate with any other professional body that is aimed at

improving and enhancing public finance and governance both in

the Republic and internationally.

CONTACT DETAILS

Postal address: PO Box 4003, Kempton Park 1620

Telephone: +27 11 394 0879

Email: ceo@cigfaro.co.za

Website: www.cigfaro.co.za

PROFILE

To provide opportunities and platforms

for an exchange of views,

knowledge and best practices

among members and to undertake

research into public sector finance

and governance.

Goals

• Help public entities survive

the current economic climate

through economic growth,

improved productivity, better

collection rates, value for money

and return on investment.

• Assist in reducing the rate of

rural-urban migration.

• Commit to the triple bottom line

– assessment of all projects in

terms of economic, social and

environment issues.

• Optimise the use of technology

and innovation.

• Develop the skills and capacity

of finance practitioners in the

public sector.

• Ensure maximisation of service

delivery and provide costeffective

services.

• Benchmarking and ensu-ring

value for money.

Training

Training is provided on all aspects of

local government. We are currently rolling

out training on MSCOA (Municipal

Standard Chart of Accounts). Our

Seminars, Workshops, Indabas and

Annual Confer ence also assists with

Continuous Professional Development

(CPD) of our Members.

69

GAUTENG BUSINESS 2018/19
---
PROFILE

Making a big difference to

a small enterprise

Training at Work benefited from Standard Bank support.

Training at Work is a training and consulting private company established

in 2001. In 2006 the company was converted from a closed

corporate to a limited private company. The company is 100% woman

owned by Patricia Chiloane. Training at Work employs nine full-time

administrative staff members with more on a contract basis.

The Standard difference

Banking advice and support can make a

big difference to a small business starting

out, as Patricia Chiloane, Managing Director

of Training at Work, testifies. "The Small

Enterprise team taught me to have a separate

business account with the personal account,"

she remembers. "I was also advised

about the importance of audited financials

and management accounts in order to keep

business sustainable.

Patricia Chiloane,

Managing Director of

Training at Work.

"They even introduced me to the private banking section. I was told if

I need anything to support the business, I must not hesitate to contact

my business banker."

When times were tough, Patricia was able to continue to build the

business even though cash flow was a problem. To this day, Training at

Work continues to grow. "We have never said no to business because

of a lack of finance," says Patricia. An overdraft facility allowed the

young company instead to take on "any challenge because the bank

was there financially".

"The bank went further by providing us with the Business Banking

services. Today we make all banking transaction in the comfort of our

offices. We don't have to go and queue for long hours; instead the

business banker will come and assist us from our office.

"We appreciate the support of our bank and we hope more SMMEs can

take the opportunity and use it to grow their small business."

Business offering

Training at Work offers

Management, Business, Artisanal,

and IT Programmes to young people,

employees and management.

Training programmes help school

leavers, employers, employees

and the unemployed to better

themselves through education

and training, so that they can improve

their social and/or economic

condition.

The consulting service is targeted

at employers, non-government organisations

and governmental bodies.

This service includes: companyspecific

skills programmes, training

workshops and learnerships, custom

training material (accredited

and non-accredited), training programmes

evaluations, impact studies

and surveys, and HR consulting

and competency audits. Training at

Work is accessible throughout the

country through mobile training,

including in rural areas.

Contact information

Address: 15 Leonie Street,

Cnr Rifle Range, Winchester

Hills, Johannesburg

Tel: +27 11 433 9318

Email:

info@trainingatwork.co.za

Website:

www.trainingatwork.co.za

GAUTENG BUSINESS 2018/19

70
---
OVERVIEW

Development finance and SMME

support

Co-operatives are making school uniforms.

Co-operatives are a popular way of doing business for newcomers

to the formal economy. According to the provincial

government, Gauteng has 14 registered co-operative banking

institutions serving over 16 000 member-owners, with

over R100-million in savings and R150-million in assets. A successful

niche has been created in the manufacture of dignity packs and

school uniforms.

A partnership between the Italian co-operative movement and

the Provincial Government of Gauteng aims to form consumer cooperatives

in the wholesale and retail sectors. The township market

of about 250 000 township households holds enormous potential for

collective buying.

The idea of started a provincial state bank has been raised and a

feasibility study has been completed. The focus of this bank will be

SMMEs, businesses run by women and young people, infrastructure

projects and township enterprises.

About half of South Africa's formal SMMEs operate in Gauteng and

more than half are in the wholesale and retail sector and the accommodation

sector. The next most popular sectors are community, social

and personal services.

The Small Enterprise Development Agency (Seda) is a subsidiary

of the National Department of Small Business Development (DSBD)

and gives non-financial support to entrepreneurs through training,

assistance with filling in forms, marketing and creating business plans.

It helps small businesses draft applications for loan finance. Several of

Seda's technology incubators are in Gauteng.

SECTOR INSIGHTS

A provincial bank is planned to

support SMMEs.

Pretoria-based Excellence

Motor Trimmers (pictured

above) joined Seda's Technology

Innovation which assisted them

in getting more energy-efficient

equipment. This helped the

company increase production

volumes and create more jobs.

Public procurement from

township enterprises from provincial

and municipal governments

in Gauteng increased

in 2017 to R17-billion, up from

just R600-million in 2014. This

expenditure has allowed many

township businesses to enter the

formal economy and for them

to become more sustainable. A

Township Economy Awards process

run by the provincial government

has raised awareness of the

73 GAUTENG BUSINESS 2018/19
---
OVERVIEW

potential of many businesses and stimulated a lot of interest among

township entrepreneurs.

The City of Johannesburg runs seven SMME hubs where office

space, Wifi and advice and training are available for small business

operators.

The National Department of Small Business Development has

several programmes to assist small, micro and medium enterprises

(SMMEs) and co-operatives. These include:

• The Black Business Supplier Development Programme, a costsharing

grant to promote competitiveness

• The Co-operative Incentive Scheme, a 100% grant.

The National Gazelles is a national SMME accelerator jointly funded by

Seda and the DSBD. The aim is to identify and support businesses with

growth potential across priority sectors. Businesses can receive up to

R1-million for training, productivity advice, business skills development

and the purchase of equipment.

The Industrial Development Corporation (IDC) supports SMMEs

either by disbursing loans or by taking minority shares in enterprises

and giving advice.

The National Department of Labour has a programme to support

people with disabilities. The Sheltered Employment Factories initiative

puts out about 3 000 different product types in fields such as leather

and canvas work, furniture, textiles, screen printing and book binding.

The Enterprise Investment Programme (EIP) of the National

Department of Trade and Industry (dti) is another support programme.

In 2017, the success of a uniform and protection equipment

company was advertised by the EIP: having received a grant in 2014,

Thorax LP Equipment, a 100% black-women-owned company based

in the industrial area of Alrode, has subsequently turned over more

than R8-million and employed many young people.

Private sector

Agribusiness and agri-processing are among the sectors that are targeted

by the Masisizane Fund for loan financing. The others are franchising/

commercial and supply chain/manufacturing. Training is offered through

ONLINE RESOURCES

Gauteng Growth and Development Agency: www.ggda.co.za

National Empowerment Fund: www.nefcorp.co.za

Small Enterprise Development Agency: www.seda.co.za

Small Enterprise Finance Agency: www.sefa.org.za

a Business Accelerator Programme.

As a non-profit initiative of the Old

Mutual Group, the fund focusses on

the cash flow of potential businesses

rather than insisting on security in

the form of property.

All the major banks have

SMME offerings. Standard Bank's

Community Investment Fund (CIF)

initiative extends loans to informal

businesses. The CIF has distributed

more than R7-million to more than

630 businesses through its six funds

in three provinces.

Nedbank has an enterprise-development

product that supports

businesses with a turnover up to

R35-million with at least 25% black

ownership.

Private companies also support

SMMEs through their buying

chain. Woolworths is funding

TechnoServe to ensure that small

tomato growers can grow produce

that will meet the demanding

standards of the retailer, and

to help them expand production.

A regular supplier to Woolworths,

Qutom, assists with the project.

The Shanduka Black Umbrellas

incubator helps entrepreneurs convert

their good ideas to sustainable

business practice. DRA Minerals is

putting R3.8-million into the programme

over two years.

Anglo American Zimele, which

runs four enterprise development

and investment funds, helps start

and expand SMMEs. Since the introduction

of enterprise hubs, the

number of projects has grown very

quickly and Zimele has processed

more than R500-million in loans

and two applications are received

every day. One of Zimele's small

business hubs operates out of

Vanderbijlpark.

GAUTENG BUSINESS 2018/19

74
---
Entrepreneurship

flourishing

FOCUS

Black Management Forum Gauteng Provincial Chairperson,

Langa Manqele, believes the Small Business

Expo 2018 will help SMMEs break through.

The spirit of entrepreneurship is flourishing across

South Africa, including in the townships and rural

areas. This is according to the chairman of the

Black Management Forum (the BMF) in Gauteng,

Langa Manqele.

Langa, who is himself an entrepreneur and businessman

in the fintech sector, pays keen attention to patterns in the

national economy. He says, "A trend we're seeing emerging is

for entrepreneurs to launch small-scale manufacturing and

agro-processing operations around the country." Studies

suggest that such enterprises have the potential to create

many jobs and national, provincial and local government

policies are supposed to be aligned to support these

businesses through their procurement budgets.

"Unfortunately, though, many start-ups are failing to break

through into big business," says Langa. In addition, "many

are failing to comply with testing and safety standards. This

may be partly due to a lack of awareness and information

and also because the infrastructure around safety and

standards is out of the reach of rural business, as well as

being prohibitively expensive."

This is one of the reasons why the Gauteng BMF is

endorsing the Small Business Expo 2018, an annual

showcase and knowledge-sharing platform for local small

and medium-sized businesses. It is presented by Reed

Exhibitions in partnership with the Eskom Development

Foundation and supported by the Randburg Chamber of

Commerce and Industry. The expo will take place from 6-8

September 2018 at the TicketPro Dome.

The information sharing, skills development and

networking available at the Small Business Expo are the

sorts of things that may help small businesses achieve the

sort of break-through that Langa describes.

"This is why the BMF is endorsing the Small Business Expo,"

he says. "Because of its focus on the development of black

Langalethu Manqele,

Black Management

Forum Gauteng

Provincial Chairperson

business in particular, along

with its three days of indepth

workshops and opportunities

to network, we believe it's

an invaluable platform for

small businesses to gain

the knowledge and social

capital they need to grow.

Capacity-building is a major

challenge, and the number of

startups able to be absorbed

by incubators doesn't meet

the national needs; therefore

events like these fill the gap

for critical business skills

development."

75 GAUTENG BUSINESS 2018/19
---
INTERVIEW

Linda Blackbeard, RCCI CEO

BIOGRAPHY

Linda Blackbeard ran her own

interior design and hospitality

company before taking up the

reigns as CEO of the RCCI. Having

started as a receptionist, she

quickly moved through the ranks

and gained experience in marketing,

sales and function coordination

with a large corporate

and then two hotel groups. Her

hospitality business took her to

Zimbabwe, Botswana, Mozambique

and Malawi. Linda serves

on a number of forums, including

being the SACCI Chamber

Forum Chairlady and a member

of the South African Chamber of

Commerce and Industry board

of Directors.

Randburg Chamber of

Commerce and Industry

Promoting and representing businesses in the

economic powerhouse.

What is the geographic footprint of the Chamber?

The areas we cover are: Randburg, Sandton, Fourways, Lanseria and

Midrand.

What are the key functions of the Chamber?

The key functions of the Chamber are primarily to promote business, to

facilitate introductions, to be the voice of business at municipal local

and government levels, in defending business in areas of poor decisionmaking

or unintended consequences of various acts that are passed.

What does the Chamber do to support SMMEs?

One of the Chamber's main focus areas is the development of SMMEs,

finding opportunities for them, business enhancement with regards

to training, helping with business plans, company registrations, giving

direction to ideas that entrepreneurs might have and actually building

them up so that they can run businesses of their own. Teaching them

to form joint ventures with other small businesses to actually grow

and have an opportunity then to tender for works that may be available

through City of Johannesburg. We promote our local businesses

getting the work that needs to be done here. We are trying to focus

on supporting businesses, especially our small businesses within our

space, assisting in developing and promoting entrepreneurs' businesses,

locally and into Africa.

Does the RCCI interact with the municipal government on

issues relevant to business?

The Chamber is represented at the Johannesburg Business Forum,

which is a platform to speak at a municipal level with regard to things

like potholes, Pikitup, service delivery, electricity, power outages, billing

issues, as well as working with the City to achieve their goals. We also sit

in the Community Policy Forum Committees and we are active partners

on the committees of LDAC (Local Drug Action Committee), which is

the local organisation driving crime prevention, so we look at all areas

of safety and security for the people within the area.

Are your members drawn from very different sectors, or is

there a concentration on types of businesses?

If you're a registered business you need to be a member of the Chamber,

there is no particular industry sector. As long as it's a company and busi-

LINDA BLACKBEARD COURTESY OF OCDMP, A DIVISION OF OWONDO CORPORATE

GAUTENG BUSINESS 2018/19

76
---
ness with integrity and it is legal, we will support you

and try to help you wherever we can. Our members

are from all business and industry sectors.

Would it be correct to say that the area covered

by the RCCI has some of the country's

most dynamic businesses?

The areas we cover form the economic powerhouse

of South Africa. I cannot stress strongly enough that

the actual business hub of Sandton alone is responsible

for decision-making (on signing powers and

approval) of a large number of business transactions

taking place across the country.

Are there particular challenges?

There are challenges. Randburg Chamber, which is

59 years old in 2018, is still not as actively supported

as it could be. Our biggest battle is to create the

awareness of where we are and what we can do for

business. The more businesses stand together with

their local Chamber of Commerce, the stronger our

voice will be at municipal, provincial and government

level. The way of doing business has changed and the

Chamber is moving with the times. As a facilitator for

you the business owner, we can with our new Silver

Lining project open doors for you that you would not

get through alone, connecting you and engaging

on platforms that bring service to the businesses. By

that I mean: are we sitting on the right committees?

INTERVIEW

Are we connected to the right people at the City of

Johannesburg? Are we dealing at the right levels of

government? Do we have the correct connectivity

to be able to assist you in the areas of your need?

These are questions we continually ask to improve

our offering. Most of all it's the members who need

to dictate the integrity of our benefits list and not the

people sitting in the chambers. The businesses out

there need to tell us what their needs are. This way

we can provide a better service for them.

What does the future hold?

With all the amazing initiatives planned and in the

process of actioning - including our unique digital

custom-designed Certificate of Origin programme

for export. Businesses and members can look forward

to renewed focus, positive opportunities, and facilitation

in the SADC region for business growth and

opportunity. We are also proposing a name change

to incorporate the very large area we now service.

CONTACT INFO

Physical address: Unit G8 Atrium Terraces,

272 Oak Avenue, Randburg, Gauteng 2194

Tel: 086 101 9218

Fax: 086 212 4407

Email: admin@rcci.co.za

Website: www.rcci.co.za

77 GAUTENG BUSINESS 2018/19
---
LISTING

Gauteng Provincial Government

A guide to Gauteng's provincial departments and their MECs.

Office of the Premier

Premier: David Makhura

Physical address: East Wing, 13th Floor, Gauteng Provincial Government

Building, 30 Simmonds Street, Johannesburg 2001

Tel: +27 11 355 6000

Fax: +27 11 836 9334

Website: www.gautengonline.gov.za

Department of Agriculture

and Rural Development

MEC: Lebogang Maile

Physical address: Diamond Corner Building, 68 Eloff Street,

Johannesburg 2001

Tel: +27 11 240 2500 | Fax: +27 11 240 2619

Website: www.gdard.gpg.gov.za

Department of Community Safety

MEC: Sizakele Nkosi-Malobane

Physical address: 64 Pritchard Street, Johannesburg 2001

Tel: +27 11 689 3600 | Fax: +27 11 689 3660

Website: www.gautsafety.gpg.gov.za

Department of Cooperative Governance

and Traditional Affairs

MEC: Mr Paul Mashatile

Physical address: 63 Fox Street, Johannesburg 2001

Tel: +27 11 355 4884

Website: www.cogta.gpg.gov.za

Department of Economic Development

MEC: Lebogang Maile

Physical address: Matlotlo House, 94 Main Street, Johannesburg 2001

Tel: +27 11 355 8000 | Fax: +27 11 834 1972

Website: www.ecodev.gpg.gov.za

Department of Education

MEC: Panyaza Lesufi

Physical address: 111 Commissioner Street, Johannesburg 2001

Tel: +27 11 355 0000 | Fax: +27 11 355 0542

Website: www.education.gpg.gov.za

Department of e-Government

MEC: Barbara Creecy

Physical address: Imbumba House, 75 Fox Street, Johannesburg 2107

Tel: +27 11 689 6000 | Fax: +27 11 355 2112

Website: www.egov.gpg.gov.za

Department of Health

MEC: Dr Gwen Ramokgopa

Physical address: Pixley Ka Isaka Seme Street​, Marshalltown,

Johannesburg 2001​

Tel: +27 11 355 3000 | Fax: +27 11 355 3811

Website: www.health.gpg.gov.za

Department of Human Settlements

MEC: Paul Mashatile

Physical address: Bank of Lisbon, 37 Sauer and Albertina Streets,

Marshalltown 2107

Tel: +27 11 355 4000 | Fax: +27 11 355 4000

Website: www.gdhs.gpg.gov.za

Department of Infrastructure Development

MEC: Jacob Mamabolo

Physical address: The Corner House, Cnr Commissioner and Sauer

Streets, Marshalltown 2107

Tel: +27 11 355 5855 | Fax: +27 11 355 5012

Website: www.did.gpg.gov.za

Department of Roads and Transport

MEC: Dr Ismail Vadi

Physical address: 13th Floor, Sage Life Building, 41 Simmonds Street,

Johannesburg 2001

Tel: +27 11 355 7000

Website: www.roadsandtransport.gpg.gov.za

Department of Social Development

MEC: Nandi Mayathula-Khoza

Physical address: Thusanong Building, 11th Floor, 69 Commissioner

Street, Johannesburg 2001

Tel: +27 11 355 7600 | Fax: +27 11 355 7753

Website: www.socdev.gpg.gov.za

GAUTENG BUSINESS 2018/19

78
---
LISTING

Department of Sport, Arts, Culture

and Recreation

MEC: Faith Mazibuko

Physical address: 35 Rissik Street, Surrey House, Johannesburg 2001

Tel: +27 11 355 2500 | Fax: +27 11 355 2505

Website: www.sacr.gpg.gov.za

Treasury

MEC: Barbara Creecy

Physical address: 75 Fox Street, Imbumba House,

Johannesburg 2107

Tel: +27 11 227 9000

Web: www.treasury.gpg.gov.za

Gauteng Local Government

A guide to metropolitan, district and local municipalities in Gauteng Province.

CITY OF JOHANNESBURG

METROPOLITAN MUNICIPALITY

Physical address: Metropolitan Centre, 1st Floor, Council Chamber Wing,

158 Loveday Street, Braamfontein

Tel: +27 11 407 7557

Fax: +27 11 339 5704

Website: www.joburg.org.za

CITY OF TSHWANE

METROPOLITAN MUNICIPALITY

Physical address: Nunitoria Building, cnr Madiba and Lilian Ngoyi

Streets, Pretoria

Tel: +27 12 358 4900 | Fax: 086 732 5458 (SA only)

Website: www.tshwane.gov.za

EKURHULENI METROPOLITAN

MUNICIPALITY

Physical address: Cnr Queen and Cross Streets, Germiston

Tel: +27 11 999 0906 | Fax: +27 11 999 1564

Website: www.ekurhuleni.gov.za

SEDIBENG DISTRICT MUNICIPALITY

Physical address: Cnr Beaconsfield and Leslie Streets, Vereeniging

Tel: +27 16 450 3017

Fax: +27 16 421 3182

Website: www.sedibeng.gov.za

Emfuleni Municipality

Tel: +27 16 950 5452

Fax: +27 16 950 5001

Website: www.emfuleni.gov.za

Lesedi Municipality

Tel: +27 16 340 4314

Fax: 086 601 9837 (SA only)

Website: www.lesedilm.co.za

Midvaal Municipality

Tel: +27 16 360 7400

Fax: +27 16 362 2794

Website: www.midvaal.gov.za

WEST RAND DISTRICT MUNICIPALITY

Physical address: Cnr Sixth and Park Streets, Randfontein

Postal address: Private Bag X033, Randfontein 1760

Tel: +27 11 411 5000

Fax: +27 11 693 7833

Website: www.wrdm.gov.za

Merafong City Municipality

Tel: +27 18 788 9500

Fax: +27 18 787 2146

Website: www.merafong.gov.za

Mogale City Municipality

Tel: +27 11 951 2000

Fax: +27 11 953 4571

Website: www.mogalecity.gov.za

Rand West City Muncipality

Tel: +27 11 411 0000

Fax: +27 11 693 1736

Website: www.randwestcity.co.za

79

GAUTENG BUSINESS 2018/19
---
INDEX

INDEX

Airports Company South Africa (ACSA): O.R. Tambo International Airport. ........................................... 18-21

Black Management Forum (BMF).............................................................................................................................................75

Chartered institute of Government Finance, Auditing and Risk Officers (CIGFARO) ................................69

Fluids Media Engineering..............................................................................................................................................................49

Ingwenya Mineral Processing....................................................................................................................................................40

Indaba Hotel, Spa & Conference Centre...............................................................................................................................32

Makole Group.......................................................................................................................................................................................42

Marley Pipe Systems.........................................................................................................................................................................52

Mpact.........................................................................................................................................................................................................55

Nedbank..................................................................................................................................................................................... .......25-31

Pam Golding Properties.................................................................................................................................................................17

Petroleum Agency South Africa................................................................................................................................................45

Radisson Blu............................................................................................................................................................................................61

Randburg Chamber of Commerce and Industry (RCCI).............................................................................................76

Sandton Skye.........................................................................................................................................................................................17

Selfmed...........................................................................................................................................................................................7, OBC

Standard Bank....................................................................................................................................................3, 5, 67, 70, 73, IBC

SYSPRO.............................................................................................................................................................................................IFC, 65

Transnet Pipelines...............................................................................................................................................................................46

GAUTENG BUSINESS 2018/19

80
---
BANK SAVE BORROW EARN

Zero.

Lutho.

Iqanda.

Niks.

There are a hundred ways to say what you'll pay when you save

with a Standard Bank Tax-free Call Account.

Transfer* your taxfree

funds to Standard

Bank for free.

No monthly

management fees.

Immediate access to

your money.

Earn an interest rate

of up to 6.4%**.

Only R250 to open

an account.

For more info visit standardbank.co.za

VISIT YOUR NEAREST BRANCH FOR TRANSFERS

*Tax-free transfers only available in branch.

**Terms and conditions apply.

standardbank.co.za/whatsyournext

Authorised financial services and registered credit provider (NCRCP15).

The Standard Bank of South Africa Limited (Reg. No. 1962/000738/06). Moving Forward is a trademark of The Standard Bank of South Africa Limited. GMS-1768
---
Affordable, reliable

medical aid, really.

Stand the chance to WIN

Apple Watches every month at

goselfmed.co.za

SMS "Med-Aid" to 45738 today!

South Gate Office Park, First Floor South, Carl

Cronje Drive, Southgate, Tyger Waterfront,

Bellville, 7530. marketing@selfmed.co.za

Terms and conditions apply.