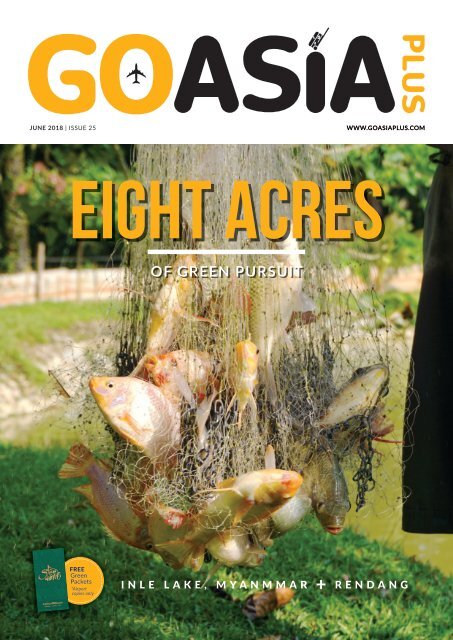 GOASIAPLUS June 2018
Since its World Environment Day on 5th June, we explore the green resort of Eight Acres in Raub, Pahang for a sustainable staycation. For the month of festivity, this issue features rendang, the delight of Hari Raya and modern batik wear for local men. More travelling voyage covers sushi in Tomakomai, Japan and Inle Lake in Myanmar.
Since its World Environment Day on 5th June, we explore the green resort of Eight Acres in Raub, Pahang for a sustainable staycation. For the month of festivity, this issue features rendang, the delight of Hari Raya and modern batik wear for local men. More travelling voyage covers sushi in Tomakomai, Japan and Inle Lake in Myanmar.
SHOW MORE
SHOW LESS
Create successful ePaper yourself
Turn your PDF publications into a flip-book with our unique Google optimized e-Paper software.
JUNE 2018 | ISSUE 25

WWW.GOASIAPLUS.COM

EIGHT ACRES

OF GREEN PURSUIT

FREE

Green

Packets

*Airport

copies only

INLE LAKE, MYANMMAR

RENDANG
---
EDITOR's

I

believe every trip presents a sense of adventure; anticipating

that mysterious something or someone that we might meet,

or just finding a good food place that we can share with the

folks back home.

Hence, as the publisher for GOASIAPLUS, I can vouch

for this magazine's intention of being a bosom companion for

travelers. Our content is informative and entertaining and is

constantly evolving to remain relevant to the readers. Stories

and visuals of interesting faces and places will keep you

company on your journey.

The advent of homestays and Airbnb opens up many places

of accommodation in neighbourhoods which put travelers right

into the heart of local communities. The Address highlights

some of these neighbourhoods, where the new and old exist

alongside each other, and their surrounding attractions.

This issue, in conjunction with World Environment Day on

5th June, we visited Eight Acres, an eco resort to inspire and to

remind us of our responsibility to mother nature.

With Hari Raya just around the corner we highlight two

iconic items for this festive season, rendang and batik.

We wish all our Muslim readers, Selamat

Hari Raya, maaf zahir dan batin!

John So

Publisher

COVER PHOTO BY

JESSY WONG

EDITORIAL TEAM

GROUP HEAD & BRANDS

JOHN SO

GRAPHIC DESIGNER

JAMIE SOO-HOO

WRITER

JESSY WONG

CONTRIBUTORS

FRANCIS YIP, AISHAH AZALI,

YY CHEN, TAN DAO HONG,

TAN JO HANN & CANY LOKE

DIGITAL TEAM

Contents

WEB CONTENT

JESSY WONG

EDITORIAL ENQUIRIES

EDITORIAL@PCOMASIA.COM

5The Green

Pursuit in Eight

Acres

8Celebration

Food: Rendang

12

Batik for Men

16

Out & About

19

The Address

@ Segambut

23

Sushi in

Tomakomai

28

Frankly

Speaking

31

Road Less

Traveled

32

FYI: Russia

35

Lost & Found

37

On The Radar

LIKE US

ON FB!

goasiaplus

SENIOR MANAGER

SALES & MARKETING

YONG WANG CHING

YONG@PCOMASIA.COM

COMMERCIAL & PARTNERSHIP

JOHN SO

JOHNSO@PCOMASIA.COM

PUBLISHED BY

PUBLISHCOM ASIA SDN. BHD.

NO. 83–1, JALAN MEDANG SERAI, BUKIT BANDARAYA,

59100 KUALA LUMPUR, MALAYSIA.

+603–20118983

WWW.PCOMASIA.COM

PRINTED BY

PERCETAKAN TURBO SDN. BHD.

NO. 8, JALAN SEKINCAN 26/9, SECTION 26,

SHAH ALAM 40000, MALAYSIA.

The views expressed in the articles published are not necessarily those of Publishcom

Asia Sdn Bhd (963236–P). While every reasonable care is taken in compiling the

magazine, the publisher shall not be held liable for any omission, error or inaccuracy.

Please notify the publisher in writing of any such omission, error or inaccuracy.

Editorial contributions are welcome, but unsolicited materials are submitted at the

sender's risk. The publisher cannot accept any responsibility for loss or damage. All

rights reserved by Publishcom Asia Sdn Bhd (963236–P). No part of this publication

may be reproduced in any form without the publisher's permission in writing.

KDN PP 19019/05/2016 (034482)

4 · WWW.GOASIAPLUS.COM
---
Eight Acres

the green pursuit in

eight

acres

THE INFINITE BEAUTY OF NATURE IS SEAMLESSLY CAPTURED ON THE

GROUNDS OF RAUB IN PAHANG. PLANTED IN MIDST OF MALAYSIA'S PALM

OIL ESTATES, EIGHT ACRES IS UNSCATHED FROM THE URBAN PURSUIT

OF LIFE AS IT EMBRACES MOTHER EARTH IN ALL OF ITS FEATURES. JESSY

WONG RECONNECTS WITH THE RESIDENTS OF NATURE THROUGH HER

STAY IN THIS GREEN RESORT.

WORDS & PHOTOS BY JESSY WONG

WWW.GOASIAPLUS.COM · 5
---
Eight Acres

Being a resident city girl, I am

delighted to be greeted by a flock

of geese casually strolling around

with the sound of splashing waterfall

as I arrive. Although the place is fenced

with trees and flowers, the weather is

still relatively Malaysian, hot but allows

consistent wind to cool the area. That

was also the time when I know that

this retreat will be different from other

typical staycations.

sustainable abundance

Eight Acres is a platform for interactivity

with nature as I partake in the amazing

trail around the resort to find stingless

bee nests, fruit trees and lotus ponds

all in one place. Zak, my resort guide

unfolds the many fascinations at the

green haven that boasts 900 trees

with a variety of 200 species. Birds and

animals roam free in the resort, added

with common sightings of flying Egyptian

geese or a hornbill.

Akin to a mini safari, Zak told the

story of the geese and snake by the

pond. The African geese were attacked

by a slithering snake in the waters during

its morning bathing session. It was a wild

moment for them as the African geese

retaliates to save their member.

rooms for contemplation

Accommodation in The Brickhouse

comes with motifs to bond, educate and

reflect for self-discovery in 6 diverse

room designs. I checked in to Surreality, a

minimalist space enhanced with Salvador

Dali's surreal painting on the ceiling for

contemplation. There are Discovery,

a library room with donated books or

a kampong-style room designed for

bonding. The Brickhouse can be booked

entirely on its own with 6 different

rooms. Aside from that, Eight Acres has

lodgings and houses ideal for big group

travellers or teambuilding activities.

fresh from the farm

The integral part of the stay is to

promote a healthy lifestyle through

the food they serve at the resort. They

pride themselves for primarily sourcing

their produce from their fish pond and

vegetable garden. Using only natural

fertilizers and fish feed, the greens

and proteins on the dinner table are

satisfyingly flavourful.

After a good home cooked Malaysian

dinner, Alam, the resort assistant brought

out a freshly plucked organic jackfruit.

Albeit reluctant at first because I was

stuffed, it is the best jackfruit I have ever

tasted. Likewise, the Musang King durian

is distinctly rich as their plants and fruits

are free from the use of pesticides.

one with nature

Aside from some private time at the

waterfall, Eight Acres is brimmed

with outdoor activities and games.

Paddleboard, fish feeding and fishing are

among milder activities as compared to

ziplining across the pond. The 'catch &

release' eco-concept allows a friendly

fishing hour using bamboo rods with a

small hook to release fish back into the

6 · WWW.GOASIAPLUS.COM
---
Eight Acres

The integral part of the stay is

to promote a healthy lifestyle

through the food they serve at

the resort.

pond without any harm.

Kids can go on a pony ride for free

or learn to play the forgotten games

like congkak, tops and chapteh. These

pastime amusements are reintroduced in

hopes of rekindling relationship among

generations through traditional games.

ecological resort

To my surprise, the resort was nothing

but a wasteland years ago. Long, tall

weeds and dead trees masked the

deserted area to a point where no living

things could thrive in the scene. It was

unbelievable to see how Eight Acres has

turned out since its founder, Paul Kam,

intervened in renewing the grounds by

bringing life back to the greenery.

The self-sustainable resort remains

true to the earth as it is remarkably

made of upcycled supplies and green

energy to run the place. Upon entering

The Brickhouse, the big red oriental

door draws my eye to its distinct facet to

find out that the door was transported

from Sg Buloh to be upcycled. Even the

zen outdoor hallway is casted straight

out from a railway road and the walls

in The Brickhouse is made of recycled

chipboards.

Forget about burning gasoline,

the hideaway runs itself by their

natural hydropower to preserve the

environment while offering comfort

with eco-friendly air-conditioning

that reduces carbon emissions. Join

the resort to make a change in the

environment on 5th June in their plastic

project to upcycle bottles into pencil

cases on World Environment Day.

good to know

The resort is built on 8 acres of land that

uses enzyme fertilizer so waste segregation

is an important practice to recycle food

waste into compost.

Lamb Chop the lamb is protective of

her pony peer, Athena, so be cautious of

a headbutt from the lamb if you try to

separate them.

To reduce wastage, bring your own

toiletries and towel to the resort. Hairdryer

is not allowed as the voltage is not

compatible with the hydro system.

Based on a Chinese belief, the place thrives

with natural elements of hills, water and

stone in bringing good luck.

Do not pick up fallen durians on the way to

the resort as it is owned by neighbouring

farms. To fix your craving, buy the fruit from

Eight Acres instead.

WWW.GOASIAPLUS.COM · 7
---
Rendang

THE CELEBRATION FOOD OF

Rendang

THE MOST DELICIOUS OF MALAYSIAN DISHES, THE RENDANG

IN ITS MANY FORMS HAS BECOME A COUNTRY FAVOURITE. BUT

UNDERSTAND THAT ITS DIVERSE FLAVOURS ARE DUE TO ITS LABORIOUS

PREPARATION. BUT HEY, THE GREAT NEVER COME EASY, RIGHT?

WORDS BY AISHAH AZALI • PHOTOS BY CANY LOKE

THE ANATOMY OF A RENDANG

To sum it up, rendang is basically a dry stew

of protein, slow cooked in a marinade of

fragrant spices. The key is the slow cooking

where the variety of spices are simmered

in low heat to bring out the flavours before

adding in the protein. The common meats

used are chicken or beef with cooking

time taking longer for the latter as to fully

tenderise it.

The pungent flavour derives from the

base ingredient of herbs and aromatic

spices. The typical base of Malaysian dishes

includes shallots, ginger and garlic with

rendang getting a dose of lemongrass and

galangal. The fragrance and kick come from

spices like cinnamon, cloves, turmeric and

star anise. The flavour intensity further

enhances with the addition of coconut milk

and 'kerisik' or coconut paste made from

toasted coconut flesh.

8 · WWW.GOASIAPLUS.COM
---
Rendang

CLOCKWISE FROM LEFT

The Minang-style chicken

rendang; Chef Halim Sultan

from Westin Hotel; Chef

Halim and Aishah chatting

FOR SPECIAL OCCASIONS

Rendang is known as that dish that is usually

served during special occasions in Malaysia. It

makes an appearance at weddings and festive

holiday celebrations, eaten as a side dish or on

its own. As a child, I watched my aunties cook

rendang till the wee hours in the morning on

the first day of Hari Raya Aidilfitri. The spices

and protein were cooked in a gigantic wok,

using fire from a floor burner. They used a long

wooden spatula to occasionally stir the dish

and watched over diligently as it cooks for

about 4-5 hours.

Even the process of preparing the

ingredients took some time, from blending

the shallots, lemongrass and garlic to making

the 'kerisik' at home. I remember the whizzing

sound as my aunt would grate the flesh of the

coconuts using a mechanical coconut grater.

She would then toast the snowy finely grated

insides till brown before grinding it to a paste.

The rest of the flesh would be put in a sock-like

tool to be squeezed into fresh coconut milk.

So you see, prepping and then cooking

rendang is a time-consuming process which is

probably why it is only cooked during special

occasions. But all that patience rewards you

with a delectable dish that will make you

salivating for seconds.

THE LONGER, THE BETTER

To find out more about the wonders of rendang

plus some tips on how to better cook it, we

chatted with Chef Halim Sultan who cooks

at the Westin Hotel in Kuala Lumpur. Since

Ramadan is here, the chef added his own family

rendang recipe, the Ayam Rendang Minang

or Minang-style chicken rendang to the hotel

menu this holy month. Therefore, Westin Kuala

Lumpur has a daily rotation of rendang in their

restaurant but the one served this month is

extra special because it is a home technique

Minang-style rendang.

"I have rendang once a week with my

nasi lemak. I prefer beef rendang because it

is cooked longer which make it (taste) nicer,"

said Chef Halim during the beginnings of our

conversation. The topic of time was brought

up a lot by Chef Halim. Time is what makes

rendang so good and special. For a small

portion at home, Chef Halim said you can whip

something up in 2 hours but at the hotel, he

simmers the paste for up to 4 hours before

adding in the chicken. This is to allow the

flavours of the ingredients like lemongrass and

galangal to rise up.

What makes Minang-style rendang different

from your average rendang? Well, first of all,

Minang comes from the word Minangkabau

which is an ethnic group of people from the

Minangkabau highlands of West Sumatra,

Indonesia. If you know your food well, then

you would know that rendang is also popularly

celebrated by our neighbouring friends.

So what makes it distinctively Minang is the

use of dried chillies which are soaked in water

before blending it into a paste. Others usually

use bird's eye chilli. The sliced tamarind is also

special in this Minang favourite where Chef

Halim explained that it is to cut the bitter taste

of the spices while adding a slight hint of sour to

balance the dish.

Using a shortcut by cooking rendang

in a pressure cooker, Chef Halim does not

recommend. Rendang must be simmered and yes

it takes a long time but it is the best way for one

to get that full rounded taste that is distinct in

rendang. "When it comes to Malaysian food, we

need to take care of our methods of preparation

(for food)," urges Chef Halim.

A tip with rendang is to cook it yesterday

and eat it today. This allows the rendang to rest

because like chef said, "The longer, the better."

Taste Chef Halim's Minang-Style Chicken Rendang at the Juadah Iftar Kampung Buffet, The Living Room, Westin Kuala Lumpur

19 May till 12 June 2018 | Price starts from RM158 nett per person | www.thewestinkualalumpur.com/ramadan-bukapuasa

WWW.GOASIAPLUS.COM · 9
---
FORIftar

ADVERTORIAL

SPECIAL SPREAD

BUY 8

FREE 2

from only

RM78 nett

per person

Ramadan is a time when Muslims

spend time in spiritual reflection and

to increase their devotion to worship

and go deeper into the meaning of Islam. In

Arabic, the word Ramadan, is derived from

the word Ramida which means dryness.

On the 9th month in the Muslim calendar

Muslims all over the world observe one of

the five pillars of Islam to fast. For 29-30

days devotees will fast, except for certain

stipulated conditions, from sunrise to sunset.

At the break of fast, they will make the

effort to have a meaningful time over a

meal with family and friends. In a multiracial

society such as in Malaysia and several other

countries in this region, Iftar (breaking of fast

after sunset) is sometimes a communal meal

that is shared with non-Muslim friends.

Traditionally, in many homes life goes on

despite the fasting where spices are tossed

into cooking pots to churn out favourite

family recipes for this meal. However,

those in the city have the choice of sharing

this meaningful meal at hotels where a

sumptuous spread is laid out for them.

Every year the kitchen at The Pearl

Kuala Lumpur gets its spices ready weeks in

advance for preparing their speciality - whole

roasted beef leg with local spices - that

crowns the Sajian Warisan Nusantara buffet.

For Executive Chef Shan Fadhil and his

team, it is indeed a challenge to work against

the clock to churn out the buffet spread of

well-balanced assorted Asian and western

dishes that include roast lamb, roast chicken,

whole baked fish, hasselback potato, roasted

vegetables and a wide selection of sauces.

Another speciality to look out for is the

tummy-warming chicken biryani and mutton

biryani which are served alongside the lamb

and chicken mandi. Seafood enthusiasts

can indulge in the flavourful seafood shell

out, dressed in spices that is just right for a

Malaysian's palate.

When the main meal's done, there is a

wide selection of sweets and desserts to

savour as one winds down the meal over

coffee and chat. Popular traditional Malay

kuih (dessert) like seri muka (pandan and

sticky rice) or kuih koci (sticky rice with gula

melaka and coconut shreads) complete the

must-have foods of Ramadan indulgences

in the buffet spread at Cafe 5, Level 5, The

Pearl Kuala Lumpur.

Available from 17 May-13 June 2018

SAHUR 11:00pm-5:00am | Price at RM33

IFTAR 6:30pm-10:30pm | Prices at RM98 (Adult), RM65 (Senior Citizen) & RM30 (Children)
---
Batik for Men

Batik FORMen

• N E W A G E •

12 · WWW.GOASIAPLUS.COM
---
Batik for Men

BATIK FOR MEN IS NO LONGER JUST ROCKED BY THE

OLDER GENERATION FOR GOVERNMENT FUNCTIONS

BUT HAS SEEN AN INJECTION OF MODERN DESIGN

FOR THE YOUNGER CROWD. WHETHER AS CASUAL

WEAR OR FORMAL, HERE ARE SOME BATIK BRANDS

MEN SHOULD LOOK OUT FOR TO OWN A PIECE OF

THIS TRULY MALAYSIAN CREATIVE TEXTILE.

WORDS BY AISHAH AZALI • PHOTOS BY KAPTEN BATIK, NOH & CO.

& KARYANEKA

Batik is a well-known fabric in Southeast Asia that has gained

popularity thanks to Indonesia where locals in the royal court

wore them as a status symbol. But when it reached Malaysian

shores, batik in the form of sarongs were donned by the common folk.

The art of making batik requires skill and patience. This handmade

trade can still be found in the motherland of batik-making which is the

east coast states of Terengganu and Kelantan. Hand-painted batik is

when melted wax is funnelled through a tool called 'canting' and it is

used to draw on a fabric. Intricate designs of nature or geometric shapes

are usually depicted. Once the wax hardens, the artisan begins painting

on it and the process is repeated to create layers of colours. Another

method is block-printed batik where copper or wooden moulds with

complex designs are dipped in wax and stamped on the fabric to create a

pattern before dyeing it with colour.

Since the 1970s, batik has been a symbol of Malaysian art, taken

home by tourists as memorabilia from Malaysia in the form of a shawl or

shirts. The idea of batik being formal wear, and where some are styled by

your uncle or grandfather, has changed as many local brands are reviving

the batik in modern cuts and patterns for all to wear. Following are some

KaptenBatik

brands with interesting designs.

Straying away from the formal, Kapten Batik's designs are meant to be

worn by the everyday man paired with staples like jeans or khakis. Short

or long sleeved, these slim fit cuts inject a younger feel as envisioned by

the creators, Farhan and Ekram. Both started this line to preserve the

beauty and tradition of batik for the future generations.

Their batik material is sourced from various parts of the world

and each with its own distinct pattern. The local collection called

'Masterpiece' is from Terengganu where they partnered with Terengganu

Artisanal Batik to create signature designs and blocks. The assortment of

fabric designs for the 'Nusantara' collection came from Indonesia but are

made using their own colour scheme and design. Lastly, fabrics that use

natural dyes are printed at Rajasthan in India for their colourful 'Bolly'

series which still utilise their own batik block.

get it at

Pasar Seloka Raya at Publika Shopping Gallery (21 May – 13 June) &

Robinsons Department Store at The Gardens

www.kaptenbatik.com.my

kapten.batik

WWW.GOASIAPLUS.COM · 13
---
Batik for Men

Noh and Co.

The fascination of batik came to the creators of Noh Batik when they

participated in a batik making class during their honeymoon. They

realised then that quality batik comes at a premium price. The Noh Batik

is created to share their love for batik with Malaysians. They have priced

it modestly to target a younger clientele.

Their collection is targeted at men who want a cool piece for formal

events, without sacrificing style. Traditional batik designs of blues and

greens in fitted button up cuts are great for those occasions but if you

like it funky, more tropical prints are also available.

get it at

STYLEANNEXE, Lot 17,18,19 (G3 Floor),

Publika Shopping Gallery, Kuala Lumpur.

www.nohandco.com

nohbatik

FROM TOP Noh Batik worn casually with

boots; Unique batik-print neckties; A

selection of Karyaneka shirts

Karyaneka

The craft centre of Kuala Lumpur that is a haven for locally-made goods

from pottery to the songket fabric also has a wide range of batik clothes

for men. Check out their impressive range of batik wear for men that

includes short sleeve and long sleeve options in fabrics like cotton, linen

and silk. Karyaneka sources their clothes from all corners of Malaysia,

made meticulously by local artisans who uses batik-making methods like

hand painting or block printing.

The great thing about Karyaneka is that it can customise batik shirts

for customers who want a personal experience for their batik purchase.

They are able to tailor-make the local fabrics according to the customer's

preference and requirement.

get it at

Bangunan Seri Anjung, Kuala Lumpur Complex Craft,

Jalan Conlay, Kuala Lumpur.

onlinestore.karyaneka.com.my

14 · WWW.GOASIAPLUS.COM
---
Out & About

The hottest & most anticipated events of the month in Malaysia and beyond

OUT ABOUT

9-17 JUNE | Bookfest @

Malaysia

The largest trilingual book extravaganza in

this country returns to feature a diversity

of books and literature from publishers

worldwide. Find the latest English, Malay

or Chinese works in 700 booths alongside

a selection of stationaries and gadgets.

There are also book reading sessions for

aspiring and acclaimed authors to share

their works.

Kuala Lumpur Convention Centre, KLCC

www.bookfestmalaysia.com

10 JUNE | Extreme Asia

Tour 2018 Malaysia

The metal days in early 90s is

defined by Gary Cherone and Nuno

Bettencourt who founded one

of America's biggest rock band.

Popular for their best-selling album,

'Pornograffitti' has since landed

Extreme international success. This

Asia tour marks the band's return

from hiatus and plan in releasing their

new album.

KL Live, Life Center, Kuala Lumpur

www.ticketcharge.com.my

30 JUNE | Queen of Hearts

World Tour

Gloria Tang or better known as G.E.M.

came to worldwide spotlight through her

participation in a China singing contest,

mesmerising the crowd with her strong

vocals and cheerful personality. Since then,

G.E.M. has collaborated with Jason Mraz,

debuted in Europe and became the only

Asian artist listed in Forbes 30 Under 30.

Spice Arene, Penang

www.ticketcharge.com.my

7 JUNE | Boyce Avenue

The three Manzano brothers has graced our

playlists from 2007 with their acoustic covers of hit

songs and collecting music style. Alejandro, Fabian

and Daniel are familiar faces on YouTube having over

billions of views and have since released four albums

and tens of cover albums to date.

The Star Theatre, Singapore

www.apactix.com

LIKE US!

facebook.com/

goasiaplus

27 JUNE - 26 AUG |

The Lion King

The biggest and most

decorated Broadway musical

is making its first international

tour in celebration of the

musical's 20th anniversary

since its debut in 1997. The

phenomenal show will be lead by acclaimed director, Julie

Taymore and new South African performers in decorating the

hall with award-winning music, choreography and costumes.

Sands Theatre, Marina Bay Sands, Singapore

www.sistic.com.sg

16 · WWW.GOASIAPLUS.COM
---
9

4949
---
Faces & Places

The Address

@Segambut

THIS NEW EDITON, THE ADDRESS,

EXPLORES LOCAL NEIGHBOURHOODS

THAT RETAINED THEIR CHARM IN THE

MIDST OF DEVELOPMENT.

WORDS BY JESSY WONG & YY CHEN

PHOTOS BY JESSY WONG & TAN DAO HONG

A

little more than a decade ago, having an address in

Segambut would raise an eyebrow. And what would come

quickly to mind was the vast squatter like surroundings

of Kampung Segambut with the skycrapers of Kuala Lumpur

city in the background. The kampung existed like a cocoon

insulated from the hustle bustle of the city. The web of small

roads and lanes inter weaving around the houses have brought

up generations of denizens who are left with memories of

growing up in a kampung in the city. Then the time came for

growth and parts of Kampung Segambut Dalam were taken to

develop into North Kiara. This transformation gave rise to high

end properties alongside the existing Mont Kiara, Dutamas, Sri

Hartamas and The Era @ Duta North.

WWW.GOASIAPLUS.COM · 19
---
Faces & Places

Mont Kiara

An affluent neighbourhood with a large expat

community of Japanese and Koreans. At the heart

of Mont Kiara is 1Mont Kiara and Plaza Mont

Kiara with a host of popular retail and food and

beverage outlet. Annually the Korean K-Street

Carnival has been a much anticipated event

showcasing Korean art and culture with K-pop

performances and Korean food. Little Korea has

satiated the local appetite for all things Korean.

For the past two decades, Plaza Mont Kiara has

earned a reputation for its resort like office, that

is, combining resort facilities with office complex

amenities. There are also several international

schools within the vicinity with the prestigious

property Pavilion Hilltop, the highest point in

Mont Kiara, nearby.

THE ERA @ DUTA NORTH

Redefining urban living in 21st century comes naturally

for Dato' Teh Kean Ming, Managing Director of JKG

Land who has been in the industry for a great many

years. The Era @ Duta North is a step into growing

the neighbourhood of Segambut into a new

metropolitan town.

The Good Old Days

The Era is built by fond experiences from yesteryears.

Occupying the leather armchair of an immaculate office,

Dato' Teh reminisces the younger days of freely riding a

motorcycle to nearby shops and eateries from houses

and have most things handmade. It was a time where

the community is friendly, children run around freely

outdoors and shops were conveniently accessible.

"The start of every town begins with a street", says

Dato' Teh whose love for Penang corresponds with a

charming residential town idea. Thus, an alternative

lifestyle becomes a reality at this hidden gem of Kuala

Lumpur, facilitated by a single stretch of an avenue that

encapsulates residences, a market center and a colony

of offices.

More than just a dream, Dato' Teh solves the urban

dilemma by visualising an effortless and effective

way of living in a bustling city. Forget about travelling

to work or finding retail shops at urgent hours, the

complete development of The Era promises a fluid

lifestyle which can fill the void of

modern-day properties.

A Downtown Attraction

Dato' Teh candidly puts forth that Segambut has been

overlooked as a potential hotspot in Kuala Lumpur.

With that conclusion, he introduces more than 100

leisure facilities at the golden home in The Era to

recreate the charm of the olden days together with

an urban forest for families to engage with nature in

the city.

Highlight of the development is Forest Village;

a built-in wetland of half a century old forest trees

surrounding the area. To complement this setup are

tree houses, hanging pavilions and water maze as

natural attractions. A jogging track trails between

trees alongside a 100-metre pool for family

recreation day.

Also, count on Fiesta Walk as the new go-to

street of Segambut with 3 storeys of retail outlets

and banks built for the convenience of shoppers.

Otherwise, sports enthusiasts can unwind in a stylish

Sports Clubhouse or catch a view of city skyline from

the rooftop at the Sky Lounge.

"Dawn, Noon and Eve – name of the towers – are

representations of a day. Basically you don't have

to go out and leave The Era as everything is there

like a small town," he explains hoping that the green

property with towering trees would turn Segambut

into a prestigious address.

Being a veteran in housing development, Dato'

Teh adds that public transportation is the key to

the transformation of Kuala Lumpur over the years.

The Era also initiated another

privileged facility for the

people of Segambut by having

a private 'resident-only' Link

Bridge to Jalan Dutamas,

MATRADE and Publika.

The nearby Jalan Ipoh

MRT station will augur

well for The Era as an

abode of convenience.

20 · WWW.GOASIAPLUS.COM
---
Faces & Places

Publika

CLOCKWISE FROM LEFT

Solaris Mont Kiara;

The Era @ Duta North;

Publika; Dato' Teh Kean

Ming, the Managing

Director of JKG Land

There's always something happening at No. 1,

Dutamas. Even if there isn't an event, there are lots

of shop with curious items that beckon.

A place with quirky boutiques, bistros and

diners, art galleries, an urban market with

gourmet items, children's enrichment, bookstore,

conveniences and more - and this is how Publika

describes itself.

You will realise that Publika really lives up to its

claim as you find it harder and harder to tear away

from browsing at the stalls and shops selling knick

knacks, a whole range of foodstuff, accessories, art

and crafts.

The interior design of each outlet appears

to be an opportunity to break away from the

normal clean and clinical look and even if it had to

conform, it would be intentional like the collapsible

gates that you would see in some old shop fronts in

small towns.

So, since Publika opened its doors in 2011,

it has been a mall that caters to the burgeoning

demand of the middle class and the millennial

for the incorporation of art into the retail scene.

Occasionally there will be the contemporary

visual art installations in the concourse and a

recent street art competition at The Square. It

further encourages creative expressions at its two

exhibition spaces the White Box and Black Box

and eight galleries that host creative works.

Spoilt for choice is probably how you would to

describe the dining scene there. You are likely to

find yourself pacing up and down the mall trying

to decide on a restaurant. Since it's Ramadan

month, you will find the Tumis Teak 5 an interesting

furniture shop-cum-restaurant. It offers a

sumptuous spread of Malay and Indonesian cuisine.

WWW.GOASIAPLUS.COM · 21
---
Sushi in Tomakomai

TOMAKOMAI

A SEA PORT CITY & O-SUSHI HAVEN

SUMMER IS HERE IN COLOURFUL JAPAN AND TOURISTS ARE FLOCKING TO THE

NORTHERN ISLAND OF HOKKAIDO FOR THE FRESHEST OF O-SUSHI. IN THE PORT CITY

OF TOMAKOMAI, SUSHI OUTLETS SERVE UP SLABS OF TUNA, SALMON, SCALLOPS AND

OTHER FRESH SEAFOOD OVER CHUNKS OF VINEGARED RICE.

WORDS BY TAN JO HANN • PHOTOS BY TAN JO HANN & ADOBE STOCK

WWW.GOASIAPLUS.COM · 23
---
Sushi in Tomakomai

Hokkaido is the heaven of fresh o-sushi is a

popular perception held by many local and

foreign visitors to Japan, and they are probably

right. Hokkaido actually holds the record for having

the biggest annual catch of 'surf clams' (hokki) in

Japan for the past decade or so. The island is also

known for Japan's most popular comfort food

which is o-sushi.

During the spring and summer months from

April to September each year, millions of local and

foreign visitors would flock to the northernmost

island of Japan when fresh seafood is in abundance

due to the favourable climate for fishing.

In the small coastal port city of Tomakomai, the

locals take their sushi very seriously. Mind boggling

portions and oversized slabs of fresh fish are

24 · WWW.GOASIAPLUS.COM
---
Sushi in Tomakomai

placed on top of small parcels of vinegar seasoned

rice. To the extent that one can hardly see the sushi

rice hiding under these enormous pieces of juicy

and succulent fresh seafood.

Tomakomai, located in Central Hokkaido and

about 1 hour's drive from the island's capital city

Sapporo, is not really a targeted tourist destination.

However it offers a wide delectable range of sushi

restaurants and bars which are not made up to

woo tourists but actually to serve local families and

workers of the city.

The 'Clipper Kaiten Zushi' (conveyor belt

o-sushi) restaurant is a popular local favourite with

proof of its 3 outlets operating in Tomakomai city.

It offers medium range o-sushi for quick and casual

dining with prices ranging from ¥130 to as high as

¥410 per plate of 2 pieces (e.g. 'Otoro or Chutoro'-

tuna belly o-sushi) and 2 persons dining can easily

incur a total average bill of about ¥4,000-5,000

(RM150-180).

Another local o-sushi hotspot is the 'Sushi Go

Round Shunraku' restaurant which is designed

to entertain big groups, parties and special

occasions. Shunraku has 3 outlets, 1 in Tomakomai

and another 2 outside the city, in Eniwa and

Chitose. The name Shunraku which means 'happy

seasons' (translated literally) is meant to convey to

customers that they can enjoy the diverse tastes

of spring, summer, autumn and winter in the way

the restaurant uses seasonal ingredients in making

o-sushi and other dishes.

They also offer very high quality o-sushi made

WWW.GOASIAPLUS.COM · 25
---
Sushi in Tomakomai

'Sushi' in Japanese actually does not really mean raw or

fresh fish but refers to the vinegar seasoned rice which is

traditionally topped with different fish, meats or vegetables.

with fresh ingredients but in a slightly higher price range, each

plate of 2 pieces of o-sushi costs from ¥140 to ¥610. A meal for

2 persons can easily cost an average total bill of ¥6,000-7,000

(RM220-255).

Interestingly, Clipper and Shunraku are started by the same

company which has a strong heritage of cooking and serving

meals to the local people of Tomakomai. Almost 60 years ago,

the founders used to cook and deliver bento meals and ramen

nightly to workers of the Daishowa Paper factory in Shiraoi

area in Tomakomai city. Some years later they had ventured

into making o-sushi and this gradually developed into full scale

o-sushi restaurants in the 1990s.

Tomakomai locals are so accustomed to their high grade

o-sushi that even local shopping mall sushi eateries tend not

to compromise on the taste and freshness of their products. In

Tomakomai's Aeon Mall, the Heiroku Kaiten Zushi restaurant

also offers good quality o-sushi but the prices are a little lower,

ranging from ¥130 to ¥390. A meal for 2 could cost only about

¥3,500-4,500 (RM128-165).

One of the reasons why Tomakomai o-sushi restaurants

and stores have a constant supply of amazingly fresh seafood is

probably because of the existence of the 'Sea Station Plat Sea

Port Market'. The accessibility to the fishing port located right

next to it provide an abundance of fresh sea hauls daily.

The sea port market is not dressed up to attract tourists

because it is a functional place of trade and retail where local

vendors and families would shop for seafood, meats, vegetables,

fruits and other supplies from morning until late afternoon when

the place closes each day.

A unique feature of this market is the long busy corridor

filled with food shops and stalls especially offering fresh seafood

cooked on the spot and o-sushi made with fresh seafood,

unloaded just hours before from returning fishing vessels at the

seaport right next to the market.

'Sushi' in Japanese actually does not really mean raw or fresh

fish but refers to the vinegar seasoned rice which is traditionally

topped with different fish, meats or vegetables. O-sushi chefs

often explain that o-sushi is not really about the fish but about

how well the rice is prepared. They reasoned that a sushi chef

only cuts and slices the fish which is used in its own freshness.

But the real test is in the way the rice is cooked, mixed with

the right proportions of vinegar, salt and sugar, and maintained

at the perfect temperature. This, they believe is the way to

determine the skill level of a sushi chef.

26 · WWW.GOASIAPLUS.COM
---
伀 匀 䄀 䬀 䄀 ⬀ 匀 䠀 䤀 刀 䄀 䬀 䄀 圀 䄀 䜀 伀 ⬀

䴀 吀 ⸀ 䘀 唀 䨀 䤀 ⬀ 吀 伀 䬀 夀 伀

∠ 匀 栀 椀 爀 愀 欀 愀 眀 愀 最 漀 嘀 椀 氀 氀 愀 最 攀 ∠ 吀 愀 欀 愀 礀 愀 洀 愀 伀 氀 搀 吀 漀 眀 渀 ∠ 䈀 愀 洀 戀 漀 漀 䜀 爀 漀 瘀 攀 ∠

圀 愀 猀 愀 戀 椀 䘀 愀 爀 洀 ∠ 伀 猀 栀 椀 渀 漀 䠀 愀 欀 欀 愀 椀

㜀 䐀

㐀 一

䬀 䄀 一 匀 䄀 䤀 ⬀ 匀 䠀 䤀 刀 䄀 䬀 䄀 圀 䄀 䜀 伀 ⬀ 䜀 唀 䨀 伀

∠ 匀 栀 椀 爀 愀 欀 愀 眀 愀 最 漀 嘀 椀 氀 氀 愀 最 攀 ∠ 䘀 甀 猀 栀 椀 洀 椀 䤀 渀 愀 爀 椀 匀 栀 爀 椀 渀 攀 ∠ 䬀 漀 戀 攀 䴀 琀 刀 漀 欀 欀 漀 ∠

䈀 愀 洀 戀 漀 漀 䜀 爀 漀 瘀 攀 ∠ 䬀 甀 爀 漀 猀 栀 椀 漀 䴀 愀 爀 欀 攀 琀

㜀 䐀

㔀 一

伀 匀 䄀 䬀 䄀 ⬀ 䬀 伀 䈀 䔀 ⬀ 䬀 夀 伀 吀 伀 ⬀

圀 䄀 䬀 䄀 夀 䄀 䴀 䄀

∠ 伀 猀 愀 欀 愀 䌀 愀 猀 琀 氀 攀 ∠ 䬀 漀 戀 攀 䴀 琀 刀 漀 欀 欀 漀 ∠ 䈀 愀 洀 戀 漀 漀 䜀 爀 漀 瘀 攀 ∠

䬀 椀 礀 漀 洀 椀 稀 甀 吀 攀 洀 瀀 氀 攀 ∠ 䬀 甀 爀 漀 猀 栀 椀 漀 䴀 愀 爀 欀 攀 琀

㘀 䐀

㐀 一

昀 爀 漀 洀 昀 爀 漀 洀 昀 爀 漀 洀

䴀 夀 刀 㔀 㤀 㤀

䴀 夀 刀 㐀 㤀 㤀 㤀

䴀 夀 刀 㐀 㤀 㤀

䠀 伀 䬀 䬀 䄀 䤀 䐀 伀 䠀 䤀 䜀 䠀 䰀 䤀 䜀 䠀 吀 匀

∠ 伀 琀 愀 爀 甀 䌀 愀 渀 愀 氀 ∠ 䘀 甀 欀 椀 搀 愀 猀 栀 椀 倀 愀 爀 欀 ∠ 一 椀 欀 欀 愀 圀 栀 椀 猀 欀 礀 䘀 愀 挀 琀 漀 爀 礀 ∠ 䈀 攀 愀 爀 刀 愀 渀 挀 栀 ∠ 匀 栀 漀 瀀 瀀 椀 渀 最 椀 渀 匀 愀 瀀 瀀 漀 爀 漀

㘀 䐀

㐀 一

䈀 䔀 匀 吀 伀 䘀 吀 伀 䬀 夀 伀 吀 伀 唀 刀

∠ 嘀 漀 氀 挀 愀 渀 椀 挀 嘀 愀 氀 氀 攀 礀 ⬀ 唀 渀 椀 焀 甀 攀 䈀 氀 愀 挀 欀 䔀 最 最 ∠ 夀 漀 欀 漀 栀 愀 洀 愀 ∠ 䴀 琀 䘀 甀 樀 椀 䄀 爀 攀 愀 ∠ 匀 攀 渀 猀 漀 樀 椀 吀 攀 洀 瀀 氀 攀 ∠ 伀 搀 愀 椀 戀 愀

㘀 䐀

㐀 一

昀 爀 漀 洀

䴀 夀 刀 㐀 㘀 㤀 㤀

昀 爀 漀 洀

䴀 夀 刀 㐀 アパート 㤀 㤀
---
Frankly Speaking

CHECK OUT HER

YOUTUBE CHANNEL AT

JACKIE M

frankly speaking

Jackie M

WOKS THE TALK

JACKIE M HAS BEEN A CHEF FOR MORE THAN 20 YEARS PROMOTING

ASIAN COOKING PARTICULARLY MALAYSIAN FOOD IN AUSTRALIA. HER

BIGGER ACHIEVEMENT IS TO BE ABLE TO JUGGLE A DEMANDING CAREER

AND TO ALLOW HER SPECIAL CHILD, NOAH, TO BE A PART OF IT.

WORDS BY YY CHEN • PHOTOS BY JACKIE M

These days, you can safely say

celebrity chefs are almost a dime a

dozen. But in that box full of copper

coins there will bound to be some that

peep up shining brighter than the rest.

In the case of this particular celebrity

chef Jackie M in Sydney, Australia, it's

more than just her platinum blond hair

that stands out. It's the whole list of

accolades that she has earned from

the media who touted her as Queen of

Malaysian Cuisine, go-to solution for

Malaysian Cuisine and The Gutsy Woman

Who Popularised Malaysian Food in

Sydney.

But the one that takes the cake is

'Platinum Blond Bond Girl of Malaysian

Street Food'. And it is by promoting

Malaysian street food that first earned

this celebrity chef cum TV presenter with

1.8 million followers from all over the

world on Google+. She conducts classes

on how to cook typical Malaysian recipes

on Google+ hangouts.

Jackie is truly a "Buatan Malaysia"

(Produce of Malaysia) as she was born

in a small town, Seremban in the west

coast of Malaysia. The teenager Jackie

28 · WWW.GOASIAPLUS.COM
---
Frankly Speaking

"I manage to travel

alone with a

special needs kid."

Tang, then, migrated to Australia with her

family when she was 17 and eventually

worked as an IT consultant after

graduating from the university.

Honing whatever culinary skills she

had acquired in her stepmother's kitchen

as a child, Jackie ditched the nine-to-five

office job for the apron and the camera.

Since then she has had quite a

number of projects promoting street

food in restaurants, markets, food fairs

and on TV shows. Jackie was recently in

Malaysia to shoot for her latest TV series

Wok Around Asia.

This series take on an unusual slant in

presenting food from the perspective of

culture and a chef who is travelling with

her 5-year-old son Noah who has Down's

Syndrome.

"I've had the opportunity to travel to

Southeast Asia on numerous occasions in

the past, usually as a result of invitations

from tourism bodies and international

hotel chains, in exchange for live videos,

online content and social media shares.

"This time around, I wanted to drive

the focus towards not just food, but food

through the lens of a cook travelling

with a special needs kid. I pitched Wok

Around Asia to Penang Global Tourism,

Tourism Malaysia and a number of

hotels in the region, and they were very

receptive to it, so I managed to pull it all

together fairly quickly" said Jackie.

Her culinary journey has taken her far

and wide but she is unable to pinpoint

which would be her favourite location.

She, however, declares her sentimental

attachment to Malaysia.

"Having been born and raised

there, there's a level of familiarity and

connection which allows me to hit

the ground running every time I visit.

I consider myself incredibly privileged

to be able to share about and promote

Malaysian food every chance I get; it's

one of those cuisines that I strongly feel

is under-recognised in the West, partly

because it's a little bit hard to pin down,"

she explained.

Despite all the others who have

presented Asian food from various

perspectives and across multiple

platforms, Jackie feels that the difference

she brings into the arena is that, "my

passion is driven first of all, by the

desire to honour my parents' legacy as

street food vendors back in the day in

Seremban - I want to share the lives of

these unsung heroes who work long,

back-breaking hours to create some

of the best food in the world without

expecting fame or glory."

"I also want to preserve the recipes

from these street food traditions and

make them accessible to the busy home

cook without compromising on flavour

and authenticity. My focus, therefore, is

not just on where and what to eat, but

also, how to recreate this when you go

back to your home country.

"Overlaying all of this is how I

manage to travel alone with a special

needs kid - because I believe how I live

my life gives those around me, who may

one day face the same tough choices

as I had to make with regards to Noah,

permission, inspiration and drive to do

the same."

Jackie was offered by Google+ to do

a live cooking demonstration show when

her baby Noah was fighting for his life in

hospital. It was her first big break and she

couldn't give it up. Eventually she pulled

her act together and went ahead with the

show. After much trials and persistence,

Jackie got the show going.

WWW.GOASIAPLUS.COM · 29
---
Road Less Traveled is a collaboration with AirAsiaGo.

Check out airasiago.com.my for flight & hotel deals!

Road Less Traveled

ROAD

TRAVELED

Inle Lake,

Myanmar

THE FRESHWATER LAKE IN A VALLEY IS

UNRIVALLED WITH TRIBES' CIVILISATION AND

FLOATING AGRICULTURE ON THE VAST WATERS

AND MOUNTAINS IN THE BACKGROUND.

WORDS BY JESSY WONG

PHOTOS BY ADOBE STOCK & AIRASIAGO

HOW TO GET THERe

Take domestic flight to Heho airport then grab a

one-hour taxi ride to Nyaungshwe town. Budget

travellers can consider buses from most major

cities like Yangon and Mandalay to Nyaungshwe.

Trains are available from Thazi to Shwenyaung if

you opt for a slow but scenic journey to Inle Lake.

WHAT TO DO

Go for a boat tour to see life on the lake and get

a dose of their sustainable lifestyle. Long narrow

boats navigate the waterways with ease by the

native's unique one-legged rowing style as you

cruise by local villages on stilts of the Intha people.

Floating gardens are a common sight with

various vegetables farmed on the waters besides

numerous monasteries. Phaung Daw Oo Pagoda

in Ywanma village is considered to be one of the

holiest places in Shan State for Buddhists. Catch

an amazing sight at Indein village as hundreds of

stupas relics mushroom the hill.

Traditional cloth-weaving practice prevails in

craft shops making their hand-woven textiles the

best buy from Inle Lake.

WHERE TO STAY

Experience a scenic stay at ViewPoint Lodge &

Fine Cuisines in stilt-houses with private lake. The

resort has a rooftop viewpoint, bar and various

local dining options for guests. For convenient and

friendly lodging, Hotel Amazing Nyaung Shwe is a

spa hotel in vicinity to main Nyaung Shwe Market

and other attractions.

WHERE TO eat

Find Shan cuisine from eastern Myanmar served in

a delectable range in Sin Yaw Bamboo Restaurant.

A must-try is their tangy Shan noodles and assorted

curries. For authentic Burmese cookery, Lin Htett

offers top savoury platters with side dishes as

choices. Spend casual hours at tea shops like the

locals for some milky tea and deep-fried snacks.

i

GOOD TO KNOW

Inle Heritage House is

worth-visiting for hopeful

learners of the Intha's

culture together with a

Burmese Cat Village.

Khaung Daing Hot Spring

is a bike ride away from

Nyaungshwe town for a

thermal dip.

Inle Lake became

Myanmar's first UNESCO

World Network of

Biosphere Reserves in

2015.

Cheroot (Burmese cigar)

making is popular in

Inle Lake.

WWW.GOASIAPLUS.COM · 31
---
FYI

EYES ON

RUSSIA

WORDS BY YY CHEN

Seven of Russia's historical cities will be the pivot of attention when the World

Cup 2018, that costs Russians USD$11.8 billion, starts in June. The cities –

St. Petersburg, Moscow, Kazan, Ekaterinburg, Kaliningrad, Sochi, and Nizhny

Novgorod – are also among Russia's top ten tourist destinations.

Here are some interesting and fun facts about these cities.

MOSCOW

• Official population is 12 million (2015),

and it's one of the 10 most populous

cities in the world.

• Moscow gets its name from the river.

"Moscow" meant "wet", as Moscow was

built on swamps.

• Largest number of billionaires in the

world. According to Forbes, there are 84

billionaires in the city with the combined

wealth of 367 billion dollars

SAINT PETERSBURG

• Famous for its white nights, which

peak during May, June and July. It's

the time when the day is very long

and the sun shines till the midnight

and then rises at 3-4 at night.

• Saint Petersburg metro has one of

the deepest subways in the world:

some stations are so deep they go

under the water.

• Has a hockey team, SKA and football

team, Zenit.

32 · WWW.GOASIAPLUS.COM
---
FYI

KALININGRAD

• Located between Poland and Lithuania

along the Baltic Coast.

• Administratively part of the Russian

Federation, was separated from the rest

of Russia, by the then Soviet republics

of Lithuania, Latvia and Belarus.

• It is the country's only ice-free

European port.

SOCHI

• Hosted the most expensive winter

Olympics in 2014. Russian government

was said to have spent US$51 billion

on Sochi 2014. And it took 7 years to

prepare the seaside resort town for

the games.

KAZAN

• 1,000 year heritage.

• Known as "the 3rd capital of the Russia".

• Boasts the largest IT-park in Russia and

also one of the largest in Eastern Europe.

EKATERINBURG

• Cold climate all year round and it is

famous for its golden dome 'Church on

the Blood'.

• Named after Emperor Peter the

Great's wife Yekaterina who later

became Catherine I after Emperor

Peter the Great's death.

• Also known as the "window to Asia".

NIZHNY NOVGOROD

• Large city on the Volga River in western

Russia. From 1932 to 1990, it was

known as Gorky after the writer Maxim

Gorky, who was born there.

• Gorky Automobile Plant was

constructed in this period.

• The city was given the nickname

"Russian Detroit".

WWW.GOASIAPLUS.COM · 33
---
Borneo Entrepreneurship

& Investment Convention 2018

Opening Keynote by Yang Amat Berhormat

Abang Abdul Rahman Zohari Abang Openg,

Chief Minister of Sarawak

Andrew Tan

TBV Capital

Koichi Saito

KK Fund

Edmund Loh

Musemancer

Nadhir Ashafiq

TheLorry

Yienyee Soh

AVANA

Spencer Lee

AirAsia

Jerryson Abraham Doss

Viva Odyssey

Michelle Chuah

Supermodel Secrets

Jan Wong

OpenMinds Resources

Dr. Janson Ang

Janson Group

Ng SaiKit

Captii Ventures

Tom Siew

Koford Converting

Shaun Ling

iPrima Media

Spring Wong

50gram

Heather Goh

AirAsia BIG Loyalty

Brian Tan

FutureLab

"Bridging Entrepreneurship Across Markets"

The Borneo Entrepreneurship & Investment Convention 2018 brings some of the most brilliant and

innovative minds to discuss the most pressing issues, and latest business trends, and to empower

people and small businesses to achieve better lives for themselves, their families, and the

communities in which they serve.

Date

19th July 2018 (Thursday)

Venue

KTS Garden, Kuching, Sarawak.

Time 9:00 AM - 6:00 PM

Info & Tickets

www.beic.my

Official Partners: Jointly Organised by: Supporting Agencies:

Media Partners:

Radio Partner:

Online

Radio Partner:
---
Lost & Found

lost&Found

Francis

Yip always loses himself but somehow, finds his way back with lots

of juicy stories to share. Forgive him if he sparks a debate. Love him if he

unlocks hidden jewels. So heavenly, so travelicious with him!

www.franciswriter.com franciswriterAd

malay movie world

WORDS BY FRANCIS YIP

PHOTOS BY FRANCIS YIP & RIZAL HALIM

: REWIND

Ask any Malaysian about

Malay movies, the name P.

Ramlee will surely be in the

topic. P. Ramlee is regarded as a

Malay entertainment icon and best

known as a singer, actor, composer,

screenwriter and director. In fact,

I am a big fan of him and love his

'Bujang Lapok' series the most.

But how exactly did Malay movies

begin?

According to Rizal Halim, a

renowned Malay movie director

who made a name in Australia,

"Leila Majnun which premiered in

1933 is probably the first Malay

movie and had Islamic overtones.

Malay movies were quite simple

back then with a 'bangsawan' style

but the real commercial success

came with Malay Film Productions

(MFP), Shaw Brothers Studio and

Cathay-Keris Studio in Singapore.

Both studios made Singapore the

Malay movie hub in the early days,"

he explained.

THE GOLDEN ERA

The 1950s saw many blockbuster

Malay movies, especially romantic

comedy and melodrama. P. Ramlee

made his directorial debut in

'Penarik Becha' and some of his

comedy movies like 'Madu Tiga',

'Nujum Pak Belalang', 'Pendekar

Bujang Lapok' won criticallyacclaimed

awards in the Asian

Film Festival.

These comedy movies about

star-crossed lovers, mismatched

love and celebration of friendship

always had me in stitches. And

of course, who could ever forget

the catchy songs like 'Menceceh

Bujang Lapok'?

As an actor, P. Ramlee won

Best Male Actor for his heartwarming

father role in 'Anakku

Sazali' at the 4th Asian Film

Festival in Tokyo in 1957.

While many P. Ramlee movies

were produced by Malay Film

Productions (MFP), the Cathay-

Keris Studio differentiated itself

with period drama like Hang Jebat

and a series of satirical films like

Mat Bond, Mat Lanun and Mat

Raja Kapor in the 1960s.

FROM SINGAPORE TO MALAYSIA

"The 'Pop yeh yeh' bug hit the

1960s and P. Ramlee found

himself struggling upon his return

to Malaysia. Malay movies faced

a rapid decline in the mid-60s

and 70s as audiences decreased

and production costs increased.

Audiences preferred Bollywood

movies," explained Rizal.

Filem Negara Malaysia (FINAS)

was set up in the 1970s to break

the monopoly of big players and

there were also many independent

Malay producers.

"Meanwhile, the 1980s was a

comedy movie era for 'Mekanik',

'Gila-gila Remaja' and others while

1990s featured many independent

movie directors like Shuhaimi

Baba, Raja Ahmad Alauddin and

Yusof Haslam. The Malay movies

were mostly autobiographical and

triad movies like those from Hong

Kong," Rizal pointed out.

THE NEW GENERATION

The new millennium introduced us

to a new generation of moviemakers.

The late Yasmin Ahmad's

movies brought back the glitter

of Malay movies with subjects

that are close to our hearts in

'Gubra', 'Mukhshin' and interracial

relationship in 'Sepet'.

"Today, movie makers want

fast buck and produce their

own Marvel superheroes like

'Cicakman' and 'Badang' but we

still lack of that worldwide appeal.

Some film directors are still trying

to find their voice in Malay movies.

That is why I went to Australia to

direct movies like 'Lurking Woods'

and 'Tainted Getaway'," said Rizal.

Whatever the future holds for

Malay movies, I still love P. Ramlee

classics the best.

MALAY MOVIE FAVOURITE GENRE

1940s

War propaganda & romance

1950s

Golden era: comedy, family

drama & musical

1960s

Comedy, family drama,

musical & epic

1970s

Bollywood-style

1980s

Comedy, horror & drama

1990s

Hong Kong-style, crime,

autobiography & romance

2000s

Hollywood-style & multiracial

2010s

Animation & Hollywood-style

WWW.GOASIAPLUS.COM · 35
---
On The Radar

THE

RADAR

First Banyan Tree in Malaysia

Banyan Tree Kuala Lumpur is set to live up to its signature

of being 'Sanctuary for the Senses' residing at the top 7

floors of Pavilion Kuala Lumpur. Guests can indulge in the

exquisite aromatherapy essential oils and chromotherapy

showers in all rooms while be captivated by the panoramic

view of city skyscrapers at the skybar and restaurant. The

luxurious spa hotel opens on 15 June 2018.

www.banyantreeatpavilion.com.my

Victorian English Afternoon Tea

Shaded from the Singaporean heat, L'Espresso in

Goodwood Park Hotel serves an English oasis of afternoon

tea with traditional homemade scones and bite-sized

pastries for a royal regale. 'Three Little Pigs' sandwich,

'Treacle Tart', 'Toad in the Hole' sausage bake and more

adds to the new vintage collection.

Available from 1 June to 22 July 2018.

www.goodwoodparkhotel.com

Holistic Getaway in REVĪVŌ

REVĪVŌ health resort in Nusa Dua, Bali focuses

on enriching your weekend with Mind Immersions

wellness program that heals through mind training

and self-awareness in teaching guests to be peaceful

and happy from within. The workshops include spa,

crystal healing, chakra balancing and mindful eating

to restore our health. Available till June 2018.

www.revivoresorts.com

WWW.GOASIAPLUS.COM · 37
---
On The Radar

Sea Wonders at Resorts World Langkawi

The unfeigned delight of an

island vacation at Langkawi is

one that promises a good tan

and endless sea view. Located

by the coastal pier, Resorts

World Langkawi overlooks the

Malacca Straits that somewhat

reminds me of a coastal

fantasy romance at sundown.

Beyond the popular

Cenang beach, the resort is a

fitting escape for those who

seek a quiet night's rest with

its large windows and balcony

offering a premium panorama

of the ocean. The continuous

flow of sea breeze into my

modestly styled room is

bordering on turning my 4-star

resort stay into glamping.

The resort makes the best

of its natural surroundings

through the open-air walkways

and al-fresco dining by the

boardwalk at Seagull Coffee

House. From there you feast

on the on uninterrupted

views of the islands ahead

accompanied by fleeting

sounds of jet skis.

Latest upgrade to the hotel

is an aqua-green infinity pool

which stretches over a curve

to provide a good picturesque

swim. The two depth levels

in the pool allow guests to

exercise their strokes or just

sunbath on the floating pool

chaise in ankle deep waters.

Otherwise, travelling

families with children can

spend time splashing in the

vast playground pool. For a

change of scenery, the site is

framed in by trees and greens

in the adjacent hills.

The tranquil sea prompts

a calming mind in Taman Sari,

a heritage spa known for their

traditional Javanese massage.

Sculptures and wooden

antiques charmingly fill the

space for a scenic comfort

while the masseuse knead my

stress away.

Staying at Resorts World

Langkawi is plain sailing for

people who seek adventures

in the sea as guests can easily

access boat trips and tours at

the pier. Sunset dinner cruise

gets me excited with fresh

seafood barbeque, jacuzzi in

open waters, leaping off the

yacht and catching the sun

going down at the horizon.

RESORTS WORLD

LANGKAWI

Langkawi, Kedah

www.rwlangkawi.com

38 · WWW.GOASIAPLUS.COM