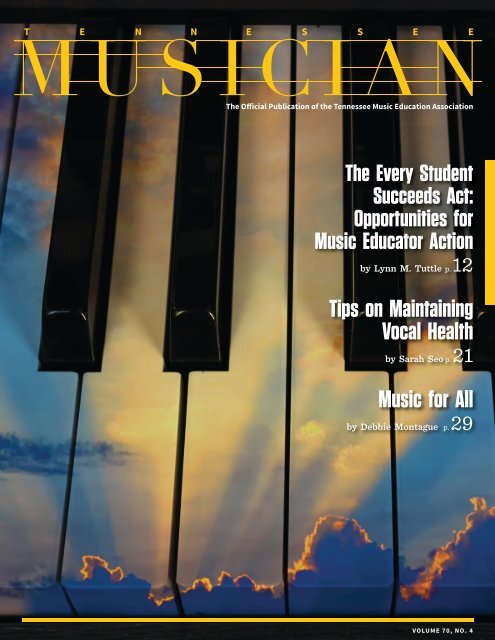 TN Musician Vol. 70 No. 4
You also want an ePaper? Increase the reach of your titles
YUMPU automatically turns print PDFs into web optimized ePapers that Google loves.
The Official Publication of the Tennessee Music Education Association

The Every Student

Succeeds Act:

Opportunities for

Music Educator Action

by Lynn M. Tuttle p. 12

Tips on Maintaining

Vocal Health

by Sarah Seo p. 21

Music for All

by Debbie Montague p. 29

VOLUME 70, NO. 4
---
MUSIC

MUSIC WITH PURPOSE

A Christ-centered university in southeast

Tennessee with faculty, curriculum, facilities,

and opportunities to prepare you for your

goals as tomorrow's musician.

Audition Dates:

NOV. | JAN. | FEB. | MAR. | APR.

LEEUNIVERSITY.edu/music
---
TENNESSEE MUSICIAN EDITORIAL STAFF

Michael W. Chester

Managing Editor and Advertising Manager

Justin T. Scott

Associate Editor

Laura Boucher

Associate Style Editor

Jazmin Jordan

Social Media Director

Allison Segel-Smith

Pre-Production Editor

Contributing Editors

Matthew Clark

Doug Phillips

Carol King-Chipman

Jerome Souther

PUBLISHED BY SLATE GROUP

6024 45th Street

Lubbock, Texas 79407

(800) 794-5594 office

(806) 794-1305 fax

Director of Creative Services

Rico Vega

Graphic Design

Kasey McBeath

Account Executive

Ian Spector

TABLE OF CONTENTS | 2018 | VOLUME 70, NO.4

TMEA President's Message 4

Johnathan Vest, Ed. D.

TMEA Conference Awards & President-Elect 5

FEATURED ARTICLES

The Every Student Succeeds Act:

Opportunities for Music Educator Action 8

by Lynn M. Tuttle

Tips on Maintaining Vocal Health 16

by Sarah Seo

Music for All 23

by Debbie Montague

Tennessee Musician Advertiser Index 31

TMEA Back Then 32

All editorial materials should be sent to: Michael Chester, Managing

Editor (615-873-0605) E-mail: editor@tnmea.org.

Submit materials by e-mail in Microsoft Word format.

Advertising: Information requests and ad orders should be

directed to: Michael Chester, Managing Editor (615-

873-0605) e-mail: editor@tnmea.org. All advertising

information is on the TMEA web site, www.tnmea.org.

Deadlines for advertisement orders and editorial materials:

Issue No. 1 – Deadline: August 15 (in home delivery

date October 15); Issue No. 2 – Deadline: October 15 (in

home delivery date December 15); Issue No. 3 – Deadline:

December 15 (in home delivery date March 15);

Issue No. 4 – Deadline: February 15 (in home delivery

date May 15)

Tennessee Musician is copyrighted. Reproduction in

any form is illegal without the express permission of

the editor.

Postmaster: Send address changes to: Tennessee Musician,

c/o National Association for Music Education

(NAfME), 1806 Robert Fulton Drive, Reston, VA

20191-4348.

The Tennessee Musician

The Official Publication of the Tennessee Music Education Association

The Tennessee Music Education Association (TMEA) was officially formed in 1945 as a voluntary, nonprofit

organization representing all phases of music education at all school levels. The mission of TMEA

is to promote the advancement of high quality music education for all. Active TMEA membership is

open to all persons currently teaching music and others with a special interest or involvement in music

education. Collegiate membership and retired memberships are available. Membership applications are

available on the TMEA web site, www.tnmea.org.

The Tennessee Musician was founded in 1948 with J. Clark Rhodes appointed by the TMEA Board of

Control as inaugural editor. Tennessee Musician was preceded by an earlier publication, Tennessee

Music Editors' Downbeat, which was discontinued by the TMEA Board of Control at the spring board

meeting, held in Chattanooga, Tennessee in 1948. Tennessee Musician is published by Slate Group –

Lubbock, Texas and is mailed to members four times each year at an annual subscription rate of $6.00

(included in dues). Non-member subscription rate (includes S&H): $30.00 per school year; single

copies: $10.00 per issue

Place non-member subscription and single copy orders at TMEA, 129 Paschal Drive, Murfreesboro,

Tennessee 37128 or e-mail to editor@tnmea.org.

All editorial materials should be sent to: Michael Chester, Editor-in-Chief (615-904-6771 ext. 31600)

e-mail: editor@tnmea.org. Submit materials by e-mail in Microsoft Word format.

Non-Profit 501(c)(3) Organization U.S. Postage Paid

at Lubbock, Texas. ISSN Number 0400-3332; EIN

number 20-3325550
---
TMEA BOARD AND COUNCIL

TMEA OFFICERS 2017-2018

TMEA EXECUTIVE DIRECTOR:

Ron Meers

execdirector@tnmea.org

TMEA PRESIDENT:

Johnathan Vest, Ed. D.

president@tnmea.org

BOARD OF DIRECTORS

TMEA STATE GENERAL MUSIC CHAIR:

Linzie Mullins

genmusicchair@tnmea.org

TMEA STATE CHORAL CHAIR:

Gerald Patton

pattong@rcschools.net

TMEA STATE ORCHESTRA CHAIR:

Michelle Clupper

michelle.clupper@knoxschools.org

TMEA STATE BAND CHAIR:

David Chipman

banddir@bellsouth.net

TMEA STATE HIGHER EDUCATION CHAIR:

Ryan Fisher, Ph. D.

rfisher3@memphis.edu

TMEA COUNCIL

WTGMEA PRESIDENT:

Linzie Mullins

genmusicchair@tnmea.org

WTGMEA PRESIDENT-ELECT:

Frances Miller

fmiller@millingtonschools.org

WTVMEA PRESIDENT:

Lalania Vaughn

lvaughn@rebelmail.net

WTVMEA PRESIDENT-ELECT:

Christopher Davis

davischristophert@gmail.com

WTSBOA PRESIDENT:

Stephen Price

prices@gcssd.org

WTSBOA PRESIDENT-ELECT:

Ollie Liddell

ollie_liddell@hotmail.com

MTGMEA PRESIDENT:

Alexis Yatuzis-Derryberry

derryberrya@rcschools.net

MTGMEA PRESIDENT ELECT:

Lia Holland

liaholland@mtcscougars.net

MTVA PRESIDENT:

Michael Choate

choatem@pcsstn.com

TMEA PRESIDENT-ELECT:

Lafe Cook

pres-elect@tnmea.org

2 | TENNESSEE MUSICIAN | 2017 | Volume 69, No. 2

TMEA PAST-PRESIDENT:

Jeff Phillips, Ed. D.

jeffrey.phillips@sumnerschools.org

TMEA STATE COLLEGIATE NAFME CHAIR:

Jennifer Vannatta-Hall, Ed. D.

jennifer.vannatta-hall@mtsu.edu

TMEA STATE EDUCATIONAL TECHNOLOGY CHAIR:

John Womack

webmaster@tnmea.com

TMEA PUBLICATIONS EDITOR AND

ADVERTISING MANAGER:

Michael Chester

editor@tnmea.org

TMEA PUBLICATIONS ASSOCIATE EDITOR:

Justin Scott

justin.scott@tcsedu.net

TMEA ADVOCACY AND GOVERNMENT

RELATIONS CHAIR:

Christopher Dye, Ed. D.

christopher.dye@mtsu.edu

MTSBOA PRESIDENT:

Debbie Burton

dlburton98@gmail.com

MTSBOA PRESIDENT-ELECT:

Justin Scott

justin.scott@tcsedu.net

ETGMEA PRESIDENT:

Margaret Moore

mamcmoore57@aol.com

ETGMEA PRESIDENT-ELECT

Marcus Smith

marcus.smith@knoxschools.org

ETVA PRESIDENT:

Kenton Deitch

kenton.deitch@knoxschools.org

ETVA PRESIDENT-ELECT:

Stephanie Coker

scoker@acs.ac

ETSBOA PRESIDENT:

Gary Wilkes

gwilkes428@gmail.com

ETSBOA PRESIDENT-ELECT:

Alan Hunt

ahunt@bradleyschools.org

CONFERENCE MANAGEMENT TEAM

TMEA CONFERENCE CO-CHAIR:

Brad Turner

brad.turner@acsk-12.org

TMEA CO-CONFERENCE CHAIR:

Paul Waters

paulwaters.tmea@gmail.com

TMEA CONFERENCE EXHIBITS CHAIR:

Jo Ann Hood

jhood10105@aol.com

ALL-STATE MANAGEMENT TEAM

TN ALL-STATE CHORAL GENERAL CHAIR:

Amanda Ragan

aragan@ortn.edu

ENSEMBLE CHAIRS

TREBLE HONOR CHOIR CHAIR:

Tiffany Barton

tntreblechoir@gmail.com

TN ALL-STATE SATB ENSEMBLE CHAIR:

Lauren Ramey

lauren.ramey@wcs.edu

TN ALL-STATE SSAA CHORALE ENSEMBLE CHAIR:

Amanda Short

amandalovellshort@gmail.com

TN ALL-STATE TTBB CHORUS ENSEMBLE CHAIR:

Kelly Davenport

davenportk@wcde.org

TN ALL-STATE 9TH - 10TH GRADE STRING

ORCHESTRA CHAIR:

Andy Smith

andy.smith@sumnerschools.org

PROJECT CHAIRS

TMEA MEMBERSHIP CHAIR:

Position unfulfilled at this time

TMEA GUITAR EDUCATION CHAIR:

Chip Henderson

paul.henderson@mtsu.edu

TMEA JAZZ EDUCATION POLICY CHAIR:

Richard Ripani, Ph. D.

richard.ripani@mnps.org

TMEA SOCIETY FOR MUSIC TEACHER

EDUCATION CHAIR:

Jamila L. McWhirter, Ph. D.

jamila.mcwhirter@mtsu.edu

TMEA MUSIC MERCHANTS

INDUSTRY CHAIR:

Rick DeJonge

rick.dejonge@khsmusic.com

TMEA CONFERENCE REGISTRATION CHAIR:

Mark Garey

mgarey86@comcast.net

TMEA CONFERENCE PERFORMANCE

GROUP CHAIR:

John Mears

mearsj@rcschools.net

TN ALL-STATE INSTRUMENTAL

GENERAL CHAIR:

Todd Shipley

allstateinstrumental@tnmea.org

TN ALL-STATE 11TH - 12TH GRADE SYMPHONIC

ORCHESTRA CHAIR:

Jessica Peck

peck_j@hcde.org

TN ALL-STATE 9TH - 10TH GRADE CONCERT

BAND CHAIR:

Carter Noblin

john.baker@rcstn.net

TN ALL-STATE 11TH - 12TH GRADE CONCERT

BAND CHAIR:

J.R. Baker

john.baker@rcstn.net

TN ALL-STATE JAZZ BAND CHAIR:

Cord Martin

corderyl.martin@gmail.com

TMEA WEBMASTER:

John Womack

webmaster@tnmea.org

TMEA TRI-M CHAIR:

Anna Laura Williams

anna.laura.williams@outlook.com

TMEA MUSIC IN OUR SCHOOLS

MONTH CHAIR:

Tiffany Barton

tntreblechoir@gmail.com

TMEA HISTORY AND ARCHIVES CHAIR:

Position unfulfilled at this time

TMEA RETIRED TEACHERS CHAIR:

Bobby Jean Frost

bjfrost@aol.com
---
Compose Your Future

www.etsu.edu/music

www.Facebook.com/ETSUMusic

@GoETSUMusic

• Bachelor of Music Degrees in

Performance, Education, and Jazz

• Nationally recognized classical

and contemporary ensembles

• Competitive scholarships based

on audition
---
TMEA PRESIDENT'S MESSAGE

Johnathan Vest, Ed. D.

I WANT TO THANK THOSE OF YOU WHO

ATTENDED THE 2018 TMEA CONFERENCE,

AND THANKS TO THOSE WHO COMPLETED

THE POST-CONFERENCE SURVEY.

End of the year concerts. Final exams. Allergies. Cleaning out and

organizing. These are all signs of the end of school! Teachers use this

time to reflect, rejuvenate and take part in professional development,

and hopefully spend some much-needed time with family. It goes by

quickly. Pretty soon, band camps will be in full swing and we will be

planning for the 2018-2019 school year. I challenge all of you (and

myself ) to take time for yourself this summer. We can't be the best

for our students unless we take care of ourselves.

I want to thank those of you who attended the 2018 TMEA Conference,

and thanks to those who completed the post-conference survey.

Based on the feedback we received from that survey, and from

talking with many of you, the conference was very successful. The

performances, the clinicians and the presenters were all top-notch,

and I hope that you were edified and uplifted both personally and

professionally by having attended. Special thanks to the Country

Music Association for supporting our conference this year.

If you weren't at the conference, Governor Bill Haslam, Education

C ommissioner Candace McQueen, Country Artist Martina McBride,

and Country Music Association CEO Sara Trahern were on hand

at the General Session to unveil the new Tennessee: State of the

Arts initiative. This competitive grant initiative was developed as

a public- private partnership between the Country Music Association

(CMA) Foundation and the State of Tennessee. I'm proud to

announce that TMEA member Todd Shipley has been hired as the

Music and Arts Grant Program Director/Arts Specialist with the

Tennessee Department of Education. Todd will also serve as the

contact at the Department of Education for all things related to

our discipline. Congratulations, Todd, and we know you will serve

our profession well!

I am so honored to have served our profession as president of this

organization for the past two years. I believe we have done good

work in the past two years; we have developed a partnership with

the Country Music Association, hired a lobbyist and have been more

involved in the legislative process, and we have improved the conference

experience for our students and teachers. I look forward to

the direction that Lafe Cook will lead us as president for the next

two years.

4 | TENNESSEE MUSICIAN | 2018 | Volume 70, No. 4
---
TMEA 2018 Award

Winners

Congratulations to the following individuals who received awards

and recognitions at the 61st Annual Conference of the Tennessee

Music Education Association on April 12, 2018.

TMEA Outstanding Administrator: Wincle Sterling, Shelby County Schools

TMEA 25 Year Service Award: Kay Galloway, Tony Cox,

Nita Smith, Michael Hendren, Kimberly White

TMEA 40 Year Service Award: Alan Hunt, Gary Wilkes,

Marsha Hartwein, Debbie McCoy

TMEA Outstanding Administrator: Derek Rushworth, Lookout Valley Middle TMEA Outstanding Young Music Educator: Douglas Young, Munford High School

High School

Congratulations to President-Elect Alexis Yatuzis-Derryberry

Congratulations to TMEA President-Elect Alexis Yatuzis-Derryberry!

She will become the 38th president of the Tennessee Music Education

Association when she takes office during the academic year 2020.

As a recognized servant-leader and musician, she has been active in

music education since 2002 and was most recently the recipient of

the Country Music Association (CMA) Foundation Music Teachers

of Excellence Award.

---
Experience

Music the within

2017-2018 Audition Dates

Junior/Senior Day Monday, Feb. 19, All Day

Woodwind Day Saturday, Feb. 24, All Day

REGISTER TO AUDITION HERE:

utm.edu/audition

Additional dates upon request.

Accredited by the National Association of Schools of Music

(731)881-7402 • music@utm.edu • utm.edu/music
---
Training the modern musician.

Our flexible programs let you

study what you love, traditional

or folk, with curriculum designed

to teach you what you need.

Synthesize your music degree

with courses in

• Music Entrepreneurship

• Performance Production

• Arts and Society

• and more

DEGREE OPTIONS INCLUDE

Bachelor of Arts: Music

With minors including:

• nonprofit management

• psychology

• business

Bachelor of Music: Performance

Bachelor of Music: Education

Visit utc.edu/music for details.

UTC is a comprehensive, community-engaged campus of the UT System. UTC is an EEO/AA/Titles VI & IX/Section 504/ADA/ADEA institution.
---
y Frank M. Diaz

THE EVERY STUDENT SUCCEEDS ACT:

Opportunities for Music Educator Action

by Lynn M. Tuttle

As we approach the first year of full implementation of the Every Student

Succeeds Act (ESSA), what should music educators monitor regarding their

school, district and state ESSA work, and what opportunities can they act on

within their school, their district, and their state? As with any new law, there

are many possibilities and opportunities, but, as is always the case, the devil

is in the details. Where to start?

8 | TENNESSEE MUSICIAN | 2018 | Volume 70, No. 4
---
Music in State

ESSA Plans

Music/Arts in

Accountability?

Music/Arts in

Dashboards/Report

Cards?

Music/Arts in

Title IV?

Music/Arts support

Professional

Development?

Music/Arts – 21 st

Century Learning

Community

Centers?

Music/Arts for

Homeless Children

and Youth?

Music/Arts resources

for Schools in

Improvement?

Connecticut ✔ ✔ ✔

Delaware

✽

District of

Columbia

✔ ✔ ✔

Illinois ✔ ✔ ✔ ✔ ✔

Louisiana

Maine

Massachusetts

Michigan

Nevada

New Jersey

New Mexico

Tennessee

Vermont

✔ ✔ ✔ ✔

✔

✔ ✔ ✔

✔

✔

✔

✔

✔ ✔

✔

✔

* Delaware is given an asterisk, for while music and arts education is not directly mentioned in the state ESSA plan, the Delaware Department of

Education acknowledged the need to address issues raised by the music and arts education community and has committed to working with advocates on

guidance or other support materials in the future.

STATE-LEVEL IMPLEMENTATION

With a new leader for federal education now in place, U.S. Secretary of

Education Betsy DeVos, we know more about how states will engage

with ESSA implementation. And what we know is that the states can

choose what they do and how they do it. Given the increased responsibility

and flexibility handed to the states regarding ESSA, here are

some tips on for what is going on at the state level, and some ideas

about how you can get involved.

1

Know what's possible. Thirteen states sent their state

plans to the U.S. Department of Education for approval

by the April deadline. If you are in one of those states

(see the table below), review the plan and see what your

state has already included for music and arts education in

your state plan. If you reside in Arizona, North Dakota, or Oregon,

you may be aware that those states have also submitted as of

the May deadline, and NAfME is reviewing those plans currently for

information on where music education is supported in those plans.

Contact lynnt@nafme.org for more information.

As you can see by this table, many states have included

music and arts education within their plans, particularly

in the areas of accountability and funding under Title

2 IV, Part A (see below for more information on Title IV).

Share this information with your district, and thank

your state education leaders for including music and arts

education. If the information isn't clear, or you have questions, don't

hesitate to contact your state education department to learn more

about how they will support music and arts education via ESSA. You

can find your state's ESSA page and its plan here: http://www.nafme.

org/advocacy/ESSA/

Tennessee Music Education Assocation | www.tnmea.org | 9
---
Stay in touch with your MEA's state advocacy leadership

and NAfME policy staff. Working with our Advocacy

Leadership Force members in the states and

sharing information between the states, the NAfME

policy staff are always happy to help connect you into state

level advocacy and help you share your expertise and advocacy ideas

and suggestions. You can find your state advocacy leaders here: http://

www.nafme.org/advocacy/essa/nafme-advocacy-leadership-force/. We

suggest that you connect with your MEA leadership and learn how

to get involved with the creation, revision and updates to your state's

ESSA plan. And you can reach the NAfME policy staff here: http://

www.nafme.org/about/staff/advocacy-policy/

Know how your state is going to manage their Title

IV, Part A funds. For this first year of ESSA implementation,

Congress did not fully fund the new federal block

4

grant, which can support a well-rounded education, including

music. The amount funded is small enough that

Congress, for this year only, is allowing states to run competitive

grants for Title IV funds instead of granting those funds out directly

to districts. A state, for example, could focus the funds for certain

areas of a well-rounded education or certain areas of educational

technology, and then create a competitive grant application process

where districts would have to compete against each other to receive

the limited funds. In other words—the funds just won't flow down to

your district; your district might need to compete for the funds. You

need to know what your state is planning to do and how it will handle

these funds, as it will influence your work at the local level. You can

reach out to your SEADAE member – the arts education consultant for

your state—to find out more. A list of state arts education consultants

can be found at www.seadae.org.

DISTRICT-LEVEL IMPLEMENTATION

Be prepared for Title IV opportunities for music education

within your district. ESSA includes a new funding

1

3

opportunity for music education in Title IV-A, or chapter

4—21st Century Schools. This section of the law is

greatly revised from prior versions, and includes a block

grant, or direct funding to school districts, for supporting

a well-rounded education. Because music is listed in the definition

of a well-rounded education, music education can be supported by

these block grant funds, with two caveats: one, music education needs

have been identified through a district-wide needs assessment and

two, these local, identified needs are not currently met with state and

local funding, so would benefit from supplemental, federal funding.

I encourage you to get involved in the Title IV needs assessment for

your school district. And NAfME has a built-in tool to help you do

that – the 2015 Opportunity-to-Learn Standards (OTLs). The OTLs

list what resources are needed to carry out a quality music education

program—everything from technology to facilities and instruments

to student:teacher ratios. You can find the OTLs for your use with

your district's needs assessment for music/Title IV here: http://www.

nafme.org/my-classroom/standards/

And understand if the Title IV opportunity will be a block

a grant to your district—or something for which you will have

to apply. As noted above, states will have the option this

year to compete for the Title IV funds instead of just giving them to

your school district. Therefore, you will need to know how your state

is handling the funds and if you can and should respond with a grant

application to the state in order to receive supplemental funds from

ESSA for music education (and other well-rounded subject areas)

for your district. The competitive grants will most likely be available

starting in the fall, so contact your SEADAE member (www.seadae.

org) to learn more about what your state plans to do.

Ask for professional development support, which can be

funded for music educators under ESSA. Funds from

Titles I, II, and IV of ESSA can support professional

2 development for educators, administrators and other

school personnel. With the inclusion of music within

the well-rounded education definition in the law, music

educators are able to have professional development funded by these

dollars now, too. As is the case with the Title IV funding, professional

development funds will be prioritized for areas identified as having

needs based on a district-wide needs assessment. So get engaged,

and ask to be part of your district's professional development needs

assessment team for ESSA.

SCHOOL-LEVEL IMPLEMENTATION

Understand how music education can now be supported

under Title I of ESSA if you teach at a Title I School.

1

The language for Title I schools has changed in ESSA

to reflect the importance of a well-rounded education.

Title I schools come in two varieties—schoolwide Title

I schools and targeted assistance Title I schools. For the

first time under ESSA, schoolwide Title I schools are encouraged to

include information on how they provide well-rounded educational

opportunities, including music education, to their students in their

written Title I schoolwide plan. While this doesn't necessarily mean

Title I funds will support those well-rounded educational opportunities,

it's the first time that schools have been encouraged to include

a wider range of curricular offerings beyond the tested subject areas

within their Title I schoolwide plans. Also for the first time under

ESSA, targeted-assistance Title I schools can use their supplemental

federal Title I dollars to support well-rounded educational opportunities,

including music, for their identified students. At targeted-assistance

Title I schools, students receiving support through a Title I

program are identified as the most academically at-risk students in

their school based on academic achievement indicators, usually the

tested subject areas. Traditionally, Title I funds in targeted- assistance

schools have funded supplemental interventions in the tested

subject areas. Under ESSA, well-rounded educational opportunities

may also be funded for these identified students.

a

If you teach at a Title I schoolwide school, ask how music

will be included in the 2018–2019 schoolwide plan as part

of a well-rounded education. You can even offer to write

10 | TENNESSEE MUSICIAN | 2018 | Volume 70, No. 4
---
share information with parents during assemblies, concerts and performances.

NAfME has a concert-flyer resource for your use to help

your parents better understand ESSA, too. You can find the flyer here:

http://www.nafme.org/advocacy/5-ways-to-support-your-music-program/

CONCLUSION—AND THANK YOU!

While the above list might look daunting, we wouldn't be able to share

this variety of opportunities with you about the new federal education

law if you hadn't done your part with your fellow music education

advocates and convinced Congress to include music in ESSA. The

opportunities listed here are because of the work you undertook over

the last decade to speak out about the importance of music education.

To make those opportunities become a reality, work now needs to

occur at the state, district, and school levels. You don't have to do all

of this—pick a place to focus and start there. And thank you again for

making these opportunities possible. We look forward to learning

what you do with them during this school year!

Lynn M. Tuttle currently serves as the Director of Public Policy

& Professional Development for the National Association for Music

Education (NAfME).

that section of the plan if that's okay—so that music gets listed and

recognized as part of what your school does to support a quality education

for all its students. [NOTE: your administrator may not even

know that this is supposed to happen under the new law, so be ready

to educate as well as ask!]

If you teach at a Title I targeted-assistance school, consider

how supplemental music education could support

b

the students identified as academically at risk. How else

could you support them? How would these supports help them with

the tested subject areas? Sharing this kind of information with your

principal may help you access these dollars, and, more important,

provide quality supplemental services to these students as they work

to thrive in all aspects of their education.

And don't be shy about reminding your administrator at your

c Title I school that ESSA provides protection from students

missing music to receive remediation. Like No Child Left

Behind (NCLB), ESSA retains language in Title I that discourages

schools from providing interventions or remediation for students

by pulling them out of "the regular classroom."

Share with your school leadership how music helps parents

be engaged with your school. A large part of what

2 schools are asked to do that receive ESSA funding is to

make certain parents are engaged with the school. Music

education is a place where this occurs through our performances,

our parent volunteers and our parent boosters. You

can help your school meet its parental engagement goal simply by

sharing how many parents you reach—or by offering to help the school

Elementary, Middle, and High School

Band, Choir, and Orchestra

2018:

April 20-21

April 27-28

May 4-5

2019:

April 12-13

April 26-27

May 3-4

www.SMMFestival.com

or call:1-855-766-3008

Tennessee Music Education Assocation | www.tnmea.org | 11
---
Photo Credit: Rob Davidson

Get the National Recognition

Your Music Program Deserves!

Apply to be designated by

The NAMM Foundation as a

Best Community for Music

Education (BCME) program

The 2018 BCME Survey

is open from

October 17–January 31

"Being named a BCME was the catalyst for us to gain an

expanded music education budget, all while increasing

community visibility and support. It was a wonderful

recognition of the efforts of our music staff to provide

the highest quality of music education possible and

further provided validation of the quality of

programs we provide for our students."

-LONNIE STOVER, SUPERVISOR OF MUSIC AT

SYCAMORE COMMUNITY SCHOOLS IN CINCINNATI, OHIO

Stay Connected

Sign up to receive

The NAMM Foundation monthly

newsletter to receive updates on

Talking Up Music Education podcast

episodes, community events,

music making opportunities, and

educational downloads.

Music Education Days at

The 2018 NAMM Show

Music educators are eligible to attend

The 2018 NAMM Show to participate in

informative sessions; to experience inspiring

performances; and to preview the latest

instruments, products and tools relevant

to today's music classrooms.

Be part of The NAMM Foundation

The NAMM Foundation provides grants,

supports research and engages in advocacy

to support music making across the

lifespan. Learn how you can be part of

our mission to ensure access to

music education for all at

nammfoundation.org/get-involved.

VISIT NAMMFOUNDATION.ORG/BCME TO LEARN MORE AND TO COMPLETE THE SURVEY
---
Some are born with

If authenticity had a

soul, you would find it

in Memphis. Creativity

flows through our veins

This is the kind of city and

university where original

people are elevating the art

of music in unforgettable

ways. If you were born

with music in your blood,

you belong at the UofM.

DEGREES OFFERED

B.M., M.M., D.M.A., Ph.D.

AUDITION DATES

Dec. 1, 2018

Feb. 2, 2019

Feb. 16, 2019

Feb. 23, 2019

in their souls

memphis.edu/music
---
Next level

Our reputation for excellence in design was built stitch by stitch,

evolving into a collection of designs that are contemporary with a classic look,

exuding style and innovation with an unsurpassed custom fit.

Director of Sales

Becky Still

800.826.2246

btstill@shighway.com

www.stanbury.com
---
16 | TENNESSEE MUSICIAN | 2018 | Volume 70, No. 4
---
TIPS ON

MAINTAINING

VOCAL

HEALTH

by Sarah Seo

Vocal health is extremely important for singers of

all ages and musical styles. As a vocalist, I carry

my instrument with me at all times. And as a

teacher, a huge part of my job becomes teaching

my students how they can keep their voices healthy. After

all, if we break our instrument, we can't just go out and

buy another one!

My students are constantly getting sick. It never fails that

at least one of my kids will have the sniffles each week.

Since I'm in contact with these little ones every day, I'm

consistently subjected to their germs, not to mention

the germs of their friends that they have been in contact

with all day at school. It is part of my job to encourage

my students to keep their voices safe. Children's vocal

chords are still developing and fragile, so they are very

susceptible to damage. As their voice teacher, I take this

responsibility personally.

It is just as important to keep my vocal chords safe as it

is to help my students protect theirs. Without my voice,

doing my job is extremely difficult. I experienced this

first-hand recently when I caught the flu. Within only a

couple days of trying to carry on with my normal schedule,

my voice decided it was time to quit! Naturally, I wanted

to keep working. So, I had to think about how to take

care of my voice while continuing to teach. Obviously,

I felt incredibly silly being a voice teacher who lost her

voice, so hopefully my experience and tips can benefit

you. Because colds, viruses, and allergies are part of life,

I feel compelled to share some tips on how to proactively

keep you and your vocal chords healthy. I created this list

mostly as a reminder since these aren't all revolutionary

concepts, but I also included some suggestions on how to

apply them that may prove useful.

Tennessee Music Education Assocation | www.tnmea.org | 17
---
STAY HYDRATED

Staying hydrated is one of the most important parts of keeping vocal

chords healthy. When you sing, your vocal chords are vibrating against

each other to create sound. Amazing, right? But if they are dry, you

can strain and/or lose your voice since there is not enough lubrication

to allow easy and even vibration.

Obviously, the easiest way to stay hydrated is to drink plenty of fluids!

Carrying a water bottle is an easy way to help you stay hydrated.

Throughout the day, I find that I am often thirsty, but if I do not have

a drink with me, I will not drink anything. Conversely, on the days

that I have a water bottle with me, (or any drink for that matter) it

does not take long for me to finish it.

It is important to note that not all drinks are created equal. Just because

it is a liquid does not mean that it will help keep your body

hydrated. Carbonated, caffeinated, and alcoholic beverages will dehydrate

you. Drink these in moderation, and definitely stay away from

them if you are sick. I must admit that I drink at least one cup of coffee

a day, but I follow it with a glass of water to help replenish myself. If

you do not like drinking a lot of water because you like flavored drinks,

having packets of low calorie drink mixes on hand is an easy fix!

DON'T CLEAR YOUR THROAT

The first thing I want to do when I get a cold is clear my throat. I

hate the feeling of "gunk" on my vocal chords! Having mucus on your

vocal chords can cause problems like dehydration, slight swelling,

irritation, and difficulty speaking or singing, but clearing your throat

is the worst way to handle it. It causes more irritation and can cause

enough swelling to lose your voice. Instead of clearing your throat,

try drinking hot tea, swallowing hard, or some healthy vocal warmups

– sometimes the vibrating of your vocal chords from singing is

enough force to shake loose the yuckiness!

One of my favorite warm-ups to shake loose mucus is sliding up and

down from do-sol-do on the consonants V or Z. Sliding between notes

is helpful, but adding the consonant makes it even better for helping

to clear your voice. Singing on a voiced consonant puts a little extra

pressure (good pressure) on your chords. You can experience this by

singing the same exercise on "Ah" and then repeat it on a voiced consonant

(z, v, m…). Can you feel the difference? V and Z are also great

because there is even more pressure added from having to force air

through either your lips and teeth, or tongue and teeth.

I am sure that I am "preaching to the choir," but if it hurts to sing, do

not sing! This means that your vocal chords are experiencing more

than just a little mucus. In the case that it is uncomfortable to sing,

your body is telling you that it is time to stop. At this point, resting

your voice is the best option.

USE YOUR INSIDE VOICE

Your normal speaking voice is, for the most part, the healthiest volume

for your voice. Whispering and yelling, alike, are both stressful

on your vocal chords. Yes, even whispering puts stress on your voice.

I often hear people whispering when they begin to lose or have lost

their voice because they assume the softer volume is better. This is a

big misconception. Whispering will not help. Whispering and yelling

once in a while will, obviously, not damage your vocal chords. Consistent

strain, though, can result in damage; so it is beneficial to think of

strategies that minimize the number of times your voice is strained.

YOUR NORMAL SPEAKING

VOICE IS, FOR THE MOST

PART, THE HEALTHIEST

VOLUME FOR YOUR VOICE.

WHISPERING AND YELLING,

ALIKE, ARE BOTH STRESSFUL

ON YOUR VOCAL CHORDS.

As a teacher, it is important to remember not to attempt to talk over

the students. Raising your voice will leave you and your vocal chords

tired. Your students will also become accustomed to hearing your

voice at that volume and you will probably find yourself shouting

a lot. Teaching them to respond to a clapped rhythmic pattern, like

a call and response, is one of the most affective techniques I have

learned. This way, you are able to grab the attention of the class without

straining your voice, and you can then say what you need to say

at a reasonable volume. Speaking at a normal volume is helpful for

preventing vocal strain, but if your voice is about to go, the best thing

to do is stop talking altogether – which brings me to my next point…

STOP TALKING

If you are losing or have already lost your voice, staying on vocal rest

is the most important part of recovery. Especially if you have already

lost your voice, whispering and talking in general will only prolong

your laryngitis. Like I stated above, when it is painful to sing, it is a

good time to give your voice a break. Staying on vocal rest gives your

vocal chords a chance to heal and reduce the swelling.

This information is important for us as teachers to remember and

apply. It is incredibly difficult to teach on vocal rest, but not impossible.

On the days you feel like your voice needs some TLC, use more

gestures and less vocal prompts. Planning lessons that involve more

written exercises and less vocal instruction or demonstration can

be used to your advantage. Also, the days when you want to rest your

voice can be great days to practice rhythm. Clapping rhythms does

not involve using your voice at all. Be diligent with staying on vocal

rest. It is definitely difficult, but not only is it the best for your voice,

your diligence models good vocal habits to your students.

DON'T OVER-SING

Another concept to teach your students is the importance of singing

with each other, not over each other. Sometimes students have

difficulty hearing themselves while singing with others. The natural

reaction is to sing louder until they can hear their own voice. Usually,

18 | TENNESSEE MUSICIAN | 2018 | Volume 70, No. 4
---
they do this without even realizing it, but they leave with a tired and

sore throat. Choosing warm-ups that address blending and listening to

each other can help keep them from straining. Even closing their eyes

while singing can help the students become more aware of the volume

of their own voices and of the voices of the people around them.

The best way to help your students with vocal health is not only educating

them, but modeling the behavior as well. If you teach them

about staying hydrated and they see you with a water bottle, they will

be more likely to apply it to their own lives because they see you doing

it. Take a day to talk specifically about vocal health. Then, reinforce

those concepts periodically.

As I said at the beginning of this article, I speak from personal experience.

I am finally gaining the high register of my voice back, even

after months of my speaking voice returning to "normal." I was afraid

that my singing voice would never return to normal. This is why I am

adamant about maintaining vocal health. To my students, losing their

voices might seem trivial, but it is my job to teach them that prolonged

unhealthy vocal habits can cause serious issues. Hopefully these tips

will be helpful and useful to you as well.

Sarah Seo grew up, and currently resides, in the metro-Atlanta area.

She earned a Bachelor's degree in Music Therapy at Georgia College

and State University in Milledgeville, Ga., where she graduated

Summa Cum Laude and became a member of the Phi Kappa Phi

Honor's Society. She completed her internship in Columbia, S.C., at

Palmetto Health Baptist Hospital. Sarah is a member of the American

Music Therapy Association, the Music Therapy Association of

Georgia, and is board certified. Her main instrument is voice and she

has performed as a soloist at a variety of venues, but she is proficient

on guitar and piano. She now teaches voice, piano, and guitar lessons.

She also practices music therapy at various facilities. This article was

first published in Choral Director magazine. For a free subscription

to Choral Director please go to http://www.choraldirectormag.com/

D EPARTMENT OF

Music

Clarksville, Tenn.

BACHELOR OF MUSIC DEGREES

Music Education

Performance (Instrumental, Vocal,

Composition)

BACHELOR OF ARTS/SCIENCE

DEGREE IN MUSIC

Liberal Studies*

*Pave your way to success with

a customizable music degree plan!

MASTER OF MUSIC

Music Education

Performance (Instrumental, Vocal,

Composition, Conducting)

THE APSU MUSIC EXPERIENCE OFFERS

•Individualized instruction by

outstanding faculty

•Nationally recognized 600-seat

concert hall

•Tennessee Center of Excellence for

the Creative Arts

•20 vocal and instrumental student

ensembles

For Audition Dates and Requests Please Visit

www.apsu.edu/music/auditions

Contact : Department of Music

931-221-7808 • music@apsu.edu

THINK MUSIC -- THINK AUSTIN PEAY

www.apsu.edu/music

•Summer graduate program

•Beautiful campus and friendly

environment

Austin Peay State University does not discriminate on the basis of race, color, religion, creed, national origin, sex, sexual orientation, gender identity/expression, disability, age,

status as a protected veteran, genetic information, or any other legally protected class with respect to all employment, programs and activities sponsored by APSU.

http://www.apsu.edu/files/policy/5002.pdf

Tennessee Music Education Assocation | www.tnmea.org | 19
---
MusicatTech

Scholarship

Audition Dates

Jan. 26, 2018

Feb. 16, 2018

March 16, 2018

Tennessee Tech University

School of Music

Box 5045

Cookeville, TN 38505

phone: (931) 372–3161

email: music@tntech.edu

Member of

NASM

since 1967

Taylor Robinson and Gavin Robertson study with Dr. Rachel Rodriguez. | Photo by Warren LaFever.

• We offer degrees in music education and performance.

Tennessee Tech University is part of the State University and Community

College System of Tennessee. TTU does not discriminate on the basis of race,

color, religion, creed, national origin, sex, sexual orientation, gender identity/

expression, disability, age, status as a protected veteran, genetic information,

or any other legally protected class. For inquiries regarding non-discrimination

policies, contact equity@tntech.edu. The TTU policy on nondiscrimination

can be found at www.tntech.edu/aa

• Scholarships are available for both music majors and

non–music majors.

• Hundreds of events each year feature our bands, choirs,

orchestras, soloists, and chamber ensembles.

• Call or email to schedule a campus visit. We'd love to meet

you!

WWW.TNTECH.EDU/MUSIC
---
Tennessee Music Education Assocation | www.tnmea.org | 21
---
TAKE A LEAD IN YOUR PROFESSION AS A MUSIC EDUCATOR.

SHARE YOUR BEST PRACTICES AND TEACHING TIPS.

PRESENT A WEBINAR TODAY!

Have a great idea to share? Submit your proposal today:

bit.ly/NAfME-PD-Webinars

Questions? Email JJ Norman at johnn@nafme.org

IT'S A NEW ERA

IN EDUCATION

Now more than ever, your voice and expertise as a music educator is critical. NAfME is here to help you make a

strong case for music education under the Every Student Succeeds Act (ESSA).

On NAfME's "Everything ESSA" resource page (bit.ly/EverythingESSA), you can find all the toolkits you need to

understand ESSA and take action to ensure implementation includes music at the state level.

At bit.ly/EverythingESSA, you can also receive recognition for professional development valued at one contact

hour for watching advocacy webinars.

And in the Grassroots Action Center (bit.ly/NAfMEgrassroots), you can make your voice heard on Capitol Hill.

Your Association. Your Profession. Your Voice.

22 | TENNESSEE MUSICIAN | 2018 | Volume 70, No. 4
---
MUSIC FOR ALL

by Debbie Montague

As a music educator for over 40 years, I have experienced

many changes in public school education. One change that

has greatly impacted the classroom environment has been

an increase in the number of students in my classes who

have special needs. In the 1970s, teaching elementary music, I had a

small number of students with special needs mainstreamed into my

classes. In 2015, in one eighth-grade general music class, 28% of the

students were identified as having special needs. This number did

not account for the students who had non-official or non-identified

special needs or at-risk behaviors.

In order to better understand how we, as music educators, can provide

the best learning environment for every child, we must first identify

the students in our classes who have special needs or are at-risk.

Understanding the characteristics of the special needs or at-risk

student can help provide information necessary toward designing

appropriate curricula. Whether or not a student fits a stereotypical

profile of a child with special needs or at-risk behaviors, the traditional

description is generally in terms of social and/or educational

failures (Donmoyer & Kos, 1998). Usually, the "official" identification

of a special needs or at-risk student is one that requires a 504 plan or

has an Individual Education Program (IEP). In my experience that

description is too narrow. Yes, a student who has been identified as

requiring modifications for classroom activities and/or homework

assignments does have special needs, but students with special needs

may exhibit other symptoms and/or behaviors that affect their ability

to function in our classes.

During the past few years, "non-official" at-risk students in my classes

have included ones who struggle with controlling their behavior, ones

who are depressed, ones who have difficulty functioning in school,

socially and/or academically, and ones who suffer with anxiety so

profound that they cry every time a new activity is introduced. The

home life of the student can also be an indicator of a child having

special needs. For example, one of my students moved into our district

because he was placed in a foster home due to the abusive nature of

his mother. All of these students not only required accommodations

to assist in their academic success, they also demonstrated behaviors

that were disruptive to the educational process and the learning of

other students.

Add the non-official special needs students to those who are officially

designated as special needs and the teacher's responsibility to meet

the needs of every student has greatly increased. If you are thinking

that almost every child we teach could have special needs, you are not

far from the truth. And that is why it is a challenge to meet the needs

of every child in our music classes. How can one music educator meet

the needs of such a diverse population of students? Over the years,

I have discovered techniques that have proven successful in meeting

this challenge in my music classes. The foundation of success is

Tennessee Music Education Assocation | www.tnmea.org | 23
---
WORKING TOWARD

PROVIDING A POSITIVE

LEARNING ENVIRONMENT

FOR ALL STUDENTS, WE ARE

FACED WITH THE CHALLENGE

OF MEETING THE NEEDS OF A

VERY DIVERSE POPULATION

OF LEARNING STYLES AND

BEHAVIORS.

based on preparation, organization and planning prior to the start of

each class, as well as, evaluation and adjustments during each class.

We must accept all students into our music classes. First and foremost,

communication prior to the placement of the special needs or

at-risk student will help alleviate many challenges that tend to occur

throughout the year. All placement decisions should be based on the

child's ability to function in the music class and the teacher's ability

to accommodate the child's needs. It is imperative that the team of

educators associated with the special needs or at-risk student meet

prior to the student's inclusion into the music class. At this meeting,

in order to design a curriculum plan best suited for the individual

student, the diagnoses and functioning levels of the student need to

be addressed, evaluated and discussed. The following topics should

be included in the discussion: eligibility category of the student, academic

strengths, academic concerns, level of reading comprehension,

level of writing ability, required accommodations, social strengths,

social concerns, "triggers" that might upset the student, techniques

to de-escalate student's negative behavior, techniques for rewarding

student's positive behavior, social accommodations, physical conditions,

physical accommodations, mental conditions, goals for inclusion

into the class and the type of grading best suited for this student.

Once the child is enrolled in the class, and the teacher has knowledge

of the child's abilities and challenges, lessons need to be well

planned prior to the start of each class. In order for music lessons to

be effective, the lesson plan must be focused on the desired outcome.

What is the intent or purpose of the lesson? What are the benefits for

the students? The following list of benefits is not all inclusive but

provides a starting point for the preparation of a lesson plan: tools

for developing social skills, organizing and/or managing behavior,

developing cognition skills, developing communication skills, developing

motor functioning skills, developing listening skills. With a

diverse population of students in our classes, we may have to design

multiple lessons plans for one class as we strive to meet the needs of

our students with special needs, at-risk behaviors, non-official needs

or just being a regular child.

One of my "typical" classes may consist of 25 students with scholastic

abilities ranging from advance placement students to students in

the Contained Learning Center (CLC). Throughout each activity I

must observe, assess and adjust the participation of each student.

In a single activity, during the course of a lesson, I must modify the

lesson so that every student has the opportunity to participate at his

or her own ability level. The modification may be adjusting the music

so it is challenging for one student and simplified for another. This

task must be accomplished in a seamless manner so that the entire

class can continue to play the music. Just as a fine chef delivers the

meal at the same time to a party of 25, we must serve our students at

the same time in an individualistic, yet holistic and organic manner.

We must be organized and prepared to teach each class effectively.

To the same degree of importance, we must be ready to be flexible

enough to change our lesson based on the needs of our students. We

must remember that the music and the students dictate to us how we

must adjust our lesson plans. It is our job to give ourselves permission

to "shift gears" during a lesson.

Working toward providing a positive learning environment for all

students, we are faced with the challenge of meeting the needs of a

very diverse population of learning styles and behaviors. In order to

diminish the occurrence of negative behavior in the classroom it is

imperative for the music educator to offer experiences that encourage

the child to be engaged, and on task, during daily classroom activities

(Taylor et al., 1997). Our lesson plans must be designed to assist in

motivating students toward desiring to become healthy, valuable,

contributing members of our music class.

Let's be honest, in order for students to be engaged in classroom activities,

the curriculum must be interesting and the teacher must

be motivating. Even a passionate teacher would have difficulties

engaging students in a boring, non-relevant curriculum. As music

educators, we must offer experiences that will encourage our students

to become engaged with their school environment, change their attitude,

select healthy choices and discontinue behaviors that disrupt

their education and the education of their peers. Our music classes

should be designed to provide opportunities for the student to become

engaged in school activities and encouraged to be motivated toward

being successful in life. Designing and implementing an engaging

curriculum is the first step toward success.

The curriculum design for my general music class is based on handson

activities that address the development of focus, respect and community

awareness: principles necessary in addressing and modifying

at-risk behaviors. The lessons are based on a combination of Will

Schmid's "World Music Drumming Curriculum" (WMDC) and arrangements

of traditional Ghanaian music. The WMDC provides an

opportunity for students to develop listening and focusing skills, and

develop a solid foundation of basic playing techniques necessary in

the study of World Music. The World Music, with an emphasis on

Ghanaian music, incorporated in this curriculum focuses on the

importance of the individual within the community while playing

rhythmic patterns, and combinations of rhythmic patterns, that require

the student to concentrate on the music and listen attentively

24 | TENNESSEE MUSICIAN | 2018 | Volume 70, No. 4
---
to all elements of the music. This curriculum is both structured and

flexible. The music can be modified to both meet the needs of the

student and allow the student to participate fully in the playing of

the music. Every child has the opportunity to play every instrument

and its rhythmic pattern for each piece.

As a director or a participant of a performing group, we must evaluate

and assess the musical structure and accuracy as the music is being

played. The same is true for ensembles playing World Music. We

listen, we evaluate, we make decisions and we form constructive comments

in order for the students to be successful in playing the music.

The students in my general music classes are not graded on musical

ability but rather participation, effort and behavior. Students with

special needs or at-risk behaviors participate to the fullest extent possible

based on their individual abilities and level of comprehension.

The general music curriculum that I teach lends itself to being taught

in a circle, with all members equally important. In my classes, the

students are informed

that respect, to themselves,

each other

IN AN ENVIRONMENT OF

ACCEPTANCE AND RESPECT,

THE STUDENTS ARE TAUGHT

THAT ALL LEVELS OF

STUDENT PARTICIPATION ARE

VALUED AND IMPORTANT.

and the instruments

we play, is first and

foremost in all of our

classroom activities.

In an environment

of acceptance and

respect, the students

are taught that all

levels of student participation

are valued

and important. If any

student chooses to be

disrespectful, he is

asked to either stop

playing, or sit outside

the circle, until he can

participate fully and

respectfully. It is his

decision as to how long he needs to be removed from the class activities.

In this manner, the curriculum is designed and implemented to

address and modify negative behaviors while encouraging students

to be engaged in our daily classroom activities.

Research indicates that a music curriculum of active rhythm-based

activities implemented in an environment of respect for all students,

emphasizing the importance of the individual within the community

of the class, fosters relationships of respect and encourages the atrisk

student to remain on task. Larry Brendtro and Mary Shahbazian

(2004), experienced in the education of at-risk youth, express the importance

of a child having a sense of belonging. Many music cultures

of the world are based on community participation. Through playing

music from a variety of cultures, students are provided opportunities

to participate in a community-based activity that may encourage them

to become engaged in the lessons and motivated toward participating

in a positive manner.

A general music curriculum based on World Music can be a powerful

tool in addressing the challenges faced by a special needs or at-risk

child. When presented to the students in an authentic, enthusiastic

manner, World Music can engage students in a community where they

can develop respect, acceptance and understanding for themselves

and people of other cultures. Due to the diverse population that we

teach, no one method will work for every child. One individual may

respond positively to a certain technique, another may not. We can

increase our success in meeting the diverse needs of our students by

providing an engaging curriculum that is both organized and flexible.

I have found that curriculum in teaching music of various cultures,

with an emphasis on the music of Ghana. Learning the music of other

cultures can be challenging, frustrating, delightful, difficult and

enlightening, all at the same time. Studying new music, looking into

other styles, genres or instruments and then playing the music as a

community can help our students foster a better understanding of

themselves and others. That understanding may help them feel more

comfortable, and hopefully more successful, in our class and at school.

What a joy it is to share our passion for music

with children and young adults. (Well, almost

every day.) How we teach our students

should be powerful and life changing. To be

able to serve every student takes preparation,

organization and planning prior to the

start of each class, as well as evaluation and

adjustments during each class. It also takes

a passion for teaching music. Is this a lot of

work? Yes, but the benefits for our students,

no matter their ability level, far outweigh the

additional work.

Participating in musical ensembles must

provide an environment of acceptance, trust

and respect as each student performs at his

own ability level within a music community.

Through the years, I have observed that

playing music in an environment in which

every student is a valuable member of the ensemble

encourages the students to develop a connection to the other

members of the class. This connection could affect the students in

a positive way, shifting their perceptions and encouraging them to

become engaged in the class activities. Engaged in class activities,

and feeling connected, a student may be motivated toward desiring

healthy, pro-social behavior and developing opportunities for success

and growth as a student and a citizen.

Debbie Montague, a music educator for over thirty-nine years, currently

teaches Band and World Music at Kenmore Junior High School in

the Northshore School District. Debbie received her BA from Central

Washington University, MA from the University of Washington, and

DMA from Boston University. Debbie has presented numerous clinics

and sessions at seminars, workshops, and conferences at the state,

regional, national and international level. In 2014, she was inducted

into the Washington Music Educator's Hall of Fame. This article first

appeared in Voice of Washington Music Educators Vol. LXI, No. 1, pp.

25-27. Special thanks to editor Scott Ketron for assistance.

Tennessee Music Education Assocation | www.tnmea.org | 25
---
AUDITION DATES

Saturday, February 3, 2018

Friday, February 16, 2018

Saturday, February 24, 2018

CAREERS IN MUSIC DAY

Tuesday, October 24, 2017

• Competitive

scholarships available

• Music ensembles from

symphony to salsa

• 200+ music

events per year

• 8 undergraduate

music programs

• 8 graduate

music programs

• Music living/learning

community on campus

• 38 full-time and

45 part-time faculty

• University Honors

College courses

SCHOOL OF MUSIC

MTSU Box 47

Murfreesboro, TN 37132

615-898-2469

mtsumusic.com

0917-4544 / Middle Tennessee State University does not discriminate on the basis of race, color, national origin, sex, or disability. See our full policy at mtsu.edu/titleix.
---
Academy

PROFESSIONAL DEVELOPMENT

SUBSCRIBE TODAY TO NAfME's STATE-OF-THE-ART ONLINE LEARNING PLATFORM!

Must-have professional development for the successful music educator.

"NAfME Academy is a schedule-friendly and economical way for me to receive

professional development and keep my certification active."

– Jamie, 18th-year music educator from Pennsylvania

"I like that I can participate in webinars in any of the content areas, no matter my

specific teaching area. I love participating in the NAfME Academy sessions any

time of year."

– Jennifer, 11th-year band director from Oklahoma

NAfME Academy is a state-of-the-art online learning platform. By purchasing

a one-year subscription, you will have access to 80+ hours of professional

development webinars and various other content to augment your success in

the classroom. This $600 value is offered to non-members of NAfME for $100

annually—and to NAfME members for only $20 a year. Subscribe today!

Visit bit.ly/NAfMEAcademy to learn more | 1-800-336-3768

Tennessee Music Education Assocation | www.tnmea.org | 27
---
TENNESSEE

U N I V E R S I T Y O F T E N N E S S E E

IT'S NOT TOO LATE TO BE A PART OF THE

2018 PRIDE OF THE SOUTHLAND BAND!!

Incoming Freshmen can still audition!

For more information on how to Join the Pride of the Southland Band,

visit our website at www.utbands.com or call us at 865-974-5031

Connect with UT Bands
---
2018 SUMMER MUSIC CAMPS

In the Heart of Nashville

MUSIC THERAPY CAMP

June 4–8 for Students with Special Needs, Ages 7–12

SUMMER WINDS BAND CAMP

June 10–16 for Grades 9–12

BELMONT PIANO CAMP

June 10–15 for Grades 9–12

BELMONT ACADEMY

PREPARATORY PIANO CAMP

June 11–15 for Ages 6–12

STRING CROSSINGS CAMP

June 17–22 for Grades 9–12

SUMMER VOCAL ARTS INTENSIVE

June 24–30 for Grades 9–12

For more information, costs and registration visit BELMONT.EDU/MUSIC

Tennessee Music Education Assocation | www.tnmea.org | 29
---
LEARN + INSPIRE + LEAD

SIGN UP TODAY!

FREE FOR MUSIC EDUCATORS | PUBLISHED QUARTERLY

www.YamahaSupportED.com
---
TENNESSEE MUSICIAN ADVERTISER INDEX | VOLUME 70, No. 4

A very special

thank you to all

of our advertisers

who support the

work of music

educators at all

levels in the State

of Tennessee.

ADVERTISER

Austin Peay State University 19

Belmont University 29

Bob Rogers Travel

(Inside Back Cover)

East Tennessee State University 3

Lee University

(Inside Front Cover)

Middle Tennessee State University 26

NAMM Foundation 12

Slate

(Back Cover)

Smoky Mountain Music Festival 11

Stanbury Uniforms, Inc. 14

Tennessee State University 15

Tennessee Tech University 20

University of Memphis 13

University of Tennessee at Chattanooga 7

University of Tennessee at Knoxville Bands 28

University of Tennessee at Knoxville School of Music 21

University of Tennessee at Martin 6

Yamaha Corporation of America 30

Tennessee Music Education Assocation | www.tnmea.org | 31
---
TMEA BACK THEN

• Artistic trends and the rise of the minimalist

art movement found its way into

graphic design at the start of the decade

that was the 1970's. This might explain

the most minimal cover design to date of

any issue of the Tennessee Musician. The

cover was designed by Mary Ferguson,

then art teacher at Central High School

in Memphis, Tennessee. Interestingly

the cover's masthead, "Official Publication

of the Tennessee Music Educators

Association" also included "And the Tennessee

Music Teachers Association." In

December of 1968, the TMEA Board and

Board of the Tennessee Music Teachers

Association (TMTA) approved a publication

merger whereby a certain amount of

page space would be reserved for TMTA

news and events. This "journal within a

journal" began to serve a dual purpose

for both organizations. The masthead

was officially changed in the first issue

of volume 21 in 1968. This partnership

continued until the publication of the

first issue of volume 27 in 1974. While

Lawrence P. Cooney was listed as editor,

Leon R. Smith, then presumably on

faculty at the University of Tennessee at

Knoxville, was listed as TMTA editor.

• In his last address as president of TMEA,

L. Howard Nicar gave a rather scathing

report regarding the 1970 excise tax

on State and Federal Banks that passed

the Tennessee Legislature. The tax was

essentially used to give teachers in Tennessee

a much-needed raise. However,

the estimated tax revenue amounted to

just over 2.6 million dollars, which fell

short of the 11 million dollars requested

by the Tennessee Education Association.

Nicar's central argument was that every

proposed tax raise in the State of Tennessee

was done so in the name of education.

Yet when all was said and done,

very little of the revenues generated ended

up being used for education and instead

was diverted to other needs. Nicar

would further add "The point is that if

the taxes "sold" in the name of education

remained for education it would not be

necessary for the TEA to seek new taxes

every year to further their programs."

• An article titled Status of Music Education in Tennessee Public Schools by Nolan S. Barham

was published in this issue. This research article is an interesting read, especially

to anyone conducting research on the current status of music education in the State of

Tennessee. Barham's article cited research methodologies and the results of his survey

which was conducted during the 1968-1969 academic year. Barham's article also cited

nine recommendations. Barham was then an assistant professor in the department of

education and psychology at Carson-Newman College (now University) in Jefferson

City, Tennessee.

• Composer Fisher Tull won the 15th Annual Ostwald Award for Band Composition,

sponsored by the American Bandmasters Association and Uniforms by Ostwald, Inc.

The composition, Toccata for Band, was performed at the ABA Convention on February

28, 1970 in Columbus, Ohio by the Ohio State University Concert Band under the direction

of James W. Dunlop, then Ostwald Award Chairperson and Director of Bands at

Pennsylvania State University.

THE TENNESSEE MUSICIAN (MAY 1970)

Volume 22, No. 4 – 24 pgs.

TMEA President – L. Howard Nicar

Editor – Lawrence P. Cooney

32 | TENNESSEE MUSICIAN | 2018 | Volume 70, No. 4
---
To us, every

moment matters.

You create the music, we'll do the rest.

since

1981

we've been working

with directors to create

incredible student travel

experiences.

over

5,000

custom trips planned

to destinations in the

U.S. and abroad,

no two alike.

bobrogerstravel.com Making Moments That Matter Call: (800) 373-1423

for 35 years
---
Tennessee Music Education Association

129 Tennessee Paschal Music Drive

Education Association

Murfreesboro, 129 Paschal Drive

Tennessee 37128

Murfreesboro, Tennessee 37128

you work hard at

sounding good

we work hard at

looking

good

SLATE GROUP SUPPORTS

MUSIC EDUCATION

THROUGH WHAT WE DO BEST.

PUBLICATION DESIGN

PRINT

DISPLAY GRAPHICS

CONTACT IAN SPECTOR TODAY

800.794.5594 | ian@slategroup.com

slategroup.com