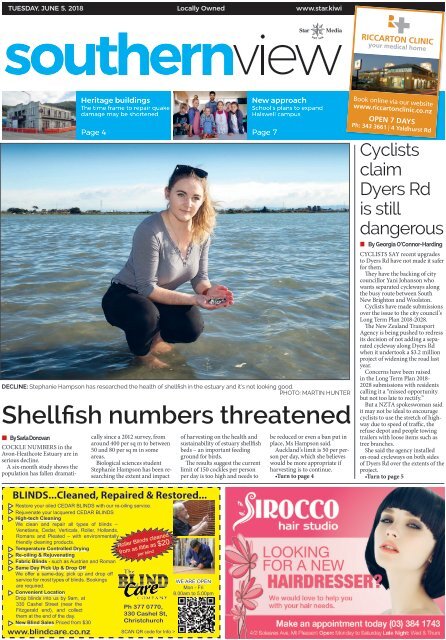 Southern View: June 05, 2018
You also want an ePaper? Increase the reach of your titles
YUMPU automatically turns print PDFs into web optimized ePapers that Google loves.
TUESDAY, JUNE 5, 2018

Locally Owned

www.star.kiwi

Heritage buildings

The time frame to repair quake

damage may be shortened

Page 4 Page 7

New approach

School's plans to expand

Halswell campus

DECLINE: Stephanie Hampson has researched the health of shellfish in the estuary and it's not looking good.

PHOTO: MARTIN HUNTER

Shellfish numbers threatened

• By Sarla Donovan

COCKLE NUMBERS in the

Avon-Heathcote Estuary are in

serious decline.

A six-month study shows the

population has fallen dramatically

since a 2012 survey, from

around 400 per sq m to between

50 and 80 per sq m in some

areas.

Biological sciences student

Stephanie Hampson has been researching

the extent and impact

BLINDS...Cleaned, Repaired & Restored...

Restore your oiled CEDAR BLINDS with our re-oiling service.

Rejuvenate your lacquered CEDAR BLINDS

High-tech Cleaning

We clean and repair all types of blinds –

Venetians, Cedar, Verticals, Roller, Hollands,

Romans and Pleated – with environmentally

friendly cleaning products.

Temperature Controlled Drying

Re-oiling & Rejuvenating

Fabric Blinds - such as Austrian and Roman

Same Day Pick Up & Drop Off

We offer a same-day, pick up and drop off

service for most types of blinds. Bookings

are required.

Convenient Location

Drop blinds into us by 9am, at

330 Cashel Street (near the

Fitzgerald end), and collect

them at the end of the day.

New Blind Sales Priced from $30

Roller Blinds cleaned

from as little as $20

per blind

Ph 377 0770,

330 Cashel St,

Christchurch

www.blindcare.co.nz SCAN QR code for Info >

of harvesting on the health and

sustainability of estuary shellfish

beds – an important feeding

ground for birds.

The results suggest the current

limit of 150 cockles per person

per day is too high and needs to

WE ARE OPEN

Mon - Fri

8.00am to 5.00pm

be reduced or even a ban put in

place, Ms Hampson said.

Auckland's limit is 50 per person

per day, which she believes

would be more appropriate if

harvesting is to continue.

•Turn to page 4

Book online via our website

www.riccartonclinic.co.nz

OPEN 7 DAYS

Ph: 343 3661 | 4 Yaldhurst Rd

Cyclists

claim

Dyers Rd

is still

dangerous

• By Georgia O'Connor-Harding

CYCLISTS SAY recent upgrades

to Dyers Rd have not made it safer

for them.

They have the backing of city

councillor Yani Johanson who

wants separated cycleways along

the busy route between South

New Brighton and Woolston.

Cyclists have made submissions

over the issue to the city council's

Long Term Plan 2018-2028.

The New Zealand Transport

Agency is being pushed to redress

its decision of not adding a separated

cycleway along Dyers Rd

when it undertook a $3.2 million

project of widening the road last

year.

Concerns have been raised

in the Long Term Plan 2018-

2028 submissions with residents

calling it a "missed opportunity

but not too late to rectify."

But a NZTA spokeswoman said

it may not be ideal to encourage

cyclists to use the stretch of highway

due to speed of traffic, the

refuse depot and people towing

trailers with loose items such as

tree branches.

She said the agency installed

on -road cycleways on both sides

of Dyers Rd over the extents of the

project.

•Turn to page 5
---
2 Tuesday June 5 2018

Latest Christchurch news at www.star.kiwi

from the editor's desk

news

SOUTHERN VIEW

DISTURBING DATA on page 1 today

about declining cockle numbers in the

estuary.

Researcher Stephanie Hampson believes

the catch limit of 150 a day, which has been

around since the mid-80s, needs to drop

significantly to ensure sustainability.

A big part of the problem - if not all of the problem - is people

are operating in groups, sometimes nine at a time, and taking

upwards of 1000 cockles a day.

That keeps individuals within the 150 limit.

People say they are unaware of the limit. That's possible. But

clearly the rules have to change.

The flow-on affect of this is on bird life, which feed on the

cockles.

Less cockles means less birds.

– Barry Clarke

get in touch

GENERAL ENQUIRIES Ph 379 7100

CLASSIFIED ADVERTISING Ph 379 1100

The Christchurch Star Company Ltd

PO box 1467, Christchurch

starmedia.kiwi

NEWS

Sophie Cornish

Ph: 364 7437

sophie.cornish@starmedia.kiwi

ADVERTISING

Mark Sinclair

Ph: 364 7461

mark.sinclair@starmedia.kiwi

Health woes thwart record attempt

Woolston drummer still has Guinness world record in his

sights

Page 5

sport

Cashmere HS steps up

Home turf advantage helps students to solid win against

Nelson counterparts

Page 11

community events

Get creative, start crafting

Build an imaginative world and battle nocturnal creatures.

Play with your friends and make new friends.

Page 12

The best-read local newspaper, delivered to

15,826 homes every Tuesday

Spreydon, Hoon Hay, Hillmorton, Cracroft, Cashmere,

St Martins, Somerfield, Sydenham, Addington, Waltham,

Opawa, Beckenham, Huntsbury, Woolston.

SELWYN STREET

NOW OPEN

Carlsberg

330ml

Bottles

$

19 99

Each

12Pk

Ivanov

Vodka 1L

$

31 99 ACC Registered

Jim

Beam

1L

$

38 99

Hardys

Range

1L

2 fOr

$

19 99

SPECIALS AVAILABLE FROM 04/06/18 UNTIL 17/06/18

Selwyn Street 1/304 Selwyn St

Ph. 03 377 6586

www.thebottle-o.co.nz

Dyers Road Landscape

& Garden Supplies

• Barks • Peastraw • Composts - we supply the best available

• Aggregates - Chip, Round and Basecourse

• Pavers & Schist products • Pungas

• Decorative Stones & Landscaping Rocks

• Trailer Hire first hour free with purchase

• Bag & Bulk - pick up or delivered

David, Carol & Mike

We will deliver!

SOIL

AND

HARDFILL

DUMPING

Phone: 03 384 6540

183 Dyers Rd, Bromley • OPEN 7 DAYS

Weekdays 7.30am-5pm. Weekends 8.30am-3pm

www.dyersroadandlandscapes.co.nz
---
SOUTHERN VIEW Latest Christchurch news at www.star.kiwi

Tuesday June 5 2018 3

News

Cameras could go into Linwood Village

• By Julia Evans

CCTV CAMERAS could be

installed at Linwood Village to

monitor problems there.

During a site visit recently, city

council staff and police went to

the area to see if cameras were

necessary.

A city council report said there

should be cameras installed

on the corner of Stanmore Rd

and Gloucester St, and on the

Stanmore Rd and Worcester St

intersection.

THe Linwood-Central-

Heathcote Community Board

has submitted a formal request

to police for the cameras to be

installed, as well as to get a quote

for funding.

THe board will have to find

money for the cameras through

its own budget, as there is no

funding earmarked in the Long

Term Plan.

THe cameras are the latest

in the saga to get drug use and

drinking off the streets off the

village.

THe city council approved a

24-hour, seven day a week liquor

ban for the area until at least

December, answering calls from

residents, businesses and police.

It is looking to make the liquor

ban permanent.

Earlier this year the board

asked city council staff to

PREVENTION: CCTV

cameras are the latest idea

in a bid to bring back a sense

of community to the Linwood

Village area.

"urgently" meet with police

regarding installing and

monitoring cameras in the area.

Police and city council traffic

engineers said CCTV cameras

would need to be kept separate

from a traffic management

camera currently on the corner

of Worcester St and Stanmore

Rd.

HORNCASTLE ARENA

June 29 - July 1 10AM - 5PM

TICKETS ONLINE: starhomeshow.kiwi

PREVENTION:

WATCH:

Cameras like

these ones

in Woolston

could be used

in Linwood

Village to

monitor

behaviour. ​

In Brief

STADIUM PHOTOS

Photographic hoardings have

been put up around Lancaster

Park to celebrate the stadium's

past. From the Pope and rugby

stars to a Queen and her consort,

all are featured on new signage

that will remain around the

site during its demolition. Next

month the roofs of the Paul Kelly

and Deans stands will be removed

and demolition of the Tui Stand

will start.

PIER OPEN

The New Brighton Pier is fully

reopened to the public after 16

months of earthquake repairs,

much of it below sea-level. Since

Saturday people were able to

walk the full 300m length of the

structure. The city council's city

services general manager David

Adamson said all 17 support

columns have been fixed.

GRANT FOR THEATRE GROUP

A $10,000 grant has been made

to the Sumner Theatre Group

towards the cost of fitting out

its new space in the Sumner

Centre. The money comes from

the Linwood-Central-Heathcote

Community Board discretionary

fund. It comes on top of a

$100,000 grant from the NZ

Lotteries Board. The fund money

will be used to purchase and

install stage curtains.

True

Who thought

DENTURES

and false!

could look this

natural?

• Full dentures • Metal partial dentures

• First-time immediate dentures • Implant supported dentures

STUNNING: A beautiful new denture for

a young female patient

These stunning lovebite full upper and

lower dentures have been expertly crafted by

internationally-recognised dental technician

Richard Greenlees at his Christchurch studio.

The combination of Richard's skill, experience

(including 15 years in London's prestigious

Harley Street) knowledge and revolutionary

techniques allow him to create beautiful

bespoke false teeth that truly resemble those

in nature and reflect each patient's individuality

and unique character.

Jacqui Gibbs

Chamberlain

– Leap of Faith

In these works I challenge my doubts and beliefs

that anything is possible, that dreams really do come

true. There is also a plunge into the unknown subtly

represented in these paintings, a leap of faith into what

cannot be seen, what lies beneath, what hides around the

corner.

All we need to do is to take that risk, the first step, and

surrender to the unknown. Then the real adventure

begins.

My studio overlooks the sea and influences the way

I think and create. Its forever changing moods, one

moment calm and serene, the next rough and unforgiving,

always with the freedom to do as it pleases, being

accountable to no one. The constant ebb and flow of the

tides with its contrasting colours and textures incites

both peacefulness and restlessness in my moods and

creativity. It is the joy and the fun that the ocean delivers

to us that I have tried to capture in these works.

A Leap of Faith is about taking that risk, not waiting or

you may be waiting all your life. In the end we may only

regret the chances we didn't take, the relationships we

were afraid to have and the decisions we waited too long

to make. Go on, take the leap!

About Jacqui: an artist of figurative subjects with life

and energy, Jacqui lives and paints on an isolated farm

in Port Levy, Banks Peninsula with her husband Chris

and daughter Phoebe. While Jacqui's subject matter

is invariably the human form, it is secondary to her

exploration of form, structure, movement, colour and

texture.

Come and meet Jacqui at the opening of her latest works:

Little River Gallery, 9th June at 11am. Leap of Faith runs

until 4th July.

www.littlerivergallery.com

AGING GRACEFULLY: Natural teeth for

a gentleman patient in his 80's

402 Montreal Street

Christchurch | P. 379 1222

By appointment only.

Consultation fee applies.

HOLLYWOOD: It's all white for this

female patient in her 60's

lovebite.com

Richard will personally guide you through the entire process to create

teeth with small nuances in the fabrication, colour and shape. Your beautiful new

lovebite dentures will boost your confidence and make you look and feel year's younger!
---
4 Tuesday June 5 2018

Latest Christchurch news at www.star.kiwi

News

MASSIVE

MANCHESTER SALE

PILLOWS

FROM JUST

$10

+ MORE DEALS!

ALL NEW PRODUCT AT CRAZY OUTLET PRICES -

SOME LINES ARE LIMITED STOCK SO DON'T MISS OUT!

BEKO 400 LITRE

FAMILY FRIDGE JUST

$748 *

DRYERS FROM

$450 *

SEE OUR BRAND NEW SHOWROOM

99 FERRY RD, CHRISTCHURCH

St Asaph St

Ferry Rd

OUTLET

STORE

Fitzgerald Ave

OUTLET

MICROFIBRE

SHEET SETS

FROM JUST

$14

LIMITED OFFER!

WHILE STOCKS LAST

FRIDGE FREEZERS • WASHING MACHINES • DRYERS • COOKING

SMALL APPLIANCES • MANCHESTER • LOUNGE SUITES

DINING SUITES • BEDROOM SUITES • BEDS & HEAPS MORE!

OUTLET

STORE

Images indicative only. *Outlet Store items

are over stocked, end of line, scratch & dent,

ex display, ex repair items and more.

HISTORY: The heritage-listed Mitre Hotel on Norwich Quay was damaged in the

September 2010 and February and June 2011 earthquakes. It has been fenced off

since 2011.

PHOTO: MARTIN HUNTER

Quake-strengthening time

frame could be shortened

• By Sarla Donovan

THE HEAT is going on

owners of earthquakeprone

properties across

Christchurch – including

Canterbury's oldest pub,

Lyttelton's Mitre Hotel.

New provisions introduced

into the Building

Act (2004) last year require

local authorities in areas

of high seismic risk to

identify earthquake-prone

"priority buildings" in high

traffic areas or on strategic

transport routes.

Such buildings will have

to be strengthened twice

as quickly as non-priority

buildings, shortening the

time frame from 15 years

to 7.5 years.

That's because they

could collapse during an

earthquake and impede

•From page 1

Ms Hampson measured

the number and size of

cockles in areas near the

Mt Pleasant causeway, the

Beachville Rd jetty and the

Mt Pleasant Yacht Club.

"I was really surprised,"

she said, "I wasn't expecting

it to decline that much,

I thought we might find

a little bit less but not like

this . . . a lot of them are

really small because there's

not enough good nutrients.

We had cockles eight or

nine years old that were

only 20-30mm which is

smaller than they should be

for their age."

Cockles can live for 20

years but eight to nine years

is typical as there is high

juvenile mortality rate.

Beds alongside the causeway

and yacht club were

heavily depleted.

"The areas near the

causeway are hard-hit by

collecting so there's not

enough time for them

important routes.

Consultation is due to

take place over the next

few months to determine

which buildings fit the

criteria.

Norwich Quay is a key

route for traffic accessing

Lyttelton Port.

A city council spokeswoman

said no dates had

been set but consultation

would take place in the

second half of this year.

A sly grog shop called

the Mitre opened on the

Norwich Quay site in 1849

but the current concrete

building is the third incarnation

after the first was

destroyed by fire in 1875

and the second in 1926.

A letter and earthquakeprone

building notice was

sent to the owner of the

Mitre Hotel in January and

to establish and the area

closest to the Mt Pleasant

Yacht Club was also low

which might be due to

disturbance and unhealthiness

from cars driving near

to the beach. We struggled

to find more than 40 across

that entire site – about 10m

right beside the water line."

A survey of 100 estuary

users found some were collecting

in groups as large

as nine; collectively they

could take more than 1000

cockles in one day and still

be within the limit.

Most people didn't know

what the limit was.

"Some thought it was

similar to Auckland, some

thought it was a bucketful,

some thought it was

between 150 and 400."

Signs put up with catch

limits "kept disappearing."

Ms Hampson attributes

the decline to a combination

of poor nutrients and

pressure from collecting.

"With the earthquakes,

SOUTHERN VIEW

the spokeswoman confirmed

other potentially affected

building owners had

been sent a similar letter

about the consultation.

The pub has been closed

since the February 22,

2011, earthquake.

CERA installed safety

barriers around the building

in March 2012, which

cannot be removed until

the owner undertakes

structural strengthening,

which will require a building

consent.

No building consent has

been lodged with the city

council nor any application

for heritage funding.

•HAVE YOUR SAY:

Is this the right thing

to do? Email your

thoughts to sarla.

donovan@starmedia.

kiwi

Shellfish under threat

the silt was blocking the

cockles' gills and I think

that affected their health; if

they're not as healthy they

won't be producing as many

baby cockles. And then

because people are taking

so many, there's not enough

replacement in the system;

they don't have the chance

to recover and grow."

"I think for people to

still be able to collect there

needs to be a lower limit,

especially in the hardest hit

areas. At this rate, in the

channel they're going to

die. Eventually there will

be so few the only ones that

are big enough to reproduce

will be taken."

The research was funded

by Canterbury University

and the Avon-Heathcote

Estuary Ihutai Trust.

•HAVE YOUR SAY:

Should the limit be

reduced from 150 per

day or a temporary ban

put in place? Email sarla.

donovan@starmedia.kiwi
---
SOUTHERN VIEW Latest Christchurch news at www.star.kiwi

Tuesday June 5 2018 5

Health woes beat drummer

• By Julia Evans

GARY GURDEN was 48 hours

into a drumming world record

attempt when he hit a wall.

The Woolston landscaper

was forced to stop for medical

reasons.

Mr Gruden set out on Friday

to break the Guinness world

record for marathon drumming

– 133 hours of playing

recognisable songs, with no

improvisation and only hourly

5min breaks.

His brother Colin said he

burnt out on Sunday afternoon,

two days into the continuous

drumming.

"It was going, it was going

and it was going well. Now it's

gone. But he managed about

48 hours of solid drumming,

which is pretty amazing," he

said.

Mr Gurden was supposed to

be drumming until 2am last

Thursday to break the record

held by Portugal's Carlos

Santos.

But that doesn't mean that

the world record isn't still in his

sights.

"He's a learnt a few things that

he needs to take into consideration

for next time," Mr Gurden

said.

In 12 months, after a lot more

practice, his brother would once

PERCUSSION: Gary Gurden at the drum kit an hour into his

record attempt – 47 hours later, he burnt out. ​

again pick up his drum sticks

and sit down to attempt the

world record.

"You've got to build yourself

up to something like this. You

don't become a champion boxer

by going straight in and coming

out on top."

Mr Gurden said his brother

has been drumming for 30

years and is known as the "beat

master blaster" and he had every

confidence he would bring the

record home at some stage.

"He's got to prove he can do it

for himself."

•From page 1

There is also a footpath on the

western side of Dyers Rd and a

small length of footpath on the

eastern side tied into the parking

bays and pedestrian crossing

point.

But Cr Johanson said

he cannot see how the

current cycle lanes are

safer.

"Without a question

that is going to be a

popular cycle route for

people going from New

Brighton to Sumner

along the Coastal Pathway.

"You think how dangerous is it

when you have got heavy vehicles,

a lot of debris and the tragedy

there was room for a separate

cycleway and they didn't do it,"

he said.

Cr Johanson has asked Infrastructure,

Transport and Environment

Committee chairwoman

Pauline Cotter and Mayor Lianne

Dalziel to write to NZTA over the

issue.

He is hoping in the future it

will be a "fundamental requirement"

for NZTA to add cycleways

to state highways.

About two weeks ago, the

Linwood-Central-Heathcote

HORNCASTLE ARENA

June 29 - July 1 10AM - 5PM

TICKETS ONLINE: starhomeshow.kiwi

Dyers Rd still deemed

dangerous by cyclists

Yani Johanson

Community Board requested a

post-construction road safety

audit on Dyers Rd from NZTA.

Figures show about nine per

cent of all traffic using Dyers Rd

are buses/heavy vehicles.

New Brighton resident

Celeste Marie Donovan

said in a submission it

was "highly disappointing"

to discover after

months of roadworks, a

cycleway was not added.

Resident Elizabeth

Odell said cycling along

Dyers Rd is not for the

"faint-hearted."

"It is quite freaky riding your

bike along Dyers Rd, with fast

vehicles beside you and heaps of

trucks thundering by," she said.

Spokes Canterbury chairman

Don Babe said cycleways are

expensive and refitting a cycleway

on Dyers Rd will be far more

expensive now than originally.

He said it is much better to get

it right the first time.

•HAVE YOUR SAY: Do you

think a separated cycleway

should have been installed

on Dyers Rd? Email your

views to georgia.oconnor@

starmedia.kiwi

Hon Nicky Wagner

National List MP

Come and visit us at our new

office at 922 Colombo Street

Seconds

Available

A

E

P

W

922 Colombo Street

Central Christchurch

PO Box 21359

Christchurch 8143

chch.office@parliament.govt.nz

03 365 8297

nickywagner.co.nz

Funded by the Parliamentary Service and authorised by

Nicky Wagner, 922 Colombo Street, Christchurch.

238 Port Hills Road,

Heathcote

corner of Port Hills and Chapmans Rds

shop hours

Monday to Saturday

8am - 6pm

Sunday 9am - 4pm

www.trainme.org.nz

Gain NCEA Credits

with the Ultimate

career taster

FREE

*

Enrolling NOW!

FOR JULY START

*Some conditions apply

Txt 'Ultimate' to 027 557 8839

to find out more

or phone 0800 872 466

50 Hazeldean Road

Addington, Christchurch
---
6 Tuesday June 5 2018

Latest Christchurch news at www.star.kiwi

SOUTHERN VIEW

barrington | city market

$

5 99

kg

Fresh NZ Pork Leg Roast

(Excludes Free Range)

$

5 99

kg

Chilean Red Seedless Grapes

$

13 99

kg

$

5 99

kg

$

5 00

ea

Fresh NZ Beef Rump Steak

Orange Kumara

Tararua Butter 500g

$

2 50

ea

2 for

$

5 00

$

2 90

ea

Coke/Sprite/Fanta/Lift/L&P 1.5L

Wattie's Very Special/Hearty Soup 520-535g/

King Soup Mix 210g

Molenberg Bread 700g/Quality Bakers Muffins 6 Pack

$

33 99

pk

Speight's Gold Medal Ale/Summit

24 x 330ml Bottles

$

11 99

ea

Stoneleigh

(Excludes Rapaura/Latitude/Wild Valley)/

Villa Maria Private Bin 750ml

(Excludes Pinot Noir/Syrah)

$

2 00

ea

Griffin's Chit Chat/Fingers/Mint Treat/Bites 150-200g

Now available

Shop

Online

Colect Instore Save time

ClickCollect.nz

FreshChoice

Barrington | City Market

Open 7 Days a week.

FreshChoice.co.nz

FreshChoiceNZ

Specials valid 4th - 10th June 2018 or while stocks last at FreshChoice Barrington & City Market only.

We reserve the right to limit quantities. Trade not supplied.

Owned and

operated

by locals

fcsv0606
---
SOUTHERN VIEW Latest Christchurch news at www.star.kiwi

Tuesday June 5 2018 7

News

HORNCASTLE ARENA

June 29 - July 1 10AM - 5PM

TICKETS ONLINE: starhomeshow.kiwi

New approach to education

Seven Oaks

School's plan

to expand

its Halswell

campus

• By Anan Zaki

A YEAR since moving to

Halswell, Seven Oaks School is

still in the process of building

– but it wants people to change

perceptions that it's giving

children too much freedom.

The school, previously located

in Opawa, has a modest roll of

37, but plans to grow and develop

a high school and pre-school

once construction is finished.

Pupils at the school have a curriculum

focused around the individual

needs of the child with

a strong emphasis on mental

well-being. And principal Molly

Watson believes it is the way of

the future.

The teaching focuses around

the concept of social and emotional

learning.

"Social and emotional learning

is teaching kids what feelings are,

and to start to name their own

feelings. It's the work of getting

to know what's happening with

you," Ms Watson said.

Other schools had similar programmes,

she said, but what sets

the school "apart" from others is

that social and emotional learning

drives their curriculum.

But that doesn't mean the

school is ignoring the national

curriculum.

"We follow the national curriculum,

it's a good document.

We just don't use it in a prescriptive

way," Ms Watson said.

Even though academic learning

is not the primary driver of

the curriculum, Seven Oaks pupils

take part in the 'progressive

DIFFERENT: Seven Oaks School teacher Mike Rea with McKenzie Drage, 13, Devon Neale, 12,

Millie Palmer, 10, Charlotte Watson, 11, Alena Harvey, 13 and Hana McDonald, 10.

PHOTOS: ANAN ZAKI

achievement test', and the pupils

score above the national average

standards. Ms Watson pointed to

science for their approach.

"We don't have to guess how

the brain works. We know when

the brain matures, we know

when the ideal time is to teach

reading," she said.

"We do start slower – year

1 and 2 classes are play-based.

Things are offered, children can

come when they are ready," she

said.

But that doesn't mean there are

no academic activities offered at

that age.

"There might be a child who is

five that wants to read, we're not

going to say no. If they are coming

to it naturally, then we're going

to offer it," Ms Watson said.

Another method taught at the

school is called Feuerstein, a programme

which teaches children

how to learn.

"You're not learning maths,

but you're learning how to learn

maths," Ms Watson said.

The programme is taught by

Feuerstein specialist teacher

Mike Rea.

"It's about children learning

how to help themselves, how

to come to a problem and have

solutions, to be able to find a

LEARNING: Seven Oaks

School principal Molly

Watson watches over pupils

painting sunsets.

•Seven Oaks School

was initially set up in

Opawa in 2009, but

purchased an 8ha site

on Murphys Rd the

following year and

moved to the site in

July

•The school has 37

pupils from years 1-8

•By 2026, the school

wants to have 480

pupils and set up a

pre-school and high

school

•Class sizes are limited

to 15 pupils

•The school's chairman

is Macpac founder

Bruce McIntyre

starting point and ways through

the problem," Mr Rea said.

"So the children are learning

to question and to think in a

deeper way about the learning

process so that eventually their

brain becomes more efficient and

can tackle any situation."

Because each child has a

personalised curriculum,

the school places pupils with

learning disabilities together

in classes with pupils without

disabilities.

Children with learning

disabilities followed the

Arrowsmith programme,

which was aimed at improving

cognitive function in children

with learning disabilities.

Ten-year-old pupil Hana

McDonald, who was in the

Feuerstein programme, said she

enjoyed her learning experience

at the school.

"I enjoy having lots of choices

in what you do. I used to go to

Cashmere [Primary School] and

here there are lots of other things

apart from reading, writing and

maths," she said.
---
8 Tuesday June 5 2018

Latest Christchurch news at www.star.kiwi

Get your tickets

online and be

in to win a

$500 Resene

gift voucher

SOUTHERN VIEW

SPECIAL

ONLINE TICKET

PRICE

$6 or 2 for $10

Door entry $8

Children under

12 FREE

JUNE 29 – JULY 1 2018

Horncastle Arena

BOOK NOW: www.starhomeshow.kiwi

Friday, Saturday, Sunday, 10am-5pm
---
SOUTHERN VIEW Latest Christchurch news at www.star.kiwi

Tuesday June 5 2018 9

News

A REVISED plan for Woolston

Village that supports the area's

special character has been

released for consultation.

The new plan aims to create

an attractive and distinctive

Ferry Rd area that also takes

into account the needs of

people passing through the

area and stopping at the

village.

Following the release of the

PLANS:

Feedback

is open on

a revised

regeneration

proposal for

Woolston

Village.

Distinctive plan for Woolston

open for public feedback

initial plan, concerns were

raised about the impact of

fewer car parks on local businesses

and the community.

City council staff took those

concerns and revised the plan

to retain more parking spaces

than the previous proposal and

supports Woolston's special

character as a village and destination.

It also includes safety improvements

for pedestrians,

cyclists and bus users.

Consultation on the revised

plan will be open from today

via the city council's Have Your

Say web page until July 3.

A drop-in session with city

council staff presentations will

be held from 4.30 to 6.30pm on

June 13 at the St Johns Church

Lounge on the corner of Ferry

Rd and St Johns St.

A NEW children's book has been

launched to tackle bullying head

on – and it tells the story of some

familiar Canterbury icons.

Bayleys Canterbury and the BNZ

Crusaders have teamed up to launch

Ace: A Horsey Tail of Courage.

Aimed at school children aged

five to eight, it tells the story of

Ace, a young horse who is being

bullied by his peers. He dreams of

becoming one of the six Crusaders

Bayleys Horses which ride out at

the start of every home game.

The story ends well for Ace who

achieves his dream, just as his

real-life character did.

Ace, a four-year-old

thoroughbred mare was in

training when the book was being

written. He made his debut on the

field on May 12 at AMI Stadium

when the BNZ Crusaders beat the

Waratahs 31-29.

Holly, another character in the

book who stands up for Ace, is

the horse that sets the pace for the

others and keeps them on track,

even though she's third in line.

Ace: A Horsey Tail of Courage

aims to encourage children to

speak-up and report incidents

of bullying whether they are the

victims or witnesses. It has already

been received well.

Last year the OECD programme

for international student

HORNCASTLE ARENA

June 29 - July 1 10AM - 5PM

TICKETS ONLINE: starhomeshow.kiwi

Bayleys, Crusaders

tackle school bullying

assessment produced a report on

students' well-being.

Fifteen-year-old students in 51

countries were surveyed about

perceived bullying. New Zealand

students reported the secondhighest

rate of bullying in the

OECD.

Bayleys Canterbury general

manager Pete Whalan said he was

proud to be working

with the Crusaders to deliver

an important message to Kiwi

kids.

"The Crusaders sporting

prowess, combined with the

team's reputation in the wider

community and the easilyapproachable

persona of the

Crusaders horses, will enable

the anti-bullying message to be

spread among the key audiences

throughout the country."

The book has been written by

Friday Creative's Katy Clook, and

illustrated by Kophie Hulsbosch.

There is also advice in it for

parents.

The books can be pre-ordered

on the BNZ Crusaders website,

and will be sold for $20 at the

Crusaders home games against

the Highlanders on July 6 and the

Blues on July 14.

Proceeds go to Bayleys'

principal charity, Make-A-Wish

New Zealand.

Best

Motorbuys

TM

ANYTHING WITH A MOTOR!

The South Island's leading motoring publication

FREE every Friday at hundreds of locations

around the South Island, and it's available online!

www.bestmotorbuys.co.nz

For advertising enquiries, ph Lea Godfrey 021 277 3086
---
10 Tuesday June 5 2018

Latest Christchurch news at www.star.kiwi

SOUTHERN VIEW

26th August 2018

10am – 3pm

Air Force Museum, Wigram

Tickets available on door

For exhibiting

enquiries contact

Mark Sinclair:

mark.sinclair@

starmedia.kiwi

BRIDALSHOW
---
SOUTHERN VIEW Latest Christchurch news at www.star.kiwi

Tuesday June 5 2018 11

Cashmere High steps up to win exchange

SPORTS

• By Jacob Page

CASHMERE HIGH School won

their annual sports exchange

with Nelson's Waimea College

on home turf last week

Cashmere won the five match

exchange 4-1, reclaiming the

inter-school shield they lost last

year.

Cashmere won the boys

basketball 80-56, the boys

football 4-1, the girls football 5-3,

and the senior netball 40-37.

Waimea won the girls

basketball 82-58.

Cashmere sports director

Michael Jones said the event

with Waimea was the school's

only sports exchange and they

were thrilled to win it given the

history.

"There was some really close

fought games, but both football

and basketball is pretty strong

for us at the moment," he said.

Cashmere's boys first XI

football team is currently

unbeaten after four rounds of the

Christchurch secondary schools'

competition, having won all four

of their games.

This exchange was first

contested in 1959 and went until

1970 before stopping for the next

40 years. It was started again in

2013.

BREAK: Cashmere's Jodie Dean looks to keep possession during her side's win over Waimea

College.

PHOTOS: ANDREW THOMPSON

Mr Jones said the fixture was

always highly anticipated and

he hoped it continued for many

years.

"It's great that we were able

to restart this after a hiatus,"

he said. "It provides both

schools with an opportunity to

play opposition they wouldn't

normally play.

"With secondary school

tournament weeks becoming a

focus, it's really great that both

schools embrace this and give

the students a chance to travel

and play," he said.

The fixture is likely to be

played in Nelson next year.

GAME DAY: Cashmere goal

shoot Sophie Dawe takes

aim from distance during

her team's win over Waimea

College, while Tom

Russ-Hofmans looks for a

long-range bucket.

exHibitors

book now

limited spaces available!

Don't miss your opportunity to showcase your

business in front of 10,000+ qualified attendees

Vanessa.fleming@starmedia.kiwi

021 914 565

Horncastle arena June 29 - July 1 10AM - 5PM

Inspiration | Trends | Technology | Innovation | Show Specials
---
12 [Edition Tuesday datE] June 5 2018

Latest Christchurch news at www.star.kiwi

2

Creative writing

Wednesday, 4pm-5.45pm

Group leader Jennifer

works with group members

to craft, create and

develop their own work.

Bring with you some pens

or pencils, (even a laptop),

paper, and any of your

wonderful ideas, storytelling,

or art! Talk to any

of the friendly Linwood

Library team for more

information. Suitable

for adults and teens. No

charge.

Linwood Library, Eastgate

Shopping Centre.

Spider Art: Room 14,

Linwood Avenue School

Wednesday, 9am-6pm

Linwood Avenue school

pupils are regular visitors

to Linwood Library and

this month we are delighted

to present art work

by students of Room 14,

Linwood Avenue School.

Titled 'Spider Art', these

vibrant mixed media

paintings, enable everyone

the opportunity to come

and see some of the work

our students of our community

schools are doing.

Linwood Library, Eastgate

Shopping Centre

Mid-Week Laughter

Club

Wednesday, 6-7pm

Go along to a club with

the focus on getting over

stress. It aims to release

endorphins and help you

relax and lower stress

levels. There is no comedy,

stand-up or jokes at this

session. Instead, you

are encouraged to make

yourself laugh at nothing

at all for the purpose of

relaxing. Entry is $2.

St Marks Methodist

Church, cnr Barrington

and Somerfield Sts

Knit 'n' Yarn

Wednesday, 10.30am-

1pm

Go along to Linwood

Library for a friendly craft

corner session. Take your

knitting, crochet or other

portable craft project and

enjoy time with other

crafters. Have a look at our

range of books to get ideas

for your next project. Free,

beginners welcome.

Linwood Library, Eastgate

Shopping Centre

Rummikub Club

Thursday, 10-noon

Go and join in on a

game of Rummikub, a

tile-based game for two

to four players, combines

elements of the card game

rummy and mahjong.

There is no charge to play.

Linwood Library, Eastgate

Shopping Centre

Beyond Beginner iPads

Friday, 9am–10.30am

Part of a six week course

on Fridays, finishing

June15. Expand your iPad

knowledge by focussing

on a different topic each

week. Explore working

and playing on the iPad,

music, books, movies and

social networking. Bookings

essential – places are

limited. Cost $15 for the

six-week course.

South Library, 66 Colombo

St corner Hunter Tce

and Colombo St

Scrabble @ Linwood

Library

Friday, 10.30-noon

Go along to the Scrabble

club every Friday. No

obligation, just go along

when you can and join the

friendly group. All materials

are supplied. No fee.

Linwood Library, Eastgate

Shopping Centre

Spreydon Social Games

Club

Saturday, 10am-noon

Join a friendly game or

two of Upwords, Scrabble,

cards, Chess, Mahjong and

more.

Spreydon Library, 266

Barrington St

Opawa Farmers'

Market

Sunday, 9am-noon

Go along to the farmers'

Email gilbert.wealleans@starmedia.kiwi

by 5pm each Wednesday

Girls Minecraft Club, Saturday, 2.30pm to 3.30pm, South Library. Get creative,

start crafting. Build imaginative worlds and battle nocturnal creatures at the

learning centres' Minecraft Club. Novice or expert, join the club and play with

your friends in our very own world. A tutor will be in attendance to supervise and

assist if necessary. Bookings essential – places are limited. Age – 8-12 years,

Cost is $20 per child per term.

market for organic and

delicious produce from

local growers. Enjoy

sipping on a coffee while

wandering around the

market and checking out

the food on offer. From

artisan bread and French

pastries to fresh berries

and local cheeses, there

will be something for

everyone.

275 Fifield Tce, Opawa.

Spark Jump – help for

families to get online at

home

Monday, 10am-noon

Christchurch City

Libraries are teaming up

with the 20/20 Trust to

offer Spark Jump. Spark

Jump is designed for

families in low-income

communities with the

care of children (aged 0

to 18) who don't have a

current fixed broadband

connection at home, and

whose household is in

the 4G coverage area.

Workshop participants

receive a free wifi modem

and 30GB of data for $10

on the pre-pay service

with no fixed contract.

Register online or phone

941 7923

Linwood Library, 1st

Floor Eastgate Shopping

Centre, Buckleys Rd

JP Clinic at Linwood

Library

Tuesday, 10am-1pm

A justice of the

peace is available at the

library. Services provided

include witness

signatures on documents,

certification of document

copies, taking oaths,

declarations,affidavits or

affirmations,applications

for the dissolution of

marriage or civil union,

citizenship applications,

sponsorship applications,

and rates rebate

applications. This is a free

service. No appointment is

required.

Linwood Library, 1st

Floor Eastgate Shopping

Centre, Buckleys Rd

SENIOR LIVING

Plenty to do at McKenzie

Lifestyle Village

The final stage of villa development is

progressing well at McKenzie Lifestyle

Village in Geraldine with target completion

in spring. Just a hand full of sites available

to secure off plan, so don't be the one

to miss out. Moving into a brand new

architecturally designed villa priced from

$335,000 with the monthly outgoing fees

being fixed for life. Future plans see an

offering of Assisted Care Apartments

that compliment the independent

lifestyle living.

Our beautiful Leisure Centre is very

popular with the residents who make

full use of the swimming and spa

pools, gymnasium, craft room, library

and lounge area. Outside, the Bowling

Green is also popular along with

Petanque, Mini-golf and Table Bowls.

This coming summer will see Croquet

being played on our Village Green.

The residents' monthly activities

calendar boasts the following; bowls

IT'S LIKE HOLIDAYS

ALL YEAR ROUND

Lots of people spend their holidays

here in Geraldine. But why just have a

holiday when you can move here instead?

Make the move to Geraldine's McKenzie

Lifestyle Village. We take care of everyday

maintenance so you can enjoy

a holiday lifestyle all year round.

Talk to Hayley Grant today

on 03 693 8340.

M E M B E R O F R V A

SOUTHERN VIEW

events, concert going (Operatunity),

shopping trips, lunch outings, yoga,

housie, Qigong (Tai Chi), happy hour,

knitting, quiz nights, cards and games,

book club, Bible discussion, craft

sessions, and there are regular visits by

the hairdresser, massage therapist and

the podiatrist.

Geraldine is a great little town

that many come to for a holiday but

you have the opportunity to live the

holiday lifestyle all year round. There

is plenty to do in and around the town

with art galleries, theatre and cinema,

interesting shops and boutiques, two

museums and a wide range of good places

to eat. For the more adventurous there are

river and forest walks nearby, opportunities

for biking and a choice of two local golf

clubs.

For more information and to secure

your future lifestyle call Hayley Grant on

0800 845524.

you can stop him

snoring with a

SNOREX

Why put up with a broken

night's sleep?

Ph 377-4318 or 027 682 1752

DENISE LIM

FOR A FREE INFO PACK

Website: www.snorex.co.nz

Would you

like to profile

and grow your

Business?

For feature advertising

please phone

Jenny Wright

03 364 7446 or 021 220 3484

jenny@starmedia.kiwi
---
SOUTHERN VIEW Latest Christchurch news at www.star.kiwi

Tuesday [Edition June 5 datE] 2018 133

SENIOR LIVING

More health benefits

with Advanced health naturally!

Omega-3-PC Fish Oil The prostate is a small walnut shaped male organ located beneath

It is well known how important omega-3

fatty acids are to good health. It is estimated

most people don't even get a third of the

recommended omega-3 fatty acids on

a weekly basis. Countries with a higher

amounts of omega-3 in the diet are known

to have lower cardiovascular disease and

in many cases better overall health. Recent

research has shown inflammation to be a

big part of disease and the ageing process.

Fish oil can help reduce inflammation by

providing essential fatty acids required by

the body to heal itself and maintain good

health. Fish oil supplements have become

hugely popular for this reason. Until now

most fish oil only contained omega-3 fatty

acids in triglyceride form. Fish however

naturally contain omega-3 in

triglyceride and phospholipid

form but until recently the

phospholipid form was lost due to

the manufacturing process.

GO-ADVANCED OMEGA-

3-PC sets new standards in

fish oil as it contains omega-3

attached to both triglycerides and

phospholipids. Studies have shown

GO-ADVANCED OMEGA-PC to

be far better absorbed leading to

increased levels of vital omega-3

fatty acids in the organs thru giving

the potential for more health benefits.

GO-ADVANCED OMEGA-3-PC is

produced from fresh wild deep sea cold

water fish using a new advanced and more

natural cold extraction process that better

preserves the natural nutrient profile found

in fish. It is manufactured to high GMP

standards and is molecularly distilled to

remove any containments, toxins and

heavy metals like mercury.

Further information on this

revolutionary new fish oil and how it may

benefit you is available from the Natural

Health Advisers, at Marshall's Health &

Natural Therapy, 110 Seaview Road, New

Brighton, Phone: 388-5757. We are always

happy to help!

Improve prostate

the urinary bladder and wrapped around the urethra or urinary

tube. It is of little significance for most men until the late 40's

when for a large percentage of men it tends to enlarge and affect

normal urination by restricting urinary flow through the urethra.

This condition is known as Benign

Prostatic Hyperplasia or BPH. BPH reduces

the ability of the bladder to evacuate

completely causing common symptoms

like wanting to urinate more frequently

(especially annoying at night and as it

affects sleep quality), difficulty starting

urination, dribbling after urination and

pain with urination.

The word benign in BPH is very

significant as it means an enlargement of

the prostate that isn't cancer. However BPH

should always be diagnosed by a M.D.,

as there is always the chance of prostate

cancer. Once diagnosed as BPH it can often

be managed quite well with herbal and

nutritional remedies and without the side

effects of prescription drugs used for this

condition.

Saw Palmetto is a herb that has been

used for centuries for BPH of the prostate.

A review of 18 double-blinded studies

found an average improvement of 72%

of BPH symptoms in Saw Palmetto

users. Researchers have found Saw

Palmetto to inhibit the formation of

Dihydrotestosterone (DHT) and that

DHT is the main reason for the prostate to

enlarge. DHT has also been found to be a

risk factor for prostate cancer and hair loss.

Phellodendron amurense inner bark

is another herb that has been found to

protect against BPH and recent research

has shown it to be protective against

prostate tumor development in laboratory

studies.

Lycopene is a potent antioxidant with

numerous health benefits including cancer

and BPH protective benefits.

Fatty acids from the seeds of Pumpkin,

Evening Primrose and Flax have been

shown to be supportive of prostate and

general good health.

Marshall's Prostate Manager is a

comprehensive nutritional formula

supplying proven nutrients to support

prostate health. Further information

is available from the Natural Health

Advisers at Marshall's Health & Natural

Therapy, 110 Seaview Road, New

Brighton, Phone: 388-5757. We are always

happy to help!

NOT all FISH OIl IS CreaTed eQUal!

ONLY GO OMEGA-PC retains the natural Phospholipids that have been shown to be so beneficial for Good

Health BUT are lost in other brands of fish oil due to the less natural manufacturing processes used!

GO-ADVANCED OMEGA-PC SETS NEW STANDARDS IN FISH OIL!

Omega-3 fish oil normally contains the vital Omega-3 fatty acids in a triglyceride form. Fish however naturally

contain Omega-3 in a triglyceride & phospholipid form but until recently the phospholipid form was lost due to the

manufacturing process. GO OMEGA-PC is produced using a new more natural cold extraction process that better

preserves the natural nutrient profile found in fish. Studies show GO OMEGA-PC offers superior absorption with

increased omega-3 fatty acids in organs giving the potential for more health benefits.

GO-ADVANCED OMEGA-PC OFFERS:

• Superior absorption of vital Omega-3, as

shown in research

• Advanced new cold extraction better

preserves the natural nutrient profile

found in fish

• Naturally contains phospholipids to

support cellular health

• Contains vitamin D3 to support immune,

bone & cardiovascular health

urinary troubles?

Common Symptoms of BPH:

• Wanting to urinate more frequently

• Inability to empty the bladder completely

• Difficulty starting urination

• Dribbling after urination

• Pain with urination

• Weak urine flow

• Supports cardiovascular health - Countries with

a higher Omega-3 intake have much lower rates

of heart disease

• Supports blood circulation, healthy cholesterol &

healthy blood pressure

• Supports joint health, joint mobility & repair

• Supports overall health & wellbeing

• Natural anti-inflammatory - can help reduce

pain

you may need

prostate manager!

For many Men the prostate tends to enlarge in size as they age often

restricting the flow of Urine from the bladder. This enlargement of the prostate

is called Benign Prostatic Hyperplasia or BPH and is best confirmed by a M.D.

Marshall's Prostate Manager provides nutrients to support prostate health &

healthy urinary flow in those diagnosed with BPH. It is unique in the fact the

nutrients are in liquid dispersion as well as concentrated extract form.

Natural Prostate

Support & Protection

For All Men 40+

Look for

Omega/PC

on the label

Bringing You the Best in Natural Health!

60 capsules only

$

29.90

120 capsules only

$

44.90

(only one soft-gel daily)

MAIL ORDER AVAILABLE

Bringing You The Best In Natural Health

- KNOWLEDGE MAKES THE DIFFERENCE -

SUPER SPECIALS

200 Softgels ONLY $22.90 SAvE $13.90

400 Softgels ONLY $42.90 SAvE $28.90

MAIL ORDER AVAILABLE

MARSHALLS HEALTH & NATURAL THERAPY

CONSULTING - PRESCRIBING - DISPENSING - MANUFACTURING - MEDICAL HERBALISTS

110 SEAVIEW RD, NEW BRIGHTON • PH 03 388 5757 • Email: enquiry@marshallshealthshop.co.nz

- WE ARE ALWAYS HAPPY TO HELP -

MARSHALLS HEALTH & NATURAL THERAPY

CONSULTING - PRESCRIBING - DISPENSING - MANUFACTURING - MEDICAL HERBALISTS

110 SEAVIEW RD, NEW BRIGHTON • PH 03 388 5757 • Email: enquiry@marshallshealthshop.co.nz

A Leader in

Healthcare

Excellence for

the Older Person

Brookhaven

Retirement Village

29 Alport Place

Woolston

Phone 03 384 5046

Albarosa

Dementia

80 Harewood Road

Papanui

Phone 03 375 0727

Somerfield

Dementia

137 Barrington Street

Somerfield

Phone 03 332 5897

www.goldenhealthcare.co.nz

Golden Age

Retirement Village

96 Harewood Road

Papanui

Phone 03 375 0720

Camellia Court

Dementia

84 Harewood Road

Papanui

Phone 03 375 0722

Hoon Hay

Dementia

16 Anvers Place

Hoon Hay

Phone 03 379 7825

Lady Wigram

Retirement Village

Sarah Jacobson

Village Manager

210 Kittyhawk Ave,

Wigram

Phone 027 3411 464

Third Age Tours

EST 1999

Small Group Tours for the over

50's Domestic and International

Great Prices!

rustic charm of England/Wales

& Yorkshire Dales

23 August - 24 September 2018

Enchanting Ireland & Scotland

30 May - 26 June 2019

curiosities of cuba

25 April - 21 May 2019

Treasures of Turkey

1 - 25 September 2019

captivating croatia, Slovenia

montenegro & Venice

1 - 25 June 2019

Vietnam & cambodia

4 - 26 October 2018

nEW Thailand, land of Smiles

29 October - 11 November 2018

Sicily, rome & Southern Italy

29 September - 24 October 2018

South Island Tours

Stunning Arrowtown Autumn Festival

17 - 22 April 2019

unique Stewart Island/catlins

7 - 15 February 2019

Scenic White herons, Glaciers

& Alpine loop Tour

25 - 30 Jan 2019

PluS oThEr DESTInATIonS!

For a FrEE InFormATIon PAck contact Brenda

Third Age Tours

Ph 03 379 3799 or 03 312 7050

Freephone: 0800 927 725

sunshineone@xtra.co.nz

www.thirdagetours.co.nz

Follow us on Facebook
---
14 [Edition Tuesday datE] June 5 2018

Latest Christchurch news at www.star.kiwi

2

HOME & HEATING

Choosing the right heat

pump for your home

Whether it be a new build, or a retrofit, job but not be unnecessarily overpowered. reputable and reliable products. All brands vary

most homes include at least one heat pump, Secondly, the location of your heat pump in their energy efficiency, quietness of systems

if not a whole heating solution. They can is also extremely important. The cheapest and price, so it depends on your application as

provide cheap, clean heat and are much more

convenient than a log burner as you just need

to press a button. But how do you decide what

is best? Choosing the right sized heat pump is

key to ensuring optimum comfort levels. Every

situation varies and it is therefore important

installation is a back to back where the outdoor

unit is positioned directly behind the indoor

unit however this is not necessarily always the

best option. It is vital that the indoor unit is

positioned in a place that will not be constantly

blowing on you. Also important, is the location

to which will be most suitable. Major brands

such as Panasonic, Fujitsu, Mitsubishi, Daikin,

Toshiba and Hitachi are all reliable brands

backed up by good technical after sales service.

Ensure your heat pump is installed by an

accredited installer. This will not only ensure

to get professional advice from heat pump of the outdoor unit. Most people do not want correct installation of your heat pump, but also

experts.

their outdoor unit sitting directly in their validate the manufacturers warranty.

The range varies from wall mounted high outdoor entertaining area or right outside Other things to consider when choosing a

walls, floor mounted systems, multi systems,

ceiling cassettes, right through to ducted

central heating systems allowing you to have

their bedroom window.

Choose a brand you can trust. Many brands

have come and gone over the years but there

heat pump are time clocks, ease of use of the

remote controllers, air filtration and also wifi

capabilities.

a very discreet way of heating your whole are a number of manufacturers who provide

home to a constant temperature

throughout.

Firstly, you must select a heat

pump that is suitable for the

size of the space you wish to

heat. Usually a site visit is the

best way to ascertain this. Not

only is the size of the area taken

Heating is a major investment in your home

and it is vital to get the right

advice.

Enviro Master Ltd specialise

in the supply, installation and

servicing of all major brands

of heat pumps. Our salesmen

are engineers ensuring you get

quality, unbiased advice as to

into consideration but also,

which system will suit your

insulation, building orientation,

application the best. Enviro

windows and ceiling space. There

are a wide range of heat pumps

available with different heating

outputs so it is important to

select the correct size for your

requirements that will handle the

Master Ltd offer a free, no

obligation quote and will come

to your home to see what is

required.

Visit our website at www.

enviromaster.co.nz.

Winter Warmer Deals!

FH35 - 4.0kW Heating

$2,799 *

* Installed Back to Back

Fully rated heating right down to -15°C … guaranteed!

SOUTHERN VIEW

Tips for

power bill

savings

this winter

• Pull drapes early to keep warmth in

• Run your heat pump at 22 degrees and

turn down to minimum when not home

• Keep filters clean

• Block up drafts under doors

• Do not dry your washing in front of the

heat pump – this just creates a damp,

cooler environment in your home

Air Con Christchurch is the only

Canterbury Installer to offer a $50,000.00

Workmanship Warranty, we also offer FREE

Christchurch City Council Insulation and

Home Assessments covering insulation,

heating, ventilation etc

Call us on 0800 161 163 for free advise,

quotes and to check your insulation, for

repairs or service call 03 343 3886. Email

us at admin@airconnz.co.nz

Fujitsu Heat Pumps at a low low price

Pump warmth into your home NOW

- before the winter rush!

ASTG14LUCB 5.4kw Hi-Wall . . . $2180

ASTG18LVCC 6kw Hi-Wall . . . . $2400

Back to back installation. Conditions apply.

Heat pumps are the most cost-effective, convenient and practical home heating solution

for Christchurch – and Fujitsu Heat Pumps from Stack Electrical are the best way to

winter-proof your home! Heat when you need it . . . that'll save you dollars on your power

bill! Once the cold spells start, you could wait weeks to get a heat pump installed. Be

smart and beat the winter rush now!!

Classic G Series

GE42 - 5.0kW Heating

$2,599 *

* Installed Back to Back

CALL STACK ELECTRICAL TODAY!

Phone 379 4062

info@stackelectrical.co.nz

$10,000

Workmanship Guarantee

New Zealand's best selling heat pump ever!

WIN A $350 GOODIE BAG

Have your heatpump cleaned by us in June or July

BUY & WIN $5,000 Gold Coast Holiday!

Call us for your free quote!

03 343 3886

www.airconnz.co.nz

admin@airconnz.co.nz
---
SOUTHERN VIEW Latest Christchurch news at www.star.kiwi

Tuesday [Edition June 5 datE] 2018 153

HOME & HEATING

Get the right

choice for winter

Every year around about

now people start to plan

ahead for their winter

heating needs. High on

most people's 'must have'

list is a Heat Pump. They

have naturally become

extremely popular because

of their cheap heat and

"touch of a button"

convenience.

Heat pumps are

however a significant,

long term investment, so

it's important to make the

right choice.

New Zealand properties tend to be of

unique design and have many features that

greatly affect their heating requirements.

Factors such as location, orientation to

the sun, room volume, heat loss surface

area, and room air flow characteristics, etc.

all play a major role. This means that the

heat pump that is right for your friend or

neighbour is not necessarily right for you.

Add to that the fact that all manufacturers

claim to have the best, quietest, most energy

efficient, and have a multitude of constantly

updating models; finding out which heat

pump is best is not so straightforward.

Getting the right heat pump for your

home is a combination of accurate

calculation of the space to be heated, taking

into account all property characteristic,

plus an up to date knowledge of the

performance specifications of all makes

and models available.

This is where the local company Heat

Pump Guys can help. They are fully

independent heat pump specialists, and are

accredited agents for all top brands. They

offer an obligation-free home survey and

completely unbiased advice on which heat

pump is best for you.

So if you are considering getting a

heat pump this year, give them a call on

0800 47 48 97 or visit www.heatpumpguys.

co.nz and book your home assessment.

What makes a great

Heat Transfer System?

There are a number of Heat Transfer

systems on the market. Smooth-Air

ventilation specialists offer a range of HTU

Heat Transfer Units with carefully selected

components to optimise the system:

They use insulated duct to transfer the

heated air with as little heat loss as possible.

The fan moves sufficient air for the distance

and number of rooms, without being noisy.

The diffusers send the heat to the floor,

not to skim the across the ceilings. All

components are good quality - designed to

operate for years without problems.

Smooth-Air's HTUs come in a range of

options: One to four rooms, with or without

thermostat and with a choice of grilles and

diffusers. HTUs improve energy efficiency

in your house, as you are using excess

heat. They have low power consumption

- only 80watts for the three room system.

Circulating air through the house also

reduces the risk of damp.

You can also choose the HTU version

with downjet diffusers, which throw the

warm air downwards to the floor. These

downjet diffusers can also be adjusted to

regulate which room receives the most

warm air.

An average size living room requires 2-4

kw of heating, yet appliances such as log

burners generate heat in the region of 10

-20kw. This leaves an excess of 8 -16kw of

heat which sits at high level in the heated

room, usually above door level.

Heat transfer units work best where very

hot air has 'stratified' into a layer near the

ceiling. So heat pumps, which circulate

warm air around the room with no

layering, are not suitable as a heat source

by themselves. However, if you have both

log burner and a heat pump, heat transfer

systems with thermostat can work very

well: The heat pump stops operating once

the heat from the fire has heated the room,

and the heat transfer kicks in above this

point, once there is a layer of hot air at the

ceiling.

Contact Smooth-Air on 0800 SMOOTH

(0800 766 684) to ask how they can help

you with your Heat Transfer, as well as

any other ventilation requirements.

HEAT PUMP

SALE NOW ON!

Amazin' winter Specials!!

• We will offer you the best quality brands and

option of heat pump for your home/business

• Providing Heat Pump solutions for over 16 years to Cantabrians

• We personally guarantee all our products & installs for 5 years

(providing annual maintenance has been completed)

Phone us today for your free consultation & quote

41A SHAKESPEARE RD, WALTHAM

PHONE 03 366 0525

www.enviromaster.co.nz

"A local team for local people"

Ventilation Equipment Suppliers

to

Smooth-Air also has a wide range

of ventilation equipment to bring

fresh air into your home.

Domestic

Commercial

Industrial

trade

&

retail

HEAT PUMPS

Which one is right for you?

• Single-split, Multi-split, Ducted?

• Wall, Floor console, Ceiling cassette, Concealed?

• Mitsubishi, Panasonic, Fujitsu, Daikin, Toshiba...?

Find out with a FREE HOME APPRAISAL

from the Independent Heat Pump Experts.

BOOK NOW

Ph. Maz 021 226 7672

Email. maz@heatpumpguys.co.nz

0800 47 48 97 heatpumpguys.co.nz

Transfer

the excess

from your

heat

log burner

to your bedrooms

THE INDEPENDENT SPECIALISTS

0800 SMOOTH

(0800 766 684)

sales@smooth-air.co.nz

351c Blenheim Rd

Riccarton

Christchurch

03 343 6184

Monday - Friday

7.30am - 5pm

www.smooth-air.co.nz
---
16 Tuesday June 5 2018

Latest Christchurch news at www.star.kiwi

SOUTHERN VIEW

#GetBetterResults

The Press audited circulation

46,252 *

VS

audited circulation

149,948 *

Mass Circulation | Mass Readers | Massive results

Advertise with Star Media and let us help you grow your customers, sales and profits.

We home deliver into over 100,000 more homes than The Press. In fact we reach more people with

just one ad than any other Christchurch media channel. Get the Star Media advantage working for

your business today. For a professional, no obligation free consultancy for your business, call us now.

Contact Shane today: 03 379 7100 shane@starmedia.kiwi

www.starmedia.kiwi

*ABC circulation report The Star, Bay Harbour News,

Selwyn Times and North Canterbury News vs Press. ANP
---
SOUTHERN VIEW Latest Christchurch news at www.star.kiwi

Tuesday June 5 2018 17

REAL ESTATE

They've checked out…so you can check in

19 Fieldmoor Place, Parklands

Auction: Thursday 28th June, 2018 (unless sold prior)

4 bedrooms | 2 bathrooms | 2 toilets | 2 living rooms | 2 car-garage | Listing #PI53337

Showing genuine motivation our owners

have their sights set on new plans ahead.

Such clear focus and specific instructions

means purchasers can pursue with

confidence.

Tightly held and enjoyed since 1999, our

subject offering provides space, convenience

and lifestyle in abundance. The generously

proportioned living spaces ensure plenty of

room for any growing family, while a clever

configuration provides desirable separation

between the master and the three remaining

bedrooms. Outside there's plenty of space

for the trampoline or sandpit – and if that's

not enough, you have Parklands Reserve

right over the back fence! You'll also be

pleased to know that the spa pool (complete

with TV speakers) is indeed staying.

- Four double bedrooms (master with

ensuite and walk-in robe)

- Tastefully updated kitchen cabinetry +

double fridge

- Heat pump + wall/ceiling insulation for

winter warmth

- Double internal access garage with

separate laundry

- Approx. 220sqm dwelling on a full

659sqm site

- Cosmetic EQC repairs completed (full

documentation available)

- Rateable value: $500,000

Nestled in the heart of Parklands at the

end of a quiet cul-de-sac, this home offers

handy proximity to Bottle Lake Forest with

its biking and walking tracks there for your

leisure. Local reserves, Travis Wetlands and

the sandy shores of Waimairi Beach are all

well within reach. The local community is

abuzz with the opening of the new Eastern

Recreation and Sport Centre, whilst likely

zoning for Shirley Boys' and Avonside Girls'

will further underpin the value of your

investment.

With a lot to offer, this home is now

simply too large for our sellers - we urge you

to check this one out without delay!

View online at www.teamgriff.co.nz -

reports and auction information via the

"Property Info" menu tab.

Auction: Thursday 28 June from 10.00am,

Gold Auction Rooms, 471 Papanui Road

(unless sold prior)

Open Homes Thursday 4.00pm, Saturday

and Sunday 12 noon.

See you at the open homes or for a

private viewing please contact Caleb

Griffioen Mobile: 0276 370 231 or Peter

Griffioen Mobile: 0274 330 445 or phone

the Harcourts Gold Parklands office on

383 0406 (Licensed Agents REAA 2008)

Visit www.star.kiwi

anytime, anywhere!

Breaking news,

delivered to

your pocket.

Fire rages, homes at risk

•news •CTV •sport •districts •schools •lifestyle •opinion •what's on

www.star.kiwi
---
18

Latest Christchurch news at www.star.kiwi

Tuesday June 5 2018

SOUTHERN VIEW

Classifieds Contact us today Phone our local team 03 379 1100

Pets and Supplies

• Quiet rural setting

• Modern purpose built facility

• AsureQuality approved

• Caring qualified staff

• Inspections encouraged

69 Avoca Valley Road, Heathcote.

Ph. (03) 3844028 Email. info@avocacats.co.nz

www.avocacats.co.nz

Wanted To Buy

TOOLS Garden,

garage, woodworking,

mechanical, engineering,

sawbenches, lathes, cash

buyer, ph 355-2045

Computers

ALL

YOUR

COMPUTER

WORRIES SOLVED!

*$30.00 off your first

service with this coupon!*

No problem too big or

small from home PC's to

business networks. PC

slow? An end to Viruses,

Spyware, and Clogged

Systems. Safe secure

hassle-free computing.

Lost files recovered.

Microsoft Certified,

MCSE, MCP+l. 30 years

experience. Call Andrew

Buxton this week on 326-

6740 or 027 435-7596

for $30.00 off* Custom

Computers Christchurch

Curtains

www.curtainfabric-outlet.com

Fashion Designs & Colours

Discontinued Designs

End of Lines Bargain Prices

Call at Our Shop

CURTAIN FABRIC OUTLET

71 Hawdon St Sydenham

Ph 366-5026

Gardening

& Supplies

A GARDEN OR

LANDSCAPING TIDY

UP? Shrub, hedge &

tree pruning, Lawns,

Gardening, consistently

reliable general property

upkeep, Dip. Hort. 10

yrs experience, One off

tidy ups or on-going

service. Nick's Property

Maintenance. Keeping

your garden beautiful.

Free Quote. Ph. 942-4440

ADVERTISE YOUR

BUSINESS HERE

Phone for further details

(03) 379 1100

Holiday

Accommodation

Australia QLD

SUNSHINE

COAST

RESORT

ALEXANDRA HEADLAND

All Units Have Ocean Views.

Heated Pools, Spa & Sauna,

Free Wifi, Tennis

& Mini Golf.

CHECK OUR GREAT

WINTER SPECIALS

www.mandolin.com.au

0061 7 5443 5011

JUNE to AUG temps 20C

Wanted To Buy

TOOLS Garden,

garage, woodworking,

mechanical, engineering,

sawbenches, lathes, cash

buyer, ph 355-2045

Trades & Services

HOUSE

CLEARING

Are you

moving house

or trying to

downsize?

Call All Clear

Canterbury. We work

with you to recycle,

sell and dispose of

unwanted items.

Ph: 03 260 0934

or 021 078 4553

raewynlcooke@gmail.com

www.allclearcanterbury.co.nz

AAA HANDYMAN

licensed carpenter

LBP, all property and

building maintenance,

repairs, bathroom/shower

installations, with free

quotes 03 383 1927 or 027

245 5226 ciey@xtra.co.nz

BRICKLAYER

George Lockyer. Over

35 years bricklaying

experience. UK trained.

. Insurance work.

EQC repairs. Heritage

brickwork and stonework

a speciality. No job too

small. Governors Bay.

Home 329-9344, Cell

027 684 4046, email

georgelockyer@xtra.co.nz

BUILDER

For all building work

but specialist in bathroom

renovations, 30 yrs

experience, with service

and integrity. Free Quotes.

Ph Lachlan 383-1723 or

0274 367-067.

CARPET & VINYL

Laying. 50 yrs exp.

Repairs, uplifting,

relaying, restretching.

Email jflattery@xtra.co.nz

ph John on 0800 003 181

or 027 2407416

CARPETLAYER

35 yrs experience. Special

rates for seniors. Prompt

service. Ph 021 263 7209

CARPET CLEANING

and free deodorising,

3 rooms & hallway

from $59, over 20 yrs

experience ph 027 220-

2256

IRRIGATION

Fed up with standing

around with a hose? Need

an irrigation system for

your garden? Ph Andy 03

2601378 or 0211419199.

englishgrdnr@gmail.com

PAINTING

& Decorating Wingfields

Contracting, all interior

& exterior painting & all

forms of interior plastering

& jib fixing, ph Mark 021

171-1586 or 355-5994

PAINTER

Quality work, I stand by

Canterbury Ph Wayne 03

385-4348 or 027 274 3541

PAINTER AVAILABLE

All aspects in painting.

Very competitive in roofs

and fences. Please call 027

241-7471 or 335-0265

PAINTING INDOOR /

Outdoor, over 30 exp,

same day quotes, ph Steve

021 255 7968

PLASTERER

Gib Stopping, Small

job specialty. 30 + years

experience. Ring 0800

387-369

PLUMBER

ALF THORPE

PLUMBING Certifying

Plumber for all types of

plumbing, maintenance,

spouting, alterations etc.

Phone 352-7402 or 0274-

350-231

ROOFING REPAIRS

Fully Qualified, over 40

yrs experience. Ph John

027 432-3822 or 351-

9147 email johnchmill@

outlook.com

SPOUTING CLEANING

Spouting Unblocked,

Cleaned Out and Flushed

Out. Also Full Handyman

Services Available. Call

Trevor 332 8949 or 021

043 2034

Trades & Services

Enjoy outdoor living all year round

• House, deck, carport & window canopy etc

• Warm & dry in winter

• UV protection for summer

• Customised & Tailored

• Café curtains fitted

• 5 year warranty

Cracked tiles?

Dirty grout?

Old or mouldy

silicon?

Brett Ph 03 358 5105

or 027 746 7632

www.groutpro.co.nz

ARCHGOLA

15 months

INTEREST FREE

Normal lending criteria apply

Chris Thorndycroft

Grant Stewart

Ph 0508 272 446 | www.archgola.co.nz

pc & phone repairs

• iPhones • Smart Phones

• iPads • Tablets • Computers • Laptop

Repairs, Parts and Accessories

• Glass Screen Protectors

• Phone Cases • Cables etc

109 Matipo St | 0800 222 691

Trades & Services

STONEMASON

BRICK

&

BLOCKLAYER,

Earthquake Repairs, Grind

Out & Repoint, River/

Oamaru stone, Schist,

Volcanic Rock, Paving,

all Alterations new & old,

Quality Workmanship,

visit www.featureworks.

co.nz or ph 027 601-3145

STONEMASON

BRICK

&

BLOCKLAYER,

Earthquake Repairs, Grind

Out & Repoint, River/

Oamaru stone, Schist,

Volcanic Rock, Paving,

all Alterations new & old,

Quality Workmanship,

visit www.featureworks.

co.nz or ph 027 601-3145

TILER/CARPENTER

35 years exp, no job

too small. Ph Ross 027

4311440.

T.V. SERVICE CENTRE

Repairs, tvs, microwaves,

stereos, DVD. Aerial

installations and kitsets,

480 Moorhouse Ave, ph 03

379 1400

T.V. SERVICE CENTRE

Repairs, tvs, microwaves,

stereos, DVD. Aerial

installations and kitsets,

480 Moorhouse Ave, ph 03

379 1400

VHS VIDEO TAPES

& all camera tapes

converted to DVD, video

taping special occasions,

www.grahamsvideo.co.nz

ph 03 338-1655

WINDOW CLEANING

Average 3 bdrm house

inside or out $40. Both

$70. Phone Trevor 344-

2170

HOUSE

CLEARING

Are you

moving house

or trying to

downsize?

Call All Clear

Canterbury. We work

with you to recycle,

sell and dispose of

unwanted items.

Ph: 03 260 0934

or 021 078 4553

raewynlcooke@gmail.com

www.allclearcanterbury.co.nz

now bigger than ever

The magazine for gardeners who

like to get their hands dirty

SubScribe from

$43. 50*

*6 issues/6 months

SUBSCRIPTIONS FREEPHONE

0800 77 77 10

www.gaRdeNER.kiwI

growing with you

SprIng Is here –

It'S Sow Time

how to get the best results from

seeds and seedlings

100% NatIve In

The capItal

Unravelling the secrets of

Otari-wilton Bush

The New Zealand

landscape awards

The people behind

the projects

$7.90 incl. GST

Save our roSeS

How a rose register is protecting our heritage

September 2016 | 100%

It's time

to grow!

New look and more

content than ever!

MeeT LeSTer Brice

A Garden coach

auckland Botanic GardenS

Why we love our public grounds

ISSN 2423-0219
---
SOUTHERN VIEW Latest Christchurch news at www.star.kiwi

Tuesday June 5 2018 19

An aural tapestry

rich in colour and texture

NZTrio kicks off its 2018 series

this month, appearing in

Christchurch at e Piano on

ursday 21st June.

e 2018 Christchurch series

features two concerts - Weave and

Braid - and provides audiences

with a ne selection of concerts

that embrace new commissions,

female composers and thrilling

explorations of the classical canon

in June and September.

Each concert presents a fresh

dynamic, with an impressive lineup

of talented Kiwi guest musos –

Natalie Lin and Benjamin Baker

(violin), Stephen De Pledge and

Somi Kim (piano) – arriving from

all corners of the globe to join

Ashley Brown (cello) in

exhilarating NZTrio combinations

every time.

e rst in NZTrio's 2018 series,

Weave introduces an aural tapestry

rich in colour and texture. e

structuralist sensibility of Philip

Glass (USA) and ordered tonality

BE IN TO

WIN

TICKETS

Ashley Brown

Somi Kim

Natalie Lin

of Felix Mendelssohn (GER) provide a

framework for the more uid and silky sound

worlds of Stuart Greenbaum (AUS) and

Dorothy Buchanan (NZ), before the at-out

emotional turbulence of Robert Schumann

(GER) closes the loop.

e trio is made up of Ashley Brown (cello)

with guest musicians Natalie Lin (violin) and

Somi Kim (piano).

NZTrio 'Weave' takes place at e Piano, 156

Armagh St on ursday 21st June. 7pm start.

Tickets available at Eventnda.

'Famous for their roasts!'

SENIORS SPECIAL

Two courses: $

22

Soup/Roast or Roast/Dessert

Special available lunch only

Monday - Saturday 12pm - 2.30pm

Conditions apply

FAMILY FRIENDLY

Kid's Special

Two courses

Great Kids menu plus

designated play area.

$

13

What's On

TUESDAYS & THURSDAYS

MEMBERS LUCKY CARD DRAW

LIVE MUSIC - COMING UP

SATURDY 30 JUNE

RESTAURANT & CAFÉ

Open daily from 6.30am - Breakfast, Lunch & Dinner

The

RACECOURSE HOTEL

Dine by the Beach

PIERVIEW

RESTAURANT

UPSTAIRS

Open from 5.30pm Fri, Sat,

Sun, and Sunday Brunch

from 10.30am to 2pm.

& Motorlodge

118 Racecourse Rd, Sockburn,

Christchurch. Ph 03 342 7150

www.racecoursehotel.co.nz

MONTH-END

SUNDAY NIGHT

BUFFET $25pp

Sunday 24th June

from 5.30pm

BOOK NOW!

CLUBBISTRO

DOWNSTAIRS

Open Tues to Sat 12pm - 2pm & from 5pm.

GAMING ROOM : NEW MACHINES!

202 Marine Pde | Ph 388 9416 | www.newbrightonclub.co.nz | Members, guests & affiliates welcome

Lunch & Dinner

All you can eat

7 days

SERVING

Bookings Essential PH 386 0088

fb.com/GardenHotelRestaurant www.gardenhotel.co.nz

HAPPY HOUR

5PM - 7PM DAILY

OUR CABINET ITEMS

ARE HOMEMADE

CREATED FRESH ON SITE DAILY

$12

LUNCH

SPECIALS

Live Music:

6PM.SAT 9.JUNE

Mid-Winter

Christmas

COFFEE

HAPPY

H O U R

Saturday Saturday 17 June 23 June to to

Sunday Sunday 2 July 2017 15 July.

2PM-4PM

DAILY

$3.50

Offer available for a limited time

and includes tea, hot chocolate

MON: ROAST MEAL

TUE: FISH & CHIPS

WED: FISH BURGER

THU: ROAST MEAL

SAT: FISH & CHIPS

AVAILABLE

FROM

11.30AM-2PM

FOR A

LIMITED TIME

Rhonda Campbell

& John Bevin

PHONE 385 8880 FIND US ON FACEBOOK fb.com/GBCCHCH

THE GARDEN HOTEL COMPLEX | 110 MARSHLAND RD

www.gardenhotel.co.nz | phone 385 3132

H ORNBY

WORKINGMEN'S

CLUB

LIVE MUSIC

SATURDAY

4.30PM: BARROSS

8PM: LITTLE CITY

UPSTAIRS

SATURDAY 8.30PM:

A TRICK OF THE LIGHT

THE PINK FLOYD PROJECT

TICKETS $20

COMING UP

SUNDAY 10 JUNE

THE C-BAY BAND

SATURDAY 23 JUNE

STARS IN THEIR EYES

feat TONY WELLINGTON

AS ROY ORBISON and

EDDIE SIMON AS LEO SAYER

SATURDAY 30 JUNE

AVONHEAD ROTARY FUNDRAISER

ANOTHER GREAT VARIETY

TRIBUTE SHOW

TICKETS $15

The Hornby Club | ph 03 349 9026

17 Carmen Rd | Hornby

www.hornbywmc.co.nz

Members, guests & affiliates welcome

FAMILY FRIENDLY DINING

OPEN

EVERY DAY

Club CAFÉ

LUNCH &

DINNER

JOIN US FOR OUR

EXCITING SERIES

OF CLUB CAFÉ

Chalmers Restaurant

FRIDAY & SATURDAY

CARVERY DINNER

$22.50

OPEN FROM 5.30PM

Early Bird Special

5.30pm - 6.30PM

FREE

DESSERT

SUNDAY BUFFET

$27

EVERY SUNDAY FROM 5PM-8PM

COMING UP

BOOK NOW!

LUNCH & DINNER

$17
---
20 Tuesday June 5 2018

Latest Christchurch news at www.star.kiwi

Ask us about FEES FREE *

SOUTHERN VIEW

Get The

Job You

Want

School's Not

for everyone!

Business Admin & Technology

Looking for an administration role? This FREE 20

week course will give you the skills to work in a

modern office, covering advanced use of

Microsoft Word, Excel, Publisher and other

computer based business applications

digital Media

Looking for a career in Digital Media &

Design? This level 2 Certificate in Arts and

Design course will set a great foundation for

an exciting start to your future in design.

FREE for Ages 16-19

Web Development

Join the fast growing and in-demand career of

Web Development. You will be at the computer

from the first day, with expert tutors guiding you

through this practical courses. UE is not required

to enter our one year diploma and there are $2,000

scholarships available for students aged 25 to 35.

Security & Armed Forces Prep

Looking for a career in uniform? This course

gives you the fitness and training for roles in

the Armed Forces, Police and fast growing

Security industry. NCEA credits included.

FREE For Ages 17-19

Early Childhood Education

Looking for a career as an Early Childhood teacher?

We offer the best way to get there! Study your first

year on campus with our amazing caring tutors,

then earn while you learn for the rest of the degree.

If you did not enjoy school, this is totally different

and you do not require UE to enter this programme.

The Ultimate Career Decider

Didn't enjoy school? This FREE 19 week

course offers skills to find a job, learner

drivers licence, tasters of a range of

careers and the opportunity to gain

credits towards NCEA Level 1.

FREE For Ages 16-19

PHONE US ON:

0800 834 834

OR TXT 'VISION'

TO: 027 557 8839

www.vision.ac.nz

50 Hazeldean Road,

Chrsitchurch

Phone us on:

0800 872 466

www.Trainme.org.nz

OR TXT 'TRAINME' TO:

027 557 8839
---
Retirement Village

Retirement Village

Bupa Cashmere View

Retirement Village

Open Home Day

Sat 9 June, 1pm-3pm

Sun 10 June, 1pm-3pm

Bupa Parkston

Retirement Vi

Call Beth to organise

time to view.

Bupa Cashmere Retirement Village, 72 Rose St, Cashmere

Rochelle Moore (03) 373 8591 or 027 663 2806

Bupa Parkstone Retirement Villag

Beth Dunn (03) 341 5700 or 027 8
---
ge

Retirement Village

stone

t Village

anise a

Bupa Parklands

Retirement Village

Open Home Day

Sat 9 June, 1pm-3pm

ent Village, 2 Athol Terrace, Ilam

0 or 027 837 7632

Bupa Parklands Retirement Village, 429 Papanui Rd, Papanui

Lynda MacKay (03) 373 8571 or 027 702 9619
---
Choosing to live in a retirement village can be an

overwhelming decision. You want to be sure you

are making the right choice as there are several

things to consider. You can give us a call and

have a discussion about any concerns you may

have and our team will be happy to help.

What we can tell you is that becoming a village

resident can be a great new chapter and can

offer the opportunity to make a fresh start with

some like-minded friends. A retirement village

offers a community-type feel and atmosphere

with the benefits of still having privacy and

maintaining your independence.

Bupa Cashmere

View Retirement

Village

Sat 9 June, 1pm-3pm

Sun 10 June, 1pm-3pm

Bupa Parkstone

Retirement

Village

Sat 9 June, 1pm-3pm

Sun 10 June, 1pm-3pm

Bupa Parklands

Retirement

Village

Sat 9 June, 1pm-3pm

72 Rose St, Cashmere

Rochelle Moore (03) 373 8591

or 027 663 2806

2 Athol Terrace, Ilam 429 Papanui Rd, Papanui

Beth Dunn (03) 341 5700

or 027 837 7632

Lynda MacKay (03) 373 8571

or 027 702 9619