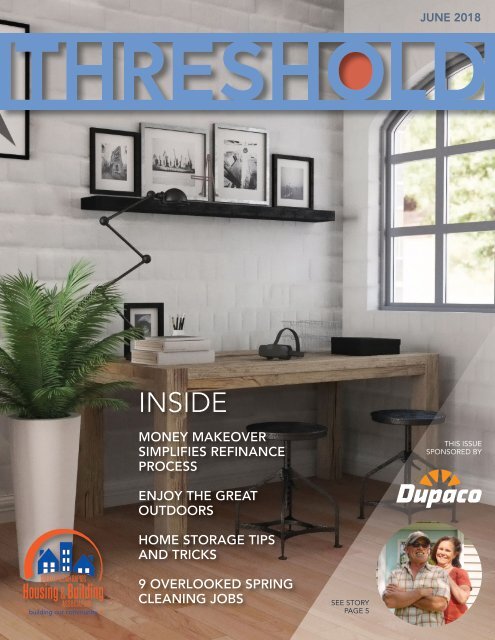 You also want an ePaper? Increase the reach of your titles
YUMPU automatically turns print PDFs into web optimized ePapers that Google loves.
JUNE 2018

INSIDE

MONEY MAKEOVER

SIMPLIFIES REFINANCE

PROCESS

THIS ISSUE

SPONSORED BY

ENJOY THE GREAT

OUTDOORS

HOME STORAGE TIPS

AND TRICKS

9 OVERLOOKED SPRING

CLEANING JOBS

SEE STORY

PAGE 5
---
TABLE OF CONTENTS

FEATURES

5

MONEY

MAKEOVER

SIMPLIFIES

REFINANCE

PROCESS

7

BUILDING OUR COMMUNITY:

TINY HOME

PROJECT

CAMP BACKYARD

6

9

13

HOME STORAGE TIPS

AND TRICKS

PARADE OF HOMES

KBD SPRING SOIREE

14

16

20

A publication of the Greater Cedar Rapids

Housing and Building Association

INTERIORS:

RANDY'S CARPET

HOME BUILDERS BLITZ

9 OVERLOOKED SPRING

CLEANING JOBS

10

ENJOY THE GREAT

OUTDOORS

with a Deck or Patio

DEPARTMENTS

8 SAVE THE DATE

12 NEW MEMBER WELCOME:

KADE OLSON

18 THE SPIKE CLUB

22 GCRHBA BOARD

2 THRESHOLD JUNE 2018
---
EXECUTIVE OFFICER'S MESSAGE

MELISSA

OLSON

Even though Spring came late this year, it didn't

stop our busy building season from taking off!

We just finished our Spring 2018 Parade of

Homes and I am very excited to announce that

not only did we have a record-breaking number

of entries but ticket sales were up again this

year! Since beginning in 2010, the Spring Parade

has grown and I look forward to fostering

it for many more! We are extremely thankful

to all of our builders for continually making

our Parade of Homes successful! Now we are

preparing for our Fall 2018 Parade of Homes

which will be held September 29 through October

7; entries are due June 25.

We also just finished up our first TINY Project.

This project was a lot of hard work but well

worth it the day we moved it to the new owner!

A gentleman that works on the Bloomsbury

Farm in Atkins will be living in the home

on the farm. I want to personally thank Allen

Witt, Kirkwood Community College, for going

above and beyond and making this project

so successful! We had some challenges along

the way but we did it!! The new owner loves

his new home and we have all of our members

that helped and supported this project to

thank…it would never have been so successful

without the help from all of you!

Now we are getting ready for our next community

project, Home Builders Blitz 2018. We will

once again partner with Cedar Valley Habitat

for Humanity to build 3 new homes in 5 days!

If you have never been involved please make

sure you check it out this year, June 4-8. Watching

the hard work and everyone come together

to make this project possible is truly amazing!

Thank you to Shelby Himschoot and KBD for

hosting a wonderful event and please make

sure to join us for our upcoming Trap Shoot!

Melissa Olson

Executive Officer

Greater Cedar Rapids Housing & Building

Association

MEMBERSHIP VALUE

Invaluable Networking Opportunities. With

more than 140,000 members from all areas

of the housing industry, GCRHBA is a onestop

networking shop! From local networking

receptions and monthly membership meetings

to regional trade shows, the International

Builders' Show and special-interest councils,

GCRHBA provides hundreds of ways for you

to meet and build relationships with fellow

professionals, future customers and suppliers.

THRESHOLD JUNE 2018 3
---
PRESIDENT'S MESSAGE

MIKE FARR

First, let me start by saying thank you to all

members! Without you, we would not exist!

We have had a busy year thus far. What I heard

from members was the need for a communication

piece to feel more connected to your

association. So as President, I brought back

the THRESHOLD newsletter and soon we'll be

launching a new website. The website will be

easier to navigate and completely interactive.

I'll keep you updated on the progress, but we

anticipate the website to go live within the next

90-days.

Your association is in great shape! We paid

off our building at the end of first quarter. This

was accomplished through hard work from

past Presidents and Boards along with our Executive

Officer. We just wrapped up the most

successful Spring Parade of Homes to date.

I want to inspire all of you to get involved

in your association. It takes everyone to help

out to make our association great. I would like

to get an Associates Committee started at our

local level. It would involve monthly meetings

and guest speakers at times to talk about what

is going on in our community and industry. If

you have some interest, please contact Melissa

at the HBA office at 319-395-0778 or myself at

319-721-9812.

I would like to thank KBD for hosting an

after-hour meeting at their business on May

24th. It was a great event. If you have interest in

hosting one for your business, please contact

Melissa or myself.

Please enjoy the inaugural issue of THRESH-

OLD. We welcome any feedback you have on

what we are doing well, and what you want to

see added or improved.

Thank you for all you do!

Mike Farr

President

Greater Cedar Rapids Housing & Building

Association

NETWORKING AFTER HOURS

MEMBER EVENTS

Annual Trap Shoot

Wednesday, June 20, 2018

4-9 PM

Otter Creek Sportsman Club

9001 Milburn Road NE, Cedar Rapids

See page 17 for more information.

Remodelers Night Out

Thursday, July 12, 2018

5-7 PM

Iowa Brewing Co.

708 3rd St. SE, Cedar Rapids

See page 21 for details.

4 THRESHOLD JUNE 2018
---
COMPANY PROFILE

PAID ADVERTISEMENT

Money Makeover helps simplify the home

refinance process for two Dupaco members

Dupaco members Tracie and Jim Walker became big fans—and new

members—of Dupaco when the credit union helped them uncover big

savings in their monthly budget. (B. Kaplan photo)

As a former bank employee who once handled mortgages,

Tracie Walker wasn't too eager to revisit her own home loan.

"I had always avoided refinancing, because it can be

such an unpleasant experience," says Tracie, of Brandon.

Then she heard radio advertisements featuring Dupaco

Community Credit Union members who were once in the

same predicament she and her husband, Jim, were facing. In

need of payment relief from both their mortgage and credit

card debt, the Walkers decided to give Dupaco a try.

And they're thankful they did. "The rates were low, and it

was all so very easy—from the appraisal process to signing

documents. I couldn't believe it," Tracie says. "I wonder why

we waited so long to do it, actually."

The Walkers met with Erin Bubenyak, a mortgage/

consumer lending consultant at Dupaco's Williams Boulevard

branch in Cedar Rapids.

Bubenyak not only helped the Walkers refinance their

mortgage—she also helped them pay off a vehicle, refinance

another auto loan

and consolidate a

majority of their

credit card debt

with a home equity

line of credit. It was

a Money Makeover

that saved the

Walkers more than

$580 in monthly

payments.

"There

were things we

had wanted to

1,712

free Money Makeovers provided

to members in 2017.

13,089

members joined Dupaco in 2017,

and received 45-plus minutes of

one-on-one financial education.

do—contribute more to our 401(k)s and do some home

improvements—but we didn't have the wiggle room before,"

Tracie says. "When our budget got reworked, it allowed us

to increase our 401(k) contributions. It was an unexpected

benefit of doing all of this."

The Walkers have since made Dupaco their primary

financial institution—and have inspired two family members

to make financial changes too.

"They recently moved from a large bank to a credit

union, in part because of the good things I said about

Dupaco," Tracie says.

Discover the difference at www.dupaco.com/homes

As a financial cooperative owned by its members, Dupaco Community Credit Union uses sustainable money

methods to keep members' money working here, locally.

The more our members do with Dupaco, the more we're able to give back through better rates, fewer fees,

low-cost insurance, and freebies like on-demand credit monitoring tools, Money Makeovers and Credit History

Lessons. Empowering members to achieve financial success enriches the whole community.

THRESHOLD JUNE 2018 5
---
Home Storage

Tips and Tricks

When you first move

into your new home,

you wonder how you

are going to fill up the large,

empty space. Pretty soon life

takes over — and before you

know it, you are wondering

where all of that space went.

If you find yourself struggling

to find room to store

everything you've accumulated

over the years, see if these

storage options might work

for you.

Article provided by National

Association of Home Builders

6 THRESHOLD JUNE 2018

DO AN AUDIT

Before you invest a lot of time deciding

where things should go, look through

your closet, files and drawers to determine

what can be thrown or given away.

For clothes, it is a good rule of thumb to

get rid of items that you have not worn in

more than 12 months.

A lot of your household financial documents

and papers may be available

online through the provider company's

website. If that is the case, discard old

financial statements or bills that you can

more easily access electronically. Invest in

a paper shredder for these documents to

protect your identity and accounts.

It is very easy to allow cabinets and

drawers to become cluttered over time,

especially when you have to do a quick

cleaning of your home when you have

surprise visitors. De-clutter those drawers

periodically to keep from accumulating

outdated flyers, menus, magazines and

newspapers. This will open them up so

you can store more day-to-day items that

you need to quickly reach.

BUY FURNITURE THAT DOUBLES

AS STORAGE

If you are looking to replace old, worn-out

furniture in your home, buy pieces that

also can serve as storage. Consider a coffee

table that has drawers or an ottoman

that can open up and double as a spot to

store your blankets.

MAKE USE OF WASTED SQUARE

FOOTAGE

In closets and in the kitchen, use all of

the space that is available to you. Often

home owners are giving up valuable

square footage if they don't install cabinets

or shelves that go up to the ceiling.

Store items that are either out of season

or that are rarely accessed — such as holiday

decorations — on the higher shelves

where they are out of the way. This will

free up the lower shelves to allow you to

get to the things that you use on a regular

basis.

BED RISERS

By simply raising the height of your bed

a few more inches, you can gain a lot

more storage space that is also hidden

away. Bed risers can be found in home

design and improvement stores in different

shapes, styles, textures and colors

to complement your current bedroom

furniture. They are inexpensive and not

only give you added storage space but

will also give your bedroom a new look.
---
BUILDING OUR COMMUNITY

TINY Home

Project

In 2017, GCRHBA partnered with Kirkwood

Community College to renovate a 40-by-8-

foot shipping container into a tiny home.

"TINY" stands for Trades Investing Nurturing

Youth. The project was completed by local

high school students who enrolled in Kirkwood's

Architecture, Construction, Engineering

(ACE) Career Academy, which provides

the perfect opportunity for students to learn

about these growing industries.

The group of 18 high school students recently

completed construction of the tiny home

over the course of 12 weeks at Kirkwood's

Linn County Regional Center. This partnership

is intended to encourage high school students

to pursue a career in construction by learning

about plumbing, electrical, HVAC, finishes,

cabinets, windows/doors, flooring, thermal/

moisture protection and framing.

The TINY Project was made possible by the

generous support of GCRHBA members.

The home was on display during our Spring

2018 Parade of Homes and we accepted sealed

bids through May 14.

It has been sold and was moved to its new

owner who will be living in the home on

Bloomsbury Farm in Atkins!

A big

thank you

to everyone who was

involved in making

our first project

successful!

THRESHOLD JUNE 2018 7
---
SAVE THE DATE

The Greater Cedar Rapids Housing & Building Association is the

main sponsor of several events throughout the year, that allow

consumers direct access to the latest in building products, actual

building contractors of new homes, and remodelers of existing

homes.

JUNE 4-8

Habitat for Humanity

Home Builders Blitz 2018

JUNE 20

Annual Trap Shoot &

Barbeque Smoke Off

JULY 12

Remodelers Council

Night Out

AUGUST 30

CR-IC HBA Mixer

SEPTEMBER 20

Suburban Lumber Mixer

SEPTEMBER 29 & 30

Fall Parade of Homes

AND

OCTOBER 4, 6 & 7

Fall Parade of Homes

JULY 26

Splash Pool & Spa

Builders Mixer

OCTOBER 3

Members Only Parade of Homes

Breakfast & Tour

AUGUST 17

Nail Drivers Open

NOVEMBER 15

Annual

Awards Banquet

8 THRESHOLD JUNE 2018
---
2018

NEW & REMODELED HOMES

PRESENTING SPONSOR

A special

thank you

to our sponsors

and builders!

SUPPORTING SPONSOR

PARTICIPATING BUILDERS

Allan Custom Homes

Casey Johannes Homes

CBC Homes

Cedar Rapids Pairie Student-Built House

Dahl Custom Homes

Donohoe Custom Homes

Dream Builders of Iowa

Dream Builders of Iowa

Dream Builders of Iowa

Frazier Homes, LLC

Frey Homes

GCRHBA TINY Project

Jerry's Homes, Inc.

Jim Sattler, Inc.

JP Homes

JW Home Builders

K & A Homes

LDR Homes, LLC

Legacy GreenBuilders & Developers

Legacy GreenBuilders & Developers

Precision Builders

Sattler Homes & Remodeling

Schrage Construction, Inc.

Skogman Homes

Skogman Homes

Stonegate Custom Homes

Sunderman Construction, Inc.

TJ Heefner Construction, Inc.

Witter Custom Homes

Wodin Construction LLC

Wood Construction, Inc.

For information on a home, contact Melissa Olson at eo@crhba.org

THRESHOLD JUNE 2018 9
---
CAMP BACKYARD

Enjoy the

Great Outdoors

with a Deck or Patio

10 THRESHOLD JUNE 2018
---
A new deck or

patio can be the

perfect gathering

place, adding a

new dimension

to your yard and

creating space that

you didn't even

know you had.

A well-planned outdoor living space

can become a home owner's backyard

getaway, but the wrong deck

or patio can end up as unused dead

space. Keep the following in mind

and you'll find yourself enjoying the

sunshine from your outdoor retreat

in no time.

Patio or Deck?

When deciding on whether you'd

like your new outdoor haven to be a

patio or deck, first do some research.

Some areas have building codes or

terrains that dictate one or the other.

Your local home builders association

can be a good source of information.

What kind of budget are you looking

at? Decks can be a more affordable

option than patios, but concrete,

while more expensive, tends to be

the sturdiest material with the lowest

maintenance needs.

Several factors can determine

whether a deck or patio is best for you:

• How much weight does your

space need to hold? If you are considering

a huge hot tub or spa, a patio

might support its weight better.

• What about climate? Will the

surface become too hot to walk on

during summer's peak?

• Does rain or snow create runoff

problems on a flat patio surface?

If you have a rough backyard terrain,

a raised deck may end up your

best choice instead of expensive excavation

for patios. Likewise, if you

dislike dirt or have pets, consider a

raised deck. Remnants from sand

and stone patios can easily find their

ways into clean houses. A raised deck

also may work as a better option for

low-lying yards that tend to become

soggy when it rains.

Choosing the Design

Once you've determined whether a

deck or patio is best for your home,

the possibilities are endless. For

home owners on a budget, Tim Taylor,

owner of Landscape Creations in

Johnson City, Tenn., suggests a sand

and stone or brick patio. Stone, brick

and concrete pavers are available in a

range of styles and colors and are durable.

Remember that site preparation

is important for drainage, grade

and proper placement, and can be a

lot of work for the DIYer. Weeds also

can pose more of a problem with

patios. When in doubt, leave it to a

professional with experience.

"Flagstone and concrete patios

also are popular among home owners,"

Taylor said. "Remember to allow

for expansion, however, to prevent

cracking." Cracking in concrete

is inevitable, but it can be minimized

with the proper installation.

Materials Matter

Most decks are made of wood, ranging

from pressure-treated pine and

fir to more durable – and pricey –

woods such as red cedar, redwoods

and tropical hardwoods. No matter

what the type, wood decks require

maintenance and even then, with

less expensive woods, swelling and

warping will still occur over time.

To reduce the amount of maintenance

required, consider composite

and vinyl decking. These materials

are less susceptible to swelling and

also are more resistant to insects.

SEE PAGE 21

THRESHOLD JUNE 2018 11
---
NEW MEMBER Q&A

PAID ADVERTISEMENT

Welcome Kade Olson

Who is your hero & why?

My hero would have to by my Grandfather, Terry Cowell. He taught

me what it means to work hard to provide for your family, to love everyone,

and to enjoy life in all its capacity. Family is the most important

aspect to me and when I look at my Grandpa, a man who built an

implement dealership from the ground up, his actions prove to me

that by following through on the simple aspects it can go a long ways

to those around you.

Kade Olson

Marketing Representative

(641) 373.1544

kdolson@fedins.com

Cedar Rapids, IA

What do you like most about the company you work for?

Federated Insurance is a company that is built around serving and

protecting business owners and their employees from the catastrophic

events as well as their employees involved in their business. Growing

up in a family that was built from the blood, sweat, and tears

poured into a business it brings me great joy to return the favor in

ensuring those owners have a business to return to everyday and

their employees can put food on the table for their families.

Why do customers choose your company?

My clients choose Federated Insurance because of our services we

provide our business owners as well as the resources Federated has

partnered with in order to improve those businesses. Insurance is a

product no one looks to buy, but a commodity that provides a peace

of mind. Our goal by providing life, disability, or property and casualty

insurance is to provide that peace of mind feeling.

What's the best advice you ever received?

Best advice I've ever received was from my Grandpa and he taught

me to never give up. Life will always throw a curveball at you and will

continue to have its peaks and valleys. However, when those valleys

come it is best to put your head down, weather it, and when the

storm is over you will come out on the other side a better man or

person than you were before. Advice still stands true today!

Tell us something people would be surprised to learn about you.

Fun facts about myself: I am allergic to peanut butter, nuts, tree nuts,

etc. Basically anything nut related does not sit well with my body. I've

also broken my left arm 4 times and have had 10 black eyes growing

up. You could say I was a little accident prone!

What is your favorite quote?

"If you want to change the world, start off by making your bed."

– Admiral William McHaven

12 THRESHOLD JUNE 2018
---
THURSDAY

MAY 24, 2018

WINE

BEER

HORS D'OEUVRES

NETWORKING

Courtesy of KBD

155 Collins Rd NE

Cedar Rapids, IA 52402

THRESHOLD JUNE 2018 13
---
INTERIORS

PAID ADVERTISEMENT

STYLE & DESIGN

Whether you are looking to create

the house of your dreams or update

that fixer upper, Randy's Flooring

offers the most up-to-date flooring

products — spanning all ranges

of style and design. Along with a

one-of-a-kind collection, Randy's

employs over a dozen designers &

decorators to help select, render,

and plan your perfect project.

14 THRESHOLD JUNE 2018
---
INTERIORS

PAID ADVERTISEMENT

FROM THE

GROUND UP

The right flooring paired with the

correct functional accents can make

all the difference in creating the

perfect space that is uniquely yours.

Let Randy's provide the latest window

fashions, tile for a backsplash

or accent wall, stacked stone for

fireplaces, custom showers, and so

much more to put all the finishing

touches on your project.

FLOORING EXPERTS

We are dedicated to providing the

most highly-trained, educated, and

experienced sales & installation

staff in the area. It is our goal to

provide the right products catered

specifically to you and your project,

and to see that your expectations

are met in every way.

Carpet | Tile | Hardwood | Window Treatments

RANDYSFLOORING.COM

THRESHOLD JUNE 2018 15
---
BUILDING OUR COMMUNITY

GCRHBA partners with Cedar

Valley Habitat for Humanity and

build 3 new homes in 5 days!

The event will happen June 4-8

and the 3 homes are located on

12th Street NE, Cedar Rapids.

This is actually a national project

which began in 2012 and it occurs

every other year, so HBB 2018 will

be our 4th blitz! We have 5 lead

builders that are assigned to the

3 homes:

Allan Custom Homes

Cedar Ridge Homes

Jim Sattler, Inc.

Sattler Homes & Remodeling

Skogman Homes

In addition to the lead builders,

many of our members are also

involved in all phases of the

project!

Everyone is welcome to celebrate

the completion of the project at

the home dedication on Friday,

June 8 at 4 p.m. in the 900-block

of 12th Street NE.

16 THRESHOLD JUNE 2018
---
MEMBER EVENT

2018 Annual Trap Shoot, Barbeque Smoke Off & Live Music

Co-sponsored by:

Wednesday, June 20

Trap Shoot Contest: 4:00 - 6:00 p.m.

Barbeque Smoke Off Contest: 6:00 p.m.

Dinner provided by CR Smoke BBQ & Catering: 6:00 - 7:00 p.m.

Live Music provided by The O'Connell Brothers Band and Raffle and Door Prizes: 7:00 – 9:00 p.m.

(MAKE SURE TO BRING A LAWNCHAIR OR BLANKET)

Otter Creek Sportsmans Club (9001 Milburn Road NE)

Come to shoot or network, enjoy good food, and listen to live music!

Also make sure to sign up to participate in the Barbeque Smoke Off!

We will provide the meat. All you need to provide is your smoker, wood and seasoning.

CASH PRIZES to the Top 3 Winners!

Bring cash for your chance to win amazing raffle prizes

Raffle Ticket Prices: 1/$5, 3/$10, 8/$20, 30/$50, 40/$60, 60/$80 or GO BIG 80/$100

Plus you will be automatically entered to win a free door prize!

This is a gold card event, so one person from a member company can attend at no charge

and additional guests are $20/person (payment due when register)

NOTE: Shells and Bird Fees extra - $6.50/box of shells - $6.50/round of shooting

(each participant shoots 2 rounds: 25 shots from 16 yards and 25 shots from 20 yards)

Online reservations are REQUIRED by Monday, June 18 at www.crhba.org

Thank you to our supporting sponsors:

Culligan Water Conditioning

MacArthur Company

If you would like to be added to this list of supporting sponsors, please email Melissa at eo@crhba.org

THRESHOLD JUNE 2018 17
---
THE SPIKE CLUB

This month's

SPIKE LEADER!

Growing our Strength through

Member Recruitment, Retention

and Involvement

Recruiting new members to your local association is an activity

recognized and rewarded through the Spike Club. Those who

participate are called Spikes, and they are among the most valued

members of the association.

Member-to-member recruitment and retention efforts are the

largest source of growth for the federation. Spikes bring grassroots

growth and stability. These efforts lend to the development

of the general membership and our leadership pipeline,

keeping the face of the federation true to that of our industry

and the scope of interests we represent.

Spikes are the membership leaders of our federation, building

the voice, power and influence on every level, in every state.

DUSTIN KERN

5.5 CREDITS

Watch this video and learn more about the

Spike Club.

C ongratulations

to Dustin!

18 THRESHOLD JUNE 2018
---
SPIKE MEMBERS

SUPER SPIKE

James Sattler 464.50

Mike Farr 341.50

ROYAL SPIKE

Michael Flynn 266.50

Mike Sattler 224.50

Wayne Winn 206.00

Randy Dostal 178.50

Rob Hajek 170.75

Tom Takes 169.75

Doug Kohoutek 167.00

Jim Buresh 157.75

RED SPIKE

Mark Wood 123.50

Drew Retz 116.75

Tari Dailey 110.25

Alvin Frey 102.25

GREEN SPIKE

Joseph Ahmann 75.00

Robert Meyer 74.50

Paul Brundell 70.00

Jim McGrew 66.50

YELLOW SPIKE

Joe Sattler 42.50

JR Blok 42.00

Steve Erusha 41.75

Ron Valenta 33.50

BLUE SPIKE

Todd Frazier 23.50

Kyle Skogman 22.50

Chad Pelley 19.50

Bryan Thumma 19.50

Benton Frey 13.00

Brian Ophoff 12.50

Ray Vasser 11.00

Chris Mottinger 9.50

Dustin Kern 7.50

Dustin Lee 7.50

K Flynn 7.25

SPIKE

CANDIDATES

Six (6) credits needed to

become a SPIKE MEMBER

Jeff Platten 5.50

Bob Rathje 5.25

Tom Kurtz 5.00

Mark Ralston 5.00

Chuck Rhode 5.00

Todd Richardson 5.00

Pat Sauter 5.00

Mark Sillman 5.00

Al Sattler 4.50

Paul Scallon 4.50

Jerry Sunderman 4.00

Timothy Vaske 4.00

Jeff Melcher 3.50

Kirk Sadilek 3.50

Todd Wood 3.50

Jamie Buresh 3.00

Ben Dahl 3.00

Chad Kelly 3.00

TJ Heefner 2.50

Matt Burger 2.00

Brad Joens 2.00

Dave Vanous 2.00

Mark Bertelli 1.50

Terry Bjornsen 2.00

Marc Daubitz 1.50

Mike Delaney 1.00

Alissa Gardner 1.00

Rex Hamilton 1.00

Brian Hancock 1.00

Jennifer Hughes 1.00

Casey Johannes 1.00

Hanna Kustes 1.00

Brad Nielson 1.00

Justin Wright 1.00

2018 SPIKE

CHAMPIONS

Dustin Kern 5.5

Alissa Gardner 1.5

Drew Retz 1.0

Justin Wright 1.0

Mike Farr 1.0

Mike Ludvicek 1.0

Randy Dostal 1.0

Rob Hajek 1.0

TJ Heefner 1.0

Doug Kohoutek 0.5

Gary Doerrfeld 0.5

Who will be

this year's

Grand

Champion

"Spiker"

THRESHOLD JUNE 2018 19
---
Overlooked Spring

Cleaning Jobs

With winter finally leaving and warmer

weather on the way, it's time to tackle all

that spring cleaning! It can be a lengthy

process but it's important that you don't

miss these often-overlooked steps.

EXTERIOR JOBS

Winter can be rough on the exterior of

your home. So, you should start on the

exterior before the spring rains cause

more problems.

1. Clean out the gutters of any debris left

over from the winter storms and check

to make sure your gutters are still securely

fastened.

2. Clear away all the debris from your

exterior drains. This will allow the heavy

spring rains to properly flow and prevent

back-ups.

3. Check your windows for any cracking

or splitting from the caulk. If so, clean

off the mildew and replace the caulk.

4. The warming weather will inevitably

lead to outdoor entertaining, so don't

forget to clean off your patio furniture

using a mild soap and warm water. Gently

scrub away any dirt that has collected

over the winter. If you have wrought iron

and rust has started forming, gently sand

it off.

Now, wipe off your shoes and head

inside.

INTERIOR JOBS

5. Unplug your refrigerator, slide it away

from the wall and vacuum the dust that

has accumulated on the condenser coils.

This task may seem small, but can greatly

extend the life of your refrigerator

6. Vacuum out the dust that is sticking to

your air vents. After the vents are clear of

dust, apply a thin layer of car wax on all

surfaces of the vent to prevent dust from

sticking and to allow for easier airflow.

CALL IN THE PROS

There are still a few things left that

should be done by professionals.

7. If you built a lot of fires over the winter,

have a CSIA-Certified chimney sweep

inspect your chimney and fireplace. This

should be done annually to prevent

housefires. As a bonus tip, throw a handful

of salt into a fire to prevent soot and

add some color to the flame!

8. Have a contractor certified by National

Roofing Contractors Association inspect

your roof for any missing, warped

or loose shingles and check for loose

seals on your skylights.

9. Before the weather warms up too

much, have your HVAC system inspected

by a qualified technician and, if needed,

replace your filters.

Now that you've checked these jobs off

your list, you can start enjoying the spring!

20 THRESHOLD JUNE 2018

Article provided by National

Association of Home Builders
---
MEMBER EVENT

DECK OR PATIO

FROM PAGE 11

The cost, however, can be significantly

higher, particularly if coordinating

railing and balustrade systems. Concrete

decks, while much more expensive

than wood or composite, are the

most durable and require only the

occasional pressure wash and periodic

re-sealing. And no longer just drab

gray, concrete is now available in a

nearly limitless variety of styles, colors

and patterns.

Location, Location, Location

Before beginning your outdoor project,

assess your space. Where do you have

the best sunlight? Do you want to use

your space for dining or grilling? If so,

do you have a large enough area for tables

and chairs? Is there one area of the

yard that is quieter and has more privacy

from neighbors? A good home builder,

remodeler or landscape architect can

help you design a master plan that's

right for your space and your ideas.

Once your patio or deck is built,

only your imagination limits the extent

of your retreat. Plants, flowers, trellises,

decorative screens, garden sculptures,

fountains and furnishings can all enhance

your backyard haven.

Article provided by National Association of Home Builders

THRESHOLD JUNE 2018 21
---
Connect with Us

President

Mike Farr

Cascade Manufacturing Co.

Office: 563.852.3231

mgfarr@cascade-mfg-co.com

Vice-President

Rob Hajek

Home Repair Team

Office: 319.626.4663

robh@homerepairteam.com

Board Member

Jeff Capps

Cedar Valley Habitat for

Humanity/ReStore

Office: 319.366.4485

jeffcapps@cvhabitat.org

Board Member

Randy Dostal

Thomas Dostal Developers

Office: 319.431.3881

allamericanlc@hotmail.com

Board Member

Andrea Rhoades

Corridor Business Journal

Office: 319.887.2251

Andrea@corridorbusiness.com

Board Member

Robert Riley

Windows by Pella, Inc.

Office: 319.363.5768

robert.pellawindows@gmail.com

Second Vice-President

Dustin Kern

DK Land Services, Inc.

Office: 319.654.6706

dustin@dklandservices.com

Board Member

Mike Flynn

Flynn Homes, Inc.

Office: 319.366.6826

mike@flynnhomes.com

Board Member

Hunter Skogman

Skogman Homes

Office: 319.363.8285

hskogman@skogman.com

Treasurer

Justin Zimmerman

CliftonLarsonAllen, LLP

Office: 319.363.2697

justin.zimmerman@claconnect.com

Board Member

Benton Frey

Frey Homes, LLC

Office: 319.640.2300

benton@freyhomes.com

Board Member

Dean A. Spina

Bradley & Riley PC

Office: 319.861.8725

dspina@bradleyriley.com

Secretary

Jim Sattler

Jim Sattler Custom Homes

Office: 319.395.9157

jsattler@sattlerinc.com

Board Member

Joe Greathouse

Kirkwood Community College

Office: 319.398.5411

joe.greathouse@kirkwood.edu

Board Member

Ryan Sullivan

Amerhart, Ltd.

Office: 608.825.3322

ryan.sullivan@amerhart.com

Immediate Past President

Chad Pelley

Ahmann Design

Office: 319.395.7900

cpelley@ahmanncompanies.com

Board Member

Jim McGrew

Suburban Lumber Company

Office: 319.362.3115

jmcgrew@suburbanlumber.com

Board Member

Bryan Thumma

Affordable Heating & Cooling

Office: 319.462.3638

bryan.thumma@affordable-hvac.com

Remodelers Council First

Vice-Chair

Joe Sattler

Sattler Homes & Remodeling

Office: 319.395.9475

joe@sattlerhomes.com

Board Member

Amy Miller

Hills Bank and Trust Company

Office: 319.654.8007

amy_miller@hillsbank.com

Executive Officer

Melissa Olson

Greater Cedar Rapids Housing &

Building Association

Office: 319.395.0778

eo@crhba.org

Board Member

JR Blok

Blok Construction

Office: 319.533.4394

jrblok2@mchsi.com

Board Member

Drew Retz

Jerry's Homes, Inc.

Office: 319.294.2290

drewr@jerryshomes.com

22 THRESHOLD JUNE 2018
---
HOMEMADE MORTGAGES

Dread the thought of sending your home loan to a faceless out-of-town megaloan

conglomeration? From application to loan closing and making payments,

borrow right here and pay right here with a homemade mortgage from Dupaco.

$600 OFF

MORTGAGE CLOSING COSTS *

Cozy up to a Dupaco mortgage loan for a home purchase

or refinance and sweeten the deal with $600 off your

closing costs. Now

that's a home

sweet loan!

Get moving! Schedule an appointment

at 800-373-7600, ext. 204

*

This offer is good through August 31, 2018 and applies to Real Estate applications taken by the credit union from April 1, 2018, through August 31, 2018 resulting in an approved and disbursed real estate loan at the credit union.

This offer is not transferable and may not be used in conjunction with any other discounts, offers or coupons and may not be redeemed in cash. This offer requires Dupaco membership. To be eligible for membership in Dupaco

you must live or work in Dupaco's charter area or have a member of your immediate family be an existing member of the credit union. Commercial loans, Mini Mortgages and Home equity loans are excluded from the offer.

THRESHOLD JUNE 2018 23