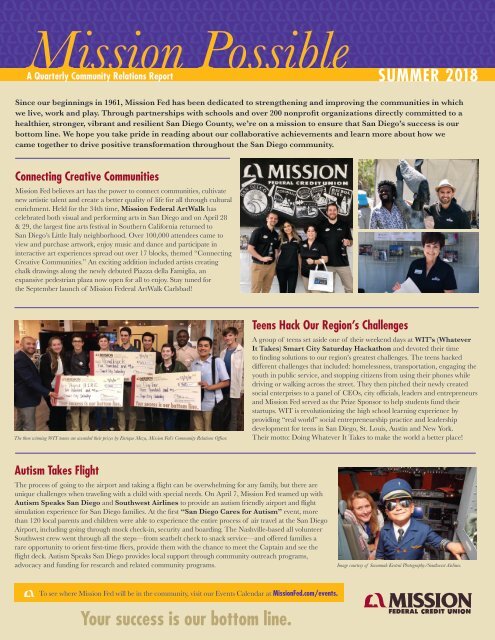 7171_MFCU Summer Newsletter 2018_Single Page
Create successful ePaper yourself
Turn your PDF publications into a flip-book with our unique Google optimized e-Paper software.
v

Mission Possible

A Quarterly Community Relations Report

SUMMER 2018

Since our beginnings in 1961, Mission Fed has been dedicated to strengthening and improving the communities in which

we live, work and play. Through partnerships with schools and over 200 nonprofit organizations directly committed to a

healthier, stronger, vibrant and resilient San Diego County, we're on a mission to ensure that San Diego's success is our

bottom line. We hope you take pride in reading about our collaborative achievements and learn more about how we

came together to drive positive transformation throughout the San Diego community.

Connecting Creative Communities

Mission Fed believes art has the power to connect communities, cultivate

new artistic talent and create a better quality of life for all through cultural

enrichment. Held for the 34th time, Mission Federal ArtWalk has

celebrated both visual and performing arts in San Diego and on April 28

& 29, the largest fine arts festival in Southern California returned to

San Diego's Little Italy neighborhood. Over 100,000 attendees came to

view and purchase artwork, enjoy music and dance and participate in

interactive art experiences spread out over 17 blocks, themed "Connecting

Creative Communities." An exciting addition included artists creating

chalk drawings along the newly debuted Piazza della Famiglia, an

expansive pedestrian plaza now open for all to enjoy. Stay tuned for

the September launch of Mission Federal ArtWalk Carlsbad!

The three winning WIT teams are awarded their prizes by Enrique Meza, Mission Fed's Community Relations Officer.

Teens Hack Our Region's Challenges

A group of teens set aside one of their weekend days at WIT's (Whatever

It Takes) Smart City Saturday Hackathon and devoted their time

to finding solutions to our region's greatest challenges. The teens hacked

different challenges that included: homelessness, transportation, engaging the

youth in public service, and stopping citizens from using their phones while

driving or walking across the street. They then pitched their newly created

social enterprises to a panel of CEOs, city officials, leaders and entrepreneurs

and Mission Fed served as the Prize Sponsor to help students fund their

startups. WIT is revolutionizing the high school learning experience by

providing "real world" social entrepreneurship practice and leadership

development for teens in San Diego, St. Louis, Austin and New York.

Their motto: Doing Whatever It Takes to make the world a better place!

Autism Takes Flight

The process of going to the airport and taking a flight can be overwhelming for any family, but there are

unique challenges when traveling with a child with special needs. On April 7, Mission Fed teamed up with

Autism Speaks San Diego and Southwest Airlines to provide an autism friendly airport and flight

simulation experience for San Diego families. At the first "San Diego Cares for Autism" event, more

than 120 local parents and children were able to experience the entire process of air travel at the San Diego

Airport, including going through mock check-in, security and boarding. The Nashville-based all volunteer

Southwest crew went through all the steps—from seatbelt check to snack service—and offered families a

rare opportunity to orient first-time fliers, provide them with the chance to meet the Captain and see the

flight deck. Autism Speaks San Diego provides local support through community outreach programs,

advocacy and funding for research and related community programs.

Image courtesy of Savannah Kestral Photography/Southwest Airlines.

To see where Mission Fed will be in the community, visit our Events Calendar at MissionFed.com/events.

Your success is our bottom line.
---
Mission Possible

A Quarterly Community Relations Report

San Diego's Cool

Women

Mission Fed's Pamela Carson, AVP, Scripps Ranch

Branch Manager (L) and Girl Scouts San Diego's

Carol Dedrich, Chief Executive Officer (2nd from

R), are joined by two Emerging Leader Girl Scouts.

A MILLION REASONS TO CELEBRATE

For the past two decades, Junior Achievement of San Diego

County (JA) and Mission Fed have shared a unique partnership

and a commitment to empower our young people to own their

economic success. On Tuesday, April 24, community and

business leaders, JA students, alum and board members

joined Mission Fed to celebrate JA's "1 Millionth Student"

served since their office opened in 1950. "With Mission Fed's

prominent shop in the McGrath Family JA BizTown and

our support in bringing Mission Fed JA Finance Park to life,

we are helping to develop resourceful and successful community

members of tomorrow," said Debra Schwartz, Mission Fed

President and CEO and JA Executive Board Member.

Mission Fed forms part of a community whose support,

commitment and dedication made this milestone possible

and congratulates JA on the life-changing impact they've

made on our region's youth.

Emerging Leader Girl Scout partners with Mission

Fed's Pamela Carson, AVP, Scripps Ranch Branch

Manager, during one of the mentoring sessions.

San Diegans spent a fantastic day of

championing the cause of girl leadership

at Girl Scouts San Diego's

annual Cool Women luncheon.

The region's top business and civic

leaders in our region came together

to recognize this year's trailblazing

2018 Cool Women awardees,

respected executives from diverse sectors

who are making positive changes in

the San Diego community. The event

also included mentoring sessions where

Emerging Leader Girl Scouts met with

some of San Diego's most successful

female executives and community leaders

and learned how these exceptional

women balance work, family, friends

and service.

Nonprofit All-Stars

As the San Diego Padres season kicks-off, Mission Fed

is proud to recognize a variety of nonprofit partners

that strive to make our region "America's Finest City."

Our check award ceremonies not only provide

nonprofits with financial support but also allow for

their staff and supporters to enjoy a Padres game on

us. Recently, we had the pleasure of recognizing two

wonderful organizations: The San Diego Bicycle Club and the

San Diego Chapter of the Surfrider Foundation. Funds provided

to the San Diego Bicycle Club supports their bicycle helmet donation

program. Our donation to the San Diego Chapter of the Surfrider

Foundation supports their dedication to raise awareness of water

quality issues and helps our beaches stay clean and accessible.

Advocates For Women's Health

On behalf of our members, our staff and our volunteer

Board of Directors, Mission Fed presented a check

donation to San Diego Chapter of the American

Heart Association as part of San Diego's Go Red

For Women campaign. Over $23,000 in funds will

help advocate for more research and swifter action for

women's heart health. Mission Fed believes that

together we can prevent heart disease and strokes and

encourages women and their families to take action

and live a healthier life.

Cinco de Mayo With Pride

On May 5, Mission Fed joined more than 20,000 people at Barrio Logan's Chicano Park to celebrate the

Cinco de Mayo con Orgullo Festival & Car Show. The celebration was part of a 40 city-wide effort across

California to have alcohol and tobacco-free Cinco de Mayo events in an effort to create safe and family-friendly

environments. The historic park and the surrounding streets were filled with food, live music and cultural

performances, a classic car show and arts and crafts by local artists. Proceeds also go to support the Sherman Heights

Community Center, a nonprofit that promotes educational, health, personal development and cultural programs.
---
SUMMER 2018

SPOTLIGHT ON COMMUNITY INVOLVEMENT

Dancing For A Cause

The 3rd Annual "Dancing With Our Stars" fundraising event took place

on Saturday, April 7 at the California Center for the Arts, Escondido, where

the Center's 1,500-seat concert hall emulated the format of the popular reality

show, Dancing with the Stars. Not only did Mission Fed serve as a sponsor but

was also proudly represented in the competition by our own Angie Lasagna,

VP Community Relations and External Affairs. Angie joined nine other

prominent community and

business leaders, where couples

tangoed, salsaed and waltzed

their way across the dance floor

and raised funds for the Center's

Education & Community

Outreach Programs serving

over 85,000 annually.

Honorary speaker Kathy Najimy (center) is joined by Mission Fed's

Lisa Thompson, VP Compliance (L) and Terri Miracle, VP Creative

and Communications (R).

Making Miracles Happen

Miracles happen every day at Children's Miracle Network

Hospitals. Since 2006, Credit Unions for Kids Wine Auction

has raised $6.1 million to help children treated at these hospitals

and give them every chance to get better. On March 9, Mission

Fed was proud to support the 13th Annual Credit Unions for

Kids Wine Auction 2018. For the third consecutive year, the

gala event raised more than $1 million for the 11 Children's

Miracle Network Hospitals (CMN) in California and

Arizona. Debra Schwartz, Mission Fed President and CEO,

served on the event's executive committee and represented

our region's benefitting hospital, Rady Children's Hospital

San Diego. Our support of the event continues to help make

miracles happen for local sick and injured children, including

even the tiniest of patients, and echoes the credit union mission

of "People Helping People."

Pictured (L to R):

Debra Schwartz, Mission Fed's President and CEO; Sherry Special, Mission Fed's SVP

Branch Network and Consumer Lending; Rixie Lowden, VP Business Development, Autoland.

In The Company Of Women

A woman's biggest inspiration often comes from the company of

other women in her life—her mother, sisters, friends and co-workers.

On May 4, YWCA of San Diego County presented its 20th annual

"In the Company of Women" benefit luncheon featuring the

distinguished Tribute to Women & Industry Awards (TWIN) and

a keynote address by actor and advocate Kathy Najimy. The event

brought together diverse and successful women from across the region

to be inspired and to inspire one another. Proceeds from the event

help to fund YWCA's many programs and services that benefit the

lives of women and children in the San Diego region, including

Becky's House Domestic Violence Programs. Mission Fed is honored

to support women leaders from the community who make a difference

and help to fulfill the YWCA's mission of empowering women.

Chefs Cork

& Craft Gala

Pictured (L to R): Mission Fed's Sherry Special,

SVP Branch Network & Consumer Lending;

Jim Floros, Jacobs & Cushman San Diego

Food Bank's CEO; Angie Lasagna,

VP Community Relations.

More than 30 celebrated local

chefs from across San Diego County

donated their time and culinary talent

for the Jacobs & Cushman

San Diego Food Bank's

Annual Chefs, Cork & Craft

on April 28. Mission Fed proudly

supports the region's largest

hunger-relief organization and their

programs, including the Food 4 Kids

Backpack Program which provides

weekend backpacks filled with food

to elementary school children living

in poverty. Last year alone, the Food

Bank distributed 26 million pounds

of food, and served, on average,

370,000 people per month in

San Diego County.

A Catalyst for Caring

Communities

Pictured (L to R): Mission Fed's Gabe Madrid,

Poway Branch Manager, and Linda Barner,

VP Human Resources.

On April 6, the Center for

Community Solutions (CCS)

held its 19th Annual "Tea

and Tonic" event as a platform

from which to raise awareness of

domestic violence and inform our

community that help is available.

Serving as a fundraiser for CCS,

the event celebrated their sponsors,

committed volunteers and business

and community leaders from across

San Diego County who continue

to support the Agency's mission: to

end relationship violence by being a

catalyst for caring communities and

social justice.
---
Honoring Educational

Excellence

Mission Fed team representing our Branch Network,

School Business Services, Business Development

and Senior Leadership.

Recognizing MAXimum Dedication

Mission Fed's support of our schools and teachers has helped

to promote improvement in teaching and learning, a mission

that's been with us since our start using a borrowed desk at the

San Diego County Office of Education. During the school

year, in partnership with 105.7 MAX FM, Mission Fed's

MAX Out My Class recognizes the dedication and passion

that teachers devote to their students' future. Every week, the

radio station's crew and Mission Fed visit a school to award a

classroom a $200 gift card, a Mission Fed goodie bag and an

on-air interview focused on the teacher and his/her students.

Thanks to a donation by Computers 2 SD Kids, some schools

were also lucky recipients of netbooks! Congratulations to all

the winning teachers for their dedication to providing the

educational foundation for our future San Diego community

leaders. To nominate a local teacher, submit your entry via

email to monica.ventura@sdcoe.net.

San Diego County honored educators,

parents, community members, board

members and support staff who make

a difference in the lives of students at

the annual Honoring Our Own

Awards on April 27. Considered

the premier event of the year for both

the San Diego County School Boards

Association and for the Association

of California School Administrators

(ACSA) Region 18, the Honoring Our

Own Awards recognized recipients for

their achievements and their dedication

to public education. Over 500

educational leaders and friends of the

educational community participated,

where Mission Fed was proud to have

received two special awards: the San

Diego County School Boards

Association's DeDe Alpert

Award, nominated by Lemon Grove

Unified; and the ACSA Region

18 Partners in Educational

Excellence Award, nominated

by Poway Unified School District.

Both honors recognize Mission Fed's

commitment to educational excellence

and exemplary school-community

partnership programs in service to

administrators, teachers and students.

Federally insured

by NCUA.

Chelsea's Run Unites The Community

Mission Fed was proud to once again sponsor the 8th Annual Finish Chelsea's

Run in partnership with the Girl Scouts of San Diego and in honor of Chelsea

King, a race that unites the community to raise awareness about protecting

children and creating positive change. The March 3 event took place in Balboa

Park where Chelsea loved to visit and where she practiced with the San Diego

Youth Symphony. The Run featured a competitive 5K race and fun run/walk,

family festival, children's activities, team competition, entertainment and

refreshments. This annual run/walk is now the primary fundraiser for the

Chelsea's Light Foundation Sunflower Scholarship Fund, providing scholarships

for San Diego County college-bound teens who have embraced characteristics

that embodied Chelsea's academic prowess and service-over-self ethic.

Your success is our bottom line.

Finish Chelsea's Run participants included Mission

Fed's Julianna Sacay, Card Services Consultant, and

Herlinda Sandoval-Wasser, Card Services Manager.