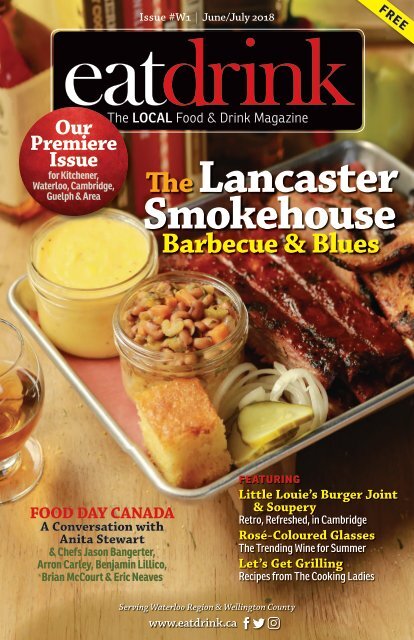 Eatdrink Waterloo & Wellington #1 June/July 2018
The LOCAL food and drink magazine serving Waterloo Region, Wellington County & Area
The LOCAL food and drink magazine serving Waterloo Region, Wellington County & Area
SHOW MORE
SHOW LESS
You also want an ePaper? Increase the reach of your titles
YUMPU automatically turns print PDFs into web optimized ePapers that Google loves.
Issue #W1 | June/July 2018

FREE

eatdrink

The LOCAL Food & Drink Magazine

Our

Premiere

Issue

for Kitchener,

Waterloo, Cambridge,

Guelph & Area

The Lancaster

Smokehouse

Barbecue & Blues

FOOD DAY CANADA

A Conversation with

Anita Stewart

& Chefs Jason Bangerter,

Arron Carley, Benjamin Lillico,

Brian McCourt & Eric Neaves

FEATURING

Little Louie's Burger Joint

& Soupery

Retro, Refreshed, in Cambridge

Rosé-Coloured Glasses

The Trending Wine for Summer

Let's Get Grilling

Recipes from The Cooking Ladies

Serving Waterloo Region & Wellington County

www.eatdrink.ca
---
2 | June/July 2018 — Premiere Issue

eatdrink.ca |@eatdrinkmag

Our town sounds as

beautiful as it looks

Discover Stratford's Summer Music

visitstratford ca
---
eatdrink

The LOCAL Food & Drink Magazine

eatdrinkmagazine

@eatdrinkmag

eatdrinkmag

Think Global. Read Local.

Publisher

Chris McDonell – chris@eatdrink.ca

Managing Editor Cecilia Buy – cbuy@eatdrink.ca

Food Editor Bryan Lavery – bryan@eatdrink.ca

Editorial Consultant Andrew Coppolino

Copy Editor Kym Wolfe

Social Media Editor Bryan Lavery – bryan@eatdrink.ca

Advertising Sales Chris McDonell – chris@eatdrink.ca

Bryan Lavery – bryan@eatdrink.ca

Stacey McDonald – stacey@eatdrink.ca

Terry Lynn "TL" Sim – TL@eatdrink.ca

Finances

Ann Cormier – finance@eatdrink.ca

Graphics

Chris McDonell, Cecilia Buy

Writers

Jane Antoniak, Darin Cook, Andrew

Coppolino, Mark Kearney, Gary

Killops, Bryan Lavery, George Macke,

Chris McDonell, Tracy Turlin

Photographers Steve Grimes, Nick Lavery

Telephone & Fax 519-434-8349

Mailing Address 525 Huron Street, London ON N5Y 4J6

Website

City Media

Printing

Sportswood Printing

© 2018 Eatdrink Inc. and the writers. All rights reserved.

Reproduction or duplication of any material published in Eatdrink

or on Eatdrink.ca is strictly prohibited without the written permission

of the Publisher. Eatdrink has a printed circulation of 20,000

issues published six times annually. The views or opinions expressed

in the information, content and/or advertisements published in

Eatdrink or online are solely those of the author(s) and do not

necessarily represent those of the Publisher. The Publisher welcomes

submissions but accepts no responsibility for unsolicited material.

OUR COVER

eatdrink.ca

A generous

barbecue meat

platter from

The Lancaster

Smokehouse

includes ribs,

beef brisket,

chicken wings

and sides of grits, beans and cornbread.

Photo courtesy The Lancaster Smokehouse

The Ultimate Family Fun Weekend

Ontario Garlic & Artisan Market

featuring over 60 vendors

• Exclusive Tastings pairing artisanal

cheeses with wines, beers and spirits

• Cooking Demonstrations

• Educational Forums

• Live Entertainment

September 8th & 9th

Stratford Rotary Complex, 353 McCarthy Road

Admission $10/day or $15 for 2-day pass

Children 12 & under free

Free parking and bike valet service

SOILED REPUTATION

TEMPTATIONS FROM THE GARDEN

Growing the highest quality

certified organic vegetables

for restaurants and homes

for over 25 years

519-393-6497

www.soiledreputation.com

RR#1 Sebringville ON
---
Contents

Premiere Issue | #W1 | June/July 2018

Publisher's Notes

Beer

Local Commitments

Welcome to Eatdrink!

By CHRIS McDONELL

6

33

A Toast to Spring

A Shoulder Season Six-Pack

By GEORGE MACKE

33

Food Writer at Large

Food Day Canada 2018

A Conversation with Anita Stewart

By BRYAN LAVERY

8

8

Wine

Rosé-Coloured Glasses

The Trending Wine for Summer

By GARY KILLOPS

36

Restaurants

Barbecue and Blues

The Lancaster Smokehouse

By ANDREW COPPOLINO

14

Retro, Refreshed

Little Louie's Burger Joint & Soupery

By ANDREW COPPOLINO

18

Culinary Retail

Dealing With Dragons

truLOCAL Focuses on the

Meat of the Matter

By CHRIS McDONELL

22

The BUZZ

14

18

40

22

Books

Foodie Fiction: Beach Reads

Novels about Food, Kitchens,

Chefs & Restaurants

Reviews by DARIN COOK

40

Recipes

Let's Get Grilling

by Phyllis Hinz and Lamont Mackay

Review & Recipe Selections by TRACY TURLIN

42

The Lighter Side

Food for Comfort

By MARK KEARNEY

46

Culinary Community Notes

26

36

42
---
Eatdrink: The Local Food & Drink Magazine

Looking to renovate, rejuvenate or restore? Let us reveal the

creative process and introduce inspired ideas to help…

Give your dreams a place to live.

25 Manitou Dr #2G, Kitchener

519-893-4050

www.briconcontracting.com

info@briconcontracting.com

149 Manitou Dr, Kitchener

519-894-1991

www.kwcountertop.com

info@kwcountertop.com

44 Otonabee Dr, Kitchener

519-741-1500

www.blackstonecabinetry.ca

blackstonecabinetry@gmail.com
---
6 | June/July 2018 — Premiere Issue

eatdrink.ca |@eatdrinkmag

Publisher's Notes

Local Commitments

Welcome to Eatdrink

By CHRIS McDONELL

This issue of Eatdrink has been

percolating for a number of years. It

is truly exciting to see our Waterloo

Region & Wellington County edition

finally come to fruition. We will be publishing

a new issue every other month, distributed

in print throughout this region and available

everywhere online. For those of you who are

getting your first glimpse of our magazine,

we have been publishing in London, Stratford

and a large swath of Southwestern Ontario

— between Goderich on Lake Huron and

Port Stanley on Lake Erie — for more than a

decade. In that time, we have celebrated a rich

treasure trove of local chefs and restaurants,

farmers and artisans of every stripe, wineries,

breweries, distilleries and so many facets of

food and drink. Our goal, with the help of

local friends and experts, is to do the same

here. It is crystal clear that

there is no shortage of good

stories to tell, and I believe

we're well on our way with this issue.

Andrew Coppolino has crossed paths with

members of our Eatdrink team over the years,

and made strong and positive impressions. His

ongoing work publishing WaterlooRegionEats.

com stands out, and we are looking for exactly

that kind of inquisitive and entertaining

writing that promotes local food culture. I was

thrilled that Andrew was open to working with

us, and you'll see his first contributions in two

restaurant profiles in this issue. Perhaps less

obvious is his work with our Buzz column,

which serves as our clearinghouse for all sorts

of culinary news and tidbits. This compilation

is actually a group effort, but we wouldn't take

this task on without local people on the ground

on behalf of this magazine.

I will be clear that we have an agenda. We

promote restaurants and encourage dining

out. We like businesses that support local

suppliers. We advocate buying quality food

and beverages for home consumption. We

believe that a strong, local and sustainable

eatdrink.ca

food system is integral to our physical health

and our economic well-being. Knowing where

our food comes from makes sense, on local

and global levels and encourages responsible

stewardship of our land and resources.

Getting to the farm gate and buying directly

isn't feasible for everyone, sellers or buyers.

Farmers' markets are wonderful, and there are

many other purveyors that connect us with

farmers, fishers, coffee growers and the like in

positive ways. We are glad to support them.

I should add that local and ethically-sourced

food usually tastes better! The thought that

goes into the process also tends to encourage

creativity, and innovators excite us too. But

sometimes simplicity and traditional methods

are just perfect. We celebrate all of that.

Eatdrink does not publish reviews. We write

about businesses we like and ignore the rest.

That said, our resources are

finite and we can only fit so

many stories into an issue. If

you are doing good things, you are on our list

of potential stories for future issues. We look

forward to a longstanding relationship with

our readers, and our advertisers. We do NOT

sell our stories. If we lose the trust of our

readers, they are gone, and in a short time, we

will be gone too. We look forward to creating

thousands of new fans, and being here for a

long time. And we are so pleased to get started!

We also are far more than the magazine

that you are holding in your hand. If you are

reading this online, you know that already.

Our website includes everything we print,

and more. Stories are easy to share, and we

keep an extensive inventory of back issues

available, in full. We are also very active on

Facebook, Twitter and Instagram. Please join

us there. We look forward to you being part of

the Eatdrink conversation.

CHRIS McDONELL founded Eatdrink in 2007.
---
Eatdrink: The Local Food & Drink Magazine

Remember when you

wished you could fly?

Wish Granted.

Experience Amazing

The 2018 Lexus

NX 300, Turbo.

all in pricing from $46,222. 50 *

3131 KING STREET EAST, KITCHENER | 519 748-9668

HEFFNERLEXUS.CA

*2018 Lexus NX 300 all in price from $46,222.50 includes Freight/PDI $2,045.00, tire stewdardship fee $17.50, air tax $100,

OMVIC $10. Other taxes, licensing fees extra. Dealer may sell for less.
---
8 | June/July 2018 — Premiere Issue

eatdrink.ca |@eatdrinkmag

Food Writer at Large

Food Day Canada 2018

A Conversation with Anita Stewart

By BRYAN LAVERY

Anita Stewart is the University

of Guelph's first food laureate,

president of Food Day Canada, a

cookbook author, and a culinary

activist. She has been highlighting the

diversity of Canadian terroir with Food

Day Canada, an annual celebration of our

homegrown cuisine. The first event was held

on August 2nd, 2003, when Stewart

launched The World's Longest

Barbecue to support the cattle

and beef industry, which had

been affected by cross border

sanctions due specifically to the

BSE crisis (mad cow disease).

The event was larger and more

widespread than anyone could have

imagined, with participants from across

Canada, as well as Canadians living abroad.

Since then Food Day Canada has evolved into

an annual mid-summer celebration held on

the Saturday of the August long weekend.

Some of my favourite restaurants participate,

like The Rich Uncle Tavern, Fork and Cork,

Bauer Kitchen and Borealis Grille & Bar

in Kitchener, Langdon Hall in Cambridge,

Miijidaa, Borealis Grille & Bar and The Wooly

(Woolwich Arrow Pub) in Guelph, Buca,

Boralia and Edulis in Toronto, and The Red

Rabbit, The Bruce and Mercer Kitchen in

Stratford, and Abruzzi in London. Here is

a brief look at a few participating Food Day

Canada chefs.

Three years ago chef Eric Neaves, a graduate

of Stratford Chefs School, met Robert and

Dorota Zablocki, who convinced him and his

wife to quit their jobs in London and head

for K-W to open what would become the

farm-to-table inspired, 200-seat

Fork and Cork. Neaves' annual

Taste the Season 4-course tasting

menu is terroir-driven and runs

for the three weeks leading up to

Food Day Canada. After meeting

Anita Stewart in Stratford Neaves

became an advocate for Food Day,

and this will be his fourth Food Day

Canada menu, an accomplishment of which he

is proud. Chef has been focusing on shifting

the concept of what a 'proper plate' should look

like. He has been bringing more vegetables to

the forefront on his menus since his daughter

was born. Last year he planted 15 kinds of

vegetables (including six tomato varietals),

four kinds of berries, and about 20 different

herbs. Digging in his backyard garden is part of

his love of everything food and has deepened

his understanding of what a healthy ecosystem

looks like. Neaves tells me the concept of a

Canadian restaurant is something we are all

continuing to define and evolve.

Chef Benjamin Lillico of The Rich Uncle

Tavern and Chef Brian McCourt, Culinary

Director of The Rich Uncle Tavern and of

Graffiti Market in Kitchener, share an ethical

and sustainable culinary philosophy, caring

about the provenance of food and the way it

is grown or raised. Lillico was named to the

Ontario Hostelry Institute's Top 30 Under 30

in 2015 and captained Junior Culinary Team

Canada at the 2016 Culinary Olympics in

Chef Eric Neaves of Fork and Cork
---
Chef Benjamin Lillico of The Rich Uncle Tavern

Photo: Revel Photography

Erfurt, Germany. He joined The Berlin (now

The Rich Uncle Tavern) from Langdon Hall. The

new iteration pays homage to the brasseries

and taverns of yesteryear with menus

focused on live-fire fare and shareable snacks.

Lillico's menus are based on the availability

of the best fresh and local ingredients from

small, innovative farms and top-quality food

producers. Chef McCourt has been involved

in Food Day Canada for the past three years;

while up at Oviinbyrd in Muskoka they ran a

five-course tasting menu that was all sourced

locally. Last year at Bauer Kitchen they featured

a menu that was based around farmers and

REAL. LOCAL. FOOD.

EXPERIENCE THE

TASTE OF HURON.

WIN

A GUIDED

FOOD

ADVENTURE

FOR 4 PEOPLE.

ENTER ONLINE

Chef Brian McCourt of The Rich Uncle Tavern

Photo: Revel Photography

Enter and Purchase Tours Online:

tasteofhuron.com
---
10 | June/July 2018 — Premiere Issue

eatdrink.ca |@eatdrinkmag

farmers' markets in the area. This year The Rich

Uncle Tavern will be doing something similar,

but elevated, running a week-long menu with

the option to have a five-course tasting menu.

The chefs are excited to dig into Food Day

Canada and create something meaningful for

the K-W area this year.

Jason Bangerter, Executive Chef at

Langdon Hall, is an influential culinary

maverick on the national cooking stage, with

international credentials, and is a dedicated

advocate for sustainability and seafood

conservation. Bangerter cemented his

reputation at the Auberge du Pommier in midtown

Toronto, and later at the O&B Canteen

and LUMA at the TIFF Bell Lightbox. In 2015

Bangerter was awarded the International

Rising Chef Award from the illustrious Relais

& Châteaux. Named Best Farm to Table Chef

2017 by Canada's 100 Best, Bangerter is wellknown

for his terroir-driven Ontario cuisine,

using the estate's acreage as inspiration for

the seasonal menus. Langdon Hall is Feast

ON certified and 80% of its products come

from Ontario. This is complemented by an

extensive wine cellar. Wine is a large part of

the restaurant's credo and prestige, with over

1,000 VQA and globally-sourced bottles on

A Conversation with Anita Stewart

What does being the first-ever food laureate at

the University of Guelph mean to you, and what

responsibility do you feel that it entails?

Anita Stewart (AS): Firstly, it's an honour

to hold the title. The responsibility to tell the

University's story in the larger Canadian context

is very real. No matter where a person eats,

there's a U of G food story nearby, whether it's

that honey you like on your buttered toast, or

the ketchup on your grilled sausage.

Can you tell us about the Culinary Archives at

Guelph University and how the McLaughlin Library

Canadian Culinary Arts Collection came to be?

AS: The Culinary Archives really began with

an enormous donation of cookbooks from the

late Una Abrahamson who was once a food

editor. She was a serious collector and some

of her books are irreplaceable. That was the

foundation, but since then other food writers/

scholars have donated their archives, letters

and cookbooks... hundreds of them. They are

an incredible resource for anyone studying

food/agriculture/cultural history.

What role did you play as culinary advisor to the

Governor General?

AS: We developed The Nation's Table Awards

a few years ago when Michaëlle Jean and

Jean-Daniel Lafond were at Rideau Hall. Only

one set of awards was presented before Their

Excellencies returned to private life and since

then no one has picked up the challenge. Pity!

Despite your many contributions to the Canadian

culinary culture and narrative, were you surprised

to be named to the Order of Canada in 2012?

AS: Absolutely! I felt like I needed to pinch

myself to make sure I wasn't dreaming. It was

amazing, and to be in the company of some

of the others, who I admire so much, like Paul

Martin and Scotty Bowman and Eric Peterson,

was absolutely incredible.

How would you like to see Food Day Canada

evolve in the future?

AS: I'd like it to be more inclusive. Our chefs are

brand advocates for local ingredients and I know

that Canada is already celebrating them on that

weekend since the harvest is in everywhere.

What do you think is the best way for people

to understand and articulate the concept of a

Canadian cuisine?

AS: It begins in the farms, forests and oceans

and ends on our tables when we use these

ingredients in our own special fashion ... be

it an Italian pasta or Indian dhal or good oldfashioned

British roast beef.

After authoring numerous cookbooks, do you have

something new on the horizon?

AS: On May 16 we are heading to the

Beard House to cook in

Manhattan. That's taking

up a lot of my energy.

Mind you, I'm always

dreaming.

This is Food Day's

15th anniversary ...

you'll remember

it began in

2003 with the

World's Longest

Barbecue. So

this year it'll

be a reunion

of sorts and an

anniversary party.
---
Eatdrink: Executive Chef The Jason Local Bangerter Food & Drink of Langdon Magazine Hall

its extensive list. Langdon Hall was recently

named No. 5 in the 2018 list of Canada's 100

Best Restaurants.

On his involvement with Food Day Canada

and its evolution over the last few years

Bangerter says, "I have always had a soft spot

for Anita Stewart. She is a true pilgrim of

Canadian food and food history. I was

one of the first chefs to participate and

proud to do so. I have been fortunate

to receive a gold award each year for

my menu. More chefs have come

to participate over the years and I

believe the country as a whole has

really embraced the event and what

it stands for. The last few years I have

been invited with the other gold award

winners to cook at the James Beard

House in NYC, showcasing a menu

featuring a taste from each winning

chef. It is a wonderful collaboration

of Canadian talent boasting beautiful

ingredients, spirits, wines and beer from

our nation. In 2016, three Canadian Relais

& Chateaux property chefs were gold award

recipients. In 2017 we collaborated on a

combined menu for Food Day Canada, each

of us serving the same menu featuring each

other's dishes: In British Columbia at the

Wickininnish Inn, in Quebec at Manoir Hovey,

and in Ontario at Langdon Hall. Food Day

Canada not only encourages Canadians to

source and cook Canadian ingredients, but it

encourages Canadians to look at new Canadian

foods and to learn and cook together. It is an

inspiring, powerful movement".

Premiere Issue — June/July 2018 | 11

Chef Arron Carley of The Bruce Hotel

in Stratford is another proponent of Food

Day Canada. He originally heard about the

movement through a friend. Carley has been

on mission to imbue and personalize the

Canadian culinary landscape with his own

style and a narrative receptive to the local

terroir and seasons. About his and chef Gilead

Rosenberg's mission to reimagine Canadian

cuisine by redefining and reinterpreting

"Canadiana" on their own terms, Carley says

that he believes every day is Food Day at The

Bruce. "I know that it sounds corny, but it's

true. Every day we celebrate the landscape

of this beautiful nation and strive to use

and showcase more organic and local foods.

It's our ethos to try to only use Canadian

ingredients, and we have stayed that course

for almost three years. We still have so

much undiscovered territory and endless

opportunity in Canada."

Food Day Canada will be held this year

on Saturday, August 3. It is an opportunity

for Canadians from coast to coast to coast

to come together in a national collective

celebration to showcase our time-honoured

culinary traditions and the rich culinary

Executive Chef Arron Carley of The Bruce Hotel in Stratford

Photo Nick Lavery

heritage. The goal as stated by Food Day

Canada "is primarily for celebrating,

appreciating, and supporting local farmers,

fishers, food producers, chefs and researchers

and, above all, our home cook."

Eatdrink Food Editor and Writer at Large BRYAN

LAVERY brings years of experience in the restaurant

and hospitality industry, as a chef, restaurant owner and

consultant. Always on the lookout for the stories that

Eatdrink should be telling, he helps shape the magazine

both under his byline and behind the scenes.
---
Stratford is

more than

great theatre

visitstratford.ca

"A fun place to shop

for housewares and gifts!"

We stock a large selection of your

favourite colours and accessories.

Coming soon ...

Mulberry — Fiesta's Colour of the Year!

WATSON'S

CHELSEA BAZAAR

84 Ontario St. Stratford

watsonsofstratford.com

519-273-1790

stratfordchef.com

REGISTER

NOW

2018 SEASON | Join us for

hands-on cooking classes

and learning experiences

devoted to dedicated home

cooks and food-lovers.

OVER 60 CLASSES | Trade Secrets,

Skills Building, Advanced Cookery,

Wine and more | Class details and

registration on our website.

T 519.271.1414 E admin@stratfordchef.com
---
sum

A restaurant inspired by

local ingredients.

Run by workers.

Owned by workers.

Shared by the Community.

celebrating 122 years in stratford

7 Days a Week

Reservations Recommended

64 Wellington St, Stratford

redrabbitresto.com

519.305.6464

@redrabbitresto

sum

global tapas with local ingredients

fresh cocktails

Perfect for dinner before or snacks after the show

Wednesday–Sunday from 5pm

85 Downie St, Stratford

(next to Avon Theatre)

519.305.8585

85Downie.com
---
14 | June/July 2018 — Premiere Issue

Restaurants

Barbecue and Blues

The Lancaster Smokehouse in Kitchener

eatdrink.ca |@eatdrinkmag

By ANDREW COPPOLINO

A

12-seat restaurant in an

unassuming strip plaza in

north Waterloo, started in

2009 led to the development

of one of Southwestern Ontario's

premier barbecue and blues venues. The

Lancaster Smokehouse in Kitchener's

Bridgeport neighbourhood was the

brainchild of barbecue aficionado Chris

Corrigan, founder and CEO of The

Lancaster Co. Group of Companies.

Corrigan left the world of office

equipment behind him to test his mettle

in the smoky, carbonized pit-master

realm of competition barbecue in the

2000s. It turned out he was pretty darn

good and won some gold. That success

inspired Corrigan and his wife Cathy

to put their hearts and souls — and

smokers — into a bricks-and-mortar

business, and Waterloo's Hog Tails Bar-B-Que

was born. They sold Hog Tails in 2015 (it has

since closed), but only after having expanded

operations and taken over The Lancaster Public

House, a dog-eared Kitchener tavern that

was once an 1840s railroad hotel. Before the

Smokehouse opened in the fall of 2011, they

knew the new venture needed a lot of work.

"It was a huge challenge. We knew that

Putting a local spin on traditional southern cooking techniques

and using quality ingredients from nearby farms has propelled The

Lancaster Smokehouse into the culinary stratosphere.

The Lanc was an iconic landmark as one of

the oldest, if not the oldest, continuously

operating taverns in Waterloo Region, but the

building was very tired. We knew there were

going to be a lot of infrastructure challenges

and when we needed to do one aspect of

reconstruction, something else had to be done

first," Chris Corrigan says.

The investments of time and money, and

the perseverance, paid off. Eight years later The

Lancaster Smokehouse, "The Lanc" in homage to

its public-house history, is going strong, and has

maintained much of the original infrastructure

it had 100 years ago. With the creaky wooden

floor and the pervasive and appetite-arousing

smoky aromas, Corrigan says the busy

restaurant is virtually always at capacity.

He acknowledges that the business came

on board at the very peak of the southern

The Lancaster Smokehouse delivers! Their fullyequipped

food truck can be booked for catering

backyard parties or corporate events.
---
Eatdrink: The Local Food & Drink Magazine

barbecue trend, but it has been the solid

management with his daughter and

co-owner Caitie Agostinho, and corporate

chef and co-owner Tim Borys, along with

consistently good food that has allowed

them to grow and prosper. "We caught

the wave, there's no doubt," he says of

barbecue's popularity. "It has subsided

somewhat though it is still a very popular

style of cuisine. I'm also glad to say that

we were able to take the ingredients and

traditions of Waterloo County fare and

draw on them in ways that complement

the southern barbecue scene."

Despite the market having shifted

toward other styles of food and dining,

The Lancaster Smokehouse keeps

southern barbecue in high demand

by keeping things simple, honest and

plentiful, Corrigan says. It's a full-service

casual restaurant featuring southern

barbecue dishes that are made from

scratch in-house, with the best local

ingredients they can get their hands on,

and using traditional southern methods.

And Corrigan knows from the U.S.

south and low country: he travels there

regularly searching for inspiration and

new ideas and flavours, as well as hitting

every nook-and-cranny of a venue that is

cranking out the blues.

"We continue to explore new foodways

through our travel and research in the

southern U.S. but at the same time, my

heritage keeps our so-called Waterloo

County roots close to how we want to

develop our cooking style," he says. That

means the injection of an occasional

Mennonite country cooking approach to

the Smokehouse menu. "We are known in

the community for barbecue, but there is

a tremendous commonality between the

two styles of food. I believe that people are

trending away from fine dining but do not

want the processed food available in either

fast food or fast casual. We can fill that

void and want to continue to educate our

customers about our goals." He's cautious,

though, and ensures that the menu

doesn't veer too far from the southern

sweet spot of pulled pork, chicken, ribs,

brisket and jambalaya. "If we diverged,

we'd see some customer push-back."

The menu is classic southern U.S. fare,

from pork rinds, fried green tomatoes,

and gumbo to an intensely hot Nashville-

Premiere Issue — June/July 2018 | 15

The Lanc's reputation was built on authentic southern barbecue

with sides like cheesey grits and cornbread but the large menu

also includes entrées such as fried chicken and jambalaya.
---
16 | June/July 2018 — Premiere Issue

Owners Cathy and Chris Corrigan, above, lead an

exceptional team. From top right, their daughter Caitie

Agostinho is a co-owner and HR Manager; Tim Borys

is co-owner and Corporate Chef; Neil Nunnamaker is

Manager of Catering & Events; and Martha Borys is

Master Baker for Crumb Bakehouse, Lancaster Co.'s

in-house bakery and retail outlet.

style "chikan shak" chicken sandwich and

fried shrimp po' boy. Pulled pork rules, as

does the brisket, and (in limited availability)

Flintstone-esque Texas short ribs, along with

sides such as jalapeno hush puppies, cheesy

grits and braised collards. The smokers run

virtually all night and, according to Corrigan's

estimates, in the course of a week the kitchen

prepares about 100 pork shoulders and

another 100 briskets. They will go through

approximately 25,000 racks of ribs in a year.

The bar features only Ontario craft beers

and wines and has a southern-inspired

cocktail list. The sense of local pervades

the outfit's philosophy. "We believe that

small business is the foundation of the local

economy, and family-owned and operated

small business is the cornerstone. That's what

we are. We employ about 60 full- and parttime

staff. Hard working family members, as

we like to call them. We own the real estate

and made a commitment to the community

and the city by reviving and growing a thriving

business in a tough industry. Our taxes, wages

and spending stay in the community. That, I

believe, speaks to the importance of local jobs

eatdrink.ca |@eatdrinkmag

and the economy,"

says Corrigan.

Live music is a

barbecue foundation

at the Lanc too, and

it's an important

component of the

business model.

It takes place on

Wednesday and Friday

nights. Corrigan

himself plays a mean

blues guitar and says,

"We want to provide

local musicians

with a venue for

performances rooted

in the genre." There's

a Smokehouse

food truck and the

restaurant's catering

operation is wideranging

and busy.

Inside The Lanc the

new Crumb Bakehouse

is overseen by baker

Martha Borys. It

serves the restaurant's internal needs and has

a growing retail presence too. The Langdon

Hall alumna makes a variety of pies, cakes,

cookies, bars, milk buns, baguettes, beignets,

cornbread, pastries, and breads of all sorts.

The casual ambiance is enhanced by live music twice a

week. An upstairs room is available for private parties.
---
Eatdrink: The Local Food & Drink Magazine

Sip. Savour. Stroll.

Soak up the sun and

experience the warm lake

breeze on one of Elgin's

many outdoor patios.

Recreate the delicious taste of Lancaster Smokehouse

at home with authentic BBQ sauces and rubs.

Whether it is office equipment or barbecue,

Corrigan has always been keen to ensure

customers have a great experience. "We're

committed to quality local ingredients

from great suppliers, inspired menu

items, authentic southern and Waterloo

County cooking, as well as well-trained and

knowledgeable staff able to demonstrate

southern hospitality." The Lanc, he adds,

continues to work with local food producers

and to promote what he calls "our fantastic

and independent grassroots food movement."

The business has carved a niche in the

Waterloo Region culinary space — one that he

says stills surprises him after a decade, given

the wide range of food and restaurant choices

available to customers.

"I never thought it would be this big,"

Corrigan says with a hint of incredulity.

"I'm proud and delighted that we feed and

entertain a lot of people every day."

The Lancaster Smokehouse

574 Lancaster Street West, Kitchener

519-743-4331

lancsmokehouse.com

monday-saturday from 11:30 a.m.

SoLo on Main

Windjammer Inn

Kettle Creek Inn

ANDREW COPPOLINO is a Kitchener-based writer

and broadcaster. He holds a Master's degree in English

literature from the University of Waterloo and has taught

at UW, the universities of Guelph, Toronto and Toledo,

Conestoga College, and at the Stratford Chefs School.

Andrew has written about food for a large number of

magazines, is co-author of Cooking with Shakespeare

(Greenwood Press) and is food columnist with the Kitchener

Post and CBC Radio Kitchener-Waterloo 89.1 FM. He is

publisher of Waterloo Region Eats (waterlooregioneats.

com) a longstanding online resource dedicated to food,

dining, restaurants, chefs, sustainability and agriculture. In

addition to writing for this magazine, Andrew also serves as

a regional Eatdrink Editorial Consultant.

Visit savourelgin.ca

to plan your next

culinary adventure in

Elgin County!
---
18 | June/July 2018 — Premiere Issue

eatdrink.ca |@eatdrinkmag

Restaurants

Retro, Refreshed

Little Louie's Burger Joint & Soupery in Cambridge

By ANDREW COPPOLINO

Having operated Lily Ruth's

bistro in downtown Galt

for many years, Steven

Allen and his wife and

business partner Rachelle Matlow

decided to close up shop and focus on

their catering contracts, as a way to

reduce the 100-hour weeks that can

characterize the restaurant industry.

But they never expected what happened

soon after they opened Little Louie's

Burger Joint & Soupery.

"We thought that opening a catering

company full-time would free us up

most of the week for our daughter.

Since the building we bought was a

former burger joint, we thought we'd

stay true to the history and would have

been happy selling 20 or so burgers each

lunch. Today, for instance, we sold 300. We

never imagined that evolution. It's crazy,"

Allen says.

Granted, achieving this kind of numbers

in a venue that seats about 30 inside, with

a few picnic tables outside, took a couple of

years. But it still surprised them, and it's

why the Cambridge-based chef and culinary

entrepreneur regularly uses the restaurant

Little Louie's offers a vintage vibe with fresh made-to-order menu

items including the popular "Build Your Own Burger" option

vernacular "getting slammed" to describe his

daily schedule from time to time. What with

overseeing Little Louie's and the catering

enterprises, Allen and Matlow do get pretty

busy.

Open since 2010 the small burger joint

— and joint is the right word — is curiously

tucked in amid residences on Clyde Road

between Franklin Boulevard and Elgin Street

North in Cambridge. It's a wonderfully quirky

decades-old

building, if not

simply a slap-dash

The wonderfully

quirky decades-old

building, tucked into a

residential Cambridge

neighbourhood, is the

result of bolting two old

Dairy Queen buildings

together to create a

popular hotspot for

burgers and shakes

back in the 1970s.
---
Eatdrink: The Local Food & Drink Magazine

Premiere Issue — June/July 2018 | 19

Some specials appear once and are never repeated, while

others develop a cult following and inspire repeat visits

through notices posted on Facebook. At the left is the

Corny Corn Dog Burger, a beef patty topped with corn and

corned beef hash with mayo on an egg bun, garnished

with an all-beef corn dog, served with grilled Gilespie's

construction, apparently with sections of two

old Dairy Queen buildings lined up and bolted

together. That fits precisely and exactly with

the character you'd want in a joint that carries

such an improbable name — and which makes

a mean hamburger, some mighty fine fries,

and malted milkshakes among other dishes.

The building, nestled amidst some scruffy

trees and sitting adjacent to a gravel parking

lot, is reminiscent of the old-school roadside

burger joints that used to open each spring on

the highways and byways heading north into

Ontario cottage country, where the cicadas

drone, the soil gets rocky and the forest

starts to become boreal. It's an image that

Allen appreciates as he details the heritage

of the wooden cottage-like structure. "This

used to be the place to go back in the 1970s

for burgers and shakes. It was

called Henning's, and has been

a plethora of places since,"

he says. "As for the name, my

father was Big Louie, and I

was always called Little Louie

growing up."

Any re-run of the episode

of Food Network's You Gotta

Eat Here!, which featured

Little Louie's a few years

ago, results in an influx of

Garden corn on the cob with housemade herb butter.

Middle photo shows the Louisiana Chicken and Sausage

Soup with cornmeal dumplings. To the right is a dessert

special: dulce de leche-coated pink lady apples covered

in dark and white chocolate with peanut brittle and white

chocolate pretzels.

new customers. That ups the culinary ante:

cooking up a thousand top-quality burgers

weekly is no little feat. It means putting in

some time to achieve the standard expected

by his customers. So the key to success, Allen

intimates, is being there pretty much day to

day. "We're there to manage the business," he

says. Allen has a world of experience, from

cooking in Europe to current duties teaching

in the culinary program at Conestoga College.

He has also operated kitchens in vessels

sailing high into Canada's north, and all of

that experience has been narrowed down now

to checking local farm stores and farm-gate

sales to determine how the menu will look.

As well, Allen is an expert forager, and those

wild discoveries of ramps and fiddleheads

— perhaps pheasant's back mushroom too —

Little Louie's Owner/Chef Steve Allen

with John Catucci from The Food

Network's You Gotta Eat Here! show.
---
eatdrink.ca |@eatdrinkmag

The blackboard menu

always features special

creations. A recurrent

favourite is the "Cape

Breton Surf-n-Turf Burger"

(right) featuring a beerbattered

lobster tail on a

beef patty with coleslaw and tartar sauce, on an egg bun,

garnished with a beer-battered lobster claw fritter.

The Jerk Burger features a banana

pancake and a beef patty topped with

jerk chicken, pineapple salsa and

mayo on an egg bun.

The Montreal Smoked Meat Burger

features a matzo ball and Montreal

smoked meat on a beef patty topped

with onions on an egg bun, garnished

with a battered deepfried pickle.

will quite often find their way onto the menu. "There are a lot

of ways we do local," he says.

As for Little Louie's menu, it appears on chalkboards and

changes regularly. The ordering process is Build Your Own

Burger: you go to the counter, take a little clipboard, pencil

in the several steps, and add your name. Your choices are

dine-in or take-out, followed by the burger size you want, or

a double-beef slider selection. (DiPietro's, a local butcher just

around the corner, grinds the meat daily.)

From the changing burger menu, you choose from 20 or

so condiments, cheeses, and sauces, including fried egg,

olives, sprouts, basil pesto, mesquite and mango. Sautéed

mushrooms will add earthy flavour and release their own

heady juices. Gouda cheese provides a smoky note and the

humble tomato slice offers a slight acidity to enliven the

mixture, along with a few pickled banana peppers. The bread

to hold it all together is a soft, fresh challah-like egg bun

with a hint of sweetness, and enough body in its crumb

to corral everything. There are chicken breast, turkey, and

veggie burger choices, as well as a couple of sandwiches

and five or six homemade soups. "We've done hundreds

of soups," Allen says. He's from Cape Breton, so he knows

how to put together a chowder, chunked up properly with

seafood. Some eastern European in his lineage also gives him

a particular acuity with things like borscht.

Homemade pastries like tarts, bars, and squares come

from the kitchen as well, and are popular with the regulars.

The old-fashioned malted milkshakes derive from malt

that is used to make a simple syrup with vanilla. It's taken

some experimentation to get the balance right, but it forms

the base for the vanilla, strawberry and chocolate shakes.

"Then there are the crazy ones," Allen says. "If I happen to

see Frosted Flakes on sale, I will buy four boxes and make a
---
Eatdrink: The Local Food & Drink Magazine

Frosted Flake Shake. The most popular shake

is the End of the Bar Shake, using pieces of

the dessert bars we bake. For instance, we

might do our version of the Oh Henry! Shake

with the bar trimmings. We'll sell 20 of them

in a day."

While it all makes for a very busy kitchen,

not to mention the catering jobs that

they cover, Allen says he strives to source

ingredients from around him. "The local

aspect of food here is phenomenal. As our

restaurants grow in Cambridge and Waterloo

Region, our access to nearby farmers and such

a range of products is fantastic. I use Oakridge

Acres for many ingredients. The Gerbers are

great, and it saves me from having to go to

10 different farms." It can also mean some

unusual and even exotic local protein: on a

recent menu was emu soup. "I had some emu

in from a local emu farm and made burgers.

With the leftover meat, I made some sausage

and put it in a soup. Surprisingly, it sold like

crazy," he adds.

The quirkiness of the Little Louie's building

and its setting, the retro and nostalgic pylon

sign, and that gravel parking lot all harken

back to burger joints of the past. But the

drive to Cambridge for burgers, fries and

shakes is a lot shorter than to Muskoka, and

the flavour is a vacation in itself. He says his

regular customers know the lay of the land

at Little Louie's, citing a group who make the

trip every Monday. "They want to be among

the first to test out the burger of the week.

I could put anything on a burger — grilled

octopus and corn chutney — and they would

eat it."

Little Louie's Burger Joint & Soupery

234 Clyde Road, Cambridge

519-623-8500

facebook.com/louiesburger

monday–friday 11 am – 8 pm

Sample delicious local eats,

meet inspiring producers and

marvel at the tempting array

of fresh and artisanal edibles.

From farm to table, pork to pies

to pints, discover more

in Perth County!

restaurants

farm gates

ANDREW COPPOLINO is a Kitchener-based writer

and broadcaster. In addition to an extensive background

as a teacher, published author and writer for a variety of

magazines, he is food columnist with the Kitchener Post

and CBC Radio Kitchener-Waterloo 89.1 FM. Andrew is also

the publisher of Waterloo Region Eats (waterlooregioneats.

com) a longstanding online resource dedicated to food,

dining, restaurants, chefs, sustainability and agriculture.

In addition to writing for this magazine, Andrew serves as a

regional Eatdrink Editorial Consultant.

food shops

Find us, follow us!

#DiscoverMore #PerthCounty

@PerthCoTourism

perthcountytourism.ca
---
22 | June/July 2018 — Premiere Issue

eatdrink.ca |@eatdrinkmag

Culinary Retail

Dealing With Dragons

truLOCAL Focuses on the Meat of the Matter

By CHRIS McDONELL

Marc Lafleur describes his

company in a succinct and highly

energetic fashion. His clarity

and confidence come across as

a sincere belief in the value of his company,

but he's also had his presentation fire-tested

in a dramatic forum. Lafleur and his business

partner Greg Quail pitched a $100,000

investment in truLocal, their online local

meat-selling business, on CBC Television's

Dragon's Den show last year (although the

episode aired in January 2018). And things

couldn't have gone much better.

sources fish from a Marine Stewardship Council

(MSC) certified fishery. All products have no

added hormones and are antibiotic-free. Each

shipment is packed in dry ice, so even if a

customer is away at time of delivery, they will

still find everything frozen when they get home.

All boxes include free shipping. The concept

is not overly complicated, and truLOCAL had

already built an encouraging customer base

before the Dragon's Den appearance.

What makes good television doesn't always

make for good business. Although the current

panel of "dragons" are not generally as meanspirited

as in some earlier years, part of the

entertainment value of Dragon's Den seems to

depend upon a few presenters wilting under

pressure or having their proposals shot down

as untenable or even foolish. Even when

deals are agreed upon on air, they frequently

fall apart before formal arrangements are

made. In the case of truLOCAL, however,

the onscreen chemistry led to a successful

partnership. Which is why a link to that

episode is prominently featured on the slick,

user-friendly truLOCAL website.

Spoiler Alert: Lafleur and Quail asked for

TruLOCAL partners Marc Lafleur and Greg Quail went to

CBC Television's Dragon's Den show to seek investment in

their company. The episode aired in January 2018.

TruLOCAL offers a monthly subscription

service to deliver local meat (and meat-related

products such as seafood) right to the customer's

home. Customers "build a box" online, choosing

products from identified local Ontario farms,

such as Top Sirloin Steaks from West Grey

Premium Beef (located just north of Kitchener),

Cheese & Leek Chicken Sausage from Hidden

Root Farm (in Harley ON), or Pork Back Ribs

from Townsend Butchers, which is supplied by

Miller Land and Livestock of Jarvis ON. Seafood

such as wild-caught Alaskan sockeye salmon is

supplied by Kitchener's Caudle's Catch, which

Michelle Romanow (left), a tech entrepreneur and one

of the "dragons" on Dragon's Den, purchased 10% of

truLOCAL and remains an active investor and consultant.
---
Eatdrink: The Local Food & Drink Magazine

Premiere Issue — June/July 2018 | 23

Welcome to a carefully designed collision

of historic character and contemporary style.

Tucked beneath our iconic hotel,

TWH Social is Kitchener's

destination for great food,

community and conversation.

20 Queen Street South, Kitchener

519 745 4321

Toll Free 1 800 265 8749

walper.com
---
24 | June/July 2018 — Premiere Issue

$100K for 7% of their business, and got a

flurry of offers. They parlayed that interest

into selling a 10% stake for their ask, split

between Joe Mimran (Joe Fresh founder)

and Michele Romanow, a tech entrepreneur

and venture capitalist with strong success

in online retailing. Later, Mimran dropped

out of the deal, but Romanow took the 10%

investment herself. "We wanted Michelle's

experience in the digital marketplace," says

Lafleur, noting that the partnership has

brought significant dividends. With the influx

of cash, TruLOCAL was able to double staff

from four to eight people, and is now up to

ten. A move from Milton to a bigger facility

in Cambridge also came this year. Ongoing

consultation is leading to further plans for

expansion. The key component to the success

of truLOCAL, however, remains quality

products and a convenient delivery system.

"Times are changing," says Romanow.

"People want to feel more connected to the food

they're buying. The guys at truLOCAL have

done an awesome job connecting consumers to

amazing local farms and suppliers."

Lafleur is enthused about the products they

sell, but sees the challenges clearly. "All butcher

shops do what we do," he says. "The food system

is broken, though, and most people are buying

A recent truLOCAL informal team get-together

their meat at a grocery store. The butcher shop's

customers understand the difference in quality

meat, but many consumers have never tasted it.

Those are the people we need to reach."

"Local farms have difficulty getting their

products to customers," adds Lafleur. "That's

where we step in. We find the supplier, we vet

them for quality, and then we allow them to

reach the entire province."

TruLOCAL offers a few organic products,

but that is not the focus. Lafleur states that

their goal is to be rated Number One for quality

and availability. Grocery store bargain hunters

will find prices high, but those accustomed to

paying for quality will find prices fair. Certainly

the convenience is worth something too,

and all orders ship free. Customers can skip

a month when they want without penalty, or

increase their order when they want.

Customers asked for a sugar-free, nitratefree

bacon, and truLOCAL found a producer

to create that for them. You won't find that

bacon anywhere else, but it's not for everyone,

if you love the traditional taste of bacon. The

100% grass-fed beef bone broth they offer,

however, has been immensely popular. There's

also great demand for more seafood, including

wild -caught yellow lake perch and pickerel

from the Great Lakes. And at this time of year

especially, truLOCAL sees large demand for

their suggested "BBQ Boxes," with one curated

for seafood, another for steak lovers, and a

variety pack. As always though, customers can

customize their purchase as they choose.

TruLOCAL

226-929-1280

www.trulocal.ca

TruLOCAL products are individually vacuum-sealed

(above) for convenience, then packed in dry ice (below)

for home delivery, so they stay frozen even all day.

CHRIS McDONELL has worn a number of hats over

three decades in the publishing industry, including graphic

artist, writer, editor, sales rep and delivery person. As

Publisher/Owner of Eatdrink, which he founded in 2007, he

utilizes all of those skills.
---
Eatdrink: The Local Food & Drink Magazine

Premiere Issue — June/July 2018 | 25

Sandwich Brewing Co. | Windsor

History pours out of this place,

on the Barrels Bottles & Brews Trail.

Uncover behind-the-scenes development and production

of dozens of area distilleries and breweries. Tap rooms and

tasting lounges welcome you with open bottles.

Get your BBB Passport and info at: barrelsbottlesbrews.ca

#BARRELTRAIL | #BREWERYQG | visitwindsoressex.com
---
26 | June/July 2018 — Premiere Issue

eatdrink.ca |@eatdrinkmag

The BUZZ

Culinary Community Notes

Compiled by ANDREW COPPOLINO, BRYAN LAVERY and THE EDITORS

This column consists of regional culinary

information, including a large scoop of

local news and inside information. There

is no charge to be included here, and we

encourage chefs, restaurateurs, brewers, fundraisers,

culinary artisans, farmers — and everyone else with

information to share — to send us details. Short and

sweet! We want to include as many items as possible.

See the end of this column for contact details.

Kitchener

The Berlin, the much-heralded restaurant in

downtown Kitchener, has closed. It will re-open as

The Rich Uncle Tavern, offering gastropub fare,

according to owners The Ignite Restaurant Group.

Executive chef Ben Lillico came on board after The

Berlin was opened by chef Jonathan Gushue (who

recently left for Fogo Island, Newfoundland). He

says the menu will focus on shareables and small

plates. The plan is to have the new concept open

and serving by June. www.richuncletavern.ca

A few blocks west of The Uncle on King Street, San

Francisco sandwiches has closed. The window is

emblazoned with "La Cucina" — but it has nothing

to do with the new pizza and pasta place with the

red awning in the west end called La Cucina, a sister

restaurant to the Guelph Italian upscale casual

restaurant. Kitchener's version has wood-fired

pizza, house-made pastas and other simple Italian

fare. lacucinakitchener.com

The Ignite Restaurant Group is also in the process

of construction on Red Circle Brewing Co., Graffiti

Market and Red Circle Coffee Co. at Catalyst137

in Kitchener. Co-owner Neil Huber tells us that

they have other projects that they're looking to

announce in the near future.

Belmont Village, nestled between downtown

Kitchener and uptown Waterloo, continues to grow

as a self-sustaining food destination — and that

quality is only amplified with Arabella Park Beer

Bar clocking in at No. 46 among the top 50 bars in

Canada, according to canadas100best.com. Chef

Byron Hallett combines innovation with classic

and modern ideas to create playful and shareable

cuisine that pairs well with beer. The cocktail that

you should try there is a pint of Cascade Brewery

barrel-aged triple ale with marionberry and Meyer

lemon. arabellaparkbar.com

Other notables in Belmont Village are restaurant

landmarks like Café Rugantino and Janet Lynn's

Bistro. Check out The Culinary Studio for cooking

classes, Rawlicious for plant-based and gluten-free

cuisine. The smartly appointed Wilhelm's Café +

Bar (the name draws inspiration from a mysterious

lost bust of Kaiser Wilhelm 1 ) is a stellar spot for a

meal and drinks. The Belmont Bistro, located next

door to gourmet coffeehouse Berlin Bicycle Café, is

where Chef Brandon Gries, a Stratford Chef School

alumnus, creates dishes from scratch, taking no

shortcuts and changing the menu seasonally.

Restaurateur Zafar Quazi was born in Bangladesh,

studied civil engineering in Ukraine, and worked

six years running restaurants in Great Britain

before coming to Canada. In Scotland, he met his

Ukrainian wife Olena, and their first Canadian

endeavour was in Brantford, followed by the

Tandoori Grill in Fergus. Great success came with

his celebrated Raja Fine Indian Cuisine in Stratford.

Three years ago, Quazi set his sights on Belmont

Village. The Raja serves upscale Indian cuisine

in sophisticated and elegant surroundings by a

knowledgeable, well-trained staff. The service is

white linen, deferential and friendly. After being

seated, diners are offered crisp, crunchy poppadum

served alongside a dazzling selection of vibrantly

coloured condiments, ranging from sweet to sour to

spicy, to get the taste buds tingling. rajakitchener.ca

Mark June 25 on your calendar for a mid-day tasting

menu event. It's the inaugural Signatures: A Taste of

Waterloo Region's Best. The lunchtime taste testing

and fundraiser for Parkinson Society Southwestern

Ontario takes place at Catalyst137 on Glasgow

Street, Kitchener, from 11:30 a.m. to 1:30 p.m.

Waterloo Region restaurants and catering companies

share their signature dishes, and participants

include B Elegant Catering & Event Planning, Big

Jerk, Bobby O'Brien's Irish Pub, Chef D, Gusto &

Beckford Catering, Liaison College of Culinary

Arts, Mamma D's Delicious Eats, McCabe's Irish

Pub, Meals without Madness, Reid's Chocolates,
---
Eatdrink: The Local Food & Drink Magazine

Shawerma Plus, Taste of Seoul, The Park Hill, The

White Rabbit, Watchtower Restaurant, Wooden

Boat Food Company and ZOUP. Tickets are only $20

and include food and entry into multiple draws and

giveaways. parkinsonsociety.ca/event/signaturestaste-test-waterloo-regions-best

From restaurateur Darryl Haus and Grand Trunk

Saloon, look for The Grand Surf Lounge to open on

Ontario Street near Charles. Haus calls it a bar and

lounge "with a focus on rum, big fruit-based drinks

and escapism." While he can't quite describe the menu

yet, he says it's inspired by Polynesian pop culture. As

for the entire concept, he says, "It looks pretty cool. I'm

really digging it." grandsurflounge.com

Shinla Korean at King and Scott in downtown has

closed. That leaves a dearth of Korean in downtown

Kitchener. In the west end, four restaurants on

the south side of King Street have closed (due to

land appropriation for a major new residential

development between Francis and Water streets).

However, Rana Taste of Turkish (ranaturkish.com)

still has its University Avenue location at Regina Street

in Waterloo. Unity Baking (www.unitybaking.com)

has moved to 1 Water Street North in Galt, Cambridge,

and is scheduled to open again soon. Latina America

Grocery and Eatery is now at 1120 Victoria Street

North, Kitchener. Check it out for pupusas, tamales,

churros and more. americalatinavariety.ca

Having built a considerable reputation, the very busy

Crazy Canuck (across the street from St. Jacobs

Market) has added a new location in downtown

Kitchener at 30 Duke Street West (the RBC tower). It

often pairs up with its Apollo Cinema neighbour for

movie and snack events. thecrazycanuck.ca

Look for The Falls Road Pub (thefallsroadpub.ca) to

open this May on Victoria Street at Lancaster. A small

food and beverage hub is growing in the area. Nearby

are the new Public Kitchen and Bar, Jimmy's Lunch,

Sam's Kitchen, and Descendants Beer and Beverage

Co. The cheekily named wine and charcuterie venue

Swine and Vine (swineandvine.ca) has taken over the

former Public space on Lancaster.

The Culinary Studio's new food venture is now open

on the second floor of the Communitech building:

The Well Food Co. has taken over kitchen space

left behind when Google moved to its magnificent

campus across the street. While not open to the

public, The Well Food Co. will happily provide its

catering services to the community. thewellfoodco.ca

Charcoal Group offers unique dining packages.

Book a chauffeured luxury stretch limousine for

eight people and ride in style to a "progressive

dinner" to up to five different Charcoal Group

Farm to table award winning

hand crafted alpine style cheese

Tuesday to Friday 9am–5pm

Saturday 9am–4pm

Stonetown Artisan Cheese

5021 Perth Line 8

St. Marys ON

Gift Baskets &

Gift Boxes

Cheese Trays

Fondue & Raclette

519-229-6856

info@stonetowncheese.com

www.stonetowncheese.com

growers & creators of fine lavender products

DISCOVER

Steed & Company Lavender, part of a

45-acre horse farm just outside of Sparta

INDULGE

in our unique handcrafted lavender products

ESCAPE

in the wonderful scent and

calming powers of lavender

519-494-5525

47589 Sparta Line, Sparta

buds@steedandcompany.com

Open Wed–Sat 10-5; Sun 12–4

Mother's Day to Dec. 19

PLUS June–Labour Day: Tues 10-5

www.steedandcompany.com

Annual

BLOOM

CELEBRATION

June 16 to

July 15
---
28 | June/July 2018 — Premiere Issue

locations. Enjoy a different course and beverage at

each stop. Suggested destinations include: Charcoal

Steakhouse, dels Enoteca Pizzeria and Martini's

in Kitchener; The Bauer Kitchen, Wildcraft Grill

+ Bar in Waterloo; and Beertown Public House in

Waterloo, Cambridge and London, and the familyfriendly

Moose Winooski's in Kitchener is also in

the Charcoal Group fold. Great for company parties,

celebrations or just a luxurious night out, other

custom options are available. Call 519-894-0110 or

go to charcoalgroup.ca/events.

Foodtruckers at Breakfast Blues and Barbecues are

building a bricks-and-mortar version of barbecue at

the former Sing Lee Chinese Restaurant at 105 Victoria

Street South, between Oak and Michael. The word is

that they will be open by June. breakfastblues-bbqs.ca

Meticulously designed, The Walper Hotel provides

a unique, modern boutique experience. Built in

1893, architects combined contemporary building

technology with the best of the hotel's heritage

features during the hotel's most recent refurbishment.

The Lokal is the striking piano bar and lounge on

the second floor. We enjoyed craft cocktails and

conversing with friendly upbeat staff in TWH Social,

the subterranean bar/bistro. Chef Jeff Ward — his

business card identifies him as Chief Cook and Bottle

Washer— has a culinary pedigree that includes

Stratford Chefs School, Langdon Hall, Toronto's Canoe

and Auberge du Pommier, and Kitchener's former

Marisol. The menu is touted as "local ingredients

done well, with a thoughtfully sourced menu focused

on sustainability and diversity." Breakfast at the

Barristers Lounge is a treat. walper.com

New to Waterloo Region, and about to open, is The

Wooden Boat Food Company. The brainchild of

Chef Thompson Tran, Wooden Boat has floated in

from south Vancouver and now resides on Hurst

Street alongside a couple of other food and beverage

businesses, creating a small food hub. The company

is a food store for authentic Vietnamese sauces and

a take-away shop for banh mi, Vietnamese fried

chicken, shredded rice paper salad, sticky rice and

more. Says Tran, "We're using local, sustainable highquality

ingredients to make authentic Vietnamese

dishes. There's a motif from the mid-1970s, the

time of the Vietnamese boat people, with black and

white pictures, some memorabilia from the era,

and a television playing old MuchMusic videos."

woodenboatfoodcompany.com

LOT42 is a 17-acre "global flex campus" providing

a unique collection of flexible spaces for use in the

arts, technology, manufacturing, athletics, and

community events, at 41 Ardelt Place. Expect to see

more concerts and public events here, in addition to

eatdrink.ca |@eatdrinkmag

private and corporate gatherings. Amongst Lot42's

partners are B•Hospitality, the owners of the

Cambridge Hotel & Conference Centre, B•Elegant

Catering, The Bruce Craft House restaurant and

The Bruce Caboose food truck. Promising event

services with "a commitment to crafting incredible

guest experiences that leave a lasting impression,"

here's a great resource for your wedding, special

event or festival. lot42.ca and bhospitality.ca

Gilt is an open, airy and sophisticated resto

with a millennial vibe in the heart of Kitchener's

Innovation District that recently celebrated the

fourth anniversary. Owned by Trella White and Chef

Stephanie Randall, the bar, lounge and 65-seat

restaurant on the ground floor of the office tower at

305 King Street West is their second venture; they

also operate Cork Restaurant in Elora. Chef de cuisine

Alex Janke has been at Gilt since the beginning, and

incorporates his favourite Thai and Mexican flavour

profiles while using local ingredients, but expect

pleasant surprises. Korean Fried Chicken with honey

bourbon and hoisin has a super crunchy kick. Janke

serves an excellent steak tartare. Try the Curried

Oxtail Gnocchi with dukkha sweet potato gnocchi,

candied ginger cream, parsnip chips and curried

tomato butter. giltrestaurant.ca

Relish Cooking Studio has moved to its new home

in downtown Kitchener at 70 Victoria Street North.

relishcookingstudio.com

Abe Erb Brewing Co.'s brewhouse, in the Tannery

building near the corner of King and Victoria, boasts

a full production facility on site, including a canning

line. Part of the appeal of Abe Erb is pairing both

brewing and restaurant experiences. The tongue-incheek

mission statement reads "Our trifecta is the

combination of beer, food and live entertainment.

We take your patronage as seriously as we take our

beards and moustaches." abeerb.com

Public Bar and Kitchen is a small, indie restaurant

on Lancaster Street, in one of Kitchener's oldest

neighbourhoods. Chef/co-owner Ryan Murphy and

partner Carly Blasutti take pride in making small,

shareable plates and well-crafted cocktails. The

Spanish-themed chalkboard menu changes on

an almost daily basis. Think, potted foie gras and

chicken liver pate with house-cured pickles and

sherry gastrique or crostini of salt cod brandade with

shaved Manchego and pickled shrimp banderilla.

The wine list features new and old world wines and

there is an all-Ontario craft beer list. kwpublic.com

For more than 140 years, the Kitchener Farmers'

Market has offered meat, produce, dairy products

and more. Saturdays 7 am–2 pm year-round.
---
Eatdrink: The Local Food & Drink Magazine

Premiere Issue — June/July 2018 | 29

Upstairs, check out the International Cuisine

Vendors, Tuesday–Friday 8am–3pm and Saturdays

7am–2pm. 300 King Street East, with parking lot

entrance on Cedar St. kitchenermarket.ca

Waterloo

Waterloo native and "Chopped Canada" champion

Chef Trevor Ritchie is headed to Le Bocuse d'Or in

Lyon, France, in January 2019. The George Brown

culinary instructor, formerly of Benjamin's in St.

Jacobs and Langdon Hall in Cambridge, won silver

in a qualifying competition in Mexico. Assisting

Ritchie will be commis Jenna Reich and coach

James Olberg, a Kitchener native.

It took Paul Boehmer 25 years to open a second

restaurant in Waterloo. The Region's long-standing

anchor of south-east Asian food, Bhima's Warung,

now has a long-awaited sister, Loloan Lobby Bar.

Specializing in cocktails as well as items such as a

lobster bisque Escoffier in the style of the Connaught

Hotel (Mayfair, UK, not Hamilton), Loloan is located

on Princess St. a block or so north of King at Dorset.

"It will invoke memories, transporting guests to a

place and a time of class and craft, a culmination

of travels, studies, work, friendship, life and love,"

Boehmer says. loloanlobbybar.com

Formerly at 105 King Street North in Waterloo, and

having looked a little dog-eared, Empress of India

is relocating a few blocks to 34 King St. S, Waterloo.

Grin and Grind Holdings, the team that developed Abe

Erb, has created Settlement Co. in uptown Waterloo.

The urban café blends old-world, traditional craft with

modern Scandinavian elements. It is part café, coffee

roaster, social hub and cocktail lounge, featuring

contemporary café cuisine and offering a toast and

waffle bar. settlementco.ca

Baker Sasa Duricin has opened Legacy Bakery,

specializing in eastern European pastries and breads,

on Weber Street East at Montgomery. Favourites are

the burek and the classic Russian Hat, a layered cake

and cream pastry with coconut. legacybakery.ca

Located in the busy food and beverage area near

Wilfrid Laurier University, Lana's Lounge opened

in April with the goal of being a local-music based

lounge and a full-service restaurant geared to

people who want a quiet venue to enjoy food and

drink. lanaslounge.ca

Check out the 88-year-old Harmony Lunch in

uptown Waterloo replete with its silver-circle

swivel chairs and a menu of home-style classics

that include a Fried Chicken Sammy, The Pig Mac,

Award Winning

Artisan Cheese

Come Experience Our World!

Visit our cheese shop and sample our

unique handmade cheeses.

See and learn about how cheese is made.

Enjoy the scenery on our 3-generation family farm.

Group tours are available by reservation.

MON-SAT 9-5

445172 Gunn's Hill Rd, Woodstock, ON

519-424-4024

www.gunnshillcheese.ca

Introducing Simple Monthly Meat Delivery.

ORDER

ONLINE

Monthly Meat & Seafood Delivery

(226) 929-1280

trulocal.ca

Enter Code EATDRINK10

to receive 10% OFF
---
30 | June/July 2018 — Premiere Issue

Vegetarian Bun-pology and Grilled Cheese on white

bread with processed cheese. The landmark has

been revitalized by The Fat Sparrow Group which

also operates the ever-popular Taco Farm that

supports local farms and farmers. Be sure to try the

crispy fired cod with cabbage crudito, farm sauce,

cilantro and Jake's garlic chilli sauce. Also worth

a visit is the 1870s-livery-stable-turned-casualfine-dining-restaurant

Marbles, and ten-year-old

Nick & Nat's Uptown 21, now an event venue, offers

lunch service from 11:30-3, Tuesday-Friday.

Ethel's Lounge is the go-to-place for jazz and

blues and al fresco drinking and dining. Highly

recommended by are the nightly specials,

standouts being Ethel's burgers and signature

meatloaf served with beef- mushroom gravy and

scalloped potatoes. ethelslounge.com

Cambridge

Undoubtedly a gem in the crown of Waterloo Region

dining, Langdon Hall Country House Hotel and Spa

has staked its claim among the best in Canada. It

was recently selected as the No. 5 Best Restaurant by

Canada's 100 Best. Executive chef Jason Bangerter

credits the entire Langdon staff. "What a wonderful

achievement to have the passion and hard work of the

entire team recognized for this distinction. We are all

thrilled at this, and I personally am honoured to work

with such talented individuals." langdonhall.ca

Cambridge Farmers' Market, started around 1830,

is one of the oldest farmers' markets in Canada. The

40 Dickson Street location includes a one-storey

structure built in 1887 and a two-storey structure

built in 1896. Learn what's in season and experience

everything the market has to offer through an

interactive market map and comprehensive vendor

directory, and stay up-to-date on the latest market

events and programs at cambridgefarmersmarket.ca.

Open Saturdays from 7am to 1pm year-round, and now

open Wednesdays from 8am to 1pm until October 3.

The downtown Hespeler Stables Farm to Fork

Bistro, a breakfast and lunch venue, has closed

after only a few months, as has The Loose Grape on

the main drag in Preston.

After eight years operating Napa Grill & Wine Den at

the corner of Park Hill & George St., Sandra and Dirk

Boer have rebranded the restaurant as The Parkhill.

Notable changes include the addition of Head Chef

Denis Hernandez and Sous Chef Graham Barr and

a new menu. Classic food with a modern twist is the

theme, with local fresh ingredients and everything

made in house, including the butter. New website

and Facebook page coming but for now go to fb.com/

Napa-Grille-and-Wine-Den-139328466114875

eatdrink.ca |@eatdrinkmag

Guelph & Wellington County

Long before it was a full-fledged movement,

restaurateur Bob Desautels began procuring

local ingredients for his restaurants. His culinary

ensemble, The Neighbourhood Group, has supported

local farmers and fishers, brewers and winemakers

for many years. Desautels and his son Court

Desautels are proponents of Feast ON, a criteriabased

certification program run by Ontario Culinary

Tourism Association that recognizes businesses

committed to sourcing Ontario grown and made

food and drink. The program helps diners identify

and experience restaurants (ontarioculinary.com/

restaurants) that champion our Ontario food system,

using both verification and enforcement mechanisms

to maintain its integrity. Among the Neighbourhood

Group's Feast ON-certified restaurants are The

Woolwich Arms & Arrow, better known as The

Wooly, a pub/restaurant located in a 115-year-old,

beautifully restored Victorian home; Miijidaa Cafe

& Bistro (from the Ojibway language meaning "let's

eat") and The Borealis Grille & Bar in Kitchener and

in Guelph. neighbourhoodgroup.com/restaurants

Supporters of local food and drink should also

check out Transparent Kitchen, a platform that

connects diners to restaurants, their suppliers

and their local food and sustainability initiatives.

Customers can visit restaurant websites and see

photos of beautifully prepared dishes, then click

for more information about the menu, the farms

and producers where the ingredients come from,

and the restaurants' and chefs' philosophy. Local

participants now making their kitchens "transparent"

include Guelph's Atmosphere Cafe + etc at 24 Carden

Street, The Neighbourhood Group's Miijidaa Cafe &

Bistro (with Chef Shea Robinson) and Borealis Grille

in both Kitchener and Guelph. transparentkitchen.ca

Chocolats Favoris, a Canadian artisanal chocolate

shop and creamery, opened a location at Clair

Marketplace, 20 Clair Rd. W., in April. An in-store

station is dedicated to dipping soft-serve ice cream

in 12 exclusive chocolate flavours, and take-home

offerings include canned chocolate fondue and fine,

handcrafted chocolates. chocolatsfavoris.com/en

A craft beer-inspired five-course dinner with

beverage pairings will launch EatStreet: A Brewers'

Feast at Old Quebec Street, June 16, from 7:00pm–

midnight. Featuring the talented chefs of Bin23,

Delhi Street Bistro, Elizabeth Street Eatery, KB

Sweets & Royal Electric, and with Taste of Craft

cheese pairings, local foods will be featured, paired

with a cider or craft beer from Heartwood Cidery,

Wellington Brewery, Royal City Brewing Company,

Sleeman and Brothers Brewing Company. This
---
Eatdrink: The Local Food & Drink Magazine

sit down harvest table dinner for 100 will include

animated discussions about the food and the chefs.

Following the dinner, the venue will open for a postdinner

street party with Ecelctic Vinyl Orchestra

(EVO), beer garden style with all Guelph breweries

present, with more drinks, even more food and a

whole lot of dance. Get tickets at eventbrite.ca/e/

eatstreet-a-brewers-feast-tickets-46010979077

The 13th annual Taste Real Guelph Wellington Local

Food Fest will be held June 24, 11am–4pm. Watch food

skills demos and pick up fresh, delicious and real local

food. Learn about mushroom growing and foraging,

sausage making, fermenting and composting, backyard

chickens, cider making and fish butchery through

free workshops offered throughout the day. This was

the winner of Ontario Culinary Tourism Alliance's 2015

"Event of the Year." Ignatius Jesuit Centre, 5420 Hwy

6 North, Guelph/Eramosa. Admission is a minimum

donation of $5 per person, $10 per family. wellington.

ca/en/business/tr-localfoodfest.aspx

Lighthouse Lemonade is "Summer in a Bottle" ... all

year round! This all-natural heritage cordial has deep

Maritime roots with the recipe dating back to before

Confederation (1867). It has only six ingredients and is

crafted in small batches in a solar-powered facility in

something

for

EVERYONE

Cambridge Farmers'

Market

Saturday Year Round

7:00am - 1:00pm

Wednesday Seasonal Market

8:00am - 1:00pm

June 6 - October 3

www.cambridgefarmersmarket.ca

WHERE TASTE REIGNS SUPREME

FINE INDIAN CUISINE

Stratford

10 George St. W.

519-271-3271

Kitchener

725 Belmont Ave. W.

519-208-2811

rajaindiancuisine.ca
---
Discover Heather's

Incomparable Journeys

The Slow Roads of Ireland

Sept 5–24, 2018. Maximum 18 travellers.

Call for info and to reserve your spot!

Heather's Journeys are small groups handcrafted

to enjoy culture, history, architecture, scenery and

unique experiences. We travel the slow roads to

charming tidy towns, music-filled pubs, ancient

tombs and castles. We take time to enjoy leisurely

walks, gourmet food and welcoming country

hotels. You won't find another itinerary like it.

www.heathersincomparablejourneys.ca

For any and all of your travel needs

519-473-8591

Heather Wilkinson

31 Nottinghill Gate, Suite 203,

Oakville ON TICO#50013851

Travel

Industry Council of Ontario

Fergus. Drink, bake, cook — the options are limitless

for lemonade. lhlemonade.com

The Townships & Beyond

The 1870s Baden Hotel, also known as EJ's

Restaurant and Tavern, has closed and is re-opening

as The Baden Brewery and Restaurant. Waterloo

resident Abhay Patel says that a brewpub will be

built on-site and will eventually include a retail store

for merchandise and suds. thebadenbrewery.com

Farm tours are available at Stonetown Cheese,

an on-farm cheese plant and purveyor of Swiss

mountain-style cheeses. Hand-crafted by master

cheesemaker Ramon Eberle using unpasteurized

milk from farmers Hans and Jolanda Weber's herd

of Holsteins, Eberle creates nearly a dozen types of

Alpine-inspired cheese. 5021 Perth County Line 8,

St. Marys, stonetowncheese.com

A highlight of the Oxford County Cheese Trail — an

enjoyable culinary experience exploring every facet

of cheese — is a visit to Gunn's Hill Artisan Cheese

outside Woodstock. Sample a large outstanding

variety of handcrafted cheeses or book a tour.

gunnshillcheese.ca and tourismoxford.ca

The Open Kitchen program is a direct result of building

the Stratford Chefs School kitchens at 136 Ontario

Street. The school now welcomes the public, not just

eatdrink.ca |@eatdrinkmag

as dinner patrons, but also as active learners. Public

cooking classes has, in return, opened the door for new

community partnerships. Bradshaws & Kitchen Detail

is the 2018 Open Kitchen Season Partner, providing

students with the knives, wine glasses, and kitchen

tools used during the classes, as well as take-home

gifts offered with select classes. The annual Stratford

Chefs School's Long Table Dinner, affectionately

called the friend-raising event, takes place Sunday,

September 9. stratfordchef.com

Perth County Slow Food Market goes outdoors

starting Sunday, May 6. Enjoy Perth County's local

produce, meats, breads, cheese, coffee, pastries,

preserves, prepared foods, handmade artisanal

products, and gluten-free and vegan options in

Stratford's Market Square from 10 a.m. to 2 p.m.

on Sundays until Thanksgiving. Parking is free on

Sunday in downtown Stratford.

Smoke afficianados are invited to Cigar Night

in Stratford for a celebratory roast beef dinner

(with three cigars included) on Thursday, June

21. Sponsored by Stratford's The Buzz Stop and

importer Kretek, the event will take place at the

Army Navy Air Force club, 151 Lorne Ave. E, in

Stratford. Tickets are $40; call 519-273-6768.

Celebrate pork in Stratford, in June. Take the

Stratford Bacon & Ale Trail, a self-guided tasting

tour of delicious pork and beer-inspired treats

at selected restaurants and pubs. Stratford also

welcomes the Ontario Pork Congress (June 20-21),

Canada's largest pig trade show, which brings

together all segments of the pork industry to

showcase new technologies, get educated about the

latest issues and celebrate a healthy, vibrant sector.

visitstratford.ca/culinary-adventures#trails

Summer season at Stratford's The Red Rabbit means

the return of the pre-theatre menu (fixed price) and

to being open 7 days a week. Their sister location,

Okazu 85 Downie, is Stratford's hot spot for delicious

chef-inspired cuisine and the perfect late-night stop

for grown-ups. Join them for dinner to taste global

fusion prepared with local inspiration or stop by for

innovative, fresh cocktails shaken or stirred by the

fabulous staff until the wee hours. redrabbitresto.

com and OkazuSnackBar.com

We want your BUZZ!

Get in touch with us at editor@eatdrink.ca and/or

connect directly with our Social Media Editor Bryan

Lavery at bryan@eatdrink.ca

Submission deadline for the next issue is July 5.
---
Eatdrink: The Local Food & Drink Magazine

Premiere Issue — June/July 2018 | 33

Beer

A Toast to Spring

A Shoulder Season Six-Pack

by GEORGE MACKE

With the weather finally becoming

spring-like, it's time to bask in

some free vitamin D, and some

tasty vitamin B from the talented

craft brewmasters of Southwestern Ontario.

It's too early for sessionable lawnmower

beers and we are very keen to move on from

post-snow shovelling stouts; we find ourselves

in a beer shoulder season. What to do and how

to please your friends? May I suggest a six-pack

blend of memories and summer optimism?

A caveat: Even on the deck, friends don't let

friends drink premium craft beer from a can

or bottle. A big part of the flavour experience

comes from the nose and allows appreciation

of colour when held up against the shining

sun. Nonic pints or shaker glasses are great

all-round glasses for most beer styles.

Walkerville Road Block

Doppelbock — Sure, it's been

on the shelves since February

and LCBO stores are down to

the last few cans. But this big,

strong, German-influenced doppelbock

makes a fitting farewell

to a winter that lasted too long.

The beer was previously

marketed

as Dark

Winter Lager, but

how boring is

that? Walkerville's

marketing

minds

rebooted it

as Road

Block,

in honour of the famous six-cylinder, bigwheeled,

big-bodied Studebakers that were

once built in Windsor and were popularly used

by Prohibition-busters. Despite its bock nature

and what for many will be a one-and-done 7.5

per cent alcohol content, Road Block is a surprisingly

smooth and fast ride past the palate.

At 35 IBU, it's not for hop-heads, meaning it's

a great introductory beer for those mistakenly

stuck in the notion that fine craft beer equals

bitter IPAs. $3.15 in 473 mL cans at the LCBO.

Sons of Kent 8 Track XPA — Vinyl albums

have come back, ditto cassette tapes. But the

clunky, unloved 8-track, best remembered

for playing in a non-stop loop

in circa 1970s cars and seemedlike-a-good-idea-at-the-time

quadraphonic home stereos,

lie forgotten in junk drawers or

crushed in landfills. Its memory is

rekindled with this delicious Sons

of Kent conversation-starter,

brewed in an American pale ale

style and, as the brewery itself

brags, it features taste that hits

you from multiple angles. In 8

Track XPA the "x" is for "extra"

5.7 per cent alcohol and 57

IBU, and it should have

broad appeal among

all beer-drinking

guests. $3.25 for a

473 mL can at the

LCBO.

Continued ...
---
eatdrink.ca |@eatdrinkmag

Look for

us in the

LCBO!

FAMILY OWNED & OPERATED • PROUDLY BREWED IN LONDON

1030 ELIAS STREET, LONDON • 548-888-ALES

Forked River Capital Blonde — London's

five-year-old Forked River nailed it early

with this beautifully versatile blonde ale.

A Canadian Brewing Award winner in its

style class a year after Forked River

started brewing it, Capital Blonde is a

light 4.7 per cent alcohol so it can be

consumed in multiples. As a brand,

it benefited greatly last year from

a reboot that introduced fans to

a blonde-bearded hipster on the

label, providing the cool vibe it

deserves. Capital Blonde's strength

is not as a sessionable beer but as

a food partner, paired with dishes

ranging from standard barbecued

hamburgers to tomato-based Italian

food and spicy Mexican. This is a

craft beer to have in the fridge at all

times, May through September. $2.95 for a 473

mL can at the LCBO, the brewery's online store, Beer Store

and select grocery stores.

Grand River Brewing Tailgate Lager —

Nothing says Waterloo Region like its most

famous watercourse, the Grand River, and

by extension, Grand River Brewing. The

Cambridge craft brewer has this

lager in significant distribution

and, since every springtime deck

gathering needs a lager within

reach, why not choose this one?

Tailgate Lager — it's at the Beer

Store in Waterloo Region and

Guelph and LCBO — is 4.5 per cent

alcohol and a not-bitter 15 IBU. Its

tagline is the "beer less travelled."

Think of it as the lager equivalent

of buying bread from a bakery instead of the

supermarket. As with blondes, lagers like this

are crowd-pleasing, and kings of the burgerpairing

domain. $3.10 for a 473 mL can.

Elora Wandering Monk Belgian

IPA — A gold medal winner at the

2017 Canadian Brewing Awards, the

Elora brewer channelled his or her

inner bitter monk to give us a beer

to ponder and discuss. Careful

sipping should reveal flavours of

white grapes, blueberries, and

tropical fruit. It's a seasonal, in

shareable 500 mL bottles, and at

the tail end of its availability, so

grab it when you see it. Wandering

Monk is 8 per cent alcohol and

balanced. Its IBU is unavailable.
---
Eatdrink: The Local Food & Drink Magazine

It goes without saying this beer is best enjoyed

in scenic Elora, but your deck is a fine second

choice. $6 for a 500 mL bottle at the LCBO.

Innocente Fling Golden Ale — This ale

from Waterloo's gem of a craft brewer,

Innocente Brewing Co., is an easy-drinking

craft beer featuring notes of orange sorbet

on the nose. Do not allow your

friends to draw a line between

this and the Molson Golden

they might've thought was hip

when you all were in college. As a

golden, Fling is an alternative to

lagers, but delivers more interest

than those straightforward thirst

quenchers and holds potential

as a conversion beer, handy for

bringing your macro-beer friends

who disdain the bitterness of hops into the

world of craft beer enjoyment. $3.10 for a 473 mL

can at the LCBO.

Road Trip!

Come to the Cowbell Farm in Blyth, Ontario

"THE NO.1 CRAFT BREWERY IN CANADA TO VISIT."

—WAYNE NEWTON, FOOD & DRINK JOURNALIST

GEORGE MACKE is a Southwestern Ontario craft beer

explorer who spends too much time at the LCBO.

40035 BLYTH ROAD, BLYTH, ON N0M 1H0

1-844-523-4724 WWW.COWBELLBREWING.COM

BLACK SWAN

BREWING COMPANY

STRATFORD • ONTARIO

It's what we drink.

144 DOWNIE ST, STRATFORD

BLACKSWANBREWING.CA 519 • 814 • 7926 @BLACKSWANBREWINGCO
---
36 | June/July 2018 — Premiere Issue

Wine

Rosé-Coloured Glasses

The Trending Wine for Summer

eatdrink.ca |@eatdrinkmag

by GARY KILLOPS

Over the last few summers rosé wines

have been gaining interest from

savvy wine drinkers. The LCBO

reports that rosé wine sales have

jumped 17 per cent to $46 million in the last

two years. And most of this is not the massproduced

sweet white zinfandel that gave rosé

a bad reputation.

Many of these rosés are dry. They

are excellent summertime sippers

and perfect for many summer food

pairings, such as salads, light pastas,

spiced curries and rice dishes,

shellfish, grilled fish, fried perch,

feta, and fresh goat cheeses. Rosé

will often work well when a

red or white wine might

be too big for the dish.

Dry rather than

sweet is the difference

in these

rosés, and with elevated acidity that supports

the clean, crisp and refreshing finish. This is

summertime in a glass.

Here are a half dozen (five Ontario rosés

and one from France) that I recommend you

try this summer. All are under $20 and are

available at many LCBO Vintages locations.

Gérard Bertrand 2017 Côte des

Roses Rosé (VINTAGES #373985,

$18.95) — Made in France's

Languedoc region from grenache,

syrah and cinsault grapes.

Light salmon colour. Strawberry,

red cherry and red currant fruit

aromas. Rose petal floral notes.

The red fruit follows through on

the palate with added grapefruit

and lemon notes. Dry, crisp with

a lingering finish. Take note of

the interesting rose-moulded

bottom of the bottle.

Malivoire 2016 Ladybug

Rosé (VINTAGES #559088,

$16.95) — The leader of the

pack, this is Ontario's

most popular and

best-selling rosé.

Malivoire has

been producing

Ladybug rosé

for almost 20

years now.

Made from

60% cabernet

franc, 20%

pinot noir

and 20%

gamay grapes

grown in

the Niagara

Peninsula.

Red cherry, strawberry,

raspberry and green apple.
---
Eatdrink: The Local Food & Drink Magazine

Premiere Issue — June/July 2018 | 37
---
38 | June/July 2018 — Premiere Issue

A dry wine but with a hint of sweetness

on the fruity finish. Lively, refreshing

acidity. An excellent value.

Megalomaniac Pink Slip Rosé 2016

(VINTAGES#: 85126, $19.95) — Made

from Ontario pinot noir, chardonnay

musqué, riesling, merlot and

gamay grapes grown in the Niagara

Peninsula.

The most interesting and complex

rosé of the bunch. All the red fruits

Small Lot Award Winning Wines

We invite you to visit Oxley and taste our

classics (Auxerrois, Chardonnay, Pinot Noir

& Riesling) and our unique varietals:

Regent, Wowza & Ripper Red.

Open daily from 11am–6pm

www.oxleyestatewinery.com (519) 738-3264

533 County Rd. 50 E. Harrow, ON

Share Our Passion

eatdrink.ca |@eatdrinkmag

one might expect in a rosé with an additional

mineral undertone, perhaps as a result of

the riesling blended into the cuvée It's an

excellent sipper but this rosé has the power

and finesse to pair well with summer

grilled BBQ entrées like pork and chicken.

Tawse 2016 Sketches of Niagara

Rosé (VINTAGES#: 172643, $17.35) — An

assemblage of Niagara Peninsula pinot

noir, cabernet franc and gamay grapes.

While it lacks much of the fruit

complexity of some of the other

rosés it is still nice for summertime

imbibing. The crisp, energizing acidity

is all that is needed for a refreshing

mid-afternoon tipple or to be served

as an aperitif.

For food pairing, I suggest Tawse's

"Grower's Blend Rosé", currently

only available directly from the

winery in Niagara.

Tawse Winery has been named

Canadian Winery of the Year by

WineAlign National Wine Awards of

Canada four times in recent years:

in 2016 and in three consecutive

years — 2010, 2011 and 2012.

Featherstone 2016 Rosé

(VINTAGES #117861, $15.95) — Made

from 50% gamay, 40% cabernet

sauvignon, and 10% pinot noir

from the Niagara Peninsula.

Available at many LCBO

Vintages locations for a limited

time (until August 18th, 2018 or

while supplies last).

While this is a dry wine, it

offers fruit notes that are candied

and provide a sense of sweetness.

Sour cherry and watermelon Jolly

Available

at

at the

Fine LCBO Restaurants

& The Winery

Colchester Ridge Estate Winery

A Family-Run Craft Winery

Award-Winning VQA Wines

Friendly Tasting Boutique

Picnic Tables

Artisanal Ontario Cheeses

Special Events

@crewinery • 108 Essex County Road 50 • Harrow ON • 519-738-9800
---
Eatdrink: The Local Food & Drink Magazine

Ranchers and red licorice. The fruit sweetness

is well adjusted by the wine's lively acidity,

resulting in a nicely balanced rosé.

This is a crowd-pleasing wine.

Château des Charmes 2016 Cuvée

d'Andrée Rosé (VINTAGES 333260,

$15.95) — Made from 100% estate

grown Niagara-on-the-Lake old

vines pinot noir grapes. This is

a dry, crisp, elegant rosé. Pure,

fresh, ripe red fruits leading to a

long savoury finish. The best value

of the bunch here.

The wine is dedicated to

Madame Andrée Bosc — wife,

mother and winery matriarch. The

Bosc family has a deep history of

grape growing and winemaking

in the Alsace region of France. In

1978 Paul Bosc Sr. and his wife Andrée

founded Château des Charmes in Niagaraon-the-Lake.

GARY KILLOPS is a CAPS Certified Sommelier who

loves to talk, taste, and write about wine. He shares his

tasting notes on EssexWineReview.com

Open daily year round 11am-5pm

Quality Craft Wines

Beachfront Picnics

www.sprucewoodshores.com 519-738-9253

Enjoy Our Wines, Available at the LCBO

Vines

LOCAL

Wines

to

LOCAL

OPEN

YEAR-

ROUND

WINE TASTINGS • EVENTS

GIFT SHOP • OUTDOOR PATIO

WITH WOOD-FIRED PIZZA OVEN

Check our website for summer events!

You can also find our wines at:

Covent Garden Market, London

Sarnia Farmers' Market

Point Edward Moonlight Farmers' Market

5547 Aberarder Line

Plympton-Wyoming

519-899-2479

altonfarmsestatewinery.com
---
40 | June/July 2018 — Premiere Issue

eatdrink.ca |@eatdrinkmag

Books

Foodie Fiction: Beach Reads

Novels about Food, Kitchens, Chefs, and Restaurants

Reviews by DARIN COOK

For those with a sweet tooth for both

confectionary and storytelling, Chocolat

by Joanne Harris (1999) does

not disappoint. Vianne and

Anouk, a transient mother-daughter

pair, breeze into a French village

at the beginning of Easter season.

Living a gypsy lifestyle inspired by

her own mother, settling down is

not in Vianne's blood, but she yearns

to cling to a location long enough to

give Anouk some permanent roots.

By opening a chocolate shop to serve

the village, she hopes to be accepted,

but the locals are surprised by the

magic she is capable of inspiring in

their tired town. Chocolate-making involves

plenty of alchemy that fits with Vianne's

"Food has a power … And though it can't save

me, it might help me, in some way." These are

the words of Ginny Selvaggio, the

main character from Jael McHenry's

The Kitchen Daughter (2011), who

compulsively turns to cooking to

calm herself when thoughts about

the recent death of her parents

become overwhelming. The story

takes on supernatural overtones

when Ginny's cooking of certain

recipes conjures deceased ancestors

back to her kitchen. How does it happen

and what does it all mean? She

continues cooking, to unravel the

mystery, eventually realizing that recipes left in

a deceased person's handwriting, coupled with

the aroma of the cooking, have magical powers

Two high school friends, Yummy and Cass,

are reunited on a family potato farm in Idaho

in All Over Creation (2003) by Ruth Ozeki.

Yummy ran away twenty-five years ago and

returns to reconnect with her estranged friend

and confront the deteriorating health of her

magical sense of developing relationships with

the townsfolk, not only through her chocolate,

but her radical ideas and sense of

freedom.

Some chapters are told through

the voice of the village priest

who is deeply troubled by his

parish's weakness during Lent in

the shadow of Vianne's chocolate

shop. But not everyone in town

shares the priest's views and the

luxury of self-indulgence may

be just what the quaint village

needs to release it from past sins.

The war between Church and

Chocolate becomes more palpable,

dangerous, and delicious as the story unfolds

over the days leading up to Easter Sunday.

to bring back the dead. The next question is to

what extent should this power be used to pursue

family secrets that have surfaced

since the death of her parents and

confront her meddling sister?

Ginny learns that not only does

she deal with grief by summoning

the flavours of her favourite

foods, but it has been a coping

method for her undiagnosed

autism for years. She confronts

the quirks of her autism to help

develop a sense of self. Immersing

herself in food and digging

through memories from her

childhood, she continues to search for what

normal means and ultimately decides that it

may not matter.

parents, Lloyd and Momoko. At the same time,

a wandering band of anti-GMO activists arrive

at the farm in their Winnebago, wanting to learn

from Lloyd who has played a pivotal role in the

fight between natural seeds and engineered

seeds in potato farming.
---
Eatdrink: The Local Food & Drink Magazine

Seeds are the heart of the story.

Lloyd's farm and Momoko's garden

have thousands of rare seeds,

some of them the last specimens

of their kind on Earth. They have

been quietly nurturing, preserving,

and distributing these natural

treasures that might have gone

extinct if not for their efforts.

GMO plants can take over natural

varieties, causing them to die out,

but the activists and farmers come

In Ruth Reichl's book, Delicious! (2014), Billie

Breslin finds herself in the midst of the New

York food scene, learning everything she can

from the cheese makers, butchers, chocolatiers,

and food magazine editors she finds

herself mingling with in her new

job. Billie was a culinary prodigy

who started a cake business with

her sister at a young age, and seems

to have quite a tongue for flavour.

The story is infused with flavours

and aromas that only a true

gourmand and long-time restaurant

critic, like Reichl, can relay. Billie

fits right into the foodie lifestyle

by visiting local farms, hunting

for her own mushrooms, serving

real Italian cheeses at a deli, all the

while chiselling out a career as a food writer at

an upscale food magazine called Delicious!

The food items paired together in Bread

and Butter (2014) by Michelle Wildgen refer

to the living that three brothers

make in the restaurant business

in their Pennsylvania hometown.

The older two, Leo and Britt, are

veterans in the industry with their

joint restaurant, Winesap; they

are supportive, but skeptical, of

younger Harry opening up Stray

in their small town. Working in

tandem, the older brothers have

their respective duties: Britt

learns the dining preferences and

aversions of regular customers at

the front of house; Leo manages

the kitchen crew. They've been in business

long enough to know the rhythm of the

kitchen and the flow of service which Wildgen

describes in entertaining detail.

Compared to his brothers, who opened

their restaurant after years of hard work,

Premiere Issue — June/July 2018 | 41

together to propel their anticorporate

sentiments throughout

the farming community. Ozeki's

compelling story is equally about

political and agribusiness issues,

and personal relationships and

the dramas that they spawn. An

apocalyptic, yet touching, climax

pays tribute to the importance of

humans standing up for nature.

In the magazine's office, Billie unearths a

secret stash of mysterious correspondence

originally written to James Beard. The letters

were written during World War II, by a young

girl who is very mature and astute

in her societal observations; her

writing about wartime food conditions

and rationing juxtaposes

the gourmet world of Delicious!

The letters give a taste of what

wartime cooking was like, conveying

that even though U.S. citizens

needed to sacrifice certain food

choices, it did not stop them from

being creative in the kitchen. Billie

becomes engrossed in reading

and cataloguing the letters and her

new pro ject shrouds other problems

in her family life.

Harry is an adventurous experimenter

in the kitchen who sets out to bring new

perspectives of artisanal food

creations to the sheltered

scene of their hometown. Britt

is jealous of Harry's ease and

randomness at moving into the

business, but the three brothers

share a love of the food industry.

Wildgen writes with an eye for

flavours that her readers can

savour through words, and she

expertly portrays the competitive

and frantic lives of restaurateurs

and chefs, coupled with a dash

of sibling rivalry and off-duty

romance outside the kitchen.

DARIN COOK is a freelance writer who lives and works

in Chatham-Kent, but keeps himself well-read and wellfed

by visiting bookstores and restaurants.
---
42 | June/July 2018 — Premiere Issue

eatdrink.ca |@eatdrinkmag

Recipes

Let's Get Grilling

On the Road with The Cooking Ladies

By Phyllis Hinz and Lamont Mackay

Review and Recipe Selections by TRACY TURLIN

I

don't want to jinx anything but it just might

be (finally!) time to uncover the barbecue and

pull out the lawn chairs. Our notoriously short

Canadian summer is fast approaching and I've

found just the right people to help us make the most

of it.

Stratford-born Phyllis Hinz and Vancouver native

Lamont Mackay, known professionally as The Cooking

Ladies, have made their careers out of travelling

and eating. After 20 years in the restaurant business

in Southwestern Ontario, they sold almost everything

and spent nine years in an RV exploring food

culture wherever they found it. They've since been

to every province and territory in Canada, with the

exception of Nunavut.

On the Road With The Cooking Ladies; Let's Get

Grilling (Whitecap Books; 2017) is a collection of their

best grilling and smoking recipes, inspired by over

100 stops across North America.

It's as much a travelogue as a cookbook. The

authors share photos and stories of the characters,

the landscapes and the food cultures of the areas they

love visiting.

On the Road has grilling advice and food safety

tips, and the writers explain how to get the most

out of your barbecue, including how to turn a grill

into a temporary smoker. (It's a great way to enjoy

the benefits of smoking your own food without the

commitment of a dedicated appliance.)

For an impressive

side dish at your first

family cookout this year,

try Maple Bacon Onion

Rings. Large rings of

white onion wrapped in

bacon and basted with

maple syrup and Dijon

mustard, grilled until

crisp outside and tender

inside. These will impress

any crowd.

A grill is a versatile cooking tool

that can be used to make everything

from salad to dessert but, for me, the

first barbecue of the year is always a

carnivore's feast. Marinated Sirloin

Steak fits the bill perfectly. Left to

bathe overnight in the classic flavours

of garlic, Worcestershire sauce and olive

oil, then cooked quickly over a hot grill,

it's the taste of summer.

You won't find many fussy recipes

here, just delicious,

simple food that you'd

be proud to bring to

any summer gathering.

On the Road With the

Cooking Ladies is a great

resource if you are

looking to expand your

Phyllis Hinz and Lamont

Mackay, The Cooking Ladies
---
Eatdrink: The Local Food & Drink Magazine

barbecue menu with

some good, solid recipes and

get the most out of your grill. It's also a great

inspiration if you are planning your own road

trip this summer. And if you're looking for

both, it's the perfect choice.

TRACY TURLIN is a freelance writer and dog groomer

in London. Reach her at tracyturlin@gmail.com

Recipes excerpted from On the Road With The Cooking

Ladies; Let's Get Grilling . Published by Whitecap Books.

Reproduced by arrangement with the Publisher. All rights

reserved.

MONDAY JUNE 25,

11:30 – 1:30 @

CATALYST 137

137 GLASGOW ST., KITCHENER

Join us for a showcase of some of Waterloo

Region's best restaurants and catering

companies and their Signature dishes! Check

out parkinsonsociety.ca for a complete list of

restaurants and caterers.

Tickets only $20

available at www.parkinsonsociety.ca or call (519) 652-9437

Platinum Sponsor Venue Sponsor Media Sponsors
---
44 | June/July 2018 — Premiere Issue

Maple Bacon Onion Rings

Makes 4–6 servings

2–3 medium-sized mild onions

6 thinly sliced bacon strips

2 Tbsp (30 mL) maple syrup

1 tsp (5 mL) fresh lemon juice

1 tsp (5 mL) Dijon mustard

Peel and slice the onions into thick (½ inch/1 cm) slices

widthwise.

Push out the center 2–3 rings of each onion slice. Keep the

remaining outer rings together. Set the inner rings aside

for another recipe.

Wind and stretch a bacon strip around each set of outer

onion rings, covering the surface of the onion with the

bacon. Secure the bacon ends with a toothpick.

eatdrink.ca |@eatdrinkmag

Place the bacon-wrapped onion rings side by side in a flat

baking dish.

In a bowl, combine the maple syrup, lemon juice, and

mustard.

Brush the maple syrup mixture over the bacon onion

rings. Cover and refrigerate for 1 hour.

Preheat the grill on medium-high (450–550°F/230–290°C)

for 10 minutes with the lid closed. Using a pair of longhandled

tongs, oil the grate by wiping it with a piece of

folded paper towel dipped lightly in canola oil.

Place the bacon onion rings on the grate. Cook over

medium-high heat with the lid closed, turning every

3–4 minutes until the bacon is cooked and the onion is

tender-crisp.

Remove the toothpicks before serving.
---
Eatdrink: The Local Food & Drink Magazine

Marinated Sirloin Steak

Makes 4 servings

Two 1-lb (450 g) top sirloin steaks

½ cup (125 mL) peeled and chopped onion

3 garlic cloves, chopped

½ cup (125 mL) extra-virgin olive oil

¼ cup (60 mL) red wine vinegar

2 Tbsp (30 mL) soy sauce

1 Tbsp (15 mL) Worcestershire sauce

1 tsp (5 mL) Dijon mustard

½ tsp (2 mL) hot sauce

¼ tsp (1 mL) sea salt

¼ tsp (1 mL) coarsely ground pepper

Place the steaks flat in a shallow, glass dish.

In a bowl, combine the remaining ingredients. Mix well.

Premiere Issue — June/July 2018 | 45

Pour the mixture over the steak. Turn the meat to coat

both sides. Cover and refrigerate 12–24 hours. Turn the

steaks once or twice while marinating.

Preheat the grill on high (550–600°F/290–315°C) for 10

minutes with the lid closed. Using a pair of long-handled

tongs, oil the grate by wiping it with a piece of folded

paper towel dipped lightly in canola oil.

Remove steaks from the marinade. Discard marinade.

With the lid closed, grill the steaks for about 5 minutes on

each side or until the internal temperature registers 135°F

(57°C) for medium-rare on an instantread thermometer.

Transfer the steaks to a cutting board. Let rest for 10

minutes before serving.
---
46 | June/July 2018 — Premiere Issue

eatdrink.ca |@eatdrinkmag

The Lighter Side

Food for Comfort

By MARK KEARNEY

There's an entry from the travel

journal I kept during my backpacking

days across Europe in late 1981.

I'd been hitchhiking in Ireland

and Scotland for several rainy weeks. Now I

was in York, England that autumn and wrote,

"I should express my gratitude to the

humble grilled cheese sandwich.

It has kept me going many a

time in the past including

tonight's dinner."

Dining on the youth

hostel circuit was far

from haute cuisine. In

those days, having access

to a fridge and a stove in

a hostel was sometimes a

bloody luxury, so you can

well imagine why I might take

a moment to extol the wonders of

slabs of cheese between two pieces of bread,

buttered and, let's face it, usually fried in a

pan rather than actually grilled.

The journal entry goes on for a few more

sentences, noting how cheap they were to

make and how I had practically lived on them

for the first few weeks, when I was starting

out as a reporter at the London Free Press.

I had just finished my BA at Western, I had

little money (but no student loan to pay off!),

and my first journalism paycheque wasn't due

to arrive for another three weeks.

Meanwhile back in York, it was the same

story. According to my journal, I was down to

my last pound and a half — that's currency,

not weight — and couldn't get to the bank

in time to cash some travellers' cheques.

Remember those relics of the past?

As for the grilled cheese, "for the number of

times I've eaten them I still find them tasty,"

I wrote in the journal. "It also helps to try

different kinds of cheeses."

Well, didn't I have brilliant culinary insight

back in the day? But my point here is that we

all have our go-to comfort foods, and to this

day I still default to a grilled cheese sandwich

for lunch when nothing else presents itself.

Granted, the selection of cheeses is sharper,

the bread tastier, Dijon mustard is now

a must, and sliced tomatoes are often an

accompanying filling. I may not have matured

much since those backpacking days, but my

taste buds have.

I suspect our comfort foods often

spin out from childhood. I had

my share of grilled cheese as a

kid, when anything gooey like

that was bound to be a hit.

Hearty soups are also a good

choice. Why, it's practically a

meal in bowl, some broth buff

is bound to say.

It certainly was that for

my father. Anytime we were

in restaurants he would ask the

server what the soup of the day was.

The answer didn't matter; he'd always order

it. I wondered why he didn't just roll the

dice and buy it without asking. Cream of

chicken, chicken noodle, chowder (Boston or

Manhattan), French onion, tomato bisque,

cock-a-leekie, mushroom, etc. — he'd get it

regardless. If it was soup of the day it must

be good, he thought. If someone had said,

"Today, sir, our special is cream of rust" my

dad would have probably replied, "Great. I'll

have that and bring some crackers."

As for the humble grilled cheese of my

youth, it has now evolved into gourmet fare.

Check out any grilled cheese website and

you'll find balsamic blueberry grilled cheese,

smashed avocado and roasted tomato, garlic

confit and arugula — you get the picture.

Heck, if I'd known about those variations in

my travelling days I might never have left the

hostel.

MARK KEARNEY has been a journalist for more than

35 years and has been published in nearly 80 publications

in North America. He teaches writing and journalism at

Western University.
---
Eatdrink: The Local Food & Drink Magazine

Premiere Issue — June/July 2018 | 47

a

movement

for

restaurants

who believe

local food

matters.

®

A Feast On® Certification means

you're fighting the good food fight.

You're supporting our farmers

and putting local food first.

To get certified, visit:

ONTARIOCULINARY.COM

@ONTARIOCULINARY #FEASTON
---
48 | June/July 2018 — Premiere Issue

eatdrink.ca |@eatdrinkmag

All the seafood you could want ...

... right to your doorstep.

Visit us in-store in KW or order online

WWW.CAUDLESCATCHSEAFOOD.COM