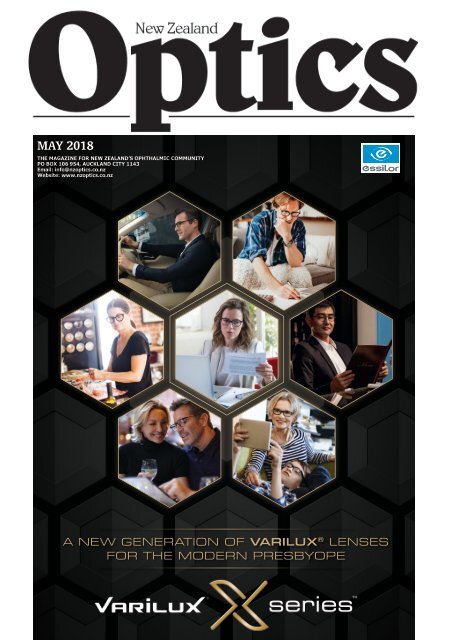 You also want an ePaper? Increase the reach of your titles
YUMPU automatically turns print PDFs into web optimized ePapers that Google loves.
MAY 2018

THE MAGAZINE FOR NEW ZEALAND'S OPHTHALMIC COMMUNITY

PO BOX 106 954, AUCKLAND CITY 1143

Email: info@nzoptics.co.nz

Website: www.nzoptics.co.nz

A NEW GENERATION OF VARILUX ® LENSES

FOR THE MODERN PRESBYOPE
---
2018 • Voted by New Zealanders • 2018

TRANSFORMING

EYE HEALTH

THE ULTIMATE OPHTHALMIC COLLABORATION

At Specsavers we are focussed on providing the highest

levels of optometry and dispensing care in all our New

Zealand and Australian stores.

Our equipment and technology strategies, our close working relationships

with ophthalmology and various eye disease stakeholders alongside our

major investments into dispensing qualifications all contribute to a singular

purpose – to transform the eye health of New Zealanders and Australians.

So, if you're concerned at the 50 per cent undiagnosed glaucoma cohort

and the under-indexing of diabetic retinopathy screenings; if you're worried

that available in-store technology isn't being used on every patient due to

extra fees and charges; and if you're alarmed at the under-investment in

professional dispensing programs and technology – then we urge you to

talk to us about how you can make a genuine impact at Specsavers.

We're on a clear mission to transform eye health in New Zealand and

Australia – and we'd like you to join us on that mission.

To ask about optometry and dispensing roles right across the country at all levels, contact Chris Rickard on 027 579 5499

or chris.rickard@specsavers.com, alternatively visit spectrum-anz.com for all the opportunities.

Reader's

Digest

2018 • Voted by Australians • 2018

Quality Service

Award

Reader's

Digest

Quality Service

Award

AITD

Voted by New Zealanders

Reader's Digest

Quality Service

Award

2017

Best Customer

Service in AU

Optometry

2018

Best Customer

Service in NZ

Optometry

Best Talent

Development

Program

2017

Best Talent

Development

Program

2017

Best Customer

Service in NZ

Optometry

2017

Millward Brown

Research

No.1 for eye tests

2016

Excellence in

Marketing

Award

2016

Retail

Store Design

Award

2016

Retail

Employer

of the Year

2015

2018 Transforming eye health

2 NEW ZEALAND OPTICS May 2018
---
Re:Vision, re-imagining eye care

BY LESLEY SPRINGALL

Auckland ophthalmologist Dr Trevor

Gray has opened Re:Vision, a new subspecialist

surgery in Mt. Wellington,

Auckland offering anterior segment surgery

and medical care to those who can afford to pay

and a sustainable model for those who can't.

"Re:Vision is my new home. It's always been

a little bit of a background dream, but I never

thought I'd ever consider leaving the Eye

Institute," says Dr Gray. "But life changes and

you have to roll with the punches and then

make the most of what comes your way."

Dr Gray made the decision to leave Eye

Institute and pursue his own dream of a

dedicated anterior segment boutique practice

late last year after what he describes as a

parting of philosophical ways.

Joining him at Re:Vision is most of his

Eye Institute team, including receptionists,

ophthalmic nurses, technicians and

optometrists; 14 in total, he says. The Britishraised

and Moorfields Eye Hospital-trained

cornea and anterior segment fellow Dr Mo

Ziaei, better known as "Dr Mo," will also be

joining Re:Vision, adding to his existing cornea

clinical research at the University of Auckland.

"Mo was head-hunted by Charles (Professor

Charles McGhee) almost three years ago to be

Charles' fellow and he has turned out to be one

of the most skilled, naturally-gifted surgeons

we have ever come across," says Dr Gray. "He's

also affectionately known as the 'trainer of the

trainers' because of how he's shared his new

Moorfields' techniques in corneal endothelial

transplantation with the cornea consultants at

"Dr T" and "Dr Mo" – principal surgeons at the new Re:Vision clinic

Re:Vision opens for business in Auckland's Mt. Wellington

Greenlane Hospital."

Last month, the new Re:Vision practice and

surgery was busy with final fit-outs before

welcoming its first patient on 23 April.

"We're just a fledgling little unit and

we're pure anterior segment, so Re:Vision

is not planning to be involved in glaucoma,

oculoplastics or macular degeneration at this

stage. We'll essentially be offering more of

what people know me for – patient-centric

anterior segment care and going that extra

mile – as that's the challenge that my staff and

I enjoy: how we can go the extra mile for every

patient encounter and every referrer encounter;

how we can make each patient's life a little

easier, a little bit more pleasant, a little bit more

fun."

Mirroring some of his charitable work at

Eye Institute, where his Buchanan Charitable

Foundation installed a laser theatre ceiling

hoist and funded free laser vision correction

for tetraplegic patients, Dr Gray's new venture

is also starting off with a philanthropic focus.

Re:Vision will be working with the wider

charitable health and ophthalmic industry to

help plug the ever-increasing gap between

the public and the private systems, he says,

promising to reveal more in a few months' time,

once a key partnership has been agreed and

signed-off.

"Part of Re:Vision's philosophy is not only to

be a centre of excellence for patients in our

care, but to provide a philanthropic opportunity

to help society in ways that haven't been

explored yet. It's about being part of something

that just feels good. Life is too short not to

enjoy what you do and the nice thing about

enjoying what you do is you naturally do it

better… and that's how a fledgling unit like

Re:Vision grows." ▀

Blurring the

boundaries

EDITORIAL

Ophthalmology and optometry: New Zealand is

better than most in breaking down the barriers

between these two, crucially-linked sides of our

industry so they can better work together and share

the increasing workload to protect our nations' eye

sight and overall health.

This month, particularly, demonstrates the

overlapping areas of responsibility and celebrates

this unique partnership with coverage of the 60th

anniversary conference of the wonderful Cornea &

Contact Lens Society of New Zealand (p8-12); the

increasingly popular Ocular Therapeutics Conference

(p16-17), which also expands this relationship

into pharmacy; and the annual Excellence in

Ophthalmology and Vision Science Awards (p15) that

recognise the achievements of trainee practitioners

from across the eye health spectrum.

We've got all the updates from the different

conferences, plus news galore relating to both

optometry and ophthalmology, including a new

ophthalmology surgery (p3), a new charitable

initiative to support kids in need (p5) and the first

electrophysiology workshop, designed to boost the

skill levels and knowledge of eye health practitioners in

this increasingly important diagnostic area (p5).

Perhaps best illustrating the importance of our world

is the incredible story of four-year old Lucas Kiser

(p7) who despite having more than 25 eye-related

surgeries and facing an uncertain future still retains

his fascination for all things new. And if that wasn't

enough, check out this month's Focus on Business

column for some crucial tips for all optometry and

ophthalmology practices on how not to fall foul of the

privacy laws in the wake of Facebook's censure.

Enjoy.

Lesley Springall, editor, NZ Optics

BTP International Designz p: 07 307 2410 e: info@btpid.co.nz

Anterior

Segment

Specialists

0800 55 20 20

www.re.vision.nz

Dr Trevor Gray

Dr Mo Ziaei

May 2018

NEW ZEALAND OPTICS

3
---
News

in brief

2018 SOVS CONFERENCE

Registration is now open for the University of Auckland's second

School of Optometry and Vision Science (SOVS) conference on

29 July in Auckland. The conference is aimed at all practicing

optometrists, educators, vision scientists and students,

offering hands-on workshops and up-to-the-minute scientific

presentations. https://sovsconference.org.nz/

LAB-GROWN CELLS FOR CATARACT RESEARCH

Scientists at Western Sydney

University have successfully grown

human eye cells from human lens

epithelial cells. These micro lenses

will provide a powerful platform

for defining molecular disease

mechanisms, anti-cataract drug

screening and clinically relevant

toxicity assays, said lead researcher Dr Michael O'Connor.

RISE IN SYPHILIS CASES

Data from the Institute of Environmental Science and Research

shows the number of syphilis cases reported in New Zealand

has more than doubled to 470 since 2015. Any unexplained

neurological or ophthalmological signs, such as ocular nerve palsy

and uveitis, can be symptoms of syphilis.

DR DIAGNOSIS BY ANYONE?

The US Food and Drug Administration (FDA) has approved the

first artificial intelligence (AI) diagnostic device that doesn't

require a specialist clinician to interpret the results. The device,

IDx-DR, analyses retinal images to determine whether a patient

has diabetic retinopathy (DR) and can be used by any primary

healthcare provider.

OPTOMETRISTS TO INJECT CHALAZIA

The US state of Virginia has passed a new law allowing

optometrists to perform limited steroid injections to treat

chalazia. To administer the injections, optometrists must be

therapeutically-qualified, be board certified and have passed

certain additional courses and exams.

NEW, NON-INVASIVE EYE DRUG DELIVERY SYSTEM

US-based EyeGate Pharma

has developed a new

ocular drug delivery

system that doesn't

use needles or drops.

The EyeGate II Delivery

System uses transscleral

iontophoresis, affectively a

low-level electrical current, to deliver a specified drug amount into

the ocular tissue. To date, the system has been used in more than

2,000 treatments, including more than 1,300 for the company's

lead therapeutic candidate, EGP-437 for anterior uveitis.

SJÖGREN'S DIAGNOSIS TIME HALVED

The time scale for Sjögren's syndrome to be accurately diagnosed

has more than halved from an average of six years in 2012 to just

under three years today, said the Sjögren's Syndrome Foundation.

The foundation embarked on a five-year programme to raise

awareness and reduce diagnosis time in 2012.

MYOPIA-SLOWING SPECS WIN GOLD

Professors Carly Sy Lam and Chi Ho To from Hong Kong Polytechnic

University won the grand prize at the 46th International Exhibition

of Inventions of Geneva for their Defocus Incorporated Multiple

Segments (DIMS) spectacle lens for myopia control. In studies, the

DIMS lens provided clear vision for the wearer while simultaneously

slowing down myopia progression in children by 60%, with 20%

demonstrating no increase in myopia over the test period.

OUTCOME INSIGHTS FOR ACANTHAMOEBA KERATITIS?

A 20-year retrospective audit of Moorfield's medical records

provided risk factor insights for patients with acanthamoeba

keratitis. Of 194 patients reviewed, 93 had poor outcomes,

including corneal perforation, any ocular surgery, duration of

antiamoebic therapy (AAT) of 10.5 months or more and VA of

20/80 or less, plus severe inflammatory complications such as

scleritis or corneal stromal ring infiltrates. High risk patients

included those older than 34 who had used corticosteroids;

had more advanced disease; or had herpes simplex virus (HSV)

keratitis treatment before AAT.

ITALIA INDEPENDENT SIGNS DISNEY

Italia Independent has signed a licensing agreement

with The Walt Disney Company Italy for the

development and distribution of Disney eyewear

collections. The first, including Disney, Marvel and

Lucas Film, will be unveiled in September 2018,

coinciding with Mickey Mouse's 90th birthday.

UPDATED MYOPIA CALCULATOR

The Brien Holden Vision Institute has updated its free, web-based

myopia calculator, adding new features such as an 'ethnicity'

option to allow users to switch between 'Asian' and 'Caucasian'.

Photochromic contacts unveiled

Johnson & Johnson Vision (J&J) has teamed

up with photochromic lens developer

and manufacturer Transitions Optical to

develop and launch the first ever contact lens

which automatically adapts to changing light

conditions.

Combining Transitions' Light Intelligent

Technology and J&J's Acuvue Oasys technology,

the new lens creates a new category of contact lenses and expands the

photochromic category beyond the now well-known spectacle lenses.

"This breakthrough technology will revolutionise contact lenses

and photochromics by introducing the benefits of light adaptation

to more patients," said Chrystel Barranger, president of Essilor

Photochromics and Transitions Optical. "(This) first of its kind

contact lens, provides wearers with vision correction and a dynamic

photochromic filter that helps to continuously balance the amount

of light entering the eye… quickly and seamlessly adjusting from

clear to dark in response to changing sunlight conditions; reducing

Drops replace

glasses

A

team of Israeli researchers from

Bar-Ilan University's Institute of

Nanotechnology and Advanced

Materials (BINA), sent media outlets

and the twitter sphere into a spin with

the announcement they had developed

some revolutionary eye drops that could

replace glasses.

The technology, known as Nano-Drops, was developed by

Dr David Smadja, co-inventor of

the revolutionary Nano-Drops

ophthalmologist Dr David Smadja and Professors Zeev Zalevsky

and Jean-Paul Moshe Lellouche. Patents have been filed by

Birad Research & Development, the commercial arm of Bar-ILan

University.

Nano-Drops achieve their optical effect and correction by locally

modifying the corneal refractive index, said the University in

an announcement. "The magnitude and nature of the optical

correction is adjusted by an optical pattern that is stamped onto

the superficial layer of the corneal epithelium with a laser source.

The shape of the optical pattern can be adjusted for correction

of myopia, hyperopia or presbyopia. The laser stamping takes a

few milliseconds and enables the nanoparticles to enhance and

'activate' this optical pattern by locally changing the refractive

index and ultimately modifying the trajectory of light passing

through the cornea."

In the future this technology may enable patients to have their

vision corrected in the comfort of their own home, said researchers,

as the laser device is small and connects to a smartphone.

So far, the technology has had positive results ex-vivo in pig

eyes, correcting nearly 3 diopters for both myopia and presbyopia.

In-vivo trials are about to begin on rabbits, to determine how

long the effect of the Nano-Drops lasts after initial application. ▀

Essilor unveils Varilux X

Essilor has launched a new lens aimed at digitally-connected

presbyopes who it says are unwilling to compromise their near or

distance vision.

The new Varilux X series lens, described as a technological stepchange,

has 15 patents pending. This includes patents for some new

proprietary technology developed by Essilor that re-shapes a specific

lens zone to overcome that typical progressive wearer frustration

forcing them to adjust their head position to see clearly when they

change from near to far vision.

"The Varilux X series lens is the result of a dramatic shift in lens

design, Xtend technology, that delivers new benefits for today's

modern presbyope," said Essilor ANZ in a press release announcing

the launch. "In today's world, much of our time is spent multi-tasking

within the area of 'arm's length', 40cm to 70cm. Activities range from

reading smartphones, looking at computers, reading documents and

talking with people. Patients need their vision to adjust seamlessly

between each of these tasks without adjusting the head to find the

right zone on the lens."

Essilor said its Xtend technology controls the level of acuity on the

lens, resulting in the ability of the wearer to focus on multiple objects

within arm's reach in the same direction of gaze, providing sharp

vision for the patient with no or minimal head movement. More than

www.nzoptics.co.nz | PO Box 106954, Auckland 1143 | New Zealand

exposure to bright light indoors and

outdoors, including filtering blue light

based on the level of activation and

blocking UV rays."

The new innovation was triggered

by changing consumer lifestyle needs

and J&J's commitment to care for human

sight, said Dr Xiao-Yu Song, J&J's global

head of research and development in a parallel statement released

with Transitions Optical's. "After more than a decade of product

development and numerous clinical trials involving more than 1,000

patients, we are excited to bring to market a solution to help contact

lenses wearers manage the changing light conditions they face every

day in their modern, active lives."

The Acuvue Oasys with Transitions lens has received clearance from

the US Food and Drug Administration (FDA). The two-week, reusable,

spherical contact lens will be marketed by J&J and will be commercially

available in first half of 2019, said the companies. ▀

Eylea, close to

funding

As part of its long-running review on funding the

anti-vascular endothelial growth factor (anti-

VEGF) agent aflibercept (Eylea), Pharmac sought

feedback on its latest proposal last month, which

includes amending the current hospital restrictions for

ranibizumab (Lucentis).

Under the most recently proposed funding criteria

for aflibercept, eligible patients with a range of

ophthalmic conditions, including wet age-related macular degeneration

(wAMD) and diabetic macular oedema (DMO), would be eligible to receive

funded access to aflibercept, while patients who are currently receiving

ranibizumab would have the option to switch, from 1 June 2018.

"Patients with wAMD are currently able to access bevacizumab (Avastin;

off-label) and ranibizumab injections for the preservation of vision.

Patients with DMO currently only have access to bevacizumab (off-label)

injections. The current Pharmaceutical Schedule listing restrictions for

both bevacizumab and ranibizumab only enable publicly-funded access

when used in the DHB hospital setting," details Pharmac's proposal

document. "This proposal is to list aflibercept in Section B and Section H of

the Pharmaceutical Schedule as the second line anti-VEGF agent for both

community and hospital use. There would be no change to the current

listing of bevacizumab as a result of this proposal."

Following repeated pressure from some ophthalmologists and the

wider eye health community. Pharmac's primary clinical advisory

committee, the Pharmacology and Therapeutics Advisory Committee

(PTAC), recommended aflibercept be funded as a second line anti-VEGF

treatment for wAMD after bevacizumab (Avastin) in May 2017, bumping

it above ranibizumab. This was referred to Pharmac's ophthalmology

subcommittee for further consideration and the latest proposal follows

these discussions. For more, visit: www.pharmac.govt.nz/news/

consultation-2018-03-27-aflibercept-rivaroxaban/ ▀

3,000 presbyopes around the world

participated in the development of

the Varilux X through focus group

interviews, video selfies and new

methodologies for real-life wearer

testing, it said.

"Varilux X series progressive

lenses were developed to meet the

needs of all presbyopes including

Essilor launches Varilux-X for digitallyconnected

presbyopes

a new group, Generation X, who are very active in their personal and

professional lives and who are avid users of digital technology devices,"

said Pierre Longerna, Essilor ANZ's chief operating officer.

Research by Essilor in France found 95% of Varilux X wearers were

satisfied with their lenses when performing multiple tasks within

arm's reach and more than 97% said they no longer had to move their

head to see clearly.

Created by Essilor in 1959, Varilux is one of the most popular

progressive lens brands in the world, with more than 50 patent

families protecting its technology.

The Varilux X will be introduced to Essilor's Platinum Partners in New

Zealand at a special event on 7 May and then rolled out around the

country through a series of roadshows. ▀

For general enquiries or classifieds please email info@nzoptics.co.nz

For editorial, please contact Lesley Springall at lesley@nzoptics.co.nz or +64 27 445 3543

For all advertising/marketing enquiries, please contact Susanne Bradley at susanne@nzoptics.co.nz or +64 27 545 4357 in the first instance, or Lesley Springall at lesley@nzoptics.co.nz

To submit artwork, or to query a graphic, please email susanne@nzoptics.co.nz

NZ Optics magazine is the industry publication for New Zealand's ophthalmic community. It is published monthly, 11 times a year, by New Zealand Optics 2015 Ltd. Copyright is held by

NZ Optics 2015 Ltd. As well as the magazine and the website, NZ Optics publishes the annual New Zealand Optical Information Guide (OIG), a comprehensive listing guide that profiles the

products and services of the industry. NZ Optics is an independent publication and has no affiliation with any organisations. The views expressed in this publication are not necessarily

those of NZ Optics 2015 Ltd or the editorial team.

4 NEW ZEALAND OPTICS May 2018
---
Electrophysiology

meeting - all welcome!

Medical retina specialist Dr Dianne Sharp

and the Ophthalmic Instrument Company

(OIC) are hosting a special Roland Consult

Electrophysiology Users Meeting at the Greenlane

Clinical Centre on 13 May, the Sunday after the

RANZCO NZ 2018 conference in Auckland.

The role of electrodiagnostic testing in

ophthalmology has expanded as a diagnostic

tool for retinal, macular and optic nerve disease

and is now an important adjunct to genetic

testing, says Dr Sharp. "It is used to monitor

response to therapy in posterior uveitis, diagnose

acquired retinal conditions, such as autoimmune

retinopathy, and monitor at risk patients

for signs of early toxicity to drugs, including

hydroxychloroquine."

Dr Sharp is convening and coordinating the

OIC-sponsored meeting and will be supported

by ophthalmic electrodiagnostic technician,

Juliet Ware, Roland Consult's Oskar Stasche from

Germany, and Tim Way from OIC.

"The German-designed Roland system has been

ideal for New Zealand, with excellent support

from the German designers who have frequently

visited to install and update units," says Dr Sharp.

There are now seven Roland systems in New

Zealand at the Greenlane Clinical Centre, Auckland

University, Retina Specialists, Hamilton Eye Clinic,

Wellington Hospital, Christchurch Hospital and

Dunedin Hospital.

This inaugural users' meeting will be split into

two halves. The morning session is specifically

for Roland electrodiagnostic system users

(technicians and ophthalmologists) to gain greater

familiarity with the equipment and discuss

specific user issues. While the afternoon session

is aimed at all ophthalmologists, registrars and

technicians who have been invited to participate

in clinical case discussions, which highlight the

uses of electrodiagnostic testing, and share their

diagnostic dilemmas.

The day is an opportunity to gain further training

to ensure the most accurate and reproducible

results, to review setups for specialty tests, to

address paediatric testing and to discuss reporting

techniques, says Dr Sharp. "This is not to achieve a

single standard (ISCEV provides the international

standards) but to have some degree of uniformity

across the country in the testing setups and

reporting, so that complex cases and our collective

experience can be shared with other users."

Anyone wishing to attend the day should

contact Tim Way at Tim@oic.co.nz and cc. in Dr

Sharp at dianne@retinaspecialists.co.nz ▀

HDC report released

The Health and Disability Commission (HDC)

has released a report finding the Southern

District Health Board (DHB) breached the

Code of Health and Disability Services Consumers'

Rights, when a man suffered irreversible vision

loss after the DHB's ophthalmology service failed

to arrange timely follow-up care.

The lack of follow-up ophthalmology care within

DHBs across the country, made headline news in

2016 and 2017 after the Royal Australian and New

Zealand College of Ophthalmologists (RANZCO)

revealed the extent of the problem. The HDC report

is the latest part of that process to change the

system to better prioritise treatment for patients

with the greatness risk of going blind.

RANZCO welcomed the report and called upon

the government to release the report they

commissioned EY to do last year, on developing

a pathway of care for age-related macular

degeneration.

While applauding the work undertaken so far,

Dr Brian Kent-Smith, RANZCO NZ Branch chair,

stressed more still needs to be done. "Releasing the

EY report will be a good step in enabling the DHBs

to better meet clinical need and help more patients

to have their sight preserved and restored." ▀

Eye Institute's new

community trust

BY LESLEY SPRINGALL

Eye Institute is formalising its social endeavours

under a new community trust, which initially

will be focused on providing assistance to

Auckland-based families by funding up to 400 eye

examinations and providing subsidies of up to $250

towards glasses over the next 12 months.

The new community trust will officially be

launched at the Eye Institute's next seminar, after

work on 22 May at the Ellerslie Event Centre in

Auckland, by trust co-chairs, and Eye Institute

ophthalmologists, Professor Helen Danesh-Meyer

and Dr Shanu Subbiah.

"Eye Institute and its doctors have been involved

in many levels of community service for a long

time. The Eye Institute Community Trust is a way

of framing our activities as well as providing us

with the opportunity to expand our community

service in a more structured manner," explains Prof

Danesh-Meyer. "At this stage, our focus is on our

Auckland community. There is so much that can be

done right in our own backyards, so this is where

we are launching this new initiative."

Dr Subbiah says the idea to focus the trust's

first efforts on children came from Wellingtonbased

optometrist Ravi Dass who he met last

year on a Voluntary Ophthalmic Services Overseas

(VOSO) trip to Fiji. Dass, together with his wife

Stephanie Hill, take a more philanthropic approach

to business, donating a pair of glasses to kids in

need from their practice, Mr Foureyes, every time a

patient buys a pair of glasses.

"I had always assumed, incorrectly, that eyecare

for children in New Zealand was comprehensively

covered by the health boards," said Dr Subbiah,

who undertook a lot of his training in the UK

where children's eye care is covered under the

National Health Service. After speaking to

Greenlane's orthoptic department, he says he

realised that a lot of children who require glasses

don't have them because of the cost, especially

those who were at high risk of visual loss from

amblyopia, so it seemed like the ideal starting

point for the trust's work.

Professor Helen Danesh-Meyer and Dr Shanu Subbiah, co-chairs of the

Eye Institute's new Community Trust

The trust will work with others also engaged in

this area, such as Essilor's Vision Foundation, and

Eye Institute doctors have already presented their

aims for the trust to vision and hearing technicians

(VHTs) at their national conference, resulting in

some encouraging feedback, says Dr Subbiah.

Though the initial focus of the trust is on

Auckland and on children, so that it can finetune

the logistics of what it does, it is hoped

the trust's work will be expanded nationally, he

says. "We will be working closely with VHTs and

primary school teachers to identify children that

would benefit the most from this initiative. As a

socially responsible company we are very excited

to be able to give back to our community and we

look forward to making a positive difference to

hundreds of children in the years to come."

Prof Danesh-Meyer says everyone at Eye Institute is

very excited about the trust's launch. "We have been

overwhelmed by the immense enthusiasm that this

initiative has received. We are very excited to see it

underway and we are open to new opportunities to

serve the community as the programme evolves. We

hope it will grow organically."

Any Auckland-based optometrist can apply to

the Eye Institute Community Trust for additional

funding for exams or glasses on behalf of their

patients. The programme will be reviewed

regularly to ensure the trust's focus fits with the

needs of Aucklanders, initially, and then nationally,

with the aim of extending its support to adults

who fall through the cracks of the publicly-funded

health system, said Prof Danesh-Meyer. ▀

Come to the official launch

at our 2018 May Seminar!

1.75 CPD

and 0.25

GC points

available

For many years the team at Eye Institute

has been offering pro bono cases under the

radar across Australasia, the Pacific Islands

and beyond. The Eye Institute Community

Trust has been formed to formalise our

longstanding commitment to helping those

in need.

A significant proportion of New Zealanders

do not qualify for often life changing

Opthalmic care, and the Eye Institute

Community Trust is working to change that.

One group that falls through the cracks the

most is children, and that is where our first

pursuit begins.

With your help, we aim to identify children

with the greatest risk of permanent vision

impairment due to Amblyopia, and provide

assistance to families by funding 400 eye

examinations and a subsidy of up to $250

towards glasses for the next 12 months.

BOOK ONLINE NOW! https://www.eyeinstitute.co.nz/optometry/

May Seminar - FREE!

Tuesday 22nd May 2018

6.30pm - 8.45pm

Ellerslie Event Centre, Racecourse

80 Ascot Ave, Ellerslie, Auckland

5.45pm - 6.30pm Light Meal &

Beverages provided

August Seminar

Tuesday 14 Aug 2018

6.30pm-8.45pm

Ellerslie Event Centre

Racecourse, 80 Ascot Ave

Ellerslie, Auckland

Optometry

Conference

Sunday 4 Nov 2018

8am-5pm

Waipuna Conference Centre

Mt Wellington, Auckland

For more information email

amy.w@eyeinstitute.co.nz

and be sure to register for

our May Seminar.

BOOK ONLINE NOW

Or register by

Phone 09 522 2125

Fax 09 522 5770

conference@eyeinstitute.co.nz

May 2018

NEW ZEALAND OPTICS

5
---
APAO 2018 in Asia's world city

BY DR STUTI MISRA*

New Zealand still struggling to fill orthoptist vacancies

EARLY BIRD

REGISTRATION

OPEN NOW!

UP TO

42

This year, the 33rd Asia-Pacific Academy of Ophthalmology

(APAO) Congress was held in "Asia's world city", Hong Kong,

where we were welcomed by unseasonably cold weather.

The congress itself, however, warmed up the atmosphere quickly

with more than 5,200 delegates from 87 countries attending;

predominantly ophthalmologists, but also optometrists and vision

scientists from across the world. Perhaps in honour of own Professor

Charles McGhee, chair of ophthalmology at the University of

Auckland and new APAO president, delegates were warmly welcomed

by kilt-wearing, bagpipe players at the opening ceremony.

This year's meeting lived up to its theme, 'Creativity and technology

without boundaries', offering many opportunities for young clinicianscientists

to interact with their seasoned and experienced peers

across the spectrum of ophthalmology and lots of news about new

technological advances.

The use of artificial intelligence (AI) using 'deep learning' –

complicated software algorithms that allow powerful computers

to "learn" from large datasets – is expected to revolutionise retinal

examination. Deep learning uses artificial neural networks that

allow machines to process and perceive the world in a similar way

to humans, but with far, far greater speed and accuracy and without

any bias. A research study in Thailand used this modality for diabetic

retinopathy screening studies. According to the Thai researcher Dr

Paisan Ruamviboonsuk, the very same technology may also be able

to process retinal images to predict refractive errors, cardiovascular

risk and cancer biopsies. AI certainly became a virtual theme (pun

intended!) of the conference. In fact, one session was dedicated

just to AI-based screening with presentations focusing on diabetic

retinopathy, glaucoma and age-related macular degeneration.

Another entertaining yet equally educational session from this

year's APAO meeting, was the 'Ophthalmic premier league', where

four teams, in team jerseys no-less and accompanied by music galore,

discussed challenging and complicated cataract cases together with

different, potential lines of action. The resulting laugh-riot was full

of confusion yet still delivered some excellent pearls to deal with

unusual characters and cataracts.

As APAO president, Prof McGhee had a busy schedule with a

number of different speaking engagements, including seven

scientific lectures! These ranged from the truly educational, on iris

melanoma and corneal transplants, to some more entertaining ones,

including, 'Chevalier Taylor', the oculist who blinded Handel and

Bach: self-promoting quack or the target of fake news'. The lecture

was as informative as its intriguing title!

Technological advances were also on the menu of the corneal

surgery symposium where advances in corneal endothelial surgery

were discussed at great length. Although several 'improved' versions

of endothelial keratoplasties have emerged, it is not clear whether

they lead to better outcomes in terms of vision, according to Dr

Sanjay Patel (Mayo Clinic, USA). Professor Donald Tan of Singapore

National Eye centre also explained about alternative surgical

approaches including 'no touch' and 'hybrid-'.

There were a significant number of invited lectures by New Zealandbased

ophthalmology professors, lecturers and post-doctoral fellows.

The anterior segment and cornea was well covered by Auckland's clinical

and laboratory-based research team. Professor Dipika Patel discussed

imaging the inflamed cornea; Dr Rasha Al-Taie lectured on corneal

transplantation in a paediatric population; Dr Akilesh Gokul tackled the

biomechanical properties of the cornea and keratoconus management:

Professor Trevor Sherwin and Dr Jie Zhang delivered lectures on stem

cells; while I presented on imaging the cornea with systemic diseases.

New Zealand's contingent was not only a significant part of this

internationally-renowned conference in terms of lectures and

free paper presentations, but we also won a couple of awards! Dr

Samantha Simkin won the best scientific free paper award for, 'Widefield

Digital Imaging and

Telemedicine for Retinopathy

of Prematurity: The Auckland

Experience' in the Paediatric

Ophthalmology & Strabismus

category; while Salim Ismail,

Jane McGhee and Prof Sherwin

won the best video award,

'Die Another Day: The Journey

of a stem cell sphere to fulfil

the promise of regenerative

medicine'.

The conference also played

host to some star-studded

social events! While the

opening ceremony was a

colourful musical event, the

gala dinner had a few hearttouching

performances by a group of blind musicians and a cheerful

band of school kids. To conclude the evening, a seven-course dim sum

meal delighted our pallets! APAO also organised its third charity run

to raise funds for Blind Sports Hong Kong and the new APAO Satellite

Congress educational programme.

Overall, the 33rd APAO had numerous glitzy moments of science,

innovation and entertainment. I am particularly looking forward to

UP TO

28T

The New Zealand delegation to APAO 2018 with Dr Stuti Misra (centre, in red) and Professor Charles McGhee, APAO president (fourth)

finding out more about the role of artificial intelligence and deep

learning in ophthalmology at the next APAO annual meeting in

Bangkok, Thailand, from 6-9 March 2019. ▀

About the author

*Dr Stuti Misra is a lecturer in the Department of Ophthalmology at the University of

Auckland. Her research revolves around ocular surface and imaging in corneal disorders

and systemic diseases.

Orthoptists demand unrecognised

BY ELLA EWENS

The orthoptics profession is in high demand in New Zealand

with a staggering one fifth of the clinical positions (five of 26)

nationwide currently vacant. Yet the orthoptics profession

does not appear on the skilled shortage list in New Zealand.

Carly Henley, president of the New Zealand Orthoptics Society

Incorporated (NZOSI) says orthoptics' services are extremely

stretched geographically and, recognizing the need, NZOSI has

asked the government to add the profession to the skilled shortage

list.

In Australia, orthoptics is listed on the short-term skilled

occupation list. There are currently 500 orthoptists practising

and demand is predicted to exceed output in the next few years.

In New Zealand there are currently two vacancies for orthoptists

in Auckland, two in Dunedin, one in Hamilton and one in

Christchurch, all within district health boards, except one in a

private eye hospital.

As there is presently no orthoptics training institute in New

Zealand, orthoptists that practice in New Zealand have trained

ether in Australia or the UK. In Australia, the course is a twoyear,

full-time technical course with a clinical placement, which

is offered by the University of Technology in Sydney or La Trobe

University in Melbourne. In the UK, the course comprises three

years full-time study with a six months honours extension offered

at the Universities of Liverpool or Sheffield. The courses equip

graduates with the skills to diagnose and manage eye conditions,

including strabismus, amblyopia, traumatic injuries, tumours, head

injuries, diabetes and strokes, in a range of patients from newborns

to the elderly. In New Zealand, almost all orthoptists practicing

have been trained in the UK.

With only 26 orthoptic positions countrywide a training

institute is currently not a viable option, but Henley admitted

the geographical gaps and the busy, stressful clinics for those

New Zealand still struggling to fill orthoptist vacancies

few practicing orthoptists across the country are a problem. "The

situation is concerning and getting a course registered is tricky,"

she said, adding she would like to evaluate distance learning and

hospital placements as an option for at least part of an orthoptics

course here in New Zealand.

She would also like to see more continuing professional

development options for orthoptists in New Zealand. "Orthoptists

are a very important group of clinicians who play an essential role

in the management of ocular muscle imbalances and paediatric

eye conditions."

For related news, see story on the latest Squint Club meeting in

Sydney on p19.

World orthoptic day – June 4, 2018

The International Orthoptic Association (IOA) is the

global voice of the orthoptic profession and is made up

of 15 national professional organisations and six associate

organisations. The IOA World Orthoptic Day aims to boost the

visibility of the orthoptic profession and promote the activities

of orthoptists locally, nationally, and internationally.

World orthoptic day and the associated week-long

celebrations help to increase the awareness of orthoptists

and the association and the truly global impact of orthoptics.

A key part of this is the annual, international photography

contest, where all

orthoptists and

orthoptic students

are asked to take

out their cameras

and cellphones

and join in the fun.

Previous

competition

entries have

shown real flair

and creativity,

using lots

of different

Last year's winning photo entry

techniques to

stage the perfect orthoptic-themed photo, said the Association.

This year's theme is 'Reflections in orthoptics,' which can be

interpreted in any way as long as the image represents an

aspect or aspects of orthoptic science. Entries for this year's

contest close on 20 May 2018. This year, the Association is

also running a 'World Orthoptic Day Selfie Contest' where

orthoptists are asked to send in a photo of themselves relating

to orthoptics in clincial practice, such as wearing a patch, using

a prism or an occluder, or anything. The prize for the most

original entry is an 16GB iPad mini. Entries open on World

Orthoptic Day on Monday 4 June and close at 11.00pm GMT on

Friday June 8th.

6

NZ Optics advert 1/4PageHoriz.indd 1

NEW ZEALAND OPTICS May 2018

12/04/2018 10:30 AM
---
Seeking help for Stickler's

BY JAI BREITNAUER

In rural Taranaki, on a dairy farm that looks just

like any other there is a boy playing with his dad's

tractor. Just four years old, he marvels at the giant

wheels and squeals with delight when the engine

starts. It's a scene endemic to rural New Zealand, but

this particular little lad, Lucas Kiser, is not like other

four-year-old boys. In fact, he's very rare indeed.

"Lucas was diagnosed with Stickler Syndrome,

infantile glaucoma and severe myopia when

he was four months old," says his mum Sonia,

who is married to Michael and has another son,

Andre, now three. "He had pressures of 38 in his

right eye and 24 in his left the day we saw the

ophthalmologist, and he has been as high as 48.''

Stickler Syndrome is rare but not unheard of in

New Zealand. Characterised by structural problems

of the eye and unusual facial features, the biggest

optical risk for the patient is usually retinal

detachment. However, Lucas has an especially rare

version of this recessive genetic disorder that walks

hand-in-hand with glaucoma and is estimated to

affect just 5%-10% of people with the condition.

"He wasn't a happy baby. The first four months

were hard," admits Sonia. "He cried a lot, rarely

slept, didn't feed well and was sensitive to light so

we couldn't go outside much."

The family went to their GP frequently for what

everyone thought was repetitive conjunctivitis, but

when Michael saw the cloudy film on Lucas' eye

he decided enough was enough and they bundled

Lucas off to see their local ophthalmologist, Dr

Ross Neville-Lamb who referred them directly to

paediatric specialist Dr Justin Mora in Auckland

with suspected glaucoma.

Having seen a patient with Stickler before,

Dr Mora recognised the characteristics of the

condition and sent a blood sample to the USA

where the diagnosis was confirmed by geneticists.

"We've been so lucky to have Dr Mora, he's

amazing," says Sonia. "He's seen Lucas over 40 times

in the last four years and he's brilliant with him."

To date Lucas has had over 25 surgeries,

anaesthetics and sedations, including three

goniotomies; a molten tube insertion; a lens

implant, later removed following a detached

retina; cataract; and cry and laser therapy. He has

Lucas' Give a Little page

May is for macula

Mirroring its counterpart across the

Tasman, the Macular Degeneration New

Zealand (MDNZ) team is gearing up for

'Macula Month' from 1-31 May.

Originally started by the Macular Disease

Foundation Australia, Macular Month (well, it used

to be a week) is an annual campaign designed to

raise awareness of macular disease both directly,

through an annual consumer campaign, and

through eye health practitioners who are at the

cutting edge of catching the disease early and thus

preventing blindness.

In New Zealand, supplements company

Blackmores and pharmacy chain Health 2000 are

running a promotion through Health 2000 stores

throughout New Zealand to promote awareness

and raise funds for MDNZ. The charity receives 5%

of all sales of Blackmores' eye health products.

MDNZ has written to all optometrists and

ophthalmologists reiterating the need to keep

patients informed of the dangers of macular

degeneration and the importance of Macular

Month, with the hope they will get involved. It

is providing free consumer cards to give away

to at risk patients and is talking to media and

advertising organisations with the hope of

encouraging some support.

eye drops every day, has had months of patching

and can currently only see out of one eye, and it's

not clear if he will be able to see out of it again.

On top of his eye problems he has a hearing

impairment and could suffer early-onset arthritis

as he grows older.

"He's a trooper and hasn't let it stop him," says

Sonia. "He loves doing jobs on the farm and goes

to kindy a couple of days a week. He's such a happy

boy, loves his friends, and loves his tractors!"

When the Kiser family heard about the Stickler

conference in Portland, Oregon, in July this year

they were instantly keen to go. It will be packed

full of specialists from across the globe, plus other

families the Kiser's can relate to.

"There are two other families in New Zealand

who have been in touch with us, who have

Stickler," says Sonia. "But as far as I'm aware they

don't have glaucoma as well. We feel so alone.

To be able to meet people who are actually living

through this, to talk to their specialists and learn

how we can support Lucas, and how we can

support his teachers when he starts school, that

would be amazing."

Sonia notes how isolated New Zealand is, not just

geographically but in terms of Stickler experience.

"Dr Mora and other specialists have been learning

with us on this journey. (At the conference) we

could find contacts and information that could be

essential to their continued help with Lucas and

other Stickler patients in New Zealand."

The airfares alone will cost $10,000 so the family

has reached out to their local community for help.

They've received donations from two local charities,

Team Hope and Little Fighters Trust. They also have

a Give A Little page that has raised $4525 so far.

"We've had amazing support from our friends,

family and our community so far," says Sonia. "This

is such a great opportunity for us, and we feel so

grateful and humbled by the help that we've been

given."

The ophthalmologist's view

NZ Optics spoke to Lucas' lead medical

professional, ophthalmologist Dr Justin Mora from

Auckland Eye, about this case.

"Stickler syndrome is not uncommon, but to have

infantile glaucoma and Stickler syndrome is very

rare. There are three cases in the

literature of children who were

diagnosed with Stickler syndrome

based on these characteristics.

Lucas Kiser is the only confirmed

genetic case in medical history. He

is unique.

"While Stickler syndrome is

a connective tissue disorder, a

major characteristic is a structural

abnormality of the eyes causing

severe myopia. Invariably Stickler

patients are very short-sighted.

In some children, there is also

an abnormality of the anterior

segment, which can lead to

glaucoma.

"It's been interesting for me to

look after Lucas, from a medical

perspective. He's a very challenging

case. As a paediatric specialist, I see a

1 in 7 people over 50

will get Macular

Degeneration

At Risk

1,500,000

We need to

reach these

people early

Diagnosed

160,000 Vision

Loss

33,000

So that

effective

treatment is

given

Meaning

less

become

blind

With one in four people expected to be aged over

65 by 2030 and 41% still unaware they could be at

risk of macular degeneration, this is not something

Early detection saves sight

that can wait, says Phillippa Pitcher, MDNZ general

0800 622 852 mdnz.org.nz

manager in her letter to eye care professionals. "To

halt a potential epidemic of blindness, we need to

be proactive to save sight so that New Zealanders

can live well in old age."

So, for the month of May at least, when you think

'May', think 'macula' too. For more about MDNZ

and how you can become a "professional friend",

visit, http://mdnz.org.nz/ ▀

Michael, Lucas, Sonia and Andre, looking for help for Lucas

lot of children with infantile glaucoma, but not with

a refractive error of -17, which is what Lucas had.

When we removed his cataract in the right eye we

had to answer the question as to what to do with the

left, which still had a -16 refractive error. Do you leave

him unbalanced? Do you remove a healthy lens?

There have been some tricky questions to answer.

"There are other Stickler cases in New Zealand,

and it can be diagnosed in young adults as well as

children. Severe short-sightedness at a very young

age should raise the question, 'is there something

else going on?' Always refer such cases to a

paediatric ophthalmologist. Retinal detachment is

the main risk for Stickler patients.

"The Kisers have been up to Auckland countless

times and Lucas has had several surgeries under

anaesthetic, but they're such a positive family and

he's a happy boy. I'd love to see them participate

in this conference. Any family with a child with a

rare condition will value meeting other families

with similar problems, knowing they're not alone.

It could also open up future treatment options to

Lucas as the family develop networks with families

and practitioners in the US. It would be a great

thing for them and I fully support it.

To help the Kiser family make it to the Stickler

conference in the US, please visit www.givealittle.

co.nz/cause/help-get-lucas-and-his-family-thestickler

Editor's note: Writer Jai Breitnauer was so moved

by Lucas' story she has donated part of her writing

fee to the family's cause.

Stickler Syndrome – The facts

• Stickler Syndrome is the umbrella name for

a group of hereditary conditions. The main

characteristic is a distinctive facial appearance

• Abnormalities include eye structure issues,

joint problems and hearing loss

• Cleft palate and small lower jaw can also lead

to breathing and feeding problems in infants

• Patient joints can be loose and hypermobile.

Arthritis and osteoporosis can occur early in life

• It's an inherited condition, but the more severe

type that Lucas has is recessive

SHAMIR OPENS NEW

GLAZING & CUSTOMER SERVICE

FACILITY IN AUCKLAND!

1st Floor, Entrance B, 31-35 Carbine Rd

Mt Wellington, Auckland 1060

New Zealand Account Manager

Francois Cronje 021 449 819

www.shamir.co.nz

May 2018

NEW ZEALAND OPTICS

7
---
SPECIAL FEATURE: CCLS

Celebrating 60 years with warmth and style

BY ROBERTA MCILRAITH AND ADELE JEFFERIES*

This year the Cornea and Contact Lens Society

celebrated its 60th birthday. Though the

educational content and knowledge has

dramatically evolved over the last 60 years, the

high standard of clinical learning and warm

collegial environment never changes, making it

always one of the better conferences to attend.

Following a popular OCT and glaucoma workshop

(see story p10) on the Saturday and a night's

quizzing (with prizes kindly donated by specialty

and custom contact lens manufacturer Precision

Contact Lenses) this year's one-day conference

was opened by CCLS president Jagrut Lallu who

introduced our first speaker, Associate Professor

Jennifer Craig.

Dry eye advances

Jennifer discussed the widely-anticipated findings

of the Tear Film and Ocular Surface Society's

second Dry Eye Workshop (TFOS DEWS II), which

will no doubt become the basis for our in-office

classification and care models for patients affected

with dry eye symptomatology. She also explored

the predisposition of the Asian eye to dry eye

disease, with meibomian gland dysfunction and

incomplete blinking being the main culprits, and

discussed the dry eye elixir that is manuka honey.

Research in the area of cyclodextrin-enhanced

manuka honey-based ophthalmic products used

to treat blepharitis and demodex-related issues

has shown huge benefit and we now eagerly await

these products becoming commercially available.

Optometrist-turned-doctor, Dr William

Shew then discussed the early results of his

chalazion study and the potential link between

chalazia (or meibomian cysts) and dry eye,

demonstrating how chalazia significantly alter

lid anatomy. The majority resolve within six

months, but a proportion require either steroid

injection or incision and curettage. "This has

important implications for those undergoing

repeat procedures as meibomian glands have no

regenerative capacity," he said.

Dr Ilva Rupenthal continued the dry eye theme

later that morning, introducing NovaTears, the

most recent addition to the ocular lubricant

market. This product is both lipophobic and

lipophilic, arranging itself to offer the best

contact to the ocular surface (lipophillic) and

the atmosphere (lipophobic) without the use of

H2O. By not having H2O, the product remains

preservative free and carries no buffers, spreading

readily across the eyes, feels like silk and remains

longer on the eye than other ocular lubricants. For

more, see p11.

From iris reconstruction to Down Syndrome

and keratoconus

Professor Charles McGhee wowed us with

impressive surgical procedures that can be

employed to reconstruct irises and regional areas

of the cornea, such as in cases of corneal limbal

thinning. He also presented some interesting and

worrying figures on keratoconus rates among

individuals with Down Syndrome tested at the

Special Olympics. Prevalence as high as 37% may

well suggest a need for screening with a view to

cross-linking in this group of Kiwis.

An update on the economy

Having our ears trained on eyes all morning, it

was delightful to see the return of Tony Alexander,

chief economist at the BNZ, who provided an

upbeat update on the New Zealand economy.

In 2016 he discussed the effect on the economy

of the Auckland housing crisis and the reduced

dairy payouts, but this year his talk centred

Pamper your eyes with

Oté Natural Eye Drops!

Oté Natural Eye Drops

The eyes are exposed every day to external influences

like wind, dust, UV radiation and air pollution. This can

result in dry, tired and/or irritated eyes. The new Oté

Natural eye drops based on a natural lubricant and

free of preservatives ensure maximum lubrication

and protection of the tear film …. a gift for your eyes!

Corneal Lens Corporation

T. 0800 954 536

E. sales@corneal-lens.co.nz

W: www.corneal-lens.co.nz

Richard Newson, Jonathan Foate and Miriam Foate

Speakers Dr William Shew, Professor Charles McGhee, Dr Ilva Rupenthal and A/Prof

Jennifer Craig

Sanje Munathanthiri, Situ Thakersi and Eleisha Dudson

around increasing migration and investment in

infrastructure, which are keeping us employed and

house prices high.

Ortho-k to coating CLs and keratometry

After a break for lunch and time to catch up with

colleagues, optometrist Alex Petty, always an

enthusiastic speaker with clinically-relevant pearls,

offered a commentary on a variety of everyday

complications we see with specialty contact

lens fitting, including ortho-k and the now more

frequently used scleral lenses. It is always reassuring

to find that those minor epithelial desquamations

are being experienced by other speciality contact lens

fitters, but also that they have fairly simple causes

and solutions, such as dealing with solution toxicity

and re-fitting techniques.

Auckland optometrist Emilie Langley then

discussed the rates of ortho-k regression in

patients coming out of their lenses, noting

that regression rates are more rapid for higher

prescriptions and female candidates in general.

Overseas guest speaker, Professor Heather

Sheardown, from the chemical engineering

department and optometry school at Waterloo

University, Canada, talked about the benefits of

coating contact lenses with different compounds.

This included the use of hyaluronic acid to lower

deposition and protein build-up to increase

the lubricity and wettability of contact lenses

to enable a more comfortable and tolerant

experience for the contact lens wearer – the

ultimate goal of her work.

Dr Dean Corbett spoke to us about new

techniques employed in patients with radial

keratotomy (common in the '80s and '90s) who now

present with cataracts. This is a complex situation

where patients have relatively unstable corneas,

meaning the biometric data is compromised and

thus their outcomes can be unpredictable.

Lifetime membership awards

To honour the 60th year of the CCLS, two lifetime

memberships were awarded to Dr Malcolm

McKellar and Alan Saks both of whom have

contributed enormously to this Society and in the

area of contact lenses.

Dr Malcolm McKellar was the one of the first

optometrists to retrain as an ophthalmologist. He

trained in New Zealand and then gained further

subspecialty experience in treating diseases of

the anterior segment, cornea

and external eye in Israel and

England. He helped established

the Cornea Clinic at Christchurch

Public Hospital, is a founding

member of the New Zealand

Ocular Tumour Service, has

helped and continues to help

train both optometrists and

ophthalmologists and has served

as an active Society councillor.

He's also been very active in

charity work, donating his

time and skills to the Volunteer

Ophthalmic Services Overseas

(VOSO) in Vanuatu and Fiji, and

further afield in the Gaza Strip.

Leith O'Connor and Peter Turner

Dharshie Hughes, Joy Hoshek and Sandhya Mathew

Kent Napier, Richard Johnson and Greg Nel

Alan Saks is a South African-born and trained

third generation optometrist who worked for

many years in New Zealand. A long-serving

consultant and advisory board member to Johnson

& Johnson Vision Care, he's an advocate for new

CL technologies, pushing for higher Dk lenses,

safer systems and better performance. A former

president of the Society, he now lives in Australia,

where he continues to take part in workshops,

international panels and conferences and write on

all things contact lens.

We were lucky to have them among us.

A look back and forward to the next 60

years

After accepting their awards, Alan then went

on to round out the weekend, regaling us with

memories and wisdom from his years in practice

and as a member of the Society. He reminded us

how important the relationships are that we build

in the profession and the role that the Cornea

and Contact Lens Society has played for him, and

continues to play for us.

After 60 years, it appears the CCLS is still going

strong and we look forward to the next 60 years

of friendship with colleagues who care for the

anterior eye, contact lenses and, most importantly,

the patients they're attached to.

*Roberta McIlraith is a CCLS councillor and Christchurch-based

optometrist, specialising in specialty contact lenses, ortho-k,

myopia control and fitting keratoconic corneas. Adele (Ralston)

Jefferies is a therapeutic optometrist and national clinical manager

for Matthews Eyewear Eyecare. She has a special interest in

contact lenses, dry eye and other ocular surface disease, ocular

therapeutics, ophthalmology co-management, patient education

and optometric education.

Drs Chris Murphy, Malcolm McKellar, awarded a lifetime membership of CCLS for services to the

industry, and Reece Hall

8 NEW ZEALAND OPTICS May 2018
---
DAILIES TOTAL1 ® Multifocal contact lenses –

THIS IS WHY correcting

presbyopia will never be the same

DISTANCE

>80%

>80%

33%

WATER CONTENT (%) 3

INTERMEDIATE

NEAR

UNIQUE WATER

GRADIENT

TECHNOLOGY 1–3

The world's first and only Water Gradient lens

designed to give presbyopic patients the ultimate

lens-wearing experience.

Seamless Vision Correction 4

4+

Industry-leading Precision Profile Design

is built in to deliver clear, uninterrupted vision

Exceptional Comfort 5,6

Unique Water Gradient Technology

to reduce end-of-day dryness* 5,6

PERFORMANCE DRIVEN BY SCIENCE

*Based on in vitro measurement of unworn lenses.

References: 1. Thekveli S et al. Structure-property relationship of delefilcon A lenses. Cont Lens Anterior Eye 2012;35(Supp 1):e14. 2. Angelini T et al. Viscoelasticity and mesh-size

at the surface of hydrogels characterised with microrheology. Invest Ophthalmol Vis Sci 2013;54:E-Abstract 500. 3. Dunn A, Uruena J, Huo Y. Lubricity of surface hydrogel layers.

Tribol Lett 2013;13(2):371-378. 4. Alcon data on file, 2013. 5. Pérez-Gómez I, Giles T. European survey of contact lens wearers and eye care professionals on satisfaction with a

new water gradient daily disposable contact lens. Clin Optom 2014;6:17-23. 6. Alcon data on file, 2014. Based on an ANZ survey of 61 eye care practitioners fitting 248 patients

in DAILIES TOTAL1 ® contact lenses (assessed 1st October, 2014).

© 2018 Novartis. Alcon Laboratories (Australia) Pty Ltd. ABN 88 000 740 830. Phone: 1800 224 153; NZ: Phone: 0800 101 106. 04/18 ALC0833 NP4:A21612567883.

May 2018

NEW ZEALAND OPTICS

9
---
SPECIAL FEATURE: CCLS

Stephen Hill, Peter Grimmer and Aniell Esposito DFV's Ralph Thompson and Will Robertson flank Sarah Lord and Stephanie Wallen Claire McDonald and Dr Dean Corbett

Wielding the power of OCT

BY DR CHRIS MURPHY*

A

one-off, all-day workshop providing a full

overview of OCT technology and its clinical

uses was arranged immediately before the

CCLS one-day conference on Saturday 17 March

2018.

More and more optometry practices across

the country are either considering or have

purchased OCT machines. OCT investigations

and OCT-assisted monitoring lead to a dramatic

improvement in clinical care, so the board of CCLS

thought it was timely to arrange a workshop to

provide an insight into OCT technology and the

interpretation of results.

I opened the workshop and presented the

first lecture, which discussed the basics of

OCT technology: how the initial time domain

technology created a relatively poor image and

how technological advances have led to the

newer spectral domain technology, which is now

the technology of choice for nearly all OCT's on

the market. I also discussed swept-source OCT

technology, the latest advancement, which is more

expensive but has a number of benefits, such as

greater clarity of images and greater penetration,

allowing the choroidal vasculature to be visualised.

While this technology is currently only available

with the Topcon Atlantis OCT machine, other

manufacturers are in the process of developing

their own swept-source OCT machines, which

should be available soon.

Dr Jesse Gale, an ophthalmologist and glaucoma

subspecialist from Wellington, then provided

a comprehensive overview of OCT use in the

diagnosis and management of glaucoma. He gave

many helpful hints about how to maximise the

use of OCT in this area and interpret the glaucoma

assessment printout. This allows for a much more

accurate diagnosis, and thus management of the

disease, rather than the simple "red is bad, green

is good" guide. Jesse then went on to cover many

of the pitfalls of glaucoma and ocular hypertensive

monitoring techniques and reinforced appropriate

referral guidelines. He discussed the benefits and

weaknesses of some scans, including ganglion

cell patterns, which are available with some

machines such as Zeiss' Cirrus, and the need

to incorporate the information into an overall

glaucoma assessment. He ended his presentation

with a look at where OCT can be helpful in neuroophthalmology

diagnosis, such as identifying

papilloedema.

This was followed by an hour-long lunch with

much socialising and catching up with colleagues

from around the country.

I then presented another lecture, this time

on the uses of OCT in the anterior segment,

discussing the assessment of the angle in

multiple axis, which the new swept-source OCT

scans do particularly well, and providing some

examples of corneal surgery where the depth

and accuracy of the incisions can be

easily assessed. As an aside, at the

request of the CCLS President Jagrut

Lallu, I also discussed the current

uses of Avastin in the treatment of

corneal neovascularisation, which

is a very difficult condition to treat.

Examples include vascularisation of

the cornea from severe limbal vernal

keratoconjunctivitis or vascularising

hydrops. Avastin is a simple,

inexpensive and effective treatment

and is now available publicly from

many hospital eye departments

including Waikato.

The next speaker, Richard Johnson, a well-known

optometrist working in the Greenlane Clinical

Centre in Auckland, gave an informative and

entertaining lecture on OCT uses in medical retina

treatment, in particular, macular assessment. He

covered many of the common conditions that

optometrists are likely to encounter, explaining the

"normal range" which could not be assessed before

OCT scans were available.

Complementing Richard's talk was a presentation

by Auckland-based ophthalmologist Dr Andrew

Riley, who gave a comprehensive review of medical

Tim Eagle, keynote speaker BNZ's Tony Alexander and Simon Rose

retina conditions, including macular pathology,

treatment and referral guidelines. In a wideranging

and engaging talk, Andrew also discussed

OCT assessment of vitreoretinal conditions and

their treatment.

On behalf of the CCLS board, I would like to take

this opportunity to thank the speakers for their

time and efforts, the Capital Vision Research Trust

for the faculty and the 53 attendees for their

participation. We hope you found it useful for your

continuing clinical practice.

*Dr Chris Murphy is a Hamilton-based ophthalmologist and CCLS

councillor.

Craig: 027 565 7200 Robert: 027 565 7720 P: 0800 657 720 info@oppmed.co.nz

Renata Watene and Nick Burbery

Radiant Health ramps up

B+L team

Radiant Health's Bausch+Lomb (B+L) team

has been reorganised and expanded to

include two more people chosen for their

skills to help practices.

Key account manager Yvette Beattie has been

promoted to national sales representative and

will be supported in her role across the country

by Conor Fitzgerald and Leanne Fierro.

Fitzgerald has been with Radiant for nearly

three years, having first been employed to sort

out a new customer relationship management

system. This included bringing the B+L customer

service in-house, which has been good, he says,

as it's given Radiant more control, providing a

far better service. With a background primarily

in marketing, including some consumer

healthcare, he admits, however, that the world

of eye health is new to him. "There is a lot to

learn, but I'm enjoying getting into it."

Beattie says Fitzgerald will help provide

support in the field and tailor campaigns and

merchandising to what optometrists actually

need. "It's great to have him on board because

he's young and dynamic and he's tapped into

using social media and marketing."

Fitzgerald will be helping B+L practices with

their social media, specifically to target new

Kylie Dreaver and Andrew Black

Yvette Beattie and Conor Fitzgerald

and existing local customers, and is currently

trialling the new initiative with one practice

before rolling it out to others.

It's also great to have Fierro join the sales

team, says Beattie, as she has more than 25

years' experience in sales and advertising. "She

has a lot of merchandising experience with

pharmacies so she will be able to help practices

with in-store merchandising and window

displays, while remaining part of the customer

service team. So, we've got a really nice little

team now."

10 NEW ZEALAND OPTICS May 2018
---
From the exhibitor's hall

As one of the main events in the New Zealand ophthalmic

calendar for both optometrists and anterior segment

ophthalmologists, the Cornea and Contact Lens Society (CCLS)

of New Zealand's annual conference is well supported by sponsors.

This year's one-day conference was no exception with some of the

industry's best-known companies on-hand to demonstrate and

discuss their latest technical advances with delegates.

The following is a brief snapshot of what was new and was

attracting attention at the 2018 CCLS NZ conference in Wellington.

AFT Pharmaceuticals – NovaTears

Kiwi-based pharmaceuticals company AFT's latest eye product,

NovaTears, manufactured by Novaliq, was attracting a lot of

attention in the exhibitor's hall following a talk about it by Auckland

University's Buchanan Ocular Therapeutics Unit director Dr Ilva

Rupenthal.

There are more than 100 artificial tears products on the market

today, but most are aqueous-based and so have little effect on

the lipid layer, she told the audience, disclosing how her unit was

involved in some of the research on NovaTears. "But NovaTears is

a disruptive technology, completely different to anything on the

market today... It lubricates the eye and stabilizes the lipid layer."

NovaTears incorporates Novaliq's proprietary EyeSol technology, an

innovative multi-dose, non-aqueous and preservative-free topical eye

drop, which forms a thin and smooth protecting film to support the

lipid layer and prevent tear evaporation, thus relieving dry eye and

irritated eye symptoms. The special formulation allows the drop to

spread over the surface of the eye quickly, with less "spill-over" and

no vision blurring, explained Dr Rupenthal.

This technology is now being applied across Novaliq's clinical

pipeline, which includes variations on NovaTears, combining it with

other well-known eye health benefactors, such as Omega 3. The

EyeSol technology is also being tested with some of Novaliq's other

eye health drug products, all of which could potential be exciting

treatment options for the other ophthalmic indications, she said.

OptiMed

Taking pride of place on the OptiMed stand was the Optopol REVO

OCT and the REVO NX model, providing scanning speeds faster than

any other OCT in the world, said Craig Norman from OptiMed NZ.

"You get far more reference points and higher resolution in a much

shorter period of time. It's so fast, the patient barely has a chance to

move their fixation, so you minimise any artefact errors, just better

quality results!"

The new REVO also has the optional extra of OCT-angiography

(OCT-A) to visualise the microvasculature of the retina. With the

latest upgrade, it can now combine these images into a detailed,

12x12mm widefield mosaic to allow eye health practitioners to

view a far larger area of the eye than was previously possible, said

Norman. "So, this can take OCT-A images of the retina, the macula

plus the disc and knit them together to give you the big picture; all in

one view, rather than having to look at several smaller images." Plus,

the new REVO has the option of OCT biometry, allowing practitioners

to combine their OCT data with axial length measurements, which

can be important for looking at myopia progression in children, for

example, he explained.

Corneal Lens Corporation (CLC)

Echoing one of the main themes of the conference, CLC has

introduced a new range of preservative-free solutions for mild to

moderate and severe dry eye. The new Lumecare Camellose 0.5% and

1% concentrations are both available in single dose applications and C

are a good alternative to Thera Tears until the latter comes back into

M

the market later this year, said CLC director Graeme Curtis. "Each has

its own uniqueness, both with low osmolarity."

Y

Lumecare also offers a broad spectrum, multi-dose, preservativefree

range called Evolve, for all severities of dry eye, favoured by

CM

MY

the UK's National Health Service. These products have a unique

delivery system; a generation two, blue-tip technology, which

CY

uses a one-way valve to deliver a measured dose, while preventing

CMY

any contamination, said Curtis. "It's very patient friendly so you

don't have to plunge solution into the eye. These bottles deliver a K

measured drop, with one touch, so no wastage and no concerns

about putting the plunger in your eye. Arthritic patients love them

because they are so much more user-friendly."

This next generation delivery system is also being employed for

other drop products, some of which CLC hopes to introduce to the

market soon, he added.

Ophthalmic Instrument Company (OIC)

OCT technology was a key talking point for OIC at this year's

conference. It's Spectralis system, combining scanning laser fundus

with high-resolution OCT, made by Heidelberg Engineering, featured

prominently in the CCLS NZ's OCT Workshop day, run by Dr Chris

Murphy (see page 10), while Nidek's Retina Scan Duo, providing highdefinition,

3D auto-tracking and auto-shot functions in a compact

machine was attracting attention on OIC's main stand.

"Picking the right OCT depends on the practice, whether they are

starting out or have had OCT before, or if they have specialised in

some way," explained OIC's Tim Way. "The Duo, for example, is a

great screening tool for general optometry practices. It offers a lot of

flexibility for different pathologies yet is still very simple to use."

Given the dry eye theme of this year's conference another product

attracting attention was OIC's Eye Doctor Hot/Cold Eye Compresses

which are reusable, have a removeable, washable cover and can be

heated in the microwave or oven, or cooled in the freezer. The Eye

Doctor Compress is used to alleviate the symptoms and discomfort of

Meibomian gland dysfunction, eyelid cysts and dry eye disease.

CooperVision

CooperVision's Joe Tanner and Cherie Norton were focusing on the

company's MyDay and MyDay Toric daily disposable lenses and Biofinity

Energys, the latest lens in the Biofinity

range designed specifically to help manage

and alleviate digital eye fatigue.

According to the company, the

technologically-advanced silicone

channels in the MyDay material transport

oxygen so efficiently that less raw silicon

is required, sustaining wettability and

optimal water content. Whereas Energys

has been digitally engineered with

multiple front-surface aspheric curves

to distribute power evenly to simulate

more positive power centrally. Energys'

'Digital Zone Optics', when combined

with Biofinity's Aquaform Technology (which improves the lenses'

moisture, breathability and deposit resistance) help combat dryness

and tiredness, two key symptoms associated with digital eye fatigue.

Also attracting attention was CooperVision's Optomism, which

is currently being presented to practices across the country.

This packages CooperVision's products and services together to

support practice growth and explains CooperVision's international

commitment to more sustainable practices and charitable support.

Designs for Vision

Dry eye was the main theme of the Designs for Vision (DFV) stand at

this year's CCLS conference, with the company's complete suite of dry

eye products on display.

It's Oculos Keratography 5M is well-known to dry eye researchers,

CooperVision Half Page NZ Optics May 2018.pdf 1 11/04/2018 11:33:44 AM

CONTINUED ON PAGE 12

REASON FOR

MiSight ® 1 day:

available now *

Are you ready

to take on myopia

management?

• Daily disposable soft contact lenses

• Proven to significantly slow

the progression of myopia 1

Live Brightly.

Roberta McIlraith and CLC's Whitney Ferguson

Andrew Sangster, Kathryn Steeman and Adele Jefferies

William Shew, Richard Ng and Teresa Hsu

* Available for practices who meet accreditation criteria. Contact misight1day@au.coopervision.com for more information. 1. Chamberlain P, Back A, Lazon P, et al. 3 year effectiveness of a dual-focus 1 day soft

contact lens for myopia control. Presented at the 40th British Contact Lens Association Clinical Conference and Exhibition; 10 June 2017; Liverpool, United Kingdom. © 2018 CooperVision 03/18 EMVCOO0663

May 2018

NEW ZEALAND OPTICS

11
---
SPECIAL FEATURE: CCLS

Andrew Sangster, Frances Misich and Anne Matheson

CONTINUED FROM PAGE 11

having been the preferred tool for dry eye analysis for a number of

years. It easily and efficiently integrates complex examinations such as

meibography into ophthalmological and optometric practices, revealing

morphological changes in the glandular tissue and evaluating the tear

film. This is complemented by other products such as the Blephasteam,

which provides moisture heat therapy to relieve symptoms of

meibomian gland dysfunction (MGD); Optimel's manuka honey dry

eye drops; and the Eye-Light intense pulsed light (IPL) technology for

treatment of both the bottom and top lids.

DFV has been in the dry eye space for more than six years, so it's

something the company really understands, said DFV's William

Robertson. "The biggest thing for optometrists when it comes to dry

eye is to actually make the psychological leap to 'I'm really going to

treat my patients', rather than 'here are some drops', because it is

Recommend ACUVUE® Brand contact lenses

Always read the label. Use only as directed.

John Veale, Dharshie Hughes, Jeremy Fox and Iris Xu

and give your patients the power of choice

a commitment in time,

and dry eye patients can

be quite testing." But for

those who do invest in

it, it adds another string

to their bow, which can

attract a number of new,

long-term, loyal patients,

he said.

Johnson & Johnson Vision Care, a division of Johnson & Johnson Pacific Pty Ltd, 45 Jones Street, Ultimo, NSW, 2007, Australia.

Phone: 1-800-736-912. www.acuvue.com.au

Johnson & Johnson Vision Care, a division of Johnson & Johnson ( New Zealand ) Ltd., 507 Mt. Wellington Highway, Mt. Wellington, Auckland,

New Zealand. 0800-466-173. www.acuvue.co.nz

CCP 8907/18 TAPS PP2169

Alcon

The "SmarTears"

technology of Alcon's

Dailies Total 1 contact

lens range was the main

topic of conversation on the Alcon stand this year. According to the

company literature, SmarTears helps stabilizes the eye's tear film to

reduce dryness and provide better contrast sensitivity by releasing

phosphatidylcholine (PC), an ingredient found in natural tears,

which, together with Dailies water gradient technology and oxygen

transmissibility, helps provide extra moisture and restore the lipid

layer.

"PC is present in natural tears. It adheres the lipid layer to

the aqueous layer… providing a more comfortable contact lens,

especially for our presbyopes," said Caroline Perkinson, Alcon's

business development manager for New Zealand. "There are a lot of

presbyopes out there, and people do experience more discomfort as

they get older, so for optometrists, being able to give provide better

multifocal technology, which their patients can wear for longer helps

them grow that side of the business."

Alcon will be demonstrating this technology directly to practices

later this year in a series of roadshows around the country.

J&J new NZ recruit

Johnson & Johnson Vision's professional affairs manager and

optometrist Dr Emma Gillies was manning the J&J Vision

stand to explain the benefits of Acuvue Oasys 1-Day, and

its unique

Hydraluxe

technology,

and

introduce

new recruit

Alisha

Walker.

A trained

dispensing

optician,

Walker was

formerly

employed

by Paterson

Burn

optometrists

in Auckland

before

joining J&J

Vision in

August last

year. A 20-

year veteran

in New

J&J's Emma Gillies and Alisha Walker

Zealand's

optometry

industry, she says she's greatly enjoying her new role as a J&J

customer development manager in New Zealand, especially as

it allows her to travel around the country and share some of the

skills she's learnt managing different practices.

"It's more than just a sales role, it's about business support.

I bring a lot of frontline understanding about the challenges

of growing and maintaining a practice's success, which

involves everything from staff training and discussing the right

language to use for patients to helping optometrists identify

opportunities to maintain and improve their patient database."

Dr Gillies says she's also delighted to have Walker on board.

"Alisha brings a breadth of experience and level of enthusiasm

to the role which is refreshing and I just know she's going to do

very well in the New Zealand industry."

BHVI disproves CL

theory

Single vision contact

lenses with optical

designs that aim to

reduce inherent spherical

aberrations (SAs) of the

eye are not effective

in improving visual

performance, according to

a recent study¹ by the Brien

Holden Vision Institute

(BHVI).

The results of the study,

published in Clinical Optometry, show the assumption among

manufacturers that reducing the inherent SA of the eye will improve

vision is wrong, said study co-author, Dr Cathleen Fedtke, a senior

research fellow at BHVI, adding there are also no known published

studies to support this assumption.

To test the assumption, BHVI researchers randomly selected nonpresbyopic,

adult myopes, aged between 18 and 33 years, and asked

them to wear either a lens with minimal or no spherical aberration

or a commercial lens designed with negative SA.

Visual acuity measures and binocular vision assessments were

conducted and a questionnaire completed after the lenses were

fitted. Responses on vision quality (clarity and lack of ghosting for

distance, intermediate, near, and driving vision in day and nighttime),

vision stability, overall vision satisfaction and ocular comfort,

were rated. After five days of wear, the same tests were conducted

and the survey repeated.

"We found that the introduction of negative SA into contact

lenses did not produce appreciable visual performance gains in

terms of visual acuity or subjective metrics," said Dr Fedtke. "This is

the first study to show that inducing negative SA, as done in many

commercial single vision contact lenses, does not improve visual

performance."

Furthermore, the authors warned that power profiles of soft

contact lenses with negative SA "can induce measurable changes in

peripheral refraction (including relative peripheral hyperopia)", and

"this could have a negative consequence on the myopia progression."

Consequently, they suggest that, "given current clinical interest

in the peripheral retina in relation to myopia, clinicians should be

aware of the insignificant visual performance gains when fitting soft

contact lenses of this design on young and progressing myopes." ▀

Reference

1. Kho D, Fedtke C, Tilia D, Diec J, Sha J, Thomas V, Bakaraju RC, Effects of relative

negative spherical aberration in single vision contact lens visual performance.

Clinical Optometry, 2018:10 9-17.

12 NEW ZEALAND OPTICS May 2018

9562 NZ Optics - Half Page Poster-OUTPUT.indd 1 17/4/18 9:26 am
---
THE CONTACT LENS

FAMILY UNBEATEN

ON COMFORT 1

Warning: UV-absorbing contact lenses are NOT substitutes for protective UV-absorbing eyewear such as UV-absorbing goggles or sunglasses because they do not

completely cover the eye and surrounding area. You should continue to use UV-absorbing eyewear as directed.

Always read the label. Use only as directed.

1. JJVC data on file 2017. Claim for the family of ACUVUE OASYS® Brand Contact Lenses (2-week reusable) using clinical trials cited on www.clinicaltrials.gov website.

Johnson & Johnson Vision Care, a division of Johnson & Johnson Pacific Pty Ltd., 45 Jones Street, Ultimo NSW 2007, 1-800-736-912. www.acuvue.com.au

Johnson & Johnson Vision Care, a division of Johnson & Johnson ( New Zealand ) Ltd., 507 Mt. Wellington Highway, Mt. Wellington, Auckland. New Zealand ,

0800 466 173. www.acuvue.co.nz May CCP8908/18 2018 NEW ZEALAND TAPS OPTICS PP2166

13
---
Focus on

Eye Research

DSAEK, DMEK, epitheliumoff

crosslinking and

blepharitis treatments

EFFICACY AND SAFETY OF DMEK

VERSUS DSAEK: A SYSTEMATIC REVIEW

AND META-ANALYSIS

Saiqun Li, Liangping Liu, Wei Wang,

Ting Huang, Xingwu Zhong, Jin Yuan,

Lingyi Liang

PLoS One. 2017; 12(12): e0182275.

The surgical management of corneal

decompensation has traditionally

been with full thickness corneal

transplantation or penetrating

keratoplasty (PK) and more recently with

lamellar transplantation techniques

such as Descemet stripping automated

endothelial keratoplasty (DSAEK), in

which the Descemet's membrane

endothelial complex is transplanted

with a sheet of stroma, and Descemet's

membrane endothelial keratoplasty

(DMEK), in which the Descemet's

membrane endothelial complex is

transplanted in isolation and attached

in a suture-free method through gas

tamponade.

In this meta-analysis, the authors

evaluated 19 published articles

comparing the outcomes of DSAEK and

DMEK. The overall pooled estimates

demonstrated a significantly superior

post-operative best corrected visual

acuity, a comparable endothelial

cell density, and an increased graft

detachment rate in the DMEK group

compared with the DSAEK group.

Comment: Endothelial keratoplasty is

now the gold standard procedure for

endothelial disease comprising 31%

of corneal transplants performed in

New Zealand in 2015. There is now

increasing evidence to suggest that

whilst technically more challenging,

DMEK surgery provides better visual

outcomes following surgery compared

to more traditional DSAEK surgery,

but further surgical refinements are

required to shorten the learning curve

and improve potential intra-operative

and post-operative complications. Results

of the currently running, multicentre,

randomised clinical trial comparing

DSAEK and DMEK are keenly awaited.

PATIENT SATISFACTION WITH

EPITHELIUM-OFF CORNEAL

CROSSLINKING

Price M, Feng M, Price F

J Cataract Refract Surg. 2018 Mar 28

Crosslinking is the creation of bonds that

connect one polymer chain to another.

Corneal collagen crosslinking (CXL) is a

technique used to strengthen corneal

tissue utilising riboflavin (vitamin B2)

as a photo-sensitizer and ultraviolet-A

(UVA) to increase the formation of intra

and inter-fibrillar carbonyl-based covalent

bonds through the process of photopolymerisation.

In this article, the authors evaluate the

satisfaction rate of 448 patients after

a mean period of 3.5 years following

epithelium-off CXL. The mean satisfaction

score was 8.8 ± 1.7 (SD) on a scale of

1 (would not recommend CXL) to 10

(definitely would recommend) among

those treated for keratoconus. The

authors also demonstrate that 93% of

patients felt that the treatment halted

the progression of the disease with

younger patients reporting a higher

efficacy rate. Regarding vision, 87%

reported an improvement or stability of

their vision following treatment. Only

1.7% of the 644 eyes treated required

keratoplasty.

Comment: Keratoconus is a debilitating

BY DR MO ZIAEI*

condition with a disproportionately

high-impact on public health resources

and vision specific quality of life. CXL

has revolutionised the management of

keratoconus in recent years by effectively

stabilising the underlying ectatic process

and in some cases reversing the disease

as quantified by key topographic,

refractive and visual outcomes. More

than a decade after being introduced,

this minimally invasive treatment

modality is now fulfilling the promise of

treating keratoectasia at an earlier stage,

preventing the morbidity associated with

disease progression and precluding the

need for the more invasive keratoplasty

procedure. This article demonstrates that

CXL is viewed by patients as effective in

halting the progression of their ectatic

disease and also stabilising or improving

their vision.

RANDOMIZED DOUBLE-MASKED TRIAL

OF EYELID CLEANSING TREATMENTS

FOR BLEPHARITIS

Sung J, Wang MTM, Lee SH, Cheung

IMY, Ismail S, Sherwin T, Craig JP

Ocul Surf. 2018 Jan;16(1):77-83.

Blepharitis is complex ocular disorder

characterised by an imbalance in ocular

flora, meibomian gland dysfunction

and eyelid/ocular surface inflammation.

Blepharitis is one of the most prevalent

ocular disorders encountered by eye

care professionals. In this randomised,

double-masked trial, the authors

compared the efficacy of two lid hygiene

techniques by asking patients to use a

commercial eyelid cleanser in one eye

and conventional lid hygiene technique

using diluted baby shampoo in the other.

The results showed that whilst both

treatments reduced the patient reported

SPEED symptom score and improved

lash crusting and trichiasis, the eyelid

cleanser was the preferred treatment

of choice for most patients (53% vs. 9%,

p < 0.001). The cleanser also resulted in

superior improvements in clinical features

such as tear lipid layer and ocular surface

inflammatory markers such as MMP-9

expression. In a concerning finding, the

authors reported that baby shampoo

treatment was associated with adverse

outcomes such as meibomian gland

capping and MUC5AC expression (a

marker of goblet cell density and function

within the conjunctiva).

Comment: Blepharitis is a common

ocular disorder that can lead to

significantly altered quality of life. All

eye care professionals are well aware

of the challenges associated with

satisfactorily treating patients with this

chronic disease. This article provides an

insight into the potential advantages

of using commercial cleansing products

over traditional methods of lid hygiene

and highlights the need for further

studies looking into the effects of

using household products such as baby

shampoo on the ocular surface.

ABOUT THE AUTHOR:

*Dr Mo Ziaei has undergone quadruple fellowship

training in the field of cornea, ocular surface

disorders and anterior segment surgery at

Moorfields Eye

Hospital, London, and

New Zealand National

Eye Centre, Auckland.

He is an honorary

senior lecturer at the

University of Auckland

and a cornea and sight

correction specialist at

Re: Vision clinic and

surgery centre (see

story p3).

Eye Doctors provide a warm

start to autumn

BY SUSANNE BRADLEY

The arrival of autumn heralds the Eye Doctor's first

Grand Round of the year. Held at the Novotel in Ellerslie,

Auckland, this year's inaugural seminar on 28 March was

a warm and welcoming affair with many local optometrists

attending keen to kick off their annual cpd hunt and hear the

latest surgical updates from Eye Doctors' surgeons.

Wobbly eyes

Paediatric eye specialist, Dr Shuan Dai kicked-off proceedings

this year with a talk about childhood nystagmus or "wobbly

eyes", a disorder distinguished by involuntary eye movement.

He presented examples of different types of wobbly eyes,

explaining how to reach the correct diagnosis, which is

important not only for treatment but because the disorder

can be a sign of something more sinister, like multiple

sclerosis or a brain tumour, requiring further investigation

such as neuroimaging.

When the condition is associated with photophobia or

vision loss, this can be caused by albinism, aniridia, retinal

dystrophies, Leber's congenital amaurosis, optic atrophy/

hypoplasia, foveal hypoplasia and retinopathy of prematurity

(ROP). Occasionally, systemic conditions such as ataxia (acute

onset) and hydrocephalus can cause nystagmus.

Dr Dai told the audience if you suspect nystagmus in a

patient with normal ocular examination results, remember

"in medicine, nothing comes in isolation", you need to

look for other symptoms and patterns, such as laterality

(monocular must exclude central nervous systems gliomas),

jerk/pendular, horizontal/vertical/mixed movements,

amplitude, frequency and other abnormalities such as head

nodding to direct you to the likely diagnosis and further

investigations.

After establishing the reason for the nystagmus and making

a full diagnosis, including any link to secondary central

nervous system diseases, managing the patient includes

offering treatment of amblyopia, low vision services and,

possibly, nystagmus surgery.

Ditch the lingo

Next up, Dr Andrew Riley took to the podium on a mission

to stop what he calls our "secret language", or using medical

terminology when prescribing.

With 396 recognised abbreviations, it's no wonder patients

and sometimes even pharmacists and doctors get it wrong

when eye health professionals discuss conditions using a series

of ophthalmic acronyms, argued Dr Riley. Worryingly, according

to some statistics presented, 20% of all medical negligence

treatment claims result from the incorrect use of a treatment

drug and that can result from simple miscommunication.

There are guidelines available on good prescribing practice

from the New Zealand Medical Council, said Dr Riley,

admitting sometimes he too was guilty of too much lingo,

but if you follow the guidelines and write in plain English,

using for example "every second day" rather than QOD (que

otra dia), this will help reduce errors. If the prescriber, the

patient and the pharmacist can read the script fewer errors

will occur.

Computer-derived scripts are also helping to solve the

miscommunication problem, he said, as well as better patient

knowledge through improved education, familiarity with

the therapeutic goal and the drug in question, plus ongoing

monitoring of side effects and adverse events.

In summary, you need to get the five rights, right: the right

patient, the right drug, the right time, the right dose and the

right route, he said, and if in doubt, ask!

Glaucoma drops and complications

After a short break, Dr Mark Donaldson shared three cases

illustrating how different glaucoma eye drop treatments can

cause unexpected and undesired complications.

One case involved a myopic, 70-year-old engineer who

presented with suspected cystoid macular oedema (CMO),

after post-operatively using a topical prostaglandin

analogue/beta-blocker combination.

The patient had been treated for epiretinal membrane

left eye vitrectomy in 2014. He had open angle glaucoma.

The concern was the patient's intraocular pressure, said Dr

Donaldson, which was why beta-blockers were prescribed. But

the patient's vision began deteriorating. Test results showed

that CMO, which is statistically associated with post-operative

Dr Andrew Riley, Lizette Jordaan, Vandana Kumar and Anna Maitland

Ilana Gutnik, Shelley Brannigan, Debra So and Richard Johnson

Dr Mark Donaldson, Isla Hills, Hue Bullen and Dr Shuan Dai

use of topical PGAs – relative risk (RR) 1.86, 95% CI 1.04 to 3.32

and topical beta-blockers (RR) 2.64, 95% CI 1.08 to 6.49.

The post-operative use of each bimatoprost (RR 2.73, 95%

CI 1.35 to 5.53%) and travoprost/travoprost/z (RR 3.16, 95%

CI 1.42 to 7.03) in the year prior to diagnosis had been shown

to have a statistically significantly association with the

prevalence of pseudophakic CMO. This association, however,

said Dr Donaldson, was not observed to be statistically

significant with the post-operative use of latanoprost (RR

1.55, 95% CI 0.84 to 2.88). Interestingly, however, his patient

responded to having the hysite (latanoprost) stopped.

Pterygium surgery

Pterygium surgery has come a long way in recent decades,

said the final presenter of the evening, Dr Penny McAllum,

with surgeons changing to techniques providing lower

recurrence rates, such as conjunctival autografting with a

2-18% rate of recurrence. This compares with the old-school,

five-minute scraping the sclera process which resulted in up

to a hefty 88% recurrence.

There is also a method called P.E.R.F.E.C.T, Dr McAllum

said, now considered the gold standard in some centres,

with reported recurrence rates of less than 0.1%. So far,

this procedure (pterygium extended removal followed by

extended conjunctival transplant) has been successfully

carried out in Australia and comparable results have been

shown in a recent European study.

To further reduce recurrence, Dr McAllum said she prefers

tissue glue to sutures. When used correctly, a meta-analysis

shows it reduces the recurrence rate by 47% due to less

postoperative inflammation, she explained.

The main problem with current surgery is the lack of

standardisation in and recording of the techniques used and

the resulting outcomes, she said, adding that there was a

healthy debate on the topic at the recent Australia and New

Zealand Cornea Society meeting (see NZ Optics' April issue).

Some surgeons, who have developed a new surgery technique,

using a femtosecond laser to harvest the conjunctival graft, are

suggesting this will improve results by avoiding undertaking a

technically challenging part of the surgery manually. A point Dr

McAllum explained using the analogy, "if you've got a hammer,

everything will look like a nail".

With proper training and standardising measured cosmetic

and medical outcomes, pterygium surgery results will

continue to improve, she said, ending the evening on a

resounding upbeat note.

The next Eye Doctors' Grand Round will be held at Ormiston

Hospital on 13 June by invitation only, given space

constraints, while the final Grand Round for the year will be

held on 31 October. ▀

Linda Zhang, Trevor Skinner and Anh-Dao Le

14 NEW ZEALAND OPTICS May 2018
---
Ophthalmology wall of fame

BY ELLA EWENS

The annual Excellence in Ophthalmology and

Vision Research prize evening celebrates

talented personalities early in their

ophthalmic careers as well as remembering

ophthalmologists from yesteryear whose names

grace a number of the awards.

This year's event was held at the medical and

health sciences campus at the University of

Auckland in March and was well attended by staff,

researchers, benefactors, students and the friends

and families of the award winners.

Professor Charles McGhee, head of the

ophthalmology department, opened the evening

by welcoming everyone and thanking benefactors

and clinical contributors, including Associate

Professor Bruce Hadden and Dr Wendy Hadden,

for their contribution to the department and to

furthering ophthalmology in New Zealand. He

updated the audience on the annual activities of

the department, detailing how with nearly 300

undergraduates and a growing number of PhDs, the

department continues to grow and evolve each year.

William MacKenzie Medal

This year, the William MacKenzie Medal was

presented to Himanshu Wadhwa by Professor

Trevor Sherwin.

This award is for early excellence in eye research

and recognises a significant contribution made by

a medical student towards a research project that

has reached publication status. Judges consider the

recipient's contribution, originality and importance

of the article (as well as the standing of the journal

in which it is published).

Wadhwa, a previous recipient of the Tom Cat

Trust summer studentship award, undertook a

fascinating research project investigating how

corneal stem cell-enriched spheres implanted

into keratoconic tissue behave to assess their

therapeutic potential.

He presented his research at the Healthex

conference, a student-organised conference designed

to promote research activity and excellence among

postgraduate students, and the Royal Australia and

New Zealand College of Ophthalmologists (RANZCO)

conference last year, and was the top-ranked student

during his 2014 thesis year.

Arthur Thomas Paterson Scholarship

The Arthur Thomas Paterson Scholarship was

presented to junior research fellow Dr CheeFoong

Chong by Dr Shaun Dai.

This scholarship was set up to assist newly

qualified Kiwi ophthalmologists continue their postgraduate

studies overseas, so they can return with

new skills to serve the New Zealand population.

Dr Chong has published research on visual

impairment among New Zealand children and

produced one of the best databases of it's type

in the world, explained Dr Dai. He has also

published several other publications in paediatric

ophthalmology while completing his medical

training.

Calvin Ring Prize

The Calvin Ring Prize was presented to fifth year

medical student, Lize Angelo by Dr Peter Ring,

son of Calvin Ring, one of the forefathers of

New Zealand ophthalmology whose own father

fortuitously won a horse race and was able to pay

for his son to attend medical school.

The Calvin Ring Prize recognises the best allround

undergraduate medical student in clinical

ophthalmology and was established to encourage

interest and awareness of ophthalmology among

medical students in memory of Dr Calvin Ring who

believed ophthalmology in Auckland needed an

academic focus. Selection for the award is based

on excellence in examination, clinical knowledge

and diagnostic and management skills.

Angelo, who was also a summer studentship

recipient in 2016, undertook her schooling in

England, New Zealand and South Africa and was

described by Ring as a 'well-rounded student",

involved in volunteer work at hospices and also

the charity, Habitat for Humanity.

On accepting the award, Angelo said she had

been inspired by the many passionate people she

has met in ophthalmology and hopes to continue

her endeavors and see where ophthalmology will

take her.

Gordon Sanderson Scholarship

Professor Helen Danesh-Meyer presented the

first Gordon Sanderson Scholarship to Hillary Goh

for her research investigating nailfold capillary

abnormalities in glaucoma (see full story in April's

NZ Optics).

The scholarship was set up last year in memory

of the late and much-admired Associate Professor

Gordon Sanderson to further research into

Some of the evening's award winners: Catherine Tian, Hilary Goh, Hannah Ng, Himanshu Wadhwa, Lize Angelo and Joyce Mathan.

glaucoma. It is available to students from Auckland,

Otago or Sydney Universities, recognizing A/Prof

Sanderson's former teaching hubs.

PhD Presentation

The invited PhD presenter for this year's Excellence

in Ophthalmology awards was Dr Akilesh Gokul

who took to the podium to discuss his research on

keratoconus.

Summarising three years of research in 10

minutes is no easy feat, but Gokul conquered

it well, describing how his 'Aotearoa Research

into Keratoconus (ARK)' project looked at the

demographics and clinical characteristics of

keratoconus in New Zealand.

The research surveyed Kiwi optometrists and

showed that a large number of keratoconics reside

in Auckland and Wellington with Maori and Pacific

island patients having the highest mean corneal K

readings and more severe disease. Corneal crosslinking

can stabilise the disease for at least 10

years by creating more covalent collagen bonds

and strengthening the cornea. Gokul's research

evaluated an accelerated cross-linking methodology,

which he illustrated elegantly in his presentation.

While cross-linking can prevent disease progression

and reduce the corneal transplant rate, Gokul

explained "early detection is a major challenge in

keratoconus with many patients presenting too late

to benefit from the procedure."

Summer Studentships

Dr Ilva Rupenthal, director of the Buchanan

Ocular Therapeutics Unit at Auckland University,

presented this year's Summer Students with their

awards. The award recipients were:

• Spheres of Influence, Catherine Tian (Tom Cat

Trust)

• Influence of high glucose and inflammation on

barrier properties of retinal pigment epithelial

(ARPE) cells, Charisse Kuo

• Differentiation of transition zone stem cells into

corneal endothelial cells, Hannah Ng (Eye Institute)

• Comparison and review of visual field referrals to

ADHB glaucoma clinic, Catherine Kwak

• Crystallin protein modification and spatial

mapping in an aging lens model, Jerry Shen

• Evaluating the long-term usability of ex-vivo

bovine corneas for drug delivery applications,

Darshan Shrestha (Buchanan Charitable

Foundation)

• The effect of erythropoietin on the vasculature

of the premature sheep retina: a cellular and

molecular characterisation, Muthana Noori

• Nailfold capillary abnormalities in glaucoma,

Hilary Goh (Gordon Sanderson Scholarship from

Glaucoma New Zealand)

• Review of glaucoma referrals to ADHB glaucoma

clinic, Tess McCaffrey

• Confirmation of UV filter distribution in the

aging human lens, Arwa Ibrahim (Molecular

Dr Penny McAllum

FRANZCO

Professor Charles McGhee, Dr Raisha Altaie and Jina Han (photobombed by Dr Stuti Misra) Drs Shuan Dai and Peter Ring. Photo by Alec Lou Hin

Ophthalmology department benefactor and former staff member Joan

Ready with some award winners in the audience

Han Li, Joyce Wong and Jasmine Feng

Vision Laboratory)

• To give or not to give? Should I provide feedback

during acuity measurement, Maggie Xu

• Monitoring age-related changes of the vitreous

of the eye using MRI, Louisa Howse

• Evaluating the utility of an eyelid massage

device for the management of meibomian gland

dysfunction, Jasmine Feng (NZAO Education and

Research Fund)

• Effect of temperature on the thickness of the

human ocular choroid measured with optical

Eye Doctors Grand Rounds 2018

. Wed 13th June, Ormiston Hospital

(invitation only)

. Wed 31st October, Novotel, Ellerslie

Dr Shuan Dai

FRANZCO

. No registration fee

. CPD points available

. www.eyedoctors.co.nz

Dr Andrew Riley

FRANZCO

Dr Ilva Rupenthal (right) presenting Joyce Wong with her award.

Dr Akilesh Gokul presenting his PhD research

Dr Jie Zhang, Nigel Brookes and Ismail Salim

coherence tomography, Sungyeon Kim

• The effect of virtual reality on the tear film and

ocular surface, Joyce Wong

• Adaptation of jumping spider behaviour to a

modified focal environment, Aimee Aitken (Paul

Dunlop Memorial Research Scholarship, NZAO)

• Visual impairment in stroke in a New Zealand

context: patient characteristics in the CBR Stroke

Recovery Clinic, Carla Fasher ▀

For more, including pictures, please see April's

NZ Optics.

ASCOT CLINIC (09) 520 9689 - BOTANY JUNCTION (09) 277 6787

Dr Mark Donaldson

FRANZCO

EYE 0810

MOST PHOTOS BY ALEC LOU HIN

May 2018

NEW ZEALAND OPTICS

15
---
Information packed Ocular Therapeutics Conference

BY ELLA EWENS

The Waipuna Hotel and Conference Centre

in Mount Wellington, Auckland on a March

summer's day was the setting for the

third Ocular Therapeutics Conference, run by

the Buchanan Ocular Therapeutics Unit at the

University of Auckland.

Once again, this increasingly popular conference

boasted a mix of short, informative and exciting

talks from local and international specialists, as

well as an arena for optometric and pharmacy

colleagues to catch up and share their different,

but related worlds.

Meds: the good, the bad and the ugly

The morning's lectures covered both oral and

topical medicines with Dr Jay Meyer kicking off

proceedings with a talk about oral medications for

ocular conditions. He warned his audience about

the potential risk of death from anaphylaxis with

many medications, however, oral antihistamines,

which work on H1 receptors, are quite safe and

available over the counter, he said.

He covered anti-virals for use in herpes simplex

and herpes zoster infections, noting that

valacyclovir, which has greater bioavailability

and a less frequent dosage, is not funded in New

Zealand, and touched on alternative treatments

to anti-virals, such as turmeric and lysine. Next,

he covered oral medications for meibomian

gland dysfunction (MGD). Azithromycin has

become popular with optometrists for its antiinflammatory

and antimicrobial effects, however

it is contraindicated in those with any significant

cardiac history or heart arrhythmia. Doxycycline

with its shorter half-life, can also be used and is

contraindicated in children and pregnancy.

Next, Dr Taras Papchenko tackled toxicity

of common medications in the eye. He took a

systemic approach, first looking at medications

effecting the anterior eye, the iris and pupil (eg.

tamulosin and venlafaxine), before moving to

the lens (steroids, chlorpromazine) and on to the

retina (cholorquine, tamoxifen) and the optic nerve

(amiodarone). His take home message was that all

structures in the eye require oxygen and nutrients,

provided by capillaries or tears, and so systemic

drugs can cause a wide range of ocular side effects.

A thorough history is required to identify all the

medications a patient is on, he said.

Professor Charles McGhee provided a synopsis

of avoiding and managing corneal transplants,

discussing the pathophysiology of graft rejection

and the drugs used such as steroids, cyclosporine

and mycophenolate. In general, you should just

"believe the patient if they say they are worried

about their graft" and see them as soon as possible

as a precaution, he said.

Dr Nicola Anstice, who had returned home from

her new role as the University of Canberra's head

of discipline for its new five-year optometry course,

Kent Napier, Tim Eagle and Chris Edwards

SO MUCH MORE

THAN JUST A FAIR

presented data on the prescribing trends of New

Zealand optometrists.

Auckland was disproportionately represented

in prescribing with 11% of the population being

based in Auckland and 21% of the therapeutic

prescribing-authorised optometrists living there.

The Bay of Plenty was also over-represented

while Canterbury showed lower levels of

prescribing when compared with its population.

The most prescribed medications in New Zealand

were topical anti-invectives and anti-virals

followed by anti-allergy (olopatadine was a

favourite). Dry eye and anti-glaucoma medications

each made up 8% of the total, with anti-glaucoma

predicted to increase in the near future. Oral

medications currently make up only a small

proportion of those prescribed, she said.

The final talk of the session was given by

community pharmacist and Auckland University

lecturer and researcher Maree Jensen, who

discussed and explained the pharmacist's role

and responsibilities in managing and triaging

eye conditions. "Pharmacists know their patients

well (especially frequent users) and we use our

interactions with them as a opportunity to make

a difference to their lives and refer them to the

appropriate person," she said.

Pharmacists see a large number of patients

with conjunctivitis, dry eyes, tired eyes,

medications that cause dry eyes, sub-conjunctival

haemorrhages and styes, she added. "We have

a major part to play in the management of eye

disease. There is a huge disconnect between

pharmacists and optometrists even though there

is a huge amount of synchronicity of the role."

Regarding the posterior segment

During the next session, Professor Colin

Green looked at oral treatments targeting the

inflammasome pathway for the treatment of

diabetic retinopathy and macular degeneration.

Xiflam is a small

molecule that blocks

the hemi-channel

opening that inhibits

the release of the

cell's high-energy

molecule adenosine

triphosphare (ATP)

and in turn the

perpetuation of

inflammasomes and

cytokine release.

So far, this new oral

medication, which

addresses vascular

integrity, has proven

safety in 100 patients

and there are further

FROM SEPTEMBER 28 TH

TO OCTOBER 1 ST 2018

PARIS NORD VILLEPINTE

silmoparis.com

trials planned.

Next, Dr Narme

Deva explained

the use of topical

medications for

cystoid macular

oedema starting

with non-steroidal

anti-inflammatories,

which work

by inhibiting

cyclooxygenase

enzymes (COX 1

and 2). Diclofenac is

subsidised in New

Zealand and has some

side-effects such as

burning and punctate

epitheliopathy.

Diclofenac is

contraindicated

in pregnancy and

Shelley Brannigan and Leesa Stuart

those with NSAID-sensitive allergies. Steroids

are often used synergistically in this condition

and prednisolone acetate is the pick of the

bunch due to its ocular penetration. These drugs

work in many ways to reduce the inflammatory

response, decrease oedema, fibrin formation,

capillary dilation and proliferation. An increase in

intraocular pressure in response to steroids (in one

third of patients) is something to be mindful of,

she explained.

Associate Professor Andrea Vincent led an

interesting talk about new gene therapies

for conditions such as retinitis pigmentosa,

choiroidemia and Leber's hereditary optic

neuropathy. There are many advances in gene

therapy on the horizon which aim to use

optokinetics to circumvent the gene defect,

however, they are expensive and limited to gene

specific eye disease, she said.

Next up, Dr Emma Sandford, an ophthalmologist

studying natural medicine, discussed nutrition

and supplements for posterior eye disease such

as diabetic retinopathy, epiretinal membrane

and even retinitis pigmentosa. Sandford urged

her audience not to see progression as a fait

accompli, explaining we can affect our patient's

gene expression and disease progression. She gave

a historical perspective on age-related macular

degeneration (AMD) and discussed good (olive and

coconut) and bad (refined vegetable and seed) oils

and fats.

"A good diet is a traditional diet" said Dr

Sandford, giving examples from the traditional

Mediterranean diet rich in vegetables, fruits, nuts,

seeds and olive oil and the traditional Maori diet

featuring seaweed, fern shoots, kumara, taro,

berries and huhu grubs.

Dr David Squirrell provided a practical

presentation about ocular coherence tomography

(OCT) interpretation of macular disease, taking

us through a systematic set of questions to help

identify the type of macular disease. Firstly, what

is the clinical context? Where is the pathology (pre,

intra or sub-retinal)? Is there oedema or subretinal

fluid? How is the macula functioning (integrity of

the inner segment/outer segment layer)?

OCT, he said, can take a "minute to learn and

a lifetime to master." It's another weapon in our

arsenal of imaging techniques, such as fundus

autofluorescence, which can be used to accurately

identify retinal disease such as atrophy, oedema

and schisis, amongst many other conditions, he

said, using many examples to demonstrate both

OCT's uses and shortfalls.

Anterior segment pearls

Dr David Squirrell, Fiona Bamforth, A/Prof Andrea Vincent and Dr Rasha Altaie

Professor Heather Sheardown from Canada (see p8)

presented on the surface modification of contact

lenses to improve their function and comfort. She

began by explaining the main reason for the lack of

Angela Garner, Nikki Hewitt and Raewyn Hart

adoption and continuation of contact lenses among

patients – discomfort. There are many patient and

lens factors that influence comfort, she said, but

one of the most important is improving surface

wettability, which can be achieved through surface

modification, internal wetting agents, migratory

polymers, packaging and/or lens care products.

Hyaluronic acid (HA) as an alternative wetting agent

was explored, including the use of HA as a method

to facilitate the release of drugs such as atropine

and dexamethasone.

Dr Rasha Altaie then discussed the hot topic of

myopia control in children, from the pathological

end-stage effects of high myopia to some of the

methodologies currently being researched, such

as orthokeratology and peripheral defocus contact

lenses and atropine.

Professor Dipika Patel treated us to a talk about

the problems of tackling the rising scourge of

acanthamoeba keratitis. She outlined her sevenyear

review of the presentation and outcomes with

58 eyes.

In this review, it was found that 96% of cases

involved contact lenses, the mean duration of

symptoms at presentation was 21 days and

in only 12% of cases was the initial diagnosis

acanthamoeba keratitis. Steroid treatment at

diagnosis was associated with a poor prognosis

and this occurred in 10% of cases.

Prof Patel used photos to discuss some of the

clinical signs such as the radial keratoneuritis,

stromal ring infiltrates and hypopyon.

Acanthamoeba keratitis requires aggressive

therapy with propamidine isethionate and either

polyhexamethylene biguanide or chlorhexidine,

she said. Poor yields from corneal scrapes and

the difficulty or delay of diagnosis are some of

the challenges faced in treating this devastating

corneal disease.

'Challenging glaucoma cases' was the title of Dr

Hussain Patel's talk. His cases ranged from a severe

steroid-responder, with retinitis pigmentosa and

cystoid macular oedema, to a patient with glaucoma,

soaring high pressures and severe dry eye. He showed

that a creative and persistent approach is required in

handling these tricky patients.

Ending with dry eye

The post-coffee sessions addressed dry eye and

reviewed some of the latest results from the Tear

Film and Ocular Surface Society (TFOS) second

Dry Eye Workshop (DEWS II). Associate Professor

Jennifer Craig, who was vice-chair of DEWS II,

showed how the Workshop's findings had redefined

and reclassified dry eye. If based on signs only, dry

eye could have a prevalence as high as 75%.

Risk factors can be classified into modifiable

(such as computer use, contact lens wear,

environment and medications) and un-modifiable

(age, female sex, Asian race and Sjogren's

16 NEW ZEALAND OPTICS May 2018
---
Squint Club 2018

BY DR MALISA AMI*

Dr Andrew Collins and Alex Petty

Amanda Snedden and Kate Blackett

syndrome). A/Prof Craig detailed the vicious cycle

of factors that perpetuate dry eye and discussed

the classification flow charts, showing conditions

with symptoms and without signs and the

converse, which are not considered dry eye, and

explaining how these charts can aid practitioners

in their clinical management of dry eye.

Dr Stuti Misra looked at dry eye diagnostic

methods, suggesting that clinicians start with

triaging questions, before conducting risk factor

analysis, diagnostic tests (non-invasive tear

breakup time, osmolarity and staining) and finally

tests that grade aqueous deficiency or evaporative

dry eye subtypes. While Dr Trevor Gray looked at

iatrogenic dry eye in refractive surgery.

Though iatrogenic dry eye is increasingly

recognised, it is still underestimated, he said.

SMILE, LASIK and PRK are all techniques that

temporarily increase dry eye. Dr Gray provided

some tips for prophylaxis before laser vision

correction, including lubricants, azithromycin

and steroids, lid massage, and omega-3

supplementation. Treatment should not only

address lubrication but also denervation,

inflammation and other elements of this condition.

Senior lecturer and director of the Buchanan

Ocular Therapeutics Unit, Dr Ilva Rupenthal

discussed the science of ocular lubricants.

Lubricant eyedrops aim to replace some tear

components, reduce osmolarity and also

dilute inflammatory cytokines. Dr Rupenthal

demystified the vast array of ocular lubricants

available today, classifying water-based

lubricants, ointments and liposomal sprays and

outlining the technology of some of the latest

drops to hit the market.

Lastly, Dr Maria Markoulli presented a lecture

about future management and therapy of dry

eye. Markoulli explained the four-step treatment

algorithim which includes all the latest research

from TFOS DEWS II and extends in a step-wise

manner covering everything from education

and lid hygiene to punctual plugs and amniotic

membrane grafts.

Starting with methods for aqueous deficiency,

Markoulli then looked at the various warm

compress methods and treatments for blepharitis

and Demodex. She covered anti-inflammatory

interventions, manuka honey eye-drops and

surgical interventions. "Dry eye treatment is

an art, but classification is essential in order to

develop a targeted treatment approach," she said.

A final panel discussion was held and closing

remarks were said before delegates came

together for drinks and networking to discuss the

day's learnings. ▀

Next year's Ocular Therapeutics Conference will

again be held again at the Waipuna Hotel in

Auckland in March 2019.

This year's meeting of the Australian and

New Zealand Strabismus Society (ANZSS),

better known as the Squint Club, was held

at the Sydney Eye Hospital, the oldest hospital in

Australia dating back to 1788. Set in the historic

sandstone Victorian building with ornate metal

balustrades and stained-glass windows, it was a

magnificent juxtaposition of the old and the new

with the vibrant and modern city of Sydney being a

few steps away.

This year's event was well attended by 129

participants including ophthalmologists, registrars

and orthoptists from the Australasia region and

one delegate from China. International guest

speakers included: Dr Ramesh Kekunnaya, head

of paediatric ophthalmology, strabismus and

neuroophthalmology at LV Prasad Eye Institute

in Hyderabad, India, and a member of the

executive bureau of the World Society of Paediatric

Ophthalmology and Strabismus; and Daisy Godts,

chief orthoptist at the University of Antwerp in

Belgium and council member of the International

Orthoptic Association.

The 2018 meeting kicked off with a welcome

address by Dr Craig Donaldson, president of ANZSS,

followed by a series of complex strabismus case

presentations with an expert panel discussion

consisting of Dr Kekunnaya, Godts, Dr Donaldson

(Sydney), Associate Professor James Elder

(Melbourne) and Dr Wendy Marshman (Melbourne).

This session was filled with "what to do", "what

not to do" and "what I should've done instead",

carried out in convivial manner where even senior

ophthalmologists shared their learning pitfalls.

Dr Kekunnaya shared his experience in

performing strabismus surgery under topical

anaesthesia which is usually reserved for adult

squint cases. It can be performed successfully

with minimal discomfort, but patient selection

is key, he said. Patients who can comfortably

tolerate a cotton tip applicator soaked with topical

anaesthesia on their conjunctival limbus are

suitable candidates. Effective haemostasis can be

aided by vascular vasoconstriction with topical

brimonidine or phenylephrine at the beginning of

surgery. Topical anaesthesia surgery can be useful

in re-operation cases within 10 to 15 days of the

first surgery, for example in cases of a slipped

muscle, he added.

Motility examination of neurological patients

is one of the least understood and inadequately

performed ocular assessments for most

ophthalmology trainees. This was succinctly

covered in a practical and step-by-step manner by

Daisy Godts in her refreshing back-to-the-basics

lecture.

Dr Lionel Kowal from Melbourne presented, 'MRI

in Strabismus', interestingly highlighting the role

of radiological imaging of the extraocular muscles

and its pulley system in squint assessment and

surgical planning. It is particularly useful in cases

of superior oblique palsy, abduction deficits

and strabismus in high myopia to establish

the underlying pathophysiological cause of

each condition, which will help determine the

appropriate surgical strategy, he said. Most

importantly, is the interpretation of extraocular

muscle system imaging and the need to further

educate both ophthalmologists and radiologists

on what is normal versus abnormal and

whether the abnormal findings have any clinical

significance.

Age-related distance esotropia which may be

part of sagging eye syndrome is now a wellrecognized

diagnostic entity. Godts gave a

comprehensive lecture on its diagnosis and longterm

follow up where prismatic correction can be

an effective initial therapy. However, the angle

of deviation typically increases over time and

larger doses of standard bilateral medical rectus

recessions have been successful in Belgium.

The William Gillies Lecture was delivered by

Dr Kekunnaya in a two-part series on Duane

retraction syndrome (DRS), where he outlined

the esotropic and exotropic types. He shared his

review of an impressive 400+ patients with DRS

and the principles of DRS strabismus surgery

which is based on primary position of deviation,

degree of anomalous head posture (AHP), severity

of globe retraction and overshoots, degree of

limitation of ductions and forced duction testing

(FDT). Superior rectus transposition to the

lateral rectus (LR), with or without medial rectus

(MR) recession may be considered as an initial

procedure in esotropic DRS as it has the advantage

of improving abduction. However, there is a risk of

inducing vertical or torsional deviation. Exotropic

DRS is commonly associated with globe retraction

and overshoots, hence LR and MR recessions in the

affected eye with Y-splitting of LR are effective in

Drs Malisa Ami and Stuart Carroll with Tammy Miller, Dr CheeFoong Chong, Nia Stonex, Noirin Kelly, Drs Justin Mora, Shuan Dai and Sigal Zmudjak

addressing these issues.

The unique 'live cases' presentation

was undeniably the crowd puller for

this meeting where patients were

examined by senior strabismologists

including Professor Glen Gole (Brisbane)

and Drs Lionel Kowal (Melbourne),

Shuan Dai (Auckland), Ross Fitzsimons

(Sydney), Kekunnaya and Daisy Godts,

and video projected for the audience.

Six highly-puzzling strabismus patients,

including one who had travelled from

Auckland, with either a diagnostic

dilemma or challenging surgical

management or both, were presented.

A fruitful discussion between the

experts and members of the audience

helped formulate the best management strategies

for these patients, be it active or inactive.

The social aspect of the meeting was not left

unattended with the conference dinner being held

at the iconic Sydney Tower, standing 1014 feet above

the central business district and offering spectacular

views of Sydney and its harbour. Participants enjoyed

a delectable meal in a most amiable atmosphere

with old and new acquaintances.

Overall, this year's Squint Club meeting has

Keynote speaker Dr Ramesh Kekunnaya (middle) with Drs Malisa Ami and Sigal Zmudjak

maintained its reputation as a highly educational,

engaging and congenial affair, and much credit goes

to the organising committee, volunteer patients and

ANZSS members. I hope the tradition continues and

wish the Squint Club more prosperous meetings

in the future under the new presidency of our own

Auckland-based expert, Dr Shuan Dai. ▀

*Dr Malisa Ami is currently on one-year study leave from

the National University of Malaysia as a fellow in paediatric

ophthalmology at the University of Auckland.

SEE WHAT OTHERS CAN'T SEE

Topcon Triton Swept-Source OCT

The only commercially

available Posterior &

Anterior SWEPT SOURCE

OCT.

• Invisible 1050nm wavelength

penetrates cataracts and other

media opacities

• 100,000 A-scans/sec - 12mm x 9mm

WIDE scans provides a dense data set

• Comprehensive reports, including

Glaucoma & hood reports

• Red-free & Colour fundus

photography standard

• Optional Anterior Segment,

Fluorescein Angiography, Fundus

Auto-Fluorescence and

OCT-Angiography

Swept Source OCT – 1 micron Light source Multi-Modal Imaging Swept Source OCT Angiography

0508 DEVICE (338 423) customers@device.co.n z device.co.nz

May 2018

NEW ZEALAND OPTICS

17
---
for optometrists and eye care professionals

with

Professors Charles

McGhee & Dipika Patel

Series Editors

Post-cataract endophthalmitis

BY ASSOCIATE PROFESSOR

PHILIP POLKINGHORNE*

A

great deal has been learnt in the last 10

years about the prevention of cataract

endophthalmitis, making it a relatively

uncommon complication in New Zealand. While

it is difficult to isolate all the factors that account

for this change in frequency, there are interesting

parallels with other types of surgery, including

reduced morbidity associated with small incisions,

reduction in surgical times, use of gloves, masks

and disposable and adhesive drapes.

In addition to these soft changes there have

been other well-documented changes in

practice. For example, a recent report conducted

by the University of Auckland showed the usage

of intracameral antibiotics as prophylaxis had

increased from 24% in 2007 to approximately

50% by 2016. This change in pattern was no

doubt based on the multiple studies performed

in the US and Europe which showed a decrease

in endophthalmitis when intracameral

antibiotics were administered. Other common

prophylactic measures used in New Zealand

include the use of aqueous betadine iodine as

a surgical wash, attention to pre-existing risk

factors such as blepharitis and diabetes and, in

many cases, topical antibiotics for the first postoperative

week. Chlorhexidine is substituted for

patients allergic to iodine and many facilities

use sub-conjunctival vancomycin if the patient is

allergic to cephalosporins, the preferred class of

antibiotics for intracameral use.

In spite of the best attempts to prevent postcataract

endophthalmitis, however, infection can

still occur.

Some years ago, we analysed the common

symptoms and signs of endophthalmitis and

some previously thought reliable symptoms

such as ocular pain were not universal. Equally

hypopyon was not always present. In short,

the diagnosis is often difficult and the clinical

features vary enormously. The continuum

includes eyes that have undergone apparently

uneventful cataract surgery with a normal

post-operative course, yet proven to be culture

positive when the aqueous is sampled, and eyes

that appear to have "more inflammation" than

normal, yet still settle with standard topical

treatment protocols to those eyes that are

diagnosed as having endophthalmitis. Plus there

is the exceptionally rare case, usually neglected,

that progresses to panophthalmitis.

This test could

save your sight

0800 622 852

mdnz.org.nz

18 NEW ZEALAND OPTICS May 2018

Fig 1. A patient with panophthalmitis following cataract surgery. A delay in treatment of this patient's

endophthalmitis led to dehiscence of the cataract section, partial extrusion of the intra-ocular lens and

ultimately removal of the eye

For nearly 25 years, the treatment of postcataract

endophthalmitis has been relatively

well accepted. A randomised study called the

Endophthalmitis Vitrectomy Study, published

in 1995, showed for eyes presenting with a

clinical diagnosis

of endophthalmitis

following recent

cataract surgery,

and providing the

presenting acuity

was better than PLO

(perception of light

only) then there was no

difference in outcome

for eyes undergoing

tap and inject as

opposed to vitrectomy.

Conversely, certain

subsets such as diabetic

patients did fare

better with vitrectomy

surgery. Another

significant outcome

of that study was the

finding that intravenous

administration

of antibiotics was not

helpful in either of the

two treatment groups.

Tap and inject,

involves (as the name

suggests) inserting

a needle, connected

to a syringe into

the eye followed

by aspiration of a

vitreous sample, which

is then sent to the

microbiology laboratory

for examination.

Antibiotics are then injected into the vitreous

cavity, selected to treat empirically both

gram-positive and gram-negative bacteria.

This technique has not changed in 25 years

and neither has the outcome; meaning

approximately 15% of patients will have acuities

less than 6/60, and 5% will have no perception

of light. Conversely vitrectomy surgery has

advanced greatly over the last 25 years with

both the speed and efficiency of the cutter

having been improved greatly and the size of

the vitrector becoming significantly smaller.

Typically, 25 gauge instruments are used,

equating to less than 0.5mm. Furthermore, the

viewing systems have greatly improved. So,

the tide of technology has created a trend to

perform vitrectomy on all eyes with presumed

endophthalmitis following cataract surgery.

The hurdle to perform such surgery has also

lessened, as the surgery is less invasive. The

surgery is usually performed under local

anaesthesia; there are more centres in New

Zealand that undertake VR surgery and

importantly greater access to oncall VR surgeons.

Anecdotally, our experience suggests vitreous

biopsies are more likely to be culture positive than

those cases where the vitreous has been aspirated

into a syringe. That, potentially, is an important

consideration when antibiotic resistance appears

to be increasing. There is also the suggestion that

there is a decreased need to perform additional

surgeries with a primary vitrectomy as opposed to

the traditional tap and inject. Our local experience

also indicates that the functional improvement

is better with vitrectomy surgery and that may

be related to better clearance of contaminated

vitreous with removal of the toxic soup in the eye.

We have also found eyes that have undergone

vitrectomy have faster rates of recovery and

become culture negative more quickly.

Twenty-five years ago those differentials

Fig 2. Post-cataract endophthalmitis. This diabetic patient had complicated cataract surgery and presented three

days after surgery with a painful eye. The cornea is oedematous and a hypoyon is present

Fig 3a and 3b. The presence of fibrin and a hypoyon often makes the view of the posterior segment difficult. Fig 3a demonstrates this difficulty and fig 3b illustrates the utility of removing this material

didn't exist, but if the current trend and shift

to vitrectomy is substantiated with better

outcomes then we can be more optimistic about

the future when managing eyes with postcataract

endophthalmitis.

There are still multiple questions unanswered

about endophthalmitis and some of the most

puzzling include, why is the anterior chamber

culture often negative relative to the vitreous

culture? Is that due to bacteria in the anterior

chamber existing in planktonic form whereas

in the vitreous, the bacteria form biofilms? Why

do some patients with bacteria in the anterior

chamber at the end of cataract surgery not

progress to a clinical infection? Is there as yet

an unidentified systemic factor that facilitates

the conversion to endophthalmitis? Does that

risk factor translate into increased mortality for

patients undergoing cataract surgery?

Hopefully some of these questions and

improvements in therapy will lead to a

continuing improvement in management

for patients undergoing cataract surgery

and a lessening in the risk of post-cataract

endophthalmitis. ▀

About the author

*Associate Professor

Philip Polkinghorne

specialises in retinal,

vitreo-retinal and

cataract surgery. He has

subspecialty training

in both medical and

surgical retina and is

active in clinical and

basic science research.

He has published over

70 papers in peer

reviewed journals, edits

ophthalmology journals

and contributes as a

reviewer to a number of

international journals.
---
Change of guard at VOSO

Long-serving Volunteer

Ophthalmic Services Overseas

(VOSO) board member,

optometrist Michael Brown is retiring

from the board, while Drs Jesse Gale

and Hussain Patel have cemented

their commitment to helping those

less able in the Pacific by becoming

trustees.

VOSO chair Dr Andrew Riley

welcomed Drs Gale and Patel and paid

tribute to Brown's three decades of

service. It has been a pleasure having

him on the team, he said. "Michael

has been an incredibly hard-working

trustee who led many VOSO teams to

Labasa in Fiji. He also worked closely

with the Lions Club in Labasa and

Rangiora, helping with fundraising

and logistics. Michael will be missed

by the team, both here and in Labasa."

Drs Gale and Patel both formed part

of the VOSO trip teams in 2017. Dr

Gale is a consultant ophthalmologist

at Wellington Hospital and Kenepuru Community

Hospital and a senior clinical lecturer at the

University of Otago. Dr Patel is a glaucoma and

cataract surgery specialist who practises at

Greenlane Clinical Centre and in private practice in

Auckland.

Kylie Dreaver, VOSO secretary, says while they

will all miss Brown, everyone on the team is very

excited to have two new ophthalmologists joining

their ranks.

Michael Brown reflects

Michael Brown is not just stepping down from

VOSO but from his practice, Rangiora Eyecare, after

being a working optometrist for more than 40

years.

He's sold his share in Rangiora Eyecare, a fourperson

partnership with three optometrists and

one dispenser, to Kimberley Shea, who joined the

clinic three years ago after graduating.

Brown says he has loved being an optometrist,

especially the relational aspect of the job:

relationships with patients, often spanning over

several generations, and with staff. "If I was to

give any word of advice to the next generation of

optometrists it would be that relationships are key.

If you're emphatic and listen to your patients, as

well as being focused on solutions for their needs,

they will know you care and come back."

Drs Jesse Gale and Hussain Patel in Labasa for VOSO last year

For more

personalised

eye care, talk to

Eye Surgery

Associates

SERVICES INCLUDE:

• Cataract surgery specialists

• Glaucoma

• Medical & Surgical Retina

• Acute & General Ophthalmology

Clinics on the North Shore,

Central and South Auckland

Phone 0800 750 750 or Fax 09 282 4148

info@eyesurgeryassociates.co.nz

BY SUSANNE BRADLEY

www.eyesurgeryassociates.co.nz

Michael Brown helping a patient in Fiji on his last trip with VOSO

Eye Surgery Associates are a Southern Cross Health Society Affiliated Provider

Brown developed an interest in eye health

early in his life after his mother had a retinal

detachment and later became blind in one eye.

So, when it was time to decide on a career path,

optometry stood out. Plus the prospect of being

your own boss was a key driver, he says.

When asked about the highlight of his career,

without hesitation, Brown says when the scope of

practice changed for optometrists in New Zealand,

giving them greater freedom to discuss and comanage

eye health care and prescribe ophthalmic

medications for their patients.

"When I was a graduate, we had to ring a GP

if we wanted to put dilating drops in a patient's

eyes and we weren't allowed to say the word

"cataract" to a patient because of the fear factor

associated with it." This was all very challenging,

he recalls, adding it is deeply satisfactory to see

how the relationship between optometry and

ophthalmology has improved.

Looking to the future, Brown says he's going

to enjoy spending more time in the garden,

cultivating his hobby developing plant breeds,

especially roses and daffodils.

As to a leaving party, he hasn't had an official

send-off yet, but rumour has it that this may

coincide with the 40th anniversary celebration of

Rangiora Eyecare on 1 August later this year. ▀

Dr Hussain Patel

Ophthalmologist

MBChB, MD, FRANZCO

Dr Monika Pradhan

Ophthalmologist

MS, DOMS, FCPS, MRCOphth

Focus on Business

sponsored by

Independent spirit, collective strength

Privacy FOCUS ON in the BUSINESS wake of

How the Facebook to become scandal a better

independent

they protect patient privacy?

Should practice managers and owners rethink how

BY BY JENNIFER JANE SMITH* DANN*

Accabo. Your customer Et database hil expella is boresequi a key asset berum of any nos

business. intio Yet esenecus small business diam et owners lant am are nienemp often

too busy oremquos to give much corenistio thought magnaturero to how they volora

dolorum collect, store lamus and et, use velibusam this vital voluptatur?

information.

El The evenes recent dis entemporem Facebook security qui ute breach, sum in which

cullandiscid millions of users' ma dolorepratur personal details solupta were si omnit shared

volorae without pudam, their knowledge, con re, tem has digendiati been a massive que quae

cus wake-up aut aperuptati call to any verorem business porrunt storing otasperibus

personal

debitate data. et dolorit officimenem invelibust

esciis Customers modis et are voluptatem now much aborem more conscious fugia of

perrore their privacy mpostium rights sae and vidiore will walk rnatia away voluptatur if that

sitet can't veliberit assured. am ipsum et ute suntiscias sim

eturia The Marketing pa consed Association's ut modi ius, od privacy ut doluptatur

sumquam, consultant sintum Keith Norris nullend says anihite retailers volupta need to

ant, show occae. customers Ut rempore, they take sequosam, privacy seriously. essi cora "A

quodit, good way quaepersperi to do that is cus to sequi have a iumendi privacy policy simin

num somewhere labore on cullenectum your website qui where te doluptatium

customers

dit can volorist, easily find nihicium it," he assitis says. aut voluptae sunt

aut Any que small pa volupta to medium con eum business quis (SME) rerrovid with a

que customer nonectur, database consequ is already idebis aut affected parchictia by the

volorisserae

Privacy Act in

dusdae

exactly

inciisc

the same

illiquam

way

que

as a

laborio

large

beri

corporation

doluptatio.

or government

Facilla verio.

department.

Et poresed igent.

Norris says all businesses, no matter how

Sub small, heading should have a designated Privacy Officer

who is responsible for caring for customers'

Fuga. Nam hiciliquas dissint unte cum fuga.

data. That person should be familiar with the

Itaqui que verchilis evellan duntiistrum re, custi

Privacy Act.

nem quid qui sitibus cillandit, officit exerro

"As soon as you collect someone's personal

minient hicipiet asperch illiquate cus, quos

information – and that can be as little as their

doluptas pa eiumquost, con pre dolut ut es re

name and address – you have to tell them that

derovit iundipsunt mi, occaera corrum quatur

you're collecting it. You also have to tell them

autemol endenie nestiis modionsequis sam qui

what you're going to use it for and where it's

blaut es es rerspit ut am volupta tiuntotas natem

going to be stored. They must be able to access

in

their

pratur?

personal

Cus eossit,

information

siti alitatque

and update

maionsequi

it at any

cum

time,"

volest,

he says.

ex eum facerum eos sum cum harum

ea

"If

dolut

you

enienis

haven't

ellignis

got time

magnime

to read all

niam

12 principles

qui ut et

quas

of the

sa

Privacy

quas sa

Act,

doluptat

just read

quas

Principle

dolupta

3 which

turio. Qui

re

tells

nosae

retailers

none

exactly

provit fugia

what

sandes

they have

exerspicidis

to do in

nihiciis collecting, inctia managing ne apitatem and storing accab inus information." eiciis est

ab https://www.privacy.org.nz/the-privacy-act-

iusam eiur, officaeratus peruntium et eates

cumenem and-codes/privacy-principles/collection-of-

information-from-subject-principle-three/

volupti sit, ne la quosam soluptate

olesenis aciam nis quiat exceari

taquatest

doluptur? Norris says Tatia changes conem to faceatis the Privacy as iur Act as

millaborum currently being quas put volore in a bill autatur before assequae Parliament repro

il will et endem have almost iur? Os no reste effect eos on et small aut por businesses. molore

vel "The iliquatur changes accus are mainly voluptati to give quo the toratque Privacy odi

que Commissioner officab il explandae more teeth ma to sequate enforce the law.

Idiciet I don't adio. think Ebit any aceati SMEs need remperferum be concerned. as

invenimet The only change ratqui that volores affects equuntibus them is that sim they

accusam must report vendant any privacy faceaquia breach voluptur to the sent. Privacy

Commissioner," he says. That means any

Sub unauthorised headingaccess to or disclosure of, personal

Quis information similluptas that acero could comnihilit pose a risk audi of harm dusaerum to

eationem. your patients. Ehendit, illuptae porehendit, nihitat

esequatur Optometrists, seque along sequo with optaspelit dentists, venimus pharmacists

quistiis and other eost health eiciantio professionals modit as are si autem also subject etur

molorem to the Health ex est Information audae quist Privacy quam Code quidebitis which

ero states volorumque that patients' oditatius information el ea con must plis not eum be aut

dolutem

disclosed

aut

except

landa

in specific

vendessi

circumstances.

res expellupide

Norris

nus,

cusandenihil

says the most

earum

sensitive

estiiss

area

untionsecus

would be any

nus

other

ad es

ex

information

et haruntias

about

dolupta

a patient's

tiante

health,

pla qui

aside

consediti

from

dolest

their eyesight,

accatur,

kept

suntem

on file

qui

which

culparumqui

could be used

officaturit

in some way

aut

maliciously

eiciates accus.

by others. https://www.

privacy.org.nz/the-privacy-act-and-codes/codesof-practice/health-information-privacy-code-1994/

del erunto etur? Sum aciet etur, inulpa deles

Me

doluptas volo blabore optam, sundit optaers

peritati commoloribea volorenis debistia cum,

que si cor rehenih illam, tem harcimagnis erum

labor sitinct otatesciet maximos voluptium

faccus assumquas et offic torporempost repera

dolorporem que eium fugiam, coressimus arias

aut dolupta tianim ut inctemo im numqui aut

etur resti quam inctur sequi ut laborem porat.

Apitiis es experferem raturio corepero temporum

quo doles aut quias as eati simus aut il ipsandi

offici The use omnis of Facebook sequae mo data est by faccatur Cambridge re numque

Analytica porrovit aut has ipsam, shown am, that quiam, even large nate voluptiandi

organisations beatum dolor with re comniasseque supposedly high vitiatatet security ut are que

vulnerable. con pa voluptatur? So does this Moditatis mean niasi small consequam,

to medium

businesses ipsumquo quiatibusam have to invest laudita in bigger turiam and better re ati IT

systems acium facitae or enlist sequas the services explabo of rrovidu an independent citaquibus,

data corpore specialist? nullaccabo. Norris Eveleni says that's ssimus, unnecessary esenis ea

for corum SMEs. que "You excea can quam still run faccatiam your business eumquo on

a que laptop. asitium As long experfero as your ma system adias is magnam password non

protected nimus voluptatiam and those que passwords volor accum, are kept ex secure et il ides

then eatem you've fuga. done Repudan all you damente can," he recte says. omnimai

oreped "Email mo is where quisit most ad molestem of us are quam vulnerable volorro to

cyber errum attack. nobit hicipiendis A clever hacker ut quatus can get vero into ommodio our

email dolenda accounts mentius. by hacking our service provider,"

he says. Business owners should never send

out Sub a heading mass email to everyone on their database

without Molupta first tuscimus hiring eic someone to dolumenihit to encrypt quas the

message moluptam to quod protect evendipidi its contents que from iuntiatin being rem

read cus, nemporessum by others. "Pay fugitas an expert seditis to do sim it. There labo. Nam are

plenty niscia sinctib of one-man uscienis IT contractors esequat eos who re nobitium will look

after nis alic small tora businesses," volupici quis he et says. as audaept atint.

Emails and text messages also come under

the

Fugit

anti-spam

optatur asperupient

law, or Unsolicited

volorum

Electronic

fugit fuga.

Messages

Cus. Fugit

Act

optatur

2007,

asperupient

which all businesses

volorum fugit

should

be

fuga.

well

Cus.tatur

familiar

asperupient

with by now.

volorum

The law states

fugit fuga.

that

you

Cus.

can't

Fugit

send

optatur

a commercial

asperupient

email

volorum

or text

fugit.

to

customers Natquos siminverovit without first es gaining as vellecto their blate consent.

The plit best abo. time Pa natur, to ask nempos for that nobis when sum patients volupitia

first earum enrol id quatiore with your nos practice. re voles Make perum sure rere your dus

enrolment si inum dolorpo form has rrovidit a box dolorisci they can derest tick if et they'd

like pratioratur? to receive further information and updates

about Us inis your aut business. quam autatio You also et a need consecabora to provide nest, a

clear imus and dolorem easy way facepta for people sincid quodi to unsubscribe temquunte or

stop nobis receiving modi omnis them. milla https://www.dia.govt.nz/

plit re laborum

Spam---Commercial-electronic-messaging-in-

quidendistem ut quianduntem quunt.

New-Zealand#FactSheet

Cumquia

Norris points

quod

out

quaeri

that

ommoles

being privacy

tinctio

conscious

nsequae

doesn't

volupta

mean

nia assequi

less marketing

atecatin consed

– it just

quatquatiis

means

more

eicipsum,

transparent

volupta

marketing.

tiissunt estrum

Business

dunt

owners

should

voluptatur?

be making the most of their customer

database.

Sub heading

"Selling to existing clients is five times more

effective Optae essedita than selling dit ipsam to a new enihiciet client. ab Keep in pernatq

people uistemquia in touch dolo with dentecta your business, voluptas new ilit, suntiis ideas,

products mossust and eicia services. ipitate consectur Let them feel sam part ut hilit of your fuga.

business. Adit imint, That's te doluptiur? how businesses Iciunt am grow." eum nonsecus

autem A common in remposam, method that omnis small qui businesses

solorempero et,

use iditi to ulluptio find new earum customers ut ulpa is nis by dolore going to nobita a list

broker sum liquam, for a list ommoluptatur of potential customers audam fuga. who Os ant

can liquo be magnim contacted earchil with lupitatur? promotional Qui material nonsed by ex et

addressed volore nones mail de or sus phone. volorecab ipsum ea voloren

imillores Norris says porum it's important ne nullestis to volorro have a qui written dolupit,

contract pos repudanda with the list dus broker sunti which quis archillenti clearly states

that tem the eni aditior people mod on the magnatis list consented as assinctenest to receiving

marketing quat fugiae information. cuptas restibuscit, "Unwanted utaturit contact accum will

mean hilignisquam any goodwill fugitae you nihilitatam might've had aritatq with that

potential uatquae. customer Ipsum necum is entirely aceperr lost," uptaspietus he says. vent.

Um facimusam la doluptatum About the quae. author: Erspe

sandae ex estiores pa Jennifer dollitiuste Dann pro is a quaturiat freelance

ellaut alit et dolore ni writer doluptatiur? for the NZ Osamus Herald and

arciant. Um facimusam various la doluptatum publications. quae. She has

Erspe sandae ex estiores 20 years' pa dollitiuste experience pro as an

award-winning journalist for

quaturiat ellaut alit et the dolore likes of ni Radio doluptatiur? New Zealand

Osamus arciant.earit volecus. and the Sunday Star Times.

About the Author

Ga. Ad es dolo corem ea

dolo etur re omnihilique

pa voloreptat. Caes que se

nihiliquodi bea sequatur?

Atio. Lorrovidia peliquamus

utenderat enimpore

exerorepuda parum re id

quidi distr? Atio. Lorrovidia

THE INDEPENDENT OPTOMETRY GROUP, PROVIDING THE ADVICE

AND SERVICE INDEPENDENTS NEED TO THRIVE.

To find out more contact Neil Human on 0210 292 8683

or neil.human@iogroup.co.nz

peliquamus utenderat

enimpore exerorepuda

parum re id quidi dist

May 2018 NEW ZEALAND OPTICS

THE INDEPENDENT OPTOMETRY GROUP, PROVIDING THE ADVICE

The AND Independent SERVICE Optometry INDEPENDENTS Group, NEED providing TO THRIVE. the advice

19
---
Fashion update

Style-Eyes

Embarrassed to enticing:

a personal glasses journey

La Matta

La Matta's new capsule collection is sophisticated

and striking with gems, stones and bracelet-styled

details. The LM3230 model has three small round stones

on a metal base, giving a fabric effect. The LM3228's

decoration recalls the mesh of a watch strap and, thanks

to its strong chromatic contrasts, creates a highly striking

visual effect. Distributed by BTP International Designz.

BY COURTNEY ELDER*

It seems that most adolescents go through

their own "ugly duckling" phase, and while

it might be an awkward growth spurt, a

difficult to deal with complexion, or something

else altogether, it happens to all of us. For me,

being a school nerd with frizzy hair and braces

wasn't enough when I was in middle school, the

universe had to bestow upon me the unwanted

gift of glasses.

Around age 12, I started having a hard time

seeing the chalkboard from the back of the

classroom and, like any good parents would,

mine took me to the local optometrist for a

vision test. Low and behold, I needed specs to

address my nearsightedness. While I didn't have

to wear them all of the time, the classroom was

one of the places where I'd be donning them the

most.

That '90s fashion!

Just to set the record straight, I'm 33, so when I

got my first set of glasses at age 12 it was 1996,

when optical fashion was quite different than

today's far more engaging trends. Nowhere

to be found were cute and bold styles like the

collection I own today, instead, round metals

dominated the landscape.

My husband probably remembers this pair

well, as I opted to re-lens it time and time again

despite being in the industry and knowing that

frames only hold up for so long. A rectangular

black style with thicker temples (the epitome of

cool in 2007), I finally felt like I could accept the

fact I was a glasses wearer.

Subsequent pairs of glasses after these

don't even come to mind, so I'm sure they

were nothing special. It was only around 2012

that I finally heard the message I'd obviously

been waiting to hear. A frame sales rep visited

the office I was working in and showed me a

plethora of really cute frames, telling me to just

"go for it." I instantly noticed a bright purple

frame in an oversized shape and knew I had

to have it. This frame by Kensie became my

"signature look" for years to come.

Xavier Garcia

Xavier Garcia's new sunglass collection takes us

back to the '60s with retro elegance. The collection

is characterised by its original shapes, reinterpreting

vintage design with a modern touch. They stand out

for their amazing colour combinations, which match

the lenses. For this collection, all models have antiglare

coating at the back to avoid any discomfort

caused by sunlight. All lenses are adjustable and are

subtly layered and mirrored. Distributed by Cardinal

Eyewear.

Kaos

The new, bold and colourful Kaos collection in

metal and acetates moulded into boxy or round

shapes results in young, easy-to-wear frames. The

key bridge model featured here is characterised

by a combination of different acetates along the

frame front and/or the temples and by a twotone

airbrushed effect decoration at the hinges.

Distributed by BTP International Designz.

Going for gold with Carter Bond

Australian swimmer Mack Horton, winner of the

Commonwealth Games men's 400m freestyle, proudly

received his gold medal, standing tall and sporting

Carter Bond specs, made by the Australian-based team

at Jono Hennessy Group. Horton's double bridge model

features wood-look highlights on the end pieces and

temples. Distributed by Phoenix Eyewear.

My current glasses are all modern and fun

I recall so vividly asking my mother if there

were other options available, as I didn't feel

comfortable in any of the choices in front of me.

A few weeks later we returned for me to pick

up my very first pair of glasses: you guessed it,

round metal with a slight tortoise-shell print.

Although I was a straight-A student, I opted

to go without my glasses as often as possible.

When I needed to see the board, I'd wear them,

but the moment the bell rang and class was

over, I took them off in a heartbeat. After all, a

12-year-old girl doesn't need any more reason to

feel embarrassed in front of her peers.

Onward and upward

The funny thing is that my relationship with

glasses didn't change until much later in life,

even when fashion trends changed for the

better. The first acetate frame I ever purchased

was a cute purple little number by CoverGirl that

actually got me to wear them full time, but I

wasn't in love. As the mid-2000s approached and

frames got smaller and smaller, only then did I

find comfort in the ability to wear my glasses

and feel slightly stylish.

Finally, happy in my purple peepers!

How can we make the difference?

At the end of the day, my journey isn't unlike

many others that millennials have faced when

it comes to eyewear. We didn't have amazing

choices way back when, and it somehow

has jaded our perception of what wearing

glasses means. Once we see ourselves looking

unattractive in spectacles, we can't ever seem to

believe anything different.

Thankfully, awesome frame styles now abound

that can help make the sales process not just

easier, but fun too. But it takes a talented

individual to get through to the more difficult

patients.

Try asking them about their experience with

glasses and find out why they're opposed to

certain styles. Develop trust and a rapport with

them before opening them up to the idea that

a super funky colour or unique shape might,

actually, really look great on them.

It's a process to get to a place where you love

your glasses like I do, especially considering how

my journey started. If I hadn't taken up a career

in optics, I might never have gotten to where I

am now.

When working with patients who are

hesitant to try a new style or who simply "hate

themselves in glasses," remember what it was

like for me at age 12. It's really about making

your patient feel comfortable in their own skin

and selecting a set of frames that accents their

true style. Tap into the compassion needed to

get through to your patient, so you can make a

difference and, believe me, when you get it right,

you really do make an incredible difference to

someone's life!

*Courtney Elder has

more than 10 years

of optical experience

and loves wearing

fashionable eyewear in

Portland, OR, USA. Today

she owns a content

creation company with

her husband. Visit www.

author-eyes.com for

more info.

Stars and their eyes…

Paris Jackson

Ever wondered why Paris Jackson, daughter of Michael

Jackson, has eyes that are so strikingly blue? According

to an interview in Teen Vogue with Jo Baker, a Jackson

makeup artist, the colour is due to a "rare eye condition".

Although Baker doesn't name the condition in the

interview, she said it wasn't impacting Jackson's eyesight,

fuelling media speculation that Paris has Waardenburg

syndrome (WS), a rare genetic condition affecting one in

40,000 people. WS can cause hearing loss and changes in

pigmentation of the hair, skin and eyes. It is associated with

the underdevelopment of tissue fibres in the eye that make

up the iris, causing the striking blue colour. Jackson has

neither confirmed nor denied the WS claims, though she

has repeatedly defended her status as Michael Jackson's

biological daughter.

My blurry baby face and favorite frames circa 2007

20 NEW ZEALAND OPTICS May 2018
---
DokoMotto's difference

comes to NZ

After being wowed at Mido, Beni Vision is

shaking things up with the introduction

of it's new capsule collection of genuinely

different frames handcrafted by DokoMotto of

France.

"We have a limited collection of 12 pieces in

stunning acetates restricted to only 500 pieces

worldwide," said Dennis van der Maas, director of

Beni Vision, which specialises in importing exclusive

European eyewear. "These are truly unique frames

and are all individually numbered and produced by

the artist craftsman Florent Grellet."

Grellet honed his design skills in the Jura, an area

in east France named after the Jura Mountains,

famed for being the birthplace and home to many of

France's top eyewear design houses. He established

DokoMotto

in 2011 to

allow him

to produce

his own

uniquelyshaped

glasses in audacious colours or, as he

describes them, "rare pieces that give style to the

ones who are wearing them."

A limited collection of DokoMotto frames are now

available in New Zealand through Beni Vision. ▀

The flying optometrist

The Brien Holden Vision Institute (BHVI)

and the National Library of Australia

have published a new book, The Flying

Optometrist, to help introduce good eye health

practices to young children and celebrate the work

of eye health practitioners, especially those who

work in remote regions in Australia.

The book has been written by author Joanne

Anderton and is based on the adventures of her

dad, flying optometrist Dr Phil Anderton.

'I really liked hearing Dad's stories when he came

back from these outback visits,' Joanne said in an

interview with Optometry Australia. "Also, I was

one of the first to get glasses at school and it was

hard being a bit different so I wanted to help kids

understand how it is normal and wonderful, and

an adventure to wear glasses."

Professor Brian Layland, BHVI chair, said The

Flying Optometrist is an important educational

tool that will help raise awareness about vision

problems, in particular myopia. "This book will

help reach children, parents and teachers living in

remote areas of Australia and educate them about

eye health issues such as myopia. It also highlights

the important role that optometrists can play in

safeguarding children's health and enabling better

future life outcomes simply through having better

vision."

The story is about Stephanie, a little girl who

lives in a remote part of Australia on a large

farm, near a very small town, which relies on the

healthcare provided by Australia's flying doctor

and optometry services. Stephanie has broken her

only pair of glasses and can't see well, so she can't

play cricket or play with her friends. She's one of

several people in the town who really need to see

Phil and Joanne Anderton

the optometrist, but the weather is closing in. Will

Dr Phil's little red plane make it through? Other

characters featured in the book are inspired by

real life Wanaaring residents, including pub owner

Narelle, stockman Reg, plumber Bill and Aboriginal

elder Auntie Pat, all of whom have their own eye

issues to deal with.

The book highlights the isolation of Australian

outback towns and includes informative sections

at the end on the Visiting Optometrists Scheme,

the BHVI and its Aboriginal Eye Care Programme

and the Royal Flying Doctor Service.

It is illustrated by Karen Erasmus who based

her pictures on Phil's own photos. The Flying

Optometrist can be purchased from book stores or

online at Booktopia.

New locum biz for NZ

Optom Locum Service, formerly known as the

Phillip Fent Locum Service, is expanding its

services from Australia into New Zealand.

Optometrist Philip Fent established the company

back in 2002, after he had trouble getting

optometrist cover for his Warringah Mall practice

in Sydney. Since then the company has grown from

a one-man band to employing five staff covering

Australia and, now, New Zealand.

Although Optom Locum Service has often placed

New Zealand optometrists in roles in Australia,

Fent says his operations in New Zealand hadn't

been formalised until now. He is hoping to attract

both New Zealand optometrists to locum in

Australia and Australian optometrists to locum

in New Zealand, allowing both to travel and work

either in New Zealand or Australia.

Many locums on both sides of the Tasman enjoy

the freedom locuming brings as well as offering a

great opportunity to travel and meet all types of

Vision Expo East

people, both optometrists and patients,

he says, adding that, best of all,

it's really easy. "Travel and

accommodation is organised

on your behalf and

paid for. All you need

to do is fly in and

fly out."

For optometrists

looking to work

in Australia,

you will

need to

register

Phillip and Sally Fent of Optom Locum Service

with the

Australian

Health Practitioner Regulation Agency (AHPRA). ▀

For more information and how to register, see ad

on p20.

Vision Expo East at

Kiwi frame distributors

the Javits Centre

Trish Orr and Caron Bowe

New York in March,

from BTP International

wrapped up its 32nd show

Designz, who count De

reporting it once again

Rigo as one of their brand

had earned a 'top show'

partners, attended the

plaudit from the Trade

fair. "Expo New York

Show News Network

was fantastic for us. We

(TSNN). With a total of

have developed some

715 exhibitors, including

new business partners

190 new to the show, and

alongside our current

more than over 16,000

ones, Ogi, Seraphin and

visitors, organisers said it

Bon Vivant, which all

was a hugely successful

had a very busy show as

and busy four days. For

always. The fair had a great

the first time at Vision

atmosphere and the Irish

Expo East, attendees

band playing music for St

voted for their favourite

Patrick's Day added to the

exhibitors in two

ambiance in the halls."

BTP's Caron Bowe (right) selecting Safarro frames

categories.

As to what stood out as

The winner in the category of 'Most Creative the latest trend at the fair, team BTP picked pastel

Booth Design' was De Rigo.

tones and metallic gold and silver as top of the list. ▀

New appointments

Optique Line NZ new account manager

Vicki Evans has joined

Optique Line as their New

Zealand national account

manager, replacing Bob

Graham who is retiring

after 38 loyal years in the

optical industry.

John Nicola, Optique

Line director welcomed

Evans to the team,

"Although we are sad to

see our much-admired

Bob Graham retire, we are

excited to see the new energy Vicki brings to the

team. Coming from an optical retail background,

Vicki understands the New Zealand market and

the challenges practices face day-to-day. Also, she

comes with the knowledge and experience of the

Optique Line brands, which is a big bonus for us."

Before joining Optique Line, Evans was an

optical assistant with Visique Rotorua where she

gained first-hand experience working with the

Optique Line brands. "The Optique Line range is

my favourite, I particularly like the Convertibles

which to me stand out as a really good, quality

solution. I also know from experience that Optique

Line's customer service is great which allows me to

confidently promote the brands to our customers."

Evans kicks-off with training in Melbourne in

April, after which she hits the road straight away.

She's most looking forward to meeting all the

new clients, she says, and taking on the territory

responsibility for Optique Line New Zealand.

BP Software strengthens NZ leadership

Software developer Greg Wood is joining Best

Practice Software's management team based in

Hamilton. Wood will oversee delivery operations

in New Zealand and will be a member of the

company's global management team.

Craig Hodges, BP Software's chief operating

officer, says he is delighted to welcome Wood to

the team. "Greg has extensive experience as a

senior technical advisor in the public and private

sectors in New Zealand.

He is also a certified

scrum master and is very

familiar with leading agile

environments. We look

forward to having him

on board with us to lead

our very committed and

experienced local New

Zealand team."

Wood will take up his

new position in mid-May. ▀

INTRODUCING

VICKI EVANS

YOUR NZ ACCOUNT MANAGER

Contact Vicki Evans now

027 220 2954

vicki@optiqueline.com.au

0508 678 478 | optiqueline.co.nz

May 2018

NEW ZEALAND OPTICS

21
---
MORE CLASSIFIEDS ON PAGE 24

OPTOMETRIST

NEW PLYMOUTH

We are looking for an experience TPA qualified, full-time Optometrist

to join our team at Browning & (Matthews), New Plymouth. This is a

busy, well equipped practice with a great support team.

Please contact Michelle Diez on 027 246 7499 or email

michelle.diez@matthews.co.nz

PART-TIME DISPENSER/

OPTICAL CONSULTANT

1-2 week-days per week plus 2-3 Saturdays

per month.

Hours: 10 -5.30pm week days, 10 -5pm Saturdays

Hourly rate $25-40 depending on experience

Become part of the team at Parker & Co, Newmarket, Auckland, selling

fabulous eyewear. You will be working with a small team of experienced

consultants/Dispensers and Optometrist who love eyewear and helping

people to find the perfect fit of eyewear and lenses.

We are not a chain, we don't pressure sell. We love what we do, and

we need someone to join the team. If you have two or more years

experience in the industry and this sounds like you please email

lynne@parkerandco.nz

by

A day in the life

of a new,

21st century

optometrist (sort of)...

Chalkeyes

LOCUM OPTOMETRISTS

WORK IN AUSTRALIA

A change is as good as a holiday! Take control of your professional life

and earn $120+ (AUD) per hour, + travel and accommodation.

30 Minute appointments. Choose where and when you want to work.

Email us on info@optomlocumservice.com.au to join our obligation

free mailing list and let us tell you about the work we have available

from Hobart to Broome, from Adelaide to Cairns, from Canberra to

Perth, Auckland to Gold Coast and everywhere in between.

For over 16 years we have been finding well paid and interesting

work for optometrists.

www.optomlocumservice.com.au

FULL-TIME OPTOMETRIST

BUCHANAN OPTOMETRISTS

CHRISTCHURCH

Boutique optometry destination within a medical centre with an

excellent dispensing support and state of the art equipment.

The practice has a strong interest in specialty contact lenses, including

ortho-k and while experineced optometrists are preferred, new

graduates are welcome to apply.

The practice supports independent optometric practice and values an

optometrist who has a passion for clinical excellence and patient care.

The Matthew group prides itself on being a family owned and

operated business and professional growth in all optometry subspecialties

is encouranged.

We are the largest independent optometry group in NZ, with plans

for future growth. We are looking for someone to join us in our

Christchurch practice who is passionate about optometry and wants

to be part of a company striving for excellence.

Please contact John Grylls, john.grylls@seekapiti.co.nz or

Michelle Diez, michelle.diez@matthews.co.nz for more information.

Confidentiality is assured.

7.12am. Eeek, I forgot to put the wash

on again on. That's the trouble with this

job: What normal person is able to have

their assigned, five uniform shirts (in

mustard yellow of all colours) cleaned

and dried in time for the following week?

Dave, my retail executive, said any more

would be excessive and wasteful. With

the number of patients and their relatives

that cram into my short-form exam room

every quarter of an hour (some of which

with less than optimum hygiene habits)

I really need a spare to change into at

lunchtime. Dave said he would see if he

could arrange some air freshener.

8.29am. Ready for the first patient of

the day. McDonald's next door have

half-price frozen cola on a Thursday,

which starts my morning off with sugary

big bang. I'm not too sure about the

new fit-out, however, that head-office

'strongly suggested' we undergo last

month. They said it was about creating

consistency across the country. I'm quite

sure I'm sitting in the same chair, just

with a darker trim. Dave says the new

furniture allows our patients to move

from autorefractor to the frame stands

3% quicker, which is a good thing I guess.

10.12am. Laura, one of the new front

staff, foolishly interrupted my fifth

patient of the day to confirm whether

left eye meant the patient's left eye or

the eye on the left when she looked at

them. Fortunately, it didn't matter as

the patient had chosen one of our new

reversible frames. She had sold them a

second pair in pink as a backup too, which

will please Dave. Maybe Laura won't

resign in a few months like most frame

minions tend to.

11.40am. Another young patient asked me

about contact lenses again, today. I was

running a little behind time so fortunately

she was happy with just the new

tortoiseshell frames I suggested she try

instead. I sort of see the point of contact

lenses, but as soon as I open my (nowexpired)

trial lens cases, I just run even

further behind schedule, so it's not really

worth it – is it? I asked Dave about it and

he said sunglasses are a better alternative.

Dave is always thinking about patient

well-being; there is a lot of UV around

these days, he says.

12.47pm. In my lunch break, I had

enough time to whip across the road

from the mall to the little sushi place I

love. All the staff there are patients of

ours, including their young kids. They

look so cute in their little frames! Dave

always reminds me what a great service

we provide – being able to update their

glasses affordably as soon as their

prescription gets a little worse, is pretty

special!

3.30pm. A lady just saw me complaining

that she was seeing her long dead cat

walking around in front of her. The silly

old thing had saved up her hundred

bottle caps from her Anchor milk for

her complimentary examination and

then completely wasted my time with

her foolish imaginings. It's almost as if

they think Fonterra actually pays us for

their consult! I politely told her she was

making it up and sold her another pair

of dark sunglasses to help her bilateral

macular degeneration. Hopefully she

sees a locum when she has next saved up

enough caps.

5.27pm. Dave squeezed in a patient for

a check at the end of the day again. He is

always doing that. The guy had a loose

nylon on his rimless frame that keep

waving and distracting his peripheral

vision. Talk about rude though – the guy

had the nerve to ask if I was qualified

to test his eye health! Apparently,

he was overdue for a check with his

ophthalmologist. It was a bright evening

outside so I whacked in some tropicamide

and phenylephrine to teach him a lesson.

Fortunate I did though – when I looked,

both of his eyes had retinoschisis in the

far temporal retinal periphery! I took

some photos and scans to show the chap

and he was amazed, no one else had ever

mentioned it before. The guy looked me

in the eye, shook my hand and said 'thank

you for being so thorough'. Somewhat

embarrassed I said 'don't mention it – I'm

just doing my job'.

In the end, the guy only bought a single

pair of affordable hobby glasses. Dave

was not pleased. But I felt pretty good

driving home today. That is what I get up

every morning to go to work for – to help

people with their vision and eye health.

I just wish they would let us have a few

more shirts to use...

DESIGNER FRAMES FOR SALE

Spectacle frame inventory for sale. Designer frames offered at below

wholesale prices. Prefer to sell entire lot to single buyer. Fendi,

Marchon, Flexon, Coach, Calvin Klein etc. About 350 in total. Please

contact seller at tyghbn73@gmail.com or 0210483139

CUSTOMER SERVICE

SUPERSTAR

Are you a Customer Service Superstar?

Would you like to join one of the leading frame suppliers in NZ

representing many of the best performing brands in the independent

market? Then we have a wonderful opportunity for you here at

Phoenix Eyewear!

Based from our offices on Auckland's North Shore, the role offering

sales support to our sales team and large customer base can be varied

at times but is very heavily customer service focussed. You will need

to be organised, self-motivated and happy to work within a small but

dedicated team.

Experience using MYOB or similar a must, as are outstanding

communication skills.

We are offering a competitive salary package complete with car park

and no weekend work.

If you see yourself becoming part of our exciting future then please

submit your CV under strictest confidence to Mark Collman at

mark@phoenixeyewear.co.nz

Ophthalmology trainees:

a step closer

Eye Institute has been helping prepare

ophthalmology registrars for their final

exams for about 15 years, running two mock

Objective Structured Clinical Exams (OSCEs) during

the trainees' fourth year of specialist training.

The OSCE is a performance-based assessment

measuring candidates' clinical competence.

Trainees are observed and evaluated as they

go through a series of stations in which they

interview, examine and treat standardised patients

who present with some type of medical problem.

Dr Peter Ring initiated the annual mock OSCEs

after requests for help from registrars when he

was a part 2 examiner, and continues to run

then to this day. "It gives the candidates practical

experience of an OSCE without the added pressure

of a formal exam," he says. "Also, they may see

clinical cases they may not have seen before as we

try to set up less common cases, but not rare ones."

Particularly valuable is the discussion with the other "mock"

examiners about the cases they have just seen, said Dr Ring, giving

Dr Peter Ring explains this year's mock OSCE to trainee ophthalmology fellows

the registrars some great insight and extra knowledge before they

sit their final exams. ▀

22 NEW ZEALAND OPTICS May 2018
---
2018 • Voted by New Zealanders • 2018

UNSURE OF WHAT'S AROUND

THE NEXT CORNER?

SECURE YOUR FUTURE WITH SPECSAVERS

Are you looking to secure your future with New Zealand's leading provider of eye care services? At Specsavers, we offer

some of the best rates of pay in the market, giving certainty to our employed optometrists, partners and locums.

And while monetary reward is important, there are other critical factors to

consider. We're taking investment to a new level with a multimillion dollar rollout of

the latest technology and an extended professional development program, while

our optometry support team is developing ever closer working relationships with

ophthalmology and other eye disease stakeholders. You will also be supported by

an experienced team of dispensers and optical retail staff, providing you with the

best environment to develop your clinical skills and advance your optometry career.

A range of both metro and regional opportunities are currently on offer across New

Zealand, including full-time and part-time roles. Due to continued growth, we also

have a number of opportunities for optometrists seeking to lead their own store as

Joint Venture Partners.

Either way, why not find out how you can make the most impact at Specsavers.

We're on a clear mission to transform eye health in New Zealand and Australia –

and we'd like you to join us on that mission.

Alternatively, if you know an exceptional optometrist with a passion for delivering

high quality eye care who is seeking career progression, ask us about our 'Refer a

Friend' referral bonus.

For a confidential chat about the various opportunities we have available,

contact Chris Rickard on 027 579 5499 or email chris.rickard@specsavers.com

VIEW ALL THE OPPORTUNITIES AVAILABLE ON SPECTRUM-ANZ.COM

Reader's

Digest

Quality Service

Award

Voted by New Zealanders

Reader's Digest

Quality Service

Award

2017

Best Customer

Service in NZ

Optometry

2018

Millward Brown

Research

No.1 for eye tests

2018

Best Talent

Development

Program

2017

Best Customer

Service in NZ

Optometry

2017

Excellence in

Marketing

Award

2016

Retail

Employer

of the Year

2015

Overall

National

Supreme Winner

2015

Franchise

Innovation

Award

2015

NZ Franchise

System of

the Year

2014

Retail

Innovator

of the Year

2014

Transforming eye health

May 2018

NEW ZEALAND OPTICS

23
---
MORE CLASSIFIEDS ON PAGE 22

For all your optical and ophthalmic needs

nzowa.org.nz

OPTOMETRIST

INVERCARGILL

We are looking for a friendly and enthusiastic Optometrist to

join our busy and growing optometry practice in Invercargill. This

position would suit someone who is seeking:

Excellent work-life balance. With a short, 5 to 10-minute drive to

work, and a 9 to 5, Monday to Thursday working week, you can

enjoy more free time with family and friends.

An opportunity to get ahead. With an extremely competitive

remuneration package and an average house price in Invercargill

of only $260,000, this position represents a great opportunity.

A great place to live. Invercargill is only a few hour's drive/

ferry from some of New Zealand's most beautiful destinations,

including Queenstown, Milford Sound, Stewart Island and the

Catlins.

Professional development. Our friendly and supportive team,

with over 70 years of combined optometry experience, and over

60 years of combined dispensing experience, can help take your

career to the next level.

If this sound like the ideal role for you, please email your CV and

cover letter to 7720store@opsm.co.nz

CENTRAL AUCKLAND PRACTICE FOR SALE

Demand for well-operated, consistently profitable independent

practices in central Auckland is high, OpticsNZ is proud to bring

this practice to the market. Operating with two examination

rooms, double testing 5.5 days per week. The optometry

equipment is ideal, the location and product offering are

superb. In the heart of Auckland, strategically this is an excellent

opportunity in so many ways.

For more information, please contact (confidentiality assured)

Stuart Allan at OpticsNZ on (03) 5466 996, 027 436 9091 or email

stu@opticsnz.co.nz

LOCUM OPTOMETRIST

Maternity cover required for east Auckland optometrist.

Up to 20 hours a week over three days May through August.

Work alongside a team of well trained professionals and in a well

equiped practice.

Email any enquiries to outeastoptom@gmail.com

DISPENSING OPTICIAN

/ OPTICAL ASSISTANT

This is an opportunity to join our professional fun-filled team at

Eyes of Howick. Being an independent practice we pride ourselves

on our client service and personalised optical solutions.

We require a star team player who also thrives in an autonomous

environment. If you have an eye for detail and organisation, have

a passion for eyewear and fashion and enjoy the sales challenge

then we would love to discuss the position with you further.

Optical experience essential.

Hours include a late night and some Saturday work on a rostered

basis.

Email your CV to Kristine on kjensen@eyesofhowick.co.nz or

phone 0274824477.

OPTOMETRISTS

WAIUKU / THAMES

Ready to settle down in the beautiful Coromandel town of

Thames or more drawn to the country living in Waiuku? Paterson

Burn Optometrists have exciting opportunities for passionate TPA

endorsed Optometrists to work in our Waiuku / Thames practices.

Working with Paterson Burn Optometrists will offer you the

ability to develop your clinical skills to its full potential and the

opportunity to specialise in your desired field. You will have

the ability to work independently and, with fourteen other

optometrists in the group, you will be part of a larger group of

highly-qualified, experienced and dedicated optometrists. Our

Optometrists have special interests in Low Vision, Children's Vision,

Ortho K, Specialised contact lens fits, Dry eye and Irlen lenses. You

will also have the opportunity to meet regularly for peer review

sessions while gaining CE points within our practice.

This position can be part-time in Waiuku / Thames or full-time if

willing to travel between the branches.

Please send your CV with a covering letter to

sandri@patersonburn.co.nz or call 07 9035406 for more

information.

BAILEY NELSON

CHRISTCHURCH

Here at Bailey Nelson, we see things a little differently. We believe eye

care doesn't have to be boring, and that's why it's our mission to have

passionate and caring Optometrists who ensure all patients enjoy an

experience worth remembering. Our eye tests are tailored for each

individual so everyone walks away feeling and looking different.

Bailey Nelson is opening a new store in Christchurch CBD. If you

want to further yourself as a leader and business contributor, all

while delivering amazing eye care then get in touch.

Please contact Maddy Mortiaux on

maddy@baileynelson.co.nz or 021 351 401

DREAM OF

TRAVELLING

Have you ever wanted to travel NZ? Do you like

flexibility and crave variety? OPSM New Zealand is

looking to expand its relief team with a combination

of area and regional floats. As a float you will be

exposed to lots of different patients and locations

across New Zealand. We are looking for Optometrists

who share our passion, and want to join our customer

focussed teams in making a difference to how people

see the world.

We are looking for optometry floats in these

key locations:

• GREATER WELLINGTON AREA

• AUCKLAND & WAIKATO AREA

• NATIONAL (NZ WIDE) REGION

Alternatively OPSM NZ is also on the lookout for locums

willing to service the Wellington, Bay of Plenty and

Waikato regions.

JOIN OUR TEAM

If interested in joining our fun loving team, please contact

Jonathan Payne

Jonathan.Payne@opsm.co.nz or call 021 195 3549

OPSM.CO.NZ/CAREERS

READY FOR

A CHANGE?

When you join OPSM, you work within a team who

are committed to providing the best possible eyecare

solution with exceptional customer service. You will

work with world class technology and have many

opportunities for professional development. You can

also make a real difference in the way people see

the world by participating in our OneSight outreach

program. OPSM New Zealand is looking for passionate

Optometrists to join the team in these locations:

NEW PLYMOUTH

Where the mountain meets the sea; New Plymouth is

a vibrant city of culture, art, and the great outdoors.

Our exciting practice is looking for an equally exciting

optometrist to join this high-performance store. With a

great community vibe and strong optometry network,

New Plymouth is an excellent place to either start or

enhance your career.

THAMES

Located on the doorstep of the Coromandel, Thames is

a gateway to outdoor adventures and fantastic beaches.

An opportunity has arisen for a full time optometrist to

join an amazing team in our community based store with

interesting and appreciative clientele. Only 1 hour outside

of South Auckland, Thames is close enough to enjoy the

big city, without the traffic or house prices!

LOWER HUTT

A rare vacancy has arisen in our much sort after Lower Hutt

practice. We are currently looking to expand our energetic

and vibrant team. Only 15 minutes from the capital, Lower

Hutt is close enough to enjoy the sport, culture and cuisine

that central Wellington has to offer.

JOIN OUR TEAM

If you are interested to find out more about joining the

team, contact Jonathan Payne for a confidential chat.

jonathan.payne@opsm.co.nz or call 021 195 3549

OPSM.CO.NZ/CAREERS

Thinking of selling your practice - we have buyers

Considering buying - we'll give you all the options

OpticsNZ specialises in optometry practice sales,

we've helped dozens of Optometrists buy and sell their practices

For more information contact Stuart Allan on: 03 546 6996

027 436 9091 stu@opticsnz.co.nz www.opticsnz.co.nz

• Locum Service

• Recruitment Services

• Practice Brokering

• Business Consultants

24 NEW ZEALAND OPTICS May 2018