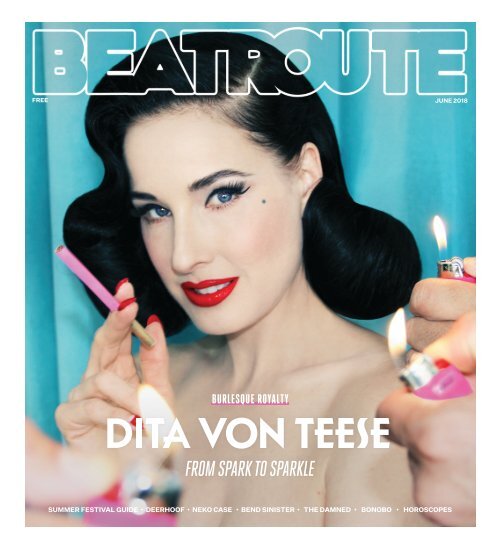 BeatRoute Magazine BC Print Edition June 2018
BeatRoute Magazine is a monthly arts and entertainment paper with a predominant focus on music – local, independent or otherwise. The paper started in June 2004 and continues to provide a healthy dose of perversity while exercising rock 'n' roll ethics. Currently BeatRoute's AB edition is distributed in Calgary, Edmonton (by S*A*R*G*E), Banff and Canmore. The BC edition is distributed in Vancouver, Victoria and Nanaimo. BeatRoute (AB) Mission PO 23045 Calgary, AB T2S 3A8 E. editor@beatroute.ca BeatRoute (BC) #202 – 2405 E Hastings Vancouver, BC V5K 1Y8 P. 778-888-1120
BeatRoute Magazine is a monthly arts and entertainment paper with a predominant focus on music – local, independent or otherwise. The paper started in June 2004 and continues to provide a healthy dose of perversity while exercising rock 'n' roll ethics.

Currently BeatRoute's AB edition is distributed in Calgary, Edmonton (by S*A*R*G*E), Banff and Canmore. The BC edition is distributed in Vancouver, Victoria and Nanaimo. BeatRoute (AB) Mission PO 23045 Calgary, AB T2S 3A8 E. editor@beatroute.ca BeatRoute (BC) #202 – 2405 E Hastings Vancouver, BC V5K 1Y8 P. 778-888-1120
SHOW MORE
SHOW LESS
You also want an ePaper? Increase the reach of your titles
YUMPU automatically turns print PDFs into web optimized ePapers that Google loves.
June'18

PUBLISHER

BeatRoute Magazine

LAYOUT

& PRODUCTION MANAGER

Naomi Zhang

FRONT COVER PHOTO

Josef Jasso

FRONT COVER DESIGN

Randy Gibson

INTERN

Carlos Oen

CONTRIBUTING WRITERS

Emily Corley • Lauren Donnelly • Mike

Dunn • Chris Dzaka • Jessie Foster • Slone

Fox • Jamie Goyman • Michael Grondin •

Alex Harrison • Gareth Jones • Ana Krunic

• Brendan Lee • Hollie McGowan • Maggie

McPhee • Keir Nicoll • Jennie Orton • Tom

Paille • Jamila Pomeroy • Molly Randhawa

• Sepehr Rashidi • Brendan Reid • Frankie

Ryott • S. Sheppard • Jordan Stricker •

Max Szentveri • Willem Thomas • Darren

Wright

CONTRIBUTING

PHOTOGRAPHERS &

ILLUSTRATORS

Taylor Bourque • Steve Brown • RD Cane

• Ingrid Christie • Jessie Foster • Pooneh

Ghana • Bernice Jang • Ray Maichin

• Carole Mathys • Jay Munoz • Jaik

Puppyteeth • Lauren Ray • Ryan Russell •

Matthew Salacuse • Zach Schroder • Ester

Segarra • Travis Shinn • Nick Siu

ADVERTISING INQUIRIES

Glenn Alderson

glenn@beatroute.ca

778-888-1120

Managing Editor

Jordan Yeager

jordan@beatroute.ca

Local Music

James Olson

james.olson@beatroute.ca

The Skinny

Johnny Papan

johnny@beatroute.ca

Comedy

Graeme Wiggins

graeme@beatroute.ca

Editor-In-Chief

Glenn Alderson

glenn@beatroute.ca

City

Yasmine Shemesh

yasmine@beatroute.ca

BPM

Alan Ranta

alan@beatroute.ca

Live Reviews

Darrole Palmer

darrole@beatroute.ca

Film

Hogan Short

hogan@beatroute.ca

04

05

06

09

10

14

15

HI, HOW ARE YOU?

- With Filmmakers Alison

Snowden and David Fine

PULSE - CITY BRIEFS!

CITY

- Cabin Fever

- Sum Gallery

THE SIGHTS &

SOUNDS OF TOFINO

TATTOO YOU

- Skin Deep

- Sticks & Stones

12 SUMMER

FESTIVAL GUIDE

CITY

- Healing Hands

- The Vinyl Cast

COMEDY

- Dylan Moran

17

22

25

26

27

33

35

MUSIC

- Peach Kelli Pop

- Quiet Slang

- The Mighty Mighty

Bosstones

- Deerhoof

THE SKINNY

- Hammerfall

- The Damned

- Hashteroid

- D.O.A.

BPM

- Bonobo

- Clubland

FILM

- Beast

- This Month In Film

ALBUM REVIEWS

- Neko Case

LIVE REVIEWS

- Jorja Smith

- MGMT

- Fever Ray

HOROSCOPES

Photo by Ash Kingston

DISTRIBUTION

Gold Distribution (Vancouver)

Mark Goodwin Farfields (Victoria)

Web

Jashua Grafstein

jash@beatroute.ca

Social Media

Mat Wilkins

mat@beatroute.ca

BEATROUTE MAGAZINE

202-2405 Hastings St. E

Vancouver BC Canada

V5K 1Y8

editor@beatroute.ca • beatroute.ca

©BEATROUTE Magazine 2018. All rights reserved.

Reproduction of the contents is strictly prohibited.

Page 19 - serpentwithfeet

June 2018 3
---
WITH FILMMAKERS ALISON SNOWDEN AND DAVID FINE

HOGAN SHORT

When the Vancouver based duo of English born

Alison Snowden and Canadian born David Fine

made the short animated film Bob's Birthday, it

changed their lives forever. That short won them

an Academy Award and an order for a television

show that we now know as the beloved Bob and

Margaret. They are back on the film circuit with a

new short called Animal Behaviour about a motley

crew of animals subjected to their instincts and

trying to work through their issues. These two

legends spoke with us about the process of making

animated films together.

Where did the idea for Animal

Behaviour come from?

We were inspired by the notion of examining how

difficult it can be to deal with personality issues

and especially the question of whether one should

seek to change, or whether change is impossible

because it's in your DNA and people should accept

and appreciate you for who you are.

What is the collaborative process like

for you both when making an animated

short?

We enjoy working together because we share a lot

of sensibilities, humour and story wise, but we also

have a great deal of appreciation for each others

talents and what each of us brings to the table,

both in terms of production and dinner each night.

What is the audition process for the

characters like?

Casting the right voices was vital for this ensemble

piece so we worked very hard to find exactly the

right quality of voice and comic sensibilities. We

reviewed over 300 voice auditions to settle on the

group of six, although we were already very keen

to work with Ryan Beil and Taz van Rassle as they

have unique voices and work together in an improv

group called The Sunday Service and so we thought

their improv background would be an asset. The

script was very tight, but adding little back and

forth moments was really important too. Ryan is

also a very accomplished actor otherwise. We have

such a great voice talent base in Vancouver, so it

was a lot of fun to find the right voices. We are very

proud of our cast.

How did winning an Academy Award

change your lives?

It's a special thing, no doubt. It has certainly

opened doors, but once that door is opened, no

one gives you a free ride because you're an Oscar

winner, so we still have to work for everything. It's

certainly a good marketing tool for us. "From the

Oscar-winning team…" seems to attract attention.

What does your very successful show,

Bob and Margaret, mean to you now

that you can reflect on it?

It was a wonderful opportunity to expand on the

short and learn about telling stories in a longer

format like that. Mind you, the short was never

intended to be a pilot for a series, so going there

was something we initially resisted because we

were intimidated, but once we started developing

it, we found it easy to write. We are very proud

of the series because it was seen so widely and

had a great run in Canada and the U.S. on major

networks. Channel 4 in the UK treated it pretty

badly though, which was a frustration. We worked

with some amazing talent in the UK and Canada

was energizing and inspiring. It freed us creatively

to write without worrying about actually having to

animate those scenes ourselves.

What is your view on the current state

of big budget feature animated films?

Must admit, we find so many of them kind of

tiresome. We are a lot more interested in more

personal indie feature animations like this year's

Oscar nominee, The Breadwinner. Also loved Don

Hertzfeld's feature from a few years ago, It's Such a

Beautiful Day. Having said that, Alison really loved

Trolls, which shocked both of us.

When and how can people see Animal

Behaviour?

The NFB will distribute it at festivals first and so it

will play in Canada at select festivals, but then it

will eventually be on the NFB website and apps, for

all to see.

For more information on Animal Behaviour visit

www.snowdenfine.com

Photo by Alison David

How long did this 14-minute short take

to make?

It's kind of embarrassing to say how long it takes to

make a short personal film. It was probably about

two and half years of production time, but that was

after a development period as well. All in all, we

have been working on this since… Ugh, too long.

and Alison having Snowden a large and team David to help Fine us are realize back our on vision the film circuit with Animal Behaviour.

4

June 2018
---
CITY BRIEFS!

Victim Impact

Temporal Drum Set

Kerry James Marshall

Body Language

Kamasi Washington

Victim Impact

June 8-17 @ The Cultch

Award-winning artist Jiv Parasram

directs this live documentary/

production that delves deeply into

the ramifications of the Rashida

Samji fraud scheme that ripped off

more than 200 people in BC's South

Asian community between 2003 and

2012. Samji, a former notary public,

conducted the largest Ponzi scheme in

provincial history. Further discussions

of Victim Impact are being held in a

podcast series available on conspiracy.

ca, iTunes, and SoundCloud.

Perfect Imperfections: The

Art of a Messy Life

June 14-16 @ Culture Lab

Three powerful female creatives

– JUNO-nominated jazz musician Jodi

Proznick, educator and performer

Celeste Snowber, and harpist Alexa

Reimer – join forces in this production

that celebrates and reflects upon the

many facets of a woman's life. Through

comedy, music, and dance, Perfect

Imperfections: The Art of a Messy Life

touches on topics from sensuality to

loss.

Temporal Drum Set

June 26 @ Western Front

Presented by the Coastal Jazz and Blues

Society, this immersive installation sees

local musician John Brennan explore

the notion of "sonic memory" as he

performs a number of improvised sets

alongside a cast of drummers that

includes Deerhoof's Greg Saunier.

Seinfeld Burlesque

June 16 @ Rio Theatre

It's real, and it's spectacular. Seinfeld

Burlesque has all your favourite

characters from the popular TV show

performing in partial nudity and…

yada, yada, yada.

Kerry James Marshall

June 2-November 3 @ Rennie

Museum

The world's largest private collection of

the works of internationally-acclaimed

artist Kerry James Marshall will be

on display at the Rennie Museum

in a comprehensive survey of his

career including paintings, sculptures,

and other media spanning 32 years.

Touching on civil rights movements,

social injustice, and racism through his

art, Marshall challenges western art

history by incorporating the African

American experience into portraits,

landscapes, historical events, and

more.

Body Language: Reawakening

Cultural Tattooing of the

Northwest

June 8-January 13, 2019 @ Bill Reid

Gallery

The Bill Reid Gallery celebrates its 10th

anniversary with this exhibition that

showcases how tattooing, piercing,

and personal adornment are helping

contemporary Northwest Indigenous

artists reclaim their identity in

a tradition deeply connected to

ceremony, special life events, social

rank, and more. The exhibition features

five Northwest Indigenous cultural

tattoo practitioners: Nakkita Trimble

(Nisga'a), Nahaan (Tlingit), Corey

Bulpitt (Haida), Dean Hunt (Heiltsuk),

and guest curator Dion Kaszas

(Nlaka'pamux).

Perverted Ice Cream

797 Thurlow St.

With a marketing campaign that'll

make you blush, this new soft serve

joint serves up ice cream with a twist.

Find homemade waffle cones and

fun flavours with names like Brand

Spanking (cream/chocolate swirl) and

Cocoa-Dependency (chocolate with a

variety of rich, chocolaty toppings).

Lay of the Land

June 19 @ Roundhouse Community

Arts and Recreation Centre

Part of the Queer Arts Festival, this

presentation of erotic literary readings

– curated by UBC Indigenous Professor

and editor of Sovereign Erotics, Daniel

Heath Justice – is the only published

collection of Two-Spirit literary erotic

writing. This year's featured writers

include Samantha Nock, Johnny Trinh,

and Smokii Sumac.

Kevin Hart

June 16 @ Rogers Arena

The comedian brings his Irresponsible

Tour to Vancouver this month for an

evening of guaranteed side-splitting

laughs. Hart recently appeared in the

Jumanji reboot, in which he starred

alongside Dwayne "The Rock" Johnson,

and just released his own digital

comedy platform, the LOL NETWORK.

Kamasi Washington

June 24 @ Queen Elizabeth Theatre

The revered saxophonist performs at

this year's TD Vancouver International

Jazz Festival. Known for his blend

of hip-hop, jazz, r&b, and classical

music, as well as collaborations with

Kendrick Lamar, Run the Jewels, and

John Legend, Washington continues

to span genre and generation with his

work. His most recent EP was 2017's

Harmony of Difference.

June 2018 5
---
CITY

CABIN FEVER

CONSIDERING BIG DEFINITIONS OF LITTLE SPACES

ADAM DEANE

photo by Dorothea Lange

Vancouver Art Gallery exhibition examines Canadian cabin culture and history.

SUM GALLERY

A HOME FOR QUEER ART IN THE HEART OF CHINATOWN

LUIZA BRENNER

If you've found yourself at the bottom of the inevitable

social media hole that is Instagram, you're not alone,

and chances are you've stumbled upon a tiny home or

two – maybe even a cabin in the woods of our great

province with a bearded, plaid-clad individual enjoying a

cup of joe in their $49 mug.

Hashtags, movements, and shows like PNWLIFE,

Cabin P*rn, and Tiny Homes have recently drawn

much attention to a novel way of living that existed

long before the shallows of this century. In reality, that

million-dollar cabin in the woods at the top of your

Airbnb wish list had its humble architectural infancy in

a time where its sole function was most likely a shelter

for hunting, some sort of emergency use, or a tranquil

place for the recluse in all of us to get away and create,

popularized by the likes of introverted writing greats like

Thoreau or Salinger.

This month, Vancouverites will be lucky enough to

take part in an interactive three-month-long exhibit

at the Vancouver Art Gallery, "Cabin Fever," curated

by none other than Jennifer Volland, the creative heart

behind the popular 2013 VAG exhibit, "Grand Hotel."

"'Cabin Fever' will look at architectural typologies

that have often been overlooked," Volland explains.

"I think people have certain one-dimensional ideas

regarding cabins, so we really wanted to represent a

larger and more comprehensive history in the ways of

design, culture, society, and politics. At the same time,

it was more personal as I have always wanted a cabin or

a place to escape to, which I've realized to be a rather

common urge."

If you're hesitant to believe in that urge, have a look

at the latest posts under the hashtag #cabin on any

social media platform and you will realize this is a trait

common to all of our tech-obsessed, urban-dwelling

little hearts. Volland draws that innate urge back to

childhood and our early interest in forts and a constant

quest for introspection and community.

"For families, there's an offsite the gallery has which

will be featuring a Shigeru Ban project," she says. "He

is an architect that does a lot of work with emergency

relief shelters. That is something that we look at in the

exhibition as well – a broader definition of the cabin as

an alpine hut, emergency shelter, or a fire lookout tower.

We want to expand the definition in every way. Even

just in Vancouver, you could look at the squatter's cabin,

or writers like Malcolm Lowry, who lives in a shack

up Burrard Inlet, or the canneries in Port Edward, BC.

There'll be something that appeals to everyone."

If you're feeling city-locked, you can escape to "Cabin

Fever" at the Vancouver Art Gallery this summer

and channel your inner recluse, child, or modern-day

adventurist.

Cabin Fevers runs from June 9 to September 30 at the

Vancouver Art Gallery.

2018 marks the 10 year anniversary of the Queer Arts Festival

and 20 years for the Pride in Art Society. What started as a

community art exhibition of queer visual arts evolved into a

renowned annual festival that has presented over 1,735 artists

in more than 219 events and welcomed over 61,500 patrons.

Aptly named DECADEnce, this year's festival explores marks

that live beyond the page, numerical devices and quantitative

data; the mark that lives in actions unnoticed, voices unheard,

lost stories of self, and races won in forgotten Herstories/

Ourstories. While QAF and PiA celebrate important milestones,

a new one arises: queer art finally found a home. "SUM is a

room of our own, here and queer for not only a couple weeks,

but all year," praises SD Holman, SUM Gallery's artistic director.

Located on the fourth floor of the Sun Wah building, in

the heart of Chinatown, SUM Gallery is a permanent space

dedicated to promoting queer art. The name SUM honours

the space's original intended use as a Dim Sum restaurant on

the fourth floor of the Sun Wah building with a few additional

layers.

"Chinatown grew out of segregation and discrimination.

It was a Chinese-only community because we couldn't go

elsewhere, we weren't welcome elsewhere. We are trying to

address a lot of that," says Paul Wong, co-curator of the gallery's

inaugural show.

Comprised of four video installations with labels in both

English and Chinese, QueerSUM is the perfect translation of

what the space represents: the exchange between the local

Canadian-Chinese population and the LGBTQIA+ community.

About the choice of artist Karin Lee, Wong explains: "I don't

think she has ever been presented as a queer artist – maybe

6

not as an installation and media artist; and perhaps not even

as a Chinese-Canadian woman feminist artist. For us, it was

really important to set something that suggested a number of

discussions and starting points."

Dialogue and exchange around pressing issues are at the

core of its mission. SUM Gallery not only is a place dedicated

to queer art in Chinatown, many different communities

surround it. On the same address, at 268 Keefer Street, the

QAF headquarters coexist with the Asian Canadian Writers'

Workshop, the LIVE International Performance Art Biennale,

PCHC- Museum of Migration, Senior Chinese Society of

Vancouver, Vancouver Indigenous Media Arts Festival (VIMAF),

to name a few. Managed by BC Artscape, the building has a

liaison to ensure the diversity of artists, cultural producers, and

community groups.

The programming of the gallery is still open. Not following

the traditional model of other white cubes, SUM Gallery is

more of a blank canvas filled with possibilities. About his role in

the gallery, Paul Wong is elusive: "This was a one-off. I'm not on

contract, but I'm already imagining how we can collaborate on

further projects. I would like to turn over this space to someone

who hasn't had opportunities to play and be presented."

Between Wong's experimental ideas and SD Holman's artistic

vision boldness, we can expect boundary-breaking shows. For

those who wish to visit, SUM Gallery is open five days a week

and is free of charge.

SUM Gallery is open Tuesday to Saturday 12 p.m. to 6 p.m. at

268 Keefer St. The Queer Arts Festival runs from June 16 to 28 at

the Roundhouse.

An arts hub within a hub, Paul Wong, Margo Kane (of Full Circle) and

SD Holman stand in the space where SUM Gallery and three other arts

organizations now inhabit.

June 2018
---
THE KILLERS • FLORENCE + THE MACHINE

IN COLLABORATION WITH
---
Kerry James Marshall

Collected Works

June 2 - November 3, 2018

Kerry James Marshall Untitled (Blot), (2014) acrylic on PVC panel | 84 x 119 5/8 x 3 3/8 in (213 x 304 x 9 cm)

Rennie Museum | 51 East Pender St | Vancouver
---
If you listen closely, there are many different

sounds emanating from the small island town of

Tofino, B.C. that define its existence as one of the

most unique vacation destinations year-round.

Louder than the wind blowing through the trees

of its vast rainforests, or the waves crashing on the

rocks near Long Beach, or even the surfers calling

out to each other as they brave the infamous

swells forming off the coast of North Chesterman;

even louder than all these things combined is the

sound of music, culture and community that is

coming together to make Tofino the magical hub

that it is.

Sitting around a table at the Wickaninnish

Inn's Driftwood Café with some of Tofino's

most influential characters and prominent local

musicians, you really start to get a sense of the

intimacy and connectivity that could only exist on

a small island town.

Geoff Johnson is a multi-instrumental local

performer who has been making his voice known

among the 2000 people who call Tofino home

year-round. He's got a pretty fantastic gig actually,

performing sometimes by himself at one of

Tofino's most beautiful destination resorts, the

Wickaninnish Inn, which is quite literally a five-star

oasis that needs to be experienced to be believed.

These melodic solo acoustic sets are inspired

by Johnson's love for music from the '60s and '70s

and are geared towards creating relaxing vibes in

the resort's basement venue, the Driftwood Café.

The Wickaninnish is like a fancier alternate version

of the Great Northern Hotel from David Lynch's

cult classic television series, Twin Peaks, with their

indigenous wood carved décor courtesy of the late

Henry Nolla. A mentor to the community, Nolla

is responsible for a lot of the adze work found

throughout the Inn, including their yellow cedar

welcoming doors, to beam and detail work in all

public spaces and the signature fireplace mantles

found in each guest room. Naturally all of this

woodwork lends itself to exceptional acoustics

for live music, the Driftwood hosts events every

Thursday throughout the summer months.

With their windows looking right out on to the

sprawling beachfront it's literally one of the most

breathtaking live music settings on the planet.

When he's not serenading the lucky patrons of

the Wickaninnish, Johnson doubles down with his

band Ballistic Pig, a name you might not expect

for a more electrified project that he shares with

his partner Tara Halil and a rotating cast of players,

but there's a method to his madness.

"Ballistic Pig is more of an umbrella name for

my musical adventures than a specific band,"

Johnson says. "I play about 200 gigs a year almost

exclusively in Tofino and Ucluelet. In a destination

town the audience is on tour so you get new

crowds, even in the same venues. It's great."

Ballistic Pig refer to themselves as "Tofino's

party band" but they also moonlight as the Tofino

Wedding Band for versatility purposes. As a

duo, Halil and Johnson radiate everything you'd

expect from a hard working couple in the arts;

they're passionate, their tastes are diverse and,

most importantly, they communicate both on

and off the stage in a respectful way. When you

come to Tofino, definitely keep an eye out for

these two and one of their many musical projects.

They currently host an open mic jam night every

Monday at the Tofino Legion and Johnson plays

every Wednesday from 3 p.m. to 6 p.m. at the Long

Beach Lodge.

If you're looking for big sound, one thing to

keep your ears open for in the springtime is the

Tofino and Ucluelet Choir, a community choir led

by director Sophie L'Homme.

"Between Uclulet and Tofino there are 100

people who come out to sing every Thursday night

and we do one big end-of-season performance in

each community that always sells out," says alto

Lynda Kaye. "There isn't a rehearsal that goes by

where we don't laugh until our stomachs hurt

because Sophie is hilarious."

For their end of the season performances this

year the choir did a rendition of U2's "I Still Haven't

Found What I'm Looking For" with two back-toback

performances complete with a back-up band

led by Geoff Johnson sitting first string.

THE SIGHTS

AND

SOUNDS

OF TOFINO

365 DAYS A

YEAR

GLENN ALDERSON

Also joining the roundtable at the Driftwood

Café is Anne Weeks of Smalltown Empire, who,

along with her partner, performs as a folk duo at

various places around Tofino throughout the year,

including the Tofino Market which she proudly

curates each summer from the May long weekend

all the way up to Thanksgiving. The market's motto

is simple — "Make it, bake it, grow it, gather it"

— and it's been around for almost 30 years. Weeks

immigrated to the island 11 years ago from Calgary

and in the past five years has played a part in

growing the Tofino Market into one of the town's

biggest attractions outside of the obvious surfing

and dining culture that we hear so much about.

"One of the best things about living here is the

sense of community," Weeks says. "Maybe it's like

that in most small towns, but the people here are

fiercely loyal and can move mountains when they

come together."

A more recent addition to the town is an

emerging art gallery space called Experiential

that is opening mid-June in an industrial space

just behind the Tofino Brewing Company

(another essential local landmark). The idea is

the brainchild of local artist Andrea Fergusson

and Deanna Lankin, and has been both years and

countless Tofino pints in the making.

"Our deepest desire and mission is to enhance

the arts and cultural representation in our

community and we will be featuring emerging,

First Nations and feminist art," says Lankin. "To

start with we will be showcasing predominantly

local art but we are open to growth. It will be an

amazing opportunity for local talent to be fostered

and grow while providing the community and

visitors a 'behind the scenes' experience into the

art process."

With a coffee shop and a bakery going in beside

it, Experiential will surely be a great hub of activity,

art and local culture for both the locals and

tourists to enjoy year-round.

Another sound you're bound to hear when

talking about Tofino is endless fanfare around

the amount of food options to take advantage of.

You would be amiss to not seek out the infamous

Tacofino food truck to find out where it all started

for the growing business that now has four

restaurant locations in Vancouver. If you're looking

for more of a fine dining affair without a stuffy

Photo by Todd Byrnes

TOFINO

front-of-house, Shelter celebrates fresh and local

Tofino is calling you to experience its bountiful sights and sounds that are available for you all year round.

vibe, you can't go wrong with Shelter Restaurant.

With Chef Matty Kane at the helm in the kitchen

and a bounty of wonderful and friendly staff at the

cuisine in a non-pretentious and affordable way.

We recommend starting with the Quadra Island

Manila Clams as a primer before diving in to the

Roasted Peace Country Lamb Sirloin. Pair that with

one of their locally sourced wines (Haywire Pinot

Noir) or a house cocktail (Frozen Blood Orange

Margarita or Tofitian Spritz) and you've got a

perfect island evening in the making.

If there's one sound you'll definitely want

to make sure you hear to get the full Tofino

experience, it's got to be the sound of a whale

expelling water from its blowhole out in the

middle of the ocean. Of all the holiday excursions

you could subject yourself to in an attempt to

get that long-lasting life-changing experience,

there really isn't anything quite like the sight of

the Pacific Rim National Park from the other side

while you're cruising through the ocean in search

of a rare glimpse of underwater wildlife. Ocean

Outfitters is an excellent company to look to for a

team of educated and down-to-Earth locals who

are committed to restorative tourism through

ecological stewardship. At Ocean Outfitters you're

going to get your money's worth with guaranteed

whale sightings since they work and collaborate

with the other whale watching companies in the

harbour to maximize your experience.

Tofino is both aesthetically and culturally

beautiful, nobody is going to deny that no matter

what time of year you choose to visit. It's more

about how you choose to take it all in that will

inevitably shape your experience. The Internet age

has challenged the separation of urban and rural

living for better and worse, but knowing when to

power down and use your eyes, ears and mouth

for real life personal interactions is what Tofino is

all about.

"I wish people would keep their eyes open while

they are here to take that in," says Geoff Johnson.

"I tell people not to bring their cameras and

phone on whale watches for example. There's no

way you're going to capture any portion of your

experience with a smartphone so just immerse

yourself in it properly and take in the whole

experience in the moment. Even at concerts and

Photo by Sander Jain

Photo by Jeremy Koreski

other events I see so many people taking selfies

and burying their faces in their phones. I used to

complain about how poor Tofino's Internet service

was, but now that we have fibre it seems like it's

another way that Tofino used to be different, a

reason you had to come here to experience it.

Now, instead of asking your server a question and

getting some local soul in your experience people

just Google it and base their experience on the

review of some other tourists."

So do yourself a favour, power down and take a

moment to look up and listen closely when you're

experiencing the vast beauty of Tofino and the

Pacific Northwest. It's full of sights and sounds that

you'll remember for the rest of your life.

June 2018 9
---
CITY

10

1901 Powell Street, Vancouver

604-253-6645

SUN

8:00pm

TUES

9:00pm

WED

7:30pm

THURS

9:00pm

Karaoke

End of the Line Jam

Trivia

Karaoke

Sunday Afternoon

JUNE 3, 4:30 - 7:30 PM

Sinéad Sanders w/ Sandy Bone

& Double D

JUNE 10, 4:30 - 7:30 PM

Ana Bon-Bon & guests

Fri. & Sat. Bands @9pm

FRI, JUNE 1

Horse Opera with guests

Salt Thief & Quinn King

SAT, JUNE 2

Stab Em in the Abdomen

w/ Guests

FRI, JUNE 8

The Twitch & Guests Out Of The

Black & Breathe in the Sky

THE PRINCETON

SAT, JUNE 9

Music Waste festival with Le

Master, Jerk Jails, Storc & Palm Oil

FRI, JUNE 15

The Circus in Flames

SAT, JUNE 16

The Tarleks

FRI, JUNE 22

Chopper and the Saucermen

SAT, JUNE 23

Muddy Goats with Guests

FRI, JUNE 29

Harbourside with guests The

Poolsharks, Pretty Filthy & WASHERS

SAT, JUNE 30

Rusty Creek

Check our website for complete listing

www.princetonpub.ca

Daily Food and Drink Specials - 14

Drafts on tap - Pool Table

Private room to rent for events

Kitchen Hours open till 10pm Mon –

Wed 10:30pm Thurs – Sun

SKIN DEEP

CELEBRATING VANCOUVER'S TATTOO CULTURE

HOGAN SHORT

Whimsical art, antique furniture, beautiful plants,

and strangely adorable taxidermy greet you upon

opening the doors to Sticks & Stones Tattoo Shop.

Ciara Havishya was just 21 when they opened

Sticks & Stones, Canada's first ever QPOC (queer,

person of colour) -owned tattoo shop, with partner

Zox Svetrovitch. Beginning with zero business

experience in a highly competitive industry, they've

set a new precedent, creating a safe space that is

accepting and empowering. While Havishya's drive

and dedication most definitely lends to the success

of the business, they have received overwhelming

support from the community since day one.

"People really wanted to see this happen," says

Havishya. "We received so much support from

the community, including our landlord, who took

a chance on us, investors, and other prominent

artists in the community, like Nomi Chi." This

level of support held them accountable in the

materialization of the physical shop: "I felt like it

needed to be done for them."

With the overwhelming support and success,

it's clear Vancouver was hungry for a change in the

industry. The shop strongly represents marginalized

groups of colour, and members of the queer and

trans community through artist representation.

In addition to breaking the archetypal norms

usually associated with tattoo artists and shop

culture, Sticks & Stones members have taken

somewhat of a non-traditional route in learning

Each month, we meet up with a local tattoo artist

to get to know the individual and inspiration

behind the ink.

COLIN YUJ

STICKS & STONES TATTOO

POSITIVE AND SOCIALLY RESPONSIBLE POLITICS ETCHED IN INK

JAMILA POMEROY

Photo by @colioscopy

Tattoo artist Colin Yuj is all about the skulls and flowers.

HOW WOULD YOU DESCRIBE YOUR

STYLE?

Skulls and flowers have been a predominant

part of tattooing for a long time. I guess my own

skewed concepts of balance, form, and beauty on

top of my own artistic limitations are what make

my tattoos unique.

HOW DO YOU VIEW VANCOUVER'S

TATTOO CULTURE?

Vancouver boasts some of the best shops and

artists in the world. The diversity is astronomical,

from amazing traditional tattoo artists to new

experimental, graphic, or illustrative artists who

have got into tattooing more recently. With such

a large, diverse group, it's difficult to see cohesive

trends or styles emerging, but it does make

Vancouver a city people will travel to specifically

for tattoos.

WHERE DO YOU SEE TATTOO CULTURE

HEADING?

the craft. Havishya is one of many artists at the

shop who are self-taught. While they may have

skipped out on the apprenticeship approach to the

craft, they did not skip out on the dedication or

attention to detail in learning. While most artists

begin in a shop and work until they have the funds

and clientele to move into a private space, many of

the artists began in opposite scenarios, starting in

private spaces.

"Working alone can be isolating," explains

Havishya. "It's hard to feel like you are part

of a community when you are continuously

disconnected."

I personally disagree with the idea of huge

name celebrity tattoo artists, and hope that

tattooing will continue to be filled with a variety

of oddballs and small name artists. Some of the

most talented artists are the ones taking walk-ins

and consciously avoiding any sort of celebrity

status. I hope tattoo culture continues to be local

and unique with artists working on projects they

really enjoy. I fear it could become an industry

dominated by trends set by big names, leaving

little creative freedom to individual artists.

WHY DID YOU DECIDE TO LEAVE

VANCOUVER TO TRAVEL?

The decision to travel was largely based on the

cost of rent in Vancouver. It's arguably the same

price to be anywhere as it is to be in Vancouver,

so we decided to be anywhere. It does pay for

itself, but traveling with a partner who is also a

tattoo artist (@paingardens) is what makes it

all work. Of course, there are drawbacks: I am

often in less than ideal situations, carrying a case

filled with irreplaceable gear and my savings. Bad

things can and do happen, but we are able to get

through relatively unscathed, largely because of

each other.

Follow Colin Yuj on Instagram at @colioscopy.

Beyond the gender, race, and sexuality politics

Sticks & Stones stands behind, there was a deep

effort to offer connections to artists previously

working alone. While Havishya is the sole owner of

the shop, they strive to approach the shop structure

as a collective where artists feel equally supported

and empowered. Bringing their good moral ethics

into all aspects of their practice, Sticks & Stones has

remained dedicated to how they can be a positive

influence in their community and continue to apply

mindfulness and social responsibility.

Sticks & Stones Tattoo is located at 485 Main Street.

Photo by Darrole Palmer

Ciara Havishya strives to ensure marginalized groups feel safe at her all-inclusive tattoo parlour.

June 2018
---
Photo by Josef Jasso

Glamour-evangelist, vintage style icon and international queen of

burlesque performer, Dita Von Teese first earned her stage name

from a typo in Playboy magazine. When "Von Treese" accidentally

became "Von Teese" in the December 2002 issue of the magazine,

an icon was born. After a youth spent pining after the lacy

lingerie features found during clandestine glances at her father's

collection of the adult magazine, this mistype ended up making

rather poetic beginnings. Her love of lingerie stemmed from this

early exposure and an infatuation with its imagery, and feminine

symbology brought her through the study of historic costuming,

and eventually to burlesque. Starting in the early '90s Von Teese

has certainly fulfilled the variety aspect of her career, completing

made her music debut in February with her self-titled album via

Record Makers. Von Teese was approached by French music icon

Sebastien Tellier to produce the album.

Widely reflective of her personal branding and life expression,

Von Teese's extension to music comes naturally, having previously

worked with ex-husband Marilyn Manson and being featured in

songs with artists such as Die Antwoord. Sonically, her music falls

into the genre of dream-pop and french art pop, often sampling

electronic drum beats and '80s-esque synths. The album has

undertones of '70s french pop like Jane Birkin, as Von Teese's vocals

are painted with whispery sophisticated sexiness.

Von Teese shares her new act, "Lip Tease," originated from her

The Crowned Jewel of 21st Century Burlesque

By Jamila Pomeroy

work as a multi-genre model actress, singer, writer, and of course

performer.

Von Teese maintains her sincere individuality in all forms of her

creative expression. "I want to stay true to my genuine childhood

obsessions and have things come from a good place instead of just

grasping for straws and making something because it's successful,

or makes money, or because everyone else is doing it," says Von

Teese, who has been in love with Hollywood glamour, costuming

and burlesque since she was a child.

Von Teese is known for her dazzling outfits, often encrusted

with Swarovski crystals and precious gems. She's also a classically

trained ballerina and has often been described as the sole figure in

the resurgence of modern burlesque.

"I feel very lucky to be part of burlesque in this era," Von Teese

says, explaining that she has participated in a wide array of outlets

in the industry, beginning with feather dances, strip teases, and

acts primarily projected towards the male gaze. Now, Von Teese

plays a leading role in the modern feminist movement, facilitating

body positivity, and promoting classy sexual liberation. This new

flavour of burlesque has made Von Teese one of the biggest name

in burlesque in the world since Gypsy Rose Lee; mirroring the

1940's burlesque and strip-tease founding star in varied talent,

innovation, and fearless individuality.

Born Heather Sweet in West Branch, Michigan, her love for the

Golden Age of cinema, pin-up imagery and vintage lingerie began

early on in life when her mother bought vintage clothing for her

and her sister to dress up in. When Von Teese was a teenager, her

mother purchased her a plain white cotton bra. This was greatly

disappointing as she had hoped to get something beautiful and

lacey, like the garments she'd seen in Playboy.

"I think lingerie is very symbolic of womanhood," she says. "I

began working at a lingerie store when I was 15. I just fell in love

with the imagery."

Von Teese has been in the business of classic feminine mystique

for the majority of her adult life: her years of experience adding to

the polished detail and dazzling extravagance in her performances.

She describes her latest show, Dita Von Teese and the Copper

Coupe, as a variety burlesque show featuring some of her favourite

performers from around the world. The upcoming tour includes

many visual elements of copper, from the costuming to the set

design and props. We can expect to see a new act in a giant

copper shell (visually resembling Sandro Botticelli's painting, The

Birth of Venus), as well as the reinvention of her classic martini

glass act, this time with a new giant filigree copper coupe decked

out in lavish crystals. The Von Teese martini act has become a

symbol of modern burlesque, an old hollywood-glam-esque strip

tease act, ending with Von Teese dancing in an oversized martini

glass filled with water, often ending with her in just underwear

and nipple tassels. Von Teese is to sport a variety of ornate and

dazzling haute-couture costuming; including some sponsored

by Swarovski, and designed by renowned British designer, Jenny

Packham. According to Von Teese, the show involves a variety

of new acts, many featuring her own music. "The show features

some unreleased remixing of my music," says Von Teese who

collaboration with MAC cosmetics, was sparked from a prop

used in a collaboration act. "One night I was in Canada, I think in

Toronto, after a show I had this idea of bringing this act back in a

brand new way."

Extending from her love of glamour and vintage wear into

physical expressions of her classic taste, Von Teese shares wearable

styles with her clothing, lingerie line Von Follies and design

partnerships with brands like Australian department store Myer.

Von Teese has also released her own fragrance and a strip-tease

candle, the first of its kind, which is stripped of its dress while

burning. The icon is closely connected in the fashion world,

being friends with fashion icons such as Christian Louboutin who

designed a shoe after Von Teese.

With the lavish decorum Von Teese presents in her creative

expression, it's easy to feel as if this level of glamour is unattainable

to the regular folk. While Von Teese lives a life encrusted in

diamonds and gold (or copper presently), she remains in tune with

reality, the working class and her roots. Born in a small farming

town in Michigan with a limited income, she learned from a young

age how to achieve classy vintage looks without breaking the bank.

"Vintage beauty is the first thing I fell in love with, because it's

not expensive. It requires patience, and wanting to learn how to

do it," she explains, suggesting quality over quantity, taking care of

and proper maintenance of garments and, most of all, not fearing

getting clothing tailored. "I started shopping for vintage clothes

because I couldn't afford designer clothes. So I would look for

dresses that I could get tailored to make them look a little more

modern. I've been in vintage stores where I've heard people say 'it

doesn't really fit me', and i'm thinking, 'you have to get everything

tailored.' The dress was like $50, get the waist taken in. That's the

difference between having a nice dress and looking spectacular!"

With expressions of classy vintage glam spanning in so many

directions, it's natural to wonder what is next for the burlesque

queen and entrepreneur. "Of course I would love to explore beauty

again," she says. "I've had a lot of opportunity to jump into bed

with many cosmetics companies. I would like to take my time in

creating cosmetics that I truly believe in."

While Dita Von Teese cosmetics won't materialize in time for

her tour this month, you can dig deeper into Von Teese's vintage

style suggestions, tips and tricks in her book, Your Beauty Mark:

The Ultimate Guide To Eccentric Glamour, a 400-page fully

immersive book featuring timeless fashion advice, her personal

lifestyle regimes and hundreds of lavish colour photographs.

From reading hidden Playboy's to an empire of feminine

sensuality, Dita Von Teese continues to wow us with her powerful

sultry presence. This time we can look forward to her gifts

presented in the glamourous package of a copper shell. Von

Teese's latest tour brings many elements of the old to new territory

through her well thought out innovation, taking on new light and

purpose like a newly polished vintage copper coupe, filled with the

class and elegance of a fine vintage wine.

Dita Von Teese performs at The Queen Elizabeth Theatre

(Vancouver) on June 15.

June 2018 11
---
June July

12

Breakout Festival

June 9-10

Time-tested Timbre Concerts presents the very first Breakout

Festival at the PNE grounds here in Vancouver. This weekend will

hit you like a double barrel to the chest, meaning ticket holders

will get their peepers on fire acts like Migos and 6lack and also get

access to all the rides at the PNE.

"We've had a long-standing relationship with the PNE, and we

are happy to bring Vancouver's first all hip-hop and R&B festival

to this venue," says Timbre Concerts.

"Putting some of Vancouver's best artists in the spotlight with

some of the biggest names in hip-hop has always been part of

our vision," Johnny Black of CRESCENDO1 adds. "Teaming up

with Timbre was a natural partnership. Our goals are one and

the same: to bring a one-of-a-kind festival experience while also

putting on for Vancouver music."

• Chris Dzaka

Queer Arts Festival

June 16-28

2018 is the Queer Arts Festival's 10th anniversary, and this year's

carefully curated theme is suiting: DECADEnce. Our colonial

society tends to have very specific ideas regarding "what 'counts'

as worthy of articulating. We literally count success and attach

FVDED in the Park

July 6-7

FVDED in the Park, the all-ages shindig, takes place at Holland

Park in Surrey, with a little something for everyone from Friday

night headliner Future to the electronic stylings of Grandtheft.

"We've had such a positive response from our fans and are very

excited to see FVDED in the Park in its fourth year, bringing

the best artists in dance, R&B, and hip hop," says Alvaro Prol,

Blueprint co-founder and FVDED Festival Director and Lead

Talent Buyer. "This year, we've been working on new elements to

our production and we can't wait to share this new experience

with everyone."

• Chris Dzaka

Bass Coast

July 6-9

Bass Coast is widely regarded by music lovers as the integral jewel

of the BC music festival circuit. Since 2009, festival organizers have

created a welcome, inclusive, non-douche-baggery, lovely sort of

vibe full of music, art installations, workshops and more.

"The lineup features a spectrum of sounds with 124 acts from

around the globe. Some international highlights include Nadia

Rose, Nosaj Thing, MNDSGN, Madam X, and many more," says

the Bass Coast team. The festival's 10th anniversary, complete

dates to significant momentous occasions, times in history when

someone is said to have 'accomplished something' that should

be celebrated and then written down to measure its worth,

annually." DECADEnce aims to challenge deep-rooted perceptions

of what defines "HIStory" and instead examine "marks that live

beyond the page […] in actions unnoticed, voices unheard, lost

stories of self, and races won in forgotten Herstories/Ourstories."

The artist-run festival is multidisciplinary, offering arts of the

visual, performance, literary, and media varieties.

• Jordan Yeager

Victoria Ska & Reggae Fest

June 20-24

"Victoria Ska & Reggae Fest once again welcomes the world to

the West Coast for five days of international groove and rhythm!

Come one, come all!" publicist Blake Morneau of the Vancouver

Island-based music festival rolls out the welcome mat. With

featured acts including The Mighty Mighty Bosstones and the

Dreadnoughts, Victoria Ska & Reggae Fest has promised to pay

homage to genre royalty as well as creating a bridge to the youth

carrying the torch to future.

• Chris Dzaka

Vancouver International Jazz Festival

June 22-July 1

with harm reduction model, will be held in the ridiculously

beautiful Nicola Valley outside Merritt.

• Chris Dzaka

Khatsahlano

July 7

An homage to the Squamish Medicine Man, Chief August Jack

Khatsahlano, this West 4th celebration of art and music aims to

inspire creativity. Spanning 10 blocks from Burrard to MacDonald

Street, Khatsahlano bursts with local artisans, street performers,

food, beer gardens, and overflowing Kits patios. From 11 a.m. to 9

p.m. on July 7, enjoy performances from over 50 local musicians,

including Bif Naked, Frazey Ford, and Slow – for free! (The bike

valet service is pretty rad, too.)

• Dayna Mahannah

Armstrong MetalFest

July 13-14

This Euro-style heavy metal fest features everything hardcore

for a summer weekend. AMF brings 36 local and international

musicians to the stunning Okanagan Valley for its 10th

celebration. Though the line-up has yet to be announced,

AMF promises camping, moshing, and Thrash Wrestling – an

Okanagan-based promotion that unites metal and wrestling with

For 33 consecutive years, Vancouver's International Jazz Festival

has provided a platform for hundreds of artists, local, national,

and international alike. The festival, which is hosted by local

non-profit organization Coastal Jazz and Blues Society, brings

in over half a million people each year. Their mission: to solidify

Vancouver as a cultural "centre for the creation and exchange

of sounds and ideas," and to "strengthen the arts community

by developing special projects, artistic exchanges, partnerships,

educational initiatives, community programs, and collaborations

that further the art form." This year, there are more than 150 free

shows, including performances by Bonobo, Cherry Glazerr, Dirty

Projectors, and many more.

• Jordan Yeager

Midsummer Music Festival

June 29 - July 1

Family positive Midsummer Music Festival has been respectfully

rocking Northern BC since 1984! Wet'suwet'en's First Nations

lands in Bulkley Valley will fill with family vibes, guitar camps,

crafts, and, of course, many genres of music to tap your toes

to. MSMF is completely run by volunteers with green thumbs

carrying much love for Mother Earth. Featured acts this year

include Faith Healer and The Harpoonist & The Axe Murderer.

• Chris Dzaka

a "balls-to-the-wall" attitude. Metal heads, don't miss this one.

• Dayna Mahannah

Rock the Shores

July 13-15

"We're thrilled to be back in Colwood for another edition of RTS,"

Festival Director Nick Blasko says. They're back July 13-15 after

a year break, with Brian Wilson, Bahamas, Juliette and the Licks,

Social Distortion, and X Ambassadors headlining. A better scope

of music is promised, "from party vibes on Friday to roots and

rock on Saturday to folk and jazz on Sunday." The revamped RTS

is THE spot for a bangin' island weekend!

• Dayna Mahannah

Vancouver Folk Music Festival

July 13-15

In its 41st year and gaining gusto, VFMF graces Jericho Beach Park

July 13-15. The ridiculously good-looking backdrop of Vancouver's

skyline hosts an event of the worldly and eclectic! Think: Neko

Case, Ry Cooder, Ranky Tanky, The Dead South and a one-to-one

ratio of women to men artists. VFMF's Artistic Director, Debbi

Lynn Salmonsen, boasts a line-up "ranging from folk and Cajun to

marrabeta and beyond!"

• Dayna Mahannah

June 2018
---
Phillip's Backyard Weekender

July 20-22

Atomique Productions and Phillip's Brewing Company bring

their notorious "super-party" to Victoria's favourite backyard

for its 6th year. From July 20-22, the brewery parking lot

transforms into a homegrown fest, with the likes of The

Revolution, Dessa, Reggie Watts, and Kelis hitting the stage. As

Festival Director, Dimitri Demers says, the Weekender "has the

intensity of a large festival combined with the intimate feel of

hanging out, barbecuing with your friends."

• Dayna Mahannah

Centre of Gravity

July 27-29

Held in the lake city of Kelowna and running through July

27-29, Centre of Gravity promises to be one of the most

entertaining festivals of the summer, with stages situated right

on the beach.

"For over a decade, COG has been bringing the hottest

musical acts and world class athletes to City Park on Lake

Okanagan," says Scott Emslie, festival founder. "This year, not

only have we got performances by the full Wu-Tang Clan, Zedd,

French Montana, and more than 40 other acts, we are also

introducing a Rugby Sevens competition and an axe throwing

area alongside the always-popular sports zone. Each year just

keeps getting better!"

• Josh Sheppard

July

Rockin' River MusicFest

August 2-5

For the country lovers out there, you won't want to miss

the Rockin' River MusicFest as the perfect place to relax and

float down a river while listening to your favourite country

musicians. Hosted in Merritt, BC's biggest and best country

music festival will have a wide assortment of your favourite

artists and tons of activities to choose from.

"With the hottest country lineup in Canada, including

headlining performances by Eric Church, Brett Eldredge, and

Dallas Smith, 2018's Rockin' River Festival is looking to be

the place to be this summer," says founder Kenny Hess. "And

it doesn't stop with the music. Fans enjoy days spent in the

Coldwater River, camping with friends, late night saloons, line

dancing, and more!"

• Josh Sheppard

Shambhala Music Festival

August 10-13

SKOOKUM

September 7-9

SKOOKUM is a brand new festival, ushering in its first year with

big name headliners like The Killers, Florence and the Machine,

and St. Vincent. Equally as enticing are the performers local to

BC: Mob Bounce, Snotty Nose Rez Kids, and Ta'kaiya Blaney, to

name a few. Taking place in Vancouver's own Stanley Park, this

three-day festival offers forested surroundings with the perks of

city life just minutes away. Alongside the music, expect to find

installations by local artists, live art performances, drinks from

local breweries and distilleries, and a selection of fine cuisines.

• Jordan Yeager

Legend has it that, every year, an electronic music festival so

magical and bass heavy can be found in the great wilds of the

British Columbian interior. From August 10-13, in the Salmo

River Ranch, you may be able to discover that Shambhala will

be every bit as memorable as your cool friends say it is. With

hip-hop artists like Dizzee Rascal and including a massive lineup

of electronic producers, this fest is a must for any electronic

music fan.

• Josh Sheppard

Burnaby Blues and Roots Festival

August 11

The long-running Burnaby Blues and Roots festival will have a

wide array of bands in an outdoor summer setting. Taking place

on Saturday, August 11 and held at Deer Lake Park, festivalgoers

will be able to enjoy a ton of great music genres ranging from

bluegrass to rock. Featured artists include Nathaniel Rateliff and

the Night Sweats and Amythyst Kiah. Grab your banjo and craft

beer, and get ready to have a hootin', hollerin' time!

• Josh Sheppard

Westward Music Festival

September 13-16

The perfect, local, end-of-summer festival with all your favourite

indie artists will be the Westward Music Festival. From the

forward-thinking R&B of Blood Orange to futuristic pop acts

like SOPHIE and Poppy, this will not be one to miss!

"Heading into its second year, MRG Concert's Westward

Music Festival will take place across Vancouver's downtown

core form September 13-16th, 2018," says publicist Sacha Miller.

"With headline performances from Kali Uchis, Rhye, Angel

Olsen, and Kelela, the festival will also feature Canadian artists

including Andy Shauf, Chan Van Gaalen, We Are The City, and

more."

• Josh Sheppard

Ponderosa

August 17-19

Ponderosa Arts & Music Festival is equal parts house party and

festival. The concept was conceived of by a group of friends

after spending a weekend partying in nature – shouldn't

everyone get to experience something similar? To them,

the answer was an unequivocal "yes." Hosted in tiny, idyllic

Rock Creek, Ponderosa is passionately community-driven

and -focused. From selection of sponsors to artists to staff

to vendors and even musicians, organizers aim to reduce the

festival's impact on its site, so keep sustainability in mind when

welcomed into this small town. This year, the Rock Creekbased

festival features performances by the likes of k-os, Yukon

Blonde, The Funk Hunters, Suuns, and many more. Attendees

will also be able to stroll through an Artist Alley lined with

installations from local artists and a Marketplace showcasing

the products of various merchants and artisans.

• Jordan Yeager

Rifflandia

September 13-16

For those on the island, this longstanding Victoria-based

festival will have an assortment of local acts with something

for everyone. "We're building off last year's milestone 10 year

anniversary with a ton of exciting up-and-coming artists," says

Nick Blasko, Festival Director. "Artists like Daniel Caesar, Jessie

Reyez, and Bülow are young artists who have broken through in

the music industry over the past year. It's exciting to have artists

like this on our lineup before they truly blow up. You can expect

the same excitement Rifflandia brings to the city of Victoria

with a few new venues and features to this year's festival."

• Josh Sheppard

August September

June 2018 13
---
CITY

HEALING HANDS

TALKIN' 'BOUT MY MEDITATION

DANIELLE WENSLEY

Illustration by Syd Danger

The right meditation app might just help make your summer extra breezy.

THE VINYLCAST

BRINGING INTIMATE BAND SESSIONS TO YOUR LIVING ROOM

MAGGIE MCPHEE

Coming on my third year in Vancouver, I can safely say the

Photo by Zach Schroder

slow and conscious West Coast vibe has enchanted me into a

shifting life of self-discovery and healing. From talk therapy to

Shaman journeying, I've developed an insatiable curiosity for

the alternative healing modalities the city has to offer. With a

seemingly infinite rhythm of self-help trend tsunamis striking

social media almost daily, it can be a challenge to know where to

begin when the goal is to calm the mind. Healing Hands are here

for you, testing the spiritual waters to offer concise reviews and

advice, guiding you towards the sturdy and steering you away

from the fluff.

As summer rolls in, beach hangs and coolers may take

precedence while health and wellness run the risk of climbing

into life's back seat. The amount of Vitamin D the season's

sun has to offer is undeniably essential, but what better way

to receive it than within the luxurious stillness of meditation?

Long and light days are ideal for starting a meditation practice if

you haven't yet, so dive in now while your grey day blues are on

vacation. Don't let the fanfare of summertime pull you away from

a balanced mind. If Third Beach is calling you on the daily, one of

these three apps might be just what you're looking for to assist

you in meditation while basking in the wild west coast heat.

OAK

Oak motivates you to commit to daily meditation by connecting

you with an animated tree sprout that grows incrementally

every time you practice with the app. The simplicity of this

design is accentuated by its calming colour palette of greens and

blues. Ease of navigation resides in three basic menu options —

Meditate, Breath or take in a Wisdom offering.

After choosing to meditate, Oak allows you to personalize

your experience by following either a mindful or unguided

practice. There are various soundscapes to choose from to create

a soothing ambience that suits your meditative mood, including

various alert sounds to lull you in and out of mediation. The

mindful practice is available in either a feminine or masculine

voice. Oak archives the story of your practice, keeping track of

the time you have spent meditating and the amount of mindful

breathing you have done.

This app is gentle, beautiful and concise lending to a direct and

well-rounded meditation practice.

INSIGHT TIMER

While Oak facilitates an easeful and direct meditation experience,

Insight Timer demands a more focused approach. With its

social media focus and abundant library of guided meditations,

playlists and topical talks I found myself lost in the web for

close to an hour before I was actually able to sit and transition

into a meditative space. I would not recommend this app for

someone who is just beginning a meditation practice; too many

distractions and too much to process make it counterproductive.

That being said, if you're looking for an educational resource

around the thematic scheme of yoga and meditation or if you are

a yoga teacher looking for some daily quotes and playlists, Insight

Timer is for you.

HEADSPACE

Something about Headspace irked me from the moment I was

first acquainted with it. The orange color scheme and quirky

avatar are reminiscent of investment banking commercials,

leaning into the realm of productivity. Headspace offers a guided

practice led by a masculine voice. This app almost gives off the

vibe that you can meditate while driving to work or sitting at a

desk. It is fun and accessible and would certainly please anyone

who faces their day with a checklist of to-dos.

For more on any of these apps visit the App Store on your local

smartphone.

Any walk through Urban Outfitters provides evidence of the

vinyl resurgence, and any dinner party conversation proves the

popularity of podcasts. But what would happen if someone

combined the two?

Andrew Zwicker wants to deliver a premium podcast on vinyl

to your doorstep. Zwicker, the bright and bubbly BC native, got

candid with BeatRoute about the logistical challenges of the

music world and his exciting new project, The VinylCast.

The VinylCast combines MTV Unplugged and Song Exploder

to delve deep into bands' inner worlds as well as the production

secrets of select songs. Bands like Shred Kelly and the Pack AD,

or, as Zwicker says, "CBC-famous-level bands," play "unique

versions you can't hear anywhere else."

"It's all about trying to build that relationship between the

artist and the fan to try to bring them a little closer together,"

he adds. "It's amazing how well the interviews worked out, how

bands have gotten really personal and really into their lives.""

Like many entrepreneurial endeavours, The VinylCast

developed from luck, ambition, and accident. Already an

established podcast producer with 200 episodes under his

belt, the idea for a new music podcast set Zwicker down an

unexpected path.

"I thought, let's go out and make one prototype episode," he

says. "So, naïve me, not knowing much about the intricacies of

14

the music world at that time, thought 'I'll just call up Mother

Mother – they're playing in town in a couple of weeks, sure, I'll

put them on the show.'"

After a successful interview with Mother Mother, their liaison

at Universal Music Canada – who became a "great ally" to the

project – gave Zwicker bad news.

"What it ultimately came down to was the economics...

there's still a major bias against digital online businesses in the

music world." (Each online listen costs a company eight cents,

Zwicker explains. Even Spotify, with 75 million paying listeners,

is losing money.) Zwicker felt defeated. "I've got these super cool

episodes, but I can't get them out to people."

The "lightbulb moment" came when Zwicker's wife suggested

pressing the episodes into records. Vinyl offers many benefits:

sales have increased 1000 per cent in the last decade, and studies

show that listening to vinyl secretes more dopamine than mp3.

The VinylCast invites listeners "inside the heads and souls of

the musicians you love or don't yet know you love," Zwicker says.

"It's like getting a chance to hang out in the jam room with these

bands, to chill, chat, play some tunes. Not everybody gets the

opportunity to do that, but if I can help bring people into the

experience, that's pretty cool."

Learn more about The VinylCast at www.thevinylcast.club.

Tequila Mockingbird Orchestra and Andrew Zwicker of The VinylCast.

June 2018
---
COMEDY

DYLAN MORAN

DIVING INTO THE ISSUES THAT UNITE US

GRAEME WIGGINS

Tickets on sale now!

"FOUR STARS! GRIFFIN'S SHOW WAS DEFIANT, FIERCE AND VICIOUSLY FUNNY."

THE SYDNEY MORNING HERALD

From 9 to 99, Dylan Moran wants everyone to experience his comedy.

Comedian Dylan Moran does not want to talk about

his process. Currently getting ready to embark on a

lengthy international tour, Grumbling Mustard, the

Black Books and Shaun of the Dead star feels like he

doesn't have much to say on the topic.

"I talk to journalists about comedy and they ask me

about my process and I don't know," he says. "What's

your process when you're making love? Do you want

to talk about it? I don't want to talk about it. I don't

know how to talk about it. I'd love to be able to

describe it in detail and be able to analyze it, but the

truth is, if I knew I wouldn't be able to do it. Like, if you

interview a guy on a diving board about what he was

going to do he's never going to leave the board."

That being said, he's not one to shy away from

talking about bigger ideas. His new stand up show

might be seen as a meditation of sorts on age. But

that's probably too simple. He clarifies, "It's in there,

and will always be in there. We're living in a pretty

extraordinary time, pretty much everyone agrees, it's

a bit about that. We're living in a time where everyone

is desperate for a quick fix, everyone wants one answer

to horribly complex questions. They're seizing on

individuals and seizing on big ideas. Taking everything

off in one go. So that's essentially the show. That's

what's going on in my mind, but for most people it will

sound like I'm talking about the same shit. I'm talking

about what happens in your kitchen, about your

family, about the whole cycle of our lives, really."

Moran has a focus on finding the commonalities

in our experiences. It's this focus that allows him to

tour internationally the way he does, as well as draw a

pretty diverse crowd.

"I'm not interested in just talking to a single set of

people, any more than I'm interested in talking to one

certain age," he says. "There are loads of people who

are teenagers or 20, or loads who are 60 or 70. I'm

delighted that everybody comes; I want everybody

there. I don't just want people who agree with me that

are experiencing what I'm experiencing. In the course

of your life, you are all these people: you are a 20-yearold,

you are a 90-year-old."

Moran's goal is essentially empathetic: "It's not facile

to talk about the crazy times we live in. The reason

I mentioned it more than once is that people really

do need to check each other. What do we have in

common with each other? What still applies to all of

us? Because we hear so much about 'you're this' and

'you're that' and the reemergence of fierce polarity

and binary bullshit that's everywhere. What are the

universals? What happens to all of us, what is human

experience?"

This also is what keeps him away from intentionally

hurtful humour.

"Most of the time it's just lazy," he adds. "You're just

doing it to get laughs, being shitty to somebody, which

is a failure of imagination apart from anything else.

People don't go to the theatre to see that, because

that's available anywhere. If I go and see somebody,

I want to see somebody that's doing something that

they know how to do. Everybody knows how to be an

asshole. That's easy."

Catch Dylan Moran live on June 21 at the Vogue Theatre.

Media partner

Saturday June 2 [ 7:30 pm

Orpheum

TICKETMASTER

1-855-985-5000

TICKETMASTER.CA

KATHYGRIFFIN.COM

HAHAHA.COM

June 2018 15
---
TICKETS ON SALE NOW!

DAVID

CROSS

OH COME ON

VANCOUVER

JULY 4 • 8 PM

VOGUE THEATRE

CALGARY

JULY 5 • 8 PM

MacEWAN HALL

EDMONTON

JULY 6 • 8 PM

MYER HOROWITZ THEATRE

REGINA

JULY 7 • 8 PM

CONEXUS ARTS CENTRE

WINNIPEG

JULY 8 • 8 PM

BURTON CUMMINGS THEATRE

Media partner

HAHAHA.COM

HARIPRASAD CHAURASIA

The World's Greatest Flautist

"Chaurasia is among the small handful of Indian

classical musicians who can sell out concerts in his

homeland and around the world." —The Guardian

Acknowledged worldwide as the absolute master of

the bamboo flute. He has collaborated with legends

like George Harrison, John McLaughlin, and

Zakir Hussain. A concert for the ages.

Sat. July 14 @ 8PM

Presented by

ORPHEUM THEATRE

CONFLUENCE

A galaxy of potent voices from around the world.

"The true definition of an artist." – Harry Belafonte (on Aja Monet)

Featuring an all-star cast, this is an unforgettable night celebrating the power of the lyric in music and literature.

Starring Leanne Simpson, Ansley Simpson (2018 Best New Artist, IMA Awards), cellist Cris Derksen, poet Aja

Monet, Vivek Shraya (Too Attached) and transcontinental project Jhalaak.

Sat. July 7 @ 9:30PM

Presented by SFU Library

FOUNDING PARTNER

FUNDERS

JULY 5 — 15

IMPERIAL

Indian Summer is a contemporary multi-arts festival. ISF 2018 takes on a massive theme—

Mythmaking, examining ten centuries of human imagination and storytelling. We present a

continent-spanning range of artists, from the inheritors of ancient oral storytelling traditions

to genre-defying musicians, award-winning novelists, and provocative visual artists.

Tickets + full festival lineup: indiansummerfest.ca

MAJOR PARTNERS

PREMIER MEDIA PARTNERS

Artwork

by

Artist-In-

Residence

Sandeep

Johal

16

June 2018
---
PEACH KELLI POP

STAYING ON TRACK WITH THE LEADER OF THE PACK

EMILY CORLEY

MUSIC

Allie Hanlon, aka Peach Kelli Pop, is fresh from her

recent tour of Japan and already gearing up for an

upcoming 28-date North American marathon. The

band, who's short, energetic tracks hit you like a

riot grrrl-garage-pop-punk explosion, are famous

for their constantly changing line-up. Hanlon IS

Peach Kelli Pop, and she pulls in favours from a

whole host of musician friends when touring or

recording. "Basically it's people that I'm friends

with - people that I know will do a great job and

who I think will enjoy the touring experience. It's

great to hire people who you know will honour the

songs but perform the parts better than you could

yourself."

When PKP was newly formed, Hanlon would

record whole albums by herself, playing and

recording each instrument, and all the vocals

separately. But, Hanlon explains, inspired by the

considerable talent of friends who play in other

bands or work on their own projects, this process

has changed for her latest album. "Because,

for instance, Gina (Negrini) is a bassist. I'm just

someone who plays bass. Gina goes into the

studio and does every song in one take - that's not

something I could do." Hanlon has played drums

in a whole host of other punk bands, including The

White Wires, but for this record she has procured

the "genius-like" services of Andrew Bassett, aka

Mean Jeans drummer and vocalist Jeans Wilder.

"He's so great at learning songs that we only need

a couple of practices with him for it to sound

perfect. He's incredible." So despite the distance

between Portland-based Bassett and the rest of

the current line-up (who are in California), he

will be touring with them when they hit North

America at the end of this month.

Peach Kelli Pop's last release was 2016's EP

Halloween Mask, but 2018 has seen the band

come back with a vengeance – releasing an EP

(Which Witch) and latest album Gentle Leader

within less than two months. "After I signed with

Mint Records it was maybe eight or nine months

before the album would come out, so we decided

it would be cool to put out a seven-inch vinyl

and have six short punk songs on it. I'd worked

so hard on the album for so long. And then I had

this fun exercise which was lower pressure, so it

was so much easier to write the songs and I had

more fun." Hanlon explains that the album, Gentle

Leader, had been written for some time before

she found the right record label to release her

new material with. She found Vancouver-based

Mint Records "after hearing how great it is to

work with them from other bands." The move

has enabled Hanlon to feel renewed confidence

about continuing to invest time and energy in

Peach Kelli Pop embody posi summer vibes on Gentle Leader.

her art. "One thing that I loved and hadn't really

experienced before is, because they're a smaller

label, they were able to put a lot of focus into the

work we were doing together."

'Black Cat 13', the first release from Gentle

Leader evokes the brash, spiky DIY punk of Violent

Femmes. Hanlon explains that she's often "a little

saltsy about how we're described. Don't call us

a sunshine bubblegum girl band! It's frustrating

because I've been doing this for ten years. I'm a

Photo by Gina Negrini

grown woman and there's a lot more to it than just

the femininity on the surface level." When asked

how she'd describe PKP's sound, Hanlon admits:

"I kind of dodge those questions to be honest! I

could say we're a pop-punk band with rhythms

style funk drums and power-pop melodies and

harmonies. but everyone's perception of genre is

different."

Peach Kelli Pop perform at the Imperial on June 24.

QUIET SLANG

BEACH SLANG FRONTMAN TURNS IT DOWN FROM ELEVEN

GRAEME WIGGINS

Photo by Charlie Lowe

Quiet Slang punches you right in the heart with stripped down renditions.

Philadelphia punk band Beach Slang play a kind of music that

has been traditionally steeped in alcohol and sweat-soaked

propulsiveness. It's music for turning up loud until your

speaker distorts and rocking the fuck out. With singer James

Alex's new album as Quiet Slang, Everything Matters But

No One Is Listening, he's taken the same songs, replaced the

guitars and drums with a piano and cello, and transformed

them from blistering fury into orchestral pop. It's as though

he's taken the line from their song "Filthy Luck" that yells,

"This guitar wants to die" at its word.

Beach Slang are known for their earnestness. Alex opens

most shows by saying "We're Beach Slang and we're here to

punch you right in the heart." There's an optimism in that

and in the songs themselves. But stripping down the songs

showcases a more melancholic side to the very same songs.

Alex describes how this works: "When I write these things, I

write everything on acoustic guitar or I can club at a piano,

I'm not a very good player but I can club at one, so at their

starting point they are all rather melancholy to me. And

then when I can pile on the guitars and drums and make

them rock and roll all of a sudden, this energy just smothers

optimism on top of that stuff and I like that. I've always

wanted to temper that. I want Beach Slang to be the charge

of optimism. I think with Quiet Slang, cutting back and

framing the lyrics a little differently and putting them to the

forefront as opposed to walls of guitar it's nice to have that

pause."

Alex's earnestness and love for the fans also helps explain

why the album contains no new songs, or even covers, just reworkings

of previous material. He explains, "It was something

I was considering. I've been writing the next record as I was

gearing up for this so I had stuff. I sort of approached it

like feeding a small animal. I wasn't even sure anybody was

going to accept or care about this. I was nervous expecting

the response of just stick with your guitar so I think it was

a bit of way to ease people into the ride. I never want to

disappoint people who connect with this thing. So I didn't

want to throw too wild of a curve ball." He doesn't rule out

the possibility of that kind of thing in the future, now that

the test run is out of the way. "If I'm lucky enough and people

care enough to hear a second Quiet Slang that one will have

original material on it because I've introduced to people."

While the album consists of a pianist and cellist, travelling

on tour with such things wasn't financially viable so he's

worked on a different way of dealing with the live show, one

using his previous career in design. "What we've done is use

a lot of programming and stuff. We're singing together. I've

worked on a film and we're going to show a projection of

that. We've been building stage props. We're thinking of it

almost like an art installation as much as it is a music show."

So while this suggests a completely different atmosphere as

a normal Beach Slang show, it does keep with Alex's fan-first

philosophy. "We're going to have this immersive, hopefully

transportive experience, intentionally very different from a

normal Beach Slang show, which is plug in, turn up and go

have all the mistakes and car crashes. That's what's so dear to

me about Beach Slang and that will never change. With Quiet

Slang it's got to be different."

Beach Slang performs at the Biltmore Cabaret June 22

June 2018 17
---
MUSIC

THE MIGHTY MIGHTY BOSSTONES

SKA SUPERHEROES STILL PACK A TWO-TONED PUNCH

JAMILA POMEROY

The Mighty Mighty Bosstones are still at it with new album, While We're At It.

Boston not only happens to be birthplace

of one of the most influential names in the

ska music community but also also the

birthplace of the sucker punch. Go figure.

"They have a complex you know

(people from Boston). The problem is they

live in the shadow of New York City," says

Dicky Barrett, frontman of The Mighty

Mighty Bosstones, Boston's reigning skapunk

legends. "Have you ever heard of the

sucker punch? That was created in Boston.

The very first sucker punch was thrown

in Boston. It was by a guy named Marty

Maldune, back in 1942. His friends said

go over there and punch that guy in the

face and he said if I do that, then I'm likely

to get hurt. And what his friends said

was, 'well you know what you do Marty?

Hit him from the side when he's not

looking.' (laughs) but not true." The birth

of the sucker punch, as per explained by

Barrett, is somehow strangely reflective

of the bands new album, While We're At

It, "which will undoubtedly hit listeners

from the side when they're not looking as

the new summer ska favourite they didn't

know they were looking for.

You may remember The Mighty Mighty

Bosstones from the '90s cult classic movie

Clueless, or perhaps you're hardcore into

the ska and punk scene and know they're

a staple. Either way, The Bosstones reign

supreme in the riddim' and mosh scene.

While the days of bands like The Specials

and No Doubt holding space in the

forefront of the music scene are over; the

band remains current with their strong

pursuit of social justice and music with

meaning.

When Barrett isnt playing with the

band you can find him, or rather hear him,

announcing for Jimmy Kimmel on his late

night show on ABC. Barrett describes the

experience as beyond amazing. "You know

when you think about a job and think,

man, that must be a great job? Well take

that feeling and then multiply it by ten,"

he says. "I love the show, and love working

with Jimmy, it's an amazing experience."

When asked if the band has

instruments and gear detrimental to their

sound as a band, he explains that really,

it just comes down to how talented his

bandmates are. "I would say all of the

band members, with the exception of me,

are enormously talented, very very strong

musicians; which has helped with the

longevity of the band, and just the main

reason I am able to brag and say we're a

real good band." This extreme technical

talent isn't an overstatement as the

band's dynamic capability is really quite

outstanding. To create sonically pleasing

music with a group of nine is a task in

itself, but for it to be the quality it is is

purely impressive.

"The new album is something I think we

have been working on for a long time. We

try hard to be thorough, complete, and

thoughtful songwriters." says Barrett. The

band comes out with their new album,

While We're At It, on June 15, which is

the tenth studio album in the band's

discography. "There are several different

threads woven into the whole fabric of

this thing; one of them is certainly hope,

and another one is injustice, and another

one may even be exasperation."

The Mighty Mighty Bosstones perform at

the Victoria Ska Festival June 23.

August 17-19, 2018 | Rock Creek, BC

LIVE MUSIC | FOOD | YOGA | CAMPING | TUBING

GET TIX AT WWW.PONDEROSAFESTIVAL.COM

18

June 2018
---
DEERHOOF

MOVING MOUNTAINS FROM MILES APART

ALEC WARKENTIN

SERPENTWITHFEET

NAVIGATING INTIMACY WITH GOSPEL MUSIC OF OPERATIC PROPORTIONS

JORDAN YEAGER

MUSIC

Deerhoof invite some friends and heroes along for the ride with the release of Moving Mountains.

Greg Saunier, drummer for experimental rock

group Deerhoof, is in surprisingly good spirits

for a man stuck in an airport in Baltimore.

He's not supposed to be here. He's

supposed to be in Philadelphia, on the third

of six layovers while heading to Vienna,

with Deerhoof kicking off a brief European

tour which will find them playing Brighton,

Luxembourg and Paris before making their way

back to the States.

"Crazy day, so far," laughs Saunier. "I'm in

Baltimore still, and once I get to Philadelphia

they've totally changed my routing."

But Deerhoof are no strangers to dealing

with distance, or delayed flights. Each of the

four members of the wildly prolific outfit

live in separate cities, leading to a recording

process that finds each person working on

new Deerhoof material solo, and in their own

homes.

Such was the case for Mountain Moves,

their latest record, produced under a tight

deadline yet still managing to be one of the

most feature-heavy of the bands massive

discography released over the past 25 years.

"We felt it was time to bring some

friends and heroes in, it fit the theme of the

record," says Saunier. "But every one of the

collaborators did so much more work on it

than we expected. Like we just sent simple

scratch vocals for them to sing, but they'd be

Photo by Shervin Lainez

sending back harmonies and countermelodies

and production ideas."

Mountain Moves, the groups 14th studio

album, features collaborations from rapper

Awkwafina, singer Xenia Rubinos and Wye

Oak's Jenn Wasner.

While the increased corporatization of the

music industry continues to harm artists, says

Saunier, there are also larger more political

problems that Deerhoof attempts to address

with Mountain Moves, and throughout their

discography.

"Even though they have little incentive to

listen, we wanted to discourage the people

with the power to do so from terminating the

human race, but also express gratitude for

being alive, just in case the end is in fact on its

way," reflects Saunier later, in an email.

Back in Baltimore, Saunier stops briefly,

listening to the news that his delayed flight to

Philadelphia has finally arrived at the terminal.

Time left for one last thought, an attempt to

sum up a Deerhoof live show in one or two

words.

"I couldn't even sum it up in two thousand

words," Saunier chuckles. Perhaps an obvious

answer, but a fitting one for a band with

Deerhoof's legacy and influence.

Deerhoof perform June 25 at the Imperial

(Vancouver).

The artist known as serpentwithfeet is a deep well,

swirling with paradoxes. He's fascinated by the

macabre, but carries toy dolls wherever he goes;

he sings gospel, but has distanced himself from the

church; he's incredibly self-aware, but perpetually

seeking to know more. Perhaps it's this very duality

that makes serpentwithfeet's music so well-rounded

and full.

Born Josiah Wise, serpent began his musical

career as a child singing in his church's congregation.

Throughout high school and college, his obsession

lay in classical music, and when he wasn't accepted

to grad school to further his classical education,

Wise made the creation of original music his primary

focus. It began with blisters, a debut EP comprised

of five songs. Three had previous incarnations on

SoundCloud, where Wise's manager discovered him,

then had the idea to "take the songs down and add

some shimmer to them, get them mastered, and

release everything as an EP with additional music."

Where the listener base had once been small, it

suddenly blossomed. Despite years of musical

devotion, the success still came as a surprise.

"I spent so much time in the dark – and I say the

word dark not being pejorative, because I think the

dark is good – but I spent a lot of time not necessarily

having people interested in what I'm doing," says

Wise. "I spent a lot of time working day jobs and

wondering if I was doing everything incorrectly,

because things weren't moving. I spent a lot of time

thinking I should be a different person – what if I

started all over? The fact that people have responded

so well, and the fact that I have a great team of

people that are excited about what I'm doing – to

have all this now, when I had literally the complete

opposite, that is the most surprising for me."

"Within the past two years, I've been able to get

more clear about what I want," he continues. "It's

interesting: there's a fork in the road. I think when

people aren't watching, you move differently. Now

that people are watching, I can stretch my wings a bit.

I can do things that I didn't know I was going to be

able to do."

For Wise, stretching his wings also means a return

to his roots; with a greater sense of security, he's able

to dig deeper within himself and return to where he

feels most comfortable. Having grown up in church,

that comfort lies in gospel and R&B music.

"My work is absolutely informed by my time in

the church, and I am able to tap into this incredible

reservoir of stories and lessons and language about

intimacy – the Bible and, more specifically, gospel

songs, use such intimate language to talk about

their relationship to their God," he says. "I think it's

really funny that if you switch out a few pronouns, it

could be a love song to anybody. As an adult, I notice

that that language doesn't influence the way a lot of

Christians approach their love lives or the way they

treat masculinity. It's something to play with, and it's

something that influenced me, being a gay man: how

did this kind of yielding influence me? Because I am

dating men, and I've always been taught to surrender

a certain way.

From his face tattoos of a pentagram and the

words "HEAVEN" and "SUICIDE" to his collection of

toys to his thoughtful, pensive manner of speech,

Wise already has an assortment of artistic lives under

his glitter-covered, paisley-printed belt. And he's

showing no signs of slowing down.

"I don't have any definitive answers, but I definitely

know that I have questions I'm exploring."

serpentwithfeet performs June 23 at the Biltmore

Cabaret (Vancouver).

Josiah Wise stretches his wings and surrenders with the release of Soil this month.

Photo by Ash Kingston

June 2018 19
---
MUSIC

RIO

THEATRE

1660 EAST BROADWAY

JUNE

2

JUNE

3

JUNE

ANIME!

LU OVER THE WALL

ABBA: THE MOVIE (1977)

A CLOCKWORK ORANGE

*INDIAN HORSE

*THE DEATH OF STALIN

Double Bill!

FILMWORKER & BARRY LYNDON

BEND SINISTER

VANCOUVER ROCK VETS PUT THEIR PHONES TO WORK

COLE YOUNG

JUNE

5

Charlize Theron in

*TULLY

Joaquin Phoenix in

YOU WERE NEVER REALLY HERE

JUNE

7

JUNE

8

JUNE

10

12

JUNE

JUNE

13

JUNE

15

JUNE

16

JUNE

19

JUNE

20

2 JUNE

1

JUNE

22

24

JUNE

27

JUNE

JUNE

29

JULY

6

ANNIHILATION

SUPER TROUPERS 2

*A QUIET PLACE

Dario Aregento's

SUSPIRIA (4k Remaster!)

THE WIZARD OF OZ

Free Screening!

PRINCESS MONONOKE

Michelangelo Antonioni's

BLOW-UP! (Remaster!)

Alfred Hitchcock's

VERTIGO

The Gentlemen Hecklers Present

THE GREEN LANTERN (2011)

Federico Fellini's

8 1/2

Austin Powers in

GOLDMEMBER

SEINFELD BURLESQUE

CINEMA PARADISO:

#SavetheRio Fundraiser!

Tilda Swinton in

I AM LOVE

The Fictionals Comedy Co. Presents

IMPROV AGAINST HUMANITY

#IAHATRIO

STORY STORY LIE

Championships!

The Geekenders Present

STRIP LONG AND PROSPER!

STAR TREK BURLESQUE

#SavetheRio Fundraiser!

DOUG BENSON LIVE!

THE CRITICAL HIT SHOW

A #DNDLIVE IMPROVISED

EPIC FANTASY!

Ridley Scott's

BLADERUNNER

NAPOLEON DYNAMITE

COMPLETE LISTINGS AT WWW.RIOTHEATRE.CA

After 18 years as a band touring heavily around North America, Bend Sinister are all fun and games with their release of Foolish Games.

Bend Sinister have been cranking out honest rock

'n' roll records for so long that flip phones where

the hot new thing when the Vancouver band

launched their now 18-year-long career. With their

10th album, Foolish Games, due out this month

on Cordova Bay Records, Bend Sinister are proving

they've still got the momentum and aren't planning

to phone it in any time soon. That is, if you don't

count the fact that the music video for the first

single off their new album was recorded on an

iPhone. Vocalist/guitarist Dan Moxon and bassist/

vocalist Matt Rhode sat down with BeatRoute to

chat about the evolution of the band and some of

their fondest memories together as a group.

Eighteen years ago, Bend Sinister started with a

distinct plan for a sound that has evolved beyond

their initial blueprint. When the band was starting

out, Moxon describes that Bend Sinister wanted

to sound "metal without being metal," a perfect

descriptor for the garagey keyboard laden mathrock

that defined their earlier records. Refusing

to be repetitive or stagnant, the band slowly

developed their sound to be more anthemic and

pop influenced, drawing inspiration from bands

like Queen, Supertramp and Creedence Clearwater

Revival.

Although Bend Sinister now have a much more

polished sound, they're still in tune with the DIY

approach to their music. Rhodes cites their latest

music video for the track "Shannon" as an example

of their hands-on approach. The band filmed it in

their jam space using only an iPhone X as the de

facto camera. This isn't the first time their iPhones

have been the main tool used to make their music

videos, though you wouldn't have guessed it by their

consistently stellar quality.

One would expect that after nearly two decades

as a band it would get harder to keep writing quality

songs, but Moxon has an interesting take on this

topic. "Basically as you get older you have to carve

out the time to put towards songwriting. Once you

get there though, for me, it just flows really easy. You

can write a song in a couple hours if you put your

mind to it," he explains. "Every band or songwriter

has their own way of writing and developing songs,

you got to do whatever works for you." Moxon

goes on to describe Bend Sinister's songwriting

tradition which involves band members sojourning

to Lighthouse Park with some doobies, snacks and

rough demo recordings on their phones (there they

are again!). In about three hours time, the band will

be able to write at least one new song in this relaxed

environment.

Foolish Games is a tightly executed 10-track

banger. With their first driving single, "Shannon," to

the building and anthemic "Got Your Back," to the

danceable title track, this honest LP has something

for all rock fans. At 36 minutes in length, Foolish

Photo by Paige Sierra

Games is a quick ripper of an album designed to

leave the listener wanting more.

Besides putting out an astounding amount of

quality albums and EPs over the years, Bend Sinister

has been a very hard-working touring act. "We've

probably toured Canada more than most bands out

there," says Rhodes. "There were several years there

where we were touring six to seven months out of

the year consistently. When you finally get home it's

like you almost forgot what home is."

From literally running into Metallica backstage

once to Moxon playing solo Rush covers while Rush

watched from the front row of a gig, Bend Sinister

are not short on tales from the road. Moxon and

Rhodes agree though that the personal encounters

they've had with folks across the country and

around the globe have been the most rewarding

experiences. "You don't need to be making it huge

in the States," Moxon explains. "To get the chance

to go to a place like Bella Coola or some other small

town where the community brings you in and you

get to be these rock stars for the weekend; it's a lot

of fun to be put into these scenarios and get to hang

out with people and be invited into their homes and

to their parties."

Bend Sinister perform July 1 at David Lam Park as

part of the Vancouver International Jazz Festival and

on July 28 at Celebration of Light.

20

June 2018
---
SEX WITH STRANGERS

GETTING BACK TO THEIR DARK DANCE ROOTS

EMILY CORLEY

Sex with Strangers might be the most prolific

new wave/post-punk band in Vancouver. With

six albums and two EPs under their belts, the

band decided to make a concerted return to

their dark dance roots.

"I think one of the things we're known for as a

band is exploring a number of different genres,"

says vocalist and keyboardist Hatch Benedict.

"But this [release] was about trying to be a little

more focused in our approach. We want to get

back to a little bit of that dark dance thing that

we used to do – a darker sound, but still trying

to keep a bit of a dance groove. It has been, for

us, almost the longest time between albums. We

actually started getting a little antsy."

For Sex with Strangers, the desire to revisit

the melodic post-punk sound that defined their

earlier albums was a big factor in the decision to

release an EP as opposed to another album after

2016's Discourse.

"We have enough songs for an album, but we

didn't want to wait any longer," says Benedict.

"And the tracks we've put together here all have

a similar focus and feel."

The band has been working closely with Jason

Corbett, producer and ACTORS vocalist and

guitarist, who has helped them hone their latest

Bowie-inspired release.

Photo by Kira Clavell

Sex With Strangers regroup and refine their focus with dark dance vibes on latest EP.

"He's worked on our last couple of records,"

explains Benedict. "We'll go into the studio with

some pretty strong demos in place. But we go in

with an open mind and he pushes us and asks us

to experiment with different things. He's right a

lot of the time, and that's what's cool. He's just

so talented."

Sex with Strangers have a somewhat

experimental approach to recording their

material. "We rehearse a basic framework for

the ideas, but then we flesh them out, ideally in

the studio," Benedict says. "We finish a record

and then we learn how to play the record."

The band's next challenge is to translate this

serendipitous rehearsal approach to their live

shows, and they are working hard to make this

a reality.

Sex with Strangers are a band who thrive

on the opportunity to perform and Benedict

talks animatedly about their upcoming second

live show with new vocalist, Hayley Ray. They

are hoping that Ray's incredible skill and the

resurgence of the dark groove will accomplish

the impressive feat of getting a Vancouver crowd

moving.

Sex with Strangers play their EP release show

at The Rickshaw June 16.

ECHO NEBRASKA

FINDING HOPE THROUGH LOSS

EMILY CORLEY

It's been a trial by fire for Vancouver based folk-rock

group Echo Nebraska. Just under two years ago, the

band lost bassist and founding member Gunn Park

to cancer. They've held up to that painful change,

and their upcoming sophomore release, Hold Up to

the Fire, reflects the period of transformation for the

band.

The band's first ever LP afforded them an

opportunity to try out a new sound. Vocalist and

guitarist Devan Christodoulou co-wrote this album

with producer Jeff Dawson (Daniel Powter, Holly

McNarland).

"Jeff was really good about just cutting out

some of the fat from the songs," says guitarist and

keyboardist Andy Schichter. "He helped get to the

essential core of the songs, tightening up melodies

and verses."

Drawing from his experience working with more

mainstream acts, Dawson provided invaluable

insight for the band to help them reach new

audiences.

"It was just about finding that balance of making

a record that we as musicians like listening to, but

that can also be maybe a little more commercially

accessible," says Schichter.

Schichter also credits the full-length album format

with giving the band freedom to mix it up.

"Having 10 songs to work with, as opposed to an

MUSIC

EP, you have a bit more leeway," Schichter says. "If we

were doing an EP, it's possible it could have been a

bit more focused in one direction."

Much has changed since they released EP Send

the Ships in 2015, and the impact of Park's death

reverberates throughout the album, but his presence

is palpable on Hold up to the Fire. The first track,

"New Disguise," was one of Park's favourite songs to

play live, and Christodoulou wrote the title track a

few weeks after Park passed away. For the band, this

album was – and continues to be – an important

part of the grieving process.

"I know a couple of the songs – some of the newer

ones that were written after Gunn passed away – are

kind of more upbeat," says Schichter "Devan writes

more sad, mellow songs, but for the first time he

started to write songs that were a bit more positive

and upbeat. And I know that had to do with Gunn."

The message on this record is one of perseverance,

love, and optimism grown out of incredible loss. It's

a message that Echo Nebraska will take to the road

this month on the first of two summer tours. After

a Canadian tour, they hope to take their album to

the rest of the world – and given their determination

and resilience, there's no doubt they will.

Echo Nebraska play their album release show June 16

at the Roxy.

Folk rock quintet Echo Nebraska carry the torch in honour of their fallen brother.

Photo by Lindsay Elliott

DIRTY PROJECTORS

FRIDAY, JUNE 22, 2018 | VOGUE THEATRE

BONOBO (LIVE)

MONDAY, JUNE 25 | QUEEN ELIZABETH THEATRE

TICKETS ON SALE NOW

June 2018 21
---
HAMMERFALL

TRADITIONAL HEAVY METAL GROUP SEES GROWTH OF THEIR SOUND IN NORTH AMERICA

ANA KRUNIC

Traditional heavy metal's progeny, power metal, has its

roots and biggest fan base in Europe. Across the Pacific,

we have more of a penchant for death and thrash

metal. Indeed, watch a power metal music video from

anywhere in the world (always liberally sprinkled with

mountaintop guitar solos and haphazardly CGI'd flames

and/or medieval scenery) and you'd have a hard time

saying that it doesn't have a distinctly "European feel"

to it. The traditional scene has been rising up against

the steady torrent of ultra-heavy sounds we've been

inclined towards in the Americas. That same change

happened in Europe in the late '80s and early '90s,

when the European power metal sound came to be

with bands like Blind Guardian and Helloween. But

even then, the genre was seen as the weird and uncool

stepchild of the genre.

Sweden's HammerFall was forged in the same fires,

coming together in 1993 when guitarist Oscar Dronjak

quit his band, Ceremonial Oath, and curated a lineup

that included members of Swedish powerhouses In

Flames and Dark Tranquility. They didn't release original

music for a few years, focusing on live shows and covers

before releasing 1997's Glory to the Brave. It struck

a nerve in Europe, at a time when power metal was

gaining popularity. Despite this, or perhaps because

of it, Dronjak prefers to distance himself from that

resurgence.

"We have never identified with the 'power metal

movement' that started towards the end of the '90s,"

he says. "When I formed HammerFall in 1993, there

was no such thing. U.S. power metal was a thing, but

that was bands like Savatage, Omen, and Jag Panzer.

We came from the German school of heavy metal,

which spawned bands like Stormwitch, Accept, and

Running Wild, among countless others. At the time,

heavy metal was considered outdated and supremely

uncool by the people 'in-the-know,' but we didn't shy

away from it because we loved heavy metal music. We

wore the badge and wore it proudly, and fuck you if you

didn't respect that. Which a lot of people didn't, since

grunge and aggressive, rhythm-based music was all the

rage in the '90s. So I get offended when people lump

us into that category – we have always been proud to

call ourselves a heavy metal band since day one, and

nobody can change that."

HammerFall's career is an insight into the popularity

of the genre and how it's changed around the world.

It's been hard in the past to sell out shows as a heavy/

power metal act in North America. Now, though, there

are more homegrown bands of that style, crowds are

growing, and international acts have been stopping in

more frequently.

"Canada has always been more European in this

aspect," says Dronjak. "But now it seems even the U.S.

is starting to wake up. The tours we did in 2005 and

2010 were a little disappointing to us, but the tour we

did last year with Delain really showed a difference.

And here we are, five shows into our most successful

headline tour in North America yet. I guess hard work

pays off!"

Their current North American headliner tour

marks 20 years since the release of Glory to the Brave.

Whether you call them power metal or heavy metal,

Dronjak seeks to keep it true with HammerFall for as

long as possible.

Hammerfall plays The Rickshaw Theatre on June 9th with

Flotsam and Jetsam.

Swedish powerhouse Hammerfall has been holding their hammer high for 20 years.

22

June 2018
---
THE DAMNED

EXPLOITING THE EVIL SPIRITS OF MODERN MEDIA

JOHNNY PAPAN

"It's impossible to exist today without

being impacted by modern media

programming. We felt we had to

capture the overall feeling of the

Photo by Steve Gullick

The Damned respect the past while standing on the edge of Tomorrow.

times without dating the record. Evil

Spirits fits perfectly: the currently

overwhelming cocoon of impending

doom is force-fed to us on a daily basis

if you choose to absorb it."

The Damned can be considered

one of the most important figures in

punk rock history. Formed in London,

England during the mid 1970s, they are

the first punk group from the United

Kingdom to drop a single, release an

album, and tour the United States,

introducing North America to the

garagey, thrashy, mutilated aggression

from beyond the pond.

A respected name in counterculture,

The Damned have steadily been voicing

their message for over four decades.

Their newest record, Evil Spirits, proves

to be no different, as this album sees

the band comment on modern media's

societal manipulation.

"Lyrically, themes such as media

distraction and manipulation,

nefarious political campaigning,

and world governmental posturing

are too important not to address,"

explains Pinch, born Andrew Pinching,

the drummer of The Damned.

"Unfortunately, it seems that media

censorship and ignorance will be the

forces that manipulate opinion into

a darkness that we hoped we had

escaped from. Hard times require

hard responses, but when millionperson

marches go unreported in the

mainstream, I guess it's hard not to just

shrug your shoulders and go back to

those cat videos."

So far, The Damned have released

two music videos from the album,

both with social and futuristic themes.

The recent video for "Look Left,"

written by Pinch, tells the tale of a man

and woman who live in a world that

blends classic 1950s stylings and decor

with futuristic technology. The tiny

square box that we know as an early

version of the television flips channels

with programs and advertisements

talking about the customer's dollar,

factory reproduction, the workforce,

competitive business, and war, all of

which remain key factors in today's

society. In different rooms, a man and

woman stare at superficial holograms

that dictate their full attention.

However, once these two people realize

that they cannot truly connect with

what they're seeing, they ultimately find

unity through a real, shared experience.

"When I wrote 'Look Left,' I wanted

the melody and style of the song to be

easy enough for even the most jaded

listener to be able to absorb musically

and lyrically," Pinch admits. "So they

would stop long enough and perhaps

look up from their handheld devices for

a minute to really hear what the song is

speaking about. Until we open our eyes

and our minds to realize where we are

being pushed, then maybe we deserve

to fall off that cliff."

The album's first single, "Standing

on the Edge of Tomorrow," is a moody,

atmospheric tune that seemingly

speaks about our home planet running

itself into a dystopia, giving us one final

chance to change things before we're

forced to leave Earth altogether to save

mankind. The song's video is a pseudopsychedelic

exploration through space.

"Until humanity has an awakening,

they will ultimately sleepwalk into a

scenario that nobody dared imagine

could happen," concludes Pinch. "There

will always be an underground, be it

politically or artistically inspired. All

people can do is stay positive and try

and work towards a future they have a

hand in changing."

The Damned play the Commodore

Ballroom on July 5.

HASHTEROID

PROPELLING STONER ROCK RIFFS AT ASTEROID SPEED

JAMILA POMEROY

Vancouver's Hashteroid takes stoner rock in a thrashy, high

tempo direction, proving the genre capacity is not contained

to slow, droning riffs.

"We like to go fast," says the trio, whose stoner rock/metal

songs emit sonic reflections of bands like Motorhead and

Black Sabbath.

While the new album was released this April, we can expect

a limited run of about 300 records to be released soon. The

band expresses their love for vinyl: "Records are like artifacts.

It›s one thing to release something digitally, or as a CD, and

another to release a vinyl."

The band attributes their sound to key pieces of gear, such

as a custom snare made of a sewer pipe, a Gibson SD (notably

played by Toni Iommi of Black Sabbath, and occasionally Jimi

Hendrix), and a Rickenbacker Cheyenne bass. The band takes

lyrical inspiration from their frustrations with the world, and

the pace at which things are changing.

"I'd say the lyrics are concerned with eschatology, heresy,

and historical materialism," says guitarist and singer Alex

Gidora. This highlights that the band's high tempo, thrashy

music is not just angry in a juvenile or unjustified way –

the band cares deeply for the state of the world, and for

frameworks in society.

"'Black Tide' is maybe the most critical," Gidora explains. "It's

about turning our sense of origin on its head. I think there's

a real danger in believing you come from something good.

In reality, concepts of the good play out in moral hierarchies.

Good is good against the bad. If we cleave to these myths that

we come from and belong to pure stock, noble foundations, or

the supreme revelation of truth, that creates a psychological

necessity in the subject to preserve those illusions, and we

mistake our own worth with that of belonging to this thing

wrapped up in this purity myth, whether that thing be a

religion, a nation, a race, a civilization, a tribe, or a mode of

production. 'Black Tide' says we're not pure – we come from

scum, which is in a sense literally true."

This care for the world and societal frameworks seems to

transfer over into a love for their surroundings and the Pacific

Northwest in general. While Hashteroid may be classified as

stoner rock, or stoner metal, they fall far from the generalized

stereotype of couch potato, lazy, bong-ripping bros. The

cannabis reference is deeply rooted in the band's name and

aesthetic, but so is what could be interpreted as an asteroid,

quickly moving through space. They like to get things done

and enjoy themselves. When the band isn't making music

or touring, you can find them doing "west coast things" like

hiking. This contrast between lifestyle and musical tempo

within the budding Vancouver stoner rock/metal scene leads

us to turn a new leaf on all the genre encompasses.

Hashteroid kick off their Canadian Tour with Dead Quiet at the

Biltmore Cabaret on June 15.

Photo by Asia Fairbanks

Stoner rock trio Hastheroid are a far cry from lazy bong-ripping bros.

June 2018 23
---
DOA

VANCOUVER PUNKS STILL FIGHTING BACK AFTER 40 YEARS

DAVE BOWES

Joe Keithley keeps fighting the good fight on latest release, Fight Back.

D.O.A. has a new album out. It's called Fight

Back and, as usual, they mean it. The band is

organizing the first annual Fight Back Festival,

a 10-band multimedia extravaganza featuring

artists contributing their talents across two

stages to create a seamless, non-stop punk

marathon. For most bands, a full day of music

and art would be enough on its own. Not

for D.O.A. frontman and fountainhead Joe

Keithley, he wants this all to mean something

more.

The festival promotes action against

racism, sexism, hatred and greed. Keithley

says it's for a "grassroots democracy." He

states Willie Nelson's long running Farm Aid

event in support of American farmers was

his rough model. As it's a bit late to save

Vancouver's farmland, Keithley nominates

the housing affordability crisis as the festival's

central focus. In his opinion, the crisis is "more

important right now than the next four or

five issues put together." Asked if he has any

concrete goals for the event, Keithley says he's

content with feeling it out as they go. "We

want to let it grow annually as a vehicle of

protest."

The new release has been getting its fair

share of praise, one critic calling it their most

vital record since 1982's War On 45. When

asked if he feels it marks a signal return to

an earlier, more stripped down punk rock

sound, Keithley insists they never really

strayed far from that, but a couple things

were different this time around. The first was

getting Cecil English on board, the band's

first time working with their original studio

co-conspirator since 2002's Win the Battle.

Getting down to specifics, he emphasizes the

time they spent getting the drum sound just

right to backstop their traditional "deadly,

crunchy, punch you in the teeth" sonic

assault.

Joe's running for mayor of Burnaby

on the Green ticket. Apart from housing

affordability, he sees the Kinder Morgan

Pipeline expansion as the biggest issue facing

voters. Coincidentally, we're talking on the

day the Fed announces its plan to buy the

pipeline and Keithley is voluble in his shock

and disgust. He grew up two blocks from

the evil oil snake, so the issue couldn't strike

closer to home for him.

Billing Fight Back festival as an annual

event is a pretty good indication Joe Keithley

and D.O.A. aren't going away any time soon.

Still, there's a feeling on the street that D.O.A.

has had its absolutely last show ever almost

as many times as Keithley's fired Rampage. I

ask him if he's aware of the reputation and if

he thinks it's in any way deserved. That's a lot

of ill-informed people talking, he insists. The

band only retired twice, in 1990 and 2012. Fat

Mike rode him pretty hard about it at Punk

Rock Bowling once, he muses. He's probably

to blame.

Fight Back Festival takes places at the Rickshaw

Theatre on July 6. Featuring performances by

D.O.A., Roots Roundup, In the Whale, Ford

Pier, Catlow, Chief State, Sore Points, Jesse

Lebourdais, David M and Doug Andrew, and

will feature artwork by Bev Davies and more.

24

June 2018
---
BONOBO

CAPTURING THE ESSENCE OF AN IDEA

HOLLIE MCGOWAN

Photo by Neil Krug

CLUBLAND

FREE AIR CONDITIONING, PROBABLY

ALAN RANTA

BPM

It's that time of year when this most British of Columbia's transitions

from snowboarding to surfing, from what seemed like the eternal night

of grey skies and soggy and/or snowy lawns to devastating drought and

forest fires, but don't let the beach and the heat win so easily. There are

plenty of reasons to put on closed-toed shoes and duck indoors for a

few hours. Here are just a few of them.

Ghastly

June 8 @ Celebrities

Having previously released singles for Skrillex's OWSLA and Diplo's

Mad Decent, David Lee Crow dropped the most hardcore slab of

headbanging bass music this side of Longwalkshortdock with his debut

album under the name of Ghastly, The Mystifying Oracle. See him live

and you'll boosh your pants.

Louisahhh

June 15 @ Celebs UG

New York-bred, Paris-based DJ Louisa Pillot crafts post-punk, industrial,

electroclash-tinged productions, which serve up her psychologically

intense vocals, certified to exorcise depression, anxiety, and drug abuse

on the dance floor so you can grab recovery by the short and curlies,

take care of yourself and have fun simultaneously.

GoGo Penguin

Vancouver Jazz Fest June 22 @ Performance Works

Their name is cute enough to merit a listen to their SoundCloud. Once

there, their distinctive brand of jazz, techno, hip-hop, dubstep, but

mostly jazz outta be enough to get you to buy a festival pass. Imagine if

Alarm Will Sound followed up their Aphex Twin album with a series of

Bonobo covers, and you've got something close.

Since the release of Migration (2017), Simon Green has been settling into his new life in L.A..

When Simon Green (best known as Bonobo) was first hit with

the inspiration behind his sixth studio album, Migration, his

life was in a moment of chaos. It was 2015 and he had recently

completed the last tour for his previous album, The North

Borders. After a whirlwind of shows on the road, he found

himself once again back in L.A. facing the solemn realities of

personal family loss and starting life anew. The result was a deeply

personal album surrounding feelings of displacement, identity,

and liminal states within the human experience. Since the release

of Migration at the beginning of 2017, Green has slowly been

settling into the next phase of his life in L.A.

"The end of this whole album cycle is on the horizon, so I'm

transitioning back into whatever is next," Green says, "but I'm still

coming out of a very frenetic two years. I've come back to being

stationary, so I'm transitioning into that now."

Over the past year and a half, after hitting the market,

Migration has been met with conflicting reviews. Pitchfork

generously labeled it "his most sophisticated record yet," while

Resident Advisor unfavorably described it in comparison to his

last release, The North Borders, as "a faded photocopy of its

predecessor."

"It kind of changes your own perspective on it a little bit,"

shares Green. "Generally, I'm still connected to [Migration] in a

kind of original sense when I made it. Even when we're playing

the tunes live, I'm still thinking about the mind space I was in

back then in 2015 when I was writing [them]."

Music videos have also played a role in shaping the narrative

of the album after its release. Whether by professionals

commissioned for a project such as London based director,

BISON, or by fans who have taken up the challenge of making

alternative videos, each have added other dimensions to the

theme of liminality.

"It's always interesting because the people that have been

working on the videos, its mostly their ideas," reflects Green. "It's

a little strange having someone reinterpret your song. With music

videos, you're subjecting the double narrative on it. It's kind of

hard to separate [your story vs. theirs]."

All in all, Green says he's happy with everything that has been

created out of Migration. Two videos which accompany the

track entitled Break Apart have stood out for Green as being

particularly creative in their interpretation of the song.

"I do really like both videos. That one of the people in the

motel rooms, [Spencer Creigh] was not commissioned to make it.

He just made it himself and sent it over and was like, 'Here's this

video.' It's beautiful."

Green welcomed the filmmaker's perspective, and after initially

viewing it himself, decided to share it as an official. For him,

it's all about seizing moments of inspiration and then allowing

creativity to flow from there.

"Capturing the essence of the idea is a very important thing,"

Green thinks, "understanding when that inspiration is striking

and then being able to catch it."

Bonobo drops into the Queen Elizabeth Theatre on June 25.

Natalia Escobar and Konrad Black

June 23 @ Open Studios

Columbia's Natalia Escobar is a multi-disciplinary artist, who works with

everything from sculpture and installation to photography and sound

art, and her DJ sets reflect that well-researched experimental diversity,

while Konrad Black is easily one of the greatest techno producers to

ever have called Vancouver home.

Rusko

June 28 @ Venue

I once saw dubstep mini-boss Rusko (known around Leeds, England as

Chris Mercer) perform at the Commodore. Bought a three-chamber

bud grinder with his name on it that I still use to this day. It ranks up

there with my Primus zippo and Kid Koala oven mitts as the best piece

of swag I ever copped from a merch booth. If he's still selling them, it's

worth going just to buy one.

Louisahhh

June 2018 25
---
FILM

BEAST

A CONVERSATION WITH DIRECTOR MICHAEL PEARCE

PAT MULLEN

THIS MONTH IN FILM

BRENDAN LEE

Won't You Be My Neighbour? – June 8

The story of Fred Rogers, the man behind the cardigan, the

smile and the theme song to everyone's childhood, is told one

more time in this feature documentary. Find out exactly what

made each and every one of his days such a beautiful day in the

neighbourhood, and don't forget the darn tissues.

The Birdcage (1996) – June 15

Celebrate this year's Pride Month with a bag of popcorn and the

re-release of '90s mainstream hit, The Birdcage, starring Gene

Hackman and Robin Williams. More than a little ahead of its time,

The Birdcage promises an outrageous, flamboyant and touching

journey back to a simpler time.

Director Michael Pearce delivers a genre bending island thriller with Beast.

Ask Michael Pearce to classify his film Beast

and there's no shortage of answers. The

director describes Beast as a "horror film,"

a "detective movie," a "prison break movie,"

an "emotional thriller," and an "adult fairy

tale" within a single conversation. Call it

what you want — Beast is one hell of a

movie.

"Sometimes my favourite films are the

ones that deliver on the genre fronts, but

also circumvent classical expectations of a

genre," observes Pearce.

Beast keeps audiences guessing with its

dark romance set on Jersey, the idyllic island

between England and France. The film stars

Jessie Buckley as Moll, a young woman who

escapes her conservative family when she

meets Pascal (Jonny Flynn), a mysterious

Prince Charming who rescues her on her

27th birthday.

There's just one problem: Pascal may be a

serial killer preying upon young women. The

more Moll believes Pascal is the predator,

however, the more she likes him.

Digging into Moll's taste for danger

helped Pearce take Beast beyond a mere

procedural. "Originally, Moll was a naïve

ingénue who could be manipulated by a

psychopath," he says. "The question about

whether Pascal is or isn't the serial killer

should be subordinated below the question

of what is happening to this young woman.

That's the intrigue."

Moll challenges fairytale convention as

a complex anti-hero, unlike Disney's perky

princesses. Pearce says researching fairytales

helped shape Moll outside the lines set by

literary predecessors.

"They're quite maligned members of their

family and have lots oppressive siblings,"

Pearce observes of fairytale heroines. "They

often have a hostile relationship with the

matriarchal figure. I saw Moll as having

a Cinderella-type existence where she's

starving for emotional oxygen." Beast plays

upon this dynamic, as Moll's relationship

with Pascal draws the disapproval of her

cold mother, Hilary (Geraldine James), but

also fuels her passion for the beast.

A dark chapter in Jersey's history provides

the spark for Beast. Pearce cites the tale of

the "Beast of Jersey," about a child molester

who haunted the island for a decade, as

inspiration, but avoided adapting the

tale directly to respect survivors living on

the island. Instead, Beast evokes the wild

sensation he experienced growing up and

discovering the neighbourhood terror.

"It was that loss of innocence when you

realize that monsters do exist," he explains.

"They're not just in fairy tales."

The story of real monsters has extra

bite in the wake of predators exposed in

Hollywood. Pearce notes that he began

Beast seven years ago, and the film hit

festivals before the Harvey Weinstein

scandal broke, but the topicality of the film

is serendipitous.

"While researching psychopaths, I

saw how charming these monsters can

be. It's one of the defining features of a

psychopath," says Pearce. "Some of these

celebrities are explicit monsters, but others

are people we love. Sometimes you don't

know who the monster is."

Angel's In America (live) – June 15

A live recording of the Tony-nominated Broadway play, this most

recent adaptation depicts the lives of a gay couple living and

surviving in 1980s Manhattan. The film, showing as a Pride Month

Cineplex re-release, tackles long-standing issues currently at the

forefront, and reopens some very necessary conversations.

Izzy Gets the F*ck Across Town – June 22

She's a down-on-her-luck and desperately pitiful manic pixie

dream girl for the modern age, and yet, for some reason, still

strangely bent on the idea that disrupting her ex-boyfriend's

engagement party is the answer to all her problems. All she has to

do is make it there.

Leave No Trace – June 29

A father and his daughter are forced to leave an atypical life lived

peacefully off-the-grid in the forests of Portland, OR and return

to rediscover the perils that come along with reintegration. Ben

Foster cements his place as one of today's most underrated greats

while the young Thomasin Harcourt McKenzie stuns.

FRIDAY LATE NIGHT MOVIES!

VISIT WWW.RIOTHEATRETICKETS.CA FOR SHOW TIMES & TICKET PRICES

The Birdcage

#SAVETHERIO

19+

VALID ID FOR

BAR SERVICE

JUNE 8

SUSPIRIA

JUNE 15 AUSTIN POWERS GOLDMEMBER JUNE 22 SUPERBAD JUNE 29 RIDLEY SCOTT'S BLADE RUNNER JULY 6 NAPOLEON DYNAMITE

26

June 2018
---
MUSIC REVIEWS

Neko Case

Hell On

Epitaph Records

It's refreshing to see an artist so comfortable in their

earned position of critical relevance take risks that

others in more commercial situations aren't able to.

The cost of doing business for the big earners is that

they're continuously required to feed the machine,

and do so by maintaining the status quo in their

work, leading to the inevitable exodus of listeners

who complain, "they're just doing the same thing

over and over again." That Neko Case is one of the

most respected songwriters and vocalists to emerge

from the vanguard of the late 90s alt-country

movement should be no surprise. Establishing her

bona fides with now-classic alt-country records like

The Virginian and Fox Confessor Brings The Flood,

as well as her indie rock cred during her time with

The New Pornographers, Case has always remained

iconoclastic. A working artist and musician with

the daring to experiment and take risks musically,

with the mutual benefit of challenging her alwaysgrowing

audiences.

Case's latest, Hell On, is largely free of alt-country

constraints, an avant-pop record with hints toward

baroque noir that begins with the tool shed oddity

of the title track; the clave and drum intro feels like

the rusty drip of water from steel walking through

a darkened, steamy boiler room, morphing into

the steady build of a waltz, while Case eases into

an Eastern European pre-war melody, a black-andwhite

film reel from a time long past living memory.

Case veers quickly back to more familiar territory

on "Last Lion Of Albion;" its darker pop production

buoys a cut with such a strong chorus that Case

could pull it off easily as a solo cut, and with its

subversive-yet-poetic commentary on consumerism,

it could be a classic Greenwich Village-era folk tune.

Case produced Hell On largely on her own, and

split a number of writing credits with longtime

collaborator Paul Rigby, including some of the

most outstanding songs on the record, like the

aforementioned "Last Lion Of Albion" and the

infectious "Bad Luck," which gets more fun each

time you spin it. Its layered harmonies flouts its pop

sensibility with an oddball bridge that leads into

a separate section before returning to the original

motif, and its sassy closing line, "So I died and

went to work." Their peak on the record together,

though, comes on "The Curse Of The I-5 Corridor."

Epic, piano-driven changes that reveal Case's most

vulnerable vocal on the record, which may be a

product of the subdued acappella verses with

former Screaming Trees vocalist Mark Lanegan. As

a result of its length, and the prevalent piano in

the mix, it feels like something from Father John

Misty's Pure Comedy, if only that record had been

emotionally raw rather than cynical. Case is as open

and honest on "I-5 Corridor" as any listener could

expect, and doesn't shy away from cynicism either.

Case's honesty leaves a smear of blood on every

song on the record, harsh and brutal in lines like,

"Sometimes I feel so ugly I'm afraid, worry nesting

in my hair, shedding like a Christmas tree, surely

there's a real woman coming to erase me," from the

outstanding "Oracle Of The Maritime." The pop

production softens the hardness on some cuts,

and Case's voice is as it's always been, the kind of

instrument that breaks through everything around

it, but there's no denying Case lays down dome

hard, honest reality on Hell On.

While it's undeniably a pop record in style, Hell

On is challenging to hear, and Case is unsparing

in her honesty. It may not be an immediate fan

favourite, but over the long run, Hell On may be a

touchstone record for an artist who's never shown

any fear in creating something that reflected exactly

who she was at the time.

• Mike Dunn

• Illustration by Taylor Bourque

June 2018 27
---
Dumb - Seeing Green

Baptists

Beacon of Faith

Southern Lord

From the dank recesses of Vancouver crawls the new album by Baptists, Bacon of Faith. Recorded in

Salem Massachusetts with Converge guitarist Kurt Ballou (GodCity Studio), Baptists builds a crusty

atmosphere, dripping with indignation. Its hardcore vocals shouting over bluesy, squealing guitars are

loyal to previous albums 2014's Bloodmines and 2013's Bushcraft while still finding room to experiment

and break new ground. Beacon of Faith paces frantically with thunderous drums, smashing through the

first four songs with an average time of under two minutes each. Lyrically touching on images of a broken

society, Baptists draw ire for a multitude of subjects; the failure to deliver justice in the Canadian court

system, substance abuse, and the dangerous apathy of the privileged. Clocking in at 39 minutes the album

is crammed with venomous vitriol, prodding relentlessly with minimal slowing in tempo.

• Trevor Hatter

Dumb

Seeing Green

Mint Records

Vancouver post-punk outfit Dumb are set to release their new album, Seeing Green, at the end of June.

A tidy package, the LP's 14 songs all fall under four minutes in length, making for a quick listen from

beginning to end. Roast beef Romeo, frontman Franco Rossino uses an aggressive spoken word vocal

style to channel angsty lyrics along with the band's impatient attitude. Seeing Green certainly has enough

rhythm to dance along to, but if you are looking for a riot, Dumb's newest offering isn't typical punk rock

music, with perhaps the exception of the song "Power Trip." The album as a whole is a sonic boom of

raucous contemporary references from indie pop to garage rock that blast throughout without really ever

pushing the envelope or offering anything different. In truth, the album's real appeal lies in its boisterous

songwriting approach. Any one of these buoyant, but hard-angled tunes, about youth chasing an

unaffordable lifestyle, would work as a soundtrack for a night out on the town or spent partying at home

late into the night.

• Daniel Jaramillo

Father John Misty

God's Favorite Customer

Sub Pop

After last year's divisive masterpiece Pure Comedy, it makes sense that God's Favorite Customer is Father

John Misty's most concise, and perhaps best, full-length yet. GFC is a sonic return to the rambling pop of

28

Father John Misty - God's Favorite Customer

2012's Fear Fun, with the piano balladry that Josh Tillman honed on his breakout, I Love You, Honeybear,

and Pure Comedy. Written during a six week breakdown where Tillman lived in a hotel suffering from

delusions and thoughts of suicide, GFC functions as the anti-Pure Comedy. Instead of the existentialist

macro lens, Tillman's songwriting returns inward with an album of personal observations written from

the brink.

This is Tillman's least overtly pretentious album and it's not a coincidence that it feels like his most

personal. Where I Love You, Honeybear saw Tillman telling everyone how honest he could be with his

songwriting, GFC is him showing it. On penultimate track "The Songwriter," Tillman seemingly eviscerates

himself with a critique of the difficult male artist stereotype. "What would it sound like if you were the

songwriter, And you did your living around me?" He asks his wife hypothetically in the songs second

verse, "Would you undress me repeatedly in public, To show how very noble and naked you can be?" It's

a scathing observation in an album full of them, but it's also indicative of Tillman's ability to turn his own

neuroses into something that feels universal.

• Jamie McNamara

Ghost

Prequelle

Loma Vista Recordings

Is Ghost a scary band? They certainly want you to think so.

Ironically, the Swedish metal outfit's fourth album, Prequelle, downplays the shtick and lets the

streamlined, infectious grooves speak for themselves. Sure, Ghost still perform in spooky costumes and

spout gloomy lyrics about Medieval black plagues or whatever, but Prequelle is definitely a mainstream

rock record – scoring a Billboard hit (2016's "Square Hammer") will often do that to a band. Thankfully,

it's a good rock record driven by plenty more ear-pleasing tunes.

Crunchy, distorted guitars propel highlights like lead single "Rats," "Faith," and "Witch Image." '80s

aficionados will appreciate the harmonic guitar riffs and serene keyboard fills present throughout the

album. Standout instrumental "Miasma" is a brilliant display of musicianship that allows Ghost to channel

their inner Scorpions, proof that power ballads can still be a thing in 2018.

Let Ghost play dress-up all they want. As long as the music remains this solid, they'll be remembered for

the right reasons.

• Trevor Morelli

Eamon McGrath

Tantramar

Saved By Records

On Tantramar, his first full-length LP since 2014's Exile, Toronto-based singer/songwriter Eamon McGrath

once again demonstrates his unique ability to meld a number of styles into a cohesive whole. While Exile

June 2018
---
Ghost - Prequelle

was largely stripped bare, full of driving rock n' roll songs kicked up by a tight combo, Tantramar is closer

to McGrath's 2012 effort, Young Canadians, in its combination of experimental atmosphere and folkbased,

hook-filled punk rock.

"Chlorine" leads the record off with a series of head fakes, with an atonal drone that never quite leaves

the mix before a chunky rhythm guitar riff kicks in. McGrath sings low in the mix over a bass groove

picked up by piano, a constant drama rising by the time the chorus arrives, where he deftly hangs on a

new melody on the same groove. The lead single "Power" may be as close as McGrath gets to pop music,

not unlike a late '70s Bowie cut, funky chord stabs and avant-garde horns in full brass freakout.

McGrath has an innate ability to cage a heavy and personal lyric in a hook full of depth and melancholy,

while still remaining memorable and catchy. Tantramar shares those elements with his previous work, but

the added sonic elements in the production are a step forward, the meld of noise and symphonic synths

is a cool move for McGrath to make, and coupled with the strength of the songs, makes Tantramar a

record with a new surprise upon every subsequent listen.

• Mike Dunn

Yob - Our Raw Hear

Oxlip

"Wolves!" Cried The Maid

World Peach Records

Ethereal and haunting, the second Oxlip LP from Ireland-born, Saskatoon-based singer-songwriter Jayne

Trimble casts classic British folk against a tapestry of fresh tones. The result is a take on the style in the

vein of later-era Marianne Faithfull, though Trimble's rich vocal tone is all her own.

"Wolves!" Cried The Maid is opened vocally on "Garden of Roses", Trimble leading on banjo and selfharmonizing

a classic-sounding Irish melody over a swell of Hammond organ. A swinging shuffle picks up

the beat on subtle shots later on, a leading an easy, swinging waltz. "This Dark Hour" stands out, Trimble's

voice drifting effortlessly over a two chord part that sits in the '50s ballad vibe, though the left turn it

takes by hanging on its second chord is a cool touch. Having enlisted a Western Canadian wrecking crew,

including Geoff Hilhorst on Hammond and piano, Chris Mason on bass, Kendel Carson on violin, Shuyler

Jansen on guitar, and Evan Dunlop on drums, it's easy to see how the arrangements are so tight and

forward-thinking. Trimble self-produced the record, with Dunlop engineering, and "Wolves!" Cried The

June 2018 31
---
Maid comes out feeling like a walk through the woods, sun

glinting on leaves, and a seaside breeze nearby.

• Mike Dunn

Peach Kelli Pop

Gentle Leaders

Mint Records

Peach Kelli Pop's fifth and fully collaborative album, Gentle

Leader, is a wham bam thank you ma'am ensemble of fruity

flavours, best paired with an afternoon of lounging around

an outdoor pool. With lyrics kicking off the album like,

"Baby blue black eye, lookin' up at the sky, pink and extra

crispy, red and yellow yoshi," you instantly feel their playful

and fundamentally colorful vibes. However, it's not all

rainbows and sugar coated donuts; they dive a bit deeper

into some more somber topics, such as being nothing but a

speck of dust and that "the human race is a disease" in the

final song of the album, "Skylight."

Peach Kelli Pop's sunny disposition brings a high level of

energy to the underrated genre of sunshine punk. Gentle

Leader is reminiscent of crop tops, boob tubes, long island

ice teas and little pet purse dogs wrapped up at the beach.

It's everything happy and cute all rammed into one with

its roots planted in post-punk straight outta both the '80s

and '90s.

It's been a while since Peach Kelli Pop have released an

album, three years to be exact, which means teenyboppers

everywhere will be strutting to the store for this softcore

lighthearted ladies night out release. Founder Allie Hanlon

has previously written, recorded as well as produced their

other albums. They focus heavily on the collaborative

essence of Gentle Leader with songs ranging from the

heavy-duty sunshine tonalities in "Hello Kitty Knife" to the

softer and more spongy tracks like "Parasomnia."

All around, Gentle Leader explores relationships, love

and the subtle sport of not giving a darn. We'll follow that.

• Jessie Foster

Leon Vynehall

Nothing Is Still

Ninja Tune

Leon Vynehall's Ninja Tune debut is meant to be digested as

a multi-media work including a novella and series of videos.

Unfortunately, when considered on its own, the nearbeatless

sketchpad of strings and drones will disappoint

fans of Vynehall's previously robust audio works.

There's not really an outright bad song on Nothing Is

Still, and if you're looking for a timid cousin of a Floating

Points record, you'll be satisfied by Nothing's 10 songs. Each

song is pretty and ornate, though around half of them seem

inconclusive. Some truly gorgeous strings, piano and horns

are employed, but taper off too soon, even before the

listener can opt in to enjoying them.

To be fair, the highlights of the work really hold their own.

"Trouble" and "English Oak" both possess more clarity of

intention and form than others. The former uses erratic

bass patterns with the texture of bombed out hearing

damage and sharp inhalations of breath as rhythm, while

the latter winds layers of quavering strings into a knot

before hitting one of his signature house strides. Unlike

many other of the album's songs, it proves Vynehall is gifted

with both bold vision and startlingly original execution.

The artist's intention for his music to be a component of

a wider media experience is neither realistic nor relevant,

given the album will mostly be streamed and access to

the novella is behind a deluxe-edition paywall. Perhaps it's

cynical to say, but if he wanted the public to engage with a

physical life for this work, he should have brought stronger

songs to the table.

• Colin Gallant

Yob

Our Raw Heart

Profound Lore

Our human vessel contains two opposite, equally

important entities within its confines of meat and bone.

One, a rich biome of gut flora creating the framework

required for our digestive system, breaking down food

to nourish our bodies. The second, a sterile vacuum

surrounding all internal organs, ensuring an unadulterated

supply of blood, enriched with nourishment delivered

from the digestive tract. To breach one into the other, most

often, is certain death. Yob's lead singer Mike Sheidt is a

rare survivor of this very scenario. After six hours of surgery

and months of recovery, he joined his brothers in Yob,

setting out to record Our Raw Heart with no guarantee he

would live long enough to finish it. Amongst this drama,

they created a doom metal masterpiece that explores the

dangerous dance powers of equal opposites can impose.

The album sets its tone with "Ablaze," a melodic and

heavy track, hinting at the anguish the three members

experienced over the last year. Moving onto the powerful

snarl of Yob's latest single "The Screen" sets the listener

on collision course with a truly existential experience. The

album trades blows between crunchy, slow and low tracks

to soaring, balladesque metal that crests with the power of

an angry ocean. "Beauty in Falling Leaves'" delicate nature

and pained vocals paint a picture of grave circumstances.

Alluring in it's tragedy, reflecting the heartache we face in

our own impermanence while conjuring appreciation for

the beauty of life as a setting sun.

Yob has created an album that is wrought with pain and

pleasure, urgent but not desperate. It's building, destroying,

fighting, loving essence understands the draw to metal and

builds a space for our raw hearts.

• Trevor Hatter

LA VIDA LOCAL

HOMEGROWN VANCOUVER MUSIC RELEASES

Hello Blue Roses

Trade Winds

JAZ Records

Hello Blue Roses are back again with Trade Winds, an introspective, carefully

orchestrated sophomore record featuring Dan Bejar (Destroyer, The New

Pornographers) and visual artist Sydney Hermant. The album is a sombre, stoical

collection of music that would make the ideal soundtrack for a sunset stroll while

wearily looking back on the day that crawls to bed behind you. Dreamy, spacey, and

thoughtful, Trade Winds is the perfect partner for your next solo soul search.

Wes Carroll Confabulation

Off Empire

Independent

• Mat Wilkins

Victoria-based jazz fusion group the Wes Carroll Confabulation have distilled

three years' worth of hard work into 11 original tracks on Off Empire. The group

shows their experimental side on tracks like "Shades of Orange," where a cool,

contemplative guitar solo morphs into a funky clavinet interlude, followed by a spry

trumpet solo. Elsewhere, "Lekker" deviates into hip hop while "Bloom" calls to mind

classic crooners. It's a promising debut boasting an eclectic range of styles.

Teak Physique

living. space

Resurrection Records

• Lauren Donnelly

Teak Physique's debut EP living. space is an unparalleled exercise in balance. The

lyricism oscillates between absurdity and earnestness. The musicianship borrows

from bygone bands, but never imitates. As an introduction to Teak Physique's jangly

garage-rock style, living. space could not have said "Hello, Vancouver!" any better.

Whatever the occasion, trust that Teak Physique's slinky guitar, bouncy bass, and

foot-tapping drums will make whatever you're up to a whole lot sweeter.

• Mat Wilkins

F

R

I

D

A

Y

S

277 PRINCE EDWARD ST

BILTMORECABARET.COM

32

June 2018
---
Photo by Jashua Grafstein

Fever Ray

The Vogue Theatre

May 22, 2018

You're born, you grow up, fall in love with a member of the

opposite sex, get married, have 2.4 children, and the cycle

continues, forging a family legacy whose lineage can be traced

back generations and generations by following the pathway

of strong, male patriarchal surnames. Lather, Rinse, Repeat…

right? Wrong. Sorry to burst your archaic bubble bud, but that

ain't how it goes anymore. Especially not for Karin Dreijer, one

half of Swedish electronic supergroup The Knife, whose latest

album Plunge, released under the Fever Ray moniker, sets out

to shatter anachronistic beliefs that attempt to dictate how

we should love, raise our families, and well… fuck.

Like the opening sequence of a head-to-head fighting game,

Fever Ray's band came out one by one, a heterogenous bunch,

each dawning their own unique wardrobes and encompassing

roles of characters that blur the lines of gender. Their mystical

leader emerged last, with nightmarish makeup and an equally

hellish smile, sporting a shirt that read, "I Love Swedish Girls."

LIVE

Likely purchased at a tourist kiosk in her native homeland,

Fever Ray gave the top her own custom augmentation,

crossing out the word "Swedish," defiling a statement that

attempts to categorize female beauty into an ethnic hierarchy.

A sentiment made even stronger by the diversity of her tribe.

During the set, Fever Ray bounced around between

songs from both of her albums, sprucing up some of the live

versions with a little bit of South American flare. Older tracks

like "I'm Not Done," and "When I Grow Up," were played with

an added vibrancy, due heavily in part to Columbian and

Argentinean percussionists, Diva Cruz and Liliana Zivala, filling

in the sparseness that exists in the recorded versions.

The only space where Fever Ray herself may have been

lacking was in the sweet dance moves department. But

this is entirely forgivable considering she had to share the

stage with her muscle flexing backup singer Helena Gutarra,

whose bodybuilding physique and ass shaking rhythms stole

the show. But even she couldn't match the ferocity of her

mythical Queen's fiery vocals. A truly entertaining femdom

carnival of delights.

• Jeevin Johal

MGMT

Oprpheum Theatre

May 12, 2018

The Orpheum Theatre proved to be a beautiful but challenging venue

for MGMT.

Kicking off the night with "Celebration" from 2010's album of the

same name, the band played an upbeat and psychedelic set, which was

helped to life by some stunning and trippy visuals.

Their 15-track set drew heavily from their recent release Little Dark

Age, from which six tracks were played. It should be no surprise by

now that these guys have shunned the limelight they were afforded

after the release of their first record Oracular Spectacular, which

spanned the hits "Kids," "Electric Feel" and "Time to Pretend." Since

that record they have gone more and more to the left field with dark

synthy tones, indulging themselves not others.

MGMT though are the masters of playing live, the songs that might

seem a little subdued on the records are brought to life on the main

stage, tracks like "When You Die" and "Alien Days" (which was the only

track from 2012's self titled MGMT album) are given a real push live.

Obviously the hits from their debut record drew the biggest

cheers, however everyone was enthralled by the entire set. It's just a

shame our dancing moves were restricted to the small seat we were

designated. Maybe the band would have appreciated people being

more free to move.

Seat frustration aside, the show was fantastic and the beauty of the

venue can't be discounted, especially when as MGMT did, they used

visuals to bring the place to life. Coupled with their dance-driven set,

it's safe to say we all left happy.

• Adam Rogers

Photo by Jashua Grafstein

Photo by Darrole Palmer

Jorja Smith

The Biltmore Cabaret

April 28, 2018

If you were at the Biltmore for this show you know how

lucky you were. Jorja Smith is not likely to be performing

at such an intimate venue next time she's in Vancouver. In

a testament to both her talent and her voracious fan base,

tickets sold out almost immediately after going on sale, not

just in Vancouver but consistently throughout her entire

tour. As such, the room was filled with admirers who'd

arrived hours early to secure the best vantage points, singing

and swaying along to every song.

Smith played a balanced mix of favourites like "Let Me

Down," "Teenage Fantasy," "Blue Lights," and the Black

Panther Soundtrack's own "I Am" in combination with a

selection of unreleased music from her upcoming debut

album, Lost & Found. Lit by oscillating purples, blues, pinks,

and yellows, Smith maintained an ethereal otherworldliness

about her, and her confidence onstage was palpable. Her

voice was powerful, smoky, and assured, lacing between

her own tracks and covers of TLC's "No Scrubs" and Frank

Ocean's "Lost" without missing a beat.

Emerging for an encore after shouts of "Jorja! Jorja! Jorja!"

from the crowd, she finished the show by transitioning from

the acoustic "On My Mind" to the more raucous version

of the song produced by Preditah. From the venue to the

atmosphere to the performance itself, Smith's show was

undoubtedly one of the best of 2018 thus far.

• Jordan Yeager

June 2018 33
---
NEW MOON RISING

YOUR MONTHLY HOROSCOPE

QUAN YIN DIVINATION

Month of the Earth Horse

Want to know how the earth affects

you? Take a look at how this month's

energy feels, as it's the strongest earth

flow that we've had in years. This is a

time that will require great patience as

things will take longer, conclusions will

be muddy, and feelings of confusion,

chaos, indecision, and frustration may

rise to the surface. Our attention may

also be needed by the earth herself,

as environmental impacts are of top

concern.

The Horse is a cardinal sign in the

Chinese zodiac and also an influencer

of love and romance. Whether it strikes

you hot or cold, love matters of all kinds

are on the table and there's definitely

a need for communication, dialogue,

and assessment of the facts. Patience

and fortitude are the key words of this

challenging time for many.

Rabbit (Pisces): Although it's not

high on your list of priorities, financial

matters could improve now if you focus

some attention on your effective use of

your resources. Or you might spend a

little money from your savings to enjoy

a bit of luxury. Be free of your financial

woes!

Dragon (Aries): Charging forward

impatiently may give you satisfaction,

but it can offend those who are more

risk-averse. Your confidence is engaging,

but listen to other perspectives before

you take the leap.

Snake (Taurus): Time to rest now that

the spotlight is no longer on you. Taking

a back seat feels good this month as

you set yourself to a regular routine of

exercise, healthy eating, and enjoyment

of a lifestyle you've worked hard for.

Horse (Gemini): It is an unavoidable

fact of life that you cannot be in two

places at the same time. Make your

choices from a place of love and let

your heart decide where you need to

be moment to moment. Apologies for

a change in plans helps smooth your

course.

Sheep (Cancer): Build your energy

gently with activities that keep

you feeling at your best. If fatigue,

depression, or guilt are taking centre

stage in your life, take action to support

a better stage of mind and body.

Monkey (Leo): Peace of mind is

available to you now, but you will need

to detach yourself from any judgements

or criticisms that cloud your thinking.

Allow others to come and go as they

will, and release your need to control

or manipulate. Take charge of your own

destiny.

Rooster (Virgo): Make love, not war.

What is the deep yearning in your heart

that drives you toward your goals?

Examine your motives carefully and

discard any actions that come from a

place of revenge or reward. Be kind and

others will respond favourably.

Dog (Libra): This year is an important

one for you to work on yourself, and

this month gives you a chance to

glimpse at your future. Stay present

with your feelings as you work on your

relationships with others and how they

fit in with your dreams and goals.

Pig (Scorpio): Get ready for a busy

summer ahead. You'll need to have

a good grasp on your resources, so

save now to ensure easy times as

unexpected spontaneous adventures

await you. Keep your plans loose and

your calendar open.

Rat (Sagittarius): Time for a

change of pace, a break, a moment

to re-evaluate. Consider taking a

vacation, booking a trip, applying

for a new job, or networking in new

circles. Retreat inward for reflection

and contemplation of what is most

important to you.

Ox (Capricorn): Take time to pursue

healing for its own sake. The break will

do you good, and there's a lot that

others can offer to support you. Give

your time to others only when the value

is reciprocated and appreciated.

Tiger (Aquarius): Social occasions

bring inspiration and community

connections that you've been craving.

Go out on a limb and engage with

people who could bring more light to

your life. Your happiness is worth it.

Susan Horning is a Feng Shui Consultant

and Bazi Astrologist living and working

in East Vancouver. Find out more about

her at QuanYin.ca.

DANIEL CAESAR • JESSIE REYEZ • ADVENTURE CLUB

CURRENT SWELL & FRIENDS • BISHOP BRIGGS • LIGHTS

CLOZEE • MIX MASTER MIKE • FUCKED UP

THE JB'S (THE ORIGINAL JAMES BROWN BAND)

THE ZOLAS • BÜLOW • BLITZEN TRAPPER

ANDY SHAUF • RAMRIDDLZ • MILK & BONE

CHAD VANGAALEN • ISKWÉ • METZ

THE HARPOONIST & THE AXE MURDERER

JOHNNY BALIK • HEY OCEAN! • NEON STEVE • SO LOKI

nêhiyawak • SODOWN • MEGAN HAMILTON

ALEXANDRIA MAILLOT • ART D'ECCO

& OVER 50 MORE TO BE ANNOUNCED!

TICKETS

AVAILABLE

AT

KIDS

12 & UNDER

FREE!

RIFFLANDIA.COM

AND

LYLE'S

PLACE

TWITTER.COM/RIFFLANDIA FACEBOOK.COM/RIFFLANDIA INSTAGRAM.COM/RIFFLANDIA

34

June 2018
---
CANADA'S LARGEST INDEPENDENT CONCERT PROMOTER

UPCOMING SHOWS

POUYA

WITH SHAKEWELL & DILLANPONDERS

June 5 - Vogue Theatre

POSTDATA

WITH JODY GLENHAM

June 6 - Fox Cabaret

CALEXICO

WITH JULIA JACKLIN

June 8 - Rickshaw Theatre

GOOD LOVELIES

WITH GUESTS

June 9 - Fox Cabaret

STARS

WITH SHAMIR

June 12 - Vogue Theatre

ALY & AJ

WITH GUESTS

June 18 - Vogue Theatre

QUEIT SLANG

WITH GUESTS

June 22 - The Biltmore Cabaret

FAITH HEALER & ANEMONE

WITH GUESTS

June 27 - Fox Cabaret

TOQUE

WITH GUESTS

June 30 - Imperial

TICKETS ARE AVAILABLE AT MRGCONCERTS.COM