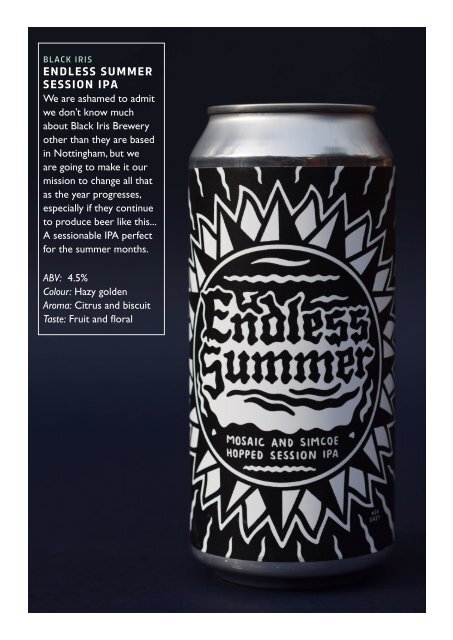 Hopulist issue 5 Welcome to issue 5 of Hopulist. We bring you the latest news, brews and intrigue from the craft beer universe and we hope you will enjoy reading it as much as we enjoyed putting it together. This month we feature Hop Hideout, Home Brew Club, Writer's of Craft, our World Cup 2018 Special and much more...
BLACK IRIS

ENDLESS SUMMER

SESSION IPA

We are ashamed to admit

we don't know much

about Black Iris Brewery

other than they are based

in Nottingham, but we

are going to make it our

mission to change all that

as the year progresses,

especially if they continue

to produce beer like this...

A sessionable IPA perfect

for the summer months.

ABV: 4.5%

Colour: Hazy golden

Aroma: Citrus and biscuit

Taste: Fruit and floral

SIGNATURE BREW

ANTHOLOGY

IMPERIAL STOUT

The debut beer from

Signature Brew's 'Special

Guest' series. It features

intense flavours of dark

chocolate, molasses with

hints of dark stone fruit.

Set to be released annually

with future releases

including barrel-aged

versions. Uber smooth and

very drinkable given its

strength.

ABV: 10%

Colour: Dark brown

Aroma: Roasted coffee

Taste: Chocolate and dark

fruit
More magazines by this user