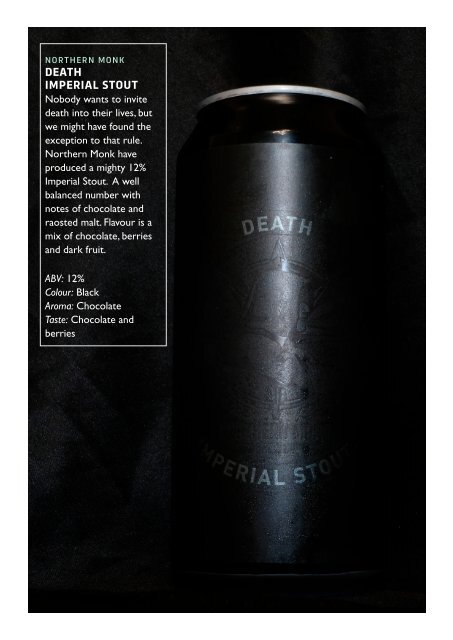 Hopulist issue 5 Welcome to issue 5 of Hopulist. We bring you the latest news, brews and intrigue from the craft beer universe and we hope you will enjoy reading it as much as we enjoyed putting it together. This month we feature Hop Hideout, Home Brew Club, Writer's of Craft, our World Cup 2018 Special and much more...
NORTHERN MONK

DEATH

IMPERIAL STOUT

Nobody wants to invite

death into their lives, but

we might have found the

exception to that rule.

Northern Monk have

produced a mighty 12%

Imperial Stout. A well

balanced number with

notes of chocolate and

raosted malt. Flavour is a

mix of chocolate, berries

and dark fruit.

ABV: 12%

Colour: Black

Aroma: Chocolate

Taste: Chocolate and

berries

CLOUDWATER

A GOOD FEED

AMERICAN PALE ALE

A collaboration to

celebrate the inaugral

A Good Feed festival.

The five-day Manchester

food festival, which took

place in late May, looked

to focus on produce,

community and open

fire cooking in a bid to

highlight food culture in

the north of England.

The drink itself is a very

sessionable pale ale with

an amazing aroma of

orange, peach and juicy

fruit. The taste is a little

more grassy and piney

with a hint of orange peel.

An ideal summer drink.

ABV: 2.9%

Colour: Amber/orange

Aroma: Fruity

Taste: Grass/Pine
More magazines by this user