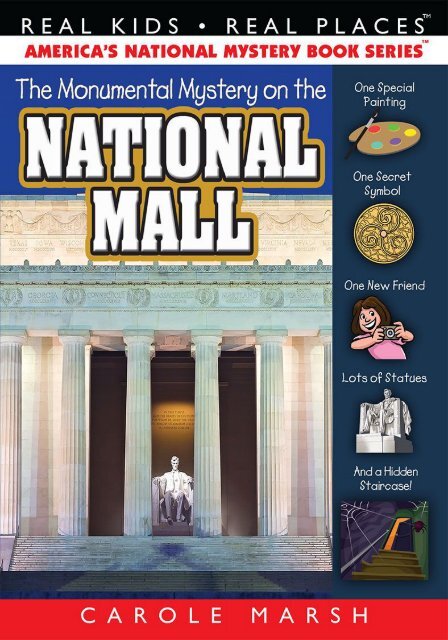 The Monumental Mystery on the National Mall
Join Mimi, Papa, Avery, Evan and Sadie as they visit Washington, D.C., and end up in the middle of a "capital" mystery with bewildering clues, a secret symbol, a couple of cool pools, amazing monuments and memorials, and... watch out!... some mysteries men are on their trail.
Join Mimi, Papa, Avery, Evan and Sadie as they visit Washington, D.C., and end up in the middle of a "capital" mystery with bewildering clues, a secret symbol, a couple of cool pools, amazing monuments and memorials, and... watch out!... some mysteries men are on their trail.
SHOW MORE
SHOW LESS
Do you know the secret to free website traffic?
Use this trick to increase the number of new potential customers.
ong>Theong>

ong>Monumentalong>

ong>Mysteryong>

on the

National

Mall

3
---
First Edition ©2018 Carole Marsh/Gallopade International/Peachtree City, GA

Current Edition © May 2018

Ebook edition ©2018

All rights reserved.

Manufactured in Peachtree City, GA

Carole Marsh Mysteries and its skull colophon are the property of Carole Marsh and Gallopade

International.

Published by Gallopade International/Carole Marsh Books. Printed in the United States of America.

Managing Editor: Janice Baker

Assistant Editor: Beverly Melasi-Haag

Cover Design: Randolyn Friedlander

Content Design: John Hanson

Gallopade International is introducing SAT words that kids need to know in each new book

that we publish. ong>Theong> SAT words are bold in the story. Look for this special logo beside each

word in the glossary. Happy Learning!

Gallopade is proud to be a member and supporter of these educational organizations and

associations:

American Booksellers Association

American Library Association

International Reading Association

National Association for Gifted Children

ong>Theong> National School Supply and Equipment Association

ong>Theong> National Council for the Social Studies

Museum Store Association

Public Lands Alliance

Association of Booksellers for Children

Association for the Study of African American Life and History

National Alliance of Black School Educators

This book is a complete work of fiction. All events are fictionalized, and although the names of real people are

used, their characterization in this book is fiction. All attractions, product names, or other works mentioned in

this book are trademarks of their respective owners and the names and images used in this book are strictly for

editorial purposes; no commercial claims to their use is claimed by the author or publisher.

Without limiting the rights under copyright reserved above, no part of this publication may be reproduced,

stored in or introduced into a retrieval system, or transmitted, in any form or by any means (electronic,

mechanical, photocopying, recording or otherwise), without the prior written permission of both the copyright

owner and the above publisher of this book.

ong>Theong> scanning, uploading, and distribution of this book via the Internet or via any other means without the

permission of the publisher is illegal and punishable by law. Please purchase only authorized electronic

editions and do not participate in or encourage electronic piracy of copyrightable materials. Your support of the

author's rights is appreciated.

4
---
Once upon a time ...

Hmm, kids keep

asking me to write

a mystery book.

What shall I do?

Papa said ...

Why don't you set the stories

in real locations?

5
---
That's a great idea!

And if I do that, I might

as well choose real kids as

characters in the stories!

But which kids would I pick?

6
---
You sure are characters,

that's all I've got to say!

Yes, you are! And, of

course, I choose you! But

what should I write about?

7
---
We can go on the ong>Mysteryong> Girl airplane ...

Or aboard

the Mimi!

I can put

a lot of

Or by surfboard,

rickshaw,

motorbike,

camel ...!

legend, lore, and

the books! It will be educational and fun!

in

8
---
What else can

we do, Mimi?

Kids and teachers

can get cool

stuff online!

Can we have

a Fan Club

with photographs

and videos?

Of course!

Of course!

And can we

have contests

and trivia and

games?

9
---
ong>Theong> ong>Mysteryong> Girl is all

revved up—let's go!

You mean now?

LET'S GO!

nd so, join Mimi, Papa, Avery,

Ella, Evan, and Sadie aboard

the ong>Mysteryong> Girl—where the adventure is

real and so are the characters!

START YOUR ADVENTURE TODAY!

www.carolemarshmysteries.com

READ

THE BOOK!

MEET THE

CHARACTERS!

JOIN THE

BOOK CLUB!

TRACK

YOUR

ADVENTURES!

10
---
1

A Capital Idea

"I smell bacon!" Ella sat up in bed and

rubbed her still-sleepy eyes. "And is that

maple syrup, too?" She hopped out of bed

and hurried downstairs toward the tantalizing

aromas coming from the kitchen.

ong>Theong> now-familiar breakfast scene made her

smile. Ella and her sisters, Avery and Sadie,

plus her brother, Evan, had been staying

with their grandparents for a week of their

summer vacation.

Mimi and Papa stood at the stove. Mimi,

clad in her bright red jogging outfit, busily

flipped her special animal-shaped pancakes.

Papa wore his chef's hat and a white apron

over his lucky blue shirt and crisp jeans.

11
---
Ella started to say "Good morning," but

stopped short when Avery and Evan stormed

into the kitchen like twin tornadoes circling

each other.

"Give me that camera right now!" Avery

shouted. Her blue eyes blazed with anger.

"Aww, come on. I just got it for my

birthday," Evan replied, his blue eyes

twinkling mischievously as he dodged her

outstretched hands.

Papa turned from the stove and stepped

between them. "Whoa there, little pardners.

It's a mite too early in the morning to be

makin' such a big ruckus."

"He started it!" Avery wailed. "He took a

picture of me with his digital camera when my

mouth was full of toothpaste!"

Papa sat down at the table, and held his

arms out to Sadie, his youngest granddaughter.

She scrambled into his lap and buried her head

against his shoulder. "You two have just about

scared the daylights out of your little sister.

Now settle down and eat some breakfast." He

fixed a stern gaze on Evan. "And you, young

12
---
man, will not use your camera to aggravate

your sister again. We must always respect

one another's privacy."

Mimi gave Evan "the look." No one could

deliver "the look" better than Mimi. Evan

knew it was time to apologize. "You're right,

Papa," Evan said, glancing sideways at Avery.

"I'm sorry," he said. Avery squinted at her

brother and murmured, "Just don't do it again,

little bro."

ong>Theong> sound from the television in the

family room flowed into the kitchen. ong>Theong>

news anchors chatted about the upcoming

Fourth of July celebration on the National

Mall in Washington, D.C. ong>Theong> programming

switched to a live broadcast from the nation's

capital. Mimi looked up as Ella walked by on

her way to the table.

"Turn that up, dear," Mimi said. She

wiped her hands on a towel and drew closer

to the television. ong>Theong> face of a woman with

short dark hair and vivid blue eyes filled the

screen. She smiled broadly as she answered

questions about the celebration.

13
---
"Well, look at that!" Mimi exclaimed.

"That's Olivia Carson! I haven't seen her in

years! Shush! Let's hear what she's up to."

"I am very honored to be this year's

Celebration Ambassador," Olivia remarked.

"We've had a remarkable find this year. A

very rare painting was discovered in the

Lockkeeper's House during its recent move.

ong>Theong> Lockkeeper's House is the oldest building

on the National Mall. It's really a shame it's

no longer open to the public."

A faded painting of three men silhouetted

alongside Independence Hall in Philadelphia

appeared on the TV screen. ong>Theong> words

"We the People" were emblazed across the

top of the painting, with the Declaration of

Independence in the background.

ong>Theong> camera then focused on Olivia

discussing the painting. "Historians believe,"

she explained, "that it was painted around

the time the Declaration of Independence

was signed."

14
---
Evan jumped in front of the television

screen and snapped a quick picture of

the painting.

"Hey! Get out of the way!" everyone

shouted at once.

Olivia's interview continued. "Look," she

said, "even the clock on Independence Hall

is still visible." She pointed to the clock and

laid a hand over her heart. "It's a miracle,"

she remarked, "that this painting survived

without the proper preservation. It positively

gives me goosebumps to think about it!

But soon it will be safely tucked away in its

rightful home—the Smithsonian Castle on the

National Mall."

In another part of town, someone else was

getting goosebumps just thinking about the

plans they had for that painting. And phase

one of those plans was already underway!

15
---
16
---
2

It's All on the Mall

Mimi turned to the family, her eyes wide

with excitement. "Papa, get my purse.

We're going to Washington, D.C.! I'm calling

my friend Olivia right now to make all the

arrangements."

Mimi grabbed her cell phone and started

tapping numbers. "I needed to gather research

for my latest mystery book set in Washington,

D.C., so this is perfect timing." She fanned

herself with her credit card. "I can't wait to

show you kids the sights on the National Mall!"

SMACK! Avery and Ella raised their right

hands in a high-five. "Love those mysterywriting

trips!" Avery exclaimed. Mimi, a

famous children's mystery book author,

often brought her grandchildren along on

17
---
her journeys to research books. Over the

years, the kids had learned to share their

grandmother's love of history.

Evan rose abruptly from his seat. He

stacked his plate noisily in the dishwasher

and semi-slammed its door. "Ohhhh man,

does that mean I have to go shopping all day

in some mall with the girls?" he whined.

"No, Evan," Mimi reassured him. "It's

not that kind of mall. ong>Theong> National Mall is

actually a state park."

"Here, Mimi," Avery suggested, handing

her phone to her grandmother. "Use my

locator app to show us."

ong>Theong> app opened, and Mimi traced a treelined

area with her finger. "ong>Theong> National

Mall takes up two miles of the downtown

area. It is often called our nation's 'front

lawn.' It extends from the U.S. Capitol to the

Lincoln Memorial."

Mimi rotated the phone to make a wider

screen. "See? Our nation's most well-known

monuments and museums are all in one place."

18
---
DING! ong>Theong>y were interrupted by an email

arriving on Mimi's phone. She returned

Avery's phone and picked up her own. "Well,

I wonder what this could be?" she asked with

a sheepish grin. She opened the email and

showed everyone a confirmation for airline

tickets to Washington, D.C.

"We're going tomorrow?" Ella asked.

When Mimi nodded, the kids high-fived each

other once again.

"This is awesome," Avery said. ong>Theong>n she

suddenly looked serious. "What am I going

to wear?"

"One of your million outfits," Ella replied,

rolling her eyes.

"I just love flying on planes," Evan

remarked, "especially if they have TV screens

for all the seats."

Sadie was still sitting on Papa's lap. "Am

I going too?" she asked, not really knowing

what the excitement was all about.

Papa lowered her to the floor. "You betcha,

little filly."

19
---
Throughout the flight, the kids peppered

Mimi with questions about the National Mall.

Soon, Ella created a game to see who could

think up the hardest question to ask her.

"Here's one for you, Mimi," Ella said.

"How old is the National Mall? "

Mimi thought for a minute. "Hmmm…,"

she murmured. "I think the National Mall

could actually be considered a work in progress

because the building process has continued

over two hundred years." She tapped her chin

with her finger. "I know it started with the

White House in 1800. And before you ask, no,

I didn't know that because I was there when

the White House was built!" She peeked over

her red sparkly glasses at Evan, who giggled

at her comment.

Mimi pulled a pamphlet out of her purse

that showed a timeline of when the structures

along the National Mall were built. "See?"

she asked. "ong>Theong> Capitol was built in 1829

and it goes on and on." She slid her finger

along the timeline until she reached the end.

"ong>Theong> newest building was built in 2016. It's

20
---
the National Museum of African American

History and Culture."

"Here's a question," Avery said. "How did

the National Mall get its name?"

Mimi threw up her hands. "OK, you got

me. And now I must resort to my trusty

tablet." Mimi swiftly researched her answer.

"It is believed," she explained, "that the

National Mall was named after the playing

field used in a popular British game during

the late 1700s. ong>Theong> field was called 'pall mall.'

ong>Theong> playing field was rectangular and called a

'mall.' ong>Theong> parcel of land designated for the

park was similar in shape so was later dubbed

the National Mall."

"What is the most interesting fact you

know about the National Mall?" Evan asked.

Mimi's eyes twinkled. "What I find most

interesting," she replied, "is that the National

Mall connects—as well as separates—the

Capitol from the White House. She wiggled

her eyebrows at the kids.

As the plane made its descent, they got

their first glimpse of the magical Washington,

21
---
D.C., skyline beneath them. ong>Theong> majestic

buildings gleamed bright white against the

darkening sky. "Oh my gosh, there's the White

House!" Avery shouted. "It's so beautiful.

And now I can see the Lincoln Memorial too!"

"Look, there's the Capitol Building," Ella

exclaimed, pointing out the window. "I had

no idea it was so big!" As the last shimmering

rays of the sun fell over the horizon, turning

day into night, Ella saw the Washington

Monument's colossal tower looming in the

distance. "This is going to be a great trip,"

she said softly to herself. "So much history;

so much to do!"

22
---
3

Secret Symbol

"I'm so happy to see you again!" With a

shriek of laughter, Olivia pulled Mimi into a

big bear hug. "We're going to have so much

fun, and look who I brought with me." Olivia

held her hand out to a young girl about Ella's

age. Her wavy dark hair was pulled back into

a ponytail. "This is my daughter, Jilly."

Jilly wore jeans and a bright red-and-whitestriped

shirt. She stepped forward shyly and

waved at the kids. She turned to Mimi with

clasped hands. "I've read all your books,

Mrs. Marsh."

"Why thank you, Jilly," Mimi said. "I

always love meeting a fan." She introduced

Avery, Ella, Evan, and Sadie to Jilly and then

found a few empty tables nearby. "Let's all sit

23
---
for a minute while Papa finds the shuttle to

our hotel."

Jilly sat down at one of the tables and the

kids quickly joined her. Almost immediately,

Evan's stomach started growling. He fidgeted

in his chair, embarrassed because he thought

Jilly had probably heard the grumbling. "I'm

hungry," he announced.

Ella rolled her eyes. "So what else is new?"

she said.

Evan ignored his sister. "Mimi, can I go

get a snack?" he pleaded.

Mimi pushed her carry-on bag under the

table to give them more room. "Yes, but don't

be gone long, and stay within sight of our

table. This airport is big, and I don't want to

go looking for you. Take Ella with you, dear."

Ella swung around in her chair so fast that

her long brown hair wrapped around her neck.

"Wait…what?? What did I do?!"

Ella grumbled, but took Evan by the hand.

ong>Theong> two wandered to a snack bar offering

fresh fruit and cookies.

24
---
"Oh, yeah. That's what I want!" Evan said.

"It all looks delicious," Ella observed. "I'll

get enough for all of us." While she paid for

the food, Evan watched all the people bustling

around the airport.

Suddenly, Evan had the strangest feeling

he was being watched. He quickly scanned

the area. He thought he saw someone peep

around a column across the room, then dart

behind it again. It looked like a young woman.

He waited to see if she would poke out her

head once again.

Oh, there, she did it again, Evan thought.

And this time, their eyes met. He was close

enough to see that she had short red hair and

wore red-rimmed glasses. ong>Theong> look on her

face proved that she was up to something.

But what? Evan took a step forward.

ong>Theong> woman turned and briskly walked

away. Evan tried to snap a picture of her, but

it came out blurry.

"Hey, wait!" Evan called, but the young

woman kept on walking. As she moved

25
---
etween tables, the ID badge clipped to her

belt caught on a chair. ong>Theong> elastic band

holding the badge stretched as far as it could.

SNAP! ong>Theong> ID badge tumbled to the floor, but

the young woman kept going.

After waiting a few minutes for the woman

to come back and retrieve her badge, Evan

took matters into his own hands. He scooped

up her ID badge from the floor. It contained

no name, only a five-digit number in the upper

right corner and an unusual gold symbol in the

center. It was useless to try to find the young

woman now, so he slipped the ID badge into

his backpack just before Ella reached him.

"Evan!" Ella ran up to him. "What are

you doing?"

But Evan's thoughts were elsewhere. Who

is that young woman, and why is she spying

on me?

Ella came to stand in front of him. "Didn't

you hear me call you?" she asked her brother.

"No; sorry, Ella," he said, but his mind was

racing. We just got here, and I think we might

be onto a new mystery, he thought.

26
---
ong>Theong> family headed outside to find the

airport shuttle to their hotel. But inside

the airport, the young woman with the

red-rimmed glasses crawled under tables

frantically searching for her ID badge.

27
---
28
---
Join the Fan Club at

CaroleMarshong>Mysteryong>Club.com and…

Enter to win

our monthly prize

giveaways

1

2

Get status updates

from Mimi and the

characters

View the library

of Carole Marsh

ong>Mysteryong> titles

3

4

Read

the first 3 chapters

of any mystery

book for FREE

Download

free activities to

go along with your

reading adventures!

5

140
---
Glossary

aggravate: to annoy or exasperate someone

ambassador: an official sent by a

government to represent a temporary

mission

hunkered: crouched down low

melodious: pleasant-sounding

mischievously: playfully annoying

pompadour: a man's style of hairdressing

in which the hair is combed into a high

mound in front

quivered: trembled from cold or from

strong emotion

relevant: having something to do with

something happening or being discussed

141
---
SAT Glossary

abdomen: the body space between the

chest and pelvis that contains all the

digestive organs, including the stomach,

small and large intestines, pancreas, liver,

gallbladder, kidneys, and spleen

aghast: overwhelming shock or amazement

implicate: to fold or twist together

intrepid: fearless, determined, set in

purpose

oscillate: to move back and forth

142