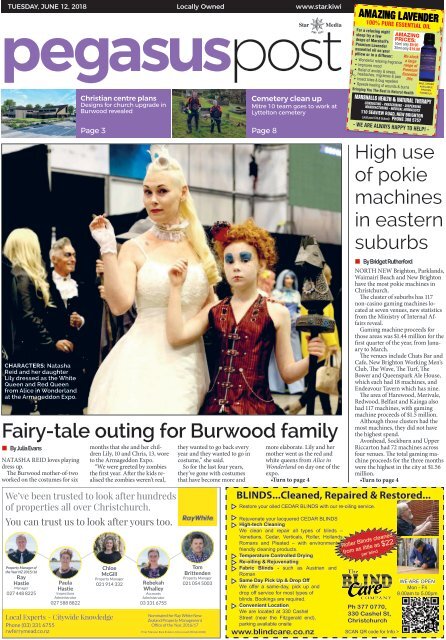 Pegasus Post: June 12, 2018
Create successful ePaper yourself
Turn your PDF publications into a flip-book with our unique Google optimized e-Paper software.
TUESDAY, JUNE 12, 2018

Locally Owned

www.star.kiwi

AMAZING LAVENDER

100% PURE ESSENTIAL OIL

Christian centre plans

Designs for church upgrade in

Burwood revealed

Cemetery clean up

Mitre 10 team goes to work at

Lyttelton cemetery

For a relaxing night

sleep try a few

drops of Marshall's

Premium Lavender

essential oil on your

pillow or in a diffuser:

AMAZING

PRICES:

10ml only $9.90

30ml only $19.90

We stock

a large

range of

Premium

••

Wonderful•relaxing•fragrance•

••

Improves•mood

••

Relief•of•anxiety•&•stress,•

headaches,•migraines•&•pain

••

Insect•bites•&•bug•repellent

••

Speeds•healing•of•wounds•&•burns•

Essential

Oils

Bringing You The Best In Natural Health

MARSHALLS HEALTH & NATURAL THERAPY

CONSULTING - PRESCRIBING - DISPENSING

MANUFACTURING - MEDICAL HERBALISTS

110 seaVIeW roaD, NeW BrIGHToN

(Just past C.N.B School) pHoNe 388 5757

MAIL ORDER

AVAILABLE

PROVEN

FORMULA

CHARACTERS: Natasha

Reid and her daughter

Lily dressed as the White

Queen and Red Queen

from Alice in Wonderland

at the Armageddon Expo.

• By Julia Evans

NATASHA REID loves playing

dress up.

The Burwood mother-of-two

worked on the costumes for six

Page 3 Page 8

Fairy-tale outing for Burwood family

months that she and her children

Lily, 10 and Chris, 13, wore

to the Armageddon Expo.

"We were greeted by zombies

the first year. After the kids realised

the zombies weren't real,

We've been trusted to look after hundreds

of properties all over Christchurch.

You can trust us to look after yours too.

Property Manager of

the Year NZ 2015/16

Ray

Hastie

Manager

027 448 8225

Local Experts – Citywide Knowledge

Phone (03) 331 6755

rwferrymead.co.nz

Paula

Hastie

Inspections

Administrator

027 588 8822

Chloe

McGill

Property Manager

021 914 332 Rebekah

Whalley

Accounts

Administrator

03 331 6755

Nominated for Ray White New

Zealand Property Management

Office of the Year, 2016/17

Prier Manson Real Estate Ltd Licensed (REAA 2008)

they wanted to go back every

year and they wanted to go in

costume," she said.

So for the last four years,

they've gone with costumes

that have become more and

Tom

Brittenden

Property Manager

021 054 5003

more elaborate. Lily and her

mother went as the red and

white queens from Alice in

Wonderland on day one of the

expo.

•Turn to page 4

Restore your oiled CEDAR BLINDS with our re-oiling service.

Rejuvenate your lacquered CEDAR BLINDS

High-tech Cleaning

We clean and repair all types of blinds –

Venetians, Cedar, Verticals, Roller, Hollands,

Romans and Pleated – with environmentally

- We are alWaYs HappY To Help! -

High use

of pokie

machines

in eastern

suburbs

• By Bridget Rutherford

NORTH NEW Brighton, Parklands,

Waimairi Beach and New Brighton

have the most pokie machines in

Christchurch.

The cluster of suburbs has 117

non-casino gaming machines located

at seven venues, new statistics

from the Ministry of Internal Affairs

reveal.

Gaming machine proceeds for

those areas was $1.44 million for the

first quarter of the year, from January

to March.

The venues include Chats Bar and

Cafe, New Brighton Working Men's

Club, The Wave, The Turf, The

Bower and Queenspark Ale House,

which each had 18 machines, and

Endeavour Tavern which has nine.

The area of Harewood, Merivale,

Redwood, Belfast and Kainga also

had 117 machines, with gaming

machine proceeds of $1.5 million.

Although those clusters had the

most machines, they did not have

the highest spend.

Avonhead, Sockburn and Upper

Riccarton had 72 machines across

four venues. The total gaming machine

proceeds for the three months

were the highest in the city at $1.56

million.

•Turn to page 4

BLINDS...Cleaned, Repaired & Restored...

friendly cleaning products.

Temperature Controlled Drying

Re-oiling & Rejuvenating

Fabric Blinds - such as Austrian and

Roman

Same Day Pick Up & Drop Off

We offer a same-day, pick up and

drop off service for most types of

blinds. Bookings are required.

Convenient Location

We are located at 330 Cashel

Street (near the Fitzgerald end),

parking available onsite

Roller Blinds cleaned

from as little as $22

per blind

Ph 377 0770,

330 Cashel St,

Christchurch

www.blindcare.co.nz SCAN QR code for Info >

WE ARE OPEN

Mon - Fri

8.00am to 5.00pm
---
dance school

2 Tuesday June 12 2018Anna Lee School of Dance is one of students Latest feel Christchurch comfortable as they news learn at www.star.kiwi

Canterbury's premiere dance schools, dance movements. Benefits for students

offering specialised classes in ballet, jazz, participating in regular dance sessions

Party, CASPA Fear Factor,

from

Healthy Art,

the

Out

editor's

contemporary and

desk

hip-hop. With studios include increased confidence, self-esteem,

of Africa and hundreds of other amazing in Papanui, Sumner/Ferrymead, Halswell coordination and self- discipline.

themes/activities!

and the Selwyn District (Ladbrooks and Hurry to ensure your place - enrol

CASPA parents enjoy peace of mind, Lincoln), we offer a unique blend of a now for a no obligation trial and

knowing their kids are safe POKIE and enjoying MACHINES the family can focused either studio be a with bit all the benefits join us onstage in our December

benefits of a quality after of school fun programme. with the chance of a large, to turn well-established $10 or $20 school – multiple recital! Call 354 6228 or email office@

Some parents and caregivers also enjoy exam/grading opportunities, large scale annaleeschoolofdance.co.nz to secure

government subsidies for into CASPA. a jackpot CASPA win. recitals at the beautiful Isaac Theatre Royal, your spot now! (Dependent on

is Child Youth and Family Or approved they can for the be a quality trap that teaching drains staff who the really care about availability!)

OSCAR Subsidy and in some circumstances, their students. The Papanui studio operates

the full CASPA fee will wallet be covered or purse, by the leaving

from two

not

purpose-built

enough money

dance

to subsidy. feed the kids and pay the bills. studios in a modern building.

On For page more 1 information today, we reveal or to enrol, the number call Anna of pokie Lee School machines of Dance in

Caroline, Rachel or Tania on 349 9260 or has a proven history of students

the visit eastern www.caspa.org.nz suburbs, and how much is being excelling fed with into superb them. exam,

A big part of pubs and clubs' revenue medal is the and pokie competition machines. results.

art

Dance classes are tailored for preschoolers

with the through downstream to advanced

Without them, some would not survive

affect of lost jobs.

students, catering for all levels of

commitment. There are classes

So they are an economic balancing act designed in some for those ways. who wish

More

ol

children's equipment for the beachside to dance for playground fun and fitness, (see as

well as those who are aiming

page 5). Take the kids there instead of spending time on the

for a career in dance (we have

pokies.

past students currently dancing

– Barry Clarke

in companies, professional

shows and full-time schools

around the world!). The fun and

supportive environment, with its

emphasis on enjoyment ensures

get in touch

GENERAL INQUIRIES Ph 379 7100

CLASSIFIED ADVERTISING Ph 379 1100

The Christchurch Star Company Ltd

PO box 1467, Christchurch

around starmedia.kiwi

them, the children are sure to

enjoy the daily experiences provided in

this stimulating environment. Our daily

curriculum includes Te NEWS Reo, French /

Mandarin and Ballet classes are available

as an optional extra. Georgia O'Connor-Harding

This uniquely developed Ph: outdoor 364 7438 area

with soft fall, tracks, hillocks, naturally

situated sandpits, water

georgia.oconnor@starmedia.kiwi

features, huts

and a boat and gross motor structures

certainly provides activity for all

throughout the well-designed indoor/

outdoor daily class routines. ADVERTISING

Tiggers is open from Monday to

Friday 7.30am – 5.30pm. Elaine Phone Moon us on

03 352 5025 for more information. Ph: 364 7436

elaine.moon@starmedia.kiwi

Kittens at stretch class

Promise of cuddles

Throwing a group of furry felines into the mix has proved a

success for one fitness studio.

Page 11

Kidstuff

Premier school of dance

See what's on offer at the Anna Lee School of Dance, including

ballet, jazz, contemporary and hip-hop.

Page 15

After school club

Shirley Library 'activity zone'

Check out the technology, games, books and crafts and

have some fun at the library after school.

Page 21

PEGASUS POST

The best-read local newspaper, delivered to

15,657 homes every Tuesday

Linwood, Avonside, Richmond, Shirley, Burwood, Dallington,

Wainoni, Bromley, Aranui, Avondale, Bexley, New Brighton,

Northshore, Queenspark, Parklands, South Brighton.

Enjoy a

COFFEE ON US

when you attend our

FREE Seminars

Offer only available to Build Right

seminar attendees for 2018

show duration.

Best

Motorbuys

TM

ANYTHING WITH A MOTOR!

The South Island's leading motoring publication

FREE every Friday at hundreds of locations

around the South Island, and it's available online!

www.bestmotorbuys.co.nz

For advertising enquiries, ph Lea Godfrey 021 277 3086
---
PEGASUS POST Latest Christchurch news at www.star.kiwi

Tuesday June 12 2018 3

News

New look church for Burwood

• By Georgia O'Connor-Harding

A LONG-STANDING plan

to redevelop the Burwood

Christian Centre is set to come

into fruition.

Designs on what the church

will look like in the future have

been revealed with work likely

to start in July.

The project,

estimated to cost

$3.3 million,

will include a

new in-house

canteen with

a commercial

Kim Money

kitchen,

administration

centre, auditorium and

multipurpose room.

An under-five play area is also

included in the plan with the

potential to become a playschool

in the future.

While the centre is in need

of extensive repairs, plans to

extend the church had been

in the making well before the

February 22, 2011, earthquake.

In 2000, a multi-purpose gym

hall and additional rooms were

built onto the church with an

auditorium originally planned

to be added.

"We didn't get quite there. We

had some more plans drawn up

The flu season is upon

us and Linwood Medical

Centre is here to help!

New eNrolmeNts welcome

Level 1, 20 Buckleys Rd, Linwood

(located inside Eastgate Shopping Centre)

P 03 389 2550 W linwoodmc.co.nz

Mon to Thurs 8am-8pm,

Fri 8am-5pm and Sat 10am-4pm

FUTURE: Plans showing what the Burwood Christian Centre

(to be known as the Legacy Community Church) will look like

when it is redeveloped and repaired. ​

but then the earthquake hit and

we obviously had to go through

about a five-year process and

put an insurance claim on the

facilities," pastor Nigel Ripley

said.

Since then, fresh plans have

been formulated.

It is hoped the redevelopment

will be completed by the end of

next year.

Along with the new facility,

the church on Bassett St

will be renamed the Legacy

Community Church.

The name represents the

Still Pedalling!

Full Workshop Services:

• WOF's • Service Checks

• Wheel Alignment • Brakes

• Clutches • Tyres etc

All makes & models

church's goal to be a place which

provides for future generations.

A presentation on the

redevelopment was recently

made to the Coastal -Burwood

Community Board.

Chairwoman Kim Money

said she is "so impressed" by the

work the church does.

"They are very committed

to their community and have

been so for many years and they

are just wanting to grow on

that through expanding their

facilities which is very exciting."

The redevelopment also plans

Trevor Crowe's been

involved with cars for a

while. You can benefit

from his experience at...

Subaru Specialists

518 Moorhouse Ave (East end) | P: 379 7615

W: crowesport.co.nz | E: service@crowesport.co.nz

to cater for the centre's growing

population, with its community

programmes currently at full

capacity.

Pastor Ripley said it

was important it take the

opportunity to redevelop the

centre for future generations

rather than only addressing its

immediate needs.

"Hence why we have taken the

plunge to invest more into this

than what we originally planned

to."

Pastor Ripley said it is

important to reinvest back into

the community which has lost

so much.

The church is hoping to

fundraise $1.9 million for the

redevelopment costs.

The rest of the funding is

likely to come from grant

applications, donations from

church members and borrowing

money on previous rental

properties the church has

purchased.

It will also be looking for

further support from the community.

•HAVE YOUR SAY: Are you

looking forward to the redevelopment

of the Burwood

Christian Centre? Email your

views to georgia.oconnor@

starmedia.kiwi

Beautiful Teeth

Meet the

Owner

Ryan Carlton

HORNCASTLE ARENA

June 29 - July 1 10AM - 5PM

TICKETS ONLINE: starhomeshow.kiwi

In Brief

Natural Smile

SHIRLEY SITE CLEAN-UP

Remediation work on the former

Shirley Community Centre site

will begin soon. The site at 10

Shirley Rd will be cleared of

all cabins, stockpiled materials

and stones. Weeds will be

sprayed once the site has been

cleared. All grassed areas will

be top-soiled and hydro-seeded.

Maintenance of the site will then

be handed back to city council.

Reinstatement is expected to be

completed by the end of August.

GARDEN MAINTENANCE

The Coastal-Burwood

Community Board has asked

city council staff to get on top of

maintaining two gardens between

the Anzac Dr roundabout and the

Avon River on New Brighton Rd.

The parks and road landscaping

teams are co-ordinating work

to bring these areas up to

specification. Once a time frame

is known, the board will be

advised.

THOMSON PARK WORK

Landscaping work in Thomson

Park is now complete. City

council staff have been working

on the park's landscaping and

car park plan with community

groups that use the area and

Crime Prevention through

Environmental Design principles.

Free Consultation, No Obligation

• Full Dentures • Dentures Repaired • Implant Assisted Dentures

• Injection Moulded Flexible Partials • Relines

• Mouthguards • Additions/Repairs

• Purchase cleaning and care products from our website.

All dentures personally

designed and created to ensure

a comfortable natural fit.

DENTURES PLUS (2014) LTD

Denture Clinic and Laboratory

396 Innes Road, St Albans. Phone 385 5517.

Email: denturesplus@paradise.net.nz

www.denturesplus.co.nz

Orbiter Bus stops Innes Road

$10

PIE, MASH, PEAS AND GRAVY

STEAK & MURPHY'S

MOROCCAN LAMB

PORK AND APPLE

CHEESE & SPINACH

03 260 0325 - Cnr of Worcester St & Stanmore Road
---
4 Tuesday June 12 2018

Latest Christchurch news at www.star.kiwi

News

PEGASUS POST

McMaster & Heap

Veterinary practice

EXCITING NEW TECHNOLOGY

AT MCMAsTEr & HEAp VETs

Veterinary science is an ever changing,

progressive and exciting field to try to keep

abreast of. Over the past year Steve and I

have invested in an Ultrasound machine

that is of human quality and we also have

digital radiography, which is amazing. Now

I can zoom in on joints and bones to look

for a lesion. We are also moving very shortly

to a new in house laboratory system which

will allow us to perform many more blood

tests in clinic.

Recently we made the

huge leap to change

our veterinary software

system and integrate

a digital system for

patient monitoring,

both our intensive

care, hospital and

surgical patients,

therefore getting

rid of pen and paper completely. Our old

system had served us well for 15 years but

it was high time to go "cloud based". Last

week we went "Live" with EzyVet software

and actually its not as difficult as I thought

it would be. I've learnt you just need an

open mind as any old dog can learn new

tricks. Its actually been quite fun.

There are loads of benefits with EzyVet, one

of them being better faster communication

with you, our client. We now can easily

text or email ( your preference) your

surgical and consultation appointment

times. We will progress into sending you

reminders, if you want, for the products

you regularly purchase from us like flea

and worm treatments, vaccinations,

Open 7 days

Cnr Hoon Hay & Coppell place

phone 338 2534, Fax 339 8624

e. mcmasterandheap@yahoo.co.nz

www.mcmasterheap.co.nz

prescription foods, arthritic medications

etc. Once we get going with the system we

will have ipads out at reception for you to

electronically consent to a procedure and

update your details for us. Our database will

be more accurate and it will speed up the

process.

Once you have consented to a procedure,

your pets details and what its in for gets

transferred digitally to the treatment

area and goes up live on one of our TV

monitors. As certain tasks are completed

like blood tests, radiographs, sedations

given, then the TV monitor ticks these tasks

off. Its been quite hard resisting a paper

chart but we have less clutter and mess

and more accurate means of recording

every little detail now.

I'm really proud of how our 20+ staff have

embraced this challenge and tried hard to

learn all the features these new systems

have to offer. Last

Tuesday I had two

knee surgeries in dogs

to do and Jaimee

my nurse managed

the ipad monitoring

and charting so well.

Everything entered

on the Smartflow

monitoring system

sinks immediately to

the EzyVet software system, therefore

freeing up our time considerably.

Our field is so challenging and exciting and

there is always something new to consider

having to improve the level of service we

can offer. Steve and I have got big plans

in the next 12 months to build onto our

existing Vet Practice, therefore offering

more services to our clients and providing

more space to our ever growing database

of clients and their pets. We will keep you

updated when building starts but we are

hoping by the end of this year.

I'd say "WATCH this SPACE……..

Dr Michele McMaster

McMaster & Heap

High use of pokie machines

in eastern suburbs

•From page 1

Shirley had 74 machines

at four venues.

O'Shea's Public House,

TAB Shirley and Stock

XChange Shirley had 18

machines each, while St

Albans Shirley Club

had 11 and Erawan

Thai had nine.

The total proceeds

were $1.05 million.

The area of Aranui,

Bromley, Richmond

and Wainoni had 72

pokies at Bickertons

Bar and Cafe, The

Glenbyre Tavern, Richmond

Working Men's Club,

and The Sideline Sports

Bar.

Each venue had 18

machines, with the gaming

machine proceeds being

$1.02 million.

Burwood family gets

dressed up for expo

•From page 1

Mrs Reid, Lily and Chris

then dressed as warrior

fairies on the second day of

Armageddon.

"We went to our first Armageddon

five years ago,"

she said. "My daughter is

quite dramatic. When she

puts her costume on she

loves it, she owns it."

Mrs Reid makes the costumes

by hand, with a little

help from her kids.

"But only when they

want to help," she said.

She said this year's

costumes came straight

from Lily's imagination.

"It actually made it a lot

harder. When it's Wonder

Woman, you know what

you're doing, she knows

who she is. But with this,

we're just kind of winging

it."

But Armageddon is not

the only way the Reids

make use of the costumes.

"We do a bit of charity

work with them as well,"

Poto

Williams

Christchurch East MP

Poto Williams said she was

not overly surprised about

the number of machines in

the New Brighton cluster.

She said a lot of people

visited the area because

it was next to the

beach. There was also

a lack of things for

people to do in the

area following the

February 22, 2011,

earthquake, she said.

FANTASY: Lily, Natasha and Chris Reid went as

warrior fairies to day two of Armageddon.

she said.

Sometimes the Reids

get into character to give

their time to Dark Side

Entertainers – a charity

organisation run by the

dark lord himself, Darth

"As a community

we are still struggling

to recover and have

a healthy sense of community.

It's taken a long time to

rebuild our infrastructure.

We've been crying out for

things to do."

Ms Williams said with

the opening of facilities

such as Taiora: QE II Recreation

and Sport Centre,

there may be more activities

for people to do instead

of using gaming machines.

"As these key facilities are

put in place changes will

happen."

The Salvation Army

Oasis national operations

manager Lisa Campbell

said it supported 129 people

in Canterbury last year

who were harmed by pub

and club pokie gambling.

She said they saw less

than 10 per cent of people

affected.

"We'd really encourage

people if you're concerned

about your own gambling

or someone else's, get in

touch and have a chat. We're

here to help and you can

reach us on 0800 53 00 00 or

salvationarmy.org.nz."

Vader. "We've been to

children's birthday parties

when they can't afford

entertainers themselves . . .

they also visit sick

children in hospital," Mrs

Reid said.
---
PEGASUS POST Latest Christchurch news at www.star.kiwi

Tuesday June 12 2018 5

News

Playground to get

more equipment

• By Bridget Rutherford

NEW BRIGHTON'S

beachside playground is set

to get more equipment, as

resource consents are soon

to be lodged for the new

hot pools development.

Development

Christchurch Ltd, which

built the playground

incorporating the whale

pool, will install additional

play equipment and other

new features.

It will be closed for six

to eight weeks from next

month for the work.

Additional toys would

be installed in the playground's

waka, as well as

a sound tube, noughts and

crosses and a chalkboard.

A seesaw will be put at

the tail of the waka, so

children of all abilities can

play together. A climbing

structure will be installed

in the sandpit, which will

also have a more accessible

entry made.

The bark areas will be

replaced with all-weather

grass with seating and

shade.

Additional shade, seating

and windscreens will also

be installed, and an artwork

will be sandblasted

into the concrete paving

around the playground.

Permanent carved

features would also be

completed on the waka.

A NEW ambulance

with improved interior

layout has been donated

to St John by Generation

Homes.

The new Gen 3 ambulance

is the latest model

in the St John fleet which

has a layout to allow

ambulance officers to

work more efficiently and

comfortably when treating

patients.

Named after Generations

Homes, the

ambulance was gifted in

a dedication ceremony

recently and will be

stationed where needed in

Canterbury.

St John relies on the

support of individuals and

businesses for funding to

provide it's vital community

service.

Generation Homes

Christchurch has prioritised

giving to St John

since its beginning with a

long-term goal to donate

an ambulance.

The company has

donated for almost five

years and is approaching

POPULAR: New Brighton's beachside playground

will close for six to eight weeks for new equipment

to be installed. ​

A DCL spokesman said

the new equipment was

always part of the plan,

and it was included in the

overall budget. Prices for

the new equipment were

being confirmed, he said.

"From the start of the

project we anticipated taking

time after the opening

to further understand and

assess on-going requirements

and opportunities."

DCL used feedback from

the community after the

playground opened to help

inform what additions

should be installed, he

said.

"Taking time to observe

how the playground functions

has allowed us to

make the best decisions on

additional equipment," he

said.

"We have planned for

$100,000 in donations to

St John.

South Island fundraising

and marketing

manager for St John

Debbie Pipson said the

ambulance is proof of the

impact a single business

this work to take place

after the July school holidays,

when kids are back at

school and the weather is

less enjoyable."

Meanwhile, DCL hopes

to have its consents for

the hot pools development

lodged with the city

council this month, the

spokesman said.

The foreshore development,

including the playground

and hot pools, was

allocated $19.2 million. Of

that, $11.2 million would

go into the hot pools.

The playground's

budget was $8 million,

but included $1 million

for the New Brighton Surf

Life Saving Club rebuild,

and $2 million for coastal

enhancement works to be

done as part of the pools

project.

Company donates ambulance

NEW: St John district operations support manager

Kerry Mitchell, Generation Homes construction

manager Michael Sands and partners Nadja and

Evan Beker, St John Christchurch chairman Graham

Gillespie and Reverend Bob Tremewan with the

ambulance. ​

can have on keeping their

community healthy.

"By donating lifesaving

equipment, Generation

Homes is helping ensure

people receive highest

quality care when needed

most."

SEE OUR BRAND NEW SHOWROOM

99 FERRY RD, CHRISTCHURCH

St Asaph St

Ferry Rd

OUTLET

STORE

Fitzgerald Ave

OUTLET

MASSIVE RANGE

OF DOUBLE DOOR

FRIDGE FREEZERS

FROM $ 1147 *

ONLY

LOUNGE SUITES

FROM

SLAT BEDS

FROM

$899*

$749*

FRIDGE FREEZERS • WASHING MACHINES • DRYERS • COOKING

SMALL APPLIANCES • MANCHESTER • LOUNGE SUITES

DINING SUITES • BEDROOM SUITES • BEDS & HEAPS MORE!

OUTLET

STORE

Images indicative only. *Outlet Store items are

over stocked, end of line, scratch & dent, ex display,

ex repair items and more.
---
6 Tuesday June 12 2018

Latest Christchurch news at www.star.kiwi

PEGASUS POST

RICHMOND DISCOUNT

Furniture and Bedding - The Best Little Furniture Shop in Town

BEDROOM FURNITURE

BEDS, TALLBOYS, MIRRORS, CABINETS, CHESTS & MORE!

Queen Frame

& Mattress

Ther-a-pedic Mattress & Base

Reversible pillowtop innersprung

Lowboy

6 Drawer

1130x410x820

Duchess with

Mirror

1090x410x820

NZ MADE

Solid Timber

Free

Standing

Mirror

ONLY

$599

SINGLE $499

KING SINGLE/DBLE/ 3/4 $599

QUEEN $699

ONLY

$449

ONLY

$549

WAS $169

ONLY

$129

Midi 7 Drawer

Scotch Chest

975x760x410

With metal runners.

Also available in Black.

Bedside Cabinet

540x460

With metal runners.

Also available

in Black.

7 Drawer

Scotch Chest

1140x800x410

Also available in black.

Jumbo 4

Drawer Chest

1140x800x400

NZ MADE. Metal runners.

Also available in black.

Tallboy 4 Drawer

600x400x900

Towerboy 6

Drawer

1260x460x410

With metal

runners.

Also

available

in Black.

Bombay

Chest

ONLY

$349

ONLY

$269

FROM

$130

ONLY

$299

ONLY

$269

ONLY

$199

ONLY

$220

Bombay

Bedside

ONLY

$129 EACH

FURNITURE

STORAGE SHELVES, BOOKCASES, BUFFET UNITS, DINING TABLES, HALL TABLES, SIDE CABINETS & MORE!

White Bookcase/

Storage Shelf

800x1600x300

Foundry Display

Cabinet

900x1800x420

Timber Bookcase

600x320x1200

Buffet Unit

1500x800x420

Buffet

Unit

1175x

430x840

Nest of Tables

Entertainment

Unit

1530x520x660

Solid Timber.

Buffet Unit

with Wine Rack

1300x840x430

ONLY

$199

ONLY

$599

ONLY

$199

ONLY

$549

ONLY

$399

EACH

ONLY

$149

ONLY

$499

Entertainment Unit

1900x600x450

2 Draw Entertainment Unit

1200x600x450

Entertainment Unit

1100x400x480

Entertainment Unit

980x600x460

Solid Timber.

Hall Tables

2 Drawers

ONLY

$279

ONLY

$499

ONLY

$399

ONLY

$299

ONLY

$299

3 Piece

Dining Suite

600x600

2 Draw Hall Table

1200x810x420

ONLY

$379

Side Cabinet

600x600x450

ONLY

$199

Hall Table

1500x800x420

ONLY

$449

Coffee Tables

Solid Timber.

ONLY

$169

1200x600

ONLY

$329

Coffee Table

1200x400x600

ONLY

$399

ONLY

$399

Hall Tables

3 Drawers

ONLY

$349

7 Drawer TV/DVD Chest

760x1140

x410

(Gap 150)

Corner TV Unit

1000x750x550

Entertainment Unit

Solid

Timber

Buffet

Units

Buffet

700x

320x

1070

ONLY

$299

ONLY

$299

ONLY

$649

ONLY

$299

ONLY

$299

233 STANMORE ROAD • PHONE 03 389 0536

WE ACCEPT EFTPOS, VISA AND MASTERCARD... PARKING AT REAR
---
PEGASUS POST Latest Christchurch news at www.star.kiwi

Tuesday June 12 2018 7

Your Local Views

BIn Inn New

Brighton

owner Nikki

Griffin paints

a picture of

New

Brighton's

niche market

of ecologically sustainable

shopping

AS I look out the shop window

I see a lot of new people in New

Brighton.

I ask myself what has changed,

I talk to a few people to find out

what has brought them here.

As they are armed with

containers for refilling the penny

drops New Brighton has become

a haven for eco shoppers.

I take a look around me to see

what attracts these people to our

seaside village.

We have Bin Inn using brown

paper bags and five per cent

off when you bring your own

containers, the $3 clothing

shop, "Dave the Bike Man" with

his passion for getting people

on bikes, Redo ReNew New

Brighton with a assortment of

goodies and I haven't even left

surfside mall yet.

I head across to 105 and

we have Finders Keepers and

Seaside Vintage and the artisan

emporium.

If we head to Seaview Rd by

the roundabout we have Shelley

at Menage A Trios.

Another treasure trove

not far from there is the

Dogwatch Variety Shop and

The Purple Door Boutique Op

Shop with some bargains to be

found.

We also have Stitch-O-Mat

running some fabulous classes

on making reuseable shopping

and produce bags and beeswax

wraps, all in aid of creating a

better environment for us to

enjoy.

Switch is also starting a

HORNCASTLE ARENA

June 29 - July 1 10AM - 5PM

TICKETS ONLINE: starhomeshow.kiwi

Ecologically sustainable shopping in New Brighton

mug wall for their customers

which will add to the beautiful

eco-friendly village that is

unfolding and setting a point

of difference for New Brighton

by bring people from all over

the city to enjoy our piece of

paradise.

So, in my opinion, New

Brighton is finding its niche

market of ecologically

sustainable shopping and dining

experiences as where the future

possibly lies for the rejuvenation

of the business sector of the

village

Readers respond to the

Pegasus Post article on

New Brighton's Palmers Rd

being narrowed to make it

safer

Readers respond to

Pegasus Post' article on the

135 Burwood Hospital bus

route which may no longer

travel to New Brighton

Lorraine Kerry – I attended

and spoke at the council meeting

you refer to in your article in the

Pegasus Post of May 22. I was

very impressed with David East's

opinion of the whole business,

and it is just a pity his opinion

could not have had more weight.

Palmers Rd is more of a thoroughfare

than a "local road" and

why it can't be reclassified I don't

know. Bowhill Rd, from Palmers

Rd to Keyes Rd, is 12m wide. I

don't know what classification

that has but 12m is a good width

and would be better for Palmers

Rd (and without chicanes). In

answer to you question, no I

don't think narrowing the road

to 10m will be beneficial. Drivers

are more likely to get frustrated

with the narrowing, especially if

cars are parked on both sides of

the road, and another two cars

are trying to pass each other.

At least 10m is a little better

than 9m which was originally

proposed.

Michael Madden – I think

the narrowing of Palmers Rd

will be a disaster for the residents

of this road. As a resident of 21

years I find the council staff's

stand is arrogant and it will do

what it wants. It was sent away

from the community board

meeting in December to come

CHANGES: Making Palmers Rd narrower to improve safety has

been approved by the Coastal-Burwood Community Board.

up with an alternative plan but

came back in May with the same

plan and said it wants to make

it 9m wide but may go to 10m.

Palmers Rd from Bowhill Rd to

New Brighton Rd is currently

14m wide. The narrowing will

not make the road safer as it will

narrow the road to the extent

that if two cars are parked opposite

each other and two cars

coming from each direction

some one has to give way. Just

like the northern end from Bowhill

Rd to Bower Ave. There are

a lot of cars parked on the side

of Palmers Rd all the way down

all the time and it will make it

a nightmare to negotiate. Then

they want to put in four even

narrower pieces to make it one

way. This annoys most people off

but the boy racers love it as they

get to show off doing burnouts

every time they have to stop and

start again. Real clever. There

are two garages and other businesses

plus there are also some

flats which don't have off street

parking so there only option is

to park on the roadside. Then

they say they have to slow the

traffic. Why? How slow do you

have to go? Most people from my

observations are travelling at the

correct speeds within the speed

limit. Having taken particular

notice of this issue I have only

noticed three cars speeding in

the street in last month. Using

the city council figures of 1100

cars per day, three out of 30,800

for a month using Palmers Rd

I would say that's not really an

issue. Okay, I'm not home all

the time, no one is, but even if at

those times there are the odd one

it's still not many. Then they said

they have to make it safer for

pedestrians. Pedestrians all use

the footpaths now so the only

problem with pedestrian safety

is from twisted ankles from the

shoddy footpaths left by the

council for seven years after the

earthquakes. Palmers Rd is also

used as a link from North Beach

to Wainoni Rd as it is easier

and quicker for some than to go

down Bower Ave. One hundred

per cent of the residents that have

gone to the community board

meetings in December and May

to have their say have all said the

same thing, this is too narrow to

make our street. My alternative

would be to replace the road, foot

paths and drainage as is, and

if they really want to make the

road safer as they say, they would

look at the northern end which

is the dangerous part and make

that wider. But they have already

said that's not up for discussion.

All we really want is the road we

have now fixed.

Tanya Didham – It's almost

like they are trying to make

buses less convenient? Seems

silly to stop there, when it's a just

a few more kilometres on to the

road that connects New Brighton

(and North New Brighton) with

the hospital. Changing this

service before the schools are up

and running, and the real needs

are known, is ill-timed.

Anbarbara Duckett – Any

bus service is about people first.

They are after all why you exist.

Plan your service accordingly,

people not roads.

Readers respond

to Pegasus Post article

about the makeover of the

former Movieman site on

Stanmore Rd by New World

and Shirley Boys' High

School students

Rachel Crawford – Fantastic

job New World Stanmore.

Taking their own time and

materials to improve our neighbourhood.

Kasey Amber Johnston –

The Linwood end of Stanmore

Rd could do with a clean up too.

Robyn Rodgers – Well done

New World Stanmore.

TONIGHT 5PM - 7PM

SIT OPEN NIGHT

CHRISTCHURCH CAMPUS

60 Waterloo Road, Hornby, Christchurch

CHECK OUT MID YEAR STUDY OPTIONS

Come and discuss your study options with our staff

For more info email sit@sit.ac.nz

0800 TO STUDY

www.sit.ac.nz
---
8

Latest Christchurch news at www.star.kiwi

Tuesday June 12 2018

PEGASUS POST

Students take on good Samaritan challenge

SCHOOLS

EXPERIENCE: Marian College and Catholic Cathedral College joined together for the fifth time to

take part in the Caritas Challenge recently. ​

Ferrymead Mitre 10 team

cleans up cemetery as part

of Helping Hands initiative

A MASSIVE clean-up of the Lyttelton

Anglican Cemetery has left it looking

a lot smarter.

Ten team members from Mitre

10 MEGA Ferrymead spent hours

weeding, cutting, pruning and

mowing as part of a community

initiative called Helping Hands.

Launched to mark the 10th

Anniversary of Mitre 10 MEGA

Ferrymead, the store is selecting 10

applicants whom staff will help with

their project.

They can be from individual and/or

community groups and have a project

that can be completed within 10 hours

with the help of 10 team members.

The Canterbury St cemetery was the

first project to receive help.

It's where the graveyard scenes from

Peter Jackson's The Frighteners were

filmed and has become overgrown in

recent years.

Mitre 10 MEGA Ferrymead spokeswoman

Leah Knauf said the team

from the store's garden centre worked

from 8am through to almost 6pm at

the cemetery.

"It was a mammoth task, but we got

there and did as much as we could,"

she said.

"It was cold to begin with but once

we got under way it was fine.

"Everyone was hyped-up about the

whole project beforehand and by the

time we got to the end everyone was

just ecstatic with the amount of work

we actually did. We could see the

improvement we'd made."

Ms Knauf said people were welcome

to apply in store or email marketing.

ferrymead@mitre10.co.nz to become

part of the Helping Hands initiative.

Mitre 10 MEGA Ferrymead

was supported by Kiwicare which

provided moss and weed killer and

the city council which helped with

disposal of the weeds.

• By Therese Jackman and

Antje Duda

STUDENTS FROM Marian

College and Catholic Cathedral

College joined together for the

fifth time to take part in the

Caritas Challenge.

The challenge is an annual

event run in schools throughout

New Zealand to raise awareness

and funds for Caritas Aotearoa.

This year the special focus

country was Timor-Leste in

Southeast Asia, and all funds

raised will support the women's

livelihood organisation, Hamahon

Feto Timor.

The students braved the elements

and also raised awareness

for the daily struggle of homeless

people in the city and around

the world.

After opening mass was

celebrated by Father Edwin and

Father Phil and Marian College

chaplains, the students banded

together in teams and constructed

a shelter for the night out of

cardboard boxes, blankets and

whatever else they could find.

The evening was filled with

games where they learned about

the Caritas focus, had fun and

concluded with a beautiful night

vigil in front of the Cathedral of

the Blessed Sacrament.

They then headed back to

their huts, and experienced for

themselves what about 80,000

homeless New Zealanders go

through every night.

The students then went out

into the community to work and

help people.

The Caritas Challenge gives

the students a lesson in compassion

for the hardships experienced

by others and gratitude

for what they already have.

More than 8000 students

across New Zealand took part in

the challenge to show solidarity

with those experiencing injustice

and poverty.

IMPROVEMENT: This is how the

graves at the Lyttelton Anglican

Cemetery looked before (above)

and after the Mitre 10 team

cleaned them up.

www.trainme.org.nz

Gain NCEA Credits

with the Ultimate

career taster

FREE

*

Enrolling NOW!

FOR JULY START

*Some conditions apply

Txt 'Ultimate' to 027 557 8839

to find out more

or phone 0800 872 466

50 Hazeldean Road

Addington, Christchurch
---
PEGASUS POST Latest Christchurch news at www.star.kiwi

Tuesday June 12 2018 9

huge flooring

clearance

NYLON

Ruby Bay

• 75oz solution dyed

nylon

• Extra heavy duty

• Cut pile

• Slightly imperfect

• Colour Riverton

$109 90

NYLON

Riviera

• 26oz solution dyed

nylon

• Extra heavy duty

• Cut pile

• 5 colours

$79 90

WOOL

Impressionist

• Wool blend

• Extra heavy duty

• Cut pile

• Slightly imperfect

$69 90

NYLON

Columbia

• 36oz solution dyed

nylon

• Extra heavy duty

• Cut pile

• 12 colours

$99 90

WOOL

Sierra

• Pure wool

• Extra heavy duty

• Loop pile

• 2 colours

$59 90

NYLON

Windsor Twist

• 36oz solution dyed

nylon

• Extra heavy duty

• Cut pile

• Slightly imperfect

• Colour Paua

$79 90

Garage Carpet

6m by 6m garage fully

installed for $900

Some conditions apply

$900

vINYL

2m wide vinyl

• Selected patterns

haLf

pRICe!

$25 00

NOW

peR m

312 Wilsons Road North, Waltham Phone 366 0070

www.carpetkingdom.co.nz | mon - fri 8am - 5pm | Sat 10am -1pm

Q Card finance Now available

fRee no obligation measure & quote (conditions apply.)
---
10 Tuesday June 12 2018

Latest Christchurch news at www.star.kiwi

Get your tickets

online and be

in to win a

$500 Resene

gift voucher

PEGASUS POST

SPECIAL

ONLINE TICKET

PRICE

$6 or 2 for $10

Door entry $8

Children under

12 FREE

JUNE 29 – JULY 1 2018

Horncastle Arena

BOOK NOW: www.starhomeshow.kiwi

Friday, Saturday, Sunday, 10am-5pm
---
PEGASUS POST Latest Christchurch news at www.star.kiwi

Tuesday June 12 2018 11

News

Rescued kittens keep

stretch classes purring

• By Stacey Bryan

CAT RESCUE Christchurch

has teamed up with the Altitude

Pole and Fitness studio to bring

kitten stretch classes to the city.

The two 90min stretch sessions

sold out well in advance

due to the promise of cuddles

with rescued kittens during the

class.

Altitude Pole and Fitness

instructor Oliva Anderson said

the fundraiser was intended to

be a one-off, but a second class

was added to cope with the

hugely positive response from

the public. "Everyone was basically

just in awe," she said.

Miss Anderson, who lives in

Parklands, said it was great to be

able to do something good for

the kittens, as well as the class

participants.

As a non-profit organisation,

CRC uses its fundraised money

to pay for the medical bills of

the cats it rescues.

CRC volunteer Michelle

Fitz Patrick said because the organisation

does not have a centre,

there is normally nowhere

for people to go and see the cats

available for adoption.

"This brings them all out for

CUTE AND

CUDDLY:

Instructor Oliva

Anderson said

it was easy to

be distracted

by the kittens

during the

stretch class.

PHOTO:

STACEY

BRYAN

people to actually see . . . and

they are all on Trade Me waiting

to be adopted"

The first two classes raised

$800 for CRC and inspired

several people to sign up as

volunteers.

Miss Anderson said the

classes also resulted in two kittens

being adopted. She said as a

cat lover, it was difficult to resist

taking one home.

She thinks there will be a

demand for more kitten stretch

classes in the future, but it

would involve a lot of organisation

to fit them around the

studio's already full schedule.

FURTHER recreational

opportunities are beginning to

open up in the red zone.

Endurance Athlete Shannon-

Leigh Litt, Dallington Residents

Association chairwoman Bebe

Frayle and city councillor Glenn

Livingstone have been working

on a run/walking trail though

the red zone.

The community run/walk trail

starts at the Swanns Rd bridge,

and follows the river around to

the Dallington Bridge (one lap is

4km and two laps is 8km).

The event known as Running

in the Red Zone will be held

weekly on Wednesdays at 5pm

HORNCASTLE ARENA

June 29 - July 1 10AM - 5PM

TICKETS ONLINE: starhomeshow.kiwi

GOOD HEALTH: Running in the Red Zone organisers endurance

athlete Shannon-Leigh Litt and Allan Staite, Dallington

Residents' Association chairwoman Bebe Frayle and city

councillor Glenn Livingstone.

Running in the red zone

with the first run starting last

week.

Miss Litt said the event is a

great way to get out for a training

run in preparation for last week's

Christchurch Marathon.

The run was promoted under

the brand Miss Litt and endurance

athlete Allan Staite established

in 2012.

For Cr Livingstone, these runs/

walks are a good way to "activate

the green spine that Regenerate

Christchurch is promoting in the

red zone."

Exercise is proven to reduce

emotional and mental stress and

build resilience.

JOIN US NOW!

See website for details

UNDER ARMOUR

Women's Apparel, Buy 1

Get 1 Half Price.

SCRIBER & MARKS

School Ball Suit Offer, Slim Fit

Fashion Suit $279, with Free

Shirt, Tie & Belt.

BONDS OUTLET

40% Off All Marked Prices

Storewide.

STYLES MAY DIFFER TO IMAGE SHOWN

HALLENSTEINS

Sweats & Chinos from $20.

BENDON OUTLET

Massive Mid-Year Sale,

Starts Wednesday 13th.

Sets from $15.

Sign up to Smart Deals & be in the monthly draw for a $100 Dress-Smart gift card!

Be one of the first to hear about the latest deals, sent straight to your inbox each week!

CHRISTCHURCH 409 Main South Road, Hornby

www.dress-smart.co.nz

Open 10am-5pm, 7 Days 03 349 5750
---
12

Tuesday June 12 2018

Latest Christchurch news at www.star.kiwi

PEGASUS POST

TE PAE ON

TRACK FOR 2020

OPENING

01 Weighing an impressive 50 tonnes,

the 50 metre long main steel

roof truss for the auditorium was

recently secured into place.

02 The 1400 seat auditorium is

designed to be flexible and

configurable so different events

can be held simultaneously.

03 Looking out over Victoria Square,

Te Pae's curved façade reflects

Canterbury's mountain and

braided river landscapes.

Construction on Te Pae, Christchurch's

new convention centre, is progressing

rapidly. This venue opens Christchurch

to the world. Having a central city facility

purpose-built for large-scale events allows

opportunities to promote our local strengths

and internationally respected expertise in

sectors such as primary production, earth

sciences, medical research and software

innovation, to an international audience.

01

Already we are expecting 3000 visitors

for events in the month of October 2020,

soon after Te Pae is scheduled to open.

Business event travellers typically

spend twice as much as leisure tourists

and ChristchurchNZ estimates

our city is currently missing out on

$90M in direct investment each year

by not having such a facility.

Christchurch has long been considered a

great city for hosting business events. Te Pae

will ensure we are once again able to welcome

visitors with an experience like no other.

3000

02

VISITORS IN

OCTOBER 2020

03
---
PEGASUS POST

Latest Christchurch news at www.star.kiwi

Tuesday June 12 2018

13

TEPAE.CO.NZ

From a phenomenal riverfront location

in the central city, to world-class

purpose-built facilities, Te Pae offers

an experience like no other.

One meaning of Te Pae is 'gathering

place'. Much more than a traditional

convention centre, this iconic new

facility will indeed be just that -

a gathering place for the 21st century,

where locals and visitors alike come

together to share, learn, be hosted

and entertained. As well as holding

conferences and meetings, you'll be able

to attend expos, public presentations,

galas and other special events there.

An iconic landmark in our flourishing

cityscape, influences of our landscape

are interwoven into the striking

building design, making it a physical

representation of New Zealand, our

culture and the stories of our people.
---
14 Tuesday June 12 2018

Latest Christchurch news at www.star.kiwi

PEGASUS POST

OSCAR-ENDORSED

SCHOOL HOLIDAY

PROGRAMME

SIGN UP FOR YOUR

NEXT ADVENTURE!

9–20 July, 8am–3pm

We offer a new

adventure-based 'mission'

each holiday and a

balance of themed games,

art, craft and outdoor play!

Book online or call

03 343 9504

For more

adventure check out

our aviation-themed

Birthday Party

options online.

FREE ENTRY // Open 10am – 5pm daily

45 Harvard Avenue, Wigram, Christchurch

www.airforcemuseum.co.nz
---
PEGASUS POST Latest Christchurch news at www.star.kiwi

Tuesday June 12 2018 15

KIDSTUFF

Kids love CASPA!

Premiere

dance school

CASPA (Creative After School

Programmed Activities) incorporating

PAPA JACKS offers children the opportunity

to be creative, make new friends and try

new experiences all within a safe, nurturing

environment. CASPA offers working parents

an affordable after school and school holiday

programme that their kids just love!

CASPA attributes its success to the variety

of activities on offer as well as the convenience

and affordability for parents. CASPA kids

enjoy an exciting range of activities including

sports, music, games, drama, arts and craft

as well as fun trips. Previous themes and

activities have included a Karaoke Dance

Party, CASPA Fear Factor, Healthy Art, Out

of Africa and hundreds of other amazing

themes/activities!

CASPA parents enjoy peace of mind,

knowing their kids are safe and enjoying the

benefits of a quality after school programme.

Some parents and caregivers also enjoy

government subsidies for CASPA. CASPA

is Child Youth and Family approved for the

OSCAR Subsidy and in some circumstances,

the full CASPA fee will be covered by the

subsidy.

For more information or to enrol, call

Caroline, Rachel or Tania on 349 9260 or

visit www.caspa.org.nz

State of the art

preschool

Anna Lee School of Dance is one of

Canterbury's premiere dance schools,

offering specialised classes in ballet, jazz,

contemporary and hip-hop. With studios

in Papanui, Sumner/Ferrymead, Halswell

and the Selwyn District (Ladbrooks and

Lincoln), we offer a unique blend of a

family focused studio with all the benefits

of a large, well-established school – multiple

exam/grading opportunities, large scale

recitals at the beautiful Isaac Theatre Royal,

quality teaching staff who really care about

their students. The Papanui studio operates

from two purpose-built dance

studios in a modern building.

Anna Lee School of Dance

has a proven history of students

excelling with superb exam,

medal and competition results.

Dance classes are tailored for preschoolers

through to advanced

students, catering for all levels of

commitment. There are classes

designed for those who wish

to dance for fun and fitness, as

well as those who are aiming

for a career in dance (we have

past students currently dancing

in companies, professional

shows and full-time schools

around the world!). The fun and

supportive environment, with its

emphasis on enjoyment ensures

students feel comfortable as they learn

dance movements. Benefits for students

participating in regular dance sessions

include increased confidence, self-esteem,

coordination and self- discipline.

Hurry to ensure your place - enrol

now for a no obligation trial and

join us onstage in our December

recital! Call 354 6228 or email office@

annaleeschoolofdance.co.nz to secure

your spot now! (Dependent on

availability!)

Tigger's state of the art Montessori

Preschool on Harewood Road, Papanui

offers an exciting environment. This

purpose built school provides extensive

indoor/outdoor flow, specifically

designed nursery, junior school and prep

school areas. We also offer individual

art / creativity rooms, science rooms,

extension class room and discovery

centre.

With a low children to staff ratio of

New Zealand Registered, Montessori

qualified and experienced teachers, a

teaching philosophy that focuses on the

development of the senses, independence

and care of oneself and the universe

Would you

like to profile

and grow your

Business?

For feature advertising

please phone

Jenny Wright

03 364 7446 or 021 220 3484

jenny@starmedia.kiwi

around them, the children are sure to

enjoy the daily experiences provided in

this stimulating environment. Our daily

curriculum includes Te Reo, French /

Mandarin and Ballet classes are available

as an optional extra.

This uniquely developed outdoor area

with soft fall, tracks, hillocks, naturally

situated sandpits, water features, huts

and a boat and gross motor structures

certainly provides activity for all

throughout the well-designed indoor/

outdoor daily class routines.

Tiggers is open from Monday to

Friday 7.30am – 5.30pm. Phone us on

03 352 5025 for more information.

Tigger's Montessori

Nursery & Preschool

"Enriching Children's Lives"

• Low teacher/pupil ratios

• NZ Registered & Montessori

qualified staff

• WINZ and ECE subsidy

• Working curriculum including:

Practical life skills including Care of

Self and the Environment, Sensorial

refinement, Maths, Languages

(French and Mandarin), Art &

Creativity, Science, Social Skills,

Grace and Courtesy

• Optional Ballet classes available

For all enquiries please contact

59 Harewood Road, Papanui

tiggersmotessoripreschool@outlook.co.nz

Ph: 03 352 5025 | www.tiggersmontessori.co.nz

Open 7.30am - 5.30pm • Monday - Friday

call us

noW

CASPA

After School

& Holiday Programme

Your friendly childcare solution

Creative

After

School

Programmed

Activities

P: 349 9260 or 027 352 1638

E: info@caspa.org.nz

W: www.caspa.org.nz

• We provide a safe, creative

environment for 5-13 year olds

• Our staff are trained

• A range of fun activities

• 7.15-8.30am and 3-6pm Mon-Fri

• 8am-6pm Holidays

• Kids just LOVE it!

Incorporating

Subsidies

Apply
---
16 Tuesday June 12 2018

Latest Christchurch news at www.star.kiwi

PEGASUS POST

For the first time striking design,seamless connectivity,

intuitive driving and exceptional safety have come together

perfectly in a bold new SUV.

To explore the many features and experience it for yourself at

Christchurch Mitsubishi on 03 379 0588 to book a test drive.

*Price listed is for Eclipse Cross 2WD XLS. Eclipse Cross 2WD VRX pictured. Brilliant Red colour pictured available for an additional $500.

See www.mmnz.co.nz for Diamond Advantage terms and conditions.

PRE-OWNED SELECTION AVAILABLE FROM CHRISTCHURCH MITSUBISHI

2006 Lexus IS 250 Limited

2.5L Petrol, 6 speed Auto

80,000 km $15,990

2008 Holden Commodore

Clubsport R8 V8 Auto

107,009 km $37,990

2008 Mitsubishi Lancer SX

2.0L Petrol, Auto

123,000 km $9,990

2014 Ford KUGA Ecoboost,

AWD, 1.6L Petrol, Auto, 81,000

km $19,990

2014 Mitsubishi Triton GLS

2.5L Diesel, 4WD, Auto

83,000 km $32,990

2014 Volkswagen Golf Tdi

Comfortline, Turbo Diesel,

7DSG, 29,500 km $25,990

2015 Mazda CX-3 GSX

2.0L Petrol, 6 speed Auto,

34,000 km $27,990

2010 Mitsubishi Colt Plus LS

1.5L Petrol, 80,000 km

$9,990

FOR MORE VISIT CHRISTCHURCHMITISUBISHI.CO.NZ

386 Moorhouse Avenue, Christchurch. Sales, Service, Parts & Finance: 03 379 0588
---
PEGASUS POST Latest Christchurch news at www.star.kiwi

Tuesday June 12 2018 17

AUTOMOTIVE PROFESSIONALS

Work or live

in Barrington,

Spreydon or

Hillmorton

Auto repairs for all types of vehicle

Whatever type of repairs your vehicle

needs, Parker Automotive is the place to

go. The business has been providing a full

range of auto repair services for customers

across the Spreydon, Hillmorton and

Barrington areas for the last 10 years.

Services include full servicing, lubes,

mechanical repairs, supply and fitting of

tyres and batteries, auto electrical repairs

and WOFs. And while they can successfully

carry out any job on any petrol or diesel

vehicle, the particular specialty is brakes

and suspension.

A courtesy vehicle is available, so

customers can carry on with their daily

business while their own vehicle is being

repaired.

Parker Automotive is located on the

corner of Lincoln and Torrens roads,

just behind the service station and next

to Bin Inn. Opening hours are 7.30am-

4pm Monday to Friday, and 8am-12pm

Saturday.

So next time your vehicle needs some

attention, give Kevin a call at Parker

Automotive, phone 982 4268 or email

parkerauto@clear.net.nz. He will be

more than happy to help.

Parker Automotive

workshop, corner of

Lincoln and Torrens Roads.

NeW LoCATIoN 95 Gasson St

The Automotive

Lamp Specialists

New and Used Lamps for Cars, Trucks,

Vans, 4WD and Motorhomes

95 Gasson Street, CHRISTCHURCH

PH 0800 225 483

A vonhead

utomotive

free

6 months roadside assist

with any vehicle servicing

• automatic transmission

flushing service

• Wof • tune-ups • suspension

• batteries • neW tyres • oil &

lube service • courtesy cars

• full mechanical repairs

oPen 6 days (sat until 1pm)

126 racecourse road

Ph 342 7123 or 027 495 6600

PARKER

AUTOMOTIVE

• All Automotive Repairs and

Servicing including 4WD

• Suspension Brakes & Cambelts

• WOF, Tyres, Batteries

• Courtesy Car

55 Lincoln Rd, behind NPD (Cnr Lincoln & Torrens Rd)

Ph 03 982 4268

Mob 027 331 0382

Email: parkerauto@clear.net.nz

Free Check & Assessment

ROSES

AUTO ELECTRICAL

• new & quality

secondhand tyres

• alloy wheels

• replacement rims

• puncture repairs

WITH A MASSIVE RANGE OF TYRES IN STORE,

WHY NOT POP IN AND SEE US TODAY!

YOUR CENTRAL

CITY WORKSHOP

s

m

a

r

t

mall

edium

• Panel beating

• Spray painting

Fast

turnaround

utomotive

epair

echniques

8c Birmingham Drive,

(Cnr Hands & Birmingham Drive)

Ph: 03 343 0099 Cell: 027 226 3805

Website: www.jcmdirect.co.nz

®

Smart repairS (NZ) Limited

automotive refinishers

272 Lichfield St (Fitzgerald Ave end)

Ph 377-0409
---
18 Tuesday June 12 2018

Latest Christchurch news at www.star.kiwi

PEGASUS POST

26th August 2018

10am – 3pm

Air Force Museum, Wigram

Tickets available on door

For exhibiting

enquiries contact

Mark Sinclair:

mark.sinclair@

starmedia.kiwi

BRIDALSHOW
---
2

PEGASUS [Edition POST datE]

Latest Christchurch news at www.star.kiwi

Tuesday June 12 2018 19

HEALTH & BEAUTY

Protect your face

during winter weather

The wind is howling outside, and your

face is taking the brunt of the winter

weather. Cold, chapped, dehydrated skin

is depleting your face of its moisture and

youthful glow.

Plus, with the high levels of chlorination

in the city water, skin damage has taken

place even though the levels

of chlorine are being lowered.

Too little, too late as it doesn't

matter what age a person is,

the short-term effect on the

body's skin has been harmful

especially on the face which can

tremendously benefit from the

ADURO LED Light Therapy

machine.

NASA uses LED light therapy

to heal wounds in space and on

earth, imagine what it can do

for your skin.

Acne a concern? As it thrives

in harsh environments like dry

weather or hormonal imbalance

and can be very painful and

uncomfortable, plus acne leaves

a person's skin looking worn,

leather looking and scarred.

Charmaine and her team to

the rescue. With more than two decades

of experience behind them, the clinic

offers a variety of services including Teeth

Whitening, Anti-Acne, Anti-Aging, Age

Spots, Eczema, Psoriasis, Uneven Skin

Tone, Rejuvenation treatments and so

much more.

BEFORE

AFTER

Amazing results – before and after photos

supplied by a happy client, who has been

battling acne all her life

Their technical LED Light Therapy facial

machine is having astounding results by

infusing nourishment back into the skin

pores with the natural but active Mismo

skincare range.

For acne, the LED machine helps with

anti-bacterial treatments, which makes

puss pools smaller and smaller

over time, so the acne won't be as

visible on the face. Then as soon

as the acne has started lessening,

switch to the Acne Anti-Scarring

treatment program.

The LED machine also triggers

the regrowth of collagen which

smooths out wrinkles and lessens

facial line severity, Age Spots &

Scars

In addition to the LED laser

machine, the clinic is expanding

its services and relocating to a

new facility in mid-June.

"The expansion and new

location is exciting. Our team

looks forward to providing these

new services to our customers

to enhance their lifestyle," owner

Charmaine smiles.

"We appreciate our customer

loyalty and for the opportunity to serve

them as we started with the Sparklewhite

teeth whitening system, which we still

offer, and then expanded into the LED

Light Therapy and facial treatments and

now have expanded our beauty services,

products, and treatments at our new

location."

Don't neglect your skin or body this

winter, plus its always nice to have a

pearly white smile. Check out their

services at www. turnbacktimebeauty.

co.nz and make an appointment today

on their online booking system or call

339 7374 or 021 161 2349 or Facebook

Turnbacktimebeauty.

Beauty never felt so good!

LED Light

Therapy

Facials

The patented design offers a full facial

rejuvenating experience, for a range of skin

imperfections and signs of aging.

Including Anti Wrinkle, Increases Collagen

Cells, Age Spots, Acne, Scaring, Rosacea,

Eczema, Psoriasis, Redness, Uneven

Skin Tone plus many more...

Call us now and experience

the difference!

BEFORE

AFTER

3x LED

Facials

Packages starting

from $199

(normally $450)

Expires 30th

June

HUNTER JUNIOR

(Leather)

Great new colours from size 7.

FROM $105 EACH

style

noun

elegance and sophistication.

synonyms: flair, grace, poise,

polish, suaveness, urbanity, chic,

finesse, taste, class, comfort,

luxury, affluence, wealth,

opulence, lavishness.

Phone 339 7374 or 021 161 2349

www.turnbacktimebeauty.co.nz

47c Garlands Road, Woolston

Phone 389 3431

www.thefootwearfactory.co.nz

Letterbox Advertising

Flyers and Newspaper Inserts

DESIGN

We offer professional

design services.

PRINT

We print your gloss

mailers and letterbox

flyers.

Delivery

Canterbury wide

coverage or targeted

zone deliveries.

FREE QUOTES

Contact: Michaela Malloch

P: (03) 379 7100 or 021 932 177

E: michaela.malloch@starmedia.kiwi

MAGAZINE

STYLE.KIWI
---
20

Tuesday June 12 2018

REAL ESTATE

Exceptional living in every way

10 Euan Sarginson Place, Church Bay/Diamond Harbour

Price: $795,000

Latest Christchurch news at www.star.kiwi

4 bedrooms | 3 bathrooms | 2 living rooms | 2 car-garage | 2 off-street parks | Listing #7011

PEGASUS POST

From the striking design to the location

and the breath-taking views this one owner

as new home has it all.

Built as their forever home a job transfer

means this lovely warm family home must

come to the market. Quality and space

abound with seamless open plan living

opening onto a large west facing deck to

capture all the afternoon sun and maximise

those stunning sea views.

The living area and designer kitchen

will be sure to impress. There are 4 double

bedrooms, 2/3 gorgeous bathrooms and a

second downstairs living area. This home

has quality wool carpet throughout, HRV,

DVS, solar power and central heating

creating a cosy warm ambience right

through the house.

There is a large internal access double

garage and the section has been nicely

landscaped.

In immaculate condition throughout and

sheltered from the easterly wind you could

not begin to build it for this price.

Only 30 minutes scenic drive from

bottom of Colombo Street. Local amenities

are many and varied to indulge in and in

the pipeline is a cinema, supermarket and

additional shops, as well as the development

of the Marina at Lyttelton which is nearing

completion. The local school and Kidsfirst

centre have an excellent reputation and the

zoned high school is Cashmere.

To view this home contact Tim

Dunningham of Min Sarginson Real

Estate (Licensed Agent REAA 2008),

phone 027 651 5474 or 329 4161

growing with you

SprIng Is here –

It'S Sow Time

how to get the best results from

seeds and seedlings

100% NatIve In

The capItal

Unravelling the secrets of

Otari-wilton Bush

The New Zealand

landscape awards

The people behind

the projects

$7.90 incl. GST

Save our roSeS

How a rose register is protecting our heritage

September 2016 | 100%

It's time

to grow!

New look and more

content than ever!

MeeT LeSTer Brice

A Garden coach

auckland Botanic GardenS

Why we love our public grounds

now bigger than ever

The magazine for

gardeners who like to get

their hands dirty

SubScribe from

$43. 50*

*6 issues/6 months

ISSN 2423-0219

SUBSCRIPTIONS FREEPHONE

0800 77 77 10

www.gaRdeNER.kiwI
---
PEGASUS POST Latest Christchurch news at www.star.kiwi

Tuesday June 12 2018 21

Email gilbert.wealleans@starmedia.kiwi

by 5pm each Wednesday

Storytimes/Wā Kōrerō

Tuesday, 10.30–11am

Encourage learning through a

love for stories. Storytimes is an

interactive programme including

stories, songs, rhymes and play!

This is a free session.

Shirley Library, 36 Marshland

Rd and New Brighton Library, 213

Marine Pde

Babytimes/Wā Pēpi

Tuesday, 11.15–11.45am

Encourage learning through

language. Babytimes is an interactive

programme including

rhymes, songs, stories and play.

This is a free session.

Aranui Library, 109 Aldershot

St

Reading to dogs

Tuesday, 3.30 – 4.30pm

Designed to provide a relaxed,

non-threatening atmosphere

which encourages children to

practise their reading skills

and develop a love of reading.

The programme uses dogs who

are the beloved pets of the city

council animal management

team. These furry friends have

all been trained and tested for

health, safety and temperament.

The dogs can increase a child's

relaxation while reading, listen

attentively, do not laugh, judge

or criticise, allow children to

proceed at their own pace, can be

less intimidating than a child's

peers, library staff and a dog handler

will be present at all times

to help facilitate the sessions.

Sessions are 15min long.

Shirley Library, 36 Marshland

Rd

Parklands Library Book

Discussion Group

Tuesday, 7.30 – 8.30pm

For those who love reading

and want to share in discussion

with other friendly book lovers.

The group subscribes to the Book

Discussion Scheme so there is a

cost involved.

Parklands Library, 46

Queenspark Drive

Minecraft Club

Wednesday, 3.30–4.30pm

Get creative, start crafting.

Build imaginative worlds and

battle nocturnal creatures at

the learning centres' Minecraft

club. Novice or expert, join the

club and play with your friends.

A tutor will be in attendance to

supervise and assist if necessary.

Gold coin, no bookings. Term

time only.

New Brighton Library, 213

Marine Parade

Rocket Club

Wednesday, 3.30–4.30pm

Go along to Shirley library for Activity Zone, the Shirley After School Club. There will be

technology, games, books and crafts and most of all fun! This free event is suitable for ages

6-10 and is on every Monday during term time. Caregivers, please remain in the library during

the session. Bookings not required.

Rocket Club is a weekly afterschool

programme which runs

during term time. All whanau

are welcome to join the club and

become involved in different

activities based on local and

current events in a fun learning

environment. Homework help is

available during this time. Free to

attend and no bookings required.

Aranui Library, 109 Aldershot

St

CV drop-in

Thursday, 10– 11.30am

A librarian will be on hand to

assist customers who are needing

help with their resume. They

can offer guidance on creating,

updating, and editing your CV.

New Brighton Library, 213

Marine Pde

Matariki Storytimes/Wā

Kōrero

Thursday, 10.30am–11am

Go celebrate and welcome the

Māori New Year, with stories,

songs, rhymes and craft activities.

This is a free session.

Aranui Library, 109 Aldershot

St

Bible Reading

Thursdays, 9.30-10.30am

A bible reading group for

women is being held weekly.

Especially designed for those who

want to read the bible for

the first time. For more information

phone Elissa on 021 023

65910.

In the "Small Room" at the

Aranui Wainoni Community

Centre, 31 Hampshire St

exHibitors

book now

limited spaces available!

Don't miss your opportunity to showcase your

business in front of 10,000+ qualified attendees

Vanessa.fleming@starmedia.kiwi

021 914 565

Horncastle arena June 29 - July 1 10AM - 5PM

Inspiration | Trends | Technology | Innovation | Show Specials
---
22

Latest Christchurch news at www.star.kiwi

Tuesday June 12 2018

PEGASUS POST

Classifieds Contact us today Phone our local team 03 379 1100

Health & Beauty

KATANG

Fitness

Held at St Faiths Church Hall,

46 Hawke Street, New Brighton

For more info contact Katrina 3811704 or 0274966845

Caravans, Motorhomes

& Traliers

CARAVAN Wanted to

buy. Up to $5000 cash

today 027 488-5284.

Community Events

ALCOHOLICS

ANONYMOUS, If you

want to have a drink that's

your business. If you want

to stop, we can help. Phone

0800 229-6757

ALCOHOLICS

ANONYMOUS, If you

want to have a drink that's

your business. If you want

to stop, we can help. Phone

0800 229-6757

Curtains

www.curtainfabric-outlet.com

Fashion Designs & Colours

Discontinued Designs

End of Lines Bargain Prices

Call at Our Shop

CURTAIN FABRIC OUTLET

71 Hawdon St Sydenham

Ph 366-5026

Gardening

& Supplies

A GARDEN OR

LANDSCAPING TIDY

UP? Shrub, hedge &

tree pruning, Lawns,

Gardening, consistently

reliable general property

upkeep, Dip. Hort. 10

yrs experience, One off

tidy ups or on-going

service. Nick's Property

Computers

ALL

YOUR

COMPUTER

WORRIES SOLVED! Maintenance.

*$30.00 off your first

service with this coupon!*

No problem too big or

small from home PC's to

business networks. PC

slow? An end to Viruses,

Spyware, and Clogged

Systems. Safe secure

hassle-free computing.

Lost files recovered.

Microsoft Certified,

MCSE, MCP+l. 30 years

experience. Call Andrew

Buxton this week on 326-

6740 or 027 435-7596

for $30.00 off* Custom

Computers Christchurch

Keeping

your garden beautiful.

Free Quote. Ph. 942-4440

ADD SOME

COLOUR

TO YOUR ADVERT!

DESIGN

We offer professional

design services.

PRINT

We print your gloss

mailers and letterbox

flyers.

Delivery

Canterbury wide

coverage or targeted

zone deliveries.

Sit & Be Fit

Monday 1 – 2pm

$4 per class

Movement to Music

Thursday

9.30 – 10.30am

$5 per class

Holiday

Accommodation

Australia QLD

SUNSHINE

COAST

RESORT

ALEXANDRA HEADLAND

All Units Have Ocean Views.

Heated Pools, Spa & Sauna,

Free Wifi, Tennis

& Mini Golf.

CHECK OUR GREAT

WINTER SPECIALS

www.mandolin.com.au

0061 7 5443 5011

JUNE to AUG temps 20C

Wanted To Buy

AAA Buying goods

quality furniture,

Beds, Stoves, Washing

machines, Fridge Freezers.

Same day service. Selwyn

Dealers. Phone 980 5812

or 027 313 8156

A+ Household effects,

fridges, freezers, washing

machines, ovens. Good

cash paid. Ph Paul 022

repairs.

0891 671

TOOLS Garden,

garage, woodworking,

mechanical, engineering,

sawbenches, lathes, cash

buyer, ph 355-2045

Trades & Services

FOR ALL YOUR

★Garden Clean-ups

★Pruning

★Lawn Mowing

★Garden Maintenance

Call us today for a FREE quote

PH 0800 4 546 546

(0800 4 JIMJIM)

HOUSE

CLEARING

Are you

moving house

or trying to

downsize?

Call All Clear

Canterbury. We work

with you to recycle,

sell and dispose of

unwanted items.

Ph: 03 260 0934

or 021 078 4553

raewynlcooke@gmail.com

www.allclearcanterbury.co.nz

AAA HANDYMAN

licensed carpenter

LBP, all property and

building maintenance,

repairs, bathroom/shower

installations, with free

quotes 03 383 1927 or 027

245 5226 ciey@xtra.co.nz

BRICKLAYER

George Lockyer. Over

35 years bricklaying

experience. UK trained.

Insurance work. EQC

Heritage

brickwork and stonework

a speciality. No job too

small. Governors Bay.

Home 329-9344, Cell

027 684 4046, email

georgelockyer@xtra.co.nz

Trades & Services

junk

Why go to the Dump? Junkman comes to you!

Items too big for the rubbish bin?

Or too heavy for you to move?

Junkman comes to FROM

you & takes it away $

65 *

*Prices vary depending on items and volume – minimum charge $65

plumber

The go to guys for

plumbing services

✓ Plumbing and Gas

✓ No job too big or small

✓ All areas covered

BUILDER

P: 03 595 5610 W: gofox.nz

E: info.ccp@gofox.nz

For all building work

but specialist in bathroom

renovations, 30 yrs

experience, with service

and integrity. Free Quotes.

Ph Lachlan 383-1723 or

0274 367-067.

Letterbox Advertising

Flyers and Newspaper Inserts

FREE QUOTES

Contact: Michaela Malloch

P: (03) 379 7100 or 021 932 177

E: michaela.malloch@starmedia.kiwi

0800 586 5626

www.junkman.co.nz office@junkman.co.nz

*****************

CARPET & VINYL

Laying. 50 yrs exp.

Repairs,

relaying,

Email

uplifting,

restretching.

jflattery@xtra.

co.nz ph John on 0800 003

181 or 027 2407416

ROOF REPAIRS

Locally owned & operated with

over 30 years experience.

• Extensions & repair • Roof coating

• Concrete & clay tiles • Butynol

• Malthoid • Asbestos Certified

• Coloursteel • Old iron • Guttering

Phone Dave 981 0278

or 021 223 4200

E: dave@beaumontroofing.co.nz

BEAUMONT ROOFING LTD

PAINTING

& Decorating Wingfields

Contracting, all interior

& exterior painting & all

forms of interior plastering

& jib fixing, ph Mark 021

171-1586 or 355-5994

PAINTER

Quality work, I stand by

Canterbury Ph Wayne 03

385-4348 or 027 274 3541

PAINTER AVAILABLE

All aspects in painting.

Very competitive in roofs

and fences. Please call 027

241-7471 or 335-0265

PLUMBER

ALF THORPE

PLUMBING Certifying

Plumber for all types of

plumbing, maintenance,

spouting, alterations etc.

Phone 352-7402 or 0274-

350-231

PLUMBER

A Top Plumbing job

completed at a fair price,

prompt service, all work

guaranteed, Ph Brian 960-

7673 or 021 112-3492

ROOFING REPAIRS

Fully Qualified, over 40

yrs experience. Ph John

027 432-3822 or 351-

9147 email johnchmill@

outlook.com

SPOUTING CLEANING

Spouting Unblocked,

Cleaned Out and Flushed WINDOW

Out. Also Full Handyman

Services Available. Call

Trevor 332 8949 or 021

043 2034

STONEMASON

BRICK

&

BLOCKLAYER,

Earthquake Repairs, Grind

Out & Repoint, River/

Oamaru stone, Schist,

Volcanic Rock, Paving,

all Alterations new & old,

Quality Workmanship,

visit www.featureworks.

co.nz or ph 027 601-3145

STONEMASON

BRICK

&

BLOCKLAYER,

Earthquake Repairs, Grind

Out & Repoint, River/

Oamaru stone, Schist,

Volcanic Rock, Paving,

all Alterations new & old,

Quality Workmanship,

visit www.featureworks.

co.nz or ph 027 601-3145

TILER/CARPENTER

35 years exp, no job

too small. Ph Ross 027

4311440.

TILER/CARPENTER

35 years exp, no job

too small. Ph Ross 027

4311440.

T.V. SERVICE CENTRE

Repairs, tvs, microwaves,

stereos, DVD. Aerial

installations and kitsets,

480 Moorhouse Ave, ph 03

379 1400

VHS VIDEO TAPES

& all camera tapes

converted to DVD, video

taping special occasions,

www.grahamsvideo.co.nz

ph 03 338-1655

CLEANING

Average 3 bdrm house

inside or out $40. Both

$70. Phone Trevor 344-

2170
---
PEGASUS POST Latest Christchurch news at www.star.kiwi

Tuesday June 12 2018 23

What's On

Entertainment

John snares

Nashville

distribution

deal

KIWI Country artist, John McCabe has

secured a world-wide distribution

contract with Lamon Records. e

Nashville based record company is one

of the largest independent record labels

affiliated with Sony Music.

Affectionately known as the Kiwi with

the "golden voice", John McCabe was

born and raised in Oamaru and has

been performing since he was 12 years

old.

John departed for Canada in 1981 and

quickly gained recognition touring with

his live band through several states of the

USA and Canada.

Returning to New Zealand some 13

years ago, John has been in demand,

performing regularly at Clubs, events

and private functions.

He has an impressive catalogue of

material with several more original

releases pending. His songs are recorded

in Nashville using some of the very best

record producers and studios.

Under the Lamon Record label his

To advertise, contact

Jo Fuller 027 458 8590

jo.fuller@starmedia.kiwi

songs will be released in 243 different

territories world-wide which includes

radio station and music download sites.

John will be returning to Nashville

shortly to produce a music video.

In the meantime, you can catch him in

the Westview Lounge at the Hornby

WMC next Saturday 23rd June. 8pm

start.

'Famous for their roasts!'

SENIORS SPECIAL

Two courses: $

22

Soup/Roast or Roast/Dessert

Special available lunch only

Monday - Saturday 12pm - 2.30pm

Conditions apply

FAMILY FRIENDLY

Kid's Special

Two courses

Great Kids menu plus

designated play area.

$

13

What's On

TUESDAYS & THURSDAYS

MEMBERS LUCKY CARD DRAW

LIVE MUSIC - COMING UP

SATURDY 30 JUNE

RESTAURANT & CAFÉ

Open daily from 6.30am - Breakfast, Lunch & Dinner

The

RACECOURSE HOTEL

www.racecoursehotel.co.nz

Dine by the Beach

PIERVIEW

RESTAURANT

UPSTAIRS

Open from 5.30pm Fri, Sat,

Sun, and Sunday Brunch

from 10.30am to 2pm.

& Motorlodge

118 Racecourse Rd, Sockburn,

Christchurch. Ph 03 342 7150

MONTH-END

SUNDAY NIGHT

BUFFET $25pp

Sunday 24th June

from 5.30pm

BOOK NOW!

CLUBBISTRO

DOWNSTAIRS

Open Tues to Sat 12pm - 2pm & from 5pm.

GAMING ROOM : NEW MACHINES!

202 Marine Pde | Ph 388 9416 | www.newbrightonclub.co.nz | Members, guests & affiliates welcome

Lunch & Dinner

All you can eat

7 days

SERVING

Bookings Essential PH 386 0088

fb.com/GardenHotelRestaurant www.gardenhotel.co.nz

HAPPY HOUR

5PM - 7PM DAILY

OUR CABINET ITEMS

ARE HOMEMADE

CREATED FRESH ON SITE DAILY

$12

LUNCH

SPECIALS

Live Music:

6PM.SAT 16.JUNE

Mid-Winter

Christmas

COFFEE

HAPPY

H O U R

Saturday Saturday 17 June 23 June to to

Sunday Sunday 2 July 2017 15 July.

LUNCH

Mon to Fri $24.50pp

Sat & Sun $25.50pp

DINNER

Mon to Thur $31.50pp

Fri to Sun $33.50pp

Senior Citizens

discount available.

2PM-4PM

DAILY

$3.50

Offer available for a limited time

and includes tea, hot chocolate

MON: ROAST MEAL

TUE: FISH & CHIPS

WED: FISH BURGER

THU: ROAST MEAL

SAT: FISH & CHIPS

AVAILABLE

FROM

11.30AM-2PM

FOR A

LIMITED TIME

PHONE 385 8880 FIND US ON FACEBOOK fb.com/GBCCHCH

THE GARDEN HOTEL COMPLEX | 110 MARSHLAND RD

www.gardenhotel.co.nz | phone 385 3132

H ORNBY

WORKINGMEN'S

CLUB

LIVE MUSIC

SATURDAY

4.30PM:

MARION'S OUTLAWS

8PM: A & P DUO

SATURDAY 16 JUNE, 9AM

CLUB ELECTIONS

COMING UP

SATURDAY 23 JUNE

STARS IN THEIR EYES

Featuring

TONY WELLINGTON as

ROY ORBISON & BUDDY HOLLY

and EDDIE SIMON as

LEO SAYER & JOHN FOGERTY CCR

7.30PM. PRE-SALE TIX $20.

DOOR SALES $25.

SATURDAY 30 JUNE

AVONHEAD ROTARY FUNDRAISER

ANOTHER GREAT VARIETY

TRIBUTE SHOW

TICKETS $15

The Hornby Club | ph 03 349 9026

17 Carmen Rd | Hornby

www.hornbywmc.co.nz

Members, guests & affiliates welcome

FAMILY FRIENDLY DINING

OPEN

EVERY DAY

Club CAFÉ

LUNCH &

DINNER

JOIN US FOR OUR

EXCITING SERIES

OF CLUB CAFÉ

Chalmers Restaurant

FRIDAY & SATURDAY

CARVERY DINNER

$22.50

OPEN FROM 5.30PM

Early Bird Special

5.30pm - 6.30PM

FREE

DESSERT

SUNDAY BUFFET

$27

EVERY SUNDAY FROM 5PM-8PM

COMING UP

BOOK NOW!

LUNCH & DINNER

$17
---
24 Tuesday June 12 2018

Latest Christchurch news at www.star.kiwi

Ask us about FEES FREE *

PEGASUS POST

Get The

Job You

Want

Info and

Wednesday

20 th June

School's Not

for everyone!

7:00-9:00pm

Business Admin & Technology

Looking for an administration role? This FREE 20

week course will give you the skills to work in a

modern office, covering advanced use of

Microsoft Word, Excel, Publisher and other

computer based business applications

digital Media

Looking for a career in Digital Media &

Design? This level 2 Certificate in Arts and

Design course will set a great foundation for

an exciting start to your future in design.

FREE for Ages 16-19

Web Development

Join the fast growing and in-demand career of

Web Development. You will be at the computer

from the first day, with expert tutors guiding you

through this practical courses. UE is not required

to enter our one year diploma and there are $2,000

scholarships available for students aged 25 to 35.

Security & Armed Forces Prep

Looking for a career in uniform? This course

gives you the fitness and training for roles in

the Armed Forces, Police and fast growing

Security industry. NCEA credits included.

FREE For Ages 17-19

Early Childhood Education

Looking for a career as an Early Childhood teacher?

We offer the best way to get there! Study your first

year on campus with our amazing caring tutors,

then earn while you learn for the rest of the degree.

If you did not enjoy school, this is totally different

and you do not require UE to enter this programme.

The Ultimate Career Decider

Didn't enjoy school? This FREE 19 week

course offers skills to find a job, learner

drivers licence, tasters of a range of

careers and the opportunity to gain

credits towards NCEA Level 1.

FREE For Ages 16-19

PHONE US ON:

0800 834 834

OR TXT 'VISION'

TO: 027 557 8839

www.vision.ac.nz

50 Hazeldean Road,

Chrsitchurch

Phone us on:

0800 872 466

www.Trainme.org.nz

OR TXT 'TRAINME' TO:

027 557 8839