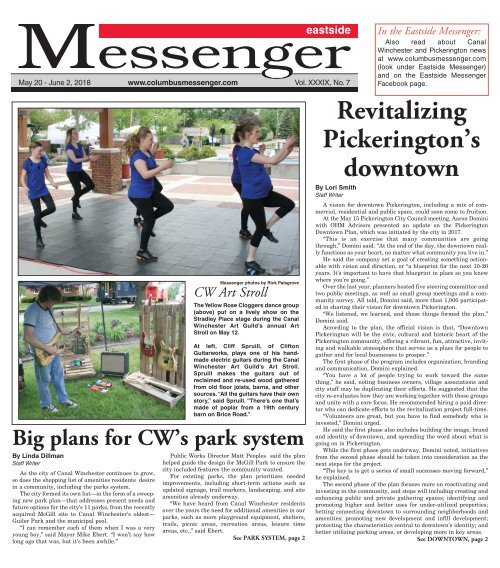 Eastside Messenger - May 20th 2018
Eastside Messenger Volume 39 Number 7 - May 20th, 2019
Eastside Messenger Volume 39 Number 7 - May 20th, 2019
SHOW MORE
SHOW LESS
Create successful ePaper yourself
Turn your PDF publications into a flip-book with our unique Google optimized e-Paper software.
eastside

May 20 - June 2, 2018 www.columbusmessenger.com Vol. XXXIX, No. 7

In the Eastside Messenger:

Also read about Canal

Winchester and Pickerington news

at www.columbusmessenger.com

(look under Eastside Messenger)

and on the Eastside Messenger

Facebook page.

Revitalizing

Pickerington's

downtown

Messenger photos by Rick Palsgrove

CW Art Stroll

The Yellow Rose Cloggers dance group

(above) put on a lively show on the

Stradley Place stage during the Canal

Winchester Art Guild's annual Art

Stroll on May 12.

At left, Cliff Spruill, of Clifton

Guitarworks, plays one of his handmade

electric guitars during the Canal

Winchester Art Guild's Art Stroll.

Spruill makes the guitars out of

reclaimed and re-used wood gathered

from old floor joists, barns, and other

sources. "All the guitars have their own

story," said Spruill. "There's one that's

made of poplar from a 19th century

barn on Brice Road."

Big plans for CW's park system

By Linda Dillman

Staff Writer

As the city of Canal Winchester continues to grow,

so does the shopping list of amenities residents desire

in a community, including the parks system.

The city formed its own list–in the form of a sweeping

new park plan–that addresses present needs and

future options for the city's 11 parks, from the recently

acquired McGill site to Canal Winchester's oldest–

Guiler Park and the municipal pool.

"I can remember each of them when I was a very

young boy," said Mayor Mike Ebert. "I won't say how

long ago that was, but it's been awhile."

Public Works Director Matt Peoples said the plan

helped guide the design for McGill Park to ensure the

city included features the community wanted.

For existing parks, the plan prioritizes needed

improvements, including short-term actions such as

updated signage, trail markers, landscaping, and site

amenities already underway.

"We have heard from Canal Winchester residents

over the years the need for additional amenities in our

parks, such as more playground equipment, shelters,

trails, picnic areas, recreation areas, leisure time

areas, etc.," said Ebert.

See PARK SYSTEM, page 2

By Lori Smith

Staff Writer

A vision for downtown Pickerington, including a mix of commercial,

residential and public space, could soon come to fruition.

At the May 15 Pickerington City Council meeting, Aaron Domini

with OHM Advisors presented an update on the Pickerington

Downtown Plan, which was initiated by the city in 2017.

"This is an exercise that many communities are going

through," Domini said. "At the end of the day, the downtown really

functions as your heart, no matter what community you live in."

He said the company set a goal of creating something actionable

with vision and direction, or "a blueprint for the next 10-20

years. It's important to have that blueprint in place so you know

where you're going."

Over the last year, planners hosted five steering committee and

two public meetings, as well as small group meetings and a community

survey. All told, Domini said, more than 1,000 participated

in sharing their vision for downtown Pickerington.

"We listened, we learned, and those things formed the plan,"

Domini said.

According to the plan, the official vision is that, "Downtown

Pickerington will be the civic, cultural and historic heart of the

Pickerington community, offering a vibrant, fun, attractive, inviting

and walkable atmosphere that serves as a place for people to

gather and for local businesses to prosper."

The first phase of the program includes organization, branding

and communication, Domini explained.

"You have a lot of people trying to work toward the same

thing," he said, noting business owners, village associations and

city staff may be duplicating their efforts. He suggested that the

city re-evaluates how they are working together with those groups

and unite with a core focus. He recommended hiring a paid director

who can dedicate efforts to the revitalization project full-time.

"Volunteers are great, but you have to find somebody who is

invested," Domini urged.

He said the first phase also includes building the image, brand

and identity of downtown, and spreading the word about what is

going on in Pickerington.

While the first phase gets underway, Domini noted, initiatives

from the second phase should be taken into consideration as the

next steps for the project.

"The key is to get a series of small successes moving forward,"

he explained.

The second phase of the plan focuses more on reactivating and

investing in the community, and steps will including creating and

enhancing public and private gathering spaces; identifying and

promoting higher and better uses for under-utilized properties;

betting connecting downtown to surrounding neighborhoods and

amenities; promoting new development and infill development;

protecting the characteristics central to downtown's identity; and

better utilizing parking areas, or developing more in key areas.

See DOWNTOWN, page 2
---
PAGE 2 - EASTSIDE MESSENGER - May 20, 2018

DOWNTOWN

Continued from page 1

The plan is divided into three focus

areas, including the historic core, the gateway

into downtown from Hill Road, and the

vacant land north of the railroad. The nearby

parks are also a key part of the plan,

Domini said, and are a great asset to the

downtown area.

The plan recommends the first focus

area, in the historic core, should highlight

the historical society and the Carnegie

Library with new green space at the corner

of Columbus and North Center streets, creating

a central hub for community gathering.

Buildings should be oriented toward

Assisted sted Living

Community

Space is Limited!

Call to schedule your Private Tour

614-829-6388

6401 Winchester Blvd, Canal Winchester, Oh 43110

the street with parking in the rear, and

pedestrian connections should be prioritized.

They recommend this project begin with

the relocation of the Fairfield County

Sheriff's Office, as well as facilitating property

acquisition along Columbus Street,

either by a community investment corporation

or private developer.

The second focus area, north of the railroad,

is already owned by the city.

For now, according to the plan, it should

continue as the site of the farmer's market

and serve the downtown businesses as

Monday - Friday

7:30 A.M. – 8:00 P.M.

Saturdays

8:00 A.M. – 6:00 P.M.

Sundays

9:00 A.M. – 5:00 P.M.

Groveport

614-836-9810

Baltimore

740-862-0116

Ashville

740-983-3000

Friendly Knowledgeable Service

"A healthy downtown means a

healthy community. You have the

plan, now is the time to start making

investments in this area."

- Aaron Domini

OHM Advisors

overflow parking. Eventually, the site

could be considered for new residential

town homes and other mixed-use development,

while maintaining civic spaces such

as a pavilion for a covered farmer's market

to create a natural draw of residents and

visitors to the area and the downtown core.

The third focus area, the gateway into

downtown from Hill Road, sets the tone for

the downtown area, Domini said.

Positioning buildings close to the street,

creating an enhanced streetscape and

adding directional signage will add a sense

of arrival to the intersection.

Carefully regulating new development

with minimum setbacks, parking located in

the rear, appropriate signage and pedestrian

amenities will be key, he said.

"A healthy downtown means a healthy

community," Domini concluded. "You have

the plan, now is the time to start making

investments in this area."

PARK SYSTEM

Continued from page 1

The genesis of the plan started last year

with the formation of a Parks Planning

Commission and a pair of public meetings.

"Additionally we had nearly 1,000 people

participate in our parks survey, which

is a huge participation rate," said Ebert.

"The process we followed was to identify

the current parks we have and what each

one has to offer, then use that information

to identify what each park should or could

use, along with the survey and public

meeting ideas. While we were pretty sure

what the residents of Canal Winchester

were looking for in our parks, we still needed

to confirm our thoughts, and while our

ideas were amazingly similar, the residents

did have a few ideas we had not considered."

According to Ebert, the plan established

three levels of completion–short, mid- and

long-term. Short term is completion within

two years, mid-term is completion within

five years and long-term is completion five

years and beyond.

Ebert said the plan will impact future

park development by guiding consistency

from one park to the next in regard to

items such as trail markers, park bench

design and trash container style.

"Canal Winchester is an active community

with a lot of walkers and runners, no

matter what the weather," said Ebert.

"Having new trails for that will provide a

much safer environment than walking or

running on the streets as some do today.

Parks also provide a place of recreation

whether organized or leisure. We currently

do not have much park space for either at

this time. The redesign of some parks and

www.columbusmessenger.com

Pickerington resident Lonnie Rush, a

former downtown business owner, told

council, "I think all these plans are great."

However, he cautioned council that

expanding the alleys to allow for deliveries

is a must, because there is not enough road

space in the downtown area for trucks to

stop.

"Bottom line is you can't get any freight

or deliveries to those businesses," he said.

"The city of Pickerington has to fix that

problem."

Council Vice President Mike Sabatino

agreed, and said, "These are a lot of great

ideas but now come the what-ifs."

Council President Jeff Fix asked Domini

how much of an investment the city will be

looking at funding.

"I think it depends on how big you want

to dream," Domini responded, and suggested

that setting aside $500,000 for the project

would be a good place to start.

Mayor Lee Gray said there is a lot of

public interest in this topic, and the meeting

to consider the next steps should

include more than an hour to devote to the

plans.

The topic will be revisited at the June 12

Planning and Zoning meeting, which will

begin at 7:30 p.m. at Pickerington City

Hall, 100 Lockville Road.

"We are looking forward to the

upgrades to all of our parks."

- Mike Ebert, CW mayor

the build out of McGill Park will change

that."

Highlights of the plan include overall

recommendations such as updating amenities

and structures; creating more paths,

access points and a paddling route to

Walnut Creek Park; a rock-climbing wall;

and a desire to make parks more multiuse.

Priorities indicated need and support

for a multi-purpose recreation complex.

Additional amenities, including dog parks,

community gardens, restrooms, ice skating,

play structures and a splash pad were

also considered when adding or expanding

current parks.

In Westchester Park, recommendations

included expanding parking and play

structures, basketball courts, a permanent

restroom and security lighting.

Suggestions for Roger Hanners Park were

expanded paved parking, an enhanced

skate park, a permanent restroom and an

additional shade pavilion.

A permanent restroom was on the wish

list for many city parks. The estimated

average cost of installing one is approximately

$200,000.

"We are looking forward to the upgrades

to all of our parks and especially excited to

develop McGill Park over the next few

years, which is, by far, going to be our

largest park and with some breathtaking

views of Walnut Creek," said Ebert.
---
www.columbusmessenger.com

Schools embracing technology

Pickerington Schools' have an

award winning technology plan

By Lori Smith

Staff Writer

The Pickerington school district prides itself on utilizing

technology in education, and it has the track

record to prove it.

"We've been able to speak all over the place, everywhere

from the White House to Harvard University,"

said Brian Seymour, director of instructional technology,

as he spoke to the Pickerington Board of

Education during their May 7 meeting.

He said other school districts often contact

Pickerington, wanting to know how to set up a successful

technology plan like theirs. The district has received

numerous awards for its use of technology, is invited to

share their successes at many conferences, and was

recently named the International Society for Technology

in Education distinguished district for 2018.

"Every single one of those awards we have, we had

to apply for them," Seymour said, explaining how it

measures the district's success. "That's my external

validation that we're moving in the right direction."

Seymour explained how the district continues to

invest in vital technology, allowing students in all 14

schools to participate in a 21st century learning environment.

In 2017, for example, the district went "oneto-one,"

providing a Chromebook or tablet to every student

in the district, which changed the way teachers

teach and students learn.

"Gone are the days of computer labs, for sure,"

Seymour.

Starting with the 2018-19 school year, all students

in the Pickerington district will be able to "check out"

access to an Internet hot spot. There will be 200 available

for students who do not have Internet access at

home, and it will cost the district $45,000 for the year.

Although 96 percent of the district's students say they

have Internet access at home, Seymour said, the concern

is the remaining students will fall behind. Even

though those students can currently do their school

work on the Chromebooks and submit it once they get

Internet access, problems do occur.

"This makes it more excuse proof," Seymour said.

The remote hot spots will be offered to students on

the free- and reduced-price lunch programs first, then

on an as-needed basis to other students within the district,

he said.

The instructional technology coordinators for the

various schools gave a report to the board about technology.

•Jennifer Furey, elementary school instructional

around Pickerington

Senior levy approved

At the May 8 primary election, voters approved the

renewal of the five year, 0.2 mill, Violet Township senior

services levy by 74 percent to 26 percent, according

to unofficial results from the Fairfield County Board of

Elections. The vote was 4,304 for the levy and 1,525

against it.

Fix tops Reade

Jeffrey Fix defeated Lisa Reade in the Republican

primary election on May 8 for Fairfield County commissioner.

Fix will face Democrat Leah Hackleman-

Good, who ran unopposed in the Democratic primary,

technology coordinator, said the district's technology

plan was designed to increase skills not seen in the

standard curriculum. She said they are focusing on the

5Cs: communication (using Google Classroom and

Seesaw); collaboration (such as group work in coding

science toys); creativity (like making eBooks or using

StoryBirds), connectiveness (connecting classrooms

around the world); and critical thinking (learning computer

science and developing computational thinking).

•Stephanie Howell, middle school instructional

technology coordinator, explained how technology positively

impacts the classroom and the role of the

teacher.

"Every student has a voice," she said.

Students are talking with experts, there is

increased engagement and motivation, and increased

student choice. According to Howell, the students get

immediate feedback, all students have equal access to

the curriculum, and parents are more connected to the

classroom. She gave an example of how a student contacted

an Olympic athlete and the class was able to

have a conversation with the athlete via video chat.

•At the junior high school level, Instructional

Technology Coordinator David Hayward said they are

building life-long schools through digital methods. For

example, at Ridgeview they did an "escape room" exercise

where students had to break into a box and solve

a series of clues. In regard to creativity, the junior high

students have taken over the morning announcements

with WeVideo. Hayward said they have a green screen

and use Chromebooks to present the day's announcements.

"They've taken over it and are running with it," he

said. "They're doing a great job."

Students in art class are thinking about who they

are and how to represent themselves through digital

media.

•High School Instructional Technology Coordinator

Jena Cooper said the additional technology allows the

high school teachers to begin moving forward to a different

style of teaching.

"We've started to make a huge shift to a blended

learning style," she said. "If you give them devices and

don't change the way you teach it can actually be detrimental."

At the high school level, she said, they are doing

mini-lessons, where the teacher is able to work in

small groups with students to meet their individual

needs. Students are working at their own pace, using

videos to re-watch lessons where needed or fast-forward

if mastered.

"That's a huge time saver and great for our students,"

she said.

They are also using a variety of digital content to

keep students engaged and adjust to different learning

styles.

in the race for the county commissioner seat in the

Nov. 6 election. According to unofficial May 8 primary

results from the Fairfield County Board of Elections,

Fix garnered 7,658 votes, or 58 percent of the vote,

compared to Reade's 5,626 votes, or 42 percent.

Pickerington libraries

•Pickerington Public Library, 201 Opportunity

Way, Pickerington. Hours: Monday-Thursday, 9 a.m.

to 8 p.m., Friday-Saturday, 9 a.m. to 6 p.m., Sunday, 1-

5 p.m. Phone: 614-837-4104.

•Sycamore Plaza Library, 7861 Refugee Road,

Pickerington. Hours: Monday-Thursday, noon to 7

p.m., Friday-Saturday, noon to 6 p.m., closed Sunday.

Phone: 614-837-4383.

Winchester

Dental

Call us today to schedule

an appointment.

Winchester Square

Shopping Center

614.834.1834

Ladan Pourmoghadam

D.D.S.

May 20, 2018 - EASTSIDE MESSENGER - PAGE 3

Now offering our

'Smile Plan' to our

non-insured patients

WORK INJURIES

WORKERS'

COMPENSATION

SAFETY VIOLATIONS

WRONGFUL DEATH

PERSONAL INJURY

AUTO/TRUCK

CRASHES

DOG BITE INJURY

Look Great

Feel Great

Sleep Great

Providing Gentle,

Caring Dentistry

In a Comfortable

Setting.

Accepting New Patients

Most Insurances Accepted

PROTECTING YOU

SINCE 1972

Malek &

Malek

ATTORNEYS AT LAW

Douglas, Ed, Jim

and Kip Malek

Ben Churchhill

"Hablamos Español"

FREE Initial Consultation

www.maleklawfirm.com

614-444-7440

1227 S. High St., Columbus, OH 43206
---
PAGE 4 - EASTSIDE MESSENGER - May 20, 2018

columbusmessenger.com

eastside

Messenger

(Distribution: 17,706)

Rick Palsgrove................................Eastside Editor

eastside@ columbusmessenger.com

Published every other Sunday by

The Columbus Messenger Co.

3500 Sullivant Ave., Columbus, Ohio 43204-1887

(614) 272-5422

BIRTHDAY • ENGAGEMENT • WEDDING • ANNIVERSARY

• GRADUATION • RETIREMENT

IN MEMORIUM • ARMED FORCES

Say it with an announcement ad in

the Messenger and spread the word.

You can download the appropriate form from

our Web site or stop by our office

Monday-Thursday, 8:30 a.m.-5 p.m.

Friday, 8:30 a.m.-2 p.m.

Columbus Messenger

3500 Sullivant Ave.

614-272-5422

www.columbusmessenger.com

SUPPORT

your

Community Paper

Through advertising, community newspapers like the

Messenger have always been FREE papers. In these

tough economic times we are asking you the reader to

help offset the current decline in advertising revenue by

participating in a voluntary payment program*.

To those who have already participated -

We Thank You.

For those who would like to, below is a form

you can mail with your payment.

*This is not a subscription.

www.columbusmessenger.com

columns

How kindergarten changed my daughter - and me

It's been nine months since a teary eyed mom dropped off her

daughter for kindergarten, uncertain of what that first day would

be like for the daughter, let alone the mom.

I remember thinking how things were about to change - that

her toddler years were well behind her and her tween and teen

years were just around the corner.

What I didn't account for was just how much she would change

in less than a year.

Academically, she can write and solve some math equations

that may stump adults. Now, when we hop in the car, she routinely

reads road and business signs along our route. At night during

story time, she's reading to me just as many pages that I read to

her.

Beyond academically, however, I've seen an incredible shift in

her personality - one that is beyond her years. She, of course, acts

like a typical 6-year-old in every way, but I've also noticed her

desire to understand more what it's like to be an older kid or even

adult.

She's 6, and already has inquired about driving, getting married

and having kids. Of course as parents, we want to skip right

past those conversations, but I've tried to answer any questions

she has had (within reason) in order to foster her curiosity.

She also has learned more than I could ever imagine from her

friends, for better or worse. In fact, each day after school, I would

ask her what she did at school that day, and rather than give me

a run down of the curriculum, she would proceed to tell me what

so-and-so did that day or that weekend.

Though she's not always the best at considering others' feelings

(this past Mother's Day she asked me when Kids' Day was), I'm

certain that by forming these relationships at school, she has

To advertise in the

Messenger, call

Rick Weinmann at

(614) 206-2321.

started the process of

learning how to be a

better friend.

For five or six

years, we've raised our children for the most

part on our own. As parents, we were the ones

who taught them their first basic life skills -

eating, walking, talking. It's difficult to let go

and allow others to play important roles in further

building upon these skills and teaching

new ones.

I couldn't be happier with those who have

helped her embark upon this journey, and as

she continues it now into the 1st grade, I can't

wait to see how she further evolves. I know

Life Moments

one day she's going to be a completely different

person than she is now, and mom and

dad won't be the two coolest people on earth.

And that's ok, because her journey to finding

out who she is helping me discover who I

Christine

Bryant

am, providing me with a front-row seat to watch how I am changing

as well. Whether it's altering priorities, appreciating the littlest

things that 10 years ago I took for granted, or enjoying learning

what it's like to be a child all over again, I've found myself

evolving as a mom and person as well.

So, as my little one officially graduates from kindergarten this

month and moves on to a new challenge, I will be right there

beside her, enjoying watching her - and myself - grow.

Christine Bryant is a Messenger staff writer and columnist.

Singing the praises of the "piney"

Every year I watch for their shoots to poke their reddish

heads out of the early cold, soft spring ground. The

shoots appear just a bit after the forsythias put on their

golden performance.

I know in early April, when I see those red tips pushing

aside the mud, that soon the stalks will quickly grow

into a bushy plant basking in the sun. By mid- to late-

May there are big, glorious, fluffy, and delicate pink and

white blooms adorning the yard.

I call them "pineys." I know the plant is properly pronounced

"peonies," but I, like many other Ohioans, were

brought up calling them pineys and I still like the way it

sounds.

These grand peonies are my favorite spring flower.

There is a row of peonies gracing my backyard. The

massive pink and white blossoms burst forth and put on

their beautiful show for a few weeks until the heat of

summer moves in. Then the blossoms go brown and turn

inward while the fresh green of the leaves turns to a

heavy, dull green as summer lazes on through July and

August. By fall, the leaves turn golden brown, bookending

the seasons with a splash of color before sinking back

into the earth.

But for those few wondrous days in May, the big pink

and white peonies stand out among the green landscape

of spring. I

like to gaze

at the

beauty of

the blooms whose color and texture

remind me of strawberry and

vanilla ice cream.

Look around in various yards

and you can see that the peony

makes for a nice border plant that

can give a welcome visitors as they

walk up one's sidewalk or can

mark property boundary lines in a

more aesthetic way than a fence.

The peony is a dependable

perennial. Though its blooms are

delicate in appearance, the plant is

hardy and requires little tending

to. The plant can be a life time

Editor's Notebook

Rick

Palsgrove

friend as, according to "The Old Farmer's Almanac," some

peony plants have been known to live for 100 years.

It's nice to know that something this beautiful has

such staying power and that, even when it fades in

autumn, the peony still heralds the promise of spring.

Rick Palsgrove is editor of the Eastside Messenger.

.Name:

Address:

City/State/Zip

columbus

3500 Sullivant Ave., Columbus, OH 43204

1 year ($9) 2 year ($18)

Eastside Westside Southwest

Southeast

Letters policy

The Eastside Messenger welcomes letters to the editor. Letters can be of

any topic as long as they are not libelous. Letters that do not have a signature,

address, and telephone number, or are signed with a pseudonym, will be

rejected. PLEASE BE BRIEF AND TO THE POINT. The Messenger

reserves the right to edit or refuse publication of any letter for any reason.

Opinions expressed in the letters are not necessarily the views of the

Messenger. Mail your letters to: Eastside Messenger, 3500 Sullivant Avenue,

Columbus, OH 43204; or email eastside@columbusmessenger.com.

Besides home delivery in "The

Bag" and in the Sunday Dispatch, the

Eastside Messenger is also available at:

Frances Steube Senior

Community Center, The Wig

Wam Restaurant, Shade on the

Canal, Canal Winchester Library,

Canal Winchester Kroger, and the

Pickerington Public Library.
---
www.columbusmessenger.com

May 20, 2018 - EASTSIDE MESSENGER - PAGE 5

Canal Winchester library branch is a community gem

By Linda Dillman

Staff Writer

A collaborative effort following years of

discussion between Canal Winchester

Mayor Mike Ebert and Columbus

Metropolitan Library system CEO Patrick

Losinski resulted in a local branch that

now draws more than 3,000 visitors a

month.

"Bringing library services to Canal

Winchester was important to us because

the city falls within our service area and its

residents vote on our levies," said CML

spokesman Ben Zenitsky.

A lease agreement of 1$ a year, plus

$500 per month for utilities and usage, for

space on the west side of the former

Washington Street school complex, now

home to school district offices and the

National Barber Museum, was approved

by the Canal Winchester Board of

Education in December 2014. After renovating

the space, the branch opened to the

public in January 2016.

"The Canal Winchester branch has

brought life into a vacant portion of the former

high school building, returning it to its

original purpose of equipping young minds

for future success," said Zenitsky.

"Customer visits to the branch in 2016

were approximately 34,000 (2,800 per

month). In 2017, they were approximately

"The Canal Winchester branch

has brought life into a vacant portion

of the former high school building,

returning it to its original purpose of

equipping young minds for future

success."

- Ben Zenitsky,

CML spokesman

39,500 (3,300 per month). Visits in 2018

have remained comparable to 2017 counts."

Branch Manager Matt Craft said the

community response has been tremendous

and a lot of regular patrons come in and

trade book recommendations with staff.

"A dedicated group of students come in

after school for Homework Help and

Reading Buddies and we have a great relationship

with the local elementary schools,"

said Craft. "We have some wonderful volunteers

from the area as well. Their support

has been an important part of our ability

to provide high-quality after school

services for students. Mayor Ebert's office

has also been very supportive. It really

feels like we have been incorporated into

the community."

Despite the branch's location at 115

Franklin St. behind the former Washington

Street school, Craft said Canal Winchester

is a tight-knit community, word of mouth

travels fast and the library staff works to

promote the branch and its resources by

building partnerships with the schools and

other community partners.

The branch's 2017 circulation was

approximately 99,000. However, Craft said

it is difficult to compare its circulation with

that of other new branches since Canal

Winchester is only one of two "express"

model branches. Express branches are

smaller and open for limited hours of operation.

The Canal Winchester and Marion-

Franklin branches are open 40 hours a

week, while other locations are open 70

hours a week.

"The reason for this is that our Canal

Winchester and Marion-Franklin branches

are new to their respective communities

and we're continuing to gauge their usage,"

said Craft.

When school is in session, the branch

provides after school Homework Help to

students in grades K-12 every Monday

through Friday from 3-6 p.m. They also

offer Reading Buddies on Tuesdays and

Wednesdays from 4-5 p.m.

"This program gives K-3 students 15

minutes of one-on-one reading practice

with an adult buddy and is designed to help

build their reading skills so they're

equipped to pass the Ohio third grade reading

tests," said Craft. "Both programs have

gained popularity. In fact, Reading

Buddies just had its busiest month in

April. A big part of that success has been

due to our great volunteers who read with

kids and help them with their homework."

Craft said branch staffers are looking

forward to CML's Summer Reading

Challenge–the library system's annual

summer reading program designed to keep

kids reading over the summer while earning

badges and prizes and attending programs.

"We'll have some great programs on

Thursdays at 2 p.m., such as the Turtle

Lady. Others feature robotics, magic and

archaeology," Craft said. "We're also introducing

a Reading Buddies Power Hour on

Tuesdays and Wednesdays at 2 p.m. with

literacy-based games and activities for students

in grades K-3.

Visit the library's "events" page at

columbuslibrary.org to learn more.

Library cards are free and sign-up can

be done online or at a local branch.

"We like to say it's the most valuable

card in your wallet, as it gives you access to

millions of titles as well as free digital

resources through columbuslibrary.org,"

said Zenitsky.

The Canal Winchester Library Branch

is open Monday-Thursday from 12-7 p.m.,

Friday and Saturday from 12-6 p.m. and

closed on Sunday.Visit columbuslibrary.org

for information.
---
PAGE 6 - EASTSIDE MESSENGER - May 20, 2018

www.columbusmessenger.com

Memorial Day Section

Nine years ago, we at Dwayne R. Spence

Funeral Home decided we wanted to give back to

the community of Pickerington, so we designed a

Shred Day event to do just that.

This allows the community to get rid of old,

outdated documents for free.

But, we wanted to go further and add some

charities to our event.

We have the Lion's Club collecting used glasses,

St. Vincent De Paul accepting clothing and

household item, the Pickerington Food Pantry

accepts staple food items and cash donations and

we have added electronics recycling again at no

charge to the community.

We are fortunate to have the continued service

of Boy Scout Troup 256 with us since the beginning.

We are very grateful on Shred Day that the

Scouts and their leaders show up in force to help

unload the documents from the cars and place

them in the shredding containers.

This makes it really convenient as those dropping

off don't have to get out of their vehicle. No

Heavy Lifting!

One of our Directors, a Boy Scout in Troop

256, many years ago, discovered a merit badge

"Pulp and Paper" that the boys can earn with their

PAID ADVERTISING

Shred Day

9TH ANNUAL

SPENCE FUNERAL HOME

Pickerington

service. With the co-operation of Royal

Document Destruction, we are able to provide the

requirements for the Scouts to achieve this merit

badge.

Our event has grown each year, from 230 vehicles

the first year to over 900 now. The Food

Pantry collects nearly 2,000 food items plus donations

of over $1000. The Lions Club collects over

400 pairs of used glasses. St. Vincent DePaul

Society collects 1-2 box trucks full of clothing &

household items.

Royal Document Destruction shreds nearly 17

tons of paper, which equates to saving: 288 trees,

118,510 gallons of water, 85 cubic yards of landfill

space, 69,413 kilowatt hours of energy, 1,016

pounds of pollutants kept from the atmosphere.

T.D.R. LLC Electronic Recyclers Processes,

recycles, destroys or displaces in an environmentally

correct manner 5,377 pounds of electronic

equipment.

As soon as this year's Shred Day event, June 9

9 a.m. - 1 p.m. is over, the planning will start for

next year and next year will be extra special, as it

will be the 10th annual Shred Day and the 50th

anniversary of Dwayne R. Spence Funeral Home.

SHRED DAY AND ELECTRONICS RECYCLING

DWAYNE R. SPENCE FUNERAL HOME

550 Hill Rd. North Pickerington, OH

SATURDAY, June 9, 2018 • 9:00 A.M. - 1:00 P.M.

Bring your documents for free on site shredding

Electronics being collected by T.D.R.LLC RECYCLERS

Bring anything with a wire, plug or cable

TV's a charge of $1.00 per inch.

Pelotonia will be onsite accepting donations for the OSU

Comprehensive Cancer Research Center

Bring your used eyeglasses to donate to the Lions Club

The St.Vincent de Paul Society will be collecting clothing and

household items.

Pickerington Food Pantry will be collecting non-perishable food

items.

DOOR PRIZES COMPLIMENTS OF DWAYNE R. SPENCE FUNERAL HOME

Pickerington Summer Concert Series

The city of Pickerington's Parks and

Recreation Department has announced its

2018 summer concert schedule. Admission

to all events is free.

and July 27, The Incredibles.

The summer concert series will be held

from 7-8:30 p.m. at the Sycamore Creek

Park amphitheater. The schedule includes:

Canal Winchester's 2018 Music & Art in

the Park free summer concert series continues

on June 15 from 6:30-9:30 p.m. in

Stradley Park, 36 S. High St. featuring a

tribute to farmers with entertainment by

local band Waterloo5. The series concludes

PAID ADVERTISING

Mike Albert to perform

at Summer Blast

"The King's" music lives on in the heart and

soul of admirers such as Elvis entertainer Mike

Albert, who will perform at this year's Summer

Blast 2018.

Now you can see one of the best "Elvis"

shows in the country as Albert, with his "The

Ultimate Tribute" show and the Big "E" Band,

brings the memory of the king of rock and roll

back to gyrating life for the 18th year on the stage

of the Villa Milano June 9 during Summer Blast

2018.

Doors open at 5:30 p.m., dinner is served at

6:30 p.m. and the show kicks off at 7:30 p.m. with

Albert and his band.

SUMMER BLAST!

ELVIS

featuring

Mike Albert

and the Big E Band

Saturday

June 9, 2018

VILLA MILANO

1630 Schrock Rd.

Dinner/Show Tickets $ 49.00

Tables of 10 Available

Tickets by Phone: 614-792-3135

Tickets by Email: tickets4mike@gmail.com

June 3, The McCartney Project; June 10,

Jonalee White Band; June 17, RockHouse;

June 24, Yesterday & Today; July 1, David

Gerald Trio; July 4, Scarlet Fever (at

Victory Park, as part of the July 4 celebration);

July 15, Chris Logsdon; July 22,

Swagg; and July 29, Stadium 11.

Canal Winchester's Music & Art in the Park

July 20 with music from the Gas Pump

Jockeys and the 11th annual Cruise-In,

hosted by C-Town Cruisers.

Visit www.canalwinchesterohio.gov for

information.

Mike Albert is the complete package with his

wardrobe, charisma, and voice. Along with the

six piece Big E Band, it makes for a Las Vegas

style performance. First timers at Mike Albert's

show are absolutely amazed.

Albert covers Presley's career from the rockabilly

'50's to the Vegas '70's, including love

songs and gospel numbers, and has performed

concerts in Europe, Australia, New Zealand and

throughout America.

Tickets for the dinner and show are $49. Call

792-3135 for information or to order tickets. Villa

Milano is located at 1630 Schrock Road in

Columbus and there is ample parking.

Visa • Mastercard • Discover

NOREFUNDS
---
www.columbusmessenger.com

May 20, 2018 - EASTSIDE MESSENGER - PAGE 7

Memorial Day Section

Memorial Day ceremony

American Legion Post 283, 7725

Refugee Road, Pickerington, and its Honor

Guard, will host a Memorial Day ceremony

at 1 p.m. on May 28.

Speakers will be Jason Beardsley,

MSGT (ret.) Army Spec. Ops.; and Rob

Whitlow, Op Swift Vietnam AO 01C Pilot.

The event includes the VA mobile unit and

a Navy Seal demonstration. The public is

invited.

CW Farmers Market

The Canal Winchester Farmers Market

runs Saturdays from 9 a.m. to noon from

May 26 through Sept. 29 (rain or shine) in

historic downtown Canal Winchester near

Stradley Park, 36 S. High St.

The market will be closed on July 28 to

accommodate the Canal Winchester Blues

& Ribfest, and Sept. 1 for the Canal

Winchester Labor Day Festival.

For information visit

www.thecwfm.com or contact Karen Stiles

at 614-270-5053.

PAID ADVERTISING

The area's

finest

outdoor

water park

Looks like the weather has finally decided to

cooperate, just in time for summer vacation. If

you are looking for a place to cool off with the

family, look no further than the award winning

Groveport Aquatic Center. The facility is open

Monday – Saturday (Noon – 8 p.m.) and Sunday

(1–8 p.m.). The pool will tentatively open for the

season on Saturday, May 26.

Season Passes are available for sale at the

Groveport Recreation Center. Day passes can be

purchased at the gate for $8 (less $2 for

Groveport residents). Groups looking to spend

the day with us should call Steve Riegler

(Aquatics Manager) at 614-836-1000 ext. 1510.

The Groveport Aquatic Center hosts many

special events over the summer months, including

Super Family Sundays (6/10, 7/8, 8/5),

Belated Mother's Day Special (6/10), Father's

Day Special (6/17), $4 on July 4, Mom & Son

Game Night (7/13) and our Annual Dog Paddle

Palooza (9/6).

To learn more about the Groveport Aquatic

Center, please visit www.groveportrec.com or

call 614-836-2255 / 836-1000. We hope to see

you soon!

Memorial Day in CW

Following 45 years of developing and

hosting Memorial Day events in Canal

Winchester, American Legion Post 220

Auxiliary Unit will pass the torch to new

organizers. VFW Post #10523 of Canal

Winchester will take over hosting duties of

the l Memorial Day Ceremonies.

Pat Hartman, who headed up event

organizing on behalf of the Auxiliary Unit

for over 30 years, recently announced she

has retired.

"It's been a pleasure to help develop the

Memorial Day ceremonies and host the

program," Hartman said. "We truly need

to remember and honor our fallen veterans."

VFW Post #10523 Commander Rick

Williams expressed the Post's appreciation

for Hartman's dedication and direction.

"Pat Hartman was mistress of ceremonies

for so many years. As she passes

the torch, every effort will be made to

carry on with the fine Memorial Day program

initiated by the American Legion's

Auxiliary Unit."

The Canal Winchester Memorial Day

ceremonies will be held May 28 at 10:30

a.m. at Union Grove Cemetery, 400

Winchester Cemetery Road. The ceremony

will feature keynote speaker Dr. Dana

Street, a U.S. Navy veteran of Desert

Storm. Following her military service,

Street pursued a career in medicine, and

currently practices in Columbus. She

joined the Canal Winchester VFW post in

2017, quickly becoming active in the Post's

many charitable activities benefiting local

veterans and their families.

Other ceremony participants will

include Boy Scouts, Girl Scouts, and the

Canal Winchester High School Band.

Lithopolis Garden Club

Lithopolis Garden Club meets the first

Tuesday each month at 1 p.m. in the

Community Building at Wagnalls

Memorial in Lithopolis.

Book Meet & Eat

Come for a discussion and try a dish

based on the book of the month. For adults.

Meets May 23 from 6:30-7:30 p.m at

Groveport Town Hall, 648 Main St. Free.

Call 614-836-3333 to register by May 21.
---
PAGE 8 - EASTSIDE MESSENGER - May 20, 2018 wwww.columbusmessenger.com

t

May Giveway

Place a prepaid classified line ad in our paper

for the month of May and be registered to win a

$50 Gift Card from

The Columbus Messenger Newspapers.

All ads received by mail, in person,

email or phone will be included in the drawing.

Drawing will be held May 30th, 2018

and the winner will be notified

and published in

our June 3rd issue

GOOD

LUCK!

CW's 2018 street program

By Linda Dillman

Staff Writer

Spending money in Canal Winchester

on necessities such as groceries or shoes,

an evening out at a restaurant or fueling

up a gas tank goes a long way in getting

motorists to their destination.

In the early 2000s, voters approved a 1

percent sales tax increase that helps fund

the city of Canal Winchester's annual

street program, which will spend more

than $500,000 this year on city streets.

Including the 2018 program, Canal

Winchester has spent $2.6 million since

2014 repairing streets in the city. Most of

the funding comes from the general fund,

but it can include state highway, stormwater,

streets, wastewater, and water money.

This year's list for street work includes:

Ashlar Court, Atwell Court, Brick Court,

Bruns Court, Burgstresser Court, Clay

Court East, Clay Court West, Creek Court,

Embers Lane, Heffley Court, Jenkins

Drive, Murdock Lane, Saylor Court, and

Walnut Drive.

Work will also take place on Buckner

Court in Westchester; High Street from the

railroad tracks to U.S. Route 33, along

with sidewalk work at the tracks; final

pavement at the new parking lot on

Towing Path; multi-use path resurfacing

on Dietz and Thrush; an annual sidewalk

replacement program and miscellaneous

curb, ramp and pavement repairs.

Streets/areas were selected based on

condition, location, and the amount of traffic

they carry, according to a Five-Year

Capital Improvement Plan created by

Public Works Director Matt Peoples and

Contract Services Administrator Bill Sims.

Peoples said residents in affected areas

will be notified with a flier explaining the

work to be done and any impacts. A notice

will also be posted on the city's website and

on social media.

"We are not expecting any major closures,

but there will be some minor delays

and temporary lane closures when work is

going on," said Peoples.

CLASSIFIED ADS

Deadlines: Southeast and West editions, Wednesdays at 5 p.m., • East, Southwest, Madison editions, Tuesdays at 5 p.m.

All editions by phone, Tuesdays at 5 p.m. • Service Directory, Tuesdays at 5 p.m. • Main Street Mailbox, Tuesdays at 5 p.m.

xInformation

DRIVE YOUR CAR

Earn $250 weekly!!!

We are seeking car owners willing to put a

big ad on their car.

Compensation is $250 weekly.

Send your car make/model/year to:

bhuff2u81@gmail.com

ADVERTISE

Information

INFORMATION

ASSOCIATION ADS

HughesNet Satellite Internet?

25 mbps starting at

$49.99 / mo! FAST download

speeds. WiFi built in!

FREE Standard Installation

for lease customers!

Limited Time, Call 1-800-

610-4790.

ASSOCIATION ADS

IRS TAX DEBTS? 10K+?

Tired of the calls? We

can HELP! $500 free

consultation! We can

STOP the garnishments!

FREE Consultation Call

Today 1-855-823-4189

GENERIC VIAGRA and

CIALIS! 100 Pills $99.00

FREE Shipping! 100%

guaranteed. 24/7 CALL

NOW! 888-889-5515

xMisc. For Sale

ASSOCIATION ADS

VIAGRA & CIALIS! 60

pills for $99. 100 pills for

$150 FREE shipping.

Money back guaranteed!

1-800-503-7846

INVOKANA MEDICATION

WARNING THESE MEDI-

CATIONS INCREASE

THE RISK OF AMPUTA-

TION. YOU MUST CALL

NOW 800-804-8248.

Misc. for Sale

ASSOCIATION ADS

DISH TV $59.99 For 190

Channels. $14.95 High

Speed Internet. Free Installation,

Smart HD DVR

Included. Free Voice Remote.

Some restrictions

apply. Call 1-855-837-

9146

ASSOCIATION ADS

HOME SERVICES

Dealing with water damage

requires immediate

action. Local professionals

that respond immediately.

Nationwide and 24/7. No

mold calls. Call today! 1-

800-730-9790

Check Out Our Website @

www.columbusmessenger.com

xCome & Get It

COME AND GET IT

Deadlines are Tuesdays by 5 pm.

Call For Publication Schedule 614-272-5422

Need to Get Rid of Something Fast - Advertise It Here For FREE!

FREE Garden Straw for gardens or bedding. Call for appointment for pickup.

Circle S Farms, 9015 London-Groveport Road, Grove City, 43123

Grove City - 614-878-7980

Twin size foam rubber mattress and one dozen pint-sizes canning jars.

BK- Lincoln Village, Columbus - 614-878-6926

Vintage Steamer Truck with drawers & pull out hanger rack. Last voyage 1939

DJ - Canal Winchester - 614-560-1293 Leave msg. for return call

Come and Get It! is a bi-weekly column that offers readers an opportunity to pass

along surplus building materials, furniture, electronic equipment, crafts, supplies,

appliances, plants or household goods to anybody who will come and get them - as

long as they're FREE. NO PETS! Just send us a brief note describing what you want

to get rid of, along with your name, address and phone number. Nonprofit

organizations are welcome to submit requests for donations of items. Send

information to The Columbus Messenger, Attention: Come and Get It, 3500

Sullivant Ave., Columbus, OH43204. Deadline is Tuesdays by 5 pm for following

Mondays publication. Messenger Newspapers is not responsible for any

complications that may occur. Please contact us when items are gone. 272-5422

Come & Get It
---
www.columbusmessenger.com

May 20, 2018 - EASTSIDE MESSENGER - PAGE 9

CLASSIFIED ADS

Deadlines: Southeast and West editions, Wednesdays at 5 p.m., • East, Southwest, Madison editions, Tuesdays at 5 p.m.

All editions by phone, Tuesdays at 5 p.m. • Service Directory, Tuesdays at 5 p.m. • Main Street Mailbox, Tuesdays at 5 p.m.

xEmployment

NOW HIRING for 2018-2019 School Year!

WE NEED DRIVERS

No CDL Required

Posions are PT, working 20‐24 hrs per week

We offer dayme shis, no nights/weekends & have paid

training. Company vehicle provided for use during working

hours. Individuals must be able to pass a background check,

a pre-employment physical/drug screen, have no DUI's and

have less than 4 points on their OH license.

For more informaon, please contact Vanessa at

614‐679‐7280 or email vfrazier@tristar‐cols.com

To learn more about Tristar, please visit our website at

www.tristarcolumbus.com

tristar

TRANSPORTATION CO.

WANTED

SW CITY SCHOOLS

SCHOOL BUS DRIVERS

The South-Western City School

District is currently hiring drivers

$16.55/HR

Available positions are for substitute drivers that

can develop into "Regular" positions with benefits.

Interested individuals should submit an application

on our website at swcsd.us. Follow the

employment link. Applicants should have an

excellent driving record and must submit to drug,

alcohol, and background screening. A high

school diploma or equivalent is required. EOE

See...You Looked!

Newspaper Ads

Catch The Eye!

Call

614-272-5422

For Info. & Pricing

ASSOCIATION ADS

Wants to purchase minerals

and other oil and gas

interests. Send details to

P.O. Box 13557, Denver,

CO. 80201

KILL ROACHES-GUAR-

ANTEED! Buy Harris

Roach Tablets. Available:

Hardware Stores,

The Home Depot, homedepot.com

IVC FILTER WARNING

DO YOU HAVE AN IVC

FILTER? YOU MAY BE

ENTITLED TO FINAN-

CIAL COMPENSATION

CALL 800-340-1530

A PLACE FOR MOM. The

nation's largest senior living

referral service. Contact

our trusted, local experts

today! Our service is

FREE/no obligation. CALL

1-844-722-7993

25 TRUCK DRIVER

TRAINEES NEEDED!

Earn $1000 per week!

Paid CDL Training!

Stevens Transport covers

all costs! 1-877-209-

1309 drive4stevens.com

ASSOCIATION ADS

TALCUM POWDER

WARNING HAVE YOU

USED TALCUM POW-

DER AND DIAGNOSED

WITH OVARIAN CAN-

CER? CALL NOW 800-

208-3526

Building Materials

Metal Roofing & Siding

for houses, barns, sheds.

Close outs, returns, seconds,

overruns, etc. Starting

at $.33 SQ FT. Slate

RoadSupply.com 717-

445-5222

Were you an INDUSTRIAL

TRADESMAN (machinist/

boilermaker/pipefitter etc)

and recently diagnosed

with LUNG CANCER? You

may be entitled to a SIG-

NIFICANT CASH AWARD.

Risk free consultation!

877-781-1769

DISH Network - Satellite

Television Services. Now

Over 190 channels for

ONLY $49.99/mo! HBO-

FREE for one year,

FREE Installation, FREE

Streaming, FREE HD.

Add Internet for $14.95 a

month. 1-800-219-1271

ASSOCIATION ADS

Spectrum Triple Play!

TV, Internet & Voice for

$29.99 ea. 60 MB per

second speed. No contract

or commitment.

More Channels. Faster

Internet. Unlimited Voice.

Call 1-855-652-9304

Stop OVERPAYING for

your prescriptions! SAVE!

Call our licensed Canadian

and International pharmacy,

compare prices

and get $25.00 OFF your

first prescription! CALL 1-

877-625-2147 Promo

Code CDC201625

Stop OVERPAYING for

your prescriptions! SAVE!

Call our licensed Canadian

and International pharmacy,

compare prices

and get $25.00 OFF your

first prescription! CALL 1-

855-541-5141 Promo

Code CDC201725

DIRECTV SELECT

PACKAGE! Over 150

Channels, ONLY $35/

month (for 12 mos.) Order

Now! Get a $100

AT&T Visa Rewards Gift

Card (some restrictions

apply) CALL 1-855-781-

1565

Employment

STNA'S

SIGN-ON BONUS

Altercare of Canal Winchester

is seeking caring STNA's to work

FULL-TIME or PART-TIME

in our clean, friendly, and supportive location.

We offer a team environment

exceptional benefits package and experience pay.

If interested, please apply in person or online:

Altercare of Canal Winchester

Post-Acute Rehabilitation Center, Inc.

6725 Thrush Dr., Canal Winchester, OH

www.altercareonline.com

Altercare is a drug-free workplace

ASSOCIATION ADS

IMPORTANT

NOTICE

The following states: CA,

CT, FL, IA, IL, IN, KY,

LA, MD, ME, MI, MN,

NE, NC, NH, OH, OK,

SC, SD, TX, VT and WA

requires seller of certain

business opportunities to

register with each state

before selling. Call to

verify lawful registration

before you buy.

CARS/TRUCKS WANT-

ED!!! All Makes/Models

2002-2018! Any Condition.

Running or Not.

Competitive Offer! Free

Towing! We're Nationwide!

Call Now: 1-888-

368-1016

CATCH

A WINNER!

CALL

The Columbus Messenger

to Advertise and Reach

over 150,000 Households

614-272-5422

ASSOCIATION ADS

Cross Country Moving,

Long distance Moving

Company, out of state

move $799 Long Distance

Movers. Get Free

quote on your Long distance

move 1-800-511-

2181

INFORMATION
---
PAGE 10 - EASTSIDE MESSENGER - May 20, 20189

www.columbusmessenger.com

xEmployment

JOB

EXPLOSION!!

S TA F F I N G

Your Partner at Work

WE ARE LOOKING

FOR SOME GREAT

PEOPLE!

A Career Perfect for the Outdoorsman?

Enjoy Working Outdoors?

Enjoy Working on a Great Team?

Have an Interest in Science?

If YES, You May Have A Future Managing

Freshwater Ecosystems

Send resume or apply in person at:

3455 Centerpoint Drive, Grove City OH 43123

8am-5pm Monday-Friday

614-506-4166 info@aquadocinc.com

*Competitive Wages & Benefits*

*Variety of Full-time Positions Available*

*Clean Driving Record a Must - EOE*

ASSOCIATION ADS

IRS TAX DEBTS? 10K+?

Tired of the calls? We

can HELP! $500 free

consultation! We can

STOP the garnishments!

FREE Consultation Call

Today 1-855-900-5594

Business to Business

BUY 4 WEEKS/

GET 4 WEEKS FREE!!!

ADVERTISE YOUR BUSI-

NESS in over 3 Million

homes in the Mid-Atlantic

States of Pennsylvania,

Ohio, New York, New Jersey,

Delaware, Maryland,

West Virginia, Virginia and

Washington DC in publications

like this one and

many more. Visit macnetonline.com

or call 800-

450-6631 for more details.

We have over 50

immediate openings

available!

ALL SHIFTS!

From Warehouse,

Manufacturing to Offfice Work

Visit our office today at:

4998 W Broad St., Suite 100

Columbus, OH 43228

614-351-3100

Daily between 9am - 2pm

ASSOCIATION ADS

ASSOCIATION ADS

Were you an INDUSTRIAL READER

or CONSTRUCTION

TRADESMAN and recently

ADVISORY

diagnosed with LUNG The National Trade Asso-

CANCER? You and your ciation we belong to has

family may be entitled to a purchased the following

SIGNIFICANT CASH classifieds. Determining

AWARD. Call 1-844-522- the value of their service

0818 for your risk free consultation.

this publication. In order

or product is advised by

ADVERTISE to 10 Million to avoid misunderstandings,

Homes across the USA!

some advertisers do

Place your ad in over 140 not offer "employment"

community newspapers, but rather supply the

with circulation totaling readers with manuals, directories

over 10 million homes.

and other mate-

Contact Independent Free rials designed to help

Papers of America IFPA at their clients establish mail

danielleburnett-ifpa@ order selling and other

live.com or visit our website

businesses at home. Under

cadnetads.com for

more information.

NO

circumstance

NOW HIRING!

Local High Volume Pharmacy

Immediate 2nd shift positions available

for Pharmacy Clerks and Technnicians.

Looking for energetic associates

in a fast pace environment.

NEW Starting rate: $10.95 to $13.15 per hour

Shift differential $.50 an hour

Please apply at: jobs.kroger.com

Use Zip Code 43217

Must be 18 years of age & have high school diploma or GED.

Call 614-333-5012 for more details.

ASSOCIATION ADS

should you send any

money in advance or give

the client your checking,

license ID or credit card

numbers. Also beware of

ads that claim to guarantee

loans regardless of

credit and note that if a

credit repair company

does business only over

the phone it's illegal to request

any money before

delivering its service. All

funds are based in US

dollars. Toll Free numbers

may or may not

reach Canada. Please

check with the Better

Business Bureau 614-

486-6336 or the Ohio Attorney

General's Consumer

Protection Section

614-466-4986 for more

information on the company

you are seeking to

do business with.

Call Empire Today® to

schedule a FREE inhome

estimate on Carpeting

& Flooring. Call

Today! 1-800-508-2824

Earthlink High Speed Internet.

As Low As

$14.95/month (for the

first 3 months.) Reliable

High Speed Fiber Optic

Technology. Stream Videos,

Music and More!

Call Earthlink Today 1-

855-520-7938

BE YOUR OWN BOSS!

INDEPENDENT

CONTRACTORS

WANTED

If you have a reliable

car and would like to

earn extra money,

then why not deliver?

• Deliver 1 or 2 days a week

• Flexible delivery hours

• Work close to home - often

in or near your neighborhood

CONTACT US

1-888-837-4342

www.thebag.com

• Deliver 7 days a week

• Delivery before dawn

• Work close to home - often

in or near your neighborhood

CONTACT US

614-461-8585

www.dispatch.com/delivery

INCOME TAX

SP Payroll &

Tax Services

Tax Preparation

Starts at $55. Trucker

& 1099 Services

Call Stacey at

614-203-5134

For Appt. 5-27 W/SW

HELP WANTED

Finisher & Laborer

Must have own transportation.

Exp. necessary. Call

614-871-3834 betw 6-8pm

LABORERS & DRIVERS

for service company.

Please apply 10-5

4210 Groveport Rd.

DATED SALES

FREE

Garage Sale

Signs

When You Stop By

Our Office At:

3500 Sullivant Ave.

And Place Your

DATED SALE AD

Employment

HIRING?

Let us help you recruit the qualified employees you need to make

your business succeed. With a print and online audience of more

than 39,000 readers, our employment section is your key to meeting

local job seekers where they look first for fresh career opportunities.

Our Eastside Messenger is

now covering Pickerington

and Canal Winchester!

Our Southeast Messenger

will still serve our Groveport

and SE Columbus areas.

To list a job opportunity, contact a

recruitment advertising specialist today at

614.272.5422

or

Kathy@columbusmessenger.com

columbus

IMAGINE SCHOOLS

NOW HIRING

CERTIFIED TEACHERS

Imagine Primary - 4656 Heaton Rd., Columbus, OH 43229

Imagine Great Western - 310 North Wilson Rd., Columbus, OH 43204

Imagine Groveport - 4485 S. Hamilton Rd., Groveport, OH 43125

Imagine Harrisburg Pike - 680 Harrisburg Pike, Columbus, OH 43223

Imagine Sullivant - 3435 Sullivant Ave., Columbus, OH 43204

Resumes can be sent to:

jennifer.keller@imagineschools.org

DATED SALES

PLUS SIZE CLOTHES

1/2 OFF ENTIRE STORE!

Sat. - Sun. June 2-3

11am-5pm

Plus Size Clothes 18W-7X

Miss Chrissy's Plus

Size Shop

5-27 E/SE

1749 Brice Rd., Reys.

614-501-7587

WANT TO BUY

WANTS TO Purchase

minerals and other oil &

gas interests. Send details

to: P.O. Box 13557,

Denver, CO 80201

We Buy Cars & Trucks

$300-$3000.614-308-2626

CASH FOR CARS

614-276-2597

We Buy Junk Cars &

Trucks. Highest Prices

Paid. 614-395-8775

Looking For That

One Special Piece of

Furniture, Appliance, Etc?

Or Have

Something YOU

Want To Sell?

Check Out The

Classifieds

614-272-5422
---
List details, terms and conditions here. List details, terms and conditions here.

List details, terms and conditions here. List details, terms and conditions here.

List details, terms and conditions here. List details, terms and conditions here.

List details, terms and conditions here.

www.columbusmessenger.com

xFocus on Rentals

May 20, 2018 - EASTSIDE MESSENGER - PAGE 11

xClassified Services

ATTENTION

RENTAL MANAGERS

Advertise Your Apartment Listings Today!

Our Eastside Messenger

is now covering Pickerington

and Canal Winchester!

Our Southeast Messenger will

still serve our Groveport and SE

Columbus areas.

Reaches over 39,000 household in these

two areas!

simply the Best Place to Live

Example

Claremont

Towers

Luxury Studio & 1-Bedroom Apartments

Great downtown location

Expansive floor plans

Hardwood flooring

Rooftop deck with grills

Community entertainment room

Stainless steel appliances

One Month Free Rent

& No Application Fee

with 12-month lease

when you mention this ad

Limited-time offer!

1234 WASHINGTON STREET

SOMERSVILLE HEIGHTS

000-000-0000

WWW.NAMEWEBSITE.COM

CALL KATHY

TODAY!

614.272.5422

kathy@columbusmessenger.com

Focus on Rentals

xInformation

MAY GIVEAWAY

Place a prepaid classified line ad in our paper

during the month of MAY and be registered

to win a $50 Gift Card from

The Columbus Messenger

Newspapers.

All ads received by mail, in person, e-mail or

phone will be included in the drawing.

Drawing will be held May 30th, 2018

and the winner will be notified and published

in our June 3rd, 2018 issue.

GOOD LUCK TO EVERYONE!!!!

Information

columbus

WANT TO BUY

$ Cash At Your Door $

for junk or unwanted cars

(Free Tow). Call

614-444-RIDE (7433)

ANTIQUES

WANTED

Victrolas, Watches,

Clocks, Bookcases

Antiques, Furn.

Jeff 614-262-0676

or 614-783-2629

MISCELLANEOUS

FOR SALE

WOOD ART-6'x6' -

8 scenes; rocker sofa-

$65. 614-834-2746

OFFICE SPACE

Furnished Office Space,

Gender Road/33 - includes

shared conference room,

kitchen, internet, sec. sys,

plenty of parking, freeway

access. $500/mo.

John - 614-679-8300

VACATION RENTALS

Englewood, Florida

Palm Manor Resort

Within minutes of white

sand Gulf beaches,

world famous Tarpon

fishing, golf courses, restaurants/shopping,

Bush

Gardens. 2 BR 2 BA

condos with all ammenities,

weekly/monthly, visit

www.palmmanor.com

or call 1-800-848-8141

AIR CONDITIONING

AIR CONDITIONING

Complete System

Clean & Check

$49.95 5-27 A

Free Electronic Leak Testing

All Makes • All Models

42 Yrs. Exp. • Senior Discount

614-351-9025

614-351-9005

APPLIANCE REPAIR

Washer, Dryer, Stove &

Refrig. Repair 875-7588

BLACKTOP

SANTIAGO'S

Sealcoating & Services LLC

Quality Materials Used

FULLY INSURED

Driveway Seal ( by broom)

Hot Fill Crack, Asphalt Repair

Residential & Commercial

Mulching, Edging & Clean-ups

"Ask for whatever you need."

BBB Accredited

Call or text for Free Est.

614-649-1200

BLACKTOP SEALING

Driveways & Parking Lots

614-875-6971

CARPET CLEANING

Dirt Busters Tile/Floor-Any

3 Rms - $44.95. Pet odor

treatment. 614-805-1084

CARPET WORK

CARPET REPAIR WORK

& INSTALLATION

614-444-5799

CLEANING

Cleaning, 20 yrs. exp.

Call Judy 614-946-2443

Holly's Halos

Accepting New Clients

2 Hours - $40-$50

Bonded-Ins. 614-426-3624

Cleaning Your Home

with Love & Passion

Detailed & Dependable

~ 614-271-8799 ~

CONCRETE

AJ's Concrete,

Masonry

Good Work - Fair Prices

Block Foundations

Driveways • Sidewalks

Epoxy/Overlay Floors

Bonded-Ins. • Free Ests.

Now Accepting Credit Cards

614-419-9932

D.J. & DAD KIMMLE

CUSTOM CONCRETE

7/8

All Types E/SE

Free Estimates

All Work Guaranteed

614-206-0158

5-27 A

CONCRETE

ALL-CITY CUSTOM

CONCRETE

All Types Concrete Work

New or Tear Out-Replace

36 Yrs Exp.

(614) 207-5430

Owner Is On The Job!

EDDIE MOORE

CONSTRUCTION

Quality Concrete Work

Lt. Hauling & Room Add.,

Block Work & Excavation

Stamp Patios,

Bsmt. Wall Restoration

36 Yrs Exp - Lic & Ins.

Free Ests. 614-871-3834

ELECTRICAL

HAHN'S ELECTRIC

Affordable, Quality

Work For 31 Yrs.

614-237-3524

Cell 614-517-9699

Licensed • Bonded • Insured

Free Estimates • Lic. # 20240

GUTTERS

Low Price-Great Service

5 & 6" Seamless gutters,

covers, siding, gutter clng.

Bill 614-306-4541

HAULING

DEAN'S HAULING

614-276-1958

BIG KEN'S

HAULING

Light/Heavy Hauling

Container Rentals

Will load it up & haul it

away. On call 7 days a wk.

Very Competitive Prices

614-542-7600

HOME

IMPROVEMENTS

SINCE 1973

Phil Bolon Contr.

Windows & Siding

Decks, Kitchens, Baths

Room Additions,

Flooring, Roofing

Bsmt Waterproofing

Deal With Small Non-Pressure Co.

45 Yrs. Exp. - Refs. Avail.

Lic.-Bond-Ins.

5-27

A/M

Free Est. - Financing Avail.

Member BBB Of Cent. OH

O.C.I.E.B. ID #24273

614-419-3977

or 614-863-9912

LG

REMODELING

Interior & Exterior

Full Service Remodeling

• Bathrooms • Kitchens

• Tile • Drywall • Flooring

• Roofing • Siding • Etc.

NO JOB TO SMALL

A+ BBB Rating

A+ Angie's List

Lic. • Bonded • Insured

614-488-8377

www.lgroofingcolumbus@gmail.com

5-27 A

5-27 A&M

HOME

IMPROVEMENTS

HOME IMPROVEMENT

Electric-Drywall-Decks

Painting-Flooring-Trim

Licensed-Bonded-Insured

w/refs - 614-774-1472

C&JHandyman

Services LLC

Minor Plumbing &

Electric

Install Hot Water Tanks,

Dishwashers &

Disposals

Also Fencing &

Interior/Exterior Painting

Free Est. ~ 18 Yrs. Exp.

614-284-2100

HOME

MAINTENANCE

Roof & Chimney

Maintenance

All types masonry work -

Brick, tuckpointing, cultured

stone, caulking,

chemical cleaning, power

washing, Gutter cleaning.

614-364-6668 lv msg

Retired Finishing Carpenter

for all your extra home

repairs. over 40 yrs. exp.

Sonny 614-325-1910

CandC

See The Difference

Handyman Service

Minor Plumbing & Electric

Install Hot Water Tanks,

Dishwashers & Disposals

5-27

Also Fencing & A

Interior/Exterior Painting

No Job Too Big or Too

Small - We Do It All

614-377-6562

JOE'S HOME MAINT.

Home Repairs, Roofing,

Siding, Gutters, Soffits,

Misc. Int. Repairs

Int. Painting

Call Joe 614-235-6883

35 Years Exp.

LANDSCAPING

Brushhogging,

Finish Mowing,

Lot Prep. 614-214-8492

LAWN CARE

LET US MAINTAIN

YOUR LAWN & GARDEN

FOR YOU

Summer, Spring,

Winter or Fall

WE DO IT ALL!!!!

Lawn Cuts, Edging,

Trees & Shrubs, Garden,

Mulching, Hauling,

Garden Pond &

Home Maint.

Free Ests. Low Rates

$20 & Up

Kevin - 614-905-3117

LAWN CARE

SPRING CLEAN-UP

Complete Lawn Service

Mulching & Fertilization

Free Estimates - Call

Patrick 614-301-3575

MOVING

Aaron Allen Moving

Local Moving Since 1956

Bonded & Insured

614-299-6683, 263-0649

Celebrating 60 yrs in business

MOWER REPAIR

LAWN MOWER DR.

"House Calls Only"

Overall Checkups

Oil Change & Filter,

Spark Plug &

Blades Sharpened

MINOR REPAIR

John

614-395-7909

johnellis0333@sbcglobal.net

PAINTING

LeVay Painting Co.

Interior & Exterior painting,

Wall Repair,

Wallpaper Removal &

6/10

Powerwashing.

A&M

Zach

614-886-8926

PEST CONTROL

Anthony Pest Control

Eliminate Your Pest For

Less $$. 614-600-8841

PHOTOGRAPHY

ALEX CENCI

PHOTOGRAPHY

Senior Pictures

Family Portraits

Professional Head Shots

and more!

Call or email me

for more information.

614-572-6473

alex.cenci7@gmail.com

PLUMBING

All About Drains & Plumb.

Will snake any sm drain

$115 + tax. 614-778-2584

ALL IN ONE

PLUMBING LLC

"One Call Does It All"

$25 OFF LABOR

5-27

With This Ad

A

614-801-1508

All Major Credit Cards Accepted

Classified Services

5-27 A

5-27 A

POWER WASHING

MRS. POWERWASH

Any house wash $149 + tax

Single deck $69 + tax

2 Tier deck $99 + tax

Best Wash In Town

Over 45,000 Washes

Ashley, 614-771-3892

ROOFING

Robinson roofing & repairs

30 yrs. exp. Lifetime Cols.

resident. Lic./bonded/Ins.

Reas rates. Member of

BBB. Dennis Robinson

614-330-3087, 732-3100

SEWING MACHINE

REPAIR

REPAIR all makes 24 hr.

service. Clean, oil, adjust

in your home. $39.95 all

work gtd. 614-890-5296

TOP SOIL

Alexander Hauling

Driveways topped w/new

limestone. We also deliver

Topsoil - comtil - sandmulch.

Specializing in

residential. 614-491-5460

Bobcat Services Avail.

TREE SERVICES

5-27

E/SE

A&M

Fast Tree Service

Tree Removal,

Stump Grinding

Free With Access,

Pruning, Shaping

Insured, Free Est.

Payment Plans Avail.

614-837-8367

614-863-1522

Joe's Tree & Yard Work

Trim, thin, shape bushes,

hedges, stump grinding,

hauling. 614-598-6247

Brewer & Sons Tree Service

• Tree Removal

• Tree Trimming 6/10

A&M

• Stump Grinding

• Bucket Truck Services

Best Prices • Same Day Service

614-878-2568

BURNS TREE SERVICE

Trimming, Removal &

Stump Grinding.

614-584-2164

TROTT

TREE & LANDSCAPE

Tree Trimming

& Removal

5-27

A

Also Stump Removal

Free Est. - Fully Ins.

Call 614-235-3791

Cell 614-738-0682
---
PAGE 12 - EASTSIDE MESSENGER - May 20, 2018

Messenger photo by Rick Palsgrove

Birdhouse project

These colorful birdhouses are

some of the 160 birdhouses

made by Winchester

Elementary School students.

According to artist Carolyn

Sittler, the school approached

the Canal Winchester Art

Guild about doing an art project.

The kids learned about

birds in class and then decorated

birdhouses that were

cut and assembled at the Fairfield Career Center from lumber donated by Lowe's.

"This project enabled to kids to think about art in a functional way," said Sittler. "It

also connects kids to the community." Sittler said the birdhouses will be placed

along the bike path, at senior assisted living facilities, the golf course, and at the

schools. Sittler said the Madison Township Fire Department, Fairfield County

Sheriff's Department, as well as some individuals and businesses also created some

birdhouses for the project. She said the project will continue during the 2018-19

school year.

www.columbusmessenger.com

Pickerington MayFest

PEACE FREE

LUTHERAN CHURCH

Sunday Services

8:00 A.M. & 10:30 A.M.

Sunday School 9:15 A.M.

28 Elm Street

Canal Winchester, OH 43110

Phone: 614-837-6689

www.peacecw.org

Pastor: Michael Johnson

ALL ARE WELCOME!

Be a Part of Our

Local Worship Guide

Our upcoming Worship Guide is geared toward celebrating faith and helping

readers connect with religious resources in our community. Make sure these

readers know how you can help with a presence in this very special section

distributed to more than 22,000 households in the Southwest area.

Contact us today to secure your spot in our Worship Guide.

614.272.5422 • kathy@columbusmessenger.com

eastside

Messenger photos by Rick Palsgrove

Zoo Trippin' - a funk, rock and blues band - kicked off the musical portion of

Pickerington MayFest on May 12 by performing an energetic show in the gazebo in

historic downtown Pickerington.

Pickerington's

annual

Chocolate Hop

expanded this

year to become

MayFest, an

event that, in

addition to the

Chocolate Hop,

included business

and food

vendors, handmade

crafts, and

music.

Tim Dutiel

(right) of

TwoSisters

Confections

places some

apple and dip

samples for

MayFest visitors

to taste. Dutiel

is the husband

of TwoSisters

Confections coowner

Autumn

Dutiel who

operates the

business with

Taylor Hopfer.