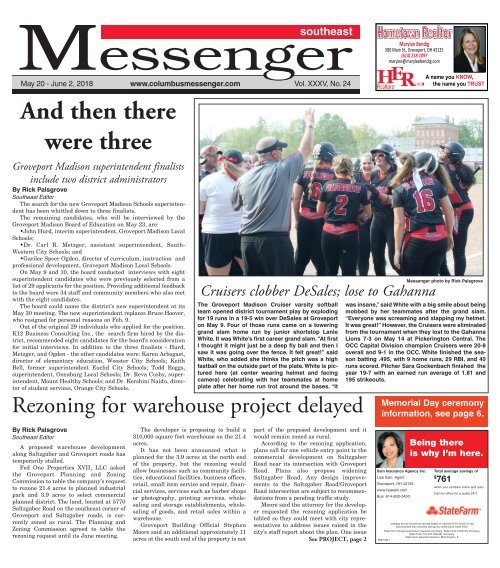 Southeast Messenger - May 20th 2018
Southeast Messenger Volume 35 Number 24 -May 20th 2018
Southeast Messenger Volume 35 Number 24 -May 20th 2018
SHOW MORE
SHOW LESS
You also want an ePaper? Increase the reach of your titles
YUMPU automatically turns print PDFs into web optimized ePapers that Google loves.
southeast

May 20 - June 2, 2018 www.columbusmessenger.com Vol. XXXV, No. 24

Hometown Realtor

Marylee Bendig

580 Main St., Groveport, OH 43125

(614) 218-1097

marylee@maryleebendig.com

A name you KNOW,

the name you TRUST

And then there

were three

Groveport Madison superintendent finalists

include two district administrators

By Rick Palsgrove

Southeast Editor

The search for the new Groveport Madison Schools superintendent

has been whittled down to three finalists.

The remaining candidates, who will be interviewed by the

Groveport Madison Board of Education on May 23, are:

•John Hurd, interim superintendent, Groveport Madison Local

Schools;

•Dr. Carl R. Metzger, assistant superintendent, South-

Western City Schools; and

•Garilee Speer Ogden, director of curriculum, instruction and

professional development, Groveport Madison Local Schools.

On May 9 and 10, the board conducted interviews with eight

superintendent candidates who were previously selected from a

list of 29 applicants for the position. Providing additional feedback

to the board were 34 staff and community members who also met

with the eight candidates.

The board could name the district's new superintendent at its

May 30 meeting. The new superintendent replaces Bruce Hoover,

who resigned for personal reasons on Feb. 9.

Out of the original 29 individuals who applied for the position.

K12 Business Consulting Inc., the search firm hired by the district,

recommended eight candidates for the board's consideration

for initial interviews. In addition to the three finalists - Hurd,

Metzger, and Ogden - the other candidates were: Karen Arbogast,

director of elementary education, Wooster City Schools; Keith

Bell, former superintendent Euclid City Schools; Todd Boggs,

superintendent, Osnaburg Local Schools; Dr. Reva Cosby, superintendent,

Mount Healthy Schools; and Dr. Kershini Naidu, director

of student services, Orange City Schools.

Messenger photo by Rick Palsgrove

Cruisers clobber DeSales; lose to Gahanna

The Groveport Madison Cruiser varsity softball

team opened district tournament play by exploding

for 19 runs in a 19-5 win over DeSales at Groveport

on May 9. Four of those runs came on a towering

grand slam home run by junior shortstop Lanie

White. It was White's first career grand slam. "At first

I thought it might just be a deep fly ball and then I

saw it was going over the fence. It felt great!" said

White, who added she thinks the pitch was a high

fastball on the outside part of the plate. White is pictured

here (at center wearing helmet and facing

camera) celebrating with her teammates at home

plate after her home run trot around the bases. "It

Rezoning for warehouse project delayed

was insane," said White with a big smile about being

mobbed by her teammates after the grand slam.

"Everyone was screaming and slapping my helmet.

It was great!" However, the Cruisers were eliminated

from the tournament when they lost to the Gahanna

Lions 7-3 on May 14 at Pickerington Central. The

OCC Capital Division champion Cruisers were 20-8

overall and 9-1 in the OCC. White finished the season

batting .495, with 9 home runs, 29 RBI, and 40

runs scored. Pitcher Sara Gockenbach finished the

year 19-7 with an earned run average of 1.81 and

195 strikeouts.

Memorial Day ceremony

information, see page 6.

By Rick Palsgrove

Southeast Editor

A proposed warehouse development

along Saltzgaber and Groveport roads has

temporarily stalled.

Fed One Properties XVII, LLC asked

the Groveport Planning and Zoning

Commission to table the company's request

to rezone 21.4 acres to planned industrial

park and 3.9 acres to select commercial

planned district. The land, located at 5770

Saltzgaber Road on the southeast corner of

Groveport and Saltzgaber roads, is currently

zoned as rural. The Planning and

Zoning Commission agreed to table the

rezoning request until its June meeting.

The developer is proposing to build a

310,000 square foot warehouse on the 21.4

acres.

It has not been announced what is

planned for the 3.9 acres at the north end

of the property, but the rezoning would

allow businesses such as community facilities,

educational facilities, business offices,

retail, small item service and repair, financial

services, services such as barber shops

or photography, printing services, wholesaling

and storage establishments, wholesaling

of goods, and retail sales within a

warehouse.

Groveport Building Official Stephen

Moore said an additional approximately 11

acres at the south end of the property is not

part of the proposed development and it

would remain zoned as rural.

According to the rezoning application,

plans call for one vehicle entry point to the

commercial development on Saltzgaber

Road near its intersection with Groveport

Road. Plans also propose widening

Saltzgaber Road. Any design improvements

to the Saltzgaber Road/Groveport

Road intersection are subject to recommendations

from a pending traffic study.

Moore said the attorney for the developer

requested the rezoning application be

tabled so they could meet with city representatives

to address issues raised in the

city's staff report about the plan. One issue

See PROJECT, page 2

Sain Insurance Agency Inc.

Lisa Sain, Agent

Groveport, OH 43125

www.lisasain.com

Bus: 614-830-0450

Being there

is why I'm here.

Total average savings of

$

761

when you combine home and auto.

Call my office for a quote 24/7.

*average annual household savings based on national 2015 survey of new

policyholders who reported savings by switching to State Farm.

State Farm Murual Automotive Insurance Company, State Farm Indemnity Company,

State Farm Fire and Casualty Company,

State Farm General Insurance, Bloomington, IL

P097136.1
---
PAGE 2 - SOUTHEAST MESSENGER - May 20, 2018

Book Meet & Eat

Come for a discussion and try a dish based on the book of the

month on May 23 from 6:30-7:30 p.m at Groveport Town Hall, 648

Main St. For adults Free. Call 614-836-3333 to register by May 21.

10% OFF

ALL

SERVICES

Trust your car

insurance with a

company named

for those it serves.

We've been taking care of

auto owners since 1916.

Why trust your insurance

with anyone else?

A.O. Wing Insurance

THE BEST LOCAL

INSURANCE AGENCY

CITY • 000-000-0000

Groveport www.bestinsuranceagency.com

Office

511 Main Street, Suite A

P: 614.837.9464 • F: 614.834.2835

www.wingsinsuranceohio.com

"Think Safe, Feel Safe, Be Safe"

Serving Greater Columbus Since 1986

Bus: 614-870-1088

Cell: 614-783-2707

Fax: 614-870-1198

andyatalertalarmsinc@yahoo.com

Andy Andrews II

President

40 Years Experience

Security Systems

Computer/Network Wiring

Camera/Video Systems

EVE WING HUSH

eve@aowingins.com

www.columbusmessenger.com

It's time for the Farmer's Market

By Rick Palsgrove

Southeast Editor

The Groveport Farmer's Market will bloom again

this summer offering fresh produce and more on

Tuesdays from May 29 to Sept. 25 from 5-8 p.m.

It will be located on the grassy area located on Main

Street between Ace Hardware and Groveport Town

Hall in downtown Groveport.

The market features live music the third Tuesday of

each month beginning in June. It will also have a special

event the first Tuesday each month: June 5 -

"Farm Days" (antique tractors and equipment; farm

animals); July 3 - "Red, White and Kids Celebration

(kids games, patriotic kids parade, face painting, freebies,

popcorn); Aug. 7 - "Dog Days of August" (dog

competitions, dog services information); Sept. 4 -

"Customer Appreciation Day" (free hot dogs, corn on

the cob, bottled water).

"The city of Groveport has gone beyond the call of

duty to help us grow and promote this market," said

Groveport Farmer's Market Manager Bruce Jarvis.

When asked what types of items are expected to be

sold at the market this year, Jarvis said, "The variety

of produce, home-produced goods, and hand-crafted

items are subject to change by the week. This is especially

true of the produce as the market reflects what

is in season for Ohio. But we also have a reliable core

group of vendors with staples like local honey, baked

goods made from scratch, and unique decorative items

that cannot be found anywhere else."

Jarvis said he does not yet have confirmations for any

food trucks to participate at the market, but some smaller

cart-based operations offering grilled sandwiches, ice

cream, and cold-brewed coffee products are expected.

"Local officials graciously made a provision for us to

incorporate up to three food trucks in the event we discovered

ones that complemented the market without

Be a Part of Our

Local Worship Guide

Our upcoming Worship Guide is geared toward

celebrating faith and helping readers connect with

religious resources in our community. Make sure these

readers know how you can help with a presence in this

very special section distributed to more than 20,000

households in the Southeast area.

Contact us today to secure your spot in Worship Guide.

614.272.5422 • kathy@columbusmessenger.com

A Special Section From

columbus

giving up too much parking," said Jarvis.

The market first opened on the downtown site in

2017 and Jarvis said that last year the market exceeded

all expectations.

"Once the produce season really kicks in we can

expect 20 or more vendors at any given market," said

Jarvis. "Things are a little quieter at the very beginning

and very end of the season, but we can expect a vibrant

bustling market all summer long. We have enough

space for 30 or so vendors and I am hopeful we can get

close to that limit this year. The goal is to create a

Groveport tradition that is around for a long time."

Jarvis said the downtown location is a great spot for

the market because of the ample available parking and

for its high visibility on Main Street.

He said the farmer's market plays an important

role in the community.

"Farmer's markets are growing in numbers and popularity

for good reason," said Jarvis. "Health-conscious

customers seek out produce where they can speak with

the grower. Others appreciate the convenience and oldfashioned

quality of home-produced goods. The market

serves as something of a business incubator, too, as it

provides an outlet for small business entrepreneurs.

The most important aspect of a good farmer's market is

it provides a fun social gathering place for friends and

neighbors while welcoming others who are new to the

area."

Jarvis said it is a joy to watch the human interactions

that take place at the farmer's market.

"Once the market is up and running, I have little to

do as the market manager and I often like to find a

place to sit back and watch," said Jarvis. "The natural

interactions between vendors, customers, neighbors,

and friends is priceless and timeless. What pleases me

most is when I see parents or grandparents explaining

this or that to a young child whose eyes are taking in

something for the first time. The market is so much

more than buying and selling."

Visit www.groveportmarket for information.

PROJECT

Continued from page 1

the city questions is that the plan calls for

only one vehicle access point to the property.

The city staff report also notes

Groveport has commissioned a Gateway

Corridor Study that includes this area.

The Gateway Corridor Study focuses on

the Hamilton Road/State Route 317 corridor

between U.S. Route 33 and Bixby Road

and Groveport Road from State Route 317

west to Swisher Road. The study will

address future commercial development

concepts and is not a traffic study.

Groveport City Councilwoman Becky

Hutson, who also serves on the Planning

and Zoning Commission, said she prefers

to wait on the results of the Gateway

Corridor Study before discussing the

rezoning request for the Saltzgaber Road

property.

"We should have the corridor study

results by May 21 or 22," said Hutson.

"We'll see how it all rolls out then."

The Planning and Zoning Commission

could discuss the Saltzgaber Road development

project further at its June 4 meeting

at 6 p.m. in the Groveport Municipal

Building, 655 Blacklick St.
---
www.columbusmessenger.com

May 20, 2018 - SOUTHEAST MESSENGER - PAGE 3

Phase 2 of the new high school project to begin

Grounds improvements

and old school demolition

By Rick Palsgrove

Southeast Editor

Groveport Madison Schools' new $53

million, 240,000 square foot high school

will open this fall and that means it is time

for Phase 2 of the construction project to

begin.

Phase 2 starts with the demolition of the

existing 50-year-old high school, which will

begin in mid- to -late June when crews disconnect

utilities and start removal of select

materials inside the old school, according

to Groveport Madison officials.

"The goal is to recycle and reuse as

much of the building materials as possible,"

said Groveport Madison

Communications Director Jeff Warner.

Starting in August, major structural

demolition will begin at the north side of

the school, working towards the south.

"This process will take two to three

weeks as heavy equipment will break apart

the building piece by piece, leaving behind

large piles of debris," said Warner.

Those materials will be sorted on site.

Concrete from the floors and walls can be

crushed, hauled off and used as "recycled

gravel" on other construction sites. Metal

materials will be taken to a recycling facility.

Trash and debris will be taken to an

approved landfill. Sorting and hauling is

scheduled to be completed by the end of

August before the start of school this fall.

Then underground stormwater infrastructure

will be installed to serve the new parking

lots and entrance roads. The construction

of new roadways and parking lots will

follow.

Souvenir bricks

Cruiser alumni have been asking if they

can pick up bricks from the old school to

have as a momento of the building.

Warner said the demolition contractor

will place bricks at a location away from

the demolition activities.

around Groveport

Griefshare support group

GriefShare grief recovery support group meets Thursdays at

Groveport United Methodist Church, 512 Main St., Groveport, at

7 p.m. The group is open to anyone in our community or surrounding

area who has experienced the loss of a spouse, child, family

member, or friend. For information email groveportgriefsharegroup@gmail.com

or call the church office at 614-836-5968.

Register online at https://www.griefshare.org/groups/90137.

Special Olympics

A local chapter of Special Olympics Ohio has formed in the

Groveport/Canal Winchester area. The mission of Special

Olympics Ohio is to provide year round sports training and competition

in a variety of Olympic type sports for intellectually disabled

individuals. For information contact groveportspecialolympics@gmail.com

or at (614) 395-8992 or 395-6640.

Donations may be sent to Groveport Special Olympics, P.O. Box

296, Groveport, OH 43125.

The dedication ceremony for the

new Groveport Madison High School

will be Aug. 29 at 7 p.m. Plans for the

ceremony are being finalized, but district

officials said the planning

includes student input. There will be a

ribbon cutting, speeches, and a presentation

of the building key (a plaque)

to the principal. There will also be a

display of the contents for a time capsule

that will be placed at a later date.

"Currently, that location will be at the

southeast corner of the existing parking lot

along South Hamilton Road," said Warner.

"The pile will have brick and block with

jagged edges and potentially small pieces of

wire, metal or other sharp objects. Visitors

should use caution when sorting through

the pile for the 'perfect brick.'"

Warner said once demolition begins, the

construction team will re-evaluate this

location for the brick pile to make sure it is

the safest place. They will also coordinate

with the district so the public can be notified

of the dates when bricks can be available.

He said it is important visitors stay in

the designated area only and not inside

demotion fencing or near heavy equipment

operations in pursuit of bricks.

Parking, softball fields, tennis courts

District officials said Phase 2 will be

completed at the end of 2018 and the softball

fields and tennis courts, parking lots,

and roadways will start to take shape in

October and November.

"Those inside the new high school will

have a front row seat to all the activities

this fall, especially those in second floor

classrooms and offices along the east front

elevation," said Warner.

The school will have several parking

lots. According to the contractors, the north

parking lot will have

169 spaces, the east

lot 158 spaces, the

visitor's lot 20

spaces, the bus loop

event parking area

171 spaces, the west

Patty Ann McLaughlin

1965-2012

in memory of

Young and Beautiful Forever.

Missed Beyond Words.

Mom

WORK INJURIES

WORKERS'

COMPENSATION

SAFETY VIOLATIONS

WRONGFUL DEATH

PERSONAL INJURY

AUTO/TRUCK

CRASHES

DOG BITE INJURY

lot 44 spaces, and the maintenance lot 3

spaces. An additional 80 spaces was added

to the District Service Center property,

adjacent to the north end of the football

field.

Five tennis courts will be built at the

north end of the school. The tennis courts

will not have lighting for night play.

Two softball fields will be located on the

northeast corner of the school property.

"To put this into perspective, rightfield

will be where the current front door to the

old bus garage building is," said Warner.

"The second softball field will be placed further

to the east and will be visible to those

traveling on South Hamilton Road."

The softball fields will have synthetic

turf infields and natural grass outfields.

Landscaping and Cruiser statue

Warner said landscaping for the new

high school will be put in this fall just

before the cool fall weather moves in. After

roads, lots and fields are placed, topsoil will

be spread and landscaping can begin.

Across the total project, the landscaping

contractor will install approximately 70

new trees, 540 shrubs and 1,730 perennials.

Warner said Phase 2 will include the

relocation of the Cruiser statue that was

moved from in front of Cruiser Stadium

into secure storage at the beginning of the

construction project.

"Cruiser will be placed on a new foundation,

situated just outside the main

entrance to the new high school, for all to

see," said Warner. "The refurbished Victory

Bell will also be

placed on it's new

pedestal base, just

outside Cruiser

Stadium. It has been

tuned up and will be

ready for a full season

of victories."

Intersection/traffic signal upgrade

Separate from the new high school

building project is another planned

improvement. The traffic signal and intersection

at South Hamilton Road and

Firehouse Lane at Groveport Madison

High School will be upgraded as the city of

Groveport and the school district received

an Ohio Public Works Commission grant to

help fund the improvements.

"The project will start this fall with bidding

and the actual construction will start

early next year," said Groveport City

Administrator Marsha Hall.

The improvements are expected to be

completed by December 2019.

According to the city of Groveport, the

estimated total construction cost for the

project is $575,999.

The OPWC grant is for $316,223. There

is a no-interest loan for $120,176. Hall said

the city will fund $57,600 plus the

$120,176 loan for the project. Grove-port

Madison Schools will fund $62,000 of the

project. The Madison Township Fire

Department will contribute $20,000 toward

a traffic pre-emption system.

The upgrades include: conversion of the

traffic signal to a mast arm signal (sized for

possible future left turn lane improvements

if needed); crosswalk and crossing

notification system for pedestrians having

to wait in the center aisle of the intersection;

and a sidewalk on the east side of

South Hamilton Road/State Route 317

from the crosswalk to the COTA stop.

PROTECTING YOU

SINCE 1972

Malek &

Malek

ATTORNEYS AT LAW

Douglas, Ed, Jim

and Kip Malek

Ben Churchhill

"Hablamos Español"

FREE Initial Consultation

www.maleklawfirm.com

614-444-7440

1227 S. High St., Columbus, OH 43206
---
PAGE 4 - SOUTHEAST MESSENGER - May 20, 2018

columns

www.columbusmessenger.com

How kindergarten changed my daughter - and me

Life Moments

It's been nine months since a teary eyed

mom dropped off her daughter for kindergarten,

uncertain of what that first day

would be like for the daughter, let alone

the mom.

I remember thinking how things were

about to change - that her toddler years

were well behind her and her tween and

teen years were just around the corner.

What I didn't account for was just how

much she would change in less than a year.

Academically, she can write and solve

some math equations that may stump

adults. Now, when we hop in the car, she

routinely reads road and business signs

along our route. At night during story time,

she's reading to me just as many pages that

I read to her.

Beyond academically, however, I've seen

an incredible shift in her personality - one

that is beyond her years. She, of course,

acts like a typical 6-year-old in every way,

but I've also noticed her desire to understand

more what it's like

to be an older kid or even

adult.

She's 6, and already

has inquired about driving,

getting married and

having kids. Of course as

parents, we want to skip

right past those conversations,

but I've tried to

answer any questions

she has had (within

reason) in order to

foster her curiosity.

She also has

learned more than I

Christine

Bryant

could ever imagine from her friends, for

better or worse. In fact, each day after

school, I would ask her what she did at

school that day, and rather than give me a

run down of the curriculum, she would proceed

to tell me what so-and-so did that day

or that weekend.

Though she's not always the best at considering

others' feelings (this past Mother's

Day she asked me when Kids' Day was),

I'm certain that by forming these relationships

at school, she has started the process

of learning how to be a better friend.

For five or six years, we've raised our

children for the most part on our own. As

parents, we were the ones who taught

them their first basic life skills - eating,

walking, talking. It's difficult to let go and

allow others to play important roles in further

building upon these skills and teaching

new ones.

I couldn't be happier with those who

have helped her embark upon this journey,

and as she continues it now into the 1st

grade, I can't wait to see how she further

evolves. I know one day she's going to be a

completely different person than she is

now, and mom and dad won't be the two

coolest people on earth.

And that's ok, because her journey to

finding out who she is helping me discover

who I am, providing me with a front-row

seat to watch how I am changing as well.

Whether it's altering priorities, appreciating

the littlest things that 10 years ago I

took for granted, or enjoying learning what

it's like to be a child all over again, I've

found myself evolving as a mom and person

as well.

So, as my little one officially graduates

from kindergarten this month and moves

on to a new challenge, I will be right there

beside her, enjoying watching her - and

myself - grow.

Christine Bryant is a Messenger staff writer

and columnist.

When May arrives it is time to praise the "piney"

Every year I watch for their shoots to poke

their reddish heads out of the early cold, soft

spring ground. The shoots appear just a bit

after the forsythias put on their golden performance.

I know in early April, when I see those red

tips pushing aside the mud, that soon the

stalks will quickly grow into a bushy plant

basking in the sun. By mid- to late-May there

are big, glorious, fluffy, and delicate pink and

white blooms adorning the yard.

I call them "pineys." I know the plant is

properly pronounced "peonies," but I, like

many other Ohioans, were brought up calling

them pineys and I still like the way it sounds.

These grand and lush peonies are my

favorite spring flower.

There is a row of peonies gracing my backyard.

The massive pink and white blossoms

Editor's Notebook

burst forth and put

on their beautiful

show for a few weeks

until the heat of summer

moves in. Then

the blossoms go

brown and turn

inward while the

fresh green of the

leaves turns to a

heavy, dull green as

summer lazes on

through July and

August. By fall, the

leaves turn golden

Rick

Palsgrove

brown, bookending the seasons with a splash

of color before sinking back into the earth.

For those few wondrous days in May, the

big pink and white peonies stand out among

the green landscape of spring. I like to gaze at

the beauty of the blooms whose color and texture

remind me of strawberry and vanilla ice

cream. But peonies do not only bloom in pink

and white. There are also peonies that bloom

yellow, maroon, red, and even multi-colored.

Look around in various yards and you can

see that the peony makes for a nice border

plant that can welcome visitors as they walk

up one's sidewalk or can mark property

boundary lines in a more aesthetic way than

a fence.

Peonies are also noted for their use as

wedding bouquets.

Maybe it's the time of year they bloom, but

I associate the blooming peonies with

Memorial Day and how some people use

them to decorate the graves of veterans.

The peony is a dependable perennial.

Though its blooms are delicate in appearance,

the plant is hardy and requires little

tending to.

The plant can be a life time friend as,

according to "The Old Farmer's Almanac,"

some peony plants have been known to live

for 100 years.

It's nice to know that something this beautiful

has such staying power and that, even

when it fades in autumn, the peony still heralds

the promise of spring.

Rick Palsgrove is editor of the Southeast

Messenger.

Opioid information series

The Groveport Madison Opiate Task Force will present

information sessions to help those impacted by opioid addiction.

The sessions are:

•Naloxone Training—May 24, 7 p.m. at the Madison

Township Community Center, 4575 Madison Lane, Groveport.

(Not recommended for elementary-age children.)

•Voices of Awareness—June 26, 7 p.m. Operation Street

Smart (Franklin Co. Sheriff's Office). Meet at Madison

Christian Church, 3565 Bixby Road, Groveport.(Not recommended

for elementary-age children.)

•Voices of Recovery—Aug. 28, 7 p.m. Franklin County

Sheriff's Office "HOPE Task Force," Rick Minerd, deputy chief,

Franklin Co. Sheriff's Office. Meet at First Baptist Church of

Groveport, 5521 Groveport Road, Groveport.

•Voices of Hope—Oct. 23, 7 p.m. Maryhaven—family support,

foster care, and counseling services. Meet at Groveport

Madison High School, 4475 S. Hamilton Road, Groveport.

•Voices of Faith—Jan. 22, 2019, 7 p.m. Faith & Outreach.

Meet at Groveport Madison High School, 4475 S. Hamilton

Road, Groveport.

Our Pictorial Past by Rick Palsgrove

Photo courtesy of the Groveport Heritage Museum

Before military memories, garden goods

Do you remember when the building that now houses Motts Military Museum was once home to a business

that sold garden supplies? Pictured here, in a photo from the mid-1960s, is the Big City Garden Center,

which used to operate at 5075 S. Hamilton Road in Groveport. The Big City Garden Center was owned by

Jim Young. A 1960s ad for the business proclaimed that Big City Garden Center had, "Bargains too numerous

to mention!"
---
www.columbusmessenger.com

U.S. Route 33 widening

project underway

The Ohio Department of Transportation

project to widen U.S. Route 33 in both

directions between Hamilton Road (State

Route 317) and I-270 began May 14.

Once completed, there will be three

travel lanes for both east and westbound

travel on U.S. 33. The project will also

widen bridges over Big Walnut Creek.

Work will occur in the existing right-ofway

and does not require additional land.

All lanes will be resurfaced.

Noise walls will be constructed. One 15

foot high noise wall will be built on the outside

shoulder of U.S. 33 eastbound between

the Big Walnut Creek bridge and west of

Hamilton Road (State Route 317). A 19 foot

high noise wall will be built near the rightof-way

fence along U.S. 33 westbound east

of the Hamilton Road interchange.

Repairs will also be made to the Gender

Road (State Route 674) bridge over U.S. 33.

This bridge was damaged after it was

struck by a vehicle.

Traffic will be maintained during construction

by constructing temporary pavement.

Night time and weekend lane and

ramp closures are permitted with posted

detours.

The $14 million project is expected to be

completed by October 2019. The purpose of

the project is to improve travel and safety

on U.S. 33 between I-270 and Hamilton

Road (State Route 317) and to decrease

congestion.

For information call (740) 833-8268 or

go to transportationohio.gov.

Information provided by the Ohio

Department of Transportation.

GMHS choir excels

The Groveport Madison High School

Symphonic Choir competed at the OMEA

State Contest on April 20 under the direction

of Anna Winters. According to school

district officials, it has been 14 years since

a choir from Groveport Madison qualified

for the state contest and this year the students

received the highest rating possible.

It is the first time the Cruiser choir earned

a "superior" rating during the 21st century.

The students received a plaque that will be

engraved and mounted on the wall in the

new high school choir room to serve as a

reminder of what the group accomplished

during the last year in the old high school.

Women only basketball

Beginning in June, the Groveport

Recreation Center, 7370 Groveport Road,

will offer women only basketball drop-in

hours for high school and adult women.

The hours for women only drop-in basketball

are Tuesdays from 6:30-8:30 p.m. and

Sundays from 11 a.m. to 2 p.m. For information

contact Amy Van Huffel at 614-

836-1000 ext. 1505 or avanhuffel@groveport.org.

Programs on the Go

Programs on the Go, an adult daytime

arts and education program, focuses on

community art, experiencing and learning

new skills, discussions and exploring new

forms of art and education with the benefit

of transportation. Participants will be

picked up from KidSpace, 630 Wirt Road,

Groveport, and will return to KidSpace

after the adventure. Prices determined

monthly based on each trip location. The

June 22 trip: Slate Run Living Historical

Farm. Meet at KidSpace at 12:30 p.m.

Estimated return time 3 p.m. Space is limited.

Call 614-836-3333 to register and pay

by June 20. Cost is $3 per person.

May 20, 2018 - SOUTHEAST MESSENGER - PAGE 5

Drive & Dine

Enjoying lunch with friends brings faceto-face

interaction and can lead to healthier

eating choices.

Adults can sit down, talk, and enjoy

time together at local diners. Participants

provide their own transportation, menu

selection and price of meal. Location will

change each month.

Program is held monthly on the second

Friday each month.

June 8 location: Harvest Moon Craft

Kitchen, 7 N. High St., Canal Winchester.

Meet at 11:30 a.m. Call 614-836-3333 to

register by June 6.

Monday - Friday

7:30 A.M. – 8:00 P.M.

Saturdays

8:00 A.M. – 6:00 P.M.

Sundays

9:00 A.M. – 5:00 P.M.

Groveport

614-836-9810

Baltimore

740-862-0116

Ashville

740-983-3000

Friendly Knowledgeable Service
---
PAGE 6 - SOUTHEAST MESSENGER - May 20, 2018

www.columbusmessenger.com

Memorial Day Section

Nine years ago, we at Dwayne R. Spence

Funeral Home decided we wanted to give back to

the community of Pickerington, so we designed a

Shred Day event to do just that.

This allows the community to get rid of old,

outdated documents for free.

But, we wanted to go further and add some

charities to our event.

We have the Lion's Club collecting used glasses,

St. Vincent De Paul accepting clothing and

household item, the Pickerington Food Pantry

accepts staple food items and cash donations and

we have added electronics recycling again at no

charge to the community.

We are fortunate to have the continued service

of Boy Scout Troup 256 with us since the beginning.

We are very grateful on Shred Day that the

Scouts and their leaders show up in force to help

unload the documents from the cars and place

them in the shredding containers.

This makes it really convenient as those dropping

off don't have to get out of their vehicle. No

Heavy Lifting!

One of our Directors, a Boy Scout in Troop

256, many years ago, discovered a merit badge

"Pulp and Paper" that the boys can earn with their

PAID ADVERTISING

Shred Day

9TH ANNUAL

SPENCE FUNERAL HOME

Pickerington

service. With the co-operation of Royal

Document Destruction, we are able to provide the

requirements for the Scouts to achieve this merit

badge.

Our event has grown each year, from 230 vehicles

the first year to over 900 now. The Food

Pantry collects nearly 2,000 food items plus donations

of over $1000. The Lions Club collects over

400 pairs of used glasses. St. Vincent DePaul

Society collects 1-2 box trucks full of clothing &

household items.

Royal Document Destruction shreds nearly 17

tons of paper, which equates to saving: 288 trees,

118,510 gallons of water, 85 cubic yards of landfill

space, 69,413 kilowatt hours of energy, 1,016

pounds of pollutants kept from the atmosphere.

T.D.R. LLC Electronic Recyclers Processes,

recycles, destroys or displaces in an environmentally

correct manner 5,377 pounds of electronic

equipment.

As soon as this year's Shred Day event, June 9

9 a.m. - 1 p.m. is over, the planning will start for

next year and next year will be extra special, as it

will be the 10th annual Shred Day and the 50th

anniversary of Dwayne R. Spence Funeral Home.

SHRED DAY AND ELECTRONICS RECYCLING

DWAYNE R. SPENCE FUNERAL HOME

550 Hill Rd. North Pickerington, OH

SATURDAY, June 9, 2018 • 9:00 A.M. - 1:00 P.M.

Bring your documents for free on site shredding

Electronics being collected by T.D.R.LLC RECYCLERS

Bring anything with a wire, plug or cable

TV's a charge of $1.00 per inch.

Remembering the fallen

Memorial Day is a time of remembrance

for our fallen veterans.

The veterans of Robert Dutro Post 486,

American Legion, Groveport, are honored

to announce the Memorial Day ceremonies

for Hamilton and Madison townships as

and the parade and ceremony in Groveport.

Ceremonies will be held May 28.

•9 a.m. - Asbury Cemetery, 4760

Winchester Pike. Parking at Fellowship

Baptist Church located next door.

•10:30 a.m. - Fernwood Cemetery, 460

Rowe Road, Lockbourne. Parking available

in the cemetery.

•Groveport parade and ceremony:

Parade staging starts at 12:30 p.m. and the

parade begins at 1:15 p.m. The ceremony in

the Groveport Cemetery begins at 1:30

p.m. Parking available in the community

parking lots as well as Groveport

Elementary and Middle School Central on

Main Street. The staging area for the

parade is Front Street beside Groveport

Town Hall, 648 Main St.

The goal is to recognize as many veterans

as possible and all veterans and their

families are encouraged to join in the

parade. For older or mobile restricted veterans,

there will be military vehicles available

to ride in, courtesy of Motts Military

Museum.

The parade will proceed west on Main

Street and then south on College Street

ending at the Groveport Cemetery on Wirt

Road where the ceremony will be conducted

by members of the Groveport American

Legion Post 486. Music will be provided by

the Groveport Madison High School

Cruiser Marching Band.

Following the ceremony an open house

will be held at Motts Military Museum,

5075 South Hamilton Road, Groveport.

The Groveport American Legion Post

486 is named after local resident, Private

Robert Dutro, who in 1917 at age 15 joined

the 6th Marine Regiment during World

War I. He would later die in France on July

19, 1918 during the Aisne-Marne offensive.

The Post was established in 1924 and

meets the first Thursday of the month at

the Madison Township Administrative

Offices, 4757 Madison Lane, Groveport.

The Post can be followed on Facebook @

groveportamerican legion. For information

contact Rick Compton at 614-208-6963.

Pelotonia will be onsite accepting donations for the OSU

Comprehensive Cancer Research Center

Bring your used eyeglasses to donate to the Lions Club

The St.Vincent de Paul Society will be collecting clothing and

household items.

Pickerington Food Pantry will be collecting non-perishable food

items.

DOOR PRIZES COMPLIMENTS OF DWAYNE R. SPENCE FUNERAL HOME
---
www.columbusmessenger.com

May 20, 2018 - SOUTHEAST MESSENGER - PAGE 7

Memorial Day Section

Flag camp

On Saturdays from June 2 through

June 30, boys and girls in grades 1-6 can

participate in this five week program from

9-10:30 a.m. Led by a coach and Groveport

Madison High School students. Your child

will march in Groveport's Fourth of July

parade showing off their new skills with

the Groveport Madison High School

Marching Band. Program is free. Call to

614-836-3333 to register by May 31. Held

in Heritage Park, 551 Wirt Road,

Groveport.

PAID ADVERTISING

The area's

finest

outdoor

water park

Looks like the weather has finally decided to

cooperate, just in time for summer vacation. If

you are looking for a place to cool off with the

family, look no further than the award winning

Groveport Aquatic Center. The facility is open

Monday – Saturday (Noon – 8 p.m.) and Sunday

(1–8 p.m.). The pool will tentatively open for the

season on Saturday, May 26.

Season Passes are available for sale at the

Groveport Recreation Center. Day passes can be

purchased at the gate for $8 (less $2 for

Groveport residents). Groups looking to spend

the day with us should call Steve Riegler

(Aquatics Manager) at 614-836-1000 ext. 1510.

The Groveport Aquatic Center hosts many

special events over the summer months, including

Super Family Sundays (6/10, 7/8, 8/5),

Belated Mother's Day Special (6/10), Father's

Day Special (6/17), $4 on July 4, Mom & Son

Game Night (7/13) and our Annual Dog Paddle

Palooza (9/6).

To learn more about the Groveport Aquatic

Center, please visit www.groveportrec.com or

call 614-836-2255 / 836-1000. We hope to see

you soon!

PAID ADVERTISING

Mike Albert

to perform

at Summer

Blast

"The King's" music lives on in the heart and

soul of admirers such as Elvis entertainer Mike

Albert, who will perform at this year's Summer

Blast 2018.

Now you can see one of the best "Elvis"

shows in the country as Albert, with his "The

Ultimate Tribute" show and the Big "E" Band,

brings the memory of the king of rock and roll

back to gyrating life for the 18th year on the

stage of the Villa Milano June 9 during Summer

Blast 2018.

Doors open at 5:30 p.m., dinner is served at

6:30 p.m. and the show kicks off at 7:30 p.m.

with Albert and his band.

Mike Albert is the complete package with his

wardrobe, charisma, and voice. Along with the

six piece Big E Band, it makes for a Las Vegas

style performance. First timers at Mike Albert's

show are absolutely amazed.

Albert covers Presley's career from the rockabilly

'50's to the Vegas '70's, including love

songs and gospel numbers, and has performed

concerts in Europe, Australia, New Zealand and

throughout America.

Tickets for the dinner and show are $49. Call

792-3135 for information or to order tickets.

Villa Milano is located at 1630 Schrock Road in

Columbus and there is ample parking.

Summer Concert Series

The Groveport Summer Concert Series

begins May 20 from 3-3:45 p.m. at

Groveport Town Hall, 648 Main St., and

features The New World Singers of

Columbus Children's Choir, conducted by

Artistic Director Jeanne Wohlgamuth and

comprising students in grades 7-12. The

New World Singers have performed with

the Columbus Symphony as well as at the

White House and in Germany, Russia,

Italy, France, and Canada. On June 17 the

Muleskinner Band will perform at

Groveport's Heritage Park 551 Wirt Road,

at 6 p.m. On July 15: NACHO Street Band

(Nationwide Children's Hospital Orchestra

SUMMER BLAST!

ELVIS

featuring

Mike Albert

and the Big E Band

Saturday

June 9, 2018

VILLA MILANO

1630 Schrock Rd.

Dinner/Show Tickets $ 49.00

Tables of 10 Available

Tickets by Phone: 614-792-3135

Tickets by Email: tickets4mike@gmail.com

made up of mostly brass and percussion)

will perform at Heritage Park at 6 p.m.

Inclement weather location will be in

the Groveport Town Hall.

Movie in the Park

Groveport Parks and Recreation will

present a free Movie in the Park on July 20

in the grass area in Groveport Park, 7370

Groveport Road, across from the Aquatic

Center. Kids under age 14 must be accompanied

by an adult. Children's activities

begin at 7 p.m. and the movie starts at

dusk. A family friendly film will be shown

on a 33 foot inflatable screen.

Visa • Mastercard • Discover

NOREFUNDS

southeast

Messenger

(Distribution: 19,206)

Rick Palsgrove ...................................Southeast Editor

southeast@ columbusmessenger.com

Published every other Sunday by

The Columbus Messenger Co.

3500 Sullivant Ave., Columbus, Ohio 43204-1887

(614) 272-5422

The Columbus Messenger Co. reserves the right to edit, reject or cancel

any advertisement or editorial copy at any time. The company is not

responsible for checking accuracy of items submitted for publication.

Errors in advertising copy must be called to the attention of the company

after first insertion and prior to a second insertion of the same advertising

copy.
---
PAGE 8 - SOUTHEAST MESSENGER - May 20, 2018

Groveport Madison to remain in OCC, for now

Proposed new league needs

at least eight schools

By Rick Palsgrove

Southeast Editor

Groveport Madison's efforts to withdraw

from the Ohio Capital Conference and form

a new athletic league have stalled for now.

"Groveport Madison is still interested in

creating a new athletic league," said

Groveport Madison High School Athletic

Director Steve Petros. "I have gotten a lot

of positive feedback from coaches and community

members about the idea, but the

league formation that we were pursuing

will not happen."

Eight to 10 schools, primarily located

south and east of I-270, had been in discussions

to possibly form the new league.

Petros said the schools in talks about a new

league have geographic, demographic and

socio-economic similarities. He said eight

schools are needed to form a new league.

"The difficulty for forming the league we

have been talking about was that we had

four schools that were solidly ready to do

it," said Petros. "A couple schools in another

league felt they owed their league a little

time to correct the problems they were having.

In the end, we also had a couple OCC

schools decide not to jump because one of

the schools they wanted to be in with withdrew."

However, the process is not completely

dead and change might still come in the

future.

"The positive is that we believe we have

four schools wanting to continue talks and

see what our next steps will be," said

Petros.

Petros said the proposed new league

would have provided stability, an equal

voice, competitiveness, local rivalries, and

easier transportation.

Groveport Madison would have had to

notify the OCC by June 30 of its intentions

to leave that conference if the new league

had formed. The earliest the new league

could have started if it had formed would

have been the fall of 2020.

When asked what the reaction of the

OCC has been to Groveport Madison's

efforts to leave the conference to form a

new league, Petros said, "The only reactions

I've gotten are from fellow athletic

directors in the OCC who thought the

group of schools that we wanted to form a

league with made a lot of sense from a lot

of standpoints including competitiveness

and travel."

Petros has stated that Groveport

Madison's interest in leaving the OCC and

joining a newly formed league is because of

"The positive is that we believe

we have four schools wanting to

continue talks and see what our

next steps will be."

- Steve Petros,

athletic director

Groveport Madison

the constant realigning of the OCC. He

also said one of Groveport Madison's goals

is to get more competitive athletically on a

consistent basis in all sports.

"We believe the OCC is a great conference,"

said Petros earlier this year.

"However, on the issue of realignment, single

high school districts don't have the

same say as multi-high school districts.

Alignment is the most important decision

we make as a conference. Districts with

multiple high schools have more votes

when it comes to the OCC's divisional

alignments, which occur frequently. Single

high school districts like ours have little

say in the most important vote we take. If

districts vote as a block, then two superintendents

control 25 percent of the league

and five superintendents control 50 percent."

The Ohio Capital Conference recently

realigned its divisions again effective in

2020-21. The five realigned divisions will

be:

•Central Crossing, Groveport,

Lancaster, Newark, Pickerington Central,

Reynoldsburg;

•Gahanna, Grove City, New Albany,

Pickerington North, Westerville Central,

Westland;

•Big Walnut, Canal Winchester,

Delaware, Dublin Scioto, Franklin

Heights, Westerville North, Westerville

South, Worthington Kilbourne;

•Dublin Coffman, Hilliard Bradley,

Hilliard Davidson, Olentangy Orange,

Olentangy Liberty, Upper Arlington;

•Dublin Jerome, Hilliard Darby,

Olentangy, Olentangy Berlin, Marysville,

Thomas Worthington.

Petros said Groveport Madison is disappointed

that the new alignment separates

the Cruisers from natural rival Canal

Winchester. He has stated that Groveport

Madison will try to schedule non-conference

games with Canal Winchester.

The OCC began with eight teams in

1968 and has since grown to 32 teams

located throughout central Ohio.

In its more than a century of athletic

competition, the Groveport Madison

Cruisers have competed in three leagues:

the Franklin County League from the early

1900s to the 1957-58 season; the Mid-Eight

League from 1958-59 to 1973-74; and the

OCC from 1974-75 to the present.

CLASSIFIED ADS

Deadlines: Southeast and West editions, Wednesdays at 5 p.m., • East, Southwest, Madison editions, Tuesdays at 5 p.m.

All editions by phone, Tuesdays at 5 p.m. • Service Directory, Tuesdays at 5 p.m.

xPublic Notices

SPECIAL NOTICE: The Groveport Madison Local Schools have received notice of their

receipt of Federal flow through IDEA-PART B of the Education for the Handicapped Act.

The maximum entitlement for the school district this year is equal to the number of

resident handicapped children ages 3 through 21 who were provided full and appropriate

special education programs by the Groveport Madison Local Schools based on

the December 1, 2017 child count.

Suggestions regarding the expenditure of these funds may be directed to Mitzi Boyd,

Director of Special Education, 4400 Marketing Place., Suite B, Groveport, Ohio 43125 or

by calling 614/492-2520. The first priority for expenditure of these funds must be to

provide direct services to Handicapped Children.

SEARCH FOR HANDICAPPED CHILDREN UNDER WAY

School districts across the State of Ohio are participating in an effort to identify, locate,

and evaluate all handicapped children between the ages of 3 and 21. A handicap is

defined as a condition such as hearing impairment, visual impairment, speech or language

impairment, learning disability, behavioral, multiple, or severe handicaps; mental

retardation, autism, and other health impairments.

Many handicapped children are not visible because they do not function in the mainstream

of the community. Also, many unidentified handicapped children are

preschoolers. Parents may not be aware of programs and services available. If you

know of a handicapped child, please write to Mitzi Boyd at Groveport Madison Local

Schools at 4400 Marketing Place., Suite B, Groveport, Ohio 43125 or call 492-2520.

PLANNING AND

ZONING COMMISSION

***NOTICE OF MEETING***

MONDAY, JUNE 4, 2018 6:00 P.M.

GROVEPORT MUNICIPAL BUILDING

COUNCIL CHAMBERS—2ND FLOOR

#2018-03 A request by Fed One Properties XVII, LLC for

a Rezoning from Rural to Planned Industrial Park at 5770

Saltzgaber Road, Parcel #185-002541(tabled from the

May 7, 2018 meeting).

#2018-04 A request by Fed One Properties XVII, LLC for

a Rezoning from Rural to Select Commercial Planned

District at 5770 Saltzgaber Road, Parcel #185-002541

(tabled from the May 7, 2018 meeting).

#2018-05 A request by Fed One Properties XVII, LLC for

a Final Plat at 5770 Saltzgaber Road, Parcel

#185-002541 (tabled from the May 7, 2018 meeting).

The public is invited to attend and participate.

ASSOCIATION ADS

DISH Network - Satellite

Television Services. Now

Over 190 channels for

ONLY $49.99/mo! HBO-

FREE for one year,

FREE Installation, FREE

Streaming, FREE HD.

Add Internet for $14.95 a

month. 1-800-219-1271

DISH TV $59.99 For 190

Channels. $14.95 High

Speed Internet. Free Installation,

Smart HD DVR

Included. Free Voice Remote.

Some restrictions

apply. Call 1-855-837-

9146

Earthlink High Speed Internet.

As Low As

$14.95/month (for the

first 3 months.) Reliable

High Speed Fiber Optic

Technology. Stream Videos,

Music and More!

Call Earthlink Today 1-

855-520-7938

PUBLIC

NOTICE

The City of Groveport will be holding a Public

Meeting to discuss the Bixford Green

Pedestrian/Bike Trail, on Thursday, May 24,

2018 at 6:00 p.m.

The meeting will be held at the City of Groveport

Municipal Building, Council Chambers, 655

Blacklick Street, Groveport, Ohio, 43125.

ASSOCIATION ADS

Call Empire Today® to

schedule a FREE inhome

estimate on Carpeting

& Flooring. Call

Today! 1-800-508-2824

ASSOCIATION ADS

GENERIC VIAGRA and

CIALIS! 100 Pills $99.00

FREE Shipping! 100%

guaranteed. 24/7 CALL

NOW! 888-889-5515
---
www.columbusmessenger.com

May 20, 2018 - SOUTHEAST MESSENGER - PAGE 9

CLASSIFIED ADS

Deadlines: Southeast and West editions, Wednesdays at 5 p.m., • East, Southwest, Madison editions, Tuesdays at 5 p.m.

All editions by phone, Tuesdays at 5 p.m. • Service Directory, Tuesdays at 5 p.m.

xEmployment

BE YOUR OWN BOSS!

INDEPENDENT

CONTRACTORS

WANTED

If you have a reliable

car and would like to

earn extra money,

then why not deliver?

• Deliver 1 or 2 days a week

• Flexible delivery hours

• Work close to home - often

in or near your neighborhood

CONTACT US

1-888-837-4342

www.thebag.com

JOB

EXPLOSION!!

S TA F F I N G Your Partner at Work

We have over 50

immediate openings

available!

ALL SHIFTS!

From Warehouse,

Manufacturing to Offfice Work

Visit our office today at:

4998 W Broad St., Suite 100

Columbus, OH 43228

614-351-3100

Daily between 9am - 2pm

ASSOCIATION ADS

CARS/TRUCKS WANT-

ED!!! All Makes/Models

2002-2018! Any Condition.

Running or Not.

Competitive Offer! Free

Towing! We're Nationwide!

Call Now: 1-888-

368-1016

ASSOCIATION ADS

KILL ROACHES-GUAR-

ANTEED! Buy Harris

Roach Tablets. Available:

Hardware Stores,

The Home Depot, homedepot.com

ASSOCIATION ADS

HughesNet Satellite Internet?

25 mbps starting at

$49.99 / mo! FAST download

speeds. WiFi built in!

FREE Standard Installation

for lease customers!

Limited Time, Call 1-800-

610-4790.

• Deliver 7 days a week

• Delivery before dawn

• Work close to home - often

in or near your neighborhood

CONTACT US

614-461-8585

www.dispatch.com/delivery

ASSOCIATION ADS

VIAGRA & CIALIS! 60

pills for $99. 100 pills for

$150 FREE shipping.

Money back guaranteed!

1-800-503-7846

INVOKANA MEDICATION

WARNING THESE MEDI-

CATIONS INCREASE

THE RISK OF AMPUTA-

TION. YOU MUST CALL

NOW 800-804-8248.

Building Materials

Metal Roofing & Siding

for houses, barns, sheds.

Close outs, returns, seconds,

overruns, etc. Starting

at $.33 SQ FT. Slate

RoadSupply.com 717-

445-5222

A PLACE FOR MOM. The

nation's largest senior living

referral service. Contact

our trusted, local experts

today! Our service is

FREE/no obligation. CALL

1-844-722-7993

Stop OVERPAYING for

your prescriptions! SAVE!

Call our licensed Canadian

and International pharmacy,

compare prices

and get $25.00 OFF your

first prescription! CALL 1-

877-625-2147 Promo

Code CDC201625

ASSOCIATION ADS

READER

ADVISORY

The National Trade Association

we belong to has

purchased the following

classifieds. Determining

the value of their service

or product is advised by

this publication. In order

to avoid misunderstandings,

some advertisers do

not offer "employment"

but rather supply the

readers with manuals, directories

and other materials

designed to help

their clients establish mail

order selling and other

businesses at home. Under

NO circumstance

should you send any

money in advance or give

the client your checking,

license ID or credit card

numbers. Also beware of

ads that claim to guarantee

loans regardless of

credit and note that if a

credit repair company

does business only over

the phone it's illegal to request

any money before

delivering its service. All

funds are based in US

dollars. Toll Free numbers

may or may not

reach Canada. Please

check with the Better

Business Bureau 614-

486-6336 or the Ohio Attorney

General's Consumer

Protection Section

614-466-4986 for more

information on the company

you are seeking to

do business with.

Employment

NOW HIRING for 2018-2019 School Year!

WE NEED DRIVERS

No CDL Required

Posions are PT, working 20‐24 hrs per week

We offer dayme shis, no nights/weekends & have paid

training. Company vehicle provided for use during working

hours. Individuals must be able to pass a background check,

a pre-employment physical/drug screen, have no DUI's and

have less than 4 points on their OH license.

For more informaon, please contact Vanessa at

614‐679‐7280 or email vfrazier@tristar‐cols.com

To learn more about Tristar, please visit our website at

www.tristarcolumbus.com

tristar

TRANSPORTATION CO.

ASSOCIATION ADS

Spectrum Triple Play!

TV, Internet & Voice for

$29.99 ea. 60 MB per

second speed. No contract

or commitment.

More Channels. Faster

Internet. Unlimited Voice.

Call 1-855-652-9304

ASSOCIATION ADS

Cross Country Moving,

Long distance Moving

Company, out of state

move $799 Long Distance

Movers. Get Free

quote on your Long distance

move 1-800-511-

2181

ASSOCIATION ADS

Were you an INDUSTRIAL

TRADESMAN (machinist/

boilermaker/pipefitter etc)

and recently diagnosed

with LUNG CANCER? You

may be entitled to a SIG-

NIFICANT CASH AWARD.

Risk free consultation!

877-781-1769
---
PAGE 10 - SOUTHEAST MESSENGER - May 20, 2018

xEmployment

HIRING?

www.columbusmessenger.com

xCome & Get It

COME AND GET IT

Deadlines are Tuesdays by 5 pm.

Call For Publication Schedule 614-272-5422

Need to Get Rid of Something Fast - Advertise It Here For FREE!

FREE Garden Straw for gardens or bedding. Call for appointment for pickup.

Circle S Farms, 9015 London-Groveport Road, Grove City, 43123

Grove City - 614-878-7980

Twin size foam rubber mattress and one dozen pint-sizes canning jars.

BK- Lincoln Village, Columbus - 614-878-6926

Vintage Steamer Truck with drawers & pull out hanger rack. Last voyage 1939

DJ - Canal Winchester - 614-560-1293 Leave msg. for return call

Let us help you recruit the qualified employees you need to make

your business succeed. With a print and online audience of more

than 39,000 readers, our employment section is your key to meeting

local job seekers where they look first for fresh career opportunities.

Our Eastside Messenger is

now covering Pickerington

and Canal Winchester!

Our Southeast Messenger

will still serve our Groveport

and SE Columbus areas.

WANTED

SW CITY SCHOOLS

SCHOOL BUS DRIVERS

The South-Western City School

District is currently hiring drivers

$16.55/HR

Available positions are for substitute drivers that

can develop into "Regular" positions with benefits.

Interested individuals should submit an application

on our website at swcsd.us. Follow the

employment link. Applicants should have an

excellent driving record and must submit to drug,

alcohol, and background screening. A high

school diploma or equivalent is required. EOE

ASSOCIATION ADS

25 TRUCK DRIVER

TRAINEES NEEDED!

Earn $1000 per week!

Paid CDL Training!

Stevens Transport covers

all costs! 1-877-209-

1309 drive4stevens.com

ASSOCIATION ADS

ADVERTISE to 10 Million

Homes across the USA!

Place your ad in over 140

community newspapers,

with circulation totaling

over 10 million homes.

Contact Independent Free

Papers of America IFPA at

danielleburnett-ifpa@

live.com or visit our website

cadnetads.com for

more information.

To list a job opportunity, contact a

recruitment advertising specialist today at

614.272.5422

or

Kathy@columbusmessenger.com

columbus

ASSOCIATION ADS

Stop OVERPAYING for

your prescriptions! SAVE!

Call our licensed Canadian

and International pharmacy,

compare prices

and get $25.00 OFF your

first prescription! CALL 1-

855-541-5141 Promo

Code CDC201725

CARS/TRUCKS WANT-

ED!!! All Makes/Models

2000-2018! Any Condition.

Running or Not. Top $$$

Paid! Free Towing! We're

Nationwide! Call Now: 1-

888-985-1806

Business to Business

BUY 4 WEEKS/

GET 4 WEEKS FREE!!!

ADVERTISE YOUR BUSI-

NESS in over 3 Million

homes in the Mid-Atlantic

States of Pennsylvania,

Ohio, New York, New Jersey,

Delaware, Maryland,

West Virginia, Virginia and

Washington DC in publications

like this one and

many more. Visit macnetonline.com

or call 800-

450-6631 for more details.

IRS TAX DEBTS? 10K+?

Tired of the calls? We

can HELP! $500 free

consultation! We can

STOP the garnishments!

FREE Consultation Call

Today 1-855-823-4189

Employment

NOW HIRING!

Local High Volume Pharmacy

Immediate 2nd shift positions available

for Pharmacy Clerks and Technnicians.

Looking for energetic associates

in a fast pace environment.

NEW Starting rate: $10.95 to $13.15 per hour

Shift differential $.50 an hour

Please apply at: jobs.kroger.com

Use Zip Code 43217

Must be 18 years of age & have high school diploma or GED.

Call 614-333-5012 for more details.

ASSOCIATION ADS

Wants to purchase minerals

and other oil and gas

interests. Send details to

P.O. Box 13557, Denver,

CO. 80201

IVC FILTER WARNING

DO YOU HAVE AN IVC

FILTER? YOU MAY BE

ENTITLED TO FINAN-

CIAL COMPENSATION

CALL 800-340-1530

TALCUM POWDER

WARNING HAVE YOU

USED TALCUM POW-

DER AND DIAGNOSED

WITH OVARIAN CAN-

CER? CALL NOW 800-

208-3526

HOME SERVICES

Dealing with water damage

requires immediate

action. Local professionals

that respond immediately.

Nationwide and 24/7. No

mold calls. Call today! 1-

800-730-9790

ASSOCIATION ADS

IRS TAX DEBTS? 10K+?

Tired of the calls? We

can HELP! $500 free

consultation! We can

STOP the garnishments!

FREE Consultation Call

Today 1-855-900-5594

Were you an INDUSTRIAL

or CONSTRUCTION

TRADESMAN and recently

diagnosed with LUNG

CANCER? You and your

family may be entitled to a

SIGNIFICANT CASH

AWARD. Call 1-844-522-

0818 for your risk free consultation.

DIRECTV SELECT

PACKAGE! Over 150

Channels, ONLY $35/

month (for 12 mos.) Order

Now! Get a $100

AT&T Visa Rewards Gift

Card (some restrictions

apply) CALL 1-855-781-

1565

Come and Get It! is a bi-weekly column that offers readers an opportunity to pass

along surplus building materials, furniture, electronic equipment, crafts, supplies,

appliances, plants or household goods to anybody who will come and get them - as

long as they're FREE. NO PETS! Just send us a brief note describing what you want

to get rid of, along with your name, address and phone number. Nonprofit

organizations are welcome to submit requests for donations of items. Send

information to The Columbus Messenger, Attention: Come and Get It, 3500

Sullivant Ave., Columbus, OH43204. Deadline is Tuesdays by 5 pm for following

Mondays publication. Messenger Newspapers is not responsible for any

complications that may occur. Please contact us when items are gone. 272-5422

Come & Get It

xMisc. for Sale

INCOME TAX

SP Payroll &

Tax Services

Tax Preparation

Starts at $55. Trucker

& 1099 Services

Call Stacey at

614-203-5134

For Appt. 5-27 W/SW

HELP WANTED

LABORERS & DRIVERS

for service company.

Please apply 10-5

4210 Groveport Rd.

PT/FT Barber Needed

Call for details. Located in

Great Southern Shopping

Center. Contact Cyndi at

614-239-1976

Misc. for Sale

HELP WANTED

Finisher & Laborer

Must have own transportation.

Exp. necessary. Call

614-871-3834 betw 6-8pm

DATED SALES

FREE

Garage Sale

Signs

When You Stop By

Our Office At:

3500 Sullivant Ave.

And Place Your

DATED SALE AD

DATED SALES

PLUS SIZE CLOTHES

1/2 OFF ENTIRE STORE!

Sat. - Sun. June 2-3

11am-5pm

Plus Size Clothes 18W-7X

Miss Chrissy's Plus

Size Shop

5-27 E/SE

1749 Brice Rd., Reys.

614-501-7587
---
Great downtown location

Expansive floor plans

Hardwood flooring

Rooftop deck with grills

Community entertainment room

Stainless steel appliances

with 12-month lease

when you mention this ad

Limited-time offer!

1234 WASHINGTON STREET

SOMERSVILLE HEIGHTS

000-000-0000

WWW.NAMEWEBSITE.COM

List details, terms and conditions here. List details, terms and conditions here.

List details, terms and conditions here. List details, terms and conditions here.

List details, terms and conditions here. List details, terms and conditions here.

List details, terms and conditions here.

www.columbusmessenger.com

xFocus on Rentals

May 20, 2018 - SOUTHEAST MESSENGER - PAGE 11

xClassified Services

ATTENTION

RENTAL MANAGERS

Advertise Your Apartment Listings Today!

Our Eastside Messenger

is now covering Pickerington

and Canal Winchester!

Our Southeast Messenger will

still serve our Groveport and SE

Columbus areas.

Reaches over 39,000 household in these

two areas!

simply the Best Place to Live

Example

Claremont

Towers

Luxury Studio & 1-Bedroom Apartments

One Month Free Rent

&NoApplicationFee

CALL KATHY

TODAY!

614.272.5422

kathy@columbusmessenger.com

Focus on Rentals

xInformation

MAY GIVEAWAY

Place a prepaid classified line ad in our paper

during the month of MAY and be registered

to win a $50 Gift Card from

The Columbus Messenger

Newspapers.

All ads received by mail, in person, e-mail or

phone will be included in the drawing.

Drawing will be held May 30th, 2018

and the winner will be notified and published

in our June 3rd, 2018 issue.

GOOD LUCK TO EVERYONE!!!!

DRIVE YOUR CAR

Earn $250 weekly!!!

We are seeking car owners willing to put a

big ad on their car.

Compensation is $250 weekly.

Send your car make/model/year to:

bhuff2u81@gmail.com

DATED SALES

ADVERTISE

DATED SALES

Information

columbus

WANT TO BUY

CASH FOR CARS

614-276-2597

WANTS TO Purchase

minerals and other oil &

gas interests. Send details

to: P.O. Box 13557,

Denver, CO 80201

We Buy Cars & Trucks

$300-$3000.614-308-2626

$ Cash At Your Door $

for junk or unwanted cars

(Free Tow). Call

614-444-RIDE (7433)

We Buy Junk Cars &

Trucks. Highest Prices

Paid. 614-395-8775

ANTIQUES

WANTED

Victrolas, Watches,

Clocks, Bookcases

Antiques, Furn.

Jeff 614-262-0676

or 614-783-2629

MISCELLANEOUS

FOR SALE

WOOD ART-6'x6' -

8 scenes; rocker sofa-

$65. 614-834-2746

OFFICE SPACE

Furnished Office Space,

Gender Road/33 - includes

shared conference room,

kitchen, internet, sec. sys,

plenty of parking, freeway

access. $500/mo.

John - 614-679-8300

VACATION RENTALS

Englewood, Florida

Palm Manor Resort

Within minutes of white

sand Gulf beaches,

world famous Tarpon

fishing, golf courses, restaurants/shopping,

Bush

Gardens. 2 BR 2 BA

condos with all ammenities,

weekly/monthly, visit

www.palmmanor.com

or call 1-800-848-8141

INFORMATION

DON'T

FEEL

LEFT OUT!

Give Us A Try

Advertise

Call

For Prices

614-272-5422

AIR CONDITIONING

AIR CONDITIONING

Complete System

Clean & Check

$49.95 5-27 A

Free Electronic Leak Testing

All Makes • All Models

42 Yrs. Exp. • Senior Discount

614-351-9025

614-351-9005

APPLIANCE REPAIR

Washer, Dryer, Stove &

Refrig. Repair 875-7588

BLACKTOP

BLACKTOP SEALING

Driveways & Parking Lots

614-875-6971

CARPET CLEANING

Dirt Busters Tile/Floor-Any

3 Rms - $44.95. Pet odor

treatment. 614-805-1084

CARPET WORK

CARPET REPAIR WORK

& INSTALLATION

614-444-5799

CLEANING

Cleaning, 20 yrs. exp.

Call Judy 614-946-2443

Looking for Mrs. Clean?

For excellent cleaning

services at reas. rates

w/great refs, depend.

10% Sr. Disc. Gwen

614-556-5782 Free Est.

Holly's Halos

Accepting New Clients

2 Hours - $40-$50

Bonded-Ins. 614-426-3624

CONCRETE

ALL-CITY CUSTOM

CONCRETE

All Types Concrete Work

New or Tear Out-Replace

36 Yrs Exp.

(614) 207-5430

Owner Is On The Job!

AJ's Concrete,

Masonry

Good Work - Fair Prices

Block Foundations

Driveways • Sidewalks

Epoxy/Overlay Floors

Bonded-Ins. • Free Ests.

Now Accepting Credit Cards

614-419-9932

5-27 A

CONCRETE

EDDIE MOORE

CONSTRUCTION

Quality Concrete Work

Lt. Hauling & Room Add.,

Block Work & Excavation

Stamp Patios,

Bsmt. Wall Restoration

36 Yrs Exp - Lic & Ins.

Free Ests. 614-871-3834

D.J. & DAD KIMMLE

CUSTOM CONCRETE

7/8

All Types E/SE

Free Estimates

All Work Guaranteed

614-206-0158

ELECTRICAL

HAHN'S ELECTRIC

Affordable, Quality

Work For 31 Yrs.

614-237-3524

Cell 614-517-9699

Licensed • Bonded • Insured

Free Estimates • Lic. # 20240

GUTTERS

Low Price-Great Service

5 & 6" Seamless gutters,

covers, siding, gutter clng.

Bill 614-306-4541

HAULING

BIG KEN'S

HAULING

Light/Heavy Hauling

Container Rentals

Will load it up & haul it

away. On call 7 days a wk.

Very Competitive Prices

614-542-7600

HOME

IMPROVEMENTS

SINCE 1973

Phil Bolon Contr.

Windows & Siding

Decks, Kitchens, Baths

Room Additions,

Flooring, Roofing

Bsmt Waterproofing

Deal With Small Non-Pressure Co.

45 Yrs. Exp. - Refs. Avail.

Lic.-Bond-Ins.

5-27

A/M

Free Est. - Financing Avail.

Member BBB Of Cent. OH

O.C.I.E.B. ID #24273

614-419-3977

or 614-863-9912

LG

REMODELING

Interior & Exterior

Full Service Remodeling

• Bathrooms • Kitchens

• Tile • Drywall • Flooring

• Roofing • Siding • Etc.

NO JOB TO SMALL

A+ BBB Rating

A+ Angie's List

Lic. • Bonded • Insured

614-488-8377

www.lgroofingcolumbus@gmail.com

5-27 A

5-27 A&M

HOME

IMPROVEMENTS

C&JHandyman

Services LLC

Minor Plumbing &

Electric

Install Hot Water Tanks,

Dishwashers &

Disposals

Also Fencing &

Interior/Exterior Painting

Free Est. ~ 18 Yrs. Exp.

614-284-2100

HOME

MAINTENANCE

CandC

See The Difference

Handyman Service

Minor Plumbing & Electric

Install Hot Water Tanks,

Dishwashers & Disposals

5-27

Also Fencing & A

Interior/Exterior Painting

No Job Too Big or Too

Small - We Do It All

614-377-6562

JOE'S HOME MAINT.

Home Repairs, Roofing,

Siding, Gutters, Soffits,

Misc. Int. Repairs

Int. Painting

Call Joe 614-235-6883

35 Years Exp.

Handyman Service

Call Robert, 614-205-5409

Roof & Chimney

Maintenance

All types masonry work -

Brick, tuckpointing, cultured

stone, caulking,

chemical cleaning, power

washing, Gutter cleaning.

614-364-6668 lv msg

Retired Finishing Carpenter

for all your extra home

repairs. over 40 yrs. exp.

Sonny 614-325-1910

LANDSCAPING

Brushhogging,

Finish Mowing,

Lot Prep. 614-214-8492

DAN'S

Mowing

Service

5-27

SE

Quality Work

Affordable Price

Groveport Resident since 1979

Licensed & Insured

Free Estimate

614-598-2545

LAWN CARE

SPRING CLEAN-UP

Complete Lawn Service

Mulching & Fertilization

Free Estimates - Call

Patrick 614-301-3575

LET US MAINTAIN

YOUR LAWN & GARDEN

FOR YOU

Summer, Spring,

Winter or Fall

WE DO IT ALL!!!!

Lawn Cuts, Edging,

Trees & Shrubs, Garden,

Mulching, Hauling,

Garden Pond &

Home Maint.

Free Ests. Low Rates

$20 & Up

Kevin - 614-905-3117

Marty Mack Lawn Svcs.

Lawn cutting, yard cleanup.

Small tree & bush

trimming. Light hauling &

trash removal.

614-589-7841

MOVING

Aaron Allen Moving

Local Moving Since 1956

Bonded & Insured

614-299-6683, 263-0649

Celebrating 60 yrs in business

MOWER REPAIR

LAWN MOWER DR.

"House Calls Only"

Overall Checkups

Oil Change & Filter,

Spark Plug &

Blades Sharpened

MINOR REPAIR

John

614-395-7909

johnellis0333@sbcglobal.net

PAINTING

LeVay Painting Co.

Interior & Exterior painting,

Wall Repair,

Wallpaper Removal &

6/10

Powerwashing.

A&M

Zach

614-886-8926

PEST CONTROL

Anthony Pest Control

Eliminate Your Pest For

Less $$. 614-600-8841

PHOTOGRAPHY

ALEX CENCI

PHOTOGRAPHY

Senior Pictures

Family Portraits

Professional Head Shots

and more!

Call or email me

for more information.

614-572-6473

alex.cenci7@gmail.com

Classified Services

5-27 A

5-27 A

PLUMBING

ALL IN ONE

PLUMBING LLC

"One Call Does It All"

$25 OFF LABOR

5-27

With This Ad

A

614-801-1508

All Major Credit Cards Accepted

All About Drains & Plumb.

Will snake any sm drain

$115 + tax. 614-778-2584

POWER WASHING

MRS. POWERWASH

Any house wash $149 + tax

Single deck $69 + tax

2 Tier deck $99 + tax

Best Wash In Town

Over 45,000 Washes

Ashley, 614-771-3892

ROOFING

Robinson roofing & repairs

30 yrs. exp. Lifetime Cols.

resident. Lic./bonded/Ins.

Reas rates. Member of

BBB. Dennis Robinson

614-330-3087, 732-3100

SEWING MACHINE

REPAIR

REPAIR all makes 24 hr.

service. Clean, oil, adjust

in your home. $39.95 all

work gtd. 614-890-5296

TOP SOIL

Alexander Hauling

Driveways topped w/new

limestone. We also deliver

Topsoil - comtil - sandmulch.

Specializing in

residential. 614-491-5460

Bobcat Services Avail.

TREE SERVICES

TROTT

TREE & LANDSCAPE

Tree Trimming

& Removal

5-27

A

Also Stump Removal

Free Est. - Fully Ins.

Call 614-235-3791

Cell 614-738-0682

5-27

E/SE

A&M

Fast Tree Service

Tree Removal,

Stump Grinding

Free With Access,

Pruning, Shaping

Insured, Free Est.

Payment Plans Avail.

614-837-8367

614-863-1522

Joe's Tree & Yard Work

Trim, thin, shape bushes,

hedges, stump grinding,

hauling. 614-598-6247

BURNS TREE SERVICE

Trimming, Removal &

Stump Grinding.

614-584-2164

Brewer & Sons Tree Service

• Tree Removal

• Tree Trimming 6/10

A&M

• Stump Grinding

• Bucket Truck Services

Best Prices • Same Day Service

614-878-2568
---
PAGE 12 - SOUTHEAST MESSENGER - May 20, 2018

Birds of Prey

The Ohio Nature Education Center will

present "Birds of Prey" on June 9 from 10-

11 a.m. at Groveport Heritage Park, 551

Wirt Road. All ages are encouraged to

attend this up close program to learn about

Ohio's hawks and owls. Includes live birds

and study skins. Free.

Chalk art

Youths can create chalk art at Heritage

Park, 551 Wirt Road, Groveport, using

paper, glue and chalk. Dress for mess!

Program held June 12 from 6:30-7:30 p.m.

Free. For ages 5-12. Call 614-836-3333 to

register by June 8.

Groveport Garden Club

The Groveport Garden Club meets the

first Tuesday each month at Groveport

Zion Lutheran Church, 6014 Groveport

Road. Call Marylee Bendig at (614) 218-

1097.

Summer readers

Summer readers will meet June 4 and

June 18 from 11 a.m. to noon at KidSpace,

630 Wirt Road, Groveport. Activities related

to books will be incorporated into group

discussion. For ages 7-12. Free. Reward

party to participants that attend three

classes this summer and have read three

books. Party held on Aug. 20 from 11 a.m.

to noon.

Lithopolis Garden Club

Lithopolis Garden Club meets the first

Tuesday each month at 1 p.m. in the

Community Building at Wagnalls

Memorial in Lithopolis. Anyone interested

in gardening and meeting other gardeners

are invited to attend the meetings.

www.columbusmessenger.com

t

May Giveway

Place a prepaid classified line ad in our paper

for the month of May and be registered to win a

$50 Gift Card from

The Columbus Messenger Newspapers.

All ads received by mail, in person,

email or phone will be included in the drawing.

Drawing will be held May 30th, 2018

and the winner will be notified

and published in

our June 3rd issue

GOOD LUCK!

Messenger photo by Linda Dillman

Groveport city employee Dennis Moore in his workshop where he creates wind

chimes out of recycled materials.

Chiming in

By Linda Dillman

Staff Writer

Beautiful music can come from

uncommon places such as thrift stores,

yard sales, garages, and closet cleanings.

For Groveport city employee Dennis

Moore, that music takes the form of wind

chimes playing their serenade in a

breeze.

Moore uses recycled material–like

the lid from an old pan–along with

metal piping tuned to a harmonic scale

to create new works of musical and visual

enjoyment.

In his Second Chime Around workshop

barn, half filled with old and

bartered equipment and a homemade

paint booth, Moore cuts pipe, drills

metal support lids that previously kept

steam at bay on a kitchen stove, gingerly

drives a drill bit through fragile knickknacks,

and then assembles everything

before selling them at Ohio craft shows.

Old car pistons, parts from discarded

grass trimmers, watering cans, spark

plugs and trophies wait in boxes to be

turned into works of wonder.

"I heard a saying, 'When angels hear

chimes, they gather to dance,' that I really

liked," said Moore. "It got me interested

in chimes, so I started repairing them

for people about four years ago. At first,

I bartered my services and then I started

making them myself. It's not for the

money, but for the love of chimes."

By repairing other people's chimes

through trial and error and with a little

help from Internet resources, Moore

realized many of the commercial chimes

he worked on were not properly constructed

in the first place.

Two years ago, he decided to build a

better mousetrap by constructing his

"You want to create good

memories, which makes making

them fun. For me, making

chimes is a hobby, not a job and

I like seeing people smile when

they see and hear my chimes."

- Dennis Moore

own out of recycled material.

By drilling holes in strategic spots

and stringing each pipe individually, he

is able to tune the chimes beginning with

a C note, teasing different melodies out

of material with a past life.

"I gave them away at first as presents,"

said Moore. "Then I heard the

Paddock Pub (a restaurant located at

The Links at Groveport golf course) was

having a craft show. I sold 12 chimes at

my first show and it turned on a light.

With the help of my silent partner, my

mother Rose Moore, who goes to thrift

stores every Thursday looking for lids

and things I can use, and Dave Watkins,

who works for Madison Township and

uses a lathe to make my strikers, I probably

make about 70 to 80 chimes a year.

That's a lot of smiles."

Moore said he's sold his handmade

chimes at eight shows in the last two

years, which take, on average, three

hours to make and sell for $45 to $85. At

a recent show, Moore told a hesitant

young boy it was okay to make the

chimes sing.

"You want to create good memories,

which makes making them fun," said

Moore. "For me, making chimes is a

hobby, not a job and I like seeing people

smile when they see and hear my

chimes."