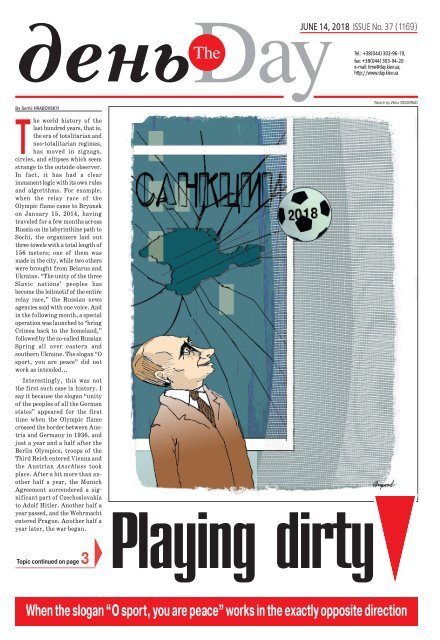 You also want an ePaper? Increase the reach of your titles
YUMPU automatically turns print PDFs into web optimized ePapers that Google loves.
JUNE 14, 2018 ISSUE No. 37 (1169)

Tel.: +38(044) 303-96-19,

fax: +38(044) 303-94-20

е-mail: time@day.kiev.ua;

http://www.day.kiev.ua

By Serhii HRABOVSKYI

The world history of the

last hundred years, that is,

the era of totalitarian and

neo-totalitarian regimes,

has moved in zigzags,

circles, and ellipses which seem

strange to the outside observer.

In fact, it has had a clear

immanent logic with its own rules

and algo rithms. For example,

when the relay race of the

Olympic flame came to Bryansk

on January 15, 2014, having

traveled for a few months across

Russia on its laby rinthine path to

Sochi, the organizers laid out

three towels with a total length of

156 meters; one of them was

made in the city, while two others

were brought from Belarus and

Ukraine. "The unity of the three

Slavic nations' peoples has

become the leitmotif of the entire

relay race," the Russian news

agencies said with one voice. And

in the following month, a special

operation was launched to "bring

Crimea back to the homeland,"

followed by the so-called Russian

Spring all over eastern and

southern Ukraine. The slogan "O

sport, you are peace" did not

work as intended...

Interestingly, this was not

the first such case in history. I

say it because the slogan "unity

of the peoples of all the German

states" appeared for the first

time when the Olympic flame

crossed the border between Austria

and Germany in 1936, and

just a year and a half after the

Berlin Olympics, troops of the

Third Reich entered Vienna and

the Austrian Anschluss took

place. After a bit more than another

half a year, the Munich

Agreement surrendered a significant

part of Czechoslovakia

to Adolf Hitler. Another half a

year passed, and the Wehrmacht

entered Prague. Another half a

year later, the war began.

Topic continued on page 3

Playing dirty

Sketch by Viktor BOGORAD

When the slogan "O sport, you are peace" works in the exactly opposite direction
---
2

No.37 JUNE 14, 2018

Declarationswithoutconsequencesor

DonaldTrump'shistoricachievement?

For the first time in history, the incumbent of the

White House met with the leader of North Korea

DAY AFTER DAY

WWW.DAY.KIEV.UA

Photo by Ruslan KANIUKA, The Day

By Natalia PUSHKARUK, The Day

The meeting between US President

Donald Trump and North Korean

leader Kim Jong-un, which had

faced a real threat of disruption

because of North Korea's careless

statements, did take place in Singapore

at 9 a.m. local time (4 a.m. in Kyiv) on

June 12. For the first time in history, the

incumbent of the White House met with

the leader of North Korea after seven

decades of hostility that began at the end

of the Korean War.

The Trump-Kim one-on-one talks

lasted exactly 38 minutes and were followed

by extended negotiations involving

advisers and a working lunch, the CNN reports.

In the interval between the sessions,

President Trump shared his impressions

with reporters, saying that the meeting

was going "very, very good." "We have an

excellent relationship," he said. When

questioned by journalists whether the

DPRK would relinquish its nuclear

weapons, Kim did not answer. "Well, it

was not easy to get here. The past worked

as fetters on our limbs, and the old prejudices

and practices worked as obstacles

on our way forward. But we overcame all

of them, and we are here today," he said.

Following the summit, the leaders

signed an agreement in which they committed

to making joint efforts for denuclearization

of the Korean Peninsula in

exchange for security guarantees from

the US, the DW writes. The Politico media

outlet has published the full text of

this four-point document. Firstly, the US

and the DPRK have committed themselves

to establishing new relations "in accordance

with the desire of the peoples of

the two countries for peace and prosperity."

Secondly, the two countries will

join their efforts to build a lasting and

stable peace regime on the peninsula.

Thirdly, reaffirming the April 27, 2018

Panmunjom Declaration, the DPRK

commits to work toward complete denuclearization.

Fourthly, the parties commit

to repatriation of perished POWs' remains.

Trump announced that denuclearization

on the Korean peninsula

would begin "very soon."

The leader of North Korea stressed

that this was a historical document and

that "the world will see major change."

The US president, in turn, said that relations

with that nation would change and

that "people will be amazed and happy."

Interestingly, the North Korean

state TV channel KCNA broadcast the

summit live, even though footage of

such events is usually shown to North Koreans

only a few days after they occur.

However, the lightning speed with

which North Korean leader Kim has

changed his strategy of action, abandoning

his undisguised hostility in relations

with the US, ballistic missile

launches and caustic verbal confrontation

with President Trump, is astonishing. It

was Trump who called Kim "a rocket

man" and said that the US would respond

to the DPRK's actions with "fire and fury

like the world has never seen," while Kim

threatened the US with "the greatest pain

and suffering in history" should it impose

new sanctions against his country. It

seemed that with such rhetoric, a friendly

summit between the leaders of these

nations was a lowest probability event.

Kim's offer of a meeting was made to

the US leader on March 8. On April 18,

the new US Secretary of State Mike

Pompeo met with the North Korean

leader, on April 21, the DPRK announced

its intention to stop nuclear and missile

tests, on April 27, Kim and South Korean

President Moon Jae-in met, and the

DPRK promised to relinquish nuclear

weapons on the same day, on May 9,

North Korea released three Americans

from detention, and on May 10, Trump

announced June 12 as the day of talks

with Kim, The Independent reports.

However, after just two weeks, on

May 24, the occupant of the White House

canceled the meeting due to the "hostile

actions" of the other party, only to announce

on June 1 that the agreement to

hold a meeting was still in force. The media

recently circulated a statement by

Trump's lawyer Rudolph Giuliani who

said that the DPRK leader Kim "begged"

the US not to cancel the negotiations.

The Day turned to experts asking

them to comment on the significance of

the historic meeting between the US

and North Korean leaders, explain how

important it would be for the US and the

world in general, and why Kim, after

years of open hostility towards the US,

had begun to change tactics.

● "THE SIGNED DOCUMENT

IS VERY IMPORTANT

FROM THE POINT OF VIEW

OF INTERNATIONAL

SECURITY"

Oleksandr TSVIETKOV, Americanist,

professor, Borys Hrinchenko University

of Kyiv:

"This meeting triggered a wave of polar

opposite opinions, ranging from high

expectations of extraordinary results

and to cool opinions that nothing special

would happen. Today [June 12. – Ed.], after

the signing procedure for a comprehensive

declaration (as it was described

by the signers themselves – the American

president and the leader of North Korea),

they agreed that the document

would be expanded to cover the gradual

process of denuclearization in North

Korea, and the world would see a departure

from the past towards a certain degree

of openness and transparency in the

political processes in that country.

"The most important conclusion is

that, in any case, the signed document is

very important from the point of view of

international security. This is due to the

nuclear potential of North Korea. It is still

unclear how open the North Korean side

would be about their nuclear potential,

but the mechanism has been launched.

Subsequent negotiations are likely to detail

this process and will deal more with

verification. In addition to its security importance,

the declaration is also of high

political significance, especially for

Trump and his administration, as they

need to demonstrate to the world that

there has been a major shift on this issue.

It is also important for the domestic

American audience, since after the G7

meeting and the split that has taken

place between Americans and their allies

in that coalition, the situation is quite

tense. If the agreement succeeds, it will

improve the Republican party's chances

as it competes in the coming midterm elections

in America. Meanwhile, if the outcome

proves to be less successful than the

administration would like, there will be

a decrease in the public interest and

number of assessments of these events.

"However, the very fact of the signing

may somewhat repeat the situation

with Iran, only now applying to this

specific location, which still presents

an extremely acute problem first of all for

its neighborhood, but also for the world

as a whole.

"As for the reasons behind Kim

changing his position, there is a set of factors

in play here. Firstly, the domestic

economic situation in the country. Secondly,

the influence of such an ally as China.

After all, this plan was supported by

the PRC, and they wanted to be part of

this process. Currently, the situation in

Korea will depend on what kind of assistance

China will provide. One can discern

some indirect interest in this situation

on the part of Russia as well, since

there was an initiative to hold a summit

meeting with the Russian leader this fall.

That is, such a step by the North Korean

leader has caused a boom of political interest

in that country, its role and next

steps in the international arena."

Read more on our website

"Visual journalism of the future"

By Dmytro PLAKHTA, The Day, Lviv

Lviv became the seventh city to be

visited by the exhibition of the

best photos of Den's 19th International

Photo Contest. From

May 31 to June 10, thousands of

Leopolitans and guests of the city saw

it at Lviv Polytechnic National

University.

● "THANKS TO THESE

PHOTOS, WE GET TO

UNDERSTAND THE VALUE

OF LIFE"

These were 11 really productive

days. This is evidenced by the guestbook

as well, which traditionally accompanies

all the photo exhibitions

held by Den. This is its 10th volume,

marking a major anniversary. All previous

nine books, written by you, our

visitors, are stored in the newspaper's

editorial office. So, what did the visitors

of this year's photo exhibition in

Lviv write in it?

"Thank you for the positive (true)

emotions. And the picture The Fragments

of Civilization is an apt characterization

of the state of the modern society!"

wrote lecturer of the management

of organizations department of

Lviv Polytechnic National University

Ihor Hrybyk.

"I thank the photographers very

much! I was moved to the point of being

tearful. I wish you luck in the future!"

Liudmyla Trofimova sincerely remarked.

"Your work is inspiring, while the

art of photography touches the heart

and moves the soul and consciousness.

Thank you, Ms. Ivshyna!" one of Lviv

Polytechnic's students addressed

Den/The Day's editor-in-chief.

"Thank you for an hour of emotional

saturation, compassion and admiration

for our best people," writes

graduate of the Lviv Polytechnic

Z.B. Lototska. "I am captivated, moved

by the photo exhibition and the Den

newspaper as a whole," another graduate

of that university added in an unsigned

entry.

"Thank you very much for the wonderful

photos! Thanks to these photos

we get to understand the value of life,"

students of the Institute of Humanities

and Social Sciences of Lviv Polytechnic

wrote in a collective entry.

"Thank you for the exhibition!

These strong photos make us remember:

the war is going on, but our life is

going on as well," Iryna from Lviv

stressed in her comment.

"My favorite newspaper Den! Dear

Ms. Ivshyna! Thank you for existing!

Thank you for the Word, thank you for

the exhibition! I wish you energy and

strength in your service to Ukraine!"

wrote Halyna Poliuva.

What did Den's Days get Leopolitans to think about?

These are just a few of the written

impressions. There are many more in

the guestbook. Each review is unique,

as is its handwriting, as well as the

inimitable emotions experienced by

each of the visitors of the photo exhibition

while looking at this or that image.

Traditionally, many tourists visited

the exhibition in Lviv. In particular,

a few short reviews were written by

guests from abroad.

● "THIS IS A UKRAINIAN

PHOTO-DIMENSION,

A PHOTO PORTRAIT

OF ME AND YOU"

Natalia ULYNETS, Slavske joint commune

council member, manager of the

Dyvys.info news agency:

"I am saying it without pathos,

but Den's photo projects are a kind of

Ukrainian photo-dimension, a photo

portrait of me and you. Literality and

metaphoricity, emotions and events,

strength of spirit, energy of nature and

people, voices, circumstances, and

challenges – this is what I saw in the

works of this year's exhibition.

"Frankly, I confess that it is not

enough to visit Den's exhibition just

once, passing along the corridors and

past the stands. Some photos focus

one's attention for a long time and

strike a chord seriously and deeply.

These photos reflect history, moments

and processes of national significance,

because this is the experience

of Ukrainians in the fullest sense of

the word."

● "DEN OFFERS A DISCUSSION

WHICH HELPS US GROW"

Yosyp LOS, professor, head of the department

of foreign press and information,

Faculty of Journalism, Ivan

Franko National University of Lviv:

"I call Den's Photo Exhibition a display

of the visual journalism of the future.

Why do I call it this? The fact is

that recording episodes of life, and especially

people, leaves a major legacy

for the future generations, because

one gesture, one look at the pictures can

often say a lot, often much more than

other formats. Hundreds of books have

already been written that deal in detail

with these peculiarities of masterfully

made photos.

"Den is an activist newspaper. It

not only reflects life, but also looks for

new forms of realization of the whole

worldview sphere. It includes book

publishing, photo exhibitions, and

other projects of the publication. It is

important to get people interested

through photos and photography art

in reading high-brow literature, to encourage

them to take interest in such

individuals and their positions as are

worthy of attention in the modern

world. It is, for example, about such

people as Yevhen Sverstiuk and other

great figures who left us in their

writings great examples of highly effective

journalism.

"The Den newspaper tries to

change all aspects of life for the better.

This is not a form of self-affirmation,

but a specific mission to

change the world for the better.

Giuseppe Mazzini, the most prominent

figure of the19th-century Italy,

whose ideas united the country, spoke

about such a duty. These positions are

still extremely relevant today.

"For instance, I like Den's idea to

celebrate the Centennial of Pavlo Skoropadsky's

Hetmanate very much. I

have read all the contributions on this

topic in your publication. This is a real

encyclopedia, the ideas of which are

extremely relevant for Ukraine today.

"We must look for great individuals.

The Den newspaper deals with

this task as it seeks the positive features

in our figures who made the

right choices, contributed and are

still contributing to the development

of the Ukrainian state. The publication

acquaints its readers with such

people, analyzes their examples, and

explains their ideas. The Den newspaper

offers a discussion that helps us

grow. I regularly read each issue and

tell all my students about it. I have

just published and presented to the editor-in-chief

of the newspaper Larysa

Ivshyna a three-volume collection of

my journalistic works, where Den is

mentioned every two, three, or ten

pages. The ideas of the newspaper

are constantly being used.

"The Den newspaper is a club of

new ideals and ideas based on our

heritage that gives us an opportunity

to remember ourselves, to believe in

ourselves, and to be ourselves. Den is

looking for and offers variants of

new guidelines of the 21st century,

since the commercial manipulative

civilization is so passe. We must move

on to a civilization where a person will

be a true phenomenon, not a social animal,

or simply a cog in a large economic

or production mechanism. The

humanity is destined for a better fate.

Den's contributors give these issues a

thought and analyze them all, starting

with the nature that the humanity destroys,

and ending with an organic

way of life."
---
By Mykola SIRUK, The Day

WWW.DAY.KIEV.UA

Ukraine pinned high hopes on

the G7 summit which took

place in Canada on June 8-9.

There were two reasons for

this. Firstly, it was to be

chaired by Canada, which has traditionally

supported this country. And

secondly, it was precisely Canadian

efforts that saw Ukraine invited for the

first time to a meeting of foreign

ministers, which took place in Toronto

last month.

Den has already covered (in the article

"Alone against Everyone Else,"

https://day.kyiv.ua/uk/article/denplanety/odyn-proty-vsiha)

the first

takeaways on the summit.

We asked Ambassador of Ukraine

to Canada Andrii SHEVCHENKO to

tell us whether this country's hopes for

the summit were fulfilled, in light of

Donald Trump's controversial statements

about the possibility of letting

Russia to rejoin the G7, and his revocation

of his signature under an already

agreed-upon communique.

"I think that the summit was turbulent

and difficult, but for Ukraine,

its results are positive.

"First of all, I think we have to

thank our G7 partners for holding a

serious debate on the Ukrainian and

Russian issues, both at the ministerial

meeting in Toronto and in Charlevoix.

"Secondly, I think we should not

underestimate the final document. The

communique on the outcome of the

summit is extremely important. Its

text was agreed upon by all the participants.

And the wording we see in this

document shows the seriousness of

our partners' intentions. All the things

that we asked our partners for have

been included there. And it is very

good that they are transparently and

clearly articulated there. This also applies

to the fact that the G7 is ready to

expand sanctions or sees it as a possibility,

or in other words, it is ready to

increase pressure on Russia to make it

pay a higher price for violating international

law. Another statement confirms

support for reforms in Ukraine,

as well for the territorial integrity of

Ukraine. In other words, all those important

and meaningful things that are

definitely essential for us have been included

there. I think that, having seen

them in the text of the communique, we

should have no doubt that this is indeed

the position of our partners."

● "CANADA WAS THE FIRST

NATION TO RESPOND VERY

FIRMLY AND CLEARLY TO

THE IDEA OF LETTING

RUSSIA TO REJOIN THE G7"

"In my opinion, several specific

developments should be highlighted.

"Firstly, I mean the extremely important

British initiative to create a

group that has to interact in counteracting

the Russian Federation. And it

seems to me that this is very important

when we see at the institutional level

our key partners creating the tools to

contain the Russian threat.

"Ukraine is now in a situation

where we need to tell the G7 that we are

ready to work with this club. This is explained,

above all, by the fact that we

offer added value to the G7 in containing

Russian aggression. And we

need to use it, and that is the contribution

we can provide to make the

world safer.

"Secondly, I would also highlight

Canada's position on Trump's initiative

to invite Russia back to the G7. Canada

was the first country to respond very

firmly and clearly to the idea of letting

Russia to rejoin the G7.

"It shows that we have very firm

and principled allies. And this is extremely

important for us. Therefore, it

was very important for me as Ambassador

of Ukraine to Canada to see that

Canada provided a good and confident

leadership as it chaired the G7 and

demonstrated a clear position on the exotic

idea of Russia's return to the G7.

By Natalia PUSHKARUK, The Day

Britain was the first to resolve to boycott the

2018 FIFA World Cup, doing so in March

this year. The reason for this was the

Kremlin's failure to respond to a British

ultimatum that demanded to explain how the

Novichok nerve-paralytic agent came to Britain,

where it was used to poison ex-spy Sergey Skripal and

his daughter Yulia in Salisbury. Prime Minister

Theresa May stressed during a speech in the

parliament that there would be no ministers or

members of the royal family attending the Russian

World Cup, although Prince William is president of

the Football Association of England and previously

attended similar events. After that, leaders of

Iceland followed the UK's lead.

In May, the Human Rights Watch non-profit organization

also joined the initiative, appealing to

world leaders to boycott the opening ceremony of the

World Cup until Russian President Vladimir Putin

takes steps to protect Syrian civilians. The executive

director of the organization Kenneth Roth said

that world leaders "should signal to President Putin

that unless he changes track and acts to end atrocities

by Russian and Syrian forces in Syria, they

won't be in their seats in the VIP box with him on

opening night."

The Australian official delegation, which will also

be absent from the championship, has joined the

call, the SBS News reports. That resource says that

Australia has repeatedly protested against human

rights violations in Russia and its breaches of in-

DAY AFTER DAY No.37 JUNE 14, 2018 3

AmbassadorofUkrainetoCanadaAndriiSHEVCHENKO:

"We offer added value for the G7

in containing Russian aggression"

"Thirdly, the presidency of Canada

in the G7 does not end with this summit.

There is a meeting of the energy

ministers ahead."

● "THE OPPORTUNITIES

PRESENTED TO US BY THE

CANADIAN PRESIDENCY

ARE BEING USED TO THE

FULLEST EXTENT"

"Of course, we wanted Ukraine

and the Ukrainian issue to be discussed

at a separate session in Charlevoix, but

it became clear in the beginning of the

year that Canada, as the presiding nation,

had chosen the state of the oceans

and environment as the summit's

themes.

"I think that Ukraine has made

the most of the opportunity that presented

itself at the meeting of foreign

ministers in Toronto, where there was

a full session on Ukraine, and where

minister Pavlo Klimkin had the opportunity

to discuss with other ministers

all our proposals and all our scenarios

that we are working on for the

future behind closed doors in a very select

company.

"Consequently, in my opinion,

the opportunities presented to us by

the Canadian presidency are being

used to the fullest extent, both at the

summit level and at the level of cooperating

with the Canadian Embassy

in Kyiv, which is coordinating

the other embassies of the G7 countries

very well. So, I think that this

has been very important and very

valuable year for us. And that is why

I have a very positive impression of

the communique of the summit as well

as the positive atmosphere and information

that we get from behind

closed doors."

How have Canada's media, experts

and politicians commented on

Trump's idea of letting Russia to rejoin

the G7?

"The reaction of Canada came instantly,

and it was very clear and fast.

Moreover, it was a consolidated position

of the entire political class, stating that

the return of Russia to the G7 and getting

back to 'business as usual' were out

of question. That is why we are very happy

with this very good and clear, fast,

transparent reaction of Canada. And

this is exactly what we expect from our

friends and this is what it was. The reaction

of other countries participating in

the G7 summit was also encouraging. It

seems to me that this is a good guarantee

that the return of Russia to this format

will not be discussed again in the

near future. Therefore, if someone wanted

to test this idea, check it out, then it

seems to me that the consolidated reaction

of other G7 countries has shown that

this idea will not be accepted, in fact."

● "NOW AS NEVER BEFORE,

WE NEED OUR ALLIES TO BE

UNITED AND ACT AS A

UNITED FRONT"

And how should we perceive

Trump's idea of creating a free trade area

between the G7 member countries?

"It is now important for us to see

how the situation with the trade war

will develop, which America on the one

side, and Canada and our European

partners on the other, are now effectively

plunging into.

"Firstly, this is not an alien story

for us. It is important to us because it

is a threat to unity between our Western

allies, even as we need our allies to

be united and act as a united front, now

as never before.

"Secondly, for us as a country

which adheres to the principles of free

trade, it is very important that these

principles dominate and prevail in international

politics. Therefore, we desire

strongly that our allies find a common

ground and work under a good and

friendly cooperation regime."

And how justified is Trump's accusation

that the trade regime between the

US and Canada is unfair on America, in

particular with the duty on American

milk being 270 percent, as the resident

of the White House has stated?

"I think that it is the approach to

calculating that figure that matters

here. Possibly, subsidies were also taken

into account. But I think this is the

case when one plus one is not always

equal to two. Everything depends on

who counts, on what side they do it and

how they do it."

Is there some progress in our efforts

to get Canada to help Ukraine not

only by training our armed forces to oppose

Russian aggression, but also, for

example, by supplying weapons or establishing

joint production of certain

types of military equipment?

"We are working on some projects

that have to do with weapons, and this

is a delicate area that does not like publicity.

But I can assure you that we have

very interesting cooperation opportunities

ahead. And as for the Unifier,

which is a training mission, it is also

now being modified and changing geographically.

If earlier it was held in Yavoriv

and Kamianets-Podilskyi, now it

has moved to Odesa, Kyiv, and Desna

in the Chernihiv region. And this mission

is changing in terms of its content

and essence as well, the training process

itself is changing. Therefore, the Unifier

mission is intensifying and evolving,

and this is a very good sign."

#BoycottWorldCup2018

Who has stood firm

and ignored the opening

of the World Cup in the

Russian Federation?

Sketch by Andrii YERMOLENKO

● "FOR THE ENTIRE CANADIAN

POLITICAL ESTABLISHMENT,

IT IS ABSOLUTELY OBVIOUS

THAT PUTIN IS NOT

INTERESTED IN A NORMAL

DIALOG"

I saw Twitter discussions among

Canadian politicians, in particular opposition

ones, where they opined that

Justin Trudeau had finally realized

that one could neither deal nor reach understandings

with Vladimir Putin.

What do you know about this?

"We have recorded no public discussion

of this topic. The truth is that

Trudeau and his government has undergone

a very serious evolution over

the years. When Trudeau became prime

minister, he had a noble idea, as it

seemed to him, to resume dialog with

Russia. And it seems to me that Russia

did not take full advantage of Canada's

offer to establish a normal civilized dialog.

And now, both for Trudeau and for

the entire Canadian political establishment,

it is absolutely obvious that

Putin is not interested in a normal dialog.

It took some years for them to understand

this thesis. The visit of

Trudeau to Ukraine, a very powerful effort

of the Ukrainian diaspora here in

Canada, which explained literally to

every MP what was actually happening

in Ukraine – all this has brought a

very good result. We now have a very

clear and complete understanding by

Canada of what is happening in our

country, what role Russia is playing,

and it seems to me that our two nations

have established a complete understanding

on this issue."

ternational law, including the annexation of Crimea.

In addition, 27 Australian citizens were on board of

the Malaysian Airlines aircraft which was shot

down over the Donbas.

Ambassador of Ukraine to Finland Andrii Olefirov

tweeted that the country's leadership would not

attend the soccer event either. "It is a common senseinspired

decision, not something due to my efforts.

Each of us is doing their part at their station. However,

let us bring #BoycottWorldCup2018 to the top

of Twitter, since we are present there," he said. The

boycott of the World Cup's opening ceremony was

also announced by leaders of Poland and Canada.

At the same time, Germany's position is not so

clear. German Chancellor Angela Merkel said in an interview

with the ARD TV channel this week that she

did not see any fundamental reasons for refusing to

travel to the World Cup in Russia. She neither confirmed

nor denied her attendance at the opening ceremony

of the event and said that the trip would depend

on how packed her schedule would be, more so

since it could be combined with political negotiations

as well. President of France Emmanuel Macron has

also refrained from supporting a clear boycott. During

a visit to St. Petersburg, the French leader promised

that he would come to Russia if the French team

reaches the semifinals, despite appeals from human

rights watchdogs not to do so, Reuters reports.

British singer Robbie Williams, who will sing at

the opening ceremony of the competition, was also

criticized. William Browder, an investor and one of

the initiators of the Magnitsky List, wrote on Twitter:

"There's lots of ways to make money @robbiewilliams,

but selling your soul to a dictator

shouldn't be one of them. Shame on you. This message

is on behalf of Sergei Magnitsky, Boris

Nemtsov, Anna Politkovskaya, Natalia Estemirova,

victims of MH17, 10,000 dead Ukrainian soldiers..."
---
4

No.37 JUNE 14, 2018

TOPIC OF THE DAY

WWW.DAY.KIEV.UA

By Ivan KAPSAMUN, The Day

The list of those who plan to take

part in the upcoming pre-sidential

and parliamentary elections

is expanding. Former Security

Service (SBU) chairman Valentyn

NALYVAICHENKO, who has been at the

head of the civic political movement

Justice in the past few years, told The Day

he is running for the presidency. What

does the ex-chief of the special service

think of the latest events in Ukraine,

particularly the Arkady Babchenko story,

Putin's statements, the likelihood of the

aggressor's activation, the necessity of

establishing the Anticorruption Court,

and the election campaign? The guest

came to Den/The Day's editorial office

after meeting Hugues Mingarelli, Head of

the EU Delegation to Ukraine. This is

what we began our conversation with.

● "THERE IS NO

COMPREHENSIVE PLAN

TO REBUILD THE RUINED

INFRASTRUCTURE"

"Mr. Mingarelli and I discussed two

important items on our agenda. One is

the Ukraine-EU summit which will find

out at last what the Ukrainian leadership

has done in the past four years, receiving

considerable Western assistance.

The other is a very embarrassing situation

caused by the government's resistance

to a free unification of communes.

The worst situation of this kind is in

Transcarpathia, where three territorial

communes have been barred from merging

for 18 months."

Why?

"The root cause is in the payment of

taxes by entrepreneurs who work on the

territory of these communes. After they

unify, most of the money will remain behind

locally – this is why the central government

opposes this. The neighboring

Slovakia has built an up-to-date hospital

near the border, but the Ukrainian side

cannot do the same because all the money

goes to Kyiv. Communes what to

fund a lot of social projects in order to develop

their territory, but they are barred

from doing so. The EU ambassador and

I examined the map of Ukraine and saw

that the largest blank spot, i.e., the

place with the smallest number of united

territorial communes, is precisely in

Transcarpathia, a region that requires

special attention in order to ward off any

manifestations of separatism and social

unrest.

"We also discussed the necessity to

go on fighting corruption, above all, to

expose offshore deals, no matter when –

during Yanukovych's or Poroshenko's

presidency – they were made. Another

direction is security cooperation and

the EU's support for Ukraine's defense

industry. There are no orders from the

Ukrainian leadership."

It was reported recently that the

governments of Ukraine and France

had signed a contract on supplying

55 cutting-edge Airbus helicopters to

boost the police fleet.

"I support reequipping the Ukrainian

police with up-to-date machines. It is

very important for the Special Response

Forces which need helicopters. For when

Russia committed aggression, neither

the SBU nor the police had at least a single

helicopter. And those belonging to

the Armed Forces of Ukraine are in poor

repair. We've been wasting time for

four years, instead of restoring the production

of Ukrainian helicopters – for

example, at the factory in Konotop,

Sumy oblast. We should have brought

back the French investor or set up a repair

facility based on European technologies

long ago. We are quite capable

of doing so.

"Speaking of cooperation with the

EU, we have no joint programs of helping

forced migrants: it is about employment,

the right to elect, daycare facilities,

schools, and social security. As of

today, it is only the Red Cross and target-oriented

aid from some countries,

such as Japan, Switzerland, and Lithuania.

There is no comprehensive plan to

rebuild the ruined infrastructure, although

it should have been drawn up and

submitted to the Ukraine-EU summit. I

think the European Commission would

have backed this plan."

What is the agenda?

Valentyn NALYVAICHENKO: "We should take advantage of the nearest

Ukraine-EU summit and apply in writing for European Union membership"

● "BEFORE SPEAKING

OF PEACEKEEPERS,

WE SHOULD HAVE

PERSUADED THE UN

SECURITY COUNCIL TO

MONITOR THE SITUATION"

Did you watch Putin's latest interview

for the Austrian ORF TV channel?

"Yes."

What do you think?

"Neither Putin himself nor his regime

has changed. But we must think, above all,

of our national interests: integration into

the EU and NATO must remain on the

agenda every day. We should take a serious

attitude to this, for Russia has not

toned down its criticisms and threats.

Putin's interview is another proof of this.

And the absence of an action plan on our

part makes us vulnerable."

What could be expected from the aggressor,

for Russia has been more activate

lately in the Donbas and the Sea of Azov?

"Russia will continue the aggressive

war against Ukraine. It is very good that

we have at last, four years later, entrusted

the professional military to supervise the

operation in the east. But what the United

Forces lack in this operation is support

from the defense complex which must

work day and night on supplying the military

with all the necessary equipment:

safety modules, artillery radars, armored

vehicles… The main tactical goal is to

avoid losses of our servicemen. The next

goal is to restore the country's defense capability

and liberate the occupied territories."

President Petro Poroshenko spoke

again the other day about a UN peacekeeping

mission in the Donbas. To what extent

is it realistic?

"Kurt Volker, US Special Representative

for Ukraine, is showing activity in

this field, whereas the Ukrainian side is

falling short of its target. First of all, it is

necessary to set things right on the line of

disengagement, particularly to do away

with corruption. Next: before speaking of

peacekeepers, we should have persuaded

the UN Security Council to monitor the situation

long ago in order to identify the nature

of this operation on the spot. The mission's

mandate should comprise clear-cut

conditions – regaining peace and security

on the Ukrainian-Russian border. There

should be fewer general words and publicity

and more concrete things. The mandate

itself should be on behalf of Ukraine, for

it is our territory. Moreover, we are a UN

founding member."

● "I ADVISE ALL OF OUR FANS

NOT TO TRAVEL TO RUSSIA

FOR THE FIFA WORLD CUP"

What attitude do you think Ukrainians

should take to the FIFA World Cup in

Russia?

"I think it would be quite right for our

soccer fans and state to boycott this championship.

Although neither the government

nor the Soccer Federation of Ukraine

worked on the international level, ordinary

people and athletes took a principled stand.

I advise all of our fans not to travel to Russia.

Firstly, for security reasons because

you are unprotected there – there is neither

a consul nor the consular law. The cases of

Sentsov, Kolchenko, Klykh, Karpiuk, and

other political prisoners confirm this. Secondly,

we should show that we are ready to

free our people instead of traveling to

watch soccer and drink beer."

Now about the Anticorruption Court.

There are two viewpoints of lawyers and

experts: some say this court is needed to

cleanse the system, others argue that it is

not needed and it would be better to reform

the existing courts so they could try corruptionists.

What do you think?

"I am convinced that Ukraine needs an

independent anticorruption court, as well

as two legislatively-enshrined crucial

things: no statute of limitations for crimes

of corruption and a mechanism for recovering

and returning the stolen money to

Ukraine. The No. 1 thing is to begin punishing

and confiscating what officials, including

the president, stole regardless of

when they were in power. For this purpose,

there should be an anticorruption court,

with judges elected by an independent

commission composed of both Ukrainians

and foreigners."

● "THE LEADERSHIP WAS TO

HAVE FORMED THE SBI

AND DELEGATED

INVESTIGATIVE FUNCTIONS

TO IT AS LONG AS TWO

YEARS AGO"

The Law on the State Bureau of Investigations

(SBI) was passed several

years ago, but this institution is still to be

established. Is it going to be the same with

the Anticorruption Court, even if the relevant

law is passed?

Photo by Mykola TYMCHENKO, The Day

"It is inactivity of the leadership. It

was to have formed the SBI and delegated

investigative functions to it as long as two

years ago. But the president and the prosecutor

general are blocking this reform

and, hence, must be held responsible.

There is so much talk now about Arkady

Babchenko, but let us recall real highprofile

murders in the past few years.

There were four of them – two by means of

a car bomb and two by means of firearms.

These are acts of political terrorism. Where

are the results of investigation? There

are none. The point is we don't have an independent

facility. The leadership could

have recruited independent specialists,

furnished information from other lawenforcement

bodies, supplied them with

special technical and other equipment,

and placed them in touch with international

investigative bodies long ago. But this is

not being done."

● "ONLY A LEGAL TRIAL

CAN SAVE THE BABCHENKO

CASE NOW"

What do you think of the Security Service's

special operation to allegedly ward

off the murder of Arkady Babchenko?

"When I headed the SBU, I did not allow

this kind of operations. The main

thing in the work of the SBU and other lawenforcement

bodies is legality. So, as far as

the Babchenko case is concerned, I urge the

authorities to restore legality in law-enforcement

bodies. The principle of responsibility

towards the Ukrainian people,

enshrined in the law, in no way means intimidating

people, particularly by the socalled

'list of 47.' The appearance of the latter

is nothing but an attempt to present

journalists as targets and the state as a

shooting gallery. They had better investigate

the assassinations of Pavlo Sheremet,

Amina Okuyeva, and Military Intelligence

Colonel Maksym Shapoval. Now only a legal

trial can save the Babchenko case,

where, on condition of having ample evidence,

the Ukrainian counterintelligence

should be the main party of prosecution. If

the process has begun, it should go on. This

is the way I acted when Russia downed the

Malaysian MH17 Boeing. It took us

24 hours to name the organizers and perpetrators

of the crime."

Recently, when the international investigation

of this tragedy in fact put

the blame on Moscow, French President

Emmanuel Macron was visiting Moscow.

Many criticized his weak position and behavior

in front of Putin. Shortly before

this, German Chancellor Angela Merkel

had come to see Russia's president in

Sochi. What does this line of European

leaders mean?

"Indeed, we can conclude that the latest

political decisions of the president of

France, the chancellor of Germany, the premier

of Bulgaria, and the president of

Turkey do not take into account Ukraine's

interests at all. I mean Nord Stream 2 and

South Stream, as well as active contacts of

European leaders with the Russian leadership

in general. This in turn means that

both the president of Ukraine and our

Ministry of Foreign Affairs failed to convince

the Europeans. We must work more

actively, otherwise we will lose. For example,

we should take advantage of the

nearest Ukraine-EU summit and apply in

writing for European Union membership."

● "WE MUST TELL THE PEOPLE

FRANKLY THAT ALL

ELEMENTS OF THE

DEMOCRATIC OPPOSITION

ARE MOVING SEPARATELY"

Ukrainians will be electing the president

in less than a year's time and parliament

another six months later. Do you

plan to take part?

"The Justice movement's team and I

have resolved to contest elections separately.

Our political proposal in the presidential

and parliamentary elections is as

follows: renewing the country, liberating

the occupied territories, fighting corruption.

Who are we running with? With

those who have shown their position. With

professionals, volunteers, medics, war

veterans, and patriots, who have never betrayed

Ukraine and will never do so while

in power. I've made a personal decision to

run for the presidency and, with the Justice

team, for a parliamentary seat. I remain

in political partnership with Yulia Tymoshenko,

especially in the matters of

corruption control."

Viktor Chumak, who is also running

for the presidency, told Den recently that

all of democratic oppositionists can, if they

wish, actively campaign for themselves.

Then it will be necessary to gauge the ratings

and support the leader who will run

further as a single candidate. Do you accept

this approach?

"We must tell the people frankly that

all elements of the democratic opposition

are moving separately now. It is true. Let

the people finally decide because the main

indicator for me is their trust rather than

artificial ratings and the money of oligarchs.

One should unite around a joint

platform. Incidentally, I can say after my

latest trip to Washington that our US

partners have resolved to monitor fairness

at the Ukrainian elections. Nobody will allow

rigging the elections."

● "WE MUST AT LAST BREAK

THE OLIGARCHIC LINE OF

UKRAINIAN POLITICS"

As long as there is neither the new

Central Election Commission nor the new

electoral law, the instruments of rigging

still remain.

"Unfortunately, the leadership is not

exactly willing to form a new Central Election

Commission, let alone reform it from

a bureaucratic Soviet body into a European

technical entity that will obey the law

rather than instructions 'from above.'

Besides, there is no political will to set the

clear-cut rules of fair play, i.e., a new electoral

law. Moreover, those who defected

from the Petro Poroshenko Bloc are already

in the constituencies, 'sowing them with

money.'"

You say it is possible to unite around

a joint platform. Who can be your allies?

"I am against an alliance with corrupt

politicians, party projects, and those who

had a lot of chances when they were in power

but betrayed the people."

You were in power, too.

"Yes, but I am ready to answer for each

of my actions – when I was the SBU chief

and an MP.

"I welcome the alliance of honest civic

organizations that represent veterans,

corruption fighters, journalists, volunteers,

et al. They are the heart of Ukraine.

Politicians must not impose an agenda on

people – the case should be the other way

round. We must at last break the oligarchic

line of Ukrainian politics."
---
WWW.DAY.KIEV.UA

TOPIC OF THE DAY No.37 JUNE 14, 2018 5

By Maria PROKOPENKO, The Day

At the start of 2018, Japan

simplified the visa regime for

Ukraine. As a result, the number

of Ukrainian tourists to this Far

Eastern country has increased by a

quarter. Over the past year, about 7,000

Ukrainians visited Japan for various purposes.

Thus, there is a room for growth

overall.

For the last 15 years, Japan has been

actively developing tourism. By the way of

comparison: while the country admitted

5.2 million tourists in 2003, the figure stood

at almost 28.7 million last year, which, in

turn, is 19 percent more than in 2016.

Currently, Japan's declared goal is to admit

up to 40 million tourists in 2020. Considering

that Tokyo will then be the capital of the

Summer Olympics, the goal is quite

achievable. Another detail: Japan ranked

fourth among 141 countries in the 2017

Travel and Tourism Competitiveness Report

prepared by the World Economic Forum.

Most tourists come from the Asian region, but

there are also many travelers from the US,

Britain, France, Germany.

Japan is always surprising. Almost all of

us have heard about its parks, palaces,

temples, and robots. Meanwhile, it turns

out that according to last year's data, Japan

has become the country with the largest

number of Michelin three-star restaurants (it

is the highest mark available from the

renowned guide). France has 25 such

establishments, while Japan can boast as

many as 29.

The Japan National Tourism Organization

(JNTO) promotes Japan as a tourist

destination. It has offices on several continents

and opened a branch office in Moscow

in 2016 which serves, besides Russia,

Ukraine, Belarus, Lithuania, Georgia, etc.,

totaling 15 countries. The Embassy of Japan

in Ukraine also helps promote travel to the

Land of the Rising Sun. It was there that we

learned about some peculiarities of this kind

of tourism and its most popular destinations.

● ORGANIZATIONAL MATTERS

Even after the visa regime has been

simplified, Ukrainians still need a certain

package of documents to visit Japan.

However, the visa will be issued free of

charge, and can come as soon as after five

working days.

There are currently no direct flights

from Ukraine to Japan, which is a major

problem for Ukrainian tour operators. There

are many connecting flights available, but

they are quite expensive, because, as director

general of the Tsentr tour operator Svitlana

Vitkovska explained, there are no special

tariffs for connecting flights with package

tours, which is normally practiced when a

certain destination is actively developing.

Often Ukrainian tourists fly to Japan via the

Finnish Helsinki Airport or Qatar. To make

the situation clear, the minimum ticket price

to Qatar stands at 900 dollars. When arriving

in Japan, Ukrainians land in Tokyo or Osaka.

● WHERE TO STAY

As for accommodation, there are plenty

of hotels in Japan, both traditional and

Western-modeled ones, which Europeans are

familiar with. However, hotels belonging to

international chains are usually located in

large cities. By the way, the famous physicist,

Nobel laureate Richard Feynman recalled a

funny story from his trip to Japan for an

international convention of theoretical

physicists, held in the early 1950s (it can be

found in the book Surely You're Joking,

Mr. Feynman!). The American delegation was

accommodated in a European-style hotel,

but the scientist really wanted to experience

authentic Japan. So he moved to a Japanese

hotel, which left him incredibly pleased.

However, this is clearly a matter of taste.

Those who want to experience the local

way of life even deeper can rent a room in a

home occupied by a Japanese family. Some

options involve even a stay in a Japanese

monastery, enabling the guest to take part in

its life.

● CHERRY BLOSSOMS AND

MAPLES

Most tourists come to Japan for the

cherry blossom and maple seasons, which

occur, respectively, in the spring and fall.

Japanese weather forecasters annually create

a map of the cherry blossom blooming or

maple leaf fall, predicting when and in what

area this will happen. These maps often

Ukrainians are

increasingly

discovering for

themselves

the Land of the

Rising Sun.

What attracts

them there?

Finding one's own Japan

guide tour operators' decisions. But, of

course, forecasts do not always come true. For

example, this year, the cherry blossom

blooming started 10 days early.

"Do not be upset. The cherry blossom

blooming is followed by the wisteria blooming

season, which lasts till the end of May,"

Vitkovska noted. "Meanwhile, summer tours

can include beach holidays as well. But one

must take into account the high humidity

prevailing in the summer, which is especially

important for people with cardiovascular

conditions." One can even come to Japan for

skiing, so that country is interesting all year

round.

● TO SEE THE EMPEROR

By the way, it is in winter that the

Imperial Palace in Tokyo is particularly

interesting for tourists. This is because

outsiders can visit its inner gardens and see

the emperor with his family going out to greet

people only twice a year: on January 2,

immediately after the New Year, and on

December 23, the birthday of Emperor

Akihito. On other days, provided no

additional restrictions are imposed, one can

access the Imperial Palace East Gardens

only.

● WITH A FRENCH ACCENT

Japan has several sights that bring to

mind Paris. Firstly, the Tokyo Tower is

similar to the Eiffel one, but, as regional

representative of the Japanese tour operator

Japan Air Travel Marketing in Ukraine

Natalia Supriianovych added, the Japanese

structure is a bit taller and lighter. The

height of the tower exceeds 332 meters, it

occupies 12th place among the 29 highest

structures listed by the World Federation of

Great Towers. This broadcasting tower was

built in the late 1950s.

"The tower is painted in orange, which is

important for aviation. In winter it is

highlighted in orange, and in the summer it

uses lighter and cooler colors," Supriianovych

told us. Of course, the tower has had

observation decks installed as well, and one

of them, which has an altitude of 150 meters,

includes a section with transparent floor.

On the artificial island of Odaiba, which

is connected to Tokyo with the Rainbow

Bridge, there is the Statue of Liberty, a

quarter-size replica of the famous US

monument (the latter, let us remind our

reader, was a gift of the French, for which they

received a smaller replica of the original from

the Americans). "This statue was installed

during the Year of Paris in Tokyo. It was

funded by Japanese businesses, including the

company Fuji Television. Initially, they

intended it to stand for just a year, it was made

out of the desire to advertise this particular

company, because the monument stands with

its office in the background. When the Year of

Paris in Tokyo ended, the statue was removed.

But its memory remained, and people began to

request her return. Therefore, it was installed

again, and has become a permanently displayed

exhibit," Supriianovych said.

REUTERS photo

Elsewhere, the main building of the

Tokyo City Hall resembles a futuristic Gothic

cathedral, sometimes called the "Japanese

Notre-Dame de Paris."

● MEETING THE FUTURE

The just-mentioned island of Odaiba

houses the Miraikan, the so-called museum

of the future. This museum is dedicated to

the latest technology and scientific developments,

and is led by the first professional

Japanese astronaut Mamoru Mohri. "This

astronaut really wanted people on Earth to

see what the planet looks like from outer

space. Therefore, the Miraikan has an interactive

model of the Earth. Geolocation is

transmitted directly from space, and this

model allows one to monitor clouds and

weather changes on the planet online,"

Supriianovych said. "Plus, this museum

lets one learn a lot about astronautics in general.

Also, the humanoid robot Asimo performs

for visitors several times a day as it

walks, dances, greets people, and talks in

several languages."

● FAMOUS LOCATIONS

AND THOSE UNKNOWN

BY TOURISTS

There are 21 UNESCO Heritage sites in

Japan. Legendary Mount Fuji was added to

the World Heritage list relatively recently,

namely in 2013. "When we rode the

Shinkansen [a high-speed rail system whose

trains run at speeds of up to 300 kilometers

per hour. – Author] on a trip from Tokyo,

I was struck by the Japanese' attitude

towards this mountain," Supriianovych

shared her thoughts. "We were sitting and

talking, knowing that we would soon see

Fuji. Then, an employee of the Shinkansen

went by, saw the foreigners and showed us

that 'Fuji will be visible soon,' explained

from which side we could look at it, what

was the best way of doing it. I have not met

with such a tender attitude toward nature

and the nation's holy places in any other

country." Incidentally, there are

10 observation platforms on Fuji, but

beginners must stop at the fifth, as only

experienced people may go further.

Actually, this may be the reason to come to

Fuji again for some people.

"Now the main tourist flow sticks to the

so-called 'Golden Route,' including Tokyo,

Mount Fuji, Osaka, and Kyoto. Therefore, if

you are in Kyoto, there is the Monastery of the

Golden Pavilion [Kinkaku-ji. – Author] there

which is chock full of tourists, and authentic

Japan seems to be just absent," chief of the

JNTO's Moscow office Airi Motokura mused.

"But there is, for example, the city of

Kanazawa, known as the 'little Kyoto,' or the

island of Kyushu in the southern part of

Japan. These places are not known to foreign

tourists so far, so there is authentic Japan

there. Hence, we want to include them in

tourist routes. Of course, one has to look at

the Golden Route sights, but if you include

these unknown locations as well, it will be

more interesting."

From Ukraine – for

allpeopleoftheplanet

About a child prodigy from the Vinnytsia region who

received job offers from leading international IT

companies, but still opted to come home

By Olesia SHUTKEVYCH,

Vinnytsia region

For residents of the small town of

Lypovets, the Vinnytsia region,

Maksym Bevza is a true legend.

He is an example for his former

school's students, and his

successes are passed down to each

successive class. The lad showed brilliant

results in the External Independent

Evaluation (EIE), having scored

200 points in physics and mathematics

and 194 in the Ukrainian language.

Knowledge opened up fantastic

opportunities to him. He chose to study

at one of the most prestigious

universities and became a highly soughtafter

employee for the best IT companies

in the world. However, after a few

internships abroad, Bevza returned to

Ukraine. Now, he says, he has a dream

job that allows him to combine science

and the IT, and most importantly,

achieve complete self-fulfillment.

"At school I was actively involved in

the science Olympiad movement, participated

in competitions at different le-

vels on several occasions. When attending

grade 11, I won the first place in computer

science, physics, and astronomy,

the second one in mathematics, and the

third one in economics. That is, I held

five prize positions at the regional

Olympiads. It was my father who instilled

in me the love for the exact sciences,

as he is a physicist by training and

has had programming as a hobby

throughout his life. It was he who started

to train me when I was 10, and I entered

my first Olympiad in computer science

before I studied it at school. I do not

remember if I won a prize position then,

but it captivated me. Therefore, it is my

dad who gave me an impetus to start programming,

although now I have already

overtaken him by a large margin," Bevza

told us with a smile.

After finishing school and receiving

brilliant results at the EIE, Bevza had

every Ukrainian university offering a

place to him. He chose the one that he had

long dreamed about – Taras Shevchenko

National University of Kyiv. He admits

that had he not worked to improve his

marks and win the Olympiads, he would

have had no realistic chance to enter the

university, since admissions were insanely

competitive.

"During my first and second years,

I continued to take part in the Olympiads,

only competing with college students

now. These intellectual competitions

help to structure one's knowledge and

quickly navigate unknown situations. We

had to work as a team, and this experience

was also useful. After the second year, I

went abroad for my first internship.

Overall, I had four of them – thrice with

Google and once with Facebook," Bevza

continued. "The internships enabled me

to practically apply my skills and abilities.

That is, I could develop a specific product,

which allowed one to feel how the IT

professionals work. The first job offer

came from Facebook after the third year,

followed by another from Google. But at

that moment, I still did not understand

what I really wanted to do, because I was

still studying and interested in not just

the development of IT products, but precisely

its scientific component."

After graduating with a master's

degree, Bevza has found a job that allows

him to combine science and the IT.

He works for a Ukrainian company

that develops innovative IT products in

the field of artificial intelligence and

machine learning. Bevza himself works

on improving a globally popular service

for checking English spelling, in other

Photo courtesy of Maksym BEVZA

words, he creates algorithms that prevent

us from making mistakes when

writing in English. The company is

founded by Ukrainians, conditions and

compensation are as good as beyond the

ocean. Bevza says that the comfort of

employees and creative freedom are

the top priorities there: they can work

or sing, whatever suits them best. The

main thing is to believe in what you do,

then you will work in good faith and

comply with deadlines.

"Had I stayed abroad, I would have

been one of a thousand of employees,

and my contribution to the overall effort

would have been one thousandth.

In the company for which I work today,

we have approximately 150 people.

That is, my contribution is one hundred

and fiftieth, and this increases my responsibility

manifold, because my products

are more valuable and in demand

with people throughout the planet,"

Bevza summed up. "Now Ukraine has

a unique chance to become an active

player in the IT market. Ukrainian

specialists are very competitive, and because

of this we have the supply, demand,

and popularity of this profession.

But as for those who dream of succeeding

in this field, the first steps

must be taken while still at school, because

it is then that you have a lot of

free time that needs to be used well. As

you sow, so shall you reap."
---
6

No.37 JUNE 14, 2018

CLOSE UP

WWW.DAY.KIEV.UA

By Ivan KAPSAMUN, The Day

US President Donald

Trump's policy does not

exactly fit in with the

established rules in the

world. This gradually

changes traditional relationships in

geopolitics, of which the latest G7

summit in Canada is a graphic illustration.

A problem of partners'

unity has emerged in the Western

camp. This cannot help but play in

the hands of Russia which is

waging a war against Ukraine. The

latest visits of German Chancellor

Angela Merkel and French President

Emmanuel Macron to Russia

is Putin's success. The same can be

said about Trump's call for Russia

to be readmitted to the G7. All

this should be a matter of serious

analysis in Ukraine. How is

Ukraine to behave in the US-

Europe-Russia triangle? We are

interviewing Kostiantyn HRY-

SHCHENKO, Ukraine's Minister of

Foreign Affairs in 2003-05 and

2010-12.

Ukrainian political prisoner

Oleh Sentsov, whom the Russian

authorities imprisoned for 20 years

on a trumped-up charge, has been

on a hunger strike for almost a

month. What can be done to have

Sentsov freed?

"There must be a more active political

communication on this matter,

which means that releasing

Ukrainian political prisoners should

be put on the agenda of the negotiations

the US president and European

leaders are holding with

Moscow. Naturally, Ukraine

should, above all, constantly broach

this problem in the world. But there

is no guarantee that we will get the

expected response. Sentsov's deteriorating

health and a real danger

to his life are serious factors of influence,

but I don't think Moscow

will readily take them into account.

It is unlikely that somebody can offer

a clear plan that could produce

a concrete result."

Will the EU stand united

against Moscow?

"I think it is the reaction to the

policies of US President Trump

rather than the Kremlin's merit.

Unwillingness to heed the opinion

of European politicians and ignoring

their national interests causes

EU leaders to seek an alternative.

They seem to be unable to see any

other alternative but Moscow, although

it is, of course, inadequate.

Europe's disappointment over failure

to influence the US and the resulting

search for an opportunity to

act independently, particularly to

build bridges with the Kremlin, is

a reaction to what irks Europe very

much. Besides, the Americans do

not suffer much from anti-Russian

sanctions, as the main burden is being

shouldered by the Europeans

who are more and more thinking

over whether or not it is worthwhile

to continue the current policy."

What is the logic of Trump's

policy towards the EU – is it about

purely economic interests or something

more than this?

"The logic of Trump's policy can

be discussed in general, but no one

has given an answer so far. The behavior

of not even the US administration

but of Trump personally

is a serious subject for examining

the psychology and policy of making

decisions based on the desire to

"Unpredictability

has become a norm"

Diplomat Kostiantyn HRYSHCHENKO on changes in geopolitics

and Ukraine's place in the US-Europe-Russia triangle

ation of new jobs by way of encouraging

US companies to resume

production in the US, and other advantages

for Americans). Moreover,

the advice and opinion of

highly professional experts, including

advisors from Trump's inner

circle, are not being taken into

account. Therefore, entirely new

criteria should be formulated and

applied here. The logic that worked

under previous administrations

works no more."

What impact does Trump's policy

have on the established rules in

global geopolitics?

"It is very unusual to live in the

conditions when unpredictability

has become a norm. This used to be

a rare exception, but today everybody

must reckon with the fact that

neither the personal relationships between

Macron and Trump, nor the

importance of commercial and economic

ties between the US and Germany,

nor the level of traditional

trust between the US and the UK are

decisive factors now. But nobody has

found out so far what should be decisive.

Nobody can explain Trump's

position and implementation and,

what is more, on the attitude of US

and European corporations to this.

So we are living in a world where nobody

but Trump himself can seriously

influence the events. And the

more this unpredictability embraces

new regions, the more unable he

himself will be to stop the course of

certain events. This considerably

complicates the work of diplomats of

any state."

Can we say that Russia is benefiting

from the situation of partial

chaos?

"It would be an exaggeration to

say that they are benefiting because

they have to pay a very high

price for this. The impression of

strength or certitude they are trying

to demonstrate in the world

costs them very much: limitation of

economic possibilities, reduced access

to loans, unwillingness of

many banks to deal with them, etc.

This will remain a burden for a long

time. While the Donbas situation

can be theoretically settled in the

long term, Russia will have to

shoulder the Crimean burden for a

be liked by the basic electorate.

The slogan that all global policies

are in fact domestic, local, policies

has already been brought up to the

highest denominator. And, as

Trump's basic electorate has a very

simplified idea of international relations

and the US's role in them,

he is fulfilling his promises (support

for the domestic market, creunusual

affection for Putin because

this does not seem to give him any

obvious political advantages. Although

the US as a state is pursuing

a tough policy, imposing new sanctions

against Russia, the president's

role is extremely important. For

example, he cannot cancel or ease

sanctions at any moment, but he can

surely exert influence on their imvery

long time. I don't think the

sound-minded Russians are happy

about what happened. Yes, Russia

is deriving certain tactical benefits

today – owing not so much to its efforts

as to the ongoing processes.

Trump's decisions, for example,

on the 'Iranian question,' caused

additional tension or an increase of

tariffs for US partners."

Photo by Mykola TYMCHENKO, The Day

Still, will Europe remain

united?

"There will be a conflict of

two tendencies. Euroskeptics and

populists will be rocking the boat,

but they are so far unable to offer

an alternative. Europe cannot afford

centrifugal tendencies if it is

to meet competition with such

players as the US and China. And,

as we can see, the alliance of

France and Germany has only

strengthened lately. They are Europe's

topmost economies. There

may be a lot of debates, but nobody

is prepared to renounce the

euro. I am convinced that Europe

will stand its ground. I personally

feel positive about Britain's

withdrawal from the EU. It has

never considered itself part of

Europe. Of course, there is a position

of Hungary, Poland, and

Italy… Incidentally, many are

pleased with Italy's electoral

choice. This experience is most

likely to bring back more experienced

and easy-to-grasp forces

which will not be making unnecessary

waves in Europe."

Do you think it is possible to

stop Nord Stream 2?

"Poland has already exhausted

its potential, while Ukraine simply

did not have any. Today, the US is

the main barrier to carrying out

this project. Should any sanctions

be applied against German companies

(which can, incidentally,

create more problems in trans-Atlantic

cooperation), this project

will be shelved. The attempts of

German politicians to assure us

that Ukraine will preserve its role

as transporter is even worse that

the Budapest guarantees."

The main question is what policy

Ukraine should pursue under

these circumstances.

"Unfortunately, we are getting

back again to Trump's principle: all

policies are local. First of all, we

should have a government in which

both Ukrainian society and foreign

partners trust. I don't mean

the West alone – practically nobody

trusts the current leadership. I

don't know even a single person

who is not taking a negative attitude

to the way the government is

fulfilling its declarations and promises.

This is No. 1. Secondly, today

everybody is already waiting for

Ukrainian election results. Of

course, there will be ritual meetings

with and requests to kings and

crown princes to help with peacekeepers,

and they will be saying

'yes' with pleasure, but, in the last

analysis, we will hardly get anything.

This is why the main thing

now is to keep stability, which does

not mean that we should not offer

new ideas."

What changes should we expect

after the elections?

"I won't be guessing about the

spectrum of political forces that

will come to parliament, for most of

the present-day political wild

schemes are based on a fluid situation,

when things can change quite

radically. The leadership may

change, but this depends on many

factors. It is high time we introduced

some kind of strategic planning,

for we cannot adopt budgets

on a yearly basis only. There must

be strategic planning for at least

three to five years because otherwise

we will never stop repairing

potholes, will be unable to build

bridges, social facilities, etc. The

government purges or filters professional

personnel and then wonders

why nobody fulfills its decisions.

This must be put an end to.

We must know how to defend our

positions from anybody: the IMF,

the EU, the US, Russia…"

Are you personally planning

to take part in the elections?

"It will be worthwhile to do so

when we have a proportional system

and you are part of a team that

puts forward a professional program

instead of dishing out food rations

or window-dressing. A political

force should propose real

changes and nominate people who

can offer at least something to society

as a whole. I do not rule out

participating in the elections, but

I'll make a decision shortly before

the vote. I hope changes to the

election law will be adopted well before

this. These changes will enable

political forces to be independent

from concrete sponsors, and the

very system of pre-election rivalry

will be oriented to a real program

rather than to populism."
---
WWW.DAY.KIEV.UA

SOCIE T Y No.37 JUNE 14, 2018 7

By Alla DUBROVYK-ROKHOVA, The Day,

Kyiv – Stockholm – Kyiv

Photos by the author

Early this year, the Swedish

government decided to repay

25 percent of the purchase

cost of electric bicycles,

tricycles, and ATVs to its

citizens. The total amount of the

subsidy is projected at 350 million

Swedish kronor, or 40 million dollars

a year.

Any Swedish citizen who has purchased

a light vehicle with an electric

motor after September 20, 2017 has

the right to get 25 percent of its cost

repaid by the state.

In this way, the Swedish government

will stimulate the transition

of citizens to electric transportation.

In addition, the Swedish

authorities will monitor manufacturers

and sellers of electric bicycles

to prevent an automatic price increase

offsetting this discount.

Thus, Sweden is steadily moving

towards the achievement of one of the

Sustainable Development Goals, namely

Goal No. 7, which reads "Ensure access

to affordable, reliable, sustainable,

and modern energy for all."

About 67,000 electric bicycles

were sold in Sweden last year. "Studies

show that electric bicycles are replacing

cars," Swedish Minister for the

Environment Karolina Skog said.

"The market has begun to develop, and

we have a good selection of models."

Sweden is one of the world leaders

in the field of electric transport promotion.

Last year, the Swedes

launched a test electrified road stretch

near Stockholm that can charge cars

equipped with a special current collector

on the move. The cost of one

kilometer of such a road is one million

euros (about 30 million hryvnias).

In the small city of Eskilstuna, visited

by participants of the UNDP

Ukraine-organized educational tour

for experts and government officials,

which was devoted to studying Sweden's

experience in achieving the Sustainable

Development Goals, the municipality

is developing a network of

public transport stops that double as

recharging stations. By the way, the

city's electricity is produced at waste

processing plants. While passengers

take their seats, the "green" bus is being

recharged.

In general, public transportation

is well developed in Sweden. Firstly, it

is comfortable and convenient. Secondly,

in this way, the Swedes follow

one of their principles, which we

talked about in the first part of the

present series ("Swedish Approach to

Sustainable Development," The Day,

June 7, 2018), namely "reasonable

consumption." And thirdly, the personal

car in Sweden is a luxury good,

because the state has imposed on each

car owner not only annual taxes on the

use of the car, but fees for its daily use

(some sort of checkpoints have been installed

on all roads with a certain interval

between them; they look like

high bar frames as long as the road is

wide, and sensors and cameras are

mounted there that record every vehicle

coming through). In this way,

each car owner pays for their comfort

(by the way, the fee depends on the size

of the car). Meanwhile, owners of

gasoline-powered cars pay so-called

eco-taxes on the top of that as well.

The Swedish railway is considered

one of the most technologically

advanced in the world. Ferries offer a

great way to travel around Scandinavia,

and the domestic air services in

Sweden are comfortable and fast (it

takes less than an hour in the air to

reach any destination).

How the "transportation arteries"

of a healthy nation look like

The Swedish approach to sustainable development. Part 2

The Stockholm Subway deserves

particular attention.

The Stockholm Tunnelbana (that

is exactly what the Scandinavians call

their subway) has gained world fame

due to its unusual style. The pragmatic

Swedes have turned the public transportation

system of their capital into

a... museum. "The longest artistic

gallery of the world" is a well-deserved

title of the Stockholm Subway.

When traveling along the Stockholm

Subway, one feels like getting into

the fascinating world of history.

More than 90 out of the system's

100 stations are decorated with sculptures,

mosaics, paintings, and engravings.

The subway was built in 1950,

but the first exhibits appeared there in

1957. The combined length of all lines

of the Stockholm Subway is about

110 kilometers. About 150 artists

created the works displayed there.

No station is like another: some are

decorated with stained-glass windows,

others with elements of ancient

palaces. Some subway stations feature

pictures of video game episodes. Meanwhile,

when descending an escalator on

the red line of the subway, it seems

that one is exiting a monster's lair, for

everything is very unexpected and

exciting there. It is not for nothing

that many tourists visit the Stockholm

Subway as if it was an excursion.

The subway in Stockholm, like all

trains in Sweden, goes in the opposite

direction to the one we are used to.

They run on the left. There are historic

reasons for it, the motor vehicle traffic

switched to driving on the right on

September 3, 1967. However, the

trains have kept running as before.

In the Stockholm Subway, mobile

phones are operating between stations

as well. Escalators are turned on

automatically when people are approaching

them. Even here, the

Swedes' ceaseless concern about the

nature and conservation of electricity

is evident. Many escalators look out of

service at first glance: but once you

step on one, the mechanism starts

working, speeds up, and brings you up.

There is another peculiar feature

of the Stockholm Subway. Subway

trains do not have rear view mirrors.

At each station, the driver leaves the

train to monitor passenger traffic

and announce via a microphone that he

is about to close the doors.

A subway ticket can be purchased

at a vending machine at any

station or from a cash desk. The

city is divided into three zones, and,

accordingly, the price of a one-way

pass varies and can reach more than

70 kronor (approximately 210 hryvnias).

But there is a system of discounts

for various multi-tickets, so

purchasing them is a much better

deal. It should be noted that tickets

in Stockholm, both one-time ones

and multiple day or weekly passes,

are valid for all modes of transport.

The bus system is working very

smoothly in the Swedish capital,

and such a pass allows one to use the

water crossing as well. This is usually

a 10-minute trip, which residents

of the capital are used to, but

it is still a great opportunity for

tourists to have a look at Stockholm

from the Baltic Sea.

P.S. The Day is grateful to the

UNDP Ukraine for providing us with

the opportunity to cover for our readers

Sweden's experience in achieving

the Sustainable Development Goals.
---
8

No.37 JUNE 14, 2018

TIMEO U T

WWW.DAY.KIEV.UA

Tobacco pipes as artworks

...And elements of lifestyle

(a tour of the Lviv Museum of Ethnography)

By Tetiana KOZYRIEVA, Lviv

"It was quiet again, except for

Grandpa Panko puffing his faika" (Ivan

Franko, Collected Works, Vol. I, 1955,

p. 289, short story The Lower Depths).

This quote is for those who do not know

such an ancient Ukrainian word as faika.

And now, with the help of the classic

writer, it has become entirely clear to

everybody that it is a "smoking accessory."

I will now list a few synonyms on

this occasion: liulka, tsybukh, nosohriika,

tsupechka (because it is short), cherpianka

(literally "sherdy" because it is

made of clay). They are beautiful!

By Oleksandra KLIOSOVA,

Halych – Kyiv

The picture gallery of the Ancient

Halych National Sanctuary is

hosting an exhibition "Galician

Old Printed Church Books of the

17th-20th Centuries," which will

last until July 7. The exposition reflects

the work done by the religion studies

expeditionary search party comprising

employees of the Ancient Halych

National Sanctuary's research and

education department and holdings

Photo by Roman BALUK

An exhibition of 17th-20th-century old

printedchurchbookshasopenedinHalych

department. The organizers of this event

intended it to mark two anniversaries at

once: 1,120 years since the first written

mention of Halych and 715 years since

the establishment of the Galician

Metropolitanate.

The core exhibits include church

liturgical books illustrated with Renaissance

and Baroque engravings created

by famous masters of the engraving

art: Brother Ilia, Brother Dorofei, Vasyl

Ushakevych, Yefstafii Zavadovsky,

Yosyf and Adam Gochemskys. To highlight

the most important ones, I would

Photo by the author

There are few faikas in the collection

of the Lviv Museum of Ethnography

and Handicrafts (MEH). The total

holdings amount to 70 exhibits. Of

them, 10 early-19th-century pipes are

on display permanently. The Day

learned it from head of the MEH's exhibition

department Andrii Kolotai. He

added that the faikas were made of various

materials (bone, hardwood, artistic

metal, porcelain). All of them are

luxuriously decorated. Each of them

has some unique style features. The ceramic

one is so light and weightless, as

if made of paper. These smoking "implements"

were created by skillful

peasants as well as professional craftsmen.

"These exhibits cannot but impress

and make us admire them, because

they are very interesting," the

museum employee told us.

The collection has been cataloged

and repeatedly exhibited in dedicated

events, both at the MEH and elsewhere.

The MEH inherited its pipe collection

from the Municipal Industrial

Museum, founded in Lviv in 1874.

It is known to have purchased pipes at

exhibitions, auctions or in antique

shops in Vienna, Berlin, Paris, and

other European cities. "The purpose of

these quests and purchases was to

teach Galician craftsmen to make

pipes emulating best examples of decorative

and applied art of that time,

the pre-World-War-I era," Kolotai

said. He then added that the museum

expanded its holdings also after World

War II, as private collections were being

liquidated or reformed.

On that occasion, we also discussed

with Kolotai the fact that

pipes attracted not only men. Let us

recall the well-known 1926 photo by

Mykola Senkovsky, called An Elderly

Hutsul Woman, that won the Grand

Prix in Paris in 1931. Subsequently,

I searched for information about the

subject of the old picture. And I found

it! Her name was Maria Krechuniek.

Born on April 26, 1836 in Yaseniv Horishnii,

the Verkhovyna raion, she

lived to be 100. Always, even when

very old, she was smartly dressed.

Krechuniek sang well. The neighbors

called her Chukutykha, because she

was married to Yosyp "Chukut," with

whom she lived for half a century

and had five children.

...At the end of the faika tour, I

once again thought that I had gone to

the museum with a specific purpose in

mind, but found a lot more. Please, visit

museums, as there is a lot to see there!

like to mention the Apostle of 1639, the

Gospel of 1644 (published by Mykhailo

Sliozka), and the Gospels published by

the Lviv Brotherhood in 1670 and 1690

and the Pochaiv Monastery in 1780.

Among other holdings, there are valuable

publications of the Kyivan Cave

Monastery, the Univ Monastery, and the

Przemysl Cathedral on display.

"The idea to create such an exhibition

occurred to us two years ago during

an expedition to churches of the Halych

raion. Then one of the priests, Father Vasyl

Zaverach, handed over to the sanctuary

two old printed books, copies of the

Gospel of 1670 and the Gospel of 1780.

After a detailed study of the sacred objects,

we discovered donor inscriptions

of the early 18th and the first third of the

19th century, respectively, on the pages

of these books. At the same time, the

first inscription, as well as the book itself,

was linked to a church that does not

exist anymore (St. Epiphany in Zalukva

neighborhood of Halych)," Candidate of

Historical Sciences, head of the Ancient

Halych National Sanctuary's research

and education department Andrii

Stasiuk told me.

The organizers say that the exhibition

has a dual purpose. Firstly, it

is intended to demonstrate the cultural

wealth hidden from the eyes of

the laity, which sometimes just gathers

dust in churches. Secondly, the old

printed books also have an important

historical value, because their margins

frequently bear donor inscriptions

as well as records of historical

events or even harvests and natural

disasters. Apart from it, researchers

take interest in the engravings on

these texts' pages: at times, an image

may be older than the book by several

decades, and even a whole century

on some occasions.

"Sacrum" of Hanna-Oksana Lypa

The retrospective exposition has gone on display in five

rooms of the Andrey Sheptytsky National Museum in Lviv

By Tetiana KOZYRIEVA, Lviv

Photos by Andrii KUBIAK

"Hanna-Oksana Lypa is an artist

with a semantically rich thinking,"

opined historian of art, professor,

vice-rector of Lviv Academy of Arts

Roman Yatsiv. "Her tendency to engage

in archetypal modeling is the result

of well-developed intuition, deliberate

penetration into dense layers

of cultural memory. The methodology

she has developed absorbs not only an

irrational search for form and image,

but also a systematic logical and rational

work. This creator can interpret

the aesthetic nature of her works from

the standpoint of spiritual practices.

Symbolic elements that are included in

certain structures of ceramics and

painting are derived from science.

Therefore, the morphology of her compositions

is connected with the transcendental

perception of place and

time. The artist works with the concept

of ritual, transforming it into a mechanic

of aesthetic self-identification.

Such complicated 'procedures' affect

the spiritual and formative integrity of

Lypa's oeuvre, singling her out among

those modern Ukrainian artists who

represent a new quality of understanding

ethnic traditions."

The artist herself told The Day that

the concept of the exhibition "Sa rum"

had to do with "matter and spirit," that

eternal matter which infinitely replays

itself in the new generations.

"This exhibition is devoted to my

bloodline and this land where I was

born, to my family, which not only

raised me, but also guarded our cultural

values," Lypa said. "Honore de

Balzac said that extreme necessity is often

a great spur to action. So, my exhibition

is devoted to that spirit, the

male element of sword which must

protect us. In particular, it must protect

our cultural values. For we will be

respected by the world only when we

are strong."

The artist said that it was important

for her to show the return of the

sacred space, the light in the souls, for

people do evil precisely under conditions

of godlessness! She also noted that

she wanted to show the path of the

artist which one had to endure in a land

of distorted mirrors while keeping

one's soul pure. She also recalled Kobo

Abe's parable novel The Woman in the

Dunes, because it was there that she

discerned that in any mental wilderness,

in any emotional trap of tragic

loneliness in the absurd nonsense of

life, one still could find life-giving

moisture. "We live in a beautiful place

called Ukraine. We must be able to tolerate

others and at the same time to be

self-sufficient and strong," the artist

said, and added she was creating a Cosmic

Edifice through her artistic images,

because our land has a sacred

meaning – it is holy, bestowed on us by

God as inheritance. And we must love

and defend it at the same time.

The retrospective exposition will

run until July 8.

UKRAINIAN NEWS IN ENGLISH

www.day.kiev.ua incognita.day.kiev.ua

FOUNDER AND PUBLISHER:

UKRAINIAN PRESS GROUP LIMITED LIABILITY COMPANY

Published since May 27, 1998.

Свiдоцтво про перереєстрацiю КВ № 21448-11248 ПР

вiд 27 липня 2015 року

Larysa Ivshyna, Editor-in-Chief, Den

e-mail: chedit@day.kiev.ua

Hanna Sheremet, Deputy Editor-in-Chief

Anna Mazurenko, Director,

Ukrainian Press Group LLC

Anna Motoziuk, Editor,

English Language Bureau

Olha Pavliei, Technical Editor

Borys Honcharov, George Skliar, Taras Shulha,

Nadia Sysiuk, Translators

Maryna Khyzhniakova, Proofreader

Viktoria Demchenko, Designer

Alla Bober, Responsible Secretary

Mykola Tymchenko, Photography Editor

Mailing address: prosp. Peremohy, 121d, Kyiv 03115, Ukraine

Telephone: +38(044) 303-96-19

Fax: +38(044) 303-94-20

Advertising: +38(044) 303-96-20; e-mail: ra@day.kiev.ua

Subscriptions: +38(044) 303-96-23; e-mail: amir@day.kiev.ua

E-mail: time@day.kiev.ua

Subscription index: 40032

Ukrainian Press Group LLC

Code 24249388

Raiffeisen Bank joint-stock company

MFO 380805

A/С 26007478064

Responsibility for the accuracy of facts, quotations, personal names, and other information is borne by the authors of publications and in advertising

materials by the advertiser. The views expressed in signed articles do not necessarily reflect those of the editors. Submitted materials are not returned

and not reviewed. The editors retain the right to edit materials. When citing Day materials, reference to The Day is mandatory. ©Den.