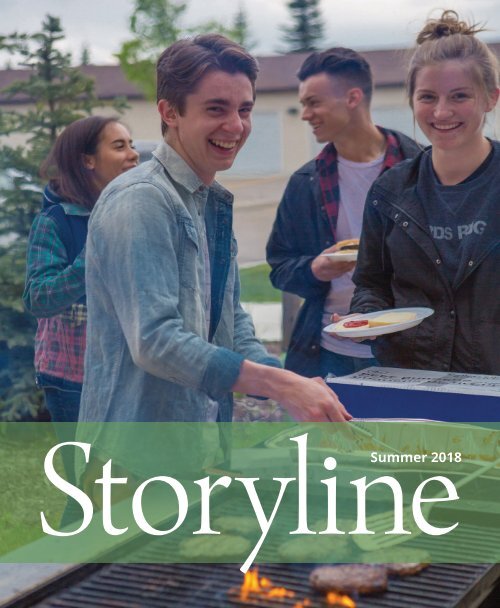 Storyline Summer 2018
FAC's Storyline Magazine 2018 Edition. Read inspiring stories of people finding connection through small groups and serving. Stories of individuals who are growing in their relationship with Jesus Christ and learning to share this with others!
FAC's Storyline Magazine 2018 Edition. Read inspiring stories of people finding connection through small groups and serving. Stories of individuals who are growing in their relationship with Jesus Christ and learning to share this with others!
SHOW MORE
SHOW LESS
You also want an ePaper? Increase the reach of your titles
YUMPU automatically turns print PDFs into web optimized ePapers that Google loves.
Summer 2018
---
a note from Pastor James

Hey, FAC!

What are your plans this summer? I hope you take some time to enjoy the beautiful

Alberta summer. Maybe you can plan to meet neigbours you never have before and

invite them to the Stampede Breakfast here at FAC July 7 (8:30-11:00 am). It's a great time

to come and enjoy some yummy pancakes, hear country music, and meet new people.

We host this event to bridge the gap with our local commuinity and we all play a part – I

hope to see you there!

During the summer months we'll be going through a ten-week series entitled "Ten" – a

journey through the Ten Commandments in a way you've never heard before! I can't wait

to journey through this with each one of you.

Thank you for your continued support of FAC and all of our ministries, including Storyline.

Have a great summer!

Pastor James Paton

Connect with Pastor James!
---
our team

Editor in Chief Heather Wile

Art Director & Assistant Editor Briana Southerland

Editor Cheryl Siebring

Photography

Daron Young

Jill Hopkins

Enoch Tseng

unsplash.com

Graphic Design

Deon Watson

Julie McPhail

Janina Resus

Peggy Xia

Photo Editing Janina Resus & Samuel Campo

contact us

Phone 403-258-4359

Email storyline@faccalgary.com

web faccalgary.com/storyline-magazine

click here!

Writers

Briana Southerland Erik Freiburger

Jeremy Dyck Jill Hopkins

Kathy Lloyd Ken Keeler

Terry Schmidt

Join the Storyline Team

Share your story

Annual subscriptions

A quarterly publication

of First Alliance Church,

Calgary, Alberta of the

C&MA Canada.

Info on Baptism
---
37 people being prayed

for as they prepare to go

on Short-term missionar

trips this summer!

Volunteer Appreciation

Oil Change Day

Good Friday
---
Shadowlands Dinner

Theatre

SHS BBQ

facebook.com/faccalgary
---
WHEN SOMEONE IN OUR CHURCHES PASSES AWAY, WE TALK ABOUT THEIR LIFE AND THE LEGACY THEY LEFT. BUT

WHAT ABOUT THOSE WHO REMAIN? HOW CAN WE LEARN FROM THOSE WHO HAVE EXPERIENCED GRIEF AND COME

OUT WITH A FAITH THAT'S STILL STRONG AND RESILIENT? • WRITTEN BY JEREMY DYCK

That's what I asked Jake Bueckert, a member of FAC

who recently lost his wife, Judy, to a long-term illness 8

months ago. I had the opportunity to speak with him about

how grief affects your relationship with God, His plans for

your life after the death of someone close to you, and your

purpose after the pain.

After your wife passed away, did you feel like God had

changed His plan for your life?

Jake: I worked in the Oil and Gas industry and moved around

Western Canada a lot. Wherever we were, we helped plant

churches and got involved in small churches in various

ministries. Judy would always say that the company I was

working for didn't know that God was using them to move us

around to help churches. For many years, that's what we did. I

don't really know what's next. All I know is that whatever I get

involved in now will have to be without Judy. My understanding

is that God values perseverance and faithfulness more than He

values success. My job is to be faithful and persevere.

Do you feel you could have done something different to

prepare for the grief?

No, I don't think so. Other people have said the same thing

about their grief. My sister lost a child. I lost my dad. Grief is

not foreign to me, just like most people. On an intellectual

basis, I thought I was prepared, but on an emotional level, the

keenness of absence is more than I was expecting.

Has your relationship with God changed?
---
Judy and I had a mutual prayer time, devotions, and we always

attended church together. That was our shared spirituality.

But we both maintained a separate relationship with God. My

own prayer life and walk with God has continued on. In that

sense, nothing has changed. It's just missing this other part that

Judy and I shared, but it continues on. More than anything, I

understand that God has compassion; He suffers along with

me. Probably more than we know. When I was young, I tended

to think that life went on forever. But now as I get older, I have

a greater anticipation for the Second Coming. The promise of

a reunion and seeing the face of Jesus is getting sweeter and

sweeter.

Your reaction to remain so close to God could be

different from someone who wants to be angry at God

and draw away from Him.

I don't think there's anything wrong with being angry at God.

God is God. He can handle it. Scripture is full of people angry

at God. But that desire has never been there for me, to be

angry. Many times, I've wished that this hadn't been a part of

my journey. In my understanding, He uses it for our healing

process. I understand those who have the reaction of anger to

grief.

What advice would you give about finding comfort in God?

I don't process this in a vacuum. I process this grief with

prayer and Bible reading. I'm also processing this with people.

You have to surround yourself with people. Even today,

eight months after Judy's passing, I'm humbled, amazed,

and surprised by people coming up to me saying that they're

praying for me. My nephew, who teaches at an elementary

school, told me that his Grade Six class prayed for me this

week. I have people praying for me on a regular basis. Judy

had a special relationship with so many people, and I'm the

beneficiary of that. I would advise people to get support

because that's helped me immensely. •

Watch Jake's story: faccalgary.com/watch/stories
---
Road Trip

FOLLOWING GOD'S STORYLINE

WRITTEN BY ERIK FREIBURGER

Growing up as a little boy my mother would read

to me from my children's Bible and I would be

enamoured with the heroes of the Old Testament

while praying for the wisdom of Solomon and the strength

of Samson. As an adult I've come to recognize that life is not

always so full of glitz and glamour. In fact, the past year I've

felt less like the heroes in those stories and more like the

Ruths who have lost everything or the Rahabs left surrounded

by the rubble of a fallen empire and the ruins of life.

It's here that First Alliance Church found me and

took me in as one of their own. And like those in my

childhood stories who were taken in by the people of God, I

find myself asking the questions: Who are these people and

where do they come from? Who is this God that they serve?

Taking up the adventurous call, I set out on a sort of FAC

Road Trip, following God's Storyline as He has led the people

of FAC through the shared stories of long-time members

and the movements of its gathering places in the city. The

hope … to catch a glimpse of some of God's amazing works

and revelations

through these

amazing people,

recognize and

acknowledge

some of the

greater struggles and failures they've faced, and embrace the

callings of where God may be calling FAC into the future of His

mission and Kingdom.

Sitting with Ken Humphries and Pat Worsley in the vast foyer

of today's FAC, I was ecstatically inspired as Ken told the story

of his Mennonite parents being drawn into the small house

church community started by Gordon Skitch with a little less

than half a dozen people in a home just off the downtown

core on 13 th Avenue and 12 th Street in 1939. Just 80 years

ago the vision for FAC started with a handful of

dreamers who, despite the lack of approval from

the Alliance's head office in New York, embraced

the Kingdom call to be a people here in the city of

Calgary.

A few years later, Ken remembers them moving into a building

off of 13 th Avenue and 8 th Street in 1941 (pictured left). While

trying to reach out to the military service men during the war,

he recalls digging the basement of the church using pick axes

and shovels, and hauling out the dirt and rocks with buckets and

their hands. It was through their tough work and these practical
---
efforts some 140 service men could find a Sunday evening

gathering space. I couldn't help but think while the

trenches of war were being dug abroad, FAC was

digging the trenches for peace to find a space here

in Calgary.

With its first endeavour of building on 17 th Avenue and 1 st

Street, Ken shared the heartwarming story of his and Shirley's

wedding being one of the first to be held there and presided

over by Pastor John Cunningham on July 31, 1954. "We worked

like crazy," Ken exclaimed, "to get the seats down in time"

(17 th Avenue Sanctuary pictured right). I imagine the innumerable

love stories and family histories shaped by FAC over its history.

This reflection reminded me of Greg McCombs' similar family

story that he shared while we also met in FAC. Dedicated by

Pastor Lowell Young in one of the first dedications in FAC's

church on Glenmore Trail and Elbow Drive, it become deeply

symbolic for him as a moment when years later his own son,

Brandon, would be one of the last babies dedicated in that

location by Lowell's son, Pastor Terry Young.

would find a warm meal prepared by his wife as he did simple

maintenance and oil changes to their cars out in his garage. As

Greg McCombs shares, "The world is coming to us, the world is

here … We needed to make some emotional shifts, to be open."

The journey of FAC is young, though, and while it has been

full of incredible success and growth, it is not without its

struggles and failures. However, when we've experienced so

much growth and success, the failures or struggles we face

can sometimes be a little hard to recognize. As a newcomer

listening to these many stories, the question of FAC's struggles

was certainly difficult to answer. But underneath the stories

there seemed at times to have been a sense of fear to really

challenge the deeper calls of discipleship and take risks

and see more to Kingdom life than just church growth and

baptismal celebrations. In an effort to maintain a sense of

safe conservativism, the thoughts expressed was that FAC

may have inadvertently created a culture of "Seek not; forbid

not" – in a sense, tried not to venture too far off the path of

what is considered "normal" while not restricting others from

leaving to do what they feel called to outside of community

recognition and acceptance.

Through many of the conversations I've had over

the past several weeks it has been deeply stated

that FAC's greatest running strength has been its

value of unity. While this heartbeat for unity takes on

many expressions, perhaps one of its deepest over FAC's

history is its presence in missional practice and multicultural

experience. Pat Worsley acknowledges, "First Alliance has been

the largest contributor to the Global Advance Fund supporting

International Workers." While this may be true financially,

he also shared several stories of those who have gone on

both short-term and long-term missions trips, sharing the

gospel and planting churches, while also building community

infrastructure in devastated countries like Indonesia following

the tsunami in 2004. But as Pat revealed, missions have also

changed a lot since the 80s, saying, "We are becoming a much

more multicultural church than what we have been in the past."

It's a vision that reveals missional needs within the backyards of

our home here in Calgary and not just abroad.

Sharing a story from the early 90s, Ray Matheson spoke of

how two Iranians came to FAC in need of help resolving the

recovery of their damage deposits. It would begin a social

justice issue for the immigrant population that extends to

FAC's involvements today. In another FAC endeavour, these

same missional needs began FAC's hospitality values reaching

into the vision for The House Coffee Sanctuary and my friend

Derrick Mitchell's leadership and relational presence with the

people of Kensington. Oil Change Days started in Dale Sevcik's

home over a decade ago when single moms and their kids

As I contemplated this, I thought of the words the angel

Gabriel spoke to Mary as she learned of the growing baby

inside of her: "Fear not! For you are blessed and the Lord

is with you!" The presence of God's Storyline is rich

throughout FAC's history revealing a call that we

have nothing to fear. Blessed with the overwhelming

charisma and works of Christ Jesus within us and set for

birthing even greater works than just what we have seen in

past, we can grow excited and rejoice for what the possibilities

of our future can bring.

Just a few weeks ago I spent some

time driving around to the different

sites where the people of FAC had

gathered in past. Praying where the

house church once stood, witnessing

the memorial monuments on

buildings of old, my road trip

revealed something to me that

seemed so radical about FAC. We are a nomadic people,

a courageous people not distracted by the glitz and

glamour of bricks and mortar, but rather filled with

visions and dreams that call us to go beyond the

walls of the church into our greater neighborhoods

and communities through incredible ingenuity and

creativity. As one who walks bravely forward with those who

call themselves part of FAC, I can't wait to see where our Next

Steps lead us as we strive for the future! •
---
CLICK HERE TO WATCH THE EVENING SESSIONS

Assembly "Deeper" 2018 was launched with President Dave Hearn praying for the Christian & Missionary Alliance

at an evening session.
---
Pastors,

Ministry

Workers, &

International

Workers from

all over joined

for a week

of spiritual

renewal at FAC.

Crossings

Dance

Preforming

during an

evening

session.

Kids' Choir joins worship during an evening

session.

Rob Reimer,

author of River

Dwellers,

addresses

the Canadian

Christian &

Missionary

Alliance and

challenges us

to go all in for

Jesus!

Photos by Daron Young
---
Ed and Dolores:

The Commitment of Love

Written by Jeremy Dyck
---
Ed and Dolores Dyck (or as I call them, Poppa and

Grandma) have a marriage that's been going strong for

almost 62 years. That kind of commitment and dedication

don't come easy. In a world where ten years of marriage is an

incredible feat, 62 years is a marvel. From a discussion I had

with them, I've put together the five points they say are the

keys to a successful marriage full of love and happiness.

Decide What Your Marriage Will Look Like

Your marriage is your marriage. We both had very different

families, different backgrounds. We used the examples of our

parents and decided what our marriage would look like before

we were married. Because of what we had experienced in our

homes, we determined there were a few changes that would

be a plus if we applied them to our relationship. Even as we

were engaged, we talked about how we would enter into

marriage, how we'd behave with each other, the ways we'd

solve conflict, how we wanted to communicate, and even the

ways we would raise our family and what they would look like.

It was purposeful and intentional from the very beginning.

A Marriage Takes Two People

God doesn't unite two halves to make a whole. He unites two

whole people into a marriage. Each of us had to realize that

we were marrying another individual. Each of us had a voice;

each of us, an opinion. It takes both voices to make a decision.

We had to learn how to accept new ideas, sometimes foreign

ideas, that were different from what we knew growing up. We

had to learn to listen to each other.

Make Commitments Early On

One thing that we decided, even as we were engaged, was

that the door to divorce would be closed. It's not a decision

you can make afterwards. It had to be a commitment we

made from the beginning. We also committed to never going

to bed mad at each other. That was something that I (Ed) grew

up knowing with siblings, but I didn't realize until later on

that's actually biblical. You have to revisit those commitments

each and every year.

Look to Improve Your Relationship

One thing we always do is try to find marriage retreats and

counselling. We have attended week-long retreats and day

retreats to continue to improve our relationship? It helps us

sort out the problems that we didn't know we had or that we

couldn't anticipate earlier. It's not a shameful thing to seek

out help. We could not come up with answers to problems

with family life and career when we were first starting out

our marriage. Life changes and so does your marriage over

time. We had to work on it constantly to find answers for new

problems as they came up.

Appreciate Each Other

I know that this wasn't the way we were brought up, but we

always appreciate each other. And not just in our home, but

in public. We smile at each other. We give compliments to

each other. We laugh together. We have fun together. We

do this no matter where we are or who we are with. It's not

something to be ashamed about. We weren't embarrassed to

display that in front of other people. That had to be learned

and practiced and perfected over time. But we make a point

to appreciate each other anytime and anywhere.

We hear a lot of people our age say that it was God that kept

them together for all

this time. That's true in

our case as well, but we

attribute a lot of it to the

decisions, commitments,

perseverance, and

patience we've practiced

with each other for 62

years. •

Info for Couples
---
GLIMPSES

OF TRUTH

... through quilting

WRITTEN BY KATHY LLOYD

"Open my eyes that I might see

Glimpses of truth Thou hast for me."

Clara H. Scott
---
The first quilt I owned was made for me by my

grandmother for my sixteenth birthday. The 'Dresden

Plate' pattern, made from leftover flannel used for

pyjamas made for her grandchildren every Christmas, was

appliqued on to a background of robin's egg blue cotton

and outlined with black hand embroidery. It came with

me to Canadian Bible College, brightening and beautifying

the dorm room, even while providing a visible reminder

that Grandma was praying for me. It was my bedspread

of choice during the two years I spent in Fort Nelson, B.C.,

where I met and married my husband Terry. It graced our

bed until it became more a tattered eyesore than a thing

of beauty. A few years ago, I tried to get it appraised but I

was gently informed that my well-loved and overused quilt

now had sentimental value only. Each time I see it, I am

now reminded that it is my responsibility to pray for my

grandson. The torch has been passed.

After receiving grandma's gift, I decided to make my own

quilt. I learned to sew at a very young age, and quilting

looked

"

like an easy skill to acquire.

What I didn't realize was that

quilting took patience and precision,

two qualities I decidedly did

"

NOT

possess as as a young girl.

I still have all the pieces in a box somewhere in the

basement!

About ten years ago, I decided to take another look at

quilting. I took a beginner class and churned out a number

of smaller quilts for family and friends, as well as several

queen-sized quilts for myself.

I advanced in my quilting skills really by accident, when

I saw a pattern of a moose head on sale for $10 and

bought it. I'm reasonably good at reading and following

instructions but when I later pulled them out of the

package, I realized that I no idea how to even begin. Some

weeks later I saw a finished quilt of a buffalo head by the

same designer at a local shop. Upon enquiring if this was

a class, I was told, "No, but if you come to the applique

drop-in classes, the leader can show you how to do yours."

The first month I was instructed to trace every tiny, jagged

piece of the pattern onto double sided fusible applique

paper and then cut them all out. In the months following,

each piece had to be ironed on to the chosen shade of

fabric and then cut out again. Even when I finally started

to put the pieces together, I had to work in sections ... the

eye area first, then antlers, and finally the beard and face,

ironing the sections onto freezer paper. I remember how

proud I was to see it finally fused to the background fabric.

I also remember how my jaw dropped when the instructor

then explained that I needed to carefully match thread

color to each tiny piece and sew around every jagged edge

to hold it all permanently in place and also to give it depth!

The whole project took over a year and a half of four-hour

classes, plus homework. If I had had any idea in that first

class of the detailed, picky work it required, I might have

given up before I began! (continued on next page ...)
---
The whole project was an incredible lesson in how God orchestrates our lives. We

admire a godly person and hope we become just like them. Then comes the storms

and we end up feeling like rocks tumbling against other rocks wondering if it ever

ends. The trouble is, we are not rocks. We get angry, impatient, and we argue

with God. We want to be finished products instead of God's masterpieces in

progress. But He leads us one step at a time, giving us all the strength and resources

we need for the moment.

In 2015, Alberta quilt shops participated for the first time in a program entitled 'Row

by Row.' Each shop designed a pattern around a common theme and size, and gave

out the pattern free of charge if you physically visited their shop. I suggested to

Terry that it would be fun to collect from every participating shop in Alberta, never

dreaming that it would take me (and a few faithful friends – and one incredulous

husband!) on many jaunts all around our incredibly beautiful province – 26 shops in

all! One friend, who had lived in the north early in their marriage, took a trip down

memory lane as we traveled up to Grande Prairie and over to Slave Lake, seeing the

farming landscape change to forestry – much of it blackened by the raging fires of

a few years previous. I went east as far as Medicine Hat and west to Cochrane. High

River was the farthest southern store to participate. Over every mile, we witnessed

God's creative beauty as well as His protection as we traveled. The theme that year

was water and I now own a quilt that shows streams rushing down the mountains,

into our lakes, across our grasslands, into our cities and homes. In every row I

cannot help but see the hand of God.

Last year Canada celebrated its Sesquicentennial. Over 1500 quilters from as far away

as New Zealand and many from the States, participated in a Calgary-based quilting

project. Every week designs for three squares arrived in my email, along with a short

biography of three Canadian-born women who have played a part – big or small – in

our history. From Charlotte Small, wife of David Thompson, who mapped much of

northern Canada (she traveled with him and introduced him to many of the indigenous

people's as well as translated for him) to Elsie McGill, who designed and oversaw the

building of the Hell-Diver Bombers used at the end of the second World War by the U.

S. Navy. (Interesting note: I discovered my grandfather probably worked under her at

Canada Car in Thunder Bay – the dates and details fit perfectly!) Some names are not

so familiar but others like Mary Pickford and Roberta Bondar are more well-known

and respected. So it is with God. Sometimes He uses those whose names become

known to the world – like Billy Graham – but you and I are also necessary as He weaves

His plans both around the world and in our home circles.

The project broadened my knowledge of quilting and deepened my quilting skills, but

it also connected me with other Christian women as we recognized our common bond

in Christ through comments on the internet as we shared each week. We ended up

praying for several going through rough times but using their quilting to keep them

focused, relaxed, and connected.

I am presently working on a very detailed, intricate quilt. Other quilters have

already commented on its beauty, but for me, quilting is really a reflection, I

hope, of the beauty of Christ – because ultimately, the most beautiful thing I

will ever see will be the face of Christ when I stand before Him in glory. •
---
I Thirst

Poem by Bernice Baugh

Don't forget me, O Lord; don't forget me

Call out my name and I will answer

Seek for me again;

I am right where You left me

Call out my name and I will answer

O that I have roots like a tree –

then I could search

For water and began to spring again

But I have not vines or roots

I am dried up; I cannot move

Seek for me again, O Lord

Call out my name and I will answer

My eyes are heavy;

don't let me sleep like this

O Lord, turn to me again –

You are my only hope!

Seek for me again, O Lord;

seek for me again!
---
Info on Serving

Serving One Another...

Written By: Jill Hopkins

Jesus commanded His disciples to "'Love the Lord your God with all your heart and with all your soul and

with all your mind and with all your strength … Love your neighbour as yourself.' There is no commandment

greater than these." (Mark 12:30-31)

Paul commanded the Galatians to "… serve one another humbly in love." (Galatians 5:13)

Thus was laid down a defining cornerstone of the early church, one that remains an important core value in the mission

statement of the modern church today. Throughout Jesus' time on earth, He taught this principle over and over again, often

by example, ending by dying on the cross – the ultimate sacrifice and service to all mankind, clearing the path for all believers

to have relationship with God. Just as we're called to tithe with our earnings, giving back to God what is rightly His, serving or

volunteering, then, is to tithe with our time and our talents. Serving embodies the very spirit of Christ and it's a privilege for us

to join in His work by loving and serving others. He asks that we be cheerful givers, and it's in the role of volunteer that we can

truly apply our God-given gifts for His divine purpose.

Few understand this as well as Margot Coben (pictured above), a faithful servant with a long history of volunteering. As a young

mom raising three children in Vancouver, she worked in Children's Ministries, helping with childcare and event planning. When

the family moved to Calgary and as her children grew, she gradually took on more volunteer work here at FAC.
---
Starting out small, she joined the choir. Ten years ago, she

added Harvest Ministries to her schedule, working in food

preparation and service of family suppers, funeral teas,

and special events such as the Annual Stampede breakfast,

Dinner Theatre, and the bi-annual General Assembly. Margot

is one that Gail Hunter in Harvest can count on when she

needs help. When the floods ravaged High River in 2013, she

worked long hours with the Harvest team, preparing lunches

for the victims and aid workers, week after week, as long as

the need existed.

But it's the Breakfast Store that has captured Margot's heart.

For over ten years, Margot has lent her organizational and

people skills to a ministry working out of one of the public

schools that has partnered with FAC to provide hot bagels,

fruit, and juice daily, for a nominal cost, to kids who may

not otherwise have food to eat in the mornings. Margot has

been overseeing this vital operation, recruiting, training, and

scheduling a group of volunteers, as well as taking a regular

spot on the front line, where she works with students behind

the counter as well as serves the hungry students on the

other side. All the time, she's building relationships, lending

an ear and, as she says, not just spreading cream cheese,

but rather, the love of Jesus. One of her volunteer staff, a

youth pastor, has, through his work at the Breakfast Store

and the consequent friendships that developed, provided

opportunity for 30-40 underprivileged kids to attend Camp

Chamisall each summer.

She believes she was called to this ministry by the Holy Spirit,

drawn to help children in a community where many are

in need. Margot is uniquely gifted to not only manage the

overall process, from ordering food, staffing each school day,

liaising with the school personnel and Harvest Ministries; but

also to provide a safe place for kids to connect, be heard, and

get a hug and a silent prayer.

For Margot, volunteering is part of who she is. Through it,

she says, she receives unseen and unexpected blessings.

She's rewarded by the feeling that she's helping out, and is

part of a team that serves the greater community. Personally,

she's gain-ed many friends through the various areas in

which she serves, and feels so much more connected

within the church body. To those of you who feel like your

schedules are already overloaded, she suggests starting

small so that you aren't overwhelmed and can truly enjoy

using your knowledge and abilities for a greater cause. You'll

be surprised, as you meet new people and experience new

things, how much more you'll want to give and what a true

gift to yourself serving God and serving others can truly be. •

This past year, when teachers from the school identified

families that had need at Thanksgiving, Margot put their

names forward to receive food hampers from FAC. When

one school family experienced a sudden crisis, after all the

hampers had gone out, Margot assumed the task of raising

funds amongst her friend circle, buying food and delivering

the last minute basket to the school in time for it to be given

to the family for Thanksgiving.
---
Neither Rebecca Hofer nor Lisa Peter felt they had the leadership skills needed to lead a small

group when they gathered together with ten ladies in their 20s and 30s in the fall of 2017.

Building Community on Strong Pillars

Written by Terry Schmidt

They knew the value of community, as a small group

they both belonged to had grown to a point where

three new small groups branched off. So they leaned

into the task with a desire to build a fellowship of

believing women based on FAC's four faith pillars of

Connect, Grow, Serve, and Share.

"Leading a small group can be overwhelming and I am

certainly not qualified to lead anyone, but we trusted God

with this group and everyone He has brought to it, "Rebecca

states. "Having a co-leader is a big help to come up with

ideas and balance the time commitment."

Lisa agrees and is grateful for a church that supports its

leaders.

"I never viewed myself as taking a leadership role within

the church, but we were encouraged to take this next step"

she shares. "I value our church's pastors and that they take an

active role in developing the leaders of the next generation. They

encourage us to become better disciples of Christ, and to take

positive steps forward in our contributions to the Kingdom."

The new leaders took advantage of the resources of the church.

Many of their studies came from RightNow media, alternating

between topical learning and books of the Bible. Just this year

they completed Francis Chan's study on the book of James and

Lisa Harper's look into Solomon, and will end the year in a book

study of River Dwellers by Rob Reimer. And the girls are finding

community is not only about growth through the study of God's

Word.

"Being a part of a small group not only helps us to connect

with other Christians, dig deeper into the Word, and grow in

our own personal relationships with God," Lisa explains. "We

challenge one another and 'live life together.' Our connections
---
ecome more authentic and genuine. It's great having a community where we can rely

on one another in tougher life moments."

"We vary the studies with occasional social nights. We've done a prayer night,

dedicated solely to lifting up each other and our communities," says Rebecca.

And these dedicated ladies wanted to take their group a step further beyond

connecting and growing; a step that took them out of the door of the church and into

the city, away from their regular Tuesday night gathering.

"We recently volunteered with a non-profit organization called Made by Momma. They

help families facing situations of adversity and crisis by providing healthy meals,

baked goods, baby essentials, children's items, supportive in-home visitors, and

other services to allow mothers the time they need to rest, recover, and focus on

their families and their health." Lisa was thrilled with how their members pitched in

to serve. "Our small group was able to help in their kitchen preparing meals. It was a

good reminder of how we can directly become involved in our city, serving in God's

love and letting His hands work directly through us."

"Serving brought us out of normal day-to-day and used our time to reach others – and

I think doing it in community brought us closer together!" Rebecca adds. "It shows,

too, how the four pillars are so interconnected – I think each one contributes to the

success of the others!"

Lisa concurs. "We wanted to share God's love with non-believers as we serve

in our community. As we serve, the organizations and their

clients see God working through us and know we are

Christians by our walk, by our talk, by our grace, and by our

love. Our hope is they will see something 'different' about us

and spark their curiosity in our faith."

Lisa and Rebecca have found purpose in their leadership and great

hopes for the future of their group.

"Our goal for our small group is that we continue to grow deeper

in our relationships with one another, develop stronger and

meaningful connections, and continue to 'live life together,'" Lisa

shares.

"God has used this community to influence my faith and show His love for me. It's had a huge impact on my

life and I want others to be able to experience that as well," Rebecca enthuses. "I'm all in!" •

Find a Small Group
---
Cross Cultural Servanthood
---
Ken Keeler will lead a team in serving an English language camp in Moldova

this summer. In preparation, he read Cross Cultural Servanthood: Serving the

World in Christlike Humility by Duane Elmer. He was eager to share some of what

he learned with his own team as well as participants from FAC's other short-term

missions teams – and now with all of us! Here are a few of his thoughts on the impact

of the book.

All of us believers are called to share Christ's love and His gospel with others. Here are some

helpful thoughts and ideas in the context of carrying out that calling in another culture:

1. We must be open and very welcoming to those we want to minister to, making them feel safe in the

process. Intentionally think the best of everyone you meet.

2. Accept them and show you value them as people. So often in our Western culture we are quick to judge

based on how similar people are to us (and we so often look at clothes, possessions and appearance) and we

have to stop that tendency. Romans 15:7 says we are to accept others as Christ accepts us.

3. Build trust into the relationships you form in the new culture. The kids will listen to what we have to say

when they feel they can trust us; they must be confident that we are acting in their best interests.

4. Look to learn from the people you are ministering to; this means actively listening to them. The author

tells us to learn about others, learn from others, and learn with others. Big confession: I have a hard time

with this because I'm very task-oriented and often just want to solve others' problems and unload my

knowledge. So I have to listen more to my class and see where they are at.

5. Understand others by looking through their eyes. Here's one great quote: "The key for successful

personal relationships and ministry is to understand and accept others as having a viewpoint as worthy of

consideration as our own." We North Americans can be pretty egocentric and ethnocentric, believing our

culture is superior to others' and we should often remind ourselves to not compare. See others as God sees

them, as wonderful creations in His own image (which incidentally is our theme for the week). How fitting!

6. Serve by becoming like Jesus Christ to others. Mission must take the form of

servanthood. We're there to serve not only the Moldovan kids but also the Moldovan

leaders that we love so much. We're also there to serve and express Christ's love

to the camp staff and last but not least to one another. One thing I love about

my missions experience is how quickly teams gel into a unified body of

brothers and sisters in Christ.

I can't wait till camp! Serving Christ with You,

Ken Keeler

Order your copy at Cornerstone Marketplace
---
ENVISION SUMMIT 2018

Written by Briana Southerland

Info on Envision

For the past three years, FAC's Global Impact Team has been sponsoring young adults to go to the Envision Summit

a week-long training for young influencers to hear from missional leaders and learn what it takes to be an leader who is led by

God. During the week young influencers from all over the US and Canada meet in one location to become better equipped to

return to their local context and live on mission for God. We believe that investing in young leaders is a way to help shape our

future as a church. This Summit is designed to push young influencers to learn what it means to be fully invested in the plan

God has for their lives. What would our influence look like if we fully surrendered to God?

Three years ago, I was sent to this conference by FAC. This conference was a tipping point for myself and Tiffany Ho, now

a close friend. We often look back to this conference and are amazed at how much God has done in our lives and ministry

since we returned to Calgary. Last year, Sara Apostoaei and Jeff Romanuk attended the conference and I know that God is

using them to make an impact. This year, God provided for FAC to send five young influencers from FAC! Each one of these

individuals is gifted in various ways and their names were laid upon the Global Impact team's hearts as we decided who God

wanted us to send. Amy Lemke, Enoch Tseng, Grace Young, Janelle Rice, and Zach Hair – all of these individuals are young

influencers at FAC and in Calgary. When they departed they weren't sure what God had in store for them. Some of them had

no clue what an Envision Summit was either, but they were up for the adventure. They didn't know each other well before

departing, yet they all shared the same desire for God to reveal Himself to them.

God heard their heart's cry – and He showed up in each one of their lives through this experience. Their lives were impacted.

At a debrief meeting following the summit, each person shared what they learned and how they grew during their time away.

One of the greatest things to hear was that God was working on their souls and that they learned to grow closer to God. Grace,

Janelle, and Amy all came back with a desire to continue to grow and Amy suggested they go through the book "Soul Care" by

Rob Reimer as a group. It was so beautiful to see how God brought this group of young adults together! Grace says, "One of my

biggest take-aways from the summit is the reminder that I can make simple changes to create margin in my life that will leave space

for the Holy Spirit and His mission." Janelle adds, "Envision was an amazing opportunity to connect with other young leaders in the

C&MA. I was able to learn more about what our denomination is doing internationally and spend time in soul care. It was great to
---
"One of my biggest takeaways

from the summit is

the reminder that I can make

simple changes to create

margin in my life that will

leave space for the Holy Spirit

and His mission."

Janelle Rice

see how much Envision and the C&MA value investing in young leaders!" I heard about some of the amazing things God did in Enoch's

life and it was evident that God met him in a new way! He explained, "Envision changed me as it taught me that looking after myself

would make me a better follower of Christ, and a better example to others."

Zach wrote the following letter to the Global Impact Team,

"I first off would like to say thank you for choosing and helping me get to the Envision Summit in Vancouver this past week. I am forever

grateful, and appreciate your very generous hearts. What can I say about the 2018 Envision Summit? Well, I am glad it came at the time

it did in my life. I went into the week with lots of questions, doubts, and an uneasy heart relating to the realities in my life back here in

Calgary. As I was on the plane I simply stated to the Lord, "What's next, God?" I was anticipating that the Lord was going to show up

and give me revelation at the Summit, and let me tell you, He did. Envision created an atmosphere that allowed me to be vulnerable

and navigate through personal struggle. They emphasized the importance of soul care. It was at the Summit where I truly found my soul

becoming decluttered and filled with the truth of who I am. As I found my soul becoming healthier I then had a clearer mind to focus on the

question, "What does it mean to be on mission as a leader within the C&MA?" I found this question quite impactful and I still haven't figured

it out, but it provoked something in me. Another question was asked to us as leaders and it was this: "Is what you do worth the incarnation

of Christ?" This question will forever linger in my heart and mind. It provokes me to truly look at why I do what I do, and what are my

motives.In closing I would say that if anyone can go to the Envision Summit, take it. It truly will challenge and shape your life as a leader.

The skills, knowledge, growth, and impact I had this past week will carry with me for the rest of my life. Again, I cannot begin to describe

how thankful I am for FAC. Thank you. Grace and Peace."

I'm so excited to see where God leads these five in the years to come – I pray that this is a tipping point in their ministry and

influence here in Calgary. •

If you're between the ages of 21-35 and intersted in attending an Envision Summit please contact bsoutherland@faccalgary.com.

Pictured from left to right: Amy Lemke, Janelle Rice, Enoch Tseng, Grace Young, & Zach Hair
---
Serving in your church community is a great way to build new

Serving in your church community is a great way to build new

friendships while meeting practical needs. Step into your area of

friendships while meeting practical needs. Step into your

interest for a few weekend services this summer here at FAC:

area of interest for a few weekend services this summer:

DiscoveryLand

• Infants-2 years old classroom helper

• Preschool (3-5 years) classroom helper

• Grade School "Summer Blast" helper (July 21/22 & August 11/12)

Guest Experience

DiscoveryLand Guest Experience Cafe/Bistro

• Greeters • Offering

• Ushers • Information Desk

Cafe / Bistro

at the Information Desk today!

• Cashier Or click • here Helper for • an Barista online sign up form.

• Training provided!