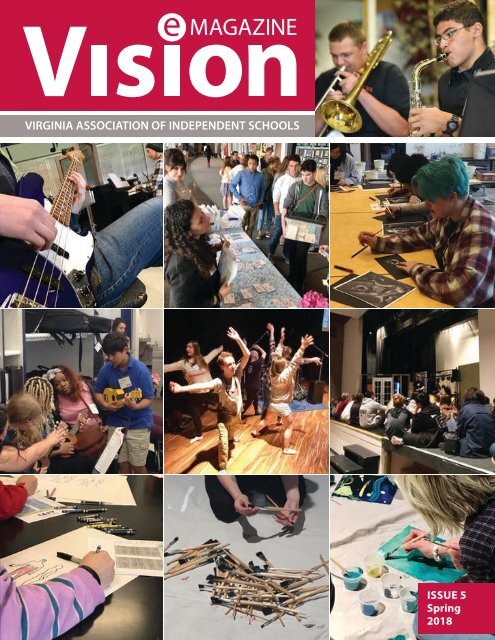 Create successful ePaper yourself
Turn your PDF publications into a flip-book with our unique Google optimized e-Paper software.
e MAGAZINE

VIRGINIA ASSOCIATION OF INDEPENDENT SCHOOLS

ISSUE 5

Spring

2018
---
e MAGAZINE

CONNECT. COLLABORATE. LEAD.

CONTENTS

2

3

5

7

8

9

11

The Arts, My Outlet and Inspiration

A Thriving Arts Scene

Fostering Creativity Through Digital

Composition

Providing Real-World Art Experiences

Inspiring Wonder

Art Education to Promote

Self-Awareness of Learning Styles

Arts Education at The New

Community School

Editorial Advisory Board

Jennifer Harter, Assistant Director of Marketing

and Communications, St. Catherine's School

Cathy Campbell, Director of Content Strategy

and English Faculty, Highland School

Interested in writing an article for an upcoming

Vision? Contact: Kim Failon, Director of Communications,

VAIS, at kimfailon@vais.org

ISSUE 5

Spring

2018

The first time I had my foot on the pedal

and my hands on the wheel I wasn't

in a car. I was eleven at summer camp in

the basement of an academic hall at the

school I would eventually call my alma

mater. The counselors had just taught us

how to mold the hunk of clay into a cone

and were teaching us how to center it

on the pottery wheel. I had always loved

art, but this was my first opportunity to

dabble in ceramics. Looking back at this

moment, I had no way of knowing that

art, specifically ceramics, would become a

central part of my story.

When I went to sign up for classes as

a freshman, my advisor suggested I take

Intro to Art and Design Fundamentals,

just in case I wanted to take other art

classes later. My dad scoffed at the idea

but didn't make anything of it after the

meeting. My advisor knew before I did

that art would become a passion and

allow me to find some purpose in high

school. For the next four years, I spent

long hours in the ceramics studio throwing

pots, building boxes, and learning

about the clean water crisis.

Art became my outlet, my solace.

In the tiny ceramics studio with my 12

person "family", I was able to share the

struggles of high school, learn how to

accept and give constructive feedback,

and be inspired by more than a textbook.

As I watched my public school peers

fight to keep art class in their schedules,

I became even more grateful for my independent

school education. My advisors

never asked me to choose between art

and something else. My teachers allowed

The Arts, My Outlet

and Inspiration

Laura Godwin, Assistant Director of Accreditation and Statistical Analysis, VAIS

me to spend free periods and afternoons

in the studio finishing my IB project. My

parents encouraged me to treat art like

math and science and english. Art was an

essential part of my education.

Since joining the VAIS staff, I have

had the privilege of joining teams for accreditation

visits. When we walk into the

schools, I have an overwhelming sense of

joy when I see student art displayed on

walls, in libraries, and even in classrooms.

I always try to find time to make my way

to an art class to witness creativity firsthand.

The work that happens in the art

rooms at VAIS schools is exceptional.

In art rooms, schools celebrate creativity

and individuality. Students are able to study

different cultures and learn about people

halfway around the world. What was once

seen as different is now seen as unique and

inspiring. Art allows people to look beyond

themselves, struggle together, and create

something meaningful.

At this year's Second Annual VAIS Festival

of the Arts hosted by Fredericksburg Academy,

I watched students use words, notes,

and paint to express themselves. While we

had students from 13 different schools, once

they sat down with a ukulele or made their

way to a stage, they were students celebrating

art together. It's inspiring to see students

try something new or share their passion

with others. The celebration of art encourages

me to keep creating, keep learning, and

keep celebrating others like the art teachers

doing inspirational work in our 95 schools.

2
---
A Thriving Arts Scene

Bethany Weinstein, Communications Manager

Browne Academy, Alexandria

Just over a decade ago, Browne Academy's

middle school art teacher was a

part-time position. Not anymore. Today

art teacher Jennifer Lam sees every grade

three times each in a six-day rotation,

teaches an additional art class as part of the

middle school's enrichment program, and

offers jewelry-making as an after-school

enrichment class. Mrs. Lam noted that, in

the past, art was not as valued in schools.

"By having a teacher who values art, the

students also do. Art teaches children to

be creative, and creative thinking is a vital

skill, especially in the workplace."

Browne Academy's dedication to art

extends outside the classroom. There are

additional art offerings, including pottery,

in the after-school enrichment program,

and art is part of the curriculum during

Browne Summer Camp (BSC). During the

MLK and Veterans Day assemblies, Mrs.

Lam and lower school art teacher Tietjen

Alvarez display their students' art projects

relating to the event. One of the biggest

days of the year, Grandparents and Special

Friends Day, kicks off with a Celebration of

the Arts, which showcases the visual and

performing arts talent of the students.

Like Browne's art program, the school's

music curriculum has evolved over the

years. Not only is it an integral part of the

school-day curriculum, students can take

private music lessons, participate in choral

and instrumental ensembles, act in the

spring musical, and keep the musical momentum

going through music class and

weekly performances at BSC. Lower school

music teacher Brittany Brandt remarked,

"At Browne Academy our music program,

like much of the world, is developing at a

faster rate than in years past. While earlier

music education had a strong emphasis

on reading notation and participating in

instrumental or choral programs, we are

beginning to grasp how that reaches only

a small percentage of students in a meaningful

way." Mrs. Brandt continued, "While

notation is still part of the curriculum and

students still participate in musical ensembles,

the program is changing to include

every child, with the goal of music staying

with them for a lifetime."

The aim of music education is to get

students confidently participating in our

inherently musical culture. Mrs. Brandt

commented, "Musical behavior is a cornerstone

of society, giving roads to expression

when there may be no other

way. Our students' having enough sensitivity

to be moved by expressive nuances

will give them further enjoyment

of a musical moment. Many of these

ideas are not our own, as we draw from

music researchers and educators like

John Feierabend, Edwin Gordon, Zoltán

Kodály, and Carl Orff when selecting

Browne's repertoire and curriculum. We

hope that through this rich culture of

quality music, games, poems, and expressive

movement, all of our students will

continue to have their lives enriched by a

musical world."

Middle school music teacher Danielle

Brosious agreed with Mrs. Brandt and

added that "music education used to focus

on the outcome. Art instruction today

is less about product and more about

process, which provides more opportunity

for individual expression. One big

change is that our children are actually

composing their own music, using technological

tools. This year I have a student

who is arranging and composing music

on a weekly basis and sending it to me!

That is so rewarding." In the future, Mrs.

Brosious plans to provide more meaningful

context about music in everyday life

(ads, TV, movies).

Art and music are not standalone

subjects at Browne – there is a great deal

of cross-curricular activity. For instance,

5th graders make a clay project to coincide

with their study of Egypt and 6th

graders create mosaics to complement

their study of Rome. Fourth graders' perimeter

projects incorporate math into

art. Ms. Brosious links music to science by

teaching the science of sound and how instruments

work. She adds in history when

her 5th graders learn about instruments

from the Renaissance period or dress as

monks and compose pieces using square

notation, as they did in medieval times.

"We are living history," she said.

Browne's art teachers weave art history

throughout their teaching of techniques,

media, and subject matter. And it's not

just the past that is important in art. Ms.

Alvarez said that art is also relevant to

current events. "Art is what the children can

get away with in terms of self-expression.

I want them to express themselves in ways

that they feel comfortable."

Both of Browne's art teachers agree

that it is important to learn how to follow

the steps for an art project. If a student

deviates from the process, things can go

wrong. However, once the requirements

are met, there is room for more creativity.

According to Ms. Alvarez, "If the students

follow the process, they have ownership

of their work, as well as gratification when

it is completed."

Accomplishment in the arts can lead to

confidence in other areas. For instance, a shy

student who excels in art may become more

communicative as the year progresses. Mrs.

Lam enjoys the aha! moments, citing the

self-portraits over a grid that her students

draw. "When they follow the directions, their

portraits look great!" she said. "Also, I have

had students go to their math teachers after

this project, saying it helped them understand

how a grid works." Ms. Brosious heard

from a parent that her child picks up her flute

at home as a strategy for managing stress.

Collaboration is an important part of visual

and performing arts. For Ms. Alvarez, her

current 4th graders, whom she has taught

since kindergarten, come to mind. "They

collaborate well, but they are also competitive,

encouraging each other to be their

best artists."

Ms. Brosious agreed that the collaboration

component is not one to be overlooked.

She tied it to music and sports, noting that,

in these areas, there is usually someone else

involved. "The children are learning how to

listen and respond and also gaining general

self-awareness." Browne offers many collaborative

musical opportunities, including choir

starting in 2nd grade, band and handbells

starting in 4th grade, and the middle school

musical. Mrs. Lam's arts enrichment students

have worked together to paint murals

in the pool-house locker rooms and,

each year, the 8th grade class paints a mural

in the middle school.

Ms. Alvarez's believes that, "If you can

provoke the students, you get a response."

This philosophy comes to life in the students'

beautiful creations that grace the

school's walls and in their confident musical

and theatrical performances before

large audiences.

The arts teachers at Browne, Ms. Brosious

said, are the facilitators, allowing students to

lead, and letting art evolve organically. "All

children are creative and artistically talented

in some way. As teachers of the arts, it's our

job to figure out what those talents are and

to create a flexible environment that allows

each student to discover their most creative

and expressive self. We hope that all of our

students graduate from Browne as lifelong

artists and music-makers."

3

4
---
Fostering Creativity Through Digital Composition

Musical composition is foundational to music education.

As Webster (2016) states, "All children are not only

capable of music composition but … they thrive on it as a

way to deeply enhance their musical understanding" (p. 26).

Unfortunately, traditional music composition activities with

paper and pencil are often inaccessible for students without a

well-developed knowledge of music theory. Music technology

can provide an entry point for younger or less-experienced

students to begin composition, even as they are acquiring

basic music theory skills (Schroth, Helfer, & Dammers, 2009).

New technologies have greatly enhanced the ability of music

teachers in Virginia's independent schools to include music

composition in the curriculum.

Dana W. Litke, Music Teacher, The Langley School, McLean

"All children are not only capable of music composition but …

they thrive on it as a way to deeply enhance

their musical understanding"

In my elementary and middle school general music classes

at The Langley School, students use technology to create

quite sophisticated music compositions and arrangements.

Using software such as Soundtrap or GarageBand, students can

select and arrange pre-recorded loops as well as record vocals

or acoustic instruments. In a recent interdisciplinary project with

my fifth-grade music class, students used the Soundtrap Webbased

software program to compose original musical pieces.

Each fifth-grader wrote a short story in language arts class and

then composed a theme song to go with the story. Students

selected which instrument sounds to use and then layered

different sounds to set a mood and reflect the emotions and

events in their stories. Throughout the unit, students investi-

gated essential questions, such as: How

do musicians make creative decisions?

How do musicians improve the quality of

their creative work? When is creative work

ready to share? (National Coalition for

Core Arts Standards, 2014).

Students continue this type of work

in middle school, adding more depth and

complexity to their musical compositions.

For example, in my seventh-grade general

music class, students wrote original lyrics

and then used music software to record

a vocal melody and add accompaniment.

They used technology to revise and edit

their recordings and enhance their compositions

through the combination of live

and pre-recorded sounds. As they created

their compositions, students explored

musical concepts such as melodic writing,

text setting, and harmonic and rhythmic

alignment. Projects like these provide

opportunities for meaningful interdisciplinary

connections as students integrate

music with language and writing skills.

Several research studies have pointed

out the advantages of using technology

to introduce a wide range of students to

musical composition. Gall and Breeze

(2005) note that music software programs

allow students to save their work

and share their compositions with peers

more easily than with traditional materials.

Another significant finding is that "the

technology allows pupils to make music

that is culturally relevant to them" (Gall &

Breeze, 2005, p. 427). With software programs,

students are able to create pieces

that are similar to the music they listen to

outside of school, piquing their interests.

For example, students may want to create

rock or pop style compositions using

sounds such as a drum kit; the software

enables students to use these sounds

even if actual drum kits are not available

in the classroom or the students do not

know how to play them. Schroth, Helfer,

and Dammers (2009) note that digital

composition provides an ideal format for

differentiation according to student readiness,

interest, and learning profile. As

music educators in independent schools

encounter students with varied abilities,

including gifted students, composition

with technology provides ample opportunities

for creative stimulation.

Engaging students in music composition

with the aid of technology develops

creativity and critical thinking skills.

Projects like those I have implemented in

my classroom at The Langley School provide

an ideal environment for students

to explore and take risks in a supportive

setting. Students have ample time to

come up with creative ideas and then

receive feedback and support from their

teacher and peers. The composition process

also provides plenty of opportunities

for student choice and autonomous learning

(Cramond, et al., 2015). Students can

easily collaborate with their peers as they

work on their compositions. For example,

students can share their Soundtrap projects

online with the teacher or classmates

and even use a video chat feature to

discuss their project and edit simultaneously

with another user. Students develop

greater perseverance as they go through

the rigorous process of creating, assessing,

editing, refining, and presenting final

compositions.

Technologically enhanced musical

composition has great potential to benefit

music education in independent schools.

While incorporating new technology

projects in the classroom may seem like

a daunting task for music teachers, the

advantages of student engagement, motivation,

and enhanced creativity make it

well worth the effort.

References

Cramond, B., Sumners, S., An, D. G., Catalana, S. M., Ecke, L., Sricharoen,

N., ...Türkman, S. (2015). Cultivating creative thinking. In F. A. Karnes &

S. M. Bean (Eds.), Methods and materials for teaching the gifted (pp.

345‐378). Waco, TX: Prufrock Press.

Gall, M., & Breeze, N. (2005). Music composition lessons: the multimodal

affordances of technology. Educational Review, 57, 415-433.

National Coalition for Arts Standards (2014). Music standards – PK-8

General Music. Retrieved from https://nafme.org/wp-content/

files/2014/11/2014-Music-Standards-PK-8-Strand.pdf. Schroth, S. T.,

Helfer, J. A., & Dammers, R. (2009). Using technology to assist gifted

children's musicaldevelopment. Gifted Child Today, 32 (2), 54‐61.

Webster, P. R. (2016). Creative thinking in music, twenty‐five years on.

Music Educators Journal, 102 (3), 26‐32.

5

6
---
Providing Real-World Art Experiences

Nance Sweet, Upper School Art Teacher, Stuart Hall School, Staunton

Stuart Hall School in Staunton, Virginia appreciates, advocates,

and supports the arts at all grade levels, PreK-12. As

expressed in our strategic vision:

"Stuart Hall School will be recognized globally as a distinctive

teaching and learning environment: a premiere day

and boarding school in the Episcopal tradition with historic

Staunton, Virginia as our campus, offering students innovative

educational and real-world experiences and equipping

them to be meaningful contributors to the world. We will be

a project-based, inquiry-based school with an emphasis on

place-based learning in the City of Staunton, working strategically

with key partner organizations to deliver a distinctive

program."

The above statement sounds very impressive, but how do

we as teachers support such a vision? We look for opportunities

where students can be introduced to "real-world" career

experiences while supporting the community in which we

live. As the Upper School Art teacher at Stuart Hall, I created a

painting project that supported both objectives.

The small, quaint town of Staunton is well known for its

celebration of the arts with numerous galleries, small unique

businesses, local artisans, and the Blackfriars Playhouse, the

only re-creation of Shakespeare's indoor theatre. The entrance

to our historic downtown is marked by the presence

of an oversized iron sculpture of a watering can, a tribute to

a local gardener. Created by a local professional artesian, the

sculpture is beloved by many. I invited shop owners in downtown

Staunton to 'commission' Stuart Hall art students to design

and paint watering cans that represent their businesses.

The goal was to create an opportunity for my top-level art

students to experience a real-world client/artist experience.

This opportunity allowed aspiring artists to collaborate with

shop owners, work through the watering can project details,

create a sample art piece, and craft the final product. This

experience was an excellent opportunity for art students to

explore professional real-life experiences (creating a commissioned

piece of art) while at the same time creating a collaborative

relationship with the town in which they live. Some

of the contributing businesses were: Staunton Downtown

Development Association, The CoArt Gallery, Fretwell Bass &

Acoustic Instruments LLC, The Artisans Loft, Rask Florist, Beverley

School of Art, and of course our own school, Stuart Hall.

This project taught the young artist creative collaboration

with a shop owner and how to effectively communicate ideas

in a meaningful way through visual interpretation. It provided

the Staunton shop owners with custom-designed watering

cans that represented each business. And, it created strong

relationships between Stuart Hall and the Staunton business

community. As an added benefit, the students' painted watering

cans sprinkled across the town (pardon the pun) added to

the local charm!

Inspiring Wonder

Judy Stamper, School Librarian, Sullins Academy, Bristol

How can the Arts at Sullins Academy inspire a sense of wonder and

imagination? Students can shine either when stepping out on the

stage, or when drawing or painting that next masterpiece. Recently,

Sullins used its community connections for inspiration and talent

by inviting a visiting artist, Rabia Rao, a parent of two lower school

students and a native of Pakistan.

The Sullins middle school students received personal guidance

from Rao as a gifted and gracious teacher-artist-in-residence, who

earned her degree in art from Lahore Grammar School in Pakistan.

Receiving exposure to the culture of Pakistan, the students embarked

on a six-week, intensive painting course with Rao. She guided the

students in the creation of three pieces of art using art knives and

acrylics on canvas. Beginning with assignments first of the creation of

a picture of flowers, followed by an ocean scene, and finally a reflective

picture of boats on water, Rao challenged the students to stretch

themselves beyond their comfort zones.

The students were in awe of what they created! As culmination of

the painting course, they were also given the opportunity to select

one painting each to be framed as a gift for a loved one. The next step

in the learning process focused on a series of lessons on tints and

shadows. Using a grouping of vases, students sketched what they saw

and added shadowing accordingly, under the guidance of Rao.

What a gift to have Rabia Rao in the Sullins community to impart

her wisdom of the visual arts to the middle school students - both

global and visual gifts.

7

8
---
Art Education to Promote

Self-Awareness of Learning Styles

Meghan R. McNeill, Director of the Learning Skills Program, Christchurch School, Christchurch

9

Meghan

R. McNeill

The assignment was to create a piece of art that visually represented

your learning style. The objective was to foster

a greater sense self-awareness regarding individual learning

styles while promoting self-expression and self-advocacy. We

explored painting, photography, and audio-visual mediums

and looked at how the different examples conveyed perspective

and voice, and the use of visual art to tell compelling narratives

in a way words alone often fail us. The assignment was

simple, but the learning aims and intended outcomes were as

dynamic as they were diverse.

Visual art has the power to evoke a level of understanding

beyond the scope of linguistic comprehension. Images

communicate a feeling or a sense of understanding about the

world and our role in it through a medium that challenges our

ability of expression with words. Our students with learning

differences often struggle to define their experiences and perspectives

with words due to executive functioning issues that

present organizational challenges or a language-based learning

difference. Providing these students with the opportunity

to explore who they are and how they learn on a platform that

values the power of artistic expression over the structure of

written language can prove to be a meaningful and dynamic

experience. For these reasons and more, the Learning Skills

Program (LSP) at Christchurch School includes an art project

that engages students in the exploration of art for self-expression

of learning styles into the LSP Independence class: the

final course in a four-year sequence within a comprehensive

learning support program.

The inspiration for this project came several months prior

when I facilitated a professional development session to

promote the understanding of how learning differences impact

our students' developmental and academic experiences.

I enlisted a few of my students to talk about how their

learning differences impacted specific aspects of their lives,

and I quickly noticed that most of their narratives were a

disorganized stream of sound bites somehow connected to

their experience with ADHD. Before sending these students

off to college, I wanted to make sure they had the capacity

to articulate their learning needs, as well as their strengths

and weaknesses, and I knew that designing a classroom

experience that held the students accountable for actively

creating a visual reflection could be the most effective way

to achieve these aims. Many students with language-based

learning differences struggle with expressing themselves

in writing, and most academic tasks are traditionally rooted

in language. Students with weaknesses in reading and

writing, but who demonstrate potential in musical or visual

intelligences, often feel marginalized by our formal education

system. I knew that an inclusion of this project would

validate their natural strengths while promoting abstract

and creative thinking skills. I partnered with another learning

support teacher that had a stronger relationship and

connection with our seniors to present and scaffold this experience

to our students. A casual observer may have perceived

that time spent on a project that promoted visual art

in a learning support course as a misuse of valuable instructional

time. However, this conclusion could not have been

further from the truth.

By facilitating this experience, we were guiding the development

from concrete to abstract thinking. We were asking

our students to be active participants in a reflective learning

process. Before our students leave Christchurch School, we

want them to have an understanding of themselves as individuals

and learners. This project aimed to develop skills of

self-expression that are often not promoted within a traditional

academic setting. We aimed to promote self-awareness

of learning style, strengths, weaknesses, and to facilitate the

development of self-expression to support the acquisition

of effective self-advocacy skills. The main objective of the

Learning Skills Program is to ensure the success of our students

during their time at Christchurch School and beyond,

and by incorporating art education into our learning support

program, we are providing a platform to develop crucial

social and emotional skills such as self-awareness and self-expression.

This project not only validates often marginalized

learning strengths and styles, but it also promotes vital academic

and life skills required for success as emerging adults

in a world of rapid change.

10 ision
---
Alexander Keevil

Aaron Webb

Arts Education at The New

Community School

Alexander Keevil, Director of Student Life & Personal Growth, and Aaron Webb, Chair of Practical

and Fine Arts Department, The New Community School, Richmond

We strive to foster studio environments where students are led to take

creative risks and try something that they initially believe they are

incapable of achieving.

An empty stage. A blank canvas. An unmarked block of wood. Where do we begin when tasked to

fill the void before us? We look within ourselves.

At The New Community School, we foster an environment in which students and teachers

function in harmony during the learning and creative process. Because of our small class sizes, low

student-teacher ratio, and environment focusing on the strengths of dyslexia and related learning

differences, we are a community that excels in connecting to one another. We understand that learning

through creation is a complex and often emotional process. Whether it's guitar, theatre, ceramics,

or woodworking, our arts courses explore possibilities of strength in areas of intellect that may not

be fully developed in an academic classroom. Each of our courses is designed to pave the way for an

individualized experience for each student. Our classes in the arts lead to students developing skills

which will serve them personally or professionally for years to come.

· Drama, for example, promotes collaboration and interpersonal skills.

· Visual arts courses encourage exploration in a safe environment,

allowing students the opportunity to develop a growth mindset.

· Woodworking develops skills in practical problem solving and

executive functioning by helping students understand how a

step-by-step process leads to an outcome that is both practical

and pleasing to the eye.

· Many of our practical arts courses, such as robotics and programming,

invoke 21st century skills and blend the use of technology

with old-fashioned hard work and determination.

Our teachers nurture a creative learning community that

supports and cares for one another. We strive to foster studio

environments where students are led to take creative risks and try

something that they initially believe they are incapable of achieving.

When students are encouraged to try something outside of

their comfort zone for the first time, there is a chance of failure. For

our students, who are being shepherded in a safe and open environment,

the resilience to learn from failure is a skill that must be

developed as the goal of mastery takes additional practice and

bravery. Our teachers are not only coaches and mentors, but also

cheerleaders. Teachers love to watch students take on a difficult

task and learn from it whether they succeed the first time or not.

They know that with continued encouragement and support,

they will be able to improve and learn from the various outcomes.

The pride teachers express to students, while important, has less

impact than the empowering sense of accomplishment they award

to themselves after they truly experience success and begin to form

a new understanding of what they are capable of achieving.

Each year we close with a theatre production and an art

exhibit that showcase the culmination of our students' creative

journeys. The productions and exhibits are beautiful events

that often have hidden emotional roots. The emotional roots

of the creative experience travel and grow within our students

for years to come. Often, early creative experiences bloom into

deeper friendships, a stronger sense of self, and a higher level

of confidence. Skills in the arts have been identified as essential

for success in the future. Sometimes these hard-won skills even

flourish into an area of collegiate study.

An oil painting. A dovetail box. A well-delivered monologue.

At TNCS, these products of creation are so much more than the

sum of their parts. Just ask their creators and their teachers.

11

12 ision
---
Special Thanks

to the 2017-18 VAIS Strategic Partner

www.creative-va.com

6802 Paragon Place, Suite 525, Richmond, VA 23230

VAIS.ORG / ph: (804) 282-3592

VAIS.ORG VAIS.org VAIStweets