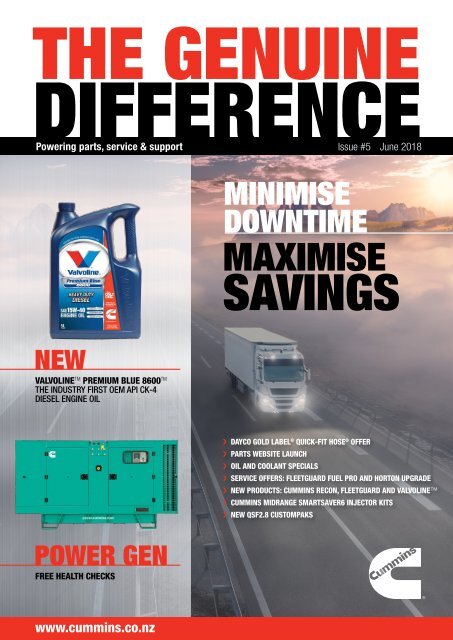 NEW ZEALAND
News and offers from Cummins South Pacific (New Zealand)
News and offers from Cummins South Pacific (New Zealand)
SHOW MORE
SHOW LESS
Create successful ePaper yourself
Turn your PDF publications into a flip-book with our unique Google optimized e-Paper software.
THE GENUINE

DIFFERENCE

Powering parts, service & support Issue #5 June 2018

NEW

VALVOLINE TM PREMIUM BLUE 8600 TM

THE INDUSTRY FIRST OEM API CK-4

DIESEL ENGINE OIL

MINIMISE

DOWNTIME

MAXIMISE

SAVINGS

› DAYCO GOLD LABEL ® QUICK-FIT HOSE ® OFFER

› PARTS WEBSITE LAUNCH

› OIL AND COOLANT SPECIALS

› SERVICE OFFERS: FLEETGUARD FUEL PRO AND HORTON UPGRADE

› NEW PRODUCTS: CUMMINS RECON, FLEETGUARD AND VALVOLINE

› CUMMINS MIDRANGE SMARTSAVER6 INJECTOR KITS

› NEW QSF2.8 CUSTOMPAKS

POWER GEN

FREE HEALTH CHECKS

www.cummins.co.nz
---
THE GENUINE

IN THE NEWS

DIFFERENCE

WEBSITE LAUNCH

Cummins is pleased to announce the launch of parts.cummins.com, an innovative approach to its online

parts catalog. The new site allows users to search for parts information using any serial or part number

available on their Cummins engine or component including Holset ® turbochargers, Onan generators,

aftertreatment solutions and Fleetguard ® filtration solutions. Customers will no longer need to visit multiple

sites to research Cummins associated parts. The benefits of parts.cummins.com are:

› One stop for all Cummins related parts.

› Designed with Cummins customers in mind.

› Users can quickly identify the correct parts for

their needs.

› Ability to create a pick list that can be shared with

any Cummins distribution partner.

› Offers unique part details including engine system,

sub-system, and individual part graphics.

› Part detail pages will include part dimensions,

alternative part options including supersessions,

and applicable part related kits.

› parts.cummins.com is mobile device ready.

› Available globally at no charge and with no

registration required.

See the full terms and

conditions for this issue of

The Genuine Difference HERE

or scan the QR code.

2

Powering parts, service & support
---
INTRODUCING

VALVOLINE PREMIUM BLUE 8600

Cummins South Pacific & Valvoline Australia are pleased to announce the

introduction of Valvoline Premium Blue 8600, the industry first OEM

API CK-4 diesel engine oil.

On December 1, 2016 a new oil performance

category was introduced for heavy-duty diesel

engines. While in the development stage, this new

category was referred to as Proposed Category

11, or PC-11. Now referred to as API CK-4, it is

the 11th evolution of its kind for diesel engine

oils. API CK-4 oil was developed in response to

global emissions standards and to support engine

manufacturers designing the next generation of

clean, fuel-efficient diesel engines.

As Australian emission standards move towards

ADR 80/04 (Euro 6) for heavy vehicles, API CK-4

technology will be required to meet the demands of

engine technology required for these new industry

standards.

Valvoline Premium Blue 8600 (API CK-4) is

backward compatible with Valvoline Premium

Blue 8100 (API CJ) and Valvoline Premium

Blue 7800 (API CI). The product offers additional

performance enhancements, oxidation stability

and shear stability required to maximise extended

service intervals and fuel economy for future ADR

80/04 (Euro 6) Cummins engine technology.

Current published ISXe5 and X15 servicing guideline table:

Applications

Oil Drain –

CES 20081 / CES 20086

CJ-4 15W40 / CK-4 15W40

Severe duty

1.2 to 1.5 KM/L

30,000 km [ 18,000 mi ] / 750

hrs / 6 months

Oil Drain – CES 20081 40,000 km [ 25,000 mi ] / 850

Valvoline Premium Blue 8100 TM hrs / 6 months

/ Valvoline Premium Blue

8600 TM

Normal duty

>1.5 KM/L

50,000 km [31,000 mi] / 750

hrs / 6 months

60,000 km [37,000 mi] / 850

hrs / 6 months

VALVOLINE PREMIUM BLUE 8600 WILL BE AVAILABLE FOR CUMMINS

CUSTOMERS TO PURCHASE AT YOUR NEAREST CUMMINS BRANCH LOCATION

OR AUTHORISED CUMMINS DEALERSHIP.

*Terms and conditions apply. All prices are excl GST. Promotions available until September 30, 2018 or while stocks last.

www.cummins.co.nz

3
---
THE GENUINE

PARTS AND SERVICE

DIFFERENCE

SPECIAL OFFER

EQUIPMENT

DISTRIBUTOR

50% off RRP

Available on any 1.2 metre length Dayco Gold Label ®

Quick-Fit Hose ® Heavy Duty Radiator Hose

Cummins South Pacific is now a distributor of A-FLO

fluid management and workshop equipment.

PLUS RECEIVE...

FREE T BOLT CLAMPS

Receive 2 Free Dayco stainless steel T bold clamps

Designed to be used in

applications with multiple/small

radius bends that would cause

regular straight hose to kink or

collapse.

Hose P/N Nominal ID Clamp P/N OD Range

75150GLPRO 38mm (1.5") 92349 46-49mm

75175GLPRO 45mm (1.75") 92353 50-53mm

75200GLPRO 51mm (2.0") 92361 58-61mm

75225GLPRO 57mm (2.25") 92370 66-70mm

75250GLPRO 64mm (2.5") 92376 71-76mm

75275GLPRO 70mm (2.75") 92382 77-82mm

75300GLPRO 76mm (3.0") 92388 83-88mm

For the full range of

products available please go

to www.cummins.com.au or

scan the QR code.

4 Powering parts, service & support
---
POWER GENERATORS

FREE HEALTH CHECK

20-point health check covering items below:

› Engine inspection

› Controller inspection

› Generator operational test

› Fuel tank check

› No travel charge within 50km from nearest

Cummins branch

› Limited spots available, not available in all Cummins

branch locations. Terms and conditions apply.

CONTACT YOUR LOCAL CUMMINS BRANCH FOR

A BOOKING.

HORTON OUTBACK HTS

UPGRADE SUPA KIT

Save 25% and upgrade

Fitted price $1,174 + GST

Includes: engine check, coolant top up and thermostat

operation check.

ITEM

F35008OB

DESCRIPTION

Horton Outback HTS Upgrade Supa Kit

*Terms and conditions apply. All prices are excl GST. Promotions available until September 30, 2018 or while stocks last.

www.cummins.co.nz

5
---
THE GENUINE

PARTS AND SERVICE

DIFFERENCE

PURCHASE PODS

AND SAVE!

SEEING IS BELIEVING ®

FLEETGUARD FUEL PRO

Special service offer:

Fitted price $670* + GST

Filter

element

Seeing is

Believing ®

Cover

Offer 1: Valvoline TM Premium Blue 8600 TM

Purchase a 1000 ltr IBC (POD)

of Valvoline Premium Blue

8600 CK Oil for $4,200 +GST

and receive a free 20 ltr of

Valvoline Syngard E386 (Eaton

approved) transmission oil

RRP $660 +GST.

PART NUMBER

PB8600PODPRO

Offer 2: Cummins TEC PGXL or

TEC Infinity Coolant

Purchase a 1000 ltr IBC (POD)

of Cummins TEC PGXL or TEC

INFINITY Coolant for $4,500 +GST

and receive 4 x 20 ltrs of the same

coolant RRP $700 +GST, FREE.

PART NUMBER

TECPGXLPODPRO

TECINFPODPRO

DESCRIPTION

Valvoline Premium Blue 8600 TM 1000LTR POD PROMOTION

DESCRIPTION

TECPGXL 1000LTR POD PROMOTION

TEC INFINITY 1000LTR POD PROMOTION

Aluminium

construction

MAINTAIN WITH EASE!

› Patented Seeing is Believing ® technology –

see when NOT to change the filter

› Five minute, NO MESS filter change

› Low restriction check valve eliminates loss of

fuel prime when draining or changing filter

› Supports extended service intervals

› Water-In-Fuel (WIF) sensor available

› Easy priming at service

Drain

valve

Check

valve

*Applicable for Fuel Pro assemblies AF034201 (Includes

10 micron element FS19764) or AF034F202 (includes

50 micron element FS19905G). Cost includes mounting

bracket, hoses and fittings, * additional charges may

apply for certain applications see your local Cummins

branch for details.

6 Powering parts, service & support
---
NEW RECON ISL LONG BLOCKS

Cummins have released the ISL extended

range of ReCon long blocks to suit ISL in

popular hard working trucks.

ReCon long blocks provide an economical and efficient

alternative to an overhaul or an engine replacement for

your hard working equipment. ReCon long blocks can

reduce the repair time and have you back on the

road fast.

CUMMINS RECON LONG BLOCKS INCLUDE:

› 100% Genuine Cummins new or ReCon parts

for highest quality and durability.

› New pistons and rings, ReCon cylinder head,

cylinder block, crankshaft, camshaft – and much

more. Ask your Cummins professional for the full

inclusion list.

› All re-use components meet strict re-use

guidelines for maximum reliability and durability.

› May include technology and design upgrades

as used on later model engines.

Model details:

Model CPL Application Part number

ISLe5

4379

4377

4377

Iveco ACCO

Mack Metro liner

Kenworth T359

DR7240RX

ISX SHORT BLOCK BONANZA

Strictly only while stocks last

Savings up to $2,000 + GST

Part Number Description CPL

4018175RXPRO ISX 475 Short block 8244

4018176RXPRO

ISX Sig 520 Short

block

8246

*Terms and conditions apply. All prices are excl GST. Promotions available until September 30, 2018 or while stocks last.

www.cummins.co.nz

7
---
THE GENUINE

MINIMISE DOWNTIME. MAXIMISE SAVINGS.

CUMMINS MIDRANGE

SMARTSAVER INJECTOR KITS

DIFFERENCE

Cummins midrange SmartSaver6 Injector kits

are an excellent way to avoid multiple service

events and save money.

By replacing the entire set of six injectors instead of

one at a time, you save up to 17%. What's better than

buying five and getting one injector for free!

What does this mean in real money? Buying a

Cummins midrange SmartSaver6 Injector kit will

save you up to $1,500 depending on engine model.

THE REAL COST OF DOWNTIME.

If one injector needs replacing, chances are good

that the other five will need to be changed out within

the next couple of years. Throw in labour costs for

replacing injectors independently, plus the potential

loss of revenue from taking a vehicle out of service;

it becomes easy to see how you save money over

the long-term by proactively replacing all injectors.

REMANUFACTURED VS. REBUILT.

Cummins midrange SmartSaver6 Injector kits contain six ReCon injectors that have been remanufactured to

Cummins' precise standards for quality and performance. These injectors are engineered to meet or exceed

original specifications, and assembled using the latest manufacturing techniques and materials.

Unlike some non-genuine parts, every injector is disassembled and cleaned in a dust-free environment and

performance-tested on the line. Many competitive injectors simply replace the nozzle and don't come close to

the stringent quality control measures of a Cummins ReCon injector. That's why you can expect these Cummins

ReCon injectors to perform better and last longer than anything else on the market at any price.

WE INSTALL CONFIDENCE.

Every Cummins ReCon injector is precisely calibrated to factory specification and computer tested to ensure

optimum fuel economy, durability and power. We're so confident in their reliability and durability, we're giving them

with a full one year/ 160,935 km warranty backed by the largest parts and service network in South Pacific, with

over 200 authorised dealer locations.

Is your engines injector part number covered under the

midrange SmartSaver6 injector kit program?

See the full list HERE or scan the QR code.

8 Powering parts, service & support
---
REN SYSTEM

FLUID LEVEL MANAGEMENT PRODUCTS

Do you have a stationary engine application, such as oil and gas pumping/compressing stations, power

generation and agricultural irrigation system, with the need to ensure the engine is always lubricated?

Then a Fleetguard REN System could be what you need.

Reservoir

Commonly this type of requirement is found in remote

areas with several applications, spread out over many

acres, being maintained by just one person.

For this reason, the REN Fluid Level Management

System was developed. This system allows you to pick

and choose components to build your own system to

meet your specific needs.

FEATURES AND BENEFITS OF A FLEETGUARD

REN SYSTEM:

› Negates the need for shut down for oil changes.

› Continuously metered oil change out and new oil

replacement from gravity fed make up oil and

matched to oil consumption or leakage rate.

› Reduces running costs especially for continuous

running prime power applications and/or remote

locations.

› Modules applied singularly or in combination.

› Visual monitoring of oil level only using

level regulator.

› Liquid level switch for oil, hydraulic fluid

and coolant.

Oil

change

module

Flow

metre

Oil level

regulator

Liquid

level

switch

Fresh

Oil Tank

*

Engine

Fuel Return Line

*

Remote

Readout

Check Valve

See the full range of

products HERE, scan the

QR code or visit your local

Cummins branch.

*

Slow Flow

Metre

*

Oil Level

Regulator

Pressure

Gallery

5 Micron

Filter

(optional)

*

Continuous

Oil Change

Module

To Fuel Tank or

Collection Tank

Used Oil Tank

Fuel

Tank

*Terms and conditions apply. All prices are excl GST. Promotions available until September 30, 2018 or while stocks last.

www.cummins.co.nz

9
---
THE GENUINE

TECHNOLOGY THAT TRANSFORMS

NEW

QSF2.8 T CUSTOMPAK

DIFFERENCE

Cummins has released its new QSF2.8 engine models as CustomPaks which come with unmatched

power density, reliability and fuel economy in applications requiring a 40 to 72 hp powerpack.

Cummins' latest technology 2.8-litre engine

provides the power to transform across a broad

range of applications including agricultural,

construction equipment, materials handling

machinery, and water pumps.

The QSF2.8 CustomPaks combine a Cummins

global engine platform with a locally designed and

manufactured powerpack solution to suit South

Pacific conditions.

CPAK F2.8NA Horsepower band 40 to 48

Introductory pricing

$9,666.00 + GST

CPAK F2.8T Horsepower band 50 to 72

Introductory pricing

$10,741.00 + GST

MENTION THE CUMMINS GENUINE DIFFERENCE TO RECEIVE THIS INTRODUCTORY PRICING WITH ANY UNIT

PURCHASED BEFORE SEPTEMBER 30, 2018.

10 Powering parts, service & support
---
INTRODUCING THE NEW FF5825NN FUEL FILTER

WITH

STOCKS

AVAILABLE

LATE JUNE

2018

The FF5825NN featuring NanoNet ® media retains captured particles

during engine vibration better than any competitive product.

The FF5825NN has higher dust holding capacity compared to its

competitors which leads to greater protection of the fuel injection

equipment (FIE).

Fleetguard FF5825NN delivers:

1/ Greater protection against dirty fuel than competitive options by delivering fuel

that meets FIE manufacturers suggested cleanliness level.

2/ Proven with over 1,000,000 km of real-world field testing.

3/ NanoNet media in FF5825NN for X15 & ISXe5 engines not only removes the

harmful hard particles but also retains them during vibration better than any

competitive product in the market today.

BE SEEN WITH THE LATEST CUMMINS MERCHANDISE

$40.86

Leather journal

GPI01558

$40.00

Maglite torch

GPI01230

$7.77 $7.80 $7.80

'C' cufflinks

GPI01320

Vintage coaster set

GPI01213

Vintage playing cards

GPI01214

$21.99 $65.00 $75.80 $62.90

Thermos

GPI01278

Black red duffle bag

GPI01410

Lightweight grey hoodie

GPI01531 - GPI01536

Vintage jacket

GPI01173 - GPI01179

TO ORDER MERCHANDISE, SHOP ONLINE AT www.cumminsmerchandise.com.au

*Terms and conditions apply. All prices are excl GST. Promotions available until September 30, 2018 or while stocks last.

www.cummins.co.nz

11
---
THE GENUINE

DIFFERENCE

Subscribe today to receive a FREE subscription to The Genuine Difference.

Online go to www.cummins.com.au/promotions/the-genuine-difference/ or complete the form

below and mail to: Cummins South Pacific, 2 Caribbean Drive, Scoresby VIC 3179 Australia

NAME

COMPANY

EMAIL

ADDRESS

SUBURB

STATE

POSTCODE

MOBILE

How would you like to receive The Genuine Difference? (Please tick): Email Post SMS/Text Notification*

*SMS/Text message notification will be used to let you know that The Genuine Difference is available to view on our website

Subscribe by

31 January 2017

and

WIN!

EVERY SERVICE

EVERY TUNE UP

EVERY REBUILD

AUCKLAND

9 Langley Road,

Manukau City

Ph: 0-9-277 1000

BAY OF PLENTY

328 Te Ngae Road,

Rotarua

Ph 0-7-345 6699

PALMERSTON NORTH

852-860 Tremaine Ave,

Palmerston North

Ph: 0-6-356 2209

FREEPHONE:

0800 CUMMINS

Scan for locations

Powering parts, service & support

www.cummins.co.nz