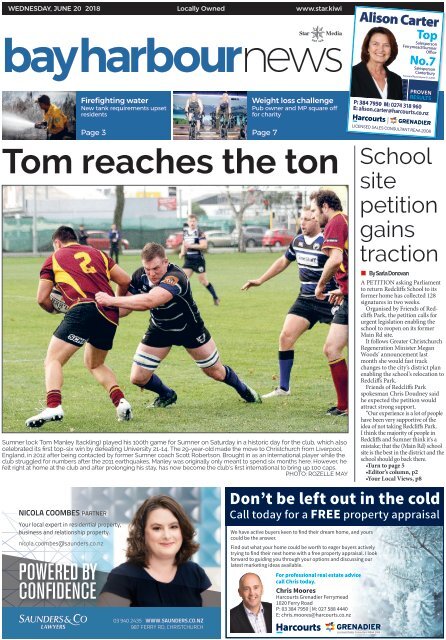 Bay Harbour: June 20, 2018
Do you know the secret to free website traffic?
Use this trick to increase the number of new potential customers.
WEDNESDAY, JUNE 20 2018

Locally Owned

www.star.kiwi

Alison Carter

Top

Salesperson

Ferrymead/Sumner

Office

No.7

Salesperson

Canterbury

For end of financial year 31.3.2018

Firefighting water

New tank requirements upset

residents

Page 3 Page 7

Weight loss challenge

Pub owner and MP square off

for charity

Tom reaches the ton

Sumner lock Tom Manley (tackling) played his 100th game for Sumner on Saturday in a historic day for the club, which also

celebrated its first top-six win by defeating University 21-14. The 29-year-old made the move to Christchurch from Liverpool,

England, in 2012 after being contacted by former Sumner coach Scott Robertson. Brought in as an international player while the

club struggled for numbers after the 2011 earthquakes, Manley was originally only meant to spend six months here. However, he

felt right at home at the club and after prolonging his stay, has now become the club's first international to bring up 100 caps.

PHOTO: ROZELLE MAY ​

Don't be left out in the cold

Call today for a FREE property appraisal

We have active buyers keen to find their dream home, and yours

could be the answer.

Find out what your home could be worth to eager buyers actively

trying to find their next home with a free property appraisal. I look

forward to guiding you through your options and discussing our

latest marketing ideas available.

For professional real estate advice

call Chris today.

Chris Moores

Harcourts Grenadier Ferrymead

1020 Ferry Road

P: 03 384 7950 | M: 027 588 4440

E: chris.moores@harcourts.co.nz

P: 384 7950 M: 0274 318 960

E: alison.carter@harcourts.co.nz

LICENSED SALES CONSULTANT REAA 2008

GRENADIER

Licensed Sales Consultant REAA 2008

PROVEN

RESULTS

GRENADIER

School

site

petition

gains

traction

• By Sarla Donovan

A PETITION asking Parliament

to return Redcliffs School to its

former home has collected 128

signatures in two weeks.

Organised by Friends of Redcliffs

Park, the petition calls for

urgent legislation enabling the

school to reopen on its former

Main Rd site.

It follows Greater Christchurch

Regeneration Minister Megan

Woods' announcement last

month she would fast track

changes to the city's district plan

enabling the school's relocation to

Redcliffs Park.

Friends of Redcliffs Park

spokesman Chris Doudney said

he expected the petition would

attract strong support.

"Our experience is a lot of people

have been very supportive of the

idea of not taking Redcliffs Park.

I think the majority of people in

Redcliffs and Sumner think it's a

mistake; that the (Main Rd) school

site is the best in the district and the

school should go back there.

•Turn to page 5

•Editor's column, p2

•Your Local Views, p8
---
PAGE 2 Wednesday June 20 2018

BAY HARBOUR

Latest Christchurch news at www.star.kiwi

get in touch

from the editor's desk

IT'S A newspaper's duty to report all sides

of an issue.

And that is what Bay Harbour News is

doing and will continue to do over the issue

of siting Redcliffs School at Redcliffs Park.

Our front page article last week on the Friends of Redcliffs

Park's petition to Parliament and the school's farewell and

blessing, illustrated by the farewell, brought some swift reaction.

The school board's response, is on page 8.

But some connected with the school who called me said they

didn't want Bay Harbour News to report on the petition; others

didn't want us to ask for reader responses we usually do through

our Have Your Say prompt.

That's something we won't do. Those people don't have the only

viewpoint.

– Barry Clarke

GENERAL INQUIRIES Ph 379 7100

CLASSIFIED ADVERTISING Ph 379 1100

The Christchurch Star Company Ltd

PO box 1467, Christchurch

news

Volunteers recognised

Awards have been handed out for community service.

Page 5

news

Akaroa fire station opened

MP Tracey Martin opened the recently upgraded Akaroa fire

station on Saturday.

Page 7

community events

Travelling Road Show

Have a say on what you would like to see on the Avon River

Corridor. Red Zone Futures, Sumner Library, 3-5pm, Tuesday.

starmedia.kiwi

NEWS

Sarla Donovan

Ph: 021 919 917

sarla.donovan@starmedia.kiwi

ADVERTISING

Javier Balcazar

Ph: 982 9308

javier.balcazar@

starmedia.kiwi

Rob Davison

Ph: 021 225 8584

rob.davison@

starmedia.kiwi

Page 15

The best-read local newspaper, delivered to

10,056 homes, RDs and farms every Wednesday

Brookhaven, Heathcote, Ferrymead, Redcliffs, Mt Pleasant,

Sumner, Lyttelton, Diamond Harbour, Governors Bay, Akaroa.

JOIN US NOW!

See website for details

BONDS OUTLET

40% Off All Marked

Prices Storewide.

BENDON OUTLET

Massive Mid-Year Sale,

Sets from $15.

UNDER ARMOUR

All Footwear

Buy 1 Get 1 Half Price

STYLES MAY DIFFER TO IMAGE SHOWN

(conditions apply).

ASICS

Bring in a pair of used shoes

and get $20 off a new pair.

(shoes donated to Christchurch City

Mission, conditions apply).

Sign up to Smart Deals & be in the monthly draw for a $100 Dress-Smart gift card!

Be one of the first to hear about the latest deals, sent straight to your inbox each week!

CHRISTCHURCH 409 Main South Road, Hornby

Open 10am-5pm, 7 Days 03 349 5750

www.dress-smart.co.nz
---
Wednesday June 20 2018

Latest Christchurch news at www.star.kiwi

BAY HARBOUR

PAGE 3

News

Tank requirement deemed unfair

• By Sarla Donovan

PROPERTY OWNERS say a

requirement to provide water

tanks for firefighters is onerous

and unfair.

Under the Fire and Emergency

New Zealand code of

practice, a new house built in an

area without a reticulated water

supply must have an additional

45,000 litres of

stored water

available for firefighting

purposes

because of being

on a restricted

water supply.

Geoff Ettrick

David

Griffiths

and Peter Reeves,

property owners

at Birdlings Flat,

spoke to the Banks Peninsula

Community Board about the

water supply requirements last

week.

They said the cost and the

amount of space taken up by the

two tanks that were needed, was

more slanted to a "lifestyle block

scenario" than houses on an

urban-sized section.

Mr Ettrick estimated it would

take two tanks occupying about

17 sq m to provide sufficient

water.

A 30,000 litre tank retails for

around $4600 and a 15,000 litre

for around $3100.

"The whole thing is just

bizarre," Mr Ettrick said. "At the

end of the day we're being forced

to put storage there which is the

responsibility of the city council

or the Fire Service."

They want a communitywide

approach to be taken in

Birdlings Flat, suggesting community

water tanks would be a

cheaper, more efficient option.

A FENZ spokesman said

the code of practice applied

wherever territorial authorities

had adopted it in their district

plans, but there was room for

negotiation.

"The code provides for developers

and building owners to

engage with us and territorial

authorities to determine appropriate

needs and ensure they

are met. That means that when

houses are close enough and the

terrain permits, water tanks can

be shared."

WATER:

Property

owners are

unhappy

with the

requirement

that a new

house without

a reticulated

water supply

must have

an additional

45,000 litres of

stored water

available for

firefighting.

City council head of planning

and strategic transport David

Griffiths said the measure had

been introduced in 2015 after

the New Zealand Fire Service,

"through consultation under

stage one of the District Plan

review" asked that a water

supply for firefighting rule

be included for all residential

zones.

The board has asked city

council staff to prepare a report

on the issue.

HORNCASTLE ARENA

June 29 - July 1 10AM - 5PM

TICKETS ONLINE: starhomeshow.kiwi

In Brief

PREDATOR-FREE GRANT

The backyard pest trapping

project, Predator Free Port Hills,

has been given a funding boost of

$45,000 from the Spreydon-Cashmere

Community Board. The

project aims to boost the population

of native birds and wildlife

by getting the public involved in

trapping rats, stoats, possums,

weasels and ferrets. It currently

has 350 traps in circulation but

aims to eventually have 4000.

FIRE BRIGADE FUNDRAISER

Diamond Harbour's On the

Spot store has raised more

than $2129 for the Diamond

Harbour Volunteer Fire Brigade.

The money will go towards the

purchase of a new support vehicle.

Store owners James Grant and

Laura Palmer marked their first

year of business in the settlement

with a week of fundraising,

including a sausage sizzle and

daily specials.

WOOLSTORE

Last week Bay Harbour News

published a photo of what was

thought to be Spooky Boogie

cafe and record store owner

Oscar Guerrero in an article on

the Woolstore development. The

photo was in fact Mr Guerrero's

father. Bay Harbour News apologies

for the error.

3 Garlands Road, Woolston

DeluxeCinemas.co.nz

Christchurch's Premium Cinema Experience

Phone Bookings | Free Parking | Cafe/Licensed Bar

Online Bookings | Cinema Club | Hot Nuts/ Cheeses

03 389 5360

WESTSIDE STORY

SUN: 12:00PM Deluxe Retro

THE LEISURE SEEKER

Helen Mirren and Donald Sutherland

WED: 12:25PM THU, FRI: 10:10AM, 11:40AM, 1:50PM, 6:20PM, 8:10PM

SAT: 11:00AM, 1:15PM, 3:50PM, 5:50PM, 8:00PM SUN: 10:00AM, 2:45PM, 5:00PM, 7:15PM

MON, TUE: 10:10AM, 11:40AM, 1:50PM, 6:20PM, 8:10PM

TEA WITH THE DAMES

Starring Judi Dench, Maggie Smith, Eileen Atkins, Joan Plowright

WED: 10:35AM, 2:40PM, 4:25PM, 6:00PM THU, FRI: 10:00AM, 2:30PM, 6:30PM

SAT: 10:15AM, 2:10PM SUN: 10:15AM, 6:50PM MON, TUE: 10:00AM, 2:30PM, 6:30PM

OCEAN'S EIGHT

Starring Sandra Bullock, cate Blanchett, Matt Damon

WED: 3:35PM, 8:30PM THU, FRI: 4:00PM, 8:30PM

SAT: 3:30PM, 8:25PM SUN: 2:15PM, 8:30PM MON, TUE: 4:00PM, 8:30PM

THE GUERNSEY LITERARY AND POTATO PEEL PIE SOCIETY

A heart-warming Love Story, British Gem

WED: 11:00AM, 6:10PM THU, FRI: 4:10PM SAT: 6:00PM SUN: 4:30PM MON, TUE: 4:10PM

THE BOOKSHOP

Starring Emily Mortimer, Bill Nighy, Francis Barber

WED: 1:25PM, 7:45PM THU, FRI: 12:20PM SAT: 12:00PM SUN: 12:10PM MON, TUE: 12:20PM

WESTSIDE STORY PG THE LEISURE SEEKER M Suicide & Euthanasia themes, sex scenes &

offensive language ITH THE DAMES M Offensive language & sexual references OCEAN'S EIGHT

M Offensive language THE GUERNSEY LITERARY AND POTATO PEEL PIE SOCIETY PG THE

BOOKSHOP PG Coarse Language

ENJOY A FREE TEA OR COFFEE AND A FRESHLY BAKED BISCUIT

WITH EVERY WEEKDAY MORNING SESSION

Buffet

THE

is

back!

Indulge in a feast for

all your senses amid the

resplendent surroundings of

The Grand Café's Buffet.

Need a local

landscape

design and

construction

team?

Call Tom on

03 328 9965 or

027 420 2466

www.gunndesign.co.nz

Christchurch Casino

The Grand Café,

30 Victoria Street

CALL (03) 372 8892

WED, THU & SUN $38pp

FRI & SAT $47.50pp

THU SUPER GOLD

DEAL $28pp*

*Terms and conditions apply.
---
PAGE 4 Wednesday June 20 2018

BAY HARBOUR

Latest Christchurch news at www.star.kiwi

Presents

Friday 29th June

6pm - 10:30pm

ALBION SQUARE STAGE

with Backyard Davey

7:00 Street Parade

7:20 Lyttelton Primary School

7:30 Rāpaki Whānau Kapa Haka

7:45 Lyttelton Arts Factory Dance Crews

8:00 Lyttelton Port of Christchurch Fireworks display

8:30 The Secret Lives of Ukelele

9:00 Backyard Davey

MAIN STAGE AT COLLETT'S CORNER

with Shay Horay

7:00 Street Parade

7:15 Lindon Puffin and the Bad Bax

8:15 The Settlers

9:00 The Preservatives

9:50 AL P and his PAL's

LYTTELTON SKATE PARK

7:30 - 9:30 DJ Rang

ART INSTALLATIONS AROUND THE TOWN!

Bus and Shuttle Info at www.lyttelton.net.nz
---
Wednesday June 20 2018

Latest Christchurch news at www.star.kiwi

BAY HARBOUR

PAGE 5

News

Awards for volunteers

• By Sarla Donovan

TENDING TO the needs of an

often-overlooked boat crew has

garnered civic recognition for

the Lyttelton Seafarers Centre.

The work of the centre's

volunteers was recognised in

a special ceremony at the city

council offices on Monday.

Volunteer recognition awards

were presented to five groups

and 27 individuals from across

the city.

Having helped more than

10,000 seafarers in the last

three years, Seafarers Centre

volunteers co-manager Jess

Armstrong said she was "very

proud" her team of 21 had been

recognised for their hard work.

"Without them the seafarers

would be outside in the middle

of winter. They provide a

warm welcome and a place to

be. Without the volunteers, we

would not open our doors," said

Mrs Armstrong.

Alongside practical assistance

with things such as cellphone

sim cards and phone top-ups,

they pass on donations of warm

winter jackets, hats, books and

food.

The award was accepted by

Mrs Armstrong and volunteer

CHUFFED: Lyttelton Seafarers Centre volunteer

Jenny McPhee (left) and volunteers co-manager

Jess Armstrong accept the award on behalf of

the centre's team of 21. Carl Shaw, manager and

executive officer of Canterbury Charity Hospital

presented the awards.

Jenny McPhee who works at the

centre with her husband every

Friday night from 7-10pm.

Among the individual volunteers

honoured at Monday's

ceremony was Jonathan Welsh,

who has been associated with

the Coastguard service since he

was a teenager.

The 41-year-old has given

thousands of hours to train,

train others, manage and

govern within Coastguard

New Zealand as well as being a

leader of volunteers saving lives

at sea.

He joined Coastguard's

Sumner Lifeboat Institute in

1994 and became a rescue vessel

Master in 2004.

Ten years later he qualified as

a Coastguard regional instructor,

training and assessing volunteers

from Kaikoura to Bluff.

In 2016, Mr Welsh was appointed

to the Coastguard

Southern Region governing

board, bringing with him a

SERVICE: Jonathan Welsh has been a

Coastguard volunteer for 25 years.

valuable operational crew member

perspective.

Having grown up in Church

Bay, he has been sailing since

the age of seven.

"I've always been in and

around the water, sailing,

coaching, Coastguard."

He also crewed on Larry Ellison's

superyacht for a year.

The Coastguard work is

something he enjoys.

"It's something I can do and I

do it well."

Tickets on

sale NOW!

School site

petition

gains

traction

•From page 1

"It would not take long to

reoccupy. But I know that the

current school committee has

been forced to toe the Ministry

(of Education) line,'' Mr Doudney

said.

Redcliffs School Board of

Trustees chairman Darren Fidler

said the terminology "toe the line"

was derogatory.

"All the board and wider

community has ever done is do the

best we can within the limitations

we've had," Dr Fidler said.

The petition will remain

open until July 23 when it

would be taken to Parliament

for consideration by a select

committee, Mr Doudney said.

The group is also awaiting a

response from the Ombudsman

after laying a complaint one year

ago.

They claim the MoE was

"negligent and wrong" in its

consideration of the background

issues prior to making a

recommendation to then-minister

Hekia Parata.

HEAT PUMP

SALE NOW ON!

Amazin' winter Specials!!

New Zealand Native Hedging and Trees

Fruiting and Flowering Trees and Shrubs

Perennials, Groundcovers, and Climbers

Ceramic Pots, Soil, and Plant Care

Succulents and More!

478 Marshland Rd, 9am-4:30pm Thurs.-Mon.

• We will offer you the best quality brands and

option of heat pump for your home/business

• Providing Heat Pump solutions for over 16 years to Cantabrians

• We personally guarantee all our products & installs for 5 years

(providing annual maintenance has been completed)

Phone us today for your free consultation & quote

41A SHAKESPEARE RD, WALTHAM

PHONE 03 366 0525

www.enviromaster.co.nz

"A local team for local people"

Visit our new website: www.min.nz

With thriving communities and

picturesque views,

the bays are truly spectacular

COASTAL REAL ESTATE SPECIALISTS

We'll help you live the dream.

Min Sarginson Real Estate Ltd. specialises in homes, sections and

rental properties in the spectacular Lyttelton Harbour bays, and

coastal suburbs of Christchurch, New Zealand.

We'll make it so easy for you. All our sales consultants live in the

area – we can give you valuable insights into life in our thriving

coastal communities.

This is an exciting time; of promise, optimism, and opportunities

never anticipated pre-quakes. Beachfront, or hillside with

grandstand views, find the property of your dreams:

Lyttelton | Diamond Harbour | Governors Bay | Cass Bay

Charteris Bay | Church Bay | Purau Bay | Port Levy | Northshore

Southshore | New Brighton | Heathcote | Sumner | Redcliffs

Scarborough | Mount Pleasant | Clifton

Call Min Sarginson Real Estate Ltd. for free, no-obligation advice. Lyttelton: 03 328 7273, lyttelton@min.nz or Church Bay: 03 329 4161, churchbay@min.nz
---
PAGE 6 Wednesday June 20 2018

BAY HARBOUR

Latest Christchurch news at www.star.kiwi

25% off

Aged Leather

Aged Leather

European

& European

Industrial Ranges

Industrial Ranges

in store

in store

now!

in noW! store

noW!

the Kensington 3 Seater

the Kensington 3 Seater

the bruno 3 Seater

the bruno 3 Seater

the european industrial range

the european industrial range

simplyfurniture.co.nz

simplyfurniture.co.nz

484 Cranford Street, Christchurch - 03 354 5026 | 12 Hawthorne Drive, Queenstown - 03 442 3435

484 Cranford Street, Christchurch - 03 354 5026 | 12 Hawthorne Drive, Queenstown - 03 442 3435
---
Wednesday June 20 2018

Latest Christchurch news at www.star.kiwi

BAY HARBOUR

PAGE 7

News

HORNCASTLE ARENA

June 29 - July 1 10AM - 5PM

TICKETS ONLINE: starhomeshow.kiwi

Weight loss challenge

• By Sarla Donovan

NATIONAL LIST MP for

Port Hills Nuk Korako and

The Good Home Ferrymead

gastropub owner Andy Laloli

are going head-to-head on a

weight loss challenge.

Both have signed up for

the Cadence Eight-week

Transformation Challenge in

aid of raising funds for the

Cholmondeley Children's

Centre.

And both have "big" targets

with Mr Korako looking to shed

15kg and Mr Laloli keen to lose

20kg during this time.

Their efforts are supported

by the Cadence team and a

Cadence app which gives all

challengers direct access to

a team of experts, including

nutritionist, mindset guru and

trainers.

Mr Korako has a personal

connection with Cholmondeley

having spent three months there

as a 10-year-old.

"We lost our mum and there

were nine of us. To get his life

back together, my dad sent us

to Cholmondeley. I never forgot

that. (This is) about giving

back."

And there's the fitness aspect.

He quotes a Maori proverb:

"Tama tu Tama ora, Tama noho

MAMILS: Nuk Korako and Andy Laloli are on a mission to lose

weight and raise funds for charity.

PHOTO: GILBERT WEALLEANS ​

Tama mate. An active person

will remain healthy while a lazy

one will become sick."

For Mr Laloli the hefty goal of

losing 20kg is all about a lifestyle

choice.

Running a busy pub can take

its toll and with a second child

on the way the time seemed

right.

He says he's "pretty much"

a MAMIL (middle-aged man

in lycra). "But only in the gym.

You'll never see that stuff

outside the fitness room."

The two admit to being

competitive about the challenge

with Mr Laloli rating his

chances against the "old dog."

"I'm competitively confident."

Anyone wanting to make a

donation to support the cause

can get in touch with Mr Laloli

or Mr Korako via Facebook.

PROUD: Members of the Akaroa Volunteer Fire Brigade stand

proudly in front of the upgraded station following its official

opening on Saturday. ​

Akaroa fire station opened

AKAROA'S upgraded fire station

was opened by the Minister of

Internal Affairs Tracey Martin

on Saturday.

Work on the seismic strengthening

and refurbishment started

in July last year.

The minister was joined by Fire

and Emergency board chairman

Paul Swain, Fire Region commander

Paul Henderson and

Christchurch Metro Assistant

Area Commander Steve Kennedy.

Ms Martin commended the

Akaroa Volunteer Fire Brigade

members' commitment to their

communities, and acknowledged

the increasing complexity of

their work.

"As Fire and Emergency we

are seeing an increase to the

numbers of medical and rescue

calls we attend, so it is important

to make sure we look after each

other and to make sure we look

after your families too."

As well as the official opening

the station hosted a public open

day with 120 people visiting and

learning about fire safety and

what is required to be a volunteer.

Chief fire officer Mark Thomson

said they had lined up a

couple of possible new recruits to

follow up with.

"It was a great day and a big

thank you to all involved."

2019 River Cruises

Book your River Cruise with

YOU Travel Ferrymead &

fly FREE to EUROPE! *

03 384 2700 *

You Travel Ferrymead

960 Ferry Road melissa@youferrymead.co.nz

Special conditions apply, see in store for details
---
PAGE 8 Wednesday June 20 2018

BAY HARBOUR

Latest Christchurch news at www.star.kiwi

Your Local Views

NEW

PRODUCT

Readers respond to

last week's article

about Save Redcliffs

Park's petition to

Parliament in a bid to

stop Redcliffs School

from being sited

there.

Fresh NZ Quality

Mark Lamb Leg

Roast

Quality Bakers

Nature's Fresh Bread

700g

$

2 99 ea

Kellogg's

Nutri-Grain

Protein Squeezer

140g

$

2 99 ea

$

12 99 kg

Selaks Premium

Selection 750ml

$

9 99 ea

M&M's Block

Chocolate

150-160g

Buerre Bosc Pears

or Love Apples Royal

Gala Loose

Product of New Zealand

Crown Pumpkin

Product of New Zealand

$

2 99 ea

Campbell's Real

Stock 1 Litre

$

3 79 ea

$

2 99 kg

$

2 29 ea

Speight's Gold

Medal Ale or

Summit lager

24 Pack 330ml Bottles

$

34 99 pk

www.foursquare.co.nz

facebook.com/FourSquareNZ

Specials available South Island only from Monday 18th June until Sunday 24th June

2018 or while stocks last. Wine and beer available at stores with an off licence. Wine

and beer purchases restricted to persons aged 18 years old and over.

Redcliffs School

principal Rose

McInerney and

the school board

of trustees – We

wish to express our

disappointment in the

way that Redcliffs School

poroporoaki (farewell) was

connected with a petition,

which goes against the

wishes of the school, on

the front page of your June

13 issue.

The event last Thursday

brought together more

than 300 members of our

community, from preschoolers

to grandparents,

to celebrate the memories

we all have of the school. It

was an emotional day and

an appropriate farewell.

All of us pictured out of

context on your front

page were extremely

uncomfortable being

associated with such an

inflammatory headline.

We've worked hard to

keep the emotion, and our

tamariki, out of the factual

debate around returning

our school to Redcliffs.

We did not make the

decision to move our

school to Redcliffs Park,

but we are supportive

of it as the only option

available to us to get our

school back into Redcliffs

without further delays. We

have been positive, open

and honest throughout

the long journey to return

our school to Redcliffs

and our poroporoaki was

an important next step

in this. Your front page

seriously misrepresented

this in a manner

which was extremely

disrespectful to all of those

involved and undermined

this positive next step.

The petition mentioned

in your article directly

contradicts our

responsibility to return

our school to our

community as quickly as

possible. This goal, and the

only options available to

us, have been articulated

in public forums and

through your paper

several times.

We have continued

to put in voluntary

hours within our

community, following all

consultation processes

and communicating

openly and honestly

with neighbours of the

park at every step. For a

petition to be put forward

regarding the future of

the school without the

knowledge of the school

does not display the same

COMMUNITY: Several hundred people gathered

to bless and bid farewell to the Redcliffs School

site.

PHOTO: MARTIN HUNTER

level of respect – the first

we knew of it was through

your reporter. There

have been three formal

consultation opportunities

for our community to

have a say in the decision

making.

Austin Ebert – I'm

all for Redcliffs School

staying in its old site, not

being built on the Redcliffs

Park.

Garry Waterreus

– Of course Parliament

should reverse its decision

and allow the school to

reopen on its former site.

Absolutely the right thing

to do.

Jim Wilson –

Parliament should

reverse the decision

and allow Redcliffs

School to reopen on its

former site. From the very

beginning, when Hekia

Parata, then Minister of

Education, declared the

site off-limits (and indeed

tried to close the school

completely) this affair

has been an absolute

disgrace. Experts have

repeatedly declared the

site safe, and even in the

February 2011 quakes, of

fearsome memory, rocks

came nowhere near the

school buildings. Redcliffs

Park, on the other hand,

is in danger of repeated

flooding and tsunamis,

and possibly also of

rockfall. To waste money

on entirely new buildings

on a dubious site when the

old buildings on a safe site

are waiting to be re-used is

utterly outrageous.

(Abridged).

Barrie Walker and

Jan Lisle – We are for

the school to remain on

Main Rd. The new site has

issues regarding future

flooding. Don't move.

Ron Williams – They

will be a minority of

stirrers trying to stop a

very sensible decision for

their own benefit. They

are not caring about

the future children who

will use this school.

Rebuilding on the same

old site creates a safety

issue for pupils. It is a very

busy main road.

Brian Johnston –

The proposed site for the

new Redcliffs School is

a reserve for a very good

reason. The reserve is an

old refuse tip. A rubbish

dump. It is 'illegal' to

house people over landfill

or old landfill.

M Rule – I feel very sad

for the new principal of

the Redcliffs School when

she states: "The petition

has been organised by a

small group of neighbours

who were directly affected

in the loss of the park."

She has absolutely no idea

what she is talking about.

It is the locals living here

who the school will need

in an emergency, i.e. fire,

burglary and earthquakes,

and now is not the time

for insults. It is the folk

living around the park

who with the help of

local police, provided safe

houses for the children to

stay at until their parents

arrived home from work,

after practising soccer in

the park.

(Abridged).

Kathy Palmer - The

current Government

should reserve the highhanded

decision of the not

lamented Hekia Parata

and subsequent land

swap decision by the city

council. The city council

is vocal about the risk

of rising sea levels and

increasing tsunami risk

due to climate change and

yet agrees to the building

of a school right in the

path of such hazards. Keep

Redcliffs School on its

existing site and repair the

existing buildings.
---
Wednesday June 20 2018

Latest Christchurch news at www.star.kiwi

BAY HARBOUR

PAGE 9

House of Travel Ferrymead

because we're travellers too.

Mel Hubber

Owner Operator

EMAIL: MELLOWEN@HOT.CO.NZ

PHONE: 376 4018

Travel for me has been a way of life for more

than 24 years. I love different cultures and have

just returned from an awe inspiring trip to Kenya

and Tanzania. I would love to help you put the pieces

of a complex travel jigsaw together!

Mel Kim Hubber Beswick

Owner Operator

EMAIL: KBESWICK@HOT.CO.NZ

MELLOWEN@HOT.CO.NZ

PHONE: 376 4019 4018

Travel I am fortunate me to has have been travelled a way extensively of life for to more

than 114 countries 24 years. on I all love continents, different and cultures am an and expert have

just in cruising, returned having from worked an awe onboard inspiring cruise trip ships to Kenya for

and 8 years. Tanzania. In 2017 I I would spent five love weeks to help in you the UK put and the south pieces of France (with a

of baby!) a complex and would travel love jigsaw to help together! plan your amazing holiday & adventure.

Melissa Hubber May

Owner Travel Specialist

Operator

EMAIL: MELISSAB@HOT.CO.NZ

MELLOWEN@HOT.CO.NZ

PHONE: 376 4022 4018

Travel I love working for me together has been to a discover way of what life for more

than the perfect 24 years. holiday I love means different for you. cultures I recently and have

just experienced returned an from amazing an awe glamping inspiring safari trip in the to Kenya

and Northern Tanzania. Territory I would of Australia love to help and Darwin you put which the pieces made me realise how

of much a complex we have travel to offer jigsaw so close together!

home!

Mel Anna Hubber O'Dell

Owner Travel Specialist

Operator

EMAIL: ANNAO@HOT.CO.NZ

MELLOWEN@HOT.CO.NZ

PHONE: 376 4036 4018

Travel Having for travelled me has extensively been a way I thoroughly of life for enjoy more

than immersing 24 years. myself I love in the different rich cultures of any and have

just destination returned I get from the opportunity an awe inspiring to visit. trip During to Kenya 2017

and I spent Tanzania. six weeks I would exploring love Europe to help including you put the an 11 pieces night Baltic cruise.

of I love a complex creating travel an unforgettable jigsaw together! experience that is uniquely your own!

Mel Katie Hubber Gillespie

Owner Travel Specialist

Operator

EMAIL: KGILLESPIE@HOT.CO.NZ

MELLOWEN@HOT.CO.NZ

PHONE: 376 4031 4018

Travel I have a for huge me passion has been for travel a way and of life love for more

than exploring 24 years. new destinations. I love different As cultures a new Mum and I have

just understand returned the from importance awe of inspiring coordinating trip to family Kenya

and holidays Tanzania. and recently I would enjoyed love to a help great you trip put to Hawaii. the pieces I

of look a complex forward to travel helping jigsaw plan together! your holiday.

Melanie Hubber Bartram

Owner Travel Specialist

Operator

EMAIL: MELANIEB@HOT.CO.NZ

MELLOWEN@HOT.CO.NZ

PHONE: 376 4021 4018

Travel To me travel for me is addictive, has been it's a way an awe of life inspiring for more

than journey 24 of years. discovery I love which different fuels cultures the soul and & makes have

just you richer. returned I was from fortunate an awe to inspiring visit the stunning trip to Kenya

islands Tanzania. of Tahiti I during would 2017 love and to help look you forward put the to pieces inspiring your

of new a complex travel adventures travel jigsaw in 2018. together!

The best holidays are created together.

987 FERRY ROAD, FERRYMEAD VILLAGE I 376 4022 I FERRYMEAD@HOT.CO.NZ
---
2

Page 10 BaY HaRBOUR

WEDNESDAY JUNE 20 2018

[Edition datE]

Latest Christchurch news at www.star.kiwi

cic

financial

protect | grow | invest

celebrating 50 years in the fina

The Life Insurance Industry honours Kevin O'Gorman

Kevin O'Gorman

Kevin O'Gorman has dedicated his life

to helping families understand and find

the value of insurance protection and

investment lifestyle programs. As the

Managing Director and Principal of CIC

Financial, a personal family experience in

his early twenties led Kevin to a profession

which enabled him to educate and support

families through their life cycle.

In September of 1968, just after he turned

21, he received a letter from his mother

informing him that she had Muscular

Dystrophy and only had about 3 months

to live. She asked if he could come home

to Christchurch from Sydney, where he

was living at the time. He returned home

to Christchurch and in 1968 entered the

Insurance business.

His mother passed away in January of

1969. Soon afterwards his father had a

stroke and was incapacitated. He died a

few years later. Subsequently, Kevin and his

wife Robyn had four children and the value

of Life Insurance became relevant in their

lives. While insurance can never replace a

mother or a father or any loved one, having

that support removes some of the financial

strain.

Kevin is renowned in the industry,

having spent more than 50 years bringing

reassurance to so many. He has offered

guidance when choosing life insurance,

programs for retirement, wealth creation,

family security and other cashflow choices.

He specialises in Insurance,

Superannuation, KiwiSaver and Annuities

(Life Income). During his 50 years in the

industry he has been a member of the

CIC Financial offices in the old historic Christchurch Railways Hall at

98 Carlyle St, Sydenham

Life Brokers Association and a member

of the Insurance Investment Advisers'

Association. He was President of the Life

Underwriters Association from 1989-1990

and the Life Brokers Association in 2009.

Kevin is the recipient of three Pinnacle

Awards, presented for outstanding service

to the Industry and he has been a life and

qualifying member of the Million Dollar

Round Table, where he qualified for "The

Top of The Table" International Award.

He has been the President or Board

Member of numerous organisations

including Our Lady Star of the Sea Catholic

Parish, Marist Albion Rugby Club and

a member of the Board of Trustees for

Marian College.

Kevin has been applauded for his

commitment to the industry and for his

selfless dedication to insurance education

of his clients. His high standards are a

cornerstone of the industry as he presents

outstanding personal qualities, unstinting

loyalty to the profession, and exemplary

leadership.

In his spare time he is a keen sportsman,

cic

financial

protect | grow | invest

sound financial & insurance advice

• Lifestyle Protection • Business Protection

• Mortgages • Retirement Planning

• Kiwisaver

• Sound Financial Advice

98 carlyle street, sydenham phone: 03 377 3693

please refer to our website for more detailed info www.cicfinancial.nz

Like CIC Financial,

we're passionate

about protecting

New Zealanders'

way of life.

Congratulations to Kevin O'Gorman for an

outstanding 50 years in business.

FIDELITY LIFE ASSURANCE COMPANY LIMITED

Level 1, 205 Durham St, Christchurch | Ph: 03 377 2323 | www.fidelitylife.co.nz

Congratulations

Kevin, on 50 years of

helping people build

their nest eggs!

Wishing you many more,

from the team at Booster

Partnering with Local Advisers

like Kevin who is celebrating

his 50th year in business

For more information about Kepa and how we can assist you

phone Cam in the Christchurch office on 027 529 7571
---
WEDNESDAY JUNE 20 2018

Latest Christchurch news at www.star.kiwi

ncial and insurance business

BaY HaRBOUR

[Edition datE] Page 11

3

cic

financial

protect | grow | invest

n for 50 years of service

Kieran Sutherland

and was a Division 1 Rugby player from

1969 – 1980. Having played 11 years Senior

Rugby for Marist Rugby Club, of which he is

a Life Member, he was selected and played

for NZ Marist vs Hawkes Bay in 1978. In

1985 he helped coach the Marist Senior

Side to their first club championship in 30

years. A member and captain among the

many talented players was Steve Hansen

the current All Blacks coach.

Kevin and his family have lived in the

beautiful Bay Harbour area for over 40

years. Kevin keeps active walking daily on

the port hills with his two dogs, and enjoys

cycling. Kevin has completed the Coast

to Coast several times and plays golf and

tennis, while also enjoying the odd fishing

excursion when time permits.

"Robyn, Kevin's wife, has been an integral

part of the success of CIC Financial.

Filling many roles, she has made sure

that the administration and support

services have run smoothly, to provide

outstanding customer service" "As Kevin

moves towards retirement, his son-inlaw,

Kieran Sutherland, is set to take over

client management and running of the

business. In 2014, he moved home from

Melbourne and a career in finance and

accounting to take up the role of an adviser

in the business. With a background that

includes being a Chartered Accountant, an

Authorised Financial Adviser and being

passionate about clients lives, the business

and its clients are set to be in good hands"

"Even though I'm the one with 50 years,"

O'Gorman said with a smile. "I appreciate

being given the opportunity to work here.

The CIC Financial staff...from L-R - Sue Thom, Philippa Hancox,

Robyn O'Gorman, Kevin O'Gorman, Kieran Sutherland and Ash Vadada

Starting up and working for CIC, for me,

is my passion. It's not just a job. I like to be

here."

He added that his 50th anniversary

celebration is not just about him, but

about every client that has walked through

our door. "The people, it's like they're an

extension of family," he said.

Congratulations from

to CIC Financial

on 50 years in the

financial & insurance business

Congratulations Kevin on

your 50 years in the industry

Celebrate life

asteronlife.co.nz
---
PAGE 12 Wednesday June 20 2018

BAY HARBOUR

Latest Christchurch news at www.star.kiwi

New Arrivals&

Old Favourites

ROTTERDAM SIDEBOARD $1,750

Understated yet refined this sideboard will be a head

turner with the practical advantage.

ROTTERDAM TV UNIT $1,195

With top quality fittings, soft closing drawers

and sculpted edges, the Rotterdam TV Unit has

a timeless elegance.

12

months

interest

free

ROTTERDAM

CONSOLE $595

The console with shelf is ideal for any

space where you would like to display

items or house those items you would

like in easy reach.

ROTTERDAM COFFEE TABLE

WITH DRAWERS $895

Features top quality fittings, soft closing drawers

and sculpted edges for a timeless elegance.

ROTTERDAM

DISPLAY UNIT

Sophisticated and stylish enough for

any room in your home or office.

$2,350

ROTTERDAM DINING TABLE

Slightly curved edges accentuates this practical dining table,

with the extra details of a clashed edge. Also available as a

extension table.

$1,095

NORWAY SIDEBOARD

With 3 soft close drawers and 2 soft close doors with an

internal shelf there is plenty of room in the Norway Sideboard

for storage.

$1,895

NORWAY TV UNIT

Made to entertain and also to hide away your movies and games

behind soft closing doors. Features adjustable shelves with holes

in the back to keep cords tidy.

$1,150

NORWAY DROPLEAF

EXTENSION TABLE

Quality drop leaf mechanisms turns this 6 seater into an

8 seater. Ideal for when you have extras to dine.

$1,750

NORWAY CONSOLE

TABLE

A versatile piece with many uses;

console table, desk or dressing table.

$1,090

NORWAY COFFEE TABLE

Underneath the Norway Coffee Table is a shelf to

put your extras with plenty of room on top for your

coffee or tea.

NORWAY NEST OF

TABLES

Set of two oak veneer tables that will

nicely nestle in any space.

NORWAY DOUBLE

BOOKCASE

Ideal for home or office, can store

your books and your treasures.

$495 $450

$1,250

A

SANZA SIDEBOARD

Bring modern style to your living room with this

contemporary sideboard in a white high gloss lacquer and

brushed stainless steel base for a stylish finish.

$1,399

SANZA TV UNIT

A contemporary two drawer unit in white high gloss with a

brushed stainless steel base and a glass shelf. Will make an

eye catching addition to your living area.

$999

MADRID COFFEE TABLE

MADRID CONSOLE TABLE

Made from a boxed glossy white MDF with complementary Minimalistic slim lines will add that piece of

brushed stainless steel legs, the Madrid Coffee Table is an class to any room.

elegant contemporary piece.

$695 $495

CITY: 100 Moorhouse Avenue | HOMEBASE: 199 Marshlands Road

Open Monday-Friday 9am-5.30pm, Saturday-Sunday 10am-5pm

FREE in-home consultation

Struggling to find that special piece or don't know where to start?

Why not take advantage of our FREE in-home consultation in

which one of our experienced consultants will come to your home

to discuss form, function and flow, all at no cost and obligation free.

To book a consult, phone 0800 749 999 or

email consult@global-living.co.nz

0800 749 999 | global-living.co.nz | Locally owned and operated
---
Wednesday June 20 2018

News

Community wants

to protect

medical centre land

• By Sarla Donovan

THE DIAMOND Harbour

community wants to protect the

future of their medical centre by

owning the land it is built upon.

The centre was constructed on

city council land in 1991 with

$25,000 of community

funds and a low rate

mortgage from the city

council, which has since

been repaid.

The city council leases

out the land at a "peppercorn"

rental and the

building houses a busy

medical practice.

Former chairwoman

and current secretary of

the group Mahony May

said in 2015 the land had been

put on a list of city council assets

to be sold off.

It was later removed from the

list, but future security remains

a priority given the expanding

population in the settlement.

"Our worry is that might

happen again. We want to get

a guaranteed tenure," said Ms

May.

Ms May last week told the

Banks Peninsula Community

Board the group wanted to acquire

the land.

Board member Felix Dawson

said there was "no question" the

medical centre provided a great

service to the community.

"We need to ensure the place

has security. It's a nobrainer,"

Mr Dawson

said.

Ms May said the

advantage to the city

council was it kept

people in the area

because they had a

good medical service

and district nursing so

people stayed longer.

The land had a

commercial value but

wasn't really suited to residential

development, because the entrance

is through a community

centre car park, Ms May said.

"The best thing for us would

be just gifting and no money

exchanged. If there was some inbetween

arrangement we would

certainly be wanting to consider

it but we don't want to be stung

with a very, very large bill."

The board asked city council

staff to prepare a report on the

issue.

Felix Dawson

Latest Christchurch news at www.star.kiwi

BAY HARBOUR

PAGE 13

​Tennis coach returns

• By Gordon Findlater

IT WILL be a homecoming

for new Redcliffs Tennis Club

head coach Jack Tiller when he

starts his new job next month

at the club he played for as a

junior.

Tiller, 20, will take on the role

on July 21 after spending the

last year in a coaching role at

Elmwood Tennis Club.

The position at Redcliffs

became available with the

departure of Evie Ruegg who

is travelling the world with her

husband. Ruegg has spent the

past four years growing the

club's junior programme from

obscurity after the earthquake

to a now strong position with 16

interclub teams.

Tiller, who lives in Monks

NEW GIG: Jack Tiller will take up the head coaching role

Bay, first picked up a tennis

at Redcliffs Tennis Club after returning from Southeastern

racket as a six-year-old at the Oklahoma State University last year.

Redcliffs club before relocating

to Blenheim.

As a teenager, Tiller played

for Elmwood but still remained

towards a sports coaching

degree at Canterbury University.

involved with his childhood

Redcliffs currently has 77 junior

club whenever possible and is

interclub players and 38 hot shot

SPORTS

now excited to take on the head

participants.

coaching role.

"Redcliffs has always been a

big part of my tennis and when I

got a phone call to ask if I would

be keen on the role I happily said

yes," said Tiller.

He recently spent a year at

Southeastern Oklahoma State

University in the United States.

It was there he caught the

coaching bug.

"Being over there you see so

many guys that are unreal at

tennis. The staff and coaching

there is great and what they told

me really clicked," said Tiller.

"I realised it's something I'd

really like to do, it's cool to see

kids grow and develop new

skills."

Tiller is currently studying

Club president Sue Cooke

was thankful of departing

coach Ruegg for the position

she has left the club in going

forward. "She's done a great job

and has contributed greatly to

the club, in particular with our

juniors, she will be missed," said

Cooke. The club is planning on

a leaving event for Ruegg in the

coming weeks.

mitre 10 mega ferrymead

lend a helping hand

A MASSIVE clean-up of the Lyttelton Anglican Cemetery

has left it looking a lot smarter. Ten team members

from Mitre 10 MEGA Ferrymead spent hours weeding,

cutting, pruning and mowing as part of a community

initiative called Helping Hands. Launched to mark the

10th Anniversary of Mitre 10 MEGA Ferrymead, the store

is selecting 10 applicants whom staff will help with their

project. They can be from individual and/or community

groups and have a project that can be completed

within 10 hours with the help of 10 team members.

The Canterbury St cemetery was the first project to

receive help. It's where the graveyard scenes from Peter

Jackson's The Frighteners were filmed and has become

overgrown in recent years. Mitre 10 MEGA Ferrymead

spokeswoman Leah Knauf said the team from the store's

garden centre worked from 8am through to almost

6pm at the cemetery. "It was a mammoth task, but

we got there and did as much as we could," she said.

"It was cold to begin with but once we got under way

it was fine. Everyone was hypedup about the whole

project beforehand and by the time we got to the end

everyone was just ecstatic with the amount of work we

actually did. We could see the improvement we'd made."

Ms Knauf said people were welcome to apply in store

or email marketing.ferrymead@mitre10.co.nz to

become part of the Helping Hands initiative.

Mitre 10 MEGA Ferrymead was supported by Kiwicare

which provided moss and weed killer and the city

council which helped with disposal of the weeds.

PrOject

One

beFOre

tHe teaM FrOM MItre 10

Mega FerryMead leFt

tHe lytteltOn anglIcan

ceMetery In a MucH

tIdIer State.

aFter

aFter

Have yOu gOt a

cOMMunIty PrOject?

visit https://www.mitre10.co.nz/local/MegaFerrymead/

cOMMunIty/ to register and you could have the Mitre10

team lend you a helping hand.

Terms and conditions apply, see instore or online for more details.

proudly

supported by:

Ferrymead

1005 Ferry Road, Phone: 366 6306

Opening Hours: Monday–Friday: 7:00am–7:00pm

Saturday, Sunday and Public Holidays: 8:00am–6:00pm

mitre10.co.nz/local/MegaFerrymead/

If you find a lower price on an identical stocked

product locally we will beat it by 15%.

find us mitre10.co.nz

If you find the same product cheaper from another Mitre 10 store or Mitre 10 website we'll match that price.

Excludes trade and special quotes, stock liquidations and commercial quantities. The in-store price may be lower than that advertised.
---
PAGE 14 Wednesday June 20 2018

BAY HARBOUR

Latest Christchurch news at www.star.kiwi

Advertisement

From All

Black to

Probation

Officer

If you want a career that makes

a difference, come and join us at

Corrections.

AProbation Officer is key to supporting

offenders in achieving change, guiding

them to succeed and not come back into

the system.

This involves meeting with offenders regularly,

either at community corrections sites or the

offender's residence to help them meet the

requirements of their sentence and have the

support they need to do so. Probation Officers

also prepare reports and recommendations for

the courts and the New Zealand Parole Board.

Probation Officers motivate and encourage

offenders to make positive changes in their

lives, and this often means working closely with

friends, family/whanau, programme facilitators

and community work supervisors as well as

other agencies such as Work and Income,

the Salvation Army and Child, Youth and

Family. Probation Officers will make referrals to

programmes that may assist offenders with an

issue or problem specific to their offending type,

or that may have contributed to their offending.

Paul says that in his Corrections role he

likes the way he can help influence and instill

a positive change in offender's behaviors,

helping them succeed, from completing their

Community Work hours to gaining employment.

"It's taking the time to get to know each

person on a personal level, relate to them,

and understand the difficulties they may be

facing. Once you gain the rapport and respect,

it becomes easier to guide them through their

sentence and other issues that may be going on

in their life."

"I talk to offenders about the importance

of integrity. This means we always strive for

doing the right thing – even when nobody is

MEET PAUL

Paul Miller, Probation Officer

It's fair to say the day hard-running Southland

No 8 Paul Miller was dropped from the All

Blacks was the day the foundations for his

career beyond rugby were laid.

Miller got just two games in the black jersey

before being axed. But he believes the 2001

experience is one that helped prepare him for

the job he finds himself in today – a Probation

Officer with Corrections in Dunedin working to

rehabilitate young offenders.

"In rugby I had a lot of adversity," he says.

"There were injuries and setbacks (like not being

picked again for the All Blacks) but I learnt to

get back up. These things give you strength and

resilience and it's what I try to help young people

with today."

watching. Integrity plays a big part in my role,

and offenders' success in maintaining a crime

free life."

In his role, Paul is part of the Youth Champions

team in Dunedin and says he would like to

see more of the young men he works with,

reconnect with sport.

"Many of these young people live quite

chaotic lives. They have the best intentions and

ambitions but unfortunately they struggle to

maintain their good intentions and reach their

goal. That's where I found the fundamental

elements associated with being involved

It was a hard lesson for Miller, his playing career

over Miller was faced with the question of what

to do next. He initially got a job at his old high

school, King's High School in Dunedin, as a

sports co-ordinator before noticing vacancies for

probation officers during an internet search.

"I try to help them develop

resilience and integrity,

things I learnt from my

playing days. I tell them I

got knocked down, I had

injuries, I had failures, but

the important thing is to

get back up."

Miller, who has been in the job for just over

a year, helps to rehabilitate young people

aged between 17 and 24 many of whom

have completed prison sentences or who are

undertaking community work.

"Most have had trouble because of alcohol and

substance abuse and my role is to help them

plug the gaps and get back on the right track,"

he says. "It's definitely rewarding and for me it's

about the small things like helping a someone

prepare for a job interview."

with sport helped. Discussing and planning

toward an outcome, taking small steps to help

them navigate their journey to an offence free

lifestyle."

Paul is part of the Otago District Community

Corrections team which manages around 1,000

offenders on sentence in the community at any

time.

"The diversity of the people you work with

makes every day different. I love a challenge

and with this role, every day is different. It's a

privilege to be involved with Corrections and

part of the Corrections team."

Kahore tetahi o tatou, taea te mahi, hga mahi e taea o tatou katoa

Not one of use can do the work as well as all of us working together

Find out what it takes to become a

Probation Officer

July 9 at 8pm.

Ask a question at

live.corrections.govt.nz

LIVE Q&A
---
Wednesday June 20 2018

Latest Christchurch news at www.star.kiwi

BAY HARBOUR

PAGE 15

Matariki Toi: Kite Craft

Wednesday, 3.30-4.30pm

Celebrate the wind and

natural resources of Matariki

by making a kite – a small

replica of a manu tukutuki traditional

Māori kite out of

contemporary craft materials.

Materials and an instruction

sheet are supplied; all you have

to do is take your creativity and

have fun.

Sumner Library

Knit and Yarn

Wednesday, 10am-noon, and

Friday, 10.30am-noon

Go along to this friendly craft

session. Take your knitting,

crochet or other portable craft

project and enjoy time with

other crafters. Take a look at the

library's range of books to get

ideas for your next project. Free,

no bookings required. Beginners

welcome.

Lyttelton Library on Wednesday,

Sumner Library on Friday

Storytimes

Wednesday, 10.30-11am, Tuesday,

11-11.30am

Encourage learning through

a love for stories. Storytimes is

a free, interactive programme

including stories, songs, rhymes

and play.

Sumner Library on Wednesday

and Lyttelton Library on Tuesday.

Email gilbert.wealleans@starmedia.kiwi

by 5pm each Wednesday

Mini Music

Thursday and Tuesday,

9.30am

Take your children along

to sing, dance and meet other

children and their parents/caregivers.

Cost is $3 per session

or $5 for two or more children.

Term times only. Email Eddie on

admin@sumnerbays.org.nz or

phone 027 781 1348 for further

information.

Thursday, 4 Augusta St,

Redcliffs and Tuesday at the

Sumner Centre, 37 Nayland St.

Create 'n-Connect

Thursday, 9.30am-noon

Create 'n-Connect welcomes

you to come and create in

company. $3 per session includes

a yummy morning tea and

great company. Take your own

creative project or go and get

some inspiration. Phone Beth

for more information 022 678

1252.

St Andrews Anglican Church,

148 Main Rd, Redcliffs.

Mt Pleasant Playgroup

Thursday, 10.30-11.30am

Enjoy a relaxed play in a light

and beautiful space. Try out the

dress-ups and musical instruments,

put together some puzzles

or zoom around on the ride on

bug. All pre-schoolers and their

caregivers are welcome, entrance

by koha. For more information

email Kathy, community@mpcc.

org.nz.

Mt Pleasant Community Centre

Hall

Sumner Libary Book

Discussion Group

Thursday, 11am-12.30pm

For those who love reading

and want to share in discussion

with other friendly book lovers,

this group meets on the third

Thursday of each month. There

is a cost involved as it subscribes

to the book discussion scheme.

Places are limited. Phone the

library on 941 7923 or email library@ccc.govt.nz

for inquiries.

Sumner Library

Babytimes

Friday and Tuesday, 10.30-

11am

Encourage your baby's

learning through language.

Babytimes involves interactive

activities, such as rhymes, songs,

stories and play.

Lyttelton Library on Friday,

Sumner Library on Tuesday

Twinkle Tots

Friday, 10.30am

Practice social skills with your

under fives through singing

and dancing and having fun together.

Morning tea is provided.

Gold coin donation.

St Mary's Church Village Hall,

Heathcote Valley

Mainly Music

Friday, 9.30-11.15am

Mainly Music is a fun,

educational 30min music and

movement session for babies

and pre-schoolers followed

by morning tea and a social/

play time. The first session is

Red Zone Futures

Travelling Road

Show, Tuesday,

3-5pm. See what's

planned for the

602ha Ōtākaro

Avon River

Corridor between

Barbadoes St

and Bexley, and

have a say on the

types of activities

and land uses

you'd like to see

featured in the

area. Sumner

Library.

free and after that cost is $4

per family casual rate or $30

for a 10-session card. For more

information, phone Hazel 384

1965 or 021 077 1264.

St Andrews Church, 148 Main

Rd

Markets:

The weekly markets have

many different attractions and

delicious treats on offer. From

fresh produce to freshly baked

bread, cheeses and free range

eggs. Find some healthy food

options and sip on a coffee while

taking a wander around any of

the markets.

Lyttelton Farmers Market

and Lyttelton Craft Market:

Saturday, 10am-1pm, London St.

Mt Pleasant Farmers Market:

Saturday, 9.30am-12.30pm, 3

McCormacks Bay Rd.
---
PAGE 16 Wednesday June 20 2018

BAY HARBOUR

Latest Christchurch news at www.star.kiwi

REAL ESTATE

Up where you belong

9 The Terrace, Mt Pleasant

Auction: Thursday 28 June 2018 Unless Sold Prior

4 bedrooms | 3 bathrooms | 2 living rooms | 1 dining room | 3 car-garage | 2 off-street parks | Listing #SM0016

Every now and again you visit a property

that has the 'wow, I just love it' effect. This

stunning quality built, executive home is

one such property. Maybe it's mesmerising

view, over the blue water, across to the city

and through to the majestic Southern

Alps. Or the simplistic, yet superb interior

styling. So if you are in the market for a

luxury property that offers generously

proportioned interconnecting living

areas, sheltered, private outdoor living, an

enviable gourmet's kitchen and so much

more, look no further.

Designed with a focus on comfort for

modern day living the configuration of

this impeccably presented home captures

all day sun, making it an attractive

proposition for families of all ages,

professionals who love to entertain, or

empty nesters looking for that bit of extra

pizzazz.

Tastefully landscaped grounds, three car

internal access garaging with the addition

of a workshop/hobby room/office or gym

takes up the ground floor providing ample

of room and storage.

A fabulous lifestyle location with several

walking tracks nearby, and just a short

drive to Ferrymead, Redcliffs or Sumner.

My owners are moving on to the next

chapter of their life so the home will be

sold, on or before auction day, don't delay.

Auction date Thursday 28 June 12:00pm

(98 Moorhouse Ave, Grenadier House) -

Unless Sold Prior

Open Home Dates until auction day:

Wednesday, Saturdays & Sundays 12:00pm

- 12:45pm.

See you at the Open Home or for a

private viewing or more information

contact Deb Beesley mob 027 280 8837

of Harcourts Grenadier Ferrymead

(Licensed Agent REAA 2008) or phone

384 7950.

26th August 2018

10am – 3pm

Air Force Museum, Wigram

Tickets available on door

Get your tickets

online and be

in to win a

$500 Resene

gift voucher

SPECIAL

ONLINE TICKET

PRICE

$6 or 2 for $10

Door entry $8

Children under

12 FREE

For exhibiting

enquiries contact

Mark Sinclair:

mark.sinclair@

starmedia.kiwi

BRIDALSHOW

JUNE 29 – JULY 1 2018

Horncastle Arena

BOOK NOW: www.starhomeshow.kiwi

Friday, Saturday, Sunday, 10am-5pm
---
Wednesday June 20 2018

Latest Christchurch news at www.star.kiwi

BAY HARBOUR

PAGE 17

Four Grenadier Seasons Ferrymead

realty

Sumner

4 2 2 3 Mt Pleasant

4 3 2 3

17 Godley Drive

Perched on the upper slopes of Scarborough Hill and offering an enticing combination of liveability and

potential, this four-bedroom home is bathed in sunlight and embraces the mesmerising outlook and views

that are only available to those who are lucky enough to reside on the hills. Constructed from Oamaru Stone

and fully insured with all structural repairs complete, this home is still awaiting a cosmetic

upgrade, and the décor will inspire those who are seeking a renovation project or buyers who

simply want to introduce their own sense of style to the property.

Auction: Thursday 5th July

View at: www.harcourts.co.nz ID#SM0021

Alison Carter Ph 027 431 8960

9 The Terrace

Every now and again you visit a property that has the 'wow, I just love it' effect. This stunning quality built,

executive home is one such property. Maybe it's mesmerising view, over the blue water, across to the city and

through to the majestic Southern Alps. Or the simplistic, yet superb interior styling. So if you are

in the market for a luxury property that offers generously proportioned interconnecting living

areas, sheltered, private outdoor living, an enviable gourmet's kitchen and so much more, look

no further.

Auction: Thursday 28th June

View at: www.harcourts.co.nz ID#SM0016

Deb Beesley Ph 027 280 8837

Redcliffs 14 Gazelle Terrace

Redcliffs 8 Glendevere Terrace

Woolston 8 Okeover Street

Opawa 24 Ford Road

4 3 2 2

3 2 1 2 3 1 1 3

2 2 1 1

Auction: Thursday 5th July

View at: www.harcourts.co.nz ID#SM0019

Price: $769,000

View at: www.harcourts.co.nz ID#SM0024

Deadline Sale: Thursday 5th July

View at: www.harcourts.co.nz ID#FM5435

Auction: Thursday 21st June

View at: www.harcourts.co.nz ID#FM5412

Deb Beesley

Ph 027 280 8837

Deb Beesley

Ph 027 280 8837

David Searle

Ph 021 565 950

Joy Butel Ph 021 353 280

Alistair Hazeldine Ph 027 572 1555

Ferrymead 7 Teal Close

Heathcote 168 Port Hills Road

Redcliffs 122 McCormacks Bay Road

Sumner 116 Wakefield Avenue

3 2 2 2 3 2 1 2

3 2 1 2 3 1 1 2

Price: $495,000

View at: www.harcourts.co.nz ID#FM5431

Deadline Sale

View at: www.harcourts.co.nz ID#SM0018

Price: $595,000

View at: www.harcourts.co.nz ID#SM0020

Price: $629,000

View at: www.harcourts.co.nz ID#FM5423

Alison Carter

Ph 027 431 8960

Michelle Ward Ph 027 203 7858

Shaun Davey Ph 027 953 8860

Alison Carter

Ph 027 431 8960

Alison Carter

Ph 027 431 8960

Greg Powell

Branch Manager

027 274 6157

Alison

Carter

027 431 8960

Michelle

Ward

027 203 7858

Deb

Beesley

027 280 8837

Joy

Butel

021 353 280

Chris

Moores

027 588 4440

David

Searle

021 565 950

Kirsty

McLeod

027 226 5893

Liz

Lewis

027 453 0952

Sophia

Pratt-Miller

027 843 7102

Mandi

Ussher

022 621 5758

Ferrymead

Carol

Williams

027 282 4950

Dave

Elston

0274 593 165

Simon

Mutch

021 843 870

Claire

Savage

0210 314 342

Megan

Looyer

027 841 2335

Shaun

Davey

027 953 8860

Alistair

Hazeldine

027 572 1555

Lynton

Hubber

027 433 4141

Prue

Dacombe

021 752 348

Suzanne

Robin

027 271 4906

1020 Ferry Rd Ferrymead • Ph 384 7950 • harcourtsgrenadier.co.nz

Grenadier Real Estate Ltd MREINZ is a Licensed Agent Under the

Real Estate Agents Act 2008
---
PAGE 18 Wednesday June 20 2018

BAY HARBOUR

Latest Christchurch news at www.star.kiwi

Storage

Beds

WAS $

799

Polka Queen Bed

NOW $

649

WAS $

799

Reno Queen Bed

NOW $

649

WAS $

799

Deco Queen Bed

NOW $

649

Shop

Online

Nationwide

Delivery

Finance

Options

targetfurniture.co.nz

Cnr Blenheim & Curletts Rds, Christchurch

Ph: 0800 TARGET (0800 827438)

Offers and product prices advertised here expire 25/06/18.

Sale excludes Manchester and Accessories.
---
Wednesday June 20 2018

Latest Christchurch news at www.star.kiwi

BAY HARBOUR

PAGE 19

Classifieds Contact us today Phone our local team 03 379 1100

Classic Cars & Motorcycles

ASHLEY'S

TOW TAXI

fOr SAfE, dAmAgE frEE

cAr TrAnSpOrTATIOn

"SpEcIAL cArE fOr

SpEcIAL cArS"

0800 TOWTAXI

0800 8698294

Computer

Services

VIRUS REMOVAL AND

PC HEATH CHECK

$50.00

With free pick and delivery

within 10km of Redcliffs.

Phone Paul on 021495577.

Microsoft Certified Pro

with 25 years experience.

Visit www.seracnz.com

Community Events

TO ALL ACTIVE RETIRED

AND SEMI RETIRED MEN

ARE yOu INTERESTED IN?

• Joining a club to hear

stimulating speakers

• Enjoying friendship and fun

with like minded people

THEN yOu ARE INVITED TO

Gardening

& Supplies

Landscape

and Garden

Services

Need help with

your garden?

We provide a quality

service for all your

Garden Maintenance

(hedges, lawns,

line trimming, weeding)

and Landscaping needs,

(fencing, paths, drives,

retaining and earthworks).

Computers

ALL

YOUR

COMPUTER

WORRIES SOLVED!

*$30.00 off your first Ph 021 272 0303

service with this coupon!*

No problem too big or Gardening

small from home PC's to & Supplies

business networks. PC A GARDEN OR

slow? An end to Viruses, LANDSCAPING TIDY

Spyware, and Clogged UP? Shrub, hedge &

Systems. Safe secure tree pruning, Lawns,

hassle-free computing. Gardening, consistently

Lost files recovered. reliable general property

Microsoft Certified, upkeep, Dip. Hort. 10

MCSE, MCP+l. 30 years yrs experience, One off

experience. Call Andrew tidy ups or on-going

Buxton this week on 326- service. Nick's Property

6740 or 027 435-7596 Maintenance. Keeping

for $30.00 off* Custom your garden beautiful.

Computers Christchurch Free Quote. Ph. 942-4440

Ferrymead Sumner

Men's Probus Club

We meet 4th Thursday

of each month, 10am

Redcliffs Bowling Club

James St

You are most welcome to just come along

Or ring one of the contacts below.

Allan Hughey Michael Hannifin

Ph. 384 0099 Ph. 384 4771

KATANG

Health & Beauty

Fitness

Tues 9.15am-10.15am

Sumner Community

Centre (above library)

$5 per class.

Concession cards available.

For more info

contact Katrina

381 1704 or

027 4966 845

Holiday

Accommodation

Australia QLD

SUNSHINE

COAST

RESORT

ALEXANDRA HEADLAND

All Units Have Ocean Views.

Heated Pools, Spa & Sauna,

Free Wifi, Tennis

& Mini Golf.

CHECK OUR GREAT

WINTER SPECIALS

www.mandolin.com.au

0061 7 5443 5011

JUNE to AUG temps 20C

Real Estate

Wanted

Diamond

Harbour

Entry level home

required in Diamond

Harbour area for

professional couple.

Anything considered,

repairs no problem.

Please phone Trish

027 558 7474 or email

on trikie14@gmail.com

To Let

APARTMENT.

Studio with kitchenette.

For rent (Bush Haven,

Mt Pleasant) available 30

June - 26 August. Power &

internet included - please

phone Ali 027 229 4298.

Trades & Services

CARPET

&

Vinyl lAying

50 Yrs exp Repairs,

uplifting, relaying,

restretching,Email

jflattery@xtra.co.nz

ph John on 0800 003 181

or 027 2407416

COnCRETE CUTTing

Affordable Concrete

Cutting with Quality, and

removal work. Free quote.

No job to small. Phone 027

442-2219, Fax 359-6052

a/h 359- 4605

ElECTRiCiAn

For electrical work, no job

to small, affordable, tidy &

experienced, HEATPUMP

servicing, & perfomance

test $70 + gst, ph or txt 027

432 9755 or 03 326 49922

gARDEnER

Need your home or

commercial garden tidied

up or renovated or require

long term assistance.

Phone Ruth 326-6663 or

021 272-0303

iRRigATiOn

Fed up with standing

around with a hose? Need

an irrigation system for

your garden? Ph Andy 03

2601378 or 0211419199.

englishgrdnr@gmail.com

PAinTER/PlASTERER

Experienced tradesman,

quality work, free quotes,

ph Simon 027 389-1351 or

03 328-7280

PAinTing SERViCES

Mature, reliable,

conscientious &

experienced, reasonable

rates, no job too small!,

call Ron 027 434-1400

PAinTER AVAilAblE

RAPID RESPONSE,

quality work guaranteed,

interior/exterior,

roofs, spraypainting,

waterblasting, ph Graeme

for a free quote, 027 318

2614

PlASTERing

inTERiOR

no job too big or too

small, specialise in repair

work & new houses, free

quotes given, over 20 yrs

plastering experience, ph

Peter 027 221-4066 or

384-2574

STOnEMASOn, bRiCK

& blOCKlAyER

Earthquake Repairs, Grind

Out & Repoint, River/

Oamaru stone, Schist,

Volcanic Rock, Paving,

all Alterations new & old,

PLUMBER

Trades & Services

Quality Workmanship,

visit www.featureworks.

co.nz or ph 027 601-3145

Wanted To Buy

GLASSHOUSE, any

cond or size considered.

Also wanted garden shed.

Ph 0274 343 772

Public Notices

12 years

experience

Serving Christchurch and wider

Canterbury Region with quality

workmanship and service.

24/7 caLLOUT serVice

style

noun

elegance and sophistication.

synonyms: flair, grace, poise,

polish, suaveness, urbanity,

chic, finesse, taste, class,

comfort, luxury, affluence,

wealth, opulence, lavishness.

Magazine & TV | sTyle.kiwi

ADVERTISE YOUR BUSINESS HERE

Phone for further details

(03) 379 1100

The magazine for gardeners who

like to get their hands dirty

growing with you

SprIng Is here –

It'S Sow Time

how to get the best results from

seeds and seedlings

100% NatIve In

The capItal

Unravelling the secrets of

Otari-wilton Bush

The New Zealand

landscape awards

The people behind

the projects

SubScribe from

$43. 50*

$7.90 incl. gST

*6 issues/6 months

ISSN 2423-0219

Entertainment

now bigger than ever

Save our roSeS

How a rose register is protecting our heritage

September 2016 | 100%

It's time

to grow!

New look and more

content than ever!

MEET LESTER BRICE

a garden Coach

auckland Botanic GardenS

Why we love our public grounds

SUBSCRIPTIONS FREEPHONE

0800 77 77 10

www.gaRdENER.kIwI
---
PAGE 20 Wednesday June 20 2018

BAY HARBOUR

Latest Christchurch news at www.star.kiwi

our

fresh

promise

If it's not fresh,

we'll replace & refund

18 th to 24 th June 2018

$

8 99

kg

Fresh NZ Tegel Skin On

Chicken Breast Fillets

$

6 99

kg

Loose Chilean Red

Seedless Grapes

$

1 69

ea

Bluebird Original/

Thick/Thinly Cut

Chips 140-150g

$

2 80

ea

$

8 99

ea

$

2 49

ea

Tip Top

Supersoft Bread

700g

Signature Range

Mild/Colby/Edam

Cheese 1kg

Wattie's Very Special/

Hearty Soup 520-535g/

King Soup Mix 210g

Fresh NZ Topside Steak/Roast

Loose Brown Onions/Carrots

$

14 99

kg

$

1 39

kg

$

2 49

ea

Coke/Sprite/Fanta/

Lift/L&P 1.5L

$

18 99

pk

Kingfisher/NZ Pure

12 x 330ml Bottles

$

9 99

ea

$

4 50

pk

Old Coach Road/

Jacob's Creek Sparkling

750ml

(Excludes Reserve)

KiwiSoft Toilet

Tissue White

18 Pack

svbhn2006

Owned & operated

by locals

SuperValue Lyttelton: 17 London Street, Lyttelton. Phone 328 7368. Open 7am–9pm, 7 days.

SuperValue Sumner: 3 Village Mall, Sumner. Phone 326 5688. Open 7am–9pm, 7 days.

While stocks last at SuperValue Lyttelton and Sumner only.

We reserve the right to limit quantities. Trade not supplied. For inspiration visit SuperValue.co.nz |

Please drink

responsibly
---
JUNE 29 – JULY 1

Horncastle Arena | Friday, Saturday, Sunday | 10am-5pm

Show this coupon to staff on Friday 29th

June or pre book on starhomeshow.kiwi

valid up to 4 people.

Saturday

Sunday

Show this coupon to staff on the day or pre

book by using the code STARDISCOUNT on

starhomeshow.kiwi, valid up to 4 people .
---
Editor

DESIGN

New Tasting Corner

Look out for the new Home &

Leisure Magazine inside every

Show Bag for all visitors.

80+ pages packed with high quality editorial and photos,

showcasing new and renovated homes, and exploring

current trends in interior design. Also available at selected

outlets and Christchurch P.O Boxes

My HOME:

→ Wish - we'd been advised to insta l

therma ly-broken aluminium windows.

Had the money for central heating.

→ Hardest decision – forgoing a bath. Switching

Beaven's ShadowClad spec for cedar.

→ Favourite feature - the textural fabric of our

home: glass, cedar, plywood, steel, concrete

Xbond and luxe loop pile carpet.

Kitchen Zone

Ideas for budgets

big and small

The new Home & Leisure magazine will be given to all those who

visi the Star Media Home & Leisure Show (June 29-July 1), and

delivered to Christchurch PO Boxes and selected outlets around the

city. Packed with high-quality editorial showcasing the latest home

innovations – inside and out – this publication delivers its messages

with the same flair desired by home owners for their havens.

A perfect partner for a highly attended annual event.

PUBLISHER

Charlotte Smulders

Star Media

Level One, 359 Lincoln Road, Christchurch 8140

03 379 7100

EDITORIAL

Kate Preece

Group Editor

Gaynor Stanley

gaynor.stanley@starmedia.kiwi

Gemma Quirk

Rodney Grey

ADVERTISING

Juliet Dickson

Account Executive

364 7409 / 021 688 159

juliet.dickson@starmedia.kiwi

Vanessa Fleming

Home & Leisure Show Manager

021 914 565

vanessa.fleming@starmedia.kiwi

Cover image: Trends Kitchens

Magazine of

The Christchurch Star Company Ltd is not responsible for any actions taken on the

information in these articles. The information and views expressed in this publication

are not nece sarily the opinion of The Christchurch Star Company Ltd or its editorial

contributors. Every effort is made to ensure the accuracy of the information within

this magazine, however, The Christchurch Star Company Ltd can accept no liability

for the accuracy of a l the information.

The firs time I woke up with a cold nose in my brand

new home, I wa shocked. How could this be? The

cool, calm, co lected one and I had planned for our

home to be we l insulated against Canterbury's

cold winters. Turns out, not we l enough. We'd

even assured a we l-meaning friend we had ample

insulation (yes, Duncan, you were right). I've worked out where we

fe l short in hindsight. Our home was designed by highly respected

Christchurch architec the late Peter Beaven, for a magic little

Port Hi l site, where he planned to live in with his wife Lesley.

Sadly Peter died before realising his plans. We bough them and

employed Archology in Sydney, where we were living a the time, to

prepare the construction drawings and specifications. Compared to

Australia, the R values for insulation would have looked high. Our

talented young builder, Sam McCarthy, would never have queried

the levels because they were standard practice around town. So it

wasn't until we were living in the house and I consulted Council's

eco design advisor Julie Vi lard about how we could warm it up that

we discovered, while we unwittingly thought we had exceeded New

Zealand standard, we had merely met Code. And that ain't going to

cut it in our climate.

Fortunately Julie had plenty of ideas on how we could improve

the situation and we have easy access to our underfloor to top-up

the insulation. Julie Vi lard, an architect from France, is on a mission

to transform building best practice here and you can read abou the

groundbreaking ideas she's applied to her own brand new build on

page 20.

I've shared the highs and lows of building with the other home

builders and renovators I interviewed and, like Diane (page 36), would

relish doing it again. I was struck by how a l the home owner said

what they most valued was the ability of their designer or builder to

"rea ly listen" to their wants and needs. I was also impressed by how

much Christchurch people love a good garage! We've got some ideas

for some top of their class cars to complement yours on page 81 and

how to quickly establish a lawn on page 72.

We review a l the lates trends in everyone's favourite room –

the kitchen (page 48), and share an easy yet impressive recipe for

entertaining friends in your fabulous new home on page 77.

I hope Peter Beaven would be pleased with how the cool, calm,

collected one and I realised his dream. Go chase yours people!

Gaynor

Speaking to the NZ Institute of Architects about 'bespoke

architecture' being a 'minority pursuit' not long before his death

Peter said "I am going to try to prove that it's possible to build

modestly and cheaply with a little house for ourselves. It's going to

be sustainable and it's going to be beautiful and it's going to be just

cheap – no more than an ordinary spec house. I' l prove that it can

be done, and it might be the las thing I prove."

complimentary

+ InterIors

+ BAtHrooMs

+ tAste Corner

+ LAndsCApIng

+ MotorIng

Building tips from the home owners plus expert home design advice

56

42

48

This year we have introduced our very first tasting

corner. Make sure you indulge yourself.. where you

can taste and buy from premium brands.

To launch our new tasting

Corner at this year's event

Tasty Co are giving away

500 Delicious Chilli Con

Carne Tasty Pots to the first

500 attendees each day!

Make sure you are

there early to get yours!

Meet Tactix Netball players

at The Good Oil stand (148)

Friday 12.30-2. Plus be in to win tickets to their

July Home Game, with every bottle of Good oil sold.

WIN

a Chlorine

removal system,

value $525

Find out how to keep your

home and family safe ...

Come and have a chat with us at stand 215

BOOK A FREE

HOME FIRE SAFETY VISIT

www.fireandemergency.nz

WIN! A $500

Resene voucher for your home

Just by coming to the show be in to

win 2 nights' accommodation

at any scenic or Heartland Hotel'

Be in to win a

Robham Kitchen range

hood the value of $2499
---
"Thousands of ideas

for your home"

Let our exhibitors inspire you

4 Seasons Home & Leisure

Stand 198-202

www.4seasons.co.nz

Acoustic Architecture

Stand 37

facebook.com/AcousticArt

Action Security

Stand 8

www.actionsecurity.co.nz

Agility Building Solutions

Stand 209, 211

www.agbs.co.nz

Air Con Christchurch

Stand 32, 34

www.airconnz.co.nz

Alpine View Lifestyle Village

Stand 50, 51

www.alpineview.co.nz

Aoraki Liquorice

Stand 160A Taste Corner

www.aorakiliquorice.co.nz

Aqua Synergy Group

Stand 105, 106

www.aquafilter.co.nz

Ark Financial

Stand 44

www.arkfg.co.nz

Armstrong Motor Group

Stand 220-231

www.armstrongmotorgroup.com

Automated Technologies

Stand 82

www.automatedtechnologies.

co.nz

Bay Audiology

Stand 19

www.bayaudiology.co.nz

Beam by Electrolux Central Vacuum

Stand 214

www.beam.co.nz

Bed World

Stand 102

www.bedworld.co.nz

Brand Developers – Turboscrub

Stand 14

www.tvshop.co.nz

Brand Developers Veito Heater

Stand 12

www.tvshop.co.nz

Brand Developers Air Roaster

Stand 43

www.tvshop.co.nz

Brand Developers Ladder

Stand 56

www.tvshop.co.nz

Brand Developers Power fit gym

Stand 146

www.tvshop.co.nz

Brand Developers Bambillo Beds

Stand 184, 189

www.tvshop.co.nz

Brand Developers Air Hawk

Stand 204

www.tvshop.co.nz

Build Right Homes

Stand 85-87

www.buildrighthomes.co.nz

Cannon Hill Gourmet

Stand 174 Taste Corner

www.cannonhilgourmet.co.nz

Canterbury Continuous spouting

Stand 134

www.continuous.co.nz

Carpet Plus

Stand 95, 96

www.carpetplus.co.nz

Central Heating New Zealand

Stand 64,66

www.centralheating.co.nz

Chamberlain NZ

Stand 217, 219

www.gomerlin.co.nz

Crafty Weka Bar

Stand 159 Taste Corner

www.kookerykitchen.nz

Dream Doors

Stand 185

www.dreamdoors.co.nz

Duzz all beeswax

Stand 136

www.duzz-allbeeswax.co.nz

DVS

Stand 98, 99

www.dvs.co.nz

E&H Roofguard

Stand 79,81,83

www.edwardsandhardyroofing.co.nz

E3 Decoration

Stand 4

www.e3curtains.co.nz

Econx

Stand 5,6

www.econx.co.nz

Eden Orchards

Stand 158 Taste Corner

www.edenorchards.co.nz

Enviro Master

Stand 18

www.enviromaster.co.nz

Filters and Fountains

Stand 24

www.filtersandfountains.co.nz

Fire and Emergency NZ

Stand 215

www.fireandemergency.nz

Generation Homes

Stand 181,182

www.generation.co.nz

Generator Place

Outside

www.generatorplace.co.nz

Get A Gate

Stand C5 C6

www.getagate.kiwi

GJ Gardner Homes

Stand 57,58

www.gjgardner.co.nz

Graphic Glass

Stand C7

www.graphicglass.co.nz

Happy Spine

Stand 27

www.happyspine.co.nz

Health Co

Stand 29

www.healthco.co.nz

Heatsmart

Stand 38,40

www.heatsmart.co.nz

Hometech Solar tube

Stand 121, 122

www.hometech.co.nz

Hororata Community Trust,

Rainbow Print

Stand 13-17

www.hororata.org.nz

HRV Canterbury

Stand 205 207

www.hrv.co.nz

Ideal build NZ

Stand 10

www.idealbuildings.co.nz

Insulmax Insulation

Stand 60

www.insulmax.co.nz

Install Concepts

Stand 90,91

www.installconcepts.co.nz

Kalessi Bathroomware

Stand 68, 67

www.kalessi.co.nz

Kitchen studio

Stand 72 and 73

www.kitchenstudio.co.nz

Leisure Spas

Stand 92-94

www.leisurespas.co.nz

Lennox bathrooms

Stand 84

www.lennoxbathroom.co.nz

Lifestyles

Stand 139, 144

www.lifestylels.co.nz

Living House

Stand 45-49

www.livinghouse.co.nz

Logan & Smythe Associates

Stand 116

www.logansmythe.co.nz

Lonegoat

Stand 145 Taste Corner

www.lonegoat.co.nz

Luxe Brew

Stand 172 Taste Corner

www.luxebrew.com

Millen Homeware

Stand 110

www.millen.co.nz

Mitsubishi Electric

Stand 35

www.mitsubishi-electric.co.nz

My Eco

Stand 69

www.myeco.co.nz

Narellan Pools

Stand 178

www.narellanpools.co.nz

Natural Flow

Stand 59

www.naturalflow.co.nz

New Zealand Home loans

Stand 62

www.nzhl.co.nz

One Square Rate

Stand 88

www.onesquarerate.co.nz

Plus 2Wp

Stand 115,117

www.showshop.co.nz

PolarEnergi NZ

Stand 186 and 187

www.polarenergi.co.nz

Pool Land

Stand 120 + C1, C2

www.poolland.co.nz

Zenteq

Stand 36

www.zenteq.co.nz

Property Investors Club

Stand 129

www.propertyclub.co.nz

Readylawn

Stand 100

www.readylawn.co.nz

Redrockhats

Stand 23

www.redrockhats.co.nz

Resene

Stand 107-109

www.resene.co.nz

Rosebank Estate Winery

Stand 160 Taste Corner

www.rosebank.co

Sculptural Landscapes

Stand 16

www.sculpturallandscapes.co.nz

Show TV - Fryair air Fryer

Stand 31

www.showtv.co.nz

Show TV - Health Station V Fit

Stand 11

www.showtv.co.nz

Show TV - Hercules Hose

Stand 63

www.showtv.co.nz

Show TV - Nellies Wow Mop

Stand 7

www.showtv.co.nz

Show TV - Turmerix

Stand 9

www.showtv.co.nz

Show TV - Windowwow Window

Cleaner

Stand 33

www.showtv.co.nz

Showerdome South

Stand 135

www.showtv.co.nz

Shuzi NZ

Stand 114

www.showerdome.co.nz

Simx

Stand 20

www.smartvent.co.nz

Sincock and Till Audiology

Stand 127

www.staudiology.co.nz

Smartway Homes

Outside

www.smartway.builders

Smart Cities - Christchurch City Council

Stand 221

www.smartchristchurch.org.nz

Spice Craft

Stand 157 Taste Corner

www.spicecraft.co.nz

Springfree

Stand 130-131

www.springfreetrampoline.co.nz

Star Media

Stand 1-3

www.starmedia.kiwi

Stratton Bathrooms

Stand C11

www.strattonbathrooms.com

Sunshine Solar

Stand 53-55

www.sunshinesolar.co.nz

Synscape Synthetic Grass

Stand 168

www.unrealgrass.co.nz

TC Groundworks

Stand 138

www.tcgroundworks.co.nz

Target

Stand 195-197

www.targetfurniture.co.nz

Temperature Solutions

Stand 30

www.temperaturesolutions.co.nz

The Carpet Mill

Stand 151-156

www.carpetmill.co.nz

The Glass Room

Stand 21-22

www.theglassroom.co.nz

The Good Oil

Stand 148 Taste Corner

www.thegoodoil.nz

Total Finish Contractors

Stand 74

www.totalfinish.co.nz

Trident Homes

Stand 70-71

www.tridenthomes.nz

Unicorn Kitchen Bathrooms

Stand 46

www.unicornkb.co.nz

Venluree

Stand 77-78

www.venluree.co.nz

Venus Flooring

Stand 191-193

www.venusflooring.co.nz

VJV, Warmth NZ

Stand 75

www.vjv.co.nz

Whitehouse builders

Stand 39-41

www.whitehousebuilders.co.nz

Wright Hotspring Spas

Stand 26, 28

www.wrightspapools.co.nz

Yellow River Construction

Stand 103-104

www.yellowriver.co.nz

Z500

Stand 80

www.z500.co.nz
---
June 29 – July 1 2018 | Horncastle Arena | Friday, Saturday, Sunday | 10am-5pm