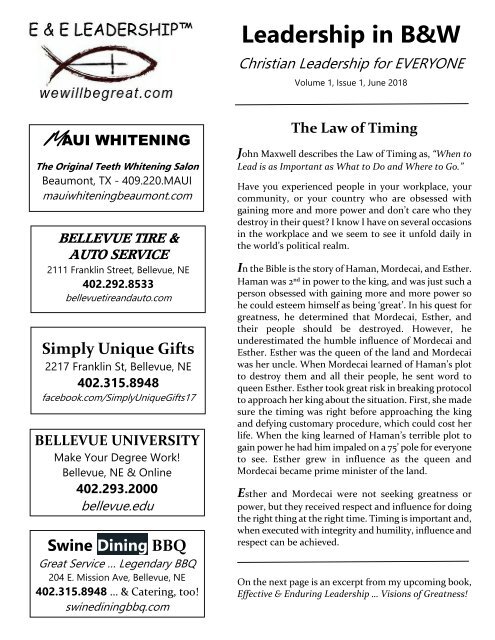 You also want an ePaper? Increase the reach of your titles
YUMPU automatically turns print PDFs into web optimized ePapers that Google loves.
Leadership in B&W

Volume 1, Issue 1, June 2018

AUI WHITENING

Beaumont, TX - 409.220.MAUI

2111 Franklin Street, Bellevue, NE

402.292.8533

Simply Unique Gifts

2217 Franklin St, Bellevue, NE

402.315.8948

BELLEVUE UNIVERSITY

Make Your Degree Work!

Bellevue, NE & Online

402.293.2000

Swine Dining BBQ

204 E. Mission Ave, Bellevue, NE

402.315.8948 … & Catering, too!

The Law of Timing

John Maxwell describes the Law of Timing as, "When to

Lead is as Important as What to Do and Where to Go."

Have you experienced people in your workplace, your

community, or your country who are obsessed with

gaining more and more power and don't care who they

destroy in their quest? I know I have on several occasions

in the workplace and we seem to see it unfold daily in

the world's political realm.

In the Bible is the story of Haman, Mordecai, and Esther.

Haman was 2ⁿd in power to the king, and was just such a

person obsessed with gaining more and more power so

he could esteem himself as being 'great'. In his quest for

greatness, he determined that Mordecai, Esther, and

their people should be destroyed. However, he

underestimated the humble influence of Mordecai and

Esther. Esther was the queen of the land and Mordecai

was her uncle. When Mordecai learned of Haman's plot

to destroy them and all their people, he sent word to

queen Esther. Esther took great risk in breaking protocol

to approach her king about the situation. First, she made

sure the timing was right before approaching the king

and defying customary procedure, which could cost her

life. When the king learned of Haman's terrible plot to

gain power he had him impaled on a 75' pole for everyone

to see. Esther grew in influence as the queen and

Mordecai became prime minister of the land.

Esther and Mordecai were not seeking greatness or

power, but they received respect and influence for doing

the right thing at the right time. Timing is important and,

when executed with integrity and humility, influence and

respect can be achieved.

On the next page is an excerpt from my upcoming book,

Effective & Enduring Leadership … Visions of Greatness!
---
Promote Your Business

in Bellevue, NE

Less than One Penny per Minute

of Advertising Exposure!

Michael Bianchi 713.339.0900

CHRISTIAN

FELLOWSHIP CHURCH

3950 Pointe Pkwy, Beaumont, TX

409.898.0412

Perfect Finish Flooring

We Get It Done Right the First Time!

106 E. Mission Ave, Bellevue, NE

402.672.3969

CITYLIGHT OMAHA CHURCH

4383 Nicholas Street, Omaha, NE

3401 Oak View Drive, Omaha, NE

402.932.8850 or 402.382.1484

Roland Manuel, Realtor

Berkshire Hathaway

Serving the Greater Omaha Area

402.541.5148

To be One of Our Sponsors,

Or provide feedback, send an email to:

wewillbegreat.com

Leadership in B&W

page 2

True Greatness

All men and women have inside them the desire to

become 'great' and being great will mean different things

to different people. We want to be great politicians, great

architects, great parents, great musicians, great athletes,

great students, great pastors … and so on. The problem

is that most of us confuse true greatness with worldly

greatness and either do not believe we can achieve

worldly greatness or have given up trying out of

frustration. For non-Christians, pursuing worldly

greatness is an exercise that leads to ultimate futility

devoid of eternal significance. Christians, having already

accepted Jesus Christ as their Lord and Savior, can

achieve eternal greatness by obeying and applying God's

Word and living an humble spirited, servant lifestyle as

Jesus Christ did. Do not discount the significance of such

a lifestyle. In Luke 18:14 Jesus tells us, "For all those who

exalt themselves will be humbled, and those who humble

themselves will be exalted."

Effective & Enduring Leadership can be simply

defined as leading and Discipling others so that we

teach Godly legacies to future generations. Jesus left

us a model of Effective & Enduring Leadership and

Discipleship and, as a result, a model of eternal greatness

that we can all strive to achieve. We can achieve eternal

greatness in Heaven through fulfillment of God's

purposes for their lives. Matthew 16:27 says: "For the Son

of Man is going to come in his Father's glory with his

angels, and then he will reward each person according to

what they have done." My Life Application Study Bible

says, "Our heavenly rewards will be the most accurate

reflection of what we have done on earth, and they will be

far greater than we can imagine." What more can we

possibly do during our time here on Earth to please God

other than fulfill His purposes for us?

Michael R. Bianchi is the author of

and

These publications are affiliated with