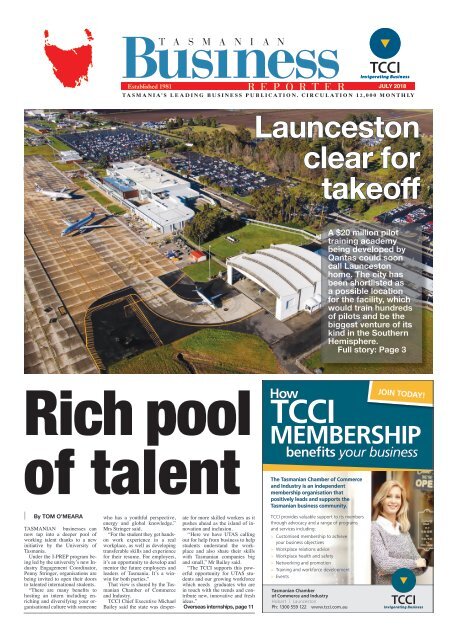 Tasmanian Business Reporter July 2018
Welcome to the July edition of the Tasmanian Business Reporter. In this month's bumper 16 page edition we bring you the details of I-PREP, an exciting new initiative by the University of Tasmania set to help local businesses connect with talented international students providing significant benefits for all parties involved. We'll also fill you in on the 2018-19 Tasmanian State Budget, hopes for a Qantas Group Pilot Academy to be established in Launceston and recognition for Tasmanian women at the forefront of the state's resource sector.
Welcome to the July edition of the Tasmanian Business Reporter.

In this month's bumper 16 page edition we bring you the details of I-PREP, an exciting new initiative by the University of Tasmania set to help local businesses connect with talented international students providing significant benefits for all parties involved.

We'll also fill you in on the 2018-19 Tasmanian State Budget, hopes for a Qantas Group Pilot Academy to be established in Launceston and recognition for Tasmanian women at the forefront of the state's resource sector.
SHOW MORE
SHOW LESS
You also want an ePaper? Increase the reach of your titles
YUMPU automatically turns print PDFs into web optimized ePapers that Google loves.
JULY 2018

T A S M A N I A' S L E A D I N G B U S I N E S S P U B L I C A T I O N . C I R C U L A T I O N 1 2 , 0 0 0 M O N T H LY

Launceston

clear for

takeoff

A $20 million pilot

training academy

being developed by

Qantas could soon

call Launceston

home. The city has

been shortlisted as

a possible location

for the facility, which

would train hundreds

of pilots and be the

biggest venture of its

kind in the Southern

Hemisphere.

Full story: Page 3

Rich pool

of talent

How

TCCI

JOIN TODAY!

MEMBERSHIP

benefits your business

The Tasmanian Chamber of Commerce

and Industry is an independent

membership organisation that

positively leads and supports the

Tasmanian business community.

By TOM O'MEARA

TASMANIAN businesses can

now tap into a deeper pool of

working talent thanks to a new

initiative by the University of

Tasmania.

Under the I-PREP program being

led by the university's new Industry

Engagement Coordinator,

Penny Stringer, organisations are

being invited to open their doors

to talented international students.

"There are many benefits to

hosting an intern including enriching

and diversifying your organisational

culture with someone

who has a youthful perspective,

energy and global knowledge,"

Mrs Stringer said.

"For the student they get handson

work experience in a real

workplace, as well as developing

transferable skills and experience

for their resume. For employers,

it's an opportunity to develop and

mentor the future employees and

leaders of Tasmania. It's a winwin

for both parties."

That view is shared by the Tasmanian

Chamber of Commerce

and Industry.

TCCI Chief Executive Michael

Bailey said the state was desperate

for more skilled workers as it

pushes ahead as the island of innovation

and inclusion.

''Here we have UTAS calling

out for help from business to help

students understand the workplace

and also share their skills

with Tasmanian companies big

and small," Mr Bailey said.

"The TCCI supports this powerful

opportunity for UTAS students

and our growing workforce

which needs graduates who are

in touch with the trends and contribute

new, innovative and fresh

ideas."

Overseas internships, page 11

TCCI provides valuable support to its members

through advocacy and a range of programs

and services including:

> Customised membership to achieve

your business objectives

> Workplace relations advice

> Workplace health and safety

> Networking and promotion

> Training and workforce development

> Events

Tasmanian Chamber

of Commerce and Industry

Hobart | Launceston

Ph: 1300 559 122 www.tcci.com.au
---
2 Tasmanian Business Reporter - JULY 2018

NEWS

Tassie enters a 'golden age'

FROM basket case to

golden age, Tasmania

has entered a new chapter

of prosperity.

That's the message

from the State Government

in its post-Budget

portrayal of the state.

Business leaders have

hailed the 2018 offering

from Treasurer Peter

Gutwein as extremely

positive for the state's

future.

Economic growth is

running at 3.25 per cent

for the current financial

year and predicted to level

to 2.25 to 2 per cent

over the Forward Estimates,

while unemployment

is predicted to remain

stable at 6 per cent.

The Budget shows a

Net Operating Surplus

of $75.3 million for this

financial year, rising to

$161.9 million for the

Budget year and then

well over $100 million

over the three remaining

years of the Forward Estimates.

The Budget delivers

a record $2.6 billion infrastructure

investment

including new schools,

better hospitals and road

Tasmania is

open for

business

upgrades throughout

Tasmania.

Roads will receive

$711 million for new

projects, upgrades and

maintenance - taking the

combined State/Federal

road investment to $1.1

billion - with projects

including a Launceston

and Tamar Valley Traffic

Vision, Greater Hobart

Traffic Vision and, finally,

a new Bridgewater

Bridge.

"Tasmania is open for

business,'' Mr Gutwein

said.

"We laid the foundations

in the last term of

Government so Tasmanians

could look forward

to a brighter future – now

we are getting on with

the job of taking Tasmania

to the next level," Mr

Gutwein said

"This Budget continues

our commitment to

remain in surplus and

live within our means so

Tasmania can deal with

any unexpected bumps in

the road."

Business received a

number of initiatives including:

• Cutting Payroll Tax,

providing a saving of

up to $15,750 to encourage

businesses to create

around 650 more jobs;

• Support for 4500 additional

apprentices and

trainees by extending

targeted small business

grants and the Payroll

Tax Rebate Scheme to

June 2021.

• Providing $7.5 million

over 3 years in new

funding for targeted

Small Business Grants

and extending the enormously

popular Payroll

Tax Rebate Scheme for

apprentices and trainees

to 2021.

• Payroll tax relief of

up to 3 years will also be

provided for any business

that relocates to Tasmania

and establishes its

operations in a regional

area.

e dition

T A S M A N I A' S L E A D I N G B U S I N E S S P U B L I C A T I O N . C I R C U L A T I O N 1 2 , 0 0 0 M O N T H LY

Tasmanian Business Reporter can now be delivered directly to your inbox. With our 30,000-strong monthly print

readership, our new up-to-date digital distribution will keep Tasmanians abreast of the all latest in local business

news. From this month we will distribute electronic editions of the Tasmanian Business Reporter as we go to print.

To confirm your copy sign up to our mailing list via

tbreditorial@fontpr.com.au

Tasmania's business newspaper is published monthly by the

Tasmanian Chamber of Commerce and Industry. It is distributed

to businesses in Tasmania as well as key decision-makers.

Circulation: 12,000

TCCI Chief Executive Michael Bailey, left, Treasurer Peter Gutwein and

Premier Will Hodgman present the Budget to business leaders.

Where the Budget money is going

BASS

• LGH redevelopment and more parking - $42.2m*

• LGH Ward 4K upgrades - $6.6m

• Eight new beds on Ward 4K at LGH - $11.2m

• Northern Tasmania Tennis Centre - $2m

• East Launceston Primary School - $4.3m*

• Queechy High School - $2.5m*

• Riverside High School - $11.6m*

• New Legana Primary School - $5m*

• New Northern Prison - $45m*

• New Scottsdale Swimming Pool - $3m

BRADDON

• Mersey Community Hospital infrastructure

development - $35m

• 8-Bed acute medical unit – North West Regional

Hospital - $17.6m

• Ante-natal clinic North West Regional Hospital

$2.1m

• Burnie Ambulance Station - $6m

• Smithton ambulance training facility - $1.1m

• Drug & alcohol rehabilitation beds Ulverstone

- $2.4m

• Boat Harbour Primary School - $1.4m*

• Spreyton Primary School - $1.7m

• Devonport High School- $10.5m

• K-Year 12 Penguin School - $20m

• Upgraded Burnie court complex - $8m*

• New agricultural Centre of Excellence – $5m

• Dutchmill – Edith Creek support package $1.6m*

• Mining exploration drilling grant initiative - $2m

• Stage 2 of the King Island Hospital redevelopment

- $10.5m

DENISON

• RHH redevelopment - $277.6m

• RHH pharmacy redevelopment - $3.8m

• RHH ward & air conditioning upgrades - $28m

• 25 new mental health beds (South) - $28.3m

• 60 more nursing graduates (South) - $5.2m

* denotes funding part of a larger project

Key Budget Items per electorate (non roads)

• 250 new beds for the Royal Hobart Hospital

including a new 16-bed adolescent unit - $53m (over

six years)

• Southern Community Rapid Response - $5.6m

• Hobart College - $2.5m

• Lansdowne Crescent Primary School - $4.7m

• Hobart Aquatic Centre hydrotherapy pool - $3m*

• Royal Tasmanian Botanical Gardens new Visitor

Centre - $3.6m

• New Glenorchy ambulance station - $6m

• Northern Suburbs undoor multi-sports facility -

$10m

FRANKLIN

• Illawarra Primary School - $2.7m*

• Taroona High School - $4.8m*

• Snug Primary School - $2.5m

• Montagu Bay Primary School - $1.8m

• Southern Support School - $4.3m

• New Southern Remand Centre and Risdon Prison

shared facilities upgrade - $79.3m

• New Trades and Water Centre of Excellence -$7m

• Establishment of a new Derwent River ferry service

- $2m*

LYONS

• Campbell Town Ambulance Station - $2.9m

• Sheffield School Farm redevelopment - $3m

• New Longford police station - $5m

• Cradle Mountain Visitor Experience - $72m

(including Federal funding)*

• Overland Track improved infrastructure – $3m

• Ashley Youth Detention Centre upgrade - $7.3m

• St Helens Hospital redevelopment project - $7.8m

• St Marys District School - $2.6m*

• Maria Island improved parks infrastructure – $4m

• Improved mobile phone coverage for the Great

Eastern Drive - $3.5m

• Midlands multipurpose centre upgrade - $2.5m

• New K-12 Sorell School - $25.7m

• New Brighton High School - $3m*

• Brighton School Farm redevelopment - $4.3m

Managing Editor: Tom O'Meara

0418 135 822

Editor: Becher Townshend

0418 370 661

Advertising and Special Projects

Gil Sellars 0448 901 361

gil@thetrustedmediaco.com

Editorial & Advertising

TBReditorial@fontpr.com.au

www.tasmanianbusinessreporter.com.au

Publisher:

Tasmanian Chamber of Commerce and Industry

309 Liverpool St, Hobart, TAS 7000

Ph: 6236 3600 Fax: 6231 1278 admin@tcci.com.au

TFGA House, 194-196 Cimitiere St, Launceston TAS 7250

Ph: 6331 1144 laun@tcci.com.au

Production:

aldridge.media

Ph: 0431 241 775

aldridge.media@iinet.net.au

Printer: Mercury

Level 1, 2 Salamanca Square, Hobart, 7000
---
T A S M A N I A' S L E A D I N G B U S I N E S S P U B L I C A T I O N . C I R C U L A T I O N 12,000 M O N T H LY

Tasmanian Business Reporter - JULY 2018 3

NEWS

Launceston bid for pilots

HUNDREDS of pilots would

be trained in Tasmania if the

State Government is successful

in its bid to secure the Qantas

Group Pilot Academy in

Launceston.

The city has been shortlisted

as a possible home for

the facility, which is expected

to open its doors to students

during 2019.

Up to $20 million will be

spent as an initial investment

in the facility.

TASMANIAN women at the

forefront of the state's resources

sector have been recognised.

Tasmanian Minerals and

Energy Council Chief Executive

Officer Wayne Bould

said the Women in Resources

Awards recognised individuals

and organisations working

to build a world-class industry

which provides attractive career

opportunities for women.

"The benefits of gender diversity

are many, including

improved business performance.

These awards contribute

to increasing diversity by

celebrating the ambassadors,

mentors and role models instrumental

in encouraging and

supporting women in the sector,"

Mr Bould said.

Exceptional Woman in Tasmanian

Resources:

Joint Winner: Vanessa Sullivan,

Customer Service Delivery

Manager, TasRail

Joint Winner: Donna Mc-

Dermott, Production Manager

– Flinders Island, Hydro Tasmania

SALMON giant Tassal and

George Town-based Envorinex

are set to achieve a new

level in plastic recycling.

Under the plan, the salmon

producer will move towards

Premier Will Hodgman

said the Government was

confident its bid would not

only meet the specifications

that Qantas is seeking, but

also offers other factors to

set the state apart from other

Australian locations.

Mr Hodgman said it offered

outstanding aeronautical

infrastructure, educational

capabilities and vibrant cities

for student pilots, staff and

their families to call home.

"The multi-million dollar

Qantas Pilot Academy

could train up to 500 pilots

a year, which would build

on the strong jobs and investment

growth across the

North and North West of

our state," he said.

"With business confidence

and conditions leading

the nation, it makes

sense for Qantas to base

their flying school here in

Tasmania."

100 per cent recycling of its

major plastic waste across its

operations.

Envorinex has recycled all

of Tassal's rigid recyclable

plastics over the past twoyears

leading to the expansion

of the contract to include recycling

of all soft-plastics (nets,

stanchions, ropes, feed bags

and processing bin liners).

As a result, Envorinex will

now annually recycle and

transform into second-life

products, about 500 tonnes

of Tassal's plastics, which

otherwise was previously

sent offshore for recycling

Salmon giant aims for next level in plastic recycling

or to landfill. The waste

will be transformed it into

products, which support the

building, horticulture, essential

services and fishing

industries.

Qantas Group CEO Alan

Joyce said the academy

would become a critical

part of the national carrier's

long term talent pipeline.

"Qantas has a proud history

of having some of the best pilots

in the world and we want

to make sure it stays that way.

"By creating our own

academy, we can train the

next generation of pilots to

the Qantas Group standard,"

Mr Joyce said. "Boeing estimates

the world will need

about 640,000 more pilots

in the next 20 years, with 40

per cent in the Asia Pacific region.

"That level of demand

makes the academy important

not just for Qantas but for

Australian aviation.

"Over time, we see potential

for the academy to become

a competitive advantage

for Australia in the region.

"It could train pilots for other

airlines and grow into the

largest academy of its kind in

the Southern Hemisphere."

Qantas expects the typical

entrants to be high school or

university graduates with a

strong academic performance.

Pilots would graduate after

18 months of classroom, simulator

and real world flight

training.

Devonport was also offered

up by the government but it

was not shortlisted.

Awards recognise resourceful women Major

Exceptional Young Woman

in Tasmanian Resources

Winner: Caroline Dunning,

Production Engineer, MMG

Rosebery Mine

Highly Commended: Jessica

Cope, Business Improvement

Lead, South32 (TEM-

CO)

Highly Commended: Diana

Felipe, Plant Metallurgist,

MMG Rosebery Mine

Outstanding Tradeswoman,

Operator or Technician

in Tasmanian Resources:

Winner: Tarrisha Simpson,

Project & Shift Electrician,

South32 (TEMCO)

Highly Commended: Jackie

McKibben, Process Operator,

Bell Bay Aluminium

Excellence in Company

Programs and Performance

in Tasmanian Resources:

Winner: South32 (TEM-

CO), Diversity South32 Policies

in Action

Gender Diversity Champion

in Tasmanian Resources:

At the

Tasmanian

Women in

Resources Award

are Stephanie

Pearce, left,

representing

category sponsor

Bell Bay

Aluminium, joint

winners Donna

McDermott and

Vanessa Sullivan

and the Governor

of Tasmania

Professor Kate

Warner.

Picture: Rob

Burnett Images

Winner: John Graham,

Manager Maintenance

South32 (TEMCO)

Exceptional Woman in a

Non-Executive Role in Tasmanian

Resources:

Winner: Elizabeth Williams,

Bass Strait Islands

Program Coordinator, Hydro

Tasmania.

real

estate

merger

KNIGHT Frank and Woolcock

Partners Real Estate

are merging to offer the best

complete real estate service

to clients in Northern Tasmania.

The new firm, which will

be branded Knight Frank,

will form one of the largest

real estate businesses in Tasmania

with 85 staff statewide.

Knight Frank CEO Scott

Newton said Woolcock Partners

Director Sam Woolcock

would join the Tasmanian

Knight Frank board.

"Together we will offer our

clients in Northern Tasmania

a complete real estate package,"

Mr Newton said.

"Woolcock Partners offer

residential sales and residential

property management

and Knight Frank delivers

integrated commercial sales,

commercial leasing, asset

management and project marketing

to developers.

"Clients will be able to access

commercial, residential,

consulting and research, project

marketing and valuation

services," he said.

"The new firm comes into

operation on July 1."

WANTED

Business

movers and

shakers

• Promotions

• Appointments

• Awards

• Celebrating

success

Share the news

with the

Tasmanian

business

community

Send your news

snippets, with a

high quality photo,

to TBReditorial@

fontpr.com.au
---
4 Tasmanian Business Reporter - JULY 2018

THOUGHT LEADERSHIP

www.tcci.com.au

Wanted: A voice for Braddon

POST the State Budget,

the next major item on

the Tasmanian political

agenda is the Braddon

by-election, one of five

polls on so-called "Super

Saturday".

The TCCI wants the

two major party candidates,

Labor's Justine

Keay and the Liberals'

Brett Whiteley, to focus

on business in its entirety

on the North-West Coast.

And this means smallto

medium-size businesses,

which are so critical

to the economic health of

the region.

We know that Australia-wide,

there is a growing

"anti-business" sentiment,

especially against

the banks on the back of

the shocking revelations

of the Royal Commission.

But the TCCI knows,

by going into businesses

and talking to staff

in the North-West, that

people understand the

importance of our sector

and employment on the

coast.

From a Federal Government

perspective,

whatever the outcome of

the by-election, the TCCI

wants the return of the

Michael

Bailey

TCCI Chief Executive

Minister for Small Business

to Cabinet … not

outside it as exists now.

What small and medium-sized

business in

the North-West want are

support for training and

training systems to up

skill their staff, as well as

tax settings that are suitable

for their businesses.

Every year, the TCCI

lobbies for the continuation

of the $20,000

rebate for SMEs to buy

business infrastructure

… when is that going to

be made permanent?

When I look at the

coast and the electorate

of Braddon, I see commendable

growth, with

for example subdivisions

in and around Latrobe

going ahead.

The construction sector

is humming along,

with new builds, extensions

and renovations

filling builders' books.

But what about some

more help from the Federal

sphere. We hear support

for decentralisation

from people like Liberal

Member for Bennelong

John Alexander.

But focus on this …

100 extra jobs in the Sydney

or Melbourne markets

means little … but

100 jobs on the Coast?

Major impact.

It's about time the Federal

Government identified

numbers and time

lines … how many jobs

by when.

What Braddon needs

is a "Voice for the Coast"

… and that's what I want

to see from the newly-elected

member …

whether it be Ms Keay or

Mr Whiteley.

I look across Bass

Strait to South Australia,

where Christopher Pyne,

although he is a minister,

being the strongest voice

for that state, now reaping

the benefits of Defence

Force sector contracts,

notably the new

submarine build … set to

deliver around $9 billion.

I want to see companies

like Elphinstone

Group and Southern

Prospect, as well as others

involved in advanced

manufacturing, benefit

from the defence sector

industry.

It's time for people to

speak up for the North-

West Coast, starting from

July 28.

Watch this space,

page 15

Liberal's Brett

Whiteley

Labor's Justine

Keay

Big on learning,

bigger on experience

Study an associate degree and

advance your career.

For Lisa Granger, an associate degree was the perfect fit.

"I've been at the Launceston Leisure and Aquatic Centre since 2009. I have

gained a lot of my skills and knowledge on the job and really wanted to

do more and further myself through study. I looked at the options and the

Associate Degree in Applied Business really appealed to me. Not only was

the content practical for my workforce, but the design and delivery of the

program was ideal for me to balance with my full-time role".

With University College's new hands-on, industry relevant associate degrees, you can

study closer to home with flexible learning of the latest industry needs. Whether

you're currently working and looking to up-skill, needing a formal qualification to

take the next step in your career, or trying to break into an industry, we have an

associate degree for you.

To find out more or to apply for mid-year intake (July 23), visit:

utas.edu.au/college or phone 1300 363 864

CRICOS Provider Code (University of Tasmania): 00586B.
---
T A S M A N I A' S L E A D I N G B U S I N E S S P U B L I C A T I O N . C I R C U L A T I O N 12,000 M O N T H LY

Tasmanian Business Reporter - JULY 2018 5

THOUGHT LEADERSHIP

www.tcci.com.au

Reality check among the roses

Brett

Charlton

Agility Logistics

RECENTLY I had to

melt the ice of the windscreen

to be able to attend

a breakfast in Launceston

where the State

Treasurer spoke on the

then-upcoming Budget

as well as how Tasmania

is faring as a whole.

Sitting among some

people I had met for the

first time it was evident

that there was a sense

of pride and enthusiasm

for how our State is progressing.

The Treasurer echoed

the sentiments of the

general consensus of the

room – we are in a good

place at the moment.

Encouragement for

export was one of the

themes of the presentation

on the back of a 33

per cent increase as well

as statistics around how

capital investment in

buildings and machinery

are up 11 per cent.

All great news for the

A SAFETY culture can be

identified as an attitude in

a workplace that places the

highest priority on safety.

It may characterised by

the attitude - "We just do

things safely around here".

Some questions that

may help you identify

where you sit on the safety

culture path could be:

• how important is safety;

• is safety important all

the time or just sometimes;

and

• would I compromise

on safety if it was to be

more expensive?

economy and exciting for

the growth of the state –

infrastructure spending

in the Budget and investment

by the shipping services

domestically servicing

Tasmania reflect

this as well.

Of course, the warm

glow of success can also

be a distraction.

Importers are going to

have difficulties in the

latter half of 2018 – the

issue will be space (especially

ex-Asia) and this

will in-turn put pressure

on rates.

The forecasts already

show July as being at 104

per cent capacity – shippers

need to be aware that

there are likely to be delays

and high costs.

Some lines are stating

that new capacity will be

rolled out, but at time of

writing this has not been

confirmed.

Fuel prices have impacted

shipping and all

Craig

Hortle

BUSINESS

Workplace Health & Safety

trade routes have now

implemented bunker adjustment

factors that will

be reviewed regularly –

on average this has seen

an increase of US$50 per

20-foot container for export

and import cargoes.

In 18 months' time the

IMO is enforcing 0.5%

HOBART'S BEST RANGE OF

QUALITY ERGONOMIC FURNITURE

FOR THE HOME AND OFFICE

Your local Liberal

Member for Denison

62 Main Rd, Moonah

We specialise in high quality ergonomic chairs,

alternative seating and electronic sit/stand desks.

Flair Office Furniture has been providing quality, affordable office

furniture to homes and offices throughout the Hobart region

for nearly 15 years. We're a locally-based, family-run business

specialising in all types of products, so why not visit us today to

see our fantastic range?

Please contact me:

Phone 6234 1127

260 Argyle Street,

North Hobart

p: 6212 2210

e: elise@elisearcher.com

m: PO Box 426, Moonah, 7009

www.elisearcher.com

www.flairofficefurniture.com.au

sulphur cap regulations

on merchant shipping –

this will come with a cost

of about US$50 billion to

the shipping industry.

Shippers would be

wise to start thinking

about that in terms of

how this cost will be

passed on.

BUSINESS

Authorised by Elise Archer, 62 Main Rd, Moonah, 7009

To see your business here, call Kerri on 0419 750 267 or email kerri@thetrustedmediaco.com

The Panama Canal is

a little bit narrower than

Bass Strait, but over the

years they have been

widening it to accommodate

larger vessels

– these are called Neo

Panama class vessels (as

opposed to Panama class

vessels).

Your Partner

in Print.

www.footandplaysted.com.au

Now incorporating

THE CRAFT LIVES ON.

The Panama class vessels

are being scrapped

at a fast rate and at some

point CEOs of shipping

lines are going to be

asking their Australian

offices to begin to plan

to accept Neo Panama

class vessels.

Unfortunately some

Panama Canal

is at the centre of

looming major,

and potentially

costly, changes to

worldwide

shipping.

Picture:

Courtesy Panama

Canal Authority.

of our ports have missed

this trend and they are

not prepared or able to

accommodate such vessel

sizes – this will result

in infrastructure spend

and will likely add to

costs.

I favour writing positive

view points as much

as I can and the growth of

our trade tells an excellent

story, however every

now and again a reality

check does not go astray.

Creating a safety culture in the workplace

of business we want and

the actions taken by all

involved in the business

are accountable and directly

affect the businesses

reputation and its overall

business plan.

There are a number of

areas that will continue

to help in developing a

strong safety culture in a

workplace. They are:

• safety values identified

and communicated;

• good leadership;

• define expected behaviour;

• how it affects individuals;

If we want to start to have conflicting views on

develop a better safety safety, the outcome would

culture we need to ensure be a workplace that is

that those who have roles fragmented and disjointed

of supervision have the

about how to deal with

necessary knowledge and safety matters.

skills to promote a safety Management commitment

culture.

to safety perfor-

If the workplace is deficient

mance is the first step.

and have manage-

This will demonstrate

ment and supervisors who to all that this is the type

2

ADVERTISEMENT

Elise

Archer

YOUR QUICK GUIDE TO SERVICES AND PRODUCTS FOR YOUR BUSINESS

WANTED

Business

movers and

shakers

• Promotions

• Appointments

• Awards

• Celebrating

success

Share the news

with the

Tasmanian

business

community

Send your news

snippets, with a

high quality photo,

to TBReditorial@

fontpr.com.au

• have positive safety

attitudes;

• ensure all own and

engage in responsibilities;

• raise the profile of

hazards and risks and

prevention methods;

• develop a safety

management system that

all understand; and

• review the process.

If you have a good

safety culture, compliance

will occur. If you

try to comply it may not

change any of the attitudes

in the workplace

and the workplace will

not be safer.

To explain this point,

in the early 1980s I

worked in a workplace

that was inherently unsafe.

WHS management

systems were few and far

between in 1981.

Dirt floor out the back

and old machine tools

with no guards.

But there were no

WHS incidents, why?

Each task that was to be

carried out was given

out by one of the owners

(75years old at least)

they would instruct you

about the safety issues

that accompanied each

task.

This created a conversation

around safety and

what hazards were evident.

In other words a

great safety culture. Similar

methodologies today

will help create a safe

workplace.

For information on

how to achieve this

please contact Craig

Hortle or Janelle

Whitehouse at the

TCCI on 1300 559

122 or safety@TCCI.

com.au
---
6 Tasmanian Business Reporter - JULY 2018

THOUGHT LEADERSHIP

www.tcci.com.au

Time to blow your own trumpet

Sally

Chandler

Tradestart Adviser

APPLICATIONS are

now open for the 2018

Tasmanian Export

Awards.

This is the 25th anniversary

of the awards being

held in Tasmania.

The awards are part

of the prestigious Australian

Export Awards

which are in their 56th

year - to honour and reward

our hard-working,

risk-taking exporters

who employ so many

people around Tasmania,

Australia and the world.

The awards are open

to companies engaged

in international business

who have achieved sustainable

growth through

innovation and commitment.

The awards measure

businesses against

their peers based on the

strength of their international

growth, marketing

and financial strategies.

The two-tier awards

process starts with

The Tasmanian Export

Awards administered every

year by the Department

of State Growth.

The national award

categories are Agribusiness,

Business Services,

Creative Industries,

Digital Technologies,

E-commerce, Education

and Training, Environmental

Solutions, Health

and Biotechnology,

Manufacturing, Minerals

Energy and Related Services,

Regional Exporter

and Small Business.

The overall Tasmanian

Exporter of the Year will

be selected from the winner

of one of these categories.

Exporters can enter

more than one category

to maximise their chance

of success, but can only

win one category.

This year, the Tasmanian

Export Awards will

have two additional cat-

egories – 25th Anniversary

Award for Contribution

to the Tasmanian

Export Community, and,

Tasmanian Women in

International Business

Award 2018.

I strongly encourage

exporters and women in

international business

to enter the Tasmanian

awards.

The closing date is

August 15 and applications

are online at https://

exportaward.com.au/tas/

newentry/index.php

The awards ceremony

will be held at Government

House in Hobart on

October 26.

Award winners of the

national categories then

go on to be category fi-

nalists in the Australian

Export Awards which

will be held on December

4.

Each national finalist

receives an Australian

Export Awards National

Finalist Certificate

General manager

and distiller Mark

Littler from

Hellyers Road

Distillery, last

year's winner of

the Tasmanian

Export Awards.

and can use the national

Australian Export Award

Finalist logo for their

corporate marketing material.

National category

winners receive an Australian

Export Awards

National Winner trophy

and Certificate and are

entitled to use the national

Australian Export

Awards Winner logo for

their corporate marketing

material.

They also have the opportunity

to win the ultimate

award – The Australian

Exporter of the

Year.

For international

trade and investment

assistance contact

the TCCI's Trade-

Start Adviser, Sally

Chandler, at sally.

chandler@tcci.com.

au or phone 1300

559 122.

Navigate your maritime

career in Sydney with AMC

The Australian Maritime College (AMC) is expanding into Sydney

in 2018, delivering postgraduate programs and professional short

courses from the Australian National Maritime Museum, in the

heart of Darling Harbour.

Our team of leading maritime engineering, and maritime business and international

logistics academics will be delivering the following postgraduate courses in 2018:

• Master of Engineering (Maritime Design)

• Master of Business Administration (Advanced)

(Maritime & Logistics Management)

AMC Search will also offer a selection of short courses throughout the year.

Enquire to study in Sydney in 2018.

amc.edu.au/sydney

Cricos Provider Code 00586B

Check liability to

your employees

THE Fair Work Commission

has handed down its

annual wage review decision

which will apply

to the first full pay period

after 1 July 2018, with an

increase of 3.5% being

awarded.

The increase can be

absorbed into existing

over-award payments, as

per the absorption clause

in the relevant Modern

Award and the TCCI will

be undertaking and circulating

to eligible members

the applicable pay

and conditions guides.

The full decision can

be found at www.fwc.

gov.au/documents/sites/

wagereview2018/decisions/2018fwcfb3500.

pdf and the summary

that was also published

can be found at www.

fwc.gov.au/documents/

sites/wagereview2018/

decisions/2018fwcfb3500-summary.pdf

End of financial year

is also fast approaching

which is a great time

for employers to have a

check of their employment

law obligations

such as:

• do all of your employees

have contracts or

a letter of offer?

If not, it is best to look

at drafting some to ensure

that everyone is

clear as to the applicable

Abbey

George

Workplace Relations

Modern Award, classification

level and pay rate

that applies to each position.

They do not necessarily

need to be complex,

but it does assist if there

is a dispute later on;

• do your employees

have position descriptions?

If not, how can you

performance manage

them if they are unsure

as to what their position

entails;

• are your policies and

procedures relevant and

current?

Again, it is very difficult

to hold employees to

a certain standard if they

are unsure as to what the

expectation is;

• is there any training

that was promised last financial

year that wasn't

delivered?

Or do you have a policy

that needs implementing

but was never undertaken?

Now might be a good

time to lock a time in to

do so;

• Have you completed

performance appraisals?

How were they received

by your staff,

managers etc.? There is

no point simply "going

through the motions"

with performance appraisals,

used correctly

they can be a useful tool

for all involved to approach

issues in a proactive

manner; and

• do you have an Enterprise

Agreement that

has passed the nominal

expiry date or the nominal

expiry date is approaching?

Now might

be a good time to revisit

your agreement, especially

since you will

have your financial information

available for

budget purposes in any

event.

If you have any

questions on workplace

relations

matters generally

you can contact the

TCCI on 1300 765 123

or 1300 59 122 or

workplace

relations@tcci.com.au
---
Tasmanian Business Reporter - JULY 2018 7

THOUGHT LEADERSHIP

www.tcci.com.au

E-health revolution all for consumers

Paul

Lupo

CEO, StLukesHealth

The success rates are

similar.

In both forms you

have to attract new customers

away from existing

businesses.

How good you are at

attracting customers is

the defining success factor.

When you do look

at franchise opportunities,

here are three

things to consider:

1. Look for a franchise

system that is

fee-based and not royalty

based. You want

to pay a flat fee per

month compared with

a percentage-of-sales

royalty. You don't want

to pay royalties when

you are making loss-

HEALTHCARE Software

CEO John Elkerton

addressed a group of

St.LukesHealth employees

recently about the

emergence of e-health in

today's society, specifically

looking at how we

currently manage health

information and how the

best course of treatment

for a patient is often overlooked.

Traditionally, our

medical providers have

worked in clinical silos,

meaning a patient's medical

notes are only shared

within the area they received

treatment.

Yet over the course of

our lifetime, we see different

medical providers

Budget ignores risk of cut to state's GST share

THE 2018-19 Tasmanian

Budget was well

received by many in the

business community. In

fact, some of the commentary

was glowing

in its praise before the

Budget had even been released.

But first to bust a

myth.

This is not a surplus

budget. The Budget is

one of underlying, fiscal

and cash deficits. The

Treasurer's surplus claim

is based on an accounting

measure that includes

Tips for buying a franchise

Dean

Demeyer

Business Broker

FOR the last 18 months

or so there has been a focus

on four or five franchisors

that have done

the wrong thing by franchisees

and their employees,

and this casts a

negative spotlight on the

other 1,100 franchises

across the whole sector.

There is nothing

wrong with the franchise

model, just a few poor

companies that happen

to run franchises.

It's worth noting, buying

a franchise is not

necessarily a recipe to

success.

The risks of starting

a franchise business are

much the same as an independent

start-up business.

and specialists depending

on what we need. For

many of us, our childhood

GP is no longer the

doctor we turn to when

we need our prescriptions

filled.

As a consumer, we

are left with a fragmented

health record that can

lead to inefficiencies

and complications in our

overall health treatment.

There is not one single

point where we can find

information about when

we received our tetanus

shot, had our blood test

done or what medications

we are allergic to.

It raises questions as to

how health decisions can

be made in the absence of

Scott

Bacon

Shadow Treasurer

federal infrastructure

grants revenue without

showing that money

flowing out of the state

coffers into the infrastructure

projects.

The Budget papers

themselves refer to this

a complete record.

If an individual was to

be hospitalised, are the

treating healthcare professionals

aware of that

person's history of medicines,

past procedures

and other health information?

At discharge, was our

as a "distortion".

In fact, the Treasurer

has never produced

a surplus and does not

plan to until 2022. Even

after $1.6 billion in additional

revenues flowing

to Tasmania, including

es. That means you are

bearing all the risk.

2. Franchisors sell

(or should be) effective

successful operating

systems – a recipe if

you like. Importantly,

ensure the franchisor

provides an operations

manual, which contains

the franchise system.

It's best practice to

verify this with existing

franchisees, not the

franchisor.

3. Look for an industry

that isn't over saturated

with franchisees,

GP provided with a summary

of our treatment

and would they know

what medication we are

to take from this point

on?

This is where e-health

has a role to play. Electronic

records can, with

permission, be shared

GST and other Federal

Government payments

over his first four years

as Treasurer, this is yet

another deficit budget.

There has never been

such uncertainty in Tasmania's

revenue. With

40 per cent of revenue

based on GST receipts,

a Productivity Commission

draft report showing

every draft change

ripping hundreds of millions

out of Tasmania's

GST share, the Treasurer

has chosen to move

ahead with the biggest

but populated with independent

businesses.

Be the first franchisee

in that industry.

If you look around its

easy to identify industries

where there's saturation

- mowing, food,

cleaning etc.

The best advice if

you really want a franchise

where you are

supported with systems

and guidance from a

franchisor, and you

don't want the hassle of

finding customers from

start-up, then buy an

existing, successful and

profitable franchise location

as a going concern.

between health providers

and patients, providing

a unified record

and the potential for

decisions to be made in

full knowledge of patient

past and current

health experiences.

The Australian Government

is committed to

R I M

Professionals Australasia

Records & Information Management Conference

9-12 September 2018, Wrest Point, Hobart

TRADE

EXHIBITION

FREE ENTRY*

*requires

registration

achieving this through

its national health record,

otherwise known

as My Health Record

(MyHR), which also

means patients can be

an active participant in

their health care.

What this does is enable

physicians to provide

seamless care and

treatment plans whether

the patient chooses

to undertake this at

home or elsewhere.

The information revolution

has also delivered

smart devices

like iPhones, tablets,

watches and scales at

affordable prices to allow

health monitoring

in the home.

Applications allow

us to track our sleeping

patterns, set goals

around fitness, scan our

skin and check fertility.

It allows individuals

to be proactive in their

health, as opposed to

spending budget in Tasmanian

history anyway.

But what are the risks

from locking in massive

expenditure growth,

$200 million in underlying

deficits across

the budget and forward

estimates and a $570

million deterioration

in Tasmania's general

government net debt

position?

Will the 2018-19 Budget

be one that is looked

back on favourably in

10 years' time? That is

the test. Tasmania has

not been in general government

net debt since

2005, but Peter Gutwein's

budget will take

us to a wafer thin $15

million in net cash and

reserves.

At the start of a fouryear

term, during economic

conditions that

Learn from local and international cutting-edge

presenters and keynote speakers

Gain information, exchange ideas and learn

about new technologies

Attend informative and interactive workshops

Network, network, network! Make new contacts

and rub shoulders with industry influencers

managing illness and

chronic conditions.

Individuals can now

collect and monitor their

own data to make informed

choices about

their health and wellbeing.

And the wonderful

thing about this is that it

is achievable and affordable

for people, regardless

of their background

and financial situation.

These advances can

also transition treatment

from generic to

person-based, centred

around the individual and

their needs rather than

the population at large.

It also means patients

will have access to their

health information when

it suits them rather than

when they can get an appointment

with their physician.

The landscape of

health care is changing.

Are you ready to be part

of this revolution?

suit Tasmania, there is

no plan to fix the structural

economic and fiscal

problems that are holding

our state back.

We are all enjoying

these economic conditions,

but the test of any

financial manager is to

prepare for inevitable

setbacks and plan for the

long term.

I don't see that in this

budget.

REGISTER

ONLINE

inforum.net.au
---
8 Tasmanian Business Reporter - JULY 2018

THOUGHT LEADERSHIP

www.tcci.com.au

Powerhouse of the nation

TASMANIA has already

established itself as the

nation's number one renewable

state, but we

have an opportunity to

take our potential to the

next level.

A range of exciting

initiatives has been announced

which will

unlock Tasmania's nation-leading

potential in

renewable energy.

A report released by

Australia's leading renewable

energy body,

ARENA, identified 14

high potential pumped

energy storage sites in

our Central Highlands

and on the North and

West Coasts.

Combined, they could

deliver up to 4800 megawatts

of new energy capacity.

The next step is

to narrow down these

sites to executable projects

estimated to deliver

2500 megawatts, which

is double the existing hydro

electric capacity.

Make no mistake,

6391 8481

Guy

Barnett

Minister for Energy

this is a game-changing,

state-building, nation-leading

discovery

and underpins the future

of the energy sector in

both Tasmania and Australia.

With the potential to

create up to 3000 jobs

and generate up to $5 billion

in investment, this

is an incredible leap forward.

After this announcement,

a second report

released by ARENA cemented

what many here

in Tasmania already

knew – confirming that

we can deliver the lowest

energy costs in the

nation.

This report confirmed

that Tasmania's strategic

SOLUTIONS

IN PRINT

your print specialist for over 90 years

www.woolstonprinting.com.au

sales@paperstat.com.au

Full Off-Set,

Digital and

Wide Format

Capabilities

Binding and

Finishing

Variable Data

and Mailing

Warehousing

and Distribution

Online Ordering

and Inventory

Management

Energy heavyweights, from left, Arena CEO Ivor Frischknecht, State Energy Minister Guy Barnett,

Braddon Liberal candidate Brett Whiteley, Federal Energy Minister Josh Frydenberg, Premier Will

Hodgman and Hydro CEO Steve Davy and, below, Tungatinah Power Station.

bine to provide additional

energy into the electricity

grid when needed.

However, it's not just

about Next Generation

Hydro, with Tasmania's

world-class wind potential

also playing a critical

role in the state's energy

future.

Cattle Hill and Granville

Harbour wind farms

are already under way,

with plans for expansion

elsewhere including at

Robbins Island.

Tasmania's wind is not

just a powerful resource

for the state, but our wind

often blows when it's not

blowing elsewhere in the

country, enabling us to

provide wind-generated

electricity when it's

needed elsewhere in the

National Electricity Market.

The combination of

Tasmania's pumped hydro,

wind and interconnection

is said to be

cost-competitive against

all other realistic options

for the future energy system.

ARENA's "Battery of

the Nation" analysis of

the future National Electricity

Market' report

states Tasmania's "flexible

hydro power… could

translate to a 20 per cent

HOBART'S BEST RANGE OF

QUALITY ERGONOMIC FURNITURE

FOR THE HOME AND OFFICE

We specialise in high quality ergonomic chairs,

alternative seating and electronic sit/stand desks.

Flair Office Furniture has been providing quality, affordable office

furniture to homes and offices throughout the Hobart region

for nearly 15 years. We're a locally-based, family-run business

specialising in all types of products, so why not visit us today to

see our fantastic range?

advantages should make

a pumped hydro investment

a national priority.

In fact married with

new interconnection

they become nation

building infrastructure

projects according to

Federal Energy Minister,

Josh Frydenberg.

As more coal fired

power stations retire and

more intermittent renewables

such as wind enter

the market, a reliable energy

source is required to

fill that gap.

Tasmania's geography

and topography and the

location of our existing

hydro assets make our

state strategically placed

to deliver low cost, 100

per cent renewable dispatchable

power – energy

on tap.

Currently, we have 30

power stations spread

across the heart of Tasmania.

This infrastructure

was established

through decades of toil

and innovation by our

forebears over the great

era in Tasmanian history

known as "hydro-industrialisation".

We are entering a new

era characterised by

pumped hydro energy

storage, which is now

regarded as the most

mature electrical energy

storage system in the

world, accounting for 97

per cent of energy storage

worldwide.

Pumped hydro energy

storage is Next Generation

Hydro for Tasmania.

Put simply, it involves

pumping water uphill to

a storage reservoir and

releasing it through a turwww.flairofficefurniture.com.au

reduction in energy costs

and an additional reduction

of up to nine million

tonnes of greenhouse gas

emissions per year".

Phone 6234 1127

260 Argyle Street,

North Hobart

This 20 per cent competitive

advantage includes

the cost of additional

interconnection

to the mainland.

New and increased

interconnection underpins

this development,

and the Australian Government

agrees referring

to it as "national

infrastructure" and Infrastructure

Australia

considering it as a priority.

A number of potential

terminal sites on mainland

Victoria and across

the North of Tasmania

have been identified.

TasNetworks is reviewing

and has met

cable manufacturers in

Europe to discuss.

The Hodgman Liberal

Government's is

getting on with the job

shoulder to shoulder

with the Turnbull Liberal

Government to

capitalise on our unique

renewable energy advantage

to create more

jobs, investment and

low cost power that will

deliver benefits for next

generation Tasmanians.

WP - Advert Mar17.indd 1

4/04/2017 1:15:43 PM
---
Tasmanian Business Reporter - JULY 2018 9

NEWS

Tourism drives silos renewal

AFTER more than a decade

sitting idle, Launceston's old

silos have been revitalised and

reopened as Peppers Silo Hotel

after a $30 million transformation.

More than 1,000 VIPs attended

the official opening

of the hotel and restaurant facility

at Kings Wharf, made

possible thanks to the vision

and drive of developers Errol

and Adie Stewart.

The 10-level hotel features

108 guest rooms, including

52 inside the barrels of the

former silos, a restaurant and

bar called Grain of the Silos,

undercover car parking, conference

facilities for up to 500

people, and an integrated lobby

and reception space.

Premier Will Hodgman said

the new Peppers Silo Hotel

was a striking symbol of a

city that was reinvigorated

and confident.

"The Peppers Silo Hotel

is expected to attract 27,000

visitors each year, injecting

about $8 million into the local

economy," Mr Hodgman said.

"The development sits

alongside other major investments

in Launceston supported

by the Government, including

the City Deal which will

clean up the Tamar River, revitalise

the CBD, and support

the relocation of the University

of Tasmania to Inveresk delivering

significant economic

and educational benefits."

Mr Stewart, who has also

developed the adjacent Seaport

precinct and JMC car

yard, said he was proud of the

achievement - paying tribute

to the team behind the transformation

including his wife

Adie, partner Chris Morris

and JMC Property Group

Construction Manager Craig

Wood.

"I've always said that to

create something from not

much is pretty inspiring. I am

proud of what we have delivered,

and I believe that this

building will now become

iconic for Launceston," Mr

Stewart said.

JMC Property Group employed

37 full-time employees

during the build, while

also using the services of

more than 180 external contractors.

The stunning Peppers Silo Hotel and, inset, Canine Ambassador Archie.

"The opening of the hotel

will provide 50 jobs for the local

community.

The hotel and restaurant

will directly inject $10 million

into the Launceston economy

per year once fully operational."

The development coincides

with the revitalisation of the

Kings Wharf area, with three

hectares of parklands to take

the place of Boral Concrete's

production plant.

"This project has had its

challenges, but I am immensely

proud of what we have created,

and I hope this project

goes on to benefit the community

and the environment

for generations to come," Mr

Stewart said.

Mantra Group Executive

Director

of Operations

Mark

Hodge

said the

landmark

hotel and

its beautiful

amenities

had been

carefully designed

to appeal

equally to Tasmania's

leisure visitors and the

fast-growing business visitor

and corporate market.

"Tasmanian tourism is currently

experiencing record

growth and with this strong

performance set to continue,

the opening of Peppers Silo

is the perfect addition to our

existing portfolio in Launceston,"

he said.

The hotel has worked closely

with Guide Dogs Tasmania

to employ a "Canine Ambassador"

called Archie, a black

Labrador who resides at the

hotel and helps the concierge

with daily tasks such as greeting

guests and delivering the

morning newspapers.

LEFT:

Courtney,

left,

Chantel and

Lisa

Hamilton.

LEFT:

Kylie

Featherstone,

left, Ashley

Badkin

and

Sarah Molnar.

Picture Rob

Burnett

LEFT:

Premier Will

Hodgman,

left, developer

Errol Stewart and

Mantra Group

Executive

Director of

Operations Mark

Hodge.

ABOVE: David and Taylor Elliott.

Picture Brodie Weeding

ABOVE: Trent Smith, left, Jesse Grace, Stefan

Sydow, Natalie Morice-Sydow, Isabella Sing

and Edward Hull.

Pictures Brodie Weeding

Picture

Brodie Weeding

2019 TASMANIAN LEADERS PROGRAM

LEFT:

Megan and

Phil Gittus.

Picture Brodie

Weeding

About the program

The Tasmanian Leaders Program is

an unmatched leadership experience

that achieves positive outcomes for

participants and their employers.

The program uses a variety of

educational processes to extend and

broaden leadership capability, with

benefits extending well beyond the

initial eleven month commitment.

Who should apply?

Each cohort includes people with

established careers from varied

sectors spanning all spheres of

business, non-profit and government.

High potential leaders wanting to

accelerate their leadership capacity

through interactive and reflective

learning are invited to apply for the

2019 program.

www.tasmanianleaders.org.au

SUPPORTED BY
---
10 Tasmanian Business Reporter - JULY 2018

NEWS

Associate degree

focus on industry

Call out for Cradle

Gateway developer

By LEE

WHITELEY

Chief Executive

University

College

OUR Tasmanian context

informs the way many

people approach education

and training in our

state.

We are well connected

to people and place by

virtue of the fact that we

are bound by water.

This microcosm

makes us in some ways

resilient and in other

ways isolated and this

requires us to think differently.

My own experience is

like many in my region

where I pursued a technical

VET pathway, enjoyed

a career working

for a shortlist of amazing

local and international

companies and discovered

along the way that

my educational journey,

which in its first stage

ended prematurely at

Lee Whiteley

year 10, would not take

me where I wanted to go,

and where my region and

state desperately needed

me to go.

Of course the reality is

that learning never stops

regardless of where we

exit or re-enter formal

education.

When I exited my secondary

education I temporarily

thought that the

learning part of my story

was over but I found my

way back into a formal

university education later

in life.

The University College

two-year associate

degrees are a standalone

qualification that were

specifically developed

to match industry needs,

using teachers with practical

work experience to

deliver content.

As such, these statewide

associate degrees

are an industry-focused

qualification, making

them ideal for students

looking to up-skill or attain

the formal qualifications

necessary to gain

employment in their chosen

industry.

The range of associate

degrees on offer commencing

on Monday July

23, include Agribusiness,

Applied Business, Tourism

and Events, Sport,

Recreation and Leisure,

Local Leadership, Supply

Chain Management,

Aquaculture, Fermentation

Science and Separation

Processes, Cyber

Security, Cyber- Physical

Systems, and Applied

Design.

For more information

about University

College associate

degrees, visit utas.

edu.au/college or

call 1300 363 864.

THE search is on for

private investors for the

Cradle Mountain Gateway

Precinct.

Colliers International

is undertaking an initial

world-wide investment

identification process

on behalf of the State

Government to gauge

the size of interest and

suitable developments to

contribute to the overall

tourism hub.

A formal EOI process

for the Gateway Precinct

will be undertaken later

this year.

Once complete the

Gateway Precinct is

expected to attract up to

80,000 additional visitors

to the region each year,

directly inject almost

$30 million into the local

economy and support

140 local jobs.

The alpine village

area would be the

prime entrance to the

world-renowned heritage

precinct, national park

and wilderness area, as

well as the main access

point to Dove Lake and

departure point for the

world-famous Overland

Track.

It would also be the

departure point for the

An artist's

impression

of the

proposed

Cradle

Mountain

Gateway.

Cradle Mountain Cableway

- which has secured

$60 million funding of

$60 million from the

State and Federal Governments.

A partner will be

sought for the cableway

in 2019 through a separate

process.

Information is available

from Colliers

International exclusive

marketing agents, Karen

Wales and Guy Wells,

who can be contacted for

more information on 61

2 9257 0222 or Karen.

Wales@colliers.com or

guy.wells@colliers.com.

Looking for

new talent?

You can find and directly connect

with students through the University

of Tasmania's new employment

portal, Career Connect.

If you are looking to:

> advertise a job

> run a recruitment and selection process

> mentor students

> offer work experiences and I-PREP internships

> interact with students virtually and on campus

Career Connect can help you do all this and more.

For more information email Leap.Connect@utas.edu.au

Register at www.utas.edu.au/careerconnect/employer

CRICOS Provider Code 00586B

UTAD21356
---
Tasmanian Business Reporter - JULY 2018 11

NEWS

Benefits in

overseas

internship

THE University of Tasmania

is calling for Tasmanian businesses

to open their doors to

talented and enthusiastic international

students, unlocking

benefits for all.

Local businesses are being

encouraged to offer international

students internships

as part of the university's

I-PREP program, which is

supported by the Tasmanian

Government.

The program aims to give

international students, at both

the university and TasTAFE,

an opportunity to engage in

and make a valuable contribution

to a Tasmanian workplace.

The program educates international

students in Australian

workplace culture, communication

skills and how to

apply for a job. Students are

then eligible to apply for an

internship in a Tasmanian organisation

to put their skills

into practice.

The university's new Industry

Engagement Coordinator,

Penny Stringer, is excited

about the potential of the initiative.

"We are looking for organisations

that are willing to

open their doors to the very

talented international students

we have studying in Tasmania.

There are many benefits

to hosting an intern including

enriching and diversifying

your organisational culture

with someone who has a

youthful perspective, energy

and global knowledge," Mrs

Stringer said.

"For the student they get

hands-on work experience in

a real workplace, as well as

developing transferable skills

and experience for their resume.

For employers, it's an

opportunity to develop and

mentor the future employees

and leaders of Tasmania. It's

a win-win for both parties."

The I-PREP program is a

key element of the university's

new Career Connect ini-

PREP students Zijun Zhuang, left, Afreen Fatima and Jia Fan with Crowe Horwath Partner, Mark Harrison.

tiative, which aims to build

closer ties and networks between

the university and local

employers.

Career Connect will give

employers the opportunity to

source talent and engage with

students in a range of creative

ways from offering mentoring,

advertising jobs, hosting

interns and work experiences

and holding on-campus expos.

"We want to start a conversation

between the business

community and the University

of Tasmania about how we

can work together to develop

a productive workforce," Mrs

Stringer said.

The I-PREP program will

be formally launched by the

Minister for State Growth,

Peter Gutwein, on August 14.

Employers interested in

hosting an I-PREP intern

or learning more about

Career Connect should

contact Leap.Connect@

utas.edu.au

Supporting

those making

a better

community.

Just one reason why our

members voted us number one

for customer satisfaction

in Australia, two years in a row! *

Mitch McPherson

Founder, SPEAK UP! Stay ChatTY

We're your number one health insurer. Talk to us today!

1300 651 988 stlukes.com.au

for Customer Satisfaction*

two years in a row!

* #1 Roy Morgan Customer Satisfaction Awards: Private Health Insurer of the Year – 2016 & 2017. St.LukesHealth ABN 81 009 479 618 180376
---
12 Tasmanian Business Reporter - JULY 2018

FOCUS ON BUSINESS

Tasbulk keeps costs contained

TASBULK Pty Ltd was first established

in 1978 and boasts more than

40 years' experience in the transportable

building and container industry.

Tasbulk is an Australian privately

owned and operated company, which

provides shipping container and transportable

building services to a wide

range of industry sectors.

Over the many years of trading,

Tasbulk has forged close relationships

with some of the major global container

leasing companies.

To service a growing hire fleet, Tasbulk

continues to invest in new build

container equipment.

Tasbulk can supply standard ISO

containers or design and fabricate

"special build" equipment.

Tasbulk undertakes all fabrication

and modifications using directly employed

local tradesmen.

Taxes are paid within Australia and

profits are spent in the local community.

The company specialises in shipping

container hire and sales of new

and used units.

Tasbulk can also do modifications

to these for a variety of applications.

Refrigerated

container

leasing and sales

USED onsite or to transport

temperature-controlled cargoes

such as fruits, meat, fish, seafood,

vegetables, dairy and also non-food

products such as flowers, pharmaceuticals

etc. across many miles or on

location.

Some cargoes may need to be

stored chilled or frozen or in controlled

plus or minus temperatures.

Refrigerated containers can maintain

the cargo at the required temperatures

for the duration of transit.

The company

specialises in

shipping

container hire

and sales of new

and used units

Site office

hire and sales

EXTREMELY popular multipurpose

offices and lunchrooms come in three

standard sizes - 4.8 x 2.4m, 6 x 3m and

12 x 3m.

They are equipped with insulation,

power, lighting and reverse cycle air

condition.

Lunchroom variations also include a

kitchenette with continuous boiling water

unit, making it easily transportable.

If standard sizes or layouts don't

quite suit, Tasbulk can custom build a

variation as these are constructed on

site at Brighton.

Contractors'

containers

COMMONLY used at construction

sites, great for the contractor that

needs office space and tool storage.

With window shutters, padlock

protector box and deadlock they can

be locked away safely at the end of

the day.

Tasbulk can supply standard ISO

containers or design and fabricate

"special build" equipment.
---
Tasmanian Business Reporter - JULY 2018 13

FOCUS ON BUSINESS

Serving TCCI and its members

A NEW bespoke insurance

and risk solution service is

being developed for TCCI

members.

The service to be provided

by Capital Innovation

Insurance Group and equity

partner Insurance Solutions

Tasmania will be rolled out

over coming months.

Capital Innovation Insurance

Group and Insurance

Solutions Tasmania will

provide a range of information

and advocacy services,

specific to insurance

and risk services, within the

TCCI calendar throughout

2018 and beyond.

The partnership is engaging

with TCCI Chief Executive

Michael Bailey and

TCCI staff to offer a premium

service to all TCCI

members.

The service will not only

provide tailored insurance

products but will extend to

information and education

sessions on all aspects of

commercial insurance.

Both CIIG and IST have

Ian Goninon

recently reviewed their

business and developed a

forward plan to build upon

the strong foundations and

reputations built since inception

in 1987.

"Since our origins we

have strived to provide professional

advice and service

to our customers, collaboration

with our suppliers and

be a great place to work for

our staff," explains Group

Chairman Ian Goninon.

"While maintaining our

historical agenda, our group

will also strongly pursue

opportunities for growth -

customers, capability, expertise

and efficiency.

By doing so we are confident

that the CIIG / IST

partnership will be able to

continue to build our brand

and offering."

The group's directors and

shareholders are Ian Goninon,

Leigh Stalker, Dane

Goninon and Rodney Chivers.

All four executives are

confident that the holistic

group approach, profile

and behaviour, will deliver

scale, functionality and efficiency

– providing a clear

pathway to position the

company as both the insurance

broker of choice and

employer of choice.

Both Capital Innovation

Insurance Group and Insurance

Solutions Tasmania

brands remain unchanged,

as does personnel, capability

and a strong reputation

for personal service and

professional advice

The group's Launceston

office will remain its head

office with offices, capability

and representation in

Hobart, Smithton, Brisbane

and Melbourne.

Ian Goninon,

Chairman

Ian is one of the founding

directors and has

over 40 years' experience

in the insurance

industry.

He currently holds

a Diploma in Financial

Services (Insurance

Broking).

Ian is involved in a

variety of community

groups and organisations

outside of the

group and is a councillor

at Northern Midlands

Council.

Leigh Stalker,

General

Manager

Leigh draws on over 35

years insurance experience

in key distribution

and leadership roles

throughout Tasmania,

NSW and Queensland

which have been complimented

by various

academic qualifications

including FAII, Graduate

Diploma of Insurance

and MBA.

He is currently studying

a Master of Applied

Finance.

Rodney

Chivers,

Director

Rodney Chivers has

been in the industry for

more than 30 years, and

for the last 15 years has

worked as broker and

part owner of Insurance

Solutions Tasmania.

Rodney is a Director

of Insurance Solutions

and is best known for

his close attention to detail

and his calm and analytical

manner – traits

which are ideally suited

to complex assessments

of commercial risk.

Rodney holds a Diploma

of Financial Services

(Insurance Broking) and

is a Qualified Practising

Insurance Broker (QPIB)

Dane Goninon,

Director

Dane has more than 15

years' experience in the

insurance industry.

He is passionate

about providing appropriate

professional advice

and solution to his

customers.

He is active in the

community with his

family with a number of

charitable pursuits.

He currently holds

a Diploma of Financial

Services (Insurance

Broking), is a Certified

Insurance Professional

(CIP) and a Qualified

Practising Insurance

Broker (QPIB).

Take the hassle

out of Workers

Compensation

insurance.

Call us, your local experts in all aspects

of commercial insurance.

www.capitalinnovation.com.au

Launceston

03 6332 2500

Hobart

03 6265 2999

www.inssoltas.com.au

AFS: 238994 AFS: 315540

Smithton

03 6452 3780
---
14 Tasmanian Business Reporter - JULY 2018

NEWS

Digital innovators awarded

TASMANIA's top digital

and technology innovators

have been

recognised by the Australian

Information Industry

Association.

The peak industry

body for the technology

sector announced the

Tasmania iAwards winners

for 2018 at a gala

at Hobart's Wrest Point

Hotel last month.

Awards were presented

in categories comprising

Business Service

Markets, Consumer

Markets, Public Sector

& Government, Students,

Research & Development,

Infrastructure

& Platforms and Big

Data.

AIIA CEO Rob Fitzpatrick

said the 2018

finalists added to the

iAwards' 25-year legacy

of recognising the important

work being done

in Australian innovation.

"AIIA would like to

congratulate the winners

and merit recipients of

the 2018 AIIA Tasmania

iAwards," Mr Fitzpatrick

said.

"Each year the

iAwards publicly recognise

the exceptional

achievements of those

at the forefront of Australian

innovation, and

the projects shaping our

modern economy.

"We're proud to provide

a platform for, and

encouragement to people

prepared to bring an

idea to life, enabled by

technology. "Whether

they're in startups, the

public sector, community

services, academia, or

private enterprise, small

and large, the work of the

finalists is an inspiration

to us all."

Winners and merit recipients

will represent

Tasmania and compete at

the National iAwards on

August 30 in Melbourne.

David Pretorius of category sponsor, Launceston-based Eaglecrest

Technologies, left, Martin Anderson of Ionata Digital and Sarah Hyslop

of UTas.

The winners

• Business Service Markets: Winner - Sproutr. Merit - Ionata Digital & University

of Tasmania – Tourism Tracer.

• Consumer Markets: Ionata Digital & University of Tasmania – Tourism Tracer.

• Public Sector & Government: Institute for Marine and Antarctic Studies & Condense

– Seamap Australia.

• Senior Students: Rosny College & Launceston College – Age Care Watch.

• Undergraduate Tertiary Students: University of Tasmania – SpiderHouse.

• Research & Development Project of the Year: Ionata Digital & University of

Tasmania – Tourism Tracer.

• Infrastructure & Platforms Innovation of the Year: Ionata Digital & University of

Tasmania – Tourism Tracer.

• Big Data Innovation of the Year: Institute for Marine and Antarctic Studies &

Condense – Seamap Australia.

• Industry pioneer Mel Lukianenko of Ignite Project Services was awarded the

TasICT Outstanding Contribution for a Tasmanian Woman in Technology.

ACSD General Manager

Dr Tristan Richards

and Mel Lukianenko

of Ignite Project

Services.

APPOINTMENTS

Marketing Manager

EXPERIENCED marketing and communications

professional Rebecca Byfield has joined the Motors

Tasmania Group as Marketing Manager.

Before relocating to Tasmania in

2011, Rebecca spent more than 12

years living and working around

the world, primarily in the Middle

East and South Pacific. She has

worked with a number of iconic

Tasmanian businesses, including

MyState Bank, Metro Tasmania,

Tascorp and RBF, as well as global

corporations such as Gartner Australia,

Bauer Media Group, News

Ltd and the Department of Foreign Affairs and Trading.

Rebecca holds post-graduate degrees in Marketing

and Journalism, and is currently completing her Masters

of Marketing Management (Advanced) with the

University of Tasmania.

Young gun claims award

HOBART'S Arthur J.

Gallagher branch manager

Daniel Quintin has

claimed a top honour at

the inaugural Insurance

Business Awards, the

Young Gun of the Year

– International award.

The 33 year old was

appointed branch manager

in 2015. Prior to

that he was Senior Account

Manager at GSA

following a four- year

period at Gallagher in

London.

His insurance career

spans over 17 years and

is supported by ANZIIF

and CII qualifications

along with Lloyd's of

London membership.

EVENTS

LEFT: Ken Davey of

Crowe Horwath, left, and

Anthony Edwards

from the Cancer Council.

RIGHT: Mark Borgiorno

from Fuji Xerox Document

Management Solutions,

left, Susan Downham of

Fuji Xerox Business

Centre Tasmania and

Vivianne Dance from

Acrodata.

EVENT:

Official opening of Acrodata's TAHO

accredited archive and digitisation facility.

LOCATION:

Electra Place, Mornington

DATE:

Friday, June 1, 2018

LEFT: Ross

Latham, State

Archivist and

Manager of

Collections and

Lara Reason from

the Department of

Justice.

ABOVE: Bill Deal

from Norske Skog,

left, and Steve Ktori

from Acrodata.

LEFT: Dr Pru Francis

from the Archdiocese

of Hobart and

Heritage Collection, left,

Peter Johns from The

Print Division and

Trish Commane from

the Department of

Justice.

LEFT: Matthew Roadnight, left, Nyree Copping, Anita Busch,

Keirran Downham and Andrew Hart, all from the Fuji Xerox

Business Centre Tasmania.
---
TCCI and the Local

Chambers of Commerce

will have a loud voice in

the upcoming Braddon

by-election.

Watch this space!

Authorised by: Michael Bailey, 309 Liverpool Street, Hobart, 7000.
---
Outline indicative only

A GREAT DEAL BETTER

Knight Frank's national and international reach combined with a market leading database

gives our clients a market winning edge resulting in $176 million worth of transactions

across Tasmania in the last twelve months. Exciting times, indeed!

179-183 Collins Street, Hobart

Purchaser: Investor

Sale Method: EOI

5A/5B Reibey Street, Ulverstone

Purchaser: Private Investor

Sale Method: EOI

169-171 Liverpool Street, Hobart

Purchaser: Local Investor

Sale Method: EOI

Suite 22 & 24, 93 Salamanca Pl, Battery Pt

Purchaser: Investor

Sale Method: Auction

71-99 Galvin St, S.Launceston

Purchaser: Owner-Occupier

Sale Method: EOI

7 Goldie Street, Wynyard

Purchaser: Private Investor

Sale Method: Private Treaty

74 Sugarloaf Road, Risdon Vale

Purchaser: International Developer

Sale Method: EOI

2 Matthews Way, Devonport

Purchaser: Private Investor

Sale Method: Auction

2 Castray Esp, Battery Point

Purchaser: Private Investor

Sale Method: EOI

59 Crooked Billet Drive, Brighton

Purchaser: Local Investor

Sale Method: EOI

118 King Street, Sandy Bay

Purchaser: Interstate Investor

Sale Method: EOI

132 York Street, Launceston

Purchaser: Interstate Investor

Sale Method: Private Treaty

553-559 Pass Road, Mornington

Purchaser: Owner-Occupier

Sale Method: EOI

SOLD

$176 million

21-25 Morrison Street, Hobart

Purchaser: Local Investor

Sale Method: EOI

46-48 Don Road, Devonport

Purchaser: Owner-Occupier

Sale Method: Private Treaty

158 Emu Bay Road, Deloraine

Purchaser: Interstate Investor

Sale Method: EOI

34 Lower Road, New Norfolk

Purchaser: Interstate Company

Sale Method: Private Treaty

283-287 Liverpool Street, Hobart

Purchaser: Local Investor

Sale Method: EOI

56 Louisa Street, Bracknell

Purchaser: Local Investor

Sale Method: Private Treaty

253-293 George Town Rd, Rocherlea

Purchaser: Owner-Occupier

Sale Method: Private Treaty

77 Rooke Street, Devonport

Purchaser: Private Investor

Sale Method: Private Treaty

248-250 Argyle Street, Hobart

Purchaser: Owner-Occupier

Sale Method: EOI

45 Goldie Street, Wynyard

Purchaser: Private Investor

Sale Method: Private Treaty

30 Foster Street, Bicheno

Purchaser: Local Investor

Sale Method: Private Treaty

115-119 Rooke Street, Devonport

Purchaser: Private Investor

Sale Method: Private Treaty

8 Brooke Street, Hobart

Purchaser: Interstate Investor

Sale Method: EOI

Boardwalk 14-22 Cambridge Rd, Bellerive

Purchaser: Local Investor

Sale Method: EOI

3 Stony Rise Road, Quoiba

Purchaser: Interstate Investor

Sale Method: Private Treaty

66 Burnett Street, North Hobart

Purchaser: Local Developer

Sale Method: Private Treaty

50 Huntingfield Ave, Huntinfield

Purchaser: Owner-Occupier

Sale Method: EOI

2-4 Derby Street, Invermay

Purchaser: Owner-Occupier

Sale Method: EOI

19 Forbes Street, Devonport

Purchaser: Private Investor

Sale Method: EOI

121-129 Balfour St, Launceston

Purchaser: Owner-Occupier

Sale Method: Private Treaty

2-12 Montagu Street, Invermay

Purchaser: Local Investor

Sale Method: Private Treaty

5 Victoria Street, Hobart

03 6220 6999

Scott Newton Matthew Wright

Ian Reed Hayden Peck

John Blacklow

Richard Steedman

Shop 8, 48-54 Oldaker Street, Devonport

03 6424 3568

Nicholas Bond

KnightFrank.com.au

41 York Street, Launceston

03 6333 7888

Rob Dixon David Webster

Rodney Rawlings