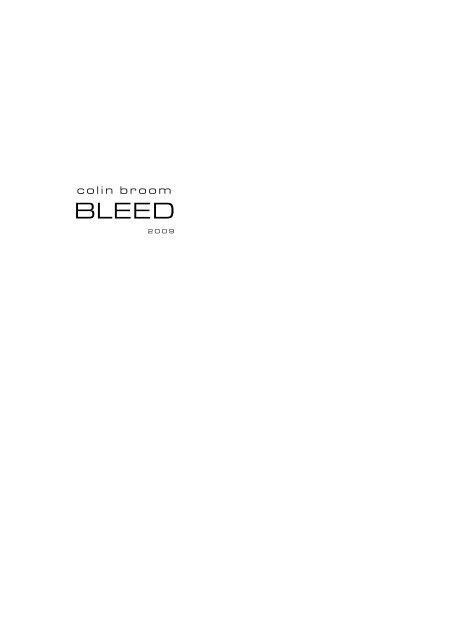 Colin Broom - BLEED
Written for Icebreaker. First performed by Icebreaker, Glasgow, 2009.
Written for Icebreaker.
First performed by Icebreaker, Glasgow, 2009.
SHOW MORE
SHOW LESS
Create successful ePaper yourself
Turn your PDF publications into a flip-book with our unique Google optimized e-Paper software.
c o l i n b r o o m

BLEED

2 0 0 9
---
BLEED was composed for Icebreaker and was first performed in the concert hall of the Royal Scottish Academy of Music &

Drama, 27 th April, 2009.
---
P r o g r a m m e N o t e

"Does Style bleed?" I came across this question on an internet discussion forum. A cellist was hypothesizing that a performer working on

several pieces in varying style may find aspects of the style of one "bleeding" into the other. As a composer, I find that questions of style

seldom enter the equation during the creative process – if music is written with honesty, style generally attends to itself.

What does however play a part, albeit often unconsciously, is memory: the memory of music encountered across the breadth of one's

entire aural history, both recent and distant. And, for me, it is this memory of past musical experience that does in fact bleed, onto every

page of every score written.

Once in a while, I become aware of this: of my memory of music bleeding into the piece I'm working on, as was the case here. The more I

thought about it, the more this piece began to be about memory, and the way our musical memory bleeds into our present musical

environment.

We judge a piece of music not simply by its own merits, but by all the other music we've heard. Composers don't write in a vacuum, what

they write is shaped by their memory, even by that which they reject. The composer Louis Andriessen said that we "write music about the

music that we love". I would be tempted to take this idea one step further and suggest that we are as much influenced by that to which we

have a negative response, even if it's only with regards to the choice of avoiding it. I think we write music about the music that we live, and

have lived.

There's nothing lifted from any other piece here, no direct quotation or reference. Yet my memory of other music pulses through its veins:

memory of the music I've been listening to this past year; memory of the first Icebreaker CD I heard almost fifteen years ago; memory of

the music I wrote before this and memory of albums I heard when I was a teenager that just bowled me over. It's all somehow in there,

transfused from anywhere in my personal musical history. So I guess in that sense BLEED is about the music that I live.

P e r f o r m a n c e N o t e s

The whole ensemble should be amplified. Both the guitar and bass guitar require volume pedals. The violin and cello should both be

electric instruments.

Keyboards

Keyboard I should be set on a Fender Rhodes Electric Piano style sound for the duration of the piece, similar to the sound on Miles Davis'

Bitches Brew or Bob James's Angela.

Keyboard II requires four different patches in total:

Rhodes – A sound identical to that of keyboard I

Voice 1 – A soft, pad sound, not unlike a synth strings-style sound. It should blend well with the ensemble and add

thickness. Both the attack and release should be slightly softened.

Voice 2 - Tremstrings (m.166-190) – A processed sample of a tremolo string section. Slightly filtered and with a good

amount of reverb. It should blend with the violin tremolo at the same time.

Voice 3 (m.219-235) – A version of Voice 1 with a little more presence

Voice 4 (283-307) – Similar to Voice 3 but mixed with a moog solo sound. (Similar to the sound used in Tom Sawyer by

Rush).
---
Flute I (doubling pan pipes)

Flute II (doubling pan pipes)

Alto saxophone

Baritone Saxophone

Keyboard I

Keyboard II

Accordion

Electric Violin

Electric Cello

Drum Kit

Electric Guitar

Bass Guitar

Approx duration: 18'