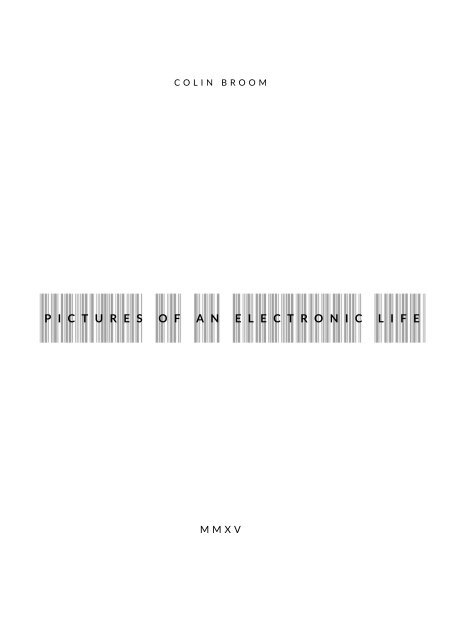 Colin Broom - Pictures of an Electronic Life (score)
Watch a performance here: https://youtu.be/ofqJle3w0R8
Watch a performance here: https://youtu.be/ofqJle3w0R8
SHOW MORE
SHOW LESS
Create successful ePaper yourself
Turn your PDF publications into a flip-book with our unique Google optimized e-Paper software.
C O L I N B R O O M

P I C T U R E S O F A N E L E C T R O N I C L I F E

M M X V
---
P I C T U R E S O F A N E L E C T R O N I C L I F E

First Performance by Red Note with Musiclab. Conducted by Garry Walker. Plug Festival, Royal Conservatoire of Scotland.

May 2015.

Video by Colin Broom with assistance from Katherine Waumsley & Colin Edwards

Videogames played by Colin Edwards & Colin Broom

PROGRAMME NOTE

Pictures of an Electronic Life began somewhat fittingly as a computer glitch. Some years ago, I was finishing off another composition,

when my computer suddenly began to emit a whole series of seemingly random pitches. I say random, but the range of pitches was

limited in such a way that it sounded like it was in a key (A or F# minor – in no way related to the piece I was writing), and the pulse

fairly regular. It was musical, it had coherence and it was actually quite compelling. I was able to make a recording of it.

A couple of minutes later it ended, never ever to occur again. To this day it remains one of the strangest things I've ever witnessed a

computer do, apparently of its own volition. I like to think that the computer chose to sing to me.

I knew I wanted to use this recording, and so I kept it until I could find the right vehicle for it: the piece you'll hear tonight. The

computer song, which I've called its 'Aria', features a number of times throughout the piece. The piece, in 6 movements, explores

various aspects of our relationships with technology, from the initial act of switching our devices on, to waiting on them to do things,

to them crashing and burning; from the plethora of apparent scientific innovations that are going to make our lives longer and

healthier, to the concentrated intensity and excitement of gaming, and finally to the overwhelming amount of information right at

out fingertips at any and every moment of the day.

In the search for the right approach to this piece, I kept asking myself the same question: 'What is so interesting about technology?'

After several months and a lot of thought, the answer I arrived at was that what's interesting about technology is Us; how we

interact with and respond to it; all the wonder, shock, frustration, elation and myriad of emotional and intellectual impulses we

bring to bear in life with our powered-up machines.

Note: There are further programme notes for each individual movements. Since they are not crucial to read in order to appreciate the

piece, but may nevertheless be of interest, I have included them at the back of the score.
---
P I C T U R E S O F A N E L E C T R O N I C L I F E

T E C H N I C A L I N F O R M A T I O N

1 . I n t r o d u c t i o n

2 . I n s t r u m e n t a t i o n

3 . A m p l i f i c a t i o n

4 . V i d e o & A u d i o S e t u p

5 . C l i c k T r a c k

6 . K e y b o a r d

7 . G u i t a r

1. Introduction

Pictures of an Electronic Life is a 6-movement piece for 14-piece amplified ensemble with film and prerecorded audio. The piece is

50 minutes in duration. Because it is synced up to the film and audio, this duration is always the same. The ensemble and conductor

sync up to the video using headphone feeds of a click track (metronome).

There are then a few logistical and technical considerations in performing this piece, but it's all perfectly doable, and shouldn't prove

too complicated. I've tried to explain as much as I can below.

The six movements and their durations are as follows:

I. Switch [09:31]

II. Loading…Please Wait… [6:28]

(N.B. I flows straight into II)

III. "Here Comes the Science" [07:23]

IV. Screens of Death [07:46]

V. Twitch [12:45]

VI. FEED [5:45]

Note that although there are six separate movements, the piece once started runs straight through without a break, and the gaps

between those movements that have gaps are fixed.

The normal setup is for a large video screen to be slightly above and behind the ensemble, but other setups are possible.

Note that a filmed performance of the piece can be viewed at the following URL, which may give some insight into the overall setup:

https://vimeo.com/colinbroom/picturesofanelectroniclife
---
2. Instrumentation

Flute (doubling, piccolo and alto flute)

Bass Clarinet (doubling Bb clarinet)

Alto Saxophone

Horn

Bb Trumpet

Trombone

2 Percussion

Piano (doubling keyboard)

Electric Guitar

Violin

Viola

Cello

Contrabass

N.B. Pictures of an Electronic Life should be conducted.

Percussion Requirements

Player 1 Player 2

Marimba *

Orchestral Bass Drum

Suspended Crash Cymbal

Sizzle Cymbal

5 Woodblocks **

5 Concert Toms ***

Snare Drum

Reco Reco (Metal Spring type)

Triangle

Kick Bass Drum ****

Vibraphone +

Kick Bass Drum ****

Concert Toms

Marimba *

Pair of Egg Shakers

Vibraslap (mounted on stand)

5 Woodblocks **

Triangle

Snare drum, with snares loosened

4 Concert Toms ***

Glockenspiel

* One marimba in total required. Both use the same instrument.

** Both players use the same set of 5 woodblocks.

*** Separate sets of concert toms required, as they are played at the same time. 9 concert toms in

total required (5+4)

**** Both players use the same kick bass drum.

+ Bow is required for vibraphone, as well as mallets.

3. Amplification

All instruments are amplified. In general, this should be a fairly light touch, more for blending than for loudness. Probably only the

strings and possibly flute need any real push in terms of amplitude. When balancing the prerecorded sound with the ensemble, I

would suggest using portions of the 5 th movement Twitch, and possibly some of the last movement, Feed as the tests, as they have

the most going on.

4. Video & Audio Setup

All of the following is described in terms of how everything was set up for the first performance, which by and large was a successful

performance. There may however be other equally good ways of achieving it, though they may require a little more setup.

The video, audio and the click track are all run via Cubase software (version 7, though later version will work), with the video

essentially playing on the "second monitor", which in this case was the projector. This seemed the easiest and "no-nonsense"

approach, which was very successful. The Cubase file contains three separate audio tracks:
---
Track 1: Prerecorded Audio (Left Channel), to be routed to PA

Track 2: Prerecorded Audio (Right Channel), to be routed to PA

Track 3: A mono click track (to be routed to the headphones system)

NOTE: An audio interface with more than 1 pair of outputs is therefore required 1 .

The Video is a .MOV file, with resolution 1920 x 1080, 25fps

All three audio files are mono .WAV files, Sampling rate 44.1kHz, 24 bit.

The Cubase performance file is setup with "bookmarks" throughout every movement, normally every 5 bars and also at rehearsal

points 2 , so that in rehearsal any bar could be accessed with ease and speed:

Having the video and audio all in one single Cubase file also means that starting the whole performance is simply a case of hitting the

play button, then no further input is required.

Note that for rehearsal it will require an attentive operator.

1

An AKAI EIE Pro was used for the first performance, but there are numerous interfaces that should suffice.

2

Mainly at rehearsal points for movements 1 & 2, since the bar numbers on the ruler will match the score for these movements.
---
5. Click Track

The click track is a mono track which should be routed to all headphones. It's the same click track for everyone. The click indicates

the main beats, and the down beat with a slightly different pitch. It also gives an indication of upcoming rehearsal points. To do this,

a double-speed hi-hat beat is heard the bar before the rehearsal letter (so in 4/4, it would be eighth-notes), and then the downbeat

at the rehearsal letter is further accentuated.

Additionally, the click track is dynamic: it is set to be quieter during quieter passages and louder during louder ones.

The count-in measures for each movement are as follows:

I. Switch 1 x 4/4 Bar into A (note: the audio starts at the beginning, but the

ensemble don't enter until A.

II. Loading…Please Wait… None (Segue from Switch)

III. "Here Comes the Science" 1 x 5/4 Bar

IV. Screens of Death 2 x 3/4 Bars

V. Twitch 2 x 4/4 bars into A (ensemble don't enter until A)

VI. Feed 1 x 4/4 bar

Note that a copy of all click tracks is kept online, and a link can be made available to players (with and without the midi playback) for

practice on request.

6. Keyboard

As well as piano, there are a number of parts on keyboard. The sounds used are as follows (in order of appearance):

1. A "Rhodes" style electric piano. Not too much high frequency, and possibly with a touch of crunch when

played hard. Think more M.A.S.H. or Taxi than Whitney Houston. (Used in movements 1, 2, 4, 5 & 6).

2. A Rhodes style electric piano similar to the above, but with a delay set at quarter note speed (500ms),

with the feedback set to return only one or delays and the mix set at 25%. Possibly a touch more crunch.

3. An 8-bit synth sound. CHIPSOUNDS by Plogue (available for Mac and Windows) yielded the best result.

Audio examples of each sound can be provided on request.

I would suggest running all of the sounds via a VST host program on a laptop. I would also suggest having multiple instances loaded

of any sound used more than once (e.g. Rhodes) so as to avoid cycling back through multiple sounds. In the first performance, we

used Forte by Brainspawn, and we set the top two keys of the (88-key) piano keyboard (pitches that don't feature in the piece) to

advance to the next or previous sounds (previous should only be needed if there's a mistake in advancing it). This worked very well,

and meant the keyboardist didn't have to touch the computer at all.

Note that at m251 of the 5 th movement, Twitch, there is a slightly tricky passage of a smooth ascending passage ending in larger

intervals in the higher register, while a pedal bass is sustained. The easiest way to accomplish this is to set the keyboard up with a

split point with the same sound on both side of the split, but with the damper pedal enabled for the left hand but not for the right

hand. This will free up both hands.

7. Guitar

The guitar requires volume pedal. Notes to be played with the volume pedal are marked with a volume symbol:

I would suggest a good quality, smooth volume pedal such as an Ernie Ball or a Sonuus Voluum.

As for sounds, there are essentially about 9 sounds, but most are variations on three basic sounds: clean, overdriven, and overdriven

with delay. The list of sounds are as follows:

1. Clean, small amount of crunch to warm it up. Possibly a touch of reverb.

2. Distorted. Mainly for the volume swells. Make sure volume starts from 0% each time. Bridge pickup.

3. Similar to 2, but with medium delay (30-50% feedback). Should sound expansive.

4. Lots of middle, not too much high end. Your best jazz guitar sound. Probably middle or neck pickup.

5. Bit of crunch. Huge (I mean huge) amount of reverb, Lower overall level. Should sound distant.

6. Heavy and beefy as possible. Your best Metallica/Slayer sound.

7. Distorted, but less so than the previous sound.

8. Overdriven, bridge pickup. Lot of high end.

9. Warm, chorus, not too much high end. Not too fast rate on chorus.

I'm of course open to discussions about alternate arrangements for sounds etc, and can provide audio references if required.
---
F l u t e ( d o u b l i n g a l t o f l u t e & p i c c o l o )

A l t o S a x o p h o n e

B a s s c l a r i n e t ( d o u b l i n g B b c l a r i n e t )

H o r n

T r u m p e t

T r o m b o n e

P e r c u s s i o n I

Marimba*, Orchestral Bass Drum, Suspended Crash cymbal, Sizzle Cymbal, 5 Woodblocks, Snare Drum,

Concert Toms (5), Reco-reco (metal spring style), Triangle

P e r c u s s i o n I

Vibraphone, Kick Bass Drum, Marimba, Egg Shakers (2), Vibraslap (mounted on stand), Woodblocks*,

Concert Toms (4), Snare Drum (with snares loosened), Glockenspiel

E l e c t r i c G u i t a r

K e y b o a r d ( d o u b l i n g p i a n o ) * *

V i o l i n

V i o l a

C e l l o

C o n t r a b a s s

* o n l y o n e o f t h e s e i n s t r u m e n t s r e q u i r e d t o b e s h a r e d

* * K e y b o a r d S o u n d s :

R h o d e s v i n t a g e e l e c t r i c p i a n o

R h o d e s v i n t a g e e l e c t r i c p i a n o w i t h d e l a y

8 - b i t A r c a d e s o u n d

T h e p r e r e c o r d e d a u d i o i s i n d i c a t e d i n t h e s c o r e i n t w o w a y s , d e p e n d i n g o n t h e t y p e o f

a u d i o . A u d i o t h a t i s d i r e c t l y e m b e d d e d i n t h e m u s i c a l & h a r m o n i c t e x t u r e i s n o t a t e d o n

s t a v e s a t t h e t o p o f t h e s c o r e m a r k e d ' P r e c o r d e d A u d i o ( t h i s o c c u r s i n b o t h ' S w i t c h '

a n d ' H e r e c o m e s t h e S c i e n c e ' . O t h e r a u d i o i s s i m p l y i n d i c a t e d b y i t s s t a r t a n d e n d

p o i n t s i n t h e s c o r e ( t h i s o c c u r s i n ' S w i t c h ' , ' S c r e e n s o f D e a t h ' a n d ' F e e d ' .