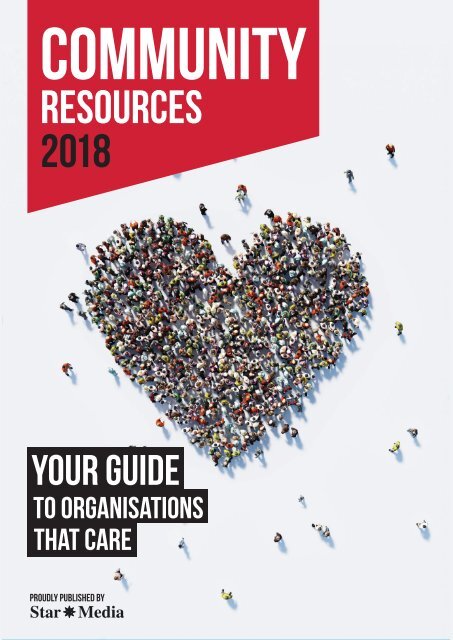 Community Resources: July 12, 2018
You also want an ePaper? Increase the reach of your titles
YUMPU automatically turns print PDFs into web optimized ePapers that Google loves.
Community

resources

2018

your guide

to organisations

that care

proudly published by
---
community resources 2018

3

ExErcisE

important

during

the winter

months

Many Kiwis struggle to keep active

and healthy when winter temperatures

plummet, but a leading New Zealand

exercise expert says gym membership

numbers actually go up in winter.

Chief executive of Exercise NZ, Richard

Beddie, says winter is no excuse to stop

training or ease on fitness levels.

"Gyms and other exercise facilities

actually increase in numbers in winter,

even though exercise needs to be a part

of a constant lifestyle, no matter what

time of year it is.

"During winter, it can be even more

important to maintain an active lifestyle.

Not only does working out burn fat, build

muscle strength, increase metabolism

and keep our hearts healthy, it also

helps us to fight off many diseases and

illnesses.

"The start of the cold season and the

resultant change in routine, can be a

great opportunity to start a new habit –

maybe hot yoga for winter 2017?

"There are many studies which have

been done indicating that exercise helps

us to increase our immune systems,

which is so important during the winter

months.

"We know it takes a bit longer to warm

up, but for those who can train in

the outdoors, can get through winter

without hibernating like a bear."

When it's warm inside, and cold out, it's

often tempting to be less active, Richard

says, but those that do exercise will tell

you how it helps beat the winter blues as

well as providing all the regular benefits

of exercise.

"Exercising throughout winter means

that people will also be feeling great

once summer arrives. An exercised body

is a healthy body, which translates to a

better immune system and therefore can

reduce winter illnesses."

Of course, when it is cold and wet and

you are exercising, it's important to make

sure you aren't taking any unnecessary

risks.

With proper advice from registered

exercise professionals, training outdoors

is safe throughout the winter months.

When it feels just too frosty, training at

an indoor exercise facility will ensure

Kiwis get all the exercise benefits they

could get from outdoor sessions.

"The key is finding a routine and time

that works for each person. For some,

that's early mornings, but for others

it's after work or maybe a 30-minute

exercise snack during the middle of the

day," Richard suggests.

"In addition to individuals feeling better,

businesses and organisations appreciate

healthy staff, which is most likely to

result in fewer sick days.

"Yet since exercise releases endorphins,

which make us feel good, and lack

of sunlight reduces serotonin, which

balances our moods, spiking training for

sleeping is not always the answer. If the

darker days leave you demotivated and

sluggish, try short, punchy workouts."

According to a recent study published

in the British Journal of Sports Medicine,

athletic performance peaks in the

evening when people's core body

temperature is at its highest.

Here is some fitness and health advice

given by Professor Ian Philip to the UK

National Health Services that is worth

considering: head, heart, hip and home.

Cover up your head when outside; think

about your heart by avoiding extreme

changing temperatures; think about your

hips, slips and protecting your bones;

and aim for a warm – but not too warm

– house.

PUBLisHEr

Star Media

A division of Allied Press Ltd

PO Box 1467 Christchurch 8140

Feature & Supplement manager Jenny Wright

advertiSing

Elaine Moon - Ph 03 364 7436

email: elaine.moon@starmedia.kiwi

deSign Denise Crawford
---
4

community resources 2018

Give

your health

a boost

with

seasonal fruit

Eating fresh fruit is a natural,

easy way to boost wellness

during winter, says 5+ A Day.

Maintaining a healthy diet

and exercising regularly will

help to ward off sniffles and

sneezes during the coldest

months.

Seasonal fruit, such as

mandarins, oranges and

lemons, taste great as well

as being good sources of

vitamins and minerals to help

the immune system do its job

well.

Here are some quick tips on

how seasonal produce can aid

in boosting immunity, while

adding a burst of colour to

winter meals.

mandarins

Two mandarins provide you

with 180 per cent of your daily

vitamin C requirements.

Lemons

A good source of vitamin C,

this tangy fruit has many uses

in the kitchen. From baking

to perking up salads and

marinades, the zesty taste of

lemon quickly brightens up

winter dishes.

Kiwifruit

Kiwifruit is a nutrient-rich

fruit, thanks to its high-fibre

content, vitamins, antioxidants

and minerals. As well as being

a good source of vitamin C,

green kiwifruit contains an

enzyme that aids digestive

comfort, while gold kiwifruit

helps the body to absorb iron

from food.

tamariLLos

Originally from South

America, tamarillos arrived

in New Zealand in the 1890s.

Low in fat and calories, they

are a good source of vitamin

C, which is essential for the

growth and repair of our skin,

teeth and blood vessels.

oranges

Juicy, thirst-quenching

oranges are a winter favourite

in many households. They

have many health benefits,

including being a good source

of vitamin C. The juice, zest

and fruit can be used in sweet

and savoury dishes.
---
community resources 2018

voLUntEErinG

canterbury

5

www.volcan.org.nz

Volunteering Canterbury We're here to help

you make a difference, so together we can

eliminate poverty, save the environment and

make Canterbury the best place to live in the

world

Volunteering Canterbury wish to thank

all the volunteers who have donated

time during the past year to provide

service to our community. Volunteering

Canterbury exists to help volunteers,

community organisations and businesses

make a difference, so together we can

eliminate poverty, save the environment

and make Canterbury the best place to

live in the world.

They would like to extend an invitation

to everyone to support their community

by signing up for free at their website

www.volcan.org.nz and join the 13,000

other volunteers already helping their

favourite causes.

Every year, Volunteering Canterbury's

286 member community organisations

help 36,000 people across Canterbury, a

staggering 6% of the population. You too

can be part of this team making such a

difference to the way we live.

Volunteering Canterbury offers the

following services:

• Recruiting and supporting volunteers

to assist community organisations and

people in need

• Free registration for people looking for

volunteer roles on our website

• Huge choice of volunteer roles

available – over 230 roles across 40

different categories

• Community organisations can publish

roles on our website

• Regular workshops and network

meetings relevant to volunteer

management

• Group volunteering opportunities for

businesses and other groups

• Promoting the value of voluntary

work via presentations, awards, displays

celebrating key events and social and

print media

• Advocating for volunteers and

voluntary organisations

why becoMe a

voLunteer?

• Connect with people

• Be happier and create balance in your

life

• Help the community

• Reduce the effects of poverty

• Help save the environment

• Make Canterbury an amazing place to

live

• Keep active

• Boost confidence

• Learn new skills and boost your CV

how to voLunteer?

1. As an Individual – create your free

account at www.volcan.org.nz in a

matter of minutes and find hundreds

of volunteer roles. You can search for

suitable roles by category, area and time

commitment.

2. Group Volunteering – if you'd like to

volunteer as a group from work or as a

team from another organisation, please

contact them via the contact page of the

website.

3. Other Services. If you'd like more

support, they welcome face-to-face

visits, call them today on 03 366 2442 or

0800 865 268.

Volunteering

Changes Lives.

Find out how volunteering

with us could help you.

With over 230 volunteer roles

to choose from, we're here to

help you make a difference,

so together we can eliminate

poverty, save the environment

and make Canterbury the best

place to live in the world.

Sign up to our

Volunteer Database at

www.volcan.org.nz or

call us on 03-366 2442.
---
6 coMMunity reSourceS 2018

ChristChurCh School

of Music

The Christchurch School

of Music is a family-oriented

community aimed at providing

quality music education in

and around Christchurch. The

school has been an important

part of the music education

scene for 62 years so why not

come along and join us?

On a Saturday morning

the whole family can find

something to suit. Preschool

children can start their musical

journey by joining in our "Take

Off with Music" classes while

older children may opt for

group or individual lessons on

a specific instrument (including

voice). Those who already

play are welcome to join in one

of the great ensembles which

all take part in regular concerts.

Recitals where individuals can

perform are also held regularly.

CSM also provides a

comprehensive music

education to participating

primary schools via its

Outreach programme with

tuition offered in band, strings,

recorder, ukulele and classroom

music.

An area that has grown rapidly

over the last few years is the

Late Starters' programme

where adults approaching

retirement with more time

on their hands really enjoy

learning an instrument and

joining an ensemble with other

like-minded adults.

CSM also offers a range

of weekday opportunities

for music tuition and if

affordability is an issue, CSM

may be able to offer a discount

through funding provided by

the Rata Foundation.

We can take new enrolments

in most instruments and

ensembles throughout the year.

Please contact us via our

website www.csm.org.nz and

let us start you on a musical

journey that will bring pleasure

for a lifetime.

Saving Lives

Would you know what

to do in an emergency?

St John is one of the

leading providers of first

aid training in

Canterbury. Teaching

people first aid skills is

critically important - first

aid can help save a life.

St John began in New

Zealand 132 years ago

and was started by

community-minded

people who were

eager to promote first

aid skills and training to

the public. Saving lives

and helping others was

very important to them.

They believed everyone

should have some

level of first aid ability,

as accidents and medical

emergencies can

happen anywhere,

anytime.

St John First Aid courses

provide the necessary

knowledge and

confidence to provide

effective first aid

whenever it's required.

Courses range from basic

first aid training and

industry specific

modules through to

advanced resuscitation

for hospital employees.

If you would like to know

what to do in an

emergency and would

like to save someone's

life, a first aid course with

St John's qualified

instructors will ensure

you have all the skills

you need when the time

comes to save someone's

life.

Visit www.stjohn.org.

nz/firstaid or phone

0800 FIRST AID (0800

347 782) to book your

first aid course today.
---
community resources 2018

7

cantErBUry

wea

sUPPortinG People

with diabetes

The CWEA is old in years but

not in outlook. We know that

involvement and connection

with others is what keeps

communities working. We

offer courses in many subject

areas, some practical, some

philosophical, some just for

fun which keep connections

going and support new

ones being made. All while

you learn things and are

encouraged to enter into

good and sometimes stroppy

discussions. Always the

courses have a focus of

connecting people of all ages

and giving them a chance

to properly discuss issues

and things they are thinking

about. Some discussions are

challenging and some are

relaxing while you learn.

In Term 3, which is August and

September this year amongst

what we offer we have a

Science series alongside a

course helping you create a

handcrafted book without a

computer; we have a series

on 21st century economics

alongside a very popular

Italian singing class. We

look at heritage Buildings

in Christchurch, we talk

with a range of community

providers in the city, we play

mah-jong, we can learn Latin

and we unwind by travelling

vicariously with the ever

tempting armchair travel but

even that is a learning event.

We will always welcome new

members and participants.

Have a look on our website

at cwea.org.nz, seek out

our Programme booklets

or just come and chat at 59

Gloucester Street. Or phone at

03 3660285 or email admin@

cwea.org.nz

We are a support organisation

for Canterbury people who

have diabetes, their family

and friends. We offer support,

information, advocacy and

non-clinical education on all

aspects of diabetes. Our shop

has a wide range of products

including blood glucose testing

meters and strips, lancets,

fingerpickers, ketone test

strips, diabetes and gluten free

cookbooks, hypo treatments,

medical grade shoes and socks,

travel bags, our popular Jok 'n

Al sauces and toppings, West's

range of sugar free drinks and

sugar-free treats.

Diabetes Christchurch

membership offers you

support, exercise and activities

with age-related groups, and

discounted shop products.

From mid-August our offices

and shop will be sited on the

Ground Floor, at 25 Carlyle

Street in Sydenham. Our new

phone number will be 925-

9972 and open Monday-Friday

from 9.00am-4.00pm. Plus we

have some parking available.

Our staff can help you find

further information about

diabetes, links to other

diabetes services or make

an appointment for our

subsidised podiatry toenail

clipping service. You are

welcome to become involved

with our diabetes awareness

programmes or other

fundraising and volunteer

activities in your area.

Our shop products are also

available online on our website

www.diabeteschristchurch.

co.nz and our Facebook page.

All members receive our

Viewpoint newsletter, which

includes information on all

aspects of diabetes, updates on

local events, plus local, national

and international diabetes

research. Come and call into

our new premises now.

Once you

stop learning...

you start dying.

- Albert Einstein

Lifelong Learning.

Learning for life.

The team at the Canterbury Workers Educational Association know

that learning is a life long journey. We offer courses to challenge your

thinking and explore new ideas and skills. Thinking and being involved

is part of truly being alive!

We offer a large variety of courses from

Belly Dancing to Latin, Science to Modern Art, Philosophy

to Armchair Travel, Economics to Tai Chi and much more!

Want to know more?

Then jump on to www.cwea.org.nz,

visit us at 59 Gloucester Street or call us on 03 366 0285

to discover your next skill or to brush up on a passion you once had.

The Canterbury Workers

Educational Association

Roopu Kaimahi Matauranga O Waitaha

DO YOU HAVE DIABETES?

Helping to support all people

with diabetes by providing

information, diabetes

medical products, support,

advocacy and education.

Phone or call in:

Ground Floor, 25 Carlyle Street

Sydenham, Christchurch 8023

Open 9am-4pm Monday to Friday

PHONE: 925 9972

DIABETES

CHrISTCHurCH

INC
---
Investing in our

communities

We are proud to be the South Island's largest philanthropic

funder. With an over $600 million endowment, we fund

$20 million in grants each year.

To find out what we do and how we do it, visit our website: ratafoundation.org.nz
---
community resources 2018

9

Taking

philanthropy

from good

to great

Rātā Foundation is the guardian

of a $600 million endowment or

putea, making around $20 million

in grants per annum, across its

four funding regions — Canterbury,

Nelson, Marlborough and the

Chatham Islands.

Chief Executive, Leighton Evans says "the

Foundation gets the best results by working with

partners who know the most about the areas we

want to support. This also means we are taking

an intergenerational view around investing in

our communities."

In the past few years Rātā Foundation has invested

$80m plus through partnerships, as well as supporting

a wide range of programmes managed by established

and well-regarded organisations that are experts in their

fields. "We aim to add value to our partnerships through

our funding, connections and knowledge," says Mr Evans.

Rātā Foundation as a funder is keenly aware of the

need to keep evolving and adapting its thinking around

its funding programme. Mr Evans says he wants the

organisation to be involved

in transformational work,

across all sectors, by

supporting high impact

projects which reach into

communities, alongside its

business as usual funding.

"We want to engage with

communities, energising

them to be part of the

change," he says and cites

Leighton Evans, Chief Executive

the Foundation's recent

partnership with Maia Foundation, on its successful

13 Minute campaign as an example of this thinking.

Rātā Foundation partnered with Māia Health Foundation

to launch a crowd-funding campaign which aimed to

raise $500,000 from the community, with Rātā matching

that contribution dollar for dollar.

Christchurch Hospital is New Zealand's busiest trauma

centre and the only major hospital without a helipad on

site. In addition, the use of helicopters for emergencies

and patient transfers has increased approximately 40%

over the last three years. Christchurch and the South

Island need a helipad

that will cope with

current and future

demand for this service.

Currently, it takes

13 minutes on

average to transfer

by ambulance to

Christchurch Hospital,

after landing in Hagley

Park. A larger helipad and purpose built rooftop clinical

support unit will mean critically unwell patients receive

emergency hospital care immediately on touchdown,

and a quicker transition to full care for routine transfers.

Of their support Mr Evans says the helipad will be a game

changer for the region and the Foundation was proud to

support a health initiative which will demonstrably save

lives. The campaign has raised over $1million.

"The partnership with Maia to match every dollar raised

was an innovative approach which has proved very

successful, with our contribution directly at the level of

community support. No-one is disappointed to see their

money double — especially when that money is going

to a good cause and their impact is amplified."

"Our aim for the future is to strengthen and build on

the existing culture of collaboration, both within the

organisation and externally. We are keen to learn and

create conversations, with key partners which will

see us leverage our relationships and resources to

strengthen the local impact of our grants."

For more information on Rātā Foundation,

visit ratafoundation.org.nz
---
Meet our

Health Practitioners

Dr. Marie

Burke

Dr. Emma

Stoney

Dr. Philip

Frost

Dr. David

Richards

Jo Talarico

Nurse Practitioner

Dr. Marie Burke

Dr. Emma Stoney

Nurse Practitioner

Dr. Philip M. Frost

Dr. David Richards

Jo Talarico

At Better Denture we have a range

of services and options available.

Free denture check

Free consults

Free quotes

New dentures

Same-day reline

Same-day repairs

Sport mouth guards

6 Brynley Street, Hornby | Phone 03 349 5050 | www.betterdenture.co.nz
---
community resources 2018

11

Care in the Community

for over 35 years

Hoon Hay Medical Centre is a friendly

and professional general practice, dedicated

to providing high quality primary

healthcare for over 35 years. Proudly

achieving the Foundation Standard for

quality healthcare, our team of eight

doctors are supported by five Registered

Nurses and a front of house reception

team, providing excellent customer

service.

Doctor choice means patient choice -

the choice to consult with your preferred

doctor or to build up a relationship with

a couple of our doctors. That way, if your

usual doctor is on leave, you can still

consult with a familiar doctor.

Open from 8:15am to 5.30 pm, Monday

to Friday, our first appointments are

available from 8:30am. Our on-line appointment

booking system – available

through our website, is a safe and efficient

way to pre-book your appointment.

Repeat prescription requests for regularly

prescribed medications in between

your medication review appointments

may also be made through our website.

Our purpose-built medical centre is

regularly upgraded to ensure the comfort

of our patients. In 2018 we have

installed heat pumps and introduced

electric medical beds to all consulting

rooms.

New enrolments are always welcome.

Make Hoon Hay Medical Centre your

first choice for your primary healthcare

needs.

HOON HAY

MEDICAL CENTRE

Meet our

team of

doctors

Rod Kirkwood Mary-Anne Bellamy Sarah Barnes Damian Wilkinson

• Patient choice of doctor

• Appointment Availability

• Established GP/Nurse Team

Online repeat prescriptions

and appointment bookings

We look forward to providing you and your

family with ongoing professional healthcare

Liz Johnson Julie Gilmore Caroline Gibb Peter Morrison

Ph: 338 8179 www.hoonhaymc.co.nz
---
12 community resources 2018

rEd cross

wintEr energy payment

Monday to Friday Red Cross

has volunteers driving with

two vital programmes in

Christchurch city. Both Meals

on Wheels and Community

Transport relies on generous

people giving their time to

help many across the suburbs.

Community Transport offers a

lifeline to people who need to

get to medical appointments,

who have no transport of

their own and cannot use

public transport for some

reason. This service has been

operating since 2013 and has

grown from one van to two

vans and two cars.

Meals on Wheels has operated

in Christchurch since the

early 1950's and currently

Red Cross drivers deliver

approximately 750 hot

meals per day. However the

programme is more than

the delivery of a hot meal,

for many recipients it is the

friendly smile and chat that

means so much, in fact for

many recipients the delivery

person may be the only

person they see that day. The

regular social contact and

nutritionally balanced hot

meals help support vulnerable

people in their homes.

Volunteering is a great way

to boost your wellbeing at

the same time as helping

your community. The level

of commitment for both

programmes is flexible from

one day a month to several

days a week.

Volunteers are at the heart of

Red Cross, they're committed,

passionate and you could be

just the person we are looking

for! If you have some spare

time please call 03 339 3750

and ask how to join one of

these valuable programmes.

Volunteer Drivers Needed

For Red Cross Meals On

Wheels & Community

Transport

The Government's new Winter

Energy Payment is available

to help older people and

people on a benefit with the

cost of heating their homes

over winter. The Ministry of

Social Development will pay it

from 1 July to 29 September

this year and from 1 May to 1

October from 2019 onwards.

Single people will get $20.46

a week, and couples or people

with dependent children will

get $31.82. The first payment

in July will be a part payment

and the second payment

will be for the full amount.

Everyone who's eligible

will get the Winter Energy

Payment automatically.

Travelling overseas during the

payment period

The Winter Energy Payment

will continue for the first four

weeks people on NZ Super

or a benefit are out of the

country, but will stop from the

beginning of the 5th week.

If you're back in New

Zealand before the Winter

Energy Payment ends

(eg 29 September 2018),

contact the Ministry of Social

Development to restart your

payments.

• Weekdays only • Regular or Relief rostering

• Current NZ drivers licence • Training given

Meals on Wheels

- Pat 339 3759

Community Transport

- Vicki 027 839 7724

Update your details

Go on, it's easy online.

Try MyMSD today.

my.msd.govt.nz
---
14 community resources 2018

PainfUL feet

Footprints Podiatry are your

footcare experts. Their team

of podiatrists have decades of

experience behind them to

identify your ailment and

recommend the best possible

solution.

Do you experience foot or

lower leg pain or any of the

following conditions?

Achilles tendinitis, Heel spurs,

Plantar Fasciitis, Jumpers knee,

Patella tendonopathy and Tibial

Stress Syndrome (shin splints).

Footprints Podiatry can help.

One of their successful

remedies is Shockwave therapy

which was originally used to

break down kidney stones.

Doctors found the results to

accelerate the tissue-healing

response in an area. This lead

to the transition of shockwave

therapy to musculoskeletal

conditions. Shockwave therapy

uses little impulses produced

by air pressure that is directed

toward the affected tissue.

They are audible, low energy

sound waves, which work by

increasing blood flow to the

injured area. This initiates an

inflammation-like response in

the injured tissue, accelerating

the body's healing process by

increasing cell regeneration.

When applied at the site of

the pain, shockwaves produce

an analgesic effect which

increases blood circulation and

facilitates the repair process.

Benefits of Shockwave therapy:

1. Pain reduction – by changing

the way the nerves signal pain

(interferes with the pain signals

in a positive way).

2. Increased tissue healing –

radial shock wave causes the

elease of chemicals in the cells,

which can reduce inflammation

and pain.

3. Improved blood flow –

repeated shock waves create

new blood flow promoting

tissue healing and regeneration.

4. Reduced muscle tone –

shock waves act on trigger

points. These are the painful

tender spots in muscle, which

often generate pain and

dysfunction.

5. Hyperstimulation

of nerve endings

leading to immediate

pain reduction.

Shockwave therapy

is generally well

tolerated and may

be uncomfortable

but not painful, this

sensation will stop as

soon as the treatment

has ended.

Side effects can include:

redness, slight swelling, and

discomfort over the treatment

area. Treatment takes

approximately 15 minutes

and the shockwaves

are mechanical and not

electric.

Call Footprints Podiatry

today to schedule your

appointment. 03 332 9792,

or www.footprintspodiatry.

co.nz

Walking never felt so good!

This unique powerful

treatment provides

you with pain relief

in seconds

Acupuncture

without needles

Free

yourself

from heel pain

• Relieves all kinds of body pain

• Boosts your energy

• Improves sleep and mood

• Relieves asthma and hay fever

• Combat addiction (sugar,

cigarettes, alcohol and drugs)

• Amazing improvements for numb

and weak muscles

Search YouTube Dr Lan Reflexology

for Instant Results Videos

ACC

Registered

...and get your active

lifestyle back on track.

Shockwave Therapy

is non-invasive and can

effectively relieve your

heel pain.

7 Milton Street, Somerfield

Phone 332 9792

259 Ilam Road, Ilam

Phone 351 0886

Dr Lan's Reflexology Network

Melrose Building

108 Sawyers Arms Road, Christchurch

Phone: (03) 323 4168 or 027 231 8388

BOOKINGS ESSENTIAL

footprintspodiatry.co.nz
---
HIGH QUALITY baby

products for sale or hire

When little ones come to stay, it can be

tricky getting hold of everything you

need. Highchairs, portacots, buggies

and carseats are all important pieces

of equipment to ensure a comfortable

stay, but not necessarily things we have

sitting around at home, if we don't have

young children ourselves. Baby On The

Move have the answer, offering long or

short term hire of exactly these types

of products, and can also help with

professional installation of the carseats,

ensuring that our young visitors are both

comfortable and safe.

Baby On The Move started in

Christchurch more than 20 years

ago. With 16 franchises thoughout

New Zealand, including two here in

Christchurch, they provide a range of

high quality baby equipment for hire and

sale. Whether you need a portacot for a

weekend visit, or a full nursery set-up for

family visiting for a month or more, Baby

On The Move have everything you need.

Carseats for young children are a very

specific safety requirement which

can be confusing and stressful. The

professionally trained Child Restraint

Technicians at Baby On The Move, will

talk you through what you will need for

babies and children of different ages,

check that you have the correct fittings

in your vehicle, and then fit the carseats

for you when you pick them up. This

gives peace of mind so you can safely

transport your young visitors, knowing

that your carseats have been installed by

the experts.

As well as offering short or long term

hire options, Baby On The Move are

also retailers, stocking a wide range of

quality carseats, nursery equipment,

toys, and everything you need for babies

and young children. If you are caring for

littlies on a regular basis, it may make

sense to purchase certain items, and once

again, Baby On The Move can provide

sensible advice in choosing quality

products. With carseats purchased or

hired from Baby On The Move, they offer

free installation for the life of seat, which

means that any time you need assistance

you can pop in, and they will adjust or

reinstall the seat free of charge. If you

have a carseat purchased elsewhere,

they also offer a professional installation

service for which a fee applies.

Baby On The Move stores can be found

in Burnside and Sydenham or online at

www.babyonthemove.co.nz

CONTACT BABY ON THE MOVE, CHRISTCHURCH CENTRAL: 87a Gasson Street, Sydenham. Ph 03 421 3243.

BABY ON THE MOVE, CHRISTCHURCH NORTH: 515 Wairakei Road, Burnside. Ph 03 960 9752.

Great hire selection, not just car seats!

The Baby On The Move Hire Advantage

>> Biggest hire selection

>> Known brands

>> Days, months or even a year

www.babyonthemove.co.nz

CHRISTCHURCH CENTRAL 03 421 3243.

87a Gasson Street, Sydenham.

central.christchurch@babyonthemove.co.nz

>> Flexible hire options

>> Child Restraint Techicians

>> FREE advice and checks

CHRISTCHURCH NORTH 03 960 9752.

515 Wairakei Road, Burnside.

north.christchurch@babyonthemove.co.nz

Short or

long term

hires

available.
---
MUSIC TO YOUR EARS

Now you can be at the forefront of a new era: Intelligent Hearing.

HEAR AGAIN are proud to bring a world first to

New Zealand. A leading Danish hearing aid

manufacturer has recently launched the only

hearing aid that keeps learning from users

around the world, while improving your

listening experiences in real life and real time.

Machine learning makes these devices really

smart. They constantly work to perfect every

hearing event by combining your own realtime

input with what has already been learned

both from you and from millions of other

listening experiences around the world.

• SMART PHONE CONNECTIVITY

• EASY VOLUME ADJUSTMENT

• HANDS FREE PHONE CALLS

Simply use your smartphone to select the

sound level that best suits your environment:

the devices remember this for the next time

you find yourself in a similar place; easy!

• CRYSTAL CLEAR DIGITAL SOUND

• PERSONALIZED FOR YOUR NEEDS

• 6 WEEK RISK FREE HOME TRIAL

03 974 1658

Southern Cross

Health Society

Easy-claim available

for members

SHOP 125, THE HUB, HORNBY - WWW.HEARAGAIN.CO.NZ