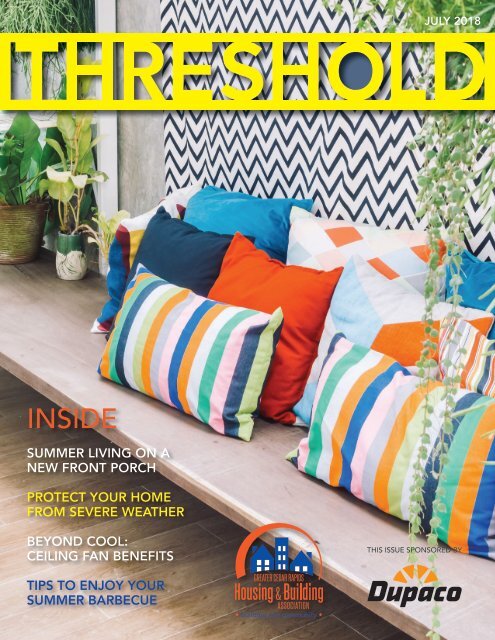 You also want an ePaper? Increase the reach of your titles
YUMPU automatically turns print PDFs into web optimized ePapers that Google loves.
JULY 2018

INSIDE

SUMMER LIVING ON A

NEW FRONT PORCH

PROTECT YOUR HOME

FROM SEVERE WEATHER

BEYOND COOL:

CEILING FAN BENEFITS

THIS ISSUE SPONSORED BY

TIPS TO ENJOY YOUR

SUMMER BARBECUE
---
Immigr

Americ

FEATURES

TABLE OF CONTENTS

5

IMMIGRANT BUILDS

CREDIT

and His American Dream

6

7

11

BEYOND COOL

Benefits of Ceiling Fans

HOME BUILDERS BLITZ

TOP 5 TIPS TO ENJOY

YOUR SUMMER BARBECUE

2 THRESHOLD JULY 2018

12

PROTECT YOUR

HOME FROM

SEVERE WEATHER

14

16

19

A publication of the Greater Cedar Rapids

Housing and Building Association

HONORARY MEMBER

Ralph Palmer

EVENT: TRAPSHOOT &

BARBEQUE SMOKE OFF

LAWN CARE DURING

ARID SUMMER MONTHS

Adolfo 8Murillo came to the United States six years ago,

bringing only his visa, a pair of shoes, a Nike shoebox fu

socks—and a lot of hope.

SUMMER LIVING

on a New Front Porch

"The American dream was possible," said Murillo, who w

born in Rome and later moved to Mexico City.

He began building his life in the United States, working

a Cedar Rapids auto dealership and renting a house for

family. Paying more than

$1,200 a month in rent,

Murillo was ready to work

toward another American

dream: homeownership. But

he didn't know how to get

there without credit.

"Our culture believes

strongly in paying your stuff

off, so I had no debt. But I

had no credit," Murillo said.

His coworkers encouraged

him to reach out to

Dupaco's Sylvia Miller. When

10 SAVE THE DATE

they met in February, Miller

said

17

he needed

NEW MEMBERS

to first build

his 20 credit. THE She SPIKE explained CLUB

how 23 credit GCRHBA works and BOARD

helped him open a checking

and savings account, a

Dupaco Visa ® credit card

and a small personal loan.

DEPARTMENTS

CREDIT SCORE

AMOUNT OWED

percentage of credit

limits available

NEW CREDIT

ACCUMULATION

in the last

12–18 months:

• Number of credit

inquiries

• Opening dates

TYPE OF CREDIT

• Installment (raises) vs.

(lowers)

• The more finance comp

the lower the score
---
EXECUTIVE OFFICER'S MESSAGE

Fourth blitz, eleven homes

MELISSA

OLSON

In our effort of "Building

Our Community,"

the GCRHBA partnered

with Cedar Valley

Habitat for Humanity

to build 3 homes in

5 days for Home Builders

Blitz 2018. Beginning

in 2012, this was

our fourth blitz and a

completion of 11 new

homes in our community!

Our members

came together alongside CVHFH to build these

homes for local families and we are truly thankful

to all that were involved in this amazing project.

A very special thank you to Jeff Capps, Executive

Director with CVHFH, and our lead builders Paul

and Andrew Brundell with Allan Custom Homes,

Wes Howard with Cedar Ridge Homes, Jim Sattler

with Jim Sattler Custom Homes, Joe Sattler with

Sattler Homes & Remodeling, and Jen Skogman

with Skogman Homes. These are the people that

made what seems like an impossible task a reality!

That reality was celebrated at the end of day 5

when the lead builders handed over the keys to the

new homeowners. This dedication and ceremony

showcased the power and love behind the project

and how our community and members came together.

That love was more than obvious when a

new homeowner and mother of 2 beautiful little

girls smiled and gave her lead builder the biggest

hug – you could just see the appreciation and a forever

bond was formed. It was special for me to see

those little girls faces light up knowing they now

had a home!

Thank you to all who attended and supported

our Annual Trap Shoot event. A special thank you

to Wayne Winn with Home Town Restyling and

Chad Kelly with Kelly Concrete for continually supporting

our association and members! A big thank

you to our committee, JR Blok, Ryan Sullivan and

Chad Williams, who once again helped make this

another successful event for us. I hope to see everyone

at our July Remodelers Night Out event!

And finally, thank you to Ralph and Linda

Palmer for taking the time to speak with me. Look

for Ralph's story as we feature him as a honorary

member in this issue.

Melissa Olson

Executive Officer

Greater Cedar Rapids Housing & Building

Association

MEMBERSHIP VALUE

Nationally Recognized Educational Programs give the tools to gain an

edge in the industry. In our competitive marketplace, differentiation is the

key to success and NAHB's nationally recognized education programs offer

cutting-edge conferences and course – both in-person and online. NAHB

has the curriculum, instructors and prestige to boost your success and

increase your profit margins.

Plus, Access to Expert Advisors who can address your specific business

questions. As an HBA member, you get instant access to our distinguished

economists, tax specialists, legal research staff, financial experts and

regulatory and technical specialists.

THRESHOLD JULY 2018 3
---
PRESIDENT'S MESSAGE

MIKE FARR

Thank you for your membership and participation!

We had our Trap Shoot over the past

month. The weather was looking questionable,

but we made the decision to move forward with

it and the weather cooperated with us. We had a

great turnout! Rich Lyle was you winner of the

smoke-off. And Randy Dostal's ribs beat my

entry again this year! I am going to have to do

something about that next year! I want to thank

our lead sponsors for this event Wayne Winn

from Home Town Restyling and Chad Kelly of

Kelly Concrete!

If you have interest in being a lead sponsor or

to be involved in one of our events, please get a

hold of Melissa, or myself.

We are acknowledging 2 lifelong members of

our association this year. We are granting them

the status as Honorary Members. The first one

will be introduced in this issue. Read about

Ralph Palmer, and his many contributions to

this organization over the years. And when you

see him, thank him for his TIME. As that is the

most valuable thing any member can offer us!

Kirkwood Carpentry program is looking for

members from our association to serve as advisors

to them on the curriculum. Please contact

Melissa and she can get you connected with the

Kirkwood folks.

Are you looking for help? There are students

from Kirkwood that are looking for internships

and jobs. Let's work together to help you find the

right partnership. Contact Melissa at the HBA

office if you have interest in getting involved!

If you have interest in hosting an afterhours

meeting at your business, please let Melissa or

myself know. It is a great way to show our members

what you do and tour your facility!

The state is working on the State of Iowa to

allow group health care. This is going on in other

states in the nation. If we can get this going in

Iowa, your membership will be one of the most

valuable things you can do for your business!

I hope to see all of you at the Remodelers

night out on July 12 at Iowa Brewing Company.

Mike Farr

President

Greater Cedar Rapids Housing & Building

Association

NETWORKING

AFTER HOURS

MEMBER EVENTS

Remodelers Night Out

Thursday, July 12, 2018

5-7 PM

Iowa Brewing Co.

708 3rd St. SE, Cedar Rapids

See page 18 for details.

Come make a splash!

Thursday, August 9, 2018

5-7 PM

Splash Pool & Spa Builders

5454 Center Point Rd. NE, Cedar Rapids

See page 22 for more information.

2018 Nail Drivers' Open

Friday, August 17

11 AM, Shotgun

4 PM, Social Hour

St Andrews Golf Course

1866 Blairs Ferry Rd. NE, Cedar Rapids

See page 24 for more information.

4 THRESHOLD JULY 2018
---
Adolfo Murillo came to the United States six years ago,

bringing only his visa, a pair of shoes, a Nike shoebox full of

socks—and a lot of hope.

"The American dream was possible," said Murillo, who was

born in Rome and later moved to Mexico City.

He began building his life in the United States, working at

a Cedar Rapids auto dealership and renting a house for his

family. Paying more than

$1,200 a month in rent,

Murillo was ready to work

toward another American

dream: homeownership. But

he didn't know how to get

there without credit.

"Our culture believes

strongly in paying your stuff

off, so I had no debt. But I

had no credit," Murillo said.

His coworkers encouraged

him to reach out to

Dupaco's Sylvia Miller. When

they met in February, Miller

said he needed to first build

his credit. She explained

how credit works and

helped him open a checking

and savings account, a

Dupaco Visa ® credit card

and a small personal loan.

Immigrant builds credit and his

American Dream

CREDIT SCORE MAKEUP

AMOUNT OWED

percentage of credit

limits available

NEW CREDIT

ACCUMULATION

in the last

12–18 months:

• Number of credit

inquiries

• Opening dates

30 %

TYPE OF CREDIT

• Installment (raises) vs. revolving

(lowers)

• The more finance company loans,

the lower the score

What makes up your credit score?

COMPANY PROFILE

PAID ADVERTISEMENT

Murillo did everything Miller asked of him, and by fall his

credit score had skyrocketed—jumping from 0 to 669. He

was ready to buy his first house.

"He was doing everything we are all doing—he earned

his money, paid his taxes, sent his kids to school. He just

needed somebody to say, 'You're worth it,'" Miller said.

"I told him, 'I'm not

giving up on you.'"

10 % 10 % 15 %

%

PAYMENT HISTORY

i.e. on-time payments

or delinquencies

35 %

LENGTH OF CREDIT

Murillo, his girlfriend

and his two daughters

moved into their

Anamosa house in

September. Their family

has since grown by

two huskies, which his

girls had long wanted.

"It's the most beautiful

house on the planet,"

Murillo said. "The

feeling of owning a

house, there is nothing

like that feeling."

Discover the difference at www.dupaco.com/homes

As a financial cooperative owned by its members, Dupaco Community Credit Union uses sustainable money

methods to keep members' money working here, locally.

The more our members do with Dupaco, the more we're able to give back through better rates, fewer fees,

low-cost insurance, and freebies like on-demand credit monitoring tools, Money Makeovers and Credit History

Lessons. Empowering members to achieve financial success enriches the whole community.

THRESHOLD JULY 2018 5
---
BEYOND

COOL

Ceiling Fans

There are many benefits to incorporating ceiling

fans into your home's design that go beyond

cooling off a room. Using ceiling fans

throughout the home greatly reduces energy

costs, while also providing comfort, style and

beautiful lighting.

Progress Lighting has unpacked the top five

benefits of ceiling fans which include gains in

both fashion and function.

Article provided by National

Association of Home Builders

benefits of ceiling fans

CEILING FANS LOWER

ENERGY COSTS

Ceiling fans can help lower

your electric bill by up to 30

to 40 percent. While a ceiling

fan doesn't decrease the

temperature

of

a room,

the draft

makes the

room feel

cooler – allowing you to raise

the thermostat and be just as

comfortable.

DESIGN TIP: Energy Star-rated

fans, such as Progress

Lighting's AirPro P2530-09

fan, are 60 percent more

efficient than conventional

fan and light units, offering

additional energy savings.

CEILING FANS ARE A STYLE

DRIVEN ACCESSORY

Ceiling fans are available in

a variety of sizes, styles, and

finishes to

complement

your

unique

interior

style. Fans

are more than just functional;

they can serve as a statement

piece or focal point of

a room.

DESIGN TIP: Interchangeable

blade sets – such as the Progress

Lighting Palm Blade Set

– allow you to easily reinvent

the design of your fan without

replacing the entire unit.

CEILING FANS OFFER

VERSATILITY FROM ROOM-

TO-ROOM

Whether a living area, bedroom,

screened-in porch or

kitchen, ceiling fans contribute

to an enjoyable environment

in almost any room of

the home. Plus, the more fans

used throughout the home,

the greater the savings on

your energy bill.

CEILING FANS

PROVIDE BEAUTIFUL

AND FUNCTIONAL

ILLUMINATION

Ceiling fans with lights allow

you to contribute

to

the layered

lighting

design of

your room.

Select a fan with a built-in

light, or easily install a fan

light kit, for general illumination

benefits.

DESIGN TIP: Choose a light

kit that coordinates with the

fixtures and appliances in

other areas of your home.

Many of Progress Lighting's

light kits are part of larger

lighting families, such as the

Trinity collection, taking the

guesswork out of the selection

process.

CEILING FANS ADD YEAR-

ROUND VALUE

Many

people are

unaware

that ceiling

fans can

be used to circulate warm air

during cooler months of the

year. By running the blades

clockwise, ceiling fans push

warm air down from the ceiling

without creating a draft.

DESIGN TIP: Select a fan

equipped with a reversible

motor, such as Progress Lighting's

Trevina fan, to easily

change the direction of your

fan blades to create a comfortable

living environment

any time of the year.

6 THRESHOLD JULY 2018
---
BUILDING OUR COMMUNITY

Home Builders Blitz 2018

a tremendous success!

Cedar Valley Habitat for Humanity,

in partnership with the Greater Cedar

Rapids Housing & Building Association,

built three homes in five days.

The Home Builders Blitz (June 4-8,

2018) completed a two-year, six-home

transformation of the 900-block of

12th St. NE in Cedar Rapids.

This wouldn't be possible without

our local team of lead builders:

Allan Custom Homes

Cedar Ridge Homes

Jim Sattler Custom Homes

Sattler Homes & Remodeling

Skogman Homes

In addition to our deep gratitude to

dozens of area businesses who provided

in-kind labor and materials, we

are grateful for the special support of

the following sponsors:

City of Cedar Rapids

Hills Bank & Trust

Housing Fund for Linn County

Ohnward Bank & Trust

D.C. Taylor Co.

Honkamp Krueger & Co.

Van Meter Inc.

Dupaco Community Credit Union

On Friday,

June 8, keys

were presented

to the new

homeowners

during Home

Dedication

Ceremony.

Thanks to all who

played a vital role

in making this

project happen!

CLICK HERE TO

SEE MORE PHOTOS

THRESHOLD JULY 2018 7
---
SUMMER

LIVING

NEW

FRONT

PORCH

on a

Article provided by National Association of Home Builders

8 THRESHOLD JULY 2018
---
The front porch was described as a 'transitional space

between the private world of the family and the public

realm of the street.'

– Andrew Jackson Downing, a well-known 19th century landscaper.

OUTDOOR LIVING SPACES are an

"essential design trend" for homes

nationwide, according to judges for

the Best in American Living Awards,

an annual National Association of

Home Builders competition, and

continue to be on many home

buyer and renters' must-have lists.

Adding a front porch to your home

has become increasingly important,

whether you are remodeling or selling

your home.

The front porch was described

as a "transitional space between

the private world of the family and

the public realm of the street," by

Andrew Jackson Downing, a wellknown

19th century landscaper.

While the purpose of a porch may

have evolved from a place to drink

sweet tea and gossip to a place where

families sit to enjoy a meal or the

sunset together, the fact remains that

a porch is an essential and desired

feature for many home owners.

Here are some things to think

about when planning the construction

of your new porch.

Size

The porch is an accessory, so it

shouldn't overwhelm the main

structure of the house. It should,

however, be large enough to look

like part of your home instead of

an afterthought. Think about what

you want to use your porch for. If

you envision dining al fresco with

your family during warm-weather

months, you will want a porch that

is at least 8-10 feet deep to accommodate

a good-sized table and chairs.

However, if you just want to place a

loveseat or a couple of chairs on your

porch, somewhere around 6 feet

deep should be sufficient.

Location

If your home has the flexibility,

the side of your home

your porch is on is important.

A south-facing porch

will take advantage of the

sun's heat but could also

get uncomfortable during

the summer. If the idea of

cocktails at sunset is appealing,

place your porch facing

west. Early risers may want

maximum light to read the

paper and sip coffee with a

porch facing east.

Don't forget about accessing the

porch from the home, and what

design impact that may have on

the interior rooms. For example,

you may want to install French or

sliding glass doors from the living

room or kitchen to create an entrance

to the porch.

Features

To ensure aesthetic continuity, try

to use the same materials to build

your porch as are used in the home,

especially the exterior surfaces. This

includes coordinating millwork

and other design motifs so that

your new porch looks like a continuation

of the rest of your home.

Other factors that could affect

the enjoyment of your new porch.

Consider installing screens if you

live where there are lots of flying insects,

or glass windows so you can

extend the use of your porch into

cooler months. If you plan to use

the porch during the night hours,

make sure you install either sufficient

lighting or outlets for lamps.

A ceiling fan is a good idea to make

the space more comfortable in

warm temperatures.

Before you know it, you and your

family can begin to relax and enjoy

the summer season from the comfort

of your new porch—or have an

attractive feature to offer to buyers. T

Click here to find your LOCAL remodelers

when you are ready to add your porch.

THRESHOLD JULY 2018 9
---
SAVE THE DATE

The Greater Cedar Rapids Housing & Building Association is

the main sponsor of several events throughout the year, that

allow consumers direct access to the latest in building products,

actual building contractors of new homes, and remodelers

of existing homes.

JULY 12

Remodelers Council

Night Out

AUGUST 9

Splash Pool & Spa

Builders Mixer

AUGUST 17

Nail Drivers Open

SEPTEMBER 29 & 30

Fall Parade of Homes

AND

OCTOBER 4, 6 & 7

Fall Parade of Homes

OCTOBER 3

Members Only

Parade of Homes

Breakfast & Tour

AUGUST 30

CR-IC HBA Mixer

NOVEMBER 15

Annual

Awards Banquet

SEPTEMBER 20

Suburban Lumber Mixer

10 THRESHOLD JULY 2018
---
Top 5 Tips to Enjoy Your Summer Barbecue

If enjoying your home in the summertime includes a barbecue

on your patio or deck, follow these five safety tips for

your grilling equipment and the food you will be cooking.

1. Location Always Matters

Maintaining an adequate distance between the grill and

the outside wall of the house is important to reduce the

chance of fire. Gas and charcoal grills should never be

used indoors, in closed garages or on enclosed patios and

balconies. Not only is fire a threat in these areas, the toxins

released by the charcoal can be dangerous.

You should also check local regulations. Some towns

and counties impose restrictions on where you can use,

or even store, your gas or charcoal grill. For example, it is

against the law in some places to use a grill on a wooden

deck or a patio that is covered by a deck.

Make sure the grill is placed on a level floor so it

won't tip, and set it away from any potentially flammable

objects like cars, lawn mowers, gas tanks or compost

heaps. Keep a clear walking path from the grill to the

eating area so there is no danger of tripping and knocking

down the grill.

2. Don't Play with Fire

Always keep a fire extinguisher handy for any emergencies

and keep an eye on children in the area. Curious little

ones might be tempted to put their fingers and hands

on hot grill surfaces or barbecuing utensils, or could

knock over a hot grill, causing significant injury or creating

a fire hazard.

3. Prepare Your Food with Caution

Proper preparation of the food you are cooking is key. To

avoid contamination, handle raw meat carefully. Keep

it separate from other foods and never reuse a plate on

which raw meat has been placed. Wash your hands in

warm, soapy water after handling raw meat and clean

all surfaces and utensils that touch raw meat with hot,

soapy water before using with other food. Meat should be

thawed on a plate in the refrigerator or microwave oven,

not at room temperature.

4. Take Your Food's Temperature

Food should be cooked to a safe internal temperature —

judged by using a food thermometer — to destroy harmful

bacteria. Don't simply judge its doneness by how brown it

is on the outside. According to the USDA Blog, whole poultry

should reach an internal temperature of 180°F; chicken

breasts, 170°F. Hamburgers made of ground beef should

reach 160°F; ground poultry, 165°F. Beef, pork, veal and

lamb steaks, roasts and chops can be cooked to 145°F.

Don't let food sit out for more than an hour in weather

above 90°F and promptly refrigerate any leftovers in shallow

containers. Discard any food that has been sitting out for

more than two hours in weather cooler than 90°F. For more

information, visit www.fsis.usda.gov or call 800-535-4555.

5. Protect Your Feast from Bugs

After you've grilled the perfect hamburger you'll want to

relax and enjoy eating it. That means keeping the bugs

away. To help lessen insects' intrusion on your picnic,

keep sweets and sodas covered and capped and eat while

it is still light to avoid mosquitoes in the evening. Use

spray repellent, mosquito coils or citronella-laced candles

or torches to help keep the pests away. T

Article provided by National Association of Home Builders

THRESHOLD JULY 2018 11
---
Protect

Your Home

from Severe

Weather

During severe weather, your

house may endure the brutal

conditions of tornadoes,

hurricanes, blizzards and other

punishing storms.

Take the time now to equip

your home with the accessories

it will need to survive a storm.

Don't wait until the forecast

calls for severe weather

because you may not have

enough time to take

necessary preparations.

Article provided by National Association of Home Builders

12 THRESHOLD JULY 2018
---
REVIEW YOUR

INSURANCE POLICIES

Before you do anything else,

look over your insurance policies

to make sure you're covered for

losses incurred as the result of a

natural disaster or brutal storm.

Damage caused by flooding,

earthquakes and hurricanes is

generally not covered by your regular

homeowner's policy but can

be purchased separately. Make

lists or videotapes of your belongings

as documentation for the insurance

company and keep that

documentation in a safe location

away from your house.

SEAL WINDOWS AND

DOORS

Try to prevent wind

and water from

entering through

windows, cracks,

entry doors and

garage doors. Wind

funneling through

your house pushes upward, and

could lift the roof, allowing heavy

rains to damage the interior of

your home.

Especially in hurricane-prone

areas it is important to seal your

windows and doors as tightly as

possible. You can purchase and

install special storm shutters to

cover your windows.

DIY STORM SHUTTERS

You can also make your own set of

shutters out of three-quarters inch

marine plywood or metal storm

panels. Make sure they overlap the

windows on all sides by four inches.

Then mark them so you know

which window they fit. Don't forget

to make shutters for your skylight

windows. Once made, the

shutter panels can be stored and

used when necessary. These shutters

can help protect homes from

all rainstorms accompanied by

high winds, not just hurricanes.

CONSIDER STEEL DOORS

After you've made shutters for all

your windows, start working on

your doors. If you live in an area

that frequently gets heavy storms,

consider installing steel entry

doors. High winds can easily tear

through double doors, French

doors and sliding patio doors that

have no structural support between

the two sides.

You may need to purchase

and install special hardware to

more adequately secure the doors

where they meet. Try bolts that

fasten the door into the framing

at the top and the bottom.

REMEMBER YOUR ROOF

A roof in good condition can

shield your home's interior from

the storm outside. So roof work is

another essential step in preparing

your house to withstand a severe

storm. Apply sealing around your

home's chimney or vent pipes.

This will help prevent water from

seeping into your home. Hire a

contractor to check the structural

integrity of the roof system.

Clean out clogged gutters and

downspouts. If the rain that accompanies

a heavy storm can't

run through the gutters and

downspouts, it will spill over the

sides, landing in areas where it

can soak through to your home's

foundation, causing flooding and

structural damage.

CLEAR YOUR YARD

Next, take steps to protect your

home from objects that take

flight during a storm. Do a little

yard work. Remove all dead and

dying limbs from your trees, and

secure lawn furniture, trashcans,

flowerpots and other

yard ornaments.

Disconnect and

remove exterior

television antennas

from the roof. Then

take all lawn furniture,

grills, potted

plants and other lawn accessories

inside your house. If you

can't secure lawn furniture or

other outdoor items, bring them

inside as well. High-speed winds

could transform any of these objects

into flying missiles.

Tie down the larger items such

as sheds, doghouses, playhouses,

swing sets and boats.

PREPARE TO SHELTER-

IN-PLACE

Finally, stock your cupboards and

closets with anything you might

need if you have to take shelter inside

your house during a summer

storm. Keep a battery-operated radio,

several flashlights in case you

lose electricity, and plastic sheeting

to cover exposed areas.

Fill your drawers with brand

new packages of live batteries

for the flashlights. Stash canned

foods and other non-perishable

food items in your cupboards in

case you can't get out to the supermarket

for a while. And pile blankets

into your closets in case you

lose electricity and your house becomes

cold.

When you and your house

are prepared, you're more likely

to weather the toughest storm.

Taking time now to prepare your

home for storm season could save

you a lot of money later. T

THRESHOLD JULY 2018 13
---
HONORARY MEMBER

Ralph Palmer

Ralph Palmer is originally from Gilman, Iowa. After

graduating high school, he went to the University of

Iowa to play baseball. Lettering his first year, Ralph

transferred to Coe College in Cedar Rapids. While

attending Coe College, he worked and lived at the

Turner Funeral Home.

One night after a late baseball game, Ralph went

home and realized he was locked out. His bedroom

was on the third floor, so he used the outside stairwell

to get up to his room. During his climb up, the

police arrived and asked him what he was doing.

As he stood on the ladder on the side of a funeral

home, Ralph replied "going home."

Ralph was able to work 3 jobs and graduate from

Coe College with a degree in business and biology

and no debt.

In 1960, Ralph married Linda, a graduate of the

first graduating class at Jefferson High School. The

two met through a mutual friend and had their first

date at the Ced-Rel Supper Club. A week later, Ralph

ran into Linda downtown while checking his mail

and told her "let's go look at rings." After a chuckle,

Ralph responded "I didn't have a lot of time."

Ralph and Linda have 3 children; Cindy, Becky

and Jeff. Cindy is an X-ray Technician at RCI. Becky

works for Wells Fargo in Des Moines. Jeff owns The

Top Shop. Ralph and Linda have 4 grandchildren,

2 boys and 2 girls and will celebrate their 58th anniversary

this year. When asked how they survived

"Boards must be focused and

need to work together to get

things done. "

Ralph Palmer

next page >

Ralph Palmer with his puppet Howie.

Q: What does it mean to you to be an Honorary

Member of the GCRHBA?

A: Recognition is an interesting thing. It brings a

flood of fragmented memories that were all good;

which was being a participant or helped make

things happen.

Q: What is your best memory of the GCRHBA?

A: 15-20 people that made up the core, even

though they are competitors. They came together

to help the organization and respected each other.

14 THRESHOLD JULY 2018
---
"When you

get involved in

something you

like, it contributes

right back to you."

Ralph Palmer

from previous page >

58 years, Linda replied, "I gave a lot" and Ralph followed

with "and I took it."

Ralph worked at the Ar-Jay Center for 47 years. He

has been enjoying retirement for the past three years.

During his time with Ar-Jay's, Ralph wrote a monthly

article for a kitchen and bath industry magazine

for over 20 years.

Later, Ralph self-published a book summarizing

all his articles; "Give Yourself a Raise Starting Today."

Ralph wanted to determine what made people

succeed and came up with the phrase, "Keep your

enthusiasm by giving it away." Ralph is a man of

many talents including motivational speaking, auctioneer,

and a ventriloquist with his puppet Howie.

Shortly after beginning work at the Ar-Jay Center,

Ralph joined the Greater Cedar Rapids HBA. During

the early years of his membership, The Gazette would

print pictures of new construction homes open to

the public; similar to the Parade of Homes. In 1991,

Ralph contacted the GCRHBA President Mike Flynn,

Flynn Homes, and requested the GCRHBA do something

special of their own. Ralph took the lead, but

he knew the GCRHBA needed The Gazette involved

to make this idea successful. So, he reached out and

created the first Parade of Homes. The Parade of

Homes has had a huge impact on the GCRHBA in

regard to involvement, membership, and financially.

Creating the Parade of Homes is Ralph's biggest

highpoint since he was directly involved, and

it gave the most opportunity to membership. Ralph

was President in 2000 and on the Board of Directors

through 2007. He was inducted into the Hall of

Fame in 1996 and an Associate of the Year Award

recipient in 1992 and 2001.

Ralph is well-known in the community for his continued

involvement in a number of organizations. T

Ralph's community involvement includes:

– Camp Courageous

– Cedar Rapids Ambulance Company

– Cottage Grove Place Association

– Hawkeye Horseshoe Pitching Association

– Trinity United Methodist

– Cedar Rapids Softball Hall of Fame

THRESHOLD JULY 2018 15
---
2018 ANNUAL

Trap Shoot & Barbeque Smoke Off

Wednesday, June 20 | Otter Creek Sportsmans Club

2018 Annual Trap Shoot, Barbeque Smoke Off & Live Music

THANK YOU TO

OUR SUPPORTING

SPONSORS

16 THRESHOLD JULY 2018

Wednesday, June 20

Trap Shoot Contest: 4:00 - 6:00 p.m.

Barbeque Smoke Off Contest: 6:00 p.m.

Dinner provided by CR Smoke BBQ & Catering: 6:00 - 7:00 p.m.

Live Music provided by The O'Connell Brothers Band and Raffle and Door Prizes: 7:00 – 9:00 p.m.

Allied Glass Products

(MAKE SURE TO BRING A LAWNCHAIR OR BLANKET)

Otter Creek Sportsmans Club (9001 Milburn Road NE)

Come to shoot or network, enjoy good food, and listen to live music!

Culligan Water Conditioning

Gannon Roofing Supply

Also make sure to sign up to participate in the Barbeque Smoke Off!

Gilcrest/Jewett Lumber

Glass ConceptsWe will provide the meat. All you need to provide is your smoker, wood and seasoning.

House of Carpets

CASH PRIZES to the Top 3 Winners!

MacArthur Company

McGrath Fleet & Commercial

Suburban Lumber

Bring cash for your chance to win amazing raffle prizes:

TV donated by Grand Appliance and TV

NASCAR Racing Fire Suit donated by Menards

Gun donated by Williams Hardwood Flooring

Raffle Ticket Prices: 1/$5, 3/$10, 8/$20, 30/$50, 40/$60, 60/$80 or GO BIG 80/$100

Plus you will be automatically entered to win a free door prize!

RAFFLE PRIZES

TRAP SHOOT

CONTEST

TV This donated is a gold by card event, so one person from a member company can attend at no charge

Grand Appliance and TV

and additional guests 1st Place are - $20/person Steve Seltrecht, (payment score 47due when register)

NASCAR Racing NOTE: Fire Shells Suit and Bird Fees 2nd extra Place -- $6.50/box Greg Pauly, of score shells 46 - $6.50/round of shooting

donated by

(each

Menards

participant shoots 2 rounds: 3rd Place 25 - shots Casey from Martin, 16 score yards 45 and 25 shots from 20 yards)

1st Place - Rich Lyle

Gun donated by

2nd Place - Randy Dostal

Williams Hardwood Flooring

3rd Place - Mike Farr

Online reservations are REQUIRED by Tuesday, June 19 at www.crhba.org

Thank you to our supporting sponsors:

BARBEQUE

SMOKE OFF

Allied Glass Products Culligan Water Conditioning Gannon Roofing Supply

Gilcrest/Jewett Lumber Glass Concepts House of Carpets
---
NEW

MEMBERS

Need a

?

Jon Shebetka

Brown Plumbing

Zechariah Garman

Garman Built

Visit crhba.org for all your

housing and building needs.

• Free Referrals • Reputable Members • Peace of Mind •

crhba.org • 319.395.0778

Skogman Homes

Home Builders Blitz

June 4-8, 2018 | Cedar Rapids, Iowa

Jim Sattler Custom Homes

Sattler Homes & Remodeling

Thank You!

Allan Custom Homes

Cedar Ridge Homes

Cedar Valley Habitat wishes to thank the Greater Cedar Rapids Housing & Building Association

and all HBA member organizations who played a vital role in making Home Builders Blitz 2018 such

a tremendous success! Because of your support, three local families now have forever homes!!

For more photos of the project, visit cvhabitat.org

THRESHOLD JULY 2018 17
---
18 THRESHOLD JULY 2018

MEMBER EVENT
---
Lawn Care

During Arid

Summer

Months

Care and patience makes

the difference between a

lush, healthy lawn and

a coarse, brown eyesore,

especially when rainfall is

sparse.

Most people take pride

and care in maintaining

their lawns, although

weather conditions often

hamper even a green

thumb's best efforts.

And, it's not just a matter

of beauty — or friendly

neighborhood competition.

Maintaining your

home's landscape is important for property values.

Instead of following a predetermined watering schedule,

check the soil moisture regularly. You can then alter

your schedule to better meet your lawn's needs.

To check soil moisture, the OSUES suggests inserting a

screwdriver into the soil. If it penetrates the soil easily, it

is moist. If not, you know your lawn is getting dry.

During dry summers, consider watering half as much

as usual. Lawns will stay mainly green, with a few brown

spots, if they receive a half to three quarters inch of water

per week. Watering once or twice a week to apply this

amount of water should be sufficient. T

lawn care strategies

Here are some additional lawn care strategies

from the Agronomy and Horticulture department

at the University of Nebraska, Lincoln:

• Minimize fertilization. Over-fertilized, over-watered

lawns tend to lack the wherewithal to

thrive under stress. This spells trouble during a

drought because the lawn hasn't developed a

deep root system. Heavily fertilized lawns also

require more water, so home owners may want

to wait until fall to fertilize.

• Mow your lawn properly. A good rule of

thumb for each mowing is to never remove

more than one-third of the height of the grass.

Mowing higher forces grass to develop and

use deeper roots.

• Try mulching – even if you don't have a

mulching mower. Let clippings remain on the

grass. Lawns tend to lose more water and nutrients

through evaporation when you remove

clippings.

• If you didn't aerate your lawn in the spring,

consider doing so this fall. Aeration creates

small holes in the ground that allow water to

soak deeper into the ground and promotes

root growth.

• Maintain your lawn care equipment. Sharpen

mower blades at least twice this summer. Dull

blades tear grass, forcing grass to use 40 percent

to 60 percent more water while it struggles

to recover from stress.

• Finally, water during hours when the sun is

not full strength, such as in the early morning

or at dusk. Irrigating during the day wastes water,

because much of it evaporates in the heat.

Even if your community has imposed water limits,

it doesn't necessarily sentence your lawn to

a long, brown summer. Follow them. Watering

on alternate days can save 40-50 percent of

water and heeding these few guidelines will go

a long way to helping you maintain and enjoy

your lawn, even through the hot, dry summer.

Article provided by National Association of Home Builders

Click here to find your LOCAL

landscape professionals.

THRESHOLD JULY 2018 19
---
THE SPIKE CLUB

This month's

SPIKE LEADER!

Growing our Strength through

Member Recruitment, Retention

and Involvement

Recruiting new members to your local association is an activity

recognized and rewarded through the Spike Club. Those who

participate are called Spikes, and they are among the most valued

members of the association.

Member-to-member recruitment and retention efforts are the

largest source of growth for the federation. Spikes bring grassroots

growth and stability. These efforts lend to the development

of the general membership and our leadership pipeline,

keeping the face of the federation true to that of our industry

and the scope of interests we represent.

Spikes are the membership leaders of our federation, building

the voice, power and influence on every level, in every state.

DUSTIN KERN

5.5 CREDITS

Watch this video and learn more about the

Spike Club.

C ongratulations

to Dustin!

20 THRESHOLD JULY 2018
---
SPIKE MEMBERS

SUPER SPIKE

James Sattler 465.50

Mike Farr 342.00

ROYAL SPIKE

Michael Flynn 267.00

Mike Sattler 224.50

Wayne Winn 207.00

Randy Dostal 178.50

Rob Hajek 171.25

Tom Takes 170.25

Doug Kohoutek 167.25

Jim Buresh 157.75

RED SPIKE

Mark Wood 123.50

Drew Retz 116.75

Tari Dailey 110.25

Alvin Frey 102.25

GREEN SPIKE

Joseph Ahmann 75.00

Robert Meyer 74.50

Paul Brundell 70.00

Jim McGrew 67.75

YELLOW SPIKE

Joe Sattler 42.50

JR Blok 42.00

Steve Erusha 41.75

Ron Valenta 34.00

BLUE SPIKE

Todd Frazier 23.50

Kyle Skogman 22.50

Chad Pelley 20.50

Bryan Thumma 20.50

Benton Frey 13.00

Brian Ophoff 12.50

Ray Vasser 11.00

Chris Mottinger 9.50

Dustin Kern 7.50

Dustin Lee 7.50

K Flynn 7.75

SPIKE

CANDIDATES

Six (6) credits needed to

become a SPIKE MEMBER

Jeff Platten 5.50

Bob Rathje 5.25

Tom Kurtz 5.00

Mark Ralston 5.00

Chuck Rhode 5.00

Todd Richardson 5.00

Pat Sauter 5.00

Mark Sillman 5.00

Al Sattler 4.50

Paul Scallon 4.50

Jerry Sunderman 4.00

Timothy Vaske 4.00

Jeff Melcher 3.50

Kirk Sadilek 3.50

Todd Wood 3.50

Jamie Buresh 3.00

Ben Dahl 3.00

Chad Kelly 3.00

TJ Heefner 2.50

Matt Burger 2.00

Brad Joens 2.00

Dave Vanous 2.00

Mark Bertelli 1.50

Terry Bjornsen 2.00

Marc Daubitz 1.50

Mike Delaney 1.00

Alissa Gardner 1.00

Rex Hamilton 1.00

Brian Hancock 1.00

Jennifer Hughes 1.00

Casey Johannes 1.00

Hanna Kustes 1.00

Brad Nielson 1.00

Justin Wright 1.00

2018 SPIKE

CHAMPIONS

Dustin Kern 5.5

Mike Farr 2.0

Alissa Gardner 2.0

Jim McGrew 2.0

Ben Dahl 1.5

Randy Dostal 1.0

Rob Hajek 1.0

TJ Heefner 1.0

Mike Ludvicek 1.0

Jeff Melcher 1.0

Drew Retz 1.0

Justin Wright 1.0

Gary Doerrfeld 0.5

Doug Kohoutek 0.5

Chad Pelley 0.5

WHO WILL

BE THIS

YEAR'S

GRAND

CHAMPION

"SPIKER"

THRESHOLD JULY 2018 21
---
MEMBER EVENT

GCRHBA Members….

Come make a Splash!

Thursday August 9th 5-7 pm

Food Truck - Beverages - Networking

Please email reservations by August 7th to eo@crhba.org

Featuring food from:

Keepinupwiththejonesess.com/menu

Complements of Splash!

Custom Inground Concrete Pools, Fountains and Aquatic Adventures.

5454 Center Point RD NE Cedar Rapids, IA 52402 319-200-7665 www.splashpools.co

22 THRESHOLD JULY 2018
---
Connect with Us

President

Mike Farr

Cascade Manufacturing Co.

Office: 563.852.3231

mgfarr@cascade-mfg-co.com

Vice-President

Rob Hajek

Home Repair Team

Office: 319.626.4663

robh@homerepairteam.com

Board Member

Jeff Capps

Cedar Valley Habitat for

Humanity/ReStore

Office: 319.366.4485

jeffcapps@cvhabitat.org

Board Member

Randy Dostal

Thomas Dostal Developers

Office: 319.431.3881

allamericanlc@hotmail.com

Board Member

Andrea Rhoades

Corridor Business Journal

Office: 319.665.6397

Andrea@corridorbusiness.com

Board Member

Robert Riley

Windows by Pella, Inc.

Office: 319.363.5768

robert.pellawindows@gmail.com

Second Vice-President

Dustin Kern

DK Land Services, Inc.

Office: 319.654.6706

dustin@dklandservices.com

Board Member

Mike Flynn

Flynn Homes, Inc.

Office: 319.366.6826

mike@flynnhomes.com

Board Member

Hunter Skogman

Skogman Homes

Office: 319.363.8285

hskogman@skogman.com

Treasurer

Justin Zimmerman

CliftonLarsonAllen, LLP

Office: 319.363.2697

justin.zimmerman@claconnect.com

Board Member

Benton Frey

Frey Homes, LLC

Office: 319.640.2300

benton@freyhomes.com

Board Member

Dean A. Spina

Bradley & Riley PC

Office: 319.861.8725

dspina@bradleyriley.com

Secretary

Jim Sattler

Jim Sattler Custom Homes

Office: 319.395.9157

jsattler@sattlerinc.com

Board Member

Joe Greathouse

Kirkwood Community College

Office: 319.398.5411

joe.greathouse@kirkwood.edu

Board Member

Ryan Sullivan

Amerhart, Ltd.

Office: 608.825.3322

ryan.sullivan@amerhart.com

Immediate Past President

Chad Pelley

Ahmann Design

Office: 319.395.7900

cpelley@ahmanncompanies.com

Board Member

Jim McGrew

Suburban Lumber Company

Office: 319.362.3115

jmcgrew@suburbanlumber.com

Board Member

Bryan Thumma

Affordable Heating & Cooling

Office: 319.462.3638

bryan.thumma@affordable-hvac.com

Remodelers Council First

Vice-Chair

Joe Sattler

Sattler Homes & Remodeling

Office: 319.395.9475

joe@sattlerhomes.com

Board Member

Amy Miller

Hills Bank and Trust Company

Office: 319.654.8007

amy_miller@hillsbank.com

Executive Officer

Melissa Olson

Greater Cedar Rapids Housing &

Building Association

Office: 319.395.0778

eo@crhba.org

Board Member

JR Blok

Blok Construction

Office: 319.533.4394

jrblok2@mchsi.com

Board Member

Drew Retz

Jerry's Homes, Inc.

Office: 319.294.2290

drewr@jerryshomes.com

THRESHOLD JULY 2018 23
---
McGrath Fleet & Commercial/Altorfer CAT

2018 Nail Drivers' Open

* FREE beer, Gatorade, water * FREE on-course food stations

* Flag Events * Door Prizes * Raffle Prizes * Winning Team Prize *Hole-in-one Contest

* Back by popular demand: $500 Putting Contest and the Circle Betting Game!

Friday, August 17 - St. Andrews Golf Course (1866 Blairs Ferry Road NE)

Golf - Shotgun start at 11:00 a.m. $130.00 per person. Four person best shot.

Social Hour Only - approx. 4:00 p.m. Free for golfers or $20.00 for non-golfers.

(includes beverages, door prize ticket and option to purchase raffle tickets)

COME TO GOLF OR JUST COME TO NETWORK!

BUY TICKETS WHEN YOU REGISTER OR BRING CASH FOR YOUR

CHANCE TO WIN SOME AMAZING RAFFLE PRIZES!

Raffle Ticket Prices: 1/$5, 3/$10, 8/$20, 30/$50, 40/$60, 60/$80 or GO BIG 80/$100

PLUS YOU ARE AUTOMATICALLY ENTERED TO WIN A FREE DOOR PRIZE!!

SIGN UP EARLY! Last year we filled up quickly...first come, first serve!

Online reservations and cancellations are REQUIRED by August 6 at crhba.org

SPONSORSHIP OPPORTUNITIES AVAILABLE!

Hole-In-One Sponsor

Hole Sponsor

Beverage Sponsor

Raffle Prize Sponsor

There is a sponsorship opportunity for every budget!

Contact Melissa at eo@crhba.org or 395.0778 for more information.

24 THRESHOLD JULY 2018
---
HOMEMADE MORTGAGES

Dread the thought of sending your home loan to a faceless out-of-town megaloan

conglomeration? From application to loan closing and making payments,

borrow right here and pay right here with a homemade mortgage from Dupaco.

$600 OFF

MORTGAGE CLOSING COSTS *

Cozy up to a Dupaco mortgage loan for a home purchase

or refinance and sweeten the deal with $600 off your

closing costs. Now

that's a home

sweet loan!

Get moving! Schedule an appointment

at 800-373-7600, ext. 204

*

This offer is good through August 31, 2018 and applies to Real Estate applications taken by the credit union from April 1, 2018, through August 31, 2018 resulting in an approved and disbursed real estate loan at the credit union.

This offer is not transferable and may not be used in conjunction with any other discounts, offers or coupons and may not be redeemed in cash. This offer requires Dupaco membership. To be eligible for membership in Dupaco

you must live or work in Dupaco's charter area or have a member of your immediate family be an existing member of the credit union. Commercial loans, Mini Mortgages and Home equity loans are excluded from the offer.

THRESHOLD JULY 2018 25