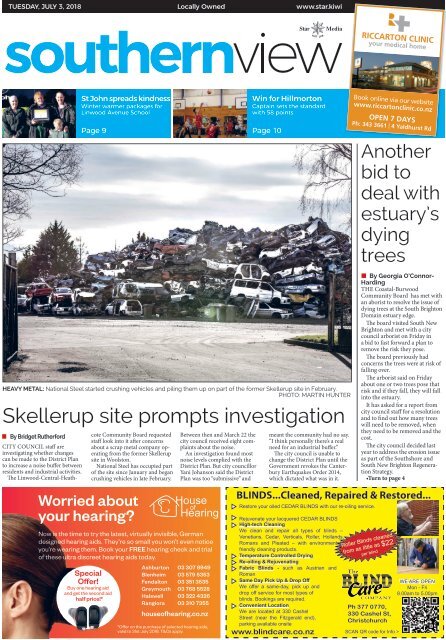 Southern View: July 03, 2018
Create successful ePaper yourself
Turn your PDF publications into a flip-book with our unique Google optimized e-Paper software.
TUESDAY, JULY 3, 2018

Locally Owned

www.star.kiwi

St John spreads kindness

Winter warmer packages for

Linwood Avenue School

Page 9 Page 10

Win for Hillmorton

Captain sets the standard

with 58 points

HEAVY METAL: National Steel started crushing vehicles and piling them up on part of the former Skellerup site in February.

PHOTO: MARTIN HUNTER

Skellerup site prompts investigation

• By Bridget Rutherford

CITY COUNCIL staff are

investigating whether changes

can be made to the District Plan

to increase a noise buffer between

residents and industrial activities.

The Linwood-Central-Heathcote

Community Board requested

staff look into it after concerns

about a scrap metal company operating

from the former Skellerup

site in Woolston.

National Steel has occupied part

of the site since January and began

crushing vehicles in late February.

Worried about

your hearing?

Now is the time to try the latest, virtually invisible, German

designed hearing aids. They're so small you won't even notice

you're wearing them. Book your FREE hearing check and trial

of these ultra discreet hearing aids today.

Ashburton 03 307 8949

Special

Blenheim 03 579 5353

Offer!

Fendalton 03 351 3535

Buy one hearing aid

Greymouth 03 768 5528

and get the second aid

half price!*

Halswell 03 322 4326

Rangiora 03 310 7355

houseofhearing.co.nz

*Offer on the purchase of selected hearing aids,

valid to 31st July 2018. T&Cs apply.

Between then and March 22 the

city council received eight complaints

about the noise.

An investigation found most

noise levels complied with the

District Plan. But city councillor

Yani Johanson said the District

Plan was too "submissive" and

meant the community had no say.

"I think personally there's a real

need for an industrial buffer."

The city council is unable to

change the District Plan until the

Government revokes the Canterbury

Earthquakes Order 2014,

which dictated what was in it.

Restore your oiled CEDAR BLINDS with our re-oiling service.

Rejuvenate your lacquered CEDAR BLINDS

High-tech Cleaning

We clean and repair all types of blinds –

Venetians, Cedar, Verticals, Roller, Hollands,

Romans and Pleated – with environmentally

Book online via our website

www.riccartonclinic.co.nz

OPEN 7 DAYS

Ph: 343 3661 | 4 Yaldhurst Rd

Another

bid to

deal with

estuary's

dying

trees

• By Georgia O'Connor-

Harding

THE Coastal-Burwood

Community Board has met with

an aborist to resolve the issue of

dying trees at the South Brighton

Domain estuary edge.

The board visited South New

Brighton and met with a city

council arborist on Friday in

a bid to fast forward a plan to

remove the risk they pose.

The board previously had

concerns the trees were at risk of

falling over.

The arborist said on Friday

about one or two trees pose that

risk and if they fall, they will fall

into the estuary.

It has asked for a report from

city council staff for a resolution

and to find out how many trees

will need to be removed, when

they need to be removed and the

cost.

The city council decided last

year to address the erosion issue

as part of the Southshore and

South New Brighton Regeneration

Strategy.

•Turn to page 4

BLINDS...Cleaned, Repaired & Restored...

friendly cleaning products.

Temperature Controlled Drying

Re-oiling & Rejuvenating

Fabric Blinds - such as Austrian and

Roman

Same Day Pick Up & Drop Off

We offer a same-day, pick up and

drop off service for most types of

blinds. Bookings are required.

Convenient Location

We are located at 330 Cashel

Street (near the Fitzgerald end),

parking available onsite

Roller Blinds cleaned

from as little as $22

per blind

Ph 377 0770,

330 Cashel St,

Christchurch

www.blindcare.co.nz SCAN QR code for Info >

WE ARE OPEN

Mon - Fri

8.00am to 5.00pm
---
2 Tuesday July 3 2018

Latest Christchurch news at www.star.kiwi

from the editor's desk

news

SOUTHERN VIEW

THAT'S ONE amazing effort on page 10

today – Hillmorton High basketballer Ihaia

Kendrew's 53 points.

The team he was playing against, Burnside

High, are no easy beats. Ihaia says he was

motivated by Hillmorton's departing coach

Marques Whippy. In hindsight maybe Whippy should have indicated

in the pre-match pep talks early in the season he was on the

move. It might have worked the oracle earlier.

The Coastal-Burwood Community Board is right to be getting

rather irritated about the lack of action on trees in the South

Brighton Domain estuary edge (see page 1). They met with a city

council arborist on Friday, the latest meeting in a long-running

saga. The board was told it will now be March before a plan to

manage the situation is released, which is part of the Southshore

and South New Brighton Regeneration Strategy.

– Barry Clarke

get in touch

GENERAL ENQUIRIES Ph 379 7100

CLASSIFIED ADVERTISING Ph 379 1100

Star Media, a division of Allied Press Ltd

PO box 1467, Christchurch

starmedia.kiwi

NEWS

Sophie Cornish

Ph: 364 7437

sophie.cornish@starmedia.kiwi

ADVERTISING

Mark Sinclair

Ph: 364 7461

mark.sinclair@starmedia.kiwi

Lighting up Lyttelton

The Lyttelton Festival of Lights attracted the biggest crowd in

its 14-year history on Friday night.

Pages 4-5

news

Bridge Club spans 50 years

Look back at the history of the Sumner Bridge Club since it was

formed in 1968.

Page 7

community events

Discussion group

Go along for a talk about what you have been reading. Join

other book lovers at 66 Colombo St, Wednesday, 10am.

Page 15

The best-read local newspaper, delivered to

15,826 homes every Tuesday

Spreydon, Hoon Hay, Hillmorton, Cracroft, Cashmere,

St Martins, Somerfield, Sydenham, Addington, Waltham,

Opawa, Beckenham, Huntsbury, Woolston.

Bringing

the heat

Wherever you are,

Mini-Tankers can help keep

you cosy with on-site refuelling

for your home heating

system. Simple and safe.

Mini-Tankers Canterbury

027 4333 801

Fujitsu

Heat

Pumps

Installed from

$2200 *

Fujitsu accredited

air conditioning specialists

Terms and conditions apply.

Website: www.pshc.co.nz

*Conditions apply. Back to back installations 3 metre pipe run.

Phone today: 03 381 6950 Email: info@pshc.co.nz

www.trainme.org.nz

Gain NCEA Credits

with the Ultimate

career taster

FREE

*

Enrolling NOW!

FOR JULY START

*Some conditions apply

Txt 'Ultimate' to 027 557 8839

to find out more

or phone 0800 872 466

50 Hazeldean Road

Addington, Christchurch
---
SOUTHERN VIEW Latest Christchurch news at www.star.kiwi

Tuesday July 3 2018 3

News

Godwit sculpture ready in spring

• By Georgia O'Connor-Harding

SOUTH NEW Brighton will get

a kuaka/godwit sculpture – but

where it will go in Bridge St is

still to be confirmed.

The project has been more

than two years in the making.

But the South Brighton

Residents' Association, which is

backing the planned sculpture,

is confident it

will be installed

by spring.

The plan is

to have the

sculpture

finished by

September in

Hugo

Kristinsson

time for the

return of the

godwits to New

Brighton.

City councillor David East

said there had been some delays

to the project due to the resource

consent process and getting

the funds raised, but he was

optimistic it would go ahead.

City council head of resource

consents John Higgins said no

application has been lodged for

the sculpture due to there being

discussions around its location.

"There are locations in the

general vicinity of the area

that may not require resource

SOARING: An artist's impression of the godwits sculpture planned for the entrance to South

Brighton, near the Bridge St bridge.

consent," he said.

The sculpture was originally

planned to go on a piece of land

near the Bridge St bridge.

Residents' association

chairman Hugo Kristinsson

said the new location had been

"pretty much" decided. He

said it will now be sited about

10m east of its original planned

location.

He said $30,000 has been

secured for the project.

The funds have been raised

through the Rata Foundation,

Pub Charity Ltd and year 7

and 8 pupils at South Brighton

School selling wooden,

decorated godwit cut-outs.

The Coastal-Burwood

Community Board also granted

$8000 towards the project.

The board decided at a recent

meeting it would extend the

period of time in which the

$8000 needed to be spent after it

first granted the money in June

last year.

The sculpture is being built

by South Brighton artist Bon

Suter and is a celebration of the

godwits connection with the

Avon/Heathcote Estuary.

Local

News

Now

In Brief

Fire rages, homes at risk

DENTON PARK DECISION

The future of Denton Park

will be decided on Friday.

The Halswell-Hornby-

Riccarton Community Board

will vote to accept or decline

a city council hearings panel

recommendation to not build a

community mega centre at the

site. The meeting at Te Hapua:

Halswell Centre will start at

4pm.

LIQUOR BAN

A temporary alcohol ban

will again be in place on the

streets around Riccarton Park

Racecourse for this year's

Cup Day. The ban applies

to both sides of the streets

immediately around Riccarton

Racecourse, Yaldhurst, Epsom,

Racecourse, Buchanans and

Masham Rds, and will be in

force from 7am to midnight on

November 17.

CLEAN WATER INVENTION

Ilam student Ben Houlton is

developing 3D-printed water

filters with the potential to

improve water quality in

developing countries. He hopes

his filters would help remove

trace materials from wastewater

streams and other polluted

waterways.

CORCORAN FRENCH

KAIAPOI

ART EXPO

SELWYN STREET

NOW OPEN

Mad Jacks

Kristov

Kentucky Blue

2 fOr

$

19 99

Jim Beam

White Label

$

39 99

1 LitrE

Hardys

Range 1L

FILL UP FOR

LESS WITH

YOUR GOLD

CARD.

15

14 & 15 JULY, 10AM TO 5PM

RIVERVIEW LOUNGE, KAIAPOI CLUB

GUEST ARTIST JOEL HART • GOLD COIN ENTRY

SCHOOL ART EXPO sponsored by

Bowden

Environmental

Resource Management Consultants

KAIAPOIARTEXPO.CO.NZ

$

19 99

12Pk

Tui Bourbon

& Cola 7%

250ml Cans

2 fOr

$

19 99

SPECIALS AVAILABLE FROM 5/07/18 UNTIL 11/07/18

Selwyn Street 1/304 Selwyn St

Ph. 03 377 6586

www.thebottle-o.co.nz

*Terms and Conditions apply.

111-115 Milton Street

Phone 332-6056

as local as you are | www.challenge.net.nz
---
4 Tuesday July 3 2018

Latest Christchurch news at www.star.kiwi

News

Another bid

to deal with

dying trees

•From page 1

But Ms Money said the strategy

will not be released until March

next year and it is too long to wait.

City councillor David East said

there could be 80 trees that are

dead, dying or at risk of falling

over.

"Unfortunately if we had

repaired the estuary edge over

a year ago, a lot of these trees

wouldn't have died," he said.

Cr East said he is also concerned

a replanting/replacement

policy for the trees has not yet

been established and is hoping

a solution will come through as

part of the report requested from

the arborist.

After the earthquakes, the city

council developed the South

New Brighton Reserves Management

Plan and a development

plan which aims to protect and

enhance the cultural, ecological,

landscape and recreational values

of the reserves.

The board has requested another

meeting with city council

staff over erosion at the estuary

and is hoping to meet again this

week, Ms Money said.

"We are losing land which is

just unacceptable," she said.

SOUTHERN VIEW

Local

News

Now

Lighting up Lyttelton with

The Lyttelton Festival of Lights attracted the biggest crowd in its 14-year history on Friday night, with around 10,000 people

packing into the township. The cool, clear night showed off the fireworks display to perfection while food stalls and music

stages fed, watered and entertained until late in the night.

Fire rages, homes at risk

Have your car repaired today

10 WEEKS TO PAY!

Since the early '80s, artist Ashley Smith has lived and worked

from a crumbling, windswept headland on the North Canterbury

coast. He bought the land after discovering, during the course of

a six year global odyssey, that his juices liked being near the sea

and were most stimulated by his home region's crazy weather

patterns.

"The sudden shifts of life's flow passing through and around us;

culturally, meteorologically, personally, always have the power

to surprise.

You're an island nation of pristine waters and clamorous birdcall

when a sail broaches the horizon…

You glance up from an endless summer to find a rampaging

southerly bearing down on you. …A young family-man, raising a

home on a rural headland, a moment's distraction and suddenly

you're an old, bald bloke rummaging for the car keys and your

friend's name…" Ashley Smith

Ashley Smith hopes these paintings, from a milestone period of

his life will, like life's gearshifts, have the power to surprise."

Ashley Smith

inds of Change

7 JULY – 1 AUGUST

Main Rd, Little River | 03 325 1944

art@littlerivergallery.com

NO INTEREST

NO INTEREST

CALL TODAY FOR DETAILS

• Full servicing, for all

makes & models

• Cambelts

• Brakes

• Clutch

• Tyres

• Diesel repairs

• Computer scanning

GASSON

MOTORS

LIMITED

WOF

SPECIAL

$

39

NO FEES

NO FEES

4WD Specialists

Phone us on: 03 366 7177

196 Waltham Rd, Chch
---
SOUTHERN VIEW Latest Christchurch news at www.star.kiwi

Tuesday July 3 2018 5

News

fireworks

Local

News

Now

Fire rages, homes at risk

Hon Nicky Wagner

National List MP

Come and visit us at our new

office at 922 Colombo Street

A

E

P

W

922 Colombo Street

Central Christchurch

PO Box 21359

Christchurch 8143

chch.office@parliament.govt.nz

03 365 8297

nickywagner.co.nz

Funded by the Parliamentary Service and authorised by

Nicky Wagner, 922 Colombo Street, Christchurch.

PHOTOS: SIMON BAKER AND ETHAN-HAZE PHOTOGRAPHY

Dyers Road Landscape

& Garden Supplies

• Barks • Peastraw • Composts - we supply the best available

• Aggregates - Chip, Round and Basecourse

• Pavers & Schist products • Pungas

• Decorative Stones & Landscaping Rocks

• Trailer Hire first hour free with purchase

• Bag & Bulk - pick up or delivered

David, Carol & Mike

We will deliver!

SOIL

AND

HARDFILL

DUMPING

Phone: 03 384 6540

183 Dyers Rd, Bromley • OPEN 7 DAYS

Weekdays 7.30am-5pm. Weekends 8.30am-3pm

www.dyersroadandlandscapes.co.nz
---
6

Latest Christchurch news at www.star.kiwi

Tuesday July 3 2018

SOUTHERN VIEW

raNGiora • Northwood • st martiNs • tower juNctioN • BishoPdaLe • raNGiora • Northwood

Northwood • st martiNs • tower juNctioN • BishoPdaLe • raNGiora • Northwood • st martiNs • tower juNctioN • BishoPdaLe •

THE

is

BACK!

GREAT DEALS ON 100s OF PRODUCTS TO ENTERTAIN THE KIDS!

KIDS' BOOKS * NEW IN GAMES *

25 %

NOW ONLY

$

3 .99

PICTURE BOOKS *

EA

30 % off

FIRST CREATIONS – KIDS' ART RANGE +

UP TO

off

80%

OFF

RRP

12+ MONTHS

NEW

20 %

+

Promotion applies to Tower Junction only.

off

FANTASTIC RANGE!

USBORNE ACTIVITY BOOK RANGE *

Follow us on Facebook:

@papertreestores

2 FOR

$14

CHRISTCHURCH CALENDARS

NOW ONLY

$

6 .99

OR 2 FOR

$12

*Applies to selected products. Stock may vary from store-to-store.

tower junction, off Clarence St, Riccarton | Bishopdale, 31 Bishopdale Court, Bishopdale | rangiora, 206 High Street, Rangiora

Northwood supa centre, Main North Road, Belfast | st martins shopping centre, Wilsons Road, St Martins

EA

• st martiNs • tower juNctioN • BishoPdaLe • raNGiora • Northwood • st martiNs • tower juNctioN • BishoPdaLe • raNGiora
---
SOUTHERN VIEW Latest Christchurch news at www.star.kiwi

Tuesday July 3 2018 7

News

Local

News

Now

Bridge club spans half a century

Fire rages, homes at risk

Sumner Bridge Club

will celebrate its 50th

anniversary in September.

Sarla Donovan reports

YOU COULD say it was rain

that created the Sumner Bridge

Club back in 1968.

A group of people got together

- mostly men – who worked at the

Lyttelton wharves, club president

Julie Cunningham said.

"The rules of stevedoring in

those days were that if there

was too much rain, you weren't

able to work. So they used to go

indoors and play cards."

Eventually they decided to

form a club.

They didn't have premises

initially, but used the social hall

at the St John ambulance rooms

and the Sumner Community

Centre.

Its first session was convened

with 27 players on September 9,

1968, in the supper room of the

community centre.

When a run-down

weatherboard house in Dryden

St was spotted for sale at a cheap

price, the club bought it by

raising 216 debentures from their

members.

Purchased for $3750 in May,

1970, the property had a 2017

FULL HOUSE: Sumner's Bridge Club president Julie Cunningham is ready to mark the club's 50th

anniversary in September.

PHOTO: MARTIN HUNTER

capital rating valuation of

$445,000.

The debentures also funded

major renovations at the

property, and because many

of the men in the club had

carpentry and building skills.

They set about gutting the inside,

changing around the layout and

putting in men's and women's

bathrooms, Ms Cunningham

said.

After a few years, a breakaway

group formed what became the

Mt Pleasant Bridge Club.

This time it wasn't rain, but

smoke that was the cause.

"In those days, people smoked

tremendously, particularly the

men. After seven or eight years,

some of the club members asked

the offending smokers to desist

while playing but they refused,"

she said.

So a group broke away and

formed the non-smoking Mt

Pleasant Bridge Club with 40

members in August, 1975.

But after a few more years,

Sumner also went smokefree.

Today the club continues to

thrive, with members ranging in

age from their 40s right through

to 93.

Ms Cunningham herself

came to the game at retirement

age.

Having grown up in a

generation where a lot of people

played cards – "there wasn't

much entertainment in the

evenings!" – she still had eight

weeks of lessons before starting.

And beginners lessons are

still offered regularly at the

club, which will mark its 50th

on the weekend of September

8 and 9 with a get together and

drinks on Saturday followed

by entertainment, lunch and a

tournament on Sunday.

PUBLICACHC2

Flu shots are available from your GP team

or some pharmacies. You may even qualify

for a free vaccination.

Check out www.flufree.co.nz

for more info and flu facts.
---
8 Tuesday July 3 2018

Latest Christchurch news at www.star.kiwi

Ask us about FEES FREE *

SOUTHERN VIEW

Get The

Job You

Want

School's Not

for everyone!

Business Admin & Technology

Looking for an administration role? This FREE 20

week course will give you the skills to work in a

modern office, covering advanced use of

Microsoft Word, Excel, Publisher and other

computer based business applications

digital Media

Looking for a career in Digital Media &

Design? This level 2 Certificate in Arts and

Design course will set a great foundation for

an exciting start to your future in design.

NCEA credits included. FREE for Ages 16-19

Web Development

Join the fast growing and in-demand career of

Web Development. You will be at the computer

from the first day, with expert tutors guiding you

through this practical course. UE is not required

to enter our one year diploma and there are $2,000

scholarships available for students aged 25 to 35.

Security & Armed Forces Prep

Looking for a career in uniform? This course

gives you the fitness and training for roles in

the Armed Forces, Police and fast growing

Security industry. NCEA credits included.

FREE For Ages 17-19

Early Childhood Education

Looking for a career as an Early Childhood teacher?

We offer the best way to get there! Study your first

year on campus with our amazing caring tutors,

then earn while you learn for the rest of the degree.

If you did not enjoy school, this is totally different

and you do not require UE to enter this programme.

The Ultimate Career Decider

Didn't enjoy school? This FREE 19 week

course offers skills to find a job, learner

drivers licence, tasters of a range of

careers and the opportunity to gain

credits towards NCEA Level 1.

FREE For Ages 16-19

PHONE US ON:

0800 834 834

OR TXT 'VISION'

TO: 027 557 8839

www.vision.ac.nz

50 Hazeldean Road

Christchurch

Phone us on:

0800 872 466

www.Trainme.org.nz

OR TXT 'TRAINME' TO:

027 557 8839
---
Rolleston Ave

Montreal St St

Cambridge Tce

Cambridge Tce

Colombo St St

SOUTHERN VIEW Latest Christchurch news at www.star.kiwi

Tuesday July 3 2018 9

SCHOOLS

RECOGNITION: St John

intensive care paramedic

Karen Connolly, Linwood

Avenue School year 2 teacher

Fiona Barnes, year 2 pupil

Josh Schuker, 6, and teacher

aide Michelle Finlayson. ​

St John spreads kindness

to Linwood Avenue School

ST JOHN is beating the winter

blues by warming the hearts of

pupils and teachers at Linwood

Avenue School.

A team from St John presented

winter warmer prize

packages to 100 pupils from

three classrooms.

The prizes were given out to

pupils who live by the school's

values.

The goods in the packs have

been donated by Canterbury

businesses and included a pair

of socks, a first aid kit and food

items. All pupils at the school

received a book from St John.

The visit was part of the St

John Day celebrations on June

24.As part of the celebrations,

the St John fundraising team

deciding to use its St John

Facebook page for people to

nominate a school and teacher

for a random act of kindness.

Year two teacher Fiona

Barnes was also recognised

and presented with a gift and

certificate of awesome.

Mrs Barnes and the school

was nominated for the "random

acts of kindness" by pupil

Josh Schuker's mother Andrea

Laws.

An ambulance also visited

the school, giving pupils the

opportunity to learn first aid

through the ASB St John in

Schools programme.

A St John spokesman said

as a charity it wanted to give

something back to the community

to mark the special day

for St John.

The magazine for

gardeners who

like To geT Their

hands dirTy

www.gardener.kiwi

100%

Heading to

Christchurch

Hospital?

Plan your trip

LICHFIELD

STREET

CAR PARK BUILDING

HOSPITAL

SHUTTLE

Canterbury District Health Board's hospital shuttle is now running

from a new location at 33 Lichfield Street – the Christchurch City

Council's Lichfield Street Car Park building.

Lichfield Street

CAR PARK

Hospital shuttle

now at Lichfield Street

Car Park building

Hospital patients and visitors should

park in the building and catch the

free shuttle from the pick-up area on

Level 2A. Pay for your parking when

you return.

The shuttle runs to the current timetable,

from 7.15 am to 8.30 pm, 7 days a week.

Journey times on the shuttle are around

15 minutes.

Learn more at cdhb.health.nz/parking

or call 0800 555 300

For parking rates see ccc.govt.nz/carpark

Ōtākaro/Avon River

Riccarton Ave

Hagley Ave

Cashel St

Shuttle route to

Lichfield St

Car Park building

Shuttle route to

the Hospital

and Outpatients

Hereford St

Oi Manawa

Canterbury

Earthquake

National Memorial

Tuam St

St Asaph St

Bridge of

Remembrance

Durham Durham St S

The

Terraces

Justice

Precinct

City Mall

Ballantynes

Mollett St

Lichfield St

Car Park building

Lichfield St

High St

Bus

Interchange

ECan
---
10 Tuesday July 3 2018

Latest Christchurch news at www.star.kiwi

Kendrew scores 58 in Hillmorton's first win

• By Jacob Page

FILLED WITH emotion and

a hot-hand, Hillmorton High

School basketball captain Ihaia

Kendrew stepped up in a big

way.

The 17-year-old, motivated by

the imminent departure of his

coach, former Canterbury Rams

captain Marques Whippy, scored

58 points to lead his team to

their first win of the McDonald's

Thomson Trophy secondary

school competition – a 91-83

victory over Burnside. Kendrew,

who lives in Halswell, broke two

competition records in the clash,

most points and most three

pointers made with 11.

"We spoke about needing to

play hard, with pride and passion

before the game," Kendrew

said. "Marques has done a lot for

us and showed us how to be better

players and how to be men."

Kendrew beat his previous

best tally of 43, while moving

his team to ninth overall after

knocking over eighth-placed

Burnside.

Kendrew scored 23 points in

the first quarter but it wasn't

until he nailed three consecutive

jump shots in the last two minutes

that the game was safe.

"Burnside came back at us, I

think they were down by a point

at that stage, so it was important

to make some shots like that."

Kendrew said his team had

struggled to foot-it in the top

division after being promoted.

"We are a small school so to be

able to match up with the bigger

schools and see how we match

up has been good for us."

The point guard has been part

of the Canterbury under-17 and

under-19 set-ups in the past and

said he'd like to chase a college

scholarship in the United States

next year.

"Marques played college

basketball there and he always

spoke about the importance of

education," he said.

"To go over there and have a

new experience with really good

players is something I would like

to do."

HOT HAND:

Hillmorton High

School basketball

captain Ihaia

Kendrew dropped

a record 58 points

and 11 three-pointers

to help his team

to a victory over

Burnside.

PHOTO: J LISSAMAN

SPORTS

SOUTHERN VIEW

WINNERS: The victorious New Zealand under-18 handball

team had five Cashmere High School students contribute to their

unbeaten run to the title.

PHOTO: JUN TANLAYCO

Cashmere five in NZ title

winning handball team

• By Jacob Page

CASHMERE HIGH School had

five players in the victorious

New Zealand under-18 handball

team which won the 2018

IHF Oceania Trophy in New

Caledonia.

Angus Hamilton, Wayo

Whyte, Riley Flanagan, Alex

Brown and Nathan Balmer were

all part of the team,

They will now represent

New Zealand at the IHF World

Trophy next year at a date and

location to be confirmed.

In the newly introduced U18

edition of the IHF Trophy, it was

New Zealand who impressed

everyone, winning all of their

matches in a decisive manner.

The closest it ever got was

against New Caledonia, who had

the support of the home crowd,

and in the end they beat them by

seven goals.

New Zealand started their

campaign with a 42:20 win

against Fiji, followed by a 34:18

victory against Papua New-

Guinea.

They then outclassed Cook

Islands 43:10 and beat Australia

by a 14-goal margin on the final

day.

"Handball is a young sport

in New Zealand, so it is great

that New Zealand is able to

compete with countries such as

the host nation New Caledonia

where they grow up playing

handball in schools and where

their technical abilities are so

evident," said Kiwi coach Tim

Rayner.

"It really does prove to me

that with the success New

Zealand Handball is having,

New Zealand will be able to

push through to new levels

of handball in the future.

Tournaments such as this are so

critical for the development of

handball in our region."

coming

soon

sydenham

www.f45training.co.nz/sydenham | sydenham@f45training.co.nz | 021 434 578
---
SOUTHERN VIEW Latest Christchurch news at www.star.kiwi

Tuesday July 3 2018 11

UP TO

ONE DAY DEALS

Thursday 5 th July

60 % OFF

SELECTED ITEMS

& CATEGORIES

INSTORE

25 % OFF

%

OFF

25ALL

Friday 6 th July

Saturday 7 th July

Sunday 8 th July

%

OFF

40 % OFF

40ALL

%

OFF

40 % OFF

40ALL

%

OFF

30 % OFF

30ALL

Figures & Playsets

Vehicles &

Playsets

TOWER JUNCTION

NZ's Biggest TOYWORLD

Clarence St, Riccarton, Ph 03 343 0330

MARSHLAND

199 Marshland Rd,

Ph 03 982 8697

Valid on dates shown only.

HORNBY

Chalmers St,

Ph 03 281 8127
---
2

12

[Edition Tuesday datE] July 3 2018

cic

financial

protect | grow | invest

Latest Christchurch news at www.star.kiwi

SOUTHERN VIEW

celebrating 50 years in the fina

The Life Insurance Industry honours Kevin O'Gorma

Kevin O'Gorman

Kevin O'Gorman has dedicated his life

to helping families understand and find

the value of insurance protection and

investment lifestyle programs. As the

Managing Director and Principal of CIC

Financial, a personal family experience in

his early twenties led Kevin to a profession

which enabled him to educate and support

families through their life cycle.

In September of 1968, just after he turned

21, he received a letter from his mother

informing him that she had Muscular

Dystrophy and only had about 3 months

to live. She asked if he could come home

to Christchurch from Sydney, where he

was living at the time. He returned home

to Christchurch and in 1968 entered the

Insurance business.

His mother passed away in January of

1969. Soon afterwards his father had a

stroke and was incapacitated. He died a

few years later. Subsequently, Kevin and his

wife Robyn had four children and the value

of Life Insurance became relevant in their

lives. While insurance can never replace a

mother or a father or any loved one, having

that support removes some of the financial

strain.

Kevin is renowned in the industry,

having spent more than 50 years bringing

reassurance to so many. He has offered

guidance when choosing life insurance,

programs for retirement, wealth creation,

family security and other cashflow choices.

He specialises in Insurance,

Superannuation, KiwiSaver and Annuities

(Life Income). During his 50 years in the

industry he has been a member of the

CIC Financial offices in the old historic Christchurch Railways Hall at

98 Carlyle St, Sydenham

Life Brokers Association and a member

of the Insurance Investment Advisers'

Association. He was President of the Life

Underwriters Association from 1989-1990

and the Life Brokers Association in 2009.

Kevin is the recipient of three Pinnacle

Awards, presented for outstanding service

to the Industry and he has been a life and

qualifying member of the Million Dollar

Round Table, where he qualified for "The

Top of The Table" International Award.

He has been the President or Board

Member of numerous organisations

including Our Lady Star of the Sea Catholic

Parish, Marist Albion Rugby Club and

a member of the Board of Trustees for

Marian College.

Kevin has been applauded for his

commitment to the industry and for his

selfless dedication to insurance education

of his clients. His high standards are a

cornerstone of the industry as he presents

outstanding personal qualities, unstinting

loyalty to the profession, and exemplary

leadership.

In his spare time he is a keen sportsman,

cic

financial

protect | grow | invest

sound financial & insurance advice

• Lifestyle Protection • Business Protection

• Mortgages • Retirement Planning

• Kiwisaver

• Sound Financial Advice

98 carlyle street, sydenham phone: 03 377 3693

please refer to our website for more detailed info www.cicfinancial.nz

Like CIC Financial,

we're passionate

about protecting

New Zealanders'

way of life.

Congratulations to Kevin O'Gorman for an

outstanding 50 years in business.

FIDELITY LIFE ASSURANCE COMPANY LIMITED

Level 1, 205 Durham St, Christchurch | Ph: 03 377 2323 | www.fidelitylife.co.nz

Congratulations

Kevin, on 50 years of

helping people build

their nest eggs!

Wishing you many more,

from the team at Booster

Partnering with Local Advisers

like Kevin who is celebrating

his 50th year in business

For more information about Kepa and how we can assist you

phone Cam in the Christchurch office on 027 529 7571
---
SOUTHERN VIEW Latest Christchurch news at www.star.kiwi Tuesday July [Edition 3 2018datE] 13 3

ncial and insurance business

cic

financial

protect | grow | invest

n for 50 years of service

Kieran Sutherland

and was a Division 1 Rugby player from

1969 – 1980. Having played 11 years Senior

Rugby for Marist Rugby Club, of which he is

a Life Member, he was selected and played

for NZ Marist vs Hawkes Bay in 1978. In

1985 he helped coach the Marist Senior

Side to their first club championship in 30

years. A member and captain among the

many talented players was Steve Hansen

the current All Blacks coach.

Kevin and his family have lived in the

beautiful Bay Harbour area for over 40

years. Kevin keeps active walking daily on

the port hills with his two dogs, and enjoys

cycling. Kevin has completed the Coast

to Coast several times and plays golf and

tennis, while also enjoying the odd fishing

excursion when time permits.

"Robyn, Kevin's wife, has been an integral

part of the success of CIC Financial.

Filling many roles, she has made sure

that the administration and support

services have run smoothly, to provide

outstanding customer service" "As Kevin

moves towards retirement, his son-inlaw,

Kieran Sutherland, is set to take over

client management and running of the

business. In 2014, he moved home from

Melbourne and a career in finance and

accounting to take up the role of an adviser

in the business. With a background that

includes being a Chartered Accountant, an

Authorised Financial Adviser and being

passionate about clients lives, the business

and its clients are set to be in good hands"

"Even though I'm the one with 50 years,"

O'Gorman said with a smile. "I appreciate

being given the opportunity to work here.

The CIC Financial staff...from L-R - Sue Thom, Philippa Hancox,

Robyn O'Gorman, Kevin O'Gorman, Kieran Sutherland and Ash Vadada

Starting up and working for CIC, for me,

is my passion. It's not just a job. I like to be

here."

He added that his 50th anniversary

celebration is not just about him, but

about every client that has walked through

our door. "The people, it's like they're an

extension of family," he said.

Congratulations from

to CIC Financial

on 50 years in the

financial & insurance business

Congratulations Kevin on

your 50 years in the industry

Celebrate life

asteronlife.co.nz
---
14 Tuesday July 3 2018

Latest Christchurch news at www.star.kiwi

SOUTHERN VIEW

WITH MARY IN FAITH

TĀTOU KO MERE E WHAKAPONO ANA

FROM THE PRINCIPAL

A highlight this term has been the Academic Colours Assembly which

celebrate the success of our senior students in NCEA. Colours acknowledge

ability, hard work and an understanding of our school values – commitment,

perseverance and courage. One of my favourite sayings is 'Excellence is

not a singular act, but a habit. You are what you repeatedly do'. All of us

are capable of making hard work a habit, in order to achieve to the best of

our ability.

On siting matters, the Catholic Diocese of Christchurch is investigating

sites which could be suitable for our new school and is actively considering

a number of options. We are excited about the future of Marian and are

hopeful for a decision soon.

With blessings

Mary-Lou Davidson

Marian College Principal

MERCY CUP SPIRIT

Teams of Marian College students

competed in the Mercy Cup

Tournament in Timaru recently. The

annual winter event is held between six

Catholic schools in the region and each

take turns hosting. The schools send

their best football, hockey and netball

teams to compete and enjoy the spirit

of competition, collegiality and shared

Catholic special character and values.

WELLBEING TEAM

As winter settles in, the Marian

College Student Wellbeing Team has

been bringing sunshine and light into

the school.

The team includes students across all

year levels and is headed by senior

leaders Megan White and Mia Blyth.

"Every week two girls pair up – a

senior and junior student who might

not know each other – and come up

with a project drawn from the Hauora

model of wellbeing," Megan explains.

"The topics are physical wellbeing,

mental and emotional, as well as social

and spiritual wellbeing."

Projects include signing a pledge

t-shirt against bullying, stress-relieving

colouring in activities, crafts a 'shout

out board' where compliments are

shared and a performance by the 'I am

Unbreakable' world hip hop champion

dance crew (pictured).

WHAT PARENTS ARE SAYING

We wanted a college that could meet the spiritual and cultural needs of our

girls. We liked the sense of community, that expects and models caring for

each other.

Chris and Angela Rewha

Marian offers a supportive and nurturing environment where our daughters

are known and not lost in the crowd.

Chris Woods

BIG SING

Marian College's talented senior choir Messa Di Voce performed in the Big Sing

- the secondary schools choral festival - at The Piano recently. Messa Di Voce

received an award for outstanding performance of a Māori song – Tīhore Mai.

At Marian our daughters have not only thrived academically, they've

received a well-rounded education with a strong understanding of

community and service.

Steve Bloxham

2019 ENROLMENTS CLOSE SOON

Marian College 2019 enrolment applications for Year 9 students close Friday 27 July 2018.

An electronic enrolment application form can be downloaded from

www.mariancollege.school.nz/Enrolment-1/Enrolment-Information and changes

saved to the PDF or scan and email to exec@mariancollege.school.nz.

Forms are also available at school reception.

www.mariancollege.school.nz |03 385 8449 | exec@mariancollege.school.nz | follow us! www.facebook.com/mariancollegechch
---
SOUTHERN VIEW Latest Christchurch news at www.star.kiwi

Tuesday July 3 2018 15

Email gilbert.wealleans@starmedia.kiwi

by 5pm each Wednesday

OUTLET

SALE

LOUNGE SUITES

PRICED TO CLEAR!! *

Go along to the South Library Book Discussion Group. For those who love

reading and want to share in discussion with other friendly book lovers. The club

subscribes to the Book Discussion Scheme so there is a small cost involved. To

inquire about availability and cost, phone librarian Sarah Pope on 941 5158 The

group will be held on Wednesday, 10am, at 66 Colombo St. ​

OVER 50x SUITES

NEED TO GO THIS WEEK!

JP Clinic

Tuesday, 10am-1pm

A justice of the peace

will be available. Services

include witnessing

signatures, certification

of documents, taking

oaths, declarations,

affidavits or affirmations,

citizenship applications,

sponsorship and rates

rebate applications. This

is a free service and no

appointment is required.

Linwood Library,

Eastgate Shopping Centre

Babytimes/Wā Pēpi

Wednesday, 10.30-11am

Babytimes is an

interactive programme

including rhymes, songs,

stories and play.

Spreydon Library, 266

Barrington St next to

Barrington Mall

Knit 'n' Yarn

Wednesday, 10.30am-

1pm

Go along to Linwood

Library for the craft corner

sessions.

Take your knitting, crochet

or other craft projects

and spend time with

other crafters. Free and

beginners are welcome.

Linwood Library,

Eastgate Shopping Centre

Creative Writing

Wednesday, 4-5.45pm

Take a pen or pencil, a

laptop, paper, and any of

your story-telling or art

projects you want to work

on. A group leader will

work with you on your

ideas. There is no charge.

Linwood Library,

Eastgate Shopping Centre

Mid-Week Laughter

Club

Wednesday, 6-7pm

Go along to a club which

focuses on getting over

stress. It aims to release

endorphins and help you

relax and lower stress

levels. There is no comedy,

stand-up or jokes at this

session. Instead, you

are encouraged to make

yourself laugh at nothing

at all for the purpose of

relaxing. Entry is $2.

St Marks Methodist

Church, cnr of Barrington

and Somerfield Sts

Friendship and Tea

Thursday, 10-1pm

Go and join the

laughter and fun over

a decent cup of tea/

coffee with Royal Albert

fine china. Keyboard

music playing live with

requests. Donation of $3

appreciated.

Cashmere New Life,

corner of Colombo St and

Malcolm Ave.

Rummikub Club

Thursday, 10am-noon

Go and join in on a game

of rummikub, a game

for two to four players,

combining elements of

rummy and mahjong.

There is no charge to

play.

Linwood Library,

Eastgate Shopping Centre

KidsFest – Coolstuff

Visit

Friday, 3.15-4.45pm

Coolstuff will be visiting

libraries in the two weeks

before Kidsfest. Come

along and be in to win

some sweet prizes.

Linwood Library,

Eastgate Shopping Centre

Scrabble @ Linwood

Library

Friday, 10.30am-noon

Go along to Scrabble

Club every Friday. All

materials are supplied and

it is free.

Linwood Library,

Eastgate Shopping Centre

Spreydon Social Games

Club

Saturday, 10am-noon

Join a friendly game or

two of upwords, scrabble,

cards, chess, mahjong and

more.

Spreydon Library, 266

Barrington St

Opawa Farmers' Market

Sunday, 9am-noon

Go along to the

market for organic and

delicious produce from

local growers. Enjoy

sipping on a coffee while

wandering around the

market.

275 Fifield Tce

School Holiday

Activity: Create Your

Own Mini World

Monday, 10.30-11.30am

Come and make your

own mini world or

diorama using shoe boxes,

plenty of craft materials

and your imagination.

Free, no bookings

required.

Spreydon Library, 266

Barrington St

Not Just Cards – Social

Games Club

Monday, 2-4pm

Join this group to play

scrabble, upwords, chess

and cards.

South Library,

66 Colombo

St

12

FRIDGE FREEZERS • WASHING MACHINES • DRYERS • COOKING

SMALL APPLIANCES • MANCHESTER • LOUNGE SUITES

DINING SUITES • BEDROOM SUITES • BEDS & HEAPS MORE!

COME CHECK OUT OUR SHOWROOM

99 FERRY RD, CHRISTCHURCH

St Asaph St

Ferry Rd

OUTLET

STORE

Fitzgerald Ave

+

MONTHS INTEREST FREE

ON ANY PURCHASE OVER $499 #

OUTLET

STORE

Images indicative only. # Credit criteria

applies, ask in-store for details. *Outlet Store

items are over stocked, end of line, scratch &

dent, ex display, ex repair items and more.
---
16 Tuesday July 3 2018

Latest Christchurch news at www.star.kiwi

SENIOR LIVING

SOUTHERN VIEW

Plenty to do at

McKenzie Lifestyle

Village

Device to prevent

snoring

The final stage of Villa

development is progressing well

at McKenzie Lifestyle Village in

Geraldine.

Just a hand full of sites

available to secure off plan, so

don't be the one to miss out.

From humble beginnings

the 12 acres of farm land has

grown to an impressive modern

architecturally designed development.

Offering Independent Living for the over

55yr across 115 Villas, you can secure

your future lifestyle here. Priced from

$335,000 choosing from a collection of

2 bedrooms / single garage through to

3 bedrooms / ensuite / Spacious Living

Dining / Double Garage( 160sqm). 2019

will see 2 bedroom Terraced Apartments

take shape close to all the amenities of

the Leisure Centre. The hub of village

life the Leisure Centre offers everything

from Indoor Swimming Pool / Spa,

gymnasium, Hair Salon, Treatment

Room (Podiatrist/ Nurse / Massage

Therapist), Craft Room, Lounge and

a well-stocked library of some 2,000

books and dvds. Outside take in the

generous seating surrounding the

Bowling Green, Petanque, Mini Golf,

Table Bowls, Croquet and Putting Green.

If that wasn't enough to fill your day the

activities calendar boasts monthly events

from concerts, lunch outings, shopping

Trips and Qigong to name just a few.

Geraldine is a great little town with

a big heart - welcoming all. Nestled

among the foothills of the Southern Alps

where people still greet one another by

name and popping to the supermarket

for a pint of milk often becomes a social

outing in its own right. The town has a

long proud diverse history and being

along the gateway to the southern lakes

and Mt Cook/Aoraki, your friends and

family will be visiting regularly!.

To see if McKenzie Lifestyle Village

is right for you, pop in or call Hayley

Grant on 0800 845524.

Why put up with broken sleep, when

help is at hand with Snorex, an appliance

that prevents snoring, sleep apnoea, and

dry and raw throats.

Snorex is custom-fitted to your mouth

for comfort, and a follow up service is

provided.

Denise Lim has been involved with

Snores for 22 years

and has had a 98%

success rate with

people using the

appliance. Snoring

can be a health

hazard, causing

sleep apnoea, where

the person actually

stops breathing for

short periods.

It can cause

short-term memory

loss, tiredness and

contribute to high

blood pressure.

The Snorex

device does not feel

restrictive, is noninvasive

and carries

a money-back guarantee.

Many people are referred by ear, nose

and throat specialists, however, anyone

can phone for an appointment.

For an information pack or to discuss

the Snorex further, phone Denise Lim

on 377 4318 or check out the website

www.snorex.co.nz

Support and Resources for Independent Living

walkers to

purchase

(FroM $230)

or hire

$20

per week

Can we help you or someone you support?

Disability Information Service – a 'one stop

information service' which offers unbiased

advice to assist people navigate their way to

organisations or services that can provide them

with support or advice.

Aspire Canterbury Shop – shop online or call in

to our shop at 314 Worcester Street and view our

range of easier living products We also hire out

wheelchairs, ramps and walkers.

Total Mobility Discounted Taxi Service – a scheme

which provides 50% discounts on taxi journeys to

eligible people in the Christchurch area who, due

to health conditions, are unable to access public

transport. Contact us for more information on

03 366 9093 or visit our website.

Mobile Service – Fun interactive presentations of

our information, services and easier living

equipment. We come to you!

To book our presenter to speak to your

group call the numbers below or email

mobileservices@aspirecanterbury.org.nz

Mobility scooter demonstrations available.

Aspire Canterbury is a not-for-profit organisation

providing services to the community since 1981

Physical Address:

314 Worcester Street

Linwood Christchurch

Postal Address:

PO Box 32074

Christchurch 8147

2015 NZ Disability

Information Centre

of the Year

Ph: 03 366 6189

Freephone: 0800 347 242

Ph: (Total Mobility) 03 366 9093

E: admin@aspirecanterbury.org.nz

W: www.aspirecanterbury.org.nz

LIVE THE DREAM

Live the carefree McKenzie Village

lifestyle in a friendly community. It makes

great financial sense, too. Who could

ask for more? We have the last few villas

nearing completion so there is still a

chance to make this Geraldine village

lifestyle your own.

Talk to Hayley Grant today

on 0800 84 55 24.

M E M B E R O F R V A

you can stop him

snoring with a

SNOREX

Why put up with a broken

night's sleep?

Ph 377-4318 or 027 682 1752

DENISE LIM

FOR A FREE INFO PACK

Website: www.snorex.co.nz
---
SOUTHERN VIEW Latest Christchurch news at www.star.kiwi

Tuesday [Edition July 3 datE] 2018 17 3

SENIOR LIVING

The tree of LIFE

New research on Gingko

Biloba excites researchers!

For decades scientists believed brain

damage with age, after a stroke or injury

was irreversible and brain neurons could

not be repaired. In more recent times, new

research has shown that neurons can grow

back with the right conditions and that a

special extract of Gingko Biloba (EGb-761

or TEBONIN) has been clinically found to

assist in this. The implications for stroke

recovery are obvious, but researchers also

know many of us suffer from undetected

"micro-strokes" that over a period of time

slowly reduce

our cognitive

function.

TEBONIN

is prescribed

worldwide

as a natural

supportive agent

for a healthy brain

and cognitive

function.

It supports

healthy mental

performance,

concentration,

focus, alertness,

motor function

and to help with

many conditions

including tinnitus

(ringing and noise

in the ears), vertigo and normal balance.

TEBONIN improves micro-circulation

and helps the blood flow reach those

critical places it needs to get. It is a potent

anti-oxidant and makes the red blood

cells more pliable and capillary walls more

flexible.

TEBONIN is one of the most widely

studied and researched herbal products in

the world and is the only Ginkgo biloba

extract manufactured via a patented

multi-step extraction process. Each small

tablet contains a highly concentrated

50:1 extract to give you a therapeutic

clinical dose without having to take a large

amount of the herb. Of 25 Gingko biloba

products on the market, and tested by a

major medical journal, only TEBONIN

passed all five of the test requirements.

Ten brands didn't meet any requirements

and the rest didn't pass more than three

out of five requirements. TEBONIN is

Would you

like to profile

and grow your

Business?

For feature advertising

please phone

Jenny Wright

03 364 7446 or 021 220 3484

jenny@starmedia.kiwi

the only Gingko biloba extract shown

to activated all areas of the brain and is

considered the gold standard in Gingko.

TEBONIN has been trusted by millions

of consumers worldwide for over 30

years with more than 8,000,000 tablets

consumed each day.

TEBONIN and further information

is available from the Natural Health

Advisers at Marshall's Health & Natural

Therapy in New Brighton. PH: 388-5757.

They are always happy to help!

The importance of

good blood pressure?

Blood Pressure is an

indicator of cardiovascular

as well as overall health.

Healthy blood flow is vital for

a healthy body as the blood

plasma transports nutrients,

hormones, metabolic waste,

oxygen and CO2 throughout

the body. An area in the brain

keeps check on blood flow

to ensure health of all cells

and the organs they make up.

If blood flow is reduced the

brain will try to normalise

blood flow by adjusting the

heart strength, frequency

(Pulse Rate) as well as the width of blood

vessels all via the central nervous system.

Over a period of time the blood pressure

may increase due to the deterioration of

blood flow and other factors. A higher B/P

is not ideal and is considered a major risk

factor for strokes, aneurysm, organ failure

and heart failure. Even moderate elevation

of B/P is considered a major reason for

shorter life expectancy. If we can maintain

our B/P in the normal range our overall

health will be improved. Systolic B/P (The

upper figure) is when the heart contracts

and pushes blood around the body. Ideally

at rest this should be between 100 to 120.

The diastolic B/P (The lower figure) is the

pressure in the arteries between beats and

ideally at rest this should be between 60

to 70.

how's your blood pressure?

Keeping our blood pressure (B/P) in the normal range is a positive sign of good health. The higher the B/P above normal the more

likely we may suffer a stroke, aneurysm, organ failure or heart attack. Even moderate elevation of B/P can lead to shortened life

expectancy. Checking your B/P on a regular basis with our easy to use B/P monitors allows you to make changes to your lifestyle,

diet & nutrition when necessary.

TRU2U - MONTMORENCY

TART CHERRY JUICE

100% Tart Cherry Concentrate Supports:

• Healthy blood pressure, blood flow &

cardiovascular health

Super price

• Deep restorative sleep

1 LiTRE ConCEnTRaTE

• Joint health & mobility only $56.90

• Reduces uric acid that leads to joint pain

& gout

• Good health with its potent phytonutrients

& anthocyanins

TEBONIN is the No 1 Ginkgo Biloba extract in the World with more than 8 million tablets

being consumed every day. It is also the most researched herbal extract with more than 60

controlled clinical studies & over 400 scientific studies. It has been shown to have excellent

efficacy, safety & tolerability. Millions of consumers have trusted TEBONIN for over 30

years to support blood flow, capillary health, brain health & performance.

Studies on TEBONIN Show:

- Improved Brain Performance & Function up to 30%. This includes improvement

in mental sharpness, focus, attention, concentration, understanding, memory & recall.

- Reduces errors made & mental stress.

- The only Ginkgo shown to increase activity in all areas of the brain. Can help restore

brain function after a brain injury such as from a stroke.

- Helps relieve tinnitus (ringing & noise in the ears), vertigo, dizziness & supports normal

balance.

- Improves blood flow to all areas of the body.

- Reduces plaque formation in the blood vessels.

- Protective effect against eyes damage caused by light.

HIGH PERFORMANCE BLOOD

PRESSURE MONITORS OFFER:

• Easy measurement of blood pressure,

heart rate & checking for heart

arrhythmia

• Helps avoid high B/P – a serious health

concern

• allows you to check regularly & see

what affects your B/P

MAIL ORDER

AVAILABLE

Bringing You the Best in Natural Health

- WE ARE ALWAYS HAPPY TO HELP! -

BOOST BRAIN

PERFORMANCE UP TO 30%

MAIL ORDER

AVAILABLE

Bringing You the Best in Natural Health

- WE ARE ALWAYS HAPPY TO HELP! -

SUPER PRICE

One month supply

only $39.90

Super price

only $59.90

More detailed information on how to maintain

healthy blood pressure & cardiovascular health is

available in store from our Natural Health Advisers.

MARSHALLS HEALTH & NATURAL THERAPY

CONSULTING - PRESCRIBING - DISPENSING - MANUFACTURING - MEDICAL HERBALISTS

110 SEAVIEW RD, NEW BRIGHTON • PH 03 388 5757 • Email: enquiry@marshallshealthshop.co.nz

Save

$5.00

TEBONIN is a highly concentrated

proprietary herbal extract of Ginkgo biloba

leaves that has proven superior to other

brands under scientific scrutiny.

MARSHALLS HEALTH & NATURAL THERAPY

CONSULTING - PRESCRIBING - DISPENSING - MANUFACTURING - MEDICAL HERBALISTS

110 SEAVIEW RD, NEW BRIGHTON • PH 03 388 5757 • Email: enquiry@marshallshealthshop.co.nz

It has been found in around 90% of

cases high blood pressure is caused by

an increase in the resistance to blood

flow in the blood vessels. It is believed

inflammation, plaque build-up and

stiffness of the blood vessels are major

reasons for this increased resistance.

Checking our blood pressure on a

regular basis allows us to adjust our diet,

supplements and lifestyle and to see the

benefits in our B/P readings.

Blood Pressure monitors, natural

supplements and further information

on how to optimise your overall health

and B/P naturally is available from the

natural health advisers at Marshall's

Health & Natural Therapy, 110 Seaview

Road, New Brighton, Phone: 388-5757.

We are always happy to help!

A Leader in

Healthcare

Excellence for

the Older Person

Brookhaven

Retirement Village

29 Alport Place

Woolston

Phone 03 384 5046

Albarosa

Dementia

80 Harewood Road

Papanui

Phone 03 375 0727

Somerfield

Dementia

137 Barrington Street

Somerfield

Phone 03 332 5897

www.goldenhealthcare.co.nz

Golden Age

Retirement Village

96 Harewood Road

Papanui

Phone 03 375 0720

Camellia Court

Dementia

84 Harewood Road

Papanui

Phone 03 375 0722

Hoon Hay

Dementia

16 Anvers Place

Hoon Hay

Phone 03 379 7825

Lady Wigram

Retirement Village

Sarah Jacobson

Village Manager

210 Kittyhawk Ave,

Wigram

Phone 027 3411 464
---
2

18 [Edition Tuesday datE] July 3 2018

Latest Christchurch news at www.star.kiwi

HOME & HEATING

athroom

entilation

The extraction of air from the bathroom should By extracting air from the bathroom to outside,

be a priority for all houses and commercial warmer air from inside the house will move in

buildings.

to the bathroom. Whereas opening a window

Bathrooms can generate a large quantity can draw cold air into the bathroom and blow

of steam and odours. It is important this the smelly, moisture laden bathroom air into

compromised air does not circulate around the house.

the house.

Modern houses are built to be very airtight

Bathroom odours can be unpleasant, especially and require mechanical ventilation such as

when near living, sleeping or working areas. extraction fans or heat exchanger systems.

The moisture generated by showers and baths Although older houses can be draughty, the air

can be damaging to your home and furnishings often flows in the wrong direction. Therefore,

and be a major contribution to condensation. they also usually require mechanical ventilation

Damp houses are not a healthy environment to keep the air quality higher.

for anyone to live in, especially for children or The quality of the air we breathe affects our

other vulnerable people.

health and ability to perform. We breathe in

and out approximately 20,000 litres of air every

day. It is therefore very important to ensure

good air quality indoors through adequate

ventilation.

To ensure the quality of your air, contact the

experts. Smooth-Air Products can calculate

the required extraction for your bathrooms,

and look into air exchange for your whole

building. Smooth-Air offers a wide range

of ventilation equipment, from air vents to

ducting for fans, for both the commercial and

domestic markets. They have an extensive

range of fans and ventilation components

in-store but they can also provide innovative

solutions tailored to differing requirements.

You can contact Smooth-Air on 0800

SMOOTH (0800 766684).

Get rid of

dampness

in your house

Now with the colder and wetter weather on

its way, home owners are focusing on ways

to make their homes comfortable, warm and

healthy for their families throughout winter.

Rising damp is an issue that affects many of

our older properties which suffer from poor, or

no, insulation. In Canterbury especially, postquake,

many people have relocated to homes

that suffer from rising damp which can be

associated with health problems. Independent

tests have shown that up to 40 litres of water can

rise from the ground and enter a house every

day, leading to mildew, mould, condensation

and musty smells. Moulds can produce

various allergic reactions and the

frail, elderly and very young are

especially vulnerable.

Canterbury Foam Concrete

Ltd is a locally owned and

operated firm. The team

understands the problems

caused by rising damp and are

there to help. They will come

to your damp home and pump

a lightweight, flowable foam

concrete under your timber

floored home. Specially adapted

SOUTHERN VIEW

for our New Zealand conditions and

applications it provides a layer of protection

against rising moisture. An unexpected

benefit that the team at Canterbury Foam

Concrete have noticed recently, is that many

owners of properties which had underfloor

foam concrete installed, reported that it also

provided protection against liquefaction after

the earthquakes.

Contact Canterbury Foam Concrete Ltd

now for your free, no obligation quote and

complimentary appraisal of your underfloor

ventilation needs. Phone 03 376 4608 or

0508 362626 for more information.

Ventilation Equipment Suppliers

to

trade

&

retail

Smooth-Air has a wide range of

ventilation equipment to bring

fresh air into your home.

Domestic

Commercial

Industrial

Ceiling Mounting

Wall or Ceiling

Mounted Fans

Remote Extraction Fans

Wall Surface

Mounting

Fujitsu Heat Pumps at a low low price

Pump warmth into your home NOW

- before the winter rush!

ASTG14LUCB 5.4kw Hi-Wall . . . $2180

ASTG18LVCC 6kw Hi-Wall . . . . $2400

Heat pumps are the most cost-effective, convenient and practical home heating solution

for Christchurch – and Fujitsu Heat Pumps from Stack Electrical are the best way to

winter-proof your home! Heat when you need it . . . that'll save you dollars on your power

bill! Once the cold spells start, you could wait weeks to get a heat pump installed. Be

smart and beat the winter rush now!!

Back to back installation. Conditions apply.

0800 SMOOTH

(0800 766 684)

sales@smooth-air.co.nz

351c Blenheim Rd

Riccarton

Christchurch

03 343 6184

Monday - Friday

7.30am - 5pm

www.smooth-air.co.nz

CALL STACK ELECTRICAL TODAY!

Phone 379 4062

info@stackelectrical.co.nz

$10,000

Workmanship Guarantee
---
SOUTHERN VIEW Latest Christchurch news at www.star.kiwi

Tuesday [Edition July 3 datE] 2018 193

HOME & HEATING

Choosing the

right heat pump

for your home

Whether it be a new build, or a retrofit,

most homes include at least one heat pump,

if not a whole heating solution. They can

provide cheap, clean heat and are much more

convenient than a log burner as you just need

to press a button. But how do you decide what

is best? Choosing the right sized heat pump is

key to ensuring optimum comfort levels. Every

situation varies and it is therefore important

to get professional advice from heat pump

experts.

The range varies from wall mounted high

walls, floor mounted systems, multi systems,

ceiling cassettes, right through to ducted

central heating systems allowing you to have a

very discreet way of heating your whole home

to a constant temperature throughout.

Firstly, you must select a heat pump that

is suitable for the size of the space you wish

to heat. Usually a site visit is the best way to

ascertain this. Not only is the size of the area

taken into consideration but also, insulation,

building orientation, windows and ceiling

space. There are a wide range of heat pumps

available with different heating outputs so it

is important to select the correct size for your

requirements that will handle the job but not

be unnecessarily overpowered.

Secondly, the location of your heat pump

is also extremely important. The cheapest

installation is a back to back where the outdoor

unit is positioned directly behind the indoor

unit however this is not necessarily always

the best option. It is vital that the indoor

unit is positioned in a place that will not be

constantly blowing on you. Also important, is

the location of the outdoor unit. Most people

do not want their outdoor unit sitting directly

in their outdoor entertaining area or right

outside their bedroom window.

Choose a brand you can trust. Many brands

have come and gone over the years but there

are a number of manufacturers who provide

reputable and reliable products. All brands vary

in their energy efficiency, quietness of systems

and price, so it depends on your application as

to which will be most suitable. Major brands

such as Panasonic, Fujitsu, Mitsubishi, Daikin,

Toshiba and Hitachi are all reliable brands

backed up by good technical after sales service.

Ensure your heat pump is installed by an

accredited installer. This will not only ensure

correct installation of your heat pump, but also

validate the manufacturers warranty.

Other things to consider when choosing a

heat pump are time clocks, ease of use of the

remote controllers, air filtration and also wifi

capabilities.

Heating is a major investment in your home

and it is vital to get the right advice.

Enviro Master Ltd specialise in the supply,

installation and servicing of all major brands

of heat pumps. Our salesmen are engineers

ensuring you get quality, unbiased advice as

to which system will suit your application

the best. Enviro Master Ltd offer a free, no

obligation quote and will come to your home

to see what is required.

Visit our website at www.enviromaster.

co.nz.

What do you need

to stay warm this

winter?

In just three easy steps, you

can escape the winter blues

Step one: Get sound heating advice from

the experts. Heat Pumps NOW believes in

customer centred solutions. That means they

listen to you, ask how you want to heat and

use your home, and provide a solution that

best suits you. If they can't improve on your

current situation, they'll say so. Plus, Heat

Pumps NOW are accredited Fujitsu heat pump

installers, which means they really know their

stuff.

Step two: Ask the friendly team at Heat

Pumps NOW to Fit a Fujitsu. With a very

limited number of 6.4kW Fujitsu hi-wall heat

pumps available for just $2937 fully installed*,

staying warm this winter has never been easier.

Of course, with Fujitsu's six year

Warm up your

with

manufacturer warranty, and Heat Pumps

NOW's one year labour guarantee, you'll love

knowing that your heat pump will last for

many winters to come.

Step three: Have someone else pay your

power bill!

Every Fujitsu heat pump installed during

July gets you in the draw to have Heat Pumps

NOW pay that month's power bill. In fact,

they'll cover all of one lucky person's heating

during July to the value of $700. That's one way

to beat the cold this winter.

So take the first step to stay warm this

winter. Call Heat Pumps NOW on 03 377

7393 and book your free, no obligation

consult in the comfort of your home.

*Terms and conditions apply

HEAT PUMP

SALE NOW ON!

Amazin' winter Specials!!

• We will offer you the best quality brands and

option of heat pump for your home/business

• Providing Heat Pump solutions for over 16 years to Cantabrians

• We personally guarantee all our products & installs for 5 years

(providing annual maintenance has been completed)

Phone us today for your free consultation & quote

41A SHAKESPEARE RD, WALTHAM

PHONE 03 366 0525

www.enviromaster.co.nz

"A local team for local people"

SPECIAL OFFER!

Fujitsu 7.2kW ASTG22-LVCC

Hi-Wall heat pump

9 ONLY in the South Island.

Was $3,495

NOW $2,937

fully InStalled

Also, with every

Fujitsu sold, go

into the draw to

have your July

power bill* paid for!

(To the value of $700)

*Conditions apply

Call Heat Pumps NOW today

for a no obligation, free quote!

Call: (03) 377 7393

www.heatpumpsnow.co.nz
---
20

Tuesday July 3 2018

Latest Christchurch news at www.star.kiwi

SOUTHERN VIEW

BIRTHDAY

BED SALE

SERTA ADELE

Birthday

Super

Buy

SANCTUARY

Sensorzone 7 zoned spring

system and foam core

respond independently to

movement, virtually removing

partner disturbance.

Sale

Prices

on all

Sanctuary

Beds

HD

Queen Set

$1999

King Set

$2499

Super King Set

$2999

SANCTUARY

MONARCH

Great

Price

BALANCE LILY

Half

Price

BALANCE

CONTOUR

Zoned Pocket Springs

for Extra Support

Huge

Range of

Pocket

Spring

beds on

Sale!

QUEEN SIZE

Mattress & Base

$1,299

Queen Was $4199

Now $2099

King Was $5399

Now $2699

Other sizes available in store

BALANCE

BALANCE

7 Day Money Back Comfort Guarantee on Queen and King Beds

CNR MOORHOUSE AVENUE & MONTREAL STREET

NEXT TO FARMERS. PHONE: 365 0132
---
SOUTHERN VIEW Latest Christchurch news at www.star.kiwi

Tuesday July 3 2018 21

REAL ESTATE

Major Views, Major Opportunity - "As-Is, Where-Is"

280 Major Hornbrook Road, Mt Pleasant

Auction: 12 noon Thursday 19 July 2018 Unless Sold Prior

4 bedrooms | 3 bathrooms | 3 toilets | 1 living room | 3 car-garage | 2 off-street parks | Listing #SM0030

Designed to take advantage of the

spectacular panoramic view of the Southern

Alps, this ultra-modern four-bedroom

home will bring out your inner entertainer.

The property is being sold on an uninsured

"As-Is, Where-Is" basis, deemed repairable

with excellent floor levels.

The largely stainless-steel kitchen exudes

an industrial vibe and is positioned to

naturally overlook the tiled dining room.

Enthusiastic entertainers will adore the

separate living zone that comes complete

with a cocktail bar which is sure to be the

scene of countless social gatherings.

Alfresco living will be a regular

occurrence out on the patio, with the

pergola offering a seamless extension of

the home while the presence of glass walls

26th August 2018

10am – 3pm

Air Force Museum, Wigram

Tickets available on door

provide shelter without obstructing the

vista beyond.

Floor to ceiling double height windows

optimise the magnificent all-encompassing

outlook that captures Castle Rock, the

Kaikoura Ranges and everything inbetween.

Designed with flexibility in mind, there is

a master bedroom with walk-in wardrobe

and ensuite on either level, while two

further bedrooms on the upper floor share

the remaining bathroom.

Double glazing on the upper level, two

heat pumps and a vacuum system are

convenient inclusions internally, whilst the

outdoors provides excellent drive-on access

and expansive garaging that can host three

vehicles plus a workshop. The relatively flat

section provides for easy gardening and a

safe and accessible area for children to play

freely.

Offered to the market for the first time

since being built in 2000, this home will

attract buyers who are looking to pursue

a renovation project in this sensational

location. This fantastic property really

needs to be viewed to appreciate all that is

on offer.

Open Homes - Sundays and Wednesdays

12:00pm - 12:45pm.

See you at the open homes or for a

private viewing or for more information

contact Alison Carter of Harcourts

Grenadier Ferrymead (Licensed Agent

REAA 2008) on 384 7950 or mobile 0274

318 960.

now bigger than ever

The magazine for gardeners who

like to get their hands dirty

For exhibiting

enquiries contact

Mark Sinclair:

mark.sinclair@

starmedia.kiwi

growing with you

SprIng Is here –

It'S Sow Time

how to get the best results from

seeds and seedlings

100% NatIve In

The capItal

Unravelling the secrets of

Otari-wilton Bush

The New Zealand

landscape awards

The people behind

the projects

September 2016 | 100%

It's time

to grow!

New look and more

content than ever!

MeeT LeSTer Brice

A Garden coach

SubScribe from

$43. 50*

$7.90 incl. GST

*6 issues/6 months

ISSN 2423-0219

Save our roSeS

How a rose register is protecting our heritage

auckland Botanic GardenS

Why we love our public grounds

BRIDALSHOW

SUBSCRIPTIONS FREEPHONE

0800 77 77 10

www.gaRdENER.kIwI
---
22 Tuesday July 3 2018

Latest Christchurch news at www.star.kiwi

Computers

ALL

YOUR

COMPUTER

WORRIES SOLVED!

*$30.00 off your first

service with this coupon!*

No problem too big or

small from home PC's to

business networks. PC

slow? An end to Viruses,

Spyware, and Clogged

Systems. Safe secure

hassle-free computing.

Lost files recovered.

Microsoft Certified,

MCSE, MCP+l. 30 years

experience. Call Andrew

Buxton this week on 326-

6740 or 027 435-7596

for $30.00 off* Custom

Computers Christchurch

Curtains

www.curtainfabric-outlet.com

Fashion Designs & Colours

Discontinued Designs

End of Lines Bargain Prices

Call at Our Shop

CURTAIN FABRIC OUTLET

71 Hawdon St Sydenham

Ph 366-5026

Holiday

Accommodation

Australia QLD

SUNSHINE

COAST

RESORT

ALEXANDRA HEADLAND

All Units Have Ocean Views.

Heated Pools, Spa & Sauna,

Free Wifi, Tennis

& Mini Golf.

CHECK OUR GREAT

WINTER SPECIALS

www.mandolin.com.au

0061 7 5443 5011

JUNE to AUG temps 20C

Wanted To Buy

AAA Buying goods

quality furniture,

Beds, Stoves, Washing

machines, Fridge Freezers.

Same day service. Selwyn

Dealers. Phone 980 5812

or 027 313 8156

Classifieds Contact us today Phone our local team 03 379 1100

Gardening

& Supplies

A GARDEN OR

LANDSCAPING TIDY

UP? Shrub, hedge &

tree pruning, Lawns,

Gardening, consistently

reliable general property

upkeep, Dip. Hort. 10

yrs experience, One off

tidy ups or on-going

service. Nick's Property

Maintenance. Keeping

your garden beautiful.

Free Quote. Ph. 942-4440

Trades & Services

HOUSE

CLEARING

Are you

moving house

or trying to

downsize?

Call All Clear

Canterbury. We work

with you to recycle,

sell and dispose of

unwanted items.

Ph: 03 260 0934

or 021 078 4553

raewynlcooke@gmail.com

www.allclearcanterbury.co.nz

AAA HANDYMAN

licensed carpenter

LBP, all property and

building maintenance,

repairs, bathroom/shower

installations, with free

quotes 03 383 1927 or 027

245 5226 ciey@xtra.co.nz

BUILDER

For all building work

but specialist in bathroom

renovations, 30 yrs

experience, with service

and integrity. Free Quotes.

Ph Lachlan 383-1723 or

0274 367-067.

CARPET & VINYL

Laying. 50 yrs exp.

Email jflattery@xtra.co.nz

ph John on 0800 003 181

or 027 2407416

CARPETLAYER

Repairs, uplifting,

relaying, restretching.

Trades & Services

PAINTING

Indoor / Outdoor, over 30

exp, same day quotes, ph

Steve 021 255 7968

35 yrs experience. Special

rates for seniors. Prompt PLASTERER

service. Ph 021 263 7209 Gib Stopping, Small

IRRIGATION

job specialty. 30 + years

Fed up with standing experience. Ring 0800

around with a hose? Need 387-369

an irrigation system for

your garden? Ph Andy 03

2601378 or 0211419199.

PLUMBER

ALF THORPE

englishgrdnr@gmail.com PLUMBING Certifying

PAINTER AVAILABLE Plumber for all types of

All aspects in painting. plumbing, maintenance,

Very competitive in roofs

and fences. Please call 027

241-7471 or 335-0265

spouting, alterations etc.

Phone 352-7402 or 0274-

350-231

Situations Vacant

Positions Available - Christchurch

Fixed Term and Full Time – Shift work opportunities (guaranteed hours)

George Weston Foods (NZ) Limited "GWF" is a quality and customer focused

FMCG that makes some of Australasia's favourite food. We are renowned in New

Zealand for our iconic bread brands which include Tip Top Bread, Ploughman's,

Burgen and Big Ben Pies. We value accountability, authenticity, ambition,

collaboration and passion.

Due to a significant increase in production output, we are currently looking to fill a

number of positions across the Christchurch plant. These include:

• Bakery (x 5 roles)

• Breakfast Foods

• Crumb Plant

Minimum requirements to apply for one of these opportunities

• Safety conscious attitude and high focus on personal hygiene/personal

presentation

• Ability to keep up with a physically demanding role (standing for long periods /

lifting up to 20kg)

• Ability to work rostered shifts that can include weekends (including Sundays)

and nights

• Must pass a pre-employment drug and alcohol test, a medical and MOJ check

• Must have the right to work in New Zealand

• Can communicate in English and basic numeracy skills

• Prior experience in production / baking will be advantage but not required

Due to the high standards of food safety management, there is a very strong focus

on health, personal wellness and safety in all of the roles.

Other: It is our intent to fill these roles by the end of July 2018. The hourly rate is

as per applicable Collective depending on prior experience. Additional hours are

available.

To apply: Email your CV to People and Performance at nzcareers@gwf.com.au

Alternatively, deliver to reception at 584 Wairakei Road, Christchurch.

Applications can also be submitted via the advertisements

on Seek, TradeMe Jobs or via GWF.

For more information on GWF, go to www.gwfbaking.co.nz or www.gwf.com.au

Trades & Services

PLUMBER

A Top Plumbing job

completed at a fair price,

prompt service, all work

guaranteed, Ph Brian 960-

7673 or 021 112-3492

Trades & Services

STONEMASON

BRICK

&

BLOCKLAYER,

Earthquake Repairs, Grind

Out & Repoint, River/

Oamaru stone, Schist,

Volcanic Rock, Paving,

all Alterations new & old,

ROOFING REPAIRS

Fully qualified, over 40

yrs experience. Ph John Quality Workmanship,

027 432-3822 or 351- visit www.featureworks.

9147 email johnchmill@

outlook.com

SPOUTING CLEANING

co.nz or ph 027 601-3145

TILER/CARPENTER

35 years exp, no job

Spouting Unblocked, too small. Ph Ross 027

Cleaned Out and Flushed

Out. Also Full Handyman

Services Available. Call

Trevor 332 8949 or 021

043 2034

4311440.

TILER/CARPENTER

35 years exp, no job

too small. Ph Ross 027

4311440.

Trades & Services

T.V. SERVICE CENTRE

Repairs, tvs, microwaves,

stereos, DVD. Aerial

installations and kitsets,

480 Moorhouse Ave, ph 03

379 1400

VHS VIDEO TAPES

& all camera tapes

converted to DVD, video

taping special occasions,

www.grahamsvideo.co.nz

ph 03 338-1655

WINDOW CLEANING

Average 3 bdrm house

inside or out $40. Both

$70. Phone Trevor 344-

2170

Trades & Services

ARCHGOLA

Enjoy outdoor living all year round

• House, deck, carport & window canopy etc

• Warm & dry in winter

• UV protection for summer

• Customised & Tailored

• Café curtains fitted

• 5 year warranty

Chris Thorndycroft

Grant Stewart

Ph 0508 272 446 | www.archgola.co.nz

PAINTING & TILING

• PAINTING • TILING

• PLASTERING

• WALLPAPERING

Phone Kevin Steel

SOUTHERN VIEW

15 months

INTEREST FREE

Normal lending criteria apply

• Interior/Exterior

• New Homes & Repaints

• Quality workmanship assured

• Correct preparation always undertaken

• 20+ years experience

• Earthquake repairs

(Painting/Plastering/Wallpapering/Tiling)

Ph 381 7417 or 027 216 8946

www.facebook.com/kevinsteelpainters&decorators

Cracked tiles?

Dirty grout?

Old or mouldy

silicon?

Brett Ph 03 358 5105

or 027 746 7632

www.groutpro.co.nz

Visit www.star.kiwi

anytime, anywhere!

Breaking news,

delivered to your pocket.

•news •CTV •sport •districts •schools •lifestyle •opinion •what's on

Fire rages, homes at risk

www.star.kiwi
---
SOUTHERN VIEW Latest Christchurch news at www.star.kiwi

Tuesday July 3 2018 23

What's On

Entertainment

To advertise, contact

Jo Fuller 027 458 8590

jo.fuller@starmedia.kiwi

Fun! Fun! Fun!

The world famous Beach Boys

tribute act is coming to town!

'Famous for their roasts!'

RESTAURANT & CAFÉ

Cooked Breakfasts

Check out our extensive breakfast

menu from Continental to Cooked

We are open from 6.30am

Seniors SPECIAL

Two courses $22

Soup/Roast or

Roast/Dessert

Special available lunch only

Monday - Saturday 12pm - 2.30pm

$19

School Holidays

start this Friday!

TREAT THE FAMILY!

We are

family

friendly.

Great Kids

menu plus

designated

play area.

Kid's

2 course

special

$13

The

RACECOURSE HOTEL

& Motorlodge

118 Racecourse Rd, Sockburn,

Christchurch. Ph 03 342 7150

www.racecoursehotel.co.nz

THE Bootleg Beach Boys is coming to New

Zealand fresh from their sold out world

tour including Australia, France, London

and Holland.

is fully costumed show takes you on a

journey through the career of e Beach

Boys featuring the classic hits and cult

favourites from California's most famous

band.

From surf-themed anthems such as

'Surfin' Safari' and 'Surfer Girl' to muscle car

memorable's like 'Shut Down' and 'Fun Fun

Fun', the band have gathered a truly

impressive repertoire of west coast,

harmony-laden songs, that evoke the spirit

and essence of the pursuit of the 1960s

American dream.

e Bootleg Beach Boys tackle such

classics as 'In My Room', 'God Only Knows',

'Good Vibrations' and 'Help Me Rhonda' in

their hit heavy set, but also pay homage to

the genius of Brian Wilson in the form of

selections from the seminal 'Pet Sounds',

and cult favourites from the legendary

'Smile' album.

is blend of five vocals and infectious

sun-soaked gems makes for a memorable

night to celebrate some of the finest music

committed to tape over four decades.

e Bootleg Beach Boys play two local

shows. 8pm Saturday 28th July at the

Rangiora Town Hall and 4pm Sunday 29th

July at the Isaac eatre Royal,

Christchurch. Tickets at Ticketek.

What's On

TUESDAYS & FRIDAYS

MEMBERS LUCKY

CARD DRAW

GAMING ROOM

NEW MACHINES!

CLUBBISTRO

DOWNSTAIRS

Open Tuesday to Saturday

12pm - 2pm & from 5pm

Dine by the Beach

PIERVIEW

RESTAURANT

UPSTAIRS

Open from 5.30pm Fri, Sat,

Sun, and Sunday Brunch

from 10.30am to 2pm.

MONTH-END

SUNDAY NIGHT

BUFFET $25pp

Sunday 29th July

from 5.30pm

BOOK NOW!

Lunch & Dinner

All you can eat

7 days

SERVING

Bookings Essential PH 386 0088

fb.com/GardenHotelRestaurant www.gardenhotel.co.nz

HAPPY HOUR

5PM - 7PM DAILY

OUR CABINET ITEMS

ARE HOMEMADE

CREATED FRESH ON SITE DAILY

$12

LUNCH

SPECIALS

Live Music:

6PM.SAT 7 JULY

Mid-Winter

Christmas

COFFEE

HAPPY

H O U R

Saturday On now! 17 June Through to to

Sunday Sunday 2 July 2017 15 July.

LUNCH

Mon to Fri $24.50pp

Sat & Sun $25.50pp

DINNER

Mon to Thur $31.50pp

Fri to Sun $33.50pp

Senior Citizens

discount available.

2PM-4PM

DAILY

$3.50

Offer available for a limited time

and includes tea, hot chocolate

MON: ROAST MEAL

TUE: FISH & CHIPS

WED: FISH BURGER

THU: ROAST MEAL

SAT: FISH & CHIPS

AVAILABLE

FROM

11.30AM-2PM

FOR A

LIMITED TIME

Rhonda Campbell

& John Bevin

PHONE 385 8880 FIND US ON FACEBOOK fb.com/GBCCHCH

THE GARDEN HOTEL COMPLEX | 110 MARSHLAND RD

www.gardenhotel.co.nz | phone 385 3132

202 Marine Pde | Ph 388 9416 | www.newbrightonclub.co.nz | Members, guests & affiliates welcome

H ORNBY

WORKINGMEN'S

CLUB

THIS WEEKEND

IN THE

WESTVIEW LOUNGE

FRIDAY 7PM:

JO'S KARAOKE

SATURDAY

4.30PM:

ANDY

GILMOUR

SATURDAY

8PM:

TH' ART OF

CHEESE

The Hornby Club | ph 03 349 9026

17 Carmen Rd | Hornby

www.hornbywmc.co.nz

Members, guests & affiliates welcome

FAMILY FRIENDLY DINING

OPEN

EVERY DAY

Club CAFÉ

LUNCH &

DINNER

JOIN US FOR THE FINAL IN THIS

EXCITING SERIES OF CLUB CAFÉ

$17

Chalmers Restaurant

FRIDAY & SATURDAY

CARVERY DINNER

$22.50

OPEN FROM 5.30PM

Early Bird Special FREE

5.30pm - 6.30PM DESSERT

SUNDAY NIGHT BUFFET $27

EVERY SUNDAY FROM 5PM-8PM

PERFECT FOR SPECIAL OCCASIONS

& FAMILY EVENTS!
---
24 Tuesday July 3 2018

Latest Christchurch news at www.star.kiwi

SOUTHERN VIEW

barrington | city market

$

11 99

kg

Fresh NZ Beef Rump Steak

$

2 99

kg

Loose New Season Australian Navel Oranges

$

19 99

kg

$

3 99

bag

$

8 50

ea

Fresh NZ Lamb Loin Chops

Vivaldi Gold Washed Potatoes 2kg

Alpine Mild/Colby/Edam Cheese 1kg

3 for

$

5 00

$

3 70

ea

$

2 30

ea

Bluebird Original/Thick/Thinly Cut Chips 140-150g

Keri Fruit Drink/Juice 2.4-3L

Arnott's Tim Tam/Mint Slice 165-200g

$

17 99

pk

Speight's Gold Medal Ale/Summit

12 x 330ml Bottles

$

7 99

ea

Shingle Peak 750ml

(Excludes Pinot Noir/Reserve)

2 for

$

5 00

Nestlé Chocolate Block

140-200g

Now available

Shop

Online

Colect Instore Save time

ClickCollect.nz

FreshChoice

Barrington | City Market

Open 7 Days a week.

FreshChoice.co.nz

FreshChoiceNZ

Specials valid 2nd - 8th July 2018 or while stocks last at FreshChoice Barrington & City Market only.

We reserve the right to limit quantities. Trade not supplied.

Owned and

operated

by locals

fcsv0407
---
OFFICIAL MALL OF THE CRUSADERS
---
Linwood Library School Holiday Activities

Mon – Thursday 3pm-4 pm

9th July Shoebox Dioramas.

Make your own mini world or diorama using shoe boxes

& plenty of craft materials.

10th July: Shadow puppet stage

Create your own shadow play theatre,

using flat cut-out figures, held between a source of light & a screen.

11th July: Craft a Creature.

Craft your own version of one of

Dr Seuss's many magical characters

& enter our competition!

12th July: Board games + MTWI

Come & play Headbanz, Jenga, Chess,

& Operation & test your skills in the

Minute To Win It activities.

16th July: Craft a Creature

17th July: Board games + MTWI

18th July: Makerspace

Check out this cool maker space kit!

With craft, Lego, 3D colouring

& interactive games.

19th July: Shoebox Dioramas.