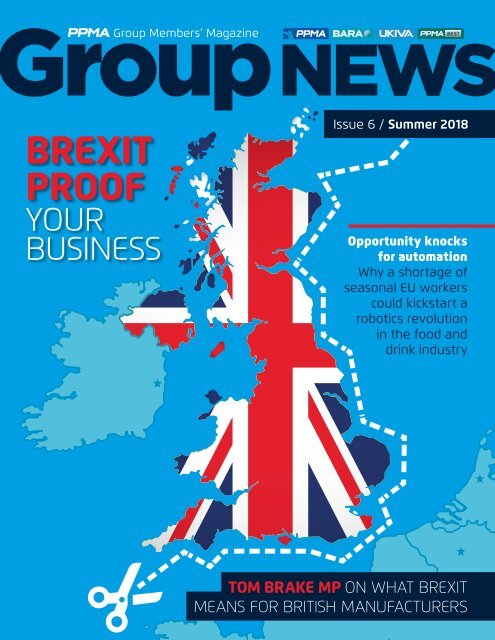 PPMAGroupnews-issue6_v2 copy
You also want an ePaper? Increase the reach of your titles
YUMPU automatically turns print PDFs into web optimized ePapers that Google loves.
Group Members' Magazine

roupNEWS

Brexit

proof

your

business

Issue 6 / Summer 2018

Opportunity knocks

for automation

Why a shortage of

seasonal EU workers

could kickstart a

robotics revolution

in the food and

drink industry

Tom Brake MP on what Brexit

means for British manufacturers
---
Members' Magazine

THE BREXIT ISSUE

Editorial

Summer 2018 / Issue 6

3 View from the top

Tom Brake MP explains why trade is all about location. Plus, the PPMA's CEO,

Dr Andrew Mint, on why now is the time for action.

4-5 Business intelligence

With the clock ticking until Britain exits the EU, what are the implications for UK

manufacturers? What do our continental cousins think of our decision to leave?

And could Brexit actually bring fresh opportunities to our shores?

6-7 Success stories

How automation is helping UK food businesses prepare for the post-Brexit EU

labour shortage. And why one company is treating Brexit as an opportunity to

strengthen ties with its European partners.

7 Linked up

Tips and opinions from PPMA members.

8-9 Industry events

A successful second outing for the UKIVA Machine Vision Conference, plus all

the essential dates for your diary over the next 12 months.

10 Seminars, training and networking

Join our next Chairman's Lunch, plus details of digital marketing, sales and

other training events.

Editor

Kate O'Reilly

+44 (0)7894 039609

kate.oreilly@ppma.co.uk

Managing Editor

Kirsty Sharpe

+44 (0)1920 821873

kirsty.sharpe@glohouse.co.uk

Editorial Assistant

Lucy Benbow

+44 (0)7971 987761

lucy.benbow@glohouse.co.uk

2018 editorial schedule

To contribute to any of our

forthcoming issues, contact our

editorial team via the details

above.

Autumn

The packaging innovations issue

(copy deadline 27 July)

Winter

The efficiency issue

(copy deadline 19 October)

11 PPMA Show 2018 preview

What's in store for the 30th anniversary of the UK's leading processing and

packaging machinery event?

12-13 Member benefits

PPMA Group partner TÜV SÜD explains how machinery safety could be

impacted after Brexit. Plus, the latest news from PPMA BEST.

14-15 New members

Meet the newest additions to the PPMA family.

15 Get in touch

Contact the PPMA team.

© 2018 PPMA Ltd

The opinions, beliefs and viewpoints

expressed by the various authors and

forum participants on this publication

do not necessarily reflect the opinions,

beliefs and viewpoints of the PPMA Group

of Associations.

2 www.ppma.co.uk
---
Time for answers

By Andrew Mint, Chief Executive

Officer of the PPMA Group

Brexit has created – and

will continue to create –

many business challenges.

This situation is not

helped by the lack of clarity from

government, with still far too many

questions remaining unanswered.

Whilst we now know the timeline for

some of the key milestones, exactly

how trade will operate going forward

is still unclear.

Two of the key issues are tariffs

and free movement of goods.

Additional tariffs are not helpful for

UK businesses, but I believe that the

free movement of goods – allowing

us to ship equipment to accommodate

the 'just in time' manufacturing that

is now commonplace – is even more

important.

As we navigate closer towards

our exit from the European Union, we

will endeavour to keep our members

up to date with any developments

that impact our business area. We

will also use our membership of

other associations to give us access

and a voice to central government,

should future issues arise which

could impact our industry. And

finally, we look forward to hearing

the views of Lord Mark Price,

Former Minister of State for Trade

and Investment, during his keynote

speech at the PPMA Show 2018 (see

p11 for more details). The former

Managing Director of Waitrose and

Deputy Chairman of The John Lewis

Partnership has stated his optimism

for a post-Brexit Britain, despite

voting to remain in the EU.

www.ppmashow.co.uk

View from the top

Location, location, location

By The Rt Hon Tom Brake MP, Liberal Democrat Spokesman for Exiting the

European Union and International Trade

When it comes to manufacturing, there

is a basic concept that even the most

ardent supporters of leaving the EU

cannot skilfully spin away – geography

matters. Irrespective of their desire to

distance themselves from the EU, it is a

fact that our border will remain only 20.7

miles from Calais. It will continue to be

quicker, simpler and more profitable to

trade with France and the rest of the EU

than with countries on the other side of

the world.

I apologise for stating the obvious,

but over the last few years I have heard

too many people forget or even disregard

simple facts such as 47 per cent of our

exported goods and 55 per cent of our

imported goods are currently traded with

the EU.

As we speak, uncertainty over the

UK's relationship with the EU post-Brexit

prevails and is already impacting our

economy. The UK's economic growth

is one of the slowest of the G7 nations

and we know from the Government's

economic reports that areas like

Sunderland, Derby, Coventry and County

Durham will be hardest hit in a 'no deal'

scenario. My assessment draws a rather

gloomy picture of Britain's economic

future outside the EU. But we must of

course look for the positives.

The British manufacturing sector has

a proud history as a source of economic

growth and prosperity. It is confidenceinspiring

that the Government's Industrial

Strategy seeks to maintain this tradition

by promoting medium-high tech

manufacturing sectors. An effective

Industrial Strategy, combined with a well

resourced Department for International

Trade, could see UK exports maintained

to the EU and expanded outside the EU.

However, the Government's own

impact analyses confirm manufacturers

will be better off if the UK remains a

member of the Single Market and the

Customs Union. That's why the Liberal

Democrats will continue to put our

country's economic interests first, pushing

for an 'Exit for Brexit' and if that fails,

backing membership of the Customs

Union and the EEA.

www.tombrake.co.uk

3 www.ppma.co.uk
---
Deal

or no

deal?

business intelligence

It's been more than two years

since the UK voted to leave the

EU on 23 June 2016, yet the future

is still uncertain. We may now

have more detail over the Brexit

timeline – negotiations must be

completed by 31 October 2019,

before we enter a transitional

Brexit period on 29 March 2019

and a new political relationship

between the UK and the EU

officially begins on 31 December

2020 – but just how it will affect

our manufacturing, engineering

and automation industries is

unclear. With no certainty yet over

trade tariffs, freedom of movement

for workers, or safety legislation,

what could be the impact for British

manufacturers?

"Businesses should consider other ways through which they

can improve the efficiency of their supply chain, such as by

embracing new technologies and automating processes. In the

end, businesses that fail to plan ahead and use this opportunity

to reduce costs in their supply chain may not survive

post-Brexit."

John Glen, Economist, Chartered Institute of Procurement & Supply (CIPS)

Fresh pickings

99

Percentage of seasonal workers on fruit

and vegetable farms that come from

Eastern Europe

(National Farmers' Union)

0.6

Percentage of seasonal workers on fruit

and vegetable farms that come from

Britain

(National Farmers' Union)

29

Percentage of vacancies on fruit and

vegetable farms left unfilled during the

harvest month of September 2017

(National Farmers' Union)

Rising costs

1/3

Proportion of UK businesses with EU

suppliers that have increased their prices

as a result of Brexit

(CIPS)

60

Percentage of UK businesses with EU

suppliers whose supply chains are

now more expensive due to currency

fluctuations following the Brexit vote

(CIPS)

£4.5bn

Estimated cost in tariffs of a no-deal

Brexit to the motor industry

(Society of Motor Manufacturers and Traders)

4 www.ppma.co.uk
---
Get export ready

Whether the UK ends up with a hard

or soft Brexit, the Department for

International Trade (DIT) can help your

business achieve its exporting aims.

Get exporting guidance, whatever your

experience level, at

www.great.gov.uk

Employment threat

European perceptions

Seizing the opportunity

1/5

Proportion of manufacturing firms

planning to lay off workers to cope with

the costs of Brexit

(CIPS)

1/4

Almost a quarter of UK business with EU

suppliers are having difficulty securing

contracts which run after March 2019

(CIPS)

9Percentage of UK manufacturers who

have lost contracts because of the Brexit

vote

(CIPS)

42

Percentage of EU supply chain managers

who do not think British products 'stand

out from the crowd'

(CIPS)

11

Percentage of EU companies who have

moved some of their workforce out of

the UK since the Brexit vote

(CIPS)

42

Percentage of European respondents

who favour a hard line Brexit

(Dalia research for the University of Zurich)

1/3

A third of UK supply chain managers

with EU suppliers are now looking for

alternative suppliers inside the UK

(CIPS)

46

Percentage of SMEs who want the

government to focus on support for

UK exporters looking to expand outside

the EU

(PwC My Financepartner)

£90m

Amount government has earmarked

for a 'Transforming Food Production'

programme, to harness AI and robotics in

the agri-food industry

(www.gov.uk)

5 www.ppma.co.uk
---
Automation softens Brexit impact

for seasonal produce packers

This PPMA Group

member sees Brexit as

a golden opportunity to

increase UK automation

levels

success stories

At a glance

Challenge: How to soften the

impact of reduced numbers

of seasonal EU workers

coming to the UK since the

Brexit vote

Solution: Integrate high

speed automated case

loading systems onto fresh

produce lines

Outcome: Improved

productivity, increased

economic output and reduced

reliance on seasonal EU

labour

Brillopak's P160 loads soft fruit punnets into crates

individually at speeds of 100 packs p/m

Between May to September each year,

more than 28,000 EU workers come to

the UK to harvest, process, grade and

pack soft fruit alone. To a large extent,

packing fresh produce into cases remains

a manual task and with a hard Brexit

on the horizon, this over-dependence

on seasonal EU labour could create a

potential crisis for UK farmers and fresh

produce, soft fruit and meat packhouses.

In fact, a recent NFU labour study found

that an average of 12.5 per cent of

vacancies on fruit and vegetable farms

across Britain went unfilled in 2017, the

first time there has been a shortfall since

the survey began in 2014. This increased

to 29 per cent during the crucial harvest

month of September.

Affordable automation

Fortunately, there is a solution.

Automated case loading can help to

counteract the loss of EU seasonal labour

and curb rising costs. According to David

Jahn, Director of Brillopak, a British

manufacturer of flexible robotic packing

and palletising systems, integrating high

speed technology onto a packing line

makes automation financially viable,

even for seasonal and SME packhouses.

"Improving packing productivity and

economic output per hour will be central

to boosting efficiency and offsetting

fresh produce price rises," he explains.

"With packhouses grappling with an

imminent EU labour crisis, combined with

rising minimum wages, many processors

are seriously exploring automated case

loading systems."

To extend seasonal packing windows, the P160

can switch to handle soft fruits, top fruits, root

vegetables and meat products

Brillopak's new Unipick P160 high

speed case and crate packer is specifically

designed to handle tray seal punnets,

flow wrap and vertical form fill seal

products, including soft fruits, top fruits,

root vegetables and packaged meat

products. Averaging over 100 packs per

minute and with a reach of 1,130mm, two

three-axis robot spider arms individually

place each pack into a retail crate. This

gentle handling helps to prevent bruising

and damage.

Flexible and efficient

The system incorporates two Omron

three-arm Delta robots, both with

quick release end-of-arm robot heads

for different product types. These

enable packhouses to extend their

traditional seasonal work windows to

year-round packing operations and flex

quickly to multiple product types and

sizes, resulting in a quicker return on

investment. It can also be integrated with

a Brillopak crate destacker and palletiser

for increased efficiency.

Depending on the application, ROI

for the P160 can be between one and

three years. "By delivering consistent

presentation on all types of punnets,

flow wrap and vertical form fill seal

products, packhouses can seek out and

exploit new business opportunities. With

freedom of movement due to end in

Spring 2019, most should be able to see

payback by the time the UK leaves the

EU," ends David.

www.brillopak.co.uk

6 www.ppma.co.uk
---
Do Brexit Euro-wn way!

How one company is tackling Brexit head-on and

removing uncertainty from its business model

The shadow of Brexit has plunged

many British businesses into a time of

doubt, but Yorkshire Packaging Systems

(YPS) view it as an opportunity, not a

threat. Since the company began in the

1970s, its business model has centred

on the importation of shrink wrapping

machines from leading manufacturers

in the Eurozone – Italy, Germany and

Spain – for supply to the UK market.

YPS has used the period leading up to

Brexit to strengthen relationships with

these key European suppliers by opening

up more channels of communication,

which has fostered a greater spirit of

co-operation and mutual agreement. This

has stabilised YPS's market position and

ensured that they can continue to work

with their suppliers long into the future,

regardless of a hard or soft Brexit.

YPS have used Brexit

as an opportunity to

strengthen existing

relationships

Above: YPS' Managing

Director, Glyn Johnson

Customer connection

Meetings arranged to look at

pricing structures have proved

opportune moments to open

up dialogues with customers. In

some cases, these candid conversations

have secured the extension of contracts.

"This period of renegotiation has been

challenging but the silver lining has been

a chance to reconnect with the people

at the core of YPS – our customers,"

says Glyn Johnson, Managing Director.

"Furthermore, as we have UK exclusivity

rights with several of our suppliers, they

have recognised that they need us as

much as we need them."

Whatever path Brexit takes Britain

down next year, YPS are confident that

they can weather the storm. "We are no

strangers to adversity, having survived

a major disaster in the 1980s when our

largest single customer at the time went

into administration and left behind a

substantial bad debt," reveals Glyn. "In

2008, the economic downturn again left

us feeling the pinch but complete faith in

our brand, astute directorship and overall

At a glance

Challenge: How to sustain a

successful business during a

time of political uncertainty

Solution: Take Brexit

into your own hands and

start early dialogue with

customers and suppliers

Outcome: Contract

extensions agreed and long

term European partnerships

secured

resilience has steered us towards success

on several occasions. Our focus has

always been on planning for growth and

acceleration, of course with a sensible

degree of caution, and our approach to

Brexit will be no different."

Glyn concludes: "The overall message

that YPS offers to any UK business

anxiously awaiting Brexit is to make the

situation work for you and your business

model. Don't let Brexit break you!"

www.yps.co.uk

Linked Up

Opportunity knocks post-Brexit

By Mark Gray, UK Sales Manager for Universal Robots

The UK employs a lot of temporary labour, for simple tasks such

as packing and picking. As a result of the Brexit vote we are in

danger of losing this workforce, so many firms are now looking

for a back-up strategy. Over the last nine months, I've noticed

more companies setting aside a budget for automation and

looking at employing robotics to automate simple tasks.

Although the UK has been slow to adopt robotics, our approach

to automation is changing; had we not been facing Brexit, I

believe it would have been at a slower rate. That's not to say

humans will become obsolete. If we can make our products

better and less expensive, we'll win an increased market share

and be more profitable, which will in turn lead to more jobs.

The opportunity afforded by Brexit is also helping to dispel some

of the other myths surrounding robots. One of our strategies,

when we market to companies affected by Brexit, is that we

don't supply huge pieces of capital equipment that need a

qualified individual in order to be programmed and maintained.

Our devices can be implemented very quickly, are flexible and

work on simple software. They also have a short payback,

typically just nine months.

www.universal-robots.com

Agility 4.0 to help keep Britain competitive

By Marc Aury, President and Managing Director of Gebo Cermex

While there has been much speculation on the consequences

of Brexit, what is certain is that many UK companies

will continue to seek ways to optimise production, raise

their competitiveness and ultimately protect their business. We

have been working to implement new tools, such as digital data

exchange and advanced robotics, to drive the transformation

of manufacturing models and help companies optimise their

competitive advantages. Our Agility 4.0 programme enables

producers to manufacture small production batches at cost levels

typically associated with mass production, without compromising

on key performance criteria. It encompasses smart machines,

system and data intelligence, digital connectivity and powerful

simulation tools, all within a philosophy of sustainable production.

One of the key aspects of the Agility 4.0 programme is the use

of high precision simulation and modelling tools, particularly

useful in the commissioning phase. Our Virtual Commissioning

project can dramatically decrease the time and costs involved,

while anticipating the challenges the equipment might face when

installed in the actual production environment.

For British manufacturers looking to reduce their total cost of

ownership, Gebo Cermex offers all the benefits of Industry 4.0,

from initial virtual design to total mastery of the extended factory,

ensuring that – regardless of Brexit – 'Made in the UK' can remain

a competitive and successful brand.

www.gebocermex.com

7 www.ppma.co.uk
---
Key industry events

Forthcoming

Later on

4-6

jul

11-13

jul

13-15

sept

18-20

sept

25-27

sept

25

sept

Kenya Manufacturing Expo 2018

Nairobi, Kenya

Attracting 3,000 visitors, 80 exhibitors and three country

pavilions across 2,500m 2 , this is where East African

manufacturers come to evaluate and purchase new

machinery.

www.kenyamachineryexpo.com

ProPak China 2018

Shanghai, China

The 24th international processing and packaging

exhibition comprises five areas (BevTek, DairyTek,

FoodTek, PharmaTek and CosmeticTek) and welcomes

35,000 visitors across 80,000m 2 of exhibition space.

www.propakchina.com/en

ProPak Myanmar 2018

Yangon, Myanmar

Returning for the fifth time, this is the leading industry

trade event for Myanmar's developing food, drink and

pharmaceutical processing and packaging industries.

www.propakmyanmar.com

ProPak West Africa 2018

Lagos, Nigeria

The largest packaging, food processing, plastics, labelling

and print exhibition in West Africa, which last year

featured 135 exhibitors and 3,261 visitors.

www.propakwestafrica.com

PPMA Show 2018

NEC Birmingham

The UK's main production line event for

processing and packaging machinery. Network

with peers, see the latest machinery in action, get

inspired at our new Enterprise Zone and of course do

business at the 30th anniversary of this industry-leading

show. See p11 for full details.

www.ppmashow.co.uk

PPMA Group Industry Awards

Hilton NEC, Birmingham

Hosted by Brian Conley and taking place on

the first night of the PPMA Show, the PPMA

Group Industry Awards bring together over 400 industry

professionals and influencers to celebrate excellence

across all facets of the processing and packaging sector.

Featuring 12 categories, including two new awards, and a

three-course gala dinner, this is an event not to be missed.

www.ppmashow.co.uk

Registration

now open

Tickets on

sale now

25-27 Sept 2018

Fachpack 2018

Nuremberg, Germany

www.fachpack.de/en

10-11 Oct 2018

Photonex Europe 2018

Ricoh Arena, Coventry

www.photonex.org

11-14 Oct 2018

Pacprocess Tehran

Tehran, Iran

www.pacprocess-tehran.com

14-17 Oct 2018

Pack Expo International 2018

Chicago, USA

www.packexpointernational.com

23-26 Oct 2018

Scanpack 2018

Gothenburg, Sweden

www.scanpack.se

24-26 Oct 2018

Indiapack pacprocess

Mumbai, India

www.pacprocess-india.com

6-8 Nov 2018

Vision

Stuttgart Germany

www.messe-stuttgart.de/vision/en/

6-8 Nov 2018

Gulfood Manufacturing 2018

Dubai World Trade Centre, UAE

www.gulfoodmanufacturing.com

janette.lane@ppma.co.uk

26-29 Nov 2018

ALL4PACK Paris

Paris, France

www.all4pack.com

24-26 Jan 2019

ProPak Philippines

Manila, Philippines

www.propakphilippines.com

janette.lane@ppma.co.uk

Last chance

for PPMA UK

pavilion

bookings

PPMA

UK pavilion

bookings now

being taken

8 www.ppma.co.uk
---
Feature events

From deep learning to real world solutions at Machine Vision Conference

The second UKIVA Machine

Vision Conference and

Exhibition has been hailed

a resounding success after

attracting hundreds of visitors – significantly up on last year's

figures – with some seminar sessions standing room only.

A showcase for the latest vision technologies and services

from the world of industrial vision and imaging, the event

took place in Milton Keynes on 16 May 2018 and featured

two keynote presentations, 54 technical seminars and over

50 specialist exhibitors. The Deep Learning and Embedded

Vision seminar theatre attracted the largest audiences across

the day. One of the key messages was that while deep and

machine learning can make significant improvements in object

feature detection and classification, they are not suitable for

every application, so careful choices need to be made.

Public perception of automation

Professor Tony Pipe, Deputy Director at Bristol Robotics

Laboratory, UWE, gave one of the keynote lectures,

discussing the Venturer autonomous car project. While

technological issues are crucial, Professor Pipe highlighted

the many other aspects to be considered, including human

attitudes to driverless cars and overcoming insurance

and legislative barriers. The second keynote lecture was

presented by Henry Harris-Burland, VP Marketing at Starship

Technologies, who discussed the challenges faced by his

company in bringing personal delivery robots to market,

including the attitude of the public.

Quality visitors

The exhibition also proved popular. While all visitors showed

a solid appreciation of vision technology, many were also

seeking vision solutions for real applications. As Marcel Krist

from Photonfocus observed: "This year delivered a higher

quality of visitors to our stand. The visitors were also more

knowledgeable, and the discussions we had have been

more specific."

Event organiser, Chris Valdes, added: "We've had a very

positive response from speakers, visitors and exhibitors alike.

The Conference was consistently well attended throughout

the day, indicating the strength of the programme and

emphasising the importance that we place on making this

a truly educational event. We attracted visitors from many

different industries and featured exhibitors from all over the

world, including Canada, France, Germany, China and the US,

reflecting the importance of the machine vision market here

in the UK."

www.machinevisionconference.co.uk

UK expansion at ProPak Philippines

Due to demand, extra space has

been added to the UK pavilion at

ProPak Philippines. Taking place

in Manila on 24-26 January 2019, this debut international

processing and packaging trade show for the Philippines

is the ideal platform from which to access a robust and

expanding market in one of Asia's top growth performing

countries over the past 12 months.

To join the PPMA UK pavilion, contact

janette.lane@ppma.co.uk

www.propakphilippines.com

DIT grant

funding

available

Final call for Gulfood Manufacturing

Returning to the Dubai World Trade

Centre on 6-8 November 2018,

time is running out to book your

stand for Gulfood Manufacturing

2018. Showcasing solutions for the

complete spectrum of food and

drink manufacturing – from ingredients, processing, packaging

and automation, to supply chain and logistics – last year's event

attracted more than 35,000 visitors and 1,600 exhibitors.

The PPMA is once again organising the highly successful UK

pavilion, so contact Janette Lane today for your

booking form.

janette.lane@ppma.co.uk

www.gulfoodmanufacturing.com

DIT grant

funding

available

9 www.ppma.co.uk
---
Seminars, training and networking

Forthcoming

5

july

Chairman's Lunch – Motivating and

developing your staff

National Railway Museum, York

19

July

Effective Sales Skills for

Non-Sales People

Marriott Hotel, Northampton

10

July

NEW

17

july

NEW

18

July

Focused on the theme of staff development, join

our renowned Chairman's Lunch for first class

networking opportunities at this historic venue.

Free for PPMA members

Advanced Selling Skills

Marriott Hotel, Northampton

This one-day training course is designed to help

individuals, business owners and sales teams to sell

effectively to the right people. Areas covered will

include: developing wider influence to persuade the

customer; handling objections; increasing closing

methods; and much more.

PPMA member rate £95 +VAT

Digital Marketing – Social Media B2B

Marriott Hotel, Manchester

This session will explore answers to the question

'what is digital marketing', before providing a

hands-on look at how to implement a digital

marketing strategy in your business. Areas covered

will include: social media; search engine ranking;

podcasts and streaming; and much more.

PPMA member rate £95 +VAT

Wellbeing Event

NIKKEN Innovation Centre Europe, Rotherham

This half-day workshop explores mental health and

how best to manage it, covering: what promotes

good mental health; what increases the risk to

our mental health; the new mental health core

and enhanced standards; interventions, tools and

resources; and much more.

8

aug

9

aug

30

aug

This one-day training workshop will help boost your

sales effectiveness, covering: conversation openers,

ensuring confidence when presenting price,

effective follow-up; and much more.

PPMA member rate £95 +VAT

Project Management

Forest of Arden Hotel and Country Club, Birmingham

This practical course offers tools and techniques to

those who have never been trained in running a

project, are working in a project support office, or

are new to the role of project manager.

PPMA member rate £95 +VAT

PPMA Safety Driving Day

Heyford Park, Oxon

Our safety and awareness driving day, brought to

you by Ultimate Car Control, is both educational

and fun.

Free for PPMA members

PPMA Golf Day

The Oxfordshire, Milton Common, Oxon

The perfect opportunity for members to entertain

clients and take part in a thoroughly enjoyable day

of 27 holes of golf and four competitions, at one of

the most exciting courses in the country. Including

a 9-hole Texas Scramble competition, 18-hole

Stableford competition, light lunch, plus a

three-course evening meal, the day concludes

with a trophy presentation.

£520 per 4-player team or £135 per person +VAT

Take part in Machinery Update's PPMA Show Preview

By Gail Hunt, Editor of Machinery Update

The September/October issue of Machinery

Update will be dominated by the PPMA

Show 2018 Preview and so if you are

exhibiting at the NEC in September, you

must be part of it. You need to ensure visitors have

your name on their stands to visit list, so let us have

details of what you are showing, with a photograph,

and we will include it, free of charge.

Of course, if you are not exhibiting, you still need

to be in this 100-plus page issue as it is distributed

throughout the three days at the show, as well as

to our normal list of readers.

This issue will also include a feature on meat, fish

and other proteins as well as our regular sections,

so get in touch if you have a query on suitability.

Get your details over to us by Friday 10 August at

the latest, but earlier if you want a spot nearer

the front!

publishing@ppma.co.uk

10 www.ppma.co.uk
---
NEW for 2018

PPMA Show 2018 Preview

Countdown begins to the UK's leading processing and

packaging machinery event

Celebrating its 30th anniversary, the

PPMA Show will return to the NEC

Birmingham from 25-27 September

2018 to showcase the latest innovations

in smart manufacturing, processing

technology and packaging machinery.

New this year will be the Enterprise

Zone, offering visitors a focal point for

learning, networking, discovery and live

debate.

Presenting the biggest and most

comprehensive line-up of production

technologies and solutions for the

food and beverage, pharmaceutical,

toiletries and FMCG sectors, visitors will

see 350 exhibitors representing 1,500

Celebrating industry excellence and recognising innovation and

smart manufacturing, the prestigious PPMA Group Industry

Awards ceremony and three-course gala dinner will move to

the Hilton Birmingham Metropole Hotel at the NEC. Taking place

on the evening of 25 September, this key networking event will

be hosted by TV presenter and comedian Brian Conley.

To book your place, go to

https://bit.ly/2labm5m

brands, creating an unrivalled platform

to connect, engage and network with

suppliers and industry peers.

Experience and expertise

Dr Andrew Mint, Chief Executive

Officer, PPMA Group of Associations,

comments: "Our 30th anniversary

show comes at a time when UK

manufacturing is enjoying its longest

period of expansion since 1968 and

these positive signs will undoubtedly

boost confidence throughout our

sector. The PPMA Show 2018 looks set

to be one of the biggest and best to

date, where visitors can benefit from

Join us at the PPMA Group Industry Awards 2018

Featuring:

• Live workshops

• Presentations

• Interactive discussions

• Q&A sessions

• Panel debate

• Networking areas

• Free helpdesk and advice service

for start-ups and entrepreneurs

• British Plastics Federation

Presentations include:

• Keynote address by Lord Mark

Price, Minister of State for

Trade and Investment, former

Managing Director of Waitrose

and Deputy Chairman of The John

Lewis Partnership

• 'The Future of Food

Manufacturing', hosted by Craig

Leadley, Campden BRI

• Case studies offering real world

examples of manufacturing

best practice and excellence

in processing and packaging

production

an unsurpassed skill set of experience,

expertise and industry knowledge

and witness the latest processing and

packaging technologies in real-time

demonstrations."

Dr Mint continues: "Having

consulted with exhibitors and show

visitors, we know that there is still a

tremendous appetite to seek out new

innovations, technologies and solutions

and to discover the unexpected. We

therefore look forward to opening the

doors of the PPMA Show 2018 and

celebrating its milestone anniversary

with some of the biggest and brightest

manufacturing leaders."

www.ppmashow.co.uk

FREE visitor registration

To register for your FREE visitor badge,

go to

www.ppmashow.co.uk

11 www.ppma.co.uk
---
Impact of

Brexit on

product

safety and

certification

Member benefits

By Paul Taylor, Head of Industrial

Products (UK) at TÜV SÜD Product

Service, a global product testing and

certification organisation.

The UK's vote to leave

the European Union has

brought about a period of

uncertainty for businesses in

Britain, Europe and around

the world, and the clock is ticking for

companies to minimise their risks. This

must of course begin with a confident

understanding of how Brexit will affect

product safety and certification for

products sold within, imported from,

and exported to the EU. All UK Notified

Bodies and EU Notified Bodies will also

be impacted beyond exit.

Given that negotiations are

still underway, conclusive advice

cannot yet be given. As transitional

arrangements between the UK and EU

are being established, we will identify

an appropriate certification strategy

for each of our customers individually.

Our intention is to provide continuous

product-to-market support, via a zero

impact service arrangement. However,

we do expect the outcome to include

transitional and long term Mutual

Recognition Arrangements (MRAs)

covering a range of matters related

to product safety and certification.

And, post-exit from the EU, the UK will

operate a separate regulatory regime

just like the rest of the world.

Currently, existing EU certificates in

the UK will remain valid as the status

of EU Notified Bodies (such as TÜV

SÜD) remains unchanged. All relevant

certificates for EU Directives, such as

Radio Equipment, issued by TÜV SÜD

globally will also remain valid beyond

Brexit.

At present, it is a requirement for

a Notified Body certifying against EU

standards to be based in an EU or EFTA

member country. Post-Brexit, this could

impact some Notified Bodies that are

only based in the UK, but this is yet to

be confirmed as negotiations are still

underway. Likewise, manufacturers

should consider whether their existing

Notified Bodies, based in the EU-27, will

have the legal capacity to meet future UK

certification requirements beyond Brexit.

Find out more

As the outcome of Brexit is still uncertain,

preparation for all eventualities is of the

utmost importance. We will be covering

this topic during our annual Customer

Day on 12 July, where there will be an

opportunity to put questions to our

experts.

www.tuv-sud.co.uk/customer-day

Get in touch

TÜV SÜD Product Service is a partner

of the PPMA Group. The Association

has partnerships with various service

providers, covering insurance, H&S and

employment law, recruitment, training,

litigation, technical advice, R&D tax

refunds and driver training. To access

any of these services at a preferential

PPMA member rate, contact

membership@ppma.co.uk

Nurturing the BEST

new talent

By Danny Reed, Education & Skills

Manager, PPMA BEST

PPMA BEST supports

young people looking

to explore and enter a

career in the processing,

packaging, machine vision, robotics

and automation industries, providing

a range of activities to engage and

inspire them.

In the 2017/18 academic year,

we have taken our message to an

even wider range of young people

than ever before, running four STEM

(science, technology, engineering and

maths) days and engaging with more

than 500 students. This number is set

to rise to over 800 by the end of this

academic year.

In the forthcoming academic

year, we will be running many more

STEM days in partnership with our

members, as well as repeating our

successful event at the Manchester

Museum of Science and Industry on

12 November 2018. We will also be

introducing new initiatives to help

our members engage with young

people, including an accredited

mentor training qualification. Finally,

we are hosting 60 students on

the second day of the PPMA Show

2018, where we will have our own

interactive stand.

To get involved or find out more,

contact

danny.reed@ppma.co.uk

www.ppmabest.org.uk

12 www.ppma.co.uk
---
Why the food and

drink industry

must be at

the forefront

of Brexit

negotiations

By Nicki Hunt, Director of Membership

and Commercial Engagement at the

Food and Drink Federation (FDF)

The food and drink

industry is the UK's largest

manufacturing sector and

contributes £28.8bn to

GDP. Our sector will be the

hardest hit by Brexit, which means it is

vital that Government puts us first in

Brexit negotiations. Securing the best

possible deal for the food and drink

industry will benefit the UK's £112bn

'farm to fork' supply chain and the

other industries that work so closely

alongside us.

Many of the food and drink

industry's complex supply chains are

built on efficient just-in-time production

systems which utilise the fantastic

technologies that PPMA members

provide. They allow us to feed not

just our own country, but markets

across the globe that enjoy our world

renowned food and drink.

From a Food and Drink Federation

perspective, there are four key areas

that Brexit must deliver on: continued

access to labour; continued tariff-free

UK-EU trade in all agrifood and drink

products; continued access to EU FTAs

during and beyond the transition

period; and as frictionless as possible

trade that avoids delays and added

costs, and no physical border in Ireland

where the majority of goods traded are

food and drink.

In March, we welcomed the

announcement of a time-limited

transition period. It provided much

needed stability for business, meaning

the UK will continue to have access to

its valued EU workforce and continue

to enjoy frictionless tariff-free trade and

consistent regulation up until December

of 2020. But time is running out for us

to find a customs model that would

work for our industry. Tariffs aside,

the process of physically inspecting

food and drink imports and checking

documents and ID would cause chaos.

An average delay of two minutes at the

Port of Dover would result in a 17-mile

queue reaching Ashford.

One positive from all of this is that

collaboration across the entire food and

drink supply chain has never been more

important. Never before have so many

industries come together and spoken

with one voice. While we cannot be

sure what the business landscape will

look like in three years' time, I hope

these relationships will continue to

persevere.

Welcome Sharon

We are delighted to welcome Sharon

Mason as our new Membership

Manager. Starting this summer, Sharon's

role will be completely member-focused,

communicating the benefits available to

PPMA Group members and finding out

how we can better support you and your

business. To invite Sharon to visit your

business or learn how to make the most

of your membership, contact

sharon.mason@ppma.co.uk

T +44 (0)20 8773 8111

Free EEF roadshow

set to prepare

manufacturers for

Brexit

To help manufacturers prepare for

Brexit, the EEF is running a series of

Brexit Roadshows featuring insight

and practical guidance on trade,

migration and skills from prominent

government speakers and Brexit

experts. As an affiliate EEF member,

PPMA members can attend these

roadshows free of charge, simply by

registering.

Focusing on the impact of

Brexit in the West of England,

the next event is taking place at

Aerospace Bristol on 6 July and will

see Baroness Neville-Rolfe, former

Director of Tesco, former Minister at

the Department for Business, Energy

and Industrial Strategy (BEIS) and

Treasury, and a current Life Peer and

member of the EU Select Committee

in the House of Lords, deliver the

keynote speech. Spaces are limited

so register now for free at

eefevents@pagefield.co.uk

Could you be eligible for

an R&D tax refund?

The PPMA Group is pleased

to announce an exciting new

partnership with TBAT Innovation,

specialists in grant funding and

R&D tax credits. As well as offering

PPMA members a free one-day

workshop on eligibility for Innovate

UK grant applications, members can

also benefit from TBAT's no-win

no-fee offer on R&D tax refunds.

To take advantage of

this exclusive member

benefit, contact

info@tbat.co.uk

www.tbat.co.uk

13 www.ppma.co.uk
---
Welcome new PPMA Group members

Active8 Robots

Active8 Robots is a consultant and

integrator of automation systems,

specialising in industrial and collaborative

robots. With more than 15 years'

experience providing automation solutions

to manufacturers, the company has

successfully deployed hundreds of projects

throughout the UK from single robot to

highly complex multi-robot solutions.

For more information, contact

Adrian Aggett:

adrian.aggett@active8robots.com

T +44 (0)1761 234372

www.active8robots.com

DC Norris

Specialists in bespoke industrial food

processing and packaging machinery for

over 45 years, DCN designs, manufactures

and installs full turnkey systems that

can cook and cool a large range of

convenience food products. The company

provides flexible, efficient and innovative

solutions to meet the full range of food

processing needs, from standalone items

to fully automated processing lines.

For more information, contact Ian Jones:

mail@dcnorris.com

T +44 (0)1767 677515

www.dcnorris.com

Hycontrol

Hycontrol supplies silo level measurement

and control technology, providing

application solutions for powders, pellets,

liquids and slurries to a wide range of

industries. Supplying overfill/overspill

protection systems and award winning

silo over-pressure safety systems, backed

by a team of experienced engineers,

the company aims to provide the best

engineered solution, without compromise.

For more information, contact:

sales@hycontrol.com

T +44 (0)1527 406800

www.hycontrol.com

ITI – International

TechneGroup

ITI solves complex engineering data

interoperability problems. Its CADfix PPS

solution quickly simplifies large MCAD

models of equipment and machinery

for integration with plant and process

design systems, or for customer delivery.

It provides a simplified model in a

significantly smaller and more manageable

file that saves valuable time and costs.

For more information, contact

Andrew Chinn:

andy.chinn@iti-global.com

T +44 (0)1954 234 300

www.iti-global.com/cadfix-for-processplant-and-ship-building

iXAPACK GLOBAL

iXAPACK GLOBAL is a 40-year-old, French

family-owned company specialising in the

design and manufacture of portioning,

checkweighers, flow wrappers, top load

cartoners and turnkey full automatic lines

for the food and cosmetic industries.

For more information, contact

Laurent Noiraud:

laurent.noiraud@ixapack.com

T +33 549 820 408

www.ixapack.com

James Mae

Industries

James Mae Industries is a UK manufacturer

of bespoke production equipment,

including the Compact © palletising system.

The company offers conveyors, special

purpose machines, assembly cells, robot

systems and control systems, and employs

electrical and mechanical designers, project

managers and a team of electrical and

mechanical fitters, as well as in-house

software engineers.

For more information, contact Dave Wood:

dave@jamesmaeindustries.co.uk

T +44 (0)7946 454188

www.jamesmae.co.uk

Lamonde

Automation

Established in 1982, Lamonde

Automation supplies a wide range of

automation products. It is the UK &

Ireland distributor for Automation Direct

& Weintek Labs (HMI), as well as being

a Control Techniques drives distributor.

The company's core customer base is

comprised of machine manufacturers,

including a number of PPMA members.

For more information, contact

Duncan Stanton:

sales@lamonde.com

T +44 (0)203 026 2670

www.lamonde.com

Macsa id

Macsa id provides solutions to meet all

coding, identification and traceability

needs. By combining a range of hardware

and software technologies, services and

supplies, the company helps manufacturing

firms to secure their products, brands and

customers' peace of mind.

For more information, contact

Neil Greatorex:

sales.uk@macsa.com

T +44 (0)1462 816091

www.macsa.co.uk

Micro-Epsilon

Micro-Epsilon develops and manufactures

precision sensors and measurement

systems for displacement, distance,

position, profile, thickness, temperature

and colour measurement. With more than

45 years' experience, the company has

sensors and measurement applications in

almost all industries. From R&D and NDT,

to OEM or process control, Micro-Epsilon

is certain to have a solution for your

measurement task.

For more information, contact:

info@micro-epsilon.co.uk

T +44 (0)151 355 6070

www.micro-epsilon.co.uk

14 www.ppma.co.uk
---
Get in touch

Norduct

The UK's only complete manufacturer

of modular, clip-together ductwork,

Norduct's state of the art manufacturing

facilities and experienced staff allow

the company to respond to the most

demanding ducting projects on time,

first time, every time. Its unique, modular

ducting system makes the product

stronger, easier and faster to connect,

reducing installation time.

For more information, contact Claire Forrest:

claire@norduct.com

T +44 (0)1274 693630

www.norduct.com

Stellar Technik

Stellar Technik supplies after-market

spares for machine knives, punches and

punch and die assemblies. All products

are designed and manufactured in the

UK to tight tolerances using advanced

CNC machining technology. Serving the

food and pharmaceutical industries, the

company's range is designed to perform

and last as well as the OEM product.

For more information, contact

Tom Newbery:

tnewbery@vesprecision.com

T +44 (0)1460 270650

www.stellartechnik.com

ppma.co.uk

ukiva.org

bara.org.uk

ppma-group

https://www.linkedin.com/company/ppma-group

https://twitter.com/PPMA_Group

@PPMA_Group

PPMA TV

https://www.youtube.com/channel/UCW0hgEalJv1jSjjpf-eoJUA

Membership Relations

membership@ppma.co.uk

Polar Systems

As manufacturers and suppliers of food

processing equipment, Polar Systems

provides bespoke systems for various

industries including shellfish and snack food

(including industrial popcorn and flavouring

systems), plus turnkey fruit and vegetable

processing from field to pack. The company

manufactures everything in-house, offering

high quality, robust, hygienic and easily

maintainable machinery.

For more information, contact

Adrian Gamble:

sales@polar-systems.co.uk

T +44 (0)1553 691472

www.polar-systems.co.uk

Universal Robots

Universal Robots is the leading provider of

collaborative robots (cobots) by units sold.

Its flexible robot arms can be used by all

levels of production staff to help increase

productivity, reduce injury and boost

morale. Based in Odense, Denmark, the

company has distributors in 50 countries

worldwide.

For more information, contact

Christina Hinze Jørgensen:

chjo@universal-robots.com

T +45 28 93 06 01

www.universal-robots.com

PPMA Show

scott.mckenna@ppma.co.uk

International Services

janette.lane@ppma.co.uk

Publishing and Advertising

david.chadd@ppma.co.uk

Marketing and PR

marketing@ppma.co.uk

PPMA BEST Charitable Trust

ppmabest@ppma.co.uk

Sharp Systems

Sharp Systems designs, manufactures and

installs bespoke processing and handling

systems for the food industry. Covering

the whole of the UK, the company

specialises in conveyor systems including

elevators, spirals, vibrators, and bulk

weigh systems and platforms to EN1090.

Its clients encompass fresh and frozen

food processors, bakeries, ready meal

manufacturers, confectioners and dairies.

For more information, contact Paul Sharp:

paul@sharp-systems.com

T +44 (0)1553 775050

www.sharp-systems.com

Join today!

For a PPMA Group membership

pack contact

christine.jordan@ppma.co.uk

15 www.ppma.co.uk
---
Actively helping our

members through

services, tools and

initiatives to thrive in an

increasingly competitive

marketplace