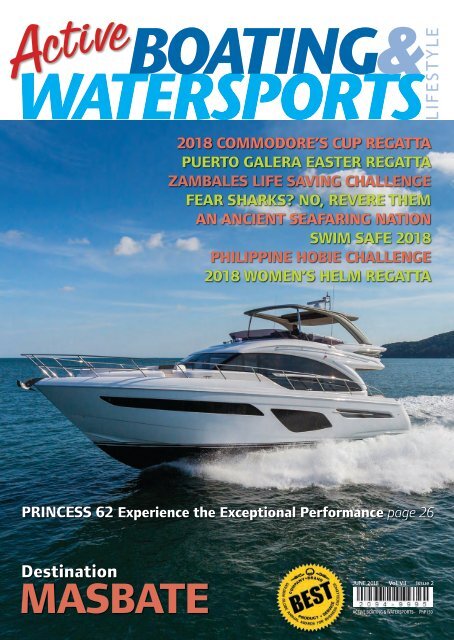 You also want an ePaper? Increase the reach of your titles
YUMPU automatically turns print PDFs into web optimized ePapers that Google loves.
2018 COMMODORE'S CUP REGATTA

PUERTO GALERA EASTER REGATTA

ZAMBALES LIFE SAVING CHALLENGE

FEAR SHARKS? NO, REVERE THEM

AN ANCIENT SEAFARING NATION

SWIM SAFE 2018

PHILIPPINE HOBIE CHALLENGE

2018 WOMEN'S HELM REGATTA

PRINCESS 62 Experience the Exceptional Performance page 26

Destination

MASBATE ACTIVE

JUNE 2018 Vol. VII Issue 2

BOATING & WATERSPORTS PhP150

1
---
2
---
3
---
2018

Commodore's

4
---
Cup Regatta

I

by Stephen Whiting

was lucky enough to be invited to observe the

11th Commodores Cup Sailing Regatta 2018,

being run here in Subic Freeport Zone, by Subic

Sailing and the Lighthouse Resort. Both these

groups have been working hard to turn Subic Bay

into the number one spot for sailing and related

activities in the Philippine's, and from what I have

seen they are well on the way to succeeding with

that goal.

Competitive sailing is one of

the fastest growing sectors

in any area of water-based

sports, the sport has much

to offer, both in terms of fun

and confidence building in the

youth of the Philippines and

provides an exciting platform

for spectators and competitors

alike, and the additional

positive aspects associated

with the sport of sailing. The

Commodore's Cup Regatta has

been attracting hundreds of

top notch sailors from all over

the globe as they converge

in this extreme sailing action

from the yacht racing capital

of the Philippines.

I was extremely

impressed with the

level of organizing,

in short, the event

has been truly world

class.

Sailing enthusiasts and most especially, grand prix

race boats have been attracted to the challenges

that this race brings. The shifting winds in Subic

Bay may cause headaches for the unwary, but

opportunities for the observant and make hard

work for the crews.

I was extremely impressed with the level of

organizing, and the variety

of different activities that

have been presented over

the 4 days of the event,

in short, the event has

been truly world class. The

organizers have refined a

formula for success that they

tweak every year to further

enhance the experience not

just for the competitors but

the spectators as well.

The Subic Sailing Club is the

primary organizer of this

premier international yacht

racing event that has helped

put the Philippines on the

sailing map in the local

and international sailing

community for more than a decade.

Words by

STEPHEN

WHITING,

BARRY

DAWSON

Photographs

as credited

It is one of the most anticipated races in Subic Bay.

It comes after the Hong Kong's famous Rolex China

Sea Race which finishes in Subic every second year

and the San Fernando Race that finishes in San

Fernando, La Union every other year.

The 11th Commodores' Cup Regatta on April 2 to

7, 2018 is part of the 2018 Asian Yachting Grand

Prix Circuit involving 12 events across 6 countries

with 75 inshore races and 3 offshore races. It is

participated by 245 yachts from across the globe.

5
---
Young people play an

integral part of the event

with kids as young as 8

years old sailing in races

especially geared for

kids.

6

Subic Bay Freeport Zone has become the premier

destination for yacht racing. As a sailing haven,

regular regattas are held in Subic Bay to enhance

yachtsmanship for

international competitions

and foster camaraderie

among sailors. It has

become a playground for

grand prix keelboats from

various countries as they

compete in the prestigious

international regattas

hosted here. Of course,

there are many hotels,

restaurants and bars for entertaining –indeed many

of the daily awarding parties of the Commodore's

Cup will be held in different hotels or bars in the

vicinity. However, the Welcoming Party and the

Awarding Ceremony will be held at The Lighthouse

Marina Resort.

The Commodore's Cup Regatta this year will hold

special events at the RACE VILLAGE including

workshops with the most accomplished sailors in

the sport here to help participants become better

sailors, seminars on Philippine Maritime Heritage,

Watersports Exhibitions, Dragon boat Racing and

other fun activities for spectators and participants.

There is an art exhibition by local artists depicting

a maritime and oceans theme with paintings

available for purchase. A water sports display by

Networx that includes the use of 'Hover Boots',

activities for the kids like face painting and henna

tattoo's, food and drink stalls and much more.

The event is not just about racing, but also the

future of sailing in the Philippines, young people

play an integral part of the event with kids as

young as 8 years old sailing in races especially

geared for kids. The organizers want young people

to realize their heritage and history with the sea

and want to promote sailing as a sport for people

from all backgrounds, just as one might promote

Basketball. It is through these young people

that awareness of the environment, a love of the

oceans and the future of sailing will be ensured for

generations to come.

The highlight for me, apart from the sailing, is the

arrival of the historic sailing vessels the 'Balangay'.

The Balangay (formerly synonymous with Butuan

boat) is a plank boat adjoined by a carved-out

plank edged through pins and dowels. It was first

mentioned in the 16th Century in the Chronicles

of Pigafetta and is known as the oldest watercraft

found in the Philippines. In 2009, the Kaya ng

Pinoy Inc. that conquered Mt. Everest in 2006

announced plans to re-construct the Balangay

boat, with the help of Badjao and other tribal

members. The Balangay was sailed, tracing the

routes of the Filipino Ancestors during the waves

of Austronesian settlement through Maritime

Southeast Asia and the Pacific. The special wood for

construction came from the established traditional
---
DEDICATED ENGINEERING SPECIALISTS

7
---
It was also very pleasing

to see 5 of the Hong

Kong yachts that had just

finished the Rolex China

sea race from Hong

Kong, competing in the

Commodore's Cup.

8

source in southern Philippines, specifically Tawi-

Tawi. The team have pinpointed Badjao master

boat builders, whose

predecessors actually

built such boats, and used

traditional tools during

the construction. The

Balangay was constructed

at Manila Bay, at the

Cultural Center of the

Philippines Complex and

will be here in Subic bay at

the Lighthouse Resort for

members of the public to see and even experience

a sail on these historic craft.

The Cup by Barry Dawson

This year the Commodore's Cup like every event

staged by Subic Sailing was again a complete

success and another step in promoting superior

sailing in the Philippines.

The only thing not to go as planned was the opening

ceremony, with a beautiful table arrangement on

the foreshore at the Lighthouse Marina, everything

was in place for an evening to remember, but

unfortunately the weather gods were unkind,

with unexpected torrential rains arriving before

the evening ceremonies had started, forcing the

organizers to abandon the ceremony and settle for

a dinner undercover. The weather might have put

a dampen on the ceremony but had no effect on

the sailors who were all chomping at the bit to get

started early next morning.

The first day of racing, seen some excellent starts

with, some fair winds to assist in some excellent

racing. This year the committee boat was "Lost

in Asia" generously supplied by Mr. Peter Baird,

managing director of Broadwater Marine, a major

sponsor of sailing events in the Philippines.

There were 16 starters in total competing in four

classes, IRC1, IRC2, Cruising Class and the newly

introduced to Subic Sailing the Fareast 28's. It was

also very pleasing to see 5 of the Hong Kong Yachts

that had just finished the Rolex China sea race from

Hong Kong, competing in the Commodore's cup.

Each day of racing over the entire week brought

something different to the event with some great

sailing by all those who competed in the regatta.

The week's events culminated in a fabulous awards

dinner, again hosted by the Lighthouse Marina, an

avid and staunch supporter of Sailing in Subic Bay.

After a sumptuous meal, that was enjoyed by

all. Awarding got underway in earnest, firstly

acknowledging those who support sailing in the

Philippines and the Commodores Cup, like Air
---
FROM THE EDITOR'S DESK

Wow! Already halfway through 2018, time marches on and waits for

no man. In this issue we have so much for you to enjoy and great

places to visit, like our feature destination, Masbate. This beautiful

part of Bicol has so much to offer we decided to outline many feature

attractions of the Island as well as leave many to find for yourself

as you discover the many faces of this magical place. With the help

and assistance of the Department of Tourism Regional Director

Mr. Benjamin Santiago and his staff of region five we were able

to discover and write about in better detail some of the magic of

Masbate, a place we know you will enjoy.

Provinces all over the Philippines should all take notice of what

happened to Boracay as they completely disregarded or protected

their environment, and are now paying the price. They must take

the protection of their environment very seriously, because if they

neglect any of these important issues they will eventually suffer the

consequences. Protecting the beautiful beaches of the Philippines

must take precedence over making big profits. This was the major

downfall of Boracay.

Also a must read is our article on swim safe on page 46, please take

the time to read this very important article.

In our next issue we are looking at revisiting Marinduque.

WHAT'S INSIDE?

2018 Commodore's Cup Regatta 4

Puerto Galera Easter Regatta 12

Standard Insurance 20

Zambales Life Saving Challenge

PRINCESS 62 Experience the 26

Exceptional Performance

SEA KISSED The History of an Ancient 30

Seafaring Nation

Fear Sharks? No, Revere Them 36

Boase Cohen & Collins 42

Inter-School Sailing Festival

Swim Safe 2018 46

Destination - MASBATE 50

18 For The 18th 74

Philippine Hobie Challenge

Sailing Tips - Handling the Mainsail 78

Taal Lake Yacht Club's 80

2018 Women's Helm Regatta

Barry Dawson Editor

Destination MASBATE

PRINCESS 62

Cover photo courtesy of Rayomarine

Published quarterly by: ABW PUBLISHING

House 16, Madrigal Compound, 2550 Roxas Blvd., Pasay City

Editor & Production: BARRY DAWSON

Contributing Writers: BRUCE CURRAN & JAMES WEBSTER

Contributing Photographers: TERRY DUCKHAM & JOHNNY MARTINEZ

Advertising: 551-4587/ 0928-714-4461

Email: info@activeboatingwatersports.com

Website: www.activeboatingwatersports.com

Printed by: House Printers, Taytay, Rizal, Philippines

Active Boating and Watersports is a copyright© production

No part can be copied or reproduced without the express

permission of the publishers.

The views expressed and advertisements published in Active Boating & Watersports

are those of the authors and advertisers, and not ABW Publishing.

ABW Publishing does not accept any liability whatsoever for errors or omissions.

9
---
Juan, Broadwater Marine, Active Boating and

Watersports and many more who rightly deserved

the accolades of the organizing committee.

In the final results the winners were; in IRC 1

Mandrake III (Nick Burns & Fred Kinmoth) took

first place convincingly, while the ever popular

Martin Tanco's Centennial II came second and

Phoenix (David Ho & Victor Huk) was third. IRC2

Division was won by Jo De Ros (George Hackett),

While always present at the awards Jun Avecilla's

Selma Star taking second place and Gordon Liu &

Cowen Chiu on Kings Man secured third spot. The

cruising class winners

The speedy Fareast

28's, the newest

introduction to Subic

Sailing had 6 boats

competing over the

course of the regatta.

were Li Jian and crew

secured first place on

Apsaras, while Peter

Sherman on Selma

was placed second

and Philippe Grelon

on TBS Aya was third.

The speedy Fareast

28's, the newest

introduction to Subic Sailing had 6 boats competing

over the course of the regatta with, Standard

Insurance PSA with Emerson Villena taking out

first place honours, while its counterpart Standard

Insurance PSA 1 with Ridgley Balladares coming

second, while Sean Mitchell skippering SMC Go

Pro Subic Sailing Team came third.

Overall the week was a fantastic success and

another first for Subic Sailing and overall sailing in

the Philippines.

10
---
L E O P A R D

Welcome the newest addition to the

award-winning fleet

DEDICATED ENGINEERING SPECIALISTS

11
---
PUERTO

Easter

Regatta

12
---
GALERA

Each year Puerto Galera holds a number of well

patronized regattas, Like the Easter Regatta

held on Holy Week. This year

sponsored by The Philippine

Retirement Authority (PRA).

With Fifteen entries ready to

battle it out in the waters of

Puerto Galera the weekend

was full of promise and

with the event again being

well organized no one was

disappointed.

There was seven entrants in the

PYC class consisting of Aragorn

(Gundolf Ahrens), Xiao Long

(Paul Leggatt), Neptunus III

(Mark Petrie), Forever Young

(Frank Radstake), Princess

Arieta (Dale Godkin), Wild

Honey (J & V Villareal) and

Ichiban (Lorenzon Lewis), racing in the four Multihulls

were Kerida (Garry Kingshott), Magayon II

One thing about

sailing when it's

in your blood,

it takes a lot to

prevent you from

competing.

(Martin Grummert), Zenity (Ricky White) and

MYG 2 (Vincent Ruais), with Anthea (John Quirk),

Sandoway (Alan Burrell), Red

Shift (Hans Woldring) and a

very pleasing return in Dany II

again racing and skippered by

Mel Smit making up the four

in the racing class.

One thing about sailing

when it's in your blood, it

takes a lot to prevent you

from competing, like Hans

Woldring for instance, on

his way from Subic to be in

the regatta, snapped the

halyards, not to be denied

the chance to compete a

few late night frantic calls to

Broadwater Marine and the

problem was solved with new

rope waiting for him when he

limped into Puerto Galera, working through the

night and Red Shift was ready to race.

Words by

BARRY

DAWSON

Photographs

as credited

13
---
Albeit there are no

exciting starts at Puerto

Galera, because of

the staggered starting

system they use.

The rogue of the Puerto Galera Yacht Club, Peter

Stevens was master of ceremonies and got things

under way at the skippers meeting in his usual

cheerful way, and then handed over to the racing

officer and handicapper to outline the courses

for the days racing. There

was some great racing once

the boats were out on the

course. Albeit there are no

exciting starts at Puerto

Galera, because of the

staggered starting system

they use. Staggered starts

are not everyone's cup of

tea, especially the media

who like to photograph all

the boats together at the starting line vying for pol

position and a good start, but it works well for the

handicap system used by the club.

After the days racing everyone enjoyed the buy

one take one happy hour provided by the club,

and in the evening the most mouth-watering BBQ

Ribs were served while all the crew reminisced

14
---
Connecting The Philippine Islands

Like Never Before

For bookings & reservations:

www.airjuan.com

or contact landline:

+632 7188111

15
---
about what they did or should have done in the

races. Before everyone enjoyed the delicious meal

awaiting them the traditional Tanduay awards for

the days winners were given out, giving most some

extra rum to have with their meal.

Over the next two days there was some great

racing enjoyed by all, with the ever changing winds

keeping everyone on the alert.

The final day's racing culminated in a awards

ceremony and a delicious meal, before everybody

had to start heading home after a fantastic Holy

Week Regatta of great sailing and comradeship

amongst the sailors, The final overall winners

Over the next two days

there was some great

racing enjoyed by all,

with the ever changing

winds keeping everyone

on the alert.

16
---
A REVOLUTIONARY

CRUISING CATAMARAN

WITH UNIQUE INNOVATIONS

BALI 4.3

43' (13.1M) :: BALI CATAMARANS :: 2017

8 GUESTS :: 4 CABINS

BROKERAGE :: CHARTER :: MANAGEMENT :: NEW CONSTRUCTION :: CREW SERVICES

► Innovative European design and build from Bali Catamarans, part of the world famous Catana group. Voted Boat

of the year in the tough US marketplace, the Bali 4.3 offers a very spacious saloon worthy of a 50+ footer. Pivoting

aft saloon doors and forward window enhance ventilation and communication between the bow lounge, saloon

and aft cockpit. The forward Bow lounge - a Bali innovation - is very spacious, improving onboard entertaining

options and being fully built in ensures structural rigidity and performance.

►For more information about this luxury yacht contact:

Gregory.Dagge@NorthropandJohnson.com :: +852 9223 0786

NORTHROPANDJOHNSON.COM

17

ANTIBES :: AUSTRALIA :: CHINA :: FORT LAUDERDALE :: HOLLAND :: HONG KONG :: LOS ANGELES :: MALAYSIA :: NEWPORT :: NEWPORT BEACH :: NEW YORK :: PALMA :: PHILIPPINES :: SAN DIEGO :: SINGAPORE :: THAILAND :: VIETNAM
---
of this most enjoyable weekend were; Martin

Grummert and crew on Magayon II taking the first

place honours, while Paul Leggatt and his crew

sailed Xiao Long into second place with Vincent

Ruais and his crew claiming third spot on MYG 2.

Needless to say everyone went home with smiles

on their faces, looking forward to the next regatta

held at one of the most popular yacht clubs in the

Philippines. So why not come to Puerto Galera

next holy week and enjoy being part of the Easter

Regatta. One never knows, even the thrill of

sailing might just make its way into your blood.

Watch out for other top events from Puerto Galera

like the famous All Souls Regatta, held end of

October Each Year. For more details on the Puerto

Galera Yacht club events you can check them out

at https://www.pgyc.org.

One never knows,

even the thrill of

sailing might just

make its way into

your blood.

18
---
19
---
StandardIn

Zambales Life SaS

Words by

BARRY

DAWSON

Photographs

as credited

The importance of water safety while having

fun on any of the many pristine beaches

throughout the Philippine Archipelago would have

to be a top priority for anyone,

and to know your family is safe

while enjoying a day at the

beach is re-assuring. So with this

in mind the Zambales Surf Life

Saving, headed by Roger Bound

each year hold a challenge

so our young life savers can

further hone their skills with

the challenge. Sponsored by

Standard Insurance, and fully

supported by, Elton Cummings

of Lifesaving Development in

Australia, Broadwater Marine,

RDH Marine, Palmera Gardens

Resort, Active Boating and

Watersports Magazine, were

"One of the most

valuable was that of

riding a rescue board,

something none of us

had done before, and it

was a joy to experience

and learn this part of

lifesaving."

some of the other sponsors, this annual event is now

getting international recognition with teams from

Malaysia and Singapore competing in this year's

challenge held at the beautiful

rustic Palmera Gardens Beach

Resort. The resort, which, fully

support the event, and again

this year opened their facilities

to the challenge to make the

weekend a memorable one. It

was gratifying to welcome with

open arms the international

teams competing here for

the first time. The Team from

Malaysia Consisting of Nickly

Dasan (39), Dalton Dale Leo

(35), Royzems Bin Selutan (32),

Christinus Bin Jonal (29) and

Masuari Bin Mini (27) had this

to say about the event and the

20
---
Insurance

aving Challenge

organizers. "This was an awesome experience for us all,

we learnt so many new skills that we are able to take

back to Malaysia with us. One of the most valuable was

that of riding a rescue board, something none of us had

done before, and it was a joy to experience and learn

this part of lifesaving. As for the organizers of this event,

they had everything so well organized for us it was

heartwarming to be here and make many new friends.

We hope to see the Zambales team one day at our events

in Malaysia ". Likewise, Eunice Chan (24), Yong Zhi Pan

(25) and Bi. Xun Thng (24), the team from Singapore

had this to say "This was our first time to the Philippines

and we enjoyed it so much, with the challenge, there

were so many different types of challenges here that

we learnt a lot of new techniques we can take back

with us and share with our friends. The experience and

new friends we made while here is something we will

cherish for a long time. " Elton Cummings of Lifesaving

Development, was a great asset to the event and is a

powerful force in Australia in obtaining equipment for

underprivileged countries so they can be a major player

in saving lives in their own countries.

Held over two days, with the senior teams competing

on the Saturday and the junior teams on the Sunday,

with 8 events for the seniors and six events for the

juniors it was a full on weekend. The events for the

seniors were – rescue board and transfer relay where a

team of 2 players, and a victim. At the signal of start,

number 1 player runs to pick up the rescue board and

paddle towards the victim and load the unconscious

victim to the board and paddle to the shore line waving

his hands for assistance as he approaches the shoreline

the 2nd player runs to assist player 1 with the victim.

Players 1 and 2 carry the victim using two man carry

technique to the finish line and place the victim in

recovery position and players raise their hands. Run-

Swim-Run Medley Relay consists of a team of 2 Players.

The first player from start line runs, swims breaststroke

then runs and touches his team player next who runs

21
---
then swims front crawl stroke back to shore and runs

to the finish line.

Rescue Tube & Transfer Relay– Team of 2 players, with

weak victim coming from the organizer.

Player one runs and picks up the rescue tube and does

a beach entry and swims towards the victim, strapping

the tube to the victim and tows victim to the shore line

waving his hands for assistance, then the second player

runs to the victim and players one and two carry the

victim using two man carry to the finish line, placing the

victim in recovery position and players raise their hands.

Rescue and resuscitation assessment relay – Team of

2 Players with unconscious victim coming from the

organizer. Player one runs and swims towards the

victim and carry/tows the victim towards the shoreline

and waves for assistance, Player two runs towards the

victim and players one and two carry the victim with

two man carry to the designated area and perform

two rescuer DRS-ABC, until advised by the observer

to stop, then place the victim in recovery position and

raise their hands.

Lifeguard Challenge Relay – Team of two Players. Player

one runs, player two swims, player one paddles, player

two runs to the finish line.

Beach flags; This is an elimination event; heats will

consist of maximum 12 players.

Course length, maximum 15 meters, minimum 10

meters. Under 7 may be shorter.

Rules; This is a

game of reaction,

observation and

running skills.

Player one runs and

swims towards the victim

and carry/tows the victim

towards the shoreline and

waves for assistance.

Players will lay

face down, feet

together, facing

away from the

flags, with hands on top of each other under their

chin. Start procedure will be in this position with head

raised. Start command will be, feet together, heads

down (on hands) followed by the start signal.

Upon start signal, player will raise and turn and run to

recover the flag (plastic tubing) from the finish point.

There will always be less flag than competitors, those

who do not claim a flag are eliminated.

Each player possessing a flag will report to the judge to

be directed back to the start line.

22

If 2 player grasp the flag at the same time, judge's

decision will decide the situation.
---
THE

PHILIPPINE BOAT SHOW & NAUTICAL LIFESTYLE EXPO AND CONFERENCE

www.seaex.ph

SMX Convention Center, Mall of Asia Complex

Pasay City, 1300 Philippines

Media:

Sponsor:

Floating Dock Venue:

Official Floating Dock Provider:

Exclusively distributed by

RAYOMARINE, INC., in the Philippines

For more information, please contact:

Headsail Inc.,

: +632 5532027

: 9641 Kamagong St., San Antonio Village 1203, Makati City, Philippines

www.facebook.com/philseaexpo

23
---
There will always

be less flag than

competitors, those who

do not claim a flag are

eliminated.

Depending on the number of entries, heats may be a

fast elimination system, example; 12 to 8, 8 to 5 then with

elimination to the final 2 or 3 (depending on entry numbers)

to go to the final, final will be maximum 10 players.

Fair play will prevail, no blocking, hands of a player

may not pass in front of an opposition player with

intent to delay the other player, but shoulder charging

is DQ. Shoulder contact is permissible

False start, 1 warning, 2nd. false start DQ. Snatching

the flag from another player DQ.

Run – swim – run.

Just as it says, run, swim and again run. Number per

heat to be determined.

Course length, run, maximum

15 meters, swim, minimum

50 meters, run, maximum 15

meters.

All heats will be finals, with

winners determined by time,

first 6 players report to the

timers for their names and

numbers to be recorded.

Rescue Board run – paddle – run. Junior styro rescue

boards. (Max 5 players per heat)

Course length, run, maximum 15 meters, swim,

minimum 50 meters, run, maximum 15 meters.

Run pick up board, paddle the course upon reaching

the shore abandon the board and run to finish.

All heats will be finals, with winners determined by

time, players report to the timers for their names and

numbers to be recorded.

Run – swim – run with rescue tube. This will be run

with maximum 10 players per heat.

Course length, run, maximum 20 meters, swim,

minimum 50 meters, maximum 20 meters.

Upon the start signal, player will run to the waters

edge, pick up a rescue tube and, towing the rescue

24
---
tube, swim the designated course, upon reaching the

shore the player can either abandon the rescue tube, or

carry it and run to the finish. Dragging the rescue tube

on beach, when running will be a DQ.

All heats will be finals, with winners determined by

time, first 6 players report to the timers for their names

and numbers to be recorded.

Run-Swim-Run medley surf race. This will be run with a

maximum of fifteen players per heat. Course length, run,

maximum 20 meters each, swim, minimum 50 meters,

maximum 100 meters. Upon the start signal, player will

run to the waters edge, swim breast stroke until the first

marker and upon turning the marker can change to any

preferred stroke, upon reaching the shore the player will

run to the finish. All heats will be finals, with winners

determined by time, first 6 players report to the timers

for their names and numbers to be recorded.

Iron-kid. This event will be for only the top players from

overall results of each division, it will be a run – swim –

paddle – run event, course will be maximum 300

meters, encompassing run, swim and paddle.

Number of players will be determined by number of

boards available.

All heats will be finals, with winners determined by

time, players report to the timers for their names and

numbers to be recorded.

The official results after a weekend of well-organized

competition, resulting in a fun weekend where new

friendships were made with international teams, fun

and enjoyment were:

SENIOR TEAMS

1 Zambales Lifesaving Sth. Issac Emanuael Daylo Mark Anthony "Tonton" Jereza

2 Team Hammerhead. Russel Baltazar Rydnar Dee Alzona

3 "Torpedo Lifesaving team", Singapore Thun B Xun Al Jeraeu Ladiero

4 Team "Lucky Dingo", Singapore. Pan Yong Zhi Eunice Chan Wan Qing

5 Zambales Lifesaving Nth. Donell Wayne "Arweng" Sanchez Arnold Abad

6 LGU. San Narciso (MAYOR) . Adonis Belecina John Mark Gruspe

7 Team Sullivan. Bebbing Daniel Villenuva

8 Iba LGU Team Ebdane. Jiyos Jenius R. Sadernas Dios Fred

9 Team Sabah, Malaysia. Christinus Bin Jonal Dalton Dale Leo

10 Team Sabah 2, Malaysia. Royzems Selutar Masuari Mini

FEMALE TEAM

1 Zambales Lifesaving

JUNIOR TEAMS

1 Zambales Lifesaving. Miguel Villamin Sylvern Bound

2 Zambales Swim Team 1. Daniel Tapado Heather Coleen Sanguyo

3 LGU Iba Team Ebdane. Christian Paul Vasquez Ivy L. Bernal

4 Zambales Swim Team 2. Rayne Japhet R. Salin Liana Alexa T. Aguila

5 LGU. San Narciso (VICE MAYOR) . Vincente R. Anamonce Marichris B. Jimenez

For further information regarding lifesaving in the

Philippines and swim safe programs contact Roger

Bound on 0918-922-2863 or email Zambales

Lifesaving Inc. at slszambales@gmail.com.

25
---
The Princess The Princess 62 62

features features the latest the latest

evolution evolution of the of the

signature signature Princess Princess

Design Design Studio Studio

styling. styling.

26
---
EXCEPTIONAL

PERFORMANCE

62-interior dining 62-interior area dining area

62-interior 62-interior forward forward cabin cabin

62-interior helm 62-interior helm

62-layout flybridge 62-layout v2 flybridge v2

62-layout 62-layout main deck main deck

62-interior 62-interior starboard starboard

cabin bathroom cabin bathroom

27
---
THE THE PRINCESS 62 62

EXPERIENCE THE THE EXCEPTIONAL®

28
---
For Sales, Service For Sales, or more Service information more information contact: contact:

PRINCESS YACHTS PRINCESS PHILIPPINES

YACHTS PHILIPPINES

Rayomarine Rayomarine Inc Inc

+63 918 999-9282 +63 918 999-9282

martingarcia@rayomarine.com

FIND OUT MORE FIND OUT AT PRINCESSYACHTS.COM

MORE AT PRINCESSYACHTS.COM

29
---
Sea Kissed

Words by

BRUCE

CURRAN

Photographs

as credited

T

he Philippines stretches 2000 kilometres from

north to south, and 1000 kilometres from west

to east. Within this vast realm of ocean lie its 7000 +

islands, but the fact remains that for every one part

of land there are seven parts of water, making this

archipelago indisputably a water country. This is the

essential geographical background to a nation that

has long been ruled by its maritime nature.

An archipelago spread out across an open sea is

reached by new arrivals on boats. The 'habagat'

winds blowing in from the south west brought

traders and migrants from Indonesia, Borneo, and

the Malay peninsula. The 'amihan' winds, that blow

from out of the north east, between October and

April, carried traders and raiders back to these lands

to the south. These summer winds also brought in

people from China, Taiwan and Japan in the days

when wind-power was the only choice.

The great traders of Asia passed through these

islands over a thousand years ago, when China was

the most powerful sailing nation on earth. The legacy

of China is to be found in the many wrecks of junks

that litter these sea beds, many still undiscovered.

The National Museum in Manila has some fantastic

displays of artifacts. The Pandanan Chinese-style

wreck dating from the 15th century was discovered

in 1993 south of Palawan. This was a remarkable

find and 4,722 items were recorded after 947 dives,

Balangay

30
---
The History of an

Ancient Seafaring Nation

including North Vietnamese ceramics, Chinese Ming

plates, Chinese copper coins and crocodile teeth

pendants up to four inches long.

Islamic traders brought with

them items from as far away as

the Middle East, and way before

Christianity washed ashore

with the Spanish. Islam had

established a stronghold in the

very south by 1380, some 141

years before the first Spanish

Christian Mass on Philippine

soil.

Asia was already interlinked

by sea trade well before the

European Nations arrived on the

scene, an event which changed

the face of the Philippine

archipelago forever. The British,

the Dutch, and the Portuguese

were soon basing in the Asian

region, and then Magellan

sailed into the Visayas. On board his ship was a

Filipino slave bought in the slave markets of Malaca

on the Malaysian peninsula. This man Enrique had

been taken to Spain, and sailed with Magellan

on his epic journey, had arrived off Cebu,

and suddenly recognized his Cebuano

home-tongue, thus becoming one of

the first men on earth, perhaps the

very first, to have sailed around

the world.

The leg from Acapulco

to Manila could take up

to 3 months, depending

on weather, and

typhoons came and went

randomly, inflicting

losses along their way.

Trading - Treasures and Pirates

The Spanish set up a remarkable trade rout linking

their territories in Mexico with the Philippine

archipelago. Spanish galleons

were soon being built in these

islands, with Chinese and

Philippine labour and crewed

by these and Europeans of

several nations.

The Chinese brought silk

and ceramics from the China

mainland, as well as other

items like precious stones, and

these were traded for Mexican

silver, Philippine gold, as well

as forest and sea products.

Honey, sea slugs, swallow

nests, tortoise shells, camphor

wood, mother of pearl, and

the beautiful south sea pearls

were all to be found in these

exotic tropical islands and

were much sort after in China.

The Spanish Galleon Trade, as it became known,

was a reflection of the peak of the centuries of

long distance sailing. The trade flourished for 250

years, and hundreds of thousands of sea miles were

sailed by master mariners who were exposed to the

unrelenting dangers of the open seas in the vastness

of the Pacific Ocean. The leg from Acapulco to

Manila could take up to 3 months, depending on

weather, and typhoons came and went randomly,

inflicting losses along their way. It is estimated that

up to 50% of the Spanish ships that were lost, sank

within 50 miles of the St. Bernardino Strait, which

runs between southern Luzon and northern Samar.

A typhoon reaching shallower waters will buildup

vicious seas, and the very fast currents around this

Strait would add to a cauldron of hell in confined

waters. Some Spanish galleons were swamped at

sea, some were thrown onto coral reefs and rocky

shores, and many lie still in the darkness of the deep

ocean with their treasures as company for fishes.

31
---
On the other side of nature, when winds failed

altogether, galleons would be swept by fast currents

on to coral reefs, where they sank, releasing their

rich cargoes into the shallower waters of eastern

Luzon and north and eastern Samar. Other ships

foundered within the complicated islands of the

Sibuyan Sea en route to Manila.

The Maritime trade with Latin America began in 1565

when several Spanish ships sailed from Acapulco,

and the 'San Lucas' was the first of these to return

to Mexico in October 1565. The 'Magallanes' was

the last to sail to Manila arriving in 1815.

250 years of trade saw some of the most lucrative

maritime cargoes of their day ever shipped, and they

called the vast Pacific Ocean the 'Spanish lake'. At

one stage 25% of all the annual production of silver

mined in South America found its way to Asia on

these Spanish ships. The galleons would set out

from Acapulco in January to pick up the 'amihan'

north easterly winds. In Manila the merchants

It was a disaster when

the Spanish charting

vessel 'Argo' sank off the

Cavite coast with most

surveys on board.

bought goods from the 30 to 40 junks that arrived

from China around March each year. Ming and

Ching dynasty porcelain was highly prized, along

with the Chinese silk. By July the galleons would

set off from Manila with the goods, and up to 1000

people would crowd on board as passengers, which

meant that Filipinos were soon to be found settled

in California and Mexico.

In 1593 three or more ships would sail each year, but

then, in order to ensure tighter control, the Spanish

restricted the trade to 2 ships from each port per

year. The early ships were as small as 300 tons, but

profit soon saw these ships being built in the Cavite

shipyards up to 5 times larger, at 2000 tons.

The first sinking of a Spanish galleon took place in

1568, just three years after the start of this route,

and it is reckoned that at least 40 ships sank over

the two and a half centuries of the trade. Dramatic

stories have conjured up as many as 110 ships lost

on this route alone, but be that as it may, this was

a serious sail normally over 3 months from Mexico

to the Philippines, and as many as 7 months on

the return journey. One ship recorded a whole 12

months for a one-way journey to Acapulco. These

were massive expeditions across the 'Spanish Lake'.

As though these journeys were not enough of a

challenge on their own, the galleons were also prone

to being attacked by marauding British and Dutch

ships that knew of the potential wealth aboard

these trading vessels. It was soon discovered

that the local hardwood 'lanang' was resistant

to canon balls fired by these booty hunters,

and these sailing ships soon found the

benefits of sturdy rigging possible

with Manila hemp roping, and later

32
---
on cotton sailcloth produced from the Philippine

cotton fields. All in all, the Spanish galleon trading

era produced a lot of wealth, a lot of employment,

and a lot of focus between the Philippines and Latin

America. Strange though it might seem, these long

and strong historical links have not been exploited

in the modern world.

Mapping the Waters

However, despite the end of the cross-pacific trade

route in 1815, due mainly to the war for Mexican

Independence, the 'Spanishness' of the Philippines

has remained in the maritime legacy of a bygone

era. The Spanish commissioned the building of over

40 classic stone lighthouses, of which 22 were built

between 1884 and 1896, before North Americans

took over as the colonialists.

The North Americans left another maritime legacy,

before they relinquished power to the Filipinos in

1946, by charting the entire archipelago between

1901 and 1942. In the days of old, one chart was

a valuable resource coveted by mariners, so it was

a disaster when the Spanish charting vessel 'Argo'

sank off The Cavite coast with most surveys on

board. British charts of scanty patches of the Sulu

area date from about 1882, but it has been the

north Americans that have contributed significantly

to modern navigation by charting this archipelago.

However, today, with the pinpoint accuracy

of the Global Positioning System (GPS), it has

become necessary to re-chart the archipelago. The

Philippine charting agency, the National Mapping

and Resource Information Agency (NAMRIA),

in recent times, signed a joint agreement with

the British charting agency, which has assisted

in upgrading Philippine charts to international

maritime standards. Previously NAMRIA acquired

two sophisticated maritime survey vessels through

Spain to significantly improve the accuracy of depth

surveys since they record not only a vertical depth,

but also an arc of depth.

A Nation of Seafarers

Since the earliest of settlements, those who chose

to live along the coastline washed by the open

seas necessarily developed their sea skills and built

boats for criss-crossing the archipelago for many

purposes. Traders from afar brought with them the

language of trade, Malay, and today many Malay

words are part of the local languages, adding to

the impression that many the people here were

originally of Malay stock.

Local boat building skills were developed long ago

as evidenced by the finds of ancient planked boats

in Butuan, in north Mindanao, proving these skills

were ingrained in this archipelago in distant times.

One such hull discovered in 1976 in Butuan was

carbon-dated as being built in 324 A.D.. There is

evidence to show that these so called 'balangays'

used to sail regularly and trade with Japan, China

and India. It is also evident that they even sailed as

far as Africa in this era of trading recorded up to a

1000 years ago.

Today, in the Batanes Islands in the far north of

Luzon, single hulled planked boats, developed from

centuries past, are still built and used.

The most commonly used boat in the Philippines

today is called the banca (bangka), which comes in

all shapes and sizes and designs. Some of the original

boats were the 'Balangays', which is the origin of the

word 'barangay', and why every defined, regulated

community today has a barangay captain as the

commander of this defined area. This system of

control is used throughout the whole archipelago,

and clearly reflects just how deeply ingrained this

nation is, in the Maritime Heritage of its past.

Today, in the remote areas of Palawan you will still

see the simplest watercraft - several large bamboo

poles strapped together with natural twine to form a

raft - paddled to fishing grounds, or to the far side

of a bay for another purpose.

By contrast, Filipinos have built sophisticated

modern watercraft, as evidenced on the west coast

of Cebu in 2004. It was a supercraft successfully

delivered, for search and rescue use, to the British

Royal Navy.

Modern Seafaring

Today it is a fact that up to a quarter of all merchant

mariners serving with the maritime nations of the

world are picked from a long legacy of Philippine

maritime stock. Over 400 years ago the Spanish

33
---
ecognized these resident maritime skills and

developed the galleon Trade. Latin America became

connected to the rest of Asia through the Philippine

archipelago. In the modern world the Filipino

remains a world class mariner, part of a maritime

history linked by skills that keep the nation in the

forefront as a 'Nation of Seafarers'.

In the modern

world the Filipino

remains a world

class mariner.

Sail Boats

Meanwhile, there is a new

and vibrant consciousness

in the archipelago revolving

around sail boating.

The largest local 'Paraw'

sailing event is held

annually near Iloilo city

in Panay Island around

February, when over 75 paraws race and take

part in the local fiesta. These days alongside this

classical traditional sailing event has sprung up a

host of other sailing events:

'The Hobie Challenge' with 16 foot catamarans

sailing around different parts of the country

annually.

The 'Subic to Boracay Yacht Race' in February

through to March annually.

The 'Commodore's Cup' in Subic

While the Puerto Galera Yacht Club host a number

of annual sailing and racing events.

There are several other events around the country,

which go to show that sailing is becoming a national

pastime.

This is evidenced by the Subic Sailing group which

offers sail training in all sizes of boats from the

small dinghies to larger long distance-capable

racing boats. The Puerto Galera Yacht Club has

had a fleet of sail training dinghies for many years.

Filipinos are increasingly now entering

international sailing races, and getting better and

better results.

Sailing is definitively becoming a national pastime.

Past, Present and Future

Overall, the link with the sea throughout the

Philippine Archipelago is a golden reflection of its

rich and influential and ancient Maritime Heritage.

World class mariners, and a blooming and rapidly

growing sailing fraternity are a sign that this is a

proud water based country.

Over recent years several replicas of the 1000 year

old Balangays have been built. Some went on an

epic 17 month cruise off to Malaysia, Singapore,

Thailand and to Cambodia before sailing home to

their home base of the Philippines.

This March 3 Balangays will be sailing to China

from Manila Bay en route to visiting the memorial

of a Filipino Sultan who used to trade with China

over 700 years ago.

The future looks bright for this Seafaring Nation

at many levels, and long may it grow … and

continue to flourish as a water country with a

Philippine Maritime Heritage deeply Sea Kissed

and Proudly Afloat.

34
---
YACHT PA RTS SALES AND SERVICE

Your One-Stop

Boating Service Specialists

GET YOUR BOAT BACK TO HOW YOU WANT IT TO BE!

➤ Inboard & Outboard Repairs & Service

➤ Electronic Installation & Repairs

➤ Fiberglass & Gelcoat Repairs

➤ Marine Carpentry & Teak Deck Repairs

➤ Carpet & Upholstery

➤ Aluminium Boat Repair & Refinishing

➤ Colour Restoration

➤ Transom Repairs & Replacement

➤ Metal Work & Welding

➤ Anti-Fouling

➤ Striping and Decals

➤ Trailer Repairs or Replacement

➤ Sail Repairs

ALL WORK GUARANTEED

Phone: 047-252-5468/0939-922-3238

www.broadwatermarine.com

➤ SUBIC BAY

Tele/fax: (047) 252-5468 Mob: 0939-922-3238 (Smart) 0917-829-3507 (Globe)

➤ MANILA

Tele/fax: (02) 551-1813 Mob: 0918-963-8148 (Smart) 0917-829-3508 (Globe)

➤ CEBU

(032) 341-0474 Mob: 0939-902-0494 (Smart) 0917-327-7931 (Globe)

➤ BORACAY

Ph: (036) 288-2709 Mob: 0918-963-8155 (Smart) 0917-327-7933 (Globe)

➤ DAVAO

Mob: 0918-963-8151 (Smart) 0917-659-7537 (Globe)

➤ PUERTO PRINCESA (048) 433-2467 Mob: 0912-309-6305 (Smart) 0917-832-3449 (Globe) 35
---
FEAR SHARKS? NO N

Words by

JAMES

WEBSTER

Photographs

as credited

T

he sight of a shark automatically curdles our

blood with fear. Our minds envisage them as

vicious, mindless killers, probably because shark

attacks are glorified by the press and movies such as

jaws and have instilled the fear of god in our Psyche.

Nothing could be further from

the truth, however. The fact is

you are more likely to trip over

your own feet, hitting your

head on a garbage bin and

dying than being killed by a

shark.

These magnificently elegant

lords of the sea have been

around for more than 400

million years evolving into

the most efficient predator

alive and yet not one of the

shark species has humans on

their menu. Most shark bites

are cases of mistaken identity

and once they have a bite of

These magnificently

elegant lords of the

sea have been around

for more than 400

million years.

36
---
O, , REVERE THEM

37
---
Snorkeling

with dolphin

Most shark bites are

cases of mistaken

identity and once they

have a bite of human

flesh they grimace at the

foul taste and spit it out.

human flesh they grimace at the foul taste and spit

it out. Even if you go swimming in the ocean every

day, you are still more likely to be struck by lightning

or bitten by a domestic dog than

be bitten by a shark so, why this

abnormal fear of sharks?

We marvel at the power and

beauty of thoroughbred horses,

we do not have an overwhelming

fear of them and yet there is

an average of 20 deaths a year

in Australia alone in equine

accidents against 2 deaths from

shark encounters in the most shark infested waters

in the world.

Beach sign

warning

against falling

coconuts

38

The Philippine islands are right up there in world

statistics with the number of sharks trolling their

waters. The population of the Philippines is in excess

of 100 mil souls and there are no real statistics on
---
C: 95 M: 65 Y: 35 K: 20

R: 20 G: 76 B: 110

HEX: #144c6e

C: 40 M: 30 Y: 30 K: 10

R: 157 G: 158 B: 159

HEX: #9d9e9f

C: 40 M: 30 Y: 30 K: 10

R: 157 G: 158 B: 159

HEX: #9d9e9f

C: 20 M: 15 Y: 15 K: 5

R: 205 G: 204 B: 205

HEX: #cdcccd

C: 95 M: 65 Y: 35 K: 20

R: 20 G: 76 B: 110

HEX: #144c6e

C: 70 M: 40 Y: 25 K: 10

R: 83 G: 125 B: 154

HEX: #537d9a

YACHT PARTS SALES AND SERVICE

New Brands. Lower Prices. Greater Value.

Exclusive distributors for

Phone: 047-252-5468/0939-922-3238

www.broadwatermarine.com

➤ SUBIC BAY

Tele/fax: (047) 252-5468 Mob: 0939-922-3238 (Smart) 0917-829-3507 (Globe)

➤ MANILA Tele/fax: (02) 551-1813 Mob: 0918-963-8148 (Smart) 0917-829-3508 (Globe)

➤ CEBU (032) 341-0474 Mob: 0939-902-0494 (Smart) 0917-327-7931 (Globe)

➤ BORACAY Ph: (036) 288-2709 Mob: 0918-963-8155 (Smart) 0917-327-7933 (Globe)

➤ SAMAL DAVAO ISLAND

Mob: 0918-963-8151 (Smart) 0917-659-7537 (Globe)

➤ PUERTO PRINCESA (048) 433-2467 Mob: 0912-309-6305 (Smart) 0917-832-3449 (Globe) 39
---
how many of those people participate in water

activities such as swimming, fishing, scuba diving

and numerous other water sports each day but one

could hazard a conservative guess of maybe 25

million people entering the sharks habitat each day

with only an average of 10 shark related deaths a

year. How many of that population would you guess

walk under a coconut tree? I would say far less but

they do it with gay abandon and no fear what-soever

and yet statistics show that 150 people die, on

average, each year from being hit on the head by

falling coconuts. You are 15 times more likely to be

killed by a coconut than a shark in the Philippines.

Do we cringe with fear at the site of a motor cycle?

I think not, instead when jump on them and tear

You are 15 times

more likely to be

killed by a coconut

than a shark in the

Philippines.

Swimming near

Tiger Shark

40
---
around with little respect for our wellbeing and yet

when we go to the beach, shark attack is always on

our mind. The fact is that in 2017 there were 88

confirmed cases of unprovoked shark attacks on

human's worldwide with around 20 deaths against a

global road death toll of more than 1.25 million, and

we fear death by shark attack above all else?

There are around 8,500 killed on Filipino roads a

year and 52% of those are on motor cycles with an

average of 66 motor cycle accidents recorded a day

in Metro Manila alone. Why do we fear sharks so

much and don't even exhibit a healthy respect for

far more dangerous adversaries. You might say that

there are many more people on the roads than those

entertaining water sports each day. That may be so

but the figures still do not add up to being more

fearful of sharks.

It is estimated that somewhere between 26 and

73 million sharks are killed yearly by humans. Who

should fear who?

We should revere the shark as one of our magnificent,

majestic and relatively harmless creatures and

transfer our fears and more than healthy respect to

the world's real killers. Mosquitos (725,000 a year),

humans (475,000 a year), snakes (50,000 a year),

domestic dogs (20,000 a year), snails, yes snails

(10,000 a year), fast food, motor vehicles and of

course coconuts.

According to the "International Shark Attack File",

statistically you have a 1 in 3,748,067 chance of

dying at the hands, or fins, of a shark and yet you

have a 1 in 5 chance of dying of a heart attack. You

have a 1 in 7 chance of dying from cancer and a 1 in

84 chance of dying in a motor accident.

Killer cone snail

41
---
Words by

RHKYC

Photographs

as credited

42

I10 and 11 March 2018

t doesn't get much better than this: two days of

perfect sunny conditions on the race course, with a

light easterly breeze on Saturday which increased a

little on Sunday with gusts to

12kts. 24 teams representing

18 educational establishments

from across Hong Kong and

Macau battled it out over the

weekend at the 16th annual

Boase Cohen & Collins Inter-

School Sailing Festival. Racing

took place in Deep Water Bay

off the Royal Hong Kong Yacht

Club's Middle Island clubhouse.

Teams of three boats per school

competed in two divisions,

with the older sailors in the

Feva and younger sailors in

Teams of three boats

per school competed in

two divisions, with the

older sailors in the Feva

and younger sailors in

the Pico Division.

the Pico Division. 126 competitive short races were

sailed over the weekend in the team racing format.

In team racing it's not about who finishes first but

having your points add up to the lowest score, so

if one teammate is coming

last it's better to help them

out rather than finishing first.

(A low point scoring system is

used to determine the results

the boat that finishes 1st earns

1 point, a boat that finishes

2nd earns 2 points, and so

on – with the winning team

decided by adding together

the points of all the boats in

each team.)

Saturday saw all teams racing

against each other in a round

robin format. In the Pico
---
Boase Cohen

& Collins

Inter-School

Sailing Festival

43
---
division Tai Po Regional Squad and the ISF Academy

took wins in all their races, pushing them into the

Gold fleet going into the final day of racing.

Due to a breakage in the Feva Division only 16

races were sailed on Saturday; the remaining races

were sailed this morning

to decide the Gold and

The competitors had

to be on their toes

to contend with the

shifty conditions.

Silver fleets. Island School

maintained their winning

streak putting them in the

Gold fleet.

With gusts funneling

down the gap between

Middle Island and Hong

Kong Island and diverging into Deep Water Bay, the

competitors had to be on their toes to contend with

the shifty conditions. There was some tight racing

with many tackling battles resulting in a few penalties.

were tied with 4 wins each, requiring a countback with

French International School victorious over West Island

School in second and ISF Academy in third.

In the Pico Gold Division the Jockey Club Ti-I

College took the win followed by the ISF Academy in

second and Hong Kong Schools Sailing Association

in third. The remaining provisional results can be

found at: http://www.rhkyc.org.hk/sailingresults.

aspx#INTER-SCHOOL SAILING FESTIVAL

In preparation for the competition, many of the

schools competing participated in a number of

RHKYC sailing programmes throughout the year to

get ready for the event.

The event is also designated a Clean Regatta by

the Sailors for the Sea Organization; a non-profit

organization that educates and empowers boaters to

protect and restore our oceans and coastal waters.

In the end in the Feva Gold Division the ISF Academy,

West Island School and French International School

44
---
45
---
Words by

BARRY

DAWSON

Photographs

as credited

46

SWIM SA

Z

ambales Lifesaving Inc. will again be

conducting its "swim-safe" program in 2018,

unfortunately though it will be less effective than

last year, due to lack of interest and response from

Resorts to participate.

Basically this comes down to costs, which we

can understand, but also one needs to balance

reinvestment, not only into ones business, but into

the local community and those

who patronize such businesses

As it costs money to run the

program and that Zambales

Lifesaving is a non-stock,

non-profit organization,

it has to rely on others to

help fund community based

projects such as the "Swimsafe"

program. Even with

lifeguards being mandatory at

beach resorts most are at this

stage surprisingly unwilling

to participate in something

so important to their own

operation. Palmera Gardens

resort at Iba is setting the

correct example by supporting

this worthwhile program that

one day might possibly save your child's life.

These costs include such things as; transportation

for the instructors, generally 3, also their foods

and remuneration of their expenses, such as salary,

as they need to take leave of absence from places

where they are employed so as to instruct at

the events, also depending on location, possibly

overnight accommodations if the location is far from

their home or work base.

To be effective the program should run for a

minimum of 2 days at each resort, the program is 4

hours, with 2 sessions per day, morning 8:00AM till

noon and 1:00PN till 5:00PM and consists of both

an information seminar, which includes a number of

safety tips including how to spot potential drowning

dangers, at the beach, pool, swimming areas like

creeks and rivers and also around the home.

After the safety seminar there are pool sessions

where the children and the adults, if they wish to

participate, are shown basic safety skills, such as

There are documented

cases of people who

could not swim

surviving the Japan

Tsunami because they

knew how to float.

"reach or throw – but do not go" if you are a non

swimmer, how to recognize a person, especially

a child in difficulties, as often a child in trouble

is mistaken for a child just thrashing about in the

water, which actually leads to many children actually

drowning within meters of family or friends as the

danger is not realized.

In the pool the priority is to teach them how to float,

anyone can float, if shown the

correct technique, if you can

float you can survive, how?

Because you can regain your

breath and your strength so

as to await assistance or plan

a means of getting out of the

water.

There are documented cases

of people who could not swim

surviving the Japan Tsunami

because they knew how to float,

Japan run a National plan called

"Uitemate" teaching adults and

children how to float.

Mr. Roger Bound, program director

of Zambales Lifesaving Inc. would

love to hear from anyone, or business who would be

interested to help support this program for next year.

In most cases resorts are willing to supply their resort

as the venue and supply the lunches and snacks for

the instructors, what they seem unprepared to do is

cover the instructors expenses, which is not a great

deal. Example; to be most effective it requires 5

resorts, with 2 days at each resort, 2 sessions per

day, with 20 persons per session, this is 400 people

who will not only be more safety conscious, but will

also pass this onto other people.

The cost estimate; based on 3 instructors per session

is P2300.00 per day to cover their travel, salaries

and out of pocket expenses, plus for banners

and advertising, stationary and certificates of

participation, add another P200.00 per day a total

of P 2500.00 per day x 10 days is only P25000.00 or

P62.50 pesos per person.

One thing we are also planning is looking for a

sponsor willing to cover a scholarship program to
---
FE 2018

train 10 college students each year as lifeguards, as

there is a high demand for part time lifeguards at

resorts during the summer months, thus this will give

them the ability to earn during summer to continue

their education, it would be a requirement that they

would do the swim-safe program for a minimum

of 4 days for 2 years in return for the training they

received.

The cost of this is only P43,000.00 to train 10

persons as qualified lifeguards.

Which also raises another point, what is a "Lifeguard"

(also often referred to as "Lifesavers") this I feel is

one of the reasons that many resorts are not wishing

or willing to train or in many cases even employ a

lifeguard, even though the law states every Coastal

Beach Resort must.

A lifeguard is multi functional, they are in fact a

safety officer or first responder who is trained not

only in aquatic safety and rescue, but also in basic life

support and first aid, they can in fact respond to any

emergency, for example; Heart attack, electrocution,

accident, even choking, not just drowning. The

training we do also covers public relations, a must

if there is a serious emergency, also common things

that can occur such as sun burn, heat stroke, fainting,

cuts and abrasions and of course treatment of stings

from such things a jellyfish.

employer has available should there be no customers

using the pool, beach or the lifeguards duty area.

These are highly trained employees that any resorts

should be proud to have on their staff.

Report by Margaret Claire Layug/NB, GMA News

on Line March 22nd 2018

Those who are planning to go swimming during

the Holy Week are advised to take precaution as

drowning was found to be the leading cause of death

in the Philippines during the season. According to

Sandra Aguinaldo's report on "24 Oras", 59 people

drowned during the Holy Week from 2013 to 2016.

This was according to GMA News Research, citing

data from the National Disaster Risk Reduction &

Management Council (NDRRMC).

People who drowned surpassed the number of

people who died of vehicular accidents during the

season.

Those we train are encouraged to be versatile in

their position, to assist is any work required, such

as cleaning, maintenance or any work that their

47
---
On the average, at

least 40,000 Filipinos

of all ages annually are

involved in drowning

accidents, with

approximately a 75%

fatality rate.

The NDRRMC said that several of the drowned

victims were drinking alcohol.

Moreover, the most number of drowning incidents

happened in beaches, followed by those who

drowned swimming in rivers.

The Philippine Red Cross (PRC)

said all public swimming areas

should have designated lifeguards

who are certified and trained in

cardiopulmonary resuscitation

(CPR).

If a person appears to be

drowning, the PRC advised

against jumping into the water in an attempt to

rescue the victim.

"Tumawag muna tayo ng tulong. Humanap ng anong

bagay na ibato natin sa nalulunod na lumulutang,

kunwari 'yung gallon ng tubig," PRC national field

representative Ace Alvarex said.

"Huwag tayong lumapit sa kanya dahil nga 'yun pa

ang magiging cause ng pagkalunod," he added.

Safety experts reiterated the importance of remaining

calm and avoiding panic in such events.

On the average, at least 40,000 Filipinos of all ages

annually are involved in drowning accidents, with

approximately a 75% fatality rate. More than a third

affects children under the age of 14 years. Mortality

is highest amongst children ages 1–8 years of age.

Drowning far outranks the traditional causes of child

mortality like meningitis, septicemia, malnutrition,

tuberculosis and pneumonia, and is the 6th highest

cause of mortality in children 1-4, 3rd in children

aged 5-9 and the 2nd leading cause of mortality for

children aged 10–14.

The findings presented in this story only constitute

reported cases of fatal drowning's in children; hence,

these figures need to be taken as the minimum

of fatal drowning's for the Philippines. There is

also plenty of local data on the circumstances

surrounding child drowning accidents in Philippines.

So consequently, the burden of prevention of child

drowning in the country now lies squarely on the

shoulders of the local business community. These

findings will also be the subject of a subsequent

report of Safe Kids Philippines, Zambales Lifesaving

Inc., the Department of Health and the World Health

Organization.

Your business can play a very big part in reducing

these horrific figures in child drowning by becoming

a sponsor of the swim safe program. Your business

will be acknowledged as a sponsor in all promotional

materials and swim safe stories printed in this

magazine. You never know it could be your child your

sponsorship could save one day.

To find out how you can become a sponsor in this

very important program on child safety contact Roger

Bound on 0918-922-2863 or email to Zambales

Lifesaving Inc. at slszambales@gmail.com.

48
---
49
---
50MASB

Words by

BARRY

DAWSON

Photographs

as credited

M

asbate, officially the Province of

Masbate (Masbateño: Probinsya san

Masbate; Hiligaynon: Kapuoran sang Masbate;

Cebuano: Lalawigan sa Masbate; Central

Bicolano: Probinsya kan Masbate; Filipino:

Lalawigan ng Masbate) is an island province

in the Philippines located near the middle of

the nation's archipelago. Its provincial capital

is Masbate City. The province consists of three

major islands: Masbate,

Ticao and Burias.

Masbate is at the crossroads

of two island groups: Visayas

and Luzon. It is politically

part of Bicol Region in

In 1605, Masbate

was officially an

Augustinian Mission

and its first prior

was Fray Francisco

Guerrero.

Luzon. However, from a bio-geographic and

sociolinguistic perspective, Masbate has a

stronger affiliation/connection with Visayas.

From the chronicles of the early years of Spanish

colonization, a relacion (report) about Masbate

first appeared in Fray Martin de Rada's letter

dated July 1569 to the Viceroy of New Spain

(Mexico), Marquis de Falces. He mentioned that

in a place called Masbat there

were plenty of gold mines.

Other later documents such

as Artieda's Relacion (1573)

and Andres de Mirandaola's

letter (1574) refer to a place

called Masbat or Masbad. It
---
wasn't until 1582 that Miguel de Loarca wrote

about a place called Masbate.

In the same year that the Augustinian Fray de

Rada wrote about Masbat's gold mines, his

fellow Augustinian Fray Alonzo Jimenez landed

in Burias and baptized its chieftain Buaya. This

baptism is said to be the very first baptism in

Luzon. Fray Jimenez also built a church in

Burias before he sailed on to Ibalon in 1570.

By 1575, Masbate had become a priority in

the Augustinian Missionary Memoranda. Fray

Francisco de Ortega reported on the pillaging

activities of a pirate named Caxabic in the islands

of Masbate and Burias. By 1600, the Spaniards

had developed Mobo as a galleon shipyard and

San Jacinto as a strategic port. In 1605, Masbate

was officially an Augustinian Mission and its first

prior was Fray Francisco Guerrero. Masbate had

about 250 tributes and 1000 Christian natives. In

1609, Fray Pedro de Arce, bishop-elect of Nueva

Caceres, ceded the spiritual administration

of Masbate to the Mitra (secular clergy). On

May 28, 1682, bishop-elect Dominican Fray

Andres Gonzales petitioned the King of Spain

to revert some curacies of Nueva Caceres to the

charge of religious communities. The petition

was approved in 1685 and by 1687; the first

Augustinian Recollect missionaries had sailed for

the port of San Jacinto to begin the Recollect

Mission in Masbate. In 1700, Fray Ildefonso

de la Concepcion established the settlement

DESTINATION

ATE

ATE51
---
Provincial capitol building

of Uson as a

visita (barrio)

of Mobo.

Fray Manuel

de la Virgen

del Tremedal

established

the town of

Masbate in

1791.

The city is more or less situated at the centre of

Masbate province and Masbate Island, about 212

aerial miles and 362 nautical miles from Manila.

It is noted for its well-protected port with Ticao

Island acting as barrier against the effects of

inclement weather from the north-east. Being

located at the central part of the Philippine

archipelago, the city serves as Bicol Region's

gateway to the Visayas and Mindanao. It is

accessible through sea and air transportation.

Masbate City, officially the

City of Masbate: is a 4th

class city and capital of

the province of Masbate,

Philippines.

As the only city in the

province, it serves as the

province's main commercial

centre and chief seaport.

Being located at the

central part of the

Philippine archipelago,

the city serves as Bicol

Region's gateway to the

Visayas and Mindanao.

The Masbateño language

is very closely related

to Ilonggo or Capiznon

language by almost 75 to 85

per cent similarity and some

degree. It can therefore

also be considered as part

of the Hiligaynon family

of languages. The city is

divided into 30 barangays,

City Hall of

Masbate City

commons.wikimedia.org © Ringer

52
---
DEDICATED ENGINEERING SPECIALISTS

53
---
MASBATE

54

Aerial view of Masbate city

and some of the more colourful barangays and

how they were named are:

Ibingay

Barangay Ibingay was originally called Punta

Ibingay the name came from the word "Bingcay"

or assorted seashells, which children played

with, while their mothers were busy with the

entre cuatro or card playing. In 1973, it was

renamed "Balo" or swordfish, the kind of fish

often caught by fishermen in Ibingay waters.

However, "Balo" did not stick. People continued

to refer to the place as "Ibingay". So, today,

Ibingay remains as its official name.

Bagumbayan

Bagumbayan was formerly called "goma".

In time, the place was used by laborers as a

temporary corral for cattle while the shippers

were waiting for the vessel that would transport

the animals to Manila. Later, the laborers called

the place Bagumbayan or New Town when

transients built their homes near the shore and a

community was created. The name "goma" was

forgotten due to disuse. Today, Bagumbayan is

bursting at the seams so to speak, because of

the influx of people.

Bantigue

Bantigue, a barangay across the sea facing

the city poblacion is a fishing village founded

by the Boholano fishermen who migrated to

Masbate sometime in the 1950s. Its name was

derived from the Borobantigue tree, a species of

mangrove abundantly growing in the Bantigue

mudflats in the olden days. Bantigue barangay

is better known as the place where the native

dance "Lapay Bantigue" originated.

Masbate Rodeo

The Rodeo Masbateño Festival was conceived

in 1992 as a way of uplifting the local cattle

industry. It was started by MAKUSOG, a group

of ranchers and businesspeople of Masbate,

who formed the Rodeo Masbateño Foundation.

There had been a long tradition of cattle raising

in the province, with some 81% of its land used

for pasturing livestock, but at that point in time

the industry was in a slump. With the support of

the provincial governor Emilio Espinosa Jr., the

first Rodeo was staged in 1993. Following this, it

became an annual event that improved tourism

as well as commerce in the region and increased

the locals' pride in their province's unique

identity and products. The event was initially
---
Jaro Cathedral

Rodeo Masbateño Festival

known as Rodeo Filipino, but the name was

eventually changed to Rodeo Masbateño. It grew

into a national event over the years, attracting

tourists from all over the

Philippines and abroad. In

recognition of the success

of this event, on September

2, 2002, President Gloria

Macapagal-Arroyo issued

Executive Order No. 120

declaring Masbate as

the Rodeo Capital of the

Philippines. Masbate has

Its home-grown cowboys,

whose rodeo talents have

been honed at the festival,

have participated in the

National Rodeo Finals in

Las Vegas.

also become known as the Rodeo Capital of Asia

and is now affiliated with the Professional Rodeo

Cowboys Association of America. Its homegrown

cowboys, whose

rodeo talents have been

honed at the festival, have

participated in the National

Rodeo Finals in Las Vegas.

Held in April each year, the

week is a long festival of

fun frivolity and an intense,

spectacular rodeo event

such as bull riding is not

to be missed. Come to see

the rodeo then linger on to

enjoy the rest of what Masbate

has to offer in the way of

beautiful white sand beaches

with clear blue pristine waters,

diving, snorkelling, watersports

fun, island hopping or just relax

in this spectacular part of the

Philippine Archipelago.

For all who want to enjoy

provincial life at its best just

remember, Masbate, an island

province in the Bicol Region of

the Philippines, and is a land

55
---
Magallanes coliseum

of many surprises, the

provinces of Masbate

offer so much variety,

you will want to come

back again and again.

Right smack between

the Bicol peninsula and

the Visayan Islands,

Masbate province, and

its unique spots wait to

be discovered as a tourism frontier.

Finding Masbate's

nooks and crannies

makes memorable

moments when visiting

Bicol.

The boomerang-shaped island province, known

as the rodeo capital of the Philippines, is at

the centre of the Philippine archipelago where

waters are hospitable for manta rays and sea

snakes.

Finding Masbate's nooks and crannies makes

memorable moments when visiting Bicol.

The people speak languages belonging more

to the Visayan tongue than the Bicolano's.

But Tagalog-based Filipino is understood and

spoken anywhere. It is no secret that Philippines

is home to beautiful beaches, white sands,

amazing landscapes, and much more. Many of

you may probably hear of Boracay, Palawan

and Puerto Princesa, maybe those places I have

mentioned are one of your target destinations

© Pinoy Photographer www.flickr.com

56
---
in the Philippines. But after the trip we had

with Benjamin Santiago Region five Department

of tourism Director and his staff, I recommend

that you should also consider Masbate! Lacking

the colourful blinding lights of beach bars like

other resorts, it is perfect if you are looking for

quietness and if you want to be more intimate

with nature.

Buntod Sandbar

Buntod Is a small island with white sand and

clear, clean waters very near the city, and is not

expensive compared to other destinations. I have

never seen a paradise so near to a city before.

The water is really clean you can even see small

fish swimming around the cottage made from

concrete and hardwood stilts few meters above

the sea. I enjoyed swimming the whole time I was

there. You can see the mangroves; you can sit

and go around the mangroves. Be careful cause

of getting cuts on your hands that maybe caused

from laser sharp shell edges. The view is really

awesome! The island is not crowded. Sometimes

less than 50 people at one point. You can run

around the whole island in less than 15 minutes.

Going there is an unexpected and unforgettable

experience. One of my local friends told me that

this the best beach in Masbate this is a great

place to bond with families and friends. Highly

recommended! The type of place you will want

to revisit many times.

There is plenty to do in Masbate city proper

besides the Rodeo, with some great places to

stay. There are also some entrepreneurs about

to promote watersports in a big way in the

city proper. People like Roger O. Villanueva III

owner of the Gagay's Hotel & Resort. This newly

established resort has to be in the top 3 in Masbate

City. Situated right on the shore line the resort

boasts a café Bar on the boardwalk overlooking

Buntod sandbar

masbatecity.gov.ph

A familiar figure to tourists

Boardwalk at Gagay's

© Pinoy Photographer www.flickr.com

©LibayL

57
---
© Pinoy Photographer www.flickr.com

Legacy Suites

St. Anthony de

Padua Parish church

the ocean with nipa huts lining the boardwalk

for guests to enjoy what the resort has to offer.

They are also establishing new watersports toys

for hire and for the guests like paddle boards.

The owners are also

negotiating to have an

inflatable Island at the

resort. If this eventuates

will be a huge success for

the resort and Masbate.

The resort offers guests

a beautifully appointed

and serene place to stay.

Located just outside the

city centre to give you

the peace and relaxation without the city hustle

You can run

around the whole

island in less than

15 minutes.

and bustle, it also has a function hall that can

accommodate up to 150 persons and catering

services flexible to your budget.

Palani Beach is a beautiful white powdery beach

and just by distance this beach should not go the

way of Boracay and will always remain beautiful,

peaceful and serene with clean beaches and

pristine waters.

Lower your expectations if you want to enjoy the

place. There are no big resorts but rather homelike

resorts with home-like menu and food and

that unmistakable Filipino rural hospitality and

warmth.

Palani Beach

©thebigblackbackpack.com

58
---
Lapay Bantigue Dance Festival

masbatecity.gov.ph

Map of Masbate

59
---
Kalanay Falls are located in Brgy Nabangig,

Palanas, Masbate. You can always feel the

freshness and the cool water from the falls. The

steps down to the falls are steep but very easy

to navigate, the water is cool and refreshing so

relax and take a dip.

Halabangbaybay

means [Long Beach],

due to its elongated

shoreline and white

fine sand.

Esperanza

Esperanza is about four

hours land travel South

from Masbate City, the

last municipality in the

south located between

Placer in north-west and

Pio V Corpus in southeast

and considered as

among the smallest in

the island. Esperanza was initially one of the

barangays of the town of Placer. In early 1915,

a group of first settlers sailed from northern

Cebu using their paddled banca and settled

the place. The settlers actively cultivated the

area into a productive agricultural community,

developing the place until eventually called

"Halabangbaybay". Halabangbaybay means

[Long Beach], due to its elongated shoreline and

white fine sand. Halabangbaybay at that era was

a green-mountainous forest community. It was

not recognized as a barrio or even a mere sitio.

In the 1940s, Halabangbaybay became a Sitio of

barrio Alegria, Cataingan, Masbate. Soon after,

it was converted into a barrio named Esperanza

as component barangay of Placer and Pablo

M. Conag served as the "Tiniente del Barrio".

[ESPERANZA which means "HOPE", PAGLA-UM

in vernacular and PAG-ASA in Tagalog]. In the

mid 1950s, Lawyer Alfonso E. Conag initiated

vigorously and pursued for the conversion of

Barrio Esperanza into an Independent Town.

On July 2, 1959 - the set of Municipal Officials

starts hold office and Santos Edem Conag, the

eldest son of Felimo Serafin Conag became

the 1st elected Mayor… Esperanza has a total

population of 16,834 according to the National

Statistic Office data as of August 1, 2007 and

composed of twenty barangays that includes

the following; Agoho, Almero, Baras, Domorog,

Guadalupe, Iligan, Labangtaytay, Labrador,

Libertad, Magsaysay, Masbaranon, Poblacion,

Potingbato, Rizal, San Roque, Santiago,

Sorosimbajan, Tawad, Tunga & Villa. Esperanza

Esperanza

60
---
61
---
The Marcelo Fernan

bridge

MASBATE

Guimaras Island-

White Beach

62

Buntod sanctuary and sandbar

had eleven barangays located along the coastal

line and nine in farm areas with an estimated

seventy of the population being fisher folks.

Weather in Esperanza is generally divided into

two seasonal weather patterns known locally

as the Amihan and Habagat seasons. In the

Pawa mangrove Nature Park
---
Kayak Racing in

Palompon

Tagalog language, Amihan means a cool northeast

wind, and Habagat means west or southwest

wind; south-west monsoon. Amihan and

Habagat seasons are generally associated

respectively with the El Niño and La Niña

global weather patterns. The Amihan season is

characterized by moderate temperatures, little

or no rainfall, and a prevailing wind from the

east. The Habagat season is characterized by

hot and humid weather, frequent heavy rainfall,

and a prevailing wind from the west.

In Esperanza, the two main modes of transport

are via motor-tricycles along the main road or

by walking along the beaches. Pedicabs are also

available for transport along the Beach front Path.

Other means of transportation include mountain

bikes, quad bikes and motorbikes, all of which

can be rented. To explore around the island's

coast, motorized bancas and sailing paraws are

available for rent. These are outrigger canoes

and are common sight in waters around the

island. The sailing paraw is a narrow hulled boat

with outriggers either

side and with passengers

sometimes seated on

a trampoline platform

between the outriggers

supports. These are

extremely fast off the

wind, but can be unwieldy

for inexperienced sailors.

To explore around

the island's coast,

motorized bancas and

sailing paraws are

available for rent.

© Herald Presado 2013

63
---
There is a lot happening in Esperanza at the

time of writing this feature. Mayor Ian Peter S.

Sapulveda, Vice Mayor Ramon A. Diamos and

Tourism Officer Emelyn

Diamos-Allanaraiz

have a major on-going

The Mayor has a major

on-going watersports

project, situated amongst

beautiful mangroves.

watersports project,

situated amongst

beautiful mangroves

and only 5 minutes' walk

from a pristine white

sand beach, with the

building of an attractive

watersports park that will

include wakeboarding, inflatables, kayaks and

paddle boarding. With picnic huts, restaurant

and store this will be the place to watch out for

with anticipated opening in October. Will be one

of the top watersports destinations in Masbate.

Placer

The Municipality of Placer is a 2nd class

municipality in the province of Masbate,

Philippines. According to the 2015 census, it

has a population of 55,826 people. Placer was

created as a municipality from the barrio of the

same name which used to belong to Cataingan,

Masbate, by virtue of Republic Act No. 292,

passed June 16, 1948 It is the only municipality

which is dominantly Cebuano-speaking and a

Sombrero island up close

©www.theoutcastjourney.com

64
---
FOR ONLY

*P750 PER YEAR

65
---
Beach in Dimasalang

66

MASBATE

common yearly contender and former champion

in Cebu City's Sinulog Festival. On tour to placer

we stayed at the Virginia Beach Resort and

Italian Restaurant and has barbecue facilities and

garden. With a terrace, the property also features

a bar, as well as on-site

dining. The accommodation

provides a concierge service

and free Wi-Fi. There is a

large swimming pool with

waterslides that is extremely

welcome and refreshing

after a hard days travel.

Further down from Virginia

resort is the NCMJ beach

resort with white sands

and pristine waters this beach is the ultimate

place to stop. The owner is also planning to

make a watersports park here. Even without the

watersports park this is one place well worth

visiting.

Dimasalang

The Municipality of Dimasalang is a 4th class

municipality in the province of Masbate,

Philippines. In 1951 the barrios of Palanas,

Nipa, Nabangig, Banco, Pina, Maanahao,

Salvacion, Antipolo, Malatawan, Intusan,

It drops from 60

feet to its base

into a pool of

cool, clear water.

Miabas, San Antonio, Libtong, Malibas, Sta.

Cruz, Bontod and Cabil-isan were separated to

form the town of Palanas. This beautiful part of

Masbate has so much to offer and Island hopping

when here is a must, taking in and seeing islands

like Deagan Island, Naro

Bay, the Dimasalang Marine

Sanctuary, the butterfly

sanctuary, The Deagan river,

Donduhan, Divisoria and

Cudao Island. Take your

time in these Islands of

Paradise. Relax and enjoy

the white sand beaches of

Buntod Marine Sanctuary

©talaaraw.files.wordpress.com
---
Harly Limlingan Marcuap

Deagan Beach and Divisoria Beach. Sit back with

a cold drink while taking in the glorious sunsets.

The Mayor of Dimasalang the Honourable

Edgar De Lara and his staff are developing and

maintain these Islands to make sure you holiday

in Dimasalang will be a memorable one. The type

of holiday you will enjoy so much you will want

to return to again and again.

Catandayagan Falls

Masbate has long been known as a land of

many fascinating natural wonders, which include

wonders like the Catandayagan Falls located in

the town of Monreal, Masbate in Ticao Island.

Nudibranch Snake Island

©wetraveltolive.com

Visitors who have come from all over the

Philippines and beyond have been in awe of

this breath-taking and amazing falls. It drops

from 60 feet to its base into a pool of cool, clear

water. It is a picture of grace and tranquillity in

the heart of nature.

Ticao Island is one of the three main islands

that form the province of Masbate, along with

Masbate and Burias. The island of Ticao is also

divided into four municipalities, namely Batuan,

San Fernando, San Jacinto, and Monreal. On this

island on can spot manta rays or giant mantas,

among other amazing marine creatures, which

has made this area one of the most wanted dive

attractions for both local and international divers.

Diving in Masbate

Over one hundred million years ago the islands

of Masbate were formed out of volcanic rock

long before man made his appearance in these

lush tropical gardens. These first inhabitants

made tools from stone, wood and bone. Some

of these very early tools have been found by

divers in Masbate waters. One of the best places

to dive is on one of these Islands formed from

that volcanic rock millions of years ago is Ticao

Island.

Catandayagan Falls,

Ticao Island

67
---
68

MASBATE

Bask in the glorious sunshine enjoying the native

flair of traditional Philippine beauty in one of

the untouched and yet to be discovered Islands

of the Philippines. Withdraw into the tranquillity

of nature on a majestic island with crystal clear

pristine waters and white sand beaches; relax in

the shade of hundreds of coconut trees while

taking in the majestic aura of this awesome

island.

Some dive sites, like

the Manta Bowl,

are the cleaning and

feeding station of

Manta Rays.

Sombrero Island

Ticao Island

Resort

Ticao Island Resort is

surrounded by several

dive sites where you

have the choice of big or

small. Some dive sites,

like the Manta Bowl,

are the cleaning and

feeding station of Manta Rays. The Manta Bowl

Shoal is an underwater atoll which covers a 7 to

8 hectare flat area. There are five (5) different

dive sites here which range from 14 to 29 meters

and all offer the chance to see the big marine

creatures. The water where the Manta Bowl lies

– Ticao Pass and Burias Pass – is known for the

plankton rich water and constant current. Such

traits make the waters of Ticao an alley for other

pelagics like Whale Sharks, Thresher Sharks,

Hammerheads, and Tiger Sharks.

San Miguel is located on the northern part

of the main Ticao Island; there are about 12

discovered dive sites here. Each dive site has its

Ticao Island Resort

own unique flair, but on a general note dive sites

here are known for the beautiful coral cover and

the macro critters.

For guests that stay at Ticao Island Resort, great

night diving can be done at Pasil Reef which is right

in front of Ticao Island Resort. Pasil Reef also allows

for a simple dive close to Ticao Island Resort.

Ticao Island Resort's Dive Center is an SSI

Accredited Centre and all our dive pros have

PADI and/or SSI certifications. If planning a

dive trip to Ticao there is no ferry service from

Masbate City, the ferry departs from Pilar at

Sorsogon Daily. So check with the ferry company

when planning your trip.

Burias Islands Animasola,

Tinalisayan and Sombrero

©traveldiveconnect.com

Animasola is beautiful majestic rock formations

with a natural pool for a refreshing swim. On

www.choosephilippines.com © Dante Fajardo
---
Find your stand up paddle board (SUP) today at

SUBIC BAY BORACAY

MANILA DAVAO

CEBU PUERTO PRINCESA

www.broadwatermarine.com

69
---
MASBATE

other parts, the stones are slippery and mossy.

Wear swim shoes to protect your feet. Also bring

an umbrella to protect yourself from the sun while

taking pictures as this island barely have any shade

from the sun! Tinalisayan is renowned for its white

sands & sand dunes; sombrero for its hat-shaped

island & several snakes. Enjoy snorkelling a few

feet away from the beach side where the boats

are. There are lots of colourful corals and schools

of fish of many varieties

to see. On the other side

there is also a sandbar that

can only be seen during low

tide as it is hidden at high

tide. You can stay overnight

at Virjen Island Resort. The

restaurant at the resort

serves up delicious shellfish

for which tourists locals and

alike crave for.

Aroroy Lighthouse

If you have never been to Cape Bojoedor and

weren't given a chance to have this picturesque

lighthouse to yourself, go here and that dream will

be fulfilled. Over a century old, this light house

which was part of the group of lighthouses built

during the Spanish colonial period. If you are

Rock formation, Animasola

Animasola is

beautiful majestic

rock formations with

a natural pool for a

refreshing swim.

coming from Masbate City. The trip to Punta Bugui

is in itself exciting. A van from the Terminal in

Masbate will take you to Aroroy, from where boats

to Punta Bugui can be hired. Or one can wait and

be a regular passenger on the service boat, but be

warned the boat leaves when it is full. For visitors,

the wait can be such a waste. It is an hour's ride

to Aroroy, At Punta Bugui, walk to the right, in a

mild ascent. And then a rather steep ascent to the

lighthouse itself. The walkway

consists of steps and parts

missing, it is advised to take

care on the walk. The view

is calming. There is a newer

and working lighthouse

beside the old one. The old

lighthouse is abandoned

but is still beautiful and a

wonder to look at. It has

some similarities with the

other Spanish lighthouses, with that rustic feel and

is a great location for a photo shoot. The place is

marvellous. The view from about 100 meters to the

lighthouse, into the cove, is serene and restful.

Jintotolo Lighthouse

Set in the open water that separates Luzon and

Visayas, Jintotolo is a small island composed of

©www.choosephilippines.com

70
---
Aroroy Lighthouse

two barangays of the Municipality of Balud,

Masbate. It is surrounded with rich turquoise

water where the inhabitants rely their livelihood.

But aside from its bountiful water and white

sand coastline, its most prominent feature is

the century-old lighthouse on top of a hill,

the highest point of the island. Built in 1895

and activated in the early 1900s, Faro de Isla

Jintotolo or Jintotolo Island Lighthouse is one

of the 24 original first-order lighthouses erected

by the Spanish Government in the archipelago.

It aims to guide ships traversing Sibuyan

Sea, Visayan Sea and Jintotolo Channel. The

lighthouse has an octagonal lantern podium

on top of a square stone tower that is attached

to a one-story keeper's house. The tower has a

height of 15.5 meter (51 feet) with a total focal

plane (height of the lamp above sea level) of

57 meters (187 feet). It is still in used today

but the original lamp was already replaced with

a modern solar-powered lantern flashes three

white lights every 10 seconds. Although the

attached keeper's house is already in ruins, much

of its original brick walls and foundations are still

intact. Jintotolo Island Lighthouse has a distinct

charm. An icon standing majestically in a small

and laid back island, old and rusty yet beautiful

and classy. It invokes rare emotions and unique

attachment. For me, it is one of, if not the most

beautiful of all Spanish-era lighthouses in the

Philippines. Jintotolo Island is a short boat ride

from Barangay Calumpang in the town of Balud

or by a 30-minute boat ride from Bongcanaway

Port in Balud Town proper.

From Masbate City, catch a van going to Balud.

Fare is approximately P200 and travel time is

approximately an hour and a half. From Roxas

City, there are passenger boats to Balud which

stop in Jintotolo Island.

Places to Eat

There are plenty of restaurants to choose from

in Masbate catering for every type of cuisine to

please even the most discerning palette. Just ask

any tricycle driver to take you to the place of your

desired menu. You will not be disappointed. In

the provinces most resorts and hotels have a good

selection on their menus for you to choose from.

The one thing you can be sure of is you will never

go hungry in this friendliest of destinations.

71
---
Jintotolo lighthouse

MASBATE

Places to stay

Like the restaurants, there is a vast selection to

choose from catering for every type of budget.

ABW recommend places like Gagay's and in the

provinces there are resorts like Bictuan, Virginia

beach resort in Placer. No

matter what province you

are stopping in you will find

comfortable and affordable

accommodation.

How to get there

There are four different ways

to get to Masbate, by plane,

bus, ferry or car.

The bottom line

no matter how you

decide to travel

there you will enjoy

the experience of

Masbate.

Flying to Masbate Cebgo: (Cebu Pacific)

Fly Manila to Masbate twice daily.

By Bus: Isarog Lines in Cubao run a bus/ferry

service four times daily or alternatively you

can get a Philtranco Bus from Pasay to Pilar in

Sorsogon get the fast craft

ferry to Masbate. Philtranco

departs 5pm daily from

Pasay Terminal. The fast

craft has 3 departures daily

8am. 12 noon and 3 pm. The

bus trip from Manila takes

approximately 12 hours and

the fast craft takes 2 hours.

If going by car, to avoid

the uncertainty of the roro

72
---
©shoestringtravellers

Tinalisayan island Sandbar

schedule from Pilar. We recommend you drive

to Pilar and park your car at the ferry terminal,

cost is P100 per day parking fee. And get the

fast craft to Masbate.

By Ferry from Manila: 2GO departs every

Monday at 3.30 pm to Masbate where you

can travel in comfort in an air-conditioned

stateroom or the clean economy class. The trip

takes approximately 22 hours. Be warned to

book early as this is a very popular route and

gets booked out quickly.

The bottom line no matter how you decide to

travel there you will enjoy the experience of

Masbate, and come home with an indelible

memory and a yearning to return again and again.

Active Boating and Watersports would like to

sincerely thank Department of Tourism Region

Five director Mr. Benjamin Santiago and his staff,

Joseph Trilles, Elmor Bonaobra and secretary

Zharina Marie Padilla, as well as Clark Buncaras

from Masbate Provincial Tourism and our

driver Hansel (Bong) Viterbo for the invaluable

assistance in putting this feature together.

Berthing For Rent

Manila Yacht Club

Up To 70 Foot

P28,000 / month

0935-384-2551

73
---
Words by

ANGELO

HICBAN

for Phinsaf

Photographs

as credited

After last year's "challenging" race, the

bright minds at PHINSAF or the Philippine

Inter-Island Sailing Federation Inc. wasted no time

in restructuring their much-loved and tremendously

popular flagship regatta, the Philippine Hobie

Challenge. Making lemonade out of the proverbial

lemons that were "handed" to them, PHINSAF

directors led by this year's

challenge co-chair Monchu

Garcia, President Jerry Rollin

and Treasurer Roman Azanza III

(also PHC 18 co-chair) devised

a plan to bring 15 brandspanking-new

Hobie 16s to

replenish the Philippine fleet in

time for the challenge. With the

backing of an ever-supportive

community of local and foreign

sailors and the help of Hobie

Cat Asia-Pacific (formerly

Hobie Cat Australasia) and its

head Steve Fields, the country

saw the rebirth of Hobie

16 sailing by the tail end of

2017. What also followed was

a rejuvenation altogether of

sailing from vessels of different

shapes and sizes.

This year's iteration of the most extreme regatta

in Asia, nay the world; the 18th Philippine Hobie

Challenge came from a good omen having signed up

18 entries to the last minute with all 15 of the brand

new Hobie 16s being deployed for sailing action.

Coron and Busuanga, Palawan was the destination

of choice. Coincidentally, the 2nd serving of

PHINSAF directors

devised a plan to bring

15 brand-spanking-new

Hobie 16s to replenish

the Philippine fleet in

time for the challenge.

PHINSAF's big boat racing gem, the Nasugbu to

Busuanga Race 2018 held from Punta Fuego Yacht

Club to South Cay Island, Busuanga Bay Lodge

(also one of this year's #PHC18 sponsors) opened

for the challenge making way for a robust Rallye

Fleet contingent with the likes of veteran boaties

Freewheeler (David Wheeler) and Kerida (by Garry

Kingshott, with story below)

joining the cats as they sailed

around paradise.

"What can we gain by sailing

to the moon if we are not

able to cross the abyss that

separates us from ourselves?

This is the most important of

all voyages of discovery, and

without it, all the rest are not

only useless, but disastrous."

- Thomas Merton

Strategically aligning the

challenge with the help of

the moon, co-chair and PHC

vet Monchu Garcia (also

paddling for Team Rayomarine,

#PHC18 sponsor) could not

have scheduled #PHC18 more perfectly. Even with

winds dying on and off throughout the duration of

the weeklong sailing event, sailors were still treated

to exhilarating water exploits and at the end of

74
---
every leg, a much needed respite in the fabulous

resort sponsors – El Rio Y Mar, Balinsasayaw Resort

and Busuanga Bay Lodge. And in true challenge

fashion, #PHC18 gave way for one camping night

at local sailors' island Esperanza Beach, Galoc Island

owned by local sailors (as well as #PHC18 VIP

volunteers and this year's Fossil Cup 1st Placers)

Ichay and Raul Bulaong who were PHINSAF's eyes,

ears, hands, feet, wheels etc. on site for event prep.

With a mix of competitors from Australia, Taiwan,

USA, Belgium, South Africa, Fiji and a healthy

Philippine representation; a diverse group of sailors

came together to enjoy what the many great islands

and waters of the Philippines has to offer. It was

a spirited burst of energy and camaraderie as you

can clearly see in the images provided (courtesy

of #PHC18 sponsor GoPro). In the end, it was still

a competition and the challenge had to award its

victors. For the first time in a long time, USA has

overthrown the Aussies to take home 1st Place as

Team WINDTOYS USA helmed by sailing champion

Mike Montague and his skipper Kathy Ward bested

Aussie powerhouse Bruce "Tards" Tardrew of Team

INCUBUS who placed 2nd along with his skipper

Eric Tomahawk. Completing the winner's circle is the

hybrid Australian-American Team AUSUSA helmed

by last minute #PHC18 sailor addition Aussie kidwonder

Shane Peterson and his American skipper

Heather Mathews.

Signaling the start of a new era for the Philippine

Hobie Challenge, the 18th version of the highly

acclaimed regatta has only gotten better overtime

and with preparations for the 19th PHC under

way, expect to see bigger and greater things from

PHINSAF and its amazing sailors.

The 18th Philippine Hobie Challenged is brought to

you by the Philippine Inter-Island Sailing Federation

with special thanks to its major sponsors El Rio Y

Mar, Rayomarine, Balinsasayaw Resort, GoPro,

Busuanga Bay Lodge, LBC Business Solutions, LBC

Foundation, Healthcare Advantage Institute, WRU

GPS Tracking & Navigation, Headware, BloodRed

and TLYC.

PHINSAF would also like to give a special shout out

to Mr. Peter Baird, his impressive boat Lost in Asia,

his partner Mr. John Barker and their respective

wives; Broadwater Marine and Active Boating and

Watersports Magazine.

18 for the 18th

A telling number for

PHINSAF's annual

extreme regatta, the

Philippine Hobie Challenge

75
---
PHC 18 Outreach Program going back to its

roots By PHINSAF

One of the activities for the 18th Philippine

Hobie Challenge Outreach Program in partnership

with LBC Foundation this year was held at Lajala

Elementary School and Lajala Health Center in

Coron, Palawan. A special

musical program was prepared

for the #PHC18 sailors as a

sign of gratitude. It was a

very touching experience.

PHINSAF donated two

10,000- liter BESTANK water

storage and water tower

for the school's. The school

teachers, students and health

center representatives were

very grateful and appreciative.

We would like to thank the following: Dr. Dennis

Cruz and Dr. Susan Cruz for donating medicines

and food supplements to Lajala Health Center, LBC

Foundation for their pledge to buy school supplies,

medicines, medical supplies and sports equipment

for Lajala Elementary School and the PHINSAF

Outreach team led by volunteers Ichay Bulaong,

Lita Legarda and Karen Dinglasan.

- - - - - - - - - - - - - - - - - - - - - - - - - - - - - - - -

Herding Cats in Paradise*

By Garry Kingshott, edited by PHINSAF

*All images following this article are provided by the author

2018 was the 18th time

International and Filipino

Hobie sailors have gathered

in the Philippines for this

amazing event.

Imagine for a moment if you will, the prospect of

sailing your 40' cruising catamaran to the idyllic

islands of Northern Palawan and spending a week

or so shadowing a fleet of Hobie 16s as they race

around and between the islands in an event called

The Philippine Hobie Challenge.

2018 was the 18th time

International and Filipino Hobie

sailors have gathered in the

Philippines for this amazing event.

Some have participated as many

as fourteen times over the years.

They continue to return year

after year in pursuit of the thrills,

excitement and challenges of

sailing tiny boats over challenging

courses at times in open seas.

Or do they come for the comradery and postrace

fun? Or, for the legendary hospitality of their

Filipino hosts? Whatever the reason, the chance

to join them as a 'support' boat and be part of the

Rallye Fleet, was an opportunity too good to pass

up for S/V Kerida.

Busuanga and the surrounding 1000+ islands have

always been one of my favorite cruising grounds in

The Philippines. From the stunning granite cliffs of

Coron Island to the white sand beaches of the more

westerly cays makes the area truly a sailor's paradise.

And so, it was that Kerida joined PHINSAF's 2nd

Nasugbu to Busuanga Race on March 9, a 145nm

race that would see a fleet of boats arrive in Busuanga

in time to join the 18th Philippine Hobie Challenge.

Winning the multi-hull class by 45 seconds on

corrected time was an unexpected bonus!

Visiting the stunning resorts of El Rio Y Mar,

Balinsasayaw Resort and Busuanga Bay Lodge during

the course of the event just added to experience.

76

But, meeting the crews who brave the seas in tiny,

inherently unstable boats, hearing their stories of
---
My Dynamo

success and minor tragedies every evening, and

playing a small role in keeping them safe every day

was truly an honor.

With crews from far flung places such as Belgium,

South Africa, Tanzania, Australia, USA, Fiji and

Taiwan joining the local Filipino crews this is a very

special sailing event.

Herding Cats in Paradise? The most fun you will

have in a long, long time.

Also very special thanks go to Air Juan and Bob

Gilles, who speedily delivered our "Hot off the Press

Edition' of the Active Boating and Watersports

Magazine to the Busanga Bay Lodge (BBL) for the

Hobie Challenge presentation evening.

Final Results of the Challenge were:

OVERALL WINNNERS

1ST PLACE - TEAM WINDTOYS USA (Mike Montague & Kathy Ward)

2ND PLACE - TEAM INCUBUS (Bruce "Tards" Tardrew & Eric Tomacruz)

3RD PLACE - TEAM AUSUSA (Shane Peterson & Heather Mathews)

LBC Business Solutions In-Shores

1st Place - TEAM BUNG DEETLES (Andrew & Tony Boyd)

2nd Place - TEAM AUSUSA (Shane Peterson & Heather Mathews)

3rd Place - TEAM WINDTOYS USA (Mike Montague & Kathy Ward)

Fossil Cup Recipients

1st Place - PATA TEAM (Raul & Ichay Bulaong)

2nd Place - TEAM DOOBIE BROTHERS (Andy Aguila & Cons Castaneda)

3rd Place - TEAM 10 (Dennis Cruz & Jayson Mendoza)

Watch Out for an even bigger and better Hobie Challenge in 2019.

77
---
Sailing Tips

You've always been interested to sail, but you know little about boat parts, the confusing technobabble,

and what little you know is making your head spin in four different directions! Worry no

more. This continuing series of articles is for you: it covers tips regarding hardware present on most boats,

as well as common sailing techniques, terms and definitions, the names of the different pieces of hardware,

and much more. This will keep you informed about most things you will need before you begin your own

sailing excursion. Be sure to consult with an experienced sailor and someone knowledgeable about boats.

The outhaul should

be eased in light

winds and tensioned

in stronger winds.

Article

excerpts

reprinted

from

the book

CRUISER

HANDLING

by BOB BOND

& STEVE

SLEIGHT

2nd reef

Covered mainsail

78

The clew outhaul

fastened to the

boom end and to

the clew of the sail

The Mainsail of a cruiser is normally left rigged on the boom for

short periods. When you do have to rig the mainsail, however,

you will find it easier with two people. Most mainsails have

battens which should be inserted into the appropriate pockets

before rigging. Normally the mainsheet is left attached to the

boom. The method you sue to stow the mainsail will depend to

some extent on whether you have roller reefing gear. If you do,

you could roll up the mainsail loosely on the boom. If you don't

then you will have to fold the mainsail neatly over the boom

before tying it down and covering it securely.

Rigging

The clew end of the foot is fed into the track on the boom, and

pulled along until all the foot is on the track. The tack is the

fastened at the gooseneck and the clew outhaul tensioned and

secured. The mainsail luff, or slide fittings if it has them, are

fed into the mast track. There should be a mast gate fitted to

the mast track to prevent the sliders dropping out of the base

of the track.

Hoisting

The wind must be forward of the beam before the sail is hoisted,

or it will fill with wind. Shackle the main halyard to the head,

checking first to make sure that it is not fouled aloft, and the

release the sail ties or shock cord around the mainsail. If the sail

fits into a groove on the mast, a crew member may be needed

to feed it in. Haul on the main sail halyard taking a turn around

the winch, until the sail is pulled most of the way up the mast.

Use the winch handle to fully hoist the sail, taking care not to

over tension it. Ease off the topping lift and stow the surplus

halyard neatly.

Lowering and stowing

To lower the mainsail, the wind must be forward of the beam,

and the mainsheet should be eased to allow the sail to flap.

Don't forget to tighten the topping lift before releasing the

halyard, or the boom will come crashing down on the coach

roof. As one of the crew member eases the halyard, the other

gathers in the mainsail and stows it. How you stow the mainsail

depends to some extent on the type of system the boat carries.

If the sail is attached to the mast with sliders you will normally

use the folding method, taking care not to bend the battens as

you do so. Tei the sail down with shock cord or sail ties when it

is neatly furled. With a roller reefing system, you can simply roll

the sail around the boom, securing it with sail ties.

Sail controls

Every cruising boat will be equipped with various forms of sail

control. The sophistication of the equipment will depend on how

much you want to spend. For most cruising boats nothing very

elaborate is usually either needed or wanted. However, it is a help

if the mainsheet is mounted on adjustable traveller so that you
---
Handling the Mainsail

can control the amount of downward tension on the sail, and

the angle of the sail to the centerline of the boat. A kicking strap

is also needed to exert downward pressure on the boom and

mainsail, and a downhaul and outhaul can be fitted to the luff

and leech of the sail respectively to tension the luff and the foot

of the mainsail. Battens can be used to stiffen the leech of the sail

and adjustable fairleads can be fitted through which the headsail

sheets can be led to give a better set to the sail.

Mainsheet system

The mainsheet controls the angle of the mainsail to the

centerline of the boat, and is often mounted on the traveller

running on an athwartships track. The traveller gives greater

control over the sheeting angle and over the leech tension. In

light winds it should be set to windward of the centerline and

the mainsheet eased to put out the boom in the center of the

boat to produce an even curve on the leech of the mainsail. In

moderate winds, the traveller should be set in the center and

the mainsheet tension adjusted to keep the top batten parallel

with the boom. In stronger winds, the traveller should be eased

to leeward with the mainsheet kept tight, to reduce the amount

of heeling force on the boat. You will find it easier to gauge the

leech tension if tell-tales are used. It will correct when all telltales

stream aft.

Kicking strap

Most cruising boats need a kicking strap with a purchase power

of at least six to one, preferably with the end of the purchase

led to a winch to give greater power. If no kicking strap is fitted,

power will be lost when sailing off-wind as the leech of the sail

will twist forward, and the boat will roll when broad reaching or

running. A tightened kicking strap will effectively stop this, by

preventing the boom from rising and falling, which causes the sail

to chafe on the shrouds and spreaders. Increased purchase on the

kicking strap allows the mainsheet to be used for lateral control.

Luff tension

The luff of the mainsail should always be just tight enough for

any horizontal wrinkles to be removed, but not so tight that a

vertical crease forms near the mast. The luff tension affects the

way the sail performs when it is eased, the point of maximum

draught moves aft and when it is tightened it moves further

forward. Ideally the point of maximum draught should be where

the sail-maker intended it to be in moderate winds. In stronger

winds you should increase the luff tension and in lighter airs

you should reduce it. You can use the mainsail halyard, a

cunningham hole and tackle near the clew, or a boom downhaul

and sliding gooseneck to tension the sail of the luff.

Clew outhaul

The clew outhaul affects the amount and position of the camber

in the sail. By tightening the outhaul you can pull the point of

maximum draught further aft, and thus flatten the sail or you

can ease the outhaul and move it forward, thus giving more

fullness to the sail. Ideally, the outhaul should be tensioned just

enough to prevent vertical creases appearing in the sail, but not

so much that a horizontal crease is formed. The outhaul should

be eased in light winds and tensioned in stronger winds.

Battens

Battens are used to support the curved leech of the mainsail

and can greatly affect its shape. Those not designed to be full

length should be tapered at the inner end so that when the

sail is set no hard spot is formed at the inner end of the batten

pocket. If such a spot occurs the batten is too thick and should

be exchanged for a more tapered one. Full-length battens

normally have some means by which the tension on them can

be increased or reduced.

Leech line

On many cruising boats a thin line, known as a leech line, is

threaded down the leech of the mainsail or the jib. It can be

used to control any flutter or flap in the edge of the leech by

increasing the tension upon it. However, care should be taken

not to over-tension it to the point where the leech area distorts

and curves to windward. Since you sometimes get leech flutter

only in a reefed mainsail, in the upper part of the sail, you can

fit a leech line with an adjustment point above each reef point,

so that it can be tensioned as necessary to remove the flutter.

Headsail sheet fairleads

The position of the headsail sheet fairlead is crucial to the

good set and performance of the headsail, and therefore it is

important to have an adjustable headsail sheet fairlead sited

on the track, so that the sheeting position can be altered to the

different sizes of the headsail. The fairlead should be positioned

so that when the sail (regardless of size), is sheeted in for a

close-hauled course, it has the same curve across it at the foot

as it does at the head. The leech of the sail should have an even

curve, matching the curve on the leeward side of the mainsail.

On most boats the leech of the overlapping headsail, when fully

sheeted should be within 15cm from the end of the spreader.

If the fairlead is set to far aft, the foot of the sail will be overtensioned

while the leech will drop off to leeward, reducing the

driving power in the top of the sail. On the other hand if the

lead is to far forward, too much tension will be put on the leech,

causing it to hook in, but not enough will be put on the foot.

The sail will be too full and the boat will heel more.

Headsail luff tension

Much the same rules apply to the headsail luff tension as to

the mainsail. Normally on a cruising boat the halyard is the only

control for adjusting headsail luff tension, although some boats

which race have a cunningham hole and tackle fitted to give

finer adjustment. Generally you will have to use the headsail

halyard, taking care not to over-tension it in light airs, and

tension it enough in heavy weather.

Tell tales

Every headsail in your sail wardrobe should be fitted with telltales,

lengths of wool or ribbon about 30cm long, stitched

through the sail and knotted on either side, so that 15cm lies

on each side of the sail. Normally they should be positioned

about 15cm aft of the luff of the sail, with three or four of them

down the length of the luff. By attaching tell-tales you will be

able to check that your sheeting angle is correct and you will

also have a useful steering aid. To check the sheeting angle,

sail the boat on a close-hauled course and see if the tell-tales

stream aft. If they do the angle is correct. If the top tell-tales

flutter while those lower down, stream correctly, the lead is too

far aft, and if the reverse occurs the lead is too far forward.

Provided you have sheeting angle correct you can also use the

tell-tales as a steering aid. If you are sailing windward with the

sheet properly trimmed the tell-tales on the leeward side of the

sail should stream aft evenly. Although those on the windward

side of the sail can flutter, the leeward tell-tales must not be

allowed to do so, or the sail will stall. Provided you watch the

tell-tales carefully you should get the boat to pint windward.

Fitting slugs on

the luff of the

mainsail

Fold mainsail

Hoisting Mainsail

Lowering the Mainsail

Track Boom

The Profurl roller furling

jib clew leads to one of

two through bolted sail

tracks on the bridge deck.

79
---
Flukey Winds

Make For Interesting

Sailing In

Taal Lake

Yacht Club's

2018 Women's

Helm Regatta

80
---
Peter Capotosto's Flickr Album description:

Since 2004, Taal Lake Yacht Club has had

an annual Women's Helm Regatta. As the name

connotes, only women can drive.

Its quite unique. It's very

different than a women's

race, because women are

not limited to women

crews. They can get

anybody they want. It's

also an opportunity

for our usual

skippers, male or

female, to let their

crews, or women

friends drive. It

gets women into

sailing, in an

unusual, but

very exciting

way.

Then there are even

less women who

can competently

sail Hobie 16s.

Limiting the

racing to female helms also knocks

out male competition, allowing the

women a choice of crews that they

would normally not have access

to, mostly experienced skippers

who often acted as coaches.

It was good for the men too. Because they were able

to adjust things such as rig tension that they would

not even be able to see, if they were driving. Overall

the April 22 2018 TLYC Women's helm regatta was a

great success.

- - - - - - - - - - - - - - - - - - - -

Taal Lake Yacht Club, Sun 22

April 2018. If you think that

local/ locally-based catamaran

sailors are scarce, the women

who sail for fun are few. Then

there are even less women who

can competently sail Hobie

16s. I like to think of myself

as part of the tiny percentage,

even if I do spend more time

sailing small boats.

So here I was, thrilled to

skipper a Hobie 16 again after

years of not racing this class, I

was tense in the low wind as I

turned our borrowed Hobie 16

towards the start line in the

countdown. We surprised ourselves with a good

start, out the gate on time leading the fleet of

women skippers. Martin Marty kept our sails loose

to power us beating to the windward mark, oddly

towards the small dormant volcano, not the usual

Balai Isabel area.

Words by

CHERRIE

PINPIN

Photographs

by CARLA

KRAMER

81
---
Peter had spotted the lift well before I did and

advised his skipper Mikee Vinzon to point their

Hobie 16 higher. By the time I noticed what was

happening, I tried to match their angle but could

not get enough speed to get ahead to tack clear.

She would get me on

starboard and the low

wind would make trying

to duck her big mess.

Unable to tack as Mikee

guarded her position, I was

finally forced to tack too

close to the mark else get

over stood. While Mikee

rounded with ease, the

already weak breeze died. We watched in horror as

we drifted helplessly into the mark, cut to: internal

scream with a mad real time scramble aboard to

deal. Drat the light wind and current! So much for

the lead as we did penalty in an awfully painfully

slo-mo way, while the fleet cheerfully passed us,

mentally blowing us kisses as they jockeyed for

speed to the finish.

We watched in horror as

we drifted helplessly into

the mark, cut to: internal

scream with a mad real time

scramble aboard to deal.

82
---
The 5th

2018

OFFS

S

HIP build

Philippines2018

H

ORE

P H I L I P P I N E S 2018

83
---
PHILIPPINE YACHT CLUB DIRECTORY

84
---
85

HILIPPINE YACHT CLUB DIRECTORY
---
Then losing by a

whisker in the fiercest

downwind match race

against Joida Pablo (I

must quit eating bread

and butter for a year).

A string of disasters aboard in the next races –

uncoordinated crew (ourselves) making the worst

start in the world (a.k.a. brown paper bag award)

and losing time while going around the wrong

buoy (thanks to the lack of

skippers briefing and not

knowing which color buoy

was the right one to round),

while watching the most

underweight crew of the fleet

– first time sailor Paola Orozo

round the mark ahead of us

with expert coaching from

crew Jose S. Gonzalez. Then

losing by a whisker in the

fiercest downwind match race

against Joida Pablo (I must quit eating bread and

butter for a year). To add insult to injury, discovered

my supposedly secret weapon, my "wind-spotting"

Deep Water polarized lenses had decided Taal Lake's

(possibly) sulfur-infused waters was too much

abuse, and promptly delaminated in large swathes,

leaving me with blurry vision and tears as the rest of

the Women's Helm skippers fleet gaily romped off to

squabble betwixt themselves for top places, leaving

me to eat their wake.

Obviously any of the women skippers competing

regularly on the Hobie 16 –pro-level sailor Maria

Vidoeira and lethal fire poi swinging Jana Everett for

example, or Mikee and Joida, the former who's had

more recent sail time or the latter young 'un who's

clocked more consistent Hobie hours, had a distinct

advantage over the sprout-out-of-the-woodwork

silly me wanting to scratch my yearly catamaran

itch sans putting in enough catamaran time on the

water. Excuses excuses… Martin was at least very

nice to agree to crew for me and did all he could

to keep us racing given the wicked fluky winds and

the not-quite-coordinated crew aboard. Last note to

self: Must improve my light wind handling skills!

Back ashore, putting the boats a-bed then at the

prize giving, Maria's sage comment, "Cherrie must

come back to the Hobie 16. Aye! See ya'all next

year, ladies!

86
---
87
---
- - - - - - - - - - - - - - - - - - - - - - - - - -

About the author: Cherrie had a few hours

training on the Hobie 16 with experienced sailor

Luigi Manzi then raced in TLYC's Women's Helm in

2006 and 2007 editions. Starting 2014, she has

raced 18 and 16 ft Topcats in Romblon's yearly 3

Island Challenge and is always game to try sailing

small beach multihulls when not racing dinghies

to win for the Philippines. Last year she won the

Hansa 303 Women's bronze medal in the 2017

Para World Sailing Championships, Kiel, Germany

and is on the medal hunt this year, hoping to make

it to the 2018 Para World Sailing Championships,

She went to the USA, to defend her title, then to

compete in the 2018 Hansa Class World Sailing

Championships, Hiroshima, Japan. Cherrie hopes to

lead her Paralympic Sailing team to victory in the

2019 ASEAN Para Games, Philippines likewise help

Para World Sailing convince IPC that Paralympic

Sailing be reinstated in the Paralympics, starting the

Paris 2024 Paralympic Games.

88
---
89
---
P H I L I P P I N E S

YACHT PARTS, SALES and SERVICE

90