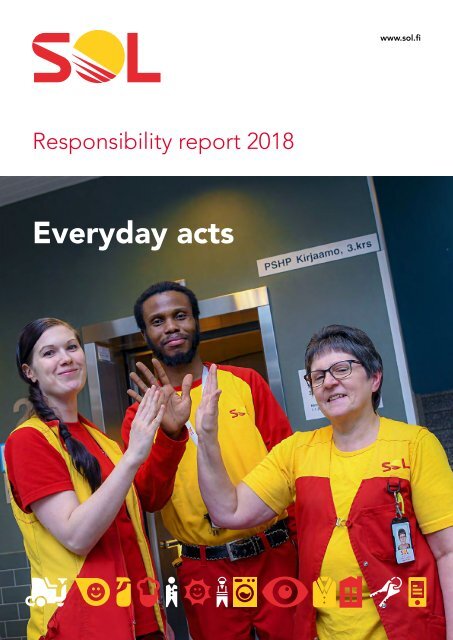 sol_responsibility_2018_en
You also want an ePaper? Increase the reach of your titles
YUMPU automatically turns print PDFs into web optimized ePapers that Google loves.
www.sol.fi

Responsibility report 2018

Everyday acts
---
4 Responsibility – everyday acts

10 Description of the organisation

14 Management at SOL

22 Financial responsibility

24 Responsibilities to stakeholders

28 Environmental responsibility

38 Social responsibility

2 Responsibility 2018 | www.sol.fi www.sol.fi | Responsibility 2018 3
---
International

service locally

1Responsibility

– everyday acts

This SOL Responsibility Guide is the eighth in this

format. The guide is published in Finnish and in

English every spring on the company's website.

We want to constantly develop our operations

and make our services more sustainable

and responsible, taking into consideration the

needs of our customers and stakeholders. The guide contains

an introduction to the subject, key figures regarding

the actions implemented, and future goals.

At SOL, responsible business operations mean

spontaneous responsibility that supports the company's

business and that are determined by the company's values

and objectives, while also taking into account key stakeholders.

Many practical issues related to responsibility are

addressed in our everyday work. These issues include

occupational safety, good managerial work, improvements

in working methods, environmental issues, work ethics, a

pleasant work community, caring about others and about

customers, correct salary payments, the development of

competence and many other minor aspects.

Our goal is to be an excellent corporate citizen,

focusing in particular on the continuity of operations,

supply chain responsibility, our customers' superior service

experience, responsible environmental management,

well-being at work, and continuous improvement and

development. Responsible operations are essential and

global. Ethical and responsible choices dictate more and

more our procurement decisions and consumption.

The figures reported below are those of the SOL

Group, unless otherwise stated in the text. The segments

are Finland and the foreign subsidiaries, and the services

are the business lines of SOL Palvelut Oy: property services,

cleaning and facility services and security services, the

laundry services of SOL Pesulapalvelut Oy and the personnel

services of SOL Henkilöstöpalvelut Oy.

Turnover

312

MEUR

€€€€€

Number of personnel

14 000

Customer satisfaction

visits

38 000

4 Responsibility 2018 | www.sol.fi www.sol.fi | Responsibility 2018 5
---
1.1 Description of

operational environment

in Finland

The Finnish economy considerably recovered last year

with simultaneous increase in export, investments and

consumption. However, the estimates for the development

of the Facilities Services Sector in early 2018 are

more conservative than before in the Business Tendency

Survey of the Confederation of Finnish Industries. The

sector has boasted an excellent growth trend for years, but

the workforce availability issues may put an end to such

development.

According to the survey, the growth of property service

sales and personnel number slowed down in September

2017. The curve of the sector's business outlook went

back and forth in 2017. The current situation is average.

In terms of turnover, the other services have surpassed

the property services, but the growth of the sector has

continued. It is still faster than the average economic level.

The use of external services is also increasing in the

municipal sector, albeit at a rate that is substantially slower

than in the private sector. The outsourcing of operations

remains relatively insignificant in Finnish municipalities.

Work is usually performed by the municipalities' own

employees. Municipalities have outsourced 20–25% of

their cleaning services, while the corresponding figure for

property maintenance and technical services is approximately

40%. The sector has a large potential market and

the use of property services may well increase further in

the coming years.

In laundry services, increase in net sales has been slow

during the past few years. The personnel services industry

is in a period of growth, and SOL Henkilöstöpalvelut has

achieved a result that substantially exceeds the industry

averages.

1.2 SOL Future

SOL Future has endeavoured to forecast SOL's prospects

in the property services and temporary staffing markets

up until the year 2025. SOL will be a strong contender in

these future markets.

Our Group-level growth target for net sales is MEUR

1,001 by 2025. Of this total, operations in Finland will represent

MEUR 755 and the foreign subsidiaries' MEUR 246,

the latter accounting for 25% of net sales. Correspondingly,

the number of personnel in Finland is expected to grow

to some 20,000 people and to increase significantly also in

the foreign subsidiaries.

We anticipate that as many as 60% of our employees

will be of non-Finnish origin by 2030 compared to approximately

30% at present. Employees are increasingly expected

to have multi-expertise where different work tasks are

combined. In addition to property maintenance, key jobs

will be in the sectors of logistics, industry and commerce.

The skills and development of the personnel are ensured

by investing in training. Our age programme, in turn,

takes into account the employment needs of different

age groups. The programme connects the life situations

of different groups with work tasks suited to those life

situations. The rapid digital transformation of operating

methods and procedures will continue.

Situation in property services

Net sales target (MEUR)

Figure 4. Group net sales target for 2025

1010

1001

808

606

404

202

0

222,6

51,4

2015

274

404

107

2020

512

755

246

2025

Total

Abroad

Finland

Current situation

Business outlook

At the sources of SOLar

SOL

Values

• Sunny and satisfied customers

• The joy of working

• Everyday creativity

• Enterprising spirit

• Reliability

SOL

Success factors

• Skilled and participating personnel

• Sunny customers

• Profitable growth

• Profitability and competitive strength

• Productivity

• Efficiency and safety

SOL

Mission

• We allow our customers to focus on their own

SOL

Tulevaisuuden

Visionmarkkinoilla SOL

on vahva toimija.

• We want to be the superior service partner

• for our customers and provide positive

6 Responsibility 2018 | www.sol.fi www.sol.fi | Responsibility 2018 7
---
1.3 Risk management

We have evaluated our key risks in cooperation with our

insurance provider OP:

Profitability risks: effect of industry price competition on

profitability

• Work ability risks

• Customer risks

• Personnel availability risks

• IT project risks

Risks are prioritised according to the importance of the

risk by evaluating the influence and likelihood of risks

and the level of risk management. When evaluating the

influence of risks, the effects on the well-being of people,

the environment, and the reputation of SOL are taken

into account in addition to the financial effects. Tools in

Property

price risk

Currency risk

Interest rate risk

Climate change

Groundwater

contamination

Commodity

price risks

Share price risk

Recruitment risk

Environmental

risks

Misconduct risk

Market risks

Financing and

liquidity risks

Personnel risks

Personal

injury risks

Key personnel risk Occupational

accidents

Work-related

illnesses

Credit risk

Settlement risk Counterparty risk

Decline in

Financing risk

creditworthiness

Collapse of market

liquidity

Cash management risk

Credit risks

Financial

risks

Liability risks

1.4 Responsibility for service

provision and services

SOL's responsibility is to ensure that the services it provides

are safe, reliable and sustainable and that they meet

quality standards, such as hygiene requirements. SOL

prefers long-term relationships with selected suppliers,

and expects from all its service providers commitment to

the requirements set for security, the environment and

employment relationships.

SOL operates in the corporate and consumer markets,

and the end-user is always an individual who requires

reliability and safety. We require a picture ID from the

personnel of our supplier partners as well as an attached

tax number in order to prevent grey economy.

Enterprise risk

Risk of

physical

damage

accordance with the Operating System are used in SOL

risk evaluations.

There are appointed persons in charge of risk management

at SOL, who are responsible for the planning,

execution and monitoring of procedures. The defined

procedures are attached to the action plans and monitoring

systems.

Risk management procedures are directed at the most

significant risks in terms of influence with cost-efficient and

purposeful procedures.

The management at SOL regularly monitors the success

of risk management and reports on the risks and the

development of risk management procedures. The sufficiency

and influence of procedures is evaluated as a part

of business monitoring. Corrective action will be taken as

necessary.

Management

risks

Market position

risks

Strategic

risks

Operational

risks

Process risks

Property damage

Fire

Flood

Power outage

Vandalism

Operational

disruption risk

Planning risk

Change in strategy

Investment risk

Change risk

Personnel

management risks

Ownership policy

risks

Operating

environment risks

Supply chain

risks

Legal risks

Information

system risks

Tax risk

Competitor risk

Reputation risk

Key customer risk

Partnership risks

Distribution channel

risks

Demand/supply risk

Subcontractor risks

Raw material

supplier risks

Outsourcing risks

Contract risks

Court cases

Risk of tighter regulation

Information security risks

System risk

Control risks Inadequate IT support

Process management risks

Quality risks

Risk management

SOL's provision of services is well defined and mostly

designed and developed by SOL. Development work is

carried out in collaboration with all the suppliers to ensure

accurate provision of the services. Development relies on

safety, usability, functionality, durability and quality – all of

which are factors needed for excellent customer satisfaction.

In SOL Henkilöstöpalvelut Oy, the customer, as

the user company, is responsible for the safety of SOL's

service experts. SOL's role is to recruit, train and provide

orientation for service experts so that they are able to act

according to customers' needs, instructions and safety

regulations.

SOL Group is now

under fourth-generation

leadership in Peppi

Kaira and Juha-Pekka

Joronen.

1.5 Managing Director's review

Our strategy is based on sunny and satisfied customers, professionally

competent and engaged personnel with a high level of

well-being as well as productivity and profitable growth. Continuous

development plays a central role in our strategy. Last year

was the 25th anniversary of our family business. The lessons in

leadership and our image of humankind, implemented in our year

of establishment, still act as the cornerstones of our success. We

celebrated the anniversary with our customers and personnel at the

end of October in SOL City.

In terms of business, SOL achieved its growth targets quite

well for the most part in 2017.

We measure customer satisfaction on a monthly basis by

conducting customer satisfaction visits. Last year, we conducted

a total of 37,944 face-to-face customer satisfaction surveys and

the feedback was excellent with the laughter and smiles combined.

The scores were 98.8% for SOL Palvelut, 98.9% for SOL

Henkilöstöpalvelut and 99.9% for Sol Pesulapalvelut (on a scale of

0–100%).

We invest in the development of our personnel and our

newly initiated training reforms have progressed according to

our expectations. The training strategy was renewed in 2017 with

related operational changes, the most significant of which were

the renewal of the online induction training for service providers

and the separate online induction training for the service experts

of personnel services. In addition, business sector-specific learning

packages have been developed for various services. This work

will continue in 2018. The training index of service providers was

also renewed in 2016 and the completion requirements of training

were specified with the primary emphasis for the future placed

on customer-specific requirements. Last year, an extensive digital

shift planning project was also started. Its pilot was launched in the

security services towards the end of the year. The system will be

adopted for the comprehensive use of SOL Palvelut in the spring

of 2018.

The Solar System Orientation Handbook, designed for all SOL

service providers and experts, was updated in the autumn of 2017.

The SOL IN training programme for new employee was renewed

at the end of the year. We organised a total of 24,000 training days

last year.

Induction training and its promotion remain a key focal point

in developing the skills of SOL personnel. We will continue to

invest in tutor activities, a key induction function. We have also

added more training on ergonomics and drawn up a new Ergonomy

Handbook.

In addition, we expanded the well-being mentor activity, piloted

in 2016, to cover all the districts of SOL Palvelut.

Our investments in the SOL Life wellbeing at work programme

have produced good results: sickness and accident-related absences

have begun to decline, disability pension expenses have been

reduced and the Joy Barometer employee satisfaction indicator is

at a good level.

We have also developed our own SOL Life well-being game.

The purpose of the game is to raise awareness of the significance

of well-being and share good practices. We have also

been involved in the development of the Productive Leadership

Simulation, which utilises artificial intelligence and aims to improve

well-being at work and the productivity of the personnel.

We were successful in the "Healthy Workplaces for All Ages"

contest, organised by the European Agency for Safety & Health

at Work, with our project "Everyone has the right to well-being at

work" for which we were given an honourable mention. Inspired by

this, we organised a SOL Life well-being theme day in September

2017 at every SOL Studio.

With regard to business performance, we were particularly

delighted in 2017 by the rapid growth of SOL Henkilöstöpalvelut,

which saw it become one of the largest companies in its industry

operating nationwide in Finland. Net sales exceeded MEUR 52.1

and the year-on-year growth was more than 26 per cent. The turnover

of personnel services has doubled over the course of two years.

The industry is in a period of growth, but SOL Henkilöstöpalvelut

achieved a result that substantially exceeds the industry averages.

We are also growing at an annual rate of approximately 10 per

cent in our international operations. Our Swedish unit is making

good progress and our Estonian operations have been successful

right from the start. We have also achieved rapid growth in Russia,

especially in Moscow. The Russian economy is not yet showing

signs of recovery. Our growth is the result of our strong efforts in

that market. We have successfully acquired good large customers.

The in-house logistics company Flexo Oy, which we established

as a joint venture with Posti, started its operations on 3 May

2017. Flexo is a national, rapidly developing in-house logistics

service company that employed 1,000 people by the end of 2017.

SOL Group's net sales amounted to MEUR 311.8 in 2017. In

2017, the operating profit totalled MEUR 13.6, representing 4.4%

of net sales. SOL's investments amounted to EUR 7 million in 2017.

SOL's liquidity has remained good.

SOL's business continuity is also safeguarded by appropriate

insurance cover. There are no significant risks related to business or

financing on the horizon, but the Russian subsidiaries' euro-denominated

revenues and profitability may contain some risks caused by

currency fluctuations. We are confident that SOL, a strong player

and trend-setter as well as a pioneering service provider and developer,

will continue to prosper. Our assets are our flexible and agile

operations, special care for our customers, personnel and partners,

and our way of working in line with set plans.

The year 2018 has got off to a good start in all sectors.

Juhapekka Joronen

8 Responsibility 2018 | www.sol.fi

www.sol.fi | Vastuullisuus 2017

9
---
2Description

of the organisation

SOL is a business owned by a Finnish family.

SOL's management is guided by values emphasising

economic, social and environmental

responsibility. The SOL Group comprises the

parent company SOLEMO Oy and its three

wholly owned subsidiaries in Finland and five

international subsidiaries.

We offer cleaning and facility services in St. Petersburg

and Moscow in Russia and in Estonia, Latvia, Lithuania and

Sweden. Retail laundry services are offered in Moscow, St.

Petersburg and Estonia as part of a cleaning and facility

management company.

The dry cleaning shop concept of laundries began in

Finland in 2001. Last year, Finland had 61 serving laundry

shops. New laundry shops were established in Easton

shopping centre and Järvenpää. International laundry

operations were launched in Estonia in 2008, St. Petersburg

in 2010 and Moscow in 2011. In 2009, we began to

offer temporary staffing and recruitment services to our

customers in Finland. In Russia, we were in the temporary

staffing business from 2013 to 2015.

2.1 The SOL companies

Solemo's Finnish subsidiaries include SOL Palvelut Oy, a

provider of cleaning and facility services, property services

and security services. SOL Henkilöstöpalvelut focuses on

temporary staffing and direct recruitment services. SOL

Pesulapalvelut Oy provides laundry services to private

individuals, businesses and public sector entities.

The Group's foreign subsidiaries are:

• OOO SOL

• OOO SOL SP

• OOO SOL DC

• SOL Baltics OÜ

• Solreneriet AB

• Reneriet Estonia OÜ

2.2 SOL is a Solar

System – outstanding

partnership and quality

SOL is a Solar System consisting of the Solar Centre,

personnel services, property services, laundry services,

cleaning services, facility services and security services. We

want each of the services to represent the absolute top in

its field and provide our customers with positive experiences.

We act responsibly, respecting the environment

and providing the best customer service. We are quick

and cost-efficient. We want to be a superior partner in all

of our services and service solution packages..

In addition to SOL's Management Team and task-specific

development groups, the entire personnel works for

and towards SOL responsibility. The work of a responsible

corporation involves us all. The operational organisation is

structured so that all the services, marketing and sales as

well as development and administrative operations support

the operative activities throughout the Group. The

backbone of the operations is the line organisation, which

serves locally and with uniform quality in accordance with

the SOL Operating System. The Group's development

activities focus on establishing and developing service

concepts and processes.

Procurement and logistics are also under development.

2.3 Reporting

250

200

150

100

50

14

13

12

11

10

9

8

7

6

5

4

3

2

1

0

0

Net sales (MEUR)

Figure 1. Net sales 2013–2017, Finland and other countries

217,5 221,5 222,6

2013

7,6

2013

44,6 48,1 51,4 54,2

2014

2015

230,8

2016

Operating profit (MEUR)

Figure 2. Operating profit 2013–2017

2,5

2014

4,7

2015

2016

244,9

2017

2017

66,9

Net sales of SOL Henkilöstöpalvelut, 2012–2017 (MEUR)

60

50

40

30

20

10

0

18,3

2013

20,1

2014

26,0

2015

5,2

41,6

2016

13,6

52,1

2017

Finland

Other countries

10 Responsibility 2018 | www.sol.fi www.sol.fi | Responsibility 2018 11
---
Gross investments (MEUR)

Figure 3. Gross investments 2013–2017

10

9

8

7

6

5

4

3

2

1

0

9,0 8,8

2013

2014

7,0 6,9 7,0

2015 2016 2017

Number of personnel 2013–2017

10000

9000

8000

8144 8200

8692

9050 9050

9530

Finland

Other countries

7000

6000

5000

4000

3000

3101 3282 3339

3606 3747

4155

2000

1000

0

2012

2013

2014

2015

2016

2017

Yellow and red work clothes

symbolise the SOL values

SOL Philosophy

2.4 Mission, vision

and strategy

Our mission is to strengthen our customers' corporate image

with the services we provide. We act in a responsible

manner and we are a valued employer.

All our activities and decision-making are based on

shared values: sunny and satisfied customers, reliability,

enterprising spirit, everyday creativity and the joy of

working.

We are here to serve our customers.

Happy working clothes of red and yellow symbolise the

SOL values and brand. The striking colours also improve

occupational safety.

We at SOL believe in a positive image of humankind,

where everyone wants to work and succeed in their work

and each of us is a different, creative, thinking, acting and

feeling human being.

We want to encourage and give feedback in order to

develop in our work. Success and praise, in particular, are

important to us and essential for work motivation.

Our vision is to be a superior partner for our customers

across all services. In line with our mission, we allow

our customers to focus on their core business.

We want to grow by utilising our service concepts and

employing qualified personnel while developing cooperation

with our customers. The end result is a profitable,

financially-sound and excellently-managed SOL with sunny

and satisfied customers and personnel.

The SOL corporate image is projected to the market

and to all our stakeholders. The cornerstones of our brand

are cheerfulness, yellow sunniness,

– enthusiastic service, skilled professional personnel,

flexibility and ease.

SOL's image of humankind

• People are responsible individuals and they want

to do good work.

• People have a need to succeed

• People are different

• People take initiative and are creative

• People are thinking, acting and feeling human

beings

SOL freedom

• Freedom of workplace: it is not important where

work is carried out; what is achieved is what

matters

• Freedom from status symbols: respect has to be

earned

• Freedom from working hours: the result counts

12 Responsibility 2018 | www.sol.fi www.sol.fi | Responsibility 2018 13
---
3Management

at SOL

SOL's management culture is established to allow

trustworthy interaction and an atmosphere that

encourages everyday creativity and to promote people's

respect and responsibility towards each other.

At SOL, we aim towards servant leadership.

Giving responsibility, trust, and supporting a

functional work community are some of the

essential mindsets.

The parent company's Board of Directors

comprises Juhapekka Joronen, Chairman, and

ordinary

members Peppi Kaira and Anja Eronen for the duration

of the accounting period and Oona Kaira as of 10 February

2017. Juhapekka Joronen is the Managing Director

of SOL Palvelut Oy. Peppi Kaira is the Managing Director

of SOL Pesulapalvelut Oy. Niilo Kemppe is the Managing

Director of SOL Henkilöstöpalvelut Oy, and Peppi Kaira is

the Managing Director of SOLEMO Oy. Anja Eronen was

the Managing Director of SOLEMO Oy and SOL Palvelut

Oy until 31 August 2011 and has been Chairman of the

Board of SOL Palvelut Oy as of 1 September 2011.

SOL's Management Team comprises Anja Eronen,

Chairman, the Managing Directors of the Finnish companies,

Timo Sairanen, Director, HR and Legal Issues and

Riitta Sirviö, Director, Development Group. The Management

Team also includes representatives of senior salaried

employees, salaried employees and other employees.

The company's auditor is KPMG Oy Ab, Authorised

Public Accountants, with Toni Aaltonen as the lead auditor.

The management organisation is as lean as possible

in order to be close to the customer and personnel. The

Development Group of each service sector is responsible

for monitoring operational management and for development

and improvement projects. All meeting practices are

presented in the SOL Operating System. They are defined

in the annual Action Plan and also scheduled according to

it.

The SOL Operating System is based on the ISO

9000:2015 quality standard, the ISO 14001 environmental

management standard, the OHSAS 18001 safety specification

and the ISO 31000 risk management standard. Each

company has its own operating system compliant with the

Group's core system.

Our customers audit our operating system, which

serves as a foundation for developing operations. SOL's

Estonian and Latvian companies have quality certificates.

The well-being programme is integrated into the SOL

Life programme. Documentation is saved centrally in the

M-Files programme, which also includes the customer

management system. The system utilises SOL's in-house

customer information system (Sirkkeli).

Safety instructions are an integral part of the SOL

Process Management System. They are easily available on

the intranet or in separate folders at our full-service laundry

shops. The Group and its companies have nominated

people to be responsible for data security, environmental

safety, occupational safety and other safety. Updating

safety instructions, as well as early intervention and preventive

measures, are important to SOL. We emphasise

the personnel's responsibility, and acting according to that

responsibility, in all our communications. We never permit

any form of corruption or bribery whatsoever. The guidelines

for receiving gifts and for travel are documented in

the SOL Operating System.

The management

organisation is as

lean as possible in

order to be close to

the customer and

personnel.

Management principles, illustrating lean organisation and internal services.

Leveraging shared

resources

Continuous improvement

Lean central management.

Clear outcomes,

indicators and

monitoring

Individuals deliver

results in cooperation

with each other

Selected group

services

Increasing flexibility

Decentralised

organisation,

accountability as lean

as possible

14 Responsibility 2018 | www.sol.fi www.sol.fi | Responsibility 2018 15
---
3.1 SOL's ethical rules –

good business principles

3.1.1. Introduction

SOL's operations are guided by values that emphasise

economic, social and environmental responsibility. Each

SOL employee must comply with our values in their work:

Sunny and satisfied customers, the joy of working,

everyday creativity, enterprising spirit and reliability.

At SOL, we believe that everyone wants to do their

job well and succeed in their work. We encourage independence

and the acceptance of responsibility. Everyone

at SOL must act responsibly with regard to our stakeholders.

SOL's responsibility covers all stakeholders: customers,

personnel, shareholders, subcontractors, partners,

authorities, the company's own business sectors and their

organisations, the media, and cooperation with non-profit

organisations.

These rules are part of the SOL Responsibility Report.

The rules apply to all SOL's subsidiaries in Finland and

abroad. Each SOL employee is responsible for playing by

the rules.

3.1.2 Ethical rules and legislation

SOL and its employees act legally and in accordance with

current, generally accepted business practices. As a member

of the Real Estate Employers, SOL and its employees

develop the industry by complying with the ethical rules.

Each SOL employee is responsible for acquiring the necessary

information on the legislative regulations concerning

their work. Supervisors must ensure the employees

receive adequate orientation to these rules. If in doubt,

SOL employees should always turn to their supervisor

for help. SOL supervisors must ensure full compliance

with laws, regulations and good business practices. If an

employee notices any breaches of regulations, they must

immediately notify their supervisor, who will take the necessary

actions at once and report the matter to the Group

management.

3.1.3 Conflicts of interest, gifts and bribes

SOL employees are expected to promote SOL's interests

and act in a responsible manner. SOL employees must

avoid all situations that might result in a conflict of interest.

The corruption and bribery ban permeates all SOL

operations. SOL and its employees may not make or offer

bribes or unlawful payments to customers, managers, national

of local authorities or other parties to gain or retain

business, or for any other equivalent reason.

SOL does not grant direct or indirect support to political

parties, organisations or individual politicians.

SOL employees may not accept personal benefits

or gifts from stakeholders or suppliers which run contrary

to applicable laws or local business practices. Gifts or

benefits must only be accepted if they are offered in the

context of regular business activities and they are ordinary,

reasonable and low in monetary value.

Gifts and hospitality may be acceptable if they are:

• not offered on a regular basis, are given or received

openly and without an obligation and/or expectation of

a favour in return

• approved by stakeholders and able to stand public

scrutiny

• legal, ordinary and of moderate monetary value.

• Before offering a gift or benefit to a partner, employees

must ensure that they are aware of the rules and ethical

guidelines observed by the recipient to prevent bribery.

We will operate

responsibly by providing

fair temporary work.

3.1.4. Responsible personnel services

The SOL Group's personnel services arm, SOL Henkilöstöpalvelut,

is an authorised member of the Private

Employment Agencies' Association (HPL) and a member

of Service Sector Employers Palta. As an authorised company,

we commit to adhering to the authorisation rules

and to responsible operations by offering fair temporary

work.

We apply the ethical guidelines published by

the Real Estate Employers and work to raise

the profile of the property service sector.

• We will act reliably and with high quality, in accordance

with the promises and commitments given to

customers.

• We will act responsibly and also expect responsible

operations from our partners.

• We are bound by the duty of professional secrecy

with regard to confidential information and we will not

misuse any information obtained.

• We will fulfil our social obligations and responsibilities,

and we are familiar with the standards of the industry.

• We undertake to maintain the skills and development

of our personnel and we will promote employee wellbeing

and the occupational safety of our personnel and

customer companies.

• We will respect other enterprises in the sector, compete

fairly and work to abolish the grey labour market.

• We will provide every employee with a photographic

ID, displaying their personal details and tax ID and

submit all company and subcontractor information

required under the provision of the Act on the

Contractor's Obligations and Liability when Work is

Contracted Out, using the tilaajavastuu.fi online service.

• We are committed to promoting environmental values

and awareness.

• We will encourage equality at work and acceptance of

individuality and diversity within the work community.

In Finland, hospitality in the public sector is subject to

guidance (1592/2010) issued by the Ministry of Finance,

available (in Finnish) at: (www. vm.fi/vm/fi/04_julkaisut_ja_asiakirjat/02_henkilostohallinnon_asiakirjat/03_

ohjeet/20100825Vieraa/Vieraanvaraisuudesta eduista.pdf)

Examples of acceptable hospitality include attendance

at occasions such as birthday and retirement

receptions organised by a partner. In these circumstances,

gifts in keeping with convention are acceptable. Also

acceptable are parties and cultural events in the context of

meetings and training courses.

Gifts or benefits exceeding a value of EUR 100 offered

to a SOL employee must be authorised by a Service Director,

Business Director or Managing Director.

Benefits must not be accepted if:

• The value of the benefit exceeds conventional business

practices

• The benefit is in conflict with SOL's interests and values

• The benefit may impair or be seen to impair the other

party's independence or impartiality

• The benefit is likely to arouse suspicions regarding the

giver's motives or its impact on decision-making or

outcomes of business

• The benefit could generate negative publicity for SOL

As a general rule, SOL will cover the costs of any travel

related to events and travels organised by external parties.

In the event of confusion regarding the appropriateness/legality

of giving or receiving a gift, it must be

declined.

3.1.5 Fair temporary work

The authorisation of personnel services companies ensures

the fairness of temporary staffing for both employees

and user companies. Authorised companies wish to

highlight their commitment to legal, ethical procedures.

As for customer companies and temporary staff, they wish

to be able to identify the honest and reliable operators

in the field. The authorisation rules are provided to both

parties for information. Compliance with the authorisation

rules is monitored.

The Private Employment Agencies' Association has

prepared general terms and conditions for temporary

staffing and recruitment to clarify the distribution of

responsibilities and rules between the contractual parties.

The terms and conditions also take into account the right

of employees and job applicants. The general terms and

conditions are intended to serve as an appendix to the

contract between a personnel services company and its

customer. The contractual terms and conditions specify

the course of the process, the obligations of the contractual

parties, the validity and termination of the contract,

the making of reclamations, and indemnities. The parties

may deviate from the terms and conditions by a separate,

written customer agreement.

16 Responsibility 2018 | www.sol.fi www.sol.fi | Responsibility 2018 17
---
3.2 Stakeholders

SOL's social responsibility covers all stakeholders: customers,

personnel, subcontractors, partners, shareholders,

authorities, the company's own business sectors and their

organisations, the media, and cooperation with non-profit

organisations.

We comply with the laws, regulations and guidelines

of local authorities in all our operating countries. We

diligently take care of our taxes and payments, which are

further used for maintaining social services and public

infrastructure.

3.2.1 Personnel

We currently employ nearly 14,000 people, to whom we

are committed to paying wages and salaries according

to agreements and for whom we pay employers' contributions.

We serve our customers with and through our

personnel. Our key value is the joy of working.

SOL aims for a fair personnel policy, which enables

the company to safeguard employment and guarantee

high job satisfaction. Investment in the continuous development

of employees' skills provides maximum benefits

for customers, employees and SOL.

The well-being of personnel is fully addressed. Employees

are encouraged and trained to participate in the

planning and development of their own tasks in everyday

work, as well as in long-term planning and development.

For instance, the annual action plan and budget are built

from the bottom upwards, thus involving as many employees

as possible. In Finland, the personnel working at least

15 hours per week are provided with general practitioner-level

healthcare after six months of employment, and

SOL has adopted SOL Life as an "Ongoing Care Model".

High priority is systematically given to occupational

safety, risk management and pro-activeness throughout

our operations. Rapid communications and interaction

commensurate with the situation have been further

strengthened.

Personnel competence is improved by short-term and

long-term in-house coaching and training sessions, and

by apprenticeship training. SOL offers active tutoring and

mentoring for all personnel groups and conducts a continuous

Ilopuntari job satisfaction survey. "From goals to

results" discussions help in setting goals, achieving results,

developing operations and they also facilitate the personnel's

self-development. A scorecard is used for monitoring

and controlling the achievement of the goals. The Quality

Passport has been in use at SOL for a long time now as a

tool to reward employees for good performance.

SOL has a good and effective relationship with labour

organisations.

3.2.2 Responsible owners with a face

In a family business, the owners of SOL have a key role

and long traditions of developing the company and its operations.

The owners expect from the employees responsible

operations in accordance with the company's values.

SOL is an active member of the Finnish Family Firms

Association, which promotes an operational framework for

and responsible ownership of family enterprises.

3.2.3 Our priority is a sunny, satisfied and

loyal customer

SOL's operations are divided into local service districts,

which are responsible for their own customers and are as

close to the customer as possible. SOL has nearly 10,000

registered customers and fulfilling contractual obligations

with them is a matter of honour to SOL. SOL likewise

expects the same from its contracting parties.

Customer satisfaction

Figure 5. Customer satisfaction 2013–2017

100

90

80

70

60

50

40

30

20

10

0

2013 2014 2015 2016 2017

SOL Palvelut Oy

2013 2014 2015 2016 2017

SOL

Pesulapalvelut Oy

2013 2014 2015 2016 2017

SOL

Henkilöstöpalvelut Oy

Laughter

Smile

18 Responsibility 2018 | www.sol.fi www.sol.fi | Responsibility 2018 19
---
In line with our operating system, we aim to prevent

problematic situations and to rectify and continuously

improve our services.

Customer satisfaction and customer retention are

monitored in all our activities every month. A continuous

customer feedback and questionnaire procedure is in use

and it is conducted monthly with some of the customers.

This procedure is based on the SOLE guidelines and on an

annual plan.

SOL's customer satisfaction has been at an excellent

level for many years.

The end-user of SOL's services is a private customer

whom we serve to the best of our ability. Our goal is to

have customers who want to do business with companies

and communities using our services or with our own

full-service laundries also in the future.

3.2.4 Partners are selected carefully

SOL's partners include a number of suppliers of services

and goods. Our partners are expected to be reliable, professional

and responsible, and SOL invests in cooperation

with them. For further information, please see the section

on Social Responsibility. Our aim of cost effectiveness will

also challenge SOL's partners.

3.2.5 Developer of the business sector

SOL's roots in Finland's business community run deep.

The first operations are considered to have started in 1848

when dye master C.A. Lindström founded a textile dye

house and laundry on the hill where Finland's Parliament

House currently stands.

SOL has significantly improved the sector's image

with its reputation as a good employer and provider of

quality services. SOL is well-known for transforming the

property business into a service sector.

SOL is an active opinion leader in the Confederation

of Finnish Industries, Real Estate Employers and Private

Employment Agencies Association. Juhapekka Joronen,

the Managing Director of SOL Palvelut, is a member of the

Board of the Confederation of Finnish Industries and the

Chairman of the Board of the Real Estate Employers. We

also participate in the work of other bodies and accept

positions of trust and expert tasks offered.

3.2.6 Communications and media

Our business sectors interest everybody. SOL aims for

transparent interaction with the media and regularly

reports the Group's news directly to the media via targeted

press releases, which are also available on our

website. Our communication channels in Finland include

the Group's intranet and the SOLISTI customer magazine,

in addition to the website and social media. Our entire

website has been translated into English. Our communications

department coaches and trains the personnel and it

is responsible for internal and external communications in

accordance with the company's communications plan.

We are pleased to share information about our

actions and results. Our experts are encouraged to make

public presentations and to share their knowledge outside

the group.

3.2.7 Increasing our global role

Individual rights and shared responsibility are evolving. We

will have an increasing role in employing labour coming

from less developed countries and also in improving the

conditions of their countries of origin.

In 2017, we have supported the operations of Lastenklinikoiden

Kummit ry. SOL is a participant in the Diversity

Charter, organised by FiBS and TEM.

In 2012, we signed the Diversity Charter Finland, according

to which:

We will offer equal opportunities. We will recognise

and utilise individual skills and needs.

We will manage the personnel and customers fairly.

We will provide information on our goals and accomplishments.

SOL has a multicultural development group, which

reports directly to the Management Team. We employed

2,063 foreign nationals in Finland in 2017.

Since 2007, SOL has had a Young Staff Development

Group with participants representing employees from

different sectors. The purpose of the group is to promote

the position of young employees and highlight their views

on issues.

SOL is a partner of the Responsible Summer Job

campaign.

3.2.8 Working life committee and degree

committee cooperation

SOL is engaged in large-scale cooperation with educational

institutions, starting from sponsoring classes in upper

secondary schools. Vocational schools in our field as well

as polytechnics and universities are important partners

for us in training, internships and teaching and they also

provide us with skilled employees.

The Manager of Training at SOL acts as the Chair of

the new working life committee of Cleaning and Property

Services appointed by the Board of Education and as the

Chair of the degree committee.

In 2017, SOL was involved in a work group to renew

some of the qualifications in our sector. Now, the Facilities

Services Sector has a new degree entity for the Vocational

Qualification and Further and Specialist Vocational Qualifications

in Cleaning and Property Services that combine

the previous seven qualifications of our sector.

In the spring, SOL joined the new Business Lead programme, established by Hanken & SSE Executive Education

and funded by businesses. Its purpose is to efficiently bring educated asylum seekers to working life. Hashim from

Afghanistan participated in the employment programme for asylum seekers

We comply with the UN

Global Compact principles

in our operations:

1. Businesses should support and respect the protection

of internationally proclaimed human rights within

their sphere of operation.

2. Businesses should make sure that they are not complicit

in human rights abuses.

3. Businesses should uphold the freedom of association

and the effective recognition of the right to collective

bargaining;

4. the elimination of all forms of forced and compulsory

labour;

5. the effective abolition of child labour; and

6. Businesses should support the elimination of discrimination

in respect of employment and occupation.

7. Businesses should support a precautionary approach

to environmental challenges.

8. Businesses should undertake initiatives to promote

greater environmental responsibility.

9. Businesses should encourage the development and

diffusion of environmentally friendly technologies.

10. Businesses should work against corruption in all its

forms, including extortion and bribery.

In Finland,

we employ more than

2,000 foreign nationals

20 Responsibility 2018 | www.sol.fi www.sol.fi | Responsibility 2018 21
---
Group net sales, MEUR Change in net sales, %

Financial

responsibility

SOL's financial goals are based on profitable growth

and profitability. In addition to organic growth, SOL

aims to acquire business operations and enterprises

that will support the Group's operations. A long-term

goal is for return on investment (ROI) to exceed 20%.

320

288

256

224

192

160

128

96

64

32

0

50

40

262,1

2013

41,4

269,6 274,0

285,0

2014 2015 2016

Equity ratio, %

44,8

42,9

43,7

311,8

2017

47,7

25

20

15

10

5

0

40

32

13,8

4,04

2,9

2

2013 2014 2015 2016

Return on investment, MEUR

9,4

2017

27,8

4rowth

G

will be financed from income. Our

equity ratio of 47.7% enables cost-effective

liquidity fluctuations. Good liquidity safeguards

SOL's payment obligations to stakeholders

and also builds in flexibility for any

quick acquisitions needed. SOL's liquidity has

remained at a good level. In addition to paying employees'

contributions and public payments, the Group has

been able to finance investments and other acquisitions

from income in accordance with set plans. SOL wants to

ensure that it meets all payment obligations according to

the agreed payment terms without delay, and also expects

the same punctuality from customers with regard to their

payments. Our liquidity is measured with the Quick ratio

which in 2017 was 1.4, meeting our objective.

All of SOL's services are produced locally, and the operations

have been organised accordingly. SOL's business

management, as well as the financial and HR administration

of SOL City, SOL headquarters in Finland, support

our local operations. Some of the financial administration

operates in Seinäjoki and Kouvola.

The turnover of SOL Group has risen by 18.96% since

2013, the growth of foreign subsidiaries has reached 50%,

and that of Finnish subsidiaries 12.60%.

In 2017, the net sales in Finland were distributed as

follows: property, cleaning, and facility services and security

services 73.5%, Personnel services 16.8% and laundry

services 3.9%. In 2017, Finnish operations accounted for

78.6% and foreign operations 21.5%.

SOL's gross investments amounted to MEUR 7, while

procurement of materials and services amounted to a

steady MEUR 21.9 in 2017.

20

10

0

0

-10

-20

-30

-40

-50

-60

-70

-80

2013

-61,0

2014

-57,7

2015 2016 2017

Gearing, %

-66,5 -69,0 -68,5

16

8

0

2013

12,6 12,9

7,2

2014 2015 2016

Quick Ratio

2017

30

24

20,5

-90

-100

2013

2014

2015

2016

2017

Purchases, MEUR

We operate nationally,

we serve locally.

14

12

10

8

12,6 12,5 12,8

11,8

11,3

11,6

11,7

10,7

10,5

11,4

Services

Material

6

4

2

0

2013

2014

2015

2016

2017

22 Responsibility 2018 | www.sol.fi www.sol.fi | Responsibility 2018 23
---
Responsibilities to

stakeholders

SOL wants to offer everyday experiences that delight,

inspire and excite customers. At their best, these

experiences elevate the mind, enhance everyday life and

the workday, and provide a sense of cleanliness and security.

55.1 Responsibilities to

customers

SOL offers high-quality services in a timely manner as

agreed in the contract. The services are developed in

accordance with the customer's expectations and preferences.

Our service solution model enables SOL to provide

multiple services from one source, making our solutions

the most advantageous economically.

Productivity and efficiency are important goals in developing

SOL's processes. All our service sectors in Finland

have a personnel recruitment and substitute system in

electronic format. The personnel's orientation training and

some of the other training sessions are on the Internet,

giving learners more freedom with regard to time and

place. Nearly all of the invoices in Finland are transmitted

to customers in a paperless format. Also nearly 100% of

the purchase invoices are e-invoices. Continuous attention

is paid to proper management of receivables, ensuring

equal treatment for all customers

In Finland, we have enhanced the reporting system under

the provisions of the Act on the Contractor's Obligations

and Liability when Work is Contracted Out. We use

the www.tilaajavastuu.fi online service. These links enable

customers to check that we fulfil our social responsibilities..

5.2 Responsibilities

to employees

At SOL, employees have a key role in everything we do.

In 2017, personnel costs represented 79.4% of net sales,

while the figure in 2013 was 77.2%. Wages and salaries,

excluding side expenses, amounted to MEUR 197.3 in

2017. SOL bears responsibility for safeguarding employment

also in the future. The company's workforce consists

mainly of people in permanent employment relationships,

some of which may be part-time due to the nature of the

work. The proportion of temporary staff will increase with

the expansion of SOL Henkilöstöpalvelut Oy's operations.

Personnel are rewarded for good work performance,

which is followed up by customer satisfaction and other

weighted indicators, such as the scorecard. Rewards

for successful work performance have been given, for

instance, to the service district of the year, the vendor

of the year, the service instructor of the year, the Service

Supervisor of the year, and the Service Director of the year.

Successful persons have also received wooden flowers,

movie tickets and other minor merit awards.

SOL organises an annual Quality Award competition

with separate categories for service supervisors, service

districts and sales personnel. Awards are also given for the

environmental and well-being at work categories. Competition

entries are submitted in the form of applications

showing budgets, results and the previous year's figures.

The Quality Award is based on a competition by the

Finnish Quality Association, which has been adapted to

suit SOL's needs. The key considerations in the competition

are customer orientation, employee well-being and

financial results. The practice has been established since

1996.

Winning service supervisor defends her

environment like a lion Even though it was

not her first victory, the quality award 2017

came as a surprise for Tina Andersson. This was

the third time Tina was awarded for enhanced

performance. As the environmental coordinator

of her district, Tina is also a passionate advocate

for environment in her work.

5.3 Responsibilities to

authorities

SOL and its personnel must comply with local laws and

regulations in all countries and under all circumstances.

SOL pays its statutory obligations in accordance with

existing regulations. As an employer, SOL takes care of its

employees' statutory contributions. The company also reports

and compiles statistics for the authorities as agreed.

In 2017, SOL's Finnish companies paid value-added tax,

income tax, operational taxes and PAYE income tax totalling

MEUR 72.1 (MEUR 63.9 in 2013). Compulsory social

security and pension contributions amounted to a total of

MEUR 37.4 in 2017 and MEUR 35.9 in 2014.

24 Responsibility 2018 | www.sol.fi www.sol.fi | Responsibility 2018 25
---
5.4 Responsibilities to

suppliers and partners

SOL purchases products, services and energy for its property,

cleaning, facility maintenance and laundry services, as

well as for production subcontracting services that include

delivery and laundry services, outdoor area property management

service and a variety of made-to-order cleaning

services. Products and services necessary for running the

administration and operations are also purchased.

SOL's General Terms and Conditions apply to all suppliers,

and invoices are paid according to the terms of

payment. All payments made to suppliers are based on

contracts and invoices. All forms of corruption and the

use of illegal ("grey") labour are strictly prohibited within

SOL. Good contractual practice is monitored by internal

controls and audits in accordance with the SOL Operating

System.

In 2017, all purchases by SOL's Finnish companies were

from within the EU area.

SOL's operations have significant indirect impacts, especially

in smaller towns. SOL is a primary client for many

entrepreneurs and thus affects the economic well-being of

subcontractors' employees.

5.5 Responsibilities to

financial institutions

SOL's goal is to finance its operations from income. The

Finnish companies do not have short-term or long-term

loans from banks. The Group's foreign subsidiaries have

bank loans. SOL Palvelut Oy has a limit of EUR 3 million.

All procurement is governed

by written supplier

contracts and pre-planned

logistics solutions.

SOL does not use random

procurement or randomly

selected suppliers.

Our procurement procedures

include at least the following:

• legality – compliance with each country's applicable

legislation

• corruption and bribery ban

• respect for employees' human rights

• child labour ban

• employee safety and health

• environmental protection

• effective service chain with low overall cost

• CO2 emissions of the auto equipment max. 130 g/km

26 Responsibility 2018 | www.sol.fi www.sol.fi | Responsibility 2018 27
---
SOL Environmental

Environmental

responsibility

Impacting the Goals

development of

customers'

environmentally

Reducing paper

and energy

consumption

Reducing the amount

of waste sacks,

plastic bags and

plastic packaging

We all have a dream of a better and cleaner environment,

of a place where our children and grandchildren can

grow and live safely. Environmental deterioration

must be stopped. We can affect our future by

actively seeking new ways and means to secure a

cleaner and healthier environment in the future.

66.1 Environmental policy

SOL wants to provide services in a manner that aims to conserve

natural resources and reduce environmental impacts.

We are aware of the environmental impact of our services

and of our responsibility as the user of products and the

producer of waste, all of which are addressed throughout

our decision-making processes. We comply with all valid

laws and regulations in all our activities.

We are committed to continuously improving our operations

and reducing environmental impacts. We purchase

the most eco-friendly technology available at reasonable

costs. We aim to use natural resources and energy in a way

that minimises their consumption and emissions. We promote

the right type of waste sorting and we aim to reduce

the amount of waste generated.

We disseminate information about our operations

transparently, both to our external stakeholders and to

SOL's own personnel. We aim at being able to guide our

customers towards an environmentally friendly model of

operations and support them in achieving their environmental

goals through our expertise. We aim to be ranked

by our customers and personnel as the best operator in the

environmental field.

We train, advise and encourage SOL employees to

work in a responsible manner and to address environmental

issues more efficiently both at work and in their leisure time.

We develop indicators that can verify the environmental impact

of our operations. The management regularly monitors

the status of the environmental issues.

The business line management reviews include an evaluation

of the environmental management, and necessary

measures are taken based on the results of the evaluation.

6.2 Environmental goals

SOL's environmental goals and actions are defined by

sector on the basis of the environmental objectives below.

According to emission intensity, property maintenance

operations are a low-emission business sector.

• Addressing the conservation of natural resources and reducing

environmental impacts both in our procurement

and in our service provision.

• Increasing the personnel's environmental knowledge

• Increasing the customers' environmental awareness

6.3 Environmental goals

Common objectives for all service sectors based on the

environmental goals are:

• Using suppliers who operate in an environmentally responsible

manner and have quality and environmental

management certificates

• All personnel are to observe environmental considerations

in their work

• Guiding customers towards eco-friendlier activities

(e.g. circular economy, life cycle projects, saving energy,

reducing the amount of waste).

Responsibility is a shared concern for all of us.

Reducing the overall

consumption of

chemicals and

detergents

Environmentally

responsible suppliers

Reducing emissions

from vehicle and

machine fuel

consumption

The personnel must

consider both the

customer's and

internal environmental

aspects

Emission intensity

Source: Statistics Finland, Emissions into air by industry and Annual national accounts.

Air traffic

Water traffic

Energy maintenance

Agriculture, fishing industry and game husbandry

Oil refining and production of chemicals

Water supply, sewerage and waste management

Metal refinement and manufacture of metal products

Land traffic

Forest industry

Mining and quarrying

All business sectors total

Construction

Food industry, etc.

Forestry

Other industry

Trade

Property maintenance operations

Operations serving traffic, mail

Other services and administration

0 2 000 4 000 6 000

28 Responsibility 2018 | www.sol.fi www.sol.fi | Responsibility 2018 29
---
6.4 Environmental aspects

SOL's environmental policy, goals and objectives are based

on information about the environmental aspects and

impacts of our operations and services. Identification and

evaluation of the environmental aspects are presented

in the Environmental Management system. A valuation

method that is based on information gained from our own

operations, on the company's potential leverage, and on

information provided by external studies is used for identifying

the importance of environmental aspects. Statutory

requirements, importance to the company's image, environmental

benefits in relation to implementation costs, and the

severity and scope of environmental impacts are taken into

account when assessing importance factors.

The business sector-specific assessment procedure for

environmental aspects and the criteria for valuation are documented

in the environmental information of our Operating

System. The activities receiving the largest weighting using

this method have been selected for implementation.

An business sector-specific implementation programme

defining the operating instructions, timetables,

measurement method and responsibilities for achieving

the environmental goals and objectives has been prepared.

The implementation programmes are documented in the

environmental data of our Operating System.

Customer-specific environmental goals will be prepared

in conjunction with customer-specific action plans.

The Environmental Team coordinates operations for all

sectors.

The task of the regional district's environmental coordinators

is to monitor the realisation of customer-specific

environmental goals and identify new potential viewpoints.

The environmental coordinators will conduct customer-specific

environmental reviews and give reports about them to

the Environmental Team.

Environmental aspects are evaluated when necessary

and at least once every three years. The required changes

in action plans and goals are implemented based on the

information obtained from the evaluation and monitoring.

Environmental reviews by sector and by location will

be made according to the annual plan prepared by the

Environmental Team.

The achievement of the environmental goals specified

in action plans is monitored in development discussions.

The districts will monitor the implementation of the action

plans in their district meetings. The implementation of the

environmental plans will also be evaluated in conjunction

with internal audits.

6.5 Me, you, SOL and

the environment

an international company, but our values are the same

regardless of the country of operation. According to our

image of humankind, people want to do good work. We

want to give everyone this opportunity. We signed the

Finnish Society's Commitment to Sustainable Development

in June 2016. The targets and actions related to the

commitment were drafted in cooperation between our

environmental coordinators, the Environmental Team and

senior management. We have annually participated in the

energy-saving week, organised our own events and been

involved in various events for sustainable development.

As a steady employer, our commitment also includes

wise accounting practices and sustainable work that respects

nature and people. We communicated our Commitment

2050 targets and actions in the form of a video

to reach a larger number of our personnel, customers and

stakeholders.

We constantly work to fulfil our social commitment

and monitor the realisation of the objectives. In 2017, we

processed the objectives and end goals of the Society's

Commitment to Sustainable Development in SOL's multicultural

work group.

6.5.1 It all starts with orientation

The Solar System Orientation Handbook is in active use.

The online orientation for service providers includes an

environmental section that guides our employees towards

environmentally responsible operations.

Commitment 2050 targets and actions

1. Equal opportunities for well-being

We are all different and we all have a place at SOL. We value

diversity and consider it a resource. We develop management

at SOL and we believe that our management

in the future will be service-oriented management. We

believe that a good work community is made up of people

of different ages and from different cultures. More than

30% of our employees are citizens of a country other than

Finland. We predict that, by 2050, 60% of our employees

will be from countries other than Finland.

SOL also has a lot of young employees. Employees under

30 years of age make up 42% of our workforce. According

to our image of humankind, people want to do good

work. We want to give everyone this opportunity..

We are committed to developing SOL's age programme

The goal of the age programme is to promote the work

ability and well-being at work of SOL's employees, support

the motivation of different age groups, reduce sickness

absences, increase the average retirement age, increase

respect towards senior workers and ensure the transfer of

tacit knowledge.

we have salaried employees who are immigrants

in all of our districts achieved/not achieved

2. Working sustainably

We want SOL to be a place where happy multi-experts

work. We provide a wide range of active training opportunities

and our online study programmes bring studies

close to SOL employees right from the very beginning.

We train professionals who know how to do it right the

first time and develop their work continuously in small

steps according to the LEAN method. The SOL Life programme

looks after the safety and well-being of employees

throughout their employment relationship. We want

our employees to retire healthy.

We actively monitor the job satisfaction of our personnel

as well as the rates of sickness absences, accidents and

disability pensions. We have set goals for these and aim

to achieve them.

Now we want to make sure that the information we receive

through employee satisfaction surveys is accurate.

We also want to develop new methods for supporting

our employees. We value the joy of working and everyday

creativity.

We are committed to developing our work so that the

results of the Joy barometer employee satisfaction

survey is above four and the response rate is 80%.

Joy Barometer: Target: above 4 (scale 1–5) + response

rate 80% in all employee groups achieved/

not achieved

We are committed to developing an online tool for

supervisors that enables them to be constantly present

and support the well-being of employees.

Online tool for supervisors 2050 achieved/not

achieved

3. Resource-wise finances

SOL is a Solar System that provides its customers with

service solutions. We work to break down unnecessary

As part of the Society's Commitment to Sustainable Development,

SOL as a service employer has committed to

strengthening SOL's egalitarian work community. A good

work community is made up of people from different

cultures and of different ages and backgrounds. We are

Age programme established/not established

We are committed to promoting the career development

of immigrant employees

30 Responsibility 2018 | www.sol.fi www.sol.fi | Responsibility 2018 31
---
arriers between different services. It is easier and

more affordable for our customers to buy, manage and

develop work when they can do it with a single partner.

The customer saves time and we, for our part, can offer

new work opportunities for multi-experts. By combining

different tasks, we can make it easier to find full-time work

from within our company. Supervisors are responsible

for shift planning and ensuring shift availability. Now we

want to make it possible for employees to book work

shifts easily and flexibly. We value a sunny and satisfied

customer and an enterprising spirit above all else.

We are committed to developing an electronic shift

booking system.

electronic shift booking system achieved/not

achieved

4. Decision-making that respects nature

We always consider the environment in our work. We aim

to constantly decrease the load that our operations cause

on the environment. We have already done a lot of work in

this regard and we want to ensure that this work continues.

We are establishing rules for our procurements. Our value

is reliability.

We are committed to establishing procurement instructions

that will take into account matters important to us:

• our partner suppliers will have environmental management

certificates

• we will favour domestic suppliers

• we will use less detergent than we do now

• we will use less unrecycled plastic

• we will use detergents with environmental labels (85%)

We are committed to auditing suppliers and our own

procurement processes.

procurement instructions complied with/not complied

with

supplier audits carried out/not carried out

6.6 Developing inhouse

operations

6.6.1 Environmental auditing established in

operational development

We use the environmental audits to monitor whether our

operations meet SOL's Environmental Goals and measure

our performance at the district, business sector and

customer-specific levels. Our environmentally friendly

operations are guided by the development perspective.

Environmental audits are carried out with the help of the

SOL's environmental

coordinators work to

promote sustainable

development.

electronic system of SOL. The number of customer-specific

environmental audits increased, with a total of 250

carried out last year.

6.6.2 New SOL concepts

SOL concepts were completed as a result of the multi-professional

work group's efforts. The concepts were finalised

and launched in the districts. During conceptualisation

work, we optimised the product selection of SOL logistics

in terms of both cleaning supplies and detergents.

6.6.3 Environmental impacts of procurement

In our procurement, we consider the environmental impact

of the products and operate in a cost-efficient manner.

We use established partners and carry out supplier audits

to ensure the environmentally friendly operations of our

partners.

6.6.4 Eco-labelled detergentst

We have paid particular attention to choosing detergents

and assessing their environmental impacts. For this

reason, SOL only uses eco-labelled products in washing

cleaning textiles and dishes. With respect to other

detergents, the proportion of Nordic Swan eco-labelled

products is 85%. We cooperate with a Finnish detergent

manufacturer and invest in product development. We

ensure the regular renewal of the Swan label criteria.

We aim to make smart choices that support the

occupational safety of our employees and environmental

protection and keep waterways clean.

6.6.5 Reducing plastic

We use waste sacks produced with the latest Cleantech

innovations. The environmental impact of Cleantech

waste sacks and bags is minor and they are convenient

and safe for our employees and customers. This choice

has an impact on the use of virgin raw materials, energy

consumption, logistics and warehousing costs and the

environmental load.

Our choices in this area have also reduced the amount

of waste through the use of more appropriate sack sizes

and colours. In 2017, we reduced the amount of waste

plastic from waste sacks and packaging materials by

50,000 kg.

We are currently using some 1,800 permanent waste

sacks. The use of permanent waste sacks has seen steady

growth. We carried out several campaigns related to the

use of permanent waste sacks at our service districts in

2017.

6.6.6 Eco-labelled cleaning equipment and

towels

We invest in eco-labelled cleaning textiles. All of the mop

strings and microfibre towels we use carry the Swan label.

6.6.7 Inventories

Inventories were established as part of our daily philosophy

of getting it right the first time and the development

of our in-house operations. The inventories were carried

out electronically for the first time and the results were

available to the districts in real time. A total of 1,000 inventories

were carried out at our customer locations in 2017.

Consumption of eco-labelled and other detergents

100

90

80

70

60

50

40

30

20

10

0

2013

2014

2015

2016

2017

Eco-labelled detergents

Other detergents

32 Responsibility 2018 | www.sol.fi www.sol.fi | Responsibility 2018 33
---
Responsibility is reflected

in day-to-day choices.

6.6.8 Utilising recycled fibres

SOL's responsibility is reflected in the practical choices we

make. We have utilised recycled plastic bottles in the manufacture

of uniform shirts, lightweight backpacks, permanent

waste sacks and mop bags. About 100,000 recycled

plastic bottles have been used to manufacture textiles.

The "Make My Bed Collection" of SOL Palvelut is a

uniform collection for service providers working at hotels.

Its uniforms primarily consists of Ecostep textiles that have

been manufactured using environmentally friendly methods.

The products are manufactured at audited European

factories and have a long life cycle.

SOL is also involved in the Telaketju project with partners

including VTT Technical Research Centre of Finland,

the Finnish Funding Agency for Technology and Innovation

(Tekes) and Touchpoint to develop new models for

utilising discarded textiles.

6.6.9 Waste management and energy

efficiency at SOL City

At SOL City, the headquarters of SOL, waste management

has been organised in line with circular economy.

The energy utilisation rate of our waste is now 43% and

the material utilisation rate is 57% at our headquarters

and property (including tenants of the property). We have

modernised the waste collection at our offices by acquiring

new recycling cabinets that are in compliance of the

new data protection requirements. When the property

was renovated in 2017, the AC machine was replaced with

a more purposeful, energy-efficient model. The lighting

utilises LEDs and is being constantly developed. We are

in cooperation with Energia Group to acquire the best

possible energy for our properties and offices.

6.7 Environmentally

friendly transport

In the procurement season 2017–2019, the emission limit

for new vehicles is 130 g/CO2/km. The emission limit

applies to passenger cars and small vans. Large vans and

pickups used for ploughing are not included in the emission

limit. This objective was met by 81% of our fleet, with

a 19.4% improvement from the previous year.

SOL vehicle procurement emphasises acquiring the

right equipment for the right site. We have reduced the

size of the vehicles whenever possible in order to enable

lower emissions. We use hybrid and gas cars as well as

a fully electric car that is currently in test use. We have

reduced the number of diesel cars and favour cars that use

petrol and alternative fuels.

This is due to the Nox emissions from diesel engines

that are difficult to purify.

In 2017, SOL operated a total of 364 vehicles, 192

of which were passenger cars and 172 vans. The cars

are used for about six years, making the average age of

the cars three years. This means that about 60 cars are

replaced every year.

SOL pays attention to economic driving habits. In cooperation

with our insurance company, we have organised

courses in economic and safe driving for our personnel.

We will continue the training in the next years. We took

our car and traffic insurances to insurance company Fennia

in early 2017.

The reported emissions are in compliance with

the recommendations of NEDC. The emissions of new

vehicles will be determined according to the new WLTP

test which will result in an increase in the emissions. This

means that the same vehicle may have different emissions,

depending on when it was registered.

6.8. Life cycle projects

SOL is involved in producing services for the life cycle

projects of property. We produce services in cooperation

with construction companies or managers as agreed. We

apply operating practices in accordance with the service

agreement model of the Association of Finnish Local and

Regional Authorities, RAKLI and the Confederation of

Finnish Construction Industries RT.

We provide expert assistance in the design stage of

the sites from surface materials and maintenance facilities

to indoor and outdoor passageways. We influence the material

choices of life cycle projects in an ecological manner,

taking sustainable development into account. Our choices

have a long-term impact on the quality of indoor air, the

comfort of the property users, etc.

6.8 Laundry Services

6.8.1 Developing in-house operations

The Group's laundry services company, SOL Pesulapalvelut,

invests in eco-friendliness in both machinery and

Energy utilisation rate of waste

23 %

Material utilisation rate of waste

77 %

100 000

plastic bottles were turned into

26 240

uniforms, plastic bags,

permanent waste sacks and

PR products

34 Responsibility 2018 | www.sol.fi www.sol.fi | Responsibility 2018 35
---
detergents. As advances are made in both washing techniques

and detergents, we use ongoing training to keep

our laundry personnel up to speed with the changes. The

training of new employees is also very comprehensive.

With respect to the environmental impacts of dry

cleaning, the largest change has been the switch from per

wash to hydrocarbon wash. SOL Pesulapalvelut is constantly

renewing its machinery and replacing old machines

with hydrocarbon machines in about 2–5 laundry shops

per year. In 2017, three laundries received a new hydrocarbon

machine. Nearly half of our machinery consists of

hydrocarbon machines. The hydrocarbon solvent used in

the machines is not harmful to the environment and the

new hydrocarbon machines also produce less waste.

The dosage pump systems of water washing machines

are used in nearly all the laundry shops. The dosing

of detergent in water washing machines is automated.

New, computer-controlled water washing machines use

strictly specified amounts of detergents and water. The

detergents are as environmentally friendly as possible. The

use of machinery is optimised in each laundry shop and

the water and electricity consumption is monitored with a

detailed set of indicators.

In autumn 2015, we started collecting the cooling water

of a dry washing machine for washing with water. The

cooling water from the dry cleaning machine is run into

a separate water tank and reused in a water washing machine.

The water is warmer than room temperature, up to

45 degrees. The system also saves electricity when clothes

put in a tumble dryer are first rinsed with warm water. The

water collection system is used in several laundry shops.

6.8.3 Recycling textiles and projects

Since 2016, we have been involved in Tekstiilirinki, developing

and expanding the operations. Customers at our

Hakaniemi, Porvoonkatu and Sörnöinen shops in Helsinki,

Tapiola and Sello shops in Espoo, Myyrmanni shop in Vantaa,

Aleksis Kiven katu shop in Tampere and Kerava shop

can dispose of textiles in convenient recycling containers.

In the summer of 2017, we joined the Telaketju

project which is a network promoting the sustainable

recycling of discarded textiles. Telaketju develops textile

collection, sorting and refinement to correspond to the

needs of companies utilising recycled textiles.

6.8.4 Impacting environmentally friendly

operations of customers

We actively communicate environmental actions to

various stakeholders.

For example, customers have been instructed to return

hangers and use protection treatment that makes the textiles

last longer and reduces the need for washing them.

Environmental aspects at SOL

Environmental aspects at SOL Palvelut

SOL

Criteria for assessment procedure

for environmental aspects based

on environmental reviews and the

environmental programme

IMPORTANCE FACTORS/IMPACT

FACTORS

A = Statutory requirements

B = Importance to image

C = Environmental benefits/costs

D = Severity of environmental impacts

E = Potential leverage

Total = (A+B+C+D)*E

IMPORTANCE SCALE

0 = Statutory requirements

1 = Importance to image

ACTIVITY, PROCESS OR SERVICE ENVIRONMENTAL ASPECT ENVIRONMENTAL IMPACT IMPORTANCE

PROCUREMENT OF PRODUCTS,

MACHINES/EQUIPMENT

Selection of suppliers

Selection of suppliers, cleaning

services

Selection of suppliers, property

services

Selection of suppliers, laundry

services

Environmental file

Environmental impact caused by the

production of products

Environmental impact caused by

consumption

Environmental impact caused by

consumption

Environmental impact caused by

consumption

2 = Environmental benefits/costs

3 = Severity of environmental impacts

A B C D E Total

1 3 2 3 3 27

1 3 1 1 3 18

1 3 1 1 3 18

3 3 1 3 3 30

6.8.2 Reducing the use of plastic

PRODUCTION/SERVICE

Correct selection, dosage and use of

substances to be used

Impact on wastewater caused by the

unnecessary use of detergents

1 2 2 2 3 21

We actively influence the amount of plastic waste by

reducing plastic packaging materials. A growing number

of our laundry shops are plastic-free, meaning that they

return clean clothes to customers without plastic packaging

and provide an option of a reusable fibre bag. Plastic

consumption is reduced every year. We are also developing

other materials for packaging.

-Waste generated by in-house

processes

Wastewater generated

Energy consumption

Plastic waste

Consumption of water supply, impact

on water treatment plants

Consumption of natural resources

and emissions caused by production

Conservation of natural resources,

environmental impact caused by

waste and emissions at the final

disposal site

0 2 2 1 3 15

1 1 1 1 2 8

1 2 2 2 3 21

Hazardous waste, PER waste,

Laundry services

Environmental impact caused by

waste and emissions at the final

disposal site

3 2 2 3 3 30

Transportation

Fuel consumption/emissions caused

by driving

Consumption of energy resources,

impact on atmosphere

1 2 2 1 2 12

Maintenance of transport fleet and

machines

Service life of transport fleet Conservation of natural resources 2 1 2 1 2 12

PERSONNEL ACTIONS

Personnel's environmental awareness,

eco-friendly and environmentally

oriented activities

Identifying and addressing environmental

aspects at work and in leisure

time

0 3 2 2 3 21

Guidance and training

Increasing personnel's environmental

awareness and knowledge

Improving personnel's ability to act

sustainably in their work

0 3 2 2 3 21

COOPERATION WITH CUSTOMERS

Recognising and supporting the customer's

environmental activities

SOL's role in ensuring the customer's

environmental objectives are met

3 3 2 1 3 27

36 Responsibility 2018 | www.sol.fi www.sol.fi | Responsibility 2018 37
---
Wages and social security expenses (MEUR)

Wages and salaries, statutory social security expenses and benefits 2013–2017

Social

responsibility

The Group's strategy recognises employees'

commitment and satisfaction and gives high priority

to personnel issues. HR work is done with and among

the personnel in all the Group's business sectors.

The joy of working is one of SOL's core values.

77.1 HR issues at the core

of the Group's strategy

200

180

160

140

120

100

80

60

40

20

0

197,3

180,5

169,0 172,2

161,3

41,0 44,1 44,9 49,0 50,4

4,5 4,7 3,6 3,3 3,7

2013 2014 2015 2016 2017

Wages and salaries

Social security expenses

Non-statutory social security

expenses

Taxes paid (MEUR)

Personnel costs form the largest part of overall costs. High

priority is given to raising and maintaining the personnel's

enthusiasm, willingness and readiness to serve, and vocational

skills, as these are the factors guaranteeing superior

service to customers. Committed employees comply better

with unified instructions and ensure long-term operations

of high-quality. Trust is the cornerstone of our work. Competent

personnel with the right attitude in the right tasks,

continuous personnel development, performance management,

feedback and incentive strategy are the focus

areas of the company's HR strategy. The feeling that one's

work is useful is important to everyone and creates the joy

of working. SOL's HR strategy is based on a positive image

of humankind, where everyone wants to do good work, to

succeed and to be thinking and feeling human beings who

accept individuality. Our management culture must support

trustworthy interaction and an atmosphere that encourages

creativity.

Personnel development focuses on orientation and

training that support the employees themselves and the

satisfaction of customer-specific needs. The training is

monitored through a Training Index, sorted by employee

and by customer. The coaching and training sessions are

supported on a personal level by competence assessment

and a learning passport. Each SOL employee completes orientation

training online, and a supervisor and a tutor ensure

location-specific competence through method and on-site

orientation and constant care for the well-being of the personnel.

At the end of their probationary period, each SOL

employee also attends the SOL IN training in their district.

Each employee acknowledges that he/she has completed

orientation training sessions.

For a long time, SOL has used employees trained as

tutors, who also work as occupational guides to support the

training process. Their role was enhanced at the beginning

of 2015 to cover the implementation of location-specific

training and ensuring competence. Salaried employees are

additionally provided with mentoring and coaching in their

sales and managerial work. The employee-specific Quality

Passport, where positive customer feedback is documented

with a laughter or smile symbol, continues to be used as a

feedback tool.

Our aim is to offer opportunities for job rotation and

career advancement within the Group. Internal recruitment

and external job applications, today mainly in electronic

format, create a foundation for the company's expanding

operations. The individual's own views and his/her desire

and intent to develop and move forward are also seriously

discussed at the 'From goals to results' discussions.

We have published the SOL Age Programme aimed

at promoting the work ability of employees of all ages.

The goals of the age programme are to support the work

ability of different age groups, maintain good work fitness

and reduce sickness absences as well as promote positive

cooperation between different age groups. We pay special

attention to young people and "yellow panthers".

A further goal of the age programme is to increase the

average retirement age. At present, SOL employees retire

on old-age pension at the average age of 63.3 years, while

the average age of starting disability pension is 58.5 years.

We do not condone discrimination against any age group.

The goals of the SOL Age Programme are supported

by the SOL Life well-being at work programme, which has

been established for a long time now.

50

45

40

35

30

25

20

15

10

5

0

41,0

2014

42,4 43,5

35,9 36,1

1,2 1,5 1,1

INSURANCE PREMIUMS AND TYEL 2016 2017

Due employee pension contributions and unemployment insurance payments,

employee's contributions

Due social security, TyEL, accident insurance, group life insurance and unemployment

insurance payments, employer's contributions

2015

2016

39,5

22,0 22,3 21,8 21,2

47,8

3,0

2017

37,4

Prepaid taxes

VAT paid

Income taxes

Social security contributions

MEUR 10.8 MEUR 12.6

MEUR 39.5 MEUR 37.4

38 Responsibility 2018 | www.sol.fi www.sol.fi | Responsibility 2018 39
---
The "Backpack of Happiness" project developed as

part of the SOL Life programme has been continued. Workshop

activities and the use of well-being at work mentors

have been expanded to cover all service districts, with a

well-being coordinator appointed for each district.

7.2 Number of personnel

and type of employment

relationships

The average number of employees each year is calculated

from the average number of employees on the last day

of each month, and every person is included in the figure

regardless of the number of his/her working hours (not FTE

number).

In 2017, the SOL group employed 13,685 people (2016:

12,862). The number of personnel increased by 823. In 2017,

an average of 9,530 people worked in SOL's Finnish operations

and an average of 4,155 people worked in our foreign

subsidiaries. SOL employs over 800 seasonal workers in Finland

each year. We participate in the Responsible Summer

Job campaign.

Some 92% of SOL's personnel worked in permanent

employment relationships in 2017, the same number as in

2016.

Type of employment 31 December 2017

(SOL Henkilöstöpalvelut is excluded from these figures.)

For 85.86% of the Group's employees in Finland, their

job in the SOL Group was their primary occupation. At the

end of 2017, a total of 152 our employees in Finland were

on maternity or nursing leave, rotational leave or study

leave. The figures do not include the temporary staff of SOL

Henkilöstöpalvelut.

Employment relationships are mainly agreed until further

notice, except with SOL Henkilöstöpalvelut, where the

majority of the employment relationships are fixed-term.

Ilmarinen granted 87 old age pensions in Finnish

companies in 2017 (old age pension and old age pension

payable on early retirement). No part-time pension granted.

A total of 28 people were granted disability pension, of

whom 14 receive part-time disability pension. Euro-denominated

pension expenses dropped considerably from the

30.62% level of 2016

The SOL Life well-being at work programme engages

in effective cooperation with occupational health services

(Terveystalo), the accident insurance provider (OP) and

pension company (Ilmarinen).

NUMBER OF PERSONNEL FINLAND FOREIGN SUBSIDIARIES SOL GROUP TOTAL

The SOL Continuous caring model was developed to

support the supervisors. The Sirius programme helps supervisors

with the early identification of disability risks.

Employment relationships on a trial period basis that

are terminated by the employer are monitored by supervisors

and at the district level via scorecards every month.

The length of the working day was 7.6 hours for SOL's

salaried employees in 2017. The length of the working day

among SOL employees varies between the companies. The

average length of the working day was 4.65 hours for the

employees of SOL Palvelut, 4.53 hours for the employees

of SOL Henkilöstöpalvelut and 5.65 hours for SOL Pesulapalvelut

employees.

7.3 Personnel's age and

duration of employment

The average age of employees in the Group's Finnish

companies was 34.8 years in 2017 (2016: 37 years). The

average age of personnel in SOL Pesulapalvelut was 39

years. In SOL Palvelut, the average age was 30 years, while

in SOLEMO it was 44 years. The average age of personnel

in SOL Henkilöstöpalvelut was 30 years, while the corresponding

figure for salaried employees was 38 years. The

age distribution among the Group's personnel in Finland

is as follows: under 20 years: 6%, 20–24 years: 16%; 25–29

Joy Barometer, SOL employees

years: 17%; 30–39 years: 23%; 40–49 years: 15%; 50–60

years: 17%; and over 60 years: 4%.

There is a significant difference between the duration

of employees' and salaried employees' employment

relationships. The average duration of SOL's employment

relationships in Finland has increased slightly over the past

few years, to 5.63 years for employees and 9.03 years for

salaried employees. Some 23.26% of all SOL's salaried employees

in Finland have worked for less than three years

and 37.85% for more than 11 years. Some 68.91% of the

employees have been employed for less than three years

and 16.25% for more than six years. The longest employment

relationships – over 40 years – derive from the time

of the previous Group. Some 44% of the employees and

22% of salaried employees in the international operations

have worked for less than a year, while 13.67% of the employees

and 26.44% of salaried employees have been in

the company for more than 5 years. The longest continuous

employment relationship has lasted 22 years.

7.4 Employee distribution

by gender

Women accounted for 64% of the Group's total personnel.

In Finland, the percentage of female employees was 63%

(SOL Henkilöstöpalvelut is excluded from these figures).

The proportion of women in international operations is

64% among employees and 44% among salaried employees.

Six out of the nine members of SOL's Management

Team are female. Three women sit on the four-person

Board of Directors of SOLEMO Oy. At the end of 2017,

women represented 73.53% of the management in the

Group's Finnish companies.

Permanent employment relationships 6331 3302 9633

Fixed-term employment relationships 461 853 1314

Full-time employment relationships 2054 1650 3704

7.5 Investing in

personnel's work ability

Main employment relationships 8188 3375 11563

Duration of employment relationships

14%

20%

Personnel age structure

8% 2% 6% 6%

26%

30%

More than 20 years

11–20 years

6–10 years

3–5 years

1–2 years

Less than 1 year

16%

15%

24%

15%

17%

More than 60 years

50–60 years

40–49 years

30–39 years

25–29 years

20–24 years

Under 20 years

5,0

4,5

4,0

3,5

3,0

2,5

2,0

1,5

1,0

0,5

0,0

The work

and I

4,2

The work

and I

The customer

and I

Joy Barometer, SOL salaried employees

4,7

The customer

and I

The supervisor

and I

4,1

The supervisor

and I

Safety and I

4,5

Safety and I

SOL as a

whole

Average

4,3 4,4

SOL as a

whole

Average

In 2017, SOL spent some EUR 229 per employee on the

prevention and treatment of illnesses in Finland. SOL monitors

sickness absences on the performed working hours,

so-called 100%. In 2017, the morbidity rate in Finland was

4.78%, which means an increase of 0.05 percentage points

from the previous year. The most important causes of sickness

absences include musculoskeletal diseases, infections

and accidents.

The SOL Life Early Caring Model helps supervisors to

intervene with work ability problems in their early stages.

The most important aims include preventing sickness absences,

reducing the number of accidents and minimising

disability pensions.

The rate of morbidity due to occupational accidents

in Finland was 0.26%. There were 589 accidents at

work, and 116 accidents occurred while commuting. The

accidents at work resulted in 2,899 days of sick leave,

equivalent to some five sick days per accident. Accidents

while commuting caused 1,479 days of sick leave absence,

equivalent to some 13 sick days per accident.

40 Responsibility 2018 | www.sol.fi

www.sol.fi | Vastuullisuus 2017

41
---
Health issue

The supervisor makes

an appointment for

the employee at the

occupational health-care

centre for 1) a work

ability assessment and

2) a discussion between

the supervisor, the employee

and a physician

SOL Life – a model for continuous caring

The employee's performance has weakened

or the limit values for sickness absences have

been exceeded

THE SUPERVISOR HOLDS A DISCUSSION IN ACCOR-

DANCE WITH THE MODEL FOR CONTINUOUS CARING

A problem in the

work community

The supervisor discusses the situation

individually with each member of the

workplace community

The regional supervisor reports

to the regional manager about

the discussion.

A personal-life problem

Temporarily shorter

working hours, unpaid leave,

annual leave rescheduled

at an earlier date, flexible

working hours

SOL was awarded by

the European Agency

for Safety & Health at

Work (OSHA)in May 2017

at Finlandia Hall for its

successful project in wellbeing

at work: "Everyone

has the right to wellbeing

at work"

The occupational

health-care centre

provides the employee

and the employer

with an assessment

of the situation and

initiates any necessary

measures

Risk of disability

pension

The occupational

health-care centre

guides the employee

to apply for professional

rehabilitation

provided by Ilmarinen

or medical rehabilitation

provided by Kela

The supervisor implements measures

to improve workplace relations and the

atmosphere at the workplace

Treatment

If necessary, the supervisor

arranges for less stressful or

alternative assignments and/

or flexible working hours either

temporarily or permanently

Recommendations

to revise the job

description or adjust

the working hours

EMPLOYEE

CAPABLE

OF WORK

Supervisors conduct continuous safety risk evaluations

at worksites and customer premises, and implement

the necessary actions according to plan. The occupational

safety officer is often also involved in these activities. The

Occupational Safety and Health Committee operates

nationwide and convenes five times a year. Each SOL employee

is responsible for safety, and all of SOL's activities

are based on preventive measures.

A separate on-site risk list and related occupational

health and safety instructions are made on the basis of the

risk evaluations. The employees are specifically oriented

on the topic of the risk list and its instructions and the

orientation must be signed for.

In the event of an accident, our instructions are to also

immediately inform the Occupational Health and Safety

Manager, the relevant Business Director and the Managing

Director directly. The event must be explained and

the following procedures to prevent the accident from

reoccurring must be described.

Each accident is investigated and documented to find

out the core reason. The accident is discussed on-site and

the corrective measures are implemented. After this, the

next district meeting of the service management area will

discuss and state for general information all the completed

corrective measures. Excerpts from the minutes will be

sent to the Occupational Health and Safety Manager.

The Occupational Health and Safety Manager will

monitor the development of the accident statistics and the

accident rate monthly and inform employees of any observations

and issues the personnel should pay attention

to at the workplace with any new necessary instructions or

procedures.

The sickness and accident statistics will be regularly

presented in management reviews.

Electronic occupational safety tool:

70

60

50

40

30

20

10

0

Occupational accident frequency

Figure 19. Accident rate per million working hours, 2013–2017

2015

2016

2017

On the job

At least 3 days

Less than 3 days

On the commute

Risk assessments: 139

Safety observations: 334

05 0 100 150 200 250 300 350

Classification of safety observations:

Personal protective equipment, clothing: 7

Order, tidiness: 29

Chemicals, air quality: 11

Machines, equipment, platforms, supplies: 32

Passages, exits: 38

Lowering oneself: 7

Slipping, falling: 73

Noise, lighting, temperature: 6

Lifting: 6

Bumping one's head: 26

Risk taking: 4

Transport of goods: 25

Sharp objects: 37

Threat of violence: 9

Getting squeezed between something: 19

Other: 70

01 02 03 04 05 06 07 08 0

Summary of electronically

reported safety

observations. The

categories with

the most observations

match the categories

with the highest accident

frequencies. This

suggests a direct link

between paying attention

to these factors and

achieving positive

development in reducing

the accident frequency.

42 Responsibility 2018 | www.sol.fi www.sol.fi | Responsibility 2018 43
---
A total of 250

apprenticeships

leading to a

qualification and

12,000 training

participants

Service expertise

and customer service

7.6 Personnel training

ensures competence

The long-term and systematic development of the personnel's

competence is critical to SOL. An estimated 25% of

the personnel employed by our Finnish business lines hold

a vocational qualification or a further or specialist vocational

qualification. The Group has six full-time instructors

with qualifications in teaching: five in SOL Palvelut and

one in SOL Pesulapalvelut. Other people in the Group

have also been trained to provide training sessions.

The needs and requirements of customers and the

needs of the company and the personnel are taken into

account in the planning of the training sessions, and the

formulated plans are turned into a tangible form as an

updated training programme for each year. Supervisors

Site and task-specific training,

multi-experts

Special expertise and

specialisation studies

Rewarding, personnel benefits, career plan, well-being at work

prepare a competence plan for their staff based on the

programme and update the plan as necessary.

In 2017, a total of 12,000 people participated in the

training sessions.

The number of training days amounted to an average

of two days per employee in Finland. Most of the training

sessions are conducted internally, but they also often

involve outside experts.

The training sessions are divided into targeted training,

which maintains or deepens knowledge, and longterm

degree-oriented education, which is implemented

as module and multiform/online training. The aim of the

training is to pave the way for an opportunity to take a

practical examination leading to a qualification, and to

identify and recognise the competence acquired through

work as well as the training provided by SOL in the preparation

of a personalisation plan.

Our diverse personnel challenge us to continuously

develop our training programmes, which is why we are involved

in a number of projects such as the SAFHY project

that produces digital learning materials, including video

clips and tests, for use by educational institutes and businesses

in Estonia and Finland. The materials are produced

in Finnish, Estonian, Russian and English. The materials

include texts, video clips, photos, tests and a professional

glossary.

(The SAFHY project is funded by the ERDF Interreg

Central Baltic programme and coordinated by the Central

Uusimaa Training Consortium Keuda)

In addition to classroom training, we invest in the development

of online training. Our goal is to further invest in

orientation training and the implementation of procedures

and operating methods in line with the concepts we have

developed. We are also continuing our work in site-specific

initial and development training and increasing the

target auditing carried out by instructors as well as the

implementation of the LEAN operating model. In training,

we focus on coaching tutors, service instructors and

well-being at work mentors as well as the development

of online training and diverse coaching, including not

only online and classroom training but also webinars and

coaching.

Our goal is to reduce the number of contact training

days and to increasingly utilise the Internet as a learning

tool.

SOL Training Steps is a model of how an employee

can exploit our in-house training to improve his/her skills

and to broaden his/her tasks. Each step includes a number

of training sessions. These are based on SOL's in-house

training, but they can also include specialised degrees or

special skills training arranged by other organisations.

In 2017, some 230 SOL employees participated in apprenticeship

training in Finland, taking various degrees,

including:

• Vocational Qualification in Textiles Care

• Vocational qualification in property maintenance services

• Further Vocational Qualification in Property Services

and Specialist Qualification for Property Services

22 SOL members

completed the

SOL Life well-being

mentor

qualification

• Site facilities operative, further vocational qualification

• Supervisor of cleaning work, specialist vocational qualification

• Cleaning technician, specialist vocational qualification

• Specialist Vocational Qualification in Management

• Security guard, further vocational qualification

• Specialist Qualification for Security Officers

• Practical examiner qualification

• Specialist vocational qualification in business management

• Janitor, specialist vocational qualification

• Immediate supervisor, further vocational qualification

Last year, the emphasis in training investment was placed

on Immediate supervisor training, directed at service

instructors and new service supervisors. The qualification

was completed by 24 SOL members. The Backpack of

Happiness project was an investment in the coaching of

SOL Life well-being mentors. At the end of 2016, a pilot

group was launched which, in 2017, was expanded into national

operations, having 1–2 well-being mentors in each

district (22 SOL Life well-being mentors in SOL Palvelut

and 1 in SOL Laundry services).

The objectives and purposes of the well-being mentor

operations are:

• To support and promote the joy of working created and

experienced by the employees

• To promote shared commitment to the SOL organisation,

the development operations of SOL Life and

high-quality customer service

• To strengthen genuine, honest communications between

the supervisor and employees

Our cooperation with Keuda has continued for nearly 15 years.

22 SOL members completed the SOL Life well-being mentor qualification

SOL Life well-being game seeks good leadership models by means of gamification.

44 Responsibility 2018 | www.sol.fi www.sol.fi | Responsibility 2018 45
---
• To act in cooperation with the service management and

supervisors in order to improve well-being at work and

the flow of information

• To manage the organisation of events, such as service

provider sessions, as agreed in cooperations with the

district and supervisors

• To conduct the Joy barometer survey

• To complete quality and training rounds and help employees

work better

• To set an example to the employees.

In 2017, the Ergonomy Handbook was created, and ergonomics

and the guidance of ergonomic work methods

were the particular focus at the tutor/well-being mentor

development event.

In 2017, SOL trained 53 new TUTORS to help the supervisors

guide and coach both new service providers and

those who have served in the position for a longer time.

The training managers had three meetings over the

course of the year. They are in charge of planning and

implementing district training events in cooperation with

the district and trainers. Every autumn, the programme for

next year is drawn up in the training calendar, and during

the year we were also involved in the Oppi-va project of

ESF that was launched in 2/2017 and will be completed in

2/2019.

The objective of the project is to promote the fluency

of work, well-being and productivity and to produce tools

to support different learners. The project has included a

questionnaire, interviews and training for supervisors. In

2018, orientation materials will be made with, for example,

360 imaging.

SOL Palvelut Oy was given the Apprenticeship

Employer of 2011 award by the Helsinki Apprenticeship

Office (the award applies to the whole of Finland). In

2013, the Lapland Apprenticeship Centre recognised SOL

with multiple awards including apprentice of the year,

apprenticeship company of the year, on-the-job trainer

of the year and apprenticeship trainer of the year based

on the company's active and positive efforts in the field of

apprenticeship training.

There are eight experts at SOL who have completed

the practical examiner training. They have the skills

to evaluate employees' previous skills in relation to their

duties and official degree requirements, and to assess

the completed degrees. The objective is the promotion

of lifelong learning, and the personnel training at SOL is

integrated to correspond to the basics of qualifications

and, therefore, promotes the completion of practical

examinations and cooperation with apprenticeship offices

and institutes.

Annual theme days are organised, for example, for tutors,

service instructors, coordinators of training, environmental

affairs and recruitment, service supervisors, sales

personnel, full-service laundry personnel and customer

service personnel.

We cooperate with significant educational institutes

across Finland. Our cooperation with Keuda can be traced

back more than 15 years and the partnership has developed

through the years. In particular, vocational qualifications

and further vocational qualifications in property

services have been completed as both apprenticeships

and self-motivated training.

We have worked together with Amiedu particularly in

the area of targeted training in property services.

The level of training of the service operatives working

for each customer is monitored by the Training Index, and

employees are guided to the necessary training courses

based on the index.

Orientation

The online orientation for service providers were renewed

in 2016 in Finnish and in 2017 in English and Russian. New

skill tests and online training sessions were also developed

in 2017. In 2018, the work continues with conceptual

training, cleaning technology, environmental training,

safety and customer service training. When necessary, we

develop customer-specific online training.

Online training for salaried employees will be

renewed in 2018, and the goal is to add some webinars

that were also implemented in 2017. With Muutostaito

Changeskill Games, we developed the SOL Life game for

our districts and supervisors and certified three SOL Life

game trainers from our HR and training team.

We have utilised Coaching in 2017 for individuals and

will continue it for districts and teams in 2018.

7.7 Personnel unionisation

In Finland, the provisions of the current collective bargaining

agreement between the Finnish Real Estate Employers

and the Service Union United PAM for employees in the

property maintenance sector applies to SOL's employees

in the cleaning, property and facility maintenance services

The personnel have full freedom to unionise in all the

operating countries. Since the countries of the foreign

subsidiaries do not have collective bargaining processes

similar to Finland, local labour legislation and SOL's internal

practices are applied to their work.

SOL Palvelut Oy is a member of the employer union

Real Estate Employers, SOL Pesulapalvelut is a member of

the Yleinen Teollisuusliitto ry, and SOL Henkilöstöpalvelut

is a member of the Palvelualojen työnantajat PALTA ry.

7.8 SOL is a multicultural

work community

SOL is a multicultural work community that offers equal

opportunities to all employees. More than 30% of SOL

services' employees were not Finnish citizens.

We promote the equality of all employees and prevent

discrimination in all forms. (For example, discrimination

due to age, origin, nationality, language, religion, conviction,

opinions, political activities, trade union activities,

family relations, health, handicaps, sexual orientation or

other reason arising from a person is strictly prohibited.)

SOL established its multicultural work group in 2007.

Its objective is to promote the integration of employees

from different environments into the operating culture at

SOL and to improve the understanding of diversity. The

multicultural work group has, for example, prepared an

annual global calendar which includes the holidays of

different religions. In cooperation with PAM (Service Union

United), the work group has produced a video for new

employees with the intent of introducing the employee to

many important issues.

– Of course, the people in the video are SOL employees

as well.

A video is a modern and more lively channel for

communicating important issues to employees, and an

image also relates an important image of the employer,

We are all equal

SOL is widely known as a multicultural work community.

– Orientation to SOL's work tasks and taking root in

the Finnish working culture are emphasised in the work of

the multicultural development group, says Sari Crnobreg,

Chair of the multicultural work group.

SOL has employees from over 60 countries and all

continents. Crnobreg emphasises that despite the differences,

everyone at SOL is equal.

– We wish to give everyone equal chances for a

career, learning at work, and well-being at work. Harmonising

working methods and making service easy is important.

For instance, we have translated training materials

into many different languages.

– One of the key challenges is mapping and utilising

the skills of multicultural employees more efficiently.

According to Crnobreg, good interaction is created

by ensuring that the employer has a clear picture of the

difference of the peoples' backgrounds. Despite training,

it is important to preserve the person's idendity.

– Families have also been integrated with the help of

SOL. An intact family has a tremendous, positive effect on

the life of an employee, which also benefits their working

life.

Crnobreg finds it delightful that more and more couples

are working at SOL these days, enabling a new level

of planning their future in their new home country.

– One must not forget one's roots and identity – quite

the opposite. Multiculturalism is a diverse gift, and one

ought to be comfortable with one's identity.

In 2016, SOL handed out its first award for an act

promoting multiculturalism. The award was given to the

Multiculturalism Working Group led by Sari Crnobreg in

recognition of the group's accomplishments in promoting

equality.

colleagues, the work community and the rules of working

life to the viewer.

SOL is taking part in the Osaavat naiset project coordinated

by MONIKA - Multicultural Women's Association,

supporting the employment of immigrant women in many

different ways. SOL is an active partner in the project and

has already provided many women with job opportunities.

Women with an immigrant background are trained to

seek jobs, taught IT skills, and guided towards language

studies and other training.

Happy together

The events organised by the multicultural group have

been popular.

– They bring joy to everyday life, and SOL employees

from different cultures can get to know each other.

The multicultural development group also maintains

a world calendar containing the holidays of different

countries.

– This is an important work-planning tool for the

supervisors. We share holidays from all over the world and

each of us can learn new, interesting and inspiring things

from different cultures. By getting to know different countries

and their customs, we are also more truly present as

colleagues.

Join in and make a difference

According to Sari Crnobreg, the development group has a

large number of new goals, and they are in constant need

of more eager participants as the members of the development

group fluctuate among work tasks and potential

changes.

– For instance, we would really like to have participants

from South Asia. It is important to have a comprehensive

representation from different continents.

Crnobreg reminds us that the multicultural work

group encourages all SOL employees to take initiative.

– There are never too many ideas, and there are no

limits to what we can achieve through cooperation.

Providing comprehensive orientation training

to all employees is a matter of honour for us.

46 Responsibility 2018 | www.sol.fi www.sol.fi | Responsibility 2018 47