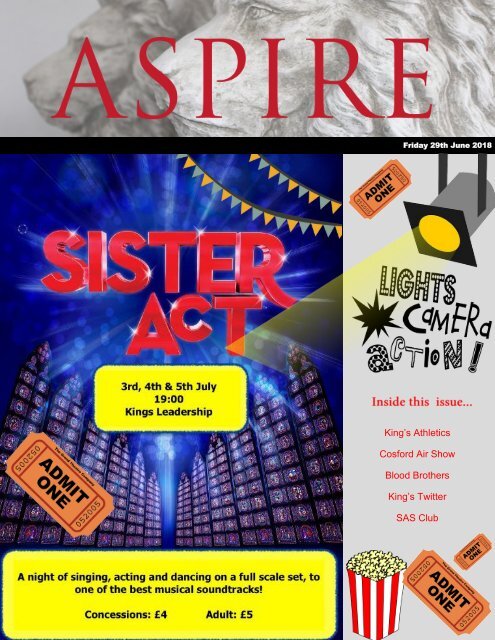 Create successful ePaper yourself
Turn your PDF publications into a flip-book with our unique Google optimized e-Paper software.
Friday 29th June 2018

King's Athletics

Cosford Air Show

Blood Brothers

King's Twitter

SAS Club
---
Goodbye & Good Luck Year 11
---
Cosford Air Show

On Sunday 10th June, 7 of our Combined Cadet Force Cadets attended Cosford

Air show near Wolverhampton.

It was a enjoyable day in which thousands of people from around the UK

attended.

"The day was a great opportunity for me to attend! Overall it was awesome seeing

The Red Arrows and other aircrafts crossing in the sky with their trailing coloured

smoke following closely behind" L.Cpl. Didd

"Such an inspirational day seeing the fast jets soaring through the sky! It was

fantastic that we had the opportunity to sit inside the cockpit of one of The Red

Arrow Aircraft." Cpl. MacFaul
---
As you hopefully already know, the English department are running a trip to

see Blood Brothers in November.

This is an absolutely fantastic play to watch and is one that people return to watch

again and again (it will be my 4th time watching it on stage!) Also, this is one of

the texts you will be studying at GCSE and seeing the text come to life on stage

will really help you when it comes to answering exam questions. You will have a

more secure knowledge of characterisation, staging, audience reaction and special

effects!

Some of you have mentioned about the price being expensive. We have already

secured a huge discount on the tickets – if you google the same show at

Manchester tickets are approximately £40-£50. However, if you do want to join us

and money is an issue, please do come and see me as I'm sure there will be

something we can do to help financially.

About 50% of the spaces have gone but you have until Friday 20th July to book

on.

Your space will only be guaranteed when you have paid.

Any questions, please come and speak to Miss Moss.
---
King's

Tweets
---
King's Charity Event

King's students have been

working very hard to create

games and prizes in

preparation for the big

charity event we are holding

on Wednesday 11th July.

Everyone is welcome

to come along from 2pm to

5pm!
---
The SAS Has Been Busy!

Serious About Science is our after school science club which takes place on a

Tuesday and it provides an opportunity for pupils to be engaged and inspired

by experiments and demonstrations that they do not always get to do in normal

science lessons! It's a lot of fun and allows those who come to be creative and

think like a scientist when working out what variables we can change to

produce better results for what we are doing. SAS has been enjoying a whole

range of experiments in the last few weeks that we would like to tell you about:

Density Towers - using a number of different liquids we slowly built up a tower

inside a beaker based on their densities - and, if done correctly, the layers do

not mix at all. We then dropped various solid objects into the tower to see at

which level they stopped falling - again, based on their densities!
---
Rainbow fizz and Rainbow pH scale - pupils use universal indicator and a

series of chemicals to produce a rainbow of colours based on pH. We then

watched what happened when an acid and an alkali were mixed together in a

tube containing indicator - there was a lot of fizz (due to the presence of

carbonate ions) and another cool rainbow produced!
---
Choice chambers - we acted like environmental scientists wanting to find out

more about the species around us and made devices which created four

different environments for woodlice to live in. We then collected woodlice from

outside and watched which environment they went to, showing us the conditions

they prefer to live in.
---
Bouncy Custard Balls - adding PVA glue to borax produces slime (an old

favourite of the science club!). Adding cornflour at this point however makes

the mixture harden even more so that bouncy balls can be created instead of

slime. It's all about the crosslinks made between the polymers!
---
Biodiversity - We went around the school garden and into the pond to

collect as many different species as we could using nets, trays and

unusual devices called pooters. Using insect identification guides, we

worked out what we had and then researched what these species eat, what

eats them and where they like to live outside.
---
Primary Kids at King's!

A group of Woolston C of E pupils have visited the science department and enjoyed a session

called 'Challenging Changes.' Pupils watched Mr. Barker carrying out the elephant's

toothpaste experiment where a foam is made from liquids and a solid in quite an explosive

way! This was followed by a hands-on experiment where pupils made a non-Newtonian

fluid - in other words, something that is a liquid until you apply force to it and then it becomes a

solid (or vice versa in the case of things like tomato sauce!) In this instance, pupils mixed

cornflour with water and the resulting mixture is called oobleck. Pupils also place skittles in

water and watched diffusion take place as the colours moved from the sweets into the water

surrounding them to make some very interesting patterns. Finally, Mr. Barker showed

everyone the rainbow fizz demonstration where solutions will fizz and change colour when

mixed together. Every pupil was given a certificate to commemorate their visit and we look

forward to seeing many of them joining King's in the next few years!

Please do get in touch with us if you would like to arrange for your own primary school to come

and have a visit at any point in the year. We provide three different age appropriate sessions

for primary kids based on the topics of 'Challenging Changes,' 'Super Sounds' and 'Lively

Lights.' We can also provide other sessions to fit in with specific topics you may be covering if

you would like your pupils to see a real science lab and engage in experiments and

demonstrations that may not be possible outside of a secondary school setting.

We hope to see you here at King's in the future!
---
Shauna Clarke came 2nd

overall in 200m and has

qualified to represent

Cheshire. She competes

in the regional

competition on

Wednesday 4th

July! Congratulations!

King's Athletics

King's students represented Warrington in the Cheshire Schools Athletics

Championships earlier this week.

Nathan Heywood (1500m) and Lucie Davies (800m) both came 4th in their events

and are first reserves for the Cheshire team in the next regional competition.
---
King's Term Time Calendar

3rd, 4th and 5th July—Sister Act performance

6th July—INSET day

10th July—Project week begins

11th July—Y11 Prom & King's Carnival

A reminder to all parents/carers that our final INSET day of the academic year will take