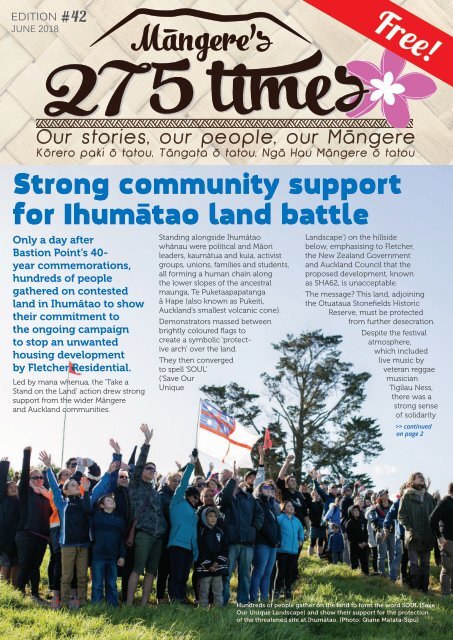 275 Times June 2018
Mangere community news. This month: Support for Ihumatao, new 'regen' zone in Mangere East, rail to the airport - and more!
Mangere community news. This month: Support for Ihumatao, new 'regen' zone in Mangere East, rail to the airport - and more!
SHOW MORE
SHOW LESS
Create successful ePaper yourself
Turn your PDF publications into a flip-book with our unique Google optimized e-Paper software.
EDITION #42

JUNE 2018

275

Māngere's

times

275 times

Our stories, our people, our Māngere

Kōrero paki ō tatou, Tāngata ō tatou, Ngā Hau Māngere ō tatou

Strong community support

for Ihumātao land battle

Only a day after

Bastion Point's 40-

year commemorations,

hundreds of people

gathered on contested

land in Ihumātao to show

their commitment to

the ongoing campaign

to stop an unwanted

housing development

by Fletcher Residential.

Led by mana whenua, the 'Take a

Stand on the Land' action drew strong

support from the wider Māngere

and Auckland communities.

Standing alongside Ihumātao

whānau were political and Māori

leaders, kaumātua and kuia, activist

groups, unions, families and students,

all forming a human chain along

the lower slopes of the ancestral

maunga, Te Puketaapapatanga

ā Hape (also known as Pukeiti,

Auckland's smallest volcanic cone).

Demonstrators massed between

brightly coloured flags to

create a symbolic 'protective

arch' over the land.

They then converged

to spell 'SOUL'

('Save Our

Unique

Free!

Landscape') on the hillside

below, emphasising to Fletcher,

the New Zealand Government

and Auckland Council that the

proposed development, known

as SHA62, is unacceptable.

The message? This land, adjoining

the Otuataua Stonefields Historic

Reserve, must be protected

from further desecration.

Despite the festival

atmosphere,

which included

live music by

veteran reggae

musician

Tigilau Ness,

there was a

strong sense

of solidarity

>> continued

on page 2

Hundreds of people gather on the land to form the word SOUL (Save

Our Unique Landscape) and show their support for the protection

of the threatened site at Ihumātao. (Photo: Qiane Matata-Sipu)
---
2

EDITORIAL

Talofa lava

The cold rains

of winter were

rolling across

the Manukau

Harbour,

and as luck would have it,

I was only halfway up a

rocky slope of the Otuataua

Stonefields in Ihumātao.

The group of Māngere College

geography students that I was

with were already relaxing

at the top (and had been for

at least fifteen minutes).

When I finally reached the

summit of the dormant

volcanic crater that had

to be reconstructed after

it was quarried out, a

sense of accomplishment

overwhelmed me.

Then…I turned around.

I saw buildings, warehouses and

other structures tightening in

around this cultural landscape.

Cars full of people speeding past.

No one cared that we were there.

Down the road, on the shores

of the harbour near the airport

runways, are the fossilized

stumps of a kauri forest. These

trees once stood like majestic

chiefs watching over their

people, their land, their home.

No one goes to see them now.

Recently I received the Samoan

matai title of Tuatagaloa

(Tuataga for short) from my

mother's side of the family and

the village of Manunu in Samoa.

While the cultural significance of

the title sits squarely within the

confines of my family heritage

and the customs of the Fa'a

Samoa, I know that there are

things in the big world that

are scraping like bulldozers

to erase its importance.

It's all up to us now.

Stay warm out there Māngere.

Alofa tele,

Hermann

Tuataga Hermann Arp Jr

Editor

Campaign

supporters form

a 'protective arch'

over the land

and spell out the

word 'SOUL' at

Ihumātao. (Drone

footage by Chris

McKeen/Stuff)

Support for Ihumātao

>> continued from page 1

and renewed energy for the campaign,

which is now in its third year.

"This land was stolen from our

ancestors 150 years ago," says

Pania Newton. "Our people have

continued to be kaitiaki of our

whenua over generations, and

we are here today to continue to

defend it from further destruction."

Dr Haare Williams and Ihumātao

kaumātua Maurice Wilson Jr

opened the event with karakia and

encouraging words of support.

Dr Williams, a Ringatū minister and

recipient of the New Zealand Order of

Merit, said he had faith in the values

of the Labour Party and in the Labour

Party itself. However, if the Government

could not find a solution to the

housing problem in Auckland without

the land at Ihumātao being taken,

then he would consider returning his

New Zealand Order of Merit medal.

Green Party Co-leader Marama

Davidson and Auckland Councillor

Cathy Casey, who have supported

the campaign since its inception,

both publicly vowed to do all in their

power to see the land protected.

Other speakers emphasised the

ongoing injustices suffered by

Part of the 'protective arch'

at Ihumātao (Photo: Rebecca Hobbs)

Above: Dr Haare Williams is

considering returning his New Zealand

Order of Merit medal if the Government

allows the development at Ihumātao to

go ahead. (Photo: Qiane Matata-Sipu)

the people of Ihumātao and the

importance of working out a

different future for the land – one

that all parties could live with.

"This magnificent turnout on this

cold, windy day in May, shows the

strength of the community behind

this campaign. Fletcher will have a

bigger fight on their hands if they

continue to push forward with the

plans for development," says SOUL

spokesperson Brendan Corbett.

Find out more at:

www.soulstopsha.org

Facebook: @protectihumatao
---
The story of my korowai

Vai Edwards recently completed a beautiful

korowai at the free classes at the Māngere

East Community Centre. This is her story.

By Vai Edwards

My korowai is called Te Tahi Rangimarie (The

peaceful one). It's my first piece, and it represents

me, my culture, and the peace and beauty of my

mother's homeland of Mangaia, Cook Islands.

The rich dark brown at the bottom of the

piece represents the island and its many

caves and underground caverns. The green

is the growth of the plants and trees.

The lighter brown in the middle represents

the people going about their daily business.

The yellow is the warmth and happiness

of the people, and the white represents my

Heavenly Father watching over His people.

The Ta'aniko motif at the very top is a pattern

unique to the island of Mangaia. It represents two

warriors tied together back-to-back in battle.

Vai has given the korowai to her Māori cousin, who has

been going through hard times, as a generous 'gift of love'.

Right:Vai Edwards proudly shows her korowai. (Photo: Lyn Doherty)

Key priorities this year

Tēnā koutou, tafola lava and greetings from our Local Board.

Local Board

chair Lemauga

Lydia Sosene.

I'm pleased to say we

have completed our local

board agreement for the

financial year 2018/19.

This agreement is to deliver

on the first year of the threeyear

Local Board Plan 2017.

We have considered your

feedback from the Have Your

Say consultation on the annual

plan and long-term plan and

thank you for the comments.

While I can't go into all of it due

to space, what you have told us

has helped shape and decide

our priorities in a number

of areas: Environmental

sustainability, which means to

reduce waste, build capacity

and innovative initiatives for

recycling and support the

cleaning up of our streams

and beaches will continue to

attract our strong support.

Sustainable practices by groups

and businesses, including the

monitoring of maintenance

contractors, so our town

centres remain clean and

attractive, is high on our list.

Through the local grants

and arts broker programme

we continue to assist

community groups to run

their activities and events.

Collaboration and communityled

initiatives result in a sense

of safety and connectedness in

neighbourhoods, and part of

this is our strong advocacy to

reduce the proliferation of offlicenses.

We will continue this in

advocacy for better conditions

of boarding houses in our area.

Promoting active lifestyles,

along with improving the

local parks and playgrounds,

including the implementation

of the Boggust Park concept

plan is a key deliverable

in this financial term.

Advocating for funding to

develop Māngere East area

as a vibrant community hub

will be a primary focus for

our board's advocacy.

Free access to swimming

pools for all adults,

through locally targeted

rates will continue.

Promoting local tourism and

opportunities to showcase

our community's unique

cultural identity and natural

environment is also ranked

high as we develop ongoing

relationships with mana

whenua with shared interests.

Thank you for your ongoing

support to achieve these

results in Māngere-Ōtāhuhu.

To stay up with all that's

happening in our area,

make sure you follow our

Māngere-Ōtāhuhu Local Board

Facebook page: facebook.com/

mangereotahuhu. Or email

mangereotahuhulocalboard@

aucklandcouncil.govt.nz to

subscribe to our e-newsletter.

Manuia,

Lemauga Lydia Sosene

Chair of the Māngere-

Ōtāhuhu Local Board

3
---
GETTING ABOUT

Light rail to the airport:

Is it best for Māngere?

As heavy rail to the

airport looks likely

to be replaced by

light rail, we asked

Councillor Mike Lee

– a leading advocate

of public transport

for many years – why

he still prefers the

heavy rail option.

By Donna Wynd

275 Times: Public transport

from Māngere to the airport

and Onehunga/Penrose is a

live issue for our community.

You've described light rail to the

airport as a 'folly'. Why is that?

XX

Mike Lee: Trains have superior

speed, capacity and much greater

predictability of journey time.

Most major cities around the world

use heavy rail rather than light

rail for their international airport

connections. This also applies

to cities such as Melbourne and

Sydney which have light rail.

Melbourne has the biggest, most

sophisticated light rail system in the

world, yet Melbourne will be using

trains for its airport connection.

275 Times: Māngere has one of

the highest rates of private motor

vehicle use in Auckland. Local

people are therefore likely to take a

disproportionate financial hit from

the proposed regional fuel tax.

If the light rail option goes

ahead, do you think Māngere

residents will see a benefit to

match their contribution?

XX

ML: Yes. The proposed tramline

with its 20 tram stops will certainly

take them to the city via Dominion

Road and of course to the airport.

But the train service as originally

agreed would have have given

them much greater choices,

including access to the airport,

Papakura and Pukekohe, and to the

east, and – with a simple crossplatform

transfer enabling access

to the central and western line – as

far as Henderson and beyond.

275 Times: There have been

suggestions that a rail link from

Puhinui to the airport would

be an acceptable substitute

to the link via Onehunga.

In your view, is this likely to work?

XX

ML: Ideally, for the airport

travellers, yes. A 30-minute fast

train journey to the CBD from the

airport via Puhinui has recently

been scoped. However – to the

disappointment of many Māngere

4

Manukau South Volleyball (in light green)

with the visiting Utah Valley University

women's volleyball team (in dark green).

(Picture: Tuataga Hermann Arp Jr)

Volleyball

Visitors

By Tuataga

Hermann Arp Jr

Every four years, the

Utah Valley University

(UVU) women's volleyball

team tours New Zealand,

and the Manukau South

Volleyball team – made

up of Māngere and

South Auckland locals

– are always there to

give them a challenge.

This year, UVU also

played the New Zealand

Women's Volleyball team

before heading to Samoa.
---
"

...light rail

simply does not

have the speed

and capacity to

solve the growing

problem of traffic

congestion

at Auckland

International

Airport...

Councillor Mike Lee

Mike Lee at the launch of Auckland's electric trains in 2014. (Photo: Mike Lee's blog)

residents, led by the Local Board,

Auckland Transport's blocking of

the rail corridor at Neilson Street

Onehunga makes achieving an

Onehunga rail connection more

challenging – but still not impossible

if there was strong political leadership.

The real danger is Auckland

Transport will also try to block the

potential rail corridor between

the airport and Puhinui.

275 Times: Finally, groups such as

Greater Auckland and the Greens

now favour the light rail option.

Given this political backing,

is heavy rail to the airport still

feasible, and what would be

needed to make this happen?

XX

ML: International experience tells

us that light rail simply does not have

the speed and capactiy to solve the

growing problem of traffic congestion

at Auckland International Airport –

only a train service can do that.

This is an incredibly serious

question with billions of dollars at

stake which Māngere people will

be asked to help pay for through

rates, PAYE and new fuel taxes.

It's too important to be left to noisy

bloggers, or newby politicians

who frankly have had no practical

experience whatsoever with light rail.

The best long term interests of

Auckland International Airport,

the people of Auckland and

indeed New Zealand need to

come before personal egos.

275 Times: Councillor Lee,

thank you for your time. We

look forward to catching up

with you in the future.

XX

ML: No worries Donna.

MARAMATAKA

TE TAHI O

PIPIRI –

By Ayla Hoeta

Te Tahi o Pipiri (June) brings

the start of the Māori new year!

For many, the new year starts on

the day that Matariki (Pleiades) rises

– around 12 June. Depending on

the area you come from, however,

you may have a different marker.

º º Tribes from the west coast use

Puanga (Rigel in Orion), which

is also known as Puangarua or

Puangakairau, to mark the new year.

Puanga will rise on 5 or 6 June.

º º Some northern tribes take the

first full moon (Rakaunui) after

the rise of Puangarua as their

marker. This means their new

year starts around 28 June.

º º Tainui tribes use two stars.

Some use Puanga, while others

along the west coast such as

Manukau, Raglan and Kawhia use

the setting of Rehua (Antares) in

the west. Rehua sets at the same

time that Puanga rises in the east.

The message from our kaumātua for

this korero is: be inclusive of other

tribal markers as well as Matariki.

KEY DATES FOR TE TAHI O PIRIPI

2, 3 & 4 June – Korekore Te

Whiawhia, Korekore Te Rawea

& Korekore Piri nga Tangaroa:

Low-energy days. Good for quieter

activities, planning, reflecting

and letting go of worries.

5, 6 & 7 June – Tangaroa A Mua,

Tangaroa A Roto & Tangaroa

kiokio: There's lots of ika to catch,

and kai flourishes when planted

on these days. They're also good

days to sort any issues you might

have, because there's a greater

chance of a positive outcome.

9, 10 & 11 June – Orongonui,

Omauri & Mutuwhenua: Good

for planting all types of kai.

12 June – Whiro: Lowest-energy day.

A perfect time to reflect. rest and plan.

Also a good night to torch for eels.

18, 19 & 20 June – Tamatea

a Ngana, Tamatea a Hotu &

Tamatea a Io: Moderate energy

days. Great for fishing.

Thanks whānau! If you need a dial

or help to set it, email me: ayla.

hoeta@aucklandcouncil.govt.nz

5
---
Amatakiloa

The road to

For a majority

of Māori and

Pasifika peoples,

education is

the key to a

better future.

But the pressures

of achieving

consistently at a

high standard is

often a difficult

road to navigate.

By Tuataga Hermann Arp Jr

For thirty Manukau Institute

of Technology

(MIT) students, the road

is made easier with a

strong support network.

whanau

oha

love

6

ECE Centres of the highest

quality (20hrs free ECE*)

Experienced, qualified staff

from many backgrounds

Reliable, affordable After-

School Care

Over 10 Years in

community

We care about

FAMILY

one organisation, many services.

we'd love to help out!

MITTSA president Lisate (Richard) Latu (centre) and the team (Photo: Simon Tu'ikolovatu)

MIT's Tongan Students'

Association (MITTSA)

is made up of students

primarily from Māngere,

Ōtāhuhu and Ōtara.

It's the only Pacific student

association at the South

pariv

aiga

kaing

Creative, structured

Holiday Programmes

Regular Fathers & Kids

events

SuperGrans programme

for local mums

Community Playgroup

FREE Van pick-ups

201 Buckland Road, Mangere & 18A Mervan St, Mangere

goodseedtrust www.goodseedtrust.co.nz (09) 275-1065

Auckland campus,

where over 80% of

students are Pasifika.

"Our goal at MITTSA is

to help each other get to

graduation," says Lisate

(Richard) Latu, MITTSA

President. "There is a

massive drop off after

years one and two. Here

at MITTSA we provide

that needed support."

Since 2004, MITTSA

has taken a group

of students to the

Amatakiloa Conference

– an annual event

that brings together

Tongan students from

tertiary institutions

across New Zealand.

The conference gives

students an opportunity

to network with others

studying in the same

fields, discuss cultural

identity, develop

stronger study habits

and participate in

cultural customs

that are normally

reserved for nobles.

"Learning and

understanding their

culture, who they are

as Tongans and what

it means to be part of

a family – is central

to obtaining a great

education," says Nia

Tupouniua, MITTSA

treasurer, mentor

and Māngere local.

The Tongan community

reputedly has the

highest number of

PhD graduates per

capita in the Pacific.

"This is where I think

we as Tongans find

our passion and drive

for education," says

Europa Kupu, Pasifika

Student Advisor at MIT.

"Most of us only have

to look back one

generation to see that

we are children of

immigrants whose sole

aim in moving away

from the motherland

was to provide a better

future for their children.

"They understand that

education is key and so

they instil that in us –

not only in words, but

in actions," she says.

This year's group is the

largest that MITTSA has

ever taken to Amatakiloa.

To raise money for their

trip to Wellington in

July, MITTSA will host

a public Fiefia Night on

the 22 June starting

at 7pm in the Tanoa

Room at the MIT Pasifika

Community Centre,

53 Ōtara Road, Ōtara.
---
TALKING RUBBISH

Regen Zone

A new community

space is being birthed

in Māngere East,

on a small piece of

vacant land behind

ME Family Services

in Ferguson St.

By Justine Skilling

Talking Rubbish, ME Family Services

The 300m 2 site is set to become a

hands-on learning, teaching and

regeneration space for young and

old, with community gardens,

a "makerspace", and seating,

eating and meeting areas.

ME Family Services Social Designer

John Belford-Lelaulu has been

working with groups of students

from De La Salle College and Unitec

to plan the space, starting with

getting to know the land itself.

"Before being drained for farming

in the 1800s, Māngere East

was once a swampy wetland

area, valued for its natural

resources and as a place for

preserving taonga", says John.

"We want to honour and

reflect that history in our

design of the Regen Zone".

Most of us have forgotten that

swamps played a really important

role in the eco-system, slowing

the flow of water through the

land and capturing and storing

the nutrients to create life.

ME Family Services hopes that

the Regen Zone will play a

similar role for the community,

by slowing the flow of waste

from our homes to landfill and

capturing its value for re-use.

John and his team are scavenging

neighbourhood waste to create

the space, using tyres from

nearby Milan Motors for seating

and garden beds, and wood

pallets from local businesses

for composting areas.

An old shipping container

is being refurbished for the

"makerspace", an area where

locals can try their hand at fixing

and making their own things.

"At uni you're learning all the

theoretical stuff. It's great to get a

taste of the real stuff, to be handson

in your own community. It's

very special being close to home",

says Unitec student Tevita Vikilani.

Above:Israel Toleafoa (Unitec

student), Koia Teinakore, Tevita

Vikilani (Unitec student),

George Karan (Unitec student),

John Belford-Lelaulu (Social

Designer, ME Family Services)

Inset:Phillip Muller (Unitec student)

sketches ideas for the Regen Zone.

Fellow student Phillipp

Muller agrees. "It's a good

experience to get your feet

into the real world", he says.

Once completed, ME Family

Services wants the space to be

used by the whole community

– including local schools and

preschools, as well as neighbours.

"We want to provide a little local

space where people can engage

with other each and with the

natural world. A sacred space

where people can regenerate

their waste and themselves",

says CEO Peter Sykes.

The space will offer authentic,

organic opportunities for people

to learn about gardening,

reducing waste and upcycling

– "the things our ancestors

have done for millennia!"

7
---
Community Notices

MA – NGERE/ – OTA – HUHU LOCAL

ECONOMIC DEVELOPMENT WORKSHOP

This two-day workshop aims to encourage Māngere/Ōtāhuhu

hustlers to think about their potential as microbusinesses,

and to grow as part of a thriving economy. Facilitated by ME

Family Services. 19-20 June, 8:30am-4pm. Mangere East Rugby

League & Sports Club, 10 Hain Ave, Mangere East. Come for

the full two days or just part of the event. $10 for residents,

small-to-medium businesses and social enterprises. For more

information and to register, visit @LEDMangere on Facebook.

MANUKAU SOCCER HOLIDAY PROGRAMME

July 16-18 (Monday, Tuesday, Wednesday). For juniors /

youth aged 9 to 19. Walter Massey Park, corner Massey &

Buckland Rds, Māngere East. $20 per day (includes free t-shirt

and bootbag). To register, call Hone: 021 299 0210 or email

manukauunitedfootballclub@gmail.com

MA – NGERE EAST HOLIDAY PROGRAMME

Make the most of the school holidays at Māngere East

Community Centre. Get into our great local facilities, as well as

trips to activities such as Bounce'n'Beyond, Ōtara Fresh Gallery,

Skateland, rock climbing, Mumuland, beaches and more! For

school children aged 5–14. WINZ subsidies are available. Ellina

and Mat can assist you with your application. Don't miss out –

register today: oscarcoordinator@mangereeast.org.

CITIZENS ADVICE BUREAU NEEDS VOLUNTEERS

Time to spare, or skills to share? Volunteer for Citizens Advice

Bureau (CAB) in Māngere, Ōtāhuhu or Papatoetoe. The CAB

is all about the client – making sure individuals do not suffer

through ignorance of their rights and responsibilities. Apply

online at www.cab.org.nz, or call or drop in. CAB Māngere is on

the Orly Ave side of Māngere Town Centre (ph. 09 275 6885),

CAB Ōtāhuhu is in the Tōia Precinct, 30–34 Mason Ave (ph. 09

216 9813) and CAB Papatoetoe is at the back of the Town Hall,

35A St George St, Old Papatoetoe (ph. 09 278 5191).

FREE CLASSES IN MA – NGERE EAST

Māngere East Community Centre runs FREE & low-cost classes

in parenting, te reo Māori, Samoan, korowai, drivers licence

theory, tai chi, zumba – and more! Visit www.mangereeast.org,

email: fiona@mangereeast.org, ph. 275 6161 or drop in to 372

Massey Rd (behind the library) Māngere East to find out more.

Community Notices are FREE for community groups.

To list your group or event in the next issue, send

us a 50-word summary by 20 June 2018.

275 times

275

Māngere's

times

Editor: Hermann Arp Design: Belinda Fowler

Publisher: Māngere East Community Centre

275times@gmail.com

www.facebook.com/275times

www

www.275times.com 09 275 6161

THE EVENT CENTRE

Affordable Venue hire for all your special events, Feel free to contact us now.

book

now

TO BOOK OR VIEW PLEASE CALL

027 200 7368 or 0800 DJ DAVE

792 GREAT SOUTH ROAD,WIRI

www.djdave.co.nz - fb/DJDavesEntertainment

Great stories

COURSES FOR AGES 16+

Barista & Hospitality

Building, Construction &

Carpentry

Electronics Technology

Electrical Engineering

Warehousing & Distribution

begin here

COURSES FOR AGES 16-19

+Travel Allowance and

Learner Licence

Automotive

Foundation Skills

Retail

Security

CALL NOW 0800 000 055

OR FREE TXT INFO TO 590

59 TIDAL ROAD, MANGERE

SKILLS

UPD TE

TRAINING INSTITUTE

www.skillsupdate.co.nz

ZERO

FEES

Conditions

apply