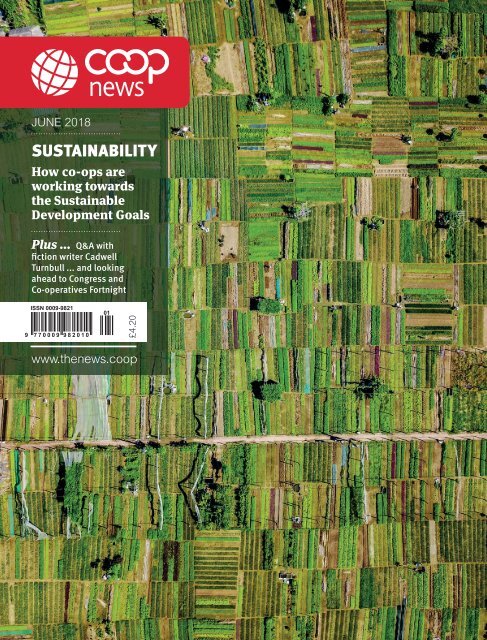 JUNE 2018
Our June issue explores what the Sustainable Development Goals (SDGs) mean for co-operative businesses. As citizens become more aware of sustainable development and the UN's agenda, there is a business case for co-ops to be involved with the SDGs. In addition to examples from the UK, we feature various international case studies of co-ops promoting sustainable development.
Our June issue explores what the Sustainable Development Goals (SDGs) mean for co-operative businesses. As citizens become more aware of sustainable development and the UN's agenda, there is a business case for co-ops to be involved with the SDGs. In addition to examples from the UK, we feature various international case studies of co-ops promoting sustainable development.
SHOW MORE
SHOW LESS
You also want an ePaper? Increase the reach of your titles
YUMPU automatically turns print PDFs into web optimized ePapers that Google loves.
JUNE 2018

SUSTAINABILITY

How co-ops are

working towards

the Sustainable

Development Goals

Plus ... Q&A with

fiction writer Cadwell

Turnbull ... and looking

ahead to Congress and

Co-operatives Fortnight

ISSN 0009-9821

9 770009 982010

01

£4.20

www.thenews.coop
---
Gain a masters degree at

the home of sustainability

Study with us on one of our practical academic

courses, which draw on 40+ years of experience

in sustainability, renewable energy, architecture

and the built environment. Distance learning and

part-time options available.

MSc Sustainability and Adaptation

MSc Sustainability and Adaptation Planning

MSc Sustainability and Adaptation in the Built

Environment

MSc Sustainability in Energy

Provision and Demand Management

MSc Sustainable Food and Natural Resources

MArch Sustainable Architecture

gse.cat.org.uk

study@cat.org.uk

+44 (0) 1654 705953

APPLY

NOW

START

SEPTEMBER
---
CONNECTING, CHAMPIONING AND

CHALLENGING THE GLOBAL CO-OP

MOVEMENT SINCE 1871

Holyoake House, Hanover Street,

Manchester M60 0AS

(00) 44 161 214 0870

www.thenews.coop

editorial@thenews.coop

EXECUTIVE EDITOR

Anthony Murray

anthony@thenews.coop

DEPUTY EDITOR

Rebecca Harvey

rebecca@thenews.coop

EDITORIAL

Anca Voinea | anca@thenews.coop

Miles Hadfield | miles@thenews.coop

DESIGN: Keir Mucklestone-Barnett

DIRECTORS

Elaine Dean (chair), David Paterson

(vice-chair), Richard Bickle, Sofygil

Crew, Gavin Ewing, Tim Hartley,

Beverley Perkins and

Barbara Rainford.

Secretary: Ray Henderson

Established in 1871, Co-operative

News is published by Co-operative

Press Ltd, a registered society under

the Co-operative and Community

Benefit Society Act 2014. It is printed

every month by Buxton Press, Palace

Road, Buxton, Derbyshire SK17 6AE.

Membership of Co-operative Press is

open to individual readers as well as

to other co-operatives, corporate bodies

and unincorporated organisations.

The Co-operative News mission statement

is to connect, champion and challenge

the global co-operative movement,

through fair and objective journalism

and open and honest comment and

debate. Co-op News is, on occasion,

supported by co-operatives, but

final editorial control remains with

Co-operative News unless specifically

labelled 'advertorial'. The information

and views set out in opinion articles

and letters do not necessarily reflect

the opinion of Co-operative News.

@coopnews

news

cooperativenews

Co-ops and the Sustainable

Development Goals – how to

contribute to the UN's agenda

This month we bring you an overview of what the Sustainable Development Goals

(SDGs) mean for co-operative businesses.

Whether co-ops should play a role in driving the UN's sustainable development

agenda is not only a question of their concern for community (principle 7), but

also their business performance (From p34). As citizens become more aware of

sustainable development and the UN's agenda, there is a serious business case for

co-ops to be involved with the SDGs (p37).

Co-operatives across the world are already embracing sustainable development. In

addition to case studies from the UK, we look at how co-ops around the globe are

approaching the idea of sustainable development – and how they are promoting it.

In Italy, co-operatives are being used as a means to build successful businesses on

lands confiscated from the mafia, helping to provide jobs for the local population,

including disadvantaged groups (p40). Of course, pioneering sustainability also

comes with challenges, particularly as the goals are interconnected. Some co-ops

may choose to focus on certain SDGs, neglecting the impact their business can have

on other goals. Palm oil co-ops in Malaysia help to create employment and drive the

country's economy, yet the palm oil industry has been criticised for contributing to

deforestation and pushing wildlife to extinction (p42).

In 2016, the International Co-operative Alliance launched the website Coopsfor2030.

coop, which features case studies of co-operatives making pledges around the SDGs

(p38). Co-ops have made over 300 pledges on the platform, some of them making

more than one pledge.

According to a study by PwC, around 67% of people in the UK are more likely to buy

the goods and services of companies that sign up to the SDGs. But the same report

shows that the SDGs prioritised by businesses are often different to those thought

of as important by the public.

If co-ops are to make the most of their pledges to the SDGs, they need a strategic

approach to the goals, taking all of them into account, rather than simply aiming at

specific targets.

ANCA VOINEA - EDITORIAL TEAM

Co-operative News is printed using vegetable oil-based

inks on 80% recycled paper (with 60% from post-consumer

waste) with the remaining 20% produced from FSC or PEFC

certified sources. It is made in a totally chlorine free process.

JUNE 2018 | 3
---
fiction writer Cadwell

Turnbull ... and looking

ahead to Congress and

Co-operatives Fortnight

ISSN 0009-9821

01

9 770009 982010

THIS ISSUE

CLOCKWISE FROM FAR LEFT

Science fiction writer Cadwell Turnbull talks

about how social fictions can help develop a

co-operative culture (p44); the countdown to

Congress and Co-operatives Fortnight (p30-

31); security concerns have been addressed

by UK retail societies (p32-33); and can palm

oil co-ops ever be sustainable? (p42-43)

news Issue #7296 JUNE 2018

Connecting, championing, challenging

JUNE 2018

SUSTAINABILITY

How co-ops are

working towards

the sustainable

development goals

Plus ... Q&A with

£4.20

www.thenews.coop

COVER: How are co-operatives

helping to implement the UN's

Sustainable Development Goals?

Read more: p34-43

20-21 MEET... SIMEL ESIM

Head of the ILO's Cooperatives Unit

24-25 CO-OP GROUP AGM

Delegates hear how the retailer will

build its business by 'closing the

virtuous circle'

26-28 CO-OP EDUCATION & RESEARCH

CONFERENCE

The Co-operative College's annual

conference heard from the ICA's Ariel

Guarco and Bruno Roelants, Co-op

Digital's Emer Coleman, the TUC's Kevin

Rowan and Greater Manchester Mayor,

Andy Burnham, among others

29 CONFEDERATION OF CO-OPERATIVE

HOUSING CONFERENCE

Updates from the confederation's annual

conference

30-31 CO-OPERATIVE CONGRESS

A preview of Congress 2018 – and tips on

how you and your co-op can get involved

in Co-operatives Fortnight

32-33 RETAIL RAMRAIDS

What are co-ops doing to tackle security

concerns?

34-43 SUSTAINABLE DEVELOPMENT

34-35 What are the SDGs?

36 How will the SDGs impact co-op

businesses?

37 Southern Co-op's SDG strategy

38-39 SDG Case studies: Midcounties

and the Co-op Group

40-41 Italy: SDGs and the mafia

42-43 Malaysia: Can palm oil

co-operatives ever be sustainable?

44-47 Q&A: CADWELL TURNBULL

Science fiction and the power of

collaborative narrative

REGULARS

5-15 UK updates

16-19 Global updates

22-23 Letters

48 Reviews

4 | JUNE 2018
---
NEWS

FINANCIAL RESULTS

Co-op and mutual sector

unveils its performance

A number of co-operative and mutual

organistions have released their annual

results, showing the sector in good health.

Retail societies Chelmsford Star,

Midcounties, Southern, East of England

and – in its half-yearly report – Lincolnshire

all announced profits.

Meanwhile, ethical lender the Ecology

Building Society celebrated more than 30

years' profitability and sector apex body

Co-operatives UK reported a surplus.

p Clockwise from top left: Ecology, Midcounties, Co-operatives UK and Chelmsford Star

CHELMSFORD STAR

Chelmsford Star Co-op's annual results

to 27 January show trading profit after

depreciation down 28.5% to £1,098,714

(2017: £1,536,729).

Gross takings were £110,413,252, up

6.6% from £103,584,570 last year, and

gross profit was £24,001,745, up 6.2% from

£22,594,252 in 2017.

Net profit was £914,833 and, after

meeting the costs of all distributions, the

society achieved a surplus of £180,276,

(2017: £367,314).

During the year, Chelmsford Star

acquired an additional convenience store

in Woodford Green, furthering expansion

inside the M25, and eight stores were

refurbished as the society accelerated its

store upgrade programme.

The society has rebranded its funerals

business and in November opened

another funeral home in the George Yard

Shopping Centre, Braintree.

MIDCOUNTIES CO-OP

Midcounties' operating profit for the year

to 27 January 2018 was up 16.5% to £13.3m

before significant items. Gross sales rose

10.2% to £1.48bn, and pre-tax profits were

£5.4m, up from £4.3m the previous year.

Group chief executive Ben Reid said:

"There were exceptional performances

by Childcare, Funeral and Travel, each

of which declared record levels of profit,

increasing profits by 30% between them.

"Our Food business continued its

strong performance with positive like-forlike

sales performances in each quarter.

Flexible Benefits also performed strongly

with profits ahead of plan by nearly 70%.

"However, neither Healthcare nor

Energy achieved their budgets due to

external factors."

He said Midcounties was investing

£25.1m on site acquisitions, branch

refurbishments and our IT infrastructure.

ECOLOGY

The Ecology Building Society's results

for the year to 31 December 2017 show

record assets of £178.7m, an increase from

£173.1m in 2016, and gross lending of

£28.2, a decrease from £30.7m in 2016.

Last year Ecology lent over £28.2m for

sustainable properties and projects, with

78% of mortgages advanced on residential

properties and 22% on community-led

housing and non-residential properties

such as sustainable businesses.

Profit was maintained at £915,000 from

£920,000 in 2016, marking more than 30

years of uninterrupted profitability for the

building society.

Chief executive Paul Ellis said: "Recent

initiatives such as the report of the

government's Green Finance Taskforce

are positive signs of a growing interest

in Ecology's sustainable lending model,

demonstrating how finance can support

the transition to a low-carbon economy."

CO-OPERATIVES UK

Co-operatives UK ended 2017 with a pretax

surplus of a £480,232 – which for

the first time includes equity investment

funding of £477,805 from Power to Change

under the Booster Project.

Its surplus before this funding, which

Co-operatives UK has invested in various

societies, was £2,427. The annual report

said its total income for the year was

£2,957,264 (previous year: £2,919,171).

New targets were set for the period 2017-

2020 and in July 2017 Co-operatives UK

launched Do it Ourselves, a national cooperative

development strategy.

Overall, Co-operatives UK has delivered

144 pieces of bespoke advice via the

Contact Package, helped 78 new co-ops

set up, and received 97% satisfaction for

governance and consultancy work.

Through the Hive, a programme backed

by the Co-operative Bank, Co-operatives

UK supported 355 groups and co-ops with

expert advice worth more than £100,000 in

its second year – and helped communities

raise more than £2m through community

shares to save local assets and services.

In 2017 the projects team delivered

£698,000 worth of funding for

programmes across the UK based around

three key themes: place-based economic

development; co-operative development;

and community shares. And the

organisation saw its best membership

retention figures (89%) in seven years.

JUNE 2018 | 5
---
FINANCIAL RESULTS

SOUTHERN CO-OP LINCOLNSHIRE CO-OP EAST OF ENGLAND

At Southern Co-operative, total income for

the year to 27 January was £431m, up 9%

on the previous year, following investment

in new stores and funeral homes.

Like-for-like sales grew 1.63% and the

society, which trades across 11 counties in

the south of England, opened 16 new food

stores in 2017, bringing the total to 216.

Gross profit increased to £121m from

£111m, with members' share of profits

totalling £2.9m.

Chief executive Mark Smith said:

"The margin earned on the significant

additional sales we achieved last

year has been offset by cost increases

beyond our control such as National

Living Wage, business rates and the

Apprenticeship Levy."

He added: "We have built a strategic

partnership with COOK, the highly

regarded specialist frozen food business,

following the introduction of items from

its range into a number of our stores, and

we will grow this further next year.

"2017 was also the first full year of

operation for our community engagement

strategy Love Your Neighbourhood, which

gives local stores and funeral homes

the chance to contribute to the creation

of safer, greener, healthier and more

inclusive neighbourhoods."

Throughout the year the society

contributed £1.26m to communities,

up 24% on the previous year, as well as

colleague fundraising and donations from

members, suppliers and customers.

The funeral business acquired the East

Devon Crematorium in 2017, extending its

operations in the south-west of England,

and launched online funeral plans. The

funeral business' total income reached

£18.1m. The society plans to open a further

four funeral homes in 2018.

Lincolnshire Co-operative has released

its half-year results to 5 March, with sales

rising by £7m (4.6%) to £160m.

It says the group trading surplus for

the six months was £7.7m, "well ahead

of budget", but lower than the last half

year's £8.5m because of continuing cuts

to pharmacy income and rising costs such

as repairs, wages and rates.

Food stores saw sales grow by 6.1% –

and the Love Local range, sourced from

producers in the region, rose 61%, helped

by a new arrangement putting products

with others of their type instead of

together in a specific display.

All of Lincolnshire Co-op's pharmacies

achieved healthy living status and the

number of prescriptions dispensed went

up by 2.1% to 2.8 million, says the report.

And sales at the society's travel

branches rose 2.6%.

Lincolnshire says the increased sales

performance helped it plough £16m

into capital projects including a new

travel agency in Retford, funeral homes

in Market Rasen and Coningsby and an

arrangement office in Caistor. Travel

agencies in Lincoln and Grantham, plus a

pharmacy in Hull's Bransholme, were also

relocated to new homes.

Large property developments led by

the society moved forward thanks to

continued capital investment during the

half year. The M&S Food Hall in Lincoln's

Tritton Road opened and new businesses

restaurant Cosy Club and Thomas Cook

moved into the refurbished Corn Exchange

building in Lincoln's city centre.

Donations made through the

Community Champions scheme, along

with money from the carrier bag levy,

raised £108,000 for 167 local charities and

community groups.

The East of England Co-op reported a drop

in underlying trading profits from £4.4m

to £4.2m, partly because ATM ram raids

and robberies had forced it to spend more

in security (see news, p9, and report, p32).

But profit before distributions and

taxation rose to £6.6m from £6.1m the

previous year, said the society in its results

for the year to 27 January 2018.

Turnover rose £5.9m to £353.6m and

members' funds were up from £207.5m to

£212.5m. Trading profits were up across

the society's food, funerals and property

businesses.

The society said its food business saw a

17% growth in profits, with a 2.3% like-forlike

increase in sales on a comparable 52

week basis. New food stores in Acle and

Harleston replaced existing smaller stores

in those towns.

It opened 11 new funeral branches

across the region, including a second

branch in Cambridgeshire.

The society's property portfolio has also

continued to grow in value, with housing

developments completed in Colchester

and Dovercourt contributing to a 5.2%

increase in investment property income.

Joint CEO Doug Field said: "Our success

in recent years is in part due to ensuring

that we have the right stores and branches

in the right places.

"We will continue to offer our

apprenticeship programme, which has

seen 100% retention rates with many

graduates going on to higher level

education and management opportunities

within the business.

"We will also continue to develop our

Co-op Guide to Dating initiative to save

more food from going to landfill, as well

as looking at new ways to reduce single

use plastics in our stores."

6 | JUNE 2018
---
ENERGY

Boost for community business as survey shows investors warming

to ethical funds

p Heart of England Community Energy's solar installation

New research from Mongoose Energy,

the UK's largest manager of communityowned

renewable energy assets, has

found that investors are willing to take on

higher-risk funds if their money delivers

an ethical impact.

The survey shows that 60%

of consumers would prefer their

investment to 'do good', as opposed

to investing in less impactful, lowerrisk

options.

This is a growing trend, says Mongoose,

with 21% of people more likely to invest

in this type of fund now than they were

five years ago. And almost a quarter

(24%) of people would consider investing

in an ethical fund that shares its

profits with the local community or

supports renewable energy generation.

This desire for impact has also led to

consumers demanding more transparency

about how their money is used once

invested, with two thirds (61%) stating

that this is important to them.

The insights coincide with the launch

of over £4m in bond and share offers in

community-owned, renewable energy

by Mongoose.

Chief executive Mark Kenber said:

"The findings of this research show an

increasingly purpose-minded public of

all ages seeking out alternative ways to

invest their money. Their investment

choices are no longer driven solely

by high rates of return but also by a

desire for tangible, positive impact on

local communities.

"With the public now demanding

that their money is invested in ways

beneficial to both people and planet,

2018 is showing all the signs of being the

year that investing in community energy

goes mainstream."

Mongoose Energy has launched two

new bond offers and a share offer.

The first bond offer has been established

by Heart of England Community Energy

(HECE) and is for the UK's largest

community-owned renewable energy

project, based outside of Stratfordupon-Avon,

Warwickshire. HECE is

seeking to raise £1,000,000 in funding

and is offering investors target returns

of 5%, paid annually over four years.

Our Community Energy (OUCE) has

established a bond and share offer

for its wind farm projects in Pogbie

and Brockholes, Scotland. These

offers are seeking to raise £1,200,000

and £1,845,000 respectively and offer

inflation-linked interest rates which,

while they may rise and fall over 20 years,

currently deliver returns of 6.6% and 8.1%

respectively.

Those who sign up and invest in

these offers before the first half of the

target funds are raised will earn an

additional 1% of interest in the first year –

although capital is at risk and returns are

not guaranteed.

The offer also includes an ISA option.

Investors still needing to use their ISA

allowance can take advantage of it, or

alternatively transfer their existing cash

ISAs at any time.

The surplus profit from these projects,

estimated at £2.7m and £1.9m respectively,

will be invested into helping to protect

the elderly and vulnerable in

Warwickshire, and into helping alleviate

fuel poverty in Scotland.

More information is available at

s.coop/26czj, with a full risk warning at

s.coop/26czi

JUNE 2018 | 7
---
HUMAN RIGHTS

MPs criticise government's strategy for tackling modern slavery

The government's approach to tackling

modern slavery suffers from a lack of

data and poor monitoring, says the Public

Accounts Committee, which is chaired by

Labour/Co-op MP Meg Hillier (pictured).

In a recent report, the committee said

coordinated action was critical to helping

victims, but the government lacks the

data or systems to understand the crime.

It also found that the National Referral

Mechanism (NRM), a framework for

identifying victims of human trafficking

and ensuring they receive the appropriate

protection and support, is inefficient,

which leads to long waits for the victims.

NRF does not capture what happens to

victims after they leave it, which means

the Home Office does not know whether

victims have been re-trafficked.

The committee says the Home Office

has no means of monitoring progress or

knowing if its Modern Slavery Strategy is

working. The report suggests the Home

Office should set targets, a means of

tracking resources, and clear roles and

responsibilities within the programme,

and asks it to report back by December.

Legislation on supply chain

transparency can also be made more

effective by actively administering

and monitoring compliance as well as

publishing a list of companies who have,

and have not, complied, says the report.

Other recommendations include setting

standards for the current victim care

contract to ensure adequate care; and

good practice guidance to show why there

are regional variations in tackling the

issue, and identify ways to reduce them.

Ms Hillier said: "Victims of modern

slavery can face unimaginable horrors but

the government's good intentions have yet

to result in coherent action to help them.

"Government cannot hope to target

resources in an effective manner until

it properly understands the scale and

nature of the challenge. This crime is

complex and a piecemeal approach will

not cut it. Government must get a grip on

what works and what doesn't."

The UK has had a Modern Slavery

Strategy since 2014, making it the first

country in the world to launch such an

initiative. According to the Home Office,

there are more than 600 live modern

slavery police operations under way. Its

figures show that in 2017 a total of 5,145

potential victims of modern slavery were

referred to the UK's National Referral

Mechanism, a 35% increase on 2016.

The Co-op

Group has been

leading efforts

in tackling

the problem,

including a

work placement

scheme for

survivors – and

has just become

the first business

in the world to

sign up to the

Anti-Slavery International Charter.

In response to the committee, the

Home Office said: "We introduced the

world-leading Modern Slavery Act in

2015 and have put in place the Modern

Slavery Strategy. The Public Accounts

Committee recognises that the UK is

ahead of many countries in responding

to modern slavery and the government's

Modern Slavery Taskforce will consider its

recommendations carefully.

"We have recently announced reforms

to the National Referral Mechanism

to make sure it supports more victims

at a quicker pace and we are taking

action to eradicate modern slavery from

the economy."

POLITICS

Local election results: Record number of Labour/Co-op councillors elected

p Rokhsana Fiaz, Dan Jarvis, Damien Egan and Philip Glanville all won

mayoral elections

The Co-operative Party is celebrating a record 396 Labour

/Co-op councillors elected in May's local elections.

It had more than 250 new councillors elected, with others

re-elected. London saw 271 Labour/Co-op councillors elected,

including the biggest number in a single council – 39 in

Greenwich. Other areas elected a record number of councillors –

Lambeth (22), Waltham Forest (21), and Lewisham (16).

Polling day also saw a series of mayoral elections, with the

Party notching up four successes.

Rokhsana Fiaz won in Newham after receiving 73.4% of first

preference votes in the first round.

Dan Jarvis was elected as the first mayor of the Sheffield

City Region with 144,154 votes after second preference votes

were counted. He had taken 48% of the vote in the first count.

Tory candidate Ian Walker came second with 50,619 votes. Mr

Jarvis was allowed by the Labour Party's NEC to also stay on as

an MP for Barnsley Central.

Damien Egan was elected mayor for Lewisham, with 54.30%

of the total vote.

And Philip Glanville was re-elected as mayor of Hackney after

receiving 65.9% of first preference votes in the first round.

To build on these results, the Co-operative Party is hosting

a conference in London on 9 June where councillors will come

together to discuss how to tackle common challenges.

The conference will feature a speech from Matthew Brown,

newly elected leader of Preston Council, on its approach to

economic development, the Preston model.

8 | JUNE 2018
---
RETAIL

East of England Co-operative launches Co-op Secure Response

The East of England Co-operative is using

the expertise gained through securing its

own stores to venture into a new sector.

The co-op has announced the launch

of a new arm of its business – Co-op

Secure Response. Through this initiative,

the retailer is extending its in-house

security services to external businesses

and communities.

Co-op Secure Response will provide

various services, including site guarding,

intruder and fire alarms and recovery

when incidents do occur. In addition to

24/7 CCTV monitoring, the business will

offer tailored technology for rural teams,

lone workers, schools and churches.

Lee Hammond, head of security at Coop

Secure Response, said: "Co-op Secure

Response is all about the people. Our

work revolves around the hard-working

and friendly team who get to know our

clients on a first-name basis. There's

really no hard sell with us. It's important

that we get to know what keeps business

owners up at night so we understand what

matters most to them.

"This is a really exciting time for us, as

we have worked hard over the past seven

years to ensure that the services we offer

p A member of the Secure Response team

are the very best for us and our clients'

businesses. We look forward to continuing

the hard work that we do for the local

community as part of the East of England

Co-op, as well as protecting businesses

and staff locally and nationally."

Co-op Secure Response's Alarm

Receiving Centre (ARC) is run 24 hours

a day, 365 days a year, by a team of

accredited security professionals. The

ARC uses state-of-the-art technology

to monitor almost 7,000 CCTV cameras

across the country as well as GPS trackers

installed on items as small as a packets

of cigarettes to as large as a tractor,

protecting clients against theft and

trespassers. The team is also working

closely with the police and local

authorities to raise awareness of the

impact of anti-social behaviour.

The ARC was built in January 2014 at

Wherstead Park – which is home to East

of England's head office. The service was

initially used to support the society's own

business.

The co-op's businesses include food

retail, funeral, travel, pharmacy, post

offices, opticians and investment property.

It runs over 230 branches across Norfolk,

Suffolk, Essex and Cambridgeshire.

ECONOMY

Six steps co-ops can take towards an inclusive economy in Wales

The social business sector, which includes

co-ops, plays a key role in building an

inclusive economy in Wales, according to

a new study.

Published by the Wales Co-operative

Centre and the Bevan Foundation, the

report highlights six steps to an inclusive

economy in Wales. It argues that boosting

equality should be put at the centre of

economic development.

The report identifies four separate,

but linked, dimensions of an inclusive

economy: diverse and resilient businesses;

decent work for everyone; knowledge and

skills so people can secure a livelihood;

and a say in economic decisions.

The study notes that worker

representation can be achieved through

worker co-operatives and other forms of

employee ownership, or through unions

and similar representation.

The report was written by Victoria

Winckler, director of the Bevan

Foundation, who said: "There is growing

evidence that the most resilient places

across Europe have strong networks

between public, private and social

sectors. Yet most economic development

decisions, like the existing Welsh City

Deals, are taken by public sector leaders

and big businesses that are far removed

from civil society.

"How do we ensure places such as the

south Wales valleys and groups of people

such as disabled people or black and

minority ethnic communities actually

benefit from growth? Our report looks at

practical proposals that can help achieve

an inclusive economy in Wales."

Derek Walker, chief executive of the

Wales Co-operative Centre, added:

"Creating an inclusive economy goes

much further than getting a citizen voice

around the City deal table. It is about

changing the way we connect with people

and do business with one another. It

means increasing equality an integral part

of the process of creating prosperity. It is

in effect a new economic model.

"The vote to leave the EU was a strong

signal that the current economic system

is not working for everyone. The Welsh

Government's recognition within its

latest economic action plan of spreading

opportunity and promoting well-being, is

a welcome first step.

"However, there is a great deal more

to do to ensure that commitment is

translated into action.

The Wales Co-operative Centre intends

to set out a 10-year development strategy

for the social business sector, working

with the sector and the Welsh government.

JUNE 2018 | 9
---
RETAIL

What has been happening at the Co-operative Group?

NO-FRILLS CREMATION SERVICE

Co-op Funeralcare is offering a direct to

cremation service in response to a shift in

consumers' choices.

Demand for direct cremations, allowing

mourners to arrange their own separate

services, has been increasing from 0.3%

in 2015 to 5% today.

The Co-op is due to launch the

new service over the coming months,

and estimates the price for a direct to

cremation service at £1,000-£1,500 – less

than half the price of a traditional funeral.

FORMER SITE FACES THE BULLDOZER

A former Co-operative Insurance building

on Portland Street, Manchester, could be

demolished to make way for a new hotel if

a planning application is granted.

Developers want to clear the 40m,

13-storey steel framed office building,

which dates back to 1961 and was one

of the first "curtain walled" modern

buildings in the city.

The Co-op Insurance Society occupied

the site from the late 1990s to 2010, and

installed micro-wind turbines on the

roof. Since CIS left the site has remained

underused with nine of its floors vacant.

TRAINING THE FUTURE WORKFORCE

The Co-op Group is calling on UK

businesses to support education to help

tackle the country's productivity gap –

16.3% with the rest of the G7 in 2016.

The Group supports 12 academy schools

and plans to increase that to 40 over the

next three years. Deputy CEO Pippa Wicks

said: "Industry can offer schools and their

pupils so much more – from providing

senior managers as governors to offering

structured work experience programmes

and site visits."

UNCORKING A NEW FAIRTRADE DEAL

The Co-op is converting more of its South

African wines to Fairtrade standards –

increasing the volume of Fairtrade wine

sold by 2.5 million litres over the next year.

The wines come from Lutzville

Vineyards, which has worked with the

Group to convert to Fairtrade standards.

LAST-MINUTE FOOD SALES AXED

To tackle food waste and help community

organisations, the Group is ending lastminute

food sales and sending fresh items

to thousands of small community groups

in time for them to cook or freeze. The Coop

Food Share scheme will take products

off sale earlier so charities will receive

them within their use-by date.

Report from the Co-op Group AGM on

pages 24-25

taste the future.

GO VEGAN FOR A WEEK.

JOIN OUR CHALLENGE At

VEGANSOCIEtY.COM/PLAtEUP

tHE GLObAL LIVEStOCK INDUStRY

GENERAtES AS MUCH GREENHOUSE GASES

AS ALL tRANSPORt COMbINED

#PLAtEUPFORtHEPLANEt

Reg. Charity No: 279228 Copyright © 1944 - 2018 The Vegan Society Company Reg. No: 1468880

10 | JUNE 2018
---
RETAIL

Radstock Co-op unveils

revamp plans for its

town centre flagship

Radstock Co-operative is to redevelop its

town centre Radco superstore as it marks

its 150th anniversary.

The site, which includes a food hall

and non-food departments – electrical,

clothing, shoes and homeware – has

already undergone refurbishment and

extension projects but the society wants

to give it a more thorough revamp.

Chief executive Don Morris said: "The

site is a prime location and a central,

focal point for local residents, visitors

to the town and commuters. We feel our

customers, members and staff deserve a

better retail offering.

"We have listened to much feedback

from key stakeholders in the community

regarding the future of the Radco site...

We are in discussions with the local

planning office regarding proposals for

the redevelopment which we feel would

offer a much improved proposition for the

local community providing a brand new,

purpose-built shopping facility.

"This of course, will include a Radstock

Co-op store incorporating core services

such as the Travel shop and Post Office,

thus retaining vital facilities that many

local residents rely upon."

Mr Morris said the plans would be

sympathetic to local ecology and wildlife,

and care would be taken to minimise the

impact during redevelopment work. He

confirmed there would be no job losses

from the project, adding that maximum

use of the site would probably create new

jobs.

Founded in 1868, the society comprises

18 convenience stores, a large supermarket

with a non-food offering, food hall and

travel agency and a 1,000-acre dairy farm.

Scotmid Co-op announces £50,000 community funding

Scotmid Co-operative has announced

the latest winners of its Community

Connect initiative, with six local charities

receiving a share of £50,000 funding

generated from the carrier bag levy.

Scotmid chief executive John Brodie said:

"It is great to be able to award all the

shortlisted groups with funding to enable

them to continue the good work that

they do."

East of England to sell pharmacy and opticians stores

East of England Co-op has announced the

sale of its opticians and pharmacies. The

society said the 11 stores were not making

enough money despite investment, in a

market described as "exceptionally tough"

by the National Pharmacy Association

(NPA). The NPA says government funding

cuts and inflated wholesale prices for

medicines have squeezed the industry.

Treasury boosts funding to promote credit unions

HM Treasury has announced it will be

allocating new funding to tackle unlawful

lending. Over £5.5m will be spent to

investigate and prosecute illegal lenders,

and support their victims. As part of the

initiative, £100,000 already seized from

loan sharks will be spent on encouraging

people to join a credit union instead.

Record charity fundraising by Chelmsford Star

Essex-based Chelmsford Star Co-op

has raised £77,912 for its 2017-18

charity partner, Little Havens Hospice,

which is the only place in the county

dedicated to looking after children with

a life-shortening illness. The society's

colleagues and customers collected the

funds through marathon runs, fancy

dress, book sales, and sponsored walks.

Heart of England Co-operative names corporate charity

The Heart of England Co-operative will

be helping Zoë's Place Baby Hospice

fundraise money to cover a recent

£80,000 shortfall. The society announced

the hospice as its corporate partner

of the year. Zoë's Place has been providing

palliative, respite and end of life care to

babies and infants.

JUNE 2018 | 11
---
AWARDS

Shortlist announced for

Co-operative of the Year

The shortlist has been announced for the

Co-operative of the Year Awards 2018,

with 17 co-ops and seven co-op councils

being nominated across four categories.

The award are organised by apex body

Co-operatives UK and sponsored by the

Co-operative Council Innovation Network,

across four categories – including one,

Co-operative Council, that is new to 2018.

You can read statements from shortlisted

co-ops and vote at www.uk.coop/COTY_

Shortlist until 15 June, with the winner

announced at Co-operative Congress in

London on 23 June.

The shortlists are as follows:

Leading Co-operative of the Year

• Central England Co-operative

• East of England Co-operative

• The Co-op Group

• Midcounties Co-operative

• The Organic Milk Suppliers

Co-operative (OMSCo)

p Last year's winners celebrate at Co-operative Congress in Wakefield

Inspiring Co-operative of the Year

• Cartrefi Cymru, a co-operative which

supports people with learning

disabilities in Wales

• financial services provider London

Mutual Credit Union, which operates in

some of London's most disadvantaged

communities

• Somerset-based independent retailer

Radstock Co-operative Society

• Foster Care Co-operative, the UK's only

co-operative fostering agency

• Manchester-based wholefoods worker

co-operative Unicorn Grocery

Breakthrough Co-operative of the Year

• Co-Cars, a hire-by-the-hour social

enterprise in Exeter and the south west

• community-owned traditional Welsh

pub Cymdeithas Tafarn Sinc

• Fairtrade sports balls supplier

Bala Sport

• Glenwyvis Distillery, the world's first

community-owned distillery

• Manchester architects Loop Systems

• film producers The Service

• worker co-op Third Sector Accountancy

Co-operative Council of the Year

• Cardiff

• Croydon

• Newcastle upon Tyne

• Oldham

• South Tyneside

• Greenwich

• Stevenage

RETAIL

Radical co-op bookshop launches crowdfunder to secure its future

A radical bookstore co-op in Southampton

has launched a crowdfunder to help

secure its long-term future.

October Books, which currently rents

a space on Portswood Road, is looking

to buy the old NatWest building in

Portswood, which is large enough for its

retail space and a large, accessible area for

events and community activities.

The co-op was founded in 1977, and

now sells general popular fiction, nonfiction

and children's books, alongside

a range of specialised radical books and

magazines – and organic and Fairtrade

foods and green household items.

In March, it announced that its proposal

to buy the bank building been accepted in

principle. The co-op now needs to raise

£510,000.

"We are doing this to secure the longterm

future of the shop by establishing

a permanent base, where we are not

paying rent to a distant landlord," said a

statement from the organisation. "We also

want to connect to our local community

and so the space we are buying is large

enough to house a community hub."

October Books is raising this money

in three ways: through a £150,000 loan

from a specialist co-operative lender; by

offering repayable Loanstock for sale to

the value of £340,000; and by asking

supporters for non-repayable donations

to the value of £20,000.

"Loanstock is a way that co-operatives

raise finance and is an investment in the

shop and Community Hub," said the

co-op, which is already over 50% of the

way to its Loanstock target. "You invest

a sum of your choosing for a period of

one, five or 10 years, and then when the

Loanstock matures, you receive the money

back with optional 1.5% interest."

The non-repayable donations can

be made through the co-operative's

Crowdfunder site; by cash, card or cheque

in the shop; or by bank transfer or Paypal.

"Donations will help towards building

plans, design and renovations in the

new space so we will keep you updated,"

added the co-op.

"It's an exciting time for a bookshop

which has been serving our community

for over 40 years. If you would like to

help out you can always volunteer with

us or if you would like to be more involved

in decision making you can become a

member of the co-operative, too. Together,

we can do this."

More details at www.octoberbooks.org

12 | JUNE 2018
---
UTILITIES

Phone Co-op members agree transfer of engagements to Midcounties

p Nick Thompson, Jane Watts and Ben Reid at the special general meeting

A special meeting of the Phone Co-op has

agreed a transfer of engagements to the

Midcounties Co-operative.

Under the move, agreed by 202 votes to

17, with four abstentions, the Phone Co-op

brand will continue, and staff will retain

their terms of conditions of employment

through a two-year transition. Operations

will continue from its Chipping Norton

and Manchester offices. But the merger

will mean an end to the Phone Co-op as

an entity with a distinct board.

Chair Jane Watts said: "The Phone

Co-op will cease, we will not be directors –

there will a committee within Midcounties

for the transitional period, and two of our

directors will sit on it for continuity."

Proposing the motion, Ms Watts said

Midcounties, which is looking to grow its

utilities presence by developing telecoms

alongside its Co-op Energy business, had

made the initial approach.

This prompted Ms Watts' team to

undertake some "soul-searching" and to

consider the Phone Co-op's main purpose:

"To provide telecoms co-operatively to as

many people as possible … we wanted to

show there was a better way," she added.

"We think Midcounties is a good fit and

a good home for us."

She said there was an "alignment of

values" between the societies and the

merger would help the Phone Co-op to

extend its reach and offer better deals.

Ben Reid, group CEO of Midcounties,

said the Phone Co-op had been an

inspiration for Co-op Energy.

He said tighter data regulations against

cross-selling between two organisations

would have made it impossible for

Midcounties to act merely as an agent for

the Phone Co-op.

The rise of smart metering and water

deregulation meant a changing landscape

for utilities businesses, he added, and

the merger would open up the possibility

of a utility co-op that enters homes and

"makes them into co-op homes".

Furthermore, Midcounties could

provide volume, with its 670,000 members

and its Co-op Energy customers offering

internal marketing opportunities.

The Phone Co-op's Chipping Norton HQ

needs refurbishment, Mr Reid said, but

he insisted Midcounties was committed

to the site. "My job will be to find a way

of improving facilities for our colleagues.

Don't think we're going to whip this thing

over into Warwick, we're just not."

The Phone Co-op's vice-chair Shelagh

Young said there had been concerns over

the merger – over member involvement,

customer service and staff terms and

conditions – but that these had been

addressed in discussion.

"Any change has areas of concern," she

added. "Bringing any two organisations

together has potential negatives. We can't

say there are no risks but we feel that the

negatives have been addressed.

"We will lose the old Phone Co-op to

some extent, it won't be the same, but that

change is outweighed by the benefits."

And Vivian Woodell, who founded the

Phone Co-op, told the meeting: "There is a

real logic in putting the two together. There

are enormous cross-selling opportunities,

which offer greater scale within a valuescentred

co-op. Other combined utilities

providers such as Utility Warehouse have

shown the model works."

He warned that the alternative to a

merger was "not very attractive". The

Phone Co-op's new strategy has brought

"a big rise in costs bringing significant

losses," he added, and if the board

follows FCA guidance "this may well

mean withdrawals of share capital could

be suspended".

This strategy was also put to the vote at

the meeting and received a more mixed

reception, with 136 votes for; 50 against;

and 37 abstentions.

Members were still concerned about the

risks of the strategy, with former Phone

Co-op chair Simon Blackley warning

about the implications of committing

Midcounties to underwriting it after a

merger went through.

But Phone Co-op chief executive Nick

Thompson said the organisation had

to prepare for a new stage in the digital

revolution. BT is preparing to replace the

UK's copper-based network with an fibrebased

one between 2020 and 2025, he said,

which would render the telecoms systems

used by many businesses obsolete.

The Phone Co-op had to be ready to take

advantage of this, he told members.

The transfer of engagements required a

confirmation vote, which took place at a

second general meeting in Droitwich on

held on 28 April.

It was passed by 75 votes out of 76.

Work is now afoot for the transfer to

Midcounties, for 1 June, said a Phone

Co-op spokesperson.

JUNE 2018 | 13
---
p The Toad Lane site is now home to the Rochdale Pioneers Museum

HERITAGE

A monument to change: Rochdale Pioneers store

named one of 10 key sites in Britain's industrial history

The Rochdale Pioneers Shop was chosen

as one of England's top ten industry, trade

and commerce sites that have shaped the

nation's history.

The museum was selected as one of

the ten places selected by judge Tristram

Hunt, a former Labour MP, who is

currently director of the V&A Museum,

from a list of 799 public nominations.

The Toad Lane building dates back

to 1844 when a group of 28 men, mostly

weavers, set up the Rochdale Society of

Equitable Pioneers to sell quality food

at affordable prices. Their initiative

developed in the context of extreme

poverty affecting the local community

due to the mechanisation of industry. The

shop was owned and run by the members

based on co-operative principles that

were later adopted by other communities

across the world, making Rochdale

the birthplace of the modern day

co-operative movement.

The list is part of Historic England's

A History of England in 100 Places

campaign, which aims to raise awareness

of important sites across England and

the role they played in pioneering,

experimenting and breaking new ground.

The campaign is sponsored by

Ecclesiastical and will run a podcast

series and a handbook featuring all 100

sites selected by the panel of judges.

Duncan Wilson, chief executive

of Historic England, said: "We had

an overwhelming response from the

public in this category, with nearly 800

nominations of places which help tell the

story of our industrial and commercial

past. Each of these 10 places chosen by

Tristram Hunt demonstrate that many

different industries and enterprises, from

brewing and coal mining to financial

services, have defined who we are as a

nation and although some have changed

uses, they remain a central part of

our lives today."

Mr Hunt said: "Out of the Industrial

Revolution came new ideas about the

organisation of society and what the

Rochdale Pioneers did was to bring a new

model of sharing wealth to the world.

On the one hand, industrialisation was

a celebration of capitalism – but on the

other hand, ideas around socialism,

communism and co-operation emerged

which changed the country."

The campaign comes in response to

a national poll carried out by YouGov,

which showed that the public is unaware

about where ground-breaking moments in

England's history happened.

The Toad Lane shop is now home to

the Rochdale Pioneers Museum, acting to

preserve the original store of the Rochdale

Pioneers and generate an understanding

of the ideals and principles of the

co-operative movement.

Kate Gronow, visitor experience and

operations co-ordinator at the Rochdale

Pioneers Museum said: "The whole team

at are thrilled that the movement has been

recognised nationally with this accolade.

The Rochdale Pioneers came together to

improve the lives of the working people of

the town. We celebrate this and continue

to make our museum an active participant

in co-operation."

14 | JUNE 2018
---
ECONOMY

Rochdale Council launches Co-op Connections

Heritage Action Zone to regenerate the town

Co-operative heritage will be at the centre

of a plan to regenerate Rochdale, the tenth

most deprived area in the country.

The five-year project is part of the

Heritage Action Zone programme run by

Historic England, a public body sponsored

by the Department for Culture, Media and

Sport (DCMS), in partnership with local

councils and other organisations.

The council is working on the project

with Historic England, Link4Life,

Rochdale Boroughwide Housing co-op

(RBH), the Co-operative Heritage Trust

and Rochdale Town Centre Management.

Rochdale is celebrated as the birthplace

of modern co-operation and through the

Co-operative Connections Heritage Action

Zone (HAZ), the council will focus on

buildings from the movement's past.

It plans to create 200 new homes and

renovate a number of historic buildings

in the area to bring them off Historic

England's At Risk Register. Last month

housing co-op RBH pledged £25m of its

own resources over the next five years to

deliver regeneration plans.

The council plans a heritage trail to

tell the story of the historic buildings

in the area and better link the railway

station with the town centre. The HAZ

will also support a co-op enterprise hub,

developing new co-operative businesses,

funded through the Co-operative Group's

"Together Enterprise" programme.

The hub will be run by the Co-operative

College, in partnership with the council,

and hosted in the former Butterworth

jewellers building at 14 Drake Street.

The pilot will see young people from the

Rochdale area learn about co-operatives,

co-operative ways of working and

enterprise in interactive sessions, while

developing key co-operative skills such as

team working, self-confidence and group

decision making.

Approximately 10 shop fronts will be

improved within the HAZ area by 2023

and a further eight heritage assets in the

HAZ area will be repaired or restored and,

if vacant, brought back in to use.

Furthermore, the project will carry out a

'Historic Area Assessment' to understand

the significance of the buildings within

the HAZ area, including co-operative

heritage, and engage with 11 schools

through 'Heritage Schools' project.

HAZ was launched at Rochdale Town

Hall on 16 May, where Councillor Janet

Emsley, cabinet member for leisure and

culture at Rochdale Borough Council,

p Project partners in front of the former jewellery, which will host the co-op enterprise hub

said: "We are lucky enough to have some

spectacular heritage buildings here in

Rochdale, so no plan to regenerate our

town centre would be complete without

major investment in these assets.

"Since we achieved Heritage Action

Zone status, we've already had a major

boost, with grant one funding approval

from the Heritage Lottery Fund for the

redevelopment of the town hall, so we're

already well on our way to bringing our

fabulous heritage to life."

Catherine Dewar, planning director for

Historic England North West, said: "We're

delighted to be working with Rochdale. It

has such fantastic historic buildings and

spaces and we want to work together to

make the most of its heritage. We have

a great opportunity to work with other

organisations and the community in

partnership, continuing the fascinating

history of co-operation in the town."

Liz McIvor, Co-operative Heritage Trust

manager for the Co-operative College,

added: "Co-ops are popular around

the world, but we need to ensure their

influence remains strong in Rochdale,

because this is where it all started.

"By celebrating this international

movement and its Rochdale roots, we will

help restore a sense of place, a sense of

something great having gone before and

something great still to come."

Paul Cocker, funding and partnerships

development officer at the College, added:

"As we look back to co-operative history,

we have to opportunity to look forward

towards a co-op future, use co-op values

and principles to make a co-op town."

John Searle, director of economy

of Rochdale Council, said Greater

Manchester mayor Andy Burnham also

had a role to play in supporting residential

growth in Rochdale. He said: "Rochdale is

not a failing town centre, but has to move

on to the next level."

Around £250m has been invested in the

core town centre area since 2011 as part of

the council's regeneration efforts.

Rochdale Borough Council has

committed £1,600,000 to the Heritage

Action Zone, which will complement a

£611,000 investment by Historic England.

The council and its partners plan to invest

a total of £25m in Rochdale town centre

over the next five years. The investment

is expected to attract private sector

investment in excess of £15m.

JUNE 2018 | 15
---
GLOBAL UPDATES

NETHERLANDS

Dutch dairy co-op to pay farmers a

premium for hitting sustainability standards

Dutch dairy co-op FrieslandCampina

has announced a new line, Top Dairy,

which will pay farmers a premium

for milk reaching certified standards

of sustainability and animal welfare.

The move is the latest step in the

co-op's Nourishing by Nature strategy and

includes commitments on biodiversity

and reducing climate emissions.

FrieslandCampina – Europe's largest

dairy co-op – is now discussing the

project with its members before deciding

on the exact nature of the standards,

which are expected to come into effect

on 1 January 2019.

Chief executive Hein Schumacher said:

"By accelerating our sustainability efforts

we set the bar higher for dairy in general

... With this we strengthen our purpose

of nourishing by nature ... better nutrition

for our consumers and a good living for

our dairy farmers. This is what it's all

about, now and in the future."

Growth of the milk supply volume is

possible within the scope of a pre-agreed

growth arrangement, which aims to set an

expected dairy market growth percentage,

the co-op adds.

Frans Keurentjes, chair of

Zuivelcoöperatie, the co-op that owns

FrieslandCampina, said: "Sustainable

milk will pay off, we are convinced of that.

"Being one of the leading dairy

co-operatives in the world, we ask our

members to show strong commitment

to meeting the demand for more

sustainable and special milk flows.

In addition to the higher payment for

p The standards come into effect next year

sustainability, we are aiming at wellbalanced

and market-driven growth.

This will help us create a co-operative

in which a next generation of farmers is

guaranteed a future."

EUROPE

European co-operatives release vision

paper on growing the collaborative economy

p The paper was presented to MEPs

Cooperatives Europe has published a

vision paper highlighting the role of

co-ops in the collaborative economy.

The document is a response to the

European agenda for the collaborative

economy, adopted by the European

Parliament last June, which outlines

the importance of the single market and

creating an enabling environment for

relevant economic actors such as co-ops.

23

The collaborative economy had a

revenue of €28bn in 2015 in Europe. A

report by PwC estimates that by 2025 the

collaborative economy will have platforms

in five sectors, generating revenues worth

over €80bn and facilitating nearly €570bn

of transactions.

Cooperatives Europe's paper says

the sector has continued to grow,

disrupting markets and having an

impact on fair competition, labour rights,

consumer protection, service levels and

transparency.

It follows consultation with sectoral

co-op organisations and European

co-operators. One of the issues

highlighted was the fundamental role

played by communities in the collaborative

economy. This should be recognised

through a European enabling ecosystem,

the report adds, with existing regulations

modernised to enable the development of

a co-op-based collaborative economy.

The document also calls for publicprivate

partnerships between European

institutions and community-based

organisations to unleash the full potential

of the collaborative economy.

Jean-Louis Bancel, president of

Cooperatives Europe, said: "The

collaborative economy is booming, and

our responsibility is to create a positive

ground to enable its maturation.

"This vision paper demonstrates the

importance of a co-operative-based

collaborative economy to reconnect

people and their communities at a time

when creating social cohesion is needed

more than ever."

Nicola Danti, an MEP in the Progressive

Alliance of Socialists and Democrats

group and the parliament's rapporteur

on collaborative economy, added: "The

collaborative economy can represent a big

opportunity for the European co-operative

movement to reinvent, and benefit from

the technological revolution. At the same

time, co-operatives can provide added

value for a balanced and sustainable

development of this new phenomenon."

16 | JUNE 2018
---
USA

Help space cats fight galactic fascism in

a new game from TESA Collective

The collective behind the Co-opoly board

game have launched their newest project

on Kickstarter.

Space Cats Fight Fascism is the fourth

in a series of social justice games from

the TESA Collective, which designed

and published the tabletop games Rise

Up: The Game of People and Power and

Co-opoly: The Game of Cooperatives,

and the fast-paced social justice word

association card game Loud & Proud.

TESA is running a Kickstarter

campaign with the goal of raising at

least $20,000 to support the design

and printing of the first run of the

game. The campaign includes a backer

level where players can have their own

cats represented in the game.

Rise Up and Co-opoly were

both supported by successful

Kickstarter campaigns.

The new game imagines a future where

intergalactic animals vie to defeat a fascist

stronghold that seeks to limit their rights

and freedoms. Characters use strategy,

alliances and feline cleverness to take

down powerful opposition and free

occupied planets.

It is set in the year three million, when

the animals of Earth inhabit the galaxy in

advanced societies. An oppressive regime

known as The Rat Pack has decided

that all cats must be tightly controlled

and forced into feline exile – prompting

a cat revolution.

TESA says the game was inspired by the

current political climate in the US.

"I know plenty of folks who are fighting

fascism in real life, but even serious

activists need to laugh and blow off

steam every now and then," said Brian

Van Slyke, the game's designer and

a worker-owner at TESA. "Space Cats

Fight Fascism is for them."

Vermont state representative Kiah

Morris, a member of TESA, added: "As

someone on the front lines of working

to create a just world, this game is

p Can you help this cat fight fascism?

exactly what is needed to lift our spirits,

build teamwork and have more fun

than imaginable.

"And it's cats. In space. Who doesn't

love the concept of freedom-fighting cats

in space?"

NORWAY

Coop Norway runs litter clean-up in war on

plastic waste

p Efforts focused on beaches, lakes and rivers.

With global concern mounting over plastic

pollution, retailer Coop Norway called on

employees, customers and co-owners to

join a nationwide clean-up campaign.

The "Coop rydder Norge" campaign,

run with the organisation Hold Norge

Rent (Keep Norway Beautiful), ran from

30 April to 5 May 2018, and saw the

co-op's stores hand out free cleaning kits

with gloves and bags and set up collection

points for rubbish.

The clean-up, which focuses on coastal

areas, lakes and rivers, also saw volunteers

upload images and register details of

collected waste to help Hold Norge Rent

compile a report on marine pollution.

"Littering affects all of us and we in

Coop will have a responsibility to do our

part," said Knut Lutnæs, environmental

manager at Coop Norway. "Together with

our customers, who are also our owners,

we will now contribute to clearing Norway

of marine litter."

He added: "We in Coop are lucky to

have over 1.6 million co-owners and many

stores across Norway. Together we can

strengthen our efforts to effect change. In

addition to being a small but important

contribution, the goal of the campaign is

to raise awareness and understanding of

the scale of plastic waste."

Mr Lutnæs added that creating

awareness, was important for waste

prevention. An estimated 36,000 tonnes

of waste is dumped into Norway's waters

every year; of this, 70% of this sinks to the

bottom of the sea, lakes and rivers, 15%

floats and accumulates, and 15% is washed

up on land.

"In addition to helping to clean up, Coop

is committed to optimising packaging and

reducing plastic usage, including finding

replacement for more plastic products,"

said Mr Lutnæs.

"The entire operations of Coop in the

Nordic region are collaborating on this, in

addition to measures with other sectors of

the grocery industry."

JUNE 2018 | 17
---
The right ingredients

/sumawholefoods

Perfected over 40 years of worker co-operation

Find us in your nearest independent grocery store

SWITZERLAND

Swiss co-ops tunnel into tomorrow with

underground transit system

Switzerland could have a new

underground logistics delivery system

by 2040, to help the country cope with a

projected 35% increase in freight traffic.

The country's largest retailers, co-ops

Migros and Coop, are among the backers

of the project, which will be developed by

a group of private companies.

Cargo Sous Terrain (CST), the company

leading the initiative, proposes a 500km

automated tunnel system that will

integrate sensor data from pallets and

wagons into the overall logistics and

delivery mechanisms.

The fully automated network will run

from Geneva to St Gallen and from Basel

to Lucerne, with an additional branch

from Bern to Thun, connecting around

80 hubs, where goods can be loaded and

unloaded. Once fully completed, CST is

expected to reduce freight transport in

towns and cities by 30% and save 40% of

lorry journeys on motorways.

On 23 January a delegation of CST

presented its roadmap for the next phase

of development of the logistics network

p A delegation of CST to federal councillors

to federal councillor Doris Leuthard.

The roadmap includes a funding plan of

CHF1000m in equity to obtain a building

permit for the first section from Härkingen

to Zurich. According to CST, a number of

existing partners intend to increase their

share capital once the CST dedicated

federal law is in effect.

The organisation estimates the total

construction costs will amount to 33

billion Swiss francs. It plans to conduct

the first operational underground

transports starting in 2030 by which time

the first network from Gäu to Zurich will

have been completed. The entire network

is scheduled to be commissioned and

completed by 2045.

The vehicles will be self-driving and

will be able to intelligently connect

and disconnect themselves to and from

convoys in the driving and monorail

lanes. The speed limit will be 30 kph for

freight vehicles in the driving lanes and 60

kph for the monorail conveyor.

Coop and Migros say their co-operative

structure allows them to make longterm

investments in the future of Swiss

infrastructure.

"A quick and efficient supply is crucial

when it comes to ensuring that our

customers can find the products they want

in their local shops. We need innovative

and environmentally friendly solutions

so that we can continue to guarantee

this in the future. This is why we have

strongly advocated Cargo Sous Terrain

from the very start," said Joos Sutter, chief

executive of Coop Switzerland.

"Even today, we need to think about

how we are going to be able to provide

a reliable supply of fresh goods for our

customers 20 years from now," added

Migros boss Herbert Bolliger.

18 | JUNE 2018
---
CANADA

Mountain

Equipment Co-op to

kit out a series of

scientific expeditions

p The remote Waddington Range

Canadian outdoor retailer Mountain

Equipment Co-op (MEC) is working with

The Royal Canadian Geographical Society

(RCGS) to kit out a series of important

explorations.

As Canada's largest co-op by

membership, MEC says it is committed

to sustainability, community and the

stewardship of wild places.

Chief executive David Labistour said:

"Gear that's designed, made and tested to

perform in the challenging and often harsh

conditions that Canadian explorers find

themselves in, can mean the difference

between success or failure.

"It's a tremendous honour to bring

MEC's expertise in making gear for

millions of Canadian outdoor enthusiasts

to the RCGS Expeditions Program as its

official outfitter."

The RCGS has been supporting

Canadian exploration since 1929. In 1992,

it partnered with MEC on a 13-member

expedition to measure the height of Mount

Logan, the country's highest peak.

The new expeditions include a scientific

exploration of the Bisaro Plateau Caves,

which were discovered in a remote area

of British Columbia in 2012. The project

which will involve cave diving and staying

in underground camp for as long as seven

days at a time.

There will also be canoe journeys

through remote river systems and fjords,

and recreations of historic journeys.

These include the Bayne/Coleman

Project, a documentary about the search

for the grave of Sir John Franklin, who

disappeared in 1847 while searching for

the North West Passage, and the Mystery

Mountain Project, a re-enactment of

the first exploration, in 1926, of British

Columbia's Waddington Range.

ICA-AP Research Conference to address sustainability

The Asia-Pacific region of the International

Co-operative Alliance (ICA-AP) is hosting

the 13th ICA-AP Cooperative Research

Conference in November in Tehran,

Iran, looking at how the movement

can contribute to more sustainable and

resilient societies.. Two best-paper awards

(US$500 and US$300) will go to young

researchers presenting papers.

Evergreen Cooperative Laundry to manage second plant

Cleveland's Evergreen Cooperative

Laundry will triple its workforce after

taking over management of the Cleveland

Clinic's laundry facility. The new plant

brings more than 100 new employees into

the organisation, joining the 50 workers

employed at its original laundry in

Glenville. The Cleveland model has been

adopted by other communities across the

US, as well as in Preston, UK.

Artificial intelligence created to help tackle fraud

CO-OP Financial Services has brought in

a new data-driven platform to help US

credit unions detect and tackle fraud more

quickly. The organisation, which operates

an interbank network connecting the

ATMs of credit unions in the US and

Canada, says its COOPER platform uses

machine learning to keep up with patterns

of online crime.

Carbon-neutral coffee brewed up in Costa Rica

As news emerges that one in five Costa

Ricans is associated with a co-operative,

the country's Coopedota coffee coop

has brewed up the world's first

officially certified carbon-neutral coffee.

Coopedota tracks the emissions produced

at each stage of production, and buys

carbon credits to offset part of its impact.

Kenyan co-operators join blood donation campaign

The co-op movement in Kenya called on

members to join a two-day blood donation

drive to help raise 2,000 pints of blood.

"It only takes 15 minutes to donate one

unit - and because the demand for blood

transfusions doesn't stop, we made this

an annual campaign," said Coop Alliance

of Kenya chief executive, Daniel Marube.

JUNE 2018 | 19
---
MEET...

... Simel Esim, head of the ILO's

Cooperatives Unit, Geneva

Simel Esim heads the Cooperatives Unit of the International Labour

Organization in Geneva. Prior to this, she was a senior technical

specialist in the ILO's Regional Office for Arab States. Her experience

includes working in policy advocacy, research, capacity building,

programme management, and monitoring and evaluation. She focuses

on co-operative and social and solidarity economy development,

informal employment and women's economic empowerment issues.

She holds an MA in International Economics and Middle East Studies

and a Ph.D. in Economics.

WHAT DOES A TYPICAL WORKING DAY LOOK LIKE

FOR YOU?

I often wake up with a bunch of new ideas and

can't wait to share them with my colleagues. Once

I arrive at the office, there is a lot of diversity to

the work – there are impromptu consultations

and brainstorming sessions within the ILO COOP

team. We also prioritise engagement with our

colleagues in the field offices and requests from ILO

constituents and partners. As with most of us in the

changing world of work, a lot is done through video

conferences and Skype, as well as email and phone

calls, even if we may not be able to engage face to

face. I am usually surprised how fast the work day

comes to an end. There is often little time for reading

and writing substantive pieces, so those usually go

home and travel around with me – there are always

some very well-travelled reports in my bag.

WHAT IS THE BEST THING ABOUT THE JOB?

I love working with the ILO COOP team that consists

of a dynamic and creative bunch. With them we have

developed a wide portfolio and are continuing to

grow it. Supporting the professional growth of this

largely young and diverse group of committed and

hard working women and men from Asia, Africa,

the Americas and Europe is important. I learn a

great deal from them every day. My favourite part is

the brainstorming sessions where we come up with

ideas – which for me almost always ends up being

about drawing with coloured pens.

AND THE HARDEST?

Coming up with ideas for new initiatives is the fun

and easy part of course – but then bringing them

to life takes a great deal of hard work and patience.

Doing the hard work is not a big deal, really, but

having the patience to wait for things to get off the

ground after sowing the seeds is sometimes difficult

for me. So I need to hold back my eagerness and

even impatience for things to happen. I am therefore

grateful to my colleagues when they remind me to

allow for things to take their time to evolve. And as I

grow older I am hoping that I may be getting slightly

better at letting things take their course.

Externally, of course, the changing international

development landscape poses some challenges but

I am also positive that the search for alternatives is

resulting in the (re)discovery of co-operatives and

other social and solidarity economy entities.

HOW DID YOU GET INVOLVED IN THE ILO?

I was working in a research institute in Washington,

DC for six years when I was invited to apply to

a position at the ILO Regional Office for Arab

States. After spending 14 years in DC I was ready for

a change and to go back to the field at that point,

so I took the plunge.

HAD YOU WORKED WITH CO-OPERATIVES IN

THE PAST?

I come from a long line of staunch co-operators

(housing and consumer co-ops) and at age seven

I was a co-op club president at school in Turkey.

I also worked with and wrote on women's rural,

financial and artisanal co-ops in Turkey, India and

Arab States before I joined ILO COOP.

THE INTERNATIONAL LABOUR CONFERENCE (ILC)

IS APPROACHING. WILL CO-OPERATIVES BE ON

THE AGENDA?

The conference is an annual event that takes place

at the end of May / early June each year, with the

agenda set by the governing body of the organisation.

The ILO recommendation on promotion

20 | JUNE 2018
---
ISSN 0009-9821

9 770009 982010

01

of co-operatives (No. 193) was adopted at the ILC in

2002 with the active participation of co-operative

movement representatives. In the recent past the

constituents have referred to co-operatives and

other social and solidarity economy enterprises and

organisations during standard setting discussions

on formalising the informal economy or peace

and resilience.

During this year's conference, there will be

a standard-setting discussion on violence at work,

a general discussion on effective ILO development

co-operation and a recurrent discussion on social

dialogue and tripartism. Government, workers'

and employers' organisation representatives

from countries with strong co-operative and

social and solidarity economy movements will

be most likely to bring it up in these discussions.

We also look forward to having a representative

of the ICA there with us during this year's ILC,

where they will make a short presentation on the

co-operative movement's view of the key issues

being discussed.

WITH THE CHANGING NATURE OF THE WORLD

OF WORK, WHAT WOULD BE YOUR ADVICE

FOR CO-OPERATIVES?

In the changing world of work there is a need for

alternatives that can reverse the deterioration

of worker rights. In this context it would be

important for the global co-operative movement to

demonstrate its commitment to decent work and

how co-ops can and do offer alternatives to the retreat

of worker rights.

Such commitment would benefit from being

substantiated with concrete actions. For instance,

the bigger and more established co-ops can show

their support for emerging co-ops to address

world of work challenges, like those set up

by unemployed youth, low-income women or

freelance workers. Codes of conduct for eliminating

worse forms of child labour, forced labour and

discrimination would be good to adopt as part

of a "Co-operatives for decent work agenda".

The engagement of the co-operative movement

with the changing world of work discussions,

including the ILO director general's initiative on the

future of work, is also essential. In the past couple

of months comments were submitted by CICOPA

and the ICA on the inception report for the Global

Commission on the Future of Work. An international

conference on co-operatives and changing world of

work took place in India last week and came up

with a common basic understanding statement.

These are clear signs of the commitment from the

international co-operative movement to work

toward decent work in this changing landscape.

news Issue #7294 APRIL 2018

Connecting, championing, challenging

APRIL 2018

EDUCATION

Co-op learning:

principle five

in action

Plus ... 150 years

of East of England ...

and updates from the

Co-op Retail and Abcul

conferences

£4.20

www.thenews.coop

JUNE 2018 | 21
---
YOUR VIEWS

FAIRTRADE

I would like to reply to Rita Machin's

email 'Fairtrade Fortnight' in May's

edition of Co-op News in which she

suggests that the Co-op Group's Fairtrade

success is only at 'surface' level and

that I personally am 'out of touch' with

how, in her view, our 'publicity has

been marginalised'.

I respectfully suggest that visiting just

three stores is hardly representative of the

reality of our efforts nationally, and I can

assure Rita of the fact that, in my 20 years

of working on Fairtrade – actually since I

helped create the concept of Fairtrade

Fortnight with the Fairtrade Foundation –

this has been one of our most-supported

campaigns ever. This year we delivered key

messages through the distribution of 2,000

member packs, new school resources,

a cohesive social media campaign, on

our website and across paid channels –

including new films on both the graduate

nurse programme and the Fairtrade roses

message, blogs for International Women's

Day and member emails to provide access

to these rich stories. Stores were supplied

with resource packs and additional

links to download extra information, a

suite of point of sale items to put up to

promote the event, till screen messages,

and two editions of our customer Food

Magazine which carried stories and

information about Fairtrade Fortnight

and our news.

Overall our reach and delivery was well

ahead of the targets we set ourselves.

Almost 300 events were undertaken during

the Fortnight, with our engagement with

Member Pioneers paying real dividends

– 128 of them arranged events locally.

Over 2 million people were reached on

social media – and over 4 million if we

include the contact we paid for. Our roses

video scored the highest engagement

of any of the films we have produced

– even exceeding the impact levels of some

of our TV advertising.

Of course it is disappointing when,

locally, stores do not engage with

activity. When there is such evidence,

the most effective way to improve things

is to approach the store directly and ask

the questions, rather than assuming

that all stores are unsupported and

complaining through Co-op News. In

the main, our shops do a fantastic job

of promoting Fairtrade Fortnight within

the confines of all the other messages –

Mother's Day, Easter, price investment,

special deals etc, but managers

will always appreciate constructive

member feedback.

I can assure Rita and all readers that,

while there is always more to learn and

improvements to be made, I am fully in

touch with the reality of our efforts and

very aware of how to deliver Fairtrade

effectively – both for short-burst Fortnight

activity and long-term strategically. I have

been doing so for two decades and am proud

of the leadership we have established, the

impact we have had on countless lives

and how our Co-op continues to drive

the agenda on behalf of our producers

and our members.

Brad Hill

Fairtrade Strategy Development Manager,

Co-op Group

p The Co-op Group can be proud of its work on Fairtrade, says Brad Hill

22 | JUNE 2018
---
p Phone Coop members have voted to merge with Midcounties

PHONE CO-OP MERGER

Just to play devil's advocate... as Vivian

Woodell says, there is a natural overlap

between energy retailing and telecoms

retailing. Co-op Energy and the Phone

Co-op could indeed achieve a range of

synergistic benefits by teaming up (see

report on p13).

But the regional grocery side of the

business has little in common with UKwide

networked services. There will be

a constant tug of war between regional

marketing that serves the food stores,

and UK-wide marketing that serves the

utilities; the membership will include

people with conflicting expectations of

the merged co-op; and the low-margin,

risk-averse grocery business will need

a different style of leadership from the

much more fluid and fast-moving world

of utilities. Shouldn't Midcounties

be handing Co-op Energy over to the

Phone Co-op?

Alex Lawrie

Both Vivian Woodell and Ben Reid have

made a persuasive case for the merger of

the Phone Co-op with Midcounties. There

are clearly a set of business synergies

that mean offer some obvious benefits

for customers and members from such

a merger. Of course, many of us are not

just customers of this amazing co-op; we

have invested not only our money in this

business but have felt part of a real

community of co-operators. Giving that up

will not be easy.

But the environment and the huge

technological change taking place in this

sector does mean that the support of a

bigger society will give a co-operative

phone business a better chance of

success. What is more, there is no doubt

that Midcounties – as well as bringing

significant business skills and scale –

shares the Phone Co-op's values. As chair

of Co-operatives UK I will be sorry to lose a

member but that is a small sacrifice for the

opportunity for a growing successful co-op

presence in the telecoms sector.

So let's embrace this opportunity and

support this merger.

Nick Matthews

DEMOCRACY IN ACTION

As a candidate for the Co-op Group

Members Council, I realise this may come

back to bite me, but I am delighted that

so many have put themselves forward

for election – 157 for 36 places. That is

real democracy.

The sad thing is that very few members

will bother to vote – just 3% of those eligible

to vote and barely 1% of all registered

members. That is clearly not meaningful

democracy. Until and unless that changes,

we are only paying lip service to it.

David Stanbury

Plymouth

PUB CO-OPS

Quite ironic that pubs are being saved

by becoming co-operatives while the

Co-op Group is still closing them and

turning them into stores. It raises

interesting questions around the role of a

co-operative in the community.

LaughingJohn

Via website

Have your say

Add your comments to our stories

online at www.thenews.coop, get

in touch via social media, or send

us a letter. If sending a letter, please

include your address and contact

number. Letters may be edited and

no longer than 350 words.

Co-operative News, Holyoake

House, Hanover Street,

Manchester M60 0AS

letters@thenews.coop

@coopnews

Co-operative News

p Voting at the Co-op Group AGM

p The Chequer Inn near Canterbury is now a

community pub

JUNE 2018 | 23
---
Co-op Group will build its business by

'closing the virtuous circle', AGM told

Clockwise from above:

Steve Murrells, Co-op

Group CEO, addresses

delegates at the AGM

on Saturday, 19 May;

The event was held at

the Manchester Central

Convention Complex and

included a marketplace

showcasing different

areas of the Group's

business; Stevie Spring,

chair of the remuneration

committee.

The Co-op Group must build on a year which

has seen it increase profits and membership by

working towards "a stronger Co-op and stronger

communities," its AGM in Manchester was told.

Chair Allan Leighton and chief executive Steve

Murrells both hailed a strong performance in 2017

which saw a 15% increase in active members and

pre-tax profits grow by 25%, with £100m returned

to members through the 5% reward scheme, and

£20m go to local causes.

And although the Group was having to deal

with problems such as its treatment of suppliers,

which has sparked an investigation into suspected

violations of the Groceries Code, members also

heard how the organisation had made great

strides in its campaigning work on issues such

as loneliness, modern slavery, plastic waste and

Fairtrade. Mr Murrells said the Group could build

on this by using "an old idea we need to make new

again: the virtuous co-operative circle".

A Co-op Group which strengthened the

communities it operates in would reap the benefits

of that strength, he told delegates. And this would

bring advantages at a time when Brexit, an ageing

population, a younger generation who are less

wealthy than their parents, the breakdown in

trust for big organisations and the rise of digital

communication mean "our country is going

through a change that is without parallel in

my lifetime".

"The Co-op is well placed to meet these changes

because of how we are owned," he added, calling

for a revival of the Rochdale Pioneers' ethos that

came out of the "unsettling change" of the mid

19th century.

"We have to make the most of our co-operative

difference because we won't succeed by being

like everyone else," said Mr Murrells, warning

that although "we've made a lot of progress, we

are profitable, we are rewarding communities

and members ... we're not seeing the change in

shopping habits that we would like".

To solve that, the Group needed to close "a

number of gaps" in the virtuous circle.

This includes extending the Group's reach into

the community – with innovations such as its

recently announced no-frills funerals offer, trials of

home delivery partnerships, wholesale deals with

Costcutter and Nisa, and travel insurance coverage

for pre-existing medical conditions.

For customers, the Group is trialling new

digital products such as scan-and-go technology,

while 21,000 colleagues have taken advantage

of a new phone app, Shifts, to organise more flexible

working arrangements.

And Mr Murrells said new business ventures

were being looked at. These would be online

ventures, without the capital outlay for high-street,

bricks-and-mortar businesses, and would serve

new generations in key areas such as health and

wellness, and finance.

The AGM heard how the Group was also working

to "close the gap" for colleagues by introducing

new colleague awards and setting up networks for

BAME workers and young workers, and by offering

colleagues health and financial advice.

In terms of pay, Stevie Spring, chair of the

remuneration committee, said executive salaries

had been frozen and the bonus scheme simplified

but frontline staff had seen pay rises of 6% this year

and 21.5% over the past three years: "There's still

lots to be done but we're making progress."

Meanwhile the Group was building its

apprenticeship scheme, delegates were told,

24 | JUNE 2018
---
meeting an ambition to have more than 1,000

apprentices at any time and forming part of a

"talent pipeline" into the Group from its growing

network of Co-op Academy schools.

Chief membership officer, Matt Atkinson,

described how the Group had brought the co-op

difference to its communities by supporting 8,000

local causes.

"It's a fantastic example of how our belief in self

help, and the way communities can pull together, is

of real benefit," he said.

But, he added, the Group had been assessing

these interventions to ensure they were building coop

values and making life more socially rich. This

had led it to widen its community fund to include

other causes alongside regular charities, and to

ask how such projects encourage co-operation and

"close the gap in reciprocity".

This helped the number of applications rise from

7,000 to 12,000 in the last round, with 30% of the

fund going to newly eligible groups.

At the same time, said Mr Atkinson, studies of

shopping habits found that members who support

a local cause also shop more with the Group.

Alongside efforts to grow the Group's member

pioneer network and to use online platforms to

increase community participation, this was giving

the business the opportunity to further close

the gap in the virtuous circle and "build a clear

and unashamed bias towards creating genuine

co-operation," he added.

Mr Murrells stressed that the Group needed to

be careful about how these efforts were funded,

by looking at the cost of running the society,

making organisational changes – "having the right

people in the right jobs doing the right things"

– getting "better deals on things we buy" and

setting up a new service centre to look after back

office functions.

He said the Group was aiming to find more than

£100m to help fund that growth.

"Two years ago went back to being the

Co-op," he said. "A year ago we went back to being

a campaigning co-op. This year we returned to

commercial success."

At the meeting, members voted on 12 motions, all of which were carried:

Motion 1: To receive the Annual Report and Accounts for the period ended 6

January 2018. For 97,284 (98.19%), Against 1,794 (1.81%), Withheld 8,830

Motion 2: To approve the Directors' Remuneration Report (PDF) for the

period ended 6 January 2018. For 82,964 (88.34%), Against 10,950

(11.66%), Withheld 13,011

Motion 3: To approve a change in the Executive Remuneration Policy. For

74,979 (84.13%), Against 14,140 (15.87%), Withheld 16,861

Motion 4: To re-elect Ian Ellis as an Executive Director. For 88,156 (95.99%),

Against 3,685 (4.01%), Withheld 11,063

Motion 5: To re-elect Lord Victor Adebowale as an Independent Non-

Executive Director. For 85,321 (93.17%), Against 6,254 (6.83%), Withheld

11,492

Motion 6: To re-elect Simon Burke as an Independent Non-Executive

Director. For 85,820 (95.37%), Against 4,169 (4.63%), Withheld 11,523

Motion 7: To re-elect Stevie Spring as an Independent Non-Executive

Director. For 91,589 (95.72%), Against 4,095 (4.28%), Withheld 11,558

Motion 8: To re-appoint Ernst & Young LLP as auditors and authorise the

Risk and Audit Committee to fix their remuneration. For 86,459 (94.60%),

Against 4,932 (5.40%), Withheld 10,526

Motion 9: To approve changes to the Rules. For 81,446 (88.91%), Against

10,155 (11.09%), Withheld 14,838

Motion 10: To seek approval to incur political expenditure, including

donations and/or subscriptions to political parties, not exceeding

£750,000 in total for the year commencing 1 January 2019. For 73,805

(79.38%) , Against 19,168 (20.62%), Withheld 13,737

Motion 11: Plastic Recycling. For 94,915 (99.06%), Against 900 (0.94%),

Withheld 6,693

Motion 12: Responsible Advertising. For 92,811 (96%), Against 3,868 (4%),

Withheld 8,387

JUNE 2018 | 25
---
The Co-operative

College Education

and Research

Conference

Ariel Guarco

The annual event, which took

place at Federation in Manchester

on 1-2 May 2018, had the theme

'Skills for co-operators in the 21st

century', exploring what 'learning

to do and learning to be' look like

in contemporary times.

Co-op

training

and research

is 'crucial in

the age of

technology'

says Ariel

Guarco

The co-op movement must adapt its training and

education if it is to keep up with changes to the

world of work, says Ariel Guarco, president of the

International Co-operative Alliance.

Mr Guarco, a keynote speaker at the conference,

looked at how the movement might take advantage

of the opportunities brought by new technology

while staying faithful to its community roots.

Giving the example of the worker co-ops that

emerged in Argentina after the 2001 crisis, Mr

Guarco said that adopting the co-operative business

model would require specific training around the

working conditions in a co-op organisation and

participatory management models. He believes that

co-ops, as distinct enterprises, require adequate

education and support in this area.

"The organisation of the work of a company that

seeks to maximise the benefit cannot be the same

as that of a co-operative that seeks to optimise the

working conditions of its members according to

what is collectively agreed," he said.

He added that workers must be able to participate

in management in all its dimensions. "Participation

is not only a problem of will – you must know how

to do it," he said. This includes the training of the

associate members on the issues to be decided and

having adequate indicators.

These two training demands – on working

conditions in co-operatives and on models

of participative management – are not covered by

the usual training offer, argued Mr Guarco.

He praised the work done by the Co-operative

College in providing support and training to

co-operatives, and highlighted how co-ops are

no longer just engaging and competing with

traditional business models characterised by

salaried employment – but are also working with

the collaborative economy.

New technologies and platforms can make it

more difficult to build a shared identity for members

of co-ops, but they can also increase transparency

and direct management, he added.

To make a difference to the collaborative

economy, Mr Guarco suggests that co-ops focus

on specific areas, including the promotion of

co-operative education by working with academic

institutions and trade unions.

He argued that the co-operative movement

should demand a regulatory framework that

responds to new patterns of work organisation.

"Faced with the networks of global brands

under the hegemony of financial capital, we must

build networks of local identity, built from the

community. We are not afraid of global challenges.

What alarms us is the lack of roots."

Mr Guarco also looked at the potential

of developing co-operatively run cloud technology.

"If we want to democratise power, prioritising

the democratically organised community in

each territory, then we must discuss where the

information is hosted, how it is accessed and what

use is given to it," he said.

He said many of the issues reviewed at the

conference "have a global scale and require a

co-operative strategy at the global level".

"I invite you to think together, to make significant

contributions, from the grassroots to the apex

organisations," he added. "It is our purpose from

the ICA to give the floor to all those who have

opted for autonomous and democratic initiatives to

respond to the problems of each community, each

country, and the entire world."

26 | JUNE 2018
---
Bruno Roelants

Emer Coleman

Learning

to do and

be: the keys

to successful

co-operative

learning

Co-operative learning requires practical

co-operative experience, says Bruno Roelants,

the new director general of the International

Co-operative Alliance.

Mr Roelants, a keynote speaker at the

conference, explored the nature of

co-operative learning. "When we talk about the

co-op model, we should think about learning by

co-ops on co-operatives, through co-operative

experience," he said, adding that teaching

co-operation must start at an early age.

In Argentina there are 13 pupil co-operatives

while Japan has 192 student co-operatives.

Similarly, in France 5.2 million pupils are members

of 51,000 school co-ops.

There are several successful examples across

the world, but co-operative pedagogy has not

been used by the co-op movement, said Mr

Roelants – even though education has been one

of the movement's principles since 1844, the days

of Rochdale Pioneers.

Its importance was reinforced with each

new version of the principles adopted by ICA

co-operative congresses and highlighted in the

ILO's Recommendation 193 on Co-operatives.

Adopted in 2002, the recommendation says

national policies should promote education and

training in co-op principles and practices at

LEARNING TO DO THEN LEADS

TO LEARNING TO BE AND GOES

BACK TO LEARNING TO DO

all appropriate levels of the national education

and training systems, and in wider society.

But national regulations tend to ignore the 5th

co-operative principle.

In terms of learning skills that could prove

useful for the future, Mr Roelants thinks co-ops

can make a difference in activities and

processes that are not foreseeable and where

empathy plays a part. These would include

social services, health services and human

interaction-based activities. Democratic control

was another aspect of co-op learning, he added.

"Learning to do then leads to learning

to be and goes back to learning to do," he said,

giving example of José María Arizmendiarrieta,

the 'father of co-operation' in the Basque

Country, who reinforced learning to be in the

co-operative movement. Mr Arizmendiarrieta

helped to set up what is today one

of the world's largest co-operatives,

the Mondragon Group.

Confirming that co-operative research and

education will remain an important aspect

of the Alliance's strategy, Mr Roelants said

there was an important link between learning

and research.

A recent survey of Alliance members revealed

they felt they were learning from exchanges

of international experience and valued research.

The organisation plans to continue its support

for links between co-op learning and research

initiatives around the world and to promote

educational and research policies, alongside the

UN and other agencies.

Delegates also heard from Emer Coleman,

technology engagement lead at Co-op Digital u

JUNE 2018 | 27
---
'Bring me

ideas for a

devolved

Manchester'

Andy

Burnham

u (the digital arm of the Co-op Group), who spoke

about the link between technology, ethics, cooperatives

and education.

Describing how a visit to the head offices of Uber

gave her a dystopian vision of a future where people

are reduced to commodities, she highlighted how

there is a lack of ethics in much of the technology

sector. But, she added, in other areas of the industry

there is "a real desire to do things right".

"The whole purpose of tech is that it's seamless,

so we as consumers don't have to do much

work," she said. "But what we are trading for that

convenience is quite terrifying."

The purpose of Federation – the home

of Co-op Digital and the venue for the conference

– is to create a space to nurture sustainable digital

business that share the values and ethics of the

Group. "People are attracted to co-op values,"

she added. "There is desire in the tech world to

make a difference."

Closing the conference, Manchester's mayor

Andy Burnham issued a challenge to the co-op

movement to take advantage of devolved regional

powers and bring forward ideas to tackle inequality

in housing, social care and employment.

The Labour / Co-operative leader of the devolved

Greater Manchester Authority told delegates that

devolution is "what the co-op movement has

been waiting for", and that his door is open for

co-operators to bring ideas.

He said co-operative values were becoming

more relevant because "we are living in incredibly

unequal times, possibly not seen since the 19th

century. Some people are living literally day to

day because work and housing has become so

insecure."

Andy Burnham

Co-operation is also more relevant to young

people who have grown up with the digital

economy, compared with older generations, argued

Mr Burnham.

"The sharing economy is something that they are

very comfortable and familiar with, it's something

they want to see built," he said. In the digital

economy, collaboration and network building

are more useful than competition – meaning that

"co-operation is of the here and now".

He added: "Let's go straight to the next

generation and educate them in how co-operation

can help them."

Mr Burnham said he had set up a Youth Combined

Authority which is designing a "curriculum for

life". This will be offered to schools and will

include education on financial literacy, health and

mental health.

"I believe the co-op movement has a role to

play in helping us develop that extra-curricular

system," he said, "and getting over to them that

building co-operation at local level might be the

best way of building those networks of support that

are lacking."

What else happened at the conference?

How is sustainable development perceived in worker co-ops? Janette Hurst, a senior lecturer at Sheffield

Hallam University, has looked at whether co-operative business models are actually more sustainable, and

interviewed 10 members of small worker co-ops. The interviews revealed a close identification between

members and their businesses, where are tied into their personal values. One respondent said his entire

lifestyle was based around working for his co-op. Half the respondents said they joined their co-op because

they were attracted to the business model, the other half said they only applied for the job but ended up

falling in love with it. "They all have their own drive that allows them to be in a co-op," said Ms Hurst,

adding that some respondents found that being involved in the business enabled them to make a difference.

Can a co-operative university help us rethink community? Professor David Davies presented a paper he

wrote with fellow academic Prof James Nyland, Critical Thinking for an Engaged University, and addressed the

question of why a co-operative university was needed now. He told delegates that the world was still marked

by inequality and led by an unaccountable elite. And in these troubled times, the notion of community,

"a bedrock of co-operation" was being questioned and challenged, he warned, with the rising prominence

of issues of identity, race, nationalism and belonging. "Our society is increasingly composed of different

groups, often fragmented, often alienated from one another," he said –but added there was also a longing

for community, which meant there was a need "to build on social capital as a basis for learning".

28 | JUNE 2018
---
Co-operative Housing

Delegates gathered in Kenilworth from 11-13 May for the 24th

annual conference of the Confederation of Co-operative

Housing, with speakers from the sector joined by government

figures and representatives of the co-op council movement.

Getting to grips with the GDPR

The General Data Protection Regulation (GDPR)

came into force on 25 May, but David Alcock of

Anthony Collins Solicitors says the new regulation

is not as big a change as it might seem.

Compliance should be seen as a journey, rather

than a race, he told the Confederation of Cooperative

Housing (CCH) conference.

Co-operatives UK has worked with Anthony

Collins Solicitors to produce a practical GDPR

guide for co-ops, which was published in March

2018. CCH has also provided general guidance on

data protection for its members.

Mr Alcock explained that when organisations,

including co-ops, process data about a person,

they are expected to behave in a certain way.

For housing co-ops, the law can have different

implications not only when collecting information

from members for the first time, but also in terms of

storing information about current tenants.

Co-ops will need to inform people they are

keeping information about them, obtain their

consent to do so, be transparent about how

they use the information, collect information

for specific purposes only and ensure this

p David Alcock talks to delegates about GDPR

information is accurate and up to date. Under the

new law organisations must also ensure they do

not keep people's personal data for longer than

necessary. Data subjects also have the right to ask

organisations to reveal for free what information

they hold about them within one month of them

making the request.

"You need to make sure the information you are

keeping is safe and you have appropriate measures

in place to help you do that," he added. In case of

data breaches, co-ops need to inform those whose

data has been breached, as well as the Information

Commissioner's Office. Furthermore, tenants have

the right to object to data processing.

"If you use tenants' information for marketing

purposes and they say they don't want to send it

anymore that's a right and you have to comply with

that," said Mr Alcock.

Government paper on social housing

Jane Everton, deputy director of the

Ministry of Housing, Communities and

Local Government, spoke to delegates

about the government's forthcoming

green paper on social housing.

The document, which follows a

consultation of various stakeholders, will

focus on building the right homes in the

right places faster, as well as consulting

tenants on social housing, fees and

measures to regulate landlords.

Ms Everton said social tenants were often

vulnerable but their housing often had

safety problems such as faulty wiring or

poor security. These were problems which

concerned tenants, along with issues such

as welfare reform and loneliness.

Chris Handy, chief executive of Accord

Group, which provides around 1,400

co-op homes and support services to 14

housing co-ops, thinks the green paper

is an opportunity for housing co-ops to

shout louder about the sector, involving

other actors like the National Housing

Federation and encouraging housing

associations to support co-op housing.

He said the document should include

innovative thought on social and

affordable rents, tenure options, safety,

involvement opportunities in various

ways to suit different lifestyles and a

commitment to fund affordable housing.

Sharon Taylor, leader of Stevenage

council and chair of the Co-operative

Councils Innovation Network, presented

a report by the Housing Commission on

Community-Led Housing.

Stevenage was featured in the report for

its co-operative neighbourhood planning

model. Following discussions with over

700 residents, the council redeveloped the

neighbourhood centre, adding two new

shops and redeveloping the community

centre at a new site in the park as

requested by the residents.

This relocation freed up more land for

the new council homes. The extra 12 flats

increased the size of the scheme to 30

homes, making it financially viable with

an extra £2.2m capitalised rental income.

"There isn't single challenge facing this

country to which there isn't a co-op

solution," said Cllr Taylor.

JUNE 2018 | 29
---
A CELEBRATION

OF CO-OPERATION

Co-operative diaries are filling up this summer, with Co-operatives Fortnight

(23 June - 7 July), Congress (23 June) and the International Day of Co-operatives

(7 July) on the horizon. Here, we take a look Congress and the fortnight – what's

happening, and how you and your co-op can get involved …

CO-OPERATIVES FORTNIGHT

Co-operatives create sustainable jobs, inspire

participation and strengthen communities.

This year, Co-ops Fortnight celebrates this under

the theme #CoopDifference. Co-ops – and their

members, colleagues and customers – are being

encouraged to shout about the positive difference

their co-op makes to people and communities every

day. Co-operatives UK has created a digital toolkit

to help you get involved and a list of six ideas to get

you started.

Find the toolkit at s.coop/2018fortnightresources

p Co-operatives Fortnight 2017 at the Rochdale Pioneers Museum

SIX THINGS YOUR ORGANISATION CAN DO TO

HELP PROMOTE CO-OPERATIVES FORTNIGHT

1. SHARE STORIES

OF CO-OPERATION

Co-operatives UK has collected stories

about how being part of a co-op has made

a difference to people's lives. Find these at

s.coop/2018fortnightresources and share

using the hashtag #coopdifference

2. SHARE YOUR STORY

Tell your customers what sets your co-op

apart, whether it's the benefits members

receive, the impact on the environment

or the way it gives people a say.

3. PUT A SPOTLIGHT ON OTHER

CO-OPERATIVES

Use Co-operatives Fortnight as a way to tell

the story of local co-ops or others you work

with through an in-store display, a series of

blogs on your website or social media posts.

4. PUT ON AN OFFER

Encourage people to use your co-op

by putting on a special Co-operatives

Fortnight discount.

5. HOLD AN OPEN DAY

Seeing is believing – so what better way to

help people understand the difference that

co-operatives make than by inviting people

to an open day where they can see how

your co-op works and how it does things

differently?

6. Enjoy A FILM SCREENING

Co-ops and other organisations are hosting

a screening of the inspiring film A Silent

Transformation which showcases how co-ops

are making a difference in Ontario, Canada.

For more information, contact:

leila.osullivan@uk.coop

30 | JUNE 2018
---
23 June to 7 July 2018

23 June to 7 July 2018

23 June to 7 July 2018

CONGRESS

Co-op Congress is the movement's annual

conference. organised by Co-operatives UK,

where members and directors, activists and CEOs

from co-operatives of all shapes and sizes come

together for a day of sharing, learning and taking

action. This year it is on Saturday 23 June at etc.

venues in London, and will combine speakers,

practical workshops and pitches from collaborative

entrepreneurs. It will also include presentation

of the Co-op of the Year Awards.

The theme for 2018 is to 'Think Different' – and

this is reflected in the programme. One session

will explore practical policies to grow the co-op

economy, with Diana Dovgan (secretary general,

CECOP – CICOPA Europe), Jake Sumner (associate,

ResPublica) and Andrew Pendleton (principal

director – policy and advocacy, New Economics

Foundation). And another will look closer to home

at the role co-ops can play in developing prosperous

local communities.

Finance will be addressed in a session

asking how co-ops can raise finance "the

co-operative way", with David Alcock (partner,

Anthony Collins Solicitors), Sonja Novkovic

(professor of economics, Saint Mary's University,

Canada) and Helen Seymour (chair, Headlingly

Development Trust. Another session will ask if

co-ops can help fix the UK's broken housing

market (with Scott Jennings (Student Co‐op

Homes) and Blase Lambert (CEO, Confederation

of Co‐operative Housing).

Mr Lambert believes that co-operation is

"inspiring people to solve their own housing

problems rather than waiting for the state

or the market to solve them". He adds: "Everyone

needs somewhere to call home and housing

impacts on all our lives," he said. "For too long

we have encouraged people to aspire to making

money out of housing or to accept substandard

rental products. It is time for the co-operative

movement to create a bold and bright

co-operative vision of housing for all

our needs."

Practical sessions will look at the social impact

of co-ops, development and platform co-ops – as

well as HR, governance and technology. And there

will be a live crowdfunding session, where teams

from the UnFound accelerator will CO-OPERATIVES

pitch for financial

support from the co‐operative sector (see below).

CREATE

Ed Mayo, Co-operatives UK secretary general,

believes Congress is an opportunity sustainable for everyone JOBS

in the co-operative sector "to come together to

enrich their knowledge and skills, create new

connections and opportunities and strengthen

the bonds of collaboration to develop fairer ways

of working, living and prospering".

"We have a superb line-up of talks and sessions

that will inspire people to 'think different' and

consider fresh, new approaches to the social

and economic challenges we face," he said. "I'm

looking forward to sharing in the wealth of ideas,

expertise and innovations that will make for a

stirring and rewarding day for delegates."

Co‐op Congress takes place on Saturday 23 June,

10am to 5.30pm at etc. venues, 155 Bishopsgate,

Liverpool Street, London. For more information,and

to book tickets, visit uk.coop/congress

CO . OPERATIVE

DIFFERENCE

CO-OPERATIVES

CREATE

sustainable JOBS

This Co-operatives Fortnight 2018

we will celebrate the positive

difference co-ops make across

the UK every single day.

Co-ops create sustainable jobs,

inspire participation and

strengthen communities.

CO . OPERATIVE

This Co-operatives Fortnight 2018

we will celebrate the positive

difference co-ops make across

the UK every single day.

Co-ops create sustainable jobs,

inspire participation and

strengthen communities.

If you're a member, colleague

or customer of a co-op, shout

about what difference YOUR

co-op makes to you or your

community using

#coopdifference

www.uk.coop/fortnight

DIFFERENCE

CO-OPERATIVES

inspiRe

Participation

If you're a member, colleague

or customer of a co-op, shout

about what difference YOUR

co-op makes to you or your

community using

#coopdifference

www.uk.coop/fortnight

A DIGITAL ECONOMY OF OUR OWN:

CROWDFUNDING TO SUPPORT EMERGING

PLATFORM CO-OPERATIVES

Much has been said about the potential of platform

co-ops — co-owned, democratically governed

businesses that use new digital technologies to

solve economic and social problems. However, the

UK's platform economy is far behind the progress

of digital innovation in North America and Europe.

UnFound, a pilot accelerator for new platform

co-ops, is working to change this and put democratic

ownership at the heart of the UK's digital economy.

So, building on previous events, this year Congress

is hosting a live crowd-funding event, where eight

shortlisted co-ops from the UnFound Accelerator

will be pitching for financial support from the

co‐operative sector.

Organised by Co-operatives UK and Stir to Action,

UnFound is focusing on how platform co-operatives

could play a defining role in transforming the digital

economy – and has been helping the shortlisted

co-ops with business support, digital governance

and funding strategies through a series of

intense programmes in London, Birmingham, and

Manchester.

Meet the groups and download your pitching pack

at uk.coop/unfound

CO . OPERATIVE

DIFFERENCE

CO-OPERATIVES

BUILD

Communities

This Co-operatives Fortnight 2018

we will celebrate the positive

difference co-ops make across

the UK every single day.

Co-ops create sustainable jobs,

inspire participation and

strengthen communities.

If you're a member, colleague

or customer of a co-op, shout

about what difference YOUR

co-op makes to you or your

community using

#coopdifference

www.uk.coop/fortnight

JUNE 2018 | 31
---
What are co-operatives

doing to tackle security

concerns?

Over the last year co-op shops across the UK

have been targeted in robberies and ram-raids.

In April alone, there were reports of ram raids

and burglaries in Northamptonshire, Rotherham;

Suffolk and Bedfordshire, among many others.

In Greater Manchester, robbers or burglars

are targeting a Co-op shop every six and a half

days, according to figures released by Greater

Manchester Police for the Manchester Evening

News. The publication revealed that there were 57

robberies and burglaries at co-op outlets across

Greater Manchester in 2017, an increase from

43 in 2016.

Shop theft cost the average convenience store

£2,605 in 2016 and remains the most common crime

they face, as revealed by a report by the Association

of Convenience Stores. Its members reported 3,163

incidents of robbery in 2016, and 3,313 burglaries.

The Association estimates that convenience

retailers invest an average of £3,907 per store in

crime prevention measures, such as CCTV cameras,

external security equipment, and staff training to

support store colleagues in preventing retail crime.

In October 2016 the Co-op Group rolled out

a programme that saw cash and criminals splashed

with gel when ATMs came under attack, leaving an

invisible trace on clothes, skin and cash.

For this project the retailer collaborated with

forensic technology company SmartWater. The

initiative was piloted at over 300 locations in 2016,

and saw a 90% cut in ATM crime – the scheme was

rolled out to all cash dispensers located at Co-op

food stores in August last year.

A spokesman for the Co-op Group said:

"The safety and security of our colleagues and

customers is of the utmost importance. Retail

crime affects all retailers, and we take the matter

very seriously. The Co-op works closely with police

and other crime prevention bodies to implement a

range of measures which are designed to not only

deter and disrupt criminal activity, but to also

increase the likelihood of convictions."

Meanwhile, Southern Co-operative has seen a

marked increase in security challenges from both

a store colleague and premises perspective and is

particularly concerned about threats of violence

towards its colleagues, as well as overnight

burglaries and ram-raids on stores.

"Our number one concern will always be the

safety of our colleagues and customers so we're

taking a series of immediate and longer term steps to

deliver a safer working and shopping environment

with significant financial investment planned in

2018, particularly to improve physical security

for colleagues," said a spokeswoman for the co-op.

"As a co-operative, we believe working together

in partnership is the most effective way of dealing

with these issues and we are sharing incident

intelligence and campaigning for a review

of sentencing guidelines for violent convictions."

Southern is engaged at both a regional and

national level with partners including the police,

the Home Office, the Association of Convenience

Stores and the National Business Crime Solutions

to combat the increase in retail sector crime.

"We support six projects in Sussex in partnership

with the police, local authority, local businesses

and other agencies. Our partnerships are putting

community wardens into communities to deal with

low-level business crime and associated issues

such as street drinking and drug use. As each area

has its own challenges, each partnership is tailored

to local needs," added the spokeswoman.

Announcing its annual results earlier this

month, the East of England Co-operative said it has

seen its underlying trading profit fall since last year

by £0.2m to £4.2m. The figure was impacted by its

decision to increase its investment in safeguarding

measures for in-store colleagues in the wake of

recent robberies on retailers in the region.

The co-op has also recently extended its

in-house security services to external businesses and

communities by launching Co-op Secure Response,

a new venture.

A spokesperson for the society said: "The safety

of our colleagues, members and customers is

paramount. The damage and disruption caused

by these types of incidents affects everyone who

relies on our services, particularly in rural areas.

As a direct result of our in-house security team and

SECURITY

BY ANCA VOINEA

p A spate of attacks on

co-op stores around the

country has sparked calls

for action to protect staff

32 | JUNE 2018
---
dedicated colleagues, in most cases we were able

to open our stores within 24 hours of the incident

taking place.

"All our branches are fitted with CCTV and panic

alarms and are monitored 24/7 by our in-house

security team, ensuring that assistance arrives as

quickly as possible. We have also invested in an

increased security presence in-store and installed

security screens and physical barriers, along with

other security measures."

The society has also partnered with Usdaw

(Union of Shop, Distributive and Allied Workers)

for its Freedom from Fear campaign. As part of the

initiative, the East of England security team held

interactive roadshows across East Anglia to help

tackle anti-social behaviour by highlighting the

real-life situations colleagues face.

Throughout the year the co-op's Anti-Social

Behaviour officer, Scott Walker, has also been

working with young offenders convicted

of committing crimes in stores. Unique to the East

of England Co-op, this restorative justice programme

offers youth offenders the opportunity to spend a

day with Mr Walker. They are shown the impact

of their actions upon colleagues and customers,

before looking at their skill set with the aim

of putting them on a more positive path.

Central England Co-operative has also suffered

ram-raids and burglaries. It says it has a range of

measures in place to deter potential incidents at its

food stores and to protect colleagues, members and

customers.

Early this year, the society joined forces with

West Midlands Police and Northamptonshire

Police to actively promote the fact that targeting

convenience supermarkets is not 'worth the risk'.

This campaign was aimed at promoting the

society's strict cash controls which limit the

amount of money at each store to very low levels

at all times.

Matt Birch, trading executive at Central

England, said: "These incidents are frightening

for store colleagues, who are our first priority, and

we offer them support and counselling both from

within our business and specialists.

'We have implemented increased security

measures in partnership with the police in order to

protect our colleagues, customers and community.

"We have full CCTV coverage in all our stores,

have increased our provision of security guards

and reduced incident response times. We are

working well with the police and are confident

of swift convictions in many cases."

p The Secure Response

Services Team, East

of England Co-op

JUNE 2018 | 33
---
Sustainable development

How are co-ops helping

to achieve the Sustainable

Development Goals?

What are the Sustainable Development Goals?

Adopted on 25 September 2015, the United Nation's

2030 Agenda for Sustainable Development aims to

end all forms of poverty across the world. The 27

Sustainable Development Goals (SDGs) associated

with it continue the United Nations' sustainable

development agenda, which started with the

Millennium Development Goals (MDGs) back in

2000. According to the final MDG Report, the global

partnership to reduce extreme poverty resulted in

the most successful anti-poverty movement in

history. Since 1990, the number of people living in

extreme poverty has fallen by more than half.

The SDGs were designed to build on the

achievements of the United Nations' Millennium

Development Goals. However, they are broader in

scope and go further than the MDGs by addressing

the root causes of poverty and the universal need

for development that works for all people. The SDGs

are also intended for action in all countries, while

the MDGs were aimed at developing countries.

A key target for the SDGs is to eradicate extreme

poverty for all people everywhere by 2030. This is

currently measured as people living on less than

$1.25 a day. Furthermore, the goals aim to ensure that

all men and women, in particular the poor and the

vulnerable, have equal rights to economic resources,

as well as access to basic services, ownership and

control over land and other forms of property,

natural resources, appropriate new technology

and financial services, including microfinance. As

people-centred enterprises, co-operatives can play

a key role in achieving these goals.

What is sustainable development?

A concept coined by Gro Harlem Brundtland in

the 1987 report Our Common Future, sustainable

development in defined as development that meets

the needs of the present without compromising

the ability of future generations to meet

their own needs.

UN secretary-general Antonio Guterres

says: "Sustainable development also depends

fundamentally on upholding human rights and

ensuring peace and security. Leaving no one

behind also means reducing inequalities within

and among countries, reaching those most at risk,

and strengthening our resolve to prevent conflict

and sustain peace."

While they are not legally binding, governments

are expected to set out frameworks for the

achievement of the SDGs. Businesses, the

civil society and individuals are also expected

to contribute.

The 17 SDGs focus on the three dimensions

of sustainable development: economic growth,

social inclusion and environmental protection.

Each goal has specific targets to be achieved

over the next 15 years. In total 169 targets have

been set up.

The implementation of the SDGs will be

monitored and reviewed at the annual High-level

Political Forum on Sustainable Development.

Statistics from the 2017 UN report on the progress

made on achieving the goals reveal some

important figures.

Almost 10% of the employed population

worldwide lived with their families on less than

USD $1.90 US per person per day in 2016.

Globally, about 793 million people were

undernourished in 2014-2016, down from

930 million in 2000-2002. In the majority of the 67

countries with data from 2009 -2015, fewer than

a third of senior- and middle-management

positions were held by women.

In 2014, 85.3% of the global population had

access to electricity, up from 77.6% in 2000.

However, 1.06 billion people still lived without this

basic service.

34 | JUNE 2018
---
What is the role of co-ops?

The 2030 Agenda for Sustainable Development

includes several mentions of co-operatives as

diverse private sector actors to achieve the SDGs.

Co-operatives were similarly mentioned in the Addis

Ababa Action Agenda of the Third International

Conference on Financing for Development.

To create an opportunity for the co-operative

movement to demonstrate its contributions

and commitment to engage with the SDGs, the

International Co-operative Alliance created the

online platform Coopsfor2030.

The Coopsfor2030 campaign was created in 2016

within the framework of the ICA-EU partnership,

also called #coops4dev, to enable co-operatives

to learn more about the SDGs, commit to pledges

to contribute to achieving the SDGs, and report

their progress.

The partnership is built around activities focused

on increasing visibility, enhancing advocacy,

sharing capacity building, strengthening cooperative

development networking, and supporting

all these with evidence from exhaustive research.

A recent report by PwC showed that two in

five firms are still either ignoring or having

no meaningful engagement with SDGs.

But co-operatives are leading the way through the

Coopsfor2030 platform.

The campaign proposes four action areas where

co-ops can make a difference: protecting the

environment, improving access to basic goods

and services, building a more sustainable food

system and eradicating poverty. The platform also

includes suggested pledges to make it easier for

co-ops to set targets.

Since its launch in July 2016, Coopsfor2030

has attracted almost 300 pledges from 100

co-operatives, some with more than

one pledge.

The Committee on the Promotion and

Advancement of Co-operatives (COPAC) is

also raising awareness about the significant

contributions of co-operative enterprises towards

achieving the 2030 Agenda through a series of 17

briefs looking at how co-ops contribute to each

of the SDGs.

The brief exploring how co-ops help reduce

poverty (SDG1) highlights how the sector

has more than a billion members around the

world and provides or organises work for at

least 279.4 million people, describing it as a

considerable contribution to the goal.

For example, in India the Indian Farmers

Fertilizer Cooperative Limited (IFFCO) has more

than 36,000 member co-ops, with a reach of more

than 55 million farmers. The co-op helps improve

the living conditions and livelihoods of small-scale

producers by providing essential services, such

as product marketing, rural telecommunications

and insurance.

Similarly, in Pipinas, a small town in Argentina,

the worker co-op Pipinas Viva restored the

local hotel, which helped to draw tourists,

contributing to boosting other micro and small

enterprises in the local economy.

Gender quality is another key area of the goals.

The COPAC brief argues the co-operative model

is well suited to advancing women's economic

participation in three key ways: increasing access

to employment and work, enabling economic

democracy and agency and boosting leadership and

management experience. One of the co-operatives

featured is Consorzio Copernico, a consortium

of six social co-operatives established in 1997 in

the Piemonte region of Italy. The co-operatives

produce educational and social welfare services

for children, teenagers, families, immigrants and

asylum seekers and provide 200 jobs to people

with challenges for securing work. All of its board

members are women.

In terms of providing decent work and economic

growth (SDG8), co-operatives have the advantage

of being democratically run and focused on

the needs of their members, argues the COPAC

brief. The paper states that co-ops

often provide competitive pay and

prioritize job security more so than

other private sector enterprises.

The brief features various case studies,

including one on COOJAD, a Rwandan financial

co-operative that provides low-interest loans for

young people to create self employment

opportunities. Young people are also actively

involved in the co-operative and are among the

board members.

By showing how their enterprise is meeting the

SDGs, these co-operatives are also proving how

they are different from other businesses, which can

give them a competitive advantage.
---
Sustainable development

Do the SDGs matter

for co-op businesses?

A 2015 report by PwC showed that while only 33%

of people surveyed were aware of the Sustainable

Development Goals (SDGs), 90% of those who

knew about them believed it was important for

businesses to sign up to them.

In addition, 78% said they were more likely to

buy the goods and services of companies that had

signed up to the SDGs (67% in the UK). This makes

an important business case for co-ops to position

themselves as pioneers in implementing the SDGs.

Governments are still seen as having prime

responsibility to achieve the SDGs, with 49%

of businesses respondents and 44% of citizens

ranking them first. However, as awareness of the

SDGs is increasing, the public is beginning to

perceive business as having a more important role.

Businesses themselves are gaining more knowledge

about the SDGs, with 71% of firms telling PwC they

were already planning how to respond to the goals.

Around 34% of businesses said they had agreed

plans and were implementing them, while 37%

were still planning their approach.

By contrast, only 13% of businesses responding

to PwC's survey had identified the tools they

needed and only 29% had set goals. Furthermore,

22% of businesses said they were either waiting

for the SDGs to be ratified or for government

regulation before doing anything or thought it was

the government's responsibility, not theirs.

Apart from increasing their credibility, adopting

the SDGs will give businesses a competitive

advantage, particularly in countries where

governments are looking at aligning policies with

the SDGs. They will also be more resilient should

new regulation be passed to support the SDGs.

Malcolm Preston, global sustainability leader

at PwC, writes in the report that the SDGs can

help drive a long-term approach for businesses as

sustainability moves from the corporate sidelines

to mainstream. Being member-owned, co-ops have

an advantage over other enterprises, due to their

long-term approach and concern for community.

The report highlights that, in order to implement

the SDGs, businesses will need to rethink their

strategy, and not just tweak it. The SDGs are

interconnected, which means work in one area may

affect another. Businesses will need an overview of

all their goals, then– and can start by examining

which of the SDGs their activities help – or hinder.

Another report, made in 2016 by KPMG, argues

that achieving the SDGs' targets by 2030 will require

cross-sector partnerships. It says meeting the

SDGs means new approaches to problem solving,

innovative financing mechanisms, and pioneering

approaches to co-operation that will redefine the

relationship between public, private, and NGO/

civil society stakeholders. For the partnerships to

succeed, they will need to be based on genuine

commitment from partners, equality and respect,

transparency and patience and persistence.

The 2017 Better Business, Better World report

by the Business and Sustainable Development

Commission also makes strong business case for

adopting the SDGs. The Commission, made up of

world business leaders, says the corporate world

needs to regain public trust.

The report anticipates greater pressure on

enterprises to prove they are creating quality

employment, paying taxes where revenue is

generated, abide by environmental and labour

standards, integrate social and environmental

factors in investment decisions, and partner with

others to build an economy that is more just.

The commission estimates that achieving the

SDGs will open up US$12tn of market opportunities

in four economic systems – food and agriculture,

cities, energy and materials, and health and wellbeing.

All of these are sectors where co-ops operate.

And contributing to the SDGs can help

businesses find new opportunities, make efficiency

gains and drive innovation;. And if they build

a reputation for sustainability, enterprises can

attract employees and customers, business-tobusiness

customers and investors as well as secure

licenses to operate.

The Commission estimates that if social and

environmental indicators fail to improve over the

next 5-15 years, there will be a popular backlash

against business coupled with regulatory responses

from governments. In such a context, first movers

who have already aligned their resource use and

workforce management with the SDGs will have

a 5-15 year advantage on the sustainable playing

field. Can co-ops be among them?

36 | JUNE 2018
---
How one

co-op is

aligning its

strategic

plans to

the SDGs

The Southern Co-operative is one organisation

exploring the role of businesses in promoting the

UN's Sustainable Development Goals agenda. In

April the society ran a Dragons' Den workshop with

Business in the Community to raise awareness of

Responsible Business Week.

The event joined together a number of businesses

from Bristol in an attempt to promote employability

skills into schools.

Celebrated on 23-30 April, the Responsible

Business Week is an annual campaign led by

Business in the Community to promote and

encourage enterprises to place creating healthy

environments and communities at the centre of

their strategy to achieve long-term financial value.

Mark Smith, chief executive of Southern Cooperative

thinks businesses need to engage with

education in the region. Mr Smith acts as member

of BITC's South East Advisory Board and HRH

Prince of Wales Responsible Business Ambassador

for the South East of England.

He said: "As South East Ambassador with BITC,

one of my key messages about responsible business

is not about how a company spends its money on

philanthropy or good causes. It's about how it

treats the planet, employees, suppliers and the

communities that give them their license to operate

fairly and inclusively for all."

Amanda Mackenzie, chief executive, Business in

the Community said: "Responsible Business Week

is an opportunity for us to celebrate the pioneering

companies which are redefining what it means to

be a responsible business and are demonstrating

how they can help to create healthy communities.

Southern Co-op have worked hard to blaze a trail

in areas such as educational schemes to help

boost confidence in local school pupils and I hope

that many others follow in their footsteps. The

combined efforts of all these companies show that

the UK can lead the world in responsible business."

In April Mr Smith took part in the Sustainable

Development Goals Roadshow at the University

of Winchester, where he looked at how Southern

Co-op and other businesses can meet their own

'Global Goals', in line with the UN's Sustainable

Development Goals agenda.

"Southern Co-op has been committed to

responsible trading since its formation in 1873. This

makes us ideally placed to contribute to achieving

the SDGs," he said.

"Going forward, we will be aligning our strategic

plans as closely as possible with the Goals to ensure

our business plays its full part in delivering these

fundamentally important aims.

"Beyond that, as a membership organisation and

consumer facing business, we have an amazing

opportunity to help with broadening the general

awareness of the Goals and their importance. We

will therefore be looking at how we can make

communicating these crucial messages to our

colleagues, members and other customers part of

business as usual. Co-ops have always had a role

in educating people and it's hard to think of a topic

that's more important or in need of support than

the Goals!"

ABOVE AND BELOW:

Southern Co-op chief

executive, Mark Smith

(Image: BITC)

JUNE 2018 | 37
---
Sustainable development

How can co-ops help achieve the

Sustainable Development Goals?

Co-ops for 2030 is a campaign to help co-operatives learn more about the Sustainable Development Goals

(SDGs), commit to pledges to contribute to achieving the SDGs, and report their progress.

Launched in 2016, the pledge website (www.coopsfor2030.coop) includes information on four areas

of sustainable development where the International Co-operative Alliance believes co-ops can have the

most impact: protecting the environment; improving access to basic goods and services; building a more

sustainable food system; and eradicating poverty. The site is also displays the pledges made by co-ops

around the world. Here, Susan Press speaks with two organisations which have made such pledges.

SUSTAINABILITY

SUSAN PRESS

MIDCOUNTIES CO-OPERATIVE

Midcounties Co-operative's pledge is focusing on

energy efficiency. Community and sustainability

manager Mike Pickering believes enthusiasm has

never been greater for projects to improve the world

we live in.

"There are two strands to achieving this goal,

which are operational activity and our long

term aim of improving our energy efficiency by

20% by 2026," he says.

The society is rolling out a green property

checklist for all its developments, refits and

new-builds. This includes LED lighting and

energy efficient refrigeration – as well as

the organisation's sustainable communities

programme, which works with members and

communities to help them save energy.

"We launched a sustainability pledge with the

aim of engaging 1,000 members to sign up this

year," says Mr Pickering. "That includes things

like switching to a renewable energy tariff, and

saving household energy.

"We also provide members who want to find

out more with advice, products and services

through our Co-operative Energy business, to

help people save energy in their household

via things like solar panels and LED lighting

for the home."

Another part of the initiative is working with

partners in 20 primary and secondary schools

in Midcounties' trading area, offering lessons in

energy efficiency.

"We have built modules which can be delivered

by a wide range of colleagues, from people working

in our food stores to staff from head office and the

Co-operative Energy team," says Mr Pickering.

"This educational package can also be developed

by our volunteers, working in partnership with

teachers as part of the National Curriculum."

The scheme started with a session in April at the

Walsall Academy and Botley Primary School in

Oxford, and will be rolled out over the rest of 2018.

Mr Pickering says: "The feedback we are getting

is that students are taking the ideas back home and

p

Midcounties' sustainability manager Mike Pickering

telling parents they should be switching lights off

and doing other things to be more energy efficient!

"We are also getting feedback that a lot of

students would be interested in doing more, so we

are looking at launching an Eco Student of the Year

award, among other things."

He believes the scale of Midcounties' own energy

usage and its experience in the areas of energy and

sustainability mean it has a real opportunity to

help members and communities reduce their own

energy consumption.

"We have been working towards this since 2010

and have significantly reduced energy usage while

embracing more outreach work," he says.

"Things are definitely changing. I think people

are more responsive than they were because there

is a lot more knowledge – and an understanding

38 | JUNE 2018
---
that things need to change. There are also easier

ways to make a difference and more technologies

that people can embrace than there were a few

years ago.

"The next generation coming through has a

better understanding of the work that needs to be

done – and our work in schools will make them

even more aware."

THE CO-OP GROUP

The Co-op Group has made a series of pledges

around Fairtrade, the environment and

contributing to the community, linking in with the

UN's goals on eradicating poverty and protecting

the environment.

It has committed to giving back at least £20m a

year to local causes through its Local Community

Fund by the end of 2018. The Group has recently

seen an increase of more than 1.1 million members,

driven by the launch of the 5 + 1 membership

scheme in 2016, which gives members 5% back

on all purchases made of Co-op own brand

products and a further 1% to local communities.

So far, £74m has been generated, with members

receiving £61m and £13m earned for over 8,000

community projects.

The Co-op Group's pledge to continue its

longstanding commitment to Fairtrade means it

continues to outperform competitors. Last year

Fairtrade sales grew by over 15% – more than

double that of the market. In another retail first, it

is further pioneering Fairtrade through its unique

ingredients policy, whereby all the bananas,

tea and coffee used across its entire own brand

product range benefit Fairtrade producers and their

communities. This latest announcement follows its

move last year to be the first to commit to sourcing

all the cocoa used in Co-op own brand production

on Fairtrade terms. It also means the retailer is

100% aligned across Fairtrade's own key four

food commodities.

Its most recent commitment will see an extra

2.5 million litres of Fairtrade wine sold over the

next year. The mutual worked with its supplier

Lutzville Vineyard to switch the own-label South

African entry-level wines to the Fairtrade Standard;

giving hundreds of vineyard workers improved

rights and farmers a guaranteed minimum price

for their grapes.

On the environmental front, the Group committed

to reducing GHG emissions from operations by 50%

by 2020, compared with 2006. This initiative has

been so successful that the target was met three

years early. A new target is now being set.

Another pledge sees the Group continuing its

partnerships with the One Foundation and the

Global Investment Fund for Water – supporting

clean water, sanitation and hygiene projects. The

Global Investment Fund for Water aims to raise

life-changing funding through applying a microlevy

to bottled water sales globally. The funding

raised supports programmes working to achieve

Global Goal 6: clean water and sanitation for all.

It means 1% (or 1p per litre) of bottled water

sales is donated to the initiative. Group CEO Steve

Murrells made the pledge to raise more than

£1m per year public at the Global Citizen concert

in Hamburg last year. In 2017 alone, the Group

donated £1.3m from Co-op own-brand water.

In addition, for every litre of Co-op water sold,

3p is donated to the One Foundation to help key

projects and areas for investment in countries

in sub-Saharan Africa that need it most. Co-op

funding repaired 300 water pumps and meant that

10 new boreholes could be drilled.

t The Group's pledges

on Fairtrade and clean

water have helped

communities in Africa

JUNE 2018 | 39
---
Sustainable development

How Italian co-operatives

are fighting the mafia through

sustainable agriculture

q Luigi Ciotti, a

Catholic priest, founder

and president of the

organisation

Across Italy, social and agricultural co-ops are

bringing back prosperity and dignity to territories

with a history of mafia control.

Coldiretti, Italy's largest agriculture industry

association, estimates that Italian organised crime

generated a turnover of €21.8bn from agriculture

in 2017, a 30% increase on the previous year.

According to the report, 98 of Italy's 102 provinces

showed signs of illegal activity in the agriculture

sector. The association argues that the sector

could generate much more wealth without the

interference of mafia gangs.

A common setback is the mafia using intimidation

techniques to take over people's lands and then

applying for EU subsidies for agriculture.

In February, Ján Kuciak, a Slovak journalist who

was investigating the links with Italian and Slovak

politicians used by the Calabrian mafia to obtain

EU subsidies, was killed. The incident brought

the problem to the attention of the European Anti-

Fraud Office, which is currently investigating the

alleged abuse of funds in Slovakia.

To tackle agro-mafia groups, Italian law now

requires that anyone claiming EU subsidies on

land have an anti-mafia certification, which is

issued by local authorities after checking the

national database and is valid for six months.

The same certification is required from businesses

to access EU grants or bid for contracts awarded by

local authorities.

Co-operatives have been at the forefront of the

anti-mafia movement in Italy since 1995, mainly

under the umbrella of Libera Terra (Free Land),

a co-op consortium. Comprising 10 co-operatives,

the group currently employs 140 people.

Libera Terra's story goes back to 1996, when Luigi

Ciotti, a Catholic priest, founder and president of

the organisation, led a campaign to raise one

million signatures for the adoption of a law on

the social use of the properties confiscated by the

mafia. The petition led to a bill that was submitted

to parliament. The same year Law 109 on the social

re-use of confiscated assets was passed, laying

the basis for the creation of the anti-mafia co-ops.

The law enables judges to seize the properties

of a person investigated for being a member of a

mafia-type association if they suspect that these

properties are the fruit of illicit activities.

Furthermore, third party organisations such as

social enterprises, co-ops and local or regional

authorities can use the confiscated property,

providing this benefits the local community. Over

20,000 properties were confiscated from the mafia

in 2017. The legislation is now expanding to include

the lands and properties of those found guilty of

terrorist activities.

The land on which the co-ops are based is

owned by the state and used by them for free

under renewable lease contracts. The enterprises

are not-for-profit organisations that function on

co-operative principles.

The first Libera Terra co-operative – Cooperativa

Placido Rizzotto – was founded in 2001 in San

Giuseppe Jato, Sicily, a few miles from Corleone,

the capital town of the Cosa Nostra, the Sicilian

mafia. The project was initially met with scepticism

by people living in communities under the mafia's

influence. Some protested and displayed placards

with "the mafia hires, the state doesn't". Their

attitude changed over time once the co-ops started

generating employment.

The Libera Terra co-operatives are social co-ops

with 40% of workers from disadvantaged groups.

Each of them functions as a multi-stakeholder

co-op, led by a members' assembly and a board

of directors. The co-ops include worker members

(58-65%), volunteer members (12-13%), members

who invest in the co-operative (20%) and special

members, those who aspire to be worker members.

40 | JUNE 2018
---
u Cityscape of Cefalu

town and Mediterranean

Sea Sicily

The ten Libera Terra co-operatives operate in

four regions of southern Italy – Sicily, Calabria,

Apulia and Campania. They manage around 1,400

hectares of agricultural land, all of of which is

organically farmed.

As well as making a difference in agriculture,

Libera Terra has built a network of 1,200

associations, groups and schools committed to

building a culture of lawfulness. The organisation

also works with schools to raise awareness of the

anti-mafia movement. Every year Association

Libera runs training and educational programmes,

which thousands of people attend.

In addition to the agri businesses, Libera Terra

co-operatives manage a winery, two agri-tourism

businesses in Sicily and a dairy in Campania. In

2002, the first Libera Terra product, the Libera

Terra organic pasta, was marketed. Many other

products followed.

In 2008 a consortium Libera Terra co-operatives

and other partners was formed – the Consortium

Libera Terra Mediterraneo. The group transforms

raw produce, such as durum wheat, vegetables,

tomatoes, oranges, olives or grapes, to higher

added-value food and beverage products like

pasta, preserves, marmalades or wines. It

then markets these products through several

distribution channels.

"The objective of the Libera Terra project is

to demonstrate that the allocation of a property

confiscated to a project with a social mission

creates concrete benefits not only for those who

manage it, but for the whole territory," says

Valentina Fiore, chief executive of the Libera

Terra Consortium.

The Consortium reported sales of €7.5m in

2016, an increase of 12% on the previous year. Its

income comes from food production (67%), wine

production (24%), tourism (1%) and donations

(8%).

The initiative aims to promote sustainable

agriculture but has an ethical and political

dimension.

"We believe that respect for mother earth and

the environment in general is the first form of

possible legality," says Ms Fiore. She pointed

out that every step of the production chain

was constantly monitored to ensure products

of excellent quality.

JUNE 2018 | 41
---
Sustainable development

Palm oil dispute pits

Malaysia's co-ops against

the European Union

42 | JUNE 2018
---
The co-operative movement is committed to the

UN's Sustainable Development Goals –- but what

happens when a co-operative's business interests

are in conflict with the SDGs?

One of the most contentious environmental

issues at the moment is the production of palm

oil. Palm oil is a versatile ingredient whose uses

include fuels, food, cosmetics and pharmaceuticals.

It's also a key part of economies such as Indonesia

and Malaysia.

But there is huge concern over the impact of

its cultivation, particularly on forest biodiversity

following land clearance, and conservationists

warn it could threaten the survival of iconic species

such as the orang utan and Sumatran tiger.

It's an issue which has sparked a dispute

between the Malaysian co-op movement and the

European Parliament (EP), after the latter adopted

a non-binding resolution last April to ban the use

of palm oil in transport fuels by 2020, to allow

only certified sustainable palm oil to be imported,

and to demand tighter standards of sustainability

certification schemes.

An EP statement says: "The production of palm

oil leads to deforestation as jungle is removed to

be replaced by palm plantations. Precious tropical

ecosystems, which cover 7% of the Earth's surface,

are under increasing pressure from deforestation,

resulting in, for example forest fires, the drying

up of rivers, soil erosion, loss of groundwater,

pollution of waterways and destruction of rare

natural habitats."

The apex body for Malaysia's co-ops, ANGKASA,

says it wants to be the voice of opposition to the

EU's plan – and says it has the backing of the

International Co-operative Alliance, the apex body

for co-operatives worldwide.

ANGKASA president, Datuk Abdul Fattah

Abdullah, said: "We have been given the honour

of writing the formal protest letter to the EU.

"It will be submitted to the ICA by the end of this

month and is expected to be presented to the EU in

the near future.

"The protest by Malaysia will not only benefit

the country, but also other countries represented in

the ICA.

"We hope that through this protest, the EU will

at least see a large movement among co-operatives

worldwide to consider."

Malaysia accounts for about 35% of the world's

palm-oil based products, alongside other major

producers like Indonesia, Thailand and Africa, and

ANGKASA argues that the EU proposal would harm

about 700,000 smallholders.

A spokesperson from the Alliance said ANGKASA

is now drafting a response which addresses the

sustainable development concerns, and how it

plans to mitigate them.

Other supporters of the industry have said

the European Parliament would do better to

encourage sustainable production rather than a

ban. Responding to the resolution, Jelmen Haaze,

co-chair of the European sustainable palm oil

advocacy group, said: "It is an illusion to think we

can take one commodity out of the economy and

solve all our problems."

In terms of retail supply chains, some co-ops –

such as the UK's Co-op Group – have opted for the

sustainable production route. In 2011 the Group

announced that 100% of its palm oil would come

from sustainable sources, and it has a member on

the board of the Roundtable of Sustainable Palm

Oil, which demands certified standards of growers.

Others have taken a firmer line, with Coop Italia

announcing in 2016 that it would remove over 200

products containing palm oil from its shelves.

Asked about the issue at the International

Co-operative Alliance's Global Conference, held

in Malaysia last November, keynote speaker Gro

Harlem Brundtland said Malaysia would have to

find more sustainable models.

The former PM of Norway, who went on to

chair the Brundtland Commission on sustainable

development, told a press conference: "Many

countries like Malaysia need to make a plan for

transition into other ways of employment, other

ways of making progress in their countries. Many

countries have challenges and they need to change.

The current trends are not sustainable and we

cannot just continue."

She gave the example of Norway, which in the

early 1990s placed a tax on carbon emissions from

its offshore fossil fuels production, which led to a

fall in emissions. "Change is necessary," she said,

"Price signals and tax is necessary to take that

development in right direction – every country has

responsibility to make change."

It's a forthright statement which might leave

co-ops in the rest of the world wondering if their

own industries are sustainable.

q Cultivation of oil palm

fruit is helping drive

development in Malaysia

and other countries but

has sparked concern from

environmentalists

JUNE 2018 | 43
---
6 | MAY 2018
---
In the run-up to OPEN 2018, the conference

which explores the ideas of co-operative vision and the

evolving politics of a world of abundance and inclusivity,

Oliver Sylvester-Bradley interviews Cadwell Turnbull.

Cadwell (left) is a 'social fiction' writer who is exploring

ideas about how collaborative narrative and a co-operative

vision can help create the spaces needed for a more

equitable economy – which works to put people

and planet before profit.

Oliver Sylvester-Bradley: What do you

do and how did you get to where you

are now?

Cadwell Turnbull: I'm a science fiction

and social fiction writer and a member of

Grassroots Economic Organizing (GEO).

The writing thing started when I was a

kid. I wrote essays for school, and stories

and comics that I would share with friends.

I got my Bachelors in professional writing

from La Roche College in Pittsburgh

Pennsylvania. Then I moved on to get a

Masters of Fine Arts in creative writing

and a Masters in English with a linguistics

concentration from North Carolina State

University. My stories have appeared in

Asimov's Science Fiction, Lightspeed and

Nightmare magazines and I have a science

fiction novel coming out next spring.

My involvement in co-operativism came

much later and rose out of my interest

in utopian fiction and social systems.

I always had a social justice bent to my

writing but recently I've spent a lot of time

envisioning alternative social systems. My

upcoming short story in Asimov's Science

Fiction is about an imagined planet

where the system of government is global

panarchism and governments compete

for people's citizenship. The process

is voluntary and people can change

governments, be a citizen of multiple

governments, or opt out of government

altogether as long as they follow agreedupon

laws. It is an ambiguous utopia,

since large international governments

have the power to manipulate smaller local

ones in sometimes subtle and sometimes

significant ways.

You use the term "social fiction"

- can you explain that, and how you

think it can be used to influence

social development?

Social science fiction isn't new.

My favourite authors all write speculative

fiction with a focus on exploring social

alternatives. Ursula Le Guin's The

Dispossessed is a social science fiction

novel, as are Octavia Butler's Parable of

the Sower and John Kessel's The Moon and

the Other. There are a lot of books within

this larger sub-genre of science fiction,

and many novels that would fall into

utopian fiction. But often these stories

are set in the future, after a collapse

or on a distant planet. They show the

world after a new status quo has already

been implemented.

Kim Stanley Robinson's Pacific Edge

comes close to what I would consider to be

social fiction. Though it is set in 2065, the

novel builds realistically off of the world

we have today, imagining a best case

scenario for our current societal model,

putting caps on income disparity and

strong reform aimed towards a sustainable

green society. Many of these reforms

are done primarily through legal means

(a revolution of lawyers and activists),

while maintaining a recognisable social

structure. Robinson's later Mars trilogy

explores similar themes with added

science fictional elements.

When I talk about social fiction,

however, I am talking about fiction that

inhabits the middle space between the

present and imagined futures status quos.

How do we get there?

Science fiction has a history of starspanning

empires and intergalactic

wars, but it is the practical application

of ideas that have inspired scientific

advancement: artificial intelligence,

cloning, life extension, terraforming,

the possibility of space travel, long

distance wireless communication, global

information networks. All of these things

were imagined long before they were

thought achievable, and we've been

moulded by the long-standing echo

chamber of science's conversation with

science fiction. They feed back into each

JUNE 2018 | 45
---
other endlessly and our present is directly

due to that conversation with what can be

done and what can be imagined.

Some of the best science fiction deals

with the ramifications of a great discovery.

These stories ask: how does the world

change if we discover human cloning?

How does the world change if we've

developed the ability to communicate

through telepathic means? Fiction on the

edge of change is extremely powerful.

This has led me to wonder: why don't

we have the equivalent in the form of

social fiction? I haven't read every book

ever written, but I can count on my hand

how many books explore how social

inventions can influence the world as they

are happening. I can't even list one movie

about co-operatives. I have no knowledge

of any television shows dealing with

the speculative future of the commons.

Why is that?

Imagine the feedback loop that

could develop if we actively created

these fictions.

Where do you stand on the "let's try

to fix what we have / "work within the

present system" vs "… we're going to

need a revolution to get out of this

mess …" debate?

I don't think these ideas have to fight

against each other. I'm a fan of a diversity

of tactics. We have to build the world we

want to inhabit. And I don't think we need

anyone's permission to do so. That's a

revolutionary act: to not ask permission.

It rejects traditional notions of power. We

can act as free people. Of course we have

to be smart about it, and that's where

working within the system may sometimes

come in. Sometimes. We have to use the

tools at our disposal. Other times we can

make brand new tools. In the end, we'll

need both to fix the mess we've made.

Revolutions are tricky. History has

taught us that usually they end up being

a passing of power to different hands, and

often there are casualties of this transfer.

Some people are more vulnerable than

others and they suffer the most when

revolutionaries don't look where they are

planting their feet. Revolutions should

be creative, not destructive. It should

have something to offer first, something

for others to choose. That is what excites

me about the solidarity movement – it

is about creating something and it is

about consent. For me, there is nothing

more revolutionary.

How could social fictions do more to

develop a more co-operative culture?

It is a mistake to underestimate how

powerful narrative has been in the

historical development of societies. It is

our primary form of linguistic persuasion

and the major way we transmit culture

and meaning across generations. Beyond

just the sharing of ideas, narrative

allows the sharing of concepts through

analogy, through contextualising ideas

within a story.

A good test of the power of narrative

is this thought experiment. What

separates popular culture and academic

knowledge? More specifically, what does

one possess that the other typically lacks?

And how do academics make their ideas

popular? Narrative is the answer to all

these questions.

The arts are a powerful form of culture

creation and so often academic knowledge

enters the popular culture through

story, sometimes fiction and sometimes

non-fiction, but always through being

contextualised within a narrative.

Social fictions not only give an

opportunity to contextualize these ideas

within narrative, they also can act as an

avenue for these ideas to germinate within

the popular culture. The Overton window

of our current news infrastructure is very

narrow, but social fictions can widen that

window. If the leftist solidarity economics

movement presented their own fictions,

they could develop their own culture

through aspirational story-telling as well

as provide a point of access for a vast

amount of the general population.

But this is only the tip of the iceberg.

Think about how social fiction could

be used as a form of funding for leftist

education and research projects about

solidarity economics. Think about

how many new industries could be

developed through solidarity media. Not

only can it shine a light on solidarity

movements, it would build alternative

structures to support the solidarity

movement: publishing co-ops, theatre

co-ops, streaming platforms, co-operative

representation agencies, co-op film and

art festivals, co-op actors' guilds, along

with a broader co-op film and art industry.

The biggest contribution social fiction

would bring is the opportunity for selfcritique.

Through narrative we can better

locate the places in the movement that

need work. We can show people grappling

with shortcomings of the movement in

the present and the future in a positive

context. We can also imagine possible

future problems so that the movement can

be proactive about them.

But the biggest advantage social fiction

brings is the opportunity to push already

good ideas forward. Narrative doesn't

only help others access ideas. It provides

a space for ideas to live and to grow and

develop within context. This fits very well

with co-operative ideals.

If platform co-ops and the generative

economy take hold, we could be living

in a very different world in the future.

Can you describe what you think this

world might look like?

I imagine vast open networks of

individuals, co-operatives and commons,

forming a strong web across the planet.

These networks will be deeply political

and rooted in their local politics as well as

concerned with the state of the world.

Community councils will abound

and decision-making will be focused on

concrete problems within communities.

The global network will invest in

struggling communities by listening to

their needs and sending them resources

in solidarity. Basic necessities will be

accessible to everyone and there will

be a strong safety net for people who

can't work or choose different forms of

community contribution. Work itself will

be viewed differently and expanded to

areas often labelled as hobbies or passion

projects. Physical commons will be built

within communities and intellectual

commons will be a form of innovation.

The specifics will of course be very diverse

46 | JUNE 2018
---
"You become what you do." Those

words speak to a practice of revolution,

not just the making of it. We have do

things on a personal level to be the people

we need to be to make the big changes. We

start at the deed and we work our way out.

and only as standardised as necessary

for communication across networks.

I like this vision – it sounds like you

are describing a state where we have

managed to transition from a world of

scarcity to one of abundance. What do

you see as the main barriers for moving

towards the vision you describe?

The main barriers are cultural and

ideological. People don't believe that sort

of world is possible – many haven't even

considered it as a possibility. The other

issue is that so many are trapped in cycles

of poverty and/or desperation. They can't

leave their awful jobs. They can't raise the

funds to start co-operatives. They don't

have the time to fully engage politically.

We could probably support each other

more in order to build a future like this, go

lean until the system is robust, but people

need to know that it is possible, they need

to see where and how it is being done.

Do you think there is scope for the

concept of 'self, us and now' to be

developed into a more collaborative

narrative, which could help galvanise

action towards a sustainable world …?

There are a few examples of shared worlds,

where many writers contributed to one

work of fiction, or a series. The Wild Cards

series was a shared universe that has

had more than 30 authors contribute to

it, including George R.R. Martin. Thieves'

World was a fantasy shared world that was

also created by multiple authors. There

are examples of collaborative fiction. But

there should be many more.

How could those projects feed back into

communities? How could they function as

a means of aspirational future-making?

If creatives work closely with actual

worker-owners, academics, and activists,

there's really no limit to what could be

collectively imagined. It would provide

the perfect excuse for global research

and information networks, non-fiction

and fiction working together in a way that

raises both ships. How else has knowledge

ever been transmitted? How else have we

ever generated change?

The Wild Card Trust (the group

of writers that wrote The Wild Cards

series) coined the term mosaic novel. This

kind of novel tells a whole story, but via

a number of perspectives and narrative

styles. It is a story about people within a

larger context and it doesn't centre on just

one perspective.

Co-operative media could also take on

mosaic narratives to tell larger stories.

These stories would be filled with

personal accounts, but there would also

be accounts of groups and movements,

featuring prominently the obstacles that

we must collectively overcome.

I think people would want to experience

these kinds of stories. We may not have

to wait for movies or film. Multi-cast

audio projects could provide the perfect

middle ground for collaboration along

with affordability.

Imagine a long-running podcast fiction

series that has multiple contributors.

A budget for that would be reasonable

and could also provide the perfect

opportunity for an expansive work

exploring co-operativism.

I love the idea put forward in StarHawk's

Fifth Sacred Thing, in which she quotes

Dion Fortune: "The ends don't justify the

means. The means shape the ends. You

become what you do."

What do you think about experimenting

with new axioms to help unite the

progressive / solidarity / peer to

peer / commons / permaculture etc.

movements into an effective force

for change?

I love the idea of new axioms to help

unite the various movements. It is useful

to focus on commonality in a diverse

movement like this. So often we focus

on what makes us different. Pinpointing

where we agree can lead to mobilisation

on those issues. I believe we would find a

lot of places to work together.

If we see progressive movements as

an interconnected emergent system,

we'd realize that we're all providing

key roles in helping to build a diverse

infrastructure of leftist change. Knowing

that infrastructure, learning how to use

it, would be valuable. No, we don't always

agree on approach or belief. But I think

we can counterbalance each other. We

tend to think of society as something that

has to be standardised. We've never lived

in a monoculture. We shouldn't treat our

movements as such.

If we could see a map of our movements,

study their intersections and where they

diverge, we might be able to strengthen

the movement by filling in the gaps

between different movements, creating

cross-ideological approaches, balancing

out the rougher edges.

Our media could be a good opportunity

to do this. Find the problems. Write about

them. Consider additional/alternative

systems that help fix the areas where we're

weakest. We can unite while maintaining

diversity of opinion. It doesn't have to be

mutually exclusive. Our axioms can come

out of the areas where we align.

Cadwell will be taking part in

a panel session at OPEN 2018 which

will explore the co-operative vision

and the evolving narrative, politics and

philosophy of a world of abundance and

inclusivity. More info: 2018.open.coop

JUNE 2018 | 47
---
REVIEWS

Review: Social Entrepreneurship as Sustainable Development

Tamara L. Stenn

(Palgrave

Macmillan, 2016)

Social Entrepreneurship as Sustainable

Development is about how anyone can

become a social entrepreneur and engage in

sustainable development.

Written by Tamara L. Stenn of SIT Graduate

Institute, the book argues that people are

entrepreneurs in the way they make their

choices in production and consumption.

It also introduces the idea of Sustainability Lens, a

practical tool the author has been developing over

the past 18 years that focuses on the considerations

and actions needed to build a more just and

sustainable world.

The author defines sustainability as long-term

balance that is not harmful to others and does not

deplete resources. It also explains how in a shared

global environment, the actions of one will affect all.

The book adopts a nature-based perspective

on development, exploring concepts such as

permaculture and social entrepreneurship. It

also features examples of co-operatives playing

a key role in promoting sustainable development.

Stenn describes how in Bolivia, Caproca,

a worker-owned alpaca herder co-operative,

uses organic grazing methods to care for its freerange

herds of native alpaca. The yarn is then

transported on co-operatively owned trucks to the

mill. Working together they produce high quality

alpaca yarn and share in all costs and earnings.

Similarly, the book looks as Equal Exchange,

a worker owned co-operative in Boston,

Massachusetts, where workers have an input

in how prices are set, profits invested and

compensation determined. The model, argues

Stenn, varies from efficiency-driven approaches of

other Boston-based businesses. Also in Boston,

the Artisan Beverage Co-operative looks at creating

a sustainable distribution channel, minimising

their environmental footprint.

Examining the different models, the author

believes the solidarity economy goes beyond

the monetary exchange to value volunteerism,

co-operatives, barter, community and the

natural environment.

Review: From Clans to Co-ops – Confiscated Mafia Land in Sicily

Theodoros

Rakopoulos

(Berghahn Books

Press, 2017)

p Palmero, the capital of Sicily

From Clans to Co-ops tells the story of anti-mafia

co-operatives. Based on ethnographic research,

the book explores social changes in areas with a

mafia history by looking at four agri co-ops and their

members. These cultivate land plots that the Italian

state confiscated from the local mafia between 1996

and 2009 to help people secure livelihoods away

from mafia's influence.

Theodoros Rakopoulos describes the realities

of San Giovanni, a village of over 8,000 people,

which has a mafia past. While living there as part

of his research for the book, he befriended and

interviewed local people. He shares his experience

engaging with people in the community, anti-mafia

activists and members of the co-ops.

The research includes an extensive theoretical

analysis of the nature of co-operatives.

Examining the work of Marx and Mauss,

Rakopoulos also points out that co-operatives often

profess to express more than they can encompass.

He believes that co-operative politics, as in

the case of the Mondragón Group in the

Basque Country in Spain, are born not of

ideologues but rather of practitioners

acting together in a collective fashion that

does not call for overarching ideologies.

Arguing that understanding their members' lives

in crucial to understanding co-ops themselves, he

embarks on a journey to explore the lives of people

San Giovanni.

48 | JUNE 2018
---
Growing the co-op economy, exploring the potential for co-ops to

build prosperous local communities and help solve the housing

crisis... This year's Co-op Congress is all about 'thinking different'

and tackling social and economic issues differently to achieve a

fairer, more prosperous society for everyone.

Discover different, innovative new technologies, ideas, ways of working

and raising co-op friendly finance, which can take the co-operative

movement from strength to strength.

Come together with hundreds from across our diverse

sector to THINK different in London on Saturday 23 June.

For info and tickets visit www.uk.coop/congress
---
DIARY

CLOCKWISE FROM FAR LEFT: Sheffield

Hallam Business School hosts the

UK Society for Co-operative Studies

Conference on 31 August - 2 September;

the Co-op Party hosts a conference on

local government in London on 9 June;

the Anglers Rest in Bamforth, part of a

thriving community pubs sector which

meets in Sheffield on 26 June; and Dr Cilla

Ross delivers the UKSCS Co-operatives

Fortnight lecture in Manchester on 5 July.

9 June: Co-operative Party Local

Government Conference

For councillors, members, candidates and

others interested in local government.

WHERE: Coin Street Conference Centre,

London

INFO: membership@party.coop

12 June: Do co-ops work in practice?

The theory of 'degeneration' argues that

co-op will either fail or adopt a capitalist

approach to survive. Principle5 co-op

invites people from co-ops, and anyone

else interested, to discuss this claim.

WHERE: Regather, 57-59 Club Garden

Road Sheffield, S11 8BU

INFO: s.coop/26d7v

20 June: Co-operatives East Midlands:

AGM and training session

WHERE: Joseph Wright Room, Derby

INFO: s.coop/26cnn

23 June: Co-operative Congress

The sector's annual conference, with

speakers, workshops and pitches from

collaborative entrepreneurs.

WHERE: Bishopsgate, Liverpool

Street, London.

INFO: uk.coop/congress

23 June: Community Energy

Conference 2018

Kicking off Community Energy Fortnight,

this event sees co-host Community

Energy England launch its second State

of the Sector Report. Jointly hosted with

Co-operative Energy.

WHERE: Renold Building,

University of Manchester,

INFO: s.coop/26cno

26 June: More Than A Pub Conference

Workshops, presentations and panel

discussions on community pubs.

WHERE: Sheffield Town Hall

INFO: s.coop/26d7x

5 July: UKSCS Co-ops Fortnight Lecture

Dr Cilla Ross, Co-operative College viceprincipal,

will discuss 'Re-thinking Cooperative

Education in New Times'.

WHERE: Federation House, Manchester

INFO: s.coop/26coe

7 July: International Day of Co-operatives

15-18 July: World Credit Union

Conference 2018

Premier global event for the credit union

industry, with educational sessions on

key topics, networking opportunities and

team-building environments to facilitate

and grow decision making.

WHERE: Suntec, Singapore

INFO: wcuc.org

26-27 July: OPEN 2018: Platform

Co-operatives

The platform co-operative showcase

will present examples from functioning

platform co-ops, including practical

examples of legal structures, funding and

financial setups, and detailed insight

from platform co-op practitioners about

how their organisations work.

WHERE: Conway Hall, London

INFO: 2018.open.coop

LOOKING AHEAD

31 August - 2 September: UK Society

for Co-op Studies Conference (Sheffield)

12-14 October: Co-operative Party Annual

Conference (Bristol)

22 November: Practitioners Forum

(Manchester)

50 | JUNE 2018
---
How can

platform co-ops

& open tech

help grow the

collaborative

economy?

Join the conversation...

26-27 July, Conway Hall, London | Tickets available now | 2018.open.coop
---
Good for one.

Better for all.

We're an energy company owned by you...

our members.

Be in charge of your energy today. Join us.

www.cooperativeenergy.coop/CoopNewsJune