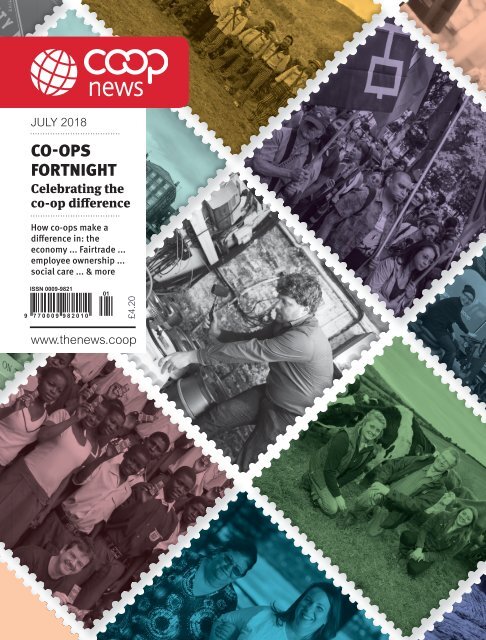 JULY 2018
The July edition of Co-op News: connecting, challenging and championing the global co-operative movement. This issue, as the UK celebrates Co-operatives Fortnight, we look at the ways co-ops make a difference at home and abroad – whether it's fighting for a fairer economy and new ways of working, or delivering solutions in areas like Fairtrade, agriculture and social care
The July edition of Co-op News: connecting, challenging and championing the global co-operative movement. This issue, as the UK celebrates Co-operatives Fortnight, we look at the ways co-ops make a difference at home and abroad – whether it's fighting for a fairer economy and new ways of working, or delivering solutions in areas like Fairtrade, agriculture and social care
SHOW MORE
SHOW LESS
Create successful ePaper yourself
Turn your PDF publications into a flip-book with our unique Google optimized e-Paper software.
JULY 2018

CO-OPS

FORTNIGHT

Celebrating the

co-op difference

How co-ops make a

difference in: the

economy ... Fairtrade ...

employee ownership ...

social care ... & more

ISSN 0009-9821

9 770009 982010

01

£4.20

www.thenews.coop
---
Why The Phone Co-op?

Reason #9 We've invested over £1m in social

and environmental projects to contribute

towards a more sustainable and fairer world.

Search 10 reasons why The Phone Co-op is Good for Business

01608 434 000

ww.thephone.coop/coopnews

Part of The Midcounties Co-operative
---
news

A note from the chair

CONNECTING, CHAMPIONING AND

CHALLENGING THE GLOBAL CO-OP

MOVEMENT SINCE 1871

Holyoake House, Hanover Street,

Manchester M60 0AS

(00) 44 161 214 0870

www.thenews.coop

editorial@thenews.coop

EXECUTIVE EDITOR

Rebecca Harvey

rebecca@thenews.coop

INTERNATIONAL EDITOR

Anca Voinea | anca@thenews.coop

DIGITAL EDITOR

Miles Hadfield | miles@thenews.coop

DESIGN:

Keir Mucklestone-Barnett

DIRECTORS

Elaine Dean (chair), David Paterson

(vice-chair), Richard Bickle, Sofygil

Crew, Gavin Ewing, Tim Hartley,

Beverley Perkins and Barbara

Rainford. Secretary: Ray Henderson

Established in 1871, Co-operative

News is published by Co-operative

Press Ltd, a registered society under

the Co-operative and Community

Benefit Society Act 2014. It is printed

every month by Buxton Press, Palace

Road, Buxton, Derbyshire SK17 6AE.

Membership of Co-operative Press is

open to individual readers as well as

to other co-operatives, corporate bodies

and unincorporated organisations.

The Co-operative News mission statement

is to connect, champion and challenge

the global co-operative movement,

through fair and objective journalism

and open and honest comment and

debate. Co-op News is, on occasion,

supported by co-operatives, but

final editorial control remains with

Co-operative News unless specifically

labelled 'advertorial'. The information

and views set out in opinion articles

and letters do not necessarily reflect

the opinion of Co-operative News.

@coopnews

cooperativenews

Co-operative News has a unique place in our co-operative movement, providing

independent coverage, championing its successes, and challenging it where

necessary. It is therefore with great pleasure that I introduce the new restructured

team steering this historic publication.

Rebecca Harvey has been appointed executive editor – the 15th named editor in the

organisation's 147-year history, and only the second woman to hold the most senior

post. Rebecca first joined the News as deputy editor five years ago, and oversaw the

redesign of the publication into its current format. She has worked in magazines for

over a decade, has in-depth knowledge of co-operation and has great understanding

of our place in the co-operative movement.

Alongside Rebecca, Miles Hadfield brings 25 years of newspaper experience to the

role of digital editor and Anca Voinea brings four languages and a passion for global

politics to the role of international editor. The News is in fabulous hands with this

team in place.

I would also like to pay great tribute to our outgoing executive editor, Anthony

Murray, who has left the organisation to pursue other opportunities. He achieved

a tremendous amount over his 16 years at the News, and everyone at Co-op Press

wishes him all the very best for the future.

ELAINE DEAN - CHAIR, CO-OP PRESS

Co-operatives Fortnight: a time to

celebrate the co-op difference

The theme for this year's Co-operative Fortnight (23 June - 7 July) is 'the co‐operative

difference'. What makes co-ops different? How can this be celebrated?

One way is to share some of the stories of how co-operatives do things differently

– and how they make a difference to their members, customers and communities.

This issue we have done just that, looking at examples of great, change-making

co-operation from the UK and internationally.

Oliver Sylvester-Bradley from The Open Co-op introduces the concept of Hullcoin,

while the Co-op Group's Brad Hill looks back on 20 years in Fairtrade. We have Q&As

with representatives of credit unions and the Co-op Party, too, and take a look at

Co-operatives UK's Co-operative Economy Report 2018. Read about these, and more,

from page 26.

REBECCA HARVEY - EXECUTIVE EDITOR

JULY 2018 | 3
---
THIS ISSUE

CLOCKWISE FROM FAR LEFT

Co-operatives Fortnight is celebrating the

co-operative difference; the Co-op

Group's Brad Hill looks at the difference

co-operatives and Fairtrade have made

together; the pubs serving different sections

of their communities; and the co-ops

reclaiming cultural identity in Canada.

COVER: Co-operatives Fortnight

2018 is celebrating the

co-operative difference

Read more: p26-47

22-23 MEET... SUE BALCOMB

Secretary of the Horton Women's

Holiday Centre

24 MEET... REBECCA HARVEY

Newly appointed executive editor of

Co-operative News

26 -47 CO-OPERATIVES FORTNIGHT

SPECIAL

The theme for Co-operatives Fortnight

2018 (23 June - 7 July) is 'the co-operative

difference'. To celebrate, we tell the

stories of some of the co-operatives and

co-operators making a difference in their

sectors and communities.

28-29 THE ECONOMY

Co-operatives UK's Economy Report

2018 highlights how co-operatives are

a resilient form of business – but that

they need more support

30-31 FREELANCERS

How are co-ops helping freelancers plot

a course through the changing world

of work?

31 AGRICULTURE

The co-ops keeping farming traditions

alive

32-33 FAIR TAX

Should co-ops be leading on the issue

of fair tax?

34-35 PUBS

The pubs being saved by community

co-operatives

36-38 FAIRTRADE

Brad Hill looks over a career than has

witnessed first-hand the difference that

co-operatives make

40-41 EMPLOYEE-OWNERSHIP

Riverford Organic Farmers has made

the transition to employee-ownership

42-43 INDIGENOUS PEOPLES

Reclaiming cultural identity in Canada

44-45 LOCAL CURRENCIES

Unlocking the hidden value in Hull's

economy

46 SOCIAL CARE

Co-operative Life is Australia's first

worker-owned social care co-op

47 Q&AS:

With the Co-op Party's Claire McCarthy

and the Co-operative Credit Union's

Andrew Davey

REGULARS

5-16 UK updates

17-21 Global updates

25 Letters

48 Reviews

4 | JULY 2018
---
NEWS

POLITICS

Nationalisation

or mutualisation?

Debate over rail and

water in Labour and

Co-operative Parties

Suggestions that an incoming Labour

government would favour a mutual

model for the water industry over full

nationalisation have been denied by a

party spokesman.

But at the same time, Labour

/Co-op MP Luke Pollard has argued that

a mutual model for rail services would

offer an effective safeguard against future

reprivatisation.

In a blog post on the website of the

Co-op Party – Labour's sister organisation

– Mr Pollard wrote: "Let's create

shareholdings that turn our great public

utilities into truly great mutually owned

public utilities."

Mr Pollard's comments came as Labour

denied suggestions from within the water

industry that it was privately considering

a mutual alternative.

Addressing the GMB Congress in

Brighton, Labour leader Jeremy Corbyn

backed the union's water nationalisation

campaign, 'Take Back the Tap'.

p Luke Pollard (c) Co-operative Party

/ Tehmoor Khalid / Krzysztof Kseba

He told delegates: "The privatisation

of water has been a failed and unpopular

experiment. It's been bad for workers in

the industry and bad for bill payers.

"The only people it hasn't been bad for

is the rich shareholders."

But Susan Davy – chief financial officer

of Pennon Group, which owns South West

Water – had claimed in an interview with

Financial Director website that Labour

was considering a mutual option instead.

"Their preference seems to be moving

towards what we would call mutualisation,

where you have some sort of model that

allows customers to be owners," she said.

"That's where we can have a much more

informed conversation."

Her remarks promoted a firm response

from Labour. A spokesperson told The

Guardian: "As we announced in the general

election, the next Labour government

will take public ownership of water by

issuing bonds in exchange for shares

in the companies.

"We are not considering mutualisation."

But writing on the Co-op Party website,

Luke Pollard warned that straightforward

nationalisation was open to the

risk of reversal.

"Labour's superb 2017 manifesto

advocated bringing the railways and

utilities back into public ownership," he

said. "But then what? We've seen from

the antics of Tory prime ministers since

2010 that selling public goods off at below

market rate is a tactic they'll use."

Looking at the issue of transport,

he warned: "Labour needs to be very

cautious that in ending rail privatisation

we are not simply holding the assets on

ice for the Tories to re-privatise later.

"That is why co-operators need to

be loud in our advocacy for genuine

democratic public ownership. This means

once the railways have been nationalised,

let's mutualise them. Let's create

shareholdings that turn our great public

utilities into truly great mutually owned

public utilities."

He added: "Where the cost of upfront

nationalisation is too great, let's create

co-operative insurgencies within the share

ownerships of those utilities. These co-op

share clubs would reinvest profits back

into expanding the mutual ownership

proportion over time."

Mr Pollard said there was caution

about "old school socialism" as well as

mainstream capitalism, leaving room

for a co-op alternative, which would

be "a powerful tool for re-imagining

a fairer Britain."

He said Mr Corbyn "has done much

to create an environment where these

policies could be welcomed".

Mr Pollard's fellow Labour/Co-op MP

Alex Sobel also posted a Co-op Party blog

in favour of mutual models.

He said: "I'm looking forward to

exploring democratic models of public

ownership in the water sector, building

on the ideas in the Co-operative Party's

Ownership Matters report. For example,

I have spoken with members of the

shadow treasury team about ways we can

learn from Welsh Water's mutual model,

which I have long admired.

"I like the idea that we can have a

different kind of economy, neither marketdriven

capitalism nor command and

control by the state. One where employees,

consumers and community are at the

heart of decision-making instead of profit.

"Mutual models in water companies

create democratic structures where bill

payers and workers set priorities for

investment in infrastructure and the

environment. They mean customers, not

shareholders, setting executive pay and

sharing profits."

JULY 2018 | 5
---
ECONOMY

Co-ops and inclusion: Report looks to a new kind of economy for Wales

p Jean John and Sheila Pratten, volunteers at The Boutique shop in Maerdy, Rhondda Cynon Taf. All profits go back into community projects

The social business sector plays a key

role in building an inclusive economy in

Wales, according to a new study.

Published by the Wales Co-operative

Centre and the Bevan Foundation,

Creating an Inclusive Economy in Wales

(s.coop/26hts) highlights six key steps.

It says an inclusive economy gives

people a say in economic decisions,

ensures their needs are taken into

account, and benefits more people.

It identifies four separate, but linked,

dimensions of an inclusive economy:

diverse and resilient businesses to create

wealth and provide goods and services;

decent work for everyone; knowledge and

skills so people can secure a livelihood;

and a say in economic decisions.

The study notes that worker

representation can be achieved through

employee-ownership or unions and

similar representation.

Victoria Winckler, director of the Bevan

Foundation and author of the report,

said: "There is growing evidence that the

most resilient places across Europe have

strong networks between public, private

and social sectors. Yet most economic

development decisions, like the existing

Welsh City Deals, are taken by public

sector leaders and big businesses that are

far removed from civil society and focus

on traditional economic objectives such

as boosting the Gross Value Added.

"For example, how do we ensure places

such as the south Wales valleys and

groups such as disabled people or black

and minority ethnic communities actually

benefit from growth? Our report looks at

practical proposals that can help achieve

an inclusive economy. It provides a vision

for what an inclusive economy might look

like, and sets an agenda for action that

economic actors of all kinds can adopt."

Derek Walker, chief executive of the

Wales Co-operative Centre, added:

"Creating an inclusive economy goes

much further than getting a citizen voice

around the City deal table. It is about

changing the way we connect with

people and do business with one another.

It means making equality an integral part

of the process of creating prosperity. It is

in effect a new economic model.

"The vote to leave the EU was a strong

signal that the current economic system

is not working for everyone. The Welsh

government's recognition within its

latest economic action plan of spreading

opportunity and promoting wellbeing,

is a welcome first step. However, there

is a great deal more to do to ensure that

commitment is translated into action.

"Both the Wales Co-operative Centre

and the Bevan Foundation will be playing

an active part in turning the vision of

prosperity for all into a reality. We hope

that Welsh government and its agencies,

local authorities, City Deals, trade unions

and many other economic actors will

play their part too."

Meanwhile, applications are open

for the Social Business Wales Awards

2018. This year there are three headline

categories – Wales Social Enterprise of

the Year; Wales One to Watch and Wales

Employee-Owned Business of the Year.

Social enterprises can also enter five

other categories – Health and Social

Care; Consumer Facing; Environmental;

Education, Training and Employment;

and Tech for Good.

Nominations close on 13 July and can

be made at s.coop/26hv2.

6 | JULY 2018
---
COMMUNITY

Austerity bites as a quarter of community groups say their future is at stake

A quarter of local causes in the UK

fear for their survival, according to the

Causes and Effect report published by the

Co-op Group.

During the past 18 months, the Group

has distributed more than £20m to over

12,000 local causes through its Local

Community Fund. But a new survey of

1,500 of the supported organisations

highlights that a quarter are either worried

or very worried about the future.

"The report is clear that an

overwhelming number of causes are

seeing a marked increase in the demand

for their services, with a significant

number concerned about the future," said

Rebecca Birkbeck, director of community

engagement at the Group.

"Our research suggests that many of

the causes we've been working with

are already feeling the impact of local

authority funding cuts. When asked about

their concerns for what lies ahead more

than half (56%) said they were witnessing

a growing demand for their service, which

isn't being matched by increased funding

or resources. 44% are concerned about

rising costs and 30% have had public

funding reduced."

The survey also highlighted the

increasing importance of communities

working together co-operatively, with

pChildren's groups are among those affected

68% of those surveyed saying they

would like greater support locally and

43% saying closer links with other

community and charitable organisations

would be helpful.

"With cutbacks in local authority

spending we're seeing the need to relearn

the values and skills of community-based

self-help that became common place in

the 19th century," said Ms Birkbeck. "It is

increasingly important that we all support

the crucial work of community groups,

co-ops and local charities."

The report coincides with the launch

of a campaign to encourage Co-op Group

members to select the local organisations

they wish to support. Members receive 5%

back on own-brand product purchases,

while an additional 1% goes towards the

Community Fund; members can then log

in to their member account and choose

which local cause to back. If a member

doesn't choose a cause, their 1% is shared

out between their most local causes.

"The Co-op's Local Community Fund

is an example of how business can help

to drive these connections and offers

our 4.6 million members the chance

to decide which local organisations

they would like to support," said Ms

Birkbeck. "There's £5m just waiting to

be allocated to local causes, so I would

urge our members to visit our website and

have their say."

ENERGY

Government policy is

still hurting community

energy, says report

Last year was a difficult one for the

community energy sector marked by a

slowdown in growth, a report warns.

The State of the Sector Report 2018,

the second annual review of community

energy in England, Wales and Northern

Ireland, says only one new community

organisation was constituted in 2017, with

30 fewer successful projects and 31% less

generation capacity installed or acquired

in comparison to 2016.

Cuts to subsidies and tax incentives

are still hitting profits, it says, but the

sector has stayed resilent thanks to

successes in large-scale generation,

increased collaboration, new business

approaches, innovative financing and

new technologies, such as battery storage.

The report, a survey of more than 200

organisations by Community Energy

England (CEE), Community Energy Wales

(CEW) and Scene Connect (Scene), calls on

local and national government to create

clearer strategies, including early stage

funding, financing support and subsidy

review. Without this, the problems hitting

the sector will continue, it says.

Communities across England, Wales and

Northern Ireland own 168 MW of electrical

generation capacity and generated 202

GWh in 2017, enough to meet the annual

demand of 65,000 homes, according to

the report, released on 23 June to mark

the start of Community Energy Fortnight

and the Community Energy Conference in

Manchester.

Another survey, from Co-op Energy,

has found that Almost four fifths (79%) of

Britons want the government to do more

to help local communities generate their

own energy.

Nearly three quarters (71%) of people

said they would support communityowned

renewable energy projects, up from

67% two years ago. Just 6% said they would

be unlikely to support such a scheme.

JULY 2018 | 7
---
FINANCE

FCA wants new rules to

tackle expensive lenders

and boost credit unions

The Financial Conduct Authority (FCA)

has published a review of high-cost credit,

with proposals that could save borrowers

up to £140m a year.

The regulator looked at the rent-to-own

sector, overdrafts, home-collected credit,

catalogue credit and store cards. It wants

to promote alternatives such as credit

unions and community development

financial institutions (CDFIs).

According to the regulator, in 2016

lenders earned £2.3bn from overdrafts,

30% of which came from unarranged

overdrafts. In certain cases, it said,

people ended up paying over £1,500 for

essentials like an electric cooker, which

could be bought on the high street for less

than £300. It is considering introducing a

cap on rent-to-own prices.

The FCA also plans new requirements

to raise standards in disclosure and sales

practices in the home-collected credit

sector. It estimates these changes could

save consumers up to £34m a year.

Catalogue credit and store card firms will

be required to do more to help customers

avoid persistent debt. The FCA believes

the move could enable consumers to save

up to £27.5m a year.

The regulator has prepared guidance to

help social landlords, including housing

co-ops, refer their tenants to alternatives

such as credit unions and CDFIs.

The FCA will also be looking at how

CDFIs and credit unions access credit

reference agency data and the terms on

which this is done, as well as the range

of products credit unions are allowed to

offer consumers by law.

The Association of British Credit

Unions (Abcul) welcomed the proposed

changes. Its head of policy and

communications, Matt Bland, said:

"Credit unions up and down the country

are actively mopping up the mess caused

by these lenders and seeking to offer a

responsible alternative and any moves

to clamp down on their worst excesses

is beneficial.

"We are also very pleased to see the

section on FCA action to support the

expansion of alternatives such as credit

unions. The measures proposed will make

a difference to credit unions doing the

hard work of offering a reasonably priced

alternative to those with limited options.

"We're particularly excited by the

discussions, which the FCA is taking

part in, around new investment in

financial inclusion initiatives, and by

the prospect of FCA supporting a review

of credit union legislation which we

believe could unlock significant growth in

the sector."

CREDIT UNIONS

Co-op Credit Union rebrands with international co-op marque logo

The Co-operative Credit Union has adopted the global

co-operative marque as part of its new brand and colour

scheme. The credit union, which also uses the .coop domain,

launched the new look at the Co-operative Group's AGM in

Manchester on 19 May.

Set up in 1998, the credit union has lent £30m to its 8,000

members across a number of different co-operatives across Great

Britain. It has seven permanent staff members and 25 volunteers,

who manage over £5m of members' savings and outstanding

loans of £2.5m. Over the past five years, the credit union has

experienced a 64% increase in membership, and a doubling

of assets.

Operations manager Andrew Davey said: "Our new look

and feel reflects the credit union's close relationship with the

co-operative sector in its widest sense.

"It signals the latest in a series of updates and improvements to

our member service, including new and improved online account

access where our members can check balances, make self-serve

withdrawals and send secure messages, with a speedier online

loan application to be added soon."

The credit union is open to current and retired employees

of co-operative organisations.

The co-operative marque was developed by the International

Co-operative Alliance as a global identity for the co-operative

movement. The logo was designed by Calverts, a London based

design co-operative.

uRead our Q&A with Andrew Davey on p47

8 | JULY 2018
---
COMMUNITY

Northern Ireland's first community-run sports academy kicks off share offer

p Tiziana O'Hara of Co-operative Alternatives,

Ballymacash directors Chris Finlay and Laura

Turner, and Nigel McKinney from the Building

Change Trust launch the share offer

The first community-run sports academy

in Northern Ireland has launched a

community share offer for a £1.5m facility.

Ballymacash Sports Academy, born

out of Ballymacash Rangers FC, wants

to raise between £50,000 and £200,000

with the share offer, which will finance

the first phase of a five-phase plan.

The share offer was launched with

the help of the Building Change Trust's

Community Shares Ready! programme

run by Co-operative Alternatives.

The state-of-the-art sports facility in

Lisburn, which has been granted planning

permission, will include a new clubhouse,

function room, gym, floodlit seven-a-side

3G artificial grass pitch, a 250-seat stand

and a cryospa (recovery ice bath).

Academy director Philip Trimble said

there would be a focus on encouraging the

young, the elderly and the economically

disadvantaged to participate more in

healthy activities, alongside a bursary

scheme for young sports stars.

Nigel McKinney, director of the Building

Change Trust, said that despite Northern

Ireland's long history of producer and

consumer co-operatives, the communityowned

co-op model is a novel one in the

region but added: "It's a brilliant model

for our times ... I want to commend

Ballymacash Rangers for their vision

and Co-operative Alternatives for their

ongoing support".

Tiziana O'Hara of Co-operative

Alternatives said: "Many people want a

say in how leisure and sports facilities

operating in their area are run for the

benefit of everyone.

"Ballymacash has a proud history

of working on community-based projects

and we would appeal to everyone who

has an interest in a better future for

all to become involved in the running

of this incredible organisation."

The share offer can be found at

s.coop/26hwh and closes on 19 July.

CREDIT UNIONS

Jane Hutt AM joins Michael Sheen as patron of Credit Unions of Wales

Actor and activist Michael Sheen has

a new collaborator on the political stage

in the form of Welsh assembly member

Jane Hutt.

The AM for Vale of Glamorgan has

joined the Hollywood star as patron

of Credit Unions of Wales, with a vision

of creating a 'credit union nation'.

This vision has won the backing of first

minister Carwyn Jones, who said the Welsh

government recognises "the valuable role

credit unions play in providing ethical

financial services".

Ms Hutt said: "The fact that credit

unions offer an ethical and affordable way

of saving and borrowing for all of us is key.

But they are also a way we can contribute

to the whole community – including those

who are experiencing hardship, debt

and poverty.

"It is universal; we can all take part,

we can all benefit and we can all help

underpin this ethical borrowing and

saving service for those who need it as an

alternative to payday loans."

She added that she would "work

tirelessly to support the movement

to make Wales a credit union nation".

p Leanne Herberg, CEO of Cardiff and Vale Credit Union; Jane Hutt; Nicola Field, manager of

Bridgend Lifesavers Credit Union; and Michael Sheen

The appointment will see Ms Hutt and

Mr Sheen collaborate to raise awareness

and membership of the country's 18

not-for-profit, community savings and

affordable loans providers across Wales.

Credit Unions of Wales has forged

strong links with more than 140

employers. Organisations involved in

the Payroll Partner scheme work to

improve the financial wellbeing of staff

by offering the opportunity to save or

repay a loan with a credit union directly

from their salary.

Mr Sheen has also been active for the

credit union movement in Scotland,

where he opened the new Leith

branch of Castle Community Bank in

Edinburgh, giving a passionate speech

to a huge crowd including Scottish

government minister Angela Constance,

former Scottish Labour leader Kezia

Dugdale and Ben McPherson MSP.

JULY 2018 | 9
---
RETAIL

Central England to hand unsold food over to local charities

p Representatives from Central England Co-op and FareShare celebrate the roll-out

Central England Co-op is rolling out a

project to redirect unsold food to hundreds

of local charities.

Following a successful pilot, the retailer

has teamed up with FareShare East

Midlands to collect best-before food items

and non-food goods that cannot be sold

from all its food stores, across 16 counties.

They will be delivered to FareShare,

which will send them to over 250 charities

around the Midlands.

Organisers say the scheme will help

cut food waste by at least 40% and

provide over one million meals per year to

vulnerable people. The pilot scheme took

place in nine stores in Leicester and has

seen enough food redistributed to deliver

over 12,000 meals to people in need.

Hannah Gallimore, Central England's

corporate responsibility manager, said:

"Food waste is a topic customers and

colleagues regularly talk to us about.

"We have been looking for a solution to

this issue for many years and are proud to

be able to reveal our plan to tackle food

waste in a manner that has a major impact

for our communities and our partners.

One of the main reasons we are so proud

of this project is the fact that it is unique

and innovative.

"The process behind it is all based

around ensuring that the food is sorted,

collected and sent out to partners as

quickly as possible to ensure that it gets

to the people who need it when they need

it – ranging from community kitchens to

breakfast clubs and hostels."

She said the society was aiming for

an initial cut to waste of 40%, with the

ultimate goal of redistributing 100% of

best before goods that have not been sold,

Central England has also launched an

appeal to prevent children going hungry

over the summer period, when they do not

receive free school meals.

The society's campaign will run for

three months from June to August, raising

food and toiletry items for children in

need. The initiative builds on the co-op's

previous Christmas and Easter appeals,

which collected over 85,000 items for food

banks in its trading area.

RETAIL

Midcounties Co-op partners with OLIO to address food waste

The Midcounties Co-operative is teaming

up with food-sharing app OLIO to reduce

food waste. Through the app, individuals

and businesses can upload images

of leftover food, which can then be

collected by other users for free.

The retailer will be piloting the scheme

in Oxfordshire, and aims to roll it out

across its 225 food stores. Midcounties is

also working with food banks across its

trading area. Last year the society donated

over 73,000 products from colleagues,

members and customers.

OLIO was launched in 2015 by Tessa

Cook and Saasha Celestial-One, two

friends who wanted to tackle the issue

of food waste. The app was primarily

designed to enable people to give away

unwanted food to their neighbours or

those living nearby. The platform can

now be used for non-food household

items as well.

Phil Ponsonby, chief executive for

trading at Midcounties – who becomes

p The co-op has launched an app to help

people cut down on food waste

group CEO this month – said: "In the past

few years we've worked closely with local

foodbanks to donate food items to those in

need. The partnership with OLIO is a great

opportunity for us to donate on a larger

scale, and reduce our CO2 emissions by

reducing our food waste.

"Midcounties is committed to giving back

to local communities and to sustainability.

We look forward to seeing the impact

of the initiative in Banbury and are already

making plans to introduce it nationwide."

Tessa Cook, co-founder at OLIO, added:

"Since we launched we've prevented

more than 250,000 meals from going

to waste and we look forward to seeing

this number continue to rise as we work

with Midcounties. The OLIO app makes

sharing food simple as individuals can

see food available near them and easily

request it.

"Our aim is to create a more sustainable

future by encouraging people to share

food with those who want or need

it, rather than letting it go to waste.

The food items that one individual is

prepared to throw in the bin could be the

ingredients for another family's feast."

10 | JULY 2018
---
RETAIL

Chelmsford Star wins

national award for

community impact

pSociety president Pauline Dodd and head

of membership and marketing Kevin Bennett

receive the award

Chelmsford Star Co-operative has

won 'Best For Community Impact' at

the National Business Charity Awards

in London.

The Essex-based independent society,

which has 50 branches in Essex,

including travel agents, food shops and

funeral homes, alongside its Quadrant

department stores in Chelmsford and

Braintree, beat international competition

from the likes of Aldi and Prudential.

Judges recognised the sheer volume

of charity work and community initiatives

that Chelmsford Star has run over its

150-year history, in particular its Charity

of the Year programme.

They also noted that a third of all its

turnover is reinvested into the Essex

economy in some way.

Head of membership and marketing,

Kevin Bennett, said, "Thirty-three pence

in every pound people spend in our

shops supports Essex in some way. As a

co-op, this is what we do, it's our whole

point for existing, it is in our DNA.

"That being said, it is fantastic to

be recognised for the fact we punch

above our weight. It felt a bit like David

and Goliath tonight, as some of those

businesses operate in more counties than

we have stores!"

Heart of England to move its HQ to Coventry

Heart of England Co-op is looking to move

its head office from Nuneaton to Coventry.

The society is selling the Nuneaton site

and could not find a suitable replacement

in the town. The department store near

the HQ closed in June 2016 as part of the

society's decision to close loss-making

non-food stores across its trading area.

Since then, the building in Abbey Street

has been empty.

New group CEO of Midcounties named as Ben Reid retires

The Midcounties Co-operative has

announced that Phil Ponsonby will be

its new group chief executive, following

the retirement of Ben Reid at the end of

July. Mr Reid, who has spent more than

40 years in the co-operative movement,

led Midcounties as it grew into the UK's

largest independent co-operative, with

670,000 members.

Scotmid wins award for favourite food-to-go retailer

Scotmid has been crowned consumers'

favourite food-to-go convenience retailer

at the HIM Awards. The co-op, which

reported a £4.8m trading profit earlier this

year, was one of 15 convenience retailers

and suppliers presented with awards. The

awards are based on more than 20,000

face-to-face shopper interviews.

Lincolnshire Co-op makes new drive to cut carrier bag use

Lincolnshire Co-op has announced a

new campaign to tackle plastic waste

after it emerged that growing numbers of

shoppers are choosing to buy a single-use

5p carrier bag instead of reusing a bag.

When the carrier bag levy was introduced

in October 2015, the number of single

-use carrier-bags issued dropped from 2.4

million in 2014 to 48.8 million in 2015

Southern Co-op hosts charity football tournament

In the run-up to the World Cup, the

Southern Co-op raised over £3,800

for local hospice, Naomi House and

Jacksplace. The retailer hosted a

charity football tournament on 12 June,

with the tournament taking place at

Goals, a five-a-side football centre

in Portsmouth.

JULY 2018 | 11
---
COMMUNITY

Co-op Group joins government campaign to fight loneliness

The government has pledged £20m of

new funding for charities and community

groups fighting loneliness – £2m of which

will be delivered by the Co-op Group's

charity, the Co-op Foundation.

The Building Connections Fund, a

response to the Jo Cox Commission on

Loneliness, will include £5m allocated by

the government, an additional £5m from

the Big Lottery Fund and £1m from the

Co-op Foundation.

Prime minister Theresa May said:

"This will build on work already going

on, including through the second

Great Get Together this weekend,

which will see people up and down

the country celebrating the strength

of their communities."

The Co-op Foundation will focus on

youth projects, building on the Group's

own campaign to address loneliness,

launched 18 months ago. The Group's

Trapped in a Bubble research with the Red

Cross revealed that one in three young

people felt lonely "often" or "always".

Group chair Allan Leighton said:

"Loneliness is not the preserve of the

elderly – it can affect people at different

life stages. Through my involvement with

the Co-op Foundation I've seen how it has

brought attention to the widespread, but

long-overlooked issue of youth loneliness.

"I'm delighted the Co-op Foundation

is partnering with the government

on the Building Connections Fund to

invest £2m in projects that bring young

people together, develop their skills

and help them get more involved in

positive activities."

Grants are available for community

groups and charities until March 2021.

Jamie Ward-Smith, chair of the Coop

Foundation, added: "The Co-op

Foundation is working to connect and

empower 5,000 young people to tackle

loneliness in their communities. Our

new match-funding partnership with the

government will help us build on this,

Trapped in a bubble

An investigation into triggers

for loneliness in the UK

p The Group's Trapped in a Bubble report

extending our network of partners and

reaching even more young people. We

believe youth loneliness is best tackled at

community level, by working with young

people to overcome the stigma around

this issue and helping them shape their

own solutions."

RETAIL

Jewish community in North London

plans to boycott new Co-op shop

The opening of a new Co-op Group store in Hampstead, North

London, has stirred debate in the local community.

The Jewish Chronicle said some Jewish residents intend to

boycott the store because of the Group's decision not to source

products from Israeli settlements in the Palestinian Occupied

Territories. Two Jewish locals said they perceived the Group's

policy as an anti-Israel boycott.

Since 2009, the Co-op Group has operated a Human Rights and

Trade Policy which sets out the exceptional circumstances under

which it will withdraw trade from a state, area or settlement.

One such circumstance is where there is a broad international

consensus that the status of a designated region or state is illegal.

A Group spokesman said the boycott – which has won support

on social media – should not

be perceived as one against

all Israeli enterprises, just

those operating in the Israeli

settlements in the Palestinian

Occupied Territories. He

said: "We remain committed

to trading with Israeli

suppliers that do not source

from the settlements."

RETAIL

Two co-op

retailers among

the winners of

the Grocer Gold

Awards

The Co-op Group and the East of England Co-op both scooped

accolades at the 2018 Grocer Gold Awards.

The Co-op Group took home the Green Initiative of the

Year Award for Project Closed Loop, a campaign to replace

unrecyclable packaging with sustainable alternatives.

Cathryn Higgs, the Group's head of policy (pictured above

receiving the award with environment manager Iain Ferguson),

said: "We have been working relentlessly for over three decades

to minimise the environmental impact of our products. In the last

12 months we have taken great strides to meet our plan to make

100% of our packaging recyclable and we are delighted to get

endorsement from our industry peers at the very highest level."

East of England Co-op picked up the Waste Not Want Not

Award, in recognition of its food waste reduction initiative

to sell products past their Best Before date.

Joint chief executive Roger Grosvenor said: "We were extremely

proud to accept this award. Receiving recognition from our

industry is the latest in a string of successes for this scheme,

which continues to flourish in stores."

12 | JULY 2018
---
BUSINESS

New fund and advice service opens for community businesses

p Volunteers at PermaFuture, one of the groups to benefit from funding

Community businesses across the UK

are being invited to apply for one-toone

advice, peer learning and small

development grants through the Bright

Ideas Fund.

The initiative is run by Power to

Change, an independent trust supporting

community businesses in England,

which announced it would award up

to £700,000 through the project.

The fund has awarded almost £1.3m

to 89 new community businesses across

England since its launch in October 2016.

Examples include Permafuture

Agroecology, a co-op working to support

and promote restorative and urban

farming. The programme enabled it to set

up as a co-op and launch Bentley Urban

Farm, an up-cycled market garden in

Bentley, Yorkshire. The farm is tackling

food poverty by teaching people how to

save money by growing their own food.

It also helps create wildlife habitats at

Bentley's local parks and builds wildlife

areas with the help of children from a

local Primary Learning Centre. Through

a Veg Box Scheme, the co-op enables

people to buy locally produced food and

offers subsidised boxes to poorer families.

Power to Change expects to award

£200,000 in business development

support and £500,000 in grants. Those

accepted onto the programme can also

apply for a grant of up to £15,000 to fund

development and start-up costs.

Sara Buchanan, programme manager

of Bright Ideas, said: "This is a chance

for communities to take back control. Any

business can be a community business

and there are almost 7,000 in England

alone right now with a combined market

income of £1.2bn. How they differ is that

any profits flow back into the immediate

community to deliver positive social

impact for local people."

The programme is run by Locality,

the national network for community

organisations. Stephen Rolph, head of

Assets and Enterprise at Locality, said:

"Every day we see the impact of local

communities coming together to meet

local needs and tackle challenges in their

area. This new funding will enable many

more organisations to unlock the power

in their communities so that local people

can shape their own futures, filling gaps

in much needed services."

The Bright Ideas Fund is open

for applications until 31 July. More

information at s.coop/26khe

PUBS

Opening time announced for community pubs support network

A network is being created to help put

more pubs in community hands – and

leaders from the growing sector are being

invited to help run it.

The Plunkett Foundation, which has

been supporting rural communities since

1919, is creating the network, which will

be funded by Power to Change.

It will offer bespoke support, advice

and resources to help community pubs

set up, run sustainably, and increase their

local social impact. And it will create more

formal opportunities for shared learning

on top of Plunkett's existing advisory

services and raise national awareness

of the community-owned pub model.

"18 pubs are closing a week, according

to the Campaign for Real Ale, leaving big

gaps at the heart of communities," said

Harriet English, head of engagement at

Plunkett. "In comparison, community

pubs have a 100% survival rate. We need

to put more into community ownership."

In collaboration with other leading

experts in the pubs sector including

CAMRA, the British Institute of

Innkeeping, the Beer and Pub Association

and Co-operative and Community

Finance, a suite of specialist resources

and training modules will be created to

make it easier for

communities to buy

and run their local.

The network

will become the

'go to' place for

all community

pub needs, says

Plunkett, and

will play a key

role in helping to

inspire and enable

community pubs to work together to

improve their sustainability and viability.

The organisation is looking for

community pub representatives to join the

network's steering group to help shape

the design of the network and the support

it delivers. Email membership@plunkett.

co.uk for more information.

uSee more on community pubs, p34-35

p Oxfordshire's Abingdon Arms became a community pub in 2017

JULY 2018 | 13
---
EVERYDAY

SOCIAL INNOVATION

Can

PARTICIPATION

everyday participation reshape the way co-operatives work?

A toolkit for the co-operative movement

Social innovation lab the New

Citizenship Project has been holding

of bootcamps to show how "everyday

participation" can help reshape the

co-op movement.

The workshops use case studies,

practical tools and tips on building

member loyalty and engagement

and harness the participation and

contributions of members.

"We help organisations think

of people as citizens, not consumers,"

said programme manager Iris Schönherr.

She believes this is an important shift

to make, because customers only choose

between options, while a citizen shapes

those options.

The Project has worked with nongovernmental

organisations, businesses

and governments to encourage this shift –

which requires fundamental change,

said Ms Schönherr, not just in terms

of marketing and communications, but to

an organisation's structure and purpose.

The team decided to look at how

these principles would work for

co-ops, which have the right structure

for everyday participation. Ms Schönherr

believes it is equally suited to worker

co-ops – where it is "a golden ticket

to involving members and building

loyalty" – and consumer co-ops, where

a participatory culture can create a safe

space for collaboration.

Last year, the Project worked with the

Co-op Group, Lincolnshire Co-op, the

Phone Co-op and Nationwide Building

Society on an eight-month programme.

The businesses were partnered up to

learn from each other and workshops

and coaching sessions were organised to

see how co-ops could work with staff and

customers to achieve more, in commercial

terms as well as in terms of social impact.

The Project wants to share these findings

with other co ops and has created a toolkit

on everyday participation.

"It really is about finding the small but

meaningful ways to involve people in

what you do and to harness the ideas and

energy of members," said Ms Schönherr.

The project found the four co-ops

engaged with members in two different

ways: economic participation – trading,

choosing products and delivering

feedback; and governance participation –

voting for representatives and involvement

in a democratic structures.

"The problem is that economic

participation is used by lots of people

... but people don't realise co-ops are

different and interesting," said Ms

Schönherr. Meanwhile, governance runs

the risk of only involving a small group

of people – "the usual suspects", begging

the question: "How do you bring a more

meaningful participation?"

Everyday participation offers a "middle

territory" where "people don't just buy

from you, they buy into you".

She warned that "there's a bit of a lack

in the co-op movement in how to have a

meaningful relationship," but believes coops

can fix this using the new methods of

engagement offered via the internet.

"There are organisations out there who

are involving people in what they are

doing but don't have the co-op structure

... It's in the co-op DNA, but other

organisations are stealing your clothes. So

there's an opportunity there.

"When you offer more opportunities

to participate you get more meaningful

engagement – members stay longer,

contribute more value, spend more

money. You get better innovation as an

organisation because you harness more

ideas from more people, and because

they are closer to the problem that co-ops

are looking to solve, there's more

social impact."

Co-ops are on board with this idea, she

says, but need practical tools – which is

why the project developed seven points

for everyday participation:

Tell stories: giving people

a framework and structure to share their

personal experience.

Gather data: asking people to collect

information as part of some exercise. Ms

Schönherr gives the example of the RSPB

Big Garden Birdwatch, which asks people

to count the birds in their garden on a

certain date: the organisation gets data,

the member gets a sense of ownership.

Share connections: giving people

a way of talking to each other. Activities

like the Ice Bucket Challenge tap into

people's connections and offer a structure

to discuss an issue, she says (in this case

ALS, or motor neurone disease).

Contribute ideas: sharing a project you

are working on and asking for people's

ideas, for instance through suggestion

boxes or asking on Twitter.

Give time: offering people the chance

to do short but meaningful tasks to

help your organisation, perhaps by

testing a product.

Learning tools: learning opportunities

to do with your business.

Crowdfunding innovation: ask people

to fund new innovations or additions to

existing systems.

The New Citizenship Project worked

with apex body Co-operatives UK to print

the toolkit and send it to 100 co-ops;

co-ops attending the bootcamps will learn

to use the tools in everyday life.

Iris Schönherr is speaking at the Open

2018: Platform Cooperatives conference

on 26-27 July. Register at 2018.open.coop.

The next bootcamp is held in London

on 3 October; tickets (£200 plus VAT),

are available at s.coop/open2018.

14 | JULY 2018
---
AWARDS

Co-operators recognised in Queen's

Birthday Honours list

General Manager - Food

Salary £100,000+ and executive car

p Margaret Casely-Hayford has been made an CBE

Three co-operators have been named in this year's

Queen's Birthday Honours list for services to their sectors

and communities.

Jim McCrum, manager and secretary for more than 30 years at

the Rathfriland Farmer's Co-op Society in County Down, NI, has

been awarded an MBE for services to his co-op and the farming

community. "This is a very well-deserved accolade for a man

who has dedicated his life to nurturing Rathfriland Co-op from

its inauguration some 30-odd years ago until now. Well done Jim

from all the staff and shareholders," said the co-op.

Energy4All's Annette Heslop also received an MBE for her

services to the community energy sector. Ms Heslop has been

involved in community energy for more than 20 years and played

an important role in the creation of the 23 renewable energy coops

that are part of Energy4All. She has been a finance director

of Energy4All since 2004.

She said: "I was thrilled to receive the MBE. When the envelope

arrived through my door I didn't quite believe it, what a lovely

but totally unexpected surprise ... I would like to thank my fellow

directors and staff past and present at Energy4All for all their

hard work and dedication. We have a number of exciting projects

in the pipeline and are continually working hard to increase the

community energy sector in the UK despite the many barriers."

Co-op Group member-nominated director Margaret Casely-

Hayford received a CBE for charitable services in the UK and

abroad. In addition to sitting on the Group's board, she is

chancellor at Coventry University and chair of ActionAid UK,

Carnegie and Kate Greenaway children's book awards diversity

review, and the Globe Theatre. She was the director of Legal

Services for the John Lewis Partnership for nine years.

Ms Casely-Hayford sent congratulations to others named in

the honours list and thanked the organisations she represented.

"Thank you to you and all those with whom I've had the pleasure

of working. It's an award for all of us," she wrote on Twitter.

Allan Leighton, chair of the Co-op Group, said: "We're

delighted that Margaret has been recognised for her services to

charity both here in the UK and overseas, along with her work

to create diversity on boards. The commercial insight she brings

combined with her passion for diversity makes her a valuable

asset in our boardroom and an inspiration to work with."

Operating throughout Coventry, Warwickshire,

South Leicestershire and Northamptonshire,

the Heart of England Co-operative Society is one of

the most profitable independent retail Co-operative

Societies in the UK with a turnover of £77 million

and employing around 700 people throughout our

32 Food Stores and 13 Funeral Homes.

Due to the relocation in autumn to Coventry, we are looking to

appoint a General Manager for our Food Division who would be

working at our current Head Office in Nuneaton, Warwickshire

prior to moving permanently to the Coventry office.

Reporting directly to the Chief Executive, the successful candidate

must have experience in such a role and would be expected to:-

• Have a thorough knowledge and sound understanding of food

retailing in the Convenience Sector.

• Must have experience with 'Multi Site' retail Management.

• Have a proven track record in delivering profitability.

• Work within the Buying Group and implementing policies

of this Group regarding ranging and promotional activities.

• Manage margins and leakage controls.

• Manage a tight budget.

• Develop the food business further.

Energy, enthusiasm and a flexible attitude will be essential in

all candidates as is an aptitude to understanding our aims and

objectives as a member owned co-operative business.

Benefits also include a staff discount scheme and a

defined contributory pension scheme.

Please apply in writing with a full CV and current

Salary details or by email to:

Maureen Emms - Personnel Manager, Heart of England

Co-operative Society Limited, 22 Abbey Street, Nuneaton,

Warwickshire CV11 5BU

Telephone: 024 7638 2331

Email: Maureen.emms@heartofengland-coop.co.uk

Closing Date: 13th July 2018 www.heartofengland.coop

JULY 2018 | 15
---
ENVIRONMENT

Co-ops pledge to promote sustainability on World Environment Day

To mark World Environment Day (5 June)

UK co-op retailers have highlighted how

they are making a difference by tackling

plastic waste.

The Co-op Group published a statement

in which it explained what it was doing

to encourage customers to recycle

more. The retailer says it is also working

with local authorities and waste

management companies to make recycling

easier for consumers.

Earlier in 2018 the mutual asked its

members to join in its #TheCoopWay

campaign by suggesting practical

ways to reduce waste and improve

recycling. The initiative resulted in 800

ideas submitted by members, some

of which were chosen for pilot projects.

Members attending the group's AGM in

Manchester also voted to make 100% of its

packaging "easy to recycle".

Changes recently made by the

Group include switching all Co-opbranded

water bottles to 50% recycled

plastic, developing Co-op Fairtrade

99 Blend Tea without polypropylene,

replacing polystyrene with corrugated

cardboard pizza discs, switching its

black sushi boxes to clear plastic and

black card, changing from black to widely

recycled blue plastic for mushroom

packaging and moving from plastic to

card packaging for tomatoes and oranges.

In addition, the Group is trialling a plastic

bottle deposit and return scheme

at music festivals.

"Only half a million of the 1.5 million

tonnes of recyclable plastic waste created

every year in the UK is being reused.

It's shocking that such a small

percentage of plastic packaging is being

recycled, especially materials that

are already easy to recycle like plastic

bottles," said environment manager

Iain Ferguson.

"We believe part of the problem lies

with a lack of knowledge about which

packaging can be recycled along with

local authorities lacking the facilities

to deal with it. We're working hard to

engage local authorities and waste

management companies to make

recycling easier."

Midcounties Co-operative has been

teaching local schools about plastics

and how small changes can have a big

impact on the environment as part of its

Sustainable Communities Programme.

The scheme was initially launched in

2017, aiming to educate the next generation

around sustainability, renewable energy,

and social responsibility. In collaboration

with schools, colleges and universities in

the area, the business is linking sessions

to the curriculum. Its employees

volunteer to go to schools to talk about

sustainability, Fairtrade or local products.

The co-op also runs a Green Pioneers

programme in partnership with the

Outward Bound Trust, enabling teenagers

to take part in outdoor activities as well

as develop a sustainable project in their

own school.

Beating plastic pollution was the key

theme adopted by the International

Labour Organization (ILO) for the day.

The UN body highlights that plastic is

now found in all aspects of modern life,

with over 32% of packaging escaping

collection systems. The ILO suggests

transforming the "make-use-dispose"

plastics' economy into a circular one

based on recycling.

The approach would not only be

beneficial for the environment, but

also create new jobs. According to the

World Employment and Social Outlook:

Greening with Jobs 2018 report, a

sustained 5% annual increase in recycling

rates for plastics, glass, wood pulp,

metals and minerals can generate around

6 million additional jobs across

the world.

The ILO also points out that waste

pickers in countries like Brazil and

Bangladesh have used co-operative

models as an alternative to operating in

the informal economy, often on low wages

and with no social security.

16 | JULY 2018
---
GLOBAL UPDATES

CYPRUS

Cyprus Cooperative Bank's woes end with sale to Hellenic Bank

Cyprus' government has approved a multibillion

euro deal which will see Hellenic

Bank take over the country's crisis-stricken

Cooperative Bank, it has been reported.

The Cyprus Cooperative Bank – which

is 77% state-owned following a financial

crisis and bailout in 2013 – put itself up for

sale in March.

Finance Minister Harris Georgiades said

the deal would see Hellenic Bank, also

based in Cyprus, manage €9.7bn (£8.5bn)

worth of client deposits.

Hellenic will absorb €10.3bn (£9bn) in

assets, including loans, bonds and cash,

operate 72 Cooperative Bank branches and

employ 1,100 of its 2,600 workers.

Mr Georgiades said another €8.3bn

(£7.3bn) of the Cooperative Bank's assets

will be taken over by the state, including

€600m ($£527m) in bank-owned

real estate and €7bn (£6.2bn) worth

of bad loans.

Meanwhile, EU competition regulators

have approved a plan by the Cypriot

government to inject around €3.5bn (£3bn)

in state aid to the Cooperative Bank.

The commission said the state-aid

measures include a counter-guarantee to

the guarantees provided by CCB to Hellenic

Bank related to the sale, including an asset

protection plan.

The liquidation of the Cooperative

Bank is part of a strategy by the Cypriot

government to speed up the reduction of

non-performing loans in Cypriot banks.

There is also a programme to help cooperative

borrowers affected by the

crisis and the strengthening of Cyprus'

foreclosure and the sale-of-loans law.

In Cyprus, the news prompted criticism

of the bank in the Cyprus Mail, which

claimed its downfall was because

of "problems accumulated over decades

of mismanagement". It accused the bank

of "giving out loans that would never be

repaid, often at low interest rates and

secured by grossly overvalued collateral",

with the backing of politicians who had

made foreclosure law "toothless".

SWEDEN

Coop Sweden

to deliver food with

electric trucks

Swedish retailer Coop plans to start

delivering food with electric trucks

produced by Volvo, in a bid to reduce its

environmental impact.

As part of the pilot, the electric trucks

will deliver food to 13 Coop stores

in Gothenburg.

Launched in April, the 10-metre truck

was designed for temperature-sensitive

food transports and holds 18 pallets.

"Co-operation with Volvo means a

lot for Coop. I see it as a starting point

for electrifying parts of our transport

by road, which in the long term will be

an important part of reducing Coop's

environmental impact," said Örjan

Grandin, vice president of Coop Sweden

and chief executive of its subsidiary

Coop Logistik AB.

Since 2009, Coop has run its own

train between southern Sweden and

Mälardalen, which annually replaces

12,000 truck journeys. The retailer

is also part of the DenCity project,

which brings together academics and

industry experts to develop sustainable

transport alternatives.

The Volvo trucks are a result of

collaboration between Coop and DB

Schenker and enable a reduction in

emissions and noise.

"We're immensely proud to present

the first in a range of fully electrically

p A pilot project will see electric trucks deliver to 13 Coop stores

powered Volvo trucks ready for regular

traffic. With this model we are making it

possible for cities that aim for sustainable

urban development to benefit from

the advantages of electrified truck

transports," said Claes Nilsson, president

of Volvo Trucks.

Coop Sweden's trucks currently run

primarily on HVO100, a fossil-free

diesel fuel that reduces carbon dioxide

emissions by about 92% compared

to fossil diesel.

JULY 2018 | 17
---
AMERICAS

Danilo Salerno appointed regional director of Cooperatives of the Americas

The regional organisation of the

International Co-operative Alliance,

Cooperatives of the Americas,

has appointed Danilo Salerno as

regional director.

The appointment was announced

after the regular meeting of the

regional board of directors in Colombia

on 17-18 May.

An Italian national, Mr Salerno took office

on 15 June. At the time of the appointment

he was director of Coopermondo, an

Italian NGO which has implemented 100

co-operative development projects in

more than 40 countries. Coopermondo

was set up by Confcooperative, the

largest apex organisation of the Italian

co-operative movement.

Mr Salerno also chairs the working

group on private sector engagement of

the National Council for Development

Cooperation, under the Italian Ministry of

Foreign Affairs. Since 2011 he has served

as the Confcooperative representative for

international development co-operation

at Cooperatives Europe's working

group on International Development

Platform (CEDP).

Mr Salerno has been involved in a

number of co-operative and solidarity

economy organisations. As parliamentary

assistant, he was part of the working

group on the last reform plan of the

Law 47/1987, which regulates Italian

Cooperation for Development.

He also headed a research mission on

cross-border co-operation carried out by

the Center for Studies in International

Politics (CESPI) on behalf of the Central

American Integration System (SICA), and

served as consultant for Latin-American

networking in the European Research

Institute on Cooperative and Social

Enterprises (EURICSE). He has a degree

in political science from the University of

Bologna; master's degrees in non-profit

p Danilo Salerno

organisations and European PM (ASVI,

Rome), and in European and international

relations (La Sapienza University,

Rome); and a diploma in Latin American

Studies from the Italian-Latin American

Institute, Rome.

USA

Take me to the river: REI joins bid to protect 5,000 miles of wild water

Outdoor retailer REI is joining a project to

celebrate the 50th anniversary of the USA's

Wild and Scenic Rivers Act by protecting

another 5,000 miles of rivers.

The Seattle-based co-op, which sells

outdoor sports and camping equipment,

joins a coalition of brands, NGOs,

individuals and businesses for the

5,000 Miles of Wild project. This aims to

designate and help protect 5,000 new

miles of rivers as part of the National Wild

and Scenic River System by 2020.

REI wants members to:

u Share their personal river story.

"Whether in urban or rural environments,

big rivers or small creeks, everyone has

a river story. The 5,000 Miles of Wild

campaign will share these stories with

legislators. Use the #MyRiverStory hashtag

on photos."

u Sign the petition. "Ask Congress to

protect 5,000 miles of wild and scenic rivers

and one million acres of riverside lands.

Make your voice heard by lawmakers."

u Shop the collection. "REI will donate

five percent of the purchase price of each

item from the collection to support the

5,000 Miles of Wild campaign."

REI's chief executive Jerry Stritzke

has shared his own story, recalling his

formative years exploring the Arkansas

River in Colorado, and his discovery of a

tributary stream in its headwaters.

"My family grew up on that stream –

swimming, rafting, and wading for miles

through snowmelt in beat-up tennis

shoes," he wrote.

"Just recently, I helped my five-year-old

grandson build a shelter of aspen sticks

on the banks of 'our' stream – it's been

incredibly powerful to watch him forge his

own connection to this place that means so

much to me."

He added: "You can't deny the

restorative power of being outdoors.

There's a marked change when you move

into the presence of a river. The foliage, the

sounds, and even the air changes as you

feel the cool breeze blowing off the water.

It's a physical, moving experience, and for

me embodies the very best of what a life

outside is all about.

"Ensuring that future generations have

access to these places will help create

better stewards of the planet as well as

more fulfilled, complete people."

The National Wild and Scenic Rivers

Act was created by Congress in 1968 to

preserve certain rivers with outstanding

natural, cultural and recreational values in

a free-flowing condition for the enjoyment

of present and future generations. The

designation prohibits construction of new

dams or projects that would impede the

river's free-flowing state, water quality or

resource values.

It also protects a quarter-mile buffer of

land along the river and encourages the

development of locally driven management

plans for each river. The designation does

not change existing river uses, such as

fishing, ranching or recreation.

18 | JULY 2018
---
ITALY

Co-ops working with refugees face

funding cuts under new populist government

Italy's new government could lower the

financial support allocated to social

co-ops that help refugees integrate.

The coalition between two populist

parties, Lega and the Five Star Movement

(M5S), also wants an overhaul of the

Dublin Regulation, which requires

refugees to claim asylum in the first EU

country they set foot on. Around 64%

of refugees crossing the Mediterranean

arrived in Italy last year, with

400,000 applying for asylum there

over the past four years.

Incoming prime minister Giuseppe

Conte said in a speech to the senate on 5

June that he wanted "a fair distribution

of responsibilities and to achieve

an automatic system of compulsory

distribution of asylum seekers".

Speaking at a recent rally in the

north of Italy, deputy prime minister,

interior minister and leader of Italy's

far right League, Matteo Salvini, vowed

to speed up deportations, make it

harder for vessels to bring refugees to

Italian shores, and press for change

to the Dublin Regulation.

He wants an Australian-type

of immigration based on points and

qualifications and argues that larger

numbers are harder to integrate.

The country has seen a 75% fall

in arrivals since the summer of 2017

following a controversial agreement

between Italy and Libya to put in place

measures to stop refugees and migrants

from travelling to Europe.

The former government produced

a plan to deal with the crisis back in

2017, allocating a budget of €4.2bn: 18%

for rescues at sea, 13% for health care,

and 65% for migrant reception

centres, which host some

170,000 people.

The centres are run by co-operatives

or NGOs, which can receive between

€25-€35 per day for each person they

provide with lodging, clothes and other

services, such as legal aid, psychological

support or language classes.

Mr Salvini said he aimed to lower

the amount allocated to social

co-operatives working to integrate

refugees. These social co-ops provide

services to 18,000 refugees, asylum

seekers and migrants across 220 welcome

centres and 170 housing structures. It is

feared this shift in government policy

could endanger the existence of the

co-operatives and the services

they provide.

Currently, less than 1% of all American

rivers are protected; 208 rivers (12,734

miles in total) make up the National Wild

and Scenic River System.

Of the additional 5,000 miles that the

coalition plans to designate, protections

are already under way for over 1,100

river miles. The remaining river miles

have been identified by local

community groups and river advocates

across the nation or currently run

on public lands that are due for land

management inventories.

"The outdoor community is essential

in helping to add and preserve additional

river miles," said Thomas O'Keefe,

p REI's chief executive Jerry Stritzke

Pacific Northwest stewardship director of

American Whitewater. "By joining 5,000

miles of Wild, REI helps bring awareness

to the programme and provides people

an easy way to share stories, voice

their opinions and meet our goal of

designating and protecting additional

river miles."

JULY 2018 | 19
---
USA

USA credit unions welcome regulatory relief bill

p President Trump signs the new act, which rolls back regulations from the Obama administration

With President Trump signing the

Economic Growth, Regulatory Relief

and Consumer Protection Act on 24 May,

credit unions can expect a reduction in

regulatory requirements for the sector.

A rollback from the Dodd-Frank reform

passed by the Obama Administration in

2010 in response to the 2008 financial

crisis, the legislation will primarily affect

small and medium sized banks based

in the USA.

The Credit Union National Association

(CUNA) welcomed the legislation, which

it described as a "monumental win

for credit unions".

The bill increases the threshold from

$50bn to $100bn in assets for banks due

to face higher regulatory scrutiny, stress

tests and capital requirements. The

threshold is due to increase further to

$250bn after 18 months.

As a result, the number of banks under

close scrutiny will fall from 38 to 12, with

nearly all regional banks exempt from

stricter regulatory oversight. Banking

giants such as Goldman Sachs, Morgan

Stanley, Citigroup or Bank of America will

not benefit from this change due to their

diversified global business models.

For credit unions, the bill will remove

regulatory burdens affecting the sector.

For example, small banks and credit

unions will be able to expand the types

of mortgages they offer, benefiting from

increased legal protection and exemption

from certain disclosure rules and

data requirements.

"From the moment a group of bipartisan

senators unveiled this bill, credit unions

told them loud and clear that this is

an essential piece of regulatory relief

legislation that will improve access to

mortgage lending, real estate loans and

other products and services, while putting

focus on senior abuse and cyberthreats,"

said CUNA president/CEO Jim Nussle.

The bill means residential mortgage

loans held by credit unions that have

assets of $10bn or less, and have

originated 1,000 or fewer mortgages in the

preceding year, will be exempt from

certain escrow requirements.

The act also amends the Federal Credit

Union Act to require the National Credit

Union Administration to hold public

hearings on its draft annual budget. In

addition, the bill spares small banks with

assets of under $10bn from the Volcker

rule ban on proprietary trading.

While the US has over 5,000 banks, the

13 largest account for 50% of the sector

in terms of assets and deposits. The bill

passed in the Senate with 67 to 31 votes,

with support from Republicans and

some Democrats.

Mr Nussle added: "In mid-2009, at the

peak of the crisis, just 2% of credit union

loans were delinquent. That's less than

one fourth as many bad loans as the

banks had on their books. Regulations are

eating up one of every six dollars credit

unions spend on operations each year –

or $6.1bn in total. Some smaller financial

institutions have been unable to shoulder

these additional costs."

President Trump said: "The legislation

I'm signing today rolls back the crippling

Dodd-Frank regulations that are crushing

community banks and credit unions

nationwide. They were in such trouble.

One-size-fits-all – those rules just don't

work. And community banks and credit

unions should be regulated the same way.

"And you have to really look at this.

They should be regulated the same way

with provision for safety, as in the past,

when they were vibrant and strong.

"But they shouldn't be regulated

the same way as the large, complex

financial institutions. And that's

what happened. And they were

being put out of business one by one.

And they weren't lending."

20 | JULY 2018
---
AUSTRALIA

BCCM gets

on board with global

platform co-op project

p Melina Morrison, chief executive of BCCM

Australia's Business Council of

Co-operatives and Mutuals (BCCM) has

joined a project to create open-source

technology for platform co-ops.

The Platform Cooperativism Consortium

is an international initiative to develop

a Platform Co-op Development Kit. The

consortium – which has just been given

a US$1m grant from Google – wants to

provide software templates and best legal

practices for workers in the gig economy

looking to create their own platforms.

The first stage of development starts

next month, before the consortium

looks at data services, job training, legal

templates and consultancy services.

Melina Morrison, CEO of BCCM, said:

"Co-operatively owned platforms are

needed urgently to address the power

imbalance between the people who do

the work on platforms and the owners

of the platforms. Employee ownership

and community ownership gives workers

and communities the chance to harness

technological changes to the local economy

as players, not passive participants."

She added: "In areas like social care,

platform co-ops deliver agency and

empowerment for workers and highquality

and consistent services for

consumers of disability and aged care. But

their potential use is much more varied.

"By embedding the traditional co-op

principles of fairness and community

in digital technology, the Platform

Co-op Development Kit will seriously

challenge the established players in

the sharing economy. It will make it

easier for Australian workers to become

our newest entrepreneurs and start

their own labour-sharing platforms."

uCase study, Co-operative Life, p46

IFFCO launches iMandi, a new app for farmer owners

A new mobile app from the Indian

Farmers Fertiliser Cooperative (IFFCO)

gives farmer members an e-commerce

platform where they can buy the things

they need. Launched in April, iMandi was

created to offer farmers working in remote

rural areas better deals over a five-year

period. iMandi is now available to IFFCO's

55 million members.

Movement makes plans for co-op entrepreneurship

A two-day conference will bring together

academics, teachers, practitioners

and students from across Europe to

discuss co-operative entrepreneurship.

The event, in Santander, Spain, ends a

series of activities carried out through

the Co-operative Entrepreneurship

Experience (ECOOPE) project. More

information on the conference

is available at youth.ecoope.eu/event/

Eroski ushers new workers into the co-operative fold

Worker-owned supermarket Eroski ended

the year 2017 with 377 new employees.

Around 77% of the new members were

women, which, says the Spanish retailer,

is a reflection of its gender equality policy.

Around 95% of the new members work in

the stores, particularly in the fresh food

section, with the remaining employees

working within the travel department.

A fairer route home for stranded night workers

A worker co-op in the USA is working to

plug the gaps in local public transport

provision which have left night workers

stranded. Set up in 2017 in Pittsfield,

Massachusetts, Rose and Cole Co-op

Transport is a ride-sharing business

helping people without cars to get to work,

focusing on customers with off-hour jobs.

Co-op model is helping young people create secure jobs

Young people are using co-operative

business models to start their own

business and generate employment, says

a new report by CICOPA, the international

organisation of industrial and service

co-ops. The Global Study on Youth Co-op

Entrepreneurship is based on theoretical

research and an online survey.

JULY 2018 | 21
---
MEET...

... Sue Balcomb,

secretary of the Horton

Women's Holiday Centre

Horton Women's Holiday Centre is based in Horton-in-Ribblesdale, Yorkshire

and is the only co-operatively run holiday centre for women and children in

the UK. It was set up in 1980. Since then, it has been making a difference

to the lives of thousands of women and children from all over the country,

providing affordable holidays with a sliding scale for payments according

to income. Bradford-based Sue Balcomb is volunteer secretary of the

co-operative and has been involved since its early days.

HOW DID YOU GET INVOLVED?

Many years ago, in 1984/85, someone told me

about the centre. I went for a weekend and it was

interesting and eye-opening just to be in a womenonly

space. I met all these women I would never

have met ordinarily who were doing stuff like

working as roofers and joiners. I brought my

daughter here for her naming day. She is 24 now!

Then someone who had been on the management

committee said 'why don't you come onto it?'.

They were really good about things like childcare

so gradually I got more involved. Then the former

secretary left to live in Spain, so I took it on and have

been doing it for about 15 years.

WHAT DOES YOUR ROLE ENTAIL?

I spend about a day a week on Horton-related

things – management committee meetings

and taking minutes, as well as staff policy and

development and maintenance issues. We have 24

members at the moment. Like any other business

we discuss income and expenditure and strategy.

We are open to new ideas. When we get new

co-op members we try to find out what their skills

and interests are. We are mostly self-sufficient,

but there is fund-raising for building work and

supporting volunteers. There are five of us on

the management committee based all over the

country so we meet by Skype every six weeks

and quarterly at the house. The co-op elects the

committee at its AGM and there are mid-year

meetings. We have two paid workers and the rest

of us are volunteers.

WHAT IS THE BEST THING ABOUT THE CO-OP?

Being able to spend time with interesting women

from all walks of life and keeping it as a women

only space that is affordable. The key thing

about Horton is that because it works on a sliding

scale, women can come here when they are on a

very low income. We also have an emergency

fund now for asylum seekers.

WHAT IS THE HARDEST THING ABOUT THE JOB?

It's quite a big time-commitment running a

business as a volunteer and trying to get enough

members to take on less interesting roles, such as

policy development.

I AM PROUD OF THE FACT WE HAVE EXISTED FOR

NEARLY 40 YEARS AS A VOLUNTEER-RUN CENTRE.

THINK THAT IS PRETTY AMAZING. IT'S LOVELY WHEN

YOU SEE THREE GENERATIONS OF WOMEN HERE

22 | JULY 2018
---
ISSN 0009-9821

9 770009 982010

01

HOW DO YOU SEE YOUR RELATIONSHIP WITH THE

CO-OP MOVEMENT?

So far it has been a bit limited. We are a member

of Co-operatives UK and try to use co-op

businesses when we can for leaflets and food

buying. We want to expand our relationship so

we are going to do a review, working with a co-op

development advisor. I would like us to meet more

co-ops and share skills with other co-ops

encouraging them to use this space. What

we show is co-operation in action. Women

often share childcare and cooking. It is a

very organic place – there is a real exchange

of knowledge and experience.

WHAT ACHIEVEMENT ARE YOU PROUDEST OF?

I am proud of the fact we have existed for nearly

40 years as a volunteer-run centre. I think that is

pretty amazing. It's lovely when you see three

generations of women here – it is much more than a

holiday centre. There have been times when I have

thought we have run out of steam and then I read

the visitors book and realise how much it has meant

to people. Visitors' learn new things every time,

sharing things like childcare and cooking. It's a

chance to meet women from all over the country

across the class and money divide.

WHERE DO YOU SEE THE HOLIDAY CENTRE IN FIVE

YEARS' TIME?

We have got a coach house which has had some

basic work done on it but our aim is to make it

properly accessible for women with disabilities.

It would be good to have more funding to spend on

development and training for volunteers, giving

them a chance to get together and learn new skills.

I would also like to see more women of colour

and more young women coming here as I did all

those years ago.

news Issue #7294 APRIL 2018

Connecting, championing, challenging

APRIL 2018

EDUCATION

Co-op learning:

principle five

in action

Plus ... 150 years

of East of England ...

and updates from the

Co-op Retail and Abcul

conferences

£4.20

www.thenews.coop

JULY 2018 | 23
---
MEET...

... Rebecca Harvey,

who has recently been

appointed executive editor

of Co-operative News

WHY DID YOU JOIN CO-OP NEWS?

After working in the charity and private sectors, I wanted to join

a media outlet that had values and ethics at its core, and a sense

of responsibility to the people whose stories it told. I was aware

of co-ops through retailers such as Unicorn Grocery Workers

Co-operative in Chorlton, and the radical bookshop News From

Nowhere in Liverpool, as well as the Co-op Group's food stores,

funeral homes and pharmacies. When I joined, my role combined

researching, writing, editing and designing – but also going

out to meet the people and organisations we write about, and

hearing their stories. It was – and still is – a real privilege to do

that, and see how co-operatives impact people and communities

for the better.

WHAT IS YOUR PROUDEST ACHIEVEMENT SO FAR?

Overseeing the redesign of Co-op News to its current format. For

most of the 20th century, Co-op News was in a larger format.

At one point it was weekly, with different regional editions

– and it was still fortnightly to the end of 2016. After a lot of

research and development with members, and friends and

colleagues throughout the movement, we relaunched in 2014

with a smaller size and new logo. Last year we transitioned

to monthly publication and tweaked the logo to incorporate

the COOP marque. The feedback has been remarkable.

The print and digital content work much better in terms of

curating news stories alongside case studies, analysis,

Q&As, investigations and pieces of best practice from a

uniquely co-operative angle.

I am also proud of how our digital agenda has developed in

conjunction with this, including a strong social media presence

and digital membership option. [Outgoing executive editor]

Anthony Murray led on this and I would like to pay tribute

to the fantastic work he achieved over his 16 years with

the News.

CO-OP NEWS IS PUBLISHED BY A CO-OPERATIVE – THE CO-OP

PRESS. WHAT IS YOUR CO-OPERATIVE DIFFERENCE?

Co-op News has been going for nearly 150 years. As a result

of this longevity and the tireless work of my 15 predecessors,

the organisation has a deep awareness of what co-ops are to

different people and communities, and how they fit together

– both with other co-operatives and outside the movement.

We are uniquely placed to celebrate successes and champion

co-op causes. But we can also challenge co-ops when needed;

our difference is that we are wholly independent, and can

therefore be critical. We would be a bad friend to the movement

if it was perceived that a co-operative – or co-operator – was

doing something in an unco-operative way and we did not call

them out.

Our relationship with the international movement is also a point

of difference, and one of the reasons we have focused so much

on digital. Globally, one in every six people is a member of a

co-op. That's a lot of stories to tell – but we have the knowledge,

support and contacts to do that, and do it well.

WHAT ARE THE CHALLENGES AHEAD?

There are over 3 million co-ops globally – that's a lot of news

to cover! So the biggest challenges for us are around curating

the right balance of content in print and online for a hugely

diverse audience, from retail executives to worker co-op

activists, from colleagues to interested parties. This is one of

the reasons we have restructured the team here. Our

international journalist Anca Voinea will be taking on more

responsibility as international editor, while Miles Hadfield,

who has over 25 years of experience in journalism, will be

digital editor.

Another challenge is the news industry itself. Printing a

magazine, not to mention the huge amount of activity behind

producing the content, is expensive. The majority of our income

is through a combination of advertising and subscriptions,

and we are working on strategies to develop these and look

beyond them.

WHERE WOULD YOU LIKE TO SEE THE CO-OP NEWS IN THE NEXT

FIVE YEARS?

Co-operatives are becoming more mainstream, not just seen as

an alternative – I would like Co-op News to follow this trajectory

too. We have a unique offering which many in the movement

are not aware of. Part of this will be extending our digital and

international work, and part will be taking more opportunities to

go out and visit the people and the co-operatives whose stories

it is our privilege to tell.

24 | JULY 2018
---
YOUR VIEWS

'NATURAL JUSTICE AND DUE PROCESS'

NEEDED TO ROOT OUT ANTISEMITISM,

SAY JEWISH CO-OP PARTY MEMBERS

The Guardian reported on 10 May that

"Labour [Co-op] MPs back antisemitism

measures rejected by Corbyn".

We urge the Co-op Party National

Executive Committee to reject such divisive

factionalism as it did in August 2016,

when it said: "We are not a vehicle to be

used by one political faction or another to

advance their own agenda".

It is awful that some Labour/Co-op MPs

have faced antisemitic attacks. We have

heard no allegation, never mind evidence,

that such attacks are from members of the

Co-operative Party.

As Jewish members of the Co-operative

Party, we know antisemitism is always

wrong. There are competing views about

how antisemitism should be addressed.

To root out all forms of antisemitism,

racism and prejudice against any group

of people, we urge the Co-op Party to

adopt procedures that are consistent with

those proposed by Shami Chakrabarti

for the Labour Party, based on the

principles of natural justice and due

process for all.

Unlike the Board of Deputies and Jewish

Leadership Council, the Co-op Party

should not adopt examples of

antisemitism that are about criticism

of Israel.

Jo Bird, Rica Bird

and John Goodman

Via email

Have your say

Add your comments to our stories

online at www.thenews.coop, get

in touch via social media, or send

us a letter. If sending a letter, please

include your address and contact

number. Letters may be edited

and no longer than 350 words.

Co-operative News, Holyoake

House, Hanover Street,

Manchester M60 0AS

letters@thenews.coop

@coopnews

p Elizabeth Atkinson (centre) with Gill Gardner (secretary of the Co-operative Group Members'

Council) and ,Allan Leighton, Co-op Group chair.

Co-operative News

LONG-TIME CO-OPERATOR RECOGNISED

AT CO-OP GROUP AGM

At the Co-op Group's AGM in May, National

Members Council secretary, Gill Gardner,

presented a special long service award to

a 90 year-old members. Elizabeth Atkinson

has served the Co-op for over 75 years:

in 1942, aged

only 14, she

began working

for the Co-op

in the Check

Office in Rugby,

recording slips

of purchase. At

the time, the

store was part

of a whole street

of co-operative

businesses.

She was involved in the Woodcraft Folk

from that age too, which led to participation

in Co-op Youth Clubs. She attended the

first International Co-op Youth Centre in

Bexhill in 1946 and formed a group of the

British Federation of Co-operative Youth in

Rugby, and later in Harrow.

Taking advantage of the Co-op's principle

of education and training, Elizabeth took

Co-op-run night classes in bookkeeping

and co-operation. She served on cooperative

committee and on the York Coop

Board, and for a time was secretary of the

York Co-op Education Committee.

Education was a theme throughout

her life: she helped form study groups in

German, Russian, Art and Embroidery, and

herself completed a full-time course at the

Co-op College in Loughborough in 1983.

A highlight was a trip to Japan in 1986;

invited by the Japanese co-operative

movement, Elizabeth addressed Japanese

co-operators on the UK movement.

It wouldn't happen now, but Elizabeth

was required to retire at age 70 – but she

has continued as a passionate co-operator

by regularly attending regional meetings

and our AGMs.

Never ceasing in her enthusiasm, she

was the founder and secretary of the York

Co-op Members Group, even organising

events after funding was stopped in 2014.

To this day Elizabeth still attends lunches

and events organised by York Cooperators.

In 2016, aged 88 Elizabeth even

completed a parachute jump for charity.

Margaret Silcock,

National Members' Council

JULY 2018 | 25
---
Co-operatives Fortnight

23.06.18 — 07.07.18

The Economy, 28

Freelancers, 30 Agriculture, 31

Fair Tax, 32 Community

Pubs, 34 Fairtrade, 36

Employee ownership, 40

Indigenous Peoples, 42

Local currencies, 44

Social

care, 46 Credit Unions, 47

and Politics 47
---
Every year hundreds of co‐ops and organisations

across the UK work together to promote

co‐ops during Co‐operatives Fortnight. In

2018, the Fortnight began on 23 June – and

runs for the two weeks leading up to the

International Day of Co-operatives (7 July).

Co‐ops make a difference to people's lives right

around the world – and that is the theme of this

year's Fortnight. So as part of the celebrations,

Co-op News is highlighting some of the ways

that co-operatives make a difference in the many

sectors in which they operate – from agriculture

and Fairtrade, to communities saving pubs and

local economies working together.

We will be sharing these stories, and more, online

– as will other organisations – using the hashtag

#coop difference.

On 26 June, Co-operatives UK, which coordinates

the Fortnight, launched the Economy

Report 2018 – which highlights the resilience of

co-operatives as a business model – but also the

need for more support for co-operatives.

As Ed Mayo, secretary general of the apex body,

says: "If we want to see a more successful

economy, where people have a say in decision

-making and receive a fair share then we need

more co-operatives."

JULY 2018 | 27
---
Making a difference:

THE ECONOMY

ECONOMY

ANCA VOINEA

Newly formed co-operative businesses

are twice as likely as other business types

to survive their first five years, according

to a new report by Co-operatives UK. The

sector body's Co-operative Economy 2018 report

reveals that new co-ops have an 80% survival

rate, compared to 44% in the case of other

start-ups.

While 93% of enterprises remain in existence

after their first year, the percentage drops to

76% after the second year followed by another

significant fall to 61% after year three. In contrast,

co-ops have a survival rate of 96%, 91% and

87% after the first, second and third years

of existence respectively.

Co-operatives UK secretary general, Ed Mayo,

said: "We know co-operatives are resilient and

sustainable businesses and these incredible stats

reinforce that view. It begs the question 'why are

there not more co-operatives?'"

Mr Mayo thinks a bigger co-operative sector

would help to grow the UK's economy as well.

He added: "It's no surprise there's a prevalence

of empty offices and boarded up shops in

high streets across the UK's towns and cities

when more than half of all companies fail in

their early years."

Alongside the report, Co-operatives UK has

announced that the Hive – its specialist business

support programme for new and existing co-ops –

has been extended until the end of 2020.

Funded by the Co-op Bank, the scheme is a

£1m programme spread over three years and was

launched in 2016. Through the Hive, over 500

organisations have received specialist support

and training.

Co-operatives UK, which delivers the

programme, expects that by 2020 the Hive will

have supported 1,200 groups and co-ops with

services worth £1.3m. The programme also

works to enable communities to take control of

valued local assets. It is projected that through

the Hive co-ops will have raised £6.5m of finance

through community shares by 2020.

Ryan Etchells, head of Business Banking at the

Co-op Bank, also said: "We're proud to continue

to fund the Hive programme and support cooperative

businesses as they develop and grow

into successful and sustainable businesses in the

current economic climate.

"The Hive is a great initiative and one that

we hope will encourage more individuals and

groups to set out on the path of starting up

their own co-operative business."

Mr Mayo welcomed the additional funding ,

which will extend the "vital support" for co-ops in

the "crucial early years" of operation.

"Here's an option that gives businesses twice

as much chance of succeeding and in today's

climate, this is precisely what the economy

needs," he said. "But where is the wider support?

"We want to see the co-op business model

promoted by government and professional

services, in the education sector and even more

vocally by co-operatives themselves.

"If we want to see a more successful

economy, where people have a say in decisionmaking

and receive a fair share then we need

more co-operatives."

Figures from Co-op Economy 2018, which

provides an overview of the UK's co-operative

economy, show that in 2018 the UK's 7,226

independent co-ops turned over £36.1bn,

contributing 1.9% to the UK's GDP.

This represents an increase from the £35.2bn in

turnover in the previous year.

Co-ops also employ 235,000 people, compared

to 226,000 in 2017. Their membership has grown

from 12 million in 2017 to 13 million in 2018.

The largest co-operatives by turnover remain

John Lewis Partnership with £10.2bn, the

Co-op Group with £9.47bn and Arla Milk Link

with £2.61bn. They are followed by the National

Merchant Buying Society Limited (£1.53bn),

Midcounties Co-operative (£1.09bn), and Central

England Co-operative (£848m).

Steve Murrells, chief executive of the

Co-op Group, said: "It's clear that co-ops are a

sustainable way of doing business and a model

that clearly resonates today as we face economic

and political uncertainty. We've seen this

28 | JULY 2018
---
evidenced in our own active membership which

has grown by 15% to 4.6 million in the last year

as we've invested in building stronger businesses

and stronger communities through things like

our Co-op Academy schools."​

To accompany the report, Co-operatives UK

has released a series of case studies of some

of its members, showcasing how individual

co-operatives are making a difference in various

sectors of the economy.

One of the co-ops featured, the Organic Milk

Suppliers Cooperative (OMSCo), was set

up in 1994 by five innovative farmers. It

currently has 270 members from Cornwall

to Inverness. With a turnover of almost

£100m, the co-op is the largest organic dairy

co-operative in the UK.

"Becoming an OMSCo member was an

easy decision for us," says Graham Vallis,

board member and organic farmer managing

200 cows on his family farm on the outskirts

of Exeter, Devon.

"We had a young family to provide for and

therefore sought a milk partner that could

provide on-going support and certainty," he

adds. "OMSCo's dedication to the organic dairy

sector was clear from the beginning and gave

us the confidence we needed to develop our

farm business."

He explains that OMSCo has developed

a variety of added-value and specialist organic

dairy products for international markets,

including premium organic cheeses and infant

formula ingredients.

"These opportunities are fantastic for the

members, as being a part of a co-operative means

that we all share the benefits. The more money the

co-operative makes, the greater the return to its

farmers and this provides us with greater certainty

for the future," says Mr Vallis.

"Being a member on the board, I also see

first hand the practical input that our members

have into the decision-making process, which

then facilitates the implementation of these

new initiatives."

The co-op has boosted exports by 58% to

approximately 20% of total revenue in 2017 and

wants to continue this growth.

"OMSCo's achievements have been

underpinned by shared values that champion

British organic dairying. I look forward to us

continuing to work together as a co-operative

finding new and innovative ways to secure our

future success," adds Mr Vallis.

In Glasgow, the Greencity Wholefoods

co-operative is trying to change people's diets by

promoting healthy eating. The co-op was formed

in 1978 by a group of activists; 40 years later it

maintains its co-operative ethos while running

a successful business with a £6m turnover.

"There's a disconnect between people and

food, and you see people here living on ready

meals," explains member Babs Macgregor.

"So we work at grass roots level, giving talks

and cookery demonstrations to reconnect people

with food. And it's really satisfying seeing

people getting excited about food and ways

of feeding themselves that are healthy

and nourishing."

Greencity has a flat management structure,

with worker owners taking turns in completing

different tasks.

"It's a level playing field," says member Craig

McCormack. "Because it's your own business, you

think about long-term plans and about developing

the business. And if you want to do something,

you have to get buy-in from the majority

of the members."

To compete with other businesses, the co-op

has recently started engaging on social media and

had a major IT upgrade.

"It was a significant change internally to how our

system operates, so getting to grips with it was a

real challenge," says Ms Macgregor. "But being

part of a co-operative means there's a greater

sense of facing challenges together."

p The Organic Milk

Suppliers Cooperative

(OMSCo), was set up

in 1994 by five farmers

–it now has 270

members, including

Graham Vallis in Exeter

t Glasgow-based

Greencity Wholefoods is

trying to change people's

diets by promoting

healthy eating

JULY 2018 | 29
---
Making a difference:

FREELANCERS

TECHNOLOGY

& AGRICULTURE

DOMINIC MILLS

Co-operatives UK

The following case studies

on Open Data Services

and Openfield – both

members of Co-operatives

UK – originally appeared

in the 2018 Co-operative

Economy Report. Find out

more: reports.uk.coop/

economy2018/

p Members of Open Data

Services at one of their

regular meetings

Open Data Services formed when four freelancers

came together to find a new way of working. How

is the co-op helping to plot a course through the

changing world of work?

Each day begins with a stand-up conference call. A

team of analysts and IT professionals based around

the UK discuss their work to tackle corruption and

tax evasion – and create transparency around the

awarding of multi-million pound (and dollar, euro,

Mexican peso, and more) government contracts.

These 15 people, who make up Open Data

Services, are just one part of this process.

Operating from Stroud, Edinburgh, Manchester,

Newcastle and more, their area of expertise is

around open data. By enabling organisations and

governments to build, publish and use – as well as

standardise – open data, the groundwork is being

done for a seismic change.

Open Data Services has no office, no base, no

hierarchy… but this is no problem. It is a co-op

of workers and in just three years the number

of owners has almost quadrupled in size while

annual turnover has leapt from £250,000 to

more than £800,000. Its four founders set

out as equal owners, with an equal say and

an equal share of profits. And as the co-op has

grown it has remained true to its values and ethos.

Co-founder Steven Flower says: "It was always

in our minds to grow and we needed people to

make that happen. Programmers need to work

with other programmers. And we wanted to use

being a co-op as a way to attract people who share

our values."

It began with an opportunity for like-minded

professionals, largely freelancers, to work

together on open data contracts. All had expertise,

contacts and know-how, but no working structure.

"We said 'if we do this we must do it as a

co-op'," says Mr Flower, who is based in

Manchester. "We had some work, knew what we

wanted to do and knew we wanted to be a coop.

We shared a commitment to be a co-op. We

wanted to do this together – in the truest meaning

of the word.

"The nature of our work is very much towards

co-operation. The alternative was that we'd

have to decide who was the boss and we weren't

interested in a 'you have to do this' approach."

Open Data Services has already worked with an

enviable list of organisations including the World

Bank, Sport England, the Big Lottery Fund and a

range of governments.

Its work supporting the ProZorro platform

in Ukraine as it adopted the Open Contracting

Data Standard has helped save hundreds of

thousands of dollars of public money through

minimising corruption and inefficiency associated

with the awarding of government contracts. In

Mexico, corruption is also being tackled as the

30 | JULY 2018
---
government moves to publish and use open

data about contracts relating to the building of a

new airport.

In the UK, through work on data standards

for open registers of company ownership, the

co-operative is working to close secrecy loopholes

that enable tax evasion and money laundering.

And it is working to improve transparency

around the awarding of grants to charities

and social enterprises through its partnership

with 360Giving.

Mr Flower is keen to stress that Open Data

Services' role is very much at the nuts and bolts

end, ensuring that data is collated in a consistent

standard for ease of use, as well as on the opening

up of data. "Open data has to be useful," he adds.

"It needs to serve a purpose."

Kadie Armstrong, from Newcastle upon Tyne,

joined the co-op this year. Like many of her

colleagues, the switch was from a freelance role.

She says: "I never thought I would work for

a company or any organisation again. I valued

my autonomy too much. But I have always

philosophically and publicly supported co-ops.

"It feels like I've got the best of both worlds. I

still have a degree of autonomy – I can shape how

my work goes and equally we're all in it together."

As outlined by Co-operatives UK in its

Co-operative Economy 2018 report, 7.1 million UK

workers – including freelancers, part-time workers

and those in zero hour contracts – are engaged in

'precarious' employment. Ms Armstrong believes

the co-op model offers a better, more secure way

of working for the UK's growing army of freelancers.

Benefits include shared resources, knowledge,

contacts and back-up support, she says. "There's

challenges scaling up and maintaining member

involvement – but other co-ops have shown this

is possible. There's a good work-life balance here

and a generosity of support."

Although the organisation exists with no base

and a scattered workforce, the loneliness factor

experienced by many freelancers is something Ms

Armstrong feels she has left behind. Open Data

Services' owners do meet on a quarterly basis

at general meetings. But it is their shared cooperative

values, their shared ownership status

and their shared data mission that transcend

the distances. At a recent meeting in Stroud, Ms

Armstrong bumped into one of her colleagues on

the last leg of their journey.

She says: "We were well into our conversation

before we realised it was the first time we'd

actually met face to face!"

Making a difference:

AGRICULTURE

For 400 years the Casswell family has farmed

land in Sleaford, Lincolnshire. But without farmerowned

co-operatives the prospect of future

generations continuing those farming traditions

would be slim.

James Casswell is both a tenant and contract

farmer, with more than 3,000 acres of land,

primarily used to harvest grain. He is one of 4,000

farmer owners of Openfield, the UK's only national

farming grain co-operative.

"Margins are pretty tight," says James. "I'd see us

really struggling [as a standalone farmer]. Having

Openfield working for me can be the difference

between making a profit and making a loss. I

always believed that we, the UK's farmers, need to

come together and that we're stronger as a result of

working together."

Openfield markets approximately four million

tonnes of grain a year and supplies some of the

biggest and best-known names in the British

food and drink manufacturing industry, including

Warburtons. It provides its members with seed,

fertiliser and grain storage, and offers expert

advice on marketing with complete transparency in

the marketplace.

"In the past grain would change hands lots

and lots of times before getting to the end user."

says James.

"Having someone like Openfield maximise

the working for my benefit, rather than someone

angling to pay the lowest price... I can't really see

why anyone does anything else."

James Dallas, CEO of Openfield, adds: "The

reason Openfield exists is to be a marketing

expert for our farmer. Farmers have numerous

balls to juggle every day. For them to have expert

marketing knowledge and ensure the best return is

almost impossible.

"We provide expert market advice. We protect our

farmers against risk and ensure they're not exposed

to the volatility of the market place. We'll give them

best possible return and keep them profitable."

JULY 2018 | 31
---
TAX

ANCA VOINEA AND

REBECCA HARVEY

q Delegates gather for

the Fair Tax Conference

Making a difference:

FAIR TAX

Corporation tax is often presented as a burden,

even though it helps fund a myriad of public

services, counter financial inequalities and

rebalance distorted economies.

But stories of tax evasion and evasion and

aggressive avoidance emerge almost daily. It is

estimated that €600bn of corporate profits are

annually shifted to tax havens, with corporate

tax revenue losses globally of €200bn per year –

which equates to approximately £7bn of missing

revenues in the UK.

The Fair Tax Mark is one organisation trying to

combat this, by raising awareness of tax justice

and celebrating the organisations who pay the

right amount of tax in the right place at the right

time. The campaign has been supported by coops

from the outset, with Midcounties, the Phone

Co-op and Unity Trust Bank being early recipients

of the Mark. Now nearly 40 organisations have

received the Fair Tax Mark, including high street

names such as Lush Cosmetics, Timpsons and

SSE (the first FTSE100 business to achieve the

Mark) and co-ops such as the Co-operative Group,

Co-operatives UK, Scotmid, Radstock, East of

England, Revolver, Unicorn Grocery, the Eighth

Day, Ethical Consumer and the Co-operative Party.

This year the Fair Tax Mark organised the very

first fair Tax Fortnight from 9–24 June, with a

conference in London on 7 June/ The aim was to

celebrate the companies and organisations that

are seeking to pay their fair share of corporation

tax and who overtly shun the artificial use of tax

havens and contrived tax avoidance practices

– and also celebrate and explore the positive

contribution that corporation tax makes.

Research released by the Fair Tax Mark at the

start of the fortnight showed that most of the

public would back state intervention to encourage

responsible tax planning by business – while 74%

would support a call for all companies, whatever

their size, to publicly disclose the taxes that they

do or don't pay in the UK.

The research also showed that six in ten people

(59%) believe the government and local councils

should consider a company's ethics and how

they pay their tax alongside value for money and

quality of service when commissioning contracts.

Paul Monaghan, chief executive of Fair Tax

Mark, believes the UK public wants "radical

change in the area of tax reporting and auditing",

and responsible tax planning taken into account

during procurement. "Following the collapse of

Carillion, two parliamentary committees called

on the government to carry out an ambitious and

wide-ranging set of reforms to reset our systems

of corporate accountability, and urged them to

refer the statutory audit market to the Competition

and Markets Authority," he said.

32 | JULY 2018
---
"Our research indicates that the public would

be strongly in favour of this, but would also like to

see companies of all sizes reporting on the profits

made and taxes paid. Moreover, they would like

to see public procurement leveraged to encourage

responsible tax planning."

At the conference, Barry Clavin, ethics,

sustainability and campaigns lead at the Co-op

Group, led a workshop on embedding fair tax

issues into corporate responsibility.

He told participants: "As a member-led, ethical

business, the Co-op wants to do progressive

things and there is no better way of doing

that than ensuring we pay our taxes as good

corporate citizens. What's more, any business

that wants to build a credible corporate social

responsibility programme that does not include

a commitment to responsible tax will not be

taken seriously."

Speaking ahead of the conference, Margaret

Hodge MP, chair of the all-party parliamentary

group on responsible tax, said the Fair Tax Mark

research shows that tax avoidance and evasion

are still "major concerns" for the public, despite

recent moves to crack down on them.

She said: "The government is now committed

to introducing public registers of beneficial

ownership in the British Overseas Territories; this

is a small but powerful provision that marks a

significant change in how tax havens operate and

it will shatter secrecy and uphold fair competition

"The APPG on Responsible Tax is delighted to

support Fair Tax Fortnight, which celebrates all the

companies and organisations that are working to

make responsible tax common practice. "

The issue was also raised in Westminster by

Co-op Party chair, Gareth Thomas MP,

who highlighted in PMQs that the top five

co-operatives in the UK paid more than four times

the corporation tax of Amazon, Facebook, eBay,

Starbucks and E.on.

"I am sure the prime minister will want to praise

the patriotism of those who have signed up to the

Fair Tax Mark campaign," he said. "Might this not

be an opportunity to encourage the Department

for Business, Energy and Industrial Strategy

and the Treasury to take a more proactive and

supportive interest in the growth of co-operative

and mutual businesses?"

But Ms May only responded that "HMRC had

been requiring some of the large companies that

he referenced to pay more tax and has ensured

we get that tax from them. It looks fairly across all

types of institution that operate in this country."

During the fortnight, the issue of fair tax was

discussed at a roundtable in Manchester, hosted

by the Co-op Group. Chaired by Rob Harrison of

Ethical Consumer, the event included contributions

from Lisa O'Hare (head of tax at the Co-op Group)

and Alex Maitland (policy officer at Oxfam), with

attendees from Midcounties, Eighth Day, Unicorn

Grocery and Third Sector accountancy.

"More businesses need to be open, honest and

pro-active in positioning themselves, and showing

that ethics is part of who they are," said Richard

Livings of the Fair Tax Mark. He gave the example

of Timpsons, whose achievement of the Fair Tax

Mark was driven at board level by the owner "who

new it was the right thing to do."

At the Co-op Group, the issue of Fair Tax has

been driven by members and customers, and at

Unicorn and Eighth Day by worker members.

The Group's Lisa O'Hare said that although the

Fair Tax Mark features on the website alongside

the tax policy and on relevant infographics on

social media, it is not yet used at store level.

At Unicorn, a worker co-op in Manchester,

members actively tell the public about it. "However

some members think we shouldn't be doing this

as paying tax is the right thing, and something

we should be doing anyway," said Debbie Clarke,

worker member at Unicorn. "Some members

question why we should get rewarded for that

when it's in our principles and our psyche."

But Mr Livings said the ready availability of

artificial structures made it easier for many

organisations to avoid paying tax– so declaring

your position is in itself a brave thing to do.

JULY 2018 | 33
---
Making a difference:

PUBS & COMMUNITIES

COMMUNITY

MILES HADFIELD

q The historic Duke

of Marlborough, in Suffolk,

was saved for posterity

and helps tackle

rural isolation

The UK is now home to 60 community-owned

pubs, with extra support for the sector arriving in

the form of a new network offering advice, support

and resources to help businesses set up. The

network will be run by the Plunkett Foundation,

which supports rural community businesses, and

funded by Power To Change, an independent trust

for community business in England.

The sector hosts its More Than A Pub conference

in Sheffield on 26 June. Meanwhile it has been

announced that the £3.85m More Than a Pub

programme, launched in March 2016 to support

the sector, has been extended.

Plunkett has carried out a series of case studies

to show the social impact of the sector.

It says: "Co‐operative pubs are a great

leveller – they bring people together of all ages,

backgrounds, interests ... This can benefit new

residents who want to meet their neighbours,

young parents who feel isolated at home,

teenagers seeking work and life experience, the

retired seeking opportunities to remain active,

and those who live alone or are carers and have no

other way of meeting people."

Pubs in the sector promote health and wellbeing

in their communities, for instance by installing

defibrillators, becoming fully accessible venues,

running Pilates and fitness classes, or holding

dementia and Alzheimer's cafes.

Others offer discounted luncheon clubs, put

on coach trips for people from sheltered housing

schemes, and fund unemployed volunteers

through hospitality qualifications.

One such pub is the Gardeners Rest in

Neepsend, Sheffield – which dates back to 1898

and was saved by a community share offer in 2016.

As well as providing the traditional social meeting

place, it supports artists as a music venue and

exhibition space. It also offers a space in the

daytime for community groups.

Plunkett says: "The Gardeners Rest is a place

where individuals can come on their own and find

safe company – business is steady but the pub

rarely attracts crowds ... People with learning

disabilities and mental health issues use the

pub regularly."

It adds: "Employment and training opportunities

will be offered to people who may never meet the

person specification for any conventional job, but

are desperate to play a meaningful part in the

world of work ... It is often unhelpful to put labels

on people – their barriers to fulfilment increase

when they don't quite match up to the label – but

the beneficiaries will include people with mild

and moderate learning disabilities, people with

mental health issues (such as depression, anxiety

and bi-polar conditions), people with an autistic

spectrum disorder, and essentially people who

just don't fit anywhere else."

These work sessions are tailored to the

individual, for instance with short, 2-3 hour shifts,

training programmes and accreditation.

34 | JULY 2018
---
t Working in the cellar at

the Gardeners Rest (left)

and welcoming customers

at the Craufurd Arms

"Additionally, self-expression groups, led by

artists, sport professionals, local historians and

faith leaders, will meet in the daytime when the

pub is closed and sometimes in the evenings

and weekends."

Another case study looks at the Duke of

Marlborough, a 500-year-old, Grade II-listed pub

in Somersham, Suffolk, saved from developers by

the community pub movement last year.

Plunkett says the pub helps combat loneliness

and isolation – important in a rural village where

some people live alone.

Alongside the social benefits of the traditional

pub – a sense of community and access to a range

of activities, clubs and events – the Marlborough

Arms runs a luncheon club for the elderly and

disadvantaged, which "decreases isolation and

ensures older people in the village are not lonely

and/or neglected".

The pub also provides Wi-Fi, free notice board

advertising, book exchanges and information on

local trusted traders and support groups.

The Centurion – the only pub in Vicar's Cross,

Chester – was saved by campaigners after its

owner Admiral Taverns submitted plans in 2016 to

demolish it and construct a care home.

The pub now works with the local tourist

information centre to broaden the town's appeal

to visitors, walkers and cyclists and provides

a venue for birthdays and christening parties,

funeral wakes, coffee mornings, car boot sales,

group training sessions and IT courses.

A number of local charities and associations,

such as Age UK, the Scouts, football clubs and

school PTAs use the pub on a regular basis for

meetings and a small Spanish language group has

been established.

Trevor Jones, a member of the management

committee, said: "We always put on a huge number

of monthly events including charity fundraisers,

community bingo, Age UK Brightlife meetings

(organised to tackle social isolation in the over

50s), parties for kids and family fun days."

The Craufurd Arms in Maidenhead, bought out

by the community after it was put on the market

in 2016, also offers added social value. The team

works with the Campaign to End Loneliness and

delivers activities to reduce social isolation.

"An impact survey confirmed that it is not just

the events that take place in the pub itself, but

there are extra things that come out of having

somewhere safe as well as sociable to meet, such

as lasting friendships and romantic relationships,

all of which make a big difference to local people,"

says Plunkett.

There are regular coffee mornings and social

evenings for parents and carers of autistic

children and young adults. The 'Maidenhead

Memories' group also holds regular meetings

to bring together any isolated members of the

community, and there are volunteering and work

experience opportunities.

p Campaigners

saved the Centurion,

the only pub in Vicar's

Cross, Chester

JULY 2018 | 35
---
Making a difference:

FAIRTRADE

FAIRTRADE

REBECCA HARVEY

Brad Hill has worked at the Co-op Group for almost 40 years and in Fairtrade for 20. Ahead of his

retirement as Fairtrade strategy development manager this summer, he looks back over a career that

has witnessed first-hand the difference Fairtrade makes.

HOW DID YOU GET INTO FAIRTRADE?

I joined the Co-op Group (then CWS) from

school at 16, and continued studying part time.

In 1986 I became the Group's first internally

appointed 'graduate trainee' and over the

next few years gained experience in marketing

from various angles. In the 90s the Group

created a new corporate marketing team in

food which was charged with challenging

convention and leading on ethical matters.

This really appealed, and meant I was involved in

the first real re-engagement of doing business

in a co-op way. This included everything from

animal welfare and Braille on packaging,

to honest labelling and developing our first

national charity campaign with NSPCC. In 1998

I began working on Fairtrade and trying to find

ways of making it commercially viable. Of all the

work I was involved in, I naturally gravitated to

the people agendas – charity and Fairtrade.

HOW DID YOUR INTEREST IN FAIRTRADE

DEVELOP?

My first few years in Fairtrade were spent

behind a desk in Manchester, trying to engage

the business in the concept and convince

decision makers to give it a chance. It was a very

co-operative concept – and if any business was

going to make Fairtrade mainstream, then it was

the Co-op. In 2003 I went on my first overseas

visit to see Fairtrade in action in Ghana. That

was my real 'Fairtrade moment', seeing not just

real poverty in agricultural communities, but

genuine life-changing improvements as a result of

some of our early successes.

Part of the visit was to Kuapa Kokoo (the cocoa

co-op which owns 44% of Divine Chocolate).

Joining its AGM and talking to members, it felt like

looking in a mirror from a co-op perspective. But

36 | JULY 2018
---
despite Fairtrade, these people – the suppliers of

the products we were selling – had so little. I got

talking to a man at a village drawing water from

a Fairtrade-funded pump who really connected

the benefits of that pump to the support that I

had been fighting for. It was a strange feeling: on

the one hand the importance of Co-op's Fairtrade

strategy hit home and became a reality. On the

other hand, I couldn't help but feel that if a person

was celebrating something as basic as clean water,

then the need for Fairtrade and our accelerated

support was critical. That day Fairtrade became

less of a job and more of a calling. I was the

person given the opportunity to lead on changing

lives through Fairtrade on behalf of impoverished

people. It was a big responsibility and one that,

morally, I had to throw my all into.

WHY DO THE CO-OPERATIVE MODEL AND

FAIRTRADE HAVE SUCH SYNERGY?

When Fairtrade launched in the UK in 1994, the

Co-op Group recognised the synergies derived

from the values that underpin both movements.

Essentially, co-operatives and Fairtrade are

democratic and people-based movements.

Fairtrade is designed to support small producer

organisations and requires equity and equality

as well as promoting education and specific

elements such as gender balance. Fairtrade

Premium committees, for example, which decide

how to invest the Fairtrade Premium, are created

in a way which is representative of the wider

business and communities that the individual

members represent.

Fairtrade impacts are so obvious across both

the hired labour model (where workers in larger

scale organisations are supported) and in the

small producer model (where developing co-op

structures have allowed individuals to access

markets and improve their lives). I have witnessed

positive changes repeatedly in both cases.

Perhaps the best example is that of Fintea tea

co-op in Kenya – a group of 15,000 farmers who, as

individuals competing in the tea-growing regions,

had little chance of ever accessing international

markets. As part of our work, and supported by

the Co-operative College, we helped create Fintea

co-operative and offered training in Fairtrade

requirements and co-operative ways of working.

One farmer, Mercy Maritim, dreamed one day

of moving out of her small mud house and hoped

that better prices may allow her to buy a cow and

sell milk locally. Within 18 months, Mercy had

not one but two cows, and was living in a much

larger brick house with electricity and running

water – an incredible

life transformation

in a short space

of time. And really

thanks not just to

Fairtrade but to being a

co-operative member.

DO YOU THINK

THE RELATIONSHIP

BETWEEN CO-OPS

AND FAIRTRADE

WILL CHANGE?

Fairtrade itself has

been focusing much

more on small producers and their co-operatives

and, given the structure of the supply base,

co-operatives will always remain a cornerstone

of the Fairtrade movement. Fairtrade as a brand

continues to have a responsibility to give those

co-ops a voice, and partner licensees also

need to take that responsibility seriously. In

the case of the Co-op Group, I can see both

Fairtrade and the co-op model becoming

even more significant to the business as we

continue to look for ways to demonstrate

our own co-op difference in an increasingly

competitive market.

HOW HAS THE CO-OP GROUP MADE A

DIFFERENCE THROUGH FAIRTRADE?

Lots of small steps have been the key to making

Fairtrade a real success story – as well as

unrelenting championing of Fairtrade.

In 2002, when we switched all of our own-brand

chocolate to Fairtrade, we campaigned for other

retailers to invest in Fairtrade too, and challenged

the big brands to wake up to the exploitation that

was rife in the cocoa industry. Over the following

years, Fairtrade became widely available and we

have seen all three of the UK's biggest chocolate

brands engage with Fairtrade. There is no doubt

t Clockwise from

left: Brad Hill's career

has seen him visit co-ops

such as the Sugar Cane

Farmers Association in

Belize, which has seen

a Fairtrade premium of

around £500K returned

via Co-op Group sales

annually since 2016;

harvesting coffee cherries

with the Aguadas coffee

co-op in Colombia; with

traditionally dressed

coffee farmer members

of Todosanterita co-op (a

member of Fedecocagua,

the Co-op Group's

Guatemalan supplier for

over 15 years); students

at Amankwatia School,

Kenya, which was opened

with Co-op Group funding

through Kuapa Kokoo and

Divine Chocolate

JULY 2018 | 37
---
q Brad Hill with Ecookim

members who had

taken part in a women's

empowerment project

training session. Ecookim

is a union of 23 primary

co-ops in rural Côte

d'Ivoire producing

cocoa and coffee

that the Co-op's pioneering action and leadership

has been a catalyst and derived significant

indirect benefits across the industry.

In 2012 we switched all bananas to Fairtrade –

this was a difficult one to secure commercially.

The detail behind the plan went much further

than we had gone on previous category

conversions but we were able to create a

sourcing model which focused on at least

50% of the fruit coming in from smallholders

– mainly co-ops. And on top of that I worked on

some co-op collaborations – most notably with

Coobana co-op in Panama and Banelino Co-op in

Dominican Republic – where the Group invested

in additional 'beyond Fairtrade' projects, helping

to strengthen fellow co-ops in terms of capacity

building, training and education.

In the last couple of years, with focus on delivering

more impacts in key areas through our Fairtrade

ingredients policy, we have continued to

innovate and find ways to keep momentum.

We work with other co-ops to demonstrate

that the Co-op Group does Fairtrade differently

– with a depth of commitment like no other retailer.

In terms of leadership, it's clear that the

Co-op dominates the market; we have over 80%

of UK convenience Fairtrade sales and are the

world's largest seller of Fairtrade wines.

WHY DO YOU BELIEVE NOW IS THE RIGHT TIME

TO MOVE ON? WHAT ARE YOUR PLANS?

This job will never be finished but I believe

it has reached a point where there needs to

be a step change directionally. For 20 years I

have been supporting the values of Fairtrade

and the people behind the Fairtrade Mark, as well

as building a co-op difference to the approach.

Fairtrade has reached levels of sales and impact

that nobody could have dreamed – but as a brand

there is growing evidence that the 'ethical market'

is fracturing.

Fairtrade has reached the mainstream in so many

ways and has successfully challenged businesses

to look at themselves. We will not see the same

significant levels of growth in the Fairtrade food

sector as we have in the past – so the Group

needs to look at how to build on its success to

drive a more co-op-focused agenda for producers.

Fairtrade policies are robust and embedded now

within the business. And we have a brilliant young

Food Policy Team to take us forward with Fairtrade

and a wider co-op fair trade approach. So it feels

as if I can leave the legacy in very safe hands

and give someone else the opportunity to

take stewardship.

So many people tell me it must be the best job

in the world. I honestly think it is – which is why

I have been here for so long. I am so fortunate,

but at the same time want someone else to have

at least some of the experiences and rewards that

I have had over two decades.

I still feel a responsibility to the producers and

I will be continuing my support for Fairtrade

once I have moved on. After a short break I will

see what options may exist where I believe my

experience can add value; I am especially keen

on getting back into classrooms and sharing my

stories with children to hopefully help inspire the

next generation of Fairtrade and ethical shoppers

and campaigners.

38 | JULY 2018
---
artistry activism belief

WITH SPECIAL GUESTS

PUSSY RIOT

EXCLUSIVE FESTIVAL RESIDENCY WITH RIOT DAYS

MUSIC

WE ARE SCIENTISTS × OZOMATLI × I'M WITH HER

IBIBIO SOUND MACHINE × LOWKEY × LEE BAINS III & THE GLORY FIRES

REV. PEYTON'S BIG DAMN BAND × DUKE SPECIAL × GRACE PETRIE

WORDS & IDEAS

JACK MONROE ON POVERTY × MICHAEL EAVIS ON FESTIVALS

KATE RAWORTH ON REDISTRIBUTION × JUNE SARPONG ON DIVERSITY

CAROL ANN DUFFY × SIMON MAYO × HARRY BAKER × VICKY BEECHING

JON MCGREGOR × JOANNA BLYTHMAN × REBECCA STOTT

THEATRE & COMEDY

BRYONY KIMMIMGS × HYENA ALULA CYR × BOURGEOIS & MAURICE

MAE MARTIN × FLO & JOAN × TONY LAW × HARRY & CHRIS

VISUAL ARTS

CELESTIAL SOUND CLOUD BY PIF-PAF × LIMBIC CINEMA

MALAK MATTAR × GEORGINA BARNEY × ART SCHOOL

CHILDREN & FAMILIES

MORGAN & WEST'S UTTERLY SPIFFING MAGIC SHOW

PROFESSOR PUMPERNICKEL × SPACE REBEL PRINCESS

PLUS

BELIEF & SPIRITUALITY × YOUTH SPACES AND PROGRAMME × OUTDOOR PERFORMANCE

FOOD, FUTURES AND RED TENT VENUES × SPORTS × WORKSHOPS × SILENT DISCO

DEBATES × ACTIVISM × INFLATABLES × CLASSICAL CONCERTS AT THE HOUSE

CRAFTS × WORLD CUISINE × BOUGHTON HOUSE ART COLLECTION × CAMPING IN

THE BEAUTIFUL PARKLAND OF BOUGHTON HOUSE IN THE HEART OF ENGLAND

PLUS MUCH, MUCH MORE

BOOK NOW!

AWARD

WINNING

FESTIVAL

TIER 2 TICKET

DEALS TIL

30 JUNE
---
Making a difference:

EMPLOYEE OWNERSHIP

EMPLOYEE OWNERSHIP

MILES HADFIELD

q Guy Singh-Watson

and his fellow workerowners

celebrates the

business's transition

Riverford Organic Farmers, which delivers food

from regional farms to homes around the UK, has

made the transition to employee-ownership.

Supported by the Employee Ownership

Association, the move means Riverford is now

74% owned by its workforce. It was made official

on 8 June, marked by a celebration party.

Founder Guy Singh-Watson retains a 26%

share of the business and stays on as trustee,

board member, shareholder and brand guardian.

Riverford will now be governed by a board, staff

council and trust, with the current day-to-day

management team remaining in place.

The 650 new worker-owners own most of the

land and all the buildings and infrastructure,

under a £6m deal which is being funded by Triodos

bank. Mr Singh-Watson can only sell his remaining

share to the trust but said he has no plans to do

so and "is excited about staying involved for the

next chapter".

Workers will continue to share a minimum 10%

of all profits and, because they are not purchasing

shares, will not be exposed to any losses.

Riverford, which began organic farming in

Devon in 1987 and six years later became one of

the first organic veg box delivery schemes direct

from farm to customers, said there would be no

difference to the produce boxes sold.

Writing on his blog, Mr Singh-Watson said:

"Amongst all the signings, meetings and legal

documentation, I am tearful, grumpy and awash

with churning emotions – but doubt is not

one of them.

"I am convinced most people are kinder, less

greedy, more creative, more thoughtful and can

contribute more and be more productive than our

institutions allow them to demonstrate. The best

indication of business efficiency (and most valid

prediction of future success) is getting the best

out of people while giving the most back; return

on capital is a poor, short-term proxy.

"I want to be part of an organisation that helps us

be the best version of ourselves – that facilitates

and grows people, rather than undermining their

humanity by appealing to ignoble sentiments, as

capitalism too often does."

Riverford, which now distributes nearly 50,000

boxes of produce a week and has a £60m turnover,

is worth more than £20m. Mr Singh-Watson said

he could have sold the firm to the highest bidder

and put the money to good causes but favoured

employee ownership. "I have nagging doubts

about charity," he explained, "and would prefer to

embed the changes I want to see in everyday life."

He added: "Time might prove me hopelessly

idealistic, but I don't think so; over the last year

we have been working towards a more inclusive,

human style of management, and the signs

are so good that even our more militaristically

minded managers are embracing the change.

"It feels as if an oppressive cloud is already

lifting and a new dawn, full of exciting possibility,

is revealing itself. In the end, the most critical

factor is confidence: in each other and in our

shared humanity; the confidence to be our whole

selves, and not to wait for others to lead the way."

40 | JULY 2018
---
Q&A:

RIVERFORD

ORGANIC

FARMERS

WHY THE CHANGE TO EMPLOYEE OWNERSHIP?

Our decision to be employee‐owned (EO) is a

natural step for a company committed to showing a

more enlightened way. At a time when no one was

focused on organic, we farmed and sold organic

produce. And now at a point when we might have

opted to sell, we have chosen another less‐trodden

path that we hope in time will become the norm.

We are excited about demonstrating, along with

other EO businesses, how this model can deliver

dividends on engagement and motivation; and how

these in turn translate into commercial success

allied with enduring values. What the employee

ownership trust model offers is the opportunity

to lock in the values of the business for the long

term in a way that is fair to all. In practice, for

franchisees, customers and suppliers, little will

change day to day.

ARE ALL STAFF BEHIND THE DECISION?

A good proportion are highly engaged and excited,

but, as with most change, there are a good

number who are taking a while to engage with and

understand the change. We are working hard to

communicate what the change will mean. On the

whole, staff are supportive of the decision once

they understand what it means, but there is some

concern about its impact. We will continue to have

conversations with staff at all levels.

WHAT CHANGES WILL STAFF NOTICE?

The biggest shift will be one of mindset. Those

businesses we have seen thrive are the ones

where, over time, every single person in the

company acts like, and feels like, an owner. The

big change is that everyone is in a position to hold

each other to account every single day. So it's less

about top‐down management, and more about

each individual taking responsibility for their part

in making the business succeed.

While it is not a magic pill, and it can't happen in

a single day, our hope is that everyone at Riverford

feels listened to, feels that they can challenge

us and that they are in this thing together. For

the staff, one thing they will see much more of

is communication – not just of the good bits like

the profit share, but also of the tougher decisions

a business has to make to move forward. With

everyone owning part of the company, that involves

a level of transparency and responsibility that was

not previously required.

Q&A:

GUY

SINGH-

WATSON

WHAT BUSINESSES INSPIRED YOU TO CONSIDER

EMPLOYEE OWNERSHIP?

My starting point was the Quaker movement – I

have a lot of respect for the way they run business

collaboratively. There are lots of forms of EO ... My

favourite example is probably Tiptree – they have

a lovely long‐term approach to business with an

absolute determination to do things well – they

still grow fruit themselves and are innovative in

their growing techniques. They have a good level

of staff engagement and are a lovely company in it

for the long term, owned by the original family who

share same views as me which are, essentially: if

you already have £5m, what on earth are you going

to do with another £5m?

HOW INVOLVED WILL YOU BE IN THE BUSINESS?

I love it and want to be involved in it as long as

possible, as long as the staff will have me; they

will have the power to fire me once we become

employee‐owned. My involvement with the

business stands at 80% of my time and may fall to

60% with EO transition, but I am a big character in

the business and need to make room for others. I

can't be the face of the business (or the grumpy old

man of the business) forever. Right now I regularly

walk around the business until I find something

to fix. I am trying to celebrate more and get our

managers to do the same. Improvement is not

always about going from really good to excellent,

it can be about going from crap to average.

WHAT WORRIES YOU MOST ABOUT RIVERFORD

BECOMING EMPLOYEE-OWNED?

It's not about the business going off in a direction

I wouldn't support or making bigger mistakes;

my biggest fear is actually that nothing changes,

and we stand still just doing the same as what

we are doing today. In a values‐driven business,

competence is even more important. You have to

be better at what you do, and more innovative in

order to do that. Being a values‐driven business

does not give you an excuse not to be exceedingly

good at everything you do.

HOW LONG WILL YOU STAY WITH RIVERFORD?

One of the reasons this model appealed was that

it enabled me to stay involved in the business,

primarily from a guardianship and ideas point of

view. My aim is to be part of Riverford until my dying

day. If that changes and I can't be involved, then

the business will continue to thrive without me.

JULY 2018 | 41
---
Making a difference:

INDIGENOUS PEOPLES

COMMUNITY

MILES HADFIELD

p The First Nations

Technology Council

attended the BCTECH

Summit, a conference for

western Canada's tech

sector (Photo: First Nation

Technology Council)

Co-operative values are being put into practice

to help the indigenous peoples of Canada

reclaim their cultural identities and develop the

economies of their communities.

Much of the focus is on issues surrounding food

security, with the co-operative model seen as

useful for promoting indigenous food sovereignty.

Canada has a population of around 1.7 million

indigenous people, who are grouped into three

categories: First Nations – indigenous people from

south of the Arctic Circle, Métis (who trace their

descent to First Nations peoples and European

settlers), and Inuit communities.

Census figures say nearly half of First Nations

people (49.3%) live on reserves, while more than

half of indigenous people overall (56%) live in

urban areas.

Social issues include access to health services,

quality housing and emergency services. These

problems were made tragically clear in 2015, when

two children on a First Nations reserve in northern

Saskatchewan died in a fire. A dispute over unpaid

bills meant emergency volunteer services did not

attend and, although the reserve had its own fire

truck, it lacked a trained crew and equipment.

The incident sparked moves to create the

Saskatchewan First Nations Technical Services

Co-operative, to provide technical services such

as water engineering and housing inspections to

First Nation communities across Saskatchewan.

And, in 2016, Co-operatives First, a co-op

development organisation for rural and Indigenous

communities across western Canada, was formed.

Communications officer Merle Massie says:

"One of the strengths of co-operatives for First

Nations communities is that it has a familiar

decision-making style while offering a communitybased

ownership model that can take some of the

pressure off of already-busy band councils [the

basic unit of government for indigenous people].

"There may be all kinds of small, local needs

that community members can solve, leveraging

band council help and support, but using the

co-op model to drive their own energy to design

and create something new.

"The co-op model can also be used at the

multi-band or tribal council level. It can draw

multiple bands or tribal councils together to solve

joint needs, while maintaining the identity and

jurisdiction of each."

Initiatives include moves to set up broadband

co-ops. The Canadian government has

committed C$500m through its Connect to

Innovate programme to connect rural and remote

communities – and many First Nations people will

receive high speed internet for the first time.

Rob McMahon, a co-ordinator at First Mile

Connectivity Consortium, a national association

of First Nations community-based telecoms, says:

"Everything should flow from the communities.

The business case, the uses, the policies that are

created to support it, all of these things, you need

to start with that community engagement."

Efforts to promote new co-ops for indigenous

people include a collaboration between the

Saskatchewan Co-operative Association and

the Saskatchewan First Nations Economic

Development Network to build on "synergies

between First Nations culture and worldview, and

the co-operative model".

In 2015, they produced Local People, Local

Solutions, a handbook on co-op development for

First Nation peoples in the province. They want

to encourage First Nation people to circulate

money within their own communities rather

than spending it on external businesses – and

notes that "for thousands of years, Aboriginal

collaborative societies prospered" in the region.

The handbook says 133 of Canada's 8,500

co-ops are run by indigenous people. First Nations

and Métis-controlled co-ops employ 1,400 people

with an average of 18 people per co-op.

Retail co-operatives under First Nations and

Métis control represent 71% of indigenous cooperatives,

and account for 93% of annual sales

of C$250m.

The average income for First Nations and Métis

co-ops is $230m for retail co-ops (mainly grocery

stores), $5.5m for fishing and $4.5m for forestry.

In 2001, indigenous consumer co-ops were

42 | JULY 2018
---
growing at a rate almost twice that of the retail

sector or other consumer co-ops, the handbook

adds. And it says the co-op model makes a

vital difference as "a way for First Nations

communities to improve economic conditions

while keeping decision-making powers and

control.

"Each co-operative is designed to meet the

needs of the community it serves, so each co-op

has a unique and locally focused way of working."

Examples given include the Muskoday Workers

Organic Co-op. Launched in 2005 to produce

organic vegetables for local and regional markets,

it uses the co-op structure to give "a sense of

ownership and decision-making power that

reflected the collectivity of First Nations culture".

It has since started planting fruit trees, interplanting

crops to avoid monoculture, and has

planted 200km of shelterbelts to encourage

biodiversity. Participants can gain a Green

Certificate through Saskatchewan's on-farm

training programme in agricultural production and

management. In one year, it trained 11 families in

indigenous organic gardening, agro-ecology and

organic food entrepreneurship.

The handbook also looks to the neighbouring

province of Manitoba, where Neechi Foods

Co-operative, formed in 1990 in Winnipeg,

operates a grocery store, restaurant, fruit and

vegetable courtyard, and arts market.

"Neechi, meaning 'sister, brother, or friend' in

Cree and Ojibwa, was created to address food

and employment security as well as communitybuilding,"

says the report. It has helped to open

a new business complex to promote Aboriginal

artisans and musicians, a farmers' market, a

bakery, and specialty boutiques.

The worker co-op has won the Green Globes

certification for the design of the new building,

which includes geo-thermal heating and cooling,

and the Excellence in Aboriginal Leadership Award.

It is a purchasing partner of the Local Investment

Toward Employment programme, and is a supply

partner with Winnipeg's Social Purchasing Portal.

Also in Manitoba, Ka Ni Kanichihk Inc, a nonprofit

which facilitates projects to improve health

and wellbeing for indigenous peoples, is working

to build indigenous co-operative capacity.

The project offers advice on co-operative law,

fundraising, development and governance.

It says: "The idea of a co-operative is nothing

new to indigenous people who exercised

entrepreneurship and co-operative development

long before the co-operative business structure

became popular in Canada and elsewhere. In

many ways, indigenous people were the first

co-operators. Indigenous people have worked

together in achieving common goals to sustain

livelihoods and develop communities.

"The co-operative model aligns with indigenous

values, social expectations and fits into the

perspective of how Indigenous peoples view the

world: an understanding of connectedness and

interdependence of all elements of being."

p Members of the First

Nations of Canada open

the World Social Forum

march in Montreal in 2016

JULY 2018 | 43
---
Making a difference:

LOCAL CURRENCIES

COMMUNITY

OLIVER SYLVESTER

-BRADLEY

The Open Co-op

The Open Co-op is hosting

OPEN:2018 (26-27 July),

a conference exploring

collaborative technology

for the co-operative

economy. Lisa Bovill,

co-founder of Hull Coin,

will be there, discussing

'the nature of money'.

See 2018.open.coop

for details

u How the Hullcoin

will work its way through

the local economy

It's long been the butt of unfair jokes, but Hull

could be having the last laugh in the form of a truly

innovative project.

The city – whose reputation saw it come in at

number one in the 2003 book Crap Towns – is

defying the naysayers with signs of a turnaround.

London topped the same roll call in 2013 while

Hull dropped out of the top 50 – and in 2017 was

the UK City of Culture.

But it still has some major needs: a 2015

survey by the city council found that over half

the population lived in the most deprived areas

of the country.

"Most deprived areas" don't normally spawn

innovation and the city council's main solution

was to throw £100m of its capital reserves into

civic improvements to overhaul Hull's image, and

to cosy up to Siemens in an attempt to secure

more jobs.

And while other people poke fun at

#CityofCulture2017, a small group of truly

community‐minded "hactivists" have set to work

at the real cutting edge of social development to

"unlock the hidden value in Hull's economy".

Enter David Shepherdson and Lisa Bovill, from

Kaini Industries, an initiative which sprang out

of research, funded by Hull City Council in 2014,

that explored how the disruptive technology

underpinning bitcoin could facilitate a local

currency to support communities in Hull affected

by poverty. After a few years of development and

community outreach they launched Hullcoin,

which enables people who engage with charities

and community groups across the city to earn

digital coins by volunteering and undertaking

activities that benefit themselves. Hullcoins

can then be redeemed as discounts at over 140

participating retailers across the city.

Hull City Council and the NHS are both

supporting the project, as is the University,

Hull College group and the Department

of Work & Pensions.

HOW DOES THE HULLCOIN ECONOMY WORK?

Kaini Industries "mined" 10 million Hullcoins –

a quick non‐energy‐intensive process that took

about 30 minutes (because it did not require the

competitive "proof of work" process associated

with Bitcoin). Kaini then runs due diligence on

any local community groups that wish to issue

coins, to ensure they promote activities which

"create a better community", and allocate them

"bundles" of coins – normally in batches of 500.

These community organisations, health and

employment services then issue individual coins

to people for volunteering or helping themselves

or others to "create a better community".

People with Hullcoins can then redeem them at

participating retailers across the city in return for

discounts on goods and services of between 5 and

50%. The retailers can choose what to do with the

coins, either re‐issuing them as employee rewards,

giving them to loyal customers as discounts on

future purchases, or donating them back to a

community group or charity to further stimulate

the local economy. Kaini monitors the amount of

coins in circulation and has an agreement with the

council to take some offline, if required, to help

manage supply and demand.

It's a truly novel idea which uses blockchain

to empower Hull's real assets – its people – by

placing a direct and tangible value on community

support, self betterment and volunteering. These

are the key aspects of mutual aid which are so

critical to community development but so often

ignored or undervalued in modern society.

Hullcoin is the first initiative of its kind to utilise

blockchain in this way. The project is still in private

beta at the moment and its developers are keen to

44 | JULY 2018
---
iron out the glitches which will prevent the system

from scaling. But if their crowdfunder is a success

they have plans to white‐label the system for other

cities – at which point it could potentially provide

a pathway out of poverty for millions of people.

The concept of Hullcoin has many similarities

to 'Covestment', a term coined by Jordan

Bober and Michael Linton to describe a

means of "financing the future and creating

economic resilience by weaving innovations

in network currencies, crowdfunding and

community microlending".

In Covestment, companies issue currency (or

discount vouchers, if you like) to a Community

Covestment Fund from which members of the

community can buy the local currency with

regular money. The Covestment fund uses the

cash to provide loans to local entrepreneurs

and businesses, and people use their local

currency to obtain discounts when they shop at

the businesses which backed the currency at the

start. In exactly the same way as Hullcoin, the

result is a stimulation of the money supply and

hence local economy.

The recent surge of interest in new forms of

money makes experiments like Hullcoin and

ideas like Covestment highly topical – and what's

most exciting is that we don't need to wait for

the government to wake up to the possibilities.

These are ideas which we can start experimenting

with right now – to take control of our local

economies and make them work for the benefit

of everyone.

Lisa Bovill, one of the developers at Hullcoin,

will be speaking at the OPEN:2018 conference in

London in July. It will be fascinating to hear how

the project is progressing and the impact it is

having for the people of Hull. If our hunch is right,

it has probably already had a more direct impact

on less privileged people's lives than a single

cent of the £100m the city council "invested" in

beautifying the city.

Co-op News has two free tickets

to give away for OPEN:2018!

26 —27 July, Conway Hall, London | 2018.open.coop

p The tides of new tech

are bringing opportunities

for cities like Hull to shape

their own futures

To enter the draw, send your name and contact number by email to

contest@thenews.coop – or by post to OPEN:2018 Contest, Co‐op

News, Holyoake House, Hanover Street, Manchester, M16 9LD.

Two winners will be drawn at random and notified on Thursday, 19 July.

We will never store your details or pass them on without your consent. If you win this

competition, we will contact you for permission to pass on your details to OPEN:2018,

who will give you a unique 100% discount code. See thenews.coop/privacy for details.
---
HEALTHCARE

ANCA VOINEA

q Co-operative Life

founder Robyn Kaczmarek

and (bottom) a client and

carer from the co-op

Making a difference:

SOCIAL CARE

Co-operative Life is Australia's first worker-owned

social care co-op – and it is making a vital difference

to its sector by empowering employees.

There are over 2,000 aged care service providers

in Australia, but Co-operative Life is very different,

says managing director Robyn Kaczmarek.

She founded the venture in 2013, because she

felt a different approach to aged care was needed.

She had worked in the sector since 2007, after

getting divorced and needing flexible work to look

after her children. A naturopath by profession, she

went on to obtain an aged care certificate and got

a job with an agency. She found the experience

"disheartening", with support workers unable to

choose their shifts. Once contracts ended, the

support worker would no longer be able to provide

services to clients who depended on them.

She did a diploma in coordination of community

services and started to get private clients as a

case manager. "I wasn't happy with the agency

model," she says, "and discovered Sunderland

Home Care Associates in the UK and Cooperative

Home Care Associates in New York and decided to

start the same here."

Over the next 18 months Ms Kaczmarek and some

colleagues worked on a business plan for the coop.

Setting up a co-op was difficult, she says, due

to the lack of a co-operative apex body at the time.

The Australian Business Council of Co-operatives

and Mutuals (BCCM) can now provide support and

guidance to groups wishing to learn more about the

co-operative business model.

"There was a lack of experience here at the

time. Since then BCCM have done a great job in

promoting co-ops and educating people, it is much

easier now," she added.

The worker co-op now has 75 staff members,

with an additional 30 members on probation. They

must be employed for at least six months before

becoming full members.

"We are really trying to push employee

engagement, being involved in decision making,

sharing information, financials, operation plans,

financial models. Employees have not experienced

that before so we have high retention rate," says

Ms Kaczmarek. "We are following a self-managed

team model – all decision making is down to staff

members closest to the customer. Generally they

can run most of their shifts without involvement

from upper levels."

The co-op, which serves the Sydney Metro and

New England areas of New South Wales, wants

to extend across the whole country, with a model

particularly suited to rural and remote communities.

The co-op is also a pilot case in the Platform

Co-op Development Kit programme developed by

BCCM. The project gives aspiring groups like care

workers access to software templates and best legal

practices to create their own sharing economies.

The initiative is the result of a partnership

between global Platform Coop Consortia and

BCCM, and is funded through a US$1m Google

grant devoted to creating open-source platform

technology for worker-owners.

"In areas like social care, platform co-ops deliver

agency and empowerment for workers and high

quality and consistent services," said Melina

Morrison, chief executive of BCCM. "But their

potential use is much more varied and wide."

WHAT ELSE IS HAPPENING IN AUSTRALIA?

More than three million Australians have chosen a

co-op or mutual health insurance option.

Meanwhile, co-op and mutual models have been

receiving attention from the federal government.

For instance, the South Australian government has

set up a public service employee-led mutual to

deliver Early Childhood Early Intervention services

for the National Disability Insurance Agency.

A 2016 book, The Third Sector Solution, looks at

the role of co-operative and mutual enterprises in

delivering public services. It includes contributions

from Cliff Mills, consultant at Anthony Collins

solicitors, and Melina Morrison.

They recommend shifting from a top-down to a

community approach and involving service users

and care professionals working together.

46 | JULY 2018
---
Q&A:

ANDREW

DAVEY

Making a difference:

CREDIT UNIONS

Operations manager,

Co-op Credit Union

HOW DO CREDIT UNIONS MAKE A DIFFERENCE?

I feel credit unions are one of the better examples

of co-operation: we encourage members to save –

without these savers we would not have funds to

lend to those who have a borrowing requirement.

Those who have a borrowing requirement can

apply for a loan and receive a competitive rate of

interest. All loans are subject to approval, they

are reviewed on an individual basis with the credit

union ensuring the repayments are affordable.

Any surplus made by the credit union is returned

to its members in the form of a dividend (apart

from any regulatory requirements we have to

strengthen the reserves). Occasionally the

board may choose to transfer more than the

regulatory minimum to reserves to strengthen

the business for the future. This is all agreed by

the members present at the AGM. The directors are

all volunteers, approved by the members present

at the AGM. We have several relationships with

other co-operatives and in turn we promote their

products and services. It's people helping people.

WHAT IS YOUR FAVOURITE EXAMPLE OF THIS?

Approximately five years ago, we started to work

and promote Co-op Energy. Our members, and their

family and friends. could use a link on our website

to Co-op Energy to compare the costs they are

paying for energy prices. Not only did this expose

the credit union to others but we managed to save

our members and their families over £10,000 on

the cost of their energy bills.

HOW CAN WE FIND OUT MORE?

Like all credit unions, we are governed by a

common bond, and so only those listed within this

can become members. It includes the employees

and members of many of the UK's co-operatives.

If there is sufficient desire, we can request further

additions to the common bond by seeking approval

from the Financial Conduct Authority. For a list of

those within the common bond please check our

Membership Eligibility.

More details: co-operativecreditunion.coop/join

Q&A:

CLAIRE

McCARTHY

General secretary

of the Co-op Party

Making a difference:

POLITICS

HOW DO CO-OPERATIVES MAKE A DIFFERENCE

THROUGH POLITICS?

The bold and decisive step that the co-op movement

made 100 years ago to ensure that it had a voice in

the rooms where decisions are made by creating its

own political party – the Co-operative Party – has

made a huge difference to politics. Co-operators

from AV Alexander and Ted Graham to Cathy

Jamieson and Pauline Green have been elected to

all levels of government and been able to create

opportunities for co-operative action to flourish.

That co-operative voice in Westminster, Holyrood,

Cardiff Bay and town halls across Britain brings a

much-needed mix of radicalism and practicality.

We are a movement restless for change, that makes

the passionate case for a better way of doing things,

where wealth and power are shared. But we also

offer the practical models for making it happen –

drawing on the work of our co-operative movement

that daily demonstrates the change we want to see

in the world. At their best, co-ops provide a vision

of how business can be done better.

WHAT IS YOUR FAVOURITE EXAMPLE OF THIS?

Overall the difference co-ops make through their

engagement in politics has been the creation of

an environment in which co-operative activity has

been able to diversify from its original roots and

spread across a huge range of sectors from football

and energy to transport, hospitality and culture.

There is still more to do but our models and ideas

are increasingly recognised as an option within

mainstream political discourse.

More details: party.coop

JULY 2018 | 47
---
REVIEWS

A new overview of the history of co-operation

A Global History

of Co-operative

Business, Greg

Patmore and

Nikola Balnave,

(Routledge, 2018)

This valuable new history of the global co-operative

movement charts its rise and its evolution – and

crucially outlines the way it has been shaped by

wider influences.

For instance, new forms of co-operation were

born from the hardships of industrialisation in the

19th century, with the rise of the first retail co-ops;

the ideals of the counterculture of the 1970s led

to a proliferation of worker co-ops; and now a new

movement, platform co-operativism, has arrived to

meet the needs of those left adrift by the financial

crash of 2018 and the growth of insecure work in the

digital gig economy.

With this broader global and historical context,

Greg Patmore (emeritus professor of business

and labour history and chair of the Co-operatives

Research Group at the University of Sydney) and

Nikola Balnave (senior lecturer in the department

of marketing and management and president of the

Australian Society for the Study of Labour History)

add welcome depth to a familiar story.

There's a chapter surveying the precursors to

the Rochdale Pioneers, looking at the influence

of the UK's Industrial Revolution and the political

philosophies of the era on the rise of early

co-ops, with 46 flour and bread societies formed

between 1759 and 1820 to sell at below-market

prices. It places such efforts alongside the

co-operative ideas of social reformers like

Robert Owen and Dr William King and the

growth of linked movements such as Chartism

and trade unionism. Meanwhile, early financial

co-ops were appearing in the USA and worker

co-ops were being formed in France, despite

official restrictions on popular associations.

After the modern consumer co-op movement was

birthed by the Rochdale Pioneers in 1844, it faced

a series of problems related to capitalisation and

supply chains - which would eventually see the rise

of co-operative wholesaling. But a period economic

growth saw improved wages and conditions for

skilled workers, allowing them to supply the working

capital needed by co-ops to proliferate and diversify.

Again, Patmore and Belnave see this growth in

the context of wider ideological developments,

in particular the religious Redemption

movement in the north of England and Christian

Socialism in the south.

The book takes in the parallel stories of the

rise of financial co-ops in Europe, with the rise

of the Schulze-Delitzsch and Raiffeisen models;

of interest in co-operative communities as new areas

of the USA were settled and – just 15 years after

the Rochdale Pioneers set up shop – Australia's

first consumer co-op. By 1861, Australia even had a

short-lived coalminers' co-op, created in the wake

of a labour dispute.

From there, Patmore and Balnave chart the

spread of the movement as it globalised and

diversifiedin the years before the First World War,

facilitated by faster world transport by sea and rail,

increased migration levels and improvements in

telecommunications. It's a period which saw the

movement square off against its enemies, with the

CWS fighting legal battles against capitalist rival

William Lever, and growing differences in style

and outlook within the movement. The authors

note party-political neutrality in British and Swiss

consumer co-ops, in contrast with a socialist outlook

in France and Belgium – and how, in 1902, different

attitudes to social democracy split the German

movement in two.

This was a crucial period in shaping the

movement, with landmarks such as the foundation

of the International Co-operative Alliance in 1895,

but there were tough times ahead in the 20th

century. The book shows how the movement would

continue to be shaped by wider historical forces

beyond its control – such as the Great Depression,

the rise of totalitarian systems and World War II.

It's a situation which has continued in the form

of the postwar boom, and the financial crises

which have followed it since the 1970s, through to

the rise of neo-liberalism in the present day. There

has also been a growing of internationalism in the

movement which has seen the emphasis move away

from Europe. Patmore and Balnave note the opening

of African and Asian offices by the International

Co-operative Alliance, and the growth of the

US-based World Council of Credit Unions.

As they take us through these shifting eras, the

authors provide vivid snapshots of key moments,

such as clampdowns on worker organisations

by statist Nazi and Soviet regimes; the spread

of co-operativism to India and Africa via British

colonialism; the birth of the Latin American

credit union at the hands of a Catholic priest in

Peru, in 1955; the rise of finance co-ops to serve

prosperous blue-collar workers in the US's postwar

boom; and the crisis which tore through the

Australian and New Zealand co-op movements in

the late 1970s.

With this thorough overview of the co-operative

story, the book shows how the movement has

responded to challenges and opportunities in the

past, not always successfully. It makes valuable

reading for co-operators plotting a course through

an ever-more turbulent world.

48 | JULY 2018
---
Gain a masters degree at

the home of sustainability

Study with us on one of our practical academic

courses, which draw on 40+ years of experience

in sustainability, renewable energy, architecture

and the built environment. Distance learning and

part-time options available.

MSc Sustainability and Adaptation

MSc Sustainability and Adaptation Planning

MSc Sustainability and Adaptation in the Built

Environment

MSc Sustainability in Energy

Provision and Demand Management

MSc Sustainable Food and Natural Resources

MArch Sustainable Architecture

gse.cat.org.uk

study@cat.org.uk

+44 (0) 1654 705953

APPLY

NOW

START

SEPTEMBER
---
DIARY

CLOCKWISE FROM FAR LEFT: Manchester

Central Library showcases the 'Working

Together' project in July; Community

Energy Fortnight runs until 8 July; Dr

Cilla Ross gives the UK Society for Cooperative

Studies annual lecture in

Manchester on 5 July; and Preston

considers its co-operative future on 25 July

23 June - 8 July: Community Energy

Fortnight 2018

The annual Community Energy Fortnight

is a platform to showcase inspiring

examples of communities who are

sharing their resources, generating

renewable energy and wasting less.

WHERE: Nationwide

INFO: s.coop/energyfortnight18

23 June - 8 July: Co-operatives Fortnight

The annual fortnight when co‐ops and

organisations across the UK work together

to promote co‐operatives.

WHERE: Nationwide

INFO: uk.coop/fortnight

2 - 28 July: Workers' Co-operative

Exhibition (Manchester Central Library)

The HLF-supported 'Working Together'

project was set up to identify and make

accessible for the first time records and

oral histories from some of the major UK

workers' co-operatives of the 1970s-90s.

This exhibition showcases some of the

findings of the project and includes case

studies and personal recollections of

those involved.

WHERE: Manchester Central Library

INFO: archive.coop

5 July: UK Society for Co-operative

Studies – Annual Lecture 2018

Dr Cilla Ross, vice-principal of the

Co-operative College, will be giving the

annual lecture this year on the topic of:

Rethinking co-operative education in new

times. Gill Gardner, council secretary at

the Co-op Group, will introduce the topic.

WHERE: Federation House, Manchester

INFO: s.coop/2880

7 July: International Day of Co-operatives

The theme for the 2018 International

Day is: "sustainable consumption and

production of goods and services".

WHERE: Global

INFO: s.coop/internationalday18

21 July: A Co-operative Region

– 'co-operation in action'

A day celebrating and exploring

co-operative solutions, with speakers

sharing local co-operative stories and

talking about community-run co-ops,

community housing, the Co-op Party

vision for co-operative communities, and

how we can all be more 'co-operative'.

WHERE: Arbury Community Centre,

Cambridge

INFO: s.coop/26h6k

25 July: Preston meets Mondragon

The Preston Co-operative Development

Network, UCLan and Preston City Council

are holding a symposium to develop

a plan and strategies towards a vision

of Preston as a place for democratic

employment and social citizenship.

WHERE: UCLan, Preston

INFO: jymanley@uclan.ac.uk

31 Aug - 2 Sep: UK Society for Co-op

Studies – Conference 2018

The co-operative movement has always

wrestled with the diversity of people,

places and organisational variations

that have emerged under the banner

of co-operation. This creates a specific

challenge as the global movement

attracts new advocates in the wake of

the 2008 crisis.

WHERE: Sheffield Hallam University

INFO: ukscs.coop/node/114

LOOKING AHEAD

12-14 October: Co-operative Party Annual

Conference (Bristol)

22 November: Practitioners Forum

(Manchester)

50 | JULY 2018
---
A unique blend of

investment

For people. For planet. For profit.

"Oikocredit's investment and support has helped Cafédirect

deliver lasting social and environmental impact and continue

to develop its unique, pioneering business model to be a

force for good."

John Steel, Cafédirect Plc, CEO

International social impact investor and co-operative, Oikocredit,

holds shares in Cafédirect – a pioneering social enterprise that

brought the first Fairtrade certified coffee to the UK and now owns

the London Tea Company. Smallholder coffee producers are highly

susceptible to fierce competition, price volatility and the impacts

of climate change on their crops. Cafédirect helps producer

co-operatives secure fair prices and access the technical skills

they need to mitigate climate change and other obstacles.

Established in 1975, Oikocredit invests over €1 billion in more than

800 social enterprise partners (like Cafédirect) across Africa, Asia,

Latin America and central & eastern Europe. We prioritise inclusive

finance, smallholder agriculture and affordable, renewable energy

sectors to reach the most financially disempowered communities

in the world so that they can build and sustain their way of life.

Oikocredit's investment activities, and associated social

impact monitoring, connect with many of the United Nations'

17 sustainable development goals (SDGs) to reach by 2030.

The investment opportunity for individuals and organisations

in the UK & Ireland is via depository receipts in the Oikocredit

International Share Foundation (OISF), which have historically

delivered a gross return of between 1%-2% each year, every year*.

There is no fixed notice period for redemption, no annual

management charge, and investors have always had their capital

repaid. Investments can be made in either euros or pounds sterling.

The minimum investment is €200 (or £150), there is no maximum.

Conditions apply and your investment is at risk. It is not covered

by a financial compensation scheme and is potentially illiquid.

Past performance is not a guide to future performance and

repayment of your investment is not guaranteed. Oikocredit has

the right to postpone redemptions for up to five years. If you are

in doubt about the suitability of this investment, please contact a

financial expert. *Taken from Annual Reports & Accounts.

Find out more and download our prospectus

oikocredit.org.uk | 0208 785 5526

This advertisement was produced by the Oikocredit International Share Foundation (OISF) and has been approved by Wrigleys Solicitors

LLP who are authorised and regulated by the FCA (Financial Conduct Authority). The OISF prospectus is approved by the AFM (Autoriteit

Financiele Markten), the regulatory authority for financial services in the Netherlands. The AFM has notified the FCA of the prospectus.

Coffee producer, Costa Rica. Photography: Cafédirect
---
Use our electricity

and feel good.

Not one single watt is generated by a coal-fired

power station.

It's all 100% renewable.

We're proud to be green. Join us.

www.cooperativeenergy.coop/coopnewsjuly