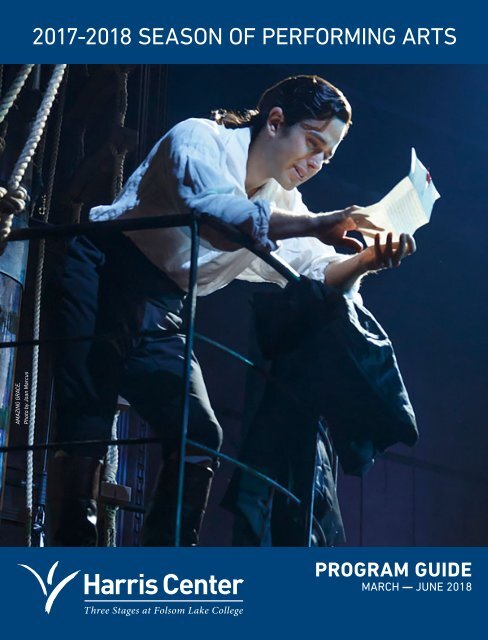 Harris Center for the Performing Arts Program Guide March-June 2018
The Harris Center for the Arts seeks to enrich the lives of people throughout California's capital region by providing venues and opportunities to experience artistic work, celebrate cultural traditions and participate in the creative process. It does this through operation of a $50 million, 80,000 square foot regional arts center opened in 2011, and an evolving array of vibrant programs geared for people of all ages and backgrounds. Among these, Presentations bring artists from around the world to the Center to perform and share, Partnerships make the Center a home for local artists and arts organizations, and Productions are work created and/or developed on site. The Center is home to Folsom Lake College's visual and performing arts instructional offerings, as well as other life-long learning programs for the broader community.
The Harris Center for the Arts seeks to enrich the lives of people throughout California's capital region by providing venues and opportunities to experience artistic work, celebrate cultural traditions and participate in the creative process.

It does this through operation of a $50 million, 80,000 square foot regional arts center opened in 2011, and an evolving array of vibrant programs geared for people of all ages and backgrounds. Among these,

Presentations bring artists from around the world to the Center to perform and share,
Partnerships make the Center a home for local artists and arts organizations, and
Productions are work created and/or developed on site.
The Center is home to Folsom Lake College's visual and performing arts instructional offerings, as well as other life-long learning programs for the broader community.
SHOW MORE
SHOW LESS
Create successful ePaper yourself
Turn your PDF publications into a flip-book with our unique Google optimized e-Paper software.
2017-2018 SEASON OF PERFORMING ARTS

AMAZING GRACE,

Photo by Joan Marcus

PROGRAM GUIDE

MARCH — JUNE 2018
---
For a Beautiful Home.

In a Beautiful World.

Professional Cleaning, Repairing & Appraisals. Complimentary Consultation in Your Home

SACRAMENTO 2550 Fair Oaks Boulevard (916) 486-1221 ROSEVILLE 1113 Galleria Boulevard (916) 780-1080

www.mansoursruggallery.com
---
THE COSMOGRAPH DAYTONA

Rooted in the history of motor sports and watchmaking,

the legendary chronograph that was born to race.

It doesn't just tell time. It tells history.

OYSTER PERPETUAL COSMOGRAPH DAYTONA

rolex

oyster perpetual, cosmograph and daytona are ® trademarks.
---
Welcome!

Welcome, and thank you for visiting

the Harris Center for the Arts.

This season, the one millionth visitor to

the Harris Center will walk through the

front door and experience the magic of the

arts, an intimate connection with creative

expression, a memorable performance

that grounds them in a larger community.

Perhaps it was you, today.

Program Guide Table of Contents

If so, perhaps you can bear testimony

to the ongoing importance of the Harris

Center's mission of enriching lives by

providing venues and opportunities

to experience artistic work, celebrate

cultural traditions and participate in the

creative process. And you would not be

alone, as surveys show Center patrons

overwhelmingly feel the Center is a high

caliber regional facility with affordably

priced programs of real interest to the

Page 5............................................................................................................Welcome

Page 7........................................................................... About Folsom Lake College

Page 9.................................................................. Inside Harris Center for the Arts

Page 11.............................................................................. Bank of America Gallery

Page 12....................................................................................... Furthering the Fun!

Page 14..............................................Folsom Lake College Spotlight: Youth Arts

Page 15.............................................................Partner Focus: Sacramento Ballet

Page 19....................................................................................Program Information

Page 53.......................................... Experience the Arts at a Completely New Level

Page 54..............................................................................Thank You to Our Donors

Page 55............................................................................Harris Center Perks Card

Page 58............................................................... Corporate Sponsorship Program

Page 60......................In The Wings: Staff, Faculty, Board, District & Volunteers

Page 64 & 65................................................ 2017-18 Season of Performing Arts

Page 66......................................................................................General Information

people in this community. It is something

they are proud of and recognized as

being a good investment. We're so glad

that you are with us here today, an active

participant in the community-making

that is at the heart of what we do.

In addition to program notes for the

show, inside this program guide you'll

find information about the Harris Center

and Folsom Lake College's efforts

around arts education and youth arts

(page 7 and 14). There's also a spotlight

on one of the Center's oldest community

partners, the Sacramento Ballet (page

15). If you'd like some ideas on how to

increase your fun at the Center, visit

page 12 to learn about Center Gift Cards,

Discount Ticket programs, and Group

Sales. To help you plan ahead, a calendar

of events is available on pages 64 & 65.

Also within are acknowledgements of

some of the cast that help make this all

possible, including our annual donors

(pages 54-55) and sponsors (page 58)

whose support of the Center is critical

to its success, since ticket revenues

alone simply do not cover all the costs of

providing a world-class arts center. As

you learn more about the Center and its

programs, we hope you'll also consider

contributing to help us further expand

the reach and impact of the Harris

Center in this community.

Again, thank you for attending today's

performance. We hope you'll enjoy this

great show, up close, and return for

many more in the years ahead.

Dave Pier

Executive Director

Harris Center for the Arts

Whitney Yamamura

President

Folsom Lake College

www.harriscenter.net WINTER/SPRING 2018 PROGRAM GUIDE 5
---
REAL PEOPLE. REAL CONNECTIONS.

Eskaton is people. Real relationships ... real connections between residents, employees,

families, volunteers and donors.

In 2018, we celebrate our 50th year as this region's premier nonprofit provider of aging

services. Every day we celebrate our Eskaton family with a focus on wellness of mind, body

and spirit. Here you'll find unique Signature Programs like Eskaton Kids Connection and

powerful life enrichment. All this comes with the practicality of month-to-month, all-inclusive

rentals at most communities. Come for a visit. Experience the Eskaton difference.

Eskaton Lodge Cameron Park

Assisted Living

530-672-8900

License # 097001275

Eskaton FountainWood Lodge

Assisted Living and Memory Care

Orangevale

916-988-2200

License # 347003574

eskaton.org

Eskaton Lodge Gold River

Assisted Living, Pre-Memory and Memory Care

916-852-7900

License # 347001241

A leading nonprofit provider of aging services in Northern California since 1968
---
About Folsom Lake College

Advocates for Arts Education

ART

MUSIC

Folsom Lake College is proud to

be home to the Harris Center for

the Arts. This unique partnership

blending education with access to

a major regional arts center allows

its students to train with acclaimed

artists in a state-of-the-art facility.

Students have an array of classes to

choose from, backed up by practical

opportunities in art, dance, music, and

theatre. Talented faculty comprised

of working artists are committed to

providing students with the tools they

need to succeed in their chosen areas

of creative expression.

Discount tickets for Harris Center

presentations provide affordable

access for students to experience the

work of top flight artists from around

the world. More hands-on opportunities

for students to participate in the arts

include:

Falcon's Eye Theatre

Falcon's Eye Theatre is the production

arm of the Department of Theatre

and Cinema at Folsom Lake College.

Falcon's Eye produced its first season

of plays in 2007, and has been offering

DANCE

two productions each year ever since.

The company is known for creating

provocative theatre that looks into

what it means to be alive and how we

manage to live together. Students and

community members are encouraged

to audition for the productions and

serve as on-stage or technical talent.

MOSAIC Dance Company

Folsom Lake

College's MOSAIC

Dance Company

performs a

variety of dance

styles including

ballet, jazz, tap,

hip-hop, lyrical,

contemporary,

African, and theatrical dance.

The name derives from the group

representation of a MOSAIC of

diverse people, with different bodies,

colors, shapes and sizes, ethnicities,

religious affiliations, and ideological

positionings… a MOSAIC not just of

dance, but of life! Each semester is

capped off with the signature "Evening

of Dance" event featuring an all-student

cast. Since 2007, FLC's dance program

has trained MOSAIC dancers who have

had the opportunity to tour to places

such as Hawaii, New York, and Los

Angeles as performers.

Music

Folsom Lake College music ensembles,

solo performance studies, and creative

music studies provide students with the

opportunity to develop performance

skills by the study of music through

THEATRE

performance with a capstone

experience in public performance.

Students have the opportunity to join

the 80-member strong college choir

or instrumental ensembles ranging

from jazz fusion to Afro Cuban Funk

to traditional orchestras. Additional

classes in commercial music

performance and technology introduce

students to the latest developments in

the field.

Visual Arts

Folsom Lake College's visual arts

department seeks to give every student

a solid foundation of concepts and skills

that will lead to an open exploration of

the historic, aesthetic, fine, and applied

aspects of the visual arts. Visual arts

students are instructed in a wide range

of styles, techniques, and approaches

supported by FLC Visual Arts faculty.

Each spring, students have the

opportunity of a

public exhibition

with the FLC

Student Art

Show held in the

Harris Center's

Bank of America

Gallery.

www.harriscenter.net WINTER/SPRING 2018 PROGRAM GUIDE 7
---
What if the loss

of a limb barely

slowed you down?

MIND-BOGGLING MEDICAL BREAKTHROUGHS

CONTINUE TO UNFOLD, EVERY DAY, ALL AROUND US.

And just when you thought the topic of health care was

not all that exciting...

Your UC Davis doctor is your direct link to an

incredible network of the very people who are actively

pursuing and changing the face of medicine, as well as...

millions of lives. And yes, we find that extremely exciting.

During OPEN ENROLLMENT, ask yourself the most

crucial question first. The right answer…

will immediately follow.

GET ALL THE ANSWERS YOU NEED TO THE MOST IMPORTANT QUESTION YOU CAN ASK.

answers.ucdavis.edu
---
Inside the Harris Center for the Arts:

Three Stages and more...

In addition to its three stages, this $50

million, 80,000 square foot regional arts

complex contains:

Stage One: 850-seat Theater. With a 46-foot proscenium, full stage house, and orchestra

pit, this is a venue capable of presenting all of the arts, from Broadway to symphonies,

contemporary dance to world music. Stage One puts the art close to the audience.

Bank of America Gallery. A wonderful

space located near the front entrance

to provide visual art exhibitions -

national, regional, local, and student.

Black Box. A flexible space perfect for a

rehearsal, a sit-down dinner, to teach a

class, or to create a work of art.

Recording Studio. One of the largest in

the capital region. Most every space in

the center can be recorded live, audio or

visual, at the press of a button.

Guild Mortgage Lobby. A unique

gathering place for the audience, for

friends, for a conversation with the artist

afterwards.

Ample auxiliary spaces including

rehearsal spaces, scene shop, costume

shop, classrooms, and more.

All venues boast state-of-the-art sound

and lighting equipment, with digital

projectors.

Rental Information

All of the Center's facilities are available for

use by the community. For more information,

contact Holly Larson at (916) 608-6847

or Holly.larson@harriscenter.net.

Stage Two: 200-seat City Studio Theater. Named by the City of

Folsom, the City Studio has gently raked seating and, like the

larger theater next door, there's not a bad seat in the house.

Stage Three: 100-seat Scott-Skillman Recital Hall. An

exceptional setting for acoustic music and vocals - the

reverberation is exquisite. Stage Three offers an intimate space

for classical music, film, and more.

www.harriscenter.net WINTER/SPRING 2018 PROGRAM GUIDE 9
---
MODEL HOME OPEN DAILY

Breathtaking

Something thrillingly beautiful, remarkable, astonishing

and exciting. The feeling when you see your

new home situated amid the untouched landscape

of rolling hills, nearby vineyards and a tranquil horizon.

WINE COUNTRY LIVING

IN PLYMOUTH

1/3 to 1/2 acre homesites • Single story homes

2,286 to 5,600 sq. ft. • 3 to 6 bedrooms

Oversized 3-car garages • No two homesites alike

Great views • From the $500,000's

(209) 680-3112 ZinfandelRidge.com

8699 Vintner Drive • Plymouth, CA 95669

Winter Hours: Open Weekdays 11am - 5pm; Weekends 10am - 5pm

Summer Hours: Open Weekdays 11am - 6pm; Weekends 10am - 6pm

All Wednesdays open at noon

Prices, terms, features, materials & availability are subject to change without notice. Square footages are

approximate. Please see Sales Representative for details. Marketed by The Advantage Group, CalBRE# 01187063

Mystique Dining

A MAGICAL DINING EXPERIENCE

Imagine dining on gourmet cuisine and being

served by Victorian butlers

while seated in an elaborate chamber.

After, intimately enjoy the artistry of

the best magicians in the World!

Reservations Required, Book Now At

www.MYSTIQUEDINING.com

(916) 534-7201 Mon-Sat 12pm - 5 pm

/mystiquedining

Magic So Close You Can Taste It!

Save 20% with the discount code: HARRIS
---
Bank of America Gallery

Selections from previous student shows

The Bank of America Gallery exhibits six

shows annually, including works of art by

college faculty, students, local, regional,

national, and international artists.

The art gallery is open Tuesday-Thursday

from noon to 4 pm as well as one hour before

and during intermission of performances.

Admission is free.

For more information about the gallery,

please contact Holly Larson at (916) 608-

6847 or holly.larson@harriscenter.net

2018 Winter/Spring Exhibitions

Area High School Invitational Art Show

3rd Biennial

January 19th − March 18th

The Visual Arts Department is hosting a

3rd Biennial Area High School Invitational

Art Show. This exhibition features art

works from high school students in

Folsom Lake College's service area,

with representation from Cordova High

School, El Dorado High School, Folsom

High School, Golden Sierra High School,

Oak Ridge High School, Ponderosa High

School, Union Mine High School, and Vista

del Lago High School.

Annual FLC Student Art Show

March 23rd − May 13th

This Annual Student Art Show features

various artworks created by Folsom

Lake College students. A diverse range of

media from drawing, painting, printmaking,

sculpture, and metal arts is exhibited. The

show represents the wide range of styles

and techniques by beginning and advanced

level students guided by FLC Visual Arts

faculty, exemplifying the strong foundation

each student receives while pursuing their

visual arts studies.

Harris Center Volunteers Art Show

May 18th − July 15th

This exhibition features artworks created

by volunteers at the Harris Center,

featuring diverse art media and styles.

Proceeds from sales of artwork in this

exhibit will benefit the Harris Center and

its programs.

www.harriscenter.net WINTER/SPRING 2018 PROGRAM GUIDE 11
---
Furthering the Fun:

Gift Cards, Discounts and Group Sales

GIFT CARDS

Give the gift of the performing arts by

purchasing a Gift Card. Available in any

denomination, gift cards are reloadable,

do not expire, and can be used to purchase

tickets to any events sold through the

Harris Center's Ticket Office. Cards may

be used over the phone, online, or in person

at the Ticket Office.

Gift Cards are available for purchase online

at www.harriscenter.net or from the Ticket

Office, Monday – Saturday from noon – 6pm

or by phone at (916) 608-6888.

STRETCH YOUR DOLLARS WITH

TICKET DISCOUNTS

The Center has a number of discount

ticket programs that can help you

save and/or stretch your buying dollars.

These include fixed subscription

packages (e.g., save 15% on the FLC

Speaker Series, 20% on the Big Stage

Series or Jeffrey Siegel Keyboard Conversations®

Series) as well as Choose-

Your-Own Subscription Packages

(save 15% when buying tickets for any

four or more Harris Center presents

shows). The Harris Center also offers

Student Discount and/or Children

Discount Tickets for many events. For

more information about these discount

ticket programs, look on the "Tickets"

Menu at www.HarrisCenter.net or call

the Ticket Office.

In addition to these discounts, those that

become Center members through annual

donations also receive discounts (see

page 53 for information about benefits

of Harris Center memberships).

STRETCH YOUR DOLLARS WITH

RESTAURANT DISCOUNTS

New this fall, the Harris Center is proud

to announce the Harris Center Perks

Program that offers monthly discounts

at more than 30 local area restaurants.

Harris Center Perks Cards include a code

that can be used to activate an app on your

smart phone that makes discounts available

each month throughout the season at

participating restaurants.

Harris Center Perks Cards are priced at

$25 for one, or $40 for two, and are available

for purchase online at www.harriscenter.net

or from the Ticket Office,

Monday – Saturday from noon – 6pm or

by phone at (916) 608-6888.

Note: Perks cards are free for Harris

Center donor members, another reason

to join today!

GROUPS: SERIOUS FUN AND SAVINGS!

Enjoy the performing arts with 10 or

more of your closest friends, family, coworkers,

classmates, or other groups –

and save on your ticket purchase! Seats

can be reserved with a down payment of

as little as 10%. What a great way to see

major Broadway musicals; international

stars; wonderful family events; pop,

country, jazz, and classical concerts;

ballet and modern dance; acrobats,

magic, and much more!

GROUP BENEFITS INCLUDE:

• 10% ticket discount for groups of 10

to 14.

• 15% ticket discount for groups of

15 or more

• Same area seat locations, subject to

availability

• Easy payment plans

• Reduced handling fees

GROUP DISCOUNTS ARE GREAT FOR:

• Employee Parties/Rewards

• Church Outings

• Clubs and Organizations of all kinds

• Bus Tours

• Class Field Trips

• Corporate Entertainment

• Senior Center Outings

• Holiday, Anniversary, and

Birthday Parties …and more!

Groups are encouraged to make advance

reservations in order to secure seats

in the same area. Group tickets can

be reserved with a credit card, cash, or

check. Upon full payment, tickets will be

mailed or distributed during regular Ticket

Office hours (Mon. – Sat., noon to 6 pm).

Tickets are nonrefundable and cannot be

exchanged for another show.

12 WINTER/SPRING 2018 PROGRAM GUIDE www.harriscenter.net
---
Yes. This is Stickley.

Since 1900, generations of

families have furnished their homes

with Stickley Furniture.

The collector furniture offers

authentic designs, integrity of

construction and commitment to

craftsmanship. Stickley Furniture

rooted in the past, designed for the

present, and destined for the

future... Uniquely American.

WWW.NATURWOOD.COM

12125 Folsom Blvd

Rancho Cordova

916-351-0227

Mon–Fri 10am–8pm

Sat 10am–6pm

Sun 11am–6pm
---
Spotlight on Folsom Lake College: Youth Arts

Folsom Lake College is proud to serve the community as a leader in providing unique

opportunities for young people in the visual and performing arts. The college currently is

home for a youth chamber orchestra, youth summer arts academy and school time matinee

series designed to spark and support a passion for the arts and creative expression among

young people in Folsom Lake College's service area (Rancho Cordova, Folsom, El Dorado

Hills, Cameron Park, Shingle Springs, Placerville and surrounding communities).

YOUTH CHAMBER ORCHESTRA

The mission of the orchestra is to inspire music appreciation and excellence among

children ages 12-18, and increase community awareness of and participation in the

musical experiences of the youth. The Orchestra is directed by Dr. Evgeniy Sporov and

is comprised of 15-20 young musicians each semester. In addition to earning college

credit for participating, each semester is concluded with a concert at the Harris Center

for the Arts.

YOUTH SUMMER ARTS ACADEMY

The Youth Summer Arts Academy is an opportunity for young people ranging in ages 8-18

to experience week long creative programs in Art, Dance, Music and Theatre Arts. New

to the curricula this year will include a session on STEAM where students can use design

thinking and makerspace tools and techniques to solve problems that blend science,

technology, engineering, arts and mathematics. Attendees will have the opportunity to

work side by side with professors, master teachers and visiting professional artists.

CLASS ACTS SCHOOL TIME MATINEE SERIES

Students who actively engage in the arts through a variety of experiences gain multiple

benefits that contribute to academic achievement and personal success. With this in

mind, the Class Acts School Time Matinee Series is a program designed to both entertain

and inspire students through multi-cultural, multi-disciplinary performances. Grants

for tickets or transportation are available for qualifying schools.

These programs are made possible by support from The Robert S. and Star Pepper Foundation,

the County of Sacramento, Harris Center donor members and proceeds from special fundraisers

such as the recent Youth Arts Raffle organized by Harris Center volunteers.

14 WINTER/SPRING 2018 PROGRAM GUIDE www.harriscenter.net
---
Partner Focus: Sacramento Ballet

The Sacramento Ballet has been an active community partner

of the Harris Center since the Center's opening season in spring

2011. Their Modern Masters programs featuring the work of

contemporary choreographers are spectacular in the venue's

intimate setting and have been met with thunderous applause.

The Sacramento Ballet was

founded in 1954 through the

efforts and leadership of

Barbara and Deane Crockett.

During Ms. Crockett's tenure

as Company Director, The

Sacramento Ballet gained

national recognition as

one of the finest regional

arts companies. Through

community support, the formation of the Ballet Guild, and

grants from the Sacramento Metropolitan Arts Commission,

California Arts Council, and the National Endowment for

the Arts, the Ballet was able to grow and begin to hire a

resident company of professional dancers. In 1986, having

accomplished her goal of making The Sacramento Ballet a

professional company, Ms. Crockett retired as the Company

Director. In 1988 Ron Cunningham was engaged as Artistic

Director, and was joined by his wife Carinne Binda the

following year. The two became Co-Artistic Directors in 1991,

and through their vision and leadership, the company has

enjoyed substantial success and is widely recognized as a

leading arts organization in Sacramento.

The Sacramento Ballet is well known for Cunningham's

world premieres of such works as Carmina Burana, The

Rite of Spring, Bolero, and A Midsummer Night's Dream as

well as the classics, including The Nutcracker, Romeo and

Juliet, Cinderella, A Streetcar Named Desire and Hamlet. In

20 seasons, the Ballet has added 15 full-length ballets, 18

Balanchine masterworks, 40 Sacramento premieres, and

38 world premieres. The company is highly regarded as a

cultural asset to the community and consistently receives

outstanding reviews for its artistic quality.

The Sacramento Ballet recently announced the appointment

of Ms. Amy Seiwert as its next Artistic Director, beginning

in 2018-19 Season. Her national reputation, award-winning

choreography, and deep roots in the company make her

an excellent fit for the role. She has an artistic vision that

can build on the company's strategic plans to bring growth

to the company and foster a deep engagement with the

Sacramento community. Barbara Crockett, founder of the

Sacramento Ballet, says "Amy is a natural choice to succeed

Ron and Carinne Cunningham. Her years of experience

in Sacramento will serve as a solid foundation for her

leadership of the Ballet."

Now a noted choreographer

with work performed by

companies across the

country, Amy earlier enjoyed

a nineteen-year performing

career with the Smuin Ballet,

LA Chamber Ballet and

Sacramento Ballet where

she danced from 1991-

1999. Seiwert lauds Ron and

Carinne Binda Cunningham,

as "part of my artistic DNA. The aesthetic choices that

inform my choreographic style took root during my time with

Sacramento Ballet" where Ron and Carinne provided Seiwert

multiple opportunities to develop her choreographic talents.

This spring the Sacramento Ballet will present Modern

Masters: Red Hot, May 11, 2018 - May 13, 2018 at the Harris

Center for the Arts. The selections included are Blood

Rush, Ma Cong's visceral dance set to the sizzling music

of Latin composer Astor Piazzola, defining the word hot!;

Ron Cunningham's Bolero which perfectly captures the

relentless drive of Ravel's pulsating music; and Fluctuating

Hemlines, a witty, urbane, sophisticated, and deliciously

irreverent piece where 1960s fashion collides with 21st

century morés.

Community Partners

Some of the most respected arts organizations in the region have made the Harris Center their home. These partners share the goal

of improving the quality of life in the region by providing access to more art for more audiences.

Art Studio Trek • Balazs Rozsa Piano Studio • Bank of America • Ballet FolklÓrico de Sacramento • Bob Allen Music

Calidanza • Cantare Chorale • Carrera Productions • City of Folsom • Classical Masters Music Festival

ConnectPoint Search Group • CORE Contemporary Dance • Consulate of Mexico in Sacramento • Davis Chinese Film Festival

El Dorado Dance Academy • El Dorado Hills Arts Association • El Dorado Musical Theatre • Emery Entertainment

Folsom Art Association • Folsom Lake Community Concert Association • Folsom Piano Academy • Folsom Lake Symphony

Fudominal Productions • Gary Vecchiarelli Productions • Hālau Ka Waikahe Lani Mālie & Hālau Kahulaliwai • He, the breath of God

Jaclyn McNeal Piano Studio • Kids Helping Kids • Lenea Theatre Festival • Malko Dance Academy

Music Teachers Association of California, Sierra Chapter • Nell Robinson & Jim Nunally Band • Northern California Dance Conservatory

One Way Productions • Pacific Institute of Music • Pamela Hayes Classical Ballet • Placer Pops Chorale • SAHANA • SBL Entertainment

Sacramento Ballet Sacramento Baroque Soloists • Sacramento Guitar Society • Sacramento Master Singers • Sour Grapes Inc

Spiritual Center for Positive Living • The VITA Academy • Voices of California • Wendy Palmer Piano Studio

www.harriscenter.net WINTER/SPRING 2018 PROGRAM GUIDE 15
---
Feel

the glory.

Not the

joint pain.

You're only as old as you feel. If knee or hip pain is limiting your range of motion,

the orthopedic specialists at Mercy Hospital of Folsom can help get your old

moves back. Find out if your joints are in need of an upgrade by taking our

online joint health assessment at DignityHealth.org/Orthopedics.
---
Buddy − The Buddy Holly Story

Friday, March 2, 2018; 7:30 pm

Saturday, March 3, 2018; 2 & 7:30 pm

Sunday, March 4, 2018; 2 pm

Alan Janes, Richard Porter & Boebe Productions LLC

By Arrangement with Buddy Worldwide Ltd & Maria Elena Holly

Present

WRITTEN BY

Alan Janes

SCENIC & COSTUME DESIGN BY

Adrian Rees

GENERAL MANAGEMENT

Boebe Productions LLC

LIGHTING DESIGN BY

Darren Coopland

PRODUCTION MANAGER

Ben LoPreto

SOUND DESIGN BY

Peter Cox

TECHNICAL DIRECTOR

Bodie Tureson

PRODUCTION STAGE MANAGER

Hayley Hunt

COMPANY MANAGER

Steve Steiner

MUSICAL SUPERVISOR

John R. Banister

PRODUCER

Richard Porter

DIRECTOR

Matt Salisbury

For all licensing information visit www.buddythemusical.com

Licensing Manager: Rick Thorne

TOUR DIRECTION

Columbia Artists Theatricals

Gary McAvay, President

www.columbiaartiststheatricals.com

www.harriscenter.net SPRING 2018 PROGRAM GUIDE 19
---
Buddy − The Buddy Holly Story continued

Synopsis of Scenes

ACT ONE

Grand Bowl, Lubbock, Texas

The Diner, Lubbock, Texas

Decca Recording Studios, Nashville

KDAV Radio Studio, Lubbock, Texas

NorVajak Studios, Clovis, New Mexico

Apollo Theater, Harlem, New York

ACT TWO

Music Publisher's Office, New York

Central Park, New York

NorVajak Studios, Clovis, New Mexico

Buddy & Maria Elena's Apartment, New York

Backstage Surf Ballroom, Clear Lake, Iowa

Clear Lake Concert, Clear Lake, Iowa

Buddy – The Buddy Holly Story: Music Credits

The use of the songs in this production is by arrangement with:

Flower Of My Heart . . . . . . . . . . . . . . . . . . . . . . . . . . . . . . . . . . . . . . . . . . . . . . . . . . . . . . . . . . . . . . . . . . . . . . . . . . . . . . . . . . . . . . . . . . . . Holly House Inc.

Ready Teddy . . . . . . . . . . . . . . . . . . . . . . . . . . . . . . . . . . . . . . . . . . . . . . . . . . . . . . . . . . . . . . . . . . . . . . . . . . . . . . . . . . . . . . . . . . . . Unichappell Music Inc.

That's All Right . . . . . . . . . . . . . . . . . . . . . . . . . . . . . . . . . . . . . . . . . . . . . . . . . . . . . . . . . . . . . . . . . . . . . . . . . . . . . . . . . . . . . . . . . . Unichappell Music Inc.

Changing All Those Changes . . . . . . . . . . . . . . . . . . . . . . . . . . . . . . . . . . . . . . . . . . . . . . . . . . . . . . . . . . . . . . . . . . . . . . . . . Cedarwood Publishing Co.

That'll Be The Day . . . . . . . . . . . . . . . . . . . . . . . . . . . . . . . . . . . . . . . . . . . . . . . . . . . . . . . . . . . . . . . . . . . . . . . . . . . . . . . . . . MPL Comm. Inc. MPL/Wren

Blue Days Black Nights . . . . . . . . . . . . . . . . . . . . . . . . . . . . . . . . . . . . . . . . . . . . . . . . . . . . . . . . . . . . . . . . . . . . . . . . . . . . . . . . . . Unichappell Music Inc.

Rock Around With Ollie Vee . . . . . . . . . . . . . . . . . . . . . . . . . . . . . . . . . . . . . . . . . . . . . . . . . . . . . . . . . . . . . . . . . . . . . . . . . . . Hill And Range Songs Inc.

Looking For Someone To Love . . . . . . . . . . . . . . . . . . . . . . . . . . . . . . . . . . . . . . . . . . . . . . . . . . . . . . . . . . . . . . . . . . . . . . MPL Comm. Inc. MPL/Wren

Mailman Bring Me No More . . . . . . . . . . . . . . . . . . . . . . . . . . . . . . . . . . . . . . . . . . . . . . . Southern Music Publishing Co. /Beinstock Publishing

Maybe Baby . . . . . . . . . . . . . . . . . . . . . . . . . . . . . . . . . . . . . . . . . . . . . . . . . . . . . . . . . . . . . . . . . . . . . . . . . . . . . . . . . . . . . . . . MPL Comm. Inc. MPL/Wren

Everyday . . . . . . . . . . . . . . . . . . . . . . . . . . . . . . . . . . . . . . . . . . . . . . . . . . . . . . . . . . . . . . . . . . . . . . . . . . . . . . . . . . . . . . . .Southern Music Publishing Co.

Shout . . . . . . . . . . . . . . . . . . . . . . . . . . . . . . . . . . . . . . . . . . . . . . . . . . . . . . . . . . . . . . . . . . . . . . . . . . . . . . . . . . . . . . . . . . . . . . . . . . . . . . . . . . . . . . . .Sony/ATV

Not Fade Away . . . . . . . . . . . . . . . . . . . . . . . . . . . . . . . . . . . . . . . . . . . . . . . . . . . . . . . . . . . . . . . . . . . . . . . . . . . . . . . . . . . . . MPL Comm. Inc. MPL/Wren

Peggy Sue . . . . . . . . . . . . . . . . . . . . . . . . . . . . . . . . . . . . . . . . . . . . . . . . . . . . . . . . . . . . . . . . . . . . . . . . . . . . . . . . . . . . . . . . . .MPL Comm. Inc. MPL/Wren

Words Of Love . . . . . . . . . . . . . . . . . . . . . . . . . . . . . . . . . . . . . . . . . . . . . . . . . . . . . . . . . . . . . . . . . . . . . . . . . . . . . . . . . . . . . . . . . . . . . . . . . MPL Comm. Inc.

Oh Boy . . . . . . . . . . . . . . . . . . . . . . . . . . . . . . . . . . . . . . . . . . . . . . . . . . . . . . . . . . . . . . . . . . . . . . . . . . . . . . . . . . . . . . . . . . . . . . . . .Wren Music Co. c/o MPL

Listen To Me . . . . . . . . . . . . . . . . . . . . . . . . . . . . . . . . . . . . . . . . . . . . . . . . . . . . . . . . . . . . . . . . . . . . . . . . . . . . . . . . . . . . . . . .MPL Comm. Inc. MPL/Wren

Well Alright . . . . . . . . . . . . . . . . . . . . . . . . . . . . . . . . . . . . . . . . . . . . . . . . . . . . . . . . . . . . . . . . . . . . . . . . . . . . . . . . . . . . . . . . .MPL Comm. Inc. MPL/Wren

It's So Easy To Fall In Love . . . . . . . . . . . . . . . . . . . . . . . . . . . . . . . . . . . . . . . . . . . . . . . . . . . . . . . . . . . . . . . . . . . . . . . . . . MPL Comm. Inc. MPL/Wren

Think It Over . . . . . . . . . . . . . . . . . . . . . . . . . . . . . . . . . . . . . . . . . . . . . . . . . . . . . . . . .Cedarwood Publishing Co. /Southern Music Publishing Co.

When You Ask About Love . . . . . . . . . . . . . . . . . . . . . . . . . . . . . . . . . . . . . . . . . . . . . . . . . . . . . . . . . . . . . . . . . . . . . . . . . . . . . . . . Acuff Rose Music Inc.

True Love Ways . . . . . . . . . . . . . . . . . . . . . . . . . . . . . . . . . . . . . . . . . . . . . . . . . . . . . . . . . . . . . . . . . . . . . . . . . . . . . . . . . . . . .MPL Comm. Inc. MPL/Wren

A Teenager In Love . . . . . . . . . . . . . . . . . . . . . . . . . . . . . . . . . . . . . . . . . . . . . . . . . . . . . . . . . . . . . . . . . . . . . . . . . . . . . . . . . . . . . . Unichappell Music Inc.

Why Do Fools . . . . . . . . . . . . . . . . . . . . . . . . . . . . . . . . . . . . . . . . . . . . . . . . . . . . . . . . . . . . . . . . . . . . . . . . . . . . . . . . . . . . . . . . . . . Windswept Pacific Ent.

Chantilly Lace . . . . . . . . . . . . . . . . . . . . . . . . . . . . . . . . . . . . . Donald Daily, Glad Music Co. / Fort Knox Music Inc. / Trio Music Company Inc.

Peggy Sue Got Married . . . . . . . . . . . . . . . . . . . . . . . . . . . . . . . . . . . . . . . . . . . . . . . . . . . . . . . . . . . . . . . . . . . . . . . . . . Southern Music Publishing Co.

Heartbeat . . . . . . . . . . . . . . . . . . . . . . . . . . . . . . . . . . . . . . . . . . . . . . . . . . . . . . . . . . . . . . . . . . . . . . . . . . . . . . . . . . . . . . . . . . . . . Wren Music Co. c/o MPL

Raining In My Heart . . . . . . . . . . . . . . . . . . . . . . . . . . . . . . . . . . . . . . . . . . . . . . . . . . . . . . . . . . . . . . . . . . . . . . . . . . . . . . . . . .House Of Bryant Pubs. Inc.

It Doesn't Matter Anymore . . . . . . . . . . . . . . . . . . . . . . . . . . . . . . . . . . . . . . . . . . . . . . . . . . . . . . . . . . . . . . . . . . . . . . . . . . . . . . . . Management Agency

Rave On . . . . . . . . . . . . . . . . . . . . . . . . . . . . . . . . . . . . . . . . . . . . . . . . . . . . . . . . . . . . . . . . . . . . . . . . . . . . . . . . . . . . . . . . . . . . . . . Wren Music Co. c/o MPL

Johnny B Goode . . . . . . . . . . . . . . . . . . . . . . . . . . . . . . . . . . . . . . . . . . . . . . . . . . . . . . . . . . . . . . . . . . . . . . . . . . . . . . . . . . . . . . . . . . . . . . . Isalee Music Co.

All other songs, arrangements and incidental music by Paul Jury

20 SPRING 2018 PROGRAM GUIDE www.harriscenter.net
---
Buddy − The Buddy Holly Story Who's Who

Michael Perrie Jr. (Buddy Holly) Michael is glad to be back on

tour with Buddy. He's a NYC based Actor/Playwright/Composer

originally from Baltimore, Maryland where he earned his BFA in

Acting at Towson. Credits include National Tour 2016: Buddy -

The Buddy Holly Story (as Buddy). NY Theatre: Go, Go, Gilgamesh!

(FRIGID BoF Winner 2017), Big Red Button (Him & Her Theatre

Co). Regional: Buddy - The Buddy Holly Story, The Music Man,

Beauty & The Beast, The Producers (TBTS), and One Man, Two

Guvnors (Heritage Theatre). His plays and musicals are seen

all over the country. He would like to thank his new wife Lacy

for her love and strength, the Buddy team for having him back,

and his family and friends for all their support!

Hailey Aviva (Maria Elena) Hailey is honored, as well as

ecstatic, to be a part of Buddy - The Buddy Holly Story. Some

of Hailey's previous performances were A Grand Night for

Singing, Legally Blonde, Rent, Hair, Hello Dolly and Sunday in

the Park with George. Hailey would like to thank the cast and

crew for this wonderful experience.

Noah Berry (Jerry Allison) Noah is so excited to be on his

second tour with Buddy - The Buddy Holly Story, reprising

the role of Jerry Allison. He has been working as an actor

for regional productions in Indiana, North Carolina, Ohio,

and Kentucky. He also performed with the Pennsylvania

Renaissance Faire for their 2016 season. His latest theatrical

credit was touring with the Children's Theater of Cincinnati,

performing for over one hundred schools and public facilities

in the greater Cincinnati area. He would like to thank his family,

friends, and his beautiful Sunshine for pushing him to continue

his love of playing.

Miguel Angel Brenes (Apollo Performer & Ritchie Valens) was

raised in New York City and is back in the USA after nearly

1,500 performances of Buddy – The Buddy Holly Story (West End

Revival & UK tours). He played Miguelito in Midnight Tango (West

End & UK tours). Other favorite credits include Smokey Joe's

Cafe, West Side Story, Sasha Regan's All Male HMS Pinafore, the

Butler in Joseph and the Amazing Technicolor Dreamcoat, Paul

and Richie in A Chorus Line, and Jacob in La Cage aux Folles.

Also, Miguel is pleased to bring his choreography for this show

from the UK.

Nathan Yates Douglass (Hipockets Duncan) is happy to be

making his return to the tour, his 7th time appearing in a Buddy

production. Regional: Heartbreak Hotel (Bill Black, Ogunquit

Playhouse Theatre), Seven Brides For Seven Brothers (Mr.

Sanders, Ogunquit Playhouse Theatre), Much Ado About Nothing

(Don Pedro, Endstation Theatre), Sanders Family Christmas

(Stanley, Sierra Rep Theatre), Ring of Fire (Mark, Cortland Rep

Theatre), Million Dollar Quartet (Jay Perkins, Berkshire Theatre

Group). Off-Broadway: On the Bum (Harry, Chelsea Rep Theatre).

NathanYatesDouglass.com

James Fairchild (The Big Bopper) James is excited to be joining

the Buddy tour for one more go round. He was last seen in the

2016 tour. Previous regional credits include: Mamma Mia !, The

Full Monty, Bridges Of Madison County, Footloose, Fiddler On The

Roof, Sister Act, The Pillowman, The 39 Steps and Buddy – The

Buddy Holly Story. Thanks for coming and enjoy the show!

Alan J. Kelly (Norman Petty) Regional Theatre: Million Dollar

Quartet (Endstation Theatre Company), The Little Mermaid,

Les Misérables (Sharon Playhouse), Anything Goes, Cabaret,

Fiddler on the Roof, White Christmas, Dreamgirls, Footloose

(Riverside Dinner Theatre). Regional music direction: Guys and

Dolls, Godspell 2012, Nunsense (The Theater Barn), A Christmas

Story: The Musical (Theatre Workshop of Nantucket), Beauty and

the Beast, Gentlemen Prefer Blondes, Brigadoon, The Sorcerer

(associate conductor, College Light Opera Company). Alan

works in NYC as a freelance pianist, music director, composer/

arranger, and as a singing waiter at Ellen's Stardust Diner. B.M.,

Music Composition, Westminster Choir College.

Lori Lusted (Vi Petty) is overjoyed to tour with Buddy for a second

time! She is originally from Baton Rouge, LA. Off-Broadway:

Swingtime Canteen (Topeka), I Know What Boys Want (Ens). NYC:

Oliver! (Charlotte), Atlantis the Musical (Little Girl). Regional:

Les Miserables (Cosette), Chicago (Roxie), Hair (Jeanie), Annie

(Grace), You're A Good Man Charlie Brown (Sally), Evita (Mistress).

Lori is currently obsessed with learning calligraphy and the

accordion. Many thanks to Wright Talent Management, her

family, and her loving fiancé, Nick! M.M. in Music Theater from

OCU. www.lorilusted.com

Cullen Law (Nikki Sullivan, 4th Cricket) is thrilled to rock out

again with the Buddy Holly! Cullen was most recently seen

in Wonderland (Cheshire Cat/Red Rose) with Childsplay, and

Buddy – The Buddy Holly Story (Tommy Allsup) National Tour,

which marked his fourth time playing Tommy in The Buddy

Holly musical. His recent memorable moments include Lamb

of God with the London Symphony Orchestra, and a workshop

of Broadway-Bound Hollywood Romance directed by Kristin

Hanggi (Rock of Ages; Broadway). "Love to Michelle, my Family,

and Joshy!"

Kyle Milner (Murray Deutch/MC at Clear Lake) Kyle is thrilled to

be back on the road with Buddy – The Buddy Holly Story. Hailing

from New Hampshire, Milner was previously with Buddy on

their 2016 National Tour. He currently resides in Brooklyn,

NY, performing in productions and readings all the way from

Shakespeare to sketch comedy! Kyle would like to thank his

family for supporting him on his paid vacation across the

country: Mom, Dad, Meghan & Ryan and Chris, Laura & Liam!

Jason William Steffen (Joe B Mauldin) is happy to reprise

his role as Joe B. Having rocked out on the 2016 National

Tour of Buddy, he has also played in various productions of

Million Dollar Quartet and Rock of Ages across the country

playing guitar and upright bass. He earned his BA in Theatre

from Arizona State University and is an Associate Artist of

Southwest Shakespeare Company. Thank you and enjoy the

show. www.jasonwilliamsteffen.com

Anthony Egendorfer (Master Electrician) is a theatrical

technician and aspiring pyrotechnician from Southern

California. He has worked countless shows, his favorites of

which include: Peter Pan, Evita, In the Heights, and an outreach

program where he helped bring the joy of live theatre to over

25,000 children. Anthony is thrilled to be joining the Buddy team

and put on a great show for you.

www.harriscenter.net SPRING 2018 PROGRAM GUIDE 21
---
Buddy − The Buddy Holly Story Who's Who

Kelsey Gerdon (Assistant Stage Manager) is a Las Vegas,

Nevada resident, Northern Arizona University (NAU) alumnus,

who finished her studies at the University of Leeds in Leeds,

England. She is thrilled to be a part of the National Tour of

Buddy – The Buddy Holly Story, joining the legacy of people who

have brought this production alive to date. Kelsey loves all the

disciplines involved in theatre such as management, lighting,

costumes, and scenery. Some of her favorite past show credits

include: Hairspray, All Shook Up, Kiss Me Kate, The 25th Annual

Putnam Spelling Bee, Summer and Smoke, The Comedy of Errors,

and The School for Lies. She is grateful to have been a part of the

arts management team for the reopening of Surflight Theatre

in Beach Haven, New Jersey as well as acting as their house

manager. Kelsey would like to thank all of her supporters,

family, and friends who have always encouraged her to do

whatever she sets her mind to.

Hayley Hunt (Production Stage Manager) is thrilled to be a part

of the Buddy tour. Previous tours include: Fame – The Musical

and The Lion (launched at MRT in Lowell, MA). Regional: Fellow

Travelers, Silent Night, Song from the Uproar, and others at

Cincinnati Opera, Dayton Opera, San Antonio Opera, Merrimack

Repertory Theatre, The Children's Theatre of Cincinnati, and

Houston Shakespeare Festival. Hailing from Katy, Texas,

Hayley holds a B.F.A. from the University of Cincinnati - College

Conservatory of Music.

Keith Lambert (Wardrobe Supervisor) Keith started working

in theater in college. After finding his love for the craft, he

was led to Philadelphia where he is the Costume Director of

the largest haunted attraction in the United States outside of

an amusement park (Terror Behind the Walls @ Eastern State

Penitentiary), costuming over 250 actors each night. There he

and his staff build and maintain all showpieces.

Ben LoPreto (Production Manager) has been working In the

entertainment industry since the age of 16. He started in a

small community theatre on Long Island, working his way up

to do National Tours and music festivals all over the country.

Previously he has worked on the last National Tours of A Chorus

Line (2012-2013), Godspell (2013-2014) and Jekyll and Hyde

(2014-2015). He has also worked music festivals such as

Hangout Fest on the Gulf Shores of Alabama and the Telluride

Blues and Brews Fest in Colorado. He is excited to work

alongside the talented crew of Buddy.

James McCormick (Audio Engineer) Jim started in

entertainment in 1981 and was touring with Joan Jett and the

Blackhearts by 1984, supporting acts such as Deep Purple

and Ratt along with her personal tour. Jim went on to work

with other artists such as Expos'e, Taylor Dayne, Najee, Lisa

Lisa Cult Jam, Renaissance and others with his last touring

in 2007 as Aretha Franklin's audio engineer. In 2001, Jim

started an event production company providing sound system

and AV services. He is also a USA Hockey level 4 coach and

coached teams from New England to North Carolina where

he currently resides.

Colby Peterson (Assistant Sound Engineer) Born and raised in

Missoula, Montana, Colby (age 22) will be joining Buddy for his

second National Tour with the company. Throughout his career,

Colby has worked with multiple Grammy award-winning

artists, such as Hank Williams Jr. and Jerrod Niemann.

Furthermore, Colby has performed his craft in 12 different

countries, three of which came during his time as Head of Audio

with Carnival Cruise Line. There he worked with a stream of

nationally recognized comedians, including Jay Leno. Colby

has a passion for excellence and is excited to be a part of

bringing the production of Buddy to life!

Lacy Reily (Assistant Company Manager) is a New York based

Stage Director with a passion for new plays. Her previous

directing work includes world premieres of over 15 new

plays, which have been seen across the U.S. Most recently:

More (Unfringed Festival), Do You Dream In Spanish? (Fresh

Fruit Festival), Wild Imagination (Dixon Place), An Unexpected

Thing Happens (Fresh Grind Festival), I am, to you, A Stranger

(United Solo Festival), The Nose (MITF 2016 Award-Winner, Best

Musical), Down Among The Vultures (Cincinnati Fringe) and more.

She thanks her family and Mike for their endless support!

Bodie Tureson (Technical Director) grew up in the small town of

Lee Vining, California. After graduating high school he moved

to Reno, Nevada where he started working at the Eldorado

Showroom. There he ran tech for numerous shows and learned

all technical aspects of theater. From there Bodie moved to Las

Vegas, Nevada and now works all throughout the Vegas Strip.

Since moving to Las Vegas, Bodie has been a part of multiple

productions including: Island Heat, Crazy Girls, Paul Zerdin,

Franky Moreno, Americas Got Talent Live, and most recently

Magic Mike Live.

Steve Steiner (Company Manager) Steve works in all areas

of the Theatrical Industry. Actor BROADWAY: Anything Goes,

Buddy (original cast), State Fair, and the upcoming Diner by

Barry Levinson and Sheryl Crow. OFF B'WAY: Return To The

Forbidden Planet (Prospero), Annie Warbucks, and Honky-Tonk

Highway (also MD/Arranger). NATIONAL TOUR: Pirates of

Penzance (Pirate King), and Little Shop of Horrors. REGIONAL:

50+ roles, favorites include Carnival (Paul), Kismet (Poet).

Musical Director: 25 productions regionally, National Tours and

in New York. Artistic Director: 14 years (& counting) Surflight

Theatre, 8 (& counting), Jersey Shore Entertainment. Producer:

Boebe Productions LLC: 6 National Tours (Buddy, Titanic, Sweet

Charity). Director: 40+ productions, recently Laguna Playhouse,

CA (Buddy and Ring of Fire). Company Manager: Three tours of

Buddy. Past President of the South Jersey Cultural Alliance,

10 years AEA Councillor, proud recipient of NJ Theatre Alliance

Access Task Force INNOVATOR Award (forward thinking

practices in hiring actors with disabilities).

John Banister (Musical Supervisor) is an honours graduate of

The Royal Academy of Music in London, England. He began his

career as a classical musician playing with some of Britain's

top orchestras such as The Royal Philharmonic, Welsh National

Opera and Sadler's Wells Royal Ballet. As an actor/musician

he has appeared in several of London's West End shows such

as Buddy - The Buddy Holly Story, Jailhouse Rock, Great Balls of

Fire and The Sound Of Music. He is now the Music Supervisor

for Buddy - The Buddy Holly Story through Buddy Worldwide

Ltd. and has directed and appeared in many productions

across Europe and North America. John was nominated for

22 SPRING 2018 PROGRAM GUIDE www.harriscenter.net
---
Buddy − The Buddy Holly Story Who's Who

The Sterling Award for most outstanding Music Director at the

Mayfield Dinner Theatre in Edmonton, Canada, and recently

appeared in the production of Folkswaggin (Music Of The

People), and Top Of The Pops, The British Invasion at The Mayfield.

Currently, he is Music Supervisor for the Ogunquit Playhouse

production of Heartbreak Hotel where he has teamed up with

the creator of Million Dollar Quartet.

Darren "Daz" Coopland (Lighting Designer) started his theatrical

career 20 years ago as a pit drummer for local productions

at The Hull New Theatre and then moved into the technical

department and up to Deputy Chief Electrician. He has also

been resident in the technical departments of Scarborough

Futurist and the Harlow Playhouse. UK touring productions

include: The Chuckle Brothers, Boogie Nights 2, Simply Ballroom,

Strictly Ballroom, Hormonal Housewives and The Rise And Fall

Of Little Voice, Thriller Live, and Flashdance. In between tours,

Daz has worked on over 20 pantomimes around the country.

Lighting Design credits include: A Stretch Of The Imagination

and numerous events, corporate functions and weddings. DVD

credits include: Brendon Burns – So I Suppose This Is Offensive

Now. Daz has worked with Buddy – The Buddy Holly Story since

2005 which has toured the UK five times, Scandinavia, and

was in the West End production which opened in 2007. He is

delighted to be welcomed back into the Buddy family for the

2017 U.S. Tour.

Peter Cox (Sound Designer) has been involved with Buddy for

over 20 years and has successfully completed productions in

Europe, Canada, United States, Australia, and the Far East. His

passion for the show never falters, and in 2010 he was awarded

the prestigious 'Buddy Sound Designer of the Decade' award.

In 1996 Peter co-founded Thames Audio Ltd., a busy sound

equipment rental company in London. For the last 21 years, he

and his team have been providing both sound design services

and equipment for all manner of productions and events.

www.thamesaudio.co.uk.

Steve Jefferys (Production Manager, UK) began his career in

theatre at the Theatre Royal Lincoln in 1989 before taking a

position at the Mercury Theatre, Colchester the following year.

Since 1992, Steve has toured with many and varied productions

for hundreds of venues in the UK and Ireland, as well as theatres

in Singapore, Hong Kong, Kuala Lumpur, Japan, The UAE, South

Africa, Europe and Scunthorpe. Steve was Company Manager

on the first UK tour of the award-winning show Tap Dogs, which

he toured with for many years. Other tours include Hot Shoe

Shuffle, Crazy for You, Annie, Dancing in the Streets, and Peter Pan,

as well as previous tours of Buddy. Among others, Steve has

worked as tour manager for the late Paul Daniels, Paul Zenon,

Jim Davidson, Ray Mears and the Australian actor, Mark Little.

Steve worked with Mark Little alongside Icelandic sculptor and

lighting designer Norbert Dentressangle on The Olivier awardwinning

Defending The Caveman and A Stretch of the Imagination.

Mark Little is a Whinging P.O.H.M. Steve made his acting debut

in 2011 as Vincent Tuck in Robin, a film written and directed by

Mark Little. Steve is married with one and a half children.

Adrian Rees (Designer) studied theatre design at the

Wimbledon School of Art and has since designed more than

200 productions. He has worked extensively in repertory

theatres around the UK, including Plymouth Theatre Royal,

the Churchill Theatre, Bromley, West Yorkshire Playhouse,

Leicester Haymarket, the Belgrade Theatre, Coventry, York

Theatre Royal, Northern Broadsides, Pitlochry Festival

Theatre, and also the Edinburgh Festival Fringe. His many

touring productions include High Society, Fame, In the

Midnight Hour, Bare Necessities, The Fifteen Streets, Buddy,

Round the Horne - Unseen and Uncut and Singular Women. He

also designed the 20th anniversary concert of Sondheim's

Sweeney Todd at the Royal Festival Hall on the South Bank. In

the West End, Adrian has designed costumes for The Return to

the Forbidden Planet at the Cambridge and set and costumes

for Catherine Cookson's The Fifteen Streets at the Playhouse,

125th Street at the Shaftesbury Theatre and Jailhouse Rock at

the Piccadilly, as well as Fame the Musical at several theatres

and Buddy at the Duchess. He is delighted to be designing the

latest tour of Buddy. You can find out more about Adrian's work at

www.adrian-rees.co.uk

Matt Salisbury (Director) has worked in the theatre for over

35 years and has visited Canada, America, New Zealand,

mainland Europe, Great Britain and the West End with trade

shows, conferences, theatre, pantomimes, ballet and opera

productions. He has been a stage hand, electrician, carpenter,

Assistant, Deputy, Stage and Company Manager, actor,

Producer and Director. Matt continues his long involvement

with Buddy having worked on the show since it opened in 1989,

and is thrilled to be part of this 2017 USA Tour.

Alan Janes (Writer & Producer) In a 43 year career, Alan has

written and produced extensively for television, films and

theatre. West End and international musical hits include the

soul musical 125th Street and the Elvis musical, Jailhouse

Rock. In 1989, Alan wrote Buddy which was presented in the

West End and ran for almost 6,000 performances. Buddy has

toured the UK for 21 out of the last 26 years, playing over

5,000 performances, and the show has become a worldwide

phenomenon. Alan was nominated for an Olivier Award for

Best Musical, and internationally Buddy has received 13

nominations and awards.

Richard Porter (Producer) has worked in commercial theatre

management for the past 28 years. West End Productions

include: Me and My Girl (Adelphi Theatre), High Society (Victoria

Palace), The Rink (Cambridge), Rowan Atkinson's New Revue

(Shaftesbury), Unforgettable (Garrick and 3 tours), A Saint She

Ain't (Apollo), The Full Monty (Prince of Wales), and Jailhouse

Rock - The Musical (Piccadilly). He has also been Manager of

The Theatre Royal Drury Lane, Her Majesty's Theatre, The

London Palladium, and The Aldwych Theatre. Richard was

Chief Executive of The Theatre of Comedy Company between

1999 and 2003, and was responsible for programming and

overall operation of the Shaftesbury Theatre. He formed

Richard Porter Ltd. in 2004 and is a freelance General Manager

and Consultant.

www.harriscenter.net SPRING 2018 PROGRAM GUIDE 23
---
Buddy − The Buddy Holly Story continued

Boebe Productions LLC (Co-Producer and General Manager)

formed in 1993, was the associate producer for Honky Tonk

Highway, which had an extended run Off-Broadway in New

York City and at the Goodspeed Opera House second stage in

CT. Subsequent to HTH, Boebe worked on the development of

several new musicals including Ebenezer, A Musical Christmas

Carol. Also in development is Silver Dollar by Mary Bracken

Phillips and Jack Murphy. The Cast Album for Honky Tonk

Highway is on Boebe Records. Since 2004, Boebe has been

producing shows in casino venues in Atlantic City, NJ and

Reno, NV as well as other venues throughout the country.

Notable productions include Buddy – The Buddy Holly Story (a

casino premiere production) 42nd Street, Grease, Ring of Fire,

Ebenezer, Footloose, Rock of Ages and Hairspray for extended

runs in Reno, Nevada. In Atlantic City Boebe has produced 12

productions including Cabaret that was critically acclaimed

to "transcend entertainment into the realm of art." In 2010,

Boebe entered the touring market with Miracle On 34th Street

and a 40 city tour of Titanic in 2012. In 2013, the National Tour

of Buddy – The Buddy Holly Story played in the fall and winter.

Subsequent Buddy tours played in 2015 and 2016. The National

Tour of Sweet Charity also played during 2014.

Stage Your Own Production of the 'World's Most Successful

Rock & Roll Musical'!

Productions of Buddy have been staged all over the world,

thrilling audiences and filling theatres of all sizes. If you want

to bring the magic of Buddy Holly to your theatre...to wow

audiences with a toe-tapping rock & roll extravaganza that

will have them dancing in the aisles – and all the way home…

Then please contact our Licensing Manager, Rick Thorne at

rick.thorne@buddyshow.com or through buddythemusical.com

for licensing inquiries, perusals, or just to discuss the show

in more detail. We'd love to hear from you — let's get your

theater rockin'!

Buddy Worldwide Ltd.

Author . . . . . . . . . . . . . . . . . . . . . . . . . . . . . . . . . . . . . . . . . . .Alan Janes

Producers . . . . . . . . . . . . . . . . . . . . . . Alan Janes & Richard Porter

Production Manager UK . . . . . . . . . . . . . . . . . . . . . . .Steve Jefferys

Accountant and Payroll UK . . . . . . . . . . . . . . . . . . . . . .Ewa Cheung

Licensing Manager Buddy Worldwide Ltd . . . . . . . . Rick Thorne

Social Media. . . . . . . . . . . . . . . . . . . . . . . . . . . . . . . . . . . .Conleth Kane

The Buddy Tour Company

Production Manager . . . . . . . . . . . . . . . . . . . . . . . . . . . . . . . . . . Ben LoPreto

Production Stage Manager . . . . . . . . . . . . . . . . . . . . . . . . . . . . Hayley Hunt

Company Manager . . . . . . . . . . . . . . . . . . . . . . . . . . . . . . . . . . . Steve Steiner

Production Sound Consultant . . . . . . . . . . . . . . . . . . . . . . . . . . Jon Varley

Assistant Company Manager . . . . . . . . . . . . . . . . . . . . . . . . . . . .Lacy Reily

Technical Director . . . . . . . . . . . . . . . . . . . . . . . . . . . . . . . . . . . Bodie Tureson

Audio Engineer . . . . . . . . . . . . . . . . . . . . . . . . . . . . . . . . . James McCormick

Master Electrician . . . . . . . . . . . . . . . . . . . . . . . . . . Alex Crocker-Lakness

Wardrobe Supervisor . . . . . . . . . . . . . . . . . . . . . . . . . . . . . . .Keith Lambert

Assistant Sound Engineer . . . . . . . . . . . . . . . . . . . . . . . . . Colby Peterson

Assistant Stage Manager . . . . . . . . . . . . . . . . . . . . . . . . . . .Kelsey Gerdon

Choreographer and Dance Captain . . . . . . . . . . Miguel Angel Brenes

Band Leader . . . . . . . . . . . . . . . . . . . . . . . . . . . . . . . . . . . . . . . . . . . . Cullen Law

Scenery, Props & Set Painting . . . . Wellington Theatre Productions

Lighting Equipment . . . . . . . . . . . . . . . . . . . . . . . . . . .Christie Lites Sound

Equipment Hires . . . . . . . . . . . . . . . . DSS (Digital Sound Systems Inc)

Trucking . . . . . . . . . . . . . . . . . . . . . . . . . . . . . . . . . . . . . . . . . . . . . . . . . .Stage Call

Cast and Crew Transportation . . . . . . . . . . . . . . . . . . . .Florida Coaches

Production Insurance . . . . . . . . Scott Rothstein, Vreeland Insurance

Accountancy and Payroll US . . . . . . . . . . . . . . . . . . . . . . . . .Tori Reynolds

Shipping . . . . . . . . . . . . . . . Simon Havercroft for HenX Europe UK Ltd

Special Thanks to . . . . . . . .Barry Freidman, Mark Levine and

The San Angelo PAC, Texas

Photo by Gail Gerdes Bosk

24 SPRING 2018 PROGRAM GUIDE www.harriscenter.net
---
Parsons Dance

Tuesday, March 6, 2018; 7:30 pm

PROGRAM

Programs and casting subject to change.

Photo by Lois Greenfield

WOLFGANG

(2005)

Choreography by David Parsons

Lighting by Howell Binkley

Music by Wolfgang Amadeus Mozart

Costumes by David Murin

GEENA PACAREU EOGHAN DILLON ZOEY ANDERSON

JUSTUS WHITFIELD DEIDRE ROGAN SHAWN LESNIAK

Wolfgang was originally commissioned by and created

for the Aspen Santa Fe Ballet.

FINDING CENTER excerpt: THE DUET

(2015)

Choreography by David Parsons

Lighting by Howell Binkley

Music by Thomas Newman

Costumes by Naomi Luppescu

ZOEY ANDERSON and

JUSTUS WHITFIELD

Finding Center was commissioned by the Harriman-Jewell

Series to commemorate its 50th season of bringing the best

of the performing arts to Kansas City. Very special thanks to

long time-friend and collaborator, Rita Blitt, whose exhibition

"Finding Center" provided true inspiration for the work.

Artistic Director

DAVID PARSONS

General Manager

REBECCA JOSUE

Resident Lighting Designer

HOWELL BINKLEY

Dancers

ELENA D'AMARIO

GEENA PACAREU

EOGHAN DILLON

ZOEY ANDERSON

JUSTUS WHITFIELD

DEIDRE ROGAN

SHAWN LESNIAK

HENRY STEELE

MICHAEL MEGLIOLA, Stage Manager

CHRISTOPHER CHAMBERS, Lighting Supervisor

UPEND

(2017)

Choreography by Ephrat Asherie and David Parsons

Lighting by Howell Binkley

Music by Marty Beller

Costumes by Naomi Luppescu

GEENA PACAREU EOGHAN DILLON ZOEY ANDERSON

JUSTUS WHITFIELD DEIDRE ROGAN SHAWN LESNIAK

UpEnd and its original score were commissioned by Parsons

Dance for its 2017 season, with private support from The

O'Donnell-Green Music and Dance Foundation.

-intermission-

www.harriscenter.net SPRING 2018 PROGRAM GUIDE 25
---
Parsons Dance

continued

KIND OF BLUE

(2001)

Choreography by David Parsons

Lighting Design by Howell Binkley

Music by Miles Davis

Costume Design by Mia McSwain

GEENA PACAREU EOGHAN DILLION

DEIDRE ROGAN

JUSTUS WHITFIELD or SHAWN LESNIAK

Kind of Blue was commissioned by the Umbria Jazz Festival

in Perugia, Italy. It is a tribute to the 75th anniversary of the

birth of Miles Davis and features music from his best-selling

jazz album of all time.

CAUGHT

(1982)

Choreography by David Parsons

Lighting Concept by David Parsons

Lighting Design by Howell Binkley

Music by Robert Fripp, "Let the Power Fall"

Costume Design by Judy Wirkula

ZOEY ANDERSON

Caught is maintained in the active repertory of Parsons Dance

through generous support from the

Jim and Linda Ellis Foundation.

Please be advised that strobe lights will be used during this

piece.

WHIRLAWAY

(2014)

Choreography by David Parsons

Lighting by Howell Binkley

Music by Alan Toussaint

Music by Allen Toussaint & The Allen Toussaint Orchestra

Assistant Choreography by Natalie Lomonte

Costumes by Keiko Voltaire

GEENA PACAREU EOGHAN DILLON ZOEY ANDERSON

JUSTUS WHITFIELD

DEIDRE ROGAN SHAWN LESNIAK HENRY STEELE

Whirlaway was commissioned by the New Orleans Ballet

Association with generous support from Kerry Clayton and

Paige Royer; additional support provided by the

Parsons Dance Board of Directors.

***

ABOUT

PARSONS DANCE is a New York City based modern dance

company, internationally renowned for creating and

performing contemporary American dance of extraordinary

artistry that is accessible and enriching to diverse audiences.

Founded in 1985 by artistic director David Parsons and Tony

Award-winning lighting designer Howell Binkley, Parsons

Dance is known for its energized, athletic, ensemble work,

and has collaborated with iconic artists across all disciplines

including Billy Taylor, Milton Nascimento, Allen Toussaint,

William Ivey Long, Donna Karan, Annie Leibovitz, and Alex Katz.

The company has toured to more than 383 cities, 22 countries

and across 5 continents for the most notable theaters, festivals

and presenters worldwide including The Kennedy Center for

the Performing Arts, Maison de la Danse, Teatro La Fenice

and Teatro Muncipal do Rio de Janeiro. New York Magazine

called Mr. Parsons "one of modern dance's great living dancemakers."

Parsons Dance continues to pursue its mission to deliver

positive, affirming, life-enriching experiences to audiences

worldwide by maintaining a repertory of over 75 works by David

Parsons and producing his new work; inviting established

choreographers to re-stage works from the American

canon on the company; and commissioning young American

choreographers with our newly launched GenerationNOW

Fellowship. This year-long mentorship under David Parsons

culminates in a commission that premiers as a part of the

Parsons' season at the Joyce Theater and joins the company's

touring repertory for the following season.

In addition to choreography and performance, Parsons Dance

engages audiences of all ages through education and outreach

programs. The company hosts post-show discussions, open

rehearsals, studio showcases and open company classes.

Parsons Dance offers four weeks of summer workshops in

dance and choreography for pre-professional dancers as well

as in-school workshops for public school students at PS75 in

New York City.

DAVID PARSONS (Artistic Director/

Co-Founder) has enjoyed a

remarkable career as a director,

choreographer, performer, master

teacher and producer of dance. Mr.

Parsons was born in Chicago and

raised in Kansas City. In the early

years of his career, he performed

with The Paul Taylor Dance

Company, New York City Ballet, Berlin Opera, and The White

Oak Dance Project with Mikhail Baryshnikov and Mark Morris.

Mr. Parsons has created more than 80 works for Parsons

Dance. Commissions include American Ballet Theatre, New

York City Ballet, Alvin Ailey American Dance Theater, Batsheva

Dance Company, Spoleto Festival, and Het Muziektheater in

Amsterdam, to name a few. His work has been performed by

Paris Opera Ballet, National Ballet of Canada, Joffrey Ballet,

Hubbard Street Dance Chicago, Ballet do Theatro Municipal

do Rio de Janiero, among many others. Parsons has worked

on such diverse projects as choreographing the twenty-four

26 SPRING 2018 PROGRAM GUIDE www.harriscenter.net
---
Parsons Dance

continued

hour millennium celebration in Times Square, Julie Taymor's

film Fool's Fire; AIDA at Opera de Verona; AEROS, a production

featuring the Romanian Gymnastic Federation; and the Italian

production of Hair. He choreographed and directed Maria de

Buenos Aires for Gotham Chamber Opera and Remember Me,

a collaboration with East Village Opera Company. As a director

and choreographer, he has collaborated with such diverse

artists as John Corrigliano; Earth, Wind and Fire; Morton Gould;

Donna Karan; Alex Katz; William Ivy Long; Santo Loquasto;

Dave Matthews; Milton Nascimento; Robert Rauschenberg;

Steely Dan; and Dr. Billy Taylor. Mr. Parsons holds an honorary

doctorate and was the first recipient of the Howard Gilman

Fellowship to complete his MFA at Jacksonville University. He

is a recipient of the 2000 Dance Magazine Award, the 2001

American Choreography Award and the 2011 Dance Masters

of America Award. The New York Times has called Mr. Parsons

"one of the great movers of modern dance."

ELENA D'AMARIO (Dancer) was born in Pescara, Italy. She

studied modern, ballet, contemporary and tap at various

schools throughout Italy, most prominently at New Step

Art Studio. Over the years, she has won multiple festivals

and competitions, including the Pescara Dance Festival, the

International Expression Dance Competition in 2008, and the

International TipTap show in 2007 and 2009 in Rome. Elena

has appeared on multiple TV shows including Oscar TV, The

Best Years and Il ballo delle debuttanti. She auditioned for the

most popular Italian talent show Amici di Maria De Filippi, which

led her to winning the opportunity to apprentice with Parsons

Dance for the 2010-2011 season. She joined Parsons Dance

in August 2011.

GEENA PACAREU (Dancer) began dancing at an early age in

her native Tarragona, Spain, at Artemis Dansa, and continued

her training in The Royal Professional Conservatory of

Dance "Mariemma" in Madrid, where she graduated in 2011

in classical dance. She also studied contemporary dance

at various schools, during intensive summer courses and

workshops, including Laban Trinity in London. Before

graduating, she was accepted as a full-time Trainee at Ajkun

Ballet Theatre in New York City, and promoted to Company

Artist in 2012. During her training, Geena assisted numerous

workshops and intensive courses all over the world. She was

featured as a cast member in numerous performances and

has won multiple festivals and competitions. Geena has been

a member of Parsons Dance since 2013.

EOGHAN DILLON (Dancer) was born in County Tyrone, Ireland.

At the age of four, he moved to Canada where he began dancing

at the age of 12. In 2012, Mr. Dillon received a full scholarship

to the Ailey School in NYC where he studied under many

prestigious professionals. After graduating, Eoghan attended

the School at Jacob's Pillow where he performed works by

Gustavo Ramirez Sansano, Didy Veldman, and Sharon Eyal.

He has since performed and toured with many professional

companies, including Manuel Vignoulle Dance and The

Peridance Contemporary Dance Company. Eoghan joined

Parsons Dance in November of 2014.

ZOEY ANDERSON (Dancer) was born and raised in Utah where

she trained in contemporary, ballet, jazz and ballroom dance

at Center Stage. She was the ballroom national smooth

champion in 2010. Zoey graduated cum laude from Marymount

Manhattan College in May of 2015 with a BFA in Ballet under

the direction of Katie Langan. She has performed works by

Dwight Rhoden, Lar Lubovitch and Aszure Barton, among

others. Zoey has performed with Nikolais Louis in the Yang

Liping International Dance festival in Kunming China in 2013.

Other credits include the Broadway premiere gala of On The

Town, The Curious Case of Benjamin Button, Dancing With The

Stars webisodes, and Macy's Passport Tour with P. Diddy. Zoey

has been a member of Parsons Dance since 2015.

JUSTUS WHITFIELD (Dancer) is from Las Vegas, Nevada where

he trained in ballet, modern, and jazz at Las Vegas Academy of

the Arts. He performed with Las Vegas Contemporary Dance

Theater in 2014 under the direction of Bernard Gaddis. Justus

graduated in 2016 with a BA in dance from Point Park University

where he performed works by various artists including George

Balanchine, Troy Powell, and Garfield Lemonius. Justus joined

Parsons Dance in 2016.

DEIDRE ROGAN (Dancer) began her dance training in Fort

Myers, FL, at Gulfshore Ballet under the direction of Melinda Roy

and Roberto Munoz. Diedre has worked with choreographers

Milton Myers, Matthew Rushing, Hope Boykin, Ronald K.

Brown, Sonia Dawkins, and Cheryl Copeland and performed

in Alvin Ailey's Memoria during Alvin Ailey American Dance

Theater's 2012 New York City Center season. She is a threetime

recipient of a BIG ARTS awards scholarship and a National

Young Arts award scholarship. Diedre graduated with honors

from the Ailey/Fordham BFA Program in Dance, and then was

a member of Ailey II for two years. Deidre was an understudy

with Parsons Dance for the 2016-17 season before joining the

company in the fall of 2017.

SHAWN LESNIAK (Dancer) began his dance training in East

Haven, Connecticut under the tutelage of Sandee and Linda

Juliano. At his hometown dance studio, Shawn trained in many

dance styles including Jazz, Ballet, Tap, and Hip Hop. After

dancing competitively for ten years he decided to further his

dance education at Point Park University, where he is pursuing

his BFA. This is Shawn's first season with the company.

HENRY STEELE (Dancer) was born and raised in Wollongong,

NSW, Australia. He was a competitive gymnast for 8 years,

and a national gold medalist 3 years in a row. During his

final years as a gymnast, he began to make the transition to

dance. Henry graduated from Point Park University with a

BFA in Modern and Jazz dance in 2016, where he performed

works by choreographers such as Lar Lubovitch, Mark Morris,

Madboots Dance, Ronin Korean, and Troy Powell. He has

danced professionally with Owen/ Cox Dance Group, Texture

Contemporary Ballet, and toured internationally with The Bad

Boys of Ballet. This is Henry's first season with the company.

EPHRAT "BOUNCE" ASHERIE (Co-Choreographer – "UpEnd"),

a 2016 Bessie Award Winner for Innovative Achievement

in Dance, is a New York City based b-girl, dancer and

choreographer. As artistic director of Ephrat Asherie Dance

(EAD), she has presented work at the Ahmanson Theatre,

Jacob's Pillow and New York Live Arts, among others. Ephrat

www.harriscenter.net SPRING 2018 PROGRAM GUIDE 27
---
Parsons Dance

continued

has received numerous awards to support her work including

a Kevin Spacey Artist of Choice Award, a Mondo Cane!

Commission from Dixon Place and an Extended Life Residency

from the Lower Manhattan Cultural Council. She has worked

and collaborated with Doug Elkins, Rennie Harris, Bill Irwin,

Gus Solomons Jr and Buddha Stretch, among others. Ephrat is

on faculty at Wesleyan University and Broadway Dance Center.

MARTY BELLER (Composer – "UpEnd") Drummer for They

Might Be Giants. 2009 Grammy Award winner for his work on

Here Come the 123s (TMBG). Dance: 2013 Bessie Award nom.

for "A Single Ride." Jennifer Muller/The Works, Sean Curran,

Ephrat Asherie Dance, Heidi Latsky, Ann Marie DeAngelo, Chet

Walker/8and ah one, Julio Bocca/Ballet Argentino, RhythMEK,

Rebudal Dance, Alice Tierstein/Young Dancemakers, Andrew

Jannetti and Dancers, Bill Hastings. Film/TV: Gracepoint

(Fox); In Treatment (HBO); The Last Patrol (HBO); The Cruise

(Artisan); Emptying the Skies (Music Box); Another Gay Movie

(TLA); Biography of Groucho Marks (A&E); iRead (Scholastic);

Cradle of Champions. Drum credits: Stew/ Heidi Rodewald and

TNP, Steve Earle, Jonathan Coulton, Mike Doughty, Ivy. This is

Marty's first score for David Parsons Dance.

HOWELL BINKLEY (Resident Lighting Designer/Co-Founder)

is the proud cofounder of Parsons Dance for which he has

designed more than 70 pieces. His Broadway designs include:

Prince of Broadway, Come From Away (2017 Tony Nomination),

Hamilton, Allegiance, After Midnight (2014 Tony Nomination),

How to Succeed… (2011 Tony Nomination), West Side Story

(2009 Tony Nomination), Gypsy starring Patti LuPone, In The

Heights (2008 Tony nomination), Avenue Q, The Full Monty,

Parade, Kiss Of The Spider Woman (1993 Tony nomination). He

has made extensive regional and dance works for Alvin Ailey,

American Ballet Theatre, Hubbard Street, and The Joffrey

Ballet's Billboards. He is a five-time Helen Hayes Award

recipient and was given the 1993 Sir Laurence Olivier Award

and the Canadian Dora Award for Kiss of The Spider Woman.

Howell received the 2006 Henry Hewes Design Award, 2006

Outer Critics Circle Award, the 2006 Tony Award for Jersey

Boys and the 2016 Tony Award and the 2015 Drama Desk

Award for Hamilton.

PARSONS DANCE

229 West 42nd Street, 8th Floor, New York, NY 10036

212-869-9275 • info@parsonsdance.org

www.parsonsdance.org

General Manager: Rebecca Josue

Development Director: Kate Taylor

Manager, Finance & Operations: Robert J. Ford

Programs Associate: Cameron McKinney

Interns: William Hoffman, Rose Mishaan, Ivana Savarese

Marketing Consultants: Martha Cooper and Morahan Arts &

Media

ARTISTS' REPRESENTATIVE

Margaret Selby, Selby Artists Management

262 West 38th Street, Suite 1701, New York, NY 10018

212-382-3260 • info@selbyartistmanagement.com

Parsons Dance gratefully acknowledges the following for their support:

The Cowles Charitable Trust, Howard Gilman Foundation, The Harkness

Foundation for Dance, The Joyce Theater, The O'Donnell-Green Music

and Dance Foundation, The Fan Fox & Leslie R. Samuels Foundation, The

SHS Foundation, The Shubert Foundation, Theater Development Fund,

and generous individual donors. Parsons Dance is supported, in part,

by public funds from the National Endowment for the Arts, the New York

State Council on the Arts with the support of Governor Andrew Cuomo

and the New York State Legislature, and the New York City Department

of Cultural Affairs in partnership with the City Council.

SUPPORT PARSONS DANCE

Nycharities.org/parsonsdance

Parsons Dance can accept gifts of stock and mutual funds.

Please contact us at 212-869-9275 to learn about the

advantages of contributing securities.

Photo by Lois Greenfield

28 SPRING 2018 PROGRAM GUIDE www.harriscenter.net
---
The Stray Cat LEE ROCKER

Thursday, March 8, 2018; 7:30 pm

The Stray Cat Lee Rocker:

Grammy-nominated musician and Bass Player Hall of Famer

Lee Rocker and the Stray Cats sold more than 10 million

records, garnered an astounding 23 gold and platinum

records worldwide, and were music video pioneers of the

MTV generation. The Stray Cat's worldwide mega hits "Stray

Cat Strut," "Sexy and Seventeen," and "Rock this Town" have

become a part of the fabric of rock and roll. The Rock and Roll

Hall of Fame has included "Rock this Town" as one of the 500

most important songs in rock.

From the cover of the Rolling Stone Magazine, to appearing on

Saturday Night Live, to headlining the U.S. Festival, and touring

with the Rolling Stones, Lee Rocker has seen and done it all.

In addition to the Stray Cats and the Rolling Stones, Rocker

has toured and performed with George Harrison, Ringo Starr,

Willie Nelson, Leon Russell, and John Fogerty. In 1982, Rocker

and his father Stanley Drucker (classical clarinetist), both

received Grammy nominations; this was something that has

only occurred twice in the history of the Grammy Awards. In

2012, Lee appeared on Broadway in the hit musical Million

Dollar Quartet and in 2014 he was inducted into the Bass Player

Hall of Fame. Rocker has received numerous honors for his

contributions to music and the arts, including being inducted

to the Rockabilly Hall of Fame and the Long Island Music Hall

of Fame, and receiving the Visionary Artist Award by the City

of Laguna Beach, California. In his concert performances, Lee

Rocker rocks every town and leaves every audience on their

feet and cheering.

Lee Rocker has been consistently touring, recording and

performing around the globe since 1980 and has cultivated

a fanatically loyal following of rockers, rebels and all types of

music lovers. He is known for making his upright double bass

appear to be a lightweight instrument as he spins, throws it in

the air, catches and plays it on stages throughout the world.

His concert show is a time for him to tell stories about his days

on the road and in the music business for the last 35 years

— including sharing stories about his adventures lugging that

giant piece of equipment around.

www.harriscenter.net SPRING 2018 PROGRAM GUIDE 29
---
Zakir Hussain

with Rakesh Chaurasia

Saturday, March 10, 2018; 7:30 pm

recognition from India's governing cultural institute. In 2007,

readers' polls from both Modern Drummer and Drum! magazines

named him Best World Music and Best Worldbeat Drummer

respectively. On February 8, 2009, Zakir received a Grammy in the

Best Contemporary World Music category for Global Drum Project,

his group with Mickey Hart, Giovanni Hidalgo and Sikiru Adepoju.

Also, in 2009, Zakir was named an Officer in the Order of Arts and

Letters by France's Ministry of Culture and Communication for

his extraordinary artistic and cultural contribution. The Downbeat

Critics' Poll named him Best Percussionist in 2012.

A child prodigy, Zakir was touring by the age of twelve. He came to

the United States in 1970, performing his first USA concert at the

Fillmore East in New York City with Pandit Ravi Shankar, embarking

on an illustrious international career. A prolific composer and

recording artist, Zakir has received widespread recognition for his

many ensembles and collaborations. In 1987, his first solo release,

Making Music, was acclaimed as "one of the most inspired East-

West fusion albums ever recorded." In 1992, Planet Drum, an album

co-created and produced by Zakir and Mickey Hart, became the first

recording to win a Grammy in the Best World Music category, the

Downbeat Critics' Poll for Best World Beat Album and the NARM

Indie Best Seller Award for World Music Recording.

ZAKIR HUSSAIN is today appreciated both in the field of

percussion and in the music world at large as an international

phenomenon and one of the greatest musicians of our time. A

classical tabla virtuoso of the highest order, his consistently

brilliant and exciting performances have established him as a

national treasure in his own country, India, and as one of India's

reigning cultural ambassadors. Along with his legendary father

and teacher, Ustad Allarakha, he has elevated the status of his

instrument both in India and around the world. His playing is

marked by uncanny intuition and masterful improvisational

dexterity, founded in formidable knowledge and study.

Widely considered a chief architect of the contemporary world

music movement, Zakir's contribution to world music has been

unique, with many historic collaborations, including Shakti, which

he founded with John McLaughlin and L. Shankar, Remember

Shakti, the Diga Rhythm Band, Making Music, Planet Drum with

Mickey Hart, Tabla Beat Science, Sangam with Charles Lloyd and

Eric Harland, and recordings and performances with artists

as diverse as George Harrison, YoYo Ma, Joe Henderson, Van

Morrison, Airto Moreira, Pharoah Sanders, Billy Cobham, Mark

Morris, Rennie Harris, and the Kodo drummers. His music and

extraordinary contribution to the music world were honored in

April, 2009, with four widely-heralded and sold-out concerts at

Carnegie Hall's Artist Perspective series.

The recipient of countless honors, Zakir has received the titles of

Padma Bhushan in 2002, and Padma Shri in 1988, becoming the

youngest percussionist to be awarded these, given to civilians of

merit, by the Indian government. In 1990, he was awarded the

Indo-American Award in recognition for his outstanding cultural

contribution to USA-India relations. In April 1991, he was presented

with the Sangeet Natak Akademi Award by the President of

India, making him one of the youngest musicians to receive this

Zakir received the distinct honor of co-composing the opening music

for the Summer Olympics in Atlanta, 1996. He was commissioned

to compose music for Alonzo King's Lines Ballet (for which he

received an Isadora Duncan Award), and to compose an original

work for the San Francisco Jazz Festival, both in 1998. He has

received numerous grants, including participation in the Meet the

Composer programs funded by the Pew Memorial Trust. In 2000,

Zakir worked again with choreographer Alonzo King, this time

composing music for The Alvin Ailey American Dance Theater. In

2002, his commissioned work for choreographer Mark Morris'

Kolam premiered as part of YoYo Ma's "Silk Road Project" with

YoYo Ma and Zakir performing Zakir's composition live for the

performance. In September 2006, "Triple Concerto for Banjo, Bass

and Tabla," a piece co-composed by Zakir, Edgar Meyer and Bela

Fleck, was performed by them with the Nashville Symphony at the

gala opening of the Schermerhorn Symphony Hall in Nashville. In

January, 2009, it was re-created with the Detroit Symphony, again

under the baton of Leonard Slatkin. This performance and new

original works composed by Zakir, Edgar and Bela, was released

as the Grammy-nominated The Melody of Rhythm.

In 2009, Zakir's second concerto, "Concerto for Four Soloists," a

special commission for the National Symphony Orchestra, was

performed at Kennedy Center in March, 2011, as conducted by

Christoph Eschenbach. His third concerto, the first-ever tabla

concerto, premiered in September, 2015, by the Symphony

Orchestra of India, and was premiered in Europe in January 2016.

It will premiere in the United States in April, 2017, by the National

Symphony Orchestra.

Zakir reunited with Alonzo King in 2007, for Lines Ballet's 25th

Anniversary celebration, creating acclaimed music for King's Rasa,

and was commissioned to score King's "Scheherazade" which

premiered in Monte Carlo in December 2009, garnering another

30 SPRING 2018 PROGRAM GUIDE www.harriscenter.net
---
Zakir Hussain with Rakesh Chaurasia

continued

Isadora Duncan Award. In 2007, the government of India chose

Zakir to compose an anthem to celebrate India's 60th year of

independence. The song, "Jai Hind," has been recorded by an array

of India's finest classical vocalists and pop singers.

Zakir has scored for many films, including Merchant-Ivory's Heat

and Dust (in which he also co-starred), In Custody and Mystic

Masseur, Bertolucci's Little Buddha, Vanaprastham (The Last Dance),

Saaz, Everybody Says I'm Fine, and Mr. and Mrs. Lyer.

Zakir is the recipient of the 1999 National Heritage Fellowship, the

United States' most prestigious honor for a master in the traditional

arts, presented by First Lady Hillary Rodham Clinton at the United

States Senate on September 28, 1999. In 2005, he was named

an Old Dominion Fellow by the Humanities Council at Princeton

University, where he resided for the 2005-2006 autumn semester

as full professor in the music department, teaching a survey course

in Indian classical music and dance. In the spring of 2007, this

course was taught again by Zakir, this time at Stanford University.

Zakir's yearly tabla workshop in Marin County, conducted for

the past twenty years, draws hundreds of serious students and

performers. In the spring of 2015, he was in residence at UC

Berkeley as Regents Lecturer.

In 1992, Zakir founded Moment! Records which features original

collaborations in the field of contemporary world music and live

concert performances by great masters of the classical music of

India. The label presents live recordings of great masters of the

classical music of both North and South India, world music and

a Masters of Percussion series. Moment Records' 2006 release,

Golden Strings of the Sarode with Aashish Khan and Zakir Hussain,

was nominated for a Grammy in the Best Traditional World Music

category for that year. Moment Records' recent DVD release, Zakir

Hussain: The SF Jazz Sessions, featuring a host of Zakir's worldclass

collaborators, has been critically acclaimed.

In 2015, he was voted Best Percussionist by the Downbeat Critics'

Poll and by Modern Drummer's Readers' Poll.

On January 15, 2018, HarperCollins India released Zakir's longawaited

oral memoir (available on Amazon), A Life in Music, by

Nasreen Munni Kabir, the distinguished British television producer,

director, and author. The Life is the result of two years of intensive

interviews.

Rakesh's forte is in blending his flute without really losing its

identity in mixed instruments' concerts. Rakesh has already globetrotted

many times over, enthralling audiences at classical and nonclassical

concerts. He is also an accomplished studio musician, having

recorded with most of the leading stalwarts of the Indian film industry.

Rakesh has been the recipient of numerous awards and accolades.

He received the Indian Music Academy Award, presented by the

Honourable President Of India, Dr. A.P.J. Abdul Kalam in 2007, the

Aditya Birla Kalakiran Puraskar in 2008, the Guru Shishya Award

in 2011, IWAP-Pandit Jasraj Sangeet Ratna Award in 2013, and the

Pannalal Ghosh Puraskar in 2013.

Despite his experimental work, Rakesh has never deviated from

his main goal of becoming a full-fledged classical musician. He

has regularly appeared in prominent festivals such as the WOMAD

festival in Athens, Womad Earthstation in Europe, and the 'Festivals

of India' in Russia, Japan, the U.S., and Europe. His growing maturity

and status has brought him invitations to perform solo at major

events within India and abroad, including the Festival of Saint-Denis

in Paris and the Leicester International Music Festival in England.

Most notably, Rakesh was invited to conclude the twenty-four hour

live BBC Radio broadcast celebrating Her Majesty Queen Elizabeth's

Silver Jubilee, reaching audiences worldwide.

Recently Rakesh toured as a duo for classical concerts as well as

for The Masters of Percussion with legendary tabla virtuoso Ustad

Zakir Hussain at prestigious venues across the globe. Rakesh has

has performed with such international names as Bela Fleck, Edgar

Meyer, and Joshua Redman.

Rakesh's most recent venture is his fusion band Rakesh and Friends

(RAF) which creates music that appeals to the young without

sacrificing the essence of classical music.

Modest Rakesh is the first to admit that he has a lot to learn, not

just from his legendary uncle and maestro, Pandit Hariprasad

Chaurasia, but his peers as well. He is destined to carve a niche for

himself in the realm of Indian Classical Music with the simple yet

extremely challenging instrument, the Bansuri.

RAKESH CHAURASIA, the nephew and child prodigy of flute

maestro Pandit Hariprasad Chaurasia, has a famous name to live

up to. Amongst the promising musicians of the second generation,

Rakesh has carved a niche for himself as an accomplished flautist.

Infusing his personal style with the tradition of his renowned uncle,

he has evolved an approach which maintains the purity of the flute

while also managing to capture the attention of young listeners.

The most accomplished of his uncle's disciples, he promises to

carry the Chaurasia legacy to new heights.

Rakesh's flute has matched note and rhythm with wind instruments

of other cultures as well as having performed 'jugalbandi' with

Carnatic and world famous instrumentalists .

www.harriscenter.net SPRING 2018 PROGRAM GUIDE 31
---
THE TEN TENORS

Wish You Were Here

Tuesday, March 13, 2018; 7:30 pm

Wednesday, March 14, 2018; 2 & 7:30 pm

Wish You Were Here

A celebration of legends

featuring the music of David Bowie, Prince, Amy Winehouse,

John Lennon, Michael Jackson, Freddie Mercury, Whitney Houston and more.

The Ten Tenors:

Cameron Barclay, Daniel Belle, James Watkinson,

Keane Fletcher, Michael Edwards, Nigel Huckle,

Paul Gelsumini, Adrian Li Donni, Jared Newall,

Florian Voss, JD Smith (Swing Tenor)

Drummer................................................................Trent Bryson-Dean

Guitarist...................................................................................David Orr

Pianist........................................................................Benjamin Kiehne

Producer.................................................................................D-J Wendt

Musical Director..............................................................Steven Baker

Touring Musical Director..........................................Paul Gelsumini

Choreographer.............................................................Keane Fletcher

Tour Manager/FOH Sound..........................................Rupert Pletzer

Production Manager.....................................Katie Mackay-Brooker

Lighting Designer......................................................Jamie Schmidt

Monitors Engineer.........................................................Ed McGlogan

Sound Technician/Stage Manager..............................Jamie Taylor

Production Assistant/Merchandise......................Melinda Stanley

North American Representation...............................Opus 3 Artists

32 SPRING 2018 PROGRAM GUIDE www.harriscenter.net
---
THE TEN TENORS

continued

ABOUT

The TEN Tenors are undoubtedly one of Australia's greatest

entertainment success stories, with more than 90 million

people worldwide witnessing their unmistakable charm,

camaraderie and vocal power. Following 20 years of sell-out

performances across the globe, including more than 2500 of

their own headline concerts, The TEN Tenors have cemented

their place as Australia's premier classical-crossover group.

Celebrated for their colorful repertoire, breathtaking

arrangements, and powerful live performances, The TEN

Tenors respectfully tip their hats not only to the great classical

composers, but to contemporary music's most popular artists.

From Queen, Bowie, Lennon and Winehouse, an evening with

The TEN Tenors is guaranteed to surprise and delight in equal

measure.

Amidst their own explosive live concert experiences and

remarkable achievements, including six platinum and gold

records and over 3.5 million concert tickets sold, The TEN

Tenors have also performed alongside countless music legends

including Andrea Bocelli, André Rieu, John Travolta, Nicole

Kidman, Geoffrey Rush, Keith Urban, Rod Stewart, Alanis

Morissette, Sarah Brightman, Willie Nelson, Katherine Jenkins

and Christina Aguilera.

They're no strangers to television either, with iconic

appearances on some of the world's biggest broadcast events

including performing exclusively for chat show queen Oprah

Winfrey on Oprah's Ultimate Australian Adventure, appearing

on the Jerry Lewis MDA Telethon for an audience of 32 million

viewers, and Poland 2012 UEFA Cup in Warsaw. Arena Der

Stars 2002 and 2005.

Long-time member and Musical Director of The TEN Tenors,

Paul Gelsumini says "So many people come to our show the

first time expecting arias or standard crossover repertoire,

but it only takes one song for them to realize this is not like any

other tenor show out there and they better be ready to laugh,

cry and party like they are at a rock concert."

The group's producer, D-J Wendt, adds "We like to think

audiences come to our show to hear arias and classical pieces,

we will always give you a little of that but be ready to have fun

and party with ten very good looking Aussie blokes that know

how to have fun, but more than that, know how to create an

ensemble sound like no other group can achieve."

PROGRAM

Wish You Were Here includes (in alphabetical order):

"Imagine"

"Jersey Boys Medley"

"Just The Way You Are"

"La Danza"

"Never Tear Us Apart"

"Nothing Compares 2 U"

"Six Ribbons"

"The Boxer"

"Unchained Melody"

"Valerie"

"Waltzing Matilda"

"We Are The Champions"

"Wish You Were Here"

Repertoire is not in order of performance and is subject to change.

HEADSHOTS

CAMERON BARCLAY DANIEL BELLE JAMES WATKINSON

KEANE FLETCHER MICHAEL EDWARDS NIGEL HUCKLE

PAUL GELSUMINI ADRIAN LI DONNI JARED NEWALL

"Amigos Para Siempre"

"Bohemian Rhapsody"

"Buongiorno Principessa"

"Cancion Del Mariachi"

"Diva Medley"

"En Aranjuez Con Tu Amor"

"Granada"

"Hallelujah"

"Heroes"

FLORIAN VOSS

JD SMITH

(Swing Tenor)

www.harriscenter.net SPRING 2018 PROGRAM GUIDE 33
---
THE TEN TENORS

continued

BIOS

PAUL GELSUMINI

Paul completed a Bachelor of Music (Voice Performance) from

Monash University and a Diploma of Arts (Music Theatre) from

APO Arts Academy. Before joining The TEN Tenors, Paul also

studied in Tuscany, Italy where he performed as a guest soloist

at the inaugural Puccini Festival. Paul joined The TEN Tenors

in 2011 and is the current Touring Musical Director. Credits

include co-vocal and vocal production on the The TEN Tenors

albums Home for the Holidays, On Broadway, and Wish You Were

Here. Paul is currently the longest serving member of the group.

Paul wishes to thank his fiancée, family and friends for their

on-going love and support throughout the years. Follow Paul on

Instagram: @paulgelly

KEANE FLETCHER

A graduate of the Western Australian Academy of Performing

Arts, Keane made his debut with The TEN Tenors in 2010 and

has since gone on to appear with them in theatres, stadiums and

concert halls all over the world. He can be heard on their most

recent album Wish You Were Here which reached #1 on the ARIA

Classical/Crossover charts, as well as Our Christmas Wish (ARIA

Top 100 Albums of 2015), On Broadway, Double Platinum, and

Nostalgica. His television appearances with the group include

Oprah's Ultimate Australian Adventure, NBC'S The Today Show,

The Melbourne Cup, Ready Steady Cook, Sunrise, and the opening

of the UEFA CUP in Warsaw. His other theatre credits include

the Australian tour of We Will Rock You (GFO) understudying and

performing the lead role of Galileo, The 27 Club (The Butterfly

Club), Merrily We Roll Along (Watch This), Buddy: The Buddy Holly

Story (Live Theatre Prod.), Altar Boyz (Precedent Prod.), Hello

Again (Darlinghurst Theatre), and The Good Fight for the New

York Music Theatre Festival.

MICHAEL EDWARDS

Michael began singing at age eight when he joined the Australian

Boys Choral Institute, an organisation he continued to be involved

with for fifteen years. As a chorister, Michael has sung with

numerous choirs including the National Youth Choir of Australia,

the Adelaide Chamber Singers, and The Consort of Melbourne.

In 2013, Michael graduated from the Melbourne Conservatorium

of Music with a Bachelor of Music, majoring in classical voice.

During his time at the Conservatorium, Michael's vocal quartet

was awarded the Melbourne Conservatorium of Music Chamber

Music Prize, and in 2014, came in second in the state-wide 3MBS

radio competition, 'The Talent.' Most recently in 2016, they were

featured finalists in the Great Romantics Competition hosted

by the Melbourne Recital Centre. Michael has performed as

part of the Victorian Youth Opera program; in their workshop

of Assembly, their production of The Play of Daniel, and in the

world premiere of The Grumpiest Boy in the World. With the

Victorian Opera Chorus, Michael has performed in numerous

Gala concerts, as well as main stage productions of Nixon in

China, La Traviata, and I Pagliacci. In 2015, Michael performed in

Victorian Opera's ANZAC centenary production, Remembrance,

touring Melbourne and regional Victoria. Michael joined The

TEN Tenors in 2014, and has travelled throughout Australia,

Europe, USA, South Korea and South America. Follow Michael

on Instagram: @mikeyjedwards

CAMERON BARCLAY

Cameron Barclay is a graduate of both the University of Auckland

and the New Zealand School of Music in Wellington, where he

studied singing, French and Italian. He was a 2010/2011 PwC

Dame Malvina Major Emerging Artist for NBR New Zealand

Opera and was also a member of the Chapman Tripp Opera

Chorus for three years. Cameron has performed extensively

throughout New Zealand on both opera and concert stage,

and some of his recent highlights include performing in Ken

Hill's Original Phantom of the Opera in Tokyo, Japan; performing

the role of Frederic in the New Zealand Tour of The Pirates of

Penzance, singing the National Anthem of Argentina for their

match against the All Blacks in Wellington, New Zealand and

recording Margaret Wegener's Ode to a Nightingale with the

Auckland Philharmonia Orchestra, the first recording of this

work. His operatic roles include Alfred (Die Fledermaus), Peter

Quint/Prologue (The Turn of the Screw), the title role in Candide;

the title role in Albert Herring and Beppe (I Pagliacci). Cameron's

concert and oratorio repertoire includes Messiah (Handel); Missa

Solemnis (Beethoven), Creation (Haydn), Magnificat (Bach) and

Serenade for Tenor Horn and Strings (Britten). Born and raised in

Auckland, New Zealand, Cameron also lived and went to school

in Avellino, Italy, which he considers to be his second home. He is

very proud to be the first New Zealander in this Australian-based

group. Follow Cameron on Instagram: @cambarclay

JARED NEWALL

Growing up in Perth, Jared fell in love with music theatre at an

early age. Some of Jared's early credits include Oliver, My Fair

Lady, Guys and Dolls, Sweet Charity and Les Misérables. Jared

began his professional music theatre career in 2007 as part

of the tribe in Hair: The American Tribal Love – Rock Musical.

Later that year he performed the role of Steve in Rent. In 2008,

Jared moved to Victoria to attend the University of Ballarat,

to study Music Theatre. During his time in Ballarat, Jared had

the opportunity to play Homer Collins in Adam Guettel's Floyd

Collins, Joseph 'Jojo' Morse in Cy Coleman's The Life and Muzzy's

Boy/Ensemble in Thoroughly Modern Millie. His highlight was the

chance to play the role of Bobby Strong in Urinetown, under the

direction of Tom Healey. After graduating in 2010, Jared was

cast in the Australasian Premiere season of It's Only Life. He

worked closely with the show's composer, John Bucchino, who

also accompanied the piece. In early 2011, Jared played the role

of David in the concert version of Milk and Honey, as part of their

Jerry Herman Triptych. This year marks Jared's 8th year touring

with The TEN Tenors, and each year has been better than the last.

Follow Jared on Instagram: @jarednewallmusic

DANIEL BELL

Few Australian artists can claim, at just 34 years of age, to have

had the musical success of Daniel Bell. Boasting a professional

career that has taken him throughout Australia, Europe and

North America, Daniel has amazed audiences throughout the

western world in their thousands, and is now widely considered

one of the finest voices in the Australian Music Theatre industry.

Born and raised in Sydney, Daniel now holds a Bachelor of Music

(Performance), having studied at The Sydney Conservatorium of

Music, and the Australian Institute of Music. After completing his

training, Daniel was asked to join the internationally acclaimed

vocal group, The TEN Tenors. Performing with The TEN Tenors

Double Platinum tour, Daniel has sung throughout Australia,

Europe and The United States to critical acclaim. Daniel is also

featured on The TEN Tenors Christmas album Our Christmas

Wish as well as the follow up On Broadway, and most recently,

the Wish You Were Here album. Daniel has an enviable list of

34 SPRING 2018 PROGRAM GUIDE www.harriscenter.net
---
THE TEN TENORS

continued

musical theatre credits to his name. In 2009, he joined the cast

of Jerry Springer the Opera at the Sydney Opera House, before

his departure for the European tour of the Ten Tenors. Upon his

return, Daniel was cast as the understudy Jean Valjean in the

Australian National production of Les Misérables, performing

the role hundreds of times throughout the country. He continued

to the Asian tour, performing the role in Manila, Singapore and

Dubai before his return to Australia. Daniel played the role of

Terry in the Australian premiere production of Sideshow at the

Hayes theatre, and joined the cast of My Fair Lady, at the Capitol

theatre in Sydney, covering the role of Freddy at the end of 2017.

FLORIAN VOSS

Florian made his stage debut as Tamino (The Magic Flute) at

the Kindermusikfest in the Festspielhaus Baden-Baden. Other

engagements led him to the Monschau Open-Air Classic-Festival,

the Mosel Music Festival and the Internationale Schlossfestspiele

Ludwigsburg, where he recently performed as Melot in Tristan

and Isolde under the directorship of Michael Hofstetter. From

2011 until 2013 Florian Voss sung as a permanent member

of the Metropolitan Theatre of Gießen (Acis and Galthea). In the

Summer of 2013, Florian Voss performed the role of Don José

(Opera Stage of Castle Maxlrain/conductor: Richard van Schoor)

and Belmonte at the Opera Festival of Bad Hersfeld. Following

that, he became a member of the ensemble of the Royal Opera

House Stockholm, where he was chosen for a Scholarship of the

Järnström-Sundbergs Operastiftelse by the Royal Opera House.

He has also been awarded as the prize-winner of the renowned

International Singing Competition, Schloss Rheinsberg at

Deutsche Oper Berlin.

JAMES WATKINSON

James is currently studying a Bachelor of Commerce (Accounting

and Marketing) at The University of Melbourne. Having music and

singing in the house from the day he was born, James has been

singing for most of his life in school choirs, musical theatre

and his high school rock band. Last year, James played Frank

Abagnale Jr in OCPAC's Catch Me If You Can, for which he received

the award for Best Male in a Leading Role at the 2016 Music

Theatre Guild of Victoria (MGTV) awards. He was also nominated

for an MGTV award for Best Supporting Actor in a Musical for his

performance as Chuck in Footloose in 2015. Last Year, James

was selected to perform at Matthew Lee Robinson's New Voices.

Other credits include: Launchpad Drama's Starbound (2013-16),

CLOC's WICKED (2016) and Company Eleven's They're Playing Our

Song (2017). James would like to acknowledge Rosemarie Harris

and Paul Gelsumini for their wonderful tutelage. James made

his professional debut with The TEN Tenors in 2017, and wants

to thank all the people that encouraged him to pursue singing

throughout his youth, especially his grandfather Russel Martin,

who was always James' biggest fan.

ADRIAN LI DONNI

Greenroom award winner, Adrian Li Donni is a graduate of Circle

in the Square Theatre School in New York. Adrian has played the

ill-fated lover Lun Tha in The King and I for numerous companies

across the globe. These include the newly restored The King and

I for Lyric Stage in Texas, The Production Company in Melbourne,

a UK/Ireland tour for Curve Theatre, and in the more recent GFO

and Opera Australia national tour (Sydney Opera House debut).

Favourite productions include: a concert tour of Broadway to

Australia – An evening with Stephen Flaherty and Lynn Ahrens,

Festival of Broadway – An Evening with Stephen Schwartz, Jesus

Christ Superstar in Slovenia, Disney's Beauty and The Beast (Le

Fou) at Melbourne Zoo, The Art Centre Gold Coast's production

of Miss Saigon (The Engineer), and Pacific Overtures (Kayama) for

which he received a Greenroom Award for best supporting actor.

Adrian would like to thank his ever-supportive family, partner,

friends, teachers and the team at Ian White Management for

their love and guidance.

NIGEL HUCKLE

Nigel Huckle is an Australian-born singer and actor, raised

in Roanoke, Virginia via Singapore. He has performed in

venues across the world, most notably with the international

touring company of Cameron Mackintosh's new production of

Les Misérables as Feuilly (1st cover – Enjolras) in 2016, which

included runs in Manila, Singapore, and in the inaugural season

of the illustrious Dubai Opera. He joins The TEN Tenors having

previously performed with esteemed companies across the

globe, most recently as Barnaby Tucker in Hello, Dolly! with

Australia's The Production Company, Lt. Cable in South Pacific

at the Tony Award®-winning Utah Shakespeare Festival, and Mr.

One in Adding Machine with B-side Theatricals in New York City.

He trained at Shenandoah Conservatory in Winchester, Virginia

where he received a Bachelor of Fine Arts in Musical Theatre,

having sung in shows across the musical theatre canon and with

Shenandoah's GRAMMY® Award-winning Conservatory Choir in

their performance of Brahms' Requiem. Follow Nigel on social

media: https://www.facebook.com/nigelhuckleofficial; Twitter:

@NigelHuckle; Instagram:@NigelHuckle

JD SMITH (Swing Tenor)

JD Smith has been a singer/performer since he was a young kid.

As a songwriter, he has recorded many solo albums, including

Invite Me Places which he toured extensively around Australia

promoting. He graduated from the Arts Academy Ballarat, with

a Musical Theatre performance degree. He was an original cast

member in the Australian production of Wicked and performed

in the show for four years as the role of Boq. He also toured

in the recent production of Dirty Dancing, understudying Mark

Vincent in the role of Billy, and playing the role in its Adelaide

season. He has been a featured singer at Carols by Candlelight

in Melbourne and the Carols in the Domain in Sydney, as well

as performing in his hometown of Albury. He has been a lead

singer on Royal Caribbean cruise ships, fronted bands Snag

and Freeze Frame, recorded backing vocals for many artists

and has supported Australian musicians Pete Murray and The

Whitlams, to name a few. JD has recorded and co-written with

Tania Doko (Bachelor Girl) and Cameron McGlinchey (Rogue

Traders). Most recently he recorded a new solo covers album The

Sea of Tears. JD has been a part of the TEN Tenors since 2015,

Wish You Were Here is his first album with the Tenors and he is

excited to be a part of the group for their Wish You Were Here tour.

Tonight, he dedicates his performance to his wife Emma and

their first newborn son, Morrison. Follow JD on social media:

Facebook.com/jdsmithmuso; Instagram: jdsmithmuso; twitter.

com/jdsmithmuso

www.harriscenter.net SPRING 2018 PROGRAM GUIDE 35
---
St. Patrick's Day in Ireland!

Thursday, March 15, 2018; 7:30 pm

TRADITIONS EXPLAINED:

Bodhrán/Dance: This dance is a two-way display of rhythm. The

intense bodhrán rhythms challenge the intricate rhythms of the

dancer's feet. Both bodhrán player and dancer enter a joyful

competition where 'fun' is central to this friendly but intense

competition. In the final analysis — both are deemed to be equal.

ST. PATRICK'S DAY IN IRELAND

Conceived, produced and directed by Margaret O' Carroll.

© Kerry Irish Productions Inc. All Rights Reserved.

Kerry Irish Productions Inc. is an Irish-owned production

company based in Los Angeles. Founded in 2002, the company

promotes and celebrates Irish culture and its rich traditions

through the medium of music, dance, song and storytelling.

The company's Irish productions are presented in Performing

Arts Centers throughout the United States.

St. Patrick's Day in Ireland delivers a night of 'rip-roaring music,

song and dance…a great Irish night' (Irish News & Entertainment).

This treat for the whole family features champion dancer

Connor Reider (The Chieftains; Celtic Fyre), members of the

Kerry Dance Troupe, the Kerry Voice Squad (three lovely lassies

delivering the best of Irish song), and Traditional Band with

fiddles, uileann pipes, banjo, bodhrán, guitar and flutes roaring

through the theatre! Together, they will transport you to the

Emerald Isle and you'll leave the theatre with a jig in your step!

A perfect St. Patrick's Day celebration for the whole family!

Brilliant close-harmony acapella harmonies - (Kerry Irish

Productions Inc.)

"The epitome of family entertainment, togetherness and Irish

life!" - Irish Arts and Entertainment

A special thank you to the Kerry Irish Productions Inc. team

of artists and crew members! Thank you all for your hard and

detailed work. We would also like to thank the theater staff and

theater crew members. It is a pleasure working with you!

Bodhrán: The bodhrán takes its name from the Irish word

bodhar which means deafening. It is a frame drum which

stretches back to the 14th century. The bodhran was used as

a work implement for many years and it was used particularly

in the mumming traditions of Kerry and Cork, to chase out the

wren on the 26th of December (lá an dreoilín). The bodhrán

has changed in the last century from a primitive frame drum

played with the hand, to a very complicated tonal and rhythmic

percussive instrument. It was first popularized by the group

Ceoltóirí Chualann, under the leadership of Seán Ó Riada.

An Irish Hooley: The Hooley was, for generations, the highlight

of Irish social life: music, song, dance, storytelling, good

conversation and merriment flowing freely. The Hooley was

a community event and a great excuse for a gathering! We

continue this unbroken tradition of merrymaking – any excuse

is a good reason to drop everything, take to the dance floor,

pick up your instruments, prepare to give a song, sharpen your

ears for hilarious storytelling or a serious poem, and off we

go — unbridled fun!

The Kerry Dance Troupe: The Kerry Dance Troupe was

established by Kerry Irish Productions Inc. with the intention

of promoting and celebrating Irish culture and its rich traditions

through the medium of dance. Irish dance shoes, in a sense,

symbolize the wealth of Irish culture; they have a life of their

own and they take us on our journey.

The Kerry Voice Squad: Five years ago a search began for

three classically trained voices that would be equally at home

singing the classics as well as traditional Irish songs. The

search brought together the three voices of Koral Aakre, Ashley

Stanbury and Katherine Trimble, and The Kerry Voice Squad

was born! Since then, the ensemble has performed in over 50

US cities to date with Kerry Irish Productions Inc.

Uilleann Pipes: The uilleann pipes are a cousin of the more

common Scottish great highland bagpipes. They took on their

current form during the second half of the 18th century and

sparked a golden age of pipe making and playing which lasted

in Ireland until the Great Famine. After nearly being completely

forgotten, the uilleann pipes are now enjoying a revival which

has been sparked by the great efforts of hundreds of folk

musicians since the early 1960s. Uilleann pipes differ from

most other forms of bagpipes in that they have a range of two

fully chromatic octaves, are able to achieve both staccato and

legato phrasing, as well as providing chordal and rhythmic

accompaniment to itself via the regulators.

36 SPRING 2018 PROGRAM GUIDE www.harriscenter.net
---
St. Patrick's Day in Ireland!

continued

ARTISTS BIOS

KORAL AAKRE (Kerry Voice Squad).

Soprano Koral Aakre from Coos Bay, located

on the beautiful southern Oregon coast,

comes from a family of singers and began

voice lessons with her father at the age of

seven. Koral is well known in Oregon's Bay

area. She was a dancer and singer in

Oregon's Little Opry on the Bay. Upon

graduating from high school she toured the East Coast for one

year with Lutheran Youth Encounter's Christian Rock Band,

Captive Free. This was her opportunity to enter the world of

performance and touring to see if this was really where her

heart was. She studied at Berklee College of Music in Boston

and returned to Oregon to earn a degree in vocal performance

from Southern Oregon University where she studied opera. She

performed with the Rogue Opera, Opera in the Streets, Brava

Opera Workshop, SOU Chamber and Concert Choir and the

Southern Oregon Reparatory Singers. Prior to moving to Los

Angeles she worked as a campaign manager and legislative

assistant for Senator Arnie Roblan. She was honored to sing

multiple times for the Oregon State legislative assemblies.

When Koral moved to Los Angeles she auditioned for her first

season with An Irish Christmas. She loves performing with the

Kerry Irish Productions Inc. cast members and is excited to

perform in upcoming shows with the company. Koral is the great

great-granddaughter of Bridgette Conlon who emigrated from

Ireland as a mail order bride. Koral has become more rooted

in her Irish heritage since joining the company four years ago.

Her grandmother, Bernyce, would burst with pride to hear her

sing today.

PROGRAM

(Additional songs to be performed are not herein listed)

Songs you will hear tonight range from the great Irish ballads

(Danny Boy) to Vaudeville gems (When Irish Eyes Are Smiling).

"Three Lovely Lassies from Bannion"

"Patsy Fagan" (Northern Ireland)

"Garten Mother's Lullaby" (Co. Donegal)

"Molly Malone" (19C. Popular song set in Dublin)

"Spanish Lady" (Traditional Irish Folk Song)

"When Irish Eyes are Smiling" (Vaudeville)

"Danny Boy" (Frederic Weatherly)

"The Bold Privateer" (Civil war song)

"Hard Times Come Again No More"

"The Auld Triangle" (Irish…Brendan Behan)

"Wild Rover" (Drinking song)

"I'll Tell me Ma!" (Children's song)

"Parting Glass" (18C. Always sung at the end of a gathering of

friends)

ISAAC ALDERSON (Uilleann pipes, flute

and whistles). Isaac Alderson grew up in

Chicago. At the age of 12, he discovered Irish

traditional music and began obsessively

practicing the uilleann pipes, learning from

such players as Al Purcell, Patrick Cannady,

Kieran O'Hare, and many others. At 14, he

began to study the flute and whistle with

Laurence Nugent from Co. Fermanagh. He traveled to Ireland

over subsequent years which gave him the opportunity to study

and play with many outstanding musicians. In 2002, Isaac won

the All-Ireland Senior Championships on all three of his main

instruments. After finishing college, Isaac toured for two years

with Eileen Ivers as part of her band, Immigrant Soul, and

afterwards with such diverse groups as Jameson's Revenge

and Runa, Millish. He currently performs with his band The

Yanks, and the international quartet Comas, the show Celtic

Crossroads, Irish bar band The Bronx Boys and the chamber folk

group Ensemble Galilei. He has toured in the US, Canada,

Ireland, Colombia, much of Western Europe, and recently did a

three-month tour of China as the piper in the famed show,

Riverdance. He also performed in the pit orchestra for Sting's

Broadway musical, The Last Ship, during its Chicago run, and

has toured with Celtic Woman. As a teacher, Isaac has led

workshops in flute, whistle, and uilleann pipes at the Great

Northern Irish Pipers' Club Tionól, the St. Louis Tionól, the Re-

Jigged Festival in Nova Scotia, the O'Flaherty Irish Music Retreat

in Texas, MAD Week in the D.C. area, the Goderich Celtic Roots

www.harriscenter.net SPRING 2018 PROGRAM GUIDE 37
---
St. Patrick's Day in Ireland!

continued

Festival in Canada, Common Ground in Maryland, the Corofin

Trad Fest in Co. Clare, Catskills Irish Arts Week in upstate New

York, and the Fairbanks Summer Arts Festival in Alaska. He

has also led small workshops for students in Rio Negro and

Villa de Leyva, Colombia. Isaac teaches private lessons online

and in person, mainly to advanced students. He is known for

his patience and compassion in teaching students of all levels.

JESSE LANGEN (Guitar). Jesse is a guitarist

from St. Cloud, Minnesota who currently

lives in Chicago. He is equally comfortable

on classical, electric and steel string, and

plays professionally in a wide range of

styles. Jesse and his brother Tim grew up

learning traditional fiddle tunes from their

grandfather Clarence; his childhood guitar

influences were the classical playing of his father, Bill, the

playing of Daithi Sproule and Paul Brady, and the playing of

delta blues legend Robert Johnson. He can be heard regularly

in Chicago, throughout the US, and abroad as a soloist, as the

guitarist for Ensemble Dal Niente, in the trio Pesejet, in Hasco

Duo with Amanda Deboer Bartlett, and in duo with harpist Ben

Melsky. He is also a passionate and committed teacher of

young musicians; his students have won multiple prestigious

awards and been placed in international festivals, both as

composers and as performers.

RYAN MCKASSON (Fiddle). Ryan McKasson

has gained a reputation as a performer,

composer, collaborator, and teacher. In 1996,

he was the youngest musician to win the

National Scottish Fiddle Championship. In

1997, he was awarded a Merit Scholarship

for Viola Performance from the University of

Southern California where he studied with

Donald McInnes. Ryan started learning the violin at the age of

four. One of his early fiddle teachers was Carol-Ann Wheeler,

who encouraged Ryan to joined the Seattle Scottish Fiddlers,

headed by Calum MacKinnon, where he first began to play

Scottish fiddle. In 1994, he started attending Valley of the Moon

Scottish Fiddling School (VOM), where he met fiddler and teacher

Alasdair Fraser, and joined a rather remarkable generation of

musicians, many of whom have gone on to be notable performers

and teachers. In 2004 Ryan and his sister, Cali, formed a band,

The McKassons, that eventually included Ryan's wife, Brooke,

and her brother, Matt Jerrell. Ryan has also been a member of

a baroque/celtic/fusion combo Ensemble Galilei. He helped cowrite

and co-produce First Person: Seeing America, a collaboration

between Ensemble Galilei and The Metropolitan Museum of Art.

He also recorded with Ensemble Galilei on A Change of Worlds

(2012), and Surrounded by Angels: A Christmas Celebration With

Ensemble Galilei (2013). Ryan has recorded with Hanneke Cassel

on her albums Silver, For Reasons Unseen, and Dot The Dragon's

Eye, and also with Alasdair Fraser and Natalie Haas on their

album Highlander's Farewell. Ryan has taught at fiddle camps

around the US and New Zealand, most notably: Boston Harbor

Scottish Fiddling School, Southern Hemisphere International

School of Scottish Fiddle, Valley of the Moon Scottish Fiddling

School, Festival of American Fiddle Tunes, Rocky Mountain

Fiddle Camp, and Swannanoa Gathering.

JACKIE MORAN (Bodhrán, banjo, vocals).

The foundation of Irish traditional music is

the pulse of its drum, the Bodhrán. No other

percussionist fills that ground better than

Jackie Moran. Born in Tipperary, ten-yearold

Jackie and his family immigrated to

Chicago where he quickly began drumming

with the best players on the Irish music

scene. The young boy became the man who is preeminent in

Chicago Irish music today. He is a founding member and driving

force of such influential bands as The Drovers, Comas, and Bua.

Jackie is a fixture in the studio and in concert settings,

accompanying such great artists as Alphonso Ponticelli, Kevin

Burke, Dennis Cahill, Liz Carroll, John Doyle, Alain Genty, Martin

Hayes, Paddy Keenan, Michael Londra, Philip Masure, Aidan

Burke, Howard Levy and Jimmy Keane. Jackie's talents have

also led him to appear on stage with Riverdance, and to help

form and perform with the Trinity Irish Dance Company. When

Hollywood needs a musician to play the part, and look it as

well, you'll see Jackie. Backdraft (1991), Blink (1993), Traveler

(1997) and The Road to Perdition (2002) all saw fit to feature

Jackie and his Bodhrán. Most recently, Jackie has been a

member of the Kilgubbin Bros. and is teaching at the Irish

Music School of Chicago. He also makes custom Bodhráns with

Mike Quinlan.

KEARA OSBORNE (Dance). Keara has been

an Irish dancer for 25 years. She has

competed numerous times at the local,

regional, and national levels. Now retired

from competitive dance she enjoys

performing regularly with world touring

bands such as The Young Dubliners and The

Fenians. In 2012, she was delighted to be a

part of the Irish dance ensemble in Battle of the Dance in

Anaheim, California. Keara has made several television

appearances as an Irish dancer, including the Disney XD show

Crash and Bernstein in 2013 and the DJ Tommy Trash Lord of

the Trance music video in 2014. In May, 2013 Keara completed

her Masters of Social Work at the University of Southern

California. Keara is delighted to make a return visit as lead

dancer in St. Patrick's Day in Ireland Tour 2018.

CONNOR T. REIDER (Lead Dancer Kerry

Dance Troupe). For 14 years Connor danced

under the direction of the late Ann Richens

and John Timm, competing at local,

regional, national and world levels. In his

final year of competitive dancing he placed

in the top 5 in Mid-America, top 10 in North

America and top 20 in the World

Championships. Connor graduated from the University of Notre

Dame in 2014. He has performed with the Chieftains and in

2015 with Celtic Fyre at Busch Gardens Williamsburg. Connor

joined An Irish Christmas national tour in 2015 and returned

for An Irish Christmas 2016 and 2017 Tour. In March 2017,

Connor was principal dancer for the new Kerry Irish Productions

Inc. Concert Tour: St. Patrick's Day in Ireland and is honored to

return as principal dancer for the 2018 Tour. Connor is currently

based out of Manhattan! "Performing brings me such joy

38 SPRING 2018 PROGRAM GUIDE www.harriscenter.net
---
St. Patrick's Day in Ireland!

continued

because I get to share my passion with others both on stage

and with those in the audience. I am very honored and excited

to return as principal dancer to St. Patrick's Day in Ireland

Tour 2018."

ASHLEY STANBURY (Kerry Voice Squad).

Soprano Ashley is a Southern California

native and graduate of the Bob Cole

Conservatory at California State University,

Long Beach, where she earned her Bachelor

of Music degree in Vocal Performance.

Ashley has performed with Long Beach

Opera, the Pacific Lyric Association and the

Los Cancioneros Master Chorale. She has performed as the

featured soprano soloist in the Mozart Requiem, the Faure

Requiem, John Rutter's The Mass of the Children and the Vivaldi

Gloria. In 2005, Ashley was selected to represent Southern

California at the Rose of Tralee International Festival in Ireland.

She was interviewed and performed live on RTÉ, as a part of

the festival featuring women of Irish descent from around the

globe. Ashley is thrilled to return to St. Patrick's Day in Ireland

Tour 2018 and to continue with the Kerry Irish Productions Inc.

2018-2019 season.

KATHERINE TRIMBLE (Kerry Voice Squad).

Katherine Trimble is thrilled to be entering

her sixth season working with Kerry Irish

Productions Inc. Holding a Bachelor in

Music from Chapman University and a

Master of Arts in Vocal Performance from

San Jose State University, Katherine finds

her Irish Christmas home the perfect

meeting place of her classical music education and love of her

heritage's music and dance. Recent operatic performances

include Lilas Pastia (Carmen) with Opera San Jose where she

was noted by the San Jose Mercury News for her "agile"

performance and Mother/Witch for OSJ's educational outreach

production of Hansel and Gretel. Other roles include Ormindo

(L'Ormindo), Public Opinion (Orpheus in the Underworld), Olga

(Eugene Onegin), Zita (Gianni Schicchi) and Petra (A Little Night

Music). She has been the alto soloist in Bach's Magnificat and

Pergolesi's Stabat Mater, Mozart's and Durufle's Requiem,

Saint-Saen's Christmas Oratorio, and Vivaldi's Gloria. She has

taken first place in competitions held by the SAI Music Fraternity,

San Jose Woman's Club, and San Jose Study Club. She was also

honored to be the first recipient of the Irene Dalis Memorial

Award from San Jose State University. Upcoming engagements

include the alto solos in Bach's Mass in b minor with the San

Jose Symphonic Choir and Mendelssohn's St. Paul as winner

of the Berkeley Community Chorus and Orchestra's Vocal Solo

Competition. Katherine will also be giving a solo recital and

performing a variety of chamber music projects this spring as

a member of the Emerging Artist Fellowship with Chamber

Music Silicon Valley.

www.harriscenter.net SPRING 2018 PROGRAM GUIDE 39
---
An Evening With Peter Yarrow and Noel Paul Stookey

Celebrating Over 50 Years of Peter, Paul & Mary

Saturday, March 17, 2018; 7 pm

Sunday, March 18, 2018; 7 pm

Peter Yarrow and Noel Paul Stookey carry on the tradition of the

renowned folk music group Peter, Paul and Mary — a union that

lasted 50 years.

Peter, Paul and Mary arrived on the scene in Greenwich Village in

the early 1960's and at the time, for the majority of America, folk

was viewed merely as a sidebar to pop music. The nation was still

recovering from the McCarthy era and the Cold War was heating

up. Peter Yarrow, Noel (Paul) Stookey and Mary Travers came

together to reclaim folk's potency as a social, cultural and political

force. The Trio lived their songs. They sang at the 1963 March

on Washington where Dr. Martin Luther King gave his "I Have a

Dream" speech. They participated in the Selma to Montgomery

March, they sang at countless anti-Vietnam War rallies and they

launched decades of musical activism. These individual and

collective efforts addressed a wide range of issues from women's

rights, to farm-worker rights to the environment and education.

No American folk group lasted longer or amassed a more loyal

following than Peter, Paul and Mary. During their legendary

career, the trio won five Grammy's, produced 13 Top 40 hits, of

which six ascended into the top 10, and earned eight gold and

five platinum albums.

The group's message is that their music belongs to everyone.

"People can overcome their differences, and when united, move

toward a world of greater fairness and justice" says Yarrow.

The loss of Mary Travers in September of 2009 was a loss to her

family, friends and the nation. Her life and legacy remain a great

American treasure.

PBS recently released a new documentary of their lives titled 50

Years with Peter, Paul and Mary. The program features powerful,

moving, performances by the Trio starting with the era of the

group's emergence in Greenwich Village through the Civil Rights

and anti-war eras where their anthems provided America's

soundtrack of social and political change, and moving into the 21 st

century where their legacy and music continues to inform, inspire

and enrich successive generations — still providing a moral

compass for the way we live our lives. Also recently released is

a stunning book of photographs and reminiscences, in their own

words, Peter, Paul and Mary: Fifty Years in Music and Life.

Peter and Noel continue to perform together as well as individually,

and to devote their time and energy to issues they believe in. Peter

founded the organization Operation Respect which is a non-profit

education and advocacy organization dedicated to transforming

schools, camps and other youth-serving organizations into safer,

more respectful, bully-free environments for children and youth.

Noel's organization Music2Life creates music based programs,

events and promotions to move hearts and minds around a

particular effort or cause.

When Peter and Noel perform together, audiences comment that

in many ways it feels as if Mary were still on the stage with them.

The energy and enthusiasm for the music has not diminished, in

fact it seems ever more impassioned, and frequently the audience

steps in to sing Mary's part — their voices strong, their hearts

full. It's community at its best and what folk music is all about —

carrying it on.

40 SPRING 2018 PROGRAM GUIDE www.harriscenter.net
---
Amazing Grace

Thursday, March 29, 2018; 7:30 pm; Friday, March 30, 2018; 2 & 7:30 pm; Saturday, March 31, 2018; 2 & 7:30 pm

Sunday, April 1, 2018; 2 pm

ALEXANDER RANKIN and CONTINENTAL PRODUCTIONS, LLC.

present

By Special Arrangement with Original Broadway Producers

CAROLYN ROSSI COPELAND, ALEXANDER RANKIN and AG FUNDING, LLC.

Music & Lyrics By

CHRISTOPHER SMITH

Book By

CHRISTOPHER SMITH

and ARTHUR GIRON

with

JACOB SHIPLEY DON SEWARD ELEANOR TODD

RUSSELL RINKER WYN DELANO KELLI BLACKWELL

JORDAN CAMPBELL COLLEEN CLANCY IAN ANTHONY COLEMAN

NICKI ELLEDGE DION MONTÉZ JARRETT SHANNAN E. JOHNSON ALEX G. KUNZ

ANDREA LEE JENNIFER LYONS PAGNARD MORGAN NICHOLAS SCOTT

JOSHUA SIMON GILGAMESH TAGGETT ANDREW TARQUINIO

JAMES TARRANT KORINN WALFALL KANYSHA WILLIAMS

Original Scenic Design Original Costume Design Lighting Design

EUGENE LEE

EDWARD PIERCE

TONI-LESLIE JAMES KEN BILLINGTON

Sound Design Original Hair Design Fight & Military Movement

SHANNON SLATON ROBERT-CHARLES DAVID LEONG

VALLANCE

Music Supervisor Orchestrations Dialect Coach

KEITH LEVENSON KENNY SEYMOUR GILLIAN LANE-PLESCIA

Press Representative Marketing & Social Media Company Manager

SAM RUDY THE PEKOE GROUP KEITH LEVENSON

MEDIA RELATIONS

Associate Director Associate Choreographer Assistant Fight & Military Movement

AMY UHL SHANNA VANDERWERKER BRAD WILLCUTS

Production Management General Management Production Stage Manager

PAUL PEERS PAUL M. RAMBACHER SUZAYN MACKENZIE-ROY

Arrangements & Incidental Music

JOSEPH CHURCH

Choreography By

CHRISTOPHER GATTELLI

Directed by

GABRIEL BARRE

Originally produced by Goodspeed Musicals

Michael P. Price, Executive Producer

Additional material by: Karen Burgman, Dr. Joseph Ohrt, Alana K. Smith, Dr. Sarah Gulish

www.harriscenter.net SPRING 2018 PROGRAM GUIDE 41
---
Amazing Grace

continued

CAST OF CHARACTERS

Pakuteh (Thomas)...................................................................................................................................................................DON SEWARD

John Newton........................................................................................................................................................................JACOB SHIPLEY

Captain Newton................................................................................................................................................................RUSSELL RINKER

Robert Haweis........................................................................................................................................................................ALEX G. KUNZ

Mary Catlett..........................................................................................................................................................................ELEANOR TODD

Mrs. Catlett......................................................................................................................................................JENNIFER LYONS PAGNARD

Nanna..............................................................................................................................................................................KELLI BLACKWELL

Major Gray................................................................................................................................................................................WYN DELANO

Tennah..............................................................................................................................................................................KORINN WALFALL

Mr. Tyler.................................................................................................................................................................IAN ANTHONY COLEMAN

Mr. Quigley....................................................................................................................................................................JORDAN CAMPBELL

Yema.............................................................................................................................................................................KANYSHA WILLIAMS

Princess Peyai........................................................................................................................................................SHANNAN E. JOHNSON

Sophie....................................................................................................................................................................................NICKI ELLEDGE

Carlotta.............................................................................................................................................................................COLLEEN CLANCY

Rabbi Einhorn......................................................................................................................................................................JOSHUA SIMON

Mr. Whitley..........................................................................................................................................................................JAMES TARRANT

Briggs...........................................................................................................................................................................ANDREW TARQUINIO

Billingsley...................................................................................................................................................................GILGAMESH TAGGETT

Monsieur Clow...........................................................................................................................................................GILGAMESH TAGGETT

Prince Frederick..................................................................................................................................................................JOSHUA SIMON

Ensemble.....................................................................................................................................................................JORDAN CAMPBELL,

COLLEEN CLANCY, IAN ANTHONY COLEMAN,

NICKI ELLEDGE, DION MONTÉZ JARRETT, SHANNAN E. JOHNSON,

ALEX G. KUNZ, ANDREA LEE, JENNIFER LYONS PAGNARD,

MORGAN NICHOLAS SCOTT, JOSHUA SIMON, GILGAMESH TAGGETT,

ANDREW TARQUINIO, JAMES TARRANT,

KORINN WALFALL, KANYSHA WILLIAMS

UNDERSTUDIES

Understudies never substitute for listed performers unless

a specific announcement is made at the time of the performance.

For Pakuteh (Thomas): DION MONTÉZ JARRETT

For John Newton: ALEX G. KUNZ, ANDREW TARQUINIO

For Captain Newton: GILGAMESH TAGGETT

For Robert Haweis: ANDREW TARQUINIO

For Mary Catlett: COLLEEN CLANCY, NICKI ELLEDGE

For Nanna: KANYSHA WILLIAMS

For Mrs. Catlett: COLLEEN CLANCY

For Major Gray: JOSHUA SIMON

For Mr. Tyler: MORGAN NICHOLAS SCOTT

For Mr. Quigley: ANDREW TARQUINIO

For Yema: ANDREA LEE

For Sophie: COLLEEN CLANCY

For Princess Peyai: KORINN WALFALL

The use of any recording device, either audio or video, and the taking of photographs,

either with or without flash, is strictly prohibited.

42 SPRING 2018 PROGRAM GUIDE www.harriscenter.net
---
Amazing Grace

continued

MUSICAL NUMBERS

ACT I

SCENE 1: Chatham, England, late December, 1744

"Truly Alive".........................................................................John Newton, Captain Newton

"The Auction"..............................................................................................John Newton

SCENE 2: The Catlett Home

"Someone Who Hears"...............................................................Mary Catlett, John Newton

"Yema's Song".............................................................................Yema, Nanna, Ensemble

SCENE 3: The Great Hall, Chatham

"Voices of the Angels"..................................................................................Mary Catlett

"Rule Britannia"............................................................................Mary Catlett, Company

SCENE 4: Abolitionist Lair, High Street

"We Are Determined".............................................Mr. Tyler, Mr. Einhorn, Mr. Quigley, Company

SCENE 5: The Chatham Cemetery

SCENE 6: Deck of the HMS Harwich, Chatham Docks

"Never"....................................................................................................John Newton

SCENE 7: HMS Harwich at Sea

"Shadows of Innocence".................................................John Newton, Mary Catlett, Ensemble

SCENE 8: Royal Oak Club

"Expectations"..............................................................................................Major Gray

SCENE 9: HMS Harwich, off the coast of Africa

ACT II

SCENE 1: Plantain Island, Sierra Leone

"Welcome Song".........................................................................Princess Peyai, Ensemble

SCENE 2: St. Mary's Church

"Sing on High."................................................................................................Company

"Tell Me Why"..............................................................................................Mary Catlett

SCENE 3: Plantain Island, Sierra Leone

"Yema's Song" (Reprise).........................................................................................Yema

SCENE 4: Royal Africa Company Offices, Chatham

"A Chance for Me"...........................................................................................Captain Newton

SCENE 5: Plantain Island, Sierra Leone

"Nowhere Left to Run"........................................................................................Thomas

SCENE 6: Command House

SCENE 7: Plantain Island, Sierra Leone

SCENE 8: Royal Dockyards Jail

"Daybreak"........................................................................................................Nanna

SCENE 9: The Greyhound, South Atlantic

"I Still Believe".............................................................................................Mary Catlett

"Testimony"..............................................................................................John Newton

SCENE 10: The Greyhound, in Port on Barbados

"I Will Remember".......................................................................................John Newton

SCENE 11: The Great Hall, Chatham

"Nothing There to Love"...............................................................John Newton, Mary Catlett

EPILOGUE:

"Amazing Grace".............................................................................................Company

AMAZING GRACE

WILL BE PERFORMED WITH ONE INTERMISSION

www.harriscenter.net SPRING 2018 PROGRAM GUIDE 43
---
Amazing Grace

continued

PROGRAM NOTE FROM THE AUTHORS AND DIRECTOR

As a creative team, exploring the astonishing events which led John Newton to pen the words to "Amazing Grace" in 1772,

has been an exhilarating experience. It has been our privilege to work together to create this original musical about one of

history's fascinating, yet largely unknown figures. The theatre has a rich tradition of using history as a jumping off point for

telling larger stories. In keeping with this tradition and practice, we have endeavored, not only to tell the real life story of John

Newton, but also to illuminate the struggles of ordinary men and women who were prey to the evils of slavery and those who

risked everything to end the hideous practice in Britain. To that end, we have created some characters and amalgamated some

events in the time line to focus on the themes that drew us to this amazing story of one man's moral and spiritual transformation

and the impact he had on our world. Slavery still exists today, and sadly on a scale far beyond that of the era depicted in

our musical. And so, with this work, we hope to recognize and honor all of the victims of slavery, both through the ages and

alive today, as well as the new generation of abolitionists that has arisen to join their forefathers in standing up for the life,

freedom and dignity of all people.

The strength, faith and courage of these men and women, both historical and contemporary, demand our highest respect, and

it is to them that we dedicate this piece.

For further reading we recommend Out of the Depths by John Newton, his autobiography, with additional material by Dennis Hillman.

— Christopher Smith, Arthur Giron and Gabriel Barre

KELLI BLACKWELL (Nanna) is beyond thrilled to be a part

of Amazing Grace!! Credits: Chicago (National Tour), A Streetcar

Named Desire, By the Way, Meet Vera Stark (Everyman

Theatre), Ain't Misbehavin' (Olney Theatre), Once on this

Island (Cortland Repertory Theatre), Nunsense (RGA Media,

Canada), Dreamgirls, The Wiz, A Christmas Carol, Grease, and

Hairspray (Toby's). Thanks family, FRAMily and B.W. Much

love and gratitude.

JORDAN CAMPBELL (Ensemble/Quigley) A native Kentuckian,

Jordan has performed at theatres in New York City,

Nashville, and Washington D.C. In addition to his performance

career, Jordan worked at the White House during

the Obama Administration focusing on Arts Education. As

a teaching artist, Jordan provides learning experiences in

schools across America. Proud graduate of Western Kentucky

University Musical Theatre Program.

Twitter/Instagram: @JrdnCmpbl.

JordanCampbellProjects.com.

WHO'S WHO

Holds B.S. from Carnegie Mellon University and completed

the Overtures Musical Theatre Institute.

Instagram: @YungUptown www.iananthonycoleman.com

WYN DELANO (Major Gray) D.C. Area: Oklahoma! (Jud Fry), 7

Brides for 7 Brothers (Adam), Parade, The Buddy Holly Story.

Regional: The Fantasticks (El Gallo), As We Lie Still (S.W. Premiere),

Hello Dolly (Cornelius), Star Wars: In Concert (Hollywood

Bowl), Trinity Shakespeare Festival. Wyn also works professionally

in voice-over and radio. B.F.A. Theatre from TCU in Fort

Worth, TX.

NICKI ELLEDGE (Ensemble/Sophie) Signature Theatre: A Little Night

Music (Anne); Toby's Dinner Theatre: Beauty and the Beast (Belle);

Utah Shakespeare Festival: The Cocoanuts, South Pacific, The

Greenshow; Lambs Players Theatre: The Angel's Arms, OZ, Joe vs.

the Volcano; Welk Resorts Theatre: Fiddler on the Roof; Legoland,

CA: LEGO Friends to the Rescue. The Catholic University of America:

BM in Musical Theatre. nickielledge.com

COLLEEN CLANCY (Ensemble/Carlotta) is over-joyed to be

sharing this beautifully inspiring story with so many audiences.

Previous roles include Charity/Sweet Charity (Mazeppa

Productions), Penelope Square/regional premiere of Polkadots

the Cool Kids Musical (Limelight PAC), Cinderella/Into

the Woods (Limelight PAC), Margaret/Much Ado About Nothing

(Pennsylvania Shakespeare Festival), and Narrator/Joseph…

Dreamcoat (DeSales University). Love and thanks always to

God and family.

IAN ANTHONY COLEMAN (Ensemble) credits include: Oliver!,

My Fair Lady, Father Comes Home From The Wars, Wiley

and the Hairy Man (Helen Hayes Award Outstanding TYA

Production), The Wild Party, Peter and the Starcatcher.

DION MONTÉZ JARRETT (Dance Captain/Ensemble/Kaamor) is

blessed to be a part of the D.C. premiere of Amazing Grace.

Recent credits include: Ragtime (Ensemble, Ogunquit Playhouse),

Showboat ( Ensemble/Jake), and Dr. Seuss' How The

Grinch Stole Christmas (us Old Max, Grand Ole Opry). Special

thanks to my friends and family. All glory to God for this

opportunity! Mom, Dad and Monkey I love you!

SHANNAN E. JOHNSON (Ensemble/Princess Peyai) National Tours:

1st National Tour Ghost; Regional: Dreamgirls, Sister Act, How

To Quit Your Day Job, Baltimore Symphony Orchestra Featured

Narrator; Dance: Step Afrika!, Sole Defined. Shannan left her

junior creative executive position at NBCUniversal to pursue

44 SPRING 2018 PROGRAM GUIDE www.harriscenter.net
---
Amazing Grace

continued

the stage. She thanks God, her family and friends for supporting

her grind. (BA, Texas A&M University/ MFA, Florida

State University.)

ALEX G. KUNZ (Ensemble/Haweis), born and raised in

Sioux Falls, South Dakota, is making his national tour

debut! Alex now resides in New York City. Favorite credits

include: Next to Normal (Gabe), Ragtime (Younger Brother)

Billy Elliot (Tony), Company (Robert). Thanks, Mom & Dad for

being there every step of the way. Lauren. IG: @alexgkunz.

www.alexgkunz.com

ANDREA LEE (Ensemble) is an actress, writer, dreamer, and

content creator. She is ecstatic to be making her national tour

debut with Continental Productions, thanks to the amazing

grace of God and the tireless support of her guardian angel.

I love you, Mom.

JENNIFER LYONS PAGNARD (Ensemble/Mrs. Catlett) Performing

experience: Keegan Theatre: Parade (Sally Slaton),

1st Stage: Floyd Collins (Miss Jane), Source Festival: Perfect

Arrangement (Kitty), Creative Cauldron: A Christmas Carol

Memory (Ellen), Little Theatre of Alexandria: Sweeney Todd

(Mrs. Lovett), Ragtime (Mother), The Odd Couple (Female Version)

(Florence), The U.S. Air Force Band in Washington, D.C.:

vocalist/concert announcer. My love to Christian!

WHO'S WHO

team for this opportunity. Love to Mark, Sara, Erin, Gale, and

Stella. www.jacobshipley.com

JOSHUA SIMON (Ensemble/Einhorn/Prince) is thrilled to be

joining this cast! A D.C. native, credits include James and the

Giant Peach (ATMTC), Ragtime (Toby's), Beauty and the Beast

(Imagination Stage), Floyd Collins (1st Stage), Redd, Whyte or

Blu (Rickshaw Readers), and Dani Girl (Unexpected Stage).

Education: BFA, NYU/Tisch (see his face on the official Tisch

Drama web page!). For those I love.

GILGAMESH TAGGETT (Ensemble/Billingsley) is thrilled to

join Amazing Grace after performing for three years as Oliver

Warbucks in the International Tour of Annie directed by

Martin Charnin. Favorite roles include Satan in Jerry Springer

the Opera, Franz Liebkind in The Producers. He originated

the role of Warren in The Cult, a world premier at Cleveland

Public Theater. www.gilgameshtaggett.com

ANDREW TARQUINIO (Ensemble/Briggs) is humbled to be

making his professional acting debut with the national tour

of Amazing Grace. Recent credits include The Circle of Life:

The Songs of Tim Rice performed at Strathmore Hall. Previously,

Andrew worked full time in Development and Grant

Administration for a policy organization in Washington D.C.

More info can be found at andrewtarq.com

RUSSELL RINKER (Captain Newton/Fight Captain) Long-time

performing member of Blue Man Group (NYC, Vegas, North

American tours). D.C.: Toby's – South Pacific (Emile), Show

Boat (Ravenal); NextStop Theatre – Catch Me If You Can

(Hanratty). Other: Los Angeles Opera, Chicago Shakespeare

Theater. Favorite roles: Harold Hill, The Pirate King. TV:

Arrested Development, Tonight Show, Disney Channel. BA

from William and Mary. Love to Mom and Dad.

MORGAN NICHOLAS SCOTT (Ensemble) is thrilled to be a part

of Amazing Grace. He is a graduate of The University of Maryland

and his Washington D.C. theatre debut was this past

summer where he appeared as Ted Hinton in Bonnie & Clyde.

He is proud to be a part of another show with such an important

message. Thanks to my loved ones for your support.

DON SEWARD (Thomas/Pakuteh) is thrilled to be apart of

such a powerful and poignant piece. His credits include Sondheim

on Sondheim and Ragtime which received him his first

Carbonell Nomination for his portrayal of Coalhouse Walker

Jr. Credits include; Sister Act, Nat'l Tour of The 25th Annual...

Spelling Bee and the Nat'l Tour of Ragtime, Dreamgirls, Five

Guys Named Moe and The Wiz. Special thanks to his Mother

for believing in him. His Family for all their love and support.

JACOB SHIPLEY (John Newton) Originally from Troy, NY,

Jacob is a proud graduate of Ithaca College's Musical Theatre

Program. Regional credits include: Hangar Theatre, Cider Mill

Playhouse, Infinity Theatre Co., The Mac Haydn Theatre, and

RWS Entertainment Group. Thanks to the whole creative

JAMES TARRANT (Ensemble/Whitley) hails from Brooklyn,

NY and is beyond excited to join the cast of Amazing Grace.

Regional: Grease (Teen Angel/Eugene), Annie Get Your Gun.

DMV: Sweeney Todd, Heathers. BM: Catholic University of

America. Thanks to Gabriel, Christopher, Brad and TROIKA.

Much love to my mom, dad, Mark who always love and support

me. Wouldn't be here without you.

ELEANOR TODD (Mary Catlett) is a graduate of the University

of Michigan, BFA Musical Theatre. Theater/ Film: War Paint

(Workshop; Dir. Michael Greif), NYMF: Beyond Words; Keegan

Theatre: Parade (Lucille Frank) and Big Fish (Sandra Bloom);

Shakespeare Theatre Co.: God is Dead and April's Getting Married;

Actor's Guild of Lexington: SubUrbia (Erica); Kentucky

Conservatory Theatre: Legally Blonde (Elle Woods); Liberty's

Secret (Amazon).

KORINN WALFALL (Ensemble/Tennah) D.C. AREA: Signature

Theatre: Jesus Christ Superstar, U.G.L.Y., Gun & Powder. Round

House Theatre: Caroline or Change. Ford's Theatre: Hope Dies

Last. Capital Fringe Festival: That Kind of Girl. Regional: Kennedy

Center: Wendy, In His Own Words… the Walter Dean Meyers

Tribute. Strathmore: Audra McDonald's Pre-Lecture Concert.

Education: University of Maryland-College Park.

KANYSHA WILLIAMS (Ensemble/Yema) is a Washington Metropolitan

Area native and a product of The Duke Ellington

School of the Arts, The San Francisco Conservatory of Music

and George Mason University. Recently, Kanysha has been

seen in productions such as The Wiz (Dorothy), Shrek The Musical

(Dragon), and Sister Act (Deloris Van Cartier). She currently

teaches music and performs in Washington D.C.

www.harriscenter.net SPRING 2018 PROGRAM GUIDE 45
---
Amazing Grace

continued

CHRISTOPHER G. SMITH (Concept, Book, Music and Lyrics)

Christopher is one of the only writers to have contributed the

concept and all three elements of a stage musical and made

it to Broadway on the first attempt. His non-profit lightsonbroadway.org

works to equip a new generation of theatre professionals,

create shows that uplift and inspire, and bless the

wider entertainment culture. Chris thanks his wife Alana,

children Joshua, Alana, and Alexandra, parents, investors,

and, above all, God, who made this whole impossible dream

a reality.

ARTHUR GIRON (Book) His 15 plays are performed in the U.S.

and abroad. Among them, Emilie's Voltaire played recently in

America, Portugal and Australia. Alfred Molina and Jessica

Chastain starred in L.A. Theatre Works' Moving Bodies. The New

York Times said A Dream of Wealth is "filled with passion and

ample compassion." The Metropolitan Opera Guild commissioned

him to write a libretto. Arthur headed Graduate Playwriting

at Carnegie Mellon University. He is a founder of Ensemble

Studio Theater in New York, where he lives with his wife Mariluz.

GABRIEL BARRE (Director) is an internationally acclaimed director.

Broadway: Amazing Grace. Off Broadway includes: MTC's The Wild

Party, Summer of '42, john & jen and Almost, Maine. National Tours:

Pippin, Cinderella. Regional includes: Memphis, North Shore Music

Theatre, Theatreworks; Sweeney Todd, Finian's Rainbow and many

other new musicals at Goodspeed Opera House. International

credits includes: Billy Elliot in Mexico, The Scarlet Pimpernel in Japan,

numerous shows in Korea, China and the Czech Republic. As an

actor, he has been nominated for a Tony Award as Best Actor in

a Musical and appeared off Broadway last season in Cyrano de

Bergerac, which he also directed.

CHRISTOPHER GATTELLI (Choreographer) was awarded the 2012

Tony, Drama Desk, and Outer Critics Circle Awards for his choreography

in Newsies. (As choreographer) Broadway: South Pacific

(Tony and Outer Critics Circle nominations), Casa Valentina, Sunday

in the Park With George, Women on the Verge..., Godspell, The

Ritz, Martin Short: Fame Becomes Me, 13, High Fidelity. Off Broadway:

Dogfight (Lortel Award), Altar Boyz (Lortel Award, Callaway

Award, Drama Desk Nom.), Bat Boy: The Musical (Lortel Award),

tick,tick…BOOM! Chicago: Jungle Book – The Goodman.

WHO'S WHO

tion designer at Saturday Night Live since 1974, and designed

The Tonight Show with Jimmy Fallon. He received the Tony Award,

Emmy Award, ATW's Design Award, Outer Critics Circle Award,

Drama Desk Award, Lucille Lortel Award, Elliot Norton Award

for Sustained Achievement, and was inducted into the New York

Theatre Hall of Fame. Currently represented on Broadway by the

musical Wicked.

EDWARD PIERCE (Scenic Design) Broadway: Holler If Ya Hear Me,

The Other Place, A Streetcar Named Desire, Wicked (all worldwide

adaptations), Billy Elliot, Pippin, 9 to 5, The Pirate Queen, Shatner's

World: We Just Live In It, Chaplin, Aida, Ragtime, Cabaret, Noise/

Funk. www.edwardpierce.com

TONI-LESLIE JAMES (Costume Designer) Broadway: Come From

Away (2017), Amazing Grace, Lucky Guy, The Scottsboro Boys, Finian's

Rainbow, Chita Rivera: The Dancer's Life, Ma Rainey's Black

Bottom, King Hedley II, One Mo' Time, The Wild Party, Marie Christine,

Footloose, The Tempest, Twilight: Los Angeles, Angels in

America: Millennium Approaches and Perestoika, and Jilly's Last

Jam. Awards: Tony nomination, three Drama Desk nominations,

six Lucille Lortel nominations, Hewes Design Award, Irene Sharaff

Young Masters Award and the 2009 Obie Award for Sustained

Excellence in Costume Design.

KEN BILLINGTON (Lighting Design) Broadway: 98 Shows including,

Dames at Sea, Act One, Hugh Jackman Back on Broadway, Sondheim

on Sondheim, White Christmas, The Drowsy Chaperone, Sweeney Todd,

Working, Sunday in the Park with George (2008, 2017), Chicago (1997),

Annie (1997, 2006), Hello Dolly (1995) Fiddler on the Roof (1976, 1981,

1990) and My Fair Lady (1981). Las Vegas: Jubilee! Other: Radio City

Christmas Spectacular, Smash, NY's Tavern on the Green. Awards:

Tony, Drama Desk, Outer Critics, Lumen.

SHANNON SLATON (Sound Designer) has designed

many national tours including: Shrek, Hairspray, The

Producers, Noise/Funk, The Full Monty, Contact, Tap

Dogs, Sweeney Todd, Drowsy Chaperone, Wedding Singer, Elf,

and Memphis. He has also mixed many shows on Broadway

including: Man of La Mancha, Bombay Dreams, Sweet Charity,

Jersey Boys, Spring Awakening, Fela!, Anything Goes, Annie,

Legally Blonde, Cabaret, and Springsteen on Broadway.

KEITH LEVENSON (Music Director, Company Manager) Broadway

and Off Broadway: Annie, Grease, Dreamgirls, She Loves Me, The

Flowering Peach (composer), Good Old Girls, Shlomo, Annie Warbucks.

National Tours: The Bridges of Madison County, Annie, The

Best Little Whorehouse... (with Ann-Margret), The Who's Tommy

and many many others. Keith is most proud of his work as an

Arranger/Conductor with Kiss, Yes, and the The Who. His television

credits include The Wizard of Oz at Avery Fisher Hall with

Jewel, Nathan Lane, Jackson Browne, Natalie Cole, Dr. John,

Roger Daltrey, Debra Winger and the

NY Philharmonic with the Boys Choir

of Harlem. www.keithlevenson.net

EUGENE LEE (Scenic Designer) holds BFA degrees from Art Institute

of Chicago and Carnegie Mellon, an MFA from Yale School of

Drama, and three honorary doctorates. He has been the produc-

ROBERT-CHARLES VALLANCE (Hair Design) Recent: Bull Durham,

Comedy of Errors, Donnybrook, A Civil War Christmas, Cotton

Club Parade, Amazing Grace, Pipe Dream. Broadway Design

Favorites: Lucky Guy, Little Shop of Horrors, Long Day's Journey

into Night, The Play What I Wrote, Ma Rainey's Black Bottom, Our

Town, Hollywood Arms, The Elephant Man, Dance of Death, Amy's

View, The Blue Room. Blood Brothers. Resident Designer: Irish

Repertory Theatre. Proprietor of: The Broadway Wig Company.

www.broadwaywigs.com.

DAVID LEONG (Fight and Military Movement) Broadway:

Amazing Grace, A Time to Kill, Billy Elliot, The Civil War, Carousel,

Company, The Rainmaker, Ma Rainey's Black Bottom,

King Hedley, Hamlet, Macbeth, A Delicate Balance, In the Summer

House, Sex and Longing, Picnic, Solitary Confinement,

The Homecoming. London: Napoleon (West End) and Jitney

(National Theatre). Film: Alien Resurrection, Titus. Nearly

46 SPRING 2018 PROGRAM GUIDE www.harriscenter.net
---
Amazing Grace

continued

WHO'S WHO

every regional theatre in the U.S. David is Professor and

Head of the MFA in Performance Pedagogy Program at

Virginia Commonwealth University.

GILLIAN LANE-PLESCIA (Dialect Coach) is pleased to continue

working with Amazing Grace. Recent New York shows include

The Gentleman's Guide to Love and Murder, Indian Ink, and War

Horse. She has worked recently at Hartford Stage, Palm Beach

Dramaworks, McCarter, Shakespeare Theatre D.C., Seattle Rep,

Trinity Rep, Yale Rep. She teaches at Juilliard.

KENNY SEYMOUR (Orchestrator) Broadway/Off-Broadway credits:

Tony Award Winning Best Musical Memphis (Music Director/Conductor),

The Tallest Tree In The Forest (Music Director/

Arranger/Incidental Music), The Strangely Beautiful Tale of Miss

Percy Parker (Co-Composer & Lyricist, Orchestrations), Scary

Musical (Orchestrator), The Music Man (Music Director/Conductor),

Big Maybelle: Soul of the Blues (Music Supervisor/Orchestrator),

The Wiz (Dance Music Arranger), Hot Feet: The Music of Earth,

Wind & Fire (Synth Programmer). www.kennyseymour.com.

SUZAYN MACKENZIE-ROY (Production Stage Manager) is excited

to be joining Amazing Grace! Touring credits include Annie (national

and international), Mike Tyson: Undisputed Truth (Star Liason to Mike

Tyson), and three years of Fiddler on the Roof, (two as Production

Stage Manager, one as Star Dresser to Chaim Topol, Harvey Fierstein,

and Theodore Bikel). Knathan – liily!

JOSEPH CHURCH (Arranger/Incidental Music) is best known for

music direction and supervision of two groundbreaking Broadway

musicals, The Lion King and The Who's Tommy. Other credits

include In the Heights, Sister Act, Les Misérables, Little Shop of

Horrors, Randy Newman's Faust and Radio City's Christmas

Spectacular. Joseph has composed music for television, concert

stages, plays and musicals. He holds a doctorate from NYU,

where he is on the faculty. His book, Music Direction for the Stage:

A View From the Podium, is published by Oxford University Press.

www. churchmuse.com. viewfromthepodium.com

Measure for Measure and Twelfth Night starring Mark Rylance,

Elaine Stritch at Liberty, and Savion Glover's productions of Classical

Savion, Bring in 'da Noise, Bring in 'da Funk and Footnotes.

ALEXANDER RANKIN (Producer) From Chicago's South Side to

the Army Corps of Engineers. He received a BS in mechanical

engineering at University of Illinois. Rankin designed radial

tires for Firestone, sold temperature control systems in Chicago

and sold Hunter springs in the Midwest. He transferred to the

Hunter factory in PA as a sales manager. After the Hunter buyout

he started Vulcan Springs in his basement, manufacturing

constant-torque springs to drive Hasbro's G.I. Joe talking mechanism.

He is the founder and chairman of First National Penn

Bank, and a director of BITMICRO, a flash-memory company in

California. Supporting and encouraging Carolyn Rossi Copeland,

they began producing the musical Amazing Grace.

CRC PRODUCTIONS (Creative Consultant) is a full-service producing

and general management company. Founded by Carolyn Rossi

Copeland, who brings 30 years of experience producing plays and

musicals. She was the Founding Producer of the award-winning

Lambs Theatre Company in the heart of Times Square, and served

as vice president of Creative Affairs for Radio City Entertainment

and Madison Square Garden Productions. She has been a Creative

Consultant to Gaylord Entertainment-Ryman Auditorium and has

produced special events for New York State. She currently serves

as Executive Producer for Strouse IP, the company that manages

the business and career of the great American composer, Charles

Strouse. http://crcproductions.org/about.php

TROIKA ENTERTAINMENT (Management Consultant) has been an

innovator in touring musi cal theater productions for over two

decades, producing shows throughout North, Central, and South

America, Europe and Asia. Additionally, the company is experienced

in casino and leisure markets. Current productions

include An American in Paris, The Bodyguard, Love Never Dies, On

Your Feet!, School of Rock, The Color Purple, Kinky Boots, and the

Asian tour of Sister Act. With strong ties to the Broadway community,

TROIKA prides itself on delivering top quality productions

to audiences worldwide. Please visit us at www.troika.com

PAUL M. RAMBACHER (General Manager) has represented in

excess of 150 productions for over 35 years. Some of his credits

include: The Music Man in Concert starring Shirley Jones &

Patrick Cassidy, Smokey Joe's Café with the Coasters, directed

by Chet Walker, Buddy – The Buddy Holly Story, Fela starring

Michelle Williams, A Chorus Line, directed by Baayork Lee, Merchant

of Venice starring F. Murray Abraham, Nobody Don't Like

Yogi, starring Ben Gazzara, the original practice productions of

www.harriscenter.net SPRING 2018 PROGRAM GUIDE 47
---
AMAZING GRACE

continued

WHO'S WHO

STAFF FOR AMAZING GRACE

GENERAL MANAGEMENT

PROFESSIONAL MANAGEMENT & RESOURCES

Paul M. Rambacher

COMPANY MANAGER

Keith Levenson

NATIONAL PUBLICITY

SAM RUDY MEDIA RELATIONS

Sam Rudy Joe Trentacosta

Shane Marshall Brown

Jim Byck Miguel Mendiola

POSTER DESIGN, ADVERTISING, MARETING,

SOCIAL MEDIA, WEB SITE

THE PEKOE GROUP

Amanda Pekoe, Christopher Lueck

Jason K. Murray, Kathryn Zaccarelli

Briana Lynch, Jenny Dorso, Corey Gosselin

Noah Fried, Ashlee Latimer

Ryan Meitzler, Rachael Bardnell

CASTING

THE ARTIST'S BRIDGE, INC.

Joy Dewing

PRODUCTION STAGE MANAGER............SUZAYN MACKENZIE-ROY

Assistant Stage Manager......................................Kelsey Clark

Musical Director..............................................Keith Levenson

Assistant Company Manager...............................Allison Taggett

Tour Coordinator................................................Brad Watkins

Technical Director..............................................Jake Bowden

Assistant to the General Manager.....................Charles M. Felino

HEAD CARPENTER...........................................JAKE BOWDEN

Assistant Carpenter..........................................Tory Sheppard

Head Electrician..............................................Mathew Brehm

Assistant Electrician/Follow Spot......................Bradley Chelberg

Head of Sound................................................Sarah D. Speck

Assistant Sound.................................................Nate Dickson

Head of Wardrobe.................................................Emily Stein

Head of Wigs...............................................Tyree Robinson

Virtual Orchestra Programmer..........................Joshua Weesner

Associate Director ...................................................Amy Uhl

Associate Choreographer.........................Shanna VanDerwerker

Assistant Fight Choreography

and Military Movement........................................Brad Willcuts

Assistant Set Designer..........................................Kelly Pooler

Assistant Sound Designer...............................Patrick Lachance

Assistant Lighting Designer...............................Marcia Madeira

Assistant Lighting Designer...................................Mitch Fenton

Light Board Programmer....................................Chad Lefebvre

Costume Coordinator...................................Heather C. Jackson

Wig Coordinator................................................Melissa Sibert

African Language and Culture Expert.......................Robert Levin

Sherbro Language Consultant…........................Elizabeth Fadika

Sound FX...........................................................Jon Weston

Scenic and Costume

Rental.............................Amazing Grace Theatre Company, LLC.

Properties Consultant...............................Alexander Rothschild

Production Electrician.....................................Brendan Quigley

Flying FX..........................................................Flying by Foy

Percussionist................................................Justin Nicholson

Production Sound...............................................Francis Elers

Legal Counsel....................................................Peter Breger

Accounting........................CP Accountant, Bradford A. Miller CPA

Insurance..............................................MDP, Meghan Shriver

Banking..............................................TD Bank, Fareena Khan

Merchandise...................................Creative Good Merchandise

Payroll...............................................People Payroll Services

Light and Sound Equipment................Production Resource Group

Scenic Refurbishment...........................Brenbri Properties, LLC.

Housing.............................................................Road Rebel

CREDITS

BUSES by MAYO TOURS, LLC.; Rigging Equipment from CHRISTIE LITES;

Trucking by STAGE CALL SPECIALIZED TRANSPORT, LLC.

The Director-Choreographer is a member of the STAGE DIRECTORS AND

CHOREOGRAPHERS SOCIETY, a national theatrical labor union.

United Scenic Artists represents the designers and scenic painters for the American Theatre.

48 SPRING 2018 PROGRAM GUIDE www.harriscenter.net
---
HEART BY HEART

Friday, June 8, 2018; 7:30 pm

BIO

"When it comes to Heart By Heart, expect some very skilled

dedicated musicians, including original HEART members Mike

Derosier and Steve Fossen, who love, respect and honor the

songs and historical significance of the music of HEART." —

Heart By Heart

Steve Fossen – Bass (Original, Founding Member of HEART)

Michael Derosier – Drums (Original HEART Member)

Somar Macek – Lead Vocals

Lizzy Daymont – Guitar, Vocals, Keyboards

Randy Hansen – Guitar

In 2013, the Rock and Roll Hall of Fame honored the talents and

contribution of the original six members of HEART: Ann and

Nancy Wilson, Howard Leese, Roger Fisher, Steve Fossen and

Mike Derosier. Steve and Mike are proving that they still have a

lot of love left to give to the music world as they announce plans

for their latest project – Heart By Heart.

Driven to recreate the songs of HEART, while bringing the

essence and purity of the group back to the stage, Heart By

Heart was created to offer fans the unique experience that only

those who were actually in the original band could offer.

"With Mike and me at the helm, we can, once again, help bring

out those musical nuances and ignite the energy within our own

band that made HEART one of the most beloved rock groups of

our time," explained Fossen.

In order to play the songs the way they were conceived, Fossen

and Derosier surrounded themselves with musicians who

shared their philosophy for excellence. Lead vocalist Somar

Macek delivers a "jaw dropping performance" with her vocal

range and stage presence. Fossen and Macek had been

performing as a duo for years, often times naturally weaving

their way into a HEART song as if being guided by a larger force.

It was during their duo days, in fact, that Fossen actually started

thinking about putting the band together. The name "Heart By

Heart" came from Macek who said it signified their true feelings

for one another.

Randy Hansen, a guitarist known in Europe and America as

the premier 'Hendrix' tribute artist who also collaborated with

Francis Ford Coppola on "Apocalypse Now" and ultimately

helped him win the Academy Award® for Best Original Score

Written for a Motion Picture, was next to join the band. The

group kept rehearsing and eventually asked famous radio

personality Bob Rivers to lend his skills on the keyboards.

But it wasn't until the group was performing at a local show that

they finally found what they were missing – Lizzy Daymont on

guitar and vocals. After the 2015 departure of Rivers, she is

also playing some keyboards as well.

"We were amazed with her musical talents and how well she

knew the songs, one week later she joined us on stage as a

member of Heart by Heart. In fact, when I heard Somar and

Lizzy harmonize for the first time I had to hide my face because

I thought I was going to cry," said Fossen. Though not sisters

they sing together as if they were.

With the lineup complete, Heart By Heart's mission is simple

– to create music that is authentic, passionate, and true to

HEART's original recordings. After all, Fossen and Derosier,

who were inducted into the Rock and Roll Hall of Fame in 2013

as members of HEART, would never do the music any injustice.

"When I first discovered Heart By Heart, I thought they were

just a HEART tribute band – a really, really great HEART tribute

band. I was excited to meet two rock legends – Steve and

Mike – and to hear the band in person. What I wasn't prepared

for was how amazing this band sounded," said Tom Moon of

Starleigh Entertainment. "It wasn't just that they are all world

class players and singers, they are, but what astounded me

most was the authenticity with which they played the material.

Heart By Heart is way beyond a tribute band, their performance

is a real and impactful musical experience, once you hear what

they do, you cannot help but be won over."

www.harriscenter.net SPRING 2018 PROGRAM GUIDE 49
---
Heart by Heart continued

HEART BY HEART BAND

STEVE FOSSEN is a founding member and original bassist

for Heart. His work on the albums Dreamboat Annie, Little

Queen, Magazine, Dog & Butterfly, Bebe le Strange, as well as

several greatest hits and compilations, has been a staple of

radio since their releases, selling tens of millions of copies.

HEART was inducted into the Rock & Roll Hall of Fame in 2013.

MICHAEL DEROSIER joined HEART during the recording

of HEART'S first album Dreamboat Annie, and is known for

having one of the heaviest, most distinctive sounds and

quickest feet behind the drums. Derosier is celebrated for

his work on classic HEART hits such as "Barracuda," "Mistral

Wind," and "Straight On," among many others. HEART has over

20 Top 40 singles, sold over 30 million albums, and is one of

the first MTV video bands, having been one of the first to shoot

videos as early as 1980, in which Derosier appears. HEART

was inducted into the Rock & Roll Hall of Fame in 2013.

SOMAR MACEK renowned Northwest vocalist, has gained a

reputation for delivering powerful, moving renditions of every

song she sings. Somar began singing at the age of two and

has sung in various music groups throughout her adolescent

years. She and Fossen joined forces in 2009 to become what

they call "Heart By Heart," captivating audiences every time

they perform. Together, they have created their own vocal and

electric bass versions of the classic HEART hits.

LIZZY DAYMONT hails from the Chicago area and is a lifelong

musician having started piano studies at age six. A few years

later she picked up a guitar, followed by the bass. She attended

Boston's Berklee College of Music and later relocated to

Seattle where she has been active for nearly two decades

playing the Pacific Northwest club, festival and casino circuit

with a variety of original and cover bands. She brings a wealth

of experience and knowledge to any musical situation.

RANDY HANSEN is an American guitarist, songwriter,

artist, and occasional actor who is best known for his work

contributing to the sound track of Apocalypse Now, the 1980

Academy Award Winner for Best Sound. He is also the founder

of the "World's First Rock Tribute Act" honoring Jimi Hendrix.

50 SPRING 2018 PROGRAM GUIDE www.harriscenter.net
---
Lola & Gordon Purdy

Real Estate Consultants

Supporting Our Community

LimiTEd TimE

iNTRO

SPECiAL

$

49

1 HR FLOAT

COdE: STY517

(916) 806-2828

CalBRE #: 01855967

www.ThePurdyTeam.com

homes@ThePurdyTeam.com

What clients are saying...

(916) 806-3330

CalBRE #: 01891811

" We ended up with the perfect home for our growing family. ~Aaron& Shelby R.

The results were smooth and successful transactions every time.

~Mike & Marilyn J.

Without second thoughts we will work with them for any of our future real

estate needs! ~Sunil K. & Kruthika H.

Helping You Make The Right Move!

"

The Science of Feeling Great ®

Imagine lying on your back in a small tank of water. Your

body is weightless as you drift into a sleep-like state; sore

spots or injuries are magically relieved of pain and the

worries of your day are stripped from your mind, at least for

this moment. Floating offers an all-natural approach which

has been proven to help a wide scope of ailments and offer

physical and mental well-being to its practitioners.

PAIN RELIEF • RELAXATION • SLEEP BETTER

True REST Roseville

711 Pleasant Grove Blvd.

Ste. 130

Float Spa

True REST Folsom

220 Blue Ravine Rd.

Ste. 180

True REST Elk Grove

9257 Laguna Springs Dr.

Ste. 130

Call now: 916-409-7809 or book at: www.TrueREST.com

Folsom & Placerville

Hearing Aid Centers
---
EXPERIENCE THE ARTS

AT A COMPLETELY NEW LEVEL

Become a Member

To be able to fulfill the mission of the Harris Center, we depend on the support of our generous members. By becoming a member

today, you can ensure that the Harris Center for the Arts will continue to present world-class artists and comprehensive education

programs for the entire community.

Membership helps to sustain the annual operating budget of the Harris Center while providing members with various benefits.

Among the many privileges of being a member is the opportunity to purchase tickets to all Harris Center "Presents" events before

they go on sale to the public.

Harris Center for the Arts

Friend

$150+

Patron

$300+

Associate

$500+

Supporter

$1,000+

Advocate

$2,500+

Composer

$5,000+

Designer

$10,000+

Become a Member

of the Harris Center

There are many levels

of membership, each

with unique benefits,

such as the opportunity

to purchase single

tickets before they

go on sale to the

general public.

Membership benefits are

good for one year from

the date of donation and

subject to change.

Recognition in Season Playbill

(updated July 1 and January 1 each year)

Purchase Harris Center Presents tickets during

season presale prior to public on-sale

Invitation to Season Preview Event

15% off single tickets to 2018-19 Harris Center Presents

shows purchased during the member presale

(generally held in June)

Invitation to Member Thank You Reception

Honored on Harris Center Donor Wall

Advance ticket purchase opportunities to newly added

Harris Center Presents shows throughout the season

Access to Founders Room during intermission for Harris

Center Presents shows with complimentary coffee & water

Invitation to Art of Wine Receptions

(generally one per month August through June)

Invitation to special events (including Artist Meet & Greet)

15% discount on all Harris Center Presents single tickets

purchased while membership is current

Invitation to Executive Director's Luncheon

Access to last minute seats on first-come basis to

Harris Center Presents shows

Private behind the scenes tour for four tailored to

donor's interests

Concierge ticket service prior to member presale for

Harris Center Presents shows

Dinner with executive director and college president

Recognition as supporting sponsor of a

Harris Center Presents show of choice

Four complimentary tickets for one

Harris Center Presents show

Recognition from stage at sponsored

Harris Center Presents show

Recognition on the electronic marquee

Name a Seat Program

The

The

Name

Name

a Seat

Seat

program

program

is

is

a special

special

way

way

to

to

support

support

the

the

Center

Center

while

while

creating

creating

a permanent

permanent

impression

impression

on

on

this

this

stateof-the-art

stateof-the-art

venue,

venue,

one

one

destined

destined

to

to

serve

serve

the

the

region's

region's

cultural

cultural

life

life

for

for

years

years

to

to

come.

come.

Your

Your

generous

generous

donation

donation

to

to

"Name

"Name

a Seat"

Seat"

will

will

be

be

recognized

recognized

with

with

your

your

name,

name,

or

or

that

that

of

of

a loved

loved

one,

one,

engraved

engraved

on

on

a

plaque

plaque

and

and

affixed

affixed

to

to

the

the

seat

seat

of

of

your

your

choice,

choice,

and

and

on

on

the

the

donor

donor

wall

wall

located

located

in

in

the

the

main

main

lobby.

lobby.

The tax-deductible donation to "Name Seat" is $1,000. Name Seat gifts are not eligible for membership benefits.

The tax-deductible donation to "Name a Seat" is $1,000. Name a Seat gifts are not eligible for membership benefits.

Please contact: Sally Howard, Director of College Advancement at (916) 608-6643 or howards@flc.losrios.edu.

Please contact: Sally Howard, Director of College Advancement at (916) 608-6643 or howards@flc.losrios.edu.

www.harriscenter.net WINTER/SPRING 2018 PROGRAM GUIDE 53
---
PRODUCER LEVEL

Robert S. & Star Pepper

Foundation

DESIGNER LEVEL

Fred & Karen Bookey

Dick Droese & Diane Reck

Art & Linda Grix

COMPOSER LEVEL

Dr. Gwynn Akin

Dan & Misty Dailey

Steve & Pam Eskildsen

Barbara & Brice Harris

Jamie Purviance

and Frances Ada, M.D.

James & Lisa Salter

ADVOCATE LEVEL

Betty Ballard

Carol & Louis Damerval

Kathleen & Patrick Kirklin

Don & Loretta Lawson

Sue Solger

SUPPORTER LEVEL

Judi Alexander

Neil & Danielle Beltran

Phil & Alison Braverman

Craig & Dianne Burnett

Betty & Gary Campbell

Thad & Carolee Champlin

Dr. Christa Clark

Ed & Betty Manoyan Foundation

Owen W. Ficke

& Mary A. Margosian

Pat & Gail Geary

Linda & David Gordon

Brian & Cathy Hoey

Greg & Barbara Houck

Ken Huseman

William & Janice Latham

Al & Genie Lord

The Marshall Family Trust

Carole Merchant

Allen & Susan Miglore

Susan & Carl Miller

Barbara Peters

Pat and Tony Richards

Judy & Mark Rodriguez

Drs. Jill & Mitch Ruffman

Deon Shortz

James & Charlotte Stott

Marilyn Szulman-Jones

& Michael Szulman

Paul & Cara Taylor

Allyson Warr & Ken Poole

Richard Weiss

Jerry & Debbie Winckler

ASSOCIATE LEVEL

Diane & Roger Aamodt

Dick Aberley & Joan Sennett

Karen Allan-Stroth

Clark & Paula Allison

Craig & Yum Armstrong

Rochelle L. Babb

Ernie & Kathy Baciocco

Jo Ann Blommer

Jane & Robert Blum

Sean & Andrea Boyd

Drs. Thomas & Marylou Bullen

Stephanie Carlson & Rita Timewell

Tom & Judy Chrisman

Shirley Churchill

& Richard Dilbeck

Cecilia Clark & Daniel Linhardt

Donna & Russ Clark

Kathy Cunningham

Michael & Madeline Desrosiers

Bob & Vera Doettling

Jim Dykes & Jacq Barnes

Charles Eichbaum

Jim & Janine Fox

Mr. & Mrs. Richard Gervais

David J. Grenier

Gary & Joan Grootveld

Mike & Lynn Hanamura

Eric & Joany Harman

Keith & Carol Hartley

The Haukedalen Family

Jessica & Stephen Hodge

Charles & Carol Jacobs

Greg & Donna Jenkins

Ann & Darryl Johnson

Bernadette Kelly

Russell & Virginia Krodell

Sherreta Lane

John Langer

Eddy & Judy Lim

Pam & Mike McAtee

Mary McKinnon & Greg Krekelberg

Zoe Miller

Marie Mitchell

Tammy Montgomery

& Greg Warzecka

Larry & Holly Moore

Doreen & Steve Mykytyn

Rebecca Newland

Alvin Newman

NJD Consulting LLC

Palmer Kazanjian

Wohl Hodson, LLP

George L. Parrott

James & Carol Peterson

Dave & Patricia Pier

Marlyn Pino-Jones

Clare & Kathy Poe

Jeffrey & LeAnn Robinson

Cary & Sharon Ross

The Sauer Bahro Trust

Wayne & Ann Schindler

Carolyn Scroggin

In Memory of Linda Shuken

Ron & Diane Smith

Linda & Jay Stirling

Jennifer & Brian Sweeney

Jim & Kathleen Switzer

Robin R. Trimble

Mike & Margarita Vasquez

Dee & Beverly West

Thomas & Linda West

Dan & Sherry Whetstone

Anson & Marien Wong

PATRON LEVEL

Anonymous

Dyana R. Anderly

Sergio & Noel Barros

Larry & Jamie Beutler

Gene & Jody Bisson

Bob & Bev Burns

V. & K. Buttle

Raymond & Lorraine Bydalek

Bryan & Janet Byrd

Helen Campbell

James Cimino

Charles & Kathleen Cooper

Bob & Marcy Crowley

Rob & Susan DeBruin

Robert & Victoria Dell

Catherine & Harry Diamond

Ann & Nick Econome

Robert Elliott & Kaye Christensen

Debbie Emery & Family

Mark Espinosa

& Stephen Twitchell

Patty Estopinal

European Sleep Design

Tom & Tina Farmer

Phil & Linda Ferrari

Bill & Joyce Frey

The Greenshield Family

Gregary Grenfell

& Virginia Vandermeer

Kathie Hanna

Kathryn & Larry Hanson

Beverley Hendrickson

John & Trish Hershey

Steve & Jeannie Holler

Jeffrey Janian

Heath & Rachel Jenkins

Gerald & Elizabeth Jordan

Joy Hair Salon

Michael & Sheryl Kays

Bob & Barbara Leidigh

Cynthia Macdonald

Ted Machado

Jim & Elizabeth Maddox

Lee & Linda McDoniels

Jack & Diana McGurk

The Meerjanssen Family

Stacey Mitchell & Chuck Weir

Dan & Lori Mullin

Bruce Notareus

Karl & Carolyn Okamoto

The Oliphants

Frank Pajerski

Nick & Patty Palmer

Ron & Lucy Perry

George & Jeniffer Phillips

Ernest & Marie Pineda

Lola & Gordon Purdy

Douglas & Susanne Quayle

Buzz & Cindy Raley

Ted & Leslie Reed

Mr. & Mrs. Charles Rennau

Judi & Roger Reynolds

Arlene Rose

June Shepherd

Jim & Kathy Siegfried

Marylee Silverman

Cherryl & Steve Simms

Helene & Harry Sinclair

Lee & Debbie Slupianek

Herb & Gail Stone

Robert & Gail Stroh

Paula Summers

Larry & Marilyn Taylor

Dennis & Judy Tsuboi

Carla Turoff & James Martin

Judy & Clarence Ueda

Mr. & Mrs. Leonard Victorino

Pat & Don Wagner

Gail White

David & Carol Williamson

Sandra & Barry Wold

Anne Wolfe

Drs. Daniel & Sande Woodson

FRIEND LEVEL

Anonymous

Carol Ackley & Pat Wilson

Scott & Christina Bailey

Robert & Barbara Baker

William Ball

Bill Bandes & Lise St. Andre

Grace & Clair Barner

Greg & Lynn Baugher

Abbey Bell

Sally I. Bennett

Hazel Berman

Alison Berry

Jessica Braverman Birch

in Honor of Phil Braverman

Peggy Blair & Jerry Beckett

Mark & Barbara Blatt

Jody Blubaugh

54 WINTER/SPRING 2018 PROGRAM GUIDE www.harriscenter.net
---
Joan & Jack Blyskal

John Boehm

Nancy G. Bohnsack

Jim & Phyllis Bolden

V. Scott Bollinger

Safiya Bonaventura

Jeff & Becky Boone

The Bradley House

William Bridges

Ken Brooks

Laurie Brown & Odel King

Paul Lee Brown

Judy & Bruce Brown

Peggy & Craig Brown

Susan Browning

Susan Bryant

Carol Burger & Jim Vanhouten

John F. Burke

Lisa & Michael Burrage

Rich & Joyce Burrill

Paul G. Buttner

Cecelia & Ron Byrd

Diana Caceres

Edward & Joan Callaway

Jeff & Maria Carwardine

James & Teresa Chandler

Delores & Vahram Cherezian

Diova Gray & Sue Childress

John Y. Cho

Glenda R. Claremon

Clyde & Donna

Mark & Kathy Cohen

The Committee

James & Louisa Coyne

Nancy & Gary Cramer

Janice Crossman

John Crowe

Ron & LaRita Culver

Tom & Julia Curtis

Judith Dalton

James Damir

Muriel Davenport

Chris & Myrna DeBortoli

Debra DeMartini

Jim & Andrea den Dulk

Ross & Shirley Deter

Paul Dorn

Kirk & Loretta Doyle

Marc & Ila Dubin

Cindi Dulgar

John Dupen

Denise Epes

Annde Ewertsen

Janet & David Ferguson

Gaylin Fleming

Folsom Dog Resort

& Training Center

Folsom Lake Community

Concert Association

FOLSOM TIRE PROS

Richard & Susan Fox

Ann Freelove

Lesa Fynes

Virginia Gaber

The Garnett Family

Don & Pat Garrett

Joan Gates & Byron Fitzgerald

Robert & Patricia Ghiglieri

Patricia Gifford

Michael & Selina Girard

Judy K. Gonzalez

Ilene Goodwoman

& Robert Wagoner

The Gunther Haggblade Family

Dr. Jerome Gutterman

David & Carolyn Haake

Peter & Mary Ann Hall

Scott & Julie Hall

Meg & Scott Hanley

Mary Hansen

Lisa Heberer

Joe & Julia Heideman

Nancy Hetrick

Greg & Maria Hibdon

David R. Hill

Richard Hobbie

Jordan Holmes

Sally Howard & Jon Buchanan

Alice Jacobs

Phyllis & Norm Jacobs

Ejner & Judy Jacobsen

Dennis Johnston & Linda Hill

Judy Johnson

Brent Jones & Kathy Franklin

David Jones & Tina Wilkins

Jim & Delores Juarros

Claudia & Pat Kane

Jim & Marge Karling

Susan Keith

Carol Kendrick

Frank & Marianne Kleman

Joel & Denise Kmetz

Matt & Deborah Knowles

Wendy Kosterman

Steve & Ada Krumm

Sherrill & Ted Kulp

Laurie & Jim Kurttila

Mary Lagomarsino

Andrew Lagosh

Dr. Bob & Jean LaPerriere

Brett & Holly Larson

Sondra Lee & Bill Kuhn

Ed & Candy Lehman

Marian & Doug Leisz

SUPPORT THE ARTS

Purchase your

HARRIS CENTER

PERKS CARD

Receive valuable savings at these

restaurants and many more.

John & Debra Leung

Debbie Lichtman & Steven Ladd

Michael & Elaine Linn

Steve & Jeanne Loe

Stuart & Vana Lott

Jim & Ruth Loughridge

Janeene Lowis

Dana & Mark Lutzo

Duane Lyons

Gay & Barry Mackintosh

Jeremiah Maher

Carolyn Mansell

Vivian Marguleas

Chrystine Martin

Mimi & Earl Mattock

Michelle McClain

Bob & Stella McCray

Danny & Valerie McDaniel

Greig & Susan McGinness

Chuck & Susan McIntire

Patricia Medina

Jere & Carolyn Meek

Carolyn Meza

Leslie Michaels & Susan Katt

David & Connie Misquez

Barbara Moberly

Jin & Marie Moore

Debra Mulder

Brian & Betty Neil

Lynda & Gary Nield

Linda Nugent

Russ O'Brien

Gary & Kathy Odom

Christine & Craig Oliver

Celia Orona & Tom Anderson

Neil & Barbara Ostrander

Markie & Aziza Parker

Ken Payne & Sue Blake

The Pellegrini Family

Bob & Marlene Perkins

David & Diana Phillips

Ray & Jana Pingle

Florence Pon

Tom & Jeanne Pooley

Sharon Pope

Marie & Jerry Powell

Jerome & Carolyn Preston

The H. Price Family

Jess & Maria Ramirez

Ms. Raney

Bruce Rapport & Karen Mondragon

Sue Rauzy

Sandi Reis

Revolutions Naturopathic

Larry Richardson

Steve & Caroline Roberts

Evelyn C. Rogers

Robin & Lynne Rogers

Ed & Roseann Roman

Dale & Phyllis Rundquist

Tamra & Bob Ruxin

VerJoyce & Mike Salmon

Jeanne Schafer

Steve & Lori Schaumleffel

Paul Schierenberg

Gabriele Schillinger

Jerry & Lois Scott

Norm & Penny Scott

The Kenneth Sherer Family

Tim & Michelle Shestek

Stephanie Shurilla

Roger & Barbara Smith

D. Sofia

James A. Sohani

Mr. & Mrs. G. Soltani

Linda & Charlie Stack

Loretta Mosbacher Steichen

Dale & Rose Stone

Brian Sweeney

Phyllis Telfer

Cindy & Stephen Templeton

Rosanna Trevisan

& Geoff Maxey

Michael & Karen Tucker

James E. Turner

Russ & Pam Tweet

John Uithoven

Zoe Van Den Bergh

Emanuel & Lisa Vargas

Patricia Vienna

Gregory & Kathleen Villegas

Visconti's Restorante

Rich & Shannon Walker

Katherine Walter

Tom Weborg & Sandra Singer

Jim, Diane & Jenna Williams

David & Evelyn Willmott

Richard & Erica Wilson

The Wolber Family

Ron & Carol Yelton

Helen Yelverton

Carole Yuhnke & Jim Herod

Alicia & Jim Zimmerman

Names listed are changes,

updates, and corrections

to the current 2017-2018

Annual Members as of

December 18, 2017

SUPPORT THE ARTS

Purchase your HARRIS CENTER PERKS CARD

$

25

FREE TO HARRIS

CENTER MEMBERS

Receive valuable savings at these

restaurants and many more.

www.harriscenter.net WINTER 2018 PROGRAM GUIDE 55
---
Remember to make your

reservations for dinner

before the show

Call us at:

916 983 5181

• Best Family Restaurant

• Best Italian Restaurant

• Best Chef

• Best Bartender

• Best Server

"Come and taste true Italian cuisine with old world charm.

Authentic dishes like nonna and momma make."

Tuesday thru

Saturday –

Lunch & Dinner

Sunday –

Dinner Only

Private Dining

Full Bar

Patio Dining

To Go &

Party Platters

BEFORE OR AFTER THE SHOW.

MODERN ASIAN CUISINE. TIMELESS TRADITION.

2585 IRON POINT ROAD FOLSOM 916-983-1133 1500 EUREKA ROAD ROSEVILLE 916-787-3287

Sunday - Thursday 11 - 9:30 | Friday - Saturday 11 - 10 www.fatsbistro.com
---
Bacchus House Bistro

Join us for an Amazing Pre or Post Show

Dinner at Bacchus House Bistro and enjoy

the finest cuisine of Executive Chef Victor

Octavio. Enjoy a full bar at Bacchus House

Bistro as he prepares a culinary masterpiece

just for you!

From Seared Ahi Tuna, Oven Roasted Rack of

Lamb with Pomegranate Mint Jus to Braised

Short Ribs, Day Boat Scallops, and our famous

Bacchus House Signature Prime Rib, just to

name a few.

• Full Bar

• Private Dining

• Patio Seaing

"Home of the BEST Prime Rib in Town"

1004 East Bidwell Street, Suite 100, Folsom

(916) 984.7500 • www.bacchushousebistro.com

Dinner: Tuesday-Saturday 5 PM-9 PM | Sunday Dinner: 4 PM-8 PM

Happy Hour: Tuesday-Friday 4 PM-6 PM (all night Tuesdays)
---
Corporate Sponsorship Program

The Corporate Partners sponsorship program offers access to unique marketing and

hospitality benefits for local, regional, and national businesses. Your company will enjoy

opportunities to reach a valuable customer base: adults, children, college students,

community leaders, and business representatives.

By becoming a proud corporate partner with the Center, your company is guaranteed an

exciting range of sponsorship benefits and unique promotional opportunities which will

help increase brand loyalty and establish prominence in key target audiences. Partnering

with the Center assures you will increase customer engagement — the interactions that

strengthen the emotional investment in your brand — helping to assure continued relevance

in today's competitive market. Moreover, becoming a corporate sponsor will allow you special opportunities to reward your employees.

For information about the membership program, corporate sponsorships and other ways to support the Harris Center for the Arts as

a donor, please call 916-608-6643 or visit us online at www.harriscenter.net.

ART OF

Art of Wine receptions are a benefit

for Associate level annual members

and higher.

Art of Wine Schedule

January 20, 2018

Donor Thank You

Reception:

Sergio Mendes

Art of Wine 6:00pm,

Show 7:30pm

All 2017-18 Art of Wine

Wineries

February 21, 2018

International Guitar Night

Art of Wine 6:30pm,

Show 7:30pm

Lava Cap Winery

March 29, 2018

Amazing Grace

Art of Wine 6:30pm,

Show 7:30pm

Miraflores Winery

April 19, 2018

Falcon's Eye Theatre at

FLC presents Hair

Art of Wine 6:30pm,

Show 7:30pm

Miraflores Winery

May 2, 2018

Keyboard Conversations ®

with Jeffery Siegel:

The Romantic Connection

Art of Wine 6:00pm,

Show 7:00pm

Sierra Vista Winery

A special thank you to our donors and sponsors

Corporate Leaders

Madroña Vineyards

Bronze Corporate Leader Sponsor

Palmer Kazanjian Wohl Hodson LLP

Boyd & Associates

Name A Seat Donors

Dr. Gwynn Akin in Honor of:

Dr. Gwynn Akin Bowers

Dr. Albert Bowers

Dr. Robert Dean Sparks

Dr. John Rouse Akin

Carrie Akin Parham

S. Mark Parham

Mattie Elizabeth Parham

Samuel John Parham

Margaret Akin Guilbault

Richard Arthur Guilbault

Danielle Marie Guilbault

John Richard Guilbault

Maestro & Mrs. Michael Neuman

Thelma Snowden

Delores Brown

2017/18 Class Acts School Time

Matinee Series Sponsor

County of Sacramento

Capital Campaign Donors

Bank of America

Sevy & Neva Cimaroli

City of Folsom

e.Republic

Folsom Lake Bank

Folsom Lake College Marketing

Students

Guild Mortgage

Mary F. Hansen

Brice W. and Barbara A. Harris

The Harry C. and Deborah L. Elliott

Foundation

IBS-US

Kikkoman Foods Foundation

Patrick & Kathleen Kirklin

Kitchell CEM, Inc

Mercy Hospital of Folsom

The Robert S. & Star Pepper

Foundation

Frank & Thelma Skillman

Wells Fargo

58 WINTER/SPRING 2018 PROGRAM GUIDE www.harriscenter.net
---
Open Mattress Architecture

High-performance

mattress systems,

pillows, and bedding

• Innovative Mattress and Flex Slats

Sleep System Enables Deeper Sleep

• Engineered for health, support,

comfort, and value

Europe's Secret To Restful Sleep,

Now Available In The US (and in Folsom!)

For more healthful and sound sleep, visit our Folsom bed store today!

6606 Folsom Auburn Rd. Folsom, CA

916-989-8909 • sleepdesign.com

• European components offer mattress

longevity, stability, and contour

• Öeko-Tex European testing and

certification ensures you get a clean

and chemically-safe mattress
---
16 BACK-TO-SCHOOL ESSENTIALS // DINE: HOP SING PALACE

arts

food

wine

home

travel

health

STYLE FOLSOM EL DORADO HILLS

AUGUST 2017 FOOD | HOME | COMMUNITY | EVENTS | ARTS | LIFE

STYLEFEDH.COM

A BEER

& WINE

LOVER'S

GUIDE

TO THE

REGION

BOOZY BITES

BREAD PUDDING

FROM

36 HANDLES

AUGUST 2017 STYLEFEDH.COM

FEDH-0817-COVER.indd 2

F O L S O M E L D O R A D O H I L L S

calendar

shopping

business

education

community

philanthropy

entertainment

®

ALSO...

HOPS &

GRAPES

pg 58

7/21/17 11:20 AM

local.life.

The Region's #1 Magazine

stylefedh.com
---
In The Wings:

Staff, Faculty, Board, District & Volunteers

Harris Center Staff

Administration

Dave Pier, Executive Director

Linda Stack, Administrative Assistant

Customer Services

Lisa Burrage, Ticket Office Supervisor

Devan Ivaska, Ticket Office Customer

Relations Assistant

Jared Van Kirk, Business Intelligence &

Operations Consultant

Lead Customer Service Representatives:

Kyongjin Cho, Alisia Gomez, Daniel Walsh

Customer Service Representatives:

Kayla Arney, Jennifer Berry, Kay Damron,

Dillon DeBoda, Tina Farmer, MacKenzie

Harrell, Julia Heideman, Marylou Keane,

Christine Mahoney, Drew Matthews,

John Moore, Shane Murphy, Michael Roa,

Anne Thorp, Emma Thorp, Alana Truong,

Yester Voskanyan

Development

Sally Howard, Director of College

Advancement

Anne Ward, College Relations Specialist

Susan Brackenhoff, Staff

Event Services

Holly Larson, Event Services Specialist,

Linda Woodson, Administrative Clerk

Belinda Soerjohadi, Student Assistant

Front-of-house Leads:

Grace Barner, Justin Brooke,

Judy Lamb, Nicolette Latini,

Emily Marshall-Conley, Vicki Mason,

Lee Ray McDoniels, Linda McDoniels,

Bruce Notareus, Michelle Petro,

Sandi Reis, Cindy Templeton

Gallery

Eunyoung Hwang, Marisa Sayago,

Heike Schmid

Marketing & Communications

Paul Dorn, Director of Marketing and

Communications

Don Button, Graphic Designer

Marketing Staff:

Addison Eppler, Daniel Jamieson,

Connor Jensen, Allison Masi,

Kathleen Switzer, Dave Webb

Production

Sam Coquerille, Technical Director

Eduardo Garza, Assistant Technical Dir.

Jacob Cantu, Assistant Technical Director

Julie Sandberg, Artist Hospitality

Folsom Lake College Staff

Whitney Yamamura, President

Kathleen Kirklin, Vice President

of Administration

Monica Pactol, Vice President of Instruction

BJ Snowden, Dean, Visual and

Performing Arts

Sally Howard, Director of College

Advancement

Sondra Lee, Assistant to the President

Kristy Hart, Communications

and Public Information Officer

Jane Crandell, Public Information Svcs.

Jennifer McLane, Public Information Svcs.

Matt Battershell, Public Information Svcs.

Joany Harman, Business Services

Supervisor

Dee Visentin, Business Services

Melissa Williams, Director of

Administrative Services

Kathy Barnes, Campus Operations -

Printing/Mailroom Services

Laura Kelly, Campus Operations -

Printing/Mailroom Services

Jeff Lewis, IT & Media Services Supervisor

David Hindi, Media Systems/Resources

Specialist

Christopher Raines, Custodial/Receiving

Supervisor

Visual and Performing

Arts Faculty

KC Boylan, Victoire Chochezi,

Paula Haug, Angela Prelip, Communication

and Media Studies

Debra Worth, Dance

Philip Angove, David Newnham, Music

David Harris, Ian Wallace, Theatre and

Cinema Arts

Cameron Hoyt, Theatre Technician

Eunyoung Hwang, Marisa Sayago,

Heike Schmid, Visual Arts

Melonie Quintell, VAPA Administrative

Assistant

Hao Lee, Music Department Instructional

Assistant

FLC Foundation

The Folsom Lake College Foundation

supports Folsom Lake College and

the Harris Center for the Arts through

fundraising and advocacy. The Center

would not have happened without the

vision and support of the Foundation's

volunteer members.

2016-17 Foundation Board Members

Kathleen Leavitt, Chair,

Madroña Vineyards

Dr. Anthony Retodo, First Vice Chair,

Kaiser Permanente

Bryan Byrd, Immediate Past Chair,

CA Earthquake Authority

Cyrus Abhar, City of Rancho Cordova

Phil Braverman, Community Member

Craig Burnett, Community Concert Assoc.

Terry Carroll, Style Media Group

Harry Elliott, Elliott Homes Inc.

Bob Holderness, Holderness Law Firm

John Knight, LRCCD Trustee

Ed Manansala,

El Dorado County Office of Education

Iain Marshall, Edward Jones

Robert McGarvey, City of Rancho

Cordova

Mick Neshek, Kikkoman Foods, Inc.

Evert Palmer, City of Folsom

Don Pearson, Inductive Automation

Marlyn Pino-Jones, Community Member

Paul Plemmons, Sierra Nevada

Corporation

Randy Ross, Mercy Folsom

Chris Thompson, Wells Fargo

Los Rios Police Dept.

Valerie Cox, Interim LRPD Chief

Ben Murphy, LRPD Sergeant

Los Rios Community

College District

The Los Rios Community College District

is a two-year public college district

serving the greater Sacramento region.

The district includes American River,

Cosumnes River, Folsom Lake, and

Sacramento City colleges; major centers

in Placerville, Davis, West Sacramento,

downtown Sacramento, Natomas, and

Rancho Cordova; and special services for

business and industry. Our colleges offer

transfer education and AA/AS degrees

and certificates in over 70 career fields.

Board of Trustees

Pamela Haynes

Dustin Johnson

Robert Jones

John Knight

Tami Nelson

Deborah Ortiz

Ruth Scribner

Chancellor

Dr. Brian King

Volunteers:

A Key Part of the Team

More than 1,500 volunteers help to keep

the Center running smoothly. Last year

alone, volunteers contributed nearly 35,000

hours as gallery docents, ushers and office

assistants, and community ambassadors

— helping patrons to have an outstanding

arts experience. They are a key part of the

Center's success — it literally could not

operate without their support. For more

information about the volunteer program,

visit www.harriscenter.net.

Harris Center Program Guide produced in

association with Style Magazine.

www.harriscenter.net WINTER 2018 PROGRAM GUIDE 61
---
1478 Stone Point Dr., Ste. 400

Roseville, CA 95661

www.barnettandlinn.com

Roger D. Linn

Where Attorney/Principal Law

& Business Meet

916-782-4404 phone

916-788-2850 fax

rlinn@linnlawcorp.com

Law offices in

Roseville and

Los Angeles California

Roger D. Linn

Attorney/Principal

Securities

Franchising

Mergers & Acquisitions

Business Formations

1478 Stone Point Dr., Ste. 400

Roseville, CA 95661

www.barnettandlinn.com

916-782-4404 phone

rlinn@linnlawcorp.com
---
INNOVATIVE BOUTIQUE REAL ESTATE BROKERAGE

Innovative

Local Expertise

Dedicated to Giving Back

Award Winning Company

916.496.8585

www.LeonardiRealEstate.com

JOHN M LEONARDI, BROKER-OWNER | CalBRE #01737387

Voted one of the best Real Estate Agents

by the readers of Style Magazine
---
HARRIS CENTER 2018 WINTER-SPRING CALENDAR

THE BUDDY HOLLY STORY

TREASURE ISLAND

KINGS OF DANCE

JANUARY

5-7 MOTOWN THE MUSICAL

7 VITA: Rising Stars

10 SBL: Marty Stuart

11 Kids Helping Kids: NEEDTOBREATHE

12 Carrera: Lee Ritenour

13-14 James Garner's

Tribute to Johnny Cash

16-17 Wynonna and The Big Noise

19 Benny Goodman, Carnegie Hall and the

Concert that Changed the World

20-21 Sergio Mendes & Brasil 2018

20-21 SBS: Voice of the Cello

24 Jeffrey Siegel Keyboard Conversations © :

Exotic Music of the Night

25 Legends of Hawaiian Music

26 Carrera: Michael Doucet and

Tom Rigney with Flambeau

27 Mark Hummel's

Blues Harmonica Blowout

28 NIYAZ: The Fourth Light Project

28 FLC Speakers Series: Jeffrey Toobin

30 ElevenPlay

All programs, artists and dates subject to

change. Additional events being added.

Check www.HarrisCenter.net

for most up-to-date offerings.

FEBRUARY

1 Mummenschanz: you & me

2-4 Lenaea High School Theatre Festival

6 SBL: Max Weinberg's Jukebox

7 Moscow Festival Ballet: Swan Lake

8 Moscow Festival Ballet: Giselle

10 Folsom Lake Symphony:

Passion & Drama

11 VITA: Great Composers Chamber

Music Series

16-18 EDMT: 42nd Street

21 International Guitar Night

22-25 EDMT: 42nd Street

28 Dublin Irish Dance: Stepping Out

MARCH

2-4 Buddy - The Buddy Holly Story

6 Parsons Dance

7 RMS Productions:

Rockin' Road to Dublin

8 Lee Rocker

9 Carrera: Colin Mochrie &

Brad Sherwood

10 Folsom Lake Symphony Family

Concert: Musicians at Work!

10 Zakir Hussain with Rakesh Chaurasia

10-11 SBS: Viva Vivaldi!

11 FLCCA: Rhapsody & Rhythm

The Gershwin Concert Experience

11 FLC Speaker Series: Diana Nyad

13-14 The Ten Tenors

15 St. Patrick's Day in Ireland

64 WINTER/SPRING 2018 PROGRAM GUIDE www.harriscenter.net
---
PARSONS DANCE

HEART BY HEART

AMAZING GRACE

17-18 Peter Yarrow & Noel Paul Stookey

17 SGS: Alex De Grassi & Andrew York

18 PIOM: Faculty Concert

20 FLC Music Preview Concert

21-22 FLC Invitational Music Festival

24 Panto Company USA: Treasure Island

24 Folsom Lake Symphony:

Glorious Adventure

25 Kings of Dance featuring Lezginka

25 Chao Lu Piano Recital

29-31 Amazing Grace, The Musical

APRIL

1 Amazing Grace, The Musical

13-15 FLC Falcon's Eye Theatre: HAIR

15 VITA: Great Composers Chamber Music

Series

19-21 FLC Falcon's Eye Theatre: HAIR

27-29 EDMT: Bye Bye Birdie

MAY

1 FLC Music: Great Choruses –

From Broadway to Opera!

2 Jeffrey Siegel Keyboard Conversations © :

The Romantic Connection

3 FLC Evening of Dance

4-6 EDMT: Bye Bye Birdie

5-6 FLC Youth Chamber Orchestra

9-11 Folsom Piano Academy Recitals

10 FLC Commercial Music Ensemble

11-13 Sacramento Ballet:

Modern Masters - Red Hot

12-13 PIOM Recitals

14 FLC Vocal Recitals

17 Carrera: Larry Carlton

18 Placer Pops Chorale

19 Voices of California

20 Placer Pops Chorale

20 Bob Allen Music: Spring Recital

23 Oh Boy Records: John Prine

24 SBL: Rodney Atkins

25 Carrera: Herb Alpert & Lani Hall

JUNE

2-3 Folsom Lake Symphony:

Broadway Romance

6-7 SBL: Jackie Evancho

8 Heart by Heart

9 Fudominal Productions:

Duendes – A Night of Flamenco

16 Northern California Dance Conservatory:

Double Feature 2018

17 Malko Performing Arts Academy:

Summer Ballroom Dance Showcase

21 EDMT High Voltage: Best of Boadway

23 El Dorado Dance Academy: Travels

24 FLCCA: Jim Curry – The Timeless Music of

John Denver

30 Ho'ike 2018

JULY

6-8 EDMT: Spyquest: An Agent 006-1/2 Musical Comedy

11-15 EDMT: Spyquest: An Agent 006-1/2 Musical Comedy

Carrera

EDMT

FLC

FLCCA

PIOM

SBL

SBS

SGS

VITA

LEGEND

Carrera Productions

El Dorado Musical Theatre

Folsom Lake College Production

Folsom Lake Community Concert Association

Pacific institute of Music

SBL Entertainment

Sacramento Baroque Soloists

Sacramento Guitar Society

VITA Academy w/ Susan Lamb Cook

www.harriscenter.net WINTER/SPRING 2018 PROGRAM GUIDE 65
---
General Information

As a courtesy to other patrons who may have fragrance allergies,

please avoid wearing strong perfumes or cologne.

To limit disturbance to artists and fellow audience members,

late arrivals may be asked to wait until a suitable break in the

performance, or intermission, to be seated.

Doctors expecting calls during performances should leave their

names and seat locations with the House Manager.

Photography and Recording

The photographing and sound or video recording of any

performance, without the explicit permission of management,

is prohibited. Offenders may be ejected and liable for damages.

Ticket Office

Open Monday-Saturday, noon to 6 pm and two hours before show

times. Tickets also available online at www.harriscenter.net or by

calling (916) 608-6888.

E-mail list

Already have an account? If not, set up one at www.harriscenter.

net and receive e-news about events, added performances, and

special offers.

Parking

Ample event parking is located adjacent to the Harris Center.

Parking permits are required at all times including weekends.

A parking permit is issued automatically with your ticket order

for events. Once you have arrived and parked, please place your

permit in a visible location on your dashboard or hang it from

your rear-view mirror. For non-ticketed events, permits can be

purchased at automated parking kiosks located on the campus

circulator road.

House Notes

Emergency exits are indicated by green exit signs located above

each exit. For your safety, please check for the location of the exit

nearest to your seat.

As a courtesy to artists and other patrons, please turn off or

silence cellular phones, pagers, or wristwatch alarms before start

of the event, and refrain from texting during the performance.

Three sets of restrooms are located on the Stage Two end of the

lobby, one upstairs and two downstairs.

Snacks and beverages are available before performances and at

intermission at the Wells Fargo Café located near the electronic

donor wall, and at satellite service stations in the lobby. Food and

beverages are not allowed in the theaters (bottled water is okay).

Use of a ticket at the Harris Center constitutes acknowledgement

of willingness to appear in photographs, video, and film taken in

public areas of the facility and releases the Center, its Partners,

and all others from liability resulting from use of such images.

Lost and Found Items

Lost items will be held in the Coat Check room in the lobby until

the end of the performance. Thereafter, please call (916) 608-

6888. Unclaimed items will be turned into FLC Campus Police

Department after thirty days.

Accessibility and Listening Devices

The Center is accessible to patrons with disabilities. Wheelchair

seating is available in all venues. Portable wireless listening

devices are available with a small, refundable deposit or a

driver's license. Please inform the Ticket Office of any special

needs when ordering tickets.

Children

All patrons are required to have a ticket, including youngsters

sitting on laps. Parents are expected to take into account the

subject and nature of performances when selecting shows for

their children, and to make sure etiquette is part of the theatre

going experience. Parents will be asked to remove disruptive

children.

Presentations, Partners, and Productions

The Harris Center for the Arts strives to inspire, include, and

instruct. Through its PRESENTATIONS, the Center brings touring

artists from around the world. PARTNERS are local and regional

music, theatre, and dance companies who make the Center their

home. PRODUCTIONS deepen the educational experience of

Folsom Lake College, giving students and faculty an opportunity

to develop their craft and present it to family, friends, and the

broader community.

Folsom Lake College is a smoke, tobacco, and vape-free campus.

Smoking and use of tobacco products is prohibited anywhere

on campus.

66 WINTER/SPRING 2018 PROGRAM GUIDE www.harriscenter.net
---
HAVE A

NEW YEAR!

FRUSTRATED WITH DIET &

EXERCISE PROGRAMS?

FAD

DIET

LOSE 15 POUNDS

IN YOUR FIRST 5 WEEKS

GUARANTEED! *

WE CREATE CUSTOM INDIVIDUALIZED PLANS

FOR YOUR UNIQUE BODY TYPE

Take advantage of New Year pricing

BOOK NOW

WHILE APPOINTMENTS LAST!

No Pills. No Shots. No Hormones.

$24 Limited Offer

Expires June 30

happyhealthythin.com

*Complete details of guarantee can be seen upon written request and/or in clinic prior to any sale and agreed to by both parties prior to any sale.
---
Music touches the heart

From a simple tune to the richest harmony, music expresses emotion in ways that

can resonate with all of us.

We're proud to salute Harris Center for the Arts.

wellsfargo.com

© 2017 8 Wells Fargo Bank, N.A. All rights reserved. IHA-21194