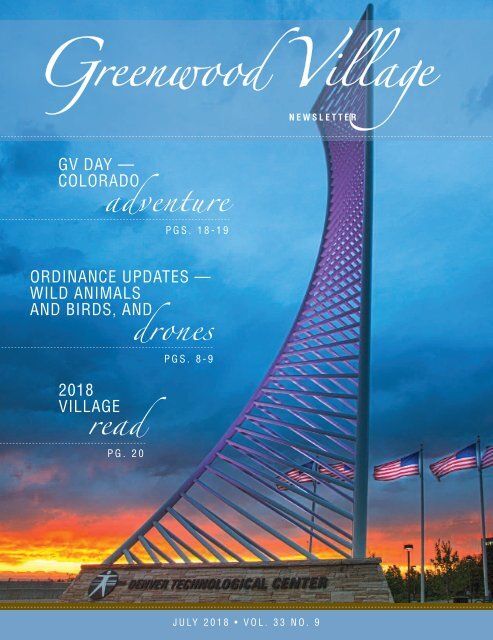 Create successful ePaper yourself
Turn your PDF publications into a flip-book with our unique Google optimized e-Paper software.
Greenwood Village

N EEW S LLE ET TTE ER

GV DAY —

COLORADO

adventure

HEADLINE GOES

P G S . 1 8 - 1 9

here P G . X

ORDINANCE UPDATES —

WILD ANIMALS

ANDHEADLINE

BIRDS, AND

HERE P G . X

2018

VILLAGE

read

P G . 2 0

drones

P G S . 8 - 9

HEADLINE

HERE

P G . X

HEADLINE

here P G . X

J U LY M O 2N 0T 1H 8 Y• EVA OR L I. S3S 3U E N O #. 9
---
GOVERNMENT

MAYOR RON

reports

GREENWOOD

VILLAGE IS FAMILY

The foundation of society is the family. We start

life with our parents and sometimes siblings.

Many of us continue building the next

generation by creating our own families. In

addition to the family we live with we have our

work family. Last month Village staff family

came together to support one of their own —

Ted Putnam. Ted is battling brain cancer. To

raise funds for related expenses two fellow staff

members in Public Works Vince DeMaio and

Scott Heller volunteered to lose a full head of

Ron Rakowsky

rrakowsky@

greenwoodvillage.com

303-486-5741

hair and an awesome full beard. Directors

Camie Chapman and Suzanne Moore were

chosen by lottery to do the shaving honors. All

of us at the Village wish Ted a speedy recovery

and return to full-time work.

AN EXCEPTIONAL

CUSTOMER EXPERIENCE

AT DELECTABLE EGG

Service is great in

Greenwood Village!

For the past few

months, as part of my

report, I have

highlighted a business

and one of their

employees who

contribute to an

exceptional customer

service experience.

After all, people are

our most important

asset!

Delectable Egg Food Service

Manager Luis Gonzalez and

Mayor Ron Rakowsky.

This month, I

recognize my favorite

waiter at Delectable

Egg Restaurant in

Greenwood Village,

Mr. Luis Gonzalez,

Food Service Manager,

who has been with the restaurant for six years. Luis is my

ideal server because he exemplifies the following attributes:

Cover photo courtesy of Steve Sokolik – Passionate Pixels.

Vince DeMaio, Mayor Ron Rakowsky, Ted Putnam and

Scott Heller.

He is confident in his knowledge of the menu; is friendly and

does not try to sell me something right off the bat; he cares

about what he's doing; makes me feel welcome; and takes

care of me. Overall, the food and service at Delectable Egg is

excellent.

There are many passionate employees like Luis in Greenwood

Village dedicated to serve their customers. If you know of a

business/employee in our community that should be

recognized, please email mgallegos@greenwoodvillage.com.

AUDIO OF PUBLIC

MEETINGS AVAILABLE

In case you don't get the opportunity to attend public

meetings, you can still keep up-to-date on what occurred and

any action taken by listening to audio webcasts on our

Village Website at greenwoodvillage.com. We recently

transitioned to a new Webcast system for agendas, minutes

and audio of meetings on our Website. The agenda

management system, CivicClerk, will continue to allow

members of the public, as well as Board and Commission

members, and City Council to research, manage, and listen

to webcasts of public meetings. Past recorded meetings from

2011-2017 are available from the City Clerk's office.

To make it convenient, you can sign up for email

notifications of the posting of agenda and meeting material

on upcoming meetings. Subscription services are available at

https://greenwoodvillage.com/2390/Agendas-Minutes-

Webcasts. For more information, please visit

www.greenwoodvillage.com or reach out to the City Clerk's

Office at 303-804-4113.

PG. 2 GV NEWSLETTER | JULY 2018
---
GOVERNMENT

CITY council

NOT SURE WHO YOUR

ELECTED OFFICIALS ARE?

Obtain a list of your state and national government

representatives at www.arapahoevotes.com

DISTRICT 1 DISTRICT 2 DISTRICT 3 DISTRICT 4

Dave Bullock

dbullock@

greenwoodvillage.com

303-804-4137

Anne Ingebretsen

aingebretsen@

greenwoodvillage.com

303-804-4135

Steve Moran

smoran@

greenwoodvillage.com

303-804-4133

Judith Hilton

jhilton@

greenwoodvillage.com

303-804-4131

Jerry Presley

jpresley@

greenwoodvillage.com

303-804-4138

Dave Kerber

dkerber@

greenwoodvillage.com

303-804-4136

George Lantz

glantz@

greenwoodvillage.com

303-804-4134

Thomas Dougherty

tdougherty@

greenwoodvillage.com

303-804-4132

Mayor Ron Rakowsky and

Richard Keller.

90 YEARS AND

GOING STRONG

At the June 4 City Council meeting, the

City Council and I had the opportunity

to recognize a young man who gives true

meaning to two sayings, "to be young at

heart" and "you're only as old as you

feel." I want to introduce Village

resident Richard Keller. Mr. Keller is 90-

years-old and recently participated in the

Colorado Senior Olympics where he

won 12 gold medals in swimming. Mr.

Keller, a Navy and Air Force Veteran

and Colorado University Engineering

graduate Class of '54, believes that

vibrant health and fitness is paramount

to living life to its fullest and best; so he

enjoys being active in every respect.

If you are a member of the Greenwood

Athletic Club, you may have met Mr.

Keller as you can find him there several

days a week practicing at the pool for his

next senior Olympic trials. He is also

very active at our Curtis Center for the

Arts as he is a frequent participant of the

Center's senior classes and events.

ORCHARD

HILLS PARK

VOLUNTEER DAY

In June, Parks, Trails, and Recreation

staff, along with the Orchard Hills Park

and Recreation Metropolitan District

and Orchard Hills — Big Canon

Homeowner Association, hosted a

volunteer day at Orchard Hills Park.

continued on page 4

JULY 2018 | GV NEWSLETTER PG. 3
---
GOVERNMENT

Mayor Ron reports

continued from page 3

Nearly 40 residents (including staff)

of Orchard Hills, Big Canon,

Goldsmith and Canon Villas

neighborhoods came

together to spruce up

the park and pond.

Their efforts included

the installation of new

gravel along paths,

planting flowers,

pulling weeds,

pruning, spreading

new mulch, and

cleaning up the

streams. The project

concluded after three

hours with the group

sharing pizza and

dessert.

Volunteer projects are

a great way to get to

know your neighbors

and show pride for

your Village, the place

you call home. If your

RAMBLE WITH RON

neighborhood is interested in

hosting a volunteer day, please call

the City Manager's Office at

303-486-5745. GV

Have some ideas or suggestions to share about living or working in Greenwood

Village? Walk and talk with Mayor Ron Rakowsky from 7:30 to 8:30 a.m. (weather

permitting) on: Thursday, July 19, Tommy Davis Park, Swim Club Lot, 9200 E.

Orchard Road;

and Tuesday, July 31, Westlands Park, 5701 S. Quebec Street.

Registration is not required. For more information, please call the Mayor's Office

at 303-486-5745. Check for updates of the monthly schedule for Ramble with Ron

at www.greenwoodvillage.com.

GIVING BACK TO

THE COMMUNITY

COMMISSION APPOINTMENTS

The following citizen was appointed by the

Greenwood Village City Council to serve on

the Planning & Zoning Commission from

District 2:

Robert de Grasse, PE / PEng,

PMP, LEED AP, CEM, CDSM, CxA

Rob has lived in Greenwood Village with his

wife Diane and three daughters, Sierra,

Chloe and Justine, since 2005. Rob earned

his BScEng degree in Engineering &

Management from the Royal Military College

of Canada and furthered his education at the

University of Cambridge in the Programme

for Sustainability Leadership. Rob has

focused on expanding his professional

knowledge and designations; Rob is a

Professional Engineer, Project Management

Professional, LEED Accredited Professional,

Certified Demand-side Management

Professional, Certified Energy Manager,

Certified Commissioning Authority, Six

Sigma Specialist, and many other

accreditations. Prior to Diane and Rob

starting their company, RD3, Inc., in 2007,

Rob has worked for a number of companies,

including, CBRE, Microsoft Real Estate &

Facilities, Grubb & Ellis Management

Services, and eventually was drawn to

Colorado to work for AIMCO. Rob has had

numerous national articles written about his

work and has spoken at many national

conferences. Rob enjoys the outdoors,

including running, hiking, skiing and

spending time with his family.

For more information on how to serve on a

Village board or commission, please call the

City Clerk's Office at 303-486-5752 or email

Susan Ortiz, City Clerk, at

sortiz@greenwoodvillage.com.

PG. 4 GV NEWSLETTER | JULY 2018
---
VILLAGE CALENDAR

Visit

WWW.GREENWOODVILLAGE.COM

for more information

Information is subject to change

august

2018

SUNDAY MONDAY TUESDAY WEDNESDAY THURSDAY FRIDAY SATURDAY

29 30

31 1 2

3 4

5 6

7

8 9 10 11

City Council

Study Session

6 p.m.

Meeting

7 p.m.

City Hall

★ SINGLE FAMILY HOUSEHOLD RECYCLING ★

P&Z Commission

7 p.m.

City Hall

12 13 14

15

16

17 18

PTR Commission

7 p.m.

City Hall

GVAHC Meeting

6:30 p.m.

Curtis Center

19 20

21

22 23

24 25

City Council

Study Session

6 p.m.

City Hall

★ SINGLE FAMILY HOUSEHOLD RECYCLING ★

P&Z Commission

7 p.m.

City Hall

BOAA

Meeting

6:30 p.m.

City Hall

26

27 28

PTR Commission

7 p.m.

City Hall

29

30

31 1

★ SINGLE FAMILY HOUSEHOLD RECYCLING ★

JULY 2018 | GV NEWSLETTER PG. 5
---
GOVERNMENT

Greenwood Village

Don't have Comcast cable?

You can watch GVTV 8 programs on the

Village Website at greenwoodvillage.com

or on The City of Greenwood

Village Channel on YouTube.

GV KIDS, INK! NEWS

THUNDER — Meet Thunder,

the official animal mascot for

the Denver Broncos.

GEESE — Listen to learn

about Canadian Geese in the

Village and mitigating the

negative impacts of their

presence on private and public property.

AVAILABLE ON COMCAST

CABLE IN GREENWOOD

VILLAGE, GVTV CHANNEL 8 IS

AVAILABLE 24 HOURS A DAY,

SEVEN DAYS A WEEK

PROVIDING PROGRAMMING

REGARDING IMPORTANT

LOCAL, STATE AND

NATIONAL TOPICS.

NEW ON GVTV 8 IN JULY

VILLAGE EATS

Check out the third episode

of the Greenwood Village

Cooking Show as host Kristin

Markey and guests, Brent

and Marion Neiser, learn how

to create a fabulous menu on

the grill for that dinner on the

patio this summer.

VILLAGE

SHOWCASE

Join Mayor Ron

as he gives

viewers an

inside look

at the Fire

Department.

GVTV 8 PROGRAMS

Village Showcase

Join Mayor Ron Rakowsky as he showcases

all the latest happenings and greatest events

taking place in Greenwood Village.

Beyond The Green

A program highlighting the parks, trails and

open space system in the Village.

Over 50 And Loving It!

A program focused on issues and events

affecting people 50+ years of age.

Safety Matters In Greenwood Village

Learn about safety issues in Greenwood

Village and techniques to help keep you and

your family safe.

GV Business Connections

Get an inside look at the business

community of Greenwood Village and learn

about some important business topics.

GV Kids, Ink! ® News

Hosted by youth news reporters, this

program features youth activities and events

in the community.

The Village Insider

Get a glimpse of the people and projects

behind the doors at City Hall.

Colorado Connected

Produced by the Colorado Communications

and Utility Alliance (CCUA), the program

features programs on regional issues.

NASA 360

Produced by the National Institute of

Aerospace for NASA, this program examines

how technologies developed by and for

NASA are used in everything from space

exploration to everyday consumer products.

Graceful Aging

Enjoy this program to learn about elder care

needs. You'll laugh, think and be inspired to

improve your life.

Denver Press Club

Hosted by the Denver Press Club, this

program features discussions with members

of the press and community.

Jazz Cardio Strength Stretch

A powerfully fun and effective workout that

will lift your spirits, strengthen your heart,

muscles, and core. You'll get a healthy dose

of cardio, strength and stretch moves and

finish up feeling energized for the start and

end of your day.

PG. 6 GV NEWSLETTER | JULY 2018
---
ENHANCING OUR

community

GOVERNMENT

CONSTRUCTION OF SKATEPARK

EXPANSION UNDERWAY

In response to the many requests to add new elements to the

existing Skatepark at the William McKinley Carson Park, a

4,000 square foot expansion is under construction to include

street features, which are lacking in the existing skatepark.

The nationally renowned skatepark firm, Team Pain, led an

interactive public

input process

consisting of two

well attended public

meetings to

determine the

features for the new

addition. The

Village was awarded

a grant from

Arapahoe County

Open Spaces to

assist in funding the

much-desired

addition. A grand

opening is scheduled

for September 8,

2018, at 1 p.m.

For more information, please call Suzanne Moore, Director

of Parks, Trails, and Recreation, at 303-708-6142 or email at

smoore@greenwoodvillage.com. GV

JULY 2018 | GV NEWSLETTER PG. 7
---
GOVERNMENT

MAKING A difference

ORDINANCE

UPDATES

WILD ANIMALS AND BIRDS

In order to protect the public health and safety of wild birds

and animals, Village Code was amended regarding wild

animals and wild birds in Greenwood Village. The amended

ordinance discourages geese from landing and inhabiting

areas of the Village's parks and open space where the humangoose

conflicts exist, and to allow private property owners the

ability to protect their personal and real property from

damage from wild animals when it is safe to do so:

• It is unlawful for any person to willfully shoot, capture,

harass, injure or destroy any wild bird or animal;

• No person shall willfully destroy, rob, or disturb the nest,

nesting place, burrow, eggs or young of any wild bird or

animal;

• Non-lethal control activities in which there is no direct

contact with geese and that do not result in harm to the

geese, goslings, eggs or nests are not unlawful and do not

require any kind of federal or state permit; and

• The Village may desire to employ non-lethal control

activities in order to maintain the quality of its parks for

use by the public.

For more information on wildlife issues on your personal

property, please call the Police Department at 303-773-2525.

SMALL UNMANNED AIRCRAFT

SYSTEMS (DRONES)

In order to protect public health and safety, the City Council

adopted an ordinance to regulate the use of small unmanned

aircraft (aircraft weighing less than 55 pounds inclusive of

payload and attached systems and components operated

without the possibility of direct human intervention from

within or on the aircraft) where not otherwise regulated by

the FAA. The following is a summary of the new ordinance:

Invasion of Privacy

• It is unlawful for a person to knowingly and intentionally

use a small unmanned aircraft to observe another person

or to capture or transmit an image, sound, or other

physical impression of another person where the other

person has a reasonable expectation of privacy;

Trespassing

• It is unlawful for any person to operate, launch or land a

small unmanned aircraft on or from private property

without the prior consent of the personal lawfully in

possession of the property;

Harassment

• A person will commit harassment if they fly, use, launch,

employ or navigate a small unmanned aircraft system in a

manner MEANT to harass, annoy, or alarm the animals

or human occupants of public or private property, or to

observe; photograph, or visually record an individual or

individuals on private property without permission or

lawful authorization;

Interference with a Peace Officer or Firefighter

• It is unlawful for any person to operate a small unmanned

aircraft in a manner that obstructs, impairs or hinders a

peace officer or firefighter in the discharge or apparent

discharge of his or her official duties.

For more information on Village Codes, please call the City

Clerk's Office at 303-486-5752. GV

PG. 8 GV NEWSLETTER | JULY 2018
---
GOVERNMENT

KNOW BEFORE YOU FLY

UNMANNED FLIGHT SAFETY GUIDANCE

COMMERCIAL

The FAA currently authorizes the use of unmanned aircraft

systems (UAS) for commercial or business purposes on a

case-by-case basis. You may not fly your UAS for commercial

purpose without the express permission from the FAA. You

should check with the FAA for further determination as to

what constitutes a commercial or business use of small UAS.

What is a commercial use of UAS?

Any commercial use in connection with a business,

including:

• Selling photos or videos taken from a UAS

• Using UAS to provide contract services, such as industrial

equipment or factory inspection

• Using UAS to provide professional services, such as

security or telecommunications

What are some examples of commercial uses of UAS?

• Professional real estate or wedding photography

• Professional cinema photography for a film or television

production

• Providing contract services for mapping or land surveys

If you want to use UAS for a commercial purpose, you have

a few options. You can apply for an exemption from the FAA

to operate commercially. You can use UAS with an FAA

airworthiness certificate and operate pursuant to FAA rules.

In both cases you would also need an FAA Certificate of

Authorization (COA). For more information about how to

apply for an exemption, visit

https://www.faa.gov/uas/legislative_programs/section_333/.

RECREATIONAL

Currently, small unmanned aircraft systems (sUAS) may be

operated for hobby and recreational purposes under specific

safety guidelines as established by Congress. Small UAS

flown for recreational purposes are typically known as model

aircraft.

Under the Special Rule for Model Aircraft, recreational UAS

must be operated in accordance with several requirements,

including a community-based set of safety guidelines and

within the programming of a nationwide community-based

organization such as the Academy of Model Aeronautics

(AMA). Operators not operating within the safety program

of a community-based organization should follow the FAA's

guidance at http://www.faa.gov/uas/publications/

model_aircraft_operators/.

What is recreational use of a sUAS?

The recreational use of sUAS is the operation of an

unmanned aircraft for personal interests and enjoyment. For

example, using an sUAS to take photographs for your own

personal use would be considered recreational; using the same

"Know Before You Fly" is an educational

campaign that provides prospective unmanned

aircraft users with the information and guidance

they need to fly safely and responsibly.

device to take photographs or videos for compensation or sale

to another individual would be considered a commercial

operation. You should check with the FAA for further

determination as to what constitutes commercial or other

non-hobby, non-recreational sUAS operations.

What are the safety guidelines for sUAS recreational users?

• Follow community-based safety guidelines, as developed

by organizations such as the Academy of Model

Aeronautics.

• Fly no higher than 400 feet and remain below any

surrounding obstacles when possible.

• Keep your sUAS in eyesight at all times, and use an

observer to assist if needed.

• Remain well clear of and do not interfere with manned

aircraft operations, and you must see and avoid other

aircraft and obstacles at

• all times.

• Do not intentionally fly over unprotected persons or

moving vehicles, and remain at least 25 feet away from

individuals and vulnerable property.

• Contact the airport or control tower before flying within

five miles of an airport.

• Do not fly in adverse weather conditions such as in high

winds or reduced visibility.

• Do not fly under the influence of alcohol or drugs.

• Ensure the operating environment is safe and that the

operator is competent and proficient in the operation of

the sUAS.

• Do not fly near or over sensitive infrastructure or property

such as power stations, water treatment facilities,

correctional facilities, heavily traveled roadways,

government facilities, etc.

• Check and follow all local laws and ordinances before

flying over private property.

• Do not conduct surveillance or photograph persons in

areas where there is an expectation of privacy without the

individual's permission (see AMA's privacy policy).

If you want to use a model aircraft for recreational purpose,

we encourage you to read the AMA's Model Aircraft Safety

Code and Community-Based Guidelines. GV

WWW.KNOWBEFOREYOUFLY.ORG

JULY 2018 | GV NEWSLETTER PG. 9
---
GOVERNMENT

OUR NATURAL

environment

WATER QUALITY:

EVERYONE

PLAYS A PART

The Village is a beautiful place to live,

work and play. We enjoy parks, trails,

open space and drainageways,

including streams and ponds, and the

entire community takes pride in

protecting and preserving our natural

environment. However, maintaining a

high quality

environment is

no small task,

especially

when it comes

to our surface

water resources

and water

quality.

Although the

Village works

together with

residents and

businesses to

protect these

valuable

resources to maintain quality of life,

we need your help to continue to

make it better. Water quality is

important for all, whether you drink,

fish, swim or enjoy a walk along a

drainageway, we all play a role in

keeping our environment clean and

free of pollutants.

WHAT IS STORMWATER?

Perhaps one of the greatest impacts to

surface water resources is pollutants in

stormwater runoff. Stormwater runoff

occurs when rain or snowmelt flows

over impervious (non-absorbent)

surfaces such as rooftops, driveways,

parking lots, and streets. This runoff

moves over these impervious surfaces

and makes it way to storm drains, and

eventually drainageways, streams and

ponds. The runoff picks up trash,

sediment, chemicals (fertilizers,

herbicides, pesticides, oil,

etc.), pet waste, and other

pollutants and deposits

them directly into water

bodies that we use for

fishing, swimming and

drinking. These pollutants

can also affect aquatic

habitat and wildlife.

Stormwater runoff is not

cleaned in a water

treatment plant like the

water used in your home

so it is important to reduce

the chances of pollutants

becoming accidentally or intentionally

introduced into our surface water and

environment.

ELIMINATING

ILLICIT DISCHARGE

An illicit discharge occurs when

something other than stormwater is

allowed to enter the storm drainage

system. The term "illicit discharge"

generally refers to any discharge to the

storm drain system that is not

composed entirely of stormwater. The

cause can be intentional such as when

someone deliberately dumps

chemicals, waste or trash into the

storm drain. Illicit discharges can be

accidental (from a sanitary sewer or

grease trap overflow or motor vehicle

accident) and unintentional, when

people leave household chemicals,

grass clippings or pet waste in an area

where stormwater may carry the

contaminant to the storm drain.

There are allowable non-stormwater

discharges that can be discharged into

the storm drain. These include but are

not limited to potable water sources

including firefighting activities that do

not contain hazardous materials, street

sweeper wash water, landscape

irrigation, dechlorinated swimming

pool discharges, uncontaminated sump

pumps/foundation drains, water line

flushing, agricultural stormwater

runoff, diverted stream flows,

uncontaminated groundwater and

others listed in the Villages' municipal

code. The Village has a regulatory

mechanism that includes enforcement

actions and trained staff to detect

pollutants, but also relies on residents

and businesses to report suspicious

activity that may contribute to an

illicit discharge.

The goal of the Village's illicit

discharge detection and elimination

system is to reduce the frequency and

environmental impacts of illicit

discharges that are accidentally or

intentionally dumped into the storm

drain system.

HOW CAN YOU HELP?

Becoming aware of the outcome of

everyday activities will reduce the

chances of pollutants becoming

accidentally introduced into our water

and the environment. As Village

residents, each of us can play a role in

protecting our water and the

environment. The next time you see

water runoff during a snow or rain

event, think about the people

downstream who count on us for clean

water and wildlife that depend on it

for their survival, just as the people

upstream affect the water you drink

and use as well.

PG. 10 GV NEWSLETTER | JULY 2018
---
GOVERNMENT

• Never dump anything down a

storm drain.

• Ensure carpet cleaners and mobile

pet washing operations dispose of

wastewater to an indoor drain or

drain to a landscape area where the

water can infiltrate.

• Dechlorinate pool water before

draining and try to divert the flow

to a landscape area to allow the

water to infiltrate into the ground.

Ensure that no downstream

flooding or erosion occurs.

• It's more convenient than ever to

recycle paint products in Colorado.

Participate in PaintCare Colorado

to dispose and recycle your unused

paint materials. Visit

www.paintcare.org or call

855-724-6809 to locate a retailer

near you. If you have leftover latex

or water based paint, you can also

dry it out or fill it with kitty litter

and once absorbed, set into the

trash for pickup.

• Participate in the Village's

Household Hazardous Waste

curbside pickup by calling

800-449-7587. Visit

www.greenwoodvillage.com for a

list of acceptable items for pickup.

• Pick up and properly dispose of pet

waste. Pet waste stations can be

found along Village parks and trails.

• Keep your street clean of debris and

litter by keeping waste receptacle

lids secured.

• Properly dispose of yard waste by

mulching or bagging leaves and

grass clippings and do not sweep or

blow yard waste into the street or

gutter.

• Avoid excessive use of yard

chemicals, use phosphorous free

fertilizers and perform a soil test

before application. Read labels,

apply sparingly — more is not

better. Ensure that grass clippings

are swept back onto the grass and

not in the street.

• Use phosphorous free soaps when

washing your car and let the water

drain to a landscape area. Consider

using a commercial car wash, which

conserves water and sends used

water to the wastewater treatment

plant.

PLEASE REPORT

ILLEGAL DUMPING

In order to keep our environment

clean and to protect our high quality

of life, please report any suspected

illegal dumping or illicit discharge by

calling Greenwood Village Public

Works at 303-708-6100 during

normal business hours. After normal

business hours, please call Police

CARPET CLEANING FACTS

AND WATER QUALITY

Dispatch at 303-773-2525.

How to detect an illicit discharge:

Visual observations of anyone

dumping ANY substance into a storm

drain inlet or into the flow line along

the curb and gutter on any street.

Keep your safety in mind and if

possible, record the location, date,

time and license plate number rather

than approach the potential violator at

the time of the incident. Note any odd

color, odor, sheen or floatable

materials observed within storm

drains, along roadways, open space,

streams and ponds.

For more information about the

Village's illicit discharge detection and

elimination program or Household

Hazardous and Electronic Waste

Program, please call Public Works

Department at 303-708-6100. GV

Did you know that professional carpet cleaning could

potentially pollute stormwater as water used in the

process contains chemicals and materials from

products that could contaminate waterways? Make

sure to ask the carpet cleaning company how they dispose of the carpet cleaning liquid

waste. Any carpet cleaning wash water that enters the storm drain is considered an illicit

discharge.

• Carpet cleaning liquid waste should be either sent to the sanitary sewer in your home

or hauled to a disposal facility and not disposed of in the storm drain, street or

gutter.

• Encourage your carpet cleaning company to use "green" carpet cleaning products so

that it limits the business or residence from being exposed to toxic chemicals.

• Be sure to filter the wash water before discharging it to the sanitary sewer since

fibers and other debris in the wash water can clog pipes. The filtered material can be

disposed of in the garbage, provided that the carpet was not contaminated with

hazardous materials.

JULY 2018 | GV NEWSLETTER PG. 11
---
GOVERNMENT

ENSURING A SAFE

community

PEDESTRIANS: RULES OF THE

ROAD TO PROTECT YOUR LIFE

According to the U. S. Department of Transportation,

National Highway Traffic Safety Administration, in 2016,

there were 5,987 pedestrians killed in traffic accidents in the

United States. A total of 5,900 traffic crashes had one or

more pedestrian fatalities. On average, a pedestrian was killed

nearly every 1.5 hours in traffic accidents.

Traffic and Pedestrian

Signals: Pedestrians must

yield the right-of-way to

drivers by obeying traffic

signals, observing pedestrian

signals and using

crosswalks. The pedestrian

signals are:

WALK (Constantly

Lighted): Pedestrians facing

the signal may cross the

roadway in the direction of

the signal.

DON'T WALK (Flashing): Pedestrians may not start to

cross the roadway. Any pedestrian who has partly

completed his cross may continue.

DON'T WALK (Constantly Lighted): Pedestrians may

not enter the roadway.

Crossing a Roadway: Always cross the street at a designated

crosswalk. Pedestrians must give the right-of-way to drivers.

Within a Crosswalk: If a pedestrian is in the crosswalk, a

vehicle has to yield. However, if a vehicle is 20 feet away

from the crosswalk and traveling at 30 mph,

the pedestrian must yield as the vehicle does

not have enough time to stop safely.

Intersections: Be careful at intersections,

where drivers may fail to yield the right-of-way

to pedestrians while turning onto another

street.

Joggers and Walkers: Joggers and walkers should use

jogging paths when provided. On public roads, joggers

should try to select wide roads with good shoulders. They

should face oncoming traffic and remember to look and

listen for cars. At night or any time visibility is poor, joggers

and walkers should be in well-lighted areas and wear

reflective clothing.

For more information, please call the Police Department at

303-773-2525. GV

PG. 12 GV NEWSLETTER | JULY 2018
---
GOVERNMENT

BICYCLE SAFETY

AVOID A COSTLY MISTAKE

Before you take to the road with your bicycle, it's imperative

to know and practice all the fundamentals of riding a bicycle.

Did you know bicyclists are subject to the same rules, laws

and regulations as motor vehicles? Ignoring rules of the road

that regulate passing, riding abreast, use of hand signals, stop

signs, and other etiquette will determine your fate on the

roadway. If all else fails, always adhere to the lug nut rule: he

who has the most lug nuts wins. In other words, a car will

always win over a bicycle. So ride carefully and cautiously to

avoid a costly mistake and a crash course in bicycling.

• Always ride on the RIGHT. Remember to "go with the

traffic flow." Never ride against traffic. Cars will not be

expecting to find a biker when they round a corner or go

over a hill.

• Ride single file. When passing other bikers or pedestrians,

let them know your position by shouting something like,

"On your left!"

• When riding two abreast, do not impede the movement

of traffic. If you are on a road with lanes, you must ride

within a single lane.

• Always check behind you when changing lanes.

• Watch out for dangerous things on the roadways or on

trails. Road litter, puddles of water, loose gravel, and

storm gates can cause you to lose control of your bicycle.

• Stop at all stop signs and traffic lights. Be extra careful at

crossroads. Walk your bicycle across busy intersections.

• Always signal before making a left or right turn. To make

a left turn, look behind you, hold your left arm straight

out and proceed carefully. For a right turn, hold your left

arm out and up in an "L" shape.

• Keep control of your bike. Do not swerve or make sudden

turns. Drivers may not be able to react fast enough to

avoid colliding with you.

• Ride at least three feet away from parked cars. Someone

could open his or her door unexpectedly.

• Listen for cars approaching from the side or behind you.

• Do not follow cars too closely (you may be in their blind

spot).

• Know your road signs and obey them. A smart bicyclist

follows the rules of the road.

• Always be prepared to stop. Keep your hands on or close

to the brakes.

• Do not forget to wear your helmet! And do not wear

headphones; you will not be able to hear what is going on

around you.

For more information on driver, pedestrian, bicyclist, and

motorcycle safety, please call the Greenwood Village Police

Department at 303-773-2525. GV

PHOTO RED LIGHT SYSTEMS

IN THE VILLAGE UPDATE

BELLEVIEW AND DAYTON STREET

In an effort to create safer roadways and save lives, Village

staff will continue to work diligently to get this photo red light

system installed at the intersection of Belleview Avenue and

Dayton Street prior to the start of the next school year.

ARAPAHOE AND YOSEMITE STREET

As a result of the Arapahoe Road and I-25 Interchange project,

the photo red light system at Arapahoe Road and Yosemite

Street was deactivated during construction. With the

completion of the project in December 2017, this photo red

light system is now in full operation and has begun to issue

tickets for red light violations. Please note the Village is

observing a significant amount of violations for drivers that are

not stopping prior to making a right turn at westbound

Arapahoe Road to northbound Yosemite Street. To avoid a

photo red light ticket, please be mindful to make a complete

stop before making a right turn on a red signal.

For more information, please call Sergeant Scott Jones, at

303-486-8245 or email sjones@greenwoodvillage.com.

For questions regarding a Photo Red Light violation,

please contact the Village Municipal Court at 303-773-6033.

JULY 2018 | GV NEWSLETTER PG. 13
---
GOVERNMENT

ENSURING A SAFE

community

DRIVING SAFETY TIPS

EVERY DRIVER SHOULD KNOW

When you're behind the wheel of a car — whether alone or

with passengers — driving safely should always be your top

concern. Today, there are more distractions that ever so it's

crucial to know the basics of safe driving and practice them

every time you're on the road.

TOP 4 DRIVING SAFETY TIPS

Focus on Driving

• Keep 100% of your

attention on driving at

all times — no multitasking.

• Don't use your phone or

any other electronic

device while driving.

• Slow down. Speeding gives you less time to react and

increases the severity of an accident.

Drive "Defensively"

• Be aware of what other drivers around you are doing, and

expect the unexpected.

• Assume other motorists will do something crazy, and

always be prepared to avoid it.

• Keep a 2-second cushion between you and the car in front

of you.

• Make that 4 seconds if the weather is bad.

Make a Safe Driving Plan

• Build time into your trip schedule to stop for food, rest

breaks, phone calls or other business.

• Adjust your seat, mirrors and climate controls before

putting the car in gear.

• Pull over to eat or drink. It takes only a few minutes.

Practice Safety

• Secure cargo that may move around while the vehicle is in

motion.

• Don't attempt to retrieve items that fall to the floor.

• Have items needed within easy reach — such as toll fees,

toll cards and garage passes.

• Always wear your seat belt and drive sober and drug-free.

For more information, please call the Police Department at

303-773-2525. GV

PG. 14 GV NEWSLETTER | JULY 2018

2018 BIKE TO

WORK DAY

Hosted by Greenwood Village,

Regis University and the

Denver South Transportation

Management Association, over

200 bicyclists enjoyed a

pancake breakfast, water, and

goodies at the Arapahoe at

Village Center Station.
---
GOVERNMENT

ENHANCING OUR

community

PUBLIC ART

INFORMATION MEETING

Please join us for a public meeting on Tuesday, July 17 at

6 p.m. in the Community Room at City Hall. The meeting

is to provide information to residents on the installation of

public art sculptures in Westlands Park.

The Greenwood Village Cultural Arts program has partnered

with the Museum of Outdoor Arts (MOA) to present

rotating, public art installations in Westlands Park. The

MOA will be placing three sculptures in Westlands Park from

the Fall 2018 through Summer 2019. The MOA is dedicated

to bringing the vitality of the arts into the everyday life of the

people of Colorado.

A museum without walls, MOA's collection of outdoor

sculpture reaches out to both the casual passerby and the

serious art critic. MOA has several works located throughout

Greenwood Village, including two pieces on loan to the city

located in Westlands Park, The Nest and Dolphins.

For the Fall 2018, MOA will be installing the works of one

artist for temporary installation in Westlands Park. Neil

Goodman is a Chicago based artist working in large scale

sculptures. His work has been written about and reviewed in

numerous catalogs and periodicals including Art Forum, Art

in America and Art News. This exhibition will correspond to

a gallery exhibition at MOA's indoor gallery.

At the meeting attendees will get to see the installation sites

and examples of the artist's previous works. Installation is

planned for Fall 2018.

For additional information please contact

Chris Stevens, Cultural Arts Coordinator, at

cstevens@greenwoodvillage.com or 303-708-6110. GV

JULY 2018 | GV NEWSLETTER PG. 15
---
BUSINESS

BUSINESSspotlight

PILATES PLUS

5910 South University Boulevard • Cherry Hills Marketplace

www.pilatesplusstudios.org • 303-730-4801 • Hours vary depending on class schedules

Are you looking for a place that offers

high quality Pilates, exceptional

quality instructors, and small class

sizes for more personalized attention

and better results? Pilates Plus might

just be the perfect place for you. At

Pilates Plus, all the instructors have

extensive training and are able to meet

unique personalities and personal

needs. Instructors have over 500 hours

of comprehensive Pilates equipment

instructor training. Class sizes are

limited to six students per class.

Pilates Plus opened their doors in

April 2014 and is owned and operated

by Melissa Peda. Melissa selected

Greenwood Village for the City's ideal

demographics. At Pilates Plus, their

goal is to help everyone attain their

best quality of life in mind, body, and

spirit.

Pilates is a physical fitness system

designed in the early 20th century by

German-born Joseph Hubertus Pilates.

It is a method of exercise and physical

improvement designed to stretch,

strengthen and balance the body.

Many people turn to Pilates not just as

a form of exercise, but as a next step

after rehabilitation when recovering

from an injury.

Pilates Plus offers several different

styles of Pilates such as classical,

contemporary and clinical. In

addition, Pilates Plus also offers

training sessions with Real Ryder

Cycling bikes, TRX, Piloxing (a

creative mix between Pilates and

boxing), barre training and Yoga.

Nutritional counseling and massage

are also available.

Here is what some of the customers

are saying about Pilates Plus:

"I went to my first class today at

Pilates Plus and the studio is beautiful,

instructor was classically trained and

excellent. I took a regular Pilates

equipment class but they seem to have

an array of interesting classes. I will

definitely go back. Lastly, the owner

was super nice and accommodating."

"My wife suggested I start Pilates with

her about six months ago as a way to

increase my flexibility and core

strength. Although I was hesitant, I

agreed and we chose Pilates Plus for its

location. We were fortunate to have

Kristie as our first instructor and have

continued to schedule her classes."

There are six instructors teaching at

Pilates Plus. Each one of these

instructors brings their unique style,

personality and background to each

session:

Melissa Peda is PMA certified. She

enjoys working with people who have

suffered injuries and helping them to

see the results with regular practice.

Melissa has a background as a singer

and teaches vocal lessons to ages 11

and up, performance skills and

beginner piano lessons at the studio as

well.

Kristie Frazier discovered Pilates while

trying to recover from a hip injury she

suffered serving in the U.S. Navy.

"The minute I found Pilates, my life

changed forever." What she truly loves

about Pilates is that everyone can do

it, regardless of their age, gender or

fitness level. Her mission is to share

continued on page 17

PG. 16 GV NEWSLETTER | JULY 2018
---
BUSINESS

NEW GV businesses

BARBER SHOP

Finley's Barber Shop

5910 South University Boulevard,

Suite A-4

303-284-2697

CIVIL ENGINEER CONSULTING

RT Civil Consultants, LLC

7900 East Berry Place,

Suite 160

303-431-0505

COUNSELING SERVICES

My Counselor Online

8400 East Crescent Parkway,

Suite 605

855-593-4357

DELI AND COFFEE

Deli Espresso, LLC

8400 East Prentice Avenue,

Suite 201

720-329-2315

EMPLOYMENT AGENCY

Fahrenheit IT, Incorporated

6560 Greenwood Plaza Boulevard

303-200-1560

FITNESS STUDIO

Locker Fit Lifestyle DTC

7600 Landmark Way, Suite A-201

303-981-0916

INVESTMENT BANKING

The Forbes Securities

Group, LLC

8480 East Orchard Road

303-770-6017

PROPERTY MANAGEMENT

Justus Realty

Limited Partnership

5295 DTC Parkway

720-200-0326

PSYCHIATRIST

Greenwood Village

Psychiatrists, LLC

8000 East Prentice Avenue,

Suite B-5

303-335-8851

REAL ESTATE

Morgan Malcolm

Real Estate, LLC

6401 South Boston Street,

Suite Q-101

303-906-9043

RETAIL

BoxDrop Denver South

6801 South Emporia Street,

Suite 101

719-466-3911

SOFTWARE

Arista Networks, Incorporated

5500 DTC Parkway, Suite 913

877-706-0510

Coot Coders, LLC

1953 Crestridge Drive

303-809-9415

Livewired, LLC

5619 DTC Parkway, Suite 800

303-957-2000

BUSINESSES

UNDER NEW

MANAGEMENT

GOVERNMENT RELATIONS

Kogovsek & Associates,

Incorporated

8547 East Arapahoe Road

720-373-3655

INDIAN RESTAURANT

Garnish, Incorporated

6585 Greenwood Plaza Boulevard

303-779-0028

LIQUOR STORE

Bouzy Wine & Spirits

5910 South University Boulevard,

Suite D-4

303-798-4357

Elda Liquors

9676 East Arapahoe Road,

Suite B

303-790-7362

PROPERTY MANAGEMENT

Dunton Commercial, LLC

5570 DTC Parkway,

Suite 150

303-758-3131

RETAIL

Specialty Appliance

8775 East Orchard Road,

Suite 803

303-790-9349

spotlight

continued from page 16

the life-changing benefits of Pilates

with others.

Natalie Ingram has been practicing,

training and teaching Pilates for 15

years. She is trained under classical and

STOTT methods and holds her

STOTT Pilates Certification. Natalie

has practiced Pilates through all four

of her pregnancies and believes in the

rehabilitative capabilities as well as the

sculpting results of Pilates.

Olivia Grace started taking Pilates

classes at the age of 10. Pilates helped

her recuperate from a back injury

when she was 16. She has completed

her Peak Pilates Comprehensive

Certification and is TRX Group

Training certified.

Sarah Bjornebo started her training in

Pilates in 1985 after a serious

hamstring injury with The Milwaukee

Ballet. She believes Pilates helped with

the rehabilitation and kept her body

balanced and "on pointe." She is a

Peak Certified Pilates Instructor.

Cathy Voita has been teaching Pilates

since 2008. She incorporates classical

Pilates work into every session and

believes that the regular practice of

Pilates creates a solid foundation for all

activities from walking to playing

sports. She received her comprehensive

Pilates Certification from Peak Pilates

in Boulder.

Students can participate in private

training, duets, trios or small groups.

Prices vary depending on the package.

Online training is also available for

students that are hesitant to come to

the studio and feel more comfortable

to work out in the privacy of their

own home. Pilates Plus will design an

individual program just for you based

on your fitness needs and body type.

Pilates Plus is located at 5910 South

University Boulevard in the Cherry

Hills Marketplace with convenient

parking. Hours of operation vary

depending on class schedules and

clients' needs. Mention this article in

the month of July for special rates for

new and returning students. For more

information, visit

www.pilatesplusstudios.org or contact

them by telephone at 303-730-4801.

Stop in and experience the many

benefits of Pilates. GV

JULY 2018 | GV NEWSLETTER PG. 17
---
ARTS AND RECREATION

PG. 18 GV NEWSLETTER | JULY 2018
---
ARTS AND RECREATION

JULY 2018 | GV NEWSLETTER PG. 19
---
ARTS AND RECREATION

ART events

GALLERY HOURS

Monday-Friday 8:30 a.m.-4:30 p.m.

Saturday 10 a.m.-4 p.m.

CURTIS CENTER FOR THE ARTS • 2349 EAST ORCHARD ROAD, GREENWOOD VILLAGE, CO 80121 • 303-797-1779

THE VILLAGE READ

FOR 2018

For the second year in a row the

Greenwood Village Cultural Arts

Program has partnered with

Arapahoe Libraries to present the

"Village Read." The idea

encourages adults of all ages to

read one book and participate

in thought-provoking

discussions and activities derived

from the chosen book. The goals of the program are

to encourage leisure reading, create community conversations

and bring the community together through literature.

This year the group has chosen the book "White Plains" by

Colorado author David Hicks. In "White Plains," Flynn

Hawkins is a graduate assistant at a prestigious university, on

his way to greatness and wisdom. But in the aftermath of

9/11, Flynn leaves his unhappy marriage and beloved

children, resigns his teaching position, and heads west, only

to get lost in his guilt and in the mountains of Colorado.

When he ends up stuck overnight in a snow drift during a

blizzard on the Continental Divide, he realizes he needs to

remake himself into the kind of man his children need him

to be. With wit and insight, David Hicks turns a

compassionate but unblinking eye on what it means to be

human — to be lost while putting yourself back together

again, to be cowardly while being brave, to fail and fail again

on the way to something that might

be success.

This year's program will begin with

the Mayor's Kickoff on August 2 at

7 p.m. at Koelbel Library.

Greenwood Village Mayor Ron

Rakowsky will interview the author

and give his insight into this year's

book. See full listing of Village Read

events. All events are free and open

to the public.

David Hicks, author

VILLAGE READ

THESE EVENTS ARE FREE

AND OPEN TO THE PUBLIC.

VILLAGE READ KICKOFF

WITH MAYOR RON RAKOWSKY

Thursday, August 2 • 7 p.m.

Koelbel Library

Mayor Ron will talk with the author and

provide his insight into this year's Village

Read book.

SURVIVING THE STORM

Thursday, August 9 • 6:30 p.m.

Greenwood Village City Hall

Brad and Melissa McQueen got caught in

a spring storm while trying to climb

Mount Evans. Hear how they survived

their night out in the wilderness.

DAVID RICCA 9/11 SURVIVOR

Monday, August 13 • 7 p.m.

Koelbel Library

Hear what is was like to survive the worst

terrorist attack on American soil.

DAVID RICCA 9/11 SURVIVOR

Tuesday, August 14 • 1 p.m.

Smoky Hill Library

Hear what is was like to survive the worst

terrorist attack on American soil.

YOUR STORIED PAST: HOW TO WRITE

AN AUTOBIOGRAPHICAL NARRATIVE

Thursday, August 16 • 7 p.m.

Southglenn Library

Author David Hicks will lead exercises on

how to structure a story from beginning

to end and have a better understanding of

how stories and character development

work.

REINVENTING YOURSELF

Monday, August 20 • 6:30 p.m.

Greenwood Village City Hall

Through unique tools and strategies,

Juliette Watt who has been everything

from a Playboy Bunny to a professional

pilot, guides people to discover their next

act through their own personal

reinvention.

LET'S TALK ABOUT WHITE PLAINS

Thursday, August 23 • 7 p.m.

Koelbel Library

Join our panel of readers to discuss White

Plains. A panel of readers and librarians

will lead the discussion.

YOUR STORIED PAST: HOW TO WRITE

AN AUTOBIOGRAPHICAL NARRATIVE

Saturday, August 25 • 2 p.m.

Koelbel Library

Author David Hicks will lead exercises on

how to structure a story from beginning

to end and have a better understanding of

how stories and character development

work.

CLOSING PARTY AND BOOK SIGNING

Saturday, August 25 • 6 p.m.

Curtis Center for the Arts

Join us as we close out this year's Village

Read program with a celebration and book

signing. Wine and food will be served and

author David Hicks will be on hand to sign

your book.

PG. 20 GV NEWSLETTER | JULY 2018
---
ARTS AND RECREATION

RECREATION programs

Register online at

www.greenwoodvillage.com/rec

For more information call the Arts and Recreation Division at 303-486-5773.

JULY 2018 | GV NEWSLETTER PG. 21
---
ARTS AND RECREATION

ART

programs

Register online at

www.greenwoodvillage.com/art

For more information call the the Curtis Center for the Arts at 303-797-1779.

ADULT ART CLASSES

Location: Curtis Center for the Arts, 2349 East Orchard Road, Greenwood Village, CO 80121

Both traditional and non-traditional art classes are offered for adults 16 years and older at the Curtis Center for the Arts. If

you are new to art or wanting to improve your artistic skills, we have a class for you! 10% senior discount for ages 65 and older.

LANDSCAPE PAINTING:

PASTELS WITH CLIFF AUSTIN

Learn how to paint

landscapes with

pastels in the Alla

Prima style. The

workshop will be

structured around

the drawing,

painting and

development of

expressive

techniques of

landscape art.

Workshop will

include ongoing critique, "how to" demos, and tutorials

designed for each individual student's natural way with paint.

Saturday, August 4, 9 a.m. to 4 p.m.

$100

Instructed by Cliff Austin

EXPLORING MIXED MEDIA

Explore the amazing

world of mixed media!

Experience texture,

foils, charcoal and

mediums. Students will

be guided through

lectures and

demonstrations and

will be given lots of

individual attention.

Tuesdays,

August 7 through

August 28

1 to 4 p.m.

$80

Instructed by

Candace French

DISCOVERING POLLOCK

Enjoy

the

beautiful

nights of

summer

painting

outside

on large

canvases

in the

style of

Jackson

Pollock.

Students

will work

on under painting and drip techniques using acrylics while

loosening up their approach to laying down paint!

Mondays, August 13 through August 27

6:30 to 8:30 p.m.

$60

Instructed by Maggie Stewart

CAST PAPER

Create your own low

relief sculpture in paper.

We will be working

outside dripping and

pressing paper into

dimensional works of

art. Students will make

more than one piece

which will be picked up

later after everything has

dried!

Saturday, August 18

9 a.m. to 4 p.m.

$100

Instructed by

Maggie Stewart

PG. 22 GV NEWSLETTER | JULY 2018
---
ARTS AND RECREATION

ART

programs

Register online at

www.greenwoodvillage.com/art

For more information call the the Curtis Center for the Arts at 303-797-1779.

YOUTH ART CLASSES

Location: Curtis Center for the Arts, 2349 East Orchard Road, Greenwood Village, CO 80121

The Curtis Center for the Arts is a family-friendly environment that is great for kids to be introduced to the arts as well as

to continue to explore and improve their artistic skills. Classes are offered after school for preschoolers, elementary age kids

and teenagers and art camps are available during school breaks. Come and have fun creating unique works of art!

REGISTRATION IS NOW

AVAILABLE FOR FALL

YOUTH ART PROGRAMS!

DON'T LET YOUR YOUNG

ARTIST MISS OUT ON

THESE FALL PROGRAMS!

COLOR PLAY: MIXED MEDIA PAINTING FOR KIDS

COOKIES AND CANVAS

SECRETS TO GLOWING COLORS

Ready to learn how achieve more luminous bright colors in

your oil paintings? In this one-day workshop you'll be

introduced to the transparent oil painting. This fun day

includes a "paint along" demo plus one-on-one easel time.

Saturday, August 25

9 a.m. to 4 p.m.

$100

Ages 16 and older

Instructed by Aimee Deneweth

FALL BREAK ART CAMP

FALL BREAK CLAY AND SCULPTURE CAMP

MIXED UP ANIMALS

PAPIER MACHE SCULPTURES

PEE WEE ART

TEEN ART CLASSES

JULY 2018 | GV NEWSLETTER PG. 23
---
6060 South Quebec Street

Greenwood Village, Colorado 80111-4591

PRSRT STD

US POSTAGE

PAID

ENGLEWOOD, CO

PERMIT #799

ARTS AND RECREATION

ART events

GALLERY HOURS

Monday-Friday 8:30 a.m.-4:30 p.m.

Saturday 10 a.m.-4 p.m.

CURTIS CENTER FOR THE ARTS • 2349 EAST ORCHARD ROAD, GREENWOOD VILLAGE, CO 80121 • 303-797-1779

PG. 24 GV NEWSLETTER | JULY 2018