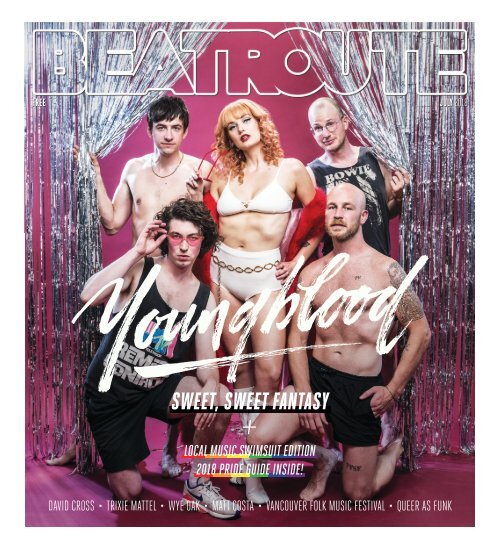 BeatRoute Magazine BC Print Edition July 2018
BeatRoute Magazine is a monthly arts and entertainment paper with a predominant focus on music – local, independent or otherwise. The paper started in June 2004 and continues to provide a healthy dose of perversity while exercising rock 'n' roll ethics. Currently BeatRoute's AB edition is distributed in Calgary, Edmonton (by S*A*R*G*E), Banff and Canmore. The BC edition is distributed in Vancouver, Victoria and Nanaimo. BeatRoute (AB) Mission PO 23045 Calgary, AB T2S 3A8 E. editor@beatroute.ca BeatRoute (BC) #202 – 2405 E Hastings Vancouver, BC V5K 1Y8 P. 778-888-1120
BeatRoute Magazine is a monthly arts and entertainment paper with a predominant focus on music – local, independent or otherwise. The paper started in June 2004 and continues to provide a healthy dose of perversity while exercising rock 'n' roll ethics.

Currently BeatRoute's AB edition is distributed in Calgary, Edmonton (by S*A*R*G*E), Banff and Canmore. The BC edition is distributed in Vancouver, Victoria and Nanaimo. BeatRoute (AB) Mission PO 23045 Calgary, AB T2S 3A8 E. editor@beatroute.ca BeatRoute (BC) #202 – 2405 E Hastings Vancouver, BC V5K 1Y8 P. 778-888-1120
SHOW MORE
SHOW LESS
Create successful ePaper yourself
Turn your PDF publications into a flip-book with our unique Google optimized e-Paper software.
FREE

JULY 2018

SWEET, SWEET FANTASY

+

LOCAL MUSIC SWIMSUIT EDITION

2018 PRIDE GUIDE INSIDE!

DAVID CROSS TRIXIE MATTEL WYE OAK MATT COSTA VANCOUVER FOLK MUSIC FESTIVAL QUEER AS FUNK
---
s

TO HELP

YOU LOOK

JOHN FLUEVOG SHOES 837 GRANVILLE ST 604·688·2828 65 WATER ST 604·688·6228 FLUEVOG.COM
---
July'18

PUBLISHER

BeatRoute Magazine

LAYOUT

& PRODUCTION MANAGER

Naomi Zhang

FRONT COVER PHOTO

Shhimon Karmel

www.shimonphoto.com

FRONT COVER DESIGN

Randy Gibson

LOCAL MUSIC SWIMSUIT

DESIGN

Rachel Park

INTERN

Carlos Oen

CONTRIBUTING WRITERS

Jonny Bones • Emille Charette • Emily

Corley • Maddy Cristall • David Cutting •

Adam Deane • Lauren Donnelly • Slone

Fox • Trevor Hatter • Jason Herring • Matty

Hume • Jeevin Johal • Thomas Johnson •

Gareth Jones • Brendan Lee • Joey Lopez

• Dayna Mahannah • Inder Minhas •

Trevor Morelli • Pat Mullen • Adesuwa

Okoyomon • Logan Peters • Jamila

Pomeroy • Brendan Reid • Tory Rosso •

Stepan Soroka • Matt Troy • Trent Warner

CONTRIBUTING

PHOTOGRAPHERS &

ILLUSTRATORS

Taylor Bourque • Steve Brown • RD Cane

• Ingrid Christie • Jessie Foster • Pooneh

Ghana • Bernice Jang • Ray Maichin

• Carole Mathys • Jay Munoz • Jaik

Puppyteeth • Lauren Ray • Ryan Russell •

Matthew Salacuse • Zach Schroder • Ester

Segarra • Travis Shinn • Nick Siu

ADVERTISING INQUIRIES

Managing Editor

Jordan Yeager

jordan@beatroute.ca

Local Music

James Olson

james.olson@beatroute.ca

The Skinny

Johnny Papan

johnny@beatroute.ca

Comedy

Graeme Wiggins

graeme@beatroute.ca

Editor-In-Chief

Glenn Alderson

glenn@beatroute.ca

City

Yasmine Shemesh

yasmine@beatroute.ca

BPM

Alan Ranta

alan@beatroute.ca

Live Reviews

Darrole Palmer

darrole@beatroute.ca

Film

Hogan Short

hogan@beatroute.ca

04

05

06

10

13

18

19

HI, HOW ARE YOU?

- With Jaik Puppyteeth

PULSE - CITY BRIEFS!

CITY

- Vancouver Folk Music Festival

- Indian Summer Festival

- Carnaval Del Sol

- Loose

- Meowfest

- Amplify BC

PRIDE

- Trixie Mattel

- 2018 Pride Guide!

- Alternative Pride

CITY

- Avocado Toast

- Les Misérables

15 2018 LOCAL MUSIC

SWIMSUIT EDITION

COMEDY

- David Cross

MUSIC

- Wye Oak

21

22

26

27

33

33

35

YOUNGBLOOD

- Sweet, sweet fantasy

SKINNY

- Melvins

- Suicidal Tendencies

- Seaway

- Hedks

- AK-747s

BPM

- Bass Coast Survival

Guide

- Clubland

FILM

- Sorry To Bother You

- This Month In Film

REVIEWS

- Kanye West

- Busdriver

- Joan Of Arc

- Junglepussy

LIVE REVIEWS

- Bad Bhabie

- David Byrne

- Tash Sultana

HOROSCOPES

Photo By Shimon

Glenn Alderson

glenn@beatroute.ca

778-888-1120

DISTRIBUTION

Gold Distribution (Vancouver)

Mark Goodwin Farfields (Victoria)

Web

Jashua Grafstein

jash@beatroute.ca

Social Media

Mat Wilkins

mat@beatroute.ca

BEATROUTE MAGAZINE

202-2405 Hastings St. E

Vancouver BC Canada

V5K 1Y8

editor@beatroute.ca • beatroute.ca

©BEATROUTE Magazine 2018. All rights reserved.

Reproduction of the contents is strictly prohibited.

Page 15 - Local Music Swimsuit Edition

July 2018 3
---
WITH JAIK PUPPYTEETH

LAUREN DONNELLY

If you haven't come across artist Jaik Puppyteeth's

work then you clearly need to peel yourself out of

that dingy Vancouver basement suite and get your

shit together. Puppyteeth's work is routed heavily

in queer culture and has been blowing up faster

than you can say UNHhhh. He's made waves in the

drag community with portraits of contestants on

RuPaul's Drag Race, he recently penned a graphic

novel, he has 55,000 Instagram followers, he writes

relationship advice for VICE, and he's the creator

of Pidgeys, the charmingly caustic comic strip

you see in BeatRoute every month (bottom of

Page 5!). In August he's adding clown emcee to

his resume, as he dons prosthetics and appears as

Pop Puppyteeth to host the second annual Drag

Carnival. The one-night-only extravaganza features

a line-up of drag talent curated by Puppyteeth

himself. Drag royalty Laila McQueen, Rubber Child

and Lisa Limbaugh are set to perform along with a

roster of local drag talents. It's an Alternative Pride

Week sideshow meant to mystify and tantalize

you. We caught up with Puppyteeth to find out

more about what the dizzying spectacle has in

store.

You've described the drag carnival

as an immersive installation. Tell us

about the event.

Clowns and carnival imagery has been a big part of

my work for years. The carnival itself evolves from

year to year. The first Puppyteeth Carnival was an

art show with drag hosts. Last year's carnival was

a combination exhibition and drag show, and this

year it's evolving to be primarily a stage show.

Why do you think the carnival and

drag elements pair well together?

I think there's an undercurrent of subversiveness

and seediness that transects both the trope of

transient carnival workers and underground queer

performance, and i really want to explore that. I

have been attracted to drag as an art form for a

long time, and it's exciting to see it at the level it's

on today. I think drag entertainers are the hardest

working art form on stages today. There's so much

that goes into what they do.

The queer community in particular has

embraced your art. Why do you think

that is? What do you hope people take away

from the Alternative Pride drag carnival?

I think it's because beyond just being a queer artist

myself, I like to critique heternormativity in a dark

and humorous way. Making fun of straight people

makes everyone laugh. Like the problematic freak

shows of the past, I want my Drag Carnival to

shock and amaze, but in a really non-exploitative

way.

Queer artist, writer, sometimes clown,

advice columnist, inspiration for

tattoos - what don't you do?

My taxes.

Lots of people are terrified of clowns.

People also hate pigeons. What draws

you to polarizing characters such as

clowns and the pigeons that star in

the Pidgeys comic strip you create for

BeatRoute?

I am always rooting for the underdog. I love

making hateable characters. With the Pidgeys strip

in particular, I have them dishing out pretty deep

existential problems in three panels, so it's hard to

not see a bit of yourself in their naive and selfish

thoughts and opinions.

You've said you get your inspiration

for Pidgeys from real-life

conversations between Millennials.

How do you source that inspiration?

I love people-watching and eavesdropping. If i'm

out for lunch and the people next to me are having

a juicy conversation within earshot, I'm happy to

jot down a quote if I think it's funny. My notebook

is a hoard of fragments of strangers' conversations

that I think i'll be able to use someday.

What's the most "millennial" thing

you've ever done?

I feel like fully embracing the freelance lifestyle is

a markedly millennial trait. I don't want to have a

boss if i can help it.

We hear a lot about the negatives of

living and creating in Vancouver. How

does the city feed your work?

Honestly, I am pretty geographically detached

from Vancouver. My work isn't really informed

too much by it. Last year my studio had a really

bad leak and mushrooms started growing on the

ceiling, so I'd like if Vancouver could fuck off with

the rain once in a while.

What's next for you?

I'd eventually love to take my Drag Carnival on

tour. I am going to be working on another book

soon, and always have unexpected plans up my

sleeve.

Is there anything else I haven't asked

you that you'd like to share?

I think that's about everything. Come to Drag

Carnival if you know what's good for you!

Puppyteeth's Drag Carnival will amaze you on

August 2 at the Rickshaw Theatre. Get your tickets:

https://leisure.events/puppyteeths-drag-carnival

You'll be hosting the Drag Carnival as

Pop Puppyteeth. What's his story?

Pop is a character that was the focus of my recent

graphic novel, Pop. (shocker) He's a surly clown

from the '50s who hates performing. I am writing

his stage character as though he's gotten booked

for the first time in 50 years, so he'll be just as surly

but also very out of touch.

I think clowning and drag have a lot of parallels.

My sidekick for the show, Continental Breakfast,

blurs a lot of those lines, so I am excited to have

them on board.

Photo by Steven Audia

Jaik Puppyteeth is hosting his second annual Drag Carnival this year as alter ego Pop Puppyteeth.

4

July 2018
---
CITY BRIEFS!

Dancing on the Edge Festival Perverted Ice Cream Powell Street Festival Storylines Vans Park Series

ART, BIKE, BEER! CRAWL

BREWERY TOUR & FUNDRAISER

July 14, 1000 Parker Street Studios

The Eastside Culture Crawl's third

annual fundraiser will take participants

to three of seven breweries, including

Powell Brewing and Strathcona Beer

Company, where they'll get to enjoy

exhibitions from local artists. There'll

also be a tour of the Crawl's official beer

sponsor, Strange Fellows. Cycle or walk.

VANS PARK SERIES

July 13-14, Hastings Skatepark

Vancouver is the second global

qualifying event stop in this year's

series. 2017 champion Pedo Barros will

defend his title against contenders like

Tom Scholar and Alex Sorgente for the

chance to be one of five to compete

for the World Championship in China.

There'll also be a marketplace, music,

and a variety of skateboarding events.

DANCING ON THE EDGE

FESTIVAL

July 5-14, various locations

The contemporary dance festival

celebrates its 30th anniversary this year.

The milestone will feature nearly 30

performances from over 20 companies

and choreographers from all across

Canada, including Montreal's Paul-

André Fortier/Fortier Danse-Création in

his final solo creation and Vancouver's

Wen Wei Dance.

SUMMER SEVEN AT SOMA

July 7-August 31, South Main Gallery

The second annual curated festival/

exhibition presents the works of seven

Vancouver-based contemporary artists

who are making waves in the local

scene. The festival includes a group

exhibition from Madison Tyrell, Mallory

Donen, Marzieh Mosavarzadeh, and

Sara Khan that explores the differences

between handmade and digital and

man-made and natural through a

variety of mediums.

STORYLINES

June 8-July 12, Betamax Gallery

This mixed-use space is hosting its

very first exhibition: STORYLINES,

featuring the paintings by Vancouver

contemporary abstract painter, Johnny

Taylor. Taylor's work blends nature and

modern architecture in a response to

his surroundings.

POWELL STREET FESTIVAL

August 4-5, various locations

Live music, literary events, sumo

wrestling, theatre, dance, and more

make up Canada's largest celebration

of Japanese Canadian arts and culture.

The festival, now in its 42nd year, takes

place at Oppenheimer Park, Firehall

Arts Studio, and other surrounding

venues.

PERVERTED ICE CREAM

797 Thurlow Street

This newly opened ice cream joint has

been getting as much attention for

its moniker and marketing campaign

(their slogan is "Every Time I Come Ice

Cream") as it has for its soft serve. New

flavours, like Brand Spanking (cream

and chocolate swirl, black chocolate

shell, crumble, and black chocolate

wafer), daily.

NADA GROCERY

675 East Broadway

Vancouver's first package-free grocer

has just opened its first storefront. In an

initiative to diminish the accumulation

of waste, Nada asks their shoppers

to bring their own containers that

they can fill up with a variety of high

quality products (from fresh produce

to personal care items) from more than

150 local and organic suppliers.

BARD ON THE BEACH

June 6-September 22, Vanier Park

The always-anticipated annual

Shakespeare festival's adaptations this

year includes a Vancouverized version

of As You Like It that features the

music of the Beatles and an almost

all-female cast in Timon of Athens, as

well as classic workings of Lysistrata and

Macbeth.

FUN-RAISER

July 29, Yuk Yuk's

This special evening of stand-up, which

includes sets from comedians like Ivan

Decker, Ed Konyha, and Alex Biron, will

donate proceeds towards the British

Columbia Society for Male Survivors of

Sexual Abuse.

July 2018 5
---
CITY

INDIAN SUMMER FESTIVAL

VIKRAM CHANDRA TALKS POETRY AND PROSE

JEEVIN JOHAL

Award-winning novelist Vikram Chandra knows syllables and solutions.

It's in our psychological nature as human beings

to question our existence. We endlessly theorize

and philosophize our corporeal realities in

search of spiritual explanations that extend

beyond simply surviving as flesh and bone

entities. This year, Vancouver's Indian Summer

Festival has curated an elaborate docket of

creative thinkers and artists to explore these

vast themes, which have the incredible power

to unite us as a people, but also, sometimes, to

tear us apart. It's important in these modern

times that we take valiant measures to learn

about and celebrate our diversity rather than

let it hinder our progression as a species, and

the Indian Summer Festival provides a vibrant

VANCOUVER FOLK MUSIC FESTIVAL

CELEBRATING ANOTHER YEAR OF DIVERSITY IN SONG

CARLOS OEN

The Dead South bring their unique bluegrass stylings to the VFMF this year.

Vancouverites know there's

nothing quite like escaping

from the chaos of the big city

and listening to the diverse and

uplifting music programming at

6

platform of learning and experience.

One of many remarkably talented artists

to join the panel is award-winning novelist

Vikram Chandra, whose lecture, The Poetry of

Amazement, looks to dissect a centuries-old

poetic art form known as Citra Kavya.

"The idea is that the syllables of the words

in the verses actually make shapes, like wheels,

swords, and snakes," explains Chandra. "You

realize you're looking at what seems like a fairly

simple verse, but when you look at it more

closely, it suddenly reveals itself to have some

astonishing things hiding within it."

Citra Kavya has more or less disappeared

from the fabric of India's popular culture,

Jericho Beach every year during

the Vancouver Folk Music Festival.

The 41st edition of the annual

gathering is a great opportunity

to enjoy performers form across

Canada and around the world.

Started by a collective of friends

in 1978, the VFMF has become

one of the longest standing music

festivals in BC. Every year 45,000

music enthusiasts come over the

course of a weekend to Jericho

Beach. The park receives over 50

musical acts, 40 food vendors,

a folk bazar, and beer and wine

garden. All ages are welcome.

Ry Cooder, Neko Case, The

Dead South, Carole Pope and

Steve Riley & Mamou Playboys

are among the most popular

artists performing this year. VFMF

artistic director Debbie Salmonson

has ensured that a variety of

music genres and countries are

represented.

Son de Madera will play son

jarocho, a joyful Mexican style that

merges Indigenous melodies and

African beats. From Mozambique,

Wazimbo and Banda Kakana

having been torn at the seams and laid to waste

by the colonial occupation. Its significance is

only now beginning to resurface.

"It exists only as a sort of historical artifact,"

says Chandra. "Mainstream, high level

Expositions looked down on [Citra Kavya].

They thought it was just verbal trickery. They

didn't see any depth or tragedy in it, so I got

curious about it."

In addition to his studies of Citra Kavya,

Chandra has written a number of novels,

including the 2006 crime epic Sacred Games.

Recently, the novel was adapted into a TV

series, which makes its Netflix premiere on July

6 as India's first contribution to the streaming

platform.

"The series itself is very gritty," he says. "It's

real, and I think the visual idiom we've found is

completely Indian; it's very much from the soil,

as it were, but it also has global appeal."

Internationally, India is most recognized

for Bollywood, but the country's history of

film extends far beyond lavishly colourful

song-and-dance tales of love and loss. Shining

light on lesser known films, Chandra explains,

"There's a burgeoning tradition of indie cinema

within the country, so there is an alternative to

Bollywood." Expand your horizons, people!

Indian Summer Festival runs from July 5-15.

Vikram Chandra's The Poetry of Amazement

takes place on July 12 at UBC's Frederic Wood

Theatre.

bring the soft marrabenta singing

style. Ezra Kwizera will balance a

raspy voice with sweet Rwandan

melodies. The lineup also includes

performers from Italy, Ireland, the

U.S. and Canada.

According to Salmonsen,

performers will play in one of the

five of the day-time-to-evening

stages. In addition, they will be

encouraged to improvise with

each other in "daytime sessions."

This is a great treat within what

already is a music feast for the

senses!

"I try to have a representation

for different genres and also

different genders. This year we

have a lot of women and womenfronted

bands playing," says

Salmonsen.

Vancouver Folk Music Festival takes

place July 13 to 15 at Jericho Beach.

CARNAVAL DEL SOL

CONNECTING, HELPING, GROWING, CELEBRATING

CARLOS OEN

With beats, flavours, soccer, and smiles, Carnival del

Sol is a celebration of Latin American contributions to

Vancouver. On July 7 and 8, Concord Pacific Place will

be turned into a Latino plaza, a temporary main square,

acknowledging a permanent and lively community.

"The concept of a plaza is a place to connect, help,

and grow. It is the same principle as how our countries

developed," says Colombian-born Paola Viviana Murillo,

founder and director of Carnival del Sol.

For two days, live music, art, dance, sports, and poetry

will act as a bridge connecting the distinct Latin American

communities. The festival is also a great opportunity for

Vancouverites to experience a joyful, sometimes spicy,

but always rhythm-rich culture. Mexicans, Brazilians,

and Colombians are among the most visible and active

Latino communities in this city. But the oldest Latino

communities are from Chile and El Salvador, who started

immigrating in the 1980s.

This is a special year for Latincouver, the organization

behind the festival, for it is commemorating 10 years

since Murillo started building a hub of Latinos. "The idea

of Carnival del Sol is to say, 'Hey! We are here. We have a

strong voice,'" says Murillo.

At Carnival del Sol, you will be able to taste a choripan

(an Argentinian sausage sandwich) or an arepa (a stuffed

corn cake). Soak it all in hot salsa, for there will be beer

to put out any fires. Pay attention to bass-intense cumbia

and follow your hips. Lift your spirit with fast notes from

an accordion playing ballenato. Witness how a cajon

peruano can carry the beat in a simple, yet profound, way.

Some of the bands that will be playing at the festival

are TANGA, Matices del Sur (from Peru), Nahualli

Folklore (Mexican Folklore Band), and Orqesta Tabasko

(Colombian Salsa).

"Every year we see new talent coming," concludes

Murillo. "You see them there and they grow. I love to see

that we are able to create a platform. A space for people

to become what they want to be."

Carnaval del Sol runs from July 7-8 at Concord Pacific Place.

Photo by Jorge Aplauso Studios

Carnival del Sol is a celebration of Latin culture.

July 2018
---
THE KILLERS • FLORENCE + THE MACHINE

IN COLLABORATION WITH
---
Martin Creed (detail) Work No. 1000: Broccoli prints (2009-2010) various paints on card, in 1,000 parts | 9 1/8 x 9 1/8 in (23 x 23 cm) each

Rennie Museum | 51 East Pender St | Vancouver
---
LOOSE

STORY AND CONSUMPTION COMBINE FOR TIGHT RESULTS

LAUREN DONNELLY

Megan Dietrich is sitting on the patio of Mount

Pleasant's Kranky Cafe. "This place has my favourite

iced coffee," she says. She's kind of an expert. It's

her second cup today and coffee consumption is a

foundational part of her artistic process.

"In terms of my process – my comics are so

observational – there's a lot of sitting with coffee

Yes, it's fur real. Meowfest, a festival celebrating all

things feline, takes place at the Roundhouse this

month. The event is being put on by Meowbox (a

locally-based, monthly subscription box for cats

that includes toys, treats, and more) and is the first

of its kind on the west coast. For cat-lovers, and for

Meowbox community manager Sarita Fichtner, it's

like something out of a dream.

and my sketchbook and just doodling face after

face after face," she says.

Her process is as unpretentious as she is.

Dietrich's mixed media abstract work is currently

exhibited at Victoria's Madrona Gallery, but this

July she's showing a different side of her art in a

Vancouver show.

MEOWFEST

WEST COAST'S FIRST CAT FESTIVAL CHAMPIONS ADOPTION, COMMUNITY

YASMINE SHEMESH

Illustration by Megan Dietrich

Megan Dietrich is showcasing her work in a collaborative way to engage with her audience.

Meowfest promises a full day of feline fun that will encourage all to paws and reflect.

"We're passionate about animal welfare and

we just always found an overwhelming sense of

community when it came to bringing cat people

together," she says. "Planning a larger event for

cat-lovers was something we had always discussed

and, after putting on a few smaller, successful

fundraisers, we felt ready to take things to the next

level."

It's called LOOSE, and Dietrich has planned a

two-day pop-up shop and art party that bucks

traditional art show conventions. The party

opens Saturday night with live music and a bar

that includes vodka slushies and merch sales.

On day two, there'll be a vintage shop curated

by local fashion plate Lydia Okello. Some of the

proceeds will go to the Chinatown Action Group

to acknowledge the neighbourhood hosting the

event.

Her illustrated work is an outlet for what she

calls "satirical cultural critique," and her comic,

Loosely Based, is a dark commentary loosely based

on her own life. To supplement her artist income,

Dietrich has worked a multitude of jobs, ranging

from event setup to construction to serving

bratwurst at the Christmas market. As it turns out,

being a millennial is fertile ground for comedic

one-liners.

"We talk about being involved in a story and

connection and community," Dietrich says. "And

I think when you make a show a party, it's a little

more approachable. By collaborating, it positions

my art in a different context – it just creates a

better vibe to share work."

LOOSE kicks off at the Playground at 434 Columbia

Street with a party on July 7 and runs until July 8.

Meowfest will be donating 100 per cent of its

proceeds to the BCSPCA, as well as a handful of

other charities like the Langley Animal Protection

Society and New Westminster Animal Shelter. Cats

available for adoption will be on-site, too.

Along with adoption opportunities, the festival

will feature a wide variety of vendors, a boutique

carrying handcrafted gifts for both cats (think

adorable bow ties and beds) and cat-lovers (prints,

jewelry, and more). There'll also be a workshop

by renowned kitten rescuer Hannah Shaw and

appearances by celebrity cats like Nala Cat (listed

as a top influencer in 2017 by Forbes).

And while this is Meowfest's inaugural year,

Fichtner says that the response has been so great

that they are looking ahead to potentially make

this a reoccurring event. "It's been so interesting

to see how much attention we've already

received and, even just in the first few months

of planning, how excited people were. All across

North America, people have reached out saying

they're going to come out and we've got vendors

from Australia and Singapore. It's just been really

amazing to see the response. Of course, right now

we're just focusing on doing the best we can this

year, but I think we definitely want to see what we

can do after that. It's been so much fun, I think we

just want to keep it going."

Sounds purrfect.

Meowfest takes place at the Roundhouse on July 29.

CITY

AMPLIFY BC

PROVINCIAL GOVERNMENT TURNS UP THE

SUPPORT FOR OUR MUSIC COMMUNITIES

CARLOS OEN

In an effort to support BC´s vibrant music

industry, the provincial government has

announced $7.5 million in funding to launch

Amplify BC. This program is the continuation of

BC Music Fund (BCMF), which was launched in

February of 2016.

Amplify BC is part of Creative BC, a broad

initiative headed by experienced Prem Gill and

focused on uniting, supporting, and expanding

BC´s motion picture, digital media, book

publishing, and music industries.

"With close to 285 music companies, more

than 200 festivals, and 160 recording studios,

British Columbia is the third largest music

production centre in Canada," says Prem Gill,

CEO of Creative BC.

Artists and music companies are encouraged

to apply for grants that could cover up to 50 per

cent of "eligible expenses." Four programs cover

all areas of the music business.

Career Development is aimed to assist

emerging and established BC artists, as well as

international musicians coming to record in

the province. It covers sound recording, video

production, and promotion.

The Live Music Top-Up Program supports BCbased

music festivals, venues, and live producers

that are already recipients of funding through

the BCMF.

Music Industry Initiatives fund events

that increase BC´s music industry capacity.

Conferences, talent incubators, showcases, and

digital platforms are some of the actions that fall

under this category.

A fourth program, Music Company

Development, is to be launched early next

August.

Amplify BC may be that additional band

member or business partner that can make

a difference to your music enterprise. Those

interested are strongly encouraged to visit their

site, for there are multiple deadlines and details

in the application process.

For more information on Amplify BC, visit

creativebc.com.

Photo by Lea Chambers

Amplify BC turns up community support.

July 2018 9
---
PRIDE

TRIXIE MATTEL

THINGS THAT MAKE YOU GO UNHHHH

DAVID CUTTING

Trixie Mattel didn't win RuPaul's Drag Race but they're still killing it in the spotlight as a multifaceted drag performer.

It is 2018. Kids are being put in camps

in the U.S., politics are twisted and a

joke, the pop culture tides have turned,

and now a man in a dress judging

other people in dresses is arguably the

hottest sensation on the planet. This

cacophony of gay fuckery is of course

RuPaul's Drag Race, a reality TV show

on VH1.

The world itself is changing.

Finally, we have images in our news

that help show a true juxtaposition

that exists in this world, but drag

has always risen when we needed it.

Drag Queens/Kings/Things all carry

the legacy of strengthening and

rallying our community. Drag Race is

doing it via a new platform, in a way

that is undeniably unapologetic. It's

essential that we heal the divide that

exists within our own community

while simultaneously reaching out

and building a new framework for

the silly hats to have a better more

understanding viewpoint.

The show itself has had many stars

and stand out creatures, but there

is one weirdo that has risen from

the primordial queer goo and their

name is Trixie Mattel. At first glance

you see intense contour, gigantic eye

makeup, and unnaturally massive

blonde hair. If you find yourself hearing

them first it would probably be their

insane gay scream/cackle laugh that,

sometimes, only dogs can hear. Mattel

is a multifaceted drag performer with

accolades also in stand up comedy, live

music, and songwriting.

"Trixie is a place where all my talents

can connect," Mattel says in their

deadpan voice over the phone from

Seattle where they are performing

for a show that evening. I start by

introducing myself and sharing where

I am and they deadpan again. "Oh

Vancouver, yeah I am coming there,

who wants to know?" They are actually

stopping in twice this summer — July

17 and August 5.

Mattel started drag when they were

18 and never looked back. "At 21, I

started doing clubs, hosting it and

doing stand up. It was here I just started

adding layers to the character, started

refining the look and the comedy got

darker." At 25, Trixie Mattel participated

in Season 7 of RuPaul's Drag Race, an

experience that shot them to the top of

the fandom mind.

Two years later and a television show

of their own, The Trixie and Katya Show

— something that grew from a silly

YouTube video series — now airs on

VICELAND. The rapid growth from all

of this certainly helped with the rise of

some incredible opportunities.

"I spent a few years proving things

to myself. Just because RuPaul said I

wasn't America's next drag superstar,

I wasn't gonna let that be the truth

for me." And they obviously didn't let

that step on the ambition they'd been

growing and nurturing since their late

teen years. "It was cool because, you

know, when I won [RuPaul's Drag Race]

All Stars [earlier this year] it was a cool

bonus, however I was living proof that

you don't need to be a winner to do

whatever you want."

Their entire image is based around

the name Trixie, a word they reclaimed

— its origin came from a slur that

their stepfather would call them while

growing up. From that hurt came a

public figure that many now look up

to and admire. "All of my best material

comes from bad things that happen, so

for me when I am happiest that's when

I am the least expired. Trixie and Katya

Show is on TV, just won Drag Race,

my album is number one… As a drag

queen you're always just waiting for the

other jelly sandal to drop, ya know? Like

where is the cancer? Am I gonna get hit

by a car? What's going on?"

Mattel is absolutely hilarious. Anyone

who knows anything about them

knows this. They are the reason we all

bellow, 'OH HONEYYYYY' at the top of

our gay lungs.

I shared with Mattel that I took

this interview from someone else as I

had to interview them because of the

inspiration they have lent me in my

own drag journey. I joked that it was

probably a cisgendered white woman,

to which Mattel quipped, "97% of my

fans are white women with emotional

trauma, so you maybe stole something

very important from her."

Trixie Mattel winning All Stars marks

the beginning of something interesting

in mainstream pop culture. This is the

first time where someone who is not

visibly playing the gender illusion game

is winning a very public and sought

after title. Drag itself began as an act of

rebellion, rooted deeply in transgender

culture, which is why there are so many

misunderstandings around it. This year

has marked a lot of controversy around

this subject with RuPaul weighing in on

trans individuals and their involvement

in the art of drag; sheer ignorance and

disregard for the rich history of drag is

starting to reveal that now, more than

ever, we need new drag idols to rise.

Old ideals and minds that sit outdated

with an unwillingness to grow need to

step aside as the new generation opens

up an even bigger conversation of love

and acceptance. Mattel sits as a fulcrum

for that because of the way they have

situated themselves in this pop culture

machine.

Mattel's final nugget of wisdom for

us? "Drag is like porn. Once you do it,

you're kinda just stuck in it. Next thing

you know you're hugging emotionally

disturbed children in a meet and greet."

Trixie Mattel performs July 18 at the

Vogue Theatre and August 5 at Bute

Street and Davie.

10

July 2018
---
PRIDE

Illustration by Syd Danger

DUST CWAINE

Pride is always a fucking assload of events that

conflict with each other, and most are ridiculous.

Some shine brightly as beacons of inclusivity and

actual pride, and others are corporate, soulless,

exclusive events geared towards the media's

portrayal of the "perfect" Gay Man. This list I

have compiled is both an act of advertising and a

reading of the somewhat ridiculousness of these

money-grabbing events. So, let's celebrate the

season of local venues jacking their prices from $5

to $20 by allowing a cynical drag person tell you

what's up, because it's the year of the queer!

DRAG CARNIVAL

Rickshaw Theatre, August 2

Hosted by Vancouver's own PUPPYTEETH. Look

for drag critters and weird, depressing art in a

grimy East Van location.

THE IMPORTANCE OF ALTERNATIVE PRIDE

AN OP-ED FROM VANCOUVER ART AND LEISURE

MATT TROY

LGBTQ people have always been outsiders.

Strangers, too. To many, we are The Queers.

For centuries we were never trendy, much less

celebrated.

For too long, our bodies have been criminalized.

We had to gather in clandestine spaces, where we

could express ourselves, free from the prying eye

of bigots, bureaucrats, bullies, and bluecoats. We

had to hide because our activities were seen as

immoral, too sexual, and not conducive to western

values of procreation, family, and Christianity.

On the backs of those who came before us,

we have arrived at a time when we are no longer

feared, but celebrated. Mainstream culture has

completely embraced "pride." From concrete

actions to meaningless marketing gestures – all of

which would have been completely unthinkable

only a few generations ago – everyone is

cashing in on pride. For most companies, the

simple act of including a pride flag is a "small

but meaningful" gesture that does not require

investing money, training staff, or challenging

themselves to question their commitment to the

queer community. From banks to gyms to straight

nightclubs, companies actively celebrate our

success despite not having been there to support

MAN UP!

East Side Studios Warehouse, August 3

The biggest celebration of queer inclusivity that

will happen in Vancouver over Pride. Safe space,

queer beer (Spectrum), drag performers of literally

all backgrounds. MUST ATTEND.

RAPTURE HEATWAVE

Westin Grand Hotel, August 4

Dubbed as "Pride's only pool party," this event will

have everything: abs, twinks, thongs, speedos, the

smell of sunscreen, and drag queens in a pool! Also

Nick Bertosi, easily one of Vancouver's best DJs.

COMMERCIAL DRAG

London Pub, July 29 and August 5

East Vancouver's only Weekly Drag Show. This is

my show, so I won't say anything more…

us in our struggles.

With the commercialization of queerness

has come sanitization. There has been an

erasure of "sexual" from "homo." Legal same-sex

marriages falsely told us that our families were

accepted, painting us with the broad brush of

heterosexualism and all the conventionality it

entails. Homogenization of queer subculture into

mainstream culture has left an important part of

our story untold, even as the dominant culture

pretends to celebrate it.

Vancouver Alternative Pride Festival is a grassroots

artist-led music and art festival celebrating

important LGBTQ artists, organized by LGBGT

artists on our own terms. Taking place over five

days, we present unique and diverse events all over

Vancouver, from mystical gardens to breath-taking

city vistas to grimy underground after-hours and

out-of-this world main events, including sex on

site to uncensored radical art, all while raising

money for Vancouver queer charities. We do

not accept any contributions from the state or

government gatekeepers. We are not condoned

by the Vancouver Pride Society or in collaboration

with the City of Vancouver. We do not work with

any corporations who exploit queer communities

PRIDE PARADE

Downtown Vancouver, August 5

Corporations sharing their money, while

community groups such as the Kennel Club

join. What was once a protest has now become

a fetishization of Gay. I will say that there won't

be police this year, and that is amazing, because

marginalized groups within the LGBT community

do not feel safe. NOW THAT IS A PROTEST! This

event is very het friendly (that's heterosexual, for

all you unhip hets out there).

HUSTLA

The Emerald, August 5

The Cobalt may be defunct, but that will not keep

Peach Cobblah down. She is back with a fucking

sweaty-ass, queer, hip-hop extravaganza, with drag

performers at a new location: the Emerald.

for financial gain. We are only funded by you, the

people. Our spaces have always been contested.

Our bodies have been legislated. Our culture has

been moralized. For this reason, we make our own

spaces, on our own terms, because it is essential

to our survival. We cherish the underground. We

CLEAN SOBER PROUD

Bute Street and Davie Street, August 5

It is their 10th anniversary, and it's gonna be a

wild time! An all ages drag and performance show

featuring local performers and Trixie Mattel and

Sasha Velour of RuPaul's Drag Race fame.

VANCOUVER ALTERNATIVE PRIDE

FESTIVAL

August 1-6

A grimier version of Pride. As of this moment

there aren't many details for this, but I want

to mention it because Alternative Prides are

important. Maybe this will be the protest we

need? Keep posted by following @vanartleisure on

Instagram.

I AM EXHAUSTED JUST THINKING ABOUT THIS.

hang the pride flag high and celebrate our version

of an independent Alternative Pride.

Alternative Pride takes place from August 1 to 6.

Tickets are available at http://leisure.events.

Photo by Chase Porter

(L-R) Matt Troy of Vancouver Art & Leisure with DJ Zarfan and DJ Jeremy Khamkeo.

July 2018 11
---
PRIDE

QUEER AS FUNK

CELEBRATING INCLUSION, JOY AND FUN THROUGH MUSIC FOR ALL

MADDY CRISTALL

Queer As Funk are a non-profit musical entity who love to give back to the community.

Queer as Funk is an infectiously uplifting eightpiece

cover band based out of Vancouver. The

sincerely charismatic group of talented musicians

are the farthest thing from pretentious. They are

all genuinely close to one another, which is clearly

reflected in their high octane performances. Queer

as Funk cover a wide array of entertaining music

from artists such as Michael Jackson and Justin

Bieber, sometimes merging the two together. A

fine example of their contagiously friendly music is

that a friend of theirs spontaneously proposed to

her now wife on stage, the band will also be playing

their own wedding this summer.

Vancouver needs a band like Queer as Funk. They

create inclusive safe spaces and know how to throw

a party. Members Jocelyn Mcdougall and Connie

Buna explain, "Although we identify as gay we both

recognize the privilege of being caucasian." Jocelyn

adds, "And I represent as feminine, which grants me

more privilege in everyday life."

The band performs mostly at special events,

namely Pride festivals including the Yukon and

Fraser Valley. They donate a lot of their earnings

to organizations around town including The

Urban Native Youth Association and Black Lives

Matter Vancouver. Buna shares, "This musical

project isn't for profit. We are honoured to give

back to the community." Their understanding of

intersectionality and unconditional feminism is

unfortunately not always prevalent in the queer

community.

Queer as Funk however has great diversity in

not only sexual orientation and ethnicity, but also

in talent. Some members are classically trained

like Luis "babyface" who Macdougall describes as a

"virtuoso" on the keys and trombone. While Buna

has started singing in her adult life and is one of the

main vocalists of the band. Buna described her voice

as an improving instrument. "I just love to sing," she

says.

Along with vocals, Queer as Funk has a notable

horn section. Mcdougall's wife, DJ Slade, is opening

the show and all members are ecstatic with this.

Band manager and trumpet player Alison Gorman

explains that many of the tickets will also be

discounted for those who are unable to afford it.

"Pride should be affordable to people and we are

not in this industry for the money," she says. This

is what Queer As Funk is all about — inclusion, joy

and fun. And you have to be dead inside not to love

that.

Queer as Funk perform August 3 at the Commodore

Ballroom (Vancouver).

PARLOUR PANTHER

FOLLOWING THEIR BLISS

ADESUWA OKOYOMON

Steph Hodgins (vocals/guitar), Charles Wesley

(vocals/drums), and Lee Newman (vocals/

synth) are the voices behind the queer soul rock

trio Parlour Panther. This Vancouver three piece

has been performing together since 2014 and

just released its first album, Hot Magic. Parlour

Panther is not trying to fit into mainstream

music, but is instead trying to create a genre

that is unique to them, and Hot Magic is proof

that they are succeeding at this goal.

Throughout Hot Magic, the trio's vocals are

mesmerizing and alive with feeling. Hodgins,

who recorded, produced, and mixed the entire

album, remarks, "A lot of people tell us that our

songs are like sex songs, and I really like that. If

you want to get busy to our album, that's cool

with me."

"[Do it,] and feel good about it," Newman

adds.

Parlour Panther wants people who listen

to their music to know that "it's alright to feel

whatever you feel and be in tune with your

emotions," says Wesley.

Although Hot Magic was in the works for

two years, many of the songs on the album

were written within a month. The band had a

short timeframe to use the studio and recording

equipment at the Nimbus School of Recording

Arts, which Hodgins was attending at the time.

"It was definitely a learning experience," says

Wesley. "Now we're more confident in our

abilities to write songs and play music."

For Newman, the process of writing

and recording was "super cathartic and

empowering." The result of the trio's work is an

album that at its core is "a declaration of love…

of being true to yourself," an album that inspires

people to tell their stories and their truths, and

to create their own narratives. Newman names

"SEXXXXX" as the first song people should

listen to off their album.

"It has, I think, our boldest lyrical content,"

says Newman. "Being explicit about queer sex

and love is just really important because a lot of

queer people are [not] seen and heard as much.

To actually sing [about] it is really powerful."

The trio also released a music video for

"Cherry Blossoms," the third song off the

album, and have been toying with the idea of

another music video featuring Newman and

Hodgins' cat, Waldo, who was the inspiration

for the band's name. But before Waldo, a.k.a.

the original Parlour Panther, makes his acting

debut, the band will be performing at several

festivals this summer including the Hootstock

Festival, the ArtsWells Festival, and the Rogue

Arts Festival.

Parlour Panther perform at Khatsahlano Street

Party on July 7.

Soulful queer rock trio Parlour Panther cast a seductive spell on their debut LP Hot Magic.

12

July 2018
---
AVOCADO TOAST

MAKING VANCOUVER LAUGH BY LAUGHING AT ITSELF

JOEY LOPEZ

Live improv show Avocado Toast pokes fun at Vancouver with a rotating 35-member cast.

When you think of Vancouver, what comes to mind

first? Is it the beautiful shores of Spanish Banks

complemented by the majesty of the snowcapped

mountains, the two separated by shimmering

ocean? Perhaps it's the bike lanes that crisscross the

downtown core, or the abundance of yoga mats laid

out in parks on the west end?

Beginning this summer, Vancouver Theatre

Sports League's newest improv show, Avocado

LES MISERABLES

ADAPTATION BRINGS AUDIENCES CLOSER THAN EVER TO AUTHOR VICTOR HUGO

JAMILA POMEROY

The musical adaptation of Victor Hugo's novel, Les

Misérables, may be set in 19th-century France, but

performer Nick Cartell, who portrays Jean Valjean in

Cameron Mackintosh's Broadway production, says

the story is more than applicable to many situations

in today's global climate.

"Shows like Les Misérables have stood the test

of time because people can connect with the story

and characters, and then they also walk out of the

show humming the same songs, over and over – as

they have done for the last 37 years," Cartell says.

"While the story is set in a different time, it truly

is about the fight for the human spirit. It's about

people who are trying to make a difference."

Cartell has performed in shows such as

Scandalous: The Musical, Phantom of the Opera,

and Frankenstein, but expresses there is something

special about Les Misérables.

"I think truly, for me, what the difference is, is

the story," he says. "You know, this is a story that

is beloved by so many people because not only

do you have fans of the novel, the beautiful work

that Victor Hugo wrote – you also have fans of the

musical itself and the music."

Previous set designs of the musical featured a

turntable and other technical elements that you

won't see in this version, but Cartell explains that

the design has set a new precedent.

"They wanted to re-imagine Les Miz, to make it

a more contemporary piece, and they truly have

Toast, imagines the latter. VTSL aims to pick apart

Vancouver stereotypes, from yoga enthusiasts to

vegans, and, of course, overly priced avocado toast,

from the points of view of two eternal enemies:

millennials and baby boomers. The result is a show

that offers something for everyone.

"We're focusing on class types in Vancouver and

Vancouver issues from two different points of view

based on a platform that's enjoyable for all ages, as

done that," he says. "We've done away with the

turntables, but one of the things that we have

gained are these incredible images that Victor Hugo

actually painted himself."

Hugo hid his art away because he wanted to

be known as an author, rather than an illustrator.

His work was based in pen and ink washes, often

depicting fluid architecture and the faces of 19thcentury

France in somber, yet fierce and powerful

notions of the revolution. His work was said to be

admired by the likes of Van Gogh and Delacroix,

and was birthed of strange methodology.

These works will be presented through still and

well as locals and tourists alike. We really just want

Vancouver to laugh at itself," Executive Director of

Programming Bill Pozzobon says with a chuckle.

Through the incredibly interactive aspect of

live improv, Avocado Toast wishes to welcome

perspectives from people who live outside the

city and from those who view millennials through

a stereotypical lens with the intention of lending

some self-awareness to our trendy west coast city.

"We want to tackle what's hot in Vancouver,"

says Pozzobon. "The other day I was at a café and

behind me I heard someone say, 'I can't believe we

just spent $27 on avocado toast.' It is things like that

that inspire it."

The idea itself is the brain child of Lauren

McGibbon, who also created the Canadian-centric

improv show Oh, Canada. Instead of focusing on

us as a nation, Avocado Toast focuses on us as a

culture while at the same time being a crash course

on the Vancouver way of life for those visiting for

the first time.

With a rotating ensemble cast of 35 members, no

show will be the same.

"It's definitely going to be highly entertaining,"

Pozzobon says. "The audience gets to be the authors

of the show. There's nothing like live improv."

Avocado Toast runs from July 5-September 1 at the

Improv Centre.

moving shots, something that has never been done

in the long history of Les Misérables. We can expect

the costuming and remainder of the set to mirror

the drama and emotion of his painting, creating a

new, more artfully-refined show. This is the beloved

Les Misérables, but a version of new great depth

and expansive nature – possibly the closest we've

ever gotten to the heart and mind of Victor Hugo,

while simultaneously being ever so applicable to the

modern world.

Les Miserables runs from July 10 to 15 at the Queen

Elizabeth Theatre.

Cameron Mackintosh's adaptation of Les Misérables turns the classic musical into a modern commentary.

CITY

July 2018 13
---
CITY

GOING GREEN IN THE BIG BLUE

A LOCAL FISHERMAN ON KEEPING BC FISH IN BC

DAYNA MAHANNAH

"Wake up, make coffee, eat, fish."

That's the order of the day for

Kingsley Bryce, commercial fisherman.

Even trite industry politics, the odd

storm, or low salmon projection won't

tarnish the simple foundation of a

day at sea. At 23 years old, Bryce is

designated captain of the NERKA#1, a

family heirloom and the 40-foot boat

he and his brother make a living on.

"I call him the deckhand, but,

because we're brothers, we blur the

Photo by Timothy Nguyen

Commercial fisherman Kingsley Bryce sells the tuna he catches locally, including to Vancouver restaurant Tacofino.

lines there a bit," Bryce laughs, crosslegged

on the edge of the dock at

Fisherman's Wharf near Granville Island.

After recently wrapping up the salmon

fishing season, he's just arrived in town

to drop some goods off at the market.

Bryce is now prepared for summer

and a "green 'n' clean" tuna fishing

season, which scraps the conventional

methods used in his salmon fishing

practice. Taking a more environmental

route, he'll use hooks instead of nets,

employ a more "discriminatory"

attitude towards the catch, and refrain

from decimating entire groupings of

fish. In this way, the bycatch (nontargeted

species caught in the wrong

place at the wrong time) is minimized

to two or three for an entire season.

Tuna tend to be a more plentiful catch

than salmon, which average 25 a day,

nearing 100 on a good day. A stellar

12-14 hour day tuna fishing can yield

300 fish.

Bryce's salmon is sold to a buyer

and hits the international market.

The tuna, however, is processed in the

lower mainland and sold locally – on

Granville Island, in sushi restaurants,

and to his most loyal customer,

Tacofino. In an earlier conversation

over the phone, Bryce asked a simple

question: "How often do you see locally

caught fish being sold locally in the

lower mainland?" His family business,

Natural Gift Seafoods, is changing

the answer to that by offering local,

high-quality albacore tuna to their own

corner of the world.

Concerning their regular commercial

salmon fishing practices, Bryce sees

misconceptions from the general

public. "We're not as evil as you think!"

he says. "The sense I get from a lot of

people is they think we're taking the

oceans for every last fish they have

when really, we're very highly regulated.

Our salmon fishery on the west coast

of the island is allowed to take just

under 1 per cent of the entire estimated

population of Chinook salmon, so that

helps me sleep at night."

Consumers can take responsibility

for their side of things, too. "At your

local seafood shop, request fresh, BC

produce, and at your sushi restaurants

as well. Definitely pay the extra couple

of bucks for wild salmon instead of

farmed."

During the off season, Bryce

migrates to North Vancouver from his

hometown of Nanoose Bay. "A small

retirement community gets kinda

tiring for a 23-year-old after a while."

In the winter he skis, hikes, and takes

his friend's boat out for – yep – winter

fishing.

But Bryce sits on the youthful end

of the spectrum in an industry where,

a few years ago, the average age of a

Canadian tuna skipper was 58. "I'm

looking for friends!" Bryce laughs.

"There's quite a few job opportunities

if you're hardworking and got a couple

screws loose." A lot of younger workers

in the industry get their start through

family ties, but it "doesn't mean it

always has to be."

Such an occupation has its

drawbacks – for the last five years,

Bryce has worked six months at a

time with a total of two weeks off

throughout.

"It's a lot of hard work," he says. "But

if you want to escape the hot weather,

you have all winter free to go skiing

or head off somewhere tropical. You

can make a good chunk of change in

a short amount of time." Even on day

at sea when the fish aren't biting, the

downsides don't tilt the scale. "There's

not a whole lot to do and you're out on

the ocean, so it's not a bad place to be."

Check out Kingsley Bryce's family

business website, naturalgiftseafoods.

com. For more info about the BC fishing

industry, visit bcsalmon.ca.

14

July 2018
---
LOCAL

MUSIC

SWIMSUIT

EDITION

2018

by Emily Corley

Photos by Shimon Karmel

The sweltering heat in our East Van photo studio is

strangely reminiscent of the exotic holiday vibes

we're trying to recreate for today's gloriously bodypositive

local music swimwear shoot. The cooler is packed

with Hey Y'alls, cut watermelon sweats in the heat and a

host of shiny new swimwear is ready to be donned by our

local superstars. Just another day at the beach.

Ponderosa Festival masterminds Kia and Kris and

melodic sister-duo Brianne and Alanna Fin-Morris are

the first to rock up to our beach-ready set. They delve

straight into the neatly (for now!) arranged summer

attire from a selection of rad local stores, including

vintage gems from F as in Frank and Burcu's Angels

and top quality finds from Nettle's Tale, The Block and

Charlie & Lee. A few inflatable props, outfit changes and

'wardrobe malfunctions' later, et voila! - our beach babes

are ready for their close-ups.

Highlights of the day include Andrew Drury from

Baptists' incredibly suave super-pupper Dingus, sporting

sunglasses and some vintage Fila shorts from F As In

Frank, an impressive Salvador Dali inspired lobsterkini,

handmade by Phono Pony's multi-talented Shay

Hayashi, and Connor Brooks of Chase the Bear making

out with an inflatable shark named Jeffrey.

By the end of the day everyone is glowing (not to

mention sweating by the bucket-load) from their day by

the sea-blue backdrop of the studio and we're all ready

to be beachside for real. If you're heading out in the

sun anytime soon, check out the following quality local

retailers of beach-ready apparel:

The Block

350 W Cordova St,

Vancouver

Burcu's Angels

2355 E Hastings St,

Vancouver

Charlie & Lee

223 Union St, Vancouver

Nettle's Tale

1E8, 330 W Cordova St,

Vancouver

F as in Frank

2425 Main St, Vancouver

Dingus the dog and Andrew Drury of local hardcore band Baptists.

Andrew wears Shaka swim shorts from The Block.

Dingus the dog wears vintage Fila shorts from F As In Frank.

July 2018 19
---
01 02

03

04

1. Ninjaspy's Joel and Tim Parent are

all about two-for-one poolside

economy in purple Tommy Hilfiger

shorts from F As in Frank. Tim's

patterned scarf is from The Block.

2. Jamie Smail and Graham Madden

from Leisure club sporting all their

own swimwear. See Leisure Club

live at Khatsalano on July 7.

3. Francesca Carbonneau of FRANKIIE

wears sun hat from Charlie and Lee,

sunglasses from The Block, bikini

top from Nettle's Tale and vintage

swim shorts from F As in Frank.

FRANKIIE play the Phillips Backyard

Weekender in Victoria on July 22.

4. ACTORS' Adam Fink and Shannon

Hammet rock black at the beach

like the good goths that they are.

5. Strange Breed's Nicolle Dupass

and Ally Von Wallis wrestle with

a shark in Nettle's Tale's finest.

Nicolle: Swimsuit, Nettle's Tale.

Ally: Bikini Top, Nettle's Tale.

6. Brianne and Alanna Finn-Morris

of Fionn . Looks all models' own.

7. Jarrett Lee of The Long War

rocking out in the Buggy Swim

Shorts from The Block.

8. Kia Zahrabi and Kris Hargrave taking

a well-earned beach break from

organizing Ponderosa Festival. Kris

wears yolk-yellow Wilfred shorts

from The Block. Kia wears Shaka

swim shorts, also from The Block.

Ponderosa Festival takes place

August 17 to 19 in Rock Creek, BC.

9. Cassidy Wearing embraces her

inner cowgirl chic in her own

attire. See Cassidy perform solo

at the Railway club on July 6.

11. Digital artist and curator Erica

Lapadat-Janzen pairs her own

swimsuit with an on-trend

bag from Charlie & Lee.

12. Michael Kenyon and Shay Hayashi

of Phono Pony recreate a Salvador

Dali classic. Shay wears Salvador

the lobster, her homemade

lobsterkini. Michael's look is all

his own. Check out Phono Pony at

the Biltmore Cabaret on July 12.

13. DJ Kookum, aka Cheyanna

Kootenhayoo. Look All Model's

own. See DJ Kookum on the decks

at The Granville room on Thursday

nights and August 4 at the Lick

Club PRIDE event / August 5

PRIDE closing party at MIA.

14. Eugene Parkomenko and Adam

Grant from Black Wizard wearing

their own swimwear. See them

at the Bully's Studio 15-year

Anniversary in New West on July 28.

15. Singer, songwriter and producer

Prado. Look all model's own.

16. Devon Motz from Brass wears The

Block's Wilfred Short in yolk-yellow

and a battle-wound from last

night's insanely energetic show.

17. Mitch Ray of Vancouver's

professional party planners Art

Signified wears Buggy Swim

Shorts from The Block.

18. Blues rocker Colleen Rennison

of No Sinner wears her own

swimsuit and helmet.

19. Old Soul Rebel's Lola Whyte

and Chelsea Johnson rock

their own badass beach look.

Old Soul Rebel perform live at

the Rickshaw on July 28.

05

06

10. Emily Rowed dons the Charlie &

Lee peach one piece swimsuit and

a swim cap from Burcu's Angels.

Emily plays with Allie X at the

Biltmore Cabaret on August 26.

20. Chase the Bear's Connor Brooks

wears shorts from F As In Frank.

Jeffrey the Shark: Model's

own. See Chase the Bear at

The Railway on July 26.

07

08

PG. 16 JULY 2018

20

July 2018
---
09

10

11

12

13

14

15

16

17 18

19

20

JULY 2018 PG. 17

July 2018 21
---
COMEDY

DAVID CROSS

KEEPING AUDIENCES ENGAGED AND ENRAGED

BRENDAN REID

Photo by Daniel Bergeron

David Cross continues fucking with the audience on latest tour.

Pleasing everyone in a crowd is a next-toimpossible

task, and few know this better

than David Cross. Part of his stand-up

style has always been topical, combining

observations on religion, societal imbalances,

and political zealotry with the comedic

spins they so handily encourage. One of

his recent stand-up tours, Making America

Great Again, could not help but focus on

the uprising of a certain president, and the

cult that doggedly follows him. Naturally, his

comments on the matter offended some in

the crowd, and walkouts were a common

occurrence. But this did little to faze Cross.

"If they don't like something, they don't

like something, and that's fine, that's always

going to be the case on some level," he

explained. "And that affects both ends of the

spectrum. I have equally as many people on

the far left who are angry at things I've said

as I do on the right."

Cross is well aware of the reactions to his

material, and refuses to cater to one group

or another. He simply comments on matters

as he sees fit, and does so unabashedly; it is

the sign of an artist who knows himself well,

and is confident in his beliefs and stances.

Cross's current stand-up tour, Oh Come

On, follows a pattern similar to his other

sets. He begins with "dumb jokey jokes," as

he calls them – jokes anyone can enjoy –

then shifts gears into anecdotal set pieces.

The final act of his set revolves around

current-event related jokes, and this is

usually where the blood starts to boil.

When asked if he feels a duty to elicit such

reactions from the crowd, he firmly asserts

the opposite: "I have an obligation to be

honest with myself, and to be funny. If I

believe in the material, and know it works,

then I can stand by it. I don't subscribe to

the notion of an obligation to talk about this

or that, just to be honest with myself, which

means I'm being honest with the audience."

Cross stands behind what he believes

to be true and humorous, and refuses to

cater to the expectations of any audience

member. This has been the case since the

beginnings of his career. In the early 1990s,

Cross hosted an open mic at Boston's To

Catch A Rising Star comedy club, and

together with some friends he devised a

dastardly plan.

"I came up with the idea: what if we

fucked with the audience?" Cross reminisces

when asked about the era. "We'd have three

real open mic-ers, and then we'd have one of

our guys be a fake comic, something really

archetypal, and we'd mess with the audience,

and have all kinds of things going on where

they were completely clueless as to what was

happening, and we'd segue way into sketches

that way. It was a cool thing to do."

These schemes often involved fake

hecklers, fake waitresses, fake fights, fake

blood packs, and just about anything to

get audience members questioning what

was real and what was scripted. It shows

the unique engagement Cross strives for

in his performances, something that has

carried over into modern sets, if in a less

blatant fashion. Cross is simply there to

present his ideas, and allows his audience

to believe what they choose to believe,

and react in whatever way they see fit. It's a

commendable stance, and one all aspiring

comics should work towards.

You can see David Cross perform his Oh

Come On material on July 4 at the Vogue

Theatre.

August 17-19, 2018 | Rock Creek, BC

LIVE MUSIC | FOOD | YOGA | CAMPING | TUBING

GET TIX AT WWW.PONDEROSAFESTIVAL.COM

18

July 2018
---
WYE OAK

GETTING LOUDER FOR THE LONG RUN

EMILY CORLEY

MATT COSTA

TAKING A BITE OUT OF LIFE WITH SANTA ROSA FANGS

ADAM DEANE

MUSIC

Andy Stack and Jenn Wasner have been playing music together for most of their lives .

Wye Oak are a band who have endured the many

years and incarnations of the indie folk-rock scene

with a steady authenticity. Their enchanting brand

of scuzzy dream pop, experimentally ethereal

electronic soundscapes and quietly beautiful

songwriting have earned them consistently good

reviews. At this point, the duo has been making

music together for over a decade, "We've known

each other since we were actual teenagers. We're

family to each other – it's all love, but we also

bicker like siblings," laughs Jenn Wasner, lead singer

and multi-instrumentalist. "It's impossible for

that not to be the kind of relationship you have

when you've been around someone for literally

most of your life, doing this job 24 hours a day

and travelling all over the place. Your guard drops

with people who feel like family in the way that

it doesn't with anyone else, and sometimes that

means all politeness evaporates."

"We have like eight different tours on the books.

I don't know why I'm doing this to myself. We're

getting older and it's tough," Wasner sighs with

half-joking exasperation. "We're doing more on

this record, tour-wise, than we have in a really

long time. And honestly, it's pretty difficult for me

personally, physically and psychologically to keep

up with it. So I will probably be the craziest version

of myself. But there's always at least one moment

when I look out and I'm just completely amazed

and grateful that people are excited to see the

things I'm doing and the songs that I've made. That

always shines through, even when we're sort of in

the daily grind of it all." Despite years of successful

touring experience, Wasner admits to harbouring

some trepidation about their undoubted success

as a live act. "I think it's my tendency to feel like

nobody will come until proven otherwise. But it's

amazing to me that we are able to just turn up and

play to people who have paid money to come and

see us!"

The emotional scope for this record is as

ambitious as the band's epic tour schedule.

The new album, The Louder I Call, The Faster It

Runs, is proving to be an almost-unintentional

psychological enigma. "When I came up with the

idea, in my mind it meant I'm being chased, but the

louder I call, the easier it is for my pursuer to find

me. But when I told Andy (Stack), his immediate

reaction was: I'm trying to get something but the

more I strive for it, the farther away it gets. I've

been pitching it to people to see which of those

associations they fall into. Because both are equally

accurate and valid. I think it just depends on where

people are in their lives, whether they're feeling

like they need to fill their lives with something or

they need to have their own boundaries protected.

I could definitely do some completely unqualified

armchair psychology but I don't think that's what

anyone wants from me!"

In all seriousness though, Wasner feels a

strong emotional connection to the music she

writes and her determination to elicit a poignant

response in her audience is very clear on this latest

offering, with heartfelt refrains such as "You can

have everything, and still you have nothing," and

"Only human hate could give us something so

unforgiving."

"In writing a song, I'm not just thinking about

capturing my own experience for myself. You have

to learn how to leave space for someone else in

there. Where there are enough specifics that it feels

real and honest to someone, but enough space

that they can also find themselves in it. My creative

practice is the way that I process my experience

and make sense of my life, but it's not important

that it's autobiographical, it's important that it

accomplishes its emotional end, for everyone who

listens to it."

Wye Oak perform at the Biltmore on July 14.

For a guy whose career has spanned 15 years,

touring with the likes of Jack Johnson, Modest

Mouse and Death Cab For Cutie, scoring two

independent films, and releasing five successful

full-length albums, you really wouldn't expect

a conversation to start any other way than to

openly discuss homemade guitar-pick ouija

boards, sage, paranormal activity, and exorcisms.

Costa had been staying in a friend's "slightly

haunted" home on his way up the coast of

California in support of his latest release, Santa

Rosa Fangs.

Costa professes he's just your average guy

with a dog and a wife. He also happens to have a

propensity for draining his right-brain in several

different avenues, penning stories and touring

with those tales. "I read somewhere that in order

to be a good songwriter, you should just work on

being a good writer in general. The cool thing is

now that I've written the storyline along with the

record, the songs and characters keep evolving

for me. One of my favorite things about touring

is the routine. Once you know the songs in and

out, you can start tapping into the ether that is

the human experience -- you really get into the

good stuff. The characters, maybe the themes

that I am going through; those experiences all

start to come out."

Santa Rosa Fangs was co-produced with a

few familiar names, including Peter Bauer of the

Walkmen and Nick Stumpf of Fresh Kicks. The

album's primary story follows three California

siblings through their own interpretations of life,

death, love, and the human experience. Costa

pulled much of the inspiration from his own life

and understanding of the world we live in, with

just the right amount of space for rumination

and introspection. With tracks like "I Remember

It Well" and "Phosphorescent Letter," Costa sucks

the listener into the lucid, tamboric dreamworld

he's created, allowing for a bold and brave

relativity.

Although Costa's primary focus has been

music, he's also an avid watercolour painter

inspired by the landscapes he's taken in on tour.

"If I sit down and put on a record, I just want

to learn it. Like anything, it'll be an obsession

for a few weeks at a time, but it's a great way to

process music."

Matt Costa performs at the Biltmore Cabaret on

July 11.

Matt Costa has been reading more to become a better songwriter and it shows on his latest release.

July 2018 19
---
MUSIC

SPARTA

EL PASO POST-HARDCORE OUTFIT RETURN WITH BLISTERING RIFFS

TREVOR MORELLI

Jim Ward has reassembled Sparta with two ripping new singles and no solid plans for the future.

It's been 26 years since Nirvana

recorded their landmark MTV

Unplugged concert in New York

City. At the time, nobody could have

predicted the grunge movement

would end tragically and abruptly, but

many people immediately recognized

its reach and influence.

Thousands of miles away in the

blistering desert sun of El Paso, Texas,

high school friends Jim Ward and

Cedric Bixler-Zavala began their own

melodic journey in an off-the-wall

post-hardcore outfit called At the

Drive-In.

Now, ATDI's rise and fall has been

well documented, so this isn't a story

about them. Rather, it's a deeper dive

into Ward's own personal musical

voyage; what drives him, what inspires

him, and where he sees his projects

going in the future.

When At the Drive-In originally

dissolved in 2002, Ward beat his

former bandmates out of the gate

with Sparta, a hard-driving, rock

outfit recognized for their attentiongrabbing

chord changes and offbeat

melodies. Although Sparta's last

proper album was 2006's Threes,

Ward is a working man; his main

focus in the years since has been his

alt-country group Sleepercar, who's

enjoyed their own success opening

for high-profile acts like Coldplay and

City & Color.

This year, Sparta is back and Ward

is eager to hit the road again with

a revised lineup that includes Matt

Miller on bass, Gabriel Gonzalez on

guitar/keyboards, and new recruit

Cully Symington on drums.

"Matt and I spoke last year about

missing these songs and thinking

about finding a way to play them to

people in a way that we enjoyed, so

we started figuring out what that

entailed," says Ward.

"It is easy to sit in a room and

make a 'plan', but I have never been

satisfied by that," he continues. So as

far as vision goes, there is only what is

guided by the songs, which are guided

by the guitar, so it will change as it

changes, and I will joyfully go along or

find a different path."

Right now, the path for Sparta has

led to a pair of new punk-infused

singles — 'Graveyard Luck' and 'Cat

Scream' — with the latter coming out

quite spontaneously.

As for Sparta's future, Ward says it's

all about the fans and being thankful

for what he has.

"I have a huge amount of respect

for fans and this process. There were a

lot of years that I was not as respectful

to all of this as I should be," Ward says.

"To come back and play for people

who take their hard earned money to

buy a ticket to see us play has made a

real impression on me. I am grateful.

I am happy. I hope that we get to

continue this journey and experience

new things. We will as long as it is fun

and we are making what we think is

good music. Make good work, work

hard, enjoy life. That's it."

Sparta perform July 12 at the Biltmore

Cabaret.

20

July 2018
---
Sitting on the patio of

the Slocan, a well-loved

East Vancouver drinking

hole, Alexis Young reveals

there was a time she wasn't

sure music was what she

wanted to pursue.

Photo by Shhimon Karmel

By Jordan Yeager

Inherently, Young is not an indecisive

person. When it comes to drink orders,

at least, she knows exactly what she

wants: a Bloody Mary (not a Caesar,

because clam juice is gross), sub gin

for vodka. Always interested in the

arts, Young went to school for graphic

design, a day job she still dabbles in

when worthy contract opportunities

present themselves. But while music

was once a pastime, it's now become

the pursuit a majority of her waking

hours are dedicated to. As the

frontwoman of Youngblood, a fivepiece

dream-pop group, she explores

the intricacies of human relationships,

both romantic and platonic, digging

below glittery, surface-level facades

and revealing the bloody, oftentimes

ugly truth within.

"I was in a band while I was in

university and was playing shows and

touring the whole time, but I didn't

really think it was what I wanted to

do do," she says, taking a bite of the

spicy bean garnishing her drink. "And

then it just kept becoming more and

more of a thing that I wanted to do,

and design was less and less of a thing

that I wanted to do. After I graduated,

I got a job in advertising and I hated it

so much and just quit to start pursuing

music full time."

Since the release of their debut

single, "Feel Alright" in 2016,

Youngblood has toured extensively,

taking time to shape and refine the

sound debuted in their five-track

premiere EP of the same name. Its

members have musical pasts, but the

band itself is a new one, still exploring

their sonic potential.

"The name of the EP coming up

is Fantasy Love, and I think that's

pretty apropos to its content," says

Young. "It's very much about coveting

relationships and overthinking it and

building it up to being something

in your mind that maybe isn't quite

what it's going to chalk up to be in

reality. I'm a feeler, and as much as I

like to write about other aspects of

my life, I always come back to human

connection and human interaction

because that's something I find really

curious. How people interact with

each other, and how enamoured

or disgusted you can become with

another human. It doesn't have to

be a romantic thing – it can be a

family thing, a love that's based out

of blood. But it's so interesting how

we are all just trying to figure out our

relationships with ourselves and with

other people, and that's something

that I've been continually trying to

explore."

"Fantasy Love is an evolution," she

continues after taking a sip of her

Bloody Mary. "It's more true to the

type of music I want to be writing:

disco shoegaze. It's a term that I

made up. I really like dream-pop

and atmospheric, vibey, shoegazey

sounds. But as a performer, I'm not

very stoic. I wanted to do more of a

Beach House thing when I first started

performing, just kind of standing there

and swaying. But as soon as I started

performing, I did more of an energetic

freak out thing, and that influenced

the band because they were like, 'Why

are we doing all these slow songs when

you're freaking out?' So we found more

of a mélange of dreamy, atmospheric

textures, but rooted in an upbeat,

dancey, disco energy."

When she steps onstage, Young is

overtaken by an energy that comes

from within. She thrives on the

freaky and unexpected, making it a

personal mission to bring audience

members out of their comfort zones

by "challenging perspectives and

standards of what it means to be

normal." According to her, "it's okay to

unleash the beast." Offstage, though,

Young has a comforting presence –

she's open, funny, and opinionated,

and cannot resist a good pun. It's

that same self-assuredness she most

appreciates in audiences; her favourites

are uninhibited, complementing her

ability to step outside the usual.

"Oh my god, people in Europe love

coming to see shows," she says. "And

there's no cool factor of pretending

you're not enjoying yourself. If they're

enjoying themselves, they will express

it. If they like it, they show you that

they like it. And you know if they don't

like it because they don't lie. There's

no front. If people aren't dancing

at a show in Germany, you're doing

something very wrong, probably. I

don't want to say this as a blanket

statement, because obviously we've

played some really, really great shows

in Canada. But generally speaking,

there's more of a social acceptance for

people to be on their phones, or to be

in conversation with their friends and

not paying attention to the person

performing. As a performer it can get

really frustrating, because you're like

'Why am I here?'"

"It's just part of the culture of not

giving a fuck, or pretending to not give

a fuck," she continues. "But it's cool to

give a fuck! It's cool to care. Nobody is

going to think you're a loser if you're

like, 'Man, this song really moved me!

I have an appreciation for your artistry

and craft.' I think Vancouver can kind

of get stuck in that."

Vancouver is Youngblood's base,

and it's a difficult city to succeed in

artistically. There's no shortage of

creative talent, but increasing rent

prices mean diminishing room for

opportunity: smaller venues can't

afford to keep their doors open, allages

shows become a luxury (it's risky

for a space to suspend its license and

forfeit any profits that could have been

made on overpriced Hey Y'alls), and

rehearsal spaces get torn down and

converted into condos.

"I feel like we're in a weird pendulum

swing," says Young. "We're experiencing

the result of the real estate bubble. It's

increasing rent, so people have to work

more, and they have less time to hone

their craft. Vancouver is literally called

No Fun City, and that's frustrating

because I know so many fun people,

and I do so many fun things in the city.

[As an artist], you have to be willing

to stay and fight for the scene. I feel

pretty torn, because the vigilante in me

is like 'You can put Vancouver on the

map,' but then the other part of me is

like 'Yo, you can just fuckin' peace out.

Look out for you, man!' And it's easier,

arguably, somewhere else. There's a

slowness to Vancouver; it's got that

calm and quiet vibe most people

really like. But for an artist that likes

the hustle and the quick, fast-paced

energy… I miss that hustle. I want that

energy where people are doing shit and

going hard. It's infectious! That's how

you can build a community of people

doing shit, when everybody is inspiring

each other and wanting to push each

other to become better."

"It's like that really cheesy quote I

love so much," she concludes. "If you're

a star shining bright, it doesn't make

the star next to it shine less bright. It's

independent. Each star is beautiful, and

then the whole night sky is beautiful.

There's enough space for everybody,

because everybody is doing something

different, inherently. You'll never be

exactly the same as somebody else."

Youngblood performs at the Biltmore

on July 6. Their second EP, Fantasy

Love, is due out August 17.

July 2018 21
---
MELVINS

FOUR AMIGOS

TREVOR HATTER

Legendary grunge metal outfit Melvins have

commanded the position of High Priests of

Sludgeful Matter for a good 35 years. Consistently

creating new ways to annoy squares with

earsplitting noise-rock and building genuinely

weird albums laced with catchy hooks and

sonic ricochets, the group has reimagined

traditional hitmaking methods. In the process

of deconstructing popular music, Melvins have

generated back-to-back originals that are so good

it's impossible to imagine a world without them.

Scathing and sarcastic, the members of Melvins

use their sounds and voices to comment on the

abundant absurdities of life and to slowly get

an uptight society grooving between the ears

and below the belt. When asked about their

artistic endurance, disruptor-in-chief King Buzzo

puts forth the modest notion that they still

have something to contribute musically to the

world, maintaining that they're still having fun

collaborating with musicians they truly admire.

"I've had fortunate experience to have always

played with musicians who are really, really good,"

Buzz reflects. "Steve Macdonald and Jeff Pinkus are

no exception."

This isn't the first time Melvins have

experimented with multiple bass guitarists.

Their 2016 LP Basses Loaded (Ipecac Recordings)

featured a myriad of former Melvins members,

including a parade of six bassists who appeared

throughout the album. The band's latest effort,

Pinkus Abortion Technician which appeared on

Mike Patton's Ipecac label this past April, expands

on the concept of absorbing Pinkus into the group

and building something new together.

"We played with Jeff on a couple tours before

this where he was the only bass player. We wanted

his insanity and his craziness in our band," Buzz

adds.

Citing that Pinkus isn't afraid to try out weird

things, Buzz says that he has the right attitude

towards venturing into unknown territory and can

cook a great steak to boot! All-important assets

to a band that has conquered tours that include

a punishing run of 51 shows in 51 days, covering

all 50 states. Not to mention a group that has

experienced major earthquakes on three separate

continents and lived to tell the tale.

"That kinda stuff puts a snap to your brain!"

Buzz notes, regarding the tremor terror they

Melvins are the high priests of sludgeful matter.

experienced in New Zealand and Japan while

touring in 2011 and the more recent natural

disasters that have plagued his home state of

California.

"You don't get out of that easily," the veteran

frontman emphasizes. "You don't just walk away

from it. I don't anyway, I carry that stuff with me."

Despite the heaviness of having lived through

such devastation, Buzz maintains that the best

way to survive these trials is to stay present and

connected to the things that really matter.

"I stand on stage with those guys every single

night and I get to just watch them play. I feel

blessed."

Melvins perform July 21 at Venue Nightclub.

22

July 2018
---
SUICIDAL TENDENCIES

THE ANTIDOTE TO POP CULTURE BULLSHIT

STEPAN SOROKA

Suicidal Tendencies' influence on the subculture landscape still resonates loudly.

Bringing the sound and style of Venice

Beach, California to the masses, Suicidal

Tendencies are not only one of the

original bands to blend hardcore punk

and thrash metal into the uniquely

'80s subgenre of crossover, but they

are responsible for an entire aesthetic

that blew the day-glo, family-friendly

California skateboard look into

obsolescence. The band's vato-inspired

look, with low shorts, high socks, and

eye-crowding bandanas, is arguably as

influential as the music itself.

"I was the first person on the cover

of Thrasher that wasn't a 'pro skater,'"

singer Mike Muir casually mentions.

Although Muir's recollection is not

flawless (Glenn Danzig and Chris

Doherty of Gang Green both preceded

him by one year and three months,

respectively), it's impossible to deny

Suicidal's influence on the subcultural

landscape of the 1980s, one that still

resonates loudly today. Especially in a

day and age when Thrasher was once

the Bible for outcasts and rejects, it is

now the clothing brand of choice for

mall-going tweens who have never

stepped foot on a skateboard.

"I hate 99 percent of music," Muir

says, firmly distancing himself from

the mall culture that Thrasher has

somehow become a part of. "But I love,

love, about one percent of it. And that

one percent that I love is an extremely

powerful thing. So we try, with Suicidal,

to be that one percent, to appeal to

people that are not happy with the 99."

38 years into their career as a band,

Suicidal has managed to grasp a firm

enough hold on that one percent to

stay relevant. With the addition of

Slayer's Dave Lombardo on drums in

2016, the band is as exciting, energetic,

and angry now as it ever has been.

"In this day and age, when people

find a lot of reasons to be divided,

it's very important to bring people

together," says Muir. That's been

Suicidal Tendencies' mission since

day one, never sticking to one genre,

and bringing together punks and

metalheads across generations.

Suicidal's raw honesty and undeniably

infectious riffs are a potent antidote to

the piles of bullshit that get shoveled

down our throats daily by the conveyor

belt of popular culture.

"We believe in what we're doing,"

Muir states. "That's why a lot of people

love us and a lot of people hate us."

Having just played Punk Rock

Bowling, a festival in Las Vegas

organized by Shawn and Mark Stern

of Youth Brigade and BYO Records,

Suicidal are fully embracing their

hardcore punk roots, despite some

negative reactions from the scene's

more elitist elements.

"A lot of people were upset we were

on there," Muir recalls. "But after the

show… I call it 'confessionals.' People

come up and say 'I had an opinion and

it was totally different. You guys killed

it.'"

Suicidal is no nostalgia act. With a

new record dropping in September,

a new drummer pushing the band

to the limits of speed and tightness,

and a clear conviction in the power of

their music, Suicidal Tendencies is still

poised to push boundaries and piss

off a few parents, even if it's just their

bandmates.

Suicidal Tendencies play the Vogue

Theatre on July 17 with Havok.

SEAWAY

TURNING A CAREER INTO A LIFE-LONG VACATION

SLONE FOX

Ontario-based pop-punk band Seaway

can be broken down into six vital

components: vocalist Ryan Locke,

guitarists Patrick Carleton and Andrew

Eichinger, bassist Adam Shoji, drummer

Ken Taylor, and a wiener dog in a

striped shirt.

With their latest album, Vacation,

released in 2017, Seaway has replicated

the exact feeling of being on the beach,

minus the sunburns and the sand in

your crack. Most importantly, the

album spawned "Lula On the Beach."

"The vibe of it, and the way we wrote

it, is all very fun and easy," says Locke.

"I think it's a favourite of everyone's to

play because it starts off very chill and

picks up very heavy towards the end.

From start to finish, it's definitely one of

my favourites."

The music video for "Lula On the

Beach" features the band frolicking

along a beach (duh), clad in matching

striped shirts and toting around a tiny,

spotted wiener dog, who is tragically

not named Lula.

"His name is Bowie. It's actually my

parents' wiener dog," Locke confesses.

"We thought that to tie the music video

in to the new acoustic versions we're

putting out, we would use a wiener dog

to tie it all together."

As carefree as they may seem, the

sunny beach scenes in "Lula On the

Beach" are a stark contrast to the band's

roots in Oakville, Ontario. Seaway

showcases their Canadian pride time

and time again by subtly scattering it

throughout their discography. Other

times, it is less subtle, like their album

Hoser, released in 2013 and patriotically

named after everyone's favourite

hockey insult.

"Growing up in Canada, it's kind of a

different vibe," says Locke. "I didn't grow

up wanting to be the next Wonder

Years or anything, because being from

the Toronto area, I didn't really identify

with that. I think we grew up on

different music it has shaped our band

differently than it would if we'd been

growing up in the States or the UK.

There are certain Long Island sounds

or certain Philly sounds that people

growing up there might go for, but

we're just kind of doing our own thing."

With a Canadian tour on the very

near horizon, Seaway is busy preparing

both physically and emotionally for

a summer spent on the road. Besides

the obvious bummer of being away

from friends and family, Locke also

highlights some of the other downfalls

of the pop-punk dream.

"When I was a kid, I used to think

that going to hotels on family vacations

was the coolest," he says. "Now I

absolutely despise staying in hotels

because we do it, like, every night for a

month straight. You're always like 'Ugh,

another stinky, cigarette-smelling hotel

room.'"

Excluding an apparent distaste

for crack-of-dawn checkout times,

continental breakfasts, and suspiciously

stained mattresses, tour life is

something that has otherwise been

wholeheartedly embraced by the guys

of Seaway.

"The travel part isn't that bad. We

all read a lot, and Adam and Ken have

their GameBoys," says Locke. "It's the

in-between, when you're stuck waking

up early at motels and missing everyone

back home. That's when it's hard, but

it's always worth it."

Seaway is playing the Biltmore Cabaret

(Vancouver) on July 18th.

Photo by Elliot Ingham

From sunny beaches to wiener dogs, these Canadian pop-punks keep sailin' on.

July 2018 23
---
1901 Powell Street, Vancouver

604-253-6645

SUN

8:00pm

TUES

9:00pm

WED

7:30pm

THURS

9:00pm

Karaoke

End of the Line Jam

w/ Sandy Bone & Double D

Trivia

Karaoke

Fri. & Sat. Bands @9pm

FRI, JULY 6

Closer, Charles Mansion & Pedler

SAT, JULY 7

Winter Of Freedom & guest

FRI, JULY 13

The Pernell Reichert Band with

Horse Opera

THE PRINCETON

SAT, JULY 14

Stab Em in the Abdomen & guest

FRI, JULY 20

The Split Hearts & guest

SAT, JULY 21

Muddy Goats & guest

FRI, JULY 27

Pill Squad & guests

SAT, JULY 28

Kendall Goddard Band & guests

FRI, AUGUST 3

Céline, Ma$$ank, Kamikaze Nurse

SAT, AUGUST 4

Tullepathy

SAT, AUGUST 10

Joni Miller and the Usual Suspects

SAT, AUGUST 11

Stab Em in the Abdomen & guest

Check our website for complete listing

www.princetonpub.ca

Daily Food and Drink Specials

Kitchen Hours open till 10pm Mon –

Wed, 10:30pm Thurs – Sun

Private room to rent for events

14 Drafts on tap - Pool Table

HEDKS

ALL SMILES

JEEVIN JOHAL

Two-piece sludge punkers HEDKS are back with a vengeance on Smiling on the Outside.

In a condemned East Van parking lot, overlooking

a length of forgotten train track, covered by

dandelions and rubble, two-piece rock outfit,

HEDKS, are beaming; their joy is cutting through the

cloudy skies and puffs of green and blue smoke that

permeate the neglected scene. Guitarist Twitch and

drummer Taser have just listened to the latest mix

of their upcoming album, Smiling on the Outside,

for the first time, and the results couldn't be more

rewarding and mind shattering.

Smiling on the Outside is a meaty follow up

to the band's 2016 EP, Turnt Up For What, which

showcased their gritty, no bullshit aesthetic for the

AK-747S

EVERYTHING YOU'VE NEVER WANTED TO HEAR

JONNY BONES

Vancouver rage rockers AK-747s have been sonically

assaulting the underground music scene for nearly a

decade since forming as a vehicle for the pure spite

and endless anger of founding member, Rob Nuclear.

Lyrically, the band covers a range of raw,

uncensored, ugly truths regarding the ever-growing

problems facing humanity: social injustices and

horrific atrocities, political corruption and moral

depravity carried out across the globe, as well as

the lurking evils within our own backyards. The

themes that the band wrestles out of the shadows

and drags into the unsympathetic light of day are

uncomfortable to say the least, and that is exactly

the point.

Unwavering in their vision, AK-747s refuse to

remain silent when given the choice to speak out

about the way they view the world.

"Fascism is alive and well," states Nuclear.

"People of colour, gays, trans people, refugees, and

First Nations will always bear the brunt of this…

[unfortunately], there's plenty of people who think

that the wrong side won World War II."

Nuclear has been accompanied over the years

by a revolving door of fellow musicians – regarded

more as brothers in arms than bandmates – in his

Photo by Milton Sille

first time and explores themes of celebration and

pure, primal instinct, subjects they cover once again

on the new record.

"Every song is about fucking and dying," confesses

Twitch. "I mean, it's open to interpretation, and I

would encourage whoever listens to the songs to

take what they will from them. But I know what I'm

talking about!"

"I mean, it's called Smiling on the Outside," Taser

confirms. "There's only so many ways to interpret

that."

Beyond just a study of animalistic urges and

inevitable endings, there is much emotion to be

unending battle to grab humanity by the ears and

force it to look at its own morbid reflection.

With four albums in their arsenal and a brand new

bassist joining their ranks, the band has set it sights

once again on the recording studio to construct their

next batch of protest songs.

"We wrote a whole new record," Nuclear says.

"And let me tell you, it's like nothing you have heard

from us before. We picked up the heaviness and

extracted from the soul of the new tracks. Twitch

howls, not only through her fierce vocals, but also

with guitar riffs that cut open your skull and pour

champagne onto your brain. Twitch's guitar work

is complemented by Taser's drumming that rips

your skin from its bones with each wallop of her

bass drum and mighty crack of her snare. The carnal

talents of this duo fuse together seamlessly, making

Smile on the Outside a cathartic release that's

experimental, but also fun as fuck to listen to.

Sprinkled amongst the raucous tones that

dominate the record are some well executed

breakdowns and beats. Songs like "'68 Impala"

and "Malt Liquor" harness hip hop influences that

remain impressively cohesive amongst the chaos.

The anthemic finale, "Failure," is a last-minute

addition that rounds out the album. Taser, dubious

of the song's future, confesses, "We learned to play

and sing ["Failure"] at the same time we recorded it."

The result is a triumphant testament to the feeling

that you just can't always impress everyone.

In Smiling on the Outside, HEDKS has written

another raw, unadulterated banger of an album. The

band has not lost sight of who they are and remain

true to their identity.

"I'm really proud of this one," gushes Twitch. "It

sounds really genuine to our live feel and we really

got it down. I loved writing these songs."

Hedks play their album release show July 20 at 333.

darkness from the last one, and went all the way

down the rabbit hole of doom."

When you step back to look at the band's nineyear

career, AK-747s have one singularly clear and

direct message behind their politically charged

venom: Complacency is the enemy.

AK-747s play Lanalou's July 21.

The folk punk militants paint a bleak picture of humanity on their latest record.

24

July 2018
---
BASS COAST 2018 SURVIVAL GUIDE

DON'T DO WHAT DONNY DON'T DOES

ALAN RANTA

CLUBLAND

THAT AIN'T NOT BAD!

ALAN RANTA

BPM

Since the release of Migration (2017), Simon Green has been settling into his new life in L.A..

2018 will mark my third time going to Bass Coast.

I've also been to Shambhala six times, Sasquatch

six times, and Entheos three times, as well as

Lightning In A Bottle, and Cascadia, so I think I

have a pretty good idea of what I'm doing this

time around. Here are some tips you may find

useful to maximize your experience, focusing on

things that maybe aren't covered thoroughly in

the first timer's guide and harm reduction series

on the festival's website, which is itself a mustread

for newbies and full of great reminders for

veterans.

Be prepared for Merritt.

My first time at Bass Coast, I was not prepared for

the sheer harshness of the terrain. This is semiarid

land. The vegetation has adapted to survive

here. Everything on the ground is pointy, and

much of it will go through the bottom of your

tent like butter. If you can't bring extra tarps and/

or cardboard to put down in advance of setting

up your tent, be sure to remove every nub and

sliver of weed you can. You may want to bring

gloves and pliers or other implements of weeding

destruction. You'll be amazed how quickly an

innocuous-looking stem-stump can stab right

through your tent and air mattress. I was.

Secure your structures.

If it's dry, the ground can be super hard. Get

heavy duty pegs for your tents, and bring a soft

mallet to hammer them in. Last year, a neighbor's

massive shade tent ended up being picked up by

the wind like a grocery bag caught in an updraft,

and then summarily tossed through the back

window of my friend's rental car, smashing the

window and badly mauling the tent. Much better

to pay for pegs and a mallet now than someone

else's insurance deductible later.

Shoes… Gotta have shoes.

The fierce flora also means you need appropriate

footwear. That's why it says "we can't stress

this enough" next to Bass Coast's must have

suggestion of comfortable and sturdy footwear.

I've seen the most dedicated of barefoot hippy

humbled by a quick stroll around these parts.

Bring sandals or water socks for the rocky

riverbed, where you'll likely spend much of the

day on camping chairs or floaties, but don't

forget some close-toed shoes for the rest of the

time. Bicycles are a good idea to cut down on

the walking too. The grounds are quite spacious.

Bring a patch kit for your bike, your air mattress,

your floaties, everything with air.

Enjoy the headliners, respect the

locals.

As usual, there are a bunch of brilliant bass

bombers flying in from all over for Bass Coast.

You'd be foolish to miss out on Ikonika, dBridge,

Jimmy Edgar, Nosaj Thing, and/or Justin Martin.

Just remember to pay homage to the institutions

who keep the momentum going here every year,

the likes of Jpod, Michael Red, Niña Mendoza,

Greazus, Max Ulis, Mat the Alien, the Funk

Hunters, Robbie Slade of Humans is hosting a

three-hour Wabi Time showcase, and, of course,

there's the Librarian, who is one of the festival's

founders as well as being a bad ass muthafuckin'

DJ. For as much as this festival is a celebration

of contemporary electronic music culture

worldwide, it's an obvious demonstration of

BC's prominent role within it, lest we take it

for granted. The people who really keep the

fire burning at festivals like this every year can't

always get the prime set times, so you may have

to make a point to see them. They all deserve to

have a glass raised in their honor.

Feed your head.

Go to a workshop at the Brain. There is serious

knowledge there, and nightly movies curated by

Chris MacLeay to reflect this year's theme, prism.

Tomas Avendano will be giving a glimpse into

his uniquely holistic style of artist management,

what has made him one of the most important

behind the scenes makers and shakers in the

BC electronic music. Meghan McDermott

from the BCCLA is going to give the latest info

on government surveillance, in particular the

NSA's PRISM program. I'm sure a lot of people

on Sunday will find Kelsey MacIntosh's talk

on tinnitus particularly relevant by that point.

Psychedelics, consent, live drawing, sober

partying, self-care… You may very well learn

something here that will positively change or

even save your life.

Take care of your body.

Drink lots of water. Have some miso soup. Keep

yourself hydrated and salty. You might not even

notice how much you're sweating with how hot

and dry it can get (or if it's rainy, for that matter).

Consider taking a siesta in the early afternoon

or hitting up some yoga or meditation at the

Studio. The shopping area is nicely shaded for

casual daytime browsing too. Whatever you do,

just pace yourself. No point getting cranky when

you're trying to have fun.

Consider avoiding chemicals.

Sadly, Fentanyl is still a big, ugly elephant. That's

why I'm sticking to natural highs, the stuff that's

just grown, dried, and occasionally made into a

nice tea or brownie. Like Chip Monck said when

he warned Woodstock about the brown acid, it's

your own trip, so be my guest, but it's not worth

the risk for me. Dying is scary and getting near

it is a major buzzkill for your friends. Regardless

of your choices, make sure you or someone in

your camp has a naloxone kit where it's easily

accessible, and say hello to Stacey Marie, the

rock star behind Bass Coast's harm reduction

services. Watch out for each other. We're all in

this together.

Bass Coast takes place July 6 to 9 in Merrit, BC. For

more info visit https://basscoast.ca

Much like the setting in of seasonal affective disorder

in Winter, we have entered a period of time known

as the summertime blues. Most of your friends are

probably camping or going to festivals every weekend,

and there aren't a lot of shows happening in town to

distract you. Hopefully, these will be enough to break

up the doldrums.

The Drifter

July 10 @ Open Studios

Get lost all night as Irish producer/singer Mark Flynn

drifts back into Open Studios with his pop-tinged

deep house sound. The Drifter is returning on

demand after packing the place in September, so

don't miss out this time around.

Logic

July 15 @ PNE Amphitheatre

You probably already have tickets to see this multiplatinum,

Grammy-nominated rapper on his 'Bobby

Tarantino vs. Everybody' Tour. Good for you.

Noah Pred

July 21 @ Open Studios

The two-time Juno Award nominee returns home

to his native Canada to serve up his sophisticated,

smooth, hypnotic beats whose metal was tested on

the taste-making streets of Berlin.

Current: Feminist Electronic Art

Symposium 2.0

July 25-29 @ Multiple Venues

Helmed by some of the most powerful women in

the Vancouver music scene, this multi-venue event

offers a range of cerebral experiences for different

budgets, all focused on cutting-edge female and

non-binary artists. There will be workshops, panels,

film screenings, and performances by stud1nt, Maria

Chavez, Swan Meat, Soledad Munoz, and more.

Felix Da Housecat

Aug 3 @ Celebrities for Pride

Coming up at the forefront of Chicago house's second

wave, masterful DJ/producer Felix da Housecat still

has a ton of surprises left in his bag of tricks.

The Drifter

July 2018 25
---
FILM

SORRY TO BOTHER YOU

BOOTS RILEY BREAKS GROUND WITH DIRECTORIAL DEBUT

PAT MULLEN

Sorry To Bother You provides unconventional genre-bending social commentary.

Boots Riley might be best known as

the frontman for the Oakland-based

hip hop group The Coup, but he breaks

new ground as an artist with his feature

directorial debut Sorry to Bother You.

The film stars Get Out's Lakeith Stanfield

as Cassius, who succeeds in his menial

telemarketing job when a co-worker

(Danny Glover) advises him to woo

customers with his "white voice." The

zany political satire was a breakout at

Sundance and invites comparison to last

year's Get Out with its genre-bending

social commentary. Riley introduces

himself as a filmmaker with a fierce

counter-cultural punch.

Riley, who studied film at San Francisco

State University before his recording

career, relates to Cassius's experience

working the phones, having been a

telemarketer himself. Riley says no

particular episode from his telemarking

days inspired the film. It was "just being

there in the cubicle, feeling the soulkilling

feeling that comes from that, and

vowing revenge," he laughs.

The film drops Cassius down a rabbit

hole throughout his rise up the corporate

ladder that includes Armie Hammer as a

coke-snorting CEO who mutates African

Americans into workhorses complete

with snouts and swaying foot-long cocks.

It defiantly spits in the face of corporate

America.

"My success as a hip hop artist has not

been a financial one," admits Riley when

asked how his work helps him keep his

views on capitalism in check. "It's been

successful in the sense that I've been

able to keep pushing it out, keep making

music, and have people listening to my

music." Riley adds that success can seem

relative, since only last year he had his

power cut off and could relate to Cassius's

experience being months behind on rent.

With that being said, he acknowledges

that the system can be advantageous

for making music and films like Sorry to

Bother You that challenge the status quo.

"I don't think the answer to what this

system has wrong with it is something

that is changed by individual action," says

Riley. "I don't have qualms about using

the system that exists to get messages to

people to organize against it."

Despite being years in the making,

Sorry to Bother You is very timely with its

anti-capitalist message. Tessa Thompson

stars alongside Stanfield as Cassius's

girlfriend Detroit, who moonlights as

a human billboard to fund her antiestablishment

performance art. Cassius's

success strains their relationship as she

tries to open his eyes to the fact that

capitalism is just another form of antiblack

oppression. The script, written in

2012 and published in 2014, resonates

with Trump's America as the film opens

amidst brewing international trade wars.

"It would have been relevant in 1986

and, unfortunately, will keep being

relevant as long as we have capitalism,"

observes Riley.

Audiences get a wakeup call as

Riley's hip hop roots inject fiery urban

musicality into Cassius's odyssey. Nothing

about the film follows Hollywood

convention, least of all the trippy

soundtrack by The Coup. The film

adds to the conversation for diverse

representation as one of two Oaklandshot

films to be released this summer. The

other, the spoken-word urban musical

Blindspotting starring Hamilton's Daveed

Diggs, had a friendly rivalry with Riley's

production competing for personnel and

equipment.

Riley says it feels good to see the films

put Oakland on the world's screens.

"It reminds me of the early nineties

when a lot of groups from Oakland were

coming out," he says. "There's a lot of

creative people in that area that need to

get a chance to do their thing."

THIS MONTH IN FILM

BRENDAN LEE

Sorry to Bother You – July 6

When the key to power and success for young black telemarketer

Cassius Green is sounding white on the telephone, how far will he go

until he's lost himself? With this fresh comedy, first-time director Boots

Ridley puppeteers his own unique take on the surreal in a perfectly

off-kilter alternate reality.

Eighth Grade – July 13

It's the bitter end of childhood and the abrupt realization that growing

up is the toughest thing we'll ever do. From acclaimed comedian Bo

Burnham comes a look at one of life's greatest ordeals; we've all been

there, and however horrible, we'd give it all to go back. With Eighth

Grade, Burnham takes us there.

Hot Summer Nights – July 27

"I hope you're good at being hurt." Timothée Chalamet stars as the

quiet, new kid in town for the summer who falls flat-on-his-face in

love with a girl named McKayla, all the while flipping weed with her

brother, spiraling in and out of any sense of control.

Under The Tree – July 6

What starts as a harmless spat between neighbours over an unsightly,

shadow-casting tree, escalates and transforms into something much

more personal, and far darker. This Icelandic dark-comedy takes

the bad-neighbour formula to new heights, a place where pent-up,

suburban rage is at long last untethered.

Don't Worry, He Won't Get Far On Foot – July 13

When John Callahan loses the use of his legs in a car accident, he

confronts his rooted alcoholism with a stubborn but newfound

affinity for drawing cartoons. Adapted from the quasi-memoir,

Will the Real John Callahan Please Stand Up?, the film stars Joaquin

Phoenix, Jack Black, and an almost unrecognizable Jonah Hill.

Hot Summer Nights

26

July 2018
---
MUSIC REVIEWS

Kanye West et al.

Wyoming Sessions

G.O.O.D. Music/Def Jam Recordings

In May 2017, it was reported that Kanye West,

months removed from his psychiatric hold at The

UCLA Medical Center, was working on his new

album from a mountain peak in Wyoming. The result

of these 'Wyoming Sessions' were five individual

albums, released on consecutive weeks in May and

June.

Teyana Taylor's Keep That Same Energy — the

fifth and final fruit from Kanye West's Wyoming

sojourn — was released at the end of June, capping

off the exhausting latest saga from G.O.O.D. Music.

Like the four previous instalments, K.T.S.E. premiered

via livestream and was later uploaded to streaming

services. It was the first of the five to deviate from

the seven-song formula with its eight tracks.

Taylor isn't the most gripping songwriter, and the

influence of Beyonce and Rihanna's recent albums

are unmissable. However, Taylor has as voluptuous

a voice as either and, rather than shackling it to

obnoxious drums and a litter of hi-hats, West

inspired her with acoustic guitars, church piano and

'60s gospel. Rap was expected, yet the collective

result is a very fine soul album. West was reportedly

still tweaking the album while airborne and en route

to K.T.S.E.'s listening party, a similar anecdote to the

release of ye. Could you imagine if someone had told

you, before this whole kerfuffle, that Teyana Taylor's

album would be better than Kanye's for that exact

same reason?

Five weeks, five albums. Pusha T's DAYTONA,

Kanye's ye and Kids See Ghosts in tandem with Kid

Cudi, Nas's Nasir and Teyana Taylor's K.T.S.E., released

respectively. At first it seemed like a cool schtick,

and maybe in time it will be seen as a triumph — a

testament to unbridled creative fervour and the

unstoppable urge to be heard on your own terms,

whatever they are. It was the type of bold promise

expected from the mercurial head of G.O.O.D. Music,

though even the most ardent stan cocked his head at

the idea of it being fulfilled. For the most part, it was

indeed fulfilling. West produced every song (mostly

true) and each album was delivered on schedule

(kinda true). He played a game of five-card stud with

the public and, in some ways, he won.

In a lot of other ways, he didn't win. And fuck has

it been exhausting.

Conjecture is a waste of precious time. As it

stands, the Wyoming Sessions produced a contender

for rap album of the year, two good tasters from

artists needing a PR boost (K.T.S.E. and Kids See

Ghosts), and two mistakes (ye and Nasir) where

lessons were hopefully learned from and need not be

revisited. The production is uniformly great, which

is a commendable achievement at 36 songs and 115

minutes. The only real clunker was K.T.S.E.'s closer,

"WTP," and its excruciating sample. But in at least

two of the five albums, West brought out the best in

Pusha T and Kid Cudi.

There were moments in this adventure that felt

like career milestones. It's important to remember

that, regardless of what he preached from his

pulpit of bullshit, Kanye West still has a staggering

capacity for making music that simply sounds good.

DAYTONA is a masterpiece and rap album of the

year contender. The skeletal menace of an album

solidified Pusha T's long gestating claim for all-time

greatness, and for about a week and a half he was

the best rapper alive. Kid Cudi's legacy as one of

the most influential rappers of our era is finally

being acknowledged, and Kids See Ghosts was a

much-needed injection of recompense to the titular

duo's careers. Plus, Teyana Taylor actually released

something.

At the same time, West's grand saga was an

overall mess. The live streams were janky and

streaming releases were delayed. ye is the worst

album of Kanye's career, and fails to measure up to

his past achievements. Scattered throughout all five

albums are verses that range from among his best

in recent years, and a bunch that vie for worst of his

career. Nas's cachet was called into question, and

all excitement for the chimera that was a Kanyeproduced

Nas album came and went like a fart in a

vacuum.

Ambition is the cousin of exhaustion. Since

April, when he took to Twitter to start "writing" his

"book" of "philosophy," Kanye and G.O.O.D. Music

have been inescapable. The last time a label was as

omnipresent, Kendrick Lamar released good kid,

m.a.a.d. city. Throughout the end of spring alone,

Busdriver, Jay Rock, Freddie Gibbs and Jay-Z &

Beyonce all released notably stellar albums. Kamasi

Washington's Heaven and Earth came out, and it's

longer than DAYTONA, ye, KSG, Nasir and K.T.S.E.

combined. And in the meantime, both of Drake's

parents have publicly defended their son's honour.

West's tenure in Wyoming was a labour of anxiety

and selfishness, the nucleus of which being his

fraught relationship with the media. In theory, it was

a noble endeavour — tailor an EP's worth of beats

for associated artists, gifting them an advantage both

creatively and commercially — sharing the wealth

in a sense. But even on the biggest stage of their

life, West manned the spotlight. His production, a

virtuosic display of sample manipulation, flirts with

the 'Chop Up The Soul Kanye' that's so dearly missed.

When we considered West a scrappy wunderkind,

all he needed to prove was that he was deserving

of his own praise. His stock turned to stardust and

now judging him requires careful considerations of

mental health, race, economic divide and countless

variables. He's not quite a villain, but he does himself

no favours.

Kanye West has always expressed himself best

through music — it's when he jumps on camera and

spouts reactive flimflam that he ires the mob. We use

his music to reconcile Kanye the man with Kanye the

idea. Lately, that idea's become suffocating. It's time

for a breather.

• Thomas Johnson

• Illustration by James Mackenzie

July 2018 27
---
Busdriver - electricity is on our side CAVURN - Rehearsal Emily Donohue - Melancholia Good Lovelies - Shapeshifters

Busdriver

electricity is on our side

Temporary Forever

Regan Farquhar, who performs under the

appellation Busdriver, is a rapper and producer

from Los Angeles known for bullet-quick rhymes

and an experimental nature. His latest release,

electricity is on our side, showcases some of his

most avant-garde work to date, rooted in jazz and

cosmic proweness. Consisting of 23 tracks for an

astounding 82 minutes, the record is an eclectic

backdrop of resonance and jingle. Those who have

taken note of Busdriver's previous releases (this

being studio album number 10) will be familiar

with his goofy, yet intellectual brand of West Coast

hip-hop. However, what really sets electricity

on our side apart is Farquhar's distinct, affected

crooning style. This is most evident on the title

track as well as the album's single, "Right before

the Miracle," where he seamlessly delivers his

staggered brand of swing with atonal runs over bebop

rhythms and saxophone solos. An absolutely

creative effort with a gusto for diminishing the

boundaries between genres, electricity is on our

side is best served with an open mind.

• Tory Rosso

Good Lovelies

Shapeshifters

Independent

The Good Lovelies are back with Shapeshifters —

the perfect title for a record marking a major shift

in their sound. The trio from Ontario delve more

deeply into the pop element of their folky roots,

likely attributed to working with producer Daniel

Ledwell (Fortunate Ones, Jenn Grant). Although

former producer, Les Cooper, remains by the

Good Lovelies' side and is credited as a co-writer

on the record. The lead-off track setting the tone,

"I See Gold," reflects optimism and perseverance

through struggle, a reminder we humans are never

really alone. Light-bright lyrics and rhythms stream

across the record with melodic flair the band is

known for filling out each song — charming as

always. Shapeshifters offers a new exploration

of genres for the group and is undoubtedly an

evolution in the trio's catalogue.

• Sarah Allen

CAVURN

Rehearsal

Blood Harvest Records

On Rehearsal, their first widely public album

release, CAVURN invoke images of their namesake

through three tracks of foreboding, gritty death

metal. Hailing from Bellingham, Washington,

the band entwines murky, demonic vocals with

a perfect highlight of throaty-thrasher screams,

inciting nothing but pure dread that traverses

through a melancholic core of bass and vocals,

otherworldly transitions and full-throttle riffs

orchestrated executed with perfect timing. Unlike

many metal bands, CAVURN give life to a feculent

sound without seeming forced or ostentatious.

Rehearsal's atmospheric tensions slither through

the psyche, awakening shadows of the mind. At

just over 20 minutes, the drama is over all too

soon. Nevertheless, it's a suitable addition to a

brash party playlist or reading your favourite

macabre titles by candlelight. Rehearsal is an

exciting release for anyone who prefers their metal

rooted in guttural earthiness over high-range

radicalization.

• Amanda King

Emily Donohue

Melancholia

Refresh Records

At first listen, Melancholia may be a somewhat

misleading name for an album full of lush, electroflavoured

indie ballads. On her third album,

Seattle-based singer-songwriter Emily Donohue

dishes out relatable lyrics on love and losing it

over a background of mellow, atmospheric guitar

and energetic drum beats. Although the lyrics are

a little more subdued on some tracks, the overall

tone brings the word 'hopeful' to mind. The title

track is certainly more introspective and gloomy,

with Donohue asking herself if it's too late to

change and be who she wants to be. Other tracks

deal with feelings of rootlessness and being set

adrift — things everyone has dealt with at some

point in their lives. Donohue's voice is throaty but

smooth, reminiscent of Florence and the Machine,

and she uses it to excellent effect. Her emotions

come through on every track of Melancholia

without sacrificing technical skill.

• Emilie Charette

Joan of Arc

1984

Joyful Noise Recordings

Although their willingness to step outside the box

and try new things on each album is admirable,

Chicago-based Joan of Arc's experimental rock

is definitely an acquired taste. Active since 1995,

Melina Ausikaitis replaces Tim Kinsella as the lead

vocalist here and provides a remote, somewhat

cloying delivery that lean towards having very

little to do with the melody, where some tracks

are deliberately jarring and discordant. "Punk Kid",

however, showcases an interesting side to her

voice filled with a petulant attitude appropriate

to the title, and a thrumming baseline punctuated

by simple keyboard interjections. While "Forever

Jung," moves like a jam session full of rhythms and

moods that ebb and flow organically. 1984 is best

described as an experience, albeit one that not

everyone will want to repeat.

• Emilie Charette

Junglepussy

JP3

Self-Released

Junglepussy is equal parts intellectual, spiritual,

sexual and goofy. She's moving parts raised on

Lady Patra, Erykah Badu, Lil' Kim and Missy Elliott.

Throughout JP3, she actively represents and

advocates for the multiplicity and magic of black

women in each song by asserting herself — wants

and needs first — and casting aside any man that

can't measure up. Featuring Gangsta Boo on the

record that further informs her influences, their

standout track, "Long Way Home," perfectly blends

Junglepussy's fierce and finessing humor with

Gangsta Boo's no-bullshit hardcore ways. Other

contemporary guest artists include Rico Love,

Wiki and QUIÑ that complement Junglepussy's

brash sound but also round it out to be more

radio-friendly. But make no mistake, Junglepussy is

always the star on JP3. Her verses go double time

on "Ready 2 Ride" with each wavy pop hook, and

her endless freedom and swagger throughout the

album show she's having fun along the way. It's

enjoyable to watch her shine, just avoid being on

the receiving end of one of her rhyme-roasts.

• Trent Warner

Material Support

Terror Prone Nation

Aklasan Records

Those looking for subtlety won't find it on the

latest release from Filipina-fronted NYC punk

band, Material Support. Like their 2016 demo,

Balikbayan Box, Terror Prone Nation is oldfashioned,

in-your-face punk rock — a throwback

to the genre's angry and stripped-down roots.

Every song on the album is unabashedly political,

taking it's cue from the Sex Pistols' "God Save the

Queen." Backed by aggressive, fast-paced drums

and buzzy guitar riffs, the lead singer tackles topics

such as U.S. foreign policy, police brutality, the

War on Terror and the cycle of poverty with lyrics

in both English and Tagalog. The subject matter

might make some uncomfortable, but hey, that's

the point. When a band describes themselves

as "agitated by state repression, government

corruption, and patriarchy," you know they're

not here to make friends. However, the last track

on the album, "Solidarity," is a call for people

of all backgrounds to come together, with the

reminders that, "None of us stand alone/together

we make this world our own."

• Emilie Charette

Milk Carton Kids

All The Things That I Did and All The Things

That I Didn't Do

ANTI-Records

If you're looking for an album to stew in your

feelings, this is the one – when it's necessary to

devote time to reflection. While you're listening,

you'll start to feel that you're lying in a field with

your eyes closed as the clouds are casting shadows

over your eyelids. There's a breeze that carries with

it a sadness of sorts. The impeccable harmonies

of Kenneth Pattengale and Joey Ryan pick you up,

hold your hand and walk you through your first

heartache, picking through notes that capture

everything that's beautiful and tragic at the same

time. The dual melodic guitar riffs sound effortless,

as if the lyrics created the tandem sounds

themselves. The soft and subtle notes of John

Denver throughout All The Things That I Did and

All The Things That I Didn't Do give it a dream-like

quality that makes the listening easy and breezy.

• Logan Peters

Mom Jeans

Puppy Love

Counter Intuitive Records

California's Mom Jeans have quickly made a name

for themselves following the release of their

debut, Best Buds, in 2016. Originally released for

a nice $4.20 on Bandcamp, word about Best Buds

spread like wildfire across the internet — with

a particularly polarizing result. Now signed to

Counter Intuitive Records, the group is back with

a tighter collection than their last. In many ways,

Puppy Love feels like Best Buds: Part 2 — it's got

more sick riffs, more songs about smoking weed,

more duets (this time courtesy of Just Friends'

Brianda Leon) and more trumpets. In a nutshell,

Mom Jeans have tightened their sound while

experimenting with new instrumentation and

lyrical themes. Though Mom Jeans' confessional

28

July 2018
---
HARIPRASAD CHAURASIA

The World's Greatest Flautist

"Chaurasia is among the small handful of Indian

classical musicians who can sell out concerts in his

homeland and around the world." —The Guardian

Acknowledged worldwide as the absolute master of

the bamboo flute. He has collaborated with legends

like George Harrison, John McLaughlin, and

Zakir Hussain. A concert for the ages.

Sat. July 14 @ 8PM

Presented by

ORPHEUM THEATRE

CONFLUENCE

A galaxy of potent voices from around the world.

"The true definition of an artist." – Harry Belafonte (on Aja Monet)

Featuring an all-star cast, this is an unforgettable night celebrating the power of the lyric in music and literature.

Starring Leanne Simpson, Ansley Simpson (2018 Best New Artist, IMA Awards), cellist Cris Derksen, poet Aja

Monet, Vivek Shraya (Too Attached) and transcontinental project Jhalaak.

Sat. July 7 @ 9:30PM

Presented by SFU Library

IMPERIAL

JULY 5 — 15

Indian Summer is a contemporary multi-arts festival. ISF 2018 takes on a massive theme—

Mythmaking, examining ten centuries of human imagination and storytelling. We present a

continent-spanning range of artists, from the inheritors of ancient oral storytelling traditions

to genre-defying musicians, award-winning novelists, and provocative visual artists.

Tickets + full festival lineup: indiansummerfest.ca

FOUNDING PARTNER

FUNDERS

MAJOR PARTNERS

PREMIER MEDIA PARTNERS

Artwork

by

Artist-In-

Residence

Sandeep

Johal
---
Tierra Whack - Whack World Snail Mail - Lush The Body - I Have Fought Against It, But I Can't Any Longer

lyrics are frequently self-deprecating, the sunny and upbeat

instrumentation creates a stark contrast, making it difficult to feel

too bummed with Puppy Love in the headphones.

• Gareth Jones

Powerglove

Continue?

Entertainment One Music

Celebrating pop culture and all things nerdy is what "Nintendocore"

band Powerglove is all about. On Continue?, the Boston power

metal outfit offer up another collection of mostly video game

covers, executing each one with ease and precision. Energetic

guitar squeals, speedy bass lines and pulse pounding drums make

Continue? an accurate effort from start to finish. Highlights include

"Under the Sea" — yes, that one — featuring Marc Hudson from

DragonForce on vocals, "Guile's Theme" (Street Fighter), and "Kraid's

Lair" (Metroid). Despite the band members' obvious technical

talent (or because of it), Powerglove's paint-by-numbers approach

on Continue? feels a bit mechanical at times. Guitar tones blend

together with repeated listens and it all starts to feel monotonous

after a while. Continue? probably won't do much to convert new

listeners, but Powerglove's core audience will be happy they've

delivered another record of animated blips and bleeps worthy of

their all-night gaming sessions.

• Trevor Morelli

Tierra Whack

Whack World

Self-Released

Tierra Whack is a fresh beacon for contemporary hip-hop. She feels

as adept overtop of an 8-bit beat as she might in a rap cypher. And

on her debut audiovisual album, which lasts a mere 15 minutes

comprised of 15 one-minute songs, she glides effortlessly between

gorgeous harmonies and flows that rival the most celebrated rappers.

She packs more switch-ups, hooks and punches into a single minute

than many modern MCs fit into an entire mixtape. Sadly, each song

is over too soon, yet she quickly switches onto the next beat and

hook before there's any disappointment. Such control and taunting

made her 2017 single, "Mumbo Jumbo," infectious. On Whack World,

she takes the same experimentation further, skillfully using her

insinuating sound to land where lyrics might fail. Her quick-witted

one-liners and vivid imagination harken to an uncharted future for

rap. And that's just the audio version.

• Trent Warner

Smoulder

The Sword Woman

Self-Released

The debut EP from Toronto-based epic doom outfit Smoulder is a

weapon of mighty force, and The Sword Woman pulled it from a

stone of ancient myth.The three-track cassette embarks with the title

track, "The Sword Woman," bringing forth tandem guitars that mark

the slow rise of the heroic barbarian — mighty from her sword to her

scowl. Overtop thunderous instrumentation, the chorus-drenched

vocals of Sarah Kitteringham harken to the most glorious days of

epic-metal past. "Voyage of the Sun Chaser" opens to an atmosphere

of doom, but triumphant guitars and ascending vocals make it

clear that power is the name of the game. The final track features a

foreboding melody that signals the conquest of an ominous force.

Its title may state, "The Queen is Gone," but you best stay kneeling

because the queen only just arrived.

• Matty Hume

Snail Mail

Lush

Matador Records

It's startling to think the collection of songs contained within Lush,

the debut album by Maryland's Lindsay Jordan, were envisioned and

executed by an artist still comfortably in her teenage years. Jordan,

the now-19-year-old frontwoman of the indie-rock outfit Snail Mail,

approaches her own compositions with a candid curiosity through

her straightforward musings atop jangly, punk power-chords,

exuding a sense of confidence rare even in veteran indie rockers.

The vocal melodies always feel effortless, but never more so than on

"Pristine," which kicks the album off proper following a short intro.

Though concerning itself with a pesky ex-lover, the song transcends

any residual angst as it barrels towards its self-revelatory conclusion.

"I could be anything," Jordan belts, her voice dead-set with

determination but not quivering an inch. Yes, Jordan could certainly

be anything, but she's already spectacular, and Lush is pretty damn

convincing proof of that.

• Jason Herring

Sophie

Oil of Every Pearl's Un-Insides

Transgressive / Future Classic

It's difficult to create music that feels futuristic or otherworldly

without seeming like a gimmick. On Oil of Every Pearl's Un-Insides,

Sophie has honed her signature sound into something beyond that

expectation. Different apparitions permeate through the album.

Varying voices make themselves known to represent different

moods, atmospheres and emotions for Sophie. She sings in her own

voice on "It's Okay to Cry," an emotional ballad and opportunity

for her conscience to assure itself of the strength that comes with

vulnerability. It's a strong lead-in to the album's themes, where

Sophie expresses wonder and amazement at our ever-shifting world.

Sophie's body of work is surreal and rooted in artificiality, but there's

still something natural and spiritual about it. Towards the second

half of the nine-track album, the sound changes from Sophie's more

usual harsh electronics towards an ambience of sorts. This is an

album that's plastic-coated and unreal in feeling. Sophie has created

a magnum opus and map of who she is.

• Trent Warner

The Body

I Have Fought Against It, But I Can't Any Longer

Thrill Jockey Records

The Body refuse to cling to a label. Though frequently categorized

as a doom metal act, the duo rather find themselves constantly

evolving — a trait which is perfectly exemplified on their most recent

outing. I Have Fought Against It, But I Can't Any Longer combines

the duo's propensity for noise with warped and re-contextualized

samples of their previous work. The result is a carefully crafted

(yet enthralling) trip straight to hell. The album's opening track,

"The Last Form of Loving," is a slow burn, never quite reaching a

crescendo before coming to an abrupt halt. From this point forward,

the listener is caught in the throes of a meticulously crafted record.

The single "Nothing Stirs" serves as an apex, with the convulsion of

industrial drums and horror samples working restlessly to deeply

disturb. With this record, The Body aim to push the limits of what is

bearable and succeed without question.

• Gareth Jones

The Midnight Hour

The Midnight Hour

Linear Labs

Legendary producers Ali Shaheed Muhammad and Adrian Younge

join forces to bring forth The Midnight Hour. The album sounds like

two old friends jamming in a dingy basement club in East Harlem

— the musky odour of cigarettes and weed wafting through the

crowd as their audience nods in enjoyment. The Midnight Hour tries

to keep that aesthetic flowing throughout the album, with samples

and features from the likes of Luther Vandross, Kendrick Lamar and

Cee Lo Green, yet the album fails to completely encapsulate the A

Tribe Called Quest-esque elements of jazz and retro into a modern

setting. Towards the end, the last of the songs become harder to

listen to, taking away from the overall experience of the album. In

those later minutes, Muhammad and Younge begin to cater to a

small, hardcore set of fans. The Midnight Hour unwinds like two

old friends trying to recreate the sounds of their youth for a new

generation. Then giving up halfway through because they were

simply having too much fun working together.

• Inder Minhas

July 2018 31
---
LA VIDA LOCAL

HOMEGROWN VANCOUVER MUSIC RELEASES

AUGUST 23-27, 2018

COLDWATER FIELDS

MERRITT, BC, CANADA

NEW

LOCATION

FOR 2018!

ABSTRAKT SONANCE | AU5 | AVERAGE GYPSY

CASE OF THE MONDAYS | CALYX & TEEBEE | CHESHIRE

CULTURE SHOCK | D-FUNK | DAVID STARFIRE | DEFUNK

DONALD GLAUDE | EMOK | FATHER FUNK | FLATLAND FUNK

FORT KNOX FIVE | FREESTYLERS | INF1N1TE | J.PHLIP | JPOD

K+LAB | LAZY SYRUP ORCHESTRA | LONGWALKSHORTDOCK

MARCUS VISIONARY | MARTEN HØRGER | MEGAN HAMILTON

MIND VORTEX | MOONTRICKS | MR. BILL | NEON STEVE

NOMINUS | ORIGINAL SIN | PEEP THIS | PERFECT STRANGER

PERKULAT0R | PSYMBIONIC | QDUP | REID SPEED

RINKADINK | RUMPUS | RYANOSAURUS | SANDRA COLLINS

SKIITOUR | SLYNK | STICKYBUDS | SUGARBEATS (LIVE BAND)

THE ARCTURIANS | WMNSTUDIES | WOOD N SOO | WOOFAX

ALEX MEI | AMAUROTIC | ATHOUSANDKINGS | AUDIOWRX | BASS WORKSHOP | BETTER LIVING DJS

BURCHILL | CAIN.1 |CHRIS BRENNAN | COOPER OVERSAUCING | CRYSTAL FRESH | DAITYA

DONALD BUMP | DUNMORE PARK | FREDDY J | GALACTIC HOBOS | GENESA PROJECT & KALI YUGA

GOA PETE | GOLD BULLETS | GROOVY CUVY | HEIDROGEN | JGIRL & MANOUSOS | JOSH COOPER

K3V | KOTEK | MARC THØMAS | MAXX AMMO | MITTONE | MONKEY TWERK | OLLIE PLÉ

PARADIGM THEOREM | PETE WILDE | PHONOTACTIC | RUSTY MEEKS VS KUANA | SCHWAG DANKUS

SIVZ | SKUZZ SOUND | STUND | THRILLHOUSE | MIHAJIC TOUCH & DJ THREESIXTY

TREVOR GALORE | TWOTIMER

TICKETS & MORE INFO @ WWW.MOTIONNOTION.COM

Echo Nebraska

Hold Up to the Fire

Park Sound Records

"Follow Me," the lead single from Echo

Nebraska's first LP, Hold Up to the Fire, will

draw comparisons to Mumford and Sons' Babel.

But to pigeonhole as merely folk rock would

discount an album that runs the gamut of many

genres. Notably more poppy than their previous

release, and with vocals that call to mind

Matchbox 20 on songs like "New Disguise" and

"Metamorphosis," this album's a crowd pleaser.

The songs are wistful, the lyrics are reflective,

and the instrumentation on songs like "Only in

Dreams" tugs at all the right heartstrings.

• Lauren Donnelly

Potatohead People

Nick & Astro's Guide to the Galaxy

Bastard Jazz Recordings

After six years spent releasing a handful of

singles and the odd EP, local electronic/hip-hop

duo Potatohead People have finally unveiled

their debut LP, Nick & Astro's Guide to the

Galaxy. Featuring a sharp electronic production,

this is a groovy, jazz inspired record dripping

with soulful vocals and danceable tracks

reminiscent of old-school hip-hop mixtapes.

With Nick & Astro's Guide to the Galaxy,

Potatohead People have proven themselves to

be a formidable production duo.

• Joey Lopez

Sex With Strangers

Curses

Independent

The new Sex With Strangers EP, Curses, serves

up a heaping helping of dark wave theatricality

that's at once fun, serious, aggressive, and

danceable. Featuring soaring synths, anthemic

rock guitar, and steady driving rhythms, Curses

packs a serious punch that leaves listeners

wanting more. Couple the groove leaden

instrumentals with the vocal stylings of singer

Hatch Benedict, and you've got the ideal

summer soundtrack.

• Mat Wilkins

Yung Heazy

When You're Around I Hate Everything Less

Independent

After amassing over 3,000,000 streams on

his debut hit single "Cuz You're My Girl,"

Vancouver's Yung Heazy follows up with

his debut LP When You're Around I Hate

Everything Less. The record marries early 2000s

indie rock with a dreamy and playful lo-fi

production that conjures the carefree bliss of

spending summer evenings in the shadows of

the big city. Recorded in his parent's basement,

When You're Around I Hate Everything Less

epitomizes bedroom pop. With his raspy vocal

delivery and relaxed, summery guitar work,

Yung Heazy makes his mark as a welcomed

newcomer to the genre.

• Joey Lopez

Sam Lynch

Light and Lines

Independent

Sam Lynch's latest EP, Light and Lines, is a

considered and expansive work of art that's

as entertaining as it is surprising. The record

features a delightfully spacey and understated

production that serves to amplify Lynch's

somber voice. The lyrics speak to listeners

directly, addressing us briefly as if we are the

myriad of important people in Lynch's life. Light

and Lines is bone-chillingly beautiful.

• Mat Wilkins

Tiny Havoc

Pluto + Nick

Independent

Tiny Havoc's debut LP might just be your

favourite album for summer 2018. With

nostalgic, strut-worthy electro beats and Shadi

Toloui-Wallace's bright, Feist-y vocals (see

what we did there?), it's got feel good written

all over it. The album ranges from sparkly pop

on the first track "You and Me," to funky soul

on "Dust," and motown on "I Want To Be Your

Lady." Pluto + Nick is a strong, groove-leaden

start for the Vancouver-based band.

• Lauren Donnelly

32

July 2018
---
LIVE

Photo by Jashua Grafstein

BHAD BHABIE

Venue Nightclub

June 5, 2018

There was not a drop of alcohol to be

found in Venue Nightclub on the evening

of June 5, and for good reason – onstage

was 15-year-old Danielle Bregoli, known to

some as Bhad Bhabie and to others as The

Cash Me Outside Girl. Surprisingly, Bregoli

has managed to turn her Dr. Phil notoriety

into fame for something other than being

a bitch to her mom, even securing herself a

Billboard Music Award nomination for top

female rap artist alongside Nicki Minaj and

Cardi B.

Scanning the crowd, it was easy to discern

several distinct brands of people. Wasted

teenagers danced their hearts out, singing

every lyric in the very limited set list, while

middle-aged parents sheltered children far

too young to be there beneath their arms.

Unimpressed yet stylish 20-somethings

looked on, entirely straight-faced, clearly

only there to be ironic.

The show lasted an entire 30 minutes

and included Bregoli's complete catalogue

of music, from "These Heaux" to "Whachu

Know" and "Hi Bich." Between songs, the

crowd broke into chants of "Fuck Lil Tay," a

nine-year-old YouTube personality Bregoli

has publicly fought with.

In response, Bregoli posed a question:

"But honestly though, in real life, what the

fuck do I look like going after a nine-yearold?"

If only any of us had the answer. One

thing is for sure, though: Bregoli's success

proves that memes have finally gone too far.

• Jordan Yeager

Tash Sultana

Malkin Bowl

May 24, 2018

As the sun lowered across the horizon,

draping the crowd at the Malkin Bowl with

some beautiful orange light – anticipation

rose as neon pink and blue lights

illuminated the stage, setting the tone for

the night. Fans throughout the venue, be it

with the latest t-shirt from the merch booth

on pressing up against the front barrier or

towards the back, beers in hand on a picnic

blanket were shouting "Tash, Tash, Tash!"

Within a few minutes Sultana graced the

stage with her presence – her smile beyond

infectious, spreading even to security guards

and the pit photographers.

Surrounded by a plethora of instruments,

several microphones and some light fog –

Sultana exhumes the presence of a whole

band. Being musically inclined since the

early age of three and playing more than

20 instruments (including the guitar, bass,

trumpet, flute and saxophone), Sultana is

self-described as a "one-woman band"; a

tour de force of a musician - particularly

in a scene dominated by simplicity in

orchestration.

Having suffered from drug addiction in

her adolescence, there was a new profound

bliss in her performance. Tantalizing from

the first note, Sultana understood the

theatrics in her performance leaving the

crowd mesmerized for her entire set – her

grin stretching from ear to ear. After the

first few songs, Sultana kindly asked all

those who oppose the LGBTQ community

and racists to "kindly fuck off" from the

premises, leading to roars of applause and

agreement, uniting the crowd closer than

ever.

A true diamond in the rough, Sultana

proves that we can transcend from our

mistakes, using our passions to calm, fuel

and hone focus to reach a heightened state

of mind. Having found her calling in music,

Sultana will be sure to rise through the ranks

of the charts in the years to come.

• Timothy Nguyen

Photo by Galen Exo

Photo by Timothy Nguyen

David Byrne

Queen Elizabeth Theatre

May 23, 2018

The delicious weirdness often associated with David

Byrne and his music was on full display at the Queen

Elizabeth Theatre. Playing to a sold-out crowd in

Vancouver, the former Talking Heads front man

delivered a quirky set that kept everyone on their feet

throughout the night. But the usual trappings of a

rock concert—including amps, chords, and a drum

kit—were noticeably absent. Instead, Byrne and his

band expanded the possibilities of a live show through

simpler avenues.

Grey flooring and silvery fringe curtains adorned

the stage. A beam of light shone down on a barefoot

Byrne, at a desk holding a plastic model brain in his

hands. While seated, he began "Here" from American

Utopia—his first solo album in 14 years. Soon Byrne's

11-piece band joined him onstage, also barefoot and

donning identical grey suits. The crowd responded well

to the meditative number, but when the band started

to play the Talking Heads' "I Zimbra," everyone rose

from their seats to start dancing.

Given the rich and varied sonic textures, it'd be easy

to assume that at least some part of the performance

was pre-recorded. But according to the frontman,

every sound was wireless. "Everything you hear coming

off of this stage is being played by these wonderful

musicians," Byrne confirmed at one point during the

set.

Choreography was another standout feature. While

playing their instruments, the band members were in

constant motion, twisting across the stage in postmodern

patterns. Byrne wobbled around during the

intro to "Once in a Lifetime," recalling his younger self

in the song's 1980 music video. Like "Burning Down the

House" and "There Must Be a Place (Naïve Melody),"

the Talking Heads song triggered overwhelming

applause from the audience.

And yet, the concert wasn't quite a nostalgia show.

Most of the night incorporated songs from American

Utopia, and Byrne ended with a rendition of Janelle

Monáe's protest song "Hell You Talmbout." Unlike a

lot of old timers who'll play material from the past,

Byrne is always looking forward, innovating in his own

distinct way.

• Karina Espinosa

July 2018 33
---
NEW MOON RISING

YOUR MONTHLY HOROSCOPE

QUAN YIN DIVINATION

Month of the Earth Sheep

The Earth Sheep is known as a "clever"

sign and, with the time ripe for new

ideas and ambitions, a creative and

inspired month awaits those with an

expressive flair. Petty quarrels and

flaring egos may get in the way, though,

as the sheep/dog combo invites the

"bully clash," tempting some people to

abandon their balance. Watch out for

any behaviour (in yourself and others)

that may lead to a fight. It might be

undeserved and especially unfair. By

responding carefully and keeping our

knee-jerk reactions at bay, we avoid

the negative effects of this month by

becoming more resilient, kind, and

compassionate toward others. Go out

of your way to do something nice, offer

yourself to the service of others, and

give up any demands of your ego that

might tempt you to lash out and lose

your cool.

Rabbit (Pisces): Look for beauty and

you will see it. Remember that each

person you meet has something to offer,

and by looking for it, you strengthen it

and draw out the best in those around

you.

Dragon (Aries): Struggle shows us how

to strengthen ourselves and set practical

boundaries for what is achievable today.

Do your best to work with obstacles as

they arise and stay focused on the task

that is in front of you in each moment,

building your achievements step by step.

Snake (Taurus): Don't look too far

ahead, as over-planning might create

rigidity and affect your ability to go

with the flow. Flexibility and gentle

accommodation smooth the way for

good times, good vibes, and good

people to surround you.

Horse (Gemini): Friends and family

matters give you a chance to see what

is most important to you. Take the

opportunity now to forgive, forget, and

make amends with those you care about

and dodge anyone who does not match

your highly energetic vibe.

Sheep (Cancer): Count on yourself

more than others to ensure that you

have what you need to be self-reliant.

Evaluate every circumstance by first

checking your own actions and assets,

then look to others for help if needed.

Monkey (Leo): This month surprises

you with unexpected gifts and

possibilities. Allow plans to unfold

naturally and you will find yourself at

the best parties with the best people,

enjoying the best time. Spontaneous joy

awaits you.

Rooster (Virgo): Look in the mirror

to find the answers to life's questions

and know that even if people can't see

your perspective, deep down you know

you're right. Let others find their own

way to their own answers too. Can we

all be right?

Dog (Libra): An opportunity for justice

that you've been waiting for comes to

set the scales back to balance. Resist

using aggression to achieve what

needs to be done. Be led instead by the

gentle guiding light of kindness and

compassion.

Pig (Scorpio): You're extra sensitive to

people and environments right now and

you might find they only reflect your

inner state of confusion. Where are your

people? Where do you belong? Move

toward higher ground to find your way

out of the clouds.

Rat (Sagittarius): Give over to healing

whatever is in your heart, mind, or body

this month. Music, meditation, prayer,

or a common project will give you the

chance to invest in yourself this month,

and that's well worth your time.

Ox (Capricorn): Self-destructive

behaviour is so rarely part of your

personality, Ox. Be careful not to set a

trap for yourself by being unreliable now

or throwing yourself a pity party. Think

before you act and keep a lid on your

temper!

Tiger (Aquarius): With an

improvement in your outlook, things are

looking up. Smile at people and you'll

notice they smile back at you. Magnetic

positive energy gathers like minds into

committed action. Laugh, dance, and

sing your heart out!

Susan Horning is a Feng Shui Consultant

and Bazi Astrologist living and working in

East Vancouver. Find out more about her

at QuanYin.ca.

DANIEL CAESAR • JESSIE REYEZ • ADVENTURE CLUB

CURRENT SWELL & FRIENDS • BISHOP BRIGGS • LIGHTS

CLOZEE • MIX MASTER MIKE • FUCKED UP

THE JB'S (THE ORIGINAL JAMES BROWN BAND)

THE ZOLAS • BÜLOW • BLITZEN TRAPPER

ANDY SHAUF • RAMRIDDLZ • MILK & BONE

CHAD VANGAALEN • ISKWÉ • METZ

THE HARPOONIST & THE AXE MURDERER

JOHNNY BALIK • HEY OCEAN! • NEON STEVE • SO LOKI

nêhiyawak • SODOWN • MEGAN HAMILTON

ALEXANDRIA MAILLOT • ART D'ECCO

& OVER 50 MORE TO BE ANNOUNCED!

TICKETS

AVAILABLE

AT

KIDS

12 & UNDER

FREE!

RIFFLANDIA.COM

AND

LYLE'S

PLACE

TWITTER.COM/RIFFLANDIA FACEBOOK.COM/RIFFLANDIA INSTAGRAM.COM/RIFFLANDIA

34

July 2018
---
CANADA'S LARGEST INDEPENDENT CONCERT PROMOTER

UPCOMING SHOWS

MATT COSTA

WITH GUEST

July 11 - The Biltmore Cabaret

SPARTA

WITH PHONO PONY

July 12 - The Biltmore Cabaret

CHUCK RAGAN

WITH GUESTS

July 13 - The Biltmore Cabaret

SUICIDAL TENDENCIES

WITH HAVOK

July 17 - The Vogue Theatre

SEAWAY

WITH LIVING WITH LIONS & CHIEF STATE

July 18 - The Biltmore Cabaret

TOO MANY ZOOZ

WITH GUESTS

July 19 - The Imperial

FLASHER

WITH GUESTS

July 21 - The Fox Cabaret

HOODED FANG

WITH NIKKI FIERCE

July 23 - The Biltmore Cabaret

COBI

WITH GUESTS

July 24 - The Biltmore Cabaret

TICKETS ARE AVAILABLE AT MRGCONCERTS.COM