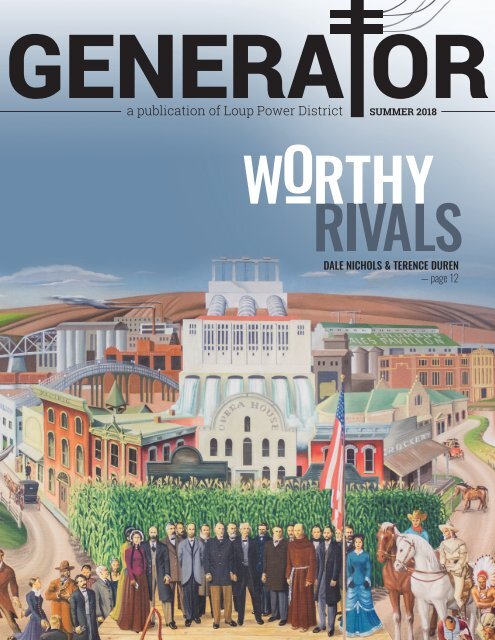 Summer 2018 Generator
In the summer of 1945, a national artistic rivalry was building in rural Nebraska. Learn about the feud between artists Terence Duren and Dale Nichols in this issue. The magazine also gives an insight into the Genoa Indian School that once held almost 600 students.
In the summer of 1945, a national artistic rivalry was building in rural Nebraska. Learn about the feud between artists Terence Duren and Dale Nichols in this issue. The magazine also gives an insight into the Genoa Indian School that once held almost 600 students.
SHOW MORE
SHOW LESS
Create successful ePaper yourself
Turn your PDF publications into a flip-book with our unique Google optimized e-Paper software.
GENERA OR

a publication of Loup Power District SUMMER 2018

DALE NICHOLS & TERENCE DUREN

— page 12
---
BOARD OF

DIRECTORS

SUMMER 2018

Rich Aerni

Chairman

Larry Zach

First Vice Chairman

Francis Sand

Second Vice Chairman

Chris Langemeier

Secretary

Dick Tooley

Treasurer

Robert Cerv

Jim Donoghue

Alan Drozd

Mike Fleming

Ross Knott

EXECUTIVE

STAFF

Neal Suess

President/ CEO

Walt Williams

Vice President,

Administrative

Services/CFO

David Bell

Vice President,

Development/

Marketing

Ron Ziola

Vice President,

Engineering

Dan Hellbusch

Vice President,

Operations

4 Genoa's Indian School Museum

preserves 50 years of history

7 Electric vehicles growing in popularity

8 Graduates and scholarship recipients

10 Community Builders visits Humphrey

12 Bone Creek Museum of Agrarian Art in David

City hosting Duren/Nichols exhibit

15 Loup installs Gridstream automated meters

16 Community Builders visits Howells

18 Employee Notes

22 Around the District

Loup Power District Service Area

For more than 80 years,

Loup Power District

has provided reliable,

low-cost electricity to

our customers.

The District also

provides economic

development and

recreational services.

The Loup Generator is

published quarterly

as a service for Loup

employees, families,

friends and associates.

For feedback, story ideas and submissions:

Stacy Wemhoff, Communications Coordinator | 402-562-57111 | swemhoff@loup.com

2 GENERATOR
---
PRESIDENT'S MESSAGE

New service center location has many benefits

As many of you are aware, the District has

started work on moving the current service

center to a location between 18th Avenue and

3rd Avenue, south of the Lost Creek Parkway.

This location provides some strategic

benefits and will allow the District to better

serve all areas of the District operations in

and around Columbus. It will also allow the

District to combine our north storage yard

(currently located in the industrial park west

of Columbus Hydraulics) and the existing

service center located along 12th Avenue.

The District is doing this for several reasons.

First and foremost, the City of Columbus

needs area around the existing service

center for the new 12th Avenue viaduct to be

constructed in the upcoming years.

After several discussions with the City, the

District decided it was better for the District

to move its entire service center to a new

location, rather than try to coexist as the City

constructs the viaduct. This was done for

both a safety and an overall operations basis.

The District purchased a parcel of land much

greater than needed along the Lost Creek

Parkway and we are working with others to

develop this area in a way that most benefits

the District and the Columbus region.

Several developers have approached the

District about locations in this new area

(which has been named the Energy Triangle

Addition) and the District is excited about the

development possibilities for the area.

Many people have asked if the District is also

moving the General Office, which sits on 15th

Street, to this location. This is not currently

planned, as our existing General Office still

meets the overall needs of the District. The

District has enough space at the Lost Creek

Parkway location, and will keep enough

space in the future, in case a decision is made

to locate the General Office in that same

location along Lost Creek Parkway. However,

that is not planned at this time.

This location also is beneficial, as it is much

closer to our hydro facility in Columbus and

allows access to all parts of Columbus along

Lost Creek Parkway.

With the construction of the current viaducts

in and around Columbus, serving all locations

in Columbus will be accomplished in a more

efficient fashion. In addition, the District will

be able to serve other areas, such as Platte

Center and some of our northern towns more

efficiently.

The District does not anticipate the need

to increase rates associated with this

construction, as cash reserves will be used to

fund this new building. This was one of the

key selling points to the Board of Directors

that made this decision easier for all.

We appreciate the public's patience with the

District as we move through this endeavor.

We will provide more information as design

and construction move forward.

The Board of Directors and management

are grateful for the discussions and general

positive comments we have received

regarding this decision. We look forward to

continuing to serve all of our communities in

the best possible way moving forward.

by NEAL SUESS

President/CEO

SUMMER 2018 3
---
Genoa's Indian School

Museum showcases

50 years of history

In 1884, the U.S. Indian Industrial School at

Genoa welcomed its first 74 students by cutting

their hair, giving them new uniforms and

forcing them to give up their native language.

Native American students attended the school

for the next 50 years, reaching a peak of nearly

600 students in 1932. It was one of the largest

federal boarding schools in the country.

The school began with one building on 320

acres and grew to more than 30 buildings on

640 acres.

Many of the students went on to be successful

with the skills they learned. But does that mean

the school was a success? Many of the students

and their families told another story.

Top: The Genoa Indian School Museum today.

Middle: U.S. Indian school students in their classroom.

Bottom: The U.S. Indian Industrial School Band performs.

Right: The school followed a strict, military model.

Students wore uniforms and answered to roll call.

4 GENERATOR
---
In 1857, the Pawnee Indians made

a treaty with the U.S. Government to

give up their their lands and resettle

on a reservation in today's Nance

County.

Less than 20 years later, the

Pawnee signed another treaty and

moved to a reservation in Oklahoma.

The Office of Indian Affairs

selected the former Pawnee

reservation as the site for a new

government boarding school.

It was the fourth non-reservation

boarding school in the country.

Its mission was to assimilate the

students into white society by

teaching them basic education as well

as vocations.

Some of the children were taken

from their homes and moved to the

school. They came from more than

40 tribes and may have ranged in age

from 4 to 22.

The school was run like the

military. Students wore uniforms and

marched. They answered to roll call

and taps.

Male students learned a variety

of trades including harness making,

tailoring, blacksmithing and farming.

Females were taught nursing, sewing

and baking.

These jobs also helped bring in

additional money. The school received

only $167 per student per year for

food, housing and clothing.

They participated in

extracurricular activities

including athletics, band

and choir. They also

attended dances and

other social activities.

The school closed

its doors in 1934

as both the economy and philosophy

of the time were changing. Students

went back to their reservations,

found alternate boarding schools or

attended college.

____

Years after the school closed, some

students started returning to visit

Genoa. They also visited the Genoa

Historical Museum in downtown

Genoa.

Museum volunteers and others

from the community saw the need for

a dedicated museum for the school

and created the Genoa U.S. Indian

School Foundation in 1990.

The museum opened in the Manual

Training Building that same year.

Today, tribal flags hang

throughout the building as a

testament to the students who

attended.

The museum includes historical

artifacts from the school, a scale

model of the school's campus and a

replica of a school room.

____

Some of the the government's

pictures of the school feature

students who seem to be happily

engaged in learning.

But museum volunteers Nancy

Carlson and Alyce Tejral say many of

these photos were propoganda pieces.

Some students did look back on

their time at the school favorably, but

others told a different story.

Students were punished for using

their native language or trying to run

away. At times, teachers struggled

to quell the animosities between

students of different tribes.

The children struggled to adjust

to the complete loss of their culture

and their families. Many died

because they were not immune to the

tuberculosis and influenza that swept

through the school.

Carlson and Tejral said some

former students didn't talk about

their time at the school because they

didn't want to remember.

Now, it is the families who come

back each year for the annual reunion

or email the museum in hopes of

learning more about what life was

like for the students.

Carlson said many family

members walk around and absorb

the atmosphere. Native elders and

medicine men have visited the school

to hold ceremonies for the spirits of

the children who attended and those

who lost their lives.

Government officals and teachers

may have been doing what they

thought was right to help Native

Americans succeed and adapt.

And many did — going on to

college and securing jobs. Some

Native American parents even wanted

their children to attend the Genoa

school — especially during the tough

times of the Great Depression.

But time has shown that the

trauma of losing family, culture and

traditions caused more harm than

good.

"It was like a prison," said student

Michael Whitesnake in the NET film

"White Man's Way" in 1986.

In the film, historian Ronald

Naugle said that the experiment to

assimilate Indians was a failure.

"Indian values did survive. Their

culture did survive inspite of our

attempts to suppress it. But it was not

without a cost," Naugle said. "There

was a great deal of personal pain and

suffering and we'll probably

never know the extent

of that."

SUMMER 2018 5
---
Right: The walls of the Genoa Indian School

museum still bear murals painted by the

students who attended the school. The murals

were used as patterns to create harnesses and

bridles that were sold for the school.

Below: Students make bridles and harnesses.

Bottom: Students in their dorm room.

LEARN MORE:

• Sidney Byrd began attending the Genoa

Indian School at age 6. He became a

Presbyterian minister and was active in Dr.

Martin Luther King's civil rights movement in

the 1960s.

The Wo Lakota YouTube channel has several

interviews with Byrd about his experiences

at the Genoa School. "No one to say

goodnight or tuck you in," he said. "Just four

empty walls. You could hear the whimpering

of the little boys lonely for their homes."

Watch: bit.ly/SidByrd

PLAN YOUR VISIT:

GENOA INDIAN SCHOOL MUSEUM

402 Willard Ave, Genoa

• White Man's Way is a Nebraska Educational

Television film from 1986. The film includes

interviews with former students and

historians.

Watch: bit.ly/WhiteMansWay

HOURS: Thursday through Monday from 1–5 p.m.

from Memorial Day to Labor Day.

ADMISSION: Free. Donations accepted.

Also open throughout the year by appointment.

Contact Alyce Tejral at 402 993-6036

or Jerry and Nancy Carlson at 402-993-6055.

6 GENERATOR
---
There are currently around 1,000 electric vehicles (EVs) on

Nebraska's roads today, with the market ready to expand.

Electric vehicles are fun to drive and provide significant

benefits to consumers and Nebraska's economy.

ELECTRIC VEHICLES KEEP MONEY

IN THE POCKETS OF NEBRASKANS.

Fuel efficiency is rated in kilowatt-hours (kWh) per 100 miles

rather than miles per gallon. If you pay $0.11 per kWh for

electricity and have an average electric vehicle rated at 34

kWh per 100 miles, the cost is about $0.04 per mile. If gas is

$3 per gallon and a gas-powered vehicle gets 25 mpg, the cost

is about $0.12 per mile. This scenario amounts to a savings of

$800 for every 10,000 miles you drive. Clearly, these savings

can easily offset the additional cost to purchase an electric

vehicle over the vehicle's lifetime. The U.S. Energy Department

has created a website to determine an eGallon, or the cost of

fueling a vehicle with electricity compared to a similar vehicle

that runs on gasoline.

ELECTRIC VEHICLE MAINTENANCE COSTS ARE

SIGNIFICANTLY LOWER.

Plug-in electric vehicles typically have lower total cost of

ownership and, in particular, lower maintenance costs. This is

because they have fewer moving parts, reduced oil changes

(or none for a full electric) and fewer brake jobs—battery

regeneration absorbs most of the energy. Hybrids and plug-in

electric vehicles can go 100,000 miles before receiving a brake

job. Visit the Electric Power Research Institute for an electric

vehicle cost of ownership report.

ALL NEBRASKANS HAVE THE ABILITY TO CHARGE.

Electric vehicles can be charged in the comfort of home,

avoiding trips to the gas station. They can be charged on a

standard 120V wall outlet, also called Level 1 charging. Faster

charging can be achieved at home or workplace with Level 2

charging.

CHARGING STATIONS ARE CURRENTLY AVAILABLE

ACROSS THE STATE.

Public charging stations continue to pop up across Nebraska.

Businesses, electric utilities, and government agencies

are establishing a rapidly expanding network of charging

infrastructure, proving it is possible to get nearly everywhere

with an electric vehicle.

ELECTRIC VEHICLES ARE SIGNIFICANTLY BETTER FOR

THE LOCAL ECONOMY.

EVs are fueled from energy from the local electrical grid, which

is cheaper for all consumers. Money spent on local electricity

gets reinvested back into the local economy.

ELECTRIC VEHICLES ARE ENERGY EFFICIENT.

Electric vehicles convert about 59%–62% of the electrical

energy from the grid to power at the wheels. Conventional

gasoline vehicles only convert about 17%–21% of the energy

stored in gasoline to power at the wheels.*

* fueleconomy.gov/feg/evtech.shtml#end-notes

LEARN MORE:

Visit publicpowered.com

for information about EVs

and financial incentives.

SUMMER 2018 7
---
TESSA BRIDGER

Scotus Central Catholic High School

Plans: University of Nebraska at Kearney

Studying: Social Work

Granddaughter of Rocky and Janice Bridger,

Customer Service Representative (Fullerton)

NICOLE HOGE

University of Nebraska at Omaha

Dec. 2017

Degree: Bachelor of Science in Education

Plans: Teaching Physical Education & Health

at Lincoln Public Schools

Daughter of Sue and Jim Hoge,

Drafting Technician (Columbus)

QUINN OLMER

Humphrey St. Francis High School

Plans: Northeast Community College

& University of Nebraska–Lincoln

Studying: Agriculture

Son of Tom and Ann Olmer, , Customer

Service Representative (Humphrey)

RILEY REEDER

Northeast Community College

Degree: Uility Line

Son of Cari Reeder,

Administrative Assistant (Columbus)

8 GENERATOR
---
MATT QUINN

Scotus Central Catholic High School

Plans: Central Community College

Studying: Media/Video Production

Son of Crystal and Dan Quinn,

Journeyman Lineman-Serviceman (Columbus)

ZACK QUINN

Columbus

Plans: Central Community College

Studying: Criminal Justice

Son of Crystal and Dan Quinn, ,

Journeyman Lineman-

Serviceman (Columbus)

MEGAN MORTON

Lakeview High School

Plans: Wayne State College

Studying: Middle Level Education

Daughter of Janet and Brad Morton,

Hydro Superintendent (Columbus)

Scholarships awarded to area students

Linkages Scholarships were awarded to 12 students in the 2018 graduating

class at Columbus High School.

The Linkages Program is a nationally recognized program that supports high

schools offering a quality program of engineering and technology courses. The

Columbus Economic Council, Loup Power District, and local businesses provide

support for the program.

The students qualified for the Linkages Scholarship by taking engineering and

technical courses. The scholarship can be used at each student's college of

choice.

The 2018 Linkages Scholarships were awarded to the following students:

Gold Level — Jacob Battershell, Daniel Jacinto-Lopez, and Sarah Kwapnioski;

Silver Level — Tyler Bock; Bronze Level — Jason Asay, Brant Birchem, Brandon

Gerber, Brian Klink, Walker Lehr, Ryan Maul, Andrew Pike and Austin Prismus.

Providing important financial support to the program are the following local

sponsors: BD Medical, Behlen Mfg., Cargill, Central Confinement Service (CSC),

Columbus Area Chamber of Commerce/Platte County Convention & Visitors

Bureau, Columbus Bank, Columbus Community Hospital, Columbus Hydraulics,

Duo Lift Manufacturing Company, Heartland Products, Mastercare Patient

Equipment, Pinnacle Bank, SiDump'r, TORIN Products, Vishay Dale Electronics,

and the Linkages Program.

Since its beginning in 2004, the Linkages Program has awarded 181 scholarships

totaling $52,025.

Loup Power District has awarded

scholarships to 11 area students who are

attending Central Community College-

Columbus this fall.

Loup Power District scholarships are

awarded to high school seniors living in

Boone, Colfax, Nance, and Platte Counties

and portions of Madison County.

Selection is based on academic

achievement, employment and school

activities, quality of the personal

statement, application completeness and

recommendations.

Scholarships were awarded to: Columbus

High School — Kimberly Mendoza, Ruth

Reyes, Emilee Rotherham, Luis Tovar-

Lemus, Triston Westfall, Taylor Weverka,

and Michaela Wiseman; Scotus Central

Catholic High School — Matthew Quinn;

Howells-Dodge High School — Jose Smith;

Schuyler Central High School — Yareth

Chavez; Shelby-Rising City High School —

Paetyn Bazer.

SUMMER 2018 9
---
COMMUNITY SPOTLIGHT

Humphrey

Community Builders met in

Humphrey on April 4. The group

toured several businesses in

Humphrey and ended with lunch at

Mugs & Jugs Bar and Grill.

Chuck Chase, Outreach Coordinator

with the State Department of Natural

Resources, presented a program

that gave participants a look at the

disasters communities face.

HUSKER VINYL

The first stop on the tour was

Husker Vinyl, a vinyl fencing and

railing manufacturer.

Ron Groene worked in the industry

since the mid-nineties before starting

his own business at a rented shop

in 2004. The company outgrew that

location and built a new shop and

storefront on Highway 81.

Husker Vinyl's products are

available for special order at smaller

home supply stores as well as

larger chains including Lowe's. The

company also does custom work for

those who have unique needs, such as

waterparks.

Husker Vinyl employs about seven

full-time employees and adds a

few temporary employees over the

summer.

Groene is not a native of

Humphrey, but chose the town as

the location for his business because

he liked its location and small-town

atmosphere.

"We're pretty blessed when we

have an employer, or manufacturer,

come to town, build a nice facility like

this and create jobs," said Humphrey

Mayor Lonnie Weidner.

HUMPHREY

COMMUNITY CENTER

Humphrey's old dance hall was

the site of many dances, wedding and

community events. But the 1940s-era

building was old and needed repairs

and updates.

Around 2007, then-mayor Don

Zavadil spearheaded work to get

10 GENERATOR

a new community center. The city

initially contributed $100,000 to the

project and an additional $700,000

was generated through fundraisers.

In 2009, a nonprofit group gifted

the new building to the city, which

took on an additional $100,000 of

debt.

"We got an $800,000 building for

25 cents on the dollar," Weidner said.

"It's been a huge success for us."

Last year, about 25 weekends were

booked for weddings. A smaller room

is regularly used by the Boy Scouts,

City Council and American Legion.

The city maintains the liquor

license and runs the bar but allows

renters to use the caterer of their

choice.

"It truly is a community center . . .

we're extremely proud of it," Weidner

said.

PINNACLE BANK

Pinnacle Bank opened a small loan

production office in Humphrey in

2013.

Its success prompted the bank to

open a full-service location in the

town last year.

A corner building across the street

opened up and the bank saw it as

the perfect opportunity — especially

since the old building began its life as

a bank.

After beginning a remodeling

process, they discovered the brick

walls and ornate ceiling and decided

to keep as many of those original

features as possible.

"I'm glad we found it," said Kevin

Small, Market President. "We're

excited. We're happy to be here."

The new location opened last year.
---
Humphrey was named

after Humphrey, New York —

the hometown of the

first postmaster.

Above: Klint Brown explains the routing machine at Husker Vinyl.

Left: Kevin Small (left) serves as Market President at Pinnacle Bank's Humphrey location.

Community Builders helps individuals in Colfax, Boone, Nance and Platte counties and a portion of Madison County.

learn ways to improve their communities. Cornhusker Public Power District, Loup Power District and Central Community College sponsor

the program. Guests are welcome to attend.

BOESCH HOT ROD CONCEPTS

Dale Boesch's father, Harry, opened a body shop in

Humphrey after returning from World War II.

In 1978, Dale and his wife Joan bought the

business which expanded from collision repair to

fabrication of custom hot rods and muscle cars

over the years.

Boesch's passion for cars started at a young age

and he was modifying his own cars long before

becoming a business owner. The business provides

collision repair services for Humphrey and the

surrounding communities while customization

brings in customers from all over the country.

Cars completed by Boesch and his employees have

earned many national awards and have been featured in

numerous magazines, including overseas publications.

Custom work is done based on customer's budget and

timeline, some taking more than a decade to complete. In

the shop you'll find hot rods from the 1930s, muscle cars

from the 1960s, as well as new vehicles.

Boesch Auto Body has five full-time employees.

Daniel McLain

informs the

Community

Builders

Group about

one of the

custom cars

at Boesch Hot

Rod Concepts.

SUMMER 2018 11
---
DALE NICHOLS & TERENCE DUREN

In the summer of 1945 a national artistic

rivalry was building in rural Nebraska.

Regionalist and social realist styles of art were in high demand.

Among those who best represented those artistic styles were

Nebraska's own Terence Duren and Dale Nichols.

That summer Nichols had planned to return to his hometown

of David City for a one-man show of his work. Nichols had

recently become art editor of the Encyclopedia Britannica,

following in the footsteps of Grant Wood.

Nichols had also sold his painting, End of the Hunt, to the

Metropolitan Museum of Art in 1938. An exhibition of David

City's successful artist son was certainly a big deal.

Interestingly, just 20 miles down the road, the people of Shelby,

Nebraska, were celebrating their own nationally-known artist,

Terence Duren.

Duren had recently gotten his painting, Picnic in the Park,

accepted into the Portrait of America contest sponsored by the

Metropolitan Museum of Art. This massive exhibition included

work by Stuart Davis, Paul Cadmus, and Milton Avery, among

others.

With such great artistic talent converging on an ordinarily quiet,

rural pocket of the Midwest, Time magazine took notice. In

August of 1945, Time published their short, but provocative

article on the two artists which they so boldly titled "War in the

Corn."

In the article, Nichols criticizes Duren's work, taking offense at

Duren's occasional "critical view" of Nebraskans in his artwork.

Duren is quick to counter Nichols' criticism by claiming that

Nichols couldn't paint figures correctly and thus only painted

characters from far away.

Both men no doubt were interested in being considered

Nebraska's leading artist, but in retrospect, their lives are far

more similar than one might think.

Once the summer of 1945 passed, Duren and Nichols

continued to paint for the rest of their lives. Over time, both

grew to appreciate each other's work and each went so far as

to say that the other artist was a gift to the state.

Perhaps the artists realized that they were both working toward

the same goal of sharing their home with the world through

American Art.

— Cole Sartore, Guest Curator

Loup Power's Duren Connection

The "Worthy Rivals" exhibit at Bone Creek Museum of Agrarian

Art in David City features work from artists Terence Duren of

Shelby and Dale Nichols of David City.

Loup Power District's office features Duren's mural, The History of

Columbus.

The public was first invited to view the mural in May of 1942 at

Loup's office on 14th Street in Columbus.

The mural represents the entire history of the city by depicting

personalities, buildings, and events of the time including the

impressive Loup project.

When Loup Power District moved to its new 15th Street

headquarters in 1974, the mural — which was glued to the Loup

board room wall — was painstakingly removed. The canvas was

cleaned and restored before being reinstalled in the Mural Room.

Read more about the mural on page 14.

12 GENERATOR
---
575 E St., David City

WORTHY RIVALS EXHIBIT:

Runs through September 23

HOURS:

Wed–Sat: 10 am–4 pm

Thursay: 10 am–8 pm

Sunday: 1–4 pm

Apointments and tours available.

Call 402-367-4488.

ADMISSION: Free

WORTHY RIVALS:

DALE NICHOLS & TERENCE DUREN

This 152-page book by Cole

Sartore includes full-color artwork

documenting the lives and rivalry of

two of Nebraska's most well-known

artists.

It is available at Bone Creek Museum

or online at bonecreek.org

Top painting: Barn Raising by Terence

Duren was painted in 1945 with oil on

canvas. The painting is privately owned

in Shelby.

Left painting: Return of the Hunters by

Dale Nichols was painted in 1982 with

oil on canvas. The painting is available

through the Lincoln Art Company L.L.C.

in Lincoln.

SUMMER 2018 13
---
Terence R. Duren's mural, The History

of Columbus, hangs in Loup Power

District's Mural Room. Duren painted

the 15-foot by 8-foot mural at his

studio in Shelby in the early 1940s.

In the painting, a complete

orchestra of the period is assembled

around the campfire. At the right,

Pawnee Indians play instruments

during a ceremonial dance as Indian

women watch near the wigwams.

These dances were used by William F.

(Buffalo Bill) Cody as a feature of his

Wild West Show, which had its first

performance in Columbus.

Buffalo Bill is pictured just left of

the dancers astride his white horse.

He is accompanied by a cowboy.

To the left of center, tunes are

played for the square dancing group.

At the bottom left are three

famous frontiermen. Major Frank

North is pictured in the United

States Army uniform. His brother,

Luther North, stands beside him. The

North brothers were leaders in the

organization and command of the

Pawnee Scouts, a troop of Indians

that helped protect the building of the

Union Pacific Railroad.

The third figure is Vincent

14 GENERATOR

Duren mural features Loup Powerhouse

Kummer, who conducted business

with the Indians and served as an

interpreter.

The founding fathers of Columbus

appear on a decorated platform. Many

of the group came from Columbus,

Ohio, and named the new town in

honor of the old.

The founders are (L to R): an

unidentified pioneer woman, Mrs.

John C. Wolfel, John C Wolfel, Jacob

Guter, Vincent Kummer, Charles

Bremer, John Rickly, John P. Becker,

Fred Gottschalk, John Browner, Carl

Reinke, Henry Lusche, John Held,

Father Janssen, Michael Smith, Antony

Voll, Adam Denk, Jacob Louis, and

another unidentified pioneer woman.

At the lower right, two members

of the Pawnee tribe watch the armed

men on the other side of the painting.

George Francis Train stands to the

left of the platform with a railroad

track in his hand symbolizing the

part he played in promotion of the

Union Pacific Railroad. He also platted

real estate in the areas and later

became a candidate for President of

the United States.

A group of workers harvest the

crops near the Pawnee. An early

church and the first log cabin in

Columbus are nearby.

The old tree on the left side of

the painting represents the Oregon,

Denver and Mormon trails. A group

of pioneers push westward behind a

prairie schooner to depict the constant

immigrant trek from Columbus.

From a green forest of corn —

symbolic of the part agriculture

plays in the area — rise some of the

landmarks of the old city including

the historic opera house, the famous

Pacific Hotel and a crockery store.

The viaduct, Union Pacific

depot, a bridge, train, automobiles

and Columbus Sales Pavilion are

also among landmarks in the upper

section of the painting.

Towering above all is Loup Power

District's Columbus Powerhouse with

transmission lines sweeping off into

the distance.

The public is invited to view The

History of Columbus at the Loup

Power District General Office.

WHERE: 2404 15th St., Columbus

HOURS: Mon–Fri, 8 am–5 pm
---
Loup installs automated energy meters

A few simple clicks.

That's all it takes for Loup

employees to login to a web-based

dashboard and view information from

Gridstream energy meters.

The district installed 227 of the

meters earlier this year in Columbus

as part of a pilot project.

The new meters communicate

with each other to find the best

communication path to "collectors"

that gather and store the data.

The pilot project included one

collector and three routers that help

form the peer-to-peer network.

The self-healing network features

dynamic routing messages that

automatically adjust for changes to

endpoints and the introduction of

obstructions, such as foliage or new

construction.

Meter/Maintenance Superintendent

Rick Schaecher said the project was

very successful and worked as it

should.

One of the main benefits of the

system is knowing which customers

are affected by power outages during

storms.

"The meters are going to report

back within seconds that the power

went out," Schaecher said. "And then

they're going to report back when the

power is back on."

The system also increases safety

for District employees. Meters can

be disconnected remotely which

eliminates the possibility of getting

hurt.

On the flip side, customers with

the Gridstream monitors can have

power restored more quickly. They

can call in to make a payment with a

credit card and District employees can

turn the power back on by navigating

to their meter in the system and

"reconnecting" it.

On-demand readings can be

performed any time. This is especially

helpful when customers move and

the meter needs to be read.

The system also stores 15-minute

interval usage data which helps verify

customers' usage if they have an

unusually high bill.

Because the pilot program was

successful, Loup installed additional

Gridstream monitors in Columbus for

a total of 540.

Gridstream meters hang on the wall at the Loup Power District Service Center.

They will be installed later this year.

Left: A router for the Gridstream system hangs on a light pole. The router helps

energy meters connect to collectors.

Right: Collectors gather and store data from energy meters. It uses a cellular signal

to report the data to servers. Loup employees can then access

''

customers' energy

usage and data.

The next phase of the project is

the installation of a collector at the

Creston distribution substation and

five routers in the Creston and Leigh

area.

About 200 meters will be replaced

in Creston followed by about 300

meters in Leigh this fall.

An additional 2,500 Gridstream

meters will be placed in Columbus

this year.

The meters

are going to

report back

within seconds

that the power

went out."

— Rick Schaecher

Meter/Maintenance Supervisor

SUMMER 2018 15
---
COMMUNITY SPOTLIGHT

Howells

Community Builders met in

Howells on May 10. The group toured

several businesses in Howells and ate

at The Grain Bin Restaurant.

Kent Smith and Kathy Heard

gave a presentation on the Howells

Community Fund and the "Roots to

Grow" campaign. Howells City Clerk

Dawn Gall described a new green

space in Howells.

FARMERS COOP DRY

FERTILIZER PLANT

The Farmer's Coop dry fertilizer

plant located at the junction of

Highways 15 and 91 has been

operating at its new location since the

fall of 2016.

Plant Manager Keith Dostal said

the new plant features much more

automation and has shortened the

wait time for farmers.

The computer software allows an

operator to prepare custom fertilizer

blends ahead of time. When the

customer arrives, the fertilizer is

dropped into the scale and mixer and

then into the customer's wagon.

"In a few short minutes, they're

on their way," he said. "It's faster

and more efficient."

While some customers now have to

drive further to the central location,

Dostal said their total time has been

reduced due to the efficiencies at the

new plant.

The plant has a capacity of 5,500

tons and employs 30 employees.

FIALA AUTOMOTIVE

On Christmas night in 2016, the

wind caught a piece of tin on the roof

of Fiala Automotive.

That tin flew into the power lines

and the resulting sparks flew into the

roof, setting the 1930s-era building

on fire.

"When something like that

happens, it's a shock for a long

time," said co-owner Dave Fiala.

Luckily, the business had a solid

insurance policy in place.

16 GENERATOR

Plant Manager Keith Dostal (center) describes the features of the Farmers Coop's dry

fertilizer plant at the junction of Highways 15 and 91.

"It really didn't take us long to

decide that we were going to go

forward," he said. "But then you

don't think about the amount of

money that it's going to take to keep

a business going without being able

to generate the revenue you need."

The business began operating out

of a small temporary shop while the

burned building was cleared to make

way for a new one.

Fiala Automotive moved into it's

new building in November 2017.

Automotive sales and service are

each about 50 percent of the business.

The business also sells lawnmowers

and tires.

Fiala said customers come to him

with requests for certain types of

used vehicles and he works to find a

match. At times, he has 20 or more

requests on his list.

HOMESTEAD BANK

Homestead Bank's Howells

branch building was in need of some

work. It was not ADA-compliant,

the restrooms were located in the

basement and some older customers

had difficulty with the entry steps.

But the bank didn't want to
---
Senior Vice President H. J. Tejkl at Homestead Bank's Howells location

abandon the old building without

giving it a new owner to ensure

downtown Howells remains active.

Nebraska Vet Services, which

also has locations in West Point and

Wisner would eventually purchase

the building opening the way for

Homestead Bank to move down the

street in a new building.

"We wanted to get a structure here

that would serve our customers long

term," said Senior Vice President H.

J. Tejkl.

The new building better serves

the bank's customers and is more

functional for the seven employees at

the branch.

Tejkl said there have been many

other improvements and new

construction in Howells recently.

"You can drive in from one end to the

other and the town's alive," he said.

BRESTER AUTO

& TOMKA TIRE

Scott Brester has been interested in

cars for as long as he can remember.

But they were always his side job.

That changed last year when

he opened his own shop and auto

dealership in a new building.

Brester said he started off buying

"mechanic specials" from Craigslist.

He would buy the cars for a few

hundred dollars, fix their minor

problems and resell them.

"It just kept getting bigger and

bigger," he said.

He started buying cars at insurance

auctions since he didn't need a

license.

"It got to the point where I was

selling too many cars a year privately

so I had to get my dealer's license,"

Brester said.

With that license, he could attend

dealer's auctions and his business

grew even more.

An open lot came up for sale and

Brester saw that as his chance to

open his own shop. He quit his job

hauling livestock to make way for the

new venture.

Brester markets his cars on

Facebook and through a website.

Brester asked Mitch Tomka to join

him at the business for help with

mechanics and tire work.

Tomka said there weren't any tire

service trucks providing field service

in the area.

He has fixed all kinds of tires.

"I don't think there's a tire out

there I haven't done," Tomka said.

Top: Dave Fiala describes how Fiala

Automotive recovered from a Christmas

2016 fire.

Bottom: Scott Brester at his new auto

dealership and shop.

SUMMER 2018 17
---
employee notes

JAMIE HELD

Monroe Chief Operator

20 Years

James Held of Monroe joined Loup in 1998 as a Maintenance Man on the Canal Crew

based out of the Columbus Service Center.

In 2003, he was promoted to Equipment Operator and was promoted to Carpenter/

Utilityman in 2008.

Held was promoted to Monroe Powerhouse Chief Operator in 2012.

As Chief Operator, Held is responsible for the operation, monitoring, and maintenance

of the Monroe Powerhouse including generators, auxiliaries, substation, and structures.

A graduate of Columbus High School, Held attended Central Community College–

Columbus. Held and his wife, Jamie, are the parents of six children: Natalie, Nathan,

Chloe, Libby, Zachary, and Callie.

5 Years

AMANDA HENRY

Human Resources Manager

Amanda Henry joined Loup Power District in 2013

as Human Resources Manager.

Henry is responsible for maintaining the

District's policies and procedures in the human

resources area and for ensuring compliance with all

federal and state regulations.

A native of Duncan and graduate of Columbus

High School, Henry earned a Bachelor's degree

in Communication Studies from the University

of Nebraska–Lincoln and a Master's degree in

Management from Doane College.

Henry holds a PHR (Professional in Human

Resources) Certification and SHRM- CP Certification

and is currently the President of Columbus Area

Human Resource Association, a member of the

SHRM Nebraska State Council, and a member of

national organization Society for Human Resource

Management (SHRM).

Transferred

BRIAN HERMAN

Lineman/Serviceman

Brian Herman of Fullerton has transferred to

Lineman/Serviceman at Loup Power District's

Fullerton location.

Herman joined Loup in 1995 as an Apprentice

Lineman at Fullerton. Later that year he was

promoted to Lineman. He was promoted to

Journeyman Lineman in 2000 and continued in

that position until this transfer.

In his new position, Herman's primary

responsibility is ordering and receiving material

(store inventory) for District operations in the

Fullerton Division service area. He also conducts

monthly substation inspections, services water

heaters, maintains street lights, and performs

other duties for the Fullerton Division.

Herman is a graduate of Clarks High School.

He earned an Associate of Applied Science Degree

in Utility Line from Northeast Community

College in Norfolk.

18 GENERATOR
---
DOMINIC ZOUCHA

Genoa Local Superintendent

Dominic Zoucha joined Loup in 2003 as an Apprentice Lineman at the Columbus

Service Center and was later promoted to Lineman. He transferred to the Fullerton

Division in 2005 and transferred back to the Columbus Division in 2007.

Zoucha was promoted to Journeyman Lineman in 2009 and later to Arborist Foreman

at the Columbus Service Center. In 2012 he was promoted to Genoa Local Superintendent

and he continues in that position today.

As Genoa Local Superintendent, Zoucha is responsible for overseeing the maintenance

and construction of Loup's electric power transmission and distribution system in the

Genoa and Monroe area. He also directs customer service in the area.

Zoucha is a graduate of Clarks High School. He earned an Associate of Applied Science

Degree in Utility Line from Northeast Community College in Norfolk.

Zoucha and his wife, Amber, have two children: Beau and Caylyn.

15 Years

1 Year

DAVID DUNCAN

Automotive/Equipment

Mechanic

David Duncan of Columbus joined Loup Power

District in 2017 as Automotive/Equipment Mechanic

for the Shop and Transportation Department at the

Columbus Service Center.

Duncan is responsible for the direct maintenance

and repair of all district vehicles and equipment

throughout the four-county service territory of the

District.

He earned his Associates Degree in Automotive

Technology from Metropolitan Community College in

Omaha.

Welcome

JOHN FRITZGES

Maintenance Man

John Fritzges of St. Edward joined Loup Power District

as a Maintenance Man at the Genoa Headworks.

In his new position, Fritzges is responsible for

maintaining the District's parks, facilities and equipment.

He also assists equipment operators and serves as a

dredge deck hand during the dredging season at the

Genoa Headworks.

Fritzges is from St. Edward and ran his own trucking

business prior to joining Loup Power.

He and his wife, Kaitlin, have three children: Kohen,

Reese, and Rhett.

SUMMER 2018 19
---
employee notes

AARON SUNDBERG

Lineman

Welcome

Aaron Sundberg has joined Loup Power District as a Lineman in the

Fullerton Division.

In his new position, Sundberg is a member of the crew that is responsible

for the construction, operation, and maintenance of electric transmission and

distribution systems and substations in the Fullerton Division.

Sundberg is a native of Clarks and a graduate of High Plains Community

Schools. He graduated from the Utility Line program from Metropolitan

Community College.

Sundberg started an internship at Loup Power in May 2017. He continued

working as an intern for the District until being hired as a full-time employee

following an internal transfer.

10 Years

TYLER KLAAHSEN

Journeyman Lineman

Tyler Klaahsen joined Loup in 2008 as an

Apprentice Lineman at the Humphrey Retail

Operation and was later promoted to Lineman.

He transferred to the Columbus Line Crew

based out of the Columbus Service Center in 2012

and continues on that crew today. Klaahsen was

promoted to Journeyman Lineman in 2013.

As a Journeyman Lineman, Klaahsen is member

of the crew that is responsible for the construction,

maintenance, and operation of Loup's electric

system.

Klaahsen is a graduate of Clearwater High School.

He earned an Associate of Applied Science Degree in

Utility Line from Northeast Community College in

Norfolk.

10 Years

TRENT KONWINSKI

Arborist Foreman

Trent Konwinski joined Loup in 2008 as

Apprentice Lineman at the Columbus Service Center.

Later that year he was promoted to Lineman.

He was promoted to Journeyman Lineman in

2012. Later that year he was promoted to his current

position of Arborist Foreman of the tree crew at the

Columbus Service Center.

As Arborist Foreman, Konwinski is responsible

for maintaining clearance of the District's

transmission and distribution facilities. He ensures

proper trimming, removal, and disposal of trees,

branches, and debris that could potentially interfere

with overhead electrical lines.

A graduate of Columbus High School, Konwinski

earned an Associate of Applied Science Degree in

Utility Line from Northeast Community College in

Norfolk.

He and his wife, Joni, have a son, Brayden, who

turned one in June.

20 GENERATOR
---
ANDY YRKOSKI

Lineman

Andy Yrkoski has joined Loup Power District as a Lineman on the Columbus Line

Crew at the Columbus Service Center.

As a Lineman, Yrkoski is member of the crew that is responsible for the

construction, tree trimming, operation, and maintenance of electric transmission

and distribution systems and substations in the Columbus Division.

Yrkoski is a graduate of Columbus High school. He earned an Associate of Applied

Science Degree in Utility Line from Northeast Community College in Norfolk.

Yrkoski worked as an intern for Loup Power District last summer and continued

working as an intern for the District until being hired to fill an open lineman

position.

Welcome

2018 Cookbook

Submissions

Loup Power District employees,

retirees and their spouses are

invited to submit recipes for

the 2018 Loup Power District

cookbook.

Visit bit.ly/LoupRecipes

to submit your recipe

electronically. Or mail recipes

to Stacy Wemhoff, Loup

Power District, PO Box 988,

Columbus, NE 68602-0988.

Please include your name,

which office you (or your

spouse) works at or retired

from, your phone number and

email address.

Questions? Call 402-562-5711.

JUNE STORM DAMAGE

A June 6 storm knocked out power to customers in Columbus and Richland.

Journeyman Lineman Chase Davis and Lineman Intern Jacob Czarnick work

to repair the damage. Photo by Michael Jones.

SUMMER 2018 21
---
around the District

PLATTE COUNTY COURTHOUSE UPGRADE

The Platte County Courthouse was closed April 27 for Arbor

Day, but Loup Power was hard at work there. Employees

took advantage of the holiday (and the great weather) to

replace aging cable at the Courthouse. The cable feeds into a

transformer vault in the basement. Employees also replaced a

power pole and other equipment.

22 GENERATOR
---
HEADWORKS EAGLES

A pair of bald eagles made quite the

nest at the Genoa Headworks. They

allowed a peek at one of the eaglets

(above) in early May.

Loup delivers lease and in-lieu-of-tax payments

Loup Power District delivered

inside revenue payments and the

second half of the "in-lieu-of-tax"

payment to the counties it serves in

April.

The payments totaled more than $2

million.

This is a benefit of being served

by a locally controlled, not-forprofit

utility. Like other businesses,

Loup Power District pays sales tax,

gasoline taxes, motor vehicle license

fees and permit fees.

The "in-lieu-of-tax" payments are

made to service area counties in lieu

of occupation, personal property

and real estate taxes.

County treasurers distribute the

funds to the various taxing bodies in

each county.

2017 in-lieu-of-tax payments:

Platte — $9,713.77

Boone — $5,078.34

Nance — $6,445.84

Colfax — $240.48

Madison — $359.27

Total — $21,837.70

The District is also required to make

additional payments to the counties

to guarantee they receive 5 percent

of the inside revenues from the

various towns in their areas subject

to the in lieu-of-tax payments.

Additional 2017 payments:

Madison — $36,539.56

Platte — $1,556,111.74

Nance — 118,632.83

Colfax — $82,357.10

Boone — $185,508.94

Total — $1,979,150.17

Loup Power District presented lease

payment checks totaling more than

$1 million to area communities in

May.

The payments represent 10 percent

of the retail revenue generated by

the sale of electric power in the

communities for the first quarter of

2018.

The payments were:

Columbus — $1,053,660.67

Genoa — $28,026.83

Creston — $8,874.00

Lindsay — $50,960.28

Newman Grove — $22,917.55

Each of these communities owns their

electric distribution systems. These

payments compensate them for the

use of those systems. Communities

use the funds for a variety of public

projects.

SUMMER 2018 23
---
2404 15th Street | PO Box 988

Columbus, NE 68602-0988

Find more

energy-saving

tips at loup.com

and energy.gov