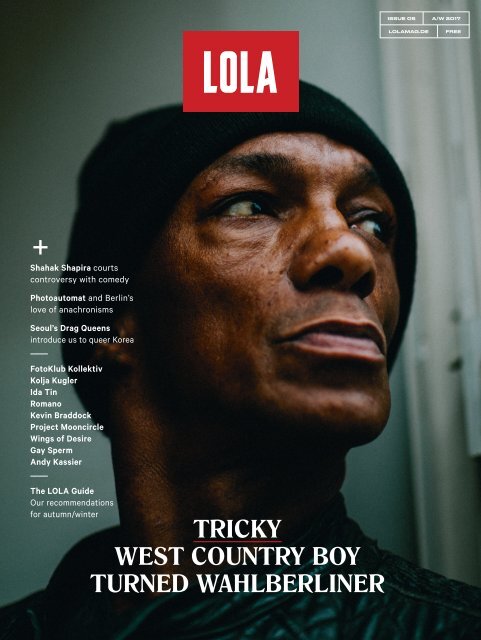 LOLA Issue Five
Issue Five of LOLA Magazine. Featuring the people and stories that make Berlin special: Tricky, Shahak Shapira, Romano, Andy Kassier, Ida Tin, Kolja Kugler and more.
Issue Five of LOLA Magazine. Featuring the people and stories that make Berlin special: Tricky, Shahak Shapira, Romano, Andy Kassier, Ida Tin, Kolja Kugler and more.
SHOW MORE
SHOW LESS
You also want an ePaper? Increase the reach of your titles
YUMPU automatically turns print PDFs into web optimized ePapers that Google loves.
ISSUE 05 A/W 2017

LOLAMAG.DE

FREE

+

Shahak Shapira courts

controversy with comedy

Photoautomat and Berlin's

love of anachronisms

Seoul's Drag Queens

introduce us to queer Korea

FotoKlub Kollektiv

Kolja Kugler

Ida Tin

Romano

Kevin Braddock

Project Mooncircle

Wings of Desire

Gay Sperm

Andy Kassier

The LOLA Guide

Our recommendations

for autumn/winter

TRICKY

WEST COUNTRY BOY

TURNED WAHLBERLINER
---
TOM MISCH

02.11. SchwuZ

!!! (CHKCHK)

06.11. Festsaal Kreuzberg

TOMMY GENESIS

07.11. Berghain

ROMANO

09.11. Columbiahalle

KIMBRA

20.11. Prince Charles

ÁSGEIR

20.11. Huxleys

ZOLA JESUS

22.11. SO36

BICEP (LIVE)

23.11. Kesselhaus

DENZEL CURRY

24.11. Festsaal Kreuzberg

BLAUE BLUME

25.11. Kantine am Berghain

LONDON GRAMMAR

26.11. Ufo im Velodrom

NOGA EREZ

28.11. Berghain Kantine

TRICKY

28.11. Festsaal Kreuzberg

HERCULES & LOVE AFFAIR

30.11. Kesselhaus

YUNG LEAN

02.12. Astra Kulturhaus

WASHED OUT

03.12. Festsaal Kreuzberg

KING KRULE

04.12. Astra Kulturhaus

RONE

15.12. Prince Charles

KELELA

07.12. Berghain

6LACK

31.01. Astra Kulturhaus

meltbooking.com

facebook.com/wearemeltbooking
---
Autumn/Winter 2017

Editorial

SEASONS CHANGE.

I've just passed my three-year anniversary of living

in Berlin. Well, I moved to Berlin from Belfast a few

months over three years ago, but I spent the first

two months living here alone and consider the official

moving date as the date my dog, Lola, joined me.

A lot has changed in that time. Berlin is a city that is

in an almost perpetual state of flux and development.

The more time passes, the more I notice the changes.

There is endless construction work. Buildings are

routinely torn down and new ones erected, scaffolding

is everywhere and facades are given facelifts. This

is nothing new and has been happening for decades,

but when you start to see it on a daily basis it has a

real effect on you. From Warschauer Brücke looking in

the direction of the new Eastside Mall site I recently

counted 16 cranes in that area alone.

Then there is the turnover in businesses. New

bars, restaurants and shops pop up with increasing

regularity. In distributing magazines over the last 18

months or so, I've noticed numerous places opening,

closing and changing hands throughout the

city. This is to be expected in a major modern city

receiving a large influx of people, but the current

rate is almost alarming.

The level of change can make it hard to feel a sense

of security. Perhaps this is why there is a strong spirit

of resistance to it; a fight to protect the history and

cultural foundations that the city was built on. Some

of the small anachronisms can be sweet, such as the

fact video rental stores still exist, while others can be a

little vexing ("Sorry, we don't accept card payments"),

but there is also the drive to protect alternative ways

of living that have been an integral part of Berlin for a

long time, like the longstanding tradition of cooperative

buildings and Wagenplatz areas.

An experience of change is one that almost every

Berlin resident shares, regardless of how long they have

lived here. It can be challenging and testing, but in the

end it's worth it. Berlin can feel like a microcosm of the

world – a glorious, imperfect melting pot. It's a privilege

to be a part of it, and while there are growing pains

involved in living in a city that changes this much, it's

an exciting time to be here. The face of Berlin might be

changing, but the spirit remains the same. Jonny

Publisher &

Editor In Chief

Jonny Tiernan

Executive Editor

Marc Yates

Associate Editor

Alison Rhoades

Sub Editors

Maggie Devlin

Linda Toocaram

Photographers

Valentina Culley-Foster

Zoe Guilty

Yvonne Hartmann

Zack Helwa

Soheil Moradianboroujeni

Jinny Park

Viktor Richardsson

Robert Rieger

Writers

Joel Dullroy

Tom Evans

Marlén Jacobshagen

Maria Mouk

Alex Rennie

Andrea Servert

Juno Sparkes

Stephanie Taralson

Marketing Manager

Lucía González

Special Thanks

Johannes Boßhammer

Melanie Kasper

Andreas Oberschelp

Dieter Schienhammer

Claudia Ulhaas

Wild Waste Gallery

Michael Yurgil

LOLA Magazine

Blogfabrik

Oranienstraße 185

10999 Berlin

For business enquiries

jonny@lolamag.de

For editorial enquiries

marc@lolamag.de

Published by The LOLA Agency

Cover photo by Robert Rieger

Printed in Lithuania by AB Spauda.

Autumn/Winter 2017

1
---
Studying German at die deutSCHule in

Neukölln is such a great experience.

The teachers are enthusiastic and

supportive, and I've made a lot of

friends here.

Hyeonjin Park Student, South Korea

die deutSCHule

German learning to support you on your

way to an academic career

www.die-deutschule.de

Karl-Marx-Straße 107, 12043 Berlin, Tel: +49 (0)30 6808 5223

2 Issue Five
---
Photo by Robert Rieger

German rap sensation Romano looks out at Oberbaumbrücke.

Get the full story of his genre-fluid career on page 30.

Contents

04. The LOLA Guide

The very best things to see and

do in Berlin this season.

06. berlin through the lens

FotoKlub Kollektiv

"Openness was the initial idea of

the group and now we want to

push for a more diverse group of

artists, from complete beginners

to professionals."

10. local hero

Photoautomat

"They're characters, these booths.

Some are a bit sensitive. Some are really

strong, you just have to listen to the

machine and get a sense of what it is."

14. Shahak Shapira

"I fucking hate coriander. It's

worse than Hitler."

17. Kolja Kugler

"It was hard on the road without a

workshop. I always sculpted wherever

I was, in the ditch with a generator."

20. cover story

Tricky

"On this new album, musically

there's a bit of change that happened

to me, I can feel it."

26. Ida Tin

"Reproductive health is an incredibly

foundational and central part of our

lives, but there's a real lack of clarity

for women, generally."

30. Romano

"Pippi Longstocking is my role model:

life is wonderful, make it colourful!"

32. Kevin Braddock

"Depression transcends gender, race,

status, everything. It's a problem

that anyone can have."

35. Project Mooncircle

"We wanted to create a view

from the moon to the earth.

We wanted to give the listener

some kind of soundtrack to

reflect on what happens here."

36. dispatches

Seoul's Drag Queens

"When I first performed there I didn't

expect the protesters to be so vocal,

but as the years go by I am energised

by them more than anything."

40. Wings of Desire

"Its subtle play with the themes of

borders, embodiment and sacrifice

render themselves timeless."

42. point of view

Take My Gay Sperm

"Gay men are considered to be at higher

risk of sexual diseases. But is this

discrimination supported by fact?"

43. In Pictures

Illustrated news from the late summer.

44. the last word:

Andy Kassier

"Life is always ups and downs. It's

like the stock market."

Autumn/Winter 2017

3
---
Guide

THE

GUIDE

Plan out your autumn and winter with

our picks of the very finest things to see

and do in Berlin this season.

MUSIC FESTIVAL

SYNÄSTHESIE 2017

Synästhesie have whipped out probably their most impressive lineup

to date for their 3rd festival, which will happen at Volksbühne on

November 19th. We're most excited about headliners The Horrors,

who have evolved from their arch-hipster beginnings into one of the

finest bands of recent years. Also on the lineup are bonafide legends

Tangerine Dream, krautrock-influenced Berliners Camera and more.

For full details, check facebook.com/synaesthesie

MAGAZINE

NANSEN

A fantastic first issue heralds the arrival of a new magazine about

migrants in Berlin. Nansen seeks to connect and celebrate the city's

migrants with great storytelling, a topic that is very close to our

hearts. In the first issue we meet Aydin Akin, who for 50 years has

been fighting to improve the lives of migrants arriving here.

Pick up your copy at nansenmagazine.com

ART FESTIVAL

LOST 48 HOURS ART & MUSIC

Pankow's Willner Brauerei will open its doors for one last hurrah as 80 artists and musicians host

the 48-hour Art Festival. For the first and last time, the 3000m 2 brewery, storehouse and vaulted

cellar will transform into an immersive art experience. The non-stop programme includes artist

talks, opera, live performances, cinema, pianists, two club floors curated by Berliner labels, and

exhibitions by DARK ROOMS, ENTER ART FOUNDATION and PRIEST AND PRAWNS.

The festival will take place for two days from December 15th to 17th. Learn more at lostberlin.de

PHOTOGRAPHY

DANNY LYON

Danny Lyon's Message to the Future is one of two fantastic new photography

exhibitions at C/O Berlin. Lyon documents social reality,

and has turned his lens on a variety of important cultural moments in

America's recent history, from the civil rights movement to the freedom

of the American highway as seen through motorcycle clubs. This

retrospective includes photography, audio recordings and film work.

Message to the Future is up until December 3rd.

4 Issue Five
---
Guide

SHOP

LOVECO

Cruelty-free is the new black. LOVECO focuses on sustainable, eco-friendly and

vegan fashion. Their curated selections of clothes, accessories and cosmetics are

displayed in elegant shops furnished with second-hand pieces. You can't help but

leave with a haul bigger than intended, but at least it makes the world a better place.

Visit the new LOVECO shop at Manteuffelstraße 77.

GAME

BERGNEIN

After a successful crowdfunding campaign was halted for some

months due to legal fisticuffs with Sven Marquardt, Bergnein

is finally out. It's a card game that bases its fun on the loathed

yet cherished Berlin experience of queueing for Berghain, with

plenty of parody and in-jokes along the way.

Read more at lolamag.de/feature/bergnein and get your copy at

bergnein.com

FILM

ÜBERLEBEN IN NEUKÖLLN

BY ROSA VON PRAUNHEIM

Rosa von Praunheim's films about queer life were essential for the German gay rights

movement in the '70s. His new movie Überleben in Neukölln portrays the life of Neuköllners,

from 89-year-old Jo, who now finds herself surrounded by young hipsters,

to artist Micha, who had 365 consecutive one night stands for his art project Save the

Date. In meeting these people Praunheim asks: what to do about gentrification?

Überleben in Neukölln is set for general release on November 23rd.

ALBUM

WATERGATE XV:

VARIOUS ARTISTS

(WATERGATE

RECORDS)

The roll call of artists on this 15th anniversary

album is mighty. Catz n Dogz, Adana Twins, La

Fleur, and Ellen Allien to name a few run the

gamut from blissed-out soundscapes to peak

time bangers. Available as a double CD package

or a deluxe 5x vinyl boxset, it's the best way to

bring the spirit of Watergate to your stereo.

Available November 6th in a limited edition of 1000.

SEE MORE AT LOLAMAG.DE/GUIDE

Autumn/Winter 2017

5
---
Berlin Through The Lens

FotoKlub Kollektiv

DEVELOPING TALENT

WITH FOTOKLUB

KOLLEKTIV

words by Alison Rhoades

Despite the art form's ability to

connect people on Instagram

and other social platforms,

serious photography is often viewed as a

solitary activity. However, photographers

Stephanie Ballantine and Zack Helwa

realised long ago that their practices were

contingent on community. Not just for

resources, facilities, or even their subjects,

but because to the extent that art is a solitary

journey, it relies just as heavily on an

audience and a supportive group of peers.

FotoKlub Kollektiv sprung from this

desire to support and be supported by photographers

in Berlin. It hinges on the idea

of the collective offering shared print facilities,

a weekly critique group, and an artist

residency. They also have a gallery where

they feature monthly shows, running the

gamut from stylised curated landscapes

to experimental performances. We talked

to Zack and Stephanie about the origins of

the F.K. Kollektiv and the importance of

community for artists in Berlin.

How did you discover your shared love

of photography? Zack: The first time

Stephanie came to our former weekly photo

club meetings we got very excited about

helping each other with printing our portfolios

and working on projects together.

Stephanie: Zack also studied photography,

so that was our first connection. Also, like

me, he had branched out to experiment

with different art forms during his degree,

so we already had a different perspective

on our photographic practices than some

die-hard photographers.

How did the idea for F.K. Kollektiv come

about? Zack: When I finished my studies

at the School of Visual Arts (SVA) in New

York, I remember feeling the lack of this

collective critique of our work. During

my first month here I moved into a WG

that had a lot of space and a studio on the

first floor, and I decided that I wanted to

start having weekly crit sessions. I was far

removed from working in photography

at the time and had been mostly into

sculpture, performance and video installations,

but I knew that I could revive my

passion for photography with just the

basic necessities for art: facilities, a group

for discussion, and some space to show it.

It was all meant to be very small scale. I

remember we were so excited to be able to

afford a small flatbed scanner to develop our

6 Issue Five
---
FotoKlub Kollektiv

Berlin Through The Lens

« PHOTOGRAPHY IS A

MODE OF PROJECTION AND

REFLECTION FROM AND TO

THE PHOTOGRAPHER. WE CAN

LEARN ABOUT OURSELVES

FROM WHAT WE PHOTOGRAPH. »

film after our first collective show. I would

never have expected to take it this far.

F.K. Kollektiv's mission is really driven

by supporting photographers to come

together and share, reflect, and educate

themselves and each other. Can you

speak to the idea of community and its

relevance for this project? Stephanie:

Community is a key component to the project.

So far it has grown naturally through

connections between an extended network

and those who have found us online. One

of our goals is to connect with some of the

NGOs or small community organisations we

know in the Neukölln area so we can expand

to different age groups and to people who

may not just come across the collective.

Zack: To me, it's like trying to create a

borderless educational system. So, instead

of spending your savings paying for

a school, or trying to please teachers, you

can have direct contact with your community

and can learn from each other.

As a friend and schoolmate once said to

me: "The friends from SVA are the most

expensive friends I've made!"

The collective includes artists from

different cultures and backgrounds. Has

the diversity of the group influenced your

practices and how you think about photography?

Stephanie: It's very important to

the collective! Openness was the initial idea

of the group and now we want to push for a

more diverse group of artists, from complete

beginners to professionals. People bring

themselves to what they photograph, and

when you hear people talk about their intentions

for the work, they will always express

something about their background. Most

people who come to the group are from

different countries, so the work is always

(if not directly, then inadvertently) about

inhabiting a space. Photography is a mode

of projection and reflection from and to the

photographer. We can learn about ourselves

from what we photograph.

Zack: For me, it was very important to

bring non-photographers to the group, as

well as people from different backgrounds

and cultures. Photographers can be a bit

too one-dimensional in the way they view

visual art. I think it's healthy to have an

engineer or an architect bring something

to the table rather than just a bunch of

photographers talking about other 'more

famous' photographers. I don't want us to

be making art only for other artists.

Why was it important to have a critique

group? Stephanie: When you work as an

artist you often work alone, and critical

reflection can become difficult. Maybe you

will reach a point in your practice where

you would pay for a portfolio review to find

direction. By attending a critique group,

you can develop your work by listening

to the perspectives of others, who are

interested, engaged, empathic, and who are

different enough to give valuable insight.

Zack: It's very important to have an open

dialogue with the public in your art, so

having that conversation in a closed space

while working out your own art is practice

for the real part of an 'art job'. It's about

transitioning from 'look at how cool I am

because I can make this beautiful image',

to 'I hope this work opens a discussion with

the public that doesn't exist yet'.

Tell us about the artist-in-residence

programme. Stephanie: The residency

programme is very much in development.

We've had one artist so far. She came to

work on a project she had started in 2011

documenting cannabis farms in the US

over a few different seasons. She came with

a stack of negatives to scan and contact

sheets to edit. Through the crit sessions,

she was able to find a path through the

project that culminated in an exhibition.

The process was really great to see: from

having no clear idea of how to approach

the subject, she came out with something

strong, and some beautiful prints. The next

residency I'd like to open is a curatorial

one. I'd love for someone to come and be

open to working with the collective, choosing

a curatorial direction and engaging in a

dialogue with our artists.

What are some of your favorite exhibitions

so far? Stephanie: We've had three

exhibitions and they have all been really

great and pretty different. The Blind Curator

is one we can point to, as it was not clear

how it would turn out. For this project, we

put out an open call for submissions and

put every single photograph in the space,

which were then hung by the curator, who

was blindfolded. Visitors were then asked

to connect photos with a red string if they

could identify a link between them. We

ended up having around 75 participants

and the work became about intertwining

stories, accents, and mirrors. The room was

full with images and red string.

Zack: It's hard for me to separate the success

of the work with the sense of

Autumn/Winter 2017

7
---
Berlin Through The Lens

FokoKlub Kollektiv

« IT'S HARD FOR ME TO

SEPARATE THE SUCCESS

OF THE WORK WITH THE

SENSE OF COMMUNITY. »

community. Some shows were amazing

because of how everyone falls into their

roles naturally and fulfilled them. Others

have just been great shows regardless of

how hectic putting a show together can

be. Our first collective show, Winterschlaf,

will always have a special place in my

heart, as it was the first time I could see

that this kind of community-oriented

process works. It was quite emotional for

me to see such good work come together

with a collective effort.

You're also a couple. How has running

a huge project like this impacted your

relationship? Zack: Hard, but wonderful. But

also stressful. But also satisfying. Let's not talk

about it. It's very hard to work on the same

projects together, but we have skills that complement

each other. We manage somehow.

Stephanie: Sometimes the process of dividing

tasks is very natural: I enjoy developing

the website, whereas Zack is super skilled at

being on top of the equipment. Other times

we have to make sure we are not stepping on

each other's toes. We are still learning how

to separate work and life!

Do you think a project like this would

be relevant outside Berlin, or is there

something about the nature of the city

that compelled you to set it up here?

Stephanie: There are other collectives that

are similar in other countries. I was part

of one in Leeds in the UK and I think my

This page clockwise from top left: Photo by Albina Maksudova, Lula Rodriguez,

Jon Cuadros, Sophie le Roux, Stephanie Ballantine, Merve Terzi.

8 Issue Five
---
FokoKlub Kollektiv

experience contributes to how we develop the project in

Berlin. Obviously it's a city with a lot of movement, creativity

and energy, so this helps to bring a variety of people

to the group, and makes it very dynamic. I'm also super

interested in connecting with other groups over the world.

We already have partnerships in Bulgaria and in England,

and we will work on exchanges and dialogues with them.

How can we get involved with F.K. Kollektiv? Stephanie:

Come to the meetings and check out our open submissions!

Zack: Find us on Tinder! Or write us at info@fk-kollektiv.com,

and check our website and Facebook page. We always have

stuff going on. People who tend to put work into the space or

collective also end up being crucial in shaping the direction

of our group. Three years ago we were a few people meeting

in a small room at a desk, I somehow see this space as a new

beginning, with much to still be formed and created.

THE WEATHER STATION

29.10.17, Monarch

DESTROYER

17.11.17, Festsaal Kreuzberg

MOUNT EERIE

05.11. + 06.11.17, Silent Green

SLEEP PARTY PEOPLE

21.11.17, Musik & Frieden

This page, top to bottom: Photo by Chris Morgan, Anett Posalaki, Zack Helwa.

TINY VIPERS

12.11.17, Monarch

KLEZ.E

28.11.17, Lido

GIRL RAY

13.11.17, Monarch

RICHARD DAWSON

29.11.17, Kantine am Berhain

JULIEN BAKER

14.11.17, Heimathafen Neukölln

MARIAM THE BELIEVER

04.12.17, Privatclub

JANE WEAVER

17.11.17, Privatclub

AQUASERGE

08.12.17, Marie-Antoinette

Autumn/Winter 2017

TICKETS & INFO: PUSCHEN.NET

9
---
Local Hero

Photoautomat

LOCAL HERO

PHOTOAUTOMAT:

THE STORY OF BERLIN'S

ICONIC PHOTO BOOTHS

Wedged between buildings, sitting outside a supermarket entrance,

or idle in a beer garden; these seemingly mundane corners of the

city are where you might encounter one of Berlin's thirty-odd analogue

photo booths, characterised by the bold red letters on their

sides that spell out: Photoautomat.

10

Issue Five
---
Photoautomat

Local Hero

words by

Tom Evans

photos by

Yvonne Hartmann

Rosenthaler Platz

This busy crossroads is the

former site of Rosenthaler

Tor, which formed part of the

Berliner Zoll- und Akzisemauer

(Berlin Customs Wall) that

encircled the city between

1737 and 1860.

Below: Photoautomat

founders Ole and Asger.

The exact number is always changing. Booths

come and go, or migrate from season to season.

Others spring up in new locations each

year, moved as Berlin's vacant lots gradually morph

into construction sites. But many are evergreen –

landmarks in their own right – like so many of the

city's best-loved anachronisms.

With their red lettering and entirely mechanical

workings, the Photoautomaten masquerade as

hardy survivors from the days of the Wall. Their

story in Berlin doesn't begin, however, until early

summer 2004, when two friends with a passion for

photography placed a booth on an empty corner

near Rosenthaler Platz.

Asger Doenst and Ole Kretschmann were on a trip to

Zürich when they first saw the analogue photo booths

still in regular use. Asger, a photographer, and Ole, a

writer and carpenter, were immediately convinced

that it was something they should bring to Berlin.

They got their hands on an old model – one that had

already given a lifetime of service – and began the

task of preparing it for the streets.

"It was actually kind of falling apart," Ole begins.

"The booth was from the '50s; 1956 or something. It

wasn't in a state to put outside. So I came up with the

look, the materials and how we'd renovate it while

Asger looked for a location."

Asger elaborates: "At that time in Berlin you had

many possibilities. It wasn't difficult to find a good

place and some okay places. But a really good place

is always difficult." Until they began working on

Photoautomaten, public photo booths, ever a staple

of train stations and shopping malls, had never

been out on the streets of Berlin. In a city of tourists,

squats, and DIY club culture, few people thought the

project would make it through its first weeks.

"We were prepared for a really slow start," Ole

admits. "Our main concern was that it would be

destroyed. Everybody around us was like, 'Oh, this

will not last for a week in Berlin!' So we didn't expect

much to happen. I remember our goal was to pay our

rent, like 200 euros, so if this thing could make 400

euros that would be a dream come true." As it turned

out, the nonbelievers were wrong. "The opposite

happened," Ole continues. "People embraced it as

something worthwhile, and they liked the idea.

They hung out there, and there was no aggression

whatsoever. People saw that some freaks were doing

something public and accessible; that's how it was

perceived. And the cool thing was, these people had

these photos to go around and show their friends. It

was a discovery for people."

The fascination that Ole and Asger had shared for

the remarkable quality of these old passport photos

wasn't lost on tourists or resident Berliners. In a matter

of weeks the booth had transformed a quiet corner

of Weinbergsweg into a place to hang out, and it

wasn't long before Berlin-based culture magazine 030

and the TV show Polylux turned up to get the story.

"People stopped and used it. That was the amazing

part of it, you know? We didn't expect much to

happen. We didn't know if anyone else would share

the excitement," Ole remembers. Now knowing that

both concept and booth could survive on the streets

of Berlin, Ole and Asger acquired and renovated

a second Photoautomat. They took it to locations

across the city, including the newly-opened Bar 25.

Prenzlauer Berg hosted a third booth in 2006, and

by then it was evident that the project had far more

potential than either had ever anticipated.

"I remember that Asger and I had a talk," Ole says.

"For me it was the first time with access to a possibility.

What do we want? Let's position ourselves. Do we

want to grow this?"

They agreed that they did, and set out on a mission

to track down analogue photo booths all over

Europe. They travelled to Zürich to meet Martin

Balke, owner of Schnellphoto AG, the company that

had kept some 150 booths in operation across Switzerland

until 2005. Martin's company, however, was

going out of business. He and his brother Christoph

were nearing retirement, and they had no one to take

the reins. "Martin told us: 'You can make something

for yourself. Berlin is a good place to do something.'

He was so supportive. He was always with us."

Learning how to run a larger network of booths

from Martin and Christoph, Ole and Asger began to

expand, taking on their first Photoautomat employee

in 2007 and buying up and refurbishing old units

wherever they could find them.

Today there are as many as 35 booths in operation

at any one time in Berlin; they can even be spotted

on the streets of Leipzig, Hamburg, Cologne, Zürich,

and as far away as Florence.

The Berlin Photoautomaten are available for use 24

hours a day, all year round. Five part-time staff help

manage things, with someone always available to field

a call from a disappointed or, as is more often the case,

an impatient customer. Reminding callers what it

feels like to wait a whole five minutes for processing is

the task of most of the day-to-day calls, but when photos

really do fail to appear – which happens just once

in a thousand times, according to Asger – customers

are always refunded. They're determined to maintain

a guarantee that the photos always look their vintage

best. It's a passion and commitment they share with

their mentors from Zürich.

Autumn/Winter 2017

11
---
Local Hero

"We shouldn't take all the credit [for the

way the photos look]," Ole says, modestly.

"But we could take the credit for trying to

keep the standard up. We aim for a certain

look, and that's what we fell in love

with, so it is our goal to have these photos

come out all over the place. At any time.

That's our ambition."

Indeed, anyone who has used a Photoautomat

knows the charm and quality of the

photography itself. With striking contrast

and sharp yet warm black and white, the

four passport-sized photos look a comfortable

level or two better than even the best filter

on any app you can find. Add to that the

joy of holding a physical print in your hands,

and it's no wonder these slender strips have

become a recognisable feature on fridges

and notice boards in Berlin homes.

However, since every booth is unique,

maintaining that look and quality comes

down to dedication and expertise. "Some

are really old and the parts are not the

same," Asger begins, touching on the

technical challenges of the project. "It's

not industrial production, and we got them

from different places all over the world."

"They're characters, these booths," Ole

continues. "Some are a bit sensitive. Some

are really strong, you just have to listen to

the machine and get a sense of what it is.

Some booths are from the 1950s, others

are from the '70s or '80s. The parts are not

interchangeable; they are individuals."

Ole and Asger believe it's an expectation

of quality, and the guarantee of a memento,

that has kept the project going. Though

certainly irresistible to visiting weekenders,

they are convinced the majority of their

customers are locals who return to the

machines time and again. "We only exist

because we have returning customers," Ole

says, sincerely. "That's for sure. People come

back. We believe that's the core of the business;

that people like to return. That's why

we want to keep the booths clean and the

quality of the photos as good as possible."

Trusting in the quality, some Photoautomat

aficionados will go as far as to call

when a booth isn't working as expected,

contributing to a network of feedback from

a population of eager participants. It's a

sign that, far from being the forgettable,

here-today-gone-tomorrow street gimmicks

that many predicted, these machines

have become a cherished part of the city's

landscape: an accessible public good made

all the more charming by the fact that they

seem, somehow, to belong.

Photoautomat

«

SOME ARE A BIT

SENSITIVE. SOME ARE

REALLY STRONG, YOU

JUST HAVE TO LISTEN TO

THE MACHINE AND GET A

SENSE OF WHAT IT IS.

»

Berlin's unkempt chic at no extra cost. This

is something Ole and Asger claim never to

encourage. They have even, in fact, locked

horns with the likes of the Berlinale, BVG,

and Converse for using the booths without

permission. It wasn't about getting paid

a fair share, they assert, but about taking

a stand. "It's important to try and stop it

from happening again. We don't want to be

[associated] with Converse, even if we get

thousands," says Asger.

In keeping with this spirit, the Photoautomat

entrepreneurs have kept their

venture customer-friendly. For the 13 years

that the booths have been in operation in

the city, a strip of photos has maintained

the ever-affordable price of two euros. That

feels increasingly modest as Berlin reluctantly

plays catch up with its wealthier and

better exploited European neighbours.

From the beginning, the Photoautomaten have

made use of the last of the city's unused lots,

industrial yards, and unofficial public spaces.

Like the squats, bars and clubs of the past, they

too have brought life to areas left untouched by

the once invisible hand of the Berlin property

market. But like many small business owners,

Ole and Asger are confronted by development

in the city. From their workshop on Bersarinplatz,

they look to find new locations for the

booths that have been displaced by new buildings

and soaring rents. "You lose places and

then you need to find new ones," Asger says.

"But there's less choice because they're building

on every free spot. So it's getting more difficult.

It's a big task to keep the locations we have

now." But the pair remains optimistic, buoyed

by the knowledge that the Photoautomaten

have become an established, if inconspicuous,

part of life in the city. "People even stay in

contact [with one another], because they wait

in line together," says Asger, referring to the

way the booths can form new friendships as

people bond over that five-minute eternity as

they wait for their photos to emerge.

The Berlin Photoautomaten offer a

shared experience to return to time and

again; an analogue anachronism in a

digital era. In strips of newly-developed

photos, they provide a way for the city to

take a portrait of itself.

Find your nearest Photoautomat at

photoautomat.de

Over the years, that charm has also proved

alluring to advertisers who are ever-ready

to seize an opportunity to capitalise on

12 Issue Five
---
Autumn/Winter 2017

13
---
Comic Relief

Shahak Shapira

SHAHAK SHAPIRA:

MAKING FUN OF OLD

WHITE DUDES

14

Issue Five
---
Shahak Shapira

Comic Relief

"Wait, are you Shahak Shapira?" Someone stops and asks

as we're about to enter Neukölln's Ankerklause with the

Israeli–German artist, who has received much acclaim

for his subversive and often satirical projects. Shahak

has worked hard over the last three years to become the

internet and media sensation he is today. As we talk, he

speaks candidly about his long list of professional accomplishments,

which include bestselling books, viral

videos, art, political work, advertising, and music. The

next step on his career ladder? Stand-up comedy.

words by

Marlén Jacobshagen

photos by

Viktor Richardsson

Coriander

Whereas some experience a

refreshing, lemony flavour, others

have a strong aversion to the taste

and smell of coriander, describing

it as soapy or rotten. Studies

attribute this to variations in the

OR6A2 gene, which is responsible

for olfactory receptors that interact

with odorant molecules in the nose

to trigger smell perception.

You came from Israel to Germany when you were

a teenager and moved to Laucha an der Unstrut,

where the right-wing extremist party NPD

earned 13.55% in 2009. How would you describe

Laucha at that time? It's a shithole in the East and

it's full of Nazis. I guess that's the way you'd sum it

up for some, but it wouldn't be entirely true. Not all

of them were neo-Nazis. And some of them were but

didn't think they were. You know, it's complicated

nowadays, you can't call anybody a Nazi anymore.

Because then they're like: "I'm not a Nazi. I'm

just alt-right. I just hate foreigners. You're a Nazi!"

[Laughs] Let's say it was interesting on many levels.

You wrote a book about your experiences and,

in response, some newspapers started calling

you "the new Jewish voice in Germany." What

do you think of that? I fucking hated that. I'm not

Jewish, I'm of Jewish heritage. Judaism is not only

a religion, it's also an ethnic thing. And I became a

Jew in Germany, ironically. Because neo-Nazis and

crazy Islamists hit me, insulted me or spat on me.

They made me the Jew. And at that point I took it

and said: "Fuck you, of course I'm Jewish!" Then

I got to be a z-list celebrity and I noticed that you

can't even make jokes about it. Because as soon

as you make one joke about being a Jew you're

"the Jew." The Jew that talks about Jewish stuff

all day and then all they ask you to do are documentaries

about anti-semitism, or they make you

read hateful tweets. I fucking hate that. I've been

semi-successful at getting rid of it. When I did the

Yolocaust project, people were denouncing me as a

Jewish artist and then with my following projects

that disappeared. I was actually recognised for my

work, and not for being a Jewish artist. Whatever

the fuck that means.

In Yolocaust you edited tourist selfies taken

at the Holocaust memorial to make them look

like they were taken at concentration camps.

It received a lot of feedback in the media; were

you impressed by the attention it got? That

was pretty cool, but it sets the bar really high.

When you get a taste of international success, it

makes everything else boring; it makes Germany

boring. Every time you get a taste of success it's

a big thing. That's why people make complete

fools out of themselves on TV, just to get a little

bit of that. They eat worms and show their tits

and penises just to get attention.

Besides all the media interest and a lot of positive

comments, you've faced a lot of criticism

and abuse. Which of the two counts more for

you? Well, I should be glad about positive comments,

but being the person that I am, I always pick

the negative ones and focus on them. I don't want

to, I'm just like that. I get a tremendous amount

of shit every day and lately I've been wondering

why the fuck I am doing it. It's not that I post stuff

on Twitter and Facebook to make people feel bad.

I just try to tell some jokes and that's it. There's

always a balance to be struck: is it worth getting all

the shit you get? Is it worth the people who keep

sending you emails, who have your private address

and phone number even though it's not even on

the internet? Or your mum's address, and they're

threatening to hurt your family? It's a very thin line,

but that's why I'm not showing my tits on TV. I have

other options. I don't have to do this. It's for fun

right now. I could always go back to advertising.

Talk us through your use of humour. There are

different ways to use it. I guess it's more defensive

than offensive. Nobody makes fun of me the way I

do. I'm the best at making fun of myself. After I've

told all the jokes about myself, nobody can come

and insult me, because how can you insult someone

who is already insulting himself?

Humour helps sometimes, but it's tough, you always

need to have a distance from yourself. When

people get into your head, it's very hard to make

fun of yourself because you're hurting. I guess

the secret to humour is in many ways a distance

between you and the subject. Whether it's you

that's the subject or, say, the Middle East conflict,

you need to posses a certain nihilism to make fun

of something. If you're too emotionally involved,

you're not funny anymore – unless it's ridiculous

stuff. You can get totally emotional about stuff that

is completely ridiculous, like coriander. I fucking

hate coriander. It's worse than Hitler.

You're going on a big comedy tour in 2018 with

German Humor. Do you see yourself as part of

the German comedy scene? I'm a comedian, but I

hope I'm not a part of the comedy scene. [Laughs]

It's difficult right now, I've been having a hard time

writing jokes. The issue is that I know maybe two

comedians who I think are actually funny in Germany:

Till Reiners and Moritz Neumeier. All my

idols in comedy are from the States and they're all

really good. For comedy you need to be on stage for

10 or 15 years to be good. I actually think comedians

in Germany are lazy. I don't know any comedian

here who has been on stage for that amount of

time without doing the same thing over and over

again. Maybe I just don't know the right people, but

all the people who fill arenas have been doing the

same thing for years. They're not bad comedians,

Autumn/Winter 2017

15
---
Comic Relief

Shahak Shapira

they're just lazy comedians. They don't need

to write a new programme every year, which

prevents them from evolving.

How do you think the German comedy

scene differs from America's? In many ways.

Louis C.K. and Dave Chappelle are two of my

favorite comedians. What I like about Louis is

that he's of Mexican and Hungarian descent,

and he doesn't talk about it. He talks about

things anyone could talk about. This style

makes it very hard to be original but he always

manages to find new angles. You hear it and

you're like, 'Fuck, how did I not come up with

that?' In German comedy you have two types

of comedians: the clowns like Otto or Mario

Barth; they tell jokes. And then you have the

complete opposite: the teachers. They teach

you stuff like they're your dad, but it's patronising.

The cabaret show Die Anstalt or the

comedian Volker Pisbers are examples.

What I like about American comedy is that

it's wrong. Dave Chapelle is wrong, he says

things that are wrong. Deliberately! He knows

that they're wrong and the crowd knows they're

wrong as well. I think that is one of the biggest

gifts of comedy, that it takes you to different

places, places you wouldn't go yourself. Why

would you need me if I told you things that you

could come up with yourself? It's fucking hard

to do that. It's really hard to avoid Jew jokes

too, but I don't want to be a Jewish comedian.

When making fun of different ethnicities

or religions, there's a thin line between

being good at it and just being insulting.

When do you cross that line? A friend of

mine, Serdar Somuncu, said a few years

ago that every minority has the right to be

discriminated against. This type of comedy

is not new. It's a legit thing to do, but

everybody does it now. I'm more interested

in making fun of majorities. I didn't think

that way before, it's just a thought that came

to me a few weeks ago. I see a lot of comedians

who have this list of different groups

they want to make fun of. They think: "I'm

so good at insulting people," but they're not,

because they're not doing it with love. You

need to take your time if you really want to

insult someone. You can't just go like: 'Now

that we're done with the blacks we're going to

go to the Jews.' It's not funny anymore. And

why should the majorities get away? Why is it

always about minorities? They suffer enough.

Let's make fun of old white dudes.

So is this your new routine? Making fun of

old white dudes? I'm trying to find my thing.

And I don't want my thing to be too... thing-y.

I don't want to be the fat guy that tells sexist

jokes all the time, although I'd prefer Bill Burr

over Mario Barth any day. And I don't want to

be the Jewish guy either, there's already one of

those. I try to avoid a niche. I want to find out

what my deal is, and if I need a 'deal' at all.

Do you feel under pressure to find your

own way in comedy? I'm trying my best.

My problem is that it's very hard to do all the

things I do and not confuse people completely.

I did this Twitter project, for example, but

then I also do stand-up comedy. Who does

that? It's not very common in show business.

They usually have one type of thing. I'm

very funny on Facebook, I know that. And

I've been writing comedy for years, because

writing advertisements is not very different.

I could do a TV show now and I could write

sketches, that could work. But that would be

easier for me than to be a really good standup

comedian. I guess I still need to show people

that I can do real comedy. Maybe I can't,

maybe I will be a shitty comedian.

We doubt that. So what are your plans for

the future? I want to be a comedian but that's

not the only thing I want to be. That's the

problem: I'm really jealous of people who know

what they want to be. Even if it's completely

fucking impossible, especially for them, at

least they know they have this one thing and

they might fail but they still go for it.

I hope I'll get a TV show soon. But it takes

a lot of time. I have a TED talk coming up.

And I guess I'd like to make a bit more music.

I want to be a rapper. Like Romano. [Laughs]

I'm a big fan. He's one of the few interesting

people in German music at the moment.

Maybe I will collaborate with him one day.

Read more about Romano on page 30. Follow

Shahak and get more details about his German

Humor show at facebook.com/shahakshapira

BY SHAHAK SHAPIRA:

Das wird man ja wohl noch

schreib-en dürfen!: Wie ich der

deutscheste Jude der Welt wurde

Shahak's autobiography covers his

youth in Israel and Germany, the

murder of his paternal grandfather

in the 1972 Munich Olympics massacre,

and his maternal grandfather's

survival of the Holocaust.

'90s Boiler Room

Shahak replaced the audio from

Boiler Room streams with 1990s

pop hits in a series of videos that

garnered international attention

and millions of views.

Yolocaust

To criticise the trend of tourists

taking cheerful selfies at Berlin's

Holocaust memorial, Shahak took

photos from social media and

edited them to show the subjects

posing against horrifying scenes at

concentration camps. The project received

worldwide attention, but was

removed from the website after all of

the subjects asked to be taken down.

#HeyTwitter

Motivated by Twitter's lack of response

when reporting homophobic,

racist, Islamophobic and anti-Semitic

tweets, Shahak made 30 stencils of

offending tweets and sprayed them

on the road outside Twitter's Hamburg

offices. As employees arrived

at work, they were confronted by

the violation of their own terms of

service and hate speech policies.

Die PARTEI

Ahead of the 2017 German election,

Shahak hijacked a number of farright

Facebook groups, including

several used by high-ranking members

of the AfD. Admins were locked

out, then the groups were made

public and renamed 'I
---
Sounds of the Scrapyard

MADCAP ARTIST

KOLJA KUGLER'S HEAVY

METAL ENSEMBLE

Kolja Kugler is one of those characters that makes Berlin

the place it is. Yet the city, and its history, have left an

indelible mark on his trajectory, both as an artist and

a person. We met Kolja and his robotic musicians, the

One Love Machine Band, to get a closer look at the nuts

and bolts of his automated art, and to revisit a post-Wall

metropolis where the possibilities were endless.

words by

Alex Rennie

photos by

Soheil Moradianboroujeni

It's a bright Saturday afternoon. Kreuzberg

shimmers in the sunlight as it reflects off the

Landwehrkanal. Just past Birgit & Bier, between

a cement supplier, adidas' swish RUNBASE and

the now defunct Jonny Knüppel, you'll find Kolja

Kugler's Wild Waste Gallery. His One Love Machine

Band are set to perform to a small audience, some

eagerly awaiting, others utterly perplexed.

Two towering humanoid sculptures loom over

a makeshift stage, one clutching a bass guitar in

its gargantuan hands, the other hunched over a

ramshackle drum kit. Without their instruments,

they'd look at home in The Terminator. Kolja flits

between his scrap creations, tinkering with wiring

and pneumatic pistons, before returning to his

control desk. To the left of the duo sits the band's

manager, Sir Elton Junk. The surreality of the scene

is intensified by the shipping containers that form

an industrial henge around the space's perimeter.

Kolja's 'droids jerk to life, performing with a

thundering mix of percussion, creaking metal,

rushing air and pounding bass, overlain with a

chorus of flute-playing robo-birds. It's as eccentric

as it sounds. The spectacle comes to a close with

Kolja actually playing Sir Elton Junk, the flailing,

spindly-looking machine spraying water over

the transfixed crowd. Following the frenzy of the

performance, Kolja agrees to talk to us. After what

we've just seen, we don't know what to expect.

Kolja shows us around his Pankow workshop.

It's a cornucopia of junk, some of which has been

repurposed into his distinctive sculptures. In many

ways, the organised chaos of the One Love Machine

Band spills out onto the shelves of Kolja's space.

He lives next door in a converted cabin, which is

where we retire to hear about his life.

He was born in Göttingen, but Kolja's parents

moved to the capital when he was three to settle

in Charlottenburg's lakeside Lietzensee Kiez. It

was West Berlin, and growing up with the constant

threat of nuclear apocalypse (and protesting with

his parents) had a profound impact on young Kolja.

"The arms race was very present. We'd have been

the first ones to go as we were living on the front

Autumn/Winter 2017

17
---
Sounds of the Scrapyard

Kolja Kugler

line of the Cold War," he tells us. "It was a

totally mad situation that we had gotten

comfortably used to, but then it suddenly

fell apart into common sense with the Wall

falling. Nobody expected that to happen."

Kolja's reality changed abruptly and Berlin

morphed into a playground of possibilities.

"It was a great atmosphere, you could do

what you wanted," he says. "Just witnessing

it collapse totally shaped me. I decided

to start changing the world around me."

Shortly afterwards, he moved away from

home: "I found myself squatting in Potsdamer

Platz, which was just a whole bit of

nothing, just mud and wasteland."

This would prove to be momentous for

Kolja. One early '90s winter, The Mutoid

Waste Company, an art group fronted

by British punk-junk artist Joe Rush,

pitched up at Potsdamer Platz. The now

fabled collective were busy making a

name for themselves by dragging decommissioned

Russian Army machinery

into the city centre and rearranging it into art

right in front of the Reichstag. Unbelievably, this

included two MiG-21 jets. "They did Berlin the

biggest favour," says Kolja. "Demilitarising those

fighter planes, painting them and putting them in

the hands of the people, it was so punk."

"What got me straight away were the sculptures,

especially Joe's: he's kind of my idol. So I learned

to weld and made some myself." For the following

few years, Kolja and co. lived on a sculpture garden

they'd set up in their slice of no man's land. "Tourists

were coming every day and we were pretty

much the only thing to look at; there was only the

odd piece of the Wall standing around," he says.

In 1993, London-born techno sound system

Spiral Tribe arrived. Alongside the new arrivals,

Kolja and the Mutoid Waste Company decided to

hit the highway: "It kind of made sense, we'd got all

this stuff, we lived in trucks, we were making art,

why not do a road show?"

"We joined together to take this MiG to Russia, to

give it back to express our joy that the Cold War was

over," he says with a smile. Renamed the Lost Tribe

of MiG, they set off for the former USSR with one of

their showpiece fighter jets mounted onto a crane

arm so as to simulate flight.

Things didn't quite go to plan though. "We left

Berlin, but the crane wasn't roadworthy anymore

so we put it on a massive Russian low-loader we'd

found. As we were leaving Berlin, the truck gave

out. This dense white smoke came out of the

exhaust and covered the road, you couldn't see

for half a kilometre," Kolja recounts. Leaving the

stricken lorry by the roadside, the convoy abandoned

its precious cargo "in front of some guy's

house," promising to collect it in a few weeks. They

pressed on for Prague. Nobody returned.

After finding a patch of land to squat outside

the Czech capital, Kolja helped set up the

inaugural CzechTek freetekno festival in 1994.

However, the Lost Tribe of MiG disbanded soon

after. Kolja then travelled around Europe with

Spiral Tribe and his own Alien Pulse Agency

sound system, raving it up across the continent

at Teknivals that "got really big, really mad and

really tribal!"

During Kolja's Euro trip, his sculptures evolved

too. "It was hard on the road without a workshop.

I always sculpted wherever I was, in the ditch with

a generator," he says. Kolja adds that at first, he'd

"look into a pile of scrap and see birds, maybe because

it was the easiest shape to make." Tackling

dogs was the next challenge before eventually

making a humanoid face.

"I found these pliers, then with some other bits

formed this really scary looking skull," he says.

"Since the pliers were the bottom jaw, you could

open and close the mouth." Not long after Kolja

sussed out how to move the skull, Frank Barnes, a

friend he'd been travelling with for years, introduced

him to pneumatics. "He was the first guy to

move his sculptures pneumatically. That was the

moment I thought, 'OK cool, there's something

happening', and I carried on building." This was

the beginning of Sir Elton Junk.

In 1999, just as he was working on his robot's

limbs, Kolja became a father. "They were born at

the same time, Elton and my daughter," he says.

Kolja and his young family ventured off on a trip

that took them to Australia, Southeast Asia, North,

Central and South America. "I'd wanted to go

around the world, and fortunately my partner was

quite cool about travelling and said 'Why don't we

go with the kid?'" They spent the next six years

traversing the globe: "We were a bit like a circus in

the mad colourful truck. It was intense. I took Elton

too. He sat on the sofa in the truck. I gave countless

Elton robot shows in different places; there were

some amazing culture clashes."

Spiral Tribe

The largest party the group

organised was the Castlemorton

Common Ground Festival on May

22nd-29th 1992. 13 members

of Spiral Tribe were arrested

and charged with public order

offences. The subsequent trial

became one of the longest-running

in British history, and cost

the UK £4 million.

18 Issue Five
---
Kolja Kugler

Sounds of the Scrapyard

«

THIS DENSE WHITE

SMOKE CAME OUT OF

THE EXHAUST AND

COVERED THE ROAD,

YOU COULDN'T SEE FOR

HALF A KILOMETRE.

»

After globe-trotting, Kolja returned to

Berlin. "It was an intense chapter in my

life that opened like a book and closed like

one too," he says candidly. "My daughter

had to go to school and my ex decided to

move to Freiburg." Having to start over at

35 while supporting his daughter on the

other side of the country was a challenge.

"It wasn't a shock, I'm used to rearranging

my life. The real shock was the breakup, it

pulled my heart out," he admits.

Amongst this reshuffle, Kolja persevered.

"At the time, me and Frank were thinking

about what we can do with pneumatics, we

thought, 'Let's build a band and make some

music'." And with that he got started on

Afreakin Bassplayer, the first member of his

robot band. "The focus for Frank was more

on the engineering; for me, it was classic

sculpture," Kolja says. "My sculpture was going

to play bass and it had to look good. I was

learning to get the balance between the mechanics

and the sculpture's character. It took

me four years and I freaked out multiple

times!" But by the time Kolja came to build

the onomatopoeically-named drummer

Boom Tschak, he had the technique nailed.

Right now, Kolja is in the process of

building a keyboard player for the One Love

Machine Band. He also reveals that he's

managed to get his hands on the second of

the Mutoid Waste Company's MiGs: "The

other one was stored 150km from Berlin,

sitting in a bush. I brought it back along

with a bulldozer. Instead of having it on the

crane, I want to mount it on the 'dozer and

fly it about. I'll cut it up so it can

bend like a fish and chop the wings

to make it flap like a bird."

If you've never met Kolja in

person this might sound absurd,

though you're this far into his

story so you probably wouldn't bet

against him. For now, he's using

the Spree-side Wild Waste Gallery

to showcase his work: "I wanted

to establish a place where people

could come, just like the space at

Potsdamer Platz with the Mutoid

Waste Company. Now I find myself

in that position again, also on the

border. Berlin is a place where

things come full-circle." In another

beautiful twist of fate, Spiral Tribe

are also renting the space with

Kolja. "It's great we're all in one

boat," he says. "We seized it to

begin with, now it's clear what we

want to do and we've got a lifetime

of experience to make it happen!"

The lease on the Wild Waste

Gallery is only short term, but that

doesn't bother Kolja much either. "My stuff

is mobile, we're all on wheels. Now that my

daughter has grown older and I'm more

free, I get itchy feet to go on the road again.

I've always wanted my thing to be a roadshow.

I'd love to have a permanent space,

but I'm not counting on it," he says.

In many ways, Kolja's oeuvre has come

to embody the spirit of the era in which he

grew up. And it's something he's conscious

of. "Berlin is so attractive because of this

feeling in the air. It's the artists who made

this city and who used the open-mindedness

of the '90s when the system was

ripe for reconstruction. Berlin is like this

because so many people had this feeling of

all the possibilities to do what they wanted

to do." Whatever the next stage has in store

for Kolja, it's bound to dazzle.

See more of Kolja's work at koljakugler.com,

but to see The One Love Machine Band in

full swing head to Wild Waste Gallery on

Saturday afternoons.

Autumn/Winter 2017

19
---
Cover Story

TRICKY

A pioneering graduate of the trip-hop era, Tricky has parlayed

his artistic vision into a career spanning three decades. He's

just released his 13th album, uniniform, the first he's produced

since his move to Berlin three years ago. Here we talk with

him about this new chapter, his lifelong journey in music, and

the virtues of his new home city.

20

Issue Five
---
Tricky

Cover Story

interview by

Stephanie Taralson

words by

Jonny Tiernan

photos by

Robert Rieger

Knowle West

In the Domesday Book, Knowle

was a rural area assessed at a

taxable value of two geld units.

Knowle West remained rural

until the 1930s, when a council

estate was developed to house

people displaced by the clearance

of Bristol's slums.

Tricky is a man whose reputation

precedes him. It's well known that

he follows his instincts and trusts his

feelings, and he isn't the kind of person who gets

bogged down by how he might be perceived. We

experience this firsthand during our photoshoot

with him. As we settle on a good spot to start

taking shots, two women standing nearby ask us

what we are doing, with a somewhat accusatory

tone. Tricky decides that he doesn't like their

attitude and suggests we move somewhere else.

He turns and walks away. We follow.

As soon as we find a new location, Tricky relaxes

into the shoot and the initial tension bleeds away.

He is friendly and laidback, chatting with various

characters that stop by to see what we are doing.

After a few minutes, the woman who caused the

upset at the start of the shoot comes over bearing a

spliff as a peace offering. Tricky jokes that it is her

way of apologising, and she laughs.

Talking after the shoot, he's passionate and

engaged, riffing on celebrity culture and how he respects

people who are famous yet remain grounded.

He tells us about an encounter with Dave

Grohl, who came up to him in a bar just to sing the

Outkast lyrics, "Ain't nobody dope as we are, just

so fresh so clean" at him, and how Chris Martin is

also a really good, normal bloke. We get the sense

that Tricky's working class background makes him

more comfortable with people who don't put up

fronts; who are honest and true to themselves.

Tricky grew up in the Knowle West neighbourhood

of Bristol in the 1970s and '80s. By his

own admission it's not a glamorous place, and

difficult to explain without having grown up

there. "If you're not from Knowle West, you don't

go to Knowle West," he explains. Nevertheless,

it's a place that is close his heart. His 2008 album

Knowle West Boy is a tribute to his youth, and he

speaks fondly of his former stomping ground. He

has since lived all over the world – Paris, London

and LA to name a few places – but for him, none

of these cities have greatly impacted his music,

whose inspiration runs deeper than his immediate

surroundings. "I'd say it's a product of my life,

not my environment," he says, speaking of his

signature style. "It's my family, people I grew up

with, friends that shaped me musically forever.

My little neighbourhood. Obviously I could be

influenced if I lived in Spain and started working

with Spanish singers and stuff, but I took shape

way before I went to LA, Berlin or New York, you

know? My life was shaped already."

Rising to prominence in the golden-era of triphop

in the early '90s, Tricky famously collaborated

with Massive Attack on their first two albums before

stepping out as a solo artist. His debut record Maxinquaye

was released over 20 years ago, and its universal

acclaim instantly marked him as a unique talent.

The album became the perfect accompaniment

for indulging in the hazy hit of weed, and ushered

in an era of heady beats and dense atmospherics.

He caught the trip-hop wave alongside artists like

Portishead and DJ Shadow, and emerging record

labels like Mo' Wax and Ninja Tune. Tricky became

a central reference point of trip-hop, personifying

the introspective, experimental nature of the music.

"I started in the days when being credible was being

underground, and the pop artists were the pop

artists," he says. The music industry was entirely

different then, and high record sales were not the

reserve of huge pop stars.

Contemporaries like Morcheeba came along,

adding a pop element to the genre to ride it up the

charts, but Tricky avoided mainstream add-ons.

He eschewed the commercial, resolutely sticking to

his own way of doing things, refusing to follow fads

or fashions. It's a trait he has carried throughout

his career: played the part of the outsider, pushing

himself in different directions, embracing change,

constantly moving. In time, almost all of his contemporaries

have fallen by the wayside, splitting up

and crashing out, but Tricky never let up.

He continues to work and produce independently,

without any interest in the pop world

or the trappings of the industry. "If I do an album

and it only sells 30,000 records, that's OK, because

I don't have the same pressure as other artists. I

don't care about mansions or big cars, and I'm not

trying to be the richest person on the planet. Money

has never interested me at all. For some people,

making more and more money is an ambition. I

don't think that's my ambition. If I've got money

and I can travel, see my family and live without

stress, then that's enough." It's an ethos he sees

mirrored in Berlin: the 'poor but sexy' image of the

city rings true. And Tricky appreciates the degree

to which the capital is pronouncedly unmotivated

by money. "I feel here as well that people ain't

obsessed with money. You see people working two

or three days a week, doing the job they love doing

for less money rather than doing a job for a lot of

money. People are very relaxed here."

It's this attitude that spawned a diverse and

long-running music career, which has brought him

to the release of his 13th album, ununiform. The album

title reflects his own idiosyncratic way of doing

things, subverting convention and channelling

change. Plus, it's a serious achievement for any artist

to release a 13th studio album; to have produced

this many records in the 'churn them up and spit

them out' modern music world is an increasingly

rare feat. It's his first album since moving to Berlin

three years ago, and while the city may not have

influenced him musically, the lifestyle here has

clearly had an effect on him personally.

"I don't do things here I don't want to do," he

begins. "In other cities I've lived in, I'd do stuff not

because I wanted to, but just because they were

there to do. Like, I don't mind going to clubs, but

it should be because I want to go, not because I am

bored. Here, I feel more satisfied. In other major

cities I don't feel satisfied, so even though there's

lots of things to do, I still feel restless. In Berlin I

Autumn/Winter 2017

21
---
Cover Story

Tricky

« THE LAST SONG'S GOT TO FEEL LIKE THE

END OF THE ALBUM BUT ALSO THE BEGINNING

OF SOMETHING, BECAUSE THEN YOU HAVE

THE NEXT ALBUM. IT'S GOTTA SAY GOODBYE

AND HELLO AT THE SAME TIME. »

22

Issue Five
---
Tricky

Cover Story

don't feel restless for some reason. You know, I go

to bed at 11 o'clock at night; I'll get up at 8 o'clock

in the morning. I am not up all night just killing

time. I'm more satisfied with my life."

Perhaps life in Berlin has mellowed Tricky

out in a way that life in London or New York

couldn't. Directly before moving to Berlin he

had spent six months in London, but says "it

was much too fast for me, too speedy." It's a bit

of a cliché to state that people 'find themselves'

when they move here, but Berlin is a city that

offers the opportunity for a slower pace of life

compared to many other major capitals. Tricky

appears chill, relaxed and healthy. It could

be that he shares this common experience of

those who feel a greater sense of freedom and

the opportunity to be themselves in Berlin. On

the other hand, ununiform certainly feels like

Tricky has returned to his roots and rediscovered

his form, and the album is peppered with

nods to his past. He's comfortable with where

his music is now, and doesn't need to prove

himself to anyone. Part of this can be attributed

to his self-releasing the record on his own False

Idols label. Thus, he's not indebted or answerable

to anyone but himself. The result is a raw,

personal, emotional record, and by his own

admission his finest work in years.

Because Tricky's peripatetic lifestyle has

seen him living in many different cities and

surroundings over the years, you might expect

the method by which Tricky produces music

to have naturally evolved, but he tells us the

opposite is true: "Nah, it's exactly the same.

Same equipment basically from when I started,

no new technology. It's all very simple." It's

another example of how Tricky stays true to

his roots, not in a traditionalist sense, but by

being confident in knowing what works and

what he likes. Perhaps this is why every track

from his dense discography is imbued with a

sound that is recognisably 'Tricky', irrespective

of whether it's a punk-tinged banger or

something more introspective.

In 2018, Tricky will turn 50. It's a mammoth

incongruity. He exudes youthfulness and has an

aura of mischievousness, as though he's always

willing to have some fun or cause a ruckus. At

this stage of life some people consider slowing

down, but he shows no signs of hitting the

brakes anytime soon. He gives the impression

that he thinks a few steps ahead, his mind ticking

over, working out his next move. When asked

what keeps him making music, whether he has

a particular goal or ambition, he's philosophical.

"Just 'cause I love doing it," he says. "My goal

is the journey, not what I get from it. Different

albums take you to different places. One may

do well in a particular market, so you end up

going there. Somewhere like Hong Kong. I've

been to Venezuela – Caracas; I've been around

Autumn/Winter Summer 2017

23
---
Cover Story

Tricky

« I DON'T CARE ABOUT MANSIONS OR

BIG CARS, AND I'M NOT TRYING TO BE THE

RICHEST PERSON ON THE PLANET. MONEY

HAS NEVER INTERESTED ME AT ALL. »

the world. In March I'll go to China or Mexico. An album

always takes you somewhere and you never know where

it's gonna go. It's not the goals, it's the journey."

"It's not just the physical journey, but artistically too,"

he continues. "You never know where an album is going

to lead you. Albums are like constant mad things with

different opportunities. Doing an album creates a great

opportunity. Being on a soundtrack or in a movie changes

your life. The shows as well, because when you've been

doing a tour of your album for three or four months, the

song structure starts to come out. One song ain't going to

sound the same after you've done

it 40 times. Something is going to

In a Movie

Tricky has acted in a number of

films, most notably in a significant

supporting role in Luc Besson's

1997 film The Fifth Element,

and a cameo in Face/Off.

change about it, whether it's a vocal or a musical part. So

it's a whole journey. The music keeps growing."

Tricky's live shows are notorious, and they've received

some mixed reviews over the years. It's part of his nature to

treat them as more free-form affairs than rigidly rehearsed

and choreographed routines. The band rehearses the

songs, but he rarely rehearses himself, preferring to take

the gigs as they come and do his thing. He's aware that this

isn't for everyone: "Our show can go anywhere, and some

people don't get or understand my shows. Most shows

can be a bit about love and hate, because you are just

going with the vibe, you know?"

It's the mark of a true artist when they're willing

to take risks and try new things, even if it means

some people will be upset or not get it. Our conversation

turns to his feelings on the dearth of artists

these days. He dismays that no one is making fully realised

albums anymore. "Two good singles and the rest is garbage,"

he succinctly puts it, and it's hard to argue with. A

shift towards single tracks and a focus on being included

on the right Spotify playlists has taken over as the industry

standard pathway to 'success'. Naturally, some artists are

still making great albums, and good singles have been used

to shift questionable albums probably since the format

existed, but the pendulum has definitely been swinging

away from long players.

This isn't how Tricky approaches music. He sees albums

as complete pieces of work, finished only "when it's a piece

of music from the beginning to the end," and also part of a

longer continuum. He explains: "The last song's got to feel

like the end of the album but also the beginning of something,

because then you have the next album. It's gotta say

goodbye and hello at the same time."

Whether it's living in a new city, living a healthier lifestyle,

or just life in general, ununiform marks a new period

for him. "I see albums like chapters. On this new album,

musically there's a bit of change that happened to me, I can

feel it. It still sounds like my music but there's a big change

coming. I'm going to say my last album was just an OK

album, but this album is a lot stronger. I've been recording

again and the music is even stronger. This is a new chapter."

After more than 20 years of making music, Tricky is still

writing his own story and carving out his own path. You'd

think with a career this long, and with so many milestones,

that it might have built some expectations into Tricky's

mindset, but he remains humble. "You know, actually I

don't expect anything. Anything that happens is a bonus.

It's like, the radio has been playing one of my songs, and

I never expected it, but it's happened. It's a bonus. If you

don't expect it, it's all good."

ununiform is out now on !K7/False Idols. See Tricky live at

Festsaal Kreuzberg on November 28th.

24

Issue Five
---
Tricky

Cover Story

Autumn/Winter 2017

25
---
Femtech Pioneer

Ida Tin

IDA TIN: CLUE FOUNDER

ON HER REVOLUTIONARY

PERIOD-TRACKING APP

Sometimes it takes little more than personal experience, passion

and a great cause to spark an idea that might change the world. Just

look at Ida Tin, the co-founder of Clue who, struggling to find a way

to manage her fertility that was right for her, had an idea to develop

an app that would help women keep track of their periods and learn

more about their bodies. It's an idea that has made her one of the

names in 'femtech', a term she incidentally coined herself.

words by

Alison Rhoades

photos by

Zack Helwa

In Ida's own words, "Clue is a female health-tracking app

designed for rapid data entry and user friendliness. Users can

track their period, fertile window, PMS, moods, pains, symptoms,

exercise, medication, birth control usage and notes about

their cycle in order to gain a better understanding of their own

patterns and personal trends."

Over 50% of the world's population of childbearing age have a

period each month, but Clue is more than a tracking app; it's about

education. Not only can you track your cycle, you can also get helpful

insights into your sleep patterns, sex life and ovulation if you're trying

to get pregnant. This bold approach to tracking female reproductive

health not only helps women and their partners stay informed and

educated, it reduces the stigma around talking about menstruation,

fertility and everything that goes with it. What your menstrual cycle

is telling you can also have serious implications for your health and

general wellbeing. That's why Clue was developed in cooperation with

top scientists and reproductive specialists, and the data they gather

advances knowledge about women's health through a collaboration

with the Kinsey Institute. We meet Ida for more insights into the story

behind Clue, and she fills us in on her experiences as a female entrepreneur

and her vision for reproductive care in the digital age.

Can you tell us a little bit about how you ended up in Berlin?

I was born in Copenhagen but spent my younger years travelling

around the world, as my parents ran motorcycle tours. When I

did settle down to study, I attended Denmark's creative business

school, the KaosPilots. I moved to Berlin to start Clue with my

partner, who was born and raised in Kreuzberg.

How did the idea for Clue come about? Personal experience was

really the reason I founded Clue. Reproductive health is an incredibly

foundational and central part of our lives, but there's a real lack

26

Issue Five
---
Ida Tin

Femtech Pioneer

of clarity for women, generally. That starts

The Pill

the moment a woman has her first period and

Research into ovulation inhibition

was underway by the 1930s, but oral begins to manage that part of her life, and

contraceptives didn't reach markets continues as she chooses whether or not she

until 1961. Many women experience

wants to use birth control and, if she does,

negative side effects, but according

to the UN the pill accounts for at which method to use.

least 10% of contraceptive practice When I was about 30, the pill wasn't working

in over 70% of the countries with well for me and I realised there had been little

sufficient data to enable estimates.

No other method is so widely employed

in so many countries.

I have always been curious about women's

innovation in this space for the past 50 years.

health and was a 'quantified self' person – that

is, someone who incorporates technology and data analysis

into their daily life – long before I knew the term. These were

the drivers to launch Clue – an app that could clue people in

with personalised health data to give them an awareness of

the unique patterns in their bodies and their cycles.

What were your main objectives when starting the

company? When I dreamed up the idea of Clue, I was

wondering how it could be that we managed to walk

on the moon but that most women still don't know

which days they can or can't get pregnant. I personally

needed such a tool to manage that very important part

of my life, and I was convinced that many other women

would find an app like Clue not only very useful but

also very empowering. When you are able to identify

patterns that are unique to you, you feel more in control

of your own body, and better able to manage the

changes that are taking place within it.

How did you decide what data to request from your

users to give them an accurate forecast of their

fertility and menstrual cycle? Each and every tracking

category in Clue has medical research to back a correlation

between that aspect of health and the menstrual

cycle – whether it affects your

cycle and vice-versa.

Why did you decide to base

the company in Berlin?

We're based in Berlin for

several reasons. Berlin is an

extremely exciting place for

new technology, and it's much

more affordable than Silicon

Valley from the perspective

of a lean startup. Also Hans,

my partner and co-founder

of Clue, is from Kreuzberg,

so that also influenced our

decision to set up here.

In many countries, women's

reproductive health

care is under attack. How

do you think Clue can help

women to take ownership of

their own family planning?

Actually, the biggest challenge

since Clue's launch directly

relates to the lack of resources

women have when it comes to

their health – whether due to a

lack of scientific research or societal taboos. This is still

a very new space with a ton of potential because every

woman in the world faces the realities that come with

menstruation, fertility and overall health.

While Clue cannot replace proper reproductive health

care, it can help anyone without access to it to better

understand their cycles and overall health, and it allows

those wanting to start a family to assess when their fertile

window may be, helping their chances to conceive.

A significant aspect of your company is education on

women's bodies, not just through using the app but

through publishing articles about sexual and reproductive

health. Why was it important to you to take

this approach? When I founded Clue, menstrual health

was one of the most underrepresented categories out

there. Given that half of the world's population will experience

a period, I thought it important to develop an app

that not only allows women to track their menstrual cycle

but that also educates and informs, hence the amount of

medical information that is available via Clue.

Some people are still unsure about giving their

data to a company. What would you say to them? I

would say to check the company's data-sharing policies

before submitting any information that you would

prefer to keep private. There is a misconception about

data sharing; it's not always a bad thing, as long as the

user is aware that their data may be shared with a third

party and has agreed to this beforehand. Clue, for example,

would never share users' private data for profit

or commercial gain. Any data we share is always taken

from polls or studies that Clue users have opted to be a

part of, and we would only ever share this useful, anonymous

data with trusted medical organisations to help

advance medical and scientific research.

The history of medical science is based on data. For example,

vaccines were invented as data established a need

for them. We have an obligation to use data for good. If we

don't use data, we pay a huge price.

You coined the term 'femtech'. How would you define

it? 'Femtech' is a term that addresses the growing sector

of technology that is designed specifically for women.

Femtech does not refer to 'women in technology', but

rather the expanding category of technology that serves to

help women take better control of their overall health.

You've spoken before about the reluctance of men

to invest in products catered to women, and the lack

of female investors in technology. Can you explain

why you think that having women in tech – in both

business and development – is so vital? Women are seriously

underrepresented in tech. They only hold 10–20%

of tech-related jobs at tech companies, yet digital female

health is one of the fastest growing sectors, with period

and fertility trackers encompassing the second largest

category within health apps, second only to running apps.

Investing in female-led tech isn't just a step towards gender

equality; it makes business sense.

I firmly believe that it is essential for women to empower

each other to take up space in the industry, and to

continue breaking gender stereotypes in order to pave

Autumn/Winter 2017

27
---
Femtech Pioneer

«

I FIRMLY BELIEVE THAT

IT IS ESSENTIAL FOR

WOMEN TO EMPOWER

EACH OTHER TO TAKE UP

SPACE IN THE INDUSTRY.

»

the way for others, and this is what we are seeing now.

One area where we most need to see increased gender

diversity is on the investment side.

We need more women entrepreneurs, who are considering

and solving these issues, to focus on giving attention to

women's reproductive health around the world.

What are some of your takeaways from being a female

entrepreneur, particularly here in Germany? Berlin is

such a creative hub, and the city's liberal attitude and gender

neutrality makes it a great place for a female entrepreneur

to grow and succeed. Personally, I have never found

that being a female entrepreneur, or a woman in tech, has

ever held me back or presented greater obstacles. Although

I'm fully aware that statistically, it can definitely prove more

difficult for women to make a name for themselves in tech.

Being a female entrepreneur in an underrepresented field,

I believe I have the opportunity to make a much needed

change. At a company level, I feel the immense potential of

what Clue can do when I think about the difference it will

make in the world when people have a good understanding

of how their body works and are able to take good care of

themselves. Access to technology will change the world. It

already is. We hear it every day through emails that people

send us from all over the world. I am humbled and grateful

that I get to do this work together with my team.

You've had an accomplished and diverse career, from

leading motorcycle tours to being a best-selling author

to being named 'Female Web Entrepreneur of the Year' at

the 2015 Slush conference. What are some lessons you've

learned throughout your professional life? Professionally,

I have learned a great deal. In my role as a leader, I am

exposed to a lot of things that I feel I can personally take

care of. I used to make the mistake of trying to do too much

myself instead of learning how to assess my own limitations

and delegate tasks, enabling others to share the workload

with me. Letting go and trusting others to take over key

tasks is not as easy as it sounds when you are so invested in

something, but I think it is something that people in all positions

should think about in order to make themselves more

productive. It becomes easier to let go as the team grows, and

there are many talented people around me who are honestly

better skilled to take care of certain things.

Ida Tin

In 2016, Wired Magazine named Clue one of the top

European startups destined for success. But being

successful doesn't mean the same thing for everyone.

How do you define success? Success is whatever you want

it to be. There is a tendency these days to equate success

with money or fame, but neither of these things are necessarily

indicators of success. Success is simply the sense

of achieving something, be it completing a small everyday

goal or fulfilling a huge ambition. One mistake we've all

been guilty of at some point or another is comparing our

accomplishments to those of others. Only you can define

what success means to you.

How will Clue revolutionise women's fertility and

reproductive care in the future? The evolution of the app

has been incredible. In less than a year we have seen the

amount of active users increase from 1 million to 5 million

worldwide, as well as establishing partnerships with Stanford

University and the University of Oxford, enabling us

to carry out more in-depth research into menstrual-cycle

health. Our mission is to help people all around the world

benefit from insights into female health, and with more

than 5 million users entering data every month, we are one

step closer to achieving this.

It would be safe to predict that tracking apps and

gadgets will become increasingly intuitive in the future,

and will eventually monitor everything from heart rate and

blood pressure to stress levels to the amount and quality

of movement, ultimately capturing data that will allow

us to better understand both our emotional and physical

wellbeing. This amount of data can only be a good thing,

as it will offer doctors instant access to a far more detailed

and accurate medical history.

Our ultimate goal is to completely move female health

away from its niche status and get to a stage where society

can openly discuss menstrual health without hesitation.

You wouldn't think twice of mentioning that you have a

headache or sore throat, for example, and when people feel

as comfortable talking about cramps or other period-related

symptoms, only then have we managed to fully break

down the stigma surrounding them.

If you want to learn more about Clue, visit their website

and online store at helloclue.com or simply download it

for free and get tracking!

28

Issue Five
---
WWW.BRLO.DE
---
King of Köpenick

Romano

COPY, PASTE, DELETE, REPEAT:

ROMANO'S GENRE-FLUID

JOURNEY THROUGH MUSIC

He's the king of Köpenick, the west-coast-loving rapper in a Pippi Longstocking

disguise. Musically versatile and never too serious about labels, genres or even

himself, Romano charmed his way into German hearts and is ready to conquer

a few more with his new album, Copyshop. Here we talk to him about his music,

Berlin and what it was like to see the GDR fall apart.

words by Marlén Jacobshagen

photos by Robert Rieger

30 Issue Five
---
Romano

King of Köpenick

As Romano walks along the eighthfloor

corridor of the Universal Music

building, his pigtails bounce up and

down against his shiny, green Jets jacket.

It's easy to be drawn into a conversation

with him. Romano talks and jokes like

a true Berliner, and spreads a positive,

charming vibe that is highly contagious. As

he offers us some coffee, the only drug he

still allows himself, he recognises Moderat

on the cover of LOLA issue four. "Szary

and Gernot," he smiles. "They are friends

of mine! Both of them come from Woltersdorf,

quite close to Köpenick."

Köpenick is what Romano is best known

for, or maybe it's the other way around. As

a real Berliner – born in Köpenick in 1977 as

Roman Geike – he titled his second album

Jenseits von Köpenick (Beyond Köpenick),

a hilarious masterpiece that exists somewhere

between hip hop, electronica, pop

and metal. Romano never liked to be tied

down to one genre. At 15 he started to write

rap lyrics, but after school he played in a

metal band. He later turned to drum'n'bass,

became part of the Hightek Crew, and contributed

vocals for highly praised electronic

acts like Siriusmo and Oliver Koletzki. His

first record as Romano, Blumen für dich

(Flowers for You), was a Schlager album.

"What I love about this project

is that all the small facets of

what I did before always reappear

in my current songs. I'm

going to try to explain this in a

picture: on the ocean there are

ships, every ship is a different

genre of music and a different

size depending on how much

time I invested in it. You have

one for my metal band, a big drum'n'bass

ship, a colourful Schlager ship, one that is

electronic, and so on. All these ships go into

one harbour. And this harbour is Romano."

As a teenager when the Wall came down,

Romano was clearly influenced by the artistic

atmosphere of the capital after reunification.

The '90s created a dense atmosphere

of excitement and chaos; illegal clubs were

established, new subcultures emerged, flats

were occupied – Berlin was going through

a radical change. "Creatively aggressive,"

Romano calls it. "It was like a steam cooker

under high pressure, and at some point the

lid shoots off and everything comes out: the

good, the bad, the creative. Everything." He

continues: "There were punks, hip hoppers,

metallers, but you also had Nazis who

began to do horrible things in Rostock and

Hoyerswerda. That happens when you try

to keep everything under control. At some

point it breaks."

The Bunker

Now housing the Boros Collection

of contemporary art,

this former air raid shelter

has walls up to two metres

thick. It held parties from

1992-96 before police raids

forced its closure, and the

promoters went on to open

Berghain some years later.

Romano's new album Copyshop is a satirical

and acerbic portrait of German society

with poppy, electronic party sounds that

often belie its serious nature. The second

track 'König der Hunde' ('King of the Dogs')

is a reflection on the tumultuous time after

socialism collapsed. "It felt like a freefall,"

says Romano, who was about 12 years old

when his hometown stopped being part of

the socialist GDR and joined the Bundesrepublik

Deutschland. "The fascinating thing

is: maths keeps being maths, fractions keep

being fractions. Today and back then, in

every country around the world, science

stays the same. But that's not the case with

history and politics. Things we learned

about in the GDR were all of a sudden told

from a completely different angle. History

was turned upside down and we had to

change our thinking from year one on." In

'König der Hunde', Romano captures the

exciting and confusing spirit of the time:

"Kein Bock auf Schule, hab den Durchblick

verlor'n; Alte Lehrer, neue Bücher, überall

Diktator'n." ("I don't fancy school anymore,

I lost perspective; old teachers, new

books, dictators everywhere.")

Within a few years the face of Berlin

changed drastically. Romano talks about

reconnecting with a good friend after three

years apart, who then got

him interested in DJing and

electronic music: "He showed

me around techno clubs, and

everything was just wild at

that time. In autumn 1992 I

went to The Bunker wearing

a thick thermal jacket and inside

it felt like 1000 degrees.

They had washing machines

with heaters inside and there were people

with gas masks and latex suits everywhere.

Downstairs they played acid house, one

story up there was gabba, on the next one

there was a gang-bang party. And in the

middle of it all this little boy in the big city,

thinking: 'What's going on here?'"

The city attracted more and more people

and soon clubs died again, districts became

unaffordable, rents rose to double the price

(or more), even though the apartments

themselves often stayed the same. The title

track of Copyshop plays with this idea of

artificial change in value and price. In the

accompanying promotion, which is more

of a short film than a music video, Romano

tells the story of a job he had in a copyshop

for several years. "What I found fascinating,"

he remembers, "is that the art scene

has an insatiable demand for new products

from dead artists. And then they feed

themselves with fake art, which is a perfect

replica and they pay millions for it. But

once they find out, it's just worth a fraction

of what they were willing to pay before.

People define the value of things themselves

and the value constantly changes.

All of it is an illusion."

For the song, he worked together with

the Übermut Project, an initiative that aims

to give German arts a place on the global

stage. He collaborated with Cantonese

rapper MastaMic and shot the music video

entirely in Hong Kong. Here you can see

Romano prowling markets laden with

knock-off goods, including several Romano

figurines designed by his friend Siriusmo

who also creates the beats for his tracks.

Being in Asia for the first time was overwhelming,

he confesses. "Before that, I had

only ever been in a Chinese restaurant,"

he says, laughing. "You think there is a lot

going on in Berlin, but every corner there is

as busy as Ku'damm."

Romano never lost his charming, downto-earth

manner and often finds himself at

the sharp end of his own wry lyrics. Despite

this, he emphasises that everything he did,

he did with sincerity and passion: from

the metal band to the Schlager album. He's

fascinated by everything different and

beautiful. He explains: "Pippi Longstocking

is my role model: life is wonderful,

make it colourful! Tie yourself some braids,

glue something to your face, celebrate it.

Be yourself, whatever that may be!"

Copyshop is out now, so have a listen and

then catch Romano live at Columbiahalle

on November 9th.

Autumn/Winter 2017

31
---
Mental Health Matters

Kevin Braddock

TORCHLIGHT'S KEVIN

BRADDOCK ON BREAK-

DOWN AND RECOVERY

Torchlight, a moving new publication about mental

illness, recovery, and the importance of asking for help,

is proof that great storytelling can really help people.

words by

Marc Yates

photos by

Valentina Culley-Foster

The Observer

Kevin's article, 'Man Down' was

the cover story of The Observer

Magazine on August 13th 2017.

Since its release earlier in 2017, the magazine

and practice cards – a deck of actions and

ideas to help users build positive habits –

have now sold out. With Torchlight and the practice

cards, creator Kevin Braddock offers an honest

and non-prescriptive approach to recovering from

periods of mental illness, presenting it through the

prism of his personal experiences.

While working as a fashion editor in Berlin in

2014, Kevin suffered a severe depressive episode.

Asking for help was the first step in his recovery,

a central part of which became writing down how

he was feeling. That writing became Torchlight,

which he released in the hopes that it would enable

others to speak more openly about their mental

health. To hear more, we grabbed a coffee with

Kevin on one of his frequent visits back to Berlin.

As readers of Torchlight, the first question we

want to ask is: How are you? In general I'm fine.

I'm going through a phase where life is happening

quite fast at the moment. The project itself

is going great. We announced that we're going

to try to get Torchlight back into print through

crowdfunding. People seem to really like it; the

response has been extraordinary.

We've noticed! Have many readers reached out to

you with their personal stories? Yeah, that's sort

of the point really. I just think that saying it first enables

other people to open up. It's better to talk about

these things, I mean, that's how therapy works – you

go and see a therapist, you talk to them about your

feelings and you feel slightly better. [Laughs]

What's been interesting is that I wrote the story

in The Observer and it went kind of mental after

that. It got shared 10,000 times or something. In

20 years of being a journalist, nothing like that's

ever happened before. [Laughs] I think it's a bit like

being in a secret society, you know, everyone has

had something like this, or is experiencing it, or

they know of someone who is.

Which makes it all the more baffling that mental

health isn't more openly discussed. Yeah. I

think it's slightly different in Germany. When I was

living here, I felt that Germans were very emotionally

articulate in a way that perhaps Brits aren't. Do

you know what I mean? If you ask a German how

they're feeling it's like– [Checks watch, grins]

So what made you first decide to share your

story in this format? A couple of days after I had

this breakdown, which was August 10th 2014, a

guy I know had seen my alarming messages on

Facebook and said, "Look Kev, from now on you

need to be really open and more honest about all

this stuff, and since you're a writer, why don't you

write it all down?" He was really adamant about it.

I was a bit mystified, so I said, "Thank you, can I

ask why you feel that way?" And he said, "Because

my sister killed herself." I thought, 'OK, he's right.'

That was the germ of the idea.

I'd made an independent publication before

called Manzine. Myself and my friend Enver who

works for Mario Lombardo – he was the guy who

took me to the hospital – started designing Torchlight

in February or March 2016. Instead of writing

the whole thing and then handing it to Enver, we

designed different bits and developed it, partly

because I was still– am still recovering. It wasn't

complete, and then I realised that it's never complete.

But in terms of a story you just have to pick a

day and say, "OK, that's the end, for now."

So was working on Torchlight part of your recovery

as you developed the project? Yeah, it was very

therapeutic to write it all down, chew it over and

figure out what I thought about everything. It was a

kind of sense-making process, and then I thought,

what I want to do is just give it to people. There are

lots of other recovery memoirs, really good ones.

They're all the same story, really: something terrible

happens to someone, they have a breakdown, they

begin recovering, and then they get better and want

to help people. [Laughs] Have you read James Frey's

A Million Little Pieces? Brilliant book.

Anxy Magazine is another good one. Torchlight

is just me, talking. It's a strange object because it's

not really a book or a magazine. I wanted to

32 Issue Five
---
Kevin Braddock

Mental Health Matters

«

I THINK IT'S A BIT

LIKE BEING IN A SECRET

SOCIETY, YOU KNOW, I GUESS

EVERYONE HAS HAD SOME-

THING LIKE THIS, OR IS

EXPERIENCING IT, OR THEY

KNOW OF SOMEONE WHO IS.

»

Autumn/Winter 2017

33
---
Mental Health Matters

Kevin Braddock

do something different. I know how to make

magazines, but it's not a magazine that has

a series of contributors like Anxy and it's not

a typical book where it's just pages of text.

Tell us about the practice cards. When I

went back to the UK I was getting up every

morning in sort of a military way, trying

to bootcamp my way to being whatever

'better' is. It was completely overwhelming

and I was trying to do too much, so I

thought I'd write all the things down on

cards and try and do one or two every

day; maybe a breathing exercise or a long

walk, some voluntary work, or read some

philosophy – Marcus Aurelius, or something

from the AA book. There's tonnes

upon tonnes of that stuff around and it's

all really useful. Then I thought it could be

an extra little thing with this project.

The plan is to do another pack next year.

I think the practice cards have got quite a

lot of mileage in them.

Will there also be a second volume

of Torchlight? Yes. There's a lot of stuff

we're looking at doing; at least another two

packs of practice cards – we have ideas for

the second and a third – and I'd like to do

another issue, but it might take another

year or two to make that happen. It's not a

typical magazine where we publish something

every three months.

I think the important thing is to generate

a network, a community. This person-to-person

thing is really important.

I've been running these

storytelling meetings in London.

I'd like to do a lot more of those.

There's probably a digital technology

angle in there somewhere,

but I'm not sure where yet. We've

got ambitions, but we have to do

it in a way that we live our values.

And not undermine your mental

health by putting too much pressure

on it. Exactly. So we have to

have a mindful approach to doing

these things, you know? [Laughs]

The challenge with digital media

is that it's the way to reach

people nowadays, but it has

an impersonality to it that's

perhaps counterproductive to

what you're trying to achieve.

Yes, I agree, and I think in the

technology world there are a lot

of people talking about empathy

– how to bottle and commodify

it – and I think that's a massive

mistake. I don't think you can

and I don't think you should. Empathy is

something that happens between people.

There's Big White Wall, which is the

NHS' [digital platform]. You can write

your story and publish it online. I don't

know if it works, and I don't know if

writing something and posting it on the

internet is really helpful to anyone.

Well, maybe the question is what happens

after that. No one needs a new platform to

publish their thoughts anonymously online.

I think if you're unwell it's really important

to be heard. To speak to someone and

have the feeling that they're listening to you,

and that they care about what you're saying.

But the internet isn't like that. Nobody gives

a fuck what you're saying.

Do you think mental health is a topic

that's especially important for men

to talk about? I think that it's clearly

an acute problem with men. I saw some

statistic that said the reason the suicide

rate among men is higher is because men

are more likely to act on it. It's not like

they have more suicidal ideations; they're

just more willful about it. But I think depression

transcends gender, race, status,

everything. It's a problem that anyone can

have. Torchlight is not a magazine for men

about depression. I wasn't thinking in a

demographic way about it.

I think with men it's just about how you

get to them. I mean generally there's obviously

a big problem with how we socialise

men. I was talking to someone the other

day about soldiers. I did this story years

ago for GQ about soldiers who were injured

in battle and had PTSD, and apparently

they will only ask for help after ten years

of suffering, because the army trains emotions

out of soldiers. There's this organisation

called Combat Stress, and they do

really good work for veterans with PTSD.

I don't know how we educate young

people, but from what I hear there's much

more education about emotional fluency

these days, which is obviously good.

At the moment, social media seems to

be flooded with nihilism and memes

about suicide and depression – 'sad

reacts only', etcetera. Do you think

that kind of thing is part of a new

emotional fluency, or do you feel it's

counterproductive? I suppose one

change I would like to see is that people

don't think it's cool to kill yourself, and

don't think that it's glamorous or sexy.

With Torchlight the message is 'ask for

help'. That's the point. It's what I did and

everything changed. It would be great to

think that people think it's OK to do that,

rather than bottling it up and taking it

away and acting upon suicidal ideations.

There is help around, and I think most

people, if they're asked to help, probably

would. Even if it's a complete stranger.

You mentioned Marcus Aurelius

earlier. Meditations was the first thing

we read after Torchlight. Ah, you got it?

Seneca's very good as well.

What are you reading at the moment?

Going Sane by Adam Phillips. Phillips is a

Freudian analyst, and he writes very intelligently.

His argument is that there's no such

thing as sanity, and that basically we're all

mad and what the medical establishment

has done for a long time is imprison people

in a diagnosis. He talks about how society

thinks about mental illness compared to

a model of sanity which in many ways is

insane. It's like, why do we think it's sane

to accumulate tonnes upon tonnes of

possessions? Or have more money than

we need? It's very interesting.

We'll check it out. Thanks so much

for your time, Kevin. No problem, it's

good to talk.

Back the Torchlight crowdfunding

campaign and get your copy at igg.me/

at/torchlightsystem, and keep up with

the latest at torchlightsystem.com

34 Issue Five
---
Project Mooncircle

Label of Love

LABEL OF LOVE

PROJECT

MOONCIRCLE

A few notable exceptions aside, record companies

often run on the time and energy of tireless people.

Even for big industry players, it's a tough business.

However, in Berlin there's a fantastic example of an

independent label that is withstanding the test of the

times. Project Mooncircle is celebrating its 15th year in

2017, so we meet with its founder Gordon Gieseking to

hear what it takes to succeed in a challenging industry.

words by

Andrea Servert

photos by

Soheil Moradianboroujeni

"

We wanted to create a view from the moon

to the Earth. We wanted to give the listener

some kind of soundtrack to reflect

on what happens here, and in my opinion, it can be

dark sometimes. How we treat the planet, how we

treat each other…" Gordon starts delving into the

project he started building a decade and a half ago

as we enter his Marzahn emporium. What began

as an extension of Miami label Beta Bodega has

become a well-established imprint that constantly

pushes the boundaries of electronic music. For the

uninitiated listener: it's fruitless to apply a single

word or genre to Project Mooncircle, and Gordon

isn't interested in that kind of classification. "Some

people think we have a sound, but I don't think it's

true," he says. "We release so many different kinds

of music, from folk to techno, or beat-oriented stuff.

If anything, I think we are melancholic. Most of the

time it's music for your home or going for a walk."

There are some things that help us understand

the DNA of the label. First, Gordon's love of '90s UK

hip hop. That sound, where instrumentals play a

huge role, guided Project Mooncircle's early years.

Mr Cooper and MF Doom are two notable names, but

later artists would drive the label to new territories.

Then Robot Koch came on board in 2010, bringing

new dubstep sounds and beats that felt more

experimental. With the new decade came names

like Long Arm, Flako, and more recently, Submerse,

with a dreamy, modern take on downtempo. It feels

like every artist on the roster is acknowledged as a

pioneer in their own right, and that proves Project

Mooncircle has a knack for scouting real talent.

"We've had luck," Gordon continues. "We chose the

right people when they were creating something new

and we went in the right direction." He lets artists

lead the way when it comes to the sound. "Maybe in

the beginning the label was closer to my personality,

but not so much anymore," he says. "I wouldn't call

myself a tastemaker. I've learned to be open-minded

and trust the artists, because most of the time they

are right. The influence, the face, and the creative

input is the artist; I am in the background taking care

of the structure." He has a lot of confidence in the

artists; he will let them do the work and release the

music as it is – as long as the outcome is good.

Project Mooncircle signs artists for four or five

years, then it's time to re-evaluate the situation. This

is how they ensure the label and the artists evolve, and

it's also the reason Gordon ascribes to Project Mooncircle's

longevity. But if there's something that has always

made this label distinctive, it's the artwork. The

visual element is as important as the music, and this

is where Gordon's pride in his work shines through.

"Almost every layout is mine," he tells us. "When I

decide that we are going to release something, I stop

listening. I wait until the mastering is done, and then I

listen to the final product. It's amazing to enjoy it like

a listener. That's when I work on the layout or do my

own illustrations." His style is instantly recognisable,

with intricate illustrations of abstract scenarios that

are full of detail. His artwork also connects with the

very origins of the project, when he met the founder

of experimental label Beta Bodega, La Mano Fría.

He became Gordon's mentor: "He taught me loads

of stuff, not only illustrations and graphics, but also

how to run a label. He taught me how to handle

human relationships, and this is the main thing in

label work. You have to be on point!"

Project Mooncircle turns 15 this year. It feels like

an achievement, but it is now that Gordon faces the

biggest challenge. The dawn of the digital age and

the ever-shortening attention span of the listener

demands a greater effort from labels. "Nowadays it's

just fast-food listening. As a label, we try to change

this in some way; we have to bring the music back

to the listeners. It's still important to have a label as

a platform that selects music for people, especially

in such an overloaded market," Gordon insists. But

the challenge for Project Mooncircle is not limited to

the state of the music industry, it is also about how

its founder and CEO feels about himself. "I'm 35 and

I just got married," he says. "I'm thinking about my

age and my future, and I'm doing a lot besides music.

I need to consider whether this is enough to exist

for the next 20 years. I've been doing this since I was

16, and of course I'm still a listener, but the business

side has changed a lot." Although one can never feel

reassured about the future, Project Mooncircle's

philosophy is to take things one step at a time. "I really

don't know what's right or wrong," Gordon says,

wrapping up our conversation. "We just continue

to release music, and if people think we get stuck

someday – maybe 200 people won't agree, and will

still enjoy it." Here's to those 200.

Autumn/Winter 2017

35
---
Dispatches

Seoul's Drag Queens

서울의

DISPATCHES:

THE QUEENS OF

QUEER KOREA

드랙퀸들

What is it like to walk the streets of Seoul? With a heaving population

of over 10 million and a self-professed 'bbali bbali' (quickly,

quickly) culture, the city feels hectic, frenzied. South Korea is a

country of obvious segregation; North and South Korea notwithstanding,

the country is profoundly socially divided.

Cynical youth has branded the nation

'Hell Joseon' due to the poor social and

economic opportunities they face in

comparison to their parents' generation. Gleaming

towers look down on consciously concealed

slums, and in them the work-hard, play-hard

ethic is absolute. Office workers completing some

of the longest hours in the OECD party into the

night with their coworkers before heading back

to work the following morning, hangover cure

in hand. Rapid economic progress is recognised

internationally and celebrated domestically, but

traditional Confucian values carry on, often to

the chagrin of the younger generation.

The South Korean LGBTQ community sits

uncomfortably between the threshold of progress

and a desperate clinging to the past. Repeated

attempts to introduce anti-discrimination law

have been abandoned because of the seemingly

impassable religious opposition to LGBTQ

protections. Hong Seok-cheon, Korea's biggest

openly gay celebrity, saw the near end of his

media career after coming out in 2000, while gay

actor Kim Ji-hoo faced a series of personal and

professional knock-backs after coming out that

led to his suicide in 2008. As recently as May 2017,

a soldier was charged in a military court for having

a same-sex relationship, part of a witch-hunt

of gay soldiers that drew international attention

and condemnation from Amnesty International.

A recent poll related to the Korea Queer Culture

Festival on the government-run platform M Vote

had to be shut down after socially conservative

and Christian netizens left a torrent of homophobic

comments and voted in the thousands to oppose

the festival, which sees droves of protesters

armed with homophobic signs each year. Groups

in traditional Korean dress give performances

and wave South Korean flags to drive home the

notion that queerness is un-Korean. Pride festival

itself has to be fenced off: after walking through

groups of demonstrators, visitors enter the festival

grounds by passing through lines of police.

Despite the volume of opposition, Korea

has come on leaps and bounds in its attitude

towards homosexuality. Recent years have seen

a new groundswell of courageous, creative activism.

It is against this backdrop that Korea's

drag queens take the stage.

On a rainy Saturday in Seoul, we find ourselves

in a backstreet, second-floor comic book library

and bar at a semi-secret workshop dedicated to

drag. The atmosphere is intimate and friendly;

here is a group of people who loosely know each

other and share a common interest. At the back of

the room are leading Seoul queens Kuciia

words by

Juno Sparkes

photos by

Jinny Park

Below: Nix (front) and

Vita Mikju (behind).

36 Issue Five
---
Seoul's Drag Queens

Dispatches

Hell Joseon

Coined in the early 2010s, this satirical term is

used by young Koreans to criticise the current

socio-economic landscape. It is specifically used

when discussing unemployment and poor working

conditions, including the harsh treatment of

workers due to Confucianism and greed.

Above: Nix above the lights of Seoul.

Below: Mikju strikes a pose in a giant

eyeball headpiece.

Diamant and Vita Mikju, both of whom have performed

with Kim Chi and Violet Chachki of RuPaul's Drag Race

fame, and have starred in the video for Korean–American

rapper Dumbfoundead's debut single, 'Hyung'. They relax

and chat with friends as they wait to share their knowledge

with the gathered drag enthusiasts. Vita Mikju, a queen

who started in 'boylesque' and is also a skilled pole dancer,

will run a dance workshop. After this, Kuciia will give a

make up demonstration. These are skills the practiced

queen honed on his own: "I learned a lot through watching

international drag queens, but since the Asian facial structure

is different, in the end it was a lot of trial and error and

finding my own style that works for me."

The event kicks off with a presentation discussing

different aspects of drag, sex and gender, introducing and

explaining terms such as 'transgender', 'drag king' and

'bio queen'. The workshop has been put together by Geum

Hye-ji, the creator of the Facebook page '서울드랙' ('Seoul

Drag') and passionate fan of RuPaul's Drag Race. Though

Drag Race played a large part in Hye-ji's passion, the young

organiser, media blogger and PR manager was initially

inspired by a cisgendered woman dressed in drag at Seoul's

Queer Culture Festival. When asked about her attraction

to the craft, she says that she is hugely influenced by drag

queens and the whole concept of being able to transform

yourself. "As a Korean woman, I was really uptight about

how I look, and I have a lot of complexes about my appearance,"

she admits. With drag, she adds, she saw an alternative

to this attitude: "You just do whatever you want to with

make up or padding. I thought, maybe that can work for me.

I can act like a drag queen and, even though I'm not that

beautiful, I can be pretty and sexy. That idea was really attractive.

A person can turn themselves into someone else."

Autumn/Winter 2017

37
---
Dispatches

Seoul's Drag Queens

«

I WANT TO SHOW KOREA

THAT THERE IS MORE THAN

FEMININE QUEENS, MORE

THAN LIP-SYNCING.

»

Drag offers freedom of expression in a conservative

society. Speaking about the attendees of the

workshop, Hye-ji tells us, "Drag is therapy for many

of us. My friend, whose drag name is Unnie the

Chainsmoker, identifies herself as genderqueer

and she lives in homophobic Korea. Drag is therapy

for her to become who she wants to be."

Unnie the Chainsmoker almost exclusively

performs drag at home and broadcasts on Twitter.

The workshop is the second time she has worn

drag in public. She notices one of the first-timers

struggling with make up and steps in to help with

eyeshadow. As members of the workshop begin

to experiment with the many types of make up

provided by the professionals, participants work

together to aid the less experienced. Comprised

largely of people who met online, the event fosters

the sense of community that Hye-ji aims for. After

being helped to achieve his Rocky Horror Picture

Show-inspired look, one of the male attendees

beams: "This is really, really fun!"

However, the drag experience in Seoul is not

without its own roadblocks. We later speak to Nix,

a Brazilian queen who feels the drag community is

somewhat hampered by Korea's infamously high

and narrow beauty standards. "I'm not white. I'm

not the beauty standard here," he says. "I'm not

from an English-speaking country, so my English

isn't that good. My Korean isn't that good. I'm never

the first choice. I'm not what they prefer. When

I started, I wanted to create something visually

strong because that's my voice, that's how I express

myself. How I can empower myself?" Nix has

learned to use the limitations in his favour, sculpting

bold and unusual looks that play outside the

norm. He cites Mikju as an inspiration, eschewing

as he does the more typical aspiration for a passable

feminine appearance, and has incorporated

elements such as fake blood and a giant eyeball

headpiece into his performances. Mikju explains:

"I see drag as more than being a woman. I see it

as breaking the gender binary stereotypes of what

gender should look like. I want the drag community

to get bigger and I want the Korean drag scene

to have more variety. It's very show-based now,

and it favours the more feminine queens. I want

to show Korea that there is more than feminine

queens, more than lip-syncing."

Although, like Mikju, he is critical of it, Nix expresses

genuine hope and passion for the small scene.

"It's difficult but it's not that bad. They do have

those standards, but they welcome you," he asserts.

"They don't push you away even if you are different.

When they expect you to fill those standards, it's because

they're trying to help you. So being different is

not bad. They're just not used to it." His connection

with and gratitude for more established queens like

Kuciia speaks to how tight-knit this scene is. "They

were important to me. They gave me opportunities."

Nix notes that Kuciia is a driving force within the

Korean drag scene: "Kuciia's really important here

because she opens a lot of doors for new and foreign

queens. She's really professional. And I think that's

important because it sets some standards. You

don't have to meet them but you can see that it is

possible." It was another Seoul-based queen, Jungle,

who first introduced Nix to The Meet Market, one

of Seoul's longest-running queer parties. Held in

Hongik University's notorious party area and hosted

in a small venue, it packs out with eager drag fans

and is a comfortable place for first-timers. Kuciia

hosts the event and describes it as "a place where

you can see your favourite queens performing, meet

them, engage with them in a friendly, house-party

atmosphere full of tolerant people who share your

interests. I like to reach out to lesser-known drag

queens and give them a chance to perform and get

their name out at The Meet Market."

What motivates Kuciia and the other queens to

continue despite the pronounced homophobia in

Korea? As well as aiming to develop and grow the

Unnie

Literally meaning 'older sister',

'unnie' is a term of respect used by

women addressing a woman who is

a little older than themselves.

Above: Kuciia performing at the

Busan Queer Culture Festival.

38 Issue Five
---
Seoul's Drag Queens

Korean drag scene, Kuciia and Mikju want to see Korean

society become more accepting of the LGBTQ community.

They both performed at this year's Korea Queer

Culture Festival and were heartened to see how dramatically

the festival has grown in recent years. "When I

first performed there I didn't expect the protesters to be

so vocal," Kuciia remembers. "But as the years go by I

am energised by them more than anything." He recalls

a stark and encouraging example of change from Pride:

"Something that has stuck with me is a married couple

with a child who spoke to me after watching my performance

saying that they are supportive of the LGBTQ

community and are raising their child without any prejudice

and hate." The move toward openness has been

evidenced by the fact that Busan, a comparatively more

conservative city on Korea's Southern coastline, celebrated

its first Queer Culture Festival in September.

Kuciia and Mikju both note their parents' acceptance

of their sexual orientations. However, Unnie the

Chainsmoker and workshop organiser Hye-ji are not

so fortunate. Both cite their parents' Christian beliefs

as a factor in their respective decisions not to come

out. Unnie explains: "My parents don't know about my

sexuality. I'd be kicked out. My father especially; he's

a Christian. He thinks that homosexuality is wrong."

Hye-ji tells a similar story: "I'm bisexual but my parents

are really homophobic, so I decided not to come out

to them. Everyone in Korea in my parents' generation

goes to church. We have a strange Christian culture

here. It's really homophobic. I think my parents' generation

just doesn't understand the possibility that their

son or daughter could be gay."

Despite the public negativity towards the LGBTQ

community and 61% of votes opposing the Korea Queer

Culture Festival on the M Vote poll, Kuciia is hopeful

for the future. "I often say that Korea is a fast-adjusting

country," he says. "So, while we might currently be at

61% against us, I believe that by engaging with the media

and helping more people understand who we are

and what we wish for, the mentality of South Koreans

will be able to change quickly as well." Mikju is similarly

dedicated to helping sexual minorities in Korea: "I'm

out, so I can fight for the ones who are afraid of being

themselves. I have great parents who understand me,

while many are not so fortunate. So I take that as my

chance to be a great model for all the queers in Korea.

I want to be a leader and fight for the ones who could

never imagine coming out to their parents. I want to be

a voice to shout for them."

The workshop nears its end. Kuciia Diamant finishes

his demonstration and everyone gathers together to take a

group photograph. Then, as the evening winds to a close,

face wipes are passed around, make up removal tips offered,

and the night's dedicatedly applied foundation and

glitter is erased. The expert queens pack away their make

up and rhinestones, while Unnie the Chainsmoker goes to

change out of his dress. Everyone returns to their original

appearances, ready to step back out into the world.

Follow @hellonix, @kuciia and @vitamikju on Instagram

to see more from these queens as Seoul's burgeoning

drag scene blossoms.

Autumn/Winter 2017

39
---
Classic Film

Wings of Desire

WINGS OF DESIRE:

WIM WENDERS' SOARING

VISION 30 YEARS ON

Many fans of Wenders' 1987 film

are that specific brand of cinema

geek who have earned the title of

'fanatic'. They call Wings of Desire a symphony,

a parable, magic. The film follows

two guardian angels, Damiel and Cassiel,

immortal and invisible to the humans they

observe. One such human, Marion, is a trapeze

performer at the circus; Damiel finds

himself falling in love with her and wishes

to swap his immortality for an earthly life

with her. Desperate to expand his understanding

of the human experience in all its

messy sensuality and unapologetic mortality,

Damiel encounters Peter Falk (as himself,

in a largely improvised performance),

a fallen angel who also felt compelled to

get in on the earthly action. As Berlin musical

luminary Nick Cave plays a live show

in a bar, Damiel's yearning for humanhood

finally reaches its apex.

A complete bibliography of texts on

Wings of Desire would fill pages upon pages

with film studies-ready article titles, heavily

sprinkled with terms such as 'existentialist

cinema', 'technology' and 'perception',

'the verbal and the visual', 'experience and

memory', 'transcending postmodernism'.

Their analyses explore every rapturous

detail of Wings of Desire, with many

steadfast in their conviction that this is a

film that asks its viewers to fundamentally

consider how they see themselves and the

world. Its subtle play with the themes of

borders, embodiment and sacrifice render

it timeless, helping to answer the question

of why and how a 30-year-old movie about

a dissatisfied angel who falls for a graceful

trapeze artist could have something to say

to us about love, happiness, and the nature

of humanity in the 21st century.

words by Stephanie Taralson

It's a favourite of cinephiles and Freiluftkino lovers, even 30

years after its splashy Euro-arthouse debut. Tucked among

a list of festival darlings and this season's roster of big-screen

hits, it sticks out as the single film that is over three years old,

lacking an A-list marquee star and mostly recorded in washedout

black and white. Yet there it is, Wim Wenders' cinematic

ode to humanity, Der Himmel über Berlin (Wings of Desire).

Wim Wenders was born in the Ruhrgebiet

area of West Germany in the summer of

1945. He made aborted attempts to study

medicine and philosophy after finishing his

secondary schooling, but a move to Paris

sparked his love for cinema. By the early

'70s, he was releasing his first films – already

to critical acclaim. Wenders belonged to a

group of upstart West German filmmakers

who were looking to shake up the Marshall

Plan-era status quo. It was a time that found

Germans on either side of the Wall groping

to reformulate their ideas of nationhood and

identity, to redeem their sense of cultural

autonomy. Despite hostile post-war politics

of shame, division, and secrecy, this new

generation of filmmakers refused to be

subdued. Toying with new methodologies,

avant-garde aesthetic approaches, and

radical politicisation gave them scope to

redefine what constituted German cinema.

More broadly, this New German Cinema was

swept along in the Second Wave European

Peter Falk

Falk is best known as the star

of long-running TV series

Columbo. The first episode of

Columbo was directed in 1971 by

a 24-year-old Steven Spielberg.

Art Cinema movement that moodily turned

its nose up at old-world Hollywood in the

1960s and '70s. New German Cinema looked

unflinchingly at the state of contemporary

West Germany, how it was haunted by ghosts

of the Nazi and Weimar eras and bloated by

capitalist prosperity during the Wirtschaftswunder

of the 1950s. With their Oberhausen

Manifesto in hand, provocateur directors like

Rainer Werner Fassbinder, Alexander Kluge,

Werner Herzog, and Wim Wenders were ambitious,

artistic, and determined to disrupt

the commercial traditionalism that they saw

ruling German-made cinema. (Fassbinder's

Berlin Alexanderplatz is a 940-minute-long

modernist epic that definitely wasn't made

with marketability in mind.)

Wings of Desire arrived at the tail-end of

the New German Cinema years, which were

already winding down in the early '80s. The

director had been living in New York City

for much of the decade, watching as Soho

began its evolution from artist haunt to

gentrification ground zero. His films of this

period in the early and mid-'80s were Americana

film noir, tinged with nostalgia and

sentimentalism. But a lack of commercial

success left auteur directors like Wenders

with little choice but to rely on subsidies for

the financing of their projects, or to look further

afield for low-budget options. The latter

was the circumstance that led to the making

of Wings of Desire. Not having released a

film since Paris, Texas in 1984, Wenders'

production company, Road Movies, was

stagnating and needed to generate a new

flow of capital in order to push forward with

other projects. Necessity breeds invention;

Wenders started to consider alternatives.

The Wim Wenders Foundation calls

Wings of Desire the director's "Heimkehr"

– his homecoming, a reference to the fact

that he had been in the US for eight years.

In a 1993 interview, Wenders admitted that

40 Issue Five
---
Wings of Desire

Signpost

the choice to film a movie in Berlin was spontaneous – a

B-movie project on a limited budget without a fixed narrative

structure or a finished script. But of all the places for

a prodigal son to stage an unplanned homecoming, Berlin

lent itself particularly well. The twilight years of the Cold

War were casting their unflattering light on the city, a place

emotionally and geographically abandoned, with grit to

spare. As a backdrop to the existential longing of Damiel,

the guardian angel who yearns to become a man, Berlin

is an "after-the-apocalypse city," according to film critic

Pauline Kael. She reviewed the film in 1988, writing that

the environment's "ugliness is almost abstract," and chafing

at the pace of the movie, which seems to force viewers

into "experiencing the psychic craving of the Berliners as

they drift through their days, searching to be whole again."

With the fall of the Wall awaiting in November 1989, we

can now savour the irony of this search for completeness.

Spontaneous shooting location or not, the city's disaffection

became another thematic red thread, providing a

perfectly existentialist mise en scene for Damiel's quest.

Upon release, the movie was an immediate commercial

and artistic success. Wenders was feted at the Cannes Film

Festival that year, and awarded Best Director, which kicked off

a string of nominations and wins on the awards circuit in Europe

and, to a lesser extent, farther afield. He also returned to

Berlin to shoot a post-reunification sequel to Wings of Desire

in 1993 called Faraway, So Close!

Wings of Desire is sometimes categorised as romantic fantasy,

a modern fairy tale. The fascination with this elemental

film lives on among German Studies scholars and cinephiles;

Wenders was awarded an Honorary Golden Bear at the 2015

Berlinale for his impressive body of work, of which Wings of

Desire remains a seminal achievement. For Berliners today,

though, one of the film's greatest attractions is its commentary

on and visual archiving of Berlin immediately before the

end of the Cold War. Berlin is the sum of its parts, and Wings

of Desire is one of those parts. Potsdamer Platz's reflective,

glossy commercialism is nowhere to be found here; instead

we see the forgotten wasteland that it was during the years of

the Berlin Wall. Damiel's journey to personhood was widely

considered a political allegory advocating for the reunification

of East and West. As he yearns in the film for connection

and belonging, so too did desperate Berliners yearn in reality

for their city's wounds to be healed. We now know how that

reading simplified the feelings of Berliners; Wenders himself

says openly that he thinks the city suffered badly during the

first years of reunification. Still, perhaps the film owes some

of its success to good timing – what could be more appealing

to the intellectual art world elite of the '80s than a late-New

Wave sentimental fantasy set in the very city whose political

dramatics had captured the attention of the world?

But that can't be the whole story. Wings of Desire also

haunts simply because it is a beautiful film. Today, the film's

greyscale cinematography and lingering high-angle shots are

a meditative escape from the overstimulation of popular entertainment.

Whether watching its tender exploration of an

imaginary Berlin at a Freiluftkino or elsewhere, it's appealing

to study the long, achromatic views of the city and hunt for

traces of the Berlin we know today. The film's guardian angels

did the same, watching the city's residents for clues to what

it felt like to be a Berliner, to be human, complete with all our

pleasures and miseries. 30 years later, the search continues.

Autumn/Winter 2017

41
---
Point of View

Gay Sperm

SOUNDING OFF

TAKE MY GAY SPERM

A ban on gay sperm donors is

an unscientific discriminatory

convenience, writes Radio

Spätkauf's Joel Dullroy.

LGBTQ people in Germany have finally

been given the right to marry,

but real equality is still a way off.

For example, homosexuals need not apply

at the Berlin Sperm Bank, which refuses

to take donations from men who have

sex with men (MSM, a medical catch-all

for gay and bisexual men, and those who

score higher than a 0 on the Kinsey scale).

I learned this while reading around the

topic online, after I came across a news

story about how a Berlin court gave a

sperm bank baby the right to access personal

information about their biological

father. Pity the poor bloke who had made

an anonymous donation years previously,

only to find an angsty adolescent on his

doorstep searching for genetic answers.

How much had he earned for his strain?

Just under 200 euros a month, that's

how much. The Berlin Sperm Bank pays

80 euros a pop, and expects donors to

deposit every two weeks and maintain a

healthy lifestyle. Not bad pocket money,

especially when combined with the

savings incurred by abandoning booze

and smokes. But the Berlin Sperm Bank

website also carries a list of people who are

excluded from donating: "drug addicts,

men with frequently changing sexual

partners, homosexuals."

As you may note, those first two categories

are behaviour-based, self-assessed

and subjective (Who is an addict? What is

frequent?), while the latter is an inherent

identity. Straight men are accepted if they

promise they've been good boys, and their

word is accepted as truth. Gay men, on

the other hand, are turned away no matter

how healthy, cautious, monogamous, or

even celibate they might be.

To be fair to the sperm bank, this ban

isn't theirs. It's a regulation based on recommendations

from the German Medical

Association. The justification is ostensibly

scientific: gay men are considered to be

at higher risk of sexual diseases. But is

this discrimination supported by fact? It's

true that gay men have higher rates of HIV

infection than straight men. But our hetero

brethren don't deserve a free pass. Across

Europe in 2015, 32% of new HIV infections

resulted from heterosexual sex, only a few

per cent lower than the 42% resulting from

sex between MSM (the rest were from drug

use and other causes). In some countries in

northern and eastern Europe, heterosexuals

account for the majority of new HIV

infections. I know plenty of straight men

who still think condoms are for sailors and

have never taken a HIV test, despite years

of bedding tourists from Club Der Visionaere

(a reliable spot at 4am, I'm told). If

the German Medical Association are being

consistent with those they exclude from

donating sperm, shouldn't all Tinder users

automatically be on the blacklist?

In fact, there is little ground for concern

about contamination. The sperm bank

says it tests each and every donor and their

sample for a variety of diseases. With all this

testing, why preemptively ban anyone at all?

If any segment of the male population

has sperm to spare, it's us gays. The real

losers are the couples seeking to get pregnant,

who are missing out on a high-quality

gene pool. I mean, the most handsome

men are always gay, at least that's what

most women on television always say. The

sperm bank's current straight donors are

likely to be motivated by purely financial

reasons. But gay men have an additional

interest since it might be their only shot

at biological fatherhood. Surely such evolutionarily

motivated individuals are the

ideal type for procreation.

There are ways to reduce risk and stop

gay shaming at the same time. Risk is

dependent on the individual. Rather than

banning a whole group based on their

identity, donors should be approved or

declined based on their verifiable medical

status, combined with objective questions

about behaviour that apply to straight and

gay alike, such as the number of sexual

partners and condom use.

Sperm banks could follow the lead of

the blood donation industry, which

for years had a similar gay ban. The

German Medical Association recently

changed its blood donation guidelines to

accept homosexuals who have abstained

Viktor Richardsson

from sex for 12 months. The same policy

exists in the US. That's a start, but it's still

punitive and unscientific. Reliable HIV

test results are possible less than three

months after exposure, and the UK will

reduce the abstinence period to three

months in early 2018 to reflect this reality.

If they can accept our blood, why not our

sperm? A spokesman for the German Medical

Association said it has been considering

a new sperm donor policy since 2016, but

they have no timeline for finishing it. The

Berlin Sperm Bank director Dr David Peet

said he would be happy to accept homosexuals

if the regulations were changed.

I'll admit that I'm taking a purely

provocative position. I never actually

considered donating sperm until I realised

I couldn't. I'm simply irked to discover a

'no homosexuals allowed' sign still hanging

on any door, particularly one in liberal,

enlightened Germany.

I can also admit that this is all a bit of a

storm in a sample cup. It's nothing compared

to the discrimination endured by

generations of gay men before me, nor the

hatred, misery and mortal fear suffered

by gay men in 76 countries today where

homosexuality is still a crime.

While for me this is just a conceptual argument,

there may be some gay men who

genuinely wish to help couples conceive,

or who could use the money to cover the

rising cost of living in this city. For those

men, and for the principle of sweeping out

every cobweb of inequality, it's time to end

the ban on gay sperm donors.

We could, of course, just walk into the

sperm bank and sign up with a lie about

our sexual preference. But not all of us like

to go through the back door.

42 Issue Five
---
In Pictures

Illustrated News

IN PICTURES

Take an at-a-glance look at some

of the summer's biggest stories

with the LOLA illustrated news.

Jonny Tiernan

In early October Berlin was lashed by storm Xavier,

an intense low-pressure system that brought hurricane-force

winds of up to 120km to the city. An estimated

20,000 trees fell across Berlin, five people were killed,

and 18 flamingos died at Berlin Zoo. Car accidents and

the closure of the S-Bahn network caused travel chaos.

The Berlin cultural scene was divided by changes at the Volksbühne am Rosa-Luxemburg-Platz. Long-time

director Frank Castorf was replaced by Belgian Chris Dercon, the former director of London's Tate Modern. Some

saw it as the end of a unique Berlin tradition of avant-garde repertoire theatre. Castorf left begrudgingly, and his

supporters removed the theatre's iconic 'OST' sign and 'walking wheel' sculpture.

Others were willing to give Dercon a chance; thousands attended his debut public dance event at the former

Tempelhof Airport in September. Castorf fans seized the chance to squat the Volksbühne to demand a "collective

directorship." They rejected a compromise and were cleared out by police after a week.

Gianmarco Bresadola

Lawyer and women's rights campaigner Seyran Ateş

opened a liberal mosque in Moabit in June, inviting

female and LGBTQ imams to preach to mixed-gender

crowds. Housed in a former church, the Ibn-Rushd-

Goethe-Moschee teaches a contemporary interpretation

of the Qur'an. Ateş receives regular death threats and

travels with security guards.

André Puchta

Berlin's wettest summer in recorded history affected

more than just grills and lake trips. Heavy rain sent

thousands of invasive American red crayfish scurrying

across Tiergarten, with city officials investigating their

edibility. Mosquitos replaced wasps as the summer's

most annoying insect.

Transport Pixels

Cafés, shops and coworking spaces are the latest sites of

conflict between investors and Berliners. Unlike residents,

commercial tenants can be evicted at short notice. Community

meeting space Friedel54 in Neukölln was cleared out

by police amid protests in June. Café Filou in Kreuzberg

faced a similar fate, until its British landlord relented following

a vicious campaign of smashed windows. Agora Collective

also left its Neukölln base after a 90% rent increase.

Mark Hunt

Andrew Cannizarro

Air Berlin goes, Tegel to stay... maybe. After 39 years

of service, the airline that carried Berlin's name

around Europe and across the Atlantic announced its

insolvency in July. Air Berlin had been losing money,

passengers and luggage for years.

On September 24th, 56.1% of Berliners voted 'yes' in

a referendum on whether Tegel Airport should remain

in service, although the outcome is non-binding. The

reason for both events was the same: the long-delayed

Berlin-Brandenburg International Airport, BER. It was supposed

to be Air Berlin's growth hub and Tegel's replacement,

but it remains unfinished with no fixed opening date.

Autumn/Winter 2017

43
---
Picture of Success

Andy Kassier

When was the last time you doubted

yourself? Life is always ups and downs.

It's like the stock market.

When was the last time you were scared?

I am always scared when it gets cold, because

I really can't live somewhere where

it's less than 20°.

When was the last time you danced?

I don't dance, I always sit in the middle and

people dance around me.

Who was the last person to truly surprise

you? Myself.

What was the last good joke you heard?

I am more into memes than jokes.

What was the last compliment you received?

People liked my work, and I gave a

talk about my work, and they liked the talk

about my work, which they liked.

THE LAST WORD:

ANDY KASSIER

Artist Andy Kassier's tongue-incheek,

affluent alter ego is so

precisely crafted that it's often

difficult to tell where one persona ends

and the other begins. Through his work,

he calls into question our own virtual alter

egos: who exactly are we when we turn

our camera on ourselves, add a filter, and

write a profound image caption?

In one photo he is at the beach sitting

shirtless astride a white horse. In another,

he's in a hotel dressing gown, holding

a bottle of champagne. In the next he

sits naked on the peak of a snow-capped

mountain, a fur coat around his shoulders.

Tennis whites, supercars, a winning smile

– to scroll through his social media channels

is to scroll through a perfectly-manufactured

image of success.

Who was the last famous person you met?

Rafael Horzon.

What was the last thing someone said

about your work that made you laugh?

That's never happened.

words by Marc Yates

When was the last time you laughed

at yourself? Who is this pretty guy in

the mirror?

When was the last time you did something

for the first time? Every day,

recently. Today I drove a Fiat Panda.

When was the last time you used public

transport? Is flying on an airplane public

transport? If so, like two days ago.

Where did you go on your last trip?

My whole life is a trip, I am in Italy right

now, then New York and LA, after that

maybe China, and South Africa at the

beginning of 2018.

When was the last time you laughed

at the wrong moment? Every day I laugh

about my own jokes, even when they're

not funny.

What was the last piece of great advice

you gave to someone? I always give great

advice to others!

What was the last compliment you gave

to someone else? I think everyone should

get compliments all the time.

If you could choose your last words,

what would they be? Success was just a

smile away.

See more of Andy at andykassier.com,

and follow his travels at instagram.com/

andykassier

LAST ORDERS

Whiskey Sour

Fill a shaker with ice and add two shots

of your favourite bourbon, one shot of

fresh lemon juice and a teaspoon of

sugar. Add an egg white if you're feeling

adventurous and shake well (if you

added the egg white, shake really well).

Pour into a chilled cocktail glass and

enjoy. Garnish with a wedge of orange,

a cherry, both, or neither.

THIS ISSUE WAS

POWERED BY…

When was the last time someone took

you too seriously? Every day on Instagram.

What was the last thing you Googled?

How to give an interview.

What was the last thing you repaired?

Some random people with my advice.

What was the last great book you read?

Rafael Horzon - Das Weisse Buch.

Puppies, Neil deGrasse Tyson, wind

power, over excitement, rain, podcasts,

concerts, going freelance, Belfast,

getting up even earlier on a Saturday,

being on tour, rediscovering techno.

44 Issue Five
---
YORCK-KINOABO

monthly flat rate

UNLIMITED

CINEMA

BERLIN'S LARGEST VARIETY OF

ORIGINAL LANGUAGE MOVIES

babylon kreuzberg · capitol dahlem · cinema paris

delphi filmpalast · delphi lux · kino international

filmtheater am friedrichshain · kant kino · neues off

odeon · passage · rollberg · yorck · sommerkino kulturforum

ONLY

PER MONTH

Monthly cancellation possible after

one year minimum term

jahreskarte

Im richtigen Kino

bist Du nie im falschen Film

Autumn/Winter 2017

45
---
Our/Espresso

Martini

RECIPE

40ml Coconut infused Vokda

(Infuse bottle of Our/Berlin

Vodka with 30g of

desiccated coconut chips)

25ml Coffee Liqueur

30ml Fresh Espresso

1 Pinch of Salt

Add all ingredients

to a cocktail shaker with Ice.

Shake vigorously for 15 seconds

and fine strain into a chilled

cocktail glass.

Garnish with desiccated

coconut chips.