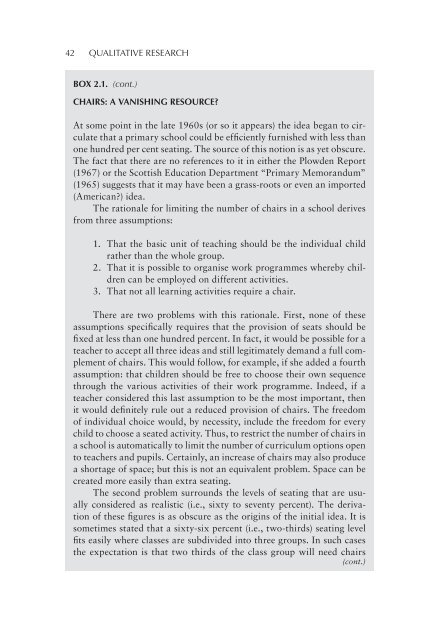 How Things Work - Doha Academy of Tertiary Studies
How Things Work - Doha Academy of Tertiary Studies
How Things Work - Doha Academy of Tertiary Studies
SHOW MORE
SHOW LESS
You also want an ePaper? Increase the reach of your titles
YUMPU automatically turns print PDFs into web optimized ePapers that Google loves.
42 QUaLItatIVe ReSeaRCH

BOX 2.1. (cont.)

chaiRs: a vaNishiNG ResOuRce?

At some point in the late 1960s (or so it appears) the idea began to circulate

that a primary school could be efficiently furnished with less than

one hundred per cent seating. The source of this notion is as yet obscure.

The fact that there are no references to it in either the Plowden Report

(1967) or the Scottish Education Department "Primary Memorandum"

(1965) suggests that it may have been a grass-roots or even an imported

(American?) idea.

The rationale for limiting the number of chairs in a school derives

from three assumptions:

1. That the basic unit of teaching should be the individual child

rather than the whole group.

2. That it is possible to organise work programmes whereby children

can be employed on different activities.

3. That not all learning activities require a chair.

There are two problems with this rationale. First, none of these

assumptions specifically requires that the provision of seats should be

fixed at less than one hundred percent. In fact, it would be possible for a

teacher to accept all three ideas and still legitimately demand a full complement

of chairs. This would follow, for example, if she added a fourth

assumption: that children should be free to choose their own sequence

through the various activities of their work programme. Indeed, if a

teacher considered this last assumption to be the most important, then

it would definitely rule out a reduced provision of chairs. The freedom

of individual choice would, by necessity, include the freedom for every

child to choose a seated activity. Thus, to restrict the number of chairs in

a school is automatically to limit the number of curriculum options open

to teachers and pupils. Certainly, an increase of chairs may also produce

a shortage of space; but this is not an equivalent problem. Space can be

created more easily than extra seating.

The second problem surrounds the levels of seating that are usually

considered as realistic (i.e., sixty to seventy percent). The derivation

of these figures is as obscure as the origins of the initial idea. It is

sometimes stated that a sixty-six percent (i.e., two-thirds) seating level

fits easily where classes are subdivided into three groups. In such cases

the expectation is that two thirds of the class group will need chairs

(cont.)