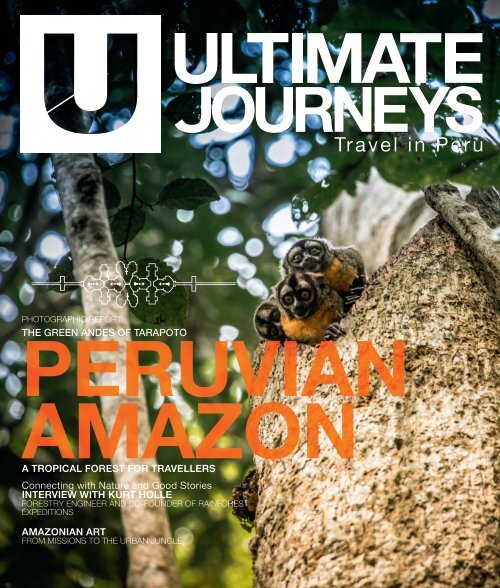 You also want an ePaper? Increase the reach of your titles
YUMPU automatically turns print PDFs into web optimized ePapers that Google loves.
PHOTOGRAPHIC REPORT

THE GREEN ANDES OF TARAPOTO

PERUVIAN

AMAZON

A TROPICAL FOREST FOR TRAVELLERS

Connecting with Nature and Good Stories

INTERVIEW WITH KURT HOLLE

FORESTRY ENGINEER AND CO-FOUNDER OF RAINFOREST

EXPEDITIONS

AMAZONIAN ART

FROM MISSIONS TO THE URBAN JUNGLE

/1
---
INDEX

14

EXECUTIVE EDITOR ULTIMATE JOURNEYS

GERARDO SUGAY

CONTENT EDITOR

MARÍA EUGENIA DE ALIAGA / KM CERO

DIEGO GUERRERO / LIMA TOURS

EDITOR

RODRIGO CABRERA / KM CERO

COORDINATOR

GERALDYNE LONGORIA / KM CERO

ART DIRECTOR

KM CERO

PHOTOGRAPHY EDITOR

CHRISTIAN DECLERCQ / KM CERO

GRAPHIC DESIGN

MIGUEL SANTAYA

INFOGRAPHS

SANDRA FLORIÁN

WRITERS

IÑIGO MANEIRO

PAOLA MIGLIO

DIEGO OLIVER

TRANSLATION AND CORRECTION OF TEXT

ALEJANDRA ARRARTE

24

A TROPICAL FOREST FOR

TRAVELLERS

PHOTOGRAPHERS

ERNESTO BENAVIDES

RODRIGO CABRERA

ENRIQUE CASTRO-MENDÍVIL

CHRISTIAN DECLERCQ

MARINA GARCÍA BURGOS

IÑIGO MANEIRO

HEINZ PLENGE

KM CERO ARCHIVES

LIMA TOURS ARCHIVES

PROMPERU ARCHIVES

PROTECTED AREAS OF THE

PERUVIAN AMAZON

Info graph

36
---
48

6/ Editorial

8/ Updates

BIRDS OF THE AMAZON

Special

INDEX

12/ 10 Things in the Amazon not

to be missed

14/ Photographic Report /

The Green Andes of Tarapoto

Valleys and Rivers of the East

24/ A Tropical Forest for Travellers

Tourism in the Peruvian Jungle

Not long ago, Peru's jungle was

an unknown place. Now it offers

something for everyone.

56

36/ Kurt Holle

Forestry Engineer, co-founder

of Rainforest Expeditions, and

consultant

"Yes the jungle is definitely 'in' as

a place that evokes excitement

and a desire to visit."

44/ Protected Areas of the Peruvian

Amazon

Info graph

48/ A Journey through the Amazon

Spend various days travelling on

an exclusive cruise ship, discovering

one of the grandest rivers

in the world.

54/ Birds of the Amazon

Info graph

56/ Cacao Pride

Walking through the countryside

here, one can almost breathe in

the tranquility and pride: Peru's

cacao producers are finding

success around the world.

76

66/ The Human Jungle

Over thousands of years, the

people of the Amazon adapted

to one of the most complex

ecosystems on the planet. This

living area is a focal point of some

of humankind's most pressing

issues.

74/ Peru's Native Amazonian

Communities

I am Peru.

76/ Amazonian Art

From missions to the urban jungle.

84/ Agenda

66

86/ Expatriate

/5
---
EDITORIAL

Dear reader:

The best way to feel the Amazon: up close and personal.

The Amazon jungle is the largest and dazzling rainforest in the world. Its territory mainly spans Central and

Northern South America and epitomizes the main lungs of our planet. This extensive ecosystem is considered

one of the places with the broadest biodiversity on Earth. The Amazon rainforest is a huge fluvial

system that converges on the majestic Amazon River, the largest river by discharge of water in the world. The

headwaters of this impressive river are located in Peru and join our Andean and jungle areas. The Amazon rainforest

is one of the New Seven Natural Wonders of the World.

This seventh edition of "ULTIMATE JOURNEYS - Travel in Peru" focuses on the treasures and charms the Peruvian

Amazon jungle has been keeping for thousands of years. It also includes an interesting interview with Kurt

Holle, a renowned expert in business and nature in Peru, who has become acutely aware of the importance of

not altering wildlife and the Amazonian native communities.

One of the highlights of this edition is the article on Tarapoto, located in the San Martín Region. Its protected

areas, dense jungle, and cocoa and coffee plantations reveal a fantastic tourism and economic potential. The

matchless quality of these products is the result of a huge human effort and the excellent conditions provided

by nature.

The Amazon jungle offers many activities. To start with, you can navigate the largest river by discharge of water

on the planet, exploring it on board of deluxe cruises that ensure a unique experience; discover its delightful and

exotic gastronomy; appreciate a unique cultural heritage that includes a wealth of artistic expressions, dances,

customs and legends that shape the festive lifestyle of the local residents.

As a supplement to these activities, there are several ecological lodges that offer a genuinely natural experience

that allows enjoying a variety of activities such as hiking; catching piranhas; watching birds, mammals, reptiles

and many endemic animals of the jungle; experiencing the entire variety of native plants, or simply contemplating

a unique landscape.

The impressive nature and unrivaled splendor of the Peruvian Amazon rainforest comes to life in this edition. Our

purpose is to convey all this magic and make you fall in love with this natural wonder.

Enjoy a happy reading and a good learning experience!

Your friends from Lima Tours

OHSAS 18001

BUREAU VERITAS

Certification
---
UPDATES

UPDATES

Heinz Plenge

MANU NATIONAL PARK IS THE MOST BIO-DIVERSE PLACE IN

THE WORLD

After installing 60 hidden cameras throughout Manu National

Park, the Red TEAM-Network has obtained over 20 thousand

images of diverse land species, making Manu the most biodiverse

place in the world. The National Service for Protection

of Natural Areas (SERNANP) confirmed that various hidden

cameras were placed from the Pakitza area to the Cocha

Cashu Bio-Station during the dry season (May to September).

The images captured were evaluated and classified before

being added to the Wild Life Image Analysis System, and

subsequently released to compare populations of terrestrial

vertebrates across the globe. The data collected by the Red

TEAM-Network can be found at www.teamnetwork.org. Manu

National Park remains one of the most globally recognized and

diverse protected natural areas, boasting not only a variety of

flora and fauna, but also an amazing array of ecosystems.

Ernesto Benavides

REVAMPING THE JORGE CHAVEZ INTERNATIONAL

AIRPORT FOR BETTER AEROPLANE RECEPTION

Lima Airport Partners, who operates the Jorge Chavez

International Airport, have initiated the implementation

of seven new airplane parking spaces (PEA),

with the goal of bettering the airport's infrastructure

and yielding a higher operational efficacy, for the

benefit of its users and the growing demand on the

Jorge Chavez Airport. "The construction of the new

PEAs will not only function to augment the airport's

capacity, but it will also give us more flexibility in

assigning the PEAs, which, in turn, will benefit airlines

that operate domestic flights," declared Sabine

Trenk, central manager of the LAP Operations. The

construction of the new PEAs will come to a conclusion

in May of next year.

Christian Declercq
---
FIEXPO LATINOAMERICA - LIMA, PERU

FIEXPO LATINOAMERICA is the International Fair for

the MICE Market that promotes Latin American and

Caribbean destinations. The two-day event brings

together qualified buyers from key source markets

and selected suppliers from the main Meetings and

Incentives destinations in the region, through a program

of pre-scheduled, one-on-one meetings. FIEX-

PO will take place from the 1st to the 3rd of June, in

Lima, Peru.

Fiexpo

XVIII CENTURY 'LA QUINTA DE PRESA' MANSION

UNDERGOES RESTAURATION

The Ministries of Culture, International Commerce, and

Tourism have allied with the World Monument Fund

Peru to restore and re-value the infamous Quinta de

Presa mansion in Lima's Historical Center of Rimac.

During the XIX Century, the house was bought by the

Carrillo de Albornoz family, who remained the owners

for many years, until it was eventually purchased by

the state in 1920. In 1932, Luis Sanchez Cerro turned

the mansion into the Republican Guard headquarters,

and finally in 1972, the INC declared the building a

Historical Monument.
---
UPDATES

NATIONAL GEOGRAPHIC DECLARES MACHU PICCHU A TOURIST

DESTINATION FOR 2015

Internationally recognized magazine National Geographic has chosen

the Incan citadel as the best travel destination of 2015. The publication

sent information and a photo gallery to its millions of subscribers,

along with an image of an Andean woman holding her small daughter.

The gallery depicts a selection of 21 gorgeous images of the World

Wonder, along with the caption: "Located in the Peruvian Andes, Machu

Picchu was hidden from the world for hundreds of years. Explore

the well preserved Incan ruins through a photo gallery compiled by

National Geographic."

PARACAS CONVENTION CENTER TO COMMENCE

CONSTRUCTION IN MARCH OF 2015

The Paracas district in Ica has a defined tourism and commerce

development plan, due to its huge public and private

investment potential. With that in mind, the district will commence

the construction of the first convention center in the

area, in March of this year. In addition, there is an integral plan

to revamp the El Chaco zone in attempt to bring in more tourists.

Paracas' Municipal Director, José Tipacti, announced

that "The convention center, which will be able to hold 1,500

people, requires a S/. 10 million investment, which is being

obtained through the Copesco Plan."

Enrique Castro – Mendívil

PERU RECEIVED AN IMPORTANT RECOGNITION FROM THE WORLD

TRAVEL AWARDS 2014

The World Travel Awards (WTA) 2014 has recognized Peru as the

Best Culinary Destination in the World for the third year in a row. In

addition, Peruvian website peru.travel. has been declared the Best

Travel Website. Minister of the SECTOR Magali Silva claims that

"receiving this kind of flattery not only puts us in the global spotlight,

it also stimulates us. It invites us to continue with the hard work in

order to gain further achievements and to turn Peru into one of the

most important travel destinations in the world. Our government

aims to receive 4 million tourists a year by 2016, and this can help

us get to that goal."

Ananay Hotels
---
CUSCO'S BELMOND HOTELS ARE INCLUDED IN THE LIST OF BEST

HOTELS IN CENTRAL AND SOUTH AMERICA

The American edition of the Condé Nast Traveler magazine included

three of Peru's Belmond Collection hotels in their list of Central

and South America's Best Hotels. The Belmond Hotel Río Sagrado,

Belmond Hotel Monasterio, and Belmond Palacio Nazarenas

– numbers two, five, and eleven, respectively – were recognized in

the Readers Choice Awards list of the most luxurious, outstanding,

and highest-quality hotels in the world. The list included a total of 30

luxury hotels, 14 of which are located in Peru.

Belmond Hotel Monasterio

WE INVITE YOU TO DISCOVER OUR

COLLECTION OF EXCEPTIONAL

TRAVEL EXPERIENCES IN THE WORLD'S

MOST REMARKABLE LOCATIONS.

INDIVIDUAL, INSPIRED, AND IMAGINATIVE,

THE WORLD OF BELMOND IS A WORLD

LIKE NO OTHER.

QUINTA SAN BLAS BY ANANAY HOTELS

The Quinta San Blas Hotel can be found in the heart of San Blas

– the infamous artisan neighborhood of Cusco – three blocks from

Cusco's Plaza de Armas. This charming boutique hotel is located

within a restored Republican mansion that boasts stone patios,

18 Deluxe rooms, 2 Premium Suites, central heating, hot water,

comfortable beds, and all the perks of modern technology. It is the

perfect place for travellers who look for unique, magical lodgings,

and high-quality service. San Blas is one of the oldest neighborhoods

in Cusco. The ancient Inca temples to the thunder god,

formerly located in the neighborhood, were replaced with what is

recognized as the oldest church in the city. These days, the bohemian

neighborhood offers its visitors great art, original handcrafts,

antiques, delicious food, and culture.
---
13
---
THE GREEN ANDES OF TARAPOTO

LOCATED IN THE SAN

MARTIN DEPARTMENT,

TARAPOTO HAS BECOME

ONE OF THE MORE

APPEALING JUNGLE

DESTINATIONS FOR

TRAVELLERS AND TOUR

OPERATORS. ITS GREAT

LOCATION, GEOGRAPHY,

CLIMATE, AND

ACCESSIBILITY ARE ONLY

SOME OF ITS ALLURE.

BOASTING AMAZING

FORESTS AND NATURAL

WONDERS, AS WELL AS

A CITY FULL OF FUN AND

FESTIVE INITIATIVES, THIS

LIVELY PLACE BRINGS

TOGETHER PEOPLE FROM

ALL OVER THE WORLD.

By

Iñigo Maneiro

Photos

Christian Declercq

Río Huallaga, entry

point to the extensive

Amazon river system.
---
THE GREEN ANDES

OF TARAPOTO

Valleys and Rivers of the East

/15
---
THE GREEN ANDES OF TARAPOTO

Tarapoto's diverse attractions

make it one of Peru's

destinations with the most

potential in future tourism

development.

Next Page: Beautiful waterfalls –

like those of Pucayaquillo – are

common in the areas where the

east Andes meet the Peruvian

rainforest.

MANY LOCAL

TOUR AGENCIES

OFFER

OPPORTUNITIES

TO EXPLORE

TARAPOTO

Tarapoto is surrounded by three valleys, each of

which has its own personality. One takes us to

Chazuta, the main ceramic producing village in

the San Martin region, and as well as one of the best

organic chocolate production sites. This lush valley

runs along the Mayo and Huallaga Rivers.

The second valley is ample and full of light, with a

landscape defined by crop fields and pastures. It

takes us up the north Interoceanic Highway to the

villages of Lamas and Moyobamba. Lamas was established

years ago, during colonization, and is currently

made up of various Quechua-speaking Amazonian

communities who belong to the Lama group.

These people live in adobe houses, and work with

colorful clays. Meanwhile, Moyobamba is known for

its excellent gardens, which exhibit a wide variety

of plants collected from every corner of the forest

- the stars of the collection being the incredible assortment

of orchids.

The third valley is more hidden, as it is flanked by a

magnificent and imposing mountain range called Escalera,

which houses a number of a gorgeous waterfalls

and a variety of diverse fauna. Many local tour

agencies offer opportunities to explore this remarkable

protected area. The beautiful, fresh Cumbaza River

flows down the valley, surrounded by boulders

and sandy beaches. Within the valley lay three small

villages, all named after saints: San Pedro, San Antonia,

and San Roque. Every Sunday, these villages

converge and hold small, excellent food fairs.

The three valleys come together in Tarapoto, as do

some of the most important highways in Northern

Peru. One of these highways is the aforementioned

Interoceanic, which goes from Paita – in Piura – to

Yurimaguas, where the Paranapura River opens into

the Huallaga River; from the Pacific coast, to the

Amazon jungle. Another highway begins in Lima and

leads through the Andes, past the central jungles of

Tingo Maria and Jauja, arriving in Tarapoto.

Tarapoto is one of the most appealing cities in the country,

thanks to its location, accessibility, great weather,

pristine nature, and friendly locals. People come from all

over the world to enjoy this incredible place and many

now call it home. There are Italians who run restaurants

and a cigar factory; French doctors who offer alternative

therapies using sacred plants; Spanish people who

run lodges in the thick of the forest; people from Lima

who liven up the city's night life with their fun bars and

music halls; Germans who run yoga centers; American

retirees who have moved to the jungle to enjoy their

freedom; Greek people who manage Buddhist centers;

natives from 15 different ethnic groups. Tarapoto is a

unique cosmopolitan world within the amazing world

that is the jungle.
---
17
---
THE GREEN ANDES OF TARAPOTO
---
The Huallaga River, on the limit of the Cerro Escalera protected area, towards the Cordillera Azul National Park.

/19
---
THE GREEN ANDES OF TARAPOTO

THE VALLEYS

COME TOGETHER

IN TARAPOTO, AS

DO SOME OF THE

MOST IMPORTANT

HIGHWAYS IN

NORTHERN PERU

These smiling

Peruvian women

work to protect

and maintain their

artisanal traditions.
---
XXXXXXXXXXXX

/21
---
THE GREEN ANDES OF TARAPOTO

Above: Entry to the

Shilcayo cacaoplantation

island.

Below: Toads and

insects. The Huallaga

River is known for

its wide-variety of

amphibian species.

(Ameerega trivittata on

the right).

TARAPOTO IS ONE OF

THE MOST APPEALING

CITIES IN THE

COUNTRY THANKS

TO ITS LOCATION,

ACCESSIBILITY, GREAT

WEATHER, PRISTINE

NATURE, AND

FRIENDLY LOCALS
---
23
---
A TROPICAL FOREST FOR TRAVELLERS

UNTIL RECENTLY, THE AMAZON WAS STILL AN UNKNOWN

WORLD. HOWEVER, WITH THE CONSTRUCTIONS OF NEW

AIRPORTS AND HIGHWAYS, THE JUNGLE HAS BECOME

INCREASINGLY ACCESSIBLE. AS A RESULT, PERU'S

TOURISM INDUSTRY HAS IMPROVED THE QUALITY OF

THEIR AMAZONIAN TOURS, AND EXCITING OPTIONS LIKE

SWIMMING WITH PINK DOLPHINS OR EXPLORING FOREST

CANOPIES ARE NOW AVAILABLE TO VISITORS.

By

Diego Oliver

Photos

Christian Declercq

The Peruvian Amazon makes up 60% of the

country's territory. This huge region is covered in

an infinite green that – thanks to heavy rainfall

and powerful rivers – has come to house the most

vital ecosystem in the world. Previous to the construction

of Iquitos and Madre de Dios' respective airports,

the Amazon was only accessible by river or by land

and each journey was a costly odyssey. Now a days,

thanks to better infrastructure and more accessible

protected areas, the travel industry has managed to

bring tourism to the Amazon in a sustainable way,

allowing for travelers to experience and enjoy some of

the most sublime paradises on earth.

Some of the most original tours in the industry are

the cruise ships that navigate the Amazon River

and its tributaries, departing from either Nauta or

Iquitos. These exclusive vessels cruise the waters

for an average of five days, allowing for passengers

to experience the jungle in a unique way. Boasting

luxurious restaurants under the direction of experienced

chefs, these ships invite guests to relax in

cozy, elegant rooms. Passengers can spend their

evenings listening to the myths of the jungle, as recounted

by their local guides, while enjoying a refreshing

cocktail from the well-stocked bar. During

the day, they have the opportunity to partake in a

variety of adventures, as small motor boats or canoes

depart daily to explore shallower waters and

immerse travellers in surrounding nature.

Collpa El Chuncho: The macaws eat the clay

from this natural deposit to clean their digestive

systems.
---
A Tropical

Forest for

Travellers

Tourism in the Peruvian Jungle

/25
---
A TROPICAL FOREST FOR TRAVELLERS

Diversity of flora and fauna

in the Peruvian Amazon.

Blue-crowned trogon

(Trogon curucui), Shansho

(Opisthocomus hoazin),

and river otters (Pteronura

brasiliensis).

Next Page: Tres Chimbadas

Lake, where trees reign.

THE PERUVIAN

AMAZON HOUSES

25,000

PLANT SPECIES,

240 MAMAL

SPECIES,

806 BIRD

SPECIES,

180 REPTILE

SPECIES,

and 362

ANPHIBIAN

SPECIES

The Pacaya Samiria National Reserve – located in

the Loreto region – is Peru's largest protected area,

and has become known for its incredible transformation

after each rainy season, when the reserve

becomes flooded, allowing for fish and wildlife to

swim between the trees. Visitors can explore the

tranquil waters on canoes, and observe a number

of animals – including groups of river otters hunting

for snacks, and large paiche fish, which can grow

to be two and a half meters long. In the dry season,

visitors can walk along the beaches and take in the

overwhelming beauty. With any luck, they'll get the

chance to witness the hatching of baby charapa

and taricaya turtles.

One of the more surreal moments a visitor might

have while visiting the Loreto jungle is swimming

with pink dolphins. These fairytale creatures – usually

found in the Yanayacu River – are the biggest

river dolphin species, growing close to 2.5 meters

long. Interestingly, only adult males grow into the

pink color that these animals are famous for. In the

dry season, they generally inhabit the larger rivers.

In the rainy season, however, these beautiful creatures

move through the flooded forests. Females

usually stay in these tranquil areas, as they provide

the ideal setting for nursing and raising newborn

calves.
---
27
---
A TROPICAL FOREST FOR TRAVELLERS

Red howler monkeys (Alouatta seniculus).
---
Luxury

as you

Deserve

Enjoy your trip with a unique and exclusive VIP

service that we can offer

Luxury Executive Charter Flights Air Medical Evacuation Fixed Base Operator (FBO)

reservas@atsaperu.com + (511) 575 – 1702 wwww.atsaperu.com

/29
---
A TROPICAL FOREST FOR TRAVELLERS

CONSERVATION:

THERE ARE A

TOTAL

OF 10

MILLIONs

HECTARS OF LAND

THROUGHOUT

15

PROTECTED

AREAS WITHIN THE

PERUVIAN AMAZON

The Tucan Suites in the city

of Tarapoto offer refreshing,

personalized service.

Then there are the nocturnal activities, during

which the jungle reveals a completely different

side of itself. During these activities – be it a walk

through the forest, or a boat ride – one has the

opportunity to see the creatures of the night: ants,

spiders, centipedes, caymans, and snakes. Night

is also when the majestic black panthers come

out to hunt; however, these felines are usually so

stealth, that they are rarely seen.

Meanwhile, in the jungle of San Martin, near the city

of Tarapoto, travelers can enjoy learning about the

variety of ecosystems that exist along the Huallaga

River: the dry tropical forest, the cloud forest, and

the Amazonian plains. Tours in this area include: the

exploration of different rivers, lagoons, canyons,

and waterfalls, a visit to the Chazuta community,

and a tour through coffee and cacao plantations.

If one is interested in fishing, the Amazon Rivers

can be very generous. Little has been said for sport

fishing in the Amazon, a region that provides almost

three thousand species – many of which are

exclusive to the area. Visitors can fish dorados, payaras,

and tucunares, always respecting the catch

and release practice. The journey takes travellers to

peaceful lagoons, where they will camp in secluded

malocas. This way, one avoids scaring off the wildlife

with their arrival, and can just wake up with the

dawn and fish the unsuspecting prey.

It is precisely in the earliest moments of the morning

that the jungle seems more alive than ever. Dawn

appears to unleash animal wildness. Monkeys howl

and screech in the distance. Deer, capibara, and

sloths slowly awaken. This is perhaps the best

time to explore. Almost all established lodges have

hiking trails that tourists can wander in hopes to

observe local fauna. In southern Peru's Tambopata

reserve, one can take a short hike to one of the

various clay-licks, where hundreds of macaws congregate

in a frenzy to lick the clay – a way to clean

the stomach – and chat before the day unfolds.

The plants are the foundation of the food chain,

nurturing the creatures of the Amazon – big and

small. While most flora fights for light, the ceiba tree

revels in the sunlight as the tallest in the jungle,

growing up to 40 meters high. In both Peru's northern

jungle and southern Madre de Dios jungle,

visitors have the incomparable privilege of floating

above the canopy on a series of hanging bridges

that connect the tallest trees, and provide an amazing

perspective of the jungle's dense, green forests.

These canopy walks take tourists through a

rarely seen world of monkeys, birds, insects, and

other species who spend their days far from the

ground, in a cloud of green leaves famous for being

'the lungs of planet earth.
---
Christian Declercq

Al desviarse unos minutos de las carreteras del valle puede tener encuentros inolvidables.

/31
---
A TROPICAL FOREST FOR TRAVELLERS

White caiman (Caiman crocodilus) on the banks of the Tambopata River.
---
O x y g e n E n h a n c e d T o u r i n g

"The oxygen enriched cabin is effective in preventing altitude sickness.

Passengers will feel great cruising even this high across the highplateau".

says onboard medical advisor Dr. Dante Valdivia

Cima Clinic in Cuzco

"La cabina enriquecida con oxígeno es eficaz para prevenir el mal de altura. Los pasajeros

pueden estar seguros de sentirse bien incluso en las zonas más altas del Altiplano".

comentó el médico asesor a bordo Dr. Dante Valdivia

Clínica Cima en Cuzco

Alleviates altitude sickness symptoms including shortness of breath, headaches, fatigue and nausea.

Alivia los síntomas de altitud como la dificultad en la respiración, dolores de cabeza, fatiga y náuseas.

A higher concentration of oxygen will provide a more relaxing journey.

Una mayor concentración de oxigeno ayudará al pasajero en tener un viaje más placentero

Oxygen departure valve

Válvulas de salida de oxígeno

Driver Panel

12v o 24v Solenoid Valve

Válvulas de 12v o 24v

40sch Flowmeter

Flujometro de 40sch

Oxygen Cylinders

Cilindros de Oxígeno

40psi Pressure regulator

Regulador de presión de 40psi

Low pressure Oxygen line under bus

Línea de Oxigeno de baja presión debajo del bus

The additional Oxygen in BusO2, creates a special

environment 1000m / 3280 ft lower than the actual altitude

El oxígeno adicional en el Bus, crea un ambiente

especial 1000m más abajo que la altura real.

For more information, please contact your Lima Tours

Specialist or write us to: inbound@limatours.com.pe

www.limatours.com.pe

Para más información, favor contáctese con su especialista

de Lima Tours o escribanos a: inbound@limatours.com.pe

/33
---
A TROPICAL FOREST FOR TRAVELLERS

Above: Inkaterra Hacienda Concepción in Madre de Dios.

Below and next page: Pumarinri Lodge in San Martín.
---
TAMBOPATA LUXURY PROGRAM

3D/2N

DAY 1

• Arrive to Madre de Dios, assistance and transfer to

Reserva Amazonica Hotel.

• Lunch, followed by a hike through the Lodge's forest trails.

• Navigate down the Madre de Dios River.

• Welcome cocktail and dinner.

• Presentation about the wildlife in the area.

DAY 2

• Early morning excursion to see the sunrise over the Madre de Dios River.

• Breakfast and day planning. You can choose from a wide-variety of

activities that the lodge offers, like: Inkaterra Canopy, a visit to the

Sandoval Lagoon, jungle hikes, or a visit to the Gamitana Gorge,

among others.

• Presentation about Amazon issues.

• Lunch and dinner included.

DAY 3

• Breakfast and checkout.

• Boat transfer to the city of Puerto Maldonado.

• Visit the butterfly garden.

• Transfer to the airport.

IQUITOS PROGRAM

4D/3N

DAY 1

• Arrive in Iquitos, assistance and boat transfer to your chosen lodge.

• Lunch and a hike through the forest.

• Dinner and a musical presentation.

DAY 2

• Bird watching

• Breakfast and a boat excursion in search of pink and gray dolphins.

• Visit to the Yagua native community where you will watch a blowpipe

demonstration and then have the chance to purchase items made

by the community members.

• Lunch at the lodge, followed by a visit to the Indiana village.

• Dinner and rest.

DAY 3

• Visit the Explornapo Lodge and the Sucusari Reserve.

• Breakfast, followed by a trip to a hanging bridge.

• Lunch at the lodge followed by a walk through the ethno-botanical

gardens.

• You will have the rest of the day to relax

DAY 4

• Breakfast, followed by a hiking or boating excursion.

• Transfer to Iquitos by boat.

TARAPOTO PROGRAM

3D/2N

DAY 1

• Reception and transfer to hotel.

• Welcome juice.

• Free afternoon to enjoy the pool.

• Dinner.

DAY 2

• Breakfast.

• Depart to the Huallaga Canons, stopping at the most beautiful

and interesting places along the way.

• Hike through the rainforest to the Pucayaquillo Waterfalls, and

then to the Pumarinri Lodge.

• Lunch.

• Spend the afternoon enjoying the Lodge's pools.

• Return to Tarapoto.

• Dinner.

DAY 3

• Breakfast.

• Journey through the jungle until arriving at the Ahuashiyacu

Waterfalls, located in the Cerro Escalera Reserve.

• Return to the hotel for lunch.

• Afternoon transfer to airport for departure.

For more information contact: inbound@limatours.com.pe.

/35
---
INTERVIEW

Interview with

Iñigo Maneiro

Photos

Christian Declercq

Next Page: The

jungle's trees provide

homes for a variety

of animal species.

Both the trees and

animals are currently

threatened due to

deforestation.

Marina García Burgos

Kurt Holle

Forestry Engineer, co-founder of Rainforest Expeditions, and consultant

TODAY, RAINFOREST EXPIDITIONS HAS TWO ECO-LODGES AND AN INVESTIGATION CENTER IN THE TAMBOPATA

NATIONAL RESERVE. THE FIRST COMPANY IN PERU TO JOIN FORCES WITH AN INDIGENOUS GROUP, RAINFOREST

EXPEDITIONS WENT INTO BUSINESS WITH MADRE DE DIOS' INFIERNO COMMUNITY EIGHTEEN YEARS AGO. TOGETHER,

THEY RUN THE POSADA AMAZONAS LODGE, WHICH IS CURRENTLY OWNED BY THE COMMUNITY. WHOSE MEMBERS

OVERSEE THE ADMINISTRATION, LOGISTICS, HUMAN RESOURCES, AND OPERATIONS, WHILE RAINFOREST EXPEDITIONS

COLLABORATES WITH THEM TO MANAGE THE MARKETING AND SALES ASPECTS OF THE BUSINESS.

Is the jungle "in"?

Yes the jungle is definitely 'in' as a place that evokes

excitement and a desire to visit. Its always been considered

a difficult place to invest because at the end

of the day, it's a hard place to understand. It never

ceases to amaze me how little people actually know

about the Amazon. It's a hugely misunderstood place.

If people understood two or three basic things about

the jungle, it would resolve a lot of the issues that they

face living there. In reality the issues are more results

of misunderstanding than wrongdoing.

From a touristic point of view, why do you think

the jungle is 'in'?

Because the exotic and remote always attract, and

the Amazon still offers both these qualities. People like

the fact that its not oversaturated with tourism, that

there are places that maintain their personality, that

there is wildlife. It is not the same as walking a paved

path in a natural reserve, like those in the United States

and Europe. The wildness still exists, and it's more

accessible than ever.

What kinds of investment possibilities do you

see in the Amazon?

I think that the Amazon is a very tricky place for business,

as businesses exist and are conceived today.

The world and the economy demand volume and

homogeneousness, and the jungle is not reliable for

either of these things. It can only provide small volumes,

and in diverse ways. Those are, in fact, its strengths

– diversity more than volume. Either way, making

its reality work within the constructs of modern economies

is challenging.

Nonetheless, talking about postmodern, internet-tied

tendencies, there are a series of business models that

give the Amazon a chance. These models are based

on small quantities of select products – products that

come with stories, which have to do with preservation,

with the indigenous world, and with nature. These

things add value to the products and services that

we can offer here in the Amazon. Twenty years ago, it

was impossible to export large quantities of things –

for example, 500 units of chocolate – or to think that
---
Rodrigo Cabrera
---
CHRONICLE / CRÓNICA
---
an indigenous group from the middle of the Brazilian

jungle could have a distribution chain that ends in New

York City. Today, that's all become possible. We just

have to put proper value to the product so we can

justify the difficulty that comes with getting it out there.

Besides tourism and high-value business, what

is the certified wood market like?

Wood certification is still ways away from becoming a

global solution. And what we are dealing with here in

the Amazon is just that: small-scale solutions, when

what we need to be doing is coming up with big-scale

solutions.

In terms of wood certifications, the initial problem is

that only 5% of all the wood that comes from Peru

is actually certified. Further more, certified wood also

comes with an array of ecological problems that are

hard to solve – like with shihuahuaco, a huge tree that

can be found dispersed throughout the jungle. This

tree takes 20 years until its ready to harvest for wood,

but it takes at least 100 years until it's fulfilled its ecological

role within the forest. One example is its relationship

with macaws. The shihuahauco tree houses

these birds in its trunk holes, which only form after

many years. These holes see hundreds of generations

of macaw nests, and some macaws only lay one egg

at a time, each of which already has a low survival

rate. So, considering all these factors, we have to see

what's going to happen to the macaw population in

the next few years. And they're only one of the many

species that depends on this tree.

You've previously mentioned that "the future will

bring successful tales of sustainability."

Lets use "a connection to nature" instead. I'll give you

a few small-scale examples. ORG by Vio, created by

Violeta Villacorta, is a high-fashion brand based on the

aesthetics, tradition, and production by various indigenous

communities. Pats, owned by Peruvian Gerry

Cooklin, makes wooden furniture and housewares

using every square inch of each tree that gets cut down

for production, so that nothing gets wasted, and thus,

the product has an added value. Dilwyn Jenkins, who

recently passed away, had spent the last 35 years

working with the Ashaninka native group in the central

jungle, packaging coffee and cacao that was then

sent to the UK to produce high-quality chocolates. He

worked to directly connect the Ashaninkas to the market,

rather than to work through brokers in hopes to

achieve a larger amount of product. This makes the

value of the product much greater. Everything is done

on a small scale; nonetheless everything has been

working for years and is demanding much thought in

today's global situation.

Do these contemporary business models take

indigenous intellectual property into account?

Or do they use natives as marketing opportunities?

It's not about having indigenous people participate

solely in the most basic part of the production chain.

Rather, it's about having them participate in other, higher-up

aspects as well, like distribution.

The tours you offer include the exploration and

learning of nature, but the indigenous communities

located in the areas are not integrated into

the experiences you offer.

This is something very Peruvian. In Ecuador, for example,

there are various agencies that are run by indigenous

peoples, and they include cultural aspects within

their programs. The Achuares do this very successfully

in Kapawi, the Quechuas do this with Napo Wildlife

Center Lodge, and the Secoyas with Remolino…

I think that in Peru, we get so much more to work

with from nature – in terms of activities – than, say,

Ecuador. Jungle tourism in Peru offers more of an environmental

experience. Even if one goes to a Matsiguenga

community – like, Shipetiari – one has to focus

at least 50% of their time on nature alone, because it's

spectacular.

When one thinks about business in the jungle,

are they looking at the Amazon specifically, or

are they trying to adapt production and extraction

models from the coast and mountains, to

the jungle?

The Amazon is just starting to be looked at for what

it is, but it's still not enough. The idea is to start to

look at it from within. We need to start listening to the

people of the Amazon, and understanding what the

jungle is and how it functions. Certain things are being

done. The Amazonian Interregional Council (CIAM) is

supporting the departments of the Amazon presenting

unified platforms that work to adapt to the local

realities and to investment projects. Indigenous orga-

"IN TERMS

OF WOOD

CERTIFICATIONS,

THE INITIAL

PROBLEM IS THAT

ONLY A 5% OF ALL

THE WOOD THAT

COMES FROM

PERU IS ACTUALLY

CERTIFIED"

Previous page: An

example of being

in business with

nature: the Posada

Amazonas Lodge,

located within

the Tambopata

National Reserve.

/39
---
INTERVIEW

THE IDEA IS TO

START TO LOOK AT

IT FROM WITHIN.

WE NEED TO START

LISTENING TO THE

PEOPLE OF THE

AMAZON, AND

UNDERSTANDING

WHAT THE JUNGLE

IS AND HOW IT

FUNCTIONS

Agriculture, illegal

mining, and logging

are threatening the

jungle's natural

protected areas.

nizations, like AIDESEP, have much more power today

than they did 20 years ago. If you look closely, there

are a lot of extraction projects that have been paralyzed

because of environmental concerns. It's not true

that they aren't heard; I would actually argue that it's

quite the opposite. If you compare the political pull of

a person like myself with that of an indigenous person,

theirs is probably double mine. Is it enough? No. But

it's more.

Are highways the solution?

Let me start my stating that everything is a big misunderstanding.

In Peru, 80% of the Amazonian deforestation

lies 20 kilometers from a highway. It is scientifically

proven. Like the laws of gravity. And although

this is an unchangeable fact, deforestation is not. In

places like California and Florida, you can drive down

highways that traverse through the heart of a national

park that remains perfectly conserved. How can we

change this Peruvian reality in order to build highways

that don't lead to deforestation? Firstly, we can't imagine

a future based on the past - based on how things

have been done previously. Peru's future can be different.

So, what can be done?

We have to make sure that the government does

its job. It has to protect the land surrounding the

highways, and impede outside occupation. People

arrive to the jungle from all over the country, with all

kinds of ideas. There are those who are more reasonable,

and then those who think "God has given us

these thousands of hectares and we are going to fill

them with rice and maize." These invaders arrive with

certificates from the Ministry of Agriculture. The certificates

are anachronistic; they come from a time when

the government was trying to promote migration into

the jungle. If you put in a highway, put a moratorium

against land-ownership certificated for the land surrounding

the highway. No one is going to go traipsing

into the jungle. People stay close to the highways.

Is the government taking illegal mining and logging

seriously?

There are three different problems. Illegal mining is

being taken seriously, but illegal logging isn't. Its much

more complicated than mere deforestation, and much

more ecologically impactful. And the agricultural problem

is never taken seriously. If one had to rate the

three in terms of damage to the ecosystem, illegal

mining would be first, followed by agriculture, and

then logging. Looking at superficial damage, however,

Rodrigo Cabrera

agriculture comes first, then logging, and then mining.

And if they're rated in terms of how easily they can

be solved, agriculture comes first, then logging, and

mining comes last, as it is the most difficult to resolve.

Is carbon offsetting an option?

In the case of carbon offsetting, I think that the 'reforestation

credits' require too much investment for

small amounts of land, and thus, they have little potential

for long-lasting, positive impact. What's being

talked about now is basically the opposite: carbon

credits for avoiding deforestation. In this case, the focus

wouldn't be on reforestation, it would be on conservation.

The problem is that it doesn't factor into the

Kyoto Protocol, and so it's harder to get politicians to

back it, and to get money for it.

Don't you feel that the Amazon is often viewed in

a negative and problematic perspective, and it is

necessary to make an effort to show the success

stories instead?

Sometimes I feel that the environmentalists are spot

on in terms of recognizing and denouncing the pro-
---
lems that the jungles faces, but that they lack hope.

We often focus so much on the negative, that we forget

the positive. I, for one, am hopeful because I feel

that these are not unsolvable problems, and that not

everything humans do is negative. We are capable of

incredibly powerful actions. In Peru, for example, there

are two that come to mind: The Natural Protected

Area Law and the Indigenous Landownership Law. If

you compare a NPA with what happens outside of it,

the difference is abysmal. The deforestation within a

NPA is less than 1% - a number that the forest itself is

capable of recuperating. In the case of Manu National

Park, the maquisapa monkey and river otter populations

have grown 55% since Manu was declared a

national park. Within the indigenous territories, the situation

is similar. There is ten times less deforestation

in these areas than in the surrounding areas. Peru's

current situation gives further proof. It's surpassing the

international recommendations of how much territory

a mega-diverse country like itself should keep protected.

Many of the big issues that the world is beginning

to face – climate control, CO 2

absorption,

fresh-water reserves, genetic banks for new

medicine – they all involve the Amazon. Is Peru

conscious of the value its rainforest holds?

I don't think Peru is conscious of this yet, and I don't

even think that humankind is clear about the interconnectedness

between the Amazon and other, far-away

places. If there's an impact here, it's going to be felt in

the far corners of the world – the air, the climate, the

water. In order for Peru to have the power to negotiate,

the Amazon needs to be valued both internally and

externally.

What kinds of new tourism proposals are you

seeing in the rainforest?

Both Madre de Dios, with its lodges, and Loreto, with

its cruises, will continue to grow. They are both very

competitive destinations: they boast gorgeous forests

(less so in Loreto), they are both airport accessible,

and they are both high-quality products. They're

going to raise the standards of jungle tourism. That's

not to say that there aren't other destinations that are

IN PERU,

80%

OF THE AMAZONIAN

DEFORESTATION LIES

20

kilometers

FROM A HIGHWAY. IT

IS SCIENTIFICALLY

PROVEN

/41
---
Chrisitian Declercq

INTERVIEW
---
Billinghurst Bridge, over the Madre de Dios River. It unites the Puente Inambari-Puerto Maldonado section of the southern Interoceanic Highway.

/43
---
45
---
CHRONICLE / CRÓNICA

BOTH MADRE DE

DIOS, WITH ITS

LODGES, AND

LORETO, WITH ITS

CRUISES, WILL

CONTINUE TO GROW.

THEY ARE BOTH

VERY COMPETITIVE

DESTINATIONS: THEY

BOAST GORGEOUS

FORESTS (LESS SO

IN LORETO), THEY

ARE BOTH AIRPORT

ACCESSIBLE, AND

THEY ARE BOTH

HIGH-QUALITY

PRODUCTS. THEY'RE

GOING TO RAISE

THE STANDARDS OF

JUNGLE TOURISM

Above: Tambopata

Research Center,

Rainforest Expeditions.

Below: Alto Purus National

Park as seen from above.

gaining popularity, like Tarapoto in the central jungle.

Manu isn't quite there yet. The most interesting thing

the park has to offer are the ACCA biological stations

and the Matsiguenga lodges, the rest is a bit stuck.

What about the Interoceanic Highway that crosses

the jungle from the Pacific?

In terms of access, they're great. Maybe something

will be established in the cloud forest between Cusco

and Puerto Maldonado, maybe in Iñapari, where there

are wonderfully conserved forests, and who knows if

the access to Manu will increase because of the Interoceanic

Highway. The South Interoceanic Highway's

impact is hard to predict. But it's going to cause trouble

if it leads to deforestation. Unless we learn to eliminate

the impact of the deforestation that comes as a

byproduct of highway building, the results for tourism

are always going to be negative.

What's the next big thing in Amazonian tourism?

Previously remote areas are going to be made accessible

thanks to aviation - like the small planes that

are used for African safaris. And there are going to

be opportunities to experience radical and extreme

adventures.

Iñigo Maneiro

SPECIAL TAMBOPATA

PROGRAM

5D/4N

DAY 1

- Arrive at the Puerto Maldonado Airport, transfer to

the Tambopata port.

- Transfer on the Refugio Amazonas boat.

- Box-lunch.

- Dinner.

- Nighttime caiman searching.

DAY 2

- Breakfast.

- Visit to the canopy tower.

- Canoe or catamaran trip through the lake.

- Boat transfer to Tambopata Research Center.

- Box Lunch.

- Walk along the Tambopata River

- Dinner.

- Presentation about the Macaw Project.

- Overnight at the Tambopata Research Center.

DAY 3

- Excursion to the clay-lick.

- Breakfast.

- Walk through the flooded forest.

- Lunch.

- Visit to the Pond platform.

- Dinner.

- Night hike.

- Overnight at the Tambopata Research Center.

DAY 4

- Second excursion to the clay lick.

- Breakfast.

- Walk through the Terra Firme forest

- Lunch.

- Aguajal walk.

- Dinner.

- Overnight at the Tambopata Research Center.

DAY 5

- Breakfast.

- Boat transfer from the Tambopata Research Center

to the Tambopata Port.

- Transfer to the Puerto Maldonado Airport.

For more information contact: inbound@limatours.com.pe.
---
47
---
A JOURNEY THROUGH THE AMAZON

Delfin Amazon Cruises

THERE ARE MANY WAYS TO EXPERIENCE THE JUNGLE

DEPENDING ON WHAT ONE WANTS TO DISCOVER. SOME

TAKE THE URBAN ROUTE, OTHERS CHOOSE TO EXPLORE A

HIDDEN LODGE, AND THEN THERE ARE THOSE WHO SEARCH

OUT CONSTANT ADVENTURE. ON THIS TRIP, WE HAVE THE

PRIVILEGE OF BEING ROCKED TO SLEEP TO THE SOUNDS OF

THE JUNGLE AND AWAKENING TO THE SUNLIGHT BOUNCING

OFF THE STILL WATERS, AS WE EXPLORE THE AMAZON ON A

CRUISE SHIP.

By

Paola Miglio

They say that there is a jungle for everyone, and

a journey for every type of traveller. Amongst

the options, we find the Amazon cruises that

navigate the rivers for days, allowing for passengers

to discover some of the jungle's best-kept

secrets. Some aim for luxury experiences, inviting

passengers to enjoy their surroundings in ultimate

splendor from the moment they set foot on the

vessel. Others are more specialized, leading groups

on bird watching and fauna observing tours. Depending

on what one decides, they can spend their

time swimming with dolphins, walking through the

canopies of the trees, investigating local species,

visiting a number of lagoons, fishing for piranha, or

just relaxing on the boat, enjoying the scenery. The

options are as varied as they are tempting.

THE RIVER DOLPHIN

The charm of the Delfin I – offering four rooms – and

its larger sibling the Delfin II – offering 12 rooms – is

that within the luxury, passengers are made to feel

at home. On this journey, we have the pleasure of

experiencing a voyage on the smaller, more intimate

Delfin. The decor is exquisite, with is warm, earthy

tones and wood. The rooms are ample and inviting,

and two of the four suites offer private verandas

and plunge-pools overlooking the river. The delicate,

gourmet meals are prepared daily, and incorporate

fresh, local Amazonian ingredients. If pas-

Luxury vessels for exploring the

Amazon River.
---
The Rivers of the Tropical Jungle

A Journey Through

the Amazon

/49
---
A JOURNEY THROUGH THE AMAZON

Delfin Amazon Cruises

THE EXCURSIONS

VARY DEPENDING

ON THE SEASON:

THE RAINY

SEASON IS FROM

DECEMBER TO

MARCH

sengers decide to go piranha fishing and make a

catch, they have the option of being served their fish

for dinner, cooked to golden perfection. The Delfin

I also boasts a open-air bar on its top floor, where

passengers can enjoy a refreshing beverage while

connecting to their surroundings. Due to its small

size, the ship offers personalized service.

Our journey begins at sunset as we depart from the

Nauta port towards the Pacaya Samiria National

Reserve. The adventures starts with an exploration

of Belluda Caño, where bromeliads, iguanas, parrots,

squirrel monkeys, and butterflies abound. We

then explore the Dorado River to look for dolphins,

followed by the Puinahua and Pacaya Rivers. We

boat around the Atun Poza Lake, stop for a visit to

the Puerto Miguel Community, go down the Yanapa

River, and finally arrive at the basin where the Amazon

River is born. The routes are subject to change

depending on the season.

LIFE IN THE AQUA

Aqua Expeditions has two ships: the Aria and the

Aqua. These luxury vessels are ample and modern,

offering journeys from four to seven days long.

There is a gourmet restaurant aboard the ship that

serves delicious food made with Amazonian ingredients,

as well as a small store where passengers

can buy amenities. The rooms are large and have

panoramic views of the river. The deck is a perfect

place to rest and reconnect with the surroundings.

Both ships have an out-door lounge, and the Aria, a

small gym. The journey is similar to that offered on

the Delfin I and II, and includes day-trips on smaller

boats, and jungle walks.

SCIENCE AND THE AMAZON ECO

The Amazon Eco is a different story. Rather than

luxury, this cruise ship focuses on specialized journeys

in a comfortable, remodeled vessel from the

days of the rubber-boom. Directed by Doctor Richard

Bodmer and his wife, Tula Fang – who also

own the Casa Morey in Iquitos – the Amazon Eco

offers adventures for passengers who want to immerse

themselves in nature and research. Some are

volunteers with Earthwatch, others are students,

and then there are those who are driven by personal

interest. The Amazon Eco collaborates with the

Durrell Institute of Conservation and Ecology (DICE),

the Operation Wallacea (OpWall), and the British

Schools Exploring Society (BSES).

THE ESTRELLA AMAZÓNICA

This luxury ship is the newest of its kind. Offering

ample, premium rooms with elegant details, and private

balconies that overlook the river, this 31-per-

Delfin Amazon Cruises

Marina García Burgos

Above: The cruise

ships are primarily

decorated with

wood in warm

colors.

Left: The cruise

invites guests

to enjoy boating

excursions through

rivers, and hiking

excursions through

the jungle.

Right: Aqua

Expeditions Cruise

ship.
---
Marina García Burgos

Their services allow for guests to relax and enjoy being submerged in nature.

DELFiN I Y II

Reservations: 065-262-721 / Lima: 719-0998 and

719-0999. Tours: Four days and three nights. Web:

www.delfinamazoncruises.com.

AQUA EXPEDITIONS

Reservations: 065-601-053 and 065-255-082. Tours:

Three or more nights. Web: www.aquaexpeditions.com.

AMAZON ECO

Reservations: 065-231-913. 200 Loreto Street, plaza

Ramón Castilla, Iquitos. The length of tours depends on

one's selected route. Web: www.amazoneco.com.

THE ESTRELLA AMAZÓNICA

Contact: inbound@limatours.com.pe.

Delfin Amazon Cruises

/51
---
A JOURNEY THROUGH THE AMAZON

IF PINK DOLPHINS

ARE SPOTTED

DURING THE

JOURNEY, GUESTS

CAN REQUEST TO

HOP IN THE WATER

AND SWIM WITH

THEM. ASK THE

STAFF

son vessel makes journeying through the Amazon

a one-of-a-kind experience. The dining room, salons,

and observatory lounge all share the same

simple, elegant decor and warm tones. The meals

served on board are prepared with local ingredients,

and focus on recreating Amazonian cuisine

with a gourmet twist. Excursions are generally seven

days and seven nights long, but can be extended

if so desired.

International Expeditions

Above: The Estrella

Amazónica.

Right: The Delfin's

conference room.

Next Page: The rooms

aboard the Delfin

are ample and offer

panoramic river views.

AMAZON CRUISE PROGRAM 5D/4N

DAY 1

Delfin Amazon Cruises

• Arrive at the Iquitos Airport.

• Transfer to the Nauta Port, where you will

board the cruise ship.

• Pink dolphin searching excursion.

• Dinner and meet the ship's captain.

DAY 3

• Breakfast.

• Explore Atun Poza Lagoon – located

in the Pacaya Samiria National

Reserve – by boat.

• Boat trip down the Pacaya River.

• Dinner and rest.

DAY 5

• Breakfast, followed by a trip down the Yarapa

River – one of the Amazon tributaries.

• Visit to the Puerto Miguel Amazon Community.

• Disembark in Nauta and visit the Manatee

Rescue Center.

• Transfer to the Iquitos Airport.

DAY 2

• Breakfast and visit to the Yanallpa Private

Reserve.

• Excursion to Belluda Caño within the

Pacaya Samiria National Reserve.

• Walk though the rainforest and return to

the ship for lunch.

• Navigate the Dorado River.

• Dinner and rest.

DAY 4

• Breakfast, followed by fishing in

Lake Caro Curahuayte.

• Lunch, followed by a visit to the

Yarallpa Private Reserve.

• Farewell dinner.

For more information contact:

inbound@limatours.com.pe.
---
Delfin Amazon Cruises

/53
---
55
---
CACAO PRIDE

CACAO PRIDE

Touring the Cacao Trail in San Martin
---
OUR JOURNEY THROUGH SAN MARTIN, A RE-

DISCOVERED AREA OF PERU THAT IS ENJOYING

ITS NEWFOUND POPULARITY THANKS TO

THE AGRICULTURAL RECOVERY OF A GLOBAL

FAVORITE: CACAO.

By

Paola Miglio

Photos

Christian Declercq

The road has been difficult. The journey, intense.

Cacao spent many years as an overlooked,

secondary crop in the Peruvian

jungle – nearly invisible. The local varieties would

have been lost beneath the economic and social

strife that overtook this area of the country (armed

militia and drug-trafficking) if it weren't for

the international involvement and pacification

process that began some years ago. Many of the

region's farmers have now traded in their coca

plants for cacao. Today, the people and energy

of the San Martin region are tranquil. The faces

of the farmers reveal satisfied smiles. They have

overcome chaos, anguish, and fear, and now revel

in the success of their products throughout

Peru and the world.

We are going to traverse eight projects in three

days, across the San Martin region. Tarapoto will

be our base. The geography is not easy. Luckily,

the highways are in better condition than ever

before, and the scenery is stunning – painted a

million shades of green. We are accompanied by

a local guide who will take us through the area.

Travelling with a local is the best way to avoid

mishaps, as we are in the jungle, and the jungle

has its ways.

1. STRAIGHT TO JUANJUI

After driving three hours from Tarapoto, we arrive

in Juanjui, where we are greeted by the members

of the Cacaotera-Acopagro Agrarian Co-op, and

750 farmers from central Huallaga (Juanjui, Sa-

Drying cacao on the Huallaga Riverbank.

/57
---
CACAO PRIDE

loreto

rioja

moyobamba

Area: 1,791.2 ha

Cacao-farmers: 1,177

amazonas

Area: 1,024.8 ha

Cacao-farmers: 624

lamas

LAMAS

el dorado

TARAPOTO

Area: 2,404.1 ha

Cacao-farmers: 1,199

huallaga

PUCACACA

Area: 6,132.8 ha

JUANJUI

Cacao-farmers: 2,851

PAJARILLO

san martin

CHAZUTA

Area: 404.8 ha

Cacao-farmers: 329

PICOTA

Area: 2,653.6 ha

Cacao-farmers: 1,721

mariscal caceres

Area: 1,425.8 ha

Cacao-farmers: 912

bellavista

la libertad

tocache

Area: 8,304 ha

Cacao-farmers: 3,721

huanuco

PACIFIC

OCEAN

Source: Technoserve

posoa, Bellavista, Picota). They work with the cacao

clone CCN-51 - due to its heightened productivity, as

well as Trinitario clones, and the Amazonian Forastero

variety, all of which come together to produce the

cacao that they then sell to the world. The Co-op has

its laboratory and headquarters in Juanjui, and from

there, they offer consultancy, credit, and social support

to their farmers. Many wonder why the CCN-51

is used, since it can ruin plantations, contaminate

local cacao varieties, and compromise biodiversity.

However, it is important to understand that CCN-

51 helped many of these farmers and their families

re-establish peace in a time when the region was

overcome by terrorism and drug trafficking. Thanks

to the CCN-51 clone, these farmers were able to replace

their coca-plant crops without suffering from

grave economic blows. Now that the chaos has subsided,

farmers can make room for native varieties

and bring Amazonian cacao back into the limelight.

2. BENEATH THE BANANA PLANTATION

Our journey continues to Pajarillo where we will visit

the clone gardens of port Tarata - but first we must

cross the Huallaga River. We get out of the car and

watch as the other cars pull onto the ferry, between

the food vendors. It's midday and the heat is unbearable,

but our appetite for adventure keeps us going.

After nearly two hours of transit, we arrive at an immense

banana plantation, where the tall bellaco banana

trees will provide shade for future cacao plants.

Here, farmers work with associated and integrated

crops in order to generate more benefits, and then
---
ALONG THE WAY, THERE

ARE OTHER CACAO

PLANTATIONS TO VISIT,

AND OTHER TOWNS THAT

PRODUCE AND SELL

CACAO PRODUCTS. SAN

MARTIN IS EXPERIENCING

A RENAISSANCE THANKS

TO ITS STAR PRODUCT.

The cacao process–

from its extraction to

its final product.

they pool together the fruit from their individual plots

in order to yield a greater volume. The neighboring

orange trees help us fight the heat – providing a cool

breeze and fresh juice – as we admire the drive of

working locals.

3. CHOCOLATE IN PUCACACA

Our first day is a long one. If you follow our path, we

recommend lots of patience. One can also break the

trip up and stop in any of the various cacao plantations

along the way. We've traveled all day, and

as night falls, we arrive at our final destination: the

town of Pucacaca – a 40-minute drive from Tarapoto.

Pucacaca is one of the places where raw cacao

comes to be transformed, and is also the location of

the Makao Peru headquarters. This company works to

/59
---
CACAO PRIDE

Orquidea Chocolates:

one of the best-known

chocolate brands from

San Martin.

help low-income farming towns by purchasing organic

cacao directly from the farmers, and hiring people from

the communities to work in their small, well-equipped

factory. Makao produces chocolates of different percentages

(60%, 70%) and a variety of types, including:

chocolate with nibs, aji charapita, pecans, macambo,

and milk chocolate, among others.

4. DON MARCELINO

Day two brings a new journey. After driving for an

hour and a half from Tarapoto, we arrive in Morillo (in

the Chazuta district), where Marcelino Zumba owns a

plot of land. Marcelino is part of San Martin's government

project, Proyecto Cacao. He has been working

with cacao for seven years, and has been using TAPS

fertilizer and synchronized pruning techniques since

2012, which he learned from cacao producer Edil

Sandoval Arevalo. Marcelino's plot has everything:

ICS-95, hybrids, CCN-51, and a few native cacao

species that he treasures. This plot is an example of

the project that gives farmers guidance in fertilizers

and pruning, plague management, and crop health,

to promote better production. (Marcelino's production

has increased 50% since 2012.)

5. THE JOY OF CHAZUTA

In the district of Chazuta, cacao production has improved

lives, including those of the women that make

up the Cacaotera Mishky Cacao Association, who

have developed a small factory where they produce

chocolate and cacao products. These 13 mothers

came together in 2003, after deciding to forgo coca

leaf cultivation and dedicate their time to cacao. Upon

our arrival, they welcome us singing songs they've

written in celebration of the cacao plant. Then, they

show us their work. Their products have gained national

and international recognition: the association

was just awarded a prize from the International Chocolate

Awards, and recognition from Paris' Chocolate

Salon (France). The women are peaceful, confident,

and sweet. Their sweetness is reflected in each of

their products: marmalades, chocolate paste, chocolate

tablets of varying intensities, milk chocolate,

white chocolate, and macambo-fruit chocolate.

6. COFFEE AND CACAO IN LAMAS

We spend our last day in Lamas, a peculiar town famous

for its traditional garments and dances, and for

the giant, stone castle that sits overlooking the community.

Here, we find the Oro Verde Co-op, one of

the biggest and most developed organizations in the

area that makes cacao and coffee products for export.

Initially founded by 56 families, Oro Verde aims

to bring together small producers who are interested

in participating in fair-trade and organically certified

farming. The Co-op is currently made up by 1,200 families

– 70% of who are Chanca Lamistas, and 30%

of who have immigrated from Northern Peru. In addi-

THEIR PRODUCTS HAVE

GAINED NATIONAL

AND INTERNATIONAL

RECOGNITION: THE

ASSOCIATION WAS

JUST AWARDED A

PRIZE FROM THE

INTERNATIONAL

CHOCOLATE AWARDS,

AND RECOGNITION

FROM PARIS'

CHOCOLATE SALON

(FRANCE). THE WOMEN

ARE PEACEFUL,

CONFIDENT, AND SWEET.

THEIR SWEETNESS IS

REFLECTED IN EACH OF

THEIR PRODUCTS
---
tion to selling and exporting, Oro Verde also offers a

variety of products on site, including: organic coffee,

pure chocolate, honey, and an amazing, native, 72%

chocolate, produced by the Amazona brand, aptly

named Valle del Chanka.

7. LA ORQUÍDEA

Our next stop is at Mayo industries, where some of

San Martin's most famous chocolate is made: Orquidea.

Mayo works with native communities and

has brought together small-time farmers interested

in cacao as a way of life. Their processing plant uses

advanced technology to make an assortment of different

types of chocolates: dark, pecan, kiwicha, coconut,

and milk – to name a few, as well as a line of

organic chocolates.

8. EXOTIC

The last stop on our cacao journey is Exotic, located

in Tarapoto's main plaza. This small store, run

by Claudia Vásquez, sells gourmet sweets made

with chocolate from Chazuta. Aside from the variety

of well-made dark, milk, and fruit chocolates, Exotic

sells truffles with interesting fillings, like aji and lemon

– both of which amaze the palate in their own, unique

ways. We could not have asked for a better ending

to our journey.

The Orquidea Chocolate

plant in Tarapoto.

/61
---
63
---
NUEVAS MIRADAS

Hike, Bike & Eat

through Croatia

Hike, bike and kayak the Croatian landscape,

and taste the best local food and wine Croatia

has to offer with a tantalising gastronomy tour!

We not only understand but embrace

our destinations' vibrant cultures, diverse

landscapes, traditions & climates!

For more infomation about how our collection of specialised travel

inbound operators can expertly craft adventure travel services visit us at

PureQuest.com or email at info@PureQuest.com

ACTIVITY LEVEL

DAY 1 - ZAGREB

- Hands-on culinary course

DAY 2 - ZAGREB / ZAGORJE

- Fish & food market guided tour

- Štrukli cooking & wine tasting

- Hike through the Zagorje hills

- Traditional Zagorje village meal

DAY 3 - GORSKI KOTAR

- Hands-on foraging tips in Gorski

Kotar

- Tree planting

- Cycling through local villages

- Cooking demonstration of local

surprise specialties

DAY 4 - UČKA

- 2 hour hike of the Učka Nature Park

- ATV tour and wine-tasting in Istria

DAY 5 - OPATIJA

- Exploring Veliki Brijun Island by bike

- Cooking class in Opatija

DAY 6 - PAKLENICA

- Hiking, Paklenica National Park

- Visit Nin Saltworks Park

DAY 7 - ZADAR

- Prosciutto sampling

- Biking through the National Park Krka

DAY 8 - SPLIT

- Split gastro tour

- Pelješac wine & oyster tastings

DAY 9 - DUBROVNIK

- Sea kayaking along the Adriatic coast

- Cooking class & dinner, Konavle

ACTIVITY LEVEL

ALTITUDE:

max 3200 metres

Explore China's icons, and yet to be

discovered treasures. Learn traditional Chinese

skills and gain new photography expertise!

China Multi-Sport

from the Great Wall to the Tiger Leaping Gorge

DAY 1 - BEIJING

- Visit Chinese Imperial Palace

- Visit the Hutongs

- Visit local family to learn kite-making

DAY 2 - GREAT WALL

- Hike the Mutianyu section

- Visit the Summer Palace

DAY 3 - XI´AN

- Visit the Terracotta Warriors

- Bike the Xi'an City Wall

- Visit Muslim Quarter

- Dumpling banquet

DAY 4 - JIUZHAIGOU

- Visit a Tibetan family for dinner

DAY 5 - JIUZHAIGOU

- Hike Jiuzhaigou National Park

- Small workshop on landscape

photography

- Visit Tibetan museum

DAY 6 - SONGPAN

- Horseback ride through

Songpan countryside

DAY 7 - CHENGDU

- Visit a local park to sample a

typical Chengdu weekend

- Watch a Sichuan Opera

DAY 8 - CHENGDU

- Volunteer at the Panda

Breeding Centre

- Visit Leshan Mountain

- Walk Jinli Street for a night

photography seminar

DAY 9 - LIJIANG

- Early morning Taichi practice

DAY 10/11

- TIGER LEAPING GORGE TREK

DAY 12 - SHAXI

- Visit Shaxi Ancient Town

- Visit Shibaoshan Grottoes

DAY 13 - DALI

- Visit local Dali villages

- Tour the lakeside by bike
---
CHINA

Fan Na // (+86) 10 8519 8851

fanna@purequest.com

CROATIA

Mirela // (+385) 1 4920 678

croatiasales@purequest.com

INDIA

Lokesh // (+91) 11 4279 5259

lokesh@purequest.com

PERU

Diego // (+51) 1 61 96 920

diego@purequest.com

/65
---
THE HUMAN JUNGLE

Heinz Plenge Pardo

OVER THOUSANDS OF YEARS, THE

PEOPLE OF THE AMAZON HAVE

ADAPTED TO ONE OF THE MOST

COMPLEX ECOSYSTEMS ON THE

PLANET. THIS LIVING AREA IS A FOCAL

POINT OF SOME OF HUMANKIND'S

MOST PRESSING ISSUES.

Text and photos by

Iñigo Maneiro

From an aerial perspective, the

Amazon looks like a green sea

littered with winding rivers of differing

widths. Occasionally a small village

appears, most of which is built with

locally sourced materials: palm fronds,

wood, roots and vines. Thin paths zigzag

through the village, connecting

houses and marking the way to fields

where things are grown, or trails that

lead to hunting and gathering grounds.

These communities are generally located

near rivers and ravines that facilitate

movement and allow for easy access

to water. From above everything

appears to be homogeneous. A uniformed

landscape in which only the enormous

Lupuna trees stand out.

The land, however, is not at all as unvarying

as it appears. The flora is lush

and diverse, formed by a wide variety

of species - unlike temperate forests,

which are much more uniformed.

Thus, plants must take advantage of

the limited resources that the jungle

provides. The diverse plants use their

individual root systems to extend to different

layers of the earth and absorb

the nutrients. Most have wide leaves

to better capture the limited amount of

An Aguaruna from the Chipe

community - Bagua.
---
The Human Jungle

Native Communities of the Amazon

/67
---
THE HUMAN JUNGLE

THE DIVISION

OF POWER IS

COMPLEX. THE

CHANNELS OF

REPRESENTATION

ARE NOT LIMITED

TO THE CHIEF OR

PRESIDENT OF THE

COMMUNITY

Above, right: Yine

Diamante Community

Comunal Amarakaeri

Reserve.

Above, left: Fishing

net used by the Isla de

los Valles community-

Manu National Park.

Below: Woman from

the Nomatsiguenga

community in Satipo.

sunlight that trickles in through the trees, and many

of them have straight, long trunks that take them as

close to the canopy as possible.

FAMILIES AND COMMUNITIES

Over thousands of years of living within this ecosystem,

Amazonian natives have learned to adapt to it.

They have discovered which plants to eat, and which

to use for medicine; they have grown to understand

the behaviors of different animals – how to hunt

them, and how to fish them; they have developed the

wisdom to gather the fruits, insects, and mushrooms

that form part of their daily diets. Amazonian communities

can identify over two thousand plant species

– many of which are still unknown in Western society,

and others that are used worldwide for both nutritional

and medicinal purposes.

Traditionally, individual family settlements are dispersed

throughout the community's general area. This

way, the communities attempt to minimize their impact

on their surroundings, and help ensure enough

resources for all members of the populace. The dispersion

also makes for better sanitary conditions and

guarantees each family enough land to provide for

all their needs: building materials, medicinal plants,

land for crops and animals, hunting zones, access

to water, etc.

Within the family construct, there are strongly assigned

gender roles. The men hunt, clear and prepare

the land for planting, fish, gather food and firewood,

and raise their sons. Meanwhile, the women oversee

all domestic work, they educate their daughters,

work in the gardens, manage the medicinal plants,

and fish, gather, and raise the animals.

Most Amazonian tribes – like the Jíbaros – are patrilocal.

This means that when a young couple is wed,

they move into the bride's parent's house for the first

few years of their union, usually until their children

are already a few years old. Once they establish their

own nuclear family, they move out onto a new plot

of land, where they build their house and plant their

own crops.

POWER

Through the religious missions, and with the introduction

of Juan Velasco Alvarado's Native Community

Law of 1974, the Amazonian communities were

given the rights to the occupation of their land in the

Peruvian Amazon. With help from these religious missionaries,

communities started establishing their first
---
Madre de Dios as seen from the Shintuya community.

medical centers and schools. All of a sudden, the

dispersed local families began to settle around these

establishments – sometimes against their will. The

law of 1974 created the concept of legal recognition

of indigenous territories in Peru - establishing territorial

limits, formalizing land ownership, and bestowing

titles of propriety.

Upon being given ownership titles, the indigenous

communities developed more organized and defined

political and societal structures, with the objective of

defending their territory. Thus, certain members of

the community were appointed as chiefs, leaders,

and/or authorities.

Left:

Asháninkas

from the

Pakirentsa

community Alto

Purús National

Park.

Right: wood-fire

cooking in the

Cashinahua

Grau

community

- Alto Purús

National Park.

Within each community, there are different types of

authority. Generally, the directing board is composed

of a community president and his staff. Different tribes

that share commonalities – be it a river, an ethnicity,

or a territory – are then represented by their

respective presidents in a larger organization. These

organizations, in turn, come together to form part of

national organizations, like the Interracial Association

for Development in the Peruvian Jungle (Aidesep)

and the Confederation of Amazonian Nationalities of

Peru (Conap). These organizations represent almost

Peque-peque canoe navigating the Purús River - Alto Purús National Park.

/69
---
THE HUMAN JUNGLE

Right: Yine hunter – Manu

National Park.

Next page: Cashinahua in

Puerto Esperanza - Alto

Purús National Park.

Above, right: Petroglyph

in Satipo.

all of the 48 registered indigenous villages in the

Peruvian jungle. In addition, they form part of bigger

associations that deal with all countries sharing

the Amazon, like the Indigenous Organizations

of the Amazon Basin (Coica).

The division of power is complex. The channels of

representation are not limited to the chief or president

of the community. Natural born leaders, elders,

professors, medical workers, and shamans are all

hugely influential in these populations, and are important

players in negotiations and community politics.

Now more than ever, Amazonian populations are

facing a series of challenges stirring their lives and

the future of their people. The increase in population

is affecting the available food sources; precarious

health and education structures are clashing

with ecological and cultural realities; the influx of

Andean migrants has created territorial conflicts;

the construction of highways, the aggressive cattle-breeding

and hydrocarbon industries are all damaging

the environment. In addition, illegal mining,

drug trafficking, and deforestation are creating

social crisis, exploitation, and profound ecological

damage that in turn, affect the forests and rivers

that these populations depend on.

Then, there are the 'un-contacted' indigenous populations

that escaped to the most inaccessible

areas of the jungle during the rubber-boom of the

XIX and XX Centuries. These nomadic groups generally

inhabit the departments of Madre de Dios and

Ucayali, dedicating their time to hunting, fishing,

and gathering. Despite having protected land reservations

made available to them by the State, these

populations continue to suffer from religious missionary

pressure, and territorial invasion by loggers.

MYTHOLOGY, WORD-VIEW, AND SHAMANISM

The myths of the Amazon reflect one of the most

curious aspects of the Amazonian worldview. Unlike

the Western frame of mind, the people of the

Amazon often personify a wide variety of beings

and places – like plants, animals, caves, and waterfalls

– showing that humanity is not exclusively

human. The jungle is full of life, and this life takes

a variety of different forms. These myths also

function as a way of explaining and passing on the

knowledge people need to survive in the jungle. In

the original version of the Jempe myth, for example,

different tree types are explained and graded

on their firewood quality. The detailed characteristics

and behaviors of the various plant and animal

species are also described in the story, presumably

to be used as references for future generations.

This animistic worldview is shared by all of Peru's

indigenous groups. Beyond just hunting, fishing,

farming, and gathering, the people of the jungle

understand and live with the spirit world, negotiating

with these spirits in hopes to be successful

in all areas of life. When a harakmbut goes out to

fish, he sings ancient songs – icaros – to flirt with

the mother of the animals and ask her permission to
---
MYTHOLOGY,

WORLD-VIEW, AND

SHAMANISM

In ancient times, the Shuar had no

knowledge of fire. They spent their

days cold, and would die from starvation.

Fire was jealously kept from

them by the Taketek, who did not

want to share it. One day, Jempe,

the hummingbird, took pity upon

the Shuar and approached the entrance

of the cave where the Taketek

lived, pretending to be dead.

The Taketek picked him up and set

him next to the fire. They observed

the hummingbird's beautiful colors

– which grew increasingly more

beautiful as the heat began to dry

the bird. Jempe smoothed-down his

feathers with his beak and when the

Taketek weren't looking, he flew up

and fluttered above the fire, lighting

his tail. Jempe quickly flew out of

the cave and as he fluttered through

the forest, he lit the old trunks aflame.

From that day on, the Shuar

were never cold, nor did they die

from starvation, and Jempe's tail remained

split down the middle. (The

Shuar myth)

/71
---
This knowledge is often passed from parents to children

through long conversations as the sun rises,

or during walks through the jungle. The child learns

about morals and relationships, about the characteristics

of the plants and the animals, and about how

to build, fish, hunt, and gather.

THEIR WAY OF

SEEING THE WORLD

– HUMANIZING ALL

ASPECTS OF IT –

INVITES A MORE

SUSTAINABLE

WAY OF LIVING.

NATURE IS USED

FOR CULTURE, BUT

IS CONSIDERED

EQUALLY AS

IMPORTANT

hunt. When an aguaruna sings an anem to the mother

of the land, he is asking her to help his crops grow

strong and healthy. When a wachiperi sings the eshuwa

healing song, he is pleading with the spirits to

release the patient from their sickness. Within these

constructs, the shaman is considered the authority of

the spirit world, and allies with it for his work.

This way of viewing and relating to the world is hugely

important, allowing the indigenous people of the

jungle to exist in and manage an ecosystem that is

increasingly at risk, due to aggressive external practices

that are rapidly destroying forests and compromising

the quality of the water. In addition, it allows

for the preservation of essential knowledge regarding

plants, tree-saps, fibers, and a variety of products

that have proven to be useful for the entire world. The

people of the Amazon are the guardians of the area

that provides some of the biggest fresh-water sources,

that helps regulate the worlds temperatures, and

that absorbs the majority of the CO2 that otherwise

contributes to the destruction of the ozone.

Their way of seeing the world – humanizing all aspects

of it – invites a more sustainable way of living.

Nature is used for culture, but is considered equally

as important. Plants and animals are negotiated

with, spoken to, shared with, and sung to – they are

given importance and are respected, because at the

end of the day they are all people.

Above: Purús River as

seen from an airplane-

Alto Purús National Park.

Below: A Matsiguenga

healer in the Shepitiari

community – Manu

National Park.
---
73
---
75
---
AMAZONIAN ART

THE YEAR 2042 WILL MARK

THE 500-YEAR ANNIVERSARY

OF THE "DISCOVERY" OF THE

AMAZON RIVER BY FRANCISCO

DE ORELLANA AND HIS FELLOW

EXPLORERS. IT ALSO MARKS THE

DAY THAT SAW THE BEGINNING OF

A HUGE ARTISTIC PRODUCTION,

WHICH – OVER THE YEARS – HAS

HELPED US UNDERSTAND THE

COMPLEX SOCIAL PROCESSES

THAT HAVE PIERCED AMAZONIAN

SOCIETY. RELIGIOUS MISSIONARIES,

THE RUBBER BOOM, MODERNISM,

AND CONTEMPORARY LIFE ARE

CLEARLY DEPICTED ON THE CANVAS

– MODIFIED TIME AND AGAIN, AS

THESE ARTISTS TELL THE STORIES

OF THEIR LAND, NARRATING,

SHARING, AND DENOUNCING THEIR

HISTORY AND THEIR REALITIES.

By

Diego Oliver

Thanks to:

Christian Bendayán.

Alfredo Villar.

Elena Valera -

Facebook: https://www.

facebook.com/elena.

valeravasquez.92.

Juan Vásquez Amaringo -

Facebook:

"PABLO C. AMARINGOˮ

High Art Gallery & "USKO-

AYARˮ Amazonian School

of Painting.

Next Page:

Woman with a macaw and

orchids - César Calvo de

Araujo (1960).

Amazonian

Art

From missions to the urban jungle

Forty-one year old Christian Bendayán is one of the most influential painters from the Loreto

region, and perhaps the biggest current promoter of Amazonian art. Born in Iquitos,

he spent most of his life in the jungle city, but now resides in the country's capital, Lima.

Bendayán's work marks a shift in the representation of the Amazon from a more traditional

conglomeration of tribes, rivers, plants, and wild animals, to its modern reality as a concrete

island located in the middle of the jungle with all the chaos and social crisis one would expect

from an third-world metropolis. "I think that Amazonian painting today looks to expose

aspects of history that have been swept under the rug," Bendayán says. The sunlight coming

through the window illuminates him as he sits in front of a drawing table. Behind him, there's a

large, unfinished canvas with three seductive, bikini-clad women painted on it – an image that

wouldn't have been accepted centuries ago.

The Peruvian Amazon has been populated for millions of years. The Kotosh were the first recorded

civilization, dating back to two million years BC. Hundreds of years later - around XIII

AD - Peru witnessed the existence of the Chachapoyas, who populated the Amazon's high

and lowlands, leaving few archaeological traces. Today's larger urban conglomerations are

generally located in the lowlands, where Spanish explorers and religious missionaries arrived

during colonization. Upon their arrival, the Spanish began trying to justify the unknown and misunderstood

using Western mythology –actually naming the Amazon after the Greek myth of

the Amazons – rather than attempting to understand the complex reality of the native peoples.

There are few visual records that depict the attempts of the Dominican Missionaries to convert

the natives. Francisco de Requena, who journeyed to establish the limits between Peru and

Brazil from 1779 to 1795, painted some of the best representations of the original interactions

with the 'new world'. De Requena made beautiful watercolors showcasing the amazing landscapes

of the territory he was overseeing.

Almost a century later, when Peru was already recognized as an independent republic, numerous

scientists made their way over with expert recording artists, and together, they made

a hugely valuable registry of the Amazon's environment. Among the scientists were Italy's

Antonio Raimondi, Germany's Alexander von Humboldt, and Austrian Charles Wiener. Shortly

after, in 1860, the Peruvian government made Iquitos the strategic port-town of the northern

Amazon, triggering perhaps the most tragic period in Amazon history.

The government saw the Amazon as an uninhabited territory. Natives were virtually invisible.

The jungle was a virgin area full of natural resources that were ready to be harvested for

the benefit of adventurous businessmen. All of a sudden, European families began to arrive

and settle in what is now known as Iquitos. And so began the rubber boom. In that time,
---
77
---
LA RUTA DEL BARROCO

AMERICO PINASCO, FOR

EXAMPLE, AFTER TRAINING IN THE

EUROPEAN SCHOOL, BECAME THE

FIRST PAINTER TO INCORPORATE

IMAGES OF NATIVES INTO HIS

PAINTINGS. THIS EVOLUTION

– ASIDE FROM BEING WELL

RECEIVED IN GALLERIES ABROAD

– BEGAN TO ALTER WESTERN

PERCEPTION OF THE AMAZON

Above: Iquitos' Port - Otto Michael

(1898).

Below: Raudal Mirí in the Yapurá

River - Francisco Requena (1788).

the entire economy of the Iquitos was based

on the extraction and sales of rubber.

The demand was huge, and to supply the

need, hundreds of natives were enslaved

on their own land to harvest the tree sap.

"Nonetheless," adds Bendayán, "rubber,

with all the barbarities that it brought, also

brought people who were interested in

creating cultural spaces, like the Alhambra

Theatre. Werner Herzog's Fitzcarraldo

character is not that far off from the actual

immigrants who lived in Iquitos and dreamt

of turning the city into a cultural metropolis

- trumping even Brazil's Manaus. But

with the fall of the rubber-based economy,

those dreams disappeared forever."

The presence of the European immigrants

also brought with it new styles of formal

painting, and thus the foundations of a

modern artistic school of thought were

laid. Through this, artistic production of

the time – which was mainly landscape

oriented – transformed the tropical jungle

into almost European scenery. This was

the case for painters like Otto Michael, the

Victoria sisters (1900), Emilia Barcia Boniffatti

(1904-1986), and Américo Pinasco

(1906-1991). During this artistic stage,

formal painting excluded the presence of

natives, fauna, and flora, completely ignoring

– if not rejecting – environmental and

native cultural surroundings.

Soon enough, however, the 40's arrived,

and with them, an unexpected twist in the

art world, as traditional European schools

of painting made room for modernism.

This shift marked a new focus for painters

like Américo Pinasco, Víctor Morey

Peña (1900-1965), César Calvo de Araujo

(1914-1970), among others. Pinasco,

for example, after training in the European

school, became the first painter to incorporate

images of natives into his paintings.

This evolution – aside from being well received

in galleries abroad – began to alter

Western perception of the Amazon.

"Artists developed an interpretation of

the light and shadow of the region. They

begin to use greens and violets, and in

Calvo and Pinasco's cases, they incorporate

pinks and melon-tones for the skies.

Calvo had very truthful depictions of the

river currents, of how the waters of the

Amazon move - that they have a particular

swell; and he generated new ways

to construct the skies and atmospheres,"

explains Bendayán.

With the help and participation of these

artists, the Regional School of Fine Arts

was founded in 1960. Morey Peña was

appointed as director, and art deco and art

nouveau were established as the most representative

movements for the region. In

1965, however, Morey Peña was killed in
---
a tragic accident, and painter Ángel Chávez took his

place. Chávez arrived in the jungle from Trujillo, and

was already very well known for his innovative, defined

style. He generated much enthusiasm from his

students, putting together a team of artists – including

Nancy Dantas, Samuel Coriat and Fernando Rios -

who still to this day continue to produce strong work.

Nonetheless, the most interesting turn of events

came when members of the Iquitos School discovered

the Ucayali School of painting, which included

Hildebrando "Yando" Ríos (1940), Eduardo Meza Saravia

(1928-2001) y Pablo Amaringo (1938-2009). All

three men were sons of shamans, who worked with

the native hallucinogenic root – ayahuasca, and thus

the Ucayali school freely incorporated the Amazonian

spirit world into its paintings.

Yando Ríos introduced a unique depiction of the

darkness of the jungle, while Eduardo Meza Saravia

developed his own, psychedelic style, influenced

by witchcraft, the mythical world of the Amazon,

and Shipibo traditions. The most influential artist

of the school, however, was Pablo Amaringo, who

not only came from a family of shamans, but was

also one himself. Amaringo's paintings showed different

worlds that he had encountered through his

ayahuasca journeys, making his art a sort of registry

of visions and meetings with divine entities.

ber of important institutions began to acquire his

work, and with the earnings, Amaringo established

his own school of painting called Usco Ayar. Hundreds

of students came through the school free of

cost to learn from Amaringo, and his style still remains

relevant in Amazonian art today.

The 90's saw another interesting artistic evolutionary

moment, when paintings began to depict the Amazon

as an urban environment, rather than an exotic,

isolated place. Bendayán – probably the most important

painter from this new style – not only encourages

people to see the jungle in a different way through his

paintings, but has also paved the way for self-taught

street artists, inspiring them to give their work more

importance. These painters, previously hired by businesses

– like hair salons, barber shops, and small

grocery stores – to paint decorative murals, are now

making their art on canvases and taking them to galleries.

Some of these artists include: Julio Walter Guevara

Piero, Luis "LU.CU.MA" Cueva Manchego, Luis Zaquiray,

Miguel Saavedra, and José Asunción Araujo.

AMARINGO'S PAINTINGS

SHOWED DIFFERENT

WORLDS THAT HE HAD

ENCOUNTERED THROUGH

HIS AYAHUASCA JOURNEYS,

MAKING HIS ART A SORT OF

REGISTRY OF VISIONS AND

MEETINGS WITH DIVINE

ENTITIES

Above: Butterflies - Elena

Valera "Bahuan Jisbe" (2008).

Painter and needlewoman.

Uses the traditional Shipiboconibo

designs – or kene – to

incorporate the flora, fauna,

daily life, and customs of her

village.

Below: View of the San Joaquín

de Omaguas Village, Loreto -

Francisco Requena.

Next Page: Deep mysteries -

Pablo Amaringo (2002).

Amaringo's work got the most attention after being

globally circulated in a book he published with Colombian

anthropologist Jose Eduardo Luna in 1991,

called Ayahuasca Visions. Immediately after, a num-

/79
---
81
---
AMAZONIAN ART

"I think that artists from the jungle have realized that they can

have a political role," explains Bendayán. "I think that art production

today is a reaction to the government's refusal to recognize

the issues – they are seen as distant, as if they aren't part of Peru.

This attitude spawned a show called Green Power in 2011. And

perhaps the most precise political show that we have presented

this year is From their long cry, the Amazon was formed. At this

moment there is a general concern for the rights of the Amazonian

people – the right to own your land, to protect your traditions

and culture. There's a strong concern to recuperate history, to recognize

the traumatic episodes and expose the hidden moments

– from the discovery of the Amazon, to the issues with rubber,

petroleum, wood, and coca."

Indian line - Christian Bendayán (2011).

As Bendayán suggests, there is currently a tendency to revalue

local traditions in new ways. The "kenés" (traditional hand-drawn

graphic designs) done by Shipibo women, have become present

in contemporary art. Legends are being rescued and recognized

as the basis of Amazonian identity, rather than thought of as

whimsical, exotic myths. Amazonian art is taking off once again,

in a new, different, and transformative way.
---
83
---
AGENDA

AGENDA

MALI IN SITU: ABRAHAM CRUZVILLEGAS AND

HIS SELF-DESTRUCTION PROJECT 7: UNTYING

THE KNOT

The "MALI in situ" program returns with the

presentation of well-known Mexican artist,

Abraham Cruzvillegas, who has prepared

a special adaptation of his project Self-destruction

7: Untying the Knot. The artist has developed

a musical proposal that revolves around

a non-lineal fiction story: the travels of a pre-

Hispanic character from the Michoacan region

of what is now, the Valley of Lima. The exhibition

will run from the 28th of January, until the 8th

of March in the Museo de Arte de Lima (MALI).

JOSS STONE IN LIMA

The British singer arrives in Lima's Huaca

Pucllana on March 3rd, as part of her

Total World Tour.
---
SLASH IN LIMA

For lovers of rock and roll, legendary guitarist,

Slash, represents much more than Guns N'

Roses. For the first time ever, the British musician

– who's real name is Saul Hudson – will be

playing in Lima, on the 9th of March.

JAMES BLUNT IN LIMA

S

ix years after his first concert in Lima, British pop

star James Blunt returns to perform a concert as a

part of his Moon Ladine album tour. Known for hits

like High, 1973, and Goodbye My Lover, Blunt will arrive

to impress yet again, on March 17th in the Amphitheatre

in Parque de la Exposicion.

PABLO MILANÉS RETURNS

C

uban musician and Latin Grammy winner, Pablo

Milanés returns to Peru to promote his newest album:

Renacimiento. The show will take place on

March 21st in the Gran Teatro Nacional. Concertgoers

will have the chance to enjoy hits from his latest album,

as well as classics like: El breve espacio en que no

estas, Yolanda, Ya ves, and Para Vivir.

LA SARITA AND UCHPA IN THE GRAN TEATRO NACIONAL

La Sarita and Uchpa are two of the bands that will

participate in the Rockumental concert in the Gran

Teatro Nacional on Thursday April 8th, delighting

concertgoers with their best rock fusion.

/85
---
EXPATRIATE

Gennaro Lettieri

"PERU: IT'S MY PARADISE. IT'S THE PERFECT MIX OF EVERYTHING", SAYS GENNARO

LETTIERI, CEO OF THE TABACALERA DEL ORIENTE. TARAPOTO, SAN MARTIN.

By

Iñigo Maneiro

Iñigo Maneiro

Where have you lived?

I was born in Poggiomarino, Napoli (Italy). I

lived in Switzerland from ages 13-18, and

then moved to London, where I lived until I

was 28 years old.

What did you study and what did you

used to do?

I come from a family of home-fabric salespeople.

I speak four languages, and I studied

business at the European Business

School of London. After graduating, I worked

in London as an investment banker.

When and why did you come to Peru?

I was brought to Peru by life, in 2004. My

father and I were travelling through Mexico,

Venezuela, Colombia, and Peru with the

idea of finding somewhere to invest, since

Europe was growing increasingly competitive.

We decided to settle in Peru because of

the country's situation in that time.

What attracted you to Tarapoto as opposed

to somewhere else?

When people ask me about my country or

about the countries I've visited, I always

respond saying that Peru has everything,

and that Tarapoto is a paradise thanks to

its people, its charm, the food, and the

weather. It offers the perfect balance of

work and quality living. Many people in

Europe have forgotten about themselves.

They have forgotten to enjoy special moments.

They live running from place to place,

often without knowing where to go, or

what to do. Tarapoto has taught me that life

can be simple and easy, without complications;

that we are the ones who complicate

our existence. When I arrived here my 'inner

craftsman' flourished. Making a cigar is a

long, meticulous, and artistic job that starts

with a seed in a field.

You own the only cigar company in

Peru. Why did you come into the world

of tobacco?

Because of passion. Because I dreamt of

making a product that allowed me to be involved

from the very beginning, and throughout

the whole, delicate process - which in

this case, can take many years. Besides,

the tobacco plant is native to Peru – as

confirmed by Cubans themselves – and we

haven't even begun to take advantage of it.

What is a Peruvian cigar like?

It's a medium-strength cigar with a complex

bouquet full of subtle hints. If you ask

me, it's the best in the world. In reality, it's

very appreciated amongst smokers and aficionados.

We continue to introduce it into

demanding markets, like England, that are

currently monopolized by Cuban producers.

Peruvian cigars are gaining popularity.

This year we will be introducing them into

Germany and the USA.

What's your biggest challenge?

To be like a salmon, always swimming

against the current. On a macro level, the

world attitude right now is generally antitobacco,

and while this doesn't really affect

cigar producers, it still worries us. Speaking

on a micro level, we feel as though being

here, in 'paradise', we are a bit isolated

from everything and it creates logistical

complications in terms of exporting product

and importing materials. We have to find

efficient ways to better diffuse our products.