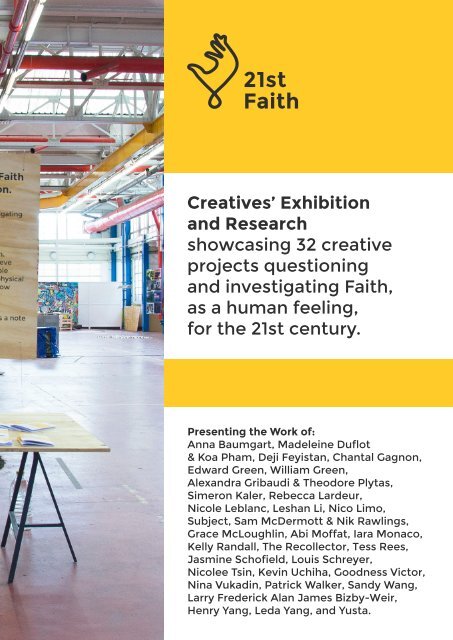 21st Faith
We are a collaborative research project, investigating and questioning faith as a human feeling.  This publication presents 32 creative projects created for an exhibition in October 2017 at The Workshop, Lambeth. 
We are a collaborative research project, investigating and questioning faith as a human feeling. 

This publication presents 32 creative projects created for an exhibition in October 2017 at The Workshop, Lambeth. 
SHOW MORE
SHOW LESS
You also want an ePaper? Increase the reach of your titles
YUMPU automatically turns print PDFs into web optimized ePapers that Google loves.
21st

Faith

Creatives' Exhibition

and Research

showcasing 32 creative

projects questioning

and investigating Faith,

as a human feeling,

for the 21st century.

Presenting the Work of:

Anna Baumgart, Madeleine Duflot

& Koa Pham, Deji Feyistan, Chantal Gagnon,

Edward Green, William Green,

Alexandra Gribaudi & Theodore Plytas,

Simeron Kaler, Rebecca Lardeur,

Nicole Leblanc, Leshan Li, Nico Limo,

Subject, Sam McDermott & Nik Rawlings,

Grace McLoughlin, Abi Moffat, Iara Monaco,

Kelly Randall, The Recollector, Tess Rees,

Jasmine Schofield, Louis Schreyer,

Nicolee Tsin, Kevin Uchiha, Goodness Victor,

Nina Vukadin, Patrick Walker, Sandy Wang,

Larry Frederick Alan James Bizby-Weir,

Henry Yang, Leda Yang, and Yusta.
---
Printed in 2018 in London

Designer: Rebecca Lardeur

Photography: Anna Baumgart, Theodore Plytas, Ella Fallows, Rebecca Lardeur,

Jasmine Schofield, Subject, Yusta and Patrick Walker

Font set in Monserrat (Google)

This work is licensed under a Creative Commons Attribution-NonCommercial-NoDerivatives 4.0

International License.
---
A thousand

thank yous,

Thank you to all our financial contributors, for making

this project a reality and believing in us.

Monia Al-Haidary, Baboosha Paris, Alison Dawson,

Andy Dawson, Martine Duflot, Dubois - Delibrias,

Deborah Ford & Maurizio Gribaudi, Anne & Michel Franck,

Stephanie Halna du Fretay, JMD, Catherine Lardeur,

Lardeur Ventayol, Ganesha Lockhart, Hapax Legomenon,

Ly, Amber Perng, Chris Plytas, Nicolas Raffin, Claire Randall,

Laurence Rousseau, Peter Schreyer, Jack Smith,

Heloise Ungless and all those who wanted

to remain anonymous.

Thank you to the team who built 21st Faith from scratch.

Rebecca Lardeur, creator and designer of the project,

Ella Fallows, manager of the program and workshops,

Madeleine Valcour, for her help in the exhibition design,

Alexandra Gribaudi and Theodore Plytas, for their expertise

and technical help in the building of the show.

Thank you to The Workshop, Lambeth, for hosting us.

And thank you to all the participants, for taking the time

for this non-profit research collaborative project and

contributing their time and money.

This project owes you all its success.
---
Index

Foreword

What is Faith in the 21st Century?

Opening Night Photos

Artists Talk Transcript

Artists Works and Interviews

Concluding Panel

Behind the Scenes

p. 9

p. 11-16

p. 17-21

p. 23-32

p. 35-105

p. 107-109

p. 111-113
---
Foreword,

21st Faith started out of a desire to reposition and redefine

the relationship between Faith and my generation. It felt to

me there is a misunderstanding between what we are told

and what we feel; the possibilities of Faith being hidden

behind centuries of dogmas.

I observed a gap between the dictionary definition of Faith

and its etymological origin, a narrowing of its meaning

seemed to have taken place. Over a period of a few months,

I discussed this with other young creatives throughout

London, and it became obvious that I was not alone

in my desire to question what Faith can and could be.

Each of the participants first asked the question 'What is Faith

for the 21st century' within their own perspectives, and their

research and work culminated in 32 distinct creative projects.

Coming together for this show allowed all of us to grasp

the wider significance of Faith so often interpreted mainly

within a theological framework.

This publication presents our findings: an essay co-written

by Edward Green and myself, a transcript of the Artists Talk

held at the exhibition, images of the show and texts written

by each participants about their pieces followed

by their interviews.

We hope this opens a new perspective on Faith

for our readers,

Rebecca.

9
---
What is Faith in

the 21st Century?

by Edward Green

and Rebecca Lardeur.

Introduction

The purpose of this essay is not simply an investigative or explanatory one,

the purpose of this essay is strictly teleological: to redefine Faith within the 21st

Century. This was the goal and brief each participant was given at the beginning

of this collaborative research project: What is Faith in the 21st century?

35 projects were undertaken for 21st Faith, each presented a wide variety of viewpoints

and understandings on the subject of faith. This essay aims to summarise the individual

findings and analyse their art pieces alongside various definitions of 'faith'.

The participants are mostly comprised of young, creative-thinkers from a diverse

range of backgrounds. Each participant chose to approach the brief with a different

outlook and through a different medium, which culminated in a healthy, varied range

of responses.

To create a common ground for the understanding of Faith in our research

we looked at the etymology of the word 'Fides', established 3,500 years before year

0 in the Indo-European language. Fides, in its Latin origins, means 'to command,

to persuade, to trust'. This, to us, implied a well-rounded, inclusive 'feeling of Faith',

which resonated well within our contemporary context. It denoted Faith to be

something felt, almost intrinsically, within the person themselves; a phenomenology

of being. Faith is not something that can wholly be theorised in books and dogmas.

Faith is, this paper argues, not only related to theology.

This essay will repurpose the word of Faith as such throughout its development.

First, a definition for a new understanding of Faith is developed according to the

common themes presented at 21st Faith. Secondly, the social aspects of Faith will

be investigated to understand where Faith is expressed. The third will research the

positive aspects of Faith before concluding on the challenges Faith can bring to the

society of today.

11
---
Faith for the 21st Century

The 21st Faith projects researched Faith as understood by its etymological viewpoint

('Fides', defined as 'to command, to persuade, to trust). This led most of the participants

to view Faith as a feeling. Therefore, from an etymological point of view, one could

be expected to question their emotions on questions of faith: where could one be

persuaded? Where does one feel commanded? Where could one find trust?

If Faith relies on emotions, then Faith may be first instinctively interpreted

individually through an emotional level. To understand Faith for the 21st Century,

one may investigate the influence of Faith on the individual. What does Faith inspire?

What does Faith bring? This paper will argue that, in the 21st Century, Faith drives

actions; Faith becomes identity, and Faith can evolve into truth.

Faith defines actions; Faith drives actions. This theme is a key finding of our project.

Feeling the raw power of Faith in the everyday, in purpose and desire, was investigated

several times during 21st Faith with one project using it as its main concept.

Alexandra and Theodore's thought-provoking piece asked the question: 'How

significant is Faith's drive to motivate us in our work?' Together, they used the brief

to test their own Faith in the creative process. They used it to challenge their practice,

focused on time and surface. See 21 , p. 80-83.

What are the motivations behind actions? Do beliefs define the individual? How

much can one achieve with the support of Faith?

Faith can be harnessed to reach goals, going further than the expectations

anticipated and help the individual and/or collective to have faith the action has

purpose.

Faith merges with identity; Faith can be heard as a call from within. The relation of faith

to identity highlights how Faith can give courage and drive. Faith can be derived from

an identity, as identity can be derived from Faith. However, with a new generation

of people facing a faith-less pursuit of false identities in the 21st Century, how can we

be sure of Faith's significance, and indeed its existence, in a new world of identities.

Kevin questioned his own Faith in the anime culture and what the myths

and narratives of anime brought him. Anime is considered a source of inspiration

to Kevin, becoming a driving force to face his fears, to believe in the unbelievable,

and to move forward at any costs. In this sense, Kevin found Faith within an identity;

he felt an emotive response from a cultural set of values and used those values of said

identity to motivate him in everyday life. See 7 , p. 50-51.

Which identity can you create a bond with? How can Faith lay the path to a fulfilled

identity? How can Faith help the identity grow?

Myths, if understood as a collective knowledge stored in stories, help to guide the

individual in understanding their position in life.

Faith becomes truth; Faith as a moral compass. If what an individual believes in has

the power to create the reality in which they experience the world, then Faith creates

a bond between the person and their way of making meaning out of the world. To

change the myth is to change the reality, because reality is malleable through stories.

Grace's piece investigates ancient knowledge to find the truth she feels,

understanding faith as plural to invite compassion, especially in the women's bodies.

Ancient knowledge of the body can be merged with current views, adapted to fit

today's narrative, so as to embrace the past to reshape the future. See 1 , p. 36-37.

What knowledge do you choose to believe in? What defines right and wrong?

Does knowledge shape reality?

If Faith becomes knowledge, then Faith shapes the world surrounding

the individual.
---
Before continuing the exploration of the 21st Century's perception of Faith,

and the differing artists' responses to the question, we will briefly define Faith

as we are using it:

Faith is not a word directly linked to theology or religious practices. It is a word used

to describe our investment in certain practices and actions, emotional and physical,

which shape our identities and lives.

Faith and Social Dynamics

During 21st Faith, a keen interest in researching the cultural aspects of Faith

was expressed by many participants. This gave a layer to the understanding of Faith

as a collective phenomenon. Faith, when exhibited within a collective, needs to be

organised, often with a set of myths, narratives, artefacts and rituals behind it. When

the organisation becomes easy to share and interpret, those collective Faiths can be

referred to as a 'beliefs system'. The beliefs systems are behind many cultural habits.

Is it an independent choice to decide what to have Faith in? How is Faith shared?

How does Faith influence the social sphere?

What seems common in the social aspects of Faith is its desire to answer

the existential questions of why love, joy, pain and death exist, and to find solace

in the need of feeling loved and to belong. This section will investigate Faith

as a binding contract, Faith as common goals and ideals, and Faith as a way

for the individual to belong within the collective.

Faith unites societies; Faith creates collective bonds. Through collective stories,

different Faiths help to relate themselves to one and other, giving a sense of belonging

and importance to those who understand them within their communities. Faith links

people from differing social backgrounds by a common belief.

Yusta's project explores the death memorials left in the secular city;

their ephemeral aspects filled with hope and unity crossing multicultural Faiths.

Those memorials are often for the humans, not for Gods. The existential question

of death humans have asked about for thousands of years have not yet disappeared

and Yusta highlights their possibilities. See 6 , p. 46-49.

How can faith make sense of these existential questions? Can faith be the binding

link of communities?

The collective understanding of those existential questions relating to love, purpose

and death will help create new societies for the 21st century.

Faith is shared; Faith expresses itself through common goals and ideals. Faith

creates connections between communities and individuals, but how? Different

Faiths, at their core, are often similarly comprised of people who want to be heard.

Rituals, organised meetings and the re-telling of stories illustrate how Faith can

be used to connect people.

Through the investigation of rituals surrounding Christmas, Kelly highlights the

influence of food within the relationships of the individual to families and communities.

Food becomes a shared ritual. Kelly questions the role of the cook, the ingredients

and the presentation of such rituals. How does one respond to artefacts of tradition,

as opposed to tradition itself? See 22 , p. 84-85.

What is the outlet of Faith? How is Faith materially shared within closed

relationships? How is Faith materially shared to the broader communities?

By sharing rituals with the collective, individuals connect to one another

and develops identities.

13
---
Faith is a bridge; Faith plays on the individual and collective to merge. Faith may be

collective but is also relative to the individual's perspective. Therefore Faith can be first

questioned from an interpersonal understanding.

Anna's performance investigates this bridge. Through the example of clothes,

Anna plays with the individual shape left on similar looking clothes, the individual

is seen through the collective. Anna creates a mesmerising performance of such

phenomenon. See 20 , p. 78-79.

How does one subjectively interpret the collective Faith? What are the common

grounds for the individual to fit in the collective?

Understanding the individual's role in the collective when it comes to Faith, is key

to shaping a new Faith for the 21st century.

Faith within social dynamics helps the individual to cope with the existential questions

of humanity, through rituals and shared acts that outwardly manifest collective

knowledge. Furthermore this helps in the creation of social identities (community,

subcultures, nations) and social bonds. Faith develops common goals and ideals,

allowing the individual to establish him or herself within the collective.

Faith's Gifts

Historically, theological Faith has had a significant and powerful impact on creating

communities all over the world. Faith, over time, has always had a 'uniting factor'

to its definition, though it has not always been an inclusive one.

In the 21st Century, it seems as though the definition of Faith has shifted more

towards a personal journey, one bereft of the theological 'uniting' of peoples.

The projects presented at 21st Faith reflect this idea. This brings questions on the role

of Faith within communities and the social sphere.

Although Faith has also led to many wars and discriminations in history, this section

focuses on the positive aspects brought by Faith while the next will research

the challenges brought by Faith. This section investigates how Faith can drive a vision

to be achieved, the influence of Faith on trust and Faith as a catalyst for compassion.

Faith focuses on a vision; Faith becomes a purpose in life. Once a belief becomes

so important that the individual holds it as an absolute truth, then this precise faith

becomes a goal, a purpose and will lead the individual towards the direction of his

or her dream.

Madeleine and Koa's piece is driven by a desire to create an emotional bond

with furniture. To do so, they explored their own emotional bonds and translated it

into a piece of furniture to physically communicate their own Faith, developing

a modular piece to adapt to the individual's faith. See 26 , p.92-93.

What can Faith do to help develop one's vision? How is Faith expressed in

the material world? What can the material world bring to Faith?

Artifacts developed with Faith can help materialise a goal, springing from

the personal to end with the collective. When it comes to creatives, Faith becomes

an ideal to pursue.

Faith establishes trust; Faith creates the ground to relate to one another. When Faith is

openly shared and agreed upon, it activates a relationship of trust between individuals.

This relationship of trust develops to identifying with communities and the social

contracts based on shared goals and beliefs are discreetly settled.

Nicole's project takes on a journalistic take and investigates the building of Faiths

in the Bahamas, where she was born. Nicole investigates the relationship of an official

religion and how this implements in the daily life. See 5 , p. 44-45.

Where is Faith exteriorised? How does Faith bind communities?
---
Symbols of Faith being spread around communities act as a reminder of trust within

the members of such communities, taking the role of a pillar of culture.

Faith springs compassion; Faith helps relate to one another. Through having Faith, one

often finds a path towards compassion supported by trust. Compassion can blossom

from an empathetic outlook, where one begins to see the perspective of another.

Trust then creates the necessary ground finding common interests in their Faiths.

Simeron's project is guided by a desire to find self-acceptance by discovering

another's path, highlighting how Faith can spring compassion by understanding

and following the path of another. See 2 , p. 38-39.

What is the role of Faith in compassion? Can Faith help bridge the gap of the ones

feeling left behind?

The compassion brought by Faith has the power to ease the pain brought upon by

connecting the pain felt with another's, growing organically.

Faith is powerful as it becomes a purpose, develops trust and compassion. Faith is

often at the core of human relationships and interactions, so Faith in the 21st century

can become a tool for diplomacy.

Challenging Faith

Although Faith can become the diplomacy tool helping humanity to connect to each

other and give answer to the existential questions of humanity, Faith, as every tool

has, is not naturally good or bad. It is the human using Faith that creates a good or

bad framework (although good and bad should also be questioned on how these are

defined). This require the human to always be slightly critical of the Faith he or she

follows.

Faith is always evolving; Faith should not be perceived as fixed. Time has seen many

diverse authorities of Faith taking over each other, such as the animistic religions,

the polytheistic ones and the monotheists. They have evolved with time and often each

evolution takes a little from its past. The similarities between animistic and polytheistic,

polytheistic and monotheist are easy to find. The evolution of Faith seems natural

and so do its morals.

Because Faith naturally evolves, it is necessary to always question the current ones

if one wants to understand the Faith of tomorrow. Louis' project question what he calls

the Gods of Capitalism, to develop a new Faith more accurate to the needs of today.

See 13 , p. 62-65.

Should the past be listened to blindly? Can the current Faith be believed in

without doubt?

Faith affects our decision-making and therefore it is needed to question what

we are told to do – is it correct to tell us to buy to be happy? Where is this Faith

coming from? Who does it serve?

Faith changes its morals; Faith mirrors the current socio-political dilemmas.

When questioning the morals of the current times, understanding past morals gives

perspective to the dilemmas met throughout time by humanity. The question of death

is what we can call an existential question asked by each generations known to written

history. Although it seems in the 21st century those past morals are often disregarded,

what does this mean for our current social dilemmas?

Edward's project echoes the past myths to the reality of today, with the example

of Ovid's Echo and Narcissus. To investigate the social phenomenon of selfies, Edward

questions the viewer on the validity of ancient wisdom and questions the modern take

on narcissism. See 17 , p.72-73.

15
---
Has the ancient myths still hold answers to the existential questions?

Can we disregard thousands of years of wisdom put into the myths?

Faith has had a history of giving morals to those who followed religious Faiths,

answering social dilemmas of current affairs. Faith through myths and stories help

the individual grasp the problem faced by many, but who do these myths serve?

Which myths are still accurate? Critical outlook on those myths and updating them

to the present is needed when tackling blind Faith.

Faith infiltrates; Faith's structure influences our relationships and lives. How faith

is designed and physically represented within the collective has an impact on

the individual's life. Those boundaries intrude in the morals of the individual.

Investigating the building of Faith, Leshan questions how the design of the religious

space influence the human experience of his own personal space, destructing

and reconstructing humans relationships and boundaries. See 24 , p. 88-89.

What is the influence of Faith on space? What is the influence of such space?

When the design of Faith is developed by humans, this will act as a catalyser

for behaviours to adapt to it. The design of Faith brings a responsibility to the designer

or artist to question the morals it gives to the community using such building.

Because of the power Faith imposes us, creatives are required to be critical of the Faith

they themselves chose to believe in. Because Faith is always changing its evolution and

new myths and morals should be ethically questioned. The past can teach the present

but one should be aware to not blindly go back in the past but instead learn from

the past to construct a new future.

Conclusion

21st Faith began asking the question 'What is Faith in the 21st Century?'. Analysing

and synthesising the projects created for the exhibition, we discovered different

qualities and sides to Faith. Faith offers drive, identity, and truth and therefore plays an

important role in the shaping of human experience. Faith, when organised, can create

strong social bonds, lead to new visions and bring trust and compassion. Faith evolves

constantly, mirroring current socio-political dilemmas and influencing individuals'

reactions to the outside world.

The traditional structure of Faith has seemed to have shifted in the 21st Century. Faith

is plural in its outlet, but universal in its form. At 21st Faith, there were diverse interests

and perspectives brought to discussion and yet they all stemmed from the same desire

to follow one's set of beliefs.

This project has led us to believe that Faith is as strong as ever. Although it seems that

fewer and fewer individuals choose to follow established religions and their dogmas,

we feel that 21st Faith brings the argument that Faith remains one of the most

important questions, and also feelings, of the 21st Century.
---
Opening Night

20/10/2017,
---
19
---
21
---
Artists Talk Transcript

22/10/2017,

The Artists from 21st Faith share

the ideas behind their work

and discuss the theme of Faith

in the 21st Century.

Discussion led by Ella Fallows.

[everyone takes sit on Madeleine and Koa's piece]

Ella:

Nina:

Welcome to the talk we wanted to put together for

the last day of this exhibition. We are going to kick off with

Nina's spoken word piece.

My piece are the flags over there. I wrote this in a sort of

meltdown mood in Serbia, but it fits to what Faith might be.

Faith is a very strange concept for this day and age

It doesn't seem to fit in.

It's difficult to explained, difficult to rationalise.

Something you believe in.

So personal, so subjective.

Personal and subjective.

Words we don't seem to hear or value from the authorities above.

So instead of rationalising it,

I am going to approach it from a personal perspective,

And it won't be the same for everyone,

So don't take it too seriously.

What do I believe in?

For me, faith is a belief,

A drive behind a belief,

Belief as an experience,

Maybe that is Faith?

23
---
But what do I believe in?

I believe in change,

Cities fall, systems fall,

But actually everything is replaced with a similar mechanism,

A human mechanism.

We only see the world from our human perspective,

So what change am I talking about?

The change from within,

That you can't see,

That you don't hear about,

The change of mood,

The change of feel,

The change of mood when entering an unfamiliar place.

A happy change,

A surprising change,

An uncomfortable change,

A panic.

A change of feel,

When the weather changes from sunny to grey.

Wishing you had stay inside,

Wishing you took the shorter route,

Wishing you had seen that puddle,

Wishing you hadn't been on the street,

Walking in cities show me these changes,

How time and behaviour can alter spaces,

The streets give me hope

That the rationalise has not taken over,

That there is things out of control.

So bizarre,

So irrational,

Difficult to describe,

Easy to feel.

Walking in cities,

Perhaps that is my Faith.

[claps]
---
Ella:

Rebecca:

Thank you so much for performing that. Rebecca is the

curator of 21st Faith.

Hi. So the idea for today was to have a conversation and

bounce ideas with each other, as this was a project where

everyone did personal research on the aspect of Faith, and

what it meant to them. The goal [today] is to see what

connects, what doesn't connect, what are the limits,

what are the possibilities… So, don't hesitate, please,

I want to hear everyone saying one sentence.

It would make me very happy.

[ambient noise]

[Ella introduces artist Iara Monaco]

Iara:

So, when Rebecca first started talking about this project

she told me her initial inspiration which was how Faith

used to be a uniting form in a community, it was what

gathered people together and helped make improvements

in the community. That didn't resonate with me until I went

to Bangladesh, for three months, and volunteered there.

We had to go to these different communities and we went

[and asked] them what challenges do you face, what can

be improved in your community and always asked what's

the best thing about your community. They would all say

the best thing about our community is unity. They lived in

a collectivist society, where you wouldn't see a homeless

person in the street, because there would always be

somebody to bring you in, and give you a home, take care

of you, and make you feel part of a family. So that made me

wonder, what can unite us as a whole? How can we combat

things like climate change when there are still climate

change deniers? How can we combat poverty when there

are people who profit from it? So then, I found out about

the Sustainable Development Goals which is this really big

fancy word for something extremely simple: there are

17 goals that the United Nations, a hundred and something

countries, come together to discuss: ok so what 17 goals

do we need, as a whole, the whole world, every country,

to make the world better? To create a sustainable future

25
---
that we can co-create by 2030. So I thought this sounds

like a good start.

[claps]

[Ella introduces artist's Alexandra Gribaudi and Theodore Plytas]

Theodore:

Alexandra:

Theodore:

Alexandra:

Theodore:

Alexandra:

I guess our piece is about making, and how we find faith

in making and persevering for my part.

Yes, we were like let's have a challenge for ourselves just to

show how much faith there is in making, and how when you

do art you really have to have faith in your process, and have

an idea and be like 'ok let's do it' so we started with the idea

of making a hundred sculptures and a hundred photograms

and then we just went with it.

Alex comes from a Fine Arts background, which is more

sculptural, and I come from a more photography background

which is, I guess, simpler in a 2D way. We wanted to make

a piece that would merge both sculptural and photography.

We've been working together for a year now, and it is strange

when you're coming from different sides, although you have

very similar ideas and interests and it comes naturally

to work together. And we thought this project was a perfect

way of really establishing and opening both of our practices

to each other.

When you have faith in something you have to sacrifice other

things and when you work together you realise that nothing

is going to never end up like you wanted to be and you have

to find a middle ground.

And I guess we are in a relationship, so, we have to sacrifice

to be together, and that is what life is about.

[laughs]

Grace:

Theodore:

There is something about the scale of the work as well,

you were talking about the process as being one that

had faith, that faith was entangled in it, and I think because

there are a hundred pieces, you did clearly put your faith

to the test and you were really pushing yourself to the point

where maybe you tested your faith in the project? As I feel

like with every creative process, if the project is 6 weeks,

6 months, 6 years, you have this constant existential crises

from the beginning to end, [laughs], and I think it is

interesting to talk about your personal creative process

as one that whether faith was in the work or you two as

a collaborative team or just the idea. I think it is important

to make those things sacred as they're hugely important

to you as individuals and the processes. You can really tell

that the process itself was quite testing. Because there are

a hundred, it almost feels like a big journey.

It felt like that too.
---
[laughs, claps]

[Kevin Uchiha is selected to be the next one to speak]

Kevin:

Theodore:

Kevin:

Ella:

Kevin:

Ella:

To go back on this piece in particular, I think what I enjoyed

was the documentation of evolution, it is the evolved process

of the shards of metal I am looking more at the correlation

of the shape with regards to certain things that I can pick out

from, but I do not know to what extent it was intentional

and to what extent the shape would effect the final outcome

at the very end.

Thank you.

With Faith to my take, as a concept, it is important. I think

it comes in very different shapes and sizes, the most typical

form of Faith amongst humanity is actually only found

amongst the very precipice of defeat, so I think we only refer

to faith as a tool when you have nowhere else to go.

[Do] you think faith is a tool that should be used when

people are very low and seeking it Or used when you are

happy as well? As in it should not be used as like a panic

button like 'oh I'm going to find something to believe in

because I am in a bad place?' People should use faith a…

Yes, with the best methodology to it. Especially with regards,

let's say technology being a huge variable today I think the

inherit faith, the trust that is expected amongst corporate

companies that we put into, let's say Apple for example, you

are trusting your bank account that tells you stuff, in a way

it is evolving that we like it or not.

I think this exhibition shows how varied the opinions

and ideas surround one word. Grace you want to talk about

your work? It would be interesting to hear as yours has

something quite different to what we've talked about

in terms of nature.

[Ella introduces artist Grace McLoughlin]

27
---
Grace:

Ella:

Grace:

I am interested in the place of the body in traditional belief

systems, particularly what happens when we think about

the body and how it is represented in one of the oldest belief

systems. You guys [Alex and Theo] are collaborating and

you were talking about a sense of community, and I think

that faith has been a very divisive thing as long as it existed.

I think one of the reasons that has happened is because

the major world religions are one of the monotheistic

ones. So it sort of establishes this narrative where it is like

you believe in this one thing, and that one thing is

this thing we think is important. Any systems which regards

this one thing immediately establishes this hierarchy where

if you do not agree with that then you're lesser. I think when

we are talking about fostering communities and being

sensitive and creative and joyful, it is better to talk about

polytheistic belief systems. If everyone thinks about things

in a linear way, we can't talk about interconnectedness

and making waves in communities rather than separate

groups so everyone joining together and having fun,

making things together…

And sharing.

And interacting with each other. So yes that is why

I've included water as it was about fluidity and fusion.

The dissolution of these old ideas to create a new slimy

sticky thing.

[laughs]

[Ella introduces artist Yusta]

Yusta:

My piece is the pavement over there. It is about memorials

people make in the streets. There is this new way of dealing

with death but not related the traditional sense like

a graveyard which is almost always related to religion but

in this totally anonymous place that is the street. So for the

people who put it these memorials there it is extremely

personal, but then for the passer-by it does not really mean

anything to them. It reminds them of death in a more general

sense, and then with all these things there are there for

a time and then eventually they disappear. They can't be

permanent. And if they were permanent they would be

everywhere. We couldn't deal with that, so it almost works

in a way that they disappear with time. But then who takes

them away? Eventually the council will come and will take

it away, so how long do you decide a memorial should be

there for? It is a difficult question and although we talked

about faith and how it has moved away from religion, I think

in a lot of ways there are actually basing it off the framework

of religion. We still believe, even if you are not religious,

you sort of believe in an after-life, or your material success,

your legacy, is a new version of that. But it is basically based

on the same sort of ideas. In a way I do not think we have

quite yet find something to replace faith in the religious

sense. We are kind of moving it into something else

but slowly.
---
Grace:

Yusta:

Nina:

I think that is interesting to say in terms of we've moved

away from the faith in the religious sense. I think people are,

whether it's happening more or, moving away from faith

in the religious sense and moving towards in a more spiritual

sense and everyone has their own faith systems or belief

systems that they can create themselves and it is less

structured because 'I referred to this book' and this told

me how to behave.

But then faith only works, I feel, as a collective thing, when

a large group of people believe in something together even

if it is not religious, because it dictates the way things run

on a whole, in a larger community, like in society.

People need to have some sort of similar ideas for it to work.

If everyone had a different set of faiths and morality

it clashes a little bit.

I do not think we are actually moving away from religion.

I think London is a bit of a liberal bubble, but I think it is

actually there is a huge rise of religion pretty much

everywhere in the world. Especially when I went back home

I forgot religion existed in London, and I had a bit of a slap

in the face, that it definitely still exists. And it is strong.

Doesn't seem to be going away anytime soon.

[ambient noise]

Theodore:

Rebecca:

Alexandra:

Nina:

It is quite interesting that faith is so primitive that we've

always had faith in something, whether that it is fire

or something but then now it has become so boxed,

in a way. So you were saying faith rhymes with religion, in

fact faith can be something very abstract that you do on a

daily basis that keeps you going. And I feel like we've all

explored that quite well here.

My grandad was very religious, and I think that faith

is bigger than religion, and over the past two thousand

years with the monotheistic religion that came in,

we focused on our understanding of it and we, instead

of broadening it we did the opposite, where monotheistic

religion were the one to put the humans first, forgot

about nature.

I feel that sometimes we miss certain rituals and moments

where we can, just be within, out of our life, and think a little

bit bigger than our own selves. And maybe that is why there

is a return to spirituality. We are looking for something

that maybe our phones, our ways of life isn't giving to us,

you know?

My grandma actually had a funny comment. She always

claimed to be religious and I asked her 'well grandma why

don't you go to the Church, why don't we do more rituals?

She was like 'Nina, only the sinners go to the Church.'

She was serious there.

[laughs]

29
---
[Ella introduces artist Louis Schreyer]

Louis:

I was thinking about faith and how religion used to control

us in a way using fear and faith. Faith used to define our

future, because having faith you can live your everyday

life with a positive direction and when religion kind of lost

power and governments took over. Therefore our behavior,

our everyday is also directed by money. That capitalistic

realism that we take these processes, those values behind

capitalism, and they become our behavior. So rather than

loving our next, or something, that would be a religious

doctrine and now doctrines are to profit from each other.

So I wanted to see how visual language can do this.

These posters are in our everyday visions and they are kind

of visual noise that we have. We have to deal with something

we didn't choose, and that has a very big subconscious

impact on us and our future. They create our future.

[claps]

Ella:

Louis:

How did you take these ads? I really wanted to know.

There are different ways getting them.

[laughs]

Louis:

On the Piccadilly line, you can slide them out of the top,

because there is a slit, and on the other lines you kind

of need to put them on the side and put them out,

they are really sharp.

[laughs]

Alexandra:

Louis:

How do you choose them?

Well the project started off with a project in Israel actually.

I started taking them down for that exhibition, and that

was about language and how information is based

on the transmitter and receiver so if I say something with

an intention you might get that intention but you will

interpret it based on your experiences and your knowledge
---
and so, I was wondering if I show these to people in Israel

will they interpret them differently to us? So some that said

'working on the weekends', 'share with your neighbours',

or the one on the top left was 'invest in brick and water'

so everything was around that conflict.

Alexandra:

Yusta:

Theodore:

Rebecca:

Louis:

Alexandra:

Yes that is funny because when you read them there is lot of

positivity coming out but it is like when you know it is an ad

then all that positivity is just fake. It is a big paradox.

A lot of it is creating your identity based on the product that

you buy. There is that one, travel insurance, or life insurance,

an insurance that lets you keep your sense of adventure

or something like that. As if you buy all the rights bits and

bobs you can curate that version of yourself that is better.

It is still making me think of religion as instead of focusing

on an after life, and you've worked all your life so in the after

life you will be rewarded in whatever way. It is like,

now you work all your life so that you will be remembered

in whatever way. Creating your legacy based on products

and things.

So what you have makes you who you are.

And the graveyard is always a funny place to go to when

you see who decorates it and who doesn't. When you go to

countryside and to the home town's graveyards, you always

have the ones which are three meters tall two meters wide,

who was like photography embedded in a special kind.

Next to it you have the ones with two words on it,

then you also have the ones that have a lot of 'to my beloved

daughter' 'to my beloved ones' and there are ten of them.

Depending on who it is, as when you go to the military ones

it is a lot more taking - the same grave over and over

duplicated. When you go to the ones that are more

community based and everyone did their own thing,

you get an idea on their persona.

In the end, the one grave that matters the most the one

where the candle is burning. No matter how many pictures.

All the flowers are still new and…

[conversation keeps going, laughs]

Alexandra:

Rebecca:

Would you like to talk about your piece Rebecca?

Yes I haven't actually. For my piece I really focused on the

idea of action and how your personal faiths, not plural faiths,

can be non religious. All human minds tend to be focused

on something and take for granted without questioning,

so when you've accepted that ten persons told you that red

was nicer on your skin, you just keep on putting red.

The project plays with this Faith to change the action

in itself. So my piece is actually for my mum, who doesn't

recycle, when I'm there we recycle but I know very well

that as soon as I'm gone they stopped recycling.

My mum would always say 'my personal impact will not

31
---
change the planet' but yes, change is supposed to come

from yourself first. You can't ask anyone to change if you

don't change yourself. was playing on it and I was looking for

a way for everyone to do a little thing and that to become

a bigger piece. My mum started recycling since the past

three weeks. I've won my battle! My mum recycles.

The amount of waste we produce is huge. So I knew this was

a tool we could use, a material everyone would have at the

private view, so I played with that, and today we can paint

on it. The idea is to show the end result that was everyone

taking their time to do a little thing, and how that little thing

actually becomes something bigger and it is to play on the

personal impact and play on your faith and stop thinking that

personal action doesn't have an impact on the collective.

They do. They do big time.

[claps]

Ella:

Rebecca:

Thank you to everyone for coming. Thanks to Rebecca

for putting on the show.

Thank you to everyone. No one person could have make this

a reality, it is a personal action creates a collective outcome.

[claps - end of transcript]
---
33
---
Artists Works

and Interviews,

1

Grace McLoughlin

21

Alexandra Gribaudi

2

Simeron Kaler

& Theodore Plytas

3

Goodness Victor

22

Kelly Randall

4

Henry Yang

23

The Recollector

5

Nicole Leblanc

24

Leshan Li

6

Yusta

25

Iara Monaco

7

Kevin Uchiha

26

Madeleine Duflot

8

Patrick Walker

& Koa Pham

9

Sandy Wang

27

Rebecca Lardeur

10

William Green

28

Chantal Gagnon

11

Deji Feyisetan

29

Sam McDermott

12

Jasmine Schofield

& Nik Rawlings

13

Louis Schreyer

30

Abi Moffat

14

Subject

31

Nico Limo

15

Leda Yang

32

Tess Rees

16

AJ Bizby-Weir

17

Edward Green

18

Nina Vukadin

19

Nicolee Tsin

& Leanne Vincent

20

Anna Baumgart
---
1

Mama Cess,

by Grace McLoughlin.

As a maker interested in the importance of both spirituality and connectivity, the concept

of 21st faith was an exciting one. The exhibition itself was a great chance to see what

conversations could arise in an open and inclusive space where people conceptualised

their views/ideologies in relation to faith in the 21st century. This multitude of viewpoints

coupled with the feeling of openness and inclusivity was, I feel, the backbone of the show

and these are valuable feelings to foster if we are to create more harmonious communities

in this century. The welcoming environment was a perfect opportunity for me to test

the participatory elements of my practice and to engage in discussion with both audience

and fellow artist. Collectivity felt key to the show and the collective nature of the project

is perhaps (hopefully) reflective of a broader more tolerant understanding of faith

and a bigger investment in faith driven living for the future.

Grace: gmcloughlin94@gmail.com
---
21st Faith: Tell us about you and your

practice

Grace: My practice acts as a tool to navigate

the mythic relationship between

the (female) body and the earth.

Employing various mediums, I attempt

to allude to a space/time/spirituality that

instead of being outside of contemporary

gender and environmental discourses,

pours through the conversational cracks

and acts as a stinking agent in the (con)

fusion needed to undo the damages of

oppositional thinking. My practice aims

to mimic this sticky slime and absorbs

goddess myth, (eco)feminist theory

and earth sciences to create a more

fluid understanding of the body and its

relationship with the earth in this present

moment.

What drew you to take part in 21st Faith?

How is faith important to you and your

practice? What role do you think faith will

play in the 21st century?

Researching the representation of women

and nature in historical belief systems

is important in my work as it informs

current views and offers examples

we can steal from to shape more holistic

relationships with our bodies and the earth

in the future. An understanding of ancient

and scientific myths surrounding women

and the earth is central to my practice.

I aim to re-present these myths in the hope

of using them to re-examine the dangerous

phallocentrism within monotheistic

religions. 21st Faith is a chance to propose

an approach to faith that is inclusive,

creative, intelligent and joyful.

37
---
2

Watching you Learn.

2 Years of Self Belief,

by Simeron Kaler.

The Venus Figurines were the basis of my exploration for this project into faith in the 21st

Century. The figures were considered by some to be the first form of religion in sculpture,

depicting the goddess of Mother Earth. However another contrasting view was that they

were the initial illustration of a self portrait; with the large proportioned curves due

to the artist looking down at their own body when sculpting.

I began exploring the modern day representation of this, the idea that we women were

the figurines and the goddesses themselves. That we should be kind, worship and love

ourselves.

This self belief led me to explore how it related directly to my own life, as having this trait

had never been something I had thought about or considered. I was taught this lesson

when I witnessed someone very close to me grow. A journey of discovery, assertiveness

and self confidence. It felt so special watching someone achieve this new found love

and freedom, and developing a sense of faith in themselves, that it almost felt like I was

experiencing it too.

21st Faith: Tell us about you and your

practice

Simeron: I'm a multi-disciplinary artist

and designer living and working in London.

My practice centres around honesty

and story-telling. I am very interested in

the perception of the female form,

and am exploring the different ways

that we can reclaim our body.

What drew you to take part in 21st Faith?

How is faith important to you and your

practice?

The project of 21st Faith is something

different. I love the idea that such a wide

range of practitioners are all exploring one

theme, it's very exciting. Faith links to

the work I am currently doing on reclaiming

ourselves as it's about looking inward

and having self-belief and love.

What role do you think faith will play in

the 21st century?

Hopefully it will increasingly unite rather

than divide.

Simeron: simeronkaler.com, contact@simeronkaler.com, @simeronkaler 39
---
3

The Shadow of Death,

by Goodness Victor.

An exploration of suffering

and the darker sides of the human

experience within biblical text,

expressed through a series

of illustrations and poetry.

The majority of my work starts

with anatomy.

For me it's the level playing field

beneath the skin.

It's beneath the layers of faith,

of tribe, of skin, of opinion, of colour

and of creed.

Thorns.

three times i pleaded with the lord.

reference

2 corinthians 12 vs 7-10

english standard version

three times i pleaded with the lord,

for the cup of suffering to pass.

yet thorns of pain found themselves,

within the flesh of my skin,

weighing heavy on these bones.

grief found herself within my veins.

pain found herself within my bones.

three times i pleaded with the lord.

joy finds herself within my veins.

hope finds herself within my lungs.

Goodness: goodnessvictor@gmail.com
---
Fear.

the valley of the shadow of death.

reference

psalm 23 vs 4

english standard version

'even though I walk through

the valley of the shadow of death,

I will fear no evil'

even through I walk through

dark valleys,

upon dark valleys,

my soul holds firmly to light.

even when darkness engulfs

this being

and weak bones

collapse

upon weak bones

my heart will fear no evil.

even when light is

but a distant memory

even with the last breath

from these blackened lungs,

my soul holds firmly to hope.

i will fear no evil.

Exhale.

if i make my bed in hell, you are there.

reference

psalm 139 vs 7-12

new king james version

if i make my bed in hell,

the darkest of depths,

you are there.

where can my spirit

run or hide?

when these nerves are filled

with fear,

inhale

you are there.

when these veins are wrecked

with loss,

exhale

you are there.

21st Faith: Tell us about you and your

practice

Goodness: I'm a designer, illustrator

and poet. I'm a curious human by nature,

constantly asking questions about

the human condition. I question almost

everything within the world around us -

especially my faith. My practice consists

of a mixture of visual design, illustration,

screen printing and digital printing.

What drew you to take part in 21st Faith?

How is faith important to you and your

practice?

I decided to participate in 21st Faith after

a conversation with Rebecca, the founder

of the project. I was surprised by and also

interested in the opportunity to discuss

and challenge the idea of faith from various

angles. My faith is super important to me

and my practice. My faith filters into all

aspects of my life and world view. It effects

how are see things, how I interact with

people and also how I view myself.

The most powerful aspect of my faith

is the understanding of love. Love that is

long suffering, love that doesn't keep

a record of wrongdoing, love that is patient

with all people, even beyond my own

human ability. Because of this my faith is

key to my practice. It is key to how

I interpret concepts and ideas, and is often

the foundation of my work.

What role do you think faith will play in

the 21st century?

I think faith will continue to play a key role

in the 21st century. Our ancestors have

always believed in something. I think faith

enables societies to continue to hope

and look towards the future, whether

is faith in a deity, or faith in family and

community or faith in the unknown,

faith conjures up hope. The ability to hope,

for me, makes me most human.

41
---
4

Lilium,

by Henry Yang.

Lilium is an exploration of the relationship between the Fibonacci Sequence and life.

Measuring two meters tall, this life sized window encapsulates light itself and evokes

the ideals of innocence, humility and devotion.

Lilium uses the allegory of light and the way light behaves when passing by solid objects,

to create a realistic grounding of the abstract. The form of the window and its relation

to stain glass is an inference to the "Divine Light" which is filtered through these windows.

The shapes and patterns in it connect and allude to the Divine Proportion, Phi

and golden ratio.

A further reference is made to the image-laden culture which drives our everyday world,

from pixels on a screen to the ubiquitous use of imagery in advertisement to selfies,

and the way in which these images are organised in our world, either physically

or digitally, often forming a grid, or pattern, within which windows to other worlds

and perspectives can be seen. The effects of refracted light and blurred colours, remind

the viewer that our vision of today and of the future is foggy and malleable, and as such

the likenesses of window panes in my work reference man's attempts at making sense

of the past, comprehending the present and peering into the future.

Henry: henryyang.co.uk, info@henryyang.co.uk, @henryyangart
---
21st Faith: Tell us about you and your

practice

Henry: With scientific & technological

advancements leading the way in

which people perceive reality, patterns,

coincidences & chance occurrences

surfaced as key concepts in my work.

A common element that runs throughout

my is that of the mathematical Phi, the

source ratio which was defined in the

3rd Century BC by Euclid in Elements,

otherwise known as the "Golden Ratio". Phi,

along with Pi, the circular constant, appears

as repeated fundamental patterns in the

universe.

A further focus is on the allegory

of light. The work examines the way light

refracts through glass, to create a realistic

grounding of an abstract image. The form

of the window & its relation to stained glass

is a reference to the "Divine Light" which

passes through windows at places of

worship. The work is a comment on the

powerful way in which elements can be

ideologically transformed.

Finally, a reference is made to the

image-laden culture which drives our

everyday world, from pixels on a screen

to the ubiquitous use of imagery in

advertisement to selfies & the way in

which these images are organised in our

world, either physically or digitally, often

forming a grid, or pattern, within which

windows to other worlds & perspectives

can be seen. The explosion in imagery as

a result of digital media has transformed

the manner in which humanity as a species

operates; an examination & criticism is

made through the use of blurred & opaque

window panes, as well as their lack of a light

source. Ironically, they are windows through

which no physical light enters, but instead

dependent on external light sources.

What drew you to take part in 21st Faith?

How is faith important to you and your

practice?

I was drawn to 21st Faith as it explored a

theme that is fundamental to my practice.

The idea of incorporating a religious

aspect to artwork was something that has

dominated art history, with religion being

central to daily life prior to the 21st century.

As theories such as the big bang came

to be accepted, many religious explanations

to our existence have became somewhat

discredited.

The fundamental question of all

discourse is "why". While scientific

advancement and new theories have always

been able to serve as an expansion on what

we know, and also to allow humanity to

experience and understand things that exist

on ever smaller, and ever larger levels, the

question of why these things are the way

they are have never been fully addressed.

In Parallel, art has become ever more

simplified, made on an ever larger scale,

with minimalism and conceptualism

the prevailing, dominant forces in art

theory. Yet "why" has not been explored

in great detail, possibly as it is difficult to

do so, both in philosophical and scientific

discourse, as well as in art.

To answer a question as fundamental

and basic as a "why", which serves to

question all things, including itself, an

omniscient question, a similar basic,

fundamental, answer would simply be

"everything". The meaning of this answer

is that the importance, perspective and

positional qualities of all things hold

equivalent significance, whether it be

chewing gum stuck to the floor, or

the Queen's diamond tiara, both are made

of simple matter, and both are equally

conversable into a sum of energy. Both are

equal, and different. It is humanity that has

placed one above the other.

What role do you think faith will play in

the 21st century?

Religious perspectives and ideologies will

filter into scientific discourse over time.

Philosophic enquiries and the exploration

of the human mind cannot be accomplished

entirely through purely scientific means.

A cross-fusion of different aspects

of all faiths should be something to be

expected and encouraged. There will be a

reexamination and redefinition of the word

"god" into a meaning less akin to a higher

power to which we are helpless but rather

as a word which encourages acceptance

and non discrimination of all things.

43
---
5

The Just Shall

Live By Faith,

by Nicole Leblanc.

As an officially Christian nation, in the Bahamas faith isn't just a formality,

but an intricate part of government and daily life. Christianity is named as the country's

founding religion, and 20 Christian denominations have active churches throughout

the country of 350,000 residents.

The form of a place of faith can often reveal much about the area, when separated

from the grand institution of the Church, how do the constraints of geography, money,

labour and architecture shape the way people practice faith?

21st Faith: Tell us about you and your

practice

Nicole: I was born in the Bahamas

in 1994, and my British and Bahamian

heritage informs my work, using the

photographic image to document the space

between these two places. I find that the

confrontation of the separate environments

gives light to complex interdependencies,

informing the way I understand how

to create objects and images.

What drew you to take part in 21st Faith?

How is faith important to you and your

practice?

As a non-religious person, what drew me

to take part in 21st Faith was simply an

interest in the role religion plays in our

society. I believe that faith is a powerful

engine of hope, and acts as a source

of stability for people who experience

a lot of uncertainty. Using photography

to document houses of faith, allows me

to understand the nature of faith

in my community.

What role do you think faith will play in

the 21st century?

I believe that faith will play an extremely

important role in the 21st Century, just as

it always has, and like it always will.

As much as we would like to think that

science and logic explains the way we

behave and what we do, it often ignores

the fact that humans are spiritual beings,

and that we want more then just material

gains. We do not make decisions just based

of self interest, but also of a set of beliefs,

of what we feel is truthful.

Nicole: nicoleleblanc.net, nicoleleblanc10@gmail.com, @ _nicoleleblanc 45
---
6

Someone,

Some Street,

by Yusta.

The City as Memorial

As I move through the streets, on certain corners, at certain crossings I see pink,

red and yellow petals, wrapped in brown paper, clear plastic or just a black bin bag, tied

to street lamps. Some are fresh, facing the sky, taking in water from a halved water bottle.

A laminated portrait and a short message sit unblemished between stalks. Others are

a little older, the leaves have turned brown, with petals scattered across the pavement,

waiting to be swept up by the street cleaning machine's revolving brush. On others

condensation has made the ink bleed and those tender words are lost in the surface

an object on its inevitable path to becoming rubbish.

Knocked off their bike, caught on a crossing, stabbed or shot. Victims of the city,

those that passed away in the streets, on the concrete, they are immortalized on that

same spot. It is a reminder that this is not just any street, not just some everyday piece

of pavement, but a place of significance.

I find myself cycling around a roundabout on the edge of the city, as I roll around

it's curve, I pass a bike chained to the railings, painted entirely in white, even the chain,

caked and stiff, unable to turn again. I keep rolling; I pass another, and another. Cars zoom

by, coming off the motorway slip road into the city, this visual code makes the danger

of this place tangible, I slow the rotations of my wheel, I come off and head down

the canal, away from all that past destruction.

It is a cool spring morning and I'm walking through the park that my house edges,

an oak tree sits at the far end, between two rows of terrace houses. As I draw closer,

I see ribbons running up the tree's trunk, red and gold on rough bark. Flowers

and messages crowd the wet grass, pushing up against the bottom of the trunk.

A single image is stapled to the bark, a young boy; he'd been stabbed a week before,

I'd heard. I stand for minute looking at these offering of memory, trying to construct

an image of this person, who I was learning the existence of in the same moment

I was learning of their death. But it not long before I start to feel awkward, feeling wrong

to linger. In the midst of someone else's pain, I am a visitor, an onlooker, a rubbernecker.

I keep walking, entering the underpass, its brick walls are dressed in a pastel scrawl.

Chalk lines draw out messages, goodbyes or simply the boys name, written large and bold

in the handwriting of children, teenagers and adults alike.

I pass these memorials on my familiar routes; with each day I see them slowly dissolve

into the urban skin. They cannot last, the city could simply not bear the weight of it all,

or be reminded too often, if it is to consider itself first and foremost a place of life.

No, they must disappear, all trace eventually confined to the minds of those who

intersected with these events, one way or another.

Death often reminds us of the importance of life, a cliché but a truism nonetheless.

I passed by the tree memorial on the estate the other day. I have since moved house,

and this is path I rarely tread these days. It's been almost two years now but the memorial

still stands. Most of the flowers have all but disappeared, instead two large white t-shirts

with the boy's face and name in their center are now are pinned to trunk with gold tacks,

bright on an otherwise dreary autumn day. The tree is secluded between eight terrace

houses, all of which have a kitchen window facing the tree.

To find these markings in our streets, reminds us that public space is not simply

utilitarian, and though it may not feel like it, the city is shaped by us. That is to say,

as we live and die we continue to give it form.

Yusta: cargocollective.com/gostamakes, contact.gosta@protonmail.com, @g.o.sta
---
21st Faith: Tell us about you and your

practice. What drew you to take part in 21st

Faith? How is faith important to you and

your practice? What role do you think faith

will play in the 21st century?

Yusta: I have never had an organized faith,

though born into an officially Christian

'Church of England' state; religious faith

has gradually faded from my bloodline

and in truth I have never truly interacted

with this aspect of my country's culture.

It manifested itself in pseudo-religious

holidays such as Christmas or Easter, times

to express community and family, yet also

these are times co-opted by consumerism.

The classification of England by a religion

also fail represent the many other faiths

that exist in tandem in England. Religious

faith is a concept that I have always found

conflicting, it has both brought people

together and torn them apart

in all iterations. In my work I hope to

explore further how different forms of

faith can co-exist and strengthen one

another whilst not losing their identity in

the process. In my work exploring the city,

conflict and tension are ever present,

but I believe, not insurmountable.

However faith does not represent

religion alone. It manifests itself in all parts

of life, and is often experienced as an

emotion that as a fixed concept. We have

faith in one another, in community, family

and the future. Many people, especially

in the western world, have lost connection

with their religion. How can it be replaced?

Political apathy and mistrust are strong,

many people feel in Britain feel that they

have been betrayed by the ruling elite,

that they cannot trust these people

and thus can there cannot be faith.

Though I had a childhood where the

Internet existed on the fringe, in my

adolescent years social media began

growing exponentially as a social force.

As first it seemed as though it could

connect us all, but as it has been said

'Technology allows us to keep in touch

whilst keeping as a distance.' While I feel

this to be true, there are also many that

found faith in communities online, where

technology allowed them to reconnect with

faith where it lacked in the rest of their life.

Community in the urban fabric has also

increasingly been broken down. People

learnt to stay inside and to mistrust their

neighbor, moving house every few years,

as so gated communities and faceless glass

high-rises grow around them.

Where can we find faith in today's

world, if not in a system of religion, politics

or community? I believe faith comes from

the fact that so many others have also

asked the same question. That despite all

of the forces that seek to degrade our faith,

we still search for it. Faith, for me,

is something that exists outside of any

system or classification. Our society

changes and familiar institutions disappear,

we find that we are different from one

another in so many ways. Yet I believe that

if we communicate with one another we

can find new ways to affirm our faith. Art is

one of many ways in which this discussion

can be begin and be expressed. Technology

is an unstoppable force at this point, the

idea of going back to some internet free

world is a dream.

49
---
7

Untitled,

by Kevin Uchiha.

The reality of Manga projection is non-voluntarily indulging hands and knees deep,

into a backlog of unjustified self-doubt, either through questioning of self or exterior

variables affecting the outlook of (A) fan; i.e Bullying. And as a result, their solitude

to the cause of the religious investment they go through is considered to be faith.

Momentum progresses, gestural operation of movement in focus of victory within

violence. A record of faux battle. Substituting a preference of 2D entertainment with

a-present human being. The confidence of Shónen genre is self-consistent. It doesn't rely

on westernised defecation to provide a backbone of projected heroisms, Mangaka's

have already perfected the craft.

21st Faith: Tell us about you and your

practice

Kevin: While studying fashion design I felt

I was led to the idea that its necessary

to combine fascination of Shonen

orientated characteristics in an curated

setting that suggested collaboration

in presentation amongst other peoples

work.

What drew you to take part in 21st Faith?

How is faith important to you and your

practice?

I've been asked to be a part of it, I had

an idea, I felt it was necessary in relation

to faith.

What role do you think faith will play in

the 21st century?

To get to the core of the problem.

Relying on the moment you require

adrenaline to inform your decision

to let faith do it for you.

Kevin: facebook.com/liluzikevin 51
---
8

Chimera,

by Patrick Walker.

The Chimera project developed from a series of installations. The two previous works

were aimed at producing an insight into the conflict and inequality in the urban

environment of London. This third instalment follows the same pathway. In this case

I toured the metropolis in search of lavish new-builds that provide the owners of capital

with their aspirations for riches to dominate the skyline. Roaming through Vauxhall

and Canary Wharf to North Greenwich and West Silverton gave me an overview

on the capital city's present-day ideas. What I found was the sight that is dominant

throughout the city, which is that of large glass monuments that idolise yet contradict

the idea of prosperity. This is a fabric of dreams for most, reality for a few. Behind

the façade there is no substance. The dream is a chimera. Faith appears exploited,

particularly when new developments sit on the sites of the homes, or places

of work of ordinary people displaced by the march of greed.

The Chimera project and the two previous series' of works are aimed at portraying real

life debates that question our present and future world, often in contrast to the past.

I feel that art cannot be truly value-free. This compels me to visually display

my interpretation of what I have witnessed. Faith can be in something illusory.

Once this is shattered our own beliefs can be transformed. I have grown up living in

the city of London and its suburbs, experiencing both sides of its life. When I lived

in the suburbs the sensual lure of the shiny skyscrapers in the city was seductive.

Through witnessing the privatisation of space and the destruction of less privileged

communities, my view has been radically altered.

Patrick: patrickflannerywalker.com, @patrickflannerywalker
---
21st Faith: Tell us about you and your

practice

Patrick: The grit and glamour of cities

intrigue me. Examples of the man-made

world of urban landscapes, spaces

and mechanically constructed objects

are abundant in my practice. I am attracted

to the stories that are told through the old

and new fabric of human developments.

I weave into my work on urban landscapes

the people who are its inhabitants, and

whose lives are shaped in part by their

environment. In spite of the bustle of

the metropolis, I often find tranquillity

roaming around London, my home city,

and other spaces. I aim to portray real life

debates that question our present and

future world, often in contrast to the past.

Man-made and natural aspects of the urban

landscape are often the antithesis of one

another. My work stems from these and

other ideas. Photography, installation,

film and painting are among the media

that I use. The camera is my most used tool,

yet I am not always satisfied with just the

image. I feel the need to experiment

in mixed media, and new techniques.

I want to push boundaries.

What drew you to take part in 21st Faith?

How is faith important to you and your

practice?

I was drawn to take part in the 21st Faith

project because the word faith has such

a wide-ranging meaning. Faith can be seen

as a confidence or trust in something,

for instance the religious belief in the faith

of god. The certainty that revolved around

religious faith had been questioned and

proved wrong by scientific discovery but

nonetheless, blind faith in religion persists.

It brings solace to some, subjugates many,

and polarises communities. For many

of us, however, faith may be the belief

in ideals such as peace or equality, or in

a system such as 'capitalism' which has

been a magnet to aspiring entrepreneurs,

and to those whose ambitions lie in

consumerism, glamour and greed.

For some the faith is to rise from the gutter

and land in the glitter.

Faith can be in something illusory.

Once this is uncovered our own beliefs

can be transformed. I have grown up living

in the city of London and its suburbs,

experiencing both sides of its life.

When I lived in the suburbs the sensual

lure of the shiny skyscrapers in the city

was seductive. Through witnessing the

privatisation of space and the destruction

of less privileged communities, my view

has been altered. The faith I once had in

the glamour dissipated as I realised it was

a chimera. Something real, solid and more

egalitarian is worth building faith around.

As much of my work illustrates both the

illusion and its destruction, participating

in 21st Faith has resonance for me.

What role do you think faith will play in

the 21st century?

I would like to think of a future where

mankind could find common ground

and turn away from a faith that pits culture,

religion, and groups against one another.

Sadly, the current climate in many parts

of the world are showing no signs of this.

Young people in Britain are demanding

a greater voice as their needs have so often

been ignored. The same is true of the poor,

whose needs have been blatantly labelled

as not worth bothering about. We should

be able to enjoy good things. Culture,

food, possessions, sport and the aesthetic

qualities of life without a need to be

in a club which excludes those who do not

share whatever the faith may be.

I think faith will have both positive and

destructive effects in the 21st century. There

are politicians, and communities with such

differing views that clashes between two

parties is unavoidable. Although this may

be so, I hope for a world with the complete

belief or faith in peace.

53
---
9

The Exorcist Set,

by Sandy Wang.

Faith functions as a bridge from the last generation to the next; it brings forth traditions

and culture that people had been practicing. Combing through history, the 70s saw

the rise of the horror genre in cinema, notably the classic cult film - The Exorcist. I chose

this iconic film as the project's subject due to its spiritual themes, exploring how fear

in pop culture could act as a medium to influence the public of their faith.

21st Faith: Tell us about you and your

practice

Sandy: I'm an illustrator and designer!

I enjoy translating complex ideas

and concepts to digestible visuals for easy

understanding; like emotions and data.

Some of my works can also be pretty dark,

and ironic too.

What drew you to take part in 21st Faith?

How is faith important to you and your

practice?

I like the idea of discussing faith with

the recent events that happened over our

century. 'Faith' is relatable and close

to heart to everyone; whether you have

one or not. It's important to me, because

it helps me to drill deeper and understand

my own values, which also open the stage

for anyone to be part of this conversation.

What role do you think faith will play in

the 21st century?

Faith functions as a bridge from the last

generation to the next; it brings forth

traditions and culture that people had

been practicing. So, I guess it'll continue

to play that part as the world evolves

simultaneously, I think faith would always

be a catalyst of something big.

Sandy: fartsforart.com, @sandyplayig 55
---
10

U reckon the devil

is vegan?,

by William Green.

In my opinion, one of the fundamentals of art is for people to decipher their own meaning

from works before (if ever) exposed to that of the original artist. With a specialty such

as art that has such an undefined purpose, it is important for other people to take what

they can from it, before they are told what to make of it. With this in mind my personal

explanation of my work will ruin any form of intelligent pre conception that may

have projected onto it. If I could, I'd give 0 insight regarding my piece.

The work is derived simply from wordplay. I have taken the modern meat substitute,

'Seitan', and formed a brash satanic symbol from it. That's all the viewer is truly getting;

a gimmick.

Seitan, originally developed by the Japanese, later adopted by America, has recently

become popular within the vegan community. It is a form of gluten that can be yielded

by sifting dough through water over an elongated period of time to eventually resemble

the texture of meat. It is then seasoned and decorated as if it were anything from fried

chicken to sausages.

I don't come from an artistic background as such, and have never had the opportunity

to explore a purely conceptual idea without it having a direct function, as is with art.

This being my first on a public scale, I decided to poke fun at the idea, by creating

a piece of work that involves obvious symbolic and aesthetic triggers, however with

little relationship between these materials, other than their practical uses. Any derived

outside meaning of the piece is flattering. Although it is humorous to think of people

pondering over something with so many elusive clues as to what it may represent, when

the artists definition is close to meaningless. Maybe this makes me shallow. I don't think

I should be an artist.

21st Faith: Tell us about you and your

practice

William: I am a fashion designer and recent

Menswear graduate from Central Saint

Martins. My usual practice however, hasn't

at all informed my approach to the 21st faith

project.

What drew you to take part in 21st Faith?

How is faith important to you and your

practice?

Faith isn't a topic I often consciously touch

on in design, although historically it is

an integral influence to many artists

so I believe it indirectly plays a role

in certain contemporary art. It also is

interesting to consider the decline of

traditional faith in western society replaced

with and new self determined idea of 'faith'

driven by consumer culture and icons.

What role do you think faith will play in

the 21st century?

It depends what is defined by faith.

In the most traditional sense of faith,

the most prominently publicized

and controversial 'role' is its association with

terror. And it's these negative connotations

that will decrease its popularity and

scapegoat such a once imperative belief

system and its followers.

William: williamfrancisgreen.tumblr.com, @wwffgggg 57
---
11

Untitled,

by Deji Feyisetan.

When I started to think about what faith meant to me as a millennial, I realised that

I had become quite disenfranchised from any form of religion that I had been socialised,

familiarised or indoctrinated to believe. However, I also acknowledge that it's highly

ignorant to disregard the beliefs of others, because the same notion of social conditioning

applies to most, if not every other facet of life. What's most logical to me about

the concept of faith is that it can validate a comforting, but ultimately human fallacy

of certainty - it can reassure people that there is a purpose to life and suffering and that

the people they once loved are in a better place.

Whilst I'm clearly sceptical and somewhat alienated by theological practice as a whole,

I think that there are still several habits and rituals in my life which most likely derive from

religion and the impact it had on my upbringing and how that subsequently shaped my

lens of existence.

This desire to understand existence or at least frame life experiences within a larger

narrative is paradigmatic of religion, but also the means through which we maintain

sanity in a life where we are required to fight our human nature everyday to fulfil our

basic needs. Though steeped in scepticism, 'The Ephemeral Loop' expands on my original

assumption that the rationale behind religion(s) is universal and applies just as much

to secular communities.

Metaphysical imagery is a recurrent theme throughout my work, and has long been

a topic of interest for me as I find the principles poignant in reference to my perspective

and experiences during my formative years. In the series of giclée prints I aimed to draw

parallels between transcendental symbology and different societal customs

in a cross-cultural study where various digital techniques are used to convey

my perception of each sentiment. As the prints serve as a timeline of my perceptions,

I decided to pair each print and medium with a metaphysical symbol

and the corresponding number that best surmises my emotional state.

Deji: dejifeyisetan.co.uk, deji_f@live.com, @yuthdevine
---
21st Faith: Tell us about you and your

practice

Deji: My name's Deji and I'm 23 year-old

multimedia creator, with a focus on sound

and music. My life's been centred around

the underground music scene since

I was in school, and I became increasingly

involved as my interest in the culture grew.

More recently, the art that's peripheral

to music and the different ways they allow

the audience to perceive the media is what

drives me.

What drew you to take part in 21st Faith?

How is faith important to you and your

practice?

21st Faith is a project I became aware of

shortly after it was conceived, and I thought

the premise was necessary to explore.

Even though it's quite an ambiguous term,

I think 'faith' is something quite human

regardless of individual values, beliefs

or how stringently rules are followed.

Metaphysical imagery is something that

is recurring in my work and the name

of my collective, 'Pineal Sounds' came

as a result of my interest in metaphysics

within different cultures and religions.

What role do you think faith will play in

the 21st century?

We're living in a really uncertain time

and our concerns mirror the complexity

of our lives. There's a lot going on in the

world, from global problems like climate

change to personal issues such as mental

health. Ultimately, I think faith is a concept

that evolves with the people practicing it.

59
---
12

Fidel Lana Erunt,

by Jasmine Schofield.

'Since faith was not a large part of my upbringing, the ideas and traditions that surround

different faiths fascinate me but also frighten me, in particular the objects that surround

our faith or that we put belief into.'

Jasmine explores objects around faith and the artefacts used within different religions,

in particular those that might be considered spiritual or sentimental in value

or importance. Jasmine explores the ideas of faith within the compounds of found objects

that relate to her own perspective of home and security as an atheist by created a shrine

consisting of contrasting materials and textures including metal, wool and plants laced

together on top of a rolled carpet to represent how objects can be comprised to create

a status of power through positioning and placement.

The combination of familiar items that are traditional to me were constructed through

my own interpretation of a quote by William H. Hunt expresses that "when language

was not transcendental enough to complete the meaning of a revelation, symbols

were relied upon for heavenly teaching, and familiar images, chosen from the known,

were made to mirror the unknown spiritual truth."

21st Faith: Tell us about you and your

practice

Jasmine: Jasmine Schofield is a recent

graduate of Fine Art from Central Saint

Martins, and within hr practice investigates

the ideas of memory through her

installations around the notion of 'Home'.

Her installations are comprised with familiar

items, commonly domestic objects that

are warped or edited to construct a surreal

situation. These surreal situations are aimed

to create a physical memory and many

of the objects are picked from the

memories of Jasmine's childhood.

What drew you to take part in 21st Faith?

How is faith important to you and your

practice?

Since faith was not a large part of my

upbringing, the ideas and traditions

that surround different faiths fascinate

me but also frighten me. I aim to focus

on religious buildings and how the spaces

within these buildings are used. I decided

to take part in 21st Faith to explore

these ideas further, and to create a situation

out of found objects, and giving an atheist

perspective.

Jasmine: jasmineschofield.com, jasmine_schofield@hotmail.com 61
---
13

good good not bad,

by Louis Schreyer.

Faith is of uttermost importance in the 21. Century. Our future has been stolen

and it is up to us to overcome sarcasm and depression by taking control of our future.

Orwell said, "who controls the past controls the future. Who controls the present controls

the past."

While we are living in the exaggeration of something similar to the utopian nightmare

of the Brave New World as described by Aldous Huxley, our future is painted more

sinisterly with the dooming Extinction through nuclear war or natural disasters.

Because it is too difficult accepting this fact and ones apathy towards our future

as humanity, we all live in our own more or less happy little worlds.

Faith in the 21. Century can be described to me like this. Imagine everybody

in the world would stop working for 1 day completely. Although it seems technologically

and logistically possible in terms of communication, it still seems highly unlikely

it would ever happen. I chose this example because I believe we need to restore our faith

in humanity as whole, and that means me and you and everybody else. There is a small

fraction of people in power that are responsible for the ongoing illegal wars, as well as

climate change regulations or in positions to change this global trend. Yet in a world ruled

by the free markets our illusion of choice through representative democracies, does not

hold any power in changing these main issues we are facing. By coming together

with something as radically as stopping the economy completely for one day, would start

a new era, "the human project," and show humanity we stand together, which is the only

way we will ever change the relations of power. For a single person, not coming in for

work one day might not seem that radical, you might say you are ill or just skip it

and get an excuse. If you are super straight you could even get one holiday day. Either way

your consequences would be minimal. But if everyone did this act of minimal damage

to ones personal life, it would have a huge impact on the worlds equilibrium.

This would only work if everybody firmly believed that everybody else was also going

to stay at home just like them. In the same way that, if I believe the world is going down

and our environment is totally fucked up, and either way the huge companies are creating

way more waste then I do, so it doesn't even matter, I won't recycle.

But if I believe in a future where the people have forced governments and companies

to change their regulations and the planet and species' are regenerating, plus I know

everybody else is recycling too, I almost have to recycle. Even just morally. Therefore we

have to believe in the future again. Nobody I have ever met wants to bomb or kill anyone

else, nobody wanted the planet to be polluted and species to go extinct or even humans

to go instinct either. I don't know if you as the reader agree but this is for most part of

humanity at least those people who have the luxury to live in peace. Why can't we imagine

a future in peace, powered by renewable energies, working on human survival

on this planet and the growth of empathy and balance through having faith.

Us, as artists, communicators, but also everybody else has have the chance to rebuild this

future. Have faith, create faith, dream about the future. In the end the future only exists

in the way we speak about it. It never really starts, neither tonight, nor tomorrow, nor in a

year. We can only imagine it by the way we think about it or how it is been portayed to us.

Only if we have faith in the future, we can act positively and be happy today.

Louis: louisschreyer.com, @bitchesandturtles
---
21st Faith: Tell us about you and your

practice

Louis: Louis Schreyer is a german born

artist/designer based in London, doing

a MA in Informa- tion Experience Design

at the Royal College of Art. Working in

a range of media, he makes use of analog

photography and videography, while

exploring new ways of working with

interactive sculptures, digital realities

and emotions as well as experiences

in art. His work is socially critical

and often political, as he looks at social

behavior, the interaction of humans and

machines, as well as language. He is

interested in Surveillance, and different

means of control in popular culture.

He has exhibited in several exhibitions

in London, Berlin as well Jerusalem

in which he mainly presented photography,

sculptures and installation works.

What drew you to take part in 21st Faith?

How is faith important to you and your

practice?

As an artist, faith is essential in one's

success. In the 21st Century there is not

much faith left, as our future has been

killed by films, capitalisms simulations

of subculture through popular culture

and the news. Our future was once going

to be one in which free love, music

and happiness ruled over war and money,

but that future was bought. In a way

the future only ever exists in the way

we talk about and therefore define it.

It never really starts, but without somebody

laying it out for us we could not envision it,

which is why Dystopian art or films

are dangerous. In order to restore faith,

we have to invent futures, we have to try to

live those futures ourselves which is where

change happens. Yet as artists we need

to embody this positive attitude towards

notions of future in our work. If not even

change our work in order to save our future

and the world from meaningless art.

I am interested in faith as a subject and was

drawn in by my good friend Rebecca who

envisioned and brought to live the project

as I had faith in her vision. A great deal

of other friends and artists had the same

faith which is why it was possible to bring

such a beautiful show and people together.

What role do you think faith will play in

the 21st century?

I think in the 21st Century as of so far Faith

has died to some degree, as our future

has collapsed. There are an infinite amount

of futures, that only ever exist in the way

we talk about, and therefore define them.

Religion used to serve the purpose control

through fear, but also ensuring faith

in the future to deal with the present.

Language allowed for this description

of heaven or hell as only possible futures

in order to guide the masses. Still today

religion has a huge impact on some people

leading them to make radical decisions

based on faith. Still Governments outdated

Religion as institutions of control, as they

installed faith in democracy and peace.

Shared narratives are means of faith based

in language. The Future has collapsed

as we have stopped being able to grasp

the present. Not knowing our destination

is eroding our path as we stumble

into the future. As markets and networks

have exceeded our understanding and their

repercussions on nature are too difficult

to judge and predict, as to define a shared

narrative to deal with the complexity

of issues in the world and their networks.

When we talk about the future, its mainly

in terms of dystopia which is only

supported by the media and film/ TV

industry. In order to restore faith in

the future, we need to invent new futures,

new paths. The way we think about the

future defines the way we act in the present

as well as the present defining the future.

Faith carries energy and can be inspiring.

Therefore faith plays a huge role in the 21.

Century. We need people to believe in

a better future in order to create it by living

and inviting it in the present!

65
---
14

Untitled,

by Subject.

Algorithmic processing of video footage is used comprehensively by both the state

and private firms to detect a range of human behaviour: from simple motion, to the age,

race and gender of those being filmed. How aware are the public to these tools

and how might designed experiences be used to reveal these mechanisms?

The work aims to question our notions of faith in contemporary life by drawing parallels

between religion and the obscured mechanisms which are developed to support

advanced technologies; powering social media, data collection and state governance.

21st Faith: Tell us about you and your

practice

Subject: Subject is a critical design studio

which examines hairline fractures

at the intersection of data, architecture,

society and politics, using design

as an experimental vehicle for research and

journalism.

What drew you to take part in 21st Faith?

How is faith important to you and your

practice?

As a studio we explore contemporary

technology in relation to the obscured and

intangible aspects of its construction and

use. More and more people are placing their

trust in private companies by knowingly or

unknowingly providing their personal data

in exchange for services. This phenomena

strikes us as one of the most widespread

expressions of faith in society today.

What role do you think faith will play in

the 21st century?

With the decline in practice of traditional

religion and the greater adoption of social

technology, faith is increasingly being

placed in capital and particularly products

that facilitate ease of social interaction.

Subject: subject.design, studio@subject.design 67
---
15

Connatural,

by Leda Yang.

For 21st Faith I've created an arrangement of ceramic objects based on natural rhythms.

During the making of this piece I was looking into exponential growth and the creation

of hyperbolic curves, often found in nature, during the show the ceramic pieces

were often compared to petals and leaves. I initially looked at types of coral and tree

branches which have a similar way of developing. Throughout the event I saw people's

intuition for natural forms.

21st Faith: Tell us about you and your

practice

Leda: My practice is centred around

geometry in its abstract form, often

I take inspiration from patterns in nature

and human arrangements throughout

civilisations and cultures around the world.

I am interested in communicating a

language which is universal and overcomes

socially constructed ideas and barriers.

What drew you to take part in 21st Faith?

How is faith important to you and your

practice?

I was very keen to take part in 21st Faith

as I find the core ideas shared with Rebecca

very close to my own. To build communities

of merging cultures and the fading lines

in a society, which are important to me

and others which aren't rooted in their own

ethnicity or nationality. Coming from

an international background I always seek

to connect with people on a human

and natural basis rather than sociocultural.

The idea of faith as a human feeling

is something very close to the spirit

of my practice.

What role do you think faith will play in

the 21st century?

I believe that faith in the 21st century will

be a new chapter for us as people. I believe

our societies will find a new way

of practicing an honest and personally

developed way of perceiving faith.

Leda: ledayang.com 69
---
16

An Ungodly

Meteorologist,

by Larry Frederick Alan James Bizby-Weir.

Scene 1 - The News Broadcasting Studio

The brightly lit broadcasting studio of HTMS NEWS, cameras set on Kevin Swanson

as he wraps up report on effects of local lesbian couple's recent marriage on the pest

infestation on local crops, Tony Perkins stands off camera in position for his weekly

weather report, a low hum of the newsroom fills the space with hymn like effect.

Kevin speaks with an overzealous use of his right hand, Tony stands fussing with

the cowlick on the far left side of his fringe using the reflection of an inactive tv monitor.

Kevin Swanson:

… so be sure to thank Mrs. Sarah Harmond and Mrs. Rachel

Vice this autumn for the shortage of pumpkins at your local

grocer. (Kevin smiles delightfully as he begins the segue onto

the weather) Tony! A Pumpkin shortage! You've got young ones

at home don't you?

Larry: aj.weir@hotmail.com, @larryfajw
---
Tony Perkins:

Kevin Swanson:

(nodding vigorously whilst deeply creasing his eyebrows)

I sure do Kevin, two boys and another on the way!

I can barely imagine the looks on those little faces when they

sit down for their Thanksgiving meal to be disappointed with

no pumpkin pie for dessert! what truly dark day's lie ahead,

and with dark days, tell us whats happening with the weather

this week Tony (As the camera's move off of Kevin, an assistant

rushes over to dab the sweat lining his newly purchased hairline)

Tony Perkins: (Tony angels his body and begins to gesture to the green screen)

Well Kevin, this afternoon we've managed 18 degrees across

the state, but that is the last of the hot weather as recently Markus

Wight and Leon Hallow opened a case for adoption, so we will

see a change over the next few days turning much cooler,

and a lot more cloud around. Theres a weather front thats drifting

this way south that is bringing heavy rain to the north east

of the state for which we see reason to believe coincides with Mrs.

Victoria Range signing the lease on a 1 bed studio apartment

to share with her girlfriend last weekend. In the southern corners

of the state we will see breaks in the cloud, however the light

showers mid state will help keep the temperature up. Later in

the week we will see the showers continuing to blow a fairly

strong breeze with time reaching gail force, looking like a great

time to avoid the beach, as well as Brenda Hall , whom we can thank

for recently publishing her queer nasty girl zine. In the north the

temperatures will just about to be dropping to single figures, touch

on the chilly side here. As we look to the end of the week we see a real

taste of autumn as things continue to turn cooler, with plenty more

showers around, assuming Gary Bronte wont stop cruising his local

cemetery, the weather will continue in this pattern for some time.

(Tony adjusts his tie and throws a seemingly unenthusiastic double

finger guns towards his camera)

Back to you Kevin.

Kevin Swanson:

After the break we have onsite reporter Richard Bankwell finding

out how the upsurge of local coffee shop Adam & Steve have

singlehandedly created the downfall of the paper napkin industry,

but first are our children being targeted for free thinking in public

school health classrooms …

21st Faith: Tell us about you and your

practice

Larry: With an important focus on hand

work, my practice takes traditional fine

crafts, such as goldwork embroidery,

tapestry weaving, sculpture and stained

glass, and explores contemporary themes

of dark romanticism, through a queer lens.

What drew you to take part in 21st Faith?

How is faith important to you and your

practice?

Growing up in a Protestant household,

faith has always been an important theme

with my parents. Through their practice

of faith, it carried me to many prodigious

and monumental religious sites, in which

i developed a reverence for the traditional

hand crafts found around the church.

I was drawn in to take part in 21st Faith,

as it was an opportunity to further explore

my opinions around faith, in relation

to Christianity.

71
---
17

Narcissus or

the Outfit of a Century,

by Edward Green.

'Those hushed, restless murmurs of anger and despair at unfortunate events in all

of our lives must be directed somewhere. Who do we beg to for luck? Who do we curse

in the sky? For theists this is a God. But what, or who is it for a new generation

of narcissistic non-believers?'

Narcissus or The Outfit of a Century is a contemporary response, or reinterpretation,

of the mythical poem Echo and Narcissus, featured in Ovid's Metamorphoses. The ancient

story depicts a relationship of unequals. The mountain nymph, Echo, has her lust

and desire met with disdain by the proud hunter Narcissus. The latter's devout faith

in his own beauty eventually spirals into self-obsession and culminates in suicide.

Morally, the tale resonates with a 21st Century crisis of identity and faith. Artificial persona

platforms such as Tinder, Bumble, Facebook and Twitter can be perceived as the endless,

echoing mating calls, emanating out from our phones and into the glass wilderness.

Narcissus, the objectifying receiver to these desperate echos, has become the common

person, with vanity, anxiety and mental health all being normalised in today's society.

The search for faith is becoming more insular and more introspective.

Similar to the symbolist art movement and the Pre-Raphaelite painting techniques,

in which items of reference and significance are hidden amongst the paint and words,

I have included talismans of contemporary vanity into my work. Upon the model's head;

a garland of feathers, weaved betwixt a life-giving-phone-charger. Adorning her body

is the collaged, ambiguous fashion of youth; nostalgic and thoughtless. Her skin exposed,

her eyes fixed and the gaze returned; has her faith been restored?

Edward: edwardjuliangreen.tumblr.com, @nedgreen
---
21st Faith: Tell us about you and your

practice

Edward: Somewhere between the gravehanging

Merseyside skies and a vulgar

bedsit for three in Deptford sits a silent

somebody, squeezed in between the frank

and stout little pages of a dust collecting

iconic novel and a computer screen.

Displayed on the computer screen

is a collection of files marked:

'Edward Green Submission #1'

'Edward Green Submission #2'

…and so on. The files are leftovers from an

endless career (spanning only three years)

of images shot, developed, scanned and

hopefully, idealistically, sent to publications

across the country in vain. Inside the novel

(possibly a love story, possibly Betjeman's

collected letters, possibly a cartoon)

a footnote reads: 'Become a plumber'.

Edward Green was born in Liverpool

in 1996 and currently studies Media &

Communications at Goldsmiths, University

of London. His socially conscious work,

which celebrates banal, beautiful

and surreal aspects of public life,

has been exhibited in galleries across

the capital.

What drew you to take part in 21st Faith?

How is faith important to you and your

practice?

Faith, in my opinion, is a word tragically

out of fashion. The quickening demise

of religious conviction amongst westerners

is evident not only in the pews

of the local Methodist church but also

in the playground discourses of a new

generation; faith is not being taken

seriously. Rebecca's concept is therefore

tremendously important in engaging

people and inciting opinions on a matter

which, quite frankly, used to be the most

important aspect of almost EVERYBODY'S

lives.

Those hushed, restless murmurs

of anger and despair at unfortunate

events in all of our lives must be directed

somewhere. Who do we beg to for luck?

Who do we curse in the sky? For theists

this is a God. But what, or who is it for

a new generation of narcissistic nonbelievers?

Is it Facebook algorithms?

Is it the Chairman of Burnley Football Club?

Is it ourselves? Is it the person with

the largest Instagram following?

I hope that my photography work is able

to address some of these questions in

an original and aesthetic manner.

What role do you think faith will play in

the 21st century?

None whatsoever, unfortunately.

73
---
18

3:00 AM REVELATION,

by Nina Vukadin.

What is faith? This question was stuck in my head for many months, when I started

working on this project. I had a lot of ideas how I would interpret faith and a big part

of those ideas was revolved around the photographs I took while walking around the city.

However in the midst of this overthinking I ultimately had a '3 AM revelation' - an urge

to simply write down my thoughts related to faith and what it meant to me. Which is how

my poem came about - looking at faith as something which is personal and subjective

and what that means in my specific case.

I wanted to communicate this poem across as easily as possible, which is why I decided

to print it on flags, a medium which has proven to be a great tool of easily communicating

a message or an ideology to the public. Whether this message is commercial, political

or in my case - personal.

The flags split the poem in two parts - the 'universal' and the 'personal'. 'Universal'

being what I believe faith is on a general basis and the 'personal' my own response

to this general claim: finding faith through walking around in cities.

21st Faith: Tell us about you and your

practice

Nina: I'm a graphic designer and one

of the creative directors of the magazine

EYESORE. Being a graphic designer has

turned me into a bit of a chameleon when

it comes to work, as I have to work in

a variety of different contexts and different

people. My design practice is always

led by creating concepts which I try to

communicate as simply across as possible.

What drew you to take part in 21st Faith?

How is faith important to you and your

practice?

I have been thinking about faith quite a bit

since this project was started. I felt I wanted

to contribute something because I wanted

to ask myself that question of what faith

is to me and try to define it. Faith for me

is isn't necessarily something I consciously

consider important, however it definitely

plays a big role in my practice in ways

which I don't think I'm yet aware of such

as through intuition and a general drive

to make.

What role do you think faith will play in

the 21st century?

To be quite honest, I am not really sure.

I hope people will start to explore more

what faith means to them on a personal

level, rather than blindly following

a doctrine that might not benefit their

spiritual being much. That's my hope,

but from the look of things it might take

a couple more centuries for that sort

of faith to develop.

Nina: ninavukadin.com, @neenzv 75
---
19

Your Turn,

by Nicolee Tsin

and Leanne Vincent.

'Your Turn' represents a constant feeling that replays in our heads - it is a journey

of moving forward yet constantly being pulled back and trying to breakthrough

that momentum. As she progresses, she translates the present moment into

unrelenting motion and an expression of empowerment.

21st Faith: Tell us about you and your

practice

Nicolee and Leanne: Leanne and I have

always been interested in using film

as a medium to speculate and record

movement. Our approach is experimental

and instinctive. Although we came from

very different backgrounds, Leanne

from London and myself from Hong Kong,

we were able to find the same language

through dance. It speaks emotions

and feelings that we shared and simply

can't put in words.

What drew you to take part in 21st Faith?

How is faith important to you and your

practice?

Faith is important to our practice because

it encourages oneself to push forward

no matter what the outcome is. "Your Turn"

represents this idea as the protagonist tries

to defeat her frustrations through dance

in order to experience freedom in the mind

and body.

What role do you think faith will play in

the 21st century?

By giving will power and strength to people

who will see light in whatever they do

and stand for.

Nicolee: nicoleetsin.com, @nicoleetsin / Leanne: @leanne24v 77
---
20

Flat Pack Plastic Pants,

by Anna Baumgart.

Flat Pack Plastic Pants relates to the idea of Faith as a simultaneously individual

and collective practice.

The opening night featured the live improvised performance of The Golden

Trouser Tours, bringing individuals together through a collective experience of dress.

Multiple pairs of nearly identical gold fake leather trousers lay in folded compositions

in a white square. At intervals throughout the evening, performers came and began

to unfold the trousers, interacting and playing with them.

Putting them on, they invited visitors to join them and walk around the exhibition

in a group. In turns, one person would lead and the rest would copy, performing certain

movements with the trousers, e.g. taking them on and off at different points around

the room and responding to other artworks.

The trousers are special for their quality of being notably flat, yet in contact with

the body transition into sculptural shells. Here exists a reciprocal dialogue between body

and garment, each influencing the other's movements. After undressing, the trousers

are left with a bodily demeanor, as empty shells emphasising the ephemeral presence

and absence of individual bodies, marking their traces left behind.

Like faith, the trousers represent how one common thing can bring together individuals.

Although similar, each golden trouser is made as a slightly different size or shape,

representing how people can still remain individuals in a collective.

In between performances, the ways in which the trousers were left arranged

as shells in the space was always different according to how each individual undressed

them there. This formed a continuously shifting landscape of golden trousers, therefore

a constantly changing artwork.

Anna: anna_baumgart@outlook.com, @anna_baumgart
---
21st Faith: Tell us about you and your

practice.

Anna: I graduated from Fashion design

(Womenswear) at Central Saint Martins,

but I would say my work has always

stemmed from a more fine art based

approach. I work between video,

performance, installation and photography,

but always keeping fashion and garments

as my central 'medium' and subject.

I am interested in the social role that

clothing plays in day to day life; how

garments act as the interfaces between the

private body and public realms, mediating

our everyday encounters. Fashion design

can therefore effectively be used to shape

these and explore social concepts.

As opposed to the static flat images

associated with fashion, I am more

interested in the bodily experience

of wearing clothes. Focussing on the active

dialogue between body and garment

in movement, their reciprocal relationship

and impact of touch on one another, I

discover performative moments

and situations.

What drew you to take part in 21st Faith?

How is faith important to you and your

practice?

I feel that this is such a refreshing way

to think about a concept that is not so

outwardly discussed in today's society,

but is such an imminent part of it.

Raising attention to it through an artistic

discussion is such an interesting way

to vocalise new and varying viewpoints

and understandings of what we consider

this part of human nature to represent.

It is also important that we are

a group of young creatives talking about

this subject, as our generation can bring

a new approach to such topics that are

in need of a fresh outlook.

I find that faith plays an important role

in mine and any artist's work. Carrying

a belief in one subject that inspires you

so much that you can rigorously devote

your time to researching and exploring

it endlessly, resonates with the way I work

as a form of faith. Sometimes one simple

detail or movement, can inspire a whole

body of work for me.

Furthermore, faith plays an intrinsic

part to my practice as my work is largely

about people, and their social relations

and experiences. Faith is a common

denominator between all social groups,

and something relevant to everybody's

experience of art.

What role do you think faith will play in

the 21st century?

I think as more uncertainty

and unsettlement is rising in our current

times - socially, politically, environmentally

- to have faith, a strong belief in something,

whatever it is, will become more visibly

important as a way to keep us grounded.

It gives people something to hold on to,

provides hope in the most desperate

of situations, and brings people together

when other things divide them.

79
---
21

One Zero Zero,

by Alexandra Gribaudi

and Theodore Plytas.

ONE: Photography as surface. A plane that communicates in the same way that walls

reverberate light. That a screen flashes with notifications. Or floorboards lie beneath

steps. Sculpture as space. A protrusion invading dimension like a chair offering its form

to the buttocks. A tree spreading upwards. Or a globe spinning round. Surface. Flat. Space.

Sticks out. Together forming environment. The tree you hug is space. Space between your

outstretched arms. Yet its bark is surface. Surface you press your face against.

Even in the digital they alternate. Flat screen until new link is clicked and the entire

flatness mutates into a space where surfaces juxtapose into digital 3dimentionality.

Photography vertical or horizontal. Presence emanating from surface. Sculpture sitting

or floating. Presence invading space. Photography and sculpture: together what happens?

ZERO: Photography as time. Time as an almost invisible force governing existence.

Time the secret inhabitant of all photographs. Captured right there in the negative.

Printed right there on the paper. Can't see it? Time is to a photograph the presence

that magnifies with each gaze like the multiplying wrinkles on your face. Sculpture

as faith. Faith the almost invisible force that governs existence. Faith the secret inhabitant

of all sculptures. Captured right there in the welds. Captured right there in the weight.

Can't see it? Faith is to a sculpture the ultimate productive force like the urge that tonight

might push you to write. To make a 100 photograms and 100 sculptures you need time.

To make a 100 photograms and 100 sculptures you need faith. Time under pressure

appears in the form of making, as faith burns idea to reality. Weld after weld after weld.

Minutes become steel to put their hours down on emulsified paper. Flash light.

Time's outline captured in black and white.

ZERO: Photography and sculpture together you get space invading surface. You get

surface revealing inner space. You get faith breaking time right open. You get time

underscoring faith. 100 steel sculptures hanging above a 100 photograms of their

shadows. 100 sculptures multiplying in size. An organism multiplying. Space from 1cm

to 1m. 35 meters long. Photograms translate form beyond human logic. Each and every

surface producing a unique pattern. Yet retaining trace of its origin. Surface as

the witness of space. Photography as the witness of sculpture. Witness of an attempted

understanding. 100 attempts to seize the permanently perceived dialogue of surface

and space. Time and faith. Photography and sculpture. Ask a question ONE ZERO ZERO

times. You might not find the answer but you will perceive its intricacy.

Alexandra and Theodore: gribaudiplytas.com, gribaudiplytas@gmail.com, @gribaudiplytas
---
21st Faith: Tell us about you and your

practice

Alexandra and Theodore: Our work is

a constellation of photography, sculpture,

installation, drawing, painting. We wish

to propose a reflection into the tumults

of life, a door into a world where energy

can be found in the oddest places, whether

it be in an abandoned building, a rusted

piece of steel or under layers of felt-tip.

What drew you to take part in 21st Faith?

How is faith important to you and your

practice?

We were drawn to 21st Faith by the

openness of its definition of faith.

We are excited to be part of a conversation

about faith today, in which there are

no pre-defined ideas or categories

to confine or comply to.

Faith is part of all of our lives, yet its

meaning and substance within everyday life

is different for each individual. Even for the

same person faith can be found from one

day to the next in different places.

Faith in Coffee. Faith in God. Faith in

Dancing. Faith in Time. Faith in Walking.

Faith in Art. Faith in Sweating. This is what

we see as so fundamental about Faith.

It is a permanently present force yet

constantly shifting in its meaning.

Faith is crucial to our practice because

without it we could not keep going.

We have faith in Art. We have faith in

Making. Our Faith might not be your faith;

having and transmitting Faith is

what counts.

What role do you think faith will play in

the 21st century?

We believe faith will continue to play

the role it always has, that it will push

people to be who they are and to fight

for what they believe. Our hope is that 21st

century faith might be open. A faith that

is fluid and capable of changing its mind.

A faith willing to discuss and exchange.

A faith able to argue whilst always

remembering to respect.

83
---
22

Untitled,

by Kelly Randall.

Preheat oven to 220 C / Gas 7. Remove the neck and giblets from the turkey and place

in a separate pot along with 200ml water, celery stalk, carrot and herbs. Bring to a boil

and simmer to make turkey stock.

Place the turkey in a roasting tin and starting at the neck of the bird, slide your hand

between the skin and the breast meat to loosen it. Take some of the softened butter

and rub it onto the breast meat (under the skin). Rub some more of the butter over the top

of the skin. Season well with coarse sea salt. Place the 2 lemon halves in the cavity

of the turkey - these will help to keep it moist.

Roast for 30 minutes at 220 C / Gas 7 until golden brown all over, then remove and brush

with softened butter. At this stage, reduce the oven temperature to 180 C / Gas 4,

stuff the cavity with the stuffing of your choice, then cover the breast with tin foil

to prevent further browning.

Continue to baste every 30 to 40 minutes with softened butter or spoon over the turkey

juices from the roasting tin, until the turkey is cooked and the juice from the thickest part

of the leg run clear (about 3 1/2 more hours). Transfer to a serving platter but cover

with foil to keep warm.

21st Faith: Tell us about you and your

practice

Kelly: I'm a recent Fine Art graduate

from Central Saint Martins. My practice

is predominantly sculptural, with subject

matter and materiality taking influence

from a range of food practices. By creating

a dialogue between our understanding

of food and the formal aesthetics

of sculpture, I aim to form a sense

of ambiguity that interrogates the symbolic

status of food within art.

What drew you to take part in 21st Faith?

How is faith important to you and your

practice?

Previously I haven't directly approached

faith within my practice, although I'm aware

it's an underlying theme of the metaphors

and rituals surrounding food. Taking part in

21st Faith offers the opportunity for me

to interrogate the role that food plays

within faith further, alongside working

collectively with the other participants

to give an insight into what faith means

to young creatives.

Kelly: kelly-randall.com, @smellysandall 85
---
23

21st Faith,

by The Recollector.

Acknowledging mixing as an independent art form is still on an ongoing path.

Most people do not consider the added value audio mixing can bring to a piece of music.

As arrangement and interpretation can be considered as a creative process in music

production, mixing should be equally recognised. An ear does not process information

in a linear way as our brain does. Ears process music with it's full spectrum of frequency

at once and has temporary memory in its analytic process. Lots of DJ's have mentioned

the correlation between volume gradients and crowds reaction: you can play a track

at a different growth level through time and the people that are impacted by it will not

react the same way each time. This has motivated impressive engineering research

towards rotatory mixers and equalizers throughout the years…

Larry Levan was the first man to popularise audio mixing as a specific art form

with his three turntables technique. His legacy is challenged more than ever with the

democratisation of DJing. On one hand, the breakdown of music industry at the end

of the XXth century has forced promoters to book artists with a heavy fan base instead

of DJs to put on a successful show. On the other hand, technical progress has been

helping more young DJs in becoming a simple "human juke-box", the art of DJing

has been loosing its resonance over time.

This has brought me in pursuing the lost art of mixing through production and DJ

mixes. Using speed shift, un-beatmatched samples, dubs, edits and three to four channels

mixing skills, I have conceptualised my vision of faith in the 21st century in this 40 minute

piece of music.

21st Faith: Tell us about you and your

practice.

The Recollector: I'm first and foremost

a DJ. For me DJing is much more than just

playing other's music. It's about mixing,

fusing melodies and atmosphere that are

already very complex into one unique music

momentum. DJing is about telling a story,

making people discovering new music

genres without even feeling that particular

change. It's about proving that music

has no boundaries of any sorts.

What drew you to take part in 21st Faith?

How is faith important to you and your

practice?

Well the subject first, because Faith

is actually facing a big ideological revolution

at the moment. I'd say that before, Faith

and dogma were bounded and that bound

would not face any doubt. But recently,

it has been taken away from dogma.

Now some people are trying to reattach

it by revisiting the notions of dogma

or simplify the subject by making faith

stand by its own. For me, faith is important

because it gives you a direction and allows

many people to move forward and achieve

things.

What role do you think faith will play in

the 21st century?

I honestly have no idea what role it will

play but I'm confident that it will have a big

influence in our future because faith is

the thing that makes people find a way

and our generation have definitely lost

its way.

The Recollector: soundcloud.com/therecollector 87
---
24

Human Building Human,

by Leshan Li.

"In the world which everyone's voice can be heard and everyone's voice being weakened,

Faith is going to help the individual person place themselves peacefully in their high speed

random unstable lives."

Once human being steps up from ancient nomadic life, the cultures bloom. Buildings,

in many forms, provide the stability and fertility for human imagination. We human

treasure our thoughts in building. And we let the building educate our offspring.

LeShan explores how the religious space has been spreading into each small part

of private space. As building educate and raise human up, Leshan investigates how

this new pattern of human building relationship creepily insert itself into almost every

private activities of human activities.

How does the building trigger the deepest desires of human? How does the building

build up the moral of human? How does building destruct and restructure the identity

of individual and human species?

Leshan: info@lileshan.com, @loilioli
---
21st Faith: Tell us about you and your

practice.

Leshan: I am a protestant. I am

a communist. I am a motion designer.

I am Chinese. I am alcoholic. I love J.S.Bach.

I love techno. I am a library of everything

I agreed and disagreed.

What drew you to take part in 21st Faith?

How is faith important to you and your

practice?

What role do you think faith will play in

the 21st century?

In the world which everyone's voice can

be heard and everyone's voice being

weakened, Faith is the going to help

individual person place themselves

peacefully in their high speed random

unstable lives.

21st Faith shows a possibility of developing

and building up strong human characters

in this mass media and internet era.

Faith gives me a comfortable and quite

place to create.

89
---
25

The Sustainable

Development Goals,

by Iara Monaco.

The theme of the exhibition was to interpret the role of faith in the 21st century.

My response to the brief was inspired by the role the church building had in medieval

Europe where it served as the centre of community activity. The church united the

people of the communities, helped communities grow and develop and made people live

harmoniously together through a shared set of values. I explored whether the Sustainable

Development Goals could represent a new opportunity for all of us to collaborate as one

species and unite behind a relatively simple- yet audacious- set of 17 goals in order to

co-create a thriving sustainable future for all of humanity and all of life.

21st Faith: Tell us about you and your

practice.

Iara: I have a background in graphic design

but with a current interest in international

development and humanitarian aid.

What drew you to take part in 21st Faith?

How is faith important to you and your

practice?

What role do you think faith will play in the

21st century?

We live in an interesting time where

religious fanaticism amongst young people

is diminishing yet at the same time people

are beginning to realise that we long for

something outside ourselves, something

transcendent, something "other" that can't

be replaced by money, power, or fame.

I was interested in this project as faith is

a topic we don't get to ponder on often in

a life full of distractions. My approach

to faith focuses on community and a shared

set of values that could potentially unite us

in purpose.

Iara: iaramonaco@gmail.com 91
---
26

Into-Form,

by Madeleine Duflot & Koa Pham.

'Into-form' investigates our relationship with furniture and how to enhance it in order

to build a better lifespan for the pieces and thus shape a better, more responsible future.

Into-form is a sculptural design project around the concept of gestalt: the idea of a form

created by individual parts arranged together and to be seen as a whole rather than as

a sum of its components. Five shapes are at the disposal of the user who has the freedom

to join them together depending on their needs and feelings. Once arranged, we are

looking at an ephemeral and functional sculpture, with every new assembly becoming

a new gestalt. The body/ies interacting with Into-form are turning into additional parts

and fully merge into the whole picture, becoming each time part of a new gestalt.

Purely sculptural, purely functional or playing on both aspects at the same time,

Into-form aims to create an emotional bond between the user and the furniture using art

as a tool. The many possibilities and ephemeral aspect of each creation along with

the interactive and participatory nature of the work should prevent apathy towards

the pieces of furniture and raise creativity and emotions instead, enabling a connection

to blossom between subject and object over time and thus a better lifespan for the latter.

Into-form is not a chair, not a sofa, not a daybed, not an armchair… It is none but all at the

same time! Into-form is very modular with endless possible configurations and aims

to enhance and embrace the user's freedom at its best.

Into-form has faith in an emotional bond to exist and to be empowered thanks

to its modularity, its co-designing aspect and its artistic dimension.

Madeleine and Koa started working on the project in May 2017, developed the first

prototype and came up with the name 'Ilco' - 'il' meaning 'he' in French and 'co' meaning

'she' in Vietnamese. In August 2017 Ania joined the team and together they are now

working on developing the project further.

Madeleine and Koa: hello.ilco.design@gmail.com, @ilco_design
---
21st Faith: Tell us about you and your

practice.

Madeleine: We are aiming to merge art

and design together to create sculptural

design pieces, in order to enable

a greater connection to be built between

the furniture and the user. We are using art

as a tool and inviting it to fully take part in

our everyday life.

Koa: I'm Koa Pham, 24 years old. I graduated

BA product design at Central Saint Martins

in 2016.

As a designer with a wide palette, I

have experienced working on different

types of projects, from phone applications,

props and jewellery to art installations and

furniture design. My practice mainly focuses

on solving issues, therefore an object will be

designed to create a new user experience

which will be a solution to a problem.

In addition, I also want to combine art

and design together, to create an emotional

dialogue, which features products that have

distinguish aesthetic and specific functions.

What drew you to take part in 21st Faith?

How is faith important to you and your

practice?

M: Our practice is thus somehow

relying on faith; we are having faith in

a better and stronger relationship between

the subject and the object, which would

increase the lifespan of the latter. We

believe it is an important issue today in

order to reduce waste

and overconsumption.

K: While we were working on Into-Form,

Madeleine realised the furniture piece was

actually relevant to the 21st Faith project.

Faith is very important to me

and my practice. As Rei Kawakubo once

said "without that impetus of creation,

progress is not possible". Faith is

a motivation that pushes me forward, to

design and create my objects. Personally,

I believe that Faith starts with intuition,

then it is getting stronger by time when

our intuition embraces with insights and

knowledge.

93
---
27

Will you act on it?,

by Rebecca Lardeur.

Why don't we act on climate change and why don't we take it seriously? This is a wicked

question I can't get my mind around. The answer is so plural that it is a bit like quantum

science, everytime you look at it, it has changed and the need to adapt, expand

and transform is all that is left.

To start answering the question I chose my mum as my case study. She was raised

in a city, now lives comfortably, enjoys organic food and a periodic walk in the forest.

She does not want the planet to decay, but does not act neither to change the status quo.

She is unaware of the unintended consequences of the materials or resources used in her

everyday routine, which I learned through design studies. She does not think her personal

impact can be of any value. Recycling seems frivolous to her, as a lie told by society to

keep calm. But, was it true? Can small actions really make no difference? Taking recycling

as an example, does the power of the group has really no effect?

To me, waste is only an unrealised potential. For this project I wanted to express my

perception of waste and visualise what collective action can do. The piece asked the

passer-by to glue on it the waste they had in their pockets, and the last day of the show

everyone was invited to paint over the piece to give a new life to the accumulated waste.

21st Faith: Tell us about you and your

practice.

Rebecca: I am a designer interested

in the subjects of social exchanges,

physical action and play. My ongoing work

researches beliefs systems and how

it influences our relationship and actions

towards nature.

I am currently studying

a postgraduate programme in Information

Experience Design.

What drew you to take part in 21st Faith?

How is faith important to you and your

practice?

I started 21st Faith out of a desire to

question this notion of 'Faith' while being

fully aware of the need of the project

to grow organically and with diverse point

of views, united.

Faith, and beliefs, are the basis

of knowledge and what humans hold to be

'true' or 'trustworthy'. It guides so many of

us, can't we now be objective on subjective

matters? This is what we're trying to

do with 21st Faith. Growing together.

What role do you think faith will play in

the 21st century?

I believe it will be as strong as ever. There

is no reason for the human race to suddenly

lose this aspect of feeling in the everyday.

The question to me, is, can we speak about

it or is it taboo? Can we share and can

we grow? To investigate Faith in the 21st

century in order to harness its opportunities

for this new technology-dominated age.

Rebecca: rbk.graphics, @rbkldr 95
---
28

The Hive,

by Chantal Gagnon.

Today we see people addicted to social media and obsessively keep track of celebrities.

The celebrity morphed into the new God that people follow, mimic and learn from.

I have always been interested in people's obsession with the Kardashian's, especially

Kim Kardashian West. Starting from a modest number of followers on MySpace,

Kim Kardashian West has managed to collect an obsessive and loyal mass fan base,

whom have sky rocketed her fame, power, influence and wealth. Her fans will defend

her from haters, fule her success by buying her products, shower her with gifts,

watch all her interviews and read all the articles on her, all in the name to feel closer

to their Goddess, Kim Kardashian West.

21st Faith: Tell us about you and your

practice.

Chantal: My name is Chantal Gagnon.

I am a Canadian creative who studied

graphic design and media at LCC.

What drew you to take part in 21st Faith?

How is faith important to you and your

practice?

What role do you think faith will play in

the 21st century?

I think the media and celebrity will dictate

and manipulate people's faith. The groupie

or fan club will be the new congregation,

and people like Kardashian's, Beyoncé

and Trump will be the new gods.

Rebecca's magnetic personality drew me

in to take part in 21st Faith.

I have always been interested in cult culture

and people with hypnotic personalities.

I find it fascinating how people can put all

their faith into one person and have this

person or the idea of the person dictate

and influence the decisions we make

and the paths we take.

Chantal: gagnonbc.com, gagnonbc@gmail.com 97
---
29

Look What They've Done

To My Song,

by Sam McDermott

& Nik Rawlings.

The concept for this project came to Nik and Sam when they were discussing

the similarities and differences in religious upbringings. They discovered that although

they both came from the Anglican church, they experienced the church differently,

where one was more conservative and the other more liberal. They found in each other

similar feelings attributed to the worship.

The focal point of their involvement with the church was focused on the musical aspects.

They wanted to approach 21st Faith asking whether musicians in the church performed

for their own personal gratification as a performer or to worship the higher power.

While developing the project, Sam and Nik went to interview members of the church

and worship team. Through this process, they discovered that there was a significant

element of personal gratification through being in a position of performance. Whilst the

focal point of the church and music was to lead people to worship God, there was an open

recognition of the members involved in the band that they received stimulation from

performing in front of the congregation and noticing positive responses to their actions.

Following these discoveries, the sonic piece that Sam and Nik created had to reflect

their similarities and differences between their church based performance experiences.

21st Faith: Tell us about you and your

practice.

Sam: I am a born and raised Londoner

who always been interested in music.

When this piece was created, my practice

primarily focused on the curation of artists

performance. I am now more interested

in set design and building.

Nik: I am a sound artist, dj and writer,

having started life singing in a cathedral

in the West Country.

My practice focuses on vocal networks

and mutable sonic bodies.

What drew you to take part in 21st Faith?

How is faith important to you and your

practice?

S: Through Rebecca I took part in this

project. Faith to me now is separated from

religion and is defined by believing that

you can achieve what you want to do.

N: Faith spaces play a looming role

in my creative memory. The opportunity

to explore the power dynamics at play

within those spaces as a musician was

a great chance to explore and exorcise

some ghosts.

What role do you think faith will play in

the 21st century?

S: As religion becomes more and

more diluted, Faith will become less

institutionalised and more personalised.

N: I can only speak personally, but faith

to me means simply not giving up against

unreasonable odds. And I feel like most

millennial artists have to rely heavily

on that kind of faith.

Sam: @666midwife / Nik: ni-ku.net, nik@ni-ku.net, @n_i_kuu

99
---
30

Untitled,

by Abi Moffat.

Faith to me, implies hope or trust in a system or belief.

I place faith, everyday, in the act of painting as a therapeutic process.

I travel through various states of ambiguity on a daily basis and my work captures

an element of this in a physical form.

Through abstract aesthetics, loose shapes, and varied layers, I play with the subconscious

mind of the viewer, to let them interpret their own meaning from the ambiguous imagery.

I explore the juxtaposition between light and dark, the use of rich colour to evoke

an emotive response.

With the possibilities available via the internet alongside digital art, film and so on,

it seems that the act of painting has been given over by many artists in favour of self

indulgent, disposable images.

Faith can inspire a resurgence in a craft. It is important to me to preserve painting's

ongoing place in contemporary culture, through personifying paint

and its material qualities.

Abi: abimoffat.com, abigailkmoffat@gmail.com, @abimoffat
---
21st Faith: Tell us about you and your

practice.

Abi: Abi graduated with a degree in Fine Art

at Leeds College of Art in June 2013,

where she was selected as winner

of the annual ex-student show.

Now based in London, she is

represented by Saatchi Art. Her paintings

sell internationally, and she has completed

a number of public commissions, working

with the likes of TfL and Leeds City Council.

Abi also works as editorial assistant and

assistant copy editor for The Saatchi Gallery

Magazine: Art & Music.

Abi works with acrylic paint

and varnish as her prime materials.

She works with no pre-conceived aesthetic

in mind, subconsciously creating her

paintings by layering through spontaneous

and expressive gestures; enabling

an organic process to her work.

What drew you to take part in 21st Faith?

How is faith important to you and your

practice?

I was drawn to 21st Faith due to my passion

and dedication to develop my practice,

whilst collaborating with other artists

to combine ideas and concepts in a variety

of media. I also look forward to presenting

these ideas as a group within an exhibition

space and to appeal to a varied audience.

Faith as a theme, can take on many

forms. As an abstract painter I aim to

interpret such themes in an ambiguous

way, keeping the subject loose and elusive

for the viewer, but also keeping it in

the forefront of my mind as I apply paint

to the surface. Faith to me, implies hope

and trust in a system or belief and this is

something I experiment with through

the use of colour and the juxtaposition

between light and dark on a surface.

101
---
31

Feiern,

by Nico Limo.

"In this piece I seek out to explore the inter-sectional symbolism between religion

and club culture, two topics who at first sight seem to reject each other. Despite their

differences there are undeniable similarities between the two. The ritual of 3 is constantly

reoccurring, the Father the Son and the Holy Spirit, communion smoke the blood of Christ,

a fag a tipple and a bit of medicine.

I was inspired by going out in Berlin and how people quickly treat it like a spiritual

experience. I've always told people going out in London is more intense than Berlin

and I'm constantly greeted by responses telling me surely that can't be right. As clubs

close early in London people have a shorter time to go out, they chug 5 beers in an hour

and its a competition to see who can get the most fucked up. In Berlin however, clubs

and bars almost never close. People are more about stamina and seeing who can last the

longest. When you're spending this much time in a space, doing a huge amount of drugs,

it definately brings you to a different mind frame both physically and spiritually.

Many people become sober or straight edge because of this."

21st Faith: Tell us about you and your

practice.

Nico: I am a Graphic Designer according

to a couple of pieces of paper the

university has given me but see myself as

an obsessive constant maker. I grew up

wanting to be an "Artist" but thought job

wise Graphic Design would give me more

opportunity. So far it kinda seems like I've

been getting way more recognition as an

image maker (I dislike the term artist) than

a Graphic Designer. I also design clothing!

What drew you to take part in 21st Faith?

How is faith important to you and your

practice?

Rebecca's a friend of a couple of people

I know. They insisted I contact her and I was

already a huge fan of her project before.

I've grown up in Methodist schools all from

the age of 3 - 16, the traditional Christian

faith left an odd impression on me because

my family was never Christian to begin

with! They're Buddhists and growing up

I felt like an outsider. 21st Faith appealed

to me because they explored faith in a way

modern contemporary way which I could

relate/understand. Faith is important to

me and my practice because as an early

graduate I am usually doing a lot of work

for little or no money and because of this

it is important to actually believe in

your work and yourself.

What role do you think faith will play in

the 21st century?

I hope people will recognise organised

religion is extremely toxic especially since

any kind of faith is looking at provoking

thought. Organised religion really doesn't

promote that. I think we can all agree

the world is almost coming to an end

and hopefully people will return to pure

types of faith. Faith not looking to praise

an entity / have idols / gods but rather faith

in the human spirit.

Nico: nicolimo.com, excitementdesigner@gmail.com, @nico.limo 103
---
32

Study of my Calathea

and a Talisman, Milagros,

by Tess Rees.

In response to 21st Faith's themes, I started to look at the process of collecting symbolic

items as sentimental charms collecting items as self affirmation and self affirmation

as an alternative to prescribed religion. Spiritual symbols, charms, milagros daily charms

around the house that form a process of nurturing oneself.

A practice as that looks at what 'self healing' is today in conversation with

the pastel-hued social media 'wellness' we see constantly and asking how we can provide

alternative visuals for self-healing in the present.

An appearance of instability and constant production within the work

is the ongoing process of a woman's need to write a narrative of her own.

I have been especially interested in processes of self healing as an alternative

to religion. Especially for young women turned off by the traditional values that religion

expects you to abide by.

21st Faith: Tell us about you and your

practice.

Tess: I use an appearance of instability

and constant production within my work

alludes to the on going process of

a woman's need to write a narrative of

her own. I take the woman from outside

the manmade conglomeration of symbolic

systems and place her in the forefront.

I create multi dimensional imagery

to interrogate the issues that arise from the

fragmented body and identity of a woman

- A fragmentation that occurs as a result of

the woman often being identified as 'other'

throughout history. I use this uncomfortable

sense of disjunction to my advantage

to create unnerving and corporeal works.

What drew you to take part in 21st Faith?

How is faith important to you and your

practice?

I have recently been conducting my

practice as pseudo-scientific enquiry

that looks at what 'self healing' is today.

Recently my work has been in conversation

with the pastel-hued social media 'wellness'

we see constantly and ask how we can

provide alternative visuals and/or items

for self-healing in the present.

Recently, I have been especially interested

in processes of self healing as an alternative

to religion. Especially for young women

turned off by the traditional values

that religion expects you to abide by.

Placed I have exhibited: Central Saint

Martins, The Barbican, Palais de Tokyo,

Earl's Court Arts Hub, Brainchild Festival.

Tess: tessrees.com, @tess_rees 105
---
Behind the

Scenes,
---
113