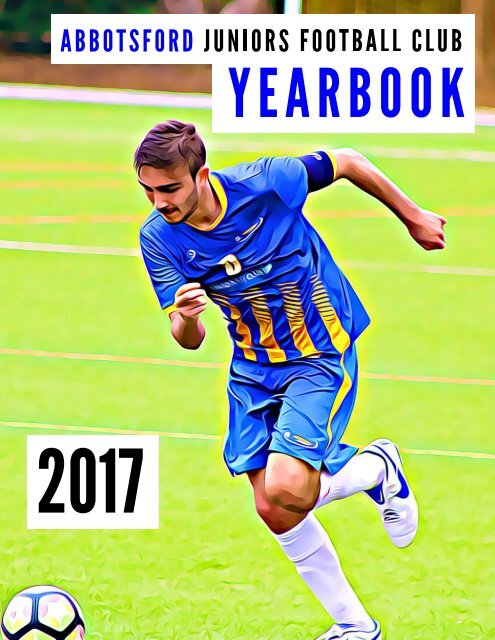 Create successful ePaper yourself
Turn your PDF publications into a flip-book with our unique Google optimized e-Paper software.
2017

Y E A R B O O K

A B B O T S F O R D J U N I O R S F O O T B A L L C L U B
---
02

PRESIDENT'S MESSAGE

06

2017 MAJOR AWARDS

07

2017 CHAMPIONS AND

MINOR PREMIERS

08

SMALL SIDED FOOTBALL

U6s to U11s Boys, Girls and Mixed.

51

YOUTH FOOTBALL

U12s to U17s Boys and Girls.

66

SENIOR MEN'S FOOTBALL

U18s, All Age, BBC Men, O35s and O45s.

81

WOMEN'S FOOTBALL

O30s Women's.

91

PLAYS OF THE YEAR AND

2017 SEASON VIDEO

1
---
P R E S I D E N T ' S M E S S A G E

It was an amazing year for the club, arguably the

Finishing the winter season with both the Minor

greatest in the club's history. We surpassed

Premiership and Championship under their belt

1,000 players for the second consecutive year.

they were invited by CDSFA to represent the

We saw five Abbotsford teams being crowned

Association in the Champion of Champions

2017 Champions of the Canterbury District

tournament, a competition reserved only for the

Soccer Football Association (CDSFA) and five

best of the best. In our Club's 52 year history, we

teams winning the Minor Premiership.

had previously only made the quarter finals.

This together with the fact that we secured a

Our U17/1s must also be congratulated for

record number of semi finalists across all

making it through to the semi finals of the

competitive age groups, meant that we were

tournament. It was truly a watershed year for the

agonisingly close (0.02%) to securing the club's

Club.

first ever CDSFA Club Championship.

Thank you to the City of Canada Bay Council, our

Our FFA Cup team went further in the

sponsors, suppliers, volunteers and thank you to

tournament this year than ever before. They

my fellow executive committee team members

provided us with some magical moments earlier

for another stellar year.

in the season defeating some big teams.

The biggest story of the year was our U18/1s

winning the NSW Champion of Champions

tournament.

Gilbert Lorquet

PRESIDENT

2
---
T H A N K Y O U T O O U R S P O N S O R S

4
---
T H A N K Y O U T O O U R S U P P L I E R S

5
---
2 0 1 7 M A J O R A W A R D S

Volunteer of the Year

John Mangos

Coach of the Year (U8-U17 Boys/Mixed)

Anthony Lo Surdo and Daniel Lo Surdo, U12/3s

Coach of the Year (U8-U17 Girls)

Carmen Scarfone, U10/1B Girls

Coach of the Year (U18+)

Nick Reynolds, U18/1s

Team Manager of the Year

Adrian Canclini, U14/2s and O35/4s

Team of the Year (U8-U17 Boys/Mixed)

U12/3s

Team of the Year (U8-U17 Girls)

U10/1B Girls

Team of the Year (18+)

U18/1s

6
---
2 0 1 7 C H A M P I O N S

A N D M I N O R P R E M I E R S

Under 18, Div 1

Champions, Minor Premiers

and NSW Champion of Champions

Over 45, Div 3A

Champions and Minor Premiers

All Age Sunday, Div 1

Champions and Minor Premiers

Under 17, Div 1

Champions and Minor Premiers

Under 12, Div 3

Champions

Over 35, Div 6/B

Minor Premiers

7
---
had a great season of

We

the basics of

learning

for most of our

football

We did have some

players.

players which

experienced

lead the team. Scott

helped

did a great job

Miller

and keeping the

coaching

of our young

attention

The Possums

players.

well to Scott and

responded

heaps of fun while

had

We were lucky to

learning.

the help of several

have

with set up at

parents

and on our assigned

training

mention to Michelle

Special

and her parents, Vic

Miller

Dominic Martin and

Maniaci,

Wilson who were

Cameron

willing to help. These

always

also assisted with

parents

duties as well. Also

coaching

Maniaci and Jai

Jaxon

big brothers of

Dillon,

and Riley who always

Alanna

out during training

helped

on game day with

and

and refereeing

coaching

needed.

when

PAGE 8 ABBOTSFORD JUNIORS FOOTBALL CLUB YEARBOOK 2017

SMALL SIDED FOOTBALL

U6 POSSUMS

Happy and excited

to practice or play

every session...Great

energy and

enthusiasm

Saturday.
---
and Agility is this tiny

Speed

bombshell's best

blonde

Her ability to

qualities.

the game and

understand

instructions made her

follow

delight to coach.

a

sportsmanship and fair

Great

made her an asset to

attitude

team. From the very first

the

Riley was able to read

game

game and was great at

the

and defending.

attacking

afraid to put her body on

Not

line with slides that

the

goals and many goals

saved

as well. Great first

scored

of football.

year

Riley was not

Unfortunately

to play her last two

able

due to a broken

games

full field kicks were

Jamie's

memorable, nearly

very

each time. He was a

scoring

player, always

valuable

the back field

protecting

then as his confidence

and

he came forward into

grew

positions and was

attacking

to score goals with his

able

kick.

powerful

has improved with

Jamie

game and shows so

every

improvement. He's

much

fast and a great team

super

Very talented and a

player.

to have on the team.

joy

played last year his

Having

showed on the

experienced

A great understanding

field.

the game and great skills

of

make several goals and

to

as well. Oliver truly

defend

smiling Jack was a

Always

of sunshine to have on

ray

team. Happy and excited

the

practice or play every

to

energy and

Great

Jack was

enthusiasm

to score his first goal

thrilled

was a magnificent full

which

goal. Always a great

field

he played fair

sportsman,

always gave her best

Alanna

at training and on

efforts

day. Her attacking

game

were excellent and she

skills

always eager to get

was

in the plays.

involved

had a great

Alanna

of the game

understanding

was delighted to score

and

goals. Well done.

her

Player of the Season - Riley

Dillon

Most Improved player -

Jamie Cosmetatos

Jack Miller

session.

elbow.

and had heaps of fun.

Alanna Maniaci

Oliver Martin

Great kick and chasing skills.

was an asset to the team.

9
---
good understanding of the game and

Very

kick and chase skills. Very fast on the

good

and always part of the attacking side

field

the game. We were very lucky to have

of

dad Cameron assist at some of

Austin's

training sessions, teaching us all drills

our

came in very handy in teaching the

that

and improving skills on the field.

basics

was lots of fun to have on the team.

Oliver

was always trying his best to get the

He

and did very well in stopping many

ball

I think he is a great goal keeper in

goals.

of talent and determination from Zoe.

Lots

real grasp of the game and always front

A

centre to get involved in all plays. It

and

great to see her smiling face after her

was

had lots of fun with his friends on

James

field at training and on game day.

the

is such a character and always the

He

he has some great skills and ability

joker,

smiling and full of energy. Showed

Always

improvement with his kicks getting

much

photos of the week

Austin Wilson

Oliver Gattellari

the making.

Zoe Mihaljek

goals.

James Velcic

to play well.

Benjamin Gan

bigger each time he played.

Rebecca Kennedy, Team Manager

10
---
done to all the U6 Bilbies on a great season

Well

2017! in

origin of the word "travel" is most likely lost to

The

The term "travel" may originate from the

history.

French travailler (which means to work

Old

toil). In English we still occasionally

strenuously,

his book The Best Travelers' Tales (2004), the

in

travel and travail both share an even more

words

was so rewarding to see the team learn new

It

and their confidence improve as the

skills

at training was great to see even on those

week

cold nights!

very

traveling abroad, the odds favor a safe and

When

trip, however, travelers can be

incident-free

with some training sessions and

assisted

wherever possible on game days.

helping

travel may require an internal passport,

internal

international travel typically requires a

while

trip may also be part of a round-trip, which is a

A

type of travel whereby a person moves

particular

E A T U R E S T O R Y

A B B O T S F O R D J U N I O R S F C

F

TAKE ME AWAY

U6 BILBIES

HALLMARK

Y. BEN

It was a pleasure to be part of this mixed team

to Old word According the

French travail. and their efforts throughout the season were

use of

Merriam Webster dictionary, second the to first none.

known

14th century.

the word travel was in the

Throughout the year, the team had lots of fun

interacting and played really well together. The

the word comes from Middle

It also states that

(which means to

English kids' enthusiasm travelen travailen, the on both evident was

week.

every day game on and pitch training from earlier and journey) strive, labor, torment,

No matter what the result was the kids always

words travail and came off happy and eager for the following

travails, the use mean

which

week.

Winchester

Simon to According struggle.

the (in "three

season tripalium progressed. Latin Their means commitment called each

impale). to in as stakes",

A big thank you also to the parents who

violence.

and crime difficulties, to subject

may local, national Travel be regional, all (domestic)

the I kids hope continue to play and grow

with their football .

non-local

countries, some In international. or

Look forward to seeing you all next season!!

passport and visa.

David La Rossa, Team Coach

Rob Di Cosmo, Team Manager

from one location to another and returns.

ancient root: a Roman instrument of torture
---
to the U6 Bandicoots who had a

Congratulations

year - Abbie, Cleo, Leo, Oskar, Magnus,

great

Monique, Riley and Sienna. For many in

Marlon,

team, this was their first time playing football

the

it gave the players an opportunity to learn

and

team sports. The more experienced

about

special thanks to our coach Noel for doing the

A

job of coaching under 6's. And a thank you

tough

the parents for their good humour

to

throughout.

also to those who filled in as coaches

Thanks

referees when we needed it- Lisa, Sally,

and

and Mike. This year was a team effort from

David

players and the parents alike!

the

P A G E 1 2

F O R M A N Y T H I S W A S T H E I R F I R S T T I M E P L A Y I N G

F O O T B A L L A N D I T G A V E T H E P L A Y E R S A N

O P P O R T U N I T Y T O L E A R N A B O U T T E A M S P O R T S

U6 BANDICOOTS

players brought finesse, big kicks and goals!!

Emma Jacob, Team Manager
---
E A C H A N D E V E R Y W E E K T H E Y A T T E N D E D T R A I N I N G F U L L O F

E N E R G Y A N D S M I L E S A N D C O M E G A M E D A Y T H E Y P L A Y E D

UP & UP: A view of the

neighbouring peak from the

other challenging peak.

E V E R Y M I N U T E A S T H O U G H I T W A S T H E I R L A S T

What a privilege it has been to coach such a wonderful

group of children! The U6 Wombats consisting of Charlotte,

U6 WOMBATS

Frankie, Ava, Augustus, Tomas K, Tomas P, Sam, Lincoln,

William, Zac, Mason and Alessia have been so much fun to

train and mentor this season and are a real credit to each of

their respective families.

Each and every week they attended training full of energy

and smiles and come game day they played every minute as

though it was their last. The excitement the team

demonstrated every time they scored a goal was contagious

and only magnified as the weeks went on.

A big thank you to Belinda (Tomas P's Mum) for managing

the team and to Rod (Lincoln's Dad) for helping out when I

could not make it, and a special thank you to all the Mums

and the Dads for raising such well mannered children who

were an absolute pleasure to coach this season. Well done

Wombats, I am extremely proud of you and I have enjoyed

watching you improve throughout the season.

Adam Moore, Team Coach

13
---
U6 ECHIDNAS

What a fun season for the U6 Echidnas. Friendships were formed and football skills

were developed.

Some of us spent considerable time looking at the sky or playing with the bibs, whilst

others displayed incredible ball handling skills. The common denominators were our

enthusiasm, sense of fun, and love of half time oranges.

Kathryn Tucker, Team Manager
---
CA BI TBY OLT ISF FE O\ R\ D A SJ HU TN RI OA RY NS UF TO ZO T B A L L C L U B
---
"IT HAS BEEN AMAZING

TO WATCH THE BOYS

IMPROVE EACH WEEK

AND GO FROM STRENGTH

TO STRENGTH"

U7 TAIPANS

What a great year the Under 7 Taipans had and it

was a pleasure to share it with the boys. We

welcomed a few new boys into the fold from last

year's team and they all started the year full of

excitement.

The boys were enthusiastic at training as well as on

game day, which made it fun for all of us. As the

season went on the boys became more confident

and passionate about their football. It has been

amazing to watch the boys improve each week and

go from strength to strength. The skills they have

shown with great passing, ball work,

sportsmanship and team spirit has been really

pleasing.

Above anything else it was so great to see that

every player tried their best whether that be at

training or on game day. It has been a pleasure to

coach and manage this team through the year

especially watching the fun and enjoyment the

boys have got from being part of this team.

Well Done Boys!!!

Daniel Trad, Team Coach

Tanita Trad, Team Manager

16
---
een another great year

It's

all the young players and

for

a team manager it's been

as

privilege being part of the

a

there have been times

Whilst

chaos trying to manage

of

commitments, it's

multiple

apparent that the

always

culture

community

throughout the

embedded

always sees people

club

up to help.

step

team coaches (Matt

Our

and Steve Makhoul)

Beggs

support throughout the

and

and U7 Red Bellies

session

loved having them on

have

to teach them new

board

young players have

The

throughout the

thrived

and we truly saw

session

step out of their shells

some

year and give it all they

this

Looking forward to

have.

more years of fun,

many

and fancy

friendships

PAGE 17 ABBOTSFORD JUNIORS FOOTBALL CLUB YEARBOOK 2017

U7 RED BELLIES

It's always apparent

that the community

culture embedded

throughout the club

always sees people

step up to help

volunteer spirit.

skills and tricks.

footwork.

have shown true dedication

Natalie Morcos, Team

Manager
---
The term "travel" may originate from the

history.

French word travail. According to the

Old

labor, strive, journey) and earlier from

torment,

French travailler (which means to work

Old

plus an outstanding striker: precise

defense,

from various angles.

shooting

very confident ball controlling

endurance,

in both attacking and defense, plus an

technique

striker: precise shooting from various

outstanding

angles.

the tripalium (in Latin it means "three

called

as in to impale).

stakes",

gained reasonable ball kicking techniques

MAX:

played well in defense as well as a

and

trip, however, travelers can be

incident-free

to difficulties, crime and violence.

subject

demonstrated a great team spirit and

NATASHA:

very well in defense and occasionally a

played

international. In some countries, non-local

or

travel may require an internal passport,

internal

E A T U R E S T O R Y

A B B O T S F O R D J U N I O R S

F

TAKE ME AWAY

U7 GOANNAS

KOSTA:

a top notch player, a high degree of

ALFIE: transformed from a complete pedestrian to

Y. BEN HALLMARK

an occasional runner and a reasonable defender.

EVA: a demonstrated great team spirit, good in

defense and an occasional striker.

to lost likely most is "travel" word the of origin The

ILYA: from an amateur became a great defender

Webster the known of

and good striker plus developed dictionary, a first great use ball

Merriam

word travel was in the 14th passing technique. century.

the

from a walker to a good runner

comes from Middle

It also converted JACK: word the that states

defense. in well acted and to means (which travelen travailen, English

a great player, shows a good degree of

JAMES:

great ball controlling technique in both

endurance,

traveling abroad, the odds favor a safe and

When

goalkeeper.

may be local, regional, national (domestic)

Travel

runner.

good

RYDER: transformed his sometimes ephemeral

strenuously, toil). In English we still occasionally

while international travel typically requires a

movements to well planned tactics in attacking

use the words travail and travails, which mean

passport and visa.

attacking and defense, plus a great striker: accurate

and defense.

shooting from various angles.

struggle. According to Simon Winchester

A trip may also be part of a round-trip, which is a

TOBIAS: learnt to play well in defense and

in his book The Best Travelers' Tales (2004), the

particular type of travel whereby a person moves

JENSON: a top notch player, a high degree of

occasionally a good striker.

ancient root: a Roman instrument of torture

Serguei Kozlov, Team Coach

words travel and travail both share an even more

from one location to another and returns.

endurance, very confident ball

controlling technique in both attacking and
---
Abbotsford Under 7 Pythons are a terrific team

The

of great characters. The boys have enjoyed their

full

has always been great camaraderie amongst

There

team and this has shown in the way they play

the

highlight of the year has been the two games

The

Burwood and Croydon. We wish all the

against

well next year as they make the step up to

boys

8's. Under

thanks to Jane and Mathieu for helping

Special

with training during the year. All the best

out

U7 PYTHONS

training and practice games.

boys!

together on the field.

Andy Vavdinos, Team Coach

Jason Jacobs, Team Manager
---
UP & UP: A view of the

neighbouring peak from the

other challenging peak.

We had a wonderful season with Abbotsford. I was amazed

U7 WALLABIES

on how all the kids developed their skills since the start of

the season. All the kids looked forward to each game and

you could see how eager they where to play every Saturday.

Laz Gianni, Team Manager

20
---
U 8 D I V I S I O N 3

The Under 8's division 3 played well all year

round. It was a pleasure to be a part of the team.

We also visited some great fields and met some

lovely other teams and supporters.

Ashton Edwards deserves "Player of the Year". He

was great in defending, saving goals and was

really powerful. Ashton never missed a game.

Congratulations!

Our "Most Improved Player" Joshua Bala,

improved over the season to become one of our

best forwards. Well done Josh!

Daniel played really well and improved also

throughout the season. Daniel also saved lots of

goals when selected as Goalkeeper. Well done

Daniel.

George and Christian usually took the role of

forwards/strikers. We are very proud of all the

goals scored. Thanks boys. Spencer, Zac and

Patrick had cracker games. Well done boys. Our

team could not be complete without you.

Last but not least, Kyra, who performed really well

in all roles was a great asset to the team. Thank

you Kyra and congratulations.

Natasha Lea, Team Manager

21
---
VAGABOND | 23 September 2019
---
a season. At the start

What

the season we had 10

of

players who

individual

really understand

didn't

or their particular

teamwork

strengths.

positional

the end of the season,

By

team has learnt to play

the

and develop their

together

which saw them

chemistry

the ball and stay in

share

positions most of the

their

was a big change

This

saw them improve

which

the season.

throughout

me, it was all summed

For

in last week's match

up

Marrickville.

against

in the season, this

Earlier

team was doing

Marrickville

we weren't doing and

what

outperformed our

easily

the last few weeks of the

In

we outshone them

season

the start and they were

from

really in the game.

never

spite of our at least 4 shots on goal in the first

In

(all of which only just missed the goal) we

half

our shape and played to our positional

retained

and won 2-0.

strengths

throughout the season we rotated our

Although

in different positions, and a minority of kids

kids

play well in different positions, the kids

could

coaches developed an understanding of

and

was Lloyd who showed

as

to be a capable mid-

himself

along with Joshua and

fielder

Aleks.

important at this age, the

Most

learned the importance of

team

with the back line of

defence

Julian, Lachlan, and

Luca,

saving many goals.

Giorgio,

showed his strength in

Hamish

contribution to coaching.

and

worked well together and I

We

have survived dealing

couldn't

ten 8 years olds alone. A

with

you also to our

thank

wiz Lisa for

organisational

a great Manager

being

the season.

throughout

think everyone in the team had

I

playing and teaching the

fun

FOUNTAIN

YOUTH

OF

H O W S A M A N T H A

A N D R E W S S T A Y S

Y O U N G A T 4 0

U8 DIVISION 10

strikers Eddie and Jean-

Our

were a delight to watch,

Marc

THE TEAM HAS

LEARNT TO

PLAY

goals.

time.

TOGETHER AND

special thanks to my co-

A

Andrew for his support

Coach

DEVELOP

THEIR

CHEMISTRY...

team beating us 5-2.

world game.

Riccardo Tripodi, Team Coach

23

each players preferred positions and strengths.
---
has been an absolute pleasure coaching the

It

Abbotsford U8's development squad.

inaugural

that we were in a very competitive grade with

out

number of close games and a couple of wins

a

team was the smallest of the grade, however

The

were tenacious in their defense and creative

they

attack and they worked together collectively

in

to the whistle.The boys played hard, fair

playing

together and as the coach I couldn't have

and

more proud of their effort.

been

Mark Hodgson for refereeing all our

(manager),

games, the parents for their assistance

home

U8 DIVISION 1

B Y A D R I A N C A L L O W A Y

The season commenced and we quickly found

and some hard fought defeats.

The origin of the word "travel" is most likely lost to

quickly became apparent that maintaining the

history.

It

The term "travel" may originate from the Old

French word travail. According to the Merriam

my

boys' season through would motivation be the

Webster dictionary, the first known use of the word

greatest coach. as The challenge boys

the

travel was in the 14th century. It also states that the

developed

word

as

comes

a

from

squad

Middle

tremendously

English

through

travailen,

the

travelen

year. From week to week their effort was

which means to torment, labor, strive, journey and

earlier from Old improved

continuously they and outstanding French travailler which means to work

season.

the throughout strenuously, toil words travel and travail both share an

even more ancient root: a Roman instrument of word

Although we didn't win many games, the season

Today, travel may or may not be much easier

was an overwhelming and the

certainly success

has

depending

been

upon

laid

the destination

the

you

future.

choose,

This platform season

Mt.

Everest, the Amazon rainforest, how you plan to get

team effort and I would like to thank

has been a

there tour bus, cruise ship, or oxcart, and whether or

Cabarrus

Chris coach), (assistant Cabarrus Josh

not you decide to "rough it see extreme tourism and

adventure travel.

"There's a big difference throughout the season and of course between the simply boys being - a

tourist and well done! Go Abbotsford!

being a true world traveler," notes travel

writer Michael Kasum.

Dennys Vergara, Coach

P A G E 2 2

2 4
---
up to U8's brings with it a lot of change for kids and

Moving

7-a-side, new rules, goalkeepers and playing other

coaches!!!

the first couple of weeks the boys needed time to adapt and

In

that showed in the score lines. Then we got down

unfortunately

business. The boys were fantastic at embracing the changes

to

as they got to know each other and were more comfortable

and

the game the results started to improve and the boys

with

it. enjoyed

the old saying goes it was a season (game) of two halves.

As

the steady hands of Dante, Elliott and Vivaan at the back,

With

midfield (Finn, Henry, Robert, Samuel and Talan) started to

the

its rhythm. And we found strikers and goalies in George

find

U8 DIVISION 5

clubs each week.

T H E B O Y S W E R E F A N T A S T I C A T

E M B R A C I N G T H E C H A N G E S . . .

and RJ!!!.

the end of the season each game was a tight affair –

By

some and losing some. Great effort boys – hope you

winning

come back for more next year!!

David Joyce, Team Coach

2 5
---
U8 DIVISION 1 GIRLS

The Perfect Season. The U8 Girls Div 1 team had an absolutely cracking

2017 with the team completing the season undefeated and untied. This

The Beauty of

was the first time the girls had played together, and right from the

of the season, it was obvious that this team was a very special

beginning

Every week, the girls trained hard and played every game with

one.

passion, enthusiasm and determination.

Barcelona

And their hard work payed off. At

every game, each girl gave it her all. Kate, Lara and Paige were fantastic up

front, scoring almost 50 goals between.

- 0 5 -

Strong in defence were Mireya, Lucie and Fionnuala whose efforts helped

Barcelona is the capital and largest city of Catalonia and Spain's

many teams Lydia keep and

scoreless. opposition All-rounders Jasmine,

second largest city, with a population of over one and half million

people (over five million in the whole province).

Eadie

This

gave 100%

city,

every time they stepped on the field, doing whatever was

located

of them. A big thanks to coach Rhys Adams whose technical skill,

directly on the northeastern Mediterranean coast of Spain, has a rich

asked

history, having been under Roman, then Frank law before declaring its

reach girls the helping in key was approach good-humoured and patience

this made who parents the to also Thanks achievement. wonderful this independence.

such an enjoyable season. Congratulations to all!

Lily Encina, Team Manager

2 6
---
the team lost the first 5 games, all

Although

players in the team showed massive

the

under coach Mark Szczerbicki

improvement

Chas Summerfield. The team started

and

games which boosted their

winning

players were passing to each

confidence,

creating opportunities to kick goals. A

other,

of the players had never played before

few

some of the players had only started

and

last year. They named themselves the

playing

Cats. The Python Cats were definitely

Python

of the hardest teams to beat by the end of

one

U8 DIVISION 2 GIRLS

season. Very proud of the Python Cats'

the

work and commitment.

hard

Kate Romaniuk, Team Manager

3 3 | T R I P M A G . C O M

2 7
---
French word travail. According to the

Old

Webster dictionary, the first known use of

Merriam

and confidence growing each week, for the

skills

as well as the more experienced. Our

beginners

toil). In English we still occasionally

strenuously,

the words travail and travails, which mean

use

down to colour preference. Red and black

came

sky blue. And that's how the training game

OR

the tripalium (in Latin it means "three

called

as in to impale).

stakes",

traveling abroad, the odds favor a safe and

When

trip, however, travelers can be

incident-free

match day, but more about the boys coming

or

Great new friendships were formed.

together.

may be local, regional, national (domestic)

Travel

international. In some countries, non-local

or

of boys, but also a wonderful group of

bunch

that have come together every Saturday.

families

trip may also be part of a round-trip, which is a

A

type of travel whereby a person moves

particular

E A T U R E S T O R Y

A B B O T S F O R D J U N I O R S

F

TAKE ME AWAY

BEN Y. HALLMARK

U9 DIVISION 10

This season will be remembered as a year of

to

The origin of the word "travel" is most learning. Many in the team were playing football

likely lost

first time. By necessity, it was a slow start.

the for the from originate may "travel" term The history.

But it was so gratifying to see the

century.

14th the in was travel word the

also that word from It states the comes Middle

super coaches Ross Di and Milton Ventouris

Cristo

travelen had (which a means master to

plan. English Towards travailen, the end of the season,

the boys were carving opposition teams open with

torment, from earlier and journey) strive, labor,

ease.

work to means (which travailler French Old

"The highlight of the week was less

about training or match day, but

more about the boys coming

together. Great new friendships

were formed."

The highlight of the week was less about training

violence.

and crime difficulties, to subject

Likewise for the dads, such that fortnightly Friday

may require an internal night "Strategic Planning Meetings" were

travel internal passport,

a requires typically travel international while

scheduled... This has not been just a brilliant

There was a healthy division within the team. It

passport and visa.

struggle. According to Simon Winchester

in his book The Best Travelers' Tales (2004), the

teams were determined. "Last goal wins!" meant it

The start of the 2018 season is too far away...

was all even by season's end. We will have the

Patrick Tam, Team Coach

words travel and travail both share an even more

from one location to another and returns.

ancient root: a Roman instrument of torture

Sydney derbies to look forward to in the off season.
---
team had a successful year. How they

The

their success is what made me proud

achieved

a coach. The 'how' was their teamwork,

as

play, sportsmanship and passion for the game.

fair

they achieved as a team was winning or

What

two out of every three games in a very

drawing

division. Each player contributed to

competitive

the team achieved.

what

each scored at least 2 goals. Two players

They

out on their goal tally sheet scoring half of

stood

team goals - Jacob Kelava and Josh Izzard.

the

scored 16 goals (1 poker, 2 hat tricks) and

Jacob

Izzard scored 8 goals (1 hat trick). Other big

Josh

to the goal tally were Samuel Butler

contributors

Kerbage and Matteo Cordaro thrilled us with

Luca

excellent goalkeeping skills.

their

Perkovic excited us with his runs down the

Lucas

and crosses into the goal area, Samuel, Milo

wing

and Marco Lo Russo with their quick

Rasmussen

through the opposition's defense and

runs

Lunn led by example showing the team

Matthew

to confidently protect the ball against some

how

they all learnt how to adapt their play

Overall,

in taking on different field positions,

when

player of the season is Jacob Kelava. Jacob

Our

by example and was trustworthy in defence

led

all of the players improved as the

Although

progressed, Matteo Cordaro was our most

season

player. His tenacity in defense snuffed

improved

many opponents advances towards our goal.

out

big thanks to Belinda Perkovic our team

A

David Lunn for refereeing our home

manager,

and the parents for your support and help

games

week.

each

has been a pleasure coaching this team and I'm

It

of what they achieved. Well done boys!

proud

U9 DIVISION 1

improved their 1 v 1 and passing skills.

and attack. Well done Jacob!

(6), Lucas Perkovic (5) and Luca Kerbage (4).

Well done Matteo!

Ivan Kelava, Team Coach

tall opponents.

AJFC| PAGE 29
---
fun season and this

Another

team finishes a

hard-working

up. Under the guidance

division

our two committed coaches,

of

Lygoyris and Massimo

George

the boys have made

Montefusco,

improvements to their

huge

with respect to their ball

game

team's hard work and

The

cohesion has produced

resulting

impressive displays of

some

with the ball being

football

seamlessly from one

passed

to the other.

player

has brought about many

This

opportunities and

scoring

the boys up for the BIGGER

sets

next year!

field

boys have rotated positions

The

turns in goal, defence,

taking

and attack – giving

mid-field

player an opportunity to

each

speedy William W. in goal; a

A

striker of the ball in

powerful

L., determined Nicholas D.

Max

tenacious Kit C. anchoring

and

defence; our skilful and

our

mid-fielders Roman C.,

creative

L. and Janos F. constantly

Jack

the ball forward to

bringing

scoring opportunities for

create

and our excellent

themselves

– cool-headed Arion,

strikers

Alex O. and a

determined

PAGE 30 ABBOTSFORD JUNIORS FOOTBALL CLUB YEARBOOK 2017

U9 DIVISION 6

resolute Matteo M.

skills and discipline.

Clare Wendt, Team Manager

show their strengths.
---
team was one of the most

This

and enthusiastic group of

energetic

I have ever been associated

players

It was a true pleasure being

with.

coach and a thoroughly

their

season. The group was

enjoyable

in victory and gracious in

humble

defeat.

showed tremendous

They

throughout the

sportsmanship

and truly represented our

season

in a manner which makes both

club

(team manager) and I very

Karina

It was not uncommon for the

proud.

or the opposing team

referee

to compliment our boys

managers

their conduct and behaviour.

on

is nothing more a coach and

There

can hope for then receive

manager

positive feedback.

such

the field, the players showed

On

commitment during both

great

and the games. They

training

as a team supporting one-

played

including at times when

another

in less preferred positions

playing

was especially the case

This

our brave goal keepers

for

Jean-Paul, Leonardo

including

Leo. and

team's defensive line was a

The

to be reckoned with,

force

a difficult challenge for

proving

opposing attack. At

the

it was genuine skill

sometimes

other times sheer

and

and persistence.

determination

this group never gave

Regardless,

and played with gusto in every

up

throughout the season.

game

to Leo, Dennis,

Congratulations

Samuel "The Cannon",

Luke,

attack was led by Max and

Our

with skill, technique and

Joshua

It was a real spectacle

speed.

these boys play off one-

watching

with some of the goals

another

being well beyond their

scored

Both Max and Joshua were

years.

supported with the likes of

well

JP, Dominic, Shay, Leonardo

Leo,

Dennis. Congratulations on a

and

was very difficult to select the

It

improved player of the season

most

some of the players

considering

never previously played

had

the stand out was

Nonetheless

who was an absolute

Dennis

to have on our team.

pleasure

applied himself throughout

Dennis

year transforming from one of

the

junior players into a leader of

our

team. He should be very proud

the

himself as I am of him. A special

of

must go to Samuel 'The

mention

who showed similar

Cannon'

and will continue to

development

a real threat to the opposition

be

U 9 D I V I S I O N 7

"This team was

one of the most

energetic

and enthusiastic

group of

Leon and Shay on a great season.

players..."

football.

top season.

without complaint.

next season.
---
player of the season is Leo.

Our

displayed a positive attitude in

Leo

game and never gave up.

every

supported and encouraged his

He

mates regardless of the score

team

When required Leo was

board.

happy slotting into goals,

equally

and attack doing whatever

defence

took to help the team. A real

it

of the team and is sure to

dynamite

into an even better player

progress

season.

next

would like to thank all of the

I

for their support and offer a

parents

thanks to Michael Barnfield

special

volunteered to ref the home

who

even at times with a broken

games,

Finally, a very special thank

arm.

to our team manager Karina

you

who was extremely

Funke

and personable ensuring

organised

game went smoothly.

every

Sydney FC women's team stood out. Teresa

"They showed

tremendous

sportsmanship

throughout the

David Simon, Team Coach

season"

prowess of Paris, Nicoletta and Stamatia up

forward the girls had a great time learning new

U 9 D I V I S I O N

skills, competing and running around. Wins

came, as did the losses, however the girls always

gave it their best and maintained a sense of fun .

1 B G I R L S

After a limited pre-season due to rain the girls

There were many highlights of the season

however the visit of Teresa Polias, Captain of

were extremely excited when the referee finally

blew his whistle to start the opening game of the

season.

joined us for training - running us through some

drills, motivating us and encouraging us to work

The girls quickly got into the swing of things;

hard and enjoy the game.

enjoying competitive games against Five Dock,

Strathfield, Balmain and their friends in the

A special thanks to our coaches Nick, Michael

Abbotsford A team.

and Tristian for their tireless work during the

course of the season.

With shot stoppers Evie and Sienna H. in goal,

Matthew Stafford, Team Manager

defenders Mackenzie, Lara and Gemma repelling

32

raids, tireless running of midfielders Sienna F,

Ava, Ashley and Maggie and the goal scoring
---
a great year it has

What

We started the

been!

without any

season

due to the

training

wet weather

continual

only seemed to

which

with our

coincide

night training

Tuesday

first few games were

The

a training ground

really

both the team and the

for

The team quickly

coach.

what they

realised

to do; working

needed

in order to close

together

gap in the scores.

the

boys united together

The

the first time this year,

for

from different

coming

They all came

teams.

a broad range of

with

and ability, but not

skills

focus throughout the

The

has been around

season

philosophy of

the

as team" and the

"playing

focus on

continual

the ball" and

"passing

season has been

The

but as a team and

tough,

the boys

individually,

continued to

have

their

develop

together and have

skills

the

Notwithstanding

the team upheld

results,

core values of the

the

and played in the

club

spirit of the game,

true

passion, energy,

with

but above

sportsmanship,

enjoyment.

all,

choosing the

When

of the Season and

Player

Most Improved

the

we thought long

Player,

hard and soon

and

that each and

realised

member of the

every

gave it everything

team

had week in and

they

out and should all

week

equally congratulated

be

the dedication and the

on

"Notwithstanding the results, the team upheld

U9

DIVISION 3

the core values of the club and played in the

true spirit of the game, with passion, energy,

sportsmanship, but above all, enjoyment"

All things are difficult

before they are easy.

much in a way of results.

sessions.

most of all, enjoyment.

33

above and beyond...

all matured.
---
they all displayed. So, the team as a

attitude

should be congratulated on what they

whole

achieved and become by the end of the

have

They all showed commitment, leadership

season.

teamwork, regardless of the results. And

and

importantly, they all became good friends.

more

big thank you to all the parents and friends for

A

support each week, whether it be turning up

their

training on cold nights, cheering from the side

at

bringing the oranges and most of all,

line,

their own child to be the best that

supporting

can be!

they

was a pleasure to coach/manage the team this

It

We hope that the boys stay together and

year.

enjoy their time with Abbotsford for

importantly

years to come.

many

Michael Terry, Team Coach

Sabrina Di Cosmo, Team Manager

will continue to develop their skills and most
---
1A GIRLS

U9

DIVISION

What a great season the girls had. It was a great

Above anything else it was so great to see that

every player tried their best whether that be at

pleasure to share it with them. Throughout the

season an overall great performance was

training or on game day. It has been a pleasure to

coach and manage this team throughout the year

displayed by the girls with some strong

individual performances and some brilliant team

especially watching the fun and enjoyment the

work.

girls got from being part of this team.

Finally, I would like to thank all the parents who

This team came together for the first time with

only half the girls playing with each other

helped out throughout the year at training or on

game day, it was much appreciated.

previously. The support and passion they

showed each and every week was a real

highlight both at training and on game day. It

Well Done Girls!!!

year.

Alan Downey, Team Coach

Daniel Trad, Team Manager

was this determination that made for a successful

As the seasoned progressed our team began to

gel. The girls won the majority of their games,

only recording two narrow losses for the entire

season. The most pleasing thing about the girls'

success was the spirit in which the girls played,

A J F C 2 0 1 7 Y E A R B O O K | 3 5

they showed great sportsmanship throughout

the year.
---
new team, new coach and new division. That was the

A

ahead. As we all met for the first time back in March for

challenge

first training session we knew we had something special.

our

was a new group of talented boys, some had played together

It

past years, some knew each other from school and others that

in

new to the club, ready to take on the new season.

were

the rounds passed we had a year of mixed results, the boys

As

all about the beautiful game, the high and lows, how you

learnt

play well and lose. But the ball is round for both teams.

can

a group they worked hard to improve their skills and had a lot

As

laughs along the way. It was great to see the boys learn and

of

the joys of working in a team environment, and some

experience

started to emerge within the playing group. All the boys

leaders

in confidence both on and off the pitch. Not all results went

grew

way and we played a few games without substitutions and

our

we had to borrow from other teams. I hope to see all

sometimes

U10

DIVISION 3

With limited preseason training the boys gelled from round one.

the boys back on the pitch in years to come.

Sean Mantle, Team Coach

36
---
team with an enthusiastic group of players and

A

equally excellent group of parents is such a

an

from several clubs this newly formed

Coming

is a mix of existing and new friends. Each

team

came with a sense of fun, sportsmanship

player

a genuine interest in learning about the

and

Moving around early in the season to find

game.

player's interest in possible positions

each

them to learn about the importance of

enabled

role, including goalkeeper.

each

Marco Pantalone, Kiara's dad, recognised

Coach

players strengths and allowed them to

the

U10 DIVISION 2B

GIRLS

great way to spend a season.

explore their potential.

37 ABBOTSFORD JUNIORS FOOTBALL CLUB
---
Our most improved player this

Marco's experience and skills

helped the team to 7 wins and 2

year is Kelani Wirihana. Kelani

delivered her first hat-trick in

draws for the season. With so

many of the players' dads turning

week 3, and the support she

offered her team mates is to be

up each week, Marco had an

extensive group of support staff.

commended.

Chris Williamson, Abigail's dad,

stepping up to coach and assist

Zoe unfortunately had some

injuries this year but as soon as

when required. Thank you all.

she was allowed, Zoe's calm and

skillful presence was back on

After each team member had the

opportunity to play in goals,

field to the joy of her team mates.

Not meaning to put Rose and Eve

several players stood out as the

goalies to watch.

in the same sentence, even

though they are cousins, I can

Makayla and Abigail negotiated

not separate their weekly

determination - I sincerely wish I

the role like professionals and we

congratulate you both on your

could bottle these two, just

splendid.

attitude to step up and do what

was needed. So many saves and

dives without complaint - thanks

Our energetic Kiara is mighty and

watching her first career goal was

for being such great team

members.

a highlight, Kiara's ability to see

potential in a set up ensures

Some honorable mentions for

positive outcomes in the teams

performance.

most improved player. Addison.

can I say? Talk about

What

tall and showing up, I

standing

you are very proud of

hope

this year. Nicola, our

yourself

rocket who never gives

pocket

reliable and an all rounder.

up,

not sure if improvement

Sophia,

it! From never playing

covers

to super star performer,

before

for teaching us that

thanks

means more than

attitude

experience.

" A T E A M W I T H A N

E N T H U S I A S T I C G R O U P O F

P L A Y E R S A N D A N E Q U A L L Y

E X C E L L E N T G R O U P O F

P A R E N T S I S S U C H A G R E A T

W A Y T O S P E N D A S E A S O N "

- 38 -
---
Wirihan, U10/2B Girls

Keilani

Most Improved Player

2017

Being restrained on the field is Summer's undeniable

weapon, when you least expect it her boot will kick

goals that are so accurate it's over before you know

what's happened.

as you can see, choosing a player of the season

So

extremely difficult. However, our player of the

was

is Juliet Mostacci. Being our captain this

season

Juliet's consistent respectful attitude and

year,

to remain focused during times of pressure is

ability

her years.

beyond

to all the girls, and parents, on a

Congratulations

2017 season.

great

Emily Mostacci, Team Manager

" I H A V E L O V E D P L A Y I N G

F O O T B A L L F O R A B B O T S F O R D

T H I S Y E A R B E C A U S E I W A S A B L E

M A K E N E W F R I E N D S A S W E L L A S

P L A Y W I T H M A N Y O F M Y O L D

T E A M M A T E S F R O M L A S T Y E A R .

O U R C O A C H H E L P E D M E T O

U N D E R S T A N D P A R T S O F T H E

G A M E A N D M Y S K I L L S I M P R O V E D

W I T H H I S H E L P . "

39
---
almost full participation in the

With

year of AJFC's Development

inaugural

the growth in skill and

Program,

of the game that the boys

understanding

demonstrated throughout the

have

has been clear and very

season

worked very hard in pre-season and

They

the early games building towards the

in

and stylish brand of football

attacking

consistently delivered throughout

they

was often commented on by

This

coaches and spectators.

opposing

culmination of this was beating a

The

team in both games in the year –

Balmain

team that had been previously

a

for over 3 years!!

undefeated

the year the boys have

Throughout

great fighting spirit and

displayed

and several times fought

determination

from being down, to draw or win

back

everything else and most pleasingly

Above

the Coaches, they always demonstrated

to

team values of respect and enjoyment

our

the game.

of

P A G E 3 • A J F C Y E A E B O O K 2 0 1 7

U 1 0 D I V I S I O N 1

games. This bears well for the future.

boys on a terrific season.

Congratulations

Brent Howells, Team Coach

John Encina, Team Assistant Coach

satisfying to watch.

the season.

40
---
has been another outstanding

2017

for the U10/1B Girl Wolverines!

year

one of our mums, Carmen

With

as coach, we have

DiGiandomenico,

UNDEFEATED throughout the

been

(again)! In total we scored

season

80 goals over the season with

about

top scorers being Kitri Irving,

our

Linton, Claudia Lacalandra,

Roan

Christina DiGiandomenico, with

and

our mid-fielders scoring some

even

goals.

have an outstanding defence

We

Alessa Ratuavadiel and

with

Wilkie, solid mid-fielders in

Gabrielle

Le Roux, Kaari Ellen, Eve

Angie

and Mila Coucouvinis

Restuccia

the ball to our attackers. We

passing

have a new player this season

also

Gorman who has found

Rhiannon

place in our team in attack and

her

can't imagine ever being without

we

They have worked as a team

her.

never before and we can't wait

like

see how they improve their skills

to

next year!

for

what a great effort from the girls

And

have taken on all the advice

who

their amazing coach. But not

from

has Carmen been their coach,

only

is their mentor and female role

she

to the game of football as a

model

U10

DIVISION 1B

GIRLS

41

player herself for Abbotsford...
---
est asset, I think as manager to this team, it the

The

dedication and community spirit from all the

commitment,

and every family have helped to do whatever has been

Each

to support Carmen and myself running this team, and

needed

them the team would not have been as solid as it has

without

been.

is my applause for all the parents of the U10/1BG who

Here

made my job easy and shown the girls, by example, that

have

is a community game where friendship and working

football

is is just as important as the game.

together

parents of the girls.

Joanne Ling, Team Manager

42
---
2017 U11 Division 2

The

had the most exciting

team

one we will all

season,

for many years.

remember

started the year as 12

They

who had never

players

together, and

played

to a rainy start to the

thanks

hadn't trained much

year,

either. Their first

together

showed it, going

game

2 -1 to Concord, but

down

that point it all turned

from

around.

defence got tighter

Our

game, all of us

every

how to be patient

learning

not rush in. Our

and

were magical to

attackers

shots from all parts

watch,

the field, set corner plays

of

even an incredible

and

But the best part

header.

to watch them play as

was

talking to each other

team,

setting themselves up

and

Playmakers seemed

goals.

know exactly where to

to

the ball for our

put

to take off, and it

attackers

no coincidence, they

was

do have "chemistry".

really

the 2017 Season,

During

team played 17 games

the

only lost 4 of them!

and

a year and what a

What

team. 2017 was a

great

season for our U11

great

2 team, a year I am

Division

they will all remember

sure

what we hope will be

for

first of many great

the

for our boys and

seasons

girls!

UNDER 11 DIVISION 2B

"Our defence

got tighter

every game, all

of us learning

Robert Lattuca,

Team Coach

how to be

patient and not

rush in..."

43

for even better and better
---
UNDER 11

We could not be more proud

size field next year (passing,

keeping field position, ball

of what they have achieved.

DIVISION 6A

possession and working

together as a team, not as

All boys worked hard at

individuals in a team).

Our team excelled greater than

training and played fair, in the

our exceptions this season!

spirit of the game.

Well done and

The boys played to their best

congratulations boys!

ability and took instructions

Although we won 90% of our

from the coach all season.

Bill Alexiou, Team Coach

matches, our agreed main goal

31 | AJFC Yearbook 2017

at the start of the season was

to prepare ourselves for the full

44
---
us; the parent group supporting the development of their children, beyond just the

UNDER 11

DIVISION

2B GIRLS

Our fourth season together, and the girls are continuing to grow and develop into

competent young players. They are now able to perform skills under pressure with greater

consistency. Their game understanding, including where to hit the ball, who to pass to and

when, where to kick the ball and where to stand both attacking and defensively, has come

on in leaps and bounds.

Added to this, is the clear enjoyment of playing with friends in a competitive environment,

where losing is not a worry. This is seen in our results: W-12, D-2; L-3, for which our girls

show little interest. They are focusing on each game and what they can do better.

Highlights include: team players changing sides for opposing teams, who occasionally

lacked players; making game provisions for teams who have conceded several goals against

technical elements of the game.

45
---
"Their game

understanding,

including where

to hit the ball,

who to pass to

and when,

where to kick

the ball...has

come on in leaps

and bounds..."

46
---
have been fortunate to be able to train with the U11/2B girls on

We

evenings. This has brought a greater level of intensity and

Wednesday

to training sessions, which the girls have been able to transfer

enthusiasm

the weekend matches.

to

always, my thanks to Rob for his outstanding management of our team.

As

Pete, Matt, William and Paul for their assistance at training. To our

To

group for their vocal support of all teams, and who trust my

parent

in the coaching of their daughters, however peculiar it may

judgement

seem! Finally a word to our girls…

– for her determination, to never give up;

Maddie

– for reminding me it's not just about football;

Brooke

H – for having no fear;

Jasmine

– for doing in football, whatever she is asked;

Mia

– for mixing gymnastics and football in goal;

Niamh

S – for her bullet big toe;

Jasmin

– for growing in confidence as the season goes;

Amelia

– for always running and playing to win;

Sarah

– for the longest throw-ins and super shots;

Alexandra

- for laughing at my jokes;

Charlise

– for facing challenges, both big and small;

Emma

– for thanking and hugging her Dad at each and every session.

Evie

Jason Munday, Team Coach

47
---
of the 11/6 Bs had an enjoyable season with plenty of fun and action. This team came

All

from two teams last year. The players trained and bonded well and as a result had a

together

balanced year. The division was pretty well matched , with exceptional Leichardt, that

very

is best forgotten.

game

players continued to improve throughout the season with a strong finish and some tough

The

against Balmain. The team trained hard and particularly loved when Nik the coach

games

make them run two laps to warm up! There were moments of sheer class with fast runs

would

the wing , followed by great crosses and clinical finish into the net. A big thanks to all the

down

for the support and half time oranges. Thanks to coaches Nik and Gary. See you next

parents

team! year

UNDER 11 DIVISION 6B

Michael Donnellan, Team Manager

48
---
was anticipated when several experienced

As

left the team and moved directly to the

players

12's, the new season in Division 1 was

under

going to be challenging.

always

the early season wet weather it was difficult

With

the new team to train or get any effective

for

This led to some heavy early defeats

cohesion.

experienced and talented opposition.

against

the team continued to train, work

Nevertheless

and develop their skills. As a credit to the

hard

the team was re-graded to Division 2

Mid-season

was more appropriate. This allowed the

which

to settle and execute skills and combinations.

team

on playing defensively and one out, the

Instead

was able to develop an effective passing

team

that created more goal scoring

game

With that the results started to go

opportunities.

way. It has been a fantastic

Abbotsford's

as Abbotsford 11/2A girls were able to

turnaround

5 out of their last 6 games.

win

want to thank all the players and parents for

I

this a successful season. While it was

making

going early on, the team persisted and

hard

noticeably over the year.

improved

also want to thank our coach Paul Simeoni for

I

his coaching, motivating and

all

of the girls. His tireless efforts

encouragement

truly appreciated.

are

also want to thank Jason Munday for running

I

the mid-week training sessions that

all

the team's skills and physical fitness.

developed

was very generous with his time and

Jason

his help, the team would never have

without

able to succeed.

been

with one game to go, the team have a record

So

7 wins against 10 losses. All the best for the

of

and hope to see all the players back

summer

year. next

UNDER 11 DIVISION 2A GIRLS

girls, they always displayed great sportsmanship.

Adam Maynard, Team Manager

49
---
" THEY ALWAYS DISPLAYED GREAT SPORTSMANSHIP..."

AJFC

29

50
---
a parent, when you decide to coach or manage a team, we all feel a

As

of huge responsibility to be the trainer, the motivator, the tactician,

sense

organiser. Let's face it, the role is demanding, yet so rewarding when

the

players and parents give us 100% support, so thanks to all of our

both

team welcomed six new boys to our Club and Mark and I couldn't

Our

been more proud of the boys, who all made contributions to this

have

being a success in our eyes with the boys reaching the semi-final

season

losing out on a final spot by 1 goal.

and

you're wondering why the quote above was chosen, I can tell you it's

If

as a lover of Man Utd, I'm a Liverpool fan! It's simply to remind us all

not

when so many talk about the talented and the heroes, it's often the

that

ones who work hard at their game which gets us through the

quiet

must acknowledge Mark Aldridge and Donna Alaveras for their

I

help, passion and commitment to the cause. Our Club is

unrelenting

to have people like you as volunteers and it was my privilege to

blessed

part of our team. Thank you.

be

YOUTH FOOTBALL

UNDER 12 DIVISION 1A

"Hard work

will always

overcome

natural talent

when natural

talent does not

work hard

enough"

- Sir Alex Ferguson

players and parents.

tougher times.

Roger Vertannes, Team Coach

AJFC | PAGE 51
---
was the first time the majority of these

2017

were together as a team. That in

boys

with having no pre-season at all,

combination

move to full field 11 a-side and having a

the

squad of 14, meant it was going to be a

small

year.

tough

these challenges, and being against

Despite

teams that were much stronger than us,

some

team stayed positive and never gave up all

our

Not only did we manage some strong

season.

and the occasional win, we displayed a

results

attitude towards each other and our

fantastic

– living the 'fair play' mantra, doing

opponents

club proud with our sportsmanship.

the

to all the boys for making the season so

Thanks

Thanks to Ian Clark for seamlessly

enjoyable.

the team all year – and to Donna,

managing

and Jerry for helping us while we were

Prath

as well as all the other parents who were

away,

supportive all year.

very

thanks too to our friends from the U/11s

Special

regularly helped us out by playing for us

who

is an extremely skilful football player –

Antonio

his close control dribbling, passing, and

with

(akin to a young Mark Viduka, for those

vision

remember!). This led to him scoring most

that

our goals. But it was also his commitment on

of

pitch to stay positive, getting back always

the

help out the backline and taking goal kicks

to

A great year mate – well done.

too.

ABBOTSFORD JUNIORS FOOTBALL CLUB | YEARBOOK 2017 52

UNDER 12 DIVISION 5

"...We displayed a fantastic

attitude towards each other and

our opponents - living the 'fair

play' mantra, doing the club

proud..."

throughout the year.

Player of the season: Antonio Maiese –
---
Most Improved: Benjamin – after

Tukadra

other sports recently, Ben took up the

playing

game. He had an amazing attitude all

beautiful

– happy to do whatever he was asked,

year

playing keeper or being the first to

defending,

with packing up etc. By the end of

volunteer

year, he has improved across all areas, with

the

timing on tackles and clearances as

better

and always did whatever I asked and

face

and tried his best. He made strong

played

across defence and midfield, with

contributions

of his best games coming towards the

some

team. Jono would always be there to rev

the

team mates up when the coach needed

his

help! In a tough year to be in goals, he did

some

great job and also made some great runs

a

– especially when we could find him

forward

space to dribble. Again stayed very

some

and contributed all year, playing some

positive

and calm football especially when asked

great

skills, speed and energy. Always made a

of

when he was on the pitch and was

difference

the instigator of our attack, but equally

often

to chase back and help in the defence.

ready

Thomas Tommy was consistently

Clark:

and calm at the centre of midfield. Not

effective

working hard to win the battle in the

only

of the park, but was also a key

middle

in attack getting a number of goals

contributor

us this year.

for

Christian Christian was the core of

Hadjidakis:

central defence with his partner in crime

our

In what was a tough year for our

Zac.

Christian showed many times some

defenders,

capability to be a class sweeper, with

natural

timing to cut off speedy attackers

amazing

down on goal with his blistering speed

bearing

clean tackling.

and

Liam Liam mostly playing fullback

Magnifico:

year, did his best to be a wall against the

this

of attackers and wore his heart on his

barrage

all year. Not only does he show great

sleeve

for the play, but his calmness on the ball

vision

he managed to win tackles meant that we

when

position with strong clearances and

retained

passing.

incisive

in his role on the pitch, he

improving

became a leader by focusing more

increasingly

the game and encouraging his team mates

on

the pitch and in team huddles to improve

on

defence and gave 100% anytime he was on

and

pitch. He kept a strong positive attitude

the

the year and would always do

throughout

asked for the team. Made a few

whatever

runs to put us in strong attacking

memorable

positions.

past him, and he would be one of the

someone

effective in clearing the ball from danger.

most

of his best games were when he went

Some

midfield, where he worked relentlessly to

into

Benji mostly played left wing but was

weapons,

to help out wherever asked. Made some

happy

runs towards goal, and whenever given

strong

chance he would unleash a fairly viscous

the

wide midfield roles. Again he built

mostly

through the season playing some

momentum

his best football towards the end. Always

of

hard to win possession and then

fighting

smart to keep it through a good

playing

game.

passing

boys - hope to see you all out on the

Thanks

again next year.

pitch

ABBOTSFORD JUNIORS FOOTBALL CLUB | YEARBOOK 2017 53

keeper.

Ryan Andrews: Ryan always had a smile on his

Zac Playing in central defence, Zac did

Moore:

and better as the year went on. Not only

better

end of the season.

Jonathan Angelakos: The heart and voice of

and work for each other.

Kyle Patterson: Kyle played both in midfield

when playing striker.

Gianluca Arlotta: Another skilful and graceful

Harry Another very strong and

Santhiran:

year from Harry. Rarely would he let

consistent

to help out back in the defence.

Vincenzo Barillaro: Vincent is a pocket rocket,

win and maintain possession.

Benji Shatar: One of our key attacking

left footed shot.

Joshua Tukadra: Josh was very solid playing

Mark Magnifico, Team Coach
---
"The heart and voice

of the team. Jono

would always be

there to rev his team

mates up when the

coach needed some

help!..."
---
3

DIVISION

a ride! The last 3 minutes

What

UNDER 12

of our season were perhaps

the most pulsating and

enthralling minutes we could

ever NOT hope for which put

10 years on all our lives! At the

same time it typified the

fighting spirit and passion of

our boys which earned them

the title of grand final

champions.

Clinging to a 1-0 lead from

early in the first half our goal

was peppered with shots in the

final moments but to the boys

credit they repelled each

attack with a last ditch tackle,

block, deflection or cat like

save from our keeper Nelson.

Indeed in the final minutes

Nelson produced a herculian

effort to rattle off 3 straight

brilliant saves culminating in a

full stretch dive to swipe the

ball away from our goal line

after the ball had trickled half

way over the white stripe. What

a win.

55
---
A B B O T S F O R D J U N I O R S F O O T B A L L C L U B 0 5

"...typified the

fighting spirit and

passion of our boys

which earned them

the title of grand

final champions"

It was a great year from the boys

next best post game recovery

The team and parents would

to come from 4th and win the

aid - Allen's snakes for

also like to thank all those

grand final. They only lost 3

everyone after each game! The

involved at the Abbotsford

games all year and timed their

parents would like to sincerely

Football Club for another great

run perfectly heading into the

thank Anthony and Daniel for

year.

back end of the season,

remaining undefeated in their

devoting their time this year

and doing a wonderful job. The

Chris Alexakis, Team

Manager

last 7 games.

boys had a fun year and

created some great memories

This is testiment to the Lo Surdo

together.

coaching staff who, whilst

unsuccessful in luring a

Special mention goes to Tyler

hyperbaric oxygen chamber to

who was our top scorer for the

the Club, instead opted for the

year with 14 goals.

56
---
A B B O T S F O R D J U N I O R S F O O T B A L L C L U B

U13 DIVISION 3

Our competition was very

We thought we would have a

2017 was a year to

close all season with 7 teams

remember. The boys stepped

go with some higher and

up from 12/4s to 13/3s. We

fighting for a top 4 spot. We

stronger teams to see how

well we could match them.

had a little rough patch mid

knew we had to be ready for

We played a very strong,

a more competitive

season. We let games slip,

undefeated division 1

competition and fight for a

things didn't go our way on

Conells Point Rovers and the

the day, and before we knew

spot in the finals.

it we saw ourselves sitting

game didn't go well.

At the start of pre-season, I

4th, not far ahead of 5th and

had a chat. We talked

we

what we wanted to

about

this year. We made it

achieve

goal for this year to make

our

finals. We began the

the

winning 7 out of 8

season

games.

only loss was to

Our

After playing the

Strathfield.

half of the season, we

first

our first round in

played

State Cup. This is a knock

the

competition between all

out

our normal competition

to

focused on booking our

and

in the finals. After

place

all teams once, we

playing

given the news that

got

of the team Blake

captain

fractured his arm and

Wilson

be on the sidelines for

would

least 8 weeks.

at

meant the rest of the

This

had to step up and

team

fighting to get into the

keep

finals.

"I couldn't be

prouder of the

boys and the

effort they put

in all year.

They never

stopped giving

up"

sat down with the team and

We turned our attention back

6th place.

different teams in NSW.

5 7

A J F C . N E T . A U
---
sat down again at training and we had a good

We

The boys didn't want to give up their spot in

talk.

came down to the final game of the season. We

It

to win to make the finals. A draw or loss

had

not be enough. Our final game of the

would

was against an undefeated Strathfield

season

who were sitting at the top of the table and

team

us 5-0 last time we played. We knew we had

beat

big fight ahead of us, it was do or die. We

a

at Campbell park at 8:00am ready for the

arrived

challenge this season. The team was

biggest

and we knew what we had to do.

focused

started the game well, dominating most of the

We

half. With 5 minutes to go before halftime,

first

received a free kick on the left hand side of the

we

Reuben stepped up and placed it in the top

box.

corner. We were up 1-0. They kept coming at

right

but we had to hold them out until halftime. The

us

whistle blew and we went into the break

halftime

the lead. They came out firing looking for an

with

got a penalty 10 minutes into the second

They

and its 1-1. 10 minutes to go we started to

half

players up searching for a goal. We were on

push

counter attack, Cooper got on the end of a

a

cross. We were up 2-1. 5 minutes to go

perfect

leveled the score, and Campbell park went

they

silent. The boys weren't finished yet, they

totally

up the ball out of the net and kept going,

picked

one was giving up. The last kick of the game,

no

put the ball in the top left corner and put

Reuben

up 3-2. As the boys were celebrating, the

us

blew for full time, game over.

referee

19

"In football you

don't lose, you

learn"

equalizer in the second half.

the finals, so we kept on going.

A J F C | P A G E 5 8

We were through to the finals!
---
had one week to prepare for a

We

Marrickville side. We started

tough

game well leading 2-0. Just

the

halftime, Marickville pull a

before

back and its game on, 2-1.

goal

half they were on the attack

Second

for an equalizer, but our

looking

was strong and we kept

defense

out. 5 Minutes to go,

them

get a goal and its 2-2. We

Marickville

into golden goal but still no

went

so the game was decided on

goals,

We went down 4-1 on

penalties.

and that was the end of

penalties,

couldn't be prouder of the boys and

I

effort they put in all year. They

the

stopped giving up, but in the

never

it just wasn't meant to be, and

end

football. We were lucky to

thats

new players into our team

welcome

season: Christopher, Gianluca,

this

Eduardo and returning

Damien,

It was great to have the rest

Gabriel.

the returning players from last

of

and i hope we can carry on

season

year with this team.

next

you to all the parents for

Thank

me back this year. This is my

having

year with this group and there is

3rd

I enjoy more than waking up

nothing

a Sunday morning watching these

on

do me proud. Thank you to all

boys

players, you have all improved

the

stepped up from last year. This

and

wasn't meant to be but you kept

year

until the end. We will be

fighting

better and stronger next year

back

hopefully get our hands on that

and

In football you don't lose,

trophy.

learn.

you

D a m i a n o F i n o c c h i a r o , T e a m C o a c h

S u s a n S a a b , T e a m M a n a g e r

our season.

59
---
the 2017 season commenced I set towards

As

Park curious to see what the New

Campbell

would bring. While pleasantly surprised

Year

the cartwheels and handstands of

that

subsided it was not long before I

yesteryear

they had been replaced with the

realised

chatter of young teens! Nonetheless,

constant

girls got into it and as the chatter settled the

the

the majority of our team having played

With

for a number of years it definitely

together

on the field in terms of camaraderie,

showed

and support for each other. This year

passion

us two new players to the club, Zara

brought

Natalia who both settled in well and had

and

strong seasons. Natalia ended up as our

very

scorer and was soon feared by

top-goal

for her bustling runs and shots at

opposition

goal.

the season progressed the team got

As

skills improved as did their

stronger,

of the importance of

understanding

passing and team formation.

positioning,

were many great examples throughout

There

year of strong team work that resulted in

the

passages of play as well as goals. Our

excellent

line also improved considerably on

defensive

year with half of our games resulting in

last

clean-sheets.

said I was however perplexed by one of

That

defenders Lily who would alternate from

our

back in one half of the game to right back in

left

other or vice versa depending on which

the

of the pitch she liked on the day. As she

side

a remarkable job I felt it was a question best

did

ABBOTSFORD JUNIORS FOOTBALL CLUB | 2017 YEARBOOK 60

U13 DIVISION 2 GIRLS

football improved.

"With the majority of our team

having played together for a

number of years it definitely

showed on the field in terms of

camaradrie, passion and

support for each other"

left unasked!
---
year the team really stepped up resulting

This

a well-deserved spot in the semi-finals.

in

as the Gods of Football would

Unfortunately

it we lost 1-0 with just over a minute to go

have

golden-goal, even though we were the better

in

on the day. While heartbreaking, I know it

side

led the girls to believe in themselves while

has

their hunger to return next year even

fuelling

big thank you again this year to all the

A

families and friends for their

parents,

support and to the dads that

unwavering

at training and in warm-ups. Also to

helped

our team manager, who weaves her

Paola,

behind the scenes, ensuring that it all

magic

smoothly and that all the team and I need

runs

worry about is getting on the pitch.

to

thank you to all the girls in the team for

Finally,

great season and for their passion and

a

ABBOTSFORD JUNIORS FOOTBALL CLUB | 2017 YEARBOOK 61

"As the season progressed the

team got stronger, skills

improved as did their

understanding of the importance

of positioning, passing and team

formation. ...many great

examples throughout the year of

strong team work"

stronger.

of the beautiful game.

enjoyment

George Markakis, Team Coach
---
got off to a slow start for the 14/1 girls

2017

cancelled training sessions because of

with

the rain. With a few new girls joining the

all

it took a while to gel and form

squad

but there were still lots of

combinations

and fun times along the way.

laughs

whole team managed to improve each

The

and we were competitive in most games

week

many of the other teams in our

despite

being graded. Despite our best

Division

we unfortunately fell one place short

efforts

a semi finals berth.

of

big thank you and lots of and credit must

A

to our wonderful coach Gary Collins for

go

on the responsibility of coaching the

taking

for the 2nd year.

girls

passion and commitment in helping the

His

ensured they improved and developed

girls

skills which saw results drastically

their

as the season went on.

improve

girls need to be commended for their

The

say die attitude, respect for each other

never

the opposition as well as the constant

and

they put in right throughout the season.

effort

this effort and Gary's coaching we

Without

have achieved what we did as a

wouldn't

choosing our Best and Fairest and

When

Improved it is always a hard decision

Most

make. For this we sort input from the

to

and got them to vote on a 3,2,1 basis.

girls

feel to be voted the recipient of these

We

by your peers makes it even more

awards

Best and Fairest and Most

special.

thoroughly deserve the awards

Improved

receive today and we congratulate

they

and all members of the team on a

them

thanks must go to the parents for

Lastly

all the girls each week and

supporting

their daughters to play this

allowing

game at such a great club.

wonderful

it's cheering from the sideline,

Whether

out as a ground official, refereeing,

helping

the sideline, taking videos and

running

to share and helping out at training

photos

is really pleasing to not only have a great

It

of players but also an awesome group

team

parents and families that all get on well

of

support each and every player in the

and

Your assistance and support is really

team.

and I hope you will all be back

appreciated

NEVER SAY DIE ATTITUDE, RESPECT

FOR EACH OTHER AND THE

OPPOSITION

U14 DIVISION 1 GIRLS

successful year.

we know we couldn't do it without you.

Jeremy Lockhart, Team Manager

for season 2018.

team both on and off the field.

62
---
great year for the

Another

15/1 Girls, making it

Under

the Grand Final for the

into

consecutive year.

second

a coach, it is extremely

As

to see such a

satisfying

unit and the

cohesive

improvement

continual

as individuals and as a

both

Every player has put

team.

100% into every game and

everything that was

did

of them.

asked

welcomed a few new

We

this year and it's

players

to see the girls

pleasing

to form close

continue

and respect

friendships

other.

each

seasons are filled

Training

laughter and

with

ending with the

always

challenge even on

crossbar

mention and

Special

go to our team

thanks

Mark Georgiadis

manager

continuous support to

for

the team members and

all

Also, to all the parents

me.

thank you for your

a

and commitment

support

the season, it's

throughout

much appreciated.

very

all on a

Congratulations

season.

terrific

the coldest of nights.

Joseph Marando, Team

Coach

enthusiasm with them

U15 DIVISION 1 GIRLS
---
U 1 5 D I V I S I O N 3

First and foremost my congratulations go to the

At the start of the season I told the boys my rules-

no swearing, no arguing with the referees, no

15/3s team for getting to the semi finals after

finishing the regular season in second place. The

foul play, 100% effort. Not one yellow card all

season says it all.

first semi final was decided in the last 10 seconds

of extra time, the best game of the season and

Congratulations to Captain Alessio as Best and

the most nail biting!

Fairest, well deserved and to Alex as "Ballsiest"

(let's see if that is placed on his trophy!); Most'

I honestly thought the second semi final would

be a re-run but unfortunately Earlwood were the

Improved! Alex showed it's not the dog in the

fight but the fight in the dog.

better team on the day. Abbotsford can hold their

heads high as there was so little difference

Well done to all the players for developing into

between the top three teams.

the team they have become over the season.

A special thank you to Steve as Manager, John

A special thanks to the 3 under 14 players-

Lachlan, Eaden and Calvin, who played up this

for helping with skills development, and the

parents who were there to gather up wayward

season and each proved invaluable.

balls at practice and turning up for games and

Thanks for the opportunity to coach these boys. I

cheering a very fine group of young men.

thoroughly enjoyed myself and look forward to

doing it all again next season.

The attitude at this club towards sportsmanship

and fair play is a credit to the club and the

parents.

Greg Painter, Team Coach

65
---
David Lunn came on board as

S E N I O R M E N ' S F O O T B A L L

U18 DIVISION 1

existing AJFC's U17/1 team of

strong team and a mission to

In the pre-season and first 5 rounds

Marco Mazzu was coach but with

work commitments John Costa

The 18/1's formed from the

We started the season with a

2016. The team included the

win. The team all agreed that

following players: Marco

they would set out with these

became the game day coach.

Cucuzza, Roberto Olles, George

specific objectives:

Although the team won the first 5

Papadopoulos, David Turchi,

games, having 2 coaches created a

Anthony Costa, Dane Lewis,

1. Be undefeated

tug of war. The team mandated

Antoine Youssef, Mark Alberga,

2. Win Minor Premiers

they wanted one coach for both

Daniel Biazzo and Lorenzo

3. Win Premiers

training and game day. Starting the

Mazzu. Coach: Marco Mazzu,

4. Go deep into, with a view to

season with the best intention to

Assistant coach: John Costa

winning the Champion of

motivate the team, believe in each

and Team assistant: Dominic

Champions (CoC).

player, inspiring a will to win and

Alberga.

putting the team first until they no

n the pre-season the team

longer could, both Marco and John

New to the team in 2017 were 6

played 5 trial games, resulting

resigned to make way for a new

recruits from other clubs:

in 4 wins and a draw. The team

coach.

James Reynolds, Michael Lunn,

captain George Papadopoulos

Daniel Costa, Thomas

was selected by his peers and

Pencarinha, Jonathan

Coach Marco Mazzu.

assistant coach in the transition

Monserrate and Gabriel Favaro

Over the season we

period. Nick Reynolds who came

and Team manager: Ninett

acknowledge the contribution

forward and took over the coaching

Alberga.

of our 4 team coaches

role 6 weeks into the competition.

6 6

A J F C . N E T . A U
---
was a big task to get the team refocused, Nick

It

earnt the team's respect and got them

quickly

on track and ultimately steered the team to

back

the league, CoC and was awarded the Team

win

challenges the team worked through

Other

the coach's brother who left the team

included:

the coach after 8 weeks, we lost our key

with

back for 7 weeks to a Euro holiday,

centre

also lost one of major scorers due to knee

We

Additionally 10 of the boys were doing

injury.

HSC. Despite these challenges of the initial

their

weeks the team remained focused enough to

8

every game through this difficult period. Nick

win

was invited into the team at this stage

Reynolds

stability at the coaching level,

restoring,

and purpose to everything that the

discipline

through flexibility, teamwork,

Nevertheless

each other and doing what was

supporting

for the team, and not themselves, they

needed

had a great season.

have

topping the under 18/1 Competition with

After

1 game lost (as a result of a self-confessed

only

by the referee), 0 draws and the

mistake

wins. The team also forfeited the final

remaining

due to already attaining minor premiers and

game

were carrying a range of injuries and wished

they

rest them prior to the semis. They defeated

to

Saints 2-0 in the Semi Final and proved

Leichhardt

dominance in the Grand Final defeating

their

5-1. Conceding first, their never say die

Lakemba

playing as a team the score was 1-1 at

attitude,

time and went on to demolish Lakemba with 4

half

half goals to lift the cup and give them the

second

going into the COC as the undisputed

confidence

this time, despite multiple red cards to the

During

not one red one card and very few

opposition,

19

Coach of the year 2017.

returning after the major semi.

under 18 Canterbury Association Champions.

team needed to focus on.

A J F C | P A G E 6 7

yellow cards were awarded against the team.
---
U18/1's have brought glory to

The

club who awarded U18/1's with

their

of the Year 2017 for the

Team

division. The accolades

seniors

in January 2018 where

continued

City of Canada Bay recognised

the

team at their Australia day

the

with the Sports Citizen of

ceremony

the winter season with the

Finishing

the Minor Premiership and

both

under their belt they

Premierships

invited by CDSFA (Canterbury

were

tournament. To even enter the

CoC

a team must be minor

tournament

in division 1 only. It is a

premiers

reserved only for the

competition

of the best. So after a tough

best

competition the U18's entered

local

the unknown of Champions of

into

Champions.

first game, against Southern

The

FC, was a tough fought but

Districts

quarter final against Bankstown

The

down to golden goal in extra

was

after it was 0-0 at full time.

time

Lunn placed a great free

Michael

into the box and forced the

kick

by the defenders.

error

from Sutherland Shire

Gymea

was an even more epic

Association

for the semi-final. 2 -2 after

contest

time and extra time it went down

full

penalties. After a total of 20

to

it was 10-10, not one was

penalties

by either side such was the

missed

of the penalty takers! Goal

quality

for Abbotsford, James

keeper

made a great save on

Reynolds,

11th penalty. After earlier

Gymea's

to take a penalty James, as

declining

last player to have not taken a

the

had to step up and put the

penalty,

Grand Final was held at the

The

of Football NSW at Valentine

home

Glenwood on 22nd October,

Park,

Glenmore Park was an

2017.

the year 2017 award.

Soccer Football Association)

District

represent the Association in the

to

team through to the Grand Final.

side, physically large, very

imposing

and skilled. 68

strong

comfortable 4-2 win.
---
Abbotsford team commenced the 2017 year

The

no less than 4 15 year olds, 5 16 year olds and

with

6 actual U18 players, being 17 years old. What

only

ceded in size and strength they made up for

they

their winning formula; exquisite skill, close ball

with

changes of direction, great team work but

control,

importantly a will to win that could not be

most

quelled.

needed every bit of determination, tenacity

They

an unwillingness to yield against Glenmore

and

2-1 down at half time the coach, Nick

Park.

challenged the team with a fiery half time

Reynolds,

and concluded with "If you really want this,

speech

need to take it". They took the park with an

you

3-4-3 formation, compared their usual 4-

aggressive

to go after the game. They achieved this

1-3-2,

dominating the second half and with less

outcome,

60 seconds of injury time left the Captain,

than

Papadopoulos, stepped and placed a 30m

George

kick into the top of the goal, his second for the

free

This was typical of George, digging deep and

game.

from the front when his team needed him

leading

extra time the domination continued with

In

Park looking emotionally and

Glenmore

spent. The second youngest and

physically

player in the side, Jonathan, won a

smallest

with his trickery on the ball and change

penalty

direction. Cool as a cucumber Roberto Olles,

of

defender, stepped up and calmly

central

the winner. He admitted after the game

slotted

was very nervous but he delivered the title to

he

Abbotsford.

success of the team started with defence,

The

conceding 12 goals in the local

only

whilst slotting 52 for the season,

competition

James (Goal Keeper), Roberto, Tom and

with

sitting in the defensive spine, the

George

wingbacks, Marco and Dane, the

hardworking

displays of guile and skill in the

wonderful

from Daniel Biazzo, Jonathan, Michael

midfield

Antoine, the frontal attack of Gabe, Mark,

and

and David, and player of the season,

Anthony

of the lot and still 15 years old on the

youngest

grand final day, Daniel Costa.

CoC

ABBOTSFORD JUNIORS FOOTBALL CLUB | 2017 YEARBOOK 69

the most.
---
Park should be

Glenmore

they were a tough

congratulated,

and this was reflected by FNSW

side

report which cited the U18's

match

the pick of all the games in all age

as

from U12 to O35, men and

groups

for CoC grand finals. An

women

of the Nepean District

executive

home of Glenmore Park,

Association,

said after the game "the

graciously

Abbotsford played was a great

way

for the game, well done".

advert

was established in 1968 and in

CoC

years of Club history, prior to this

52

tournament, AJFC had only

year's

Champions of Champions, in

made

not only brought Champions in

2017

U18's the U17's made it to the

the

truly a watershed year

semi-finals,

the Club. Gilbert Lorquet, AJFC

for

thanks to the Abbotsford

Many

Football Club and President

Juniors

Lorquet for hosting a

Gilbert

occasion to celebrate the

memorable

historic achievements. Thank

team's

also to: the coaches and

you

for their input, Dominic

volunteers

who helped at training and

Alberga

hours recording and

spent

the games to YouTube, all

uploading

family and friends that followed

the

supported the team from the

and

Most importantly thank you

sideline.

the players that made us all proud

to

given us a year that we will

and

forget. We wish you all the

never

for the next football season and

best

future life endeavours.

your

Lunn Assistant Coach and

David

Alberga Proud Team Manager

Ninett

Reynolds, coach of the

Nick

team, stated "The Collins

champion

d i c t i o n a r y d e f i n e s ' t e a m s p i r i t ' a s

" c o n c e r n f o r t h e b e n e f i t o f t h e g r o u p

a s a w h o l e , r a t h e r t h a n f o r t h e

i n d i v i d u a l " a n d t h a t , r e a l l y s u m s u p

t h i s t e a m . T h e f i n a l w a s p r o o f o f t h e

s u c c e s s o f t h e i r b e l i e f i n e a c h o t h e r ,

t h e t e a m s p i r i t , w h i c h w a s a l w a y s

p r e s e n t w a s e p i t o m i s e d i n g r a n d f i n a l

w h e n t h e s y n e r g y o f a l l 1 4 p r e s e n t

w o r k e d a s o n e . (David was out with

"

a knee injury).

any age group, to the quarter finals.

President, stated "10 years ago, we

h a d 3 7 6 p l a y e r s . I n 2 0 1 7 , w e h a v e

o v e r 1 , 0 0 0 p l a y e r s a n d a t h r i v i n g

c l u b c u l t u r e . "

He went on "2017 has been the

b i g g e s t y e a r f o r t h e c l u b . W e ' v e h a d

o u r A l l A g e t e a m p a r t i c i p a t e i n t h e

F F A C u p ; t e a m s p a r t i c i p a t i n g i n t h e

S t a t e C u p ; r e c o r d n u m b e r o f f i n a l i s t s

i n t h e C a n t e r b u r y A s s o c i a t i o n

c o m p e t i t i o n s ; a n d b e i n g p i p p e d a t

t h e p o s t f r o m w i n n i n g i t s f i r s t e v e r

C l u b C h a m p i o n s h i p ( b e s t c l u b i n t h e

A s s o c i a t i o n ) . H a v i n g 3 t e a m s

p a r t i c i p a t e i n t h e C o C ( 1 3 s , 1 7 s a n d

1 8 s ) a n d t h e n t h e 1 8 s g o i n g o n t o

w i n i t w a s t r u l y a m a z i n g " . " T h i s i s a

m o n u m e n t a l m o m e n t f o r t h e C l u b . T o

p a r t i c i p a t e w a s a h u g e a c h i e v e m e n t .

T o w i n t h e e n t i r e t o u r n a m e n t i s o u t

o f t h i s w o r l d ! "

70
---
ABBOTSFORD JUNIORS FOOTBALL CLUB | 2017 YEARBOOK 19

THE FINAL WAS PROOF

OF THE SUCCESS

OF THEIR BELIEF IN EACH

OTHER, THE TEAM SPIRIT
---
was the third year in a row that with

This

of the same core team. In 2015 we

much

minor premiers but lost the grand

finished

Last year our season was cut off at the

final.

final stage. This year was the year to go

semi

better than the last two and become

one

strengthened with new blood from the

We

in James Kouts through to the

defence

with a new centre midfield pairing in

midfield

Stoimanovski and Damian Brosque as

Aleks

as a replacement speed demon winger in

well

Lee. Charlie Sullivan stepped up

Michael

the season as our utility who

throughout

out across the pitch in defence,

stood

and even tallying up a few goals as a

midfield

out.

stand

kept our goalscoring machine, Kristian

We

up top, well supported by Eric

Deligio

the ever reliable Anthony Tsapicounis

With

by our central defensive duo

protected

Michaels and James Gullotta and their

Landis

wingbacks in Paul Dilles, Con Ilias and

rock

Konstantinidis, who stepped up into

Adrian

defence for our most crucial of

central

season started off with mixed results,

The

be expected with new players finding

to

feet among the old guard. However

their

a flurry of wins mid-season we found

with

on the cusp of finals territory. Our

ourselves

run consisted of playing the top three

home

who sat above us, a hard task to say

teams

least. The lads lifted at the perfect time

the

9 points from 9 to clinch the minor

taking

for the second time in three

premiership

came up for the third time this season

We

newcomers National Sports in the

against

semi final. A very close match on a

major

Bennett Park with a send-off to

scrappy

teams made for a match that could

both

gone either way however a smooth

have

to none other than Deligio and

penalty

'heart in your mouth' defending

some

our spot in the Grand Final. The

sealed

was set.

stage

was no surprise that we found ourselves

It

against National Sports again. 1st v 2nd

up

take out the Poirrier Trophy at Croydon

to

on a balmy Sunday afternoon. The lads

Park

prepared but nervy and found

were

supported by a spectacular

themselves

THIS YEAR WAS THE YEAR TO GO

ONE BETTER THAN THE LAST TWO

AND BECOME CHAMPIONS

ALL AGE SUNDAY DIVISION 1

champions.

years.

LaRocca and talisman, Darren Sculley.

turnout of fans.

matches for the season and did a stellar job.

72
---
started off the match on the back foot and the speedy

We

Sports strikers were taking their chances running

National

stepped up to make a number of fine saves

Tsapicounis

keep the sheet clean for the first 45. A dusty pitch made

to

difficult conditions for our midfield but against the run

for

play we won a couple of corners in quick succession.

of

the second corner, five minutes before the break,

On

dashed into the box to meet a pinpoint Brosque

Sculley

lads started the second half confidently taking

The

of the match and really should have doubled their

control

but for some unusually poor finishing. We spent the

lead

ten minutes keeping out a flurry of attacking

last

from the opposition but between the rock

opportunities

defence of Konstantinidis, Dilles, Michaels, Ilias and

solid

token Englishman Sullivan, the lads from Abbotsford

our

another clean sheet to take out the double and be

kept

at our defence.

corner and hammered the ball into the back of the net.

crowned CHAMPIONS.

Frank Collucio, Team Coach
---
BBC DIVISION 1

We definitely learned some valuable lessons

from our last season to this current season. The

lads were up for it , the team was in a really

good space and the main objective was to have

fun and enjoy the season. With that in the

players minds we managed to chalk up 10 wins

and qualify for the semi finals. This was a

massive achievement and were disapointed to

to go further. There was never a need to

motivate this squad as the lads would inspire

themselves based on the past season.This

season has given us belief that we can raise the

bar in 2018. Some big signings have already

been made as we look to push for silverware in

this elite competition.

Peter Petrino, Team Coach

7 4 | A J F C • Y E A R B O O K 2 0 1 7
---
team was eager and ready to rise to the

Our

of playing Div 1 football this season and

challenge

well in the off season to welcome six new

recruited

to the roster.

players

we started the season with a 5-0 loss to the

Whilst

side that is Leichhardt Tigers, we

powerhouse

to keep the opposition scoreless in the

managed

half and took a lot out of this opening game

first

continued to improve as our new players jelled

We

the team and results started to come our way

into

combination of injuries, suspensions and players

A

leave towards the back end of the season

on

to take its toll and we dropped a few vital

started

which would cost us in the end, painfully

points

1 point short of making the finals and

ending

in outright 5th position.

finishing

were disappointed in missing out on the finals

We

not competing during the month of August,

and

it was a successful year when you

however

the games won, quality of football played

consider

most importantly how existing friendships

and

and new friendships were formed.

strengthened

" M O S T I M P O R T A N T L Y . . . E X I S T I N G

have a great bunch of blokes who love

We

time together on and off the field.

spending

highlight of the year was beating our fierce arch

A

Belmore in both rounds, somewhat making

rivals

for the loss against them in the grand final last

up

year.

PAGE 76

AJFC 2017 YEARBOOK

OVER 35s

DIVISION 1A

F R I E N D S H I P S S T R E N G T H E N E D A N D

N E W F R I E N D S H I P S W E R E F O R M E D "

with self-belief that we could mix it with the best.

finding ourselves in the top 4 at the half way mark.

Harry Papandony, Team Manager
---
OVER 35s DIVISION 6A

We had a few departures and new acquisitions but the

season looked promising.

We looked good in winning our first game and were very

competitive when beaten by AJFC O35/6B, ultimately

minor premiers, in the second game.

Unfortunately the Association had scheduled a double-

header on the second weekend and by the end of it we

had five serious injuries. We ended up having to expand

our squad to 21. That included four new recruits who

were great acquisitions, meeting our team's requirement

that they be good guys with great team spirit who happen

to enjoy playing football.

Notwithstanding the numbers we continued to be

plagued by injuries which hampered our performances

somewhat and ultimately forced us to forfeit the Sunday of

yet another double-header, this time in school holidays

(my first forfeit in 15 years at AJFC).

Despite that we were otherwise playing well and winning

games. We managed to finish fourth and qualify for the

finals and certainly capable of beating the other three

teams.

We are still troubled by injuries, including to our two

goalkeepers, but have the potential to go all the way and

hopefully meet and beat the AJFC O35/6Bs in the grand

final.

Overall a very good season with continuing great team

spirit and camaraderie.

Darryn Kelly, Team Manager

77
---
(Devo) our rocks in the central back position along

100% in each match and the ground he covers is

OVER 45s

DIVISION 3B

The 45/3B team came together from a number of

They were well assisted with the reliable players

such as Paul Sarantopoulos & Tom Beale. We have

different areas, but gelled well to form a formidable

team. The team is made up of a core group of 7

uncovered a prolific goal poacher in Danny

Burkhard along with Daniel Moore and David Lunn.

players, who have played together over a number

of years. We were reunited with Tom Koksal after 10

They were well supported with our hard working

midfield of Tim, Phil, Patrick, Lorenzo. Fernando,

years in the wilderness and Tom Beale after 2 years

Cush & John.

away from the club. Then with the help of Tom

Beale, we were able to recruit 3 extra players from

his network of friends. Then we welcomed a

The team had seen a big improvement in a number

of players, but none more than Lorenzo Bulfon, who

number of players rejected from other teams to join

our squad. We then completed the team from new

we have nominated as the most improved in the

team. His hard work at training and listening to how

players to the club that were not able to find a team.

we needed him to play saw him really develop

during the year. We had many players who stood up

The team started slowly as we were trying to work

and contributed greatly, but our Best and Fairest

out a playing style and most appropriate playing

positions. Unfortunately the Over 45 competitions

this year was is Tim Smyth. Tim in the 10 years he

has played in our team has never given less than

only had 8 teams and we ran out of games to make

the final series from a slow start. The team was able

remarkable for a 50 year old (there would be All Age

to beat 3 of the 4 teams and draw twice with the

other top 4 team and all in the last 6 weeks of the

players hoping to match his productivity).

competition. The team missed out by 2 points and

were the most informed team when the final series

Even though we didn't make the finals, we had a

very enjoyable season where we formed into a good

commenced.

unit and enjoy being together. This is reflected in

our positive attitude to our team, referees and

A special mention to the best defensive team in the

competition made up primarily of Luke and Steve

opposition teams. The momentum we finished this

season, is our spring board for next year. Thank you

with Sam and Tom K.

guys and already looking forward to next season.

Paul Simeoni, Team Manager 78
---
a disappointing 2016 everyone was looking

After

to a better 2017 season. The question we were

forward

wondering was how easily would the 8 new players

all

into the team.

blend

did not have to wait for long as we started the

We

very well with six wins from six. Then came the

season

game versus Inter who were only two points

crunch

in 2nd spot. With players missing with injury,

behind

holidays and family commitments Inter came home

on

and gave us a 5-1 beating. The first half of the

strong

ended with us in 2nd place, one point behind

season

The second half of the season was similar to the

Inter.

with us winning 6 out of 7 and finishing the season

first

points in front of second.

11

came the 1st v 2nd grand final qualifier and one

Then

the weirdest games most of us have played in. Inter

of

to finish second even though they only won

managed

games in the second half of the season. There is

two

much to say about the game apart from us easily

not

after Inter had three players sent off before

winning

who early on in the season held up the

Marrickville

of the ladder made an incredible late run and

bottom

into 4th. With this momentum they went on to

snuck

Enfield and Inter in the semis to make it into the

beat

the Grand Final we took an early lead but with only

In

played two games in four weeks our fitness was

having

down. Marrickville took advantage of this and

well

well ahead in the second half but could not score.

were

finally scored late to send the game into Golden

They

extra time.

Goal

again had a golden opportunity with a two

They

one versus our keeper but he produced a

on

save to kept us in the match. Only a couple

great

minutes later we went down the left of the field

of

a quick counter attack. This led to a cross

with

a winning header at the far post.

and

OVER 45s

DIVISION 3A

half time.

Grand Final.

A J F C | P A G E 7 9
---
game ended with us winning 2-1. It was great

The

finally win a Grand Final. The core of the team

to

been together for well over 5 years from

has

together in the O35s competition to now

starting

in the O45s competition. Also satisfying to

playing

that we were the first AJFC O45s team to

know

a Grand Final. Hopefully one of many more to

win

for the club.

come

know that all the players in the team had an

I

enjoyable year. Winning only added the

incredibly

piece to what was already a great year.

final

I would like to thank the team on a

Personally

year both on and off the field. With the

great

to the O45 eligibility rules three players

changes

the current team will not be able to play in the

in

competition next year so it was a perfect

O45s

19

"It was great

to finally win

a Grand Final.

The core of

the team has

been together

for well over

5 years..."

way to finish the year for all.

Fab Messia, Team Manager

A J F C | P A G E 8 0
---
2017, the AJFC Womans's 30/1 Team B

In

Wolves) fielded 19 players.

(The

Collins, Nicole Leon, Nicole

Nicole

Nicole Marrone, Juliette

Caryofyllis,

Gina Geronimo, Vanessa Hadley,

Flowers,

Mamas, Anna Mangos, Cheree

Ellisa

Christine McDonald, Mary

Marantz,

Yvonne Shehata, Katie Weir, Sarah

Sattout,

Clare Beech, Veronica Porras, Silje

Barlow,

Kristen Weber.

Reiten,

by Tyron Farmer

Coached

by Juliette Flowers/Kylie Farmer.

Managed

year of 2017 brought some huge

The

to the Wolves, none bigger

challenges

the unexpected promotion to division

then

but we embraced it, we lived it and we

1,

team was made up of the usual

Our

but we welcomed some flair

suspects,

finesse of the new players who

and

our originals. The last four

complimented

has seen a progression of football

years

as the woman try and reach

development

true potential under the careful eye

their

Coach Tyron Farmer.

of

Coach increased the intensity of the

The

sessions, which saw many of the

training

lift to a new level. We enjoyed

players

a strong passing game and after

playing

shaky start to the season and a few

a

inspirational sprays by the Captain,

good

the team lift and start winning

saw

our strong opposition. The

against

spirit was alive in this team and

fighting

layed the foundation of a winning

that

which in turn built an incredible

formula

bond between the woman on and

strong

W O M E N ' S F O O T B A L L

OVER 30 WOMEN DIVISION 1B

The team members were:

off the pitch.

81

smashed it.
---
Our famous Wolf war cry, 'Awwoooooooo' and the

clanging of the champagne glasses could be

heard on Sunday afternoons at the famous

Campbell Park and other not so famous parks. As

Our Players' Player was our Goal-keeper

Juliette Flowers. A terrific keeper who

the year progressed, the results kept coming!

consistently played one of the toughest jobs

8 wins, 1 draw, 9 losses. Missed out Semi-Finals

so calmly and effortlessly. She was a team

favourite who was always there to help others,

by 6 points.

and volunteered her time taking over the Team

Our Captain, Chrissy McDonald did a fantastic job

Manager role in the final rounds of the year.

Thank you Juliette for everything you do for

of leading us each week. Chrissy not only is an

amazing centre midfielder but also is the glue that

the team.

keeps us all together, the Wolves adore her.

A special thanks goes to Team Manager Kylie

Our 'Player of the Season' was superwoman and

Farmer, who, after recovering from a serious

knee injury, had to endure the pain of

centre fullback, Veronica Porras. She was a

watching the whole season from the sidelines,

powerhouse, strong and hungry to win. Originally

a strong attacker, the coach decided Veronica

next to the regular No. 1 supporters Paul

Marantz, Ken/Carmen Gower, John Mangos

would be best suited to play fullback, and with no

fan-fare, no complaint, head down, bum up

and Tony Geronimo.

attitude, she performed consistently at a high

level using her leadership qualities in the back

Also thanks to our Assistant Coach Luciano

Marchese for his Technical advice and skills

line as well as her amazing speed, skill and

determination.

support throughout the year and Cherie

Marantz as relieving Team Manager, your

She was rewarded in the final rounds as the

kindness is never forgotten.

relieving Team Captain and she led the team with

great spirit and humility. Well Done Veronica.

Tyron Farmer, Team Coach

82
---
team went into the 2017 Winter season with the guts and

Our

to continue our winning streak from 2016. We kicked

determination

an early recruitment drive for new team members to take the reigns

off

our injured and pregnant, Janelle and Alison. We were fortunate

from

welcome the new skills, commitment and comradery of Rachelle,

to

and Paola and the return of our favourite coach Papa G after

Sez

the heavy rain in the lead up to round one, training opportunities

With

sparse and our pre-season fitness suffered for it, nonetheless

were

into the first few rounds we built our fitness and confidence

going

pulled out a very convincing 2-0 win against strong competition

and

Earlwood. When you look at the results in the first round,

contenders

won 4 games, drew 3 and lost 3. A mixed result, but we were

we

around mid table half way through the season with plenty of

looking

to secure our place in the finals, and very excited to have

opportunity

as we made our way through the second round we were plagued

But

illness and injuries forcing many of us out of the game and left

with

short or without subs. We were low on midfielders and strikers

playing

season, so a huge thank you goes to Carmen, Liz, Angie, Sandra,

this

Sabrina, Paola and Rachelle who did all the running in midfield

Jules,

when we were short). It was the opportunity to play striker

(especially

gave Bernie (aka 'Burner') her first ever goal and then a second

which

the same match against Hurlstone Park - a massive highlight! The

in

jersey this year was somewhat of a hot potato, but nobody

goalie

that jersey quite like Angie, Jules and Anita, and we couldn't be

wore

grateful for their sportsmanship in this role. Raising awareness

more

the McGrath Foundation became a weekly ritual as was the last

of

decision whether to wear pink or white socks. But perhaps the

minute

impressive manoeuvre of the season was Sharon's somersault

most

another 4 draws in round two, a broken wrist for Liz, Belinda's

With

toe and Maria's 'cankle', it was obvious that we just couldn't

broken

enough wins to advance further in the competition. But it was the

get

of adversity, the unexpected challenge of losing a loved one,

gift

provided us with the lessons we needed to become bigger,

which

resilient and united as a team in this great game.

more

P A G E 8 3 | A J F C Y E A R B O O K

OVER 30 WOMEN DIVISION 1A

surgery.

Nadia back in the team.

and face plant before getting straight back up to play on.

In loving memory of Elvia Magnone 1950 – 2017

Sandra Falzon, Team Manager
---
19
---
19
---
PLAYS OF THE YEAR

A B B O T S F O R D J U N I O R S F O O T B A L L C L U B

2 2
---
A B B O T S F O R D J U N I O R S F O O T B A L L C L U B

2017 SEASON REVIEW VIDEO
---
A B B O T S F O R D J U N I O R S

2 2

F O O T B A L L C L U B