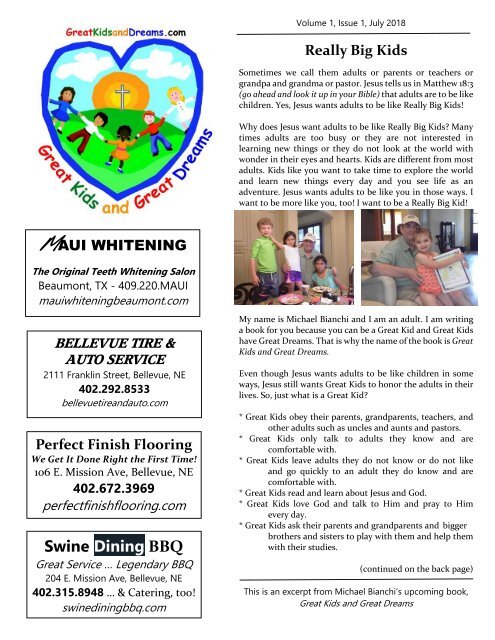 You also want an ePaper? Increase the reach of your titles
YUMPU automatically turns print PDFs into web optimized ePapers that Google loves.
Volume 1, Issue 1, July 2018

Really Big Kids

Sometimes we call them adults or parents or teachers or

grandpa and grandma or pastor. Jesus tells us in Matthew 18:3

(go ahead and look it up in your Bible) that adults are to be like

children. Yes, Jesus wants adults to be like Really Big Kids!

Why does Jesus want adults to be like Really Big Kids? Many

times adults are too busy or they are not interested in

learning new things or they do not look at the world with

wonder in their eyes and hearts. Kids are different from most

adults. Kids like you want to take time to explore the world

and learn new things every day and you see life as an

adventure. Jesus wants adults to be like you in those ways. I

want to be more like you, too! I want to be a Really Big Kid!

AUI WHITENING

Beaumont, TX - 409.220.MAUI

My name is Michael Bianchi and I am an adult. I am writing

a book for you because you can be a Great Kid and Great Kids

have Great Dreams. That is why the name of the book is Great

Kids and Great Dreams.

2111 Franklin Street, Bellevue, NE

402.292.8533

Perfect Finish Flooring

We Get It Done Right the First Time!

106 E. Mission Ave, Bellevue, NE

402.672.3969

Swine Dining BBQ

204 E. Mission Ave, Bellevue, NE

402.315.8948 … & Catering, too!

Even though Jesus wants adults to be like children in some

ways, Jesus still wants Great Kids to honor the adults in their

lives. So, just what is a Great Kid?

* Great Kids obey their parents, grandparents, teachers, and

other adults such as uncles and aunts and pastors.

* Great Kids only talk to adults they know and are

comfortable with.

* Great Kids leave adults they do not know or do not like

and go quickly to an adult they do know and are

comfortable with.

* Great Kids read and learn about Jesus and God.

* Great Kids love God and talk to Him and pray to Him

every day.

* Great Kids ask their parents and grandparents and bigger

brothers and sisters to play with them and help them

with their studies.

(continued on the back page)

This is an excerpt from Michael Bianchi's upcoming book,
---
CITYLIGHT OMAHA CHURCH

4383 Nicholas Street, Omaha, NE

3401 Oak View Drive, Omaha, NE

402.932.8850 or 402.382.1484

Great Kids and Great Dreams

page 2

(continued from the front page)

Ask your parents to help you be a Great Kid by:

To be One of Our Sponsors,

Or provide feedback, send an email to:

wewillbegreat.com

* Talking to you about what happens when you are not

obedient.

* Explaining to you which adults are okay for you to talk to.

* Teaching you what to do when you meet an adult you

do not know or are not comfortable with.

* Helping you with your homework.

* Reading to you and teaching you about Jesus and God.

* Helping you to talk to God and pray to Him.

A GREAT DREAM

We were all gathered around the kitchen table for dinner. There was my daughter and son-in-law and my

grandkiddos, Matthew, Rebecca, and Madeleine. My niece, Julia, and I were there, too. We were laughing and kinda

sorta enjoying the healthy food my daughter had prepared when Rebecca asked her dad, "Why can't we talk to the

new family across the street." Matthew jumped in and said, "Because dad told us not to you silly girl!" "Matthew speak

nicely to your sister." his mom warned him.

Their dad then explained that they had not met the new family yet and they may be very nice people, but first they

needed to meet them and get to know them some. That's when I added, "Rebecca, we love all of you children very

much and we do not want anything bad to happen to you. It is best if your parents get to know them first and then, if

everything is okay, you can get to know them, too."

Later, Madeleine and I were sitting in the living room together reading a book about God and she asked me, "Grandpa

Mike, why are some people mean?" "That is a good question Madeleine and I do not know all the answers," I replied.

"Some people do not know God like you and I do. Maybe they came from families that were not loving families and had

a lot of problems. You know the devil is very sneaky and he can cause a lot of problems for people; especially those who

do not believe in God. We need to pray for those people and show them how God wants us to live. I do know that God

loves them just like He loves you and I."

Then she asked, "If God loves them, why can't He make them nice?" "You know God does want everybody to be nice, but

it has to be their decision. Madeleine, it is like going to bed at night. If you go to bed when you are ready then you feel

good about it don't you? But, if your parents or grandparents make you go to bed when you want to stay up at night,

then you fight them don't you?" "Yes Grandpa Mike." "Your parents know it is best for you to go to bed when they ask

you to, even if you don't understand. Mean people are just like that. The decision to be nice people has to be their

decision and not forced on them by God or someone else, because they need to understand that it is better to be nice

than it is to be mean. So, we need to pray for them to understand that being nice is better than being mean." "Okay,

grandpa Mike." Madeleine says and then she runs off to ask her mom if she can stay up later.

(Remember that this was a Great Dream and didn't really happen, but it could happen with Great Kids like you!)

REALLY BIG KIDS PRAYER

"Father in Heaven thank You for our blessings. Help us to be Great Kids with Great Dreams. Help us to be obedient to

our parents and help us to be nice to each other. Father God we pray for mean people that you will help them to

understand that being nice is better than being mean. We love You and thank You for loving us and answering our

prayers. In Jesus Holy Name, AMEN!"