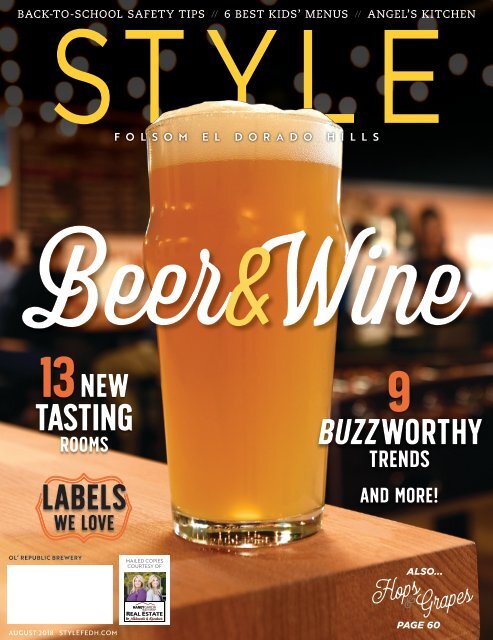 Folsom El Dorado Hills_0818_Style Magazine
Whether you have an affinity for ales or you go gaga for grapes, let this issue be a cheerful reminder of how amazing our area is for all the above. Starting on page 47, contributor Luna Anona presents "Your Guide to the Region's Best Beer and Wine," featuring a roundup of new (and soon-to-open) tasting rooms along with some of the original places that first put us on the map, trends to take note of, labels we love, fun facts you probably don't know, and much more. Alcohol aside, this month also marks the start of back to school. To that end, we have 10 safety tips for keeping kiddos safe, a special addition to our Swag section highlighting must-have products to survive the school year in style (page 44), And for those extra busy evenings you're too tuckered out to cook a family-friendly meal Flip to page 70 for our favorite kids' menus.
Whether you have an affinity for ales or you go gaga for grapes, let this issue be a cheerful reminder of how amazing our area is for all the above. Starting on page 47, contributor Luna Anona presents "Your Guide to the Region's Best Beer and Wine," featuring a roundup of new (and soon-to-open) tasting rooms along with some of the original places that first put us on the map, trends to take note of, labels we love, fun facts you probably don't know, and much more.
Alcohol aside, this month also marks the start of back to school. To that end, we have 10 safety tips for keeping kiddos safe, a special addition to our Swag section highlighting must-have products to survive the school year in style (page 44), And for those extra busy evenings you're too tuckered out to cook a family-friendly meal Flip to page 70 for our favorite kids' menus.
SHOW MORE
SHOW LESS
You also want an ePaper? Increase the reach of your titles
YUMPU automatically turns print PDFs into web optimized ePapers that Google loves.
BACK-TO-SCHOOL SAFETY TIPS // 6 BEST KIDS' MENUS // ANGEL'S KITCHEN

F O L S O M E L D O R A D O H I L L S

&

13 NEW

TASTING

ROOMS

LABELS

WE LOVE

9

BUZZWORTHY

TRENDS

AND MORE!

OL' REPUBLIC BREWERY

AUGUST 2018 STYLEFEDH.COM

MAILED COPIES

COURTESY OF

ALSO...

Hops Grapes

&

PAGE 60
---
contents

AUGUST 2018

6 Editor's Note

11 Ask the Experts

12 Online

14 What's Up

18 Local Matters

22 Calendar

26 Outtakes

42 Swag

78 Word Play

80 Introducing

82 Last Look

F O L S O M E L D O R A D O H I L L S

departments

16

34

36

38

40

GET TO KNOW

Shadrack Biwott

THE ARTS

Marco Ippaso

HEALTH & WELLNESS

16 Holistic Beauty Tips

CAUSE & EFFECT

Invest LOV

HOME DESIGN

Sofa Styles for

Every Space

eat & drink

64

DINING SPOTLIGHT

Angel's Kitchen

66 NEIGHBORING

NOSHES

// Tang's Sushi

// Thai Rice

68

70

73

FOODIE FIND

Folsom State Slickers

THE HOT LIST

6 Best Kids' Menus

RESTAURANT GUIDE

76 TASTE

Seasonal Recipe and

Beer Pairing

SIP ON THIS

Wine Steals

64

feature

YOUR GUIDE

TO THE

REGION'S

BEST

BEER AND

WINE

47

40

SPECIAL ADVERTISING

SECTION

Hops Grapes

60

&

4 stylefedh.com // AUGUST 2018 // /stylefedh /stylemediagroup /stylemediagroup /stylemagfedh

Cover photo: Ol' Republic Brewery, photo by DANTE FONTANA
---
Schedule

8:00 a.m.

Run Start

(7:30 a.m. registration)

9:00 a.m. to 10:30 a.m.

Health & Wellness Expo

Run Refreshments by Nugget Market

SATURDAY,

SEPTEMBER 8, 2018

El Dorado Hills Town Center

4364 Town Center Blvd.

Steven Young Amphitheater

Grab your girlfriends and join us

for fun and fitness including a

5K run/walk, health screenings

and health demonstrations by

Marshall Medical Center experts

Cost $20

Includes fun run/walk, shirt and Health Expo

Proceeds benefit the Marshall Foundation for

Community Health's Obesity Prevention Fund

Packet Pick Up: Friday, September 7,

from 3-6 pm at Gold Country Run & Sport,

4370 Town Center Blvd., Ste. 150, El Dorado Hills

HEALTH

DEMONSTRATIONS

9:00 a.m.

Participate in

Health Demonstrations

• Yoga

• Core Strength

• Stretching

• Foam Rollers

• Relaxation Techniques

Health

Screenings

• Pulmonary Function

• Body Fat & Weight

Measurement

• Blood Glucose Screening

• Blood Pressure Screening

• Mobility/Flexibility Test

• Core Strength Test

• Chair Massage

by Massage Envy

• Zumba Demo by

El Dorado Hills Sports Club

Register online at

WWW.MARSHALLWOMENSHEALTH.COM
---
editor's note

Two years ago, I purchased a 32-page, locally printed "brewery passport"

and it hasn't left my purse since. Started by Sacramento Beer Frontier, it

allows holders to collect custom stamps at each of our region's 65 (and

counting) breweries, in addition to fun swag like a pint glass, bottle

opener, and—when your journey's complete—a tailor-made map of your

sip excursion.

As a (selfproclaimed)

craft beer buff,

it's not only forced my husband and me

to explore more breweries and styles of

suds being crafted here but taken us to

towns we'd typically zoom right past.

When weekends allow, we'll tie in a

tasting with another fun activity—from

a hike in Auburn followed by stamps

at Crooked Lane, Moonraker, and Knee

Deep; to kayaking on Lake Natoma

with post-paddle pints at Fort Rock and

Claimstake. And though we're getting

close to completing our adventure, it

seems like new establishments are

opening every weekend.

Whether you, like me, have an affinity

for ales or you go gaga for grapes, let this

issue be a cheerful reminder of how

amazing our area is for all the above.

Starting on page 47, contributor Luna Anona presents "Your Guide to the Region's Best Beer and

Wine," featuring a roundup of new (and soon-to-open) tasting rooms along with some of the

original places that first put us on the map, trends to take note of, labels we love, fun facts you

probably don't know, and much more. It's proof that you don't need to go to Napa for a weekend

of wine tasting or down to San Diego to sample award-winning IPAs. Everything you're thirsty for,

minus the stuffy surrounds, is just a hop, skip, and a jump away.

"Beer, if drunk

in moderation,

softens the

temper, cheers

the spirit, and

promotes

health."

—Thomas

Jefferson

Alcohol aside, this month also marks the start of back to

school. To that end, we have 10 safety tips for keeping kiddos safe

(page 20), courtesy of Amitis Pourarian, owner of THE STUDIO

Martial Arts and Fitness, and a special addition to our Swag

section highlighting must-have products to survive the school

year in style (page 44). And for those extra busy evenings you're

too tuckered out to cook a family-friendly meal? Fret not. Flip to

page 70 for our favorite kids' menus, featuring dishes so delectable

you might be asking your server if adults can order it too.

As always, we packed many more buzzworthy articles in

the pages that follow, so pour yourself something to sip on and

remember to read responsibly. Cheers!

— Megan // megan@stylemg.com

Editor photo by Christopher Lim.

6 stylefedh.com // AUGUST 2018 // /stylefedh /stylemediagroup /stylemediagroup /stylemagfedh
---
F O L S O M E L D O R A D O H I L L S

AUGUST 2018

PUBLISHERS

Terence P. Carroll, Wendy L. Sipple

ASSOCIATE PUBLISHER

Debra Linn, 916-988-9888 x114

EDITOR IN CHIEF

Megan Wiskus

DEPUTY EDITOR

Tara Mendanha

EDITORIAL INTERNS

Annie Biederman, Ashleigh Gruenwald, Claire Haupt,

Alyssa Mielke

CONTRIBUTING WRITERS

Luna Anona, Heather L. Becker, Gail Beckman, Amber Foster,

Linda Holderness, Kourtney Jason, Kerrie L. Kelly,

Lesley Miller, Emily Peter, Lorn Randall, Greg Salva

SOCIAL MEDIA INTERN

Andrea Holden

ART DIRECTOR

Gary Zsigo

GRAPHIC DESIGNERS

Ray Burgess, George Kenton

GRAPHIC DESIGN INTERN

Karsen Kehlet

STAFF PHOTOGRAPHER

Dante Fontana

ocial_Rescue_Style-0418-Ad.indd 1

3/18/18 10:12 AM

CONTRIBUTING PHOTOGRAPHERS

Justin Buettner, 916.220.0159,

justinbuettner@hotmail.com, Tom Paniagua

WEBMASTER

Ken White, Ixystems

ADVERTISING SALES REPRESENTATIVES

Andre Abdo, 916.988.9888 x116

Jami Areia, 916.988.9888 x112

Bettie Grijalva, 916.223.3364

Reg Holliday, 916.337.5107

Joanne Kilmartin, 916.607.9360

Debbie Newell-Juhos/Newell & Associates, 916.365.3537

Lisa Warner/Warner Enterprises, 530.306.2011

SALES AND MARKETING ASSISTANT

Sabrina Gonzalez, 916.988.9888 x116

SOCIAL MEDIA MAVEN

Aimee Carroll

ACCOUNTING MANAGER

Kathleen Hurt

OFFICE ADMINISTRATOR

Cathy Carmichael

CUSTOMER SERVICE ASSOCIATE

Jarrod Carroll

Printed on recycled paper.

Please recycle this magazine.

120 BLUE RAVINE ROAD, SUITE 5

FOLSOM, CA 95630

TEL 916.988.9888 • FAX 916.596.2100

© 2018 by Style Media Group. All rights reserved. Style - Folsom El Dorado

Hills is a registered trademark of Style Media Group. Material in this magazine

may not be reproduced in any form without written consent from the

publishers. Any and all submissions to Style - Folsom El Dorado Hills become

the property of Style Media Group and may be used in any media. We reserve

the right to edit.

Subscriptions to Style - Folsom El Dorado Hills are available. Contact info@

stylemg.com for more information.

8 stylefedh.com // AUGUST 2018
---
What's the last

interesting book

you read?

"Does the Noise in My Head Bother

You?: A Rock 'n' Roll Memoir

by Steven Tyler. I've always

been fascinated with the

emotional ups and downs of

rock stars and entertainment

professionals and love hearing

it from the source—raw and

unfiltered."

—Gary Zsigo

"Oathbringer by Brandon Sanderson.

Sanderson, in my humble opinion,

is one of the best fantasy novel

writers since Tolkien, and I

would highly recommend his

books to anyone looking for

fantastical worlds crafted to

perfection and brought to life

with dynamic and interesting

characters."—Raymond Burgess

"Killers of the Flower Moon: The

Osage Murders and the Birth

of the FBI by David Grann. It

reads like a novel but is the

true story of a not-so-shining

moment of America's past

that most people don't know

about."—Debra Linn

"Miss Peregrine's Home for

Peculiar Children. The author

of the series, Ransom Riggs,

goes to flea markets, collects

old photographs of random

people, and then makes

a story out of them. How

creative is that?!"

—Annie Biederman

"I just read Put Your Game

Together: Ethical Management

in Youth Sports and Business

by my close friend Donnie

Howell. It's a great read for

parents of children playing

sports about how ethical

practices in business and life

correlate to youth sports."

—Lorn Randall

F A T 'S

ASIA BISTRO

2585 Iron Point Road, Folsom

916-983-1133

_ _

GENERAL DERMATOLOGY

LASER TREATMENTS

Rosacea | Tattoos | Wrinkles

Brown Spots | Hair Removal

Clear and Brilliant ®

COOLSCULPTING ®

COSMETIC DERMATOLOGY

Botox ® | Fillers | Kybella ®

Ultherapy ® Skin Tightening

AESTHETICIAN SERVICES

Facials | Peels | Waxing

DermaSweep

SKIN CARE BOUTIQUE

Modern Asian Cuisine.

Timeless Tradition.

1500 Eureka Road, Roseville

916-787-3287

www.fatsbistro.com

VOTED #1 DERMATOLOGIST

"A friend loaned me The

Hideaway by Lauren K.

Denton, which is about a

granddaughter who inherits

her grandmother's old B&B

in Sweet Water, Alabama. I'd

definitely recommend it!"

—Cathy Carmichael

AUGUST 2018 // stylefedh.com 9

SCOTT B. HEARTH, M.D.

2009-2017

BOARD CERTIFIED IN DERMATOLOGY

UC SAN FRANCISCO FELLOWSHIP TRAINED IN COSMETIC DERMATOLOGY & LASER SURGERY

916.773.3376 • 1535 EUREKA ROAD, ROSEVILLE CA 95661 • GRANITEBAYDERMATOLOGY.COM
---
GREAT SHOWS. UP CLOSE!

CLINT BLACK

SAT-SUN AUG 18-19

KAHULANUI

HAWAII'S KINGS OF SWING

FRI AUG 24

KEYBOARD CONVERSATIONS ®

WITH JEFFREY SIEGEL

COMMEMORATING

RACHMANINOFF

AND DEBUSSY

SAT AUG 25

IN THE MOOD

A 1940S MUSICAL REVUE

FEATURING THE STRING OF PEARLS BIG BAND

ORCHESTRA AND FOLSOM LAKE SYMPHONY

THU-MON AUG 30-SEP 3

GREATEST LOVE OF ALL:

THE WHITNEY

HOUSTON SHOW

TUE-WED SEP 4-5

THE CHINESE

WARRIORS OF PEKING

SAT-SUN SEP 22-23

2018-19

SEASON

NOW ON SALE

A NIGHT WITH

JANIS JOPLIN

FRI-SUN OCT 12-14

FINDING NEVERLAND

FRI-SUN OCT 26-28

JERSEY BOYS

TUE-SAT JAN 22-26

KINKY BOOTS

FRI-SUN FEB 15-17

EVITA

THU-SAT FEB 21-23

SPAMALOT

THU-SUN MAR 21-24

SOMETHING ROTTEN!

THU-SAT APR 18-20

AND MANY MORE!

VISIT HARRISCENTER.NET

916-608-6888

HarrisCenter.net
---
ask the experts

What are some secrets to baking

moist cupcakes?

One factor that contributes to a cupcake's dryness is how much the

batter is mixed. If you mix it too long, the consistency changes and

will cause the finished product to become dry and dense. When

mixing the dry and wet ingredients, you want to mix the batter

until all the ingredients are just incorporated and no further, even

though it can be tempting. Also, a lot of people think cupcakes need

to be refrigerated, but that's a myth, as it'll cause the cake to dry

out and become dense.

Sammy Schnetz, Marketing Director // Icing on the Cupcake // 2379 Iron Point

Road, Suite 110, Folsom // 916-303-4333, icingonthecupcake.com

How often should you get

microdermabrasion?

Microdermabrasion can be beneficial every one to six months,

depending on your skin's needs, but most patients would benefit

from two to four treatments a year. Those with acne, oily skin, scars,

Top photo ©wealthy_b - stock.adobe.com. Bottom photo ©BillionPhotos.com - stock.adobe.com.

or dull, thickened surface layers of skin would benefit from more

frequent (monthly) microdermabrasion. Medical aestheticians—

those who work with a doctor practicing in one of the aesthetics

categories—can also add a peel to the process to improve the

impact. The combination of microdermabrasion and a gentle

peel allows a much greater change in skin and more effective

penetration of topical products. Lastly, microdermabrasion should

be combined with daily exfoliation at home.

Celia Remy, MDPC // Vitality Medical Laser and Skin Clinic //

740 Oak Ave Parkway, Suite 100, Folsom // 916-508-8640,

vitalitymedicallaserandskin.com

AUGUST 2018 // stylefedh.com 11
---
ADVERTISEMENT

NEW TO

THE COMMUNITY

online

stylefedh.com

Find More On the

Web This Month

SNACK ATTACK

10kidslater

Amy Sellers

916-847-9972

www.10kidslater.com

Amy is the mother of 10 happy, healthy grown children who

challenged her to learn many principles of natural health. She

now loves to help clients find natural solutions for their health

challenges. She'll meet with you personally and help you develop

a plan for tackling your concerns. Amy uses only the very best

products from around the world, but will show you how to

purchase them at deep discounts. You deserve the best and you

can afford it. Call today for your personal consultation.

Take your little one's lunch to

the next level this year with "7

Back-to-School Snacks" we love.

Each kid-tested, grab-andgo

offering is nutritious,

delicious,

and

ADVERTISEMENT

NEW TO

THE COMMUNITY

FlexEffect Facialbuilding

Audrea Crowley ~ Certified FlexEffect ® Master Instructor

Folsom, CA • 916-987-4705

FlexEffect.com/Audrea-Crowley

"To regain a youthful look there is no need for injections, fillers,

microneedling or surgery. FlexEffect is a noninvasive program

that can be started at any age with results beginning to show

in just two weeks! It works by your own body's ability to heal

and respond to facial resistance exercises and other training

techniques unique to FlexEffect. Through increased muscle tone,

bone density, elastin and cellular turnover you will lift your face

and neck, decrease pore size, improve skin health and regain

your natural, youthful appearance at a fraction of the cost of

injections or surgery." - Audrea Crowley

to read all about it.

available at area

We're pretty social.

Connect with us!

12 stylefedh.com // AUGUST 2018

retailers. Click now

Picture Perfect Attention

budding photographers! Send us a photo of anything that represents

"Where We Live"—a local park, body of water, sunrise

or sunset, brewery, local dish you

love, etc.—and tell us why, in 20

words or less, this photo says it all.

Our favorite pics will appear in an

upcoming issue; each month's

featured photographer will also

win a gift card to a local business.

Send your submissions to info@

stylemg.com. Ready, set, SNAP!

/stylefedh

/stylemediagroup

/stylemediagroup

/stylemagfedh

Picture Perfect photo by Jim Cunningham. Other photos courtesy of their respective companies or organizations.
---
CHEERS TO BEERS

Though the Sacramento region has a bevy

of craft breweries, in honor of International

Beer Day on August 5, we decided to find

sip-worthy suds from other cities. Head to

the web to read about "5 Buzzworthy Brews

from Around the World"—including a

single fermented Belgian golden ale from

Duvel in Puurs, Belgium, and an arctic pale

ale from Einstök Beer in Akureyri, Iceland.

Weidel on Wheels photo courtesy of Lexus. Other photos courtesy of their respective

companies or organizations.

WEIDEL ON WHEELS

Some might say Lexus has hit a home run with its latest

offering, a stunning sports coupe that offers plenty of

performance. Check out the 2018 Lexus LC 500 in this

month's in-depth review by Jeffrey Weidel.

SHELF LIFE

Get your monthly fix

of Sharon Penny's

then-and-now take

on albums, books,

and DVDs; look no

further…just click.

AUGUST 2018 // stylefedh.com 13
---
what's up

Brush up on your Old Sacramento history with

the Sacramento History Museum's Underground

Tour, where you can explore excavated

foundations, enclosed pathways, and interesting

archaeology exhibits. Those interested in the

golden part of history are invited to take an

interactive Gold Fever! Tour, which allows visitors

to take on the persona of a historical character

from the Gold Rush. To view tour times and

dates, visit sachistorymuseum.org.

Lucille's Coffee Hops & Vine—a third-wave coffee

shop owned by Stacey and Ron Conway of Folsom

Tap House—is coming soon to 25055 Blue Ravine

Road, Suite 100, in Folsom. In addition to coffee

from Santa Cruz-based Verve Coffee Roasters, the

café plans to sell pastries, small plates, teas, beer,

and wine. For opening updates, visit facebook.

com/lucillescoffeehopsvine.

Folsom resident Brian Wallace

published a non-fiction children's

book based on a dozen ducklings

who hatched in his backyard. He and

his family had no idea that the duck

they kept seeing near the pool would

soon give birth. The whole tale made

for a great children's book, so Wallace

published Daisy and the Dirty Dozen

with Newport Press to detail the

story. Pick up your copy at amazon.

com or barnesandnoble.com.

The California State Fair recognized El Dorado

Hills' Mraz Brewing Company with the

coveted Brewer of the Year Award. Their beers

won a total of six medals, which was the

most of any other brewery.

Lean Up is a life-changing fitness, wellness, and weight loss

program for people who have struggled to achieve a healthier

lifestyle—and it's free! The program begins September 10 at El

Dorado Hills Sports Club and Broadstone Racquet Club but is

limited to 225 participants. To learn more and apply (deadline is

August 31), visit leanup.net... Head to the newly relocated American

Visions Art Gallery at the Folsom Premium Outlets (13000 Folsom

Boulevard, Suite 212) on August 18-19 from 10 a.m. to 6 p.m. to

celebrate the newest release from Thomas Kinkade Studios: The

Aristocats, featuring exclusive and highly collectible Disney art curated especially for

Disney collectors. Meet Dirk Wunderlich, Thomas Kinkade Studios' legacy artist, and

have your art sketched and hand embellished by a specially trained master highlighter.

To RSVP, call 916-790-8741 or email info@avartgallery.com…Each year, the El Dorado Hills

Chamber of Commerce offers scholarships to graduating seniors who plan to continue

their education by attending a university, college, or vocational school. Scholarships are

based on 50 percent community service, 15 percent work experience and extracurricular

activities, and 10 percent scholastic GPA and financial need. This year's awards—four, $750

scholarships—went to Taylor Czasnojc, Nicholas Stolecki, Maegan Cope, and Samantha

Reed...Congrats to Folsom Cordova Unified School District's new principals: Alison

McKeeman Rice at Empire Oaks Elementary, Larry Mahoney at Folsom Middle School,

and Sandy Spaulding at Theodore Judah Elementary School...Male employees from Blue

Congrats to Vista del Lago High

School students Lauren Tice and

Netashia de Bruyn who received

$5,000—courtesy of local nonprofit

Invest LOV—to purchase charity

donation meters to place around

Folsom. The program, started by

Vista teacher Janice Johnson, allows

students to better the community

through a chosen project and is

expanding to Folsom High School

this fall. Donations can be made

online at investlov.com.

Photos courtesy of their respective companies or organizations.

14 stylefedh.com // AUGUST 2018 // /stylefedh /stylemediagroup /stylemediagroup /stylemagfedh
---
year's BDOG on May 2...A new gourmet burger shop is coming to El Dorado Hills!

Burgerim allows for a nearly endless number of customizable burgers thanks to a

wide variety of proteins, toppings, sauces, and buns. Check them out at 4540 Post

Street, Suite 290...Congrats to Sorina Monteanu, a student at George Washington

Carver School of Arts and Science, who won the Community PRIDE Scholarship

from Rancho Cordova city officials. The scholarship is given to a high school

senior who demonstrates pride in the community and its officials while also

working hard to succeed. Monteanu, who plans on attending UC Merced in the

fall, frequently gives back to the community through acts of kindness...Over 200

new Folsom Ranch homes will house their first residents this fall in the Azure and

Dakota neighborhoods. Taylor Morrison, the construction company building the

subdivision, expects the first model homes to be completed by summer's end...

Folsom Lock and Security—located at 711 East Bidwell Street—is hosting a Grand

Opening Party on August 25 from 10 a.m. to 1 p.m. with free lunch, refreshments,

music, raffle prizes, and more...That's all for now, but check back next month for

Style's Cool Companies feature.

—Alyssa Mielke

Congrats to the Choreographer's Initiative

2018 winners from Hawkins School of

Performing Arts: Ashton Titus (first place),

Faith Moreno (second place), and Shelby

Baird and Mira Begg (third place tie). The

event, which discovers and promotes

young choreographic talent in the

Sacramento region, is open to ages 12-18.

For more info, email ci@hawkinsschool.

com.

VOTED FAVORITE

CARPET

CLEANING

SERVICE

2009 • 2010 • 2011

2012 • 2013 • 2014

2015 • 2016 • 2017

Photos courtesy of their respective companies or organizations.

United We Stand by Chris Foster

A new exhibit at the Gallery at 48 Natoma

provides spectators with words of

relationship advice through various media,

thanks to Life Lessons. Come see fabric

portraits by Sandra Poteet, sculptures by

Amanda Paoletti, and paintings by Chris

Foster through September 8.

Shield of California in El Dorado Hills walked

a mile in red stilettos to raise awareness for

the victims of domestic violence in May. Last

year, the office raised over $43,000 for domestic

violence victims to support The Center for

Violence-Free Relationships...The Sacramento

region's Big Day of Giving (BDOG) in May ended

up raising $7.4 million for charitable causes in

El Dorado, Placer, and Sacramento Counties.

Mark your calendars (and checkbooks!) for next

AUGUST 2018 // stylefedh.com 15

$

30

OFF

10 %

OFF

$

30

OFF

CARPET REPAIRS

OR

RE-STRETCHING

AREA RUG

CLEANING

RESTORATIVE STEAM CLEANING

SO MUCH MORE THAN JUST

CARPET CLEANING

Carpet• Tile & Grout • Hardwood • Upholstery

PET ODOR REMOVAL EXPERTS!

RESTORE ORIGINAL SHINE TO HARDWOOD!

Call Today For Your

FREE ESTIMATE

916 933-7807

www.CartersCarpet.com

NEW & IMPROVED! Now Carpets Dry BEFORE We Leave!*

*ask for details

TILE & GROUT

*MIN. 300 SQ. FT ask for details

Min. charge applies.

Please present coupon at time of

service. Not valid with any other offers.

916 933-7807

Min. charge applies

Area Rugs Cleaned Off-Site.

Please present coupon at time of

service. Not valid with any other offers.

916 933-7807

10 %

$

40

OFF

PET ODOR

REMOVAL

Min. charge applies.

Please present coupon at time of

OFF service. Not valid with any other offers.

81 916 933-7807 81

81

WOOD FLOOR

OR

CLEAN & SEAL CLEANING

Please present coupon at time of service. No coupon redemptions

after work is completed. No coupon refunds mailed. Not good with

any other offer. Call today!. 916 933-7807.

DRY STEAM

CARPET CLEANING

Min. 1000 SQ FT OR

$25 OFF Min. 750 SQ FT.

Please present coupon at time of

service. Not valid with any other offers.

916 933-7807

2006-2013

2012

2006-2013

81

81
---
get to know

Q &A

WHAT ADVICE WOULD YOU GIVE TO YOUR

YOUNGER SELF?

Believe in yourself.

WHAT COMES TO YOU NATURALLY?

I can talk to just about anyone.

Shadrack

Biwott

WHAT'S YOUR BIGGEST PET PEEVE?

Being late.

BIGGEST LIFE INSPIRATIONS?

My children. I want to show them that

if you believe in yourself, the sky's the

limit. Also, my wife—she's my backbone

and a constant support.

WHAT ARE YOU MOST PROUD OF?

Other than my family, finishing the 2018

Boston Marathon despite the weather.

BEST WORDS OF WISDOM YOU'VE

RECEIVED?

Hard work supersedes talent.

For Folsom resident Shadrack

Biwott, third-place finisher at

this year's Boston Marathon,

it all started with a pair of

sneakers. Born in a small

Kenyan village, for the first 14 years of his life,

he didn't own shoes. But his older brothers

were competitive runners, and Biwott

quickly realized that running could be a way

to gain access to an education, something he

wanted more than anything else. For that

to happen, however, he'd need shoes. "My

brothers said, 'If we give you shoes, you have

to promise you'll run with them,'" Biwott

recalls. And he did, despite quickly learning

that long-distance running was far from

easy. For his first run, his brothers took him

on a 10-mile gauntlet around the village. "It

was torture," he says with a laugh. "I ended

up crying the whole way home."

But Biwott never gave up. After legally

immigrating to the U.S., he earned an

athletic scholarship to the University of

Oregon. Post-graduation, he went pro and

currently runs in a variety of half and full

marathons each year. He continues to train

hard and has his sights set on making the

Olympic team one day. What's more, Biwott

volunteers his time to share his story at

schools throughout the region. "I tell kids

that they have to work hard and never give

up," he shares. "The secret is to do your best,

every day."

—Amber Foster

favorites

Author/writer

J.K. Rowling

Escape

San Diego

Guilty pleasure

Pizza

Meal in town

Mexquite; Karen's Bakery

Local landmark

Folsom's bike trails

Favorite memory

My wedding day

Musician/band

Simon and Garfunkel

Place to buy a gift, locally

Fleet Feet

Local nonprofit

Sacramento Running Association

Saying

"Just keep chipping away."

Do you know someone in the community who

makes a difference or is particularly interesting

that we should Get to Know? Email their name,

where they live, and why they should be featured

to megan@stylemg.com.

16 stylefedh.com // AUGUST 2018 // /stylefedh /stylemediagroup /stylemediagroup /stylemagfedh

Photos by DANTE FONTANA
---
As a pro athlete,

HEALING QUICKLY IS VERY IMPORTANT.

When I developed partial rotator

cuff tears in both shoulders, I was

referred to Dr. Brandon Beamer

for treatment. Through the use of

platelet rich plasma injection—using

my own blood platelets—I healed

quickly and naturally. I was back to

light workouts in two weeks.

– SARA MCMANN

Professional mixed martial artist and wrestling

silver medalist, 2004 Olympics

Whether you're an athlete with an injury or if

you suffer from chronic pain, use your own

body's mechanisms to heal itself. Platelet Rich

Plasma (PRP) injections can help with joint

pain, muscle, tendon or ligament injuries.

MARSHALL ORTHOPEDICS &

SPORTS MEDICINE

5137 Golden Foothill Pkwy, Suite 120

El Dorado Hills

916-805-2320

BRANDON BEAMER, MD

marshallmedical.org/ortho
---
local matters

Folsom Parks and Recreation

Seniors First by LESLEY MILLER

The Folsom Senior Center,

sited at 48 Natoma Street,

provides a wide range of

programs and services.

Open from 9 a.m. to 5 p.m.

Monday through Friday, and 9 a.m. to

1 p.m. on the second Saturday of each

month, anyone over 55 is welcome

to visit; Folsom residency is not a

requirement.

A rotating schedule of free activities

take place in the lounge, including

games, movies, book discussions,

bridge, and a popular "Off-Key

Singers" group that meets Monday

and Friday. The lounge maintains

a stock of books, magazines, board

games, and puzzles for those who

want to engage in quiet activities.

The Folsom Senior Citizens Club

welcomes new members to its

meetings twice a month for lunch,

games, and occasional guest

speakers.

Meals on Wheels provides a hot

lunch at 11:30 a.m. Monday through

Friday (with prior reservation);

seniors can also bring a sack lunch to

enjoy the mealtime companionship

and conversation.

A variety of classes—some free and

others fee-based—are available as

well, including fine arts, ceramics,

yoga, Zumba Gold, interval training,

mobility and flexibility programs,

"Walk and Talk" guided trail walks,

driver's safety, and guitar lessons. Free

educational workshops on topics like

Social Security planning, health care

management, caregiver assistance,

and identity theft prevention are

available throughout the year, too.

On August 24 at 11:30 a.m., a Hot

August Nights Party will feature

games, live entertainment, and light

refreshments.

FOR MORE INFORMATION,

CALL 916-461-6601 OR VISIT

FOLSOM.CA.US/CITY_HALL/

DEPTS/PARKS/FACILITIES/

FOLSOM_SENIOR_CENTER/

DEFAULT.ASP.

FOOD TRUCK

FESTIVAL AND

BEER GARDEN

AUGUST 15

Bring your appetite and family

to EDH Community Park from

5-8 p.m. as Food Trucks in the

Foothills serves up delicious

food. Proceeds support the

EDH Promise Foundation.

Hot August Nights The El Dorado Hills CSD has something for everyone. Mark

your calendar for the following:

SUMMER

CONCERT SERIES

Head to the EDH Community

Park at 7 p.m. for live music

in a variety of genres.

AUGUST 3: Nate

Botsford (country rock)

AUGUST 17: Superbad

(popular party hits)

SWIM LESSONS

Sign up for weeklong swim lessons

(private or group) at the EDH

Community Pool before the

season comes to close.

SESSION A: August 13-17

SESSION B: August 20-24

SESSION C: August 27-31

For more information about these events and others, visit edhcsd.org or call 916-933-6624.

Folsom Parks and Rec photo courtesy of Folsom Parks and Rec. EDHCSD

photo ©yanlev - stock.adobe.com.

18 stylefedh.com // AUGUST 2018 // /stylefedh /stylemediagroup /stylemediagroup /stylemagfedh
---
CATCH ALL

Lean Up

Photos courtesy of its respective company or organization.

Let's face it—exercising and eating right can be hard,

but if you're looking for motivation, the opportunity to

adopt a healthier lifestyle is here. Lean Up, a community

outreach program put on by Spare Time Clubs, chooses

over 200 local applicants to receive an eight-week wellness

program for free. "It's a combination of fitness and wellness

training and guidance in state-of-the art facilities with

an abundance of professional coaching," explains Gavin

Russo, director of sales and marketing for Spare Time

Clubs. Applicants are asked a series of questions designed

to determine their current health levels and reasons for

why previous attempts at a healthier lifestyle didn't work.

Those chosen are expected to commit at least six hours per

week by attending boot camp and Motivate, Educate, Eat

(MEE) meetings—both of which take place in a supportive,

positive environment. "Many [past participants] have lost

significant amounts of weight. Others have been able

to eliminate or reduce diabetes or high blood pressure

medications. And still others are able to climb stairs or

play with their kids or grandkids for the first time in many

years. Each person has their own compelling reasons for

wanting to join the Lean Up program," says Russo. Previous

participant Jacqueline states that "Lean Up is not only

about working out, but it's a program that encourages you

to take control of your life. The instructors' enthusiasm

is contagious and their passion for all of us to succeed is

powerful." Applications are accepted through August 31

with the program beginning September 10. —Emily Peter

For more information and to apply,

visit leanup.net.

AUGUST 2018 // stylefedh.com 19
---
local matters

Back-to-School Safety Tips

As school gets underway again, it's a prime time for parents to go over some safety protocol with their little ones.

Follow these quick-and-easy tips to help kiddos stay safe.

The 10 Spot

by AMITIS POURARIAN

1

Don't put your child's name

on clothing, backpacks, lunch

boxes, etc. where it's easily

visible to others. Instead, put their

name on the inside, so the article can be

identified but a stranger can't approach

your child and use their name as a way to

create familiarity.

2

Have a password between you

and your child that no one

knows. In the event someone

other than yourself needs to pick them

up, the person must say that password;

otherwise, your child should not go.

3

If your child walks home and

has a cell phone, advise them

not to be engulfed in it. They

should be paying attention to their

surroundings and cars approaching

them.

4

Whether your kiddo walks to

school or plays at a

playground, predators often

attempt to lure their prey. Make sure

your child knows they shouldn't talk

with, or even help, a stranger. If

someone they don't know asks for help,

teach them not to approach and instead

get an adult to help them.

5

Teach your kids the

difference between a secret

and a surprise. Make sure they

know to tell you if someone tells them a

secret.

6

Encourage your child to

communicate with you

regularly, so in the event of an

incident involving something like a

stranger approaching them, they know

to tell you.

7

name.

8

Confirm your child knows a

parent's cell phone number

(including area code) and full

Predators typically prefer their

prey to be compliant, so teach

your child to kick, punch, and

scream in the event they're grabbed.

9

If your child rides their bike to

school, teach them to latch

onto it if someone attempts to abduct

them; it'll make it that much harder for

the offender to take them.

10

If your child is approached by a

car while they're walking, teach

them to walk away from the car

(opposite direction the car is traveling).

Amitis Pourarian is a seventh-degree

black belt and owner of THE STUDIO

Martial Arts and Fitness in Roseville. For

more child safety tips and to sign up for

a workshop or self-defense class, visit

trainatthestudio.com.

10 Spot top image ©Konstantin Yuganov - stock.adobe.com. 10 Spot bottom image ©Newman Studio - stock.adobe.com.

20 stylefedh.com // AUGUST 2018 // /stylefedh /stylemediagroup /stylemediagroup /stylemagfedh
---
Concerts at Harris Center at Folsom Lake College, Folsom.

Tickets at harriscenter.net More info at carrera-productions.com

UPCOMING CONCERTS

Certain artists just seem

to have an innate sense

of what it takes to please

an audience. Clay Walker

is one of those artists.

Whether on stage or in

the recording studio,

Walker never gives

less than a hundred

percent, and it's that

kind of dedicated work

ethic combined with Godgiven

talent that have

made him one of the most

successful country acts

of the past decade.

SUNDAY

September 16

DOORS

7:00 p

SHOW

8:00 p

TICKETS

$45, $55, $65

ARTIST'S WEBSITE

claywalker.com

SATURDAY

October 6

WEDNESDAY

N0vember 14

DIANE SCHUUR

FRIDAY

September 28

DOORS 7:00 pm

SHOW 8:00 pm

TICKETS $40, $50, $60

DOORS 7:00 pm

SHOW 8:00 pm

TICKETS $25, $35, $45

DOORS 6:30 pm

SHOW 7:30 pm

TICKETS $25, $35, $45

"I Remember You"

The Music of Frank Sinatra, Stan Getz, & Other Schuur Catalog Gems

Expires 1/19
---
calendar

AUGUST

August is National Sandwich Month

by ANNIE BIEDERMAN

Notable

Happenings

3 INTERNATIONAL BEER DAY

13 NATIONAL LEFT-HANDER'S DAY

31 NATIONAL EAT OUTSIDE DAY

4

WACKY DASH. Bring the

family to Folsom's Rodeo

Park for a two-mile obstacle

course competition featuring

hay bale tunnels, mud pits, giant

inflatables, balance beams, and

more. Participants are encouraged to

come dressed in zany and colorful

attire; medals of participation will be

given to each dasher. folsom.ca.us/

city_hall/depts/parks/events/events/

wacky.asp

8

3

TAP FOLSOM. Head to Historic Folsom from 6-9 p.m. and enjoy

unlimited tastings from over 40 craft breweries, food trucks, live

music, and more. Purchase early-entry tickets to access all the brewery's

booths an hour before anyone else. tapfolsom.com

WEDNESDAY NIGHT SUMMER

CONCERT SERIES. Music

buffs are invited to the Palladio at

Broadstone every Wednesday at 7

p.m. for an upbeat concert under

the stars. This month's artists include

Mania, Take 2, Spazmatics, and Pop

Fiction. All shows are free and familyfriendly.

gopalladio.com/events

(ALSO 15, 22, & 29)

11

20 MILE TASTE.

Celebrate the bounty

of El Dorado County from 6-9

p.m. at the Davies Family Inn

at Shadowridge Ranch. Hosted

by Ag in the Classroom, the

fundraiser includes seasonal

food prepared by area chefs

alongside locally produced

beer and wine, live music,

a raffle, and live auction.

agintheclass-edc.org

18

CLINT BLACK. This talented artist—who has an unprecedented

five number one hits and has sold over 20 million albums—is

taking the Harris Center stage to share his acclaimed music with country

lovers everywhere. Show times are at 8 p.m. Saturday and 7 p.m. Sunday.

harriscenter.net

(ALSO 19)

17

ASLEEP AT THE WHEEL.

This 10-time Grammy awardwinning

band is bringing down the

Harris Center house

beginning at 7:30

p.m. Fill your

ears with the

eight-piece

band's

newfound

music style

and Texas vibes

at this evening of

fun and movement.

harriscenter.net

18

WALK FOR WISHES. Join

the Make-A-Wish Foundation

and help grant wishes to children in

our community with life-threatening

medical conditions at this morning

walk with friends, family, and coworkers.

Meet at the State Capitol

before the walk starts at 9 a.m.

necannv.wish.org

25

RACE FOR THE ARTS.

Don't miss this one-ofa-kind

5K run/walk and kids' fun

run at Sacramento's William Land

Park featuring a free art festival

and benefitting the Folsom Arts

Association, Hawkins School of

Performing Arts, Harris Center, Vista

Del Lago Music Boosters, and other

local nonprofits. The walk starts at 8

a.m. raceforthearts.com

25

TALES AND ALES

BREWFEST. Fairytale Town

is celebrating its 59th anniversary

with an all-ages fundraiser featuring

unlimited beer tastings, food

trucks, and live music on the

Mother Goose Stage. Kids will enjoy

complimentary root beer floats and

hands-on activities in Mr. McGregor's

Garden. Proceeds support Fairytale

Town's education programs and

park improvements. fairytaletown.

org

Tap Folsom photo by Menka Belgal. Wacky Dash photo courtesy of Folsom Parks and Recreation. Race for the Arts photo by Tia Gemmell. Other photos courtesy of their respective companies or organizations.

22 stylefedh.com // AUGUST 2018 // /stylefedh /stylemediagroup /stylemediagroup /stylemagfedh
---
EL DORADO HILLS TOWN CENTER PRESENTS

A DEVELOPMENT BY

THURSDAY

EVENING

Toy Time photo by Terry Lorant. An Evening to Remember photo by Wayne Campbell Other photos courtesy of their respective companies or organizations.

2

LIVE ON THE BOULEVARD.

Bring blankets and chairs

and head to the Steven Young

Amphitheatre at El Dorado Hills Town

Center at 7 p.m. (set-up begins at 5:30

p.m.) for live music that's guaranteed

to make you get out of your seat

and dance. This month's lineup

includes Department of Rock, Super

Huey, Forejour, and Kenny Metcalf

as Elton John. edhtowncenter.com/

upcoming-events/2018-live-on-theboulevard

(ALSO 9, 16, 23, & 30)

2

THE LIFE OF MOZART. The

Traveling Lantern Children's

Theater Company from Portland,

Oregon, is taking audiences back

in time and into the life of Mozart

beginning at 10:30 a.m. at the El

Dorado Hills Library. Learn something

new about the historical composer

through theater—all performed to

the tunes of his mesmerizing music.

Admission is free, but tickets are

required and can be picked up at the

library. eldoradolibrary.org

2

30

IN THE MOOD. Authenticity is key when bringing back the

big band musical era of the 1940s, and this high-energy show—

featuring In the Mood singers and dancers alongside tunes by the

13-piece String of Pearls Big Band Orchestra and Folsom Lake Symphony

members—promises to deliver nostalgic bliss. Guests can expect to hear

the music of Frank Sinatra, Benny Goodman, The Andrews Sisters, and

more. Show times vary. harriscenter.net

(THROUGH SEPTEMBER 3)

26

GOOD DOG-

DIRTY DOG 5K

WALK AND 10K RUN.

Walkers, runners, and

dogs are welcome

to participate in this

event organized by

TBF Racing at Folsom

more events

TOY TIME. Immerse your kiddos

in a fun, safe, and educational

learning environment at the Folsom

Public Library's story time area every

Thursday morning from 10 a.m. to noon.

Children can play with puzzles, toys,

and building blocks while reading books

and interacting with other children. 916-

461-6132

(ALSO 9, 16, 23, & 30)

3

Lake's Granite Beach.

Human participants

will receive a finisher's

medal and the canines

get dog tags. The 5K

starts at 8 a.m., and the

10K starts at 8:05 a.m.

totalbodyfitness.com

AN EVENING TO REMEMBER.

At 6:30 p.m., head to the El

Dorado County Fairgrounds for an

evening benefiting Imagination

Theater—complete with live and silent

auctions, a catered dinner, local beer

and wine, entertainment, and more.

imaginationtheater.net

August 2nd

Dept of Rock

Get Ready to Rock!

August 9th

Cash Prophets

Johnny Cash Tribute

August 16th

Forejour

Tribute to Foreigner & Journey

August 23rd

Kenny Metcalf as Elton John

August 30th

Joy & Madness

9 Piece Soul & Funk Explosion

September 6th

Folsom Lake Symphony

Steppin' Lively

September 13th

Skynnyn Lynnyrd

Tribute

7:00 - 9:00pm • Steven Young Amphitheater

BROUGHT TO YOU BY

R isk Managed Solutions

A SPECIAL THANK YOU TO OUR PLATINUM SPONSORS

AUGUST 2018 // stylefedh.com 23
---
calendar

4

HANSEL AND GRETEL. All

ages are invited to Fairytale

Town's Puppet Theater to watch

the beloved fairy tale about Hansel

and Gretel, a young brother and

sister who are left in the forest

with an enchanting gingerbread

house and a mysterious old witch.

Tickets can be purchased at the

main gate or at the entrance

to the Children's Theater 15

minutes before the show starts.

fairytaletown.org

(ALSO 5)

4

YOGA IN THE PIAZZA.

Channel your inner peace

during Serenity Spa | Soul

Yoga's all-levels, 60-minute

yoga class in the Palladio at

Broadstone's Piazza. Admission

is free; bring a mat and water.

serenityspaonline.com/eventsworkshops

(ALSO 11, 18, & 25)

5

FARMERS' MARKET. Every

Sunday through October,

from 8 a.m. to 1 p.m., celebrate

local farms and businesses

while shopping for fresh fruits

and veggies, homemade honey,

jams and other household items

along Town Center Boulevard and

Vine Street in the El Dorado Hills

Town Center. edhtowncenter.

com/upcoming-events/farmersmarket

(ALSO 12, 19, & 26)

5

FOLSOM TRIATHLONS.

Enjoy the beautiful scenery

at Nimbus Flat State Park while

you run, bike, and swim your way

to the finish line. Choose from two

different levels—the sprint version

or the Olympic. Following the

race, all participants will receive a

catered lunch. usapevents.com/

event/folsom-triathlons

8

LEGO BLOCK PARTY.

The El Dorado Hills Library

hosts a LEGO building party

every Wednesday from 3:30-

4:30 p.m. All creations are put

on display in the library's LEGO

Museum and admission is free.

eldoradolibrary.org

10

FAMILY CAMPOUT.

Enjoy an exciting

overnight adventure in Fairytale

Town's storybook park. Activities

include a scavenger hunt, arts

and crafts, theater show, bedtime

stories, and a continental

breakfast under a canopy of trees.

Festivities begin at 5:30 p.m. and

continue until 7 a.m. the following

morning. fairytaletown.org

12

MEET THE TROJANS.

Meet and greet the Oak

Ridge Trojan football team from

4-6 p.m. at the El Dorado Hills

Town Center's Steven Young

Amphitheater. Walk the Oak

Ridge Hall of Fame while players

sign autographs, watch the cheer

and dance teams perform, and

witness a hot dog eating contest

between players and coaches.

edhtowncenter.com/upcomingevents

15 FOOD

TRUCK

FESTIVAL AND

BEER GARDEN.

Liven up your

week by dancing to

live music, indulging

in food truck fare, and sipping on

beer and wine at El Dorado Hills

Community Park from 5-8 p.m. All

proceeds benefit the EDH Promise

Foundation. eldoradohillscsd.org/

events-calendar/special-events.

html

24

8

KAHULANUI. Listen

to a harmonious blend

MARSHALL 5K HEALTH

EXPO. Start your morning off

with a 5K run at 8:30 a.m., followed

by an expo with screenings by

Marshall Medical health experts

from 9-11 a.m. at El Dorado Hills

Town Center's Steven Young

Amphitheater. edhtowncenter.

com/events/marshall-5k-healthexpo-2018

15

FOLSOM COMMUNITY

SERVICE DAY. Join the

community at this fifth annual

event—Folsom's largest day

of volunteerism—to complete

projects throughout the city that

will leave a positive and lasting

impact within the community.

folsomcommunityservice.org

16

FALL ANTIQUE AND

VINTAGE MARKET. Take

of traditional Hawaiian music

and big band swing as this

Grammy-nominated, nine-piece

ensemble keeps history alive. The

music focuses on the rhythmic

sounds imported to Hawaii by

U.S. servicemen during World

War II. Doors open at 7:30 p.m.

harriscenter.net

25 KEYBOARD

CONVERSATIONS WITH

JEFFREY SIEGEL. Beginning at

7:30 p.m. at the Harris Center,

enjoy the harmonious sounds

of Rachmaninoff and Debussy,

accompanied by inviting,

entertaining, and engaging

commentary by internationally

acclaimed pianist Jeffrey Siegel.

harriscenter.net

26

SAVE THE DATE!

SEPTEMBER

SHADES OF BUBLÉ.

Attend a classy, highenergy

evening listening to the

smooth and soulful sounds of

Michael Bublé with this three-man

tribute ensemble. Presented by the

Folsom Lake Community Concert

Association, the audience can

expect to hear popular hits like

"Moondance," "Come Fly with Me,"

and "Home." Shows are at 2 p.m.

and 7 p.m. harriscenter.net

a leisurely stroll through Historic

Folsom from 9 a.m. to 4 p.m. at

this old-world peddler's market

featuring nearly 200 antique and

vintage vendors. historicfolsom.

org/2018/09/16/459/fall-antiqueand-vintage-market

29

FALL FESTIVAL. Head to

the El Dorado Hills Town

Center's Sandra Rose Garden

and Steven Young Amphitheater

for this family-friendly event

from 11 a.m. to 4 p.m. where

guests can enjoy a petting zoo,

pumpkin patch, games, food,

music, and more. Proceeds

support Hands4Hope, a local

nonprofit that supports young

future leaders of the community.

edhtowncenter.com/events/fallfestival-2018

(ALSO 30)

FOR EVEN MORE EVENTS HAPPENING IN OUR AREA, VISIT STYLEFEDH.COM

AND CLICK ON CALENDAR. ALSO, BE SURE TO CHECK OUT OUR BLOG! SEND

YOUR EVENTS TO INFO@STYLEMG.COM.

Photos courtesy of their respective companies or organizations.

24 stylefedh.com // AUGUST 2018 // /stylefedh /stylemediagroup /stylemediagroup /stylemagfedh
---
WE ARE HERE TO

MOVE

YOU

WE ARE HERE TO

IMPROVE

YOU

WE ARE HERE TO

MAKE IT

FUN

A healthier you. That's what we're building.

JOIN TODAY - ANNIVERSARY SPECIAL!

Folsom

916.984.1280

El Dorado Hills

916.941.3807

Ask about our 2-club membership!

2 Premier Spare Time Clubs for 1 great price!

SAVE $ 20

/mo.

Only $20 Initiation Fee

Month-to-Month • No Long-Term Commitment

AT SPARE

PERFORMANCE TRAINING

Expert instruction. Motivation. Results.

Incredible Selection of Programs • Area's Best Instructors • Engaging Social Events • 12 Locations • Try B4 You Buy!

TIME CLUBS

Offer good through 8/31/18 and is a first-visit joining incentive. Savings is in the form of a monthly dues credit for 6 consecutive months.

May not have been a member in the past 60 days. Some restrictions may apply.
---
outtakes

FIT4MOM FOLSOM LAKE ANNIVERSARY PARTY

May 18 // John Kemp Community Park, Folsom

FIT4MOM Folsom Lake celebrated one year of pre- and post-natal fitness and community with more than 55 moms

and their children. Following a Stroller Strides and Stroller Barre workout, kiddos enjoyed interactive playgroup

activities while moms participated in a partner marketplace and raffle giveaways, followed by a Folsom Chamber

ribbon cutting.

Photos courtesy of JILL ANDERSON PHOTOGRAPHY

FOLSOM PRO RODEO

July 1-3 // Dan Russell Arena, Folsom

1 2

This 57th annual patriotic event included three

days of family-friendly fun, including a Rodeo

Queen Contest, live music and entertainment,

mutton busting, nightly fireworks, a professional

bull jumper, and more.

1 Kayleena Gonzales with Adyson, Alyssa, and Stephanie

2 Karly Gray and Tyler Hitri 3 John Testa 4 Cotton Rosser

5 Dianna Croon White and Jazmin White

Photos by TOM PANIAGUA

3

4 5

26 stylefedh.com // AUGUST 2018 // /stylefedh /stylemediagroup /stylemediagroup /stylemagfedh
---
Live

Confidently.

"I can't explain how much they have changed my skin

and boosted my confidence in my everyday life...

Now I feel just as pretty without makeup as I do with

it because of everything Dr. Rice did." - Ashley

You're Invited To Our

Grand Opening!

RSVP BY JULY 31 AT:

ESTHETICSCENTER.COM/RSVP

-

The first 25 RSVPs will receive a free gift bag ($100 Value).

Reserve This Date:

AUGUST 14, 6-8:30pm

HUGE GIVEAWAYS!

Thousands of dollars in free

cosmetic treatments &

products, VIP Dierks Bentley

tickets, & SO MUCH MORE!

All attendees get FREE

Esthetics Center Dollars!

(916) 941-9400 | 2211 Francisco Dr., El Dorado Hills, CA 95762
---
outtakes

GOLD COUNTRY HALF MARATHON AND 5K

June 10 // El Dorado Hills Town Center

This 10th annual race benefitted the El Dorado

Hills Promise Foundation, which helps support

the EDH Community Services District in providing

public parks, health and welfare, senior and youth

services, and education and recreation programs.

At the post-race party, participants enjoyed beer,

wine, music, and food.

Photos by ANGIE CARDENA PHOTOGRAPHY

POWERFEST TAPS AND TUNES

June 9 // Powerhouse State Historic Park, Folsom

Over 1,000 people attended this fourth annual fundraiser for Folsom's Powerhouse State Historic Park. Live music by the Albertson Duo, food trucks, tastings

from 20 breweries, guided tours, and prizes were all part of the day's activities.

1 Brad Livingood, Gregg Fishman, and Charles Gellman 2 Thatiane and Charles Gellman

Photos by GREGG GOMEZ AND CHARLES GELLMAN

1 2

28 stylefedh.com // AUGUST 2018 // /stylefedh /stylemediagroup /stylemediagroup /stylemagfedh
---
outtakes

HOMETOWN PARADE

June 30 // Historic Folsom

This patriotic parade through Historic Folsom—from Scott

Street to Reading Street—was followed by music from Island

of Black and White, Old West reenactments, vintage fire and

police vehicles, and more.

Photos by MENKA BELGAL PHOTOGRAPHY

30 stylefedh.com // AUGUST 2018 // /stylefedh /stylemediagroup /stylemediagroup /stylemagfedh
---
outtakes

SPRING ART STUDIO TOUR

June 9-10 // Various studios in El Dorado Hills, Folsom,

and Shingle Springs

1

Over 250 visitors attended this year's studio tour hosted

by the El Dorado Hills Arts Association, which featured 47

artists in 16 private home studios. Many stops featured

live demonstrations and allowed guests to talk directly

with the artists about their work, techniques, and

inspiration.

1 Toby Tezona's art booth 2 Manjiri Oak's art booth 3 Carol Quinn

Photos by KEN MAHAR

2 3

1

ROCK THE LINE

June 2 // Historic Folsom

This inaugural event raised money for the Johnny

Cash Art Trail and Shriners Hospitals for Children

and featured live music from Cash Prophets, Scott

Paul Graham, and Foreverland, in addition to local

craft beer and wine.

1 Sacramento Kings cheerleaders with volunteers Kevin Goings,

Alec Glowacki, and Rian King-Iseger 2 Foreverland performs

3 Lisa Musolino, Stacy Jackson, and Kim Jackson 4 Jen Setina and

Caroline Hall

Photos by MURILO SANTOS

2 3 4

32 stylefedh.com // AUGUST 2018 // /stylefedh /stylemediagroup /stylemediagroup /stylemagfedh

IF YOU KNOW OF ANY EVENTS HAPPENING IN THE FOLSOM, EL DORADO HILLS

AREA, OR HAVE PHOTOS YOU WOULD LIKE TO SHARE WITH US, PLEASE SUBMIT

THEM TO INFO@STYLEMG.COM. FOR MORE OUTTAKES PHOTOS,

VISIT STYLEFEDH.COM.
---
© Disney © Thomas Kinkade Studios. All rights reserved.

ADVERTISEMENT

NEW TO

THE COMMUNITY

ADVERTISEMENT

NEW TO

THE COMMUNITY

Art on Wheels/Shabby Chic for Kids

Nicole Macauley, Portable ART Center

530-903-6666 • nicolemacauley@gmail.com

Art on Wheels and Shabby Chic for Kids

The brainchild of Folsom resident Nicole Macauley, Art on Wheels and

Shabby Chic for Kids grew out of Nicole's love for Art and her experience

as a school-age art teacher. Her passion for both led her to a business

that brings her art projects to you! Nicole says, "If you can DREAM it,

we can CREATE it!" Nicole will bring all the supplies to each party/

workshop. Using materials such as gems, fabrics, lace, glitter, flowers,

wood, ribbons, pebbles, and paints she will guide you and/or your child

to create a one of a kind art piece. Ideas for projects include dream

boards, planners and journals, Decoupage, garden projects, jewelry, hair

fashion, home décor, scrapbooking/photoboards and so much more!

American Please Visions join us as we celebrate Gallery the

newest release from the Thomas Kinkade Studios

13000 Folsom Blvd., Ste. 212 • Folsom (Folsom Premium Outlets)

916-790-8741 COLLECTOR • www.avartgallery.com

ART EVENT

American Visions Art Gallery has been in business for over a

decade and are excited about their recent relocation to the Folsom

Premium Outlets. They specialize in offering Fine Art to the public

ranging in original artwork as well Exclusive as limited and highly collectible edition artwork. Please

Disney Art Curated for our

join them Saturday and Sunday, August Disney Collectors 18th and 19th, 10am - 6pm

Meet Thomas Kinkade Studios Legacy

for a very special event welcoming Artist, Dirk Thomas Wunderlich and Kinkade a specially Studios Legacy

trained Master Highlighter who will

Artist, Kirk Winderlich, and a sketch specially and hand embellish trained your Master art. Highlighter

who will sketch and hand embellish your art. This collector art event

features exclusive and hightly August collectible 18 th - 19 th 10am-6pm Disney art curated for

Disney collectors. Don't miss this wonderful event!

American Visions Art Gallery, Folsom Premium Outlets

13000 Folson Blvd Suite 212, Folsom Ca. 95630

RSVP 916-790-8741 or info@avartgallery.com

Couples Night Outt

THURSDAY, AUGUST 9TH, 5:30 PM

SACRAMENTO LOCATION

Enjoy refreshments and lite bites while the DA team shares

the secrets of how to stay looking young together!

EXCLUSIVE COUPLES PROMOTION:

Buy a SkinMedica® regiMEN system ($225) and receive

a FREE area of BOTOX®* ($240 value) for him plus a

FREE HYDRAFACIAL®* ($200 value) for her!

• HydraFacial® Demo

• Exclusive Promotions

*Botox® to be used between eyebrows only. All units must be used in one treatment.

Units non-transferrable. One promotion per couple.

Must receive free treatments by 9/30/2018.

*MODELS DEPICTED
---
the arts

Marco Ippaso

Driven to Create

by HEATHER L. BECKER

In addition to creating original paintings

in loose photo realistic style, artist Marco

Ippaso also runs a design and marketing

consultancy, produces commissioned

art, and illustrates children's books. A

true petrolhead at heart, he adores all

things automotive, as evidenced by the

classic and vintage race cars that he commonly

paints. What's more, Ippaso often donates his art to

local causes, including Gracias Jesus, which helps

needy families in Nicaragua and Sacramento, and

Wellness Oasis, which helps abused women. "Art

and design is not a hobby or an interest—it's more

of a way of life," says Ippaso. "I love to paint but

really it's the art of self-expression, creation, and

problem-solving." Although his works are featured

worldwide, you can view them locally at Zia's, Blue

Line Arts, and Gold Country Artists' Gallery.

34 stylefedh.com // AUGUST 2018 // /stylefedh /stylemediagroup /stylemediagroup /stylemagfedh

Artist photos by DANTE FONTANA
---
Top: Ciao Ciao Valentino; bottom, left to right:

Tridente Maserati, Schumacher in the Rain,

Risorgimento Celebration, Cheeky VW

HLB: HOW DID BEING BORN IN ITALY AND LIVING ABROAD SHAPE YOUR WORK?

MI: I love Italy and have always felt Italian in my heart; though, in essence, having been raised in England,

I'm as British as Earl Grey tea! This made for some momentous moments while watching international

football games and profusely cheering every time Italy put one past the post amidst a nation of unhappy

English groans. Italy gives me passion, my love of cars, appreciation for art and design, and a can-do

attitude—all mixed with inimitable Italian style. England unquestionably provided me with perseverance,

wit, a sense of getting on with things, and doing things properly without fuss. I love British graphic design

and ingenuity.

HLB: DESCRIBE YOUR ARTISTIC STYLE.

MI: I paint predominantly using a layered pastel style with gouache and a little pencil detailing. The pastel

is powdered and mixed with baby powder; each layer uses different colors and has a coating of workable

fixative, which makes it partially transparent, providing depth and vibrancy. It's a technique I was taught

at the ArtCenter College of Design and is used by automotive and product designers. I've always loved the

process, the messiness, and fantastic luminosity of it all.

HLB: HOW ARE ART ASSOCIATIONS BENEFICIAL TO BOTH ARTISTS AND THE COMMUNITY?

MI: Each organization promotes art throughout the community, which is something we all benefit from.

The importance of art and design in our society seems, to me, to be grossly underappreciated, especially

in Anglo-Saxon cultures.

artbeat

August 4 – Dance

Jubilee. From 10

a.m. to 3 p.m., El

Dorado Dance

Academy in El

Dorado Hills is

opening their

doors to offer the

community free

dance classes. All

ages and abilities

are invited.

eldoradodance.

com/jubilee

HLB: WHERE DO YOU GO WHEN YOU NEED INSPIRATION?

MI: I love traveling and miss Europe so often go back, but wherever I am, inspiration is all around. I'm a

great observer of the unnoticed or taken for granted—the colors of a shadow, the way light is diffused on

a foggy day, the way the ocean meets the sand. I love it when our human footprint combines with natural

beauty to create something greater and even more beautiful than the original. Human ingenuity always

impresses me. artbyippaso.com

Artwork images courtesy of MARCO IPPASO

AUGUST 2018 // stylefedh.com 35
---
health & wellness

Hello Glow

16 Holistic

Beauty Tips

by KOURTNEY JASON

What exactly is holistic beauty? Depending who you ask, the definition

differs. According to Melissa Rascon, owner of NorCal Natural

Beauty Salon and Organic Spray Tanning in Folsom, [it's] the science

of life and a "practical system based on the belief that optimal health

is achieved when your mind, body, and spirit are aligned with the

universe." For Penny Chabot, owner of Scarlet Halo Holistics in Placerville, holistic beauty

is about taking care of your physical body outwardly while also going within to tend to

your non-physical being. "You know when you see someone beaming [with life] and they

just emit a certain beauty you can actually feel? That's the type of beauty that catches

my attention," she says. "Though everyone's body is different and needs different things

to flourish, there are certain ways to boost your beauty in a healthy, vibrant way." Here,

three local experts share their top tips.

YOU ARE WHAT YOU EAT

"So often we forget that our skin is

1

literally the largest organ in our body.

It's a beautiful, intricate system that has a

million jobs, including filtering out toxins.

Whatever is happening internally will

show externally. Adding healthy fats, like

avocado and almonds, will help deliver

vitamin E and give you that healthy glow,"

says Haley Judge, a licensed esthetician,

owner of Rosewater Holistic Skin Studio

in Placerville, and creator of Rosarium

Organic Skin Care.

2

"Probiotic supplements and foods,

like fermented veggies and yogurt, are

needed to add healthy bacteria in your gut,

[which] is crucial to having gorgeous skin,

hair, and nails," Judge says.

3

According to Chabot, "Vitamin C is the

best overall anti-aging ingredient. Put

in on topically, ingest it through nutrition, or

even take a supplement! Just get it in and on

your body."

4

"Water, water, water! Almost everyone is

chronically dehydrated. Drinking eight

glasses of water [every day] will give you a

beautiful complexion and make a myriad of

issues vanish," Judge shares.

5

"[Cut back on] sugar. Refined sugar

inflames the skin and is a leading cause

of wrinkles and acne. Simply removing it

from your diet will lead to vibrant skin," Judge

says.

6

"Herbal tea is a 'super drink,' due to

its ability to flush toxins out. White tip

oolong and jasmine tea make the skin glow

from within, visibly reducing unevenness

and dullness," Rascon says.

Top photo ©Anastasia - stock.adobe.com. Bottom photos (in order)

©tatiana, ©elenakirey, ©pinkomelet, ©hoto@n - stock.adobe.com.

36 stylefedh.com // AUGUST 2018 // /stylefedh /stylemediagroup /stylemediagroup /stylemagfedh
---
SMART SKIN CARE

"If there's no flow, there's no glow. Science

7

is finally recognizing the important role

the lymphatic system plays in our wellness

and beauty. Incorporating simple massage

techniques and tools into your daily routine

and monthly facials is a game changer.

[Both help] promote circulation, flush out

toxins, and lift and tone the skin. With that,

don't be afraid to massage your face! Using

tools like a jade roller, gua sha board, and dry

brushing are other ways to help support this

important system," Judge says.

"Turmeric reduces inflammation and a little

bit goes a long way. [To incorporate it into

your routine], wash your face and hands to remove

impurities and any makeup; then, in a small bowl or

jar, mix 1/2 teaspoon turmeric powder, 1/2 teaspoon

organic apple cider vinegar, 1 tablespoon organic raw

local honey, 1/2 teaspoon milk or yogurt, and 1 drop

lemon essential oil or fresh lemon juice. Try to get a consistency that will stick to your face; be

careful not to make it too thin as it may drip. Apply the mask (avoiding your eyes), let it sit for

15–20 minutes, and rinse with warm water. Apply twice a week for best results," Rascon says.

10

9

Judge says to, "Stop over-exfoliating!

It's been a trend in recent years to

exfoliate with scrubs, acids, and peels on a

daily basis, but doing this compromises the

skin, leading to issues such as premature

aging. I suggest letting your esthetician do

a gentle exfoliation monthly and using a

washcloth for daily use."

Photos (in order) ©travelbook, ©calypso77, ©ricoh imaging company, ©karelnoppe photography.

All rights reserved.

8

"Switch to an organic oil cleanser. Using

soaps, fragrances, and chemicals on the

skin strips your healthy bacteria, creating an

imbalance that's visible. Oil cleansing is an

ancient practice that's making a comeback.

Even for those who are prone to acne or have

oily skin, it brings balance back to eradicate

these problems. But not all oils are created

equal! Jojoba oil is the most like our own

skin's sebum and penetrates the deepest

without leaving a greasy sheen," Judge says.

11

"Honey is naturally antibacterial,

making it perfect for breakouts; full of

antioxidants to help slow down signs of

aging; and incredibly moisturizing. Apply it as

a spot treatment to breakouts or dry patches,

or use it as a whole face mask (apply a thin

layer in small circles to damp skin, let it soak

for 20-30 minutes, and rinse)," Judge advises.

12

According to Rascon, "It takes eight

seconds for a beauty product to get

into the bloodstream, so check labels. The app

Think Dirty is user-friendly and helpful when

you're not sure of a product's toxicity level;

just scan the bar code on the app to learn

about potential toxic ingredients."

FIND PEACE OF MIND

13

"Have a morning ritual. Immediately

after waking up and before taking a

shower, drink lemon water to lower blood

pressure and balance pH. I also suggest

beginning your morning with a mantra:

'Today I will choose happiness,' or 'I am

thankful for everything I have,'" Rascon

shares.

14

"Address your stress! See where it's

coming from and make an effort to

find a less stressful way of life. Getting enough

sleep and exercise helps. Additionally, find

time for reflection through yoga, meditation,

journaling, and with nature," Chabot says.

15

"Take care of your emotional and

mental health. When we can find

ways to process and release toxic emotions

and thoughts, it allows our energy system

to flow in a way that brings us vitality and

immunity in a more radiant way," Chabot

recommends.

16

Judge says, "Don't be so hard on

yourself. We all have things we would

like to fix, but if you only focus on the

negatives, the stress will literally cause more

issues. Simplify your skin care routine and

give yourself a compliment the next time you

look in the mirror—you deserve it!"

AUGUST 2018 // stylefedh.com 37
---
cause & effect

Dre Barba and Netashia de Bruyn

Invest LOV

Students Who Serve

by LINDA HOLDERNESS // photos by DANTE FONTANA

When Vista del Lago teacher

Janice Johnson chose Invest

LOV as the name for her new

nonprofit, she wasn't looking for a cutesy

spelling. LOV is an acronym for "Lessons

of Vera" to honor Johnson's mother,

Vera Earlene DeWitt, who was devoted

to helping others. DeWitt passed away in

February, but her spirit of volunteerism

endures through Invest LOV, which

Johnson spun off from a leadership

class she started at Vista last fall to

help teens learn to get involved in their

communities. "This generation is going to

be pretty awesome," Johnson says of her

students. "They don't understand it yet,

but they're going to do a lot." The 30 kids

in her class last year already have a head

start with two successful community

projects under their belts.

Johnson's curriculum followed a realworld

process. She divided the students

into six teams and charged each with

finding a need in the community and

developing a project to address it. The

teams were responsible for planning,

budgeting, setting up a timeline, and

proposing their ideas to a panel of judges,

Shark Tank-style. One project would be

awarded a $5,000 grant—donated the first

year by Johnson—to turn the idea into

reality. For the first two weeks, Johnson

says, the kids thought the money was

hypothetical. "When they found out it

was real, they freaked out."

Key to the students' success was

"

These kids learned

it doesn't take a

million dollars to

make a difference.

"

38 stylefedh.com // AUGUST 2018 // /stylefedh /stylemediagroup /stylemediagroup /stylemagfedh
---
mentoring by city leaders, who spoke to the class about needed

community services and where they could be enhanced. Some of

these leaders acted as judges for the students' pitches. This year's

winner, revealed at a formal ceremony, was "Nice Tice," led by

junior Lauren Tice, who came up with the idea to refurbish outof-use

parking meters and install them in local agencies to collect

coin donations. The team bought the meters on eBay, designed

them, wrote text, and hired someone to do the restoration work.

Now, nine meters are destined for three nonprofits: Powerhouse

Ministries, Folsom's Hope, and 3Strands Global. "This class inspired

me so much," Tice says. "I didn't feel like we could actually make a

difference in the community, but it opened a lot of doors for other

ideas on how I can help."

This year also had a bonus winner: A donor funded another

team's project to update the "ragtag, pieced-together" interior of

Powerhouse Ministries with bright, functional new IKEA furniture

the kids built. Once the grants were announced, the whole class

worked on the winning projects.

Johnson cut her teaching schedule to part-time this coming

school year to raise money for Invest LOV, which will fund

future projects, and to promote the program to other schools.

She would like to see more teams of kids be able to fund

projects, either by raising additional money or by apportioning

smaller amounts where possible. "These kids learned it doesn't

take a million dollars to make a difference," Johnson says. "It

would be wonderful if every school had this." investlov.org

RELAX. REJUVENATE. RESTORE. LEAVE YOUR EVERYDAY WORRIE

RELAX. REJUVENATE. RESTORE.

... and Get

Summer

Ready!

Coconut Lime Pedicure

Get your toes sandal-ready with a relaxing classic pedicure that will leave

your feet smooth and hydrated! ($40, 50-minutes)

Hydro Peptide's New Intense Collagen Boosting Facial

This facial locks in skin-plumping hydration while it cools which makes it

perfect for summer weather! ($145, regularly $155)

Escape to Paradise Package

An indulgent coconut vanilla-scented therapeutic massage followed by a

detoxifying and nourishing foot scrub. Guaranteed to bring your senses to

the Hawaiian Islands! ($100, 50-minutes)

• OPEN TO GENERAL PUBLIC

• CLUB MEMBERS RECEIVE PREFERRED PRICING

• CHILDREN'S PLAY CENTER AVAILABLE

916.933.8905

asantespaedh.com

530 Post Court • El Dorado Hills

*Specials must be booked and received between through 8/31/18. Cannot be combined with

any other special or discount and please mention the special at the time of booking. Additional

restrictions may apply.

Voted Favorite Dentist

in El Dorado Hills 10 Years!

Lauren Tice, Dre Barba, Janice Johnson and Netashia de Bruyn

AUGUST 2018 // stylefedh.com 39
---
home design

Couch

Potato

Sofa Styles for Every Space

7

TOP BUYING

TIPS

by KERRIE L. KELLY, FASID

When it comes to couches, trendy silhouettes come and go. If you stick

with the classics, however, you'll have a timeless piece of furniture that lasts a

lifetime. Consider these five fan favorites and top designer tips when shopping

for your next sofa.

ENGLISH ROLL ARM

This inviting sofa is also referred to as a bridgewater. With soft arms and cushions, its tilted

back angle is embracing. Since it requires arm support for those seated to get up and out,

you'll want to look for arms that are built into the frame versus being tacked on the outside

of it.

Sit on the arm, in the seat,

1

and lift up the cushions.

If you hear a creak or

notice considerable movement,

the frame is inferior.

Request eight-way

2

hand-tied or benchmade

frames. Kiln-dried

hardwood frames have been

stabilized and won't warp over

time, so you can reupholster

with confidence or resell your

quality piece.

Inquire about your

3

cushions. We recommend

high-density foam

wrapped in a down and feather

blend so that cushions return

to their original shape but are

comfortable.

Most sofas come in a few

4

standard lengths. If

you're looking for a

catnap and conversation, an

eight-foot version is ideal.

Should you be considering

a sofa shorter than six

5

feet, you may want to go

for two club chairs and an

ottoman instead.

Use painters' tape to stake

6

out the location of your

new sofa. Measure door

frames, walkways, and other

clearances to be sure you can

move the sofa into the space.

7

If you have narrow doors

or stairs, look for models

with removable legs.

40 stylefedh.com // AUGUST 2018 // /stylefedh /stylemediagroup /stylemediagroup /stylemagfedh

All furniture photos by WESLEY HALL
---
REMODEL

WITH THE BEST!

916.369.6518

Our 34rd Year

in Business

Chesterfield

This sofa style is formal yet remarkably comfortable. Typically

found in heavier materials such as linen, velvet, or leather, the

chesterfield dons rolled arms (more modern versions tout straight

arm styles) that are the same height as the back. Often tufted, it

features a tight back and seats, so you'll want to add a soft pillow

or two for those afternoon naps.

MID-CENTURY MODERN

This sofa style reminds us of Mad Men. Its high back and low

profile with squared arms and clean lines provides great back

support. Be sure to test this one out in person; although cushions

are typically overstuffed, the seat height often comes in too low

for client comfort.

TUXEDO

Stylish and sometimes slightly feminine, the tuxedo sofa is great

for small spaces. Boxy yet tailored, the back and arms are always

the same height and the cushions are typically firm. Be sure

yours doesn't feature arms that are too high, as it's often difficult

to find side tables that complement it.

54 NARI Awards

Proven to be the best…

always a great value!

Lic # 659954

Friends Fun Dance

Ages 2 to Adult

Offering Classes in:

Ballet, Jazz, Tap, Hip Hop,

Musical Theater, Acting

and more!

CAMELBACK

This style is also referred to as a chippendale. With upright and

elegant features, thanks to curves and high arms, its back causes

those seated to sit up straight. You'll want to pay close attention

to this particular sofa's proportions, however—when the seat is

deep, the back can often seem too high.

Kerrie L. Kelly, FASID, is an award-winning

interior designer, author, product developer, and

multimedia consultant helping brands reach the

interior design community. To contact her, visit

kerriekelly.com or call 916-706-2089.

AUGUST 2018 // stylefedh.com 41

HawkinsSchool.com | 118 Woodmere Road, Folsom | 916.355.1900
---
swag

Cooper Farm Co.

Botanical Garden Bath

Salts, $28, and Cooper

Farm Co. Hand and

Body Lotion, $18,

at Green Acres

Nursery and Supply

(handmade locally

in Loomis), 205 Serpa

Way, Folsom. 916-358-

9099, idiggreenacres.

com

Eufora Hero for Men Black Clay

Shampoo, $27, and Eufora Hero

for Men Exfoliating Treatment,

$29, at Lux Salon and Spa, 1012 East

Bidwell Street, Folsom. 916-983-9878,

luxsalonandspafolsom.com

Kérastase Résistance Serum

Extentioniste, $53, and Kérastase

Résistance Masque Extentioniste, $61,

at Maribou Salon, 330 Palladio Parkway,

Suite 2011, 916-932-4381; 25085 Blue

Ravine Road, Suite 100, 916-984-5555,

maribouspasalon.com

Tea Xotics Jasmine Snow Monkey

Green Tea, $10, and Tea Xotics Vanilla

20

Bean Honey, $20, at Tea Xotics, 356 Town

Center Boulevard, Suite 12, El Dorado

Hills. 916-461-3548, teaxotics.com

TakeCare

MUST-HAVE BEAUTY BUYS

Start Where You Are:

A Journal for Self-

Exploration by Meera

Lee Patel, $16 at Face in

a Book, 4359 Town Center

Boulevard, Suite 113, El

Dorado Hills. 916-941-9401,

getyourfaceinabook.com

The Seaweed

Bath Co. Whole

Seaweed Detox

Bath, $12.99, and

The Seaweed

Bath Co. Awaken

Exfoliating

Detox Scrub,

$14.99, at Whole

Foods Market,

270 Palladio

Parkway, Folsom.

916-984-8500,

wholefoodsmarket.

com

Jane Iredale

Balance

Hydration

Spray, $29 at

Asante Spa,

530 Post Court,

El Dorado Hills.

916-933-8905,

asantespaedh.com

Cooper Farm Fresh Co. photos by Ray Burgess. All other photos courtesy of their respective companies or organizations.

42 stylefedh.com // AUGUST 2018 // /stylefedh /stylemediagroup /stylemediagroup /stylemagfedh

by SABRINA GONZALEZ
---
swag

Oxygen Pillow, $145 at European Sleep

Design, 6606 Folsom-Auburn Road, Suite 5,

Folsom. 916-989-8909, sleepdesign.com

FarmHouse Fresh One Fine Day Shea Sugar Flawless

Face Polish, $25, and FarmHouse Fresh Honey-Magnolia

Body Oil, $18, at Salts, 6933 Douglas Boulevard, Granite Bay.

916-899-6610, getsalted.com

Tara Handicraft

Large Diamond

Water Bottle, $42

at Serenity Spa

| Soul Yoga, 350

Palladio Parkway,

Suite 1975, Folsom.

916-542-7363,

serenityspaonline.

com

Now Ultrasonic Glass Swirl

USB Diffuser, $44.99, and

Tom's of Maine Refreshing

Lemongrass

Deodorant,

$6.33, at Elliott's

Fine Nutrition,

641 East Bidwell

Street, Folsom.

916-983-9225,

elliottsfinenutrition.

com

Epionce Purifying Toner,

$28 at Folsom Plastic

Surgery, 1561 Creekside

Drive, Suite 110, Folsom.

916-984-8585, psaf.com

5

JanSport

Cool Student

Backpack, $55

at Bag King, 230

Palladio Parkway,

Suite 1217,

Folsom. 916-923-

9530, bagking.com

Too Cool for School

PRODUCTS

by CLAIRE HAUPT

Nathan HammerHead

Steel Insulated Bottle,

$35 (24 oz.) at Gold Country

Run and Sport, 4370 Town

Center Boulevard, Suite 150,

El Dorado Hills. 916-303-4786,

goldcountryrunandsport.com

Happy People Shine Brighter

Weekly Calendar and

Motivational

Journal, $6.99 at

Face in a Book,

4359 Town Center

Boulevard, Suite

113, El Dorado

Hills. 916-941-9401,

getyourfaceinabook.

com

Texas

Instruments

TI-84 Plus CE

Color Graphing

Calculator,

$149.99 at Office

Depot, 875 East

Bidwell Street,

Folsom. 916-984-

6316, officedepot.

com

PackIt

Freezable

Lunch

Bag, $19.99

at Nugget

Markets, 4500

Post Street, El

Dorado Hills.

916-933-1433,

nuggetmarket.

com

Bridgewater Candle

Company Afternoon

Retreat, $16 (8oz.) at

Apricot Lane, 340 Palladio

Parkway, Suite 501,

Folsom. 916-986-9132,

apricotlaneboutique.com

Photos courtesy of their respective companies or organizations.

44 stylefedh.com // AUGUST 2018 // /stylefedh /stylemediagroup /stylemediagroup /stylemagfedh
---
FREE

SIX LIGHT

LED Lighting

System

12

MONTHS

No interest

No payment

Present ad at initial appointment.

Offers may not be combined. Expires August 31, 2018

from design

to tranquility

We're your all-in-one

landscaping company

See our landscape display at

Gold River store

FREE CONSULTATIONS

916-571-9113

capitallandscape.com

License #910353
---
NEW CLIENT

BOTOX $179

FIRST 20 UNITS

Voted a

Best Med Spa

Entourage MD Skin and Wellness

FACIAL MENU

• Infi nite Beauty Express

• Signature Facial

• Sensitive Skin Facial

• Anti-Age Facial

• Acne Facial

• Bio-Brightening Treatment

• Magnetic Mud Facial

ANTI-AGING

MENU

WELCOME

TO THE

FINEST

SKINCARE

We carry ZO ® Skin Health

by Doctor Zein Obagi

• PRP Facial

• Medical Grade Dermal Peel

• Photo Rejuvenation Facial

• Micro-Needling

• Tear Trough

• Liquid Face Lift

• Botox ®

CALL TO RESERVE YOUR APPOINTMENT TODAY!

916-534-7267• ENTOURAGEMD.COM

4944 Sunrise Blvd. Suite G Fair Oaks, CA 95628

Open Mattress Architecture

High-performance

mattress systems,

pillows, and bedding

Chip & Jill, Owners

Premier Luxury Mattress in the Sacramento Area

• Innovative Mattress and Flex Slats

Sleep System Enables Deeper Sleep

• Engineered for health, support,

comfort, and value

• European components offer mattress

longevity, stability, and contour

• Öeko-Tex European testing and

certification ensures you get a clean

and chemically-safe mattress

6606 Folsom Auburn Rd. Folsom, CA | 916-989-8909 | sleepdesign.com
---
Reds, Whites,

& Brews

Your Guide to the Region's

Best Beer and Wine

by Luna Anona

Photo © istockphoto.com/MarkWagonerProductions.

California knows how to party, and it's probably because we

have the best booze in the country. From the hazy IPA craze

to rows of 50-year-old vines, here's everything you need to

know about what—and where—you should be drinking.

AUGUST 2018 // stylefedh.com 47
---
Spoiler Alert

9 Trends to Take Note Of

1

Get excited for

effervescence.

"Styles of wines are constantly

changing, as well as the way

consumers perceive the different

types of varietals. For example,

when the movie Sideways was

released, consumers viewed

Merlot and Pinot Noir

completely differently than

they did before, and the wine

industry saw major changes

in the production of both of

those varietals. As far as the

newest trend, I'm noticing that

there are more sparkling wines

being produced, which was

previously few and far between.

As a bubbles lover, this makes

me really excited!" —Ashlee

Cuneo, General Manager

and Certified Sommelier,

Miraflores Winery, 2120

Four Springs Trail,

Placerville, 530-647-8505,

mirafloreswinery.com

2

Unique, warmweather

varietals are

about to heat up.

"Mediterranean varietals that

do well in warmer regions, such

as Tempranillo, Monastrell,

Verdejo, Albariño, Alvarinho,

Touriga Nacional, and Syrah

are making a big splash in the

region. Additionally, there are

some great Italian varietals

becoming popular, such as

Barbera, Sangiovese, and

the lesser-known Charbono.

Likewise, French varietals

that aren't as well-known as

their Bordeaux cousins—such

as Malbec, Cabernet Franc,

Mourvèdre, and Grenache—are

also present here in the Sierra

Foothill region."—Teena and

Craig Wilkins, Co-Owners,

Vina Castellano, 4590 Bell

Road, Auburn, 530-889-2855,

vinacastellano.com

3

Easy-drinking IPAs

are here, and you're

going to love them.

(Yes, even you.)

"For more than a decade, the

style of choice in California

has been, and continues to be,

IPAs. We saw growth of New

England-style (hazy) IPAs, but

there are two other beers I

see garnering attention: brut

IPAs and India pale lagers—

beers you can load with hop

flavors but deliver on a lighter,

low-bodied base that makes

them easier to drink." —Paul

Schilling, Co-Founder,

Crooked Lane Brewing

Company, 536 Grass Valley

Highway, Auburn, 530-878-

5232, crookedlanebrewing.

com

4

Brut IPAs are about

to make a sudsy

splash.

"Sour beers and hazy IPAs

have been popular for a while

now, but in the last few months,

something new has arisen: brut

IPAs. They're brewed similar

to a traditional imperial IPA,

but an enzyme is used to dry

out the beer more than usual,

hence the name brut—it's

like a very dry sparkling wine.

They have a big aroma like a

traditional IPA [with] a lighter

mouthfeel and a nice, dry,

easy finish. They're incredibly

easy to drink and are bound

to bring non-IPA drinkers into

the loop." —Lauren Zehnder,

General Manager, Mraz

Brewing Company, 2222

Francisco Drive, Suite 510, El

Dorado Hills, 916-934-0744,

mrazbrewingcompany.com

5

We're going to

rosé all day

again this year.

"With warmer temperatures

upon us, rosé is hot! Pink wine

used to have a stigma after years

of sweet white Zinfandel, but

classic rosé—in a crisp, dry, and

refreshing style—is on everyone's

minds and lips right now."—Jody

Bogle, Owner and Director of Public

Relations, Bogle Vineyards, 37783 County Road

144, Clarksburg, 916-744-1092, boglewinery.com

We're going to try

6 to drink more

beer but get

less drunk.

"There seems to be a push

toward more session-style beers

(4.5 percent ABV and under), like

pilsner and other light lagers, which

is exciting."—Erik Schmid, Owner

and General Manager, Red Bus

Brewing Company, 802 Reading Street,

Suite A, Folsom, 916-467-7790, redbusbrew.com

Photos courtesy of their respective companies or organizations.

48 stylefedh.com // AUGUST 2018 // /stylefedh /stylemediagroup /stylemediagroup /stylemagfedh
---
7

We're also going to try to

drink more wine but get

less drunk.

"Winemakers are going back to producing

balanced wines that aren't too fruity, too

oaky, or too alcoholic—the alcohol bomb

is out and producing approachable wines

is in."—Jill Osur, President/Owner,

1850 Wine Cellars and Mediterranean

Vineyards, 3 Randolph Street, Sutter

Creek, 209-267-8114, goldlinebrands.

com/1850; 7449 Fairplay Road,

Somerset, 530-497-0175, facebook.com/

medivineyards.

8

Less (sulfites) is more.

"More winemakers [are producing bottles

with] lower levels of sulfites (the chemical

compound many people 'think' they're

allergic to). For small producers whose

fruit quality is excellent, there's rarely a

need to overdo the sulfur dioxide." —

Zane Dobson, Vintner and Owner,

PaZa Estate Winery, 3357 Ayres

Holmes Road, Auburn, 916-834-0565,

pazawines.com

9

Natural and sustainable

practices are in—and

Merlot is cool again.

"One trend we're really happy about is a

return to 'natural' wines. We have always

made our wines in this style—minimal

outside intervention, unfiltered, unfined,

and using sustainable practices. We also

anticipate a comeback for Merlot in the

near future." —Emily Hays, Owner,

Chateau Davell Boutique Winery, 3020

Vista Tierra Drive, Camino, 530-644-

2016, chateaudavell.com

A SIP OF HISTORY

9 ORIGINAL TASTING ROOMS

Madrona photo by Lisa Jesse Photos. Other photos courtesy of their respective companies or organizations.

1

BOEGER WINERY

1709 Carson Road, Placerville,

530-622-8094, boegerwinery.

com

The first post-Prohibition winery

in the El Dorado American

Viticultural Area (AVA), this local

staple pioneered a lengthy list

of underdog varietals—including

Barbera, which has helped the

winery scoop up hundreds of

awards over the years. Today, the

bustling spot hosts first Sunday

bluegrass jams, yoga, and petfriendly

vineyard excursions.

2

com

SIERRA VISTA WINERY

4560 Cabernet Way, Placerville,

530-622-7221, sierravistawinery.

Early adopters of the rebirth of

mountain viticulture, owners

John and Barbara MacCready

bought land in 1972, planted some

grapevines, and never looked

back. A study revealed that the

climate closely mirrors France's

northern Rhone Valley, which was

the determining factor in deciding

how to plant across the 28 acres

of mountain vineyards. All of the

wines, with the exception of the

Sauvignon Blanc, are estate grown.

3

MADROÑA VINEYARDS

2560 High Hill Road,

Camino, 530-644-5948,

madronavineyards.com

These estate wines exhibit the

best characteristics of Rhone and

Bordeaux varietals, thanks to

the ideal 3,000-foot mountain

elevation. Evolution and calculated

refining result in big beauties like

the 2017 Dry Riesling, a bright and

lush whirlpool of peaches and

apples, and the spicy and earthy

2015 Malbec. Complimentary

tastings of rotating selections take

place daily.

4

LAVA CAP WINERY

2221 Fruitridge Road, Placerville,

530-621-0175, lavacap.com

Named for the lingering volcanic

soil of million-year-old eruptions,

this winery has been dedicated to

producing estate-grown wines since 1986. Pack a picnic, pop in the tasting

room, and take your favorite bottle to the stunning gardens that overlook

the vineyards. Insider tip: Try the 2014 Syrah, bursting with deep blackberry

and blueberry notes and a gentle finish. The vineyard's southwest-facing

slope grants the grapes a longer hang-time, yielding more depth and

intensity in the glass.

5

LAVA CAP WINERY

SCOTT HARVEY WINES

10861 Shenandoah Road, Plymouth, 209-245-3670, scottharveywines.com

Often credited with putting Amador County on the wine map, Scott

Harvey helped develop the crowd favorite Ménage à Trois wines. Following

his success, Scott decided to go out on his own, with the help of his wife,

wine industry pro Jana. If it's your first foray into Scott Harvey, we suggest

treating yourself with the vineyard's Zinfandel—it basically garners an award

every time the winery releases a new bottle.

AUGUST 2018 // stylefedh.com 49
---
6

MT. VERNON WINERY

10850 Mt. Vernon Road, Auburn, 530-823-1111,

mtvernonwinery.com

The largest winery in Placer County, this

charm-filled destination boasts a gorgeous

tasting room in a restored 1950s milk house.

Buy a bottle to enjoy in the umbrellashrouded

picnic area, and don't miss a photo

op with the lush vineyard and meticulously

maintained garden backdrop. Mt. Vernon also

has another focus: finding a cure for breast

cancer. When you purchase one of their

breast cancer research wines, 12.5 percent of

the proceeds are donated to the cause.

7

BONITATA BOUTIQUE WINE

291 Auburn Folsom Road, Auburn, 530-

305-0449, bonitataboutiquewine.com

A sweet slice of history, this winery lives

inside the Bernhard Museum, home of the

original Bernhard Winery founded in 1874.

The historic building functions as a natural

wine cellar: partially buried into the hillside

with stone walls that are two feet thick,

creating the ideal dark, cool environment.

Hailed for its estate grape, Zinfandel, the

winery also produces a variety of other

red, white, and sweet wines—including a

deliciously indulgent Syrah Port.

8

RIVER CITY BREWING COMPANY

6241 Fair Oaks Boulevard, Suite G,

Carmichael, 916-550-5093,

rivercitybrewing.net

The second

incarnation of

a long-standing

Sacramento

tradition, River

City migrated

to Carmichael

in 2015 after

nearly two

decades of being

a downtown watering hole—the oldest

brewpub in town. If you can't choose from

the 16 taps, try the award-winning flagship

amber lager, Vienna, or straw-colored Cap

City IPA. Meanwhile, the kitchen blends

locally sourced ingredients with classic pub

grub picks, like French dip sandwiches and

pulled pork sliders, plus a few inventive wild

cards (Reuben rolls, anyone?). With $5 pints

and apps during happy hour, River City is

exactly what a brewpub should be.

9

RUHSTALLER BEER

726 K Street, Sacramento, 916-447-1881,

ruhstallerbeer.com

Captain Frank Ruhstaller, the leading brewer

in the Sacramento region during its hop

heyday in the late 1880s, is the namesake

behind the capital city's first

premium craft brewery.

Of course, Prohibition

shut production down,

but in 2011, they made

their comeback. Priding

themselves on using

locally grown hops to

make bona fide Sac brews

like their flagship golden

lager, Gilt Edge, the brewery

also offers a hands-on hop school, plus a

recently opened basement tasting room in

Downtown Sacramento.

NEW IN

TOWN

13 Up-and-Coming

Wineries and Breweries

1

Dueling Dogs Brewing Company

3030 Barrett Park Lane, Lincoln, 916-434-8141, duelingdogsbrewing.com

Made with hand-picked ingredients from their own orchards, vineyards, and hop fields, this

watering hole is pioneering a pasture-to-pint movement. More than just a brewery, Dueling

Dogs also serves up mead, cider, and something you probably can't find at most spots: cyser,

which is a slightly sweet, super crisp fusion of the two. If you're more of a traditionalist, fear

not: You'll also find a pilsner, chocolate porter, mandarin wit, pale ale, and IPA on draft.

Dueling Dogs Brewing Company photos by Dante Fontana. Other photos courtesy of thier respective companies or organizations.

50 stylefedh.com // AUGUST 2018 // /stylefedh /stylemediagroup /stylemediagroup /stylemagfedh
---
2

Red Bus Brewing Company

802 Reading Street, Suite A, Folsom,

916-467-7790, redbusbrew.com

It's like a cozy clubhouse (think red leather couches,

foosball tables, and tic-tac-toe) with an undeniably hip

factor (a bright red '68 Volkswagen bus), and it's also

the first brewery to tap into the Folsom beer scene

since the 1880s. A labor of love for veteran homebrewer

Erik Schmid, the tap house has offered traditional

brews like Type III, a pale ale, as well as more creative

efforts, like Dank Brut, a champagne-style IPA. One

notable thing about the clubhouse? There are no

secret passwords, or even secrets at all. The recipes and

production process are an open book—just ask.

Photos by Dante Fontana.

AUGUST 2018 // stylefedh.com 51
---
3

New Glory Eatery and

Taproom

5540 Douglas Boulevard,

Suite 140-150, Granite Bay.

916-451-9355, newglorybeer.

com

A comprehensive lineup of

nuanced IPAs with complex

tasting notes and adventurous,

cheeky stouts including Plentiful

Pastries, an American imperial

stout brewed with powdered

maple sugar and maple donuts)

are this brewery's claim to fame.

If the beer itself isn't enough

to inspire you to build a shrine

on your shelf, perhaps you'll

be swayed by the funky and

hypnotic cans, which are works

of art in their own right. These

hop gurus are branching out

from their Sacramento roots and

bringing their craft to Granite

Bay, with a seasonal and locally

sourced menu to boot.

Photos by Dante Fontana.

52 stylefedh.com // AUGUST 2018 // /stylefedh /stylemediagroup /stylemediagroup /stylemagfedh
---
Claude Chana photo courtesy of Hänsel und Gretel via wikimedia.org. E16

Winery photos by Dante Fontana.

4

E16 Winery

8085 Perry Creek Road, Somerset, 530-620-6200, e16winery.com

Following in his winemaker grandfather's footsteps, founder Robert Jones channels his

pride for the region into the bottle, showcasing his sustainable vineyard's Pinot Noir

and Chardonnay. The 2014 Pinot Noir is bursting with lush, dark fruits and black cherry

notes, signature to Anderson Valley, while the Russian River Valley's 2016 Chardonnay

is a silky daydream of pineapple, golden apple, honey, and spice. Visit the tasting room

or book a private cave tasting for a subterranean sipping experience.

MIND

BLOWN

7 FUN FACTS

1If not for the Gold Rush,

perhaps there wouldn't

be California wine as we know

it today. European immigrants

with winemaking in their

blood came for the gold but

realized a shinier opportunity:

selling wine to homesick miners.

The first grapes in Placer County

were planted in 1848 by miner Claude Chana, a French

immigrant.

2The Sierra Foothills covers 2.6 million acres

and contains vines planted throughout eight

counties.

3The foothills housed more than 100 wineries

by the end of the 19th century, more than any

other region in California, but the decline of gold mining

and Prohibition put a cork in things until the late 1960s,

when a new generation of pioneers took over.

4The Bogle family was well-known in the '50s

and '60s for farming row

crops, predominantly corn. In

1968, Warren Bogle decided

to try something he wouldn't

need to replant every year,

so he put in a few acres of

potatoes, all of which promptly

died. A consultant advised

Warren to plant wine grapes, so

he planted 10 acres of Petite Sirah and 10

acres of Chenin Blanc. It was good advice: 50 years

later, Bogle wines are sold in all 50 states and nearly

40 countries.

5Crooked Lane Brewing Company was originally

built in 1980 as a duplex movie theater, and

in the '90s, it became a car dealership. Today, thirsty

patrons reminisce about how they had their first kiss in

the building—or bought their first car there!

6Beer was also a preferred libation during the

Gold Rush, of course, with Galena Brewery

opening in 1849, about 100 yards from Sutter's Fort. The

first beers were brewed and sold for 25 cents a glass

(about $10 today).

7When Erik Schmid was creating Red Bus

Brewing Company, he bought its iconic red

bus—a '68 Volkswagen—with the intention of using it to

shuttle customers from Sutter Street to the brewery and

back. The insurance company wasn't too keen on the

liability, so now the bus is just the logo—and arguably

one of the best bar accessories in town.

AUGUST 2018 // stylefedh.com 53
---
5

Black Vette Winery

4984 Bell Road, Auburn, 916-444-5338,

blackvettewinery.com

Named after the owner's 1966 black Chevy Corvette that she's

owned and coveted since '81, Black Vette Vineyards' first harvest

happened in 2017 with bottling taking place just last month.

The second harvest, slated for this fall, will include Petit Verdot,

Sangiovese, Montelpulciano, and Primitivo. Eager beavers will have

to be patient though: The winery's tasting room and bottles won't

be available till 2019.

6

Mount Saint Joseph Wines

(Vin Uva Tasting Room)

8629 Auburn Folsom Road, Granite Bay,

916-784-9463, mountsaintjosephwines.com

The idea for Mount Saint Joseph Wines—whose tasting room, Vin Uva,

opened last month—originated in January 2015 during a conversation

between nationally recognized Napa winemaker Peter Story and

Father Matthew Spencer of Saint Joseph Marello Catholic Church

(hence the winery's moniker). Their goal was simple: beautify the

property of the Oblates of Saint Joseph—an order of priests who have

had their novitiate and seminary on the 20-acre grounds in Loomis

for almost 70 years—with vineyards and provide lease income to

support the Oblates seminary and youth service missions. Three

years later and they have a well-established wine club, 1,800 cases of

red and white varietals and blends (with much more on the way), and

a popular presence at numerous local restaurants.

Photos by Dante Fontana.

54 stylefedh.com // AUGUST 2018 // /stylefedh /stylemediagroup /stylemediagroup /stylemagfedh
---
7

Hillenbrand

Farmhaus Brewery

5100 Virginiatown Road, Newcastle, 818-714-0078,

hillenbrandbrewery.com

This barn-turned-brewery offers a pastoral view to enjoy with

your pint. Seating for the lofty, wood-filled space overflows

outside, where you can sit by the pond or sprawl out at picnic

tables. Naturally, it's a picturesque wedding venue and also

hosts offbeat events worth driving out of town for, like sushi

and beer pairings and comedy nights. A small but mighty

menu checks all the boxes: a fruity IPA (we recommend trying

it with the Dole Whip for a refreshing summer sipper), spicy

and citrusy saison, passionfruit sour, dessert-inspired stout,

and classic blonde ale.

DESIGN TIME

6 Labels We Love

Mraz Brewing Company

2222 Francisco Drive, Suite 510, El Dorado Hills, 916-

934-0744, mrazbrewingcompany.com

If Mraz has a signature style, it would best be

described as "fun." Just like its sudsy content,

the artwork on every can is vastly different,

ranging from sassy puns to gothic vibes and

nostalgic cartoons to revived memes.

Chateau Davell Boutique

Winery

3020 Vista Tierra Drive, Camino, 530-644-2016,

chateaudavell.com

Chateau Davell's first wine was named Charlotte,

a tribute to co-owners Emily and Eric Hays'

daughter. To go along with the name, Eric

painted her portrait. The pair loved

the idea of each wine being named

for someone close to them so much

that they continued with the theme.

Lone Buffalo Vineyards

7505 Wise Road, Auburn 530-823-1159, lonebuffalovineyards.com

As a nod to Native American culture, each label at Lone Buffalo includes a

unique symbol—just like the Natives used in their own artwork to express

ideas and emotions—from a thunderbird (messenger of the Gods) on their

2015 Thunder Beast Zinfandel to buffalo horns (success) on their 2015

Tatonka Tempranillo.

Hillenbrand photos by Dante Fontana. Other photos courtesy of their respective companies or organizations.

New Glory

Craft Brewery

8251 Alpine Avenue,

Sacramento, 916-451-

9355; 5540 Douglas Boulevard, Suite 140-150, Granite Bay.

916-451-9355, newglorybeer.com

Erica Lux, the wife of brewery owner Julien Lux, is the

designer behind most of New Glory's lovely labels that are

oftentimes abstract and sometimes straightforward but

always colorful, eye-popping, and fun.

Popie Wines

3550 Taylor Road, Loomis, 916-768-7643,

popiewines.com

Auburn-based artist Jan Kapple Klein

is the talent behind Popie's family-focused label,

which is inspired by the winemaker's father, Richard

"Popie" Duarte, who farmed and grew grapes in

Napa Valley.

Loomis Basin Brewing

Company

3277 Swetzer Road, Loomis, 916-259-

2739, loomisbasinbrewing.com

The majority of Loomis Basin's

labels, especially their flagship beers

like Vindicator IPA, are based off of

vintage fruit packaging labels from

around the area.

AUGUST 2018 // stylefedh.com 55
---
8

Rucksack Cellars

3030 Carson Road, Placerville,

530-647-2113, rucksackcellars.

com

Think of Rucksack Cellars as the

spirit of the Sierra Foothills swirled

in a glass. Rucksack's sister winery,

Madroña Vineyards, produces 100

percent estate wines (wine that

is made from start to finish at a

winery's property, including grape

sourcing), but Rucksack has sought

out to shop at neighboring vineyards

to create complex fruit expressions

that only this region can produce.

Look for the Seco, a rich and berryforward

wine that pairs beautifully

with spicy foods, or the Barbera Rosé,

a vibrant raspberry summer sipper.

Photos by Dante Fontana.

56 stylefedh.com // AUGUST 2018 // /stylefedh /stylemediagroup /stylemediagroup /stylemagfedh
---
10

Out of Bounds Craft

Kitchen and Biergarten

13407 Folsom Boulevard, Folsom,

916-357-5250, outofboundsbrewing.

com/folsom.html

This rustic-chic biergarten boasts plush

leather couches, a lengthy bar, and a patio

for spirited socializing. Expect playful

IPAs, unique blonde ales, and seasonal

stouts, plus artisanal guest ciders. Tip:

Grab a table that'll be big enough for all

the food you'll want to order, because

Out of Bounds is one of the few breweries

with a full kitchen, offering swanky

spins on pub grub like mahi-mahi tacos,

towering BLTs topped with salmon filets,

and grilled brie.

Outside photo at Out of Bounds by Angelo Edwards, @aneverlastingserendipity. Moska Brewing interior photo courtesy of Moska Brewing. Ol' Republic photos by

Dante Fontana.

9

Moksa Brewing

Company

5860 Pacific Street, Rocklin,

916-824-1366, moksabrewing.

com

Everything at Moksa is, frankly,

huge. There's the 3,000-square-foot

space, which can accommodate up

to 120 hopheads on any given day.

Then there's the beer list, which is

a perpetual rotation of 24 different

brews. Then, of course, there's the

booze factor—expect 9.9 percent

triple IPAs, 17 percent barley wines,

and 10.4 percent imperial stouts.

You can bring your own grub but

check online first: Local food trucks

roll in most days.

11

Ol' Republic Brewery

11151 Trade Center Drive, Suite 104,

Rancho Cordova, 916-215-8702,

olrepublicbrewery.com

This Nevada City native offers a palate

cleanser to the region's hop-heavy suds,

with a long list of easy-sipping lagers and

refreshing pilsners, in addition to the

usual IPA and stout offerings. Do your

taste buds a favor and join the Barrel Club

for a swig of "Project X," a creative side

gig starring limited production brews that

usually flow straight to the bottle, like

Chocolypto, a chocolate oatmeal stout, or

Darkest Matter, a black scotch ale.

AUGUST 2018 // stylefedh.com 57
---
12

Outbreak Brewing Company

640 Main Street, Placerville, 530-748-3258, outbreakbrewing.com

From home brewers Tim Daniel, Dustin Russell, and Kris Zabish come this no-frills brew

depot, outfitted with laid-back picnic tables and concrete floors. The small-batch brewery

focuses on bold and sassy ales, IPAs, and sours, plus house-made root beer for the kiddos

and designated drivers. Bring your chops on Thursdays for open mic, or if live music is

more of a spectator event for you, stop by to catch a local band.

58 stylefedh.com // AUGUST 2018 // /stylefedh /stylemediagroup /stylemediagroup /stylemagfedh

13

Element 79 Vineyards

7350 Fairplay Road, Somerset, 530-

479-0750, element79vineyards.

com

Hailing from North Dakota with farming

in their blood, owners Les and Sharon

Heinsen fell in love with El Dorado

County during their annual hunts for

the perfect Christmas tree. Years later,

they married their loves of wine and

rurality with Element 79, named as a

nod to the Gold Rush (gold is the 79th

element on the periodic table) and

their wedding year. Try the hard-tofind

Viognier, an aromatic and unique

white, and the 2013 Alloy, the winery's

signature Zinfandel-based blend

at the tasting room—the rustic-chic

space offers stunning picture windows

of the scenic vineyard, as well as a

comfortable patio

that's not all!

for even

more new tasting rooms

and FOR A ROUNDUP OF

RESTAURANTS BOASTING THE BEST

BEER AND WINE LISTS IN TOWN,

VISIT STYLEFEDH.COM!

Photos by Dante Fontana.
---
916-365-9563

Gladly Accepting:

Restrictions may apply. Please call for details. 2018 MMTIP LLC All rights reserved.
---
SPECIAL ADVERTISING

SECTION

Hops Grapes

&

From Pinots and pale ales to Sangiovese and stouts, there's a variety

of beer and wine to be enjoyed by all. Fortunately, you don't have

to go far to experience flavors distinctive of the Northern California

region. Whether you're looking for a libation to make your romantic

dinner more special or a trendy new craft brew while watching the

big game with friends, the area's finest brewmasters and winemakers

are just around the corner! Style invites you to get a taste of what

what our region has to offer.

Mettler Family Vineyards

Celebrating over 100 years in Lodi.

We welcome you to Mettler Family

Vineyards in the heart of beautiful

Lodi Wine Country. We invite you to

stroll the landscaped grounds, picnic

around the willow-shaded pond

and enjoy our Estate and limitedproduction

wines. Weddings, picnics,

wine club, groups/limos welcome.

Open Thurs-Mon

11am-5pm.

7889 E. Harney Lane • Lodi

209-369-3045 • mettlerwine.com

60 stylefedh.com // AUGUST 2018 // /stylefedh /stylemediagroup /stylemediagroup /stylemagfedh
---
SPECIAL ADVERTISING

SECTION

AUGUST 2018 // stylefedh.com 61
---
SPECIAL ADVERTISING

SECTION

Fusion Taps

Folsom's newest gastropub is now open and offering the

best craft beer, wine and delectable menu as well as a

friendly atmosphere to gather with family and friends.

Our menu is a fusion between American and Thai with a

variety of tap beers to try. Come and check out our amazing

atmosphere and menu.

We want to create a dining experience like no other. Fusion

Taps is conveniently located off Blue Ravine Road in Folsom

near Folsom Boulevard. We look forward

to serving you delicious food and the

best selection of craft beer and wine.

Please visit our website to see what our

satisfied customers have to say about us!

Pet friendly!

194 Blue Ravine Road, # 120

916-790-8324 • www.fusiontaps.com •

Gold Hill Vineyard

Gold Hill Vineyard & Brewery offers the best of both

worlds in one location. Our tasting room is located at

5660 Vineyard Lane in Placerville one mile from Coloma.

With stunning views overlooking the American River

Canyon, it is the perfect setting to relax with a bottle of

wine or a cold pint of beer on our tasting room deck. We

produce 6 ales onsite and 11 varietals

of estate grown wines. Open

Thursday thru Sunday from 10 – 5.

Open Mondays from Memorial Day

to Labor Day. Picnic area and 2 sites

for weddings/events. Dog friendly.

5660 Vineyard Lane • Placerville

530-626-6522 • www.goldhillvineyard.com

Distant Cellars

On the road to Fiddletown…1.2 Miles from E-16/Shenandoah

Road in Amador County, California…on Ostrom Road is where

you will find this hidden gem, Distant Cellars Winery. The drive

down Ostrom Road is magnificent. Lined with old homestead

farms, one senses the rich history of this renowned Gold Rush

region. Inspired by the rich terroir, Distant Cellars produces

small lots of wines exhibiting the unique

characteristics of the Fiddletown AVA.

We invite you to come experience the

wines of Distant Cellars and enjoy a bit of

history in every bottle.

21390 Ostrom Rd., Fiddletwon, CA

209-245-8587 • www.distantcellars.com

Thur-Sun 10:30-5:30 •

Lone Buffalo Vineyards

TASTING ROOM OPEN

FRIDAY - SUNDAY 12:00 - 5:00 PM

Premium boutique wines crafted right in your own back

yard! Lone Buffalo Vineyards fits right into the Sierra

Foothills wine scene – offering a down-to-earth attitude

and

7505

a

Wise

twist

Road

of s Old

Auburn,

West

CA 95603

philosophy. s 530.823.1159

Grab s lonebuffalovineyards.com

a taste of our

flagship "Where the Buffalo Roam" Syrah blend or "Bison

Blanc Viognier" and listen to a tale about the history of

wine in Placer County. We don't just spin yarns – we make

great wines. Silky reds and tangy

whites backed by over forty years of

winemaking experience. Enjoy tasting

Fri-Sunday, noon-5pm at our Wise Road

vineyard & tasting room right in the

middle of the Placer Wine & Ale Trail.

7505 Wise Rd., Auburn, CA

530-823-1159 • www.lonebuffalovineyards.com

Fri-Sun 12-5 •

62 stylefedh.com // AUGUST 2018 // /stylefedh /stylemediagroup /stylemediagroup /stylemagfedh
---
SPECIAL ADVERTISING

SECTION

Order of one of our most popular

appetizers, "Pretzel Bites" with this ad.

FREE Limit one per table per visit. Expires 8-31-18.

HAPPY HOUR

Everyday 3-6pm

BRUNCH

Sundays from 10am-2pm

TRIVIA NIGHT

Wednesday 7-8:30pm

#1 Best Brewery

#1 Best Waitperson (Thomas Kam)

#2 Best Bar

#3 Best Happy Hour

240 Vernon Street | Roseville, CA 95678

916.786-MONK (6665) | www.monkscellar.com

Style Magazine Ad copy copy.pdf 1 7/19/18 12:18 PM

Miraflores Winery

Escape the hectic pace of everyday life….Visit Miraflores this

summer & indulge in our annual Summer Pairings, offering

four course lunches with expertly paired wines while

sitting under our covered patio, overlooking our 42 acres of

vineyards. These lunches, prepared by incredible chefs such

as Adam Schulze from Sacramento's top restaurant, Waterboy

and Aimal Formoli of Formoli's Bistro and Red Rabbit, just to

name a few, are offered every weekend

June 29th through September 30th. While

you're here, taste one of our many 90 plus

point Wine Spectator or Wine Enthusiast

rated wines, including estate Zinfandels,

Malbecs, Tempranillos, Syrahs, Viognier,

and many more!

2120 Four Springs Trail • Placerville

530-647-8505 • mirafloreswinery.com

Lava Cap

C

M

Y

CM

MY

CY

CMY

local, high elevation wines.

K

Lava Cap is a family-owned winery in Placerville, California. The Jones family

planted their first vines in 1981 and opened the winery in 1986 on a special site in the

heart of El Dorado County. The family of geologists specifically selected this location for

its prime volcanic soil that is particularly well suited to growing fine wine grapes. They

named their new business after this unique "lava cap," where their grapes flourish in the

volcanic soil, warmed by the foothill sunshine and cooled by gentle Sierra night breezes.

- Present this page at the winery to receive complimentary tasting for 2 - (must be age 21+)

25 minutes east of el dorado hills & folsom via highway 50

Lava Cap Winery - 2221 Fruitridge Rd. Placerville, CA 95667 - www.lavacap.com - 1(800) 475-0175

AUGUST 2018 // stylefedh.com 63
---
eat & drink

DINING SPOTLIGHT

Chile Relleno

Chile Verde

Carnitas Plate

Fish Tacos

64 stylefedh.com // AUGUST 2018 // /stylefedh /stylemediagroup /stylemediagroup /stylemagfedh
---
"

SERVED WITH YOUR

CHOICE OF WARM FLOUR

OR CORN TORTILLAS—FOR

TRANSPORTING THE SAVORY

PAYLOAD TO ITS DESIRED

DESTINATION—THE FLAVOR

OF THE MEAT AND ALL THE

FIXIN'S HAD MY TASTE BUDS

FULLY ENGAGED.

Angel's

Kitchen

A Family of Fare by LORN RANDALL // photos by DANTE FONTANA

New to Folsom by way of Michoacán,

Mexico, is Angel's Kitchen. Owned by

father-daughter duo, Rebecca Vargas

and Norbeto Velez (formerly of Familia

Taqueria), and named after Vargas'

mother, the kitchen pumps out scratchmade,

home-style Mexican fare in

comfortable, cheerful environs.

I started with one my girlfriend's

go-to favorites: chile relleno. Luckily, Angel's version was the authentic style she loves—a large cheese-filled

poblano pepper with a slight heat, dipped in egg batter, gently fried, and nestled in warm rojo sauce. I kept

wishing it was morning, so I could throw a poached egg on top and call it breakfast (with a cerveza, of course).

Next came the carnitas plate—shredded and lightly seasoned slow-roasted pork alongside Spanish rice, a

smooth pinto bean purée, and dollop of guacamole and crema. Served with your choice of warm flour or corn

(one drop at a time).

"

tortillas—for transporting the savory

payload to its desired destination—the

flavor of the meat and all the fixin's had

my taste buds fully engaged.

On a side note, there were a couple

of muy caliente sauces on most tables.

If you're brave enough to try them (I

was), be aware of the label's bold

print "Xxxtra Hot Sauce" and "Chile

Habanero." Luckily, I survived without

the customary tongue

mopping, profuse sweating,

and milk chugging of some

of my previous encounters

with untested hot sauces.

Frankly, it was quite good

Going back to more of my comfort food favorites, I ordered chile verde. The offering here included

a fairly mild green chile sauce with mouthwatering pieces of slow-simmered pork tenderloin and tortillas.

Morning, noon, or night, I'd be happy devouring this dish.

I wanted to sample the fish tacos before I left, and my order came with two, eight-inch warm tortillas filled

with breaded white fish, shredded cabbage, diced tomatoes, and Mexican crema. Plug in your choice of hot sauce

and a cold beverage, close your eyes, and picture yourself listening to the sounds of surf with your toes in the sand.

The bill might have been the best surprise of the day—all the aforementioned eats for a lofty price tag of about

$29 plus tip. Now that's something to taco 'bout!

HOURS: 9

a.m.-8 p.m.

(Monday-

Saturday);

closed Sunday

TRY THIS:

Chile Relleno,

Carnitas Plate,

Chile Verde,

Fish Tacos,

Pozole, Super

Nachos, Huevos

Rancheros,

Torta, Breakfast

Burrito

DRINKS: N/A

TAB: $

HEADS-UP:

Breakfast served

all day; tacos are

$1 on Tuesday

(except shrimp,

fish, and lengua);

complimentary

chips and salsa;

vegetarian and

gluten-free

options; delivery

available via

Postmates

Angel's Kitchen, 49

Natoma Street, Suite I,

Folsom, 916-805-5997,

revvarga.wixsite.com/

mysite

AUGUST 2018 // stylefedh.com 65
---
eat & drink

neighboring noshes

A guide to getting your grub on beyond Folsom and El Dorado HIlls

"Cohabitating on our community plate was

another delicate and palate-pleasing offering:

Blossom Balls, featuring spicy crab salad

enveloped by a velvety slice of tuna or salmon

resting on a drizzle of caramel-hued sauce.

These were so good that every time I reached

for another, I felt as though I'd get my hand

slapped for stealing."

Himmapan Stir-Fry

THAI RICE

3300 Coach Lane, Suite B10,

Cameron Park, 530-350-8265

"The stir-fry

included a rainbow

of ingredients like

red chilies, onions,

cashews, bell peppers,

and chicken—all

enrobed in a spicy

garlic sauce—and hit

all the right flavor and

texture notes."

HOURS: Noon-9 p.m. (Saturday-Sunday);

11 a.m.-9 p.m. (Monday; Wednesday-

Friday); closed Tuesday

TRY THIS: Curry Puffs, Tom Kha, Som

Tum, Larb Tofu, Pad Thai, Himmapan

Stir-Fry, Green Curry, Sriracha Fried Rice,

BBQ Steak, Fried Banana with Coconut

Ice Cream

DRINKS: Beer and wine

TAB: $$

TANG'S SUSHI

1426 BLUE OAKS BOULEVARD, SUITE 100, ROSEVILLE, 916-781-0807, TANGSUSHI.COM

Blossom Balls

HEADS-UP: Lunch specials served

weekdays; two full pages of vegetarian

dishes; protein choices include chicken,

pork, beef, shrimp, calamari, seafood

combo, or tofu; delivery available via

GrubHub

HOURS: 11:30 a.m.-2:30 p.m., 5-9 p.m. (Monday-Friday);

5-9 p.m. (Saturday); closed Sunday

TRY THIS: Blossom Balls, Noricho, Half Shell

Scallops, Poke Salad, Japanese Pasta Beef, Fish Lover

Roll, Tang Lobster Special Roll, Nigiri Combo

DRINKS: Beer and wine

TAB: $$

HEADS-UP: Spacious patio; happy to customize

orders and create off-menu items based on

ingredients you like; vegan, vegetarian, and glutenfree

options; lunch specials; delivery available via

Postmates; kids' bento box includes one main, one

side, miso soup, and rice

66 stylefedh.com // AUGUST 2018 // /stylefedh /stylemediagroup /stylemediagroup /stylemagfedh

Photos by DANTE FONTANA
---
U

N

I

F

F

O

I

V

A

R

T

C

I

L

S

O

M

C

O

R

D

O

Children's Dental Orthodontics Endodontics

E

D

S

C

H

O

O

L

D

I

S

T
---
eat & drink

FOODIE

FIND

by ASHLEIGH GRUENWALD

Folsom State Slickers // Much to the glee of liquor lovers, Folsom State Slickers (formerly City Slickers) has reopened in

Historic Folsom. With 24 years under its belt, this family-owned watering hole continues to be the go-to spot for locals looking to get hydrated in

laid-back environs. In addition to a rotation of local beers and ciders, plus hard alcohol aplenty, the relaxed spot also pumps out some great pub

grub. From traditional bar snacks, like pretzels with beer cheese and buffalo hot wings, to breakfast sandwiches, personal pizzas, and a few sweet

desserts, there's a little something for everyone. A few friends and I stopped by for happy hour and instantly felt at ease in the open atmosphere.

With the heat in full force, I was in dire need of a cold, crisp beer and—upon the bartender's recommendation—went with an area favorite: Knee

Deep Brewing Company's Breaking Bud India Pale Ale. This refreshing West Coast-style IPA featured plenty of hops with tropical hints of mango

and passionfruit. Craving something to soak up all the suds, I ordered one of their specialty Mini Pepperoni Pizzas—a cheesy, meaty masterpiece

that was the perfect pairing to my pint. Sitting outside on the gorgeous wraparound porch, I couldn't help but plan my next trip to this Folsom

favorite that also features pool tables (and tournaments!), live music, and local art adorning its walls. 705 Gold Lake Drive, Suite 200, Folsom,

916-439-0631, folsomstateslickers.com.

68 stylefedh.com // AUGUST 2018 // /stylefedh /stylemediagroup /stylemediagroup /stylemagfedh

Photos by DANTE FONTANA
---
eat & drink

THE HOT LIST

Family-Friendly Dining!

6 Best Kids' Menus compiled by STYLE STAFFERS // photos by DANTE FONTANA

Forget Happy Meals. Several mom-and-pop eateries are stepping up their family-friendly dining game

to include more than just French fries and plastic toys. From fun activities and accommodating staff to

scratch-made menu items, the following places promise kiddos will leave extra happy (and full)! In no

particular order…

Aji Japanese Bistro

Back to the 80s Café and More

Skipolini's Pizza

BarnBurner

Brickyard Kitchen and Bar

The Breakroom

"Skipolini's Pizza lets

kids become 'Junior Chef'

for the day by building their

own cheese or Pepperoni

Pizza at the table. My little

critter loves the thrill of

crafting his own masterpiece

only to scarf it down a few

minutes later. After, you'll

find him climbing, sliding,

and swinging from the play

structure outside. It's usually

an evening well spent."

skipolinispizza.com

"The Breakroom in Shingle

Springs is where 'food meets fun.'

They have lots, and I mean lots, of

games for the young and young

at heart (aka, my husband) and

a children's menu that's creative

with its names—like the 'Whatever'

cheeseburger, the 'I Don't Care'

grilled cheese, and the 'I'm Not

Hungry' Mac 'n' Cheese.

Whether it's through the food

or the games, my kids are

always thoroughly entertained."

breakroomeatery.com

"BarnBurner in Rocklin

has something for everyone—a

loaded menu for adults, an

exciting menu for kiddos, and

another for Fido (breakfast

chow or pooch patty? Take

your pick). My nieces love their

French Toast encrusted in

Cinnamon Toast Crunch. I've

tried it and can see why. It's

sweet, crunchy and combines

two breakfasts. I don't think

they'll tire of it anytime soon."

916-259-1751

"Brickyard Kitchen and

Bar in Roseville screams fun

'round every turn. The kids

stay occupied with corn hole,

Jenga, and more, while adults

enjoy some respite of their

own. A sufficient menu for

youngins provides all of their

favorites, including a juicy

Cheeseburger that comes

with a small soda and side (fries,

chips, slaw, or veggies). It's a winwin

for all ages and appetites."

brickyard916.com

"Back to the 80s Café

and More in Rancho Cordova

is totally rad! Step back in time

to a bygone era of Pac Man and

Pee Wee, browse through their

memorabilia, and give your kids

a taste of what life was like

when everyone had perms and

shoulder pads. When you're

done perusing, treat junior to a

good ol' Grilled Cheese and

reminisce. It'll be a bonding

experience like none other."

backtothe80scafe.com

"Aji Japanese Bistro in

El Dorado Hills is known for

their creative offerings that

extend to their kids' menu

as well. My sushi-loving

grandson loves the Crunchy

Cali Roll that consists

of lightly fried snow crab,

avocado, and cucumber.

Trying to get each bite into

his mouth is a challenge,

but he's getting pretty

good at those chopsticks!"

ajibistroedh.com

70 stylefedh.com // AUGUST 2018 // /stylefedh /stylemediagroup /stylemediagroup /stylemagfedh

FOR MORE KIDS' MENU FAVORITES,

VISIT STYLEFEDH.COM!
---
H BEST FOOD AND DRINK H

AS VOTED BY THE READERS OF STYLE MAGAZINE

ITALIAN

CAFÉ

At Visconti's Ristorante, we are honored

to cook for you as we cook for our own

family. We are proud to use only the

freshest ingredients, and imported

meat, cheese, and wine.

We welcome you and look forward to

serving you!

Visconti's Ristorante

2700 E. Bidwell St., Ste. 700

Folsom, CA

916-983-5181

viscontisristorante.com

Offering delicious home made fresh

food and the best coffee and espresso

in the area. Start your day with our

breakfast specialties, warm cinnamon

rolls, delectable coffee cakes, fresh

muffins, delightful scones and cookies. Sit

outside on the patio for lunch, and enjoy

our creative salads, sandwiches and soup.

Come enjoy our great patio!

Coffee Republic

6610 Folsom-Auburn Rd.

Folsom, CA

916-987-8001

www.coffeerepublicfolsom.com

CAFÉ

THAI

We specialize in European inspired

Breakfast Pastries, Crepes, and

Desserts! Everything is made in house

by our exceptional culinary team. We

value quality and freshness as the

most important part of our product!

Bring this ad in for 10% off your order!

Valid 08/01/18- 08/31/18

Julian's Patisserie & Cafe

6610 Folsom Auburn Rd., Ste. 7

Folsom, CA

916-936-4735

www.julianscafe.com

As one customer said, "The best Thai

food we've ever eaten." Let us serve you

Monday-Sunday. Enjoy indoor dining

or our lake view patio in our beautiful

Town Center location. We serve

traditional Thai food in an authentic

Thai setting. We offer convenient online

ordering. Readers' Choice Award winner

13 consecutive years.

Chantara Thai Cuisine

4361 Town Center Blvd., Ste. 110

El Dorado Hills, CA

916-939-0389

JAPANESE / SUSHI

DESSERTS

Executive Chef Michael Liu unites

traditional Japanese cuisine with unique

and contemporary offerings by bringing

you the very best in tasty ingredients

from the ocean & land to your plate.

Tuesday-Sunday 11am-2pm enjoy our All

You Can Eat (AYCE) menu. It has proven

an unmatched offering enthusiastically

received by our customers.

Hisui Sushi

25004 Blue Ravine Rd., #107

Folsom

916-985-7778

www.hisuisushi.com

Icing on the Cupcake offers a wide

variety of cupcake flavors including

gluten free and vegan options

available every day at our three retail

locations. We also offer other sweet

treats baked fresh daily including

brownies, pies, and cookie sandwiches

using the finest quality ingredients.

Icing on the Cupcake

6839 Lonetree Blvd.

Rocklin

916-303-4333

www.icingonthecupcake.com

AMERICAN

CANDY STORE/CONFECTIONER

The Independent presents an

outstanding American fusion menu

and a top-tier full bar. The scratch

kitchen uses only the freshest, finest

ingredients creating exceptional grill

and seafood entrées. The bar prides

itself on artisanal cocktails, freshsqueezed

juices and house-made

mixers. Beautiful outdoor patio!

The Independent

Restaurant and Bar

629 Main Street, Placerville

530-344-7645

independentplacerville.com

A Family of Candy Makers since 1963.

With 3 generations of candy makers,

Snooks continues the tradition of

producing the finest freshly made

confections on site in Historic

Folsom. Come visit us or shop online!

Snooks Chocolate Factory

731 Sutter Street

Historic Folsom, CA

916-985-0620

www.snookscandies.com

AUGUST 2018 // stylefedh.com 71
---
Annual

craft

brew fest

in Historic Folsom

fri. aug. 3

FOOD TRUCKS LIVE MUSIC

UNLIMITED TASTINGS 40 BREWERIES

Stay for fun on Sutter Street!

TICKETS AVAILABLE AT TAPFOLSOM.COM

u

u

BEER GEEK

TICKETS

u

EARLY ENTRY (5PM)! Beat the crowd with an extra hour of beer tasting!

Shaded Beer Geek garden area and no host food service

Unlimited craft beer tastings to 40+ breweries

Tap Folsom-Ad-7.375x4.9375-16.indd 1

7/12/18 1:46 PM
---
RESTAURANT GUIDE

Featuring restaurants and eateries

in El Dorado Hills and Folsom

** = MAGAZINE DISTRIBUTION POINT

EL DORADO HILLS

36 Handles

1010 White Rock Rd. (916-941-3606 or 36handles.

com)

British, lunch/dinner, full bar, reservations accepted,

outdoor seating available $$

➻ Healthy and authentic may sound too good to be

true, but at 36 Handles you will get nothing short of

that. After trying the traditional fish and chips and

certified Angus beef dishes, you'll get a good handle

on what this eatery is all about. The live bands and

full bar add to the lengthy list of why it's the ideal

restaurant.

Bamiyan Afghan Restaurant

1121 White Rock Rd. (916-941-8787 or afghancuisine.

com)

Afghan, lunch/dinner, full bar, outdoor seating

available, reservations accepted, free Wi-Fi $$

➻ Since 2003, Bamiyan has been serving delicious

Afghan cuisine, including specialties like mantoo

and ashak dumplings and award-winning kebabs—

ranging from traditional lamb, mouthwatering beef

tenderloin and succulent lamb chops to salmon

and swordfish—all cooked traditionally over a bed

of coals. Experience 50,000 years of flavors in the

restaurant's elegant dining room or on the spacious

and scenic patio. Bamiyan has something for

everyone, including vegetarians and vegans.

Casa Ramos

2023 Vine St., Ste. 200 (916-939-0900 or

casaramos.net)

Mexican, lunch/dinner, full bar, reservations

accepted, outdoor seating available, $$

➻ If you're a fan of cheese, try the Pollo Fundido—a

rolled flour tortilla served soft or crispy and filled

with chicken, then smothered in cream cheese,

American cheese and guacamole. It's a fiesta for

your taste buds! In addition to traditional Mexican

fare, the Ramos family also serves up heart-healthy

dishes, vegetarian options and a special menu for

the kiddos—many from the family's repertoire of

recipes.

Cascada

2222 Francisco Dr. (916-934-0800 or eatcascada.

com)

Mexican, lunch/dinner, full bar, reservations

accepted $$

➻ There's no better way to spice up dinner

then sipping a margarita alongside Cascada's

complimentary and oh-so creamy bean dip, chips

and salsa. Cozy up by the fireplace, and dig into a

plate of chile verde with corn tortillas, black beans

and cilantro rice; or dive into the Pasta Mexicana.

Trust me, es muy bueno!

Chantara Thai

4361 Town Center Blvd. (916-939-0389)

Thai, lunch/dinner, full bar, reservations accepted,

outdoor seating available $$

➻ Red curry? Peanut curry? Spicy curry? Whatever

your preference, you can find it all at this authentic

Thai restaurant. Not only will you feel as though you

are in the heart of Thailand with the themed décor,

but you will also get your money's worth of flavor

that will leave you wanting more.

Relish Burger Bar

1000 White Rock Rd. (916-933-3111 or

relishburgerbar.com)

American, lunch/dinner, full bar, happy hour,

reservations accepted, outdoor seating available

$$

➻ If your favorite sporting event is on, stop by to

enjoy it with the delicious tasting burgers crafted at

Relish—one of El Dorado Hills' finest burger joints.

With indoor, outdoor and bar seating, it offers the

perfect environment for any type of day or evening

outing. Don't forget to ask about their specialty

drinks at the indoor-outdoor bar.

Selland's Market Café

4370 Town Center Blvd. (916-932-5025 or sellands.

com)

Café/bakery, lunch/dinner/dessert, beer & wine

only, outdoor seating available $$

➻ Upon first glance, the chic setting and stunning

outdoor patio overlooking the Town Center

fountains will have you impressed with Selland's.

The seasonal, healthy, and house-made menu items

are the cherry on top! From eclectic sandwiches and

hearty entrées and sides to leafy green salads and

pizzas, you're sure to find something that speaks to

you. Have a sweet tooth? A variety of desserts are

offered and promise to complement your meal.

Sienna Restaurant

3909 Park Dr. (916-941-9694 or siennarestaurants.

com)

American, breakfast/brunch/lunch/dinner, full bar,

reservations accepted, outdoor seating available,

free Wi-Fi $$

➻ Executive Chef Jason Doolittle has created a

mouthwatering menu at this upscale, chic eatery.

Specialties include woodfired pizza, fresh fish,

hand-cut steaks and a large selection of appetizers.

The romantic environment boasts four fireplaces,

Italian décor, and spacious outdoor patios, which

contribute to its warm and classy ambience.

Sky Sushi

3907 Park Dr. (916-941-6310)

Japanese/sushi bar, lunch/dinner, beer & wine only,

reservations accepted $$

➻ Since 2005, Sky Sushi has been serving fresh and

tasty rolls at reasonable prices. Located in the eyecatching

shopping center La Borgata, it offers a

trendy atmosphere with a stylish interior. Satisfy your

sushi craving,s with their famous "Slap Me" or "Shrimp

Lover" rolls, and be sure to get a taste of the crispy

tempura and the one-of-a-kind garlic edamame.

Umi Sushi

1121 White Rock Rd., Ste. 105 (916-586-9444 or www.

umisushiedh.com)

Sushi bar, lunch/dinner, beer, wine and sake only,

reservations accepted $$

➻ From romantic evenings to a friends' night out,

Umi Sushi is the place to be! The super fresh fish and

pretty presentation will please both your appetite

and eyes. A non-sushi menu (like delicious bento

boxes and udon) is offered for non-sushi-loving

patrons.

Windplay Deli **

5003 Windplay Dr. (916-933-9099)

Deli, breakfast/lunch, no alcohol, outdoor seating

available $

➻ Located in a business park, Windplay Deli is a great

place to stop by on your lunch hour. Operated by the

owners themselves, they strive to create sandwiches

to your preference by accommodating all palates.

They also offer half-and-half deals, a variety of soups,

and home-style chili.

FOLSOM RESTAURANTS

Bacchus House Bistro

1004 East Bidwell St., Ste. 100 (916-984-7500 or

bacchushousebistro.com)

New American, lunch/dinner, full bar, happy hour,

outdoor seating available $$

➻ Bacchus is the name the Romans coined for

Dionysus, the Greek God of wine and bountiful

harvest, and aptly describes one of Folsom's most

praiseworthy eateries—thanks to their extensive

wine offerings (many local) and seasonal, globally

influenced dishes (think Brie cheese puffs, slowroasted

prime rib, and cinnamon caramel bread

pudding) that utilize fresh fare from local farms.

Whether seated in the expansive dining room, the

wine bar or on the charming patio amongst marble

statues and lush greenery, you'll be treated like

royalty. Don't miss their Sunday Night Suppers where

diners can enjoy a full menu from 4-8 p.m.

Costa Vida Fresh Mexican Grill

2791 E Bidwell St., Ste. 100B (916-597-1008 or

costavida.com)

Mexican, lunch/dinner, no alcohol $

➻ Costa Vida is awash with the flavors of coastal

Mexico. Inspired by nautical vibes and healthy

living, the food here is fresh and made with plenty

of passion. Ordering is made easy with a step-bystep

menu that allows patrons to choose from

different entrées—burritos, tacos, nachos, salads,

and quesadillas, to name a few—and customize

their creation from there.

Curry Club Indian Bistro

196 Blue Ravine Rd., Ste. 130 (916-353-0855)

Indian, lunch/dinner, no alcohol, reservations

accepted $$

➻ Dive into authentic Indian cuisine at this local

favorite. For those unsure about what to order, avail

of their lunch buffet where you can sample multiple

dishes for a fraction of the price. Regulars go gaga

for their vindaloo, palak paneer, and butter chicken.

Dominick's NY Pizza and Deli

187 Blue Ravine Rd., (916-351-0900 or www.

dominicksfolsom.com)

Pizza/deli/sandwiches, lunch/dinner, beer & wine

only, outdoor seating available, free Wi-Fi $$

➻ Step into Dominick's for mouthwatering pies

(New York and Sicilian style), paninis, hero subs (both

hot and cold), pastas, and more—all made using

locally sourced produce, Boar's Head deli meats

and cheeses, and scratch-made dough and focaccia.

The casual, family-friendly restaurant also features

a rotation of local craft beers, Italian wines, and

gelato. Don't miss their "Family Dinners on the Go!"

which come with your choice of entrée, plus salad

and garlic knots, and can be ordered for pick-up or

take-n-bake.

Dos Coyotes

13885 Folsom Blvd., Ste. 100 (916-351-9750 or

doscoyotes.com)

Mexican, lunch/dinner, beer & wine only, outdoor

seating available $

➻ Follow the aromas of flame-broiled steak and

chicken into local favorite, Dos Coyotes. With an

eclectic spin on Southwestern dishes—all made

with fresh, local ingredients—at affordable prices,

Dos has something to please all palates...from meateating

adults and kids to vegetarians and glutenfree

eaters. Favorites include the Yucatan Chicken

Salad, Paella Burrito and Steak Quesadilla; but their

"Seasonal Specialties" are worth exploring, too.

AUGUST 2018 // stylefedh.com 73
---
eat & drink

RESTAURANT GUIDE

Fat's Asia Bistro **

2585 Iron Point Rd. (916-983-1133 or lovemyfats.com)

Asian bistro, lunch/dinner, full bar, reservations

accepted, outdoor seating available $$

➻ With a classy and trendy ambience, Fat's

specializes in handmade dim sum, house-made

banana cream pie (Frank Fat's recipe) and fresh,

high-quality Asian food. They have a full bar with

high quality spirits and a spectacular wine list,

along with patio seating featuring outdoor water

features. Banquet parties are available for up to 30

people. Experience contemporary Asian cuisine in

a spectacular, hip environment.

FLB Entertainment Center

511 East Bidwell St. (916-983-4411 or flb365.com/

grill.html)

American, breakfast/lunch/dinner/late-night

eats, full bar, happy hour $$

➻ Bowling, a casino and sports bar are just part

of the fun that awaits at FLB Entertainment

Center. They also offer a full grill that's replete

with appetizers like bacon cheese fries and

jumbo hot wings, veggie-packed salads and

wraps, burgers, sandwiches, pizza, breakfast

items, and the list goes on. The kids' menu is

open to seniors and little ones, and their Taco

Tuesday deal can't be missed. Come for the

entertainment; stay for the all-American grub!

Folsom Tap House

25005 Blue Ravine Rd., Ste. 140 (916-282-5711 or

folsomtaphouse.com)

American, full bar, happy hour, outdoor seating

available $$

➻ Choices abound at Folsom Tap House! Their

extensive menu allows guests to choose from draft

and bottled beers, and to create their own flight.

Their food menu has options that'll pair perfectly

with whatever pint you pick. Stop by for dinner any

night of the week, or enjoy lunch on the patio.

Hacienda Del Rio

702 Sutter St., Ste. M (916-351-1800 or hacdelrio.

com)

Mexican, weekend brunch/lunch/dinner, full bar,

happy hour, outdoor seating available, free Wi-Fi

$$

➻ For authentic Mexican food in a lively

atmosphere, head to "The Hac." Since 1979, the

newly remodeled restaurant has been dishing

up favorites like Fajitas Del Rio (served with

fresh-made flour tortillas) and Chimi Especial,

alongside chips, spicy green salsa, and handcrafted

margaritas. The spacious outdoor deck is the

perfect place to soak up an afternoon of sunshine.

Hasu Teriyaki and Sushi

25075 Blue Ravine Rd., Ste. 120 (916-983-7777)

Japanese, lunch/dinner, reservations accepted,

free Wi-Fi $

➻ Enjoy the delicious food, friendly service

and comfortable atmosphere at Hasu Teriyaki

and Sushi. The menu features a wide variety of

traditional Japanese dishes guaranteed to please

all. Big portions with small prices will have you

coming back for more!

Hisui Sushi

25004 Blue Ravine Rd., Suite 107 (916-985-7778 or

hisuisushi.com)

Japanese/sushi bar, Asian fusion, lunch/dinner,

beer & wine only, reservations accepted $$

➻ Combining traditional Japanese cuisine with a

creative and contemporary flair, Hisui focuses on

serving foods made using fresh, healthy ingredients.

In addition to an all-you-can eat, made-to-order

lunch menu with a variety of offerings, they also

serve ramen and other noodle soups, bento boxes,

inventive rolls, and "Sushi Bar Tapas." With stellar

service, a clean and modern interior, and tasty

food to boot, Hisui is worth rolling into.

India House

2776 E Bidwell St., Ste. 300 (916-817-4356)

Indian, lunch/dinner, beer & wine only,

reservations accepted, outdoor seating available,

free Wi-Fi $$

➻ Whether you prefer your food spicy, mild, or

somewhere in between, India House has you

covered. Diners can customize heat levels of

whatever they're ordering, while the lunch buffet

includes offerings for vegans and meat-eaters

alike. Favorites include the chicken tikka masala,

aloo gobi, and butter naan.

La Bou Bakery and Café

404 Blue Ravine Rd., Ste. 600 (916-983-3885).

13385 Folsom Blvd. (916-608-2288)

Sandwiches/bakery/café, breakfast/lunch, no

alcohol, outdoor seating available, free Wi-Fi $

➻ For more than 25 years, La Bou has been serving

the Northern California region. Freshness, quality,

and taste are just a few of the things found in their

croissants, espresso drinks, pastries, soups, salads,

and sandwiches.

Land Ocean New American Grill

2720 E. Bidwell St. (916-983-7000 or lorestaurants.

com)

Steakhouse/seafood, breakfast & brunch/lunch/

dinner, full bar, reservations accepted, outdoor

seating available, free Wi-Fi $$

➻ At Land Ocean, you'll find the best of the land and

the sea. The culinary team has created distinctive

menus, which includes hand-cut steaks, wood-fired

rotisserie, fresh seafood and more. Owners Mark

and Karoline Platt have designed a warm and casual

environment that leaves you with the full effect of

an upscale, luxurious dining experience.

La Rosa Blanca

402 Natoma St. (916-673-9085 or

larosablancarestaurant.com)

Mexican, lunch/dinner, full bar, outdoor seating

available $$

➻ You're part of the family at La Rosa Blanca where

the friendly staff is always welcoming. Fajitas,

tostadas, or tortas? Making a selection could

become a challenge with so much to choose from.

With great-tasting food, generous portions and a

festive environment, you are bound to have the

ultimate dining experience.

Lazy Dog Restaurant and Bar

300 Palladio Parkway, Folsom (916-378-4660,

lazydogrestaurants.com/location/folsom)

American, lunch/dinner/weekend brunch, full

bar, happy hour, reservations accepted, outdoor

seating available, free Wi-Fi $$

➻ The interior here is reminiscent of mountainstyle

architecture with blonde, exposed wood

beams and stacked slate stone columns; the

waitstaff further enforces the lodge-like feel with

their flannel shirts. And then there's the food,

which features a sizeable, eclectic menu—broken

up into numerous categories that run the gamut

from "Seasonal," "Small Plates," and "Salads," to

"Bowls," "Burgers," and "Sweet Tooth"—full of

gastropub-style entrées along with standard pubgrub

offerings. Their "Scratch Kitchen" philosophy

means they vow to slice, dice, chop, season, and

cook nearly everything in-house. If you're an

avowed foodie, one trip here is not enough; plan

on visiting often with your two-legged and fourlegged

foodie friends—there's good stuff for all.

Lotus 8

199 Blue Ravine Rd., Ste. 100 (916-351-9278 or

lotus8folsom.com)

Chinese, lunch/dinner, beer & wine only $$

➻ Looking for a restaurant that offers exceptional

food and sleek, Asian-style décor? Look no further

than Lotus 8. This eatery serves authentic Chinese

food with a modern twist, such as orange chicken

that manages to be both saucy yet incredibly

crispy at the same time. Come for lunch when all of

their dishes come with soup, salad, and your choice

of chow mein or fried rice.

Mexquite Mexican Cuisine and Tequila

Lounge**

25095 Blue Ravine Rd. (916-984-8607 or

mexquite.com)

Mexican, full bar, happy hour, reservations

accepted, outdoor seating available $$

➻ Mexquite Mexican Cuisine and Tequila Lounge

provides great tasting cuisine, warmth for the

winter months, and shade for the summer time,

while offering outstanding service and high

quality food and beverages. Enjoy eating out for

breakfast? Mexquite serves brunch every Saturday

and Sunday.

Mikuni

185 Placerville Rd., Ste. 100 (916-934-5250 or

mikunisushi.com)

Japanese/sushi bars, full bar, happy hour,

reservations accepted $$

➻ Enthusiastic, eclectic and infinitely creative—

these are just a few words used to describe Mikuni.

In addition to rolls, traditional Japanese dishes,

and modern twists on classics, the restaurant also

offers a gluten-free menu, party platter menus,

and happy hour specials—all made using great

attention to detail and fresh ingredients.

Mylapore

1760 Prairie City Rd., Ste. 160 (916-985-3500 or

mylapore.us)

Indian, breakfast/lunch/dinner, no alcohol,

outdoor seating available $

➻ Owners Sudha and Jay pride themselves on

sticking to their South Indian roots by providing

fresh, healthy, scratch-made comfort food in

relaxed environs. The menu features a variety

of vegetarian and vegan options, including over

25 types of dosas (savory crepes) and uttapams

(savory pancakes), plus traditional thali that

changes based on what produce can be picked.

Nicholson's MusiCafe

632 E. Bidwell St., (916-984-3020 or

nicholsonsmusicafe)

Coffee/tea/bakery, breakfast/lunch, beer only,

outdoor seating available, free Wi-Fi $

➻ Indulge in a chai tea latte, fresh-made pastry

from nearby BJ Cinnamon, breakfast sandwich,

or salad while listening some great tunes at this

haven for local musicians. Weekly happenings

include trivia on Monday, an open mic night every

Wednesday and Friday, and ukulele sing-alongs on

Saturday. If you're seeking a local café that rocks,

Nicholson's is your jam!

Pronto's Pizzeria

299 Iron Point Rd. (916-608-0720)

Italian, lunch/dinner, beer & wine only, free Wi-Fi

$

➻ You haven't tried it all unless you've tried a slice

at Pronto's Pizzeria. Owners Joseph and Diane

Benevento came from the East Coast with family

recipes for great Italian dishes. Serving pizzas of

all sizes and flavors, it is easy to have it your way.

Not a fan of pizza? Not a problem. Pronto's also

makes other dishes, like baked ziti and eggplant

parmigiana.

Rock-N-Fire

1010 Riley St., Ste. 4 (919-673-9474 or

rocknfirerestaurants.com)

Pizza/Mexican/burgers/wings, lunch/dinner, beer

& wine only, free Wi-Fi $$

➻ Ever heard of a burger bowl? Try it at this unique

eatery that serves up flavor-packed fare—including

custom-built (and signature) pizzas, burgers,

salads, and nachos—with speedy, friendly service at

affordable prices. The family-, vegan-, and glutenfree

friendly establishment also serves bone-in

chicken wings with an array of sauces; different

flavored French fries like pesto and garlic; and

hand-spun ice cream shakes. Not to be missed

are their kids' combos, craft beer, and daily lunch

specials.

Ruchi Indian Cuisine

601 E. Bidwell St. (916-983-2871 or indianruchi.

com)

Indian, lunch/dinner, beer & wine only,

reservations accepted $$

➻ In search of cuisine that'll add a little spice

74 stylefedh.com // AUGUST 2018 // /stylefedh /stylemediagroup /stylemediagroup /stylemagfedh
---
to your life? Look no further than Ruchi. The

accommodating menu has a wide range of North

and South Indian dishes, including a lengthy list

of vegetarian entrées, as well as a lunch buffet

and weekly specials like biryani on Tuesdays, a

Wednesday night vegetarian buffet, and Thursday

night dosas.

Rudy's Hideaway

12303 Folsom Blvd. (916-351-0606 or

rudyshideaway.com)

Seafood/steakhouse, lunch/dinner, full bar,

happy hour, reservations accepted $$

➻ Rudy's is a seafood-lover's delight and features

a mouthwatering selection of nautical noshes plus

melt-in-your-mouth steaks and lunch specials.

What's more, they cater crab feeds and have a

private patio that can be booked for large parties.

Weekly specials include a five-ounce lobster tail on

Sunday and Monday, prime rib on Tuesday, housemade

cioppino on Wednesday, and one-pound

lobster night on Thursday—all served alongside

scrumptious sides.

Sacramento Pizza Company

2700 E. Bidwell St., Ste. 500 (916-673-9754 or

sacpizzaco.com)

Pizza/wings, lunch/dinner, beer & wine only,

happy hour, free WI-Fi $

➻ You're in charge of your creation at Sac Pizza

Co.—from choosing the type of crust, to the sauce,

cheese, meats and unlimited toppings—so there's

something for everyone (even vegans!). Indecisive

eaters can opt for the popular Tandoori Chicken

specialty pie or build-their-own wings. The locally

sourced ingredients and scratch-made dough

results in pizza perfection.

Shogun Hibachi Grill and Sushi

1870 Prairie City Rd, Ste. 600 (916-985-9588 or

shogunatfolsom.com)

Japanese/sushi bar, lunch/dinner, beer & wine

only, reservations accepted $$

➻ This modern hibachi restaurant brings new

meaning to "dinner and a show," thanks to a

personal chef who will deftly chop, slice and fly

your meal over and above the grill and onto your

plate. Their sushi lineup is equally as impressive,

both visually and on the palate, and runs the

gamut from specialty rolls to sashimi. Come for the

food, and stay for the fun!

Strings Italian Café

25035 Blue Ravine Rd., Ste. 120 (916-983-8815 or

folsomstrings.com)

Italian, lunch/dinner, beer & wine only $$

➻ Strings Italian Café has been offering enjoyable

and affordable Italian dishes in a relaxed

atmosphere for the past two decades, and the

tradition continues at their new location. Stop by

on Wednesdays to indulge in the all-you-can-eat

deals or enjoy one of their lunch specials any day

between 11 a.m. and 4 p.m. Seniors 62 and older get

15-percent off any entrée, while kids eat free on

Sundays and Mondays after 4 p.m.

Suishin Sushi **

194 Blue Ravine Rd. (916-985-8885).

Japanese/sushi bar, lunch/dinner, beer & wine

only, reservations accepted, outdoor seating

available $$

➻ Beautifully arranged and mouthwatering sushi

is the name of the game at Suishin Sushi. The use

of some of the freshest ingredients, including quail

eggs, uni and ponzu, give you the feeling that you're

right by the ocean. The modern, hip atmosphere

leaves you at ease as you consume your fish, one

roll at a time.

Sunny Garden Restaurant

25085 Blue Ravine Rd., Ste. 150 (916-983-8882 or

folsomsunnygarden.com)

Chinese, lunch/dinner, beer & wine only,

reservations accepted $

➻ Since 2006, Sunny Garden Restaurant has been

serving some of the best Asian dishes in the area.

Every item is made with fresh ingredients in a

traditional way, from their pineapple chicken to

the tomato beef chow mein. Large portions for

great prices in a casual, relaxed environment is

what you'll find when you dine at Sunny Garden.

Teriyaki To Go!

614 E. Bidwell St. (916-983-5560)

Japanese, lunch/dinner, no alcohol $

➻ An inconspicuous but flavorful restaurant with

a thumbs up for taste, Teriyaki To Go is an ordinary

eatery with extraordinary taste. Some may like the

consistent tang of the teriyaki sauce that adds a

whole lot of flavor, while others enjoy the pan-fried

noodles. Either way, you are sure to enjoy your

meal at this establishment.

Thai Paradise **

2770 E. Bidwell St. (916-984-8988 or

thaiparadisefolsom.com)

Thai, lunch/dinner, beer & wine only, outdoor

seating available $$

➻ A modern interior, quality food, and daily

specials are some of the aspects of what makes

this eatery a paradise. Voted the best in town by

locals for several years in a row, you won't want

to miss out on the refined flavors of Thai food

this restaurant has to offer your taste buds.

The River Thai Cuisine

424 E Bidwell St. (916-983-7388)

Thai, lunch/dinner, beer & wine only,

reservations accepted, $$

➻ Friendly customer service and deliciously

authentic Thai food are waiting for you at The

River Thai Cuisine. Established in 2015, this

family-owned restaurant will satisfy your Asian

food cravings with various selections, including

crispy egg rolls, pot stickers, and various soup,

salad, curry, noodle, fried rice, and dessert

offerings. Stop in for an enjoyable cultural

experience and try something new!

Visconti's Ristorante

2700 E. Bidwell St., Ste. 700 (916-983-5181 or

viscontisristorante.com)

Italian, lunch/dinner, full bar, reservations

accepted, outdoor seating available $$

➻ For the past two decades, Visconti's Ristorante

has given the community a taste of Italy with

their truly authentic dishes, romantic setting,

and traditional Italian music. An award-winning

restaurant, Visconti's has been selected for

being the best in town for several years in a row.

Linguini con gambere (shrimp) and asparagus,

and spicy rigatoni alla vodka are just two of their

many specialties.

The Waffle Experience

13405 Folsom Blvd, Ste 950 (916-805-5938 or

thewaffleexperience.com)

American, breakfast/brunch, waffles, beer &

champagne only, outdoor seating available, free

Wi-Fi, $$

➻ This aptly named eatery is indeed an experience.

Not only is everything made fresh daily, but there's

no microwave or heat lamp either, resulting in a

bill of fare that's as flavorful as it is eclectic. From

a savory, herb-studded waffle topped with housebraised

pork belly, cage-free eggs, arugula, roasted

tomato, ricotta, and cracked pepper agave syrup

("Praise the Lard") to a cinnamon-nutmeg waffle

topped with house-made apple pie filling, smoked

bacon bits, fresh whipped cream, and salted

espresso caramel ("Johnny Appleseed"), there's no

going hungry here.

Yodyiam Thai Cuisine

1750 Prairie City Rd., Ste. 150 (916-355-8825)

Thai, lunch/dinner, beer & wine only,

reservations accepted $$

➻ Take in the relaxing atmosphere, excellent

customer service, and authentic fare at Yodyiam.

Dishes include pad Thai, spicy beef salad, mango

curry, and Thai iced tea—all for a great deal! Be

sure to save room for the fried banana dessert

with coconut milk rum sauce (served with coconut

ice cream and coconut flakes). Stop in for

lunch and dinner or grab takeout; either way, you

won't be disappointed.

SELECT OUTLYING RESTAURANT

The Farm Table

311 Main St., Placerville (530-295-8140 or ourfarmtable.com)

American, Sunday brunch/lunch/dinner, beer

& wine only, reservations accepted, free Wi-Fi

$$

➻ For those who enjoy locally sourced farmfresh

fare and plates that change based on what

can be picked, The Farm Table might become

your home away from home. From housemade

sausages and charcuterie to preserves,

condiments, and bigger entrées like duck

confit cassoulet, there's something to please

all palates—even vegans and those who are

gluten-intolerant. Their impressive list of local

and imported beer and wine, beloved Sunday

brunch, and occasional live music make it one of

the most popular places in town.

Wally's Pizza Bar

4079 Cameron Park Dr., Cameron Park (530-

677-5205 or wallyspizzabar.com)

Pizza/American/sports bar, breakfast/brunch/

lunch/dinner, full bar, happy hour, reservations

accepted, outdoor seating available, free

Wi-Fi $$

➻ This family-owned and operated eatery crafts

gourmet pizza, pastas aplenty, high-quality

breakfast plates, and other bar food favorites

alongside craft cocktails and local beers. With an

awesome Happy Hour and other weekly events,

it's a prime pick when you're looking for good

eats and a good time.

FOR MORE RESTAURANT LISTINGS IN FOLSOM, EL DORADO HILLS AND THE SURROUNDING AREAS, VISIT STYLEFEDH.COM AND

CLICK ON OUR EXTENSIVE RESTAURANT GUIDE.

AUGUST 2018 // stylefedh.com 75
---
eat & drink

TASTE

Just a French Guy

Cooking: Easy Recipes

and Kitchen Hacks

for Rookies by Alexis

Gabriel Aïnouz

(Quadrille Publishing,

2018, $19.99)

Seasonal Recipe

and Beer Pairing

• 3 1/2 oz. dried rice

noodles

• 1/3 cup full-fat

coconut milk

• 1 tbsp. runny honey

• 10 rice wrappers

SWEET SUMMER

ROLLS

Fruit, vegetable,

and fresh herb

combinations that

work well in the filling:

• Either mango,

avocado, and

chopped mint;

strawberries, red

peppers, and

chopped basil;

or cucumber,

pineapple, and fresh

chopped cilantro

SERVING SUGGESTION

• Natural yogurt

• Runny honey

Cook the rice noodles according to the packet

instructions. Drain and set them aside in a

bowl. Mix in the coconut milk and honey.

Cut one-quarter of the fruit and vegetables you

are using into attractive, thin slices (carpaccio,

anyone?) and set aside for decoration. Cut

the rest of the fruit and vegetables into thin

sticks—you are going to use them to fill the

rolls.

Wine

Steals

Under

$17

Picture the scene—mid-summer, blazing

hot sun. Your small son pulls your arm

and for the second time you drop a

messy pulled pork and slaw sandwich.

Meet me halfway. Not so sure that

the sticky butterscotch buns planned

for dessert are going to be any more

successful. If only you'd thought of

making my fresh sweet summer rolls…

SIP ON THIS

Kim Crawford Sauvignon

Blanc

ABV: 12%

OVERALL RATING: 4

TASTING NOTES: Fresh, juicy, and crisp;

brimming with tart acidity and fruity

sweetness; aromas of fresh-cut grass and

citrus; palate is ripe with pear, grapefruit, and

melon; balanced flavor profile; pairs brilliantly

with spicy Asian foods, seafood, or summer

salads

PRICE: $10.97

PURCHASE: Total Wine & More

Fill a large dish with warm water, dip a rice wrapper in the water, and then place the wrapper

flat on a board in front of you.

Put a few noodles and then some chopped herbs and fruit and vegetable sticks on top, laid

horizontally, one-third of the way from the edge of the wrapper nearest your navel. Topped with

fruit and vegetable slices so they line up with the sticks.

Roll the rice wrapper around the filling, folding the sides in as you go to seal the summer roll.

If you've done the job properly, you'll see the fruit and vegetable slices through the transparent

wrapper.

Mix together some yogurt and honey and use as a dipping sauce. Makes 10 rolls.

SOLID GROUND BREWING COMPANY'S CLOUDS REST

ABV: 6.5%

Named after a mountain in Yosemite National

Hailing from Marlborough, New Zealand, Kim Crawford's aromatic, perfectly balanced

wines started winning awards soon after they launched in 1996 and have continued to

impress and gain a fanatical following. For more info, visit kimcrawfordwines.com.

Kim Crawford Pinot Noir

ABV: 13%

OVERALL RATING: 2

TASTING NOTES: Dark cherry

and strawberry flavors that are

complemented by subtle hints of

oak; mild and smooth without many

tannins; good balance of dryness and

acidity; shines with a variety of foods,

including red meat, roasted chicken,

and sharp cheeses

PRICE: $16.49

PURCHASE: Total Wine & More

OVERALL RATING is the average score (out of 5) given by Style staff tasters. Ratings should be taken with a grain

of salt, as we are by no means "experts"—just hard-working employees who enjoy imbibing.

Pairs with

Park, Clouds Rest is a hazy IPA that boasts a

light, juicy body and slightly

bitter finish that nicely

opposes its fruity

flavors. The pairing of

Galaxy and Hallertau

Blanc hops give it

sweet aromas of

papaya, guava, and

white wine. Thanks

to a bity bitterness, it's

refreshingly different than

other hazy IPAs but still leaves

a clean, crisp finish, making it the perfect pint

for a warm summer's eve.

—Greg Salva, 36 Handles

Recipes excerpted with permission from Just a French Guy Cooking by Alexis Gabriel Aïnouz, published by Quadrille September 2018. Beer photo courtesy of Solid

Ground Brewing Company. Wine photos courtesy of Shadow.
---
Stylish, Comfortable, Reliable, Functional

American Heritage

Modern with a touch of

antique inspiration.

Clean lines, simple shapes, and solid poplar

wood are elegantly highlighted against the

distressed finish and hammered hardware.

The combination of weathered materials and

clean design make the American Heritage

Collection a unique study in contrasts as well as

a welcome addition to any home office.

12125 Folsom Blvd.

Rancho Cordova

916-351-0227

www.naturwood.com

Mon – Fri 10am – 8pm

Sat 10am – 6pm

Sun 11am – 6pm
---
word play

1 2 3 4 5 6 7 8

ACROSS

1. Comes before Blanc and

after 7 down

5. After dinner sweet wine

10. Of the self

12. Des Moines state (abbr)

13. Particular Bavarian lager

16. German lager with "extra

malty goodness"

18. Liquid qty.

19. Fly; __ get more beer

20. Brewer's container

21. Electrical engineer,

shortened

22. Golden in color

24. Radium symbol

25. Fire feature

27. Follows sports or ceiling

28. Calendar increment (abbr)

9 10 11 12

13 14 15 16 17

18 19 20

21 22 23 24

25 26 27 28

29 30 31 32 33 34

35 36 37

38 39 40 41 42

43 44 45

46 47 48 49 50 51

52 53 54 55

56 57 58

59 60 61 62

63 64 65 66

67 68 69

70 71

High Spirits

A Custom Crossword by GAIL BECKMAN

29. Public address, for short

30. What 5 across is considered

to be: a _______ wine

33. Large pitcher, perhaps filled

with sangria

35. Likes, like a fad

36. Partner of fro

37. A wkdy.

38. Zest, actually

40. The world's first blond lager

42. Building extension

43. Head to ____

44. Cooling syst.

45. LA state

47. What moms and nurses

often provide (abbr)

49. Like Corona, Heineken,

Molson, or Sapporo

52. Word that goes with either

54. Harvest word

56. Wine enclosure

57. Symbol for lawrencium

58. Between 31 down and ti

59. Ave. cousin

60. (with 68 across) Dry, red

wine originated in France

62. Supposing

63. It's made from a dark-blue

grape

65. Beer aged from six weeks to

six months

66. Certain NCO

67. Salem state (abbr)

68. (see 60 across)

70. Particular opener

71. Word in a co. letter

DOWN

1. One in charge of the wines

2. The rocks

3. Tonic partner

4. Prefix for new or recent

5. Sponge ending

6. Slippery fabric

7. (see 1 across)

8. Wine cask, often (2 wds)

11. General Practitioner, for

short

14. Brown, red, or pale

15. Grape variety that's red or

white

16. Bud Light Lime and Coors

are considered this type of beer

17. What boggle and eggnog

have in common

19. Tag; cribbage

23. The ___ of the beholder

24. Beer variety

26. Much ___ about nothing

27. Yd. section

29. Precedes Gris or Noir

31. (see 58 across)

32. Jog, but faster

34. Hefeweizen is a _____ beer

39. That thing

40. Put together, as certain

foods and beverages

41. Send; export

45. A microbrewery produces a

_____ beer

46. "Brewed in the fall and

drunk in the Spring"

48. It's less fruity, more acid..a

dry, white wine

50. A well-hopped beer made

from brown malt

51. On tap

53. About (abbr)

55. Have some bar food

57. On the up-and-up,

shortened

58. Less filling; less calories

59. Something to wish upon

60. Mr. Kettle and others

61. Short for Individual

Retirement Account

63. Utterance from Bessie

64. Bit of a mistake

69. Half a laugh

Gail Beckman,

702-869-6416,

customcrosswords.com

Author photo courtesy of Gail Beckman.

78 stylefedh.com // AUGUST 2018 // /stylefedh /stylemediagroup /stylemediagroup /stylemagfedh

TO FIND OUT THE ANSWERS, VISIT STYLEFEDH.COM!
---
BLINDS | SHADES | SHUTTERS

Great shutters don't

always grow on trees.

Palm Beach Polystain shutters

with DuraLux Finish; Polystain

These gorgeous

shutters are made

with our Polysatin compound

and are guaranteed not to fade,

crack, warp, or peel, and will not

yellow or discolor. Available in a

selection of colors and decorative

frames for any application. Come

visit us and experience these

beautiful shutters in person, and

see other Hunter Douglas window

coverings we offer.

Check your Blind Spot for the

latest trends and newest styles in

window coverings!

916.773.7768

6624 Lonetree Blvd. Ste. 500, Rocklin

Located near RC Willey

Mon-Sat, 9:30–5:30 • Closed Sunday

Visit our showroom, or we'll

bring the showroom to you!

www.shutterspot.com Insured • Lic. #714170

"Don't Get Caught Uncovered"

, Inc.

THE HEAT IS ON!

100% Protection

• Our New CURTAINS

relieve you from that 5-9

Sun & Heat

• Protects Your Patio

Furniture from Sun & Rain

• UV Coating to Protect

916.742.5094 • 500 Giuseppe CT., Ste. 1 Roseville

www.PatioBra.com • Lic. #918270

Against Harmful, Cancer

Causing Rays

• Survives High Winds

• Many Colors & Textures

• Custom Designed for

Your Space

Summer

Discount

10% OFF

Mention this coupon.

Offer ends 08/31/18.
---
introducing

Q&A WITH LOCAL COMPANIES

Lisa Evans,

Colorist at Adagio for Hair

LISA EVANS

4356 Town Center Boulevard, El Dorado Hills, 206-719-3347,

adagioforhair.com

MacLaren-Cochrane Publishing

TANNYA DERBY

El Dorado Hills, 916-897-1670,

maclaren-cochranepublishing.com

Describe your business. Did you find it, or did it find you?

After relocating to El Dorado Hills from Boston three years ago, I was

commuting to the East Coast once a month to take care of my longtime

clients. I'm thrilled to now be part of the team at Adagio for Hair where

everyone is committed to providing the best service possible for every

guest. Since my early teenage years, I knew I wanted to do hair and

have focused my career on color for the last 17 years.

What was the first job you ever had, and what did you learn from

the experience?

Baskin-Robins. I learned early on about customer service and

presentation. No one wants a sloppy ice cream cone!

What life accomplishments are you most proud of?

Personally, completing my first triathlon. It was the hardest thing

physically, other than having children, that I've ever done; I had to tell

myself "You are strong" the whole way in order to finish.

Where do you go when the going gets tough?

To my yoga mat to find inner peace.

What's your biggest job perk?

Fostering relationships with my clients and seeing the self-confidence

they walk out with after our time together.

What's your favorite place to eat out locally?

Sky Sushi.

If you could be in any other profession, what would it be?

I love decorating my home and could see myself doing interior design

work or being a party planner—anything where I can express myself

creatively.

And finally, customer service is…?

Everything.

Describe your business.

MacLaren-Cochrane Publishing creates books in dyslexic font that

teach, inspire, and help children discover the beautiful world of reading.

Our books show that diversity is a beautiful thing and that everyone

has a story to tell. The dyslexic font is an important step forward in

helping people who suffer from the disorder, and we're proud to offer

it in all the books we make.

What life accomplishments are you most proud of?

The children I've raised.

Who is your role model in business or in life, and why?

My husband, Todd, because he never stops trying to make life worth

living.

Where do you go when the going gets tough?

The ocean.

What's your favorite place to eat out locally?

The Original Mels Diner. The people there always make us feel like

family.

Where do you and your family go locally to have fun?

The park.

What's your favorite local event that you go to?

Tuesday movie night.

What's your favorite local business other than your own?

Barnes & Noble.

If you could be in any other profession, what would it be?

A screenwriter.

DO YOU KNOW THAT OUR EDITORIAL IS NOT PAID FOR, NOR CAN IT BE PURCHASED?

In fact, our Introducing and Eat & Drink section reviews are not paid advertisements. If you'd like your business profiled, please email Megan Wiskus at megan@stylemg.com. Once we

determine when your business will be featured, we will contact you to schedule a time to come out and take a photograph. Thank you!

80 stylefedh.com // AUGUST 2018 // /stylefedh /stylemediagroup /stylemediagroup /stylemagfedh

photos by DANTE FONTANA
---
Unfold the potential of your living space with Milgard's

Bi-Fold Moving Glass Wall Systems.

On display and available at:

The Window and Door Shop

1717 Bell Street

Sacramento, CA 95825

916-915-5103

www.windowanddoorshop.com

Your Trees Deserve

Acorn Quality Care

NOW is the time to have

an Acorn Arboricultural CERTIFIED

ARBORIST inspect and prune for

beautiful, healthy trees!

We wanted

a business

we could wrap

our arms around!

• Insect & Disease Control

• Tree & Shrub Pruning & Removal

• Stump Grinding

• Cabling & Bracing

• Planting All Sizes of Trees & Shrubs

• Fertilization

• Certified Arborist Services

Every tree is a family tree!

Roseville, CA 95678 • www.787tree.com

lic#953007

For All Your Tree Care Needs:

916-787-8733

Acorn Arboricultural Services Inc.
---
last look

Where We Live

"The impeccably kept

parks and multitude of

family-oriented activities

make me love

living here."

SHOOT IT,

SEND IT

Submit your best shots of our

region to info@stylemg.com and

tell us why, in 20 words or less, the

photo showcases "Where We Live."

The featured photographer

will win a gift card to a local

business. Ready, set, SNAP!

Photo by BRITTA VAN ANDEL

82 stylefedh.com // AUGUST 2018 // /stylefedh /stylemediagroup /stylemediagroup /stylemagfedh

TO VIEW THE OTHER ENTRIES, VISIT STYLEFEDH.COM.