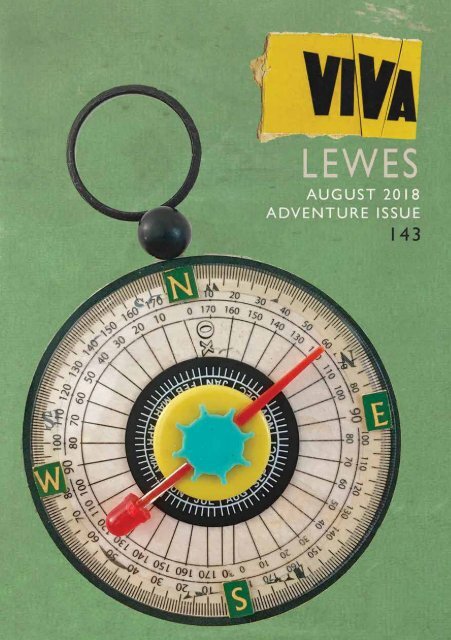 Viva Lewes Issue #143 August 2018
You also want an ePaper? Increase the reach of your titles
YUMPU automatically turns print PDFs into web optimized ePapers that Google loves.
Now a part of

There's still

time to

apply!

for a course at Sussex

Downs College!

We're still enrolling

for a number of

courses. Apply now

to secure your place!

Visit our website or call

030 300 39551

for details on how to apply.

www.sussexdowns.ac.uk
---
143

VIVALEWES

EDITORIAL

August. Blue skies bled white by the sun. Endless days, waking when you

wake, and then doing nothing. The tacky tinkle of the ice cream van: a

tricolour lolly. No school for weeks. Bliss. Totally relaxed. Slightly bored

maybe? Mu-um, can we go to the Pells? I. Need. To. Get. Wet.

Things change when you're an adult. You're never completely carefree. You

might be in your workplace, when it's 90 degrees outside. That's 32.222 in new

money. And you're the one doing the organising, you're in the driving seat. No,

we can't - we've got to go to Granny's.

Holidays can be stressful. All that organising. All that travelling. All that sun.

You used to be told to 'get your shirt off': now you're reminded to put on the

Factor 50. It's bloody hard to rub in. And the cost of things. The cost of things.

But… phew what a scorcher! Who needs abroad, when England's like this? Bloody

marvellous. Just like '76. Remember it well. I was 12. Hours and hours in the back

garden: 'get your shirt off'. Bubble-gum ice cream on Seaford beach. My first ever

football match, at the Goldstone. Happy days.

This month's theme is 'adventure'. Some of you will be planning mind-blowing trips to

foreign climes. Others will be wondering what's on at the Depot, which is kept nicely

cool. Whatever level of adventurousness you're envisaging to indulge in this August,

enjoy yourself: it's September next, and all that that brings. Enjoy the issue…

THE TEAM

.....................

EDITOR: Alex Leith alex@vivamagazines.com

SUB-EDITOR: David Jarman

DEPUTY EDITOR: Rebecca Cunningham rebecca@vivamagazines.com

ART DIRECTOR: Katie Moorman katie@vivamagazines.com

ADVERTISING: Sarah Hunnisett, Amanda Meynell advertising@vivamagazines.com

EDITORIAL / ADMIN ASSISTANT / HAND MODEL: Kelly Hill admin@vivamagazines.com

DISTRIBUTION: David Pardue distribution@vivamagazines.com

CONTRIBUTORS: Jacky Adams, Michael Blencowe, Sarah Boughton, Emma Chaplin, Daniel Etherington,

Mark Greco, Anita Hall, John Henty, Mat Homewood, Jo Jackson, Chloë King, Dexter Lee, Lizzie Lower,

Carlotta Luke, Galia Pike, and Marcus Taylor

PUBLISHER: Becky Ramsden becky@vivamagazines.com

Viva Lewes is based at Lewes House, 32 High St, Lewes, BN7 2LX, all enquiries 01273 488882
---
18 August - 2 September 2018

Artists & Makers Trails across

Lewes, Newhaven, Seaford

and the surrounding villages

Celebrating 25 years

artwavefestival.org • @artwavefestival
---
THE 'ADVENTURE' ISSUE

CONTENTS

Bits and bobs.

Sarah Gamble's lost-and-found cover

art (10-11); Helen Holder's Lewes

(13); Carlotta Luke captures the Raft

Race madness (31), and an adventurous

potpourri of pets and books and plaques

and pubs.

10

Columns.

Chloë King is game for a larp (33),

while David Jarman examines the fine

art of consciously overplayed literary

explanation (35).

On this month.

Lewes FC Women's team kick off in a

brave new world (37); 80s post-punkers

Modern English come to the Con (39),

and a women's activism-themed festival

at the Depot (41).

15

Art.

A surrealist picnic at Farleys Garden

(43), and the sculpture of Alison

Wilding (44-45). Plus… it's Artwave!

We focus on Deborah Manson (47)

and round up our pick of the Lewes-

District-wide festival (49-55).

Listings and Free Time.

It's August, but there are still some

fab things going on, including Proms

in the Paddock, Newhaven Festival

and Glynde Flower Show (57-61); a

gaggle of gigs including The Mountain

Firework Company and The Dickies

(63-64); our classical round-up (65), and

our lit anti-FOMO guide to what's what

for the U16s (67-71).

5
---
THE 'ADVENTURE' ISSUE

Food.

A double helping of Castle Chinese

Restaurant (73); wild pigeon breast and

morel, Fire & Wild-style (74-75); ice

cream at Ez Tutty's (77), plus Chloë King's

food news (79).

The way we work.

Benjamin Youd follows his lens from one

local campsite to another, taking portraits

of the owners, and asking them the obvious

question (80-83).

74

80

Photo by Benjamin Youd

Features.

Anita Hall on the benefits of cannabis

oil (85); Michael Blencowe bemoans the

loss of the spectacled cormorant (87);

we head for the hills with the Sussex

Wildlife graziers (88-89); John Henty,

loud and proud (91), and this month's

business news (92).

Photo by Chloë King

Inside Left.

Afraid of heights? Us? Fearless Lewes

builders in the 1870s (106).

VIVA DEADLINES

We plan each magazine six weeks ahead, with a mid-month

advertising/copy deadline. Please send details of planned events

to admin@vivamagazines.com, and for any advertising queries:

advertising@vivamagazines.com, or call 01273 488882.

Remember to recycle your Viva.

Every care has been taken to ensure the accuracy of our content.

Viva Lewes magazine cannot be held responsible for any omissions, errors

or alterations. The views expressed by columnists do not necessarily

represent the view of Viva Lewes.

Love me or recycle me. Illustration by Chloë King

6
---
JOIN SUSSEX'S FAVOURITE

SUMMER HOLIDAY CELEBRATION!

A VINTAGE WEEKEND AT FIRLE PLACE, IN THE BEAUTIFUL FIRLE PARK.

11&12 AUGUST

A UNIQUE TWO DAY EXPERIENCE

WITH A CHERRY-PICKED PROGRAMME OF EVENTS

Decorative antiques & vintage finds

Country living & hand painted interiors

Gardenalia & vintage haberdashery

Original vintage fair rides

Jazz bands & charleston dance troupes

Riding stables tea-dance & china tea-room

Fresh flower crown making & greenery workshops

Folk art & designer makers

Talks on bees & artisan food emporium

Horse carriage rides & side-saddle shows

Vintage car display & miniature steam train

For more information and pre-booked tickets visit

www.firlevintagefair.co.uk
---
Unit 3, Phoenix Works, Lewes, East Sussex, BN7 2PE

01273 486177 info@inglishall.com

INGLISHALL.COM
---
THIS MONTH'S COVER ARTIST

This month's cover was designed by Sarah Gamble, who uses

vintage objects and materials to create her collage pieces. "I've

always been a great collector," she says, "so my house and

studio are filled with drawer upon drawer of sequentially arranged

objects, colours, papers. I love old toys that people have

discarded and boxed games, things that are a bit torn or distressed,

that have a bit of history to them. As much as I love the

collaging, I love the collecting."

The compass design is made up of around twelve different

items: "it starts with a beer mat, then a record cover, then two

protractors, then a tiddly wink, then a cocktail stick, then a

cocktail stirrer and an electrical component that I found in

Maplin. I finished by cutting the letters from an arithmetic

book cover…" The objects were layered, glued on top of each

other and then scanned, with minimal digital manipulation:

"When I'm constructing something like this, I try to keep the

pieces as they are. I could have made the electronic piece a

bit bigger to fit, but I didn't – the

whole thing is just as it is." The Viva

masthead is made from a Vitality

lightbulb box from the 1960s, which

Sarah reluctantly ripped up to construct

the lettering. "It was the most

beautiful box!"

"A lot of my work is based on old

technology," she continues. "Cameras,

radios, record players, computers

and typewriters – those are the

main themes that run through my

work. And I try to base my choice

of materials on the object I'm making.

So I've got camera manuals

from the 1950s and I've got some

old typewriter books with amazing

10
---
SARAH GAMBLE

photographs in them." Tying in with

the adventure theme of this design, the

background green is the back cover of a

vintage atlas.

"I like the idea that a compass suggests

travel and adventure, but also there's

something about the instrument that's

so beautiful in itself. Some of them are

so simple, and then there are the older

ones that are very ornate. I didn't want

the design to be too busy; a lot of my

work just features a single item without

any conflicting imagery."

Sarah will be showing her work during

Artwave, at The Old Forge in South

Heighton (Venue 77). "I'll have some

originals in box frames, and I'll have

prints of my originals, and I've just

ventured into cards,"

she says. This year's

festival takes place

from the 18th of

August to the 2nd

of September,

with over 150

houses and studios

open to the

public. Pick up a

brochure or plan

your route at

artwavefestival.

org. RC

sarahgamble.

co.uk

11
---
I M M E R S I V E O U T D O O R D I N I N G E X P E R I E N C E S
---
Photo by Alex Leith

MY LEWES: HELEN HOLDER

Helen moved to Lewes with her husband 30

years ago, to retire. Before that she lived in a

number of different places. She was brought up

near Slough, was a Wren in Plymouth in the War,

moved out to Berkeley, California, worked in

Turin and Milan, was on the original staff of the

Bell School in Cambridge and had a long career

as an English-as-a-foreign-language teacher and

teacher trainer at The Hammersmith & West

London College, becoming Head of Department.

Why Lewes? We wanted somewhere within

an 80-mile radius south or west of London.

We searched areas first; then only the second

property we looked at was a house in Southover

High Street, one of the Edwardian ones at the

end, and we loved it.

What do you like about Lewes? My husband

always said he liked it because there was no Lord,

and no Bishop. But what could you not like about

Lewes? It's a place where you are absolutely free

to be who you want to be.

I understand you're a painter. I believe

everyone should have a passion, and mine is

painting. I took it up after retiring. My teacher

Tom Benjamin, at the Paddock, has been very

kind and encouraging, and is very good at

helping you to develop your own style.

And you're in Artwave… I am glad to be

exhibiting with other artists, and I would like

to say a big 'thank you' to Richard and Kate for

letting us use their house [see below]. These

are probably my last oil paintings, as I now

haven't the strength to do oils after a bad fall last

November. I have now taken to pastels.

Who has influenced your style? I was interested

in art history long before I ever tried to paint. I am

a great admirer of the old masters, my favourites

being Rembrandt, Titian and Velázquez. What I

now like to paint are ordinary scenes with people

in them, also sometimes myths and illustrations of

lines of poetry.

Do you ever eat out? I love the Limetree

Kitchen. Alex creates delicious dishes, and he is a

friend. The staff gave me a plant for my birthday.

What's your favourite pub? I have seldom been

to pubs in Lewes, but when my husband was alive

we went on lots of long walks and would end up

in lovely country pubs, like the Cricketers.

Where would you live if not in Lewes? I've

never been as happy anywhere as when we moved

here in 1986/7. A number of my neighbours

retired at the same time or soon after, it was

very much a community and that's what I missed

when I moved down the road. I'm quite drawn to

Edinburgh: I once applied for a job there and I've

often visited, but the climate would be too cold

for me. So Lewes it is.

Interview by Alex Leith

Helen's work will be on sale at 21 Priory Street

(venue 135) during Artwave.

13
---
PHOTO OF THE MONTH

MAKING HAY...

Back in the days of the weekly webmag, in the

heyday of readers emailing in their pics, Sarah

Burlumi was a frequent contributor, sending in

images she'd stylised as an early-user on Instagram.

"I've cancelled Instagram now," she says,

"and I often forget to take pictures entirely. This

hasn't been touched up at all. When I took it, I

couldn't see how it would come out, because the

sun was in my eyes, and so I didn't realise it was

perfectly caught between the two of them."

Sarah was brought up in Burgess Hill, and for her,

this picture epitomises summer in the countryside.

"Omar and Maira were really enjoying themselves,

lost in the moment, and it was one of the rare

occasions when they weren't trying to kill each

other," she says. "They were also so absorbed they

weren't even trying to look cool for the camera."

Please send your pictures, taken in and around

Lewes, to photos@vivamagazines.com, or tweet

@VivaLewes, with comments on why and where you

took them, and your phone number. We'll choose

our favourite for this page, which wins the photographer

£20, to be picked up from our office after

publication. Unless previously arranged, we reserve

the right to use all pictures in future issues of Viva

magazines or online.

15
---
BITS AND BOBS

GHOST PUB #46: THE HARE & HOUNDS, RINGMER

I'm sneaking out of Lewes this month, and taking you

off to Ringmer. There is a building on the eastern edge

of the village, at the corner of Laughton Road and

Moor Lane, which takes you to Glynde. This building

was once the Hare & Hounds. Reuben and Lydia

Knight were running this as a beershop in the 1840s,

and in 1845 they successfully applied for a licence to

sell spirits and provide accommodation. They had argued

that with a railway station to be built at Glynde,

the Hare & Hounds was ideally located to accommodate

those travelling there. Accordingly, the name of the

pub was then changed to the 'Railway Inn'. The various

landlords of this establishment were often subjected to very unpleasant clientele. In 1867 James Barnes was attacked

by two navvies and their wives. One 'took hold of his nasal organ, and screwing it round said he would pull

it out of his face.' James's wife Eliza was quite a feisty character, and ran the Railway Inn on her own for over ten

years after James's death. When John Kent took over in 1927 the pub was still called the Railway Inn. However,

by the time he left in 1931 it had reverted back to the Hare & Hounds. It stayed with that name until its closure

around 1970. Mat Homewood

TOWN PLAQUE #41

rejuvenating the baths

Help fund the new inclusive

Community Centre for Lewes,

to be opened at the former

Turkish Baths

Unity has the

potential to provide a

range of services that

will benefit everybody in our

town... We need this at this

time, particularly for the

more vulnerable in our

community.

JANET BAAH

Mayor of Lewes

www.being-in-unity.com/

the-unity-centre-lewes

chuffed.org/project/

unitycentrelewes

The remaining parts

of this, the first Cluniac

monastic house

in England, are no

more than a tiny

fraction of what was

once a crowded 39-

acre site, which included fish ponds and a huge dovecote.

The ruins in the Priory Park have been stabilised

and made accessible over recent years, but not much of

the original Caen stone remains, having been stripped

off after the Dissolution. It can be found in several other

buildings in the town. The main gateway stood adjacent

to the eastern end of what was then the priory's guest

house or hospitium – now Trinity Church, Southover.

It stood out at a right angle to the road, almost blocking

the street. The stonework, partially reconstructed, can

be found behind a tall evergreen oak tree between the

churchyard gate and the fine Georgian houses of Priory

Crescent. Marcus Taylor
---
Lewes Town & Country

Residential Sales & Lettings

Land & New Homes

T 01273 487444

E lewes@oakleyproperty.com

Property of the Month Kingston £1,135,000

Beautifully laid out, detached 'Scandia-Hus' property, located in an enviable position adjoining paddocks and open farmland at the

foot of the South Downs in the sought-after village of Kingston, with views to Kingston Ridge. Superb family accommodation on the

ground floor with a large living room, dining room, fitted kitchen/breakfast/sun room, office, shower/cloakroom, utility room and covered

loggia. Upstairs are four double bedrooms, with an en-suite and balcony to the master bedroom offering stunning views. EPC - 60

Lewes £885,000

Attractive 'Villa' style property located in the sought after Southover

area. The property offers well-proportioned accommodation with 4

double bedrooms, 2/3 reception rooms and spacious kitchen/dining

room. There are a wealth of character features including stripped

wood flooring, fireplaces and ornate ceiling cornices. EPC - 52

Lewes £599,950

Period family home in the popular Pells area close to town centre.

The house offers versatile accommodation as the ground floor has

been extended to create an open plan kitchen/living dining room

with a separate sitting room at the front of the house. Upstairs offers

3 bedrooms, a large family bathroom. Outside rear patio. EPC - 63

Cooksbridge from £435,000

SHOW HOME OPEN THIS SAT & SUN 10am - 4pm. AVAILABLE

FOR A MOVE IN SEPTEMBER. HELP TO BUY. 40% RESEREVED.

A superbly finished development with a range of 3 & 4 bedroom

houses situated in the popular village of Cooksbridge

approximately 3 miles from the County town of Lewes. Finished

to the highest standard with great attention to detail. EPC - TBC

oakleyproperty.com

Lewes £389,950

A four storey character town house located in central Lewes.

The property has a double aspect living space and open

kitchen with dining room. Two double bedrooms and a

bathroom with Jack & Jill doors to the upper floors. Door from

the dining room leading to a pretty brick paved patio garden.

Available with vacant possession and no onward chain. EPC - 62
---
BITS AND BOBS

SPREAD THE WORD

Angela Morrison

(a 'very keen Viva

reader') took her May

copy on a cruise along

the Norwegian coast.

This pic was taken

whilst docked in Kirkenes, very close to the Russian

and Finnish borders. 'It made me wonder how far

north Viva Lewes has travelled,' she puzzled.

Well, we can answer that. Caroline Pick (pictured

below, left) and Adele Gibson (right), just pipped

Angela at 80.6 degrees north (Kirkenes is at 69.7!),

at the northernmost

island of the

Spitsbergen archipelago,

in the

High Arctic.

The two Lewes artists were selected to participate

in an international artist residency, aboard a specially

outfitted sailing vessel, with the aim of bringing

together international artists of all disciplines,

scientists, architects, and educators who collectively

explore the High Arctic and engage with issues relevant

to our time.

From warmer climes, somewhat

further south, here's a postcard

from Mia Sampietro with her

Viva Lewes. 'On the way to Jackie

O beach in Mykonos!' she writes.

'On a sweet fishing boat! Home

today!' Alas, all adventures must come to an end…

Keep taking us with you and keep spreading the word.

Send your pics and a few words about your trip to

hello@vivamagazines.com

SUMMER SALE

NOW ON

Hawkhurst-No6 The Collonade

Rye Road Kent. TN184ES

01580 752118

Rye- No12 High Street

Rye East Sussex. TN317JF

01797 224369

Lewes -27 High Street

Lewes East Sussex. BN72LU

01273 480896

18
---
DOGS AND BOBS

RESCUE PETS OF LEWES #3

Name: Boycie, 4, Staffie / Mastiff cross. A gentle, albeit fairly

wonky giant. Wishes he was called Tamsin.

Likes: Raindrops on roses, whiskers on kittens, sausages.

Hates: Moral ambiguity, WhatsApp groups, the paranormal.

Boycie was recently rescued from Raystede. Picked up as a

stray with a head injury, and deaf in one ear, the nerve damage

he suffered has left him clumsy, and terrified of being left alone.

Dog fact: The loyal Staffie, despite bad press, is actually one

of the few dog breeds that The Kennel Club recommend as a

family dog. They account for up to 80% of the dogs in rescue

centres requiring rehoming, but if you're looking for your

own rescue pet, don't be discouraged by this - most are good

natured and affectionate - and their compact, muscular form

makes them exceptionally good at cuddling. And look at that

face, I mean, come on. @dogsoflewes

If you're thinking about adopting a pet, check out Raystede

Centre for Animal Welfare: raystede.org

DBS checked and fully insured

From hamsters

to horses, we

specialise in

taking care of

your Property

and Animals

offering you

peace of mind

Reliable team members

always required, please call.

Telephone: 01424 883409 or 07768 366086

Web: www.homeandpetsitters4u.co.uk

Email: office@homeandpetsitters4u.co.uk

19

HomeandPetSitters4US44.indd 1 11/05/2018 16:18
---
28 - 30 SEPT 2018

NEIL BARTLETT, AS BYATT,

SARAH CHURCHWELL,

JUNO DAWSON, TIM DEE,

LOUISE DOUGHTY,

IMOGEN HERMES GOWAR,

SARAH HALL, AL KENNEDY,

OLIVIA LAING, KATE MOSSE,

DALJIT NAGRA, BEN OKRI,

LIONEL SHRIVER, AND MANY MORE

CHARLESTON.ORG.UK

TEL: 01323 815150
---
BITS AND BOOKS

LOCAL LITERATURE

Over the last few years three of the

most important paintings in Lewes

Town Hall's collection (of over

30) have been lovingly restored by

specialists in Cambridge, and have

now been rehung, lit up to show off

their newly vibrant hues.

To help celebrate this £61,000

project, the journalist Sarah Bayliss

has written an accompanying book,

The Lewes Town Hall Pictures, Stories

behind our paintings.

Of the three paintings, the one that

strikes the eye most is The Visit of

King William IV and Queen Adelaide

to Lewes, 22 October 1830, and Bayliss

begins the book with an explanation

of that remarkable piece of work,

which is unsigned, but attributed to

Archibald Archer.

The other two to have been

restored are Protestant Reformer

(unknown artist, 17th century) an

imaginary group shot of the most

important Protestant dissenters,

and The Battle of Lewes, May 14th,

1264 (Hardy pinxit, before 1844)

an action-movie of a work showing

the battle in full swing, in front of

the castle. Each gets a no-stoneunturned

description.

All the other pictures are given a

write up: my favourite is Lewes Listens, a flight of

Julian Bell's imagination, depicting an emergency

meeting (of 50-or-so real-life Lewesians) to discuss

a town planner's proposal to demolish the castle and

build some flats in its place.

Note the 'our' in the subtitle: this is a book by a

Lewesian, for Lewesians, and should be owned by

anyone with an interest in the history of the town.

'Just when you think you've reached

the top', writes Jack Arscott, in his

book about running, Up the Downs,

'...it turns out you haven't'.

Jack has made it his mission to run

on different routes all over the South

Downs, across both counties of Sussex,

and record what he sees, and how

he feels.

Some of it's quite poetic. He describes

the 'view of Ashcombe Windmill

framed against the great bony whaleback

of Kingston Ridge'.

'How he feels' is often pretty bad,

because he makes no bones about

it, running up hills is very hard,

especially when the Beast of the East

is blowing and you're trying to do

The Moyleman, one of the toughest

marathons in the business.

But you get the feeling that his reward

is the nature around him, and especially

the beautiful views he's slogged

himself into a position to enjoy.

Another person who appreciates

nature is poet Nana Tomova, who

has just published her Selected Poems.

Bulgarian-born Nana, we read in the

back, was a mental health pharmacist

before becoming a photographer and

artist, so she 'has experience of inner

and outer wilderness work'.

In Spring she writes: The spring awakens / And

blossoms / What is buried within me.' In Ode to a

Tree, she writes 'I feel alone in your roots / The

loneliness is welcome to me / It is like the bitterness

in my mouth / which tastes sweet.' In between the

poems, there are photographs of natural phenomena.

It's a slim book, full of depth.

Alex Leith

21
---
Lewes FC Men's Veterans each pay

£29 per calendar month all year:

in return, the club offers:

48 opportunities to play Friday

Night Football 8-10pm

44 opportunities to train

Wednesday Nights 7-8pm

15 Lewes FC fixtures

3 In-house Lewes FC cups

with social events

Free entry to some

Lewes FC matches

We'd love you to play in our trial

game at the 3G Pitch on

Sunday 26th August 4-6pm

Show up in kit, shin pads

& 3G appropriate footwear

Email lewesfcmensvets@gmail.com

or call Pete Bull on 07508712421

oldqualityfc.com

22
---
BITS AND BOBS

The Yurt

Academy

ILLUMINATE YOUR WORLD

SHARING BRILLIANCE

ILLUMINATING MINDS

FIRLE VINTAGE FAIR

COMPETITION

DISCOVER

EMPOWER

EXPAND

Masterclasses and events

for the inquisitive mind

Curious

Personal

Creative

Professional

At the Yurt Academy we devote our

time to developing and curating

masterclasses and events to help

you be the best you can be.

Use code VIVAYURTS to recieve

15% OFF your first masterclass.

Expires 31/11/18.

ARE YOU CURIOUS?

yurtacademy.com

Hop aboard the

vintage double

decker and take a

trip back in time, to

Firle Vintage Fair.

Taking place on the

11th and 12th of

August in the beautiful

grounds of

Firle Place, the fair will host a carefully curated

selection of stalls selling vintage clothing, homeware

and antiques. Enjoy an iced sloe gin on the

lawn or take a spin on the carousel, sample street

food made by artisanal producers or catch the

Brighton Lindyhoppers on the Pavilion Stage.

We're giving one lucky winner the chance to

win four tickets to the fair, including entry

(adults or children), the return bus ride to

Lewes, a welcome drink each from the Harvey's

bar (soft options available) and a go on the

vintage fair rides.

To enter, simply answer the following question:

Where did the Lindy Hop get its name from?

Send your answer, plus your name and contact

number, to hello@vivamagazines.com by Tuesday

7th August. The winner will be chosen at random

from the correct entries. (Ts and Cs can be found

at vivamagazines.com/competitions.) Good luck!

Firle Vintage Fair is open 10am-5.30pm both days,

free parking all day. firlevintagefair.co.uk

23
---
LBNP VivaLewes 66x94_6.qxp 08/03/2018 20:26 Page

why work at home?

FRIENDLY AFFORDABLE

DESK SPACE IN LEWES

drop-in or monthly rates

tea, coffee, kitchen meeting room

superfast wifi printer

no domestic distractions!

find out more at

www.nscoworking.co.uk

NORTH

STREET

COWORKING

Louis Browne

NOTARY PUBLIC

Specialist notarial services

in Central Lewes

lb@louisbrownenotary.co.uk

01273 487744

louisbrownenotary.co.uk

Member of the Notaries Society

Member of the Society of Trust

and Estate Practitioners

REGULATED BY THE FACULTY OFFICE

NORTH

STREET

COWORKING

NORTH

STREET

COWORKING

Home care

with a difference

Tailor made to your

individual requirements

• Award winning care

• Companionship services

• Home help services

• Personal care services

• Highly trained CAREGivers

If someone in your family needs a little help

please call Alison Scutt on 01273 437040

info.lewes@homeinstead.co.uk

www.homeinstead.co.uk/

lewesdistrict&uckfield

24
---
BITS AND BOBS

CONGRATULATIONS CARMEN

LEWES IN NUMBERS

Carmen Slijpen sent this

picture in for our Spread

the Word column: she took

her June-issue Viva with her

to the Barbican in London

while on a business meeting

for the Depot cinema, of

which she is the creative director. This was at least

a month before she knew she'd won the prestigious

award of Business Person of the Year in the Lewes

District Business Awards (just as we went to press) for

her sterling work in the cinema's first year of existence.

What's more, she becomes the first woman to

have won the award. Congratulations, Carmen, you

deserve it, and you and your team have made a positive

difference to the town. For all the other award

winners see pg 92.

Up until the late 19th century national holidays in

England were limited to the 2 religious festivals of

Christmas and Good Friday. Bank holidays were first

created by statute in 1871, when 4 new public holidays

were added.

The Trades Union Congress began to campaign for

workers' paid holiday in 1911, and by 1938 the Holidays

with Pay Act gave trade union members one

week's paid holiday a year. Following that, holiday

entitlement was negotiated by individual or collective

bargaining through the latter part of the 20th

century. In 1993, the EU Working Time Directive

recommended 4 weeks' annual paid leave and this

was finally implemented in the UK in 1998.

Now the statutory minimum annual leave for fulltime

workers in the UK is 20 days plus 8 national

holidays, totalling 28 days a year. Sarah Boughton

chrismas

ogden

solicitors

Where There's a Will...

You can appoint an Executor to administer your Estate; a

Guardian to care for minor children, and ensure that your assets

are left to your chosen Beneficiaries.

Don't leave your hard earned cash or family heirloom to chance.

Contact us to discuss preparing a Will...

Chrismas Ogden Solicitors Limited, Howard Cottage, Broomans Lane, Lewes, East Sussex, BN7 2LT.

Web www.chrismasogden.co.uk Telephone 01273 474159

Fax 01273 477 693 Email enquiries@chrismasogden.co.uk

Opening Hours: Mon-Fri 9am-5pm

25
---
Viva Lewes &

Viva Brighton

have moved

You can find us all at

Lewes House

32 High Street

Lewes

BN7 2LX

01273 488882

hello@vivamagazines.com

V I V A M A G A Z I N E S . C O M
---
Edgy designs. Bold colours. Danish flair.

223a High Street, Lewes • Tel: 01273 472360 • www.wilsonwilsonandhancock.co.uk

BITS AND BOBS

CHARITY BOX: SPIRAL WAVE RADIO MEDIA CENTRE

We are based in The Hyde, Bevendean.

We're a charity that runs a

range of activities for people with

learning difficulties and disabilities,

themed around producing music,

film, photography and live radio.

We have a recording studio

where we make music, rehearse

as bands and run sing-along

groups. We also do green screen filming and make

shorts, which we upload to YouTube. Our photographic

group takes weekly trips out around Sussex

in one of our minibuses.

I did a degree in music at Sussex, then began here

as a volunteer six years ago. Now I'm a member of

staff. Four of us are full time, several are part time

plus we have volunteers. Spiral Wave Radio Media

Centre runs activities every day.

George Jarman [son of Viva's

sub-editor David] attends

every week. He is one of

between seven to thirteen DJs

visiting the media centre each

day. The radio shows include

games, quizzes and weekly sci-fi

and football features.

We have a wide range of

people coming, and regularly have barbecues and

dances, where our bands, such as the Teddy Boys

[pictured], perform. We've had Lottery funding in

the past, and attendees contribute financially as well.

New attendees are welcome, and we welcome

applications from potential volunteers too. To find

out more, contact Chris, info@spiralsussex.co.uk

As told to Emma Chaplin by Stef

030 30 40 2860 spiralwaveradio.com

27
---
Eyes on

Learning

Focusing on children's vision

Barracloughs the Opticians Lewes are proud to incorporate

FIND YOUR FEET

PODIATRY &

CHIROPODY

- Fungal Nail advice

- Diabetic Foot

- Rheumatology

- Wound care

- Nail Surgery

- Nail Cutting

- Corn & Callus removal

- In-growing Toenails

- Verrucae

- Biomechanics

www.fyfpc.co.uk

52 Cliffe High Street . Lewes . 01273 471893

Facial

rejuvenation

Thousands of men and women receive wrinkle

reduction injections every year and it's the UK's most

popular cosmetic treatment for the removal of

wrinkles. Combining a quick procedure with

undeniable results that relaxes the muscles of facial

expression, wrinkles are made less visible, resulting in

a more natural and rejuvenated look.

Steven Kell and Fay Jones have attended Professor

Bob Khanna's advanced course and are now bringing

his techniques to Lewes and Sussex. Fay also provides

Dermal Fillers.

It is very important to discuss your goals and

expectations before making a decision, and we want

you to be fully and properly prepared.

Our consultations are held at Lewes High Street

Dental Practice. Consultations are totally confidential,

and there is absolutely no obligation to proceed.

60 High Street Lewes East Sussex

01273 478240 | info@lewesdental.co.uk
---
BITS AND BOBS

CLOCKS OF LEWES #21:

ROWLAND GORRINGE

LEWES DOORTRAITS #3

Jo Jackson, from the blog The Lewes Home,

snaps a front door in Lewes and asks the owner

a nosy question...

Gorringe is a quintessential Sussex name, and has

a strong presence in Lewes with both the auctioneers

and the estate agent. The latter is located at

64 High Street, in a building dating from around

1900, with a fine clock on the façade.

Edward Gorringe, group chairman and the third

generation to run the agency, tells me they moved

there in the mid-80s. At the time, the clock – added

by the previous owners – was working. Sadly these

days it's looking rather tired, its decorative black

hands stuck at half-past four.

Mr Gorringe says that over the years he's "made

several attempts to get it working", and it was

running as recently as "about five years ago". The

problem is, the clock is mechanical, and accessed

via the first floor offices, which Rowland Gorringe

rents out - so it's hard to establish the required

regular winding.

We may see it restored soon though. Mr Gorringe

says, "we're getting the front refurbished". It'll be

washed and redecorated, and they'll also investigate

the options for adding an electric motor to the

clock – so no winding required. Daniel Etherington

Thanks to Edward Gorringe

If you could give your door a characteristic,

what would it be? Regal vibrancy.

Purple is a sovereign colour but it can often

be dull and I wanted it to be sophisticated and

vibrant! I searched everywhere for the exact

purple I had in mind for my front door but

couldn't find it. Eventually I hand-mixed this

colour myself - so it's the only one of its kind!

theleweshome.com / @theleweshome

29
---
Domestic Pet, Farm Animal and Equine Services

Your local

Veterinary

Practice

since 1865

LEWES MAIN SURGERY

21 Cliffe High Street

01273 473 232

WOODINGDEAN SURGERY

01273 302 609

RINGMER SURGERY

01273 814 590

EQUINE CLINIC LAUGHTON

01323 815120

www.cliffevets.co.uk | www.cliffeequine.co.uk
---
PHOTOGRAPHY

CARLOTTA LUKE

RAFT RACE

July 1st saw Ouseday, which incorporates Lewes'

second wildest annual event, the Raft Race. Carlotta

Luke was there, capturing the doughty rafters in

their knocked-together craft, racing from Lewes to

Newhaven, dodging various edible missiles. It got

particularly tough-going under Southease Bridge,

where a congregation of ne'er-do-wells collected, as

ever, with all manner of horrible stuff to throw down

on the rafts. This year they had been asked to 'think

before they throw', and advised that jelly bombs

were the 2018 missile de rigueur, though slimy

seaweed was easier to hand. An adventure indeed,

and all for charity. carlottaluke.com

31
---
䐀 漀 氀 瀀 栀 椀 渀 猀 伀 瀀 琀 漀 洀 攀 琀 爀 椀 猀 琀 猀 Ⰰ 䐀 漀 氀 瀀 栀 椀 渀 䠀 漀 甀 猀 攀 Ⰰ アパートアパート 䴀 甀 猀 琀 攀 爀 䜀 爀 攀 攀 渀 Ⰰ 䠀 愀 礀 眀 愀 爀 搀 猀 䠀 攀 愀 琀 栀 Ⰰ 刀 䠀 㘀 㐀 䄀 䰀

㐀 㐀 㐀 㐀 㔀 㐀 㠀 㠀 簀 眀 眀 眀 ⸀ 搀 漀 氀 瀀 栀 椀 渀 猀 漀 瀀 琀 漀 洀 攀 琀 爀 椀 猀 琀 猀 ⸀ 挀 漀 ⸀ 甀 欀

伀 瀀 攀 渀 椀 渀 最 琀 椀 洀 攀 猀 㨀 䴀 漀 渀 ⴀ 䘀 爀 椀 ⠀ 攀 砀 挀 ⸀ 圀 攀 搀 ⤀ 㤀 ⸀ ⴀ 㜀 ⸀アパート 圀 攀 搀 ☀ 匀 愀 琀 㤀 ⸀ ⴀアパート⸀
---
COLUMN

Chloë King

The last larp?

It's a blisteringly hot Sunday

afternoon and I'm in the car

with the family and a giant

chocolate cake.

The cake is four times the

size of a regular cake. It contains

three jars of blackcurrant

jam, 1200g of sugar, and

mercifully, you might say, is

entirely vegan. The lack of

dairy and eggs, however, is,

to my disappointment, doing

nothing to prevent my infant

daughter from becoming

increasingly fractious in the back seat.

I'm on my way to Linda's Birthday Party, a larp

event hosted by artist Adam James at Liddicoat &

Goldhill Project Space in Margate. Larp stands

for Live Action Role Play, and Mr, as a more

experienced larper, informs me it's akin to 'taking

play very seriously'.

The medium spans medieval and Harry Potterinspired

fantasy re-enactments to obscure Nordic-style

games that evoke life dramas, immersive

dance, Lars von Trier and the abyss. It's becoming

an increasingly popular pastime for many reasons.

Essentially, larp is enjoyed for its ability to transport

you out of your everyday routine, giving the

chance to meet new people, and unknown parts

of yourself, through playing the role of another in

an organised scenario.

Linda's Birthday Party is a short chamber larp for

which a group of adults become guests at a sixyear-old's

birthday party. For two hours, I will play

parent to a collection of rowdy, sugared-up adultkids,

hence why my cake is designed to Alice-in-

Wonderland proportions. As parent to an actual

six-year-old this borders on meta. What might I

learn by acting myself in a twisted re-enactment

of my average weekend's

entertainment?

The event starts with my

arriving late. I'm rarely

early to children's birthday

parties and so I blunder

into the room, sweating

profusely, waving a hasty

goodbye to my two mildlytroubled

genuine children.

After a hasty warm-up of

Grandma's Footsteps and

Simon Says, we start with

my opening the door.

I instinctively adopt a sickening tone of voice

somewhere between Hyacinth Bucket and Mr

Tumble, and then the game promptly continues

with lunch. This, I find difficult. You would never,

never, start a child's party with lunch and, true to

my fears, the meal quickly descends into a war

that lasts the rest of the game. There follow tears,

avoidance, theft, shouting, gorging, dancing, cuddling,

crying, disobedience, recklessness, bubble

bursting, impersonation, defecation and exclusion.

It's frankly all I can do to hover, administering

shoulder hugs and bubbles and sweeping up

around them.

At the debrief, a player remarks how exhausting it

is to be children, how much we wrongfully lionize

this time that is so inherently fraught. I'm not

sure. I'm not sure I have ever witnessed six-yearolds

fighting to the degree exhibited today. Then

my four-year-old 'son' remarks with genuine

sadness that he felt overlooked all afternoon. I

think of my own children having been dragged

to Margate on a sweltering Sunday and the mask

slips. I'm no longer Linda's Mother, but I'm still

wearing the stuck-on smile that says: us adults,

we're all living in fear of being found out.

Illustration by Chloë King

33
---
VALUATION DAY

Jewellery and Antiques

Tuesday 14 August, 10am to 3pm

Tuesday 21 August, 10am to 3pm

Bonhams specialists will be at these valuation days to

offer free and confidential advice on items you may be

considering selling at auction

AN EMERALD AND DIAMOND TORC

BANGLE CIRCA 1930

sold for £11,875

APPOINTMENTS

AND ENQUIRIES

guildford@bonhams.com

01273 220000

VENUE

Tuesday 14 August

Boship Farm Hotel,

Lower Dicker, Hailsham,

BN27 4DP

Tuesday 21 August

The Courtlands Hotel,

19-27 The Drive,

Hove, BN3 3JF

bonhams.com/hove

Prices shown include buyer's premium. Details can be found at bonhams.com
---
COLUMN

David Jarman

Information overload

Not many days go by without my

cutting something interesting

out of the newspapers and filing

it away, for future reference,

between the leaves of a relevant

book. That, at least, is the idea.

All too often however, it's a matter

of out of sight, out of mind. And

even when I do remember the

item in question, tracking it down

can prove exasperating.

So I was pleased recently to come

across an article about a radio play satirising overexplanatory

wireless dialogue, which I thought

lost. This Gun that I Have in my Right Hand is

Loaded was written by Timothy West. It contains

many priceless lines such as: 'A whisky, eh? That's

a strange drink for an attractive auburn-haired

girl of 29'.

Tom Stoppard did something similar in his

spoof country-house whodunnit The Real

Inspector Hound. Early on, the char, Mrs Drudge,

answers the telephone and announces: "Hello,

the drawing-room of Lady Muldoon's country

residence one morning in early spring". Later

in the same conversation she gives voice to her

fears: "I hope nothing is amiss for we, that is

Lady Muldoon and her houseguests, are here

cut off from the world, including Magnus, the

wheelchair-ridden half-brother of her ladyship's

husband Lord Albert Muldoon who ten years ago

went out for a walk on the cliffs and was never

seen again".

In Sheridan's The Critic, first performed at Drury

Lane Theatre in 1779, it's a play within a play. Mr

Puff has written a tragedy entitled The Spanish

Armada. He takes Mr Dangle and Mr Sneer to see

a rehearsal at… Drury Lane Theatre.

Sir Walter Raleigh and Sir Christopher Hatton

enter, deep in conversation. What

is the meaning of 'these mighty

armaments? This general muster?

And this throng of chiefs?' that

Sir Christopher has noticed.

Observant chap that he is, he

concludes: "I cannot but surmise

– Forgive, my friend, if the

conjecture's rash – I cannot but

surmise – the State some danger

apprehends!"

Sir Walter embarks on his

exposition: "You know, my friend, scarce two

revolving suns and three revolving moons have

closed their course, since haughty Philip, in

despite of peace, with hostile hand hath struck at

England's trade". Sir Christopher does. In fact: "I

know it well".

Sir Walter: "Philip, you know is proud Iberia's

king".

Sir Christopher: "He is".

Raleigh provides a bit of context: "His subjects in

base bigotry and Catholic oppression held, - while

we, you know, the Protestant persuasion hold". Sir

Christopher: "We do".

Furthermore, Sir Christopher's intelligence

extends to knowing that: "the famed Armada, by

the Pope baptised, with purpose to invade these

realms", has already set sail. Undeterred, Sir

Walter continues: "You also know…"

At this point, Mr Dangle gives vent to his

exasperation: "Mr Puff, as he knows all this, why

does Sir Walter go on telling him?"

Puff explains: "But the audience are not supposed

to know anything of the matter, are they?" Alas,

Sir Christopher's feigned ignorance, assumed to

enlighten the audience, fails to convince. As Mr

Sneer says: "there certainly appears no reason why

Sir Walter should be so communicative".

John Hoppner - Portrait of a Gentleman, traditionally been identified as Richard Brinsley Sheridan

35
---
SIGN UP

NOW

Join Wave this

Summer and get

JULY & AUGUST

FOR FREE!

When you sign up for

a Max Membership

3 UNLIMITED gym, classes & swimming at all centres

THAT'S

UP TO EIGHT

WEEKS

FREE!

3

NO JOINING FEE

3 THREE 1-to-1 sessions with a fitness instructor

Sign up now in centre or online at: waveleisure.co.uk/memberships

@WaveLeisure

@TheWaveLeisure

Offer applies to Max Memberships paid monthly by direct debit only. Sign up by 26th August 2018 to qualify and your membership

will be free until 31st August 2018. By redeeming this offer, you commit to a contract until and including August 2019
---
ON THIS MONTH: FOOTBALL

The rise of the Rookettes

Bring on Man United

For the first time in

its history, Lewes

FC is celebrating a

double-promotion

season, as the men's

team move up to the

Bostik Premier and

the women's team have

been selected to join

the new FA Women's

Championship.

At the beginning of

July, as pre-season

training is about to

start, women's manager John Donoghue tells us

his thoughts on the challenges ahead.

"All the players have had off-season plans, which

should kick them on in terms of match fitness. I'm

a big believer that what happens outside matches

really matters.

Joining the FA Women's Championship took a

lot of work. We went to Wembley a few times.

Lots of people had different roles, and application

coordinator Glenda Thomas pulled it together.

Our success wasn't just about what's happening on

the pitch, it's about the support around it. Lewes

has excellent, accessible facilities and there is so

much back-up from the board for Equality FC.

They looked at our financial status. And Unlock

the Gate, our campaign to increase attendance,

worked really well in our favour.

In terms of facilities, we've had to make some

changes. For example: separate changing for

women refs; a separate space for drug testing;

somewhere for filming to take place by the pitch.

We'll have an indoor strength and development

unit (Portakabin!). And this year there will be

definite fixtures, which means we will have access

to another 3G pitch (in Lancing) as back-up, when

weather has previously meant cancelling games.

Photo by Katie Vandyck

In terms of the

team, so far, we're

reregistering players

from last season

and beyond. We've

announced Charley

Boswell and Lucy

Somes as new signings,

and there will be

more players who add

value to an already

good squad. Some are

joining us pre-season

on a trial basis.

I'm most looking forward to the fact that Lewes will

be playing the top-name teams in the country, like

Manchester United and Tottenham Hotspur.

The greatest challenges are that the Championship

players are stronger and are used to playing at a

higher level every week. We'll be playing against

professional and international players. But we go

as a collective. Those who haven't experienced it

will get support from those who have.

I'm really optimistic about attendances. If we

can get 450 to a Cardiff game at the end of last

season, it will be even better when we're playing

Manchester United at home. And we've got Jack

Heaselden starting as our General Manager, and

Rosy Matheson as Development Manager. Both

roles focus on crucial aspects of developing the

team and the club.

In terms of kit, we've got fantastic new sponsors,

Kappa, who are thinking creatively about their logo

and how we might use that for Equality FC." EC

The women's season begins 18/19th August with

the Continental Cup. FA Women's Championship

league fixtures begin 8/9th Sept. August home

friendlies: v Watford, July 29th, 2pm; v Chichester

City Ladies Sunday Aug 5th, 2pm; v West Ham 12th,

2pm. Dripping Pan, £3.

37
---
Off Any Massage

until August 31st

Church Twitten, next to 32 High St, Lewes BN7 2LU

theopendoorlewes@gmail.com www.theopendoorlewes.com

This offer is open to first time clients visiting The Open Door
---
ON THIS MONTH: MUSIC

Modern English

Big in America

When Robbie

Grey was a

teenager he used

to listen to "the

likes of Bowie,

and Roxy Music,

and I would

have never have

dreamed of trying

to emulate

anything like

that." Then punk

rock "blew the

doors down," and

pretty soon he found himself "shouting into a microphone"

in front of a band which was first called

The Lepers, and subsequently, having developed a

post-punk "experimental" sound, Modern English.

"Wire and the Gang of Four were doing similar

things, we were part of that movement," he says.

They got a deal with the indie label 4AD (who also

managed such acts as The Birthday Party and The

Cocteau Twins), did a Peel session, and recorded an

album that was very 1981, called Mesh & Lace, "all

me shouting and lots of feedback, and a guy from

Throbbing Gristle on it. It's still very popular, actually,

we were asked to play the whole thing from

start to finish in America recently."

Howard Jones, who had recently produced

LPs by Echo & the Bunnymen and Teardrop

Explodes, was charged with overseeing their

second album. "He taught us a lot," says Robbie.

"We used to call our songs 'pieces' and now they

became 'songs'. Verse, chorus, verse, he got me to

talk into the microphone instead of shout. It was

all about studio craft. We developed as musicians,

and songwriters."

They also became a lot more poppy, and a golden

period followed,

especially after

their single I

Melt for You

started getting

airplay on the big

radio stations in

the States. "It was

crazy, it hadn't

even been released

there, they

had somehow

picked up on the

12" import," he

says. The song was subsequently used in the Nicholas

Cage breakout movie Valley Girls. "We're still

popular in the States," says Robbie. "We're doing a

month-long tour there in the autumn."

The current incarnation of the band includes four

original members, all delighted with their latest

album, Take Me to the Trees, made a full twenty years

after their last. And they're touring, too. "Before

we go to America we're playing a Goth festival

in Leipzig with the Jesus & Mary Chain, as well

as gigs at the 100 Club in London, and in Paris."

Plus the Con Club, of course, once again punching

above its weight.

Looking back to the early eighties seems "like

a dream, like it never happened," he says. "We

worked so hard, doing, like, 80 gigs in 100 days,

living on a big bus with a bar and beds, at that stage

we were the same level as U2 in the States. The

proceeds from I Melt with You have paid the bills

ever since, I can't complain, if we don't play it out

there we'll be lynched". But they won't be playing

it in Leipzig: "those crazy Goth kids still want to

hear the first album." Alex Leith

Con Club, 30th, 7.30, £17

39
---
Barwells Wealth

INDEPENDENT FINANCIAL PLANNING

Planning on a

comfortable financial

future takes time

Setting your goals is the first step to success. Having goals gives focus and direction. That's

where Barwells Wealth can help.

We are independent financial advisers, which means our duty is solely to you – our client.

We provide comprehensive financial planning services for private clients, whether they are

saving for their first property or taking drawdown from their retirement funds.

Barwells Wealth offers advice on a whole range of financial services including the following:

• Investments

• Pensions

• Equity Release

• Savings

• IHT

• Long-Term Care

• Trusts

• Protection

Contact us to find out how Barwells can help you

1 Station Farm Barns, Station Road, Glynde, Lewes, East Sussex, BN8 6EU

T: 01273 086 311 E: financial@barwells-wealth.co.uk W: www.barwells-wealth.co.uk

Authorised and regulated by the Financial Conduct Authority. Barwells Wealth is a trading name of Barwells Independent Financial Management Ltd.
---
ON THIS MONTH: CINEMA

Left to right: The Producers; The Collector; Daisies

Film '18

Dexter Lee's cinema round-up

August, of course, means blockbuster season in the

cinemas, but there are a number of one-offs and a

fine festival at the Depot to break up all that Hollywood

fare. On Sunday 5th, for example, there's

a screening of Mel Brooks' fabulous 1967 musical

comedy The Producers, starring Gene Wilder

and Zero Mostel as two theatre producers trying

(for complicated reasons) to make a flop – Springtime

for Hitler – which turns out to be a resounding

success. It's a hoot.

There are two adaptations of John Fowles novels

scheduled, Karel Reisz's 1981 romantic drama The

French Lieutenant's Woman (8th) and William

Wyler's 1965 thriller The Collector, originally set

near Lewes but eventually shot in Kent (22nd).

Glyndebourne's Pulitzer-prize winning opera

Vanessa – written by Samuel Barber, directed by

Keith Warner – is being simultaneously screened

live all over the country on the 14th, including

at the opera-house's local cinema just three miles

down the road.

And, talking roads, Krzysztof Kieslowski fans

should be prepared to do a bit of travelling this

month: the late Polish director's fine trilogy

Three Colours is being shown over three weeks on

screens in three different East Sussex locations,

as part of Artwave. The three colours represent

those of the French flag, and Kieslowski's trilogy,

made in the 90s, examine its ideals of liberty,

fraternity and equality.

We start off at the Depot with Three Colours:

Blue (Aug 18th), a moving drama in which Juliette

Binoche plays a distraught widow who has to

finish off her composer husband's last work after

his death in a car crash. The screening will be

preceded by a talk by colour expert Alexandra

Loske; there will be an exhibition of blue-coloured

artworks throughout the festival in the studio.

For those who want to complete the set, White

will be shown at Newhaven's Hillcrest Centre on

the 25th, Red at Towner's fine new cinema on

September 2nd.

August will end with a Women and Activism

Festival at the Depot, with a theme-related film on

every day from the 25th, each film followed by a

talk from an invited guest. This starts on the 25th

with the 1966 film Daisies, by Czech director

Vera Chytilová, banned in its time for being

subversive. The other movies are Agnès Varda's

1977 feature One Sings, the Other Doesn't

(26th); the experimental take on the Irish Troubles

Maeve (27th); Swedish director Mai Zetterling's

1968 oddity Flickorna (aka The Girls, 28th);

Mary Dore's 2014 piece about the US women's

liberation movement She's Beautiful When She's

Angry (29th), and Matt Tyrnauer's documentary

about New York feminist campaigner Jane Jacobs

Citizen Jane, Battle for the City (30th).

Finally it's worth mentioning Cold War, the moving

black and white feature, largely set in post-war

Poland, that won director Paweł Pawlikowski Best

Director prize at the 2018 Cannes festival.

Please check the Depot listings for times and dates

of films. lewesdepot.org

41
---
ARTWAVE EXHIBITION

18th Aug - 2nd Sept

Jackie Fretten

A unique selection of contemporary

work by local artists, including

paintings, drawings, sculpture

and ceramics.

Open daily throughout Artwave.

Alison Rankin

Kate Osborne

Charlotte Strong

Louise Chavannes

Alice Carter

P A U L I N E D E V A N E Y

www.paulinedevaney.com
---
ON THIS MONTH: ART + FOOD

The Surrealist Picnic

'I've heard rumours of lobsters on dog leads'

'Picnic, Île Sainte-Marguerite, Cannes, France 1937' by Lee Miller (P0146) © Courtesy Lee Miller Archives, England 2018. All rights reserved. leemiller.co.uk

This will be our second

annual Surrealist Picnic;

an idea inspired by a

photograph that Lee

Miller took at a picnic

with friends on Île Sainte-

Marguerite, near Cannes,

in 1937. Lee, who was an

American model, photographer

and, later, a celebrated

war correspondent,

had in 1937 only

recently met Roland Penrose at a surrealist fancy

dress party in Paris. The couple were in France

that summer to visit Picasso. The friends with

them at the picnic were Paul and Nusch Éluard,

Man Ray and his new girlfriend Ady Fidelin. It's a

fine image of summer in the South of France, of

friends in a rural location. We have a wonderful

sculpture garden here at Farleys, so we thought it

made perfect sense to have our own picnic.

We'll have live jazz, music that Lee and Roland

very much enjoyed. Lee photographed Django

Reinhardt in Paris, so this year we have a band -

the Hot Club of Jevington - who pay homage to

Reinhardt, and later the Jonathan Bailey quartet.

There will also be performance art inspired by

Jean Cocteau's film, The Blood of a Poet.

We encourage picnickers to dress up. Last

year people came in Magritte-style hats, with apples

hanging from the brim and I made a rather

silly hat inspired by Eileen Agar's Ceremonial Hat

for Eating Bouillabaisse, with various bits from

the beach (I had to boil the crab's leg because

it was rather smelly). Someone came dressed

as a mystical character from a Leonora Carrington

painting, someone else was inspired

by Roland Penrose's painting of his first wife,

Valentine Boué, called

Winged Domino, which

depicts her with a blue

face and butterflies on her

eyes and lips. One of the

performance artists at the

picnic was dressed as the

Surrealist performance

artist Sheila Legge, who

in 1936, for the International

Surrealist Exhibition,

stood in Trafalgar

Square with a mask made entirely of red roses,

in a beautiful white silk dress, with gloved arms

outstretched for pigeons to land on. People have

already been coming into the gallery pondering

their costumes. I've heard rumours of lobsters on

dog leads…

Attendees get creative with their picnics

too. Last year there were light-up cockroaches

in blue jelly. And, of course, Lee Miller created

things like Muddles Green Green Chicken and

Pink Cauliflower Breasts… It's bring your own

picnic but Chloe (from Seven Sisters' Spices) is

having lots of fun with Ami Bouhassane's book,

Lee Miller: A Life with Food, Friends & Recipes

making some of Lee Miller's gourmet surrealist

recipes. There will be parsley ice-cream,

summer pudding breasts, and gin &

grapefruit sorbets. It's lots of fun.

As told to Lizzie Lower by

Elaine Wardekker O'Brien

Farleys House and Gallery,

Muddles Green,

Sunday 26th of August,

4-8pm. £15 per person.

farleyshouseandgallery.

co.uk

43
---
ART

Cuckoo 2, 2015, Galvanised steel, cast fibreglass balloon and sand. Courtesy of the Artist and Karsten Schubert Gallery, London.

Alison Wilding

'I'm an unashamed elitist'

44

Bexhill's De La Warr Pavilion has put on some

tremendous art exhibitions over the years, but

compared with, say, the Jerwood, Pallant House

or Towner it always seems to me to be operating

slightly under the radar. Perhaps it's an unlooked

for consequence of the sheer, dazzling diversity

of cultural and not-so-cultural entertainment

that is constantly on-tap at the Mendelsohn and

Chermayeff 1930s modernist masterpiece. ('Est.

1935, Modern ever since', as the latest jaunty De

La Warr publicity has it).

I'll always remember my first visit to Bexhill after

moving down from London at the end of 1983.

Posters on the Pavilion promised the eclectic

mix, inter alia, of a Victor Pasmore exhibition

and… Val Doonican. Here's just a few of my

personal artistic highlights over the last two

decades. 1999: British linocuts of the 1920s and

1930s – this showcased the exuberant work of the

Grosvenor School, especially Cyril Power, Sybil

Andrews and Claude Flight. 2008: an exemplary

exhibition devoted to the work of Ben Nicholson.

Dark Horse 1, 1983, Portland roach & neoprene.

Courtesy of the Artist and Karsten Schubert Gallery, London.
---
Floodlight, 2001, cast acrylic. Courtesy of the Artist and Karsten Schubert Gallery, London.

ART

2015: The Curve Paintings of Bridget Riley.

2018, and it's the turn of Alison Wilding. The

sculptor was born in Blackburn in 1948, but

judging from the interview she gave to the

Guardian five years ago I imagine that she would

give pretty short shrift to the idea that this show

was anything to do with her seventieth birthday

in July. Here are some of the questions and her

splendid answers:

Who or what have you sacrificed for your art?

Absolutely nothing.

Why do public sculptures often attract such controversy?

Because most of them are rubbish.

What's the greatest threat to art? Popularity! I'm

an unashamed elitist.

But her answer to that last question does not mean

that her abstract sculptures are not accessible. As

she says, there's nothing you need to know about

it beforehand, nothing you need to research. So,

the earliest work on display dates from 1983 (it

was only in the 1980s that she thought she had

discovered a voice of her own) and is called Locust.

You absolutely do not need to know that the title

derives from an account of a plague of locusts in

Milton's Paradise Lost.

The latest work on show dates from last year. It's

called Riptide and is installed on the De La Warr's

roof. Alas, I couldn't see it as the staircase to the

roof was cordoned off on the day of my visit.

If you don't know her work, or even her name, this

show is the perfect time to be introduced. As Alison

Wilding says: "You do need an encounter with

it. It doesn't matter how you come to it, which way

you come to it". And she's keen to stress that she

uses basic, everyday materials. The "context may

be unfamiliar, the materials not".

Displayed in a long room with the longest of the

Pavilion's windows, the sculptures interact with the

horizon to the sea, hence the title Right Here and

Out There. I didn't 'get' all the individual works,

certainly, but as an overall experience, it's pretty

marvellous. David Jarman

45
---
martyrs'

gallery

summer

salon

Anouk Emanuel Cat's Cradle

18 August – 2 September, 12 noon – 5pm

(Thu–Sun, plus Bank Holiday Monday)

Private View: Friday 17 August, 6pm

www.martyrs.gallery
---
ART

Deborah Manson

Collage quilter

Artwave, the annual artists and makers festival, is in

its 25th year. Opening her house for the first time

as part of this year's festival is textile artist Deborah

Manson, whose work combines collage with quiltmaking,

bringing in elements of fabric printing and

hand-dying techniques.

Deborah says: "I've always made things from

textiles. My early career was in illustration, mainly

doing commercial work like greetings cards and

wrapping paper, and even then, I would create a lot

of my designs using textiles." Some of the key pieces

that will be on display are her handmade quilts and

cushions, which she creates with 'found' fabrics:

"I prefer to re-use things, both from a sustainable

point of view and because I find used fabrics more

interesting. I use vintage linens – I once found a

sheet from the 1800s at a market that I go to just

outside London – or things I've found in charity

shops, or my own clothes. They have a past and

a history. Repurposing things and giving them a

new life, or a new meaning, is something I'm really

interested in."

Deborah's designs usually begin through drawing

and collage. "I'm stimulated by composition and

colour and the relationships between colours and

shapes," she says. "I often look at abstract painting

for inspiration; I've been looking at the work

of Agnes Martin quite a lot recently, and Patrick

Heron's show at the Tate in St Ives was amazing, so

inspiring." A selection of Deborah's collage works,

composed of layers of papers dyed with fabric pigments,

will be exhibited alongside her textile pieces.

"Something I've been experimenting with recently

is using natural dyes rather than acid or chemical

dyes," she explains. "I've been working with

brazilwood, indigo, madder root – using them

traditionally as dyes, but I'd like to be able to screen

print using them. There's the environmental aspect,

of course, but you can also get much more subtle

colours using natural dyes. It's the same process,

it's just working out how to get them to the right

consistency. I'm in quite an experimental phase at

the moment…" Rebecca Cunningham

Deborah's house (40 Hamsey Crescent, venue 89)

will be open on the 25th & 26th August and on the

1st & 2nd September and she'll be running drop-in

screen printing taster workshops on both weekends.

deborahmanson.co.uk

Photos by Rebecca Cunningham

47
---
ART

ART & ABOUT

In town this month

Olivia Waller (venue 140)

It's August, so it's all about Artwave, which has been celebrating

the artists and makers across the district for the last 25 years.

They've dubbed this special anniversary year their Colour Edition

and there are a huge number of events taking place over the

weekends from the 18th of August until the 2nd of September. As well

as the opportunity to visit upwards of 150 venues and meet artists and makers of

every stripe, there are free participatory workshops, colour-themed events, guided

walks, and a district-wide screening of the Three Colours Trilogy (see pg 41). We've

picked out just a few things which caught our eye; pick up a brochure or visit the

website to see all that's going on [artwavefestival.org].

Rachel Clark

There are more than 50 venues on the Lewes trail

alone. Tanya Gomez, she of the epic pots, opens

her doors for her annual studio sale (venue 92);

Rachel Clark exhibits a new limited edition of

etchings and linocut prints inspired by her travels

(venue 93); Pauline Devaney exhibits her latest

paintings of imagined subjects (venue 96), and Ms

Kitka's Revolutionary Beadwork is 'sewing the

beads of dissent' with her Bolshevik Collection

(venue 144).

Ms Kitka

On the Waterfront is the title of the Sussex

Watercolour Society's annual exhibition, open

daily at the Linklater Pavilion from the 25th of

August until the 2nd of September (venue 147).

Chalk Gallery are celebrating the beginning

of Artwave with the launch of their Summer

Exhibition. Join the artists at their preview party

on Saturday the 18th from 5 until 8pm for a

summer celebration of paintings, sculptures,

glass art, printmaking, cards and more (venue

123)... Martyrs' Gallery also open their juried

Summer Salon on the 18th, presenting a

cross-section of contemporary two and threedimensional

art (venue 115). Artists wishing to

submit work should ask in the gallery or visit

martyrs.gallery/summersalon.

Venus by Simone Riley

49
---
ART

In town this month (cont)

Keizer Frames is open daily

throughout Artwave with a selection

of contemporary work by local artists

including Alice Carter, Janine Shute,

Alison Rankin, Kate Osborne and

Louise Chavannes (venue 150).

Rebecca Motley

The pop-up gallery at No 2 Fisher Street returns with

a selection of artists, all inspired by the natural world.

Sussex printmaker Keith Pettit is joined by Lewes jeweller

Phoebe Sherwood, Suzanne Breakwell - who creates

exquisite sculptural birds and creatures using the pages

of books - Brighton-based ceramicist Holly Bell, and

printmaker Rebecca Motley (venue 117).

Kate Osborne

studio workshops

Dyed + Printed Textiles

Open studio / taster sessions

25 + 26 August / 1 + 2 September

11am - 5pm / tea + cake

Garden studio exhibition. Quilts, textiles and

paper collages. Taster sessions - have a go

at screen printing on fabric bags!

Textile workshops

Deborah runs silk screen printing and other

textile workshops from her studio throughout

the year.

For information / bookings contact:

deborahmanson.co.uk

info@deborahmanson.co.uk

Arts festival and Artwave

Free entry to Gardens

and Art & Sculpture Trail

4-19 AUGUST

Workshops, Events

and Live Music

11 AUGUST

Art & Craft Show (11 AUG)

18/19, 25/26, 27 AUGUST

Artwave Art Exhibition

pickhAms

WiLMinGTon Bn26 6RR

01323 840048

www.summertrifle.co.uk
---
EDWARD STOTT

A MASTER OF COLOUR AND ATMOSPHERE

AT ALTITUDE

AN ARTS COUNCIL COLLECTION NATIONAL PARTNER EXHIBITION

AND

OMER FAST: 5000 FEET IS THE BEST

26 MAY – 16 SEPTEMBER

Tickets £5 / £4 concessions

Free for Towner Members & under 18s

townereastbourne.org.uk

Edward Stott, Washing Day, 1899, Oil on canvas. Watts Gallery Trust
---
LOGO

Out of town

ART

Everyone welcome!

South Heighton & Denton

18/19, 25/26/27, 01/02, 11am-5pm

The trails continue throughout the district

with plenty of opportunities to explore. Here

are just a few suggestions to get you started.

Get inspired by the kick-ass activist nun,

Corita Kent, and join Badge Up! a free

badge-making workshop with artist, Ruby

Smith at Ditchling Museum of Art + Craft

on Saturday the 18th from 11-5 (venue 1).

Corita Kent, Get With The Action (damn everything but the circus alphabet,

1968) at Ditchling Museum of Art + Craft, 2018 (photo by Sam Moore)

Lupin Cottage Workshops

Denton, BN9 0QB

www.emmataylorprint.co.uk

A diverse show of six artists, in the secluded

home and studio of printmaker Emma Taylor in

the heart of Denton Village.

Try your hand at stone carving at Artists and

an Orchard in Ringmer (venue 32). See work

by nine local artists at Glynde Place and

book your place on a walking installation by

artist-in-residence, Jackie Misson (venue 40).

We Are Mountain and Friends, an exhibition of

printmaking, photography, needle felting and

more is at the iconic coastguard cottages at

Cuckmere Haven (venue 61). On the way back

treat yourself to a visit to South Heighton

Pottery, home to acclaimed potter Chris

Lewis and a

garden of earthly

delights (venue

76). Just up the

road, The Old

Forge Open

House hosts 16

professional artists

and makers with

Sussex cream teas

and light lunches

by Mamoosh

(venue 77).

Chris Lewis

53
---
Open every Sunday from April - October 2018

Experience the extraordinary atmosphere of the Sussex

home of the Surrealists Lee Miller and Roland Penrose

whose friends and guests included Picasso, Carrington,

Man Ray and Miró. We open to visitors on Sundays from

10am, offering 50 minute guided tours, exhibitions in our

gallery and a sculpture garden to explore.

Muddles Green, Chiddingly

East Sussex, BN8 6HW

Tel: 01825 872856

www.farleyshouseandgallery.co.uk

@ FarleysHG

3 Portraits - 3 Exhibitions, 15th - 31st August

A chance to see International Award winning work by local artist

Jean-Paul Tibbles
---
ART

Out of town (cont)

Morag Myerscough, We Make Belonging

Newhaven is really

entering in to the

spirit of things, with

the first Newhaven

Festival, featuring a

wide variety of events.

There's Bird Bath, a

sound installation in

St Michael's Church;

Waterborne, the first

regatta of the Newhaven

Gig Club; Salon 69,

a supper club with six

speakers each giving

a nine-minute mini

talk; Open Call, an art

exhibition about the

community, by the community; an exploration of the town's

secret 'edgelands', and much more besides [newhavenfestival.

co.uk]. Morag Myerscough's Belonging Bandstand arrives

at Newhaven Fort on the 22nd and stays until the 27th.

Admission fees to the Fort apply but it's free on the 27th

for the Festival of Belonging: a day of live music, DJs,

local food, films, dance, local creativity, craft workshops and

storytelling. Free fun for all the family from 12-6pm (venue

87) [festivalofbelonging.co.uk].

Andy Smith

A Sense of Place, at the Hillcrest

Community Centre, is an

exhibition of works by 17 Sussex

designers in response to the

rising political tide of restricted

movement and border closures.

All profits from the sale of

prints will go to local charities,

Refugee Action and The Clock

Tower Sanctuary (venue 82).

Further afield

If you're in the

mood to venture

further east, there's

lots to see at

Towner Gallery,

where the Sussex

Open, Edward Stott:

A Master of Colour

and Atmosphere

and At Altitude all

continue. And Right Here and Out There, a major

exhibition of work by British sculptor Alison

Wilding, continues at the De La Warr Pavilion

(see pg 44).

Edward Stott, the Fold, c. 1895, oil on canvas. ©Touchstones Rochdale,

Rochdale Arts & Heritage Service

Jerwood Gallery

exhibit a series of

playful, thoughtprovoking

and

previously unseen

works by Turner

Prize-winning

artist Mark

Wallinger. The Human Figure in Space draws

inspiration from sources as diverse as Wallinger's

childhood visits to see his Auntie Marjory in

Hastings during the Sixties, to the pioneering

work of 19th century photographer Eadweard

Muybridge. (Until the 7th of October.)

Birdman (detail), 2018. Archival Digital Prints on Dibond. Dimensions

variable. Courtesy the artist and Hauser & Wirth © Mark Wallinger

55
---
S T P E T E R & S T J A M E S H O S P I C E

SATURDAY 8TH SEPTEMBER 7PM

Wakehurst

Ardingly, Haywards Heath, West Sussex RH17 6TN

Join us beneath the stars as we take a walk to remember this

September. Enjoy a sponsored stroll through Wakehurst's

beautiful botanic gardens and lay a lantern alongside

hundreds of others to remember and celebrate the people

you love. As your glistening lantern brings light to dark

hours, you'll help our hospice nurses do the same.

Entry is £15 before 1st June and £18 thereafter.

Under 16s £5.

Family and group discounts available

Kids' activities,

photobooth &

fantastic prizes

to be won!

Register at stpjhospice.org

or call us on 01444 471598

Registered charity number: 1056114

Kindly sponsored by
---
AUG listings

THURSDAY 2 – SUNDAY 5

The Wonder Project.

Interactive arts

experience. A twomile

journey through

Wakehurst's gardens

and woodlands, with

soundscapes, sculptures

and art installations inspired by the centre's plants

and the work of Kew's scientists on the site of the

Millennium Seed Bank. Gates open 6.30pm (last

entry 7.30pm), gates close 10pm, £15/£6 (under

4s free).

FRIDAY 3 – SUNDAY 5

The Sussex Guild Contemporary

Craft Show.

Showing examples of

ceramics, textiles, jewellery,

leatherwork, stone carving,

wood, glass and furniture.

Meet the designer-makers

and see their work on show, in the Elizabethan

barn and in marquees on the lawns. Michelham

Priory, 10.30am-5pm, see thesussexguild.co.uk.

SATURDAY 4

Book Fair. Dealers offering an astounding variety

of second-hand, rare and collectable books.

Raising funds for Paws & Claws Animal Rescue.

Town Hall, 10am-4pm, 50p.

Glynde & Beddingham

Flower

Show & Fête. Bar,

BBQ, bouncy castle,

children's fancy dress,

Punch & Judy,

tombola, bric-a-brac,

coconut shy and more.

The Flower Show tent shows entries for local

produce, handicrafts and children's classes. Live

band and auction and Glynde Lido pool open

(weather permitting). The Recreation Ground,

Glynde, 12pm-5pm, free.

Proms in the Paddock.

Live music, bar, BBQ, stalls

and fireworks to finish.

The Paddock, gates 3pm,

£8/£10 (kids 5-16 £3 and

under 5s free).

SATURDAY 4 – SUNDAY 19

Summer Trifle. Art, craft and creative workshops,

exhibition and live music. Pickhams,

Wilmington, see summertrifle.co.uk.

MONDAY 6

FRIDAY 10

Herb of the Day. Walk &

Talk with medical herbalist

and storyteller Kym Murden,

exploring the world of

herbs, and identifying various

remedies. 6pm – 9pm,

£8, kymmurden.com.

Jane Seymour: The Haunted Queen. A Friends

of Anne of Cleves House talk by Alison Weir.

Anne of Cleves, 7.30pm, £8 non-members (£5

members), contact annacrabtree1@hotmail.com.

SATURDAY 11

Britain on Film:

Coast and Sea. Special

screening of the

British Film Institute's

nostalgic journey

around the British

coast. The Keep, 10.30am-12.15pm, £3.

SATURDAY 11 & SUNDAY 12

Firle Vintage Fair.

Fashion, antiques and

decorative interiors, swing

bands, vintage fair rides,

champagne bar and much

more. firlevintagefair.co.uk.

57
---
AUG listings (cont)

Steam through the Ages. New Bluebell Railway

event bringing 100 years of history to life

with a different decade recreated at each station

(Sheffield Park, Horsted Keynes, Kingscote, and

East Grinstead). See bluebell-railway.com.

WEDNESDAY 15

Sussex Military Society. Hastings in Wartime

with speaker Ken Brooks. White Hart, 7.30pm

for 8pm, £3 for non-members.

THURSDAY 16 – SUNDAY 19

The Great Lewes Tap

Takeover. Four Lewes bars

invite six of the country's

best breweries to take over

their cask and keg lines: The

Elephant & Castle, The Patch,

The Brewers Arms and The

Black Horse.

SATURDAY 18

Alexandra Loske

talk. Part of

Artwave Festival, a

talk on the history

of colour, preceding

a screening of Krzysztof

Kieslowski's

film, Three Colours:

Blue. Depot,

4pm (film starts 6pm), lewesdepot.org.

SATURDAY 18 – SUNDAY 2 SEPT

Newhaven Festival.

Various community and

arts events happening

throughout the town,

including a parade, beach

party, speakeasy and a

festival at the Fort. See newhavenfestival.co.uk.

59
---
28th, 29th, 30th Sept 2018
---
AUG listings (cont)

Pippingford Park

Nutley. East Sussex

SATURDAY 25

Cliffe Summer Fair. Wide range of stalls, cakes,

teas and coffees. With a grand raffle, tombola and

tin mine. Money raised will go towards repairs at the

Cliffe Parish Church of St Thomas. In and around

Cliffe Hall, 10am-12.30pm, free.

SATURDAY 25 – MONDAY 27

SUNDAY 26

Marvellous Mechanicals.

Exhibition of

automata made by Ivan

Morgan, hands-on fun

for children and adults.

Tea and cake available

in the garden. 21 Gundreda

Road, Lewes,

2pm to 5pm, free.

Surrealist picnic. Live jazz and surreal performance,

dressing up encouraged (see pg 43). Farleys House

and Gallery, 4pm-8pm, £15.

FRIDAY 31 – SATURDAY 1 SEPT

Ouse Valley Quilters' Biennial Exhibition.

Display of work, refreshments, traders, tombola,

sales tables and raffle in aid of Kangaroos (a charity

enriching young disabled people's lives) and Kent,

Surrey & Sussex Air Ambulance. King's Academy

(formerly Ringmer Community College), 10am-

4pm, £4 (accompanied children free).

FRIDAY 31 – SUNDAY 2 SEPT

Herstmonceux Astronomy

Festival. Familyfriendly

event for both

amateur astronomers and

beginners, giving people

the option to visit for a

day or register for the whole weekend. Programme

includes the screening of a sci-fi classic, lectures, talks

about the telescopes, viewing (weather permitting),

trade stalls, and more. Beer tent and refreshments

available. the-observatory.org.

A fascinating journey for parents,

grandparents and kids of all ages into the

amazing world of trees. Discover the wonders

of nature and a day of adventure that will open

your eyes to the ways in which we can play,

work, learn and explore in the woods.

Plus, enjoy delicious local and drink in

the stunning Sussex location.

www.sussexpast.co.uk

www.into-the-trees.co.uk

Lewes Castle &

Anne of Cleves House

Anne of Cleves House

Tuesdays 1-4pm

Summer Flowers 31 st July

Kitchen Tales 7 th August

Spinning Yarns 14 th August

The Princess & The Pea 21 st August

Tudor Crafts 28 th August

Included in standard admission

Lewes Castle*

Thurs days 10.30-12pm/2-3.30pm

*Booking required for activities

Heroes & Dragons 2 nd August

Digging for Treasure 16 th August

Archaeologist for an Afternoon 16 th Aug

Knights & Dragons 23 rd August

Dinosaurs & Dragons 30 th August

Child ticket prices: £5

61
---
Sussex Students

are looking now

ACCOMMODATION REQUIRED

FROM SEPTEMBER TO

DECEMBER OR SEPTEMBER

THROUGH TO JUNE.

• FREE, easy advertising service

• Set your own rents

• Friendly students from around the world

• Full-board, half-board, self-catering…

on your terms!

Interested? Contact us today

E housing@sussex.ac.uk T 01273 678220

Panasonic Store Brighton...

SUMMER SAVINGS

DON'T MISS OUR AMAZING DEALS. VISIT US IN STORE OR ONLINE TODAY!

QUICK & EASY FINANCE. 0% APR REPRESENTATIVE

Finance available on all Panasonic OLED

Televisions for a limited period only.

PLUS £50 off the GA10 Google speaker

(black or white) when purchased with

a SC-HC2020EBK with chromecast.

Don't Miss!

SAVE

£50!

0%

FINANCE

AVAILABLE

A *

• NEXT DAY DELIVERY & INSTALL AVAILABLE WITH MOST PRODUCTS ** • EXPERT ADVICE & SERVICE •

B R I G H T O N

in store | online | mobile

* Scale: A++ to E. ** Terms apply, contact us or ask in-store for more details.

11 Imperial Arcade, Brighton, East Sussex BN1 3EA

01273 827450 | Visit: www.panasonicstore-brighton.co.uk
---
GIG GUIDE // AUGUST

GIG OF THE MONTH:

OXFEST

It's back for a fourth year! The Sussex Ox in Milton

Street, near Alfriston, presents Oxfest, a weekend

festival of beer, local music, dancing and all-round

merriment. The gardens are a beautiful setting to

enjoy over 20 different real ales and ciders, and

there's a cocktail tent and a gourmet BBQ (à la carte

menu available too). Headliners include acoustic fivepiece

The Mountain Firework Company ('alternative

bluegrass with a dark treacle folk centre', right),

indie-pop trio Me and the Moon and party band The

Blackjacks. Count us in… Kelly Hill

Friday 3 – Sunday 5, The Sussex Ox, Milton Street,

free admission, see oxfest18.co.uk

Photo by Simon Diamond

THURSDAY 2

Steve Parsons. Entertainment from Snips (lead

singer of Sharks) and friends. The Lansdown,

7.30pm, free

The Hot Club of Belleville. Vintage hot swing.

Pelham Arms, 8.30pm, free

FRIDAY 3

Phil Mills. Solo Blues and Jazz in the bar. Con

Club, 8.30pm, free

FRIDAY 3 – SUNDAY 5

Oxfest. See Gig of the Month

SATURDAY 4

The Dickies. Daft punk rockers from the USA.

Con Club, 7.30pm, £18 + bf

Open night: 'Far From Home'. Folk. Elephant

& Castle, 8pm, £3

SUNDAY 5

English dance tunes session - bring instruments.

Folk (English trad). Lamb, 12pm, free

MONDAY 6

Andy Panayi (sax and flute) & the Terry Seabrook

Trio. Jazz. Snowdrop, 8pm, free

TUESDAY 7

English dance tunes session - bring instruments.

Folk (English trad). JHT, 8pm, free

THURSDAY 9

The Rumjacks. Punk rock Celtic folk. Con

Club, 7.30pm, £13

SATURDAY 11

Open night: 'Alternative Versions'. Folk. Elly,

8pm, £3

SUNDAY 12

Slaughter & The Dogs. Original punk legends.

Con Club, 7.30pm, £18

MONDAY 13

Martin Shaw (trumpet) & the Terry Seabrook

Trio. Jazz. Snowdrop, 8pm, free

63
---
GIG GUIDE // AUGUST

TUESDAY 14

Open night: Concertinas Anonymous practice

session. Folk & misc. Elly, 8pm, free

THURSDAY 16

The Drew Simon Trio. Cajun. Con Club

7.30pm, £tba

SATURDAY 18

Open night: 'Dark & Light'. Folk. Elly, 8pm, £3

MONDAY 20

Lawrence Jones (sax and flute) & the Terry

Seabrook Trio. Jazz. Snowdrop, 8pm, free

TUESDAY 21

English tunes practice session – bring instruments.

Folk. Elly, 8pm, free

SATURDAY 25

Open night: 'Silver Linings'. Folk. Elly, 8pm, £3

MONDAY 27

Will Gardner (sax) & the Terry Seabrook Trio.

Jazz. Snowdrop, 8pm, free

THURSDAY 30

Modern English. New wave/post-punk (see pg

39). Con Club, 7.30pm, £15

The Rumjacks, Thurs 9th , Con Club

LTT_Vivaad_halfpage_landscape.pdf 1 11/07/2018 14:39

C

M

Y

CM

MY

CY

MY

K
---
MUSIC

Photo by Katie Vandyck

Classical round-up

SUNDAY 5, 3PM

Siân Griffiths (mezzo

soprano, left) & Phoebe

Yu (piano) perform

music by Fauré, de Falla,

Rossini & Poulenc. Full

programme is: Fauré -

Cinq Mélodies de Venise;

Falla - Siete Canciones

Populares españolas;

Rossini - Nacqui

all'affanno... Non più

mesta from La Cenerentola; Poulenc - Nous voulons une

petite Sœur from Quatre Chansons Pour Enfants cycle.

St Michael's Church, High Street, Lewes, free entry

with a retiring collection in aid of the Church Organ

Restoration Fund

© IGORSTUDIO

TUESDAY 21, 7.30PM

Schubert's Octet on a Summer's Evening. The

Hanover Band Chamber Ensemble and the Consone

Quartet perform Schubert's sublime Octet.

St Margaret's Church, Rottingdean, £22-£33

FRI 31 – SAT 2 SEPTEMBER

Lapwing Music Festival.

Intimate recitals at the beautiful

Coastguard Cottages,

Cuckmere Haven. Featuring

Maya Youssef (left) - qanun

(Friday), Manu Delago - hang

drums (Saturday), Lea Desandre

– mezzo soprano (Sunday)

Thomas Dunford - lute (Sunday).

See lapwingfestival.com for times and more details
---
Firle Church of England Primary

Our Forest

School

We have spaces for September

2018.Please email the school office

to make an appointment

office@firle-school.e-sussex.sch.uk

or call 01273 858260

Our Field

Our Walks

Lewes 11 mins

Glynde 5 mins

Seaford 20 mins

Let your child breathe....
---
FREETIME

UNDER 16

êêêê

MONDAY 30 JULY – FRIDAY 3

TUESDAY 7

Kaleidoscope Summer School. For ages 5-16

years, participants will explore new skills and

develop their talents in a selection of: acting;

dance/movement; musical theatre; stage fighting;

devised theatre; make-up; puppet making;

improvisation; circus skills; mask making;

exploring Shakespeare, and more. Priory School,

10am-4pm, see kaleidoscopedrama.uk.

THURSDAY 2

Heroes and Dragons. Listen

to the story of Beowulf

and the dragon. Create

a dragon in clay or

make a mask, draw

your own hero. Lewes

Castle, 10.30am, £5

(booking essential).

SUNDAY 5

Look Think Make.

Drop-in familyfriendly

creative

activities responding

to ideas and materials

found within the

exhibitions, with support from gallery staff and

volunteers. De La Warr, Bexhill, 2pm-4pm, £1.

MONDAY 6 - THURSDAY 9 &

MONDAY 13 - THURSDAY 16

Lewes Theatre Youth Group Summer

School. Ideal for budding performers age 8 to

20 years old who wish to develop their acting

skills through a variety of fun-filled team and

individual games and activities. Lewes Little

Theatre, 10am-12pm, £60 per person per week,

email leweslittletheatreyouthgroup@gmail.com.

Kitchen Tales. Drop in to hear some kitchen

stories, tell your own, handle kitchen artefacts

and explore the herbs in the garden. All ages

welcome. Anne of Cleves, 1pm-4pm, price

included in admission.

THURSDAY 9

Dinosaurs and Dragons. Creative holiday

workshop for children aged four to eight. Lewes

Castle, 10.30am & 2pm, £5 per child.

MONDAY 13 – THURSDAY 16

Intrepid Summer Camp. A range of

performing and creative arts, ideal for children

aged five to ten years. Southover School, see

intrepidtheatre.org.uk.

TUESDAY 14

Water safety for kids.

Fun and interactive session

aiming to educate children

on how to be safe in the

water. Seahaven Swim &

Fitness Centre, Newhaven, 10am-11am, £4 per

child (open to 8-14 year olds).

Spinning Yarns. Drop in and listen to the tale

of Rumpelstiltskin, tell your own fairy tales and

have a go at spinning wool. All ages welcome.

Anne of Cleves, 1pm-4pm, price included in

admission.

THURSDAY 16

Digging for Treasure. Have a go at being an

archaeologist. Holiday workshop for children

aged between four and eight. Lewes Castle,

10.30am, £5 per child, booking essential.

67
---
FREETIME (cont)

êêêê

TUESDAY 21

The Princess and the Pea. Drop in to hear

the tale, brought to life with tactile objects. Plus

dressing up and hands-on craft activities, all

ages welcome. Anne of Cleves, 1pm-4pm, price

included in admission.

TUESDAY 28

Tudor Crafts. Try some of the crafts that

would have taken place in the parlour. Includes

sewing, spinning and weaving and learning about

Tudor plant dyes. Anne of Cleves, 1.30pm, price

included in admission.

Woodland site near Laughton, 10am-2pm, see

circleofliferediscovery.com.

FRIDAY 31 – SUNDAY 2

Alice in Wonderland at Wakehurst. Familyfriendly

outdoor theatre production of the Lewis

Carroll classic, brought to life in Glenn Elston's

production, performed by The Australian

Shakespeare Company. See kew.org/wakehurst

for times and tickets.

THURSDAY 30

Wild Family Day Out. Activity-packed day for

all the family, run by Circle of Life Rediscovery.

Open Morning

With its excellent and imaginative

approach, the Steiner Waldorf

curriculum has gained ever-widening

recognition as a creative and

compassionate alternative to

traditional avenues of education.

But just how does it feel to be a child

in this environment, soaking up this

stimulating and rewarding teaching?

Wednesday 10th October

from 08:30 - 13:00

Alternatively, book in for a Private Tour

email: contact@michaelhall.co.uk

www.michaelhall.co.uk/school-open-days

Kidbrooke Park, Priory Road, Forest Row. East Sussex, RH18 5JA

Tel: 01342 822275 - Registered Charity Number 307006

68
---
SHOES ON NOW: BRANCHING OUT

êêêê

This weekend my 12-year-old and I headed off

to Branching Out Adventures at Bentley. Nestled

within a woodland setting, Branching Out is an

outdoor adventure site featuring tree top walks,

zip wires and a huge swing that catapults you to

a nose-bleeding height above the ground. Being

a tree-top adventure novice, and not so fond of

heights, my son opted for the low ropes situated

3-4 metres above the ground. After a thorough

safety demonstration carried out by a very friendly

instructor, we were ready to begin. He confidently

made his way around the course whilst I looked on

from below, relieved that I didn't have to join him.

His low-ropes adventure was topped off by a nifty

descent, courtesy of a zip wire.

With hindsight, the low ropes didn't offer him

enough of a challenge, but rest assured we will be

back to tackle the high ropes, the climbing wall,

and the rather terrifying looking giant swing before

the end of the

school holidays.

If you want an

hour or so out in

nature, cheering

your child on

as they balance

above your head,

or fancy having

a go yourself,

ensconced in natural surroundings, we would recommend

Branching Out. And if you want to make

a day of it, afterwards you could always pop along

to Bentley Wildfowl and Motor museum which is

only a stone's throw away.

Jacky Adams

Please note height and age restrictions apply and it's

best to book ahead. More details can be found at:

branchingoutadventures.co.uk

With over 100 interactive exhibits

set among the domes of a former

world famous observatory, we have

something to offer for all ages.

Open daily during the school

summer holidays. Please visit the

website for full details of all our

summer events and activities

including daily science shows and

telescope tours, plus a fun and

inspiring range of children's workshops *

for everyone

*

BOOKING ESSENTIAL FOR ALL WORKSHOPS

01323 832731 www.the-observatory.org

69
---
Welcome to CHAILEY SCHOOL

'Everyone the best they can be'

Chailey School is a thriving

secondary school of

approximately 750

students from 11 to 16

years of age. Our vision

is 'everyone in our school

achieving more than they

ever thought possible'.

We believe in traditional

values - and these

underpin life in our

school. We have high

expectations of students in

both their work and

behaviour. We know our

students as individuals,

their characters and

personalities.

'Pupils are encouraged to have

high expectations'– Ofsted 2017

If you would like to see the school in action,

please do call to arrange a visit:

01273 890407.

www.chaileyschool.org

Open Evening

6.30pm Tuesday 18th September 2018

Open Mornings

9.00-11.00am

Monday 24th to Thursday 27th September 2018

We are passionate about the

whole child and the progress they

make in all aspects of their school

life, regardless of their academic

ability. Whatever a student's

talents or abilities, our reputation

as an inclusive school ensures

that all needs are met – for those

who are gifted and talented and

for those who need additional

support.

A rounded school life is not just

about the classroom and students

benefit hugely from a wide range

of extra-curricular activities.

Our pastoral care for

students is widely

recognised as outstanding

from transition and

throughout their time at

Chailey.

No appointment is necessary. The students,

staff and governors look forward to

welcoming you.

Results are how we tend to be measured – and

our record over many years for the attainment and

progress of our students is excellent. Regardless

of their ability, students all leave Chailey School

having achieved the level of results which allow

them to move on to a wide range of post-16

courses and apprenticeships. The standards

achieved in English and Mathematics are high and

form the bedrock for all other learning.

In Science, Technology, Foreign Languages, the

Arts and Humanities, our students excel as a result

of high quality teaching and students' own

commitment to their learning.

Whilst we are naturally proud of

our achievements, the true

measure of our success is seeing

a school full of happy, confident,

independent young people, fully

engaged in their education. Our

students are proud of their school

and enjoy telling people about life

at Chailey.
---
CANADIANS IN THE PARK

During WW2 Sheffield Park was requisitioned

by the War Office and became an extensive camp

for several Canadian regiments. This summer,

the National Trust property will host a series of

events exploring what life would have been like

for the soldiers who were based there…

We don't know exactly how many soldiers

were sent here – only that there were thousands.

We know they were here from 1941 to

1945, passing through on their way to Europe.

We also have a first-hand account from the father

of one of our gardeners, who was a paper boy and

used to cycle through Sheffield Park and would

meet the soldiers.

They did live on site in Nissen huts: temporary

curved-roof structures made from wood and

corrugated iron. There is one original one left in

the gardener's compound, which is used as a tool

êêêê

shed, and we've built

a replica hut in the

garden for visitors

to explore. Accommodation

was basic

– a metal bed frame,

mattress, blankets –

dormitory style!

They left behind a lot of the debris of everyday

life, which our gardeners still uncover

now while they're working: glass bottles, gun

cartridges, small parts of machinery. We will be

holding an archaeological dig until the 29th of

July in East Park, where the majority of the huts

were based, to see what we can uncover.

As told to Rebecca Cunningham by Jo Grange

Find out more about the 'Canadians in the Park' at

nationaltrust.org.uk/sheffield-park-and-garden

SUMMER

READING

We asked Anna from Bags of Books to choose her

top five summer reads for kids. Here's what she

came up with.

The Boy Who Grew Dragons. Imagine if you had your

own dragons! Tomas discovers a strange old tree at

the bottom of his grandad's garden and soon he is

officially growing dragons... A funny and heartwarming

tale for 7+

Ariki and the Giant Shark. Meet Ariki, a wonderfully

headstrong, brave, cheeky new heroine. The vivid

descriptions of island and marine life will transport

readers of 7+ straight to the sea!

The Secret of the Night Train. When Max finds out

that the Heartbreak Diamond is on the train that

she is travelling on, she must find her feet in a world

of diamond smugglers, thieves and undercover

detectives! Perfect for 9+.

How to Bee. Set in a future Australia where there

are no bees, and children are employed to scramble

through the fruit trees with feather wands. This

unique book has an important environmental message

for readers of 9+.

The 1,000-year-old Boy. Alfie Monk is like any other

nearly-teenage boy – except he's 1,000 years old.

This is the story of his mission to find friendship, acceptance,

and a way to make sure he will eventually

die. Great for 10+.

These and lots more are part of Bags of Books'

Summer Reading offer. Find out more in the shop,

or online at bags-of-books.co.uk.

71
---
AFTERNOON

TIME TO TRY FLAT BREAD PIZZAS

Our semolina & white flour flat bread pizza is

delicious and light – you will love it

Choose from four scrummy fresh baked varieties:

Smoked Pancetta & Asparagus with Pecorino cheese

Spicy sausage, jalapenos & Mozzarella

Smoked Garlic, Roasted Tomatoes, & pecorino (V)

Ham, Mushroom & Olives with Mozzarella (V)

Try our flat bread pizzas for only £2 in August after 2pm

Smoked Pancetta

£2

Spicy Sausage

£2

Smoked Garlic

£2

Ham & Mushroom

£2

Regular price £4.50. Promotion valid in our Lewes store only, during August after 2pm.

Subject to availability. No other discounts or promotions apply. Bring voucher.

1 CLIFFE HIGH STREET, LEWES
---
FOOD REVIEW

Castle Chinese Restaurant

Well worth remembering

It's 9pm Sunday night,

five hours after the

start of our goodbyeto-Pipe-Passage

drinks

party, and four of us

are left standing… or

at least still in search of

food. And so we decide

to head to the Castle –

the new Chinese which

has replaced The Panda

Garden on the High

Street. It needs a review in these pages, anyway.

Sober enough to realise my recall faculties might

be impaired, I delegate reviewing responsibility

to Rebecca. We order starters and mains from

the à la carte menu, and listen to American David's

idiosyncratic take on this and that.

My memories of the experience are now hazy:

I had some stupendous dim sum, some chicken

in a sauce that was 'Malaysian'. Rebecca really

raved about her vegetarian chicken satay. I mean

really raved.

She's a bit sheepish when I see her in the office

the next day. It appears her recall faculties were

somewhat impaired, too. So on the day before

deadline day, I opt to go for a solo lunch, to top

up the memory bank.

I'm the only one there, so the music gets turned

on for me. Chinese pop, I guess, the sort of thing

that might do well if there were an Asiavision

Song Contest. I ask the waitress where she's

from: Mauritius. I order a Tsing Tao Chinese

beer, and two things from the £9.95 lunch menu:

Satay chicken on skewers, and Honey chilli pork,

with egg fried rice. I'm a sucker for dim sum,

so I also order some Siu Mai steamed pork and

prawn dumplings (£6),

which she tells me will

take ten minutes to

prepare. I take this as a

good sign.

Eating on your own is

a much easier experience

now mobile

phones are what they

are. I've always found a

newspaper – or a book –

too big for a restaurant

table. You're less alone, somehow, with a phone.

I decide to see what's going on in real-life China.

A vaping co-pilot, it seems, caused an Air China

flight to plummet 6,500 feet, but no one was

hurt. Back in the Castle, the dim sum are excellent,

the satay chicken is tasty, with the meat

cooked just right.

I ask for chopsticks. The waitress lets out an

embarrassed giggle when I take a picture of my

neatly presented main course. The rice comes in

a bowl-sized dome. The sticky sauce takes up its

own half of the plate without encroaching on the

other. You can taste it's been made with honey,

rather than sugar. I enjoy every mouthful.

And so the Panda Garden is gone. The panda

is no more. But I've already eaten in the Castle

more times in the last week than I went to its

predecessor in the last ten years. And I can recommend

it as a place to eat off the à la carte in

a rowdy group (I checked the menu, what I had

first time round was a Malaysian chicken curry),

or go for a quiet lunch: you could even just get a

bowl of noodles, from £6. Alex Leith

Take-away available, too. 01273 473 235

castlechinese.co.uk

73
---
74

Photo by Chloë King
---
RECIPE

Wood pigeon breast and morels

Fire & Wild forager Mark Andrews

I grew up in the countryside in the north

of England, as wild as it gets, where I spent

long days outdoors building dens, exploring.

I became obsessed with Ray Mears, Native

American culture and living off the land.

In my early twenties, I moved to London

where I joined a band, ran club nights and a

music venue. It was the whole other extreme of

what I do now - not a sustainable lifestyle, and

so I built a campervan, travelled around and

tried to find myself again.

I met a girl whose father lived in the

mountains in France and he introduced me

to mushroom foraging. When I came home, I

set up a really nice life, sourcing mushrooms,

going to restaurants and trading what I found

in exchange for exquisite meals. It was a

wonderful, nomadic, food and drink based life

which I loved.

I spent three successive autumns travelling

alone like this through the Scottish

Cairngorms and Northern Europe. I saw

inside some nice restaurants and gradually

got more into cooking. The concept for Fire

& Wild evolved as I went along. I now host

outdoor dining experiences for which guests

are picked up and taken to a secret wild

location, each event taking place in a different

setting. I intend to take these further afield, to

journey to properly wild spaces in Northern

Europe for wilderness dining and camping

trips. I spend a lot of time travelling around,

researching.

I have a crew of friends to help. I wouldn't

be able to serve five-course tasting menus

in the woods by myself, and that's the idea,

really. The vision is to tell a little story of

the landscape with food, creating dishes that

feature native creatures and plants found

where we are dining.

I'm really into Nordic food and a lot of that

is about the preservation of ingredients. This

dish combines things from different seasons

- hazelnuts from last autumn, this season's

cherries and wood pigeons I shot this morning.

The other important ingredient is morels -

the holy grail of fungi foraging. Morels are a

spring mushroom but their flavour intensifies

when dried. The jus is a concentrated game

stock with red wine, homemade elderberry

vinegar, thyme, cherries and garlic, all reduced

to a moreish, sticky syrup.

Ingredients: 4 wood pigeon breasts; 10-15

dried morels; 4tbsp hazelnuts, chopped; 2tbsp

chives, snipped; watercress; cherries. For

the jus: 100ml red wine; 150ml dark stock;

50ml fruit vinegar; 100g butter; large sprig of

thyme leaves; 2 handfuls of cherries, chopped;

2 cloves of garlic, crushed; 2 shallots, finely

chopped; butter.

Method: Cover the pigeon breasts with oil,

season and leave to marinate in the fridge

for a couple of hours. Sauté the shallot and

garlic in butter and then add the rest of the jus

ingredients and simmer for 10 mins. Strain and

reduce further until thick and glossy, season

to taste. Rehydrate the morels in boiling

water for 20 mins then transfer to a pan and

cook until reduced. Add butter and sauté

until crispy. Toast hazelnuts and then sear the

pigeon in a hot pan, 2-3 minutes each side and

leave to rest. Assemble and serve immediately

with a nice red. As told to Chloë King

fireandwild.co.uk

75
---
J M Furniture Ltd

TRADING IN LEWES SINCE SEPT 1999

Bespoke custom made furniture and kitchens.

We welcome commissions of all sizes and budgets.

01273 472924 | sales@jmfurniture.co.uk

www.jmfurniture.co.uk

RESTAURANT

Eastgate Lewes BN7 2LP

(Old bus station)

busclubpizza.co.uk

01273 470755

Monday to Saturday

1200 to 2200
---
FOOD

Ez Tutty's

High Street ice cream

I'm on my walk back

from lunch, in the

middle of a gloriously

sunny week, and

it feels like a perfect

day to stop for an ice

cream. I wander into

Ez Tutty's, the new

place that opened

up in the old Hugh

Rae shopfront. They

have all the classic

flavours – vanilla, strawberry, mint choc chip – with

a shelf-full of toppings and sauces to jazz them up.

As I'm browsing, a boy of about eleven appears from

the back of the shop, wearing an apron. "Hello," he

says politely.

"Uh… hi," I reply, half waiting for somebody bigger

to appear beside him.

"What would you like?" He seems to be running

the place.

"Umm…" I'm trying to make up my mind, when

I picture the faces of the rest of the Viva team as I

stroll in, cone in hand, and I decide to do the noble

thing. "I'll be back in a second," I say, and dash back

to the office.

"I was just going to get an ice cream," I announce.

"Does anyone else want one?" Only one taker.

Back with my order – one salted caramel for me,

one mint choc chip for Sarah – I'm surprised to find

the boy has been replaced by another boy, maybe six

years older.

He hands over the ice creams, £2.50 each for a

generous scoop in a waffle cone, and I make one

final dash back to the office, before the ice cream

starts to drip.

"That's delicious…"

"So creamy…"

"Oh, wait…"

"What?"

"I forgot to take a picture."

I guess I'll be going back soon. RC

Photo (of subsequent ice cream) by Rebecca Cunningham

enjoy a

complimentary

bottle of wine

La Place Sauvignon

Blanc 2016

or

Chemin De

Marquiere Merlot

2016

82 HIGH STREET,

LEWES, BN7 1XW
---
Castle

Chinese Restaurant

Come and visit our new family-run business.

We aim to serve exquisite dishes, using the freshest produce, and

presented with style, in a relaxed, friendly atmosphere.

Come and try our new vegetarian takes on classic Chinese dishes.

We look forward to seeing you soon.

Home delivery available for orders over £15 (£1 charge within 3 miles)

Special Lunch: 2 course lunch for £9.95 / 3 courses for £12.95

£5 off

VOUCHER

When you dine in and spend a minimum of

£40 until the end of August. Offer valid

Sunday to Thursday only. Cannot be used

in conjunction with any other offers.
---
FOOD

Illustration by Chloë King

Edible updates

Last month I mistakenly

reported that

The Dorset were

holding an 'end of

season barbecue' and

wondered why they

were marking the end

of summer so early.

I completely got the

wrong end of the stick: turns

out that the barbecue was a private affair for the

fencing club, to wind up their 2017/18 season. Sorry

for any confusion this might have caused: I can note

with some certainty that on August 19th acoustic

guitarist Stuart Bligh will be performing from 1pm

at the pub.

Delighted to say that Caccia & Tails is taking up

residence in the former Delish premises on Station

Street. This brand-new venture from Elisa Furci

will be serving up delicious cocktails and original

Italian fare to eat on-the-go.

With the heat wave continuing, it's worth bearing

in mind that Castle Sandwich Shop are serving

a great range of iced drinks; Offham Farm have a

BBQ box offer; Sussex Tom Cat Gin have a new

blueberry flavour, and refreshing Silly Moo Cowfold

Cider is on tap at the Abergavenny in Rodmell.

Good Things Brewing Co are producing some

delicious pale ale, IPA and lager beers as well as

their own 'spent grain' flour to tackle food waste.

Some events to look out for include Diverse Sussex

at the Elephant and Castle (4th, 1-3pm, free);

the exciting Festival of Belonging at Newhaven

Fort (27th, 10am-6pm, free); Firle Vintage Fair

(11th-12th, 10am-5.30pm, £5-7), and Ridgeview

Vineyard's Ridgefest on Ditchling Common (25th,

12-8pm, £16.76).

Finally, do remember that plenty of Artwave participants

will be sweetening visitors by dint of their

baking skills. I'm off to peruse the brochure now to

compile a personal 'cake lovers' art trail'… CK

The Pelham arms

LEWES'S FIRST

SMOKEHOUSE IN A PUB!

Best Burgers

for Miles

Home of

ABYSS Brewing

Award Winning

Sunday Roasts

VEGETARIAN, VEGAN &

GLUTEN FREE OPTIONS

Great Venue for

Celebrations

Children and

Dog Friendly

OPENING TIMES

MONDAY BAR 4-11PM

TUESDAY TO THURSDAY

BAR 12 NOON TO 11PM

FOOD 12 NOON TO 2.30PM & 6 TO 9.30PM

FRIDAY & SATURDAY

BAR 12 NOON TO 11PM

FOOD 12 NOON TO 2.30PM & 6 TO 9.30PM

SUNDAY

BAR 12 NOON TO 10.30PM

FOOD 12 NOON TO 8PM

HIGH STREET LEWES BN7 1XL

T 01273 476149 E MANAGER@THEPELHAMARMS.CO.UK

BOOK ONLINE @ WWW.THEPELHAMARMS.CO.UK

79
---
THE WAY WE WORK

This month we asked photographer Benjamin Youd to capture four

adventurous types who run local campsites. And, practically enough, he

asked them: what's your most important bit of equipment?

benjaminyoud.com

Julie Dunstall, YHA South Downs Hostel

"Something to stop spiders from coming into the tent!"
---
THE WAY WE WORK

Eva Olsson, Blackberry Wood

"A tarpaulin is essential so that you can cover you and your things

while you set up – just in case it rains!"
---
THE WAY WE WORK

Tim Bullen, The Secret Campsite

"The most essential item for a camping trip would be a flint and steel

so that you can light a fire for eating and relaxing by."
---
THE WAY WE WORK

Nick Taylor, Housedean Farm

"An inflatable mattress to keep you comfortable when you go to sleep."
---
HEALTH

Power Plant

Going to pot...

Google CBD (or cannabidiol,

to give it its

full name) and you're

presented with a staggering

112,000,000

results. As the debate

over the legalisation of

cannabis for medical

usage rages, its alreadylegal

derivative has

been attracting a lot of

fresh interest.

Glowing reports link CBD with relief from conditions

as diverse as rheumatoid arthritis, Crohn's,

depression and MS. So what exactly is it? And is it

really such a panacea?

Jamie Moore is the man to ask. Consultant to

the Californian cannabis industry, he has worked

with the State Department there to set up a

medical cannabis network for veterans, and has

advised government departments in this country

on the subject.

"Cannabis is currently thought to contain between

115 and 120 active cannabinoid compounds," he

says, "and CBD is just one of them. Each strain

of the plant expresses different concentrations of

the various cannabinoids, but CBD and delta 9

tetrahydrocannabinol (or THC) are present in the

largest quantities."

Because we produce our own endocannabinoids,

nature's cannabis versions can attach to the same

receptors in the body and brain, affecting pain,

emotions, movement, co-ordination and mood.

THC, Moore continues, is known for producing a

'high', while CBD has no psychoactive properties,

but causes positive physical changes. "In general

terms, it's anti-inflammatory, anti-anxiety, and

anti-emetic, so it can be good for epilepsy, mild to

moderate anxiety, and inflammatory issues such

as ulcers. There are hundreds

of different strains,

and each confers different

effects, all medically beneficial,

so what we need

to do is to understand

their profiles, and also

look at the quantity and

frequency needed, and

the type of treatment."

While CBD is now

available on the high

street, Moore advises doing your research. "Most

commercially available CBD is from hemp," he

explains, "which doesn't tend to be as effective as

the mother plant cannabis strains. For a stronger

medicinal effect, look for a proper, organic, non-

GMO farmed source, and a quality strain such

as ACDC, Harle-Tsu or Charlotte's Web. Then

experiment. It's perfectly safe in all forms, with

no adverse side effects."

Someone who has benefitted from CBD is Lewes

mum Lucinda Wilde. "After years of panic attacks

and anxiety, I was diagnosed with Post-Traumatic

Stress Disorder in 2010," she recalls. "I was prescribed

everything from Valium to Prozac, but it

only made me worse. Then one day at work I was

feeling really anxious and tearful, and a friend gave

me a few drops of CBD oil. I was instantly able to

calm down and breathe properly again, so I started

using it daily.

"I put two to four squirts on my tongue every

evening, and I feel wonderfully calm and able

to function normally. And there isn't any of the

bloating, nausea, itchy skin rashes, confusion

or weight gain you can get from mental health

medication - just instant relief. CBD has enabled

me to shift gears. I'd recommend it to anyone. It's

transformed my life." Anita Hall

85
---
NOW OPEN!

The only independent veterinary clinic in Peacehaven.

116 Heathy Brow, Peacehaven BN10 7SA

You're welcome to take a tour, meet the team and explore our comprehensive,

state of the art facilities.

Discover the difference we can make to the health and happiness of your pet!

Complimentary introductory consultations for new registrations.

Register your interest at: www.newprioryvets/peacehaven

Follow us on

@newprioryvets
---
WILDLIFE

Spectacled Cormorant

A tale of sea monsters, shipwrecks and Steller

Illustration by Mark Greco

As a boy I often dreamt of escape, adventure and

discovery. I fantasised about unexplored islands

where creatures never seen by mankind still

waited to be discovered and described. Due to

my bad timing I arrived on this planet too late,

but one of my heroes was in the right place at the

right time.

Georg Wilhelm Steller was born on 10th March

1709 and he died on the 10th March 1709. While

the midwife packed her bags his auntie persevered

and he was revived on 10th March 1709. Steller

loved nature and his childhood was spent in the

woods and fields around his home in Windsheim,

Germany where, like me, he dreamt of exploration

and discovery. At the age of 31 his golden ticket

arrived. He was to be the scientist on an expedition

led by the indomitable Commander Vitus Bering.

Steller's journals are one of the greatest adventure

stories ever told. After the St Peter sets sail from

Siberia Steller spends time with the sexually liberated

native people – the Itelmen – and learns how

to cure scurvy from their female shamans. But after

reaching Alaska things go wrong. Horribly wrong.

Despite Steller's medical advice the entire crew is

struck with scurvy. A relentless violent storm tears

the St Peter apart and Steller, the only healthy man

on board, reluctantly takes the helm. Eventually

what's left of the crew find themselves shipwrecked

on an undiscovered island. Scurvy, starvation and

Arctic foxes claim more lives, including that of

Bering himself but, despite this hell, Steller nips off

to do some birdwatching. On the newly christened

Bering Island he finds new species of eider duck,

sea eagle and sea lion and discovers some actual sea

monsters: colossal 10-tonne sea cows swimming

offshore. On the rocky shores Steller is the first

man to encounter a giant 'quite ludicrous' seabird

– the Spectacled Cormorant. After 10 months

stranded the expedition finally made it home. Steller

died in 1746. Steller's Sea Cow was hunted to

extinction just 27 years after being discovered. The

Spectacled Cormorant hid from the hunters for

another 80 years until it too was lost forever.

A few years ago Mark Greco and I undertook

our own expedition to Tring in Hertfordshire

to examine one of only seven stuffed specimens

of Spectacled Cormorant left on this planet.

We didn't suffer the same hardships as Steller

(although we almost missed our connecting train at

Milton Keynes). Awestruck, I carefully cradled the

cormorant. Its green iridescent feathers shimmered

under the museum lights and brought the bird's

plumage back to life. For a moment I imagined

these cormorants swimming amongst the sea cows

as Steller stood watching from the shore, and I

dreamt again of an undiscovered island somewhere

out there. Considering the fate of the Spectacled

Cormorant and Steller's Sea Cow, perhaps it's best

it stays that way. Michael Blencowe, Senior Learning

& Engagement Officer, Sussex Wildlife Trust

87
---
Gary Baldock

Grazing officer

I'm the grazing officer for the Sussex Wildlife

Trust. Along with my colleague Andy Scudder

(left in pic) I look after the livestock that graze 14

of the reserves owned or managed by the Trust,

two of which are in Lewes – Southerham Farm

and Malling Down.

Usually when you keep livestock, the land is

there for their benefit. But in our case – though

their wellbeing is of great importance to us – it's

the other way round. The animals are there to

benefit the land: if they didn't graze it, it would be

overrun with gorse, brambles, ash and hawthorn.

The 14 sites are spread across both West Sussex

and East Sussex, from Chichester to Rye.

In total we have about 500 sheep, 120 cattle and

13 ponies. It's our job to move them from site to

site, wherever they're needed, as well as to collect

them if they escape, or get them treated if they're

injured. We spend a lot of time in the car! We're

based at Southerham Farm, just outside Lewes,

but we don't spend much time in the office.

The cattle are British White, Sussex and

Longhorn; the sheep are Herdwick, Hebridean

and Shetland. These hardy breeds are chosen because

they browse the scrub rather than graze the

grass. Because they're not for the food market,

they don't need to fatten up quickly.

The ponies are Koniks and Exmoors. They are

much more difficult to deal with than the other

animals, because they're smarter! It's easy to get

a cow in a pen: you just put their food in there. A

pony thinks: "if I go in there, you're only going

to shut the gate, mate." One went lame earlier

this year, and it took me two weeks before I could

88
---
MY SPACE

catch him to give him treatment.

The sheepdogs are an essential part of our

team. Andy's dog is called Tess, and I have Mac,

Chase, and Sky, though Mac has virtually retired

himself now, as he's 16. He still helps when he

can: usually by sitting by the gate to make sure the

sheep go into the pen.

Another member of the team is our Ford

Ranger vehicle. We don't mind if it gets dirty

outside (there's a lot of driving through mud) or

inside (sometimes we have to carry injured sheep

in the cab). The car can drive over rough, hilly

terrain and is strong enough to pull a trailer with

six cows in it. We've had it nearly two years, and

it's done almost 80,000 miles.

The public are a great help, at spotting injured

sheep and rogue dogs. Most dog owners are

sensible, but last year we lost six sheep in a night,

killed after receiving terrible injuries. If I had to

give three bits of advice to people who use the reserves,

they'd be: close the gate; keep your dog on

a lead around sheep... and join the Sussex Wildlife

Trust. As told to Alex Leith

Photos by Alex Leith

89
---
Because every life is unique

…we are here to help you make your

farewell as personal and individual as possible,

and to support you in every way we can.

Inc. Cooper & Son

42 High Street, Lewes

01273 475 557

Also at: Uckfield • Seaford • Cross in Hand

www.cpjfield.co.uk
---
COLUMN

Lewes Out Loud

Plenty more Henty

Our illustration this month shows the brightly

coloured dust jacket for the 1936 edition of Chums

Annual for Boys. I bought it locally, over ten years

ago, from Bow Windows Bookshop in the High

Street. The hefty volume is full of thrilling adventure

stories like Red Falcon – The Pirate Hunter

and Sheba – The Magnificent by a certain Captain

Oswald Dallas.

Vividly illustrated in black and white, with four

coloured plates, the 400-page publication promised

'innumerable articles and pictures on adventure

and sport', all for a modest eight shillings and

sixpence. Four years later, of course, many of the

schoolboys who would avidly read these tales

of swashbuckling heroism would themselves be

involved in real life and death dramas in the early

stages of the Second World War.

For me, 1936 was the year my adventures began

for, let's face it, life itself is an adventure into the

unknown and only the final phase is predictable

for all of us. As a schoolboy, for example, my first

trip abroad was to Holland just after the war. For a

fifteen year old, that was an adventure.

Sailing from Harwich into 'the unknown' – well

Zandvoort actually – a different language, food and

girls, one of whom, Inie, became my pen pal for

several years. Remember pen friends?

National Service was a two-year adventure in the

mid-1950s when, for a good part of the time, I

defended the people of Leighton Buzzard from

nuclear annihilation with my Olivetti typewriter.

Emigrating to the West Coast of America in 1960

was exciting enough and the journey across from

New York in a Greyhound bus pre-Palin and

Portillo was almost life enhancing.

Inevitably, on retirement to laid-back Lewes,

things have quietened down somewhat and what

counts as an adventure these days is trying to get to

St Leonards by train without incident. "Trespassers

on the line at Collington" most recently. Back to

Eastbourne everyone!

Or how about boarding a number 124 bus at the

bus station, as my wife and I did early one Saturday

morning in June, for a magical mystery tour through

the joys of East Sussex? An adventure because we

soon discovered that Vernon, our driver, (we were

alone apart from one gentleman who was reading a

newspaper) had recently moved down to the south

coast from South London and was driving the picturesque

route to Eastbourne, through Glynde, Polegate

and Pevensey for the first time, with passengers.

"Makes a change from Lewisham" he chuckled, "Bus

replacement tomorrow at Three Bridges!"

One or two brief encounters to end with. I enjoyed

a decent scoop of locally produced ice cream from

'Ez Tutty' on the High Street, served by Sam, who

agreed that the ice cream parlour should surely offer

a 'Tutti-Frutti' speciality. And in Eastport Lane,

I checked out the well-being of a woman who was

crouched at the foot of the flint wall to Grange

Gardens. Chirpy local resident Ali reassured me

that she was only sowing wild poppy seeds. Silly

me! John Henty

91
---
BUSINESS NEWS

"We stock music right

across the board, from

Minor Threat to Gil

Scott Heron," says Del

Day, one of the new

owners of Union Music

Store. "If it's good, it's

in." And… "If you can't

find anything, we can get

you whatever you want.

Well, unless it's rubbish,

then I'll tell you to get

something else. I call

it retail with attitude."

Sounds like this is going

to be fun.

By the time this mag

comes up, the new owner

of Woodruff's Yard (Matt

is off to Holland) will have taken over both

sides of North Court, turning what was 'Oyster'

into a houseplant shop. Michela, the Bolognese

woman who ran the underwear shop, is off to

pastures new herself – the Scottish Highlands,

we hear – and left an amusing 'arrivederci' note

in the window: 'gone fishing'.

We got an e-mail from Chris Ettridge, who

tells us that the Dr Bike service – where he and

colleagues repair Lewesians' bikes for free (plus

price of parts) – has been moved, thanks to the

generosity of Head Brewer Miles Jenner, from

outside the Nutty Wizard to outside Harvey's

Yard. Every Saturday, 9.30am-12.30pm.

Meanwhile, if you're a freelancer looking for

desk space, on a regular or ad hoc basis, North

Street Co-working have desks for freelancers

sick of using the kitchen table or lingering for

hours over a tepid coffee in one of Lewes' many

cafés. They are licensing the Labour Party

offices in North Street: you don't have to be a

Labour voter to join.

A quick mention for Unity Centre for Yoga,

Well-being and the Arts, who have been

awarded the tenancy of the former Turkish

Baths on Friars Walk

by the Lewes District

Council. Unity – who also

offer training for health

and well-being practitioners

– are currently

running a crowdfunding

campaign on Chuffed: if

you're interested check

out chuffed.org/project/

unitycentrelewes.

Hot off the press! Just as

we went to print we learnt

this year's winners of the

Lewes District Business

Awards, announced

at a glittering ceremony

at the Amex Stadium

on July 19th. The blue

riband Company of the Year trophy was won

by Tomsetts Distribution from Newhaven,

so huge congratulations to them. The Depot

cinema, after its first full year of trading, came

away with two awards, Tourist Destination of

the Year and – for Creative Director Carmen

Slijpen – Businessperson of the Year (the first

time this award has been won by a woman).

Other winners included Richard Soan Roofing

(Best Customer Service), Tiny Box Company

(Best Green Business), So Sussex (Business in

the Community), Fundraising Auctions (Best

Employer), Sarah Williams from The Patchwork

Cat (LEAP Entrepreneur of the Year) and

Front Room (Small Business of the Year).

Well done to all of them, then, and well done

too to David Sheppard, of the Sussex Chamber

of Commerce, who was tasked with choosing

the winners, with the help of a panel comprising

various local businesspeople, including

representatives from Allied Irish Bank, Cheesmuir

Building Contractors, Basepoint, Veolia,

Whitespace, Platinum Business Magazine,

Wave Leisure Trust, RSE Group, Uniglobe

Preferred Travel, LEAP and Viva Lewes. AL

92
---
DIRECTORY

Please note that though we aim only to take advertising from reputable businesses, we cannot guarantee

the quality of any work undertaken, and accept no responsibility or liability for any issues arising.

To advertise in Viva Lewes please call 01273 434567 or email advertising@vivamagazines.com

a & s

aerials & satellites

OAP

DISCOUNT

www.asltd.co.uk

*Subject to conditions & availability

WE WILL BEAT ANY PRICE

We pride ourselves on the quality and price of our work.

"We Try Harder."

Family Run Business

Covering the area

for over 50 years

• All TV AERIALS & Satellite TV

• Extra points

• Communal systems

• Sky TV – Best offers

• All European & multi-national

satellite systems

• TV wall mounting service

• Extra phone points

FULLY Guaranteed

Free estimate for TV

aerial work

Same day

service*

Authorised

sky agent

Trading Standards

Approved

c71

LEWES

& surrounding area

01273 461579

OR FREEPHONE

0800 919737

• Digital TV aerial upgrades & service

• TV, DAB, and FM aerials

• Extra points

• Communal systems

• Aerial repairs

• Satellite TV installs and service

• SKY installs

• Discreet fittings e.g. listed buildings, thatch roofs, flats

• European systems serviced and installed

• Gutters cleared • CCTV installed

WE FIT BIRD DETERRENTS

WE CAN BEAT ANYONE ON QUALITY AND PRICE

Free discount • over 39 years experience • OAP discount

Open 7 days a week • Fully guaranteed • Same day service

Freephone: 0800 0323255

Tel: 01273 617114 Mob: 07920 526703

We specialise in TV wall mounting

We can beat anyone else's price on a like for like basis

www.1strateaerialsandsatellites.co.uk

P M Services

Plumbing. Heating. Gas

Repairs and installations

Landlord Safety certificates

Friendly, local and reliable

07958 473 622 | 01273 046 039
---
Directory Spotlight:

Alan Peters, locksmith

Carpentry has been my

profession for the past 46

years.

In 2003 I trained and qualified

as a locksmith. I didn't

know it at the time, but the

two trades really do go hand

in hand. In the past six years

of being a locksmith, my love

for carpentry has been able to

stay with me due to my customers requiring skilled

carpentry jobs, mainly door replacement.

As most of my customers know, until recently

I had the shop opposite the station. We were

there for six years, we thank all our customers for

their support. I am now totally mobile, meaning I

will come to you in my well-equipped van for all

your lock problems, right down to cutting a key. I

don't have a call out charge.

I carry out free lock surveys

to windows and doors,

giving you peace of mind

that your security complies

with your home insurance.

I'm very organised. You

have to be in this job:

everything in the van is in

the right place. I make sure

I'm fully stocked, so I can

complete the job on my first visit.

It pays to do that, because as well as covering

Lewes, I go out to all the surrounding areas: just

give me a call and Surelock Solutions will look

after all your lock problems.

It's a family affair: my grandson Craig joined

me in August 2017, and is now doing his training.

Surelock Solutions, 01273 476067,

surelocksolutions@sky.com

Don't get caught out,

Locked out - put this number

in your phone NOW!

• Digital Locks fitted

• One Key For All Locks.

• Cylinder Replacement.

• 24hr / 365 days a year.

• OAP Discount, No VAT.

• No Obligation Quote &

No call Out Charge!

• Lockout within 30 minutes.

• uPVC Door & Window Locks problems.

• Garage Door Locks

• British Standard Locks.

• Mobile key cutting service.

• CRB Checked & Approved.
---
HOME
---
HOME

LTD

We are a building company specialising in residential

extensions, refurbishments, loft conversions

and conservation work on listed buildings.

We pride ourselves on paying attention to detail,

using bespoke materials and bringing projects

in on time and on budget.

Contact us for a free quote and please

visit the website for more info:

www.stjamesbuilding.co.uk

01273 499 641 / 07780 964 608
---
HOME

Plumbing & Heating

Design & Installation

Bathrooms/Kitchens

Plumbing/Heating

Boilers/Central heating

Gas Safe Registered

Tiling / Woodwork

Free estimates & Advice

T: 01273 487 565 M. 07801 784 192

E. tonywplumbing@icloud.com

PAINTING AND DECORATING

SERVICES

FAST, CLEAN AND RELIABLE

AT THE RIGHT PRICE

01825 891238

07976 316911

www.thebuildteam.co.uk

info@thebuildteam.co.uk

Aluminium windows, doors,

lantern roofs and bi-folding doors.

Trading in your area for over 30 years

We guarantee all our products, installation and service

for the best doors, windows & conservatories

CLARKS GLASS LTD

Unit 10, Ringmer Business Centre,

Chamberlaines Lane, Ringmer, BN8 5NF

For your FREE no obligation consultation call us now on:

01273 814077

www.clarksglass.org.uk
---
HOME

FREE ESTIMATES

UIS OF EWES 07778987286

leweshandyman@hotmail.com

LOCAL HANDYMAN _ PAINTER AND DECORATOR

Interior and exterior painting

Plastering

Flooring & Tiling

Plasterboard

QUALITY FINISHES

All work in the house, big or small:

Carpentry

Assembling and fitting furniture

Curtains/ Door handles and locks/ ...

FINDING SOLUTIONS

REFERENCES AVAILABLE

IF YOU THINK "WHO COULD REPAIR THIS?" CALL LUIS OF LEWES

Chartered Building Surveyors

• Building Surveys • Defect Analysis

• Project Management • Dilapidaaons

• Historic Building Specialists • Party Wall

Contact us for friendly professional advice

01273 840608 | www.gradientconsultants.com

OVER 30 YEARS EXPERIENCE

FREE estimates on all types of

plastering work and finishes.

TELEPHONE: 01273 472 836

MOBILE: 07974 752 491

EMAIL: cdpoulter@btinternet.com
---
HOME

07784053679

tom@tbacc.co.uk

thebuildingandcarpentryco.co.uk

All trades covered

Bill Baynes Architecture

Pracccal and aaraccve design soluuons.

Residennal new build, extensions and renovaaons.

Alteraaons to listed buildings. Sustainable design.

Property management.

www.billbaynesarchitecture.com | 07817 868846

Jason Eyre Decorating

Professional Painters & Decorators

Handyman Services for your House and Garden

Lewes based. Free quotes.

Honest, reliable, friendly service.

Reasonable rates

Tel: 07460 828240

Email: ahbservices@outlook.com

jasoneyre2@gmail.com

07976 418299/07766 118289

PAUL FURNELL

Carpenter / General Building

and Renovation works,

Based in Lewes

t. 07717 862940 e. paul.lee.furnell@gmail.com

AHB ad.indd 1 27/07/2015
---
HOME

GARAGES

Jack Plane Carpenter

Nice work, fair price,

totally reliable.

www.jackplanecarpentry.co.uk

01273 483339 / 07887 993396

EXPERT

ADVICE

I N C O R P O R A T I N G F L O T Y R E S

INDEPENDENT GARAGE

CELEBRATING 12TH YEAR

SERVING LOCAL COMMUNITY.

ALL MAKES & MODELS

COMPETITIVE RATES

QUALITY PARTS

HIGHLY SKILLED TECHNICIANS

www.mechanicinlewes.co.uk

info@flomargarage.com

Units 1-3 Malling Industrial Estate, Brooks Road, Lewes BN7 2BY

Vehicle Servicing, Repairs and MOT Service: 01273 472691

www.mechanicinlewes.co.uk | info@flomargarage.com
---
GARDENS

Global

Gardens

Design,

Restoration &

Landscaping

RHS

Gold medal

Winners

Real gardeners for all your gardening needs.

From a one off blitz to regular maintenance.

07812 028704 | 01273 401962

brookhartservices@gmail.com

www.brook-hart.co.uk

HEALTH

Mobile 07941 057337

Phone 01273 488261

12 Priory Street, Lewes, BN7 1HH

info@ globalgardens.co.uk

www.globalgardens.co.uk

GGS1.001_QuarterPage_Ad_01.indd 1 12/11/10 18:24:51

Qualified & Experienced gardener

07912 606 557

Acupuncture, Alexander Technique, Bowen

Technique, Children's Clinic, Counselling,

Psychotherapy, Family Therapy,

Herbal Medicine, Homeopathy, Massage,

Nutritional Therapy, Life Coaching,

Physiotherapy, Pilates, Shiatsu,

Podiatry/Chiropody

Richard Gilmore

Gardener Available

Beds, borders, pruning and tidying

01273 814 926

National Diploma Horticulture
---
HEALTH & WELLBEING

Acupuncturist & Nutritionist

Hanna Evans

33 Cliffe High Street, Lewes

Book 07799 41792 4 | evans.hanna@gmail.com

Visit: www.hannaevans.co.uk

Ruth Wharton Viva Advert 7.18 AW.qxp_6 02/07/2018 17

Periods •

Pregnancy prep •

Fertility issues •

Pregnancy •

Post-natal •

Menopause •

RUTH

WHARTON

BA (Hons) BSc (Hons) Ost Med DO

ND MSc Paediatric Ost

BIODYNAMIC

CRANIAL

OSTEOPATH

ruthwhartonosteopath.com

SALLY

GALLOWAY

BA (Hons) Dip Nat Nut CNM

MBANT CNHC reg

NUTRITIONAL

THERAPIST

sallygallowaynutrition.co.uk

OTHER THERAPIES INCLUDING:

COUNSELLING • LIFE COACHING

MASSAGE THERAPY

PSYCHOTHERAPY • REFLEXOLOGY

FOR MORE DETAILS SEE:

intrinsichealthlewes.co.uk

CLINIC SPACE AVAILABLE

INTRINSIC HEALTH • 01273 958403

32 Cliffe High Street, Lewes BN7 2AN

Taking a Natural Approach

at Menopause

Workshop 13th Oct in Lewes

& 1:1 Appointments at The Cliffe Clinic

LYNNE RUSSELL BSc FSDSHom MARH MBIH(FR)

www.chantryhealth.com 07970 245118

VALENCE ROAD OSTEOPATHS

Counselling

in Lewes

07951 850129

lizziegilbert@thecounsellingloft.co.uk

neck or back pain?

Lin Peters - OSTEOPATH

for the treatment of:

neck or low back pain • sports injuries • rheumatic

arthritic symptoms • pulled muscles • joint pain

stiffness • sciatica - trapped nerves • slipped discs

tension • frozen shoulders • cranial osteopathy

pre and post natal

www.lewesosteopath.co.uk

20 Valence Road Lewes 01273 476371
---
HEALTH & WELLBEING

CLIFFE OSTEOPATHS

complementary health clinic

Julie Padgham

Western Herbal Medicine

& Reflexology

Improve your health & well being with

herbal medicine & reeexology

Help your body heal itself with herbal

medicine.

A gentle, safe & effective therapy that has

been used traditionally to provide relief for

a range of health problems.

Relieve stress & tension with reeexology.

A wonderfully relaxing therapy that can

improve your mood, aid sleep & reduce

stress levels.

Contact: Julie 07796 580435

juliepadgham@yahoo.co.uk

www.thehighwealdherbalist.co.uk

OSTEOPATHY

Mandy Fischer BSc (Hons) Ost, DO

Steven Bettles BSc (Hons) Ost, DO

HERBAL MEDICINE & REFLEXOLOGY

Julie Padgham-Undrell BSc (Hons) MCPP

PSYCHOTHERAPY

Julia Rivas BA Hons), MA Psychotherapy

Tom Lockyer BA (Hons), Dip Cound MBACP

ACUPUNCTURE & HYPNOTHERAPY

Anthea Barbary LicAc MBAcC Dip I Hyp GQHP

HOMEOPATHY, COACHING, NLP

& HYPNOTHERAPY

Lynne Russell BSc FSDSHom MARH MBIH(FR)

01273 480900

23 Cliffe High Street, Lewes, East Sussex, BN7 2AH

www.lewesosteopath.com

Open Monday to Friday and Saturday mornings

Focusing on you

Counselling, Psychotherapy

and Psychological Services

with experienced clinicians

in central Lewes

We work with individuals,

couples, families and groups.

Sam Jahara (MSc Psych UKCP Reg.)

Psychotherapist and superviser

Mark Vahrmeyer (MA Psych UKCP Reg.)

Psychotherapist and superviser

Dr. Simon Cassar (DProf UKCP Reg.)

Psychotherapist and superviser

Jane Craig (MSc ClinPsych HCPC Reg.)

Clinical psychologist and superviser

Magdalena Whitehouse (MA HCPC Reg.)

Drama therapist and superviser

Thea Beech (MA TGA UKCP Reg.)

Psychotherapist and Group Analyst

David Bor (MPhil ACP Accred)

Child and Adolescent Psychotherapist

01273 921355

The Barn, 64 Southover High Street, Lewes, BN7 1JA

Third Floor, 6 The Drive, Hove BN3 3JA

www.brightonandhovepsychotherapy.com

admin@brightonandhovepsychotherapy.com
---
HEALTH & WELLBEING

LESSONS & COURSES

NEW NHS FREE HEALTH CHECKS

St Annes Pharmacy is now offering FREE NHS

HEALTH CHECKS to eligible paaents.

If you are:

• Age 40 - 74

• Live in East Sussex / Registered with a GP in East Sussex

• Not diagnosed with any heart or kidney disease

• Not on any medicaaon for Blood Pressure or Diabetes

• Not had a Health Check in the last 5 years

Please call for more info, or to book an

appointment which will take in total around 20

mins. You will have a short interview and a test

for diabetes and cholesterol and be given your

results at the appointment. We will be taking

appointments on WEDNESDAYS iniially.

(Closed between 1-2pm)

GUITAR LESSONS

with Guy Pearce

For all ages and abilities. Fully CRB checked

• Lessons and Grades in Electric and Acoustic guitar.

• Mobile Tuition

• Guitar restringing service.

07504173888

guypearceguitarlessons@gmail.com

Doctor P. Bermingham

Retired Consultant Psychiatrist. Retired Jungian Psychoanalyst.

Assoc. Med. Psychotherapy. Psychotherapy for the

psychological core of depression, depressive illness and relapse.

Supervision for therapists

drpbermingham@gmail.com

Ages 16 and up from an experienced, qualified teacher

Contact: Lucinda Houghton BA(Hons), AGSM (GSMD), FRSM

Kingston, Lewes (Ample parking)

07976 936024 | canto-voice.org

LESSONS & COURSES

Singing Lessons

Experienced voice teacher - DBS checked - Wallands area

www.HilarySelby.com

07960 893 898
---
OTHER SERVICES

www.andrewwells.co.uk

We can work it out

• BUSINESS ACCOUNTS AND TAX

• MEDIA AND THE ARTS

• CONTRACTORS AND CONSULTANTS

• FRIENDLY AND FLEXIBLE

T: 01273 961334

E: aw@andrewwells.co.uk

FREE

initial

consultation

Andrew M Wells Accountancy

99 Western Road Lewes BN7 1RS

The Cycling Seamstress

Vanessa Newman

Alterations, repairs, tailoring & hair cutting

07766 103039 / nessnewmantt@gmail.com

Bridal

FLO TYRES

& ACCESSORIES

Andrew Wells_Viva Lewes_AW.indd 1 25/06/2012 09:05

COMPETITIVE

PRICES

LOCAL INDEPENDENT RETAILER.

TYRES. BATTERIES. BULBS. WIPERS

FROM STOCK WHILE YOU WAIT.

FREE TREAD & WEAR CHECKS.

PUNCTURE REPAIRS.

WHEEL BALANCING.

WHEEL ALIGNMENT.

Flo Tyres And Accessories

Unit 1 Malling Industrial Estate, Brooks Road, Lewes, BN7 2BY

Tel: 01273 481000 | Web: flotyres.com | info@flomargarage.com

EXPERT

ADVICE

O N E S T O P S H O P F O R P R E M I U M , M I D R A N G E A N D B U D G E T T Y R E S

We also stock vehicle batteries, wiper

blades, bulbs and top up engine oils.
---
INSIDE LEFT

HEADS FOR HEIGHTS

Edward Reeves would have been commissioned

to take this picture to celebrate the completion

of the construction of a new steam tower, in what

we now call the Phoenix Industrial Estate. We

don't know the exact date, but assume it to be

some time in the 1870s.

Reeves archivist Dave Broom believes the mill

might well be that of Edward Chatfield, quite a

figure in Victorian Lewes. Chatfield employed 35

men and seven boys, and as well as running the

saw mill, he was a ship and barge builder, and a

merchant of timber, slate and coal. He owned a

99-ton ship – the SS Wallands – which employed

nine crew members, and as well as bringing coal

down from Newcastle, he sent Sussex timber up to

the north-east. Chatfield was living in Wallands in

the 1861 census, but he moved to a grand house he

had built, called Belle Vue, on St Anne's Crescent,

now known as Southdown House.

In the background of the picture you can see the

embankment of the old railway line that ran to

Uckfield. On the right of the picture – taken from

the other side of the river where there is now the

walkway that runs past Tesco – you can see the

entrance to the Phoenix Iron Works.

We've inserted a close-up showing how nonchalantly

the builders are perching on the scaffolding.

The picture was especially posed for Reeves' camera,

and the men seem to be involved in a show of

bravado as they balance, apparently fearlessly, on

narrow iron rods at least 60 feet from the ground.

We are, needless to say, in the very early days of

government health and safety regulations. AL

Thanks as ever to Edward Reeves, 01273 473274

106
---
Lewes Landlords:

Ethical, hassle-free property letting

University of Sussex considering new properties

from September 2018.

• No fees or commission

• Guaranteed rent for up to 52 weeks

• Quality property management at no cost to you

For further details, please contact:

Housing Services,

91 Lewes Road, Brighton.

Opening times Mon-Fri 10am-4pm

T +44 (01273) 678220

E housing@sussex.ac.uk
---
chartered financial planners

Your finances

your lifestyle

your future

Plan to make it happen

W

What money will you need in the future? We focus on helping you achieve

the returns you require on your investible wealth.

Successful investing isn't about trying to beat the market. It's about

delivering the returns you need to achieve your unique lifetime ambitions.

Our evidence-based approach is designed to do just that. Why take risks

with your money when you don't need to?

Visit our website for more information or call us to arrange a free,

no-obligation meeting on 01273 407 500.

Herbert Scott Ltd, St Anne's House, 111 High Street, Lewes, East Sussex BN7 1XY

Tel: 01273 407 500 Email: enquiries@herbertscott.co.uk Web: www.herbertscott.co.uk

Herbert Scott Ltd is authorised and regulated by the Financial Conduct Authority.