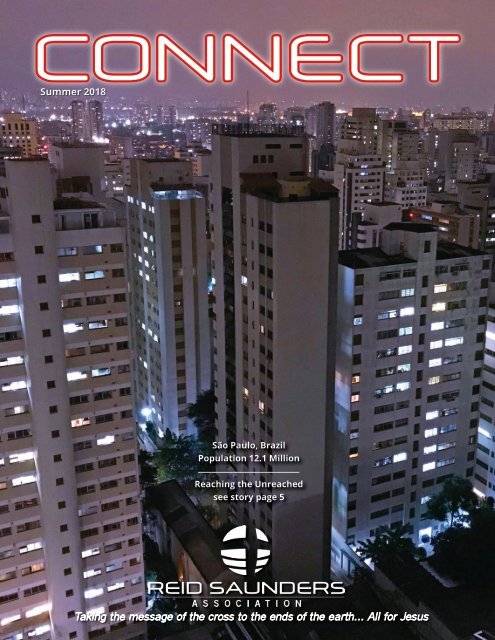 Create successful ePaper yourself
Turn your PDF publications into a flip-book with our unique Google optimized e-Paper software.
Summer 2018

São Paulo, Brazil

Population 12.1 Million

Reaching the Unreached

see story page 5
---
EVANGELISM

2 Timothy 4:5

Target unreached people

groups around the world

Engage the culture without

changing the Good News of

Jesus Christ

Demonstrate God's care and

compassion by providing

humanitarian aid for those in

need

Invite people into a

relationship with Christ

BUILD UP THE

BODY OF CHRIST

Ephesians 4:12

Promote unity and

cooperation among the local

Bible-believing churches

Train and equip teams of

believers for the work of

evangelism

Partner with local churches

to make disciples of new

believers

Saturate communities

through city-wide festivals

PO Box 4275 Salem Oregon 97302

503-581-7394 info@reidsaunders.org

UPCOMING EVENTS

Armenia/Georgia ...................................................................................... May 18-28, 2018

Brazil Team Trip ..................................................................................... August 9-21, 2018

Bolivia Team Trip ............................................................................. September 7-18, 2018

Egypt Trip ...................................................................................... November 12-19, 2018

Dominican Republic Team Trip ....................................... January 26-February 5, 2019

Philippines Team Trip ................................................................. March 22-April 2, 2019

Spain Team Trip .................................................................................................. June 2019

Latvia Team Trip ....................................................................................... September 2019

Vietnam Team Trip .................................................................................... November 2019

Israel Team Trip ............................................................................................... March 2020

JOB OPENINGS AT RSA

RSA is searching for two qualified individuals to become part of our team. Who do

you know that could be a great fit for these positions and our staff?

Capital Campaign Manager and Director (Full-time with benefits): The ideal

candidate will be both detail-oriented and people-oriented. They will be

administratively strong; have excellent verbal and written communication skills; be

able to keep up with tracking contacts; able to ensure details do not slip through the

cracks; and be someone RSA is comfortable engaging and interacting with our most

significant donors. This position will possibly morph into a Development Director

position as our capital campaign nears completion.

Administrative Assistant (Part-time): Duties will include coordination of meetings,

obtaining supplies, coordinating direct mailings, and working on special projects.

The ideal candidate will be administratively gifted, detail-oriented, with strong

emotional intelligence, and have excellent communication skills.

For more information or to receive a job description, please contact Diane Dufresne

at diane@reidsaunders.org or 503.581.7394.

SUCCESS!

Our annual Connect Luncheon and Dessert Benefits on April 19 were a great

success! Some hosted tables, some attended, some volunteered, and some prayed. All

together you helped us achieve our goals of sharing the gospel and raising more than

$70,000! Thank you dear friends. It was ALL FOR JESUS!

This was the first year to host a Luncheon Benefit. We were pleased with attendance

and your response! We heard from many that the Luncheon felt "Spirit-filled and

focused." One new aspect of the luncheon format was to present a gospel message

and extend an invitation to follow Christ. Board member and emcee for the event,

Laura Morett, brilliantly directed the programs with ease, honoring the hour-allotted

time commitment at the luncheon on the dot – no easy feat with Reid's passion for the

lost and Brett Butcher's appetite for upcoming trips and storytelling!

During the evening program, our traditional Dessert Benefit was packed with a room

full of high-energy guests! We were delighted to reconnect with so many familiar

faces and meet the new friends who came for the first time to learn more about RSA.

Even after the event, guests remained to catch up with acquaintances they only see at

these yearly, cross-community events.

We are so grateful for everyone who had a part in this year's events – for your

friendship, your prayers, and your willingness to partner with us in Reaching the

Unreached. Your support is invaluable to the ongoing work of evangelism. It is a

pleasure to serve God with you. Thank you! We are already looking forward to our

Connect Benefit next year and hope to see you there.
---
ARMENIA

GEORGIA

OUTREACH

ALL FOR

JESUS

As you read this, Brett Butcher and I

will be winding our way through eight

different cities in Armenia and Georgia

with partnering evangelist, Richard

Hamlet, and our Luis Palau Association

coordinator, John Grant. From May 20-

27 we plan to share the gospel at multiple

affinity meal outreaches in each city,

sometimes holding three events a day.

Please pray that God will open doors

for the gospel to be preached and hearts

will be opened to receive the word. Pray

for health, safety, and strength during

our exhausting travel itinerary. Pray for

revival in these countries and a fresh

new start. Remember also to pray for the

small evangelical churches and pastors

as they host these events, and for followup

and discipleship of new believers.

My heart's passion and desire is to

Reach the Unreached, the precious souls

in Armenia and Georgia. "I make it my

ambition to preach the gospel, not where

Christ has already been named, lest I

build on someone else's foundation, but

as it is written, 'Those who have never

been told of him will see, and those who

have never heard will understand,'"

Romans 15:20-21.

Armenia was the first country to

adopt Christianity as its official religion

in the early fourth century. The church

claims to have originated in the work of

Apostles Bartholomew and Thaddeus in

the first century. Church attendees today

are strongly devoted to the cultural

traditions of the Orthodox religion,

but sadly, many don't have a personal

relationship with the risen Savior. We

want to share God's personal love and

forgiveness with them.

Throughout history this area has been

under constant turmoil and change. Mt.

Ararat, located on the Turkish-Armenian

border, is the traditional site where it's

believed Noah's Ark came to rest after

the flood. Trade routes from China to

Europe passed through this gateway

for centuries. Greeks, Romans, Turks,

and Russians have fought multiple

wars to control this region. Millions of

Armenians were displaced and killed in

the World War 1 genocide of 1915, giving

birth to the German Holocaust, 1941-

1945. Stalin, born in Georgia, was the

cruel tyrant and dictator that murdered

millions in his quest to establish his

Marxist and Leninist philosophy within

the Soviet empire. The European Union,

NATO, Turkey, Syria, Iran, and

Russia all see this area as vital to

commerce and political control

in the future.

Thank you for praying for us

and this vital outreach. Our

hope is that God will do a

mighty work in the hearts and

minds of the Georgian and

Armenian people, and that

they find peace and rest for

their souls.

All for Jesus,
---
Sometimes you could

earn a little money

selling the crafts you

learned to make in the

jungle. You found out

that you could make

even more money by

letting your teenaged

girls sell their bodies

into prostitution.

Imagine you were living in the

Amazon jungle and moving from

place to place to find food and shelter.

You never attended school, you are

illiterate. You believed in the sun,

moon, rocks, and nature as your gods.

All you knew how to do, if you're a

guy, was to make tools out of wood,

bows and spears, and go hunting or

fishing. If you're a woman, you took

care of the children, gathered firewood,

cooked outside, weaved baskets, and

made necklaces, bracelets, and other

items. But one day, the chief decided

that food was too scarce in the jungle

and needed to move his tribe to the

big city to find food and jobs. So you

packed up the few things you possess

and moved to the city. But to get a

decent job, you had to know how to

speak, read, and write the language

in the city. You also found out that to

rent a place to live, like an apartment,

you needed to pay in advance. As a

result, you and your village found

yourselves homeless and became

squatters. You had to live without

electricity, little water and needed to

cook on a campfire as you did in the

jungle. People rejected you because

you looked different and smelled

terrible. There was hardly any

running water where you now lived.

You also found yourself rejecting the

people in the city, because they refused

to help you or give you enough to live.

Sadly, this is the reality of the Ayoreo

indigenous people who live in the tribal

villages (similar to Native American

reservations) in Santa Cruz, Bolivia. Teen

girls are often abused and forced into sex

traffic. Their parents, who, on average

have a third grade education, are without

jobs and lack motivation for living.

Another heart-wrenching reality is that

the local churches refuse to reach out to

these people. Even Christian churches

are afraid of inviting the Ayoreo people

into their churches, because if a problem

develops, the whole tribe will show

up at the pastor's house or church and

cause trouble for the church. The task of

connecting with the Ayoreo people is

great but, not impossible to God.

RSA is taking a team to Bolivia to

share the Gospel with the Ayoreo

people through medical clinics, teaching

teams, and small festivals close to

their communities. The team will also

distribute clothing to the children, visit a

day care center, and a home for girls.

Pray that the Lord will open their eyes

to His love and mercy. Please be praying

for our team. The need for Jesus in the

Ayoreo communities is so great.

If you're interested in going with us to

Bolivia, we are taking applications now

and our first team meeting will be June 3,

at 3:30PM at the RSA office. Please contact

Ruth Daniels at ruth@reidsaunders.org

for more information.
---
REACHING

THE

UNREACHED

IN

SAO

PAULO

BRAZIL

Extreme poverty, rampant crime,

physical abuse, drug dealing, addiction,

and hopelessness are common problems

in the slums of São Paulo, Brazil. Other

ministries tend to avoid these areas.

But we have been called to reach the

unreached.

Thirty team members from RSA;

Salem First Baptist; Salem Heights;,

two from Battle Ground, WA; and two

BMX team members, will travel to the

largest and most populous city in the

Western Hemisphere, São Paulo, Brazil,

from August 9–21. Working closely

with missionaries, and staff members

from Restoration Ministries, the team

plans to minister to families within the

slums. Reaching the unreached in these

communities is now possible because

of the long-term relationships and trust

that Restoration Ministries has been able

to build with the community leaders.

They have found that ministry in the

slums is all about relationships and trust.

Two staff members of Restoration

Ministries, Wellington and Tati Barros,

recently visited our office. Growing

up in the slums, they both attended

youth camps and found Christ as teens

through the same ministry, received an

education, and returned to the slums to

minister to youth through their music,

sports, and counseling ministry (see

their video testimony on our web site.

http://reidsaunders.org/brazil-tripinformation/).

Ten and twelve-year-old children from

the slums are sponsored and invited to

a week-long youth camp operated by

Restoration Ministries. Three meals a

day with wonderfully landscaped and

maintained facilities, swimming pool,

the opportunity to grow and thrive, are

some things the children have never

known in their lifetime. It's not surprising

that the children affectionately call Camp

California "a piece of the heaven." Staff

members surround the children with

love and affection and many children

accept Jesus as their Savior. Others stay

with the ministry and become staff

members and work within the slums.

The RSA team will use sports, games,

crafts, drama, and music to show love

and acceptance to these children who

have never known anything other than

poverty, crime and life on the streets.

Most Brazilian children have never seen

or interacted with Americans before,

especially anyone who would take the

time to visit their homes in the slums.

A

SLICE

OF

HEAVEN

During the afternoons, other team

members will minister to moms in the

five different slum areas through meals

and craft events designed to build

friendship, encourage, and give the

women a break from the stresses of life.

Two new churches have recently been

planted within the slums, a sign that

things are changing.

Hand-sewn clothing items for the

children, donated by our sewing team,

will be distributed in the neediest

areas. Part of a new idea and venture,

volunteers from Morning Star Church are

busy sewing 100 aprons to be delivered

to the Brazilian women. Gifts like these

often open the doors to a relationship,

spiritual conversations, and a chance to

share the gospel.

The week will conclude with a two-day

outreach festival with music, dramas,

BMX demonstrations, and visits to local

church services. Brett Butcher and Ruth

Daniels recently visited three vibrant

and growing churches in São Paulo and

trained volunteers in evangelism and

discipleship methods.
---
More than 2000 years ago, on these

hillsides outside Bethlehem, the angels

announced to the shepherds, "Behold

I bring you good news of great joy that

will be for all the people. Today in the

town of David a Savior has been born to

you; He is Christ the Lord," Luke 2:10-11.

The message of a Savior still reverberates

across the hilltops and valleys today.

"Being able to speak openly about Jesus

in the Holy Land was truly an honor for

me. Proclaiming the Good News of great

joy took on a whole new meaning!" Reid

recounted. "I was so pleased to be part of

this new strategy in the Holy Land, and

it truly was a historic event for many of

us."

Reid Saunders, along with fellow

evangelists Alan Greene and Keith

Cook; BMX athletes John Andrus and

Vic Murphy; musicians White Ribbon

Day, Abby Roberts, and Shannon

Butcher; and a team of thirty people had

the opportunity to minister and proclaim

the Good News of Jesus at outreach

events near the Shepherds Fields area of

BETHLEHEM

Behold I bring you good news of great joy that will be for all people.
---
Bethlehem in March, 2018.

Working with our connections at

Holy Land Missions and the Center for

Jewish-Christian Understanding and

Cooperation, we were able to present

the gospel to hundreds of invited

Palestinians guests. More than 200 people

in the Bethlehem area responded to the

message during a series of breakfast

meetings, children's programs, music

concerts, and dinners events.

To our knowledge, this is the first time

that these types of outreach events have

been allowed or tried in the region.

Many attendees came in spite of protest

and threats. Others will face opposition

and persecution for their faith. We ask

for your prayers concerning the new

believers and for the peace of Jerusalem.

Jewish and Palestinian Christ-followers

we met on the trip are in awe of how God

is beginning to move in a powerful way

throughout the Holy Land. It is exciting

to be living through these times and see

these fundamental changes!

NextStudy, an online program designed

to follow up with new believers, is

making consistent progress toward

becoming a viable resource for Christian

ministries worldwide. Several interested

ministry partners are currently testing

the product. Child Evangelism

Fellowship has expressed a desire to

work with us and we are developing an

app specifically designed for follow-up

with children.

In December, we began work on

NextStudy 2.0. With this new platform,

WordPress plugins and content can

easily be inserted. A Seattle-based

company called Portal Integrators was

hired to do update, and the transition

has been smooth.

NextStudy has become so refined and

versatile that it can now be used with

$35 Amazon Fire Tablets and portable

hotspots that can be set up in different

countries. In addition to English, the

platform is being tested for use in Arabic,

Portuguese, and many Spanish-speaking

countries. We are also integrating Bible

study tools and an IOS/Android App for

phones this spring.

SonLife has given us permission to use

their discipleship and training materials.

We are working to integrate that content

into the program so Google will be able

to translate it into other languages.

This summer, Brett Butcher will be

presenting NextStudy at Amplify in

Chicago, Mission America in Dallas, and

the NGA Conference in Grand Rapids.

Additional partners are needed to ensure

this is a self-sustaining business model.

Please contact brett@reidsaunders.org

or brett@nextstudy.org if you need any

further clarification.

The trip concluded with a six-day tour

of many popular historic sites. Karen

Olson, who was able to go on the tour

with her daughter, son-in-law, and

three grand children, remarked "Since

this trip to the Holy Land, the Bible has

come to life for me in new ways. I often

find myself moved to tears knowing I

walked where Jesus walked. I was at the

Sea of Galilee, where Jesus fed the 5,000,

calmed the storm, walked on water, and

cast out demons. It was a life-changing

experience!"

The next RSA trip to Israel is scheduled

for Spring Break 2020, and people are

already signing up.
---
NONPROFIT ORG

U.S. POSTAGE

PAID

PERMIT NO. 661

SALEM,OR

PO BOX 4275 - SALEM, OREGON 97302

RETURN ADDRESS REQUESTED

Reaching the Unreached

First team meeting – June 3

reidsaunders.org/bolivia-trip-information/