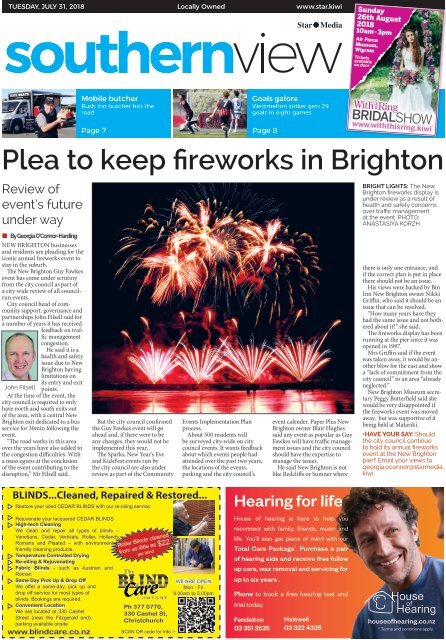 Southern View: July 31, 2018
Create successful ePaper yourself
Turn your PDF publications into a flip-book with our unique Google optimized e-Paper software.
TUESDAY, JULY 31, 2018

Locally Owned

www.star.kiwi

Sunday

26th August

2018

10am - 3pm

Air Force

Museum,

Wigram

Tickets

available

on door

Mobile butcher

Bush Inn butcher hits the

road

Page 7 Page 8

Goals galore

Westmelton striker gets 29

goals in eight games

Bridalshow

www.withthisring.kiwi

Plea to keep fireworks in Brighton

Review of

event's future

under way

BRIGHT LIGHTS: The New

Brighton fireworks display is

under review as a result of

health and safety concerns

over traffic management

at the event. PHOTO:

ANASTASIYA KORZH

• By Georgia O'Connor-Harding

NEW BRIGHTON businesses

and residents are pleading for the

iconic annual fireworks event to

stay in the suburb.

The New Brighton Guy Fawkes

event has come under scrutiny

from the city council as part of

a city-wide review of all councilrun

events.

City council head of community

support, governance and

partnerships John Filsell said for

a number of years it has received

feedback on traffic

management

congestion.

He said it is a

health and safety

issue due to New

Brighton having

limitations on

its entry and exit

points.

John Filsell

At the time of the event, the

city council is required to only

have north and south exits out

of the area, with a central New

Brighton exit dedicated to a bus

service for 30min following the

event.

"The road works in this area

over the years have also added to

the congestion difficulties. With

a mass egress at the conclusion

of the event contributing to the

disruption," Mr Filsell said.

But the city council confirmed

the Guy Fawkes event will go

ahead and, if there were to be

any changes, they would not be

implemented this year.

The Sparks, New Year's Eve

and KidsFest events run by

the city council are also under

review as part of the Community

Events Implementation Plan

process.

About 500 residents will

be surveyed city-wide on city

council events. It wants feedback

about which events people had

attended over the past two years,

the locations of the events,

parking and the city council's

event calender. Paper Plus New

Brighton owner Blair Hughes

said any event as popular as Guy

Fawkes will have traffic management

issues and the city council

should have the expertise to

manage the issues.

He said New Brighton is not

like Redcliffs or Sumner where

there is only one entrance, and

if the correct plan is put in place

there should not be an issue.

His views were backed by Bin

Inn New Brighton owner Nikki

Griffin, who said it should be an

issue that can be resolved.

"How many years have they

had the same issue and not bothered

about it?" she said.

The fireworks display has been

running at the pier since it was

opened in 1997.

Mrs Griffin said if the event

was taken away, it would be another

blow for the east and show

a "lack of commitment from the

city council" to an area "already

neglected."

New Brighton Museum secretary

Peggy Butterfield said she

would be very disappointed if

the fireworks event was moved

away, but was supportive of it

being held at Matariki.

•HAVE YOUR SAY: Should

the city council continue

to hold its annual fireworks

event at the New Brighton

pier? Email your views to

georgia.oconnor@starmedia.

kiwi

BLINDS...Cleaned, Repaired & Restored...

Restore your oiled CEDAR BLINDS with our re-oiling service.

Rejuvenate your lacquered CEDAR BLINDS

High-tech Cleaning

We clean and repair all types of blinds –

Venetians, Cedar, Verticals, Roller, Hollands,

Romans and Pleated – with environmentally

friendly cleaning products.

Temperature Controlled Drying

Re-oiling & Rejuvenating

Fabric Blinds - such as Austrian and

Roman

Same Day Pick Up & Drop Off

We offer a same-day, pick up and

drop off service for most types of

blinds. Bookings are required.

Convenient Location

We are located at 330 Cashel

Street (near the Fitzgerald end),

parking available onsite

Roller Blinds cleaned

from as little as $22

per blind

Ph 377 0770,

330 Cashel St,

Christchurch

www.blindcare.co.nz SCAN QR code for Info >

WE ARE OPEN

Mon - Fri

8.00am to 5.00pm

Hearing for life

House of hearing is here to help you

reconnect with family, friends, music and

life. You'll also get piece of mind with our

Total Care Package * . Purchase a pair

of hearing aids and receive free follow

up care, wax removal and servicing for

up to six years .

Phone to book a free hearing test and

trial today.

Fendalton

03 351 3535

Halswell

03 322 4326

houseofhearing.co.nz

* Terms and conditions apply.
---
2 Tuesday July 31 2018

Latest Christchurch news at www.star.kiwi

from the editor's desk

news

SOUTHERN VIEW

I SMELL a rat.

And it's the city council's murmurings

over Guy Fawkes (page 1).

The odour is the comment from city

council head of community support,

governance and partnerships (now that's a

long title) John Filsell over traffic management at the event.

He's talking congestion and mentions there is limitations on

the roads in and out of New Brighton.

New Brighton needs the fireworks display. It's a great event

and there is a real buzz about it.

If the council continues to chest beat about revitalising

Brighton it won't touch the event. But I think it will try.

And speaking of roads in and out of Brighton, what will happen

in the event of a tsunami?

That's real food for thought.

- Barry Clarke

get in touch

GENERAL ENQUIRIES Ph 379 7100

CLASSIFIED ADVERTISING Ph 379 1100

Star Media, a division of Allied Press Ltd

PO box 1467, Christchurch

starmedia.kiwi

NEWS

Sophie Cornish

Ph: 364 7437

sophie.cornish@starmedia.kiwi

ADVERTISING

Mark Sinclair

Ph: 364 7461

mark.sinclair@starmedia.kiwi

Academic success

Savanah Stewart from St Martins is an inspiring example of

how study can change your life.

Page 6

sport

Southern Scorpions named

Scorpions rugby league 17s coach Archie Jacobs believes he has

a squad which can contend for a national title in October.

Page 11

community events

Sunday Sit Down

Catch award-winning vocalist Foxtrots, aka Zoe Scott, on

Sunday night.

Page 15

The best-read local newspaper, delivered to

15,826 homes every Tuesday

Spreydon, Hoon Hay, Hillmorton, Cracroft, Cashmere,

St Martins, Somerfield, Sydenham, Addington, Waltham,

Opawa, Beckenham, Huntsbury, Woolston.

Daily

Specials

Read us anywhere..

anytime!

Read your local

newspaper

online 24/7

www.star.kiwi/digital-editions

238 Port Hills Road,

Heathcote

corner of Port Hills and Chapmans Rds

shop hours

Monday to Saturday

8am - 6pm

Sunday 9am - 4pm

Looking

for a career in

*

Enrolling NOW!

FOR AUGUST START

Txt 'DIGI' to 027 557 8839

to find out more or phone

0800 872 466

50 Hazeldean Road

Addington

Christchurch

www.trainme.org.nz

*Some conditions apply
---
SOUTHERN VIEW Latest Christchurch news at www.star.kiwi

Tuesday July 31 2018 3

News

Potholes bug board member

• By Anan Zaki

A COMMUNITY board

member says ratepayers in

Halswell are being let down by

slow city council services.

Halswell Ward community

board member Ross McFarlane

raised the issue at the last

Halswell-Hornby-Riccarton

Community Board meeting after

the city council failed to repair a

number of potholes he reported.

He said rural Halswell was

more prone to potholes than

other parts of the city.

"We've got so much traffic

coming via non-mainstream

roads because of roadworks on

the Southern Motorway," Mr

McFarlane said.

Mr McFarlane said he reported

nine potholes but only one was

repaired.

Most of the potholes he

reported were on Marshs Rd,

Halswell.

"These are only like 5m across,

with no centre lines, they are

really rural roads which are

copping an absolute pounding.

"I would hate to think that

people could swerve to avoid a

pothole," Mr McFarlane said.

Potholes are a road hazard the

city council should address as

soon as they appear, he said.

When asked about Mr

McFarlane's concerns, the city

council city streets maintenance

manager Mark Pinner said fixing

potholes was weather dependent.

"Work to repair such areas can

be limited and delayed until we

can ensure we can work and

complete what we start in dry

conditions."

Roading contractors needed

to make sure the road surfacing

remained waterproof, Mr Pinner

said.

Contractors had also been

asked to speed up works, he said.

"Council's contractors have

increased their resources to

HAZARD:

Halswell-

Hornby-

Riccarton

Community

Board member

Ross McFarlane

says potholes

are a common

sight on Marshs

Rd, Halswell. ​

reflect the expectation council

has set for the speed of response,

methodology and quality of

carrying out pothole repairs,"

he said. Areas such as the rural

south-west where potholes are

more common will be targeted

for more frequent repairs over

the next year, Mr Pinner said.

Local

News

Now

In Brief

Fire rages, homes at risk

VEHICLE TAGGING

Police say they are still

investigating the car tagging

incidents in Hornby earlier this

month. A number of cars were

spray painted with rude phrases

such as "pedo van free candy?" and

"drugs?" Male genitalia was also

spray painted on cars. A police

spokeswoman said there have

been no arrests or updates in the

incidents.

STREET NAMES

Two of the proposed Halswell

subdivision street names have

been changed due to potential for

confusion. Ned Paterson St was

proposed for the Halswell Downs

subdivision but the Halswell-

Hornby-Riccarton Community

Board opted against the name as

there is a John Paterson Dr nearby,

which may cause confusion.

Beamsgate Rd was chosen

instead. In the Stoneridge Downs

subdivision, Kepler Ridge Ln was

chosen instead of Quarry Rim Ln

as there is a track named Quarry

Rim Walk in the area.

BYLAW IN FORCE

Thirty-four streets in the

Halswell, Hornby and Riccarton

Wards have had their existing

heavy vehicle bans transferred to

the city council's new Traffic and

Parking bylaw.

"Where Every Smile Matters"

Experienced team provides caring and

gentle dentistry for the whole family

Dental Hygienist Available

Sedation dentistry

Wedding packages

Winz quotes

ZOOM whitening

treatment

ACC accredited

Dental Health Counselling

Free treatment for

adolescents (13-18 years)

Free treatment of

children (0-13) with a

school dentist referral

PH 332 6399

We've moved!

Now based at

104 Colombo Street,

Beckenham

www.smileconcepts.co.nz

Spring wedding?

Big birthday?

We've got the dress!

Visit Smith & Boston

FILL UP FOR

LESS WITH

YOUR GOLD

CARD.

15

*Terms and Conditions apply.

111-115 Milton Street

Phone 332-6056

as local as you are | www.challenge.net.nz

BRIGGS

AUTO SERVICE

LET US

SERVICE yOUR

VEhICLE And

REdUCE yOUR

RUnnInG

COSTS

your local trusted automotive

service and repair specialists

332-0140 | 242 Barrington Street

Kerry Briggs | Blair Shewan

SMITH & BOSTON

Prebbleton Village | Christchurch

Ph: 03 349 5646

www.smithandboston.co.nz

Bringing

the heat

Wherever you are,

Mini-Tankers can help keep

you cosy with on-site refuelling

for your home heating

system. Simple and safe.

Mini-Tankers Canterbury

027 4333 801

Terms and conditions apply.
---
4 Tuesday July 31 2018

Latest Christchurch news at www.star.kiwi

SOUTHERN VIEW

OUTLET

Your Local Views

HUNDREDS OF PRODUCTS AT

CRAZY

OUTLET

PRICES!

COME CHECK OUT OUR SHOWROOM 99 FERRY RD, CHRISTCHURCH

COMMUNITY: Francesca Beaton, Ray Steele, Denny Richardson, Felicity

Backhouse, Daryl Sayer and Seb Johnson. ​

Foundation marks

25 years of giving

MASSIVE RANGE OF

PRODUCT BELOW COST!

Sumner Ferrymead

Foundation

chairman John

Taylor writes

about

its 25th

anniversary

celebration

next month

THE SUMNER Ferrymead

Foundation will celebrate

its 25th anniversary next

month and look back on

the financial contributions

it has made to many groups

and individuals within our

community.

Since its launch in 1993,

many have benefited,

including donations for

education, music, youth,

arts and entertainment,

the environment, health

and welfare, and sport and

recreation.

Funds are derived from

returns on invested funds

which are held in perpetuity

and, after considering

an application, the trustees

make donations within the

"catchment area".

Donations have been

made towards rebuilding

the Mt Pleasant Community

Centre, the Heathcote

and Mt Pleasant school

pools, the Sumner Lifeboat

Institution, the Sumner

Theatre Group and Sumner

Bridge Club, the hockey,

yacht and cricket clubs, and

numerous students.

Last year some representatives

of groups

and individuals who had

recently received assistance

met with trustees. Seb

Johnson, who represented

New Zealand at the world

surf lifesaving champs,

Francesca Beaton, a

student who attended an

Otago University summer

research programme,

the Sumner Volunteer

Fire Brigade, the Sumner

Cricket Club's Ray Steele,

Sumner and Redcliffs libraries'

Denny Richardson

and Felicity Backhouse all

used donations to purchase

equipment and materials.

The objectives of the

foundation are to support

and enhance the community

for the future and

this is made possible by

the generous donations

or bequests from groups

and individuals.

•To learn more about

the foundation, visit the

website www.sumnerferrymeadfoundation.

co.nz or phone the secretary,

Daniel O'Carroll,

on 384 4153.

+12 MONTHS ON

St Asaph St

Ferry Rd

OUTLET

STORE

Fitzgerald Ave

INTEREST FREE

ANY PURCHASE OVER $499 *

OUTLET

STORE

HURRY, ONCE IT'S GONE, IT'S GONE!

Call us on 03 3798249 or email us chchoutlet@smithscity.co.nz

*

Credit criteria applies, ask in-store for details.

Outlet Store items are over stocked, end of line, scratch & dent, ex display, ex repair items and more.

Teen caught in burglary inquiry

• By Anan Zaki

POLICE HAVE made a

breakthrough in their hunt

for a group of teenagers

who are suspected of

burglaries.

A 14-year-old has been

apprehended in relation

to one of the burglaries in

Hornby.

Police say eight others

aged between 13 and 15 are

suspected of what is known

as "door-stepping."

Door-stepping is the

act of stealing items left

outside homes.

Senior Constable Bruce

Ward said police were able

to match a recovered pair

of running shoes with the

14-year-old after publicity.

The owner of the shoes

came forward after recognising

it from the news

article and it meant police

could confirm they were

stolen, he said.

An earlier article in also

prompted more calls about

door step burglaries in

Hornby and Wigram, the

latest being 10 days ago.

"We had three other

people who phoned in to

report that they have lost

items but haven't done

anything about it," Senior

Constable Ward said.

Police believe the latest

calls meant the teenagers

are still active.

Police are yet to decide if

the boy will be charged or

not and the outcome depended

on a Youth Justice

family group conference in

four weeks time.

Constable Ward said.

Police are still seeking

the owners of a $300 pair

of Nike Air Jordan shoes,

an Avanti bicycle and

Razor scooter, which were

stolen in the door-stepping

thefts.

The remaining eight are

still at large and the police

will only be able to apprehend

them when more

stolen items are reported

and owners come forward,

Senior Constable Ward

said.

•If the recovered

items belong to you or

if valuables were stolen

from outside your

property, phone Senior

Constable Bruce Ward

at the Hornby Police

Station on 363 7435.
---
SOUTHERN VIEW Latest Christchurch news at www.star.kiwi

Tuesday July 31 2018 5

News

Local

News

Now

Fire rages, homes at risk

Clock tower danger warning

PEOPLE attempting to

break into the earthquakedamaged

Scarborough clock

tower are putting themselves

in a potentially dangerous

situation, the city council is

warning.

The heritage clock tower

is currently surrounded by

scaffolding and has fencing

around it, but that has not

stopped some people from

trying to gain entry.

"The reason why the

clock tower is fenced off is

because we've had engineers

working to determine how

much damage it sustained

in the earthquakes and what

needs to be done to fix it,''

said city council head of parks

Andrew Rutledge.

"The assessment shows while

the clock tower is structurally

sound, it requires extensive

repairs. Some of the surface

masonry is loose and could

fall off if we got another strong

quake.

"It is not safe for the public

to be in the clock tower which

is why we have got it fenced off.

Our concern is that if someone

does try to break in while

the repair work is under way,

they could find themselves

in a potentially dangerous

situation,'' Mr Rutledge

said.

The repairs to the clock

tower are likely to take

several more months to

complete and will involve

removing all the clock faces

so they can be restored by

specialists.

The scaffolding on the

Scarborough tower was

installed in March and is

costing $280 a week.

It is believed to be the first

time the clock faces have been

restored since being built in

the 1930s.

People have also tried to

gain entry to New Brighton's

damaged clock tower.

DANGEROUS: People

trying to gain entry to clock

towers at Scarborough and

New Brighton are putting

themselves in danger, the

city council is warning.

In Brief

TREES TO BE REMOVED

The city council has scheduled

to remove nine dead and

decaying trees from the South

Brighton estuary on August

17. City council community

parks manager Al Hardy said

after receiving further advice

it has decided to carry out

additional assessments before

a final decision is made on the

remaining trees.

NEW WETLAND BRIDGE

Patients and staff at Burwood

Hospital can now make the

most of Travis Wetland thanks

to a new footbridge leading

into the nature reserve. As part

of widening work on Mairehau

Rd, a new access bridge has

been opened which provides a

wheelchair-friendly entrance

into the park.

EUTHANASIA TALK

Selwyn MP Amy Adams will

host an information evening

on the euthanasia laws

currently before Parliament on

Monday at Rolleston College.

MPs David Seymour and

Maggie Barry will speak from

opposing sides of the debate.

Ms Adams wants to hear

what residents think and take

questions. The event will start

at 7pm.

Cashmere Pharmacy has

opened at 91 Centaurus Road

Cashmere Pharmacy, conveniently

located at the bottom of the Port Hills

with lots of parking, now is the time

to stop by and meet Pharmacist, Scott

Kilday and his team. Browse through

the neat and easily laid out facility,

to find any of your desired healthcare

needs.

Pharmacist Scott has decades of

experience and grew up in the industry.

He has practised Pharmacy the world

over and gained vast experience in

doing so. He however has a deep

affiliation to the area, having grown up

here and is happy to be back home and

serving his neighbours and friends.

The pharmacy offers an extensive

range of healthcare services; diagnostic

and health checks, medicine

management and are available to help

you understand your medicines, how to

take them, store them and any potential

side effects.

As you enter, the highly skilled and

pharmacy SErVIcES

• prescriptions

• private consultations

• health advice

• men's health

• Fertility

• Seasonal ailments – flu,

allergy

• Blood pressure testing

• pain management

• Women's health

• Emergency contraceptive pill

trained Pharmacy team will greet you

with a smile and are there as part of

your healthcare team to help answer

any of your questions.

Call Cashmere Pharmacy today at

337 3394 or stop by 91 Centaurus

Road for any of your healthcare needs,

questions or concerns. They are there

to help, open to all patients.

Cashmere Pharmacy – Serving the

Community and keeping the Community

Healthy.

• Erectile dysfunction treatment

• Smoking cessation

• passport photos

• Safe disposal of expired &

unused medicine

• Eye infection (conjunctivitis)

• medico blister packs

• Natural health

• First aid & advice

• Skin care

• Gifts & much more...

'GO healthy' $20 each* | 30% off Thompsons range | Stockists of Ethique, Linden Leaves and antipodes

+

P (03) 337 3394 F (03) 337 3393

E dispensary@cashmerepharmacy.co.nz

91 Centaurus Road, Cashmere, Christchurch

www.cashmerehealth.co.nz

Keeping the Community Healthy
---
6 Tuesday July 31 2018

Latest Christchurch news at www.star.kiwi

SOUTHERN VIEW

News

St Martins student's academic success

SAVANAH STEWART never

expected much of herself.

But now, she is an inspiring

example of how study can

change your life.

Despite leaving school with

just NCEA level 2, the 29-yearold

Māori student from St

Martins is now on the cusp

of achieving a degree in an

academically demanding subject.

Not only will Miss Stewart

soon graduate from Ara Institute

of Canterbury with a Bachelor of

Medical Imaging, she's received

a number of academic awards

during her studies and won six

scholarships this year alone,

including a Pegasus Health

scholarship for Māori.

She never expected much of

herself.

"When I was at school, noone

ever told me about the true

extent of my options, or how

important study was," she said.

"University was never discussed

as an option for me, and I

certainly never saw myself doing

a degree."

Miss Stewart said she didn't

study for exams at high school

and "didn't really care if I passed

or not."

Five years ago, while living in

ACADEMIC: Savanah Stewart is about to graduate from Ara with

a Bachelor of Medical Imaging.

Australia and working in hospitality,

Miss Stewart stumbled

across what would become her

new career.

"I was looking on Seek [website]

and saw all these well-paid

jobs for sonographers and

radiographers. I didn't know

what they were so I checked

them out on Google. I thought

they sounded cool; practical,

academic - a good mixture of

things," she said.

Excited by the idea of a whole

new career path, Miss Stewart

returned to New Zealand to do

a six-month pre-health course at

Ara to gain the academic skills

she needed to apply for the Bachelor

of Medical Imaging.

"That was a really good

course," she said. "It set me up

really well."

Despite the stiff competition

for places on the degree, Miss

Stewart's determination and

preparation impressed the selectors

at Ara and her application

was accepted.

She's repaid their belief in her

by working hard and excelling

in her studies, winning awards

for clinical practice, professional

practice and top academic

results.

Miss Stewart hopes her experience

might encourage others to

consider tertiary education.

She's recently been working on

her Te Reo skills and is becoming

more involved in her marae

at Rāpaki.

Her goal is use her growing

tribal connections to encourage

young Māori to think about their

career opportunities more ambitiously

than she did as a teenager.

At Ara, Savanah has found the

best training available.

Ara's Medical Imaging

programme was the first in the

world to use virtual reality training

developed in Christchurch.

In addition, the programme

recently relocated to the brand

new Manawa health research

and education facility in the

Te papa Hauora/Christchurch

Health Precinct where students

will train alongside health professionals

and researchers.

In Brief

YOUTH GRANTS

The Halswell-Hornby-

Riccarton Community Board

granted $2500 from its youth

development fund to several

groups last week. A $500

grant was given to St Thomas

of Canterbury College for

two students travelling to

Japan as part of an under-15

rugby tour. The board also

granted $500 each to three

athletes who are travelling

to the under-23 and junior

rowing championships in the

Czech Republic and Poland

respectively. Another grant

of $500 was allocated to a

Templeton teen who will

travel to Malaysia for the

under-20 Mixed Touch World

Cup.

BURST WATER MAIN

A burst water main at the

Awatea and Springs Rd

intersections in Hornby

caused traffic delays last week.

The pipe burst on Wednesday

afternoon, restricting traffic to

one lane on Awatea Rd due to

flooding and repairs. The pipe

was repaired on Thursday

afternoon.

10k for Camp Twitch

KIND DONATION: Blackwells City Mazda dealer principal Seth

Ovens with Robyn and Analise Twemlow. ​

CHRISTCHURCH mum

Robyn Twemlow is out to make

a difference in the lives of

those diagnosed with Tourette

Syndrome - and last week

received $10,000 from the Mazda

Foundation to aid her cause.

Tourette's is a condition characterised

by tics, repetitive and

involuntary movements.

Five years ago, Ms Twemlow's

then-nine-year-old daughter

Analise was diagnosed with the

syndrome.

But the pair found there was

little support for them in the

community.

Ms Twemlow founded the

Tourette's Association of New

Zealand as a way for her family

to connect with other affected

Kiwis.

As well as running a support

system for families and an information

hub for those who have

been recently diagnosed, the

Tourette's Association also began

running a yearly camp called

Camp Twitch.

It brings together young people

with Tourette's and their families

for a weekend of fun where their

tics are welcomed.

At Blackwells City Mazda

last week Ms Twemlow was

presented with $10,000 from the

Mazda Foundation to help run

Camp Twitch, enabling more

than 50 young people and their

families to attend the camp.

Ms Twemlow said the funding

would reduce the financial stress

of families living with Tourette's

and allows young people from

any financial background to attend

the camp.

She said Camp Twitch is an

environment where children can

"tic loud and proud."

"It's amazing to see them build

their self-esteem and take ownership

over their disorder. It also

provides opportunity for parents

to share their experiences of

raising a child with Tourette

Syndrome – so it's an empowering

experience for all involved."

FREE digital media course, with NCEA built in

For those looking for a role that combines

artistic and digital talents, then this outstanding,

FREE, entry level course has just been announced

by local Training Provider Trainme, for those

wishing to pursue animation, graphic design,

photography or digital media as a career.

The course covers introduction to multi-media

techniques such as video production, drawing,

animation and photography. Students will create

their own design concepts and collaborate with

other students on creative projects.

This course is FREE to students aged 16 to 19

and they only have to have NCEA 1 to join.

Students without NCEA 1 can be admitted, if they

show artistic or digital aptitude.

"Many feel that school is not working for them

or they left without qualifications," says Gary

Taylor, Campus Manager with tertiary educator

Trainme. "While not necessarily academically

minded, they do have artistic talents and are very

much into digital technology."

"This FREE six-month Trainme course, combines

these in a very hands-on, practical way, giving

them an intro into various digital media. This way,

they can decide which direction to pursue as their

career focus."

"As an NZQA approved programme, NCEA

credits are built in, so if they apply themselves, they

can graduate with a New Zealand Certificate in Arts

and Design Level 2, as well as gaining credits

towards NCEA level 1 or 2." Says Taylor.

"NCEA results will depend on how many credit

they bring to the course to start with, but as it's a fun

subject, it won't feel like school at all."

Successful Graduates from this programme could

pathway into higher study in media arts, which could

include graphic design, video production,

photography or one of the many emerging digitalbased

careers. Places are limited, so students are

encouraged to apply as soon as they can.

Enrol Now to start 20th August. Contact Trainme

at their Addington campus for more information on

0800 872 466, or txt 'digi' to 027 557 8839 or visit

the website www.trainme.co.nz to enrol online.

ADVERTISEMENT
---
SOUTHERN VIEW Latest Christchurch news at www.star.kiwi

Tuesday July 31 2018 7

Local

News

Now

Fire rages, homes at risk

Satellites pinpoint 8000 springs

• By Stacey Bryan

RESEARCHERS HAVE used

satellite imagery to discover

more than 8000 springs on

Banks Peninsula – far more

than the 42 previously recorded.

The communities of Banks

Peninsula are completely

reliant on rain

water, which is

absorbed into

the ground and

comes to the

surface at the

springs.

Canterbury

Fiona Nicol

University

lecturer Sam

Hampton presented his research

on the hydrogeology of the peninsula

in Lyttelton.

Dr Hampton worked with a

team of students from Frontiers

Abroad Aotearoa and other

university scientists, mapping

the geology and hydrology of

the peninsula.

Environment Canterbury

had previously mapped only

42 springs in the area, but

the local community always

thought there were a lot more

than that.

ECan chief scientist Tim

Davie said Dr Hampton's

research had substantially

improved their understanding

of water sources on Banks

Peninsula.

His findings gave a "better

idea of how to protect water

quality in the source area of

the spring water so that we can

maintain really good water

quality for Banks Peninsula."

As well as coming up with

an accurate map of springs,

the researchers also found that

springs located in forested areas

had higher flow rates than those

in grassy areas, and suggested

ways to improve and protect

spring water sources.

The springs are fed by rain

water and Dr Hampton said

where there was more forest

cover, there seemed to be more

precipitation and therefore more

recharge.

"What we're potentially seeing

here is [that] deforestation has

had a massive influence in terms

of the flow rate and output of

the springs."

Given the findings, Dr

Hampton said springs could be

a secure, good-quality source of

RESEARCH:

Canterbury

University

lecturer Sam

Hampton

presented

his research

on the

hydrogeology

of the

peninsula in

on Tuesday.

PHOTO:

STACEY

BRYAN ​

water on a smaller community

scale, but future water management

would need to be done on

a bay-by-bay basis.

Banks Peninsula Water Management

Zone Joint Committee

community representative Fiona

Nicol said peninsula communities

had managed spring water

well for the last 100 years and

the council could learn from

that.

"We can work with the council,"

she said, "but it has to be

community led."

Lucky escape

after crash

down bank

in Rapaki

THE OCCUPANTS of a

small four-wheel drive were

lucky to walk away without

injuries after their vehicle slid

on ice and rolled 5m down a

bank near Rapaki.

The accident happened on

Governors Bay Rd between

Lyttelton and Governors Bay.

Police, ambulance and

the Lyttelton fire brigade

attended.

Lyttelton Volunteer Fire

Brigade chief fire officer Mark

Buckley said when the car

rolled over the bank, it landed

on its side on large "springy"

bushes, which saved it from

travelling any further down

the hill.

Mr Buckley said while the

two female occupants did not

sustain any injuries, they were

transported to Christchurch

Hospital to be checked.

He said they were lucky

the car had not rolled further

down the hill.

The vehicle sustained some

damage, but "not a heck of a

lot in comparison to what you

thought it might have," said

Mr Buckley.

Top butcher goes mobile

ELITE MEATS owner Corey

Winder has made his Bush Inn

butchery mobile.

Mr Winder has extended his

business by setting up a moveable

butchery from a small truck

that parks up in Marshland Rd

and Farrington, Rolleston.

Mr Winder, who has been a

butcher since he was 19-yearsold,

said the reaction has been

"amazing."

"People have just been blown

away by it," he said.

The idea for the mobile butchery

came from residents' requests

to have a shop in other places.

"I thought, well, it's not that

easy to open a butcher shop, so

I'll see if I can get a mobile one

going," Mr Winder said.

"If we haven't got it on the

truck, then we take orders and

we take the order out of whatever

they want the following week,"

Mr Winder said.

In March, Mr Winder was

named in the all star team at

the World Butchers' Challenge

in Northern Ireland. His

team, the Pure South Sharp

Blacks, finished second in the

competition.

The mobile butcher will

be open outside Vegeland on

Marshland Rd on weekends

from 9am-5.30pm, and outside

the South Point complex in Faringdon,

Rolleston, on Thursdays

from 2-6.30pm.

"It's one of those things, we're

trying to take small steps to get

it right rather than rushing out

to all these different places," Mr

Winder said.

UNIQUE: Elite Meats owner Corey Winder has opened his own

mobile butcher shop. ​
---
8 Tuesday July 31 2018

Latest Christchurch news at www.star.kiwi

The backstory of

T he A natomy of M elancholy • P art i: I dentity

by

Simon van der Sluijs

*Melancholy: a feeling of pensive sadness, typically with no obvious cause.

**Identity: the fact of being who or what a person or thing is.

I have always been fascinated by trying to visualise human nature, who are we, what

drives us, what moves us, and my personal experiences were more than enough to

explore. A trilogy to allow myself to create a deeper narrative to be more universal

and existential rather than being just about me. I chose 'The Anatomy of Melancholy'

because I feel that it best represents my work and the person I am. Part 1 is about

identity because to me it is the source of melancholy and so that is where the trilogy

needs to start. It shows drawings, paintings and small objects.

Generally the work on show deals with the desire to belong, to be allowed to be, through

confirmation of our fellow beings, and of getting damaged in the process.

There are two separate sections within the exhibition: 'Little Sorrows' and 'Intimacies'

Little Sorrows

Our pets contribute to our identity. Inevitably having a pet also means that the day will

come we have to farewell it 'Little Sorrows' is what can happen when we can't let go

and try to either recreate the friend we were so fond of or make an effort in taxidermy

to preserve through small paintings of mice, hamsters and goldfish and faux taxidermy

objects, mainly in 'museum boxes' and under bell jars.

Intimacies (Explicit content)

Sexual identity is the way we think of ourselves in relationship to whom we are

romantically or sexually attracted to. Growing up in a Catholic environment sexuality was

definitely not a topic of discussion or acknowledged as an important part of being. This is

the reason I have made these paintings so small, they fit in a locket and can therefore be

'locked away' only to be enjoyed in a private atmosphere.

Part 1 Identity August 2018, Part 2 Dissectum April 2019 and Part 3 Lost and Found

November 2019. All shown at Little River Gallery.

T h e AnAT o m y o f melAnch o l y

P A rT i: idenTiT y

Drawings | Paintings | Small Objects

by

Simon van der Sluijs

4 – 29 AUGUST 2018

Main Rd, Little River | 03 325 1944

art@littlerivergallery.com

Need shockingly

creative marketing?

Lets talk.

StAC striker nets 29

• By Jacob Page

ST ANDREW'S striker

Declan Hickford's right

boot is showing no signs of

failing him.

The 17-year-old, who

lives in Westmorland, has

scored 29 goals in eight

games for St Andrew's

College in the Connetics

First XI secondary school

competition. That includes

seven last week in a 9-2

win over Lincoln High

School last Wednesday that

lifted his team to third.

He has scored 90 goals

for the first XI since debuting

four years ago.

The tally is believed to

be a school record and

with four games to go in

the competition, plus a

national secondary schools

campaign still to come,

Hickford is likely to hit

triple figures at some point.

"There are times when

I think to myself that the

great run I've had must

come to an end at some

point but that's my job, to

score goals," he said.

Hickford, who has been

a regular in Canterbury

age-group teams is also in

his first season with the

Selwyn United Mainland

Premier League team.

He said he is loving the

challenge of matching up

against the men.

TOP FORM: Striker Declan Hickford is 10 goals away

from notching 100 goals for the St Andrew's College

first XI.

PHOTO: MAINLAND FOOTBALL ​

"The physicality is clearly

something that takes

time to adjust too but also

matching that with the

speed of play," he said.

"Sometimes the secondary

school games can be

played at a friendly-type

pace and that's certainly

not the case with the MPL

SOUTHERN VIEW

teams."

Hickford said his next

individual focus would

be on trying to earn a US

scholarship.

"To get a quality education

while testing my skills

against a high standard of

play would be something

I'd like to do," he said,

Have your car repaired today

10 WEEKS TO PAY!

NO INTEREST

NO FEES

• Creative Design

• Photography

• Videography

• Website

• Social Media

NO INTEREST

NO FEES

Jarryd Adams

03 364 7432

jarryd.adams@starmedia.kiwi

Creative Services

CALL TODAY FOR DETAILS

• Full servicing, for all

makes & models

• Cambelts

• Brakes

• Clutch

• Tyres

• Diesel repairs

• Computer scanning

GASSON

MOTORS

LIMITED

WOF

SPECIAL

$

39

4WD Specialists

Phone us on: 03 366 7177

196 Waltham Rd, Chch
---
SOUTHERN VIEW Latest Christchurch news at www.star.kiwi

Tuesday July 31 2018 9

Looking

for a career in

Enrolling NOW!

FOR AUGUST START

Txt 'DIGI' to 027 557 8839

to find out more or phone

0800 872 466

*

*Some conditions apply

50 Hazeldean Road, Addington, Christchurch www.trainme.org.nz

GET THE JOB

LAST

CHANCE

TO

ENROL

YOU WANT

LOVE WORKING

WITH CHILDREN?

Early Childhood Education

Our Level 3, 18 week programme is FREE for those

aged 16-19. This course allows you to see if this

career is right for you. Passing this Early Childhood

qualification course includes NCEA Level 1 or 2

credits. This course is also open to ages 20+

so ask us about FEES FREE*

Our Level 5 course is a full year programme at

University level, but does not require UE. Open to

all ages, you will gain a Level 5 NZ Diploma in

Early Childhood as well as NCEA Level 3 credits.

BECOME A WEB

DEVELOPER

Web Development

Join the fast growing and in-demand career of web

development. You will be at the computer from the

first day, with expert tutors guiding you through this

practical course. UE is not required to enter our one

year diploma and there are $2,000 scholarships

available for students aged 25 to 35.

Ask us about FEES FREE *

LOOKING FOR AN

ADMINISTRATION

ROLE?

NZ Certificate in Business

(Administration & Technology)

This FEES FREE* 20 week course will give you the

skills to work in a modern office, covering

advanced use of Microsoft Word, Excel, publisher

and other computer based business applications

PHONE US ON:

0800 834 834

OR TXT 'VISION'

TO: 027 557 8839

WWW.VISION.AC.NZ

50 Hazeldean Road

Addington, Christchurch
---
10

Latest Christchurch news at www.star.kiwi

Tuesday July 31 2018

SOUTHERN VIEW

raNGiora • Northwood • st martiNs • tower juNctioN • BishoPdaLe • raNGiora • Northwood

Northwood • st martiNs • tower juNctioN • BishoPdaLe • raNGiora • Northwood • st martiNs • tower juNctioN • BishoPdaLe •

1

0

th

50 %

off

GREETING CARDS

TUESDAY, JULY 31 - SUNDAY, AUGUST 5

TOWER JUNCTION:

LARGEST RANGE

IN CHRISTCHURCH!

40 %

off off

PAINTS & BRUSHES + OFFICE STATIONERY *

+

Excludes medium

products.

35 %

*Applies to selected products. Stock may vary from store-to-store. Excludes inks.

Follow us on Facebook:

@papertreestores

tower junction, off Clarence St, Riccarton | Bishopdale, 31 Bishopdale Court, Bishopdale | rangiora, 206 High Street, Rangiora

Northwood supa centre, Main North Road, Belfast | st martins shopping centre, Wilsons Road, St Martins

• st martiNs • tower juNctioN • BishoPdaLe • raNGiora • Northwood • st martiNs • tower juNctioN • BishoPdaLe • raNGiora
---
SOUTHERN VIEW Latest Christchurch news at www.star.kiwi

Tuesday July 31 2018 11

Southern Scorpions team named

• By Jacob Page

SOUTHERN SCORPIONS

rugby league 17s coach Archie

Jacobs believes he has the squad

which can contend for a national

title in October.

The Canterbury 15s and

17s trial squads have been announced

with players from

Halswell, Hornby, Riccarton,

Celebration, Aranui, Papanui

and Linwood joining players

from the West Coast, Nelson and

Aoraki regions.

Both teams were picked from

the Southern Zone tournament

held on the West Coast earlier

this month.

Jacobs said his 17s side was

primed to go deep into the competition

after a rebuilding year in

2017 where they finished fourth.

"We took away nine 16-yearolds

last year so I'm hoping that

experience will show through

and help the new guys this year,"

he said.

"We certainly will have plenty

of speed - our attack won't be an

issue at all," Jacobs said.

"Top four will be an absolute

minimum and then after that

we'll take it a game at a time."

Both 15s and 17s will have

a final trial on August 12 at

Wainoni Park with Jacobs aiming

to have a game against the

Canterbury 19s as well.

The 17s squad will be trimmed

to 21 players.

"This is my sixth time going to

The Blind Care Company has been

cleaning and repairing the region's blinds

for over 60 years. Those six decades

have seen changes in both fashion and

technology. Styles have ranged from

festooned fabric swags to straightforward

and still popular holland roller blinds,

from vertical to horizontal slat systems,

and in every colour or pattern popular

since the 1960s.

Whatever your style, the Blind Care

Company has the expertise to keep your

window treatments looking fresh and

working efficiently. Using only ecofriendly

chemicals, the build-up of dirt,

ONE TEAM: The Canterbury 15s and 17s come together with the West Coast teams after

the Southern Zone rugby league tournament in Greymouth which helped pick the Southern

Scorpions 15s and 17s teams for 2018.

PHOTO: CANTERBURY RUGBY LEAGUE ​

nationals and I think this is the

best bunch of players we've had,"

he said.

The 15s finished sixth last year,

ending their tournament with

a 18-10 defeat to the Central

Vipers.

Coach Walter Wilson said the

aim was to crack the top four

this year but he was keen to get

his team more games together

between now and October.

"Geographically we are very

spread out so getting regular

time together is a challenge," he

said.

"Ideally we'd like to play some

school rugby teams under rugby

league rules to help us prepare

and if there was a school out

there who was keen, that'd be

great," Wilson said.

The competition will run from

October 1 to 5.

Canterbury under-17 South

Island Scorpions triallists:

Braden Maxwell-Smith

(Halswell), Caius Faatili

(Hornby), Eli Cox (Halswell),

Elijah Tuhura (Linwood),

Jayden Horgan (Linwood),

Jeremy August (Hornby),

Jordan Alderidge (Halswell),

Jordan Coleman (Hornby),

Juliano Savelio (Linwood),

Kyle Amer (Linwood), Leo

Petelo (Celebration), Manaia

Edwards-Aumua (Papanui),

Mapu Uasi (Linwood),

Mesiah Asi (Halswell), Montel

Peppard-Peopaati (Halswell),

Peneli Peneli (Papanui),

dust, grease, nicotine and smoke residue

can be removed so that your blinds

smell fresh and are restored to their

original glory. The company can repair

blinds also, having a huge range of parts

in stock. And if you want something

completely new, a great range of blinds is

available for purchase.

The company prides itself on efficient

service, providing a fast turn-around,

with most work taking one or two

days, and a same day cleaning option is

available. It makes it as easy as possible

for clients. The Cashel Street location

couldn't be more convenient and a pickup

and drop-off service is available. 150

blinds per day can be cleaned at this site.

A cut-down and size alteration service

is available in order that the blinds you

bought are a perfect fit.

They are experts in their field with a

huge amount of experience to draw on.

In fact, all their staff has been on board

for at least 8 years, and many up to 20

years. Whatever the job involves, they

will work hard to make sure it gets done,

including one job of 800 blinds which

they completed in 4 days.

SPORTS

Quentin Brown (Linwood),

Sala Vaifale-Noa (Hornby),

Siakisone Taleni (Celebration),

Sincere Harraway (Hornby),

Tamati Christie (Linwood),

Tuhaka Pooley (Linwood),

Vione Siaki (Riccarton), Zac

Amituanai (Halswell), Jessie

Wihongi (Papanui), Te Ropiha

Waitokia (Papanui), George

Faavai (Linwood), Jack Skipper

(Linwood).

Canterbury under-15 South

Island Scorpions triallists:

Tipene Corry (Linwood), Ene

Loua (Linwood), Ethan Faitaua

(Linwood), Uriah Tuli (Linwood),

Tane Ward (Linwood),

Unalato Uasi (Linwood), Nikau

Waikato (Linwood), Makaia

Tafua (Linwood), Alesana

Mailei (Linwood), Matthew

Logopati (Linwood),, Tevita

Faitotonu (Halswell), Tanner

Stowers-Smith (Halswell), Reupena

Alaric Fialele (Halswell),

Joseph Baxter (Halswell),

Josiah-Ekkehard Neli (Hornby),

Fletcher Downing (Hornby),

Jeadon Wellington (Hornby),

Finley-J Esera (Hornby), Herbert

Junior Tuliakiono, (Hornby),

Tavita Tatu (Hornby), Zachary

McNevin (Hornby), Jayton Lawrie

(Hornby), Mekhye Wiparata

(Hornby), Felix Faatili (Hornby),

Arlan Perez (Riccarton).

For all your blind repair and cleaning requirements

We Clean & Repair ALL types of Blinds

"SAME DAY PICK UP

& DELIVERY*"

... we collect & return ...

*Bookings required

"DROP IN" BLINDS

for cleaning by 9am, ready

to collect at the end of

the day ...

** The Best Clean and Shine EVERY TIME **

• Rejuvenate oiled and lacquered CEDAR BLINDS

• High-tech Cleaning We clean and repair all types of blinds: Venetians, Cedar,

Verticals, Roller, Hollands, Roman, Austrian and Pleated - with environmentally

friendly cleaning products

• Water Blasting of External Sails and Awnings

• Convenient Location, plenty of parking

• New Blind Sales

Phone 3770 770

330 Cashel St, Christchurch

Between Fitzgerald & Barbadoes St

service@blindcare.co.nz

www.blindcare.co.nz

Find them at

330 Cashel Street

Call 3770770

email:

service@blindcare.co.nz

or visit blindcare.co.nz
---
12

CHBS boxer extends

winning record to 16-1

• By Jacob Page

Tuesday July 31 2018

CHRISTCHURCH Boys' High

School boxer Daniel Meehan

has taken another step towards

the New Zealand Golden

Gloves in Christchurch with

an impressive win at an Anzac

boxing tournament in Auckland

on Sunday.

The 15-yearold

from

Burwwod won

his bout against

Hamilton's

Navahn Guilmore

by unanimous

decision, which

included a

standing eight

count in the

second round.

The current

under-57kg

cadet grade

New Zealand

and Australian

national

champion improved his record

to 16-1.

He is following in the

footsteps of his father Danny,

who had more than 120 fights

when he was based in the

Manawatu district.

Daniel has been training

for the past five years under

Wainoni-based Smiling Tigers

Boxing Club coach Mark Fuller.

"I started with dad five years

ago just hitting the pads in

the garage," he said. "Initially,

I wasn't very good but after a

while I really grew to love it."

He was a gold medallist in the

under-57kg cadet grade at the

New Zealand and Australian

nationals and will be looking to

defend both titles this year.

Daniel's only loss came two

years ago and,

since then, he has

learnt the value

of nutrition and

fitness and the

impact it can

have over three

2min boxing

rounds. Fuller

said Daniel has

plenty of potential

and the biggest

issue is finding

him bouts. Daniel

said he likes to

stay busy inside

Daniel Meehan the ring and

likes to use his

overhand right. He said his dad

is supportive of his sport and

strikes the right balance with his

involvement.

"He's always there for a word

of encouragement or advice, but

he lets me be my own boxer," he

said. Daniel said after being in

the Canterbury set-up for the

past few years, he is keen to gain

more chances to represent New

Zealand.

Latest Christchurch news at www.star.kiwi

Archery club's plan for new

Rawhiti facility hits a snag

• By Georgia O'Connor-Harding

A "PRESSING need" to build

a year- round weather facility

to support archery at Rawhiti

Domain continues to be put on

hold.

The Christchurch Archery

Club has been battling for more

than three years to have its lease

at Rawhiti Domain renewed by

the city council.

While the lease is not up for

renewal until 2021, the club is

planning a $350,000 extension

to its current facility and "desperately"

needs to secure a lease

for the next 20 years.

A letter was presented to the

Coastal-Burwood Community

Board last week on the issue. The

club's past president and facilities

convener Bill Skews said it

has been trying to get the lease

secured for the past three years.

Mr Skews said it has been

based at the domain for more

than 25 years and has been a

good tenant.

But city council head of parks

Andrew Rutledge said initial information

provided by the club

was "incomplete" and it required

further information to approve

the new lease.

As a result, the lease has been

placed on hold.

The club's land is located next

CONCERN: The Christchurch Archery Club has been battling

for more than three years to have its lease at Rawhiti Domain

renewed by the city council. ​

to the Athletics Canterbury clubrooms

and track. It is planning

to extend its current building by

580 sq m to allow for shooting

distances of 18-25m.

The club has been fundraising

for the project for about 10 years

and currently has $135,000 saved

to go towards the building.

Mr Skews said the extension

will be a training centre for its

youth and senior archers.

The club has about 90 members

and another 60 who do

courses throughout the year.

SOUTHERN VIEW

The extension is expected to

be co -funded by organisations

including the Lotteries

Commission and the

community board, as well as

fundraising and fees from the

use of the facility.

Mr Skews said the club won't

be doing further fundraising

until it knows it has the lease.

The club has hosted major

events like the Stoke Mandeville

Games, International Fire

Fighters Games and ANZ

national championships.

Second chance for bus feedback

• By Georgia O'Connor-Harding

PEOPLE OPPOSED to recent

changes to the bus routes in the

eastern suburbs will get another

chance to have their say.

The Greater Christchurch Public

Transport Joint Committee

will put out the draft Regional

Public Transport Plan for consultation

later this year.

This will be an opportunity for

communities to have their say

on the future shape of the bus

network, including the long-term

vision, priorities and action plan.

Following adoption of the

RPTP, detailed consultation at a

bus route level will occur early

next year.

It comes as a public meeting

was held in New Brighton to

gauge concern over the new bus

route changes.

About 60 people attended the

meeting last Monday to discuss

the latest changes Environemtn

Canterbury has implemented as

part of its Long Term Plan.

Christchurch East MP Poto

Williams said there is a group of

concerned people who now have

an opportunity to collectively

work on the next part of the

process.

Key concerns raised at the

meeting included the ability

for residents reliant on the bus

services to get to doctor

appointments, shopping

centres and work.

It comes after ECan

confirmed it would combine

the 135 Burwood

Hospital and 150 The

Palms bus routes in

June.

The new bus route

will now stop at the

Taiora: QE II Recreation

and Sport Centre and no

Philip

Haythornthwaite

longer travel into New Brighton.

The consistency and quality of

bus stops in the area was raised

by Disabled Persons Assembly

Christchurch and Districts

president Philip Haythornthwaite.

He told Pegasus Post if

the bus stops are not up

to scratch they can affect

patronage.

An example was a bus

stop recently installed

on Stanmore Rd outside

Kora Kitchens.

Mr Haythornthwaite

said the footpath is "deeply

angled" and if you were to push

a wheelchair there was potential

for it to fall over.

City council transport operations

manager Ryan Rolston said

staff are working with a contractor

to rectify the grade issue

at Stanmore Rd and should be

resolved in two weeks.

What could be done to improve

ECan's submission process

and make its website more "userfriendly"

was also discussed.

Senior public transport manager

Stewart Gibbon said ECan

is looking at how the submission

process could be improved.

SURF'S UP SCOTTY RAZOR ROBERTSON PROFILE

APRIL 2018

TJ'S

CHASING

GREAT CALEB

ONE

MORE

COVER

LINE

The power

of Perenara

6 issues (1 year) $44.50 • 12 issues (2 years) $79 • 18 issues (3 years) $115

rugbynews.co.nz 0800 77 77 10

SUPER

RUGBY'S

G.O.A.T

CORY JANE

Social Media Animal

RRP $9.95

+

WHO

PLUS...

KEEPING

TABS ON

MATSON

Chief

Tabai's

Tron tribe

CLARKE

Chip off the

old block

XVs

1ST XVs

PLAY LIKE PROS

A school boy rugby

investigation

WHO WILL

MAKE THE

AB CUT?
---
CLEARANCE

SOUTHERN VIEW Latest Christchurch news at www.star.kiwi

Tuesday July 31 2018 13

CLEARANCE

CHIROPRACTIC

Lord

STOCK!

CHIROPRACTIC

Baron

Queen Size

Mattress & Base

NOW

$999

Queen Size

Mattress & Base

NOW

$1,899

Medium Firm

Great entry level Chiropractic bed with the expert

endorsed Torquezone spring system.

Medium

Expert endorsed Torquezone spring system and

body form Memory Foam providing pressure relief,

support and aids natural spine alignment.

CHIROPRACTIC

Marquess

CHIROPRACTIC

Squire Pop-Up

Queen Size

Mattress & Base

Medium

NOW

$2,499

Features the durable Torquezone HD system and

temperature balancing foams to help dissipate

heat and provide pressure point relief.

Great space saver

for the kid's room or

spare room. Features

Chiropractor-endorsed

Torquezone mattresses.

King Single

with Single Trundler

ONLY

$1,499

BEDS R US MOORHOUSE

166 Moorhouse Ave, (Next To Noel Leeming)

Ph: 03 379 5110
---
14 Tuesday July 31 2018

Latest Christchurch news at www.star.kiwi

Shoddy repairs

SOUTHERN VIEW

Advertising

FeAture

When I say "shoddy repairs" to

people in the North Island or the West

Island where I come from, they have

absolutely no idea what I'm talking

about. They have no understanding

what shoddy repairs really means.

That's because anywhere else in the

world where a natural disaster has

occurred the Insurance company will

either do the repairs themselves and

stand behind those repairs or pay

cash out to you to take the risk and

do the repairs yourself.

Not in Christchurch, Christchurch is another reality,

we have EQC. After I left EQC and before I started

my business whenever I told anyone about my idea to

challenge EQC reports I lost count of the people that

told me," You're crazy". I was told, "Your business

will never work here, don't you know, we are the only

country in the world that has EQC, they will look after

us and we will never need to challenge their reports".

After 7 years the truth is out there, and you must

challenge the EQC assessments and repairs carried out to

your homes.

"Who's to blame"

The previous government want you to believe it was the

fault of the builders trying to cut corners. Of course, the

builders involved are not blameless, but, they are not

solely responsible. To many people this was just a series

of unfortunate events and gross incompetence. I do

not believe that, I believe this was a well-orchestrated

takeover of the entire process by the Government and

those beholden to it or benefiting from it. We all know

that all governments lie, some more than others. But

what happened here was a well thought-out, wellorchestrated

hoodwinking of an entire city and nation.

The tools the then government used included EQC,

The Red Zone, The Residential Advisory Service (RAS),

The Christchurch Home Repair Program (CHRP),

the media, the legal system, MBIE and professional

experts. The result is billions of dollars being denied to

homeowners with damaged homes and a damaged

Christchurch housing stock that will take generations to

recover.

Perhaps the most insidious program of all was the

Christchurch Home Repair Program (CHRP), with about

90,000 homes repaired under this program. I'm not going

to say all the repairs carried out were failures. What I will

say is that a significant amount of the more difficult repairs

had work done

on them that

did not meet

building standards let alone the much

higher standard of the insurance

policies. Significant damage has

been ignored and when challenged

explained away as pre-existing. After

seven years of re-assessing EQC

work we've seen it all. From a jandal

being used to pack a pile to a pile

being cut through so there was no

need to get a plumber to move a

pipe and EQC refusing to lift carpets

to see if the slabs were cracked.

THERE IS

NO TIME

TO DELAY,

YOU NEED

TO TAKE

ACTION

NOW

CHRP, but many, many more are

completely unaware of the damage

caused and damage ignored under

CHRP. We know EQC give estimates

of as low as 600 and as high as

3,000 homes that have suffered

shoddy repairs. I believe the actual

number is much higher, in the tens

of thousands, but only time will

tell. The fact is, no one knows the

actual number because there are no

records that could be relied upon.

Proper assessments were never done by EQC.

What we do know from fighting for so many homeowners

with shoddy repairs, is that many of the repairs have

covered up the actual damage. Foundation damage

hidden behind epoxy glue, plaster and paint, piles packed

on poor ground and doors and windows shaved to fit.

What you must do

To get justice you have to fight for your rights,

however getting justice is very expensive. You will

need to have very deep pockets and some or all of

the following: Builders, Engineers, Quantity Surveyors,

Geotech Engineers, Lawyers and a lot of your own

personal time. Or you can pass all of that on to us to

fund and manage.

If you can afford it

• you must get your repairs checked, by independent

experts.

• If there is unaddressed damage, get a lawyer. Find

one that doesn't work for Insurance companies.

If you can't afford it

• Call us, we are New Zealand's largest earthquake

litigation funder.

• We pay for an independent expert to assess the repairs

and damage.

• If there is no damage and the repairs have been carried

out correctly, you pay nothing, and our contract is

terminated.

• However, if damage is found or the repairs are substandard,

we fund everything it takes to prove your

claim until settlement.

• We operate a "No win, No fee" system of funding.

• At settlement we take back the costs outlaid and a

percentage of the settlement.

Call us on 03 377 88 55 to get us working for you,

or email us at info@earthquakeservices.co.nz

Bryan Staples, CEO, Earthquake Services.

Many homeowners are now seeing

the result of their failed repairs under

Contact us today - call 03 377 8855 or visit earthquakeservices.co.nz. We're located at 130 Ferry Road, Christchurch.
---
SOUTHERN VIEW Latest Christchurch news at www.star.kiwi

Tuesday July 31 2018 15

The Wonder Berry

Tuesday, 9am-6pm

The Wonder Berry is the first

fantasy non-fiction text that

Pitau 1, of Bromley School has

been working on. Using new

skills the class, stepped out the

text physically taking steps to

recall parts of the text. Once the

class members learnt the text,

they used their creative skills to

craft individual Wonder Berries.

Go and look at this delightful exhibition

by the Pitau 1 students

from Bromley School, for the

month of July.

Linwood Library, 1st floor Eastgate

Shopping Centre, Buckleys

Rd

Babytimes/Wā Pēpi

Wednesday, 10.30-11am

Encourage learning through

language. Babytimes is an interactive

programme including

rhymes, songs, stories and play.

This is a free session.

Spreydon Library, 266 Barrington

St

South Library Book Discussion

Group

Wednesday, 7.15-8.15pm

For those who love reading

and want to share in discussion

with other friendly book lovers.

They subscribe to the book

discussion scheme so there is a

cost involved. Held on the third

Email gilbert.wealleans@starmedia.kiwi

by 5pm each Wednesday

Wednesday of the month at

7.15pm. Spaces available.

South Library, 66 Colombo St,

cnr Hunter Tce and Colombo St

Knit 'n' Yarn

Wednesday, 10.30am–1pm

Go along to Linwood Library

for friendly craft corner sessions.

Take your knitting, crochet or

other portable craft project and

enjoy time with other crafters.

Have a look at the range of books

to get ideas for your next project.

Free, beginners welcome.

Linwood Library, 1st floor Eastgate

Shopping Centre, Buckleys

Rd

Creative writing on Wednesdays

Wednesday, 4–5.45pm

Creative Writing Group @

Linwood Library, Wednesday

from 4pm to 5.45pm. Group

leader Jennifer works with group

members to craft, create and

develop your own work. Take

with you to the group pens or

pencils, (even a laptop), paper,

and any of your wonderful ideas,

story-telling, or art, as well as

any projects you would like to

make. Talk to any of the friendly

Linwood Library team for information.

No charge.

Linwood Library, 1st floor

Eastgate Shopping Centre, Buckleys

Rd

Friendship & Tea – over

Royal Albert Bone China

Thursday, 10am-1pm

Go and join the laughter and

fun weekly over a decent cup

of tea/coffee with Royal Albert

fine china, yummy scones, all

served on lacy cloths, with fresh

posies, art cards and paintings,

and teddy bear settings to uplift

your spirits. Friendship is what

most gain from attending, so go

alone or take a friend. Keyboard

music playing live with requests.

$3 donation appreciated.

Cashmere New Life, cnr

Colombo St and Malcolm Ave

Rummikub Club

Thursday, 10am-noon

Go and join in on a game of

Rummikub, a tile-based game

for two to four players, combines

elements of the card game rummy

and Mahjong. No charge.

Linwood Library, Eastgate

Shopping Centre

Mid-Week Laughter Club

Wednesday, 6-7pm

Go along to a club with the

focus on getting over stress.

There is no comedy, stand-up or

jokes at this session. Instead, you

are encouraged to make yourself

laugh at nothing at all for the

purpose of relaxing. Entry is $2.

St Marks Methodist Church,

cnr Barrington and Somerfield

Sts

Storytimes/Wā Kōrerō

Friday, 10.30-11am

Encourage learning through a

love for stories. Storytimes is an

interactive programme including

stories, songs, rhymes and

play. This is a free session.

Spreydon Library, 266 Barrington

St

Spreydon Social Games

Club

Sunday Sit Down -

Foxtrots. Sunday, 4-6pm.

Foxtrots aka Zoe Scott

is an award-winning

vocalist. See her at Blue

Smoke's Sunday Sit Down

afternoon concert series.

There is a suggested

'koha' entry for this event

to support the musicians

and pay what you can

afford. Zoe captivates

audiences with her

powerful, yet effortless

voice. Blue Smoke, 3

Garlands Rd, Woolston ​

Saturday, 10am-noon

Join a friendly game or two of

Upwords, Scrabble, cards, Chess,

Mahjong and more.

Spreydon Library, 266 Barrington

St

Girls Minecraft Club

Saturday, 2.30-3.30pm

Get creative, start crafting!

Build imaginative worlds and

battle nocturnal creatures a the

learning centres' Minecraft Club.

Bookings essential as places are

limited

South Library, 66 Colombo St

Beyond Beginner Computer

Skills

Monday, 10-11.30am

Consolidate your computer

skills and learn more about internet

searching, email, resources

and using Word. Bookings are

essential.

South Library, 66 Colombo St

? At Turners Hamilton

ar. Whatever the age,

. Dive it in, or tow it in,

ake you an offer.

you a cheque.

buy now

no auction - no haggling

just bargains

IN - CHEQUE OUT

SOLD

OR

WALK IN - DRIVE 3OUT

SOLD

SPECIAL CASH NOW/BUY NOW WEEK. NOV 5 – 10.

ONLY AT TURNERS HAMILTON. 112 AVALON DRIVE. HAMILTON.

TURNERS.CO.NZ

Not everyone loves an auction,

but everyone loves a bargain.

"Buy Now" cars and that's exactly what they are.

With Buy Now the price is on the window

and what you see is what you pay.

vehicles priced from

$2,000 to $50,000

extremely competitive pricing

trade-ins welcome

on site finance available

(subject to conditions)

Come down to Turners and look at our huge range

of cars for sale.

open 7 days & late nights

Decide what car best suits you and your budget.

(monday and thursday until 7.30pm)

NO hassles, NO AUCTION, just pay the sticker price.

1 Detroit Place, Christchurch.

Ph 03-343-9850

finance enquiries

les 027 355 5585 donna 027 652 2295

Turners has introduced 'Buy Now' cars, and that's exactly what they

are – Buy Now. No auction, no haggling, just a bargain.

That price on the window? What you see is what you pay. And it

visit www.turners.co.nz

includes registration, a current

for

warrant and on-road costs.

more details

So what are you waiting for? Come in and Buy Now, right now!

1

2

NOW!

Drive away in your new car

Big range of finance options available • Trade-in's welcome

• InspectIon & test DrIves avaIlable on

weekenDs 1 Detroit Place, Christchurch. & late Open nIghts 7 Days

• bIg range of fInance optIons avaIlable

• traDe-Ins PH: 03 welcome 343 9850

visit www.turners.co.nz for more details
---
16 Tuesday July 31 2018

Latest Christchurch news at www.star.kiwi

SOUTHERN VIEW

26th August 2018

10am – 3pm

Air Force Museum, Wigram

Tickets only $20

available on the door

BRIDALSHOW

"we will beat any competitors written quote"
---
SOUTHERN VIEW Latest Christchurch news at www.star.kiwi

Tuesday July 31 2018 17

REAL ESTATE

Addressed to impress

53 Marama Crescent, St Andrews Hill/Mt Pleasant

Auction: Thursday, 16 August 2018, unless sold prior

4 bedrooms | 2 bathrooms | 3 toilets | 2 living rooms | 1 dining room |

2 car-garage | 4 off-street parks | Listing #SM0048

Simply impressive both inside and out,

this pristine property presents like new, is

impeccably crafted and boasts spectacular

sweeping views over the water in an ideal

north-facing aspect.

Situated on the lower slopes of St Andrews

Hill where homes are tightly held and seldom

relinquished, this is your chance to own a

modern, stylish and wonderfully warm slice

of sophistication in a highly sought-after dress

circle location.

Superb sea views provide the backdrop to

everyday living on the top floor with the open

plan interconnecting living areas hosting a

well-proportioned dining space and lounge.

The contemporary kitchen with granite

benchtops strikes the perfect balance between

form and function with servery windows

allowing you to arrange outdoor meals with

ease.

Sliding stacking doors on each level promote

fantastic indoor/outdoor access to the extensive

Kwila decking and aggregate patios where you

can entertain al fresco, while admiring the

manicured gardens and flat lawns which are

superbly landscaped by Texture Plants.

An additional living area on the ground

floor offers excellent flexibility for families

and ensures you can cater to any occasion

while four bedrooms are serviced by two

bathrooms, the master with an ensuite, walk-in

wardrobe and outdoor access. The practicality

of bedrooms and bathrooms on both levels

widens the appeal with every room having

their own views.

Further notable features include a double

garage with over-height doors, ample offstreet

parking, under-deck storage, network

wiring throughout, outdoor speakers, security

cameras and secure boat or caravan parking.

Proximity to the waterfront and various

restaurants and amenities including in-zone Mt

Pleasant School (Decile 10) assures convenience

and underpins your investment, while you'll

feel peacefully removed from the bustle, you're

only a 15-minute drive from the central city.

Intimate sea views, an admired address and

ease of living are offered at this immaculate

and elegantly styled residence which is sure to

attract your attention with all that the Port Hills

has to offer right on your back door.

The home is warmed by a gas fire which is

complemented by under-tile heating, ducted

air conditioning but most likely only required

to cool this incredibly warm and special home.

Only available due to owners of 24 years

undergoing a total lifestyle change.

This has to be one of our best offerings to

date so don't just take our word for it as this

will not last. This property is up for auction on

the 16th August but may be sold prior as our

owners have purchased. Immediate viewing is

recommended.

Open Homes – Wednesdays 5-6pm,

Saturdays and Sundays 2-3pm.

See you at the open homes or for a private

viewing or for more information contact

Alison Carter of Harcourts Grenadier

Ferrymead (Licensed Agent REAA 2008) on

384 7950 or mobile 0274 318 960.

growing with you June 2018 | 100%

Plants For

winter wow

Cool Choices

For Colour

& Contrast

From swamp

to sea views

The journey

begins with sarah

the Gardener

$7.90 incl. GST

Snap it up

Enter our annual

Birdlife Photo

Competition to win

great prizes!

clear the air

Why groWing

indoor PLAnTs is

so good for you

give it a grow

from gArLic

To chinese

ArTichokes,

We hAve your

groWing TiPs

covered

the latest releases

into the rose world

+ rose care

through winter

The magazine for

gardeners who like to get

their hands dirty

SUBSCRIBE FROM

$43. 50*

*6 issues/6 months

SUBSCRIPTIONS FREEPHONE

0800 77 77 10

WWW.GARDENER.KIWI
---
Classifieds Contact us today Phone our local team 03 379 1100

(03) 343 0919

Funeral Directors

Reporter

The successful candidate will need to have a proven track record, be

competitive, have a good knowledge of Christchurch and the people who

make up our dynamic city.

But most of all you will need to be prepared to go the extra mile to get

the story that counts, be resilient and have the personality to work in a fast

paced newsroom, and be a team player.

Video experience would be an advantage.

The successful applicant will need to have a full New Zealand driver licence.

The position will be filled when the right applicant is found.

Star Media is a division of Allied Press, publisher of the Otago Daily Times

and a number of other South Island newspapers.

Star Media is seeking an

experienced reporter to

join its award winning

newsroom.

If you think you have what it takes to be part of a progressive

company and competitive newsroom send your CV to:

Editor in Chief Barry Clarke barry@starmedia.kiwi

Page 3 Page 13

Li ter library

Problem areas for li ter

revealed

Surf club move

New Brighton surf club opts

to rebuild on new site

TUESDAY, APRIL 10, 2018 www.star.kiwi

Loca ly Owned

jo

hayes

christchurch east

Ca l to make an

a pointment

P: 384 9459

www.national.org.nz

Authorised by Jo Hayes

Unit 6/950 Fe ry Road, Christchurch

• By Sophie Cornish

WORKSAFE NEW Zealand

has b en a proached in a bid to

fina ly repair the potholes in New

Brighton's Hawke St car park.

Coastal-Burw od Ward city

counci lor David East wants

WorkSafe to pre sure the car

park's private owners into

repairing the potholes which are

a "trip and vehicle" hazard.

WorkSafe chief inspector

a se sment southern Da ren

Handforth said it may be able to

take action under the Health and

Safety at Work Act 2015, "as a

person conducting a busine s or

undertaking."

Mr Handforth said WorkSafe

is aware of the concerns raised by

Cr East abou the car park.

"WorkSafe has completed

an a se sment visi to the site

and is engaging with the owner

to advise them that it is their

responsibility to manage their

risks a propriately."

Different parts of the car park

are owned by various people

and the Coastal-Burw od

Community Board recently

wrote to them about its concerns

around health and safety.

Cr East said the bi gest i sue

in the past has b en ge ting in

touch with the landlords and

owners and ge ting them to

agr e to anything. "The board

a preciates that multi-ownership

of the parking space may present

a difficulty in co-ordinating

repair/resurfacing but felt obliged

to pa s these concerns onto you,"

said the le ter.

One reply has b en received so

far from an owner who is wi ling

to discu s the i sue. However, a l

the owners would have to agr e

to undertake work.

Cr East said there had b en

a "number of incidences" in

the car park of people injuring

themselves whic had gone

unreported.

"I've always though that it

has b en quite amazing that we

haven't had any serious a cidents

or senior citizens perhaps

tri ping in those potholes and

doing themselve some damage."

He is confiden the new

a proach wi l bring results.

"I think the WorkSafe

involvement may prove to be the

lever that we are l oking for."

New bid to fix potholes

Action looms

on Hawke St

car park

HAZARD: Coastal-Burw od Ward city counci lor David East wants WorkSafe New Zealand to put pre sure on the Hawke St car

park owners to fix the dangerous potholes. PHOTO: GILBERT WEA LEANS

Ph 3 7 0 70,

30 Cashel St,

Christchurch

Restore your oiled CEDAR BLINDS with ou re-oiling service.

Rejuvenate your lacquered CEDAR BLINDS

High-tech Cleaning

We clean and repair a l types of blinds –

Venetians, Cedar, Verticals, Ro ler, Ho lands,

Romans and Pleated – with environmenta ly

friendly cleaning products.

Temperature Contro led Drying

Re-oiling & Rejuvenating

Fabric Blinds - such as Austrian and Roman

Same Day Pick Up & Drop O f

We o fer a same-day, pick up an drop o f

service for mos types of blinds. B okings

are required.

Convenient Location

Drop blinds into us by 9am, at

30 Cashel Str et (near the

Fitzgerald end), and co lect

them a th end of the day.

New Blind Sales Priced from $30

WE ARE OPEN

Mon - Fri

8. 0am to 5. 0pm

Ro ler Blinds cleaned

from as li tle as $20

per blind

www.blindcare.co.nz SCAN QR code for Info >

BLINDS .Cleaned, Repaired & Restored .

Land size

Garage

Bedr om

Carport

Bathr om

Car pad

Lounge

Boat pad

Dining

P ol

Toilet

Te nis court

Shower Study

2.5

1

2

4

850m

1 2 3 4 5 6 7 8 9 10 1 12 13 14

Land size

Garage

Bedr om

Carport

Bathr om

Car pad

Lounge

Boat pad

Dining

P ol

Toilet

Te nis court

Shower Study

2.5

1

2

4

850m

1 2 3 4 5 6 7 8 9 10 1 12 13 14

Land size

Garage

Bedr om

Carport

Bathr om

Car pad

Lounge

Boat pad

Dining

P ol

Toilet

Te nis court

Shower Study

2.5

1

2

4

850m

1 2 3 4 5 6 7 8 9 10 1 12 13 14

Land size

Garage

Bedr om

Carport

Bathr om

Car pad

Lounge

Boat pad

Dining

P ol

Toilet

Te nis court

Shower Study

2.5

1

2

4

850m

1 2 3 4 5 6 7 8 9 10 12 13 14

Page 3 Page 5

Cartwright steps downs

Community board chairman

stays true to his word

P ol plans for Edgeware

Designs for ind or learner's

p ol revealed

TUESDAY, APRIL 10, 2018 www.star.kiwi

Loca ly Owned

www.denturesouth.co.nz

call 332 4004 TexT 027 537 0567

230 BarringTon sTreeT

Mobile

Service

Available

• By Sophie Cornish

THE ST Andrew's Co lege big

band had extra incentive to

win a the National Youth Ja z

Competition – ba s player, Tom

Fastier, co lapsed an died the

day before the competition

began.

"Tom was a ba s player from

Cashmere High Sch ol who was

playing with our big band this

year. He had a strong chance of

wi ning best ba s player a the

festival as he was a very a complished

musician," head of music

Duncan Ferguson said.

"We were delighted to win, but

it was bi tersw et," he said.

St Andrew's won the most

outstanding big band title a the

competition in Tauranga.

The ban dedicated it se to

Tom, who died while on his way

to Cashmere High on March 27.

His death was po sibly related to

a medical event.

•Turn to page 9

SW ET SOUNDS: St Andrew's Co lege year 12 students Lewis Edmond and Je na We ls performing a the 41st National Youth

Ja z Competition.

Bittersweet win for St Andrew's big band

• By Sophie Cornish and Julia Evans

THE PAPANUI-I nes

Community Board has taken the

rare step of starting a petition

to figh the city council over

funding.

Signatures are being co lected

in a bid to get funding for a community

facility in Shirley.

It comes after the city council

removed funding for the centre

pla ned for Shirley Rd, near the

intersection with Hi ls Rd. This

was the site of the former community

centre, which was badly

damaged in the February 2,

20 1, earthquake.

The removal o funding

prompted community board

chairwoman Ali Jones to threaten

to stan down, citing it as her "die

in the ditch" project.

Ms Jone said the board's role

is to represen the community,

and by gathering signatures from

residents, it was fulfi ling that

role.

"One of the roles of a community

board is to represent and act

as advocate for the interests of its

community and this is what we

are doing. The LTP and a nual

plans are a l about lo bying the

council."

•Turn to page 5

Board

launches

petition

to get new

community

facility

Ph 3 7 0 70,

30 Cashel St,

Christchurch

Restore your oiled CEDAR BLINDS with ou re-oiling service.

Rejuvenate your lacquered CEDAR BLINDS

High-tech Cleaning

We clean and repair a l types of blinds –

Venetians, Cedar, Verticals, Ro ler, Ho lands,

Romans and Pleated – with environmenta ly

friendly cleaning products.

Temperature Contro led Drying

Re-oiling & Rejuvenating

Fabric Blinds - such as Austrian and Roman

Same Day Pick Up & Drop O f

We o fer a same-day, pick up an drop o f

service for mos types of blinds. B okings

are required.

Convenient Location

Drop blinds into us by 9am, at

30 Cashel Str et (near the

Fitzgerald end), and co lect

them a th end of the day.

New Blind Sales Priced from $30

WE ARE OPEN

Mon - Fri

8. 0am to 5. 0pm

Ro ler Blinds cleaned

from as li tle as $20

per blind

www.blindcare.co.nz SCAN QR code for Info >

BLINDS .Cleaned, Repaired & Restored .

Grenadier Real Estate Ltd MREINZ is a Licensed Agent Under the Real Estate Agents Act 2 08

Alistair Hazeldine

Mobile: 027 572 1 5 | Phone: 0 384 7950

Email: alistair.hazeldine@harcourts.co.nz

w.harcourtsfe rymead.co.nz

MAgic on clifton

Mobile: 021 353 280 | Phone: 0 384 7950

Email: joy.butel@harcourts.co.nz

Joy Butel AREINZ - Dip.R.E.

Four Seasons Realty

Grenadier Fe rymead

TEAM

BUTEL

20 Tuawera Te race, Clifton Hi l - $980, 0 3 2 2 2

Phone: 03 384 6540

183 Dyers Rd, Bromley • OPEN 7 DAYS

W ekdays 7.30am-5pm. W ekends 8.30am-3pm

www.dyersroadandlandscapes.co.nz

Dyers Road Landscape

& Garden Supplies

• Barks • Peastraw • Composts - we su ply the best available

• A gregates - Chip, Round and Basecourse

• Pavers & Schist products • Pungas

• Decorative Stones & Landscaping Rocks

• Trailer Hire first hour fr e with purchase

• Bag & Bulk - pick up or delivered

David, Carol & Mike

We wi l deliver!

SOIL

AND

HARDFILL

DUMPING

Page 3 Page 5

Traffic plan at The Brae

Bid to ease traffic on busy,

na row str et

New pi za joint

Fire and Slice fina ly se to

open in Sumner

WEDNESDAY, APRIL 1 2018 www.star.kiwi

Loca ly Owned

LICENSED SALES CONSULTANT RE A 2 08

GRENADIER

Alison Carter

P: 384 7950 M: 0274 318 960

E: alison.carter@harcourts.co.nz

Your local

hi l and

seaside

specialist.

• By Gordon Findlater

DEAN CALVERT (above)

returned from the United

Kingdom last w ek after

ge ting closer than most to

Joseph Parker in the build up

to his world heavyweigh title

unification fight with Anthony

Joshua in Cardiff.

The former New Zealand

title-holder trave led wit his

father George and brother

Bryce to London ahead of the

fight where they spen time

with Parker in the build up.

Mr Calvert, 47, comes from a

boxing mad family.

•Turn to page 6

Former champ hooks

up with Parker in UK

Cave Rock

Apartments'

owners

expect EQC

sign-off

this week

• By Sarla Donovan

THE OWNERS of Sumner's Cave

Rock Apartments ar expecting the

Earthquake Commi sion to sign-off

on a se tlement agr emen this w ek.

Body corporate chairman Mike

White said the group had gone

into mediation with IAG and EQC

on February 20, and signed off

on a deal with IAG on February

2 – coincidenta ly seven years

to the day after the February 2,

20 1, earthquake. However, they

are waiting for EQC to sign the

agr ement.

"Given that EQC actua ly drafted

the agr ement, there' l be no

problem with them doing that."

The apartment suffere damage

in the February and June, 20 1,

earthquakes and were demolished in

late 2012. In 2016, IAG's offer of the

difference betw en indemnity value,

$10 mi lion, and the sum insured,

$16 mi lion, was rejected by the body

corporate.

The mediation agr ement

prevented Mr White from disclosing

the se tlement amount, but he said it

involved the two parties paying "a bit

more money than they'd wanted to

earlier."

•Turn to page 6

Page 7 Page 10

Fishin' for w eds

Children's event at risk if The

Groynes' lakes not cleaned up

Pedaling acro s NZ

Stroke survivor finishes long

journey

TUESDAY, APRIL 10, 2018 www.star.kiwi

Loca ly Owned

www.denturesouth.co.nz

ca l 32 4 04 TexT 027 537 0567

230 Ba ringTon sTr eT

Mobile

Service

Available

A NEW 60km/h sp ed limit and

double ye low lines wi l be in

place on Dyers Pa s Rd by early

May.

The sp ed limit change was

a proved by the city counci last

w ek.

A decision to paint double yellow

lines on the stretch betw en

Summit Rd and the Sign of the

Takahe was earlier made by the

Spreydon-Cashmere Community

Board.

Bu the Banks Peninsula Community

Boar decided against

ye low lines on the Summit Rd-

Governors Bay section due to the

road's na rowne s and general

condition.

The changes are designed to try

and reduce the crash rate.

Insta lation of the double

ye low lines, the new sp ed limit

signs and raised centre line pavement

markers wi l begin in mid

April.

The work i scheduled to take

place betw en April 15-18, 2-26,

29 and May 2.

While the work is done, Dyers

Pa s Rd wi l be closed to traffic

from the Sign of the Takahe to

Governors Bay betw en 7pm and

6.30am.

60km/h

Dyers Pass

speed

limit from

early next

month

• By Emily O'Co ne l

A W OLSTON butcher proved

to be a cut above the rest in an

international competition.

New World Fe ry Rd butcher

Jeremy Garth and his team, the

Pure South Sharp Blacks, recently

came second a the World

Butchers' Cha lenge in Northern

Ireland.

It was the firs time Mr Garth

had competed in the cha lenge

and he was "rea ly proud" of

how the team performed.

"We produced some top quality

products and came away

with a g od result so we're very

ha py," he said.

The preparation for this year's

World Butchers' Cha lenge was

intense as the team members

met in Auckland every two

months for lengthy w ekend

practices.

Mr Garth, who has b en a

butcher for 14 years, said the

competition brought back his

pa sion for the job.

"Doing a l thi stuff and

m eting new people, s eing new

ideas, it just brings that flair

back for you," he said.

Mr Gart hopes t own a

butcher shop of his own someday

but says for now he wi l focus

on ge ting mor experience

and on the 2020 cha lenge.

"In two years' time, we' l be

going back to try and win the

title," he said.

U per Ri carton butcher Corey

Winder was part of the Pure

South Sharp Blacks team.

GLOBAL STAGE: W olston butcher Jeremy Garth back home after his team came second in the World Butchers' Cha lenge.

PHOTO: MARTIN HUNTER

From New World Ferry Rd

to second in the

world

Ph 3 7 0 70,

30 Cashel St,

Christchurch

Restore your oiled CEDAR BLINDS with ou re-oiling service.

Rejuvenate your lacquered CEDAR BLINDS

High-tech Cleaning

We clean and repair a l types of blinds –

Venetians, Cedar, Verticals, Ro ler, Ho lands,

Romans and Pleated – with environmenta ly

friendly cleaning products.

Temperature Contro led Drying

Re-oiling & Rejuvenating

Fabric Blinds - such as Austrian and Roman

Same Day Pick Up & Drop O f

We o fer a same-day, pick up an drop o f

service for mos types of blinds. B okings

are required.

Convenient Location

Drop blinds into us by 9am, at

30 Cashel Str et (near the

Fitzgerald end), and co lect

them a th end of the day.

New Blind Sales Priced from $30

WE ARE OPEN

Mon - Fri

8. 0am to 5. 0pm

Ro ler Blinds cleaned

from as li tle as $20

per blind

www.blindcare.co.nz SCAN QR code for Info >

BLINDS .Cleaned, Repaired & Restored .

Page 3 Pages 10 & 13

Cyclist's helipad bid

Serious crash gives new

perspective on ride to hospital

River working group

Rebuilding a healthy

ecosystem in the Selwyn River

WEDNESDAY, APRIL 1, 2018 www.star.kiwi

Loca ly Owned

June 29 - July 1

EXHIBITORS BOOK NOW

vanessa.fleming@starmedia.kiwi

021 914 565

• By Georgia O'Co nor-Harding

A CRACKDOWN on mobile

traders acro s the districts could

be l oming.

However, the public has li tle

interest in having input into the

i sue.

Only eight submi sions were

received for a potential bylaw

aimed at regulating commercial

activities in public places.

The district council wi l be

holding a hearing for the Public

Places Bylaw and Policy on Commercial

Activities and Events in

Public Places.

A hearing i scheduled to be

held on Thursday.

The bylaw comes as an increasing

number of mobile traders

are s eking t operate in Selwyn,

especia ly during the summer

months.

In the past year, the district

council has received five inquiries

about se ting up a mobile busine s

on private or public land.

A report said there are two

str et operators in Darfield, a

coff e cart is parked beside the

railway in Ro leston, and a pi za

cart visits Lincoln w ekly betw en

September-May along with a Thai

f od truck.

•Turn to page 7

Mobile

traders

could

face

regulation

Pupils learn about role of war horses

GR ENDALE SCHOOL pupils

have taken a step back in time,

s eing first hand what men and

horses l oked like during war.

The New Zealand Mounted

Rifles Charitable Trust president

Mark A pleton and member

Mike Donaldson t ok their

horses to the sch ol on Monday,

in a bid to educate pupils on the

sacrifice their ancestors made in

World War 1 and World War 2.

Mr A pleton and Mr Donaldson

a rived a the sch ol dre sed

in World War 1 uniforms while

their horses Tommy and Kruze

wore 1 0-year-old sa dles donated

to the trust.

The presentation is a prelude

to the Gr endale Recreation Reserve

Management Commi t e's

upcoming Anzac Day service.

As a tribute to those who

served, members of the trust wi l

ride horseback to the service.

Mr A pleton said it was

important children were

educated on what soldiers

wen through during World

War 1 and World War 2.

But he said the presentation

didn't go into t o much detail

and was more of a "show and

te l" to make them aware of what

the soldiers l oked like.

Children were shown the type

of kits horses were required to

wear in the war.

•Turn to page 7

• By Georgia O'Co nor-Harding

HISTORY: Pupils have taken a step back in time learning about what

New Zealand soldiers and horses l oked like in World War 1. Abi P oler,

5, sits on Kruze, alongside Mounted Rifles Charitable Trust president

Mark A pleton. PHOTO: MARTIN HUNTER

New sections

selling now

There's no be ter place to se tle out wes than at Falcon's Landing. Pop in to our sales and

information office, 17 Branthwaite Drive, this Thursday, Friday or Sunday from 1pm to 3pm

to find out more. Contact us on 03 741 1340 or mail enquiries@yoursection.nz anytime.

Page 3 Page 5

Driver hazard?

Community board member

blasts Yaldhurst Rd island

Mega centre f edback

Denton Park a tracts more

submi sions than Cathedral

TUESDAY, APRIL 10, 2018 www.star.kiwi

Loca ly Owned

www.denturesouth.co.nz

ca l 32 4 04 TexT 027 537 0567

230 Ba ringTon sTr eT

Mobile

Service

Available

• By Emily O'Co ne l

AN U PER Ri carton butcher

has proven himself to be a cut

above his Au sie rivals at an

international competition.

Elite Meats owner Corey

Winder was named in the a l

star team a the World Butchers'

Cha lenge in Northern Ireland.

Mr Winder and his team, the

Pure South Sharp Blacks, which

includes W olston butcher

Jeremy Garth, finished second

in the competition.

He said the cha lenge started

as a "transtasman test match"

seven years ago.

The preparation for this

year's World Butchers' Challenge

was intense as the team

members met in Auckland

every two months for lengthy

w ekend practices. Mr Winder

said coming second against 1

other countries was a "fantastic"

result.

"To get second behind Ireland

was a huge achievement and to

be ahead of Australia is an

even bi ger thing for us," he

said.

But Mr Winder admires the

Australian team.

"Those guys over there

[Australia] are on top of their

game, they do a g od job," he

said.

"And it just showcases that

New Zealand has got some

of the best butchers in the

world," he said.

Mr Winder has b en a butcher

since the age of 19.

Elite butcher cut above the world

• By Emily O'Co ne l

THE HALSWE L-Hornby-

Ri carton Community Board

has b en given the gr en light to

o pose the pla ned qua ry near

Templeton.

Mayor Lia ne Dalziel told the

board on Thursday it had the okay

from the city council to make a

submi sion if Fulton Hogan a plies

for a resource consen to create a

qua ry.

Board chairman Mike Mora

told Western News the submi sion

would likely o pose Fulton Hogan's

plan.

"You can just about guarant e

it . because we [the community

board] don't believe qua ries

should be so close to residential

areas," he said.

Mr Mora said he wasn't sure if

the city council would endorse the

board' submi sion.

"I'd like to think so because the

city council has had their eyes

open as we l ove recent years over

the crysta line silica risk," he said.

Mr Mora said the community

board wi l be "representing and

advocating" for the Templeton

community.

•Turn to page 5

Community

board get

permission

to oppose

Templeton

quarry

AWARD-WI NING: Corey Winder is back home after his team came second in the World Butchers' Cha lenge .

PHOTO: MARTIN HUNTER

Ph 3 7 0 70,

30 Cashel St,

Christchurch

Restore your oiled CEDAR BLINDS with ou re-oiling service.

Rejuvenate your lacquered CEDAR BLINDS

High-tech Cleaning

We clean and repair a l types of blinds –

Venetians, Cedar, Verticals, Ro ler, Ho lands,

Romans and Pleated – with environmenta ly

friendly cleaning products.

Temperature Contro led Drying

Re-oiling & Rejuvenating

Fabric Blinds - such as Austrian and Roman

Same Day Pick Up & Drop O f

We o fer a same-day, pick up an drop o f

service for mos types of blinds. B okings

are required.

Convenient Location

Drop blinds into us by 9am, at

30 Cashel Str et (near the

Fitzgerald end), and co lect

them a th end of the day.

New Blind Sales Priced from $30

WE ARE OPEN

Mon - Fri

8. 0am to 5. 0pm

Ro ler Blinds cleaned

from as li tle as $20

per blind

www.blindcare.co.nz SCAN QR code for Info >

BLINDS .Cleaned, Repaired & Restored .

Pip Su ton BCM (Marketing)

Residential Sales & Development

Specialist - Licens e Salesperson

Next Step Realty Limited

Licensed (RE A 2 08)

Your best choice

in the West

Mobile: 027 24 9524

DI: 03 421 8417

Email: pip.su ton@raywhite.com

$ 40

T Y R E S

LTD

New Tyres - Ba teries

Quality Secondhand Tyres

Discounts on sets of tyres

LOOK

Used tyres from

FR E PICK UP & DELIVERY (in local area)

Ph 348 0626

9 Main South Rd (cnr Wa ts Rd), Sockburn

T Y

Quality Secondhand Tyres

Discounts on sets of tyres

A l at very competitive prices

$ 70

155

x 13

AA

Discounts

8047287 A

8214716 A

LOOK

New tyres from

5

• By Bridget Rutherford

IT COULD be some time before

charges are laid in relation to the

fatal hit-and-run in Dallington.

Detective Senior Sergeant Greg

Cottam said yesterday the vehicle

involved in the crash last week

was still being examined.

He said there was still a lot of

work to do to gather all the information

and finish police inquiries

before any charges would be laid.

"They can take some time," he

said.

"We've got six months to lay

charges in relation to traffic offending

– it certainly won't take

that long."

Steffan Pearce-

Loe (right), 30, was

hit by a vehicle

near the Gayhurst

Rd bridge while

walking his dogs at

about 2.30am last

Thursday.

He died in hospital

from his injuries on Friday.

His funeral was held on Tuesday.

Police found the vehicle

involved, which had damage

consistent with the crash, on Saturday.

A detective saw it parked

up a driveway.

The vehicle's owner, who was

driving, has been interviewed by

police.

Detective Senior Sergeant Cottam

remained tight-lipped about

the driver. •Turn to page 6

Decision on

hit-and-run

charges

could

take time

Thursday, July 12, 2018

SEE PAGE 33 SEE PAGE 35

Cheeky

Neo

surprises

Huia

PHOTO: MARTIN HUNTER

Huia Sinclair-Parker, 10, was at

Willowbank Wildlife Reserve

for Kidfest's 'Junior Keeper

for the Day' programme

yesterday when Neo

swooped in.

Having Neo, the kea, on her

shoulder was exciting, "but

scary at the same time."

"It jumped on me from behind

and gave me a surprise. They

have sharp claws that dug

into my shoulders."

Children aged from 10-13 are

working with Willowbank

keepers during the holidays.

Casual

RelieveRs

We are currently looking for relievers,

registered or unregistered, who are able

to work for Cashmere Early Learning

Centre (CELC) on a casual basis.

If you are interested in joining the CELC

team, we would like to hear from you.

Please contact Nicole:

(03) 943 2305 or nicole@celc.co.nz

Enjoy outdoor living all year round

• House, deck, carport & window canopy etc

• Warm & dry in winter

• UV protection for summer

• Customised & Tailored

• Café curtains fitted

• 5 year warranty

Chris Thorndycroft

Grant Stewart

Ph 0508 272 446 | www.archgola.co.nz

Normal lending criteria apply

INTEREST FREE

15 months

ARCHGOLA

Trades & Services

109 Matipo St | 0800 222 691

• iPhones • Smart Phones

• iPads • Tablets • Computers • Laptop

Repairs, Parts and Accessories

• Glass Screen Protectors

• Phone Cases • Cables etc

pc & phone repairs

PAINTING & TILING

• PAINTING • TILING

• PLASTERING

• WALLPAPERING

Ph 381 7417 or 027 216 8946

www.facebook.com/kevinsteelpainters&decorators

• Interior/Exterior

• New Homes & Repaints

• Quality workmanship assured

• Correct preparation always undertaken

• 20+ years experience

• Earthquake repairs

(Painting/Plastering/Wallpapering/Tiling)

Phone Kevin Steel

• General

gardening

• Ride on service

• Weeding and

clearing

• Hedge trimming

• Tree pruning

and removals

• Fully insured

• Section

clearing/

maintenance

• Free quotes

• Security

checked

and

satisfaction

guaranteed

green acres

Lawn &

garden care

0800 803 200

www.greenacres.co.nz

ALL

YOUR

COMPUTER

WORRIES

SOLVED!

*$30.00 off your first

service with this coupon!*

No problem too big or

small from home PC's to

business networks. PC

slow? An end to Viruses,

Spyware, and Clogged

Systems. Safe secure

hassle-free

computing.

Lost files recovered.

Microsoft

Certified,

MCSE, MCP+l. 30 years

experience. Call Andrew

Buxton this week on 326-

6740 or 027 435-7596

for $30.00 off* Custom

Computers Christchurch

Computers

A GARDEN OR

LANDSCAPING TIDY

UP? Shrub, hedge &

tree pruning, Lawns,

Gardening,

consistently

reliable general property

upkeep, Dip. Hort. 10

yrs experience, One off

tidy ups or on-going

service. Nick's Property

Maintenance.

Keeping

your garden beautiful.

Free Quote. Ph. 942-4440

Gardening

& Supplies

SUNSHINE

COAST

RESORT

Australia QLD

All Units Have Ocean Views.

Heated Pools, Spa & Sauna,

Free Wifi, Tennis

& Mini Golf.

CHECK OUR GREAT

WINTER SPECIALS

www.mandolin.com.au

0061 7 5443 5011

JUNE to AUG temps 20C

ALEXANDRA HEADLAND

Holiday

Accommodation

HOUSE

CLEARING

Are you

moving house

or trying to

downsize?

Call All Clear

Canterbury. We work

with you to recycle,

sell and dispose of

unwanted items.

Ph: 03 260 0934

or 021 078 4553

raewynlcooke@gmail.com

www.allclearcanterbury.co.nz

Trades & Services

AAA

HANDYMAN

licensed

carpenter

LBP, all property and

building

maintenance,

repairs, bathroom/shower

installations, with free

quotes 03 383 1927 or 027

245 5226 ciey@xtra.co.nz

BUILDER

For all building work

but specialist in bathroom

renovations, 30 yrs

experience, with service

and integrity. Free Quotes.

Ph Lachlan 383-1723 or

0274 367-067.

CARPET & VINYL

Laying. 50 Yrs exp.

Repairs,

uplifting,

relaying,

restretching.

Email jflattery@xtra.co.nz

ph John on 0800 003 181

or 027 2407416

CARPET & VINYL

Laying. Exp. Repairs,

uplifting,

relaying,

restretching.

Email

jflattery@xtra.co.nz

ph

John on 0800 003 181 or

027 2407416

CARPETLAYER

35yrs experience. Special

rates for seniors. Prompt

service. Ph 021 263 7209

ELECTRICIAN

For electrical work, no job

to small, affordable, tidy &

experienced, HEATPUMP

servicing, & performance

test $70 + gst, ph or txt 027

432 9755 or 03 326 49922

PAINTER AVAILABLE

All aspects in painting.

Very competitive in roofs

and fences. Please call 027

241-7471 or 335-0265

PAINTING

Indoor / Outdoor, over 30

exp, same day quotes, ph

Steve 021 255 7968

PAINTING

& Decorating Wingfields

Contracting, all interior

& exterior painting & all

forms of interior plastering

& jib fixing, ph Mark 021

171-1586 or 355-5994

PLASTERER

Gib Stopping, Small

job specialty. 30 + years

experience. Ring 0800

387-369

PLUMBER

ALF

THORPE

PLUMBING

Certifying

Plumber for all types of

plumbing,

maintenance,

spouting, alterations etc.

Phone 352-7402 or 0274-

350-231

PLUMBER

A Top Plumbing job

completed at a fair price,

prompt service, all work

guaranteed, Ph Brian 960-

7673 or 021 112-3492

ROOFING

REPAIRS

Fully qualified, over 40

yrs experience. Ph John

027 432-3822 or 351-

9147 email johnchmill@

outlook.com

SPOUTING CLEANING

Spouting

Unblocked,

Cleaned Out and Flushed

Out. Also Full Handyman

Services Available. Call

Trevor 332 8949 or 021

043 2034

TILER/CARPENTER

35 years exp, no job

too small. Ph Ross 027

4311440.

TILER/CARPENTER

35 years exp, no job

too small. Ph Ross 027

4311440.

T.V. SERVICE CENTRE

Repairs, tvs, microwaves,

stereos, DVD. Aerial

installations and kitsets,

480 Moorhouse Ave, ph 03

379 1400

VHS VIDEO TAPES

& all camera tapes

converted to DVD, video

taping special occasions,

www.grahamsvideo.co.nz

ph 03 338-1655

WINDOW

CLEANING

Average 3 bdrm house

inside or out $40. Both

$70. Phone Trevor 344-

2170

Trades & Services

Fashion Designs & Colours

Discontinued Designs

End of Lines Bargain Prices

Call at Our Shop

CURTAIN FABRIC OUTLET

71 Hawdon St Sydenham

Ph 366-5026

www.curtainfabric-outlet.com

Curtains

AAA Buying goods quality

furniture, Beds, Stoves,

Washing machines, Fridge

Freezers. Same day service.

Selwyn Dealers. Phone 980

5812 or 027 313 8156

Wanted To Buy

ENVIRO

STONE LTD

• Carparks

• Driveways

• Excavation

• Hardfill

• Rock Breaking

• Rib Raft

Foundations

• Retaining Walls

• Site Works

Ph 027 333 0104

DESIGN

We offer professional

design services.

PRINT

We print your gloss

mailers and letterbox

flyers.

Delivery

Canterbury wide

coverage or targeted

zone deliveries.

Letterbox Advertising

Flyers and Newspaper Inserts

FREE QUOTES

Contact: Michaela Malloch

P: (03) 379 7100 or 021 932 177

E: michaela.malloch@starmedia.kiwi

TOOLS

Garden,

garage,

woodworking,

mechanical, engineering,

sawbenches, lathes, cash

buyer, ph 355-2045

Wanted To Buy

Tuesday July 31 2018

SOUTHERN VIEW

18 Latest Christchurch news at www.star.kiwi
---
SOUTHERN VIEW Latest Christchurch news at www.star.kiwi

Tuesday July 31 2018 19

What's On

Entertainment

To advertise, contact

Jo Fuller 027 458 8590

jo.fuller@starmedia.kiwi

Italy's Ensemble Zefiro

Light, elegant and

unapologetically

entertaining

IT STARTS THIS SATURDAY!

GRAND NATIONAL

RACING

CARNIVAL

4, 8, 11 August | Riccarton Park Racecourse

We are proud to sponsor Saturday 11th August

144th NZ Grand National Steeplechase

Start your day with us

Race Day

Breakfasts

COOKED

BREAKFASTS

$19

HOOFBEATS is open from 6.30am

BREAKFAST - LUNCH - DINNER

Party on with us

LIVE MUSIC |SPORTS BAR

Saturday 4th: Medium Rare

Wednesday 8th: DnD DUO

Saturday 11th: Medium Rare

The

RACECOURSE HOTEL

& Motorlodge

118 Racecourse Rd, Ph 03 342 7150

www.racecoursehotel.co.nz

FOUNDED in1989 by oboists Alfredo

Bernardini and Paolo Grazzi, and the

bassoonist Alberto Grazzi, the ensemble

is said to be named aer Zero, the

Greek god of winds. Fitting as wind

instruments play a leading role within

the group.

Specialising in 17th and 18th century

woodwind Chamber Music, Ensemble

Zero has developed a cult following

worldwide and has won numerous

awards including the Grand Prix du

Disque and Gramophone's Editor's

Choice award.

Alfredo Bernardini (Oboe); Paolo

Grazzi (Oboe); Dileno Baldin (Horn);

Francesco Meucci (Horn); Alberto

Grazzi (Bassoon); and Giorgio

Mandolesi (Bassoon) make up the

lineup for the Christchurch

performance.

Zero will play two programmes; the

rst a banquet of Handel, Fasc,

Telemann, Haydn and Mozart; the

second dedicated exclusively to Mozart's

divertimenti.

"Light, elegant and unapologetically

entertaining, these compositions dazzled

18th century nobility with their easy

charms. Zero's unique timbres and

brilliant virtuosity is no less beguiling

today."

www.chambermusic.co.nz. Tickets at

Ticketek.

What's On

TUESDAYS & THURSDAYS

MEMBERS LUCKY CARD DRAW

LIVE MUSIC 2PM

THIS SUNDAY 5TH AUG

UNFINISHED BUSINESS

Dine by the Beach

PIERVIEW

RESTAURANT

UPSTAIRS

Open from 5.30pm Fri, Sat,

Sun, and Sunday Brunch

from 10.30am to 2pm.

MONTH-END

SUNDAY NIGHT

BUFFET $25pp

Sunday 26th Aug

from 5.30pm

BOOK NOW!

CLUBBISTRO

DOWNSTAIRS

Open Tues to Sat 12pm - 2pm & from 5pm.

GAMING ROOM : NEW MACHINES!

202 Marine Pde | Ph 388 9416 | www.newbrightonclub.co.nz | Members, guests & affiliates welcome

Lunch & Dinner

All you can eat

7 days

Bookings Essential

PH 386 0088

fb.com/GardenHotelRestaurant

www.gardenhotel.co.nz

SERVING

HAPPY HOUR

5PM - 7PM DAILY

OUR CABINET ITEMS

ARE HOMEMADE

CREATED FRESH ON SITE DAILY

$12

LUNCH

SPECIALS

Live Music:

6PM.SAT 4 AUG

COFFEE

HAPPY

H O U R

2PM-4PM

DAILY

$3.50

Offer available for a limited time

and includes tea, hot chocolate

MON: ROAST MEAL

TUE: FISH & CHIPS

WED: FISH BURGER

THU: ROAST MEAL

SAT: FISH & CHIPS

AVAILABLE

FROM

11.30AM-2PM

FOR A

LIMITED TIME

DnD DUO

(aka Dateless n Desperate)

PHONE 385 8880 FIND US ON FACEBOOK fb.com/GBCCHCH

THE GARDEN HOTEL COMPLEX | 110 MARSHLAND RD

www.gardenhotel.co.nz | phone 385 3132

H ORNBY

WORKINGMEN'S

CLUB

THIS WEEKEND

FRIDAY 7PM:

JO'S KARAOKE

SATURDAY 4.30PM:

MARION'S

OUTLAWS

SATURDAY 8PM:

ROBBIE DREW

Club CAFÉ

OPEN

EVERY DAY

LUNCH & DINNER

FAMILY FRIENDLY DINING

DND SHOWBAND

LIVE SHOWCASE

Featuring Costumed Themes

ROCKABILLY

MOULIN ROUGE

ABBA

SATURDAY 11 AUGUST

Pre-sale tix $20. Door sales $25

Chalmers

Restaurant

OPEN

FRI, SAT, SUN

FROM 5.30PM

5-8PM SUNDAY NIGHTS

MEMBERS, GUEST & AFFILIATES ALL WELCOME

ADULTS $27, KIDS 12 & UNDER JUST $1 PER YEAR OF AGE

The Hornby Club | ph 03 349 9026 | 17 Carmen Rd | Hornby

www.hornbywmc.co.nz | Members, guests & affiliates welcome
---
20 Tuesday July 31 2018

Latest Christchurch news at www.star.kiwi

SOUTHERN VIEW

barrington | city market

$

13 99

kg

$

3 99

kg

Fresh NZ Beef Rump Steak

Satsuma Seedless Mandarins

$

4 99

kg

$

2 99

kg

$

4 90

pk

Fresh NZ Tegel Whole Chicken Legs

Loose Envy Apples

Tip Top Ice Cream 2L/Popsicle 6/10 Pack

$

9 90

ea

$

3 00

ea

$

3 00

ea

Tegel Frozen Chicken 2.1kg

Wattie's Garden Peas/Mixed Vegetables 1kg

M&M's Chocolate Block 150-160g

$

22 99

pk

$

12 99

ea

$

1 70

ea

Heineken

12 x 330ml Bottles

St Clair Black Label

(Excludes Pinot Noir)/

Huntaway Reserve 750ml

Pepsi 2L/Frank

Sparkling/Just Juice

Bubbles 1.25L

Now available

Shop

Online

Colect Instore Save time

ClickCollect.nz

FreshChoice

Barrington | City Market

Open 7 Days a week.

FreshChoice.co.nz

FreshChoiceNZ

Specials valid 30th July - 5th August 2018 or while stocks last at FreshChoice Barrington & City Market only.

We reserve the right to limit quantities. Trade not supplied.

Owned and

operated

by locals

fcsv0108