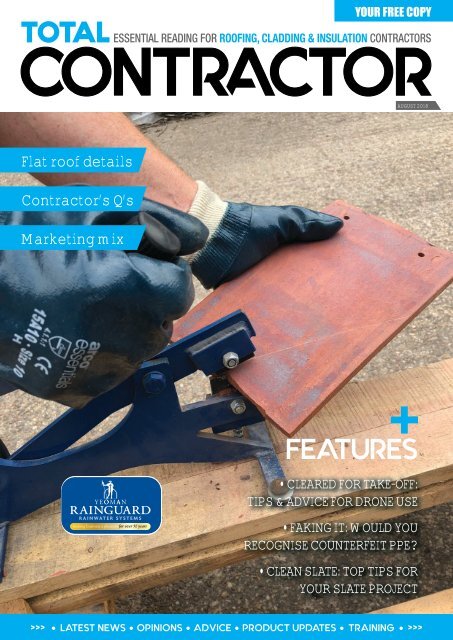 Create successful ePaper yourself
Turn your PDF publications into a flip-book with our unique Google optimized e-Paper software.
AUGUST 2018

Flat roof details

Asbestos Advice

Contractor's Q's

Marketing mix

FEATURES

• CLEARED FOR TAKE-OFF:

TIPS & ADVICE FOR DRONE USE

• FAKING IT: WOULD YOU

RECOGNISE COUNTERFEIT PPE?

• CLEAN SLATE: TOP TIPS FOR

YOUR SLATE PROJECT

>>> • LATEST NEWS • OPINIONS • ADVICE • PRODUCT UPDATES • TRAINING • >>>
---
For Best Practice...

Best Use Best Products

EJOT's manufacturing standards ensure that high-performance,

quality and safety are engineered into all of our products.

Our product range is matched by our knowledge of industry

standards and installation requirements… you won't find better

technical support - on or off site!

EJOT ® The Quality Connection

Tel: 01977 68 70 40

Email: info@ejot.co.uk

REGISTER ONLINE

Register online for webshop prices. Visit ejot.co.uk

FOR WE

PRICES
---
Editor's Comment

MATT DOWNS

EDITORIAL DIRECTOR

MATTDOWNS@MEDIA-NOW.CO.UK

COVER PIC:

COURTESY OF MARLEY ETERNIT

Most industries suffer from traders looking to make quick money

from cheap, imitation goods. Whether it be an imitation watch, the

latest bag, trainers, or jeans, if the original is popular and

expensive, the chances are someone somewhere is producing a

version of it for a fraction of the price.

Despite it being illegal and the proceeds often funding organised crime,

those who purchase an imitation watch or fashion item do so knowing

it will be an inferior version that won't last or perform to the same

standards as the original – but ultimately it won't harm them. But can

the same be said if it's an electrical item or even worse, counterfeit

Personal Protective Equipment (PPE)? Counterfeit PPE is a very real

problem on construction sites throughout the UK, and in his article on

p.20, Gary Walpole of the NFRC addresses the issue and outlines ways

to ensure you can spot such equipment and ensure your PPE performs

to the right standards. As Gary explains, it's not an area where you

should look to make savings.

Elsewhere in this issue, Ian Hollingworth looks at the implications for

sub-contractors after the High Court found that a roofing firm that

caused a fire at a school in London was not protected by a project

policy (p.24); Andy King talks difficult customers and why he feels a

grasp of contract law is crucial for contractors (p.26); John Mercer

discusses the implications for contractors following the latest

amendments to BS: 5534 (p.32); and we have the latest news and

updates from the roofing, cladding and insulation sectors.

Enjoy the issue!

NEW

A PRIC

C£C£OMP£GET £AY£DA£O£T£D£ARISO £PA ON

£T

Matt

LOW PRICE

Above: Andy Rowlands hand-cut close to 60,000 Acme double camber clay

plain tiles for the roof at Quintain House. We hear his tips for clay roofs on p.44

FOLLOW US @TOTCONTRACTORUK

SIGN UP FOR YOUR WEEKLY E-BLAST AT

WWW.TOTAL-CONTRACTOR.CO.UK

Advertising:

Publishing Director: Andy Dunn:

DD: 01892 732 047

Mob: 07963 330777

Email: andydunn@media-now.co.uk

Registered office: 1 Forstal Road, Aylesford, Kent, ME20 7AU

Commercial Manager: Jake Roxborough

DD: 01892 732 047

Mob: 07956 133314

Email: jakeroxborough@media-now.co.uk

The content of Total Contractor magazine (and website) does not necessarily reflect the views of the editor or publishers and

are the views of its contributors and advertisers. The digital edition may include hyperlinks to third-party content, advertising,

or websites, provided for the sake of convenience and interest. The publishers accept no legal responsibility for loss arising

from information in this publication and do not endorse any advertising or products available from external sources. No part

of this publication may be reproduced or stored in a retrieval system without the written consent of the publishers. All rights

reserved.

NOW

FROM ONL LY

£3 Y

45

*

per leaf

Including

deliv

very

Supported by:

ORDER 10

TO DELIVERY FROM A FAS

T

W

T D im

a

o

me

yrking s Lead

*

Be choose Made for Tr

rade

G CE Email: bif

Call: 01642 610799

Aluminium Bi-F old Doors olds@madefortrade.co

Fax: 01642 671026

www.madefortrade.co

* Per leaf price is unglazed and may vary depending on size and spec cification of the door. Lead time is based on a standard colour.

AUGUST 2018 TC 3
---
Contents

FROM THE COVER

20 FAKING IT

With Counterfeit PPE hitting sites around the

UK, would you be able tell the real from fake?

22 CLEARED FOR TAKE-OFF

Drones have a number of uses on sites, but

there are rules that need to be followed

36 CLEAN SLATE

Beware the consequences if you look to save

time by not grading and sorting your slate

FREE Z-CARD!

From Yeoman Rainguard

30

FEATURES

24 INSURANCE FOCUS

Ian Hollingworth explains why contractors need to

check that they are covered through project policies

44

30 THE APPRENTICE SHOW

Roofing's in good hands if the BMI Group Apprentice of

the Year awards is any sort of barometer

32 STANDARD BEARER

John Mercer explains what roofers really need to know

following the amendments to BS: 5534

44 CUT TO THE CHASE

After hand-cutting 60,000 clay plain tiles for a project,

Andy Rowlands gives his tips for the perfect clay roof

52 FALL GUYS

Cut to falls can be expensive, Daniel Bosworth explains

how he feels you can achieve affordability

62 TALKING TORQUE

Brian Mack discusses the installation issues when

looking to achieve the right fastener torque for projects

4 TC AUGUST 2018
---
REGULARS

16 CONTRACT TALK

Stuart Base explains how to be smart with your

marketing in a competitive industry

18 AN INSPECTOR CALLS

The Inspector explains how when it comes to

flat roofs, the devil really is in the detail

26 CONTRACTOR'S Q'S

Andy King talks difficult customers, unrealistic

project time-lines and so much more...

70 TOTAL VEHICLES

Whether you're sign writing or wrapping your

van, make sure you project the right image

INDUSTRY NEWS

06 CONTRACTOR'S DAY

Register now for Contractor's Day! Plus a number of

new big names have joined the list of exciting exhibitors

08 LONG LEAD-TIMES

Delays of up to 4-5 weeks have been reported on mineral

wool insulation products

08

SECTIONS

WWW.TOTAL-CONTRACTOR.CO.UK

32

TOTAL

ROOFING

62 TOTAL

CLADDING

66 TOTAL

INSULATION

36

AUGUST 2018 TC 5
---
Industry News

FRAGILE ROOF FALLS

HIGH ON SAFETY LIST

The Building Safety Group (BSG) has

reported a 13% rise in the number of

'Working at Height' safety breaches

recorded on construction sites. The

increase is based on 10,000 site

inspections conducted during the first six

months of 2018, comparing Q1 with Q2.

BSG's figure is also a reflection of the steep

increase in fatalities resulting from workers

falling from height. Statistics published by

the Health & Safety Executive (HSE) show

there were 35 'falling from height' related

deaths in 2017/18, up 40% compared to the

previous year. Falls through fragile surfaces –

particularly fibre cement roofs and

rooflights – are said to account for the

majority all 'fall from height' fatal injuries in

the construction industry. Workers undertaking

roof work and building maintenance can die or

be permanently disabled when they fall through

fragile surfaces.

Paul Kimpton, Managing Director at the

Building Safety Group, commented:

"Employers have a legal duty to ensure that

the 'Work at Height Regulations 2005' are

implemented and that all activity is properly

supervised and carried out by people who are

competent. They are also responsible for

ensuring that fall protection systems for

Working at Height are regularly inspected,

particularly when working in hazardous

environments."

REGISTER NOW FOR CONTRACTOR'S DAY!

Registration is now open for Contractor's Day, into this and perhaps overcome issues on a

the new one-day exhibition and conference project, find the right product, material or tool for

launched by the NFRC and Total Contractor a certain job, or network and make positive

magazine, which will be held at Twickenham relationships for the future."

Stadium on 30th November 2018.

Matt Downs, Editorial Director of Total Contractor,

Andy Dunn, Publishing Director at Total Contractor continued: "Time is precious for roofing

magazine, explained: "Following the launch of the contractors and for many finding the time to

website, contractors can now register for their source new products and keep up to date with the

free tickets to Contractor's Day. The event is a latest developments whilst dealing with work

great opportunity for contractors to see more than commitments can be difficult. That's why

60 of the leading manufacturers, suppliers and Contractor's Day has brought together the leading

Associations from the roofing, cladding and manufacturers, suppliers and trade associations

insulation sectors in one fantastic venue.

for one day only in a great venue so visitors can

access them all in one morning or afternoon."

"Visitors will also have the opportunity to listen to

and take part in interesting debates and seminars, Contractor's Day recently announced SIG Roofing

get an exclusive update on the NFRC's long-term as Knowledge Partner, Marley Eternit as Event

accreditation push for the roofing sector, plus get Supporter and BMI Group as Skill Zone Partner, as

involved with the BMI Group Skill Zone."

well as a number of new exhibitors including

Carlisle Construction Materials, Danosa UK,

Andy continued: "The demand for this type of

Kingspan Group, Construction Materials Online,

event within the roofing and cladding sector has

Rockwool Group, SIGA Slate, Permavent,

been highlighted by the speed that the stands

Whitesales, Yeoman Rainguard, the Single Ply

have sold and the number and quality of

Roofing Association, the Lead Sheet Training

exhibitors and show supporters we have onboard.

Association and the Liquid Roofing and

All these leading names from the roofing and

Waterproofing Association.

cladding sectors will be bringing their latest

products and innovations alongside their knowhow

and expertise, and visitors will be able to tap

Find out more and register to visit at:

www.contractorsday.co.uk

COMPANIES FINED AFTER WORKER FALL

Two companies have been fined more than half a Regulation 13(1) of the Construction (Design and

million pounds after a site worker lost the use of Management) Regulations 2015 and was fined

his legs following an incident in London.

£270,000 and ordered to pay £7,025.98 in costs.

Paul added: "Critically, falls from height are

still one of the most common causes of

injuries to employees, accounting for a large

number of work-place deaths. So employers

must of course take their responsibilities very

seriously, not least because of the potential

harm to workers but also because of the risk

to the business as well as the number of

working days lost."

Westminster Magistrates' Court heard how, on

5th November 2015, Mr Marcel Păduraru, a

Romanian construction worker, fell onto and then

through a fragile plastic skylight into a basement

over three metres below. He suffered a severed

spine and will not regain the use of his legs. He

was 30 years old at the time of the incident.

Grangewood Builders Limited of Lionel Road,

Canvey Island, Essex pleaded guilty to breaching

Trenchco Limited of Clewer Crescent, Harrow

Weald, Middlesex pleaded guilty to breaching

Regulation 15(2) of the Construction (Design and

Management) Regulations 2015 and was fined

£270,000 and ordered to pay £7,025.98 in costs.

HSE inspector Andrew Verrall-Withers commented:

"The risks relating to fragile skylights being fallen

through and the simple solutions to avoid this are

well known."

6 TC AUGUST 2018
---
DON'T MISS OUT – 85% SOLD, SECURE YOUR STAND NOW!

A cost-effective platform to engage with hundreds

of roofing and cladding contractors in one day!

FOR FURTHER INFORMATION OR TO BOOK YOUR STAND CONTACT

ANDY DUNN andydunn@media-now.co.uk

SPONSORS

JAKE ROXBOROUGH jakeroxborough@media-now.co.uk

01892 732047 | www.contractorsday.co.uk

DELIVERED TO YOU BY
---
Industry News

LONG LEAD-TIMES

Contractors are being warned of delays in

delivery times of up to 4-5 weeks compared

to the usual 3-5 days for popular mineral

wool products used to insulate buildings.

Despite UK manufacturers running production

lines at full capacity around the clock,

Construction Materials Online (CMO) says the

industry is struggling to keep up with growing

demand for glass and mineral wool products.

Mineral wool and glass wool insulation is

chosen for its acoustic and thermal quality.

However, popular brands are reportedly

dealing with increased demand which is

causing long delays. Duncan Voice, Store

Manager at Insulation Superstore, an online

brand of Construction Materials Online

(CMO), says this calls for a change of

approach: "The industry needs to know the

serious impact of these delays and be

prepared for the wait. They need to plan

ahead and buy in advance, or they need to

have a 'plan B'.

"We are always upfront and honest about the

extended delivery lead-times and do

everything we can to deal with customers'

disappointment. But some orders have been

cancelled as project managers are forced to

go back to the drawing board. We are here to

help problem solve, so when customers are

'up against it', in terms of time and budget,

we're able to advise alternative products we

can get to them much quicker.

"Luckily, there are alternatives that can be on

site within days, have better performance

and are easier to install, and consumers are

happy with the results too. We're seeing an

upsurge in sales of sheep wool products,

which although slightly higher in price, have

better thermal and acoustic performance.

Contractors are finding the price is offset by

avoiding costly delays on site."

LCB ROOFERS WIN SKILLBUILD REGIONALS

Leeds College of Building is celebrating after 11

of its students won medals in the regional

competitions of SkillBuild 2018 including Gold,

Silver and bronze in the Roofing category for Joe

Turner, Jay Webster and Kieran Langhan

respectively. Delivered by the CITB, SkillBuild is

the largest multi-trade competition in the UK for Leeds College of Building students with their awards.

construction trainees and apprentices.

whether any of the top-scoring competitors will

be selected for the three-day UK SkillBuild

The College attained a total of four gold, six

National Final, which is held at the NEC

silvers, and one bronze medal, seeing off

Birmingham from 16-18 November. Winners may

competition from hundreds of other construction

then gain the opportunity to represent the UK in

students from colleges across the UK:

the international skills competitions EuroSkills

Roofing: Joe Turner (Gold), Jay Webster (Silver), and WorldSkills.

Kieran Langhan (Bronze)

Mark Sims, Lecturer at Leeds College of Building,

Carpentry: James Hattersley (Silver, Senior said: "We are so pleased with this year's results.

category)

All of our students worked so hard and

represented the college impeccably. They really

Bricklaying: Luke Kerrigan (Silver, New Entrant

did us proud! These results would not have been

category), Tim Smith (Silver, Senior category)

possible if it wasn't for the dedication of each

Plastering: Luke Palmer (Gold, Senior category), competitor and the staff who trained our students

Ryan Lill (Silver, New Entrant category)

to these high standards.

Dry Lining: Jake Emery (Gold), Carla Dibb (Silver) "A special mention goes to the roof slating and

tiling students who did particularly well, winning

Wall & Floor Tiling: Callum Pearson (Gold,

all of the top three places in their category, and

Senior category)

the wall and floor tiling students also took the top

Students are now awaiting the decision as to two places in their category."

THE HEART OF THE MATTER FOR SR TIMBER

SR Timber is to partner with the British Heart coordinate its fundraising activities for the

Foundation (BHF) to raise much-needed funds charity, which holds poignant significance for

for the charity, which is the biggest independent staff.

funder of cardiovascular research in the UK.

"Actively supporting charities has become an

The company is keen to develop a closer, longerterm

relationship with the charity, having

we've got a good track record of raising large

important part of the fabric of SR Timber, and

previously raised more than £5,000 in 2016 after sums of money," said Steve.

two of its team climbed Mount Kilimanjaro.

SR Timber's Trading Director Shaun Revill

The partnership is a move away from one-off, explained: "I'm really proud of the team for

flagship fundraising events to a more consistent coming together to support the BHF, and

approach throughout the year. SR Timber has everyone's excited about what we can do in the

appointed Steve Hill to the role of Heart Monitor to coming months."

8 TC AUGUST 2018
---
ALL ALUMINIUM

LANTERN ROOF

FITTED IN MINUTES

FASTEST

Glazed in seconds

No cutting or drilling onsite,

without silicone, clip fit

finishing caps – Fastest fit on

the market

As featured at the FITShow,

search for our YouTube

video and see the

Korniche fully fitted

in under 6 minutes

Under

6 mins

SLIMMEST

Uninterrupted Sight

Lines

Patent pending end boss

enabling hips to merge into ridge

Traditional features in

contemporary design give

'Timber' like looks suitable for all

properties

Narrowest external ridge profile

Email: sales@korniche.co.uk

Tel: 01642 610799

Fax: 01642 615854

STRONGEST

Performance

Engineering

Ability to withstand 'Live' loads

over twice that of the leading

competitor. A 6x4m roof can

support up to 8 tonnes

Up to 3m x 2.5m with

no rafters

No tie bars required

www.korniche.co.uk

3.5kN

/m2

SUPPORT

Best for specifiers -

the ideal trade

lantern

Brand, point of sale and

marketing support helping save

time and maximise profit from

sales and on-site.

TM

Online trade KwikQuote tool

WARMEST

Fully thermally

broken construction

Thermal PVC T Bar, Thermally

broken eaves beam and industry

leading Q-Lon Gaskets.

U Value from 1.2

PLUS

FROM ONLY

5 WORKING

DAYS LEAD

TIME

FULL SALES SUPPORT

AND NATIONWIDE

DELIVERY

CONTACT US TODAY

FOR A QUOTE
---
Industry News

"RADICAL OVERHAUL

REQUIRED"

Following the announcement of the £420m

Construction Sector Deal to boost

construction through innovative

technologies and modern construction

methods, a new report has cautioned that

a radical overhaul of the sector is needed

or the UK will struggle to meet its housing

and infrastructure needs.

In a recent report, Off-site Manufacture for

construction: building for change, the House of

Lords Science and Technology Committee says

that off-site manufacture (OSM) can help to

increase productivity in the construction sector

while reducing labour demands, improving the

quality and efficiency of buildings, and reducing

the environmental impacts associated with

traditional construction.

The Committee heard evidence that if the

government is to achieve its aim of building

300,000 houses a year by 2020, OSM would be

the only way to meet this target, and that

traditional construction methods do not have

the capacity to build enough homes. The

committee stated the Government must set out

what conditions it will attach to the extra

financial support for housing to drive the uptake

of OSM and other innovative technologies.

Lord Patel, Chairman of the Committee, said:

"There are clear and tangible benefits from offsite

manufacture for construction which make

a compelling case for its widespread use. We

heard evidence that OSM could increase

productivity in the sector by up to 70%. The

construction sector's business models are no

longer appropriate and are not supporting the

UK's urgent need for new homes and

infrastructure. The construction sector needs to

build more trust and create partnerships so

that companies can work together to improve

the uptake of off-site manufacture, and the

CLC should provide the necessary leadership."

CHECK YOUR PHONE USAGE ON SITE

A survey by Deloitte has revealed that people in

the UK have never been more addicted to their

smartphones.

The survey of 4,150 16-75 year-olds conducted

in 2017 found that 38% admitted to using their

smartphone too much, rising to half of all 16-24-

year-olds. Habbits such as checking apps in the

hour before we go to sleep (79% of respondents

admitted to doing this) or within 15 minutes of

waking up (55%); or the fact that over a third

check their phone in the middle of the night show

just how dependent we are on our mobile phones

in this digital age.

Other surveys have shown that IPhone users

unlock their phones an average of 80 times per

day (Business Insider 2017) which means that in

an average day of usage, IPhone users check

their phones six to seven times per hour, or once

every ten minutes. These staggering numbers

highlight how mobile phone usage has taken over

our lives, but if you are checking your phone when

working in a shop or an office, perhaps at worst

your work output is affected, but the

consequences could be very different if working

on scaffolding or trying to navigate a construction

site or roof.

With this in mind, Total Contractor contacted Gary

Walpole, Technical and Safety Officer at the

Roofers have been warned to take extra care

on the roads due to concerns their bad van

driving could be hurting business.

Experts at LeaseVan.co.uk, one of the UK's leading

suppliers of vans to tradesmen and women, say

bad driving could be putting people off dealing

with a company. They warned customers to ensure

vans are driven courteously and that speed limits

and other road users are respected at all times.

A spokesman for LeaseVan.co.uk said: "Van

Further reading: http://www.total-contractor.co.uk/your-callare-the-days-of-smartphones-on-site-numbered/

NFRC, to find out if there was any set guidance on

mobile phone usage on site. Gary explained:

"There isn't any particular guidance or policy

regarding the use of mobile phones on

construction sites, but you are correct in that they

do pose an increasing risk, especially when

working at height – operatives need to be aware

of their environment and using a mobile phone

greatly reduces that awareness.

"Most main contractors have banned the use of

mobile phones, except in designated safe zones.

These sites tend to have a zero tolerance to

phone usage and operatives caught are either

given a warning or removed from site. The

difficulty is policing mobile phone usage in the

short-term repair and domestic markets."

So the next time you feel the urge to check your

phone or make a call, make sure it is in a

designated safe zone, or better still, wait until

you're away from site.

ROOFERS, HOW'S YOUR DRIVING?

drivers need to realise that each and every time

they get behind the wheel they are an

ambassador for their company. If they then tear

about cutting people up, racing through traffic

lights on amber and failing to stop at zebra

crossings they are going to create a very bad

impression for their company with other road

users and the general public. Branded vans can

be very powerful mobile adverts for a firm but if

they are poorly driven they could actually be

costing sales."

10 TC AUGUST 2018
---
SEE US AT

Handrails:- EasyGuard

free-standing Guardrails

*CurveyGuard – an aesthetically pleasing curved rail.

*EasyGuard – raked or straight legs dependant on

application. *FoldGuard – folding handrail.

Trip hazard reduction – long thin base-plates with

Counterweights used on un-secured ends only. Placed at 2m

centres maximum to enable use for leading edge protection.

Galvanised or powder coated finish. Protective mats 5mm

bonded to the base plates.

Standards – Exceeds Class A EN13374- Class A; For

leading edge protection HSE/SR 15, September 1988.

Nationwide delivery or contract installation. – Free material

quantifying service – info@safetyworksandsolutions.co.uk

Ladders:- Easy Fit

Compliant to both BS/EN 5395 and 14122 –

To comply with the standards for

permanent ladders all mild steel then hot

dipped galvanised to BS/EN 1461.

All typical ladders bespoke – email

info@safetyworksandsolutions.co.uk for a

survey check sheet.

Easy Fit, all ladder components are Easy

to assembly; in manageable parts Easy to

handle and install.

Rest Platforms and ladders with special

fixing requirements; solutions provided by

Safetyworks in house.

(All components for British Standard

compliant ladders require steel components

with timber and aluminium recommended

for temporary use only)

HANDRAILS

-

LIFELINES

-

WALKWAYS

-

FALL GUARDS

-

FLEXIDECK

-

DEMARKATION

-

LADDERS

-

STEELWORK

-

Tel: 01487 841400

www.safetyworksandsolutions.co.uk
---
Industry News

NORTHERN LIGHTS SHINE BRIGHT AT APPRENTICE AWARD FINALS!

Jay Webster and Kieran Forster, two apprentices

from the north of England, have been crowned

Redland and Icopal Apprentices of the Year 2018

respectively, after the BMI-backed competition

culminated in two days of intense scrutiny from

a panel of industry-leading figures.

At a special gala dinner, the victors received a

£1,000 cash prize for each of them to invest in

their future, a handsome trophy for the

mantelpiece plus a goody bag of high-quality

roofing tools and materials. They are also entitled

to support from the two industry brand leaders at

BMI's National Training Centre.

Speaking just after the prize-giving (June 27th),

Redland Apprentice of the Year Jay Webster, who

attends Leeds College of Building and works for

Yorkshire Heritage Roofing; said: "Words can't

really describe how I feel and I still can't believe it

to be honest. I became more confident as the

competition went on but to actually win it tells me

I'm better than I thought I was."

Kieran Forster, the Icopal Apprentice of the Year,

an attendee at Newcastle College and employed

by Stanley-based Hodgson Sayers, admitted it all

came as a bit of a surprise: "Pure shock when I

heard my name announced and I'm still in shock.

I can't believe it's actually happened. There were

guys there with more experience than me so to

win it is simply amazing!"

So tightly fought were the two competitions that

the judges felt that each category deserved a

highly commended award. On the Redland side,

ex-soldier Tom Thompson, who works for AL King

Roofing and studies at South West Training Group,

received the accolade, while for Icopal it was Joe

Burgess, a former waiter, who came out with the

memorable phrase during his presentation: "I

gave up a job to go into a career", when talking

about his move into roofing. Joe works for

Waveney District Council and is enrolled at

Eastern Region Roof Training Group.

Mat Woodyatt, BMI Technical Training Manager,

commented: "This has been a fantastic event –

the first time we have held a competition to find

the best in both roofing disciplines: pitched and

flat. All 18 contestants deserve huge credit for

their hard work and achievements over the last 48

hours. I know the judges looked long and hard at

the scoring, deliberated at length about what

marks to award and genuinely found it difficult to

separate participants. However, in the end there

can only be two winners, so heartfelt

congratulations to Jay and Kieran. Well done all!"

See p.30 for more on the Apprentice of the Year.

SPRA'S 'MOST COMPREHENSIVE GUIDE'

The Single Ply Roofing

Association has announced

the release of its latest

Design Guide. Available to

download free from the

SPRA website, this

detailed and updated

guide is said to be a

fantastic resource

developed to support the

whole of the single ply

roofing industry from

design and specification, SPRA's new Single Ply Design Guide.

Component Quality Standards

which have in many cases

been developed with partner

organisations. Also included is

the SPRA Homeowner Guide

and SPRA Damage Protection

guidance which was created

last year, along with a useful

Toolbox talk section to

encourage education onsite

and reduce post-installation

issues. Perhaps something of

particular interest in the

to installation and aftercare.

Cathie Clarke, SPRA CEO, explained: "This is the

most comprehensive guide on single ply roofing

that SPRA has ever produced. It has been created

by the SPRA Technical Committee for the benefit

of the industry and I would like to thank all

members for their hard work and contribution to

the sector. Complete with new Welding Guidance,

the SPRA Design Guide includes a range of

current climate is the SPRA Membrane Product

Substitution Checklist."

SPRA says all members have the opportunity to

be involved with the SPRA Technical Committee –

"the beating heart of SPRA". For more

information, email enquiries@spra.co.uk.

Interested in becoming a member? Full details

can be found at www.spra.co.uk, or you can

email: membership@spra.co.uk.

TRADE CLUB BENEFITS

SIG Roofing is celebrating a key milestone

for its TRADE CLUB loyalty programme after

Roofcare South West became the 2,000th

company to benefit from the scheme.

SIG Roofing's TRADE CLUB was introduced

to help and reward roofing contractors

across the UK, giving them the opportunity

to earn points and secure discounts by

purchasing roofing products from any of

SIG Roofing's 120+ branches nationwide.

Stuart Base, Marketing Director for SIG

Roofing, said: "We introduced our TRADE

CLUB programme to reward our

customers for their ongoing loyalty and to

enhance their customer experience. This

is all about giving something back.

Loyalty cards can be used at any of our

branches and with access to the largest

network in the UK, it means contractors

can earn points wherever they are

working across the country."

12 TC AUGUST 2018
---
SEE US AT

WE ARE PIONEERS

OVER 40 YEARS OF ROOFING INNOVATION

A GREAT YEAR FOR THE FUTURE

OF COMPUTING: THE FIRST

DESKTOP COMPUTER NAMED

ALTAIR 8800, WENT ON SALE IN

THE USA

MILESTONE

1975

A GREAT YEAR FOR THE FUTURE

OF ROOFING: HAMBLESIDE

DANELAW STARTED TO BRING

INNOVATIVE, INDUSTRY LEADING

PRODUCTS TO THE MARKET

DANELAW

PITCHED ROOFING

ZENON

ROOFLIGHTS

DRYSEAL

FLAT ROOFING

T: 01327 701910

WWW.HAMBLESIDE-DANELAW.CO.UK
---
Industry News

BUILD SHOW GROWS

The Build Show, sponsored by Easy-Trim,

says it is aiming to give roofers the most

well-informed, forward-looking

predictions, innovations and insights they

need as part of UK Construction Week

(UKCW), which returns to the NEC from 9th

to 11th October this year.

Focusing on UKCW's theme for 2018 – the

'Future of Construction' – the organisers of

Build Show say it will feature the latest

advancements in building products, policy

and projects, all designed to help roofers stay

up-to-date and one step ahead of their

competitors.

Exhibitors include: Aggregate Industries,

Combilift, Concrete Centre, Containex, Easy

Trim Roofing and Construction, Finning Cat,

Forticrete, G&B North West, Gripple, Hikoki,

HP, Karcher, KwikFit, OM Safety Solutions,

Portakabin, Soprema, SPSenvirowall, Styrene

Packaging & Insulation, Trade Point, Trimaco,

and Xella.

Nathan Garnett, UKCW event director, said:

"For most people working in the trades,

finding the time to keep up to date with the

latest products and sourcing the best deals

while juggling work commitments feels

impossible. That's why the Build Show is

always an unmissable event for specialist

trades and general builders. It brings the

latest products, ideas and manufacturers to

one place and is broken down into specific

sections to make the search easier.

POST-BREXIT VISA RULES: CLARITY NEEDED

Responding to the release of

need is that access to skilled EU

the Government's Brexit White

workers will not be drastically

Paper, the FMB has stressed the

cut-off. We hope this will follow

need for certainty and stability,

closely after the publication of the

and called on the Government

Migration Advisory Committee

to clarify its approach to

report in September."

migrant workers as soon as

Berry concluded: "The UK

possible.

construction sector is more reliant

Brian Berry, Chief Executive of the

than average on migrant workers

FMB, said: "Despite some

from Europe – at present, 9% of

Brian Berry, FMB Chief Executive.

pessimistic predictions, we've yet

our construction workers are from

to see any sign of the Brexit process having a the EU. In London this rises to nearly one third.

seriously negative impact on the wider economy. Already, even with access to EU labour, the

However, for this to continue as we approach this industry is facing an acute skills crisis.

critical phase of the process, we now need to

"The shortage of skilled workers is fast rising up

minimise the risk of uncertainty clouding people's

the list of barriers to SME builders in their quest

decision-making and spending plans and starting

to grow and build more of the homes the UK so

to feed through into the real economy. For most

desperately needs.

businesses, the Government's White Paper will be

judged on whether it manages to achieve this. "Without access to EU workers, there is a real

One area in which we now need greater clarity is possibility that skills shortages will further

over the shape of post-Brexit migration policy. For intensify. This will threaten the delivery of new

the many construction SMEs who are currently housing and have a knock-on effect on growth

facing severe skills shortages, the certainty they across the wider economy."

NEW GROUP MD APPOINTED AT IKO PLC

Global roofing, waterproofing and insulation I am pleased to work alongside so many great

manufacturer IKO PLC has appointed Anthony people in the business."

Carlyle as its new Group Managing Director.

Anthony moves from his position as MD of IKO

Polymeric where he has spent more than 13

years, having started the division in 2005.

Jamie Govier, Managing Director of Easy-Trim

Roofing and Construction Products, said:

"This year the Easy-Trim stand will take a

glimpse into the future of British

manufacturing. We have come a long way, yet

our journey has just begun. Join us on stand

B610 to find out more."

The Polymeric business has enjoyed significant

growth during this time, and the IKO Group is

confident he will replicate this in his new role.

He started the new position on July 2nd.

Anthony explained: "I'm excited to become Group

Managing Director and am looking forward to this

great new opportunity and the challenges that lay

ahead. IKO is a fantastic family-run company and

Anthony Carlyle, Group Managing Director, IKO PLC.

14 TC AUGUST 2018
---
MANUFACTURERS OF SPECIALIST TEST EQUIPMENT

Save time and money with our

Flat Roof Leak Detectors

Battery-powered, fully-portable and compatible with all non-conductive flat roof finishes;

our Wet Roof Pro' and Dry Roof Pro' kits are simple to use and can pinpoint the exact

location of a leak, even if it's too small to see with the naked eye.

Dry Roof Pro'

• Test up to 2,500m 2 per day

• Find leaks in dry conditions

• Test up to 25.6mm membrane thickness

Wet Roof Pro'

• Test up to 500m 2 per day

• Find leaks in wet conditions

• Test any membrane thickness

Give our sales team a call for more information

tel: 01303 278888 email: sales@buckleys.co.uk

www.buckleysinternational.com
---
Contract Talk

PERFECT PRESENTATIONAL SKILLS

Being a roofing contractor isn't just about getting the job done, it's about how you portray

yourself to your customers too. With such a competitive industry, it's key to be smart with

your marketing to achieve the best for your business. Here, Stuart Base, Marketing Director

at SIG Roofing, outlines how you can do just that.

Marketing your business effectively may

come very naturally to some, but for

roofers it may not be second nature.

However, the impact that smart marketing has on

roofing businesses can make a huge difference to

its success. From spreading the word to

increasing your online presence, these simple

steps will not only help to get a better

understanding of your key customers and their

needs, but also your competition and what you're

up against.

Spread the word

It might sound obvious, but you'd be surprised at

how many roofers in the industry don't shout

enough about their graft. Word-of-mouth

advertising is a key player in every business and

there are many ways that you can get other people,

namely your customers, talking about you too.

Exceeding customer expectations, becoming a

more personable and friendly business or carrying

out a generous act that gets people talking are all

methods of triggering word-of-mouth advertising;

one happy customer will inevitably steer a

number of new ones your way. Generally, people

almost always take recommendations from family

and friends into consideration, so any steps taken

to increase referrals could be massively

rewarding for your business.

If you're in a position to, another strategy to

consider implementing is to offer discounts to

those who do spread the word about you. Money

saved equals happy customers!

Get online

In this day and age, it's the norm to ask Google

absolutely any question that springs to mind. How

to get from A to B? Google; nearest café that sells

"You'd be surprised at

how many roofers in

the industry don't shout

enough about their

graft"

bacon butties? Google; local roofing business?

Google! It's for this reason that it's crucial to

ensure you've claimed your spot as a Google

Business, which can be done within just a couple

of minutes here:

(https://www.google.com/business/). This means

that when people Google search your business, or

generally search for a local roofer in the area,

your business will instantly appear in the results,

consequently generating more customer leads

and interest.

Saying that, it's no good having your business up

on Google and no website to direct customers to.

Get a valuable and professional website up and

running as soon as possible, ensuring it includes

all the information a customer would need and

also as a tool to communicate with both existing

and new customers; the value of this is

immeasurable.

Be social

Let's face it, the power that social media holds

over people today is undeniable. It's for this

reason that as a business you need to immerse

yourself in the online world. Utilising platforms

such as Facebook and Twitter can really help

make your business become more personable,

approachable, and makes for an easy way of

customers reaching out to you. Even better, you're

free to be as creative as you like, so have some

fun with it!

It's important to consider that as much as

customers are given the opportunity to praise

your business publicly, you'll also be giving them

the chance to slate it which you'll need to be

prepared for. However, should a scenario like this

occur, it's important to resolve any issues and

deal with customers quickly and in a respectable,

non-argumentative manner to maintain a positive

and professional reputation.

Although it's a scary concept for some, not taking

advantage of social media can ultimately lead to

some negative outcomes for your business, so

it's worthwhile to get on board.

Keep it traditional

Aside from the shiny world of social media, it's

also essential to carry out some basic yet

efficient practices, too. Networking within your

local area for one is worth considering – focus on

building relationships not just with your target

market, but perhaps other small businesses to

which you could lean on one another for support.

Get some attractive posters advertising your

business up in your local café, or speak to your

local parish about being included in their

newsletters to help spread the word. It's the

simple things that are sometimes most effective!

Keep track

Finally, keep a concise, simple database of all

your customers, past, present and future

prospects. This way you'll be able to easily keep

in touch and communicate with them.

Contact SIG Roofing

0845 612 4304

www.sigroofing.co.uk

@SIGRoofing

16 TC AUGUST 2018
---
Note : Plywood Stoped Short

To Ensure Linearlight Flex

Can Be Slotted Through

3mm Aluminium

18 Plywood

Wraped in Vasqueen DPC

T-Section

16mm Bar

M10 Round

Head Socket

Screw BZP

TITLE

DESCRIPTION

Is

Noteest

loaded weight = 1250kg (All loading weights and structural calculations to be checked by others)

est weight of planter = 150kg

Coordination With External Lighting

To Be Reviewed With Phoenix

Corners To Be Welded And Dressed

Farrin

Unless oth

specified dim

are in mill

angles

decimal dim

± 2m

Cappings - Copings - Fascias

Soffits – Flashings - Bullnose

Free Site Surveyed Measures

01223 440044 info@lasermetals.co.uk www.lasermetals.co.uk
---
An Inspector Calls

IT'S ALL IN THE DETAILS...

In 'An Inspector Calls', our regular monthly column, Total Contractor has teamed up with the

experts at Icopal to help you achieve roofing success and avoid the common pitfalls that can

often cost you both time and money.

This month the Inspector goes into detail.

It is often claimed that the devil is in the

detail, and when it comes to flat roofing this

idiom is very fitting indeed.

Every flat roof will have some form of detail

whether that be a drip edge, a watercheck, a

parapet or a penetration etc., and it is at these

details where both the manufacturer and the

installing contractor must pay special attention to

ensure the project is watertight and compliant

with current legislation.

On any flat roof the detail work will always require

the most thought and consideration to ensure it is

waterproofed robustly and to ensure it conforms

with British Standards. This is particularly difficult

in the refurbishment market as existing projects

don't always allow or facilitate compliance without

huge expense and modification. It is therefore

essential that the contractor seeks guidance from

the manufacturer if a detail is difficult or bespoke

in nature, or if a proposal in the specification does

not comply with codes of practice when applied to

the situation at hand.

Arguably, the most relevant British Standard in

flat roofing is BS 6229:2003 – 'Flat Roofs with

Continuously Supported Coverings' and it would

be prudent for any roofing contractor to

familiarise themselves with this document. From

a manufacturer's perspective, this Standard

influences most of the standard details it

produces and stipulates the minimum

requirements for flat roofs (and their associated

details) across Great Britain.

Common shortfalls include:

1. Insufficient upstand heights (min 150mm).

2. Incorrect method of termination (i.e dressing the

The field membrane has been dressed up the upstand in one

single continuous piece, which is against codes of practice.

The upstand should be detailed separately with fully bonded

membranes that should be brought a minimum 150mm onto

the field membrane.

detail membrane straight into the brickwork chase).

3. Using field membranes at upstands / details

(i.e using partially bonded membranes when they

should be fully bonded).

4. Taking the field membrane up the upstand.

If the above items are left unaddressed, they may

be omitted from the waterproofing guarantee or

the entire project itself may be condemned if the

work has not been installed in-line with the

recommendations of the manufacturer or

legislation. This can leave the client at a

significant loss which is not ideal for any party

involved in the contract. As a consequence, it

could affect future working relationships and the

opportunity for future business, so it is important

all parties work together at the earliest stage

possible to reduce these situations from occurring.

Issues that arise at design stage are often

overcome more easily as recommendations and

guidance can be given before the detail or building

has been constructed. When it is a refurbishment

scenario however, manufacturers are limited in

flexibility and may not guarantee a detail that does

not confirm with codes of practice. It is also

important to check the relevant product literature

from the manufacturer as the individual product

The upstand membrane has not been terminated correctly

underneath the cill. A cover flashing or termination bar

should have been installed, however the membrane was

simply left un-terminated which over time has delaminated

from the upstand creating a path for water ingress.

may have unique application guidance associated

to it too. Failing to install the product correctly

could also lead to a restricted guarantee.

When undertaking detail work, the contractor

should also be mindful that the product is

appropriate to the situation encountered. The

approach and product used for the field area may

be inappropriate for application on the adjacent

detail, so again it is advised the manufacturer is

contacted to advise accordingly. The previous

article on combustible substrates should also be

echoed here, as a torch-applied membrane would

not be suitable on a timber upstand or a PVC

rooflight kerb, and therefore an alternative

approach will be required.

It is essential that the contractor does not

assume what that approach will be to ensure an

unobstructed guarantee can be issued for the

project, and to demonstrate it is in fact God that

is in the details as those little things, the tiny

minutia of detail, that ultimately make successful

products and successful projects.

Contact Icopal's Technical Team

0161 865 4444

www.icopal.co.uk

@Icopal_UK

18 TC AUGUST 2018
---
For fu

rther inf ormation

or a hire quotation call

01858 410372

AUGUST 2018 TC 19
---
NFRC Technical Talk

COUNTERFEIT PPE: CUT CORNERS

AND YOU COULD PAY THE PRICE

By Gary Walpole, NFRC Technical Officer.

Go on holiday at any time of the year and

the chances are you'll come across

knock-off designer goods at some point –

some of you may have even saved yourself a few

pounds getting an imitation watch, shirt or bag.

That's why the trade in fake fashion is estimated

to be worth $450bn – and still growing.

Unfortunately, the same is true for PPE products,

which are either imitating real safety equipment

brands or haven't gone through the tests to be

certified as safe under European Standards.

Although it's illegal and puts money in the pocket

of organised criminals,

buying an imitation designer

hat is unlikely to harm you,

but clearly that's a

possibility if you buy a faulty

safety helmet. And if putting

yourself or your employees in

danger isn't bad enough, you could

also be prosecuted.

The trouble is, even if you're one of the majority

who is not out to save costs and cut corners on

safety, spotting counterfeit PPE can be difficult

Gary Walpole. NFRC Technical Officer

unless you know what to

look out for. Luckily, all PPE

products must come with a

CE (Conformité Européenne)

mark and certificate that tell

you they have passed all the tests

and are safe to use – so if the kit doesn't

have the CE stamp of approval, stay clear. Of

course, many counterfeiters will attempt to create

fake CE certificates, but thankfully they are the

hardest things to forge.

10

things to look out for on CE labels:

Conclusion

If you're buying expensive PPE kit, it's always

worth asking the manufacturer or supplier for the

CE Certificate before purchasing.

1. CE mark should be on the product

marking or labelling.

2. CE mark should be in the distinctive

font and be at least 5mm high.

3. CE mark should be accompanied by a

4-digit number for high-risk products.

4. Instructions should be in English and

include the manufacturer's name and

address.

5. Certificate should state the name of

the EU-based organisation that certified

the product (notified body), along with a

4-digit number.

6. Certificate should contain a date and

notified body signature. The stated

validity period should be current.

7. Certificate should include terms and

conditions.

"The trouble is, even if

you're one of the

majority who is not out

to save costs and cut

corners on safety,

spotting counterfeit

PPE can be difficult

unless you know what

to look out for"

8. Certificate should include a clear

product description, including model,

specification, and test references.

9. Certificate should include a

manufacturer's name and address.

10. Look for signs of tampering such as

differing fonts and sizes plus colour

changes.

For more information refer to the British Safety

Industry Federation, which runs the Registered

Safety Supplier scheme. Companies that display

the scheme's logo have signed a binding

declaration that the safety equipment they offer

meets the appropriate standards, fully complies

with the PPE regulations and is appropriately CE

marked: www.bsif.co.uk/rsss/

Contact the NFRC

020 7638 7663

www.nfrc.co.uk

@TheNFRC

20 TC AUGUST 2018
---
SEE US AT

You don't need tools to clip your tiles with Redland Innofi x Clip. It's the quickest ever

clip to fi x, you'll end up with far fewer broken tiles and you don't have to worry about

tangling – there's a magazine that holds clips ready. So you'll have the roof locked up

securely up to 40% faster than using clips and nails.

www.innofi xclip.co.uk

INNOFIX CLIP...

The quickest

and simplest

tile clip ever

Part of BMI GROUP

Clip over tile

Push down under batten

and wait for the 'click'

Fixed in a click

YOU'RE BETTER COVERED
---
Drones & Roofing

ARE YOU CLEARED FOR TAKE-OFF?

Amy Chesseman, Waldeck's Digital Capture Lead, outlines

her top tips for working with drones on construction sites.

Drones haven't always been as prevalent as they are today, but they are now widely used across a

variety of industries, and are transforming how work is done in the construction industry. Drones

have a number of key uses on construction sites, for instance; surveying, gathering data and

project surveillance to name a few, but getting started with drones can sometimes be challenging, so

below I'll talk you through my top tips and things to think about when leveraging drones in construction:

Procedures must be followed when using drones on site.

1. Consider the complete solution

This is really important! With the amount of

people using drones as a hobby or commercially,

the number of different drones, cameras,

sensors, accessories and software available is

increasing rapidly, making it a difficult decision to

select the right tool for the job.

Ask yourself, what is it that you want to

accomplish? Is it to survey an area in 3D, or is it

progressive data capture to monitor real-time site

progress? either way the integration of hardware

and software to streamline the process needs to

be considered.

2. Understand rules and regulations

Drone operators need to be familiar with all the

Civil Aviation Authority (CAA) rules and

regulations before using drones commercially.

Some of the CAA rules for construction firms to

keep in mind, include:

• Pilots must have completed a remote pilot

competency course.

• Permission from Civil Aviation Authority (CAA)

to fly.

• Pilots must keep the aircraft in visual line-ofsight

or less than 500m from the pilot and below

400ft high.

• Operate drones away from airports.

• Operate drones away from restricted air space.

3. Always think health and safety

As with any task on a construction site, health

and safety is of utmost importance and there are

many things to think about when operating a

drone on a construction site; here's a few:

• A safety procedure should be in place for all

parties including flight planning and safe drone

operation.

• A full risk assessment must be carried out

taking into account the hazards associated to

drones operating, as well as site hazards such as

open excavations and vehicle movements.

• Have observers keeping a lookout for hazards to

allow the pilot to concentrate fully on their task.

• Sites should be evaluated before a flight

begins, consider what and who is around you –

drones cannot be flown within 50 metres of

structures, vehicles or people that are not under

the control of the person in charge of the aircraft;

or within 150m of a congested area.

• Consider a site walk before take-off to pick up

any new hazards which may have appeared

during the planning stage.

• Always check the height of the tallest structure

on site before take-off.

• Always check safety features are set to the site

you are on.

4. You must have insurance

Drone operators must have insurance that meets

the requirements of EC Regulation No 785/2004

and if your insurance policy does not meet this

regulation, your CAA permission is invalid.

With many rival companies offering drone

insurance, it's always best to compare and check

exactly what is covered. Think about how many

accessories you may need and the cost to replace

if the policy did not include these. As well as

annual insurance policies, many companies now

offer 'pay as you fly' cover.

5. Planning, planning, planning

As with any project, good and appropriate

planning is essential.

Even if you've been to the site before, never

assume everything will be the same, especially

when it comes to cranes – they may not be the

same height as your last visit!

Construction sites are constantly evolving so it's

best to do a site walk before take-off to pick up

any new hazards which may have appeared and

ask if any new hazards may be arriving to site

that day, such as a new crane or delivery of

materials to be stored in the area you want to

take off in.

No matter how thorough your planning may be

leading up to a project, always check everything

on the day because airspace restrictions may

suddenly be in place over your job site, solar

activity may have increased and the weather

forecasts may have got their predictions wrong.

Ready, set, go!

Contact Waldeck

08450 990 285

www.waldeckconsulting.com

@waldeckconsult

22 TC AUGUST 2018
---
QUICK,

COST EFFECTIVE

ROOF REPORTS

A CLEARER

VISION FOR

YOUR BUSINESS

When tendering for roofing contracts, accurate

aerial measurement can be the difference between

profit and loss. With EagleView, you can have

complete confidence in the measurements you base

your tender on.

By combining multi-angle aerial images with

advanced analytics, our reports provide precise area,

pitch and length measurements. Colour coding

distinguishes every detail, from ridges, hips and

valleys to verges, eaves and flashings.

Premium Report

06/09/2017

123 Main St., Tadworth, A1B2 C3D Report: 12345678

TABLE OF CONTENTS

Fast report turnaround saves you time. High

resolution aerial views and 3D diagrams make your

bid stand out. And accurate material ordering helps

protect your profit.

To see more, visit eagleview.co.uk

or call 0800-069-8405

Images .....................................................................1

Length Diagram .........................................................4

Pitch Diagram ............................................................5

Area Diagram ............................................................6

Notes Diagram...........................................................7

Penetrations Diagram.................................................8

Report Summary........................................................9

MEASUREMENTS

SEE US AT

Total Roo f Area = 467.95 sq m

Total Roof Facets =24

Predominant Pitch = 45°

Numb er of Storeys > 1

Total Ridges/Hips = 84.43m

Total Valleys

= 17.07m

Tota l Verges = 14.63m

=111.86 m
---
Insurance Focus

PROJECT POLICIES: CONTRACTORS,

MAKE SURE YOU'RE COVERED...

By Ian Hollingworth, Head of Claims for ECIC.

The High Court's recent decision that a

roofing firm that caused a fire at a high

school in London was not protected by a

project policy has raised some serious questions

over the reliance by sub-contractors on these

types of insurance policies. This could expose

contractors and subcontractors to higher risks –

in particular smaller sub-contractors working on

large contracts could be vulnerable as a result of

this ruling.

Traditionally, employers on larger construction

projects take out a project policy to cover damage

to the existing structure and possibly the contract

works being undertaken by the sub-contractors

appointed to work on site.

"The project policy

insurer dealt with the

property loss, but then

sought to recover their

outlay from the

contractor that caused

the loss"

As this type of policy would usually provide

protection to named contractors and sometimes

all contractors in the contractual chain, it

provides peace of mind that in the event of a fire

or some other damage caused by contract

workers on site, the project policy would step in.

In the event of damage to the property, the project

policy insurer would simply cover the loss rather

than each sub-contractor going to their own

insurers to recover the cost of their own damaged

contract works.

This avoids lengthy and often costly litigation

between various contractors who could be

blamed for causing the damage

to the building.

The project policy avoids all of

this and ensures the property

and works are adequately covered

to avoid lengthy delays in the

completion of the construction.

Terms of the sub-contract

However, in a recent case, (Haberdashers' Aske's

Federation Trust Ltd v Lakehouse Contracts Ltd

and others [2018] EWHC 558 (TCC)), the High

Court found roofing firm CPR wasn't protected by

the project policy because the terms of the subcontract

required that they should maintain their

own insurance.

Usually a construction contract would contain an

insuring clause requiring the individual subcontractor

to take out insurance to cover their

own contract works along with Employers Liability

and Public Liability. This is even if there is a

project policy in place.

The difference with this case was that the project

policy insurer dealt with the property loss, but

then sought to recover their outlay from the

contractor that caused the loss.

This was unusual as a project policy is usually

taken out in joint names – the policyholder and all

sub-contractors; this previously meant the project

policy insurer could not seek a recovery as

essentially all sub-contractors would be considered

a policyholder and covered under the policy.

Notably in this instance, the Court allowed the

project insurer to recover the loss from the subcontractor.

This was on the basis that the main

construction contract had required that the subcontractor

take out their own insurance. In addition,

the sub-contractor was not named at the

commencement of the

construction project and therefore

not factored into the cover by the

project policy insurer when the policy was

taken out.

This ruling has really called into question the

effectiveness of project insurance. It has wide

ramifications for contractors as they can no longer

rely upon a project insurer to pick up a loss in the

event of damage they have caused to a property.

It's essential, therefore, that they ensure adequate

cover is taken out to cover their potential

liabilities. Seeking the advice and support of an

insurance broker is highly recommended.

Additionally, the insurers of sub-contractors can

no longer rely on the existence of a project policy

to cover a loss. This could mean higher insurance

claims which may have a knock-on effect in

premium increases.

Now, more than ever, it is important for subcontractors

to understand the risks attached to

their works and the potential losses they could

face if they don't ensure adequate insurance

cover is in place for any eventuality.

Contact ECIC

0330 221 0250

www.ecic.co.uk

Left: Ian Hollingworth, Head of Claims

for ECIC.

"The insurers of subcontractors

can no

longer rely on the

existence of a project

policy to cover a loss"

24 TC AUGUST 2018
---
Contractor's Q's

"ONE VERY IMPORTANT TOOL IS A

KNOWLEDGE OF CONTRACT LAW"

Andy King started roofing when he was 14 and used his experience and know-how to establish

A L King Roofing which includes a contracting and merchant business. He is also a past-

President of the NFRC and an ideal candidate for our Contractor's Q's...

10

questions for Andy King:

"Make sure you have

some capital behind

you for that rainy day or

that slow paying client"

TC: What was your path into construction

and to your current position?

AK: My path into construction was quite simple;

when I was about 14 and living in Surrey, my

friend's father was a small builder carrying out

extensions, renovations and occasionally a oneoff

house and I worked for him some weekends

and school holidays. I enjoyed the work and

wanted to learn more about construction. At 16 I

went to Guilford technical college to study the City

and Guilds construction technician course and

passed parts 1 and 2. On leaving college I was

unsure what to do so my father suggested I got

some practical experience to go with the theory.

Having had part of our roof retiled he suggested

calling the roofing contractor that carried out the

work to see if he was interested in some extra

labour. Fortunately he was and I had an

interview on the 5th of April 1975 (my

eighteenth birthday) and started as a trainee on

the following Monday.

"Having had part of our

roof retiled he

suggested calling the

roofing contractor that

carried out the work to

see if he was

interested in some

extra labour"

As I mentioned, I enjoyed the work although it

was hard work – everything was carried manually

up ladders and lorries were unloaded

manually. I remember thinking at the

time that this line of work would not

be for everybody, so if I could stick at it

and learn the trade well, I should always

have work.

So I worked hard and studied my trade, with a

constant desire of starting my own business one

day.

Having gained a reasonable practical knowledge

of roof tiling and slating I became self-employed,

I worked as a sub-contractor for some wellknown

contractors in the area whilst trying to

build my own customer base until, in my opinion,

I had enough work to sustain me for a while.

Some people I worked for would buy the materials

and if I had to buy them I was able to use a credit

card, as with no trading references it was

impossible to obtain credit from builders

merchants or anybody else.

The business grew until it became obvious I

would have to start employing people to help me

as more work was coming in than I could cope

with. The business has continued to grow and in

the year 2000 I was able to start a roofing

merchant to help the contracting side, and sell

roofing products to other local roofing contractors.

The business now employs 60 people and has an

annual turnover in excess of £8 million with two

merchant outlets and a strong contracting

division.

Andy King, past-President of the NFRC and

Managing Director of A L King Roofing.

TC: What's your one piece of

advice for those looking to start

a roofing business?

AK: The best advice I could give anybody wanting

to start a roofing business is make sure you have

some capital behind you for that rainy day or that

slow paying client. Another essential thing is

know your subject and learn what your rights are

regarding contract law.

"We are tasked with

completing eight

houses each week for

the next thirty weeks

with garages and

porches added in"

TC: Tell us about the current project

you're working on…

AK: There are a few interesting projects we are

working on at the moment but the one that stands

out is one we are doing for Lovell's in Bulford

near Salisbury, Wiltshire. This is one of three

developments being carried out by Lovell's in the

area and it is for military personnel returning from

overseas. The main reason for this being an

interesting site is the pace of build. We are tasked

with completing eight houses each week for the next

thirty weeks with garages and porches added

26 TC AUGUST 2018
---
Contractor's Q's

in without further consideration. The whole site is

like a production line and if any trade fails to

reach its targets each week, it has quite an

impact on the next trades. This site needs

constant attention by my operatives and

management to ensure we hit targets each week.

"What could have been

a good project was

turned into a

nightmare – somebody

thought they could get

a twenty four month job

done in twelve months"

TC: Over the years, does one project in

particular stand out?

AK: I have worked on many difficult projects over

the years and the most common issue is time

allowed to carry out the work with unrealistic

completion dates. One contract in particular

stands out – it was a complete refurbishment of

a large building in Bath and from the moment I

went to site I realised the project could not be

completed within the programme set by the

contractor. The result was that every trade and

every manager from the contractor was working

under ridiculous pressure, trying to achieve the

unachievable and relationships between the

contractors' managers and all the trades was at

best fraught. I struggled to get my operatives to

go to site as they knew it was going to be another

tough day. The contract was over twelve months

late being delivered to the client and cost the

contractor millions. This resulted in the contractor

trying to recoup the money from the subcontractors.

What could have been a good project

was turned into a nightmare because somebody

thought they could get a twenty four month job

done in twelve months.

TC: What about difficult customers?

AK: Difficult customers – where do you start?

Most become difficult when they are reluctant to

part with any money or are trying get a reduction

in cost. One particular customer stands out. The

job was an extension to a large house in a

desirable part of Bristol and the contract was

being managed by the homeowner. It was not a

big contract, but a few problems presented

themselves due to the lack of construction

knowledge from the homeowner. Eventually we

finished the roof and presented our invoice in line

with our accepted quotation and the client's

order. There must have been one hundred

reasons why they did not want to pay and the

process took over four months being batted

backwards and forwards before it was decided to

take the matter to the small claims court in

Bristol. We had our day in court and the Judge

listened to our side of the argument and then

asked the homeowner for their version. The Judge

was sceptical as to why the homeowner had such

a detailed account of their dealings with a roofing

contractor from the moment our estimator

appeared on site to supply a quotation, to the tile

delivery, and then every day we had operatives on

site. We won the case and later found out we

were one of the only contractors to get paid for

their work and the homeowner had the majority of

their extension built for nothing.

TC: What's the most frustrating thing

about your job?

AK: The most frustrating aspect of my job is the

constant boom and bust of the Construction

Industry and the difficulty that creates in building

the business for the future because of the

uncertainty and insecurity.

TC: And the most satisfying?

AK: The most satisfying part about my job is

working on a contract that is well run, is on

programme, affords us the correct amount of time

to complete our work and looks good when it is

complete. Unfortunately all these factors don't

always come together at once.

TC: What's your most important tool

either in the office or on site?

AK: The most important tool for any roofing

contractor is a well trained workforce. A workforce

"The most satisfying

part about my job is

working on a contract

that is well run, is on

programme and affords

us the correct amount

of time to complete our

work"

that is well trained technically with their trade and

with health and safety and know how to conduct

themselves on site. This will only enhance your

reputation as a professional roofing contractor and

lead to repeat business. Another important tool is

knowledge of contract law. I have saved my

company a lot of money by challenging the legality

of a contractor's behaviour and advising them they

are breaking the law; a very useful tool to have.

TC: Best social media platform for you?

AK: In my opinion, the best social media platform

for a company of medium size would be a good

and professional website. Some smaller

companies do use Facebook but I think it does

depend on the size of the company and the target

audience.

TC: How do you feel your sector's shaping

up in 2018? Any reasons to be positive?

AK: I feel the roofing sector in the new build area

is looking extremely healthy. Our enquiry level is

high, our percentage of tenders won is stronger

than normal and on a personal note, I am

extremely optimistic for the next year or two.

Recruitment of apprentices is good. As a

company we have been starting four apprentices

every year for the last three years and two or

three last the course and get to finish their

training. Some of the first apprentices are now

mentoring the new intake and are running their

own gangs, which is very pleasing.

Contact A L King Roofing

01225 705918

www.alkingroofing.co.uk

28 TC AUGUST 2018
---
Complete Building

Envelope Solutions

featuring Kingspan RW

Pitched Roof System

Superior build

speed

Options for PV

integration

Precision extruded

daylighting

LPCB-approved membranelined

insulated gutters

Height safety and

fall arrest systems

Specialist support from

Kingspan Technical Services

Bespoke flashings and

fabrications for design flexibility

Kingspan's own complete range

of structural steel products

Kingspan Insulated Panels RW Roof system is a factory-engineered

single component system for very fast installation.

The system comprises a complete range of structural steel products, high performance

panels, insulated gutters, superior polycarbonate daylighting, height-safety systems

and a bespoke range of corners and flashings. As a manufacturer of the complete roof

system including all components, we're with you all the way with services to help save

time and maximise project value and performance.

The system can be protected by the Kingspan Warranty.

SEE US AT

Kingspan Insulated Panels

Greenfield Business Park No.2, Holywell, Flintshire CH8 7GJ

Tel: +44 (0) 1352 716100 www.kingspanpanels.co.uk
---
BMI Apprentice of the Year

APPRENTICES SHINE AT 2018 FINALS

The skills and recruitment issues affecting the roofing and the wider construction industry

are well documented, but as the apprentices involved in the second instalment of the BMI

Apprentice of the Year competition have shown, there's plenty to be positive about when it

comes to the next generation of roofers…

One competition can't change the fact that

roofing is facing a perception and

recruitment crisis – a recent survey by

Which? found that only half of respondents

thought roofers were trustworthy, whilst CITB

research shows that the appeal of the

construction industry as a career option for young

people is low, scoring 4.2 out of 10 among 14 to

19 year olds – but what a competition like the

Apprentice of the Year can do is highlight that the

training that is going on in colleges and the

support provided from employers on site every

day up and down the country is providing positive

results for those pursuing a career in roofing.

Total Contractor was asked to help judge the BMI

Apprentice of the Year competition, which had

grown this year to include the Icopal flat roofing

event as well as the Redland pitched roofing

competition.

Flat and Pitched awards

BMI Group said they received well over 100

entries for this year's competition, so the 18

finalists who had made it to the two-day finals

held at the BMI National Training Centre in South

Cerney had already done well to make it that far;

but with the mix of classroom and rig

assessments, individual and group work,

interviews and presentations, the hard work was

only just beginning.

The apprentices had all followed different paths

"It links perfectly with

the current push within

the sector to raise the

perception of roofing in

the public's eye"

into roofing and came from

different backgrounds; a

number had been in the

military, some had

been waiters and

others, like so many

before them, had

followed their fathers or

other family members

into the profession. But

whatever experience they had

gained in life, on site or at their college,

the Apprentice of the Year takes

these young men well and truly

out of their comfort zone,

testing not just their

practical skills and

knowledge, but also

developing their soft

skills and coaching

them on how to interact

with customers, present

themselves professionally

and ultimately plan and run a

business. This is why the Apprentice

of the Year competition has launched at the

perfect time, it links perfectly with the current

push within the sector to raise the perception of

roofing in the public's eye, as well as the NFRC's

& CITB's RoofCert accreditation initiative.

And these new 'soft' skills weren't lost on the

apprentices. Early on the first day they're all

understandably a bit nervous and tentative, but

as the competition progresses with each of the

four assessments beginning with a presentation

from an expert in that area, you can visibly see

the apprentices grow in confidence until on the

final day, they are all at a level where they feel

The apprentices assess the pitched

roofing rig (top) and flat roofing

rigs (below) for the defects

assessment.

confident enough to

stand in front of three

judges and give a fiveto-ten-minute

presentation on a topic of

their choice. It's a daunting

proposition for anyone, and some

of the apprentices commented that

prior to the competition they

could not see themselves

doing the final

presentation; as one

told me: "If you'd

told me a year ago

I'd be involved in a

competition like this

and standing up doing

a presentation to

strangers – I'd have said no

chance."

Real confidence

And that's the great thing about the Apprentice

of the Year competition, there are two overall

winners – and two runners up this year because

the competition was so strong – but all the

apprentices learn new skills that will put them in

a stronger position and give them a real

confidence boost for their careers going forward.

As one apprentice explained in his final

presentation: "I'd like to win, but even if I don't,

I've learned so much in this competition. It's

given me the confidence to think about where I

want to be in the future."

30 TC AUGUST 2018
---
THE NORTH STARS!

Kieran Forster is the Icopal Apprentice of the Year 2018 Jay Webster is the Redland Apprentice of the Year 2018

Kieran Forster was crowned Icopal Apprentice Jay Webster was crowned Redland Apprentice

of the Year 2018. Kieran is an attendee at of the Year 2018. Jay attends Leeds College of

Newcastle College and is employed by Stanleybased

Hodgson Sayers. On receiving the title Roofing. On receiving his award Jay explained:

Building and works for Yorkshire Heritage

Kieran explained what he was feeling: "Pure "Words can't really describe how I feel and I

shock when I heard my name announced and still can't believe it to be honest. I became more

I'm still in shock. I can't believe it's actually confident as the competition went on, but to

happened. There were guys there with more actually win it tells me I'm better than I thought

experience than me so to win it is simply I was."

amazing!"

Joe Burgess (above), a former waiter, who came out with a

memorable phrase during his presentation: "I gave up a job

to go into a career" when talking about his move into roofing,

was Highly Commended in the Icopal flat roofing

competition. Joe works for Waveney District Council and is

enrolled at Eastern Region Roof Training Group.

Tom Thompson, (above), ex-soldier who works for AL King

Roofing and studies at South West Training Group, was Highly

Commended in the Redland Pitched Roofing competition.

Above: The winning apprentices pictured with Andy Dennis, BMI Group MD UK & Ireland. Both Kieran and Jay received a

£1,000 cash prize, a handsome trophy for the mantelpiece plus a goody bag of high-quality roofing tools and materials.

They are also entitled to support from the two industry brand leaders at BMI's National Training Centre.

"All the apprentices learn new skills that will put

them in a stronger position and give them a real

confidence boost for their careers going

forward"

The Icopal flat roofing judges look on as one of the

candidates talk them through the defects on the rig. L-R

Mark Thornton, SPRA, Matt Downs, Total Contractor

magazine, and Gary Walpole, NFRC.

All those involved in the BMI Aprentice of the Year 2018

including judges, apprentices, tutors and employers

attended a glittering awards ceremony at Cricklade House.

The 18 apprentices with their trophies and certificates alongside Andy Dennis, BMI Group Managing Director UK & Ireland.

Total Contractor would like to thank Mat Woodyatt and the

team at BMI Group for putting on such a great event, as

well as all the tutors, employers and apprentices for

attending, and the sponsors Wincanton, Avonside Group,

Buck and Hickman, Midland Lead and Scott Direct for

helping make this such a great event.

AUGUST 2018 TC 31
---
Perfectly Pitched

WHAT DO THE AMENDMENTS TO

BS 5534 REALLY MEAN FOR YOU?

In his latest column, pitched roofing expert and consultant John Mercer (pic) – writing on

behalf of Imerys Roof Tiles – looks at what the amendments to BS 5534, which came into

effect on July 1st, mean for contractors.

When BS 5534: 2014, The British

Standard Code of Practice for Slating

and Tiling, was published it represented

a major revision of a Standard that was first

published in 1978. Not only was it completely

restructured to make the Standard easy to use, it

also introduced many new changes to recognise

up-to-date building principles and knowledge,

such as wind loads on roof tiles and underlays

and, perhaps most importantly of all, minimum

fixing requirements were revised to recommend

that all tiles be fixed and mortar bedded

components no longer rely solely on the mortar

for their resistance to wind uplift.

Inevitably, with such a major revision and having

now had the experience of use of the Standard for

a period, there are certain elements that needed

to be either corrected or clarified. Hence, a

second minor revision was published on 28th

February and came into effect on 1st July 2018.

Clarification of scope of Standard

Firstly, the scope of BS 5534 has been amended

to make clear that it applies to the design,

performance and installation of not only new

build pitched roofs and vertical cladding; it also

applies to re-roofing work, including repairs to

existing slate or tiled roofs.

However, in contrast, the scope states that some

elements of BS 5534 may not be appropriate for

some old slate or tile roofs – for example, where

traditional and / or reclaimed materials are used.

This is particularly important for historically or

architecturally important buildings. In these

cases, advice should be sought from the local

planning authority and appropriate conservation

organisation and all parties should

agree on the specification. A

common example is where it

would be aesthetically

undesirable for such a building to

have a dry ridge system or even

visible ridge tile mechanical fixings.

"Baby ridge and hip

tiles are only

recommended for use

with double lapped

plain tiles and should

overlap the top course

of tiles by at least

65mm"

Installation of baby ridge & hip tiles

Following the introduction of the requirement to

mechanically fix all ridge and hip tiles in the 2014

revision to BS 5534, it has been found that,

practically, this can be difficult to achieve when

installing some small section 'baby' ridge tiles.

Therefore, in this latest revision, there is new

advice for the use of baby ridge tiles. Firstly, they

are only recommended for use on low level roofs

up to 3m high, such as bay windows and porches.

Secondly, baby ridge tiles may be mortar-bedded

only – i.e without additional mechanical fixings –

so long as the correct mortar mix is used as

specified in BS 5534 and the self-weight of the

ridges is sufficient to resist wind loads. Baby ridge

and hip tiles are only recommended for use with

double lapped plain tiles and should overlap the top

course of tiles by at least 65mm.

New reference to BS 8612

BS 8612, the new British

Standard for dry fix products,

was published in January this

year. Although well publicised,

there has been some confusion

about when it actually comes into effect.

As a new Standard, there is no 'grace period'

which means that BS 8612 really came into effect

the moment it was published, albeit as a

voluntary Standard. However, the latest version of

BS 5534 now states that "dry fixed ridge, hip and

verge products should conform to BS 8612".

Illustration shows air permeable underlays & wind loading.

New definition of air permeable underlay

In previous editions of BS 5534 air permeable

underlays were not defined. Therefore, in this

latest amendment, an air permeable underlay is

now categorised as one that has an air

permeability of not less than 20m³/m².h,

measured at 50 Pa.

This now enables manufacturers and suppliers of

these underlays to define their product in

accordance with BS 5534.

Note that this stated figure for air permeability

relates to wind uplift resistance rather than

condensation control and the roofer or designer

32 TC AUGUST 2018
---
precision, quality & value one name

SEE US AT

As As the As the the UK's UK's leading merchant of of of roofing solutions

and and and services we we we supply products from from industry

leading manufacturers. Our Our Our flat flat flat roofing

ranges are are are tried, tested and and and designed to to to meet

your your everyday professional roofing needs.

FIX-R FIX-R FIX-R the - the - right the right right solution for for the for the job. the job. job.

■ Liquid ■ ■ Liquid Waterproofing

■ Torch ■ ■ Torch on on Felts on Felts Felts

■ Patch ■ ■ Patch & & Repair & ■ EPDM ■ ■ EPDM

■ ■ ■ Paints & & Primers & Also Also Also available

www.sigroofing.co.uk

Visit Visit Visit your your your local local local SIG SIG SIG Roofing branch for for more for more info info info or or find or find find

out out more out more at at at www.sigroofing.co.uk

PITCHED ROOFING

FLAT FLAT FLAT ROOFING

INDUSTRIAL ROOFING
---
Perfectly Pitched

should follow the underlay manufacturer's

installation guidance to ensure harmful

condensation does not occur in the roof space.

New definitions for ceiling types

In this latest amendment to BS 5534, the

previous term 'well-sealed ceiling' has been

replaced with new definitions of a 'continuous

ceiling' and a 'discontinuous ceiling'. This enables

each to be defined in a clearer, more technical

manner as the type of ceiling has implications for

the control of condensation in the loft space as

well as the wind uplift resistance of unsupported

underlays. A continuous ceiling; i.e one that has

an air permeability of 30mm² per square metre or

less, will require less or even no roof space

ventilation, depending upon the roof construction

and product types. Also, an underlay with an

uplift resistance of 1600 N/m² or more can be

used in conjunction with a continuous ceiling

within all geographical zones within the UK

(provided other criteria are met). By contrast, a

discontinuous ceiling – i.e one that has an air

permeability of more than 30mm² per square

metre – will require more ventilation in the loft

space and the underlay must have a wind uplift

resistance of not less than 1900 N/m² to be used

within all UK geographical zones (again, subject

to other criteria being met).

New wind loading 'shielding factor' for

air permeable underlays

It has long been understood that a proportion of

the wind loading on roof tiles is actually borne by

the substrate – i.e the underlay or sarking – this

is known as the shielding factor. However, recent

research has shown that air permeable

underlays, by their very nature of allowing air to

pass through them, share less of the wind load

under certain conditions, meaning that a higher

proportion of the wind load is then borne by the

roof tiles. More research is required to better

understand the exact consequences of this, but in

the meantime, a new 'Shielding Factor' value has

been included in this latest edition of BS 5534 to

allow for the lesser load being taken by air

permeable underlays. In practice, this means that

the tile manufacturer must take this into account

when calculating roof tile fixing specifications. So

since July, you'll now see a new question about

the underlay type on tile manufacturers' fixing

request forms.

All Imerys tiles, fittings and accessories fully

comply with the requirements of BS 5534 and

BS 8612. Also, all fixing specifications carried

out by Imerys from July 1st take into account air

permeable underlays where applicable.

Contact Imerys Roof Tiles

www.imerys-roof-tiles.com

@imerys

@johnmercer3

Below: An image of an Imerys Beauvoise roof.

34 TC AUGUST 2018
---
NOW WITH

A NEW SITE WITH

TRAINING FACILITIES

IN HUDDERSFIELD

SEE US AT

Give us a call

about quality flat

roofing solutions

• SYSTEM WARRANTIES AND ACCREDITATIONS

• TECHNICAL SERVICE AND SUPPORT

www.flex-r.co.uk

Enquiries: 01494 448792

• TRAINED SPECIALIST REGISTERED INSTALLERS

Industry leading, fleeceback singleply

High performance, liquid waterproofing

Sandswood House, Hillbottom Road, Sands Industrial Estate, High Wycombe, Buckinghamshire, HP12 4HJ
---
Slate Roofs

MAKING THE GRADE WITH NATURAL

SLATE: TOP TIPS FOR YOUR PROJECT

Time-pressured roofers can be tempted to overlook grading and sorting when carrying out a

natural slate roofing project. To do so is a mistake says Ged Ferris, of Cembrit, and below he

offers his top tips to get your slate project right first time.

1. Preliminary work

It must be stressed that the overall appearance of

a finished roof is dependent on the preliminary

work undertaken before any slates are even fixed.

This process starts on the drawing board of the

architect and continues through the erection of

the building to roof level, the accuracy of the

timberwork to support the roof covering, the

felting and battening of the roof and the

preparation before any slating starts.

2. Take a little time

Good workmanship is the foundation of a

successful natural slate roofing project. A project

that is well planned and executed will prove

rewarding for the roofing contractor and client

alike. However, a project that is ill-thought-out

and hurriedly executed is likely to generate

disputes, both in the short and the long-term.

Taking a little extra time to do the work according

to the codes of practice can quite literally pay

dividends!

3. Grade & sort – even preholed

slates

The process of grading and

sorting is essential, even if the

slates are pre-holed. A common

misconception is that pre-holed slates

are already graded and sorted. This is most

definitely not the case.

"A project that is illthought-out

and

hurriedly executed is

likely to generate

disputes, both in the

short & the long-term"

4. Look to existing guidance

There is guidance readily available to anyone who

is in any doubt as to the correct procedures to

follow. Key advice is contained in Clause 4.3 in the

BS 8000-6:2013 Code of Practice for slating and

Left: Ged Ferris, Cembrit. Below:

Cembrit's Glendyne Natural Slate.

tiling of roofs and claddings. This

standard applies to all types of

natural slate, regardless of origin or

grade. It has two main recommendations:

• Sort slates into 3 or 4 groups of equal thickness.

• Lay slates of equal thickness in any one course,

with the thicker end (if any) at the tail. Slate the

roof with the thicker slates in the lower courses

and the thinner slates in the upper course.

Ensuring you follow these two steps will go a long

way to preventing problems further down the line.

If these steps are ignored and a thick slate is laid

next to a thin one, the overlapping slate in the

course above will lie at an angle. The knock-on

effect will be 'bird-mouthing', compromising of

the weather and wind uplift resistance and

possible cracking of the slates in the upper

courses. So, a good grading and sorting session

prior to laying any slates will be time well spent.

In short, the best quality products, the most

imaginative building designs and the most

progressive construction techniques can all be

compromised through poor detailing and

inadequate workmanship. Nothing can beat

expertise in any field and BS 8000, if followed by

competent and conscientious practitioners, should

result in a problem free construction project.

Contact Cembrit

020 3372 2300

www.cembrit.co.uk

@CembritUK

36 TC AUGUST 2018
---
PLANUM

CLAY ROOF TILES MADE FOR EXCELLENCE

Specially designed for low pitch roofs down to 10º

Double interlocking flat clay roof tile for perfect waterproofing.

Large format - just 11 tiles per m2. Quick and easy installation.

Slate aesthetic and with great curb appeal.

100 year guarantee

* Please contact our Technical Dept for for guidance

T: T: 01277 841555 E: sales@stoneleaftiles.co.uk www.stoneleaftiles.co.uk
---
Training Day

ON THE RIGS & IN THE CLASSROOM:

DEMAND FOR TRAINING IS RISING

Demand for BMI's pitched roofing training is on the rise. We signed up to a course at its

National Training Centre to find out why...

is a sure-fire winner for roofing

contractors," declares Alastair Blant,

"This

Technical Trainer – Pitched; waving

around a silver-coloured clip with a long tail. "They

try it once and then keep on coming back for more."

The clip in question is a Kro-Clip, used to secure

small, cut tiles at hip details on a pitched roof.

Alastair is based at the BMI National Training Centre

in South Cerney near Cirencester. Set up by Redland

– now part of BMI Group – 35 years ago, the centre

provides both pitched and flat roof training to a

variety of external customers and internal staff

members.

Traditionally the mix of trainees has been around

30% roofers and 70% other customers, such as

merchants, local authorities and housing

associations. However, in the last few years that

split has moved to 50:50 as more contractors

recognise the value of upskilling their workforce.

"There is a changing attitude towards training in

the roofing sector," says Alastair, who had trained

47 roofing contractors

the week before we

attended a course at

the centre.

"Contractors want to

be seen to be more

professional and

training is the main way

– if not the only way, to

upskill."

Green to Red

BMI is the only pitched roofing manufacturer to

provide the two-day CITB and NFRC recognised

Basic Competency Programme in pitched roofing.

This allows roofers to convert from a Green

labourer's card to a Red experienced worker one,

on the understanding that they will be working

towards an NVQ over the following three years.

Alastair and his colleagues provide a range of roof

training through the centre, with 1,500 people

coming through the doors every year. They also

train at other BMI sites

and at customers'

sites, offices or

merchant premises.

Our course was a

two-day basic

introduction to pitched

roofing. However, with

Icopal also being part of BMI

Group, the centre gives basic and

advanced training in a variety of flat roofing

technologies too, including bitumen, single ply

and a variety of hot and cold applied liquid

technologies.

Courses are designed to add extra value to the

BMI customer relationship and equip decisionmakers

and influencers with information,

including the many benefits of BMI systems.

Classroom and workshop sessions

The two-day basic roofing course combines

alternating classroom and workshop sessions.

Alastair, with an engaging delivery style that

would not be out of place on the stage, manages

to inject elements of history, geography, geology

and an unending supply of roofing anecdotes into

the more expected course content.

Alastair's snippets of history – all roofing

relevant – included the march of the Roman

empire into Britain, the use of roof tiles as ballast

on merchant boats and air pollution during the

industrial revolution. His stories from the field,

gleaned from BMI technical colleagues and

course attendees, ranged from horror stories of

badly-installed roofs and miscalculations, to an

explanation of why we have Dutch pantiles on the

east coast of England.

38 TC AUGUST 2018
---
The 12 people on our

course came from a

range of backgrounds

including counter staff

from building and roofing

merchants, component

suppliers to BMI, and

sales and marketing

Above: With Icopal also being part of the BMI Group, the

people from within the

centre gives basic & advanced training in a variety of flat

group. Theoretical roofing technologies.

subjects included the

basics of roofing terminology, through to recent updates in British Standards

and a brief introduction to estimating for roofs.

BS 8612

One of the newest additions to the course materials is information on BS

8612 Dry-fixed Ridge, Hip, Verge and Valley Systems for Slating and Tiling,

which was published earlier this year. As well as a classroom session

covering the Standard, we got the opportunity to install Redland's new dry

verge – which Alastair informed us was the first new verge which meets and

exceeds the requirements of the new Standard – in the workshop. Other

practical activities included laying a concrete pantile roof and exercises with

plain tiles and slate.

Eye opener

For many of the people attending the course, the workshop sessions were a

real eye opener. "To get up and do the practical side of it has been really

good", said Andrew Perrett, an Assistant Manager for Bence which has three

branches supplying roofing materials and products. "It's given me more

understanding of what goes into the process. It may seem like a simple

process but there are lots of things that can easily go wrong."

The updates on Standards and the grounding in estimating were also

particularly useful according to Andrew: "People do come in and ask for

advice, even those that have been doing it for years," he says. "I've got a

better insight now."

As our fellow trainees left the training centre armed with their pocket guide to

the Redland range and The Redland Book guide to roofing, Alastair explained

that his role was to ensure that roofs are installed with attention to detail and

a proper understanding of the products and how they should be used: "We

don't teach people how to be roofers; we teach them how to be better roofers

and how to be better sellers of roofing systems."

F or everyone settling for nothing but the

best when it comes to performance and

precision. Ideal for roofers.

Hot air tool

HG 2620 E

• 2300 W / 50 – 700 °C / 150 – 500 l/min

• Brushless motor: 10,000 h

• Air pressure: 4,000 Pa for more power

• Suitable for construction site use

• LCD information display

• 4 user-selectable programmes

• Easy to operate by joystick

• Heater and power cord easy to change

• Including fine dust filter

www.steinel-professional.de

Contact the BMI National Training Centre

01285 863545

www.redland.co.uk

@_Redland

AUGUST 2018 TC 39
---
Modern Roofs

A ROOF FOR ALL SEASONS: KNOW-

HOW, ACCESSORIES AND PRODUCTS

By Richard Bishop (pic), Category Manager for Roof, Wienerberger.

If you ask yourself what the basics are we all

expect from a roof, it would be to keep the

weather out and the heat in. But the truth is

that modern roofs have to do so much more. They

need to be able to breathe to prevent

condensation build up, handle unpredictable

weather extremes, expand in the heat, and

contract in the cold – all without letting in water

or breaking.

"Concrete has become

the main product

driving the UK pitched

roofing market, with

designs coming in all

shapes and sizes

For all this to be possible,

contractors require high

performance products and the

right installation techniques.

In anticipation of the impending

cold and wet winter, we wanted to

look at how modern roofs are designed to

cope with less than perfect weather conditions.

The apex shape

Although we've had an unusually warm and dry

summer, British weather can be unpredictable

and we're prone to our fair share of rainfall. The

amount of water that pours out of our skies is the

reason why the pitched apex roof is so prevalent

when it comes to UK homes. This shape was

designed to allow rainwater to run off effortlessly,

keeping the occupants and

contents of the building dry.

It's no accident that roofs are

shaped as an apex, it is the most

natural shape to allow water

drainage. In fact, the latest flat

roofing trends have to cope with ponding and

water egress in entirely different ways, but the

traditional British home still uses a strong, stable

apex allowing space for a room in the roof or just

a good old fashioned storage space.

Flashing solutions

Lead is the traditional flashing and waterproofing

option for the UK but there are other options.

Modern alternatives such as our Koraflex Plus offer

the same look and workability as lead and

40 TC AUGUST 2018
---
SFS fixings shape

our landscape

Extend the lifespan of your

building - the choice is easy!

Use A4 stainless steel fasteners from SFS for improved

durability, greater resistance to corrosion and a longer warranty.

T: 0113 2085 500

W: www.sfsintec.co.uk

E: gb_technical@sfsintec.biz
---
Modern Roofs

feature excellent UV & temperature resistance.

A traditional gable-to-gable roof has no inner

details, but the minute you put on an extension or

have an L-shaped roof then we need to think

about waterproofing the angles, the hip or the

valley. Leaky chimneys are a common problem

area so flashing the intersection between the

chimney and the roof is always recommended.

Tile shapes

Clay pantiles have been around for about 400

years now and have long proved themselves to be

an extremely efficient form of weatherproof roof

covering. In early methods of clay production

there was very little control during firing over the

final shape of a product. This meant that the

design of a roof tile was such that it had to be

weathertight whatever its final shape. The shape

of a traditional pantile is a wonderful testimony to

early roof tile designers! Not only do they keep the

water out but the gaps around the tiles minimise

the suction effect of the wind, helping to prevent

wind damage. Modern clay tiles have been

designed to include far more weatherproofing

features, such as top interlocks and weather

barriers. Besides pantiles we find plain tiles and

large format flat tiles, pressed tiles and double

roman tiles, all having a unique place according

to location and planning.

Material Choice

Using materials such as clay or concrete gives a

roof a longer life expectancy and will also ensure

the roof is fireproof and able to handle any

temperature the weather throws at it.

Concrete has become the main product driving

the UK pitched roofing market, with designs

coming in all shapes and sizes. Clay roof tiles

are, however, more of a premium roofing option,

offering greater longevity and a colour that lasts,

and I'd say actually improve with age and

weathering. Slate is another great weatherproof

roof covering, whereas slate effect clay roof tiles

can be a less expensive alternative.

Wet weather problems

Efflorescence is a naturally occurring

phenomenon caused by water in the form of rain,

condensation or dew penetrating into the pores of

concrete tiles and dissolving lime. The solution

diffuses to the surface of the product, the water

then evaporates and leaves behind a white film of

lime. Since the lime content of the concrete can

vary and the weather conditions obviously differ,

the level of efflorescence can also fluctuate

considerably.

The same chemical process which brings the lime

to the surface of a tile carries on, enabling it to be

degraded and washed away by the rain, so that

eventually the efflorescence disappears by

itself – usually in a matter of months. Unlike

some manufacturers, we treat the surface of all

our concrete tiles with an acrylic polymer

coatings to not only minimise the formation of

efflorescence, but to give stronger and longer

lasting colours.

In conclusion, the wet weather can bring with it a

host of problems for roofing contractors and their

customers. However, when armed with high

performance products and accessories alongside

roofing know-how, there's no need to be concerned

about our famous wet weather returning.

Contact Wienerberger

0845 303 2524

www.wienerberger.co.uk

@wienerbergeruk

Koraflex Plus comes with a 15 year guarantee.

42 TC AUGUST 2018
---
SEE US AT

LINCOLN CLAY PANTILE.

TRADITIONAL FEEL.

INNOVATIVE FIT.

The Lincoln clay pantile features fl exible open gauge

technology with a new fl at batten locator.

Shaped with an elegant s-curve design and thin leading

edge, the clay pantile is engineered for pitches as low

as 17.5°, for fast and simple fi tting across a variety

of installations.

And of course, Lincoln clay pantiles fully comply with

BS 5534 and NHBC Standards.

Discover more smart thinking (and order free samples) at

marleyeternit.co.uk/lincoln

Or call us on 01283 722588

Marley Eternit. The roof system others look up to.
---
Clay Plain Tiles

CUT TO THE CHASE: CLAY PLAIN

TILES AND CURVED ROOFS

Roofing contractor Andy Rowlands had to hand cut almost 60,000 Acme double camber

clay plain tiles to create the award-winning, dramatic curved roof of Quintain House. In this

article, Andy and the tile's manufacturer Marley Eternit give their top tips for creating the

perfect clay roof.

Andy's installation tips:

•Provide a designated cutting area with

adequate dust suppression, usually water – if

you're cutting a lot of tiles, it makes it much easier

and safer to have one area that is set aside with

the right equipment and PPE for cutting.

• Preparation is everything – when working

with clay plain tiles, you need to plan out the

roof carefully in order to reduce the amount of

cutting you need to do. Time spent at the

beginning will prevent hassle later on. Also

consider using tile and a half as well as

standard size tiles to give you more flexibility

when setting out the roof.

• Creating curves – I get asked a lot about how

we created the curved roof on Quintain House.

We used a double camber tile as it lends itself

more to the curved roof because of its latitudinal

camber. I would say though that it takes many

years of roofing expertise and craftsmanship to

be able to create a curved roof of this nature!

"Plan out the roof

carefully – time spent

at the beginning will

prevent hassle later

on"

• Battens – The 'snake-like' shape of the roof at

Quintain meant we couldn't use a traditional

approach to battening. So we had to precisely cut

each batten to give us the ability to curve and

bend it. Entire lengths of batten were reduced

from 25mm thickness down to 13mm / 12mm /

9mm / 8mm to promote the bending effect. We

then layered the 'thinner' battens on top of each

other to provide the necessary height required.

• Waterproofing – The Quintain roof had a pitch

of just 21 degrees in some areas which posed

challenges when it came to waterproofing. Where

the roof fell outside BS 5534 parameters, we had

to create an EPDM rubber gutter to channel the

water to the lowest point of the curve to allow the

water back over the tile and then make its way

down the roof in the traditional manner.

• Check manufacturer guidelines –

Manufacturers will not usually guarantee roof

coverings fixed outside of their guidelines, so

speak to the architect or designer if you think

there will be an issue.

Left: Andy Rowlands hand cut close to 60,000 Acme double

camber clay plain tiles for the stunning roof at Quintain

House.

44 TC AUGUST 2018
---
Marley Eternit's advice:

• Use the right tools – As Andy has shown,

cutting clay plain tiles doesn't need to be difficult,

as long as you use the right tools.

While the traditional method

is a scribe and hammer,

or pincers, you can

use power tools that

are specifically

designed for a

hard material,

such as a

diamond tipped

masonry disc

cutter. These must be

used with appropriate

dust suppression.

• PPE is paramount – If you need to

cut tiles, do it in a well ventilated area to avoid

the inhalation of dust. Avoid dust inhalation by

using cutting equipment fitted with dust

extraction or suppression and always wear

goggles, protective clothing, ear defenders and an

approved respirator when mechanically cutting

tiles.

• Get the right blend of tiles – When using clay

plain tiles, we recommend taking tiles and mixing

them up from at least three pallets.

This will enhance the

appearance of a roof and

add a charm and

character you would

expect from a high

quality clay roof.

• Think about

the fittings –

Purpose made

fittings will ensure a

stunning finish and

also reduce the time spent

making a site-formed mitred

hip, for example. We offer a range of ridge

and hip options, and also valley tiles, arris hips

and bonnets which enhance the visual

appearance of a clay tiled roof.

• Valleys and bonnets – If you're going to use

valley or arris hip tiles, check the specification as

ours come in a variety of internal angles to suit

"Purpose made fittings

will ensure a stunning

finish and also reduce

the time spent making

a site-formed mitred

hip, for example"

various roof pitches. Getting the correct product

first time reduces delays on site and ensures a

perfect finish, so ask our Technical Advisory team

if you're unsure which one you need.

Top: The snake-like shape of the roof at Quintain House

meant Andy and the team couldn't use a traditional

approach to battening, so each batten was precisely cut to

give the team the ability to curve and bend it. Left: Cutting

clay plain tiles doesn't need to be difficult so long as you use

the right tools.

Contact Marley Eternit

01283 722 588

www.marleyeternit.co.uk

@MarleyEternit

AUGUST 2018 TC 45
---
Apprenticeships

"WE NEED THE SKILLS TO INSTALL IT"

Julian Gomez, Director of Marketing at CUPA PIZARRAS, discusses the importance of

supporting the next generation of roofers in light of recent apprenticeship figures.

The government's target to build a million

new homes by 2020 has put a huge amount

of pressure on those within the roofing

industry to deliver on this ambitious target. A

growing skills gap – particularly within the slate

roofing industry – that is developing due to a lack

of new apprentices and the increasing amount of

experienced roofers retiring, poses a risk that this

target might never be met.

As of April 2018, the UK government introduced

the Apprenticeship Levy, which significantly

changed the structure of the apprenticeship

funding system. The Levy encourages employers

who have annual wage bills over £3 million to

invest in apprenticeship programmes and to raise

additional funds to improve the quantity of

apprentices taken on.

Despite this, a report recently released by the

Office for National Statistics (ONS) has

highlighted that apprenticeship starts between

August 2017 and March 2018 have decreased by

28% compared with the same period for the

previous academic year.

With most businesses putting this decrease down

to the Apprenticeship Levy overcomplicating the

system, others say that the levy funding does not

cover the high cost of training in technical fields.

This is particularly the case for those lower down

in the supply chain, such as sub contractors, who

can only receive up to 10% of the Levy funds

passed on by larger firms.

Manufacturer support

This skills shortage has a knock-on effect on

manufacturers too. No matter how high quality a

product is, it is only ever as good as its

installation, meaning a skilled workforce is

crucial to ensuring a quality build. In light of this,

manufacturers are playing an increasing role and

looking to support apprentices and training in

whatever way possible.

Recognising this, throughout 2018 CUPA

PIZARRAS has put a great emphasis on

supporting apprentices within the slate roofing

industry, through product and tool supply as well

as apprentice and award sponsorships.

At the beginning of 2018 the company committed

to supporting a group of apprentices from

Lincolnshire-based, roofing company, The Roofing

Corporation. The support includes providing all

three apprentices with CUPA PIZARRAS' natural

slate for training purposes, slate roofing tools,

CUPA PIZARRAS' branded clothing and an all

expenses paid week trip to the company's

headquarters in Spain.

The visit to Spain provided the apprentices with

an overview of how CUPA PIZARRAS' slate is

quarried and produced, through a visit to one of

the company's 16 quarries, La Medua – the

biggest natural slate quarry in the world. This

was followed by a trip to one of CUPA PIZARRAS'

22 transformation centres where they watched

the extracted pieces of slate being sawed, shaped

and bevelled. In addition to this, they also got to

meet the CUPA PIZARRAS marketing team and

the Sales Director to get a full understanding of

the company's position and commitment to

developing future apprentices.

Additionally, CUPA PIZARRAS also sponsored the

Roof Slating and Tiling heats of the CITB's

SkillBuild competition 2018 – one of the largest

multi-trade competitions in the UK for

construction trainees and apprentices. We

supplied over 4,000 of the company's natural

slates to ensure that the young roofers competed

with the best quality materials, as well as polo

shirts and caps for all competitors to wear.

With most employers tied up with the ins and out

of the Apprenticeship Levy, manufacturers have a

vital role to play in supporting apprentice schemes

and awards with the future generations of roofing

contractors. Ultimately, any progressions we

continue to make in the production of slate will not

make any difference if there isn't someone there

with the skills to install it.

CUPA PIAZARRAS is supporting apprentices from The Roofing Corporation and took them to a quarry and its HQ in Spain.

Contact CUPA PIZARRAS

01312 253 111

ww.cupapizarras.com/uk

@CUPAPIZARRAS_en

46 TC AUGUST 2018
---
SEE US AT

PROTAN BLUEPROOF – A ROOF FOR THE FUTURE

CAN YOU AFFORD TO LET

YOUR ROOF BE JUST A ROOF?

A roof represents exciting opportunities

for architects and property developers.

If you are on top of a tall building and looking out over the

urban landscape, you will see a lot of unutilised space.

Architects and property developers can no longer afford to

use the roof just to keep the rain and snow out and protect

your contents.

Using the roof for other functions creates additional values.

These values not only allow for increased profits, but also

add value to society at large and for the people living in

and around these buildings.

The roof can be a place where people can spend recreational

time, grow flowers and encourage wildlife. The roof can

also be utilised to solve other tasks that could be profitable

for the building project, such as generating electricity with

solar panels or taking control of heavy rainfall.

Protan has developed a unique BlueProof roofing solution

to avoid creating dead space on top of a building, enabling

use that space for water attenuation. That is both smart

and sustainable. The BlueProof system works equally well

for new buildings and refurbishment projects, and can be

combined with recreational areas, eco-friendly features

and energy production.

Protan BlueProof – coming to a roof near you soon.

Safe

Sustainable

Cost effective

Space efficient

protan.co.uk
---
Opinion: Recruitment

"A QUALIFIED WORKFORCE IS VITAL"

Our future built environment is in the hands of our construction workforce, yet the industry

itself is struggling to address its current skills shortage. Philip Fergusson, Managing Director

at NCTS, a specialist training provider to the roofing sector, outlines why he feels skills and

learning programmes are key to a flourishing building trade and workforce.

Whether you're a property owner or a

contractor, employing tradespeople with

the requisite skills to undertake a

particular building project is of paramount

importance.

Poor workmanship could lead to a raft of issues

which prove extremely costly to correct. There's

also a question of safety; builders who are not

fully-trained in tasks they are assigned to carry

out could be putting a building's structural

integrity at risk and in-turn, the health and

wellbeing of the occupants. Incorrectly installed

wall insulation, for instance, is liable to lead to

damp and mould, which if left untreated could

cause respiratory problems in those exposed to

such areas.

On-site health and safety is also compromised

by the presence of insufficiently-trained

workers. An entire team of roofers, for example,

could be at risk of injury or worse by a single

employee whose erroneous work practices are

caused by a lack of understanding of HSE

guidelines.

A blue CSCS card should be seen as a badge of

honour for site employees who carry one. It

informs a client or contractor that they have

achieved a construction-related NVQ or SVQ level

2, or completed an employer-sponsored

apprenticeship. Enrolling on a Basic Competency

Programme (BCP) or an On-Site Assessment and

Training (OSAT) course, both of which are offered

by NCTS, is a first step to achieving a Level 2

NVQ and an industry-recognised qualification.

Such certification provides peace of mind for the

client that their building project is in safe,

experienced hands.

Evolve or dissolve

Construction materials and

practices are continuously

evolving. As a consequence,

those who fail to adapt to

industry change and learn new

skills risk being left behind.

Confidence boost

An industry-recognised qualification is not only

looked upon favourably by a potential employee;

it instils huge confidence in the holder.

An NVQ or CSCS accreditation represents

personal achievement and can act as a useful

bargaining tool for the recipient when it comes to

negotiating a salary or applying for a promotion.

The importance of qualifications should never be

underestimated in giving candidates a personal

and professional lift.

Taking the initiative

According to several recent reports, the UK

construction industry will need approximately

400,000 new workers every year until 2021 to

meet the demand for new building projects. In the

roofing industry, some experts are predicting that

we will have a shortfall of some 100,000 skilled

crafts people over that period and every trade

sector is reporting a similar story. An alarming

forecast, particularly with the government

announcing plans to build 300,000 new

properties per year to help solve England's

affordable housing crisis. Never has there been a

greater need for companies such as NCTS, which

is taking the initiative and doing its utmost to

'skill-up' the workforce of tomorrow.

The current construction skills shortage is due to

Philip Ferguson, Managing Director at NCTS.

workers retiring or leaving the

industry and not being

replaced. Therefore, a new

generation needs to be

encouraged to take up tools and

join the sector if the country's future

building needs are to be met. This,

however, will not be an easy task. In short, many

of today's youngsters feel a career in construction

is a bit beneath them. In industry surveys carried

out to ascertain a teenage perception of a

construction-based career, building work meant

low wages, lack of gender diversity and job

security, and 'being outdoors and getting dirty'.

The construction industry urgently needs to sell

itself to young people as a viable, fulfilling, longterm

career option.

One of the ways the building trade could become

a more attractive proposition to potential new

starters is to promote the training programmes

that currently exist within the industry.

Youngsters need to know that the support is in

place to help them progress a building career

that will not only be enriching in terms of the

worthwhile work they will be carrying out, it

could earn them a very good living that will stand

them in good stead for the rest of their lives. The

message needs to be driven home – there has

never been a better time to begin a career in

construction.

Contact NCTS

01480 501 011

www.ncts.org.uk

@NCTS_2017

48 TC AUGUST 2018
---
SEE US AT
---
Flat Roofing

A NIGHT TO REMEMBER

IKO Polymeric enjoyed a very successful night

at this year's SPRA Awards winning five

awards with their projects demonstrating the

best use of Single Ply. Working with DVC Roofing,

the company was the winner of Best Detailing

Award for their Goosecroft Lane project, a

residential building based in Northallerton.

This complex, multi-slope pitched roof is a great

example of what can be achieved with good

planning and a highly-trained workforce. Aesthetics

were the key; therefore every single detail had to be

spot on with no tolerance for short cuts.

DVC Roofing's installation team made sure that

every element of the roof build-up was installed

as neatly as possible to give the roof a crisp and

neat finish on the standing seams. Tongue and

groove type OSB deck, adhered vapour control

layer and insulation coupled with careful loading

of boards ensured a consistent bond and

provided the roof with a superb finish.

As well as being the winner of the Best Detailing

category, IKO Polymeric was also highly

commended in four other award categories: Best

Innovation with Hinkley Point C Power Station

Temporary Accommodation, Best Refurbishment

and Best Sustainability with North Hertfordshire

District Council (NHDC), and finally Best Safe

Working with Rock House Sen School.

IKO Armourplan was the choice of single ply

membrane for all these winning projects and

ticked many different boxes to match the specific

requirements of each project.

For the Hinkley Point C Power Station, IKO

Polymeric worked with Marksman Roofing to

produce prefabricated roofing sheets to

waterproof a 10,000m² roof. 44 identical roof

modules were manufactured offsite with

Armourplan PSG membrane and shipped to the

site for final installation. The modular

manufacture methods provided up to 50%

Contact IKO Polymeric: www.ikopolymeric.com

reduction in the schedule compared to traditional

build, assured levels of quality and minimal

environmental impact.

Working with Delomac Roofing, IKO Polymeric also

showed great initiative with the refurbishment of

NHDC Offices. The 'Zero Defects on Handover'

target was achieved through successful supply

chain cooperation and potential waste to landfill

has been dramatically reduced by retaining the

existing deck and using woodwool as a

contributor to the required thermal upgrade.

And lastly, thanks to NRA Roofing's attention to

Health & Safety issues during the installation of

the pitched roof at Rock House SEN School, IKO

Polymeric closed the night with five awards.

EUROPE MOVE FOR PFC

Perfect Finish Coatings (PFC), one of the

biggest waterproofing contractors in the

Gulf region with its HQ in UAE, Dubai, is

proud to announce that it is expanding to Europe

and initially starting operations in the UK. After

establishing in Cambridge, PFC was chosen to

carry out main waterproofing works at Thematic

Districts on the Expo 2020 site, Dubai. The project

was partially funded by English financial

institutions, so PFC was perfectly matched to

implement these works, having presence in the

UK and UAE, as the UK presence was a

requirement from the Expo authorities. Currently

PFC has reached more than 1,000,000m² of

successfully installed membrane, with a similar

area of roofing to follow.

Having a very successful track record of projects

with big UK construction players like Laing

O'Rourke, Kier, Balfour Beatty, Mace International,

Maclaren, Khansaheb interserve, plus many more

for more than 10 years in the UAE, the team at

PFC is very confident of providing value in the UK

market.

A spokesperson for PFC explained: "We have

strong project managers and engineers in our

team, consisting of English and professionals

from other countries, and we can involve them as

well as a locally employed team in England in

executing various complex projects.

"The UAE has the presence of all well-known

international construction chemicals

manufacturers, and we at PFC have approved

applicator certificates from all major brands like

Sika Sarnafil, BASF, MAPEI, Fosroc, Kingspan and

Stirling Lloyd, to name just a few. We have full

support from their management to enter the UK

Contact PFC: www.pfc-gulf.com

market. We at PFC can execute any complex

project using any known waterproofing system,

starting from membranes like TPO, PVC and

bitumen, to liquid spray applied Polyurea

systems, brigde deck waterproofing and hot melt.

"We are excited to make such an important step

in the development of PFC globally and start our

operations in Europe, and especially in the UK.

We are looking forward to building relationships

with main contractors and clients in the UK, and

to show our strength and experience in delivering

big complex waterproofing projects."

50 TC AUGUST 2018
---
passionate about slate

one name

SEE US AT

As the UK's leading merchant of roofing products

and services, we supply industry leading ranges

of roofing slate, setting the benchmark in natural

slate with our SIGA Natural Slate.

SIGA carefully manages every step of the journey from the quarry

to the roof, bringing you:

■ Consistency of quality and supply

■ Complete traceability

■ Choice and variety

■ Warranties up to 75 years

With a wide range of accessories and fittings, including:

www.sigroofing.co.uk

TIMBER SPECIALISTS

Visit your local SIG Roofing branch for more info or find

out more at www.sigroofing.co.uk

PITCHED ROOFING

FLAT ROOFING

INDUSTRIAL ROOFING
---
Flat Roof Falls

FALLS IN CONCRETE FLAT ROOFS –

TAPERED INSULATION OR SCREED?

By Daniel Bosworth, Design Manager at SIG Design & Technology.

Cut to Falls is often the most expensive part

of the roof system and we're often asked

how to achieve affordability. It might be

possible to reduce costs by engaging in

consultation and / or discussion with specialists

at an early design stage to investigate

alternatives and their benefits and impacts on

methodology, buildability, sequencing and

interfaces.

As roofing designers, we enjoy the challenge of

making roofs work harder and be more cost

efficient. There is a balance to consider between

the product cost per square or cubic metre, the

labour input and the time or sequencing benefits

associated with each of the options.

"As roofing designers,

we enjoy the challenge

of making roofs work

harder and be more

cost efficient"

Falls are introduced into a concrete flat roof

mainly by:

• Putting the fall in the structure.

• Putting the fall in a screed.

• Putting the fall in the insulation.

While each roof is different, if you can introduce

falls in the structure, this can be the simplest,

most cost-effective option.

1. Introduce falls in the roof structure

if possible

If you can put falls into the flat roof structure

rather than rely on screed or tapered insulation,

do so. Falls in structure are usually very easy

with precast concrete roofs, with

steel frame and metal decking,

and with many timber structures.

So why don't all roofing projects

put the falls in the structure?

It may be for ease of initial design,

but this can lead to issues during

installation.

Height clashes with door thresholds or reduced /

non-compliant upstand heights at parapets which

can cause delays, cost time and money, and

achieve a sub-standard result.

It might be a misunderstanding of the term "flat",

but we sometimes need to explain to customers

that there are minimum falls required by BS

6229:2003, even if manufacturers are happy to

"accept" zero falls.

Or it may just be an oversight. However, if the

holistic approach of detailing all interfaces based

on 100% compliance is undertaken early enough,

then costs, time and mistakes can all be

minimised.

2. Screed is heavy

Laying a screed over a flat roof structure to

introduce falls is sometimes a simple practical

solution. However, screed is a heavy, dense

material, and therefore requires consideration in

the structural calculations. It may impact on

overall design.

Installed by wet trades, standard screeds can

have drying times in excess of 100 days. Even

quick drying screeds require a minimum of

approximately four hours and often substantially

longer. Consider the pros and cons of using

screeds within your project.

Daniel Bosworth is Design Manager at

SIG Design & Technology.

3. But tapered insulation

can also be expensive

Manufacturers of tapered insulation

argue that it costs less per m² than

screed. Insulation is much lighter than screed

and therefore may save on structural costs. It is

also quicker to install and allows for the creation

of falls and satisfying the thermal performance of

the roof.

However, tapered insulation isn't always going to

be the cheapest option. In a large roof with very

long runs, or in a complicated roof, tapered

insulation can be less attractive and is not

always the best use of space either.

"Screed doesn't only

serve the purpose of

introducing falls, it also

acts as a smoothing

surface, evening out

the bumps in concrete

beam and plank roof

constructions"

Consider the bigger picture

By omitting the screed layer at a school in

Twickenham, SIG Design & Technology was able

to save our client thousands of pounds in costs

caused by the additional weight and drying time,

and time for the wet trades to install it. We were

only able to do this by being asked to undertake

"value engineering" at an early stage by the design

team and were happy to do so to ensure

52 TC AUGUST 2018
---
Go Further with SupaLite

SupaLite design &

manufacture more

than just roofs?

It's true, we are the market leader in lightweight replacement

conservatory roofs, but we are experts in much more.

Our revolutionary FLAT ROOF ORANGERY is installed within

hours with amazing thermal properties. Our LANTERNS are the

most stylish available, and our VERANDAS are proving to be a

very popular and extremely flexible choice.

U-Value

as low as

0.15

W/m 2 K

SupaLite Tiled Roofs

Flat Roof Orangeries

Modular

Design

Lanterns

Elegant Verandas

Every SupaLite product

is precision made to

ensure a perfect fit for

any configuration.

BUILDING CONTROL

SupaLite will optionally facilitate building control on your behalf

ENERGY EFFICIENT

Designed for ultimate performance

TRIED & TESTED

10 year guarantee as standard

01772 82 80 60

www.supaliteroof.co.uk
---
Flat Roof Falls

the right outcome for everyone.

Screed doesn't only serve the purpose of

introducing falls, it also acts as a smoothing

surface, evening out the bumps in concrete beam

and plank roof constructions.

We also worked with the concrete plank

manufacturer to increase both the accuracy of the

manufacturing tolerances of the planks used to

create the roof structure, and of the installed

planks, sufficient that screeding was no longer

necessary.

The requirement to improve dimensional

tolerances in the concrete planks had a minor

influence on their cost, but were far offset by the

savings in time and money omitting the screed.

Involve your roofing designers early

Whatever your flat roof problem, give the task to

"Screed is a heavy, dense material, and therefore

requires consideration in the structural

calculations. It may impact on overall design"

Above and below: SIG Design & Technology's client undertook a major building programme at a school in Twickenham which

totalled over 2000m² and spanned four different roofs, as well as requiring two different finishes from IKO. By improving the roof

structure, SIG Design & Technology was able to save the client thousands of pounds.

dedicated specialists early in the design process.

They might save you money you can put to better

use elsewhere in the building.

SIG D&T has put together an eight step guide to

identify the challenges and ensure that a roof's

design meets a building's requirements.

Our know-how is just part of the service that is

provided free to customers. Visit:

Contact SIG Design & Technology

0844 443 4778

www.singleply.co.uk/perfectroof/

@SIGDesignTech

54 TC AUGUST 2018
---
LIQUID

WATERPROOFING

BITUMINOUS

WATERPROOFING

SINGLE PLY

WATERPROOFING

HOT MELT

WATERPROOFING

THERMAL

INSULATION

EXPERT

IN WATERPROOFING

& INSULATION

SOLUTIONS!

SOPREMA UK

0330 058 0668 I info@soprema.co.uk

www.soprema.co.uk
---
Blue Roofs

WATER ATTENUATION: "UTILISE THE

5TH FACADE"

Daniel Ashley, Managing Director of Protan UK, talks blue roofs and the company's new

offering...

Ok, don't knock the weather, if it didn't

change once in a while 9/10 of people

couldn't start a conversation! With the

recent severe weather warnings and floods in the

UK there is a lot to talk about, so let's wade

through some of the issues!

crime and flooding! It's not just urbanisation, but

pipe capacities and impermeable surfaces. There

are two solutions; a) Upgrade the pipe system or,

b) Temporary storage of rainwater. Either way we

need good, efficient and sustainable solutions for

both the existing and future situation.

Climate change in the UK

Over the past 100 years the intensity of UK

precipitation has increased during winter, and to

a lesser extent also during spring and autumn.

This has been accompanied by more frequent

spells of very wet weather and an increase in

total precipitation, at least during the last 40

years.

There is now a one-in-three chance of record

rainfall hitting parts of England and Wales each

winter according to a new Met Office study which

highlights the risk of major flooding as the climate

warms. The researchers warned that global

warming would change the risk of

extreme weather and suggested

politicians should bear this in mind

when planning to protect the public,

businesses and infrastructure. With

this in mind, at Protan we have

introduced a new product in the UK;

BlueProof.

Problems with urbanisation

We have to face the facts; the world

population is going to rise from 7

billion to 9 billion by 2050!

Population growth, coupled with climate change

is going to cause a big problem for our cities, with

fewer than 20 cities of 1 million or more people a

century ago to 450 cities today! With increasing

urbanisation comes problems of density,

inadequate infrastructure, pollution, congestion,

Protan UK also stock a complete

range of accessories to offer a

total solution.

Water attenuation

There are existing and well know attenuation

solutions; Attenuation tank, Rain beds,

Attenuation pipes and Green Roofs

(intensive/extensive)

But at Protan we believe there is also a different

way of managing rainwater: utilise the 5th Façade

and control the water where it hits first!

So, what is a blue roof? It's a new way of holding

back storm water.

Protan BlueProof is a roof that is designed

specifically to store water from rainfall. A blue

roof coupled with storm water

collection (rain water harvesters,

etc.) has a number of benefits

which include: rainwater

attenuation to mitigate runoff

impacts and storage for reuse

(toilet cisterns, washing machines

etc.).

Blue Roofs can; a) include open

water surfaces, b) storage within or

beneath a porous media modular

surface or c) below a raised decking

surface or cover.

A Blue Roof is calculated to its bearing load

capacity and its designed flow-rate to meet

design requirements.

The roof is installed and the water is temporarily

Blue roofs address rainfall at the point of contact.

stored on the roof and is gradually released into

the sewer system. Therefore a blue roof is a roof

system which allows rainwater to build up on the

roof, reducing or potentially eliminating the need

for other attenuation methods.

BlueProof

Protan has designed a special membrane for use

in blue roof application; Protan BP. Protan BP is

designed to be extra robust with its extra strong

textile layer, giving higher tensile strength

properties compared to other manufacturers. To

complement the Protan BP membrane, Protan UK

also stock a complete range of accessories to

offer a total solution.

Contact Protan UK

01925 658 001

www.protan.co.uk

@ProtanUK

56 TC AUGUST 2018
---
Easy-Trim are proud to announce that we are BS8612

compliant on our range of Dry Fix Products. We didn't

want you to just take our word for it though so instead

we have assured full compliance through rigorous,

independent testing by the Building Research

Establishment – BRE, a world leading, independent

research & testing centre.

Ridge Roll

Manufactured with a

hydrophobic mesh that allows the

roof to breathe whilst repelling water

Batten Straps

Fleixible straps which

wrap around the batten

for improved stability

Ratchet Clips

These flat profile ratchet clips

incorpore more teeth for rapid

installation

Unions

Manufactured from high

grade polypropylene &

colour matched to the tile

of your choice

What's In Your Box?

We're BS 8612 Compliant....is your Ridge Kit?

t 0845 034 6008 f 0845 034 6010

12B Metcalf Drive, Altham Industrial Estate, Altham,

Lancashire, BB5 5TU, Great Britain

www.easy-trim.co.uk

Manufacturing Business of the Year

& High Growth Business of the Year
---
Roofing Updates

For further info on all these roofing updates and more, visit www.total-contractor.co.uk

KLOBER SAILS THROUGH TEST

Klober has put its Uni-Click and Contract dry verges through a variety of tests to demonstrate how both comply with BS 8612.

BS 8612 Dry-fixed Ridge, Hip, Verge and Valley Systems for Slating and Tiling defines tests to determine mechanical resistance to

wind load and shows how specifiers should use data from these tests to verify whether a product is suitable or not, given the

wind exposure of the location under consideration.

The Standard also sets down a test for ridge-roll products to measure whether they can meet the profile of the roof tile at ridges and

hips without breaking or splitting. A third test checks whether roof verges shed the water away from the surface of the wall to avoid

staining and damp issues. Under the watchful eye of technicians at the company's technical centre, both verge types were put through their paces. For the water

leakage test both verge types were laid on the rain-screening rig in accordance with the manufacturer's laying instructions using Redland Mini Stonewold concrete

tiles at a batten gauge of 335mm (75mm headlap). They were tested in accordance with the standard, this being a pitch of 22° and a flow rate of 2l/min for a

period of 10 minutes. For the wind load test an upward force was exerted on the tile adjacent to the verge via a wire attached to the tile. The force is increased

slowly to replicate wind gusts and to test the mechanical fixing of the verge. In both cases the dry verge products easily performed to the satisfaction of the

Standard. In fact, in the mechanical resistance test, the tile adjacent to the verge snapped while the verge remained firmly fixed! www.klober.co.uk

A RETURN TO ROOFLIGHT ROOTS

To facilitate the growing demand for rooflights, Coxdome has enhanced its stock range of

off-the-shelf rooflights to permit speedy delivery within 24 hours if required to its

merchants network across the UK.

Coxdome has become one of the leading brands associated

with quality rooflight solutions. Manufactured in PVCu and glass

the systems have myriad opportunities to provide individual

rooflight and roof glazing architectural designs.

"Coxdome has been a popular choice amongst architects, specifiers and builders for many years due

to its reliability and availability," said Jim Lowther, Head of Sales. "We felt that it was important to

expand the choice to our existing and prospective customers via our reliable supplier network so that

we could ensure the highest quality rooflights were easily available." www.coxdome.co.uk

PRATER PASSES UNIVERSITY TEST

Prater is currently delivering a complete roofing package for the Centre Buildings of the

London School of Economics and Political Science (LSE).

Prater was appointed by Mace and the project is part of a £120m

redevelopment programme due for completion in April 2019.

Work is already underway and Prater's scope of works includes installing inverted waterproofing

systems to all terraces and roof levels. In addition, a number of finishes including Moordale

Paving, and both green and brown roofing will help the building to achieve its requirement for a

clear, sustainable focus. As part of the roofing package, Prater will also provide a variety of

bespoke planter systems for a number of terrace levels. www.prater.co.uk

FULL RANGE ON NEW WEBSITE

The National Domelight Company (NDC) has launched a new website showcasing its extensive

range of smoke vents, making it even easier to find the right solution for your project.

NDC has launched a new website www.smokevent.co.uk

With 50 years of experience, the NDC team keeps up-to-date with the latest regulatory changes

to advise you on the most suitable solution for your development and ensure compliance. NDC's

smoke vents – also referred to as ventilation rooflights or automatic opening vents (AOVs) – are

stocked in the UK for fast delivery. The range includes four NDC brands: Astroglaze, Solarglaze,

Stardome, and Thermodome, plus units supplied by Coxdome. www.smokevent.co.uk

58 TC AUGUST 2018
---
LIFT THE LID ON SMOKE & HEAT

Forming part of the Brett Martin Mardome Rooflight range, the fully-certified Mardome Trade Smoke Vents deliver

maximum fire safety by allowing smoke and heat to escape, whilst bringing natural ventilation and an

abundance of natural light into both new build and refurbished buildings.

Allowing specifiers to source both rooflight and smoke vent products from a single supplier, Mardome Trade

Smoke Vents are individual polycarbonate dome rooflights intended for installation on flat or low pitch roofs of all

modern building types to provide natural smoke and heat exhaust ventilation and comfort.

Tony Isaac, at Brett Martin, commented: "With a fire safety strategy a critical requirement in all buildings,

Mardome Trade Smoke Vents provide essential smoke clearance in the event of a fire, reducing heat build-up

and allowing occupants time to evacuate the building. This system also provides natural ventilation

and delivers significantly more natural daylight into the spaces beneath the rooflight."

www.brettmartin.com

Top: Smoke Vent Tall Kerb without

Wind Deflector. Left: Smoke Vent with

DF Kerb.

WORKWEAR: FREEDOM OF MOVEMENT

The Autumn Workclothes Brochure from Snickers showcaes the superb new clothing styles coming your way to

make working in cooler weather so much easier and comfortable.

There's 37.5 high-tech undergarments, plus jackets, trousers and accessories added to the RUFFWork, FLEXIWork and

ALLROUND clothing families for both professional craftsmen and women, as well as the range of Hi-Vis garment

collection for maximum safety and wellbeing.

The clothes deliver superb functionality, comfort, protection and are equipped for any task. www.snickersworkwear.co.uk

GLENDYNE'S NEW GUARANTEE

Cembrit, is now offering an impressive 75-year durability guarantee for its Glendyne

natural slate range.

Glendyne is a high-quality slate that combines top performance with all the inherent beauty of

natural slate, making it the natural choice for specifiers and roofers. "Free from oxidising metallic

inclusions, clays, carbonates or weaker seams, the natural strength of Glendyne is enhanced by

selection techniques that choose the best quality rock to produce the finest, most durable roofing

slates," commented Ged Ferris, Marketing Manager for Cembrit. www.cembrit.co.uk

TOP MARKS FOR SPECMASTER

Employing the Redland SpecMaster service has enabled Wigan Metropolitan Borough

Council (MBC), which manages and maintains 22,000 homes, to benefit from a 15-year

guarantee and avoid costly extras when it re-roofed 40 properties on one of its estates

in Kitt Green.

The scheme was completed with the 50 Double Roman tile in

Tudor Brown and Innofix Clips used to fix the tiles.

This professional specification not only avoided unsightly and expensive detailing, but also

accelerated the roofing programme through introducing the Innofix Clip, the award-winning tile

fixing developed by the company. www.innofixclip.co.uk

AUGUST 2018 TC 59
---
Roofing Updates

For further info on all these roofing updates and more, visit www.total-contractor.co.uk

MAC ROOFING WINS BIG

MAC Roofing dominated this year's IMA Awards at a luncheon held at the IoD, London, in June.

The IMA (Intelligent Membrane Association) is BMI's network of Icopal-approved contractors, and this year

members vied for awards across six product categories. MAC Roofing picked up three awards in the Eco Activ,

Single Ply and Liquid Waterproofing categories for projects at Alexander Palace, the Menai Science Park in

Bangor and the R7 mixed-use building in Kings Cross, London.

The IMA Awards were held at the Institute of Directors

Mitie Tilley (Bristol), Tandragee Roofing and Avonside (Worthing) won the Reinforced Bitumen, Green Roof and FTP/Decra Metal Tiles categories respectively.

Mitie Tilley (Bristol) achieved a high quality installation at 800 Aztec West in North Bristol, Tandragee Roofing secured its win with IQ Elgin Place, a new build

student accommodation project while Avonside (Worthing) completed the Cowfold Community & Sports Pavilion to top its category. Mitie Tilley's Mitch

Ashmead picked up the Craftsman of the Year award most notably for his very detailed work on the 800 Aztec West project.

This year there was an additional award for an outstanding contribution for services to the IMA. This went to Neil Harrison, the IMA Chairman, in recognition of

over 22 years of service and dedication to the association and the roofing industry in general. www.icopal.co.uk

FIRESTONE'S FASHION SHOW

Firestone Building Products' RubberGard EPDM single ply roofing membrane is set to

ensure fashion fans enjoy a dry and comfortable shopping environment after a roof

refurbishment at Matalan's Killingworth Centre store in Newcastle-Upon-Tyne.

DAR Roofing was brought in to carry out a roofing refurbishment after the original plastic

roofing membrane had lost its elasticity and started to split causing leaks, and having used

Firestone's RubberGard EPDM membrane on previous largescale retail environment projects,

DAR recommended the same approach for the Matalan store. www.firestonebpe.co.uk

COST CONTROL SOLUTION

Chalkstring has launched its innovative cost control software giving sub-contractors the

tools to maximise margin, take on more construction projects with the same resource,

improve productivity and reduce waste.

The cloud-based software enables users to price, deliver and control all the financial and

operational aspects of a project, both off-site and onsite through one programme. Chalkstring

also streamlines activities like variation orders and automates manual processes such as

generating applications for payment. www.chalkstring.com

WATERSIDE AUTHENTICITY

CUPA PIZARRAS' CUPA 18 roofing slates have been used on four buildings of Berkeley's

The Waterside regeneration development.

CUPA 18 has a smooth matt surface and is known for its strength

and durability.

Located on the site of the former Royal Worcester porcelain factory, the development has strict

planning requirements. The natural slate product was chosen for its appropriate appearance to

integrate with the industrial Victorian architecture in this location. CUPA 18 slate was chosen

for the roofing of blocks 12, 15, K1 and K2 of the most recent stage of project, which has been

progressing in phases over the last decade. www.cupapizarras.com/uk

60 TC AUGUST 2018
---
Innovative upgrade & refurbishment solutions for profiled fibre cement or metal roofs & cladding

SEE US AT

Fragile roofs are only unsafe

if you walk on them.

Replace rooflights and sheets from below with Fixsafe.

Figures published by the Health & Safety Executive show that falls through fragile roof

materials caused over one quarter of fatal accidents in the construction industry.

Fixsafe addresses the problem and is playing a major role in reducing this statistic.

Fixsafe allows sheets to be replaced from below, eliminating the need to access fragile

roofs and thereby greatly increasing site safety. By removing the requirement for costly

safety netting, roof staging or external scaffolding, on-site time is reduced and access

equipment costs are minimised.

Replacing rooflights from below is an HSE recommended method and complies with

Regulation 9 of the Work At Height Regulations 2005. Protect your roofers and yourself and

your team by repairing or replacing rooflights and roof sheets with Fixsafe.

We also offer: • Insulated rooflights for energy-saving upgrades and refurbishment

• Lightweight over-roofing for cost-effective roof refurb with minimal disruption.

For details, please call us on 01543 687300 or visit www.filon.co.uk

Filon Fixsafe allows replacement rooflights

or roof sheets to be installed from below,

avoiding the need to access fragile roofs

Filon Products Ltd, Unit 3 Ring Road, Zone 2, Burntwood Business Park, Burntwood, Staffs WS7 3JQ
---
Fastener Tech

INSTALLATION: LET'S TALK TORQUE

In the latest instalment of his series of articles looking at the key issues concerning fixings

for roofing and cladding projects, Brian Mack, Technical Business Development Manager at

EJOT UK, looks at the installation issues concerning correct torque for self-drilling or selftapping

fasteners.

As original manufacturers, we are asked on a

daily basis about correct installation torque

for a self-drilling or self-tapping fastener –

torque being the rotational force applied to the

fastener. Sounds simple enough, but when you stop

to consider the sequence of installation stages that

one single high performance fastener is designed to

deliver, then a greater depth of understanding is

beneficial to all involved.

A self-drilling fastener installs through all of the

operational stages described above, and the

torque required is different at the drilling stage,

tapping stage, run-through and finally the

tightening stage. The component materials that

the fastener is installing and the substrate – plus

any sealants can all influence these variations of

installation torque. The dynamics and variability

– even within the same application – simply calls

for knowledge-driven control by the installer for

the fastener to then deliver the long-term

performance benefits that it was designed to do.

Setting an installation gun to a tightening torque

that may be lower than the tapping or drilling

torque is a typical example. This is especially the

case for applications such as the installation of

composite panels, where the tightening torque of

the washer against the panel face is much lower

than the generated drilling and tapping torques.

So how do we legislate for these variables and

what tools can aid correct installation?

Manufacturers' guidance is the first port of call.

This will generally include laden speed (the speed

of the installation tool when a load is added) and

the end load, (the load placed upon the

installation tool during the installation process),

and most importantly that the fastener is

installed by depth – depth

being how far the fastener is

installed. This is usually

gauged by the compression

of the EPDM of the bonded

washer. This level of control

can be achieved initially by sight;

observing the reaction of the washer as it

seats against the installed material. Many screw

guns are, or can be, supplied with a depth

sensing nose piece. These can be set to ensure

the correct compression of the washer and

therefore the optimum clamping load of the

fastener in application.

Accurate installation

There are a wide range of electric and battery

powered tools on the market, therefore checking

the performance and speed of these is

imperative. A screwgun should be selected with a

speed suggested by the fastener manufacturer

and suitable for the drive tools – with a clutch to

disengage the drive. A tool that can be supplied

with depth sensing nose pieces that works with

the clutch will ensure fast, accurate installation.

A torque set installation tool can only be used in

applications where the repeatability of the

application is constant and where the installation

tool's torque setting parameters are in suitable

increments. As you can imagine this is very

limited and requires in-depth torque analysis of

the application to locate the correct torque

setting.

Left: Setting the nose is achieved by

pushing the fastener into the drive

socket as far as the socket will go,

retracting it back into the body of

the screwgun. The nose-piece is

then adjusted so that the outer

edge of the washer is visible.

Impact drivers are finding their way onto

construction sites and may give the impression

that they can quickly install self-drilling and selftapping

fasteners with ease.

However, the torque generated by such

tools is at least 10x – and in some instances as

much as 100x – higher than that required to

install the fastener. In short, the installation

torques cannot be calibrated and matched to the

parameters of the fastener. This can lead to

excessive stresses within the fastener and

stripping of the fastener in the application. It can

also reduce the back-out / break-loose torque to

very low figures – reducing clamping loads and

even compromising the long-term performance of

the application. Therefore they should be avoided.

The same applies for the setting of through-bolts

and concrete anchors in general, as the

maximum torque generated by such tools can

range from 40Nm to 950Nm. These types of

anchor require a calibrated torque wrench set to

the manufacturer's recommendations.

The message here is clear; when selecting an

installation tool, select the optimum one to suit

the installation parameters of the fastener type

specified, and carefully follow the manufacturer's

installation instructions. Manufacturers have a

depth of knowledge – if you need advice, talk to

the technical team!

Contact EJOT UK

01977 687 040

www.ejot.co.uk

@EJOTUK_Building

62 TC AUGUST 2018
---
SEE US AT
---
Project Focus

LARGE PROJECT SEES DIFFERENT

MATERIALS COMBINE EFFECTIVELY

Total Contractor hears how collaboration helped this project run smoothly...

Roofdec has chosen rainscreen support and

fastening solutions from SFS for major

new building projects as part of its record

£9m cladding contract for the Thorpe Park Leeds

retail and leisure development.

The new retail and leisure park is a key part of a

126,000m² mixed-use development which is said

to be one of the most significant projects of its

kind in east Leeds for decades.

Working with main contractor GMI Construction,

who have been instrumental in the Thorpe Park

Leeds project since it started in 1999, Roofdec

was tasked with installing a mix of roofing and

cladding elements for the development's new

retail units, cinema and other leisure facilities.

Roofdec's contract involved 26,000m² of roofing,

with an external envelope utilising highspecification

cladding including the Kingspan

Benchmark Karrier system and

granite and limestone

rainscreen. In addition,

4,500m² of

aluminium

rainscreen

and 3,000m²

of stainless

steel panels

complete

the contract,

plus column

casings

together with

other areas of

Rodeca and aluminium

plank systems.

Two Nvelope rainscreen support systems were

used for the façade installation. The Nvelope NV1

system supports Tiles International (TI) 20mm

"We are delighted to

have been appointed to

help in the

construction of a

number of major new

buildings here and

partner with the

Nvelope & SFS teams"

Granite and Jura Beige Limestone panels, which

works in conjunction with a TI horizontal carrier

rail. This back frame configuration minimises the

number of brackets needed per square metre for

greater efficiency without compromise. NV1 is

also used to install Sotech Optima TFC rainscreen

panels, which are finished in Anodised Regency

Gold and Polished Stainless Steel.

Additional elevations feature 12mm

Marley Equitone Natura

rainscreen which was

installed using the

Nvelope NV3

support

system. This

provided a

secret-fix

solution for

excellent

visual appeal

of the finished

façade.

The high degree of

adjustability of both NV1

and NV3 enabled Roofdec's

installers to achieve a superior quality installation

Above: Installation of cladding using the Nvelope rainscreen

support system on one of the buildings which form the new

Thorpe Park Leeds retail and leisure park.

with minimum hassle. All Nvelope support

systems are 'designed for architects and built for

installers', which means they enable architectural

visions to come to life without complexity and

deliver long-term integrity to match the design life

of the building envelope.

For the fixing of key elements of the façade, high

performance austenitic stainless steel fasteners

were specified. Here SFS products were selected,

including fasteners featuring a durable gold

powder-coated finish to complement the stunning

façade panels which are visible from the nearby

M1 motorway. Additional SFS stainless steel

fasteners were used to attach cladding panels

with a mirrored finish, again to deliver optimum

aesthetics.

Roofdec Managing director Jon Barnes Jnr said:

"Thorpe Park Leeds is a significant development

which is important for the future economic

development of Leeds and the wider city region.

We are delighted to have been appointed to help

in the construction of a number of major new

buildings here and partner with the Nvelope and

SFS teams to deliver a high quality result for the

client.

"It really has been a team effort from the

architects, design, supply shain, management

and obviously the operatives installing the

various complex specifications throughout the

project. It is a credit to everyone involved at the

standard of quality achieved and certainly one all

parties can be proud of."

Contact SFS

0113 2085 500

www.sfsintec.co.uk

@SFSintec

64 TC AUGUST 2018
---
ROYAL SEAL OF APPROVAL

The first external fully adhered vapour permeable air barrier with full BBA certification has been installed as a

solution for airtightness, weather protection and breathability at the new administrative headquarters of the

Royal College of Pathologists in London.

The Wraptite air barrier system from the A. Proctor Group is the only selfadhering vapour permeable air barrier certified by

the BBA and combines the important properties of vapour permeability and airtightness in one self-adhering membrane. This

approach saves on both the labour and material costs associated with achieving the demands of energy efficiency in buildings. Designed by architects Bennetts

Associates the new £15 million eight-storey building on Alie Street in Whitechapel will become the new home for the college and features a double-height reception

area, flexible office space, a library, meeting and conference rooms and a 200-seat auditorium. Gilbert-Ash has been chosen to build and manage the project which

aims to reach BREEAM Excellent assessment.

Cladding contractor Windell installed the Wraptite System as an external air barrier and alternative to a traditional standard breather membrane. The use of a

standard membrane would have required mechanical fixing and provided some challenges given the concrete structure of the building. As an alternative,

Wraptite self-adhesive membrane was applied externally, quickly and easily to the external envelope in continuous pieces. www.proctorgroup.com

HULTAFORS ACQUIRES HELLBERG SAFETY

The Hultafors Group – which owns Snickers Workwear, Solid Gear Safety Footwear and Hultafors Tools – has

acquired Hellberg Safety.

Hellberg Safety is a specialised supplier of PPE Equipment which includes highly advanced hearing protection

products, face protection and communication solutions for personal protection. David Clark, Managing Director of the

Hultafors Group UK, said: "We are delighted with this acquisition given that Hellberg PPE products complement the

Snickers Workwear and Solid Gear Safety Footwear product portfolios perfectly – in particular the recently extended

Snickers Workwear Hi-Vis working clothes range." www.hellbergsafety.com

Wraptite was used at the Royal College of

Pathologists in London.

BROCHURE BENEFITS

New coffee table-style brochures showcasing Welsh Slate products for interior as well

as exterior applications have been launched by the leading UK manufacturer.

Available through www.welshslate.com, the eight-page brochures dispel the myth that Welsh

Slate is just about roofing, with stunning photographs proving the product's versatility for a wide

range of uses. The exteriors brochure features copings and sills, as used at the ME Hotel in London,

walling and cladding as used at the National Waterfront Museum, and many prestige private

properties, paving, and roofing as used at York Racecourse and St Mary Abbots Church, London.

PRESSING MATTERS

CA Group Limited, one of the UK's leading metal roofing and cladding systems

manufacturers and installers, has invested in an EHT VarioPress bending machine from

TRUMPF. Ordered to introduce higher levels of flexibility, the EHT VarioPress has reduced

the number of processes required in the production of several key components.

CA Group has invested in an EHT VarioPress bending machine.

In line with a programme of ongoing investment in the latest technologies, CA Building

Products, the company's manufacturing division, was looking for a suitable press brake to

produce the next generation of products at its Bishop Auckland facility. www.trumpf.com

AUGUST 2018 TC 65
---
PIR Boards

FIVE KEY BENEFITS OF PIR BOARDS

By Kevin Bohea, Commercial Director at Recticel Insulation.

The average UK household spends around £1,230 on fuel bills each year which can be up to 50%

more than necessary due to the lack of energy saving measures being implemented in the home.

Poor insulation is a major contributor to domestic energy wastage. To help combat this, the

construction industry is increasingly turning to rigid foam PIR panels. Below I've listed five key benefits

of insulation boards.

"The panels are light

and easy to transport

as well as being simple

to install"

Closed cell structure

•PIR insulation board has a closed cell structure

that means it doesn't absorb water. This allows

the thermal performance and reliability of the

panel to be retained over time. The panels are

light and easy to transport as well as being

simple to install, helping save on-site labour

costs.

Structural strength

• Unlike fibrous insulation which can deteriorate

over time when damp sets in, PIR insulation's

structural strength enables a consistent

performance that will last the lifetime of a

building, negating costly repairs and maintaining

its thermal and soundproof qualities.

Versatility

• PIR insulation is also renowned for its flexible

qualities, providing the ideal solution for a range

of applications such as floors,

walls, pitched and flat roofing.

Secure fit

• PIR solutions, such as our

Eurowall+, feature a tongue-andgroove

joint on the board's four

sides to ensure a tight, secure lock. It means

Eurowall+ board increases protection against

wind-driven rain which can cause other poorlyfitted

products to deteriorate over time.

Maximise space

• Although mineral-based insulation is fairly

flexible – it can be manipulated around wall ties,

etc. – its propensity to degrade over time,

particularly if damp sets-in, means rigid PIR

board is increasingly seen as a preferable cavity

insulation option. It has a long-term cost benefit,

too. For mineral wool to attain the same level of

Left: Kevin Bohea, Recticel Insulation.

thermal performance as Eurowall+

board, it's estimated 150mm-thick

insulation would need to be

installed, resulting in an accordant

increase in the cavity wall size.

Once the cavity width increases, wall-tie lengths

have to be lengthened and window and door

lintels expanded – the whole building process

becomes more costly.

With developers looking to fit as many homes

onto allocated plots as possible, maintaining a

100mm cavity in new buildings has become a

necessity. Eurowall+ 90mm PIR board not only

helps to achieve a 0.18 U-value in a 100mm

cavity, the 10mm air gap makes for a less

inconvenient fit for bricklayers when it comes to

installing the insulation.

Eurowall+ was used by Mentmore Homes in Gerrard's Cross.

Contact Recticel

0800 085 4079

www.recticelinsulation.co.uk

@RecticelInsulUK

66 TC AUGUST 2018
---
SEE US AT
---
Insulation Updates

REACH FOR THE STARLOCK

Chris McGee, Managing Director at Lasercut.London Ltd, attended the FFX show earlier this year to

purchase a Multi-Talent kit.

He explained: "Regretfully FEIN wasn't my first choice, however alternatives offered plug-in tools and the

price was hard to justify for the potential usage it would see in my hands. After borrowing a FEIN product

from a friend, I knew I had to add one to the ranks, so I decided to visit the FFX show in Kent with my 3-

month-old boy.

"I had a great chat to the FEIN team, and after testing I knew that the 12v Multi-Talent Kit was the right

one for me. The Starlock system wowed me, as it was so easy to change cutters so quickly, and I could see how snuggly the tool held the piece, so I knew it

would cut smoothly, and I purchased a 'Best of E-Cut pack' with it too!

The Best of E-Cut pack is FEIN UK's first 'official' value pack for its UK customers, offering an assortment of the best cutters that can be used commonly on

typical applications faced by tradespeople 'on the job'. This year, FEIN UK is proud also to have announced the launch of four more additional value packs.

www.fein.com/en_uk/

SOUNDS LIKE A PLAN

Isover's Metac range of insulation has recently been tested to show that it can achieve

outstanding noise reduction within pitched roof rafter applications. Independent testing, by the

University of Salford, has found that in addition to excellent thermal performance, Metac can

achieve a reduction of up to 49dB for externally generated airborne sound.

Sarah Buchanan of Isover said: "Our 2 in 1 acoustic and thermal insulation solution, Metac,

offers housebuilders the opportunity to add value and improve the acoustic performance of the

houses they build, without adding additional cost." www.isover.co.uk/metac2in1

POSITIVE EVIRONMENTAL IMPACT

RAVATHERM UK has boosted the environmental credentials of its POLYFOAM extruded

polystyrene (XPS) insulation, achieving a BRE Certified Green Guide rating of A+ for all

products manufactured at its Hartlepool factory.

POLYFOAM XPS was the first extruded polystyrene

product range to be independently assessed by BRE.

The insulation has already achieved a BES 6001: Responsible Sourcing of Construction

Products certification and has been issued Product-Specific Type 111 Environmental Product

Declarations (EPDs) through BRE's EN 15804 EPD Verification Scheme for products in the

POLYFOAM Extra and Standard range. www.ravatherm.co.uk

ALL THE RIGHT NOISES

Thanks to a pioneering approach from ROCKWOOL that is based on acoustic performance

test data and use of its BBA approved A1 rated RAINSCREEN DUO SLAB insulation

product, the new Crowne Plaza and Holiday Inn Express at London Heathrow Terminal 4

will be providing visitors with a peaceful and tranquil stay when it opens later this year.

Using test results from its Rainscreen Acoustic Reference Guide, and working closely with SD

Samuels, ROCKWOOL was able to demonstrate the exceptional performance capabilities of its

150mm RAINSCREEN DUO SLAB product for the hotel development project. www.rockwool.co.uk

68 TC AUGUST 2018
---
ideal for use on conservatory

conversions, outbuildings

and commercial projects

A unique premium quality lightweight roofing

tile available in a choice of three colours

specifically developed for the UK market.

The smaller ExtraLight ridge and hips are

designed to be more aesthetically pleasing

and in-keeping with a conservatory style roof.

Priced in Kits or Pallet Quantities

Next Day Delivery in Mainland UK

Over Half a Million Pounds Worth

of Tiles in Stock

Wider Range of Accessories

compared to other Lightweight

Roof System Companies

New Range of Wall Soakers

35% Extra Superior Base Coat

PREMIUM

LIGHTWEIGHT

ROOF TILES

superior natural stone finish

registered

Registered Details

CERTIFICATE 17/5463 : ROSS ROOF GROUP

ask for your free tile sample

charcoal

ember

walnut

50 Year

TILE WARRANTY

20 Year

COATING WARRANTY

UV Protection for

Permanent Beauty

Non Combustible

Class A Fire Rating

Marine Environments

Weatherproof

Lightweight

Easy Installation

High Wind and

Hurricane Resistant

Environmentally

Sustainable

50 Year Warranty

on the Tile Product

20 Year Warranty

on the Tile Coating

www.extralight.co.uk

Tel: 01772 80 20 22

Email: sales@extralight.co.uk

Unit 4 | Croft Street | Preston | Lancashire | PR1 8ST
---
Brand Livery

SIGN OF THE TIMES: MAKE SURE YOU

MAKE THE RIGHT IMPRESSION...

Before you choose sign writing or wrapping for your van livery, there are a few steps to take

to make sure you project the right image for your company...

It's often said that people make snap

judgments on character within seconds.

While some impressions may be correct,

others will be well off the mark. This means it's

imperative to ensure that anyone coming into

contact with your company gets the right idea –

first time; second chances rarely come along.

Most think that building a business image

requires the use of large design agencies and the

costs that come with them. However, with a little

thought you can do the job yourself and bring in

the experts when you really need to.

Your image

Before you can do anything, you need to

establish what the image is that you want to

project. By way of example, banks want to be

seen as conservative, IT companies want to be

seen as innovative while you, as a roofer,

clearly want to be seen as being reliable and

competent.

Know your customers

It's important to have an understanding of your

potential customers so that you can build an

image that matches how they view themselves.

For this you need to know who your targets are,

who they presently use and their typical budget.

There's no point marketing yourself as a highend

roofer if the locality is cash strapped and

you don't travel; and if you're aiming to serve

large commercial clients your image will need

"If you're aiming to

serve large

commercial clients,

your image will need to

be different to that of a

roofer working for

home owners"

to be different to that of a roofer working for

home owners.

Rivals

You need to understand who your rivals are. Are

they successful or struggling? Why are they in

their position – what does their image say about

them? Is it reputation, service range or price? Try

and find the elements of their image that makes

them successful and build on it, putting on a

unique spin.

So, if a rival focuses on, say, good installations,

you need to do the same but build a reputation

for returning promptly to fix any issues – word

of mouth is both powerful and free. Certainly

don't attempt to meet the rival or their image

head on – you're unlikely to win if you're a

start-up.

Building your image

Next, you need a well-designed logo as this is

the cornerstone of your identity since it'll appear

on your vans, website, cards and invoices, as

well as on advertisements. As a graphical

device it needs to convey the image that you

want to project and as such, you will need

70 TC AUGUST 2018
---
SEE US AT

Polyroof, in conjunction with industry trade associations including the

LRWA and CITB, pioneered the Basic Competency Programme aimed at

upskilling applicators of liquid applied roofing systems. Since its launch

we've seen nearly 70 roofing operatives successfully complete the course

and qualify to apply for a 3 Years Red Experienced Worker CSCS card.

1

2

3

Attend and successfully complete the BCP Training

programme at Polyroof or a regional trainiong centre

Receive your BCP Certificate with your unique BCP number

Register for and pass the Working at Heights CSCS test at

any approved body (if you don't already have it)

4 Apply for the 3 Years Red Experienced Worker Card

If you're a liquid roofing contractor looking for a more knowledgeable,

competent and multi-skilled workforce then we're here to help.

0800 801 890 training@polyroof.co.uk

EXPERTS IN LIQUID ROOFING
---
Brand Livery

professional help. Remember, your company

name might not make it immediately obvious

what you do.

While some graphic designers are very expensive

to work with – you can make savings. Although

the large graphic design studios will cost more,

there are plenty of freelance graphic designers

that will work on either an hourly or per job rate.

You'll find plenty via Google.

While it might appear to be an expense, don't

skimp on a logo. Saving pennies here will cost far

more in the long run because of the poor image a

badly designed logo will communicate.

Like any professional that you work with, be they

an accountant, lawyer or designer, the better the

brief the better the end result. In particular, you

need to think about taglines, the use of colour,

typefaces and the graphics employed.

Taglines

A tagline is a simple and catchy phrase that helps

to set you apart from the rivals. Here you need to

think about the key element of the image that is

to be projected that will most appeal to your

customers. A good tagline is a one-liner made up

of six or seven words about the image. The tagline

will help a designer with the rest of the brief.

Colour

Most aren't colour blind so think about the

colours to be used – blue, grey, darker greens

tend to be quieter, more mature and conservative.

On the other hand, reds, yellows, oranges and

other bright colours tend to suggest pioneering,

trendsetting, and creative. Look at the dominant

colours in pharmacy logos – they say it all. What

colours are appropriate to the image you've

selected? Take advice but don't be swayed by

colours that you might like personally but that

contradict your intended image.

Typefaces

The way the words are printed are important too.

Consider the different and formal typefaces used

on the web, in books and in newspapers – they're

"Liveries should be

simple – too much

clutter can be

confusing and your

message can be lost"

very different to the simple alphabet handwriting

typefaces used in party invitations, on tickets and

in some adverts.

Graphics

The role of a designer is to be good at producing

good graphical representations of the message

that you want to convey. In using a (strong)

graphic element in your logo, make sure that it is

easy to understand. More importantly, ensure that

any logo used gets your message across even if

customers don't necessarily understand the

graphic itself.

Use it everywhere

Try to integrate your logo colours, typefaces and

graphics into less obvious parts of the business.

If your main logo colour is blue, then it should be

part of your clothing – say a polo shirt or sweat

top, and even internal furnishing and decorating

schemes if you have premises. You need to

subliminally use the image everywhere where

your target customers might see it. If you have

staff, make sure that they buy into the image

you've created – what it's trying to project, the

values it represents and how it's integrated into

your business.

Use it on your van

Liveries should be simple – too much clutter can

be confusing, and your message can be lost. Stick

to easily identifiable images, names or logos and

strong complementary colours and contact details

should also be kept to a minimum with just a

website address and contact number. The back of

the van is often thought of as the best place for

this information as it gives those travelling behind

you the best chance of capturing the details.

Some companies specify what area they are

based in if they travel across a large area and

want to attract customers far and wide.

According to the Daily Telegraph, one study found

that as many as 40% of tradespeople prefer their

commercial vehicle to remain anonymous.

Builders were the least likely to brand their vans,

with 53% choosing not to, while 83% of roofers

were happy to broadcast their job.

When it comes to branding your van, there are

two methods to consider; sign writing or

wrapping.

Sign writing used to mean an artist using paint

and brushes, but now the same effect can be

achieved with stencilled adhesive lettering on the

panels of the van. The other method is a full or

partial vehicle wrap with vinyl.

This protects the paintwork method while turning

the van into a mobile hoarding. Some firms are

known to buy a white van as they hold value

better but then immediately brand-wrap it to

preserve the paintwork. Wraps have the added

benefit of being easily replicated in the event of

damage and are scalable and consistent if

applying across multiple vehicles.

The two methods achieve very different results,

and the costs can vary widely in design and

complexity, but as a rough guide, job-prices.co.uk

found in a survey that a self-applied DIY

signwriting to a medium-sized van (based on two

to the rear doors, four to each side of the van, one

to the front bonnet – logo incorporated into a

basic design with text, phone number and web

address) would cost £225+VAT; professional

signwriting would cost £525+VAT; while a full

wrap would cost £1500+VAT. Of course, these

prices will vary according to size of the van and

complexity of the wrap.

Summary

Spending some time and effort creating the right

logo and image will pay handsome dividends. The

key is to make your firm stand out and while cost

can be saved by thinking things through first, you

will need to engage a professional.

72 TC AUGUST 2018
---
Article heading

Total Recruitment

Sponsored by

The d t o

Succ cRoad ess i s al

ways

Under Co ons

tru

uction

TRADES

LABOUR

M&E

PLANT

OPERATI

IVES

GB Staffing was set up with the

sole aim of becom ming one of the most

consistently

reliable and truste ed agencies in the construction

sect

or.

We offer innovative, high end recruitment solutio ons with a

cost-effective approach.

T 020 8508 9480 E info@gbstaffing.c o.uk W gbstaffing.co.uk

AUGUST 2018 TC 73
---
Total Recruitment

We supply nationwide.

Labourers up to site managers,

general and specialist trades.

• Every candidate is referenced, qualified &

holds relevant CSCS/CPCS accreditation.

• Quick Supply with Fair prices.

• 30-60 day monthly account.

• Single, dedicated point of contact with

24 hour service.

01708 898686

www.ricohsitesolutions.co.uk | info@ricohsitesolutions.co.uk

Birmingham based agency

with a hands on approach.

Local and National coverage.

General Trades & Labour

Painters & Decorators

CSCS carded cleaners

Daily Requirements or Long Term, large scale jobs

Over 20 years combined experience

in the construction sector.

01216 982107

hello@millennialrecruit.co.uk

www.millennialrecruit.co.uk

A preferred supplier to many with direct links to established roofers throughout the UK.

Founded by experienced recruiters and Construction specialists with over 30 years' experience.

We know the industry and understand your business needs.

• General Trades & Labour to Specialist Roofers, Metalworkers and Management

• Small, daily requirements up to complete site solutions.

• Flexible Terms

• Nationwide Coverage with Local Service

• Hands on approach with site visits.

www.core-staffing.co.uk T: 07837 616515 E: info@core-staffing.co.uk

74 TC AUGUST 2018
---
Sponsored by

DRY ROOFING PRODUCTS

WE ARE RECRUITING

Technical Sales Representatives

IN THE FOLLOWING AREAS:

STAND OPTION 1

2 WIFI

STAND OPTION 2

2 WIFI

FOR FURTHER INFORMATION OR TO BOOK YOUR STAND

01892 732047

DELIVERED TO YOU BY

NORTH WEST

EAST MIDLANDS

EXPERIENCE IN PITCH ROOFING IS DESIRABLE.

COMPETITIVE PACKAGE & CAREER OPPORTUNITIES.

NO AGENCIES

EMAIL YOUR CV TO

pauric@kytun.com

Contracts Manager & Estimator

PFC UK LTD, part of Perfect Finish Coatings Group is based in Cambridge and services the east of England and

north London areas. PFC headquarters are in Dubai and will install over one million m 2 of membrane and liquid

Contracts Manager and Estimator.

Salary 50,000 – £80,000,

Please contact Daniel Van Dok

Email:

AUGUST 2018 TC 75
---
6 338

SEE US AT